Sixteen years before Les Tuck held the keys to Bowest Motors, he was standing in a dusty Arizona junkyard, salvaging for Volvo parts. He was 10,000 miles into seeing what life would offer him, and that offering happened to be an orange, dust-covered Datsun S30. The Datsun spawned the Rusty Speedwerks collective, a group of friends creating a lifestyle out of a living.
Rusty Speedwerks Inc. is housed under Bowest Motors' 60-year legacy of car culture in Calgary, Canada. Like all custom projects that Les and his head mechanic Dave Wilks bring to life at Bowest, the uniqueness isn't solely in the build itself – it's in the story of where and how it came to be.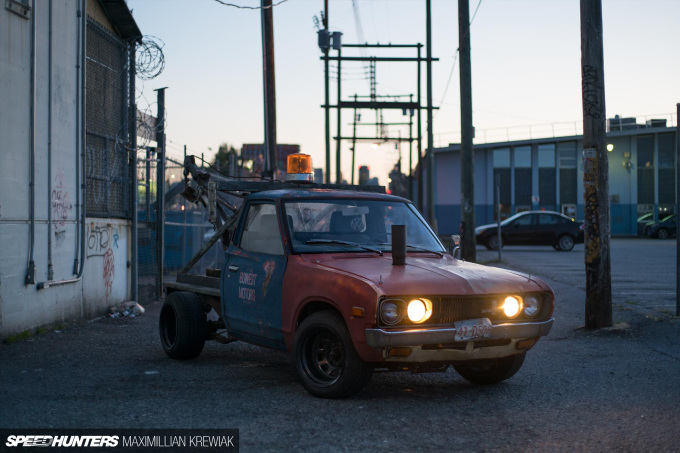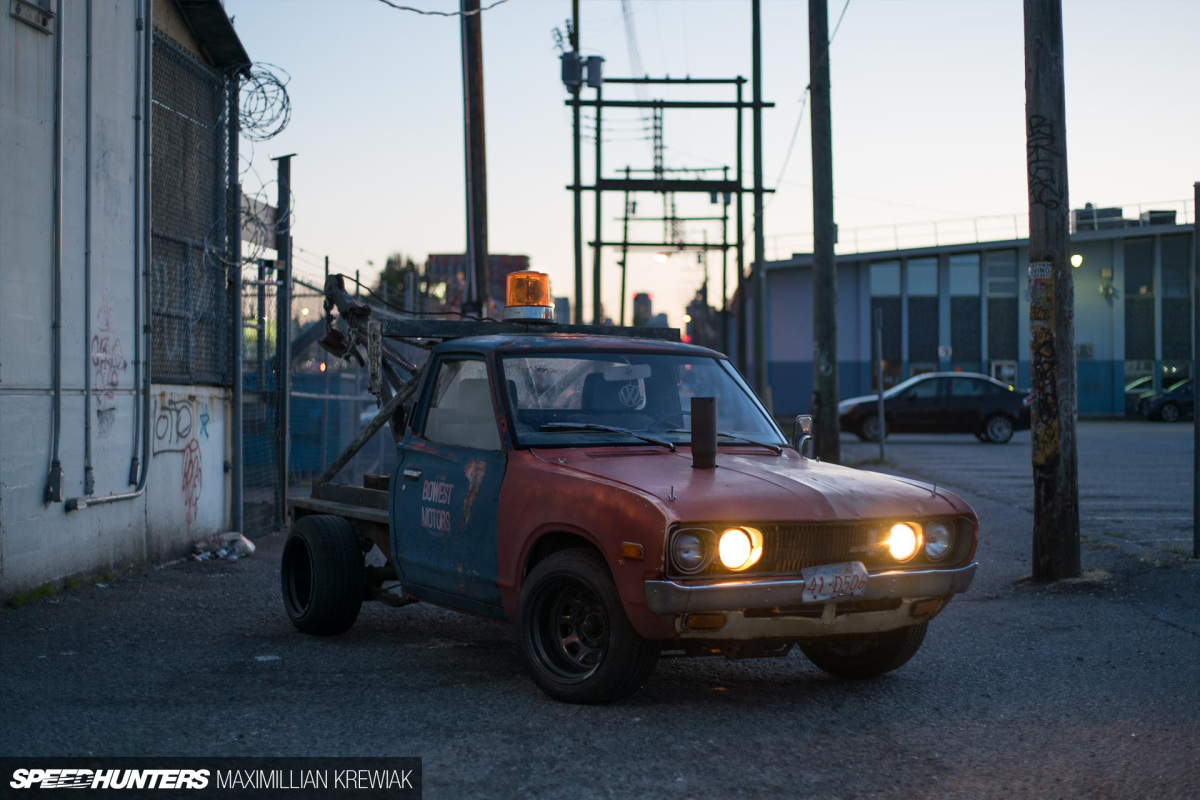 The Datswagen came to life with a text message that read: "I've ended up with a beater 620. On the off chance you know anyone who wants a POS… Not running. Haven't even looked at it. Is only an L16."
Having already built a Datsun 521 SR20DET pickup and an RB25DET-powered Datsun S30, Bowest Motors has reputation for old school ratty Datsuns with something special going on, so this was not an unusual message to receive.
A few phone calls later the guys had the '73 Datsun and an old diesel VW Jetta sitting in the yard with an idea percolating in Les' head.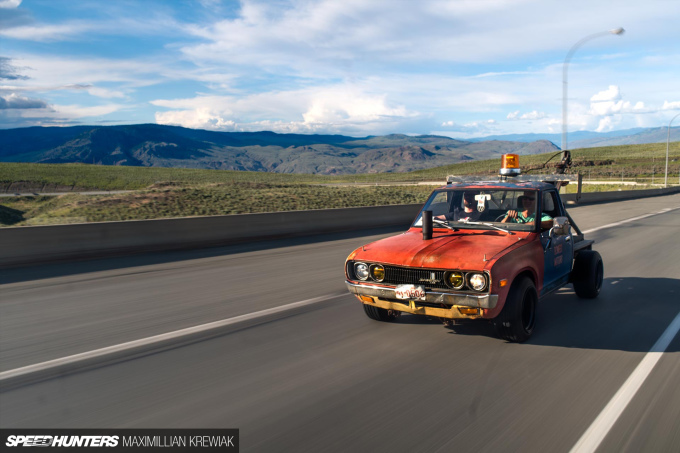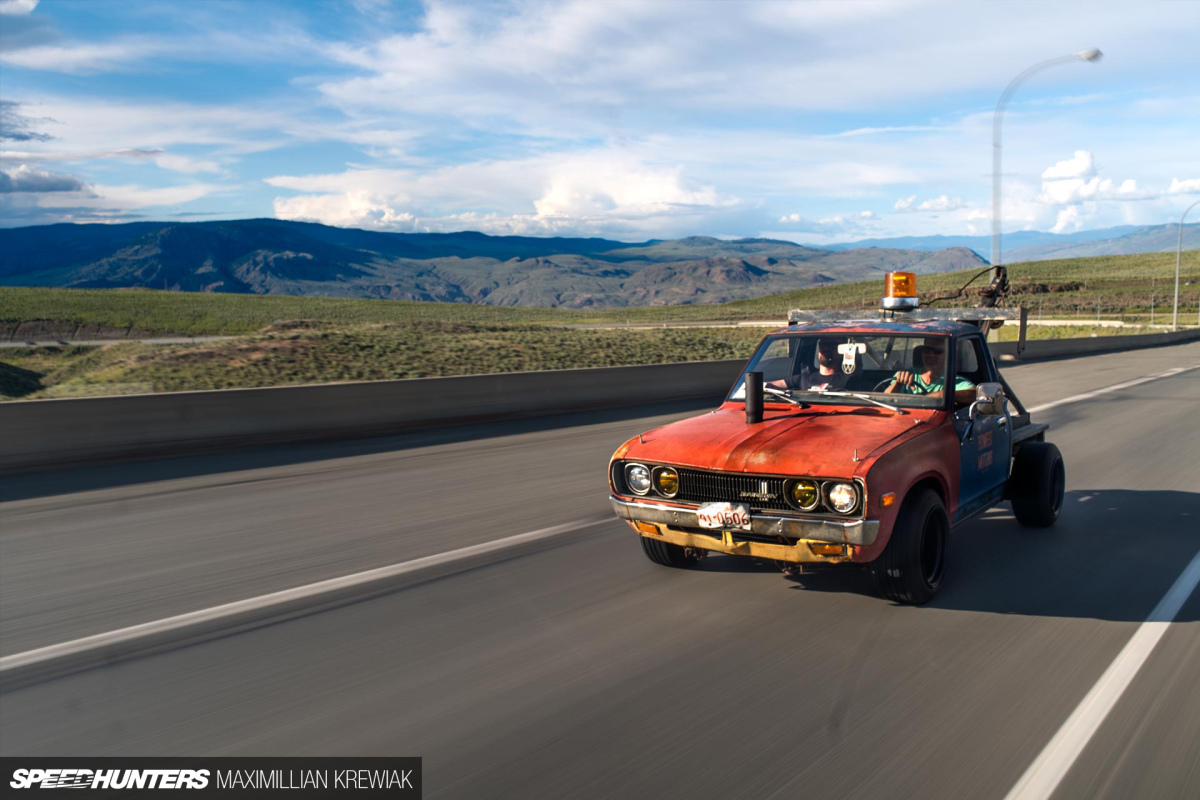 Having just completed a Cummins-powered, rat-styled Willy's Jeep, and with plans to build another diesel-powered rat rod, Les and Dave decided it was time to have some fun with the rat rod community and build a mini diesel tow truck.
The great thing about a build like this is its accessibility to people at all levels. The Datswagen was built with a sense of playfulness and curiosity; from the beer keg fuel tank to the functioning amber rotating light, ammo can tool box and well pump manual winch, there is a sense of discovery about this project that you don't always get with a standard bolt-on build. The character exists in the marks people have left on it.
The next phase for the Datswagen project is to get more power out of the little diesel. While perfectly happy cruising along at highway speeds, it's not particularly peppy in comparison to the 521 SR20DET shop truck. It also needs a brake upgrade as four-wheel drums are not exactly confidence inspiring.
However, for now, it remains a fun to drive piece that brings a smile to almost everyone's face.
Maximillian Krewiak
Instagram: maxkrewiak
How To join the IATS program: We have always welcomed readers to contact us with examples of their work and believe that the best Speedhunter is always the person closest to the culture itself, right there on the street or local parking lot. If you think you have what it takes and would like to share your work with us then you should apply to become part of the IAMTHESPEEDHUNTER program. Read how to get involved here.