The 'Cyr' In Cyrious
One of the many things in life that astounds me is the ability professional drivers have to balance operating a race program with running a shop.
I hardly seem to have enough time in a day to go to work, come back, and wander about the garage looking for my 10mm before it's time to head to bed and start the process anew.
However, against almost impossible odds, many of these drivers lead shops and produce some of the best builds around the globe.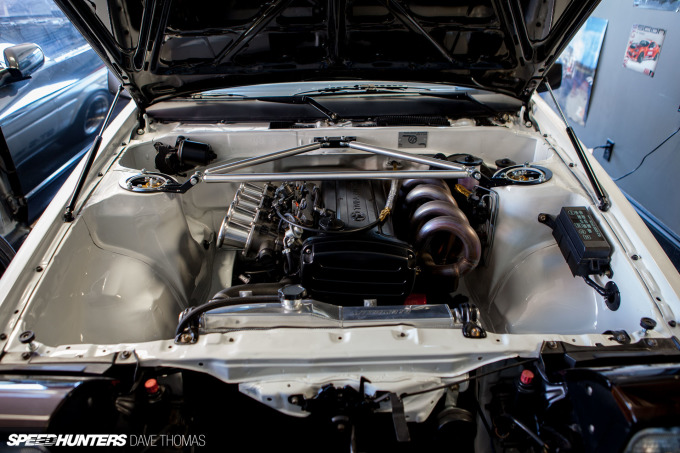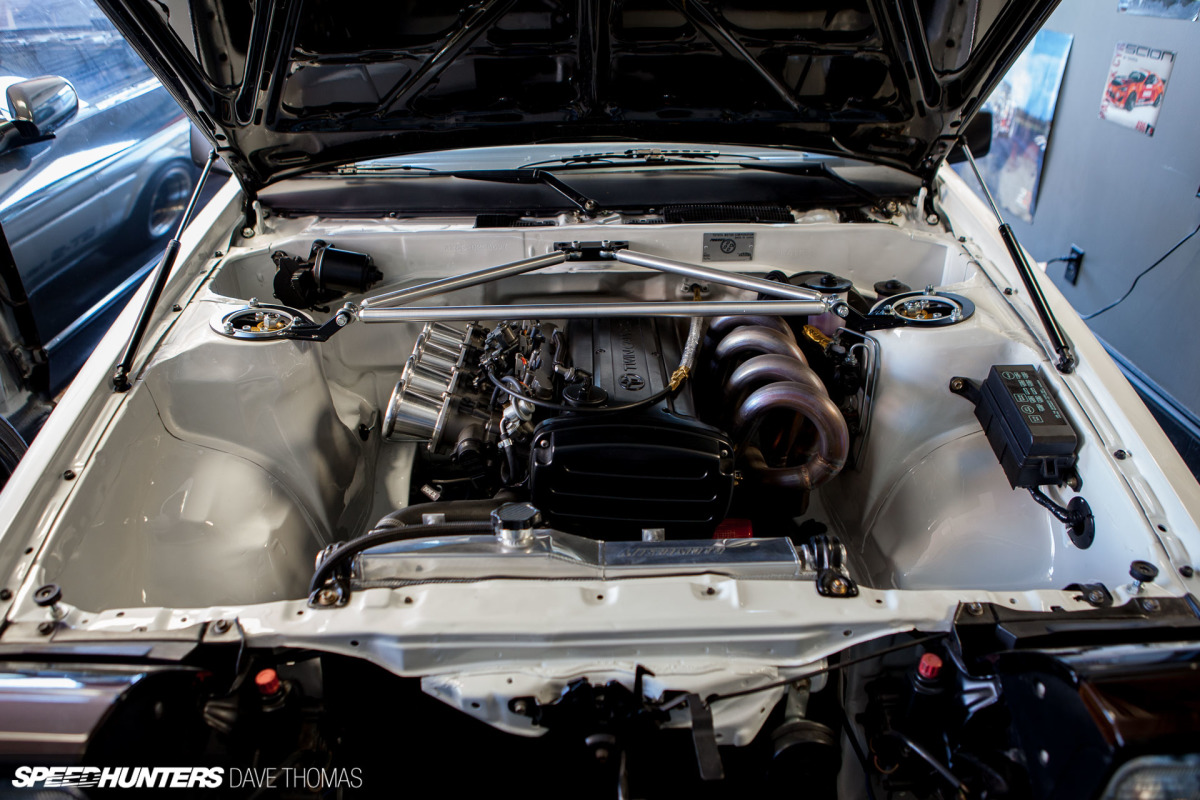 When it comes to inspiration for squeezing every last hour out of a day, I need not look any further than Pat Cyr, the owner of Cyrious Garageworks in Oakville, Ontario.
Pat and his brother Dan have assembled a top-notch team of builders who are directly responsible for some of the coolest cars in the province.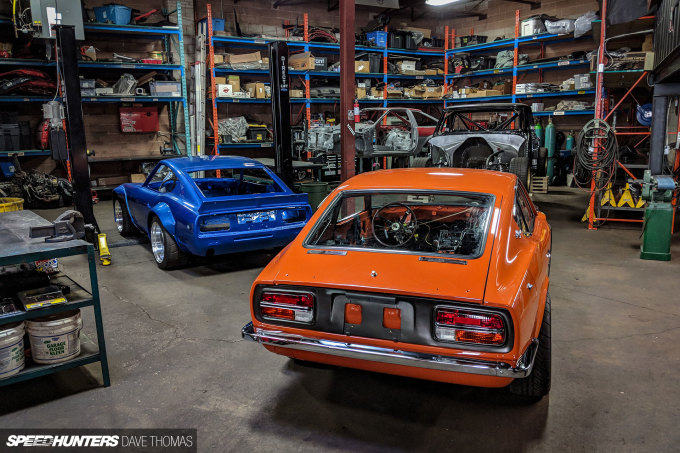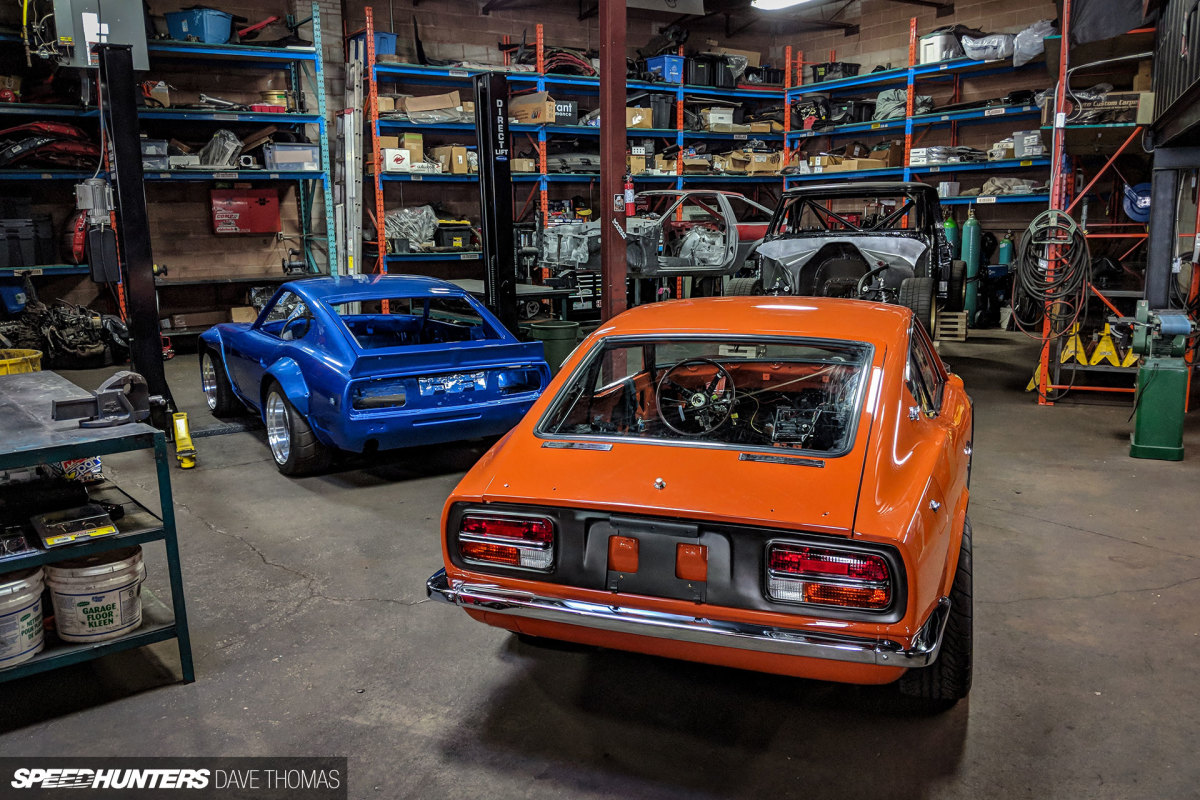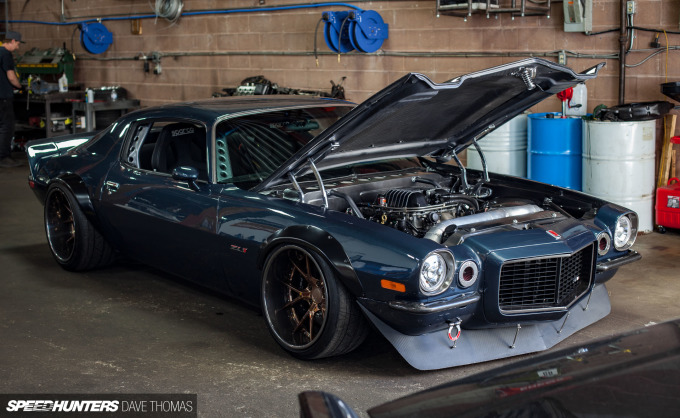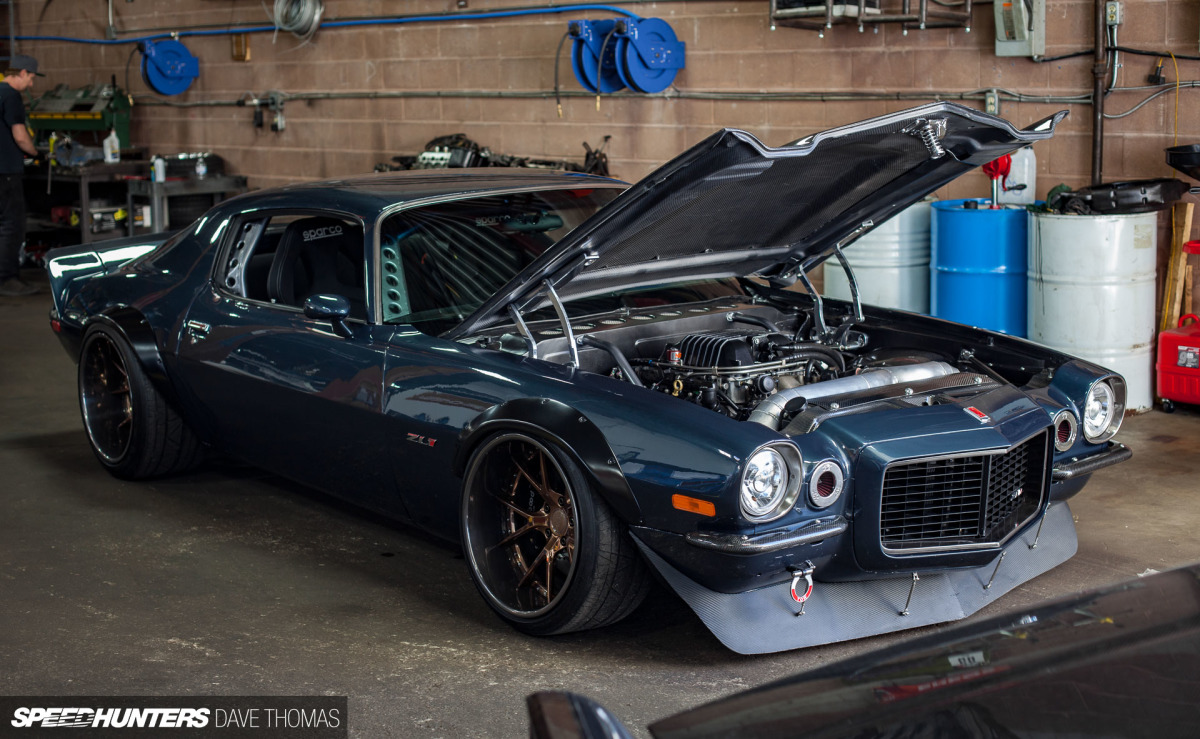 Cyrious Garageworks has been in operation for six years and during that time the team has managed to juggle a hectic race schedule with customer deadlines.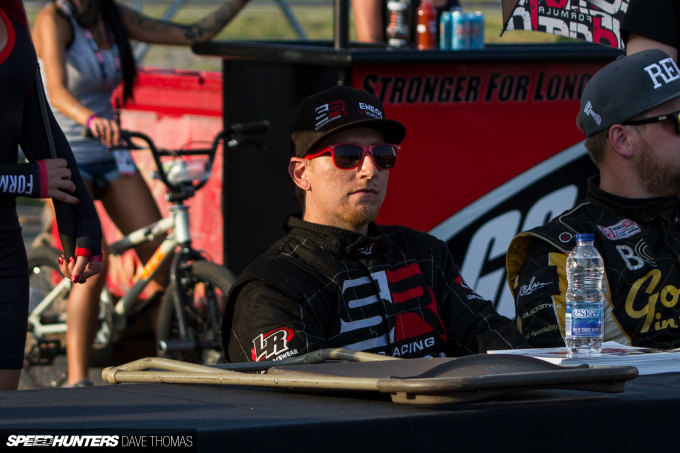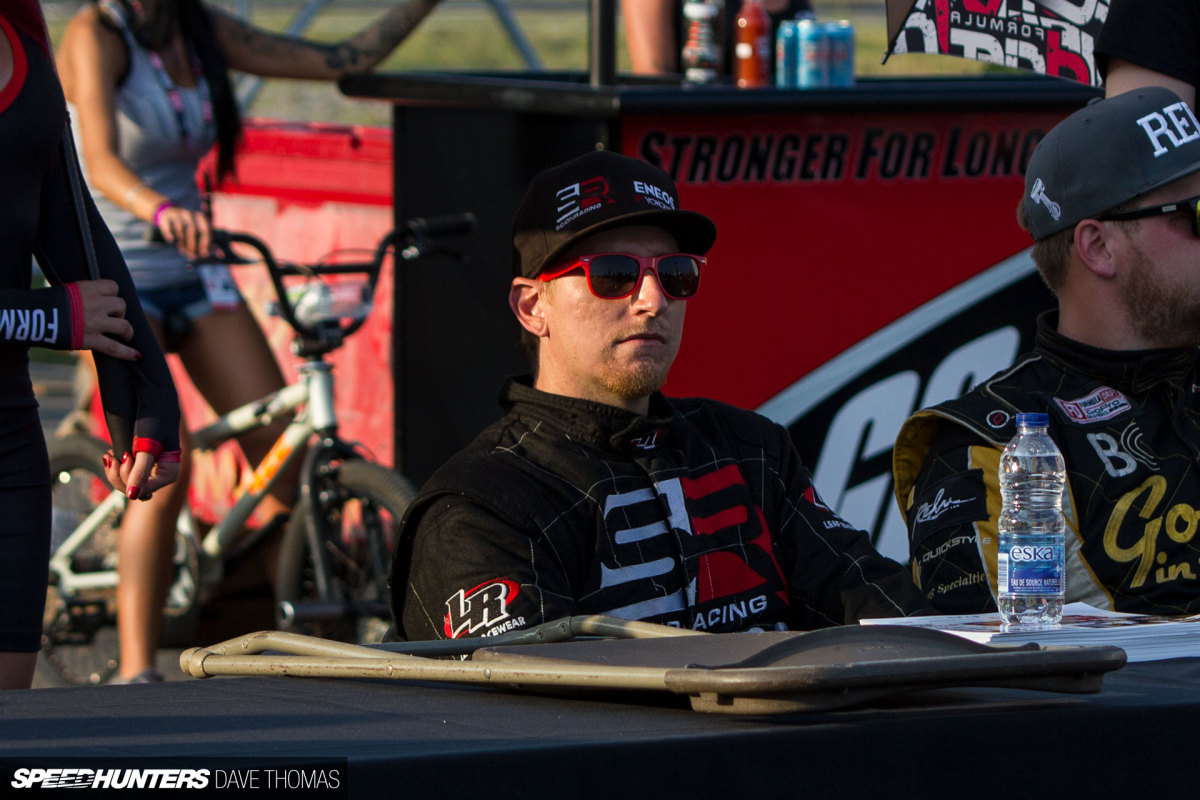 Because of his work ethic, positive attitude, and driving style, Pat Cyr is a household name among the Canadian drifting community. For those of you outside the Canadian borders, Pat has been driving professionally for over a decade.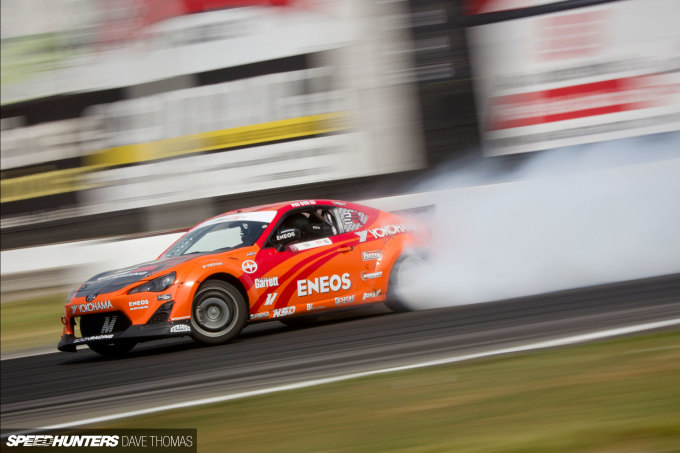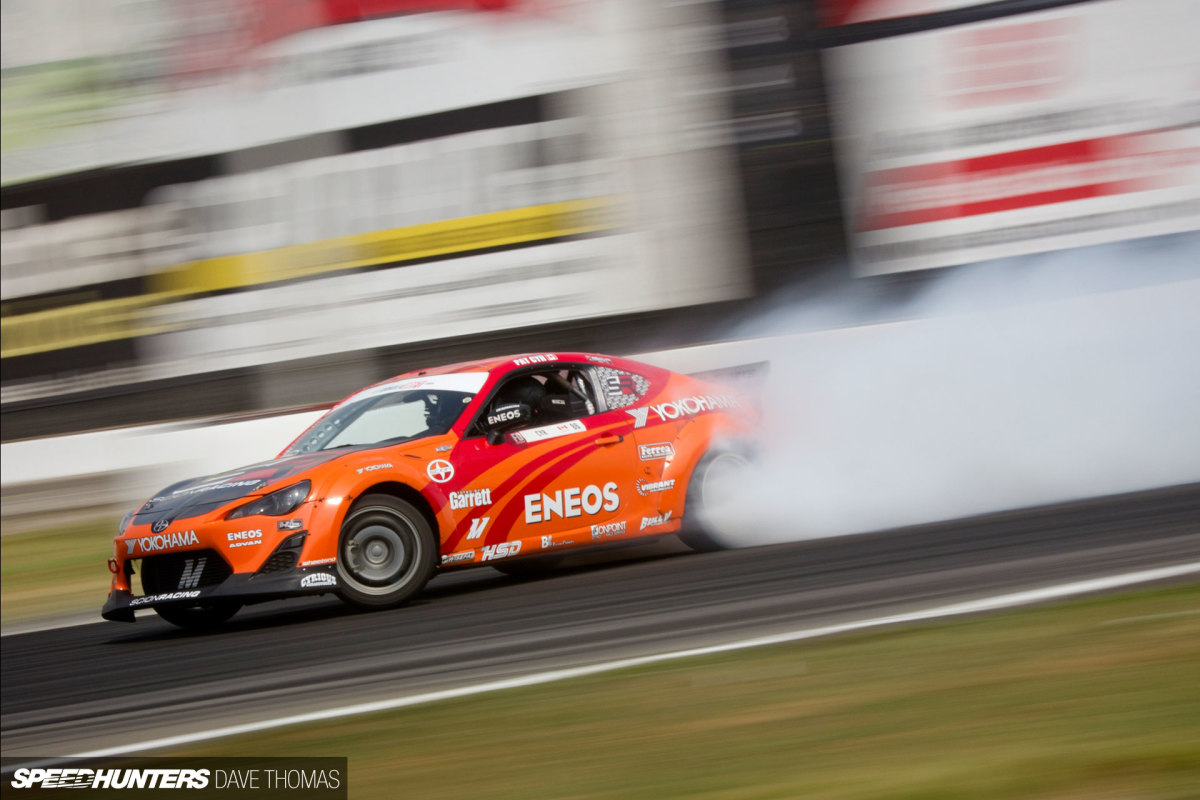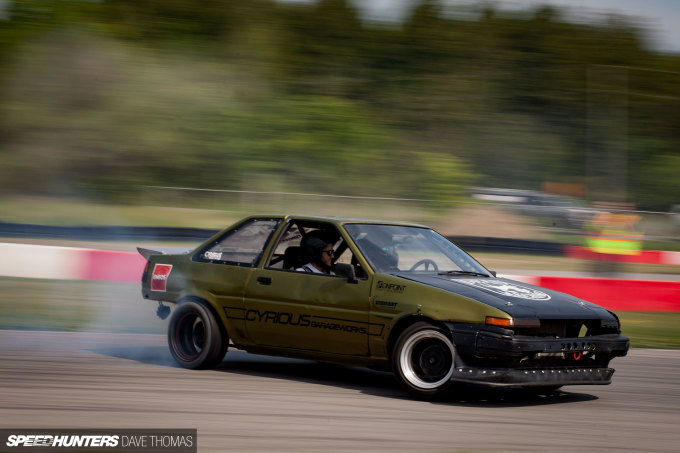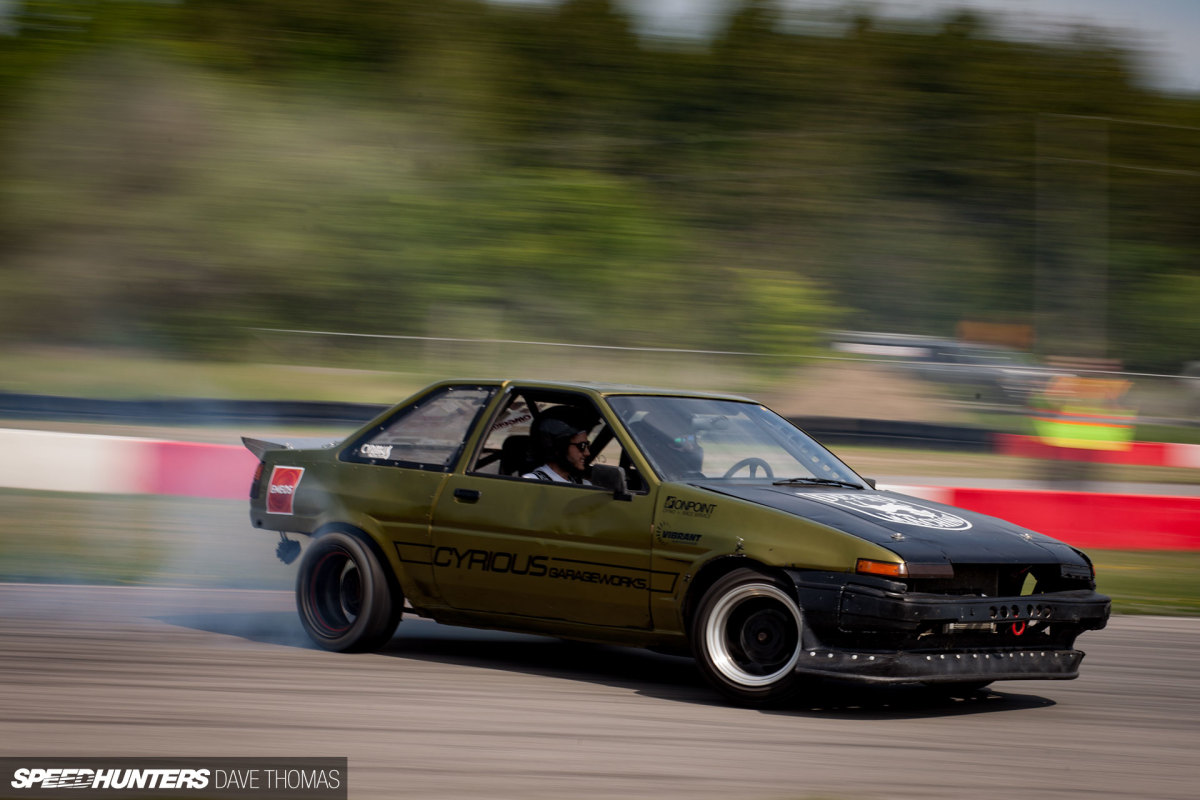 He has competed all over North America banging doors with the best of the best along the way, and during the course of his career Pat has racked up a serious amount of hardware, much of which is on display at Cyrious Garageworks.
Pat's weapons of choice throughout have been either his battle-worn, Honda-powered AE86, or turbo FA20 then 2JZ-powered Toyota 86.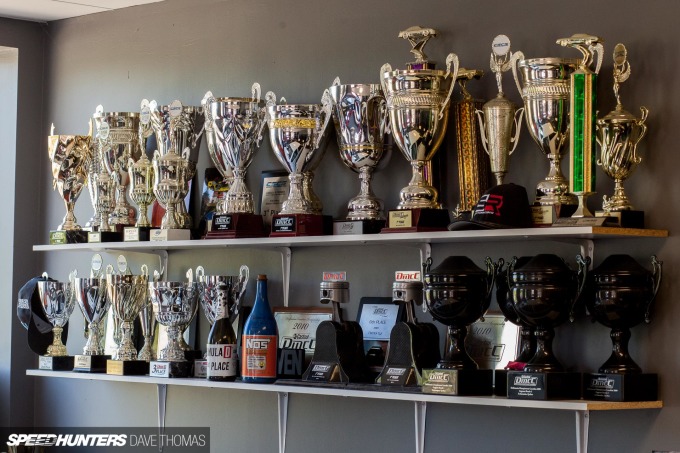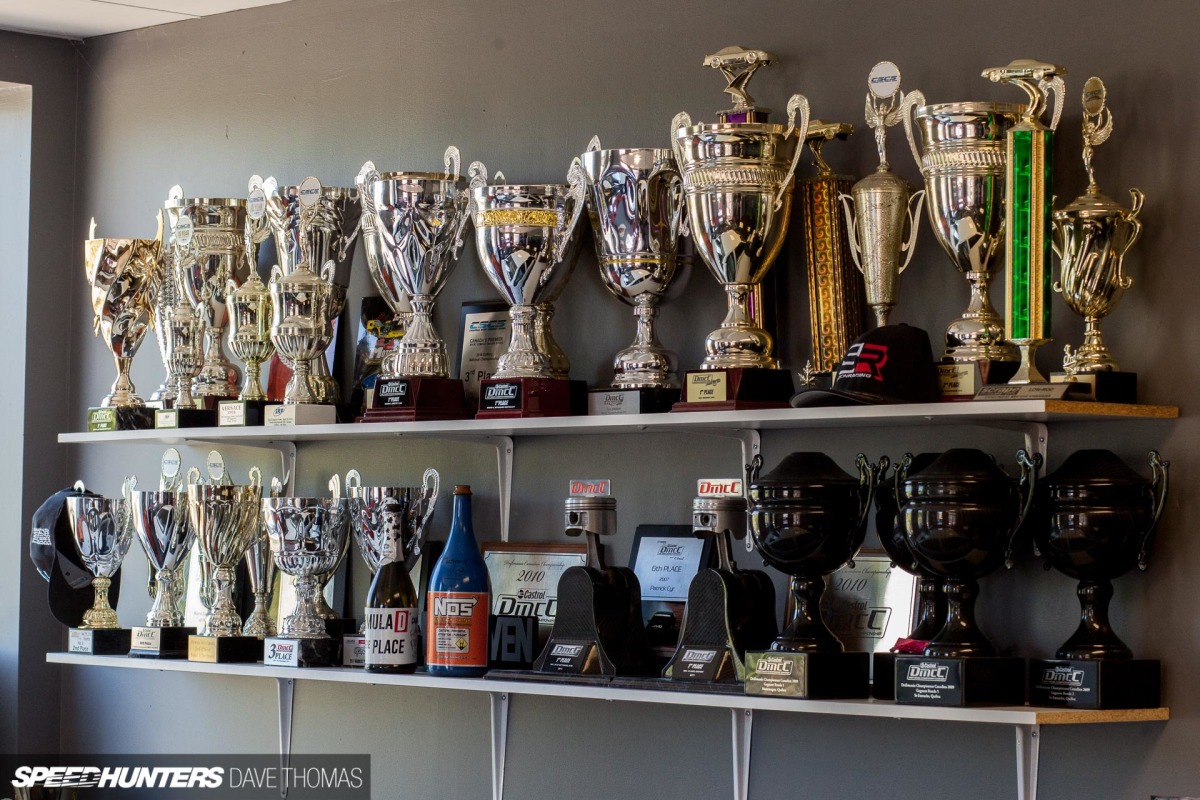 In addition to being an absolute weapon behind the wheel Pat is quite proficient at building vehicles. Ten years of working in a Corvette restoration shop, paired with building competition and street cars will do that to a man.
A Bit Of Everything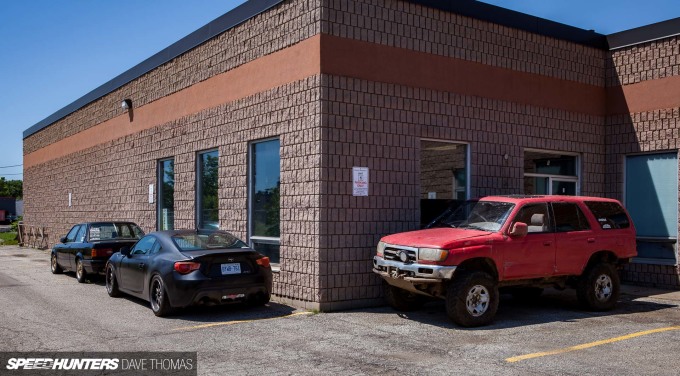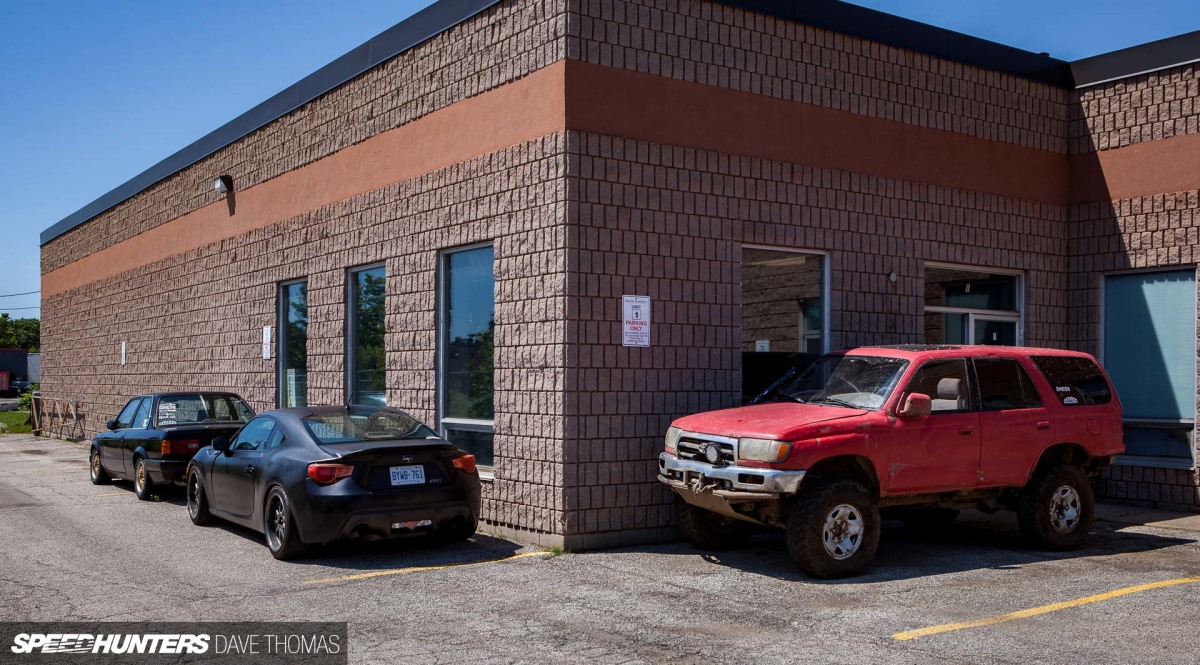 Though his roots are in drifting and he has clear ties to the AE86 and ZN6, Pat will take on any custom project.
Evidence of this is apparent even outside the shop where Pat's daily driver, his off-road toy, and a rough-around-the-edges E30 BMW can be found.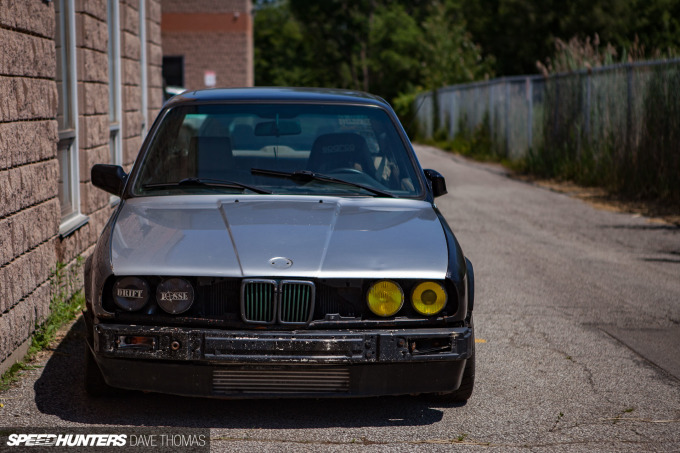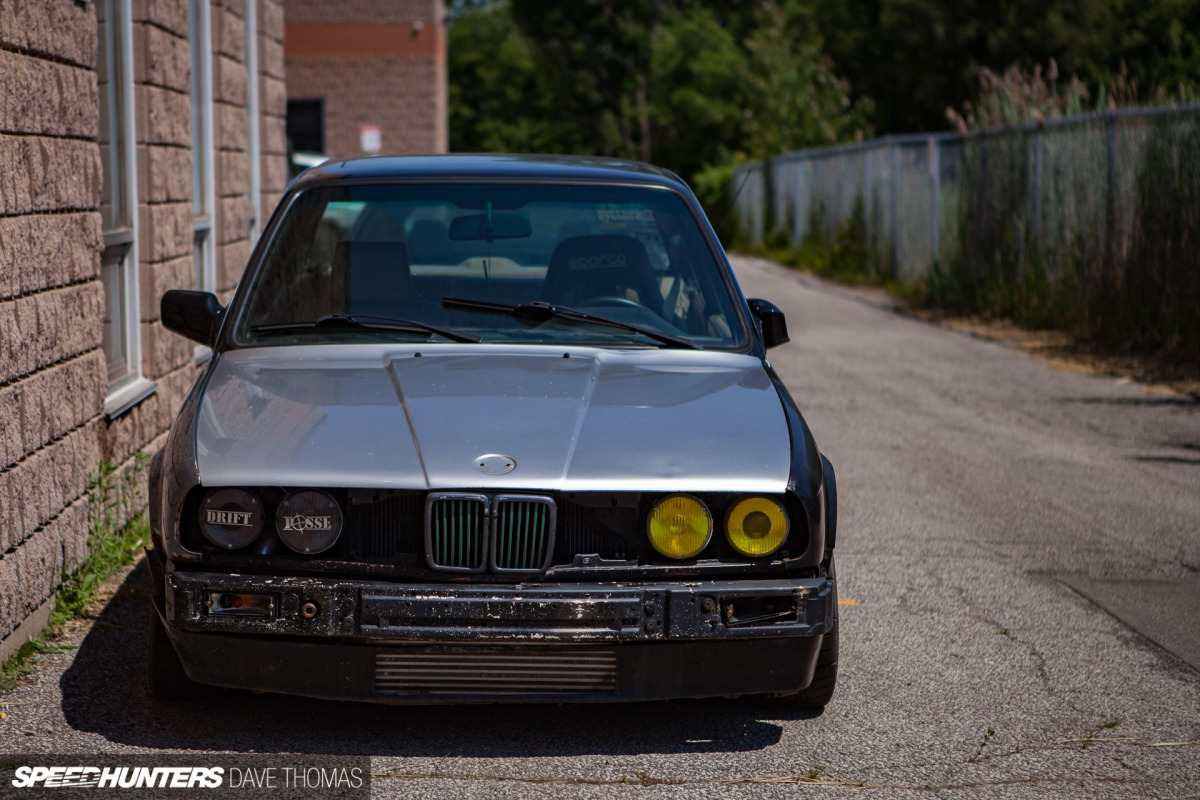 With the E30 everything isn't quite what it seems; this is an early Cyrious build that might not look like much on the outside…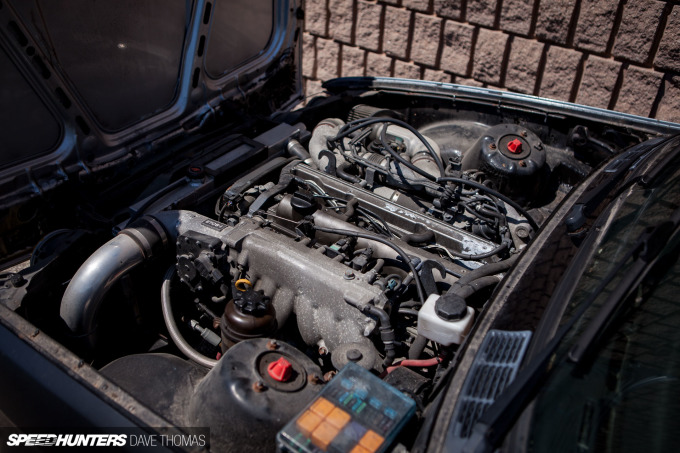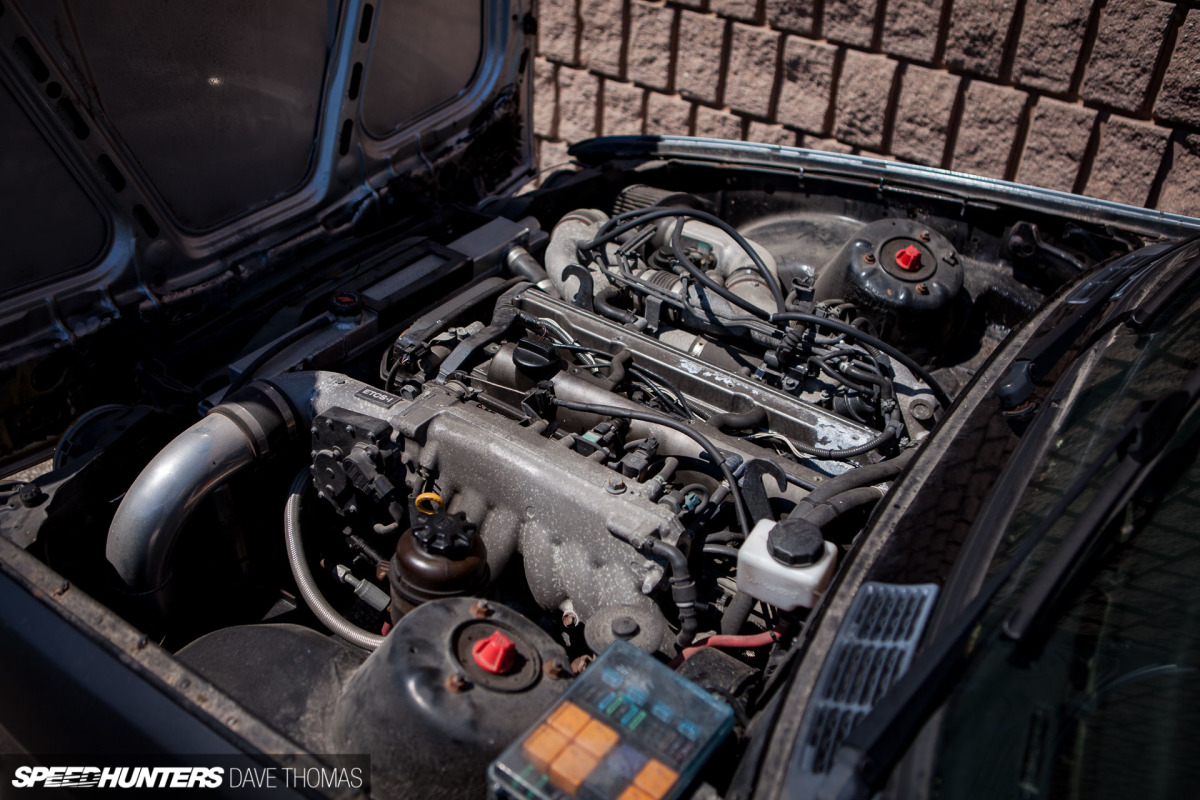 But under the hood a Toyota 2JZ has been shoehorned between the Bavarian strut towers. After a hard life post-swap, the car was brought back to Cyrious for an eventual return to glory.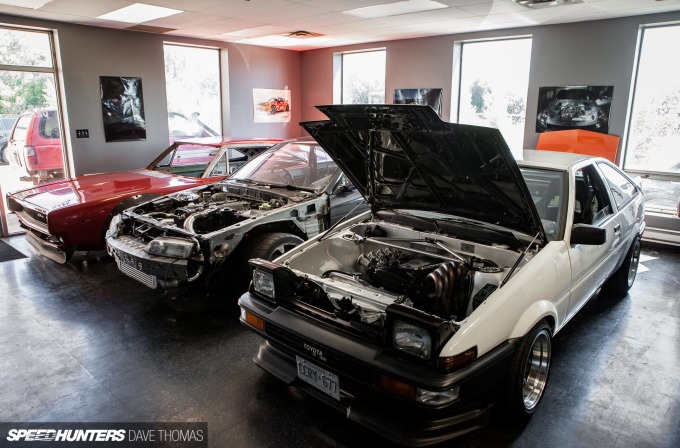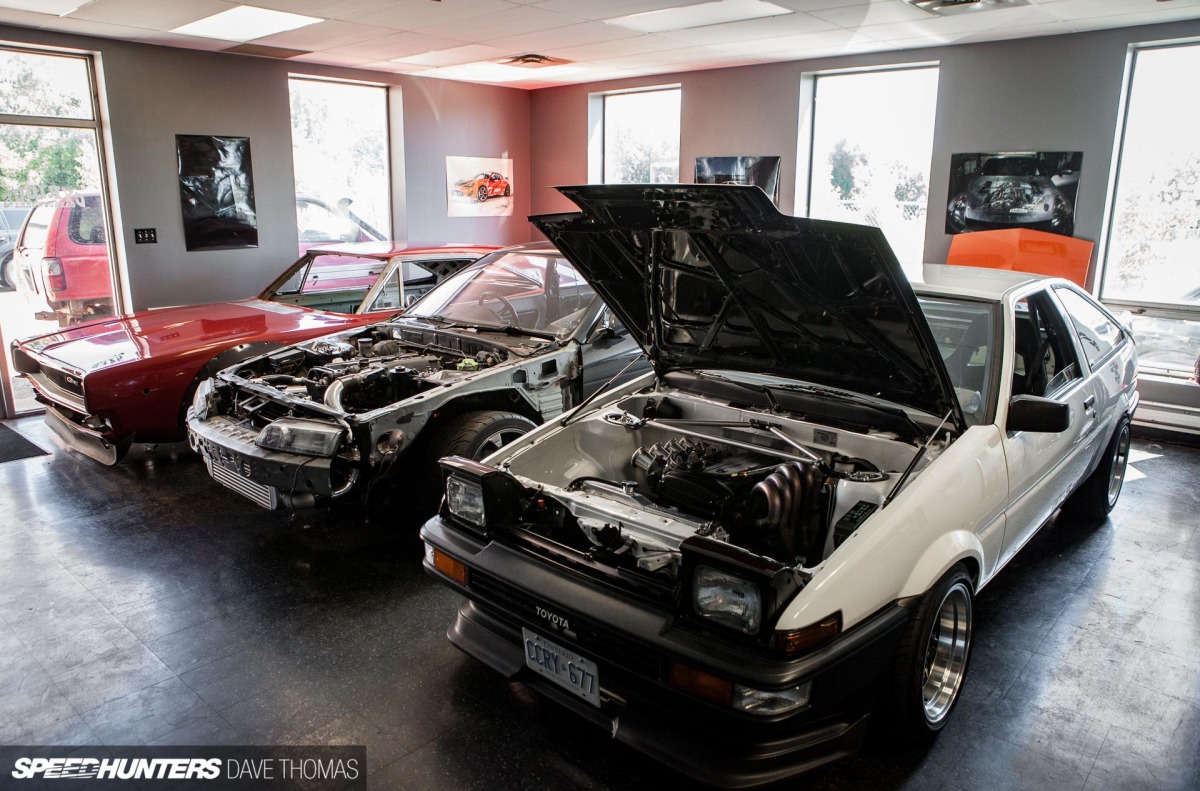 Leaving the E30 behind and walking through the shop's front door, one is greeted by a unique Dodge Charger, a mid-build 2JZ-swapped Skyline, and Pat's own absolutely immaculate, street registered AE86.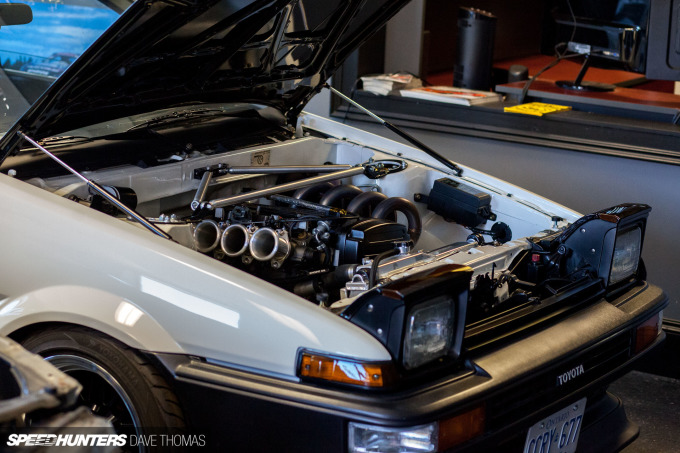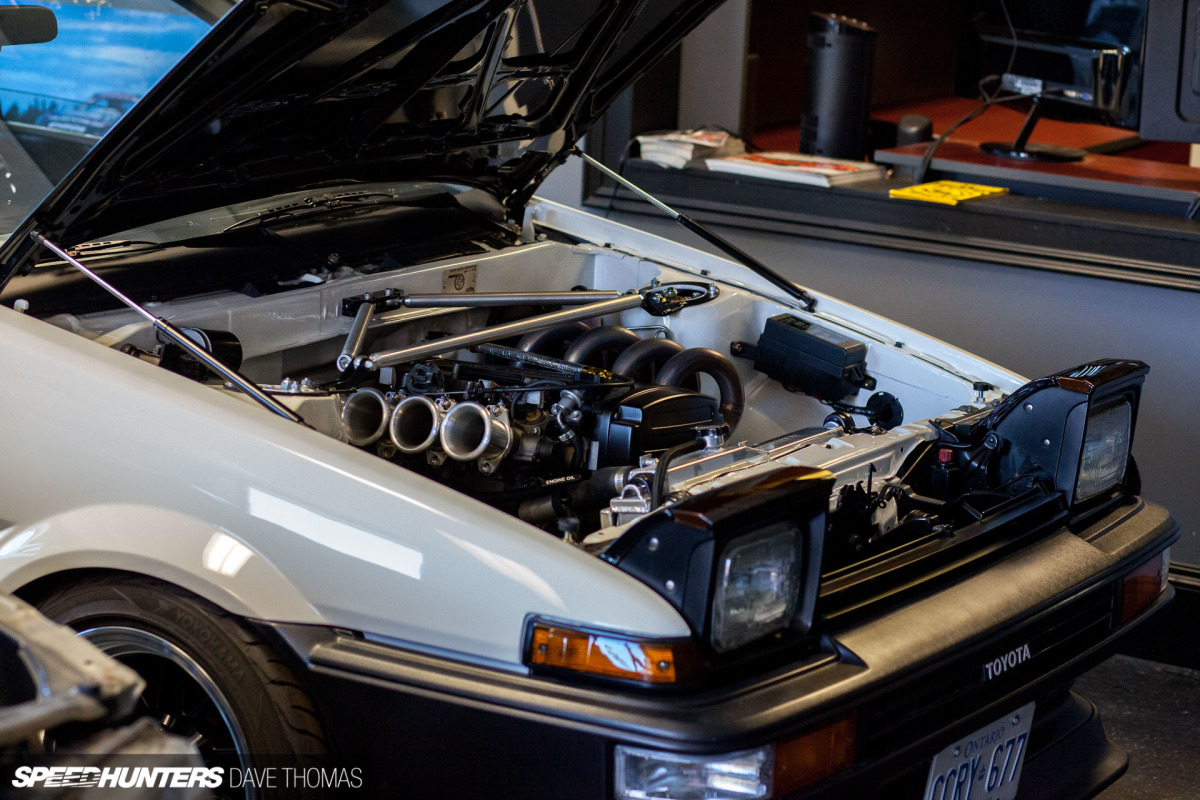 As the most complete vehicle in the showroom, the Corolla is an example of the bar Cyrious has set for themselves in terms of quality and attention to detail. Rebuilt in collaboration with Toyota Canada, the 'Project 86′ has been completely gone over, top to bottom.
My favorite part of the car is the engine bay. The in-house built header looks amazing opposite the individual throttle body setup.
Detail Oriented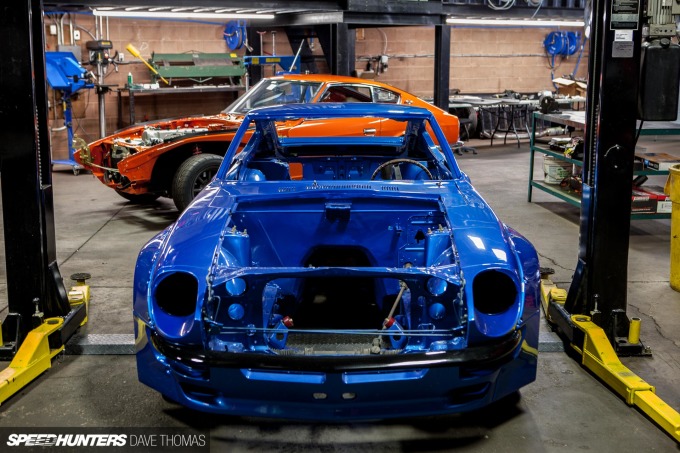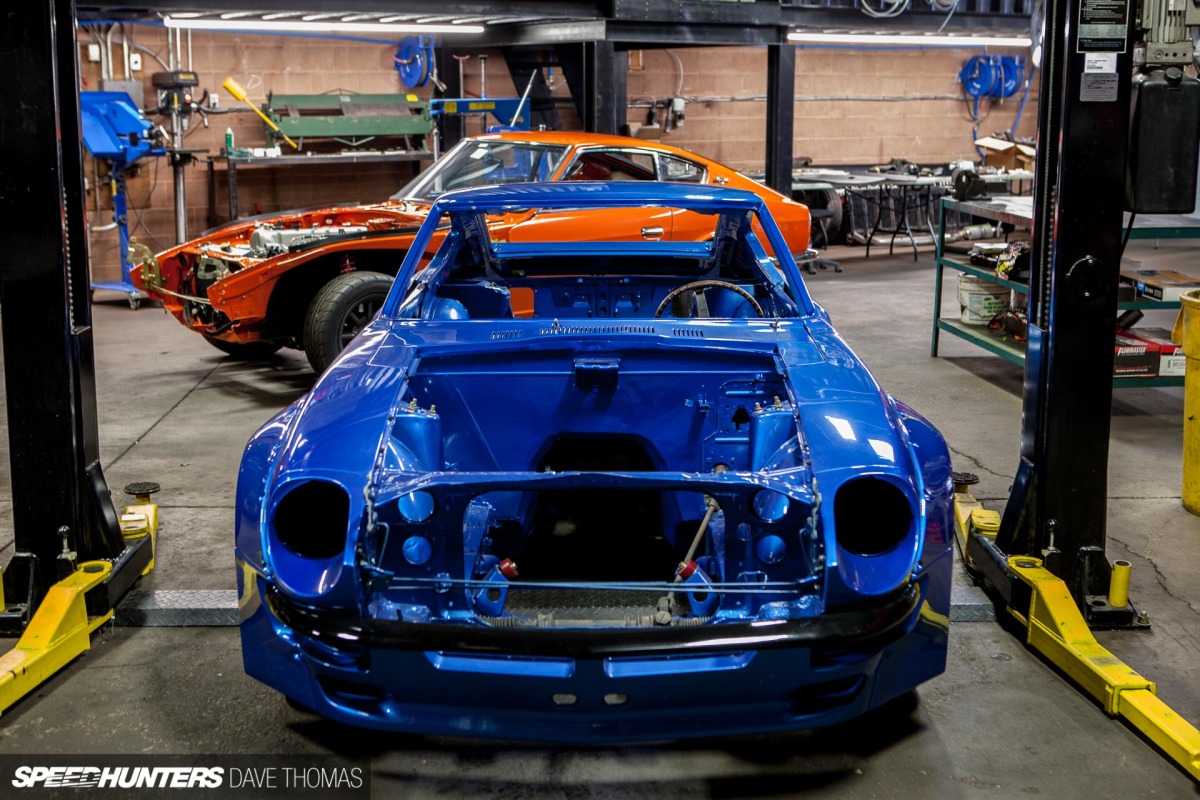 Always future focused, Pat's ultimate vision for Cyrious Garageworks is a facility capable of doing nearly everything in house. Pat's looking to expand into paint next, then follow that up with explorations into 3D printing and CAD design. The end goal is a shop that can build truly custom cars assembled from parts that can't just be purchased.
Of course, he's not exactly sitting on hands while the future arrives. Currently the shop is full of so much variety that selecting which projects to shoot was quite a challenge.
However, to capture the true scope of the builds Cyrious takes on, starting with the vehicle on the spit seemed most appropriate.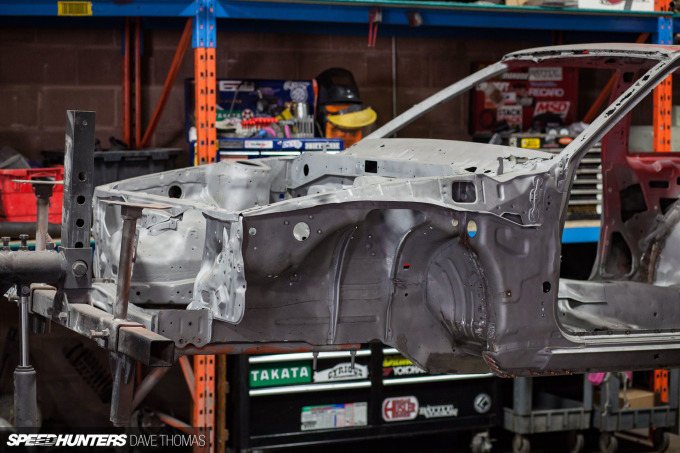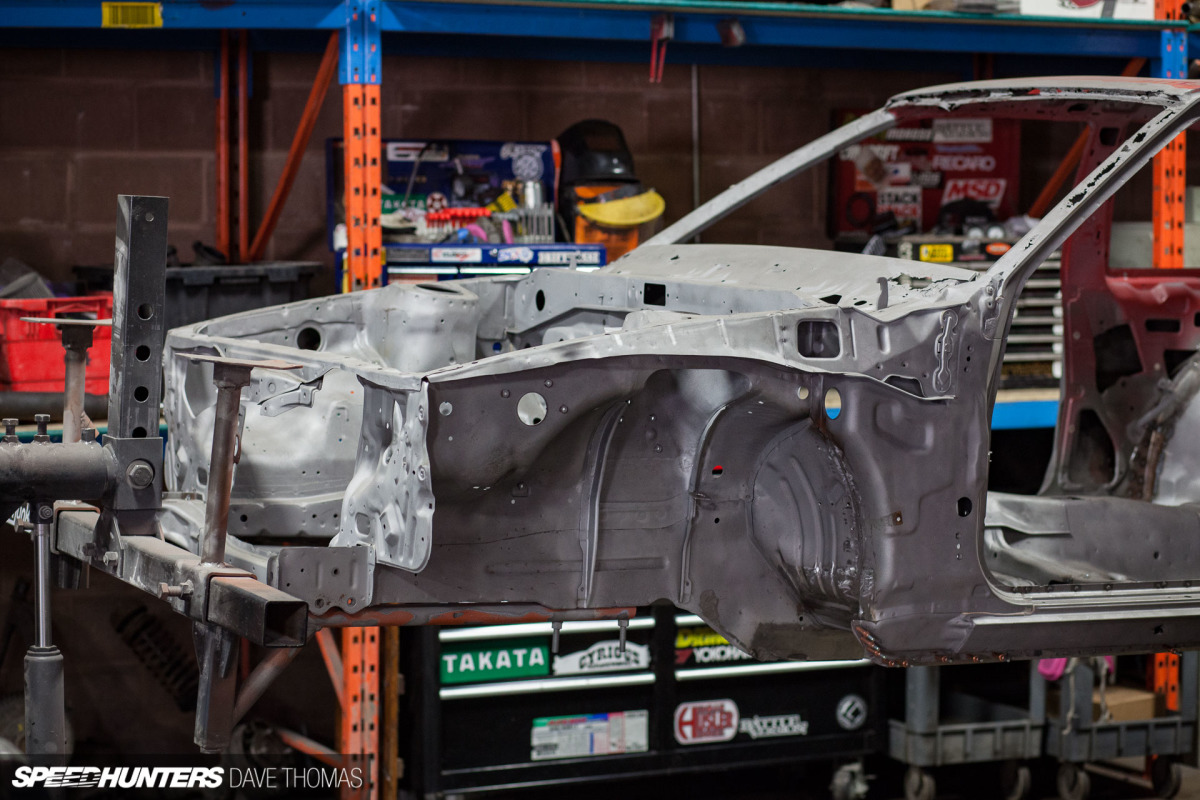 This poor AE86 is a Canadian car through and through, and the extensive rust damage is proof of that. With very few patch panels available for AE86 chassis, Pat estimates 500 hours or so will be sunk into rust repair alone.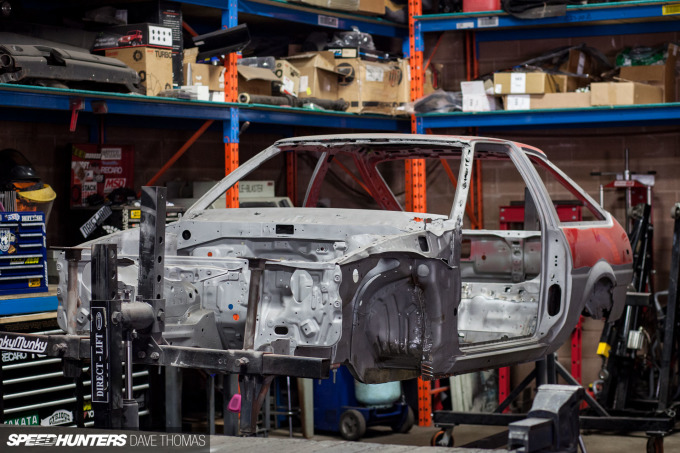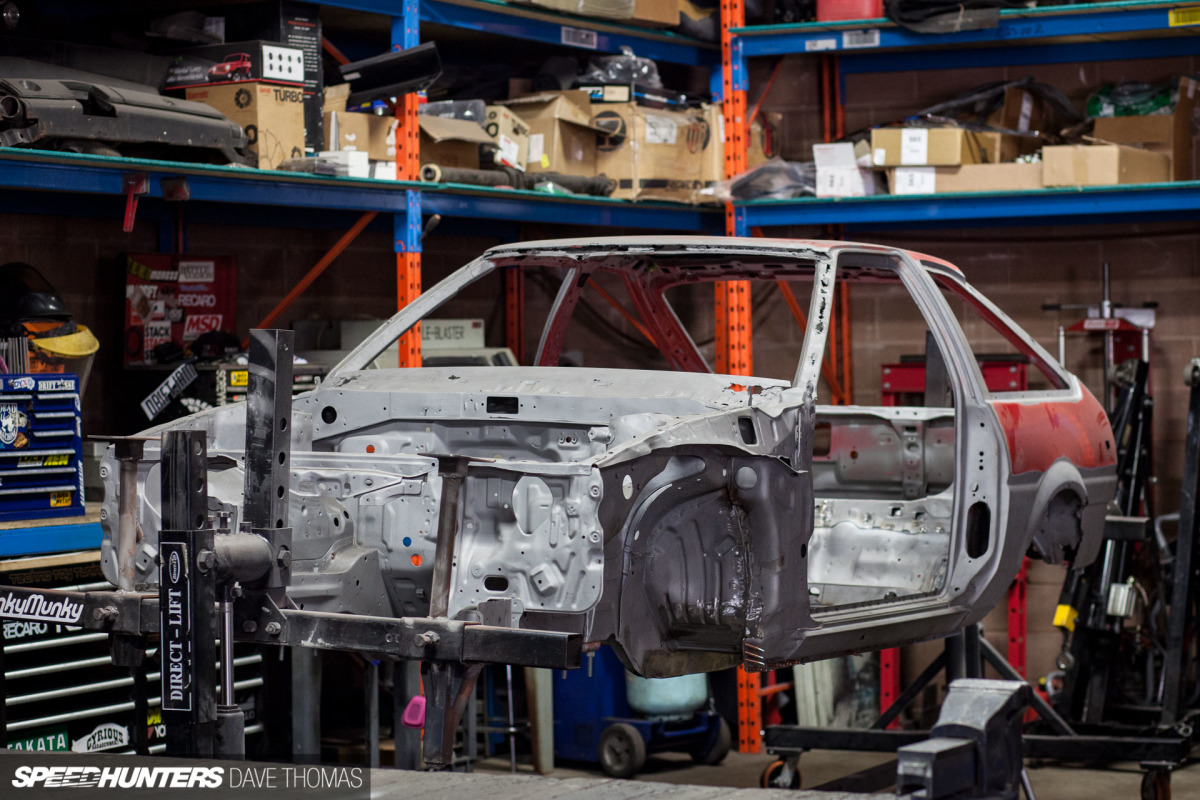 In most cases Pat would recommend a new shell, but this is a one-owner car that's been passed down from generation to generation. Sentimental value is really quite immeasurable, so weld by weld this car will one day become solid once more.
Just beside the Corolla is the Targa Truck, a 1971 Chevrolet C10 that will be more than feature-worthy when complete.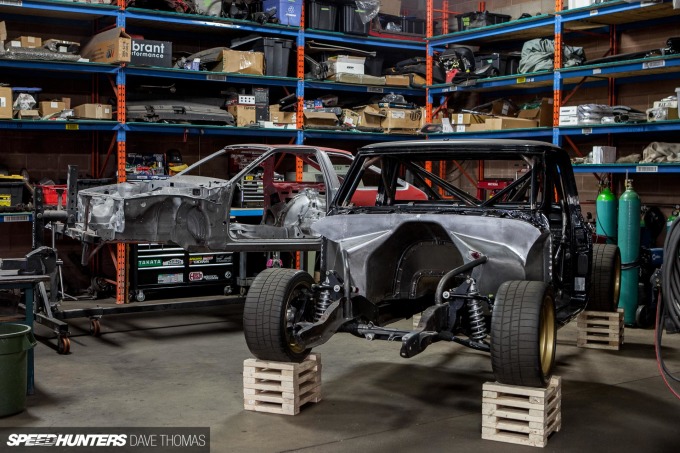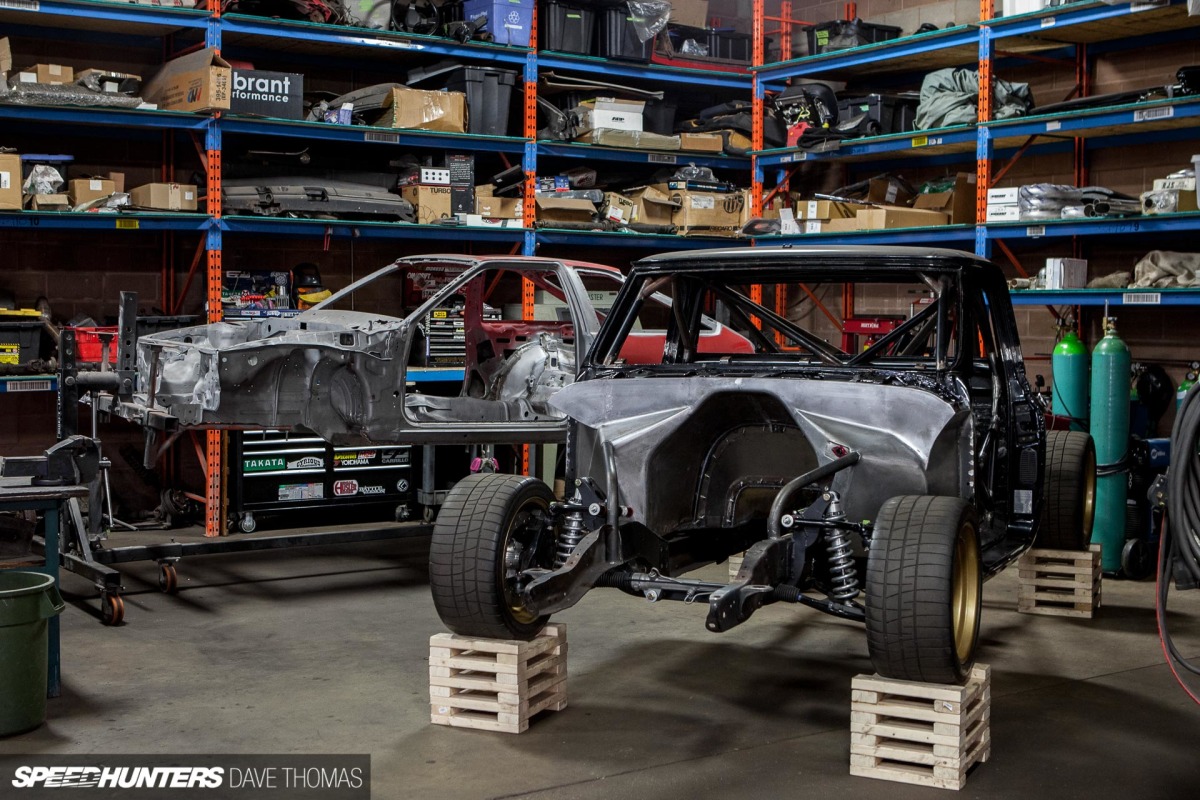 The long-bed Chevy was the first truck to complete the Targa Newfoundland, and it did so as much less of a race vehicle than it is today. Cyrious didn't start this build, but they are the ones who will see this iteration through to the finish line.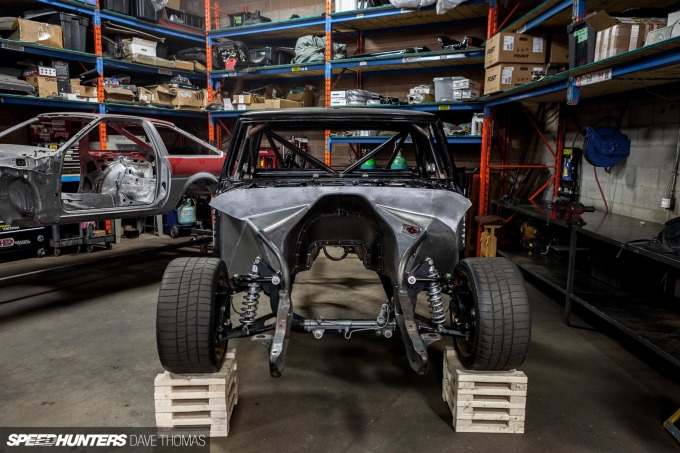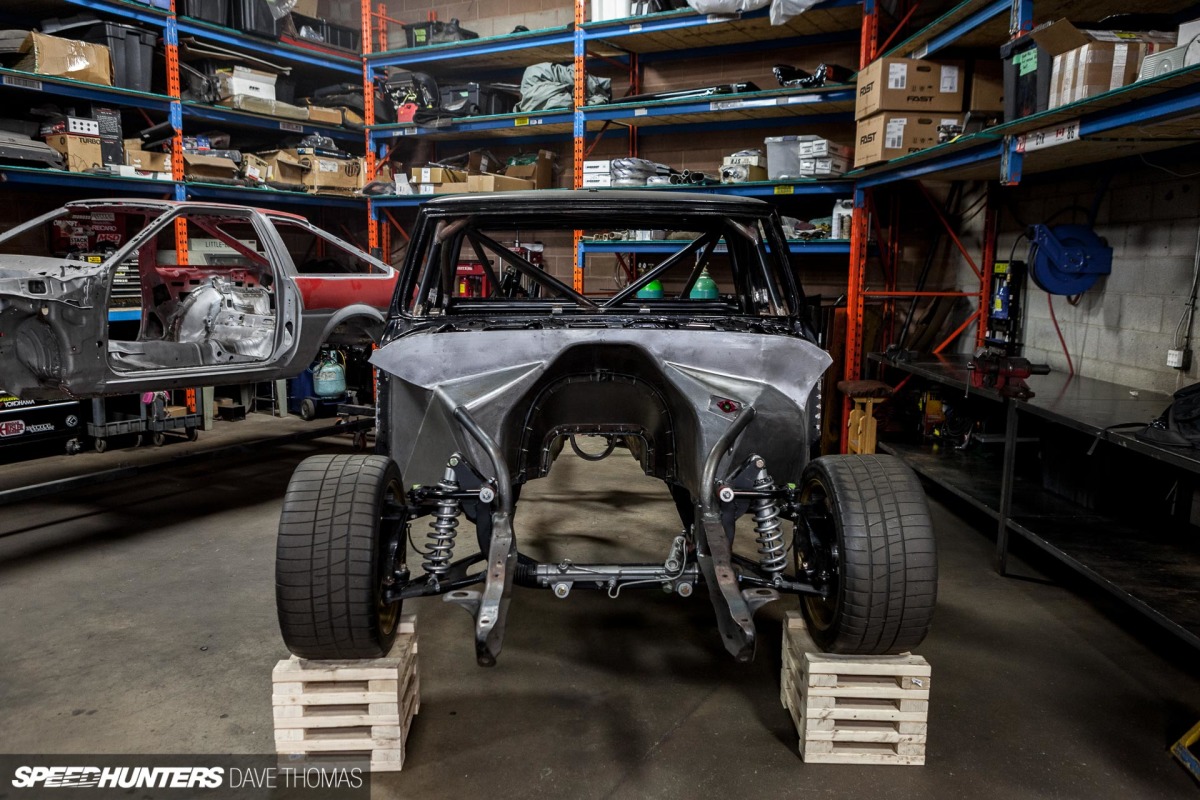 For better weight distribution the 427ci V8 LS motor sits entirely behind the front axle. Pushing the engine this far back meant the factory firewall and transmission tunnel had to go.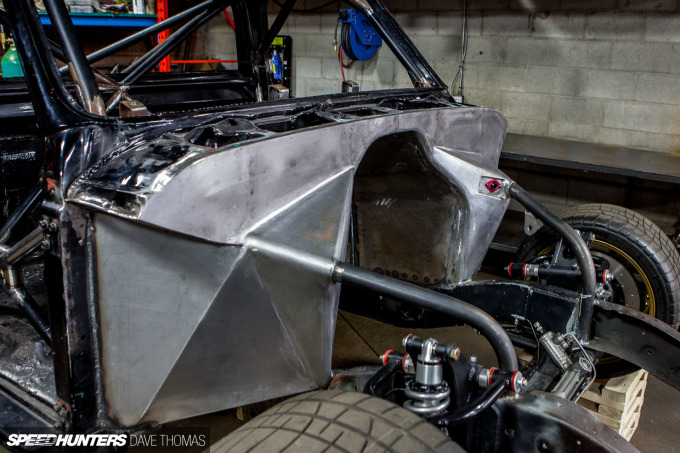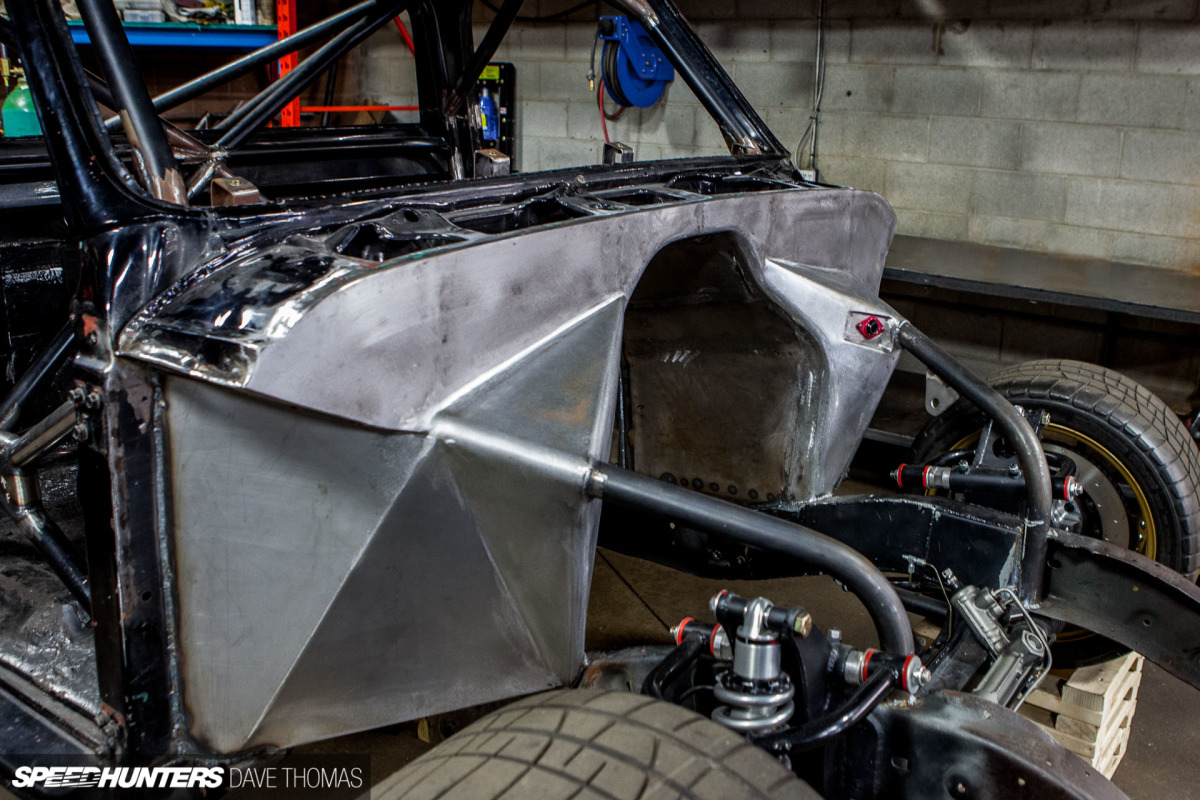 After cutting everything away, Cyrious has constructed a new firewall and tunnel that's as beautiful as it is functional.
Then there are the two Z cars. The blue Rocket Bunny-equipped example has recently returned from paint and Cyrious will be building it back up alongside the orange car behind it.
In comparison to the blue Datsun, the orange 240Z is being treated more like a restoration project than a modified one. An early car (chassis #000198), the owner of this build requested no expense be spared in bringing this car back to an updated factory new condition. Using his 100-point restoration background, Pat and team have replaced every panel on this car exactly the way Nissan would have.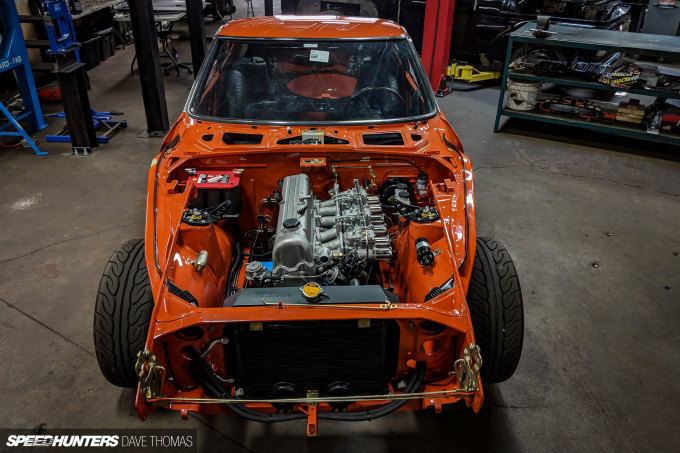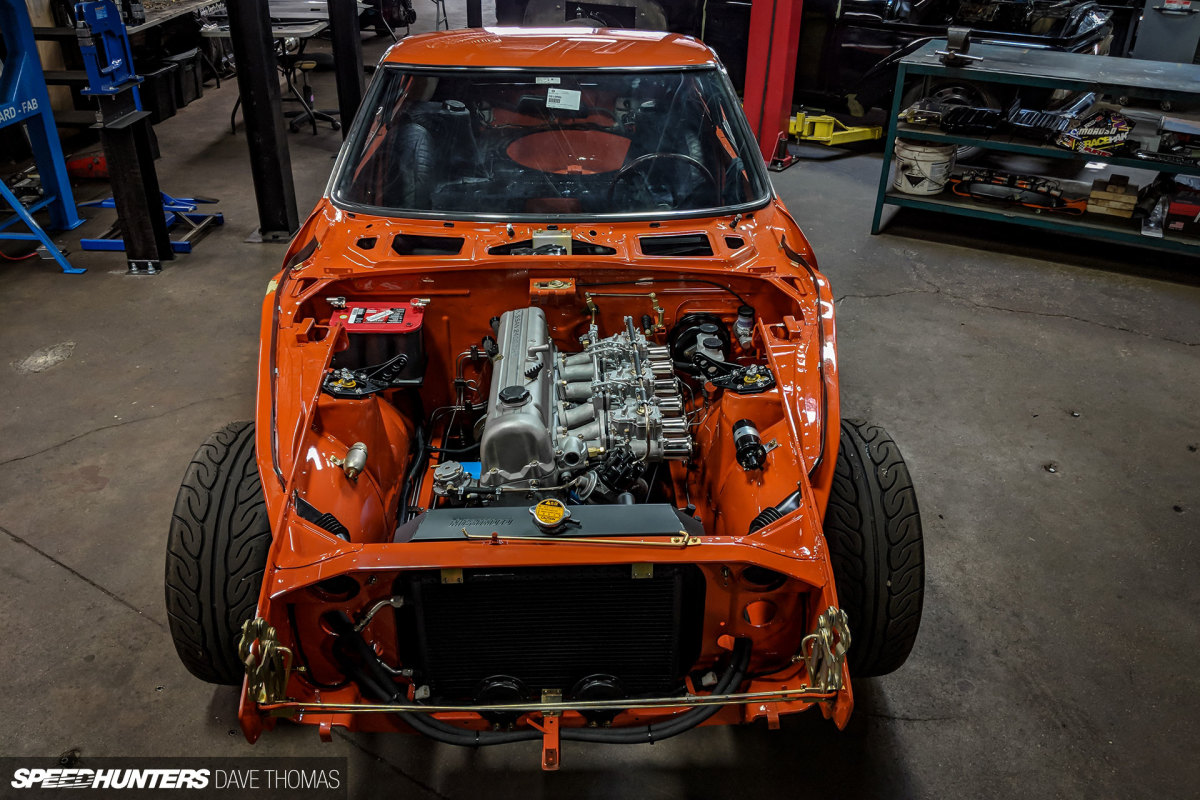 Like the showroom AE86, my favorite area of this car is also the engine bay. It's shaved, but not to the extreme degree where the motor looks like it's sitting within an orange bathtub.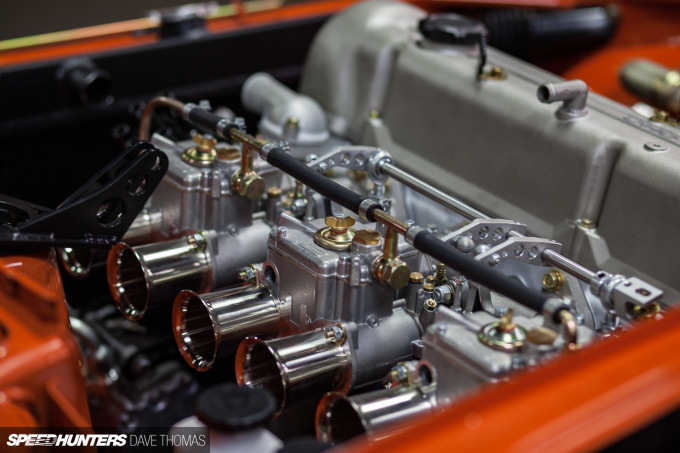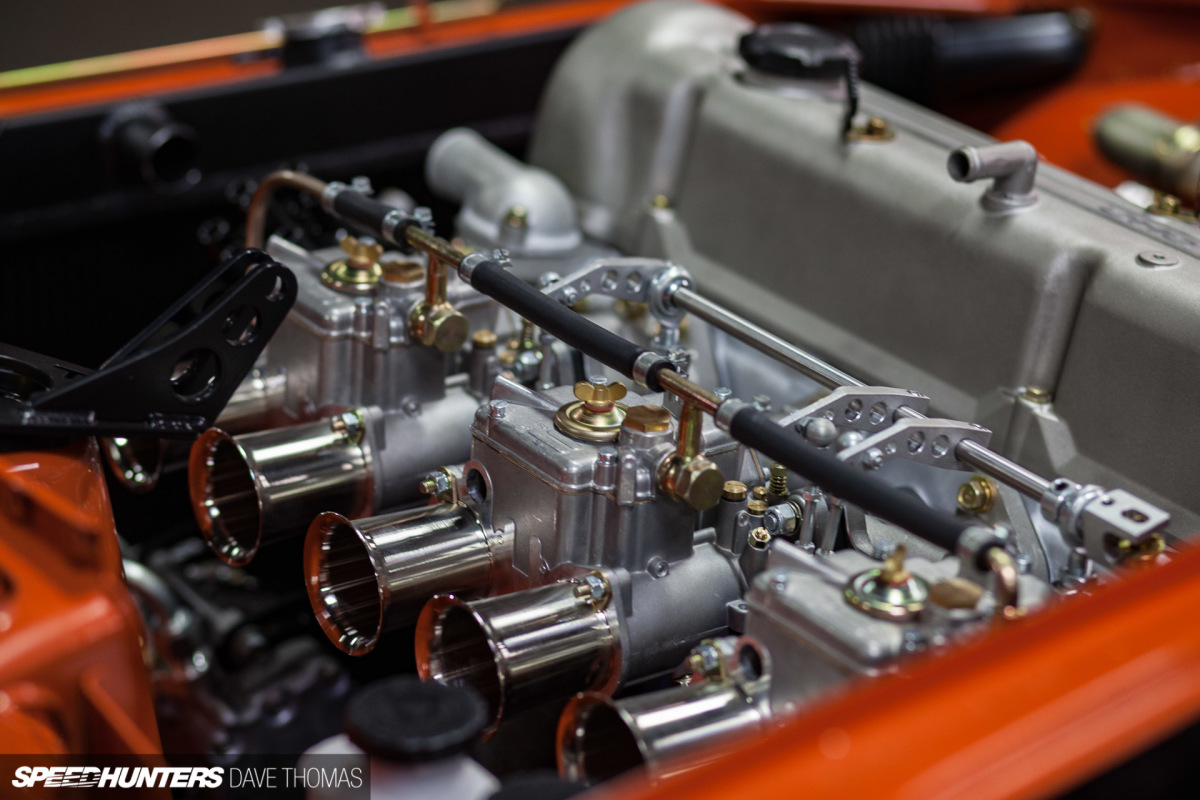 Couple that with the fact that there's not a single reused bracket or bolt on the motor and you've got the makings of a seriously breathtaking 240Z.
The goal is to debut the car at Z fest a few weeks away so the thrash to completion is officially on.
But What About That Charger?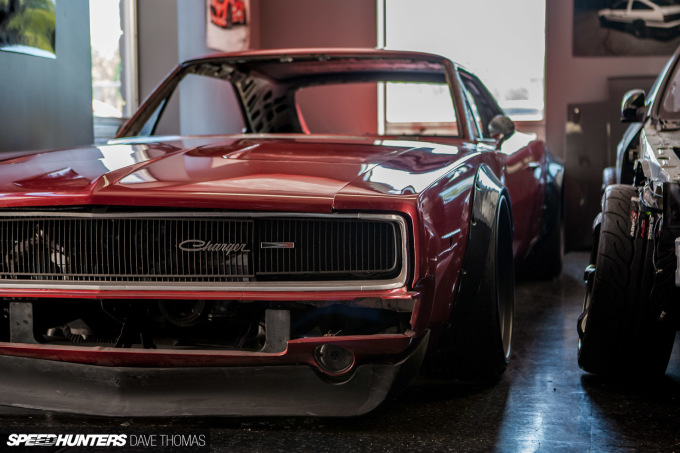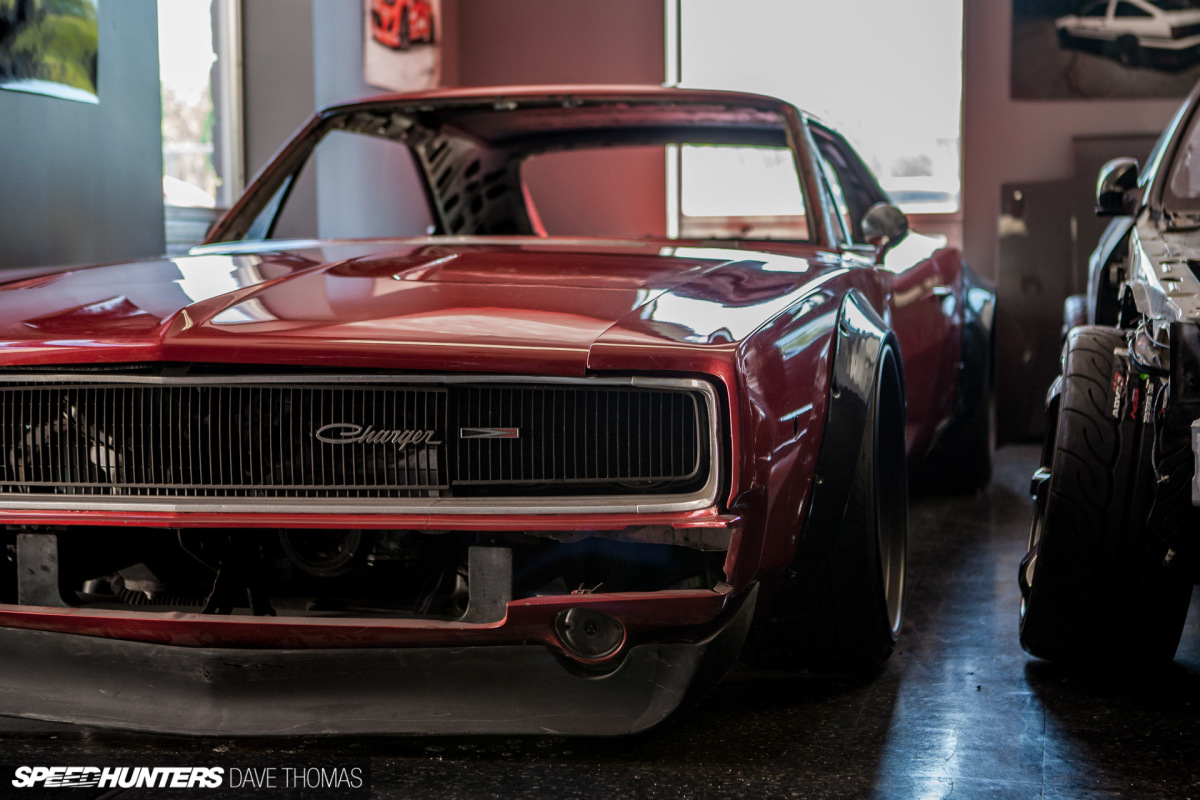 One of the most polarizing builds in the shop is the slammed Dodge Charger sitting in the showroom. It's a long-term Cyrious Project owned by the same person who commissioned World War Z, the second generation Camaro below.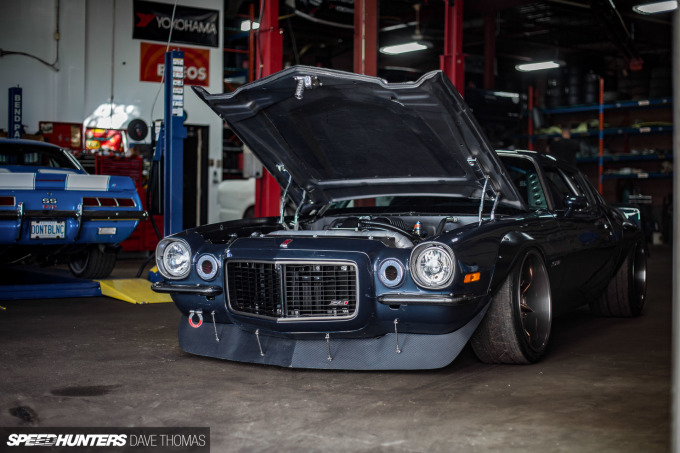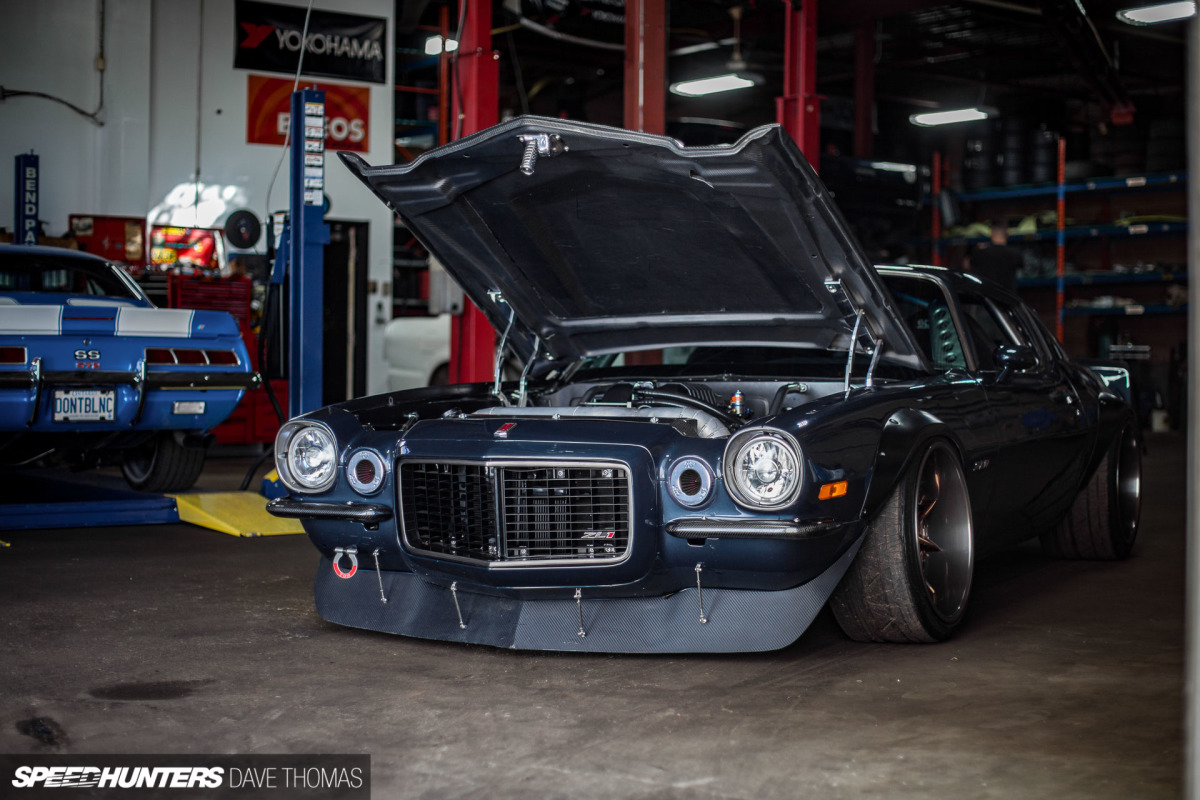 The Charger is going to pick right up where the Camaro left off, no easy task considering World War Z is a former magazine cover car and SEMA showpiece.
It's a rough sketch currently, with the flares pictured not being the ones that will make the final product.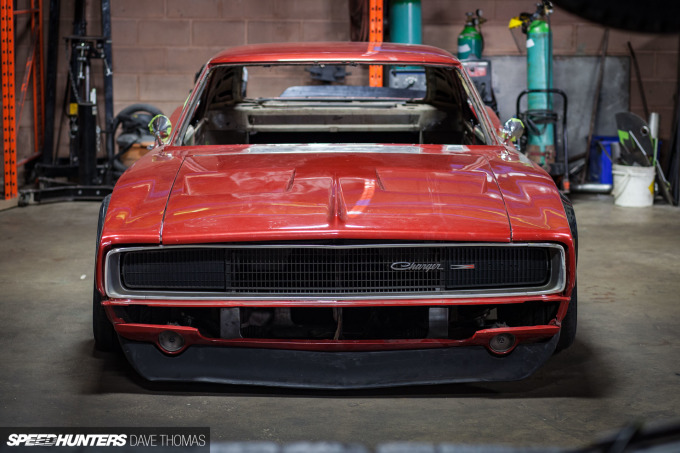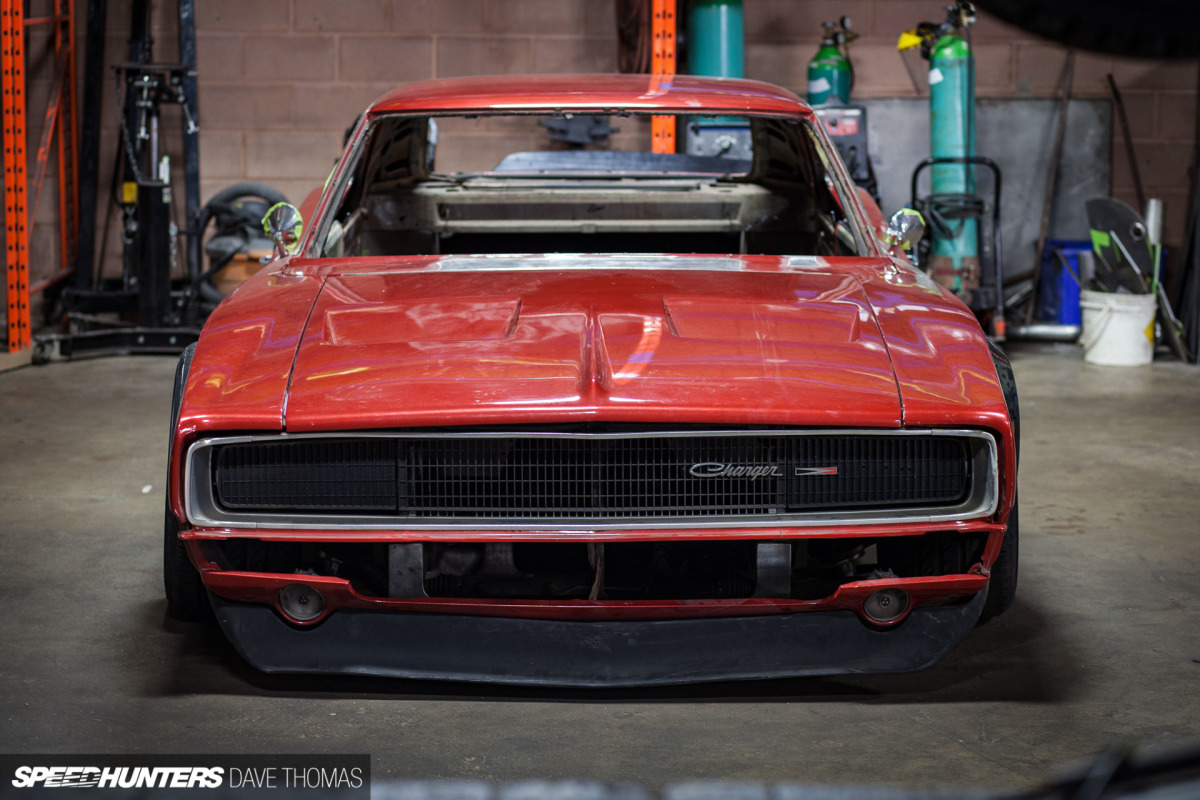 To get this car as low as it is, Cyrious fabricated a chassis around a Crown Victoria front end (cool fact: these are bolt on, aluminum, and dirt cheap), and an in-house-built four-link out back.
In addition to that, the floor and firewall have been replaced for maximum low.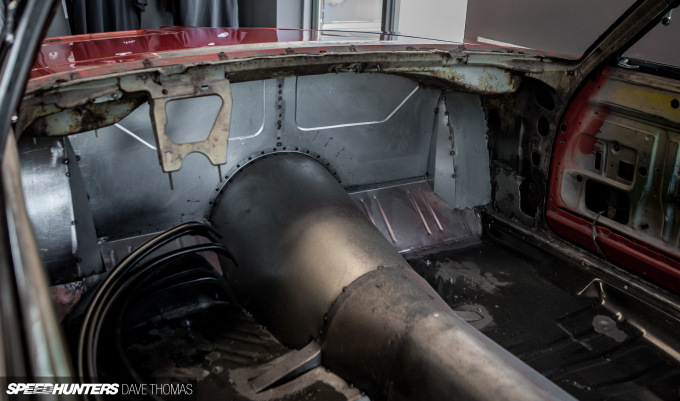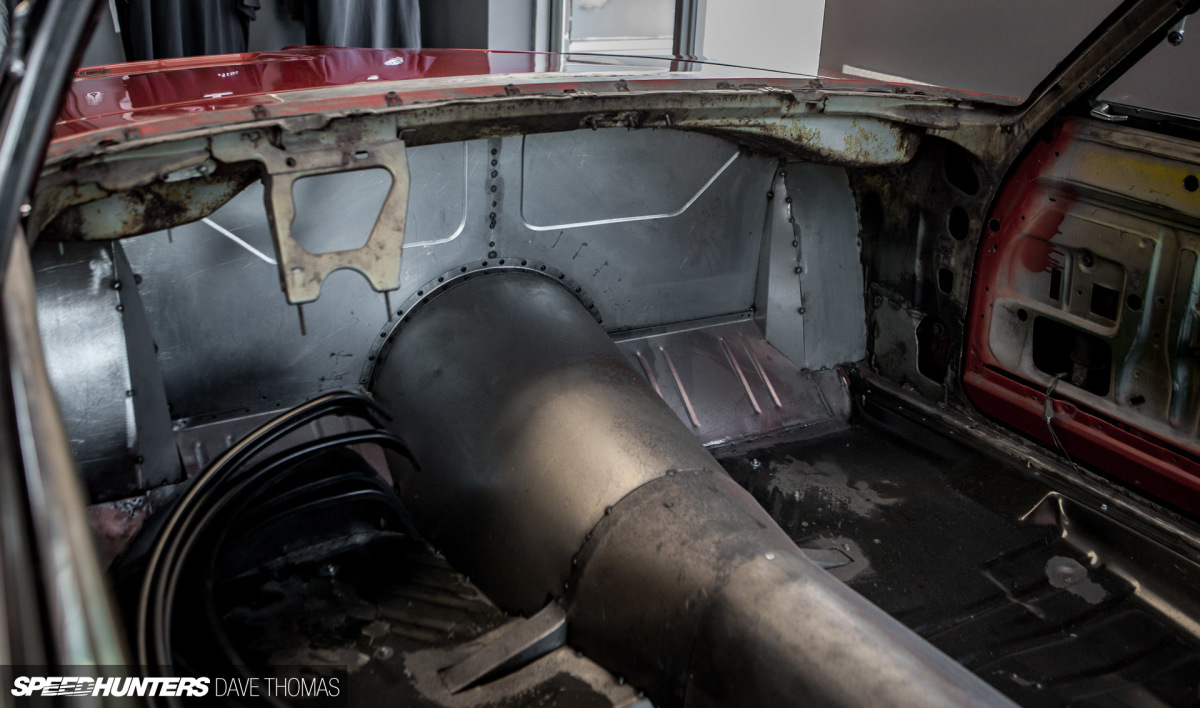 Like nearly every car in this post, plenty of rust repair was also necessary. Pat estimates there's at least a year's with of work left in the car before it's complete, but gave no indication of when that might be.
It's one of those projects that will be finished when it's finished.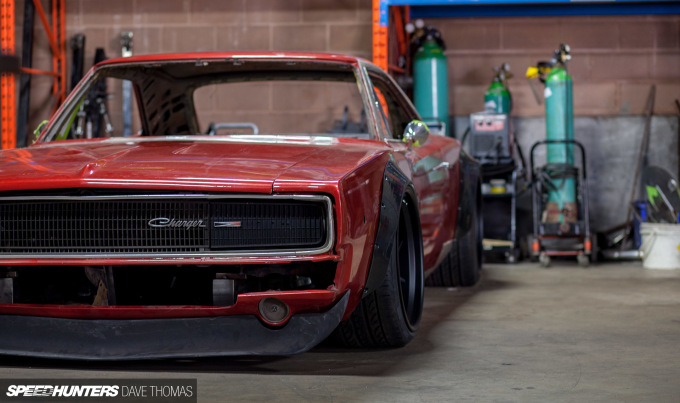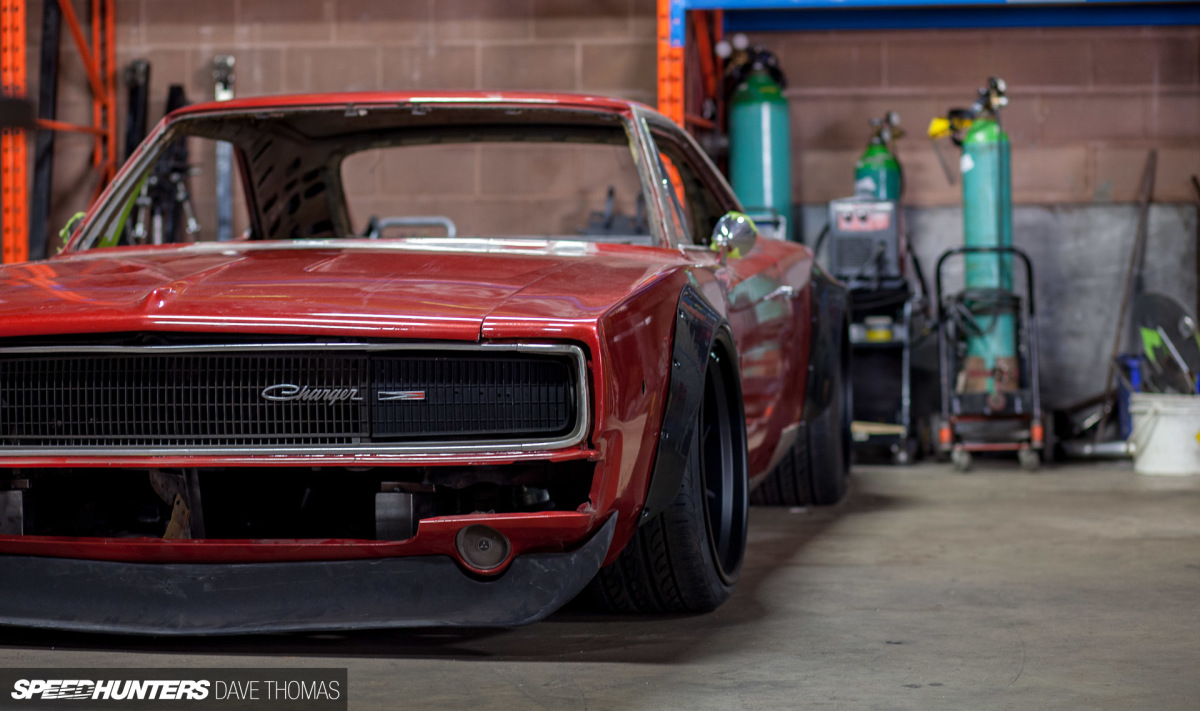 Capturing all of the projects Cyrious has in one post is a tough ask, so if you'd like to keep up with what Pat, Dan, Brad, Jeff, Frankie and Pat Duda are up to on a day to day basis follow Cyrious Garageworks on Instagram.
Before I go though, I have to ask: Of all the projects shown today, which would you like to see featured first?
Dave Thomas
Instagram: stanceiseverythingcom
Cutting Room Floor