Window Shopping
I can finally add a third item to my list of unexpected things that come from Iceland: volcanic ash clouds, a half decent national football team and Fannar Thor's 900hp turbo V8-powered Porsche 944 drift car.
It was one of the first machines that caught my eye when I arrived at Gatebil. Here I was, fresh off the plane in Norway, standing in front of a widebody Porsche 944 sporting a huge wing, with two screamer pipes and an LS intake sticking out of the bonnet. In many ways, Fannar Thor's 944 'F2' set the scene for what I could expect from Rudskogen's liveliest festival.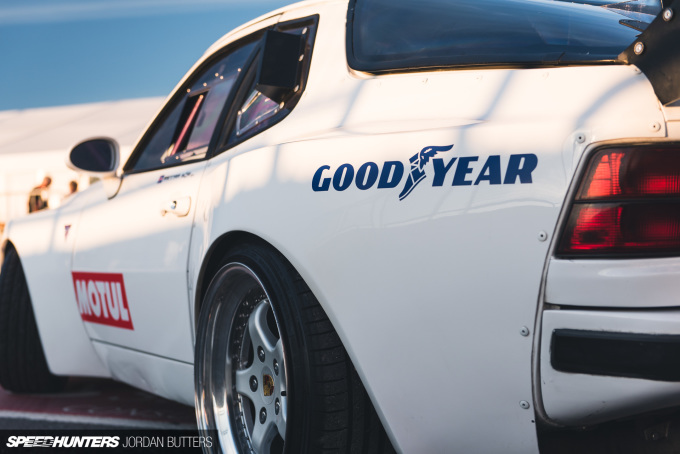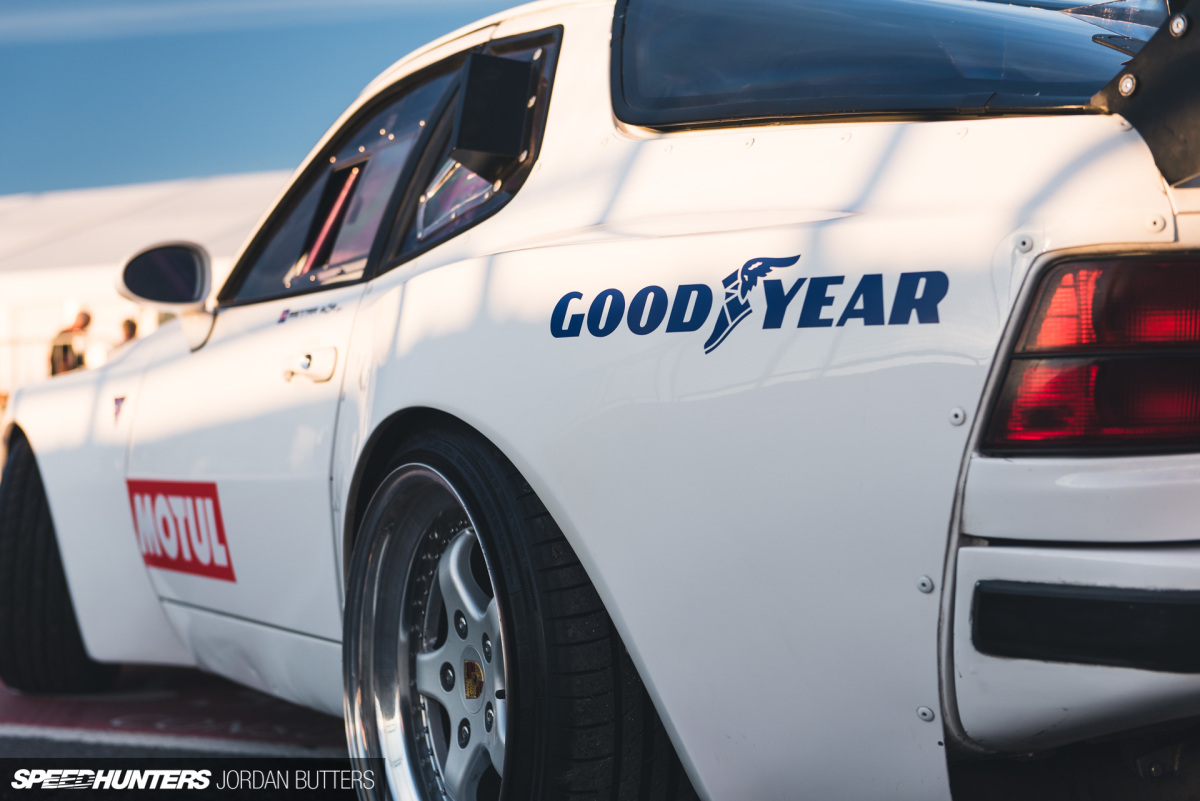 Fannar has owned his Porsche 944 for around 16 years. In fact, it was his very first car, and he spotted it one day when taking the bus home from school, and instantly fell in love. Fortunately, the Porsche was up for sale at a local car dealer, and that very same day Fannar and his uncle retraced his route, found the dealer and bought the car there and then. "It was a little bit beat up," Fannar explains. "But my uncle has a background in motorsport – mostly rallying and rallycross, but always with Porsches."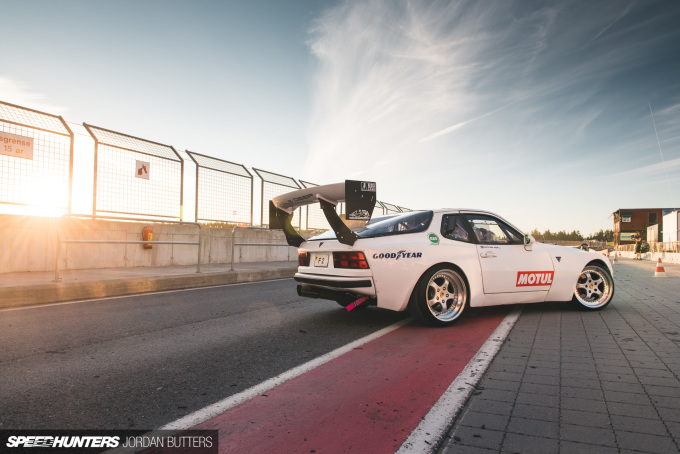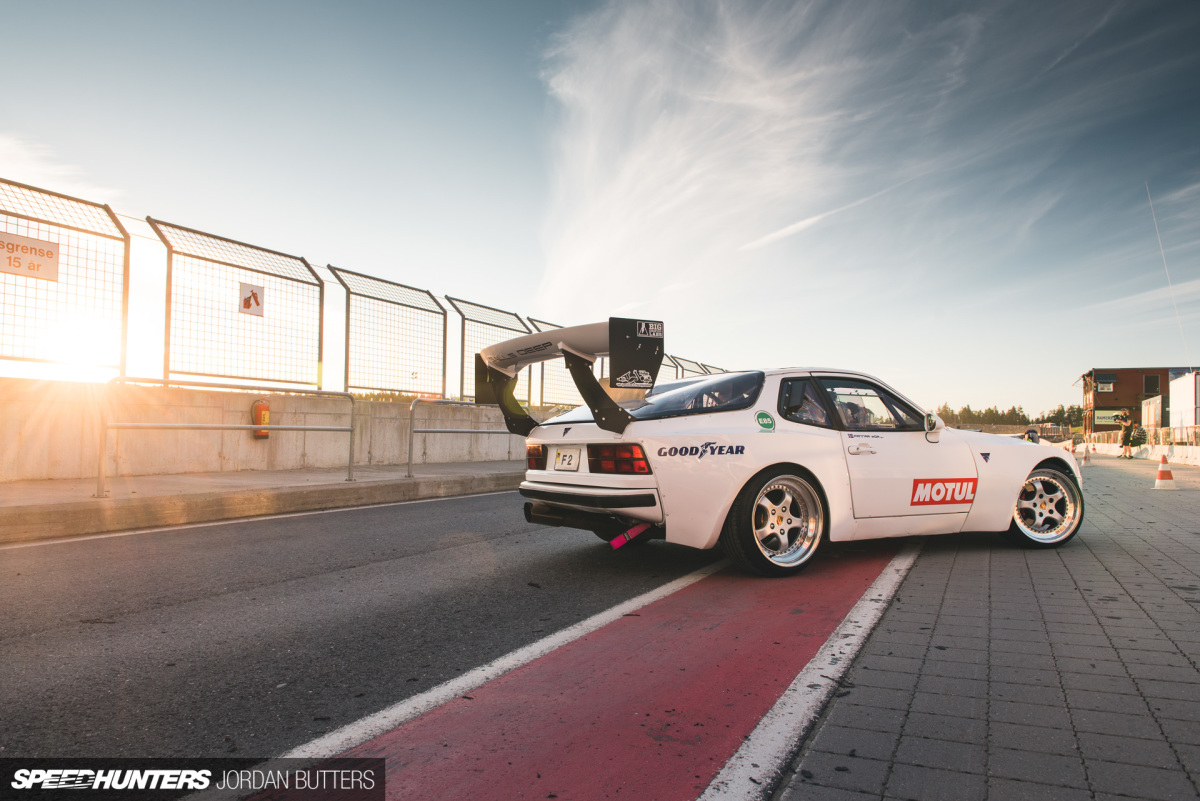 The car was a 1986 US-specification naturally aspirated variant with around 150hp to its name, and that just wouldn't do. As with all NA 944 owners, Fannar's sights were immediately set on a turbocharged powerplant, so he purchased a rolled 944 Turbo from the US, imported it to Iceland, and started swapping parts over. Fannar had already been bitten by the drifting bug and, although 944s aren't your typical drift cars, a grand plan fell into place.
Still, he wasn't happy with the stock powerplant, so he scrimped and saved and spent every penny on having the 2.7-litre Porsche motor stroked to 2.8-litres. This was then mated to a rather large Turbonetics T60 series turbo and, running around 26psi through the motor, made a healthy 400hp. Well, healthy until it went pop.
The hunt was on for a better motor.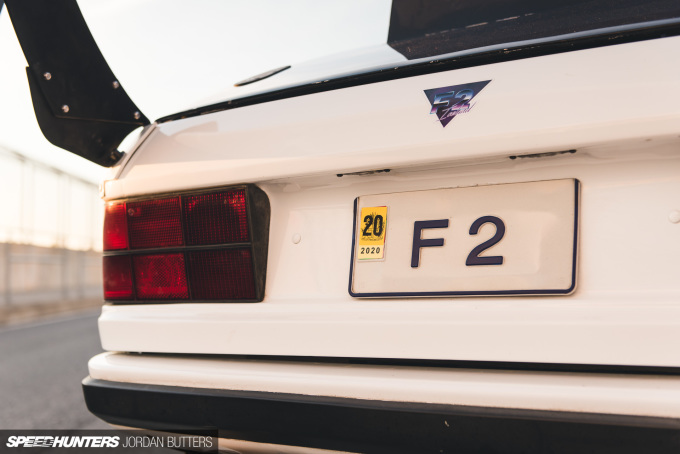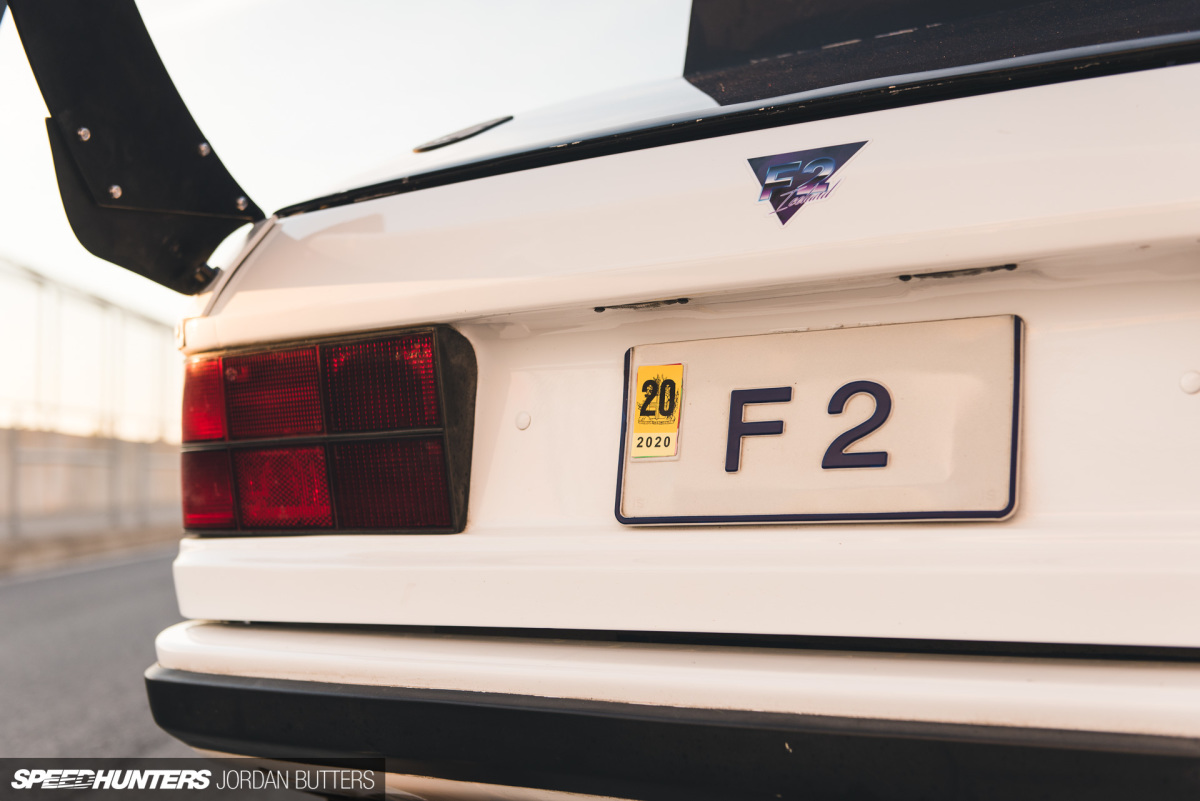 "I looked at the numbers of how much I'd spent [on the Porsche motor] against what I got from it, I realised I'd be better off with a 2JZ or LS swap," Fannar tells me. So he went along to measure up a 2JZ block – after all it is the official engine swap of drifting. His calculations summarised that the engine was too long for the 944's stumpy bay, and making it fit would involve moving a lot of stuff that should be up front, into the back. Instead, he opted for the convenience of an LS swap: "I was just going for 400 steady, trouble-free horsepower," he recalls, naively.
The Slippery Slope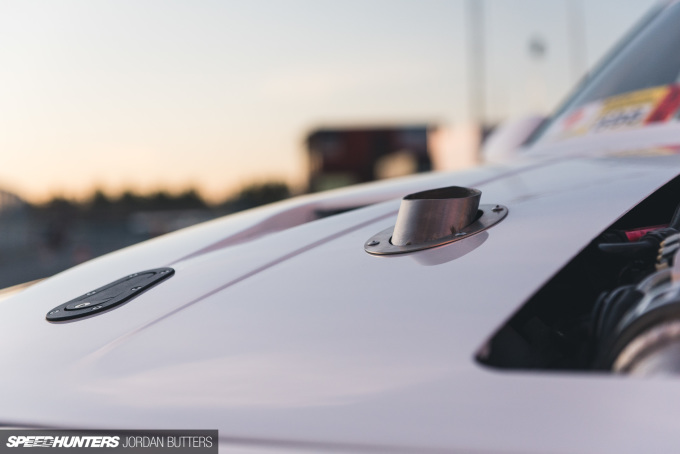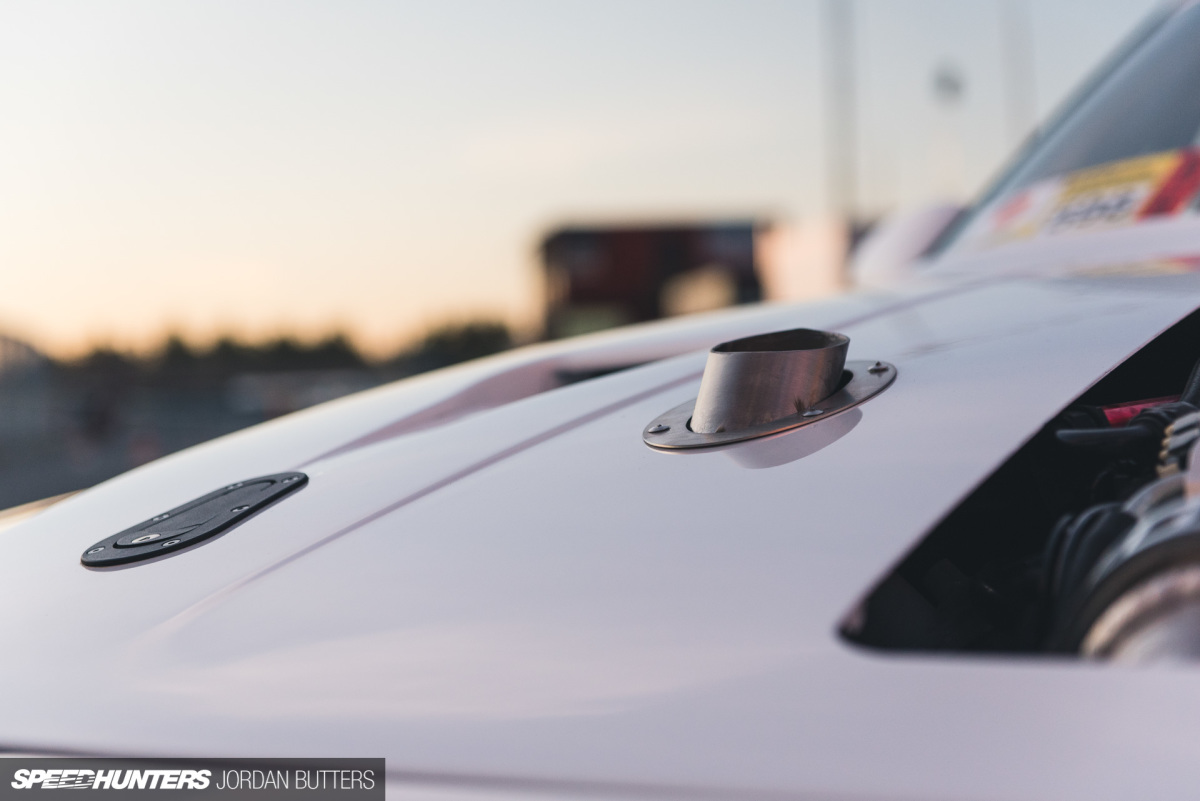 The urge to do something more unique and extreme soon took hold. One thing led to another and before long he was collecting parts for a full on turbo conversion.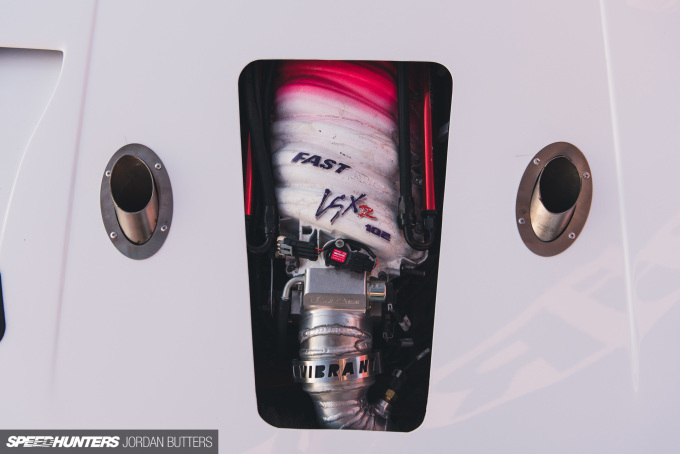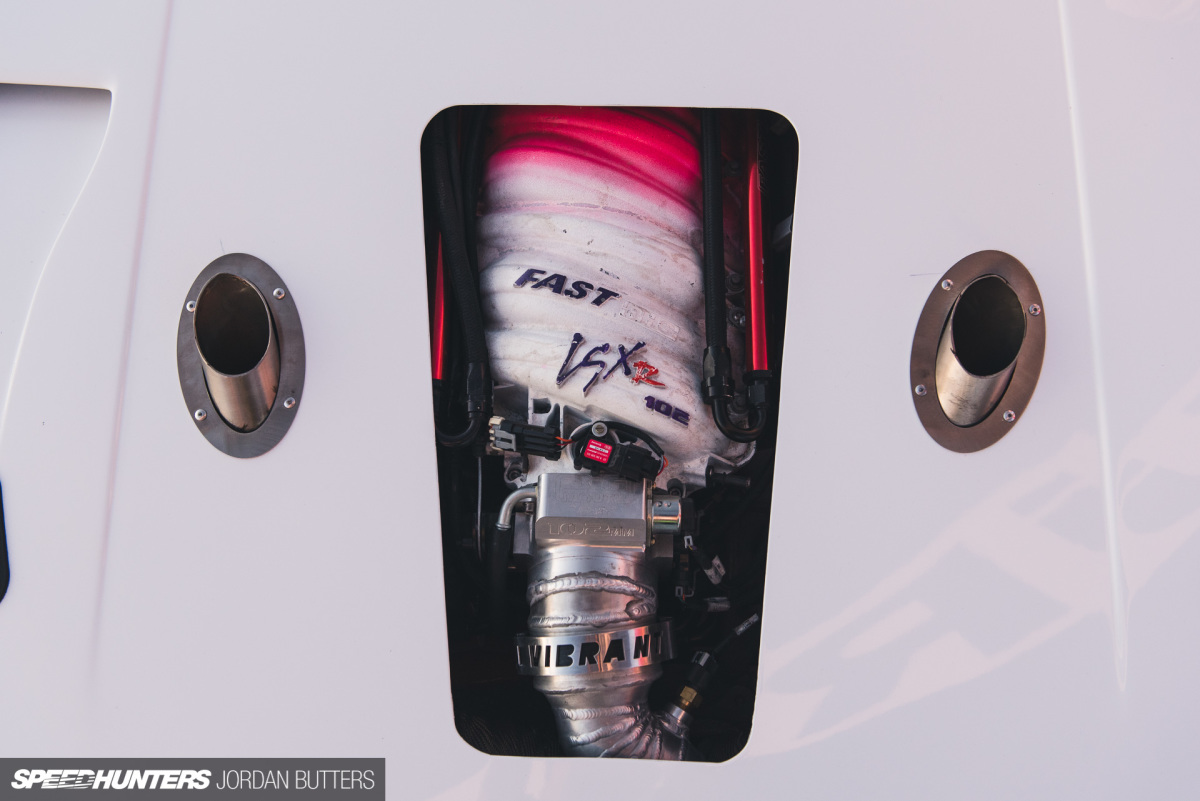 The bonnet cut out gives you more than a sneak preview of what's within, with two screamer pipes and the colourful LSXR Fast 102 inlet and throttle body poking through. Lift what's left of the bonnet and all Fannar and his family and friends' handiwork is there to see.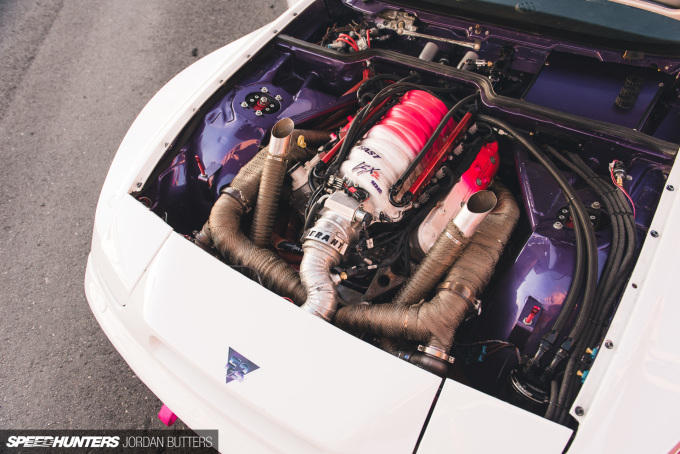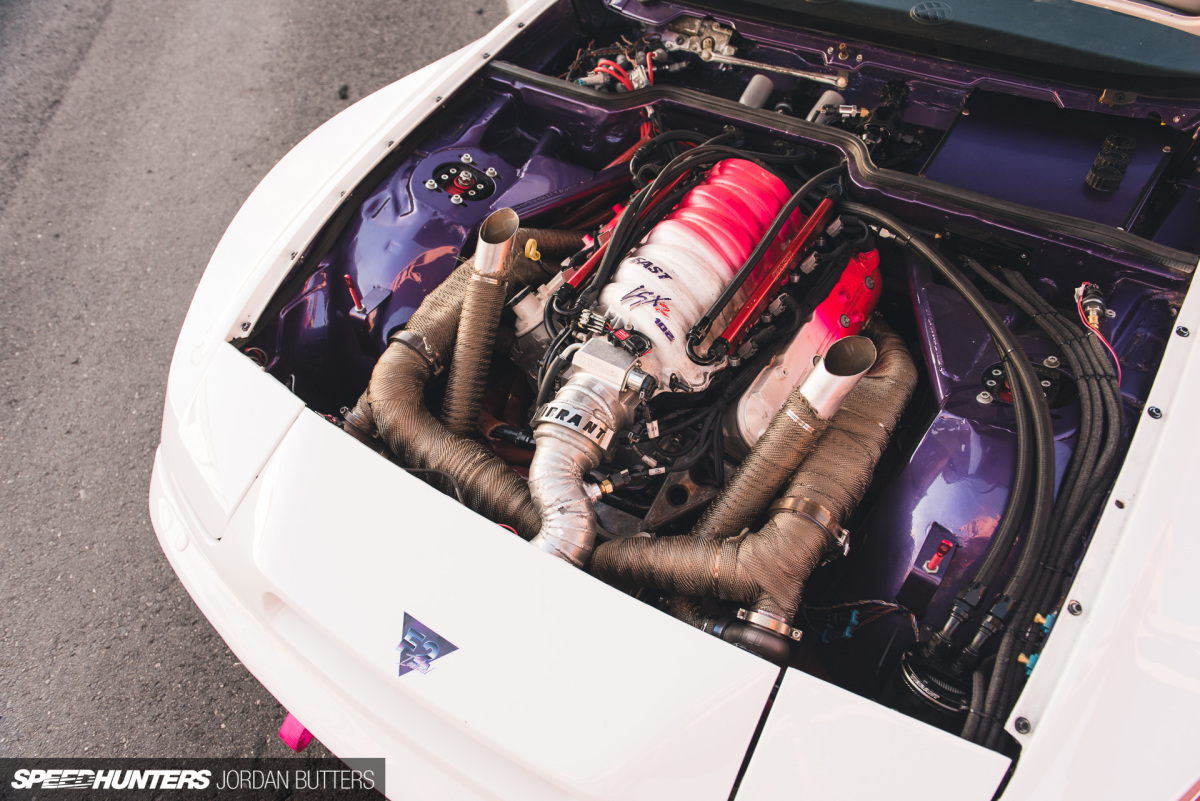 The 6.0-litre LS motor was rebuilt with Wiseco pistons, SCAT rods, Lil Johns Motorsports stage II turbo camshaft, LS9 gasket and fastened down with ARP bolts.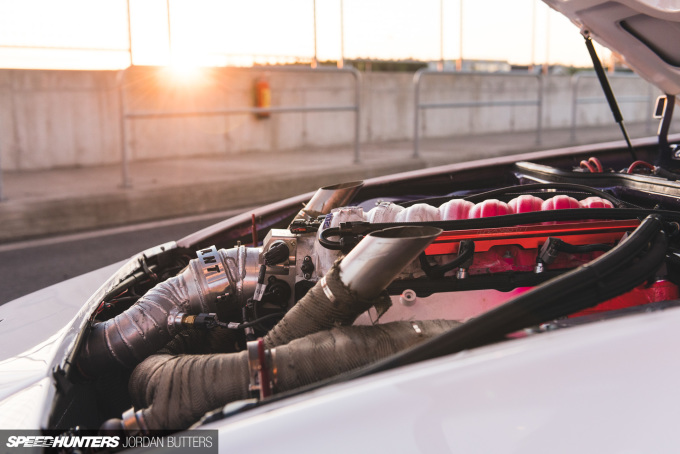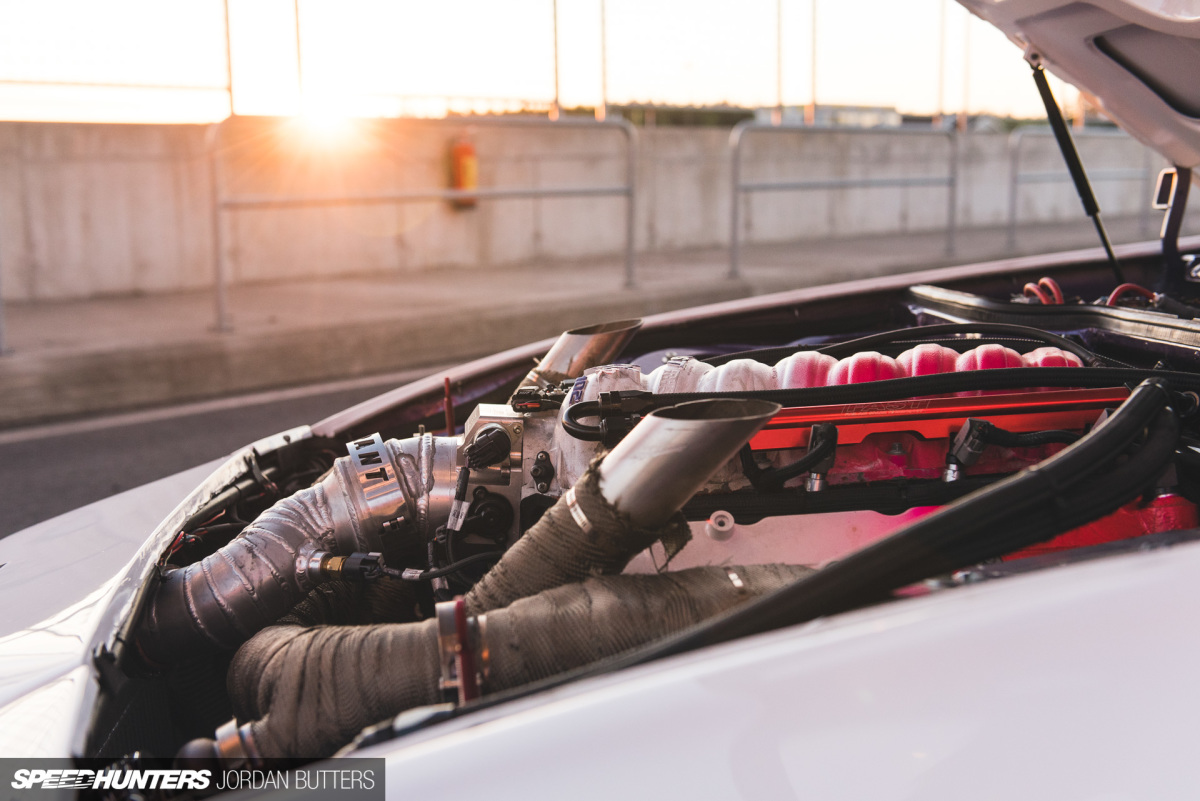 Boost is provided by a large single Borg Warner S475 Turbo with 87mm turbine and 1.10 A/R T6 housing and regulated by a pair of Tial 44mm Wastegates and 50mm blow-off valve. The required explosive dino juice (well, in Fannar's case it's more like 85% ethanol and 15% T-rex) is supplied in vast quantities via Bosch 2200cc injectors and a full Aeromotive fuelling system, while an Accusump keeps the moving metal bits lubricated. By this point you should be able to tell that Fannar has spared no expense in ensuring that this car produces its power reliably.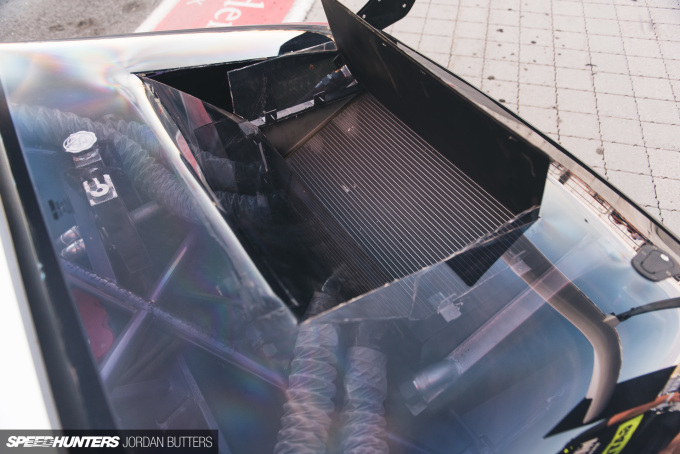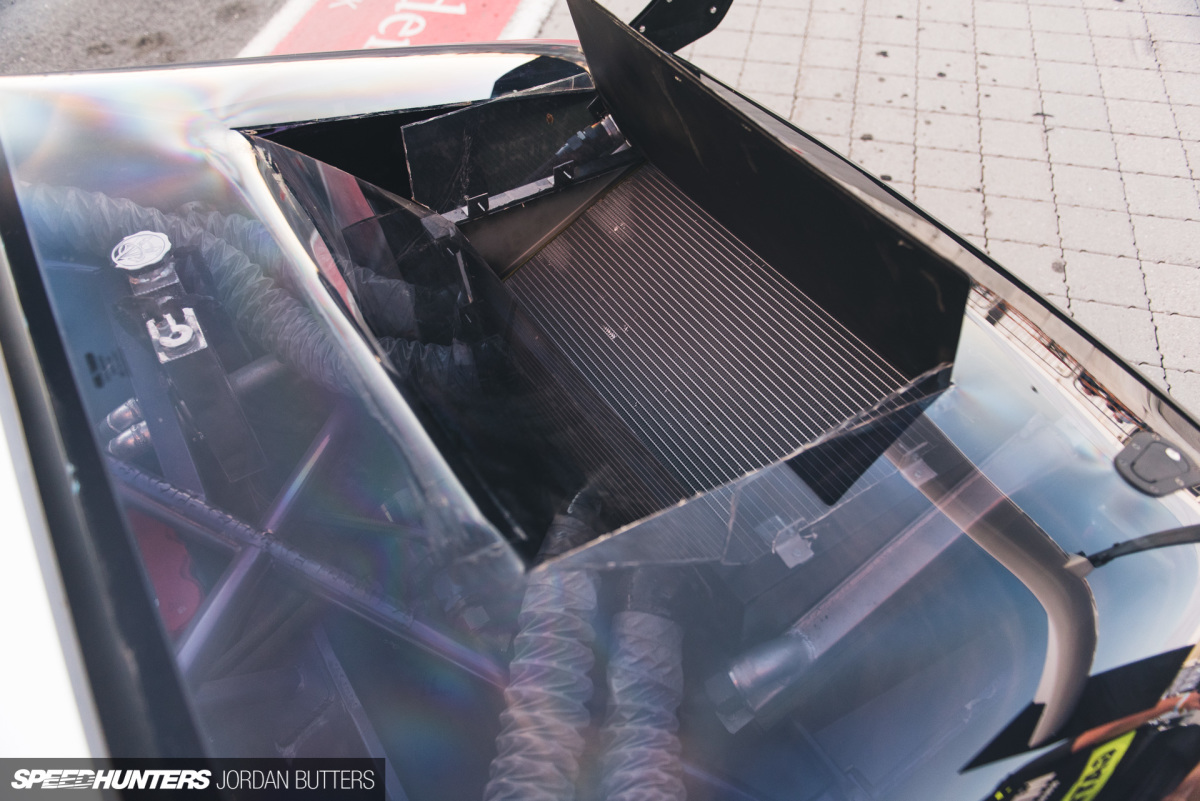 A Treadstone intercooler is plumbed in up front to keep intake temperatures down, whilst a rear-mounted radiator setup comprised of a Meziere 55g/pm remote pump, expansion tank and recovery tank, keeps the block cool. As Fannar usually competes in Iceland, where it's notably colder than southern Norway in the height of summer, some customisation was required at Gatebil to keep temperatures down – Fannar and his team cleverly 'repurposed' the lexan rear window to act as a cooling shroud for the event.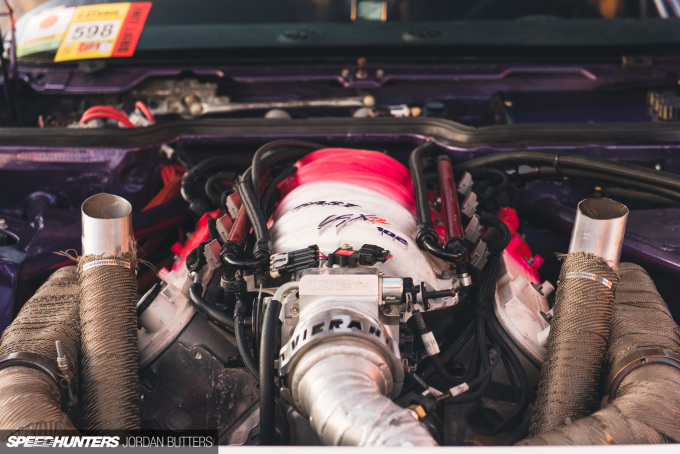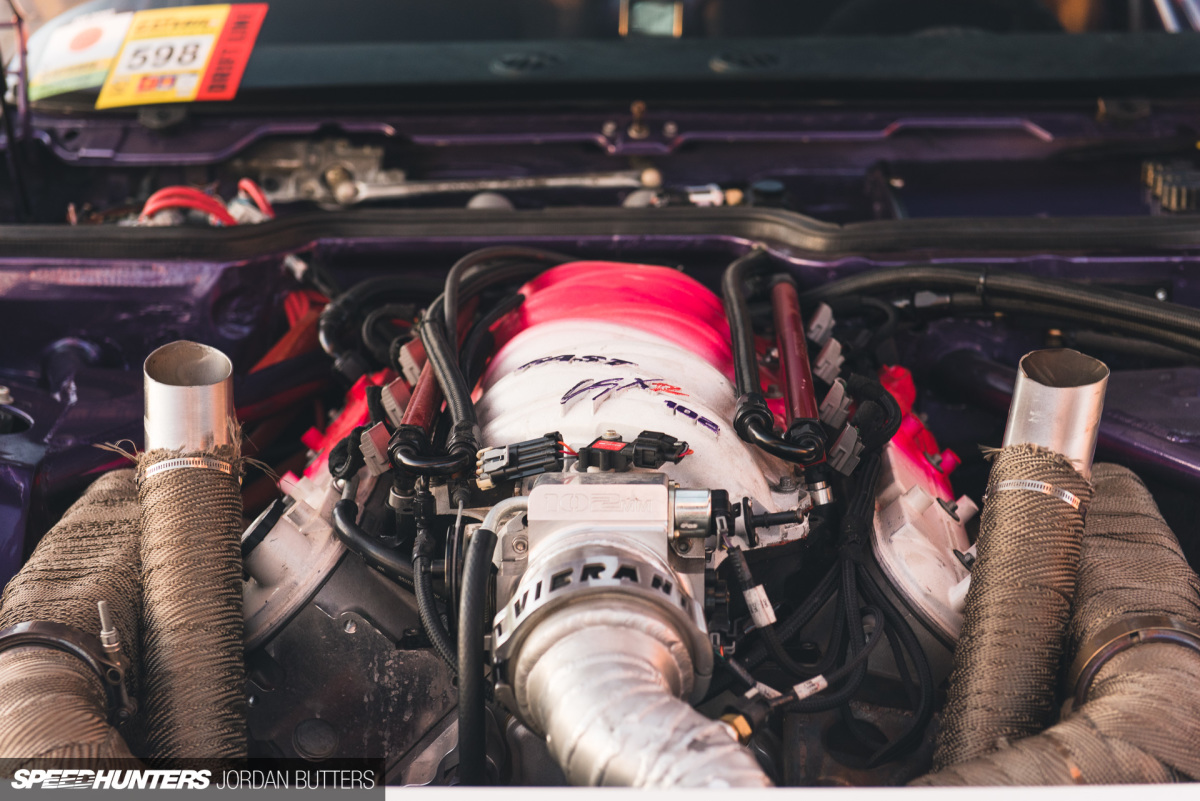 A Holley HP EFI ECU and harness keeps everything singing nicely together, to the tune of 788hp and 1,202Nm (886ft/lbs) torque at the rear wheels. I'm guessing that's around 915hp at the crank, maybe more?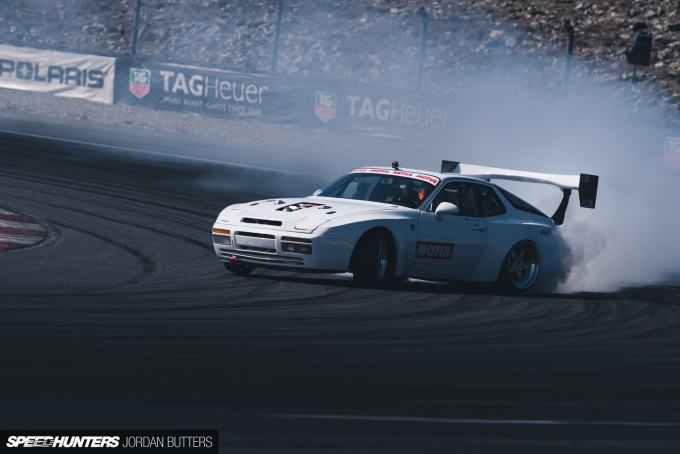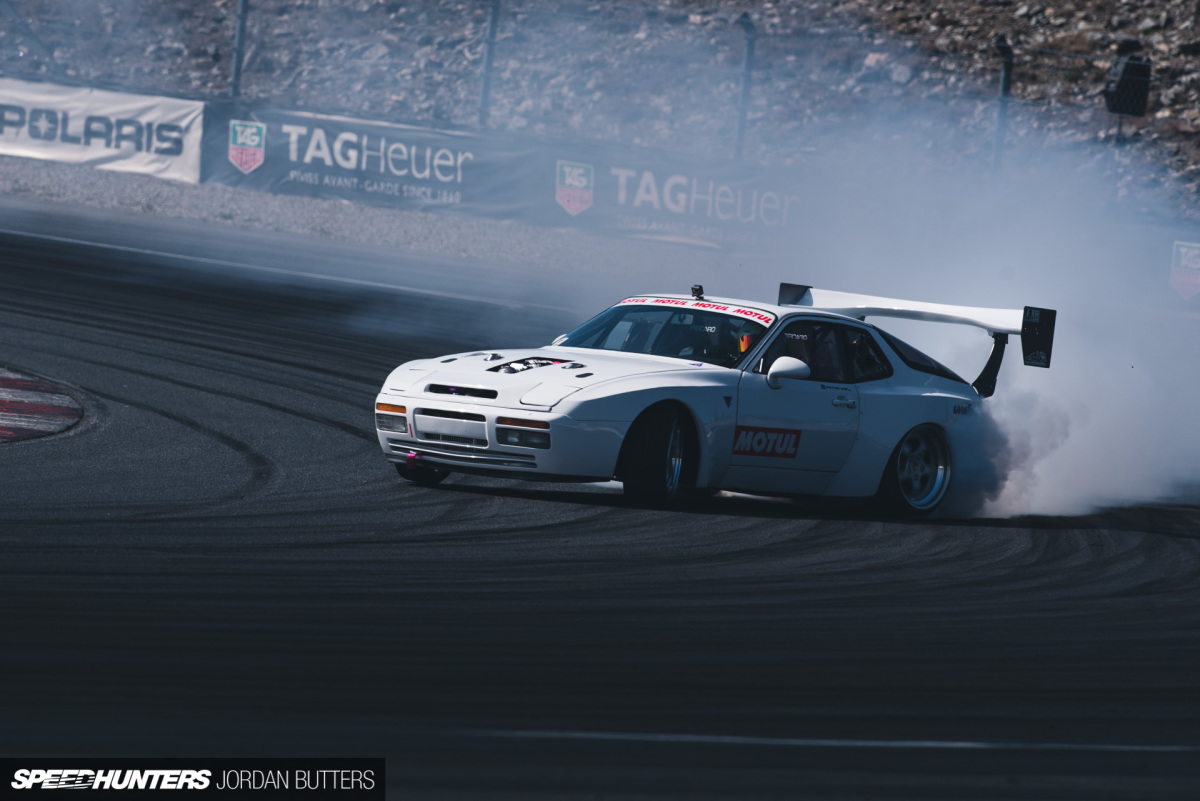 The car's short wheelbase makes it a handful when drifting, although Fannar has retained the Porsche 944 Turbo S (AOR) transaxle drivetrain in his build, which helps to balance the weight up front nicely. Level 5 Driveshaft Shop axles and a Texas Performance transmission reinforcement plate help ensure longevity in this department.
Balls Deep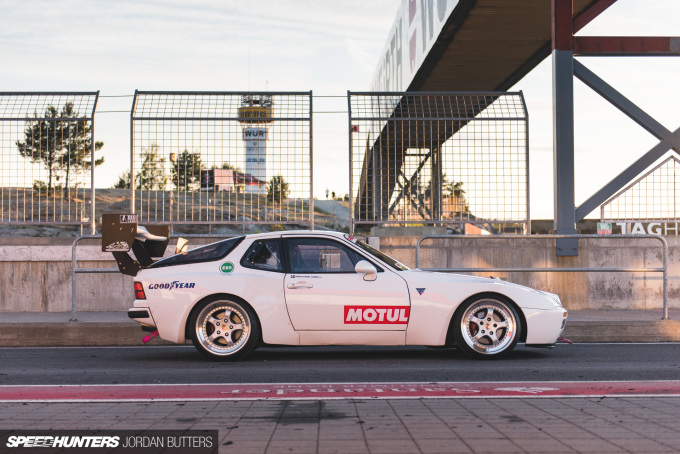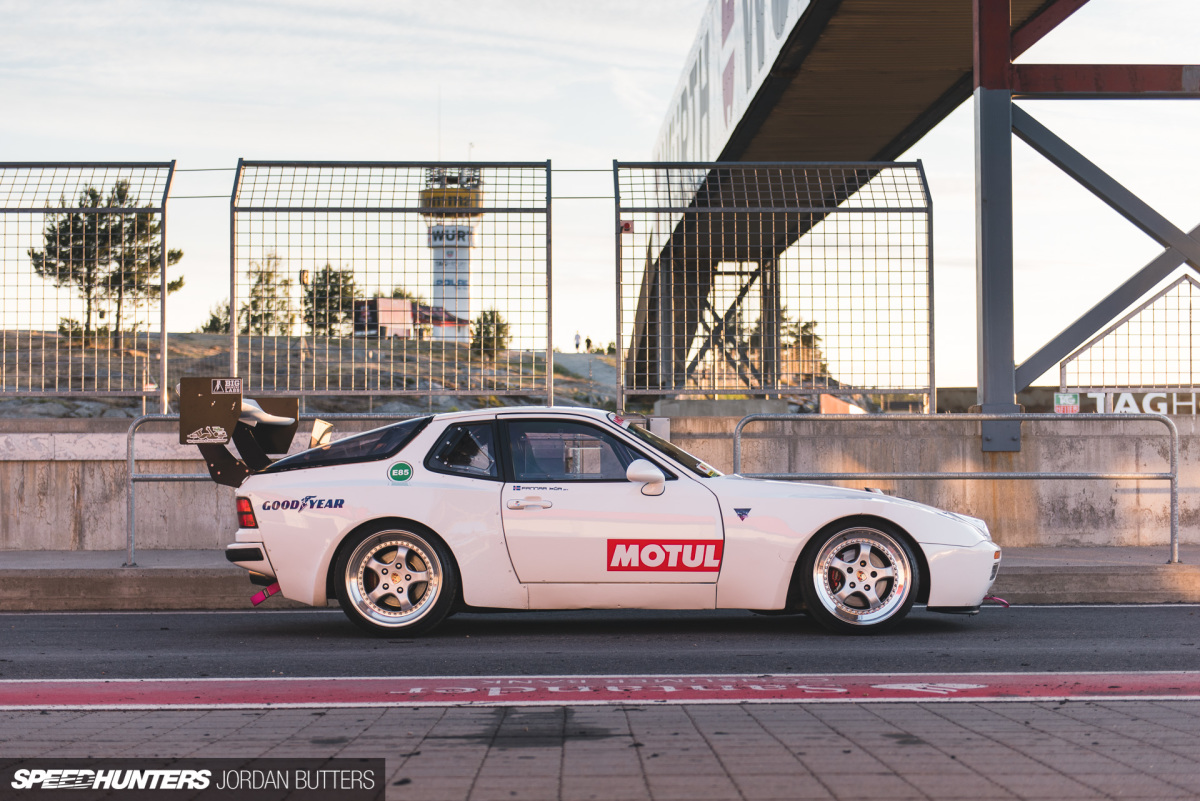 One of Fannar's favourite aspects of the build is the lightweight widebody exterior. The full kit came from IFC Racing, and comprises of fibreglass beefy front and rear fenders, while Club Autosport composite doors keep the weight down.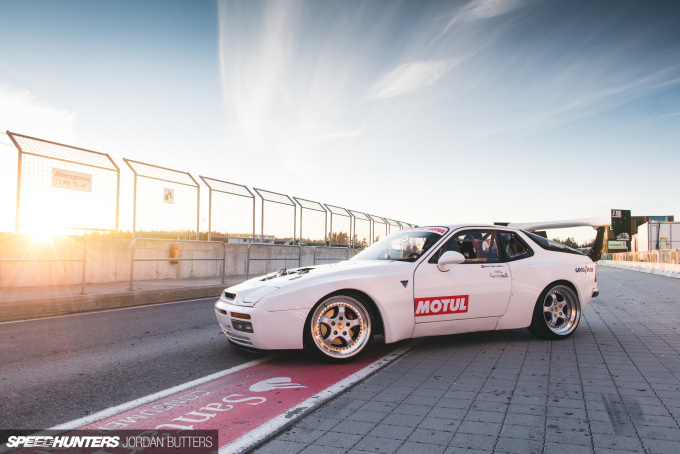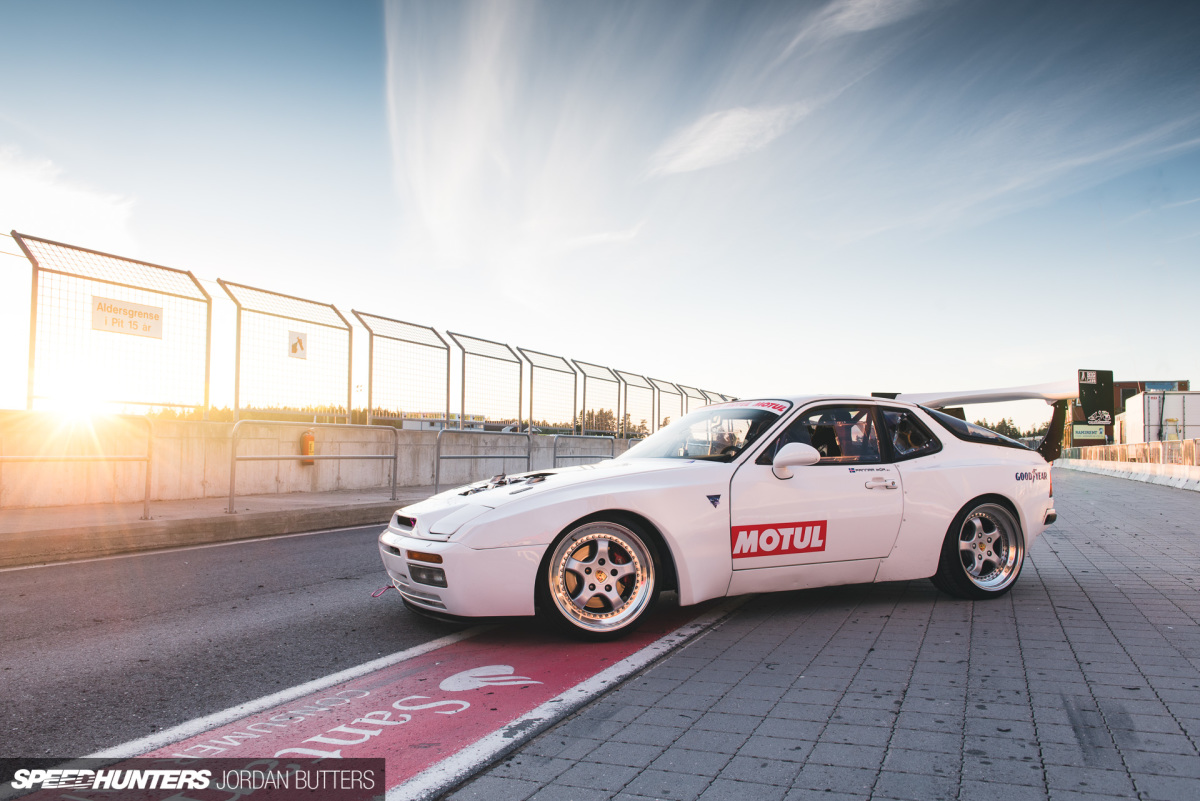 Fannar describes it as 'OEM+', and I can see where he's coming from. Were it not for the huge wing and cheeky engine preview it could be a regular widebody 944.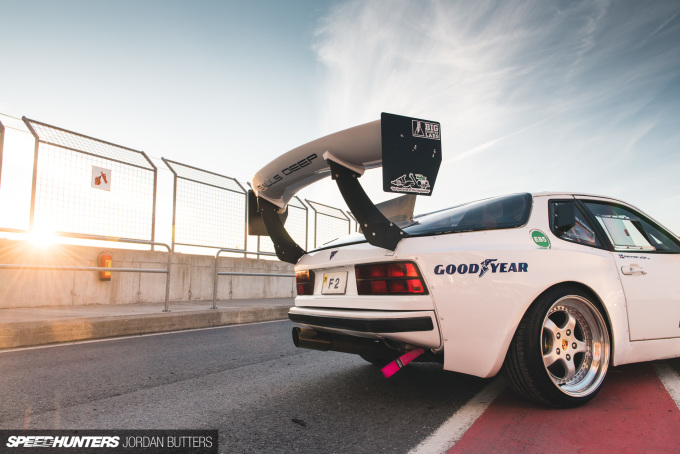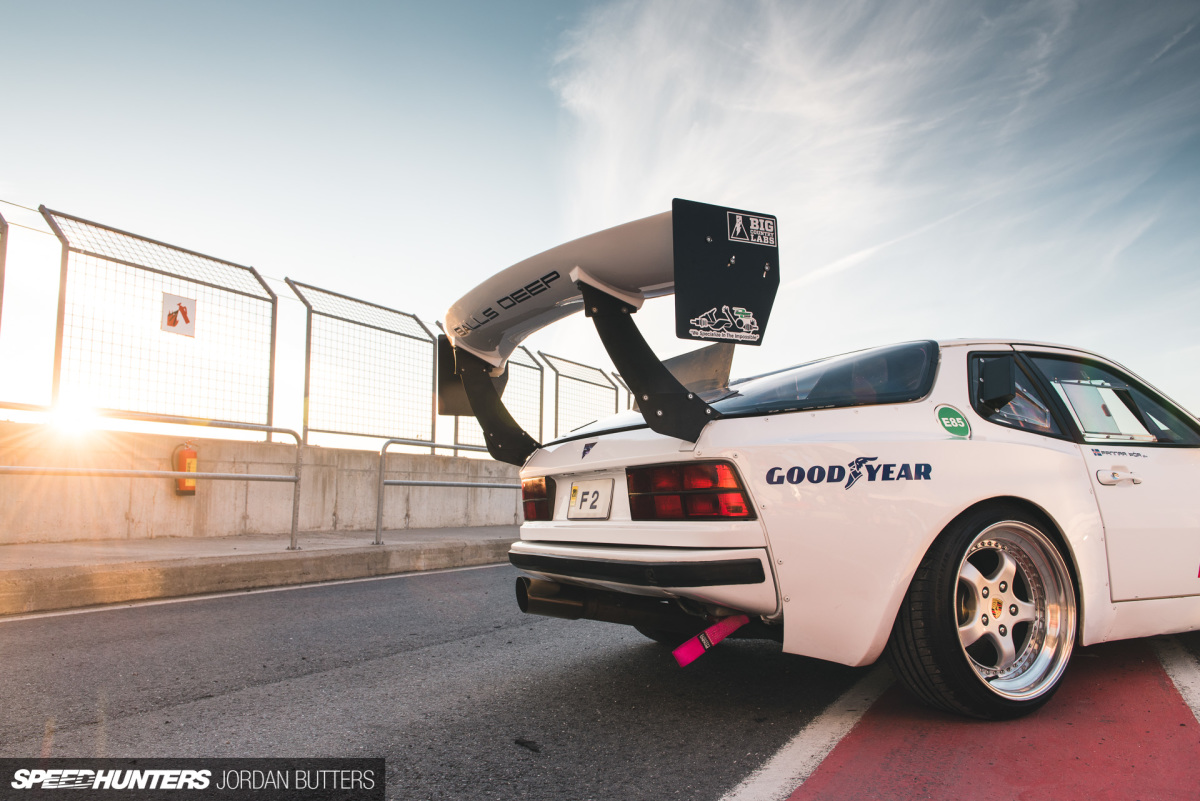 Yes, that wing. Perhaps the most eye-catching feature is the huge Big Country Labs 1850mm appendage. Originally designed for an FC3S RX-7, which bears more than a passing resemblance to the shape of the 944, Fannar fabricated new mounts to mate the wing to the Porsche body.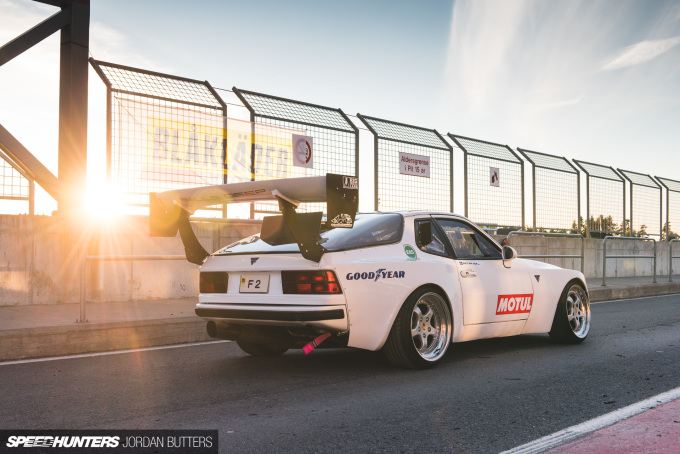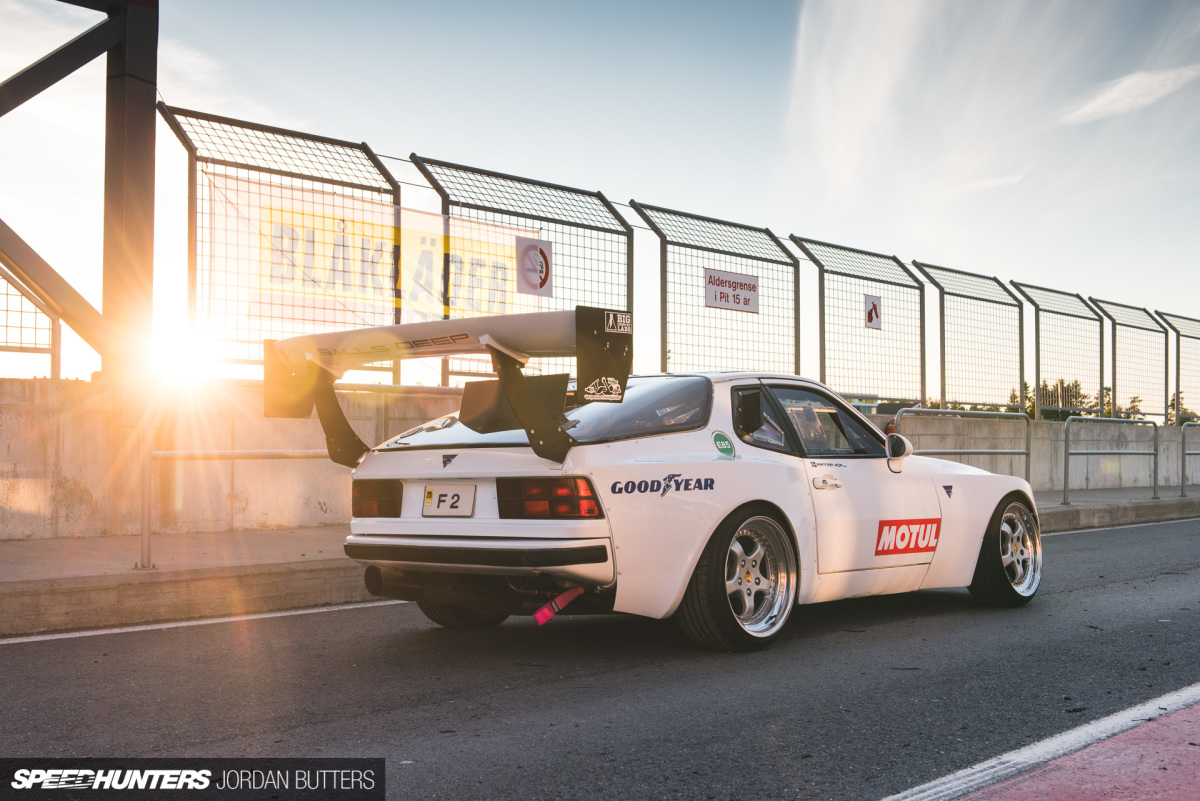 I'm not always a big fan of big wings, but it really works here.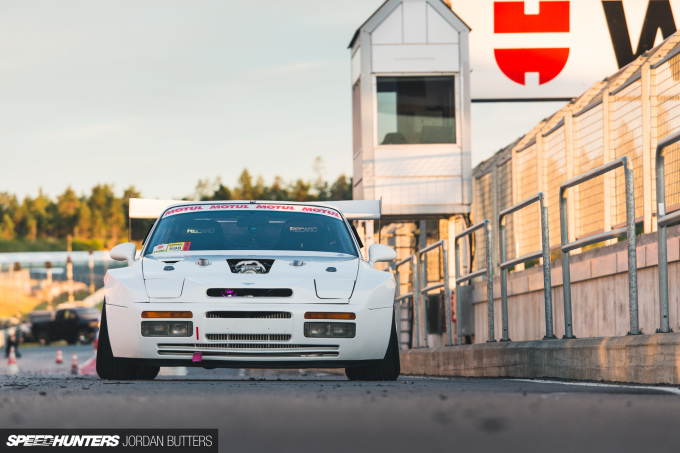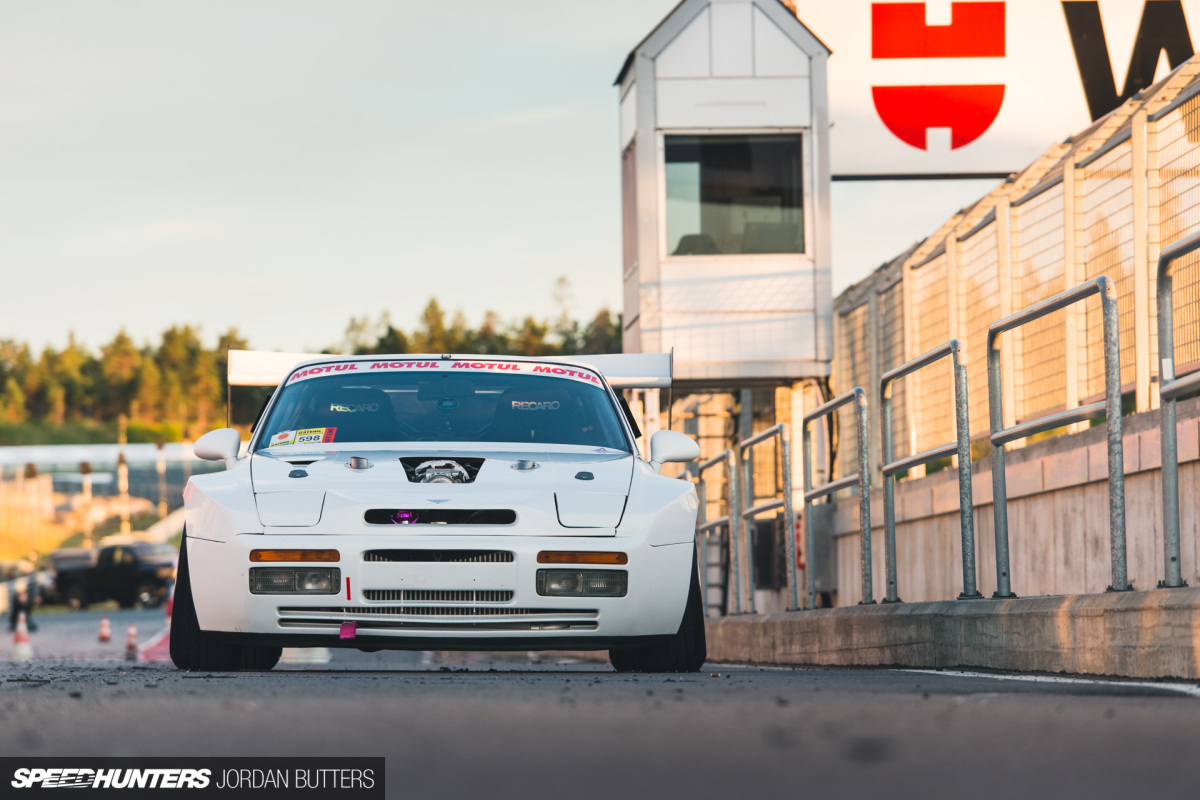 Up front a Lindsey Racing header panel adds a needed intake to the 944's nose.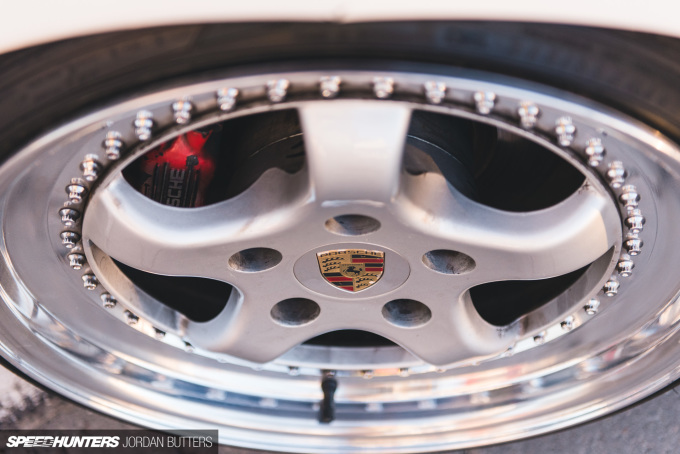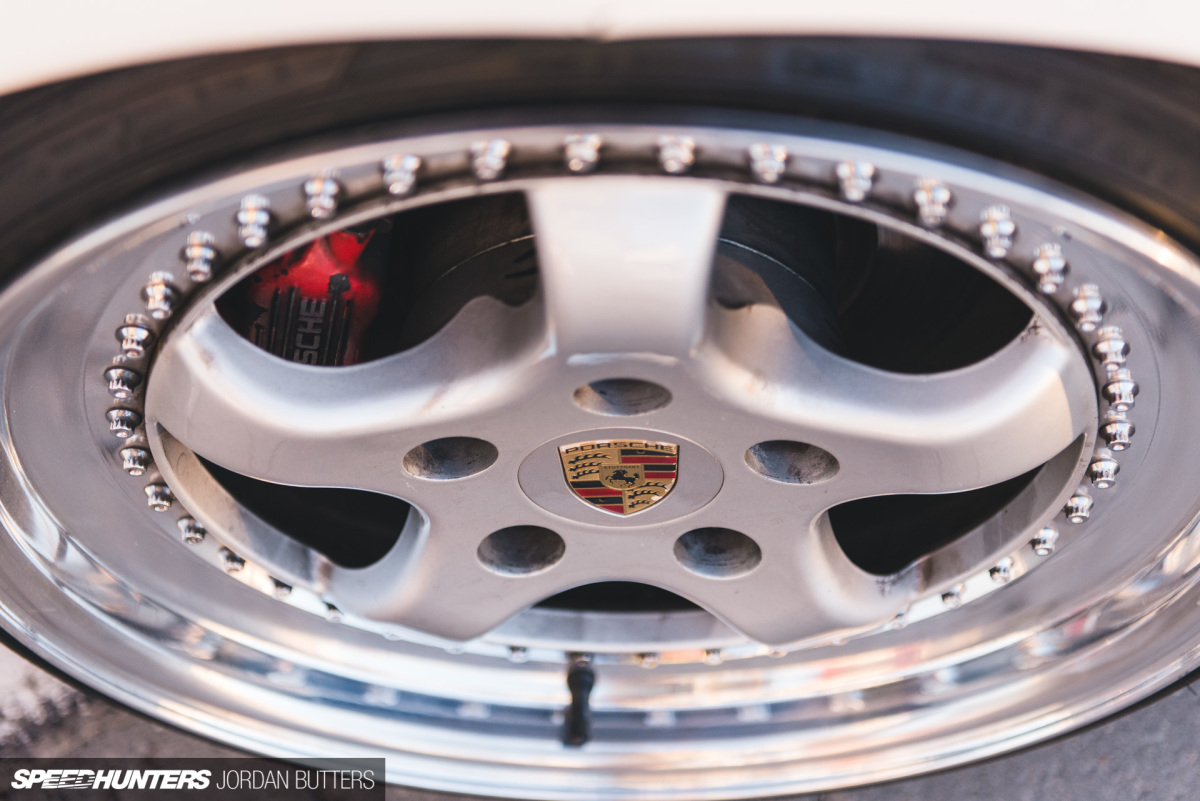 Custom GAZ Gold coilovers lower the 'F2' over a set of 18-inch three-piece BW Motorsports/Kinesis wheels, measuring nine-inches wide at the front and a girthy 10.5-inches out back.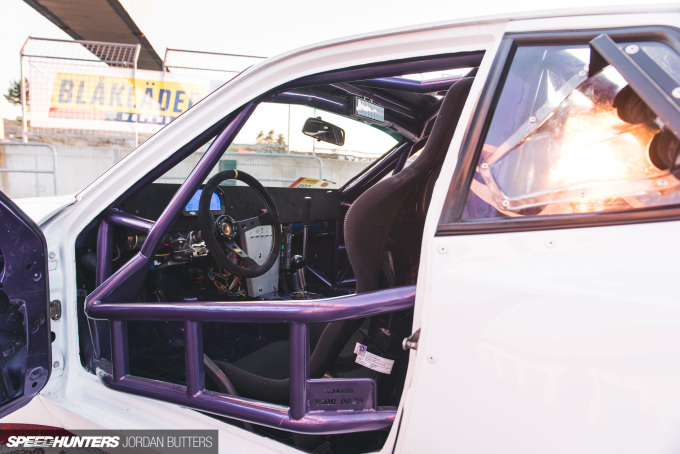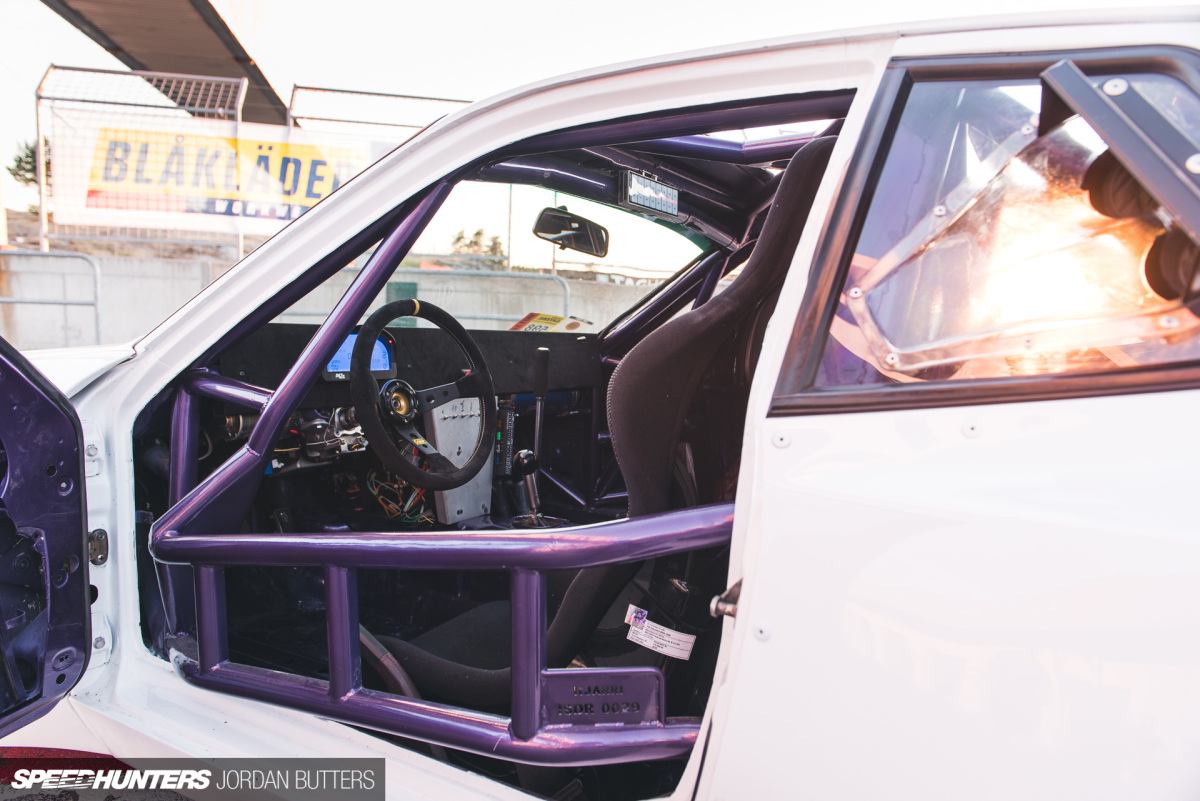 Swing open the lightweight doors and the chunky purple cage immediately strikes you (not literally, unless you're careless). Not wanting to scrimp on safety, the FIA-spec cage was custom made and TIG-welded together and into place, including the NASCAR-style door bars that protrude into the empty door cavity for maximum side-impact protection.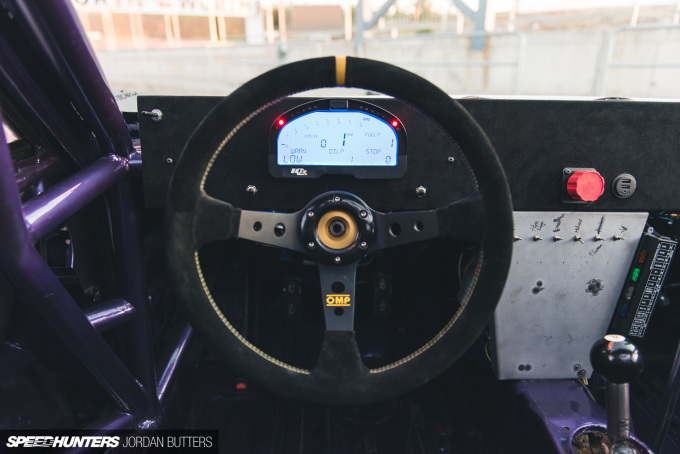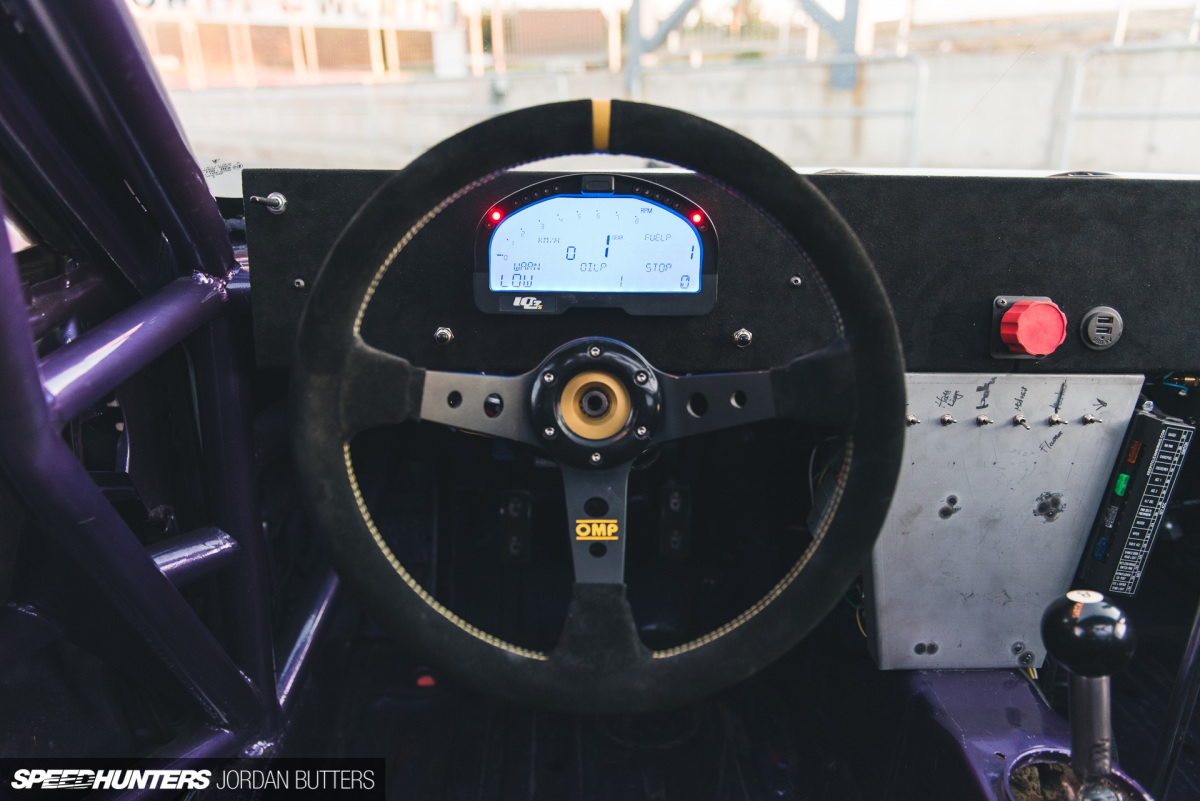 Slide into the Recaro seat and a Racepak IQ3 Street dash stares back at you through the OMP wheel. There's little else to distract you, save for a custom flocked dash and the three important Tilton pedals hanging down from the 600 series assembly.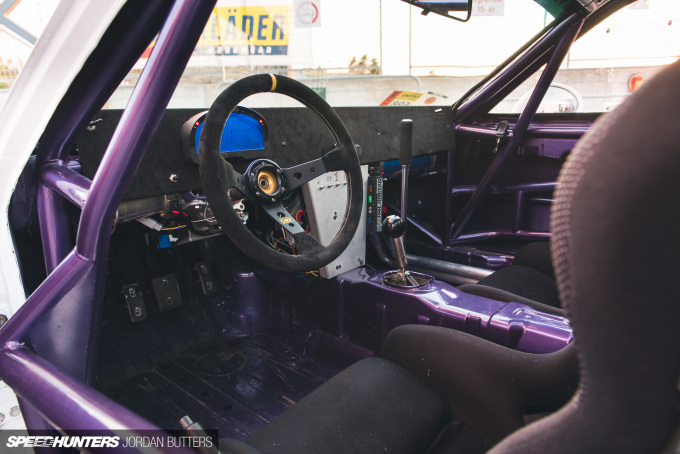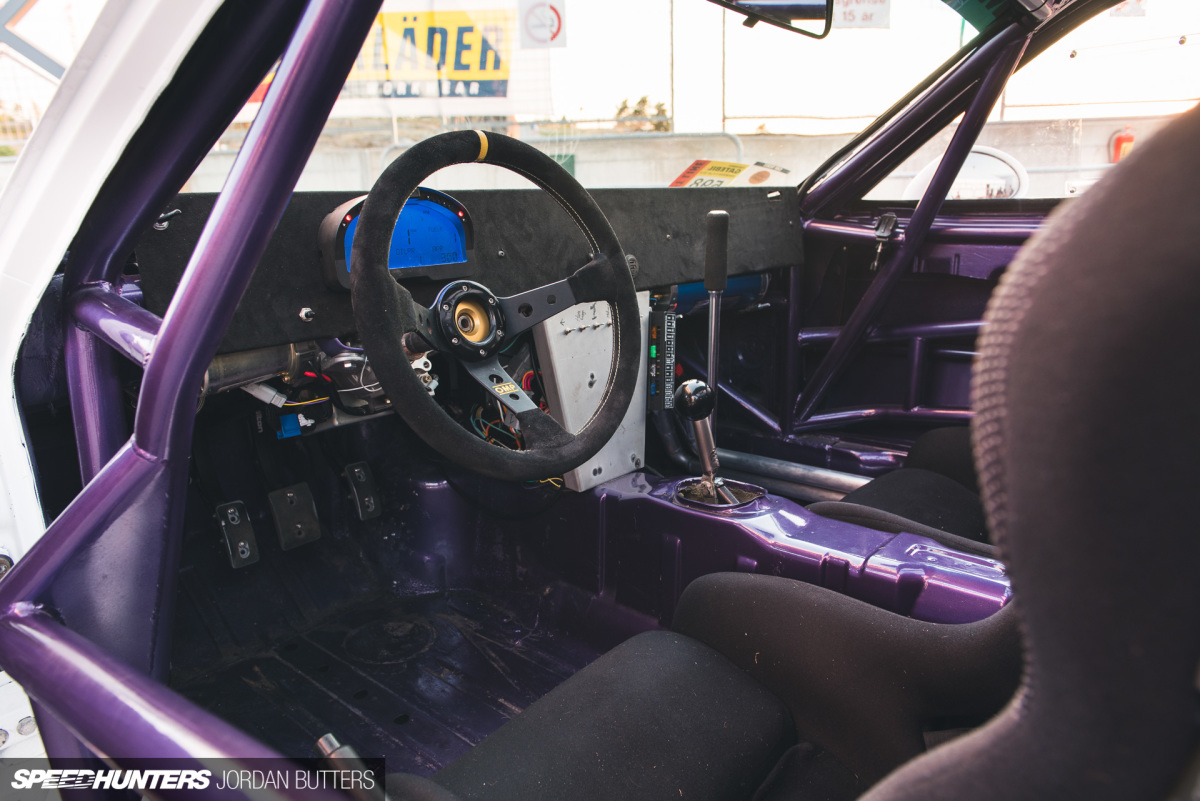 There's electric power steering courtesy of an Opel Corsa, and the sunroof panel does pop straight out, however, so there's at least those creature comforts.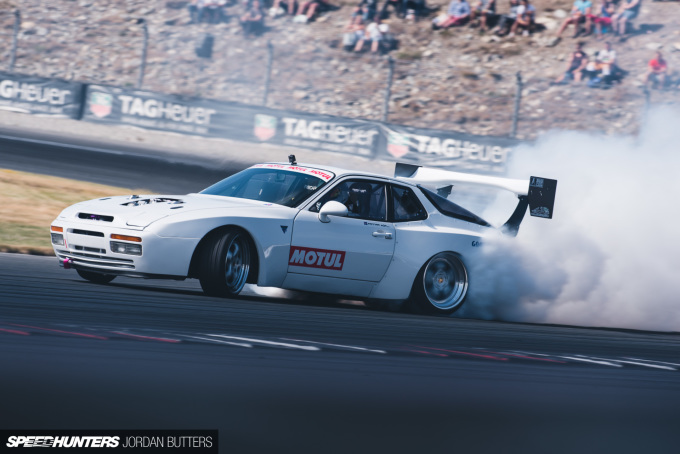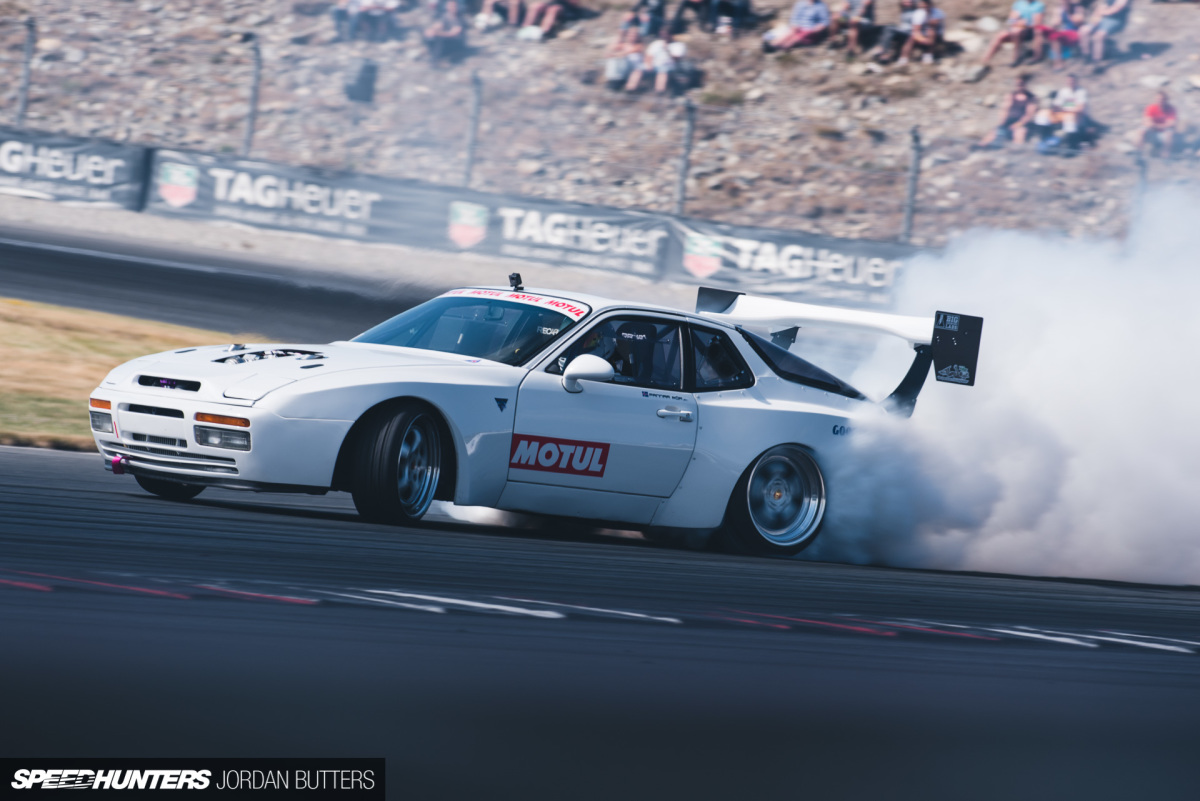 On circuit at Rudskogen, the F2 looks like a full-on time attack build, until Fannar throws it sideways and decimates the rear tyres in a single corner. The amount of smoke, and the speed that it builds the cloud behind it are something else. Maybe it wasn't a volcanic ash cloud all those years ago, after all?
"Porsches are driver's cars – they're made for the track," Fannar tells me. "To take that idea and turn it into a drift thing is not something you see very often. The short wheelbase makes it unforgiving, but the transaxle over the rear wheels helps give it a lot of forward grip. It's a lot of fun to drive."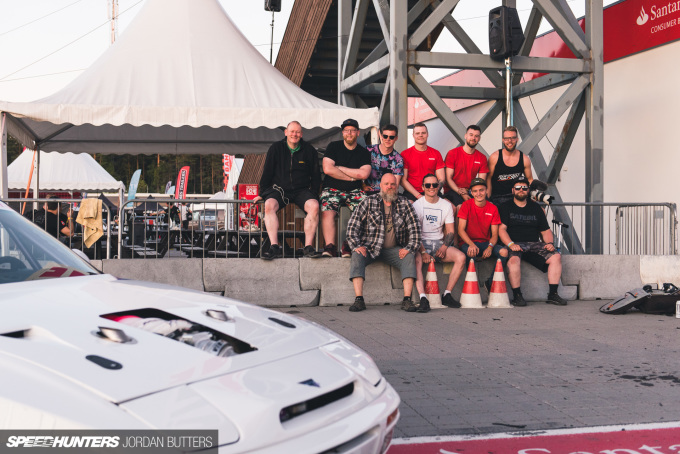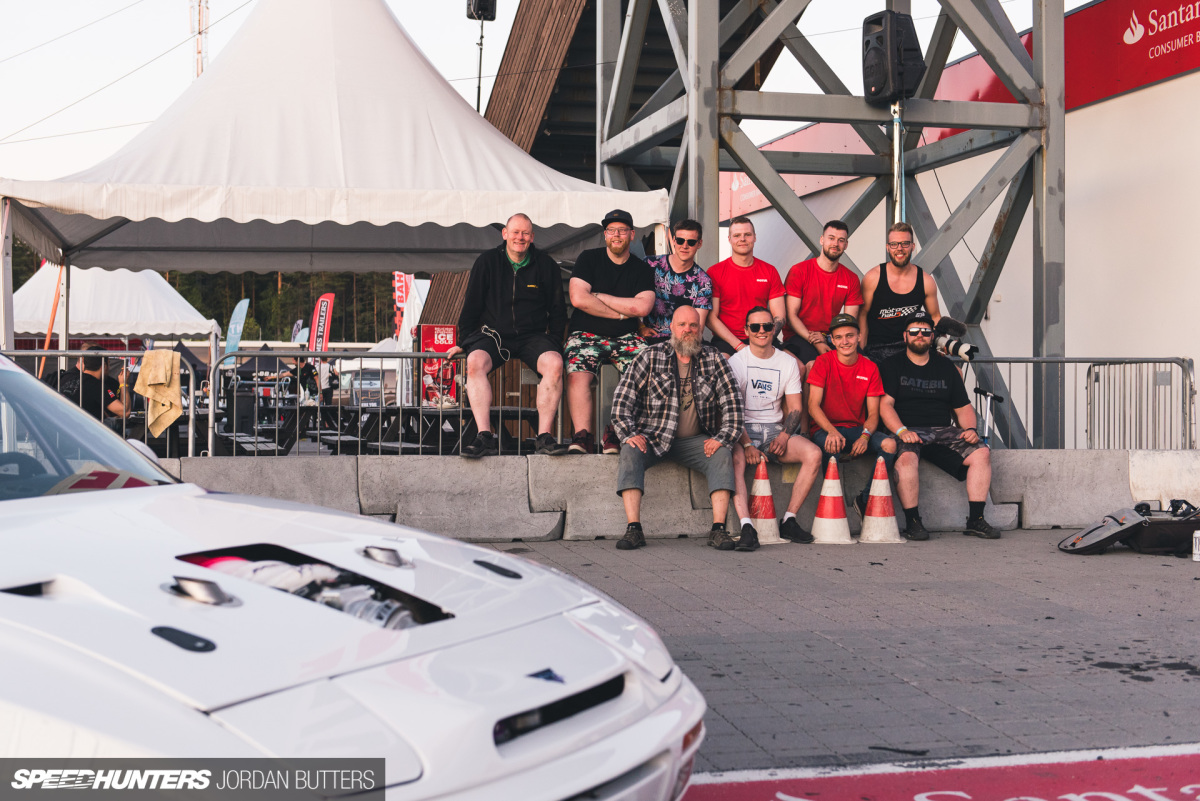 Perhaps the most important part of building the F2 for Fannar is the journey that it's taken him on. The car was built by himself, his group of friends and his family, all focused on achieving his dream goal. "I've had this car for half my life," he continues. "I've met so many people, and made so many friends – this car is the link between us all. Making the trip over the Gatebil and having all my friends with me here has been the greatest experience."
I can attest to his friend's drive and dedication, as just 30 minutes before our shoot the gearbox was on the floor undergoing repairs – they literally stopped work and bolted it all back up just so we could shoot.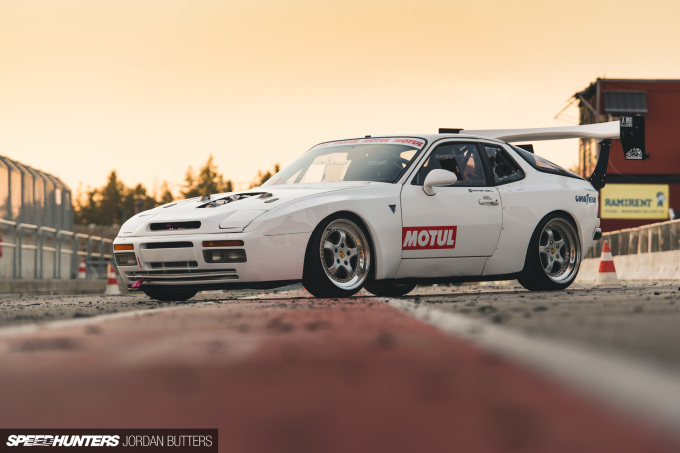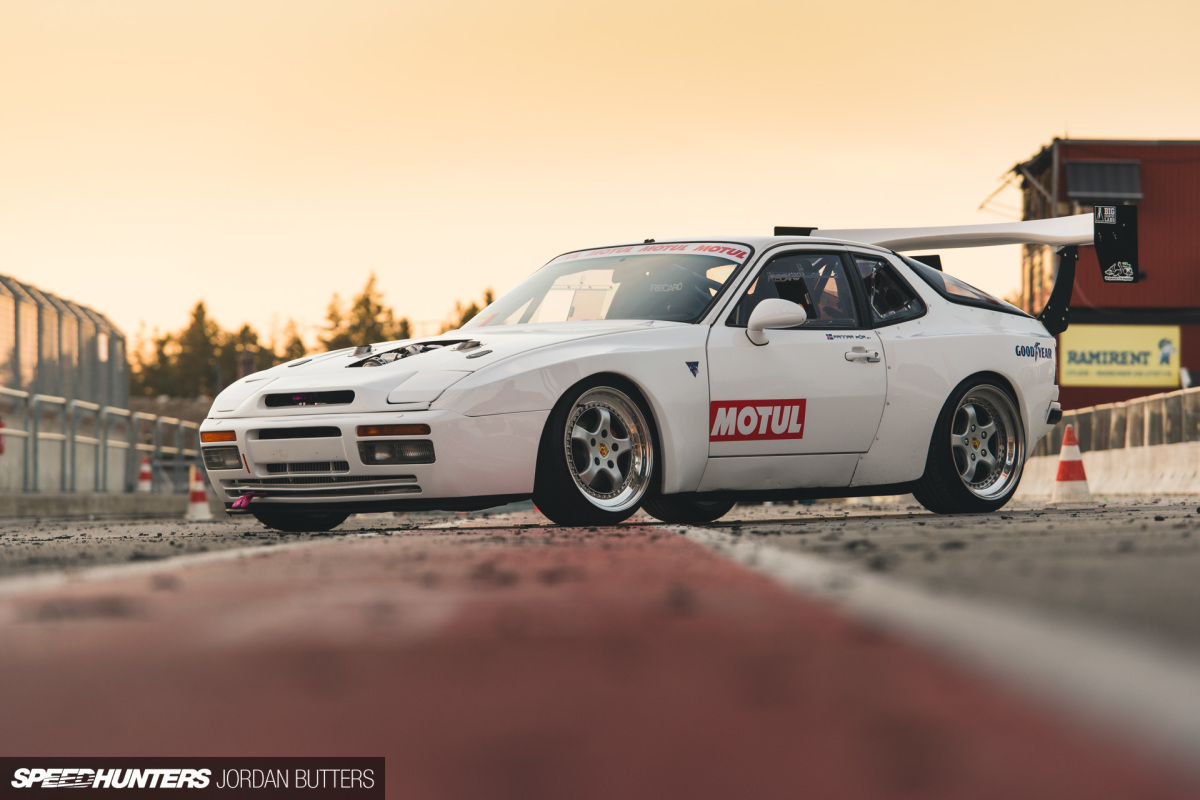 As we wrap up proceedings I realise that's the big pull about car culture for me. Here I am with a bunch of Icelanders I've never met before, enjoying the drawn-out Norwegian sunset and having a laugh about everything and nothing in particular. There aren't many hobbies or interests as unifying as this one.
A huge thanks to Fannar and his team for piecing the car back together for us to have a closer look.
Jordan Butters
Instagram: jordanbutters
jordan@speedhunters.com
Fannar Thor's 1986 Porsche 944 'F2′
Chassis:
TIG-welded FIA specification rollcage with NASCAR-style door bars.
Engine:
6.0-litre LS2, Wiseco Pistons 10,9:1, SCAT rods, ARP bolts throughout, LS9 headgasket, Lil Johns Motorsports Stage II turbo camshaft, Melling high volume oil pump, Accusump, oil scavenge pump, Vibrant catch can, Vibrant Performance vacuum manifolds, Comp timing cover and timing chain double roller, Fast 102 intake and throttle body, Vibrant couplings,Borg Warner S475 Turbo with 87 mm turbine and and 1.10 A/R T6 housing, Tial 4mm wastegates, Tial 50mm blow off valve, Treadstone intercooler, Holley HP EFI ECE and harness kits, Holley three-port solenoid valves, Meziere WP366S remote pump, Meziere WE100 and WR100 coolant tanks, rear-mounted radiator, Aeromotive Eliminator, Aeromotive Fuel filters, Aeromotive regulators, E85 fuel, Bosch 2200cc injectors, AN fittings throughout.
Drivetrain:
Spec Super twin plate clutch, Twin Carbon Graphite disks (1500nM), Porsche 944 Turbo S AOR transaxles transmission with oil cooler, Texas Performance transmission reinforcement plate, The Driveshaft Shop Level 5 axles
Steering/Suspension/Brakes:
GAZ Gold coilovers with custom spring rates, Opel Corsa electric PAS system, Porsche 944 Turbo,calipers and disks, Tilton 600 seris Overhung mount pedal assembly, Tilton remote brake bias adjuster, Tilton triple chamber reservoir, AN fittings throughout.
Wheels/Tyres:
Three-piece BW Motorsports/Kinesis 18×9-inch and 18X10.5-inch, Goodyear Efficientgrip Performance XL
Exterior:
Fibre doors from Club Autosport, fibre widebody from IFC Racing, Lexan windows from Plastics 4 Performance, Big Country Labs FC3S 1850mm wing with custom mounts, Lindsey Racing header panel.
Interior:
Recaro seats, Racepak IQ3 Street dash, Racepak GPS module for speedometer, Manual latch sunroof from Porsche 924, OMP wheel