Bad Luck
Shooting in the middle of the day is hard. Anyone with a camera knows this is the worst light to work with, but it was late morning on my first day in Miami when I got tipped off about a black wide-body R35 on air that was already en route to my general area.
I was still sort of jet-lagged and being in a new area I wasn't keen on shooting a car I knew nothing about other than that it was going to soon be in the same place as I was. Even though everything in me said no, this is not the Speedhunting way.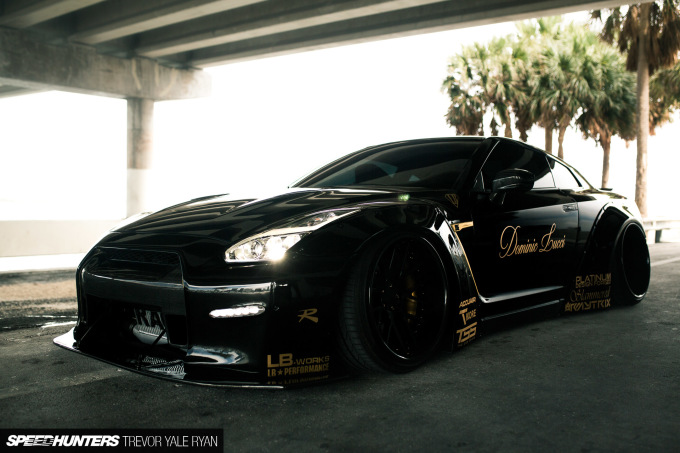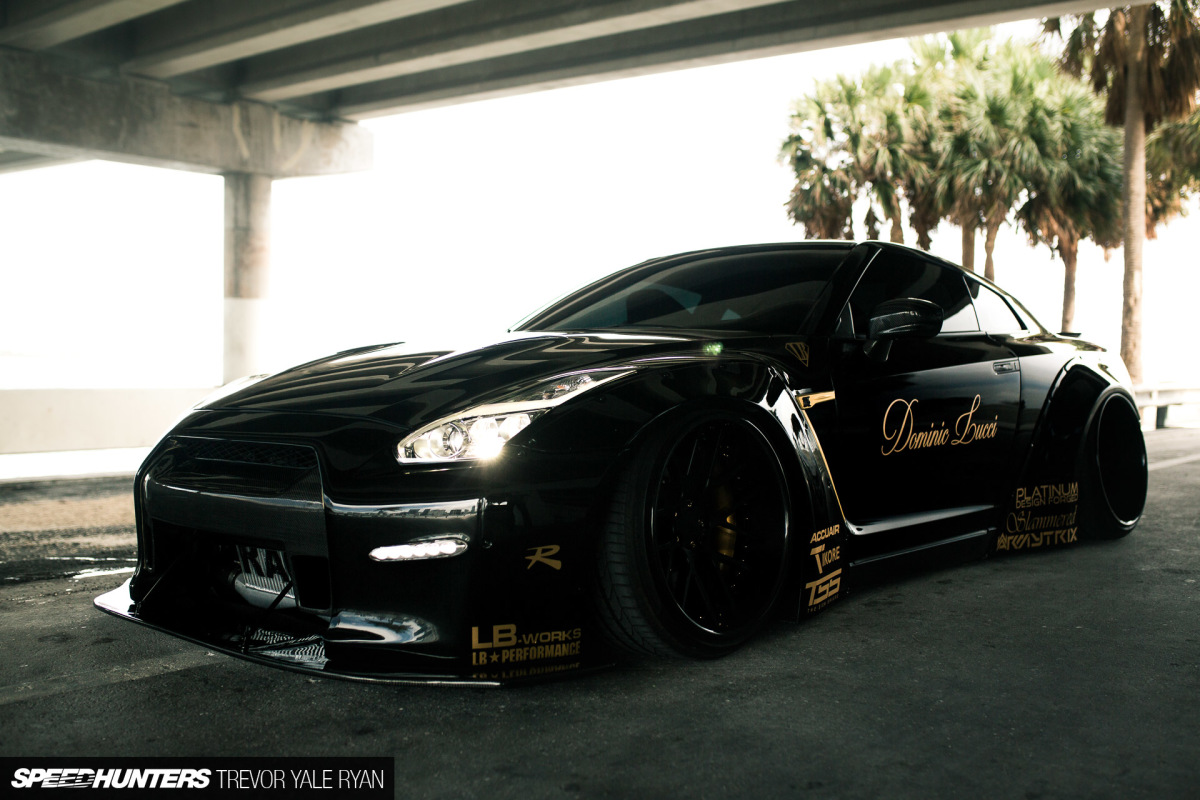 So, of course, an hour or so later I found myself riding shotgun around Miami in search of a decent spot. We arrived outside the stadium where, ordinarily, you'd have a decent view of the bay as well as the high rises downtown, but this was blocked off for some sort of concert.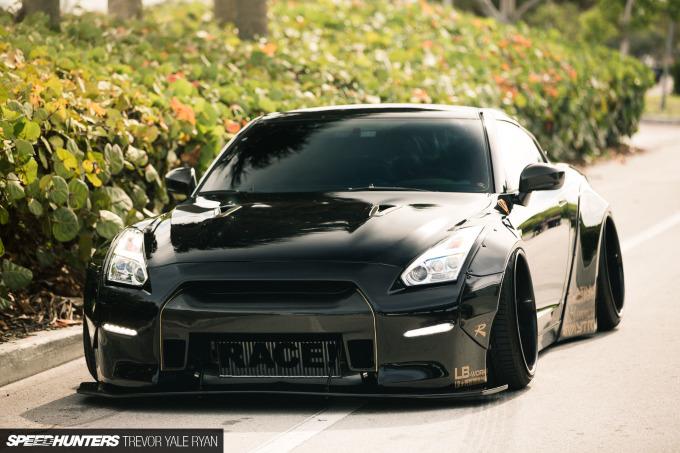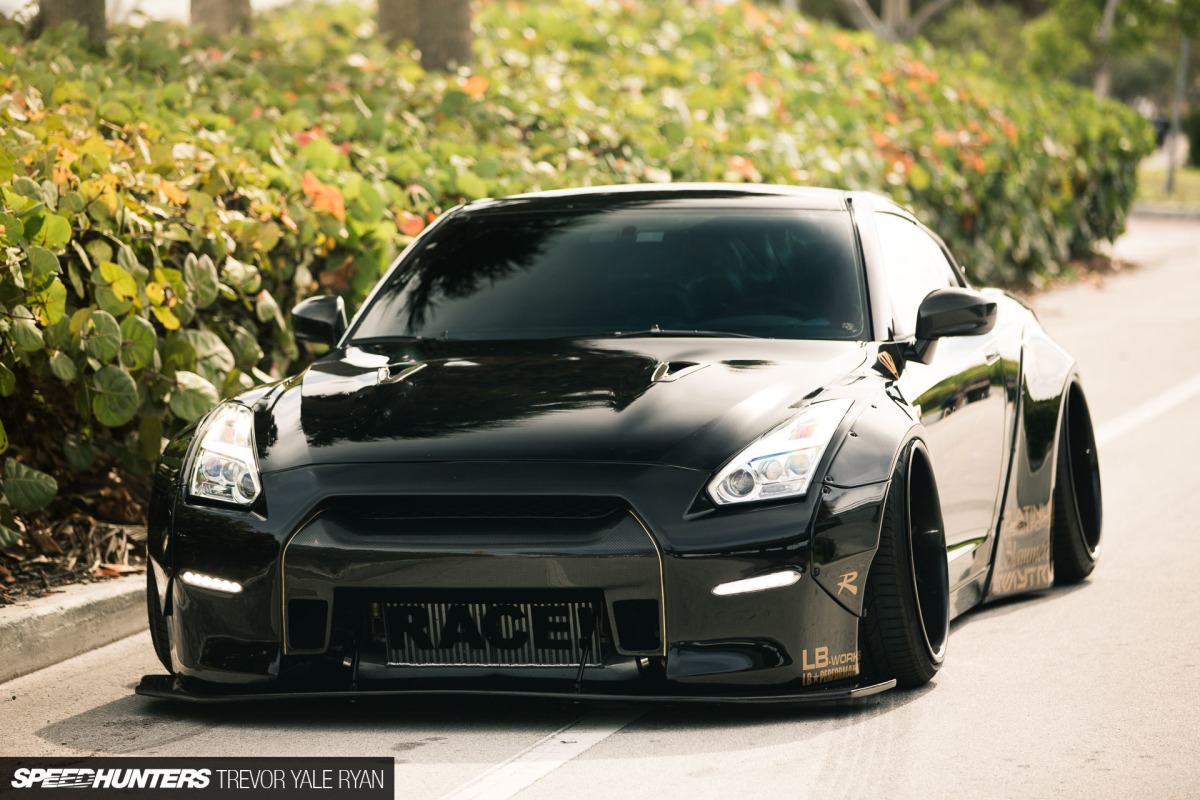 Unfazed, we continued through ever worsening traffic to another location, this time on the outskirts of town. When we arrived, everything looked perfect; there was a nice view of the city across a short stretch of water with a nice gravel road and… a giant concrete barrier and 8-ton tractor blocking the way.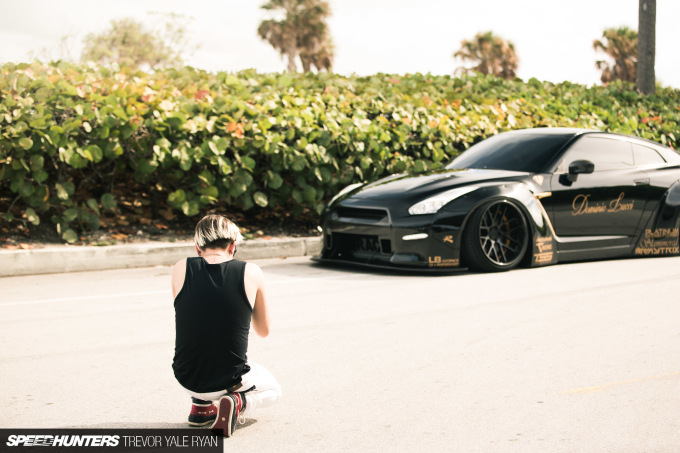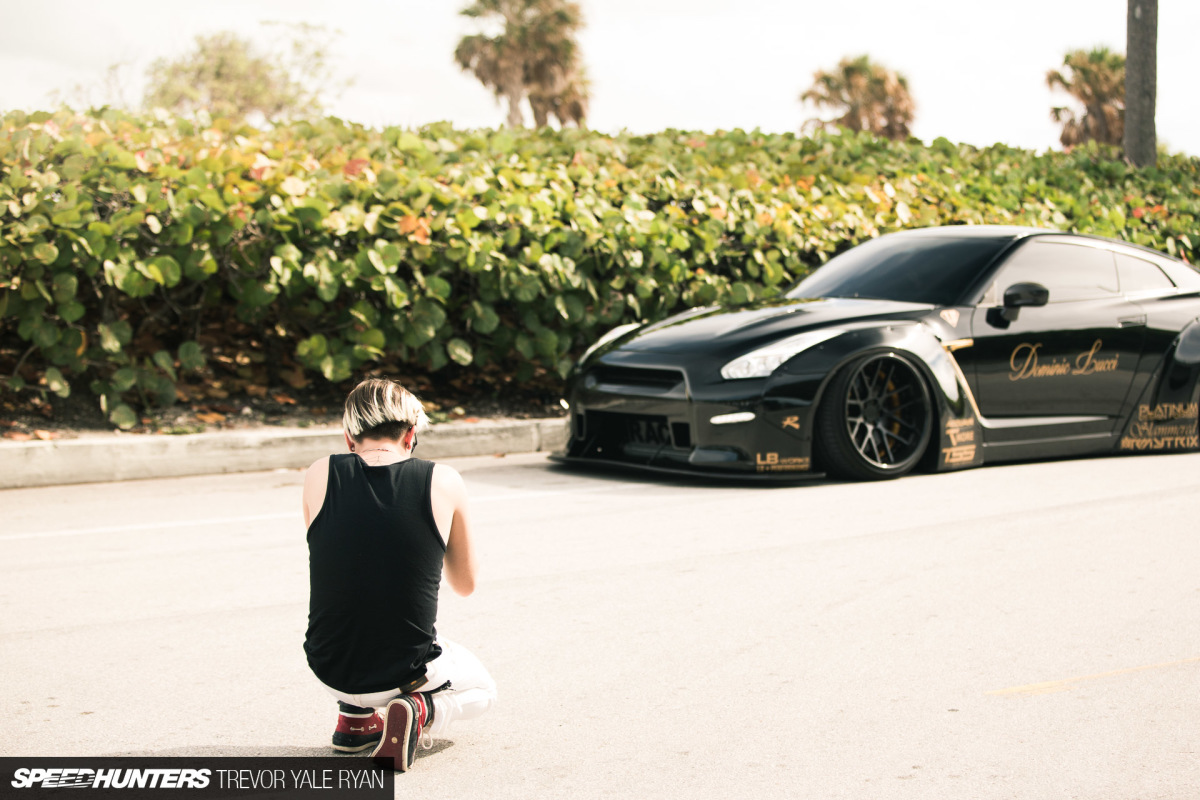 Getting a bit desperate, we cruised out over the water to the east of Miami where I remembered seeing a nice long parking lot with the Atlantic Ocean in the background.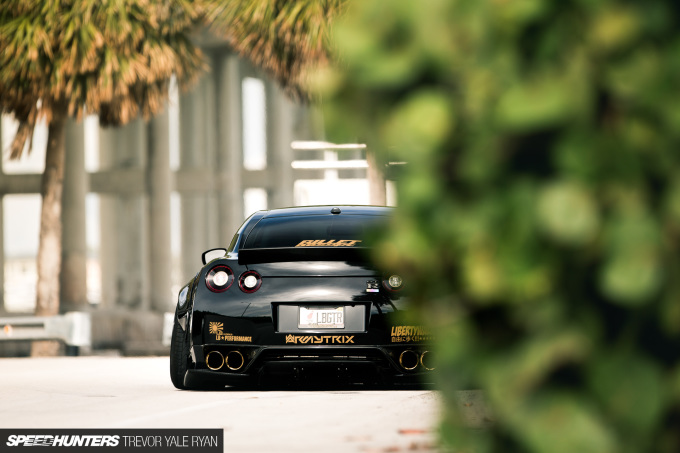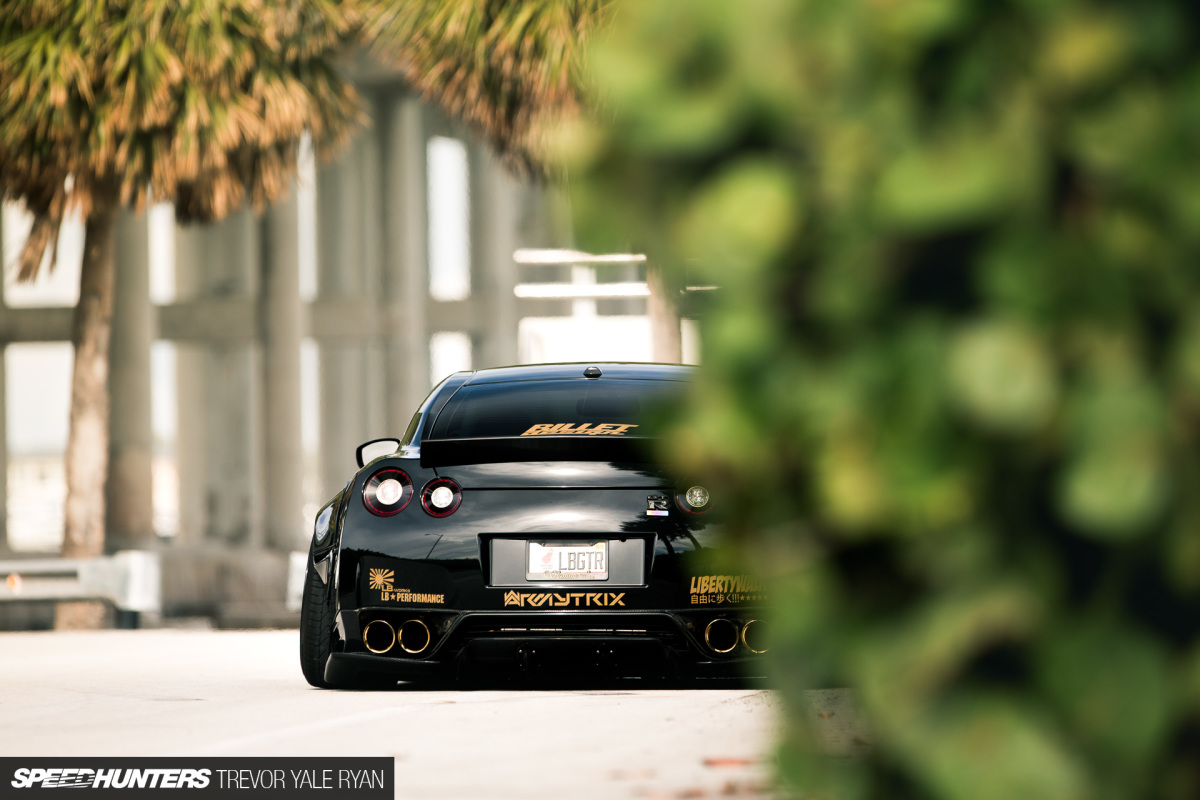 This too was closed.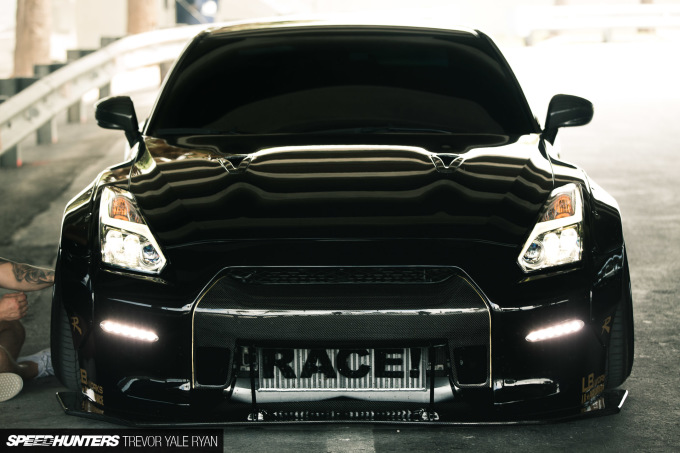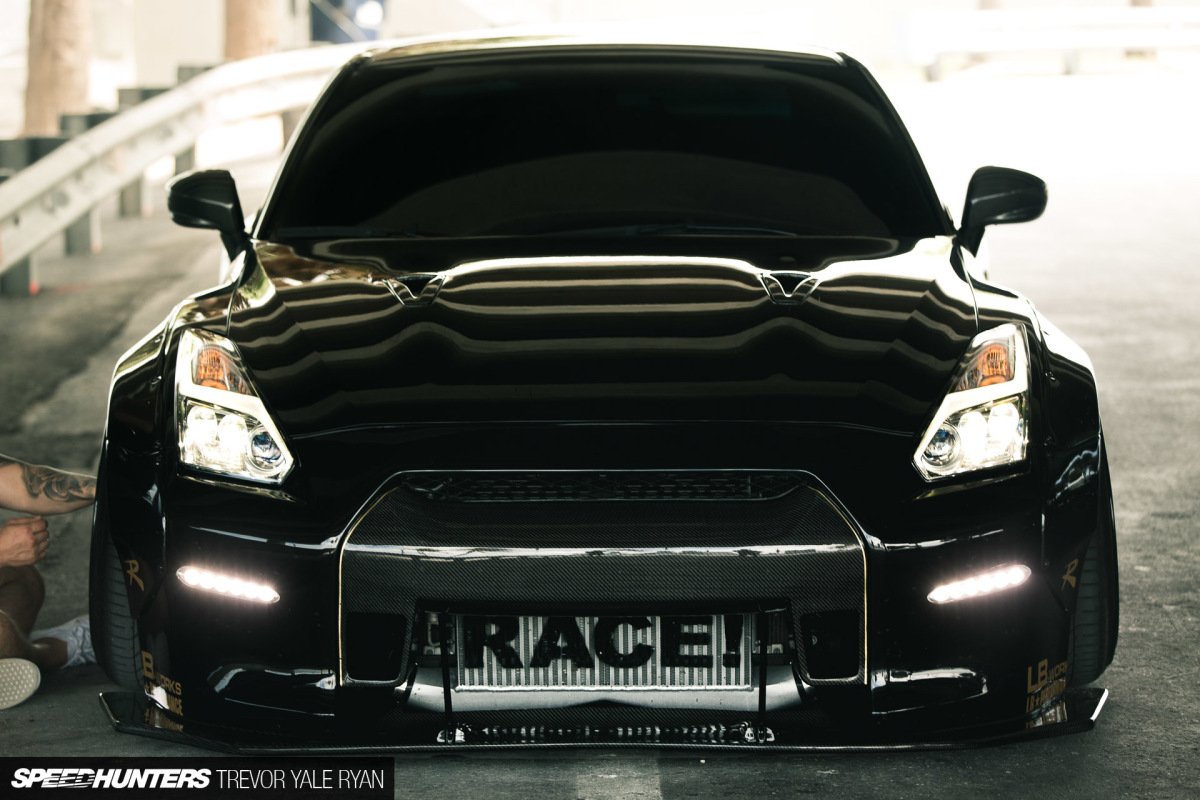 At this point I was honestly beginning to remember that strong feeling I had earlier. If you remember, it was 'no.' But at the same time, there was that intangible inkling that this would all be worth it, the same notion that got me off my rear end and out of the nice, cool hotel room in the first place.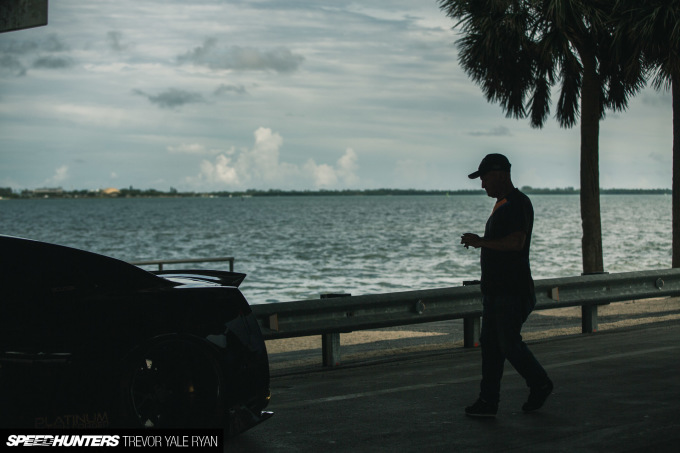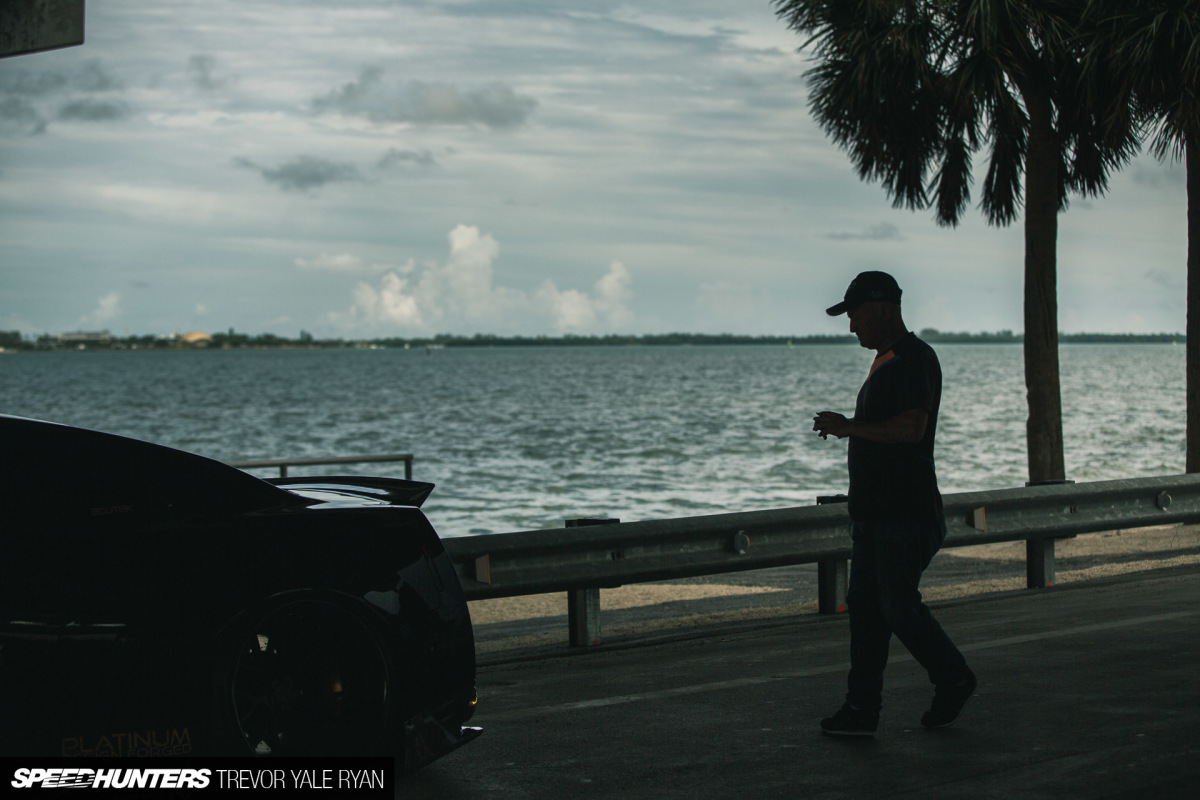 A bit defeated, we pulled into the same spot as I'd visited the day before when RMC Miami and friends took me out for a cruise around Miami and I spent some time with the only DP Motorsport street version 935-converted 964 ever made. It was here that I learned the story behind Dominic Lucci's R35.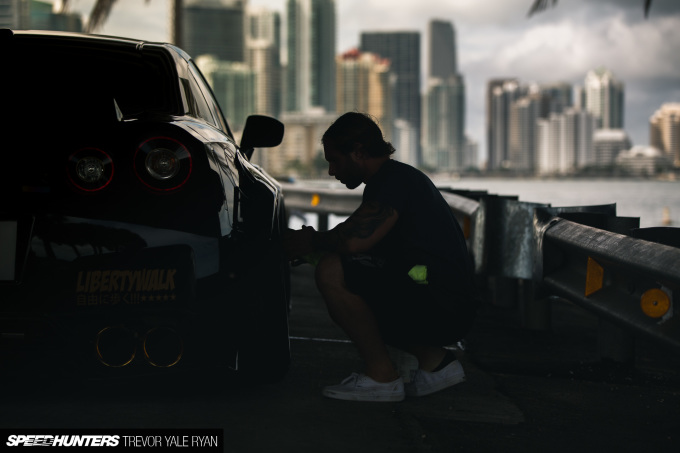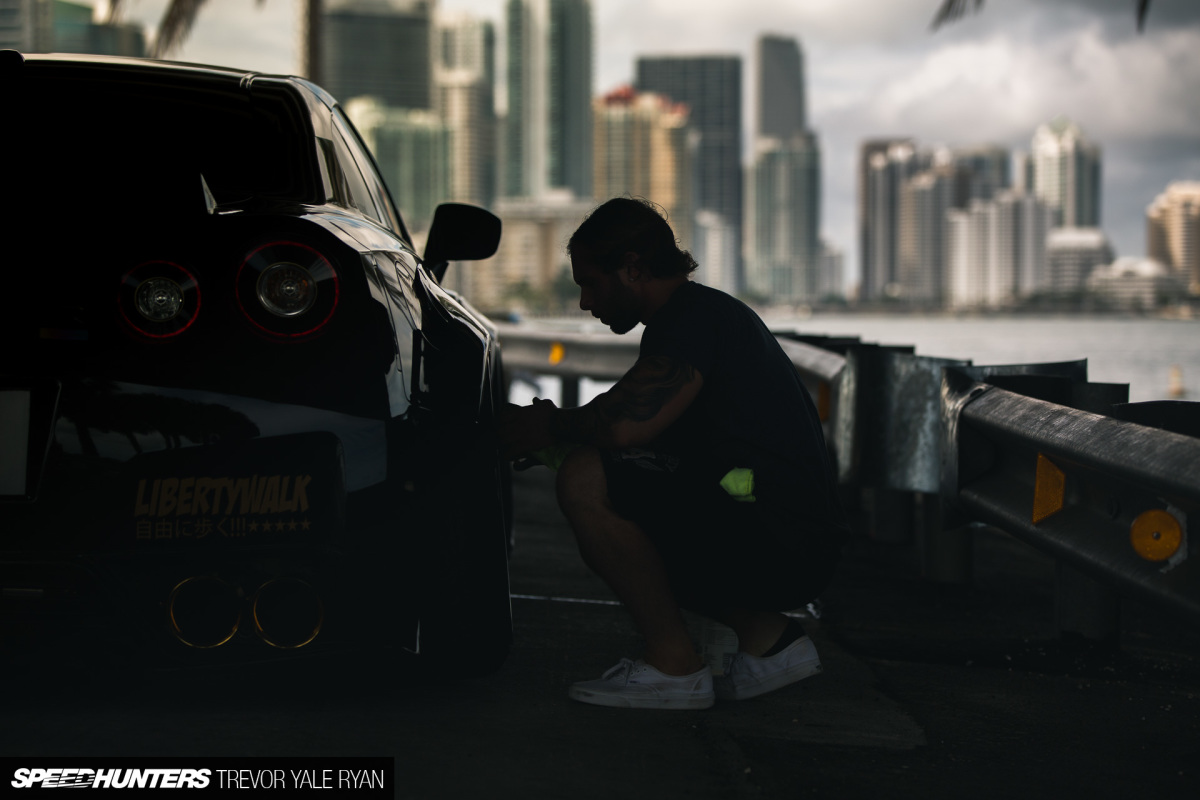 Dominic and his identical twin brother Mike were as close as you'd expect twins to be as they grew up and developed a love for cars together. From Fast and Furious movies to Need for Speed: Underground, they watched and played until, for their 16th birthdays, the pair went to Sonoma Raceway to get some time behind the wheel of Formula 3 cars.
Moving on into adulthood, the brothers started a wheel company together and Dominic built a couple cars before acquiring a 2015 Black Edition R35 GT-R.
Dominic Lucci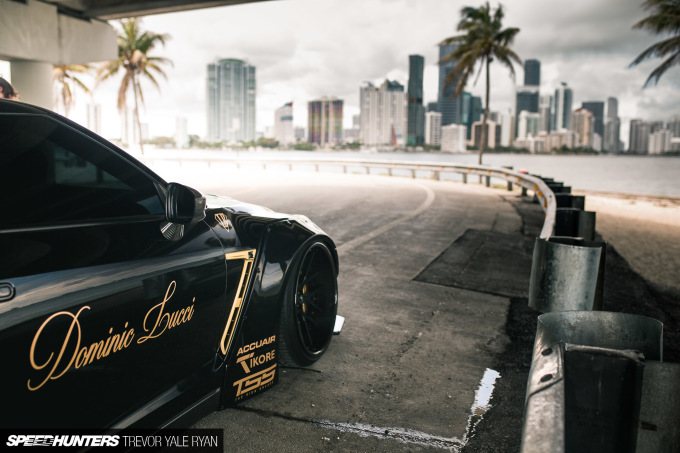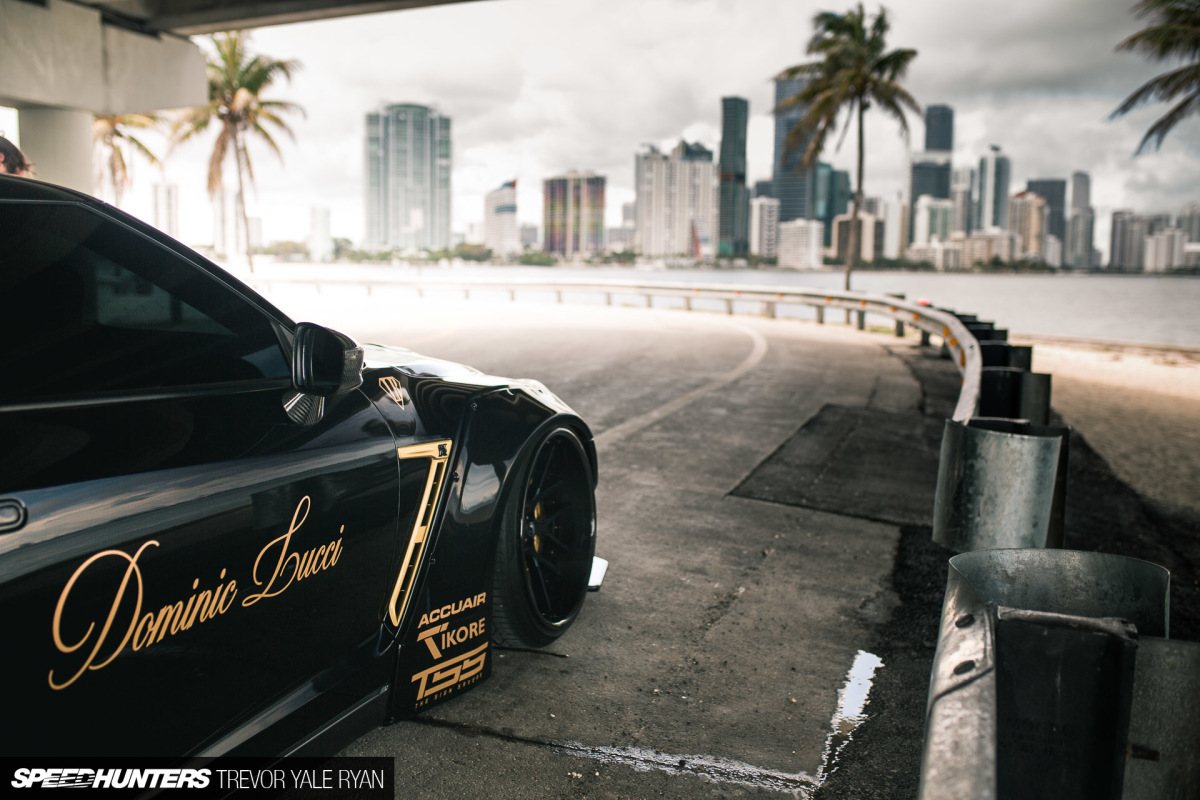 Sadly, the GT-R isn't Dom's car anymore. There's no good way to explain this, but after starting work on the car Dominic Lucci passed away. Now, the Nissan is exclusively in the care of his brother Mike.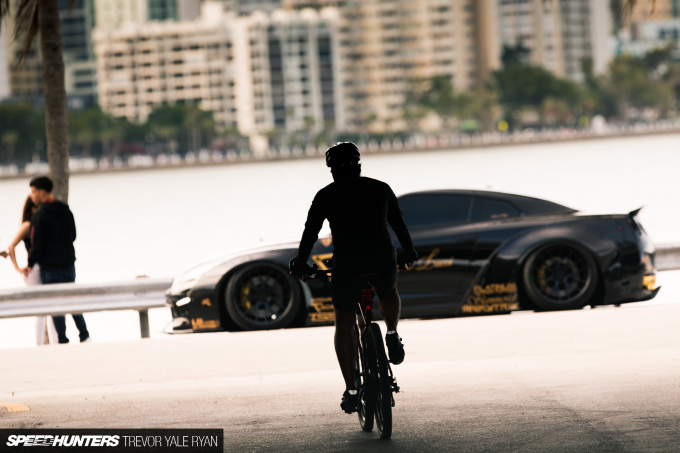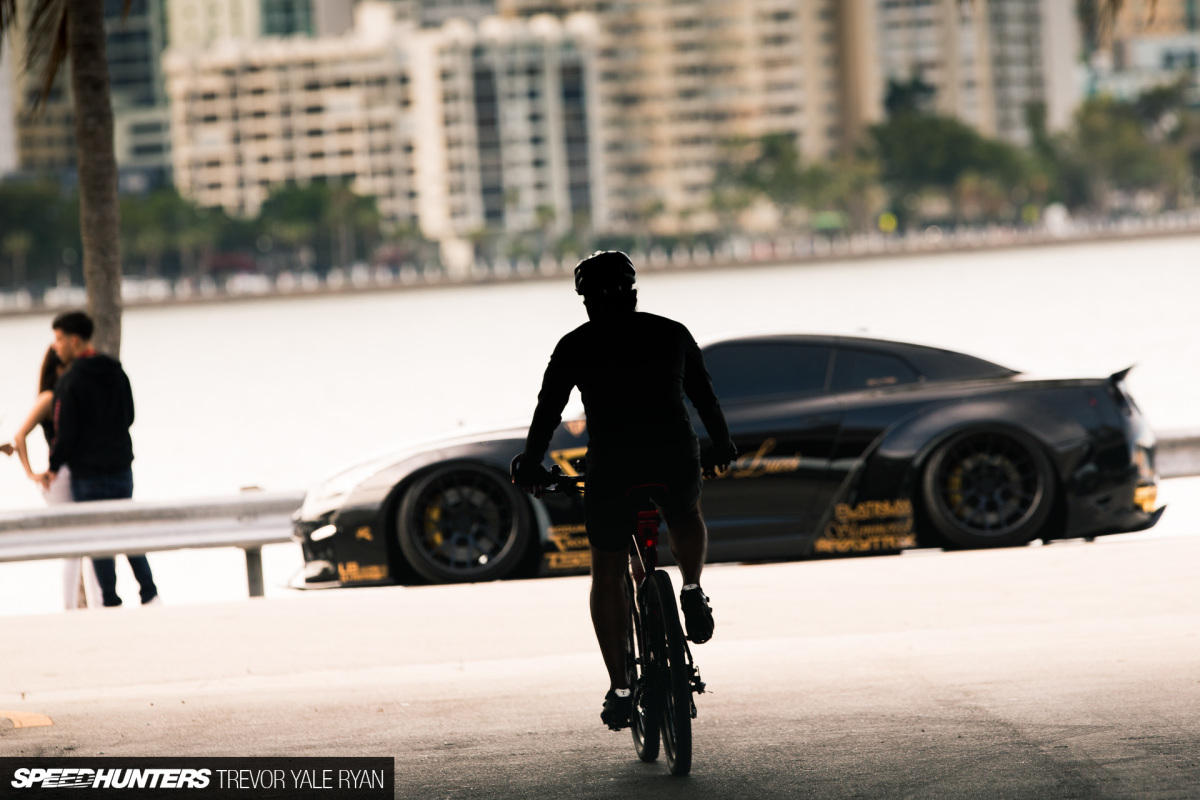 Since Dom passed, Mike has been modifying the car exactly as Dom always dreamed of doing, taking advantage of those long nights spent together dreaming up what to do next.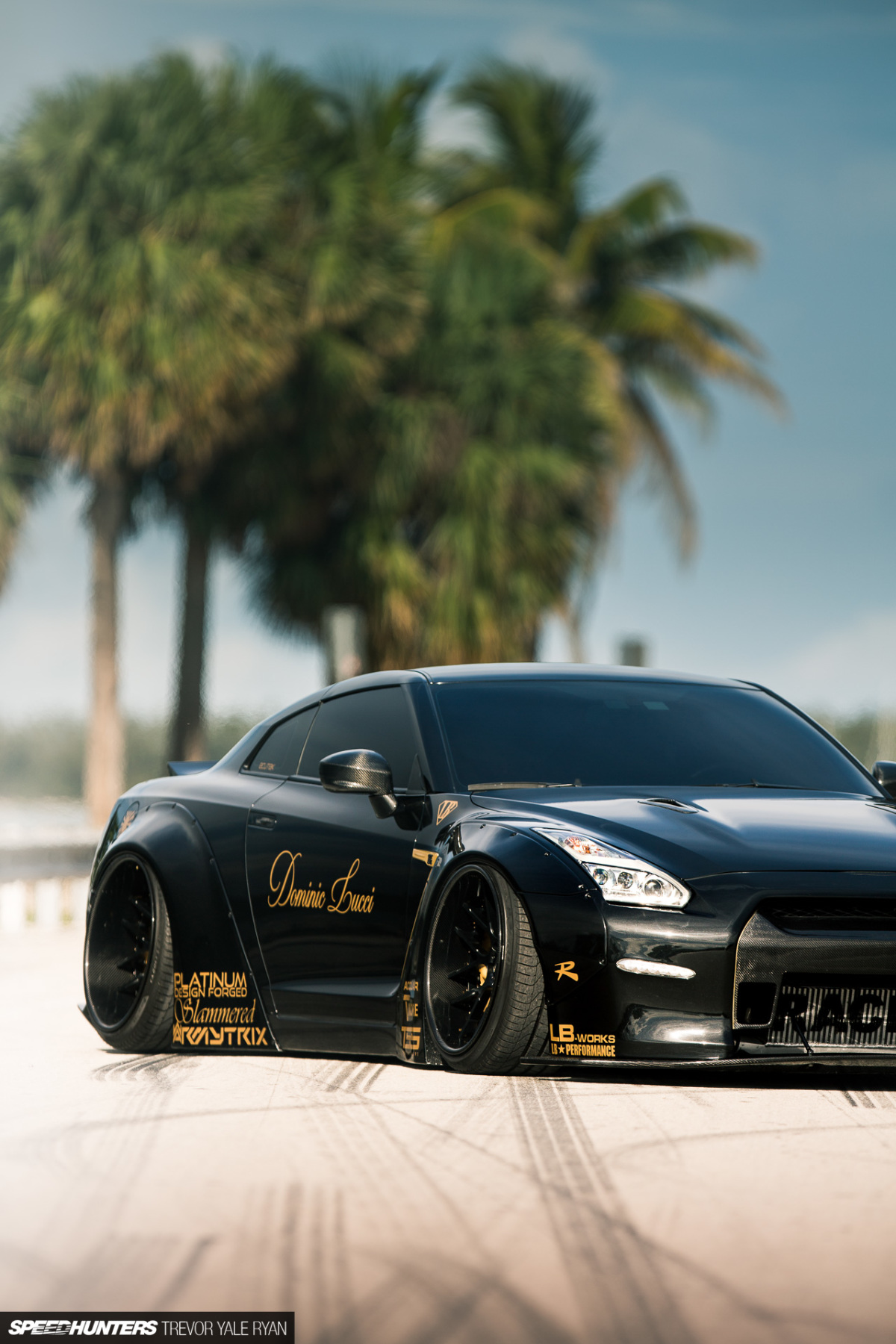 Mike's been able to keep Dom's memory alive and well through this car. A recurring theme in any build is the fact that the car carries far more more weight than a non-enthusiast can understand.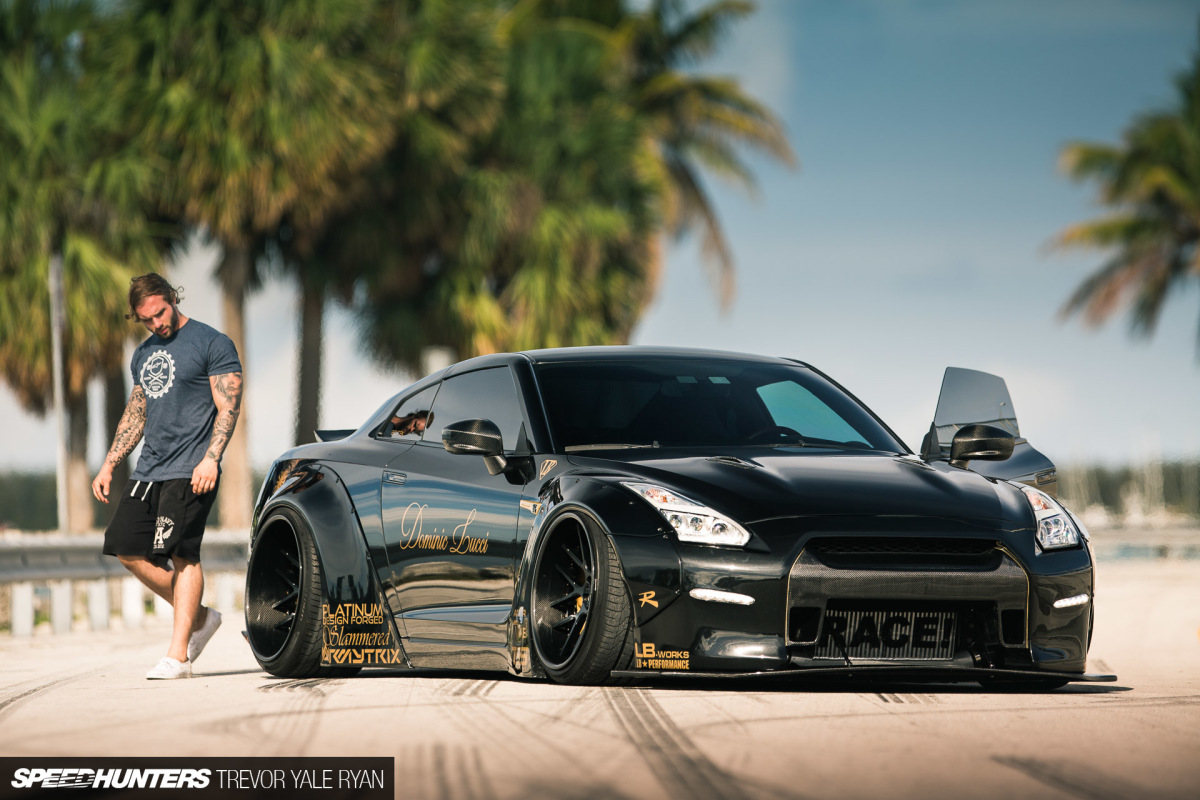 But to Mike, there literally is no deeper meaning that this car could possibly have. And anyone, enthusiast or not, would understand this.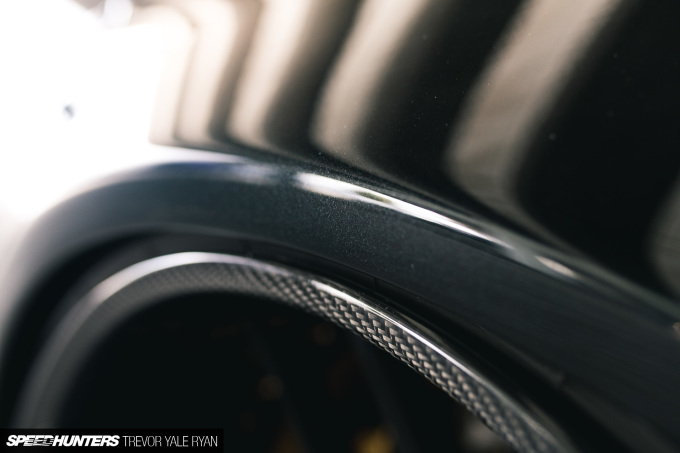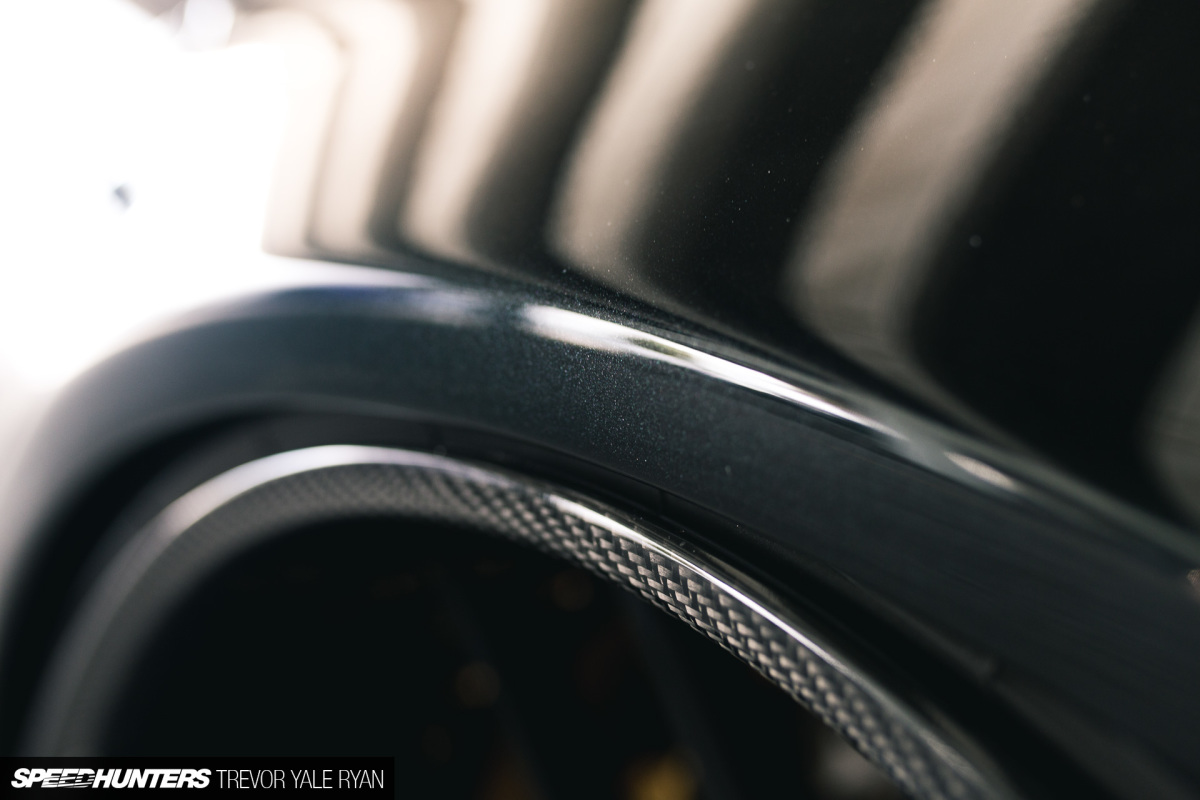 Throughout the shoot, Mike was so careful to get certain details just right. He would lower the car to the exact, perfect height on every surface and slope. And everything just had to be spotless.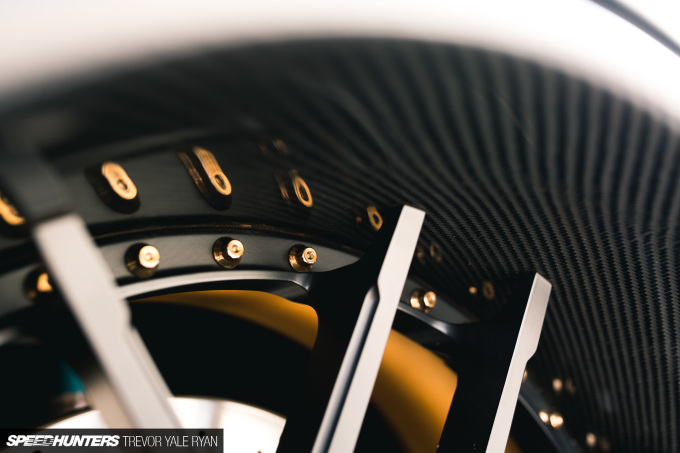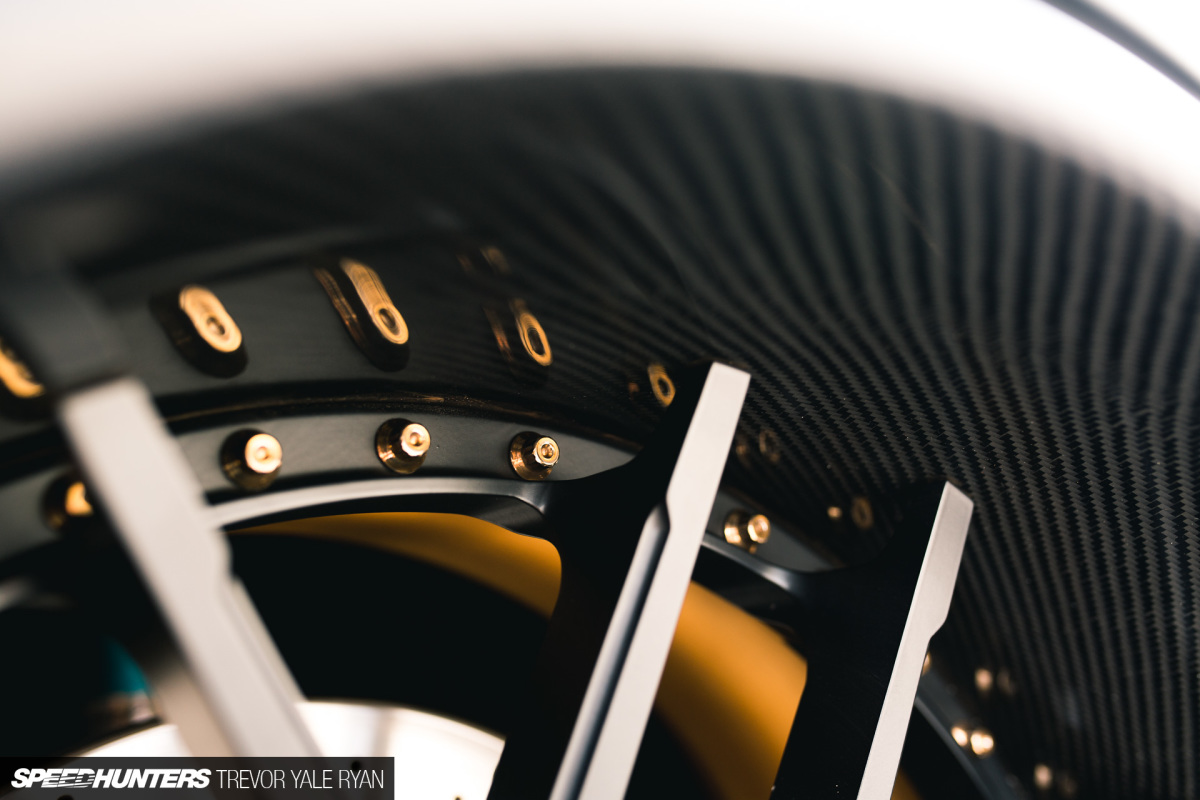 Especially the Platinum Design Forged 3-piece wheels that Mike and his brother developed together, which measure a whopping 21×12-inch in the front and 21×13.5-inch in the rear on this car. Wrapped in Pirreli P Zero rubber (285/30 and 325/25) the GT-R is far from a simple show pony.
It's strikingly clear how much pride Mike has in this car, and he says he's forever grateful that Dom shared all the ins and outs of how he wanted things to someday be while the brothers were still together.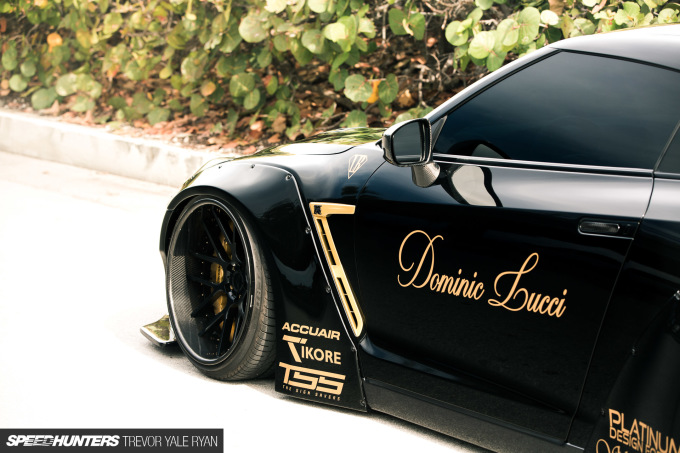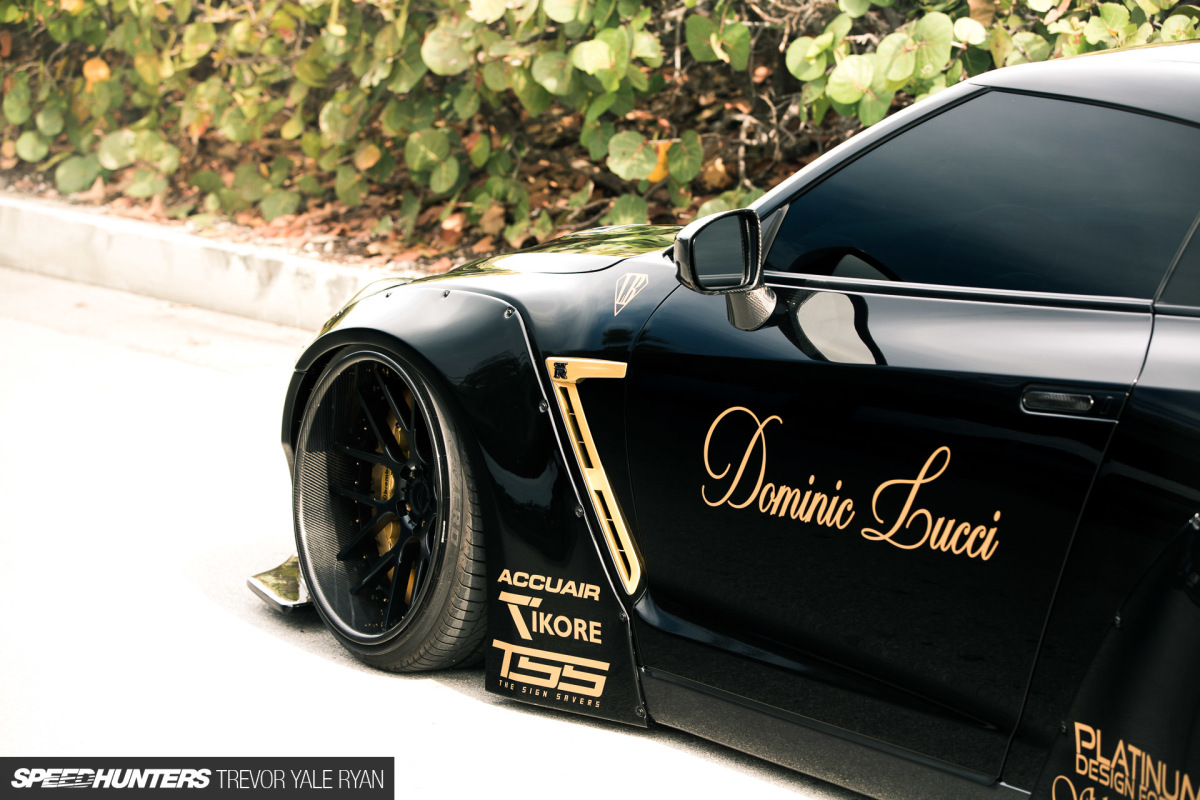 Mike tells me that Dominic would always say something to the effect of 'you can never go wrong with a wide-body, bagged supercar on crazy wheels and a perfect sounding exhaust.'
While I've already expressed my displeasure for R35s, I think this is the only way I like them: Low, loud, wide, and built with passion.
As A Whole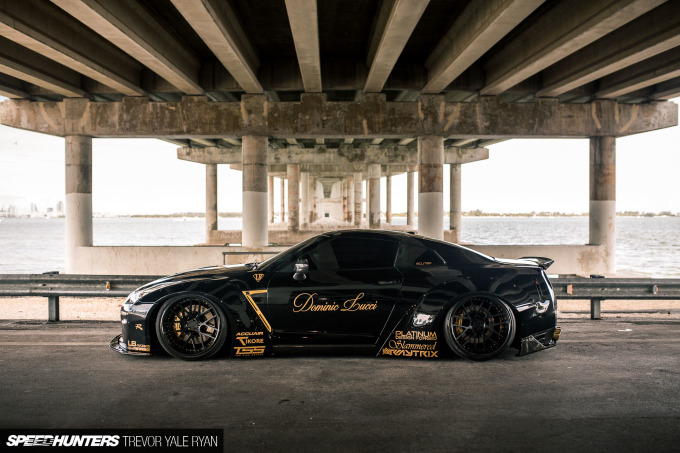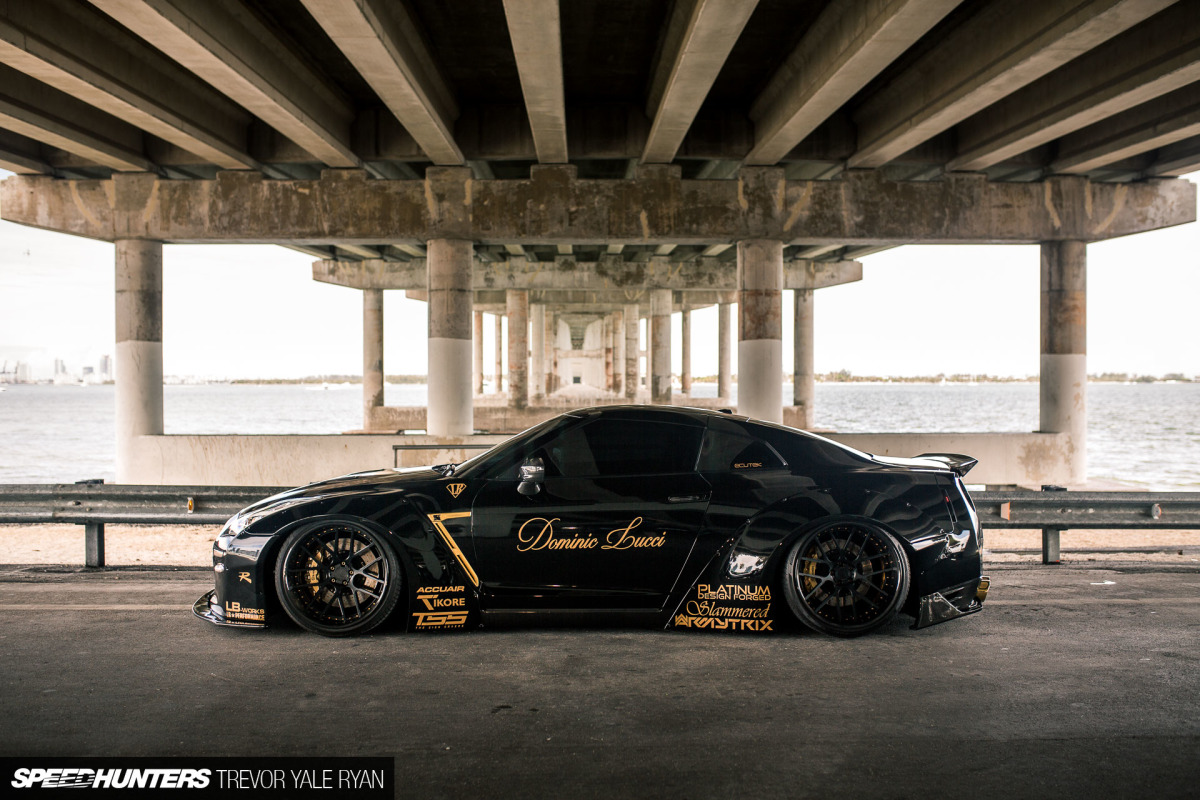 The car is obviously making use of air ride to completely flatten itself out while still being able to navigate around town with reasonable ease.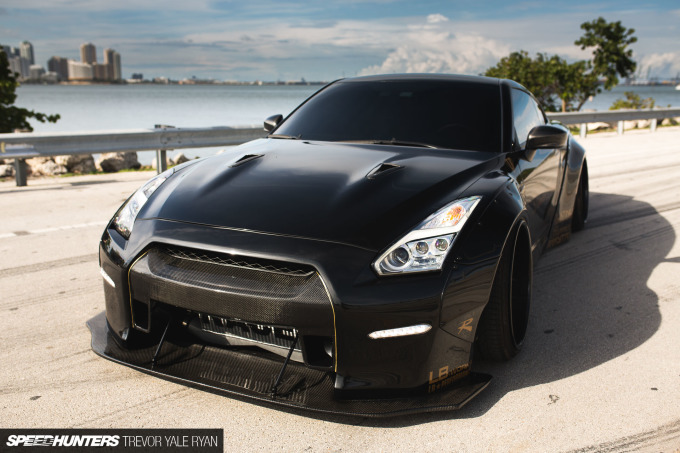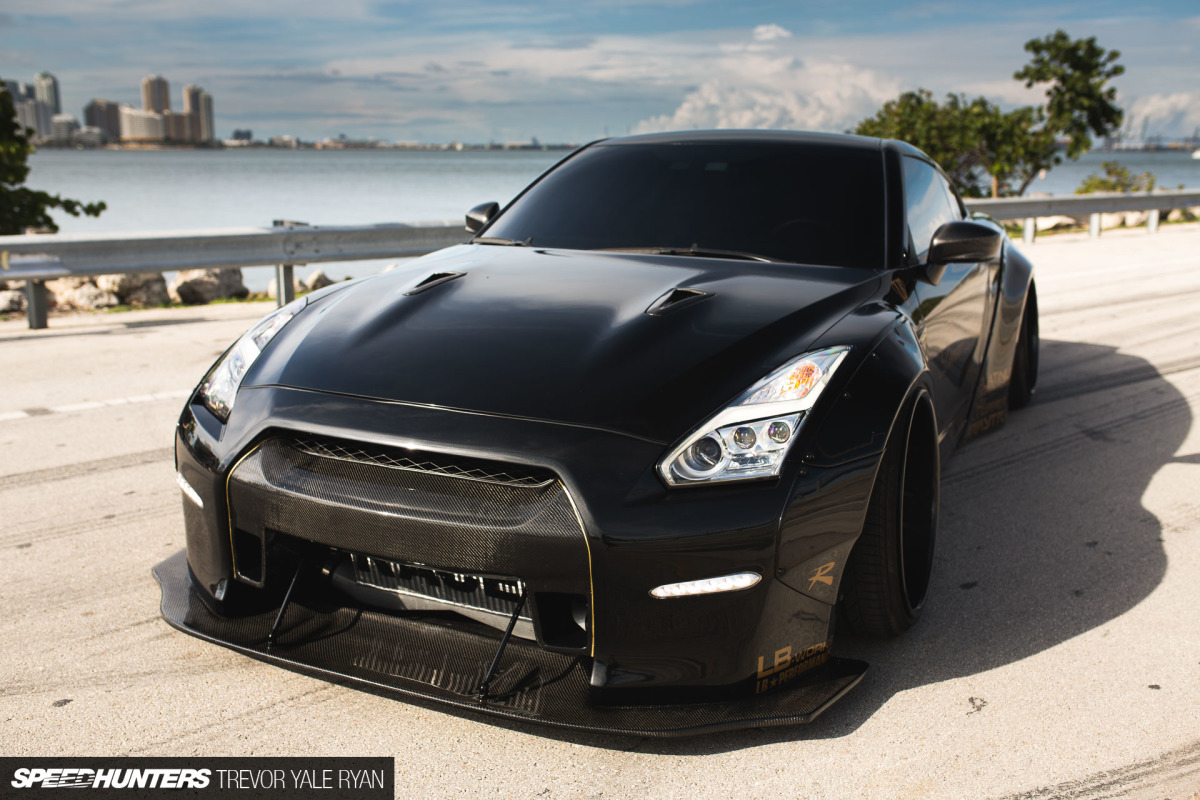 Realistically, clearing the custom carbon fiber front splitter and rear diffuser wouldn't be possible at any height. Already a relatively large car, this R35 has become even beefier with all the body bolt-ons.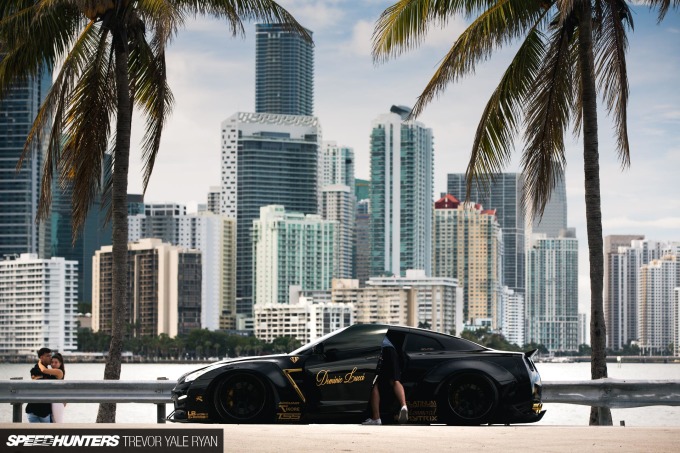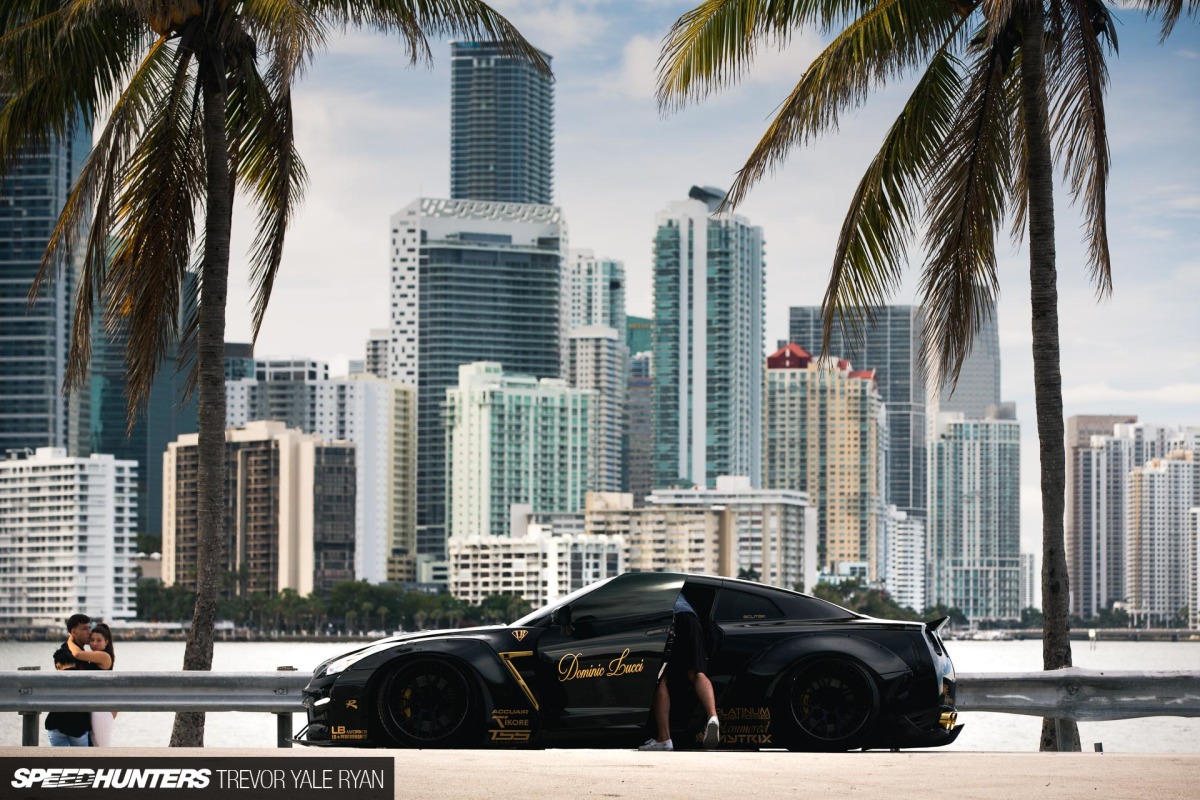 With that Liberty Walk wide-body, the black and gold GT-R looks so incredibly sinister when aired out. Coupled with the wild exhaust note from the Armytrix valvetronic exhaust it's a car that get plenty of looks.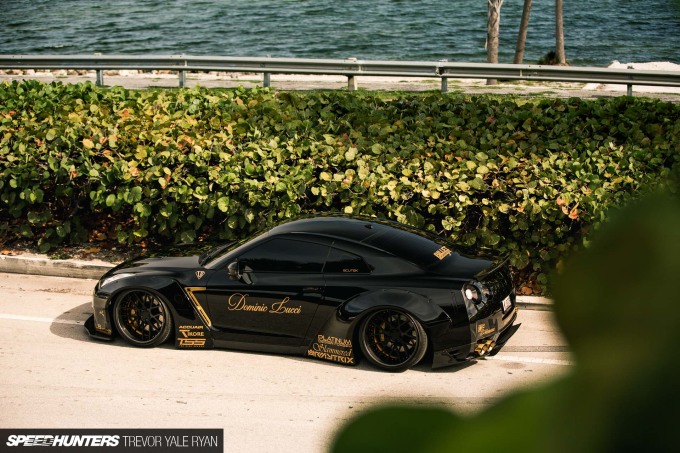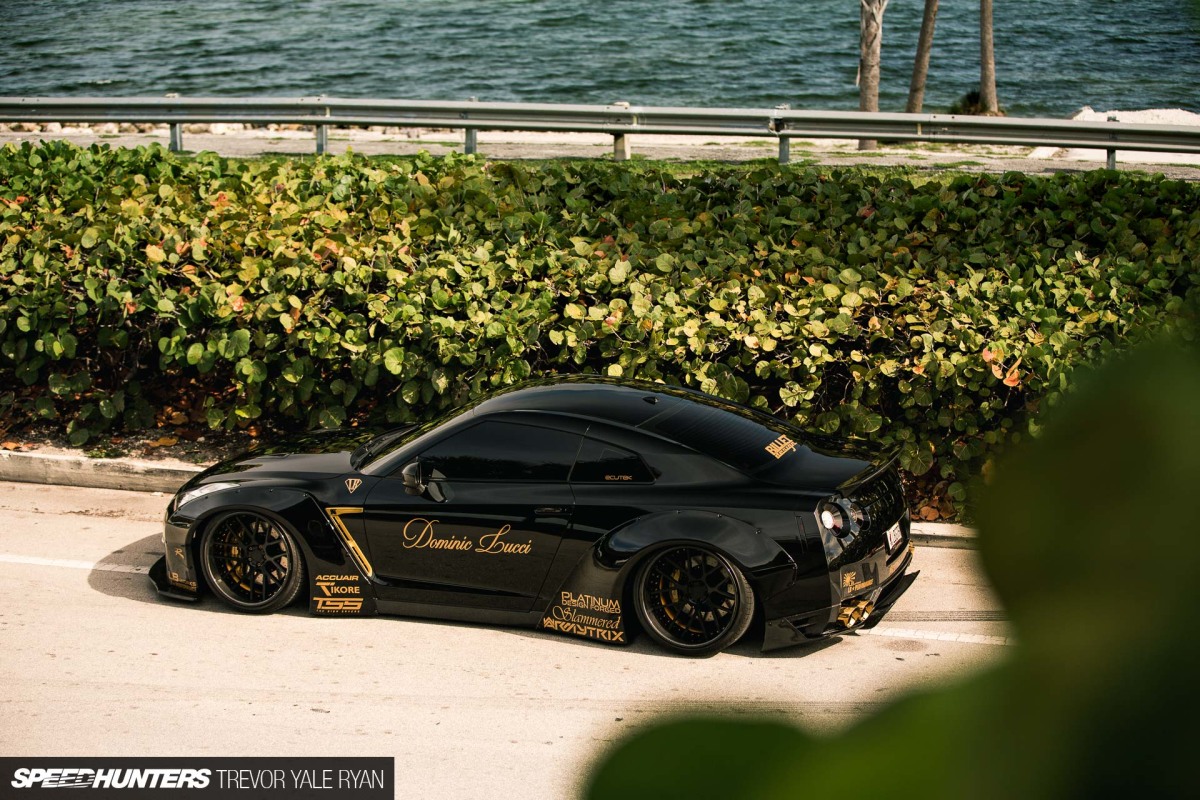 As crazy as it might sound, around Miami Mike says this car falls really low on the spectrum of exotic cars. Still, he's plenty welcome at any meet or show and regardless, like the other LB GT-R on air I just featured, this Nissan was built to be driven.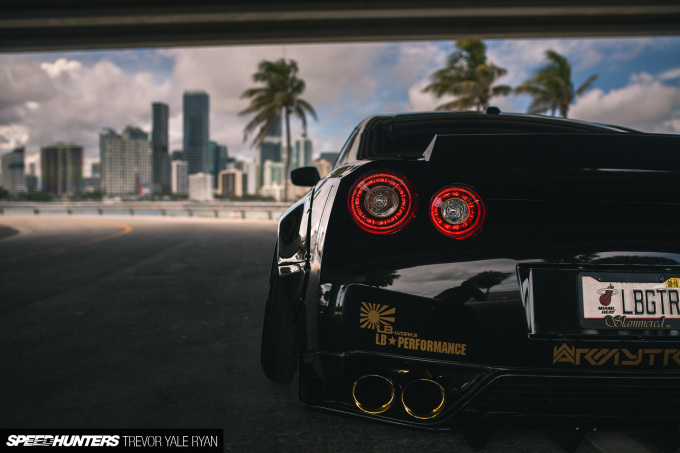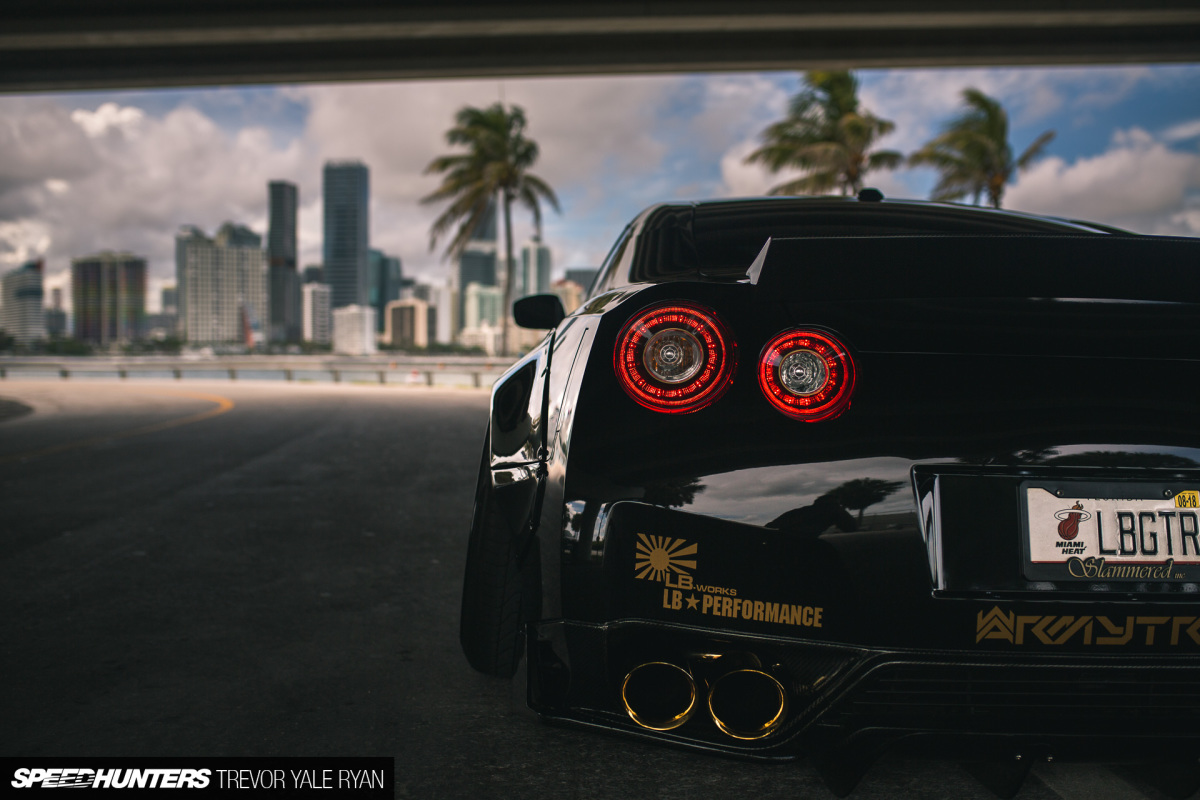 While Mike babies the car now compared to how his brother drove it, it still gets plenty of cruise time in and around Miami.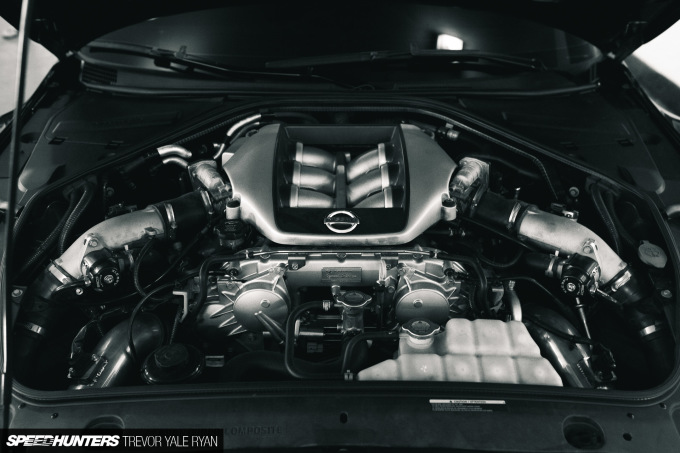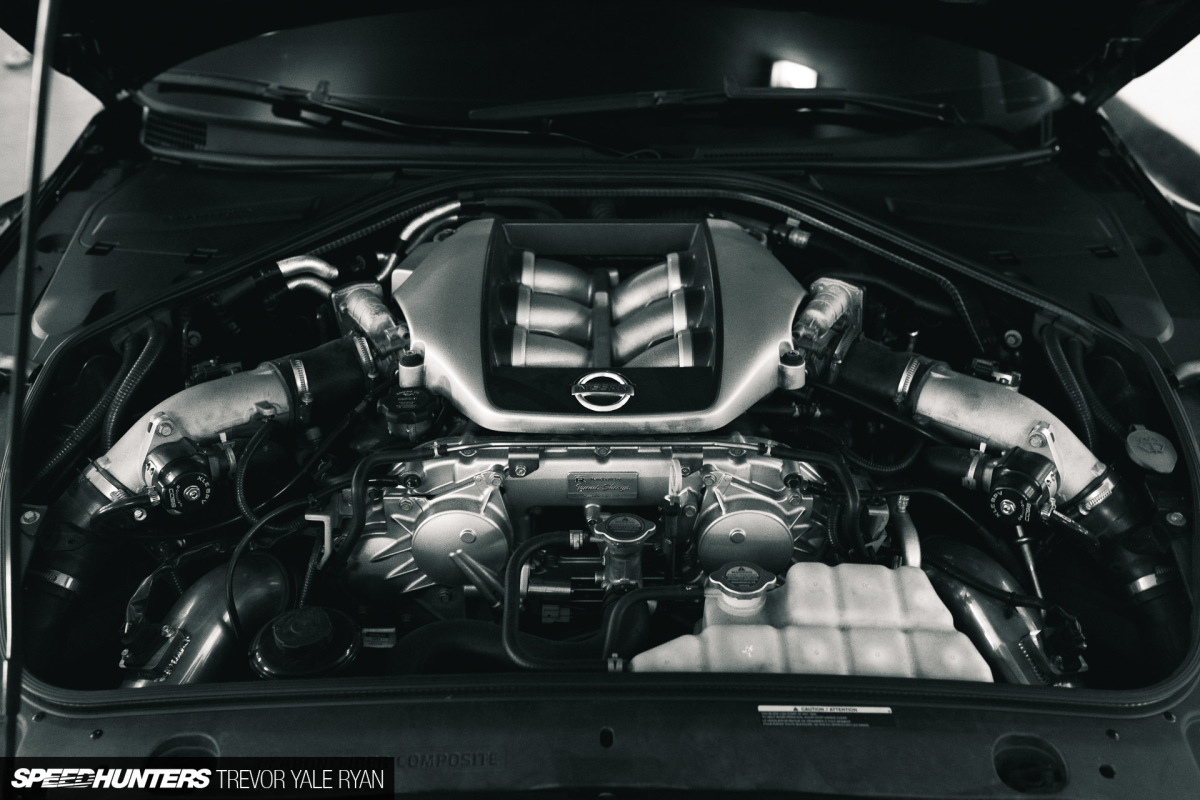 Under the hood, as with most R35s, it doesn't look like much at all has changed. However, a custom intercooler setup with 3-inch piping, dual Walbro 255lph pumps, and 1,100cc injectors help the car push 745hp and 654ft-lb of torque.
Of course, this relatively big number is only possible with an E85 tune and an EcuTek as the brains behind it all.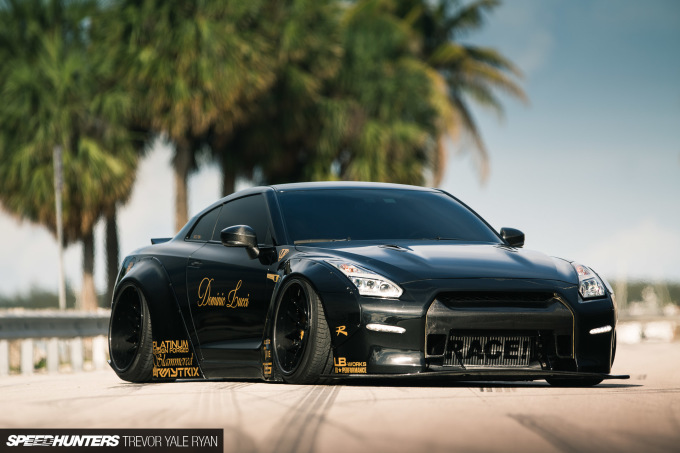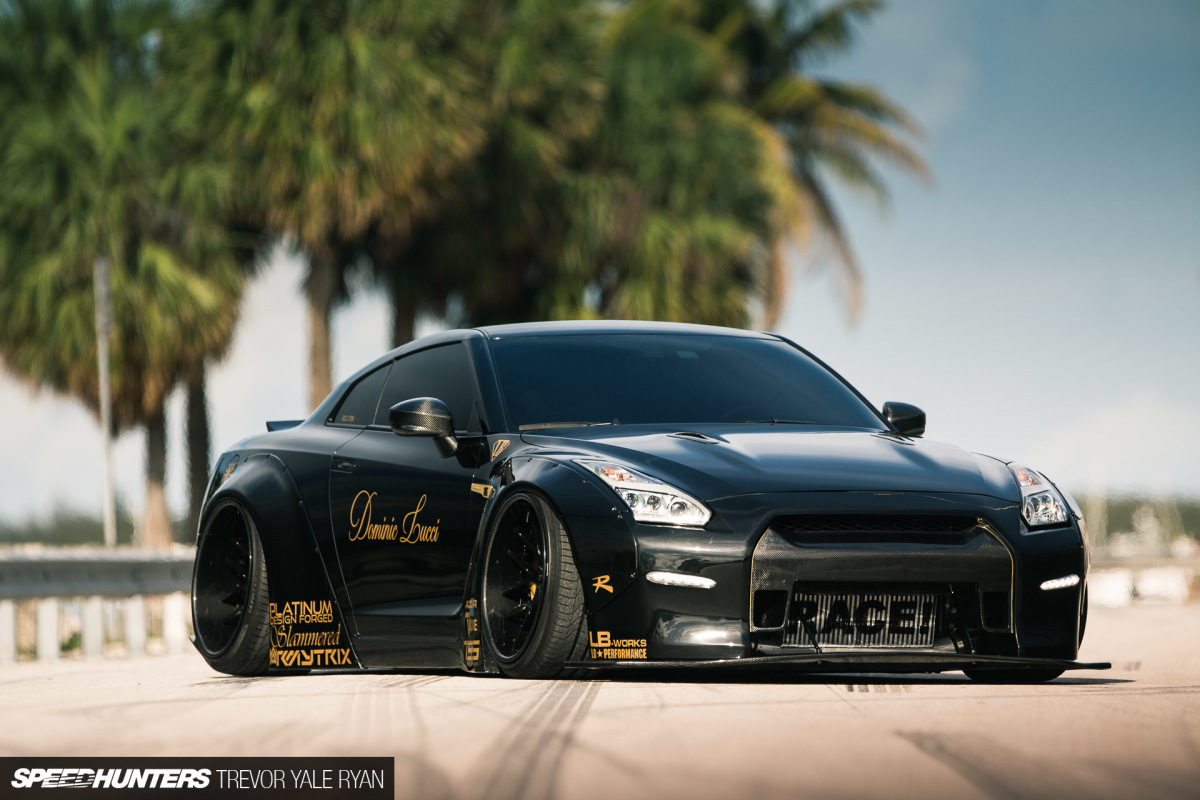 After nearly three years with the car, it's come so far from how it was when the twins got their hands on it. Still, Mike isn't finished with the build. He says Dom always wanted the car painted liquid gold and someday this will become a reality.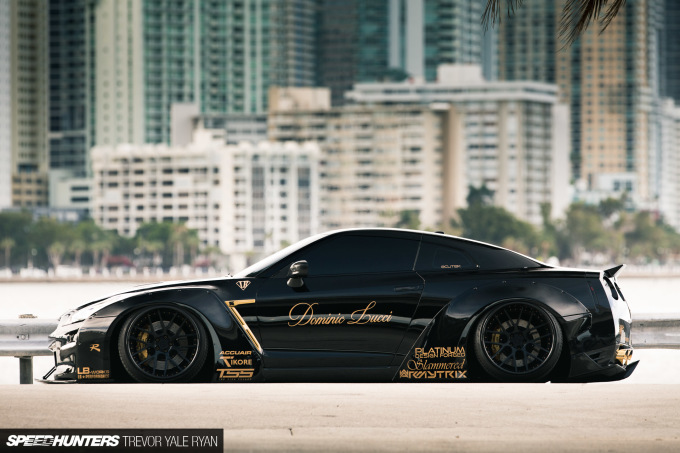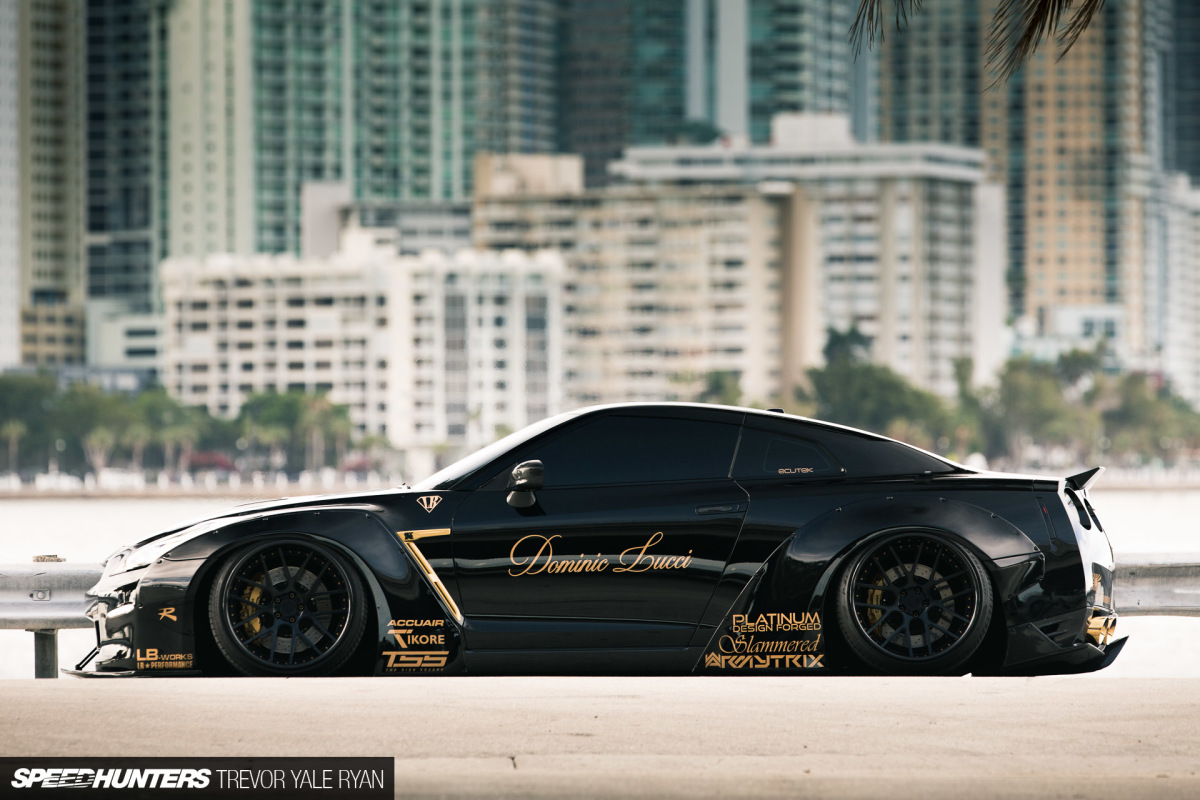 While Dominic may not be the one who's able to see it through, day by day his vision for the car is being carried out.
It was an absolute pleasure getting to know Mike Lucci and I would have never forgiven myself if I'd settled for the hotel room over this special build.
Trevor Yale Ryan
Instagram: tyrphoto
TYRphoto.com
Outskirts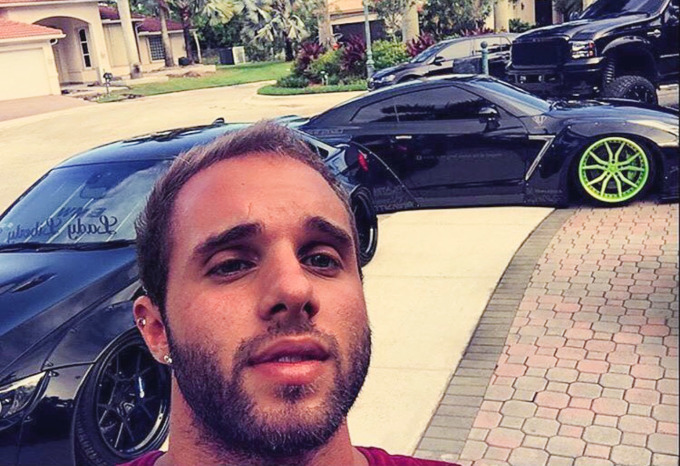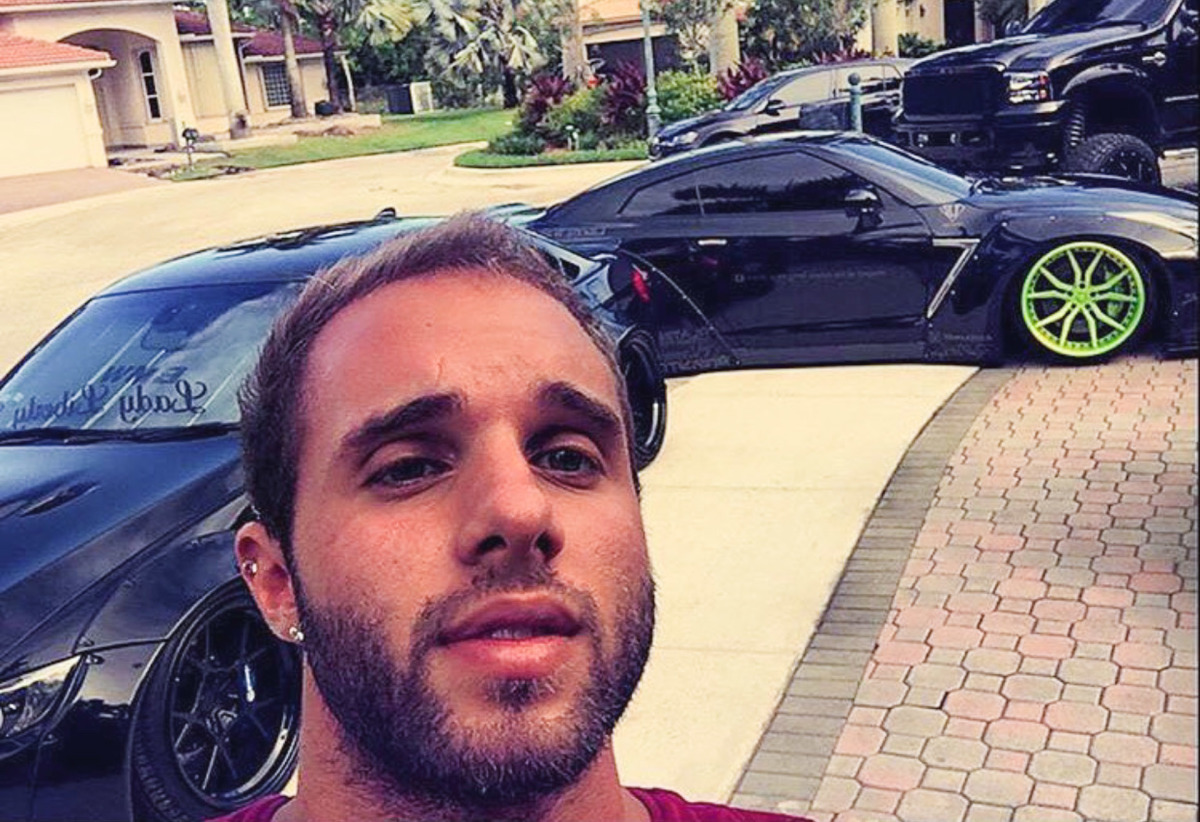 Dominic Lucci
August 18, 1993 – October 24, 2016
Continued by brothers Michael & Joseph Lucci