7's Day Is Far From Over
Despite the police shutting down the festivities, it turned out that 7's Day night was not a total loss. After being kicked out of Daikoku PA at a relatively early 9:00pm – the time the rotary party usually gets into gear – I made the drive back up to Tokyo, destination Shibuya.
Being the first Saturday of July, Tokyo's monthly lowrider gathering was scheduled to go down, and with it being such a nice summer's night the potential for a decent turnout was pretty high.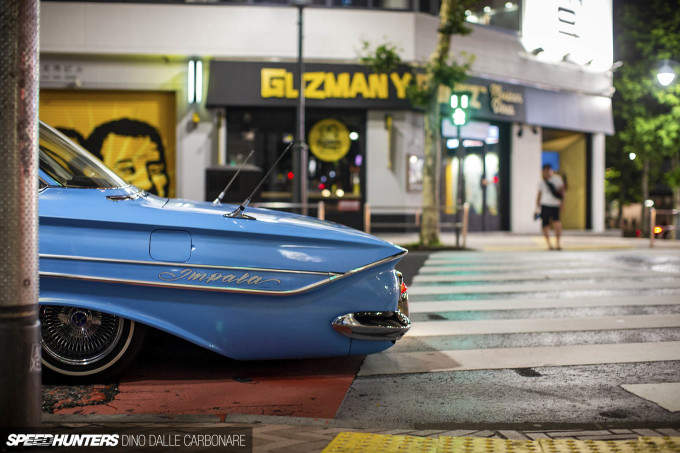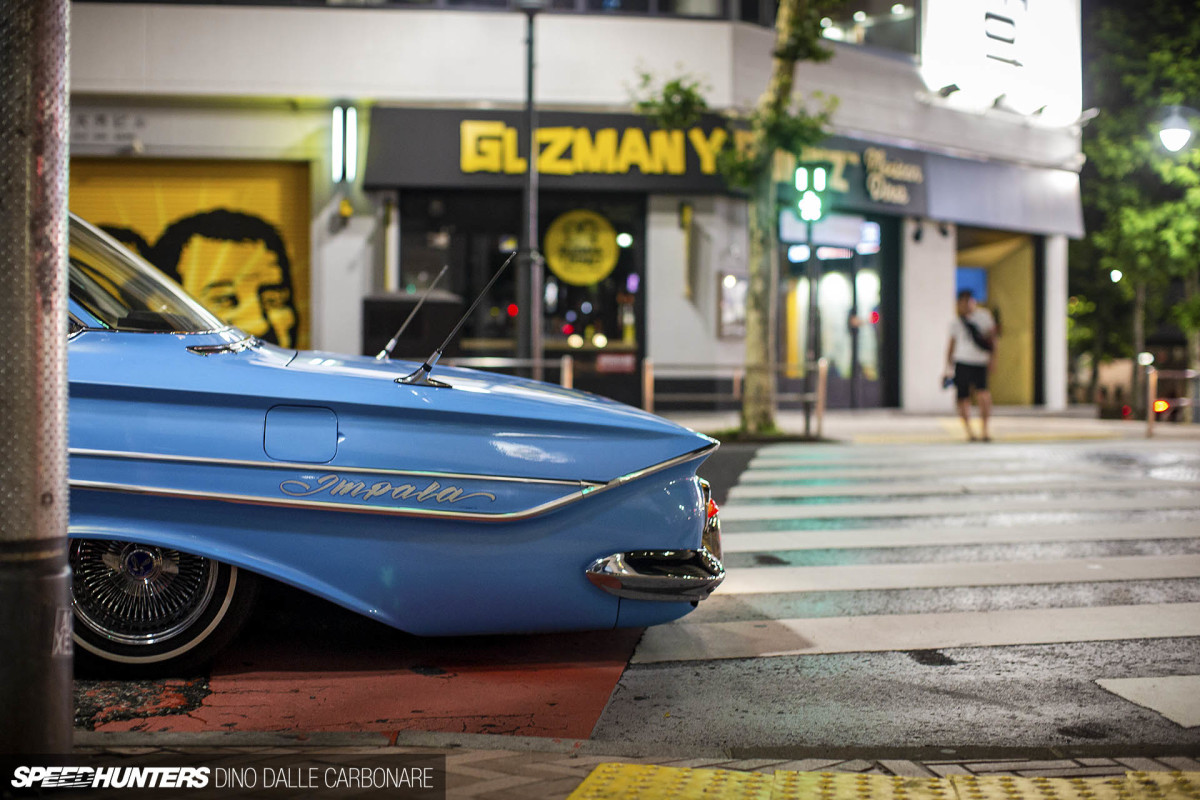 There was no hurry for me as nothing really starts to happen before 11:00pm, so I grabbed a bite to eat on my way to Tokyo's glitzy shopping district.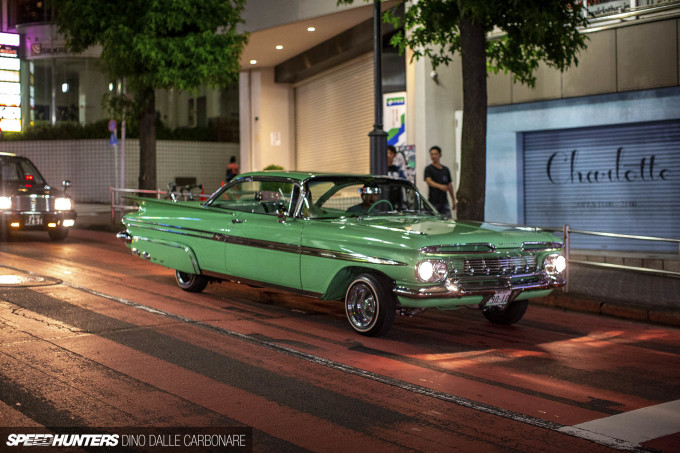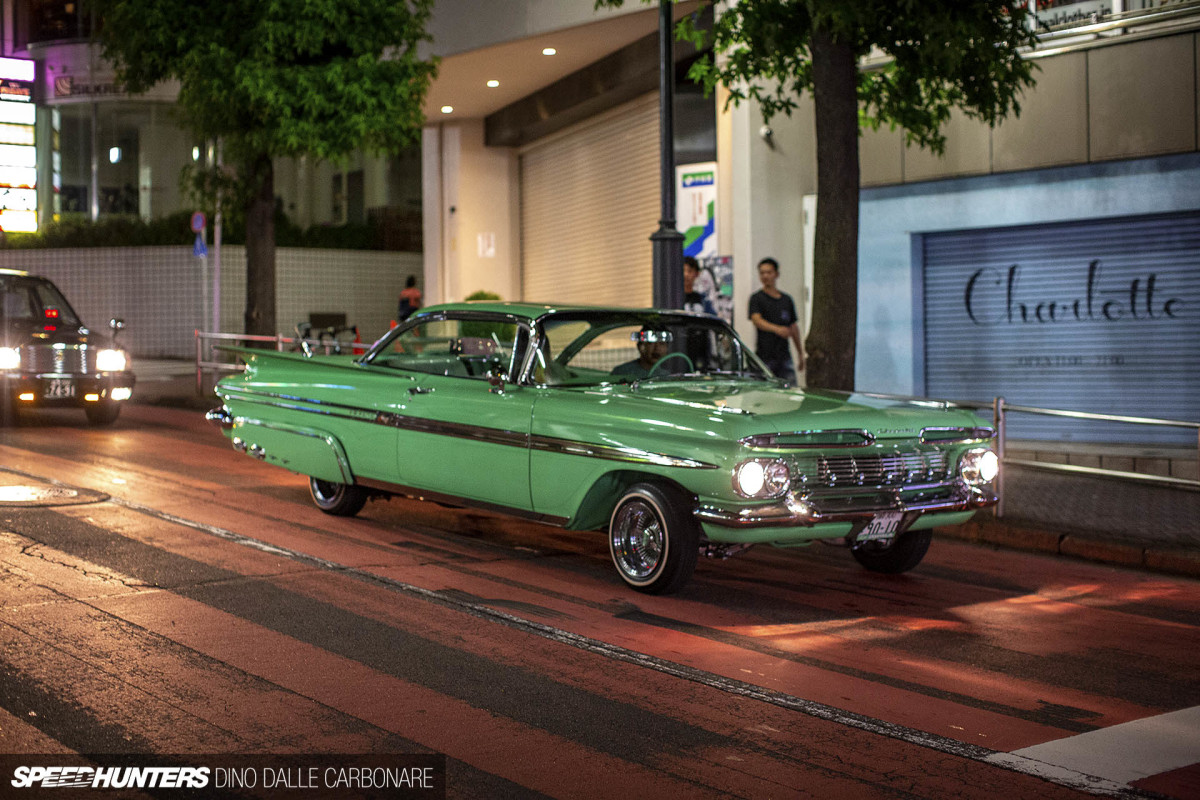 By the time I arrived in central Shibuya there was already some action. It felt like I had somehow been teleported into a parallel dimension where the space-time continuum had been disrupted and Tokyo was mixed with a hot '60s summer night in SoCal.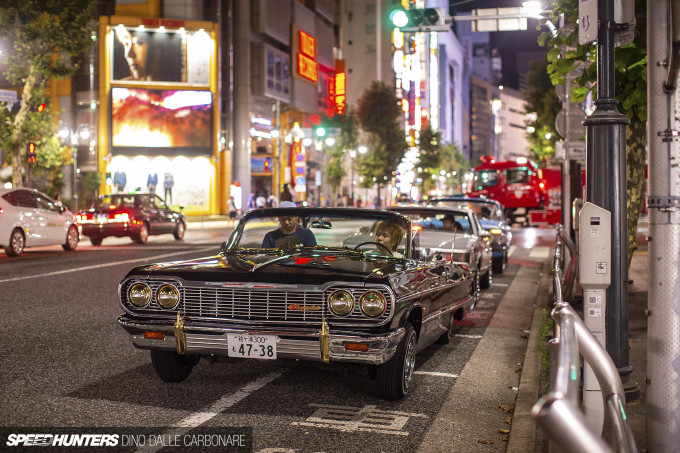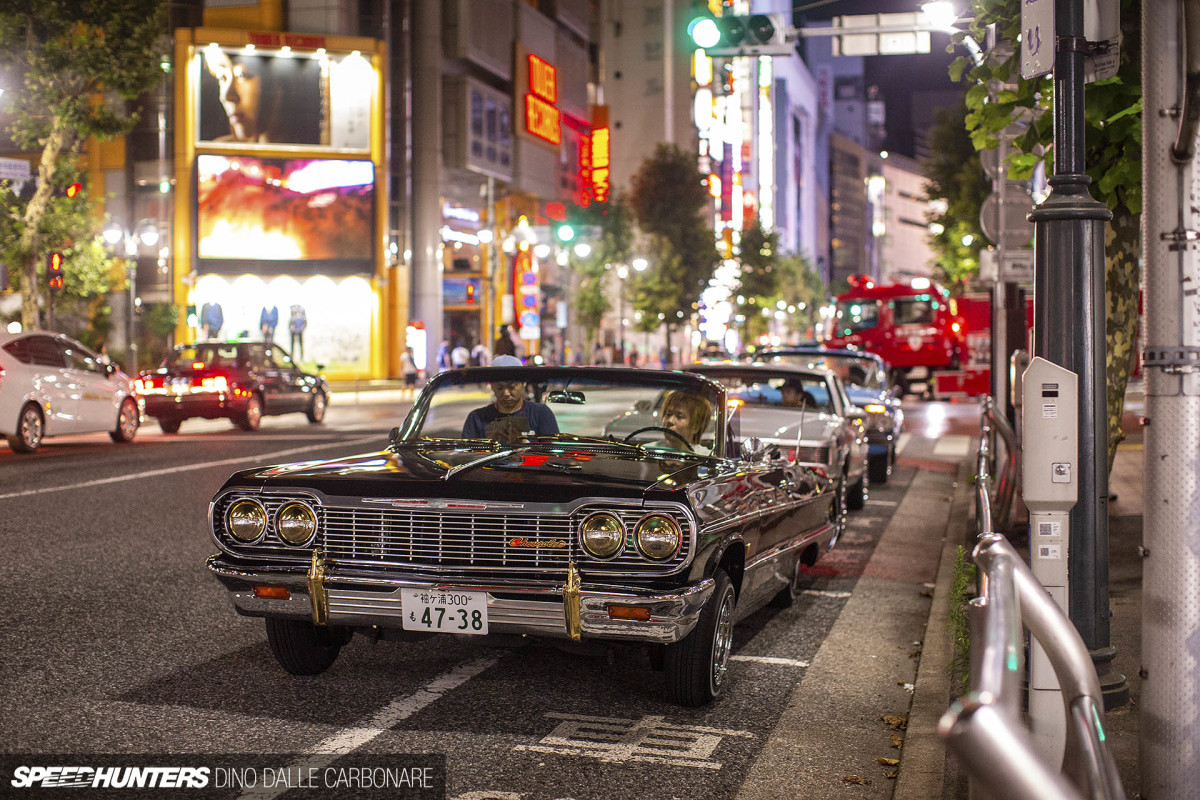 It's almost hard to put it into words, as what happens is a proper take over of Shibuya. The police are always ready for it too; they position a couple of vans on the main stretch of road in front of Tower Records, drop a line of cones so people don't park up, and station an officer with a red LED baton and a whistle to 'help' direct traffic.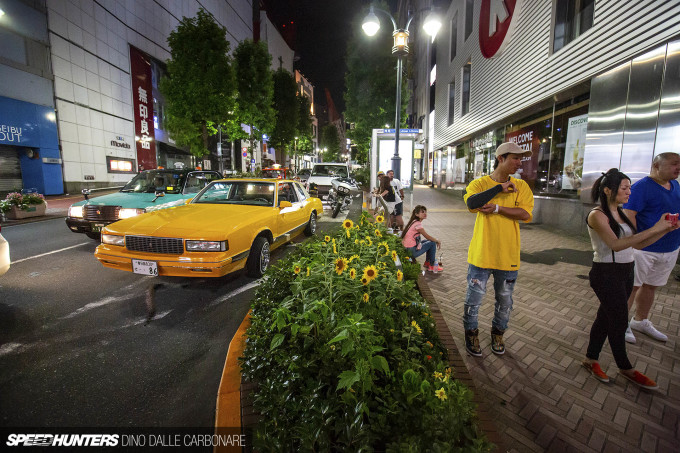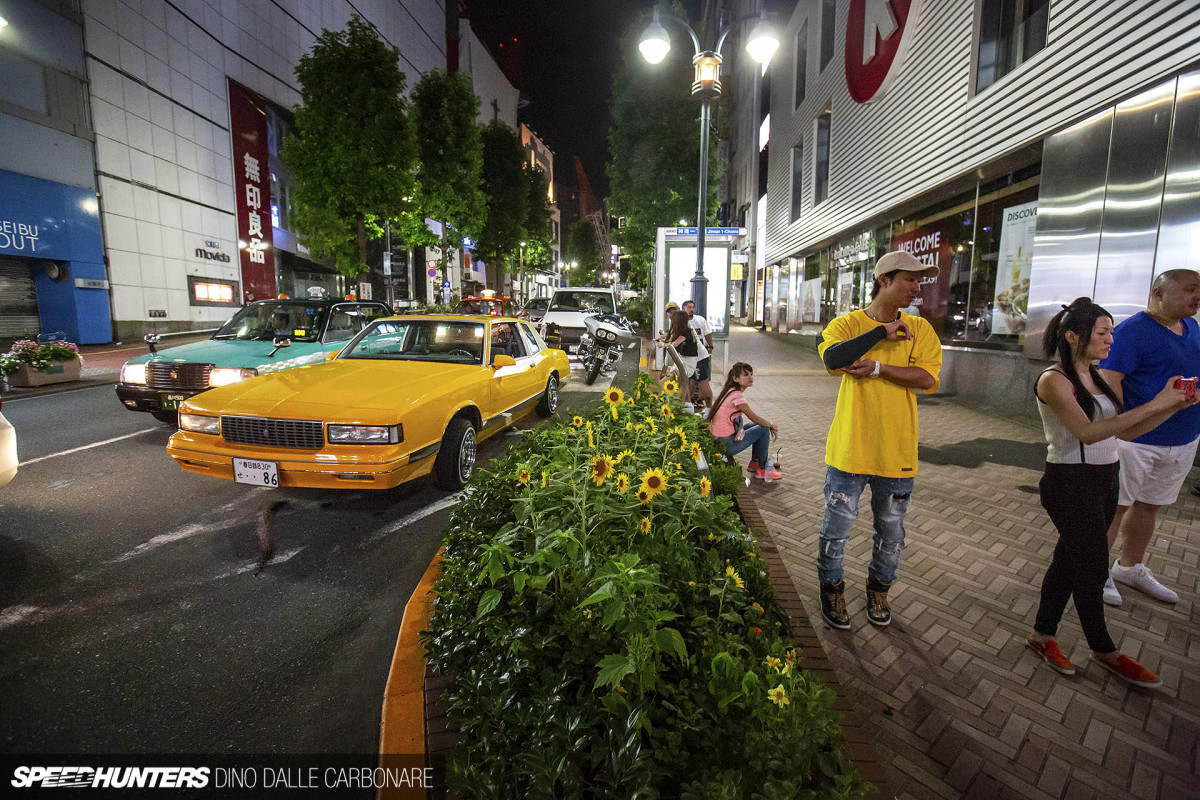 Thankfully, that's as active as the police would get on this night, and of course everyone just totally ignored them and parked around the next intersection up the road.
It all becomes a massive parade as cars and trucks cruise by in every direction, before looping around and doing it all over again. Every side street becomes either a short cut to Shibuya's main drag, or a temporary place to park and grab a drink from one of the many convenience stores.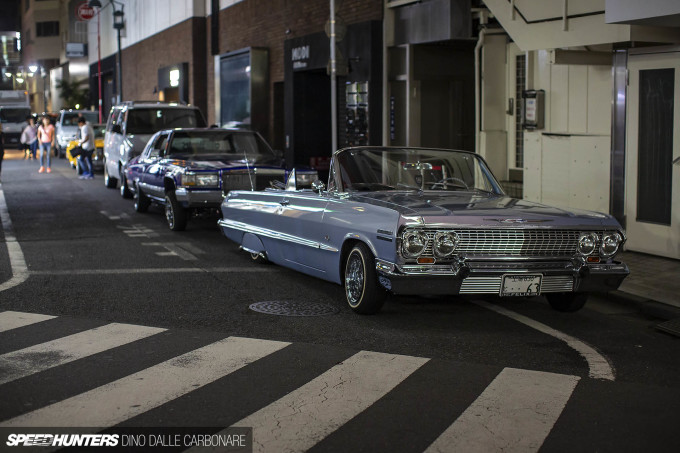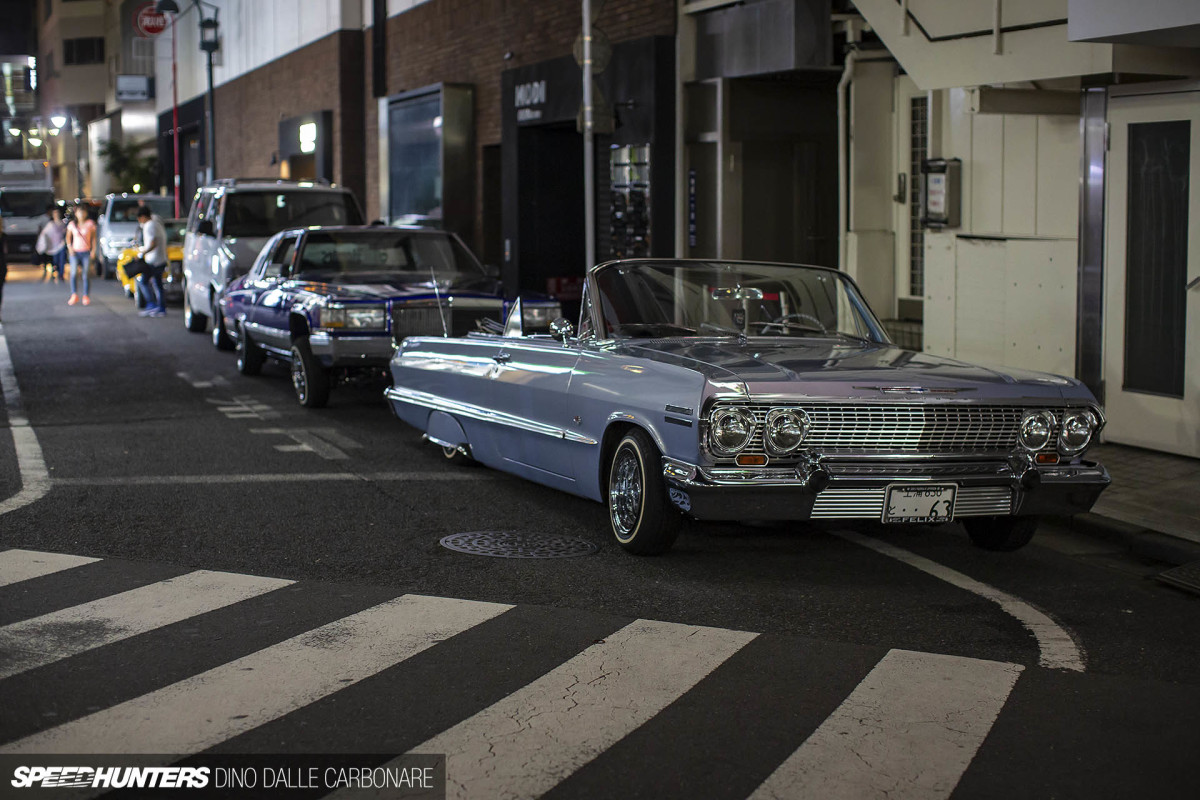 It was down one of these side streets that I came across a couple of custom builds of the two-wheeled variety. You don't see too many of these modified scooters around Tokyo (Yokohama seems to be where they're mainly at), and they usually only have mild wheelbase stretches in comparion to some of the bigger and wilder bikes in the scene. But that said, they have their own cool aura and attraction. I loved the saddle covered in Bride seat fabric; talk about a car-bike crossover.
Lowriders Own The City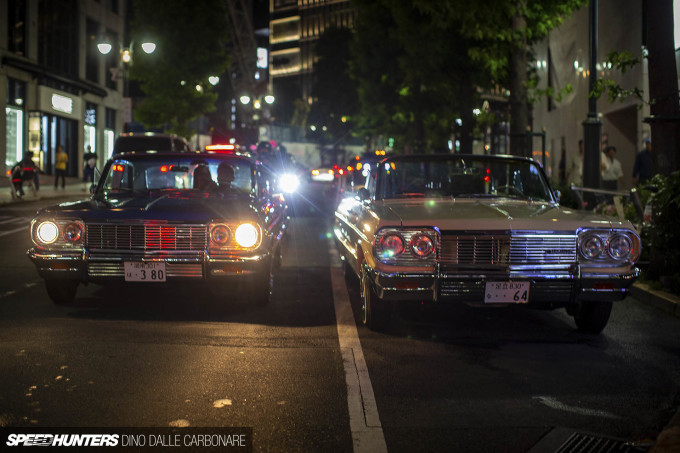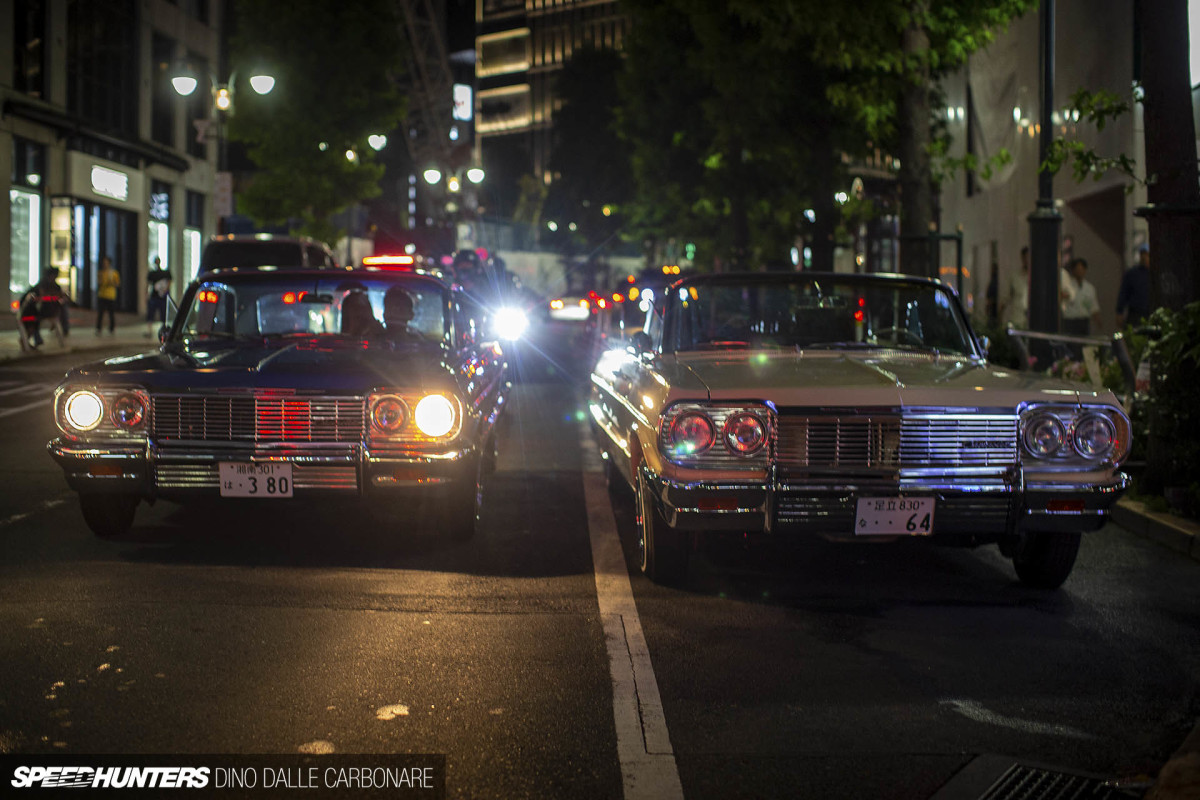 An hour or so into the meet, Shibuya had become Impala central.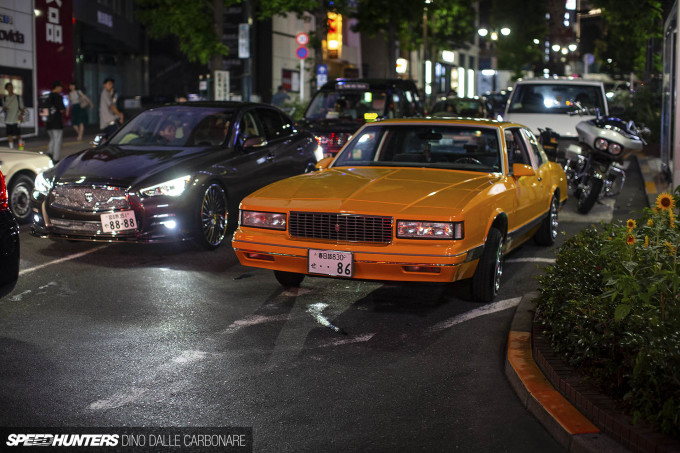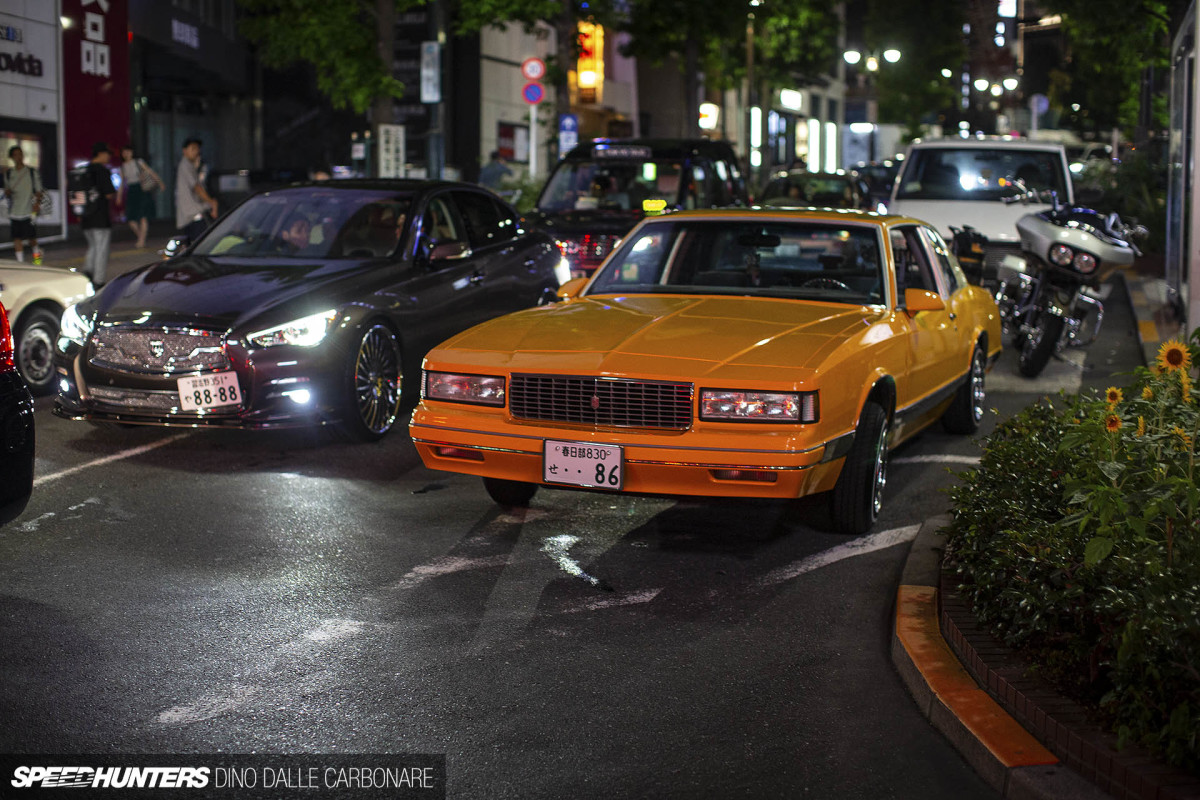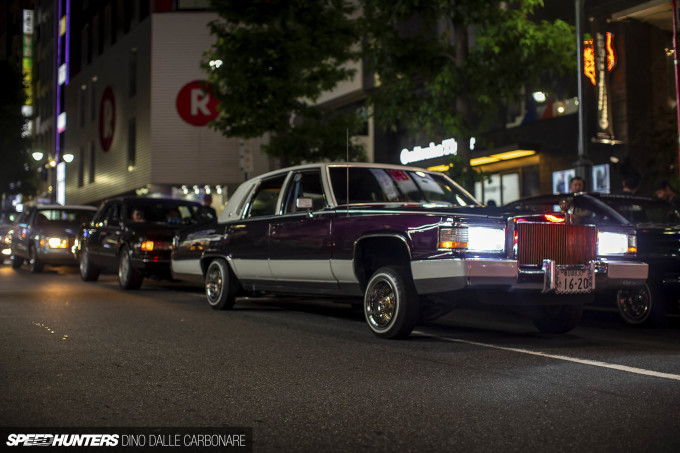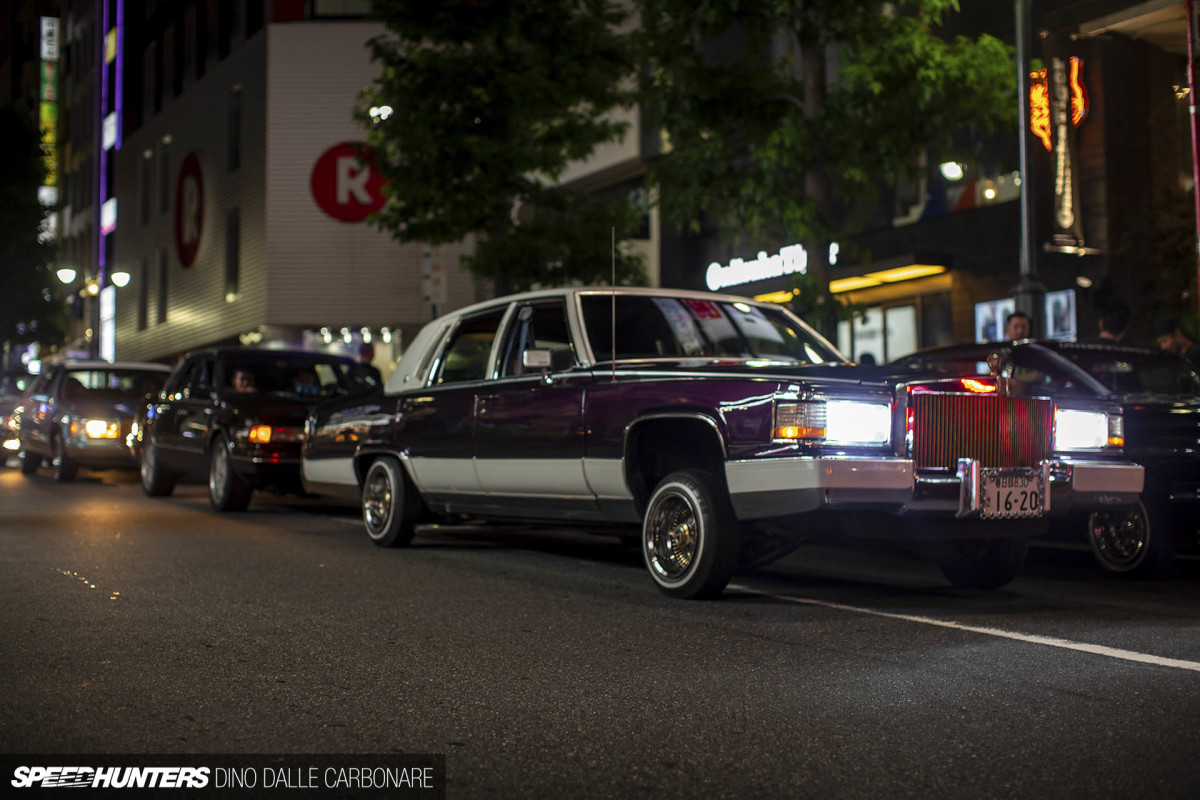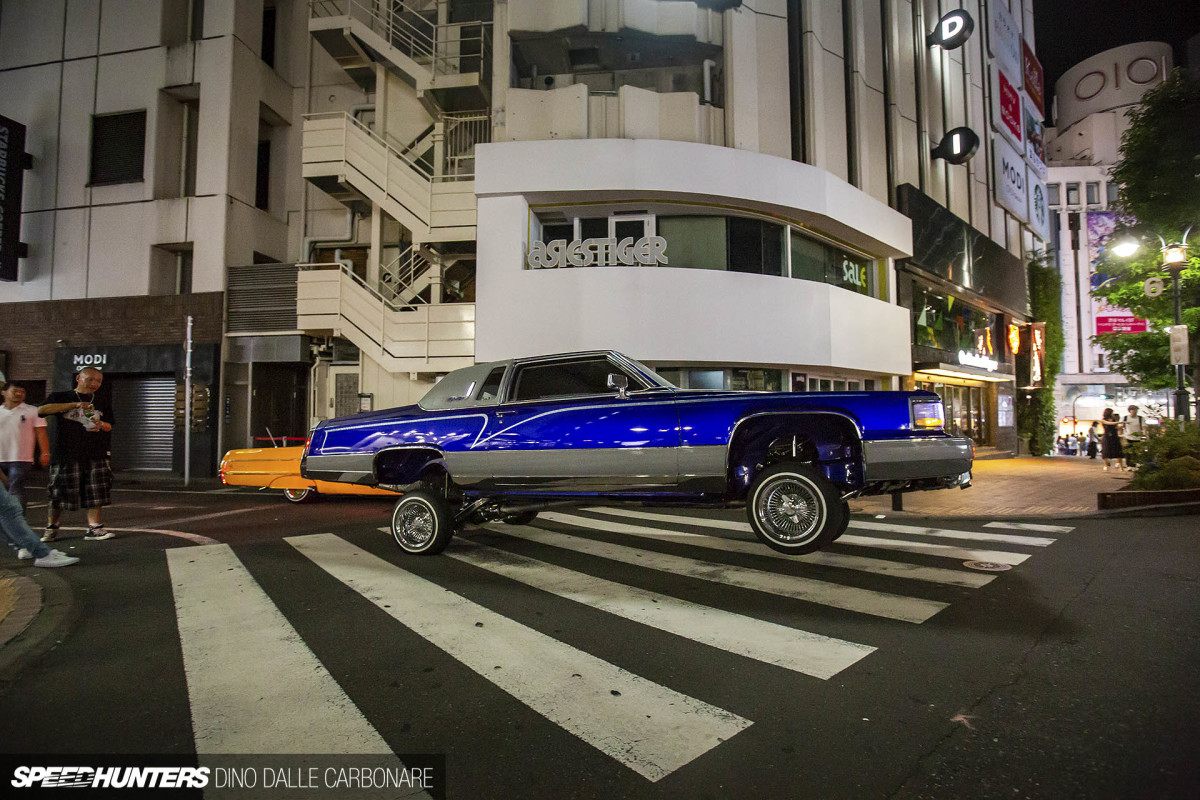 Along with the low-riding customs that you see, there are also what I like to call 'support vehicles.'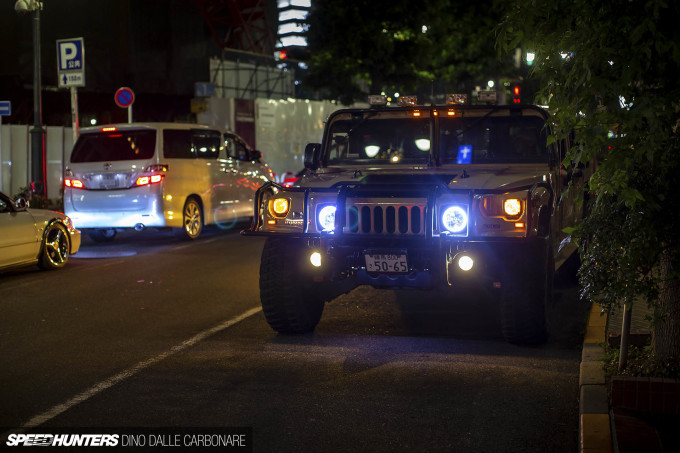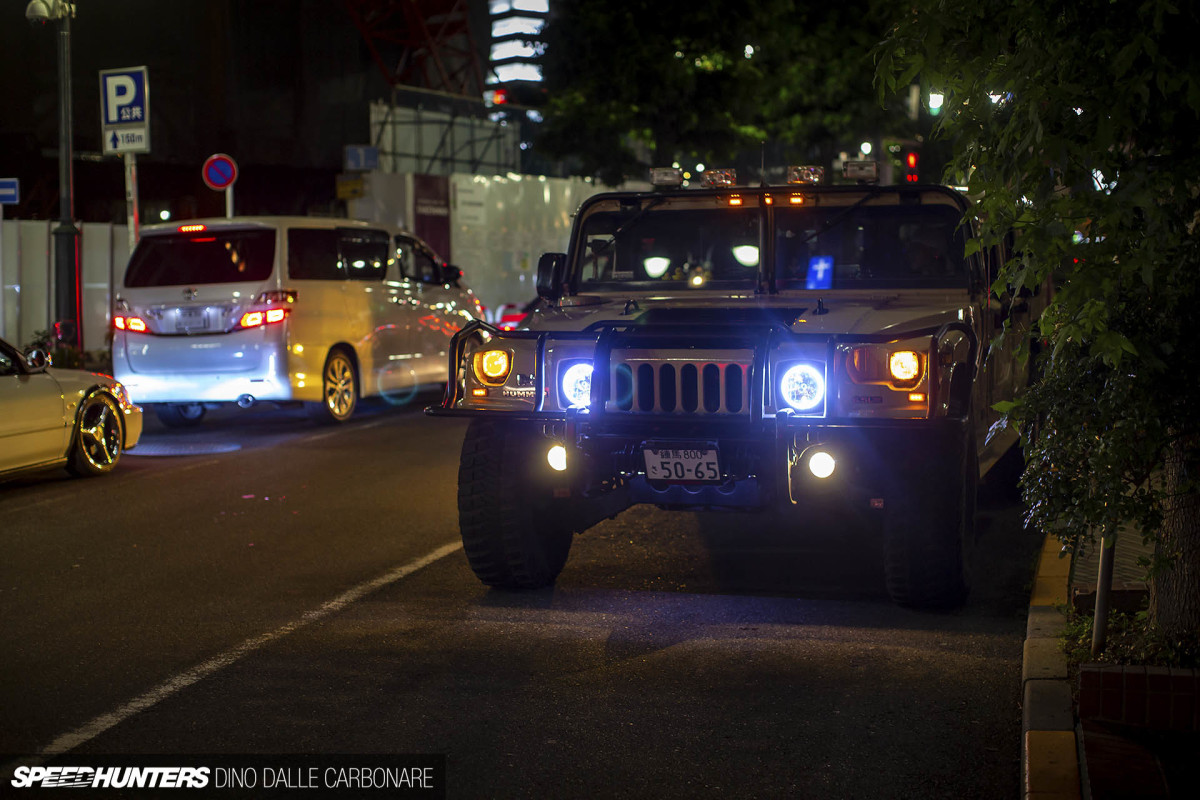 These can be pretty much anything American, but are usually large SUVs and wagons with massive wheels. I even spotted an H1 Hummer – modified of course.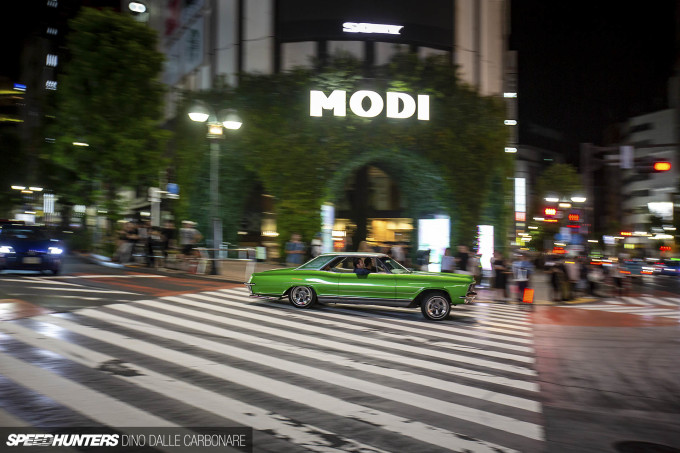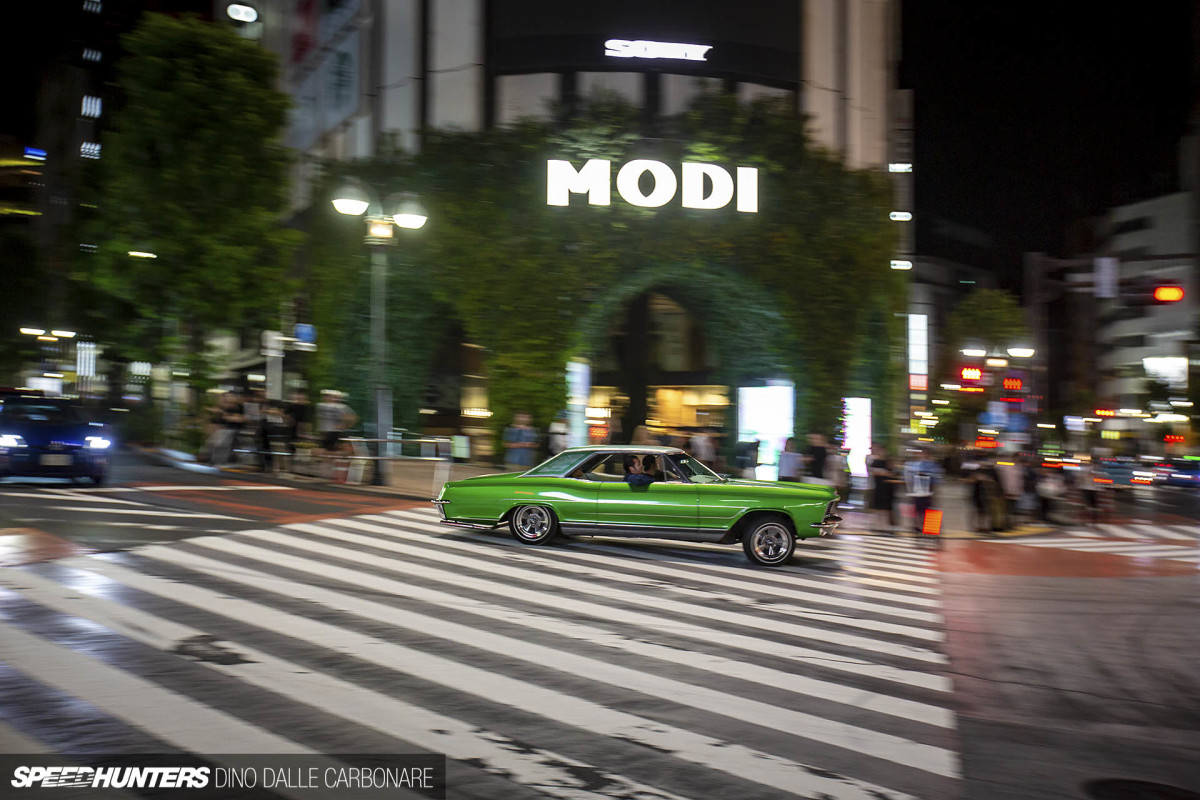 The uphill crossing that leads to Shibuya's Seibu Department Store and the Apple Store is the place to be to get your shots.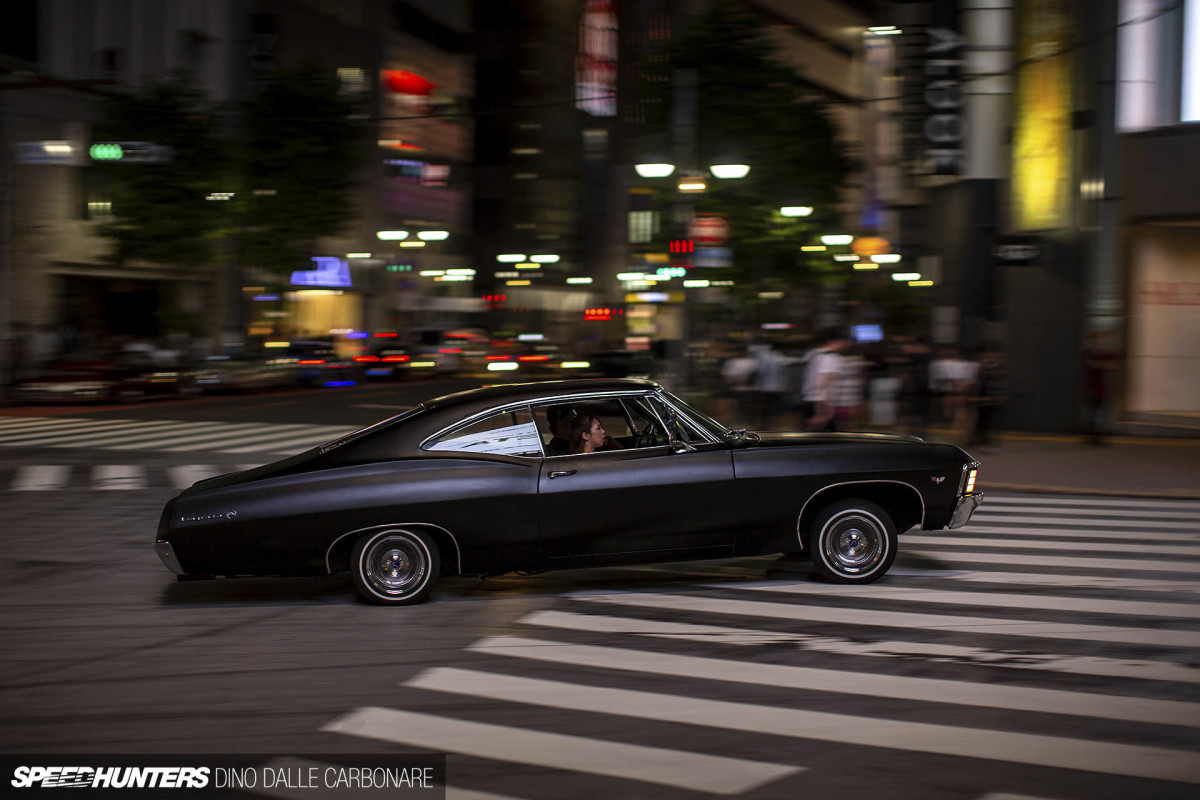 With all the surrounding buildings sporting illuminated signs and LED panels, it's lit up like daytime.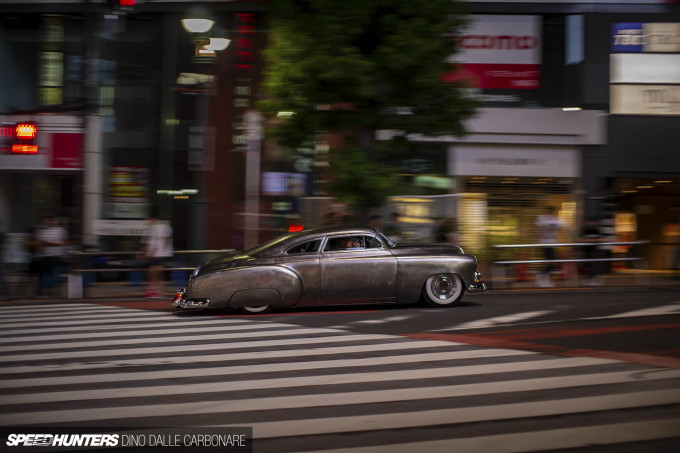 With so many high-quality builds driving past, it reminded me of the Yokohama Hot Rod Custom Show, but live and in central Shibuya. It's visual overload of the best kind, and even passersby with seemingly no real interest in cars were grabbing pictures with their phones and enjoying the unique spectacle.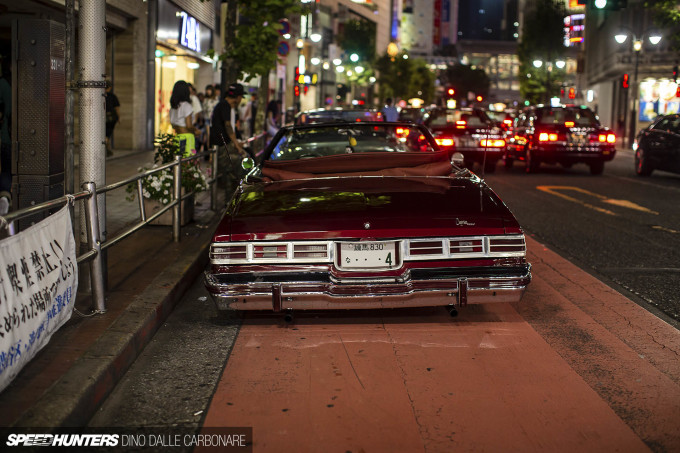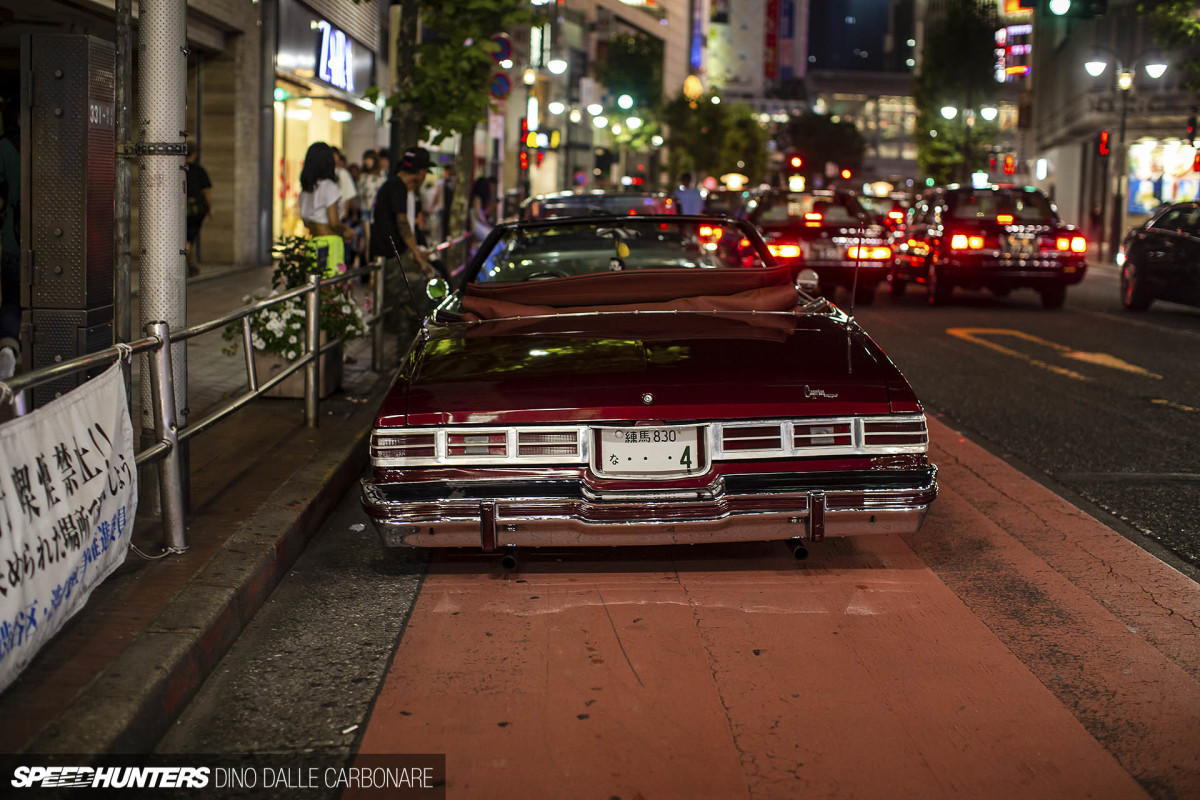 It was at about this time that I heard the unmistakable sound of a burnout, followed by the sight of a slow-moving cloud of tire smoke.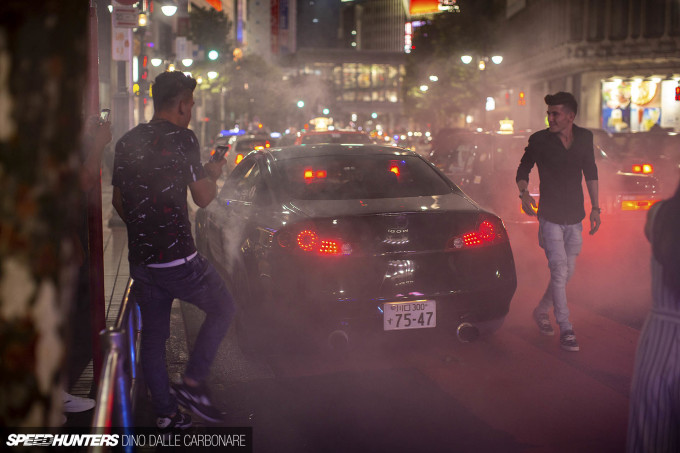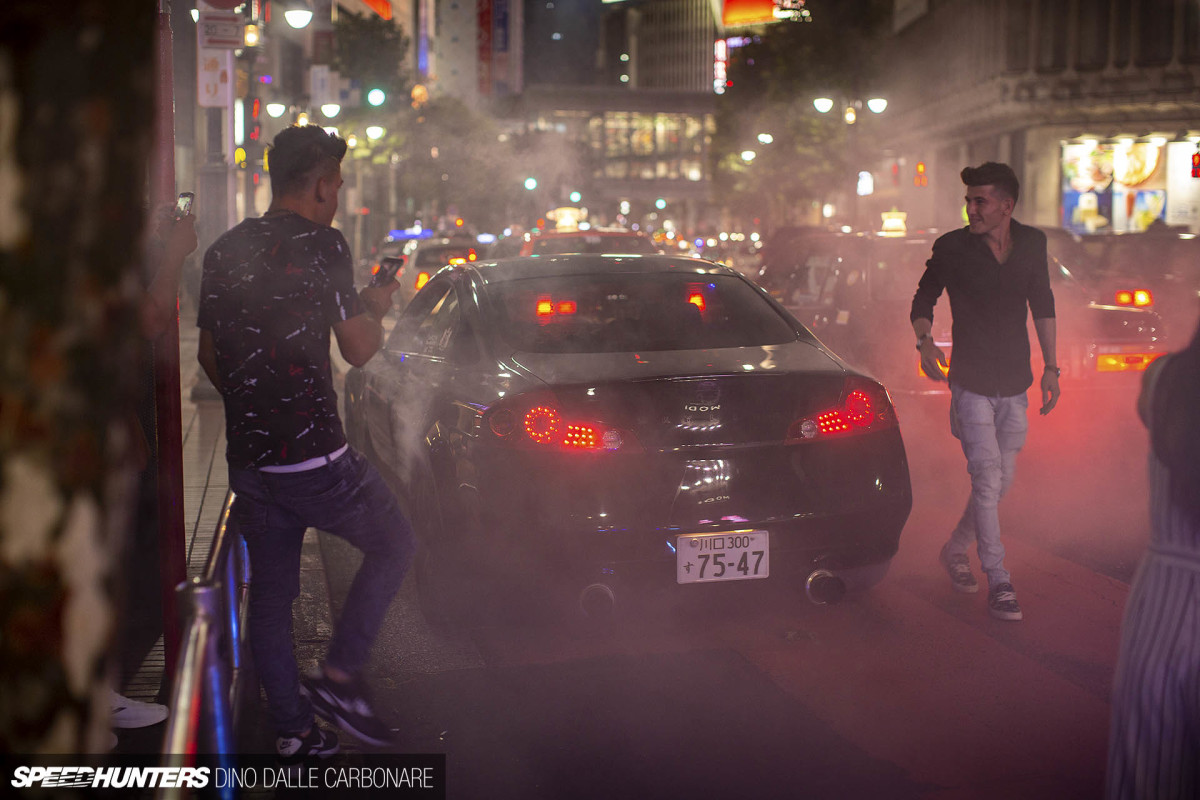 I had to go and check out what it was all about, and no surprise it was a group of foreigners that were up to no good. I must stress that the Japanese guys and gals that show up to this monthly gathering would never do this sort of stuff as it just attracts the wrong kind of attention and can possibly have a bad effect on the whole culture. Something like this can spoil it for everyone; it's just a lack of common sense.
The Move To Yoyogi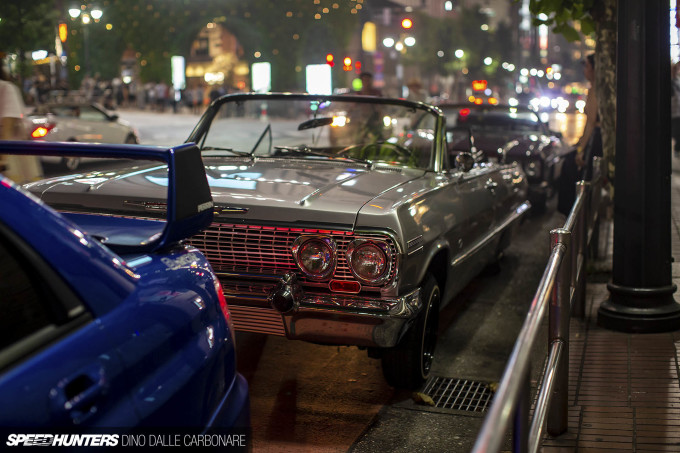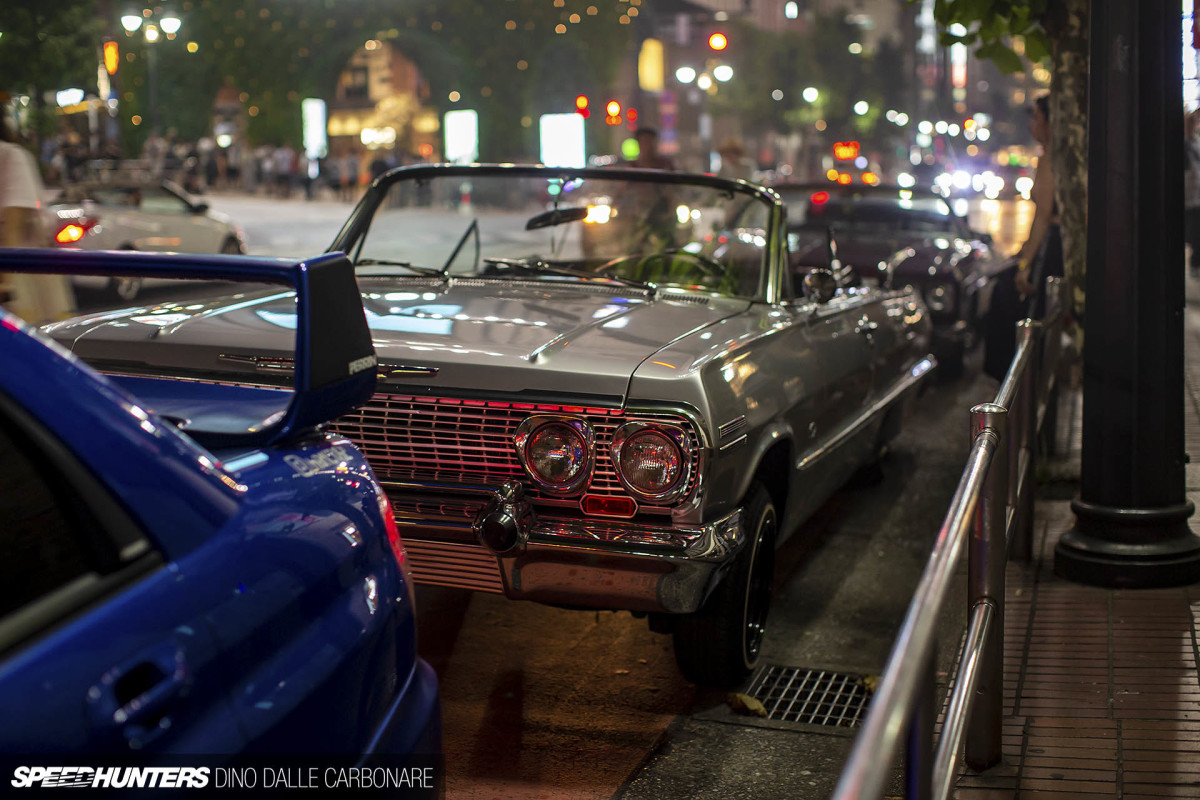 Thankfully the police didn't take any notice, or if they did it was too late for them to launch an investigation into who was involved, so nothing came of it.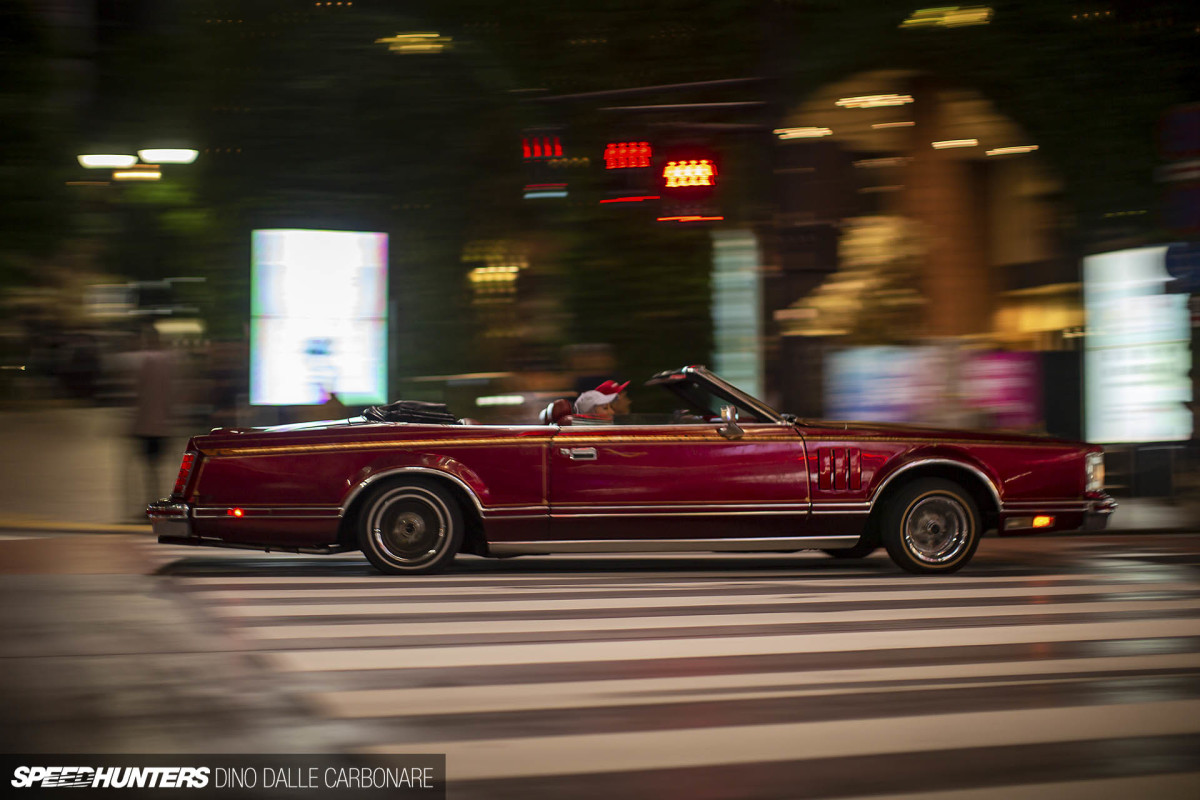 I followed the road down past Tower Records and towards another area where cars had gathered.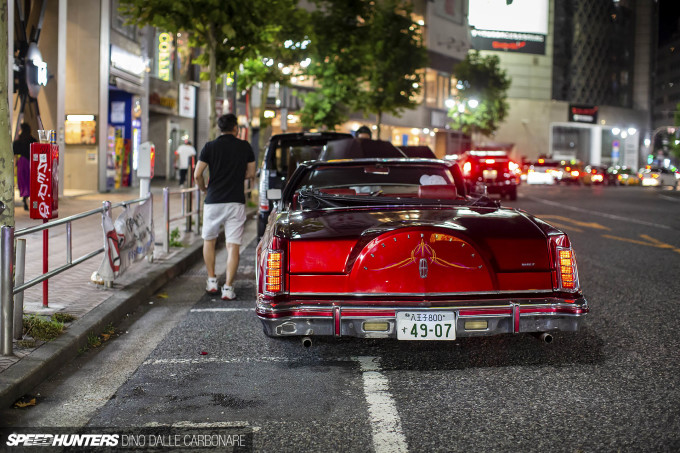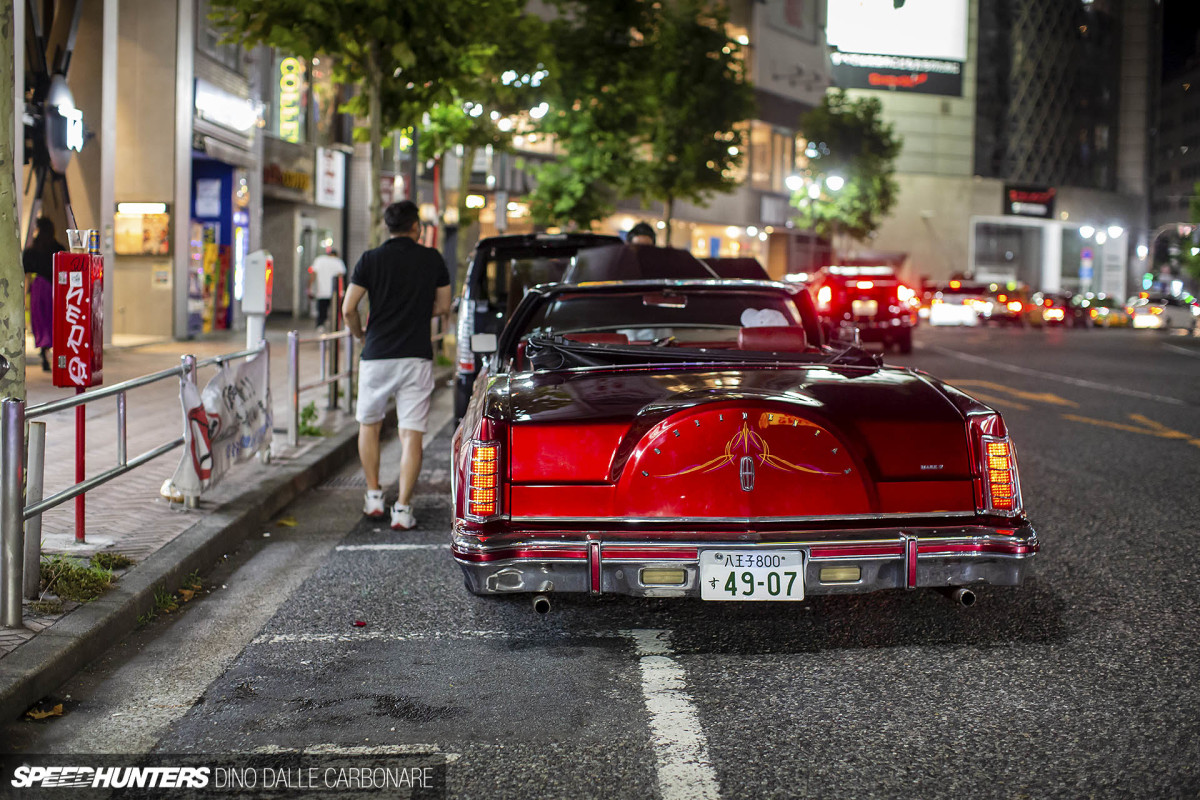 This is where friends wait for each other before driving off in small convoys towards Yoyogi Park, where an even larger parade usually materializes.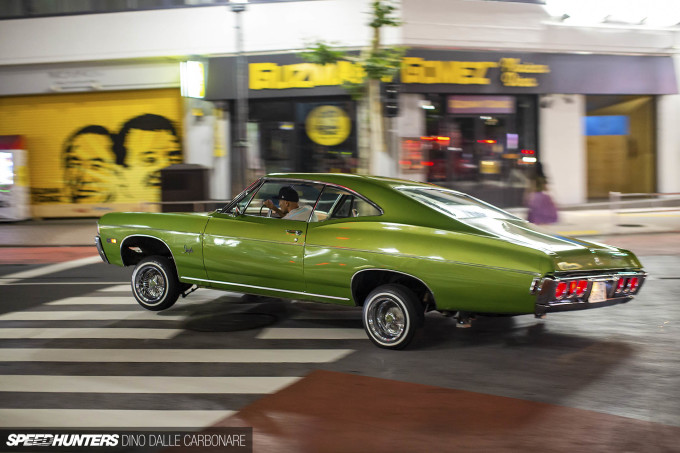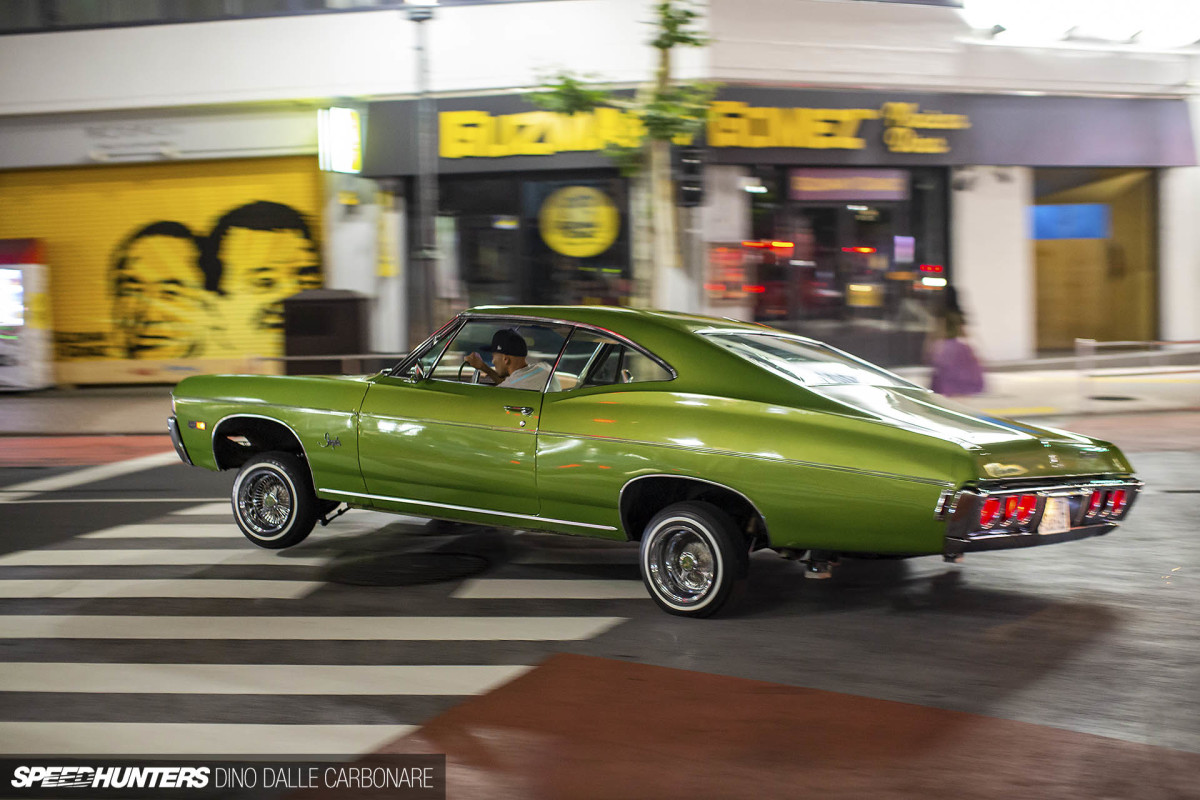 Check out this Impala coupe putting its hydraulics to good use, lifting the inner front wheel for that spider stance.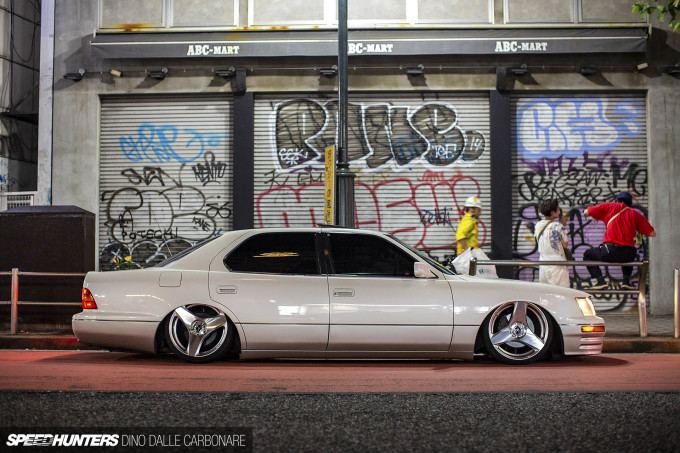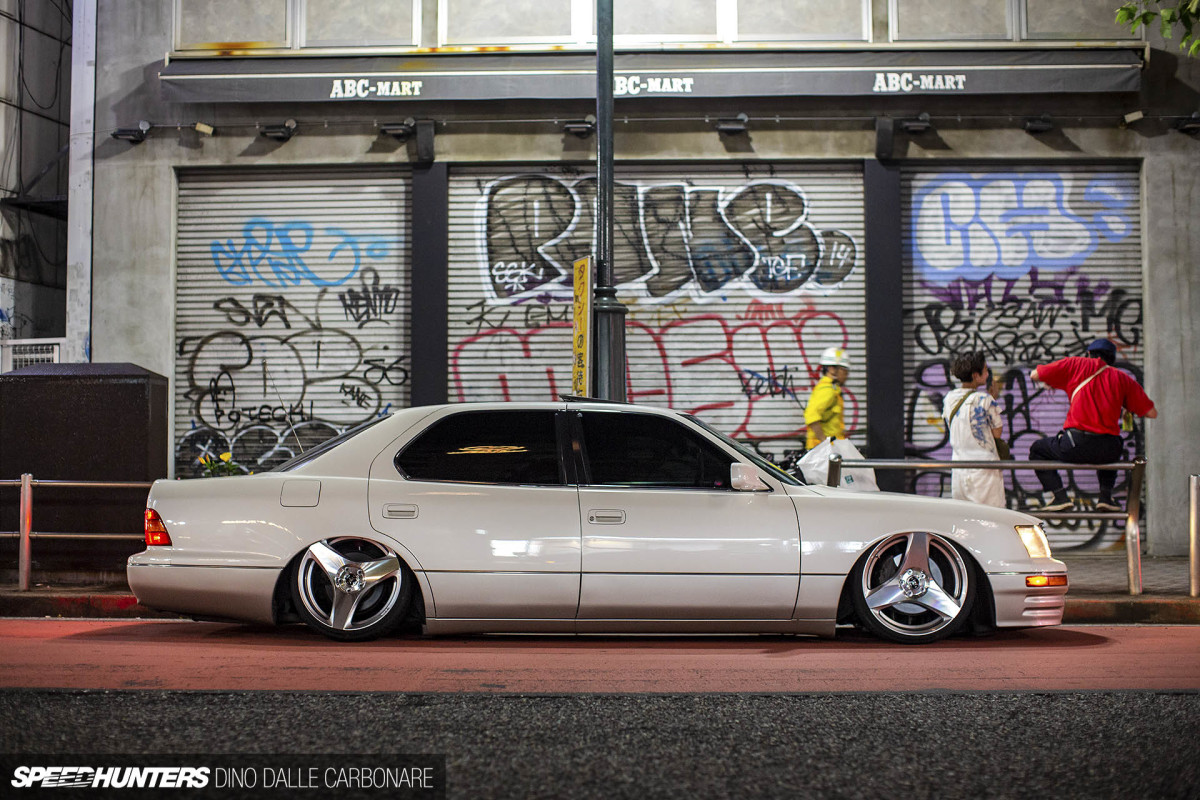 I don't know what it was about this Celsior; perhaps it's because it's so clean, so low, or it's just the way it rocks those three spokes, but I wanted to have one immediately. That's the thing about cars dumped to the ground, they accentuate style like nothing else.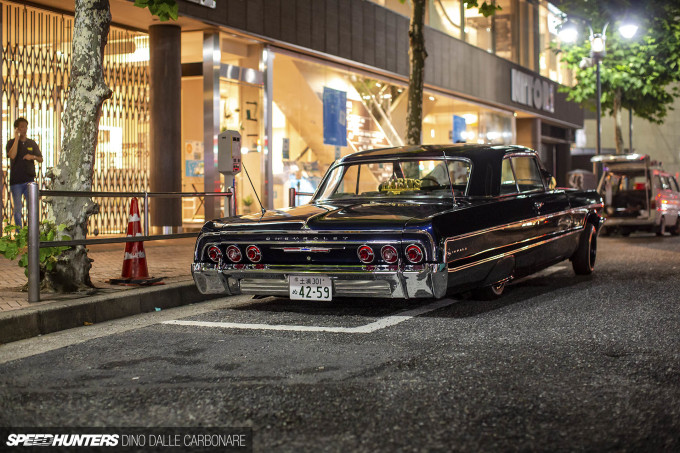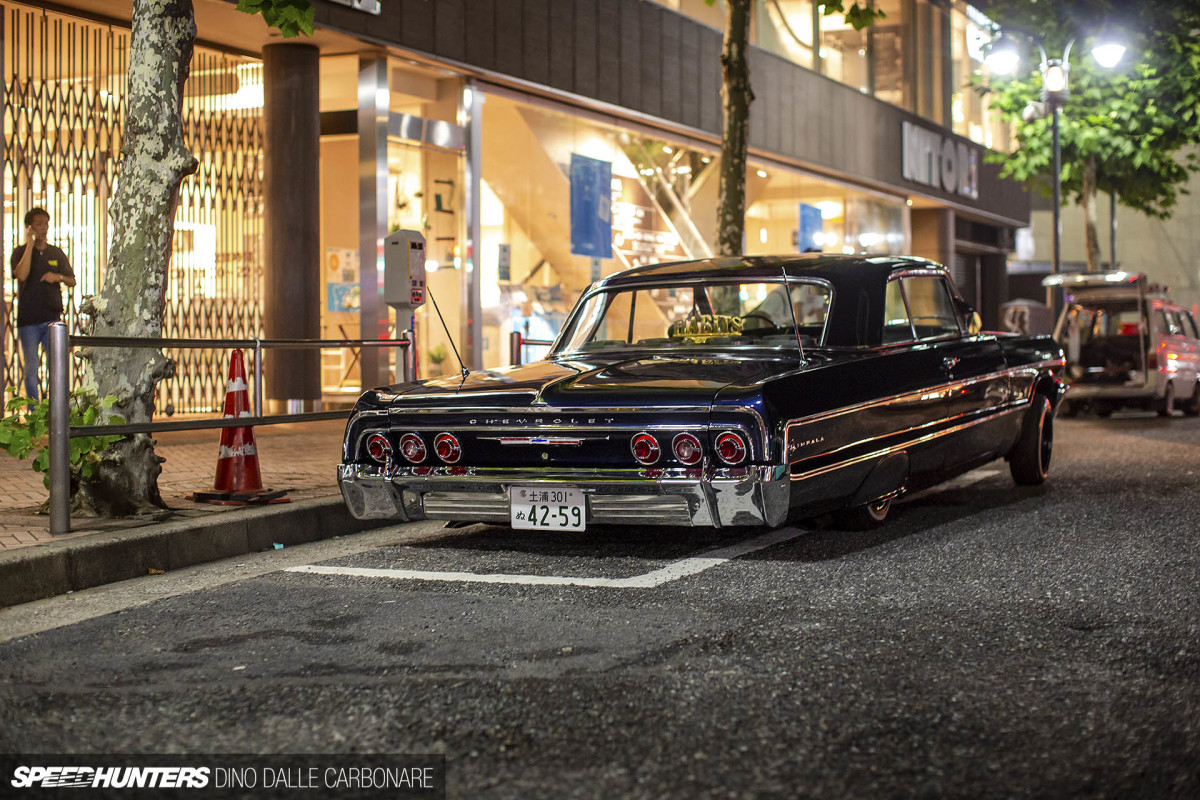 As cool as the scene in Shibuya was, it was time to make a midnight dash to Yoyogi Koen.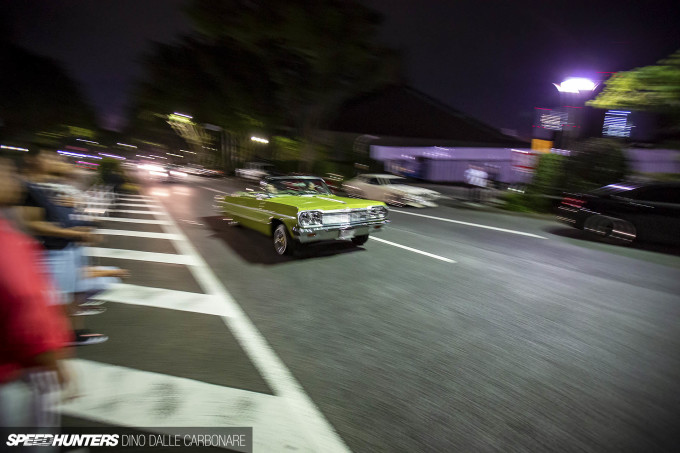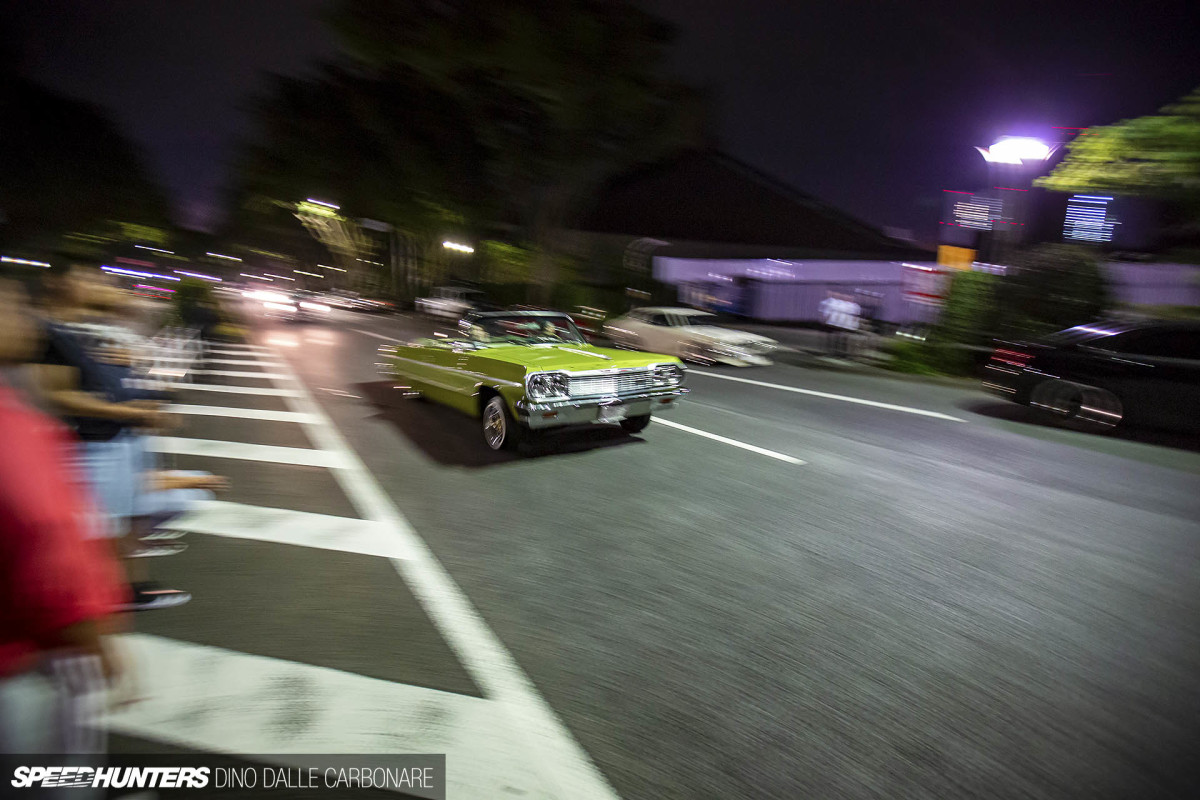 When I arrived, both sides of the street that runs right by the park was filled with cars.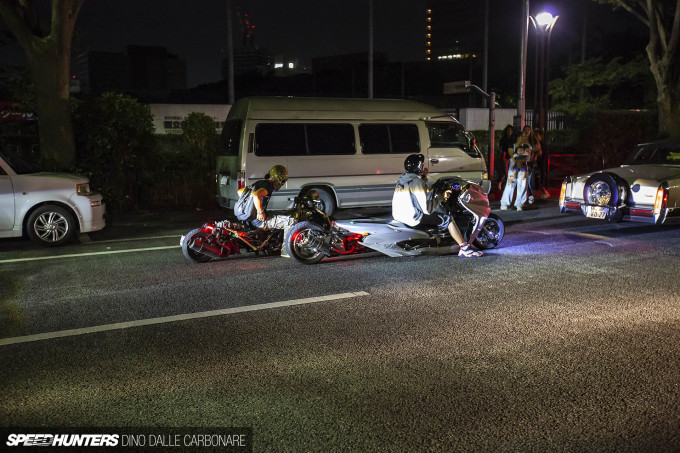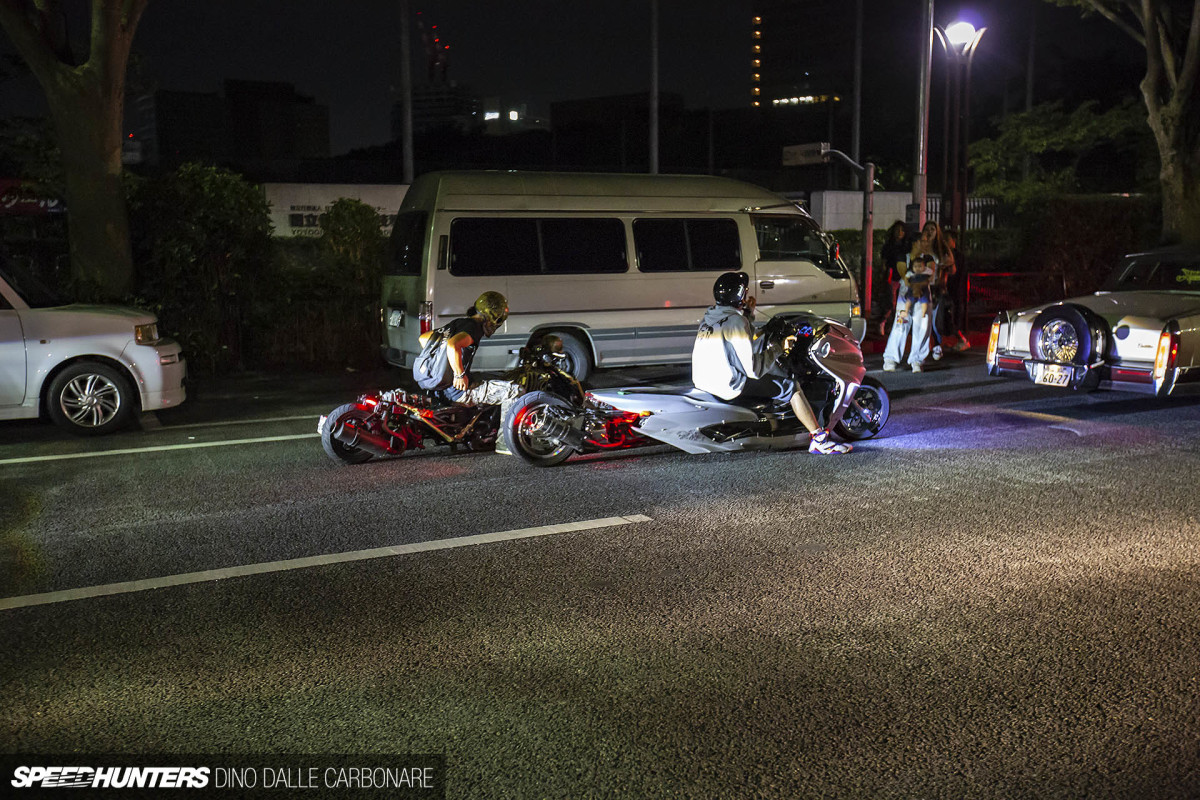 I even spotted a couple of those more extreme scooters that I was talking about a moment ago. How crazy and equally bizarre are these low-riding things on two wheels?!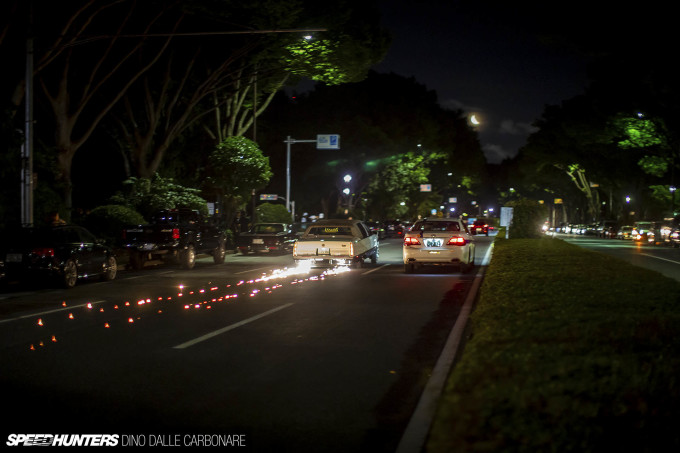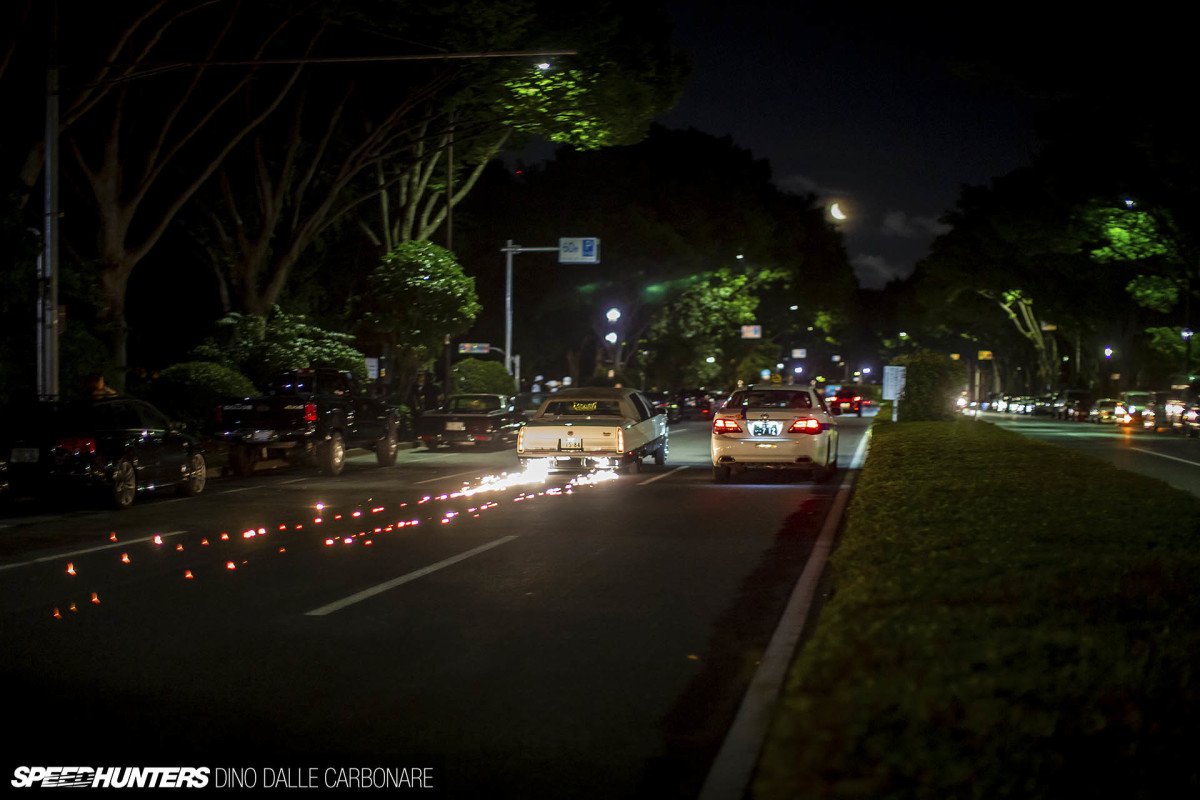 Aside from the odd dim street lamp, it's pretty much pitch-dark in this particular area. But that only adds to the atmosphere of cars putting on a bit of a show for the bystanders that gather. I think this Caddy hit 88mph!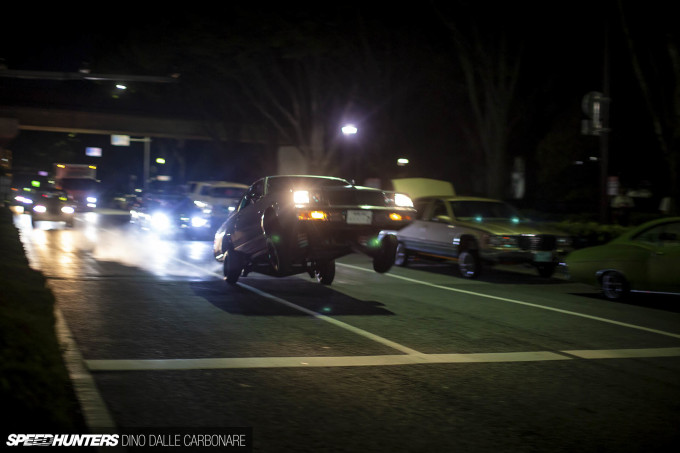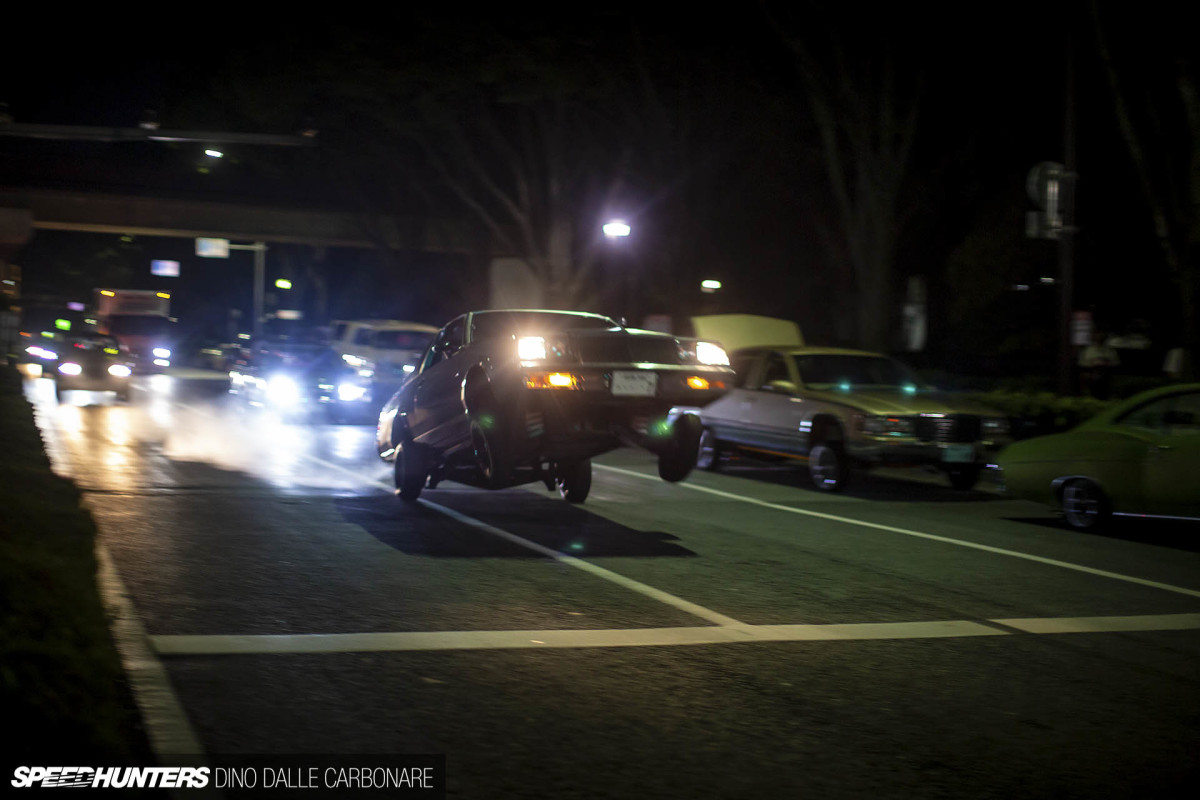 This is also the place where hydraulics and custom chassis setups are put to the test. As weirdly satisfying as it is seeing a massive car bounce up and down as it passes you by at 25mph, it's the sound that sticks with me.
Checking out Japanese lowriders is a great way to unwind on a Saturday night, and I can't wait to look into this scene again in the upcoming months.
Dino Dalle Carbonare
Instagram: speedhunters_dino
dino@speedhunters.com