Sonkei Blue
The Nissan Skyline.
Originally built by Prince Motor Company in the late 1950s as a compact luxury car aimed at executives, nearly every generation since has had broad collector appeal. Especially in the United States where the older generations were never offered; here any Skyline will create a buzz.
As Prince Motor Company was eventually consumed by Nissan, the evolution of the Skyline was chugging along nicely. Their final undertaking was the C10 Skyline which, ultimately, was sold under the Nissan marque once it hit the market. Designed under the close watch of Shinichiro Sakurai, the late and well-respected 'father of the Skyline,' much of the original Skyline's design cues carried over. But the cutesy curves had gone missing in favor of more striking styling, and Sakurai was also interested in making the car a contender on the racetrack.
The original C10 was offered in 1968 with two four cylinder options, either Prince's 1.5-liter G15, or the G18 which — you guessed it — was 1.8-liter. Designed from the get-go with space for a six cylinder, it wasn't until Sakurai's team shoved 1,998 cubic centimeters' worth of Nissan's L20 into the box on wheels that things really started to take off.
With two doors and 2.0-liters, Sakurai hit the sweet spot in 1971. And this is where Rick Ishitani and his GT-X come in.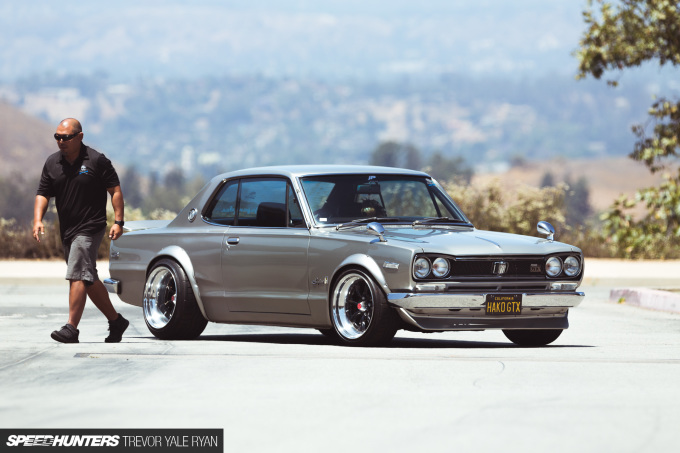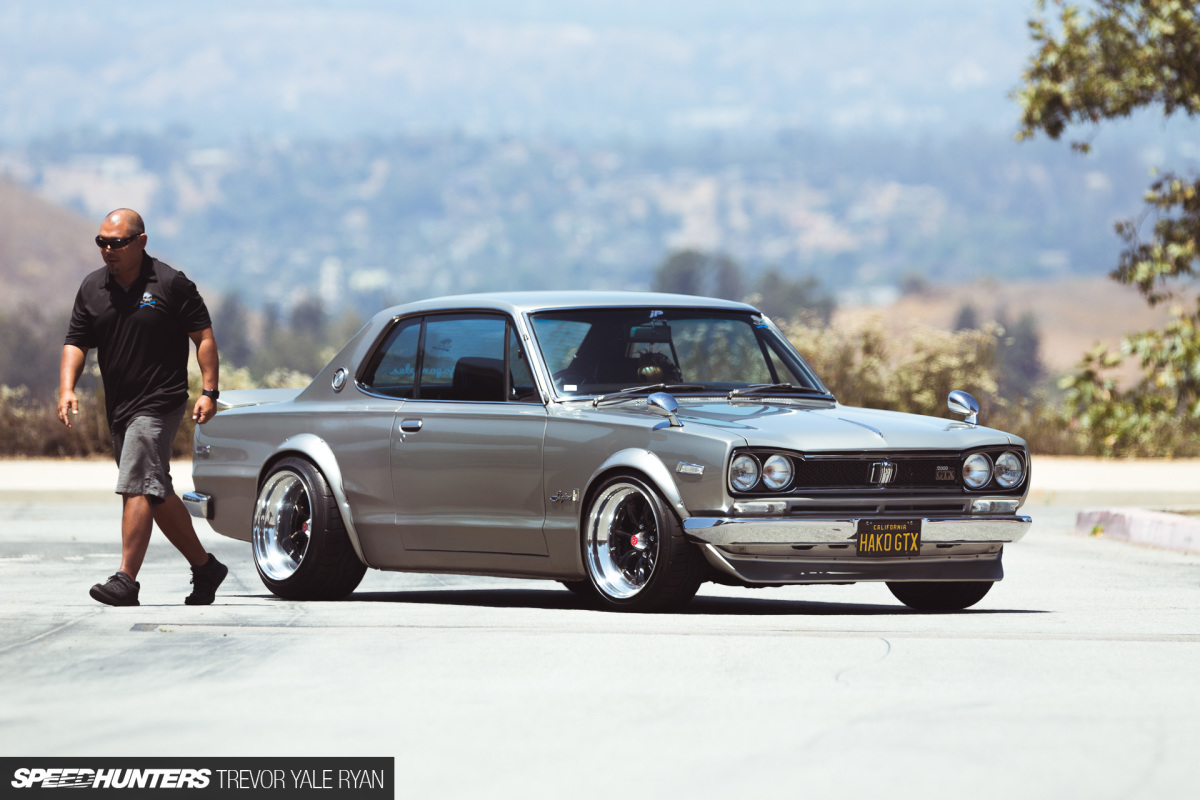 Rick has owned the car for three years, and in that time has had it completely disassembled and all put back together. But it was a journey just to get his hands on one in the first place.
Unsurprisingly, Rick found himself in Japan searching for a Hakosuka to pick up, but while he was 5,500 miles across the Pacific Ocean, one turned up online in California just a few hours' drive from his house.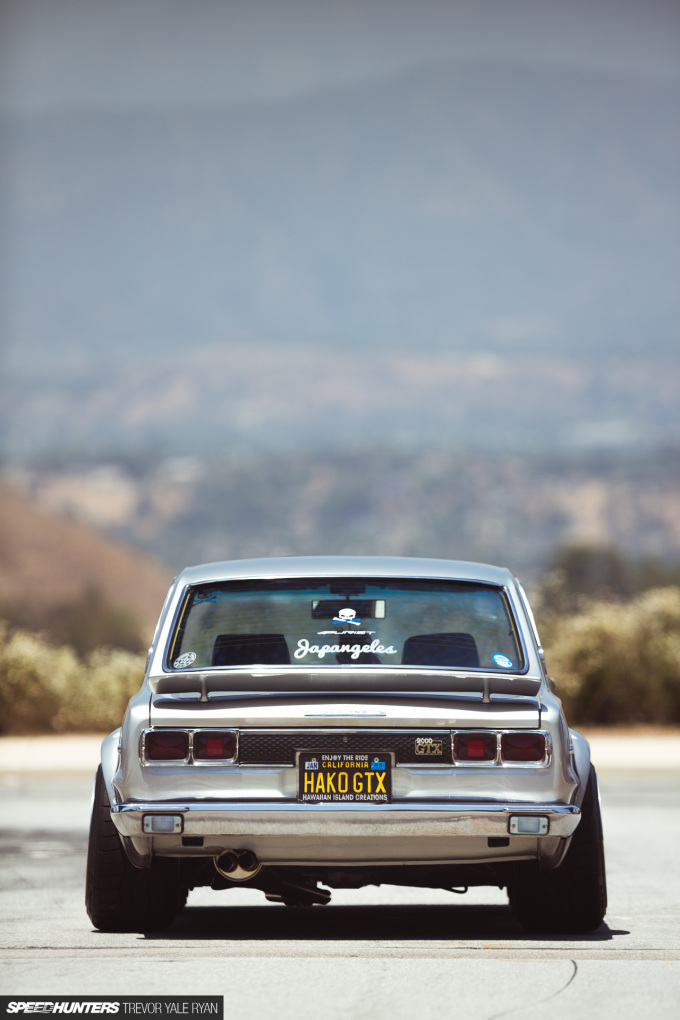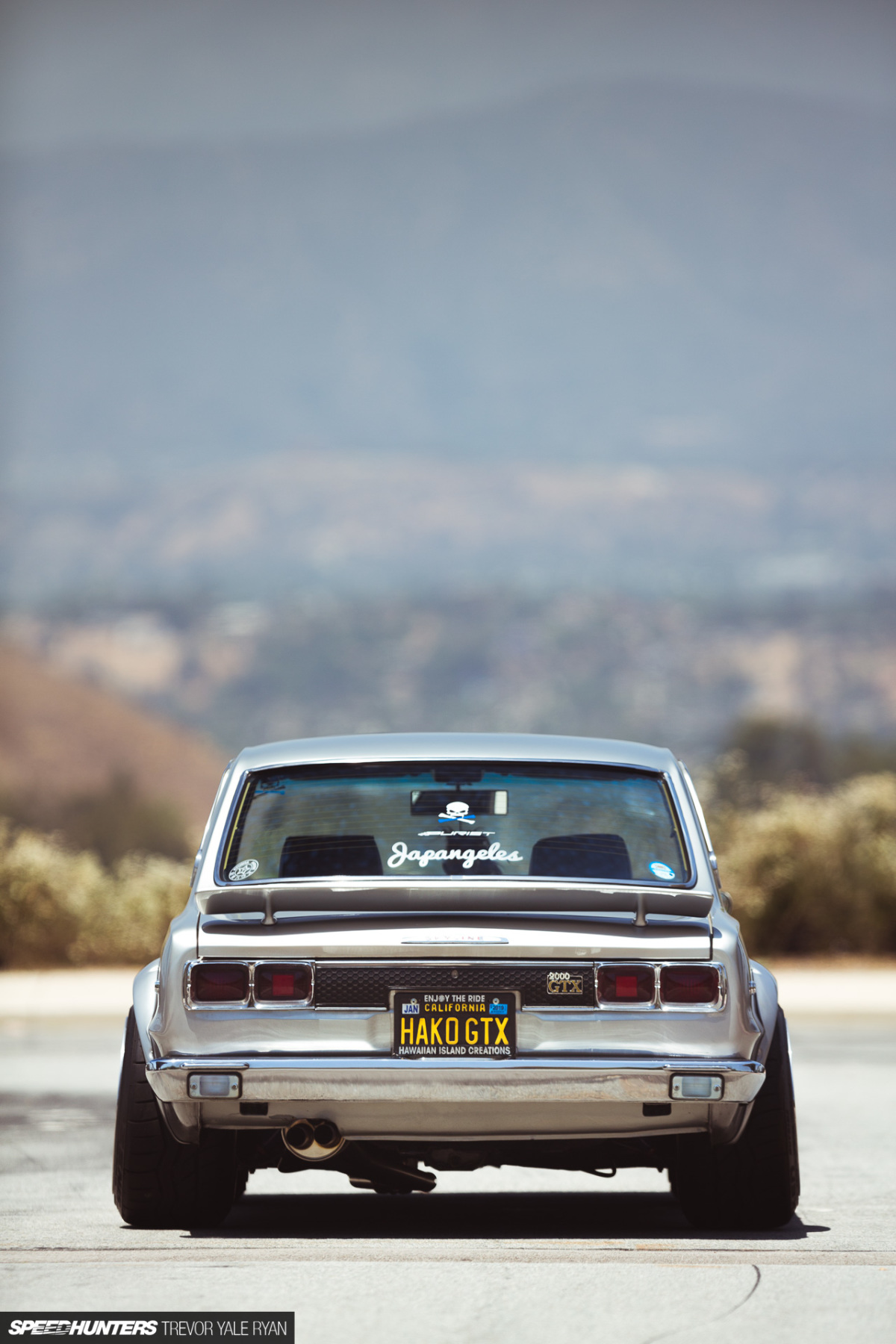 Needless to say, he made it his. This particular car supposedly came from Rocky Auto in Japan's Aichi Prefecture, but Rick shrugs this off as there's no real way for him to confirm it.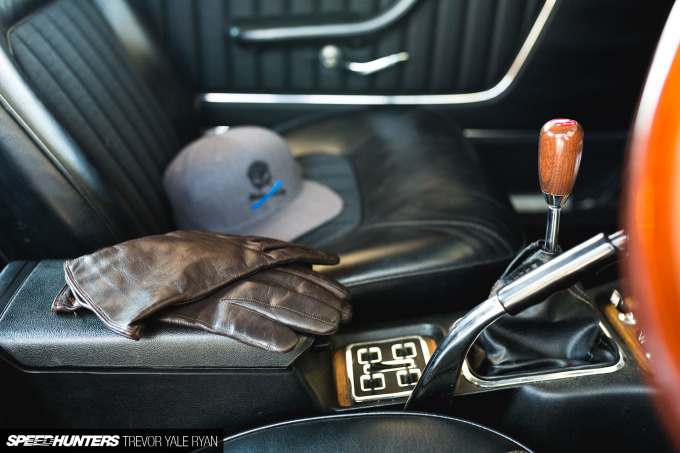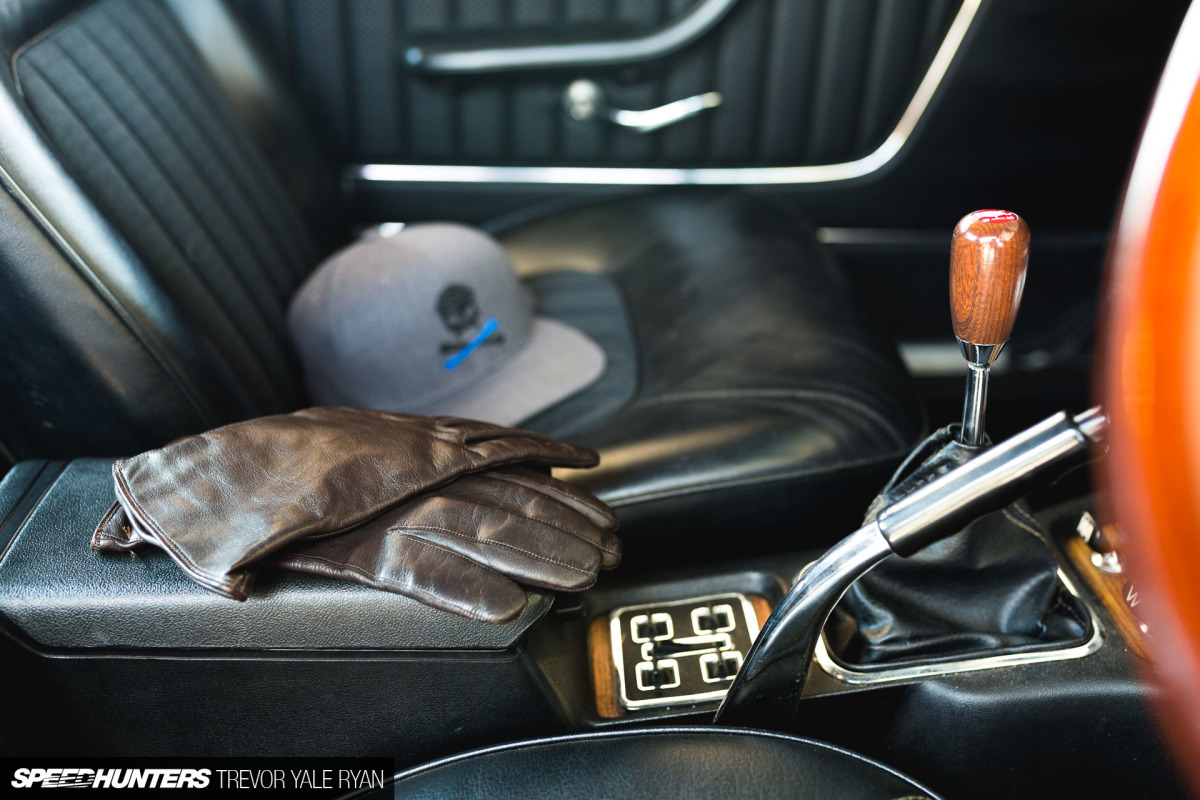 While Rick does have a pair of Recaros that will find their way into the car at some point, right now it remains period correct inside. But the first thing I fixated on when peering into the interior were a couple personal touches Rick left behind when he hopped out, namely his driving gloves and his hat.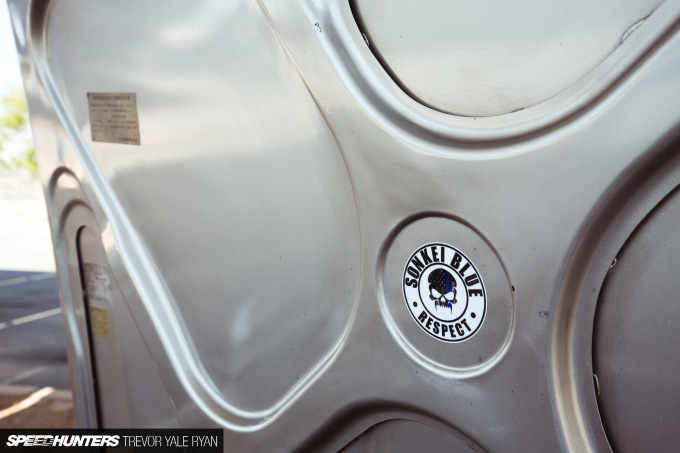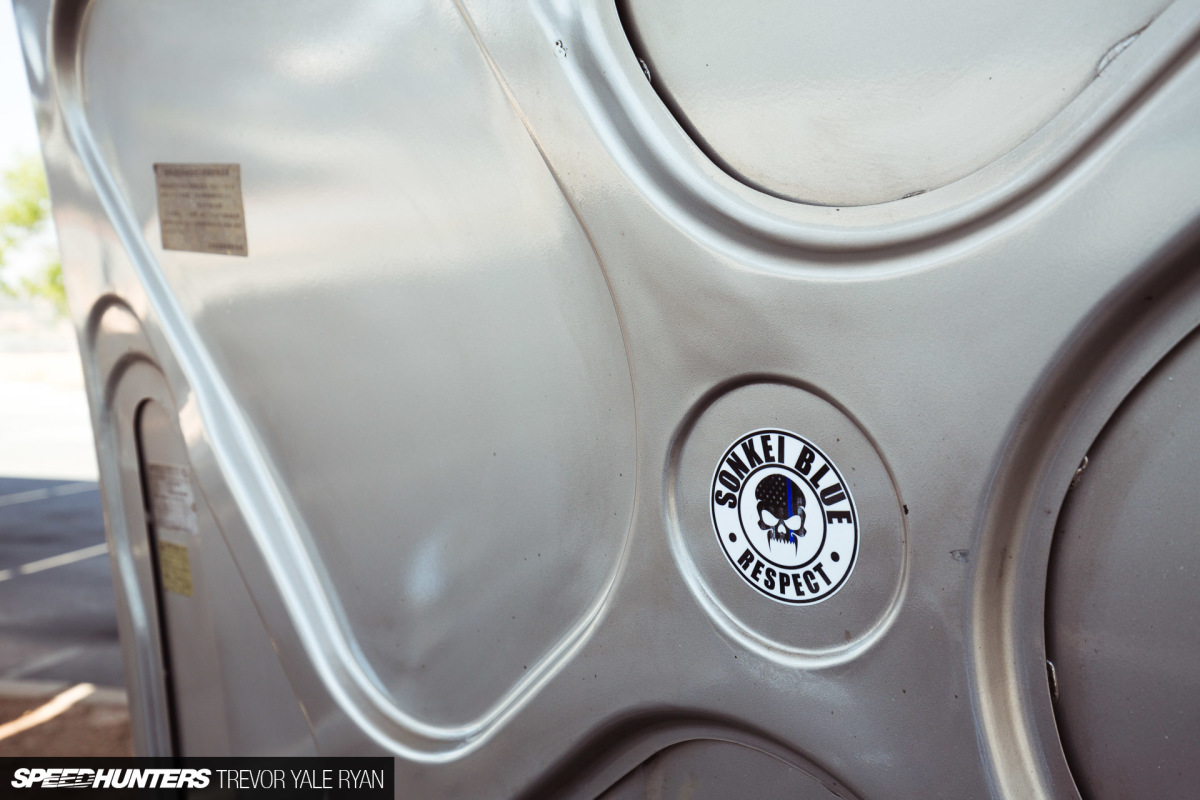 The gloves really required no explanation, but having previously noticed the logo on the hat around the Skyline I asked Rick what it meant. He told me that 'Sonkei Blue' is a personal project that started with him wanting to bridge the gap between law enforcement and today's youth.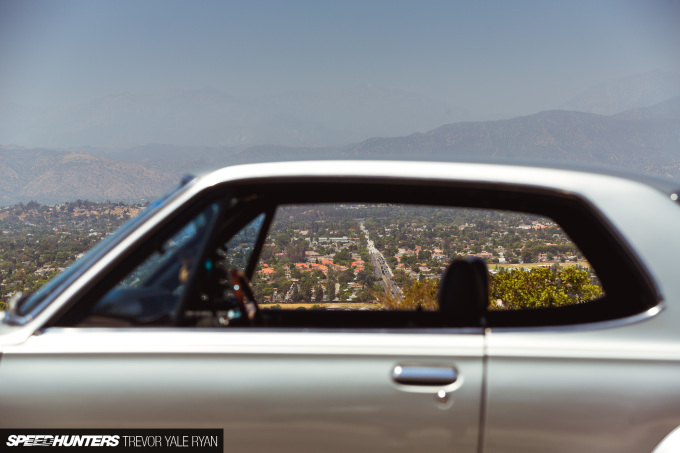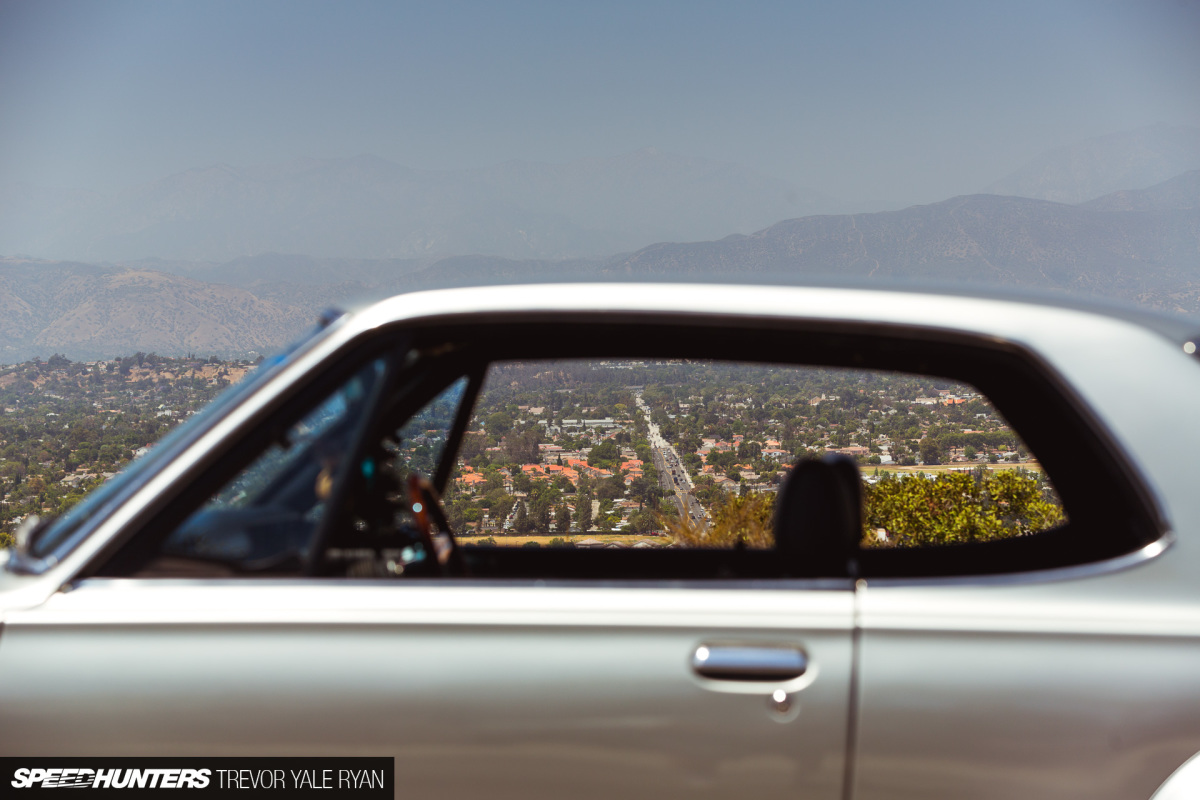 As a detective sergeant with the Los Angeles Police Department, and also quite clearly a car enthusiast, Rick is in the unique position to actually make headway here. Cars are one thing that everyone can agree on, whether criminal or cop. While the large majority of us are neither, Rick is all about bringing everyone together.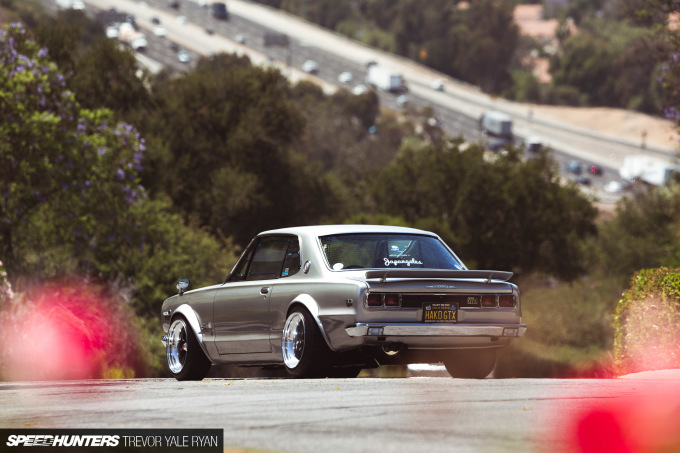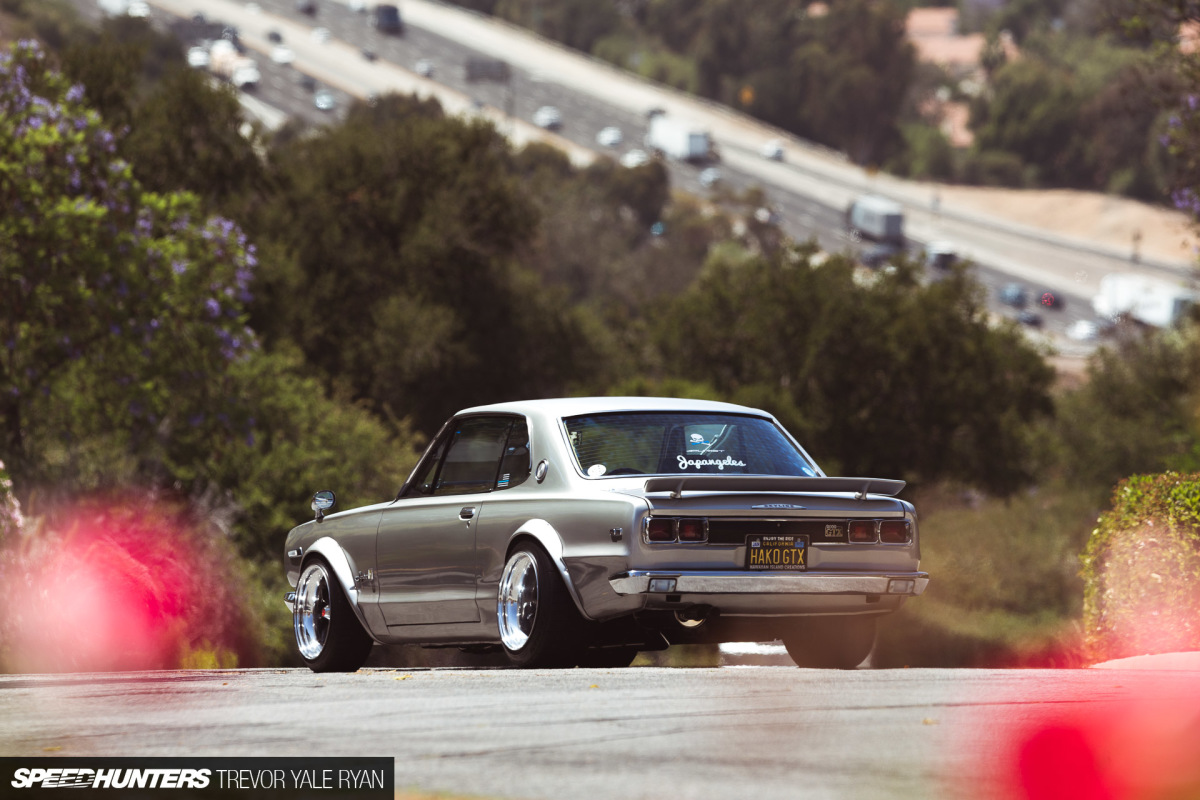 Being in Los Angeles there are plenty of opportunities for misbehavior, and with loads of stigma going both ways Rick just wants to do away with it all. He started selling Sonkei Blue clothing at shows as a subtle way for enthusiasts to support law enforcement without screaming "I love the police!"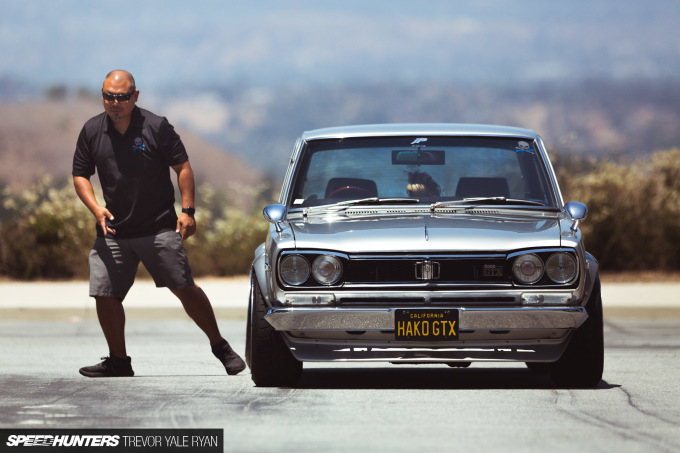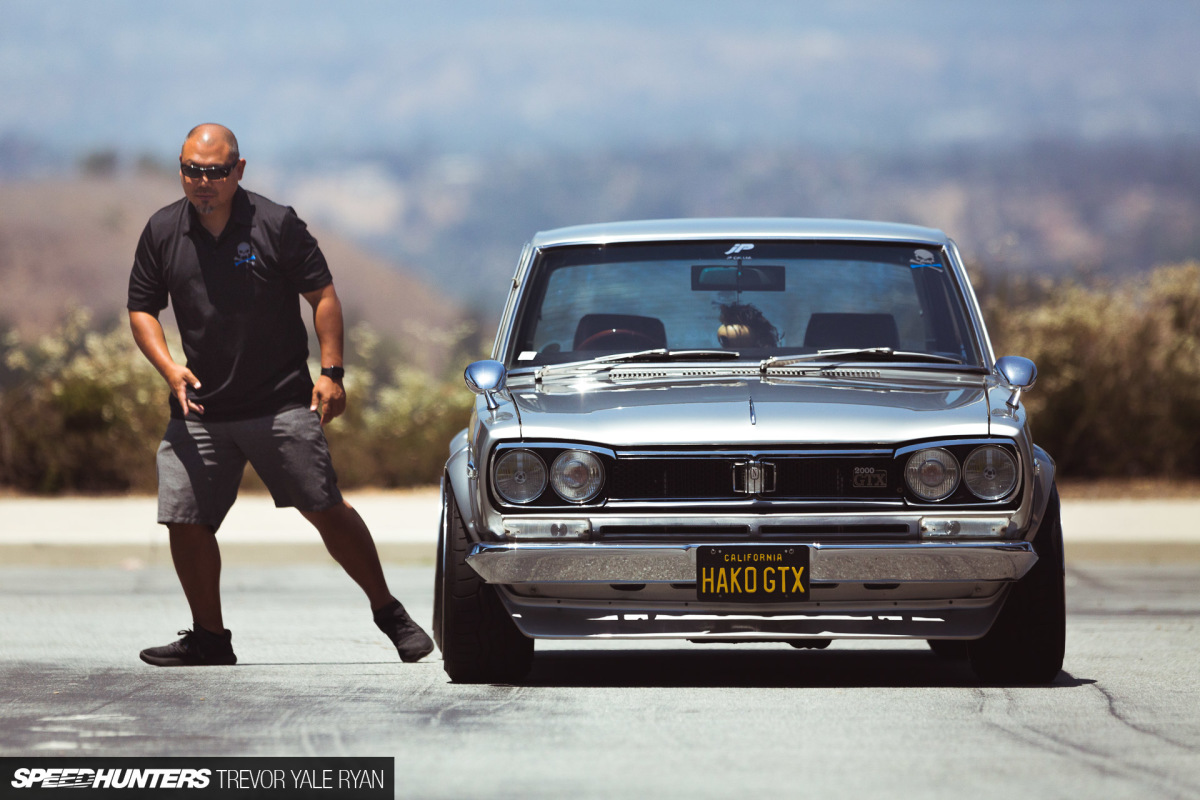 As the proceeds from sales go to the Law Enforcement Memorial Foundation, it wasn't until Rick's friends — George at Clean Culture and John and Tony from Branded — helped him set up booths at large shows that things took off.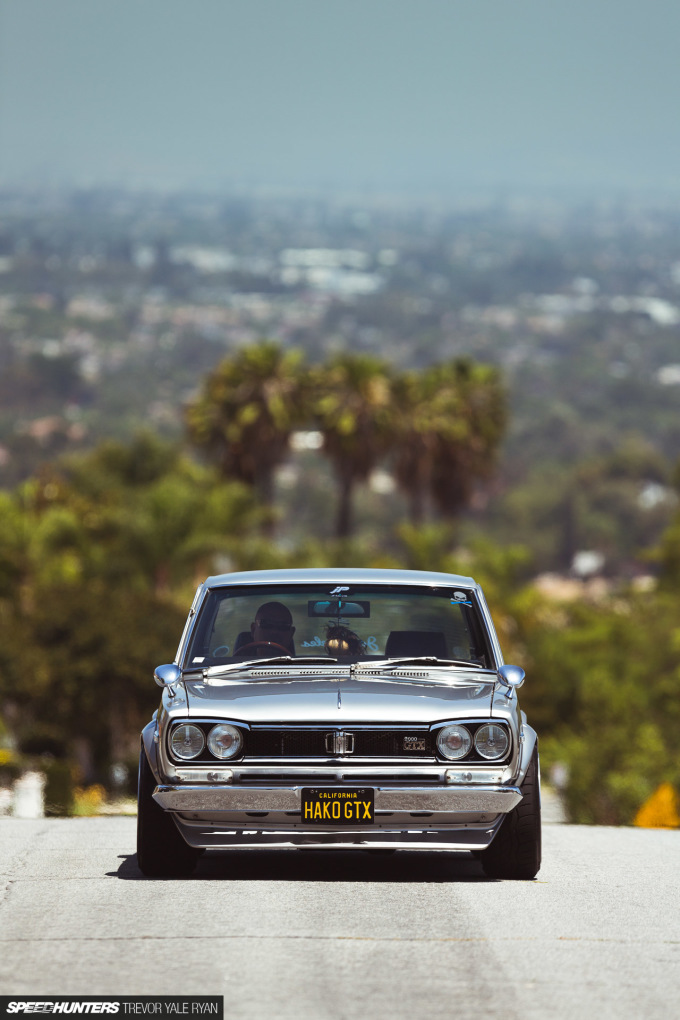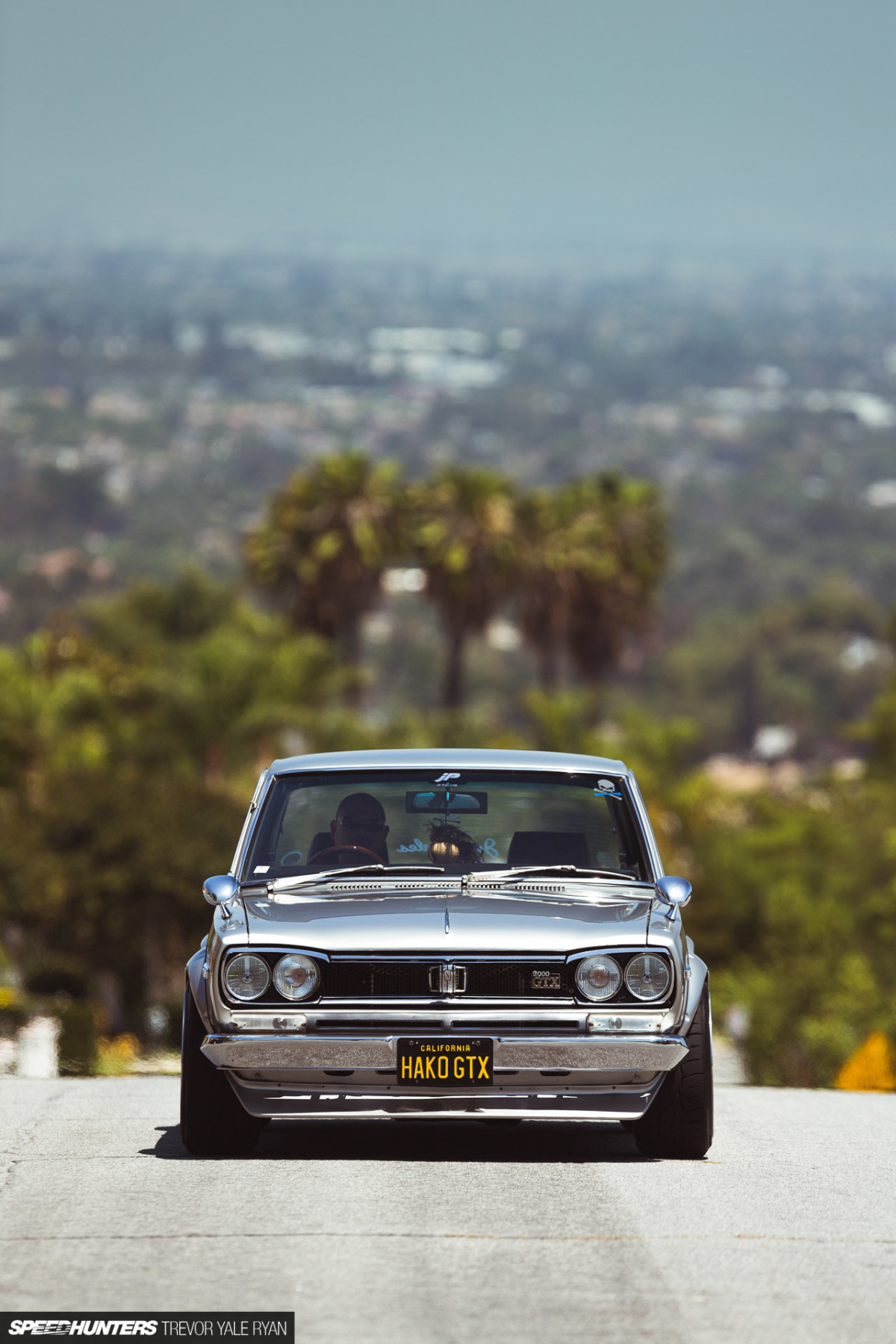 Rick attends every meet or show with the hope of changing people's view of the police (and vice versa, in some cases). With a car like this, I'm sure he's rather persuasive.
2000GT-X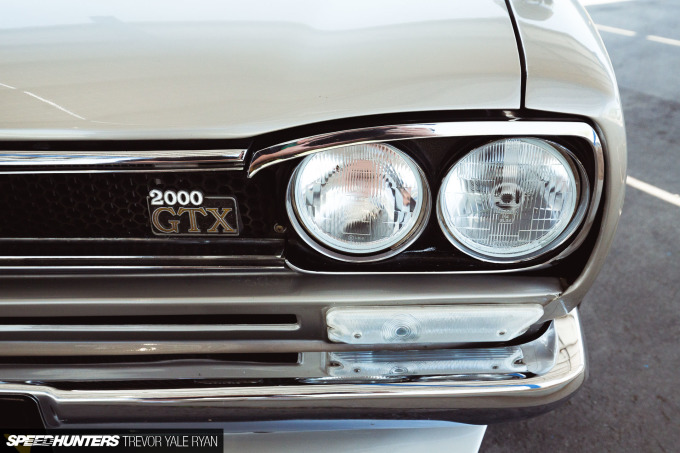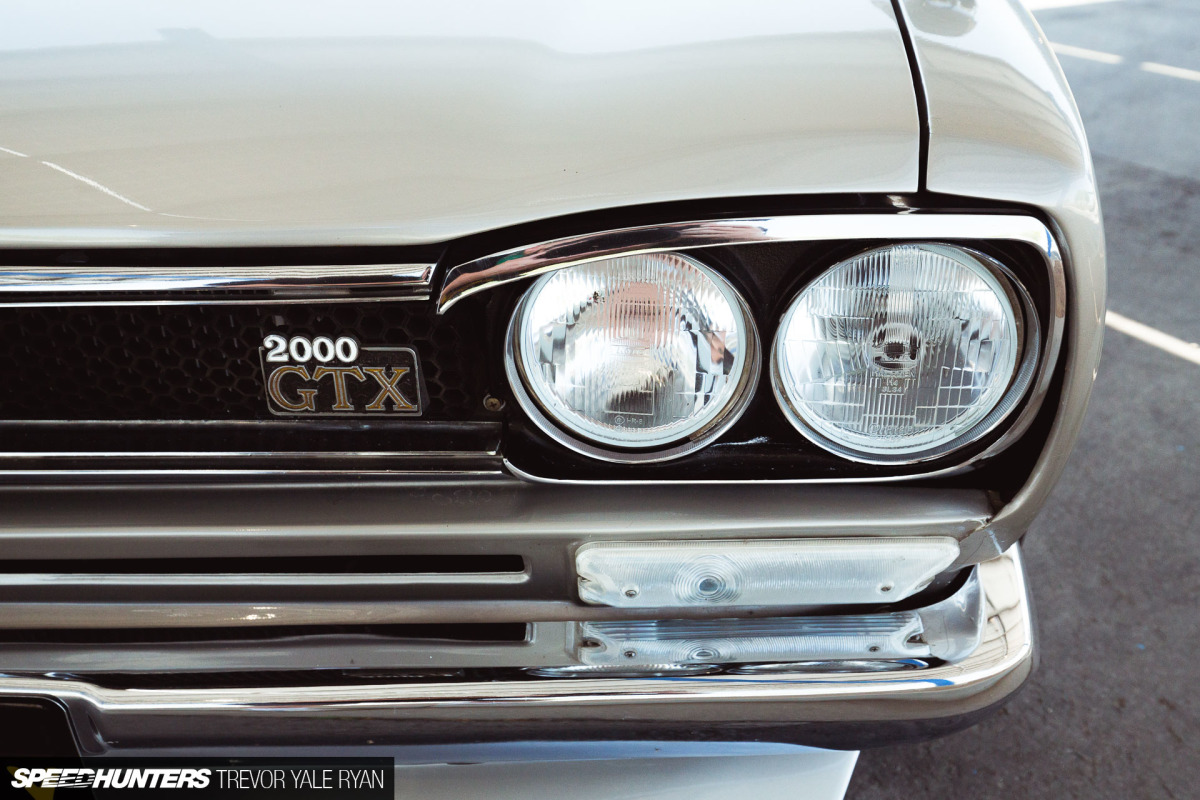 Diving into the details of Rick's Skyline, he was adamant about the fact that this is a GT-X. While many GTs and GT-X models have been cloned into GT-Rs, true enthusiasts will spot an impersonator straight away.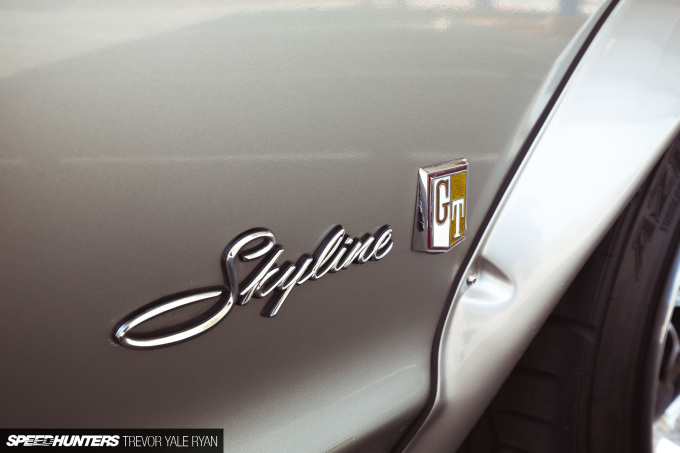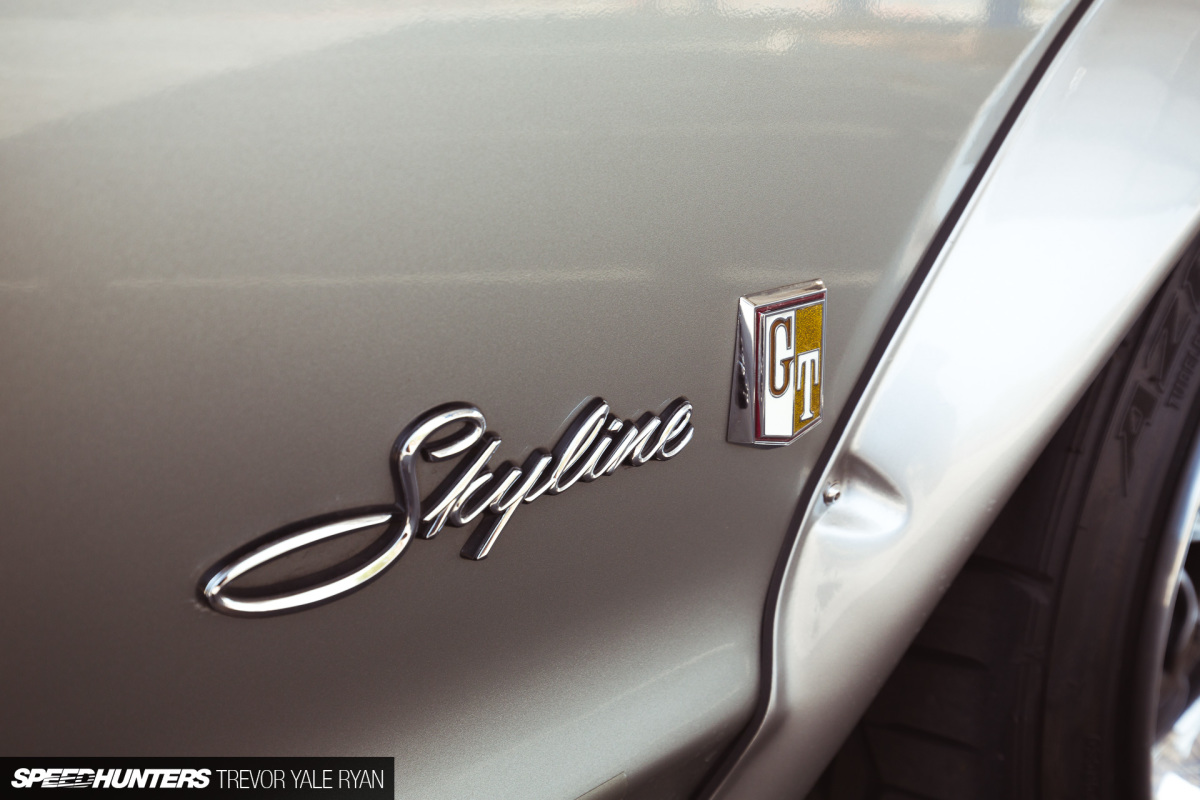 Here in California the Hakosuka is rare enough as it is, and Rick didn't see the sense in pretending his 2000GT-X was anything but what it is. Also, the fact that it isn't an ultra-rare GT-R has afforded Rick the freedom to modify the car the way he wanted to.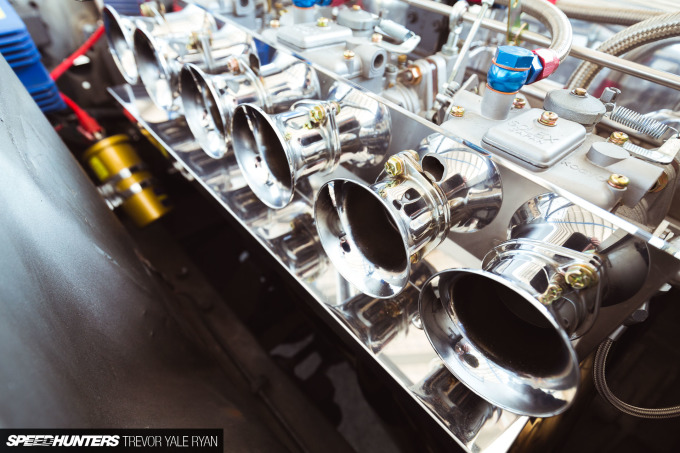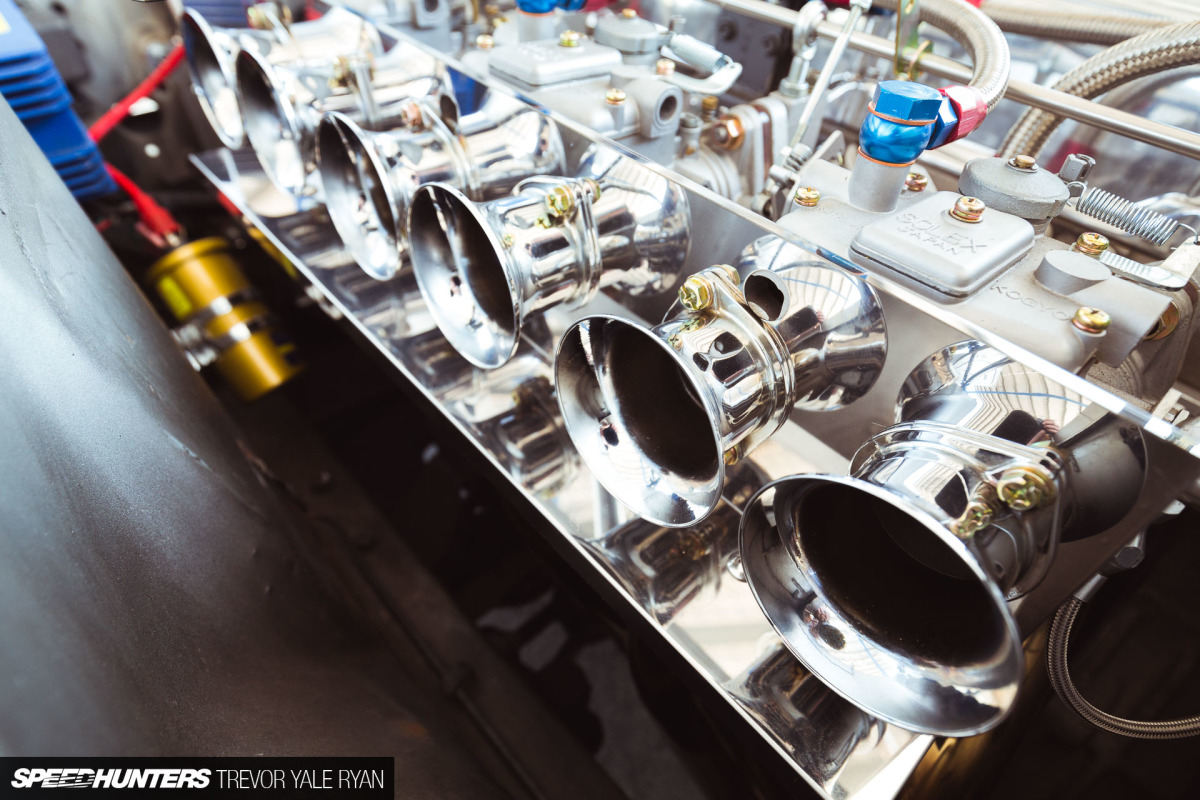 One peek under the hood and it's clear that Rick knew what he was doing.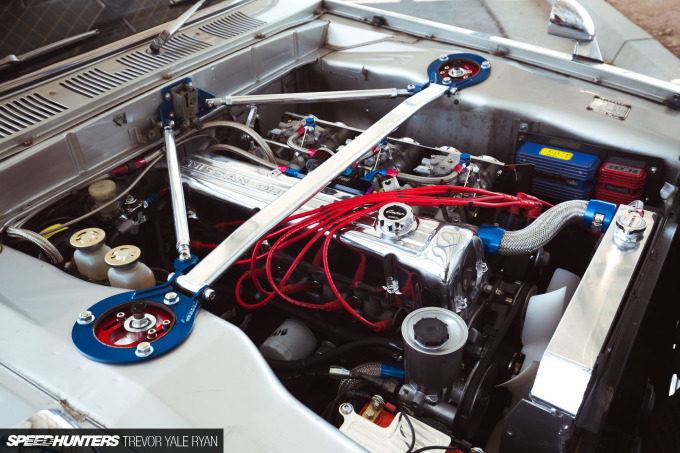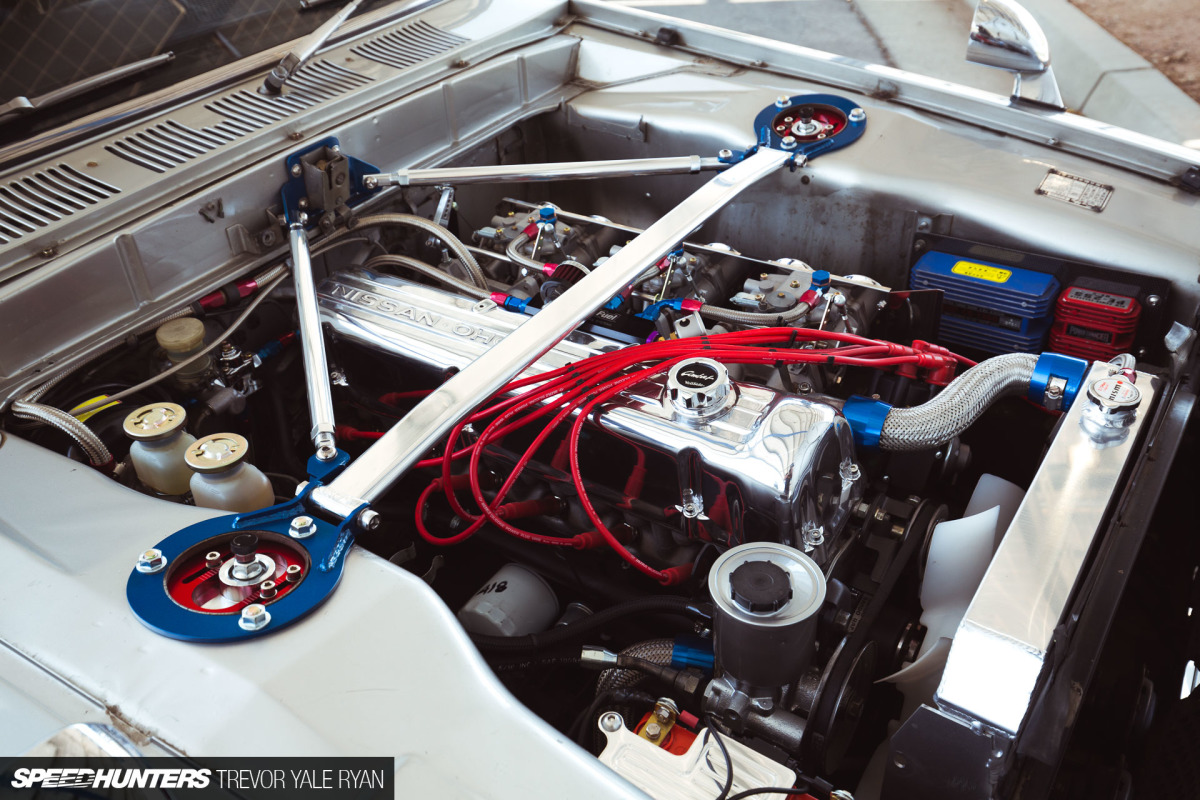 The L20 engine is numbers-matching and has been rebuilt. It's stunning even viewed from the boring side, and there are loads of quality parts around the engine bay. A Holley fuel pump and MagnaFuel distribution block (with an Aeromotive fuel pressure gauge) ensure the surprisingly thirsty 2.0-liter is adequately fed.
Earl's stainless-mesh radiator hoses and fuel lines match both the shock tower bracing and MSA chrome engine bolts and studs. There's also a ZX distributor and base, Wako CDI, and K&N breather filters – I could go on forever.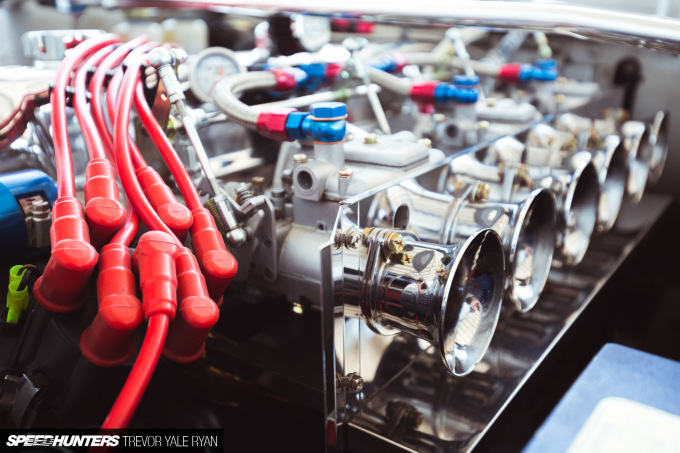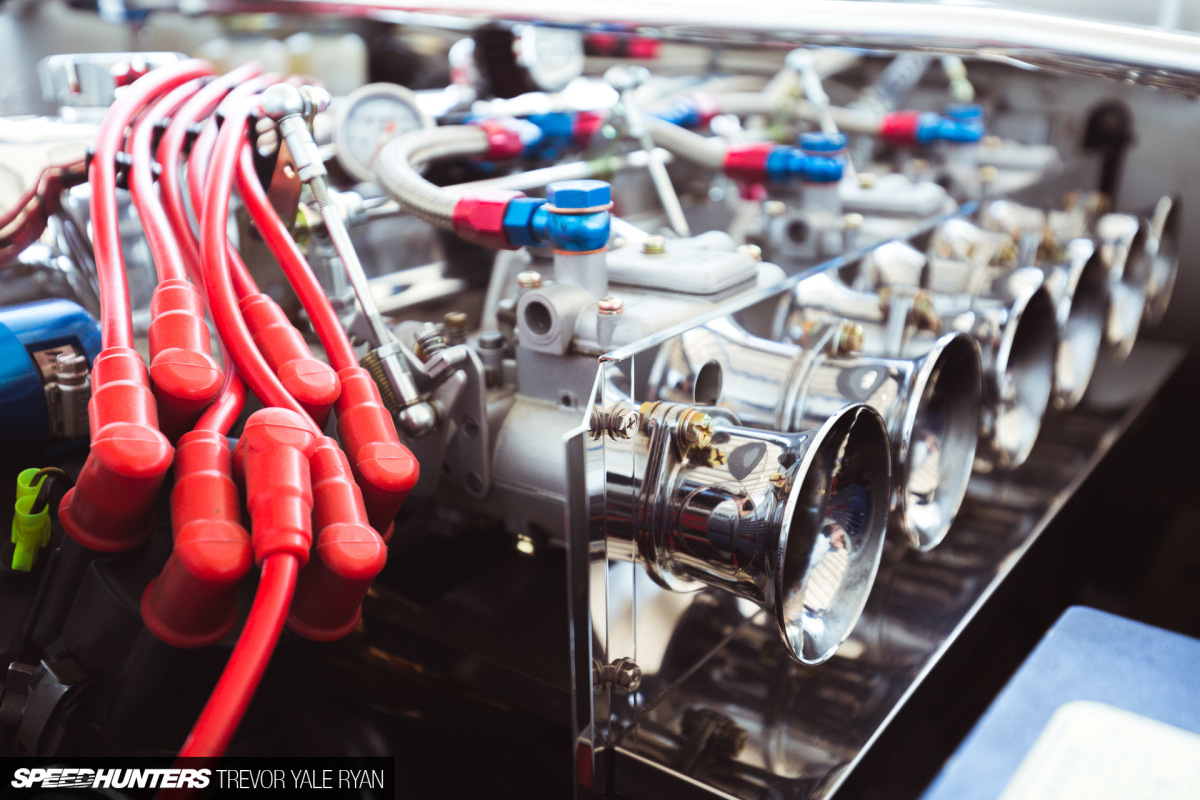 But the party piece is clearly on the left-hand side of the car.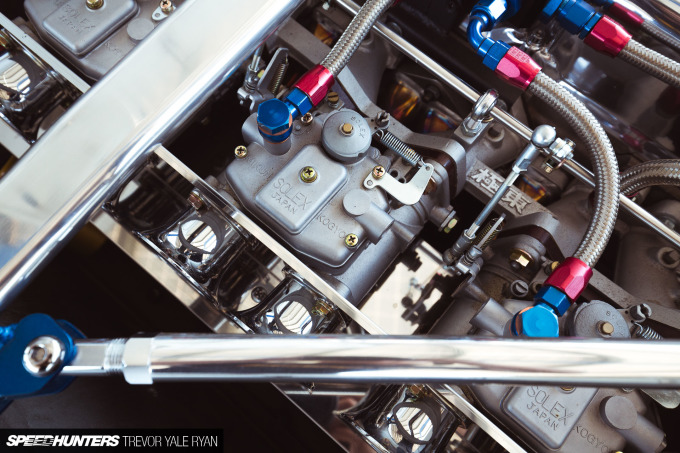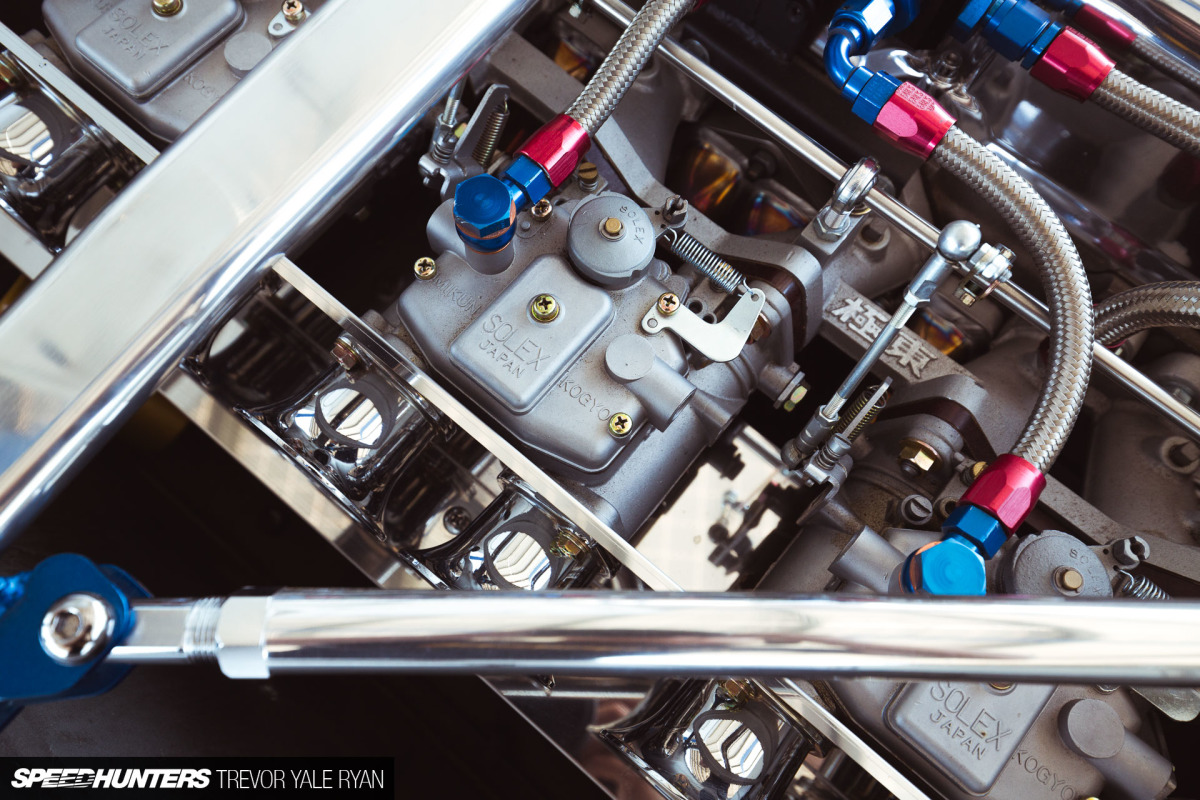 A glorious trio of Solex-Mikuni 40mm carburetors are accentuated by polished 2-inch Mikuni velocity stacks which are separated from the hot side by a stainless steel heatshield.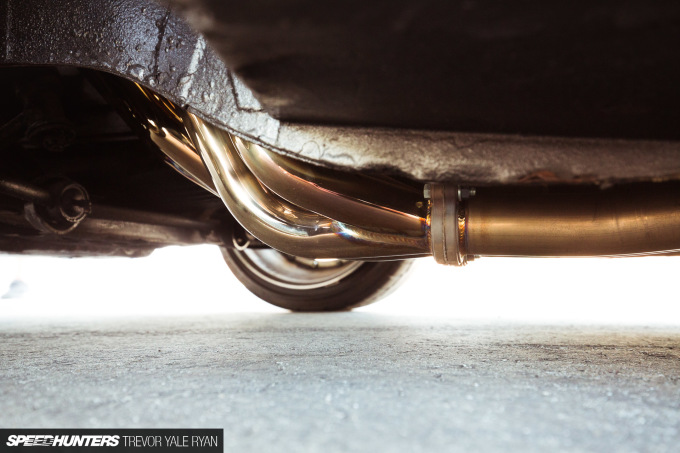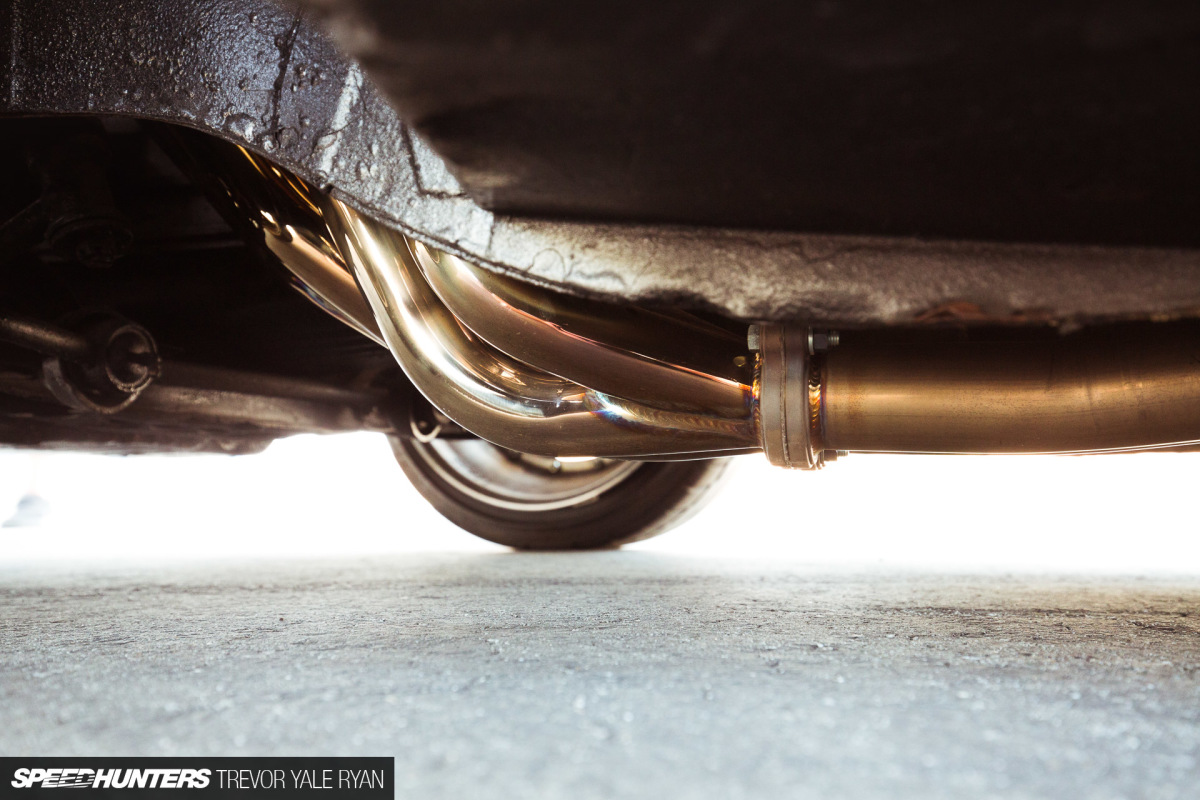 The fantastic parts selection continues under the car with a complete Fujitsubo exhaust system that starts at the header and continues out the back end.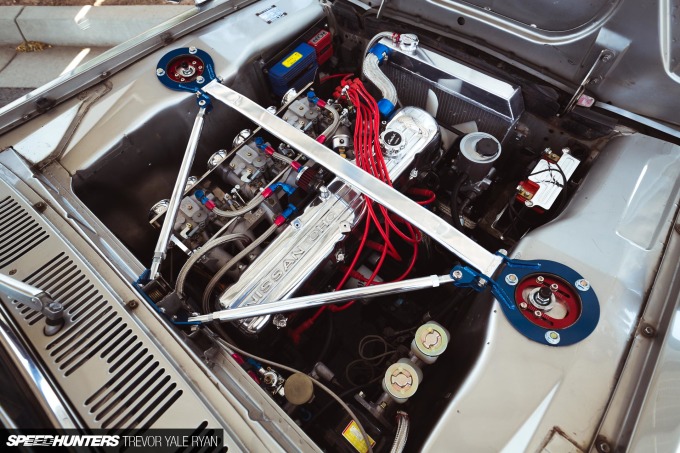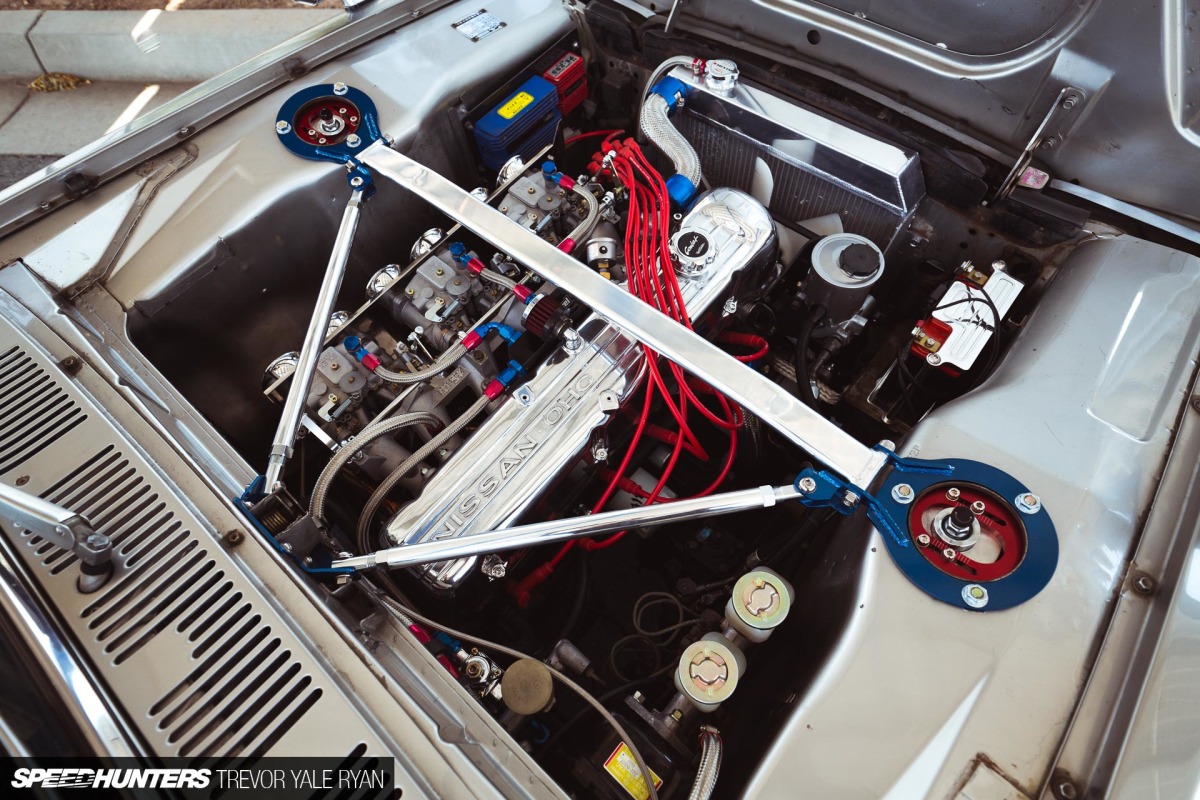 The result is a truly stunning engine bay. Rick said the thanks goes to his friend Masaya from JP USA in Rancho Cucamonga who was able to track down all the rare parts on Japanese Hakosuka forums and classifieds. The same workshop helped set the car up as you see it now.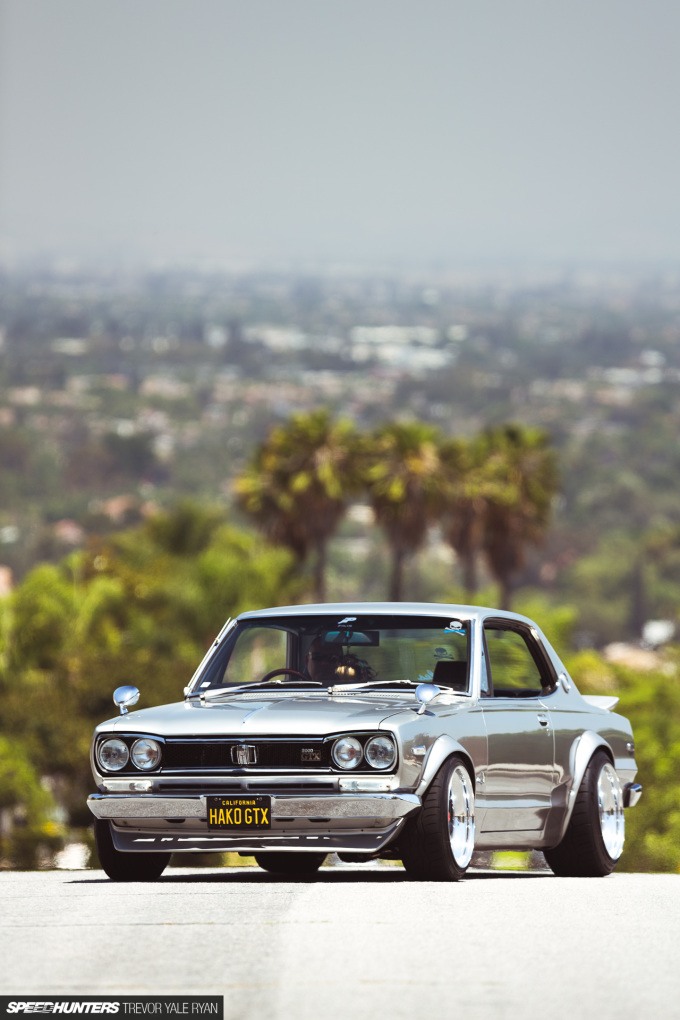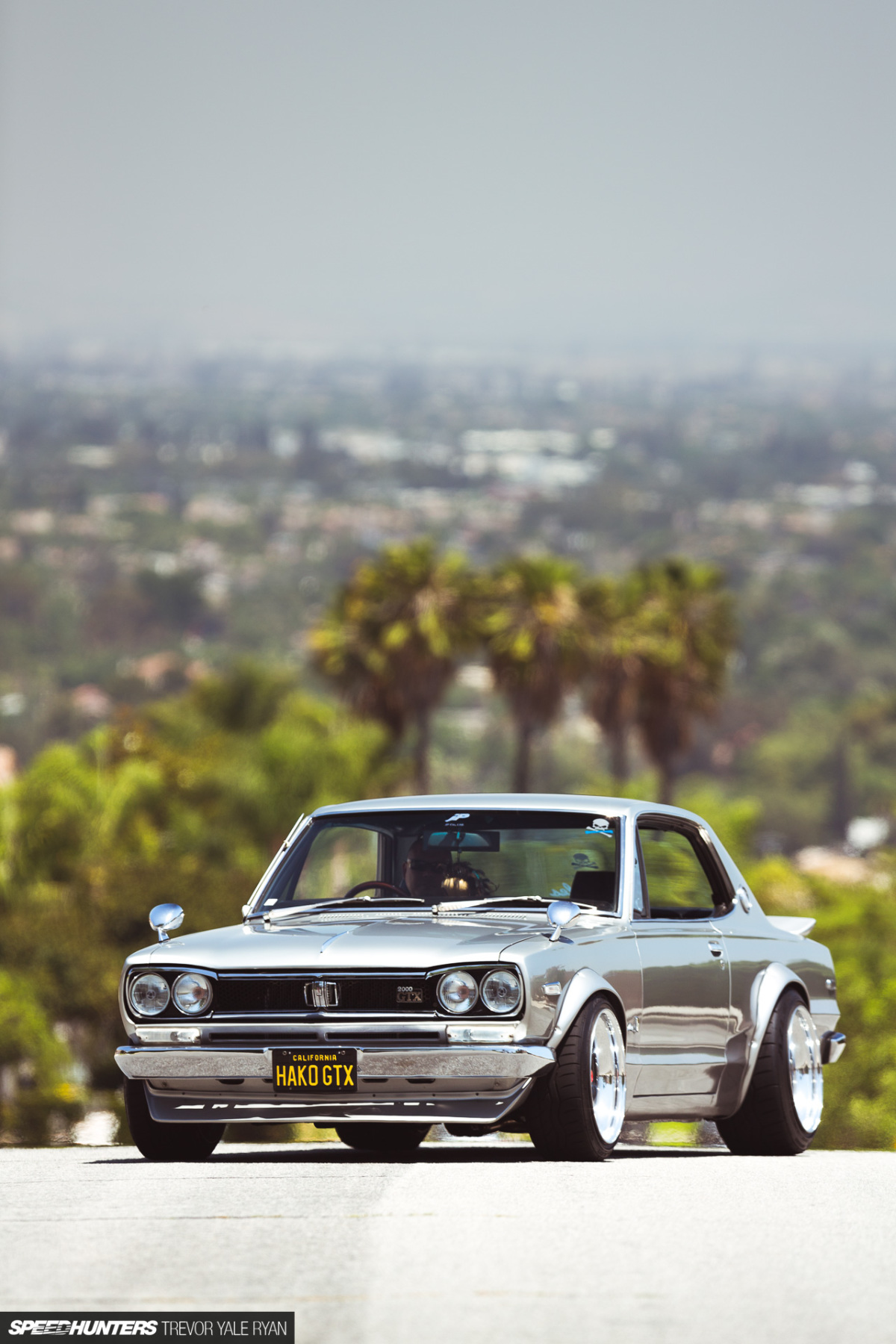 It really shouldn't come as a surprise that a Skyline that looks like this on the outside would be equally stunning under the hood.
Japanese Time Machine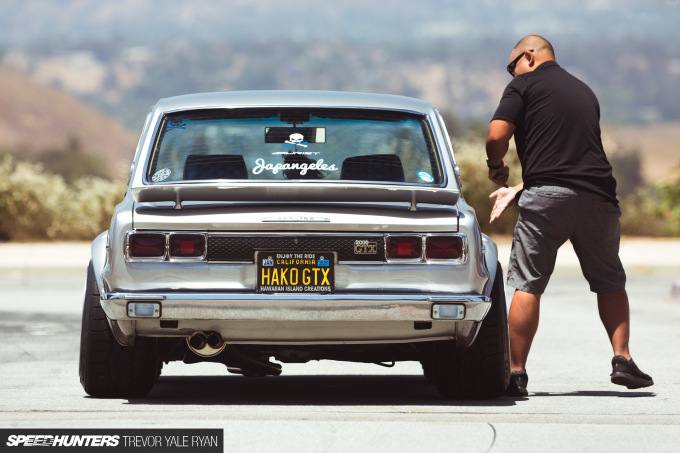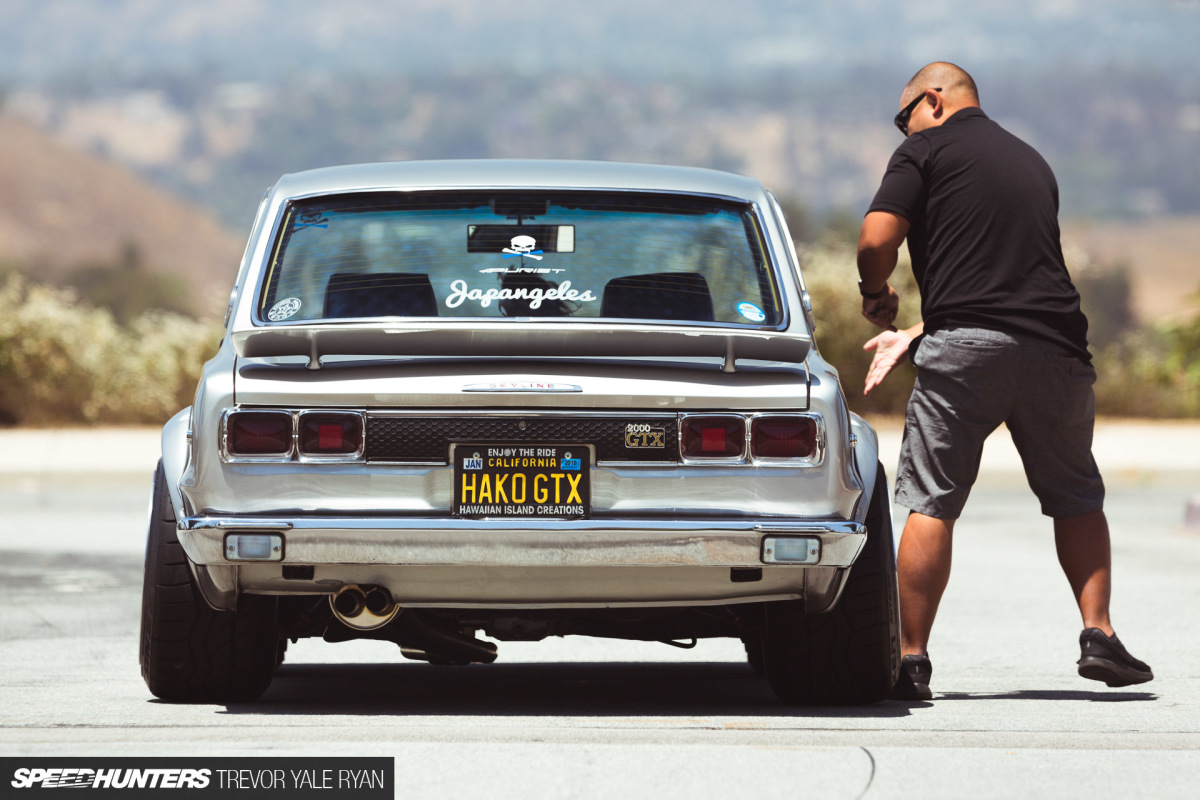 In the design of a car, there's also the driver to consider. As retro-modern as the Skyline appears from the outside, the interior has been largely untouched. The present state is pure and simple 1970s.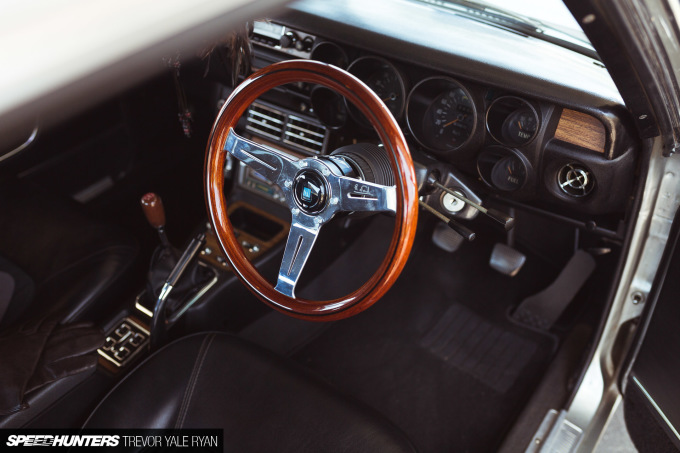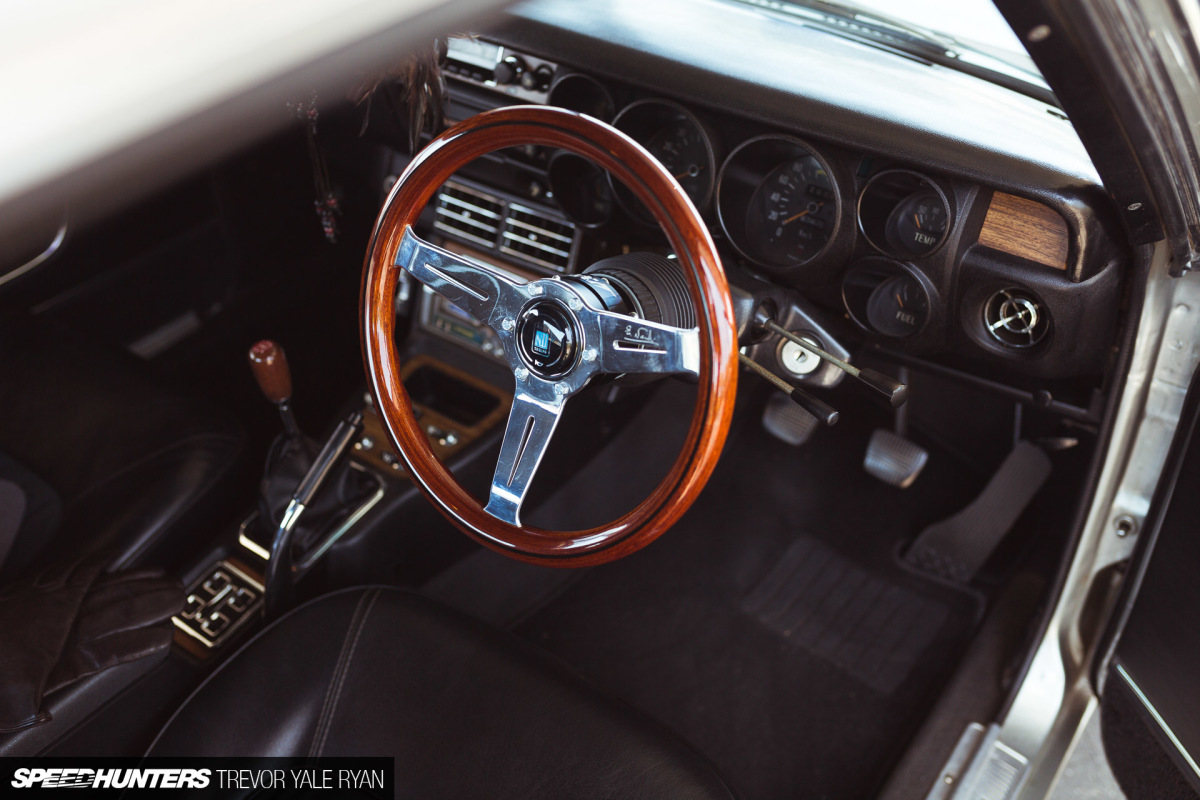 Rick has installed a 330mm Nardi wheel that's mated to the steering column with a Boss hub and Works Bell quick release.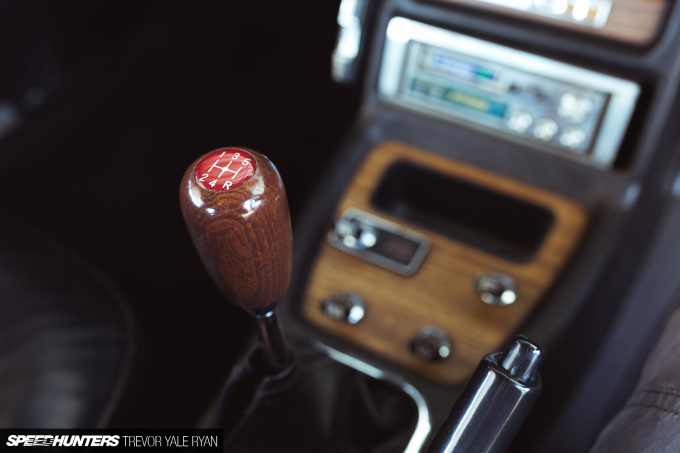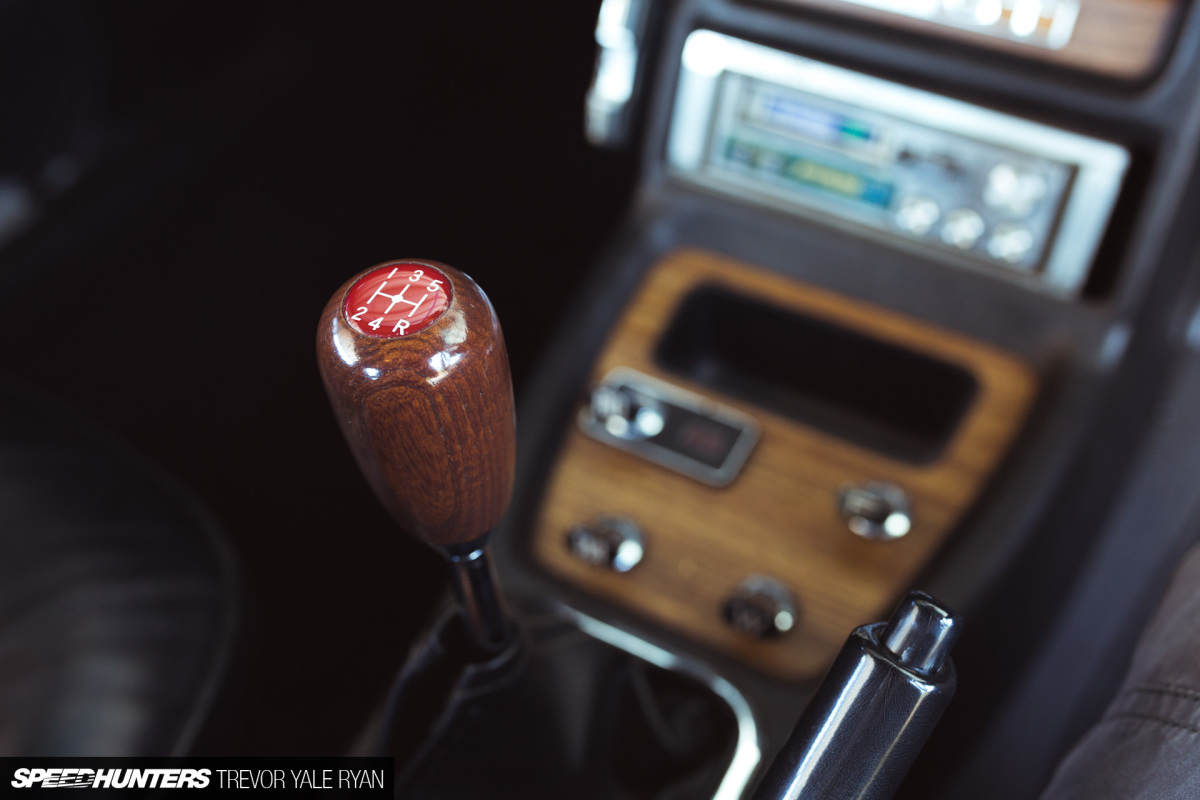 Other than the fitting wood-rimmed wheel, most of the luxurious GT-X trim is still in place. You'll find all the proper badging and woodgrain odds and ends.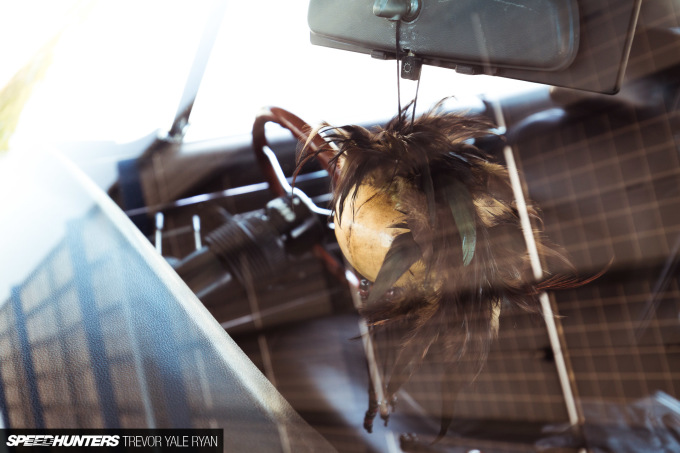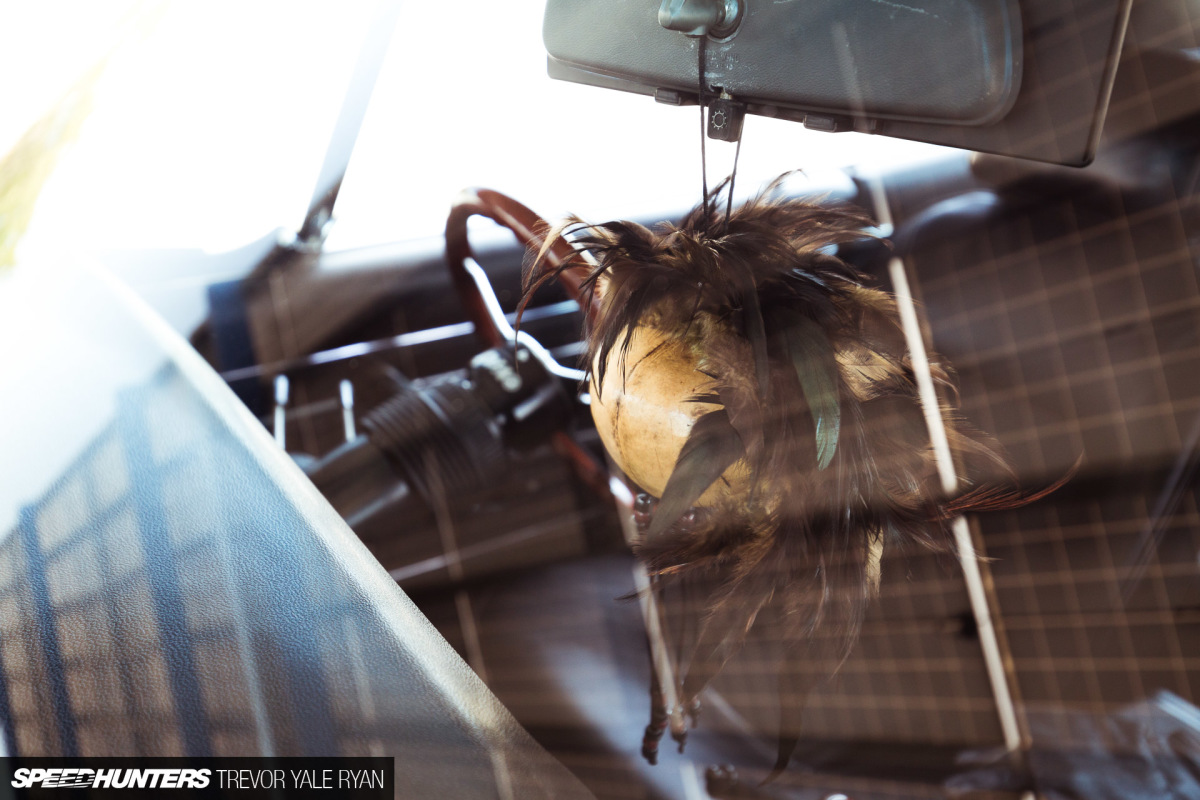 You'll also notice a 'Hawaiian helmet' which serves as a personal car alarm of sorts, helping to keep the bad spirits away.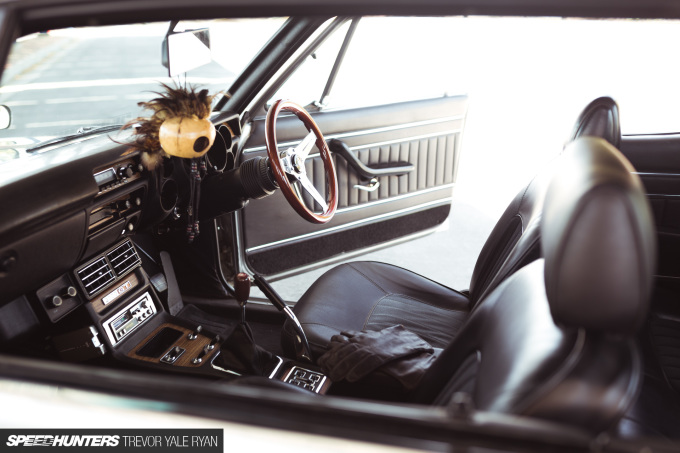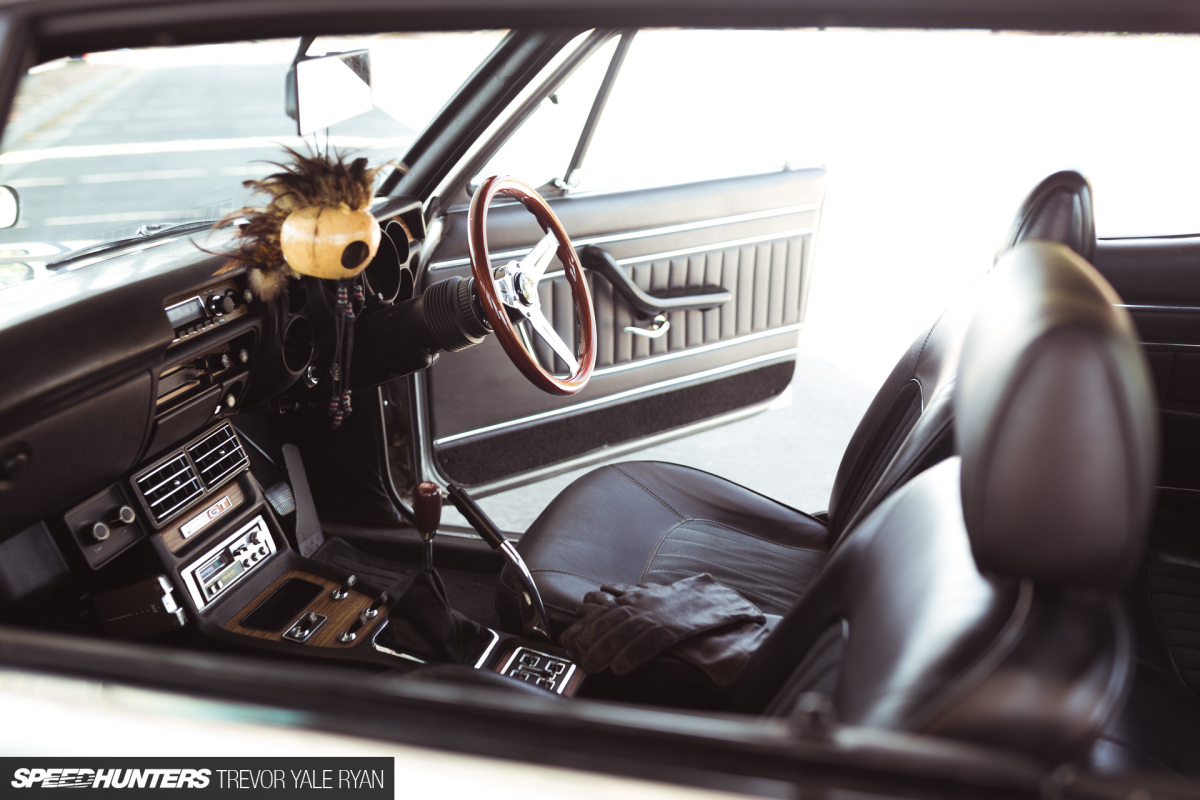 It's a total time machine and a testament to Shinichiro Sakurai's work in the '60s and '70s.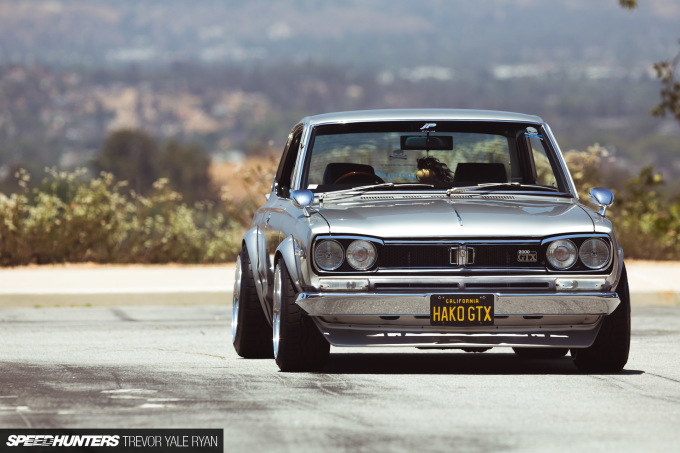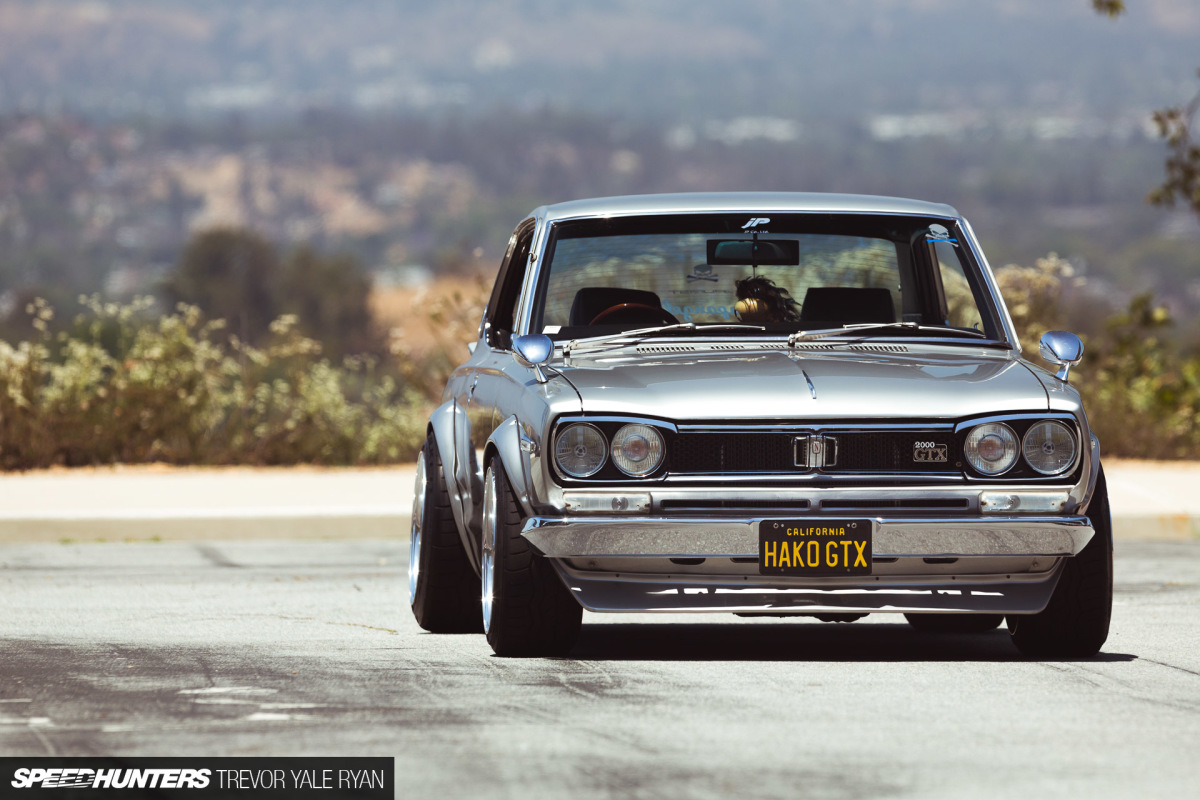 Sakurai was known to be quite rigid in his philosophies, with his apprentice Naganori Ito (who took over design duties on the R32 as the R31 marked the end of Sakurai's work on the Skyline) having been quoted as saying the following: "Sakurai-san was examining me if I could overcome any kinds of difficulties he assigns. I heard that a lion parent kicks the children down into the abyss of a ravine, and brings up the kids who can climb up. The 'Sakurai School' was just like a 'Lion School'."
Whatever happened during lion school, it was obviously a success.
Details & Driving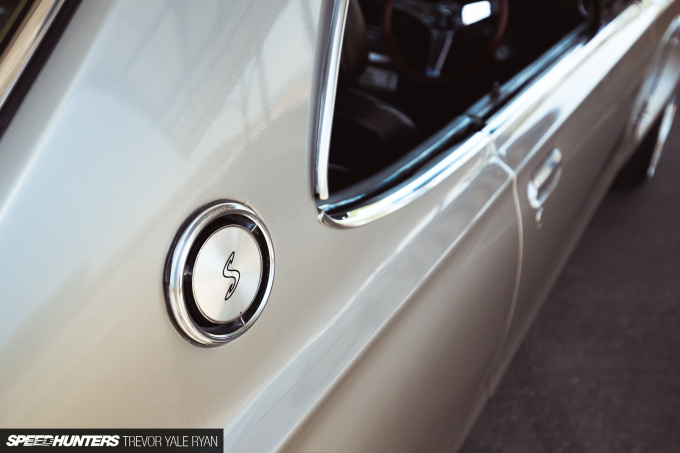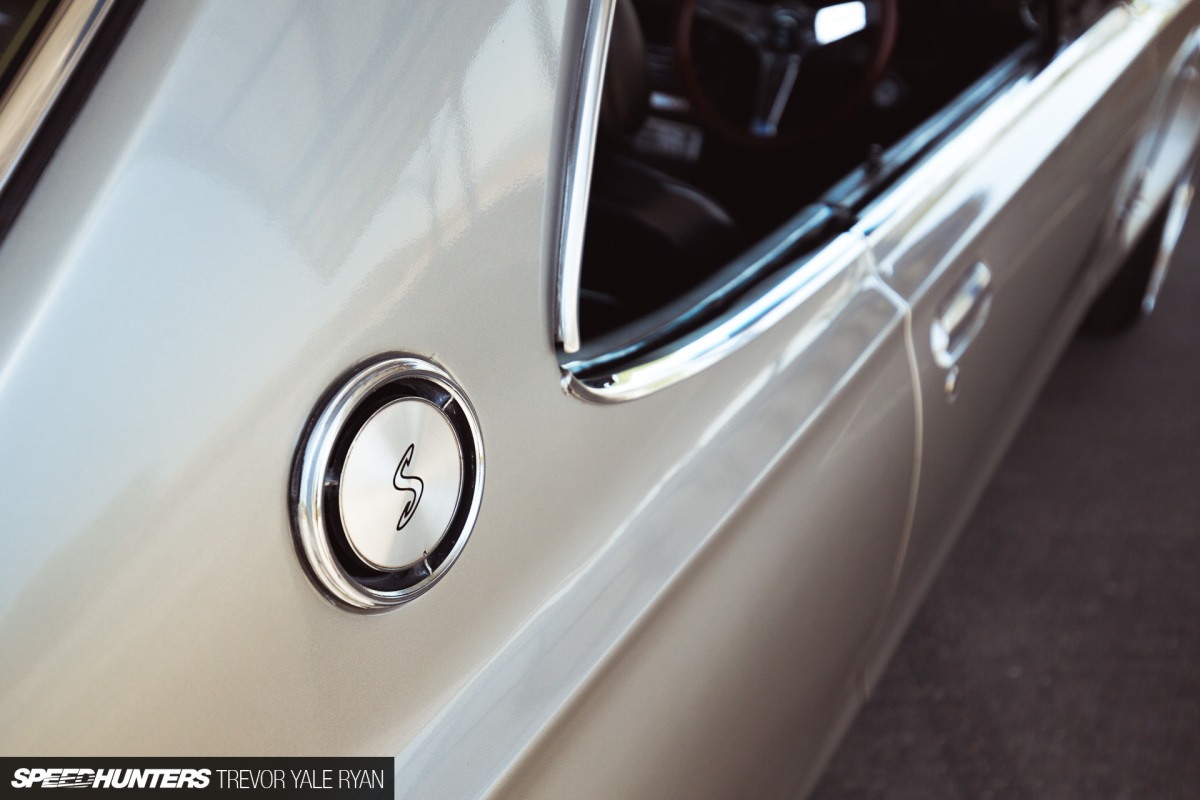 Around the exterior of the Skyline there are many wonderful period correct details.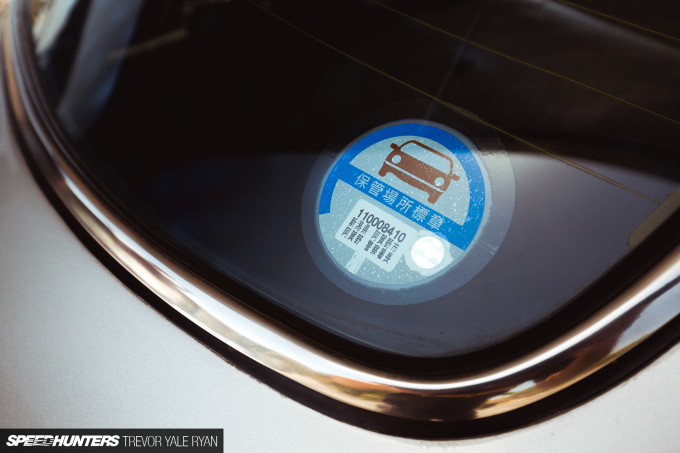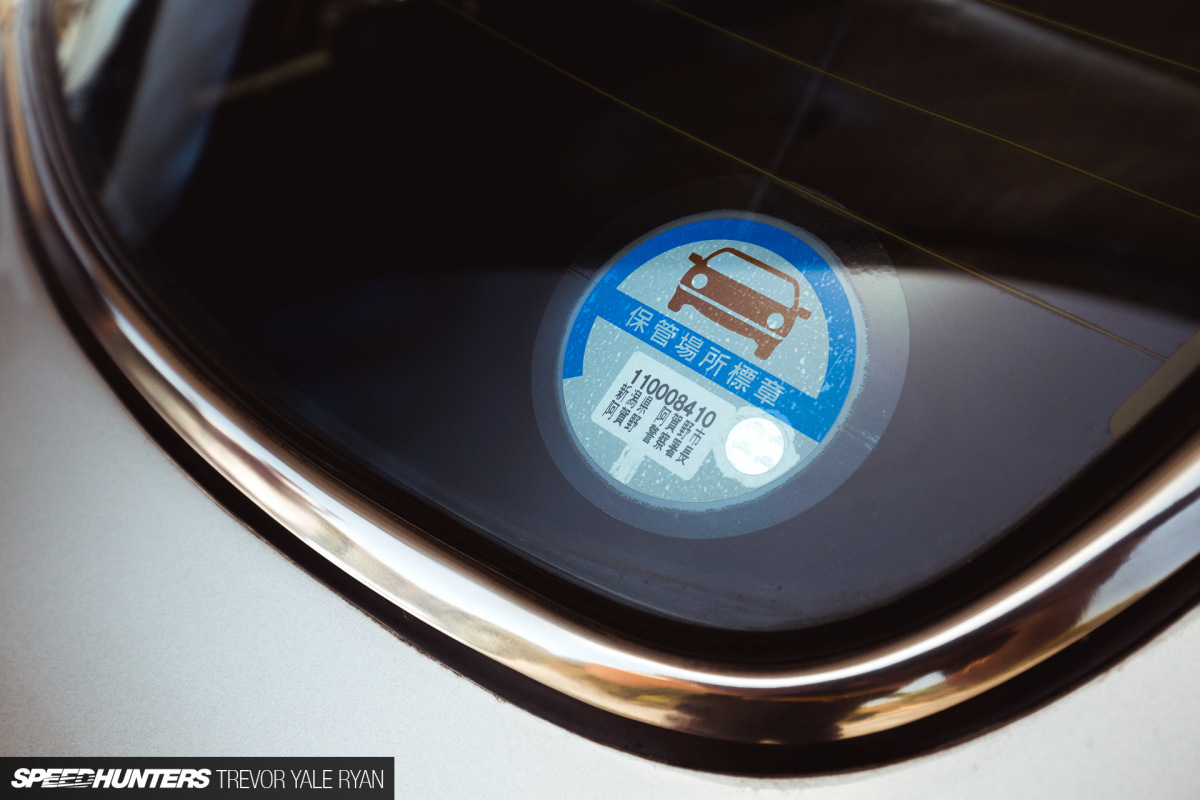 There are very few stickers on the entire car, the majority being ones placed on the car in Japan. While perfectly ordinary to any local, they're far more interesting than they should be to an American like me.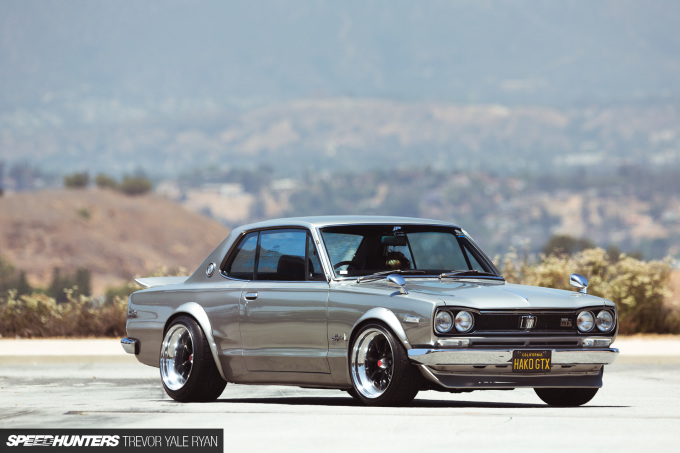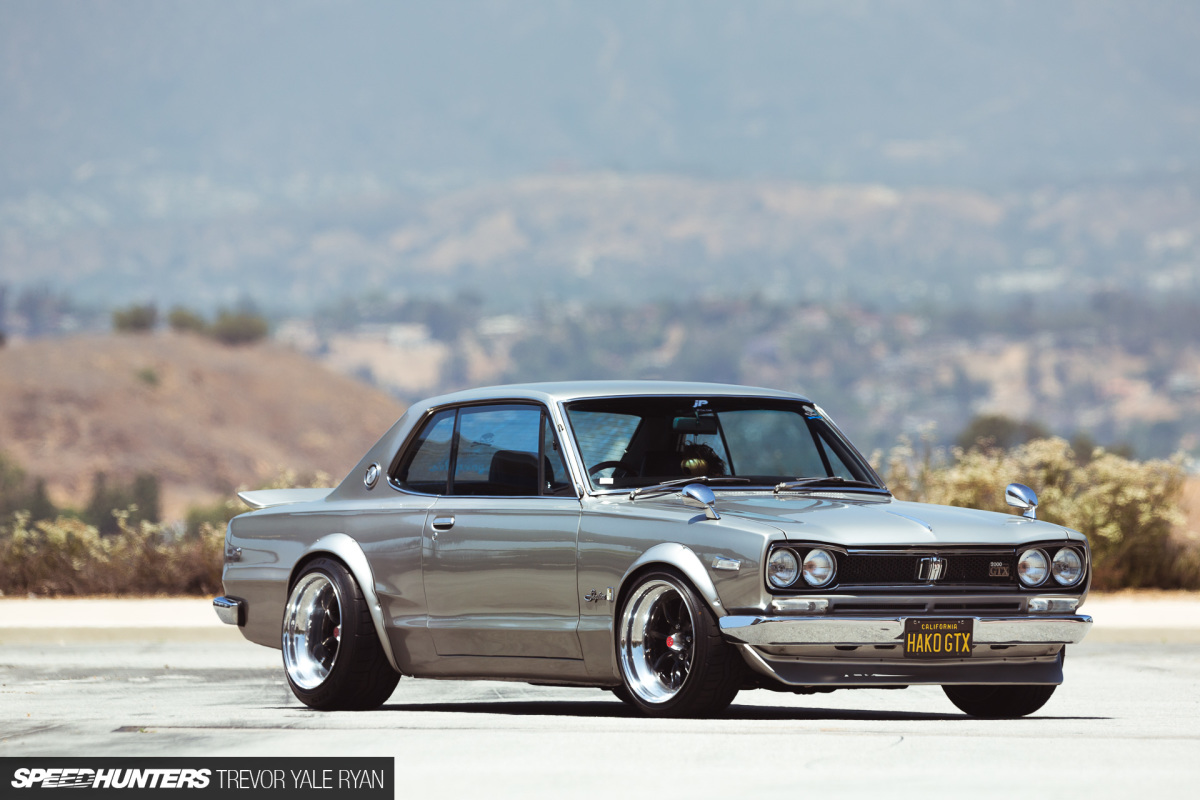 You'll also probably have noticed the re-barrelled RS Watanabe wheels which hide disc brakes on all four corners. The RS8s are a wonderful addition to the car and Rick even went so far as to source Watanabe lug nuts and valve stems.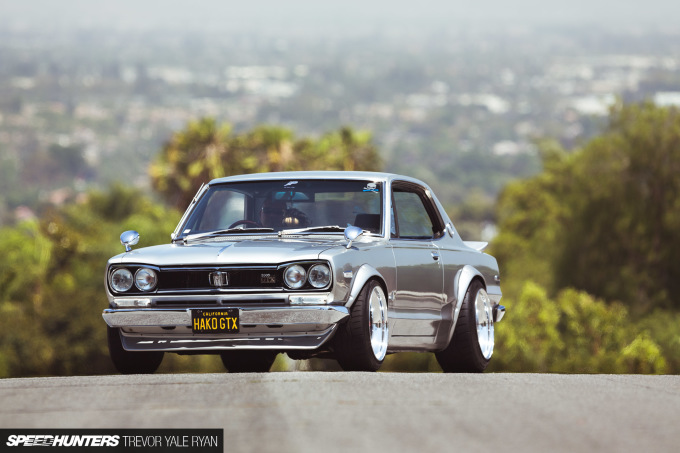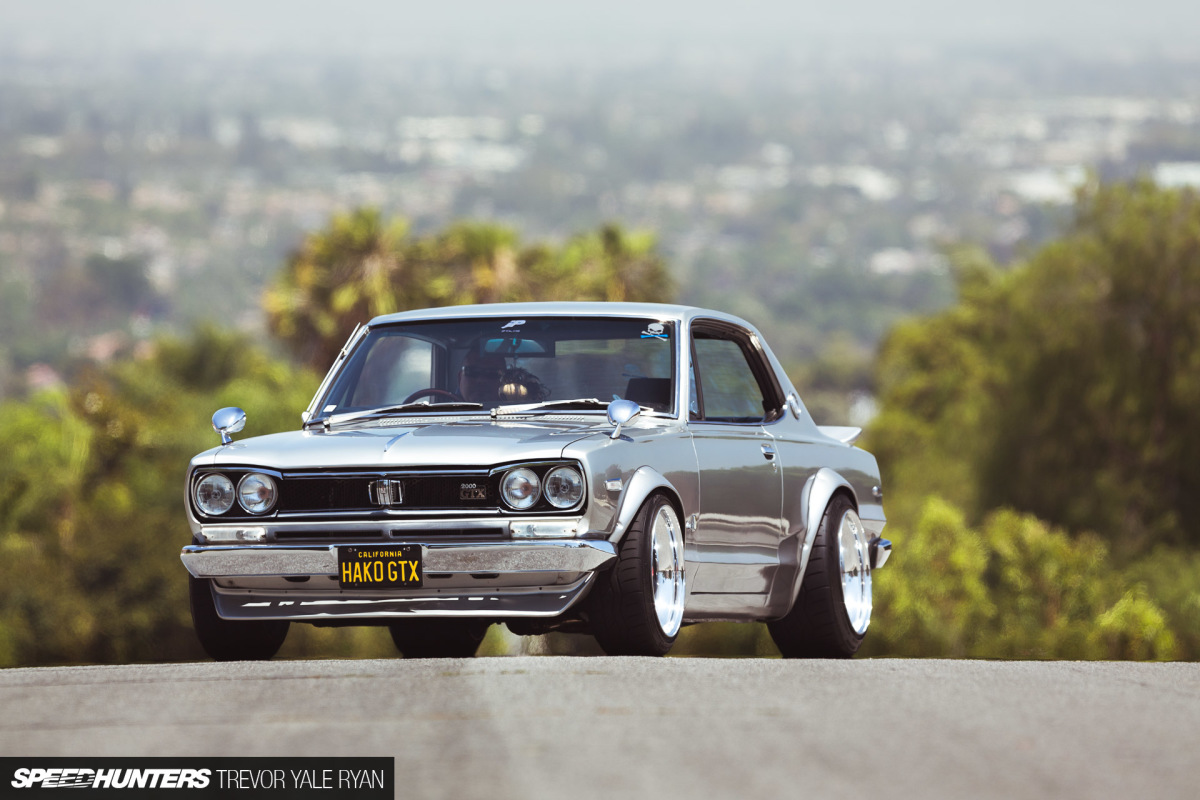 With Koito headlights, fender flares, and a rear spoiler which is matched by an air damn up front, the Skyline is perfectly balanced. To get it to sit as it does, Victory 50 coilovers are in use up front, while the setup out back was sourced from GAB suspension.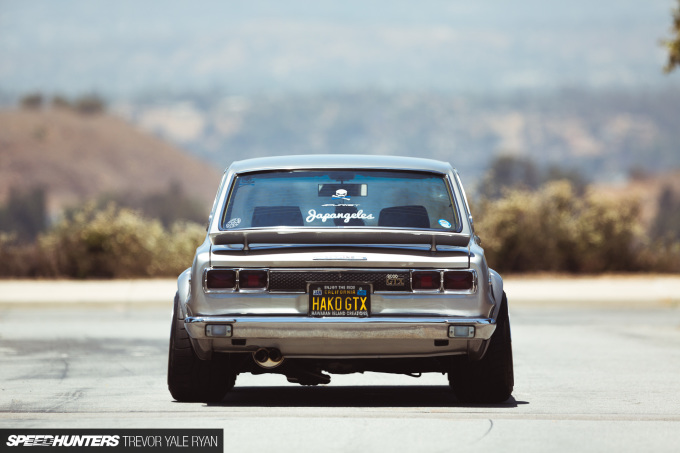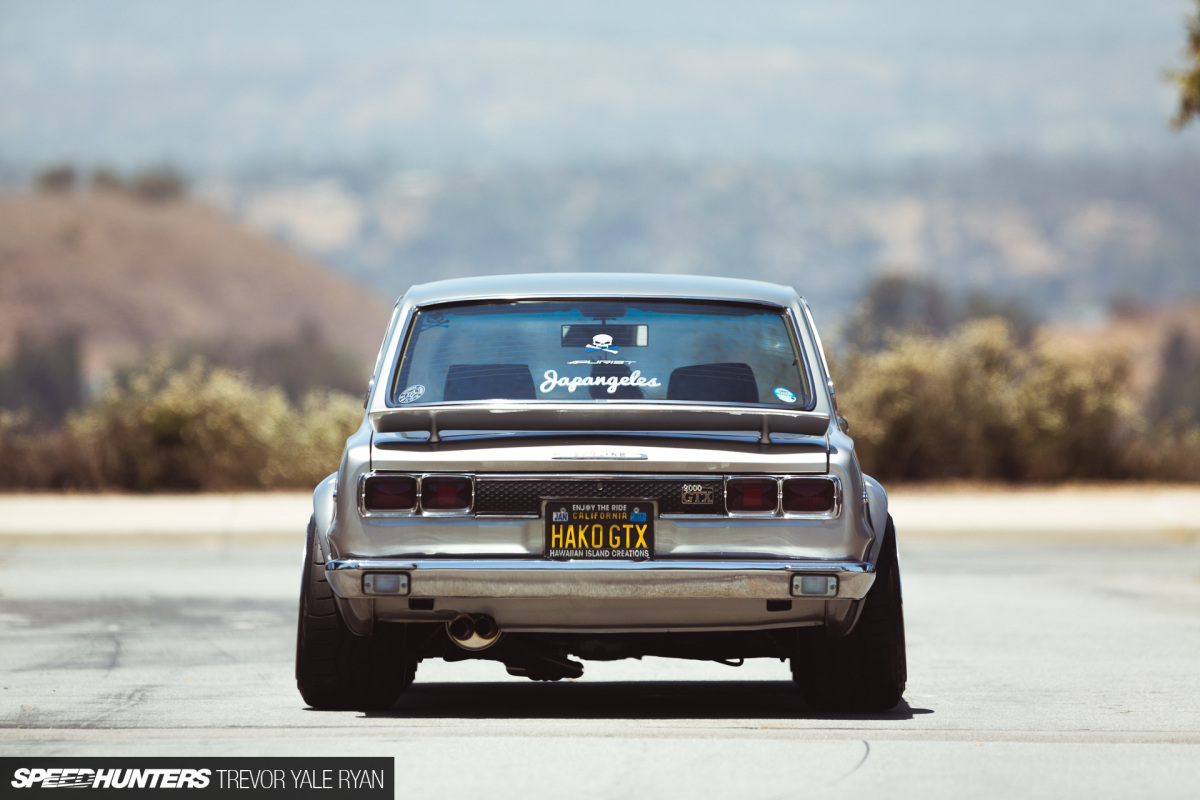 The Japanese wheels are wrapped up in chunky Falken Azenis RT615K rubber (255s in the rear and 215s up front), ensuring the car is plenty of fun on Los Angeles' canyon roads.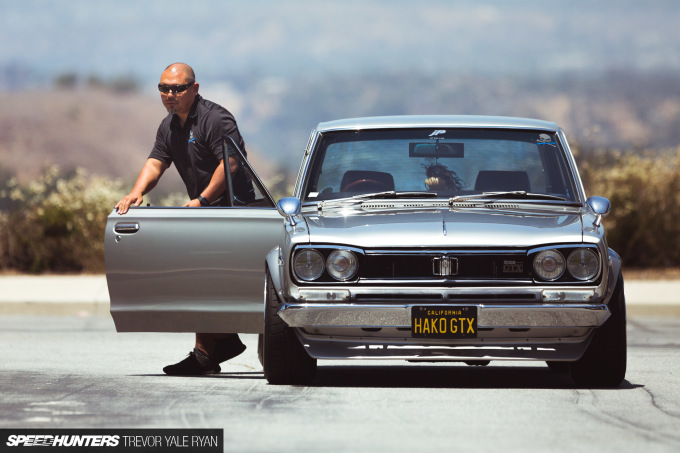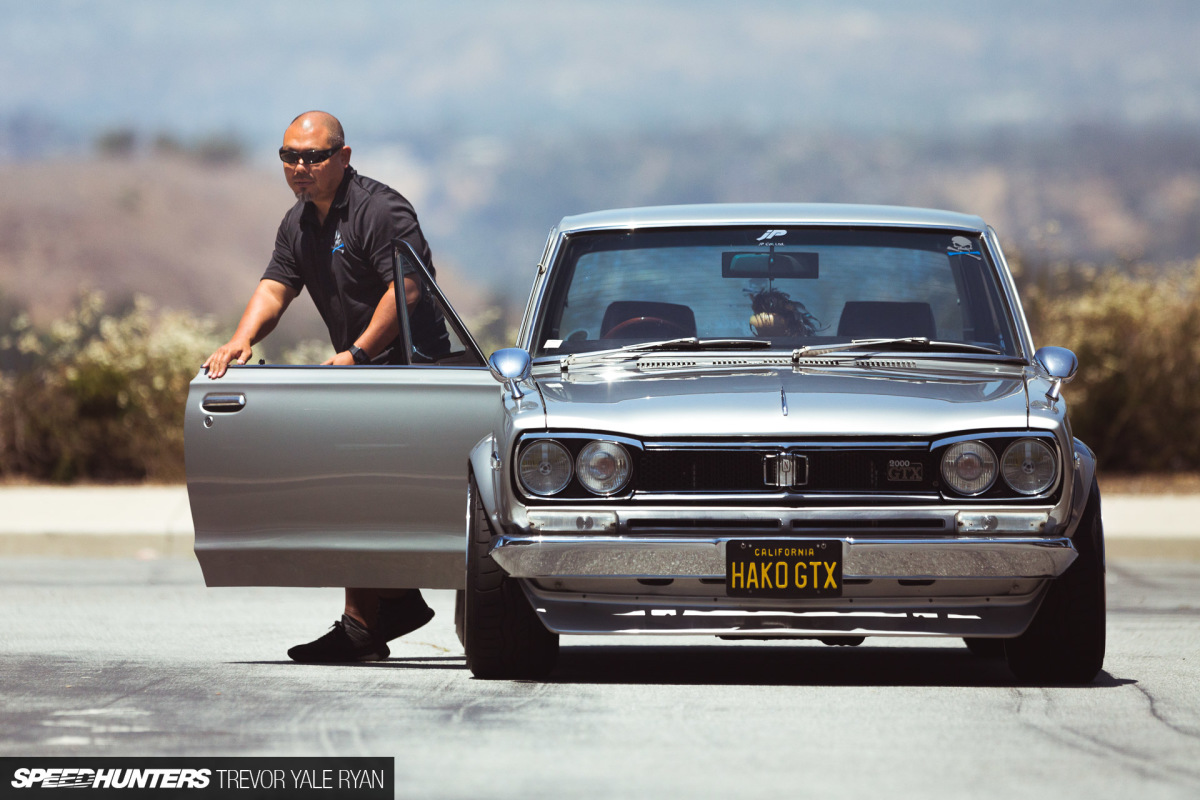 With the satisfying task of building the car behind him, Rick's grown to absolutely love his 2000GT-X. He didn't directly say this, but it's something that's plainly seen in his interactions with the car.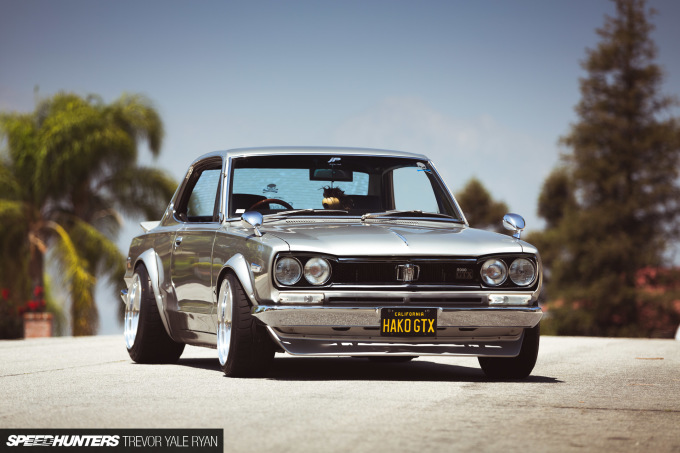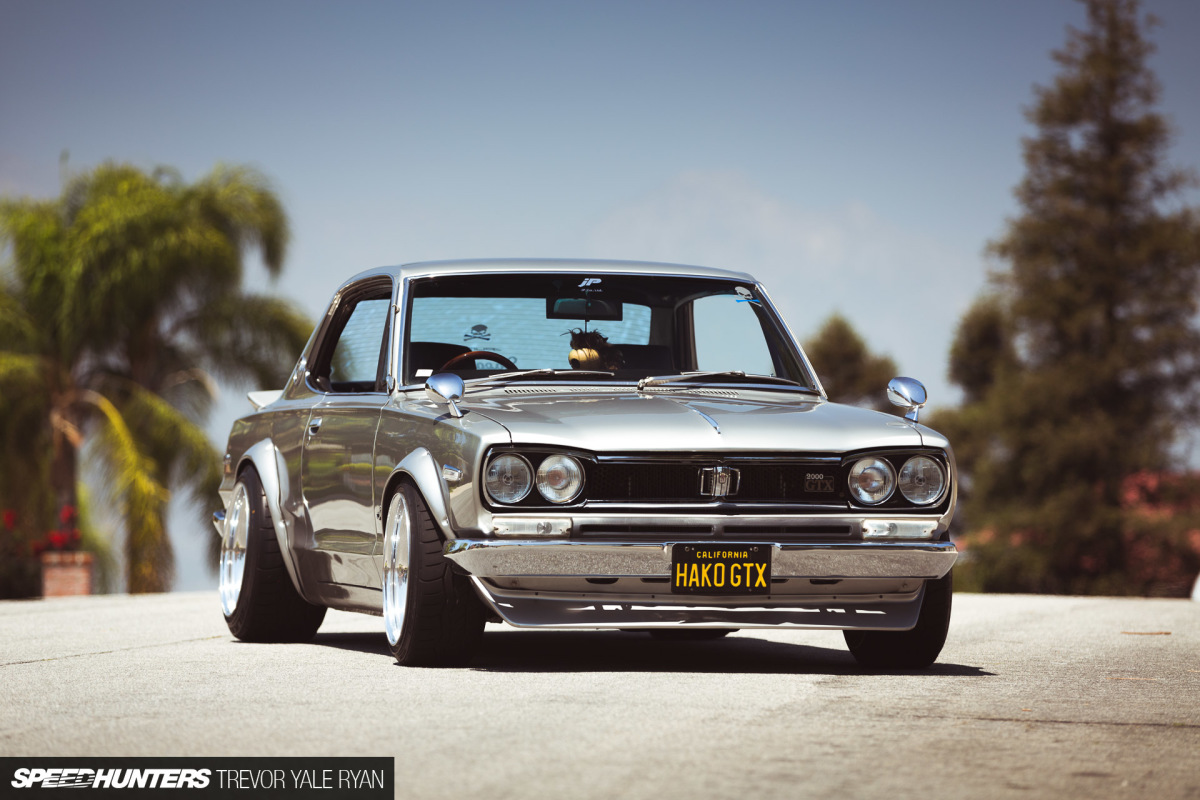 As the C10 celebrates its 50th birthday this year, I'll be celebrating this Skyline GT-X. Rick's Hakosuka is the epitome of California's appreciation of Japanese car culture.
It's a car I couldn't stop taking photos of, so enjoy the extra images and phone wallpapers below. And if you see Rick around Los Angeles, remember what he and his car stand for.
Trevor Yale Ryan
Instagram: tyrphoto
TYRphoto.com
Stacks On Stacks