Scheming & Shooting
My favorite thing about car culture is the intense variety of what you'll find in any given corner of the world. Even when two cars use some of the exact same parts, the outcome can be so very different.
When I saw that Dino had shot Kohei Miyata's Honda S2000 in Japan I thought that I might as well not feature Inspire USA's AP1. But after looking at the details in Dino's story I realized that these two cars could not be more different. Beyond the fact that both are finished in a color Honda called Spa Yellow Pearl, both make use of a Spoon front bumper and rear diffuser, and both are US left-hand drive versions, nothing is the same.
Parts list aside, what clearly differs here are the owners' philosophies. Again, the same car and many of the same parts, but very different approaches and very different results, especially behind the wheel.
Eric began hoarding S2000 parts from Spoon before he even had the right car to put them on, which is evidence enough that he had a succinct vision in his mind from the get go.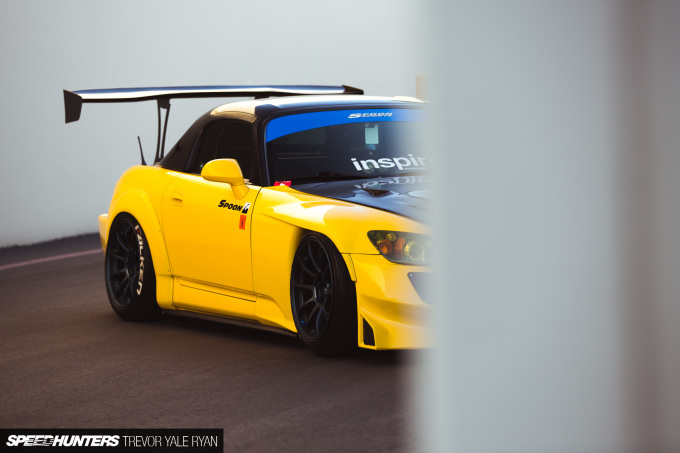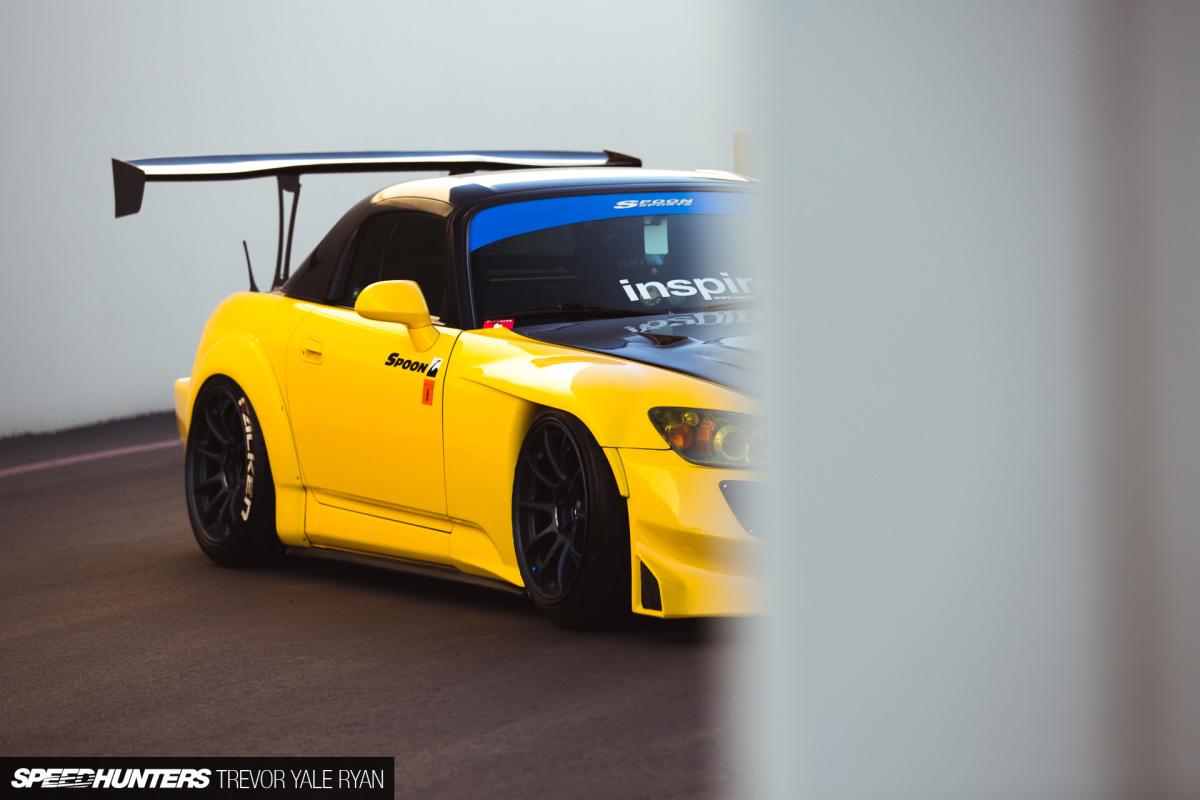 I can't say that I blame him for acquiring the kit before the car; I personally love the details of the S-Tai bodywork which transforms the soft lines of the AP1. After seeing a good number of these cars floating around at the track, I really feel a stock S2000 is aesthetically too tame for 2018.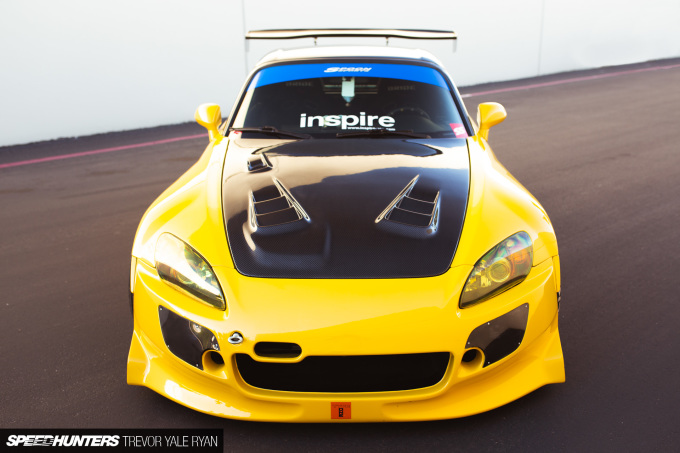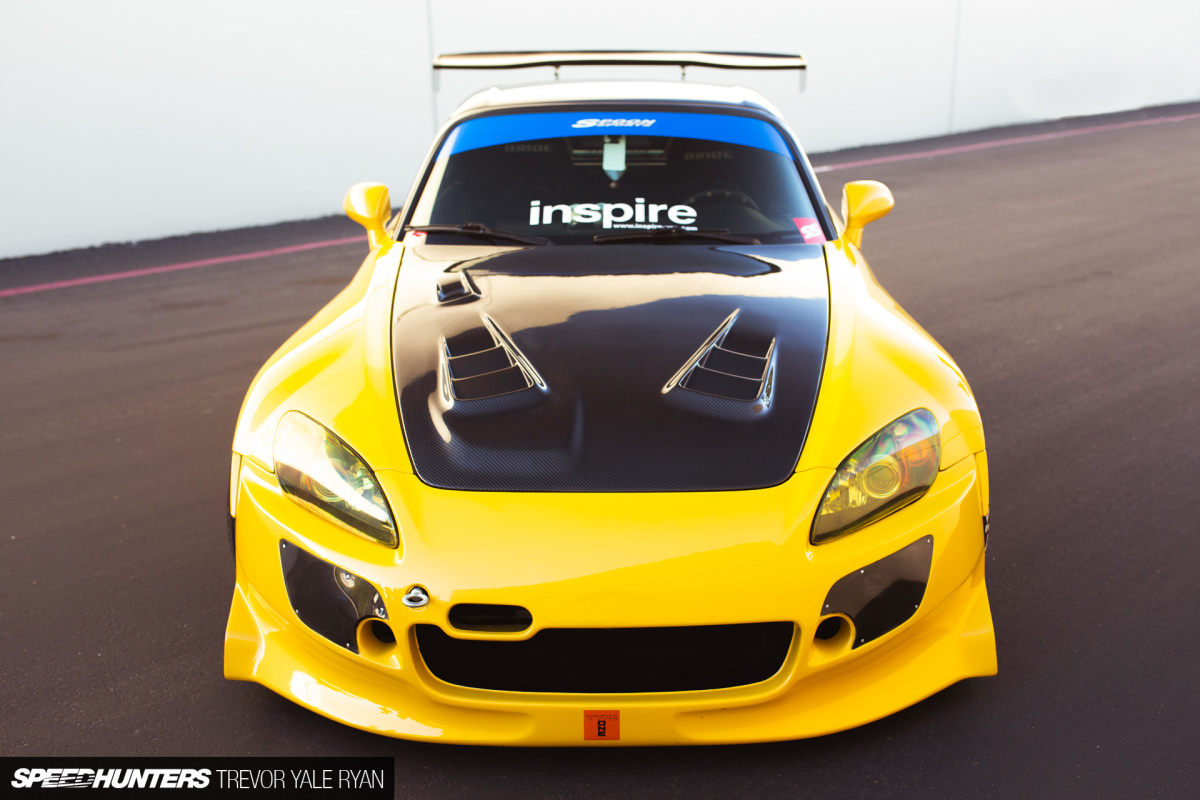 While undeniably phenomenal from the factory, I just couldn't be satisfied with that anymore. It just goes to show how strong the aftermarket is for these cars and we'll dive into what sets this particular S2K apart in just a moment.
Perhaps due to a lapse in judgement (just kidding), Eric tossed me the keys to the Honda so that Mark Vasilyuk could get some footage of the S2000 in motion. I have to say the camera car was like none I've ever used and perhaps deserves a quick look in the future.
Mark did a nice job of making me appear cooler than I actually am, which is always a plus. But perhaps more importantly, the video, like my title, gives away one of the main aspects of this build which makes it so different than its Japanese counterpart that Dino discovered.
Gasp! Air Ride!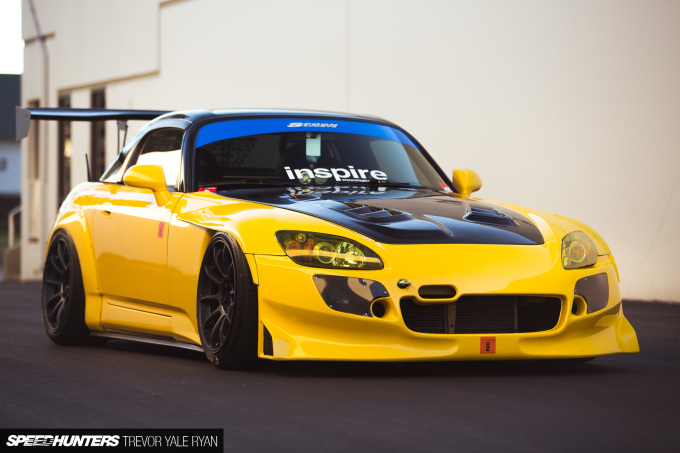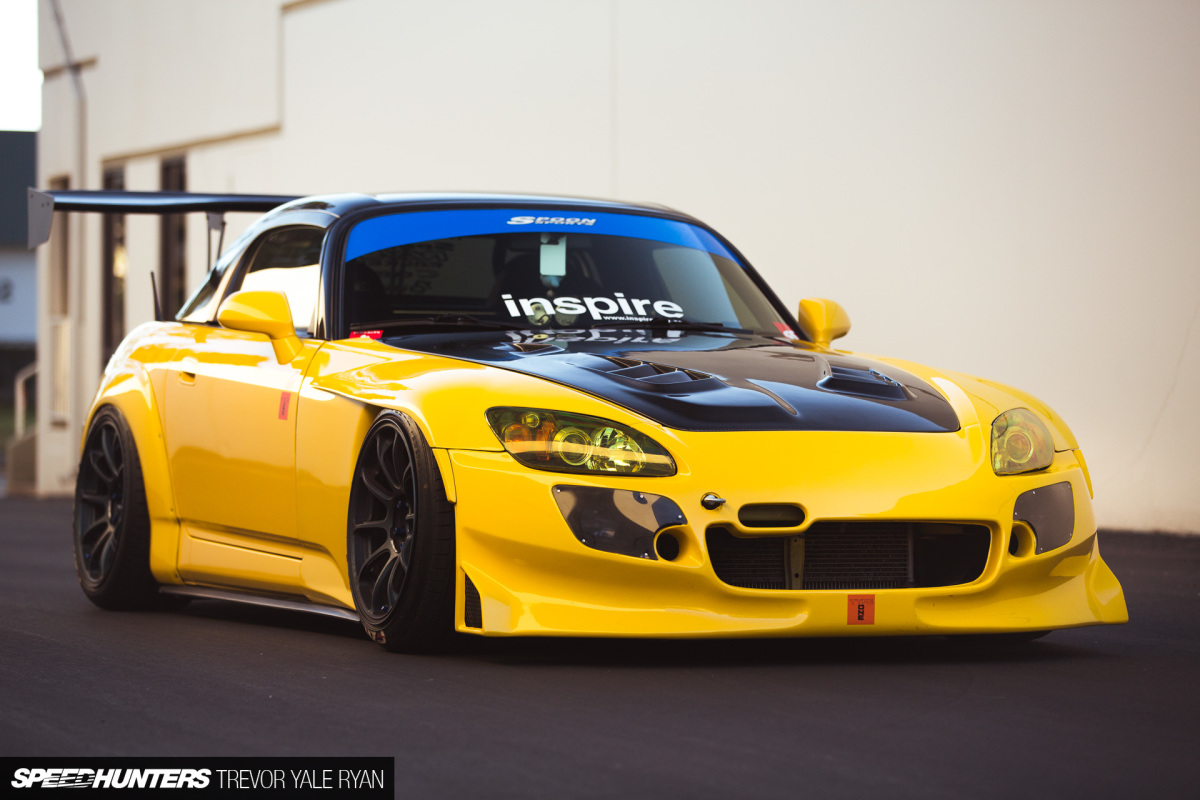 To allow that glorious Spoon bodywork to rest just above — or more accurately, directly on — the tires, Eric Tsoi has opted for D2 air struts coupled with Air Lift Performance's 3P management setup.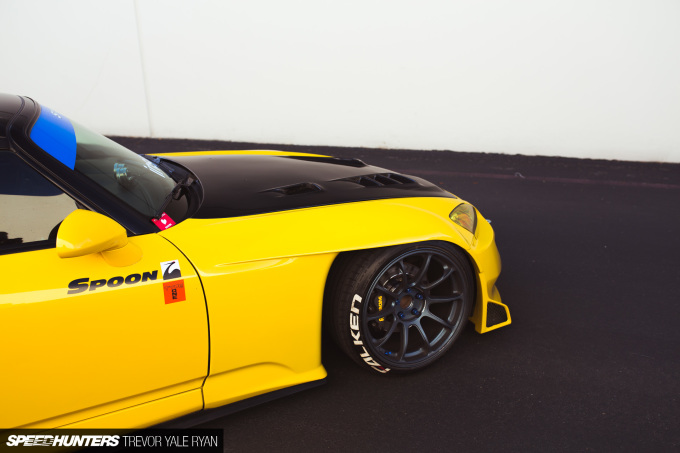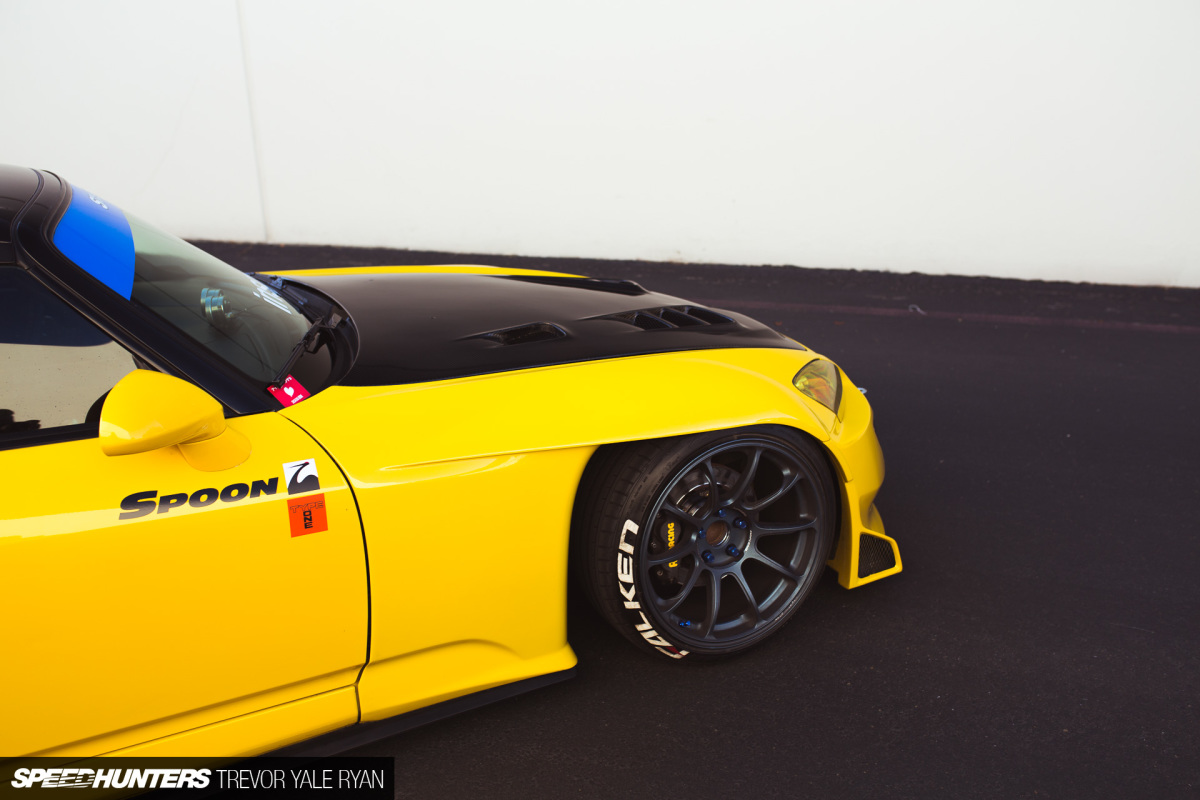 I'm aware that this will be a polarizing aspect of the build, but I love how the stance accentuates the edgy Spoon fenders at this exact ride height. There's realistically no other way that this car could sit this low and still be of any use as a car. Perhaps an air cup setup coupled with coilovers could have been made to work, but Eric is more than happy with the route he's taken.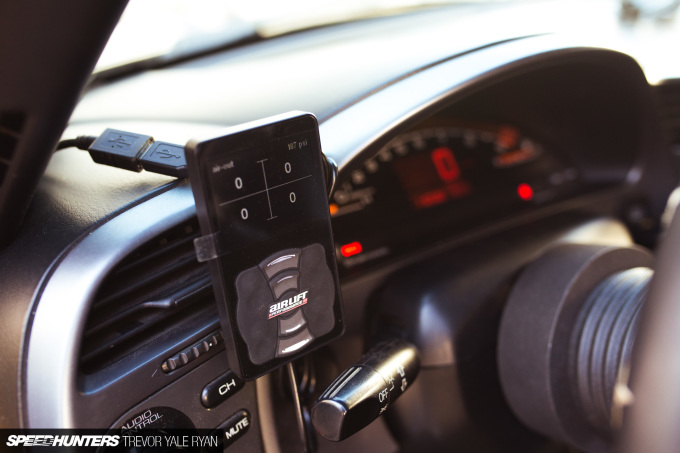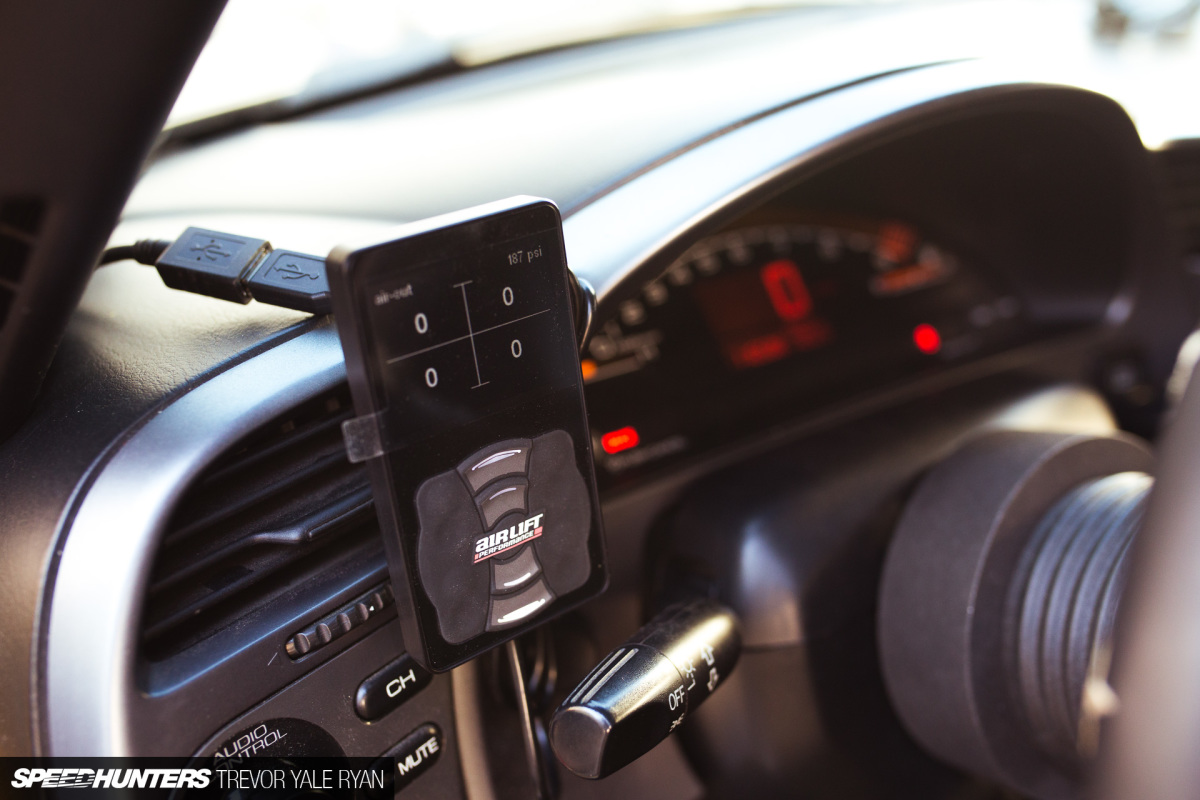 At the click of a button you can go from full 4×4 mode to daily driving height, or end up completely aired out.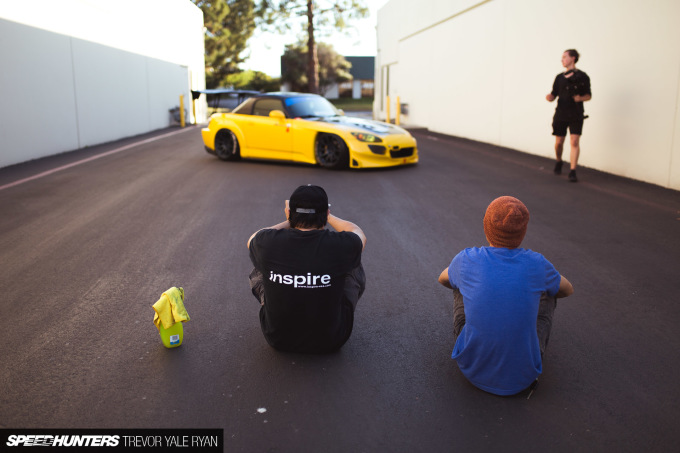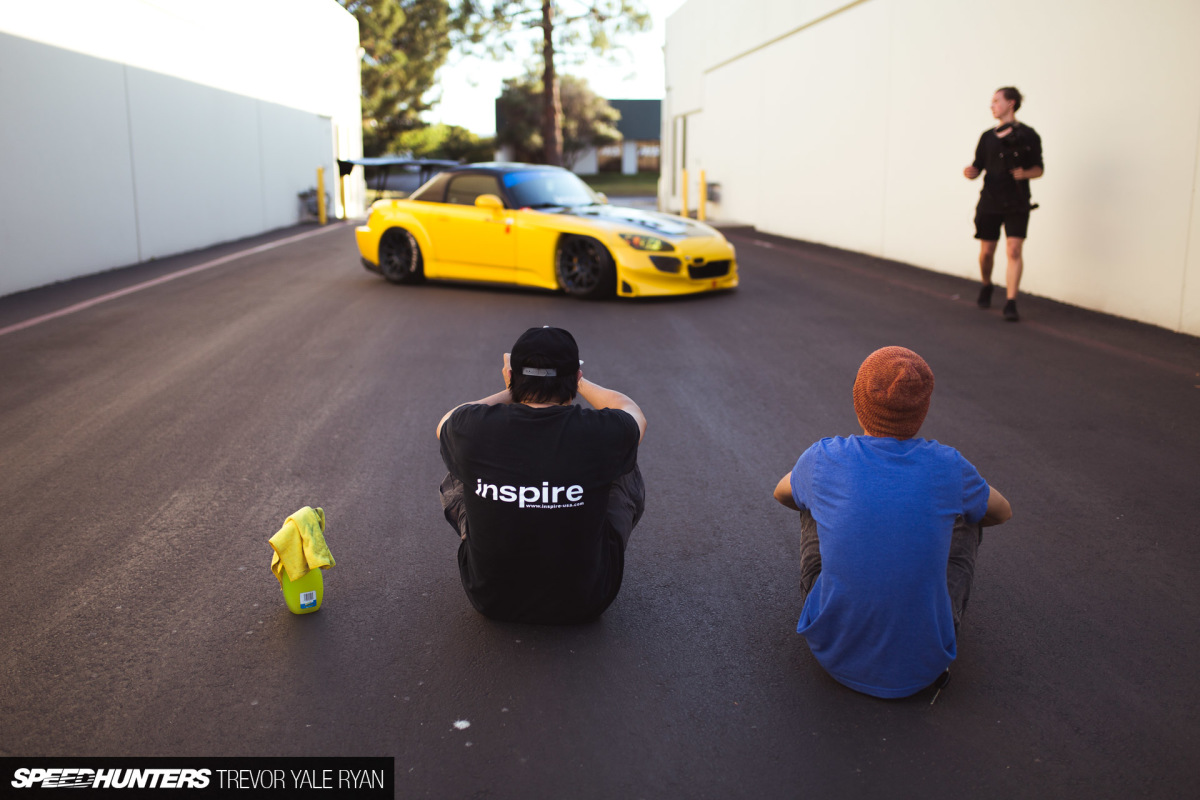 It's this convenience that Eric loves, and it's prompted him to convert several of his other once-static cars over to an air-based suspension setup. He can even fiddle with the setup on his phone.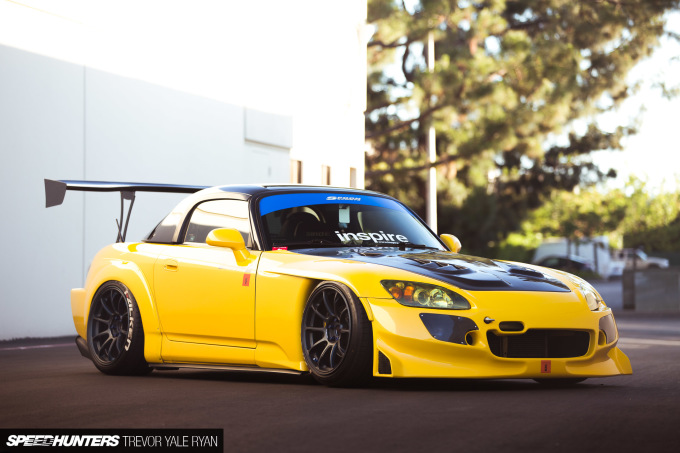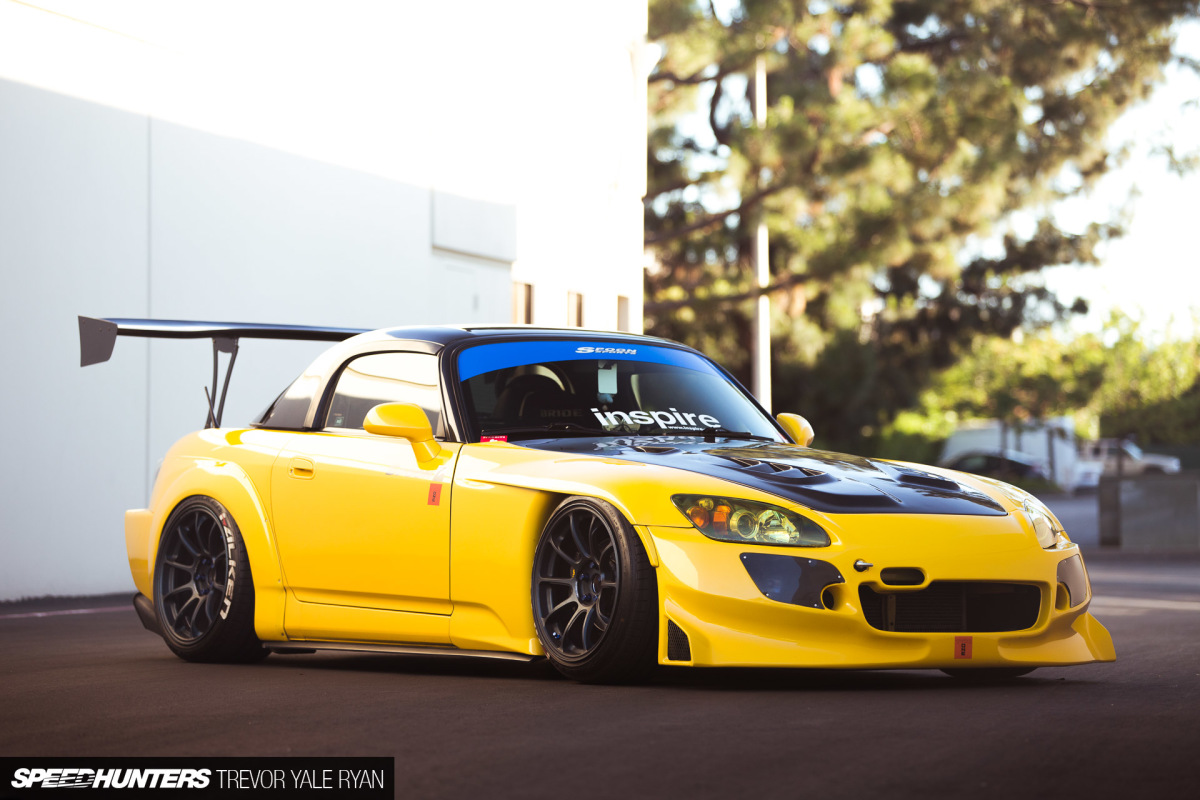 As the car's been built primarily as a driver, this is a choice that makes good sense. It would only take a couple of destroyed bumpers — a sad inevitability on California's shoddy Bay Area roads — before the air setup pays for itself.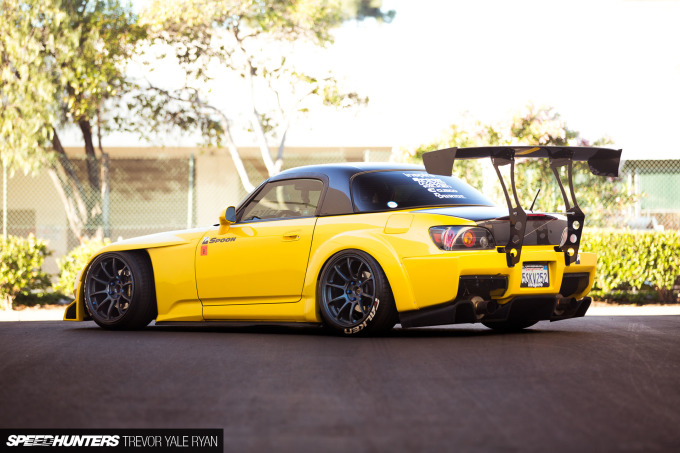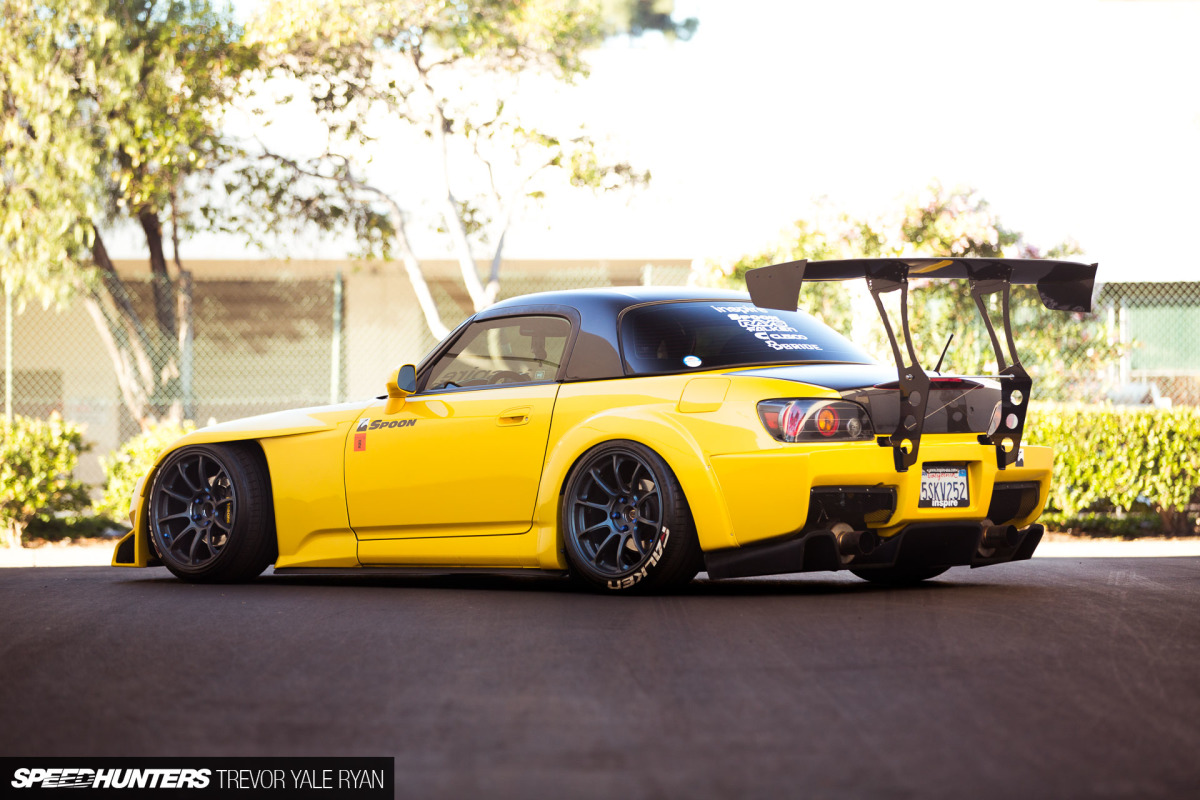 A massive chassis-mounted Battle Aero wing and a matching AP2 hardtop replace the GT wing and Spoon S-Tai hardtop that Eric previously had on the car. While some may cry foul, saying that the Spoon bits should stay together, it's not an entirely creative way to go. This current pairing makes for incredibly aggressive body lines as your eye moves from the front of the car to the back.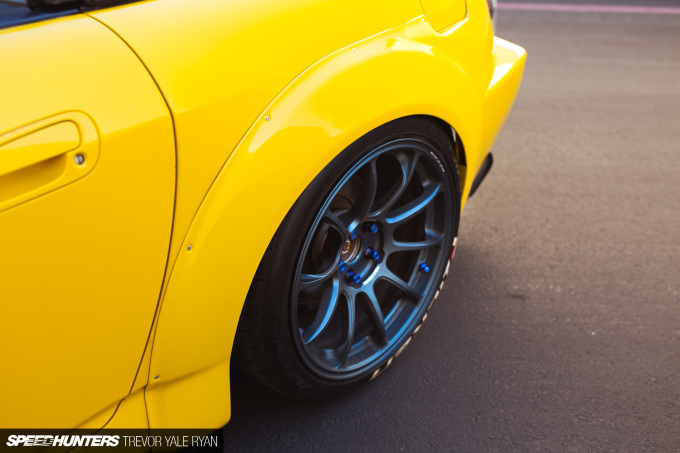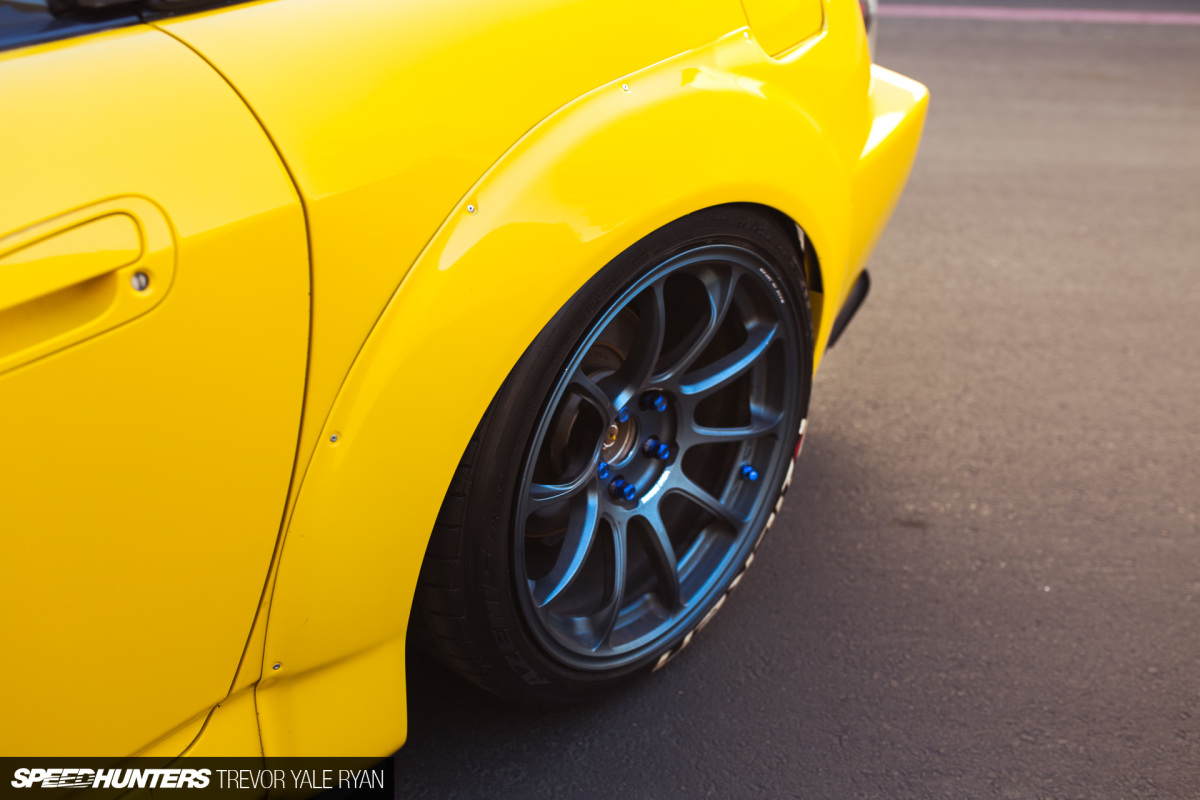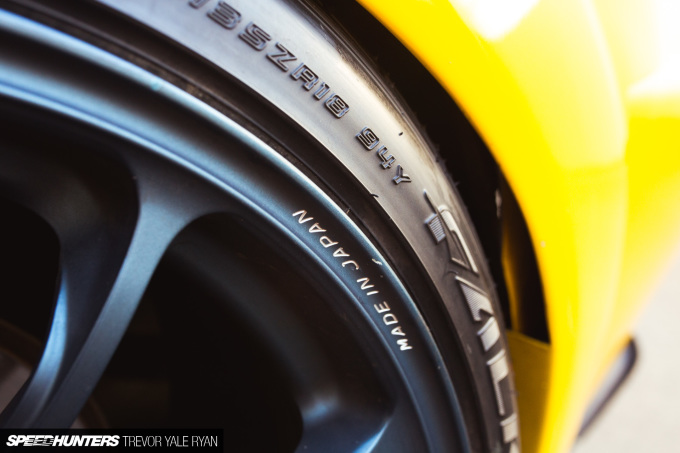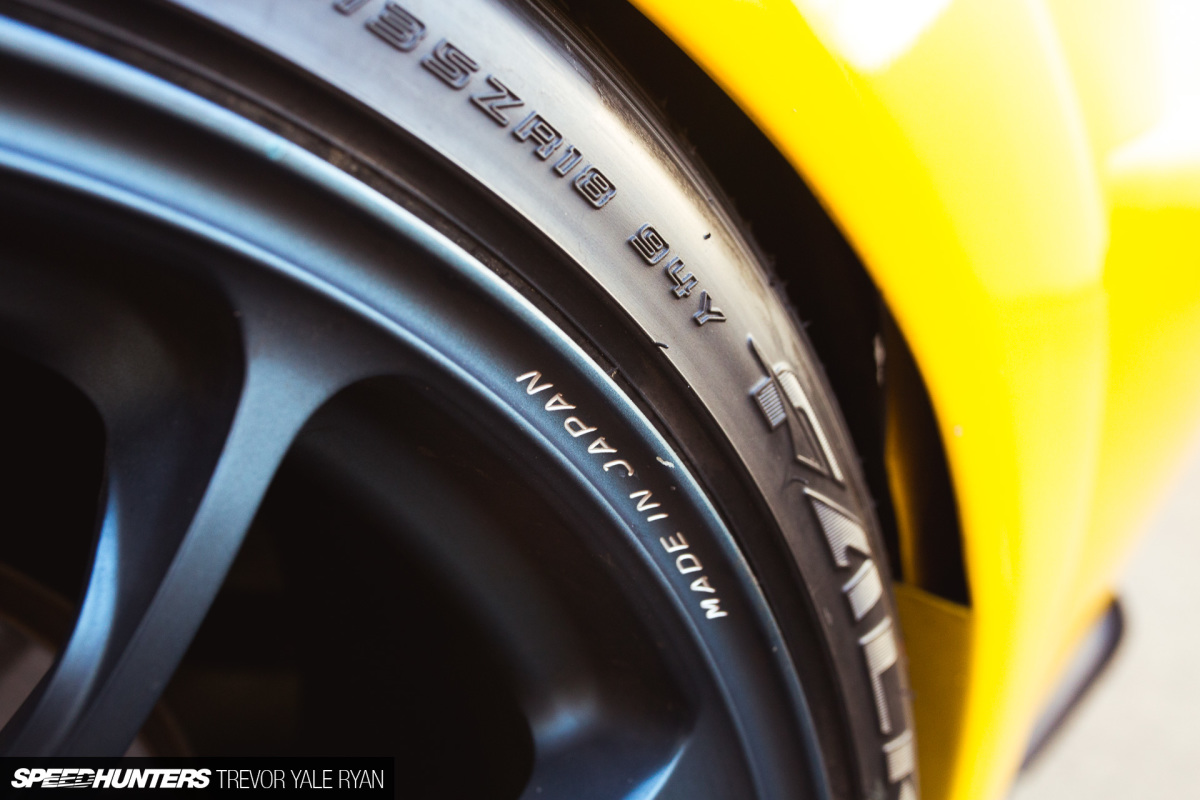 The choice of wheels, which are wrapped in Falken Azenis rubber, also furthers this effect. RAYS Volk Racing ZE40s in Matte Blue Gunmetal complete the aggressive balance the car is teetering on.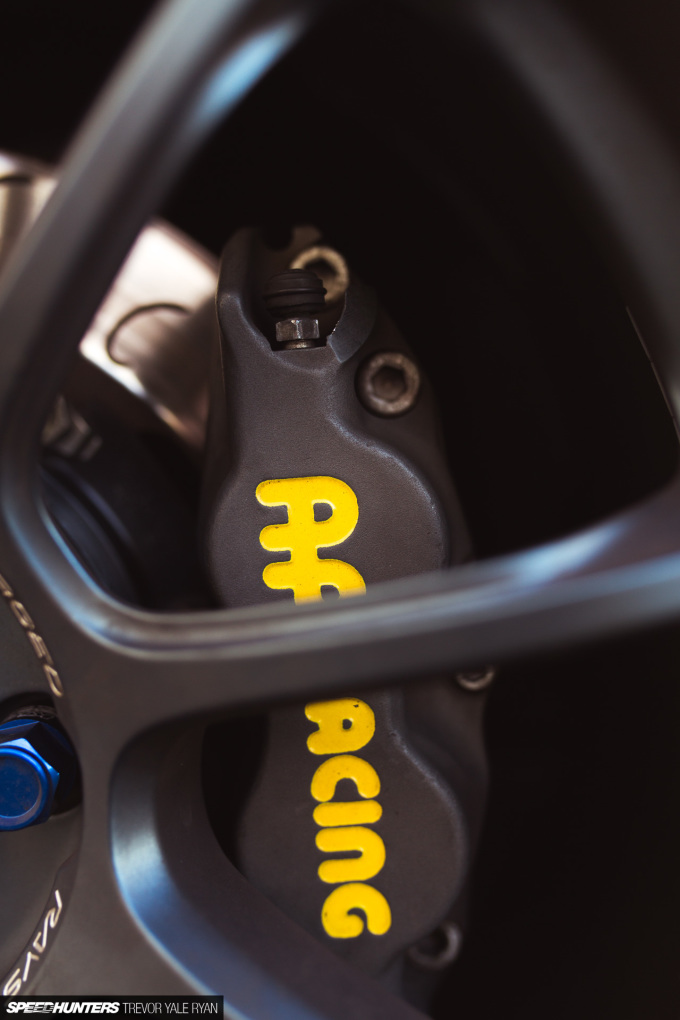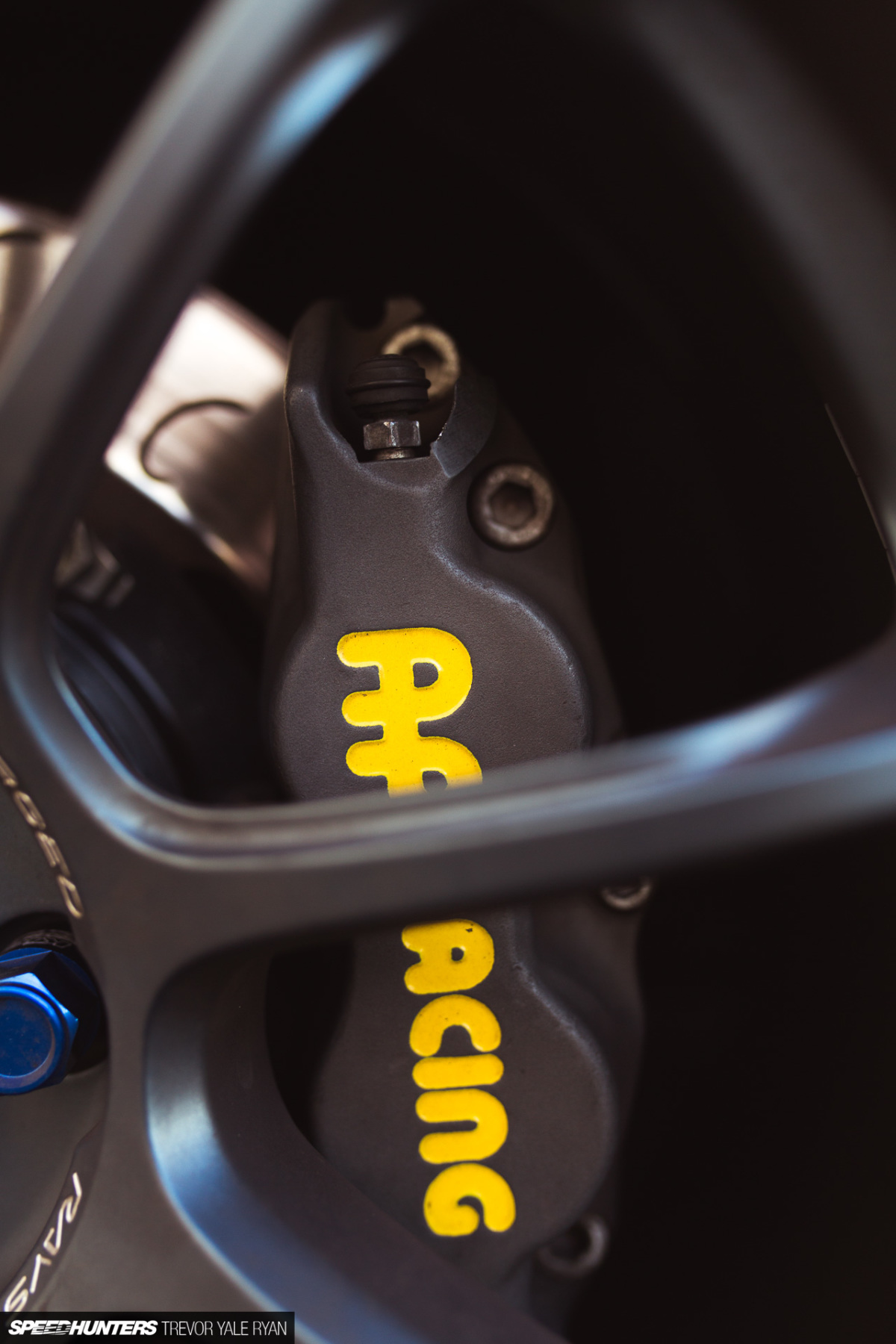 Eric couldn't resist an AP Racing big brake kit for the front end either.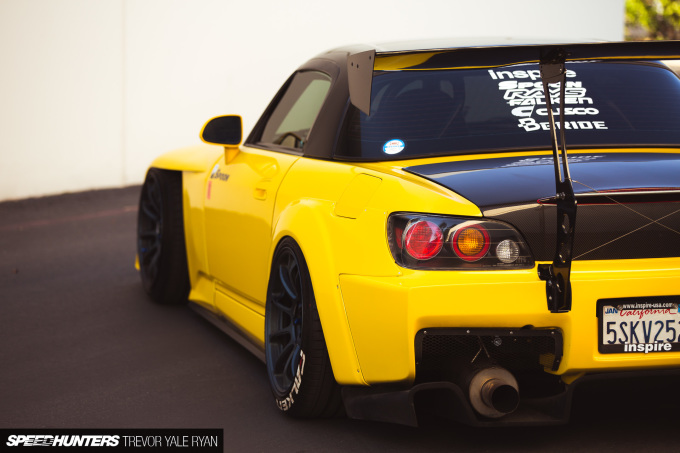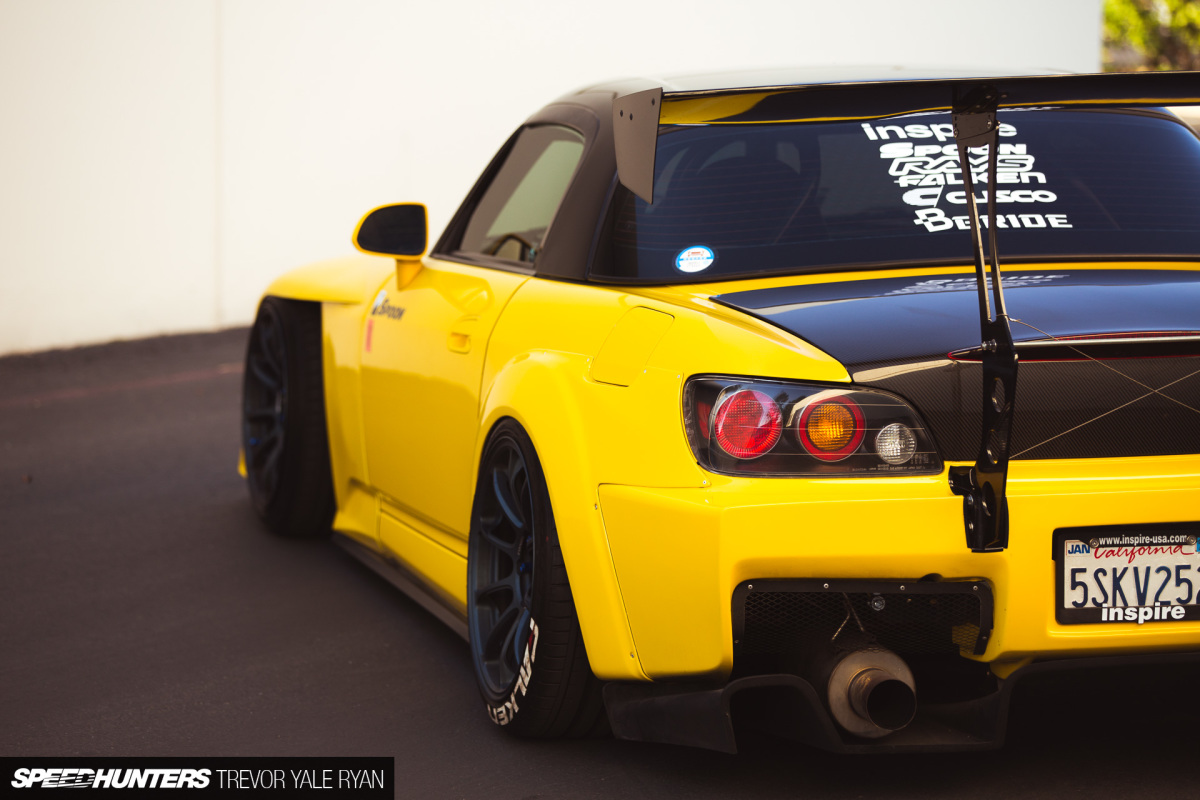 Without so much as opening a door or popping the hood you can learn a lot about a car. But nothing is more eye-opening than getting in the driver's seat.
Take A Seat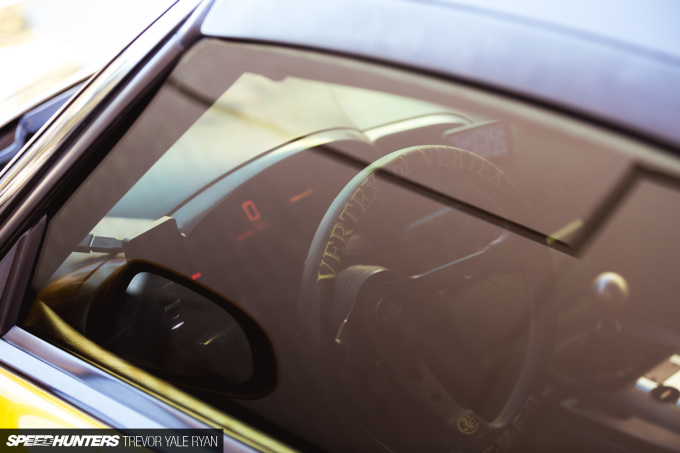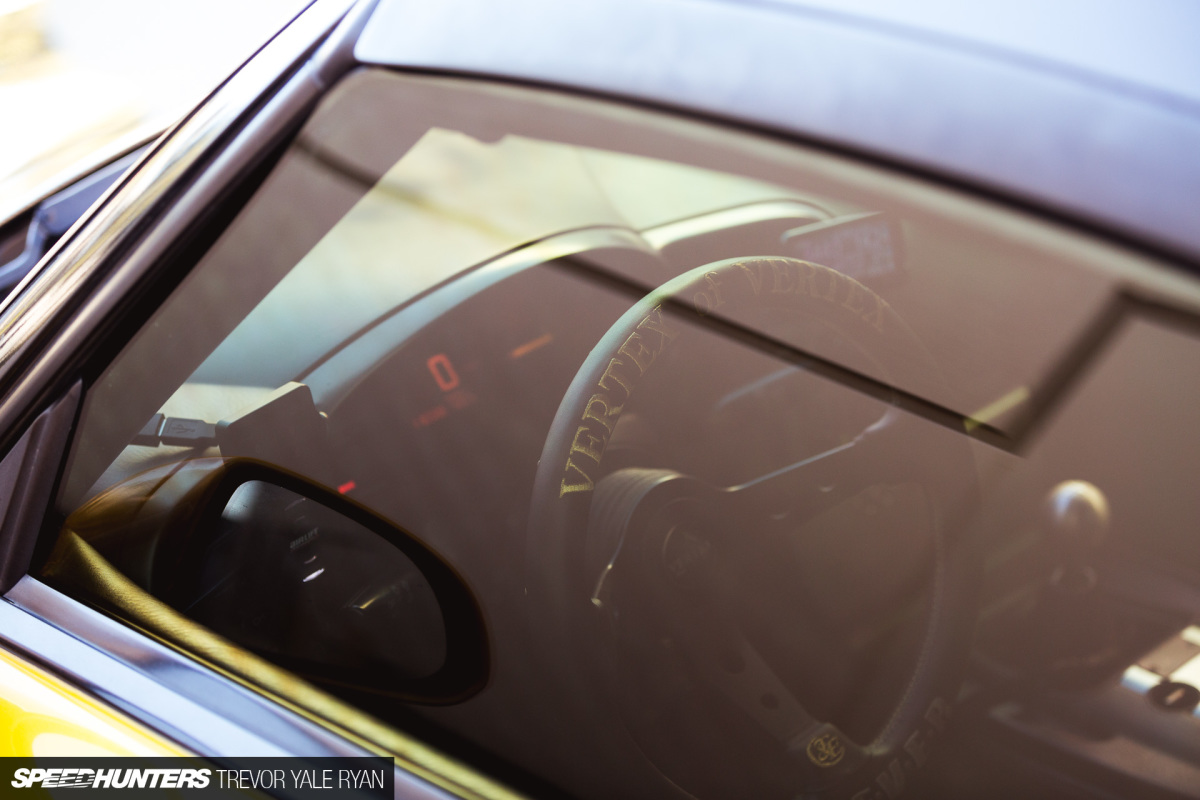 As the owner of Inspire USA, it follows that Eric has filled the car with loads more JDM goodies.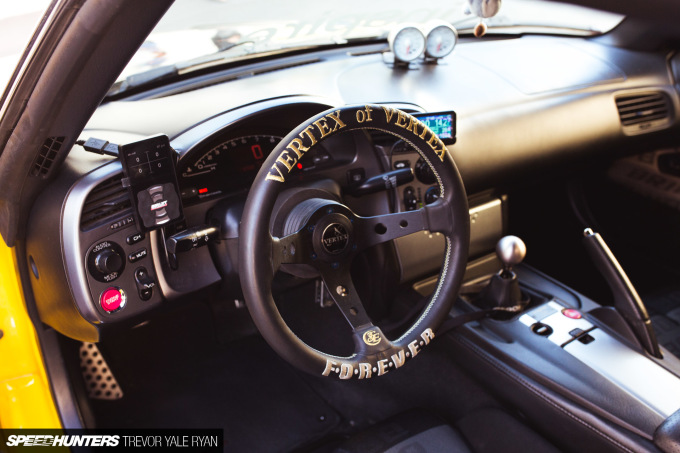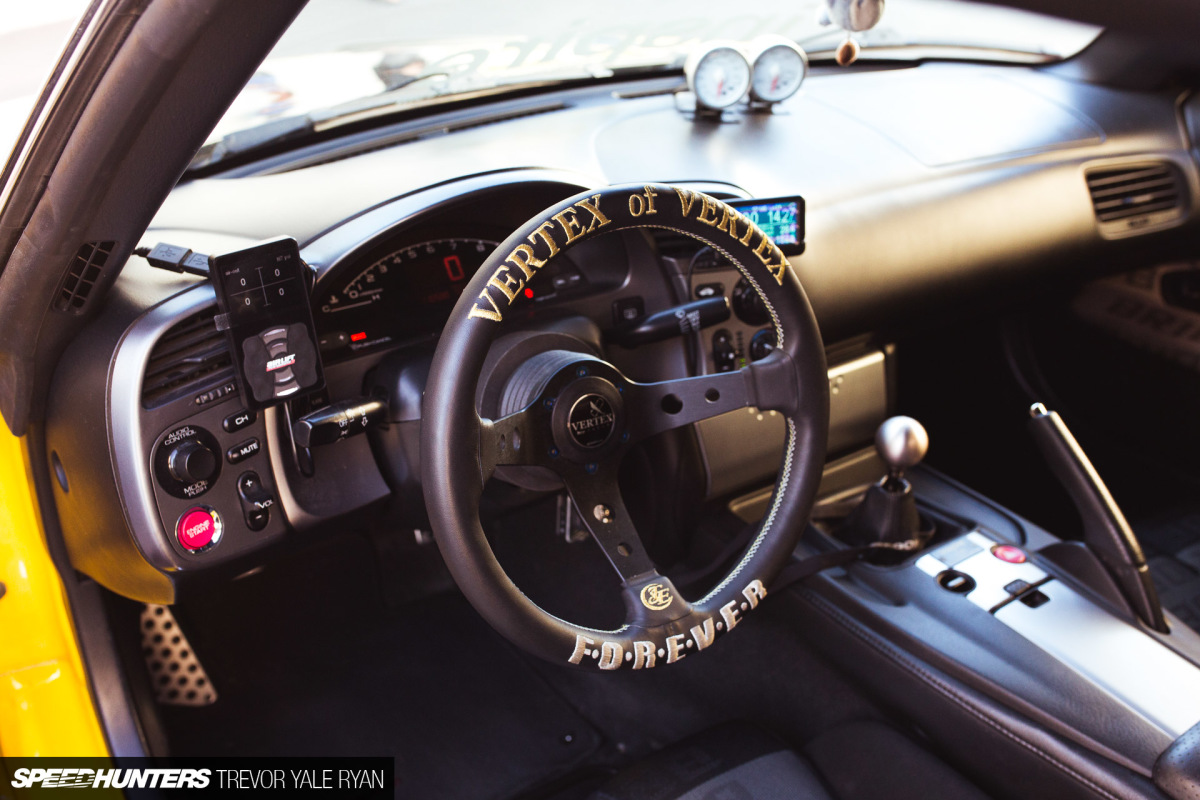 A Vertex steering wheel wheel complements Bride VIOS III LowMax seats that, surprisingly, I actually fit in. Behind the seat there's a custom-polished Spoon Sports 4-point rollbar that does wonders stiffening the chassis.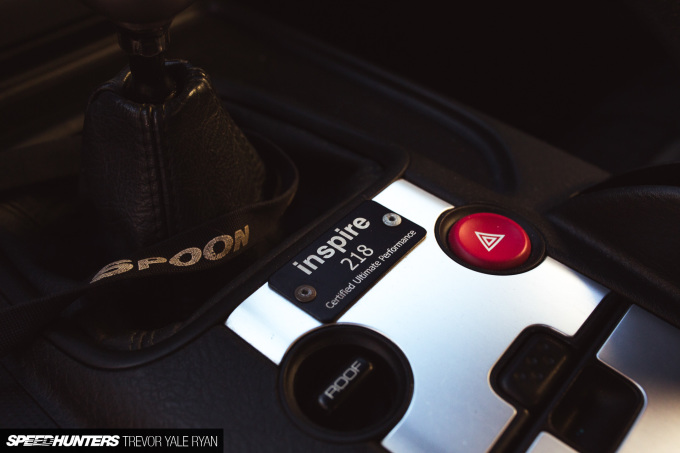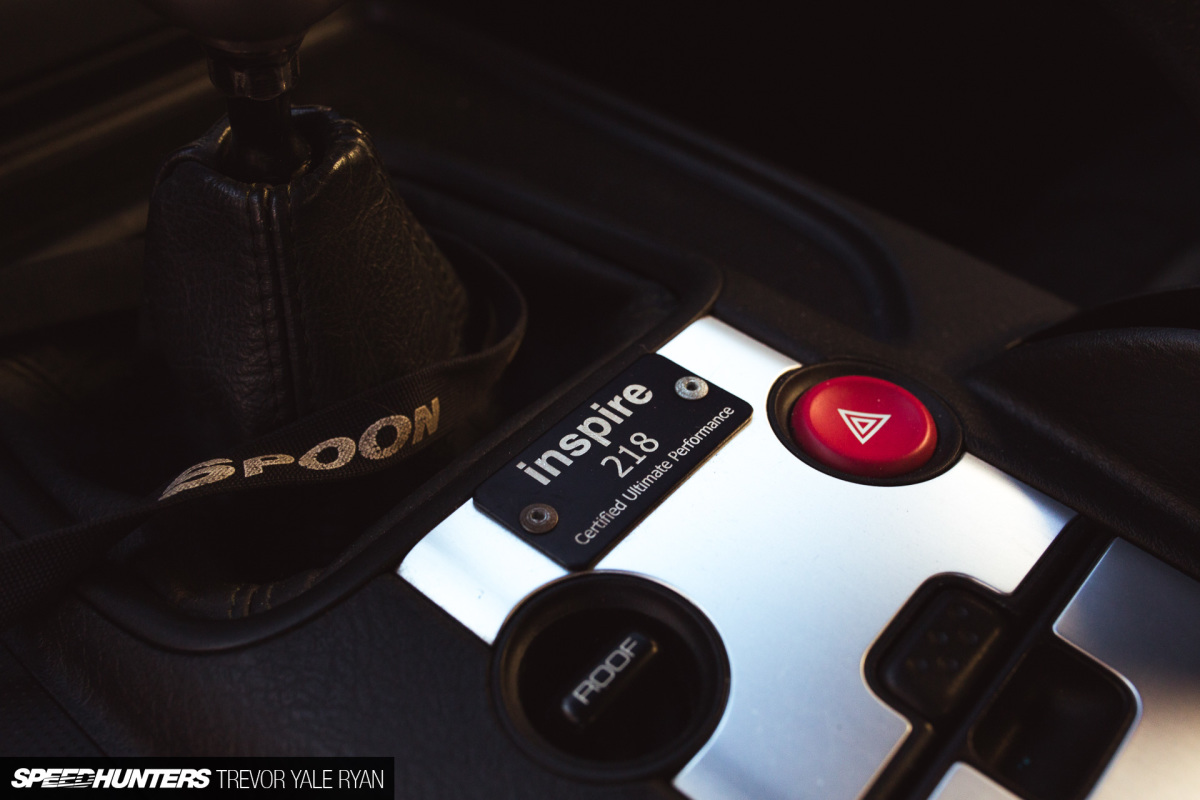 I really enjoyed how the JDM aftermarket parts, old and new, played nice with the stock S2000 bits that still remain. I feel that this is something we're missing in the American aftermarket with parts that are all too often garish and clash when placed in our domestic OEM environments.
Let's Drive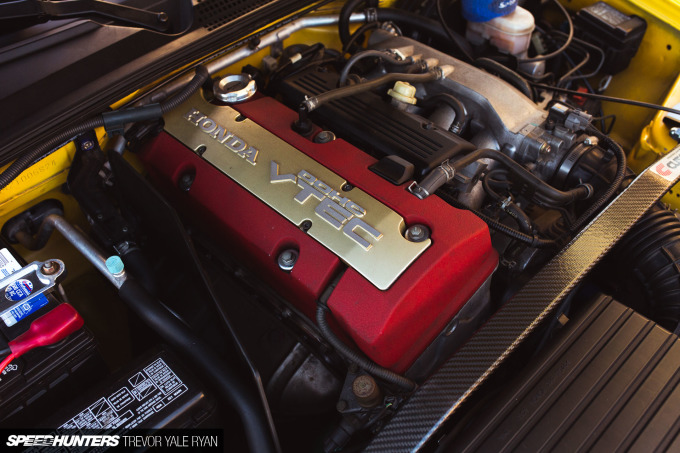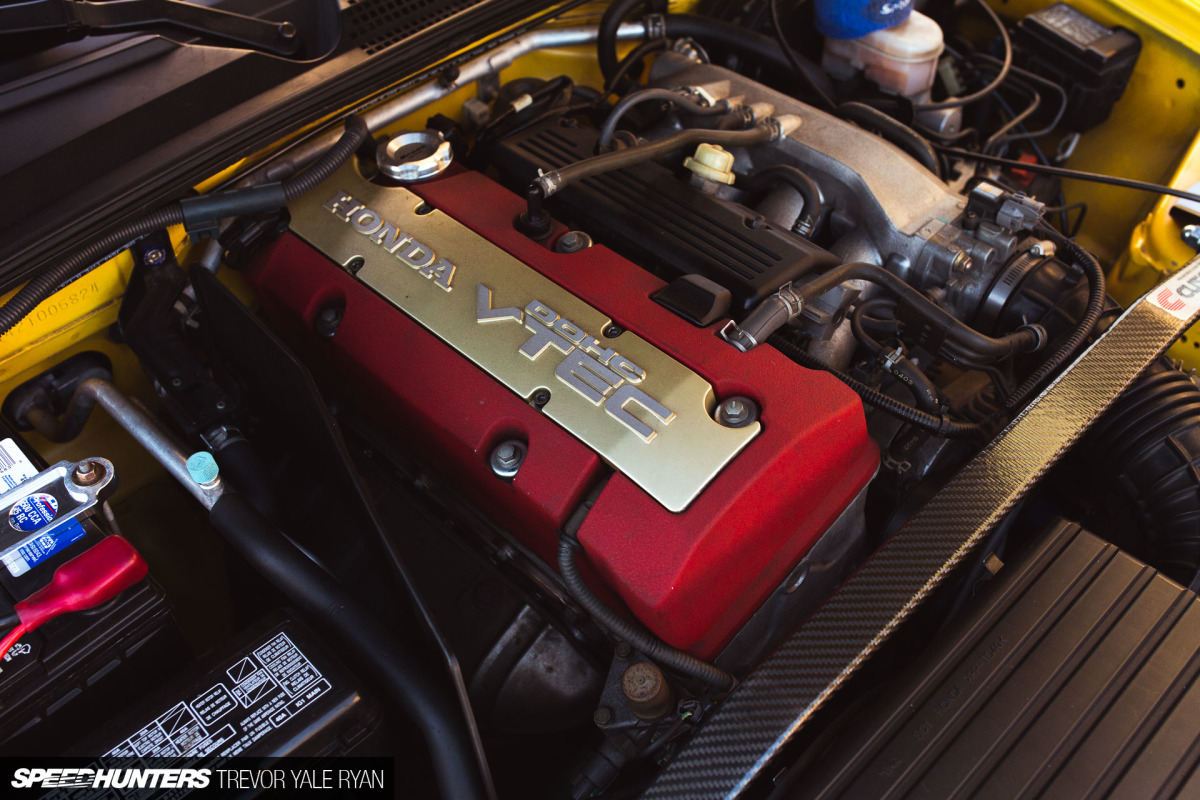 While nothing too insane has been done under the hood, it's enough to give you a bit more kick in the pants, especially as you move up the rev range of the S2000.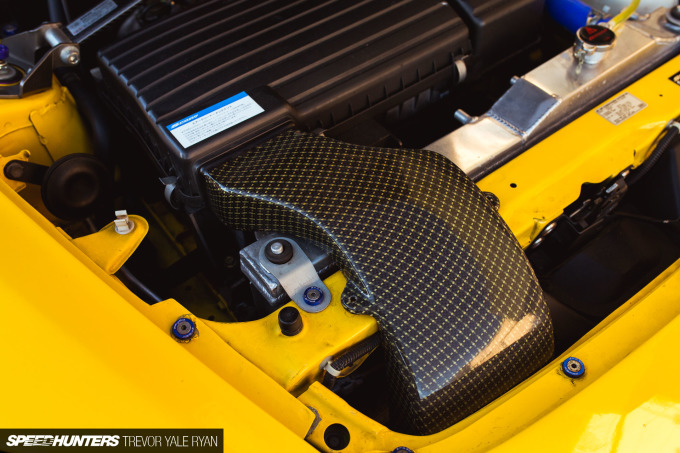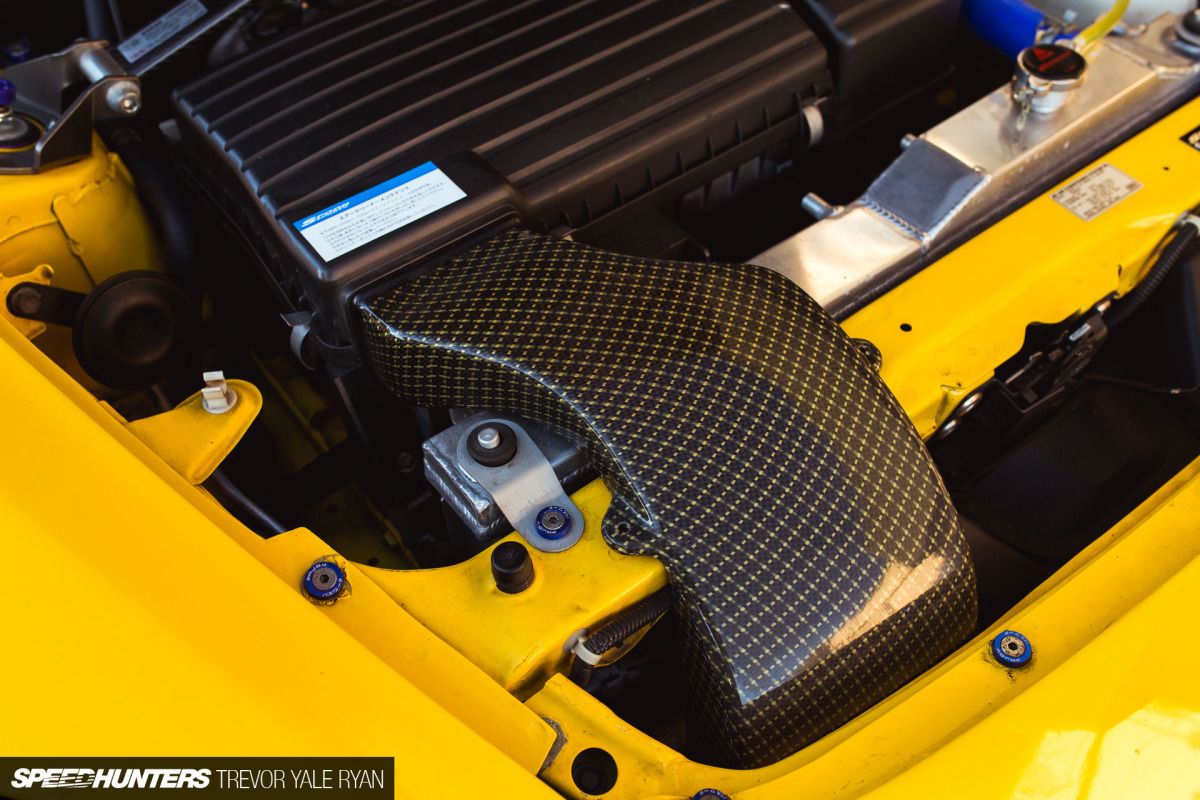 You'll find the Spoon name on the carbon-Kevlar intake, which works alongside their front bumper, as well as on the radiator, hoses, caps, and scattered elsewhere around the engine bay if you look close enough.
You'll find other iconic names under the hood as well, and with that extra bump in stiffness and power without sacrificing reliability the S2000 is an awesome cruiser. Add in the proper air setup coupled with an easy-to-use and, more importantly, reliable management solution, the car behaves really well on the street.
It's tight, firm, and fun. Not only that, I was able to enjoy the S2000 without worrying about busting the $2,000 front end; who says you can't have your cake and eat it too?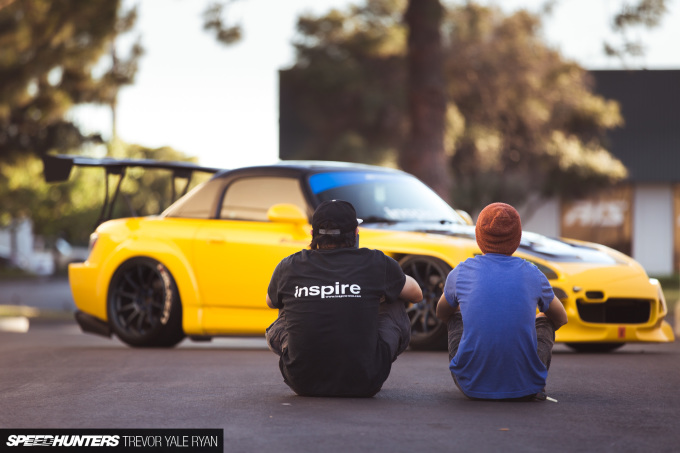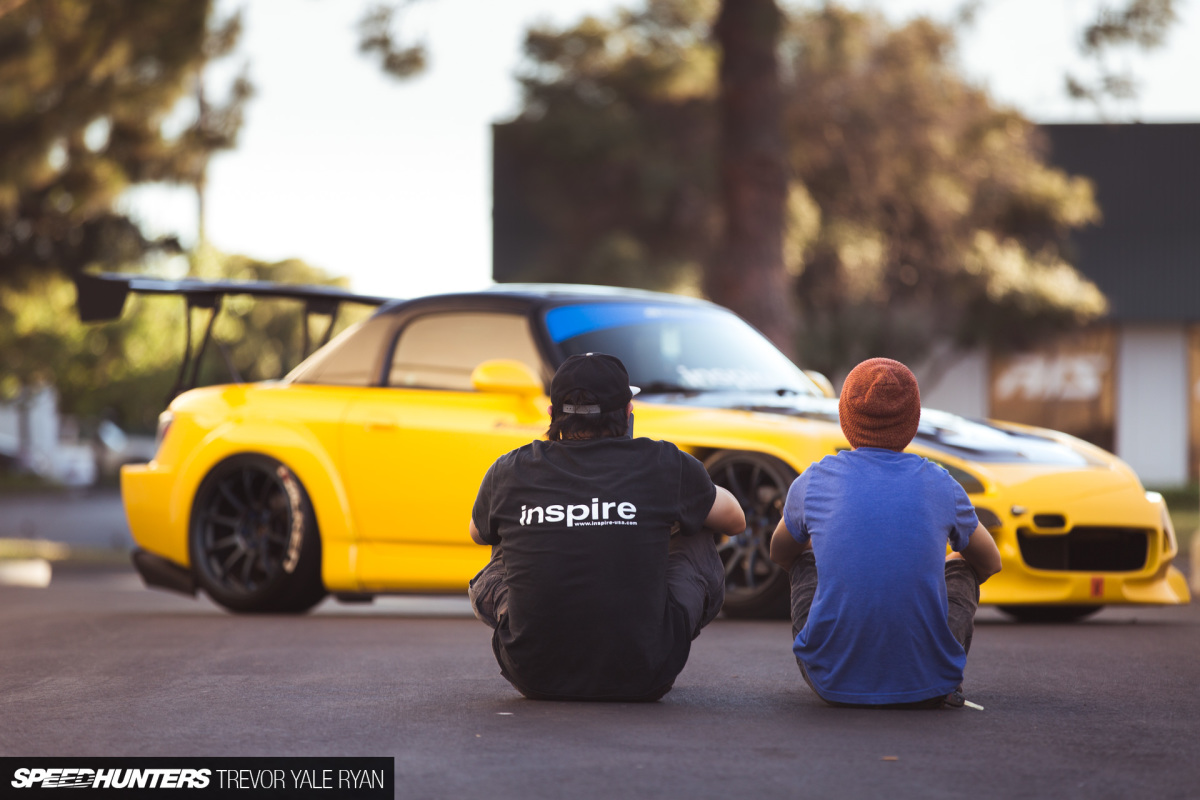 Eric is a guy who loves his cars and his S2000 is no exception. It's a car he's owned for over 10 years and that he's built entirely for himself rather than likes on social media or trophies at shows. The only work that Eric foresees himself doing on the car anytime soon is installing his Kraftwerks supercharger that's been sitting on a shelf for a few years.
Certainly the S2000 is one of Eric's favorites, but hardly the only feature-worthy Japanese car in his collection. Be sure to let me know what else you'd like to see from Inspire USA in the comments section below.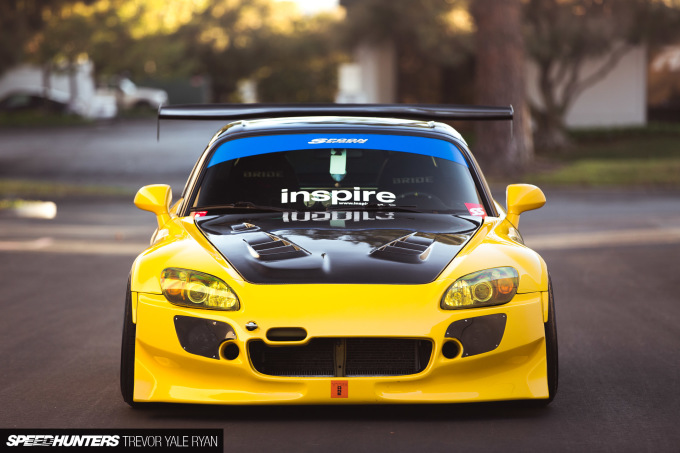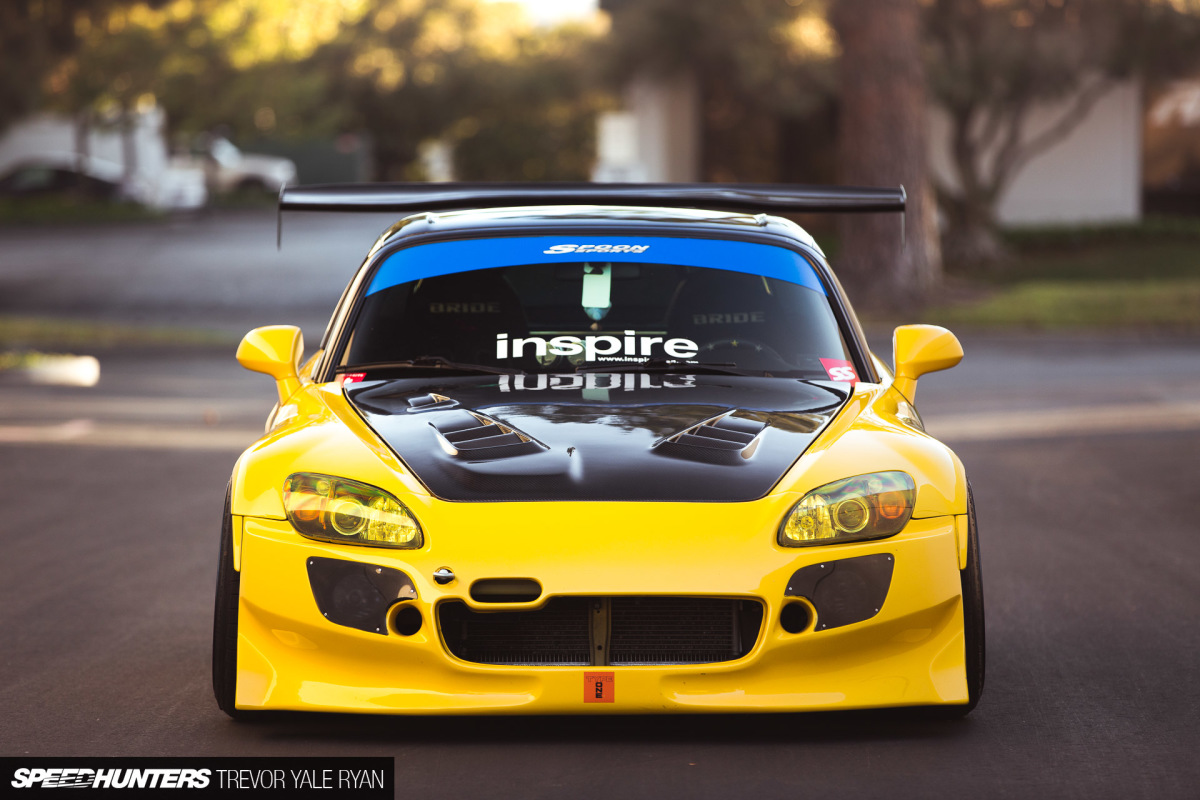 Their workshop is full of rad cars and rare parts; I know it's a matter of time before I'll be back. But on this topic of parts I know there will be those who insist that one of the greatest handling cars of all time has been ruined with air suspension. But this just isn't true.
The fact that we've seen more and more track cars making use of air ride aside, this is a setup that makes sense for a car that's mostly driven on the street. Absolutely nothing is lost; it's comfortable but still tight. You can enjoy the style of a low-down setup without the drawbacks of scraping around town on a harsh ride.
Or, you can build your own car and ruin your own parts. The choice is yours, and this is what makes the automotive aftermarket so addicting.
Trevor Yale Ryan
Instagram: tyrphoto
TYRphoto.com
Video by Mark Vasilyuk
Instagram: skuraweekly
Youtube: SkuraWeekly
Low Low