Fail to prepare, prepare to fail.
It's as overused a cliché as they come, but that doesn't mean there's no merit to the saying. There's particular significance when the saying is applied to track day preparation in your own vehicle, where the consequences of failure can be catastrophic.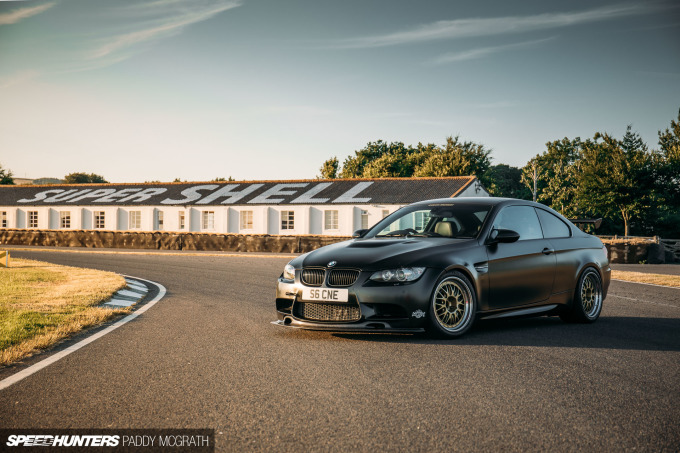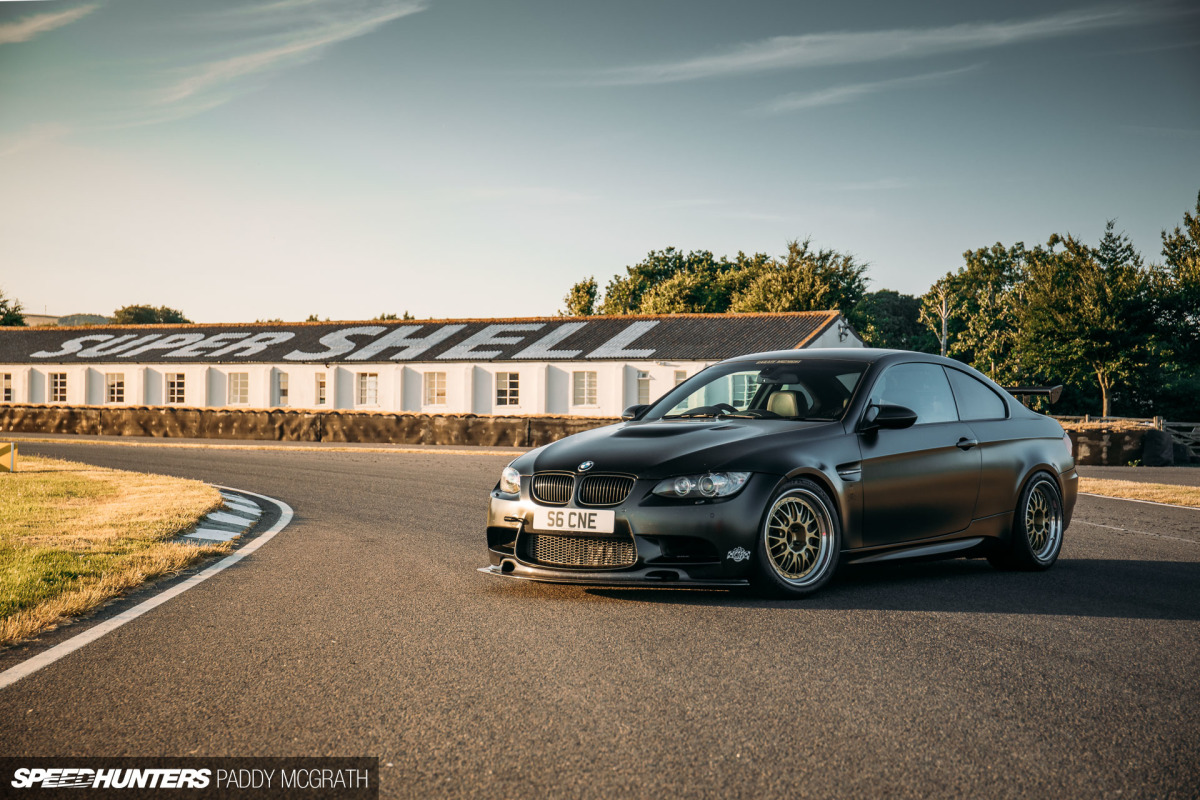 In advance of Players Classic at Goodwood the weekend before last, Snap-on tools dropped off a simple but comprehensive kit to help ensure our Technical Editor, Ryan Stewart, could maintain his BMW E92 M3 Frozen Edition for the duration of the event.
Ryan has built and refined a compact kit over the last 10 years or so. It's saved him in Austria, helped fix his own and other people's cars at the track, and is generally a fix-all satchel. It's now time for the fresh Snap-on kit to take the reins. Not only was Ryan in attendance for his own pleasure, but he was also taking part in offering passenger rides to all-comers throughout the day.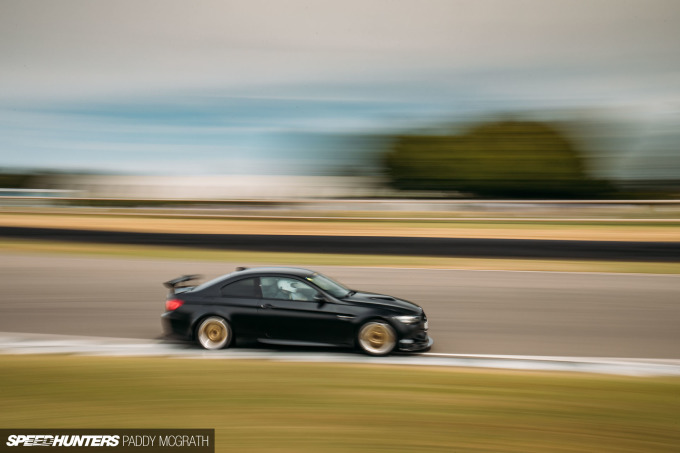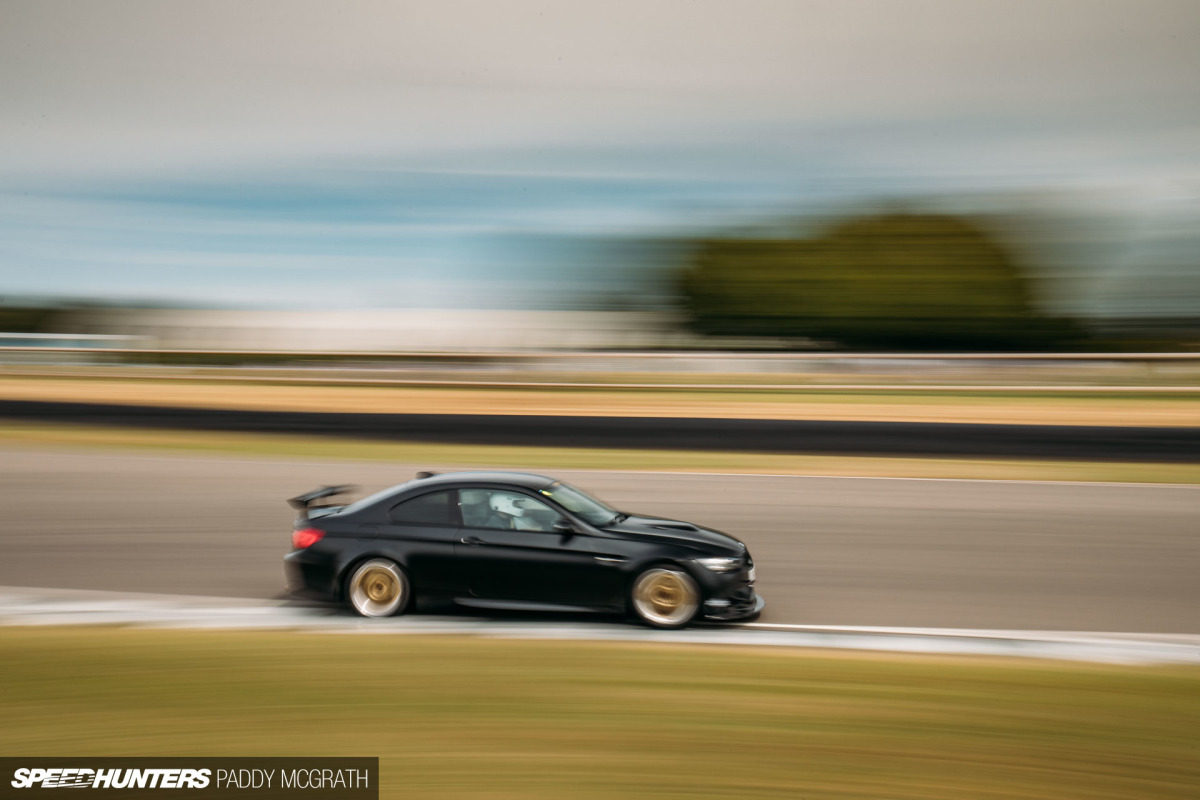 Goodwood Motor Circuit, like a lot of famous UK circuits, is based around an airfield. Despite the relatively flat nature of the course, it is considered a very quick circuit. With the M3's average lap speed in excess of 110mph (178km/h) and very little to separate you from the immovable banks which line the perimeter of the course, there's not much room for error.
While Ryan is quite a humble sort of guy, I will be the first to say that he's bloody quick in a car, even if he wouldn't. I've seen videos of him successfully hunting down and overtaking a Porsche Carrera GT at Brands Hatch in his MkV GTI, which I'm sure is a particular highlight of his track day career. Of course, track days aren't race meetings, but still…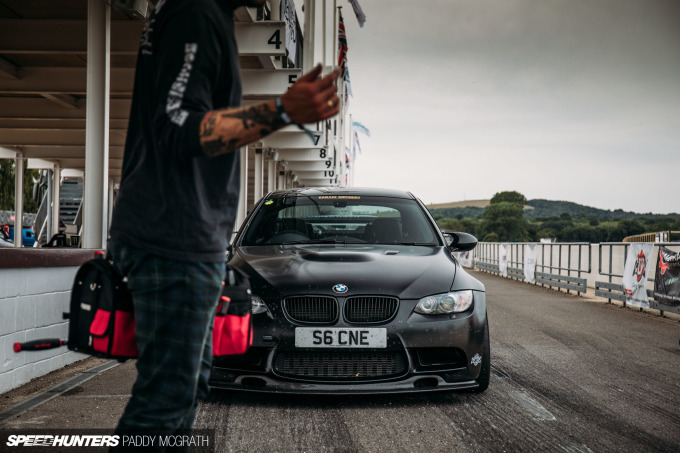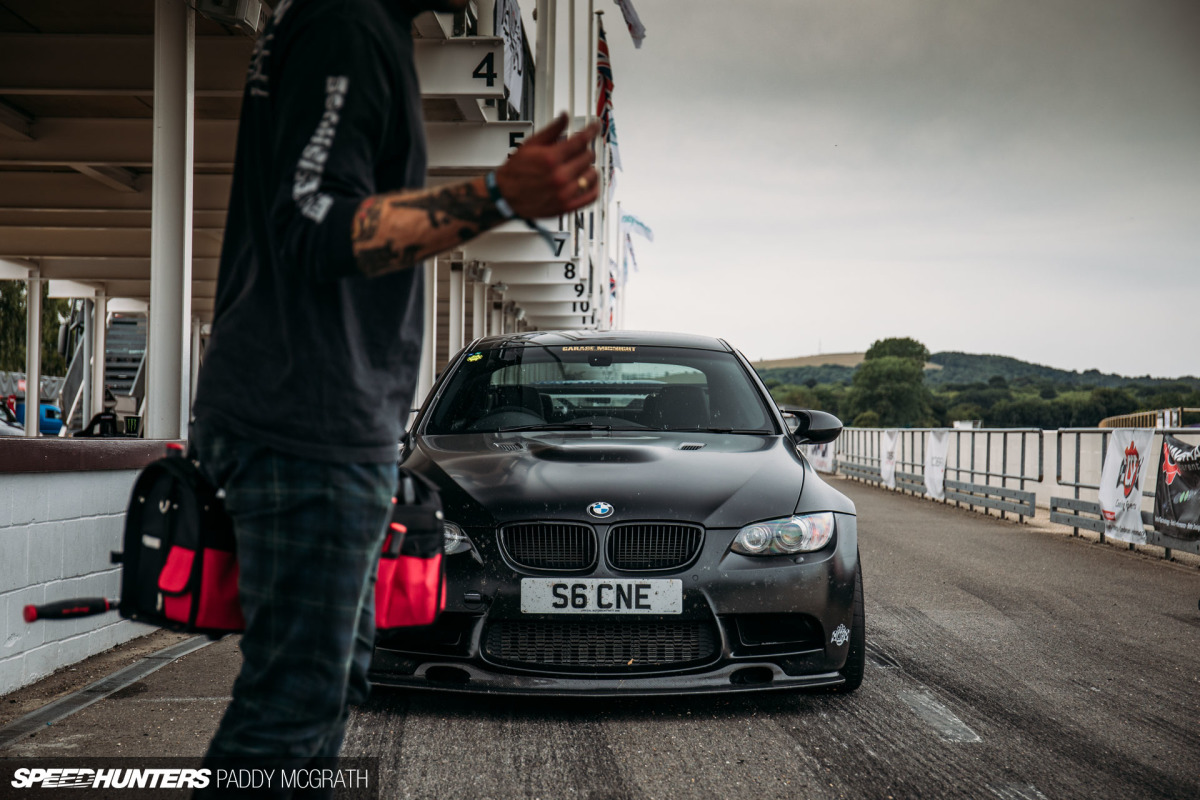 A lot of his speed comes from the confidence in the meticulous preparation prior to any event he might be attending. While his M3 will be double checked in advance, the morning of the event features one final set of checks which can be applied universally.
These checks assume that your car is already in good working order, that your fluids are at the correct levels, and that there aren't any long-standing niggles or leaks. If you're knowingly attending a track day with an unsolved issue, then you are most certainly doing it wrong. It's not going to be fun for you or any of the other people you'll inconvenience with track stoppages.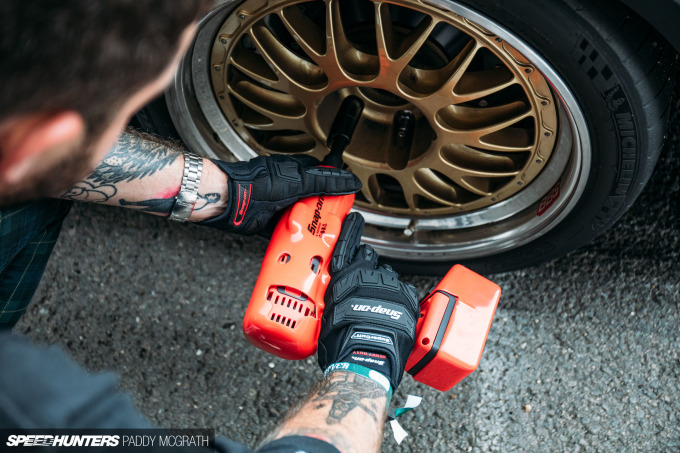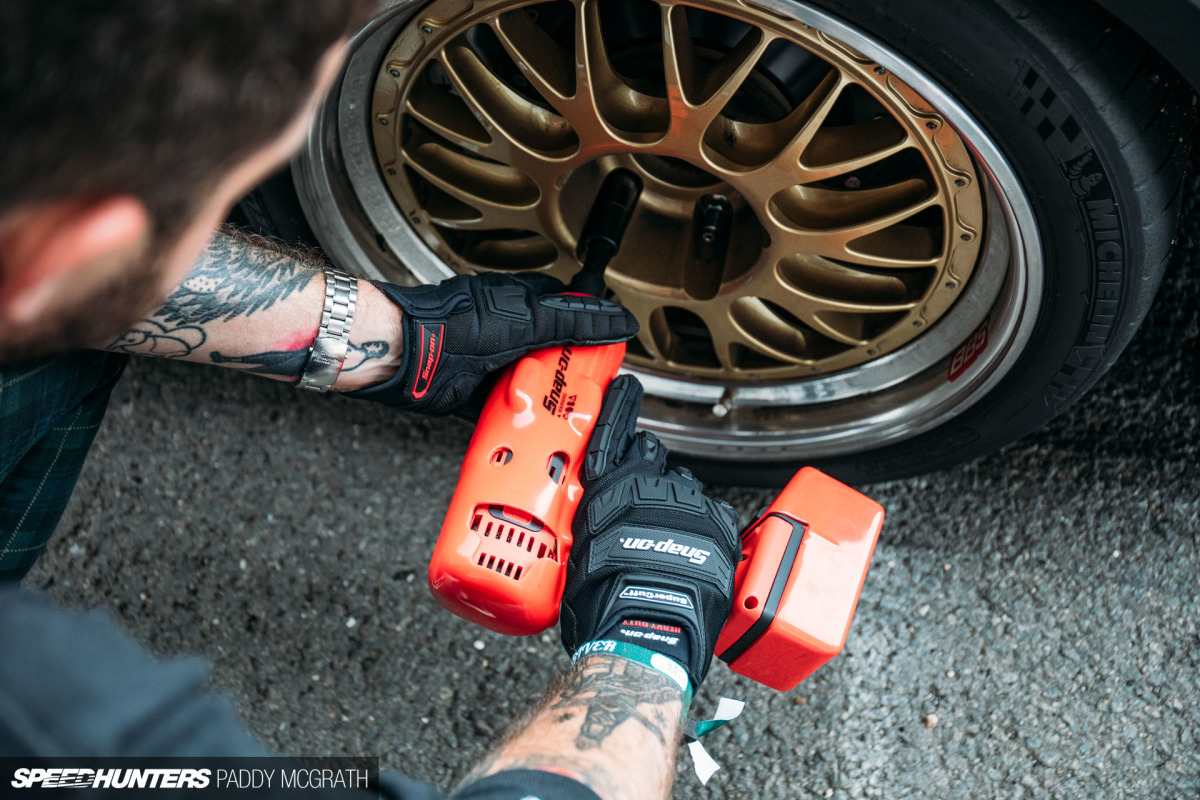 #1. Check Your Nuts 
What is generally just solid life advice, ensuring the correct torque is applied to your wheel nuts is of the utmost importance for more than one reason. The first being that you, obviously, don't want one of your wheels making a break for freedom mid-corner at 140mph. Torquing your nuts to the correct specification and not just swinging on them with an extended bar or giving them all of the ugga-duggas ensures that not only are they tight, but also that they can be removed again afterwards. The forces exerted on wheel fixings is staggering and incorrect torquing or over-torquing can lead to really spectacular crashes. Over-torquing is as bad, if not worse, than under-torquing, so be sure that you've got this under control.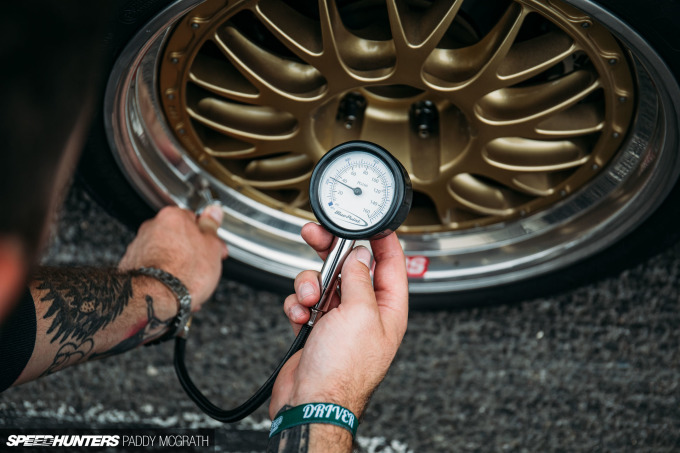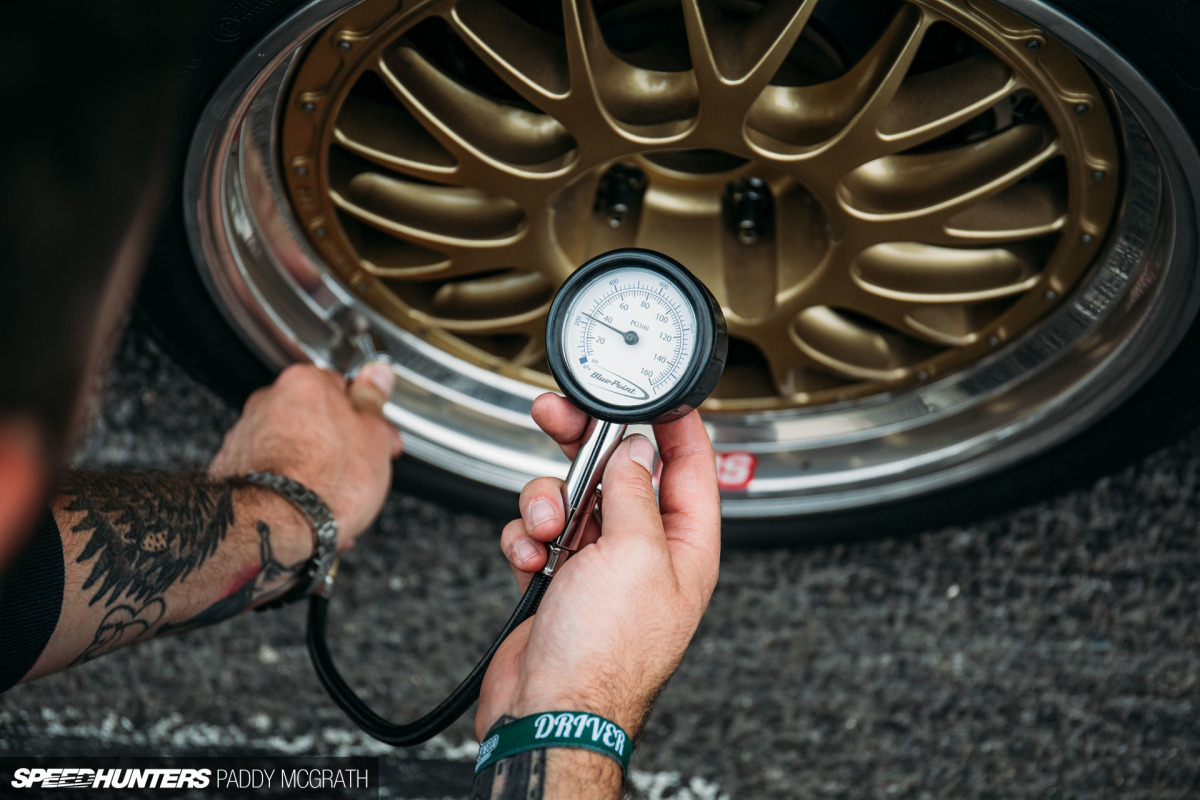 #2. Adjust Your Pressures
If you're a track day veteran you'll likely already have an idea of where your tyre pressures need to be when cold. If you're not, start at the manufacturer's recommendations and make small changes as you see fit throughout the day. The whole idea here is to make sure you get the maximum life and enjoyment from your tyres. Tyres are your best friend out on circuit, so treat them right.
Don't immediately assume that you're in Formula Drift and don't need any air pressure so as to achieve maximum traction – it will end in tears. Over-inflation can also be pretty unpleasant; not only will the car begin to feel squirmy but in extreme cases it can damage the tyre's carcass. The advice here is to build speed slowly on your first few laps of the day to get the car up to temp, and then set your pressures. After two to three checks with some hard driving in between you should see the adjustments you make getting smaller and smaller until you reach a stable pressure for the day.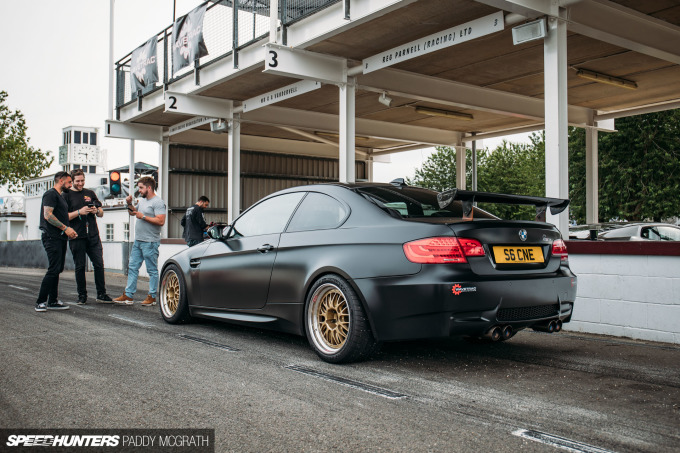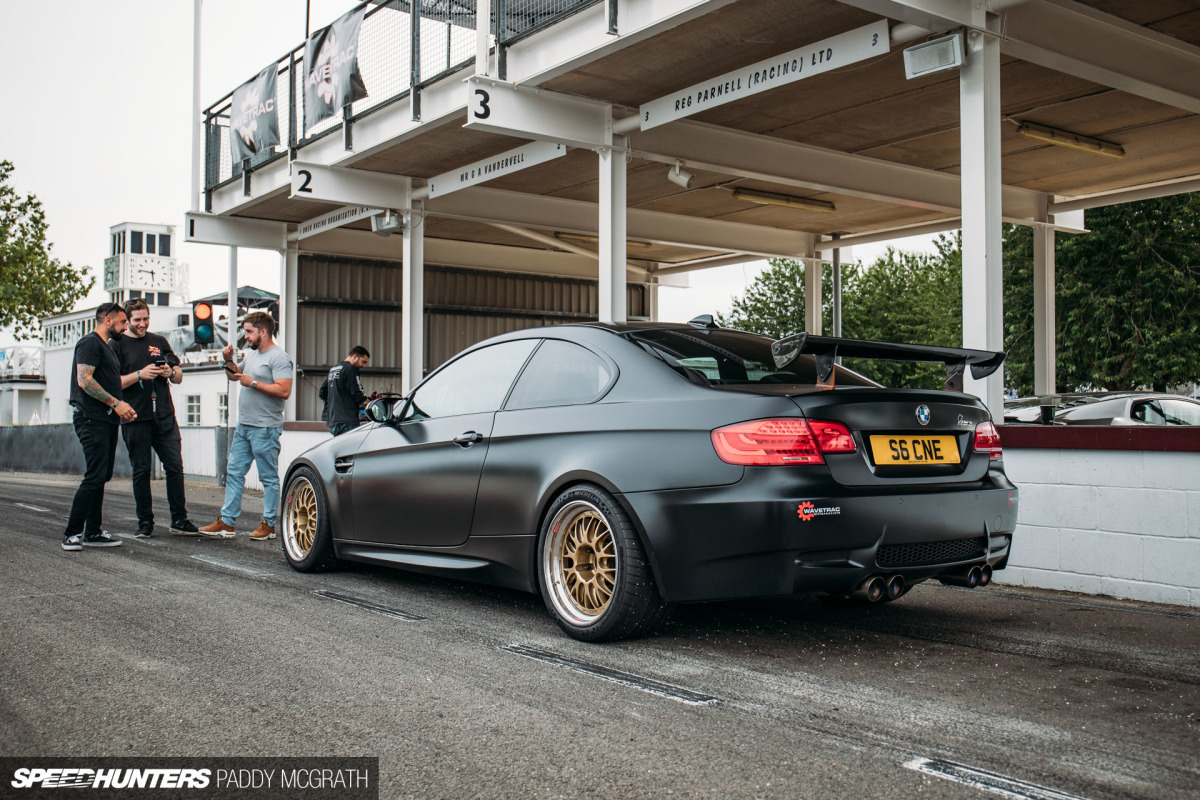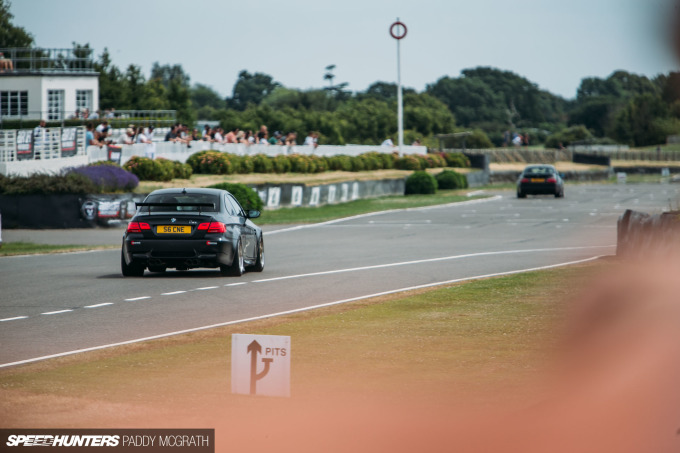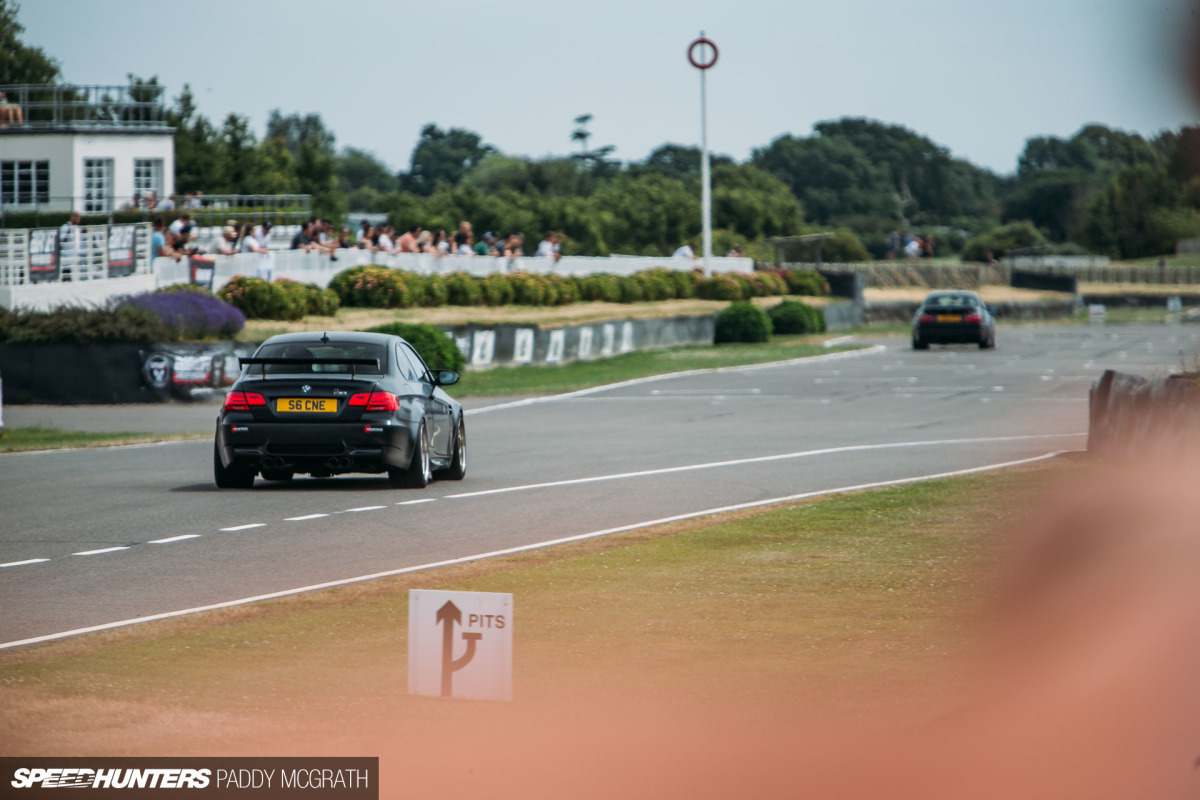 #3. Set Your Settings
While we don't all have adjustable rear wings, there are likely some settings that you will be able to adjust. For most of us, adjustable dampers are the main example. Again, it's a case of finding a baseline and going from there. With particular reference to suspension settings, there's no real 100% correct setting, it'll entirely be driver dependant.
There are two things at play with suspension setup: driver confidence and outright grip. I prefer a car to be slightly on the soft side, others will prefer a stiffer setup. Don't assume that stiffer is better though; your main aim is to keep your car in contact with the road surface as much as possible and subtlety is key. The magic area is just hard enough, so start soft and move through the damper range.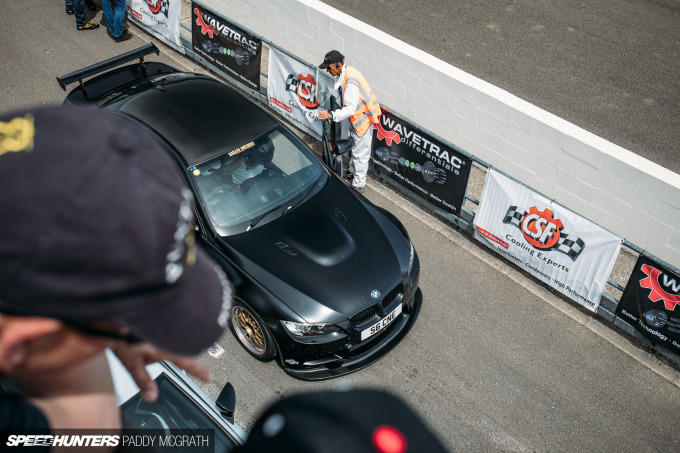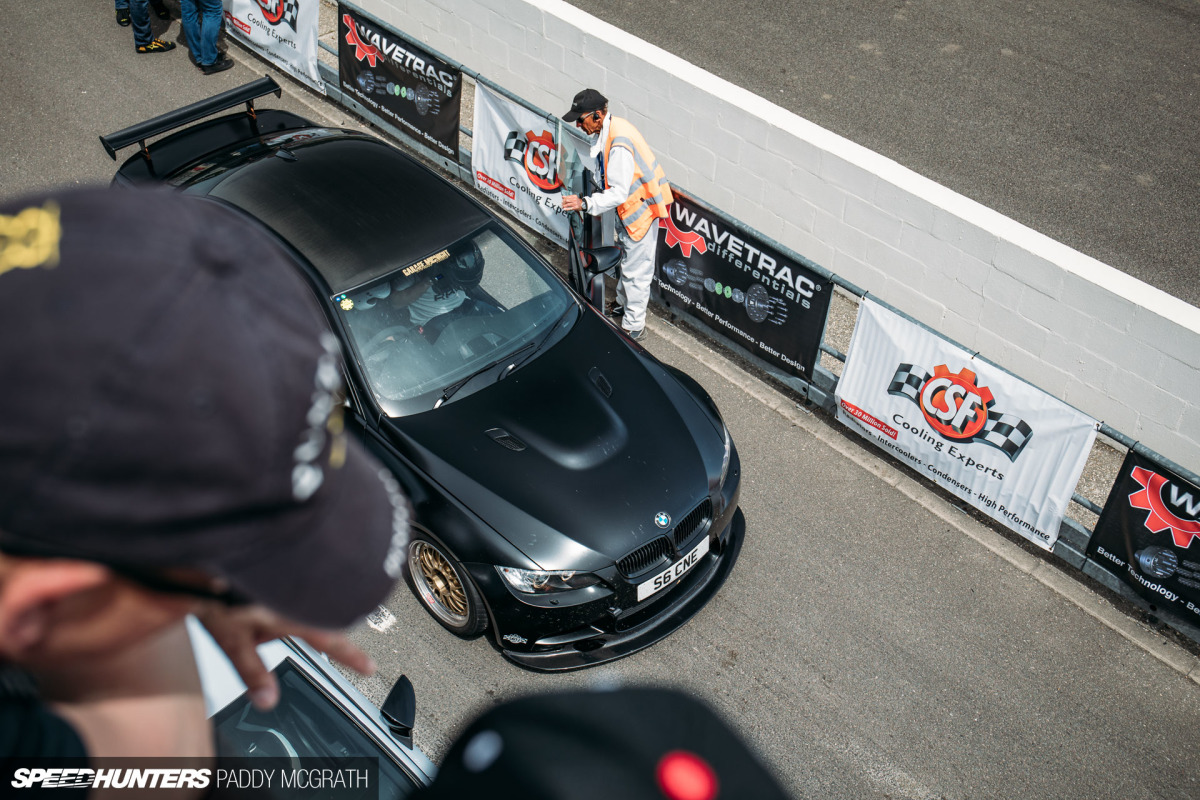 #4. Lock It Down
If there's one thing you should do before leaving the pits, it's ensuring that everything is secure and in place. From obvious things such as your bonnet (that's what we call a hood, Americans) latch being secured to some of the more obscure things such as adjustable camber top mounts. You'll likely have had a setting already dialled in during an earlier alignment session, but there's no harm ensuring that everything is tight and secure, particularly if someone else was making the adjustments. Never assume something is tight, always check.
You might also find that you need to make an emergency adjustment. The cornering speed possible on track is miles higher than on the road, and sometimes this means wheels and tyres can impact the body or tyre shoulder wear is dramatically increased. It's at your discretion, but often a little tweak can keep you out on track and enjoying the day, even if it does compromise your finely tuned alignment settings.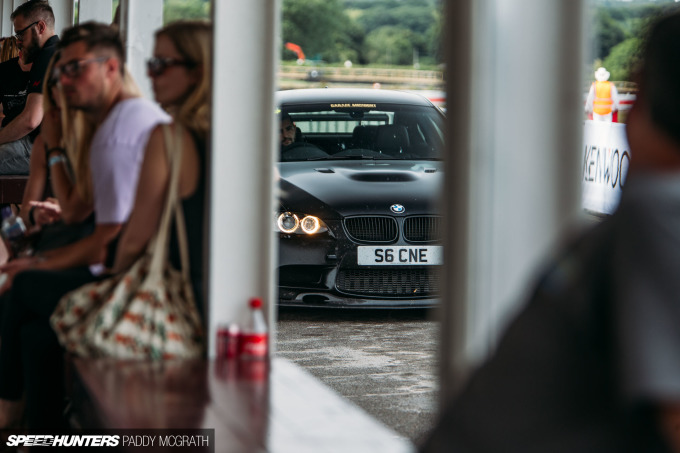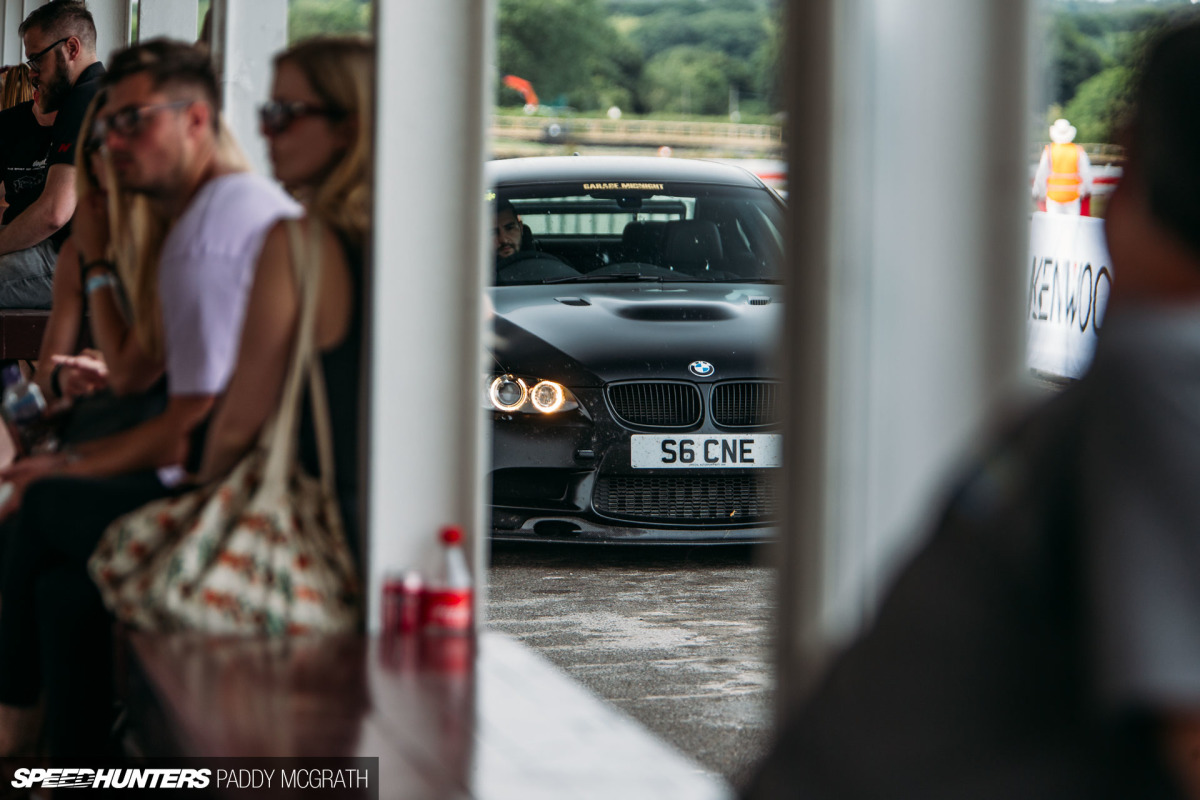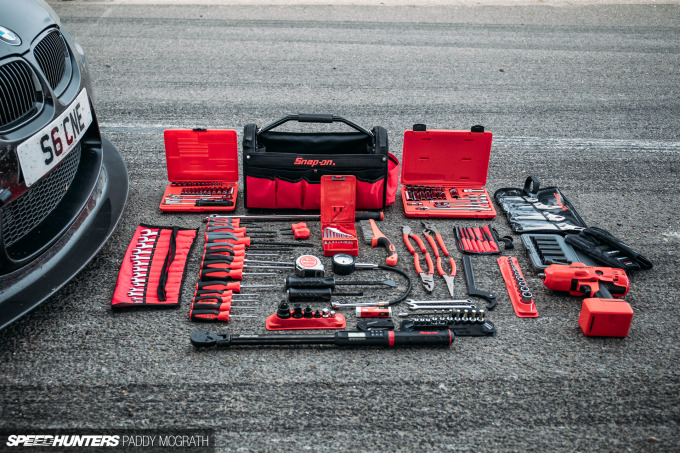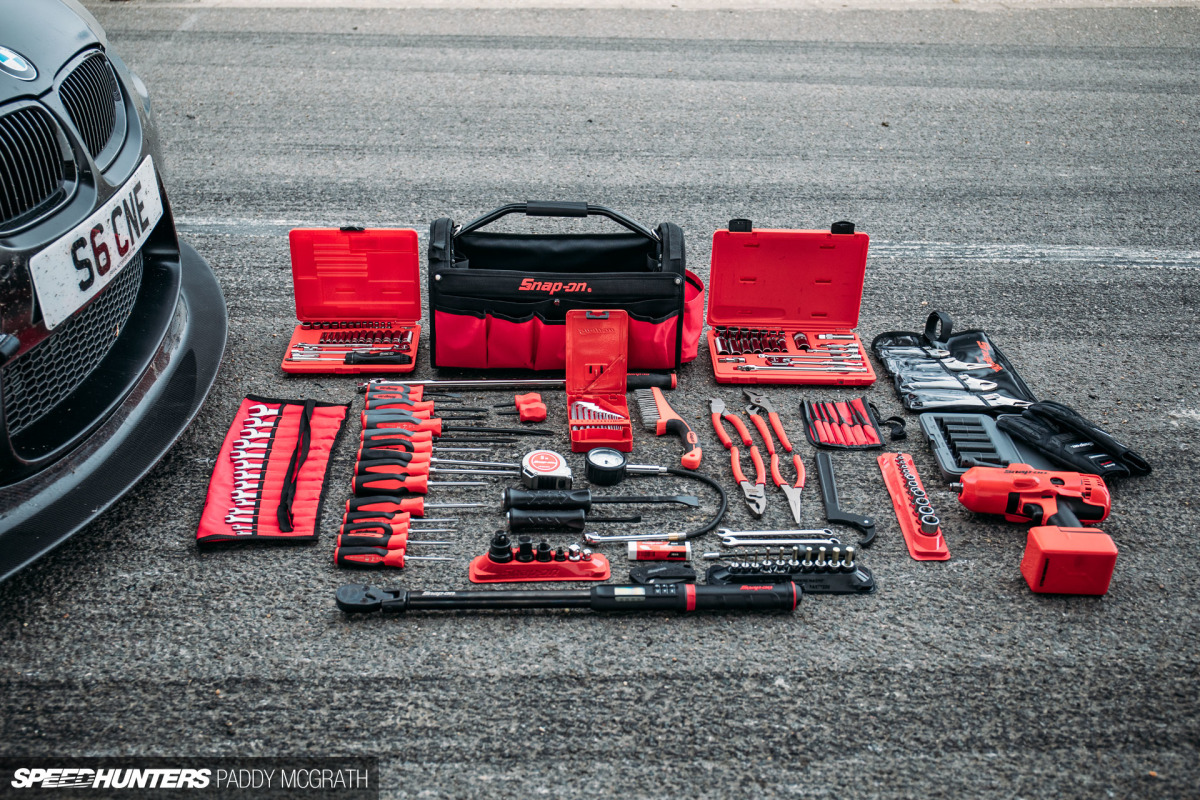 #5. Expect The Unexpected
Despite best intentions and perfect preparation, things sometimes do go wrong through no fault of the driver. Parts can wear in unexpected ways, damage can be incurred from debris, and things that shouldn't break sometimes do. Especially if it's a simple issue, you don't want your track time cut short because you don't have the right tools with you, nor do you want to be 'that guy' who has to go around borrowing tools from everyone else. While we're not saying go out and buy a complete Snap-on kit (although we're not going to stop you from doing so either) you should have, at a bare minimum, the most basic tools to hand for the simplest of jobs that you might encounter.
Each car has its own nuances and you'll want to build up a kit specific to the types of fixings on your car. For example, some brake nipples will be 10mm and others 11mm. That can be really frustrating just when you really need it not to be. There's also the obvious consumables to take: oil, water, brake fluid, spare pads and that all important gaffer tape and cable ties.
You're probably not going to change a turbocharger at the track, but you might swap in fresh brake pads if you find that brake temperatures reach an unexpected level and wear is extreme. It sounds extreme and it depends on what level you're operating at, but being prepared to minimise your down time so that you can have maximum seat time, which should be top of everyone's agenda.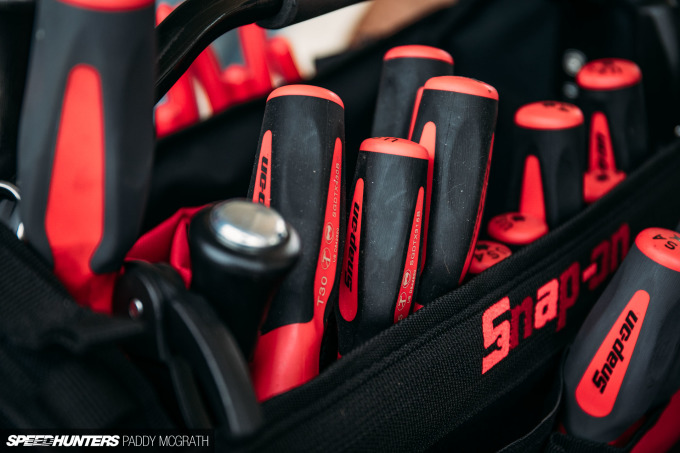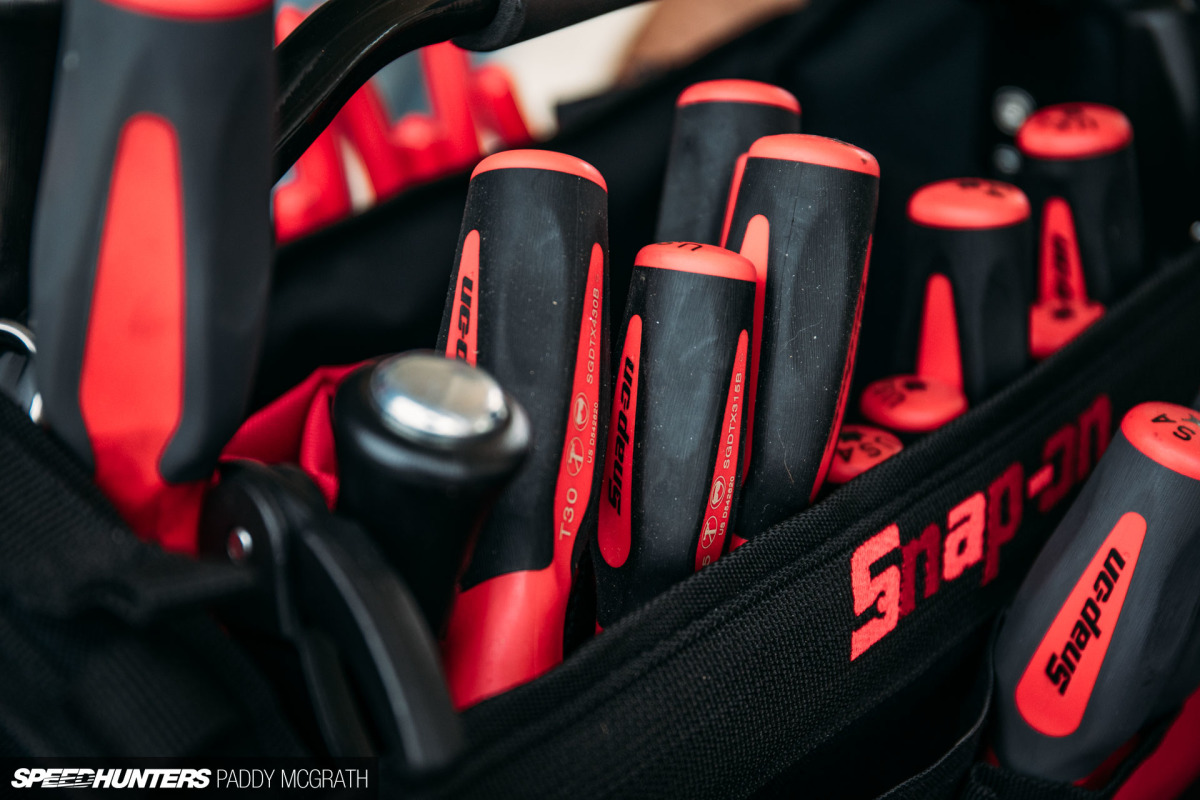 Top 5 Tools To Not Leave Home Without:
1. Torque wrench and wheel sockets. Keeping your wheels fixed firmly to the car is one of the most important aspects of making it around a circuit in one piece. Without your wheels, you are nothing.
2. Pressure gauge. Getting through the day with minimal wear and tear is another way to maximise enjoyment. Your tyres take an absolute hammering on circuit. Be kind to them by setting your tyre pressures correctly to get maximum grip and life.
3. Basic spanner set (8-15mm). It's amazing how many things you can fix with basic spanners, you can even use them to brace things and bracket stuff. Imagination not included.
4. Basic socket set (7-19mm). Even more useful than spanners are sockets. 7mm and 8mm cover off most hose clamps and the rest of the gang should see you right for most other cars.
5. Allen key set (5-12mm). There is nothing more frustrating than encountering a loose Allen head when all you have is sockets and spanners. You might never use them, but for that one time you can be smug as hell.
Not included in this list is a screwdriver, as most cars include both a Phillips-head and flat blade screwdriver in the OEM tool kit so should get you out of trouble if you're on a super tight budget or pushed for space.
Track days are the best days, but only if you're ready for them.
Paddy McGrath
Instagram: pmcgphotos
Twitter: pmcgphotos
paddy@speedhunters.com
Preparation & Driving by Ryan Stewart
Instagram: 7.nth
ryan@scene-media.com