As you can tell by the title, we're not beating around the bush regarding the power plant with this feature. Beau Miklethun's 1968 Ford Mustang is the unlikely combination of classic American aesthetics and Japanese turbo power.
It's unapologetically different, but contrary to what many might assume wasn't built to offend. It's just the most recent iteration in one man's journey to create a truly unique first generation Mustang.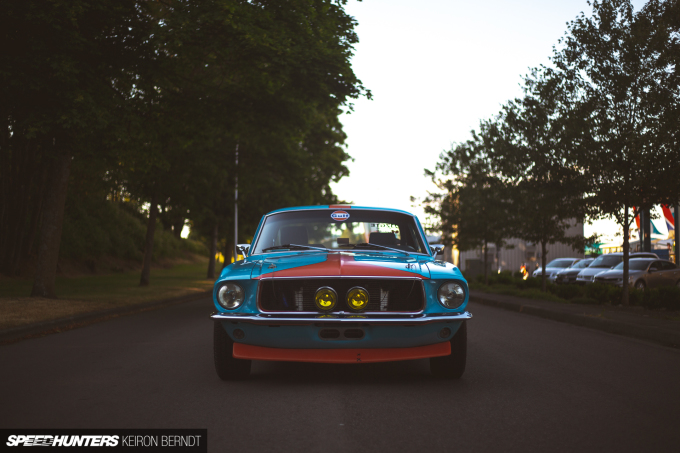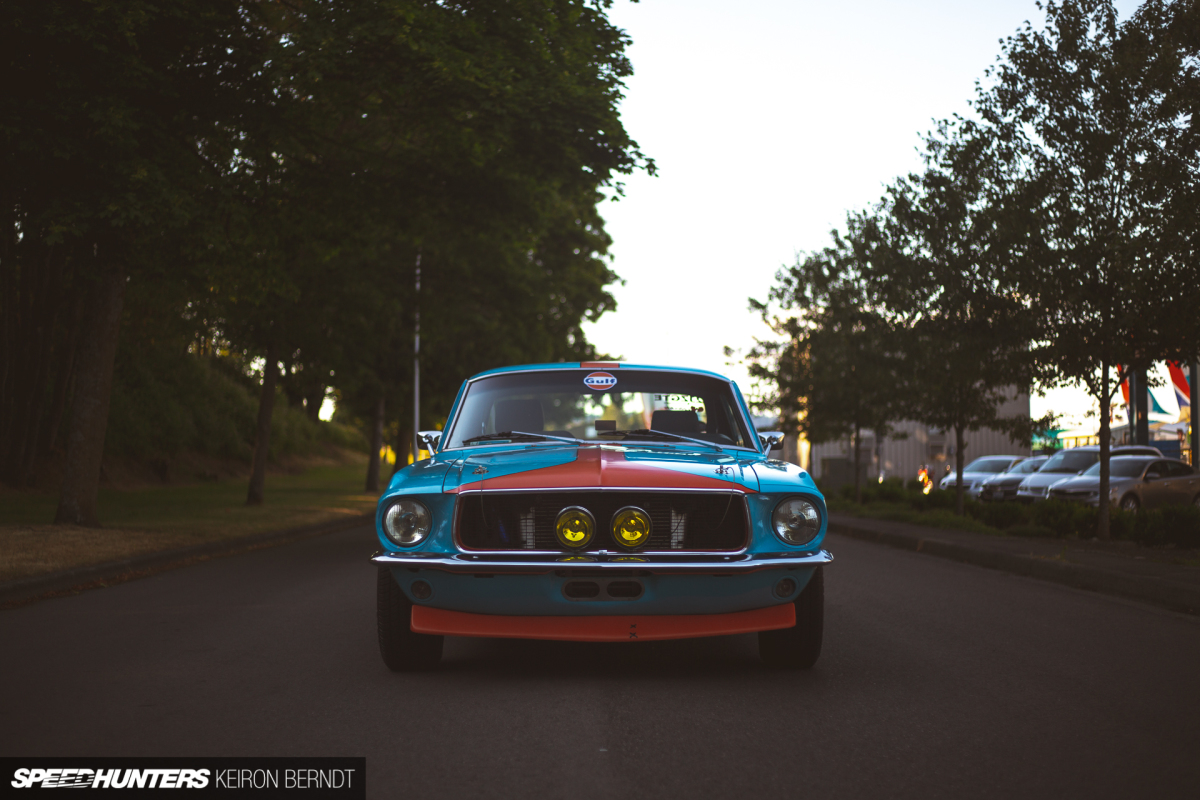 Beau's story with the Mustang started before he even owned it. Originally belonging to a family friend, he watched the car sit neglected for years. Knowing he could give the the Mustang a better life Beau would regularly inquire about its status only to be told "it's not for sale".
This cycle of inquiry and refusal continued for several years before the owner finally relented. The same day they said "make us an offer" was the same day Beau showed up with a trailer to transport the Mustang home.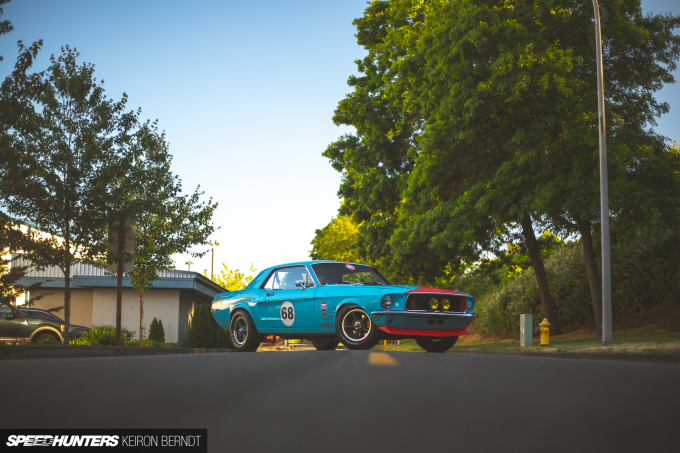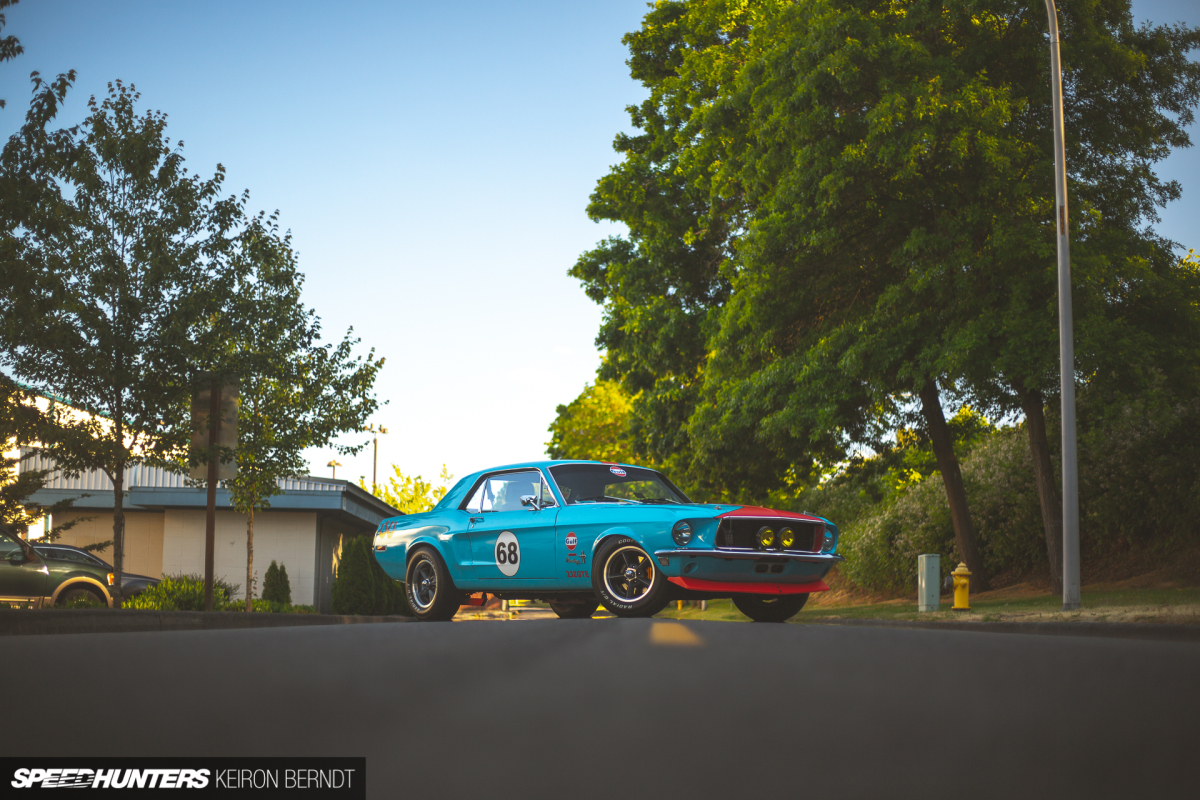 Some clean up, rust repair, and maintenance later, Beau drove the Mustang out of his garage with the original straight-six motor. Unfortunately, as much as fellow Mustang enthusiasts applauded him for keeping it, the factory engine was gutless.
Wanting more power and something both different and challenging, Beau skipped V8s of Ford and GM manufacture. Instead, he replaced the stock motor with a Ford SVO 2.3L turbo. The spritely four-cylinder made 200hp and 240ft/lb in its most powerful factory form, more than enough to give the Mustang some extra giddy up.
Found On Road Dead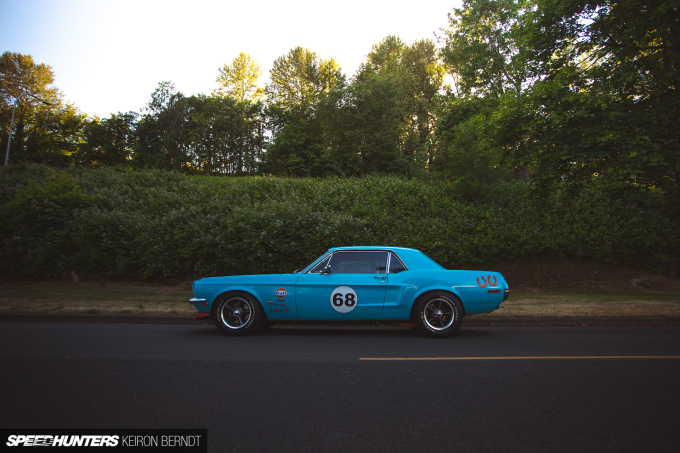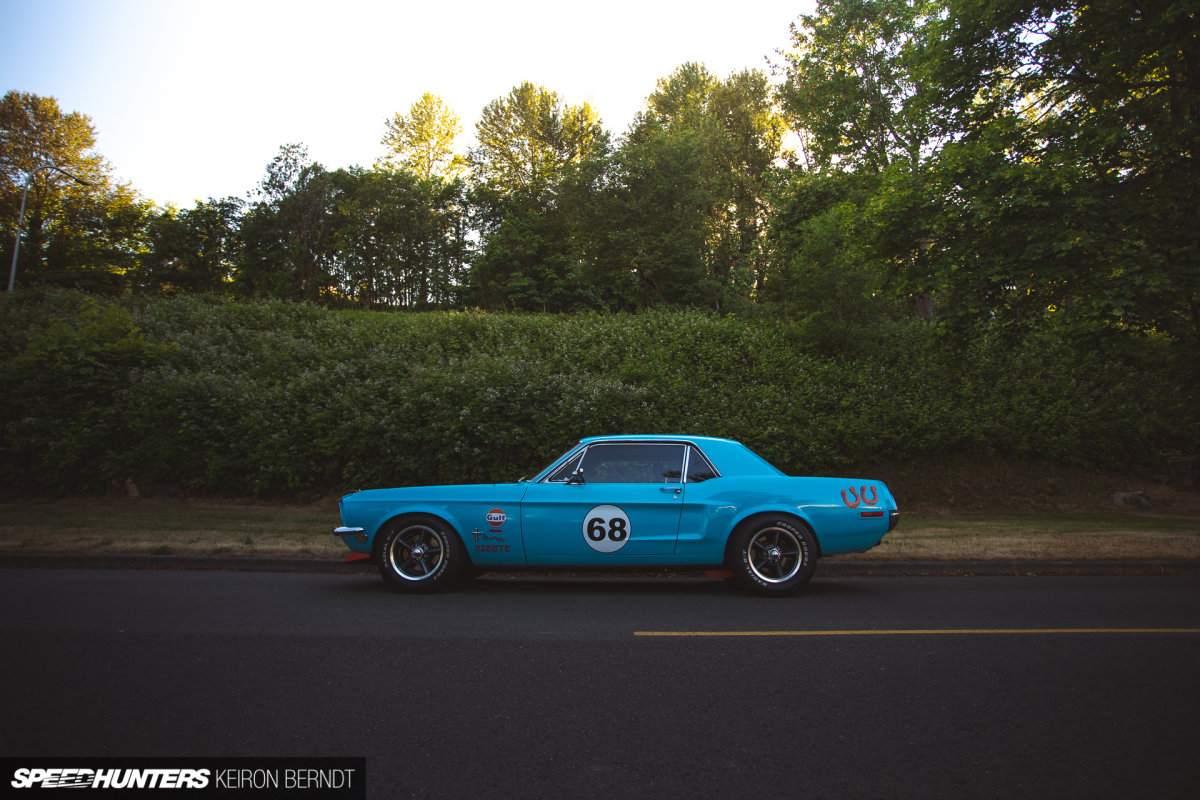 Beau wanted his swap to be challenging, but the 2.3-litre wound up challenging him quite a bit more than expected. His then lack of experience with forced induction engines combined with mid-1980s domestic turbo technology, and a bit of bad luck, resulted in multiple motor failures. After melting his second set of pistons, Beau fell out of love with the 2.3 and decided to go motor shopping once more.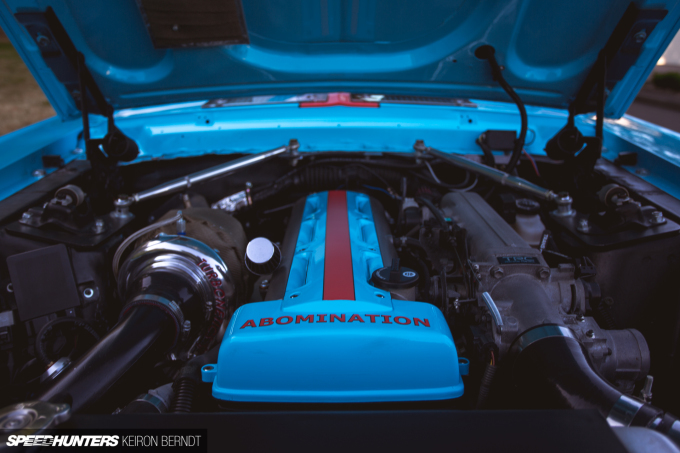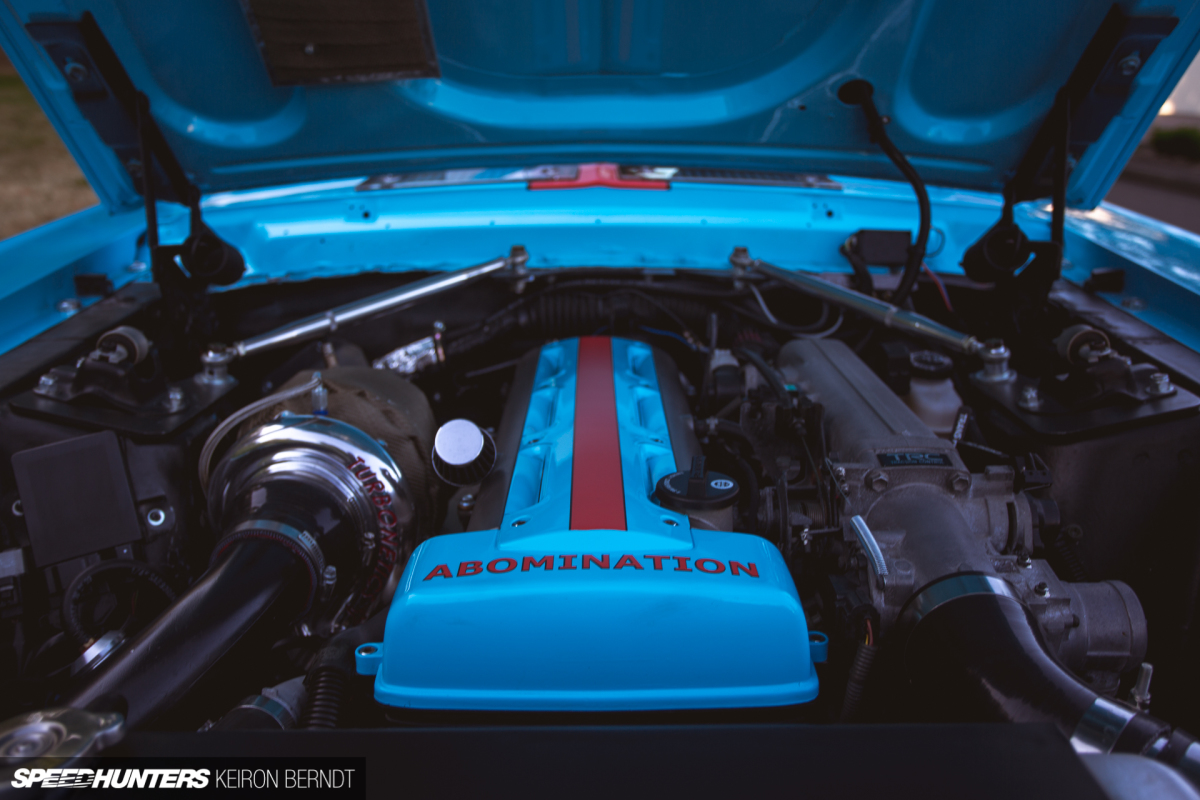 Again he glanced at various V8s, but with all the turbo supporting mods already installed, going the NA route seemed like a step backwards.
Ultimately, Beau settled on the unorthodox idea of putting a Toyota Aristo-sourced 2JZ-GTE under the hood. Of the swaps he considered, measurements wise, the 2JZ actually fit best.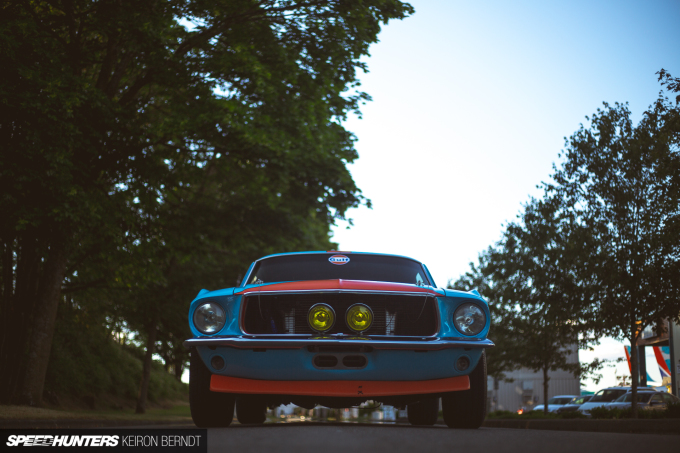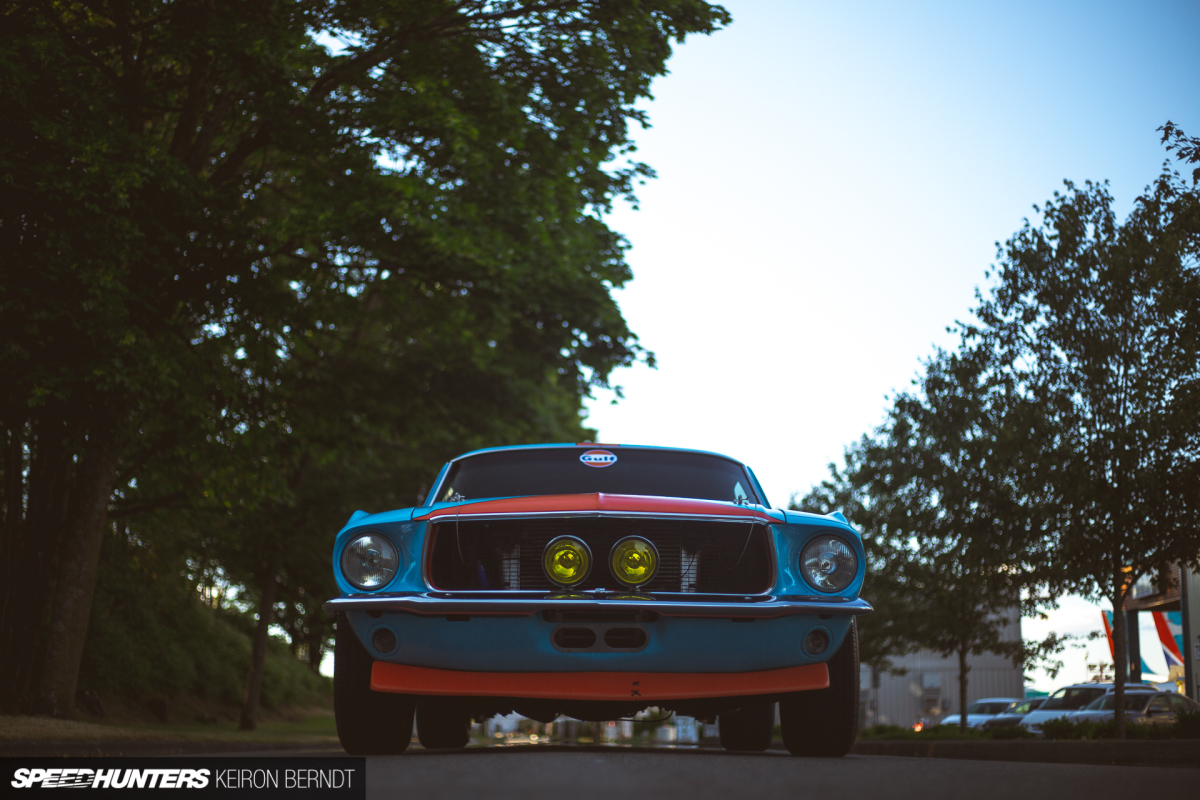 Not overly wide or extremely tall, the Toyota straight-six slotted into the Ford engine bay without an obnoxious hood cowl or strut tower modifications. In fact, Beau confesses that physically positioning the motor was the easy part; the real challenge was wiring it up to run within its new surroundings.
Thankfully, Beau's 2JZ came along with the front half of an Aristo so he had plenty of factory wiring to consult when it came to connecting the electrical dots.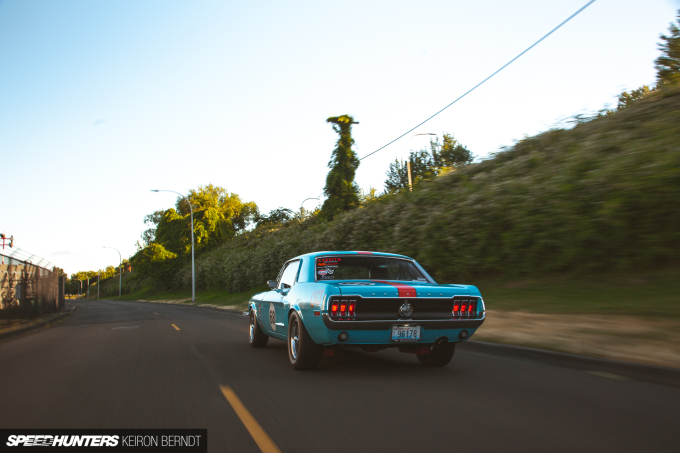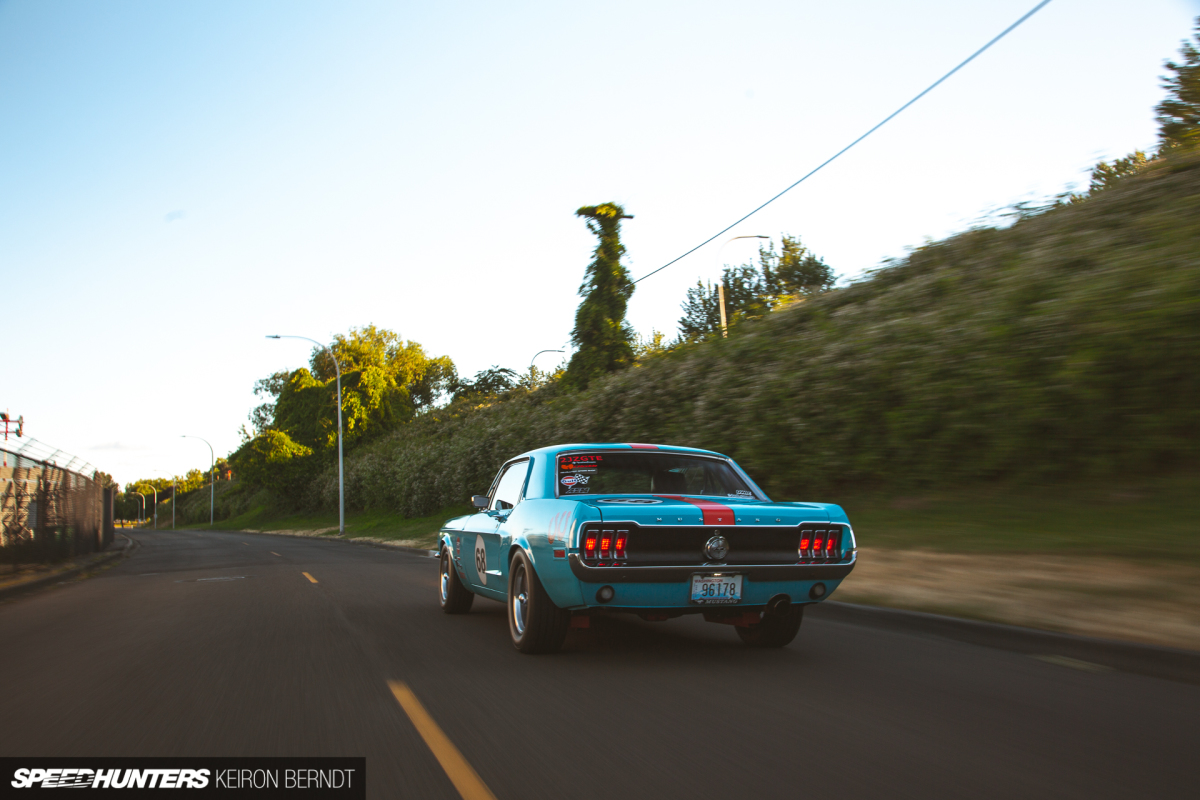 There's a wealth of knowledge available online in regards to the 2JZ, and Beau may just have used all of it to get this car fired up. Sadly, it wasn't all smooth sailing from there; the swap did offer up its fair share of growing pains.
Pushing Forward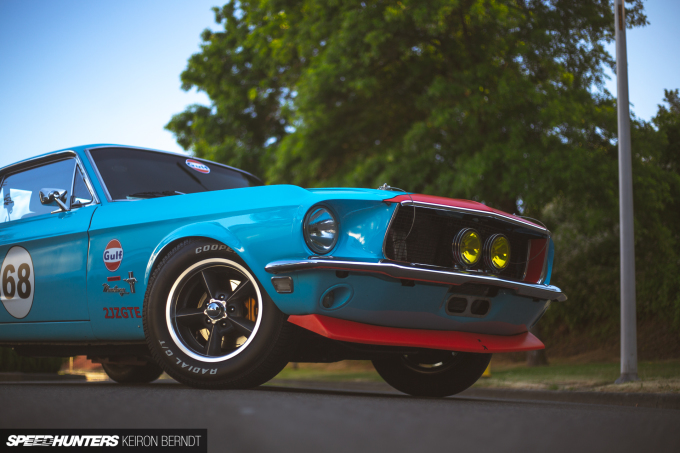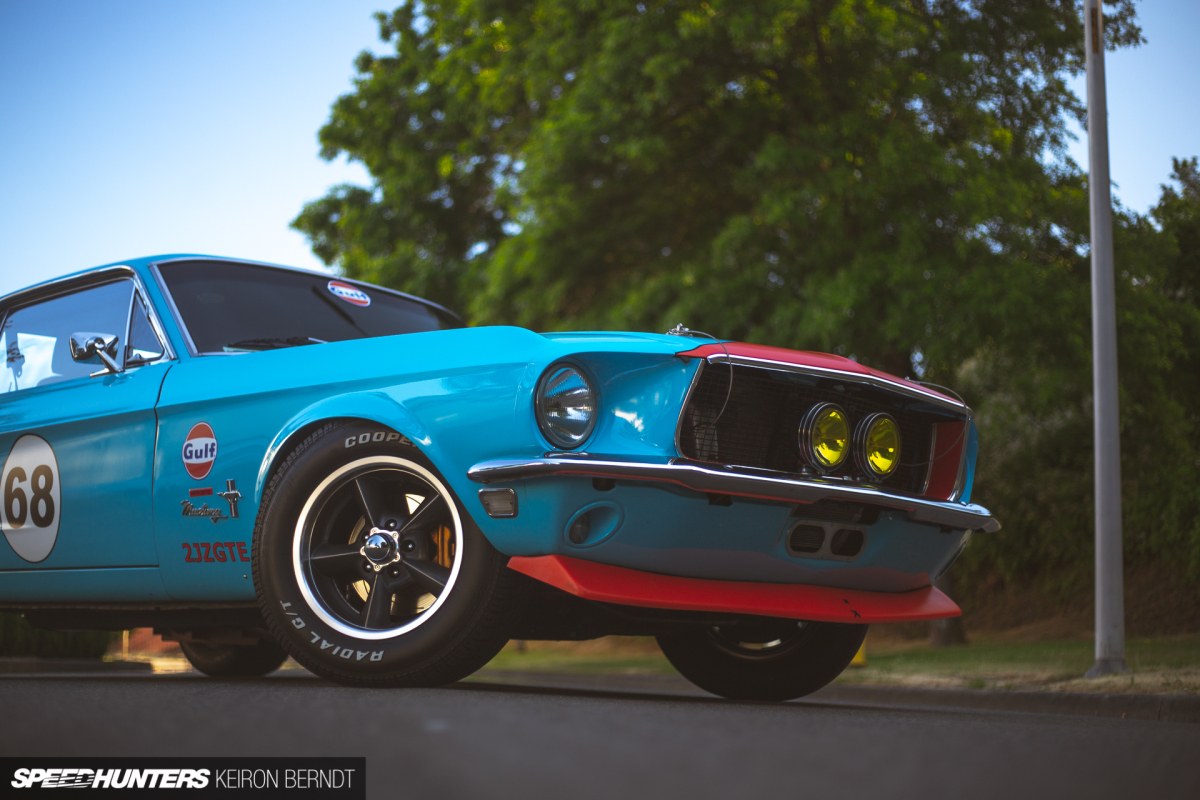 More powerful than any of the motors that preceded it, the single turbo converted 2JZ preyed on the car's weak points. The driveshaft proved particularly fragile, breaking twice, once on the street and once on the dyno. Each time it broke, it took the transmission along with it.
Today, a custom driveshaft has been installed along with an Aristo transmission equipped with a TransGo shift kit. So far this combination seems to be holding fast.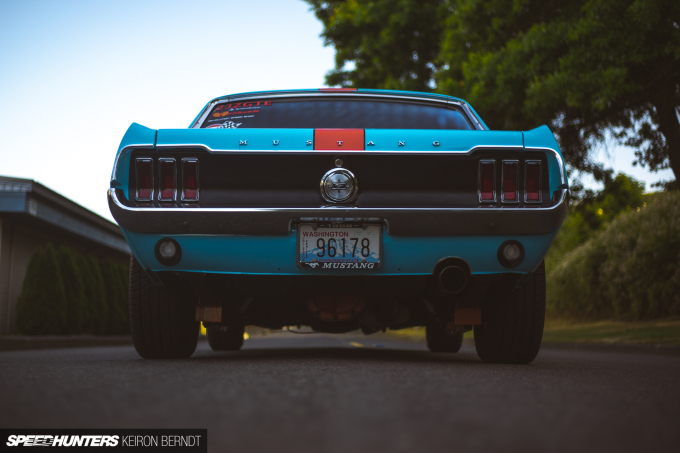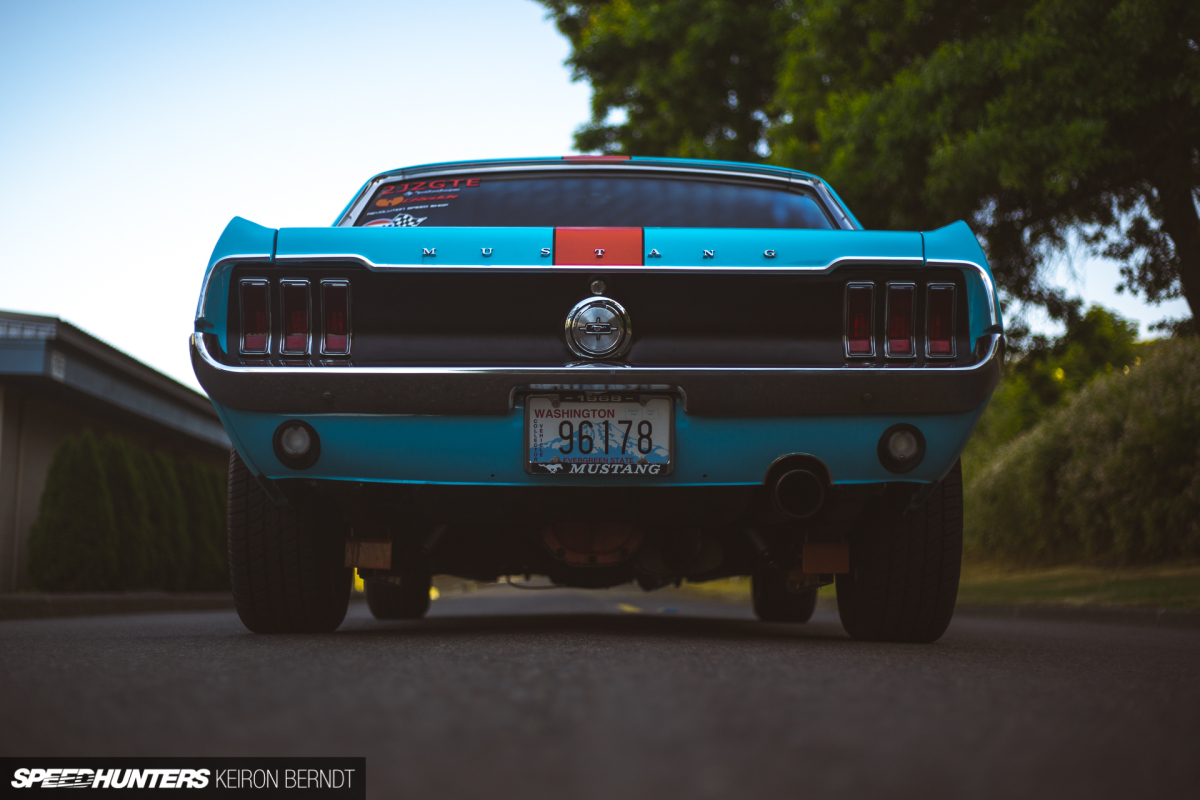 Backing up the transmission is a narrowed and centered Ford Explorer 8.8-inch rear end. These are a popular choice among builders of all sorts because they are cheap, plentiful, come in good (3.73:1 LSD) gearing and are fitted with disc brakes.
To match the new rear discs, Beau installed Kelsey-Hayes 4-piston callipers up front along with a matching five-lug conversion. Currently the supporting modifications for the motor include an Isuzu NPR truck intercooler, AEM wideband O2 sensor/gauge, and a GReddy boost controller.
In the future Beau wants to add larger injectors and a standalone ECU for more tuning capability, his goal being to bring the car up from its current 300hp to 500hp. To put power to the ground, sub-frame connectors and traction bars have been installed.
Anything But Red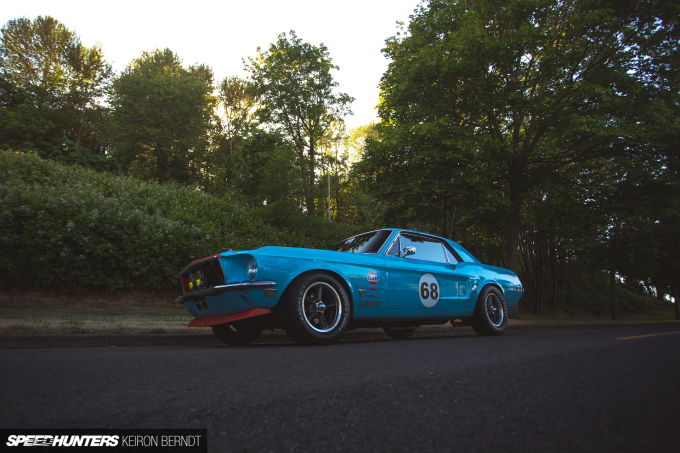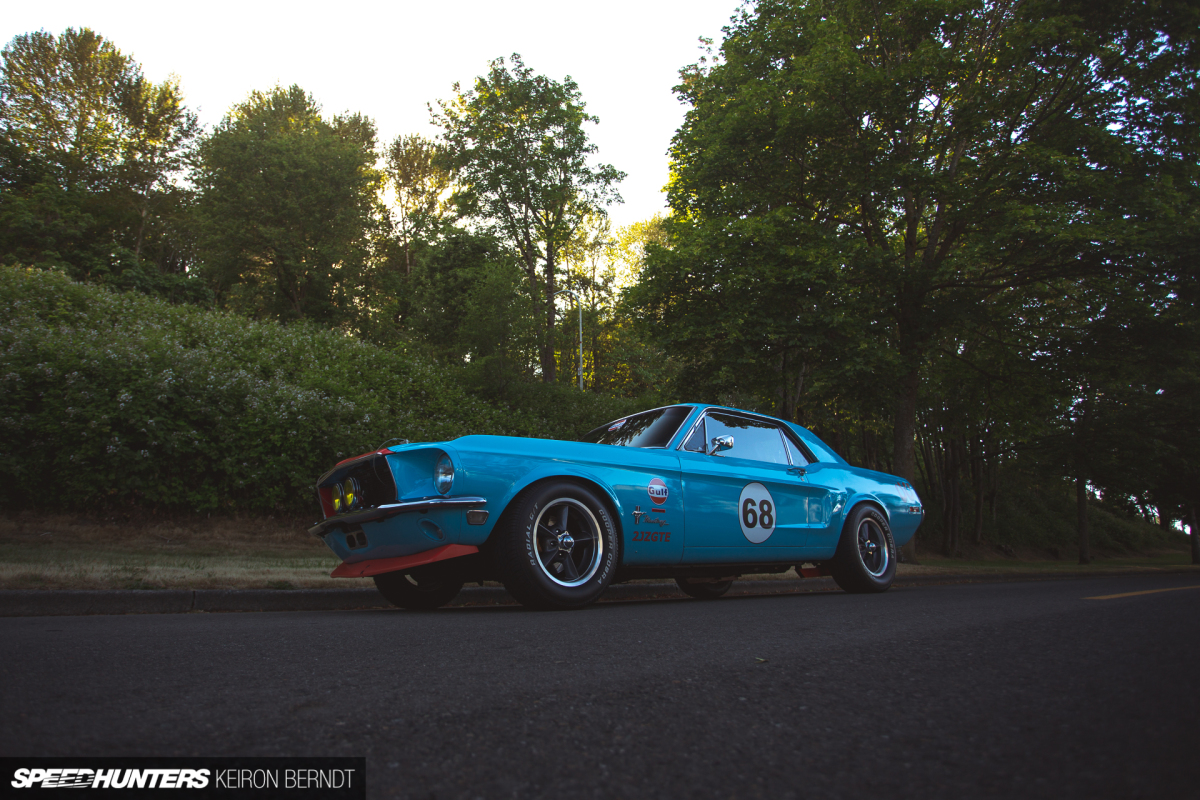 The catalyst for the eye-popping Gulf livery came from a bit of rust and Beau's desire to no longer own a red Mustang. Everyone has a red Mustang.
The commonality of Beau's previous paint job meant the car would blend in at shows and events, and although he's not in it for trophies he does appreciate talking shop with fellow builders. When it was red most builders would walk on by under the assumption the car had your typical Mustang motor under the hood, but no self respecting gear head can walk past a car with a Gulf livery without a second glance, which made it perfect for this car.
Surprisingly, the paint was done by Maaco, a chain known more for their value than quality. In Beau's case, Maaco did a great job providing a blue canvas for the orange, black and white livery to come. Overall the combination works quite well on the Mustang, especially when paired with the lowered ride height and MB Wheels Old School 15x8s.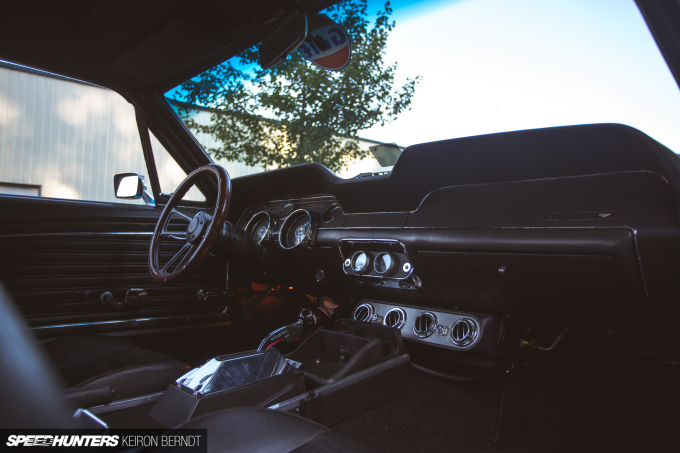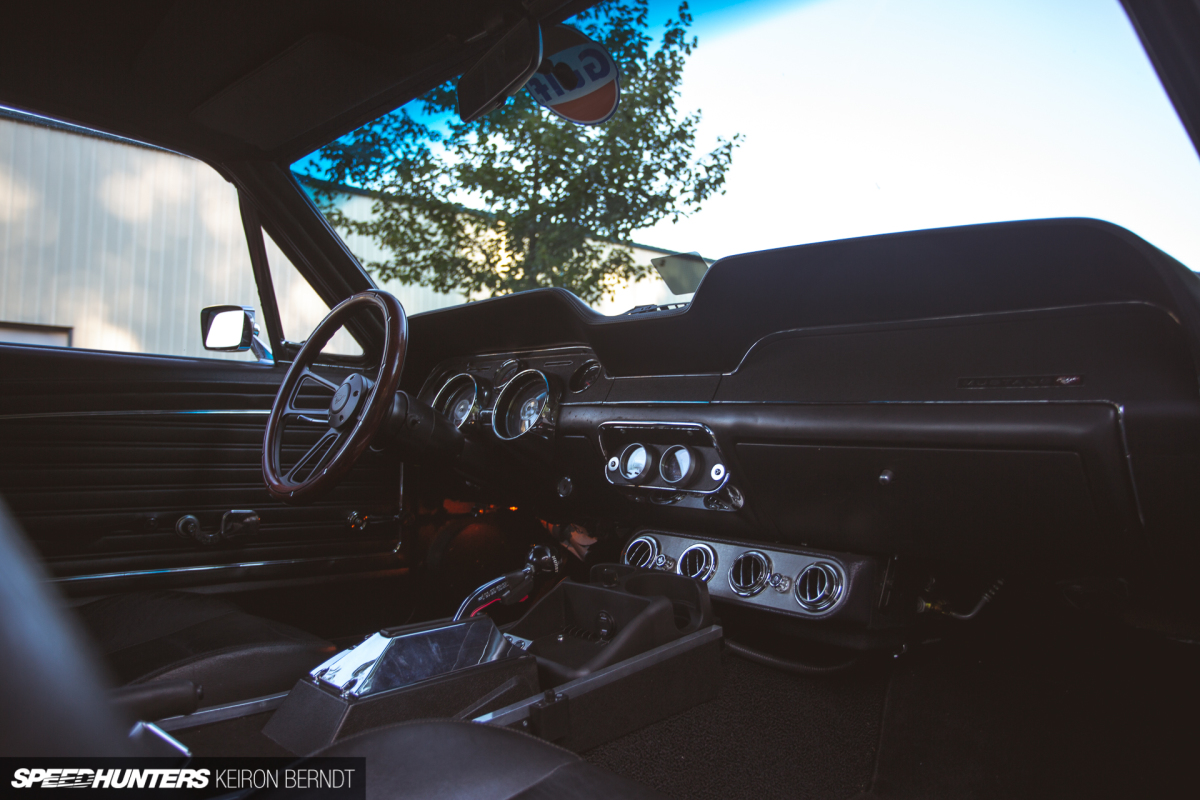 Inside, the factory interior has undergone a bit of a refresh. AEM gauges, a performance shifter, and a woodgrain steering wheel make up most of the modifications here.
One change that often goes unnoticed is the addition of BMW E36 front seats. This was a budget-conscious choice, but Beau admits if the clock was wound back it's one modification he wouldn't do again. The seats ended up taking quite bit of work to fit in the Mustang correctly.
For creature comforts, Beau installed a Bluetooth-powered audio system that could be heard over the 3-inch exhaust. He also went so far as to install aftermarket air conditioning, making this car ready for about anything.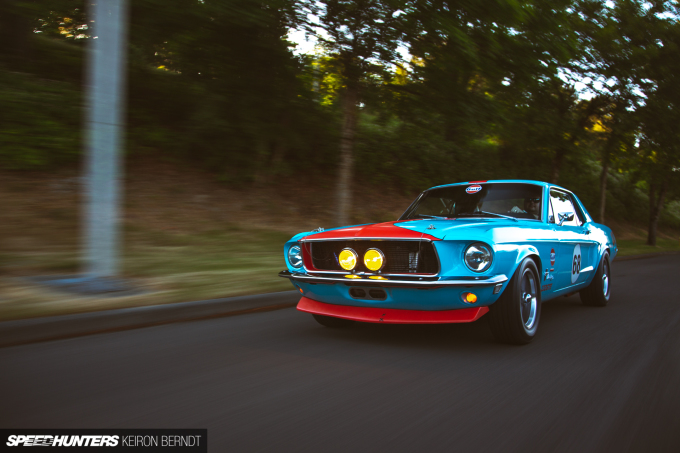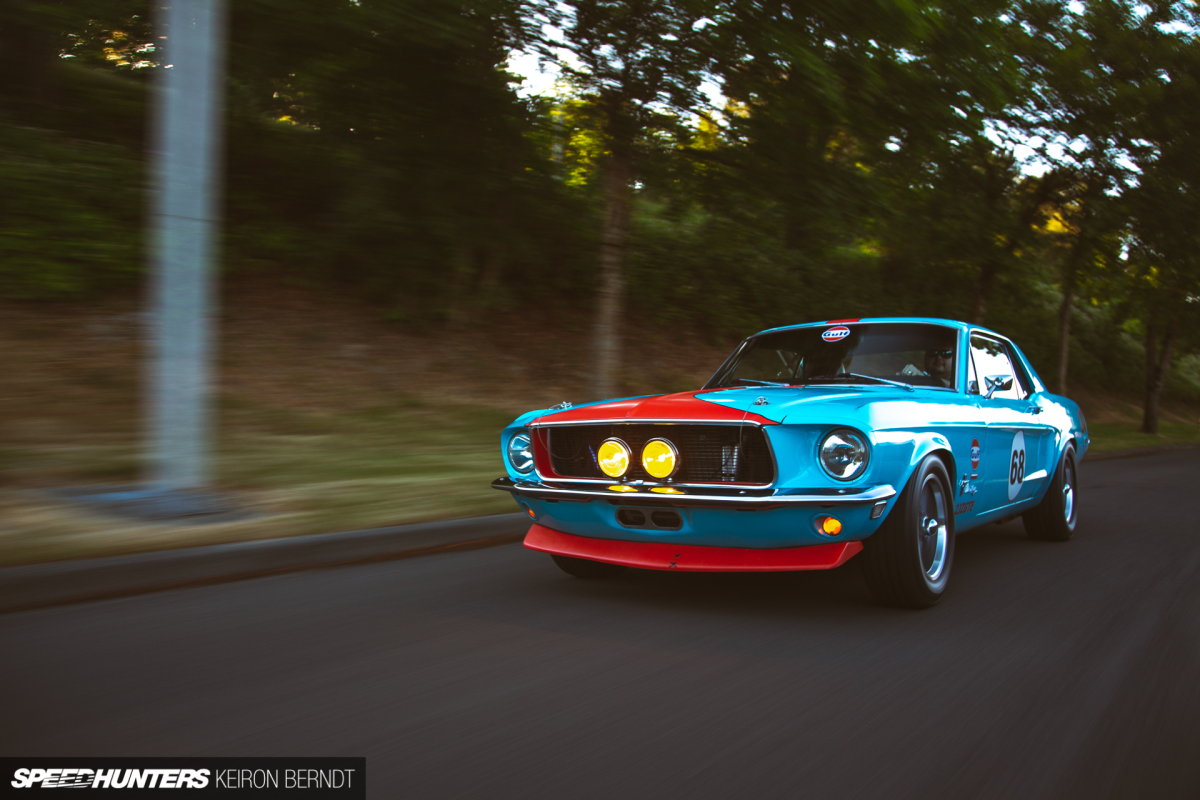 On the road 2JZ-powered for three years now, Beau's given the car the nickname of 'Abomination' simply because that is what a lot of the Mustang community refers to it as. Online, people tend to be quite vocal about their dislike for the car, where as in person Beau says everyone seems to dig it. Of course, no matter what anyone says there are a million red, Ford-powered Mustangs out there, and Beau has the only blue and orange one that travels down the road with the heart of a Toyota.
If you enjoy a good build thread as much as I do, Beau's can be found here.
Dave Thomas
Instagram: stanceiseverythingcom
Photography by Keiron Berndt
Instagram: keiron_berndt
Keiron Berndt Photography
Beau Miklethun's 1968 Ford Mustang Coupe
Engine:
Toyota 2JZ-GTE 3.0L DOHC 24V inline-six, Turbonetics 'Lety' turbocharger, Precision Turbo wastegate, Isuzu NPR intercooler, AEM wideband O2
Driveline:
Toyota Aristo automatic transmission, TransGo shift kit, Ford Explorer 8.8-inch rear end with 3.73:1 LSD
Suspension/Brakes:
Subframe connectors, traction bars, electric power steering conversion, Kelsey-Hayes 4-piston front disc brakes, Ford Explorer rear disc brakes, 5-lug conversion
Wheels: 15×8-inch MB Wheels Old School wheels
Interior: BMW E36 front seats, aftermarket air conditioning, AEM Tru-Boost, Rockford Fosgate audio system