Ending In Style
To give the Mooneyes Street Car Nationals the worthy wrap-up it deserves, I wanted to share one final batch of images with you.
Unfortunately, my recent time spent in Australia wreaked havoc with my writing schedule, and that's why you are seeing this now. But one scroll through this post and I'm sure you'll be impressed with what I'll call the 'best of the rest.' There is always so much good stuff on display at this event that it becomes quite difficult to not post pictures of everything.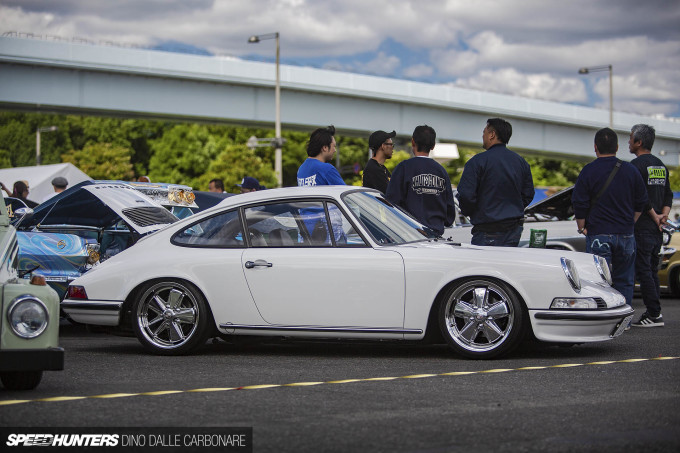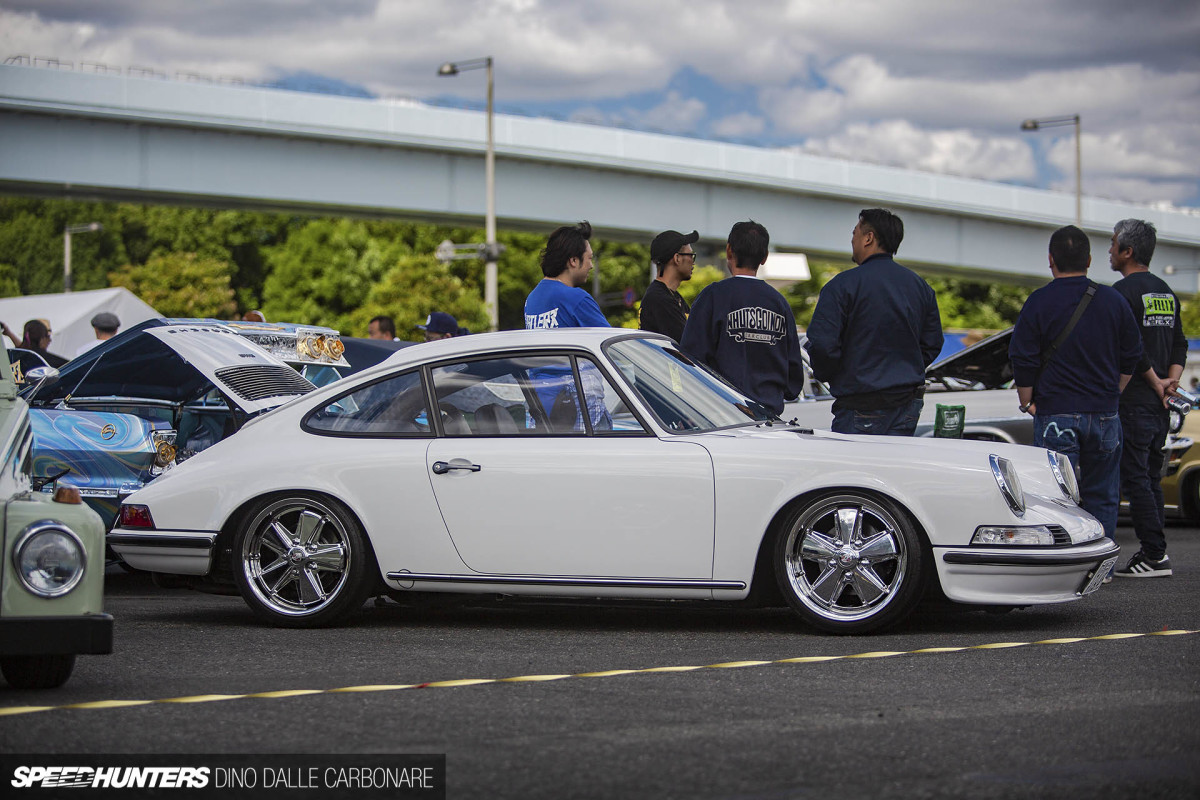 That said, I'm pretty sure this is the most comprehensive coverage I've ever brought you from Mooneyes' annual Odaiba takeover, with well over 200 images posted. I hope you guys have enjoyed it as much as I did.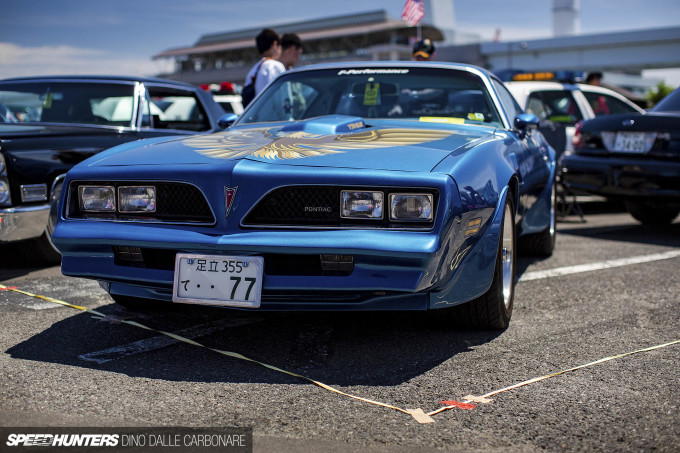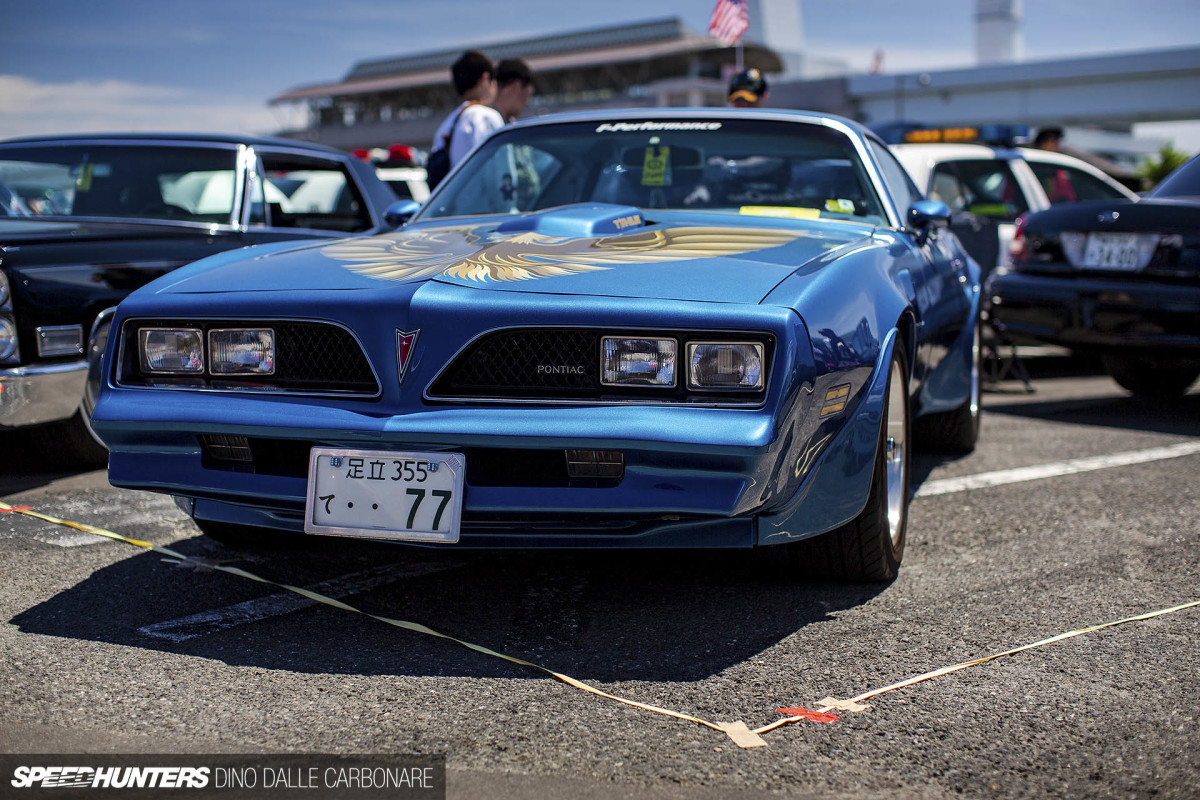 There were a lot of cars that stood out, but none more so than this Trans-Am. It immediately caught my eye as I came down from the monorail station high above the roads that lead into the venue.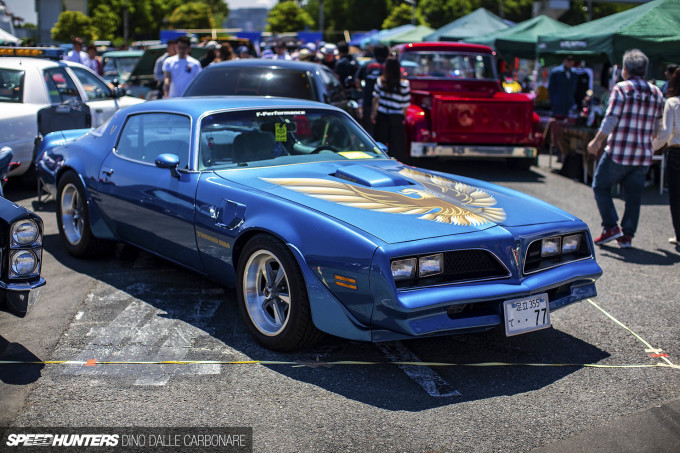 There are few cars that I'd own based solely on looks, but this is one of them. It's probably what the car represents and the memories of growing up watching American movies that's done it. Then there's the golden eagle on the hood; what more could you want?!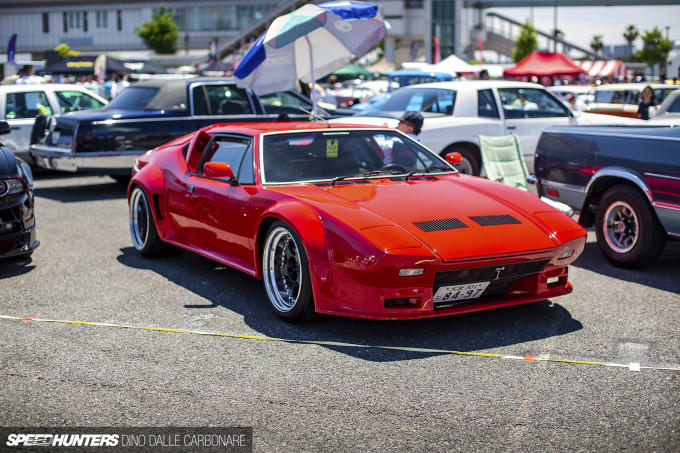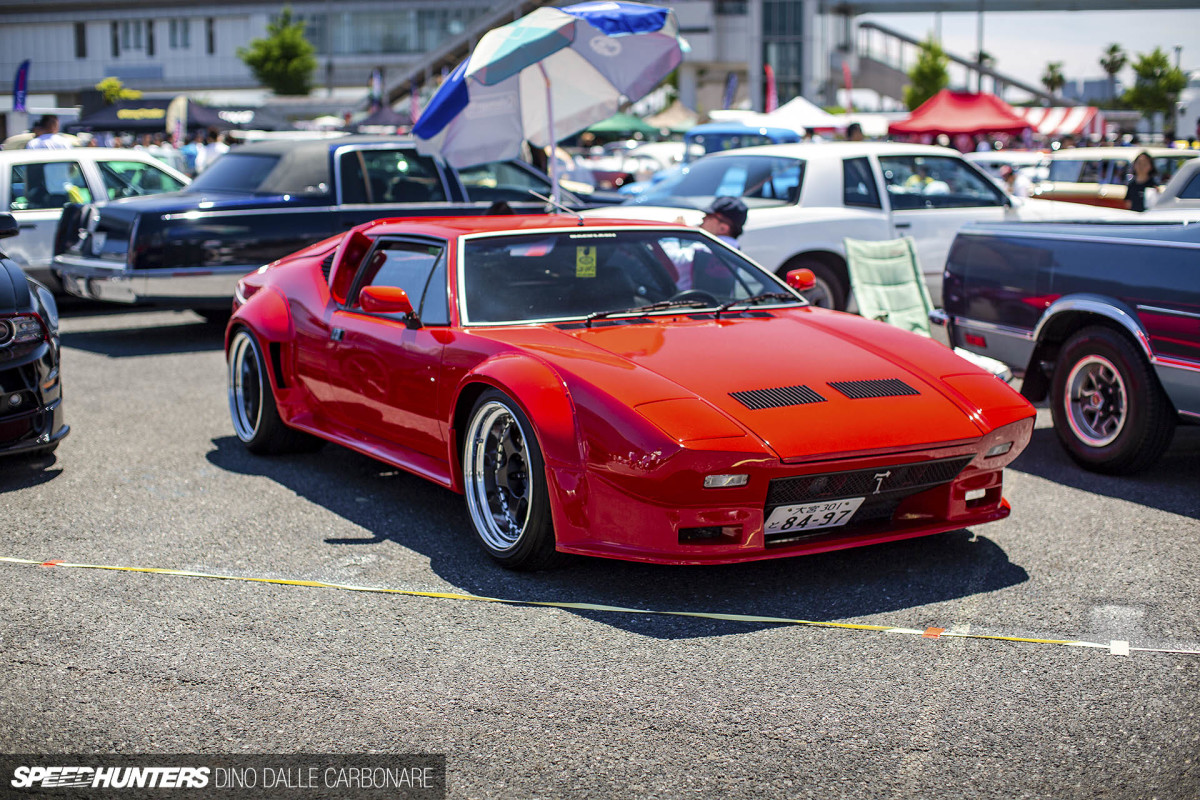 What Mooneyes event would be complete without the presence of at least one De Tomaso Pantera. Italian design meets American muscle, all coordinated by an Argentinian emigrant – it kind of reminds me of another brand…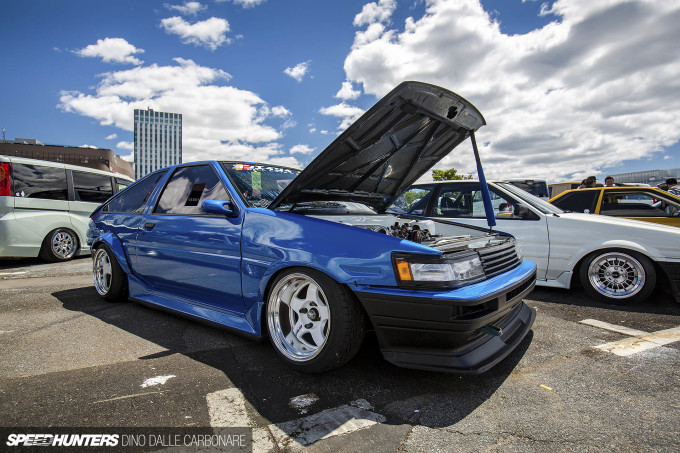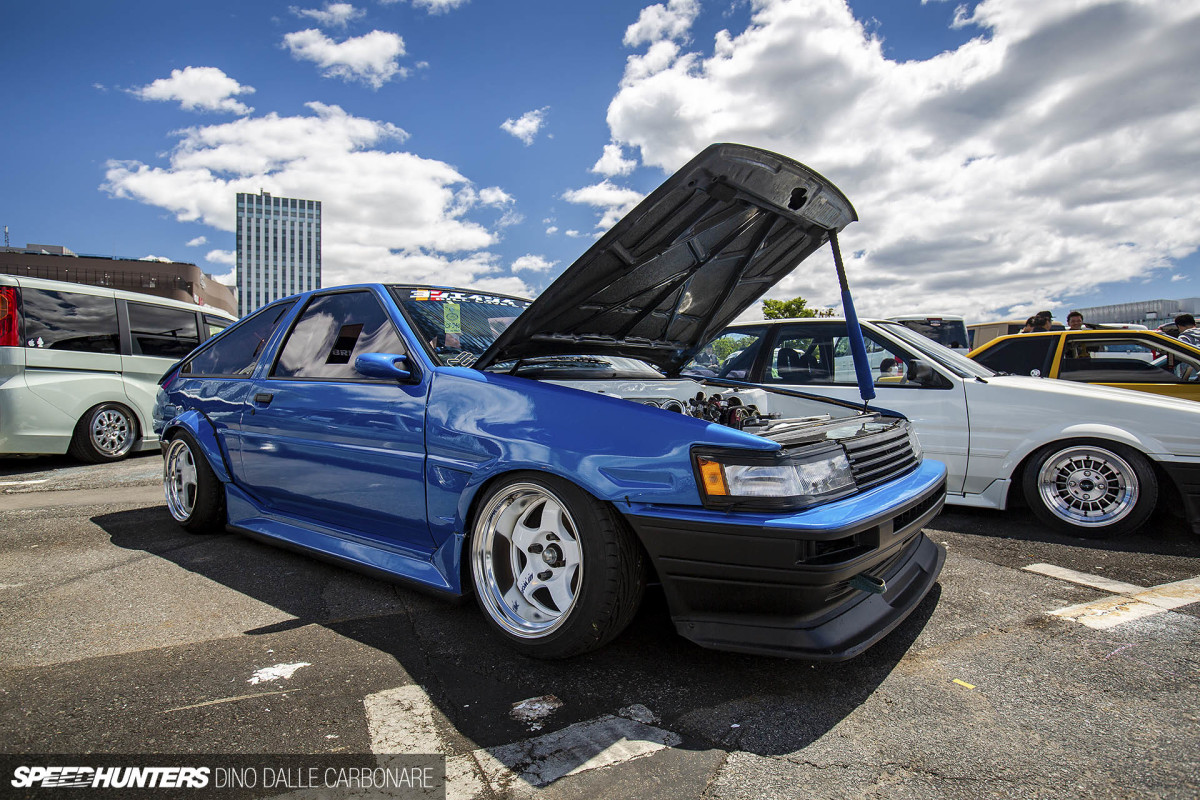 There were some amazing AE86s on show at Wekfest Japan last month, and here's another – a freshly built Levin that belongs to Sato-san of 4AG Club.
Sato is the guy responsible for shaving and cleaning the engine bays in a few of the other club cars, including some that are also part of the N-Style crew. This one is spectacular in every way, and the car is properly used too.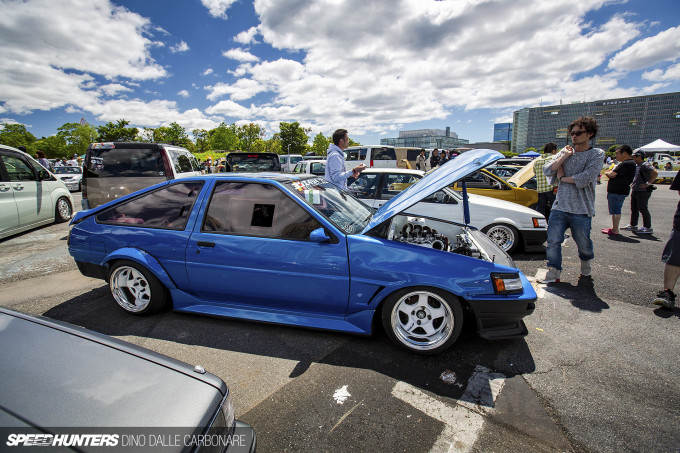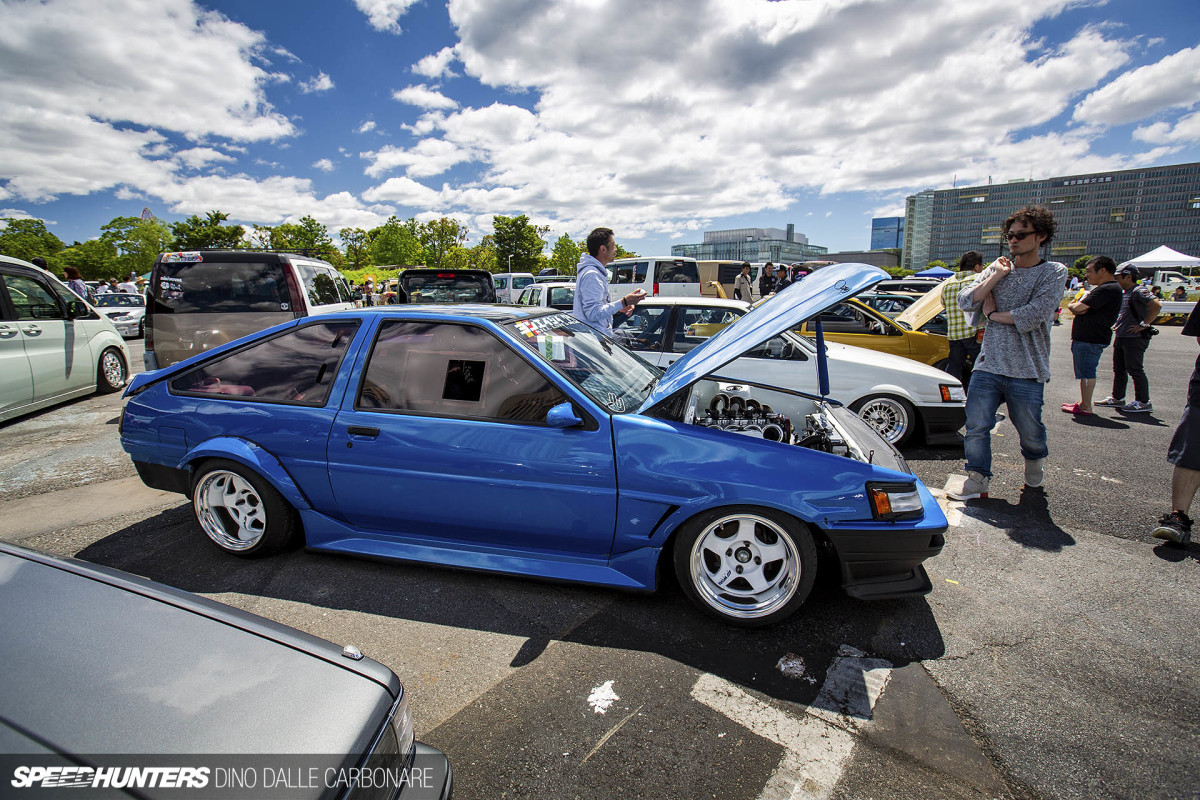 I must investigate further…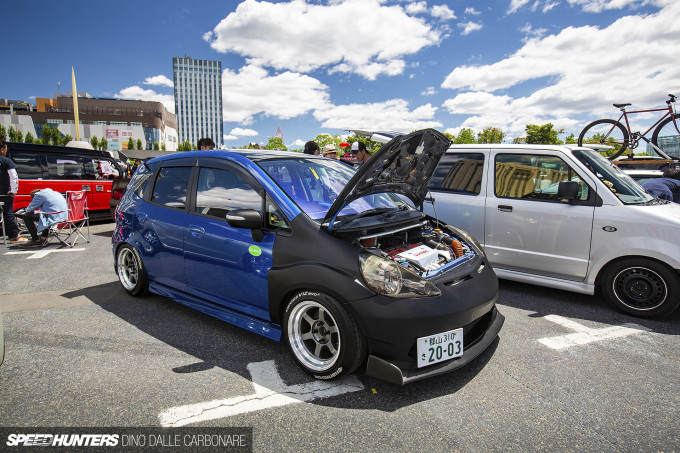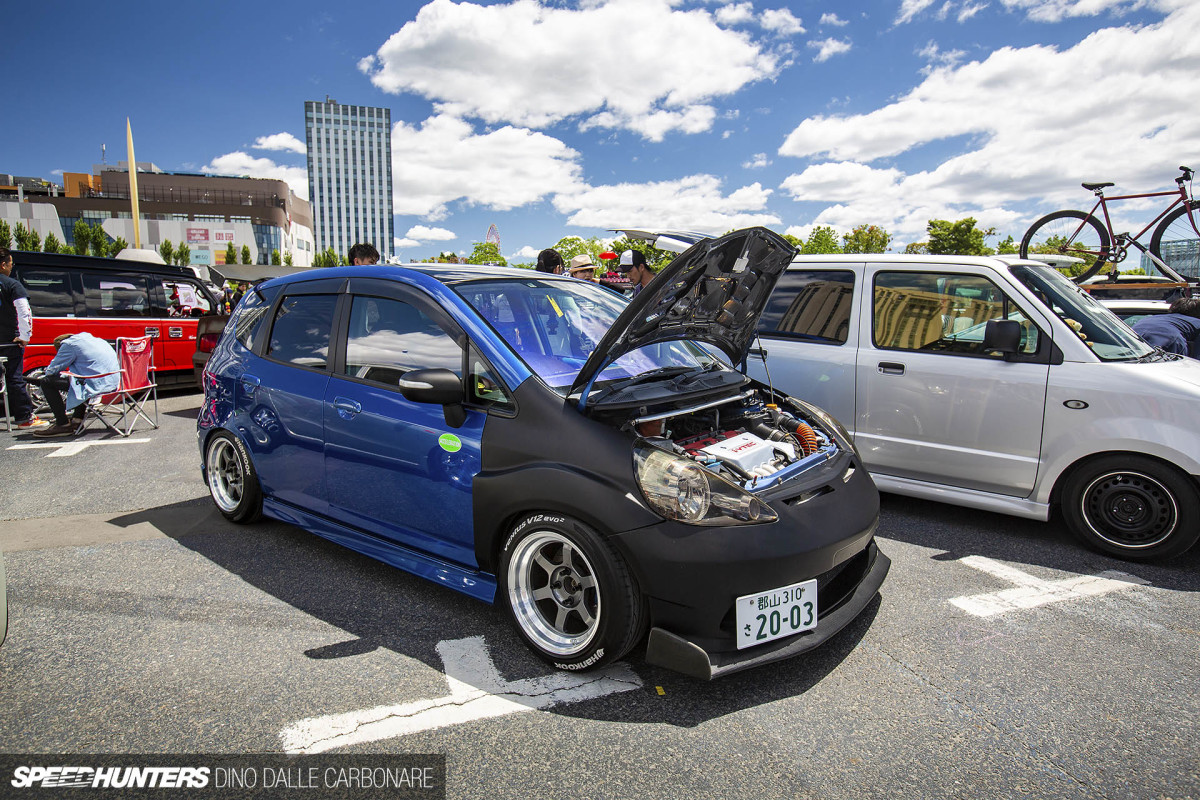 Another surprise was this kitted GD Honda Fit.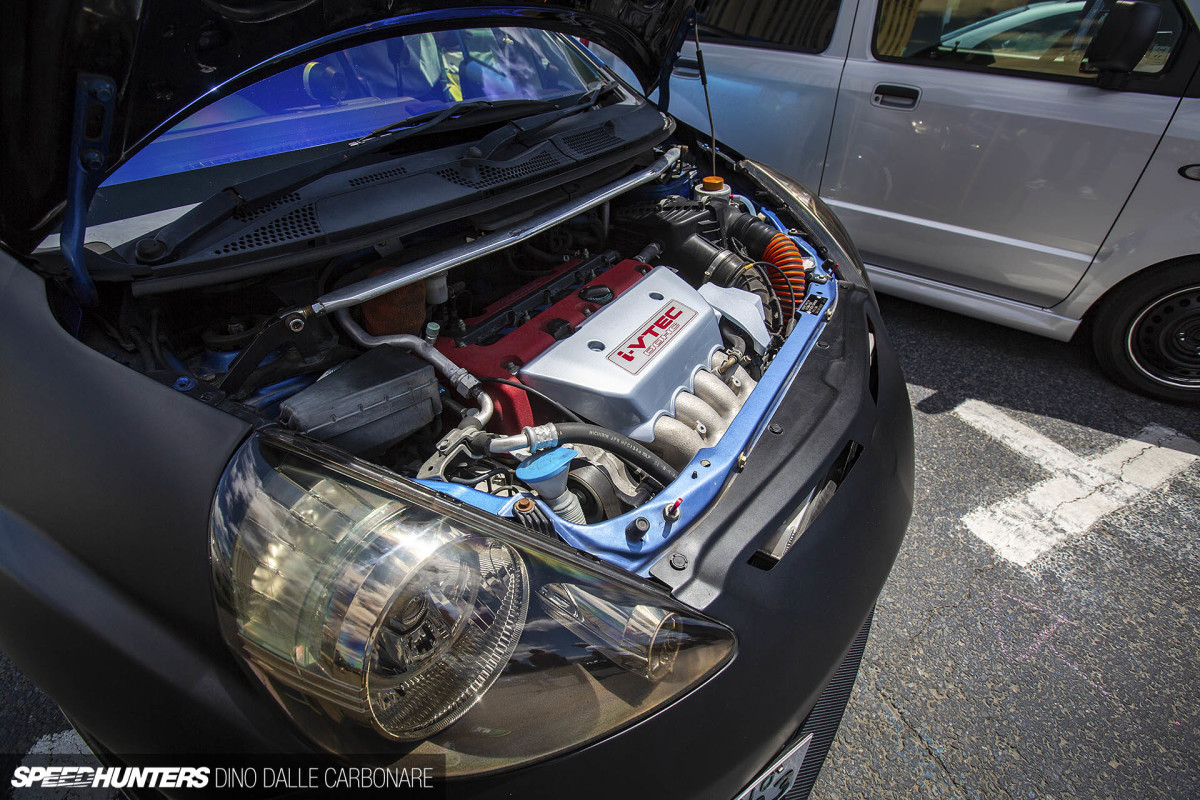 Yep, that's a K20A swap. This must be quite a fun car to throw around some nice roads.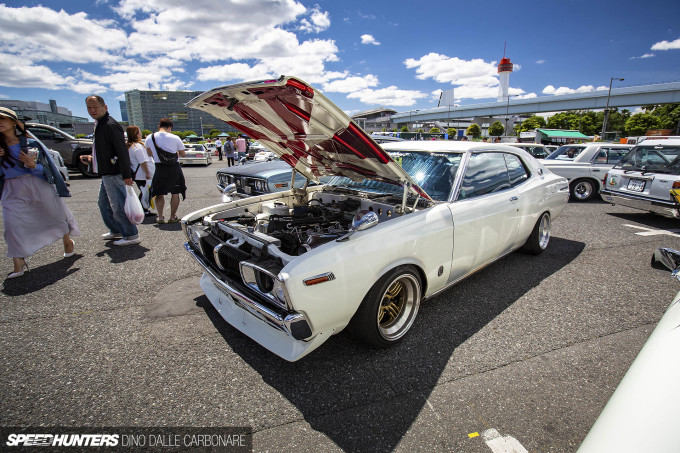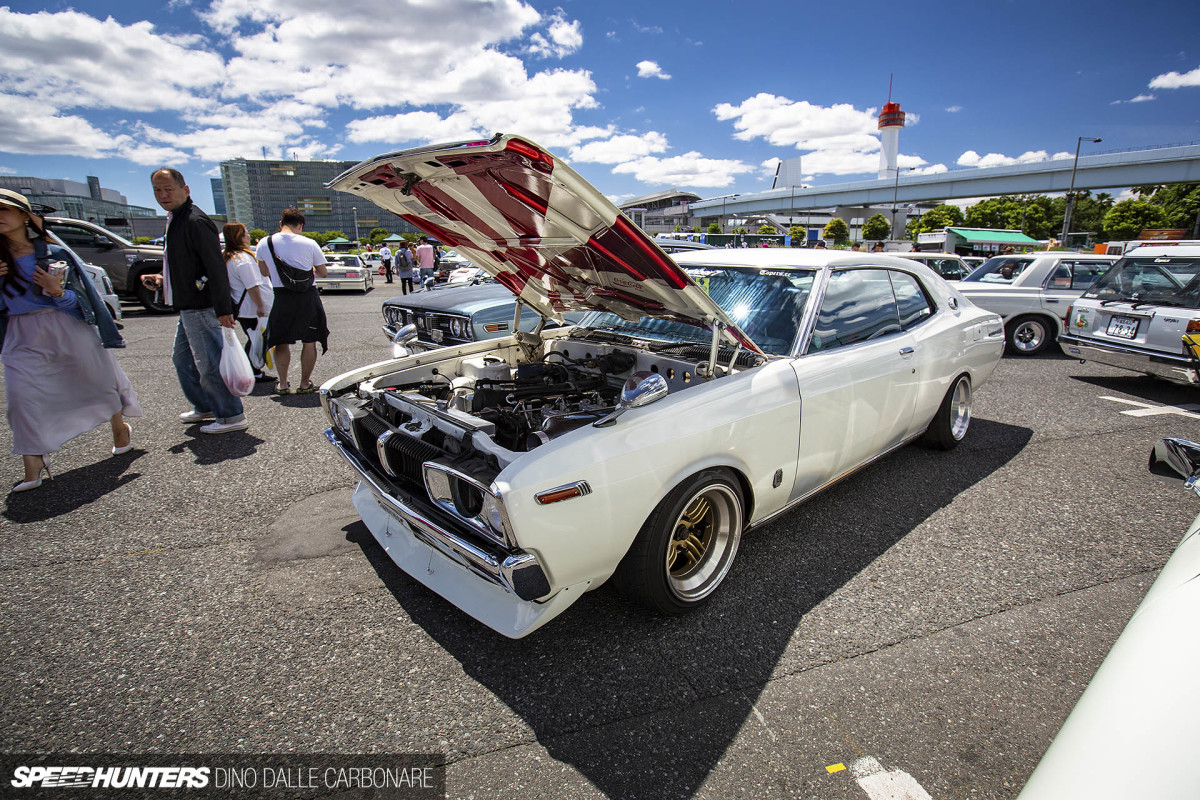 Much like Wekfest, the Mooneyes Street Car Nationals has always represented the fusing of two worlds – Japan and America. That said, there are always cars that couldn't be any more Japanese if they tried, like this butaketsu Laurel.
From the Shadow Spoke wheels to the rising sun flag painted on the underside of the hood, this thing does kyusha with attitude rather well.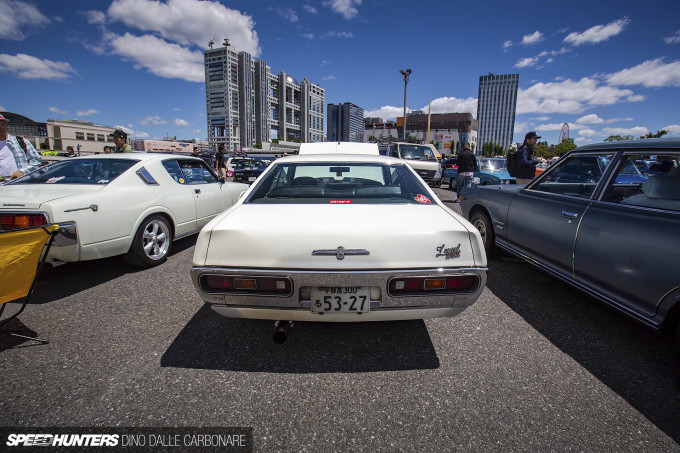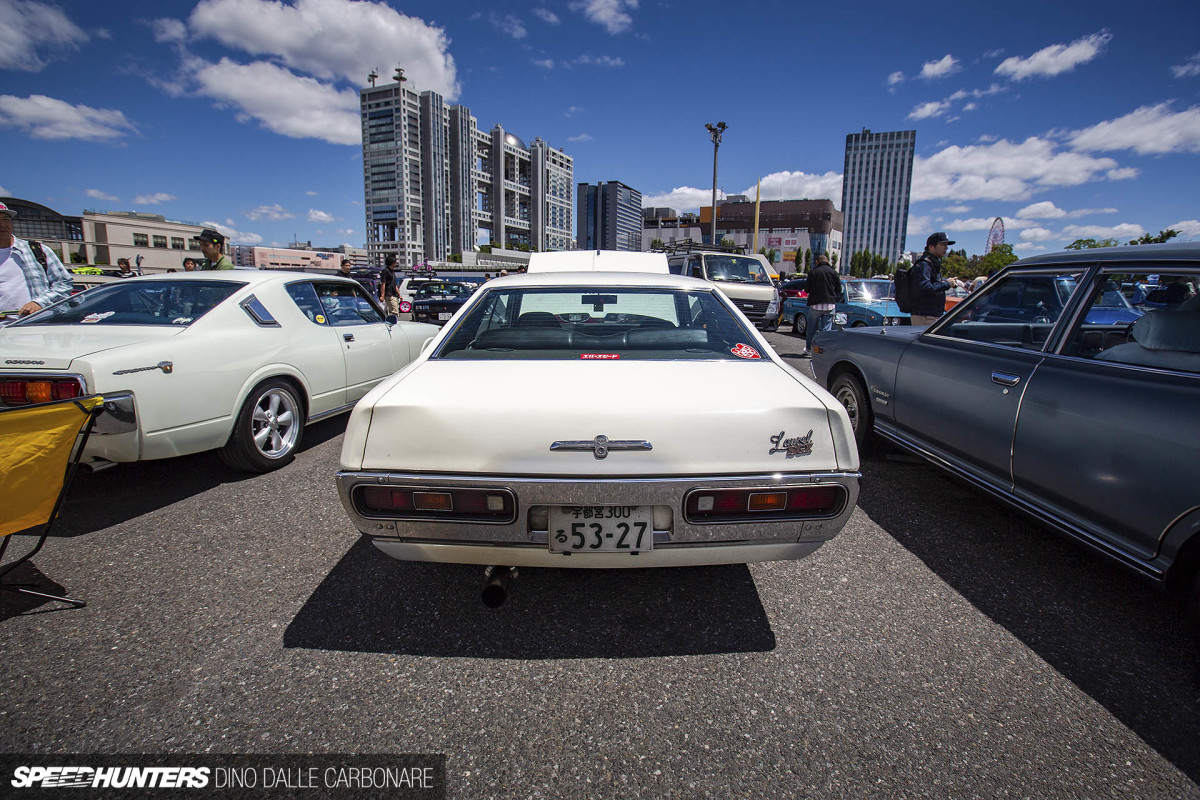 The nickname 'pig's butt' comes courtesy of this Laurel's rather chunky rear end.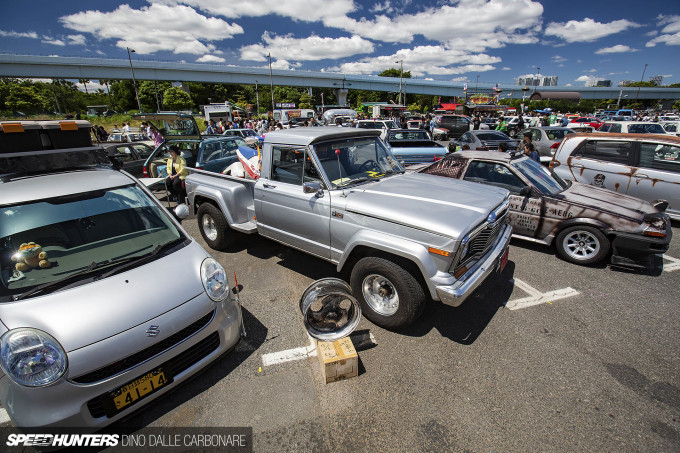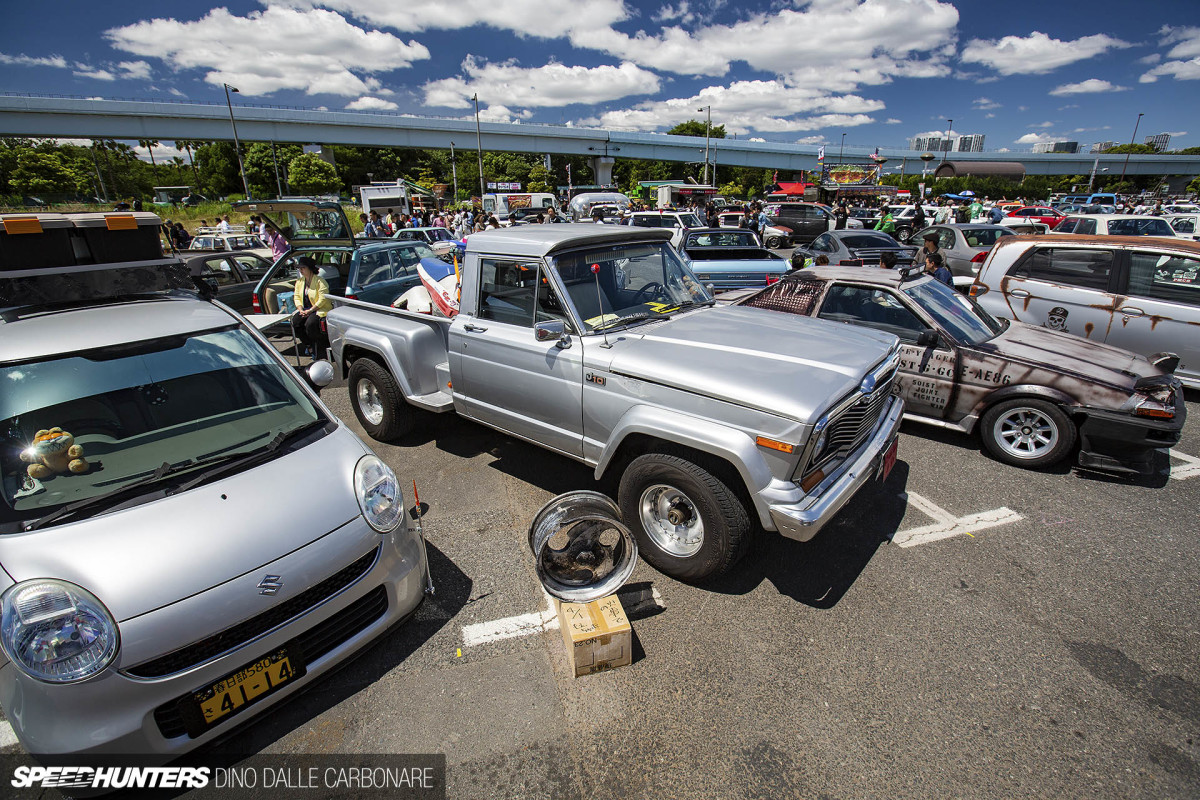 Every few footsteps at Mooneyes usually comes with a surprise. I go on about the variety present at events like this, but it gets almost comical at times. Here's a Jeep truck sitting in between a Suzuki kei car and a rat-rodded AE86 of some description.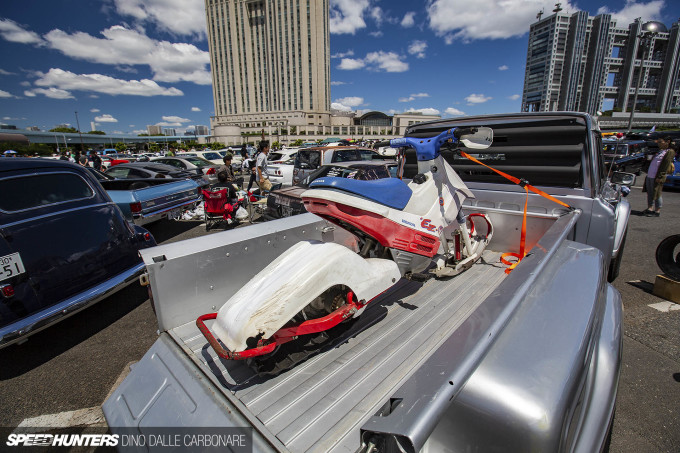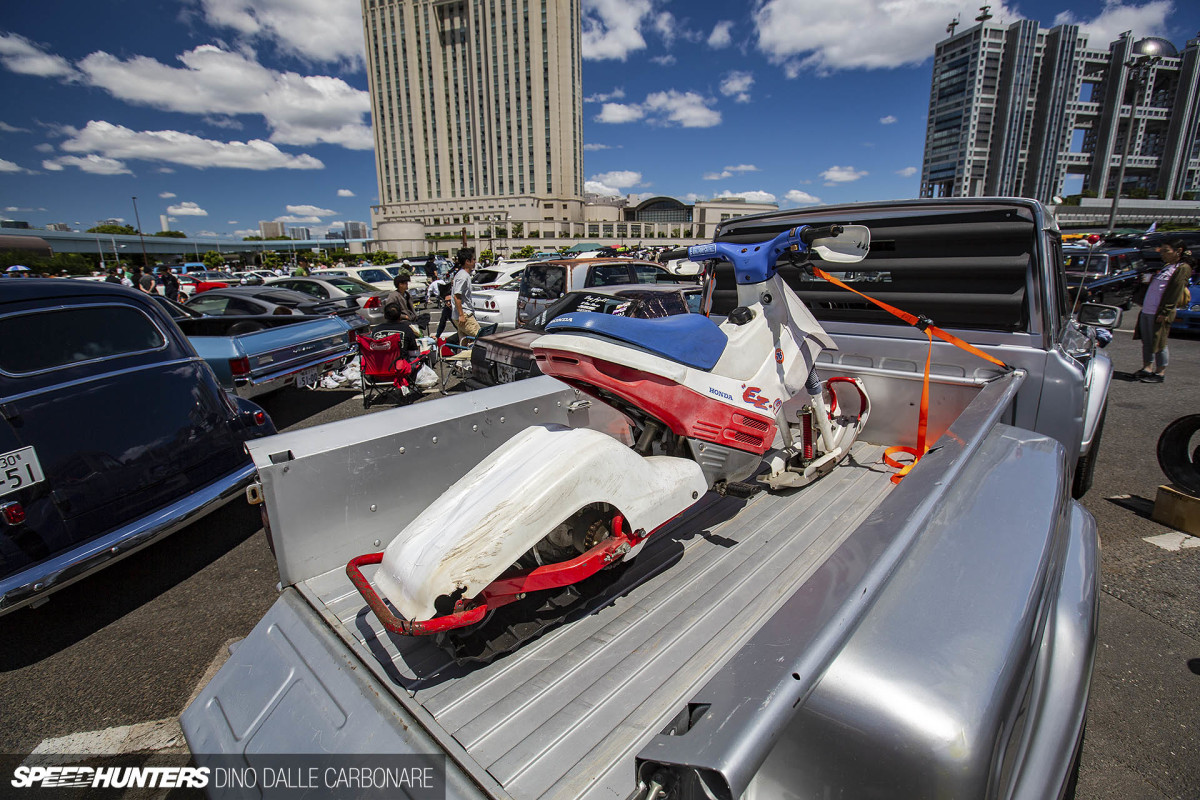 Aside from the fact that this model Jeep is  extremely rare in Japan, there was something even more curious strapped onto the bed – a Honda EZ-9 fitted with a limited edition snowmobile conversion kit.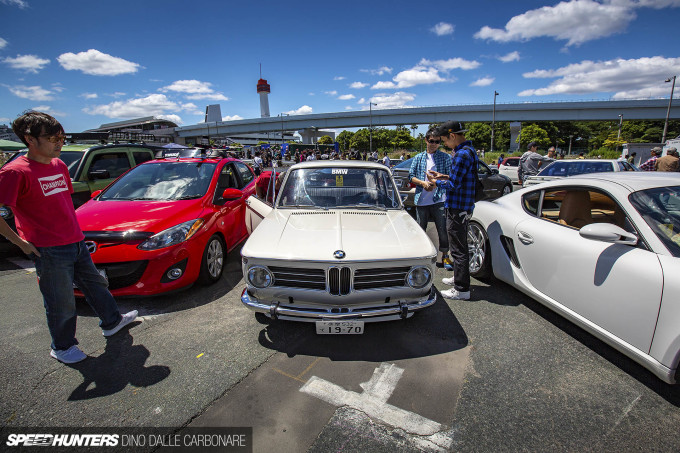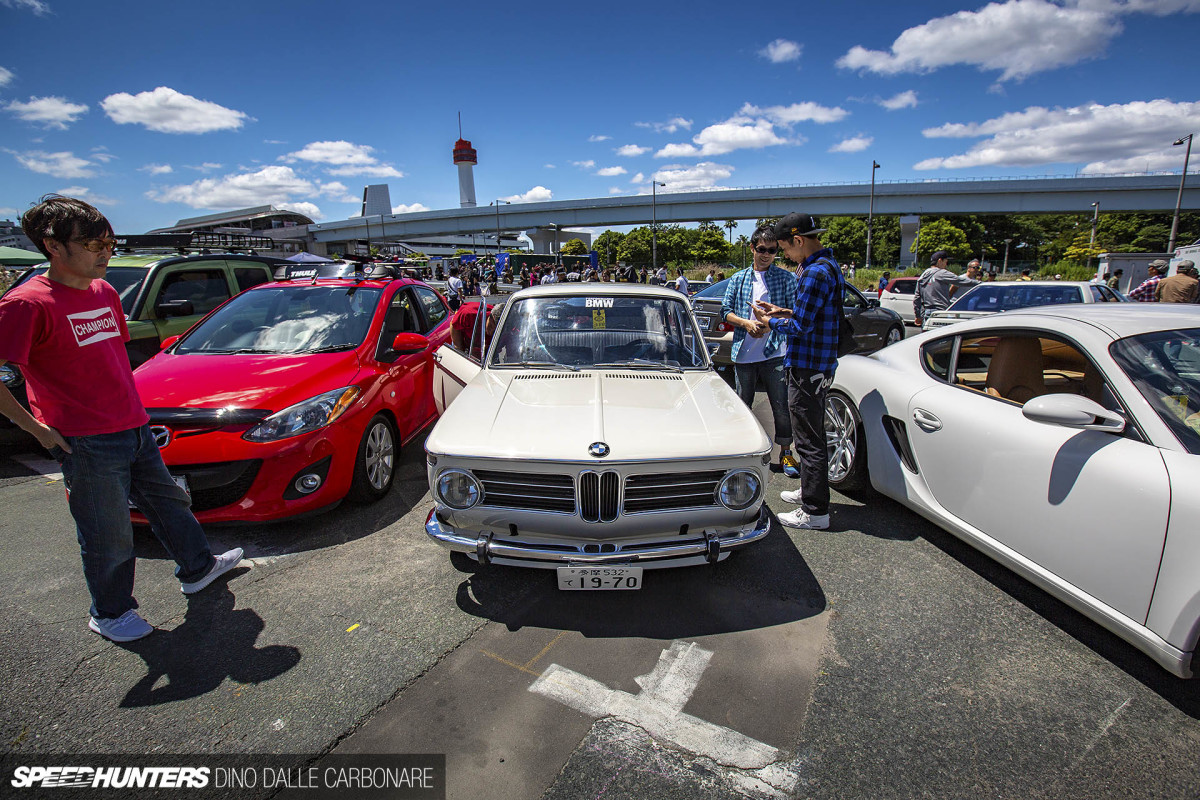 Here's another gem that I came across, a pristine BMW 2002 that had been sourced from Italy.
It was parked directly behind the Peugeot 405 Mi16 I spotlighted straight after the show, a fitting placement seeing how both cars shared interesting backstories.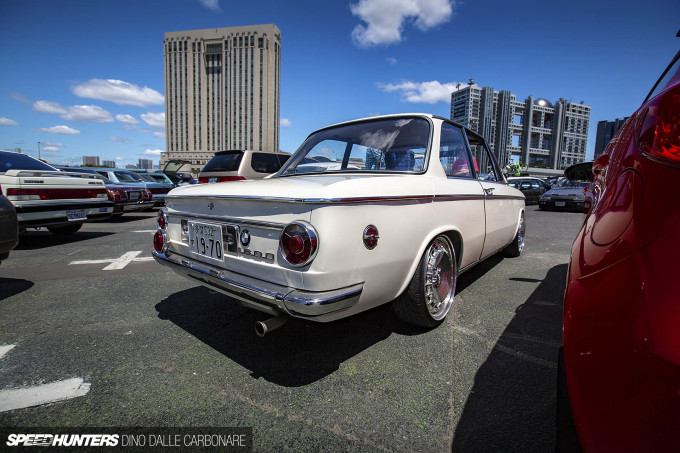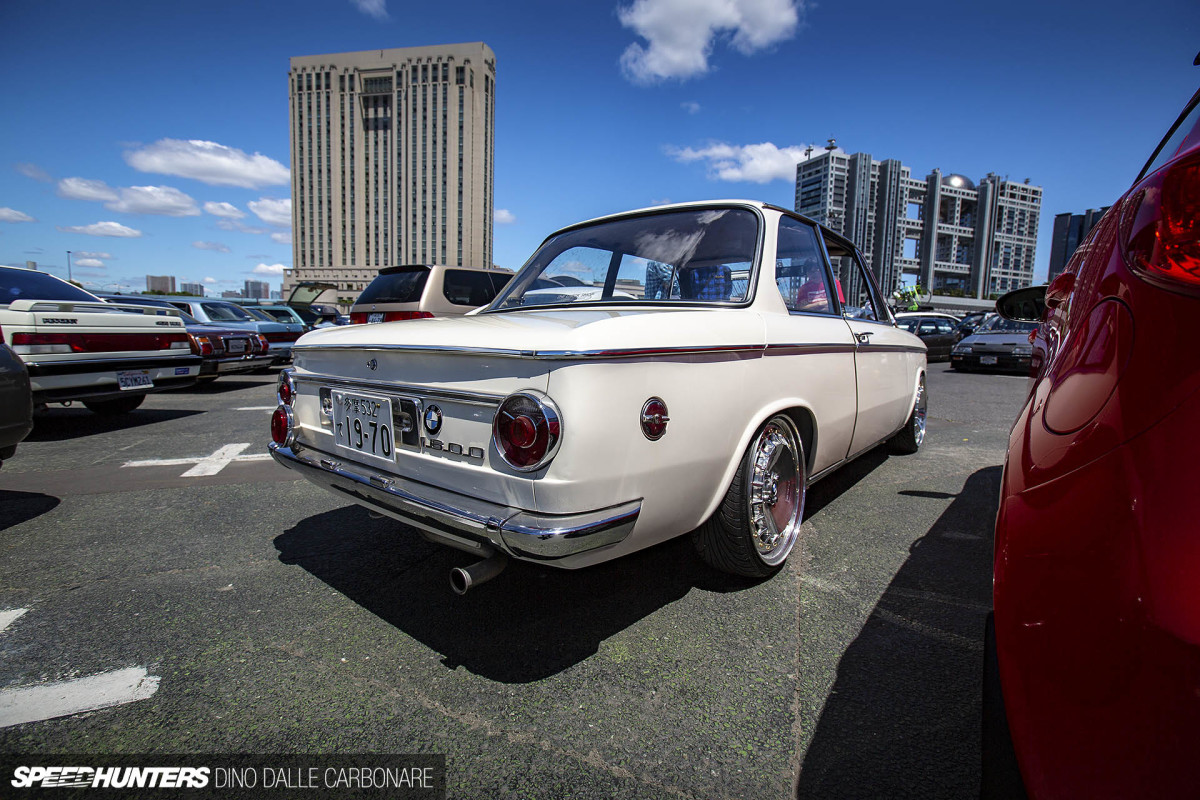 The little Bavarian classic was dropped low on a set of super-shiny billet wheels that worked in so well with all the polished chrome trim around the bodywork.
Getting Lost In The Collectables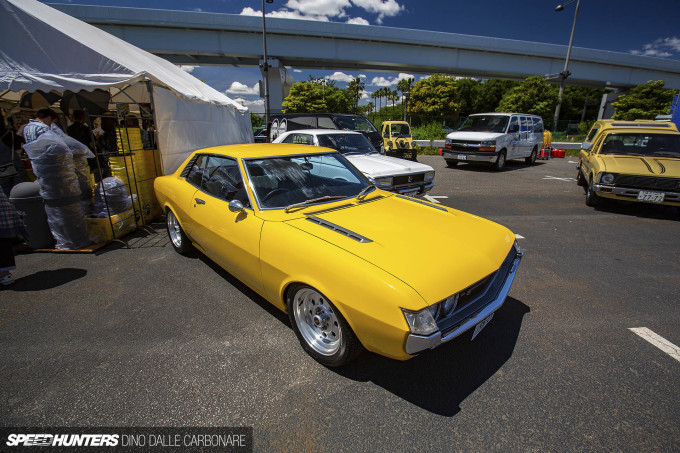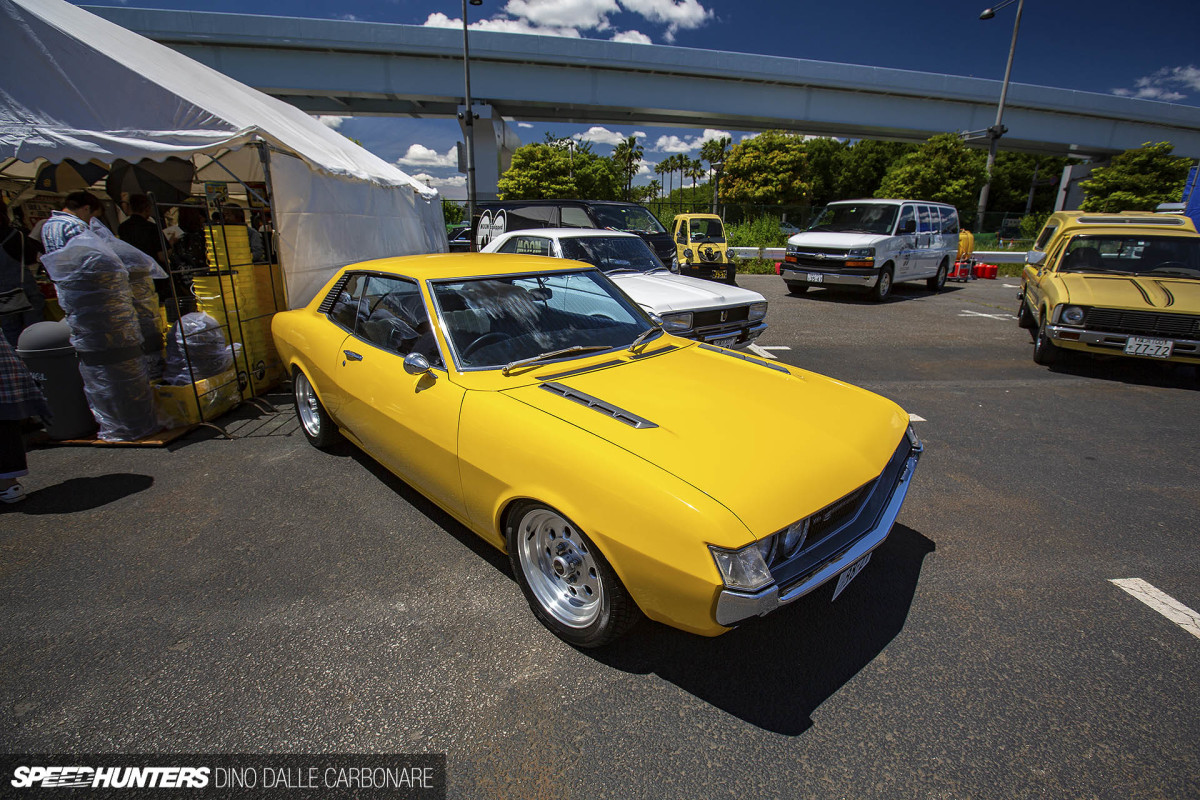 Next to the big Mooneyes central booth I noticed an interesting addition to their fleet of demo cars. Painted in Mooneyes' signature yellow, it will be interesting to see if they do anything more with this TA22 Toyota Celica.
How about this for contrast? I don't think I've ever seen this particular generation of El Camino with a bed cover, but it essentially turns the pickup into a 2-door station wagon.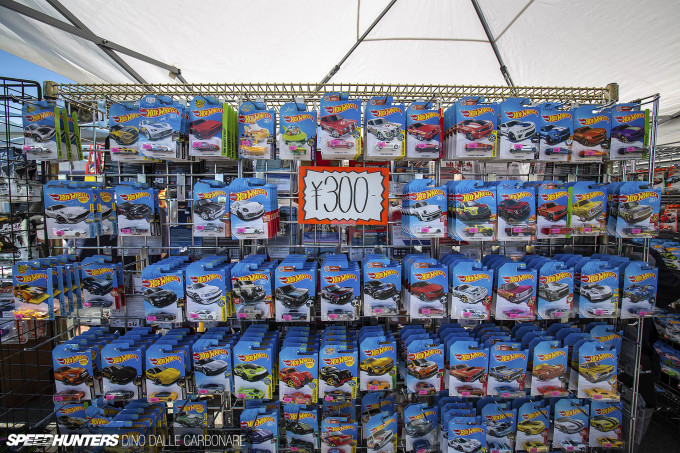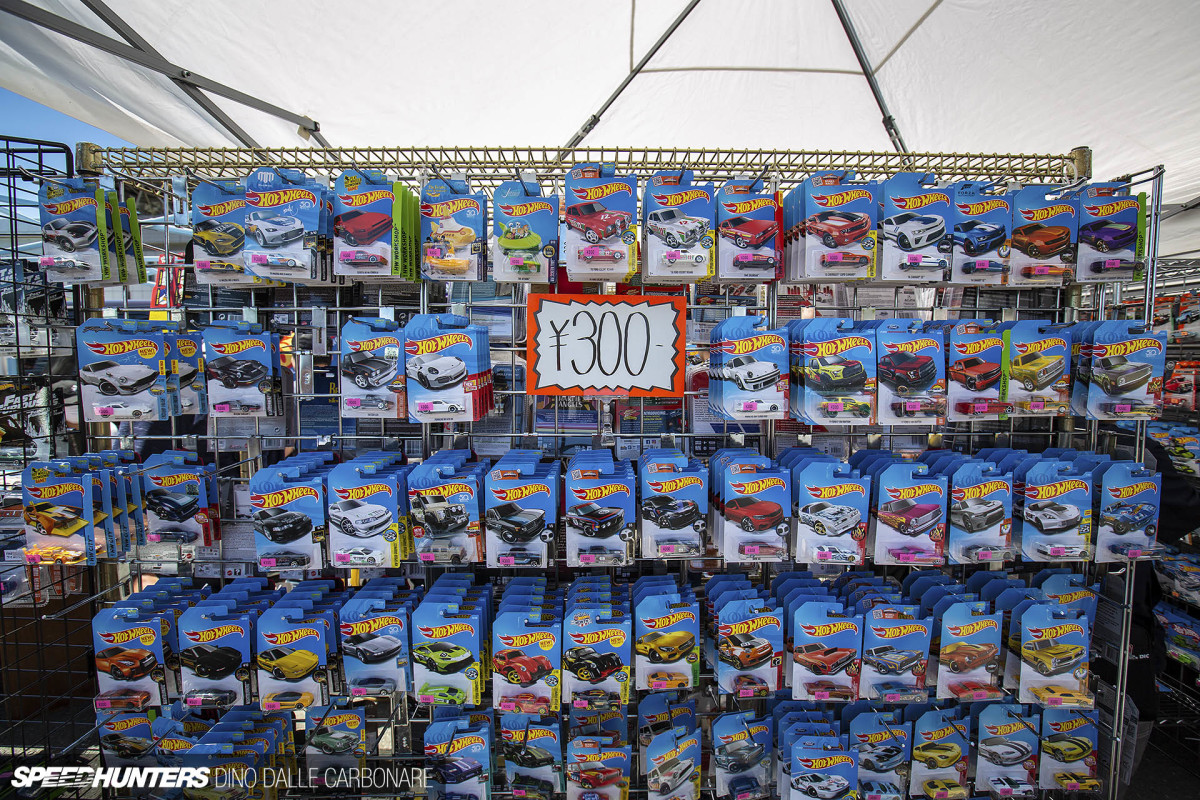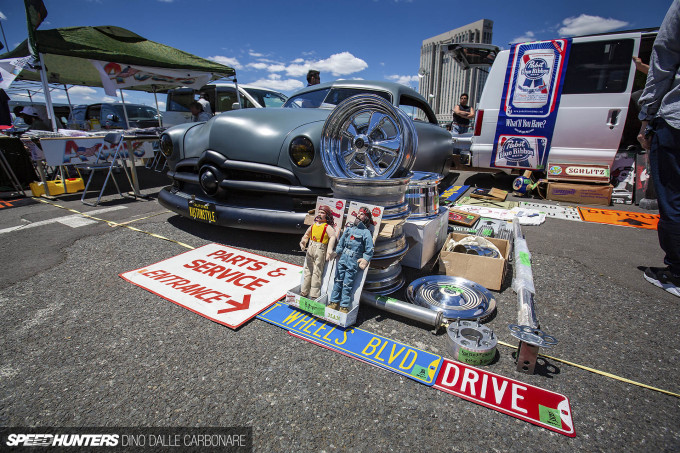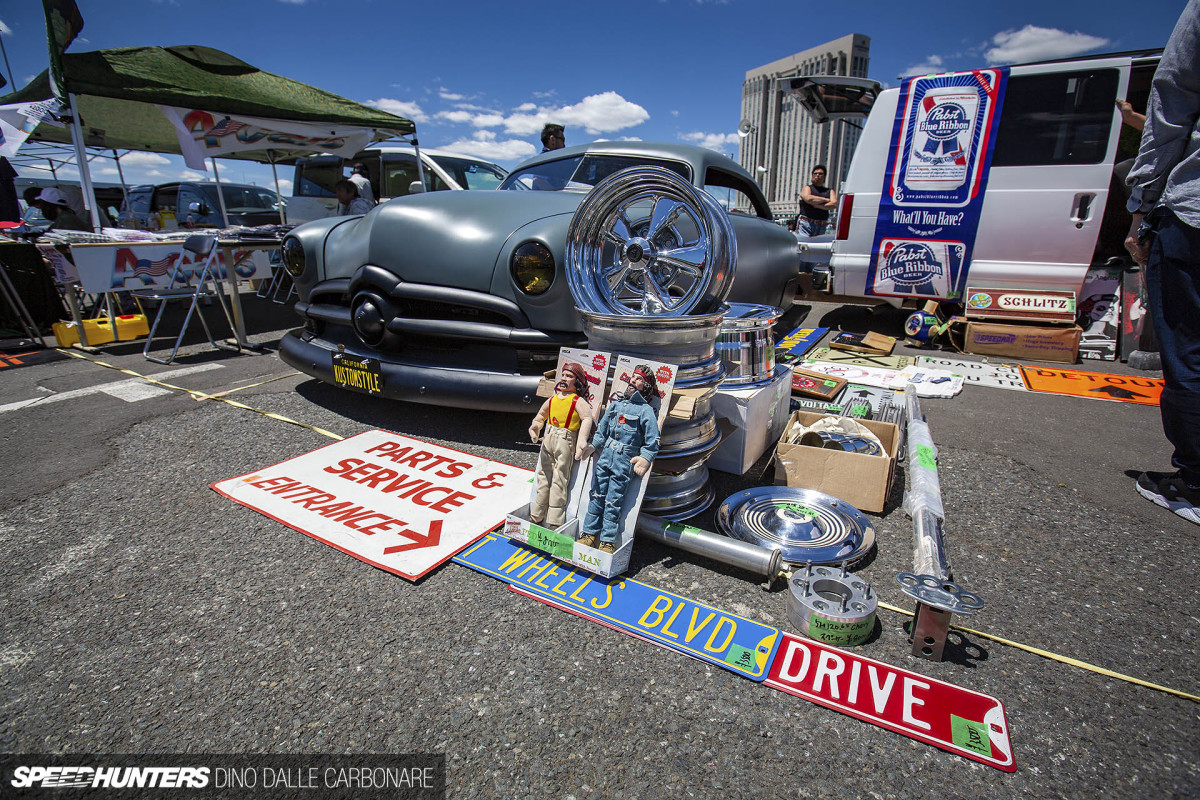 These events are an awesome place to pick up goodies, and the big emphasis at Mooneyes events is on good old Americana. US license plates are really popular, and I even spotted a guy pressing custom metal signs – the perfect dress-up addition for your hot rod-themed man cave.
Since it's been announced that we'll be covering bikes on Speedhunters, I couldn't pass up shooting this cool chopper.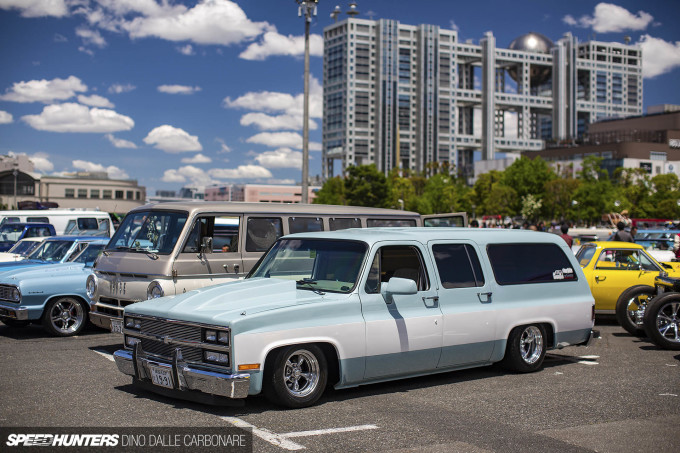 I've come to the realization that when the Japanese want to stand out they do the complete opposite of what society tries to force them to do. So while there's now a big focus on fuel consumption, hybrid power, zero emissions, and the smallest possible vehicles, here is a guy who's raising his middle finger in defiance. He's done so with a humongous Chevy Suburban slammed to the ground and sporting some serious engine mods if that hood is anything to go by.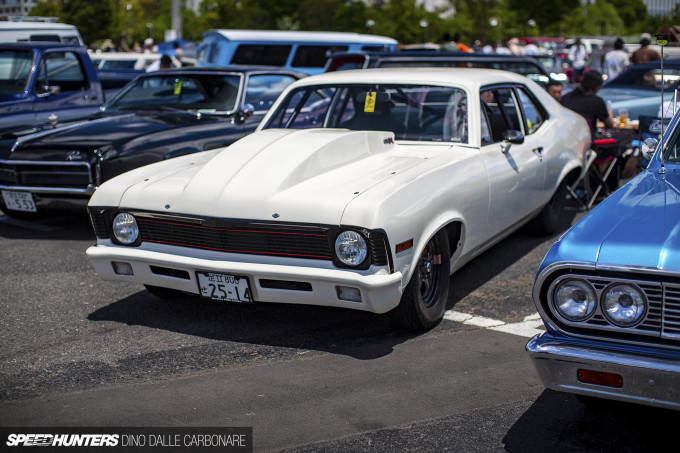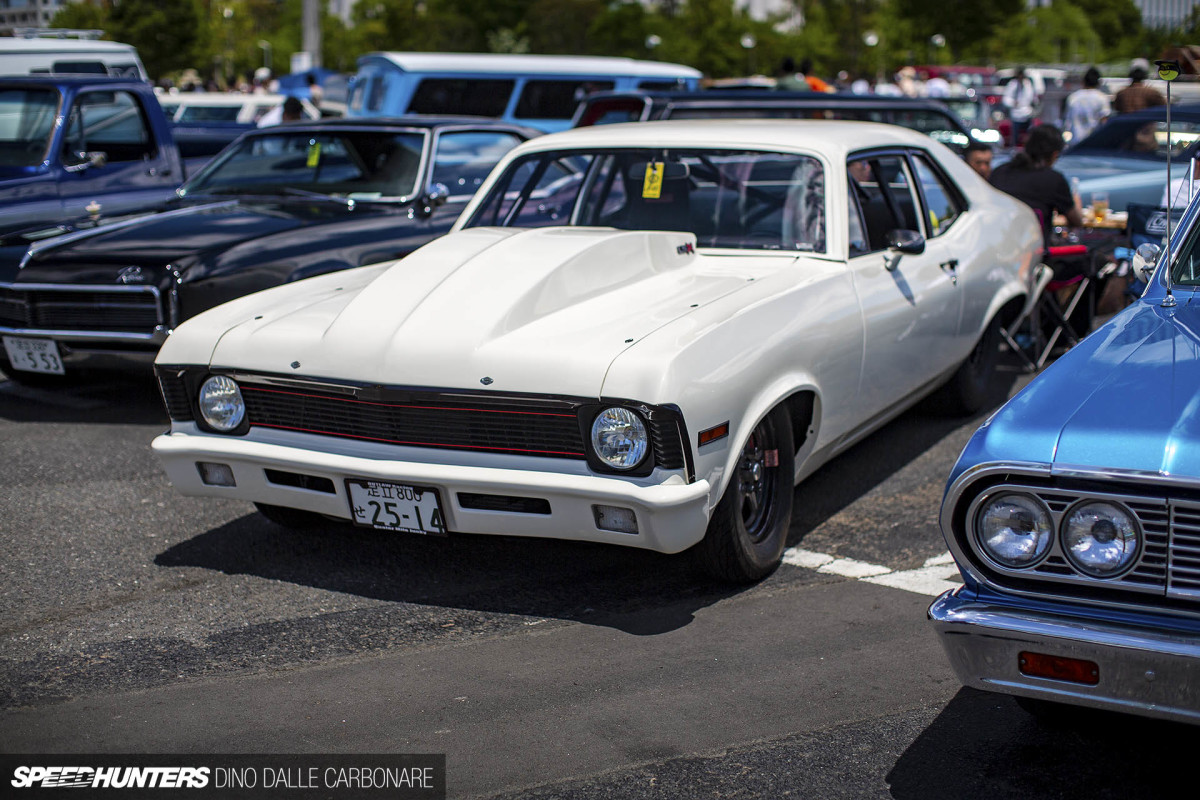 Here's another custom that stood out, a serious drag build based on a Chevy Nova.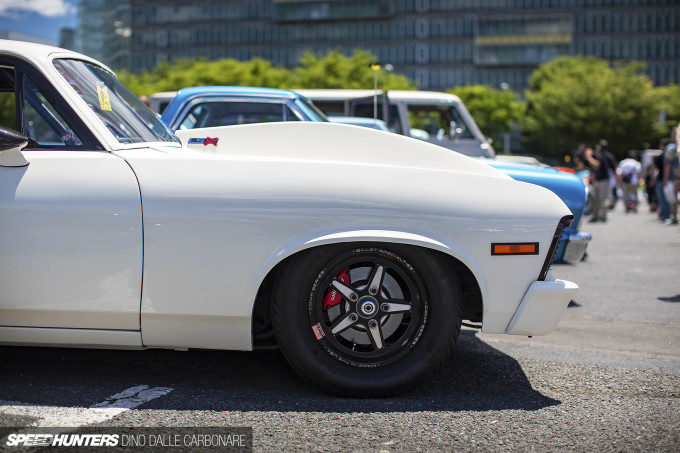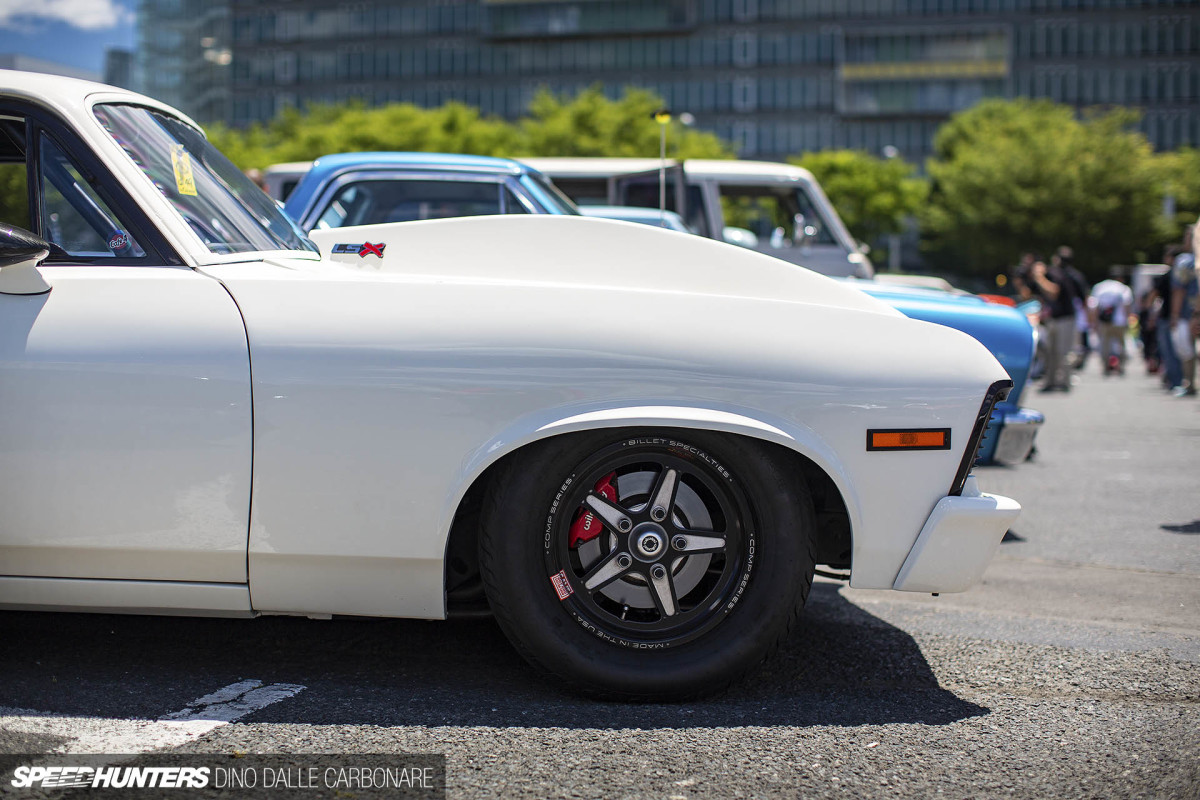 That LSX badging on the race hood is an indication of what's providing the performance in this pristine Nova. These crate motors are good for just under 800hp, but who knows what else has been done to the one in this build. It's too bad the FRP hood remained shut during the show as I would have really loved to see what's going on underneath.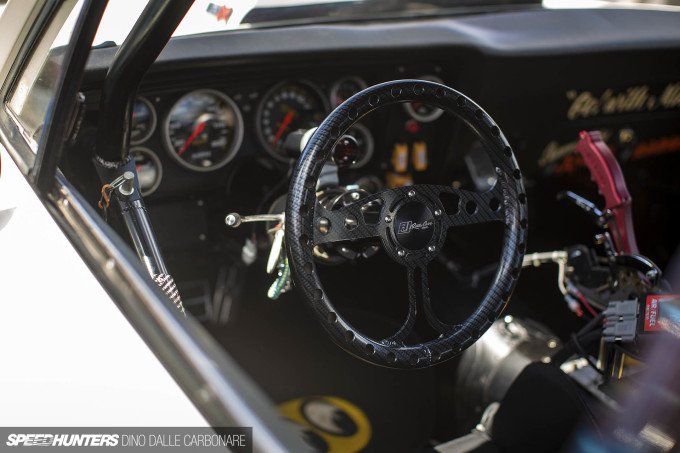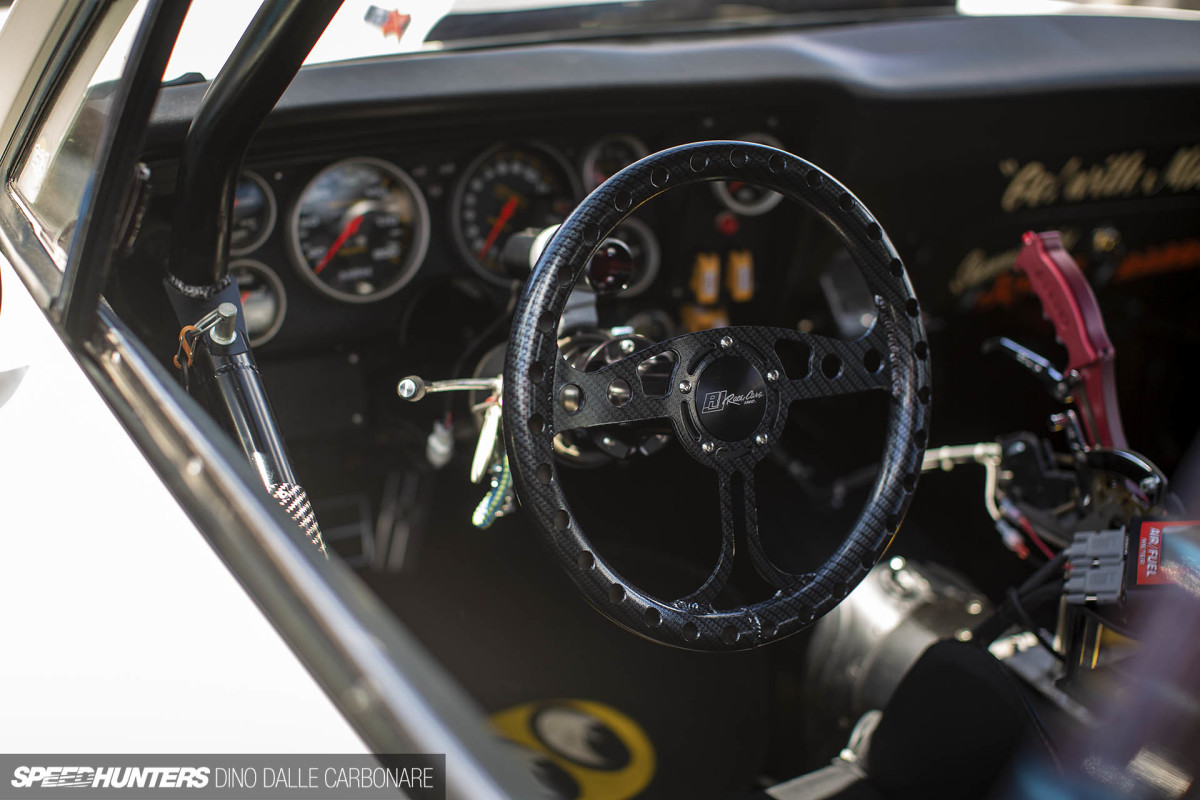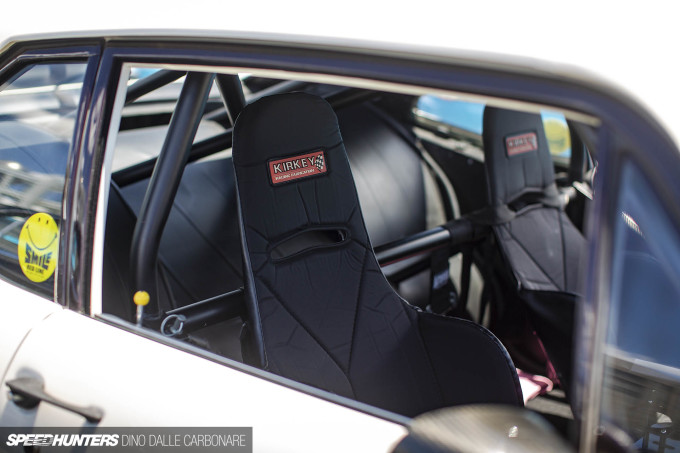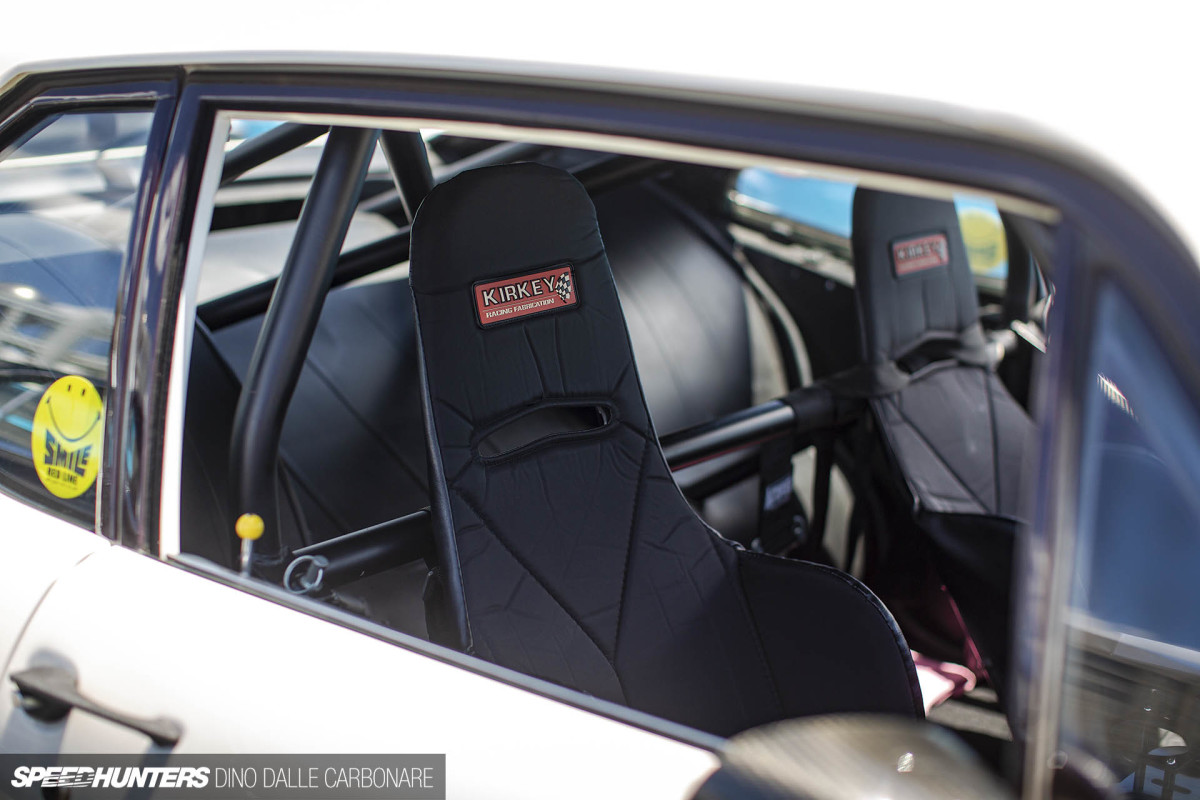 Things are serious in the cabin, and out back massive wheel tubs make room for big drag tires.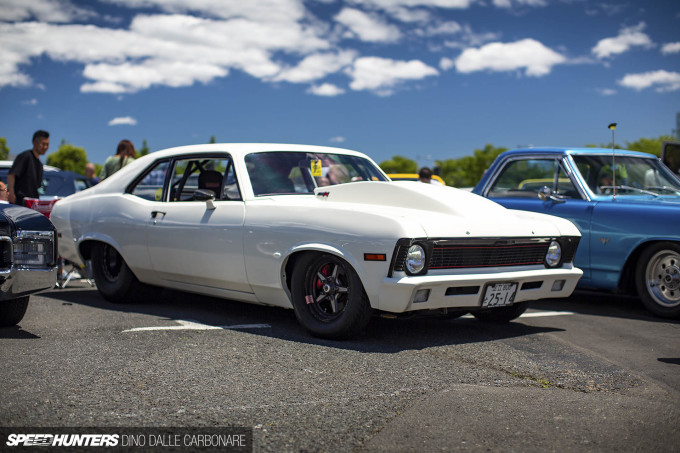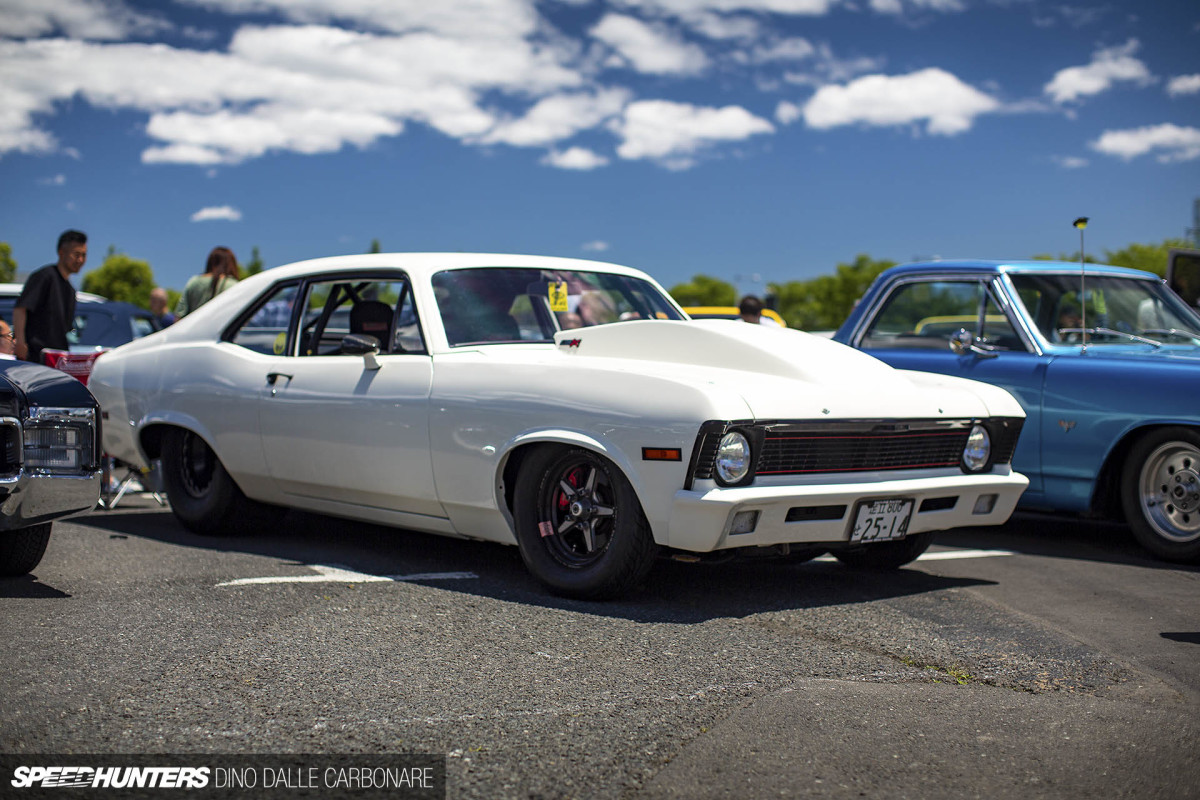 You may have noticed this is a road legal car too; it must be quite an experience to baby this monster around Tokyo streets!
These events have the atmosphere of a big party, and it's great bumping into familiar faces and catching up with owners that I've gotten to know since I started to cover this scene.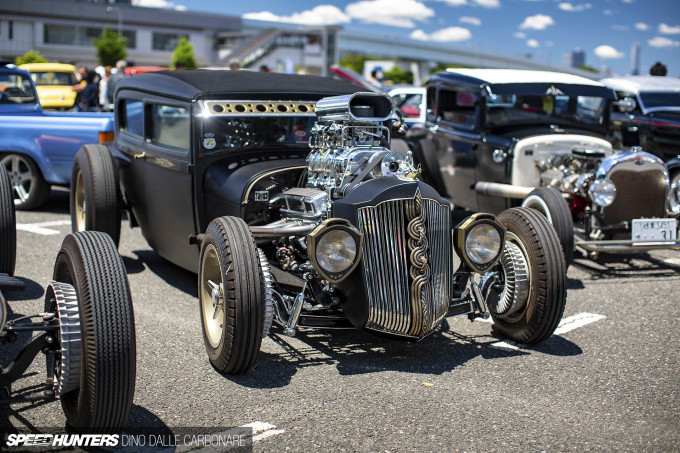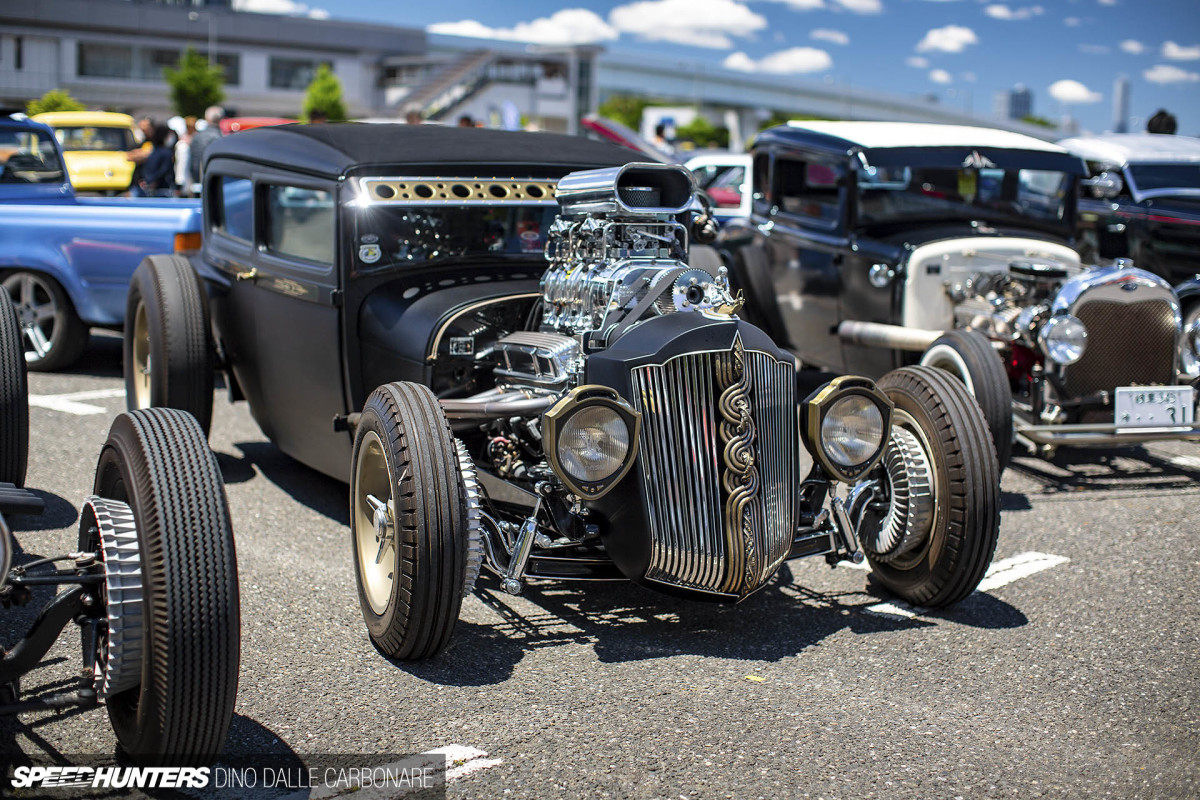 Here's a build I definitely wanted to share with you. It's always interesting to see how hot rod guys attempt to stand out; so much has been tried and tested with these wild creations that you always feel like you've seen it all before. Then there's the themed builds that try to recreate or draw inspiration from something else. But to me, this build was a breath of fresh air.
I'm not sure how to categorize it; hot rod meets gothic style, perhaps?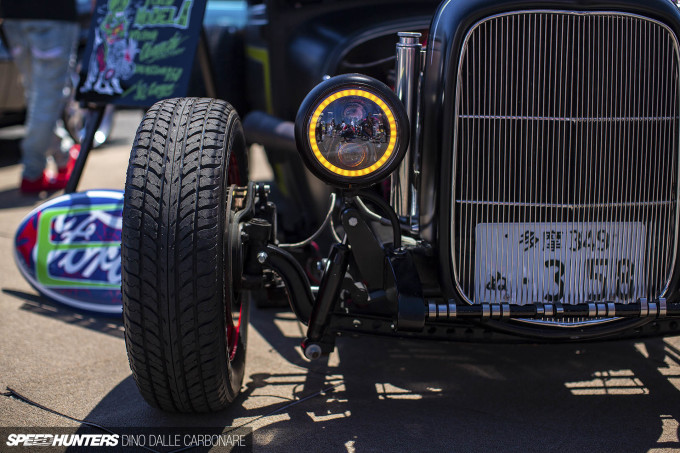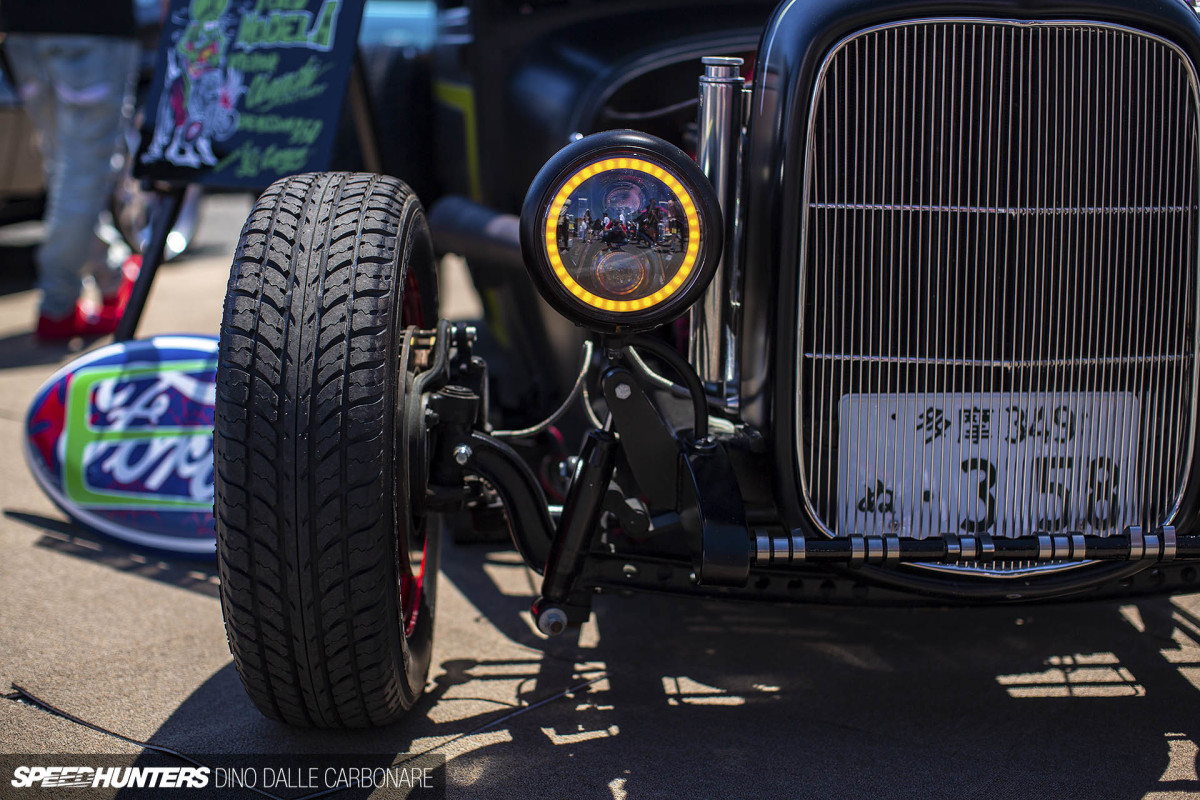 I love noticing details at these massive gatherings, and the LED headlights with integrated daytime running lights and indicators used here are pretty cool. They add a modern touch without upsetting the visual impact.
Check out the crazy El Camino above. Little did I know that the following weekend I'd come face-to-face with an equally crazy ute.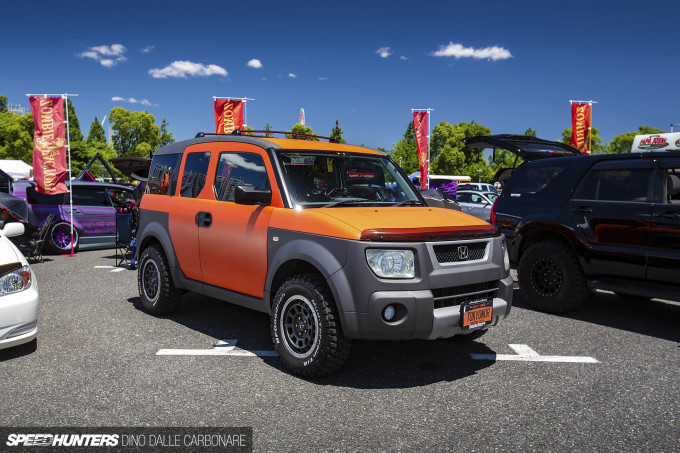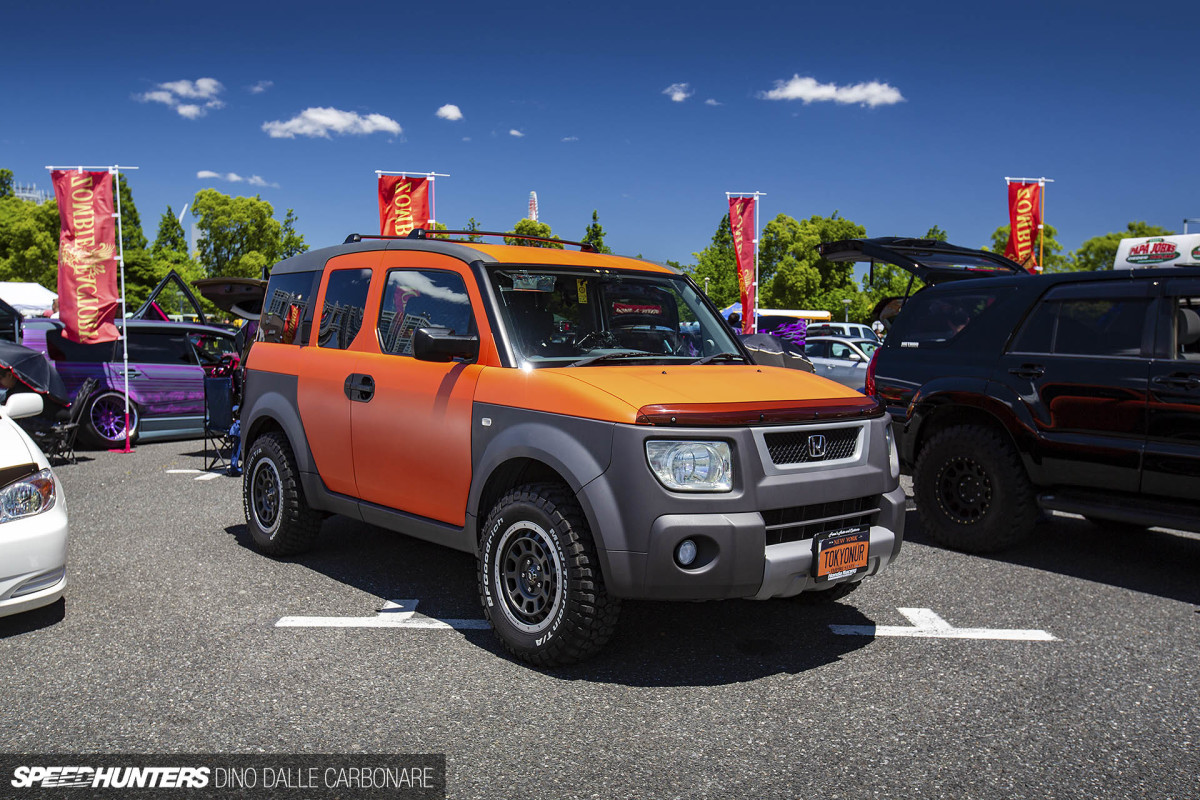 Here's a car I've been wanting to share with you guys for a while, fellow photographer TokyoNür's custom Honda Element. Aside from ditching its road car looks and style for a more off-road presence, it's been custom painted in flat orange by one of the best painters in Japan, Seino-san of Moon Auto.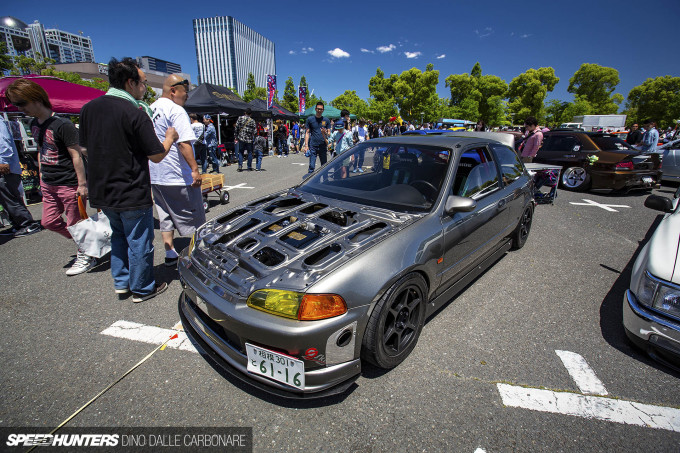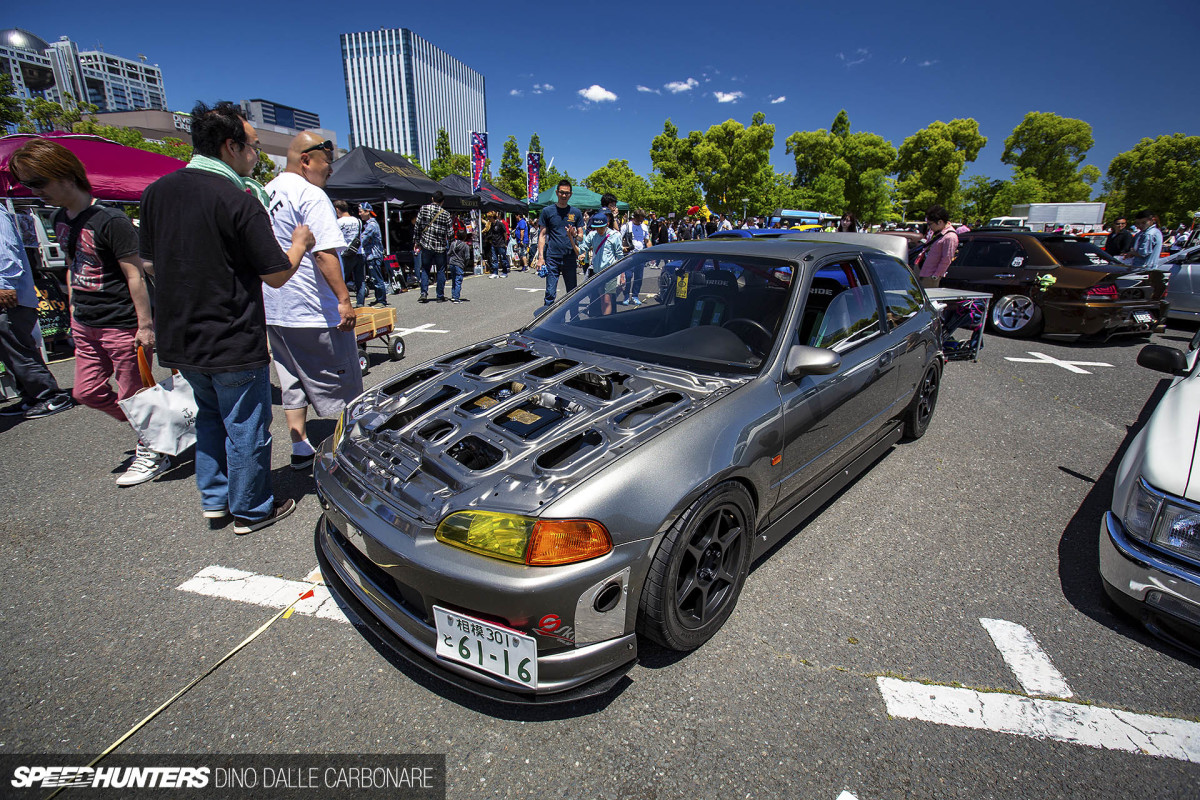 Seeing the comments flow when I posted a picture of this Civic sans hood skin on my Instagram was quite amusing. What do you think of this look?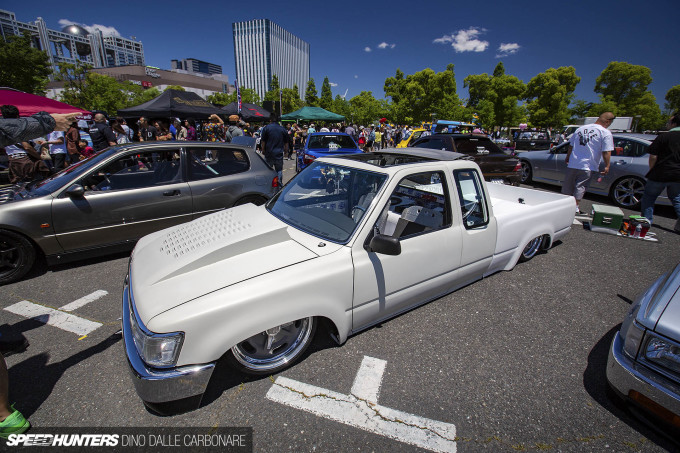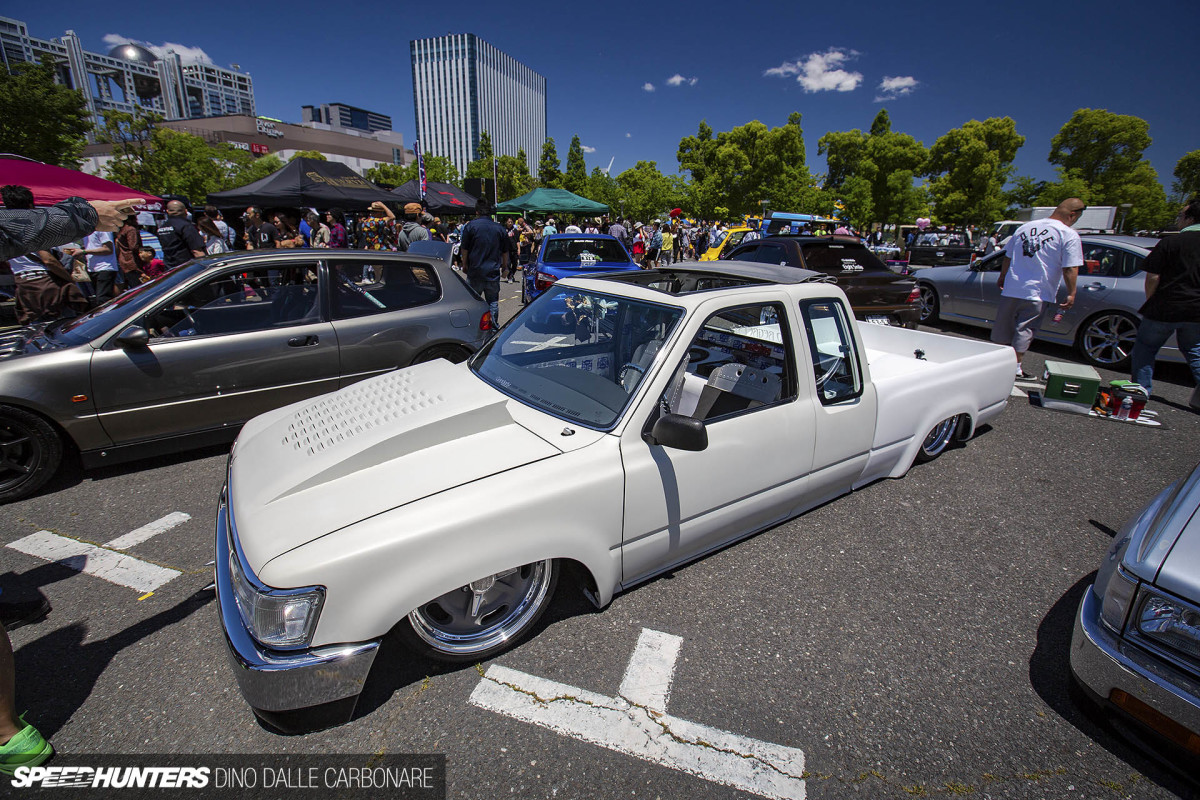 Low enough for you?
Sunday Funday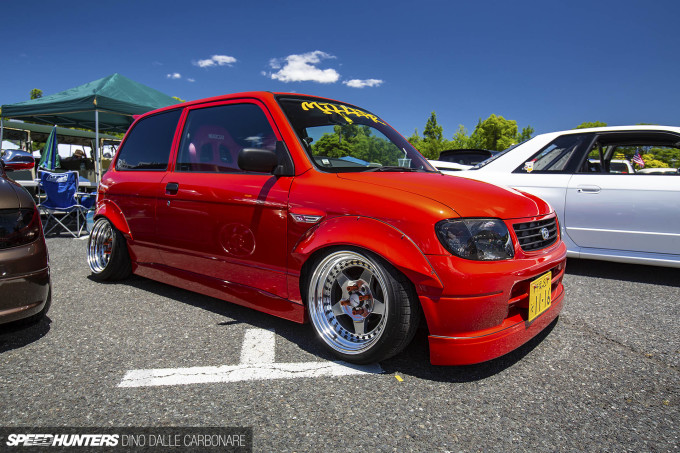 Here's more proof that overfenders will never die. In fact, they are particularly well suited for applications like this, making cute little kei cars look mean as hell.
A slammed and stanced BNR32 Skyline GT-R is sure to divide opinions, so let's hear yours.
This BMW E30 wagon on fifteen52 wheels was easily in my top five cars of the show. I don't know if it was the simple execution or the killer boxy '80s looks, but people were taking notice. I've actually got a feature on a couple of cool BMWs I met up with recently, and one of those was owned by the same guy that daily drives this.
Here's another little interim gallery to emphasize my point that you will find everything and anything at a Mooneyes event in Japan.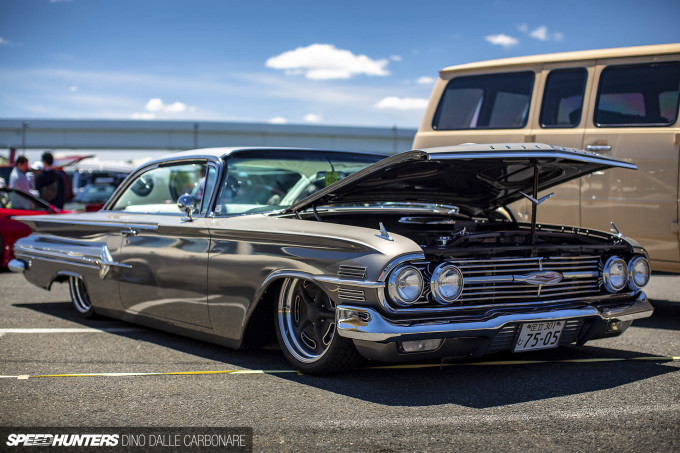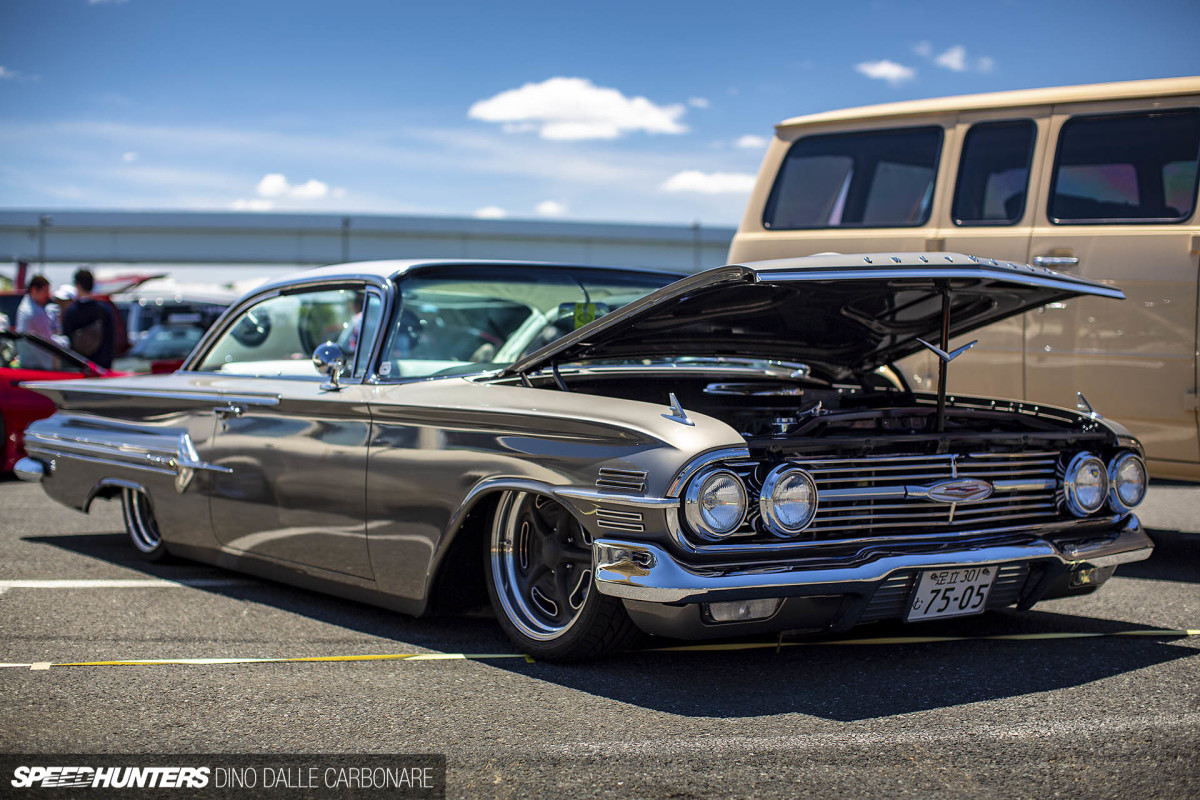 As I was finishing my walk around the massive show venue I met up with Ando-san from Andy's Rod Works, a cool custom shop we've visited in the past. I was impressed with his latest work in this beautiful Impala.
As much as I love these done up in the typical lowrider way, it's so refreshing to see one executed for a different type of use.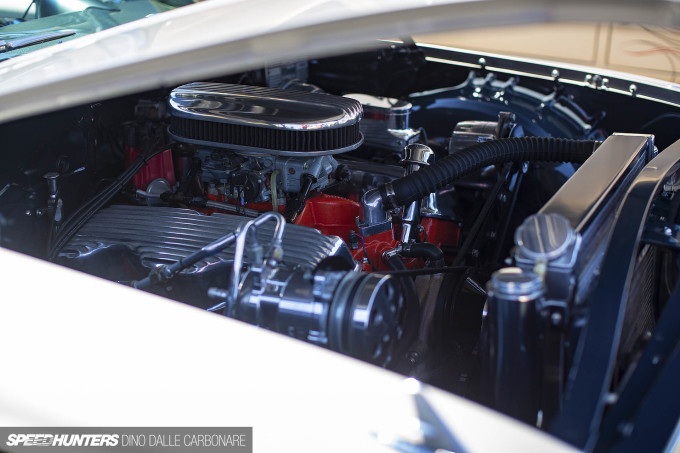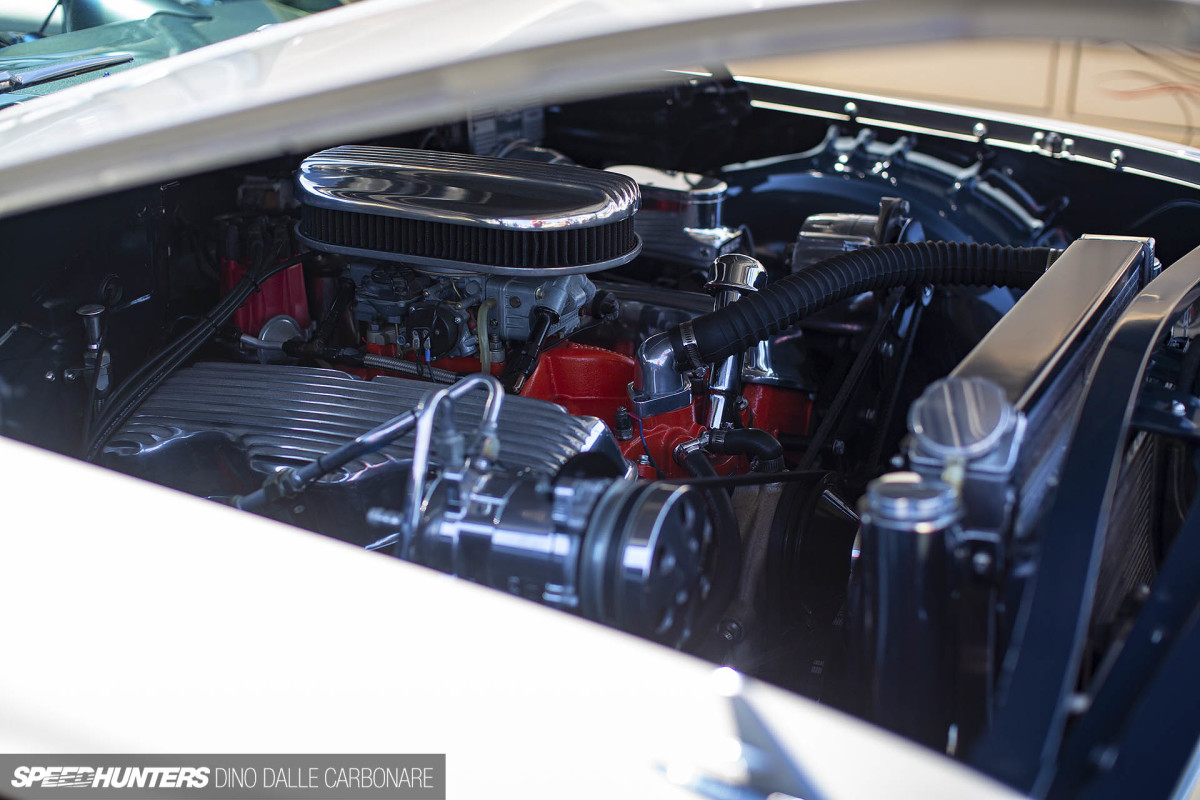 Performance? Check!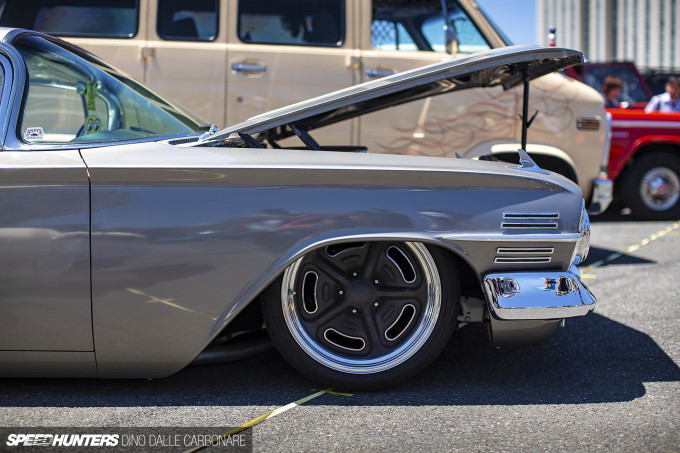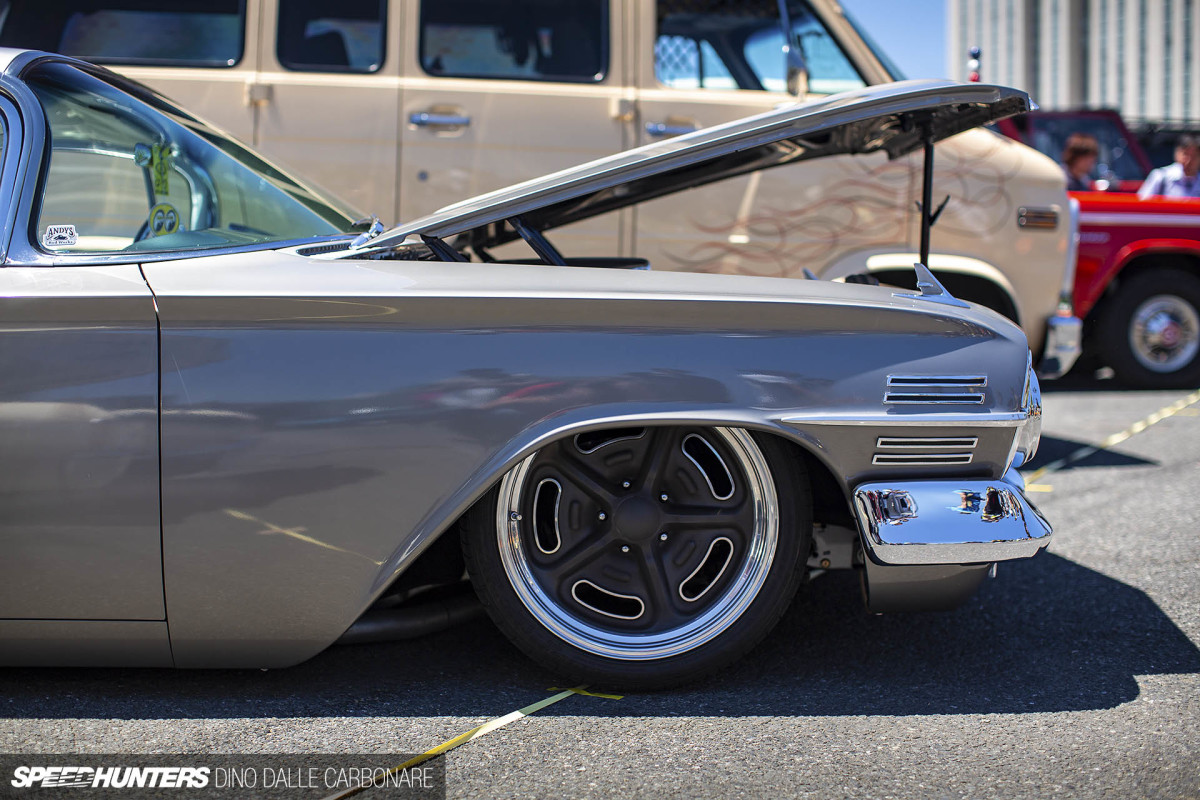 The car sits low on bags, but it's got nothing to do with a lowrider which of course would run hydraulics and a million other little intricate details.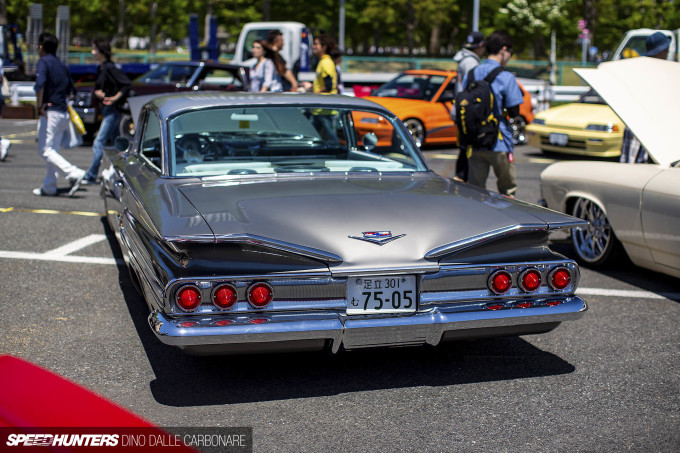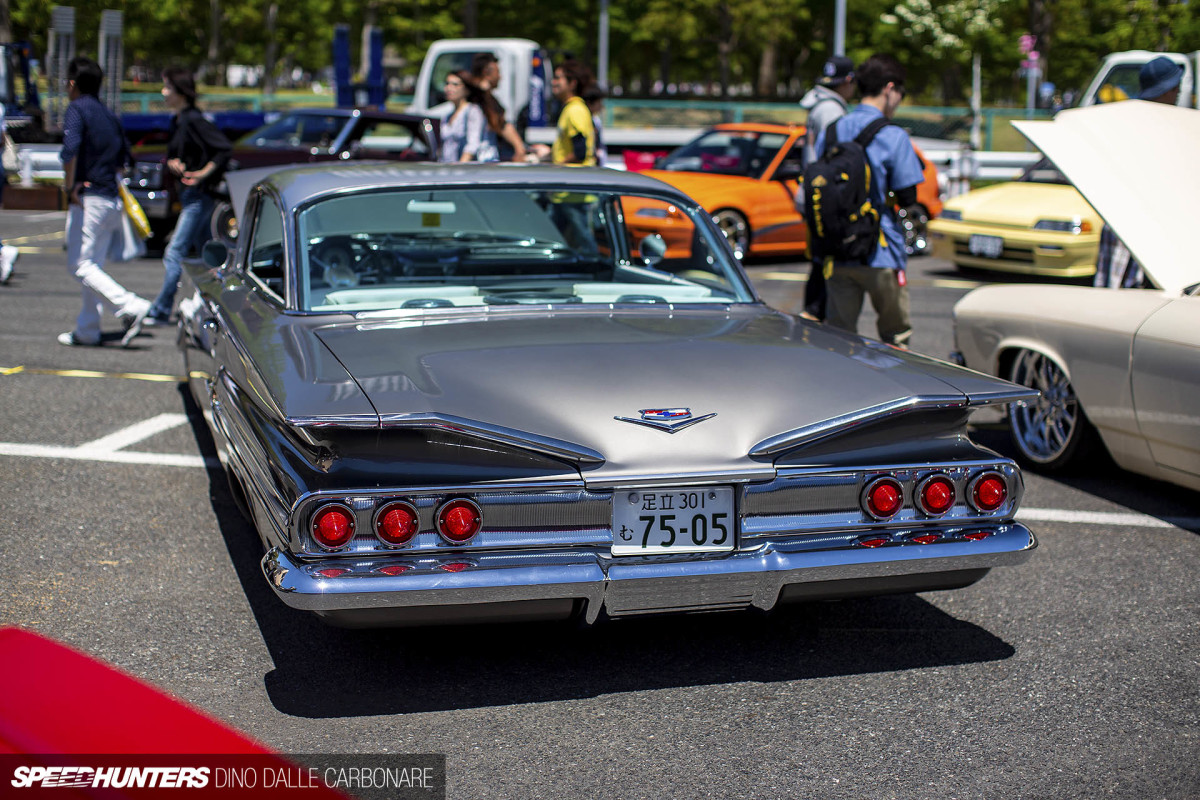 This was just given a clean restoration and simple performance and comfort-oriented updates to turn it into a smooth and powerful cruiser.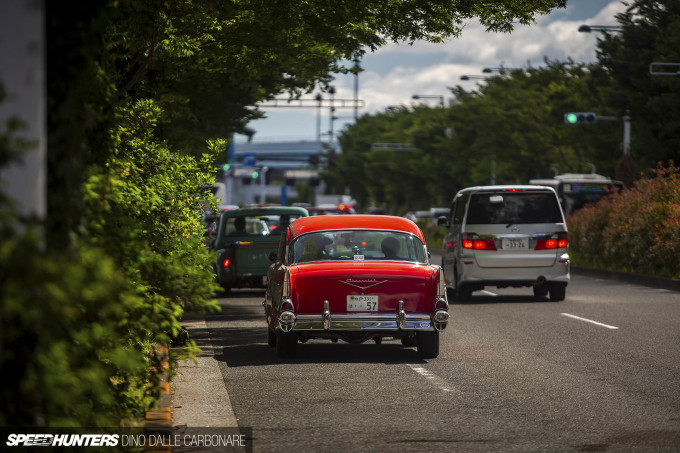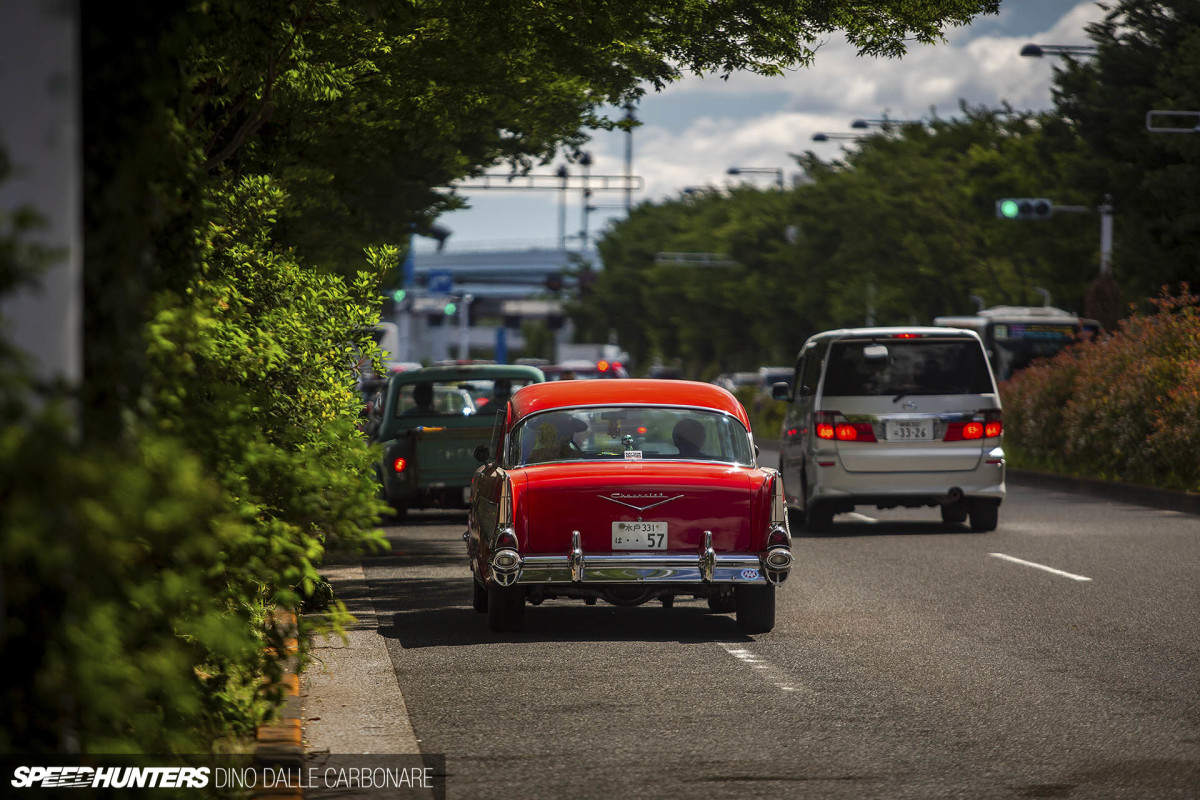 The show wrapped up in the early afternoon and I jumped back on the train to meet up for dinner with the family – a perfect end to a perfect day of Speedhunting in central Tokyo. The 2018 Mooneyes Street Car Nationals was another reminder that the Mooneyes Japan crew really know how to put on a show.
Dino Dalle Carbonare
Instagram: speedhunters_dino
dino@speedhunters.com