Picking up from my visit to RMC Miami, we were waiting for a couple more cars to show before taking off to explore Miami.
Initially, I'd expected we'd just hang out at the shop, I'd grab a few photos and everyone would recommend some places to shoot at during my stay. But this is not the Miami way and, in fairness, doing what I just mentioned sounds a bit too tame, doesn't it? Instead, my friend Nick Mendoza hit up a couple guys, all of whom were down to personally show off a few of Miami's best spots.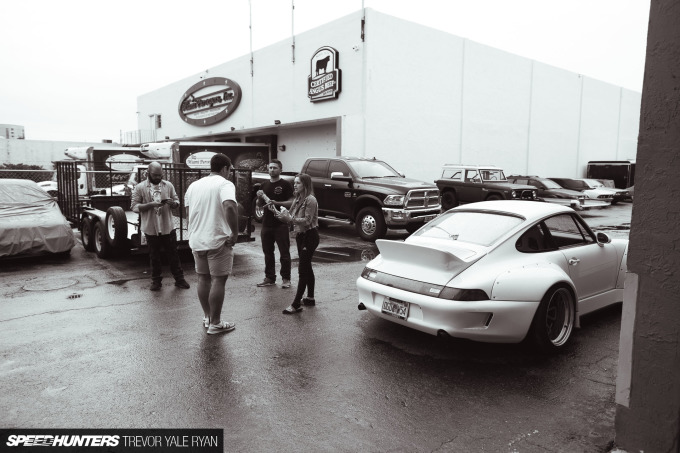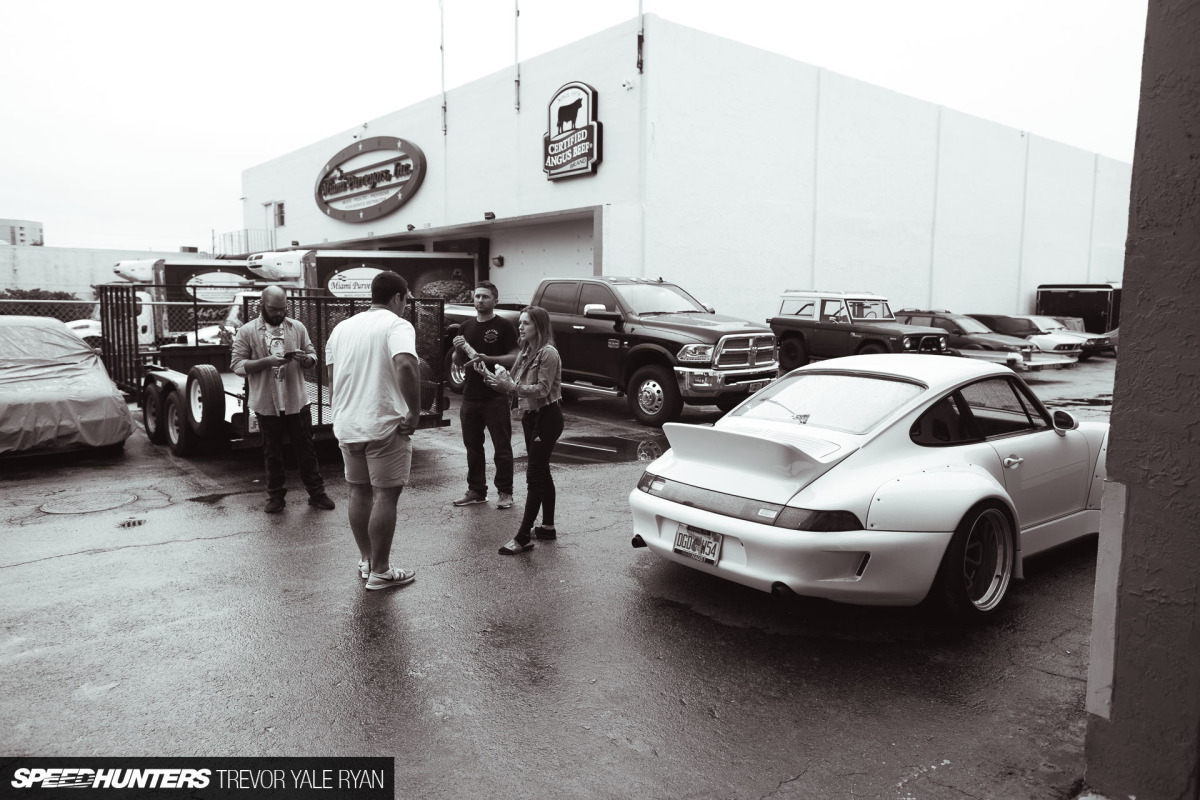 And when the cars in question includes one of Florida's first RWB builds, a couple Skylines, and other right-hand drive cars along with a bagged GT-R, you just go along with it.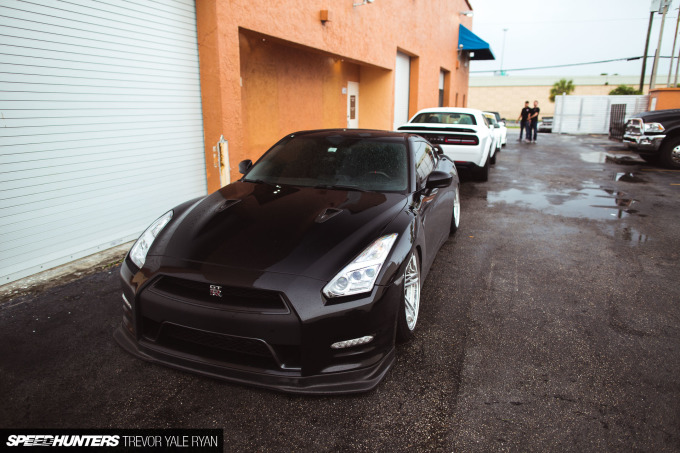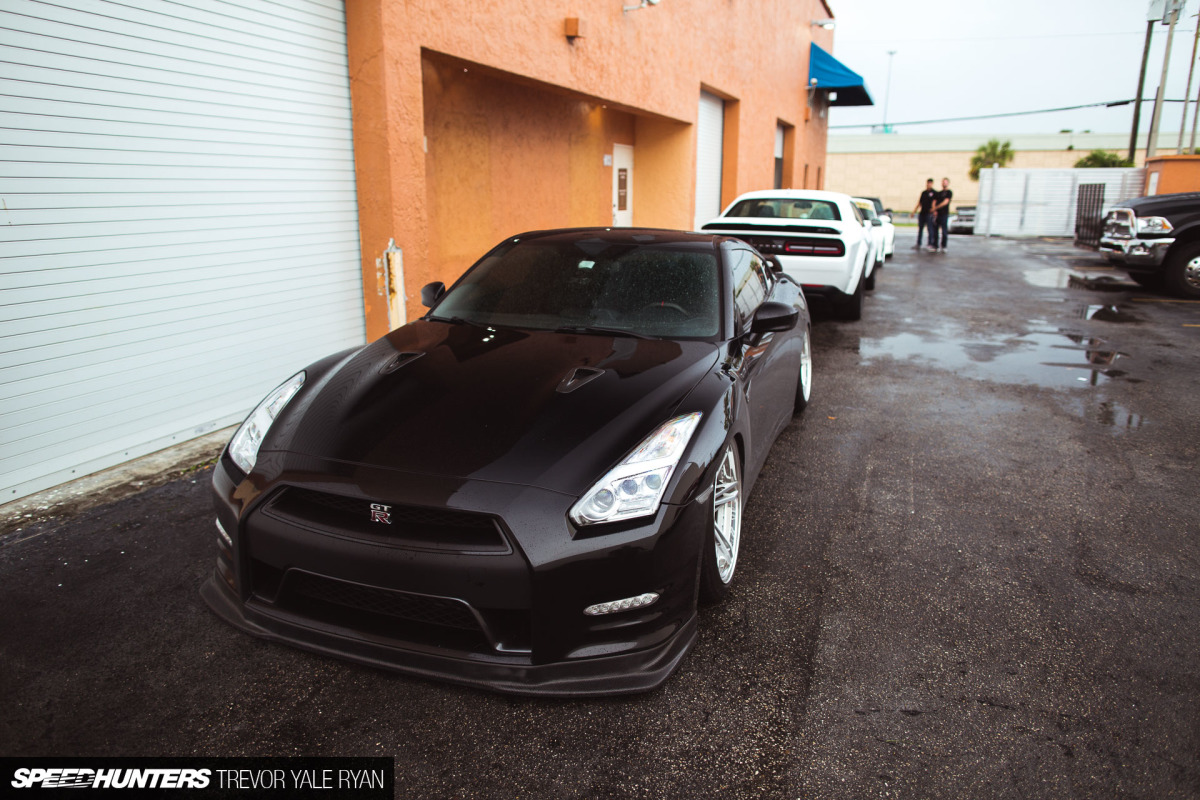 And, about the R35 GT-R. I normally don't really like these things, but I'll be damned if they aren't growing on me (a lot). While I normally see the R35 as a large, awkward, and entirely too different machine than the R34 it succeeded — not to mention the fact that I generally don't like overly stanced cars or big wheels — Alex's GT-R looked absolutely phenomenal.
She's chosen an Air Lift Performance kit to nearly put the chassis on the ground when aired out. It makes the car seem smaller yet more aggressive at the same time, and this just might be the way I prefer these cars.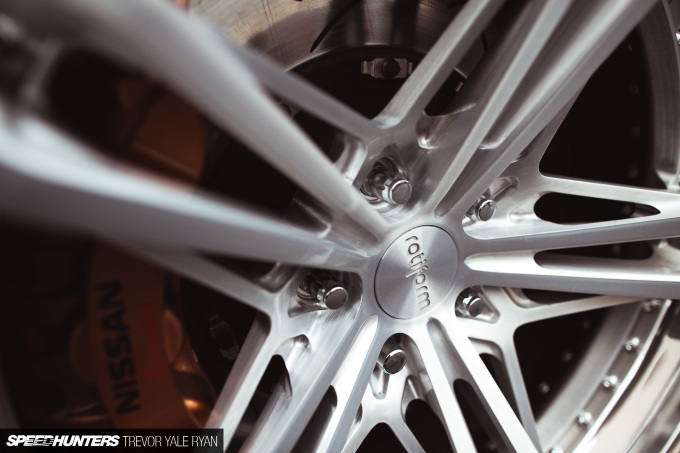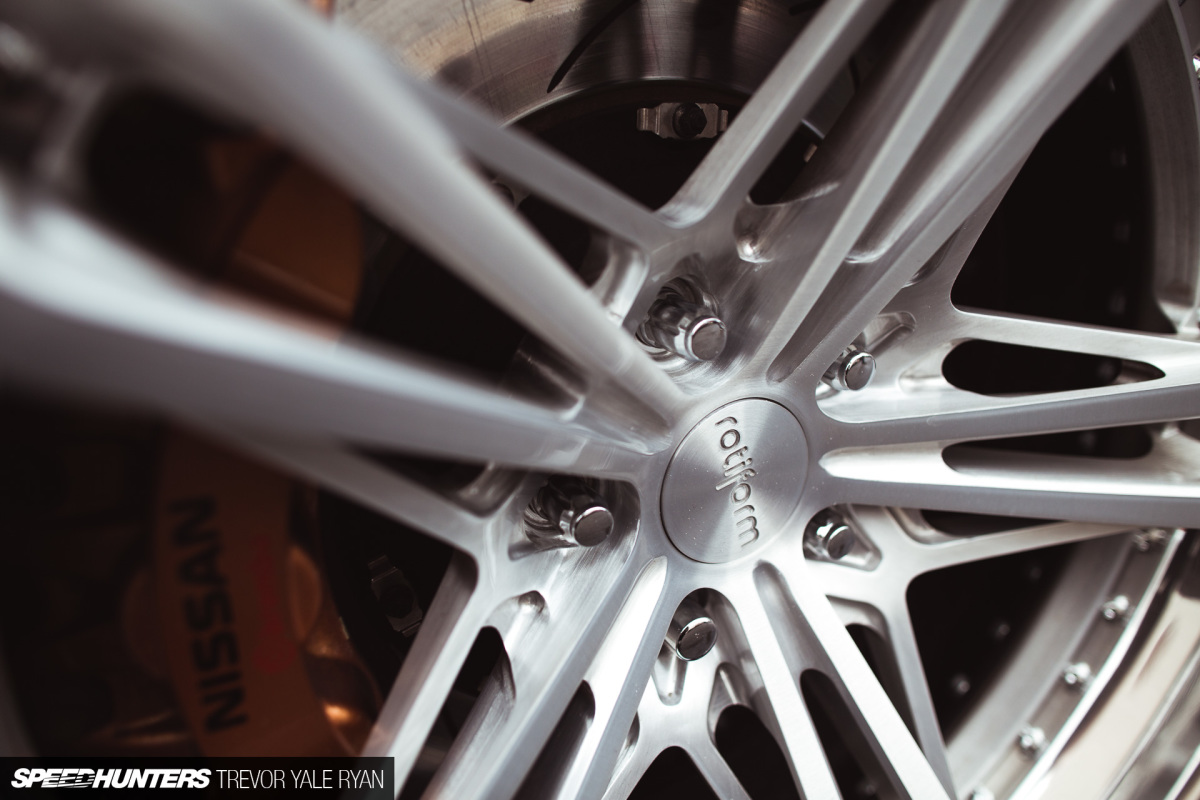 Sitting on yet-to-be-released Rotiform ARAs, the suspension and wheel setup on the otherwise relatively mild build are a lethal combination.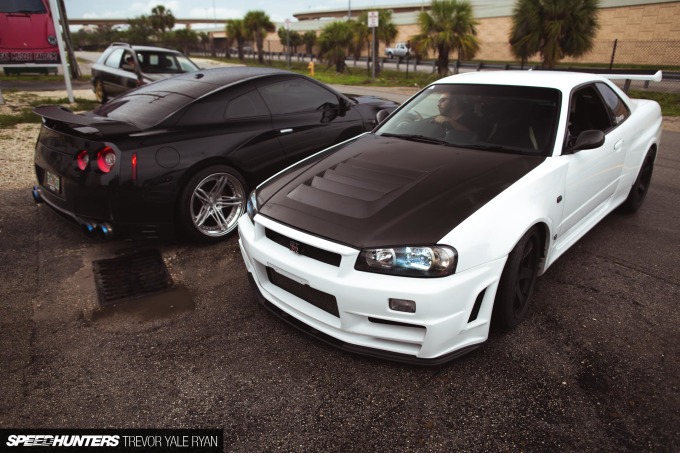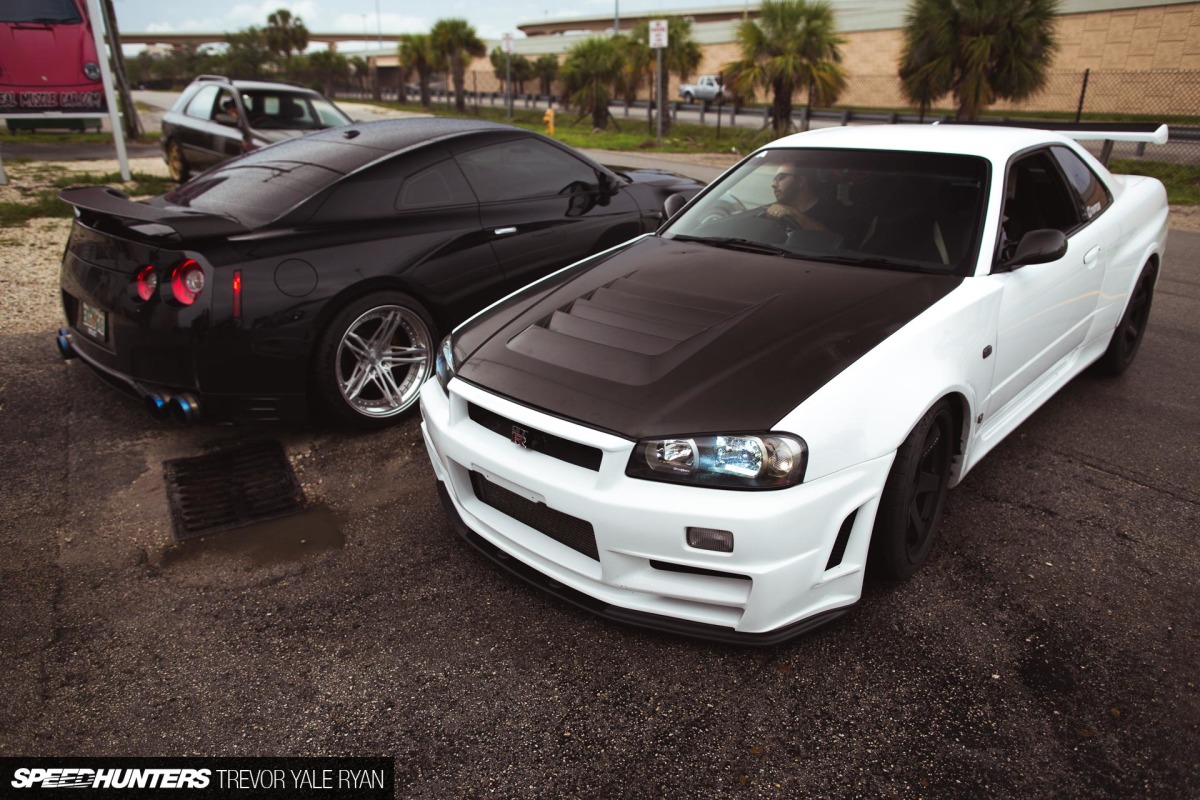 Soon, the stragglers appeared and we were ready to roll.
Well, almost. I just had to take a quick peek under the hood of the R34. I also noticed Nakai's signature on the dash, and had to wonder if Dino wasn't right in saying that the Rough World philosophy itself is indeed carrying over to other makes and models.
Miami Is A Video Game
Moments later I found myself flying down the freeway, rain in my face and wind in my hair. It was quite possibly the most fun I've ever had taking rolling shots: strange weather, a new city, surrounded by people I didn't yet know driving in cars I wished I was in.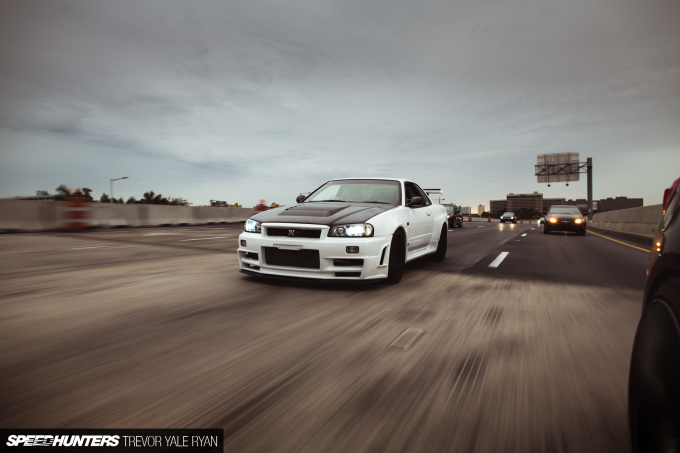 In fact, I must have been a bit too excited because not nearly as many shots as I would have hoped turned out. I include this self-deprecating tidbit for the other photographers who may be reading this; you won't always improve and you won't always go home with your best work.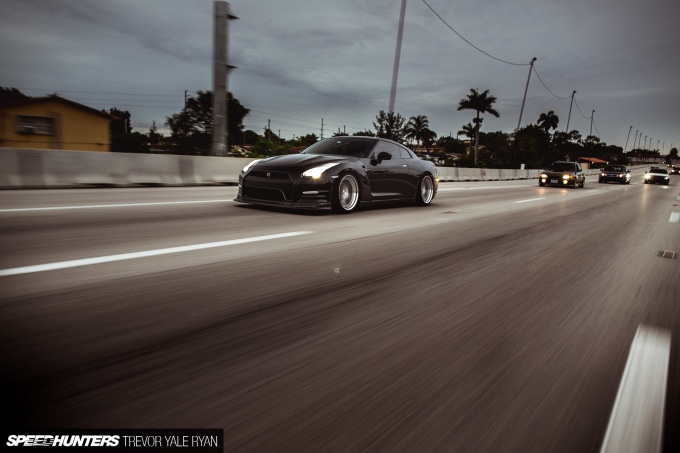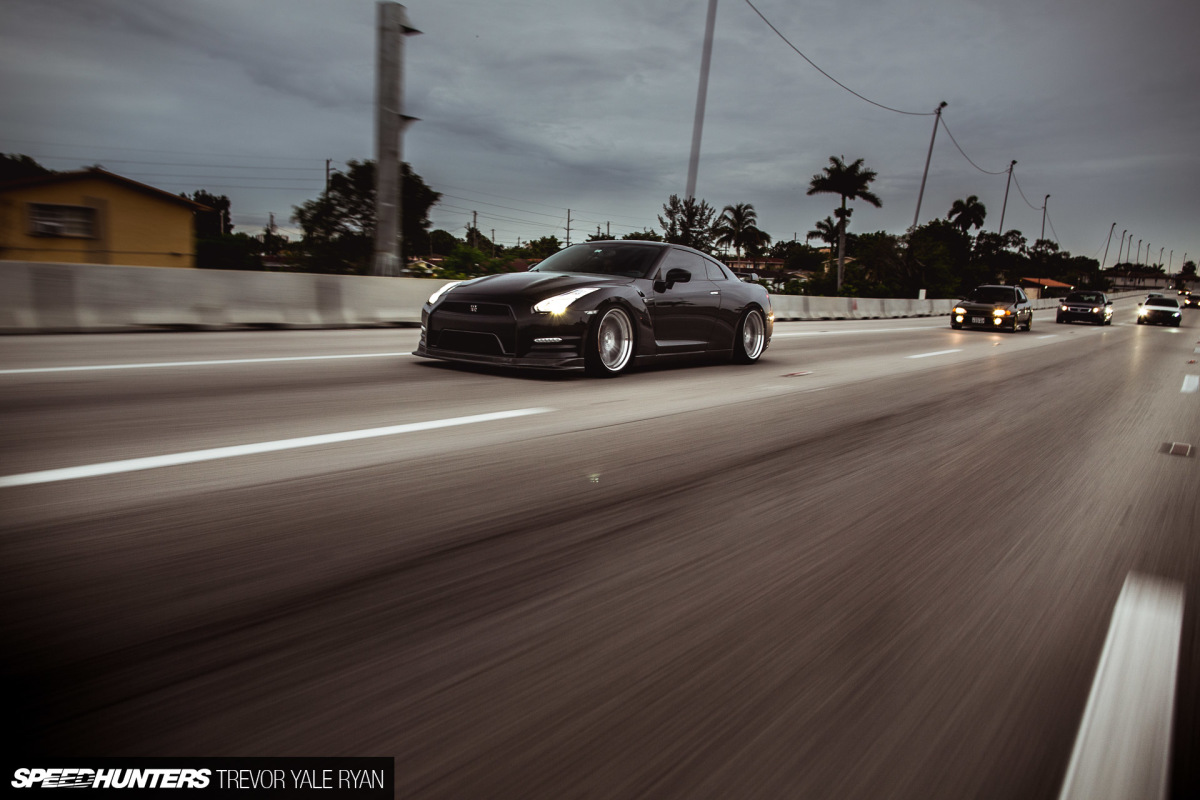 But what's more important than this is that you've properly enjoyed yourself and that you're able to learn something through the experience.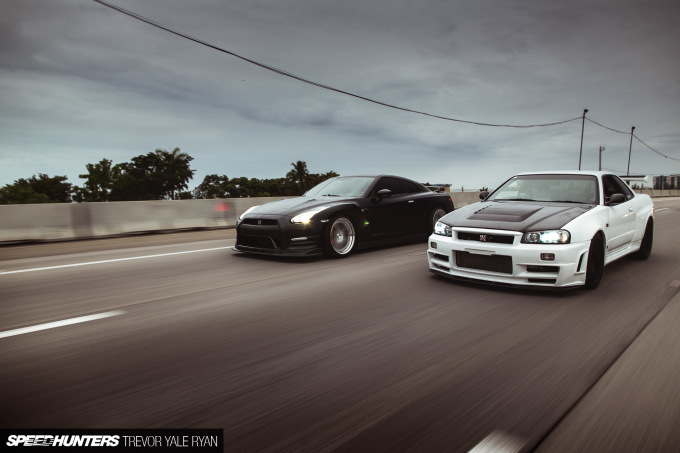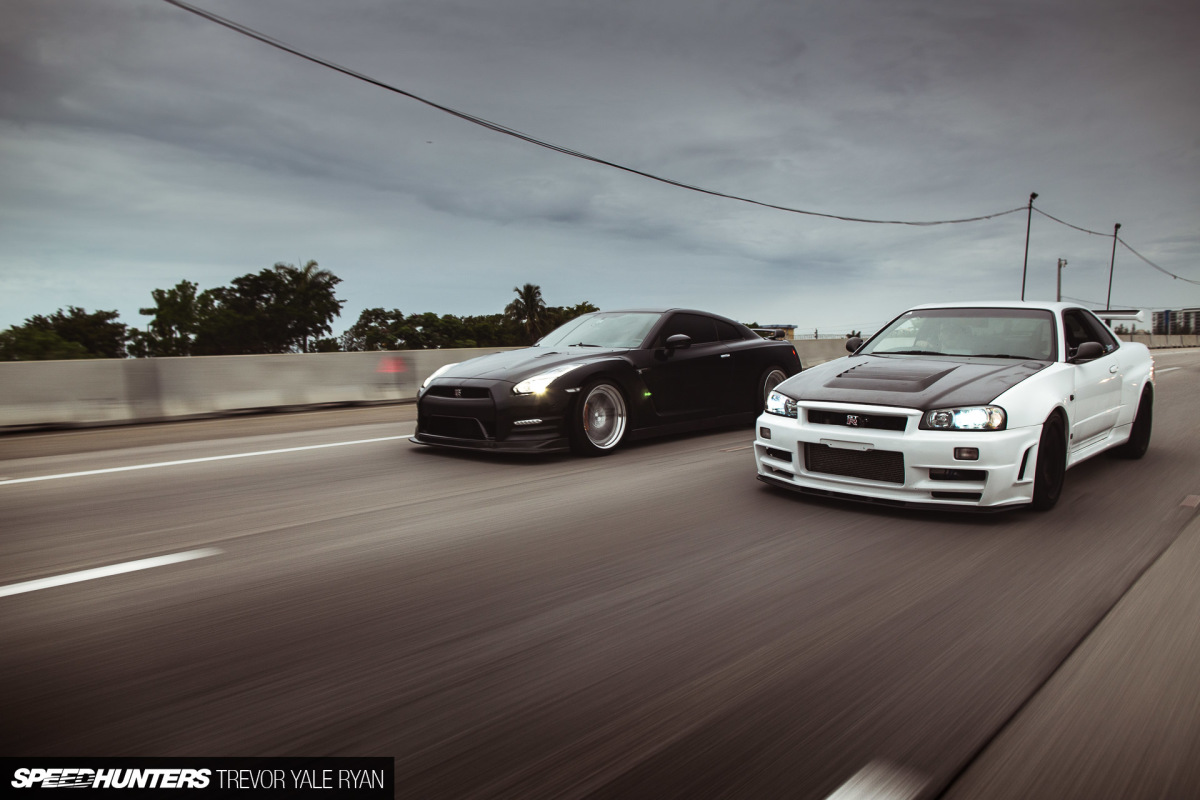 Miami was very much this way for me and it was just so much fun shooting these two GT-Rs side by side, not to mention everyone else.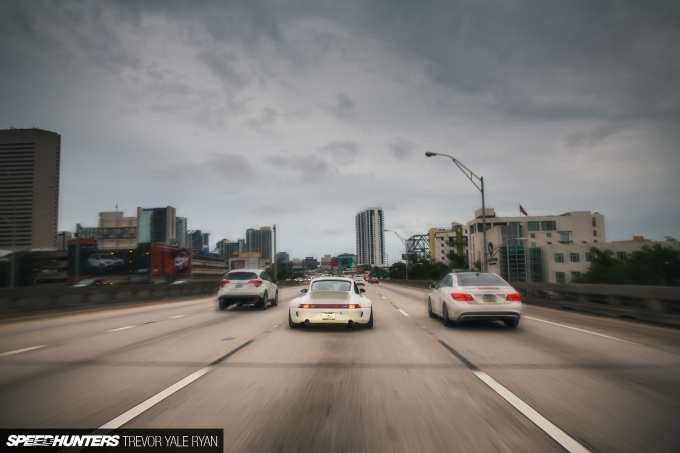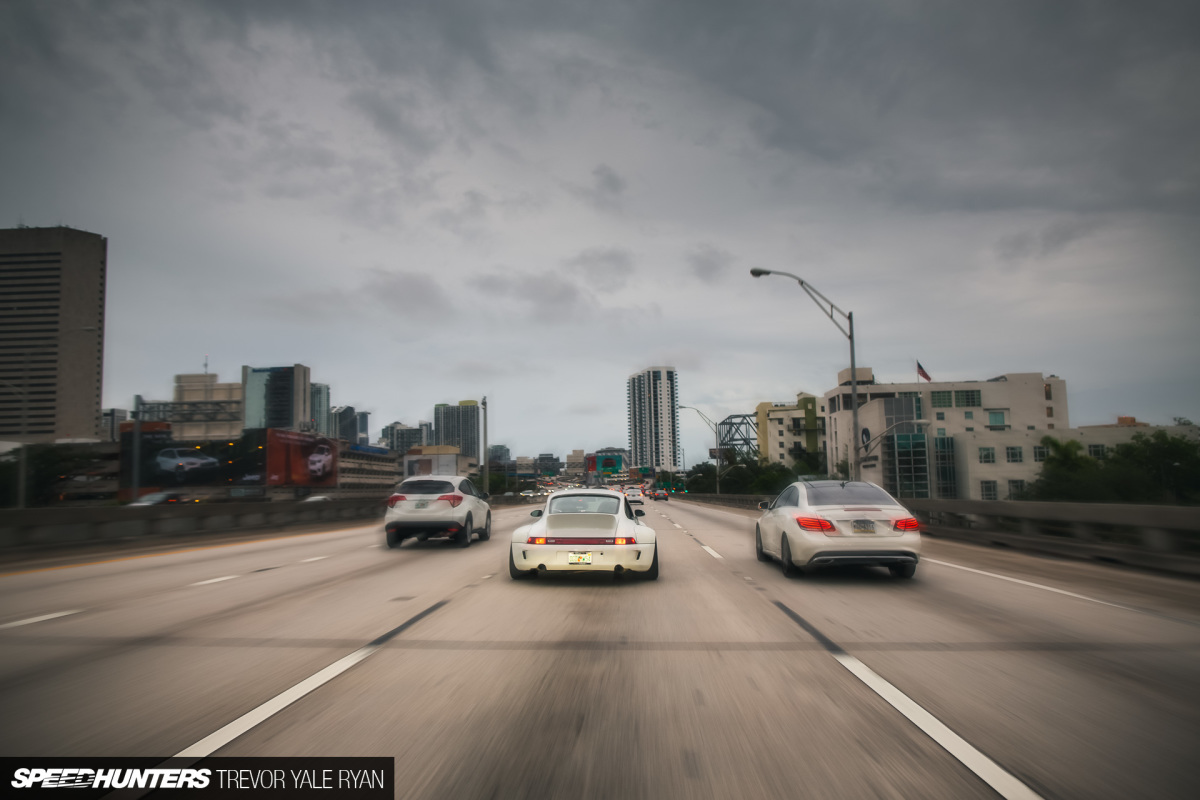 I had no idea where we were heading, but it hardly felt like real life. In fact, it legitimately felt like we were in a video game and everyone else on the highway was forced to watch, waiting for a turn they'd never get.
The Keys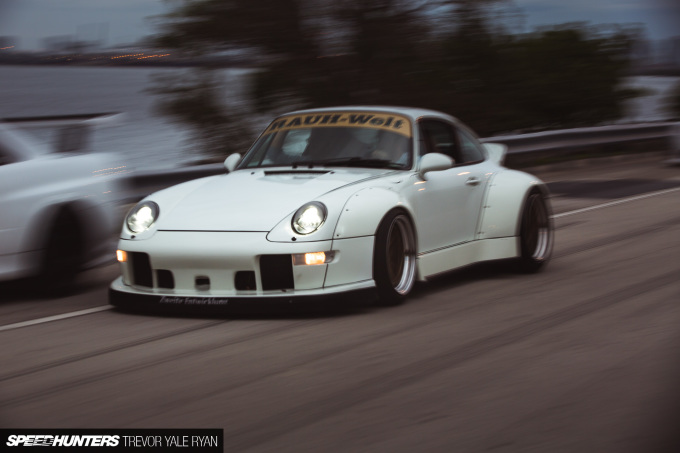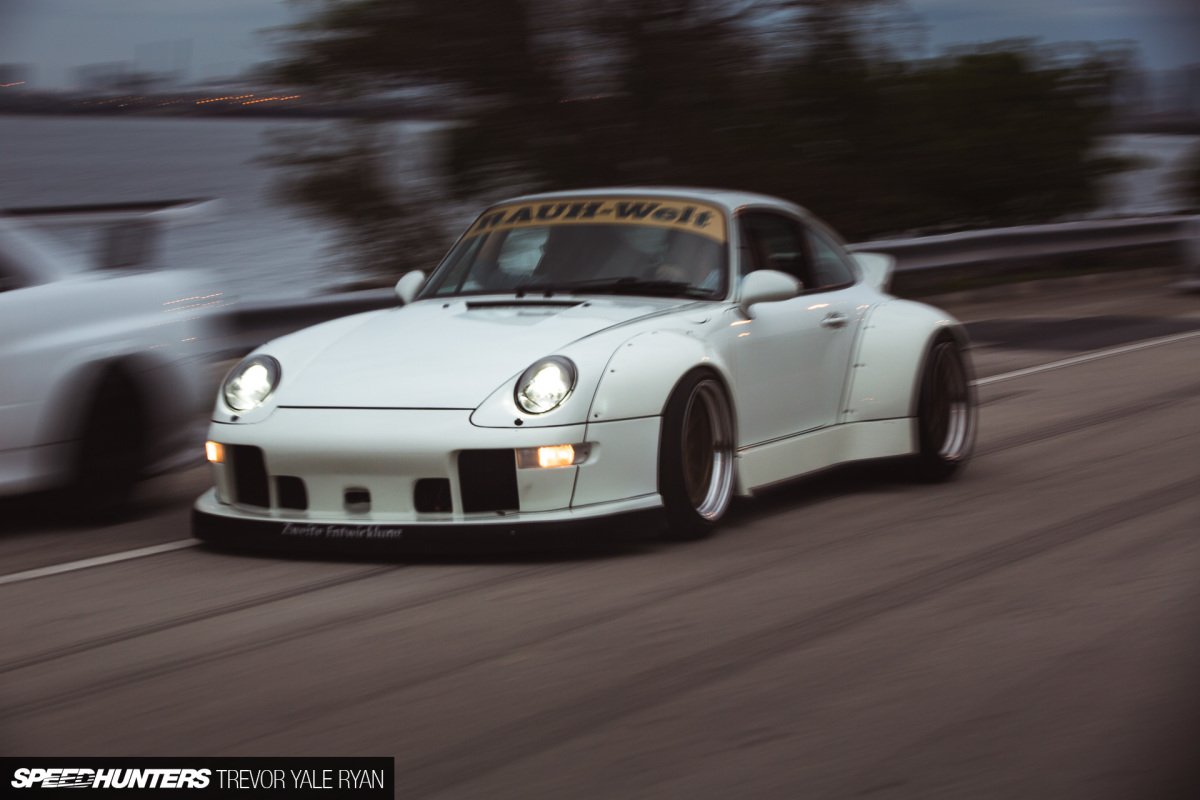 After having more fun that I should have, we arrived at Key Biscayne. Actually, more accurately, we parked at the very first scenic stopping point on the way to Key Biscayne. Seems fine to call it close enough and say I've been to the Florida Keys, right?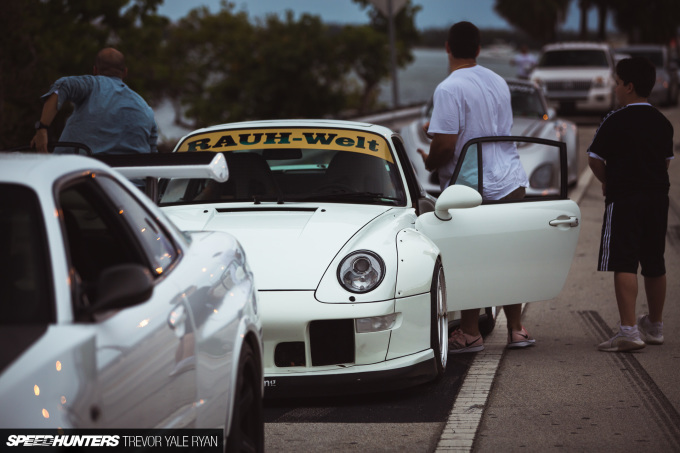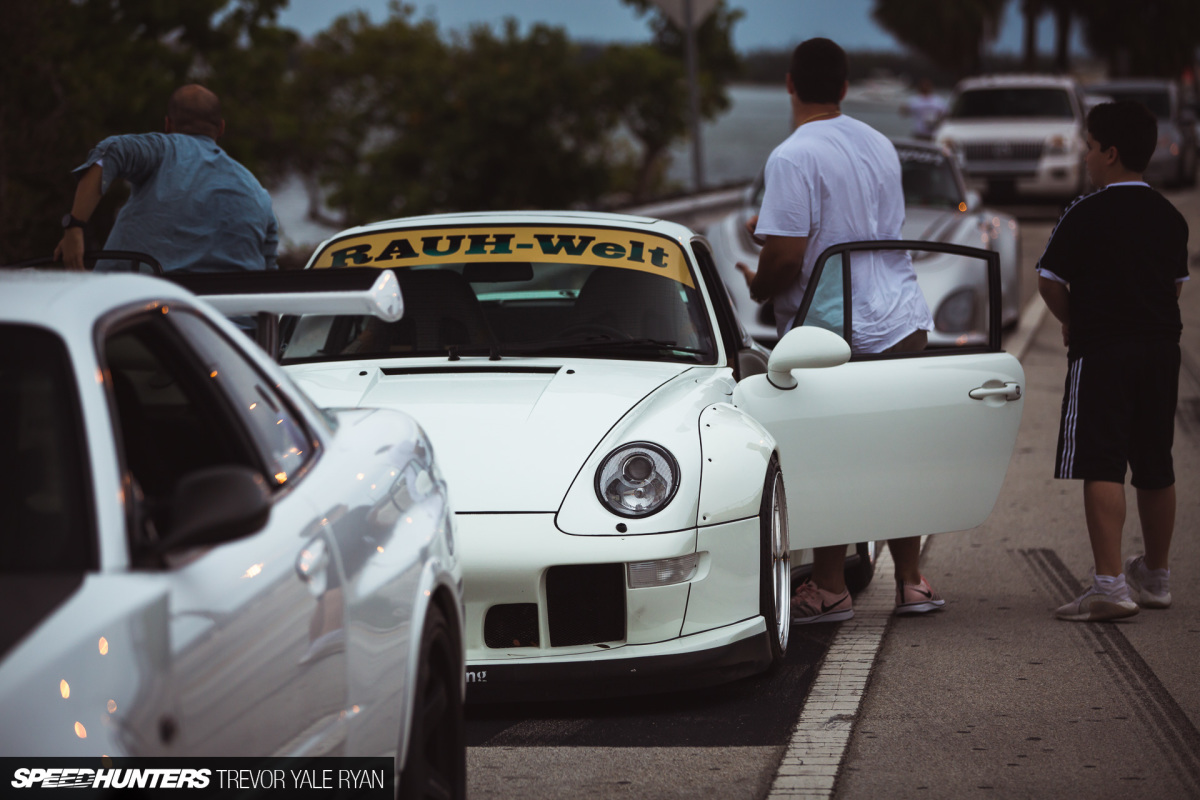 Before traveling to Florida I knew very, very little about the cityscapes and environment I was about to find myself in. The Florida Keys themselves are, generally speaking, sandy islands formed over coral reefs which extend off the tip of the peninsula. I'm told that decades ago it was proposed that the shallow water here be filled to create dozens more of these islands for resorts, luxury homes, shopping malls, and the like.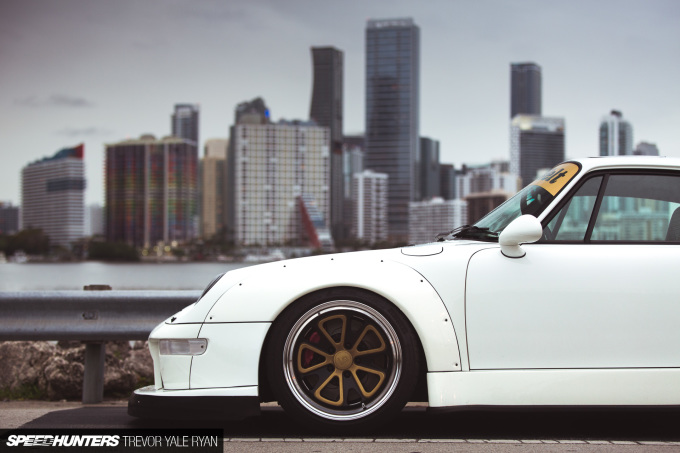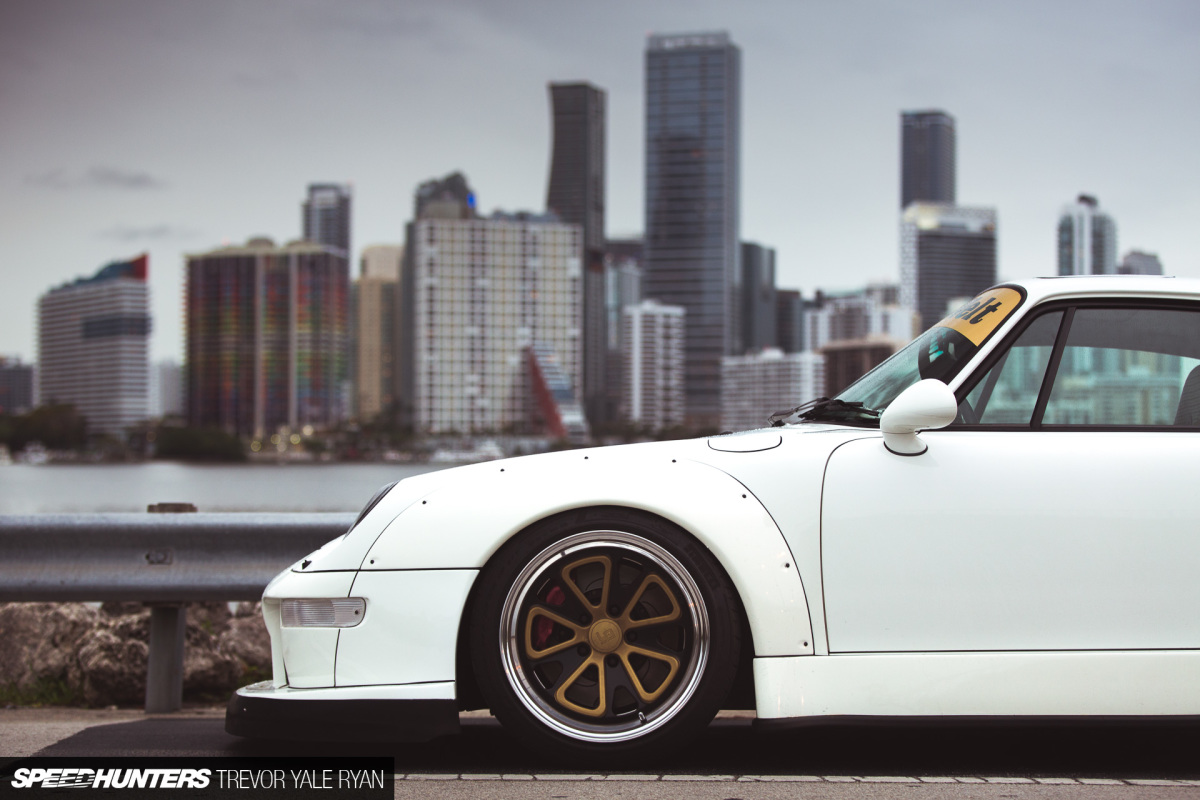 Thankfully, this never happened on a large scale and the eastern outskirts of Miami remain an amazing place to photograph.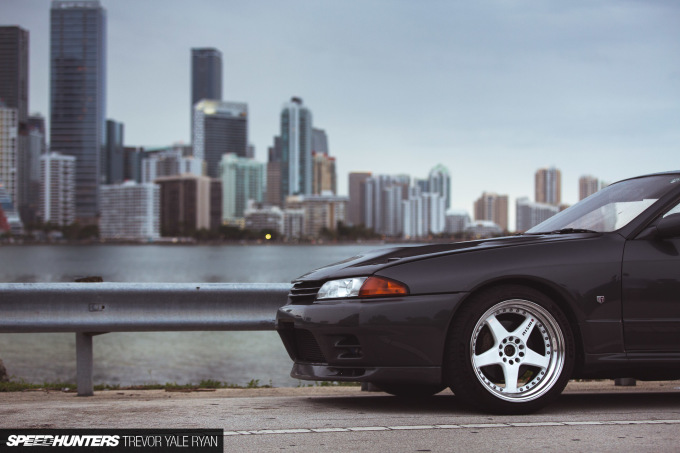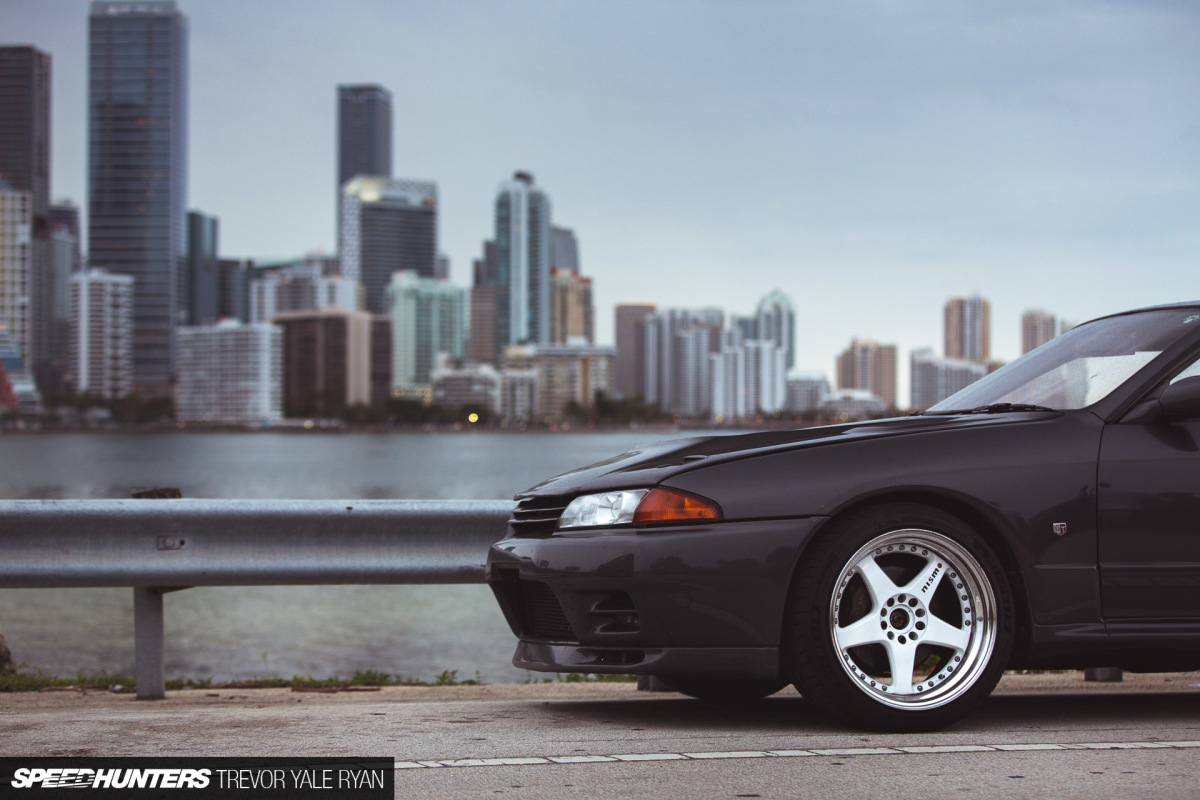 Adding to my joy we had an R32…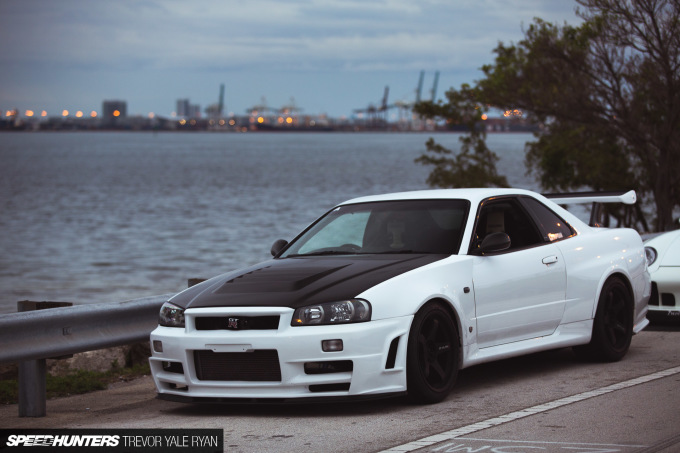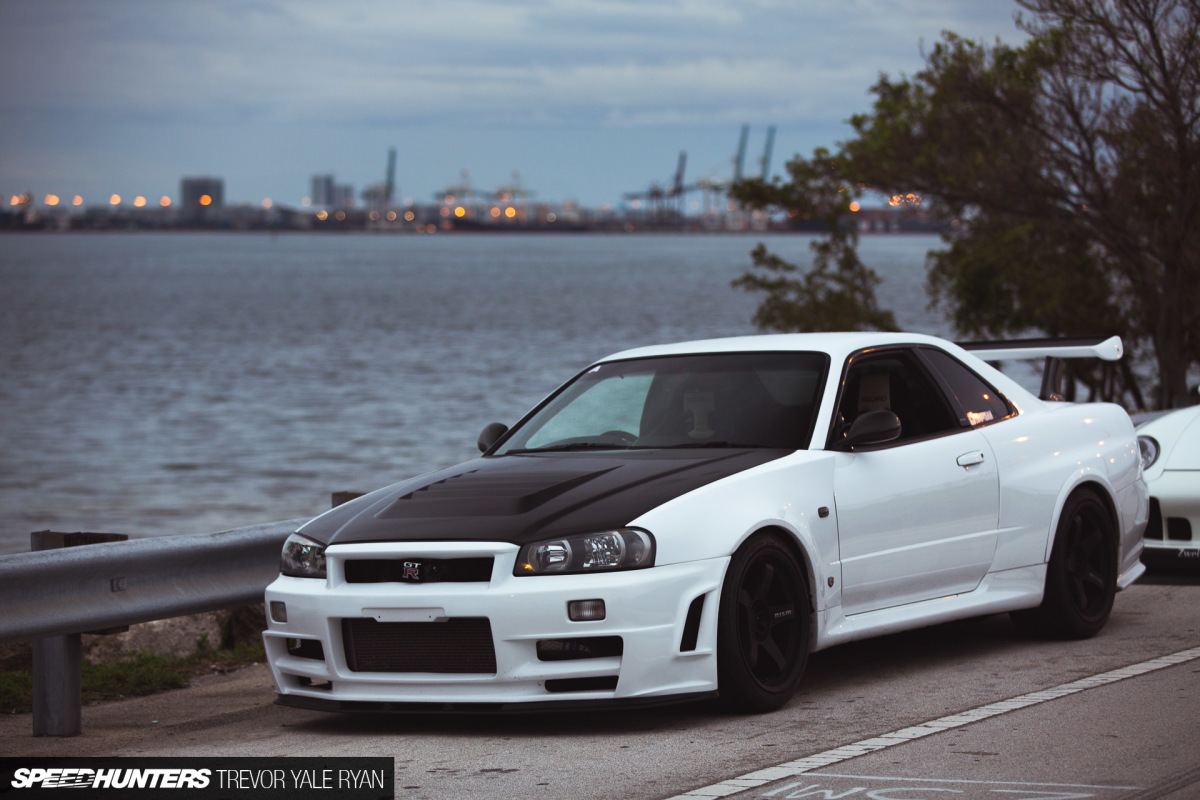 R34…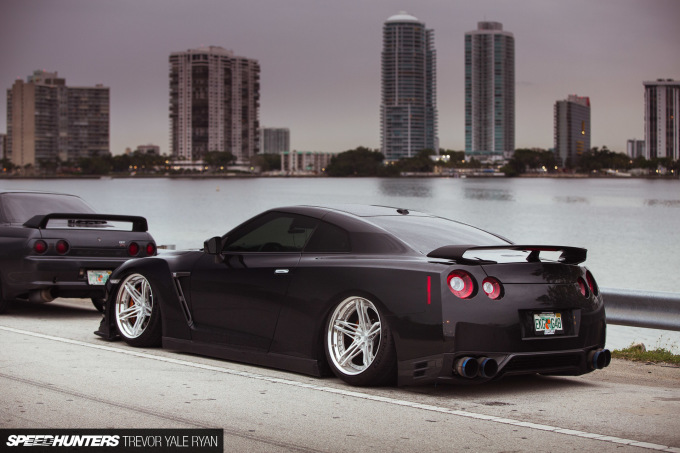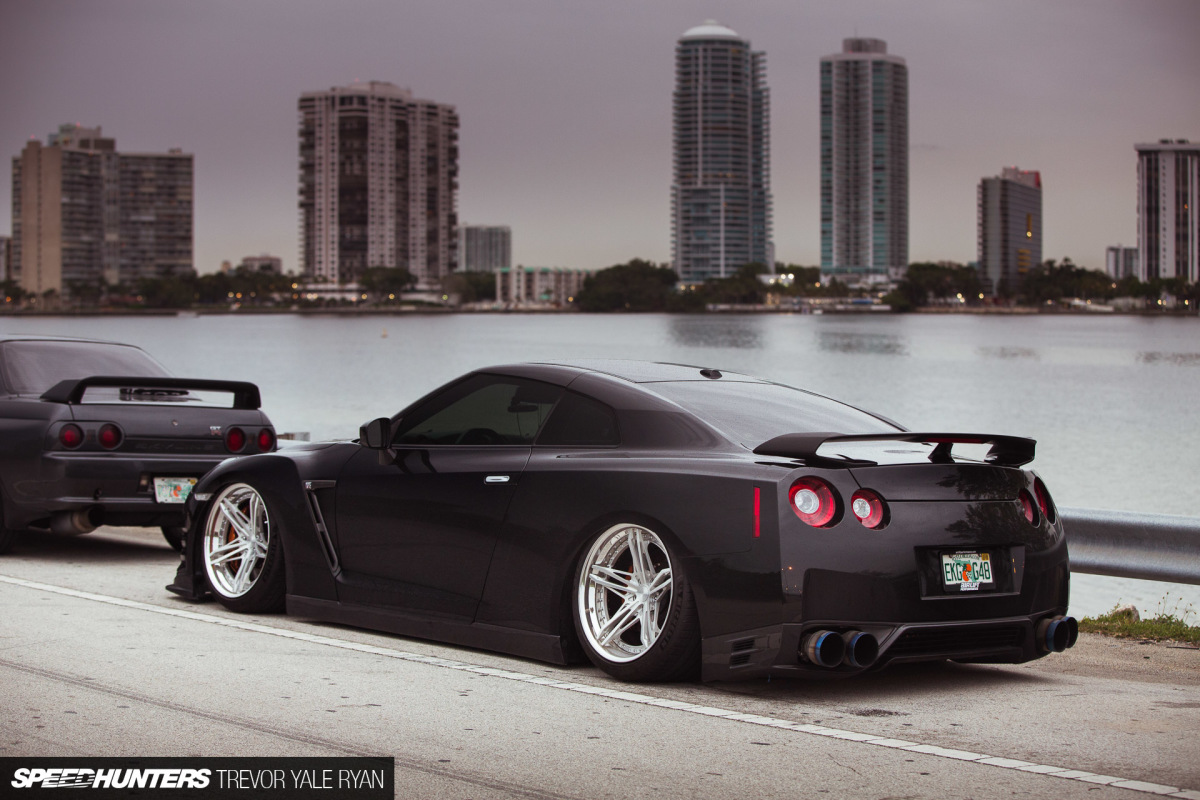 And that uncharacteristically stunning R35.
The evening consisted of me running around taking photos while our group debated where our next stop should be.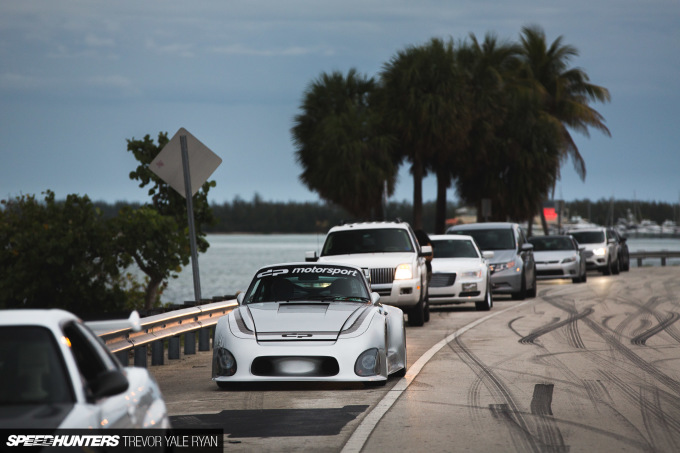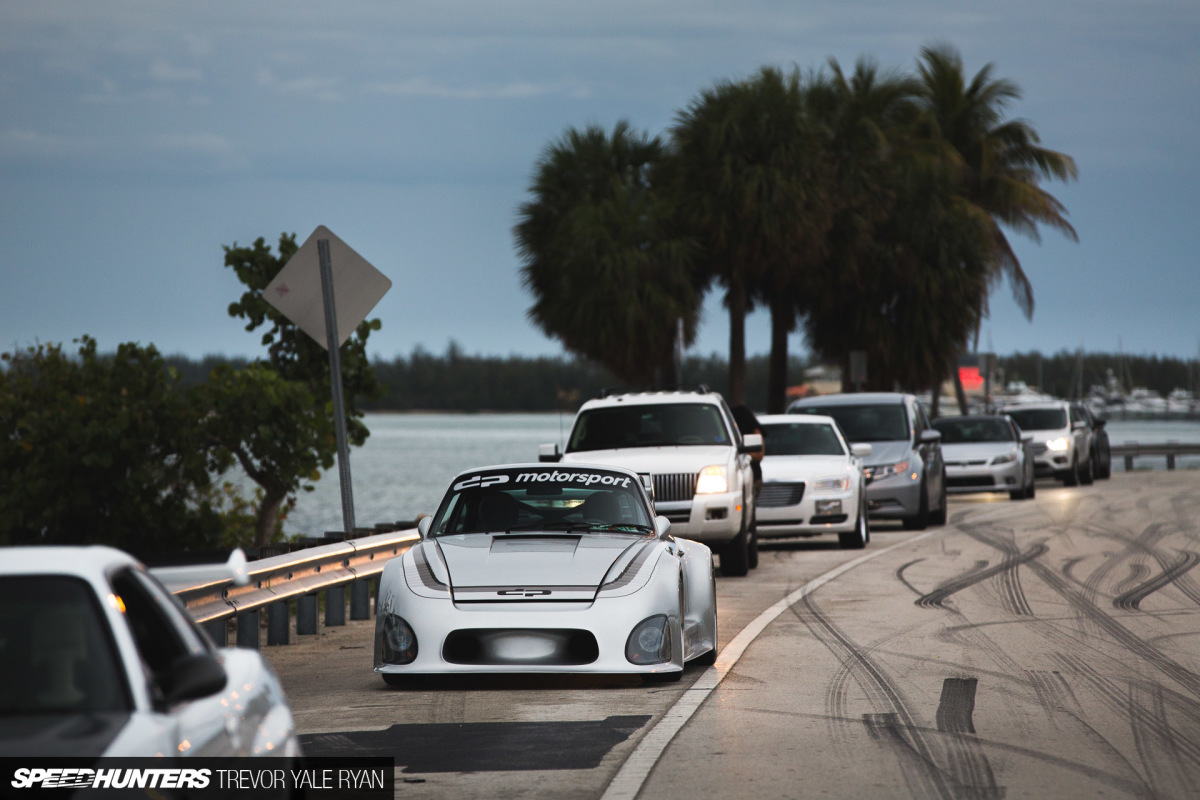 If you're wondering why the DP Motorsport car is suspiciously missing from this story it's not because I didn't take photos of it. Quite the contrary; I could hardly stop pointing my camera at RMC Miami's latest acquisition which deserves a closer look later on.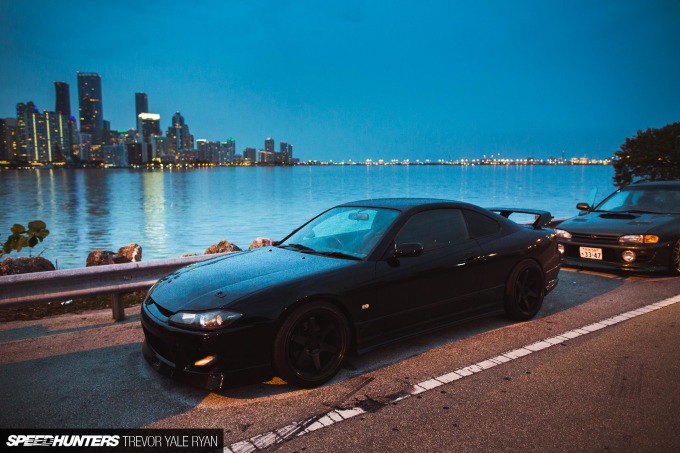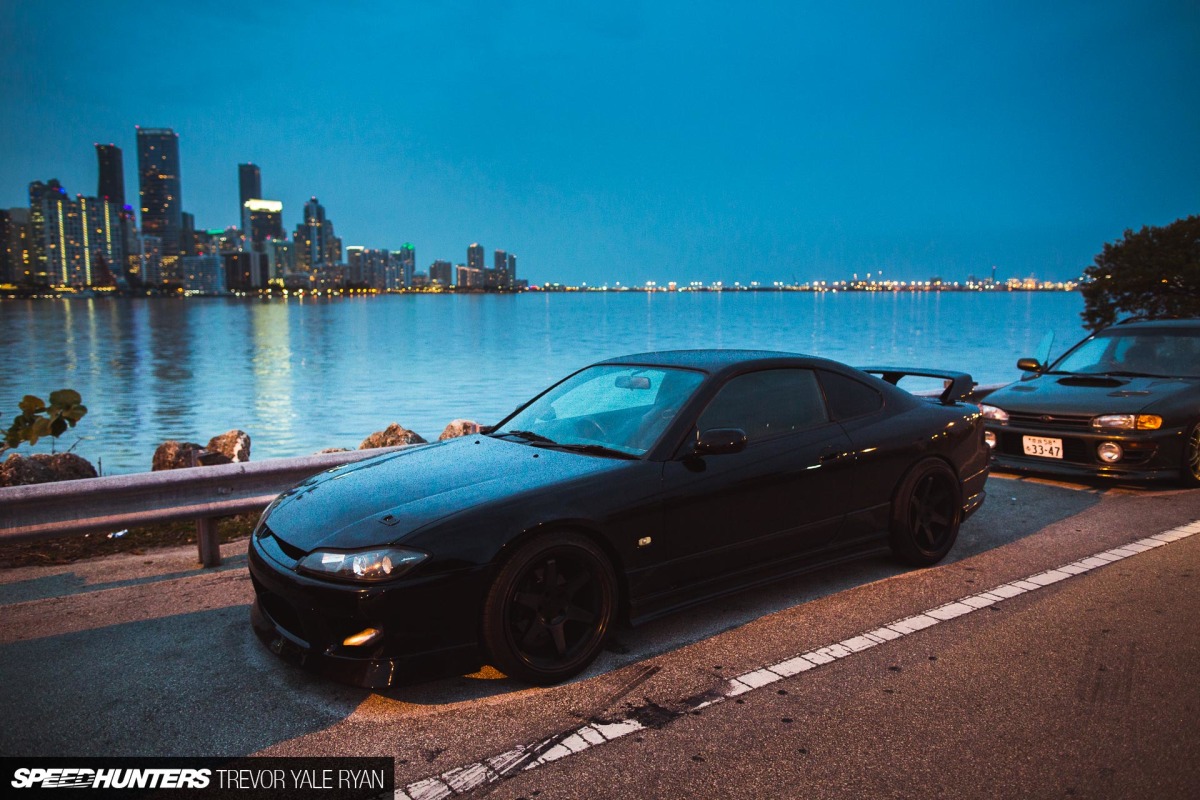 Eventually, there just wasn't enough daylight left to go to any spots without their own light source.
The Road To Wynwood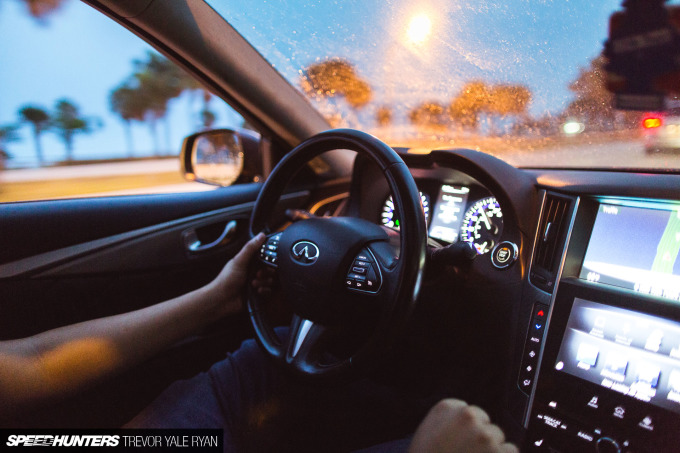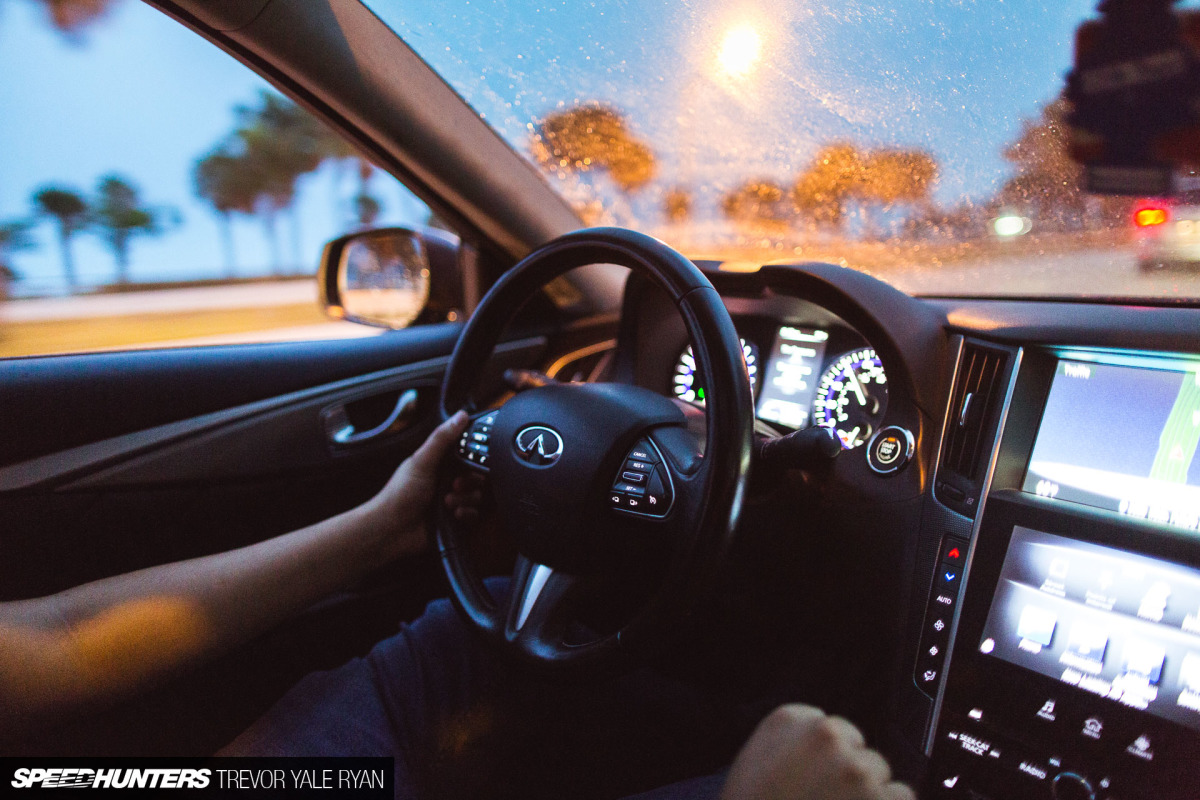 Luckily, my semi-official tour guide Nick Mendoza knew exactly where to take me next.
After all, no tour is complete without at least a couple wide-open passes through a tunnel.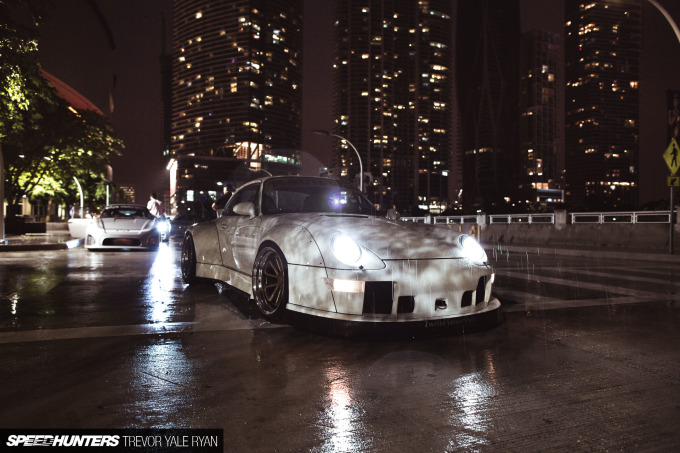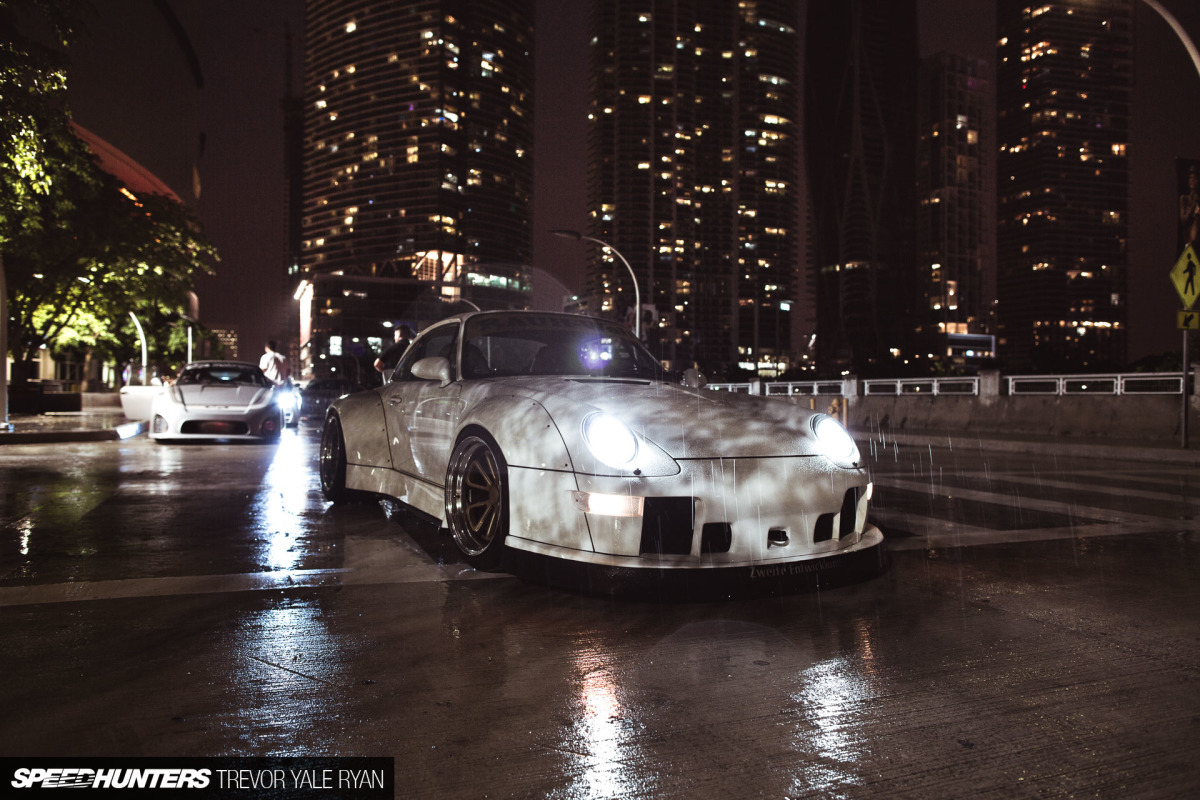 On our way to Wynwood there was (surprise!) more rain as we made a quick detour outside the Arena.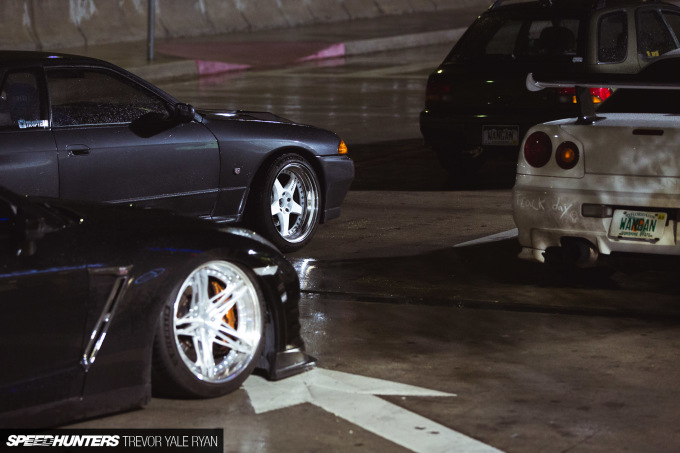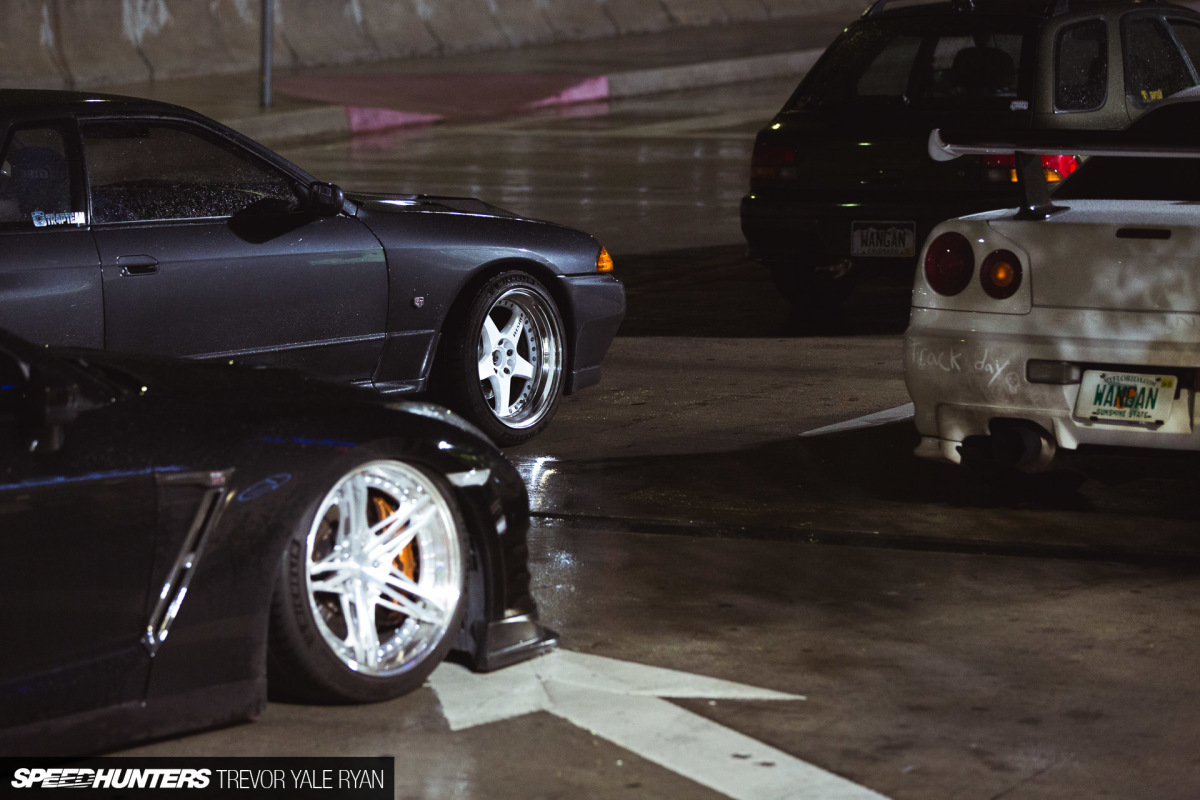 Due to the shoddy light and grumbling stomachs, we didn't spend much time here.
In Wynwood, the art district of Miami, I found parking was at a premium even long after dinnertime on a Thursday night. Still, a few blocks away from our destination we were able to find parking together.
As luck would have it, I ended up not having time to shoot any cars here. Exploring the ever-changing murals and graffiti that covers nearly every building is going to be a necessity during my next trip to Miami.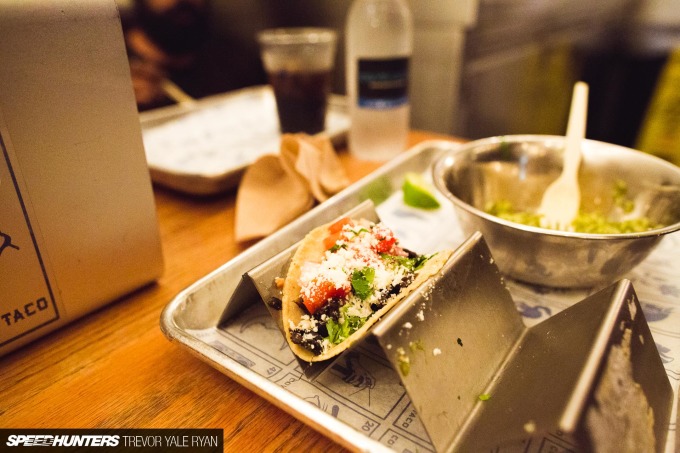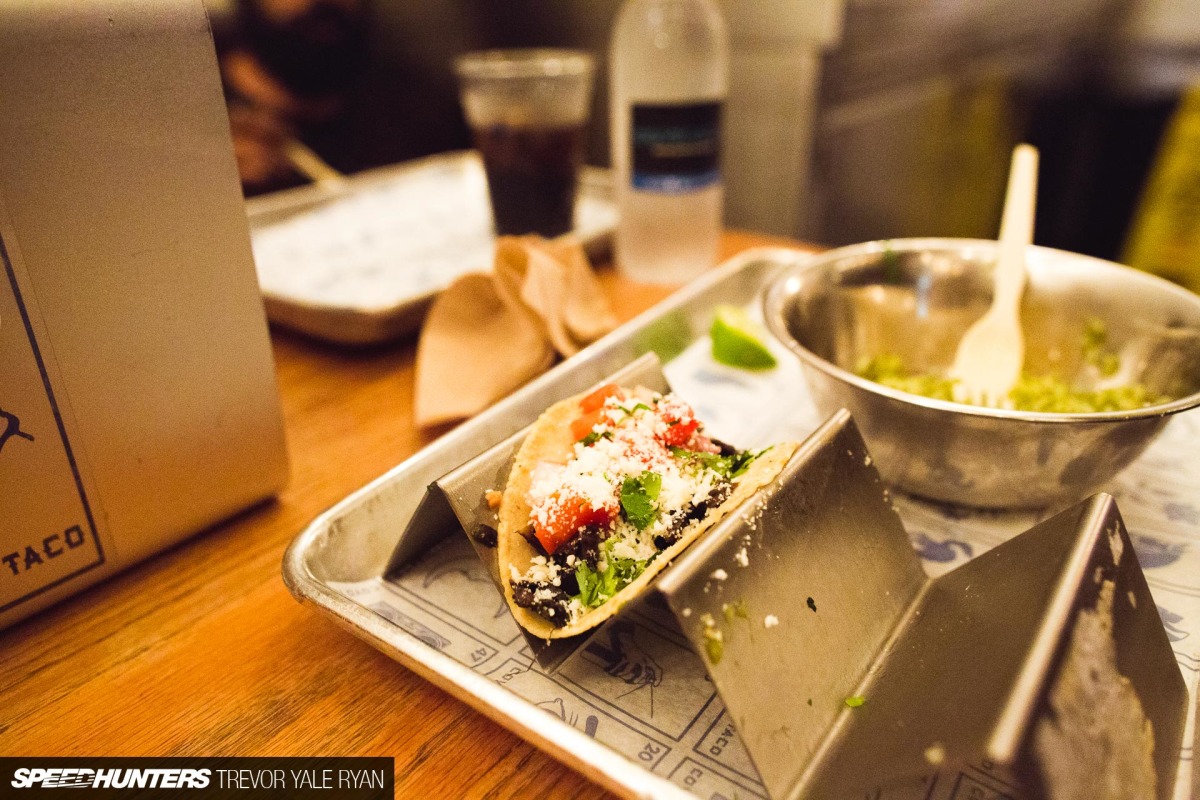 Oh, and our stop? Tacos!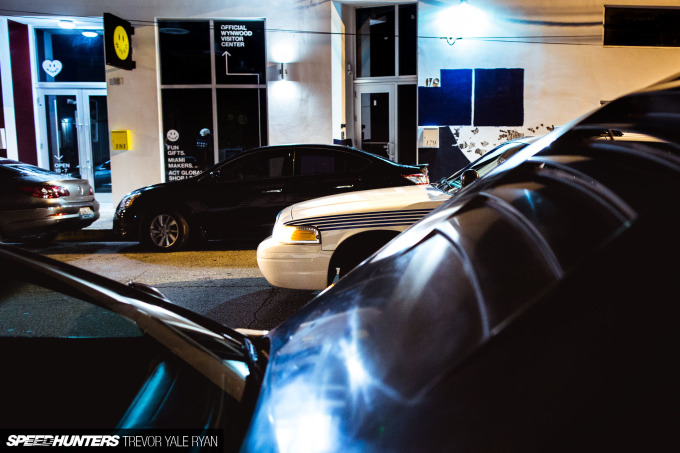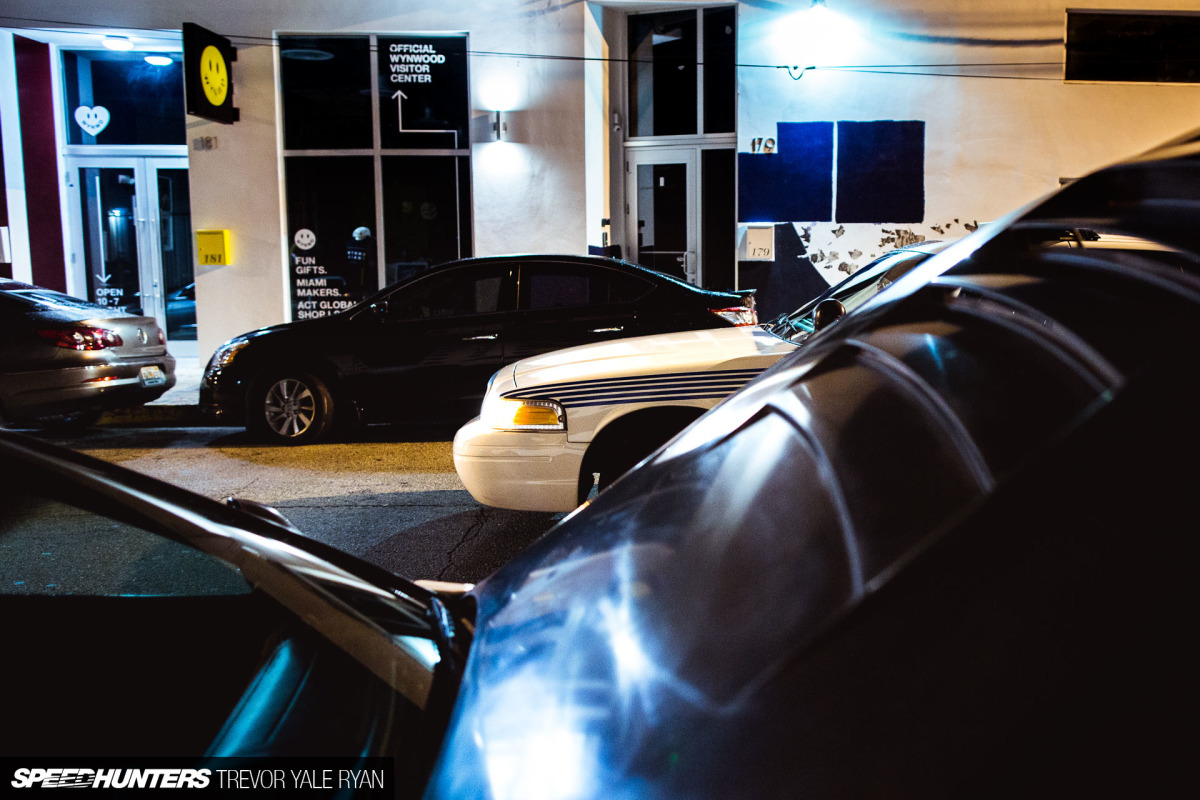 After returning to the cars and standing around chatting for some time, a certain car had attracted some attention.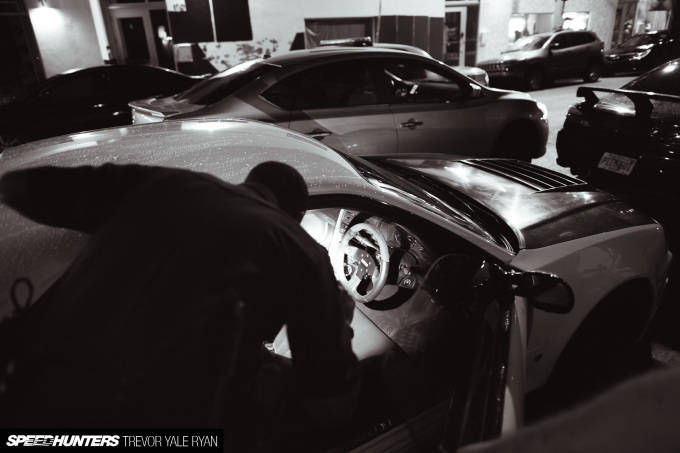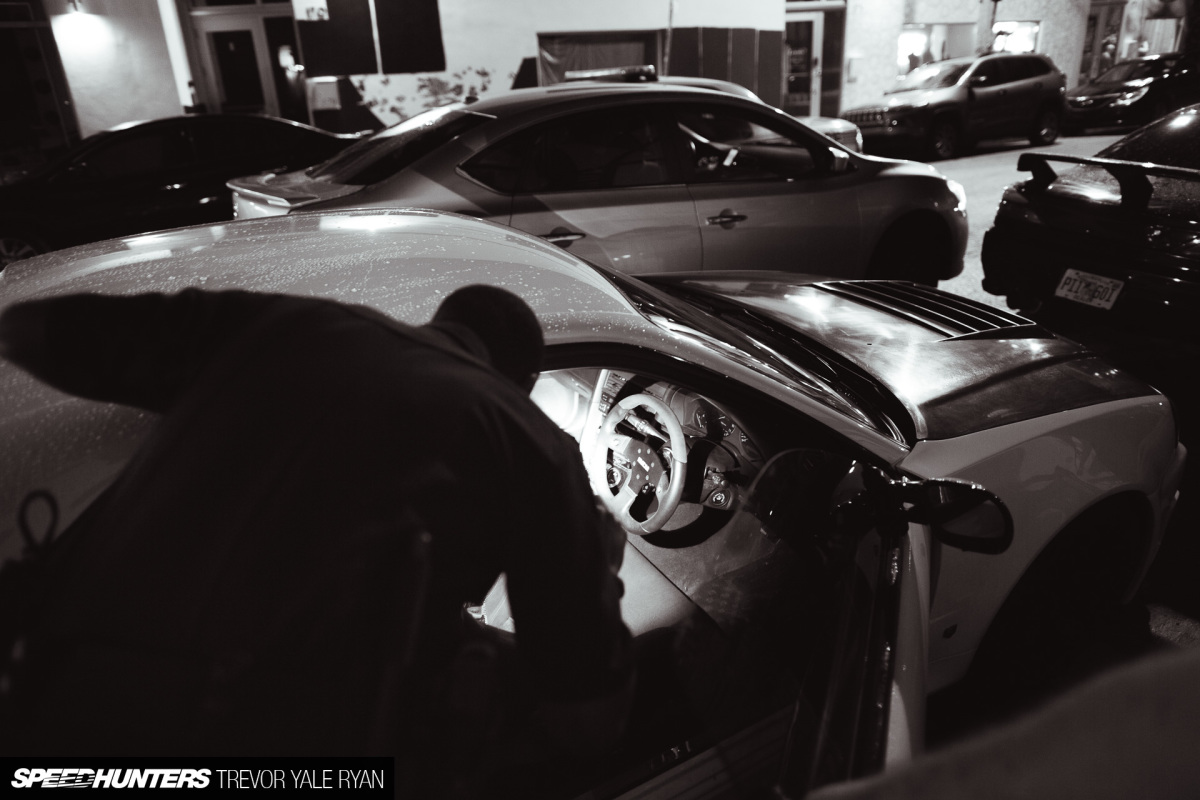 I'm sure you can guess which one it was.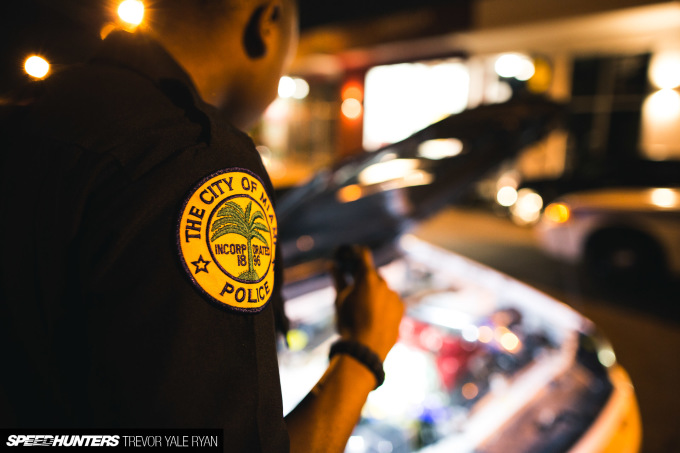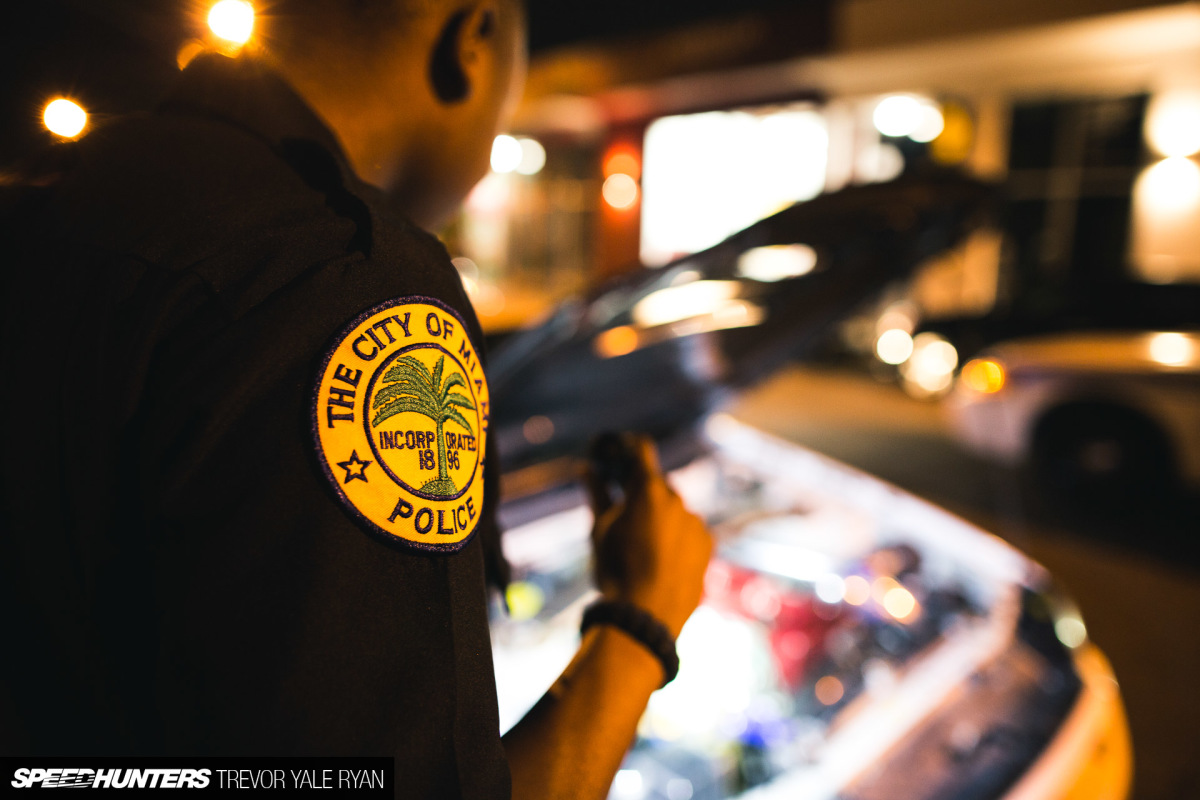 As far as I understand, there are no (at least, very, very few) legal ways for an R34 to be on the streets of Miami.
But the officer in question didn't seem to care in the slightest. Quite the contrary; he parked his car blocking traffic, jumped out and said "this is the meanest thing I've seen on the street in Miami." Actually, he changed this to "second meanest" citing a chrome-wrapped Lamborghini Aventador he'd seen some weeks ago.
He was perhaps not the same type of enthusiast as you or I might be, but his heart was definitely in the right place.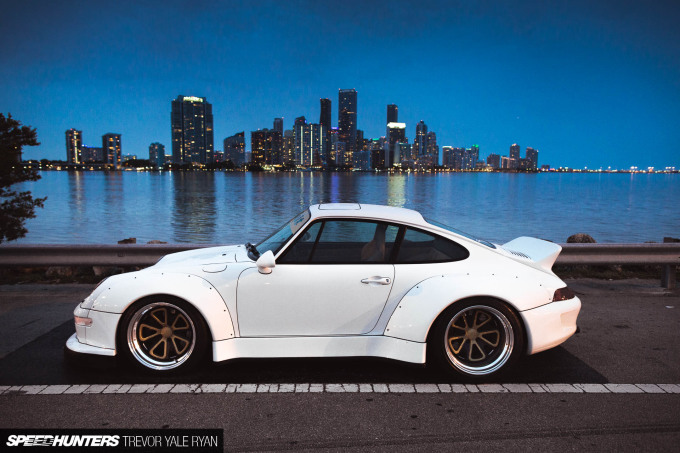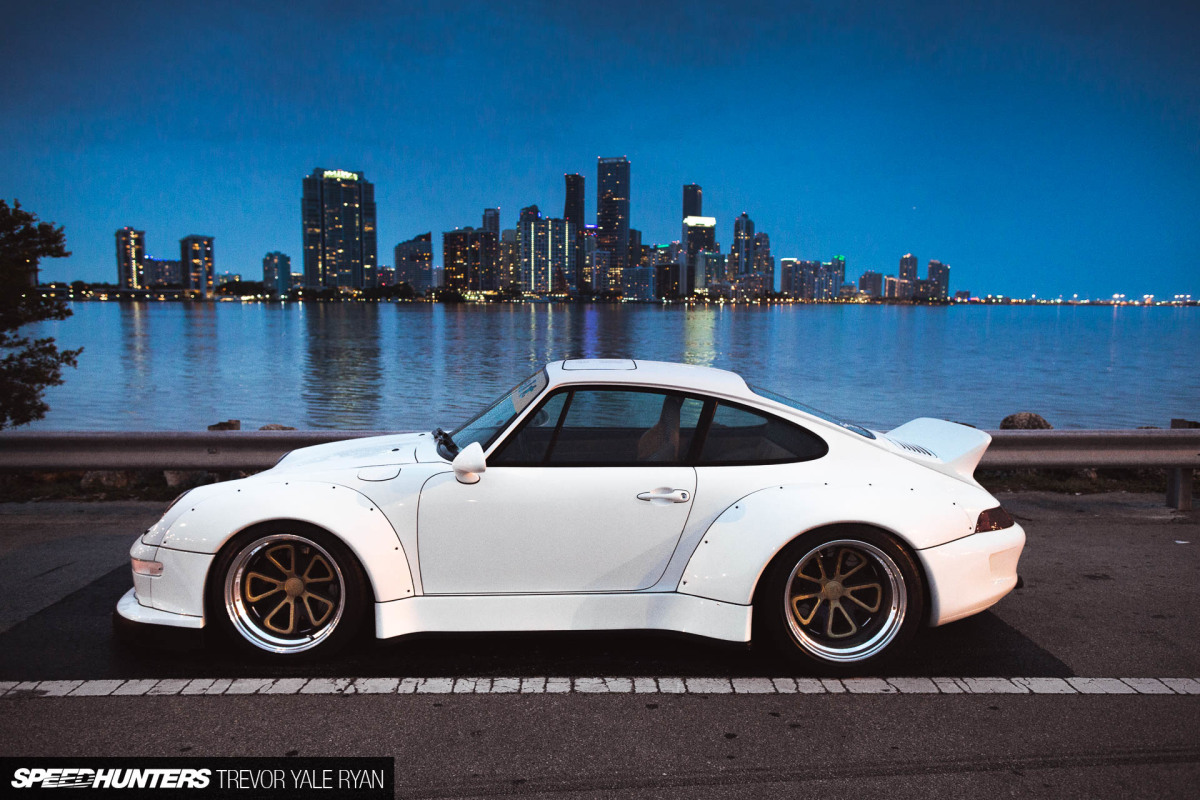 Police officer, pedestrian, bus driver or mechanic, it doesn't matter where you're from or what you do. It's not important what type of car you prefer; whether you think that RWB kits are sacrilegious or that anyone who owns an R34 in America is cheating. Or if you just love it all.
No matter which way, taking your car out for a drive is something we can all agree on. It's the universal language that can make us all feel the same excitement and satisfaction; it's communicable between scenes, countries, and cultures.
Any one of us who was having a bad day before this definitely wasn't after. So no matter where you are, follow Magnus Walker's advice: get out and drive.
Trevor Yale Ryan
Instagram: tyrphoto
TYRphoto.com
From Start To Finish