Inspiration
Jaden Chen never was a car person. That is, until he saw a certain video on YouTube, a video which has literally changed his life.
The video in question was one of many circulating a few years back which featured JJ Dubec's 'DOCZILLA' Liberty Walk R35 GT-R. This was all it took for Jaden to get hooked; in his words he'd never seen anyone with this much passion to "make a car so different."
Now, a few years later, it's Jaden who has a totally customized Liberty Walk R35. And together with videographer Mark Vasilyuk, Jaden's hoping he can inspire others to embrace car culture and try something new.
All it took was a Need for Speed Payback-inspired teaser clip for this film to greatly pique my interest in the car, so I met up with Mark and Jaden as they got some footage when I was up in Oregon and Washington in April. For now we'll take a look at Jaden's car, but I will be doing a bit of a behind the scenes story with Mark, the 16-year-old creator of this video, later on.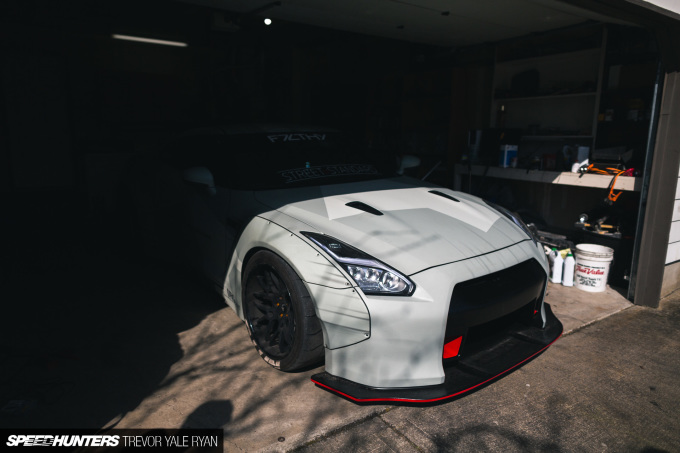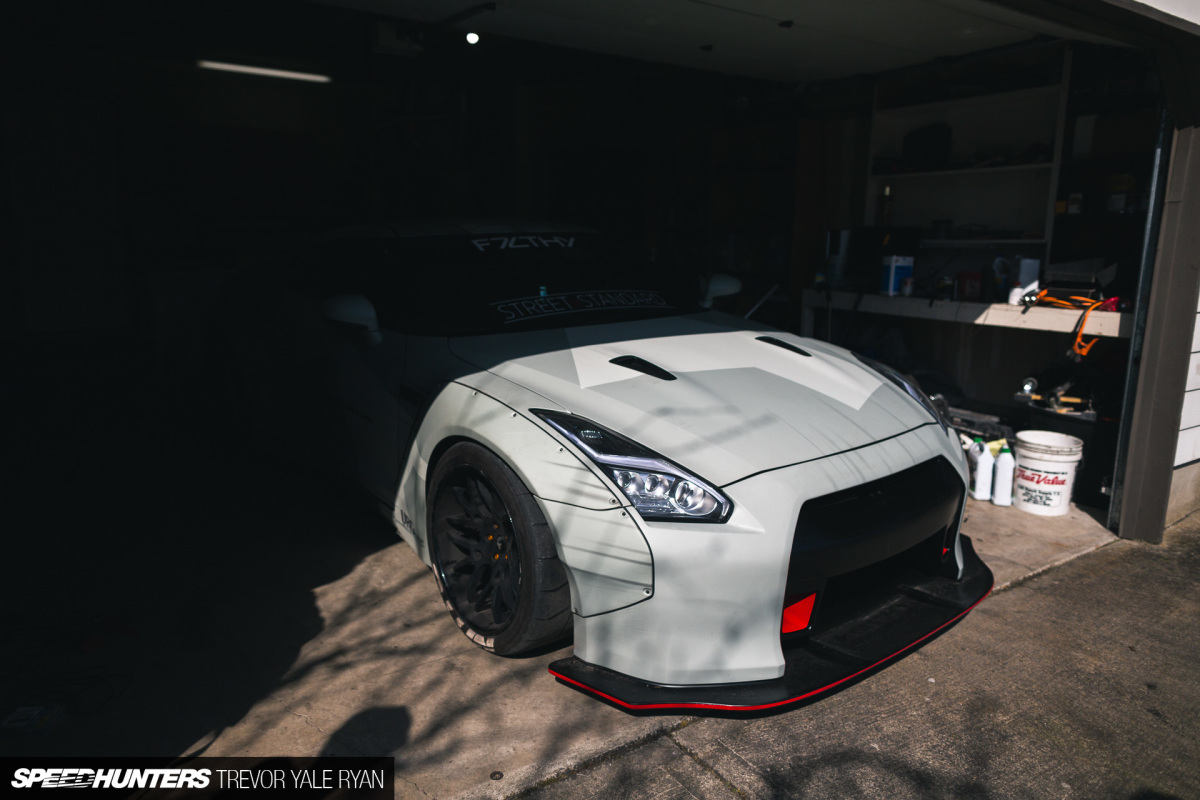 It was at a private residence outside of Vancouver, Washington that I got my first look at the Nissan. My initial impression was quite a positive one as the car is somewhat over the top but nothing is out of balance.
I know a low and wide R35 is nothing new, but it's as Paddy has just described; this isn't a car that just has a wide-body and wheels. The wrap and other personal tweaks play nicely into Jaden's imagination and, furthermore, this car is a daily driver.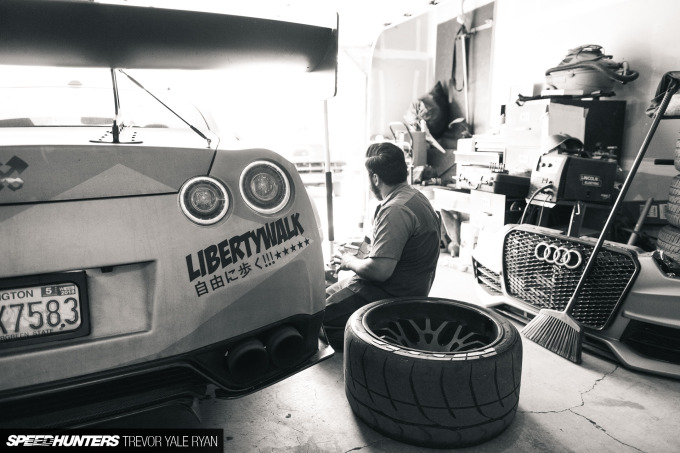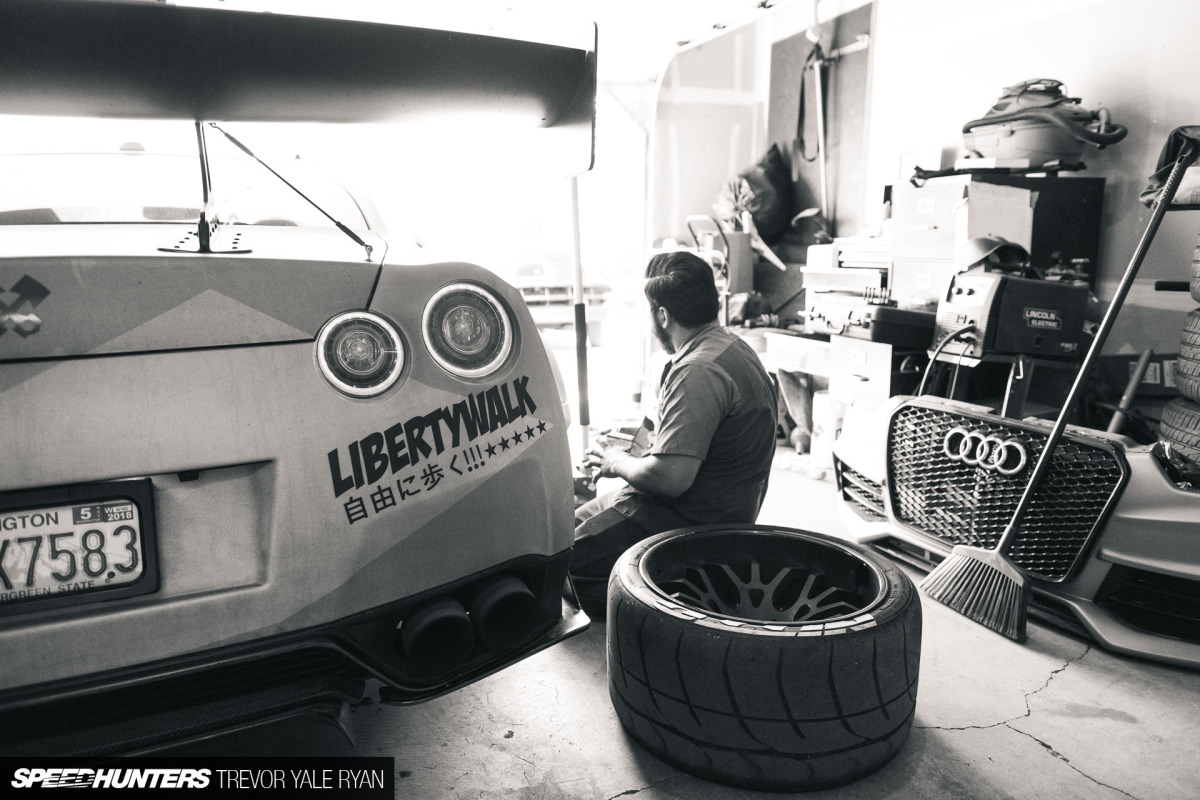 As such, when I first saw the car it was rather dirty. We put a wash-down on the agenda and I spent this time talking to Oscar Morales about how he's spent the last couple years wrenching on the car at Valley Rollerz Garage for Jaden, adding all of the little details his friend wanted.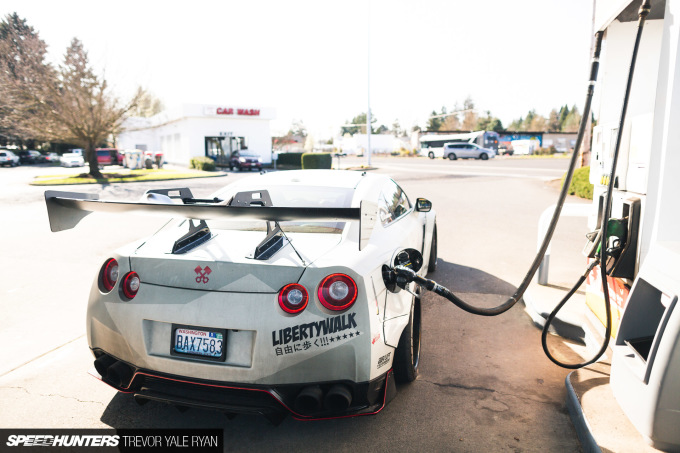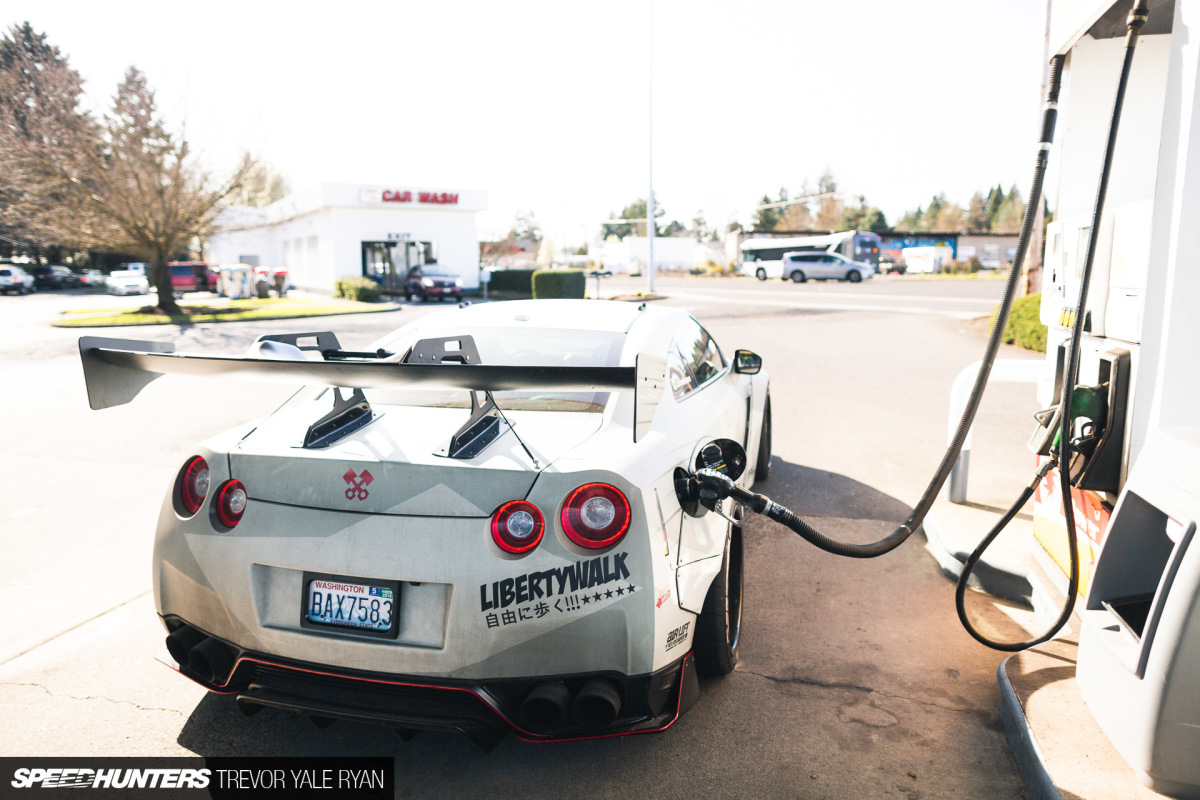 As it is a daily driver, you'll notice the provision for a cargo carrier up on top of the wing. I rather wish that we'd had the carrier installed on the shoot this day, but it was four hours away at Jaden's home in Walla Walla, Washington. You can see how it looks in Mark's video above, though.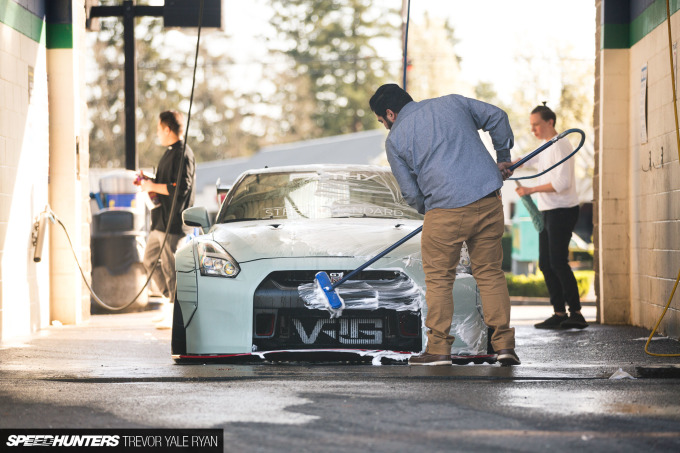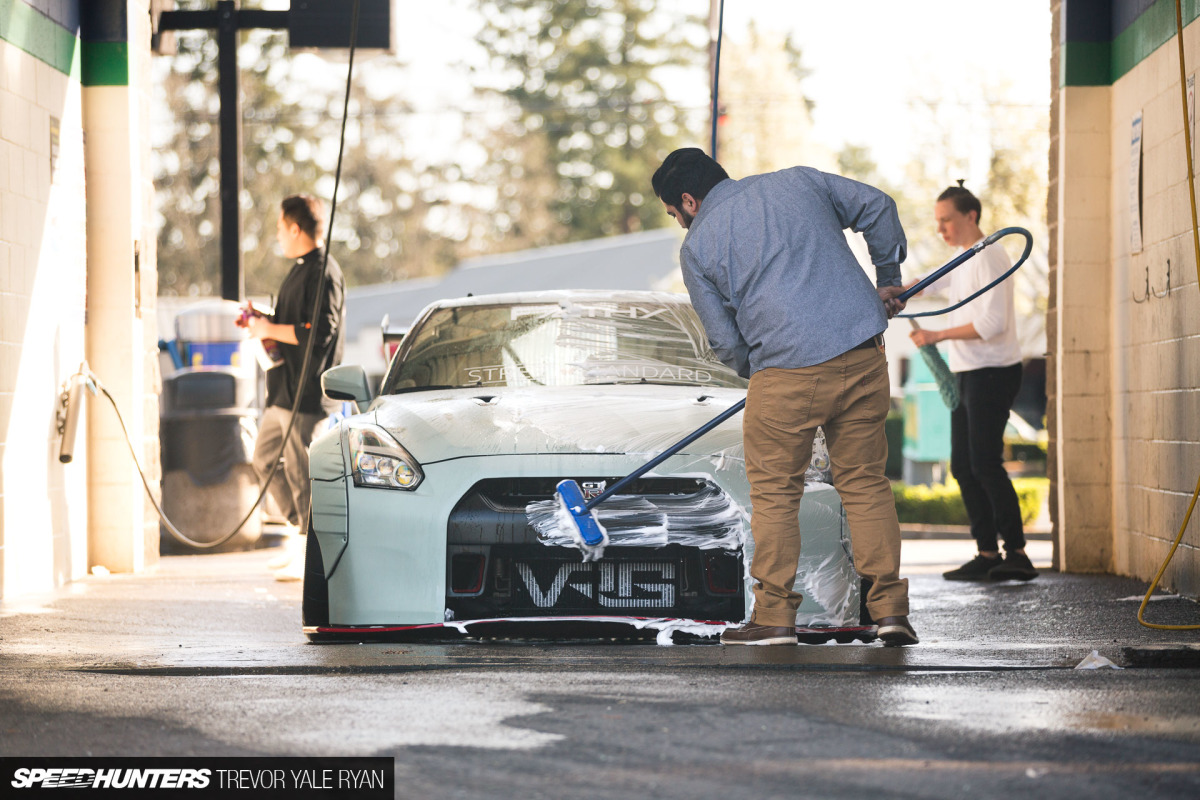 Cruising to the next stop we gave the car a healthy scrub to remove the muck of daily driving duty from around the car. I really have to say that my favorite aspect of this car is that it is actually driven.
The Experience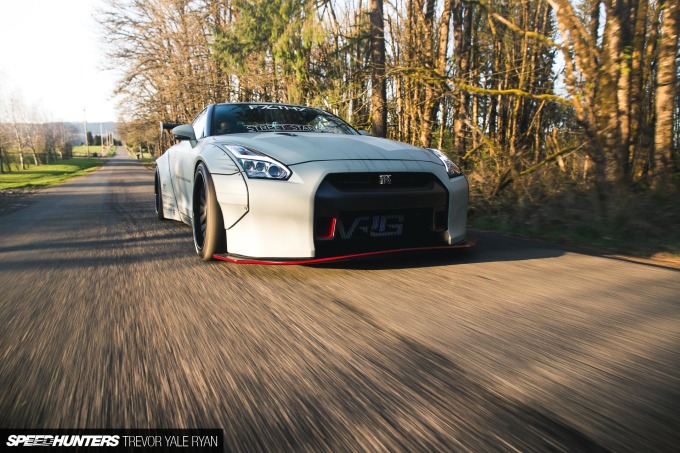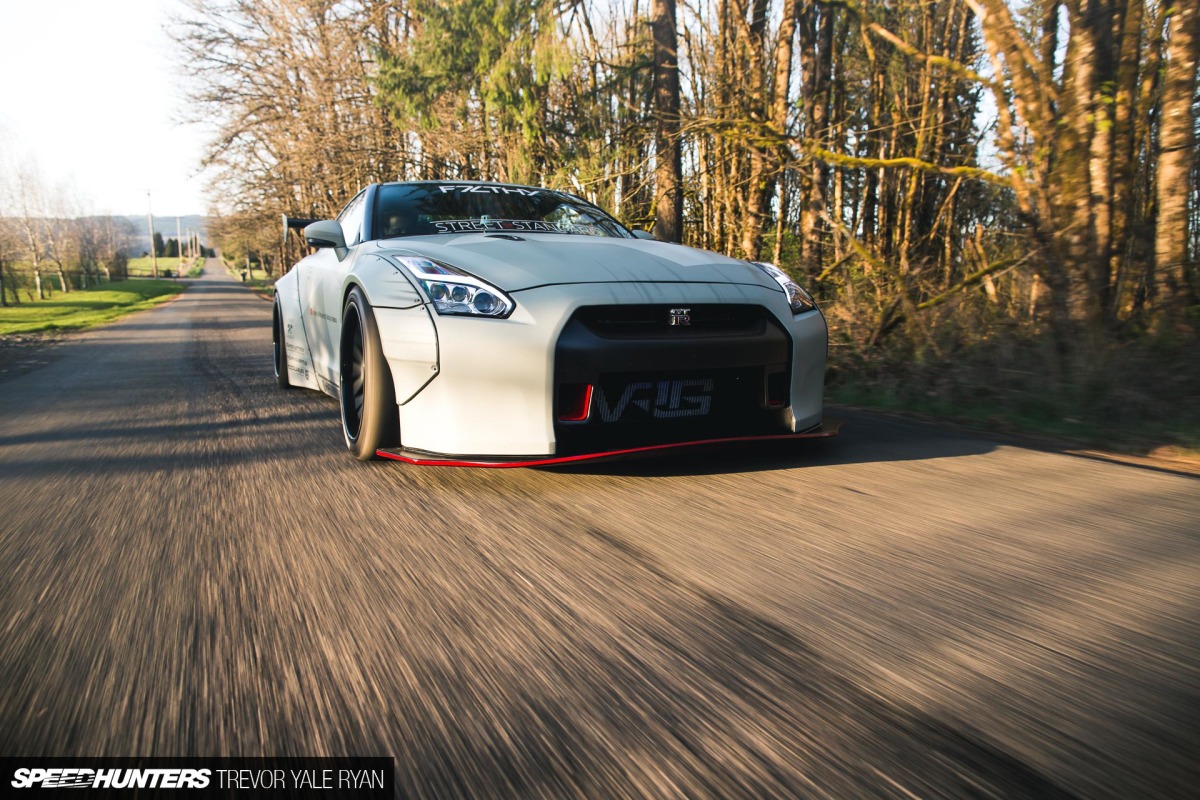 Jaden had a Rocket Bunny 350Z before moving on to the GT-R, and he's not at all shy about having a good time in this car. The power in the new build always seems to surprise him, though.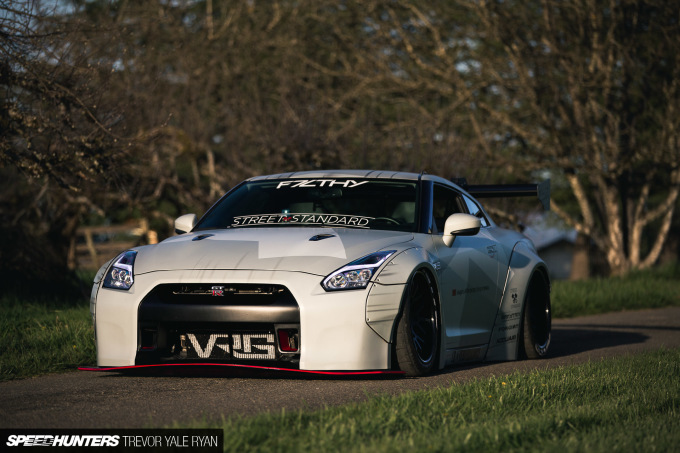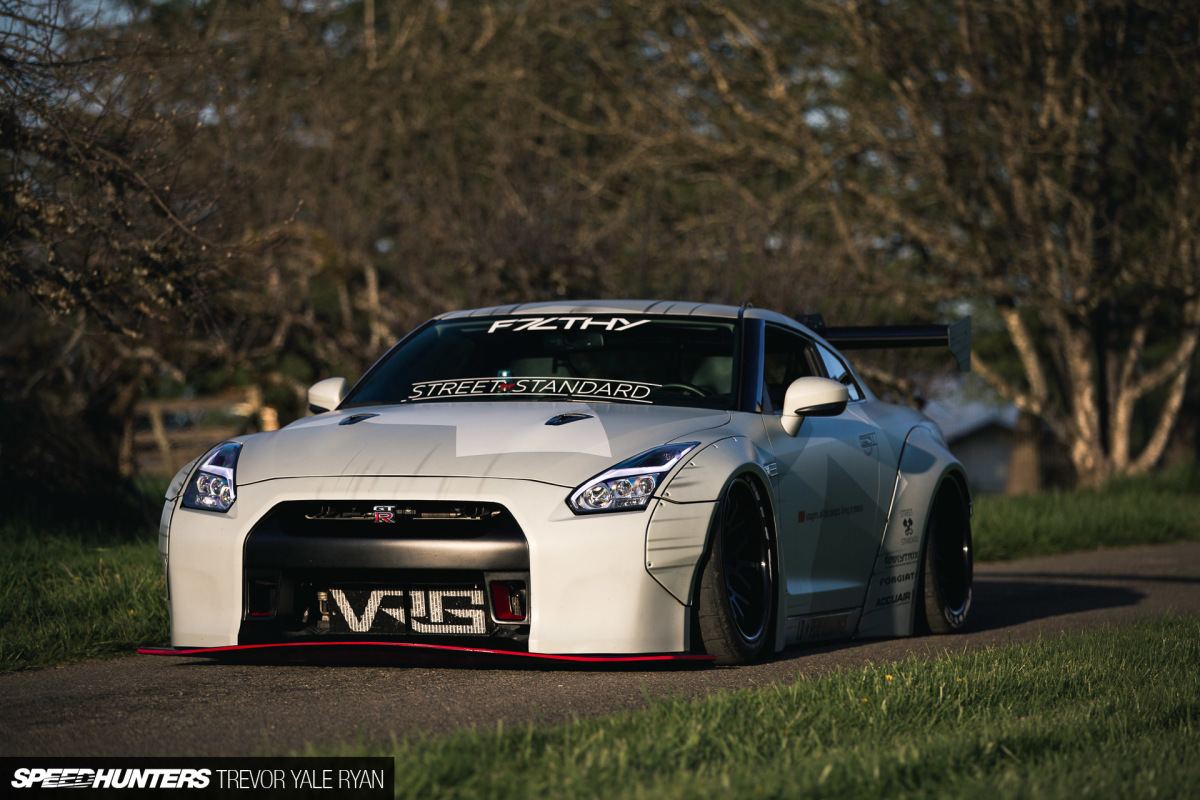 Heading to who knows where, now in the middle of Washington state, we found some nice secluded backroads for shooting.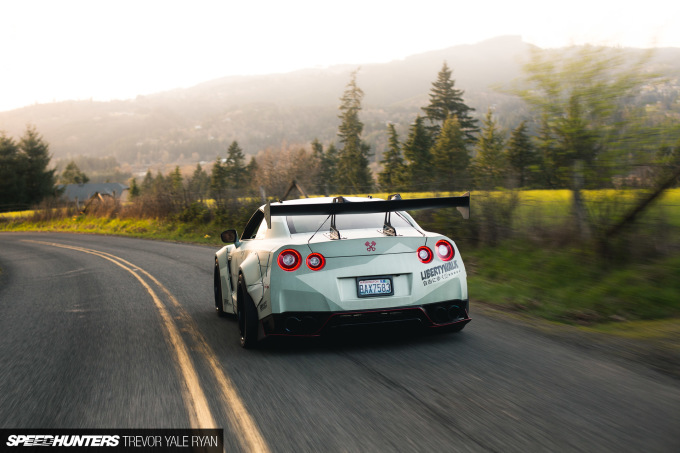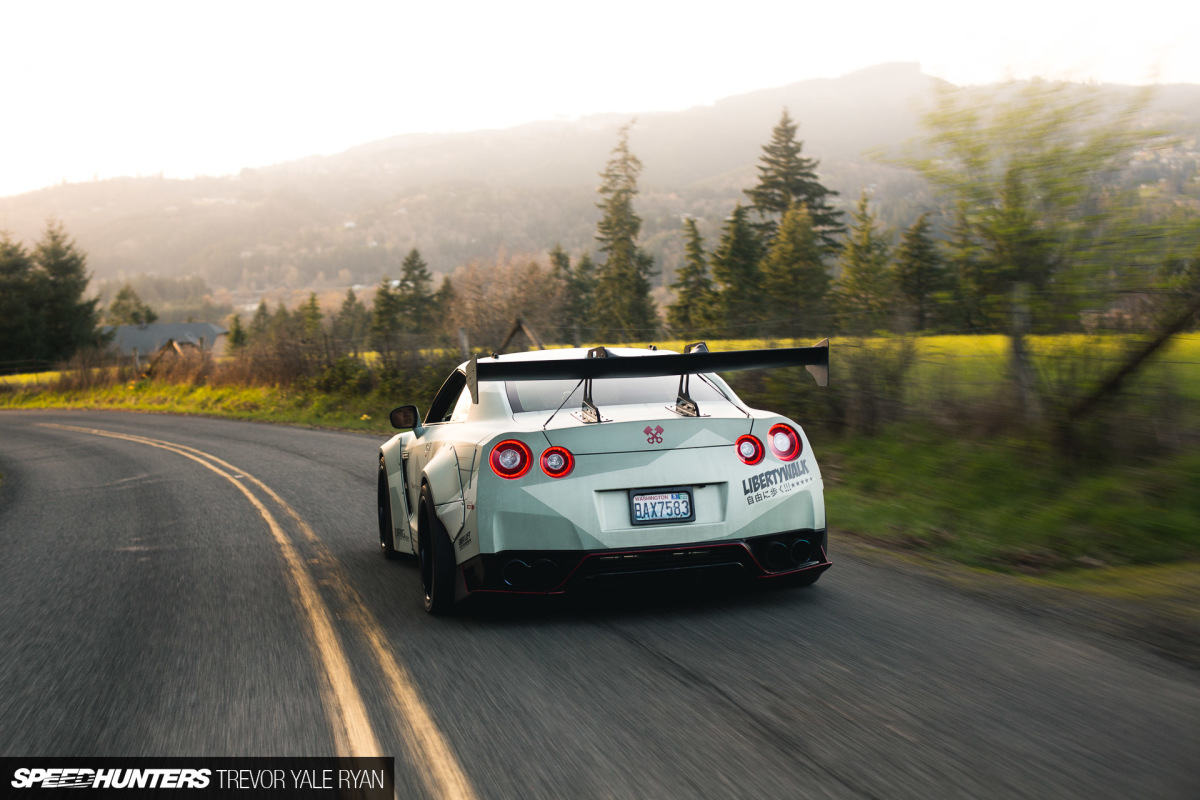 And, of course, driving.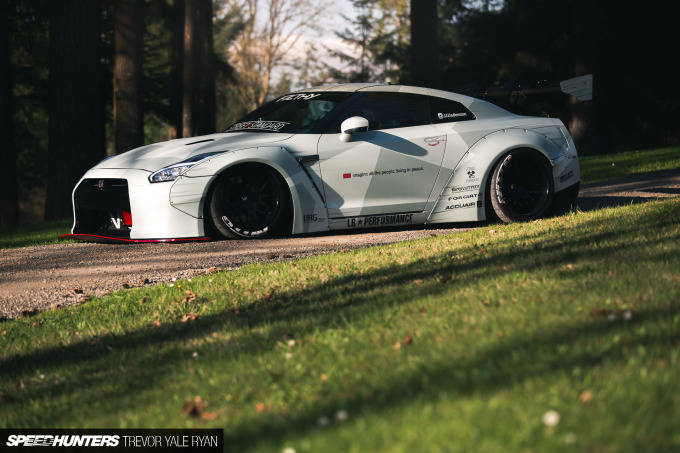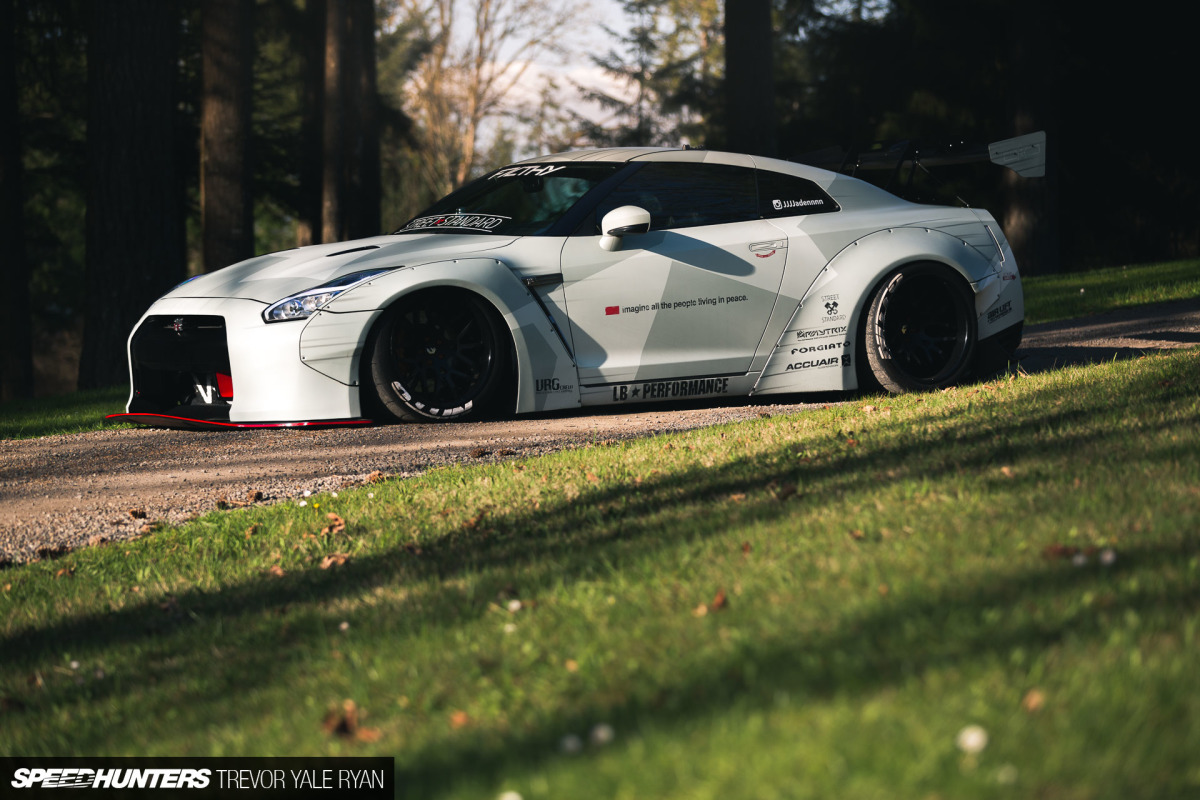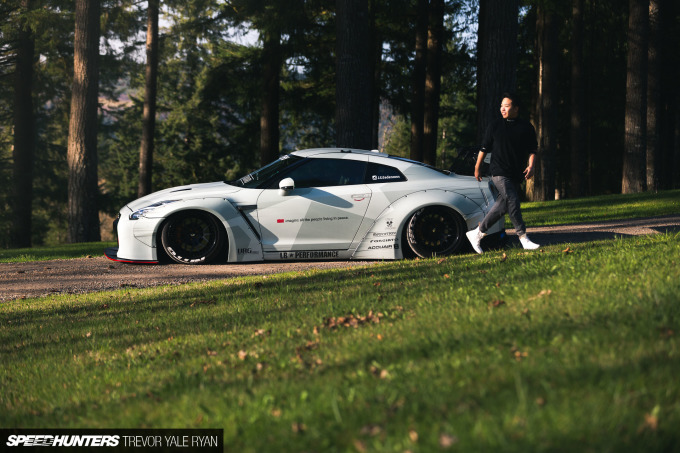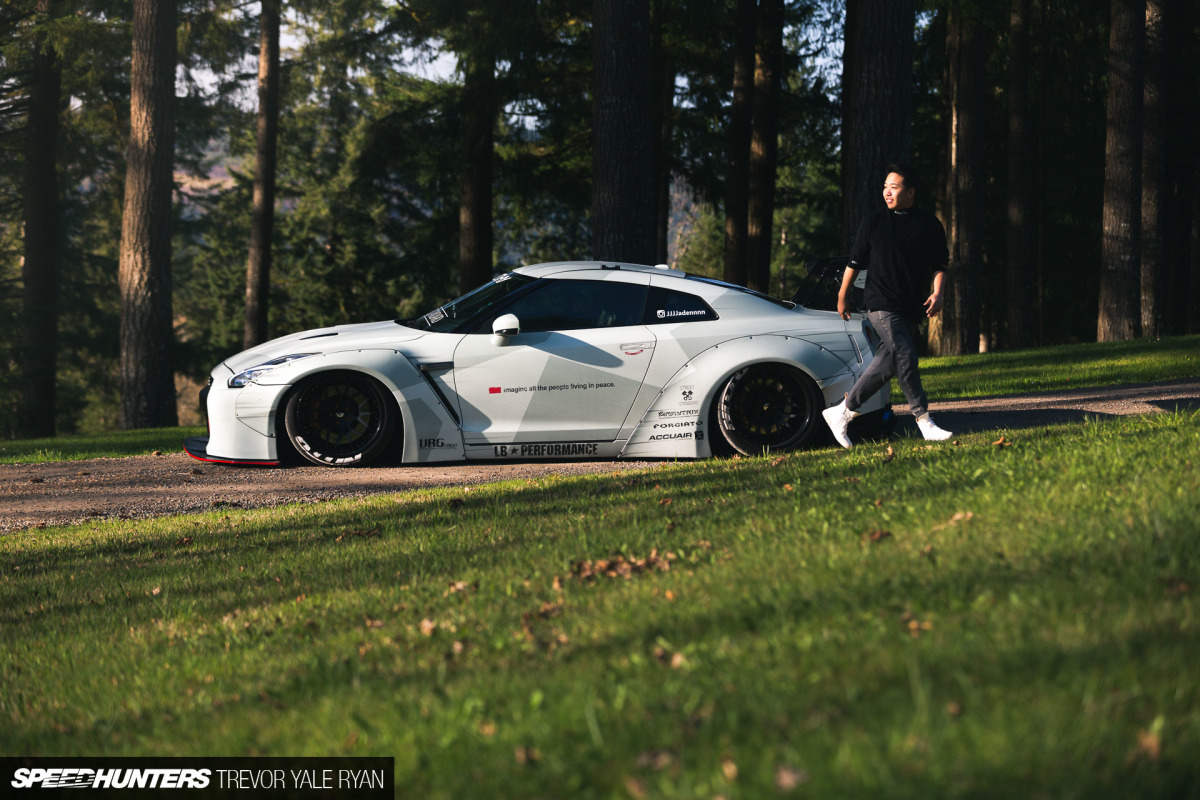 Finding ourselves on a nice driveway in the middle of the forest, I dove into what makes this car more fun to drive than a standard R35. Aesthetically, the first thing you'll notice is the Chengdu J-20 fighter jet-inspired wrap.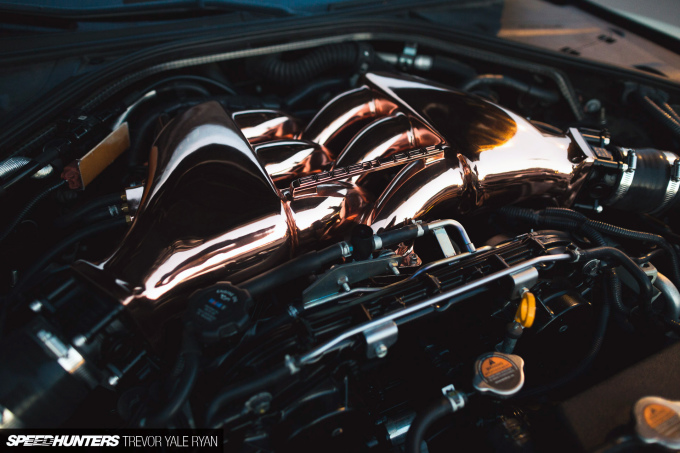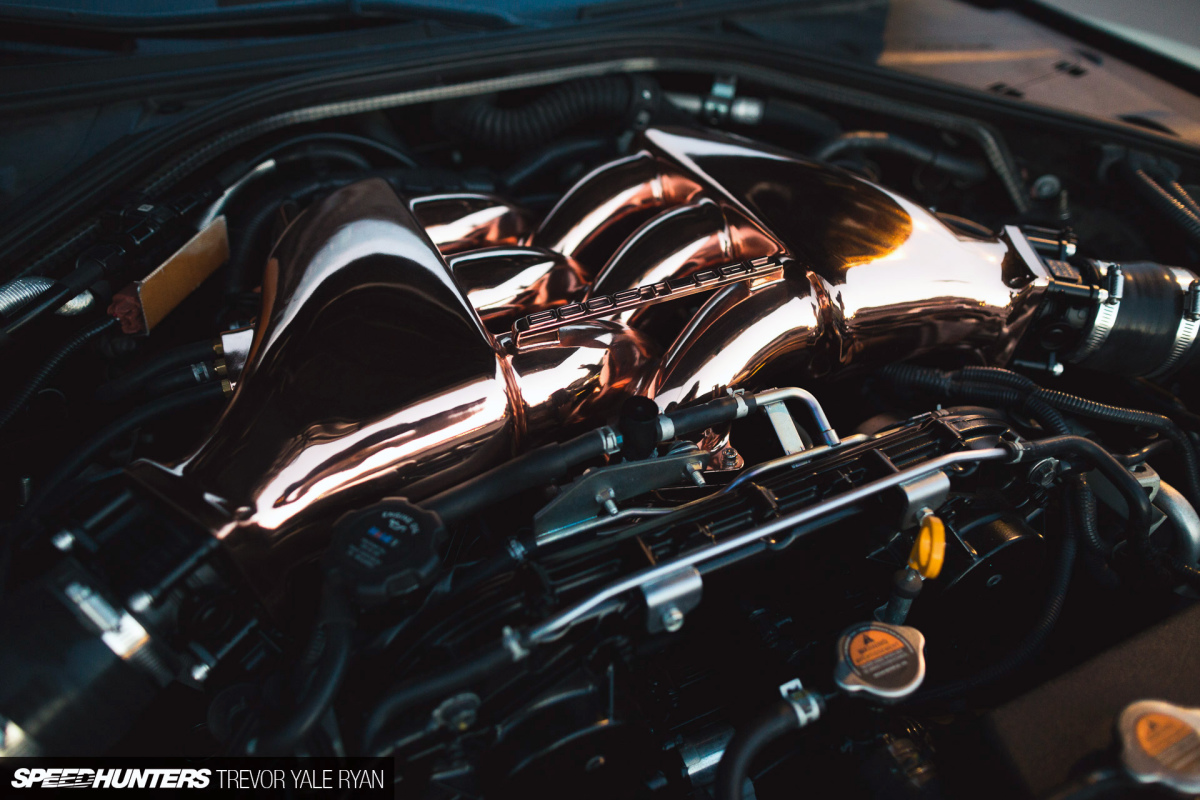 Under the hood the flashy Boost Logic intake hints at the work that's been done, but as with most R35s you can't exactly see the engine upgrades right away. There's a Got Boost Performance flex fuel kit, and coupled with a COBB Tuning Accessport V3 the setup is reputedly good for 660hp at the wheels on E85. With 1,700cc injectors fed by a DeatschWerks 300C pump, there's some headroom for the thirsty VR38DETT too.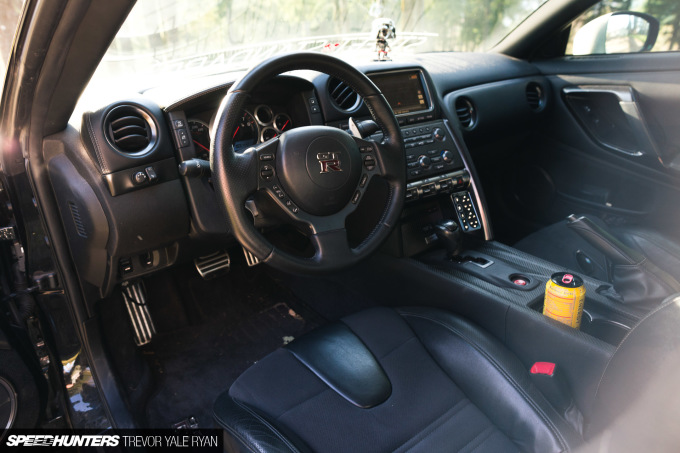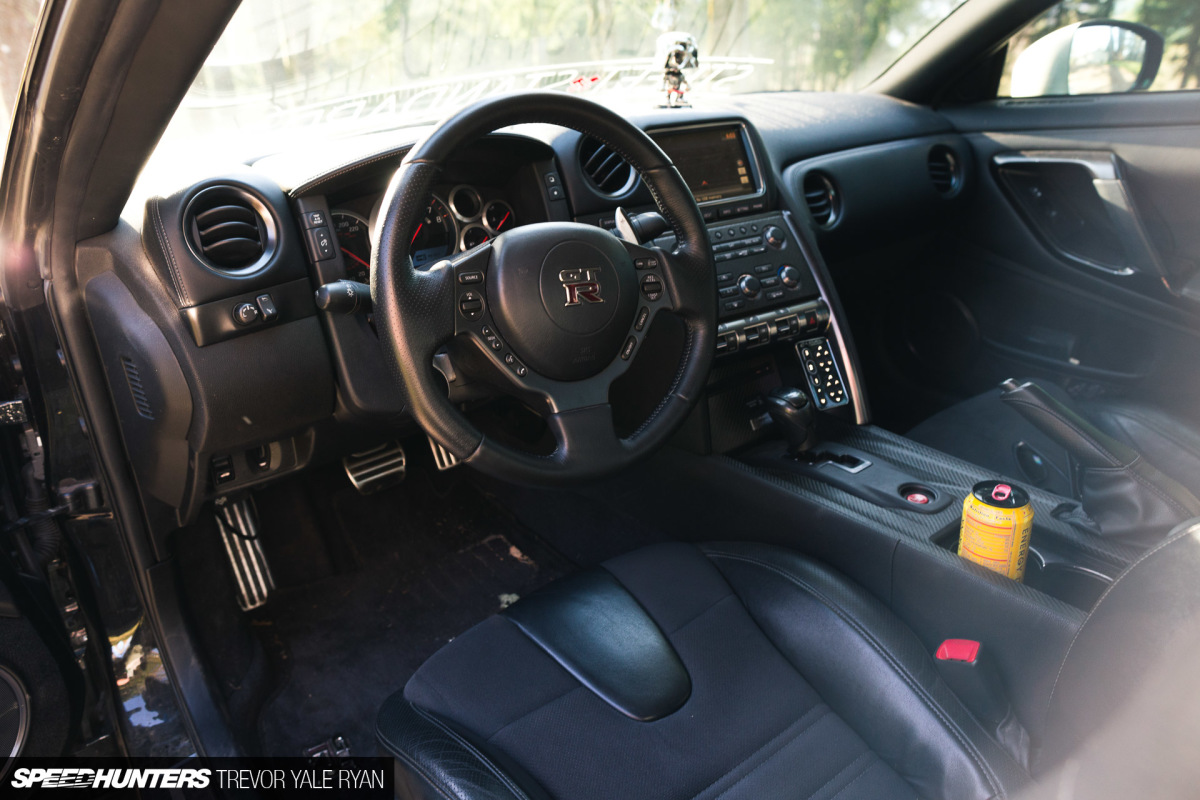 The cabin is almost entirely stock, as many R35 interiors seem to be. It makes sense though given that it's a fun, everyday car for Jaden.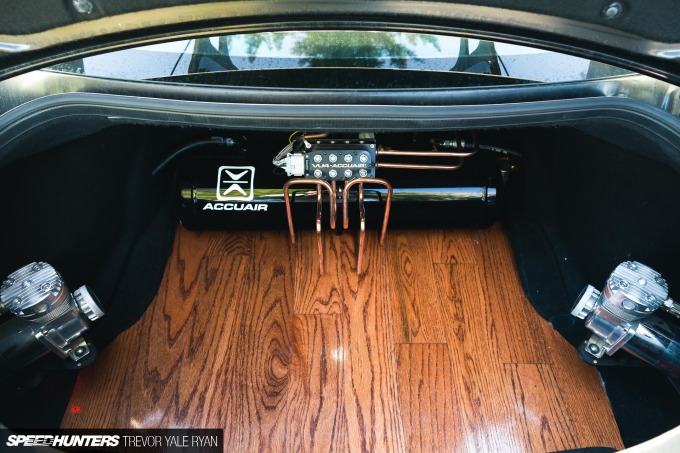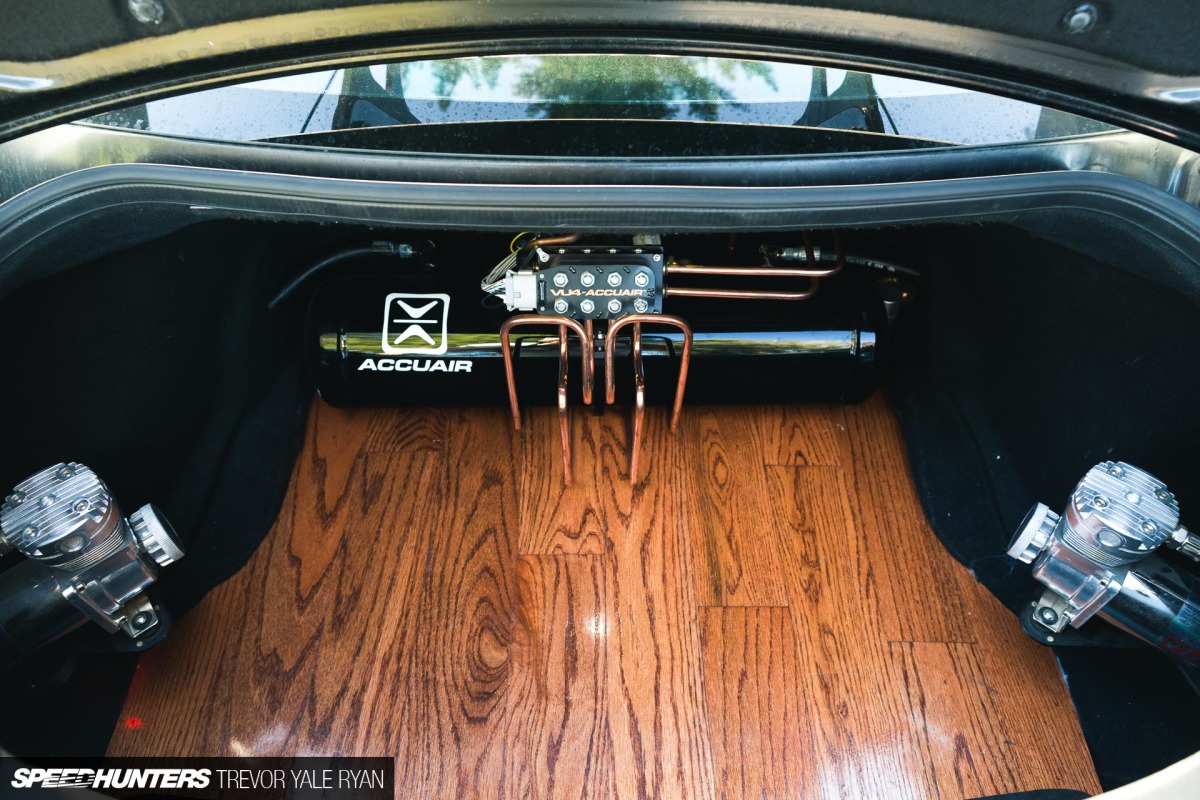 In the rear the not-so-subtle theme is continued. Again, while nothing super extraordinary, it's neat, tidy, and does what it should. An AccuAir management kit controls Air Lift Performance bags, and as far as making the geometry work down low a number of factory parts have been replaced. SPL PRO control arms and toe links were installed, along with a rear camber link kit.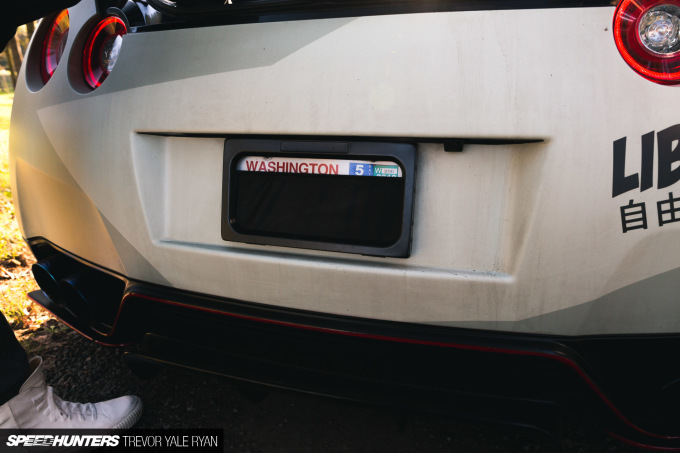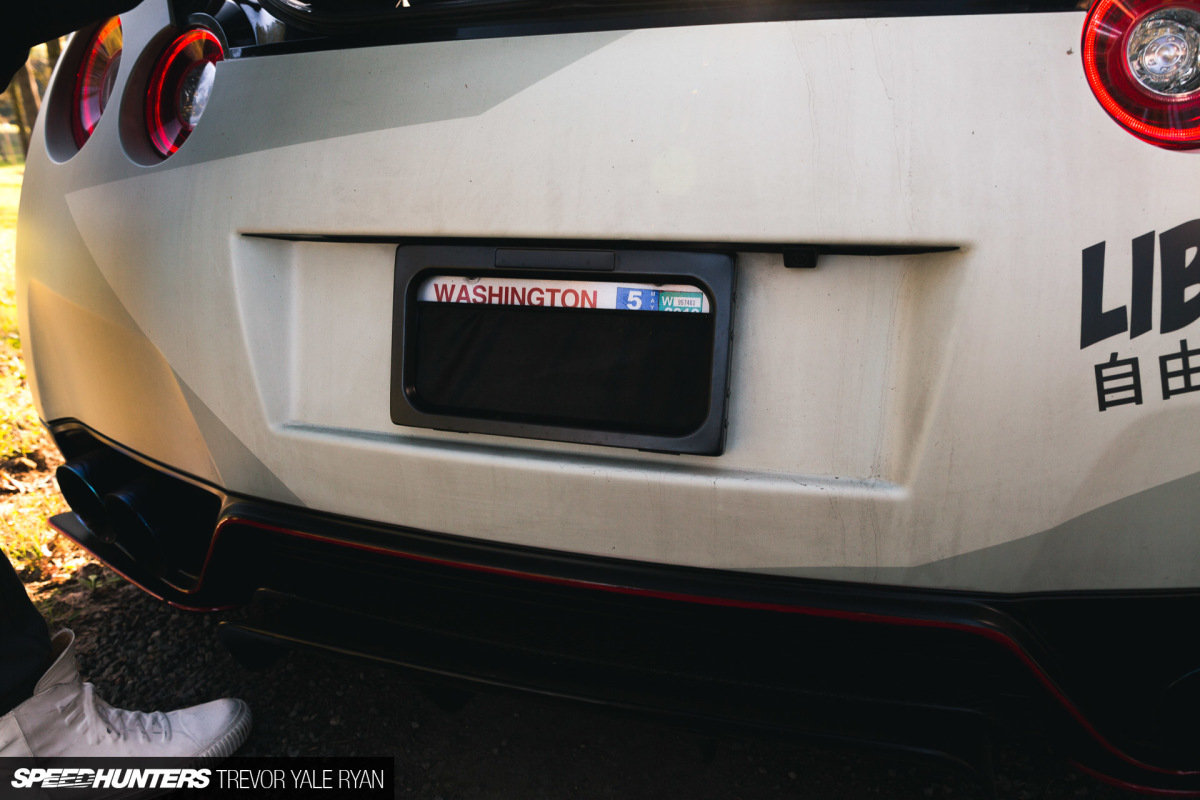 While out back, I noticed a nice touch. Operated by a switch next to the driver's seat Jaden can hide his plate at will. I also noticed that we're either really bad at washing stained cars or the super-rich exhaust emission mixed with mud and dust from the backroads had already found their way back on the car. Probably a bit of both.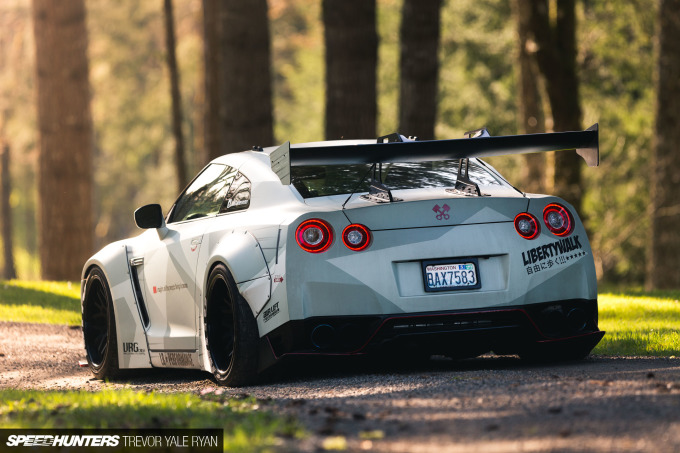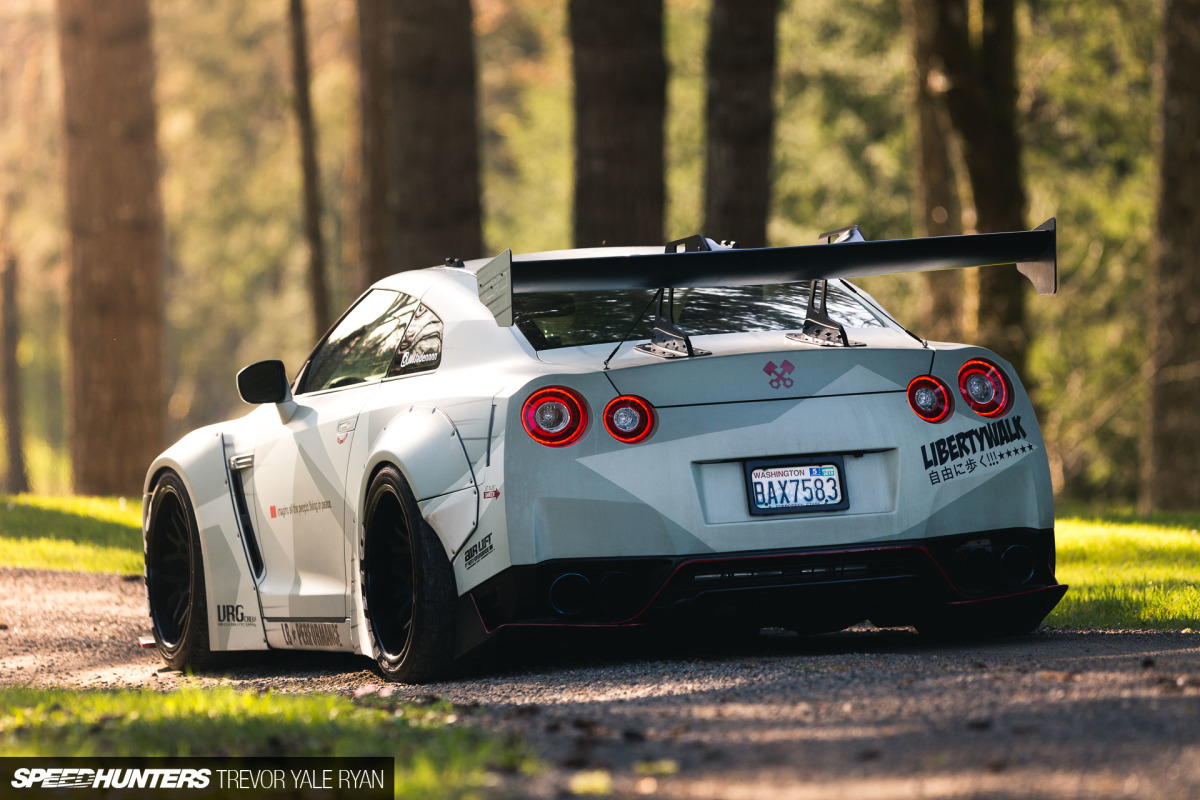 But the point of this car isn't to be clean. It wasn't built just to air out at a show or be parked in a garage. It was built to be driven.
Drive Your Car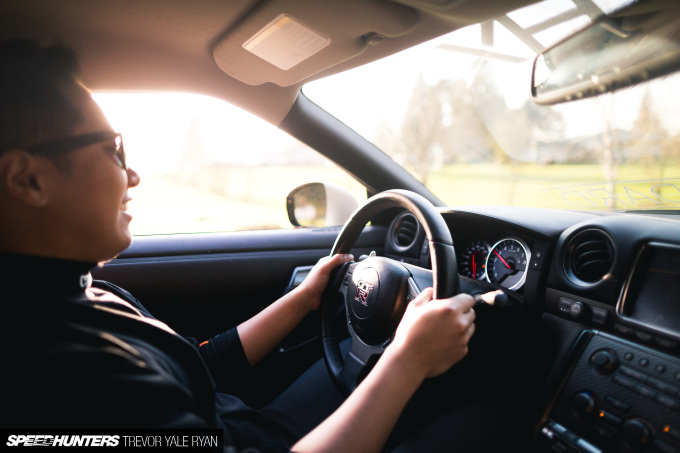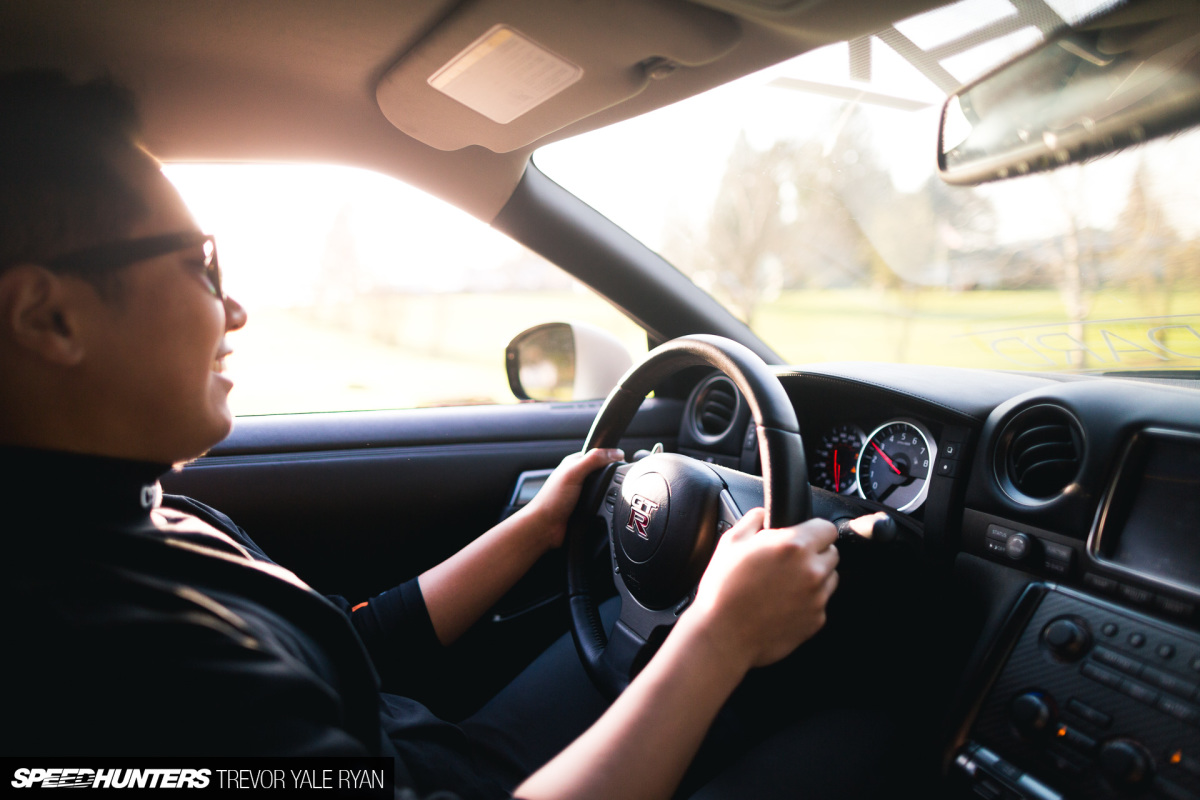 When I learned that Jaden drove from Washington to Texas for a car show, it's clear he's logged some serious hours. But that's fine because any time Jaden's behind the wheel with around 800hp humming away in front of him he's having a good time.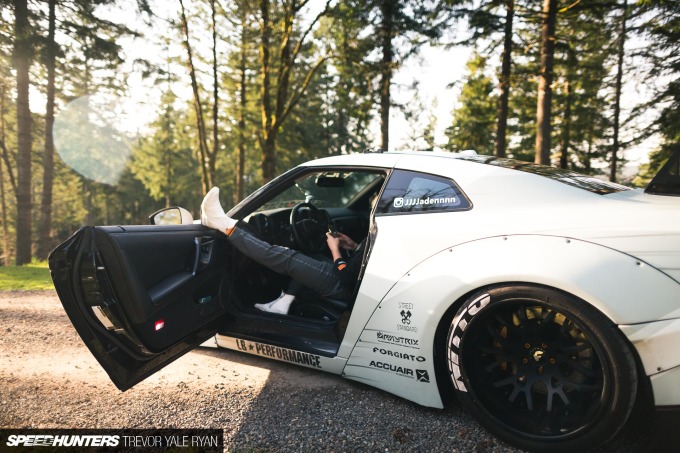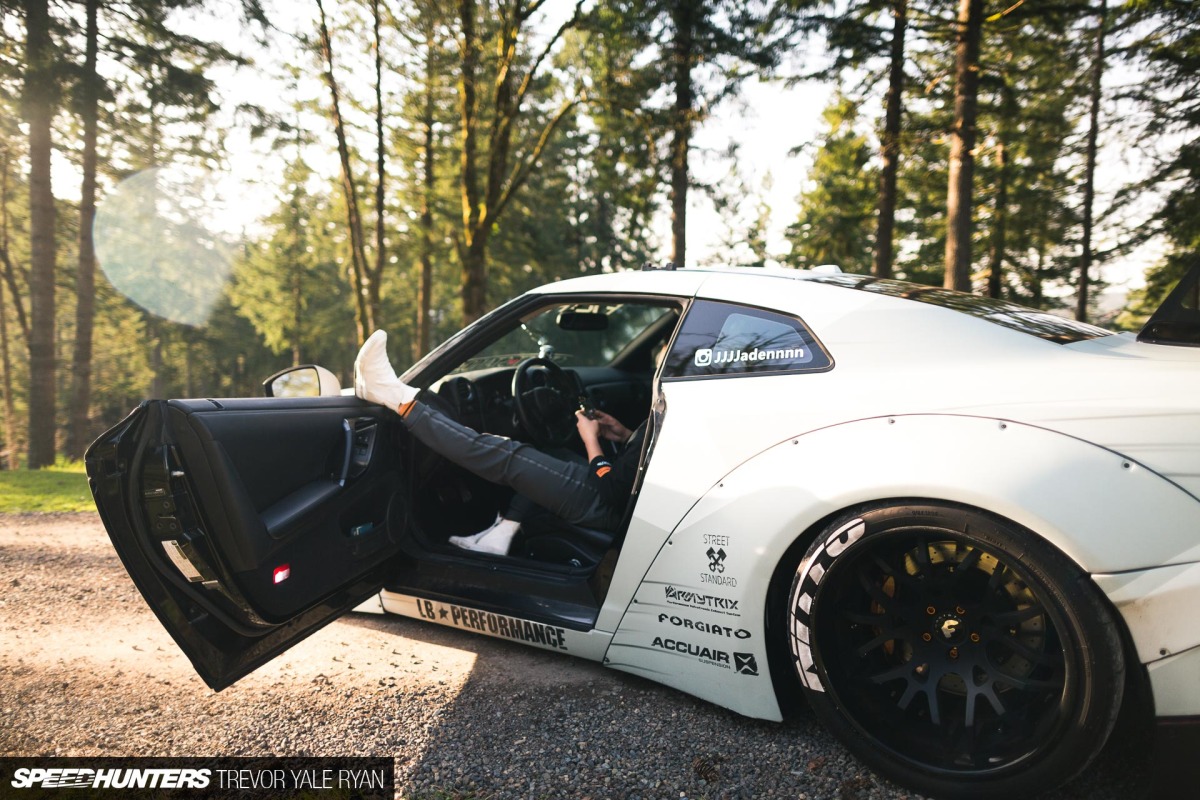 Jaden built this car for himself and hopes in the process he can convert other non-car folk into genuine enthusiasts. He's a laid back guy that doesn't take things too seriously, as evidenced by his goofing off with a miniature beatbox machine while we shot his car.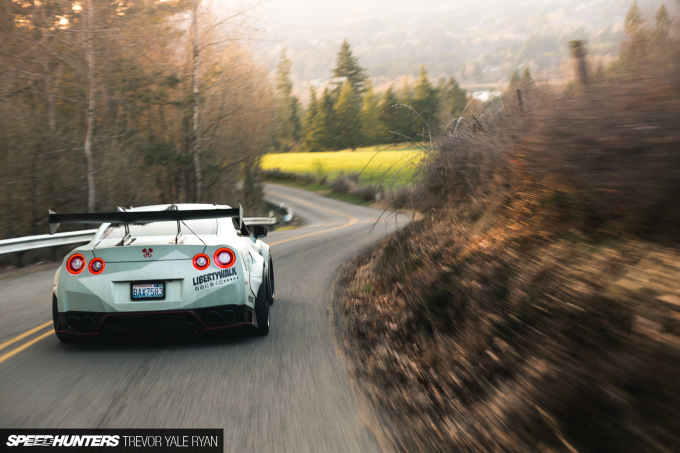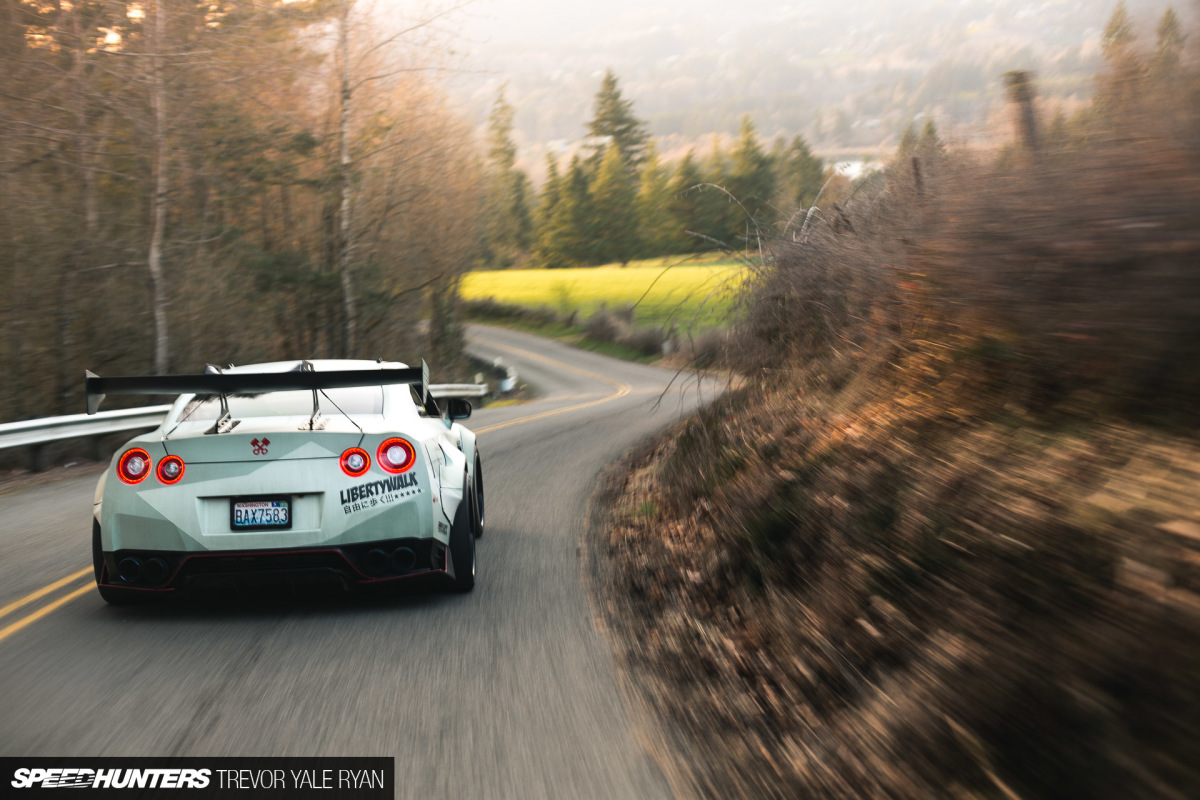 Next, Jaden wants to move onto more exotic territory. While he describes the GT-R as "a Japanese car that encourages you to modify it," he has his eyes set on a Lamborghini Huracán for his next go-around.
I'm not sure when this will happen, but I am sure that Jaden loves cars at this point. All it took was a video, and now his life revolves around a GT-R.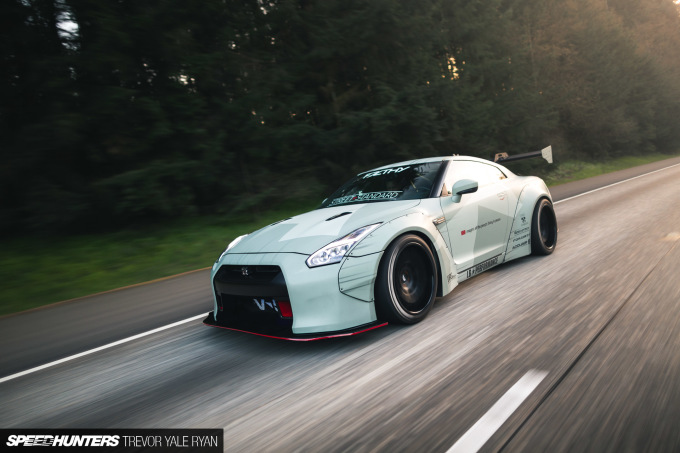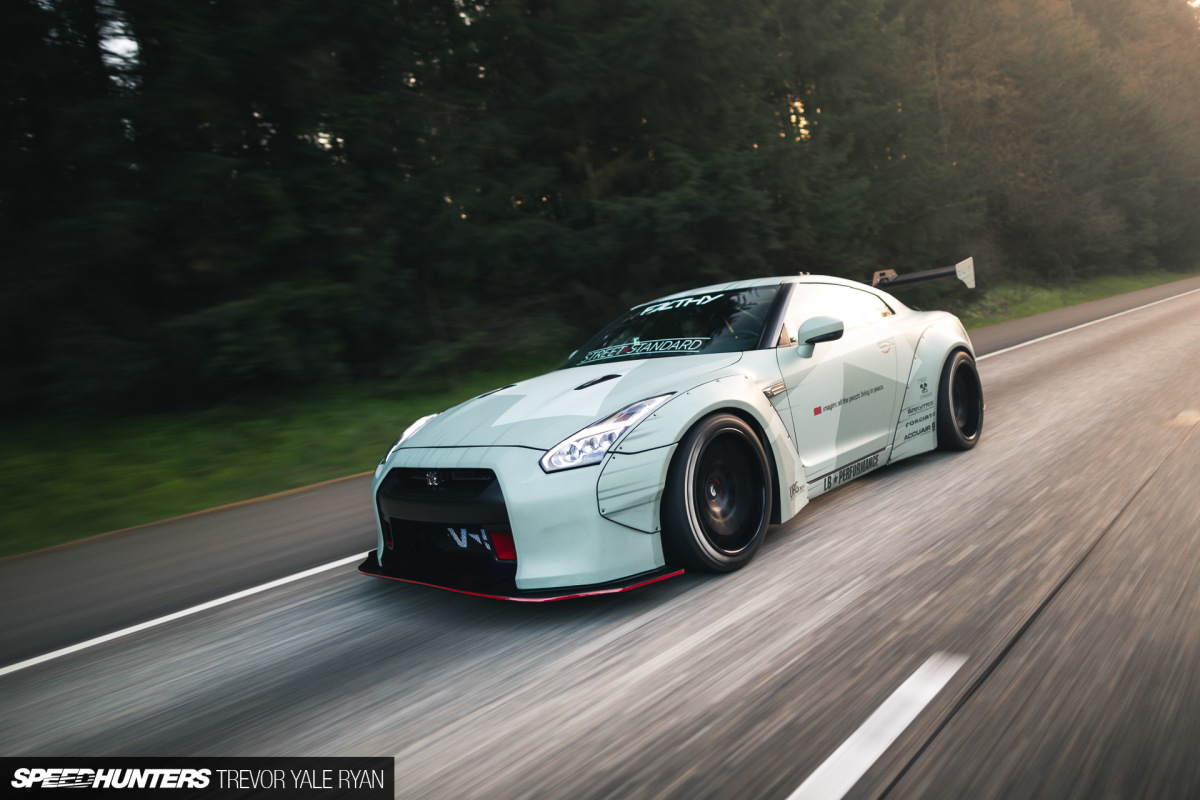 After all, there is nothing quite like going for a drive.
F7LTHY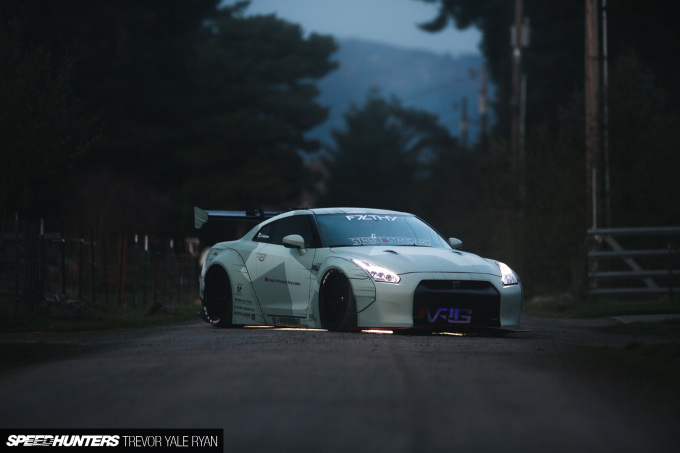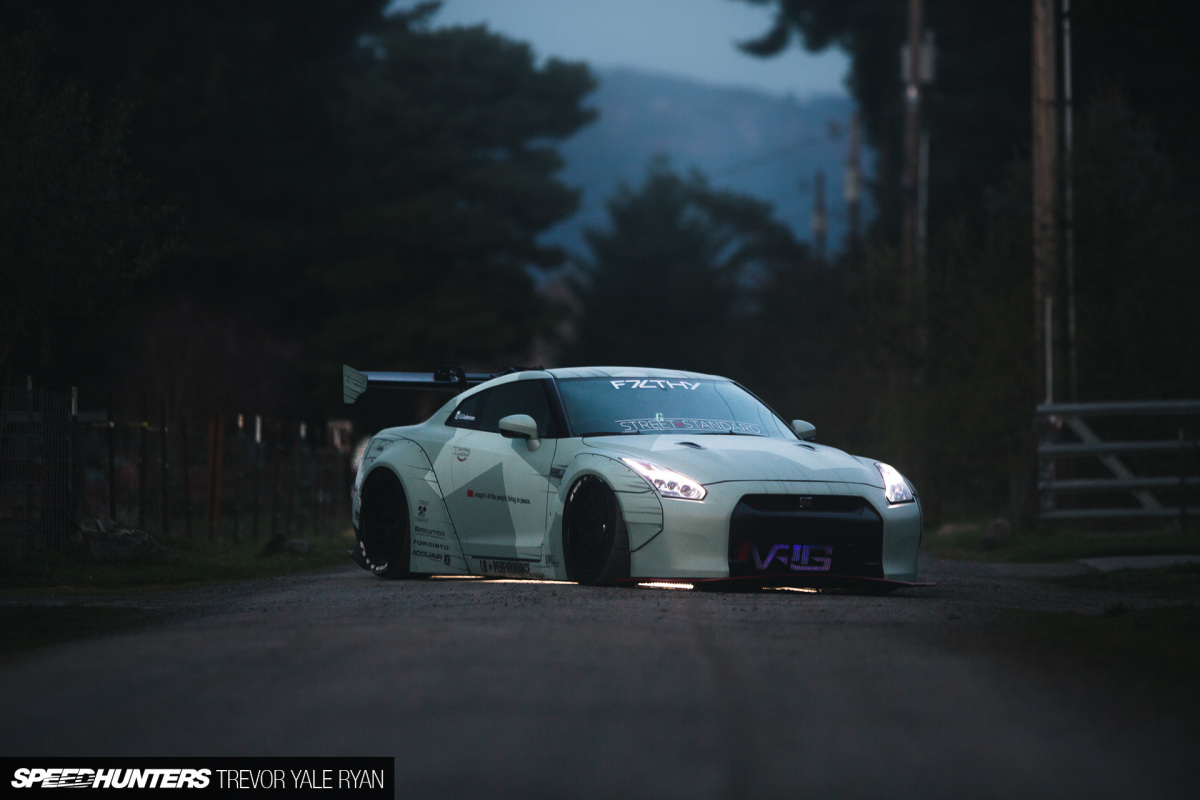 After a long day of exploring backroads we found ourselves back where we started. Talking to Jaden before we parted ways I learned a final fun fact about the car: JJ Dubec, the guy who started F7LTHY, and whose video inspired Jaden in the first place, personally stuck the sticker on the R35's windshield.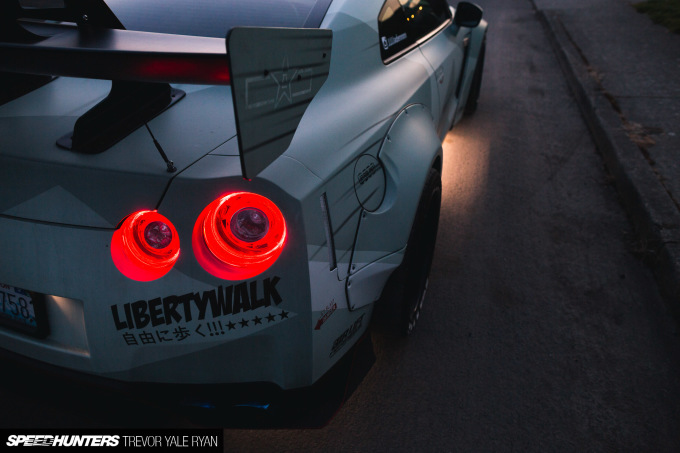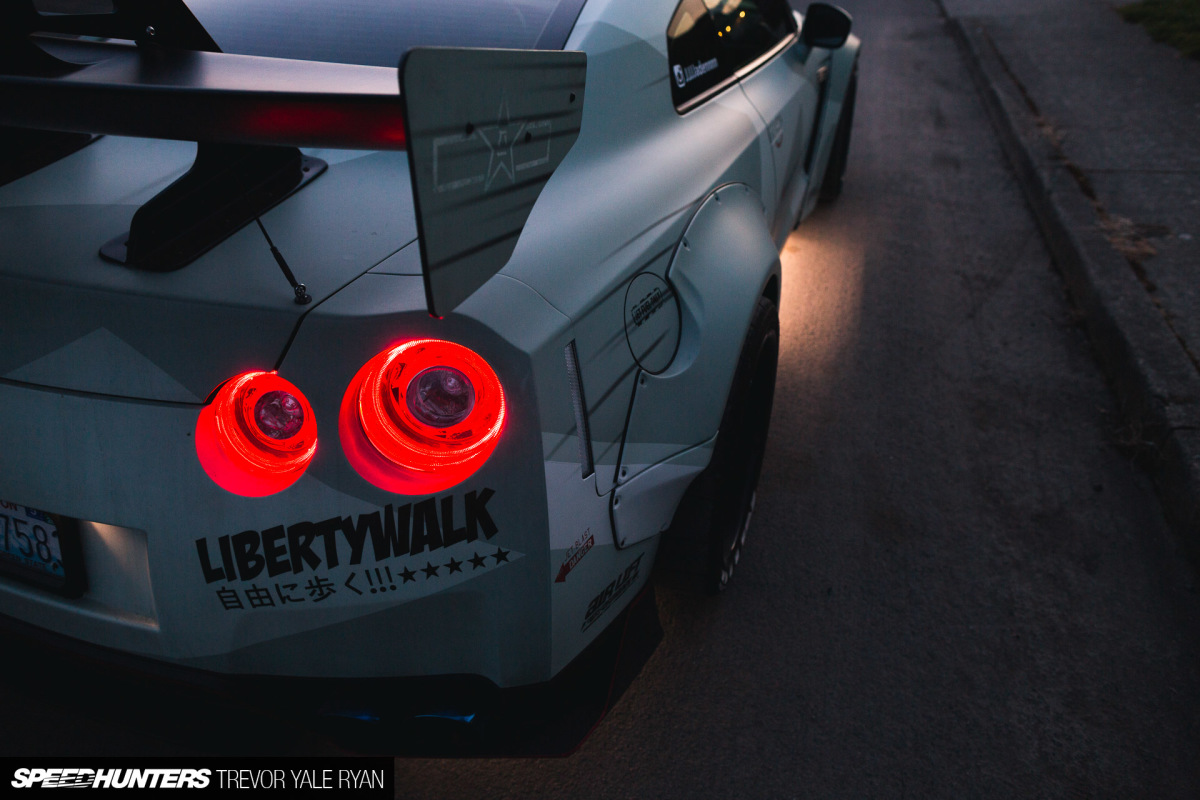 It was one of those neat, full-circle sort of things that make car-building and Speedhunting alike so satisfying.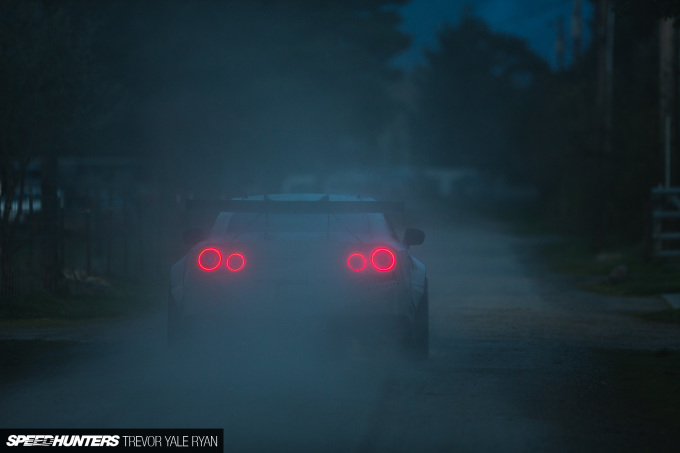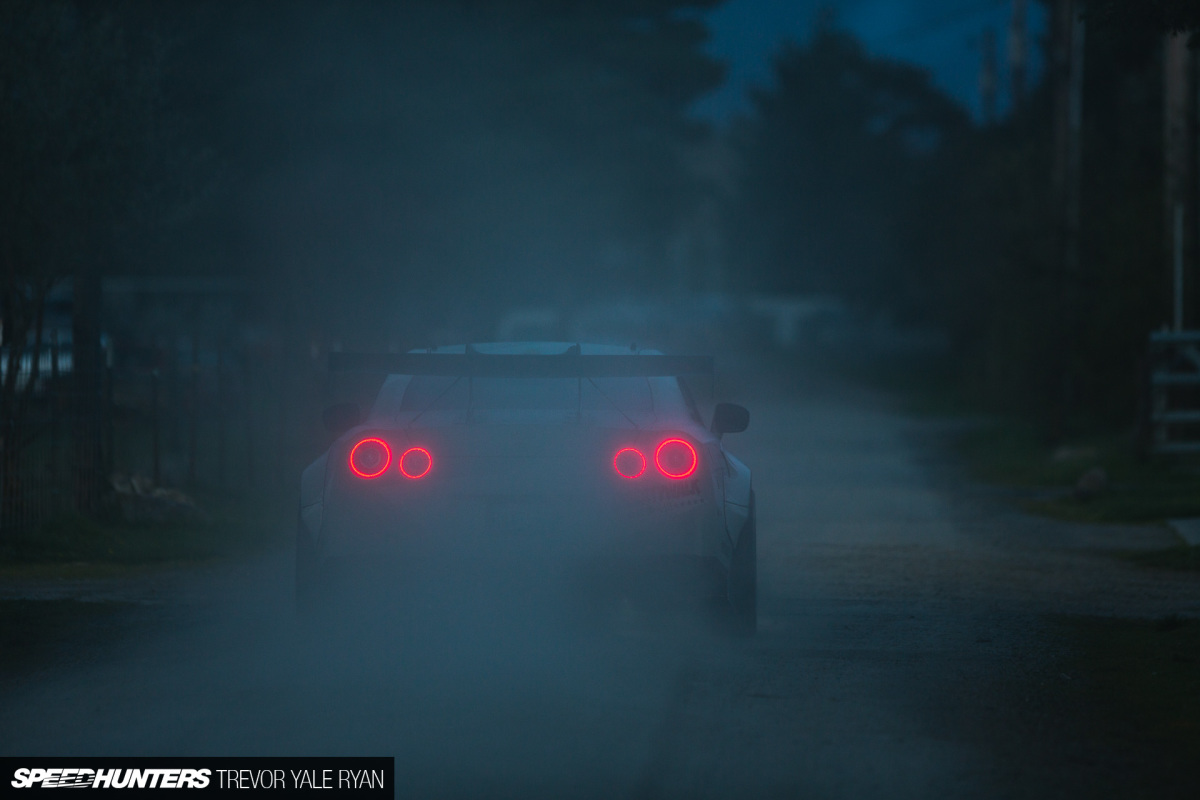 Rolling off into the distance, it struck me how much meaning cars can carry. It's quite hard to put your finger on what it is about the automobile that connects us all. From the factory, they're little more than a box on wheels, but aftermarket and collector culture transforms them into something else entirely.
Jaden's story is an inspiring one to me, and there's only question left. What will you build?
Trevor Yale Ryan
Instagram: tyrphoto
TYRphoto.com
Big Fat Godzilla