The Open Road Calls
It was dawn on a late May Sunday morning in the beautiful city of Melbourne, Australia.
Just a few hours prior to what was a painfully early alarm call, Matthew and I were cruising the highways of the city with a pack of tuned cars, and attempting to get as many driving shots as we could for the Kebabhunting post we hope you enjoyed last week. With a pretty hardcore schedule of shooting since the moment we had both landed, I was a little reluctant to begin the 600km (373mi) drive that was ahead of us, but Matt kept telling me that it would all be worth it once I saw the views at our destination.
A serious lack of sleep, feeling like I had been hit by a bus, and a critical need for caffeine meant that my grumbling continued right up until breakfast, when Matt, with his lovely and colorful Aussie mannerisms, told me to stop being a "whinging d*ckhead".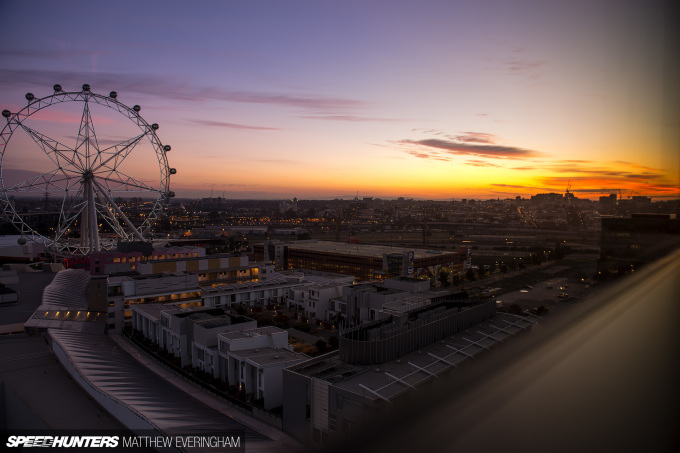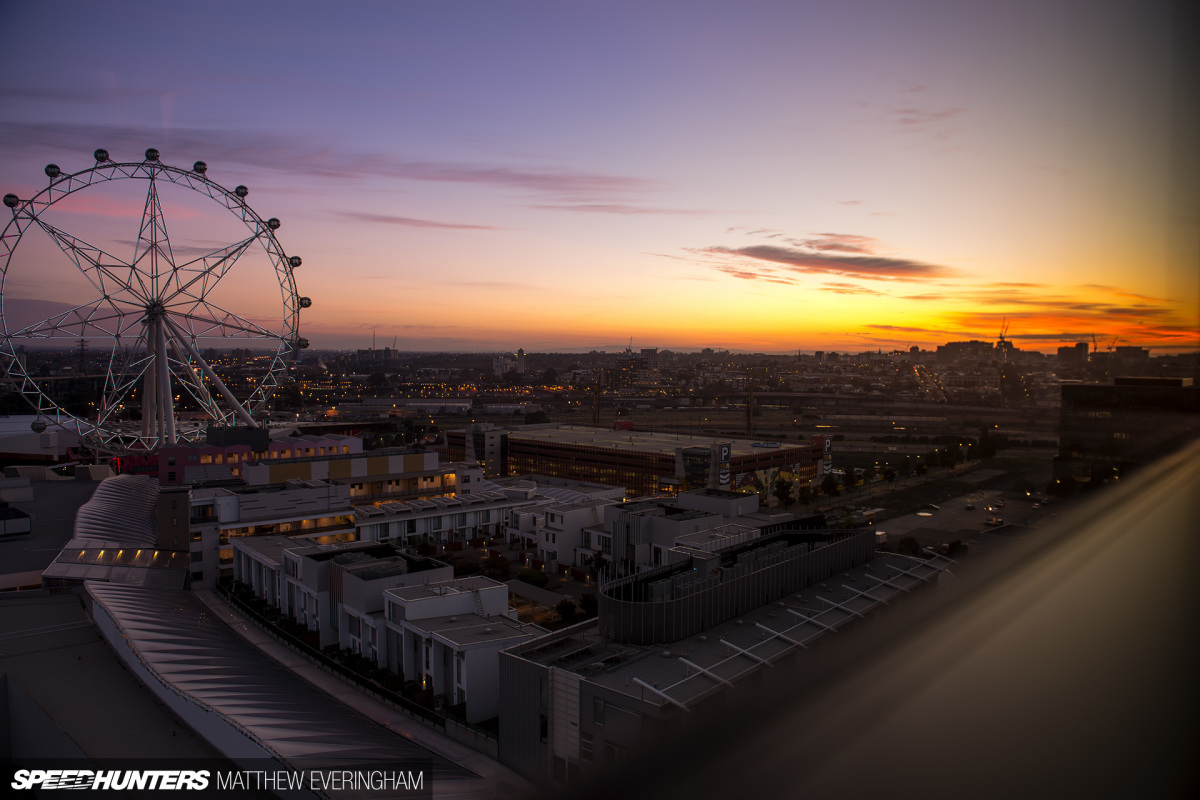 Fair enough; we were up anyway and the fresh coffee was beginning to help. With our bellies soon filled to the brim with a hearty brekky (see, I'm getting the lingo down) it was time to embark on our journey towards the Great Ocean Road.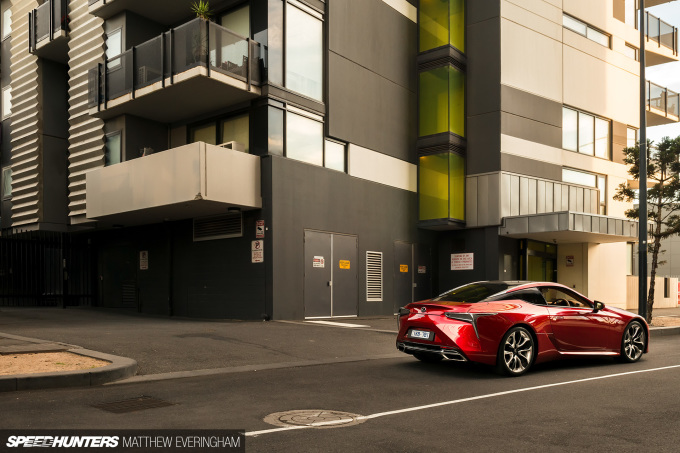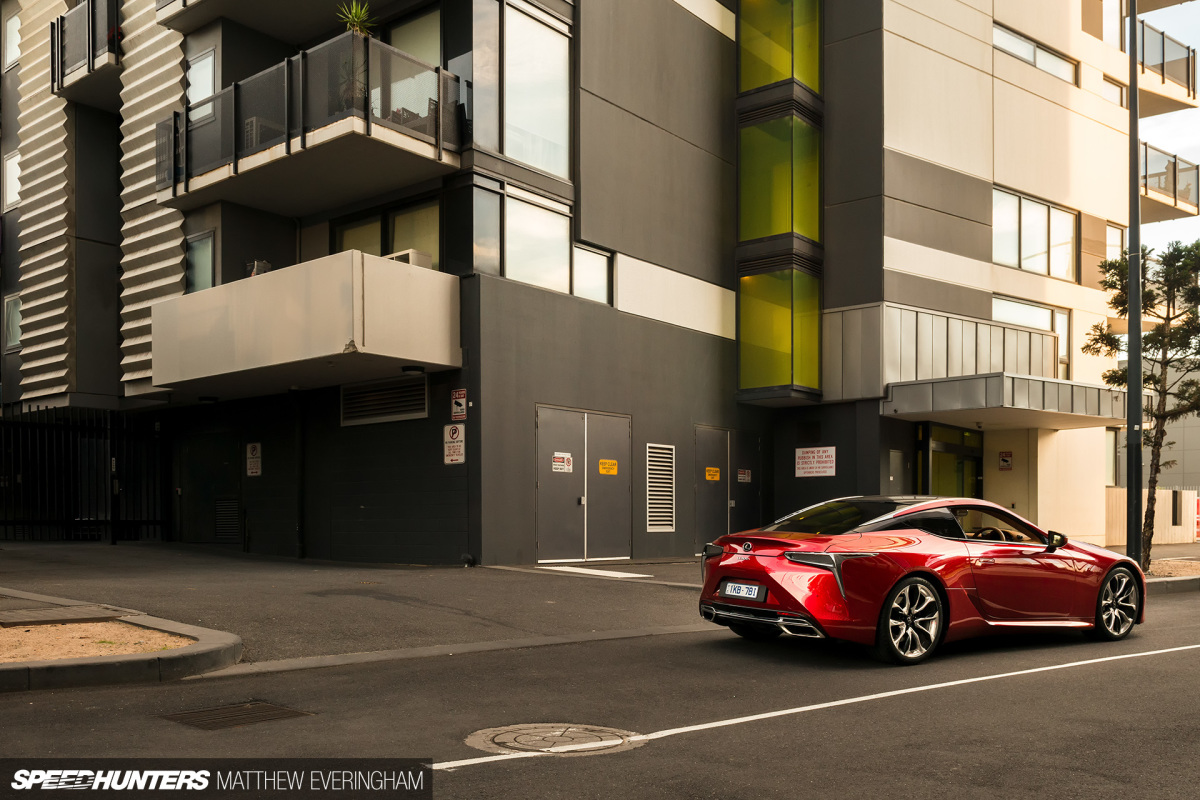 Coming outside to find the Lexus LC 500 waiting for me instantly put a smile on my face. After experiencing the LC 500h hybrid last year, I'd been itching to have a proper drive of the non-electrified version that had been teasing me with its fruity V8 sounds and a chassis just asking to be thrown around. Now was that time.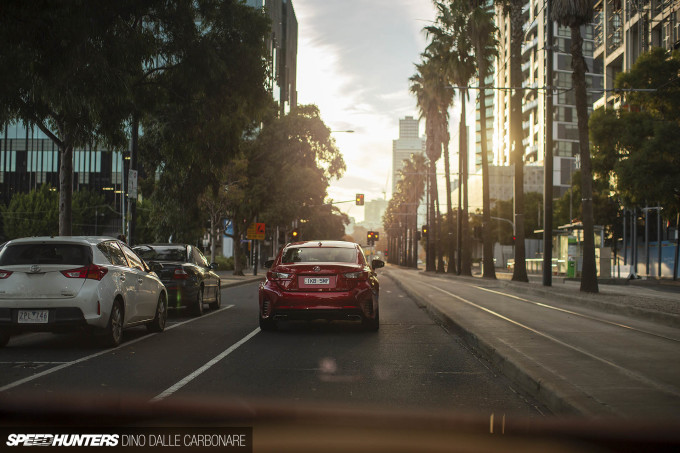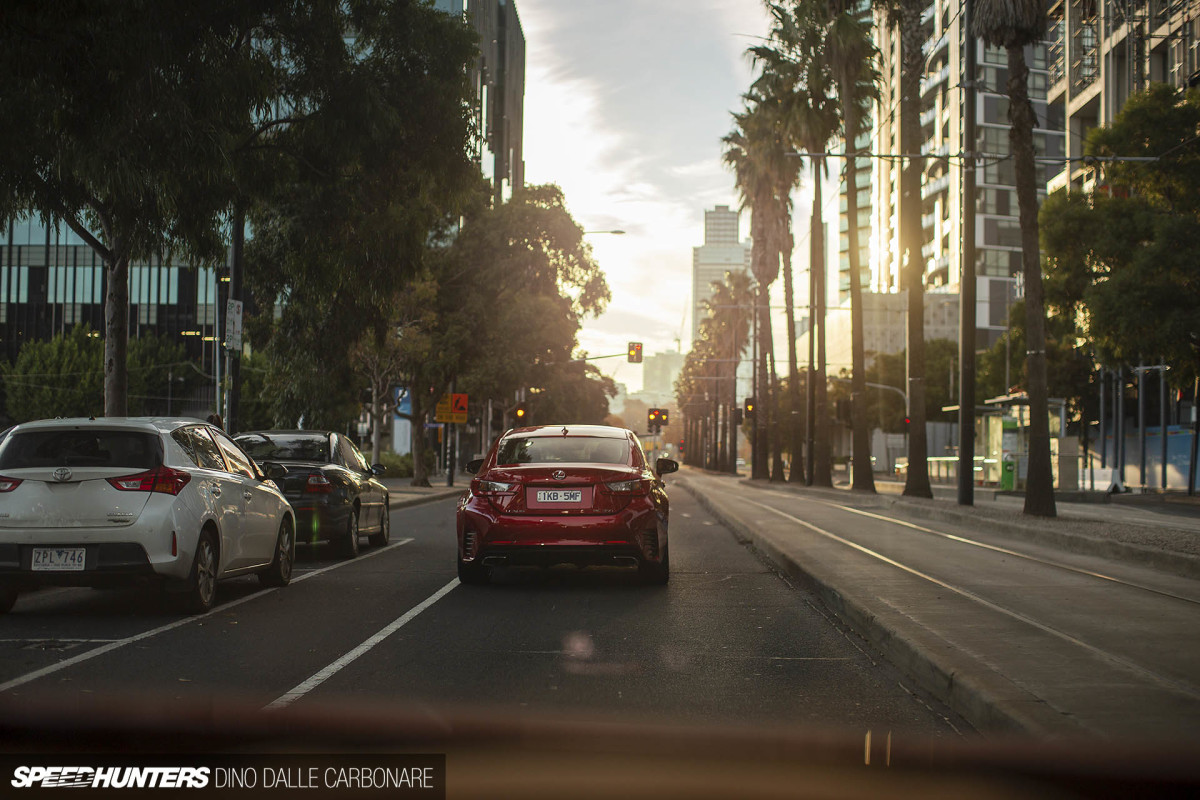 Without delay we set off with a gentle cruise through the deserted streets of the city, Matt behind the wheel of an RC 350 F Sport also on loan from Lexus Australia.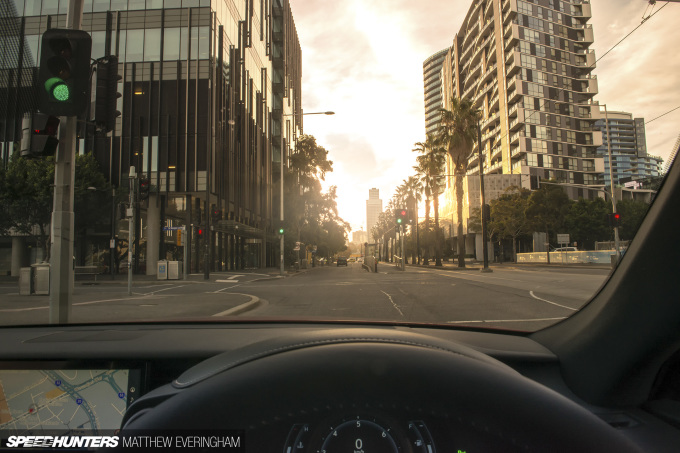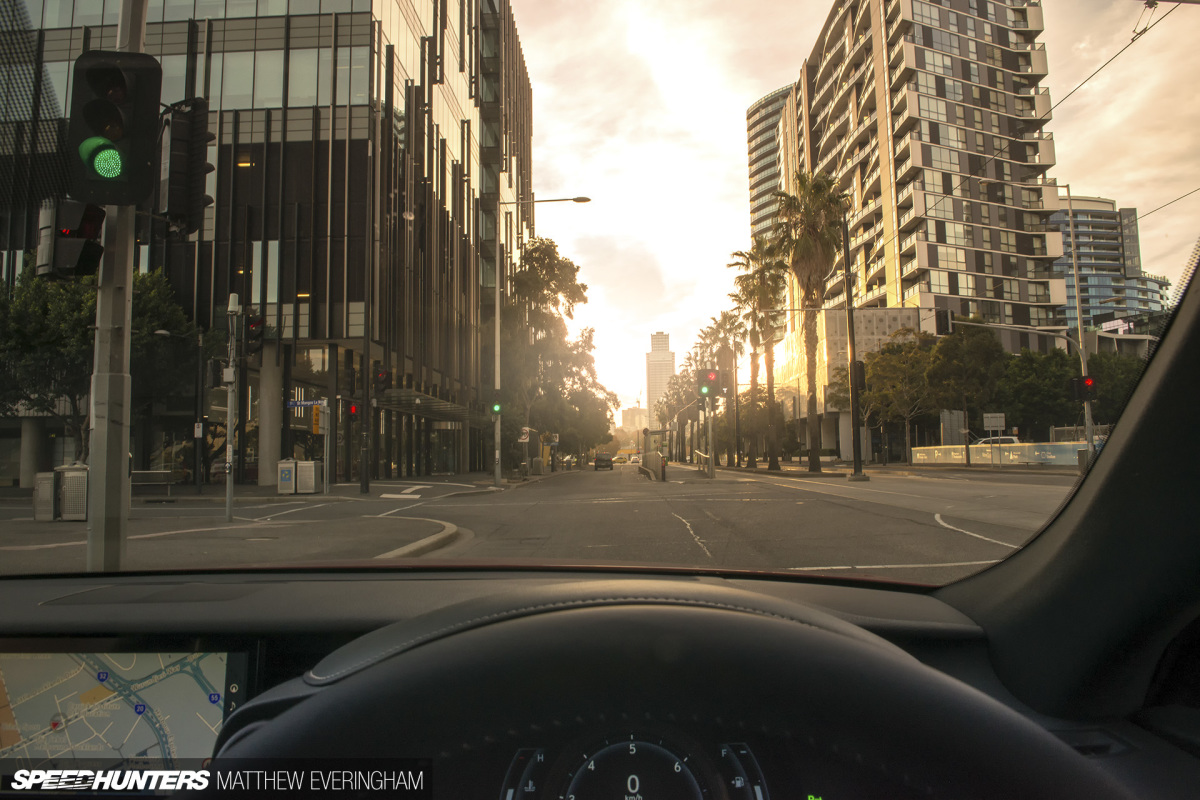 Matt: I won't lie, I was a little disappointed that the tourist nabbed the LC 500 key before I'd flown into town, but I was still very keen to explore the potential of RC 350. Also, I was excited to reach our ultimate destination; the Great Ocean Road hugs the ancient coastline that separates Australia from the Antarctic.
Dino had no idea what he'd be missing out on if we took an easier option, but lucky for him I'd driven the route before and knew the great 'photoshoot' opportunity that awaited.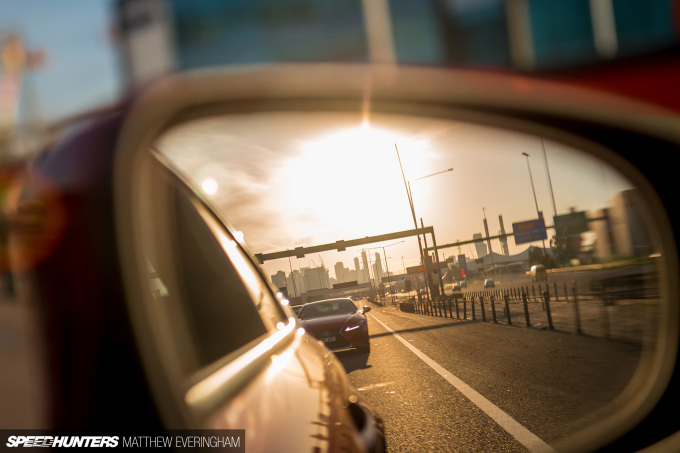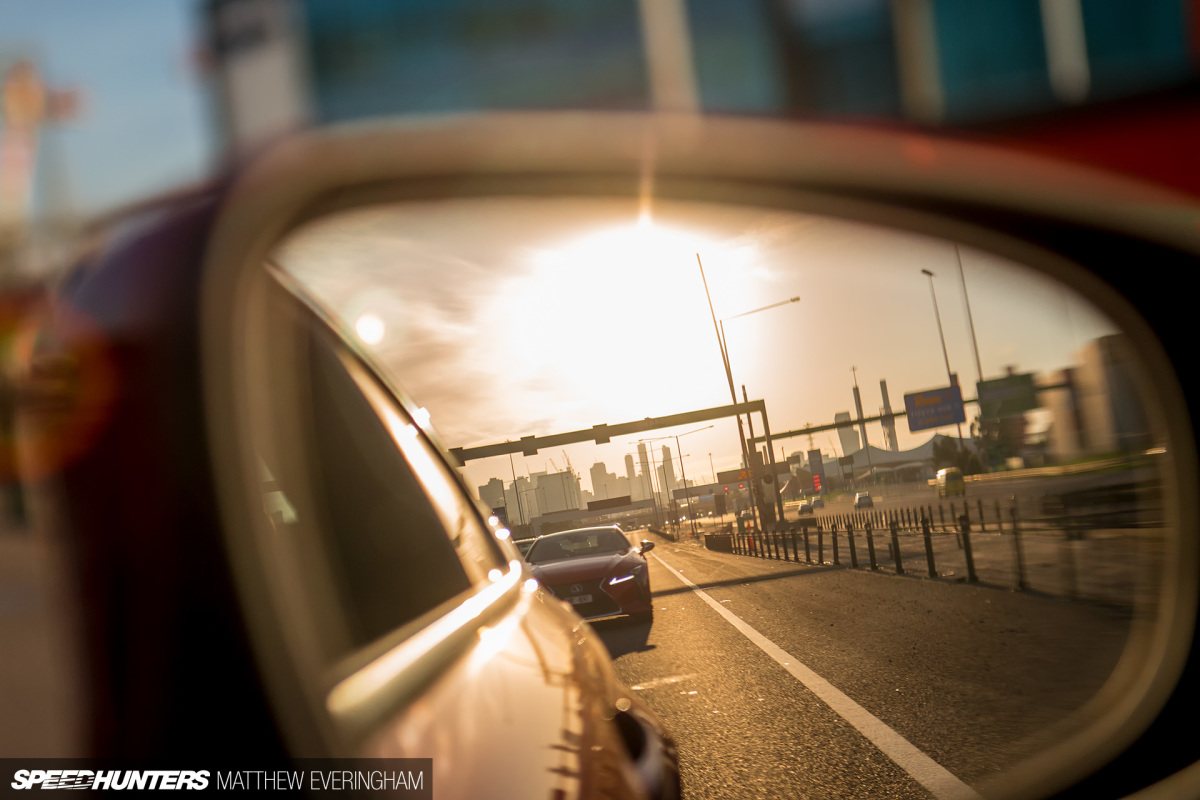 It wasn't just the place I'd refused to miss out on, it was a feeling. Knowing it was unexplainable. I mostly kept that part to myself, but the cleansing process had already began as we left the city. Dino would have to wait and discover all this for himself in a few hours.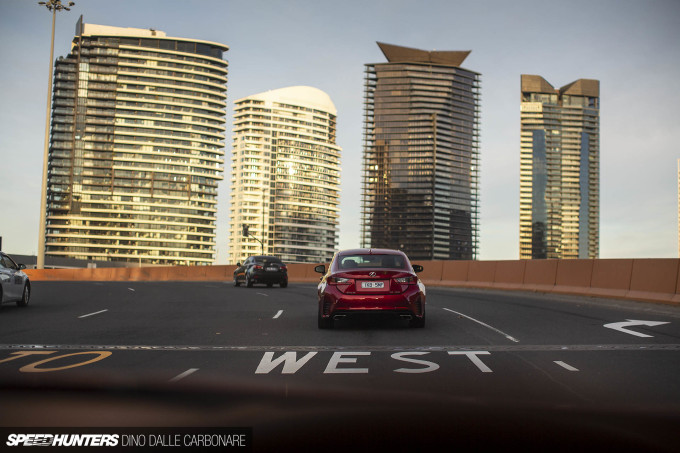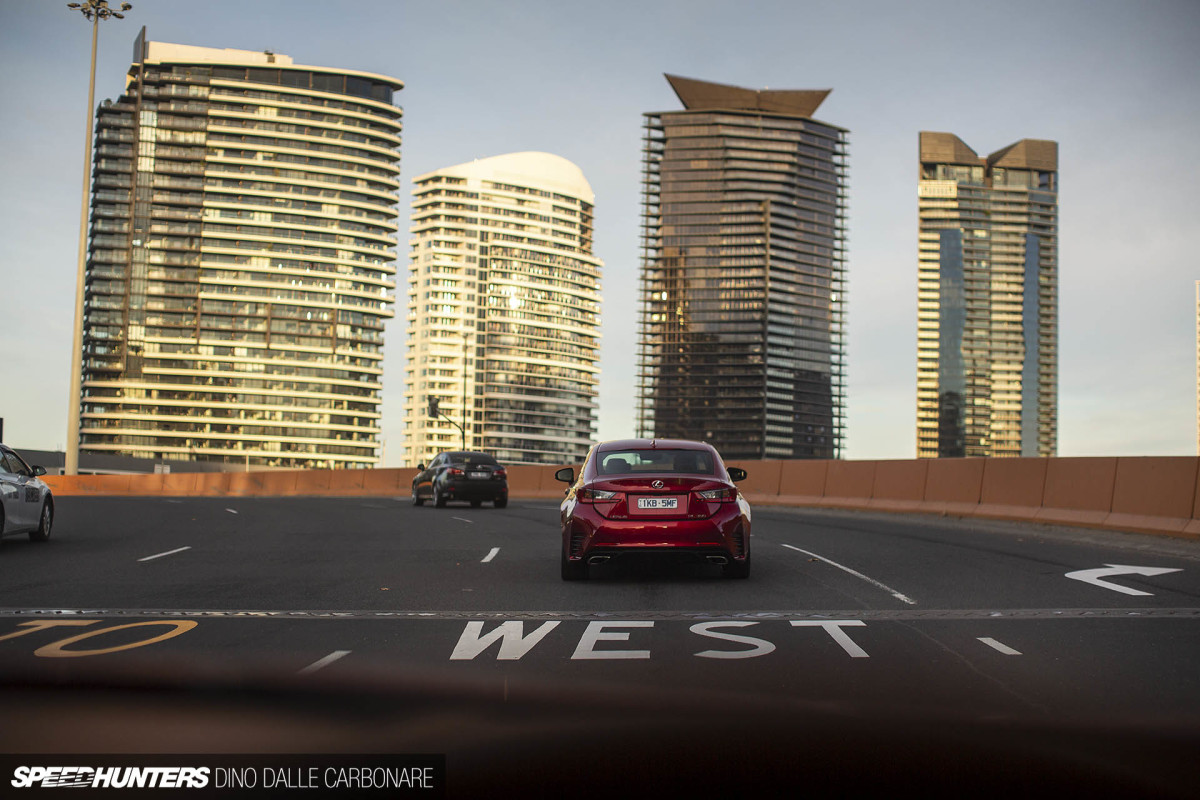 A long few hours of driving. Fortunately, the RC 350's interior was a pleasant place to spend that time in.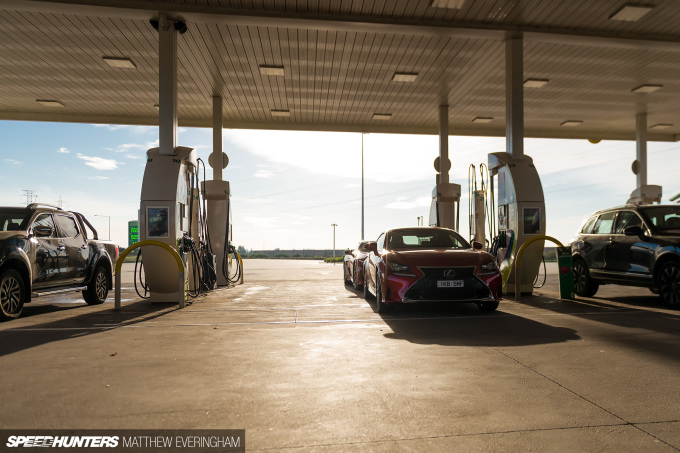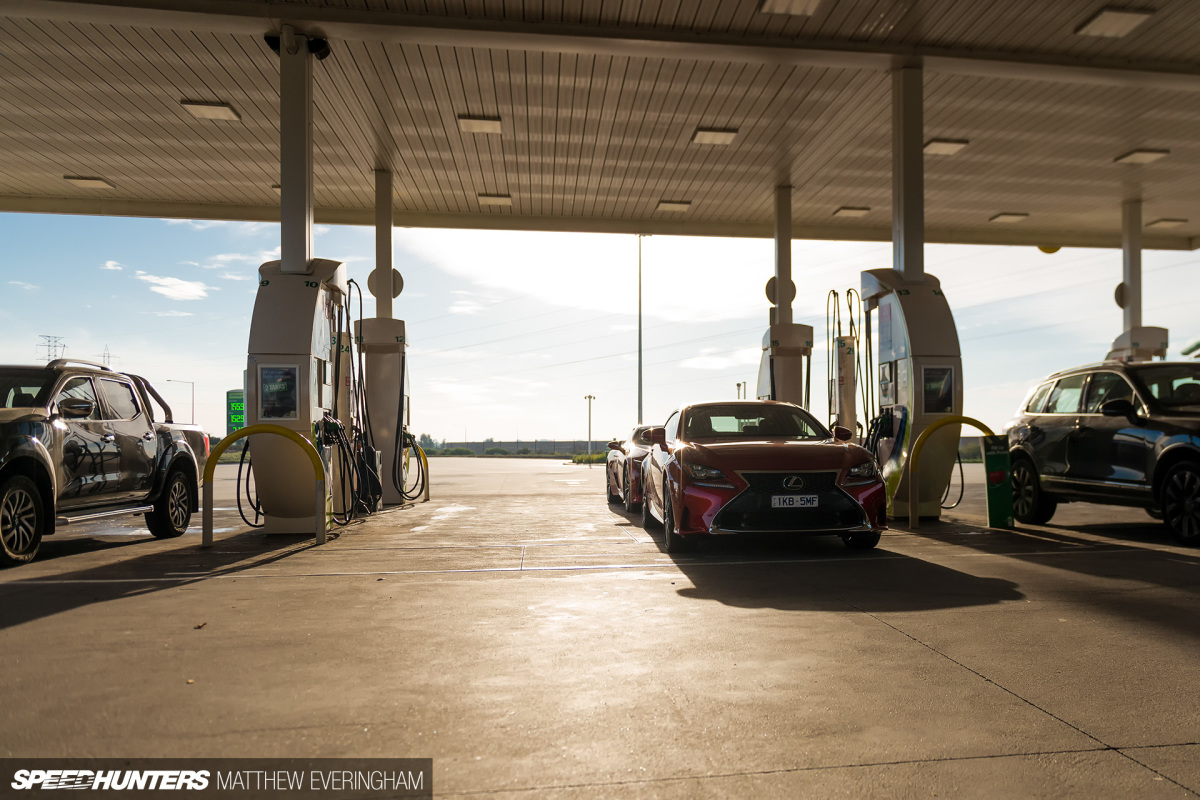 Before we got too carried away with what the road trip had in store for us, there was some housekeeping to attend to, specifically filling up with petrol and supplies. Perhaps it was the amazing morning light, or maybe how the the bold styling of both cars were highlighted by the mundane surroundings of smooth concrete and petrol bowsers, but Dino and I both grabbed our cameras at the same time.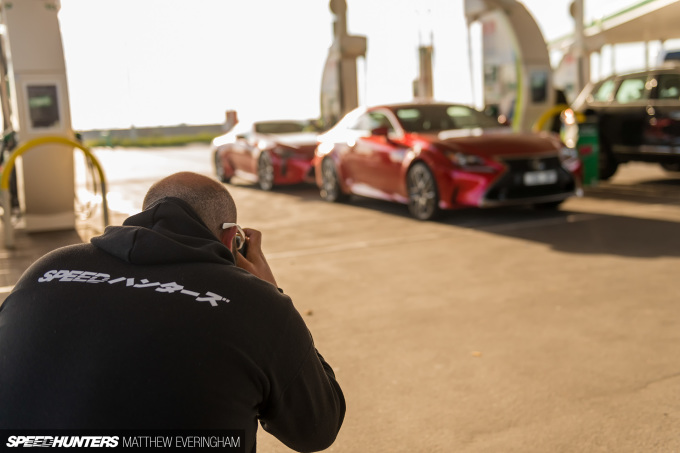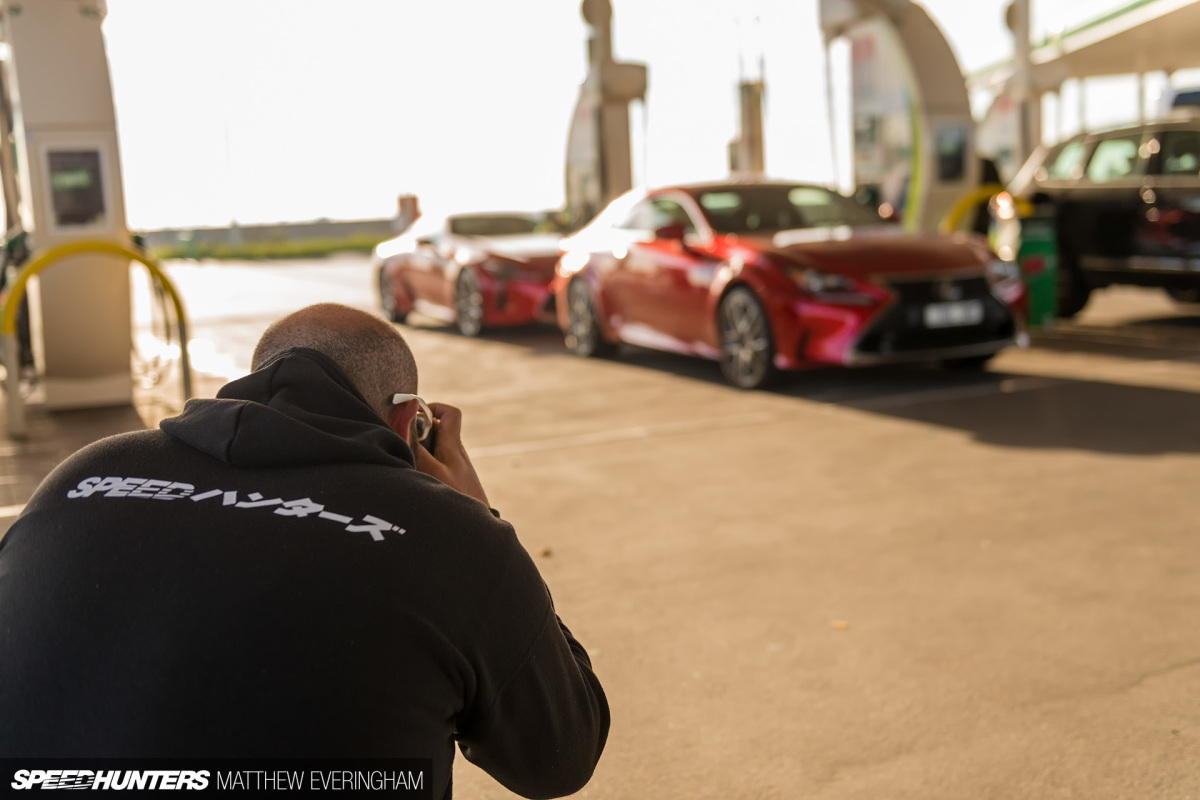 With our respective tanks filled and our impromptu photoshoot over, we were soon back on the open road.
Dino: In what seemed like no time at all the countryside opened up right before our eyes. Yes people, Australia is a massive place and you don't realize it until you embark on a drive like this. What on a map seems like a short journey is, in reality, the complete opposite.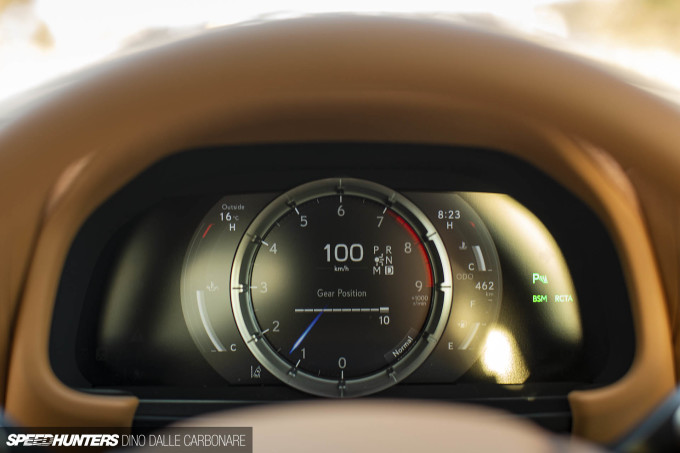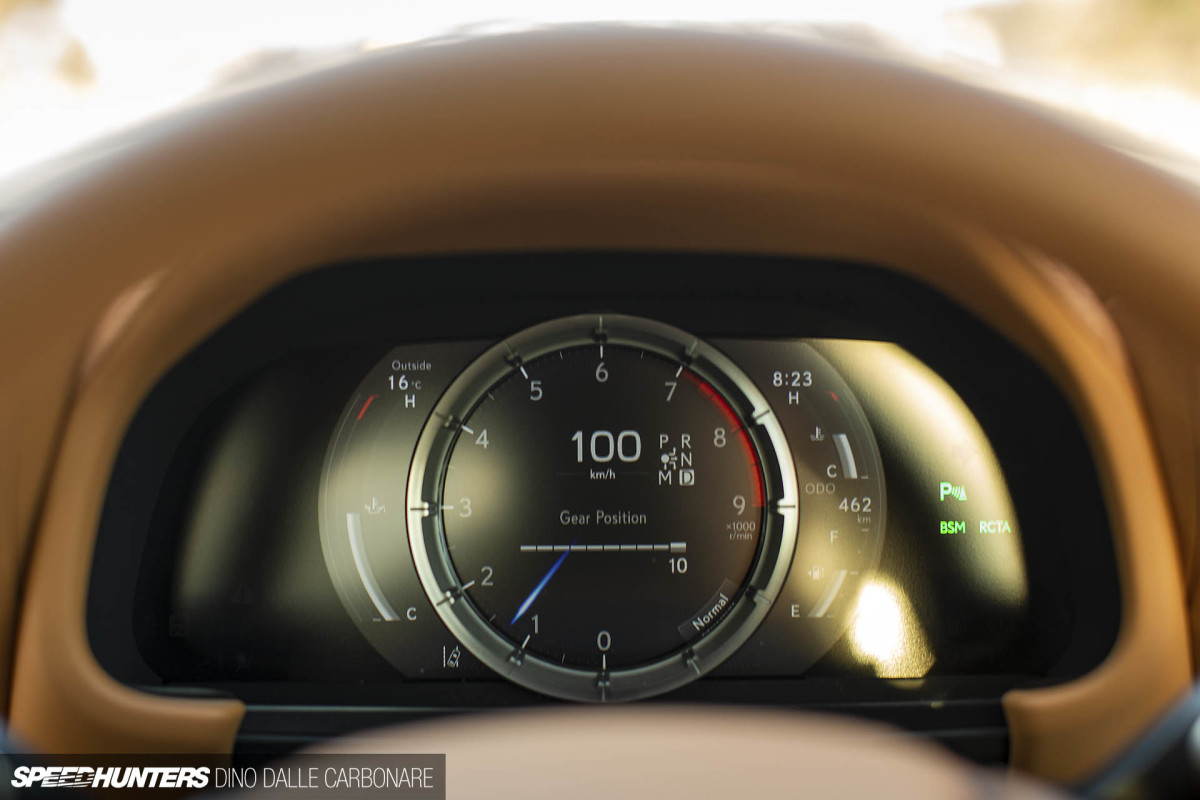 We continued to swallow up the kilometers, and I was thoroughly enjoying the comfort of the LC's cabin. With the cruise control set at 100km/h and the 10-speed auto sitting in top gear, the 470hp 5.0-liter V8 engine was humming along at not much more than 1,000rpm and returning pretty decent mileage – about 11.8km/l, if the trip computer can be trusted.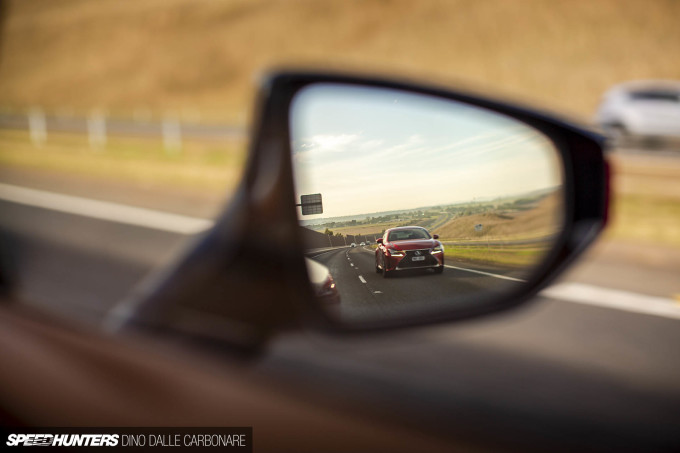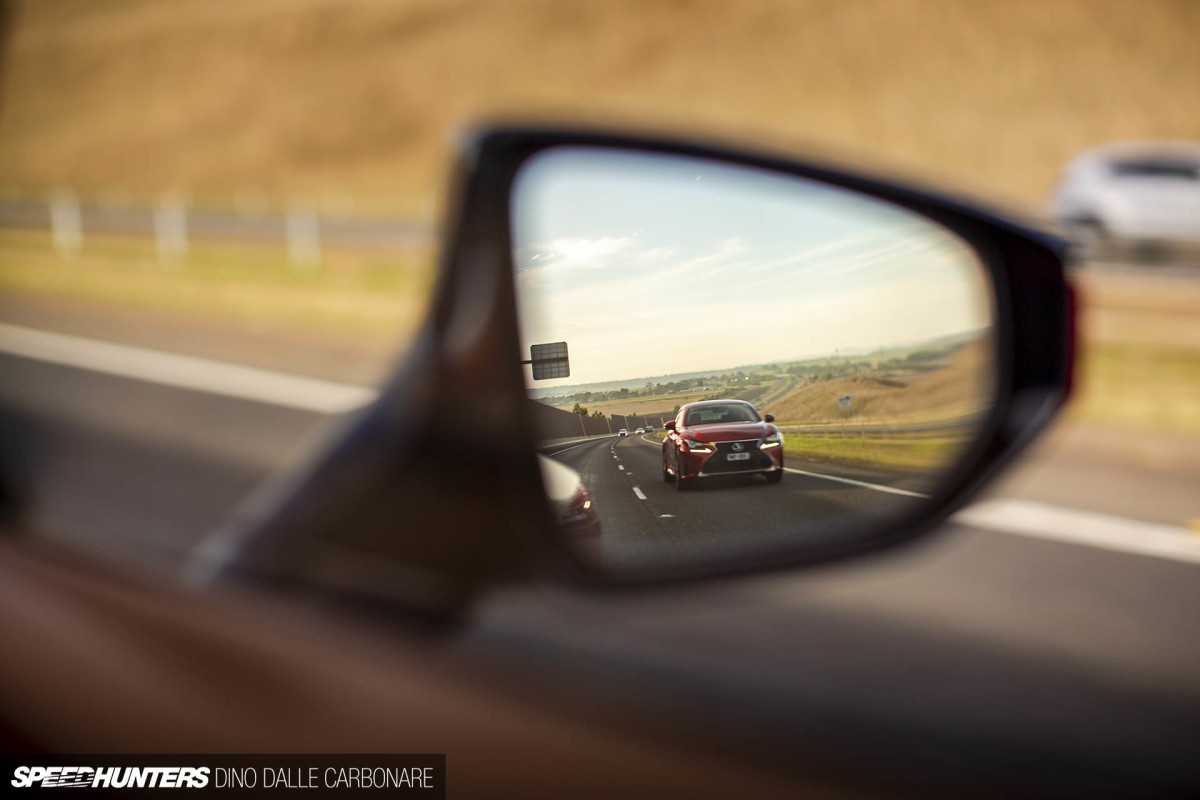 We made sure to get plenty of shots of ourselves while on the never-ending straight roads that cross over the hills south of Melbourne.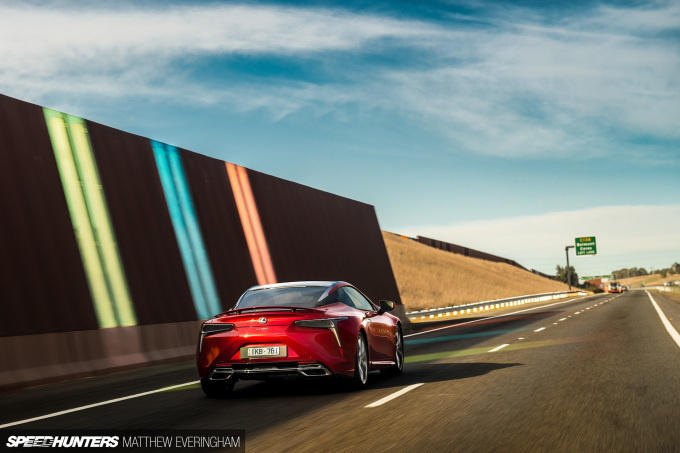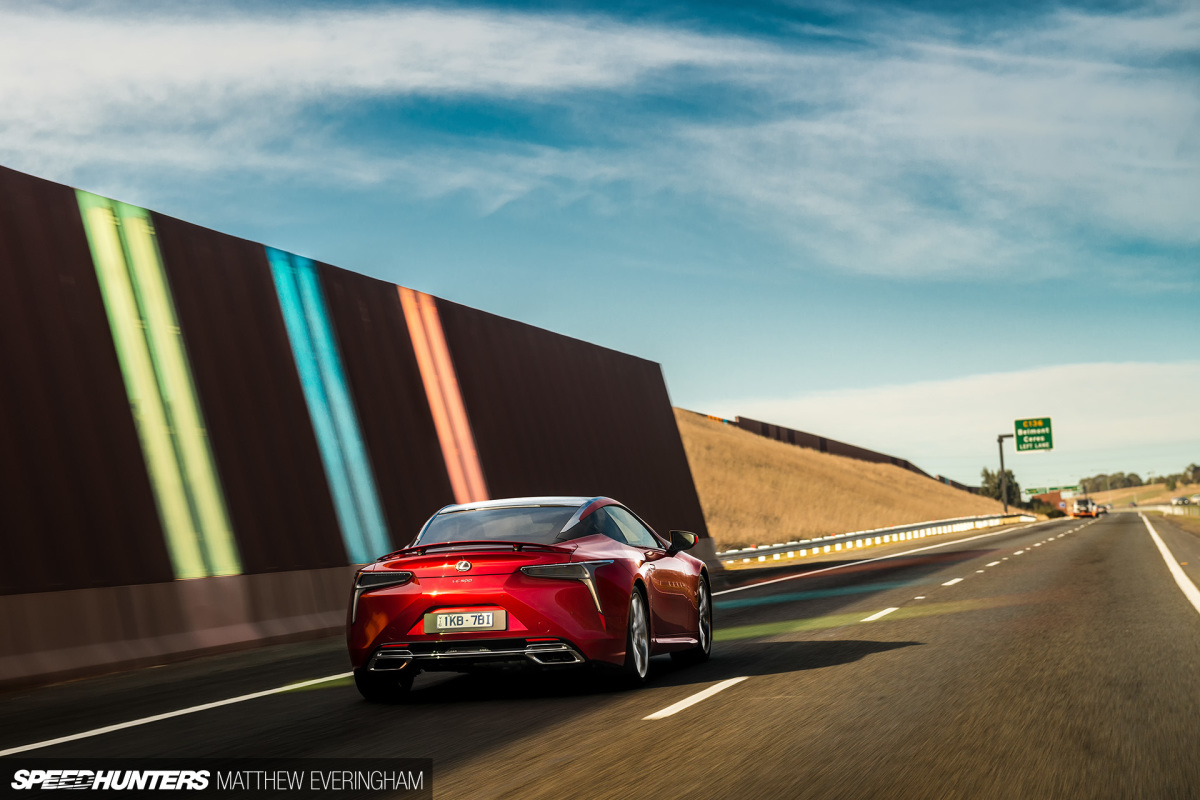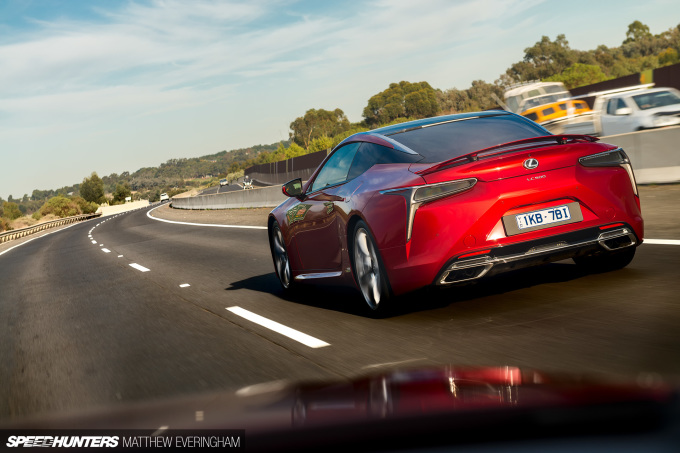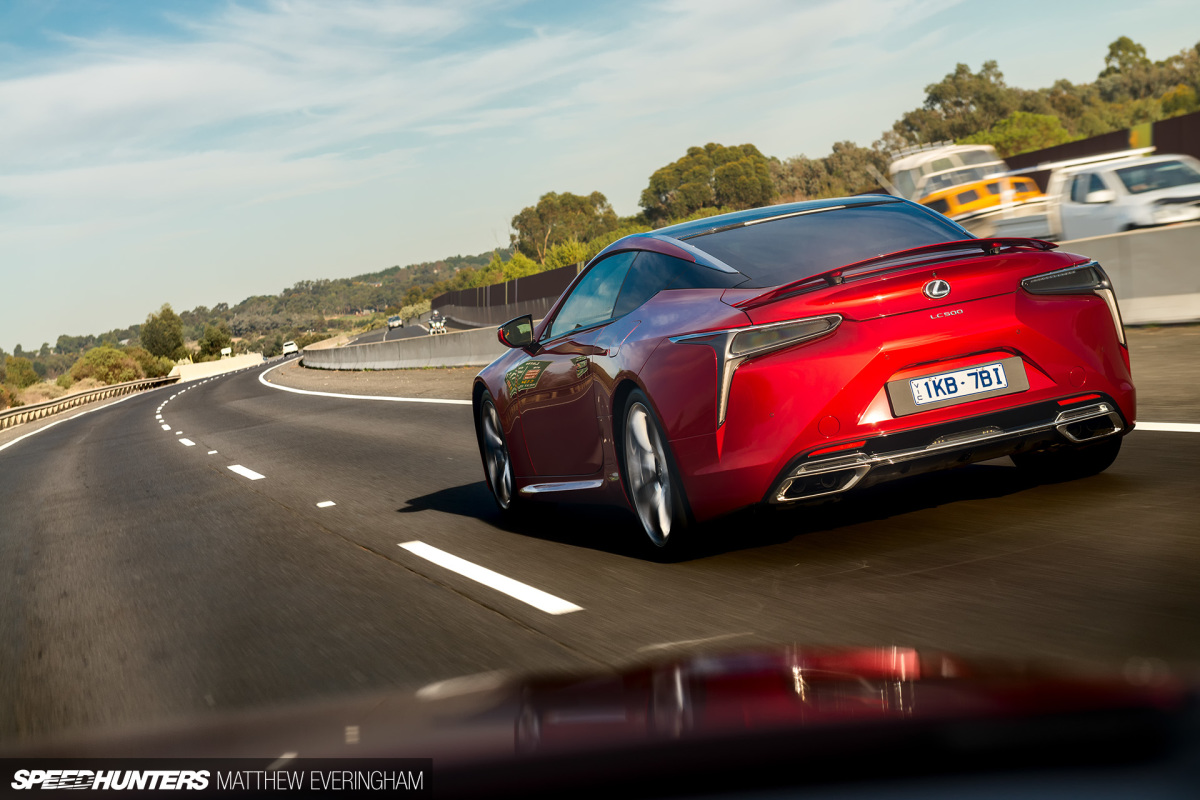 Matt: It would be difficult to write a driving story with conviction if we were restricted to freeways. Hell, it'd be difficult just to stay awake on our vast straight roads at the frustrating and laughably-low 1970s speed limits. I'd mapped out a fun little route the night before, and despite it taking a little longer I think both of us were happy to zig-zag and explore the region properly.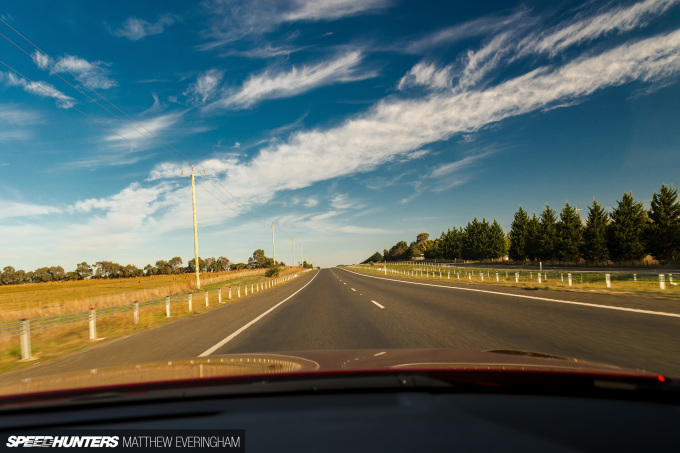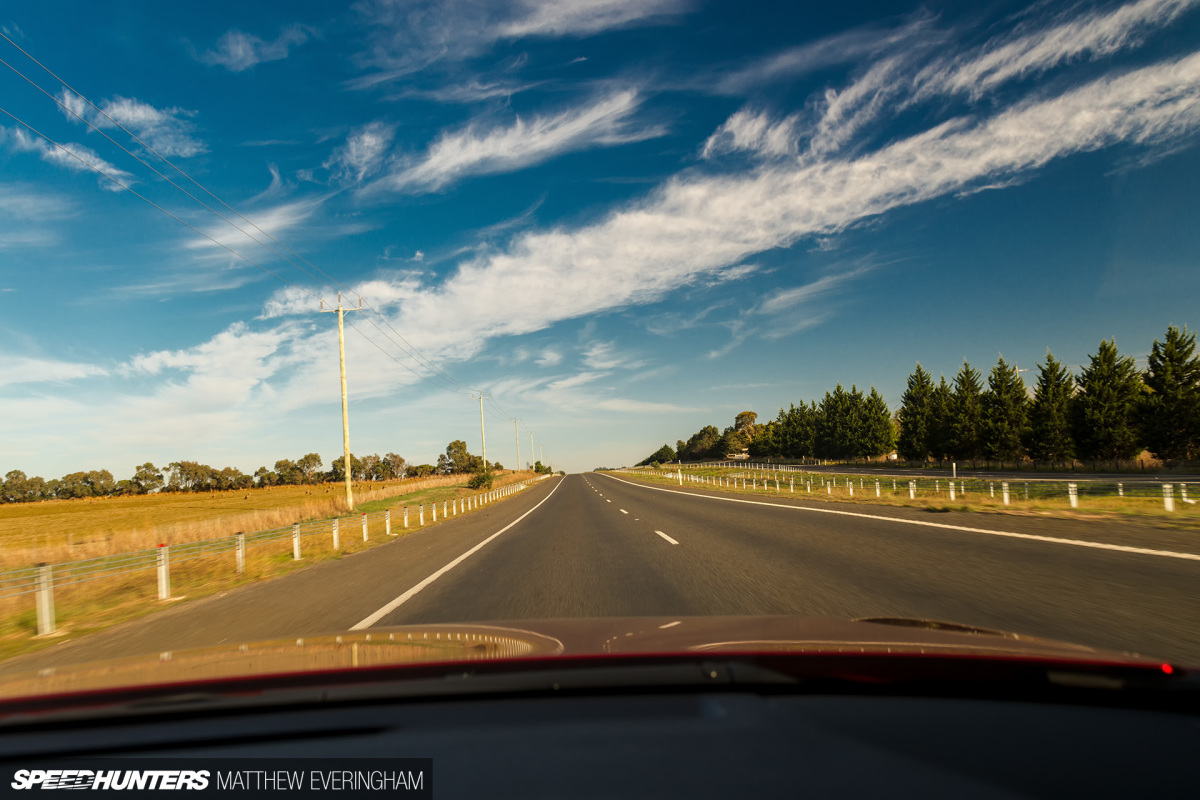 I've learnt that the best way is not always the fastest way while exploring countries that aren't my own, and employing that logic locally has brought me to so many amazing and unexpected little places whenever an itinerary has allowed for more than the shortest route. Do try it.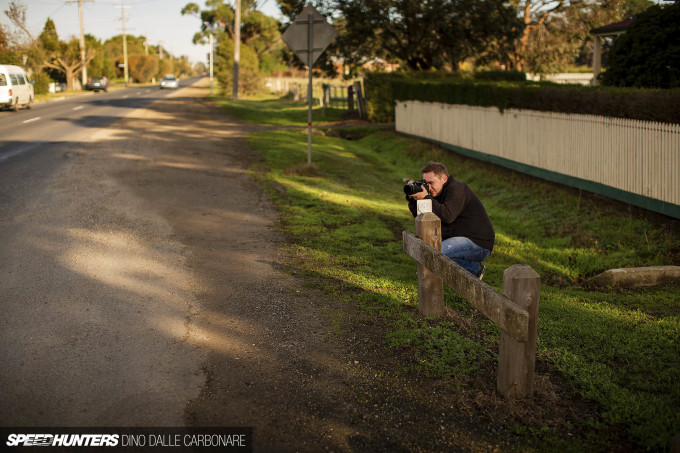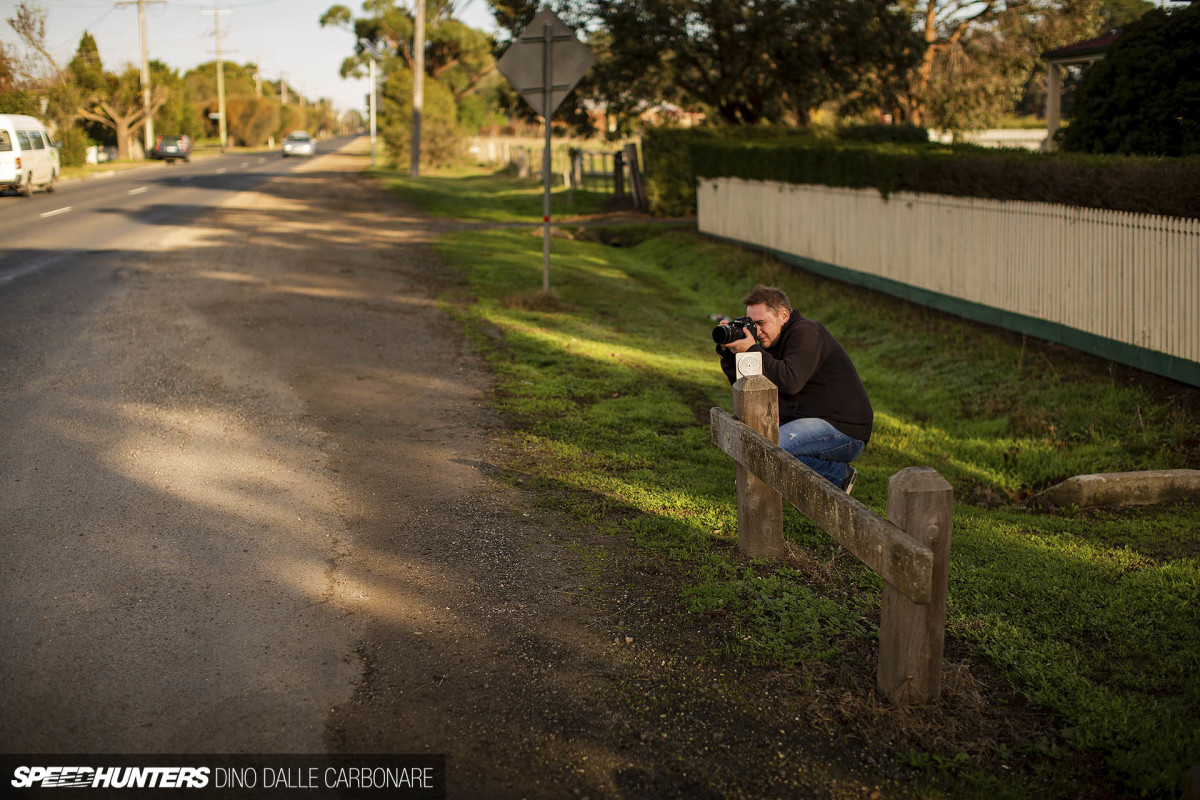 With that said, we exited the concrete super-road at the appropriate point. Within 10 minutes the barren open plains had transformed from farmland to forests, and then into a charming small village. Still bathed in the morning glow, it was another photo opportunity to good to pass up, and also a great place to take in some fresh air and stretch our legs.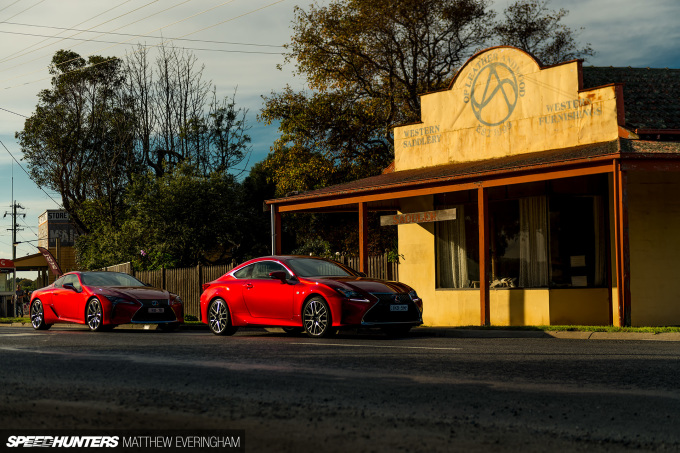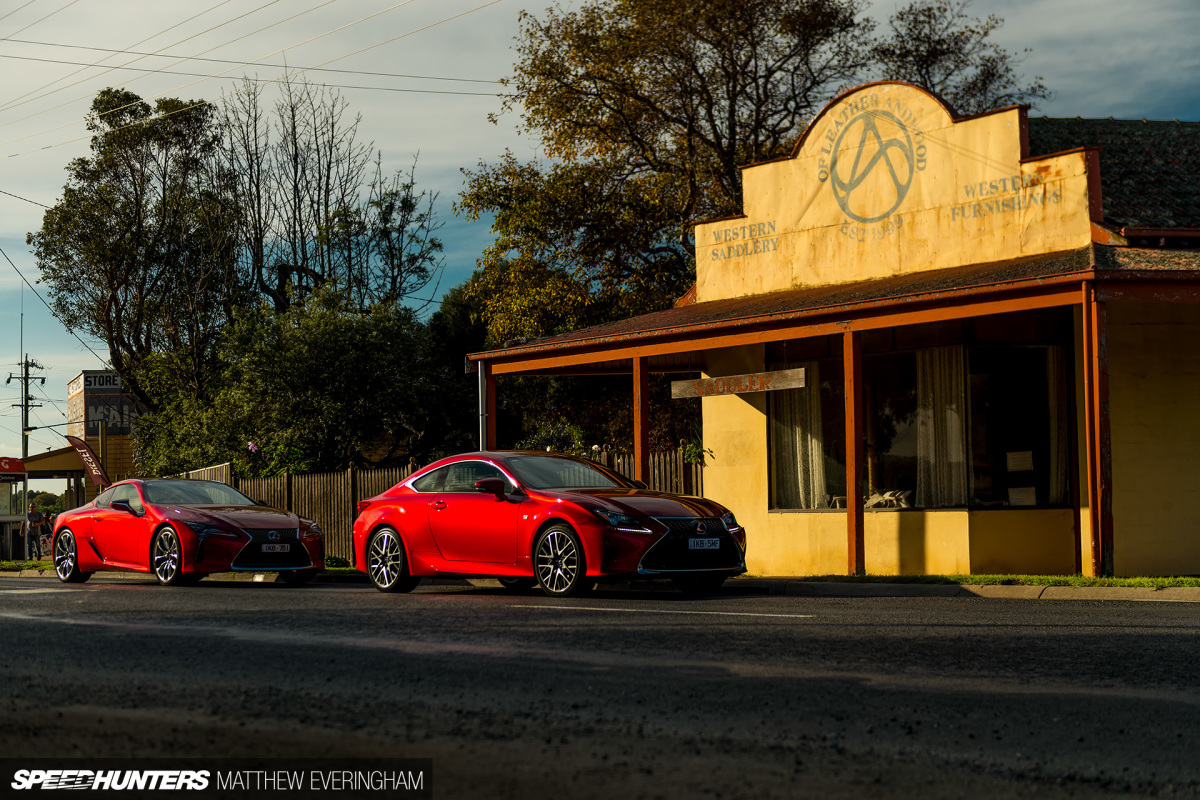 Dino: Before we reached the ocean and our shoot location for the day, we needed to find somewhere scenic and quiet enough for Matt to get his drone in the air and attempt some aerial photography.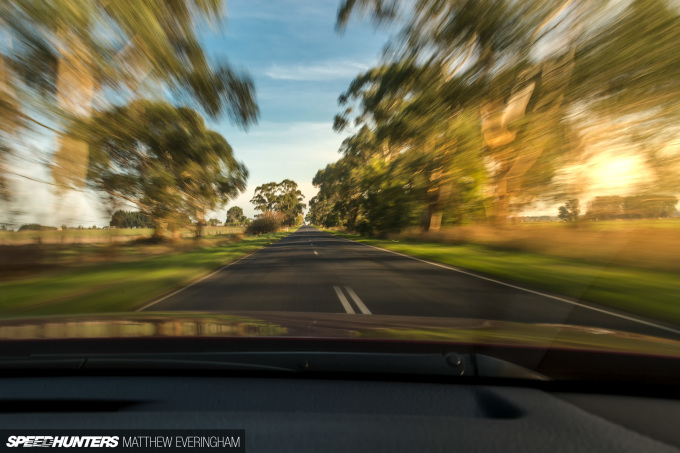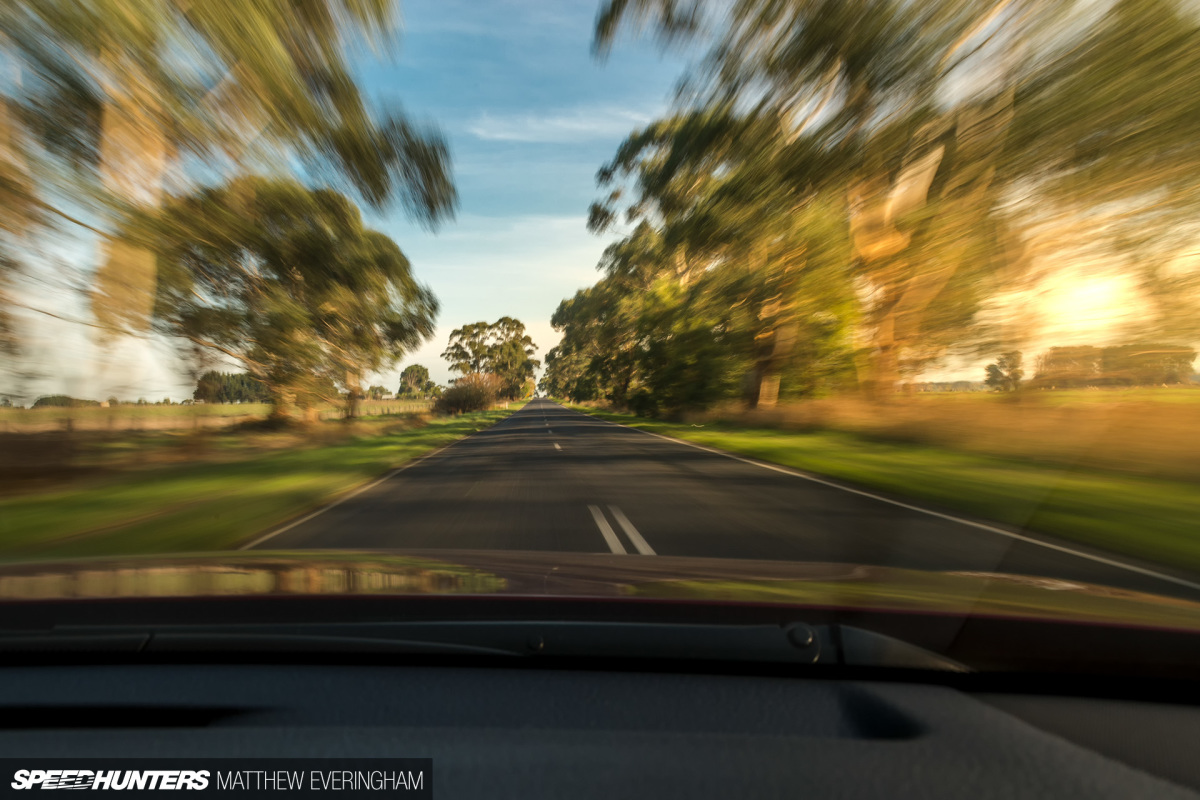 Despite the b-roads we were now on being very long and straight, I was quite glad we had gotten off the highway; now we could put on a little pace and have a bit more fun with our cars. The bumpy roads quickly revealed just how communicative the LC is as it tackled cambers and imperfections.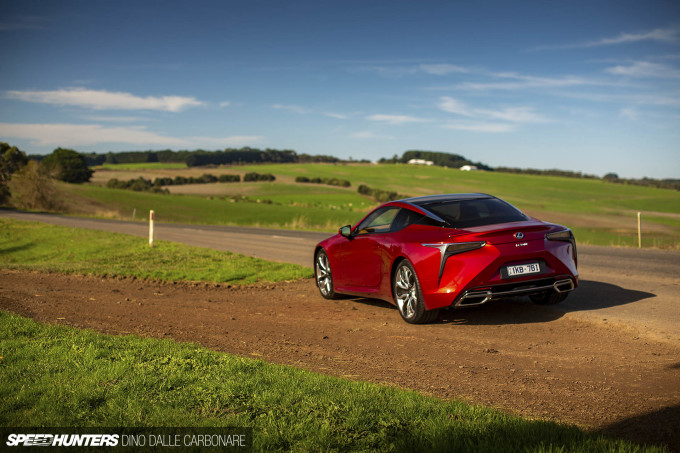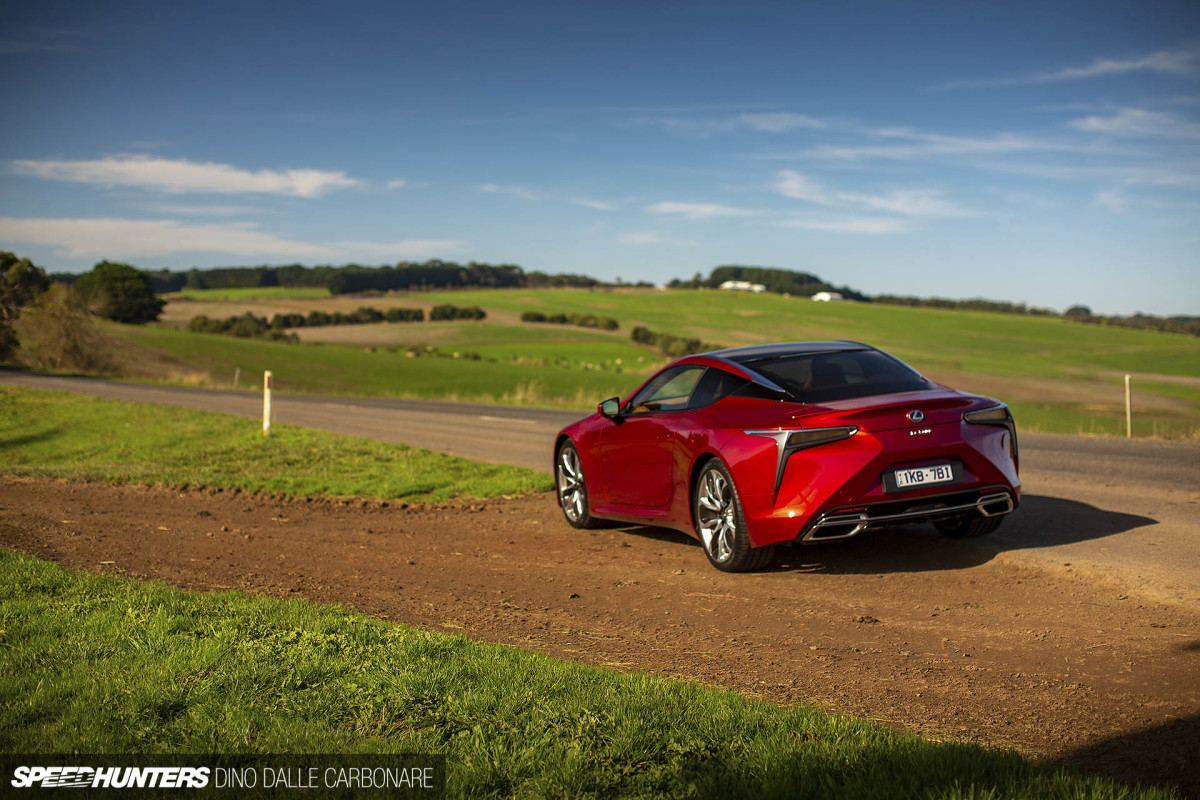 Another good hour's worth of driving later we found ourselves in the middle of some open farmland and a good spot for Matt to set up his little flying gadget.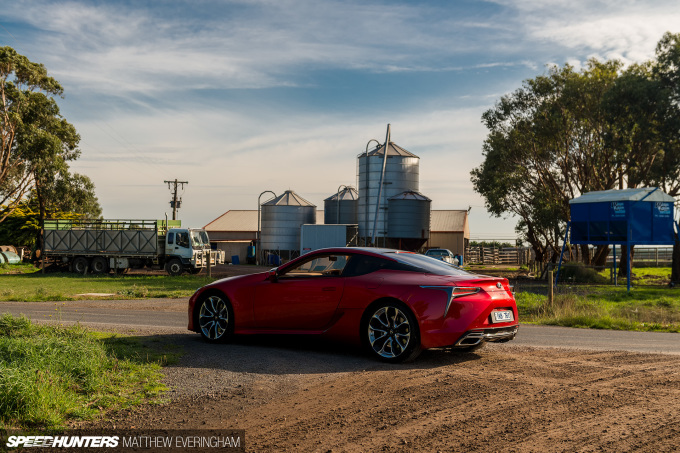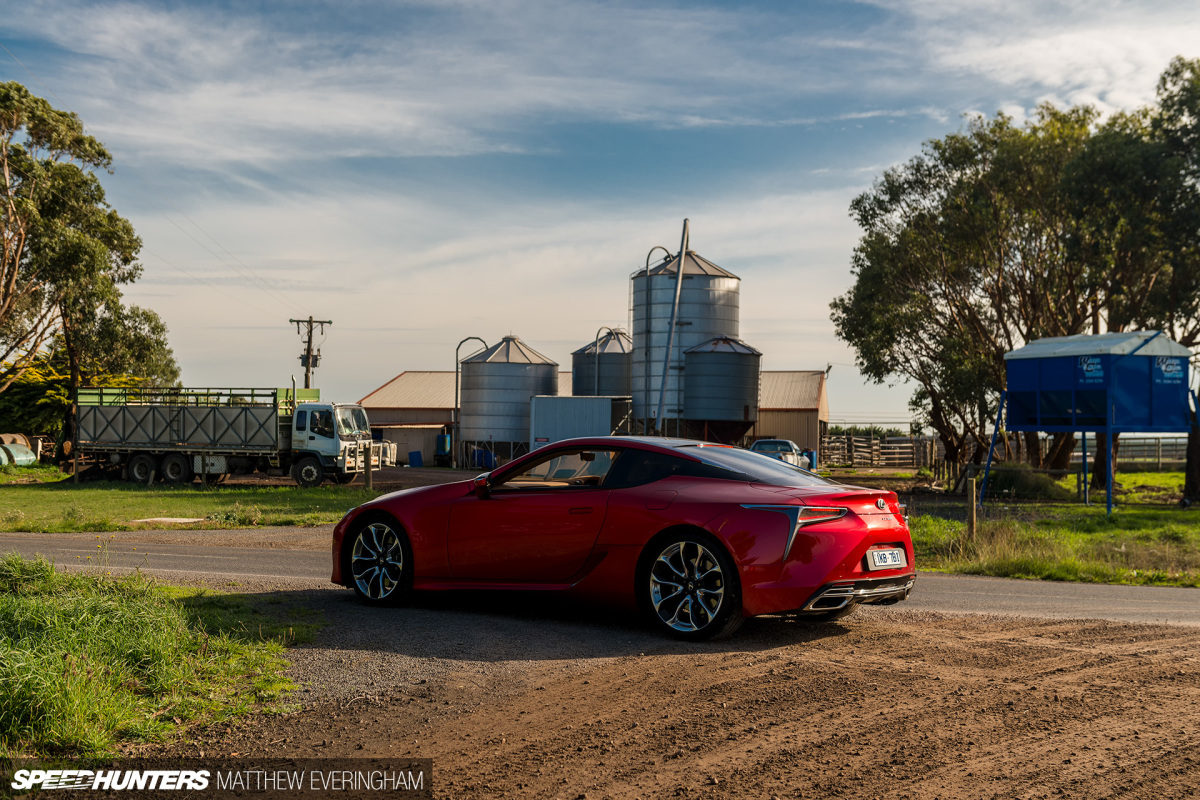 But no more than 10 minutes later we were subjected to some rather colorful language from the owner of the land we had decided to stop on.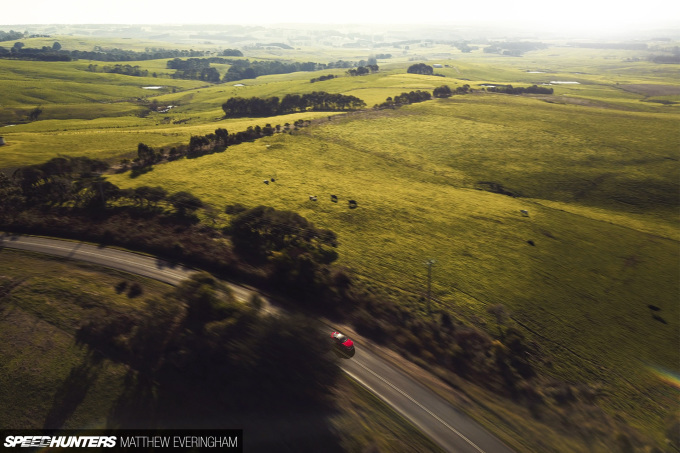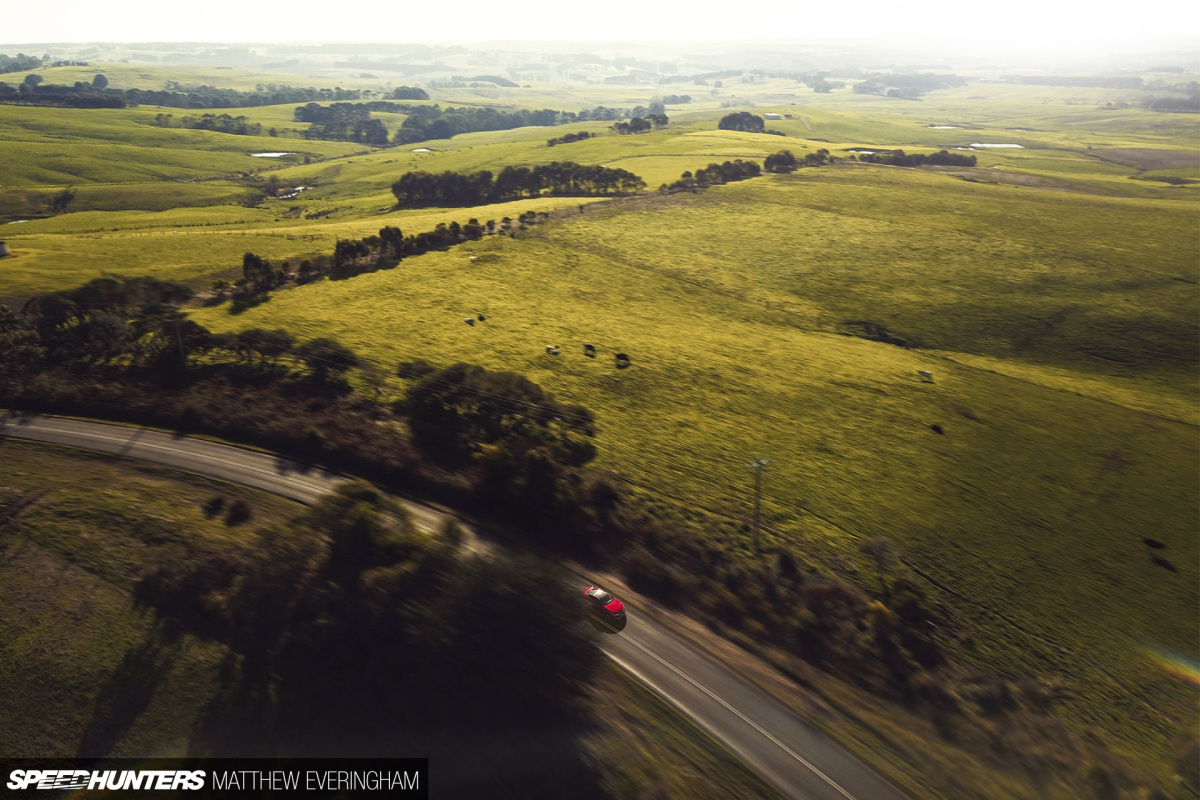 Was it worth it? Just look at the result! Matt, does this sort of thing happen to you a lot, and is everyone so 'polite' about it?
Matt: Sending my DJI Mavic skyward in front of bystanders is almost a guaranteed way to strike up a conversation, but it's usually just a friendly mix of curiosity towards the gadget itself or whatever I'm trying to shoot.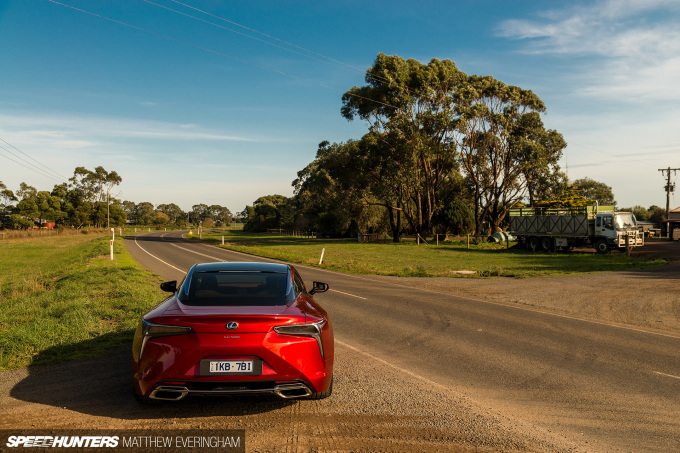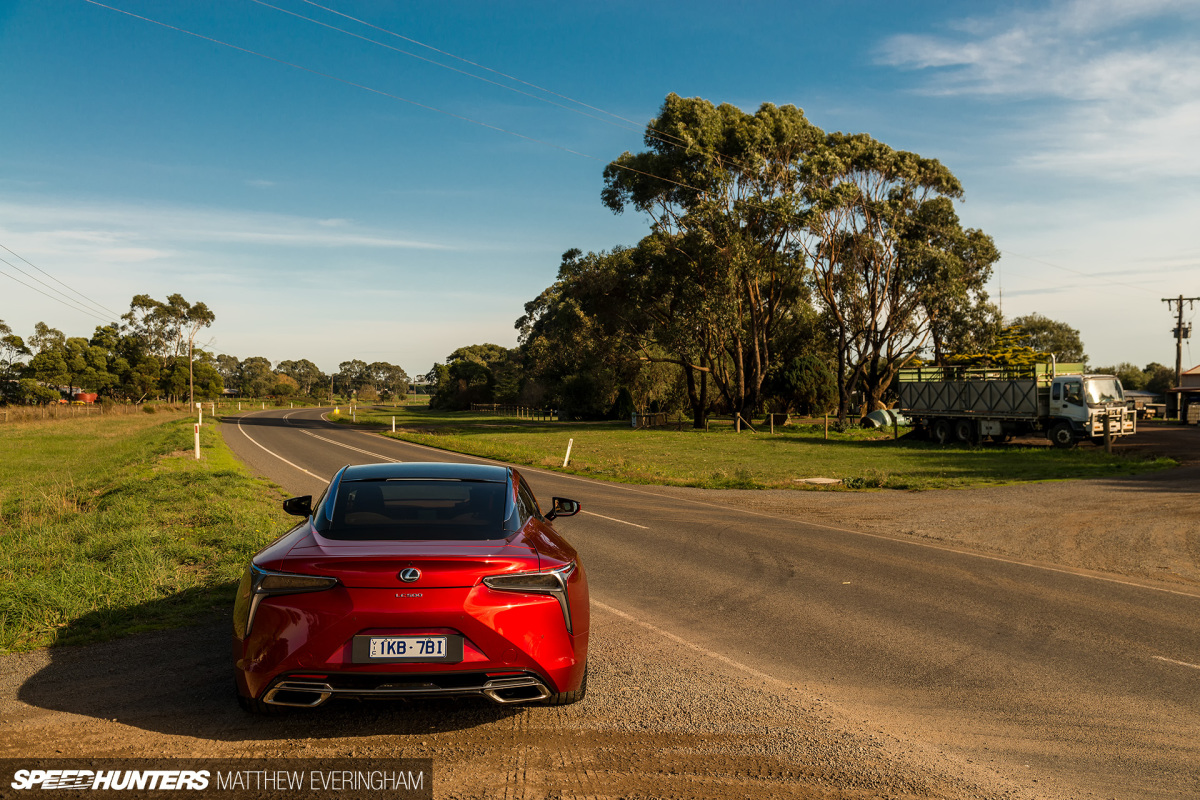 After 18 months of ownership, angry 'Farmer Joe' is the only person I've come across to actually get upset enough to demand I land it. I'm not sure how intrusive a glorified phone camera can truly be when it's flying 100m over empty fields, or if our new friend understood the concept of public space or even possibly the alphabet.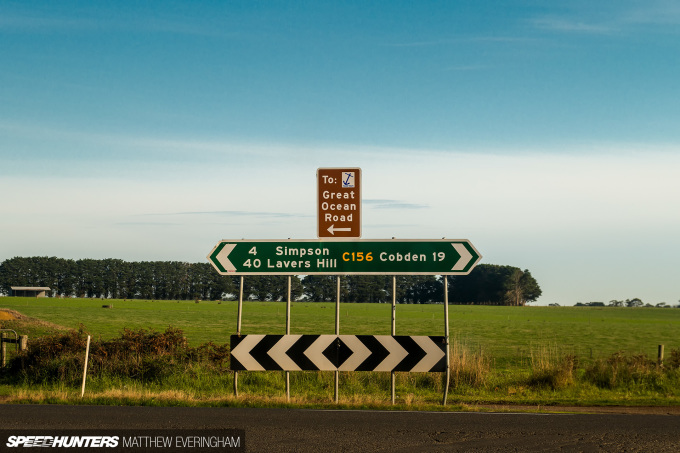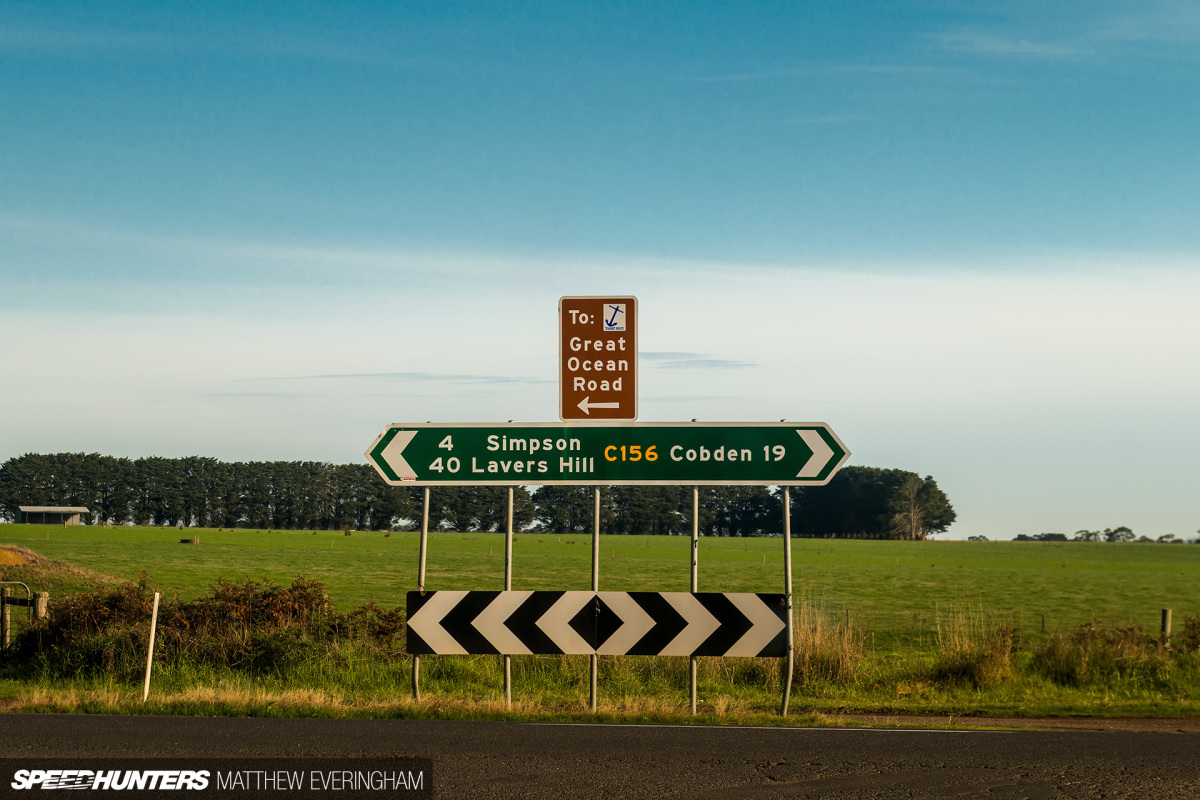 Either way, we had two beautiful cars and some the country's finest roads at our disposal, so arguing after I'd already grabbed the shot I wanted seemed pointless. I could smell the ocean air and the open road was calling.

The Edge Of The World
Dino: From our drone spot, the drive down to the coast was both short and exciting. The road started snaking and dipping over crests and I wedged my camera between the rear seat and the passenger seat's backrest (there's not much legroom in the LC 500) and enjoyed upping the pace even more – hence the lack of pictures. The first viewpoint we came to was our cue to pull over; I was keen to see if the almost four hours we'd driven so far had been worth it.
Yes, Matt was right. With 'The Twelve Apostles' lime rock formation just off of Port Campbell National Park in the distance, this was some of the most beautiful and unique costal scenery that I'd ever seen.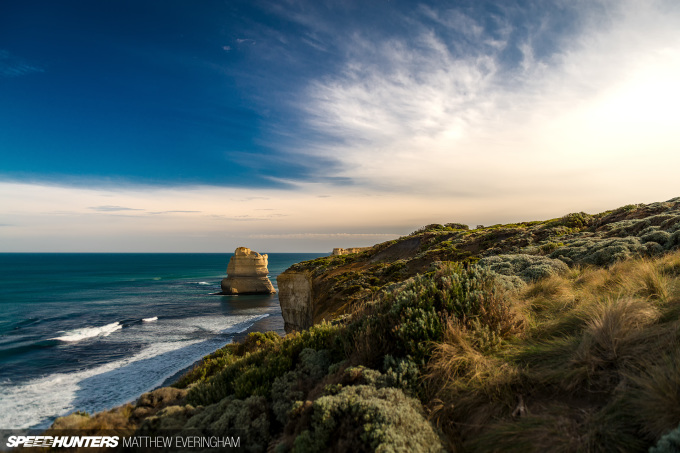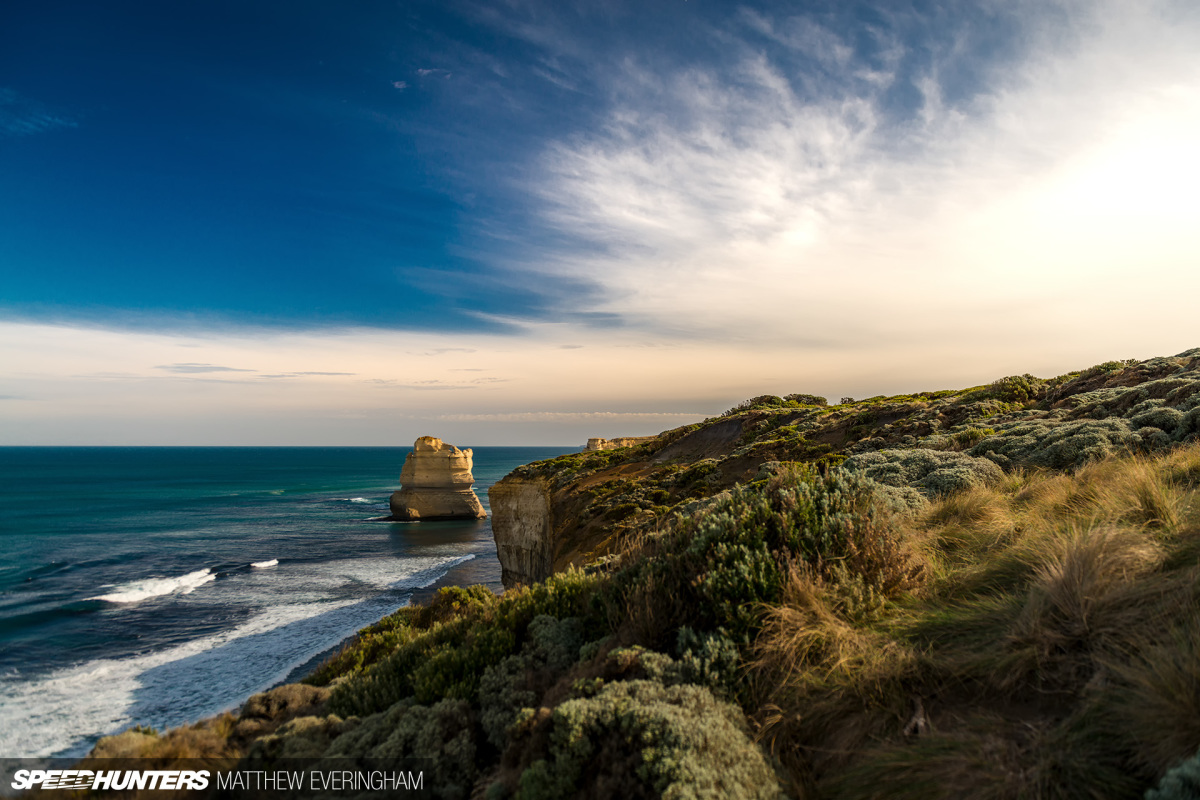 Matt: I felt instantly refreshed. Standing on those great cliffs, knowing that nothing besides a dozen limestone monoliths stands between you and the untouched Antarctic is purifying in a way I cannot describe. The chilled air cuts right through you, blowing away the filth and impurities of city living in the process. It's hard to explain without sounding dramatic, but this place brings a level of calmness like no other.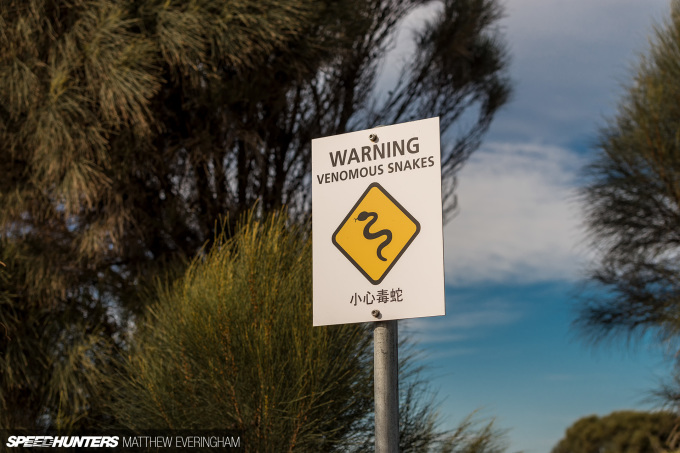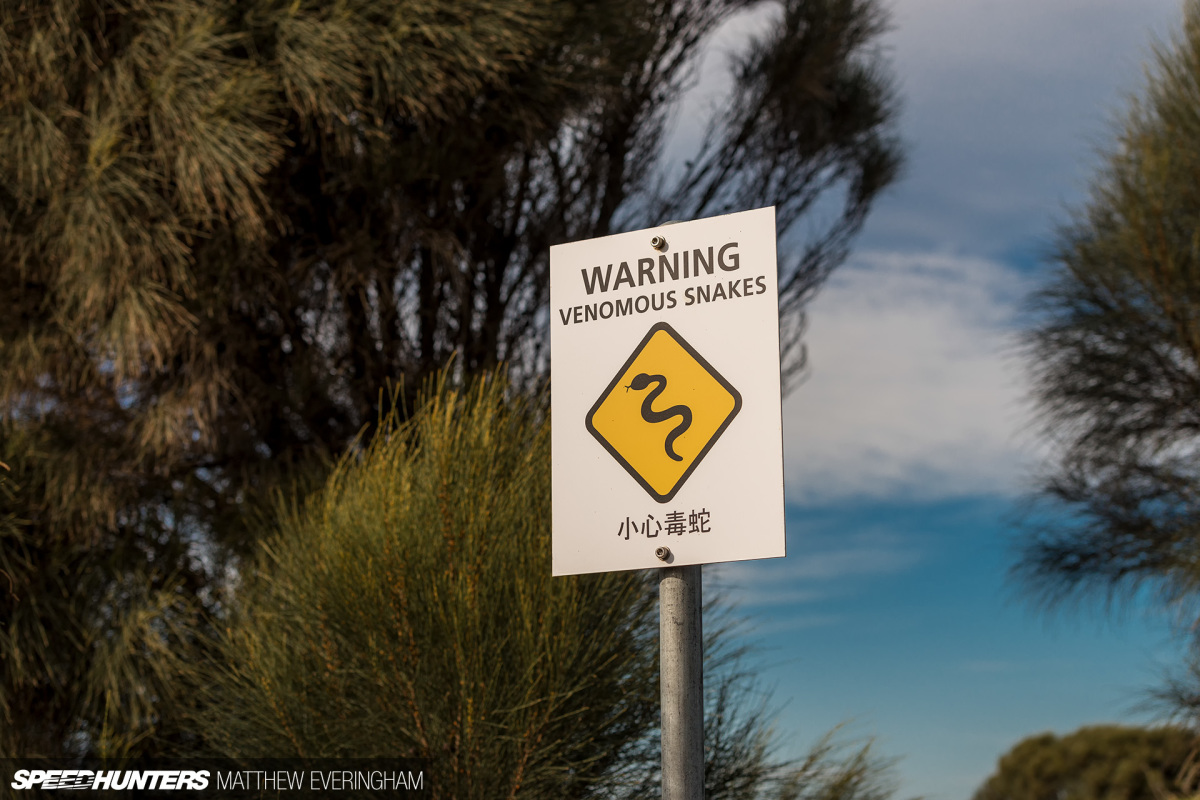 Dino: After moving our cars to the main parking area and embarking on the little walk down to the main viewpoint, I realized that Matt's continuous jokes about Australia always wanting to kill you weren't actually jokes.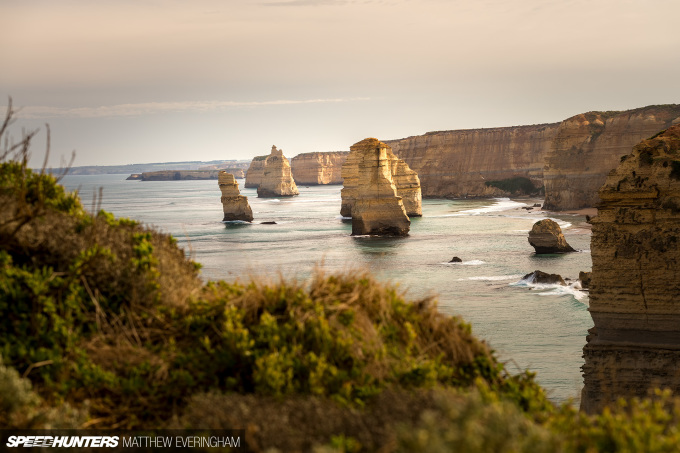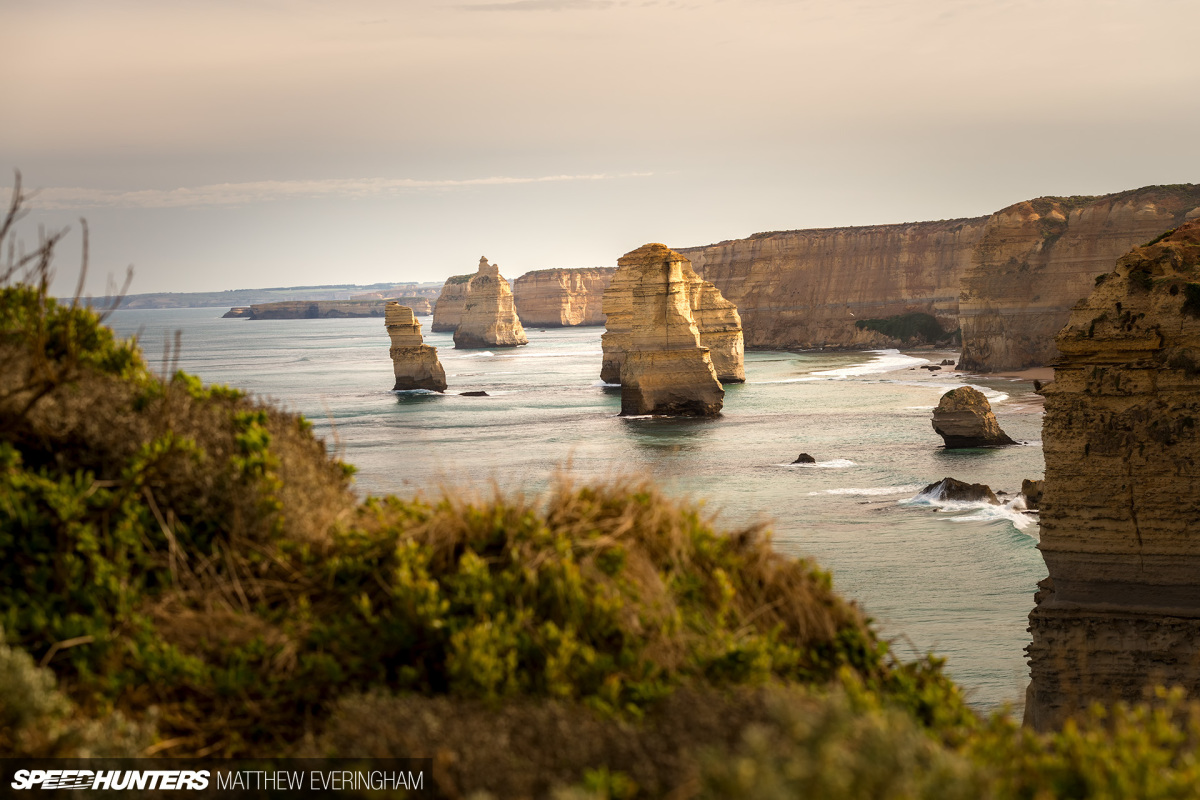 Pretty breathtaking, right? Again, yes Matt, the drive was totally worth it. I took a few minutes to soak up the view and breathe air so fresh that my lungs were having a hard time dealing with the purity. They're used to Tokyo after all, a city where thick pollution and the odd microsievert of radiation is the norm.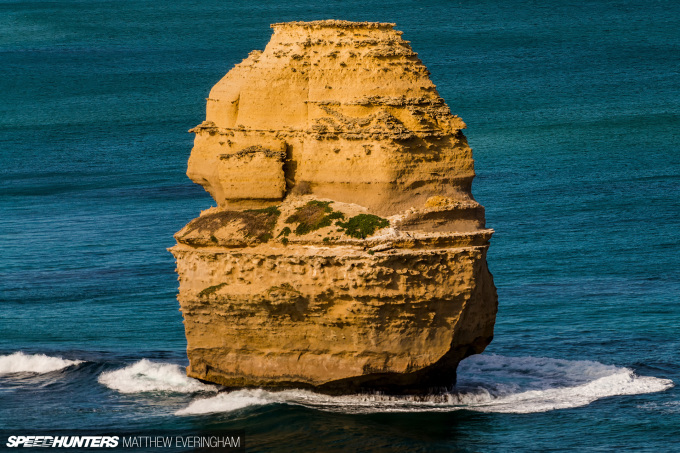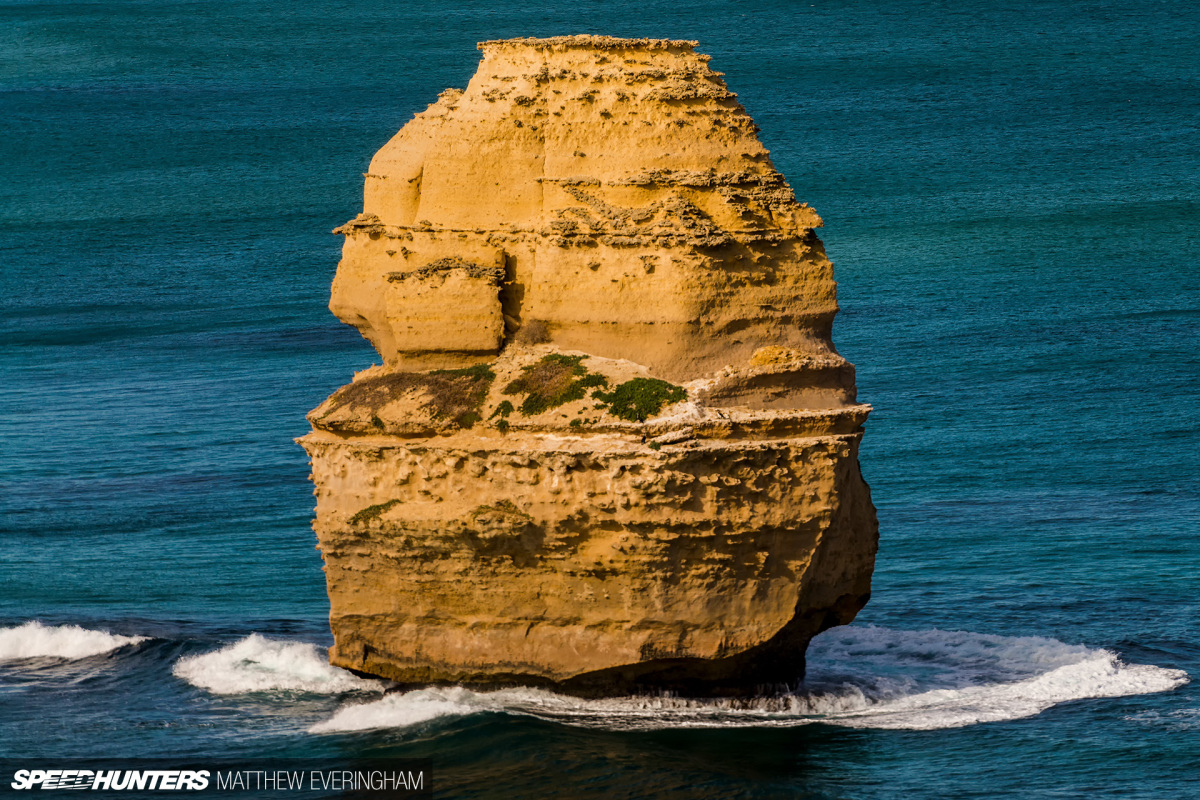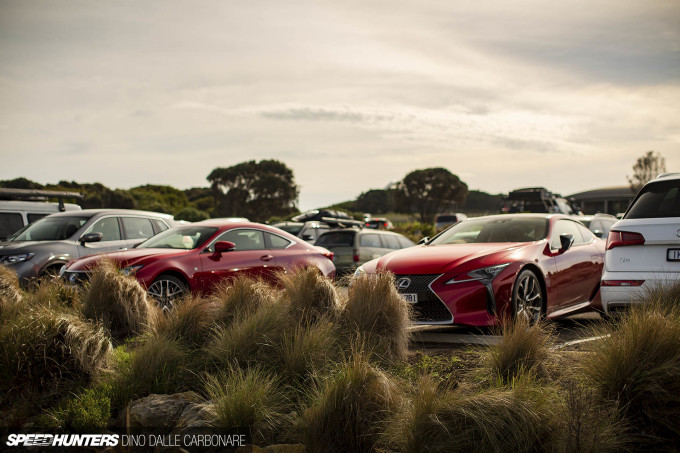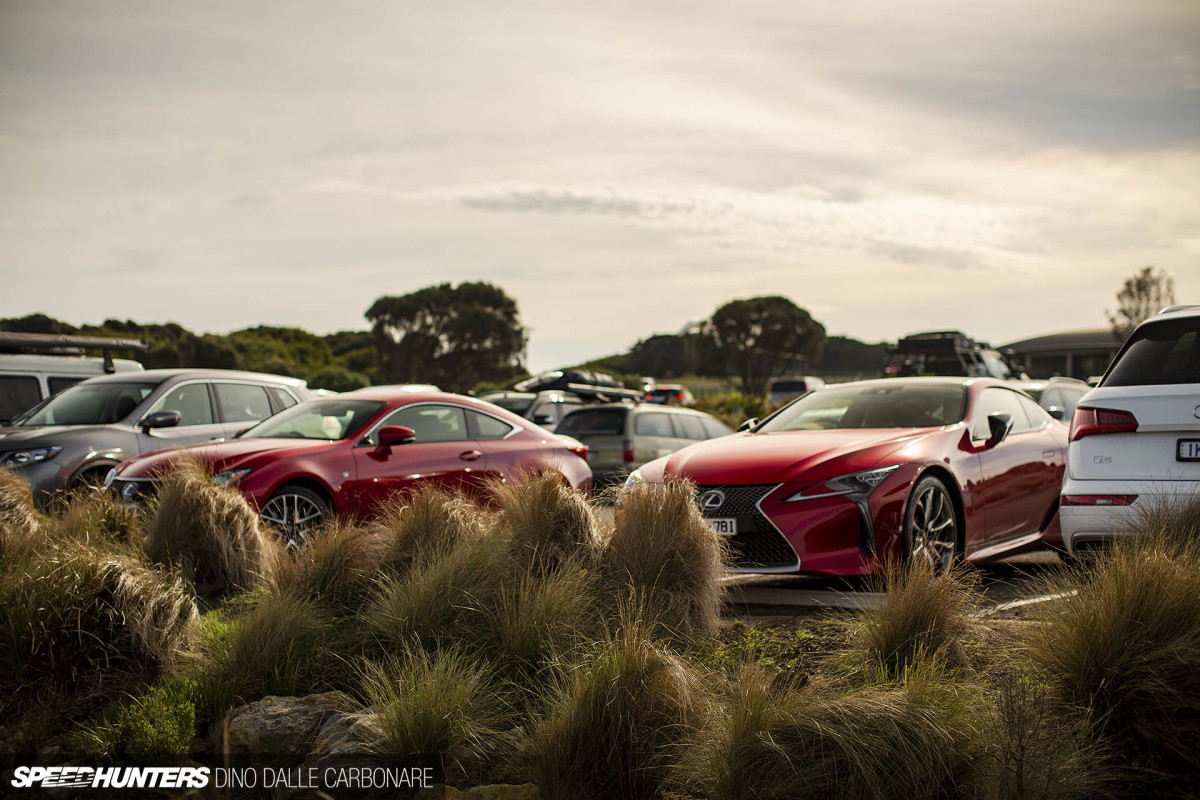 The Real LC 500
With the tourist box ticked, it was back to our cars and back to work.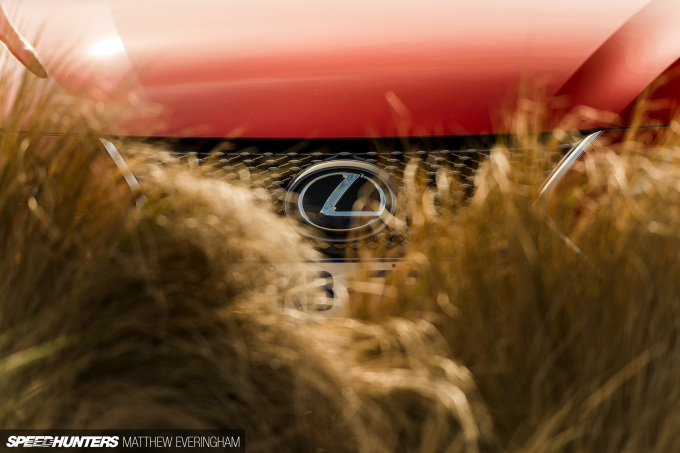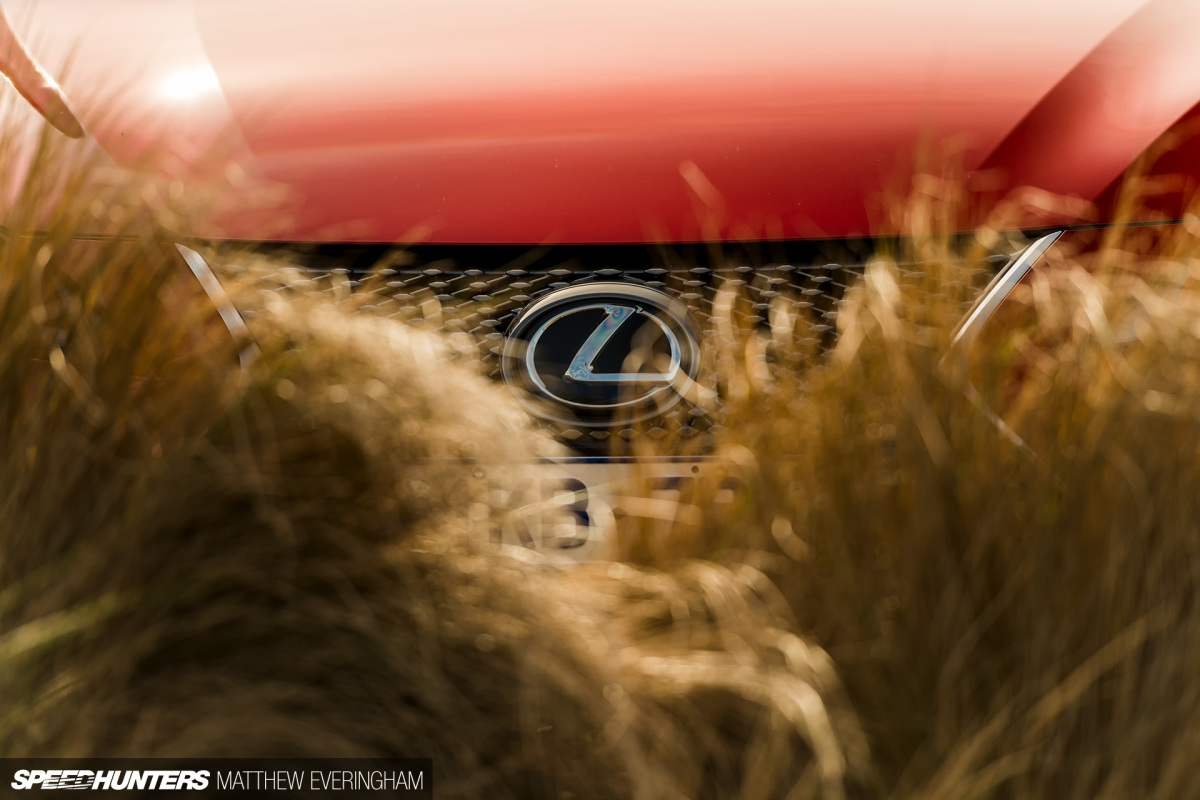 We both jumped in the LC 500 and headed back onto the Great Ocean Road to capture Lexus' flagship coupe against the stunning backdrop.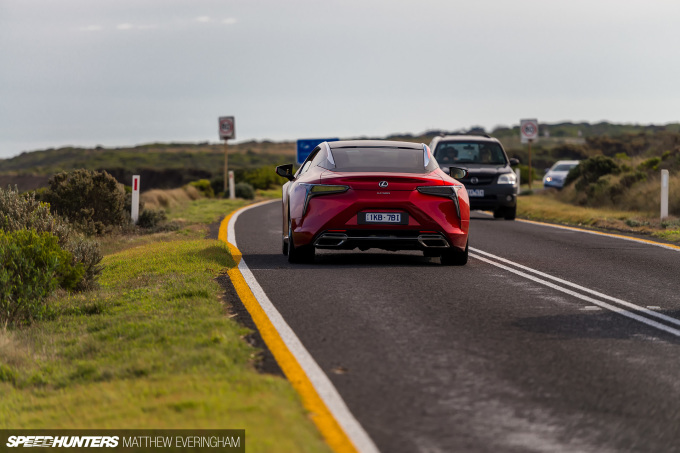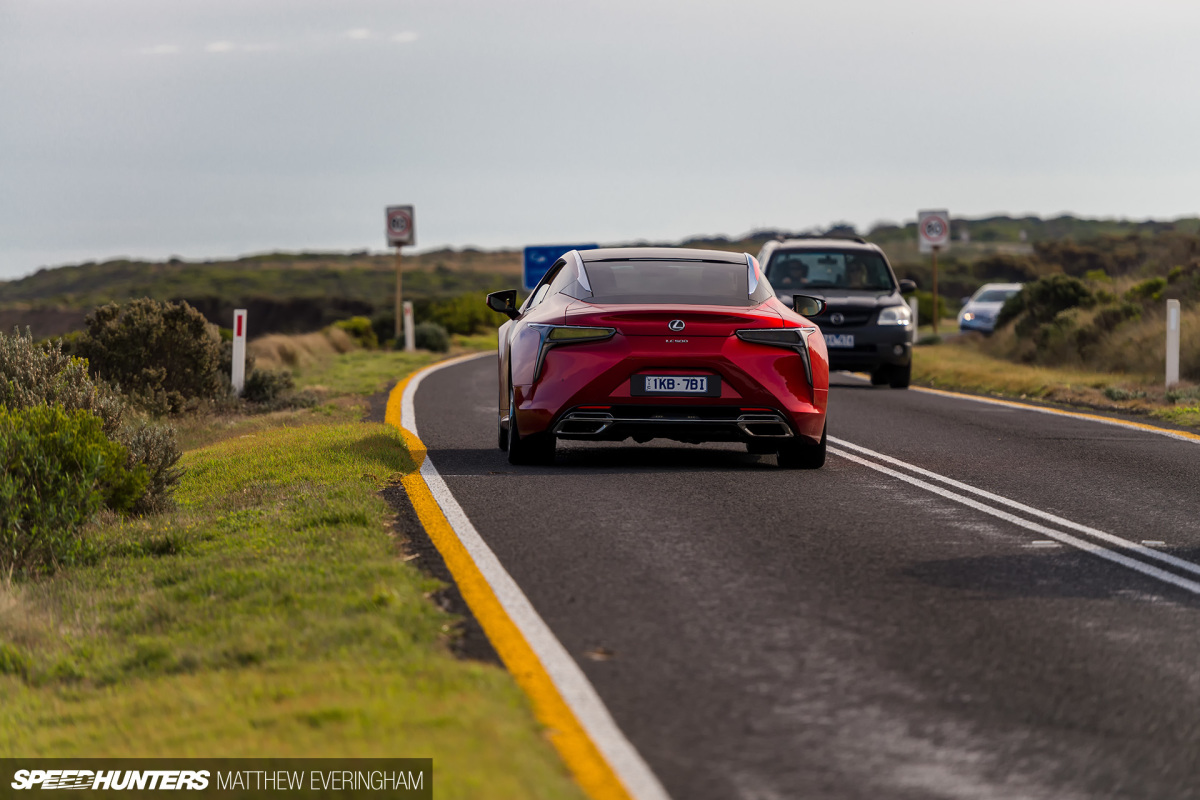 Matt: Epic scenery, a striking automobile, and fine weather, all complemented by an oh-so-sweet V8 soundtrack. I've definitely had worse days in the office.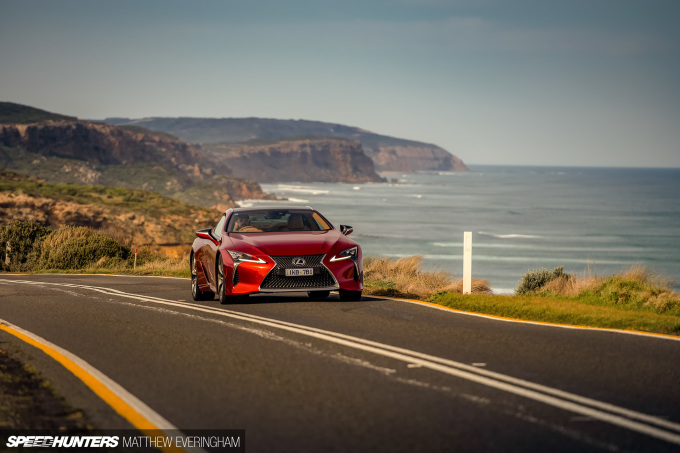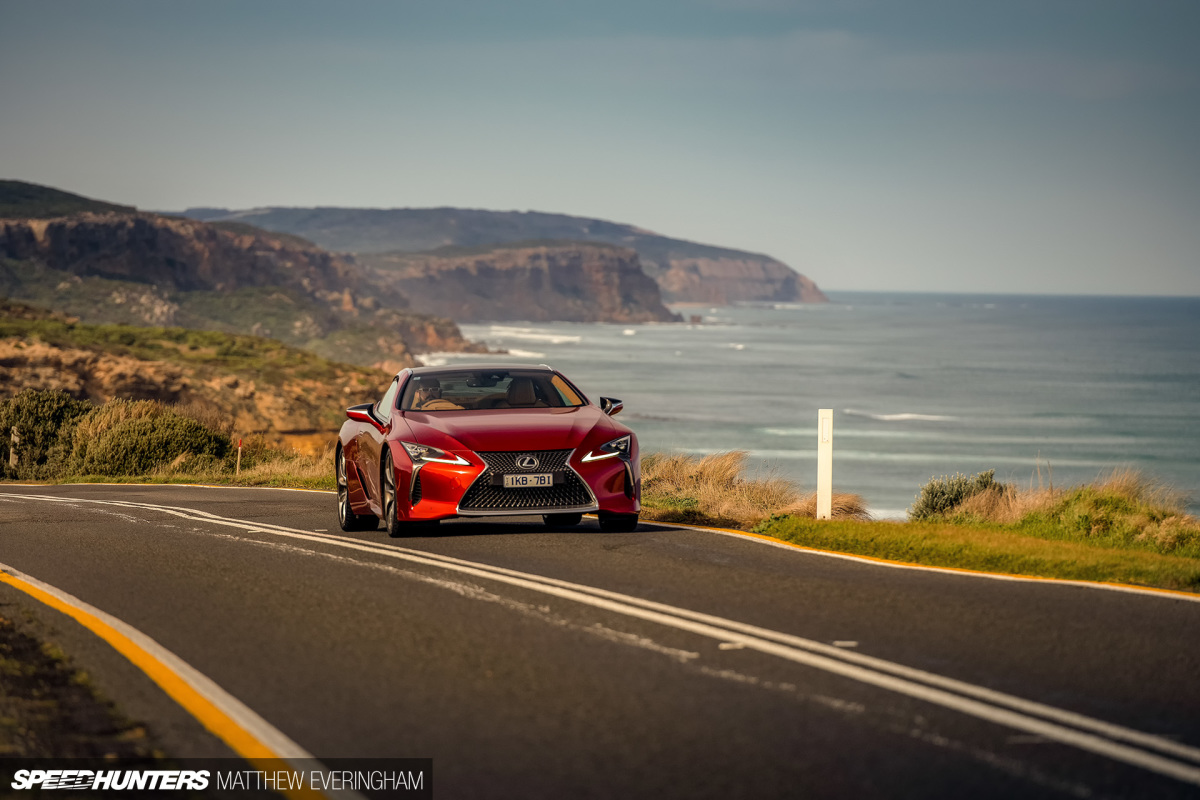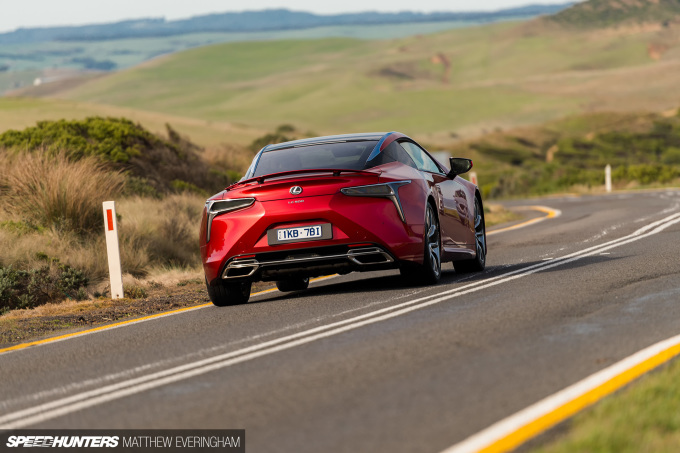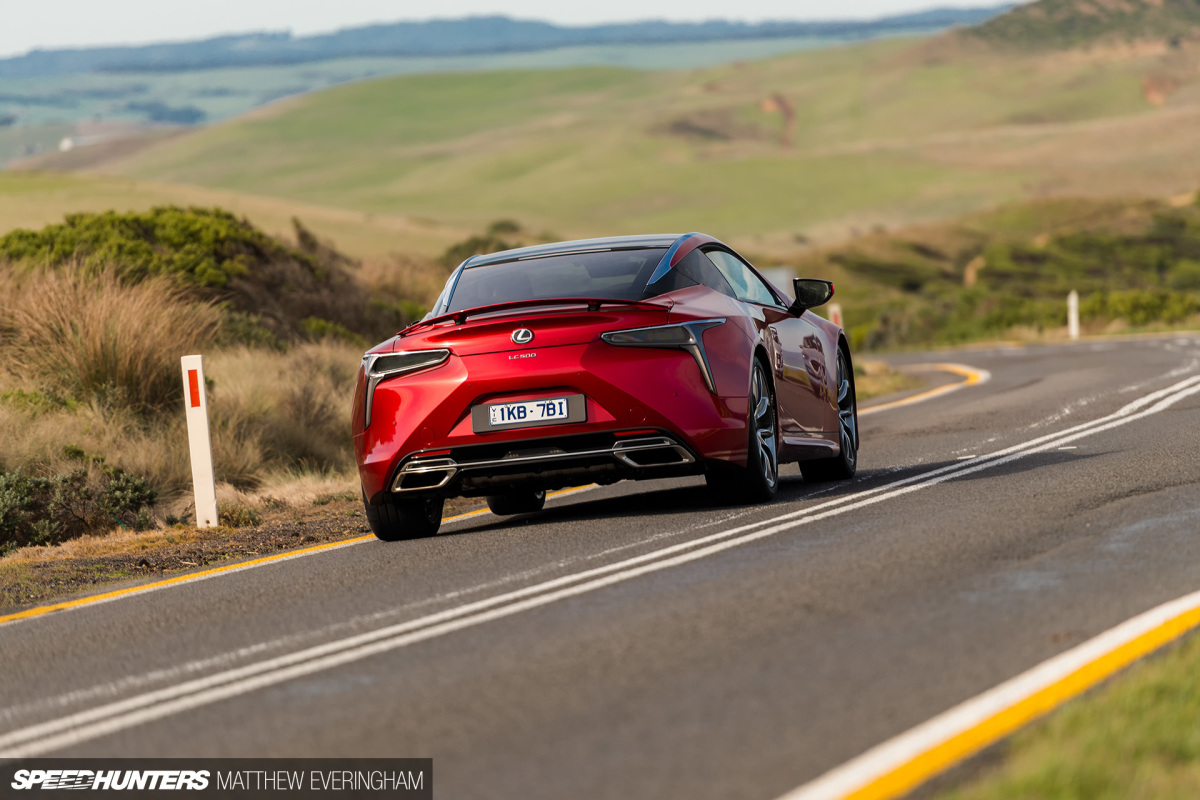 Dino: Lexus really nailed the balance between luxury cruiser and sports car with the LC 500. After driving it sedately around Melbourne for a few days I knew it did comfort well, but with the driving mode set to Sport# and the transmission in manual this big coupe really comes alive, rewarding you with the sort of engagement that the hybrid version can only dream of.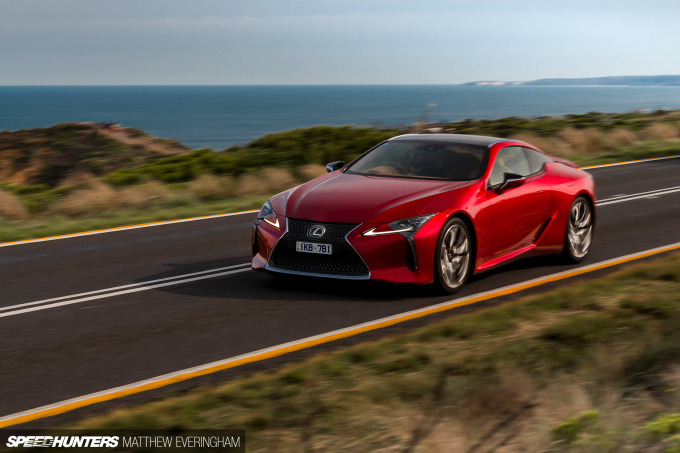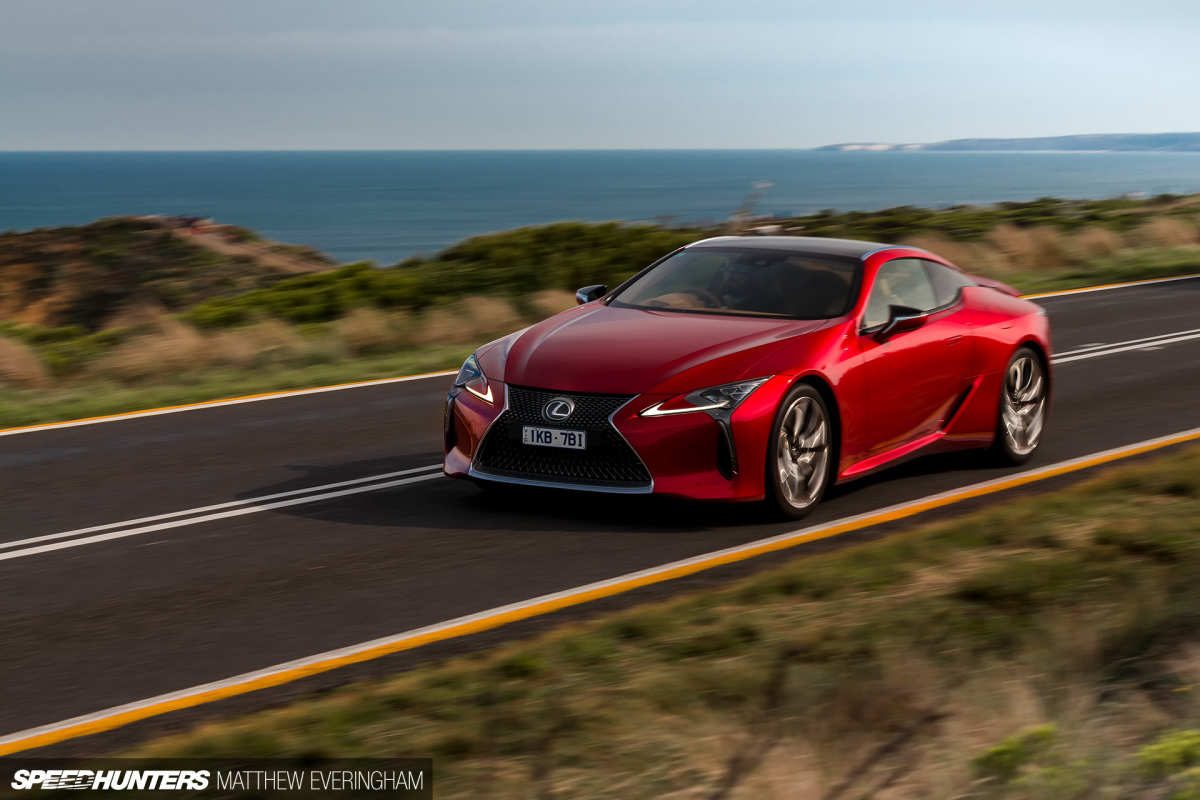 The V8 packs plenty of punch with a linear power delivery that's constant throughout the rev range, and upshifts through the 10-speed auto are fast and snappy. Better still, once you really get into it and start requesting aggressive downshifts, you actually get them, which, from memory, is a big step up from what the IS F and RC F delivered.
To top it all off there's some proper exhaust crackles and pops. I'd happily have more, but this is a refined Lexus after all.
These sort of things only add to the driving experience, so I'm happy to report that Lexus is definitely headed in the right direction.
On the twisty road that led up to the famous costal stretch of tarmac I found the LC to be exceptionally planted, something I'm sure had to do with the exceptionally sticky Michelin Pilot Super Sports fitted at each corner. It made it hard to discover what the handling was all about unless you packed on some serious speeds, but overall it was very good. If I had to be picky, the steering felt a tad over-responsive off center, just where you crave smooth and communicative adjustability.
I'd really love to have a play with this thing on the track, switching off the at-times-intrusive stability and traction controls, and seeing what the chassis is capable of at and over the limit.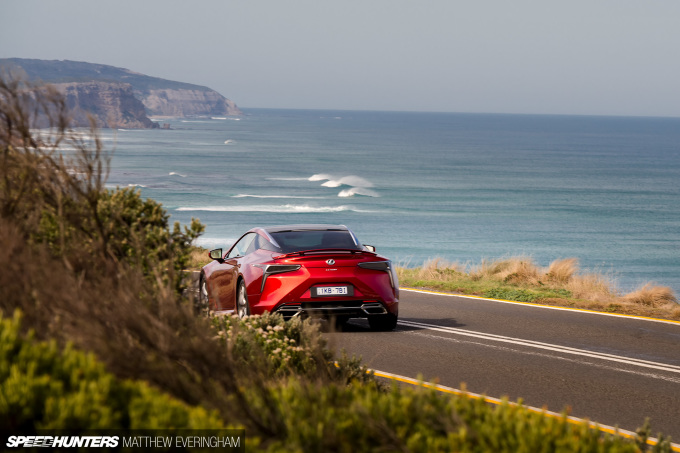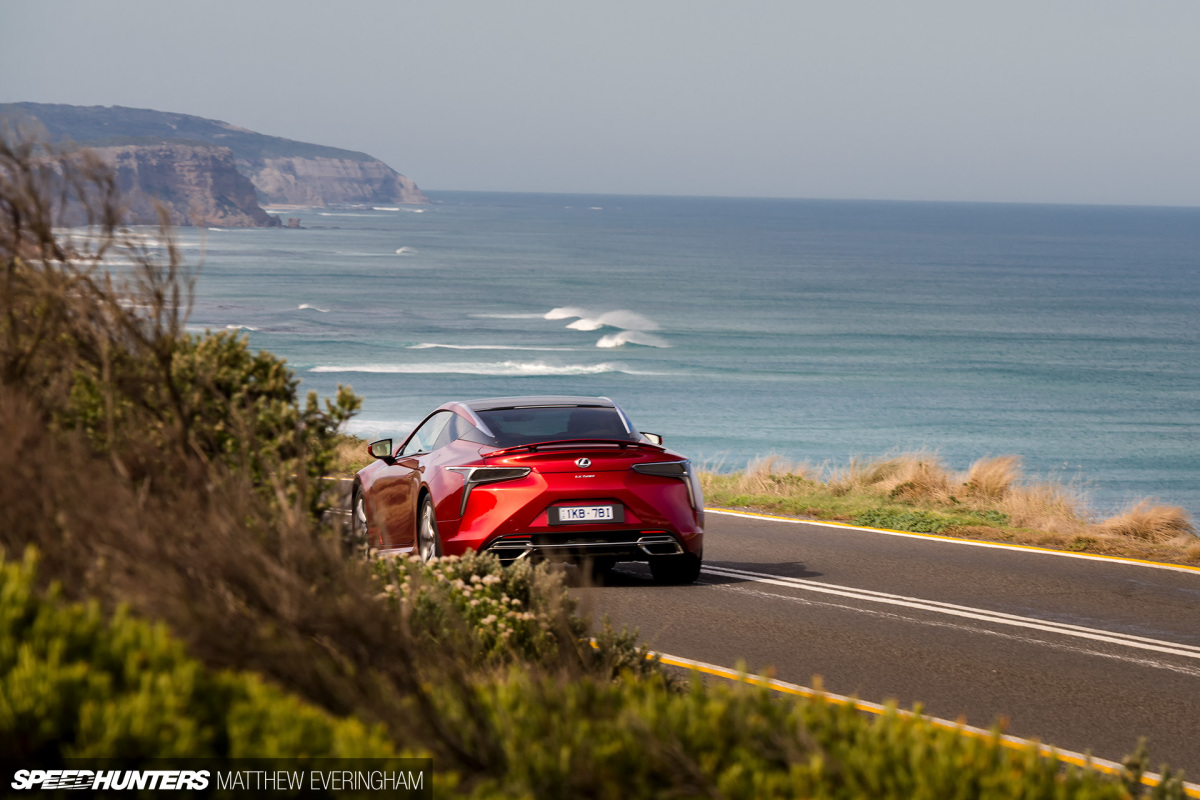 Matt: I may have only spent an hour or two behind the wheel of the LC 500, but by pushing it through the tightly-wound forest roads of the region I quickly got a feel for the car. Firstly, wow! How is this the same chassis as the LC 500h? Aside from the near identical aesthetics, these two cars couldn't be more different.
Personally, I didn't mind how sensitive the steering was. Sure, it was a little twitchy, but I'd much prefer that over a lazy wheel.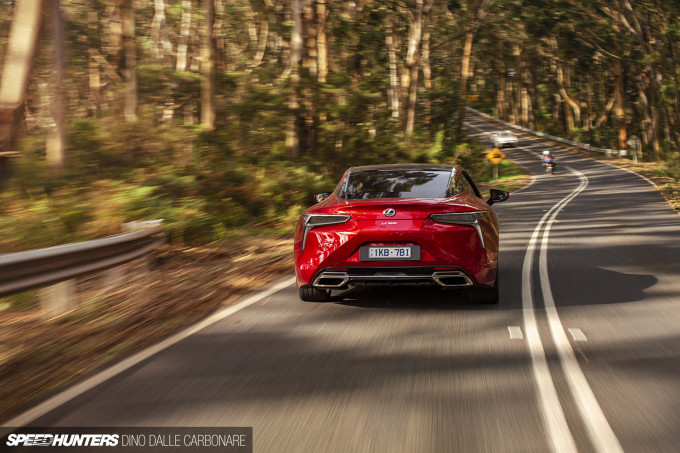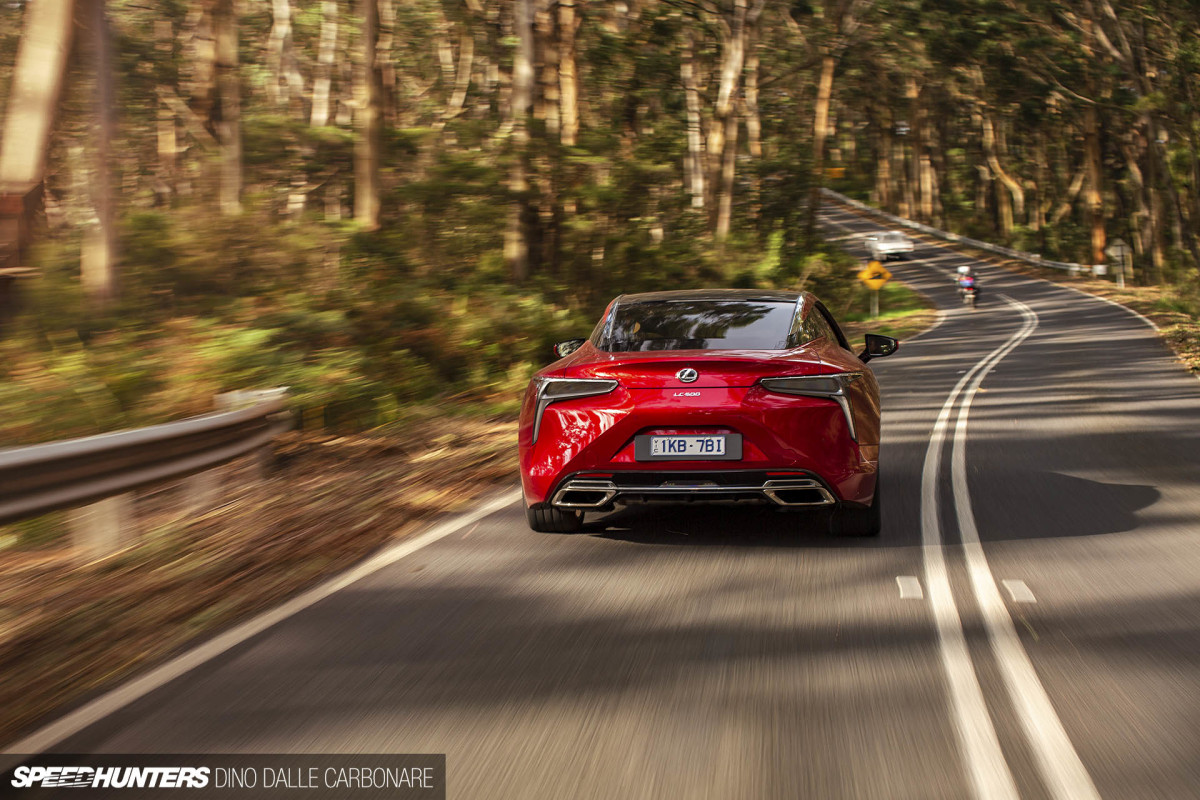 The four-wheel steering and sports suspension deserves an honourable mention for limiting the roll of the near two tonne body. The car felt quite firmly planted and handled the switchbacks well, giving only the faintest hints of its heavyweight status through the bends.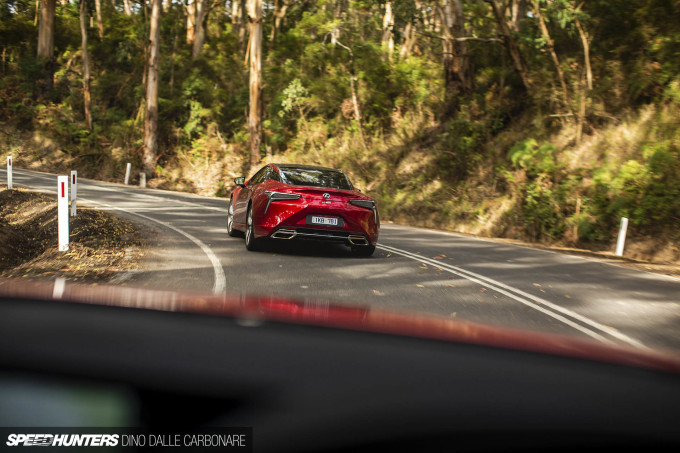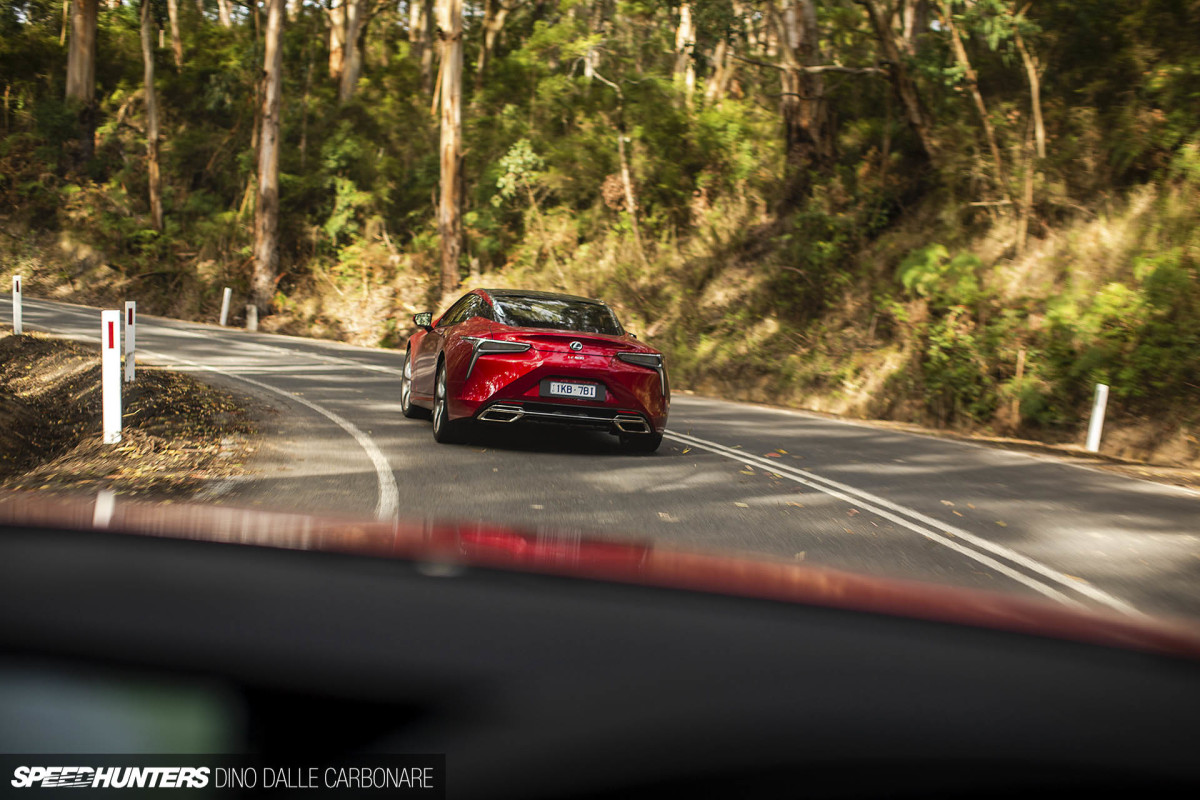 I'd love to take the LC 500 to a race track too, or at least to a faster road to find out at what speed physics catch up to the clever suspension.
The braking is on par with the best production systems out there; it's mighty powerful with ample progression when you really want to modulate it to carve a smooth yet fast line through turns.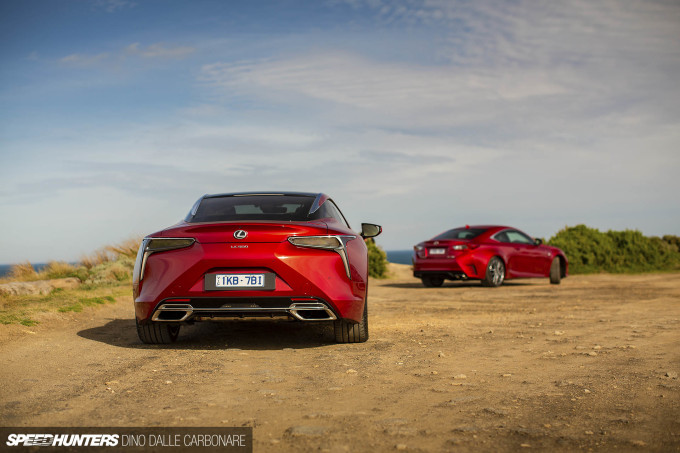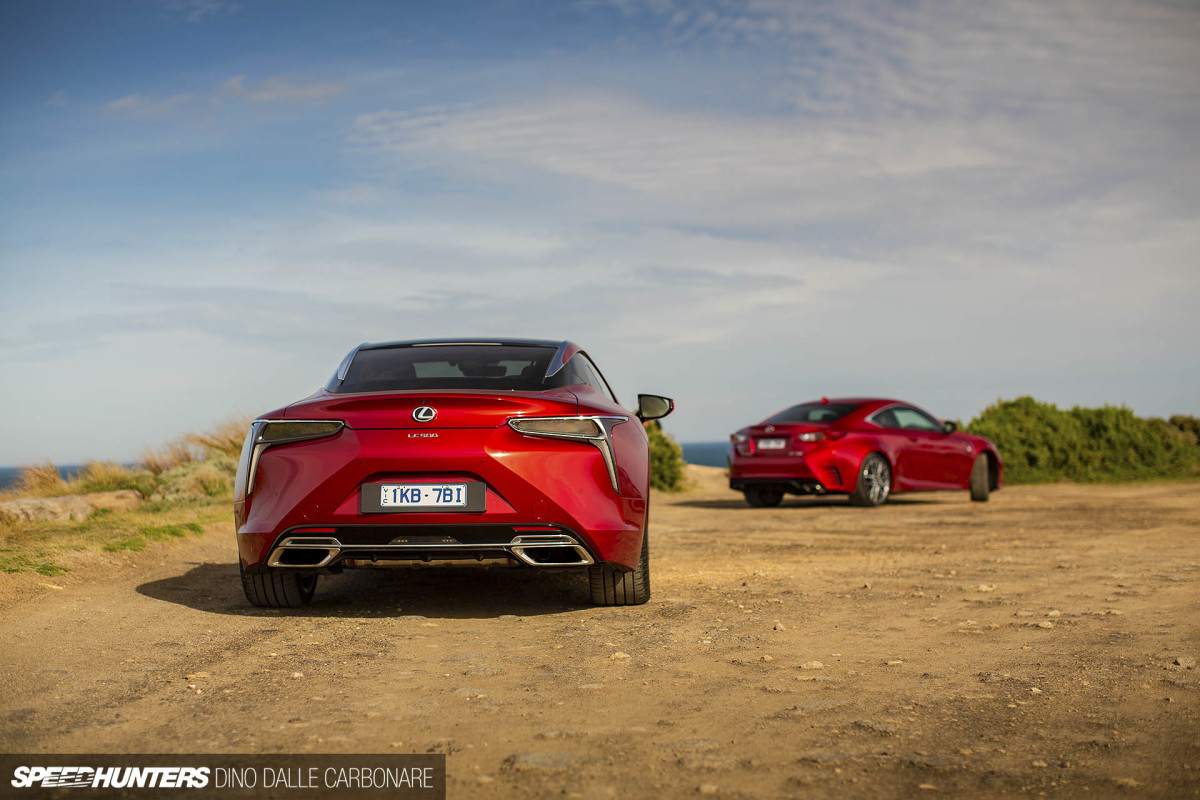 Dino: Not wanting to take things too far with the driving on such an open and tourist-filled road, and with enough action shots in the bag, we headed off to find somewhere a little more remote to take in the details of both cars.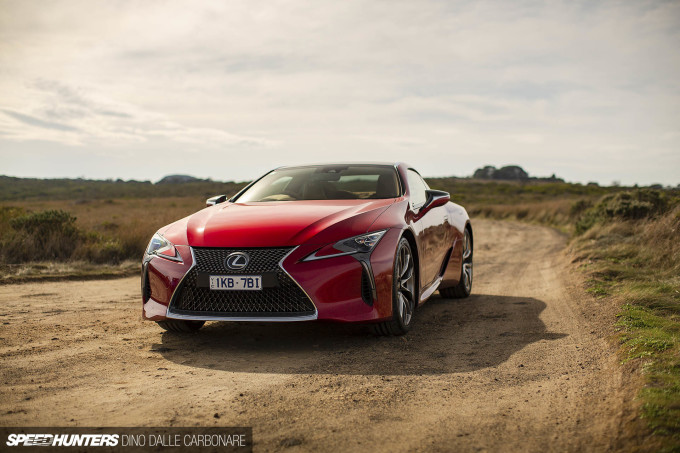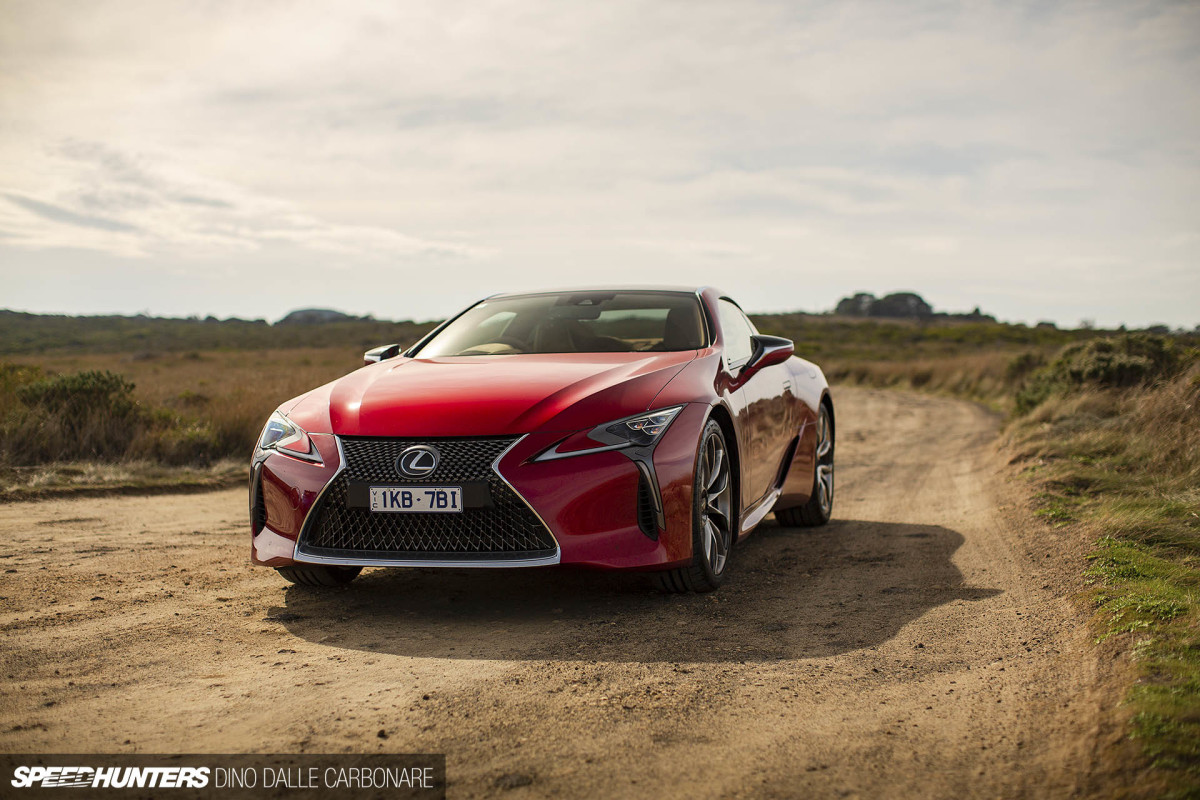 I never like to over-critique a car's looks given that it's a very subjective thing, but I just want to say one thing. Supra. The sleek profile, the pointy face, the proportions – this is what the new Supra should have been. Don't get me wrong, I have nothing against what Toyota is doing with its forthcoming sports car, but there's no denying that this is a far more fitting design to follow where the JZA80 left off. Different front and rear treatment with more appropriately-designed head and tail lights and you might as well call it the JZA90. Matt, what do you think?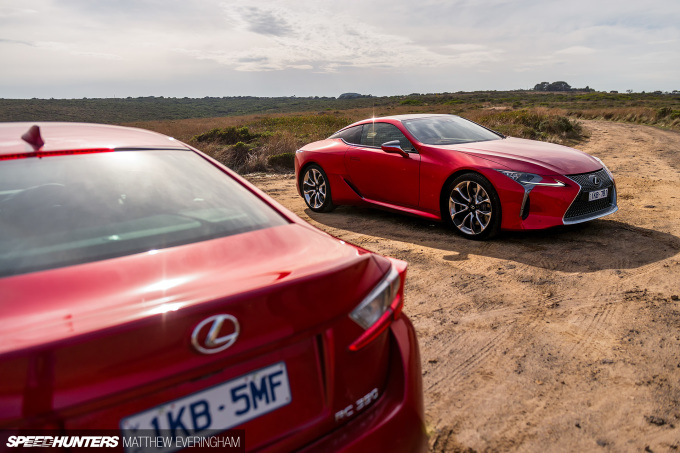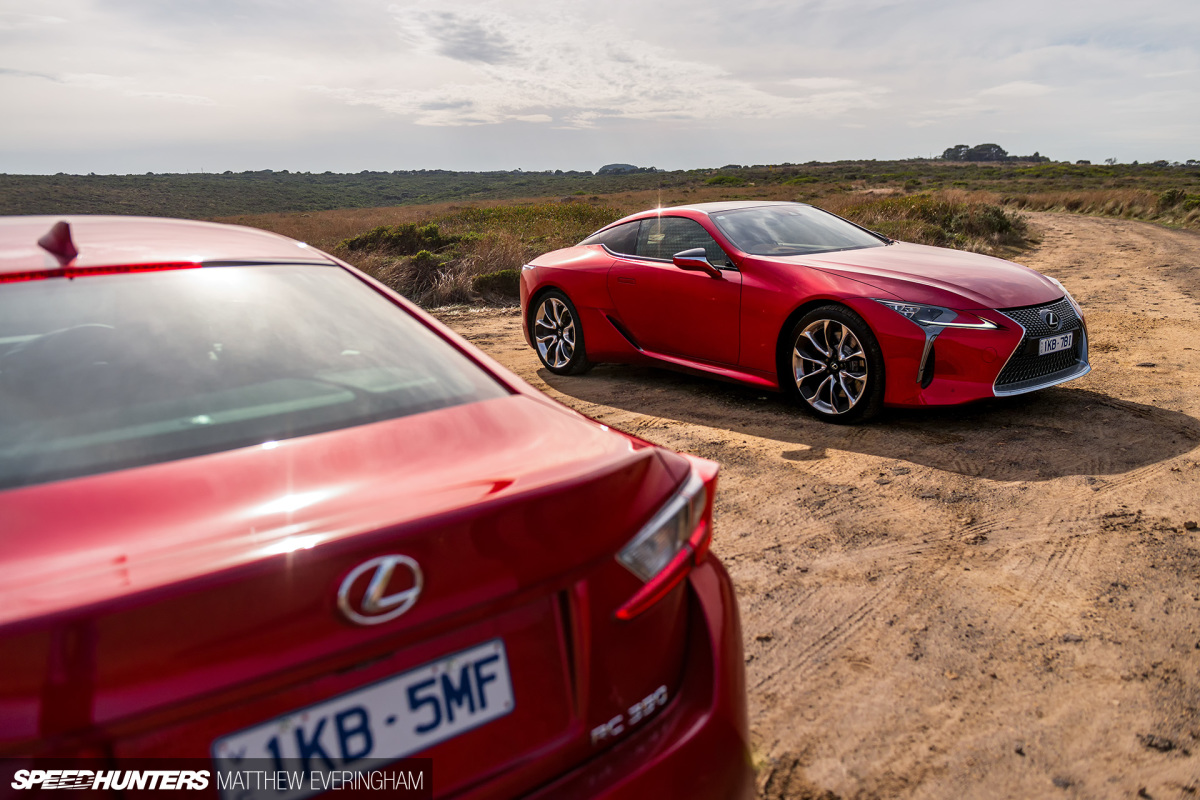 Matt: After spending an evening hot on the LC 500's tail, I can not unsee the Supra DNA. Whether Lexus cares to admit it or not, or is happy that it's so prevalent, the LC 500 is the Supra's luxurious and well-appointed stepchild. The final product isn't as 'boy racer' as the JZA80, but as you've said the major body lines and proportions are all there. This is the Supra for the refined gentleman.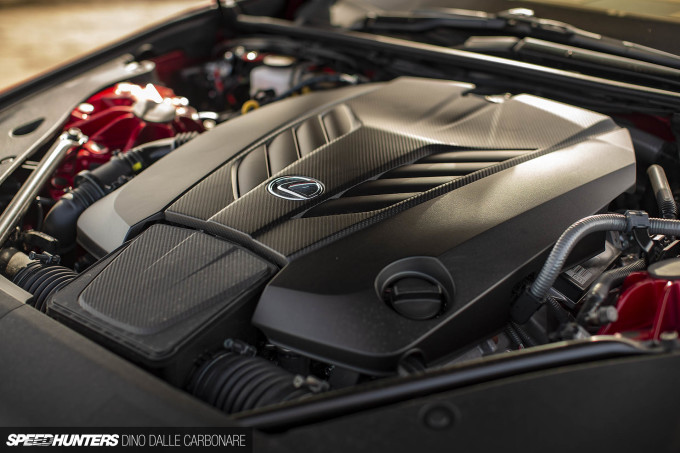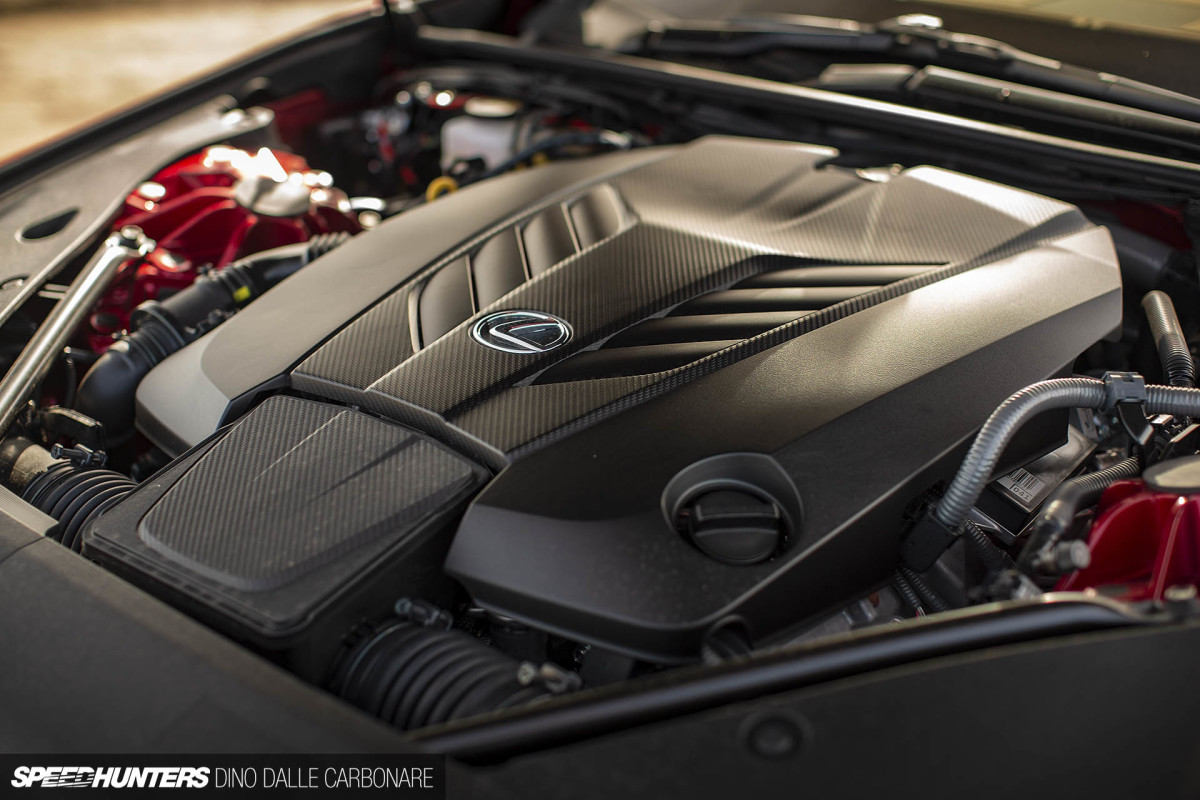 Dino: I was happy to find no orange hybrid system wiring in the engine bay. Instead, you have one of the most advanced interpretations of the 2UR-GSE, a direct injected V8 that makes all the right sort of sounds when you want it to, and goes about its business quietly when you don't. Bravo, Lexus. More of this, please. Maybe a pair of turbos too.
Large 6-pot brakes up front and 4-pots out the back are on point to haul up Lexus' big GT cruiser. I still can't get over the fact that cars like this ride on 21-inch wheels these days; they always seem to be getting bigger.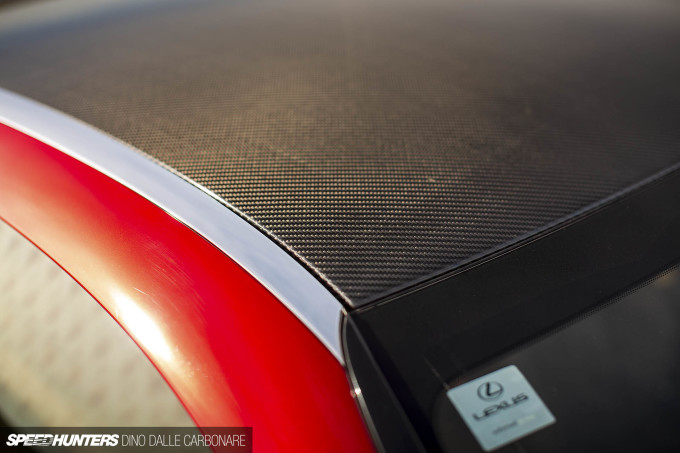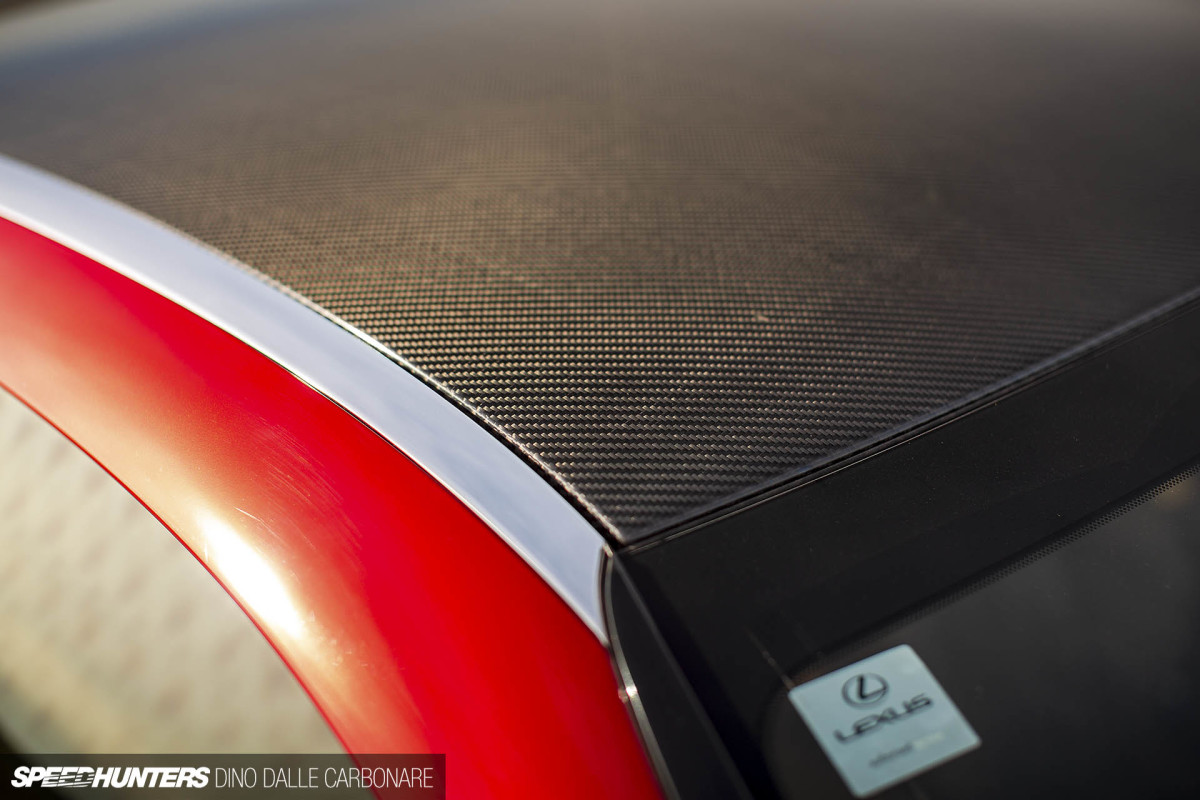 The more I looked over the car, the more I wondered what a crazy thing the F version will have to be. This thing already has some pretty cool and high-end features like carbon doors and roof.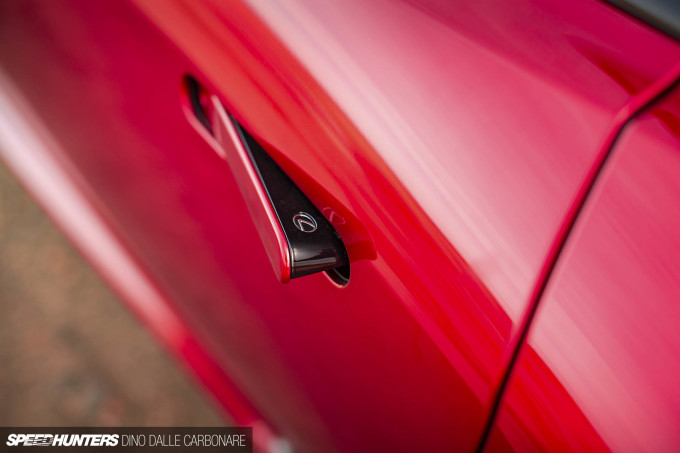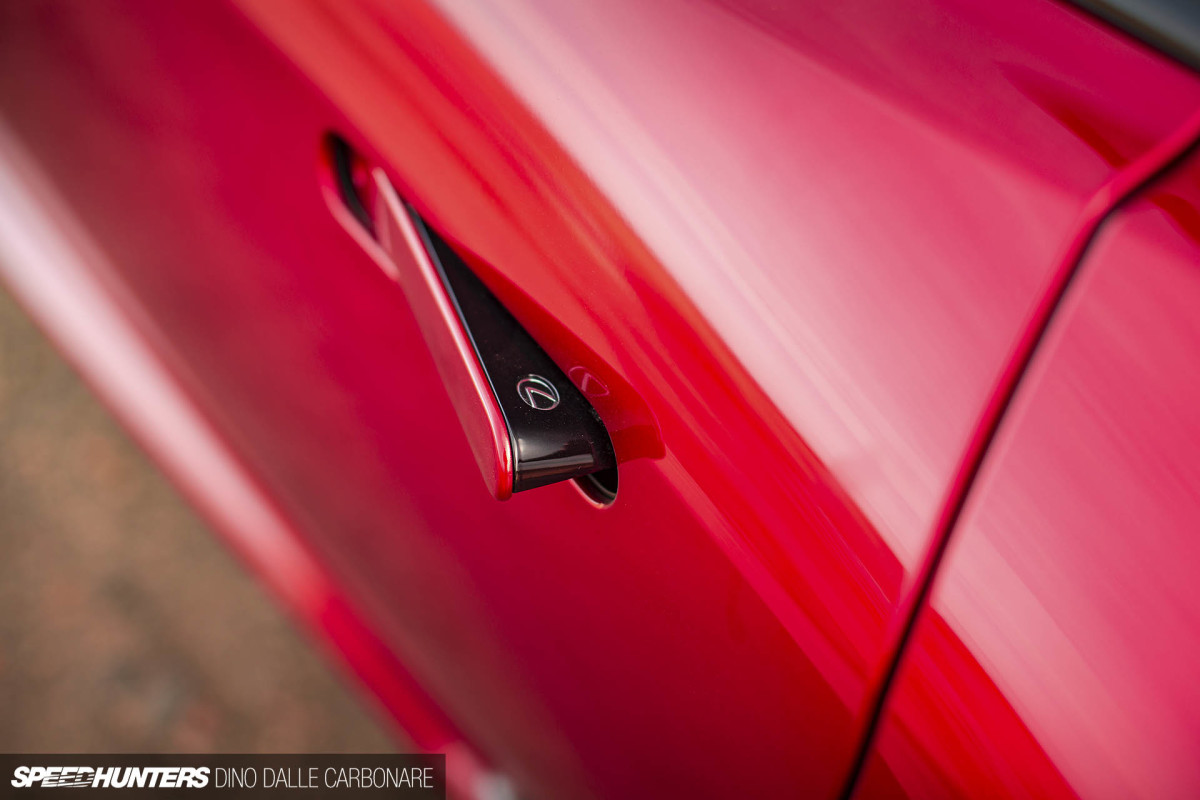 But let's pull on the retractable door handle and admire what most people that ride in this car will remember: the interior.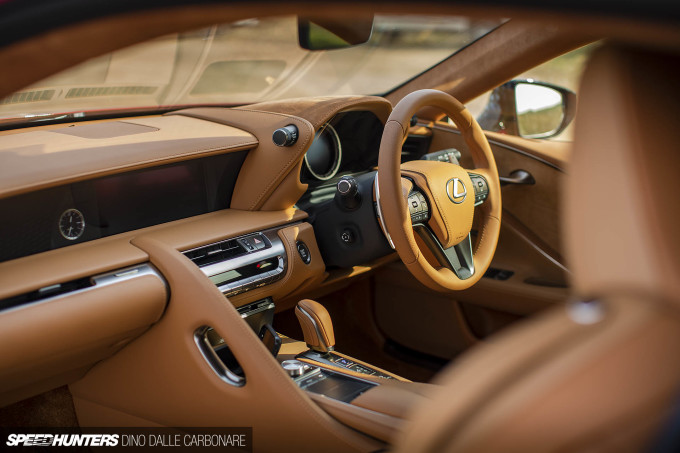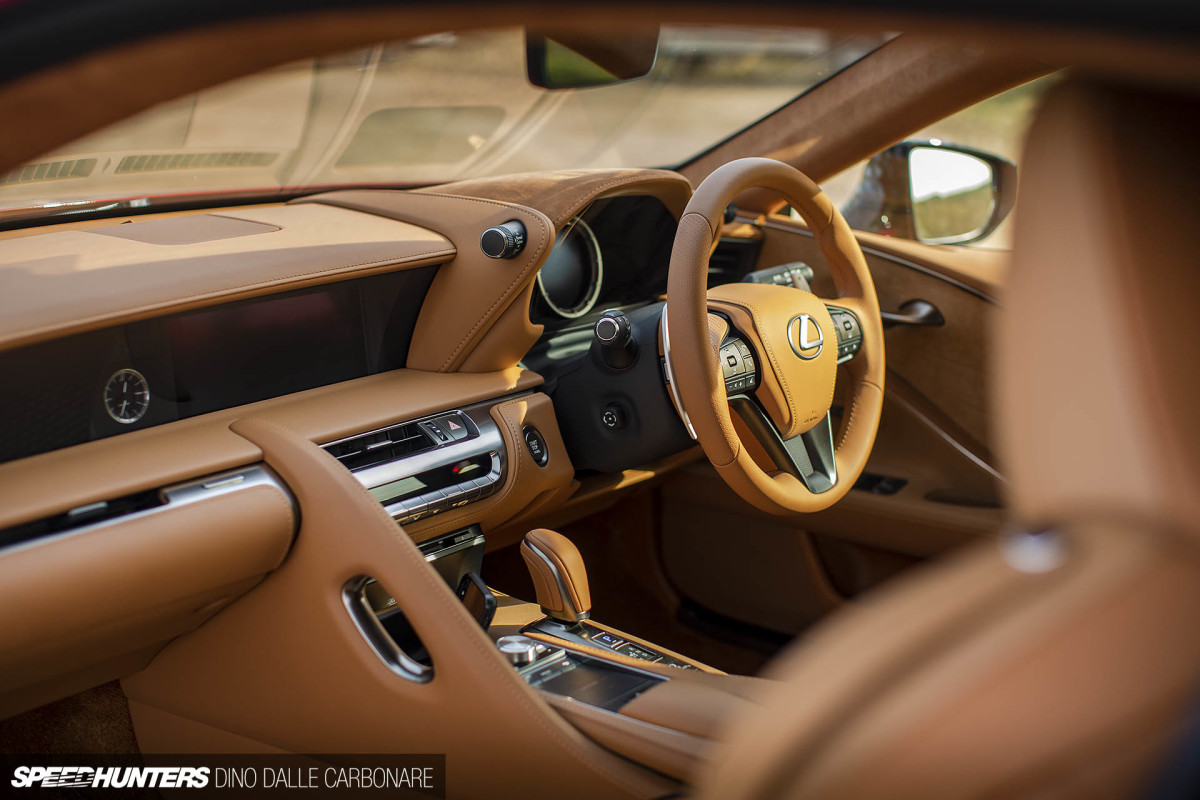 This has to be one of the most modern-feeling cabins out there. You're really cocooned in luxury; everything you touch is either soft leather or even softer suede, and the instrument binnacle is a wonderful mix of digital and analogue. There's also a touch of mechanical awesomeness as the round tachometer moves to reveal more menus and functions on the secondary LCD screen behind it.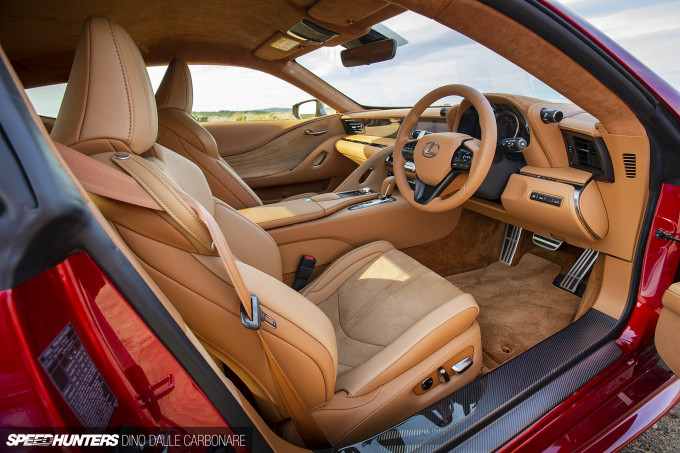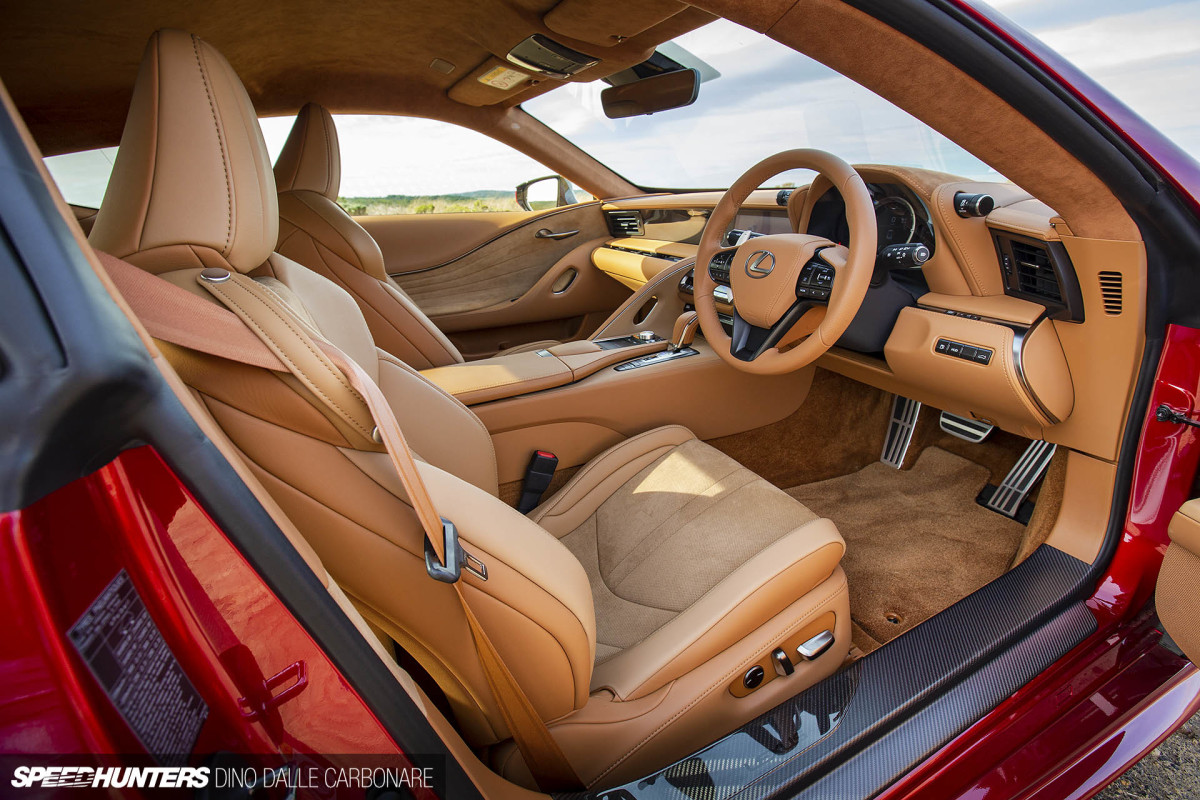 This is Lexus showing the best and most coveted luxury auto brands out there that it can do quality just as well. In fact, I'd argue that the build quality is on a level of its own; it felt exceptionally well put together.
And yes, I still hate the weird touchpad interface with the infotainment. I think everyone complains about this, so maybe Lexus will eventually take notice and simplify it. It's not hard, just copy what BMW does.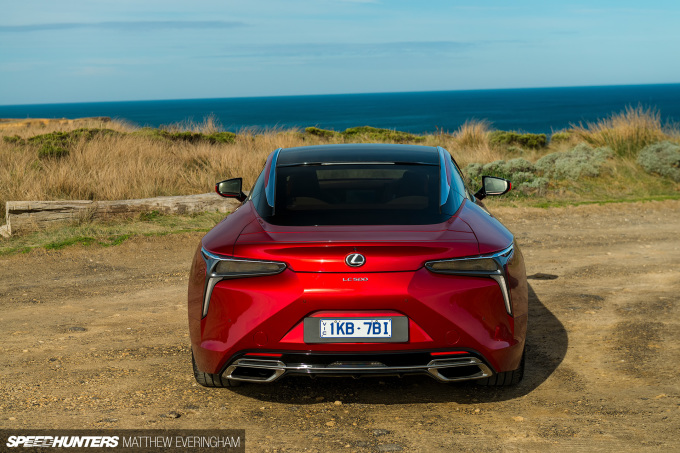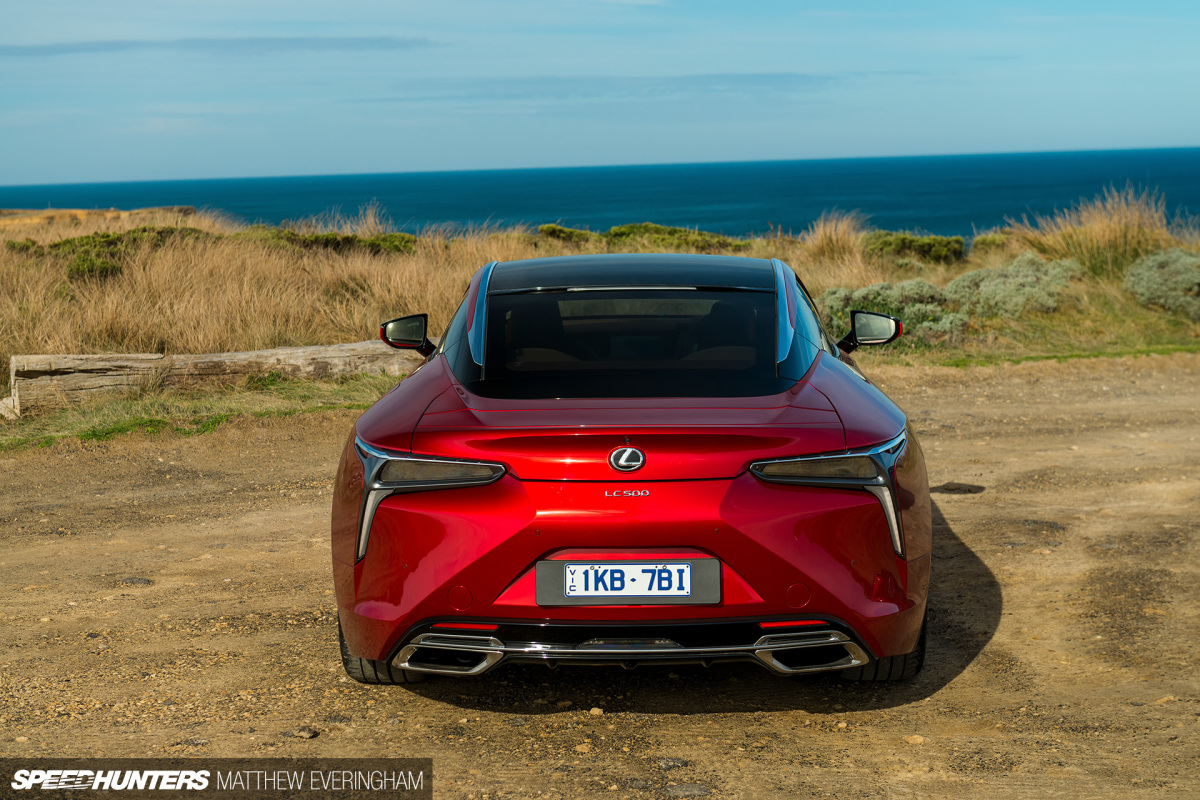 While I was drooling over the details of the LC 500 Matt was photographically dissecting his RC 350. Over to you Matt.
RC 350: Sporty By Not A Sports Car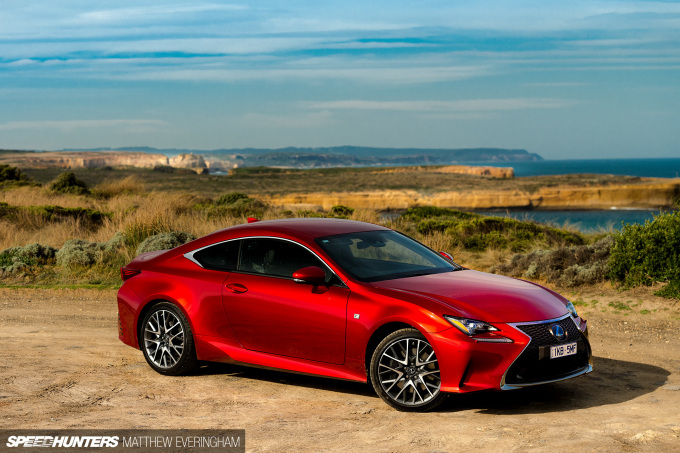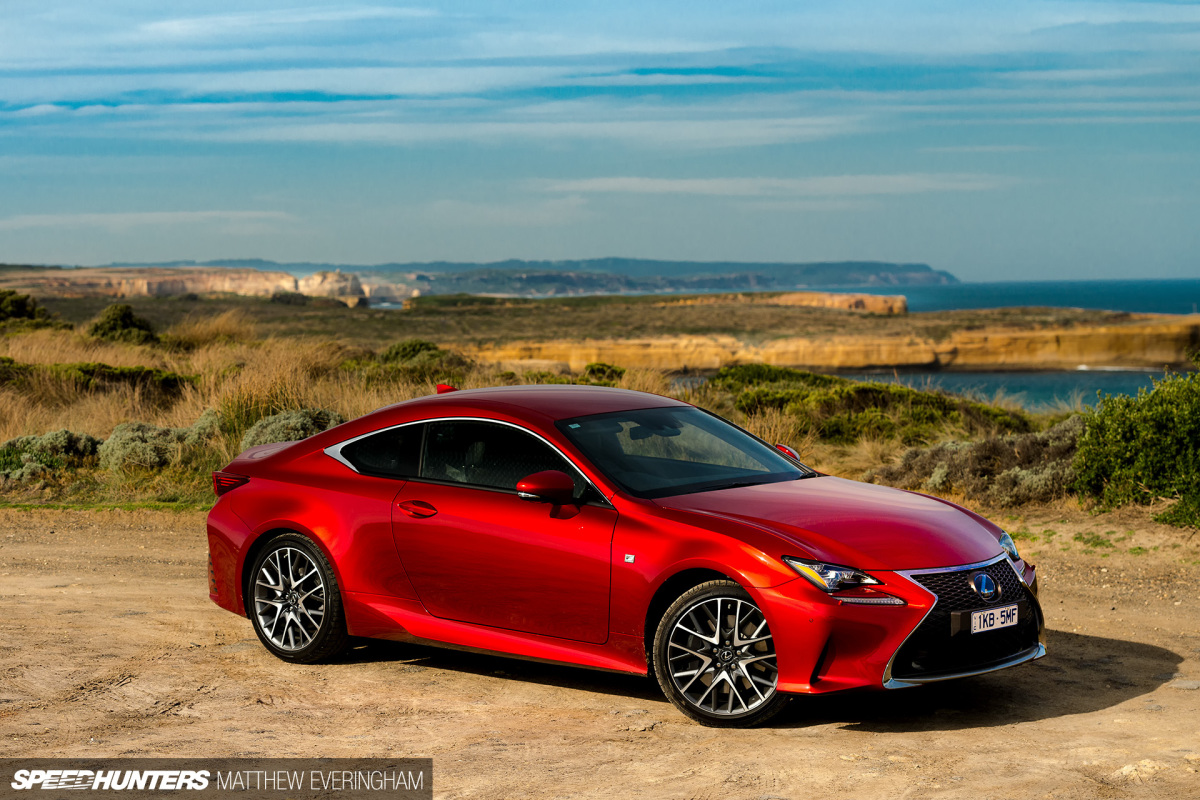 Matt: With an AU$100,000 (US$74,000) price difference between the RC 350 F Sport and the LC 500 and very different purposes in life, I'm going to do my best to not directly compare the two. It's hardly fair to draw comparisons between a sporty tourer and Lexus' flagship model, the starship LC 500. The RC 350 delivers a mostly positive experience, but I have a few mixed feelings about this car.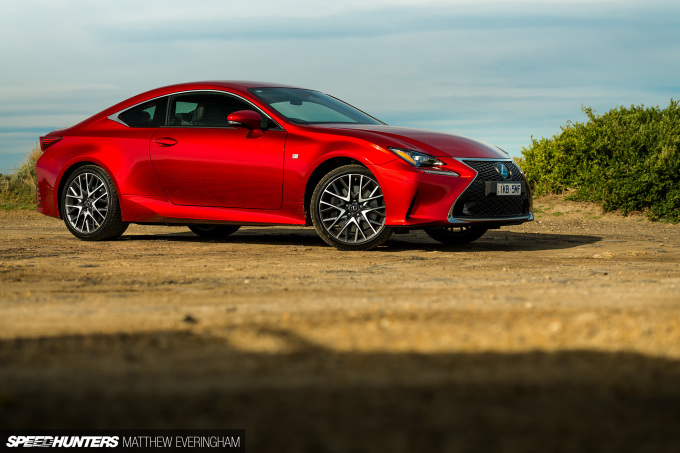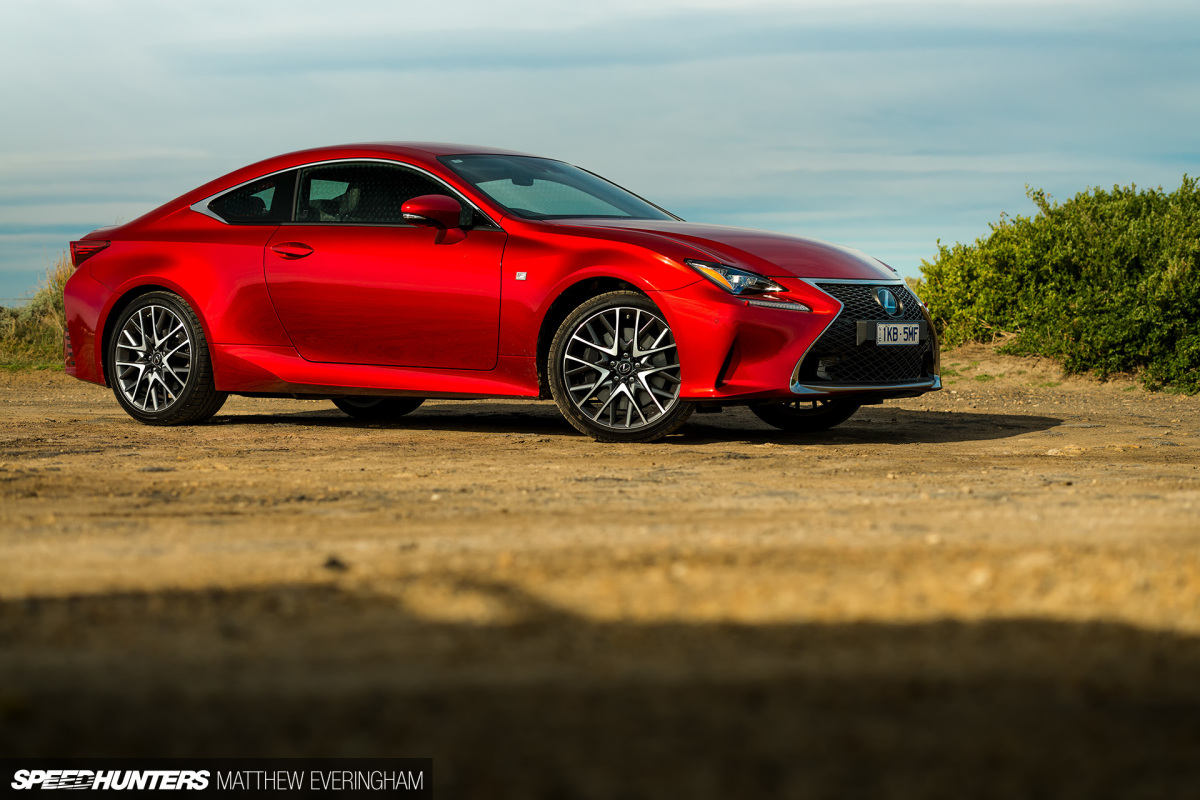 Let's begin with the most obvious feature, it's overall appearance. It's bold, it's futuristic, it's sporty (looking), and although I really dig the design, I can also appreciate that not everybody will love this car. Especially the front end which drove a lot of conversation where ever we went. I grew quite fond of the unique grille and aggressive pumped arches, but the accentuated tail lights and what looked to be additional ducting and fins out back were even better. That's right, fins. Do you know what else has fins? Race cars.
This car looks so fast that it almost left me feeling a little confused as I drove through Melbourne. With such an emphasis on speedy aesthetics, I could not understand why I wasn't keeping up with other sports cars, nor why I had to wait for the gears to change.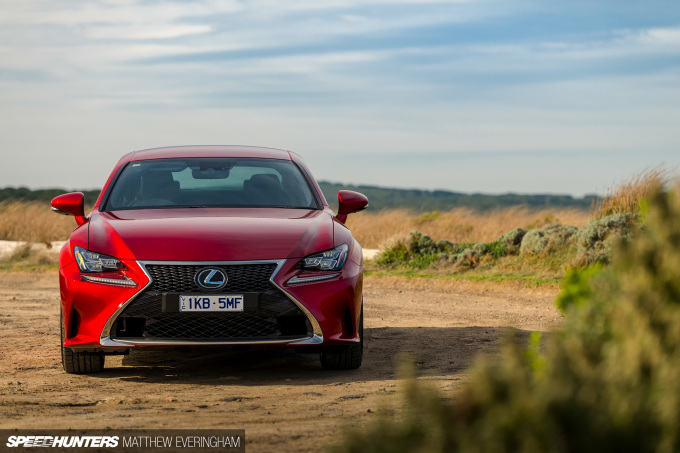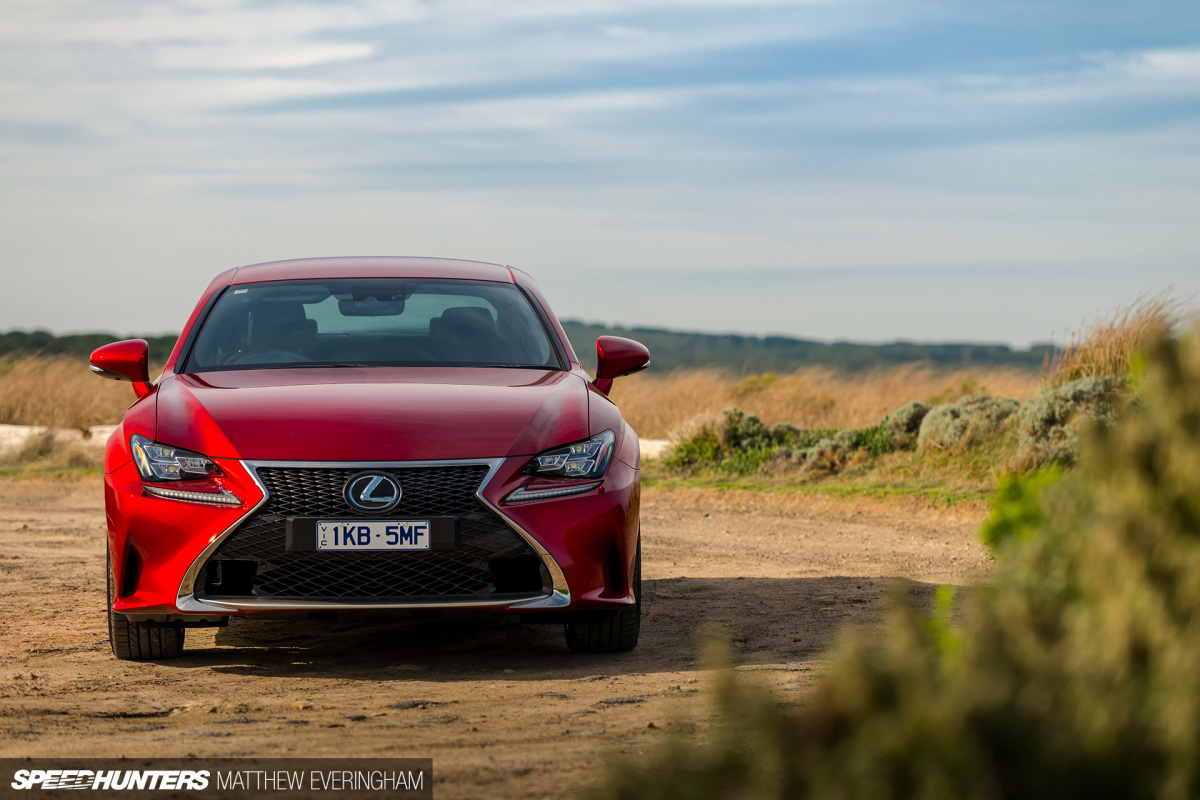 If you're looking at the RC 350 as a sports car, I'm sad to say you'll be disappointed. However, if you consider the RC 350 as what it is, a grand tourer with a little extra power, you should be left feeling properly satisfied.
Despite sharing a healthy number of aggressive styling cues with its brutish big brother, I found the emphasis placed squarely on providing a comfortable drive. The 'Sports' mode still provided plenty of entertainment through the back roads of regional Victoria, but at no time did I ever mistake the car from the driver's seat for a true sports car. I gave up on trying to match the ball-tearing growls of Dino's V8 with the naturally aspirated V6 after a while. Instead, I was content to sit surrounded by luxury and to take in the amazing sights of the blurring landscapes out my window.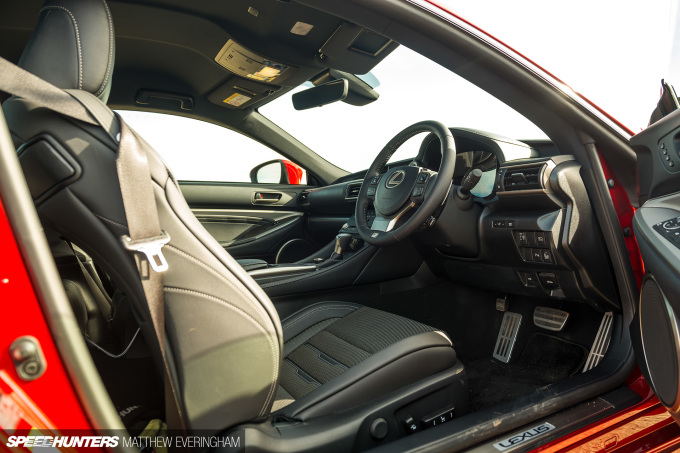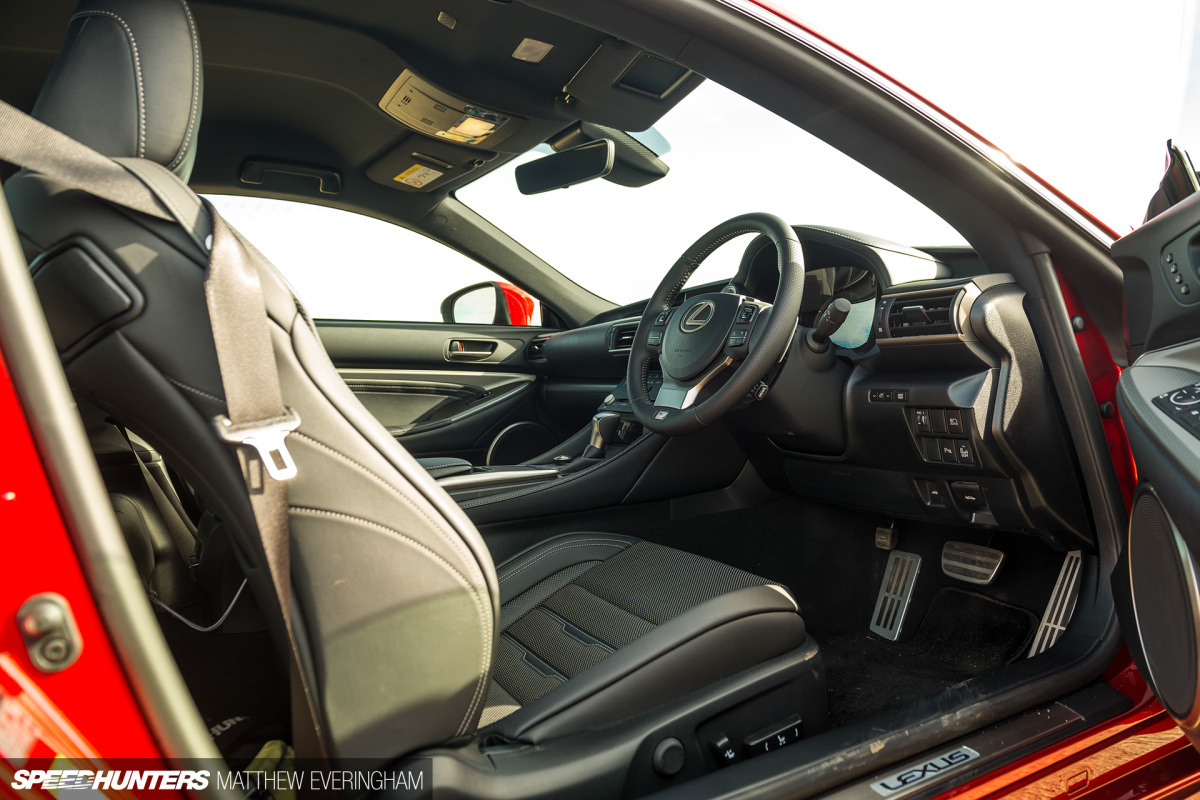 The cabin was a good place to spend the hours we had planned on the road, the majority of materials being solid and well put together. While the interior looks about a decade older than the artistic space-aged LC 500, it holds up quite nicely against similarly priced cars of the same nature. If spending a lot of time in the driver's seat of my Evo has taught me anything, it's to appreciate leather and finer materials in other cars.
Without the sound of my own V8, I chose to crank some tunes for some of the drive, and the stereo was good enough to have me mentally pricing up an upgrade for my car. I'd heard a lot of negativity towards the mouse pad driven control unit, but I found my way around the 10.5-inch infotainment unit and touch-pad pretty quickly. While some improvements could be made, like the inclusion of full Android/Apple compatibility, I didn't mind using it to change settings and double-check my navigation.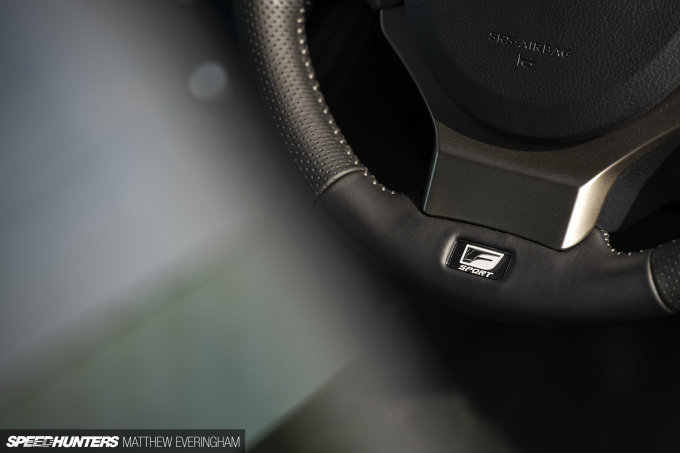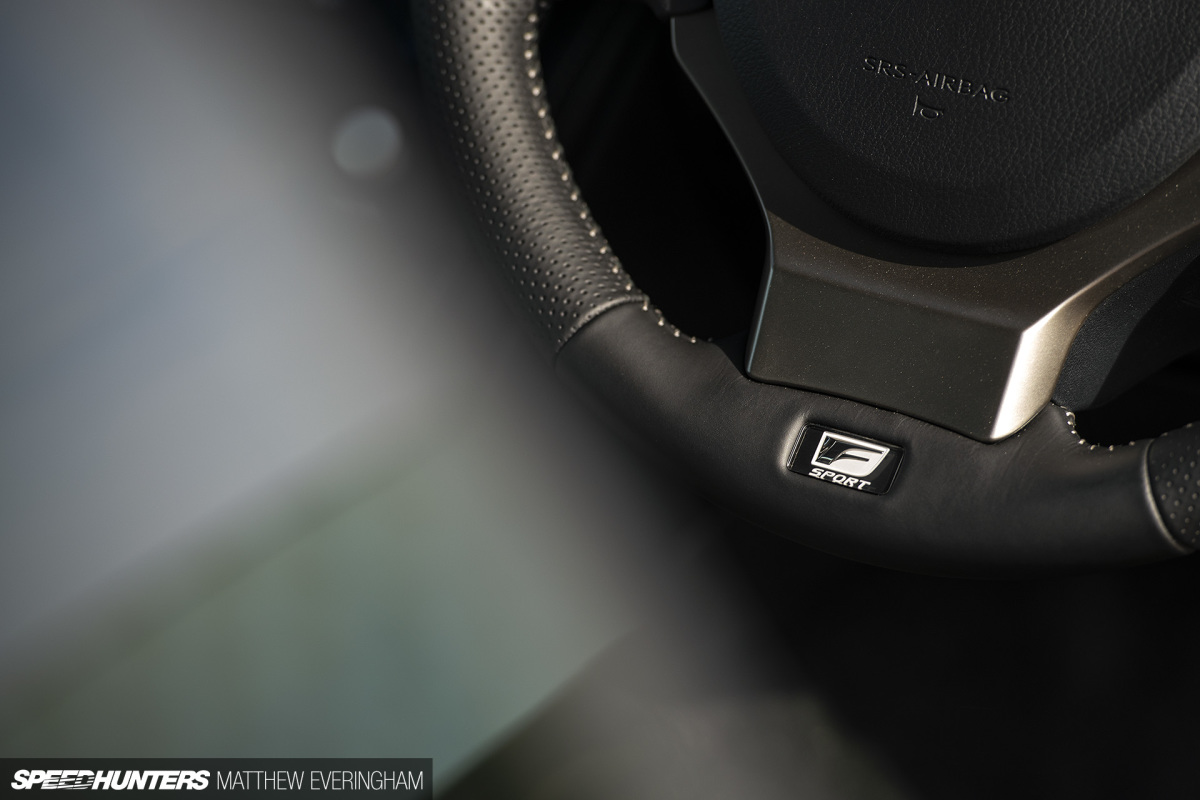 Two things that really annoyed me about this car were the stupid double-click blinker stalk and the RC 350's incessant reminding me to "please obey all traffic regulations." I spent an hour looking but was unable to disable the nagging message. Living in a nanny state country is bad enough, but I found the constant intrusion into the cabin just too much. Why can't adults just be adults these days?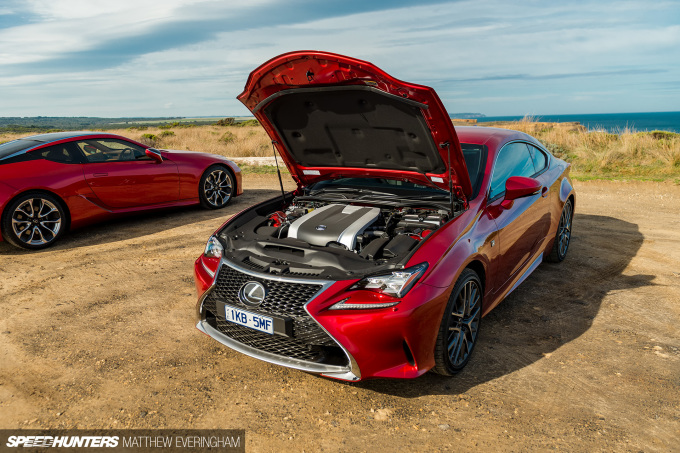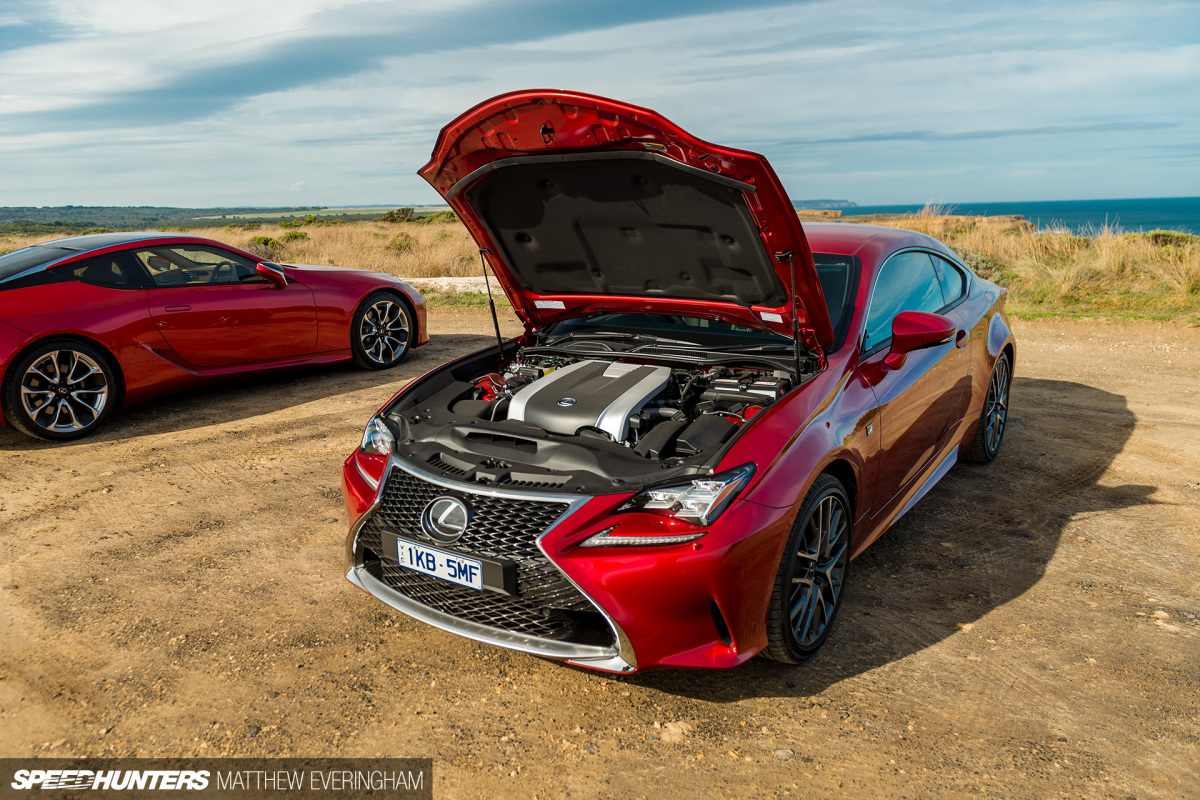 As a tourer, the performance of the 3.5-litre 2GR-FSE was ample. Those satisfied with the occasional blip of the throttle will probably be satisfied, but those expecting the F Sport badge to carry any weight may not. I got the sense that the 305 ponies on offer were eager to get up and moving, but were let down by an indecisive auto gearbox. Even in 'manual' mode, the transmission took its sweet time to let the car come alive.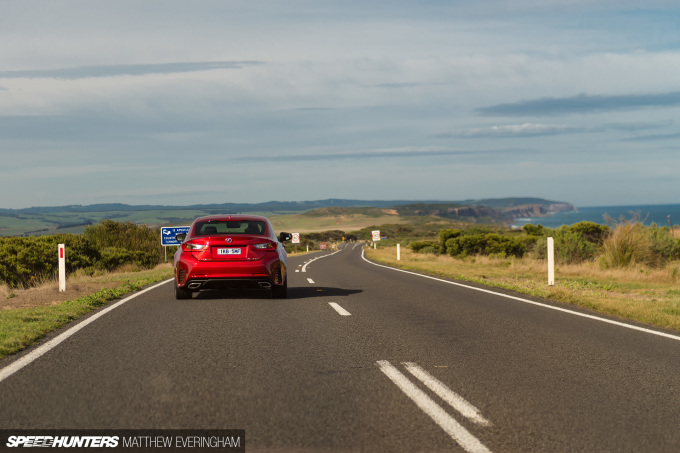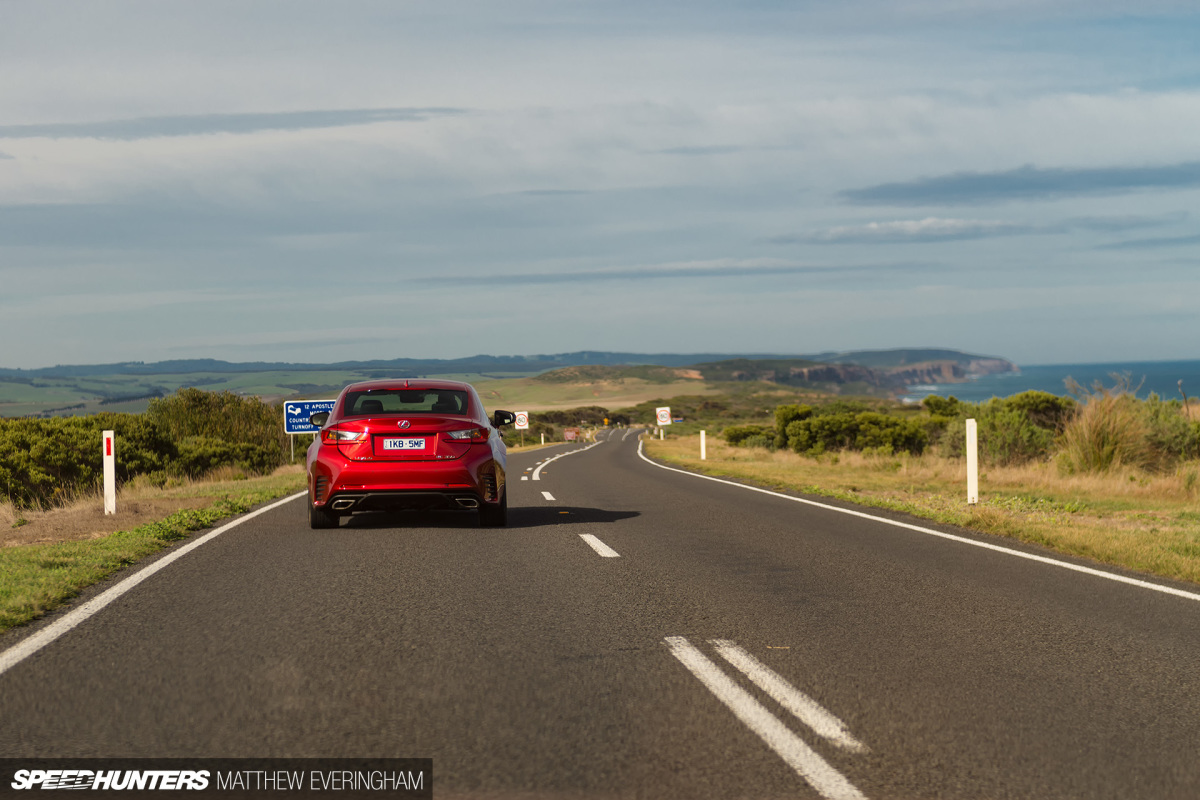 Once up and running though, the suspension and braking package did a solid job, inspiring a level of confidence that the driveline package sadly just could not meet. You can tell that this chassis was designed around its true potential as an RC F.
Still, the F Sport was a fun and comfortable drive, not to mention probably half the price of an RC F.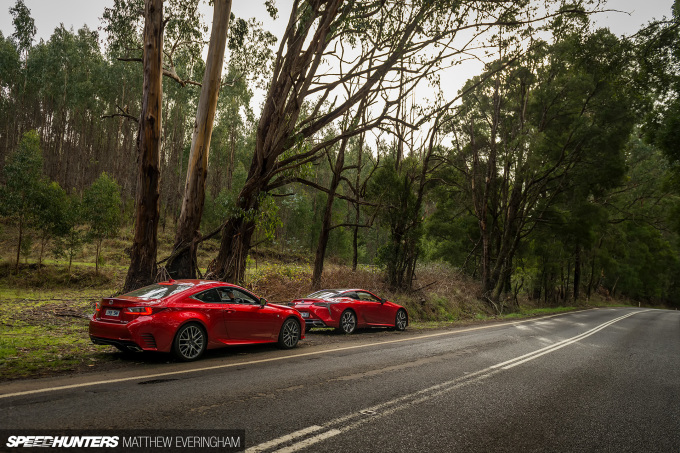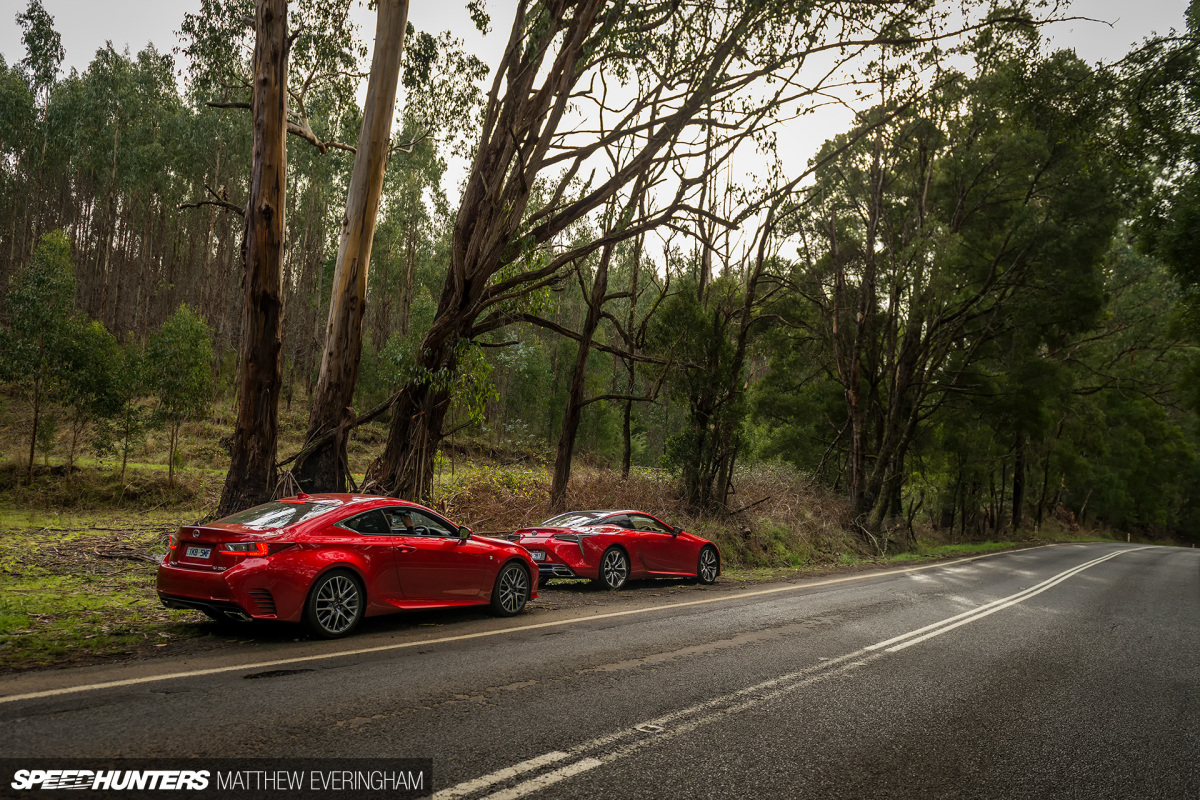 Dino, how did you find the response and handling of the RC 350 through the tighter forest sections where power wasn't as critical? You looked like you were having some fun there.
Dino: After being spoilt by the LC 500, the RC 350 was an anticlimax. That's an unfair initial evaluation though, as it's still a very decent car, or at least it was a few years ago. It's just hard not to instantly judge it against similar coupes that the Germans churn out these days; they're all equipped with super-torquey turbocharged engines and either double-clutch transmissions or ZF's mighty 8-speed.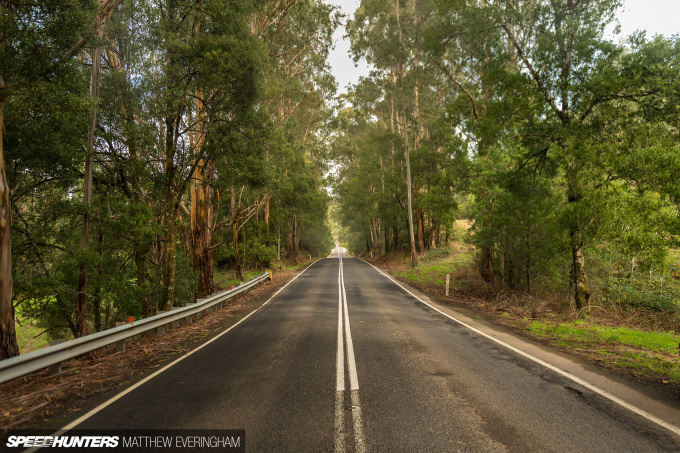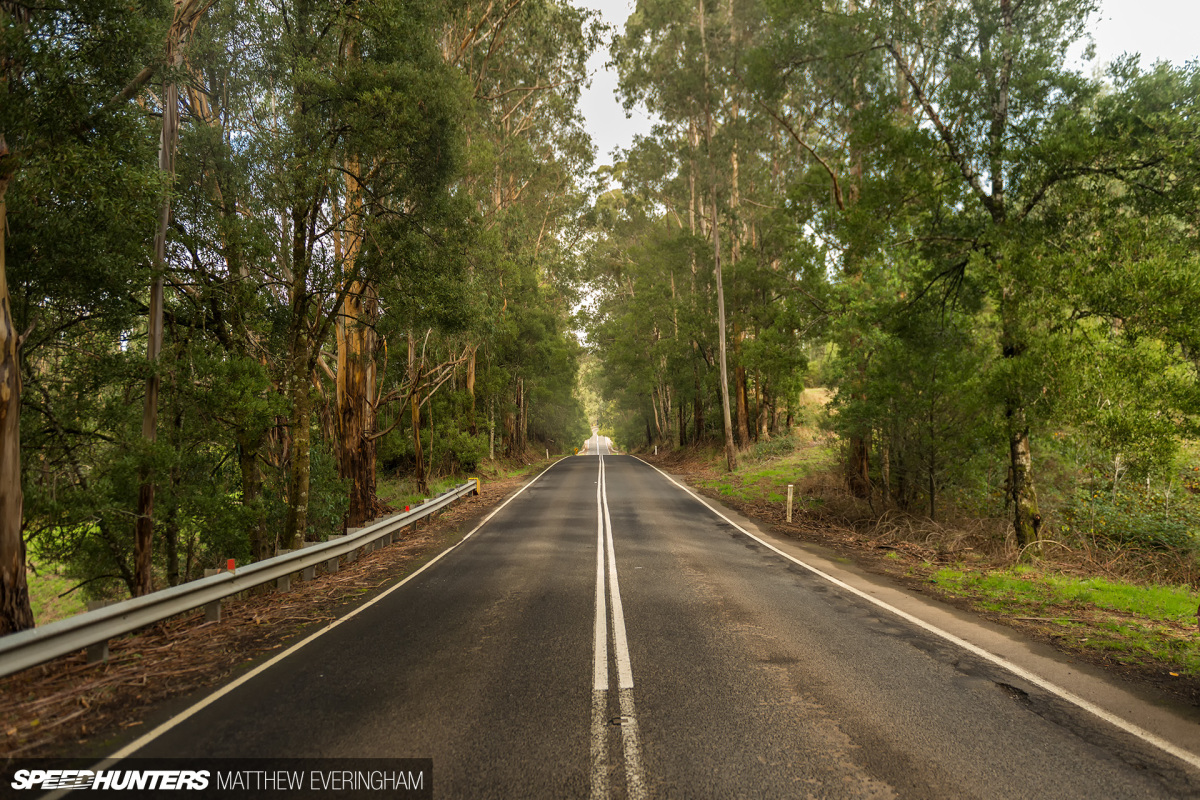 I had to ring out every last bit of RPM to barely keep up with you in the LC, and while it looked like you were barely pushing it, the RC 350's computers cut power and declined downshifts. So I slapped the shifter in auto, selected 'Normal' on the driving mode and just enjoyed the RC's evident GT qualities.
Before long it was back on the long and unexciting motorway, cruise control set to 100km/h and tunes playing – a relaxing end to a perfect day of driving. This was one road trip for the books, and a journey I'm sure we'll both be talking about for years to come. Thank you Lexus for the experience.
Dino Dalle Carbonare
Instagram: speedhunters_dino
dino@speedhunters.com
Matthew Everingham
Instagram: matthew_everingham
matt@mattheweveringham.com