The fact that the Speedhunters odometer has rolled over into the tens has been brought up a lot this month, and for good reason – 10 years of operation is well worth celebrating.
Over the past decade, Speedhunters has done an excellent job thoroughly covering virtually every segment car culture around the globe, however, going back as far as I can remember, there hasn't been a recurring Canadian in the cast.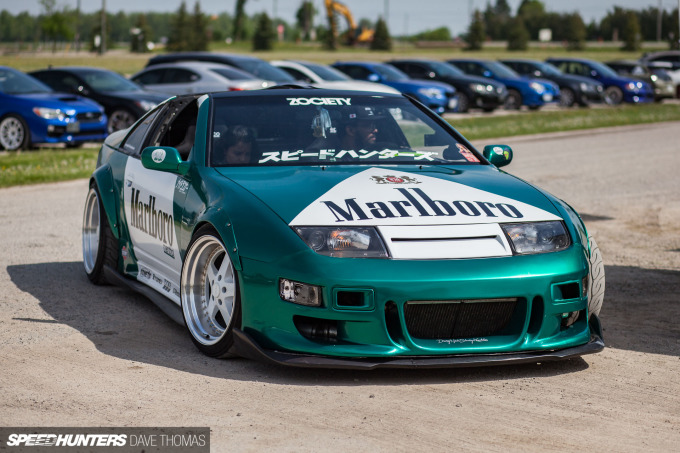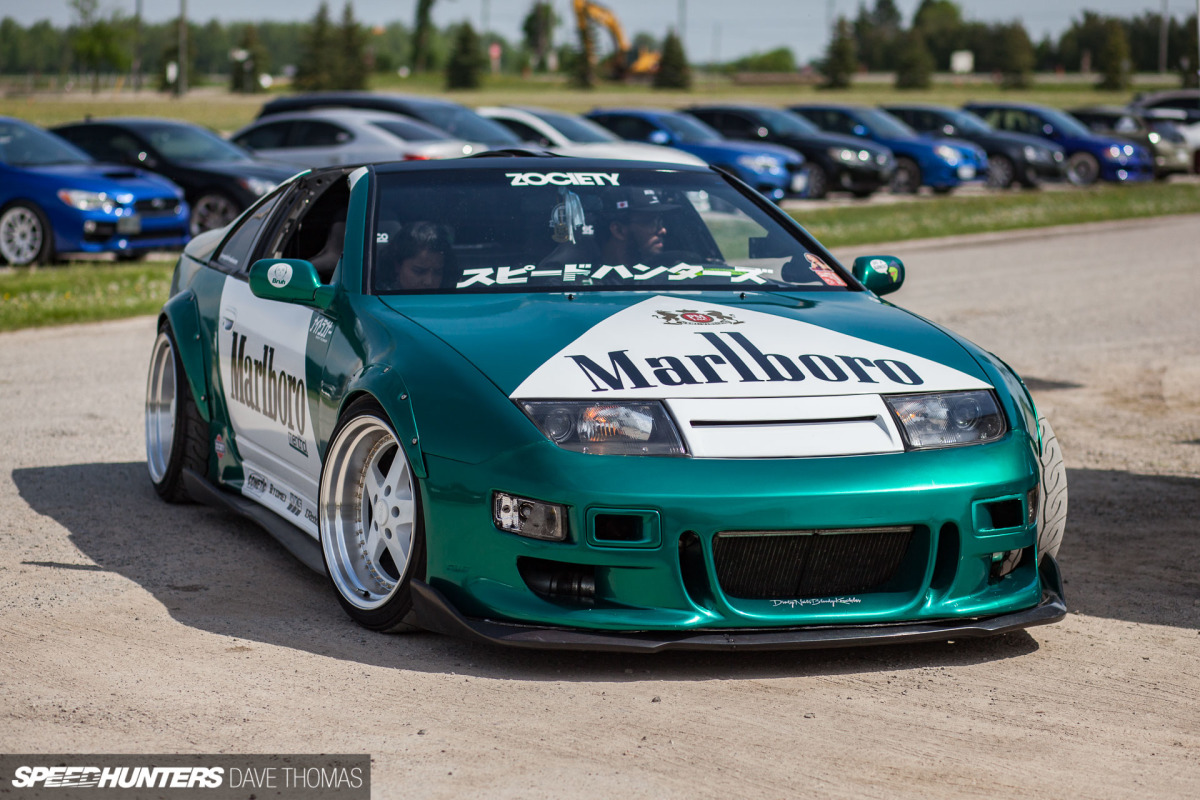 Today I'm happy to announce that has changed. Paddy and the boys have welcomed me officially onboard to represent my region of Canada as best I can. To be perfectly honest, I'm more than a little nervous considering the talented company I now find myself amongst, never mind the shark pool of a comments section that waits below.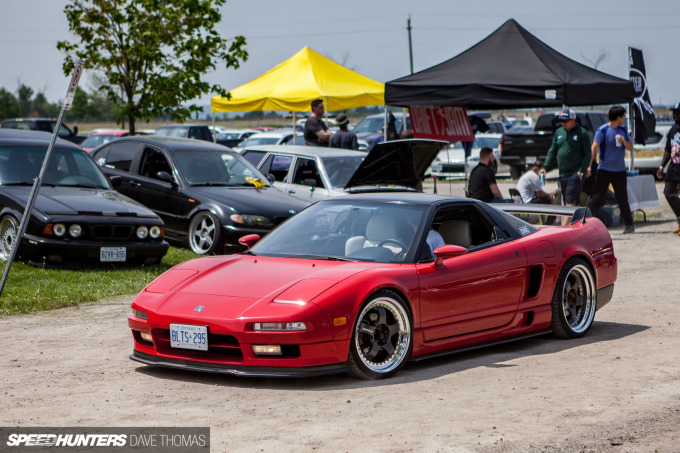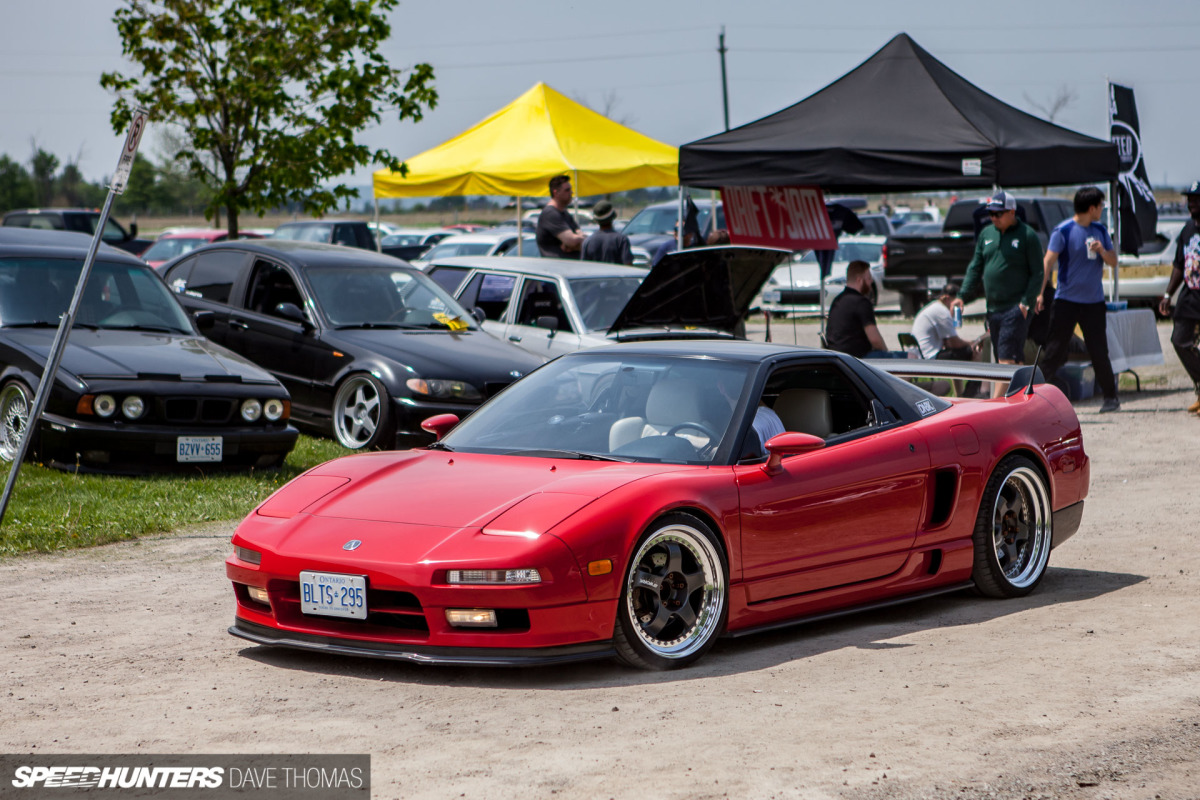 Given enough creative rope to thoroughly entangle myself, I've chosen to start things off with coverage from Fitted Lifestyle, an event most easily (but not exactly accurately) described as a 'stance' show.
Why? Because I love a good challenge. If I can go to a show focused on one of the most criticized contemporary tuning genres and come back with something for everyone, then anything that follows should be a cakewalk.
Or at least that's my hope. Wishful thinking? Time will tell.
We've Been Here Before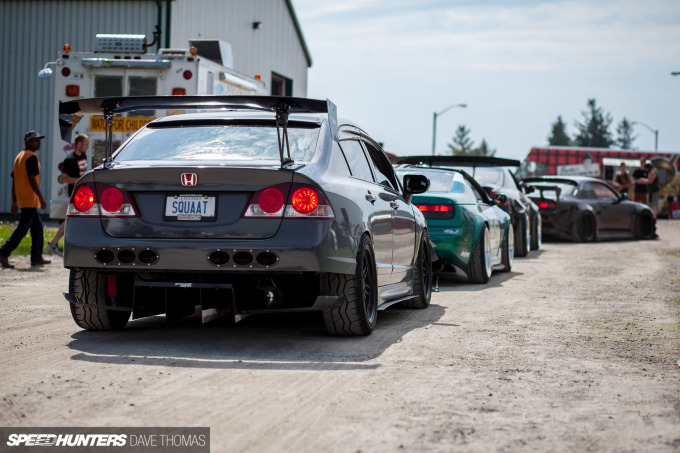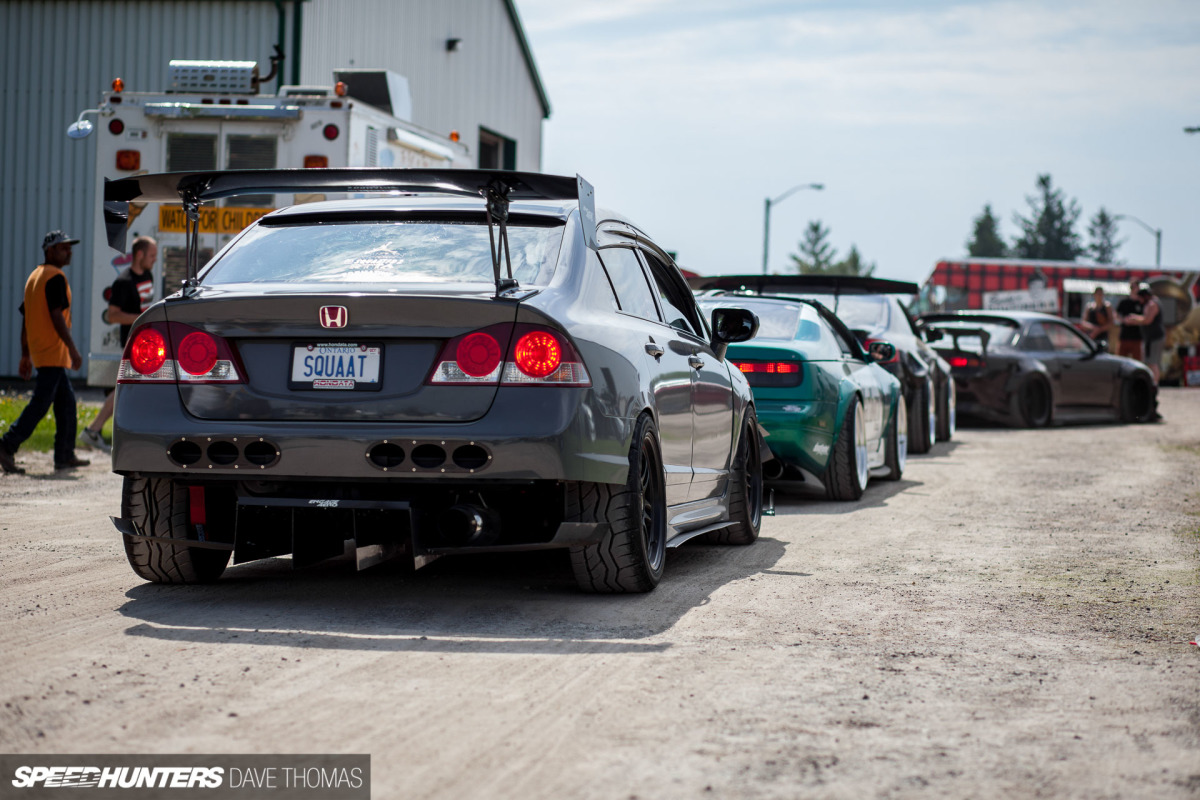 If the roll-in shots peppered through the intro seem familiar it's because we've been here before. Fitted Lifestyle, which itself has been running almost as long as Speedhunters, was the subject of one of my first IAMTHESPEEDHUNTER posts three years ago.
For many of us in Ontario, and a couple from Montreal, Fitted doubles as both a show and a reunion. Spread about the province, we all gather at the Brampton Ontario Fairgrounds to say hello for the first and sometimes last time of the year.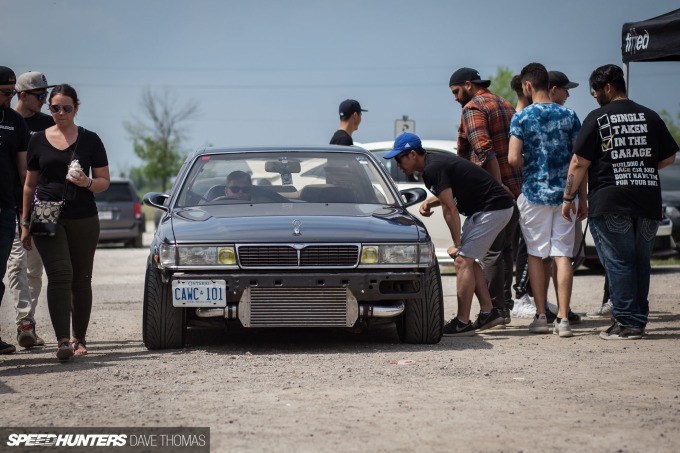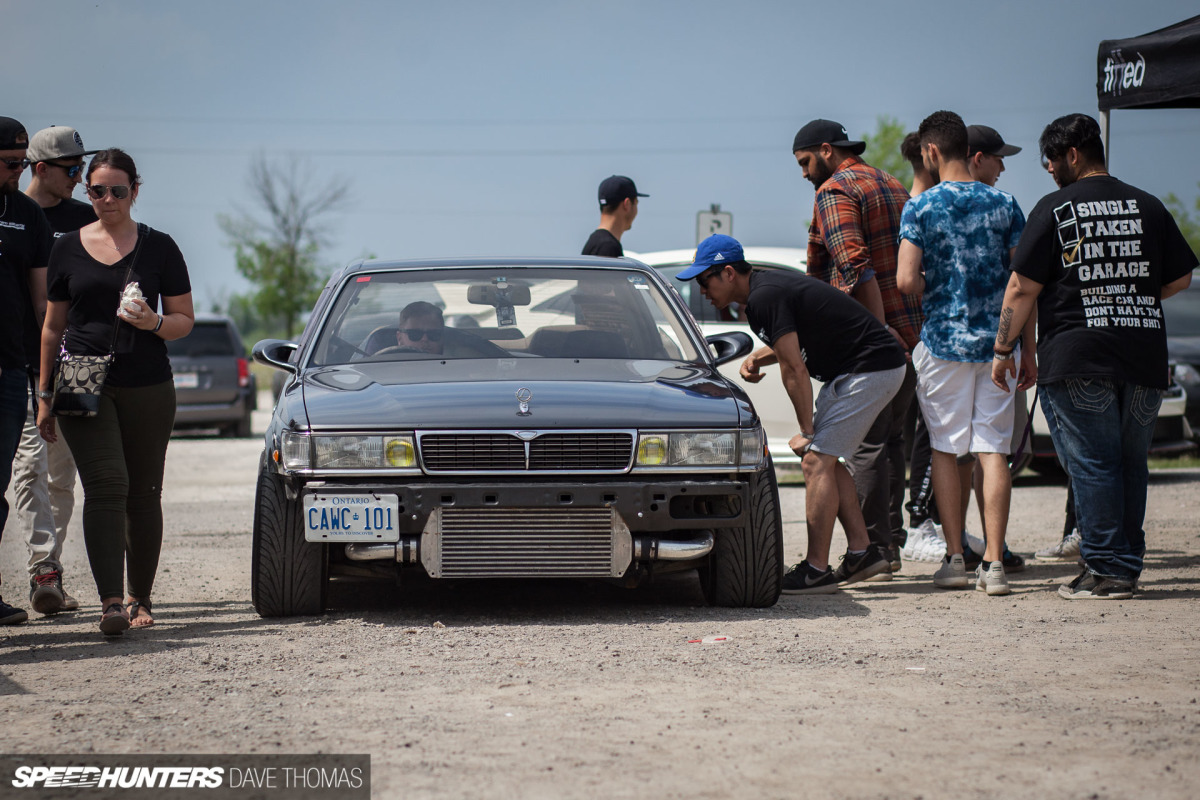 The reason we choose this event, over a few of the other early season shows, is because the organizers of Fitted Lifestyle have done a great job ensuring it is about car culture and people above all else.
It's hard to put into words, but, this show just feels right, unlike others where you can tell making money is the organiser's prime motivator.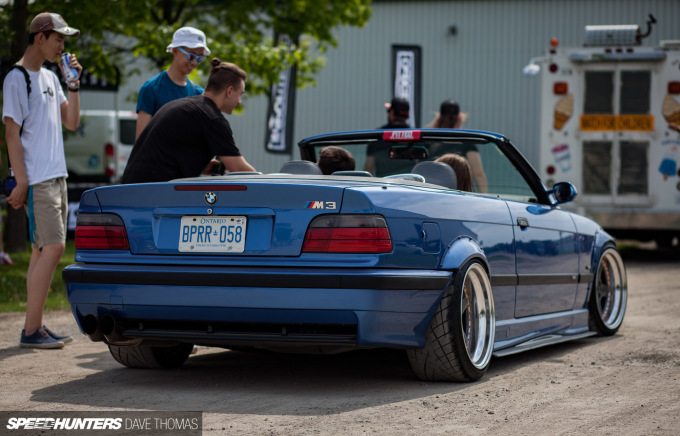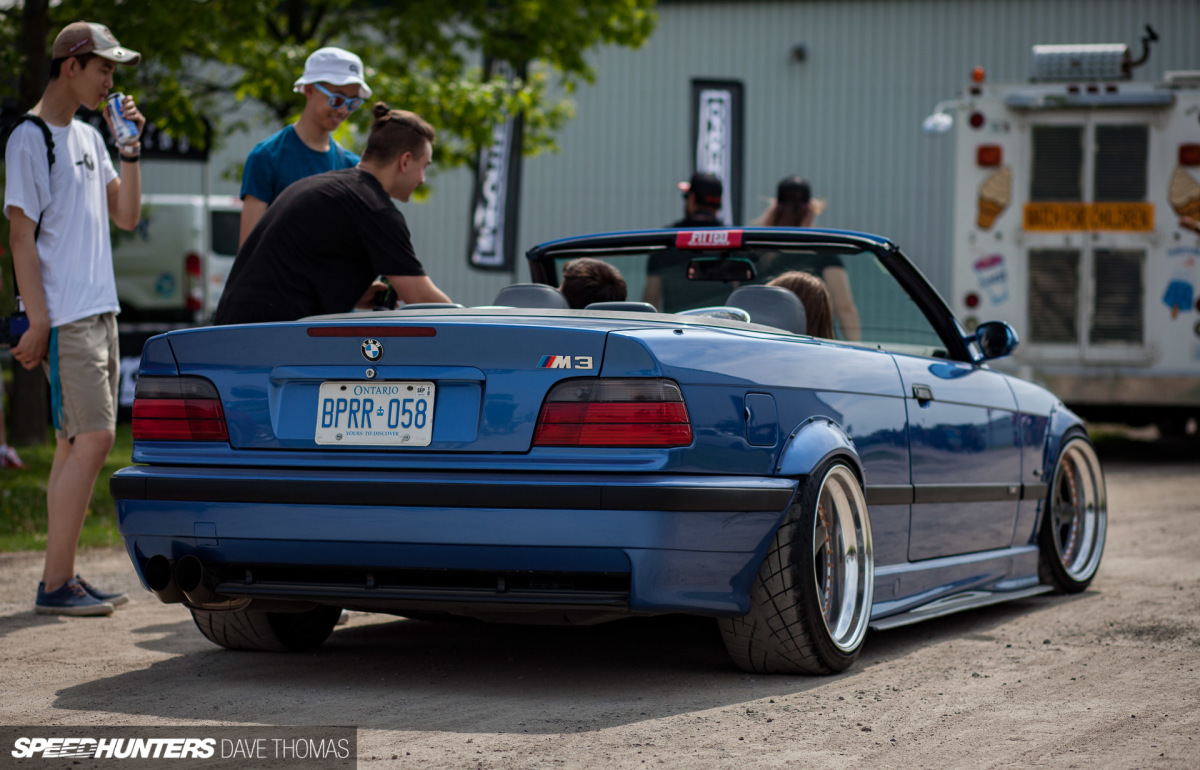 A show doesn't make nine years resting on its laurels, and each year Fitted tweaks their model just a little bit. For 2018 these changes brought new award classes. These new classes included VIP, VIP Styled, Classic JDM and Euro, in addition to a Track class for time attack and drift cars.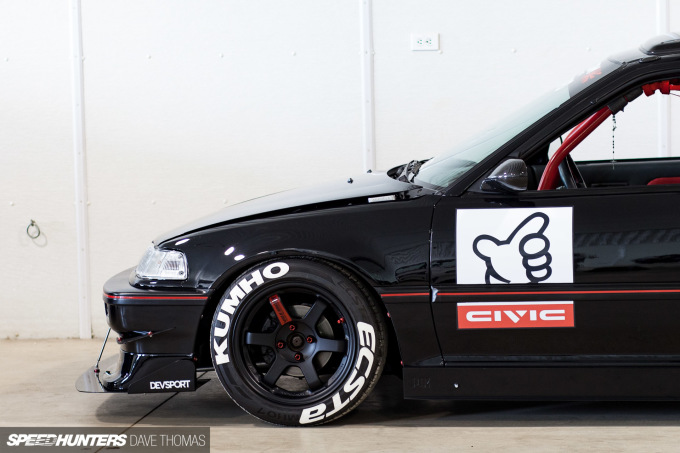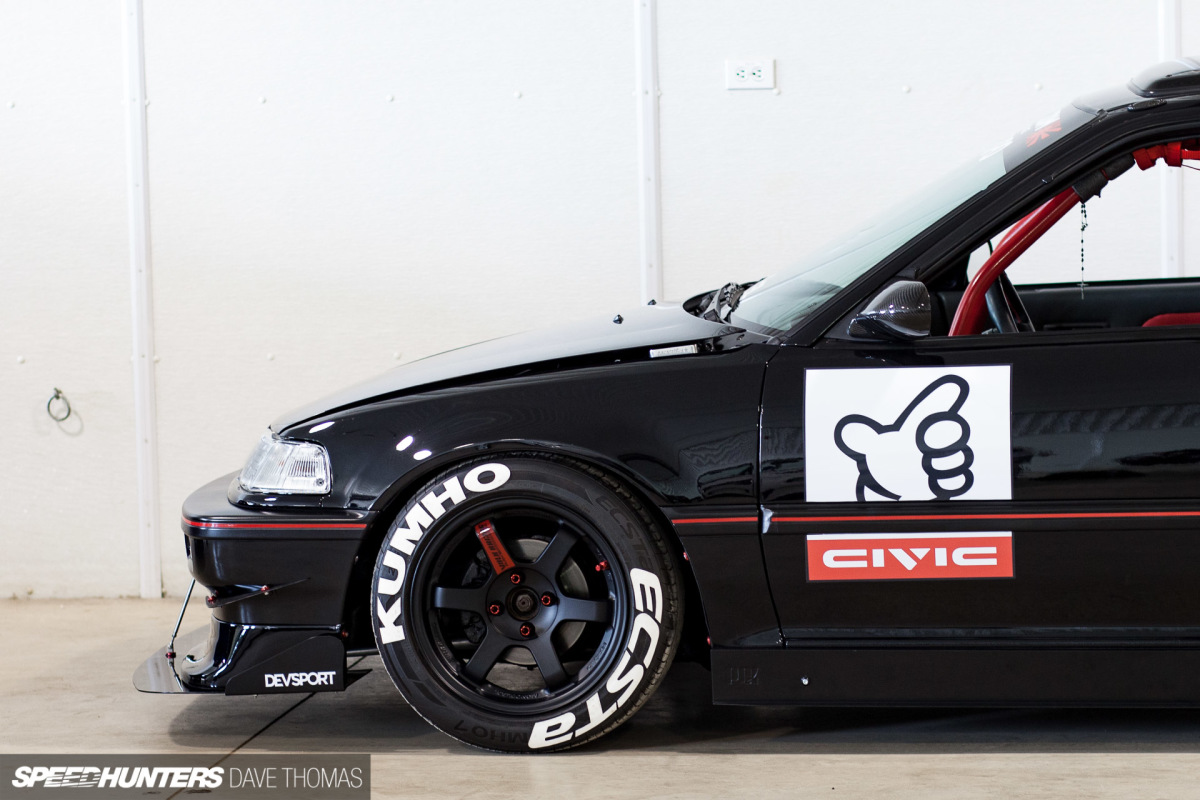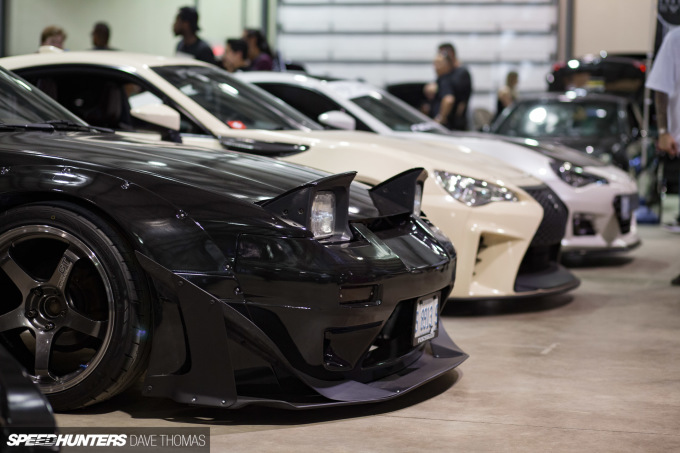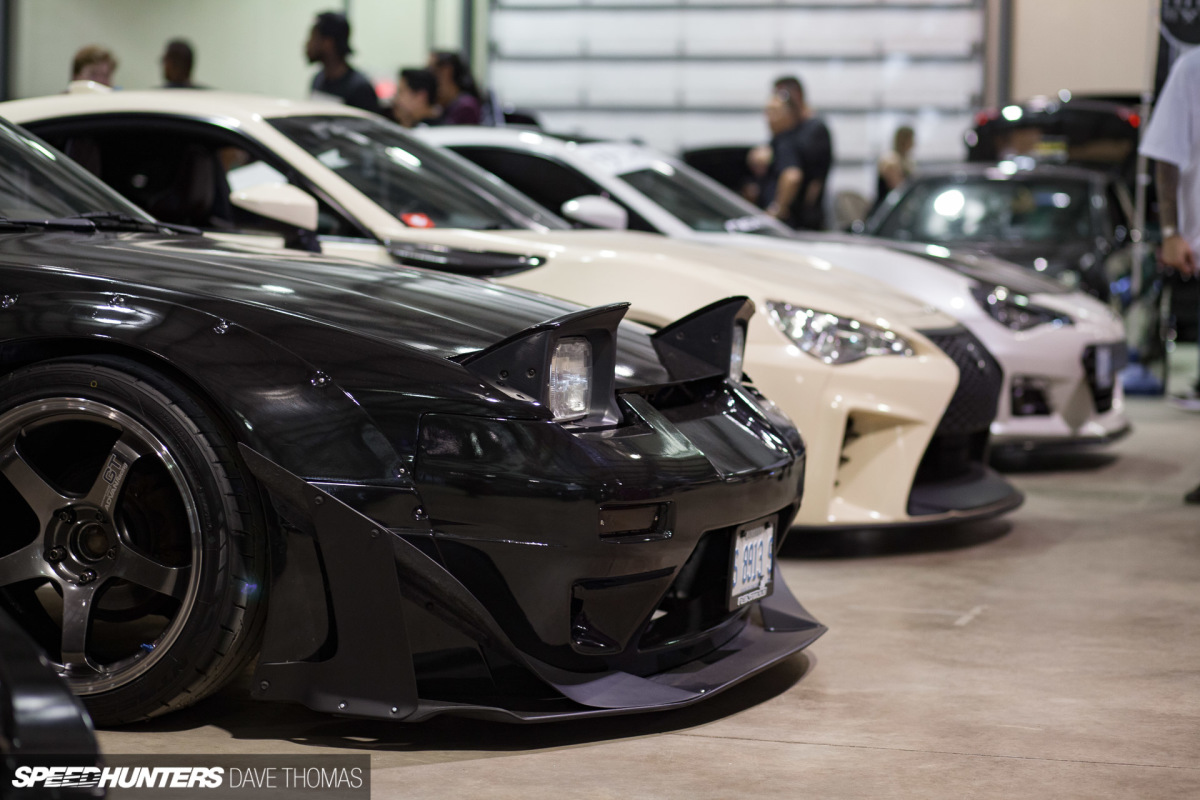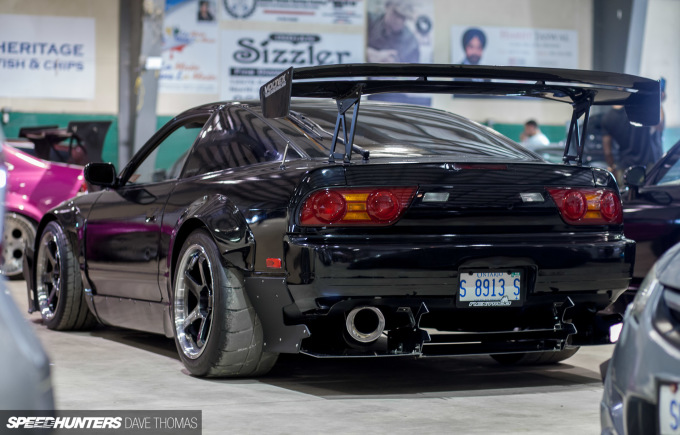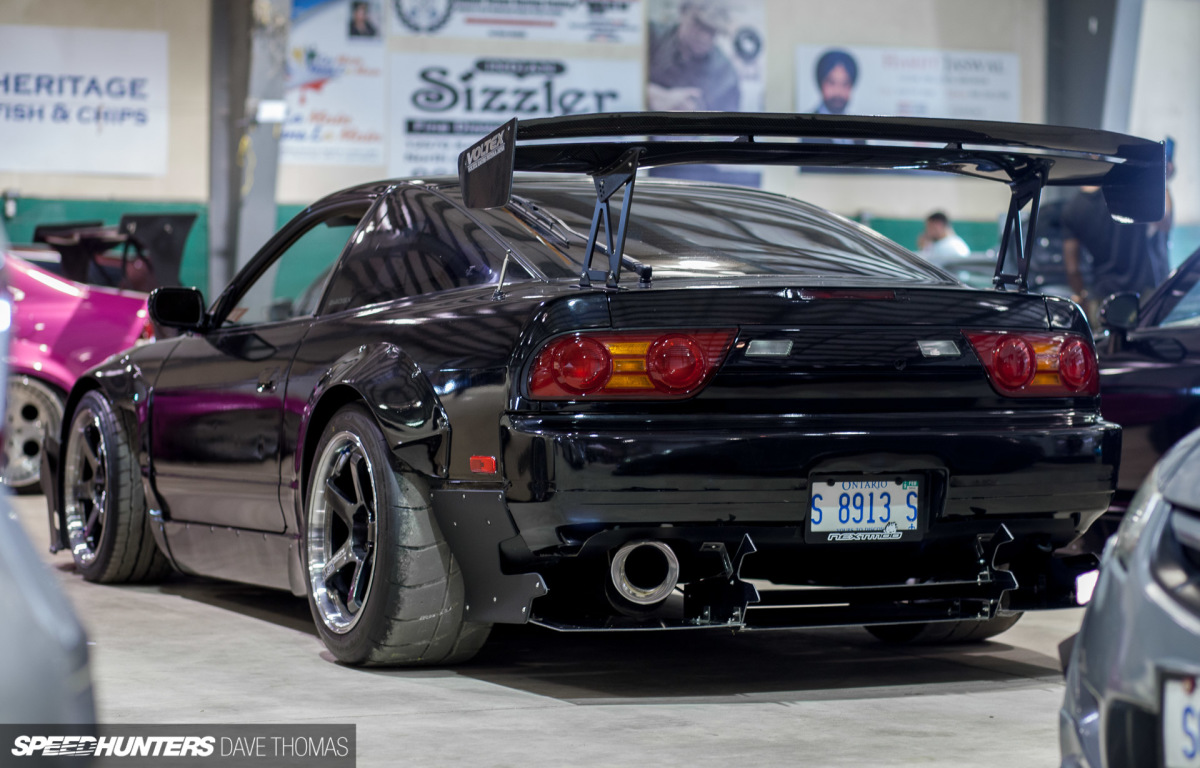 As someone who's only missed a handful of Fitted events, I feel justified in saying these classes were more than welcome. With 'aggressive fitment' being pushed to new extremes I was beginning to feel a little out of touch.
To quote knowledgeable crackpot Abe Simpson, "I used to be with 'it', but then they changed what 'it' was. Now what I'm with isn't 'it' anymore and what's 'it' seems weird and scary, and it will happen to you".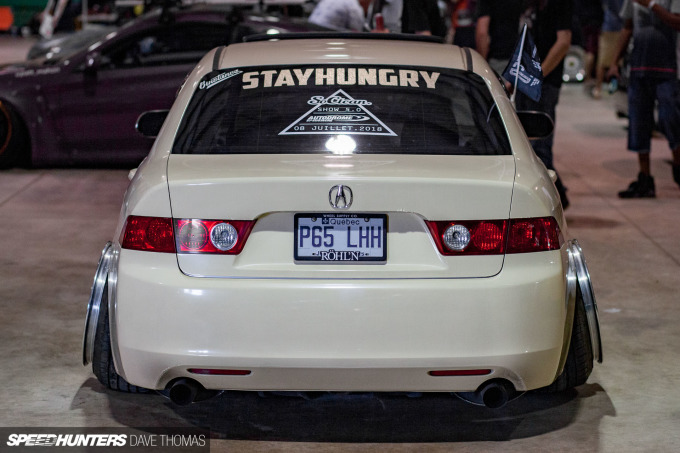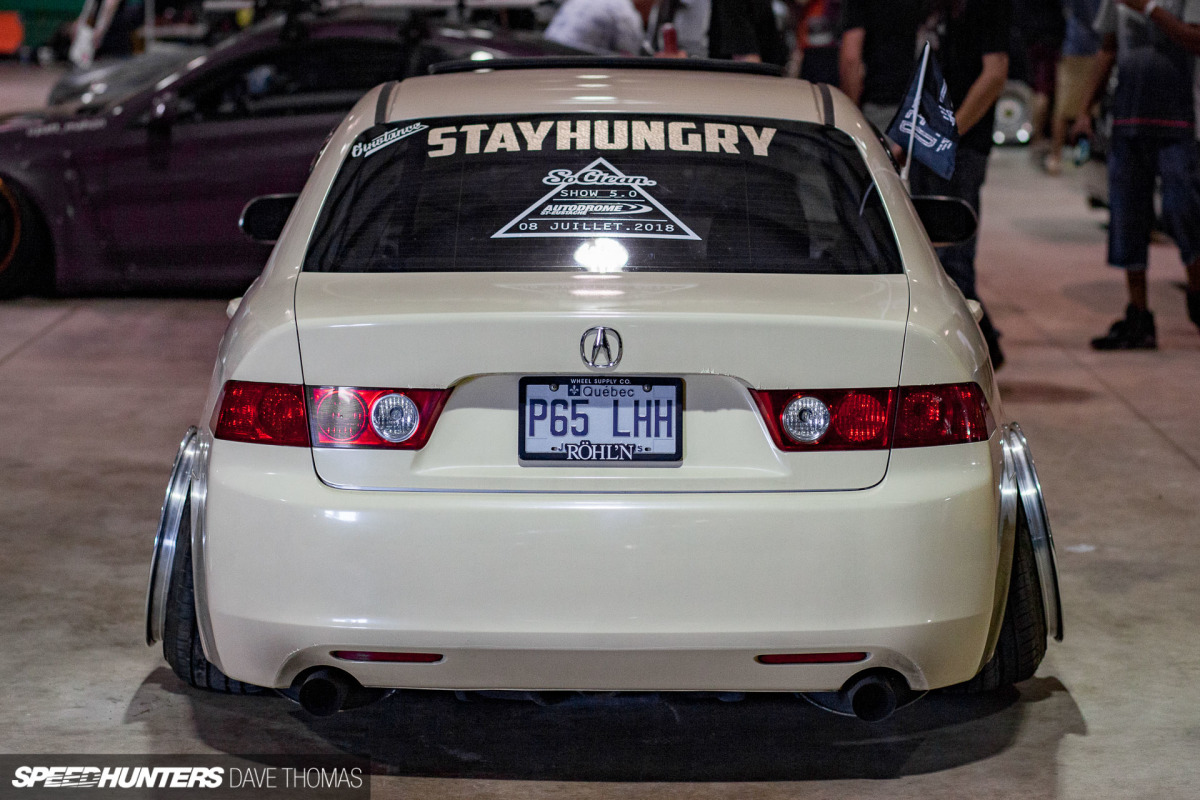 But as much as I might think some of the cars at Fitted Lifestyle are over the top, I'm not about to tell these enthusiasts to stop. My name isn't on the ownership, I didn't pay for the modifications, and I don't have to worry about driving it.
Different strokes for different folks and the freedom to do whatever you want is what makes aftermarket car culture so great.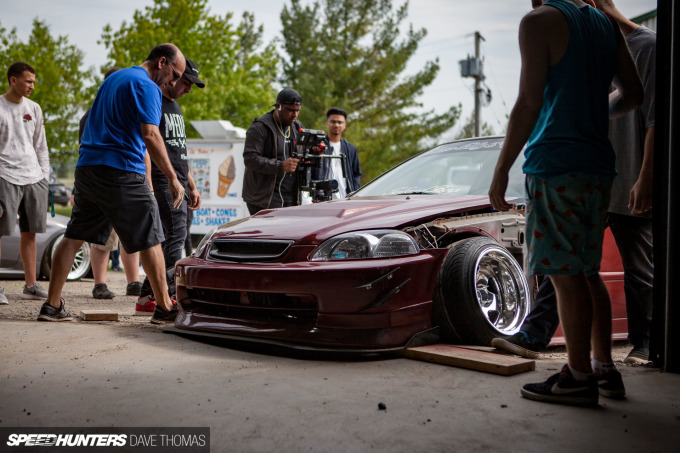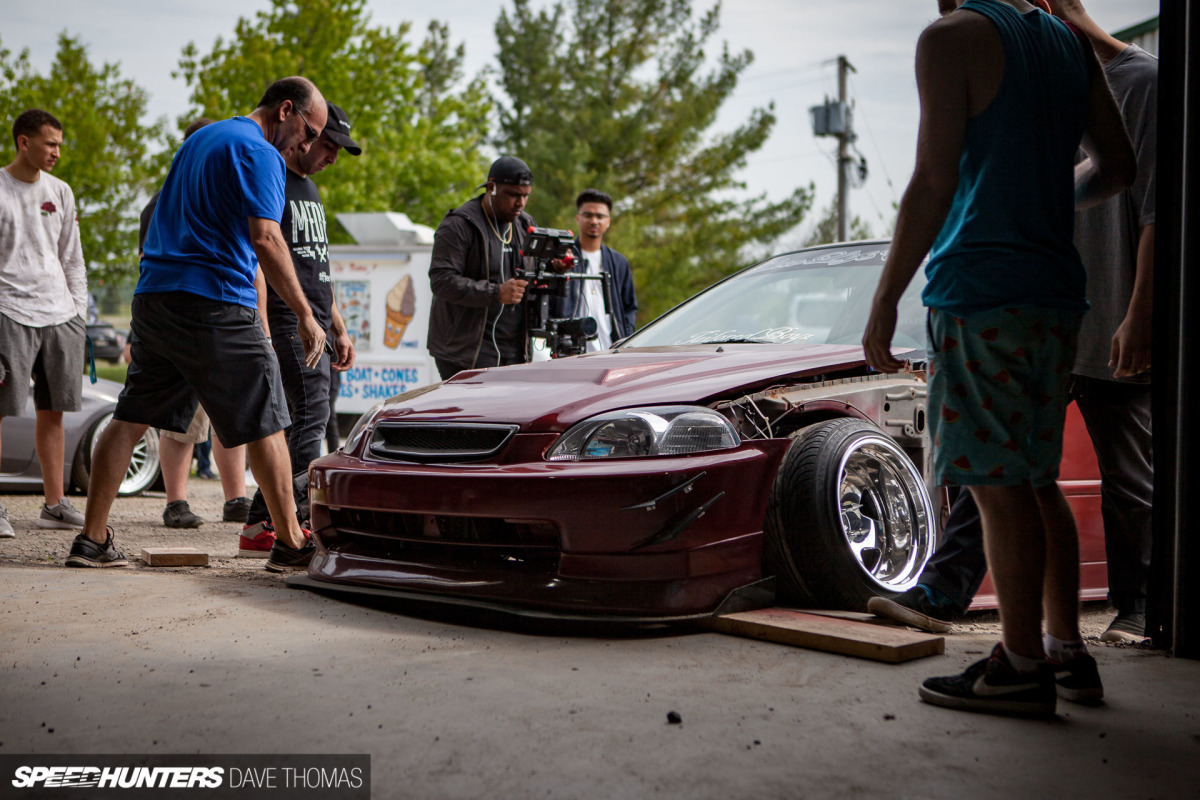 That said, not everything at Fitted is nearly as extreme as the vehicles above, and at heart I'm still a slammed car guy so it wasn't hard for me to find plenty of vehicles I was a big fan of. The new classes just made that quite a bit easier.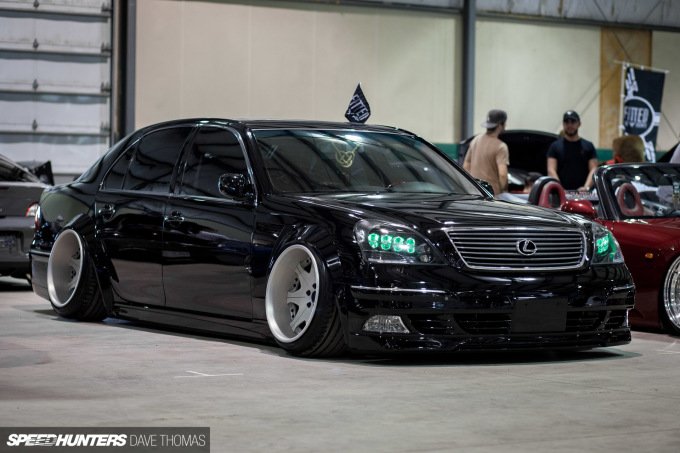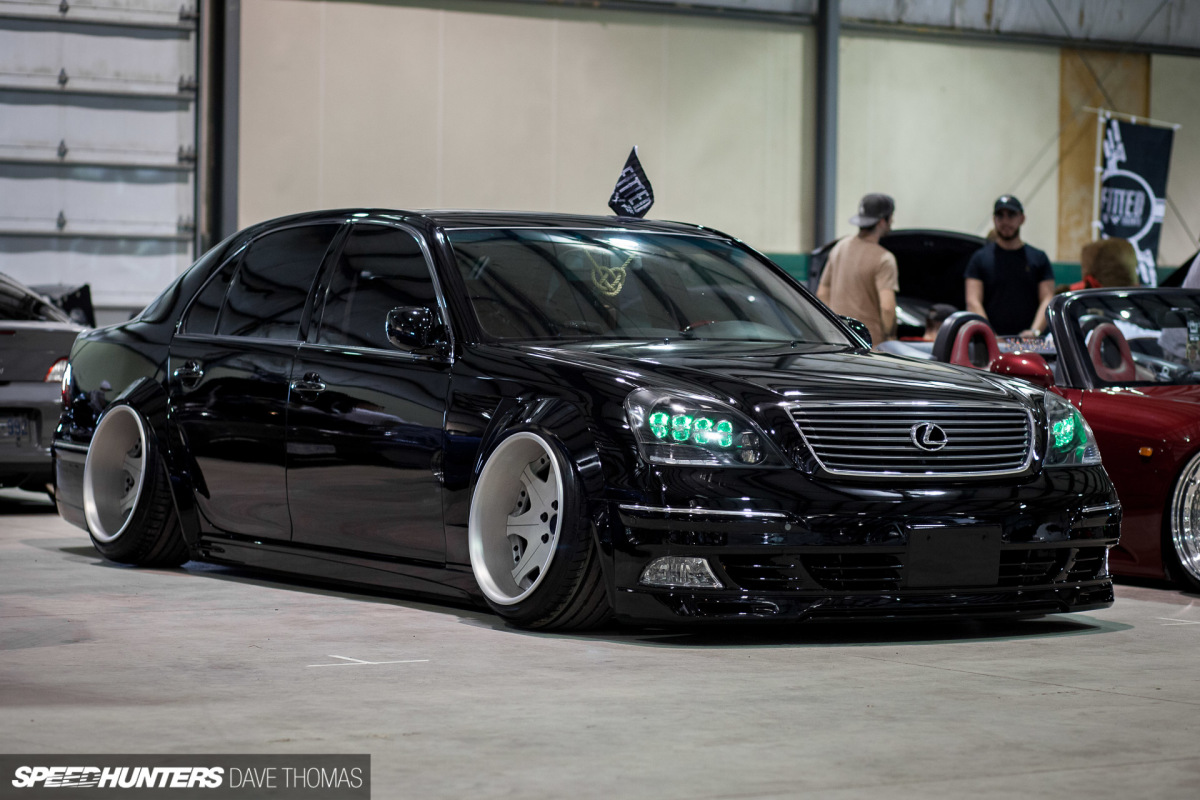 At the end of the day,  if it has clean paint, a lip kit, a bit of camber and a side of wheel lip, I'll probably like it.
Holy Schnit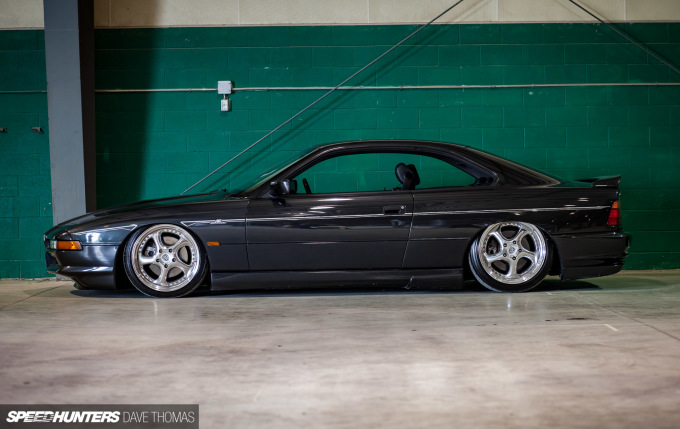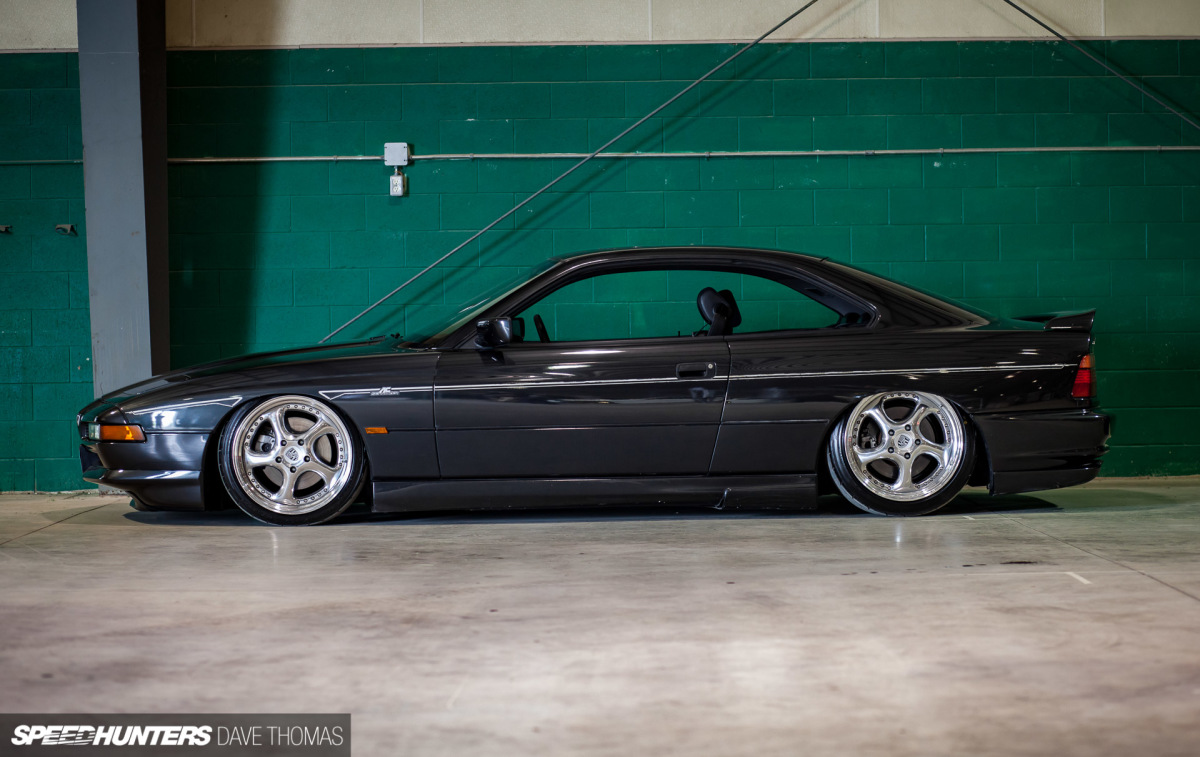 With that bit of primer you can only imagine how much I enjoy this AC Schnizter BMW 850. Some might view this car and scream 'sacrilege', but I'd much rather say 'awesome'.
Already a fairly unique vehicle Monolo, the car's owner and builder took care not to go over the top in modifying his Bavarian cruiser.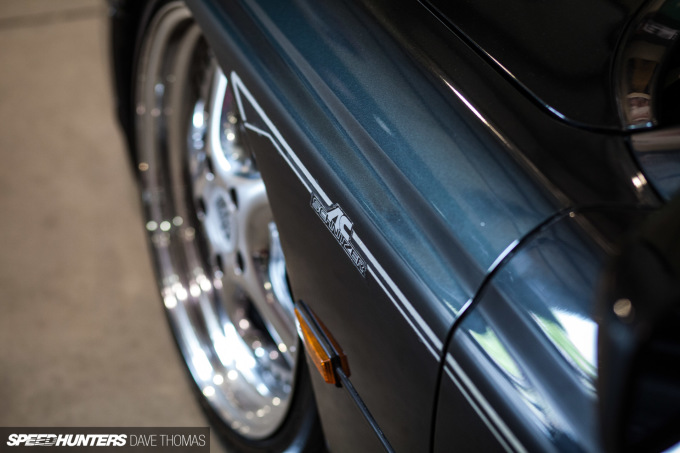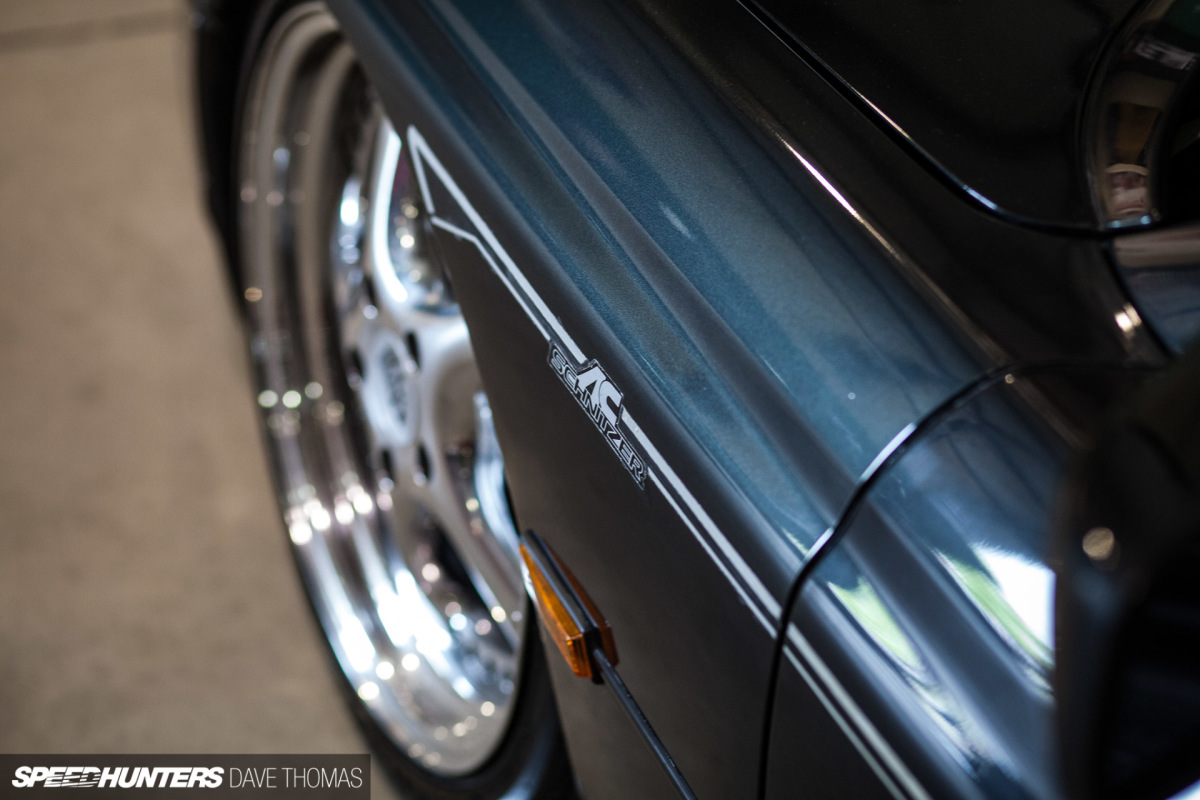 As you'd assume by the fact that its literally laying on the concrete, this car is on air. Using Air Lift Performance's custom crafter components and E34 front strut housings, Manolo was able to plant the front on the ground. The rear set up is built around Slam Specialties bags.
Purists needn't fret, none of the original suspension components have been harmed. Additionally, aside from a few small holes for air lines the car can be transformed back to stock relatively easily.
The wheels are restored and polished 19-inch Artec pieces originally specced for a Porsche, hence the center caps.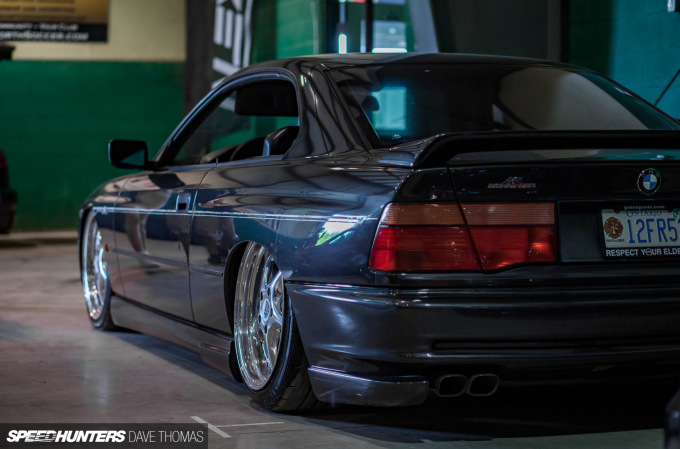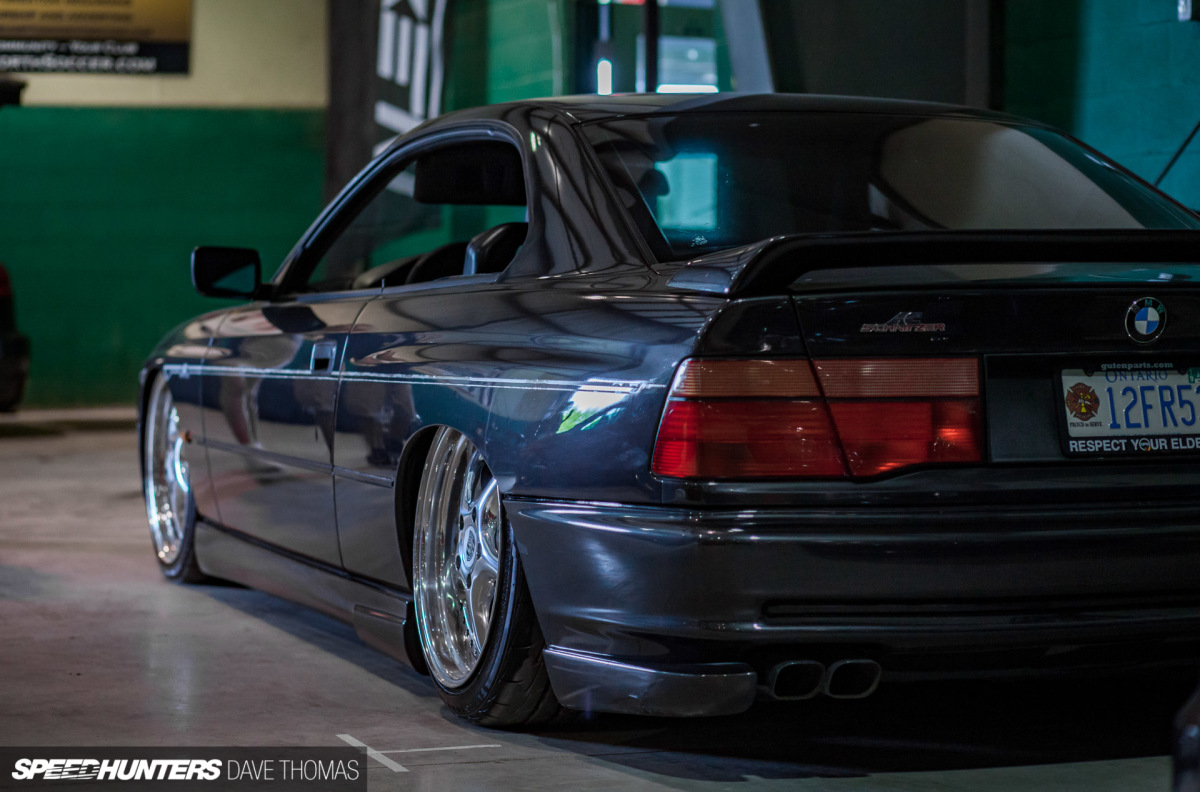 The fresh high polish on the wheels plays well with the AC Schnitzer pinstriping and badging.
A Convertible Surprise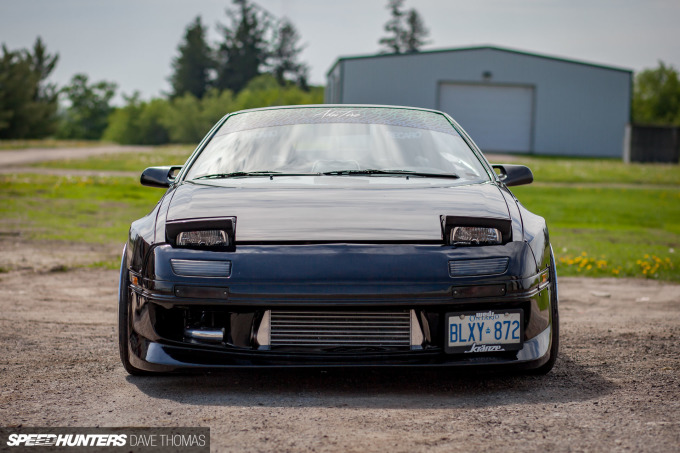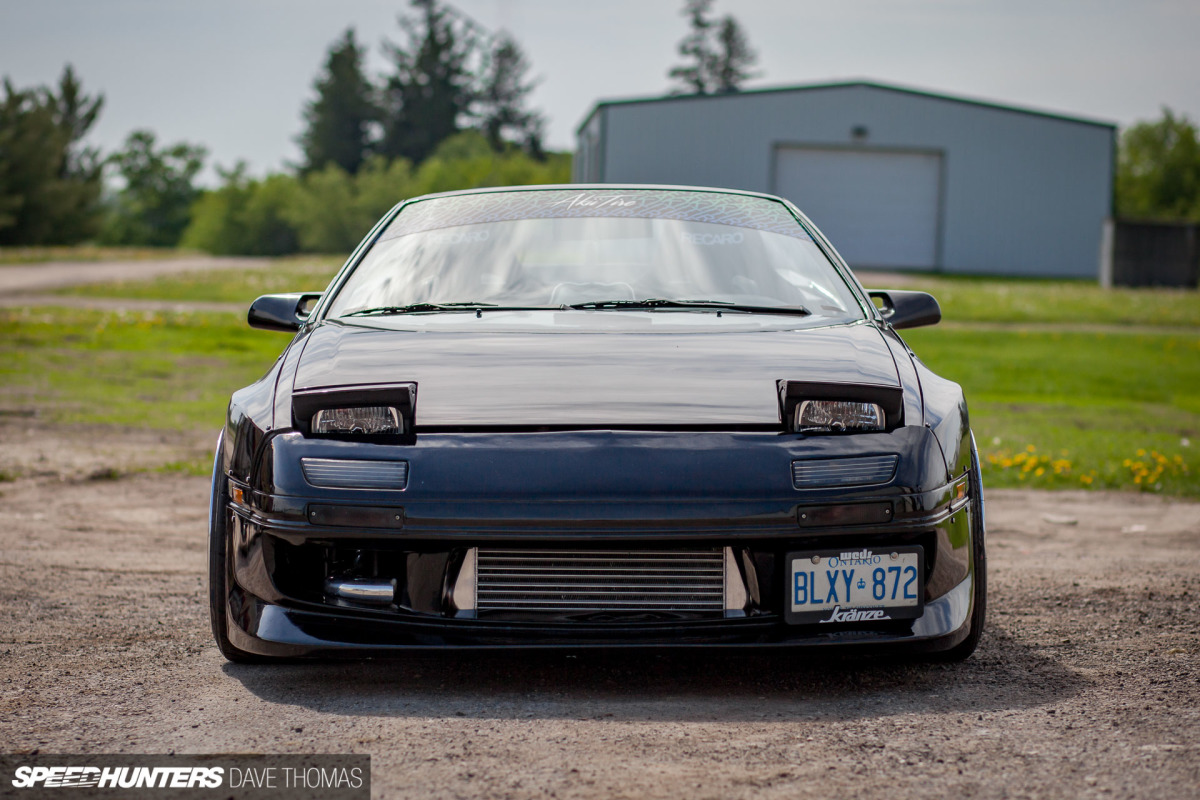 Am I alone in thinking FC3S RX-7s don't quite get the respect they deserve? Overshadowed by the FD3S that followed, these wedge-shaped Mazdas are easily among some of my favorite Japanese vehicles of the mid '80s and early '90s.
Here in Canada, our climate and use of road salt has unfortunately taken many of these cars off the road.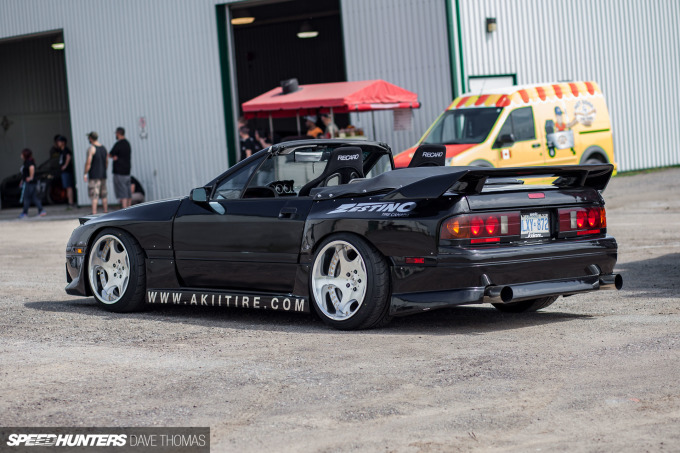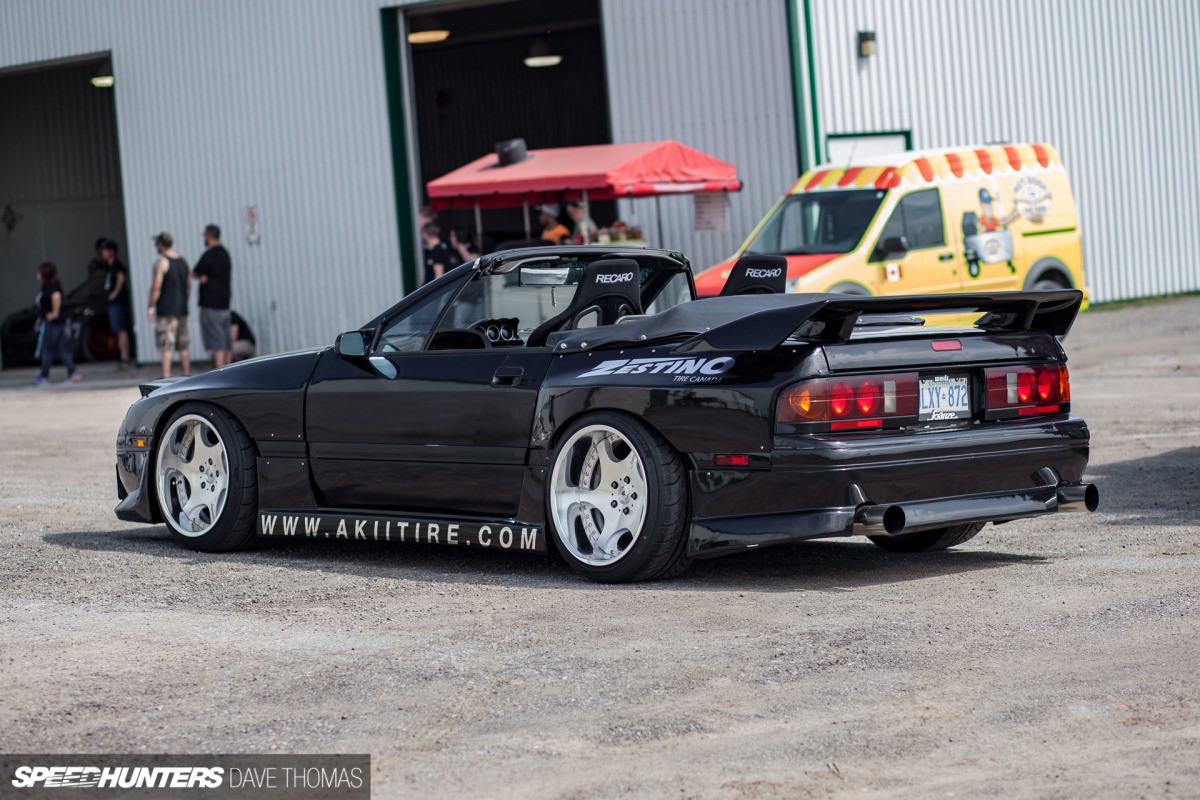 Thankfully, this car RX-7 not only survived but wound up in the hands of an enthusiast. Jon Lee's FC is unique both inside and outside.
The exterior is the combination of several different manufacturers; the bumpers and side skirts are GP Sports style pieces and the front over fenders are Shine Auto items that have been installed as overfenders. Keeping the Weds Kranze Bazreia wheels contained out back are overfenders of unknown origin.
As a whole, the car has great style and can be used as a booth babe, drift toy, or top down cruiser. But in the chapter title I mentioned a surprise. That surprise has likely been spoiled by the blue valve cover peeking out of the engine bay in the photo above.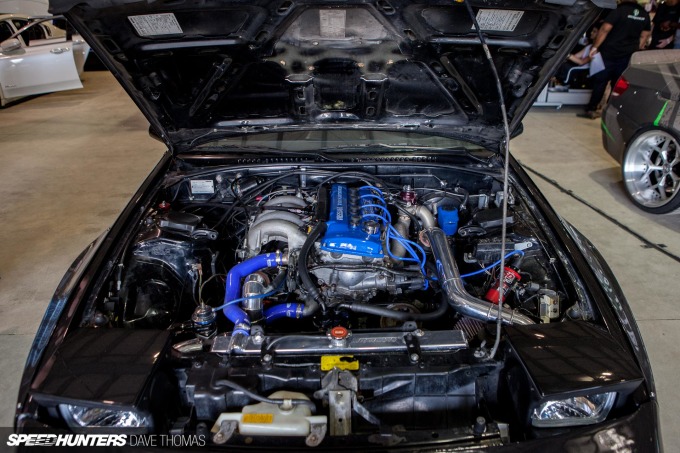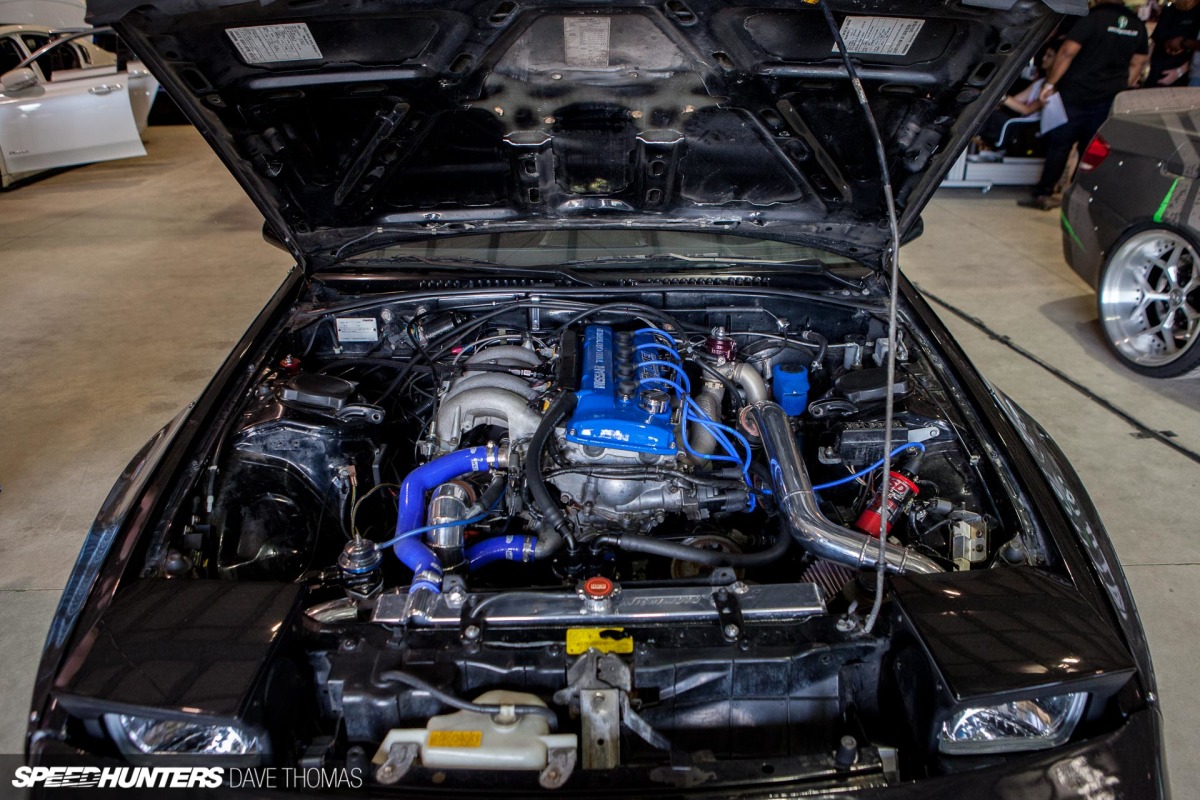 Rotary no more, this Mazda's heart has been replaced with a Nissan motor.
If you're not a Nissan guy, that's a KA under the hood. If you are a Nissan guy, then you're probably wondering why KA and not SR. The answer here is simple, cost. An admitted S chassis lover at heart, Jon had this motor straight on the engine stand when the FC's 13B rotary gave up the ghost.
A couple measurements, some fabrication, and a collection of Tomei parts later and voilà, a Nissan horsepower under the hood of a Mazda.
A GL10 To NV
On my way out the door at Fitted Lifestyle I stopped by the Drift Jam tent to get more details on their upcoming drift series. Behind the tent one of the event's main sponsors, NV Auto, had two cars on display. The first was their 2JZ-swapped, rear-wheel drive STI. This is a car that is usually deserving of end of post honors.
On this day, however, it had some stiff competition by way of an absolutely immaculate Subaru GL10.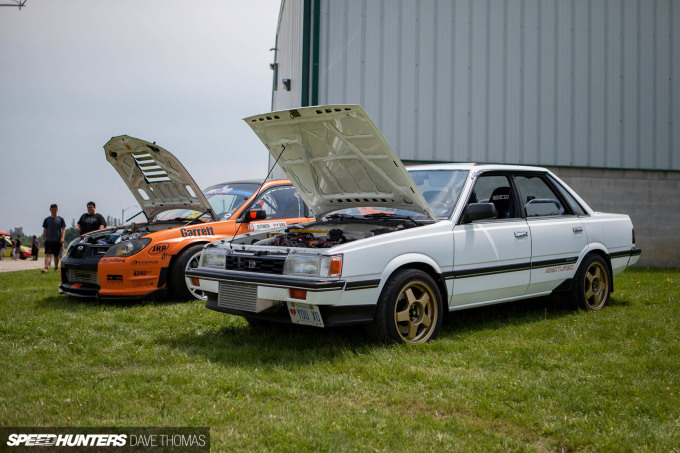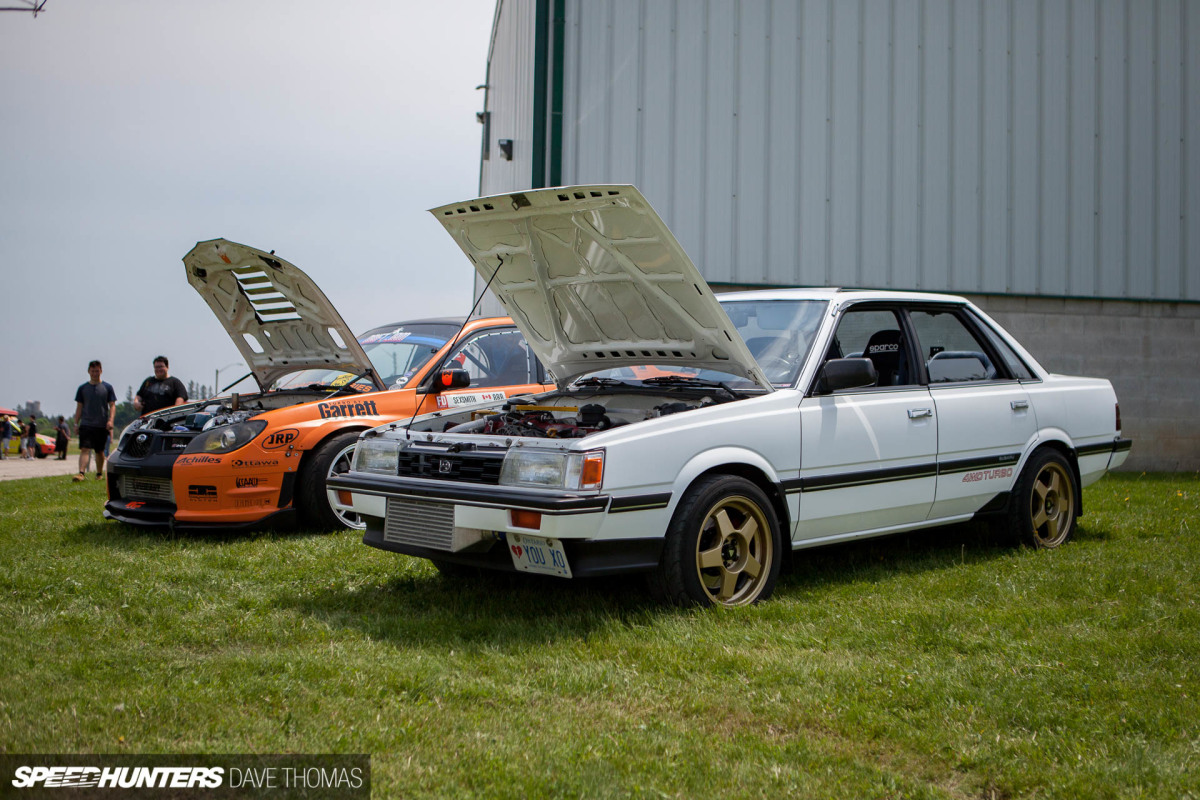 Remember what I said about Canada and vintage Japanese tin? I couldn't tell you the last time I saw one of these on the road, and I've never seen one at a show.
This car simply existing in Ontario, with sheet metal intact, is remarkable.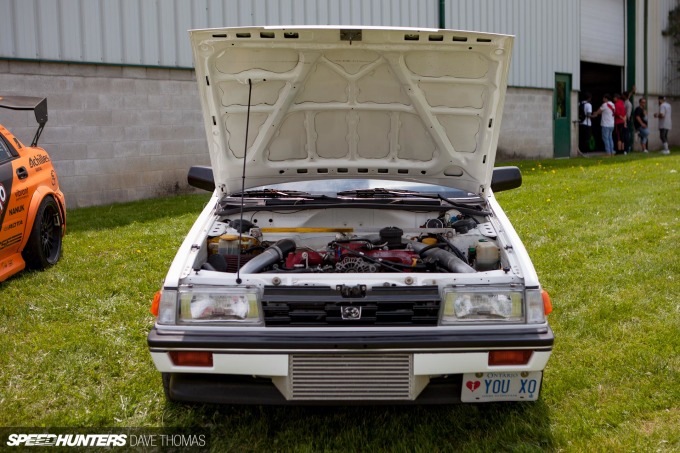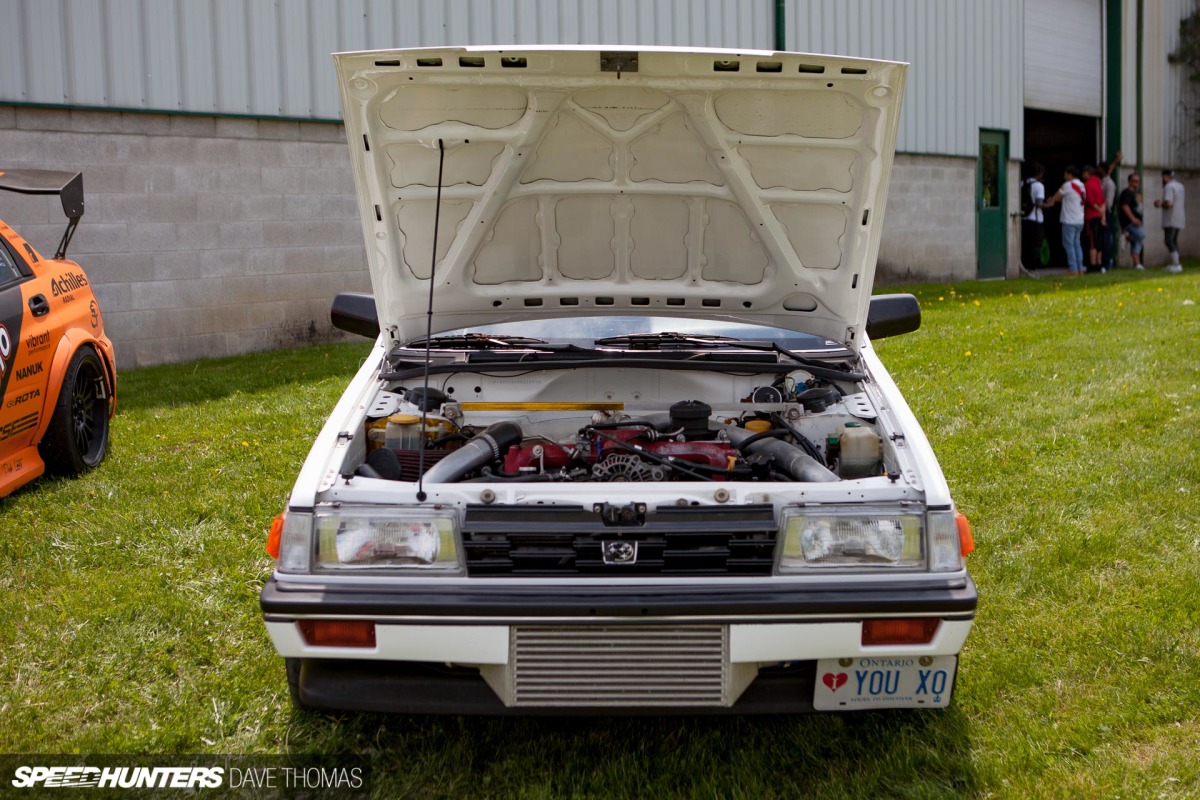 Stock, I would still have been impressed, but with a large intercooler sticking out of the bumper like a set of rabbit's teeth I knew things were about to get interesting.
Subaru fans get ready, this one's no slouch. The standard turbo 1.8-liter motor has been binned and replacing it is an EJ22T block with JDM V9 STI heads. Ratcheting up the insanity is a twin-scroll BorgWarner S300SX-E turbo.
The car was originally front-wheel drive, but today it's all-wheel drive thanks to a JDM STI 6-speed transmission with a R180 3.9 rear end.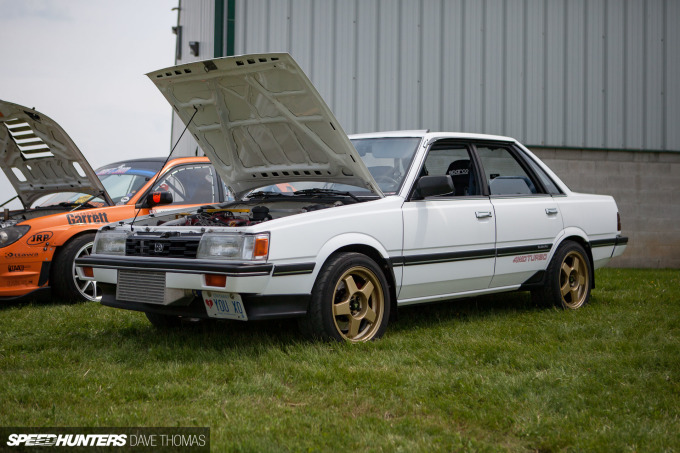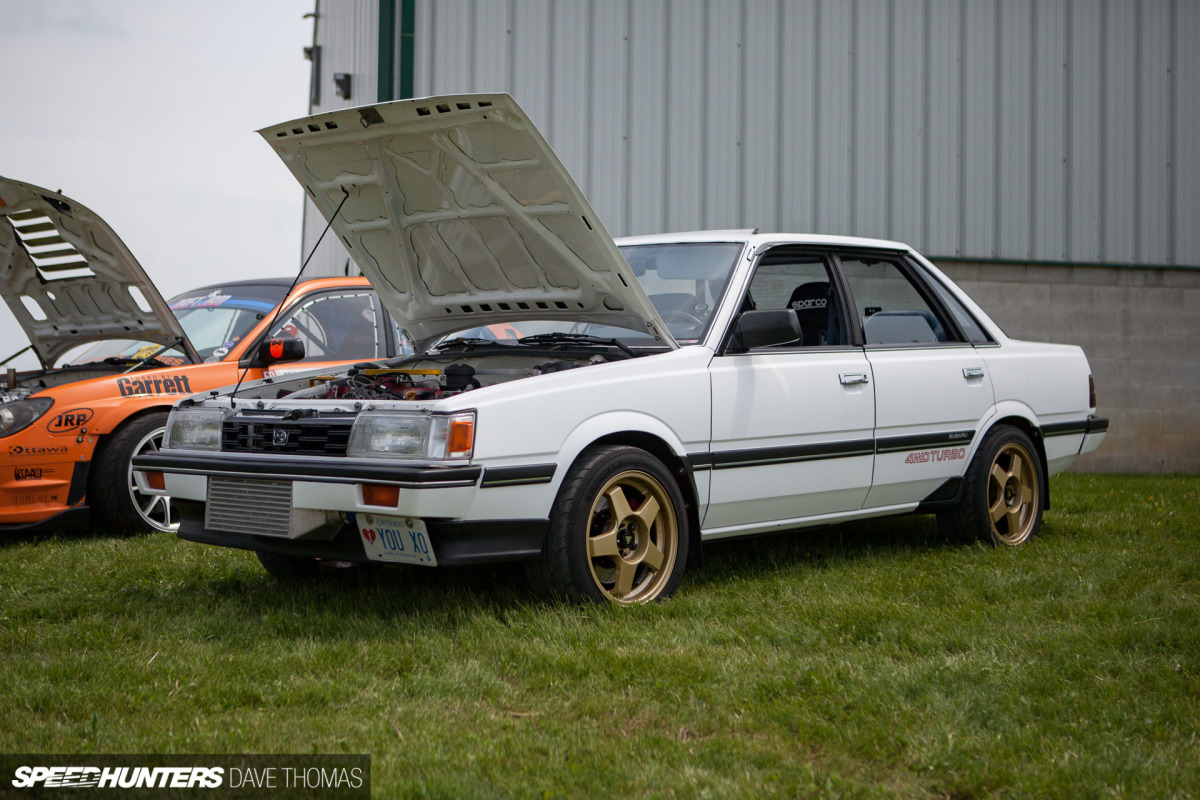 The Subaru makes an impressive 345hp to the wheels and weighs about 2,400lbs (1,089kgs). Counting my fingers, that's a power-to-weight ratio of approximately rocket ship.
It's a car that is tracked regularly and yet somehow remains ridiculously immaculate.
It's not often the cleanliness of a track used car overshadows a show car, but the interior of this car was cleaner than many inside the show. I particularly like the fact that the fancy OEM tape deck has been retained. There's also a fitting flat-bottom Nardi steering wheel and recovered Recaro seats plucked from a Volkswagen. Replacing the OEM electric dash is an AIM dash which gives the owner and builder Nico a better readout on what the car engine is doing.
This might be one car worth revisiting, what do you say?
At the recommendation of great performers before me, I am going to end this post here on a high note. But, to drop the second pop culture reference of the day, I'll be back. Until then, if you want more from Fitted, check out the gallery below.
Dave Thomas
Instagram: stanceiseverythingcom