If you're anything like me, every time you think of a Wekfest event you envision row upon row of slammed and meticulously modified Hondas. That said, it's with the big H that I'm starting off my coverage. But it's not Civics, Integras or S2000s that this post is dedicated to; it's the king of all Hondas, the NSX.
It's pretty common to see one or two NSXs at every major stance-oriented event in Japan, but for Wekfest Japan held at Port Messe in Nagoya earlier this week, I was really spoilt for choice.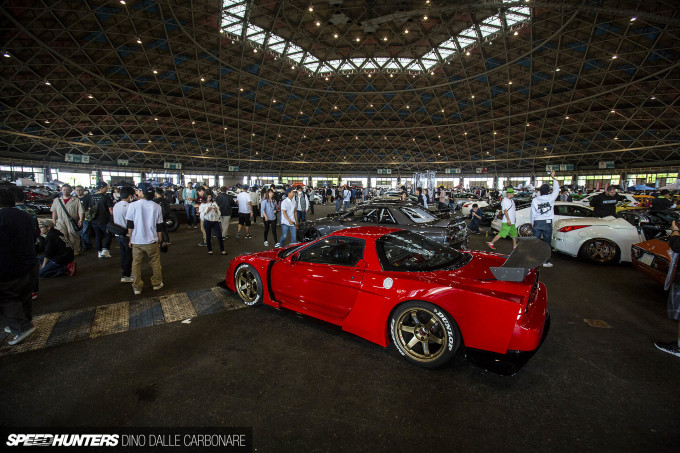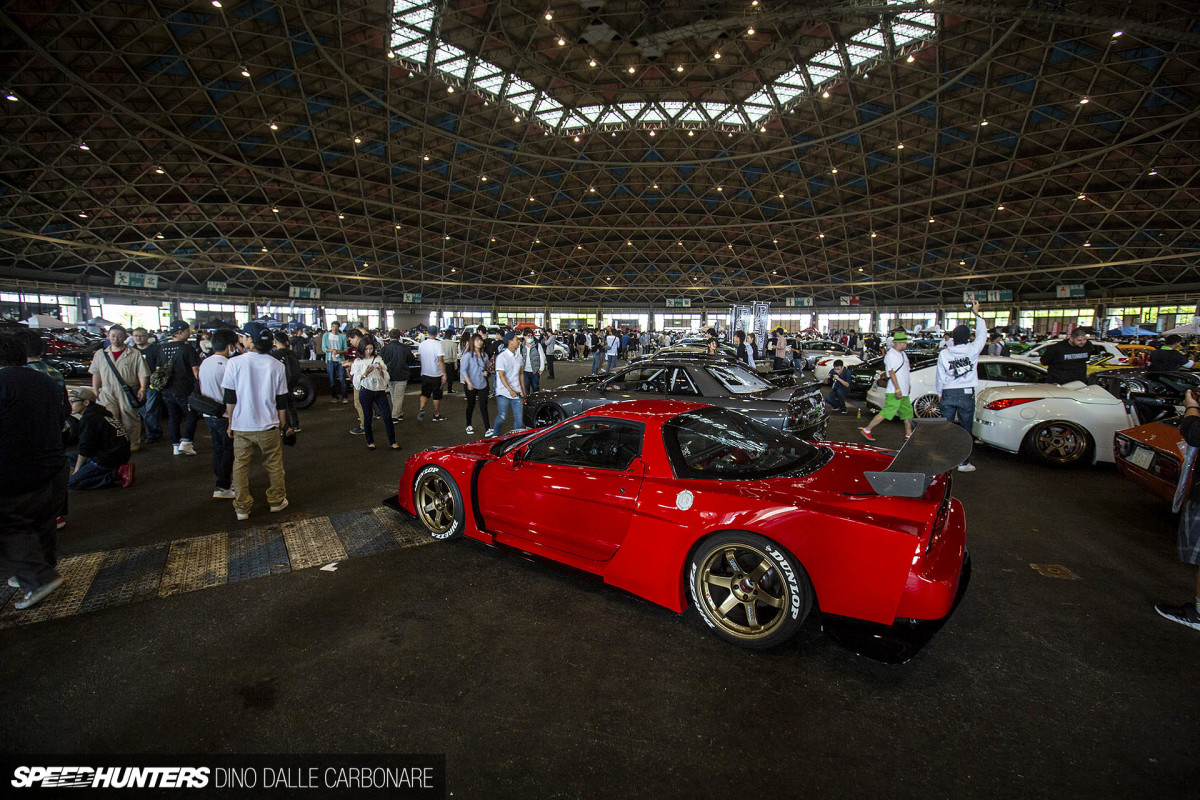 Let's kick off with this wide-body example, which to me looked more like a de-liveried JGTC race car from the late '90s than the street car it is.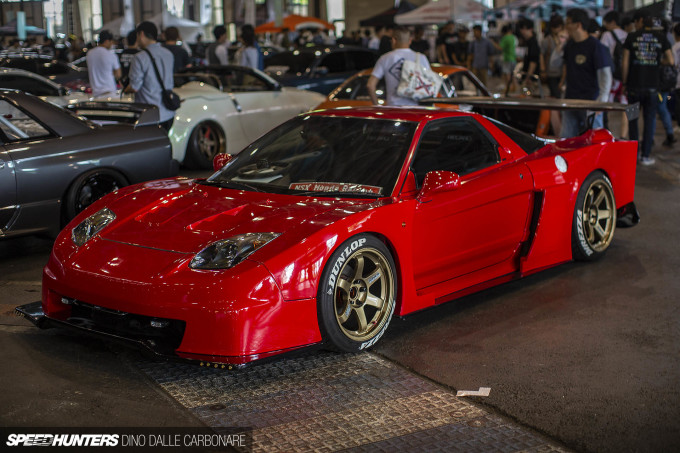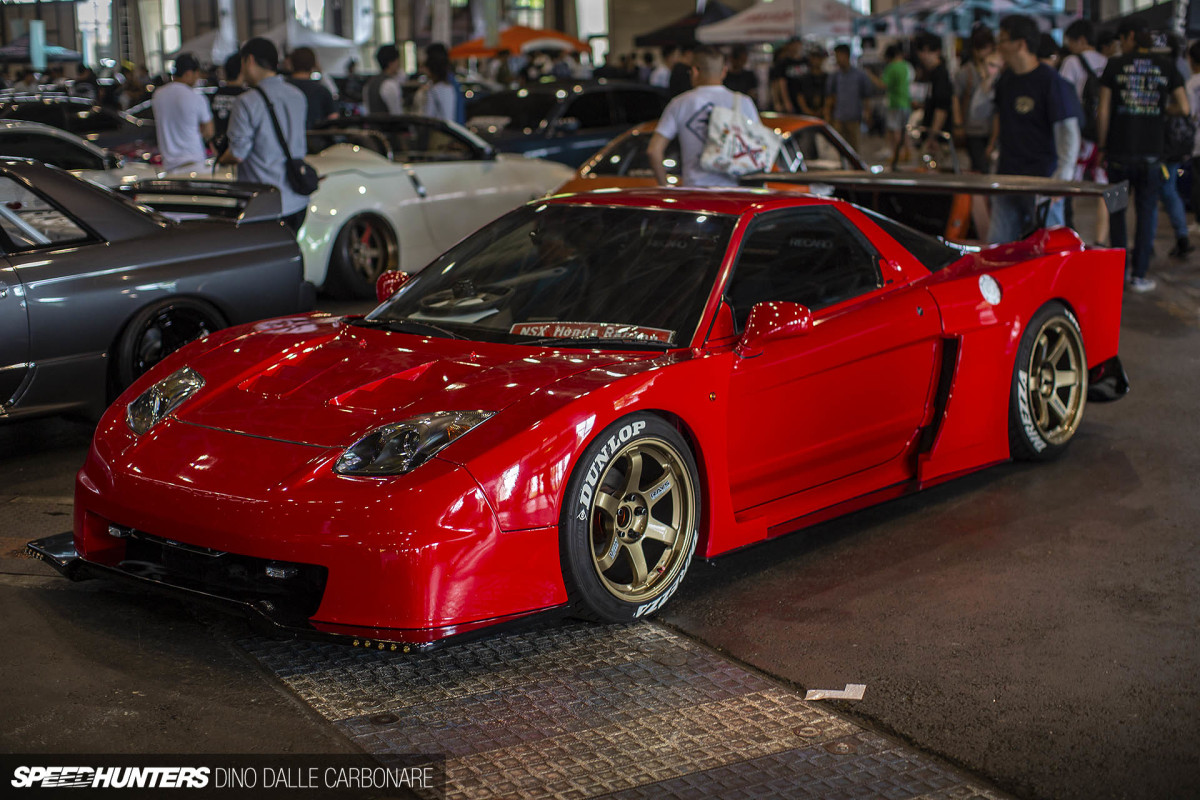 I have to admit it: the older I get the more the purist in me winces when I see an iconic car subjected to extensive customization. But while I'd never consider going this wild on an NSX if I ever owned one, it's hard not to appreciate something that's been built up to this level.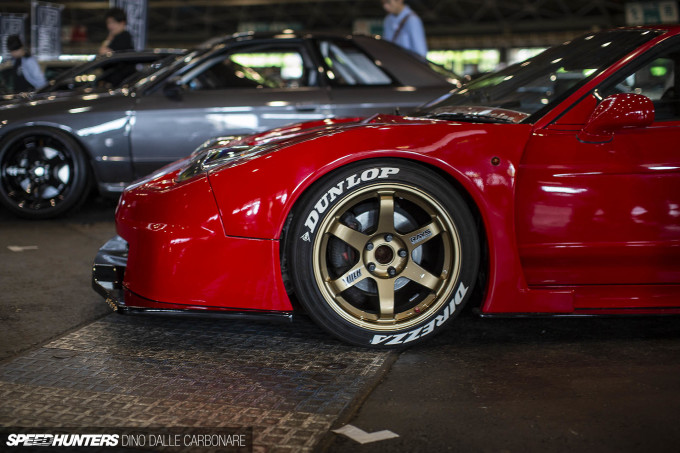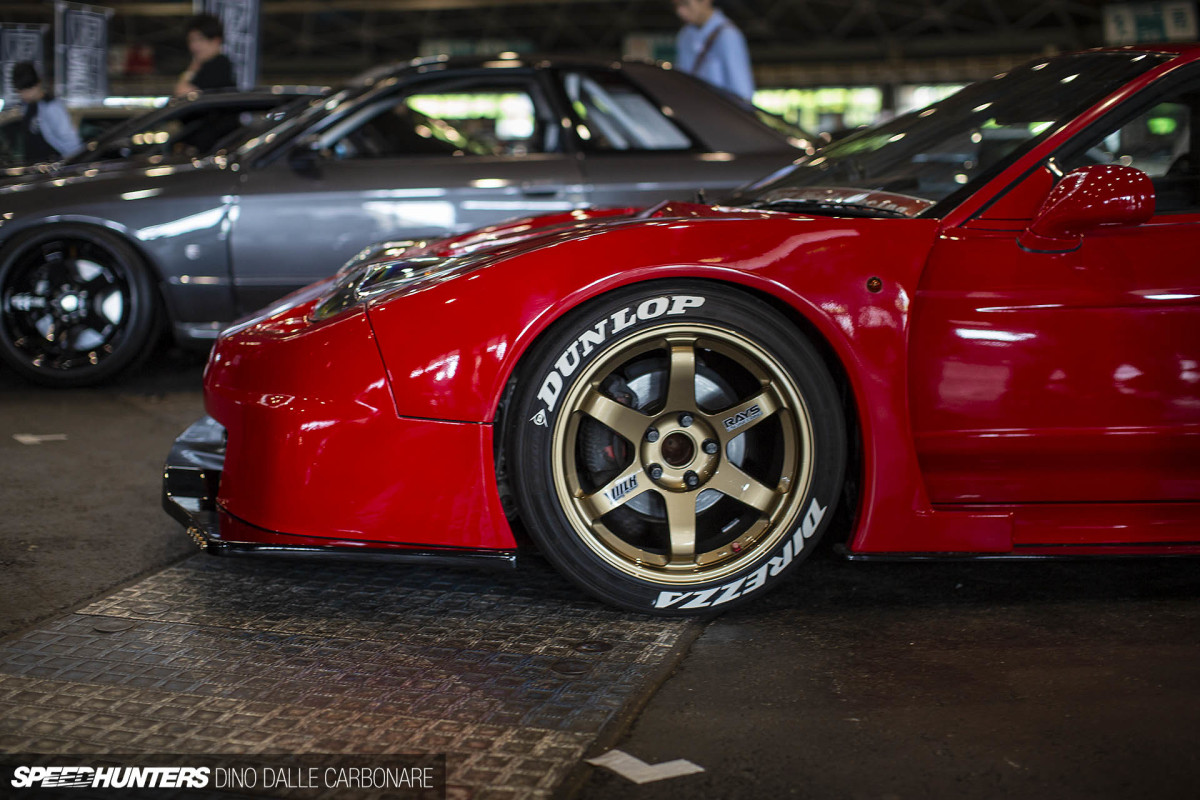 The fit and finish and the way the FRP additions matched up to the rest of the NSX's factory aluminum body panels was spot on, as was the quality of paint. Being a fan of RAYS Volk Racing TE37s, there's no way I could fault the wheel choice, and you have to admit that the glossy gold finish on them is a textbook-match for the red paint.
If there was anything that let this car down it was the brakes. Stock calipers on an NSX that looks as race-ready as this one does instantly conjures up images of hard-parking over going for a fast drive on some classic touge roads. That's something I'm fine with, everyone has a right to do whatever they want with their own car, but some 6-pot calipers and 2-piece slotted rotors would look right at home here.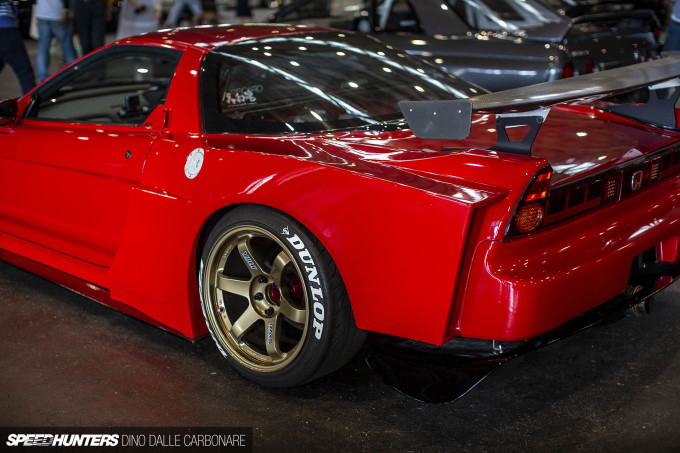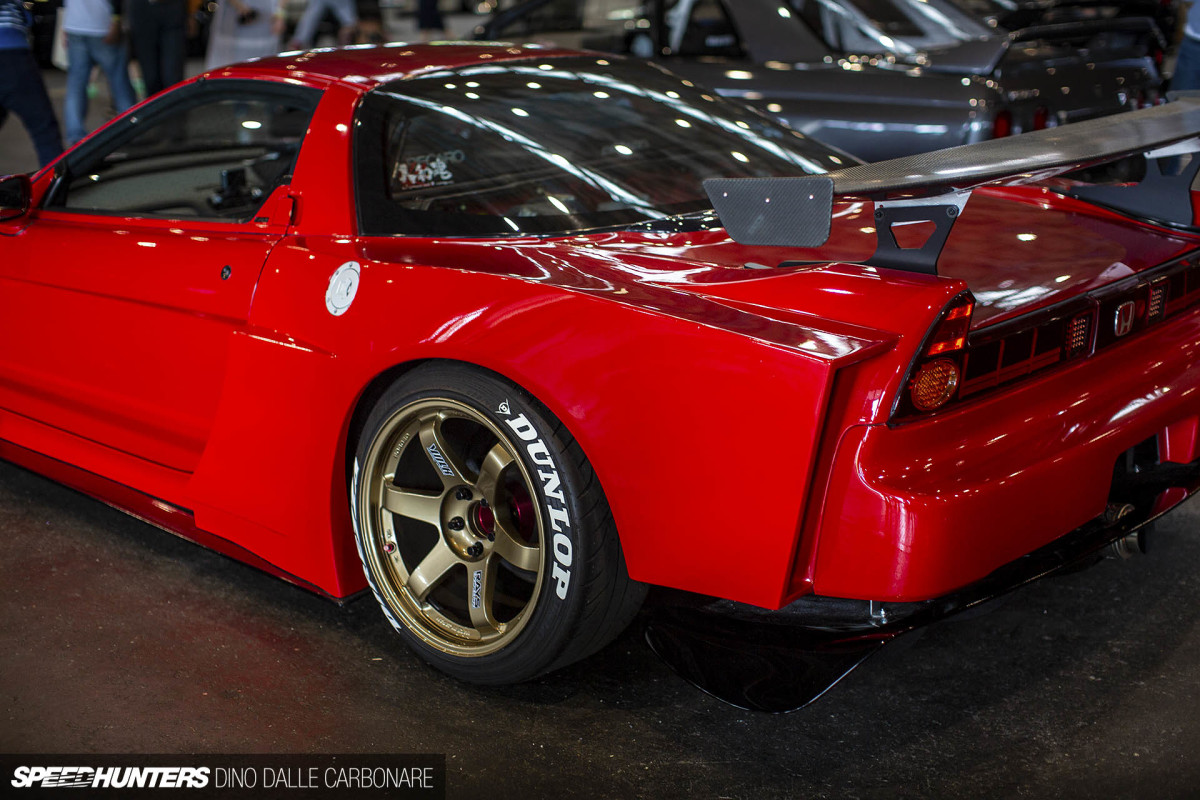 The look out back is really in your face; the rear fenders have been pushed outward into a slab-sided angular flaring that protrudes dramatically away from the underlying stock body.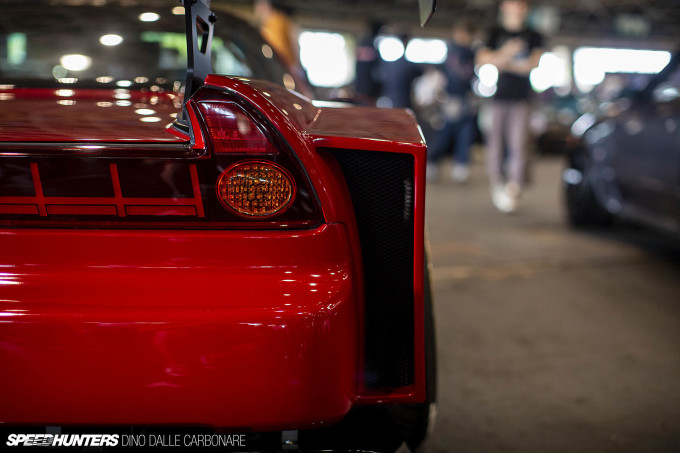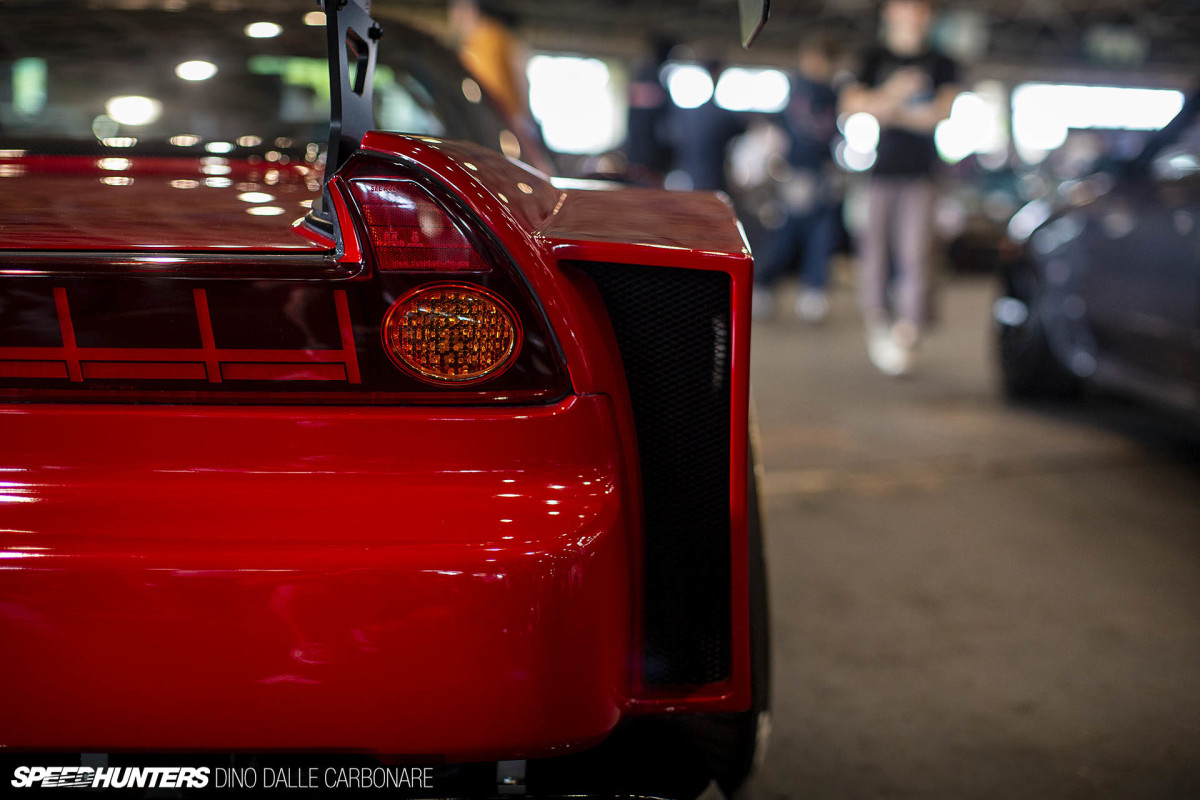 One look from this angle and you get a real sense of just how wide the custom bodywork is.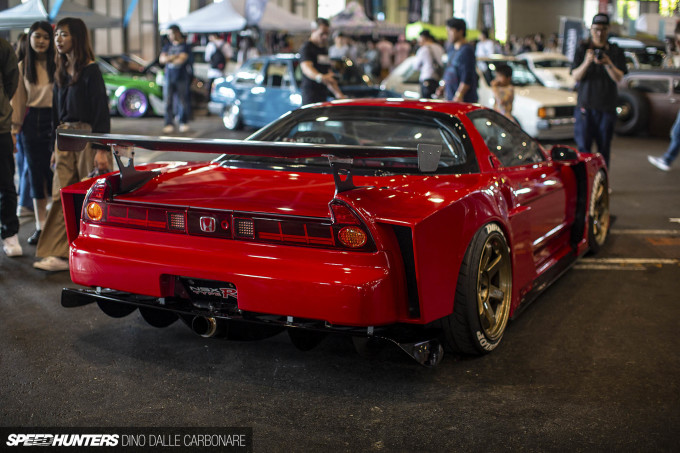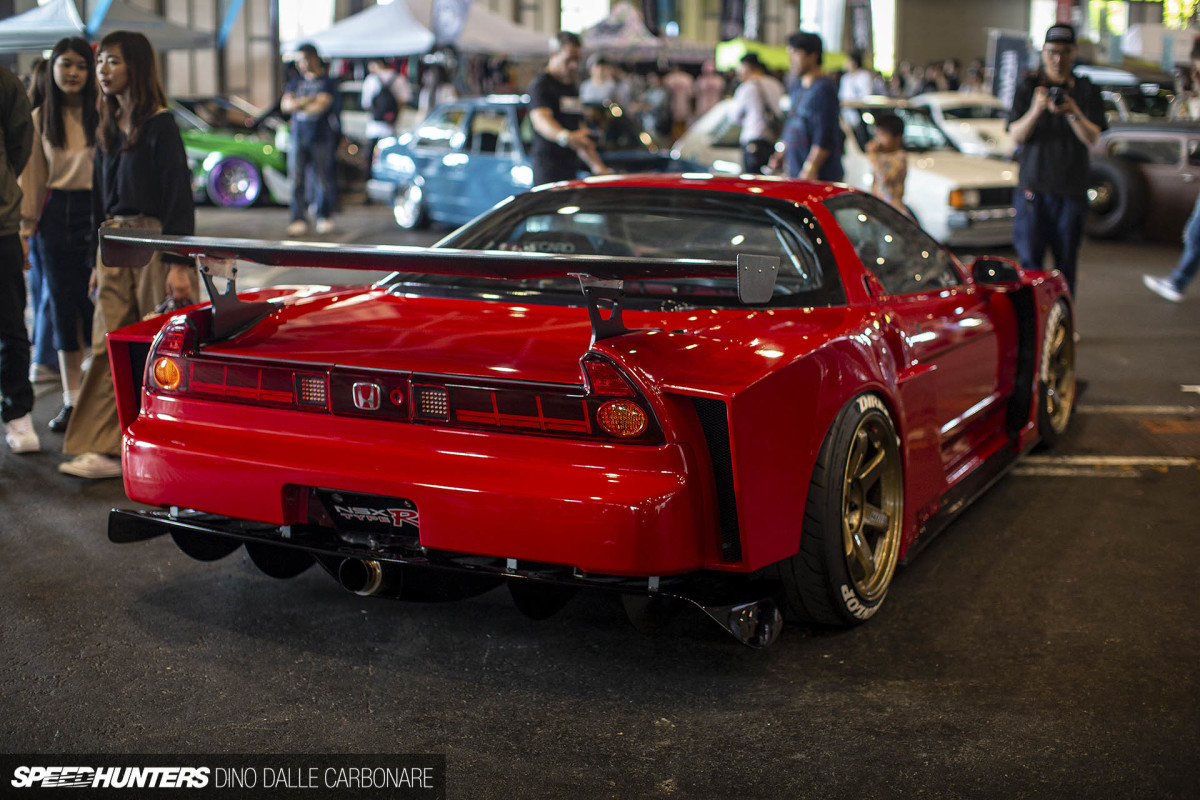 A propped-up GT wing and a massive under-diffuser are needed at the back to complete the GT look, which has all come to together rather well. I was curious to know what the aftermarket taillights looked like switched on, but sadly never managed to find the car's owner.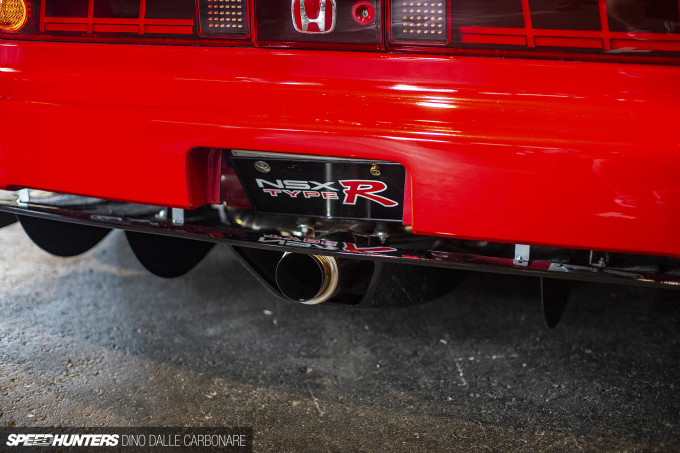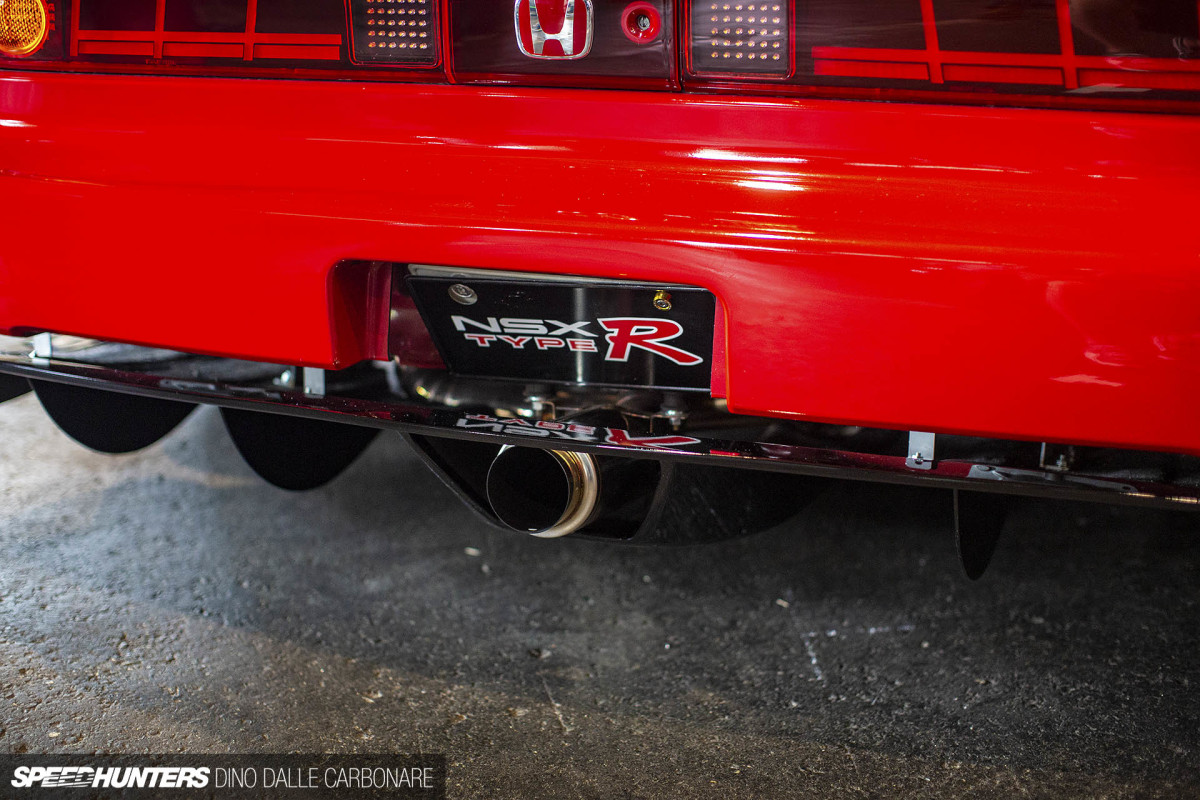 The finishing touch, a center-exit exhaust similar to the one Blake recently fitted to Project NSX, is a 10 out of 10 for me.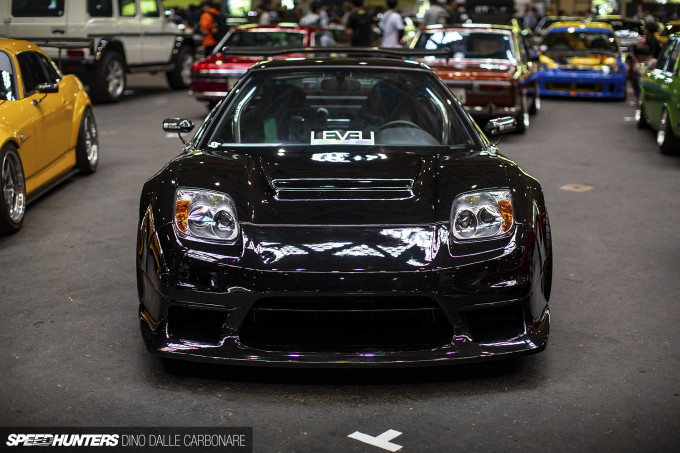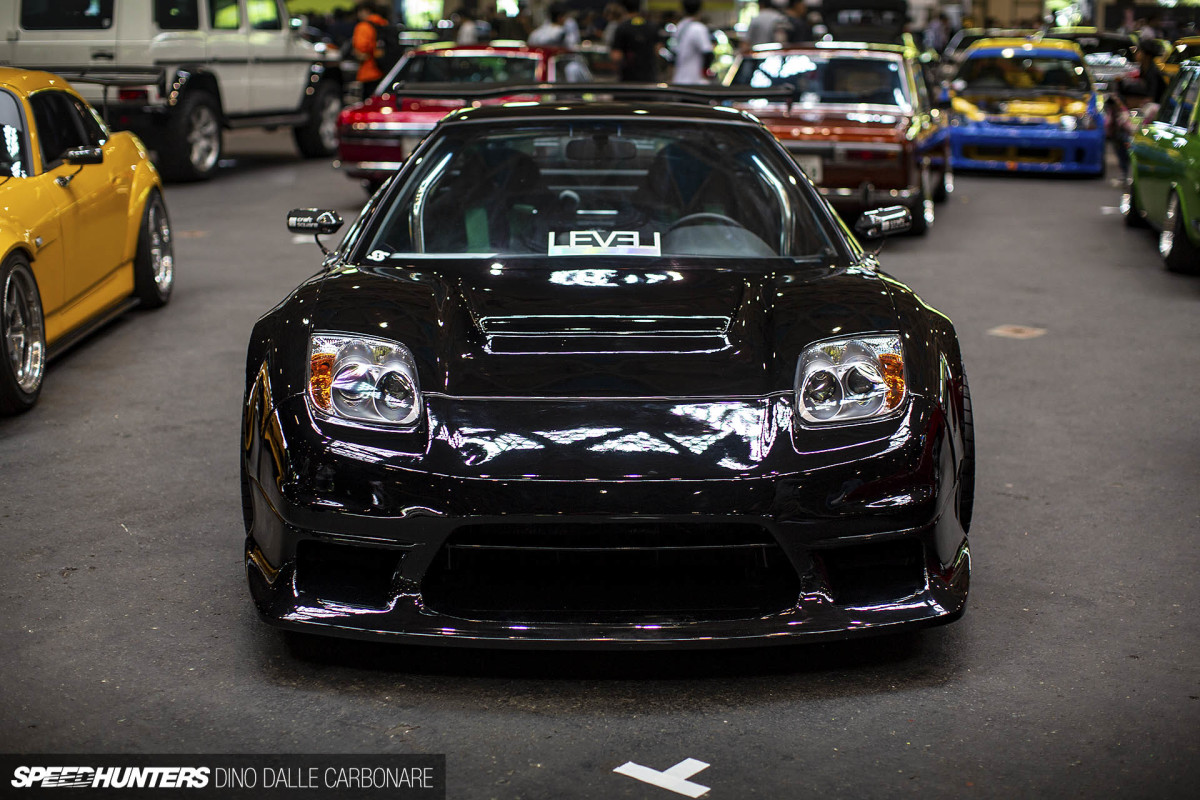 Next up is this mean, lean – when compared to the wide example above – Acura. This US-import has had its factory bumpers replaced with Spoon items which bring some real impact to the overall look.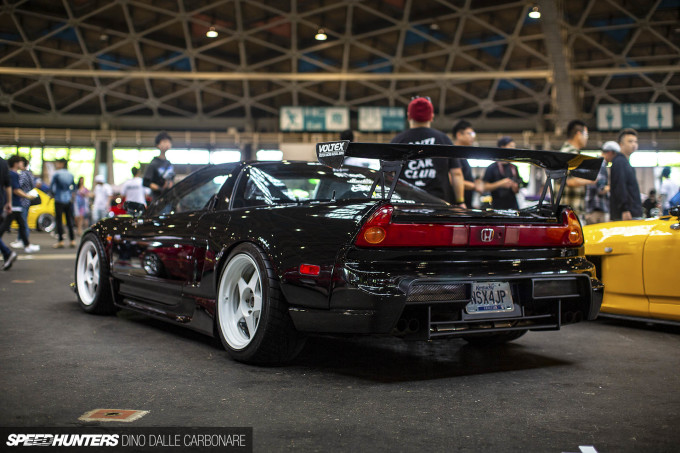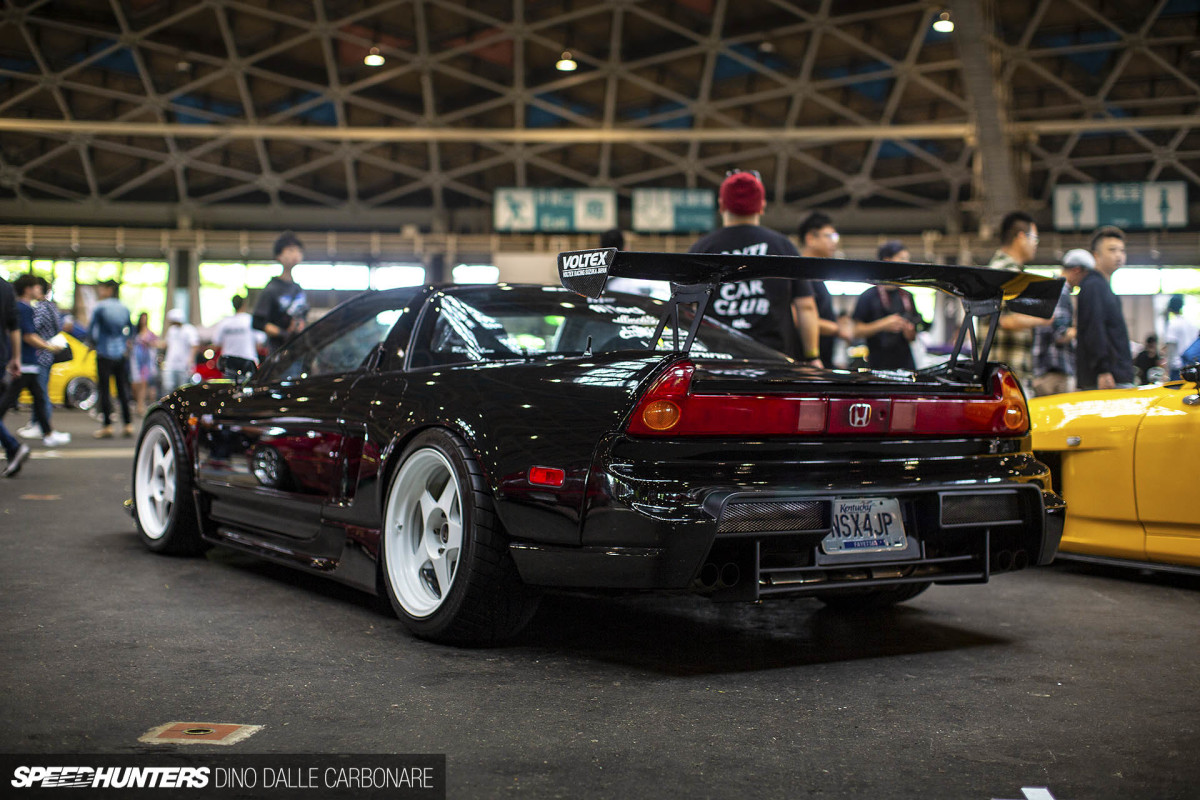 These bumpers were developed just over 10 years ago when Ichishima-san decided to build that crazy race car for endurance racing. If you recall, we even featured it. I really like the squared-off section with the mesh grille; it looks purposeful and with the car being black it sort of fades away into the guts of the rear end. The five-spoke wheels in contrasting white couldn't be a better match either.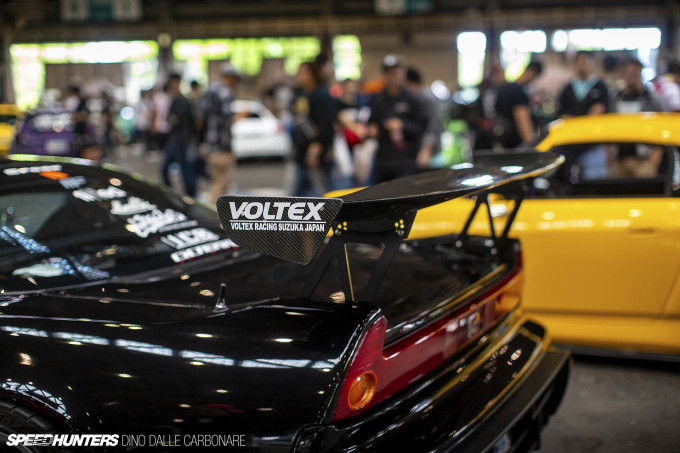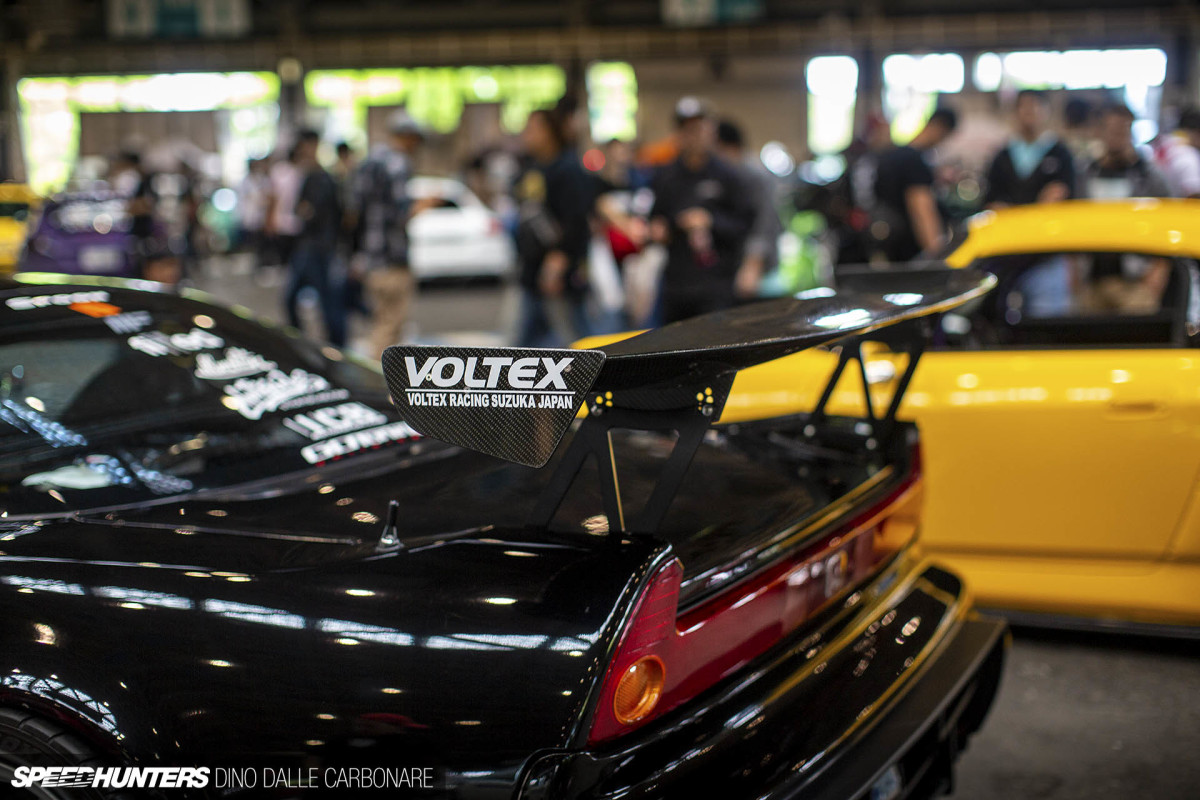 A 1700mm-wide Voltex carbon GT wing is almost a requisite item on a build like this.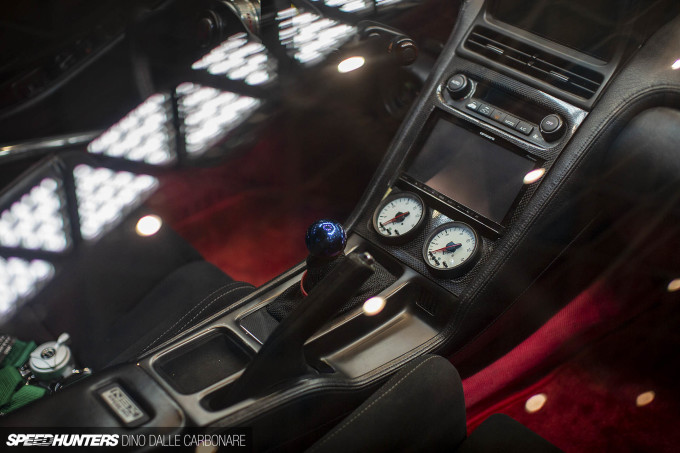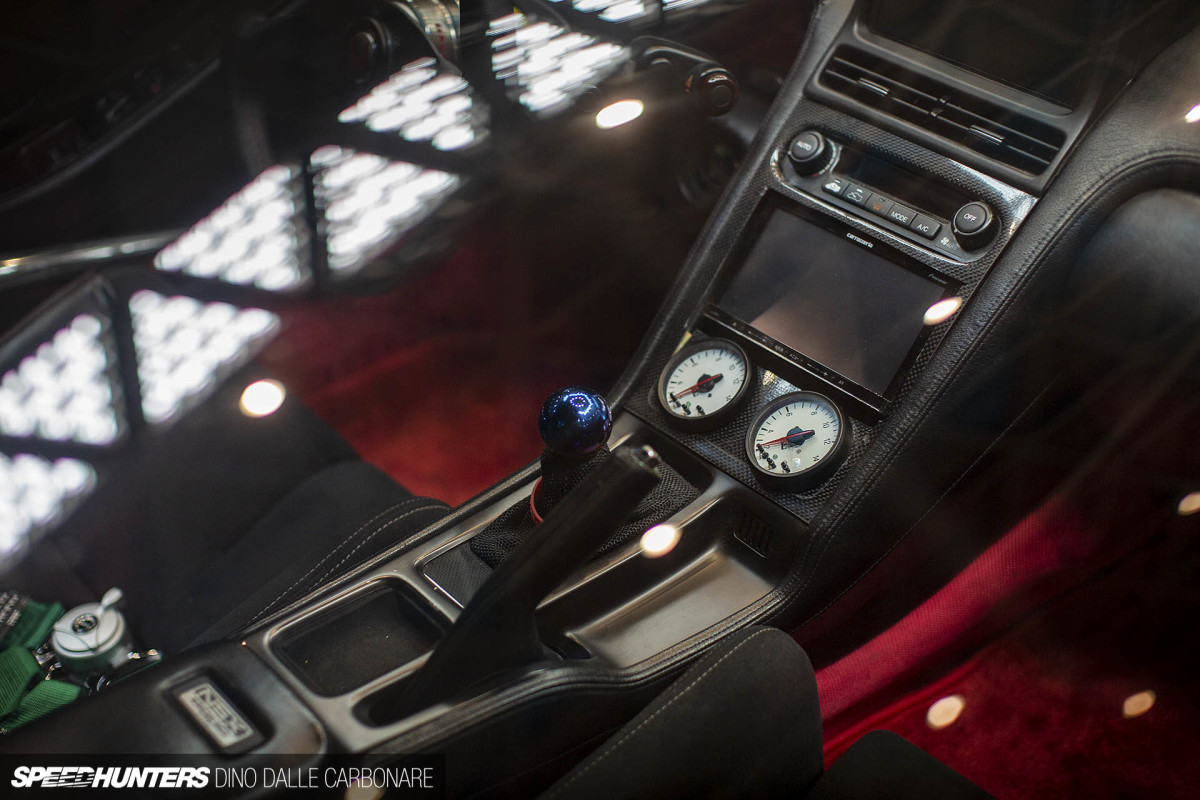 I spied some nice details in the inside too; Bride Gias buckets, must-have red carpeting, some center console-mounted gauges, and an ARC Titan shift knob to finish things off nicely.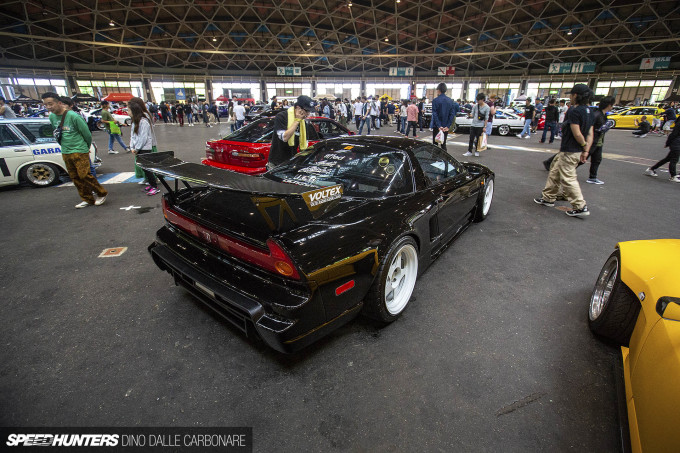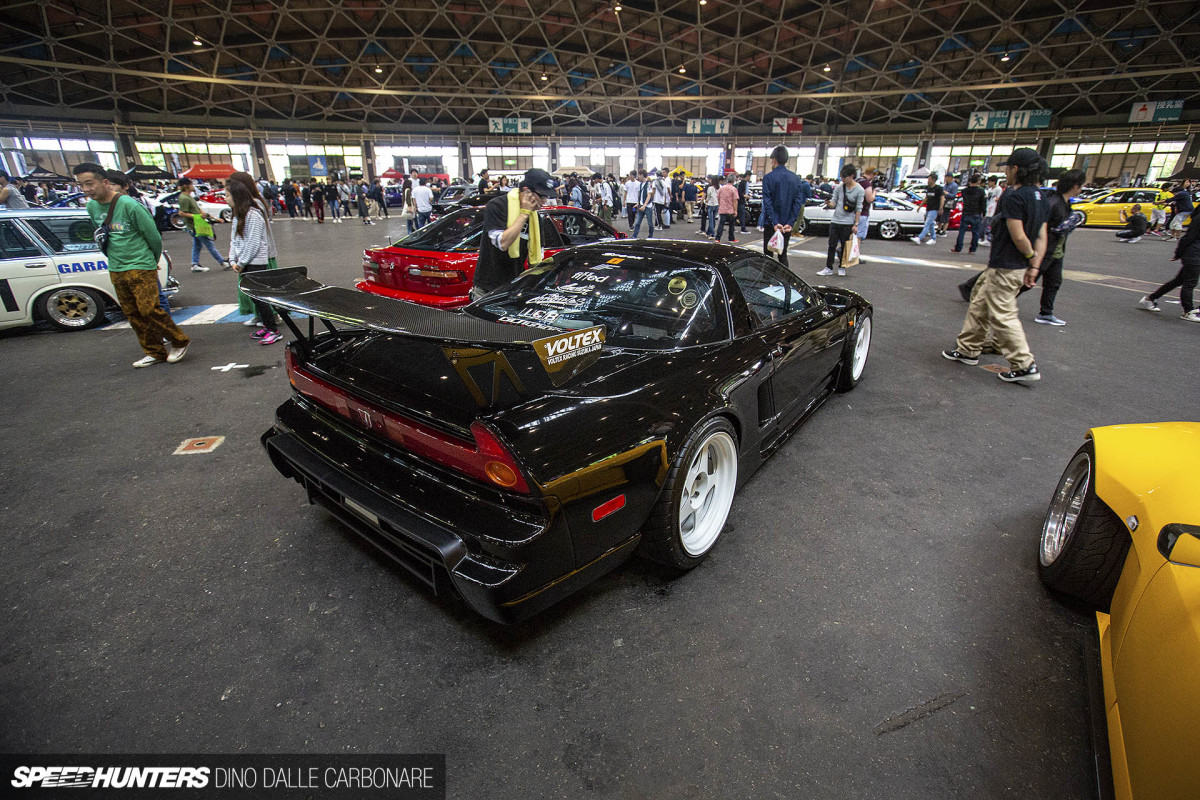 How about the real substance? I think it had the perfect amount of upgrades you'd want on a decently tuned NSX, so stuff like Revolution headers and exhaust system, a GruppeM intake, and a Revolution ECU to manage it all. Being an Acura it was the perfect metaphor for what Wekfest Japan is all about: a mix of USDM meets JDM; a fusion and integration of styles.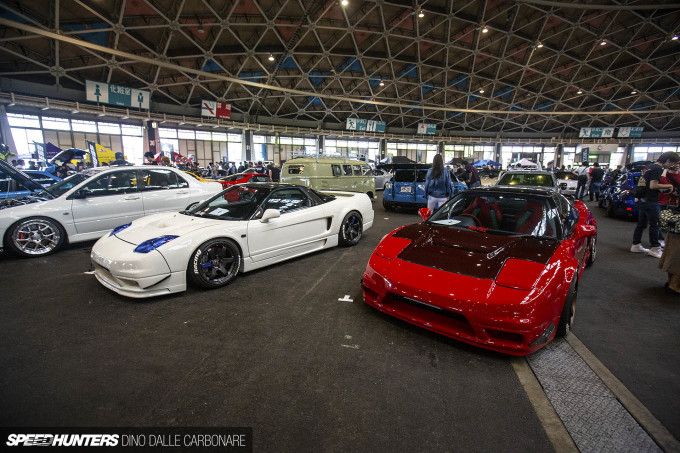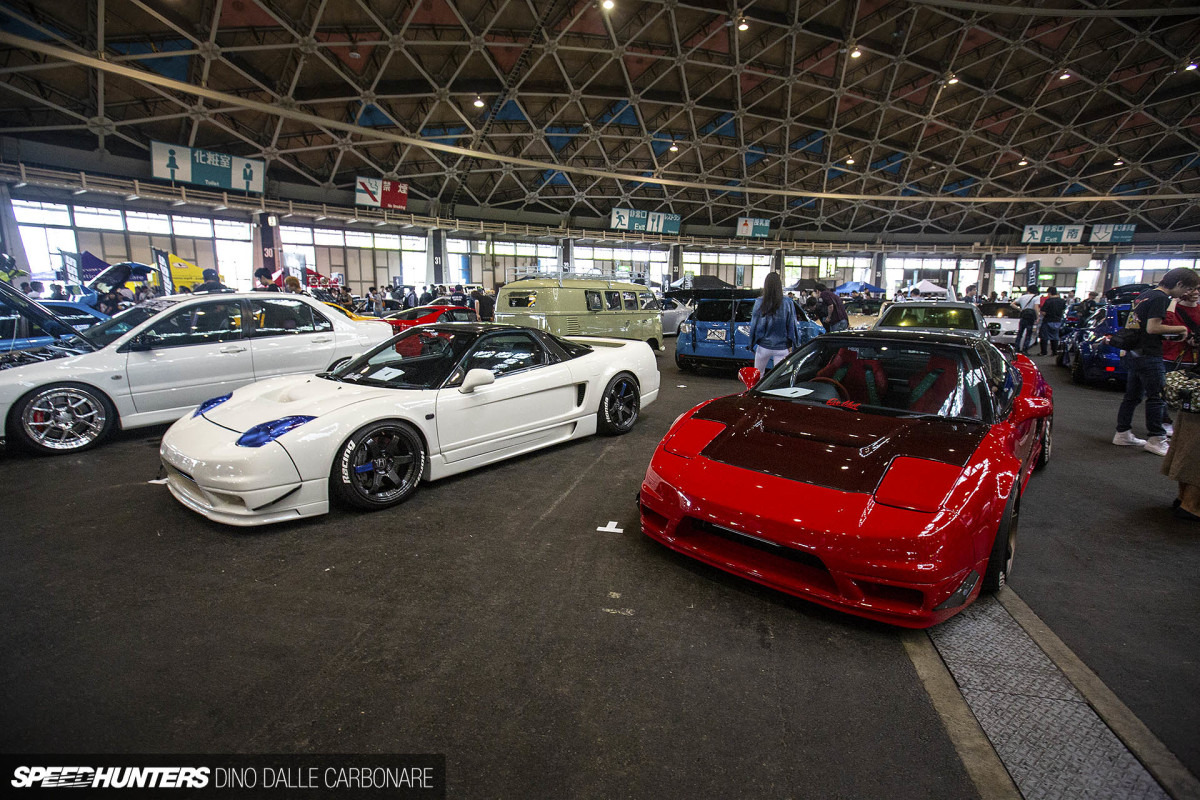 Then we come to this paring. What made these two NSXs a little different from the others is that they've both retained their original bodywork, or at least an interesting mix and match of first and second-gen details.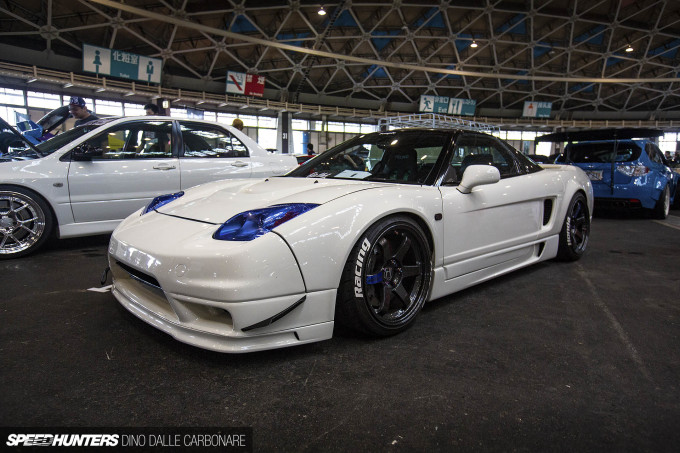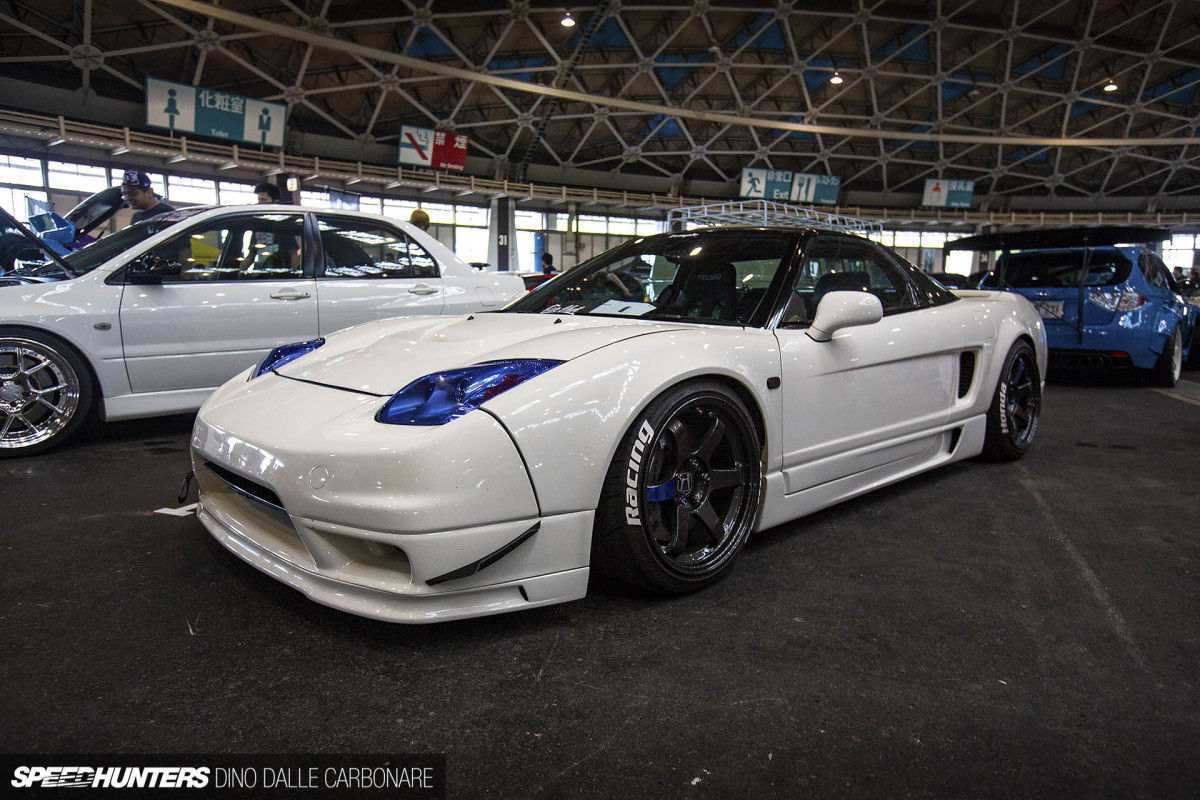 It's safe to say both cars are taking inspiration from the NSX-R with their black roofs and pillars, but they are far from replicas, which of course would get no kudos at all. Instead, the addition of a few details has gone a long way; like the lower lip under the NA2 bumper and the little canards on each side. Both cars also featured the same side skirts which introduce secondary smaller intakes as they meet with the rear arches.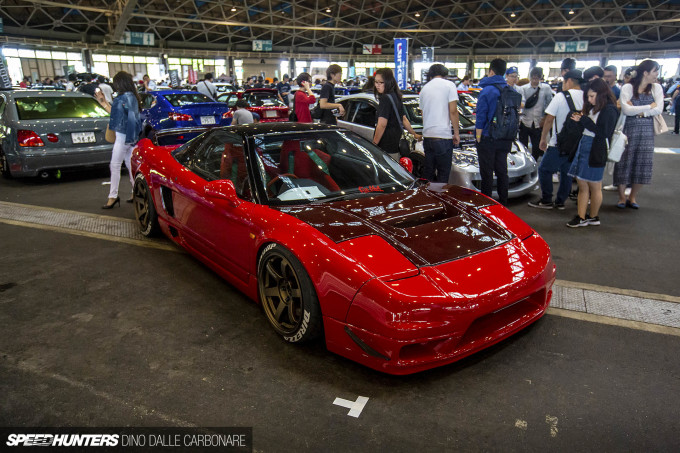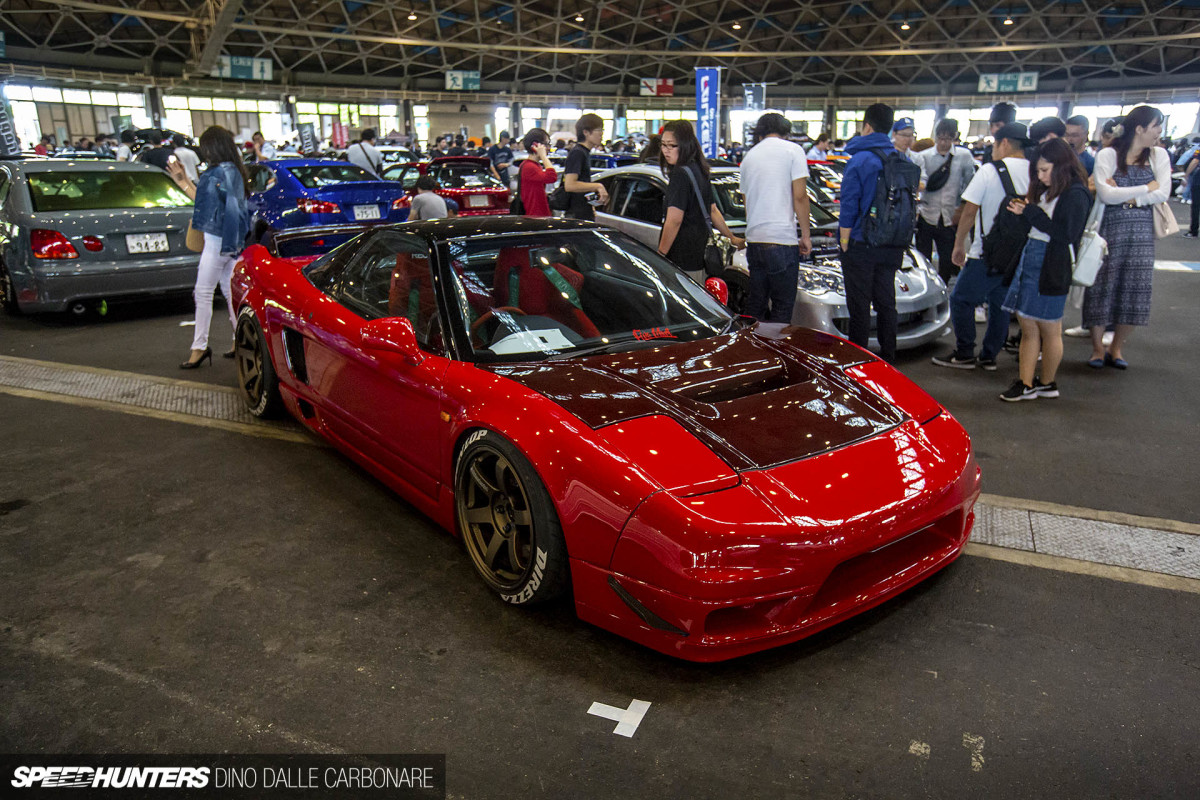 NSX-R inspired venting on the hood is there to channel air away from the radiator, but it also has a different effect on the red car. It's not because the hood is finished in red carbon fiber, but more because the pop-up lights have been retained. The later-gen bumper seems to work really well, don't you think?
The red car stands out from the rear because of its NSX-like wing and a pronounced diffuser section, while the white car sticks with the stock look, albeit with a little Gurney flap added on top of the spoiler.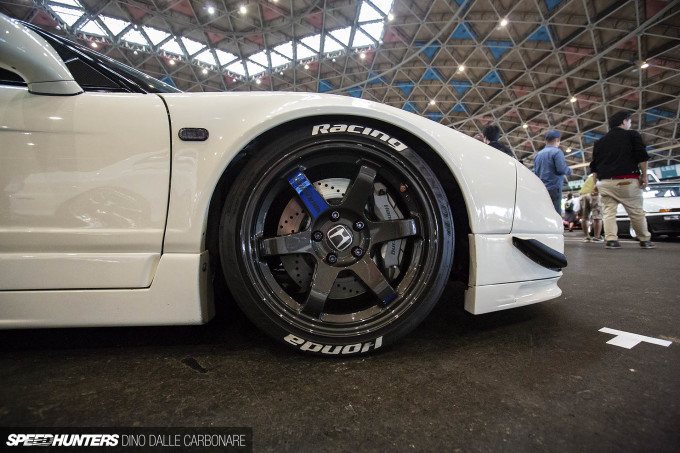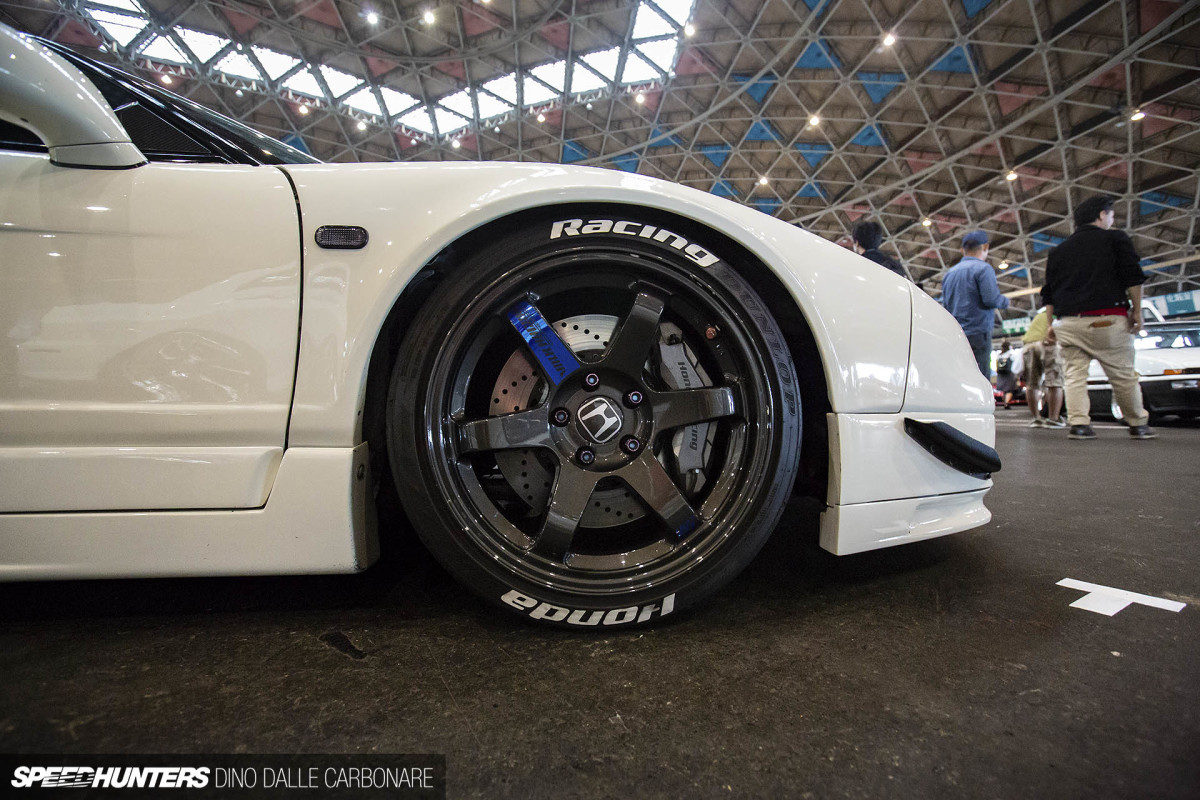 Both cars sit on TE37s, but it was the brakes on this car that made me take extra notice. The big calipers say 'Honda Racing' on them, but it's hard to say where this package has been sourced from. I bet this thing stops really well though.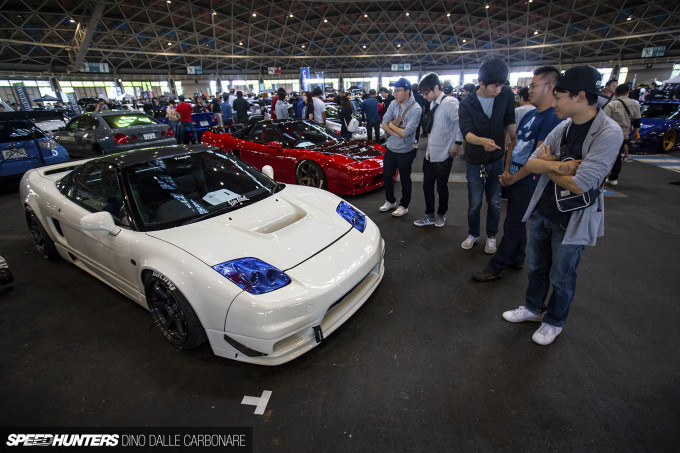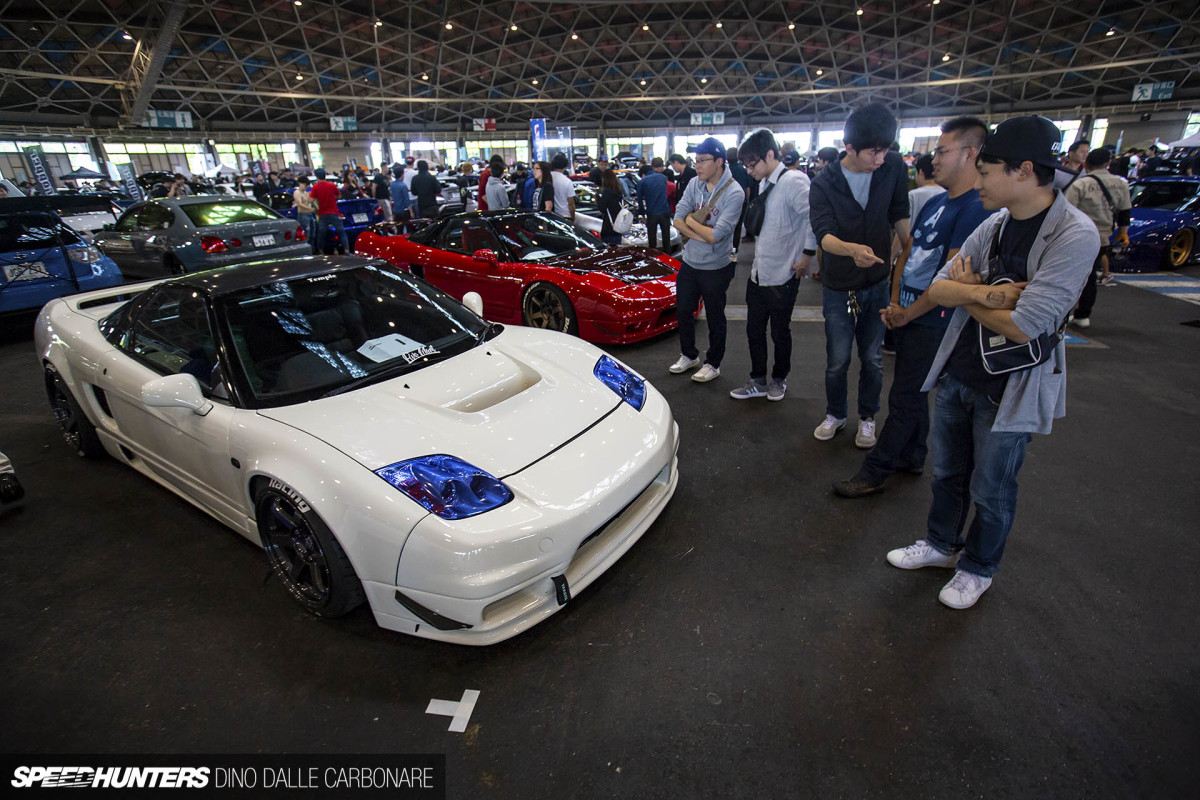 I even liked the transparent blue film on the headlights.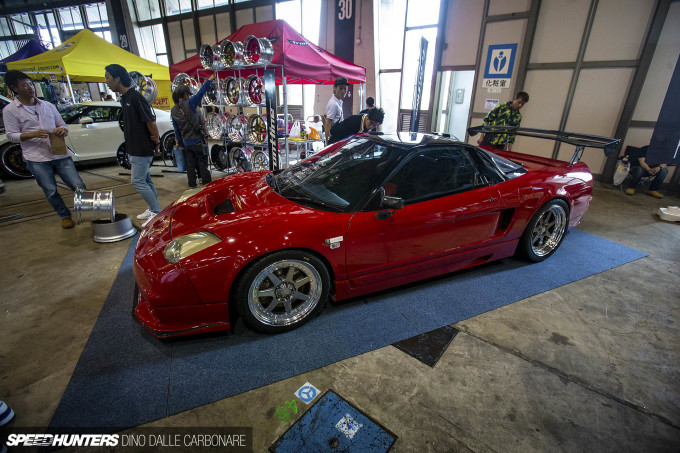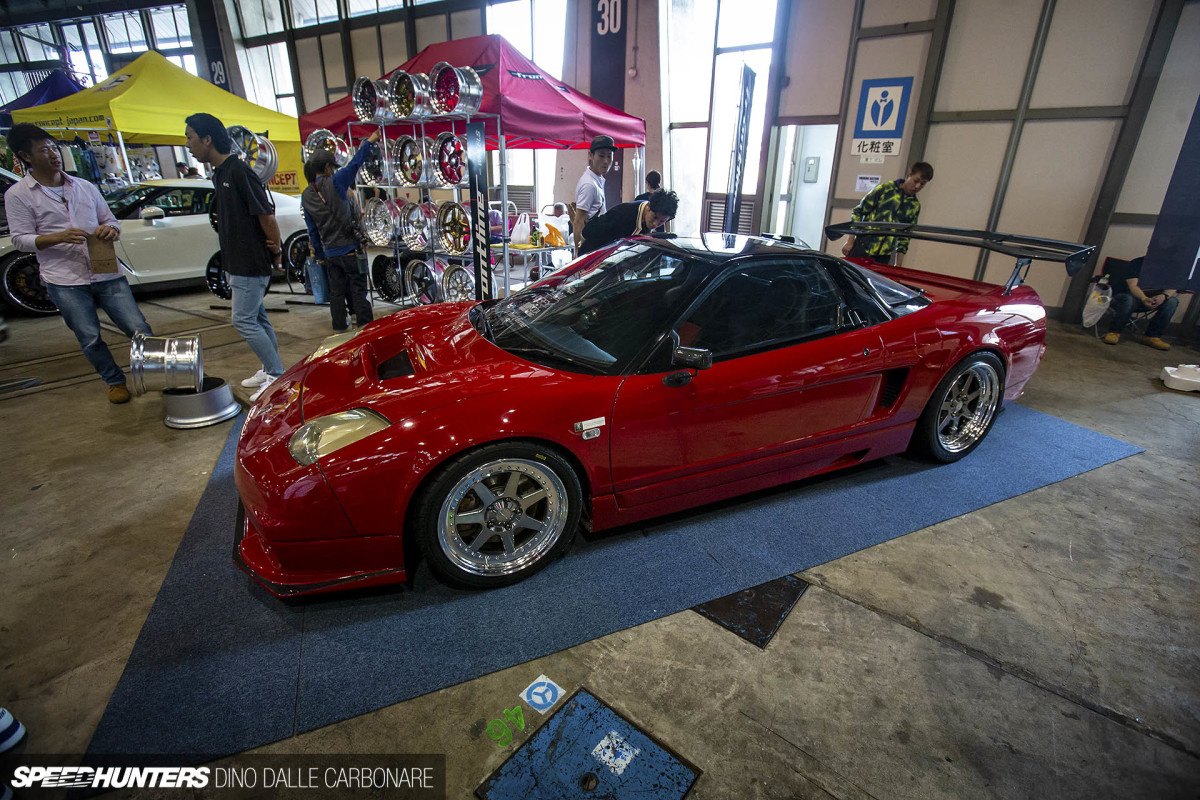 Japanese wheel maker Frontline had the next NSX I took a closer look at on its booth and sitting on a new 3-piece wheel being released this year.
The car seems to have been built for performance driving with a decent brake setup, some aero touches, and some simple mods in the engine bay like a custom intake system and oil catch can. Under the purple covers are Toda cams and there's a nice center-exit exhaust to finish things off in the background.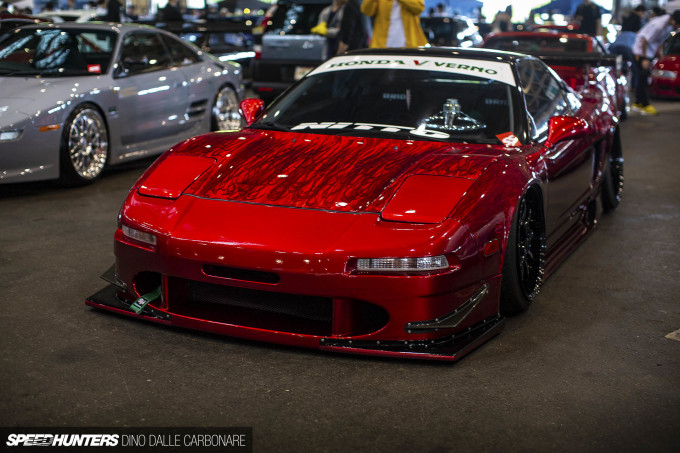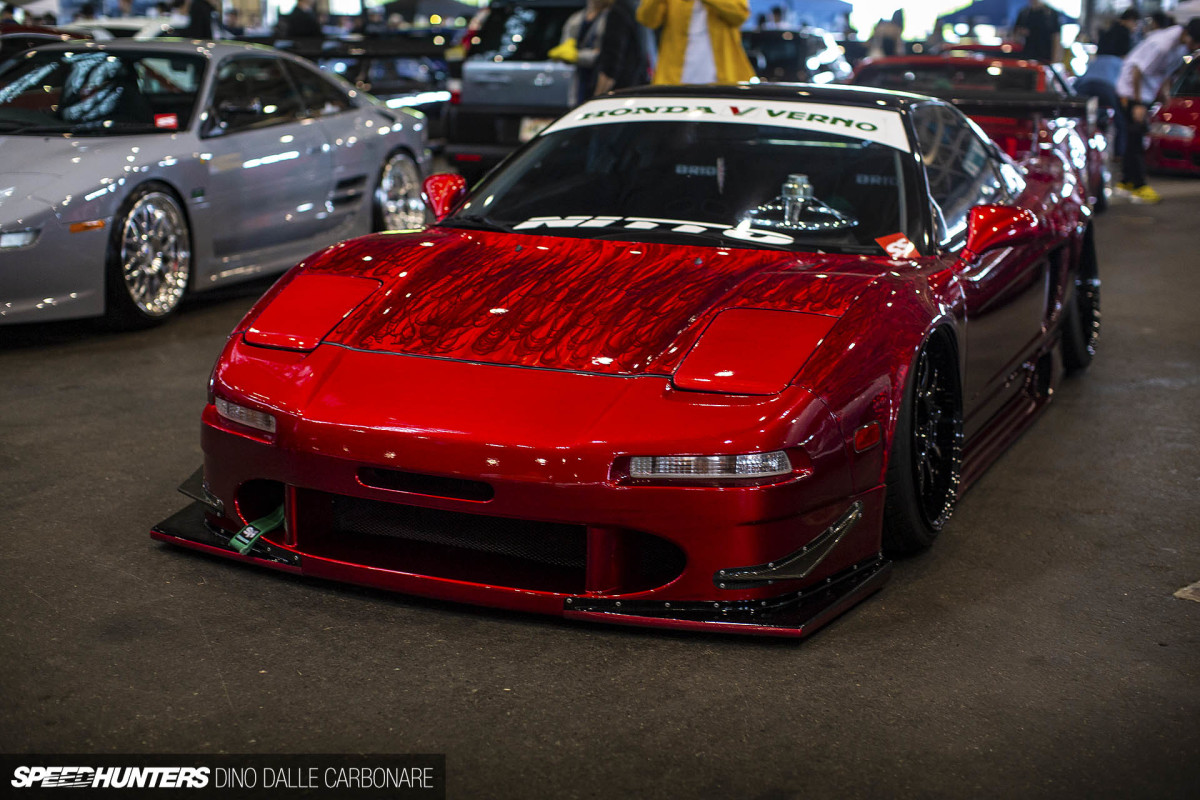 Finally, it's something completely different, a mix of styles and a somewhat unique approach to personalizing an NSX. The aftermarket aero painted in a two-tone candy color is very show car like, as are the grinder passes made to the aluminum prior to painting.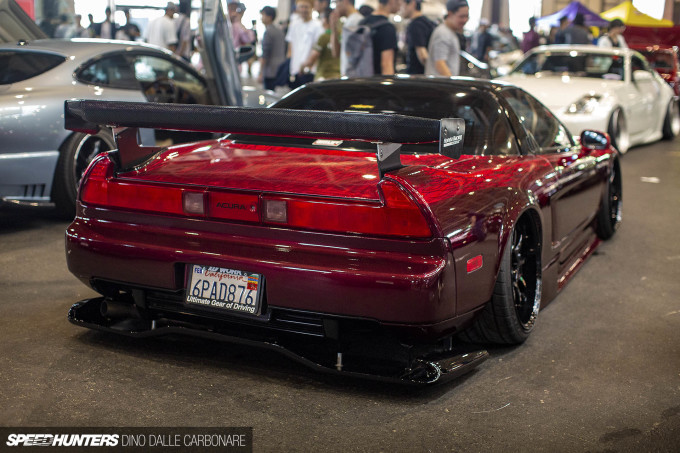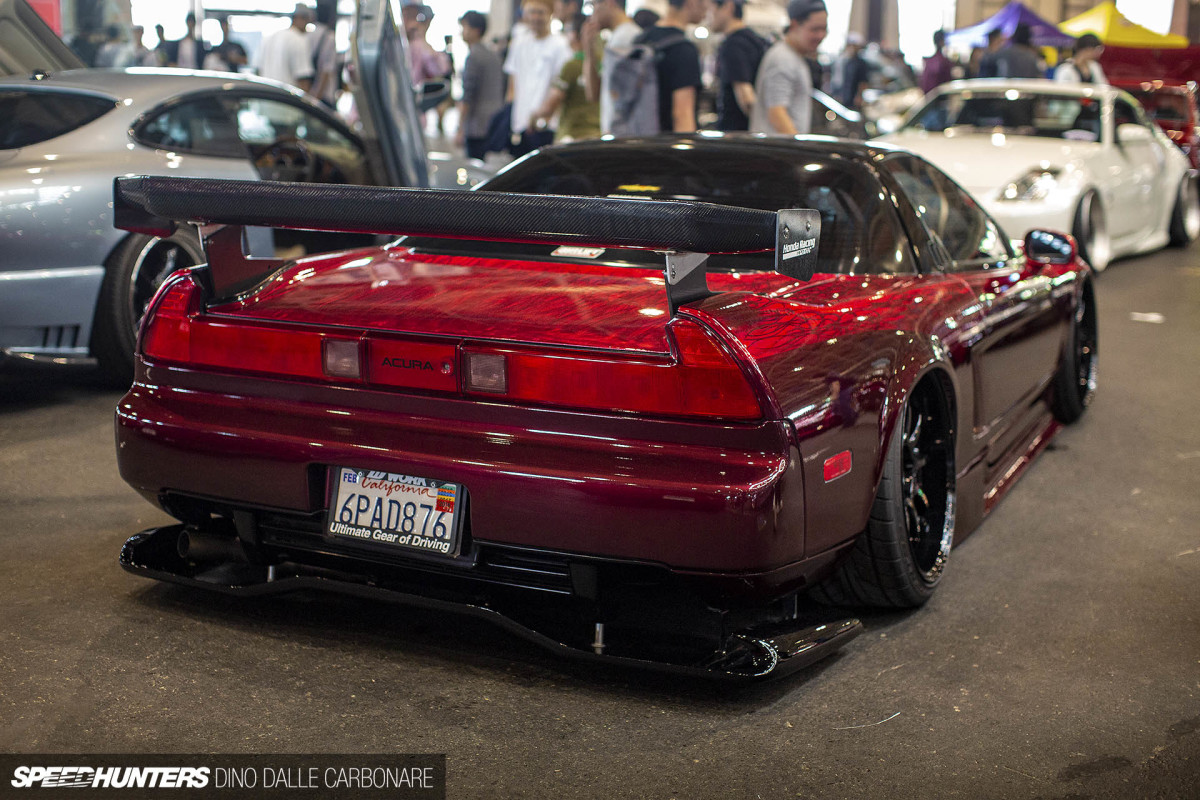 It's a good car to end this post on.
Next up, I've got a spotlight on two S13s that stood out at Wekfest for pushing the boundaries in their own distinct ways.
Dino Dalle Carbonare
Instagram: speedhunters_dino
dino@speedhunters.com