Introducing
ShaDynasty. It's the best possible name this drift team could have, and I can't explain it better than they do themselves. So, full disclosure, the following has been stolen and rewritten from the official explanation here. For this exercise, please consider the following vocabulary terms.
'ShaDynasty' is a female name, one of Frank Reynold's many lovers and commonly mispronounced "Shady Nasty." 'Shakotan,' as in, a shakotan car, also known as a low-down style car which refers to a style of 'zokusha' or gang car. Next, 'Dynasty:' a sequence of rulers from the same family. Then, 'shady' (of doubtful honesty or legality) and finally 'nasty' which is to say bad or unpleasant, especially to the senses.
Okay, all together now… ShaDynasty: a gang of low-down cars, of the same ruling family, with dubious intent, assaulting the senses.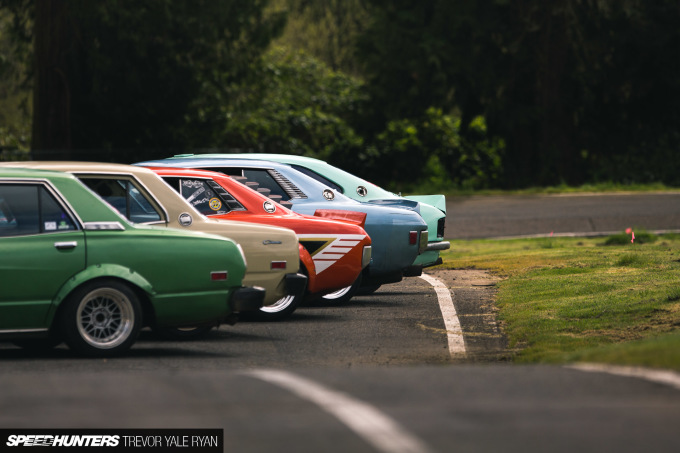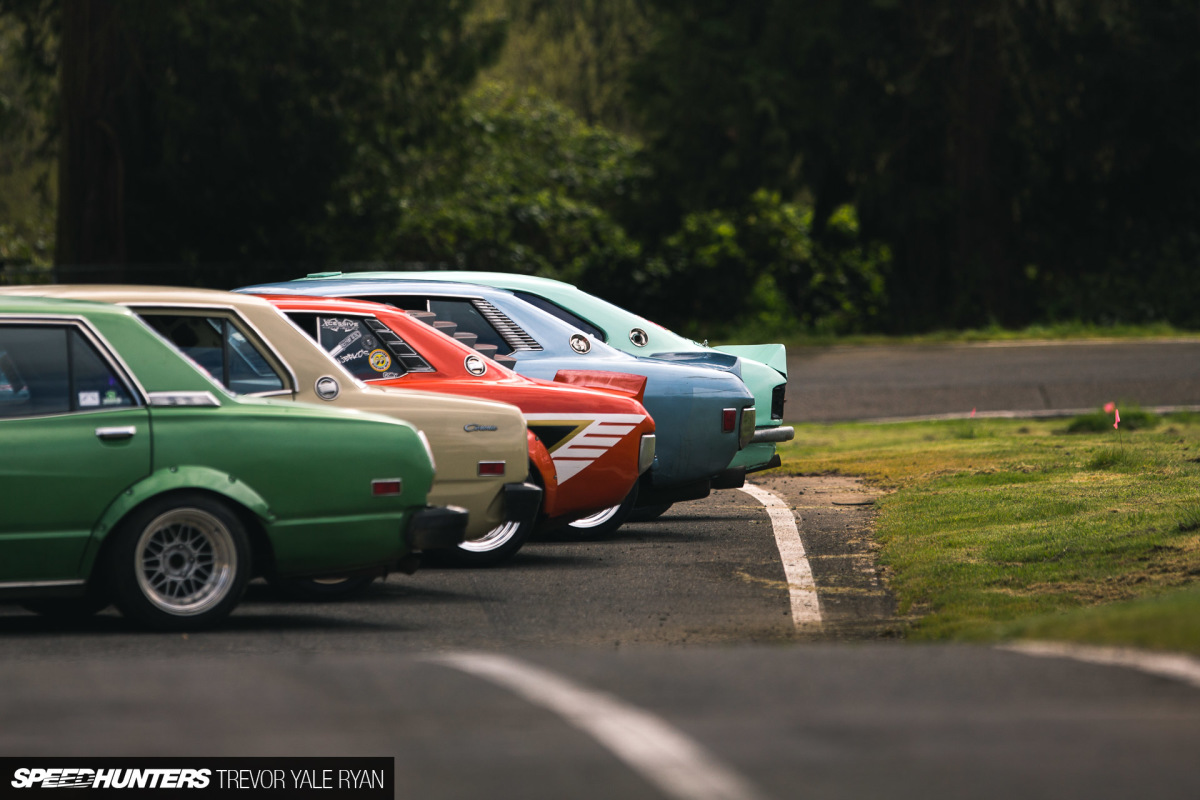 The whole thing started some years back when Matt Panic wanted something more outside the box than the AE86 he'd be hammering on for years. His requirements were: 1.) Toyota and 2.) the '70s. Matt ended up going for an RA21 Celica primarily for that instantly recognizable styling and also due to the fact that the Celica and AE86 are very similar from a dimensional standpoint.
About a year after Matt picked his car up he heard about a Canadian who also had enough screws loose to build a '70s Toyota drift car, and later that summer Matt met Paul Harrison and ShaDynasty was born. But before I get too deep on any other names I'll introduce the guys as they are in the line up, more or less from smallest to largest. Car, that is.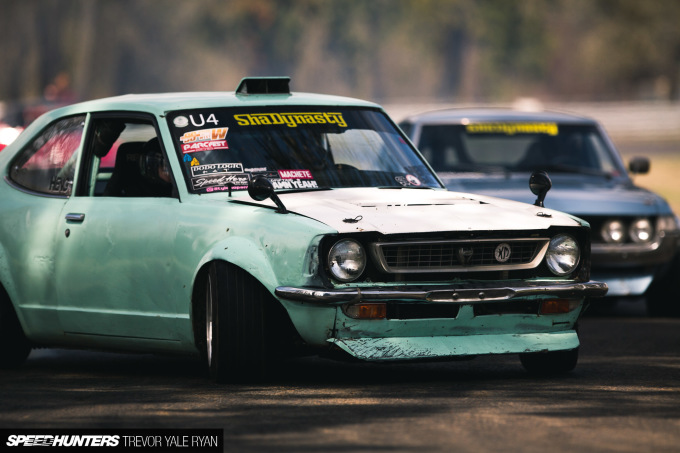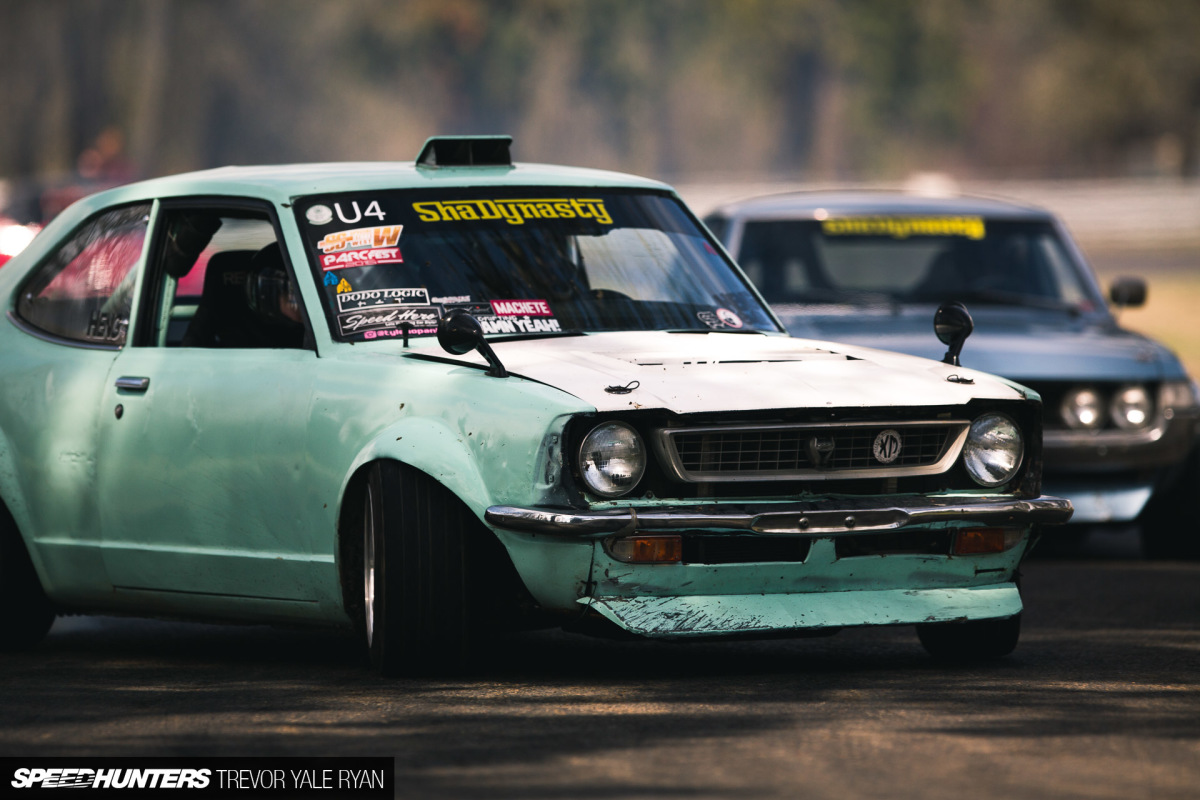 Paul's TE27 Corolla features a handful of aero bits and flares which he made himself. When I asked about his chassis, Paul said that it's like all the other team cars: "dumb." He further described it as "hard to drive, and "a huge pain in the ass."
Even with the constant maintenance, after years of incredibly abusive behavior the chassis is starting to fall apart. Owning a car from the '60s myself I very much understand where he's coming from, but I'm sure there's plenty of more fun and hard work that will come from and go into Paul's '77 Toyota.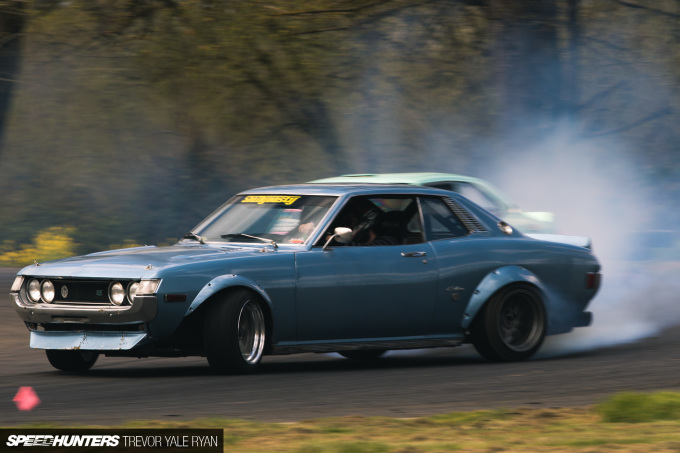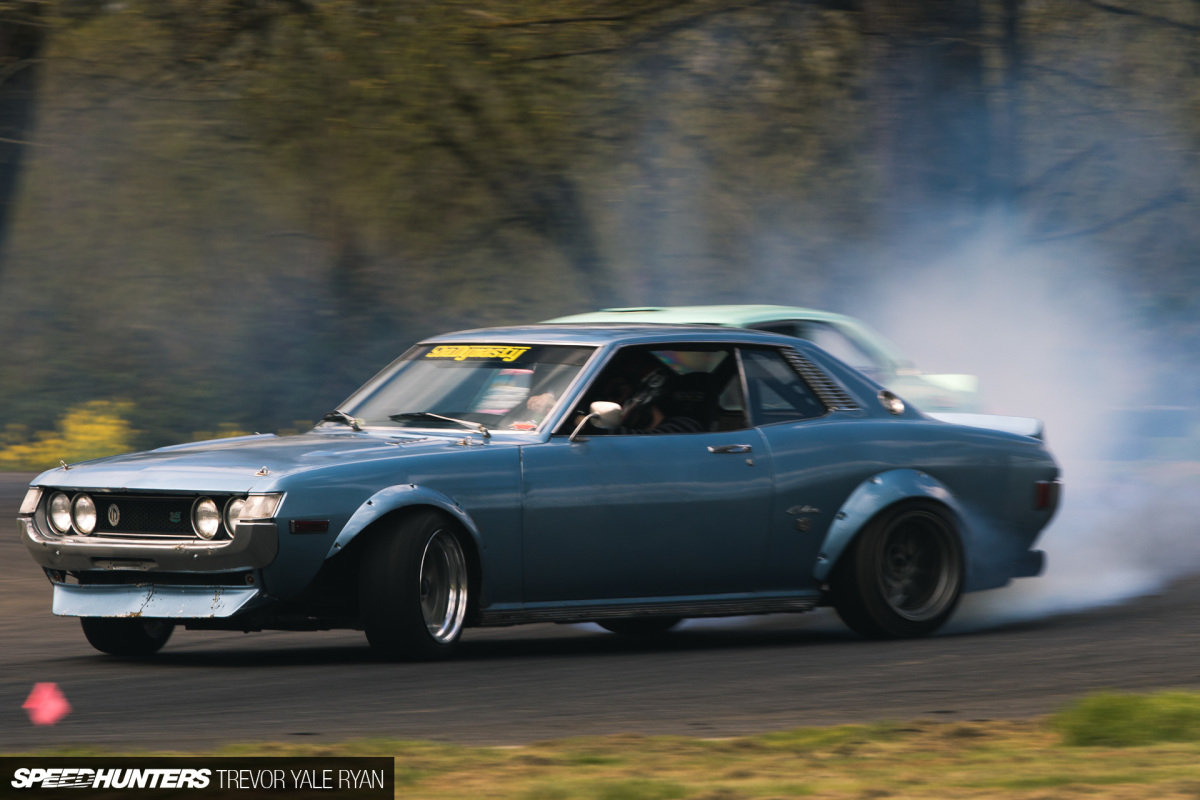 Next is Matt Panic's 1973 Celica. With a Toysport lip, spoiler, and front flares paired with the super-wide ZG tails in the rea, this has always been one of my favorite drift cars. Like Matt, I just love the '70s styling as it is, and the way this car is set up with the aforementioned parts and 15-inch diameter Work Equips (plus a set of 15-inch Atara Racing Pisangs for drifting), it looks properly period correct.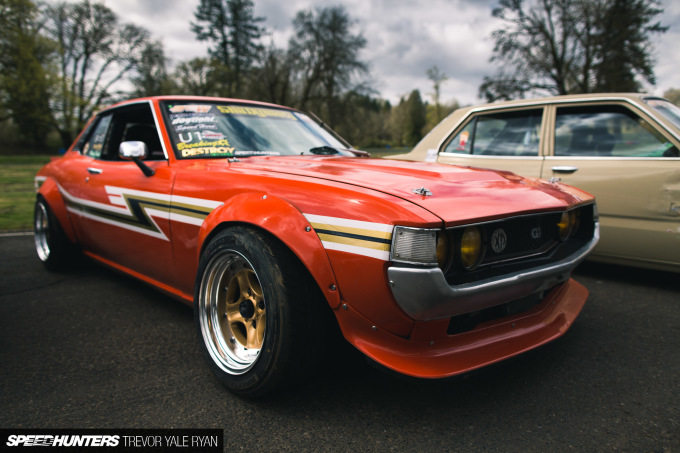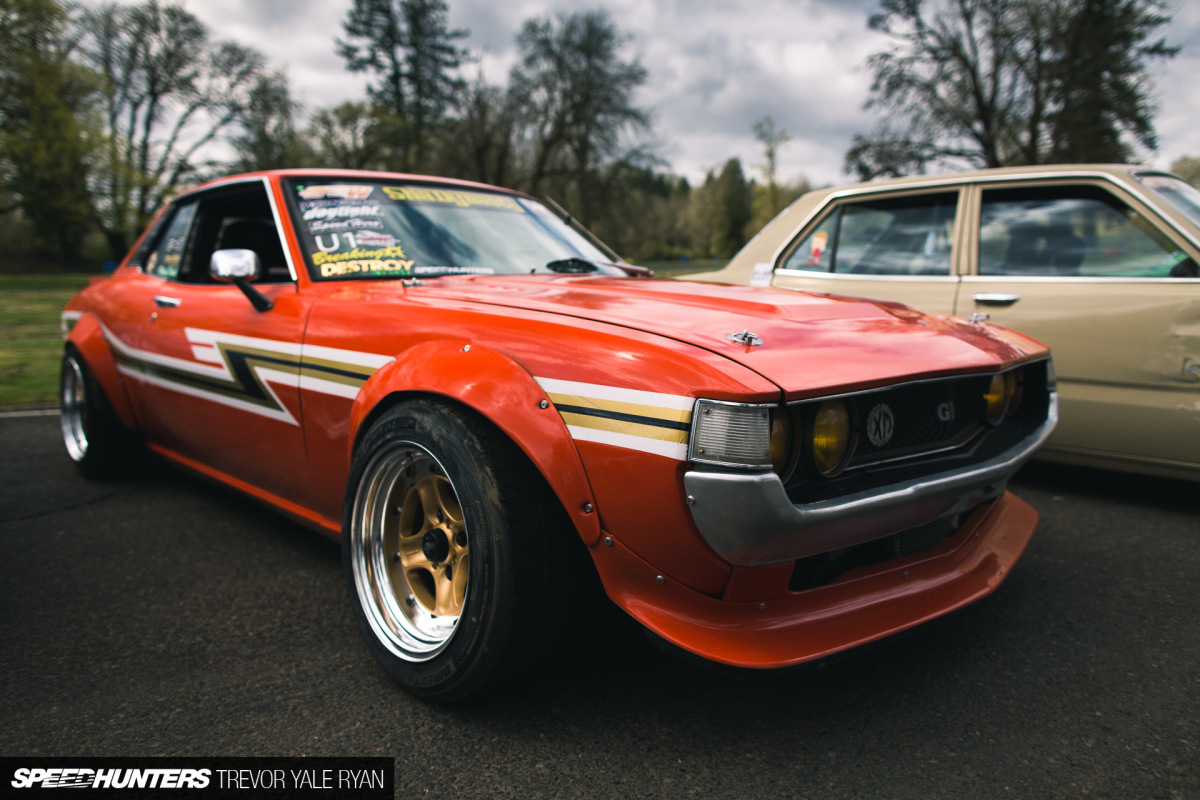 Cody Berlin's RA24 was built in 1979, making it tied as the most modern car on the team. Still, it's '70s, Toyota, and absolutely incredible to look at. Fresh off a bit of bodywork and with the aesthetic addition of the stripes down its side, the RA24 was definitely the cleanest car of the bunch. Knowing these guys, the GoldCo front lip, handmade spoiler, and S30 flares all around won't look this way for too long, though.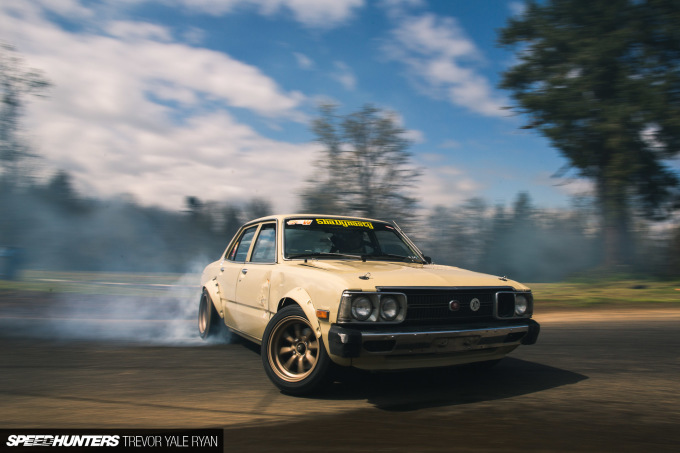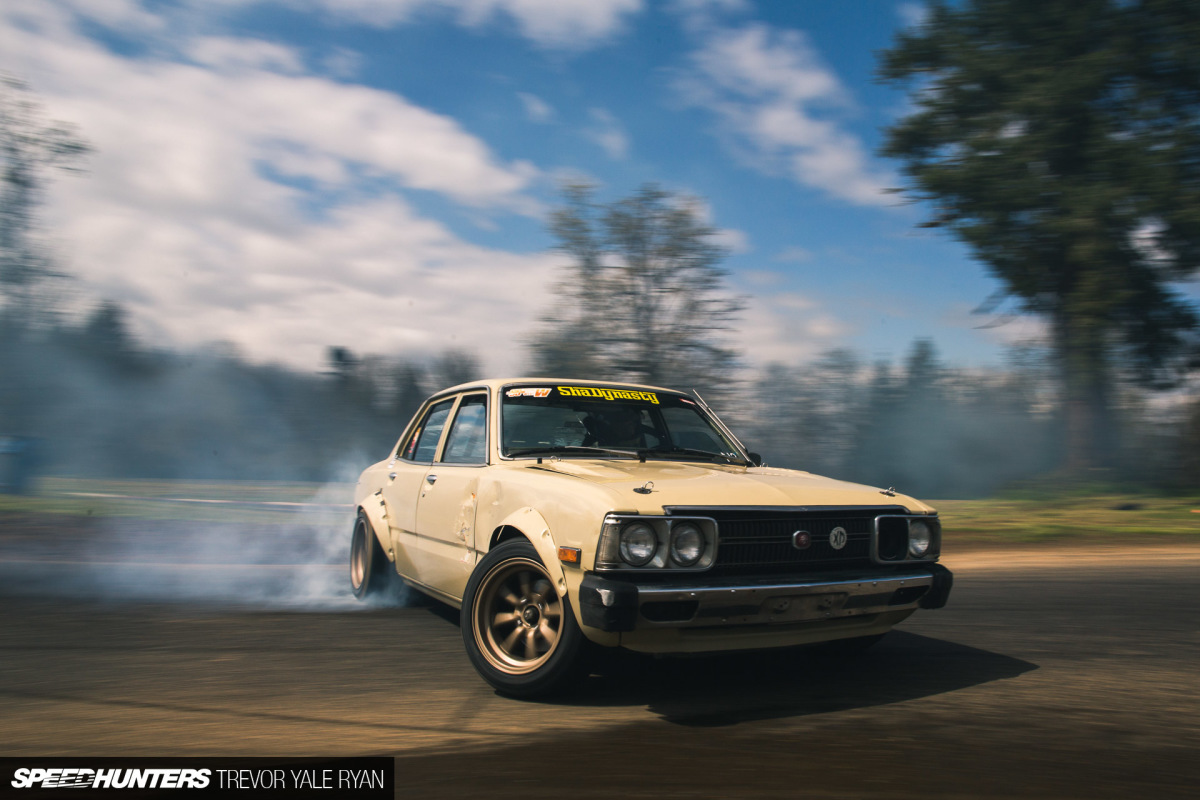 The next biggest car of the bunch would be Mark Panic's '78 Corona RT105. I'll admit straight away this wouldn't necessarily be my choice, and it actually seems like it wasn't Mark's either. The Corona was simply the first '70s Toyota that he found on Craigslist and, as Mark describes it, everything is horrible and had to be redone.
Xcessive manufacturing converted the car to a MacPherson strut setup (from the factory double wishbone) and managed to swap the solid rear axle out for an IRS assembly — I promise I'll get to all this in more detail shortly. You may have also noticed the front end conversion with the smaller and arguably more attractive face from an RT100.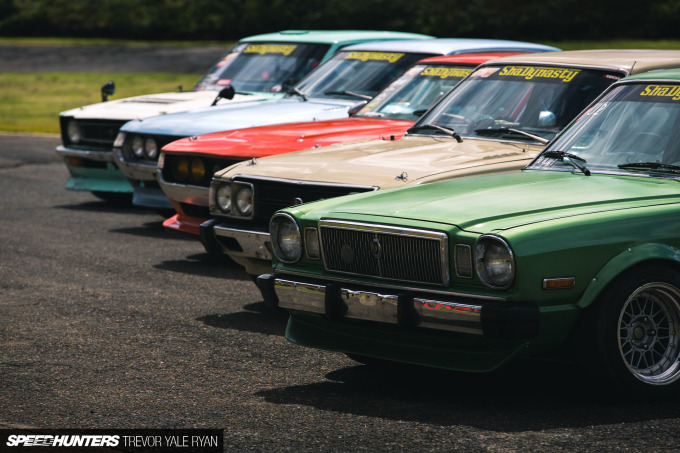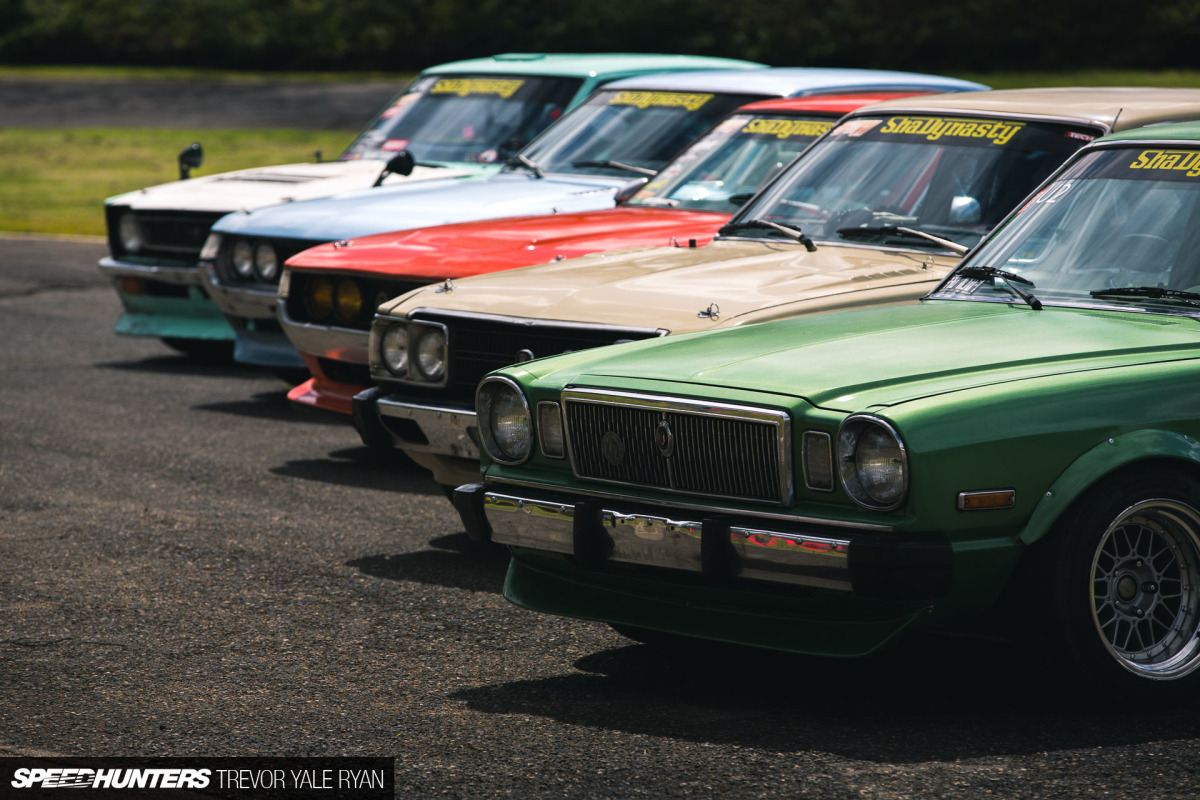 Finally, Justin Lucas' big-body MX32. I've always seen Cressidas getting slammed and send sideways in the Northern Californian drift scene, but never have I seen one this old getting down. Let me just say it's really quite satisfying to see the V8 open up to shred some tires.
And similar to the rest of the group, the Kenmeri Skyline lip and custom MSA two-piece wheels in a 15-inch diameter just looks properly old school. I've always personally had a leaning towards American cars from the '60s, but this group really, really makes a great argument for the '70s in Japan.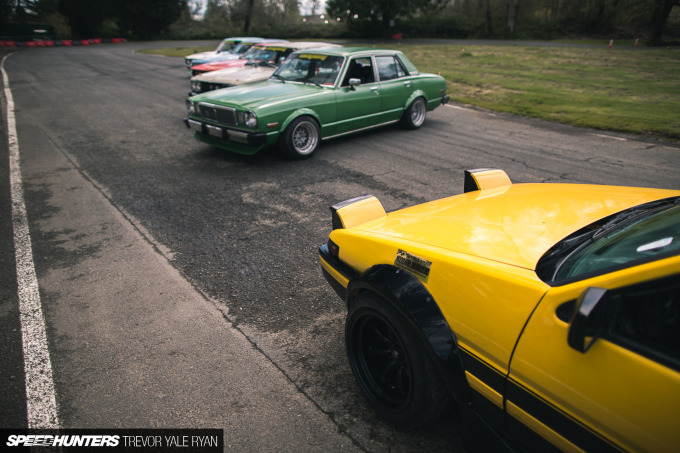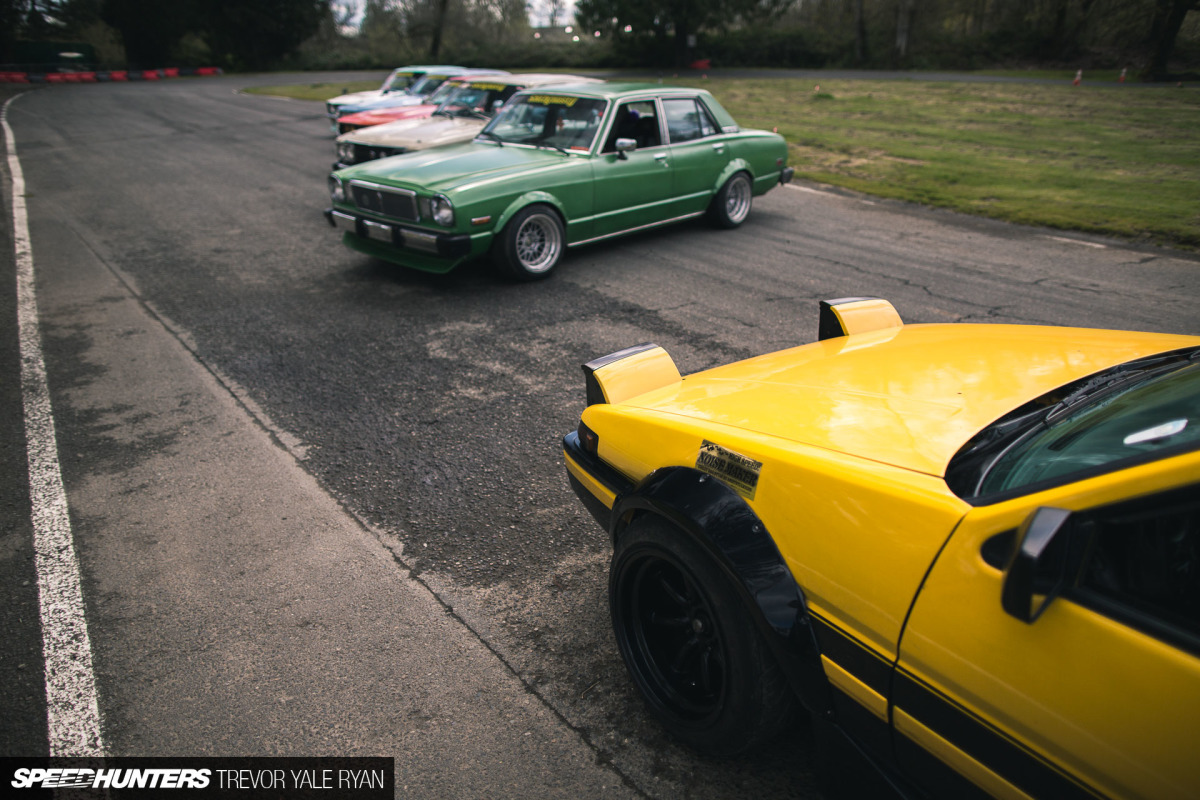 This isn't quite everyone, though, as there was another Toyota lurking in the background; a little AE86 that seemed eager to prove itself to its elder brothers. While not strictly part of the ShaDynasty team, their friend Landin — you may be familiar with his work as a director at Machete — was also out at the PARC drift private day at the beginning of April.
Seat Time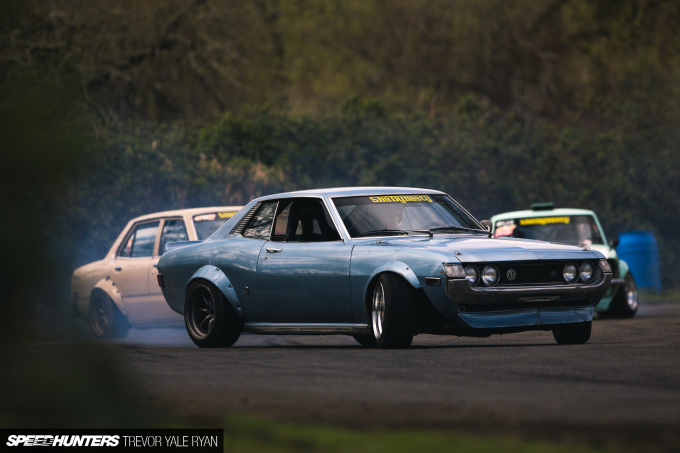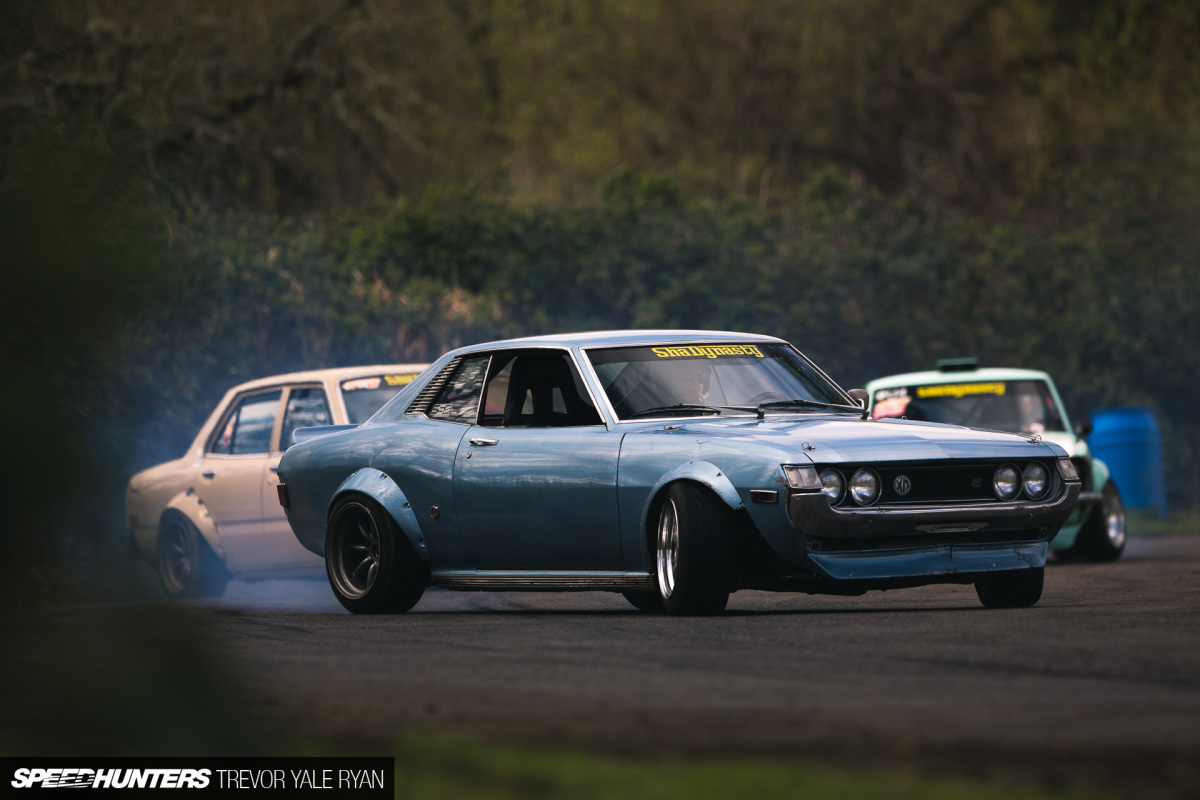 So that's the crew, and it seems about time for some drifting.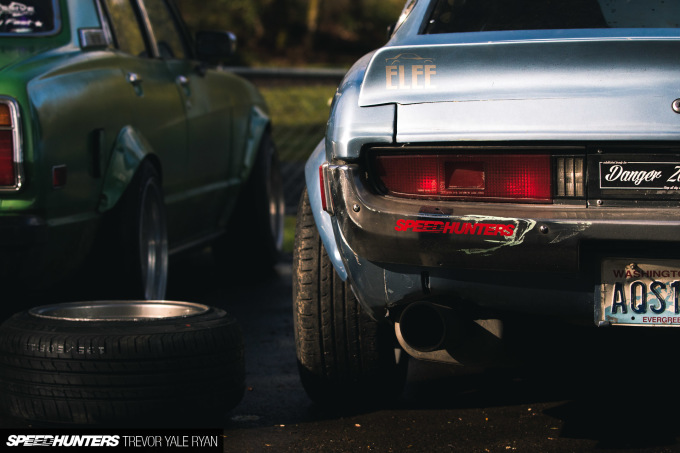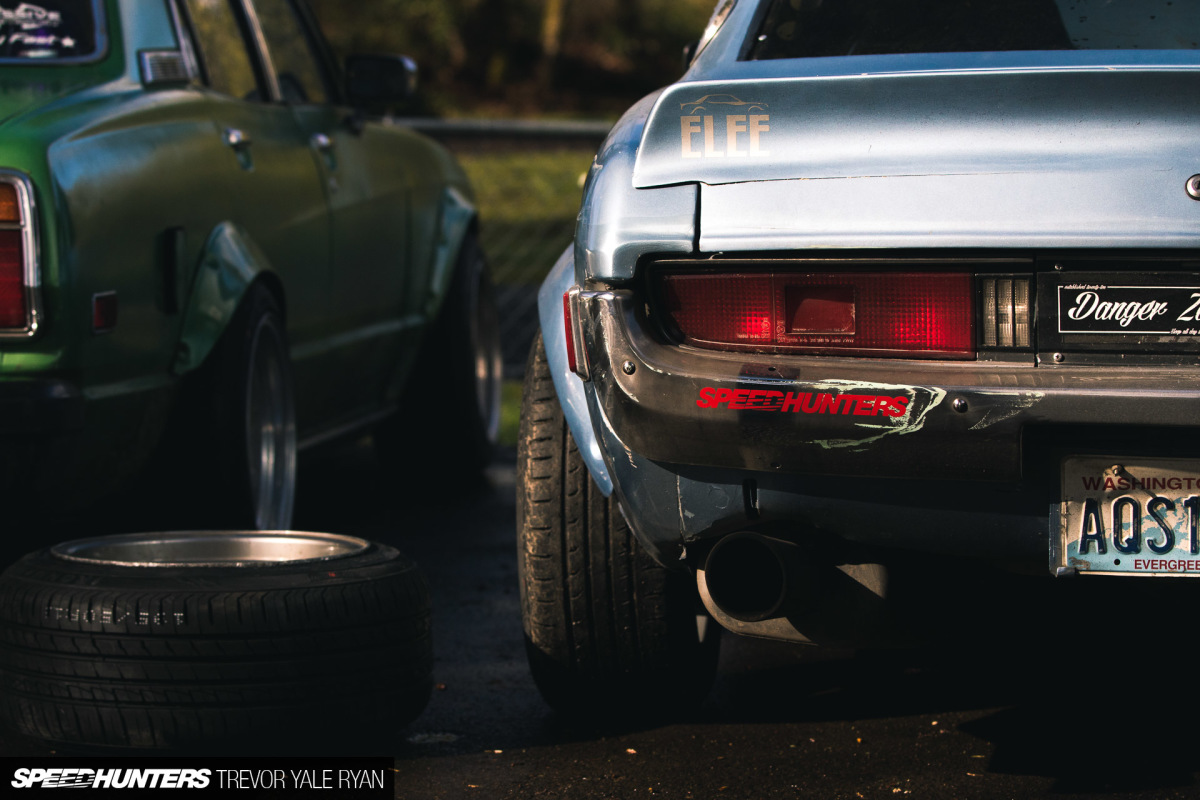 As with many private events, especially when the course is wet, things started out a little slow in the morning. Wheels were swapped, lug nuts were torqued, and we all hoped that the angry clouds above would shove off to somewhere else.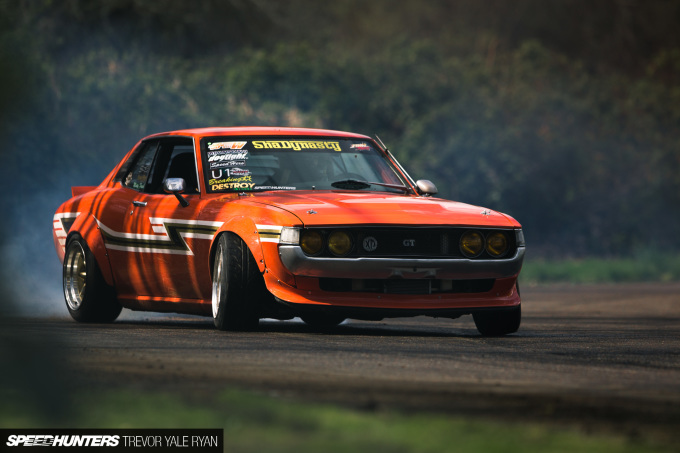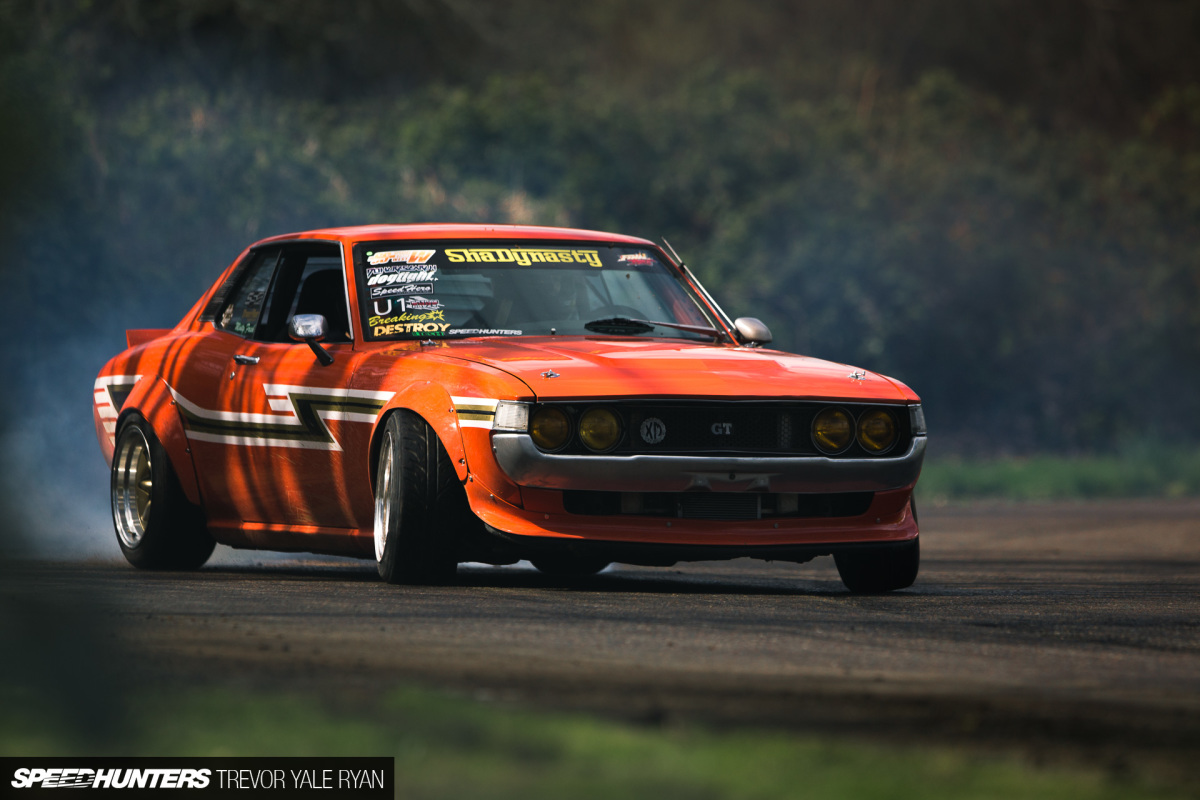 Cody was the first one to hit the greasy course in the morning, but it wasn't too long before the sun showed its face, drying the track substantially. Of course, this is when the driving got more intense.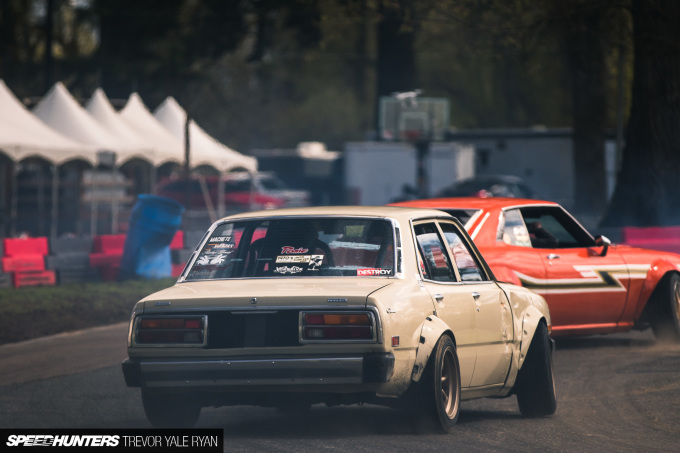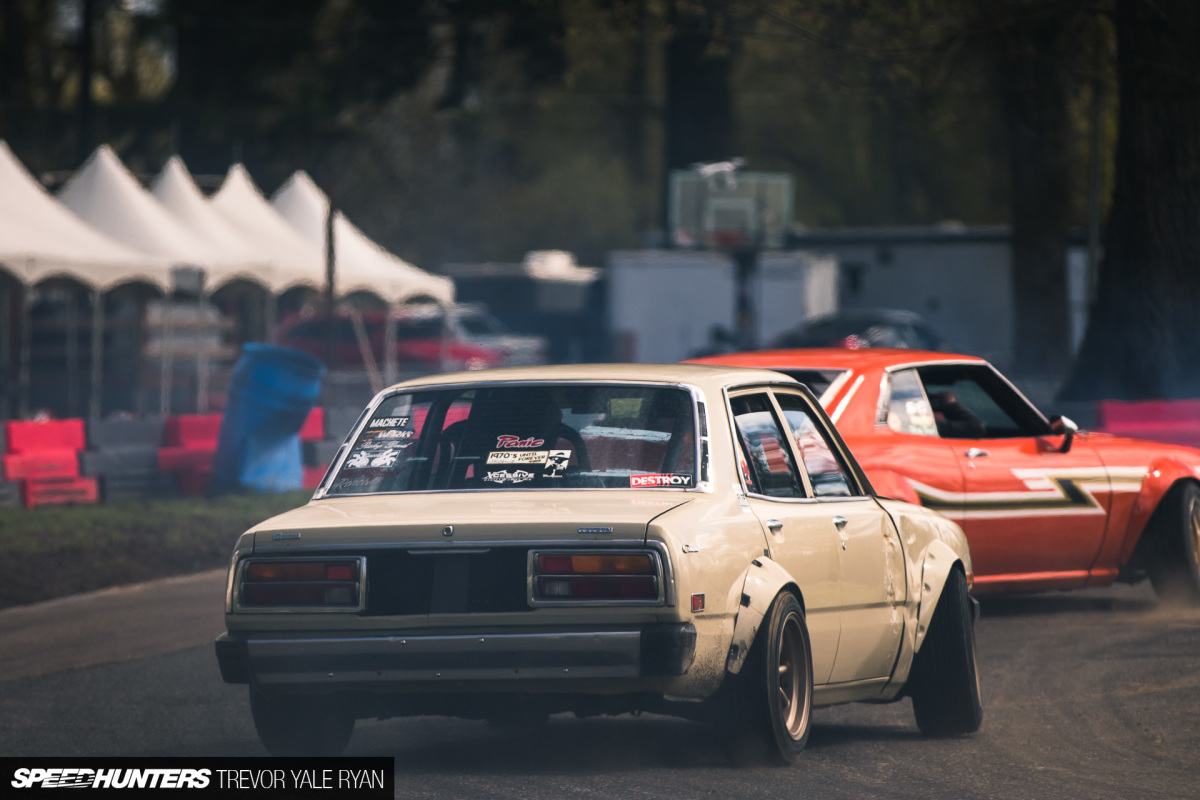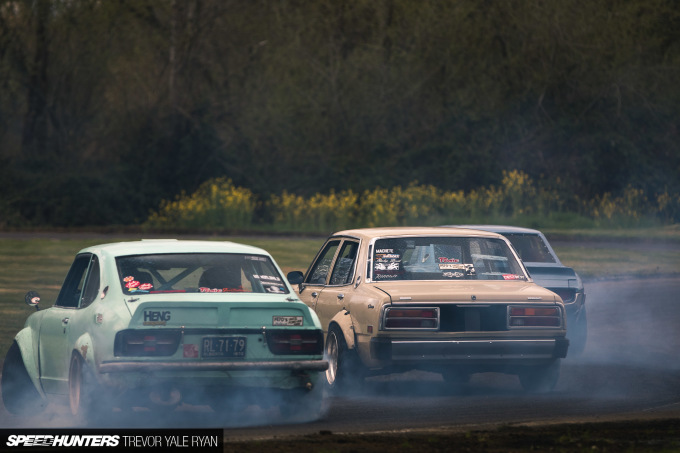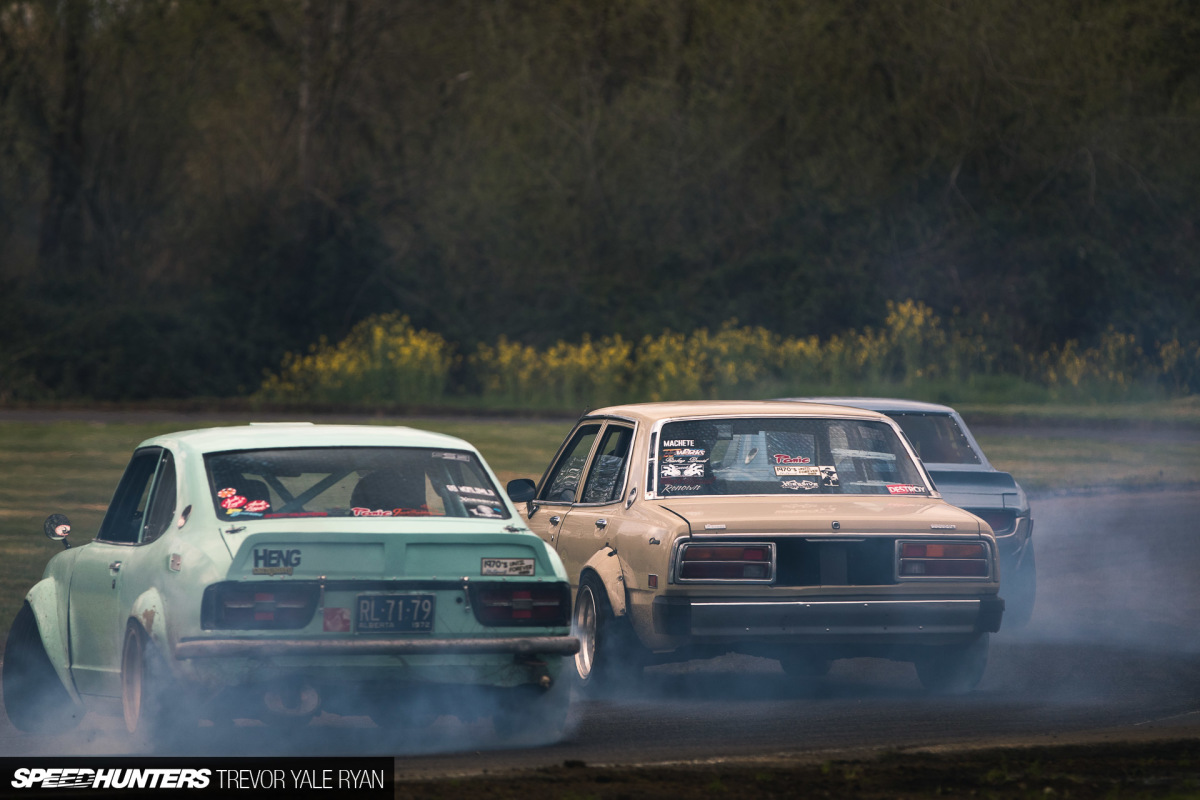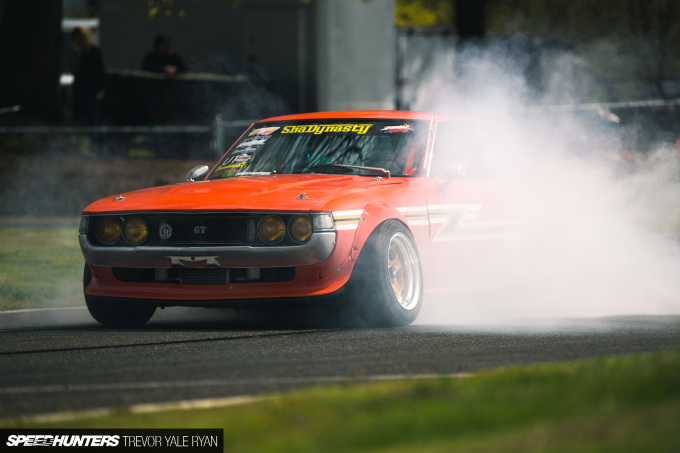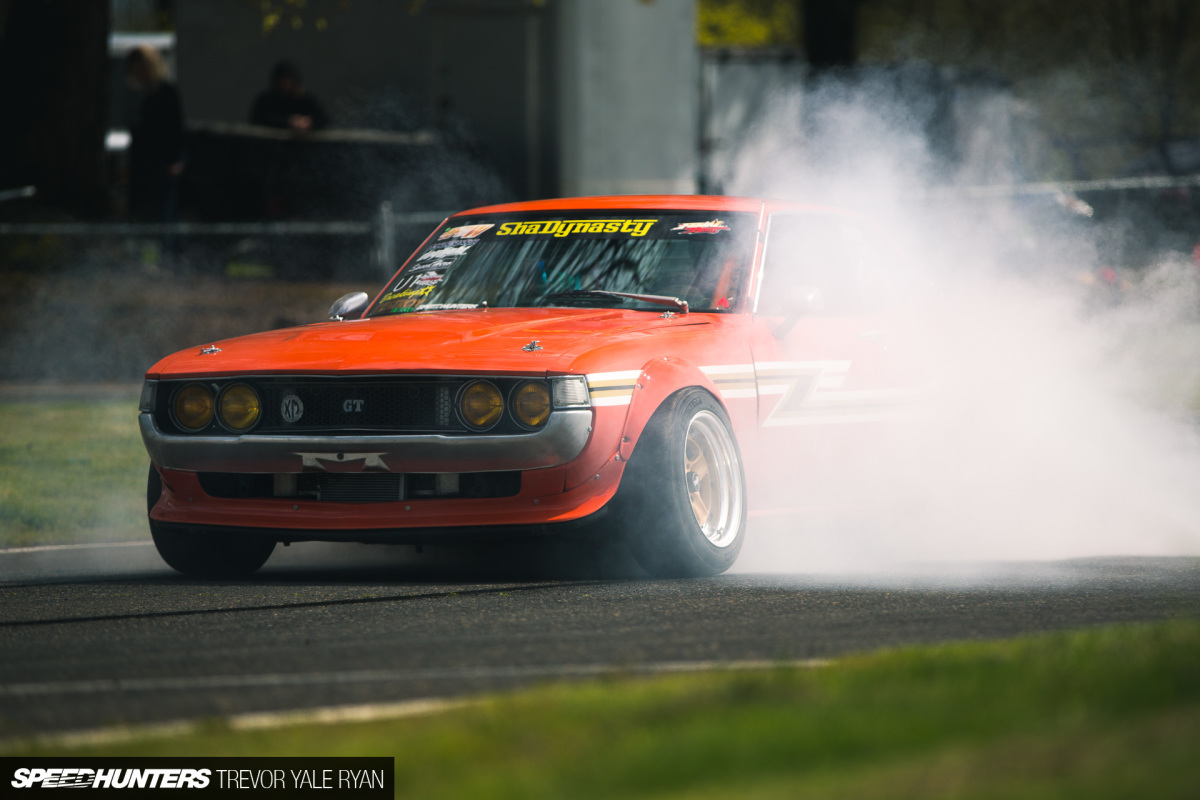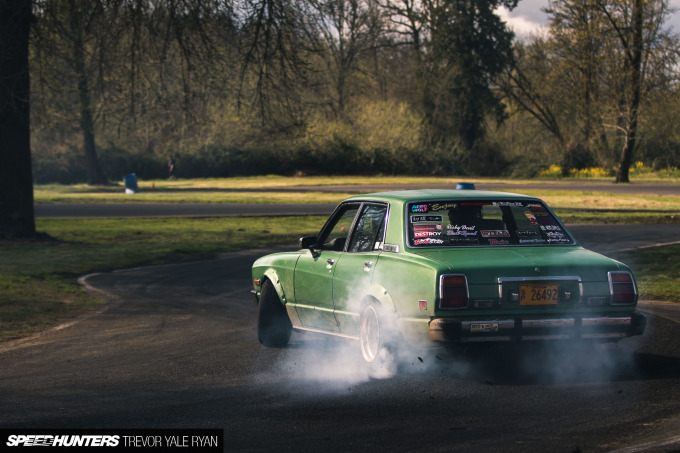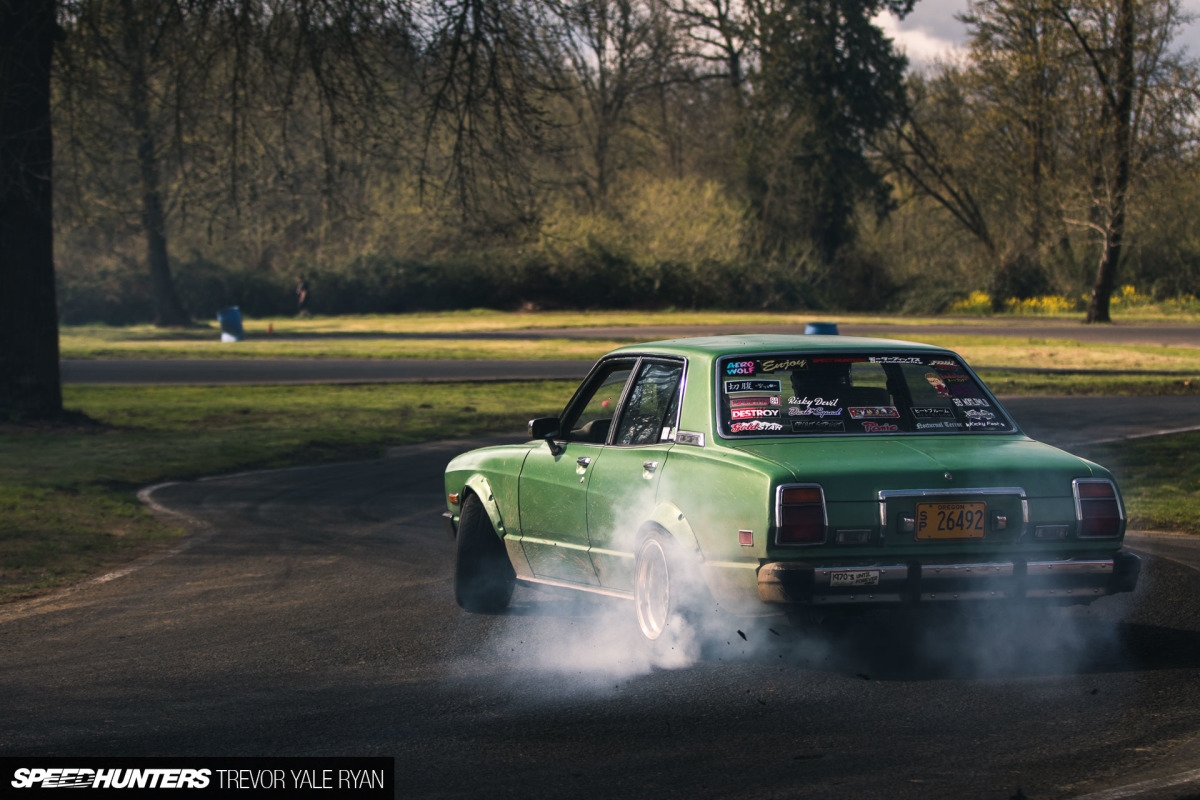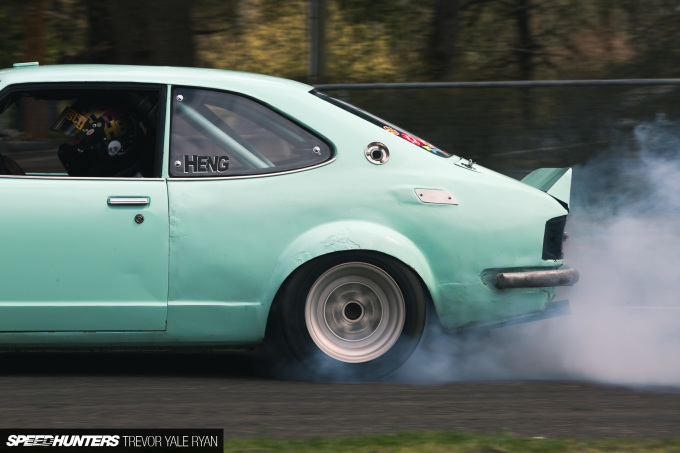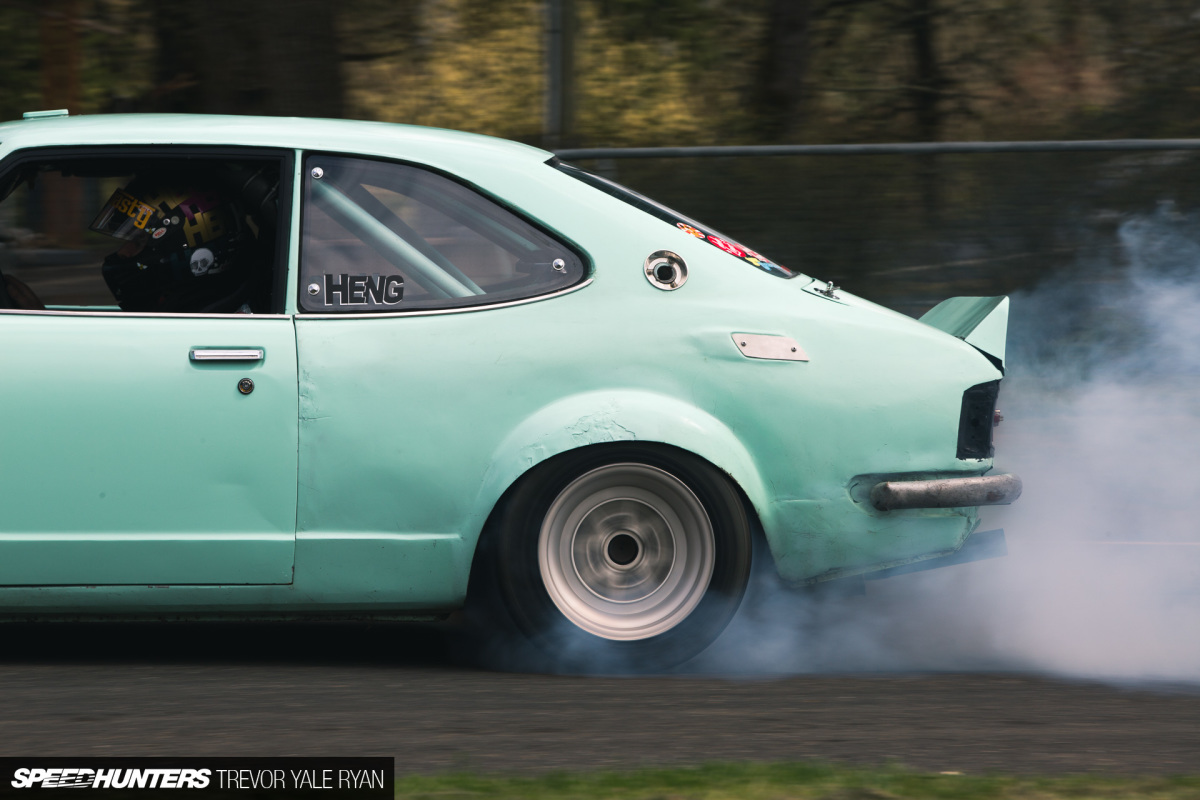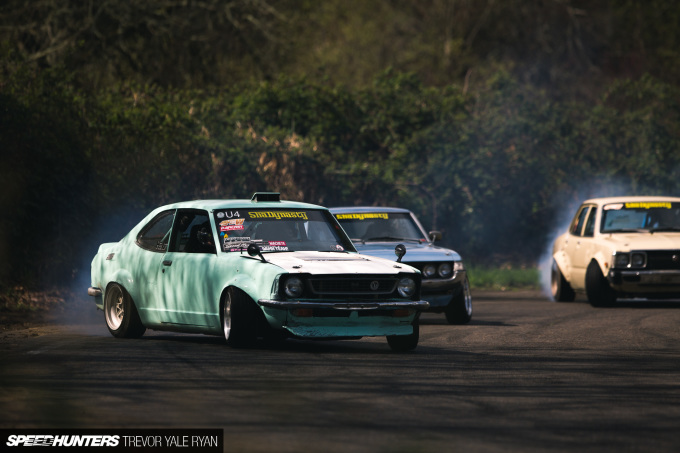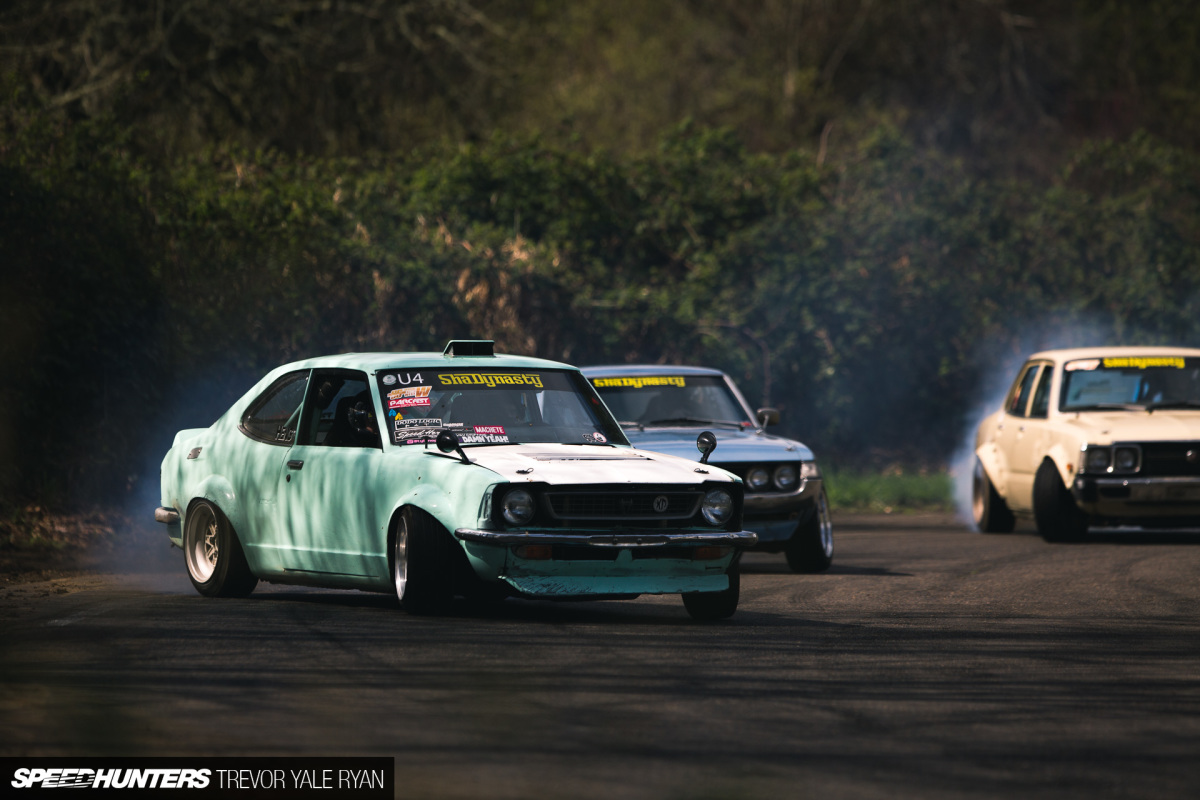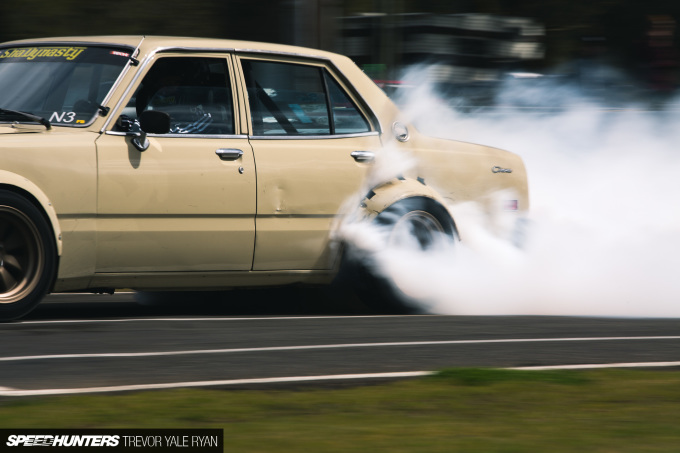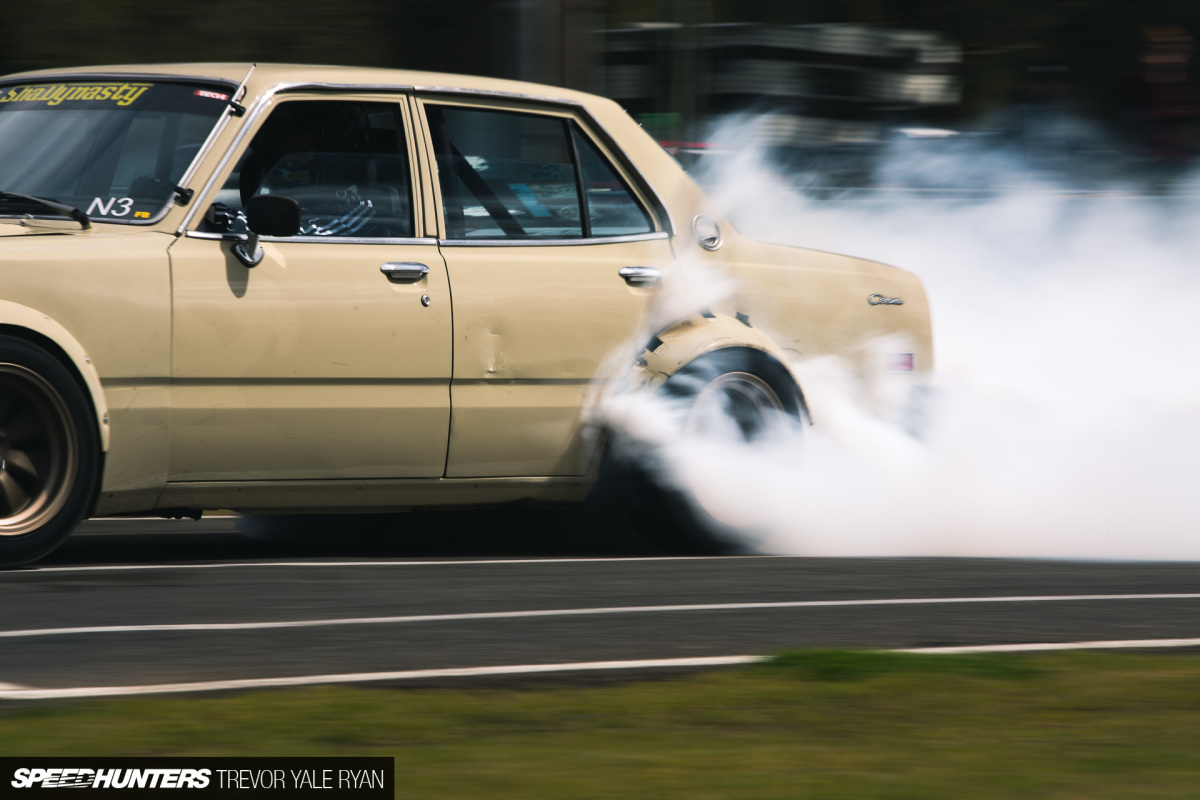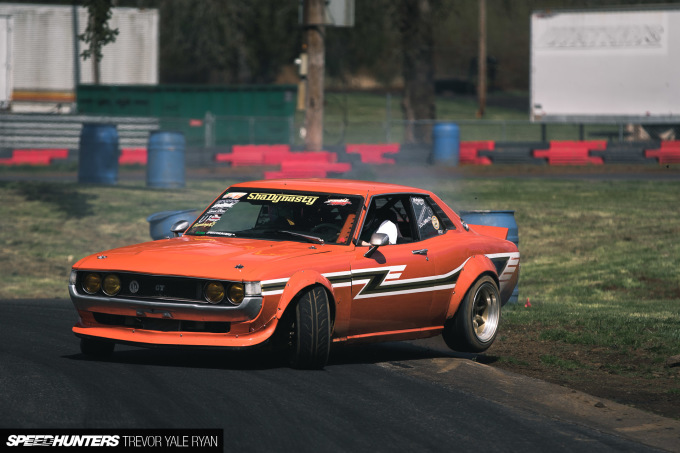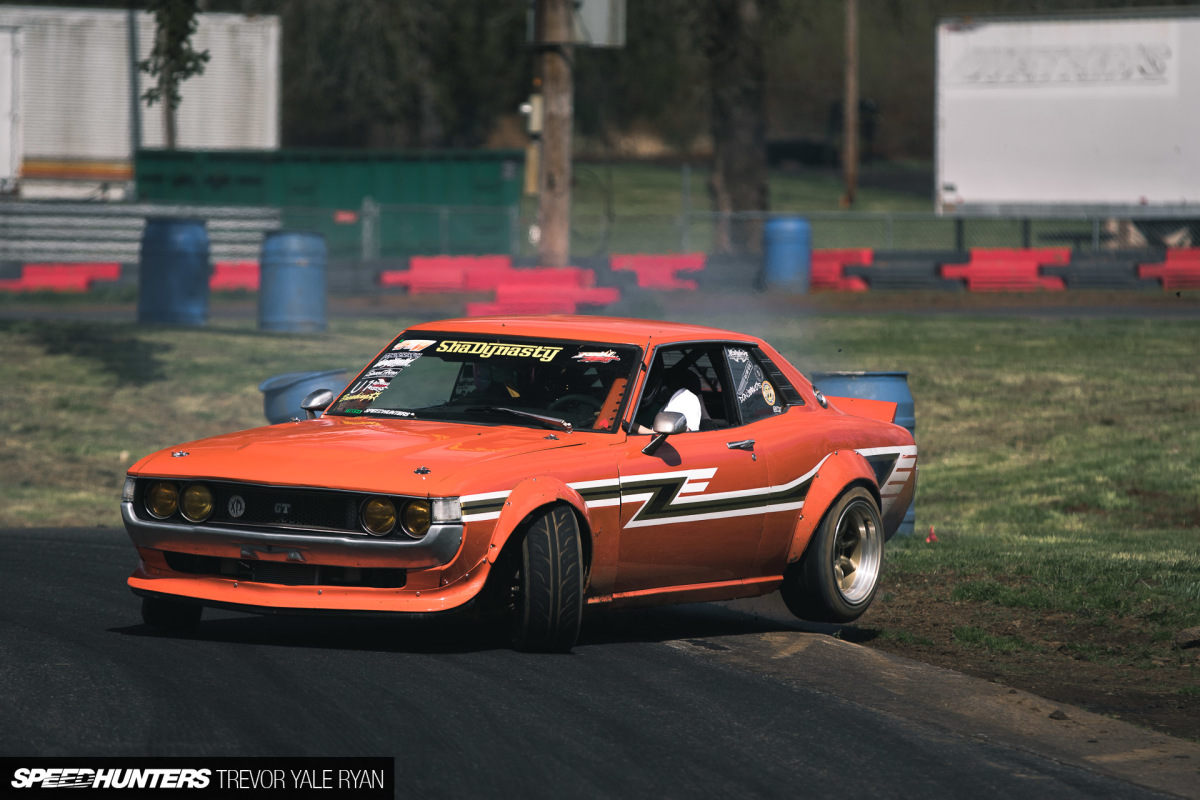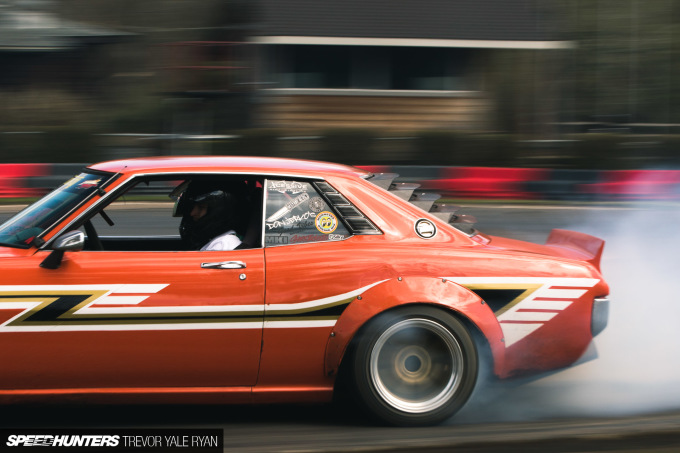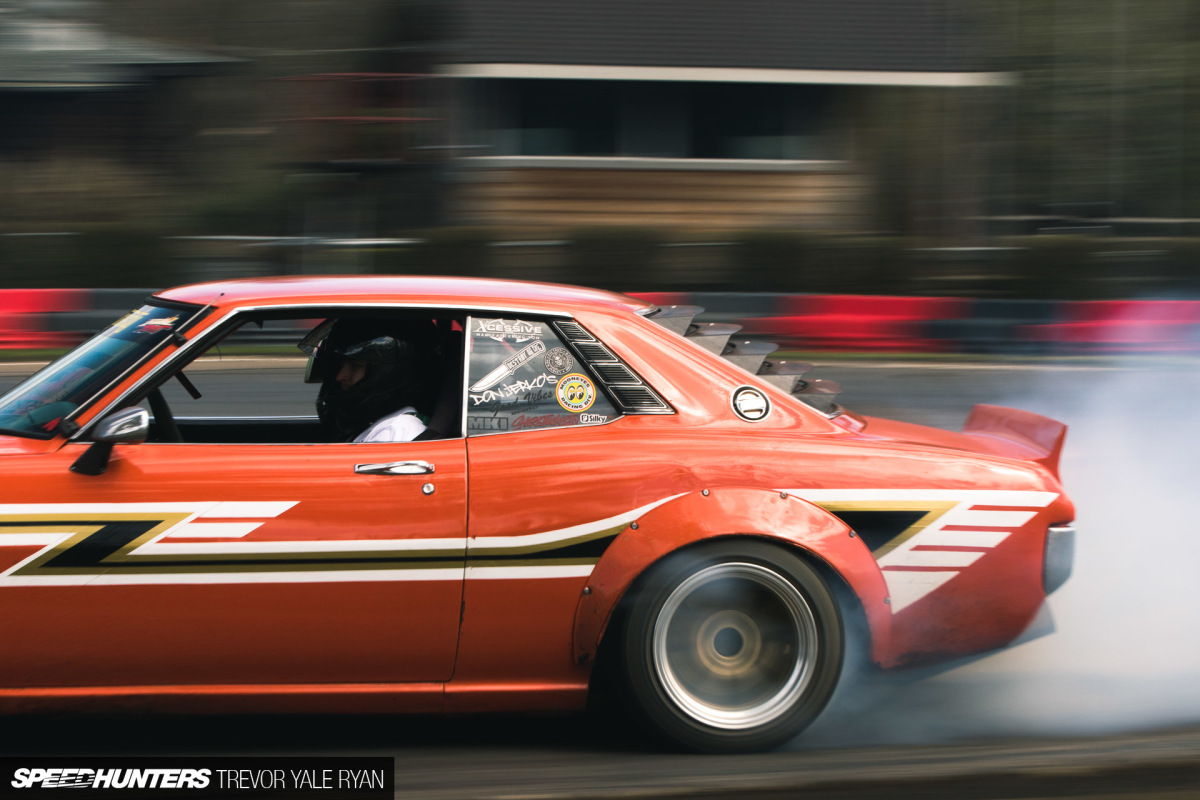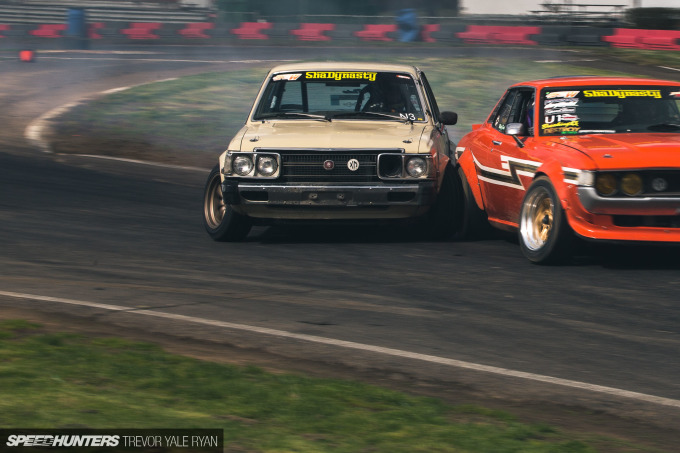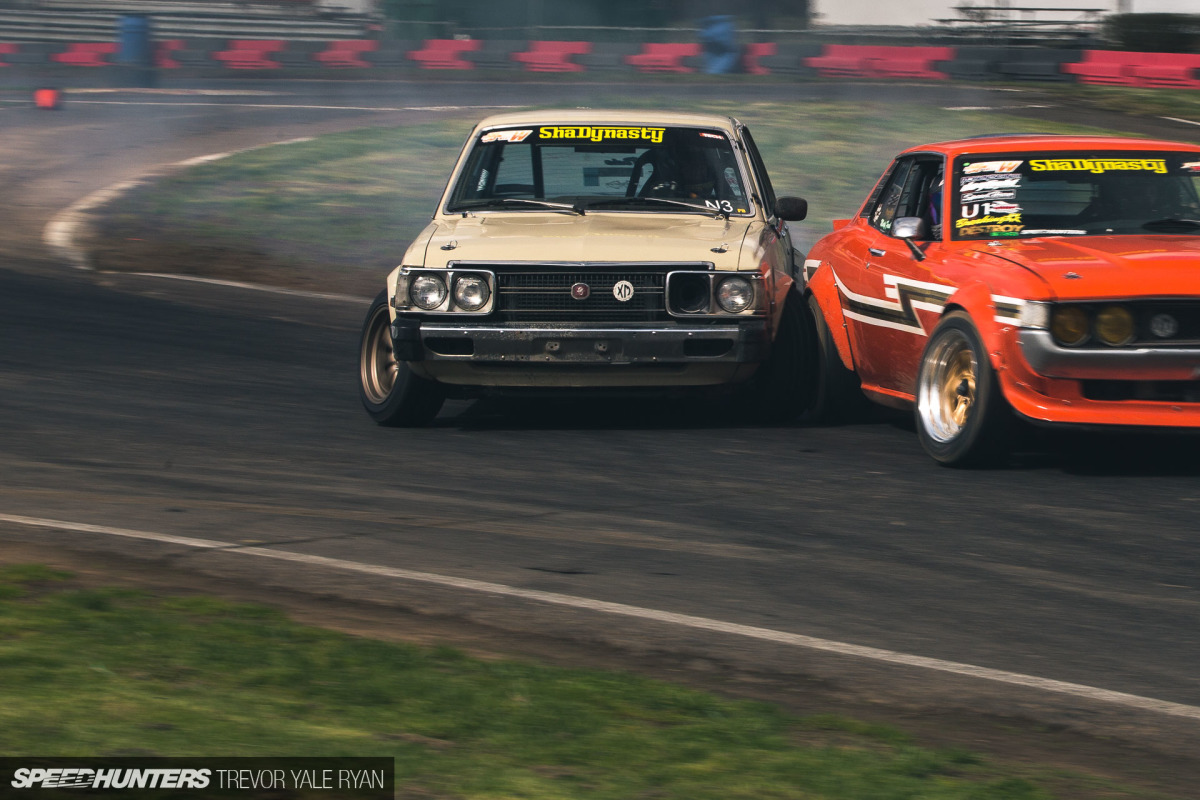 They certainly aren't cars that are babied by any definition of the word, not even a little bit. It's just so cool to see the old cars pitched around sideways, trading paint and going hard all day.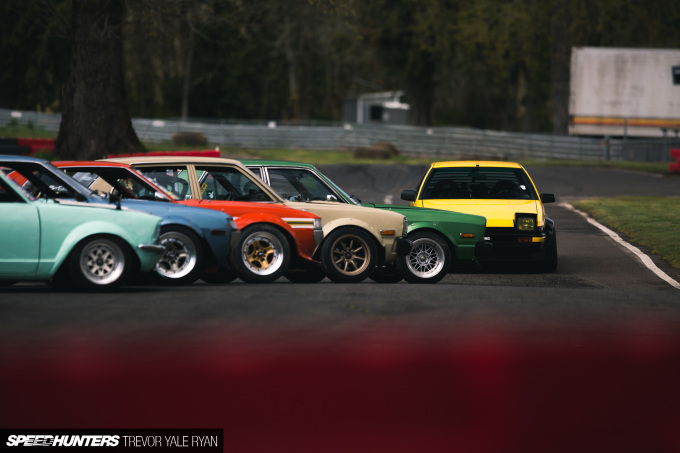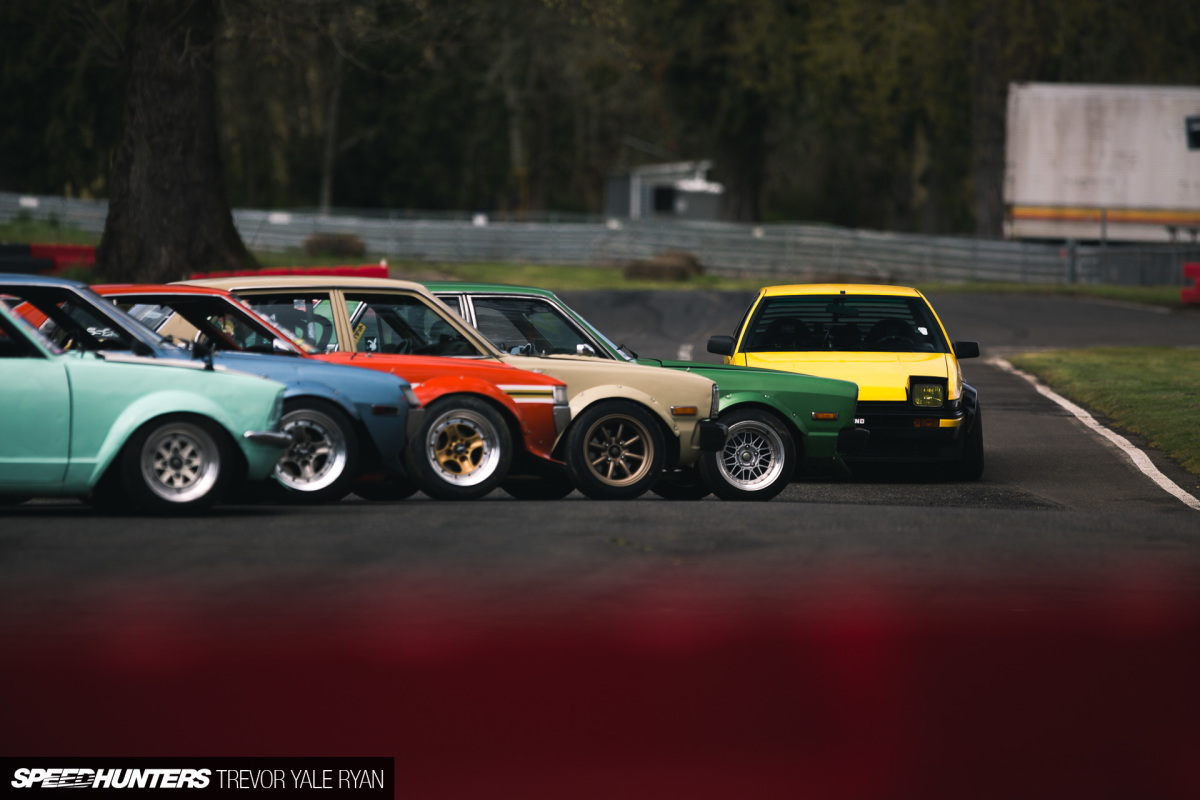 And remember the little 86? While Landin hasn't been to that many drift events he looked right at home in his newer — although still 33-year-old — Hachiroku.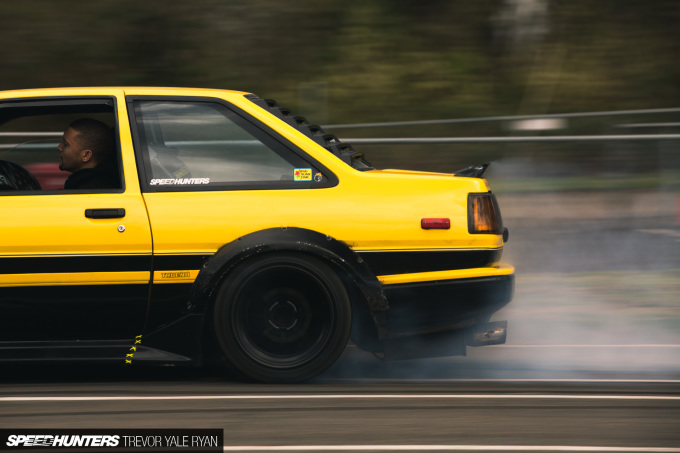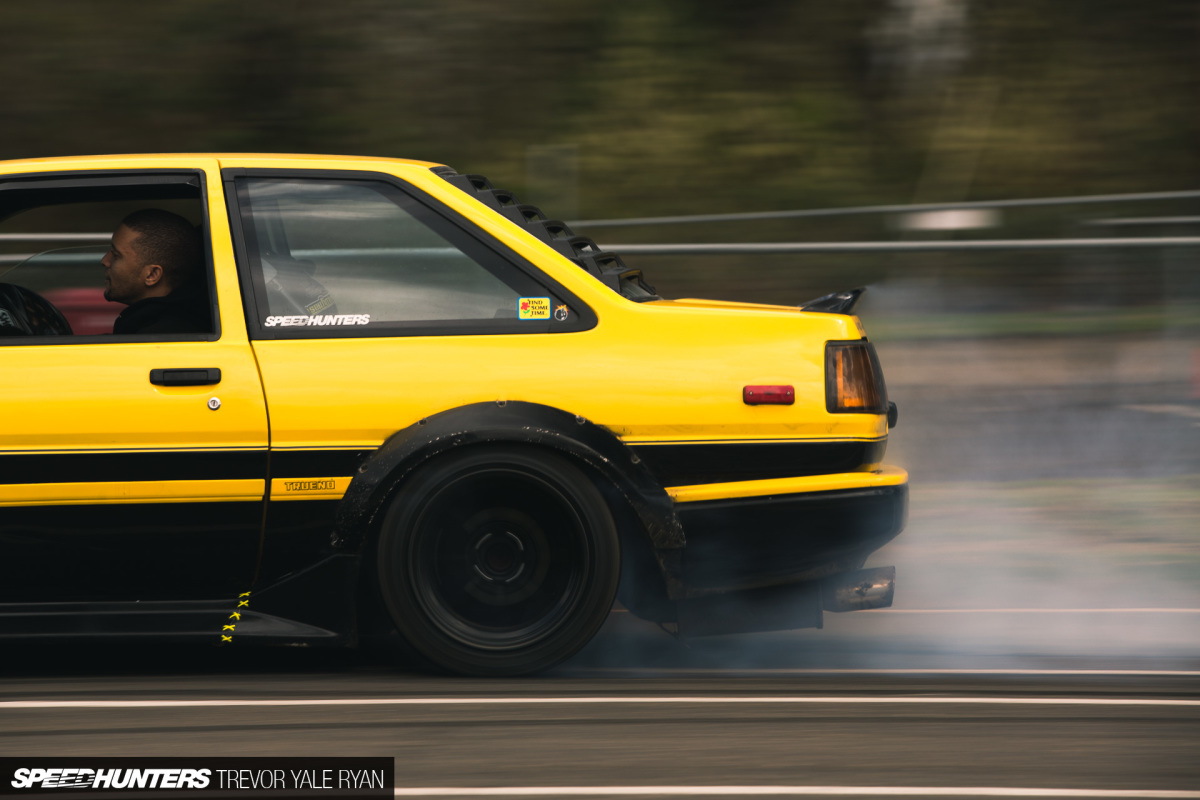 He apologized that his car wasn't older and apologized again when he told me about his CBY wide-body and Extreme Dimensions RF-type kit. It's understandable on a car he's learning to drift with, though. Like the others, he's on 15×9-inch Altara Racing Pisang wheels for drifting, and, unlike the others, he's also snuck a 10-inch Kicker subwoofer into the car.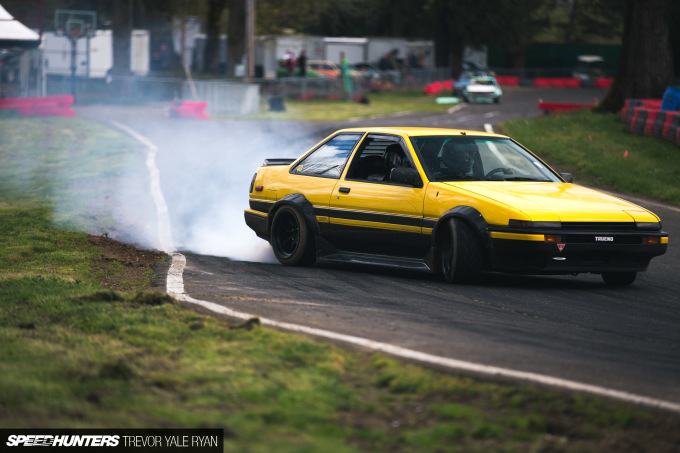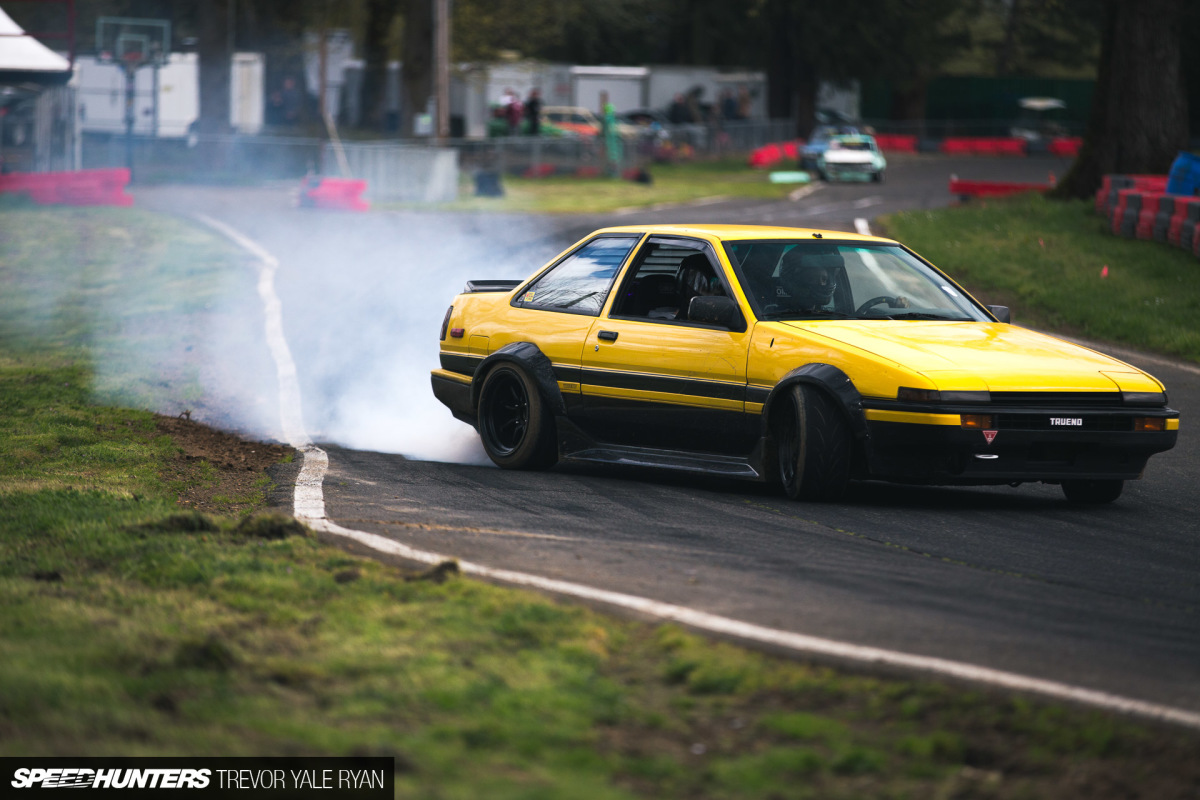 He finds (very little) power from a 20-valve 4A-GE blacktop which makes use of a Panic-Wire harness. It just goes to show that you can have tons of fun in a relatively cheap RWD car with under 150hp.
Under The Skin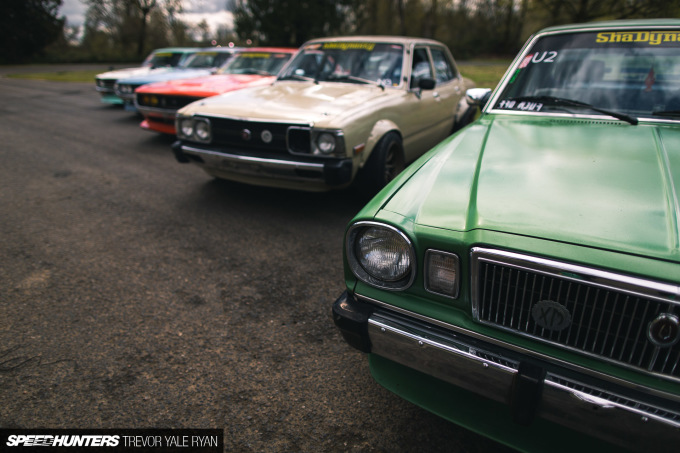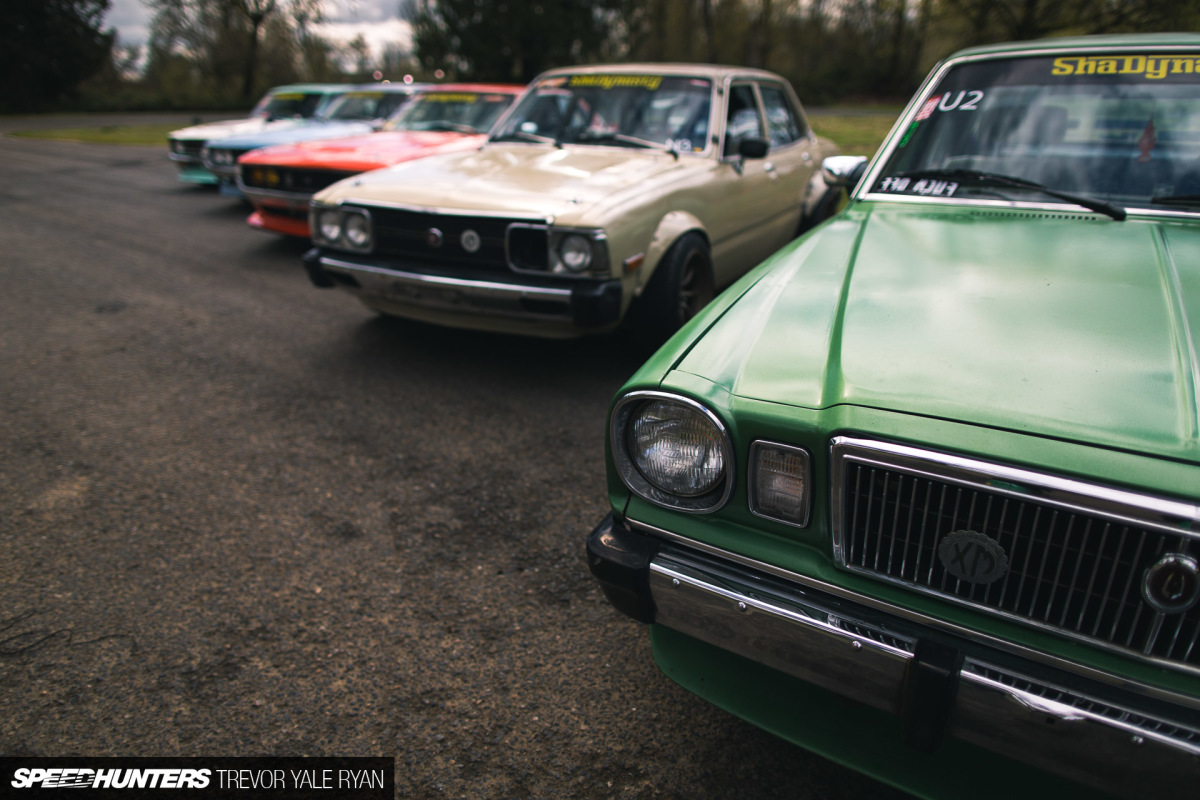 Alright, now that we've got that out of our system, let's pop the hoods of these old Toyotas to see what we'll find. Well, the hoods that will still open, that is.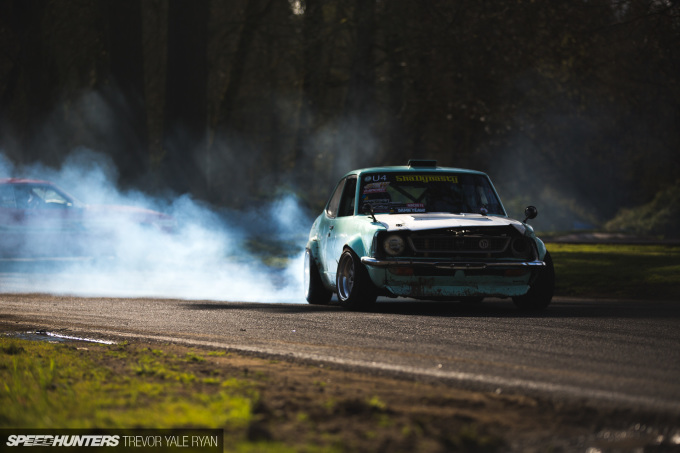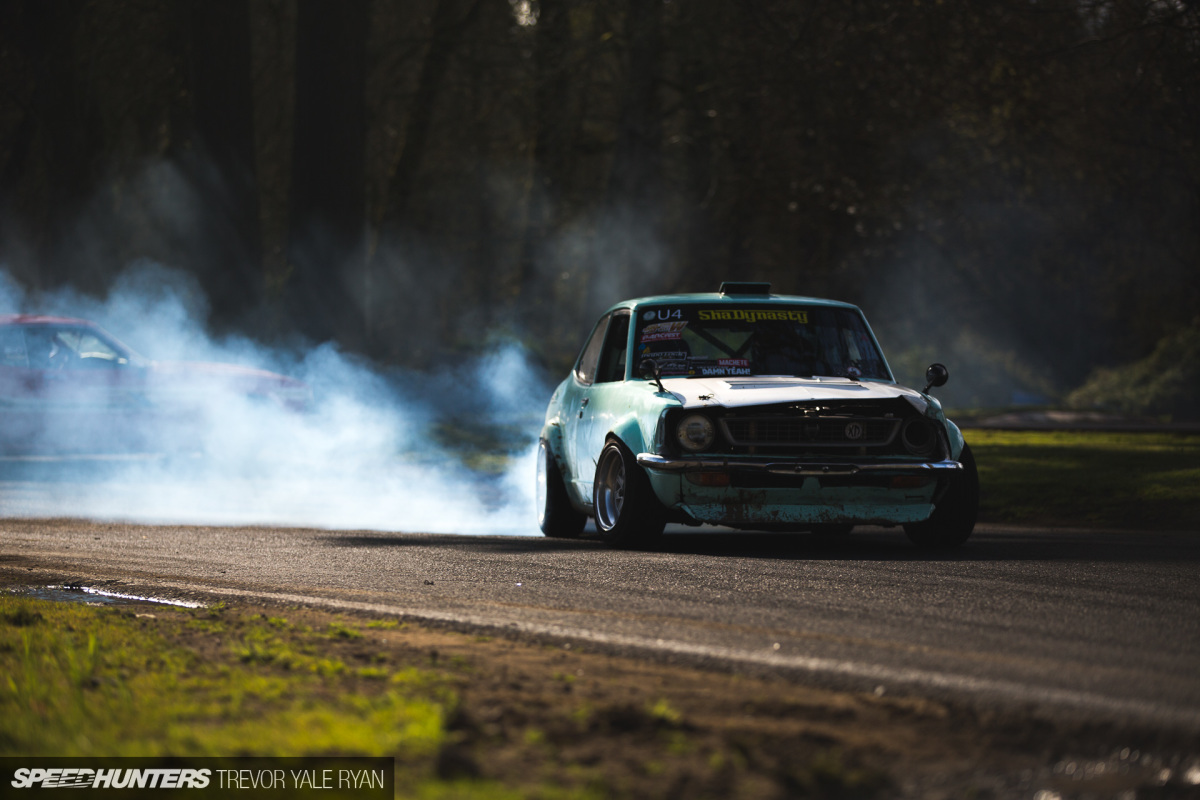 Unfortunately, Paul's TE27 was dealt just enough damage that removing the bonnet became quite an ordeal. Coupled with the dwindling light and Dalton's FD Pro2 car running and ready for some shots, we abandoned the idea altogether.
It's a shame that I didn't get a peek as I've heard Paul's 3S-GE BEAMS motor has a handsome set of AE111 independent throttle bodies riding on the side of the little four-banger. Use of the ITBs required Paul to made a custom adaptor for the setup and also fabricate custom long-tube four-to-one headers.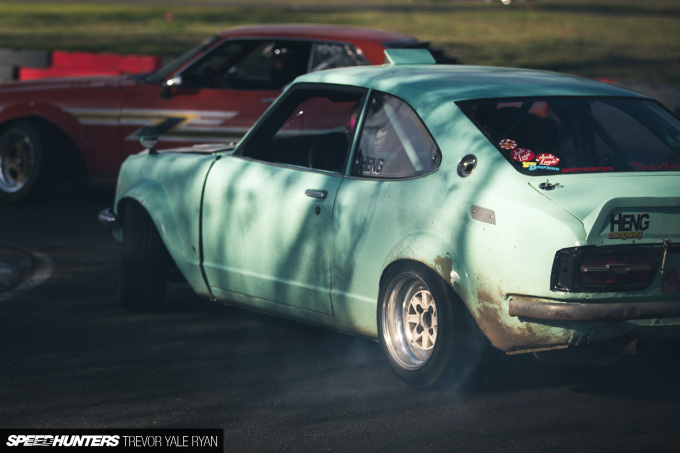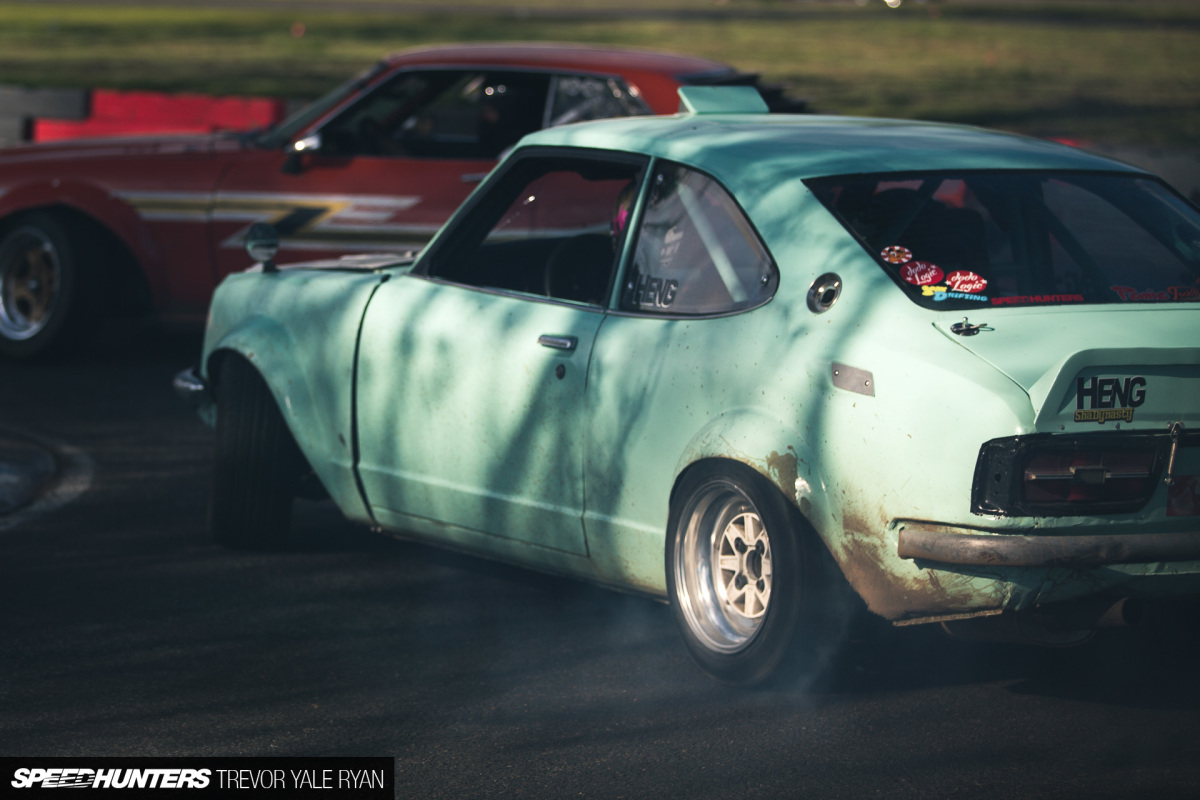 Controlling all of the inner workings is an Adaptronic E420D and once the power is made it's sent to an MA40 Supra rear axle through a J160 6-speed. It's awesome to see the mix of parts old and new at work; from the shell itself you'd never suspect this sort of sophistication underneath.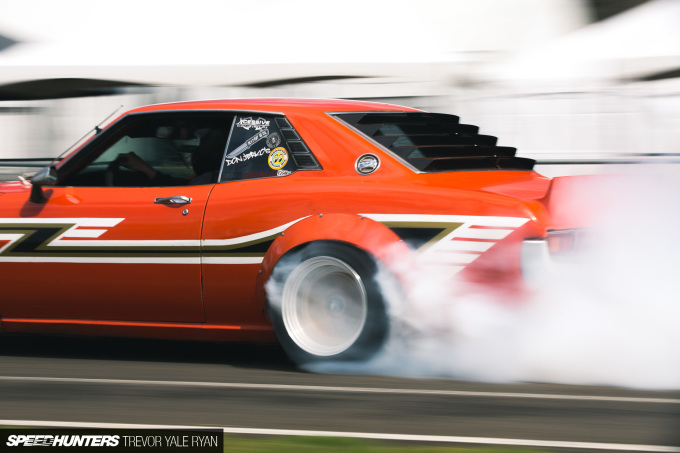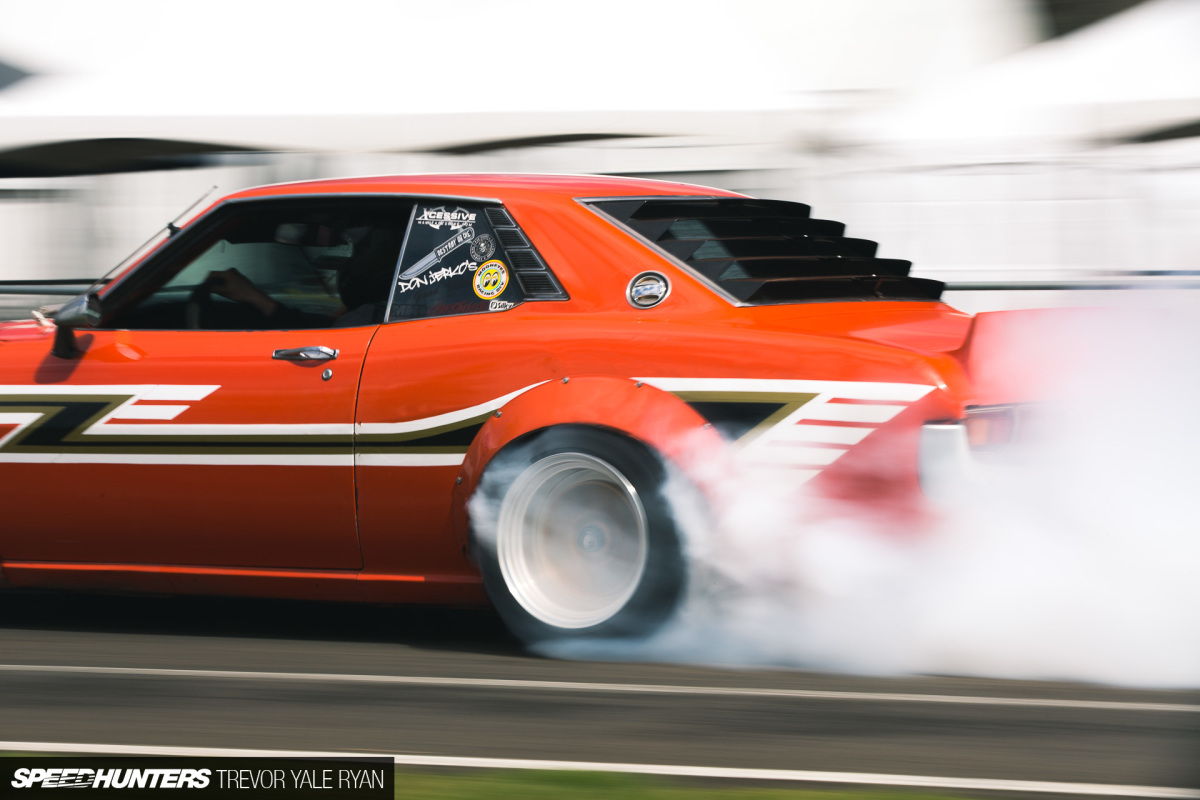 Next up is more bad news, as during the chaos of the day I didn't manage to take a peek at Cody's VVTI 1UZ-FE that's tucked into the front end of the Celica. Cody did tell me the motor came from a boat — a Toyota Epic powerboat, to be precise — so I suppose that's something.
Cody's made use of a W58 transmission and the super-strong Ford 8.8-inch differential from an Explorer. Like Paul's setup, Cody put the exhaust together himself, a setup that consists of long-tube headers, dual 24-inch cherry bombs, and twin four-inch blaster tailpipes you can see off the end of the car.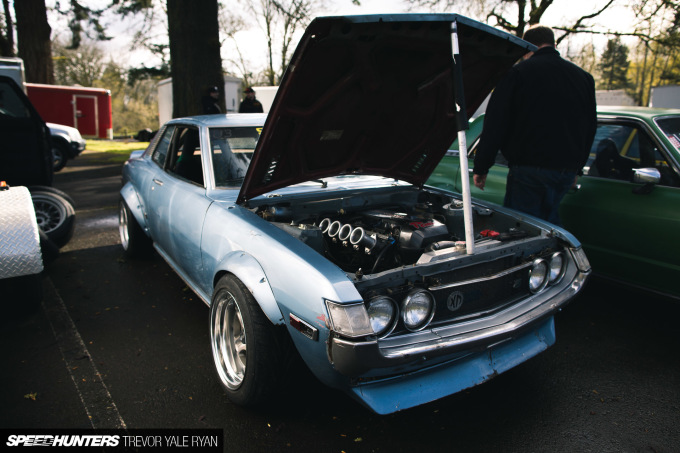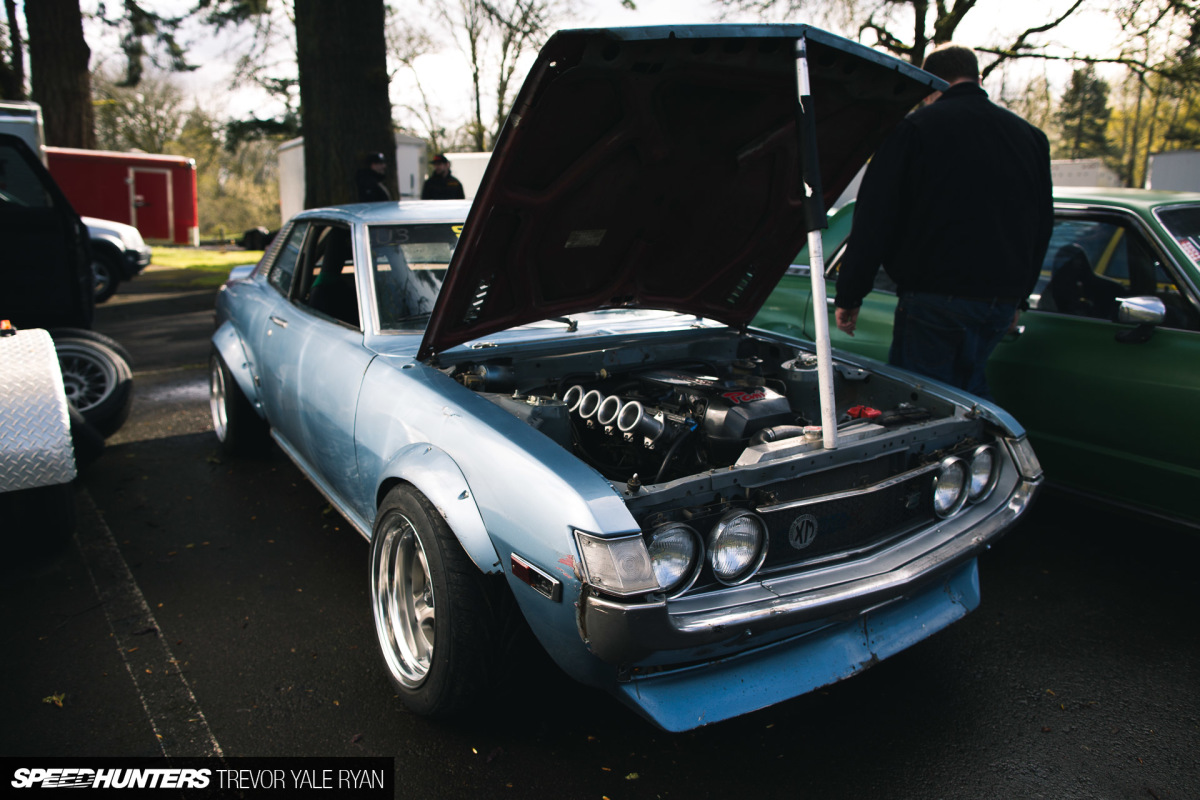 Okay, no more lame excuses from me. First thing in the day I shot a few photos of Matt's beautiful 3S-GE BEAMS power plant. He's running the same AE111 ITBs as Paul, although it was Xcessive Manufacturing who have made an adapter for him in this case.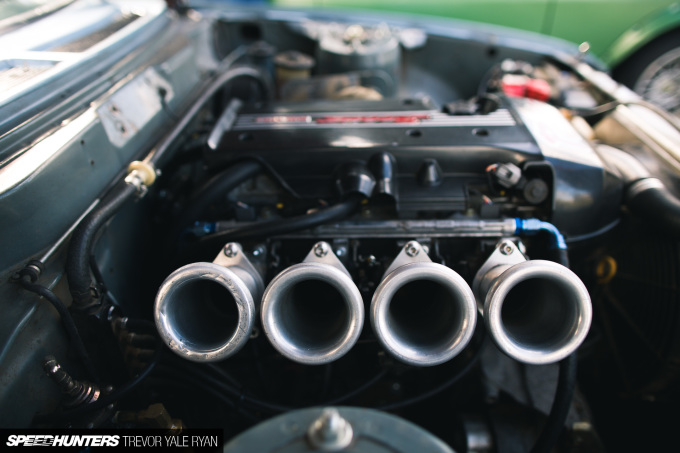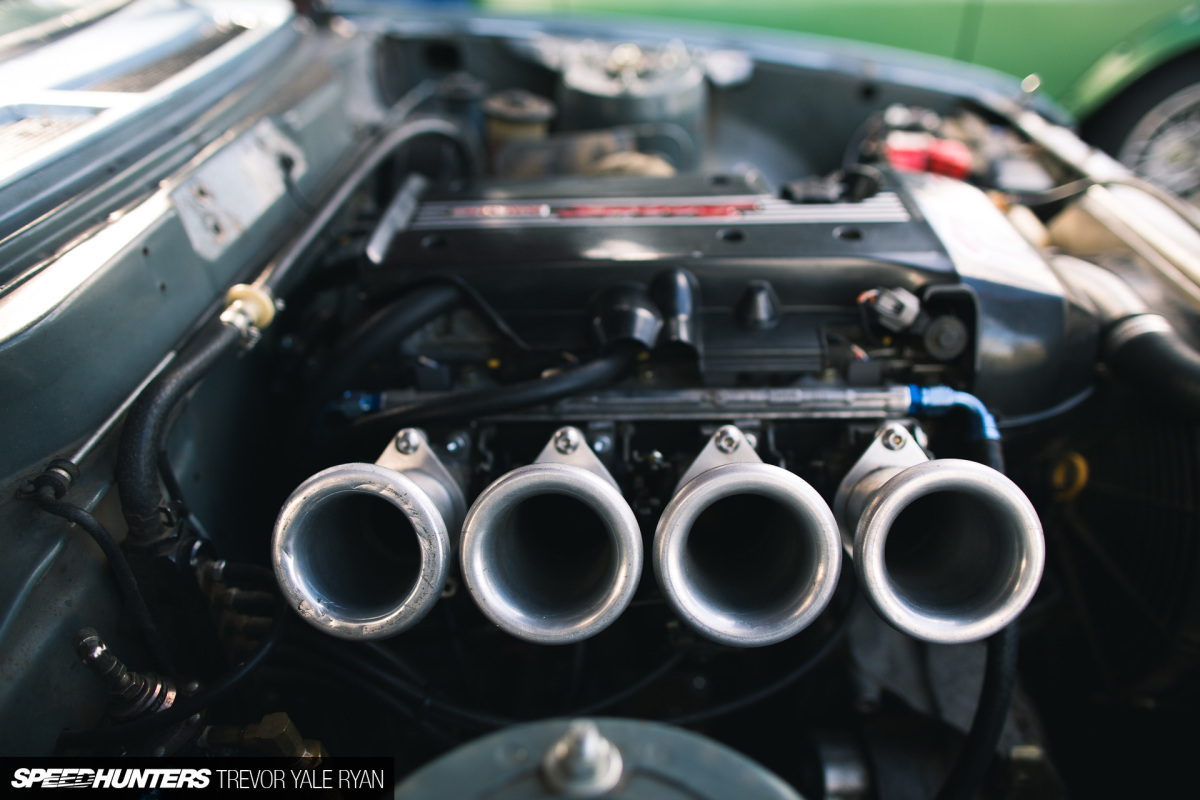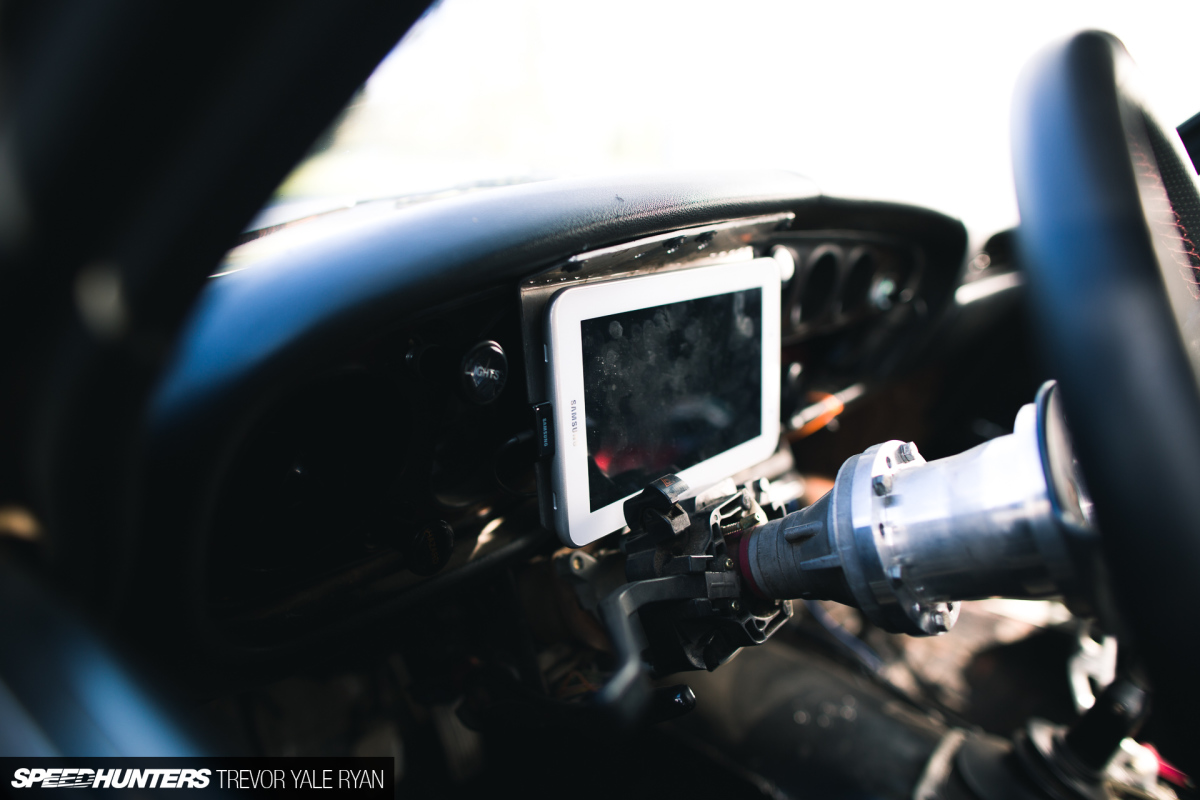 I'm endlessly fascinated by these later model swaps into older chassis and while riding along I noticed a simple tablet is used for gauges – it's a setup that just makes so much sense on these '70s cars. While perhaps not as aesthetically pleasing as a set of pristine analog gauges, none of these cars are what I would call pristine anyway.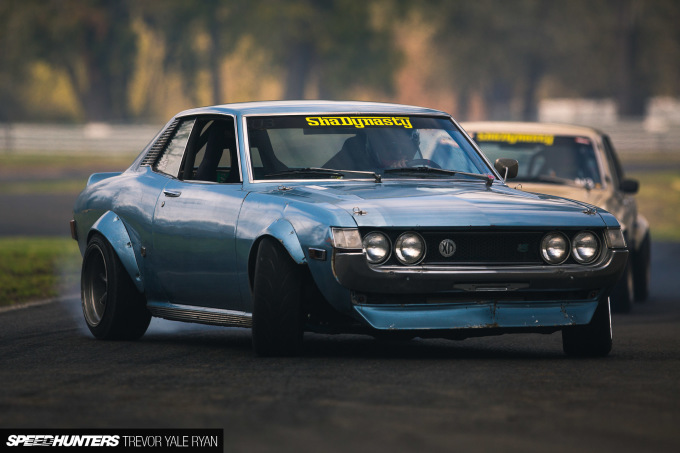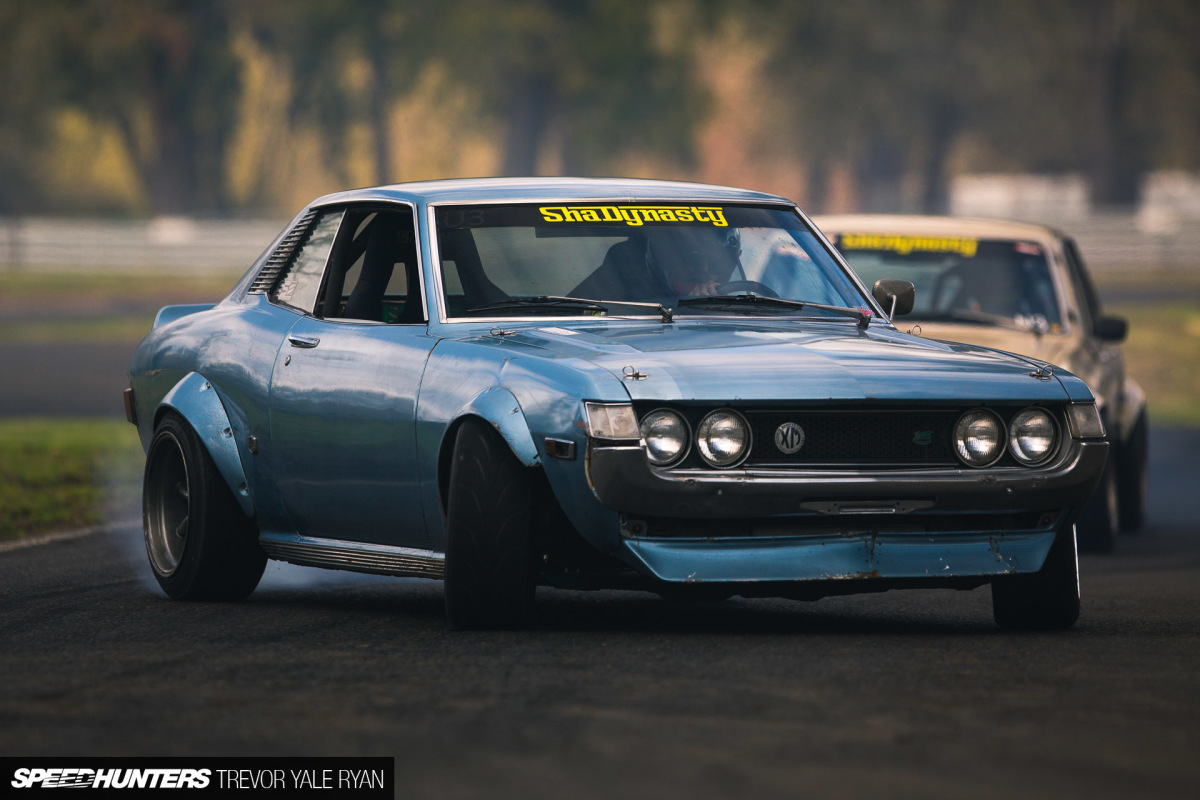 Matt's all about seat time and this is an affordable, reliable solution that just works with the Panic-Wire engine harness and Link G4+ ECU.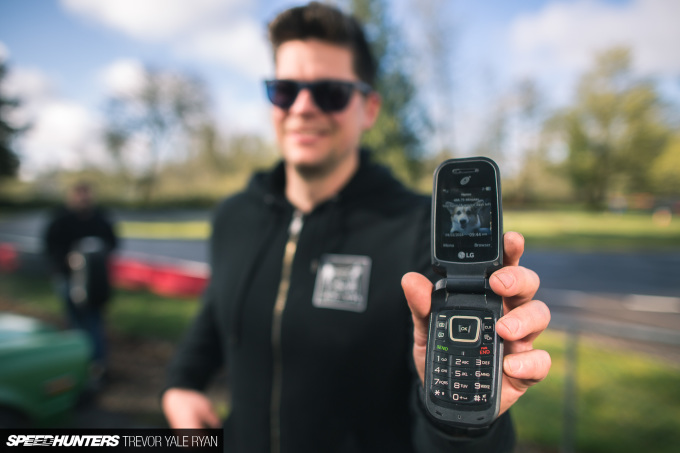 Oh, and he has a flip phone, so no Instagram for this guy. You can check the hashtag #mattpanichasaflipphone if you don't believe me.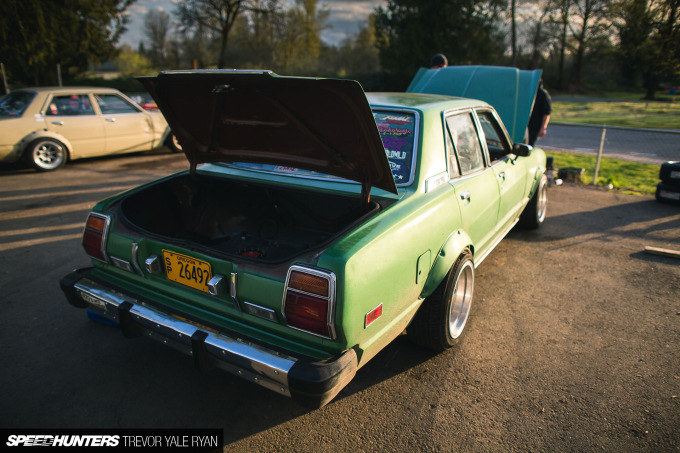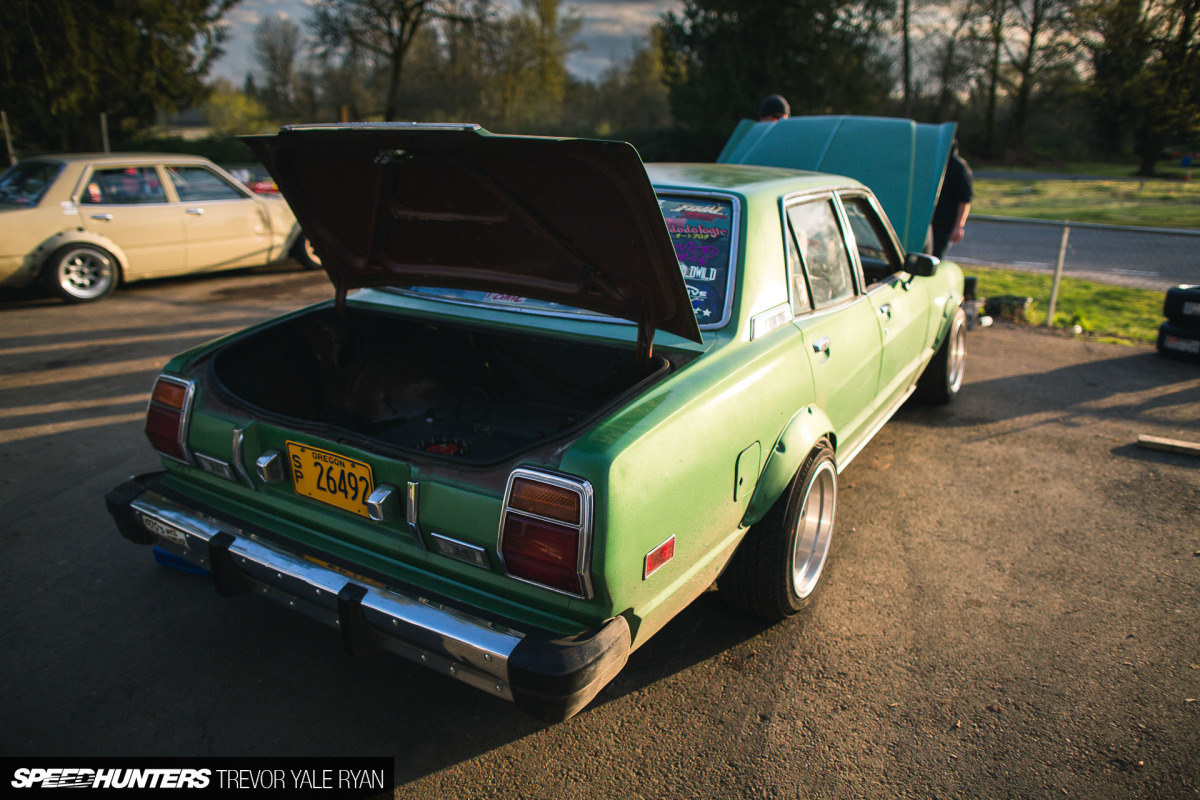 Then there's Justin's Cressida which is — similar to Cody's Celica — powered by a 1UZ-FE motor ran by a Link Atom and Panic-Wire reworked harness. As like the others, he's gone DIY for the exhaust that runs past an R154 5-speed and on out by a narrowed rear axle that used to live in a Ford Ranger.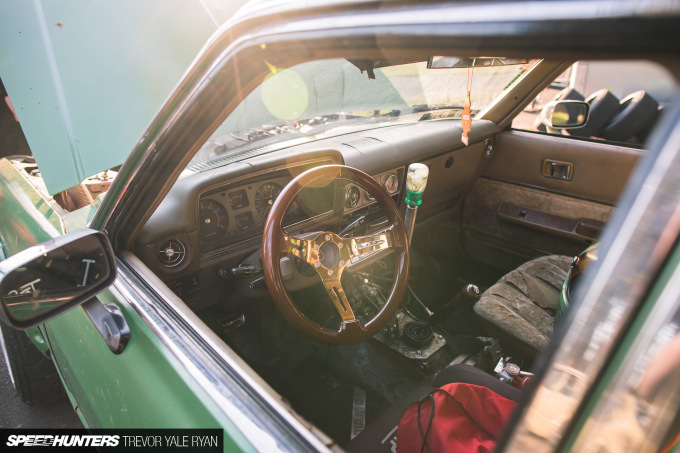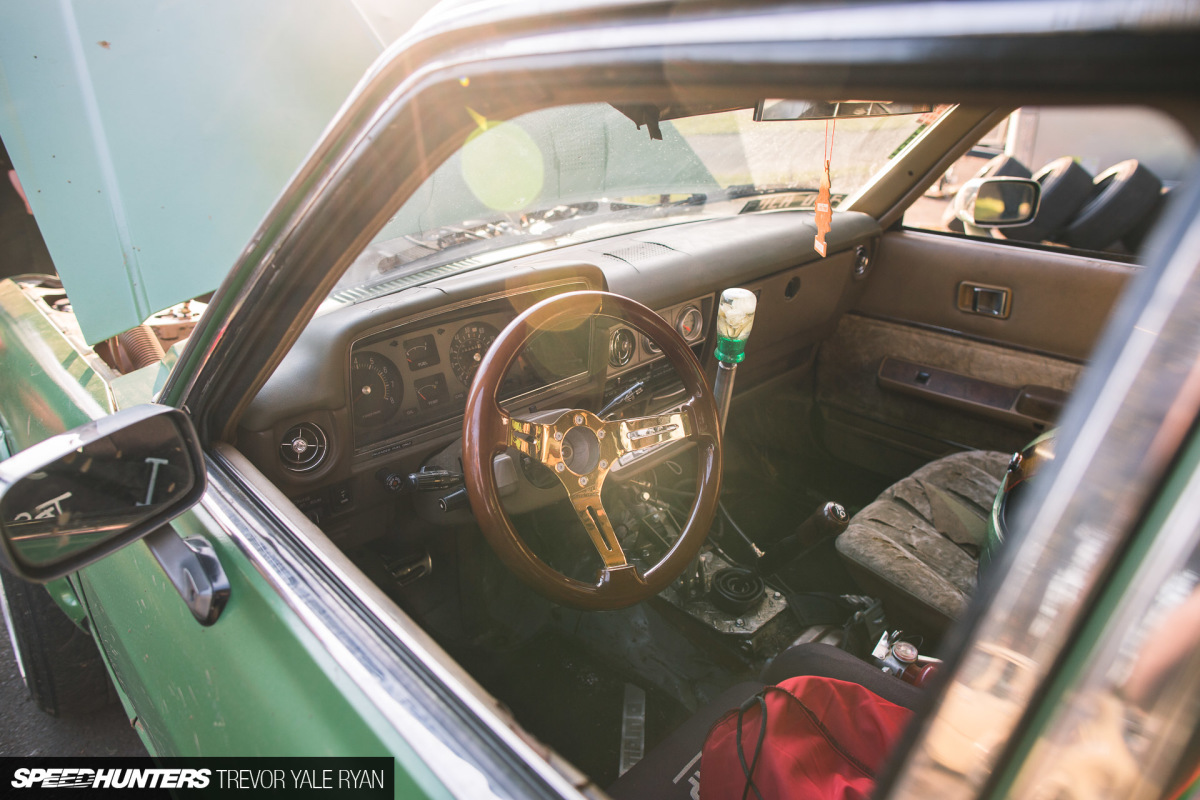 The interior is very appropriate with many stock bits retained. Underneath the rustic seats and carpet Justin has interestingly gone with an AE86 steering rack. Suspension is a mismatch of '90s bits and custom fab from Xcessive Manufacturing coupled with BC Racing MX73 coilovers on MX83 hubs.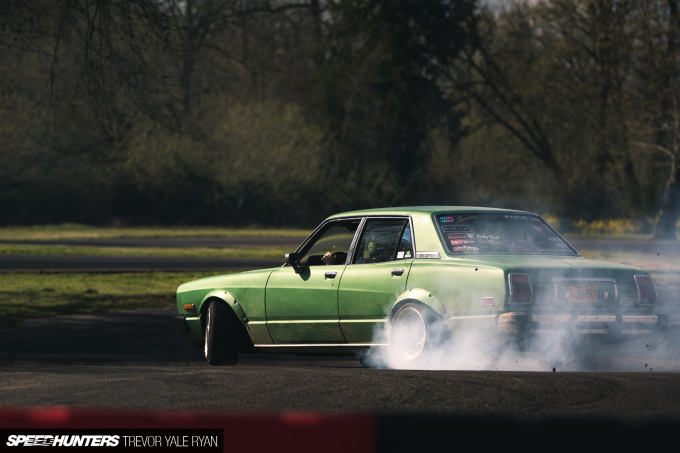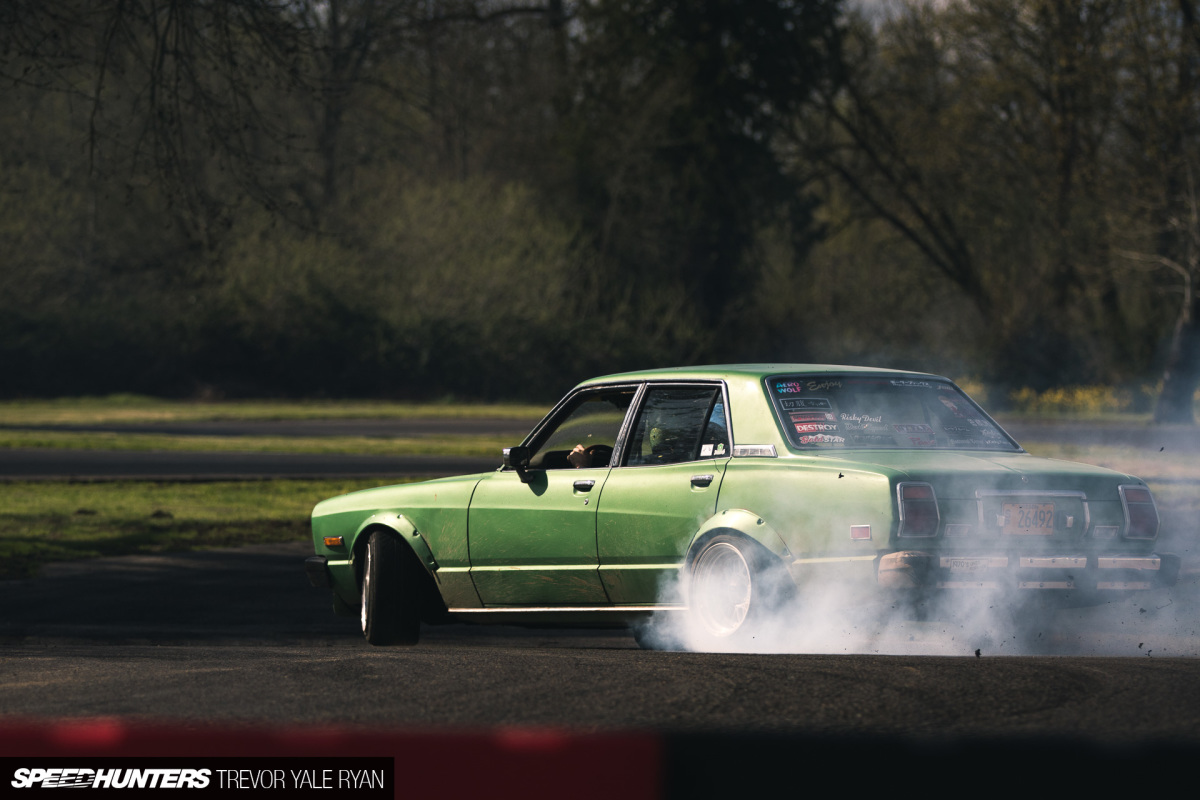 The brakes from an X8 Cressida are used up front, and given the Ford rear axle he's used SN95 Mustang brake bits on the other side. But all that really matters is that tire-shredding torque from the '90s V8 that gets the old girl sideways.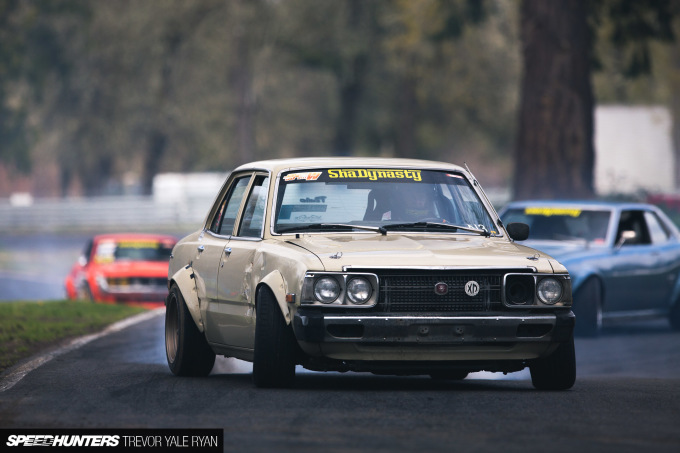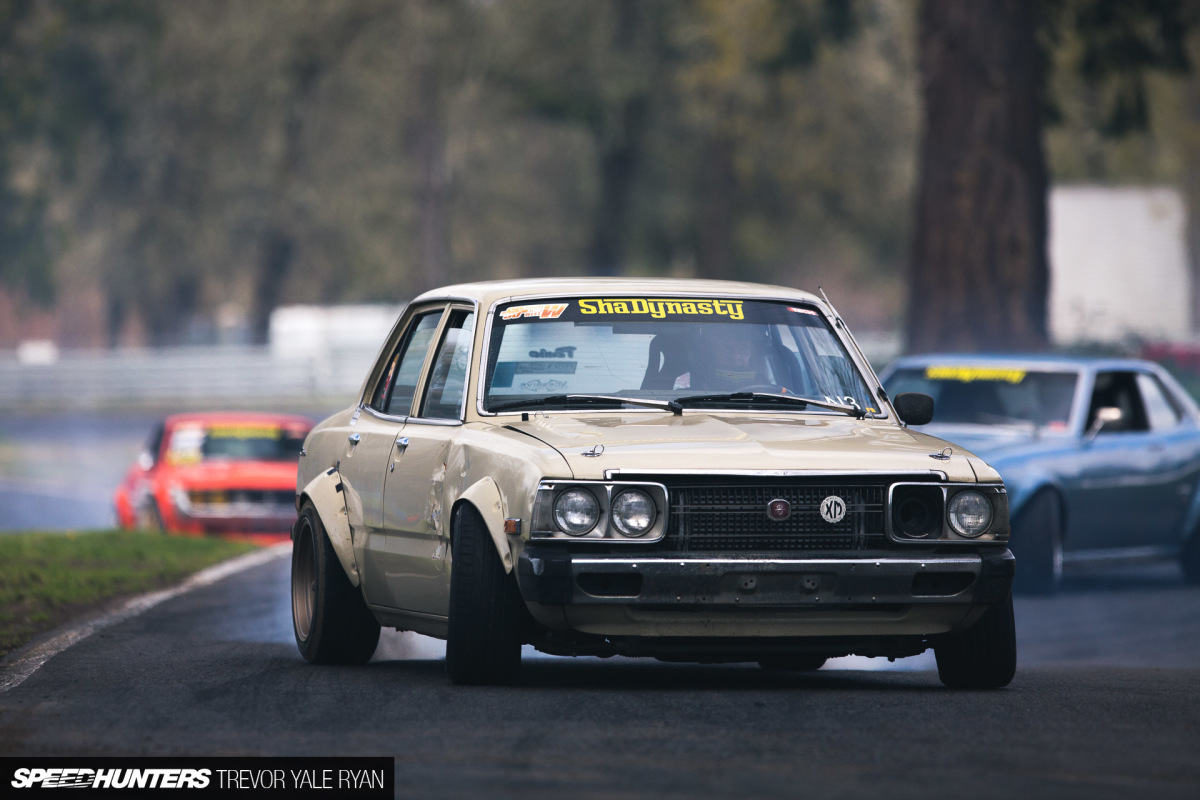 You can tell that it's an incredible amount of work to make these old cars go sideways, but Mark has taken his Corona to the next level.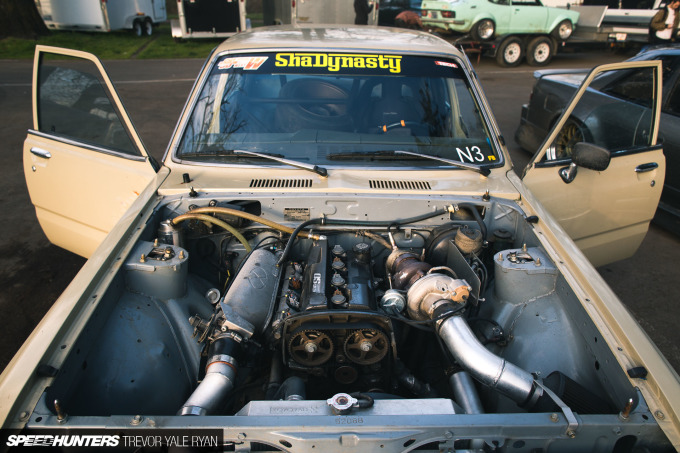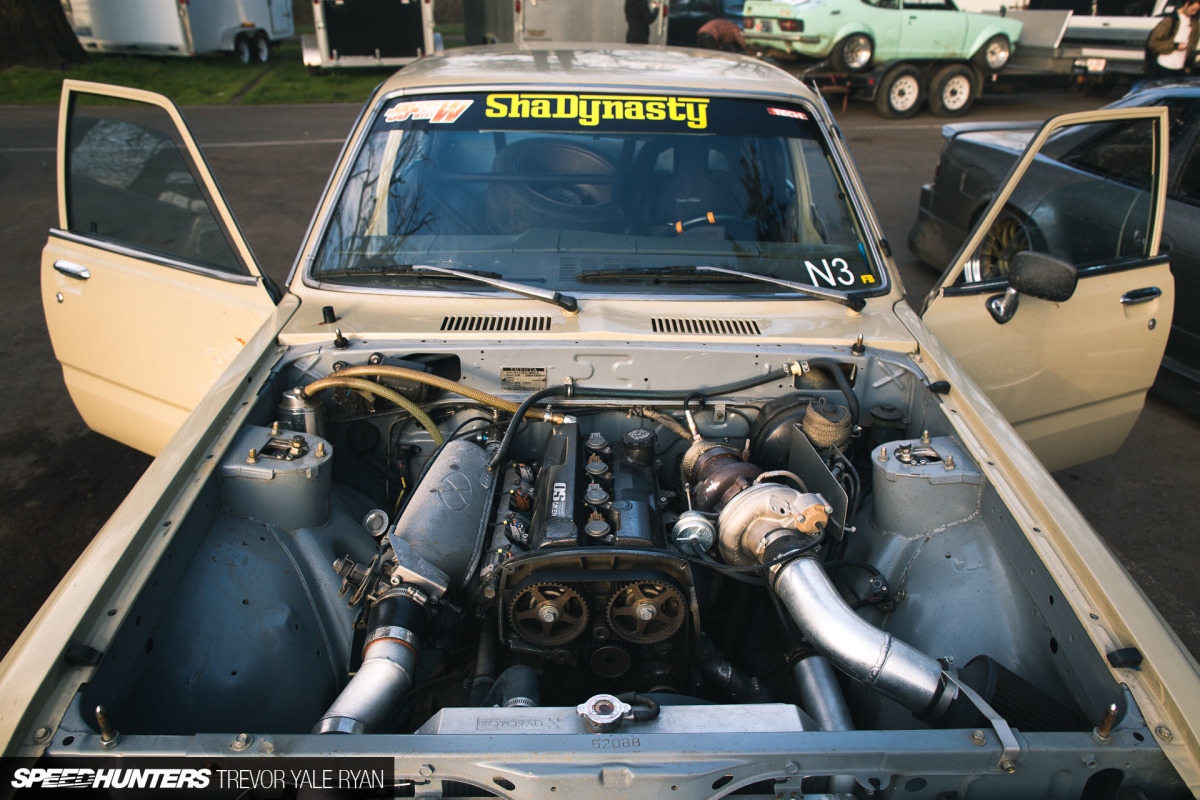 First off, the motor is a durable 3S-GTE Caldina unit which was converted to RWD with a BEAMS oil pan. With a BorgWarner EFR6258 the setup is good for 330hp and 280ft-lb of torque at just 1.2bar (17.64psi). Naturally, it's all controlled via a Link G4 and all wired up via his Panic-Wire kit.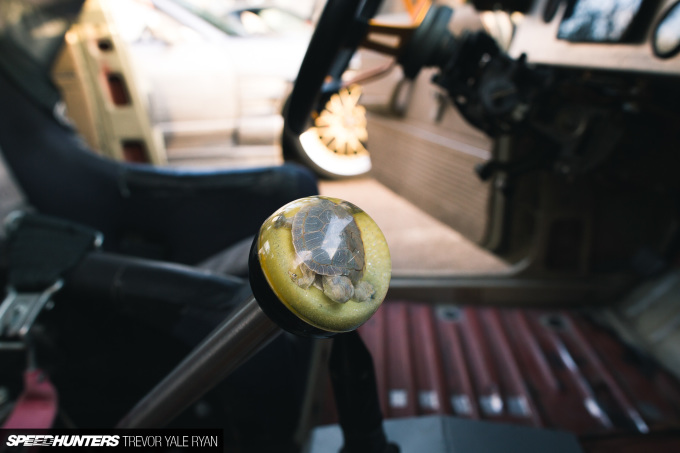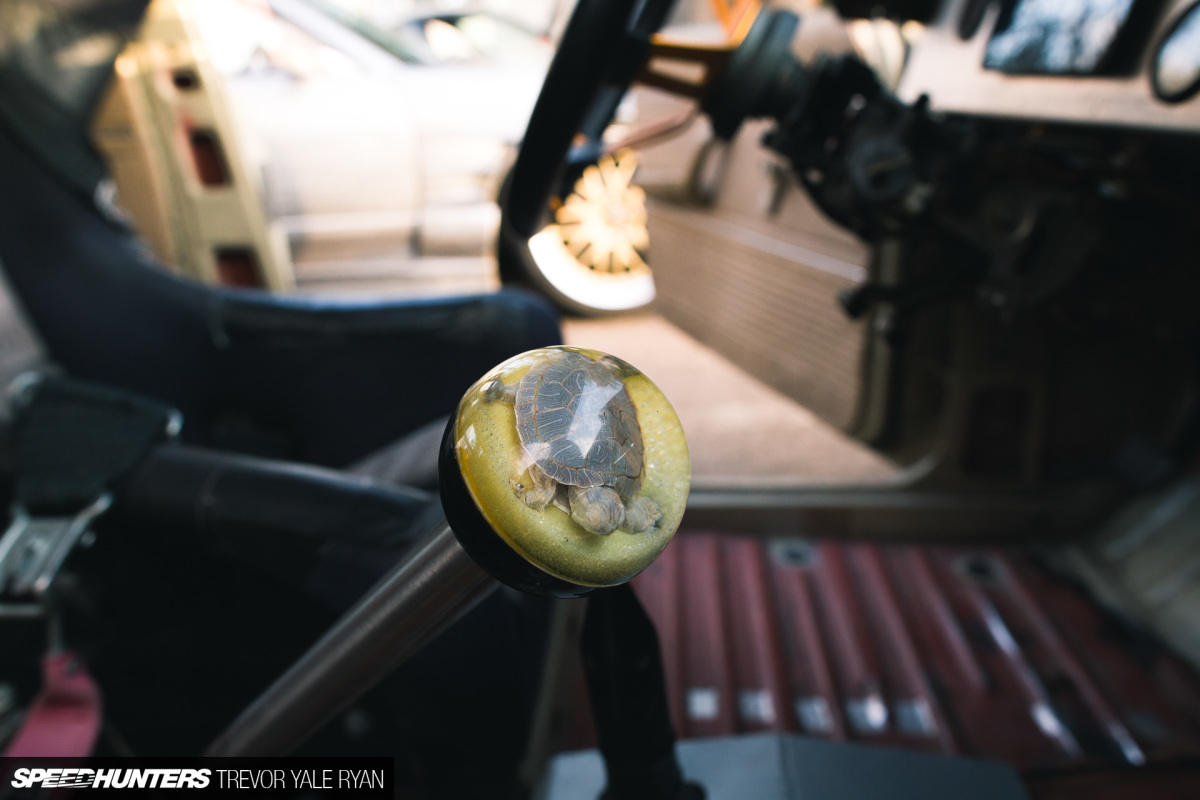 Inside the car you'll find a tablet and a reworked dash that displays only what the driver needs. You'll also find a turtle in the shift knob and Mark tells me this little guy has been in every drift car he's ever owned.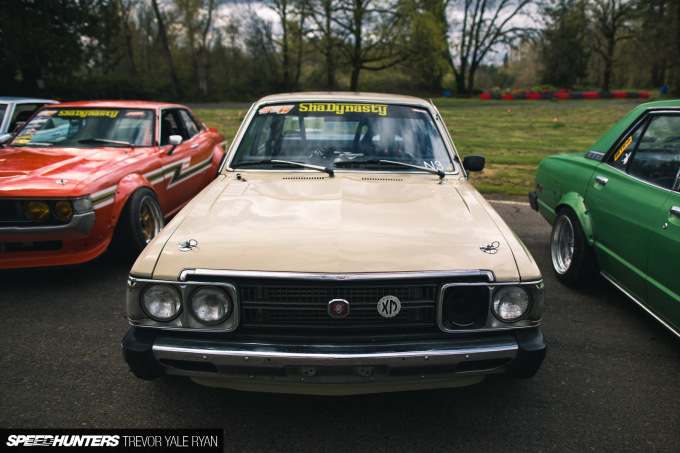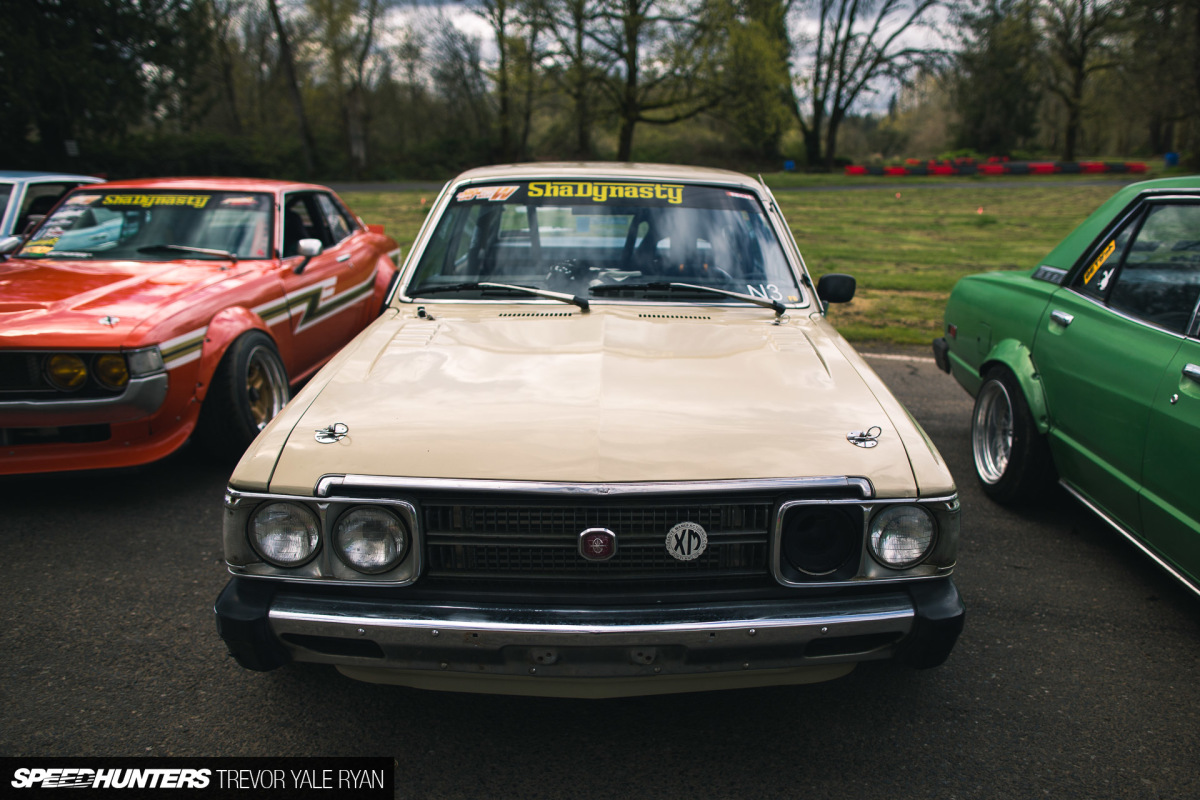 Of course, to really drift this thing you'll need more than a bump in horsepower and a tiny turtle.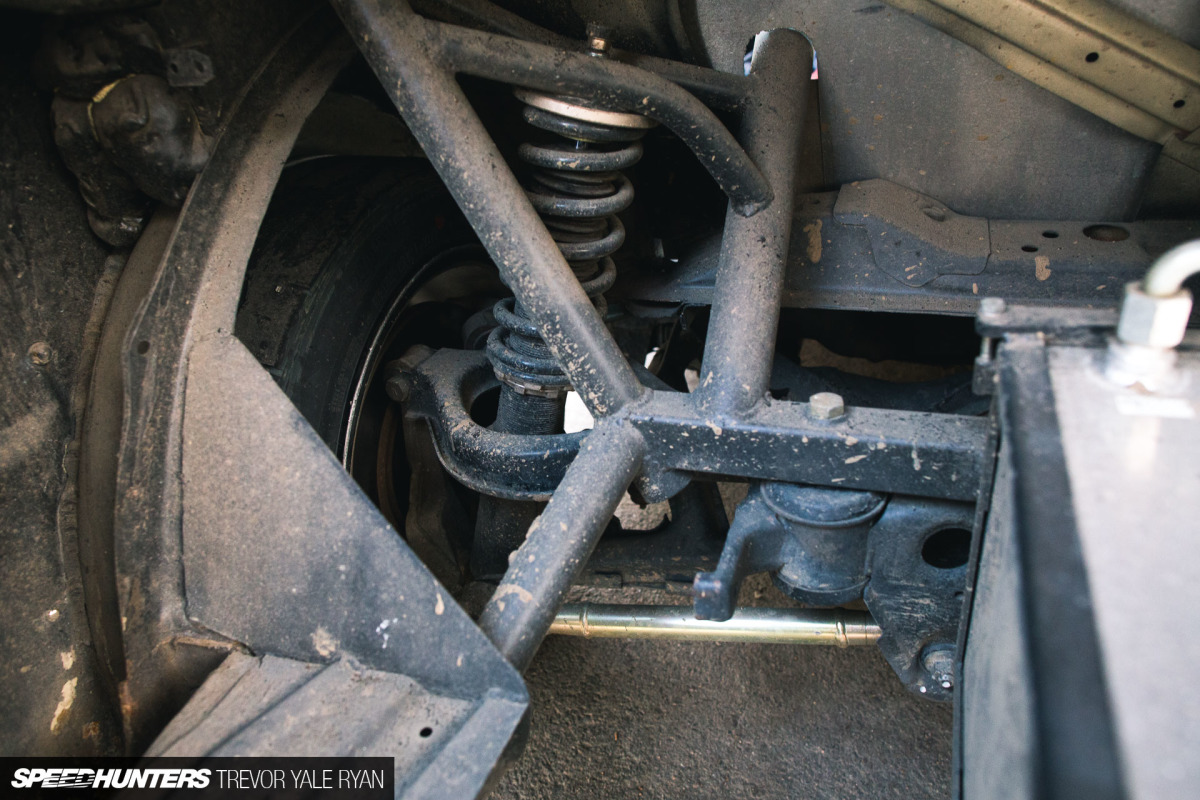 As I've already mentioned, Xcessive Manufacturing handled the conversion up front from a double wishbone setup to make use of a modern MacPherson strut design. Then out back the majority of the unnecessary sheet metal was removed to place an S13 IRS assembly into place where a solid axle once lived.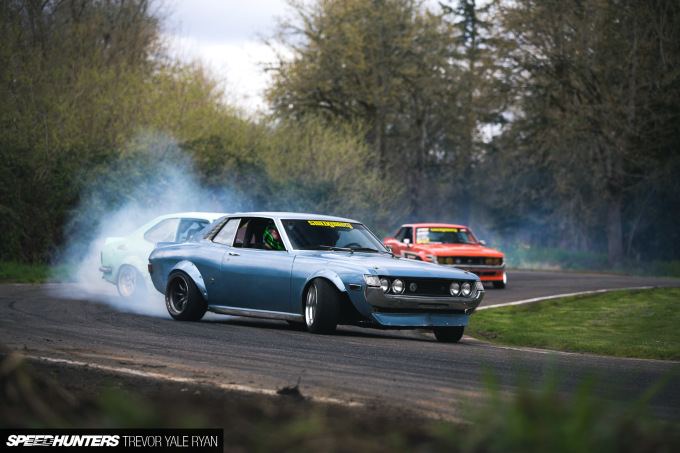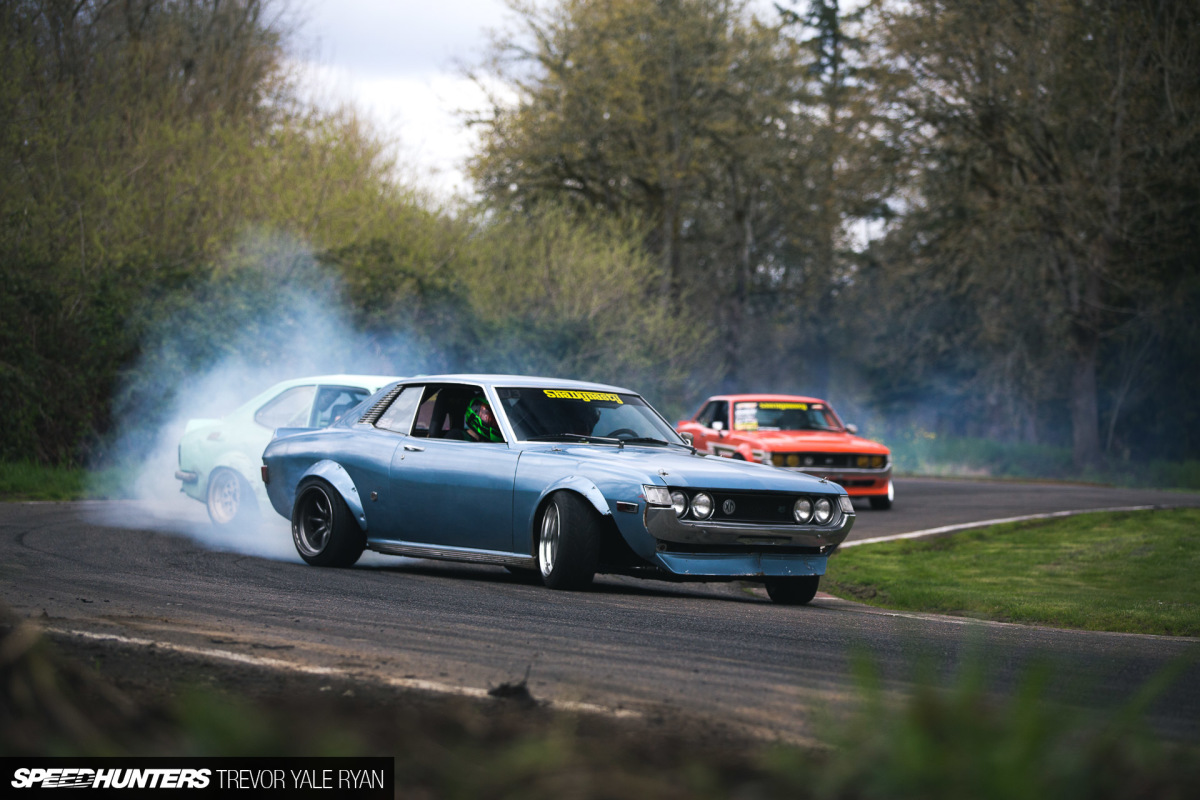 Hopefully you've learned, if nothing else, that it takes an incredible amount of dedication to own and drift old cars like these.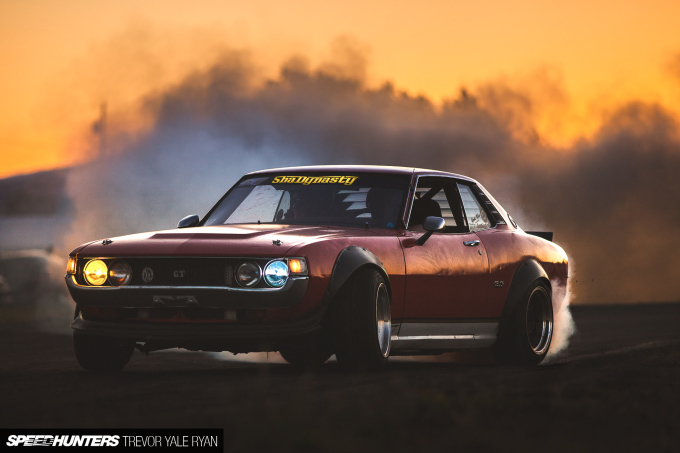 When I ran into these cars for the first time nearly four years ago, just after buying my first camera, I instantly fell in love with them. The old school styling, the light-up ShaDynasty windshield banners; there are just so many details that make these cars amazing.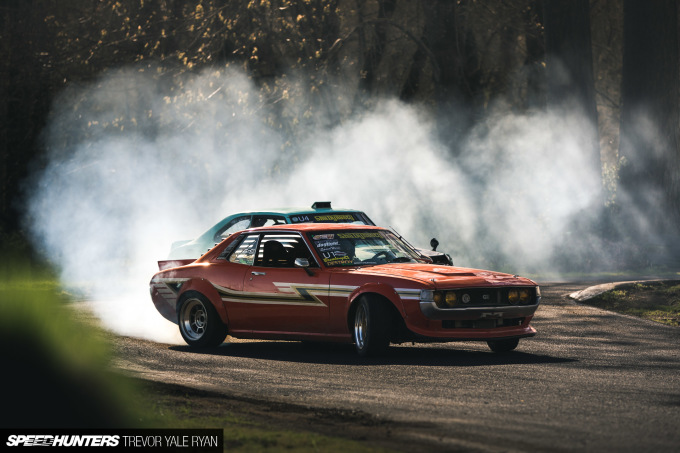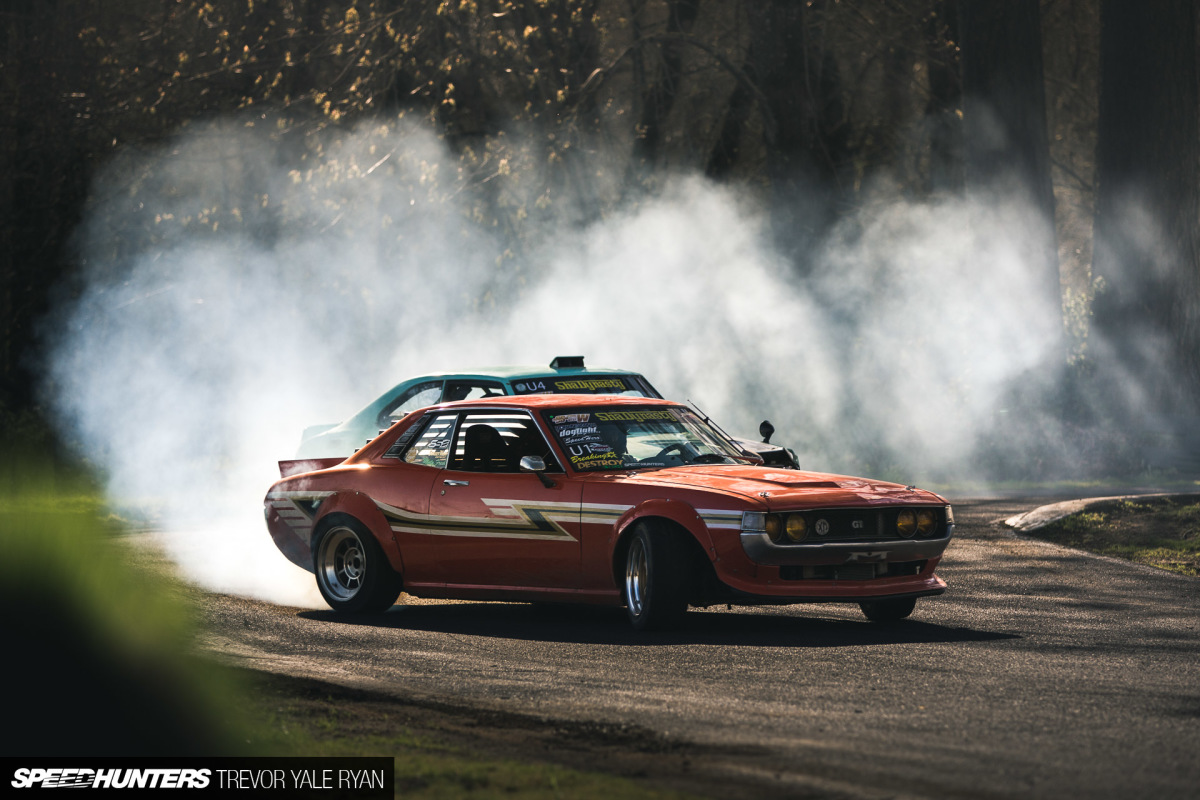 Having the opportunity to properly shoot the group myself last month at Pat's Acres was one of those extremely fulfilling full-circle sort of things for me.
Here's to many more years behind the wheels of these old machines, boys. The 1970s Until Forever!
Trevor Yale Ryan
Instagram: tyrphoto
TYRphoto.com
Cutting Room Floor