As all Speedhunters can attest, time always seems to get away in between these project update posts. I've been thoroughly enjoying the car since the NSX-R transmission was swapped in, racking up 2,000+ kilometres on some of the best driving roads in Japan but not leaving much time to dedicate towards actually working on the thing, except for fixing small issues with pieces of ageing trim after work hours.
Pursuing this project has been one of the most fulfilling automotive experiences ever. The car has opened new friendships and raised my technical knowledge, but most of all provided the ideal escape from a hectic and occasionally stressful day job in Japan's corporate world. That driving experience is the whole reason I chose the NSX over modern alternatives that trounce its performance on paper; the feeling you get behind the wheel is simply intoxicating.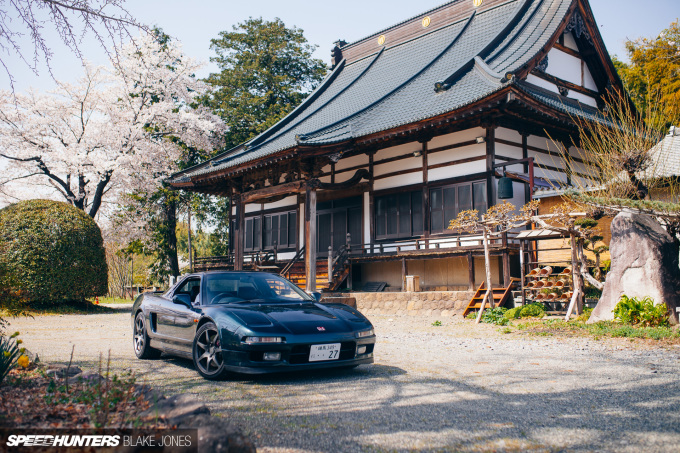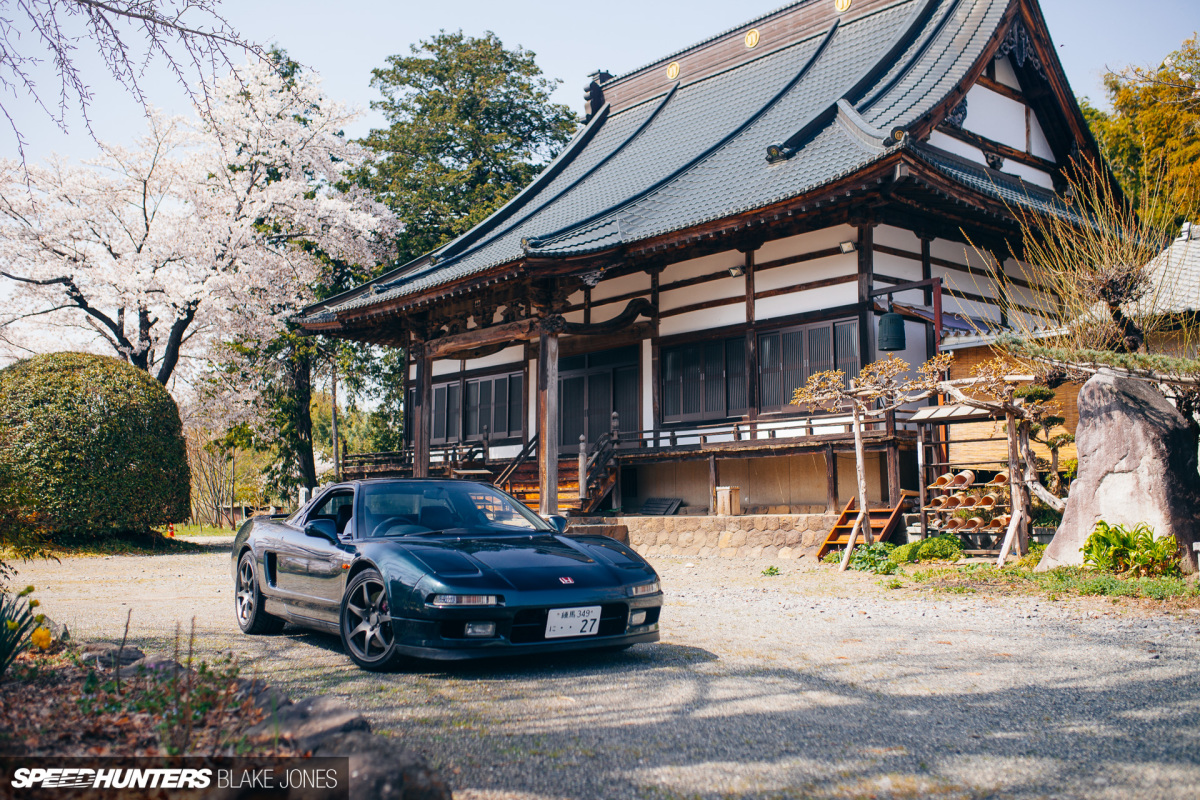 That's not to say it's perfect for my needs, and the itch to beef up certain components to prepare the car for the canyon-carving and odd track day I'd like to do is growing.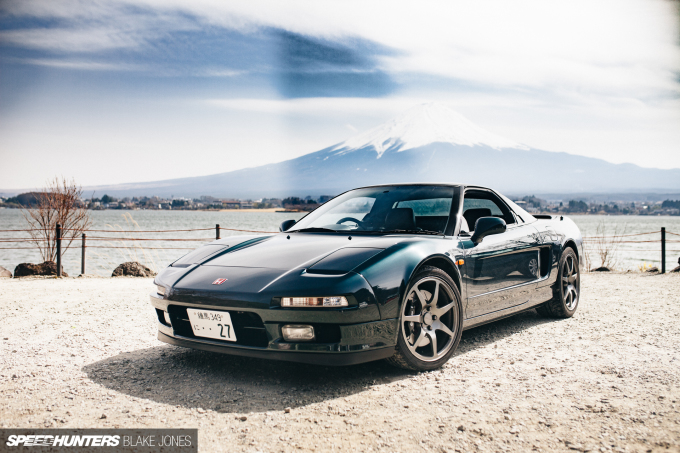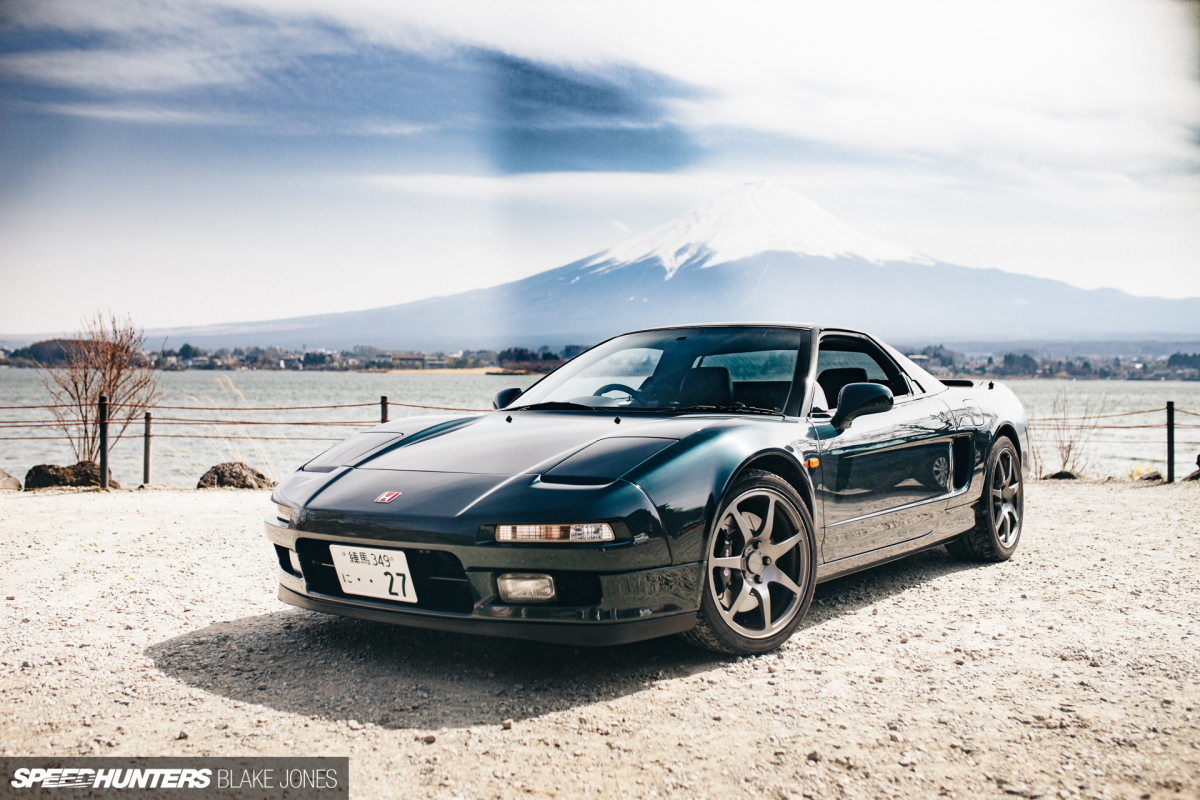 Thankfully I'm not alone in this quest to improve the NSX – a strong global community of modifiers is supported by a select few parts manufacturers that offer off-the-shelf options for the car. However, the reality is that many of these manufacturers can only dream of matching the Honda factory's purpose-driven design and quality standards, meaning that even the best intentions to improve the car can have quite the opposite result if the wrong components are selected.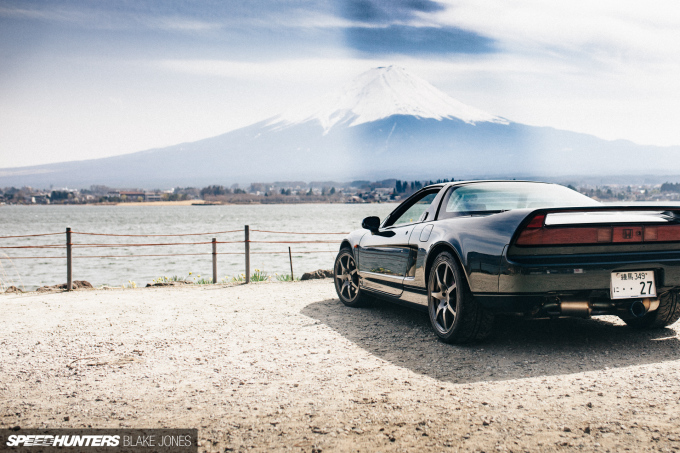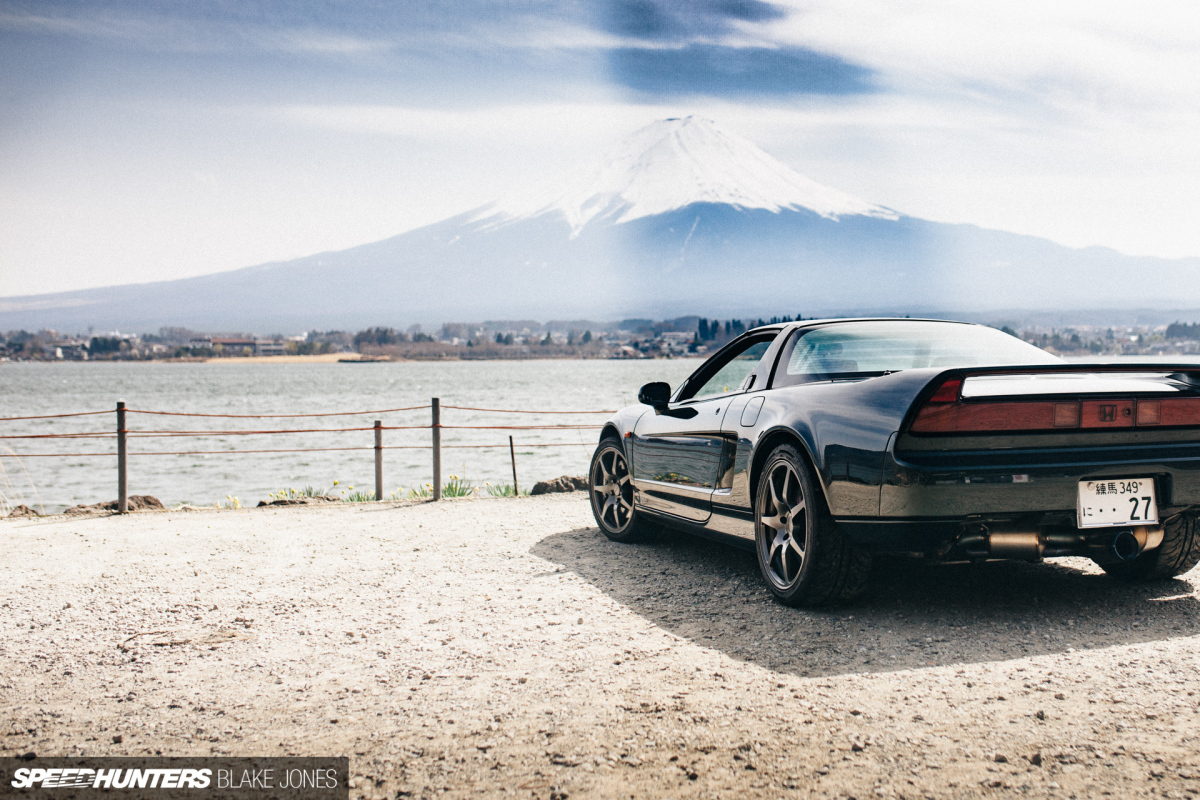 Suspension is a key example. It's one of the most straightforward modifications one can make to a car and the impact is instantly noticeable. However, certain misconceptions exist (for example that lower and stiffer means better performance) which can leave owners actually making their car handle worse than it would on standard springs and shocks.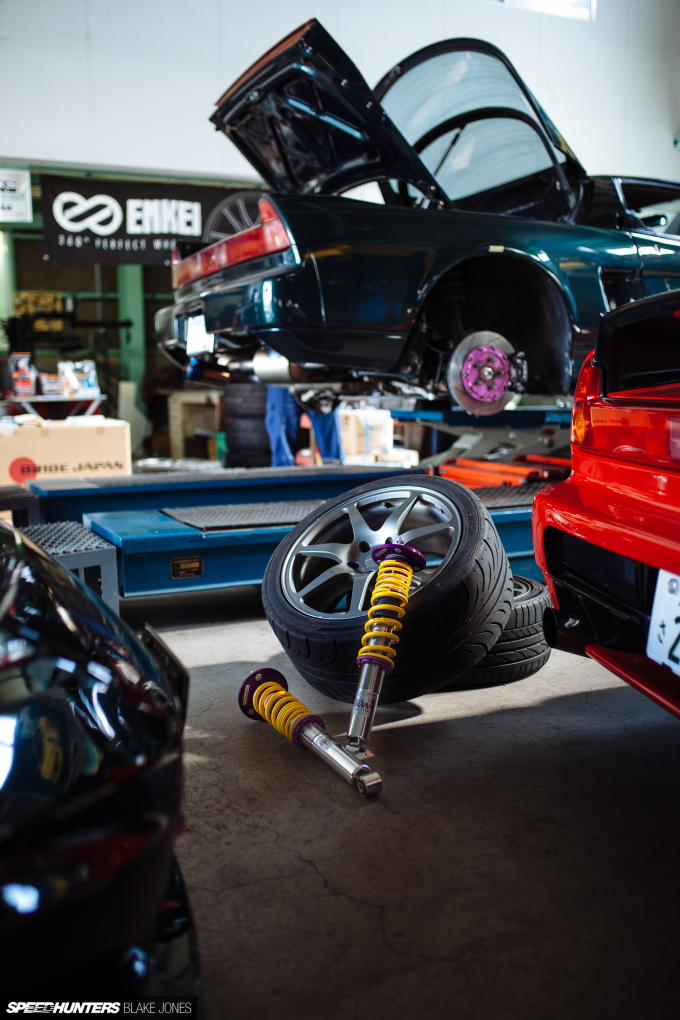 So it's important to chose wisely. I started the same way any enthusiast does in 2018, reading reviews from other owners and checking the forums for feedback. One brand rose to the top of the pile very quickly – KW. Considering that KW is also one of Speedhunters' longest-running suppliers, it was an easy and logical choice to get in touch with the guys and see what I could order for Project NSX.
What's In The Box?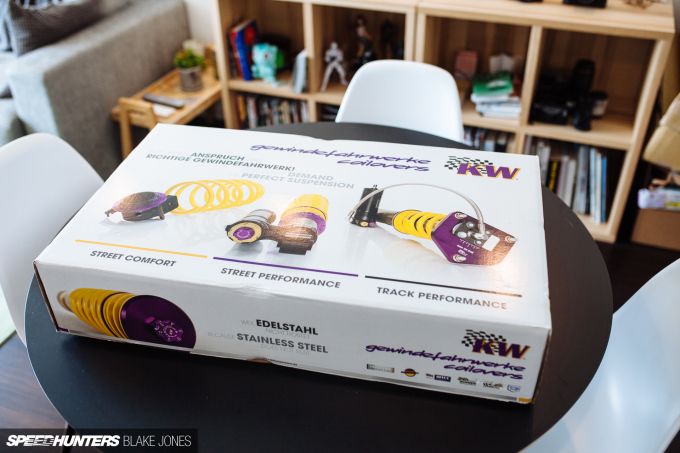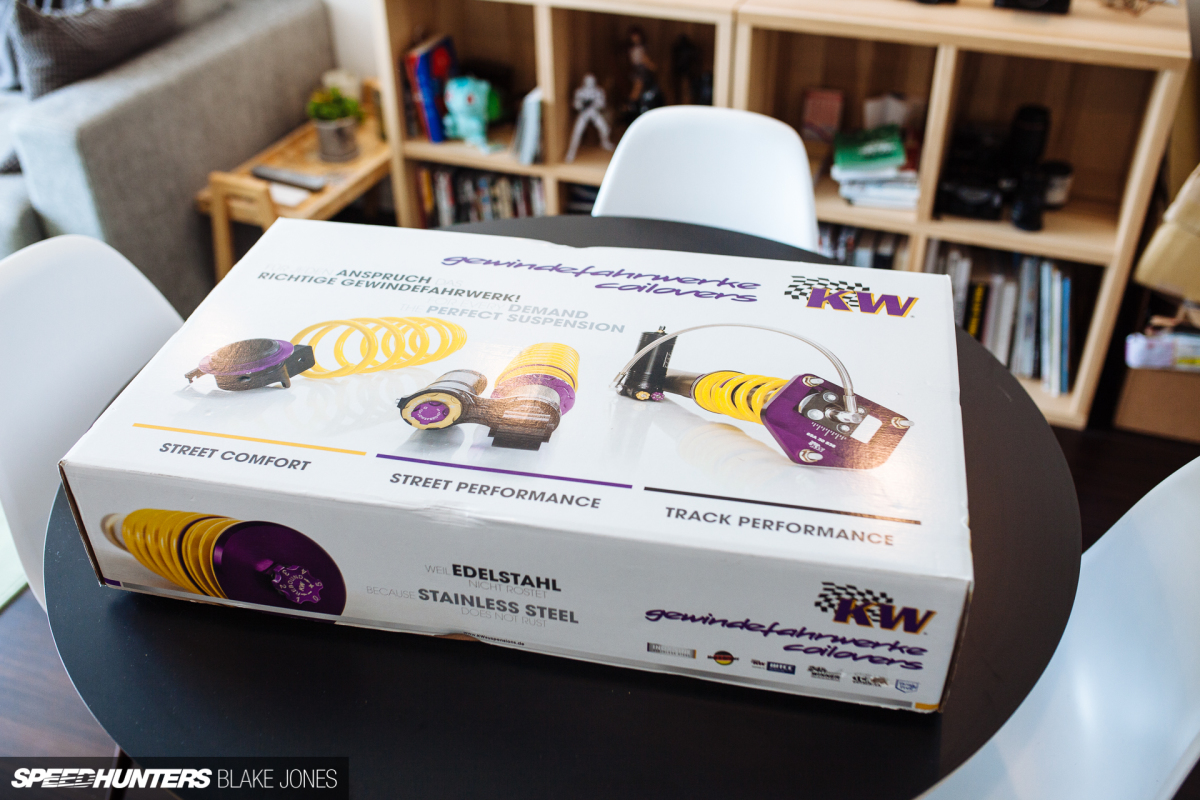 KW offers two off-the-shelf options for the NSX: The V3 and the Clubsport. I'll explain the differences in a second, but it's worth discussing the shared development that both packages benefit from.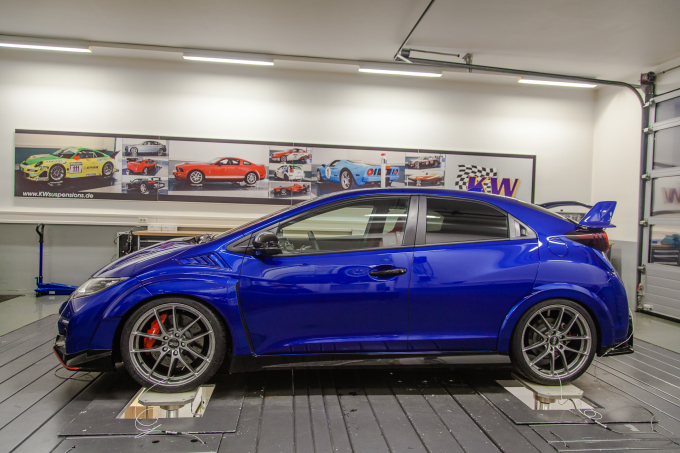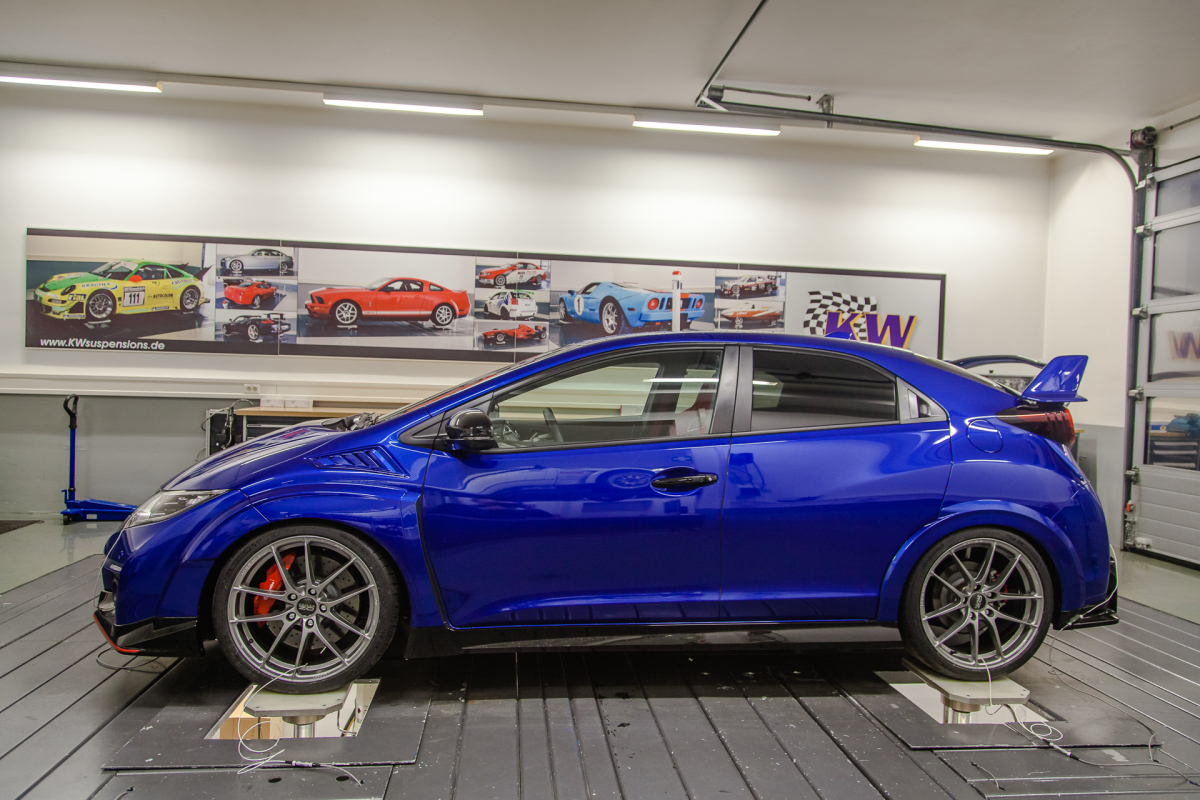 As you've already read about in Paddy's story on KW's development facility, a key differentiator for KW is the use of a seven-post frequency analysis rig, one of only a handful in the world. Here you can see an FK2 Civic Type R undergoing frequency analysis – from this angle the rig looks deceptively simple, but underneath the false floor lies a huge and complex hydraulic ram system. Like how a dyno allows a tuner to see precisely where an engine is making (or losing) power, this 'shaker' rig provides a quantifiable analysis of a coilover's performance over varied simulated road conditions, and allows KW to measure the influence of other variables, including but not limited to tyre choice, tyre pressure and even drivetrain bearings.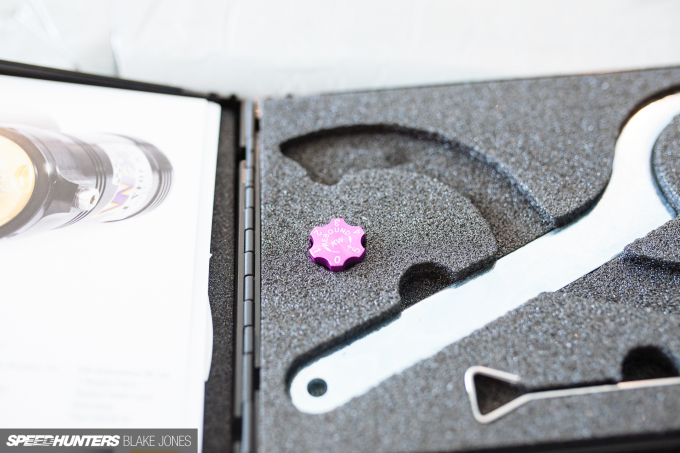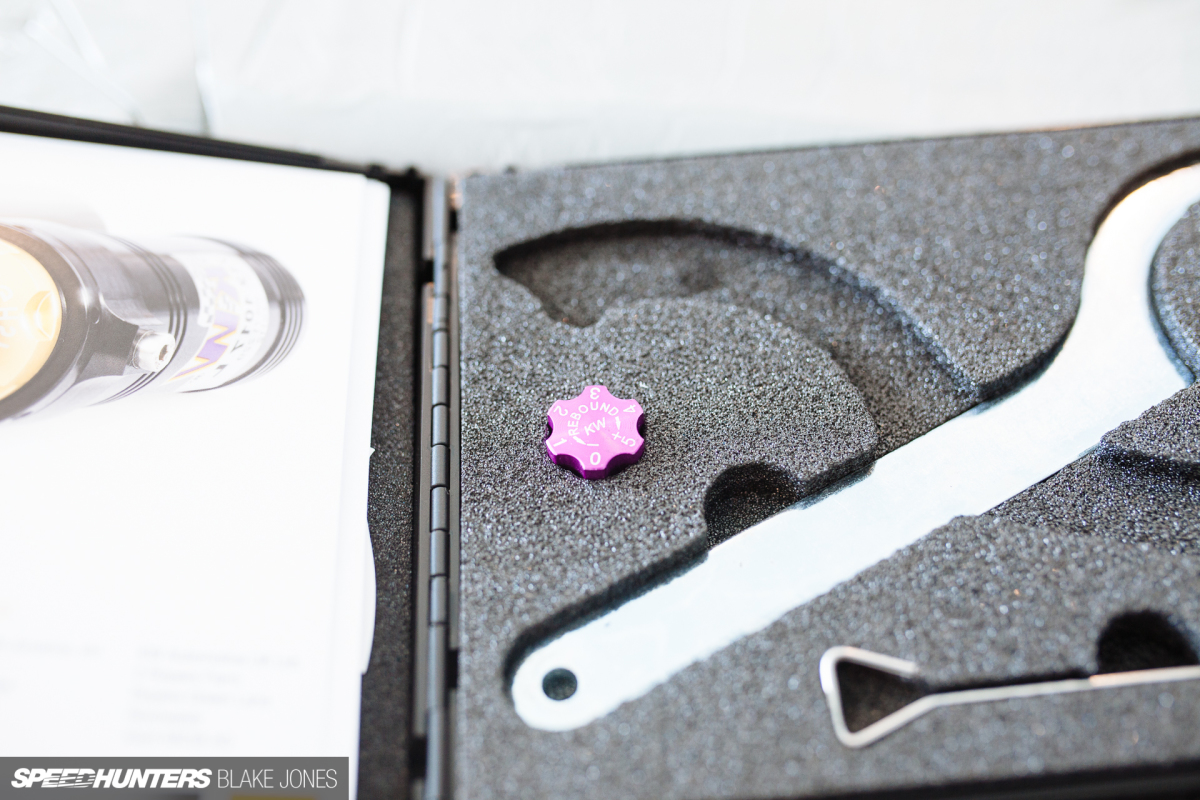 KW's NSX solution is two-way adjustable, meaning the action of the shock can be tuned easily to vary the amount of compression (initial action of the shock when encountering a bump or weight transfer) and rebound (secondary action of the spring returning to its initial position) independently. For peace of mind KW has also ensured that even at maximum lowering, no damage will result to axle joints, coupling rods, tie rods, drive shafts, brake lines and so on.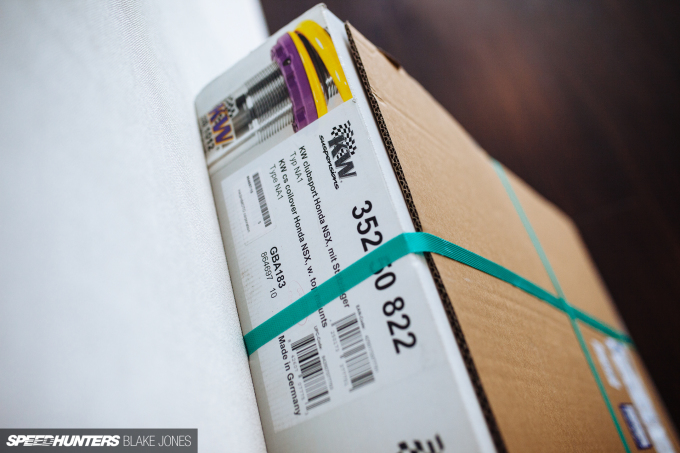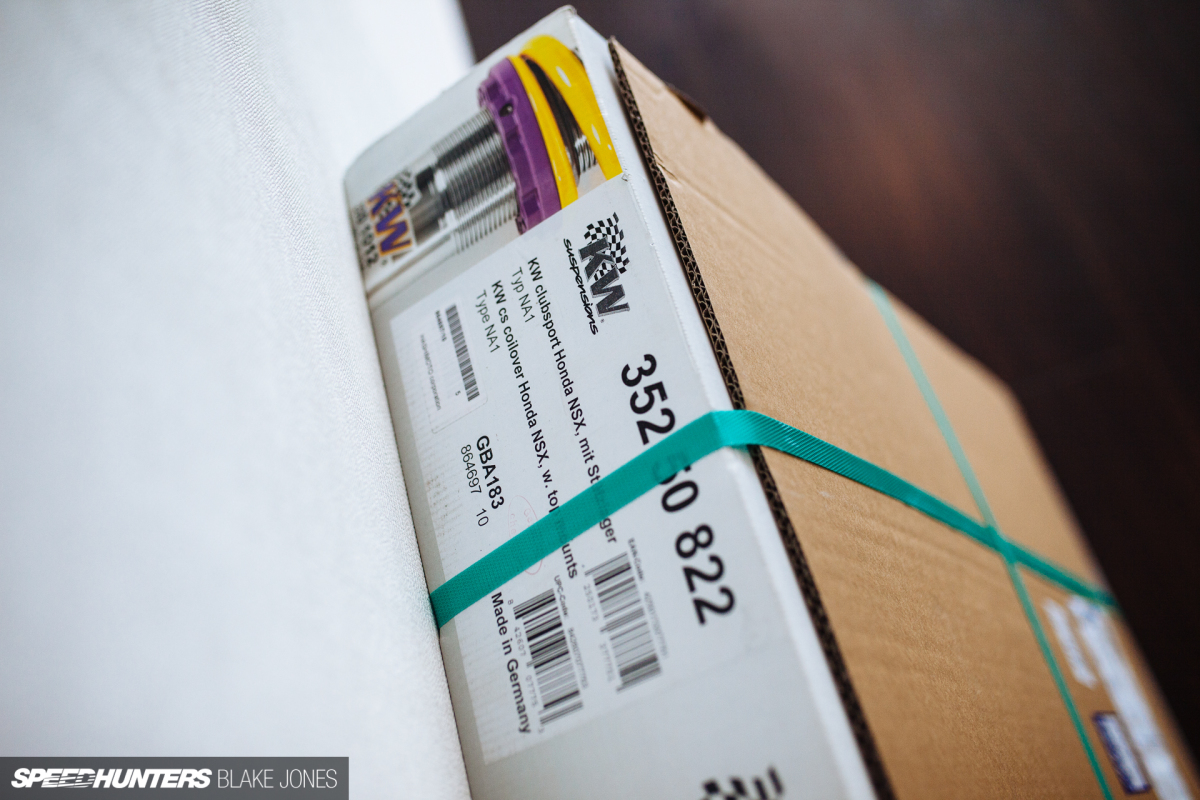 The suspension was designed to be the ideal compromise between circuit and road driving, being tested on the autobahn, Germany's many country roads, and of course that famous curled ribbon of tarmac – the Nürburgring Nordschleife. The 'Variant 3' is KW's top-selling coilover across all makes and models, and is what you'll find under most street-driven NSXs in the owners groups that I'm involved with. However, KW also offers an option for those owners looking for an even more performance-oriented coilover: the Clubsport.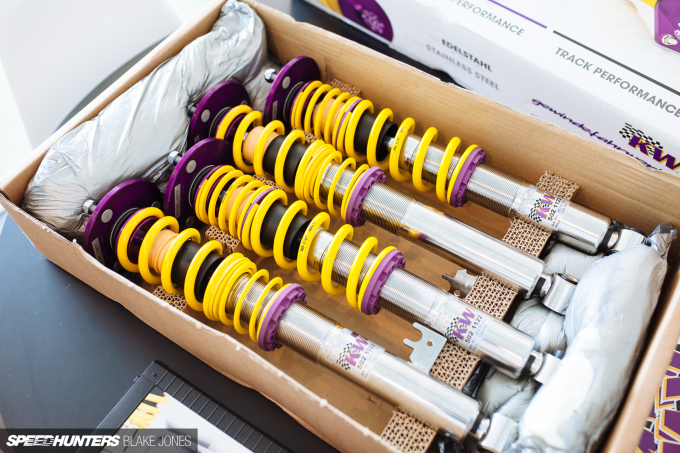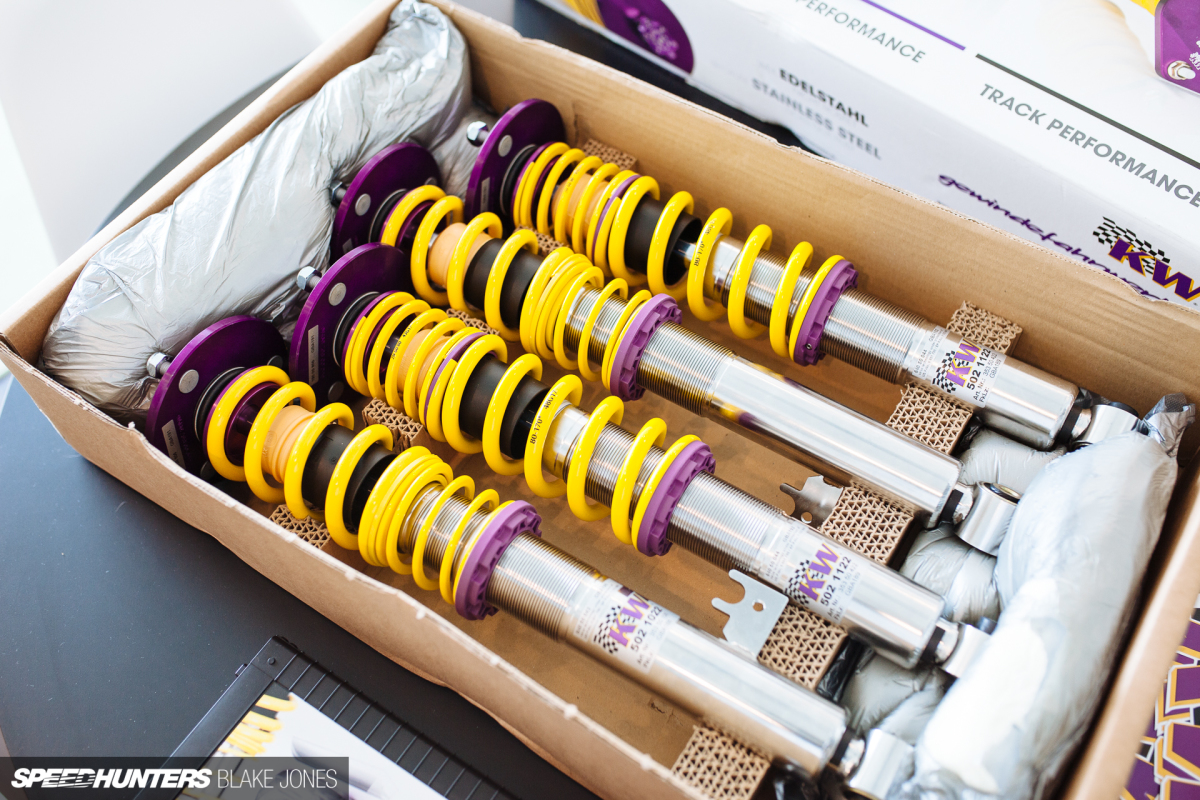 As such, the Clubsport package is a track-focused development of the V3. Whereas the V3 uses 6kg/cm springs front and rear, the Clubsport steps it up to an 8kg/cm spring. As always, Honda's factory performance models are a useful reference point here – the 1993 NSX-R utilized 8kg/cm front springs and 6kg/cm rear, while for the 2002+ NSX-R the rates jumped to 10.4kg/cm and 8.3kg/cm respectively.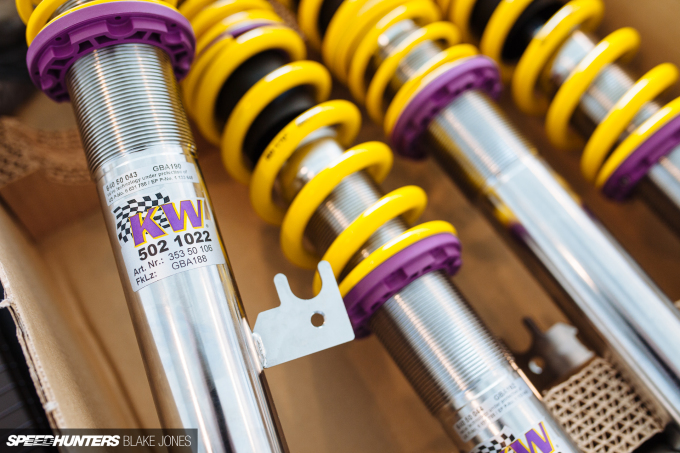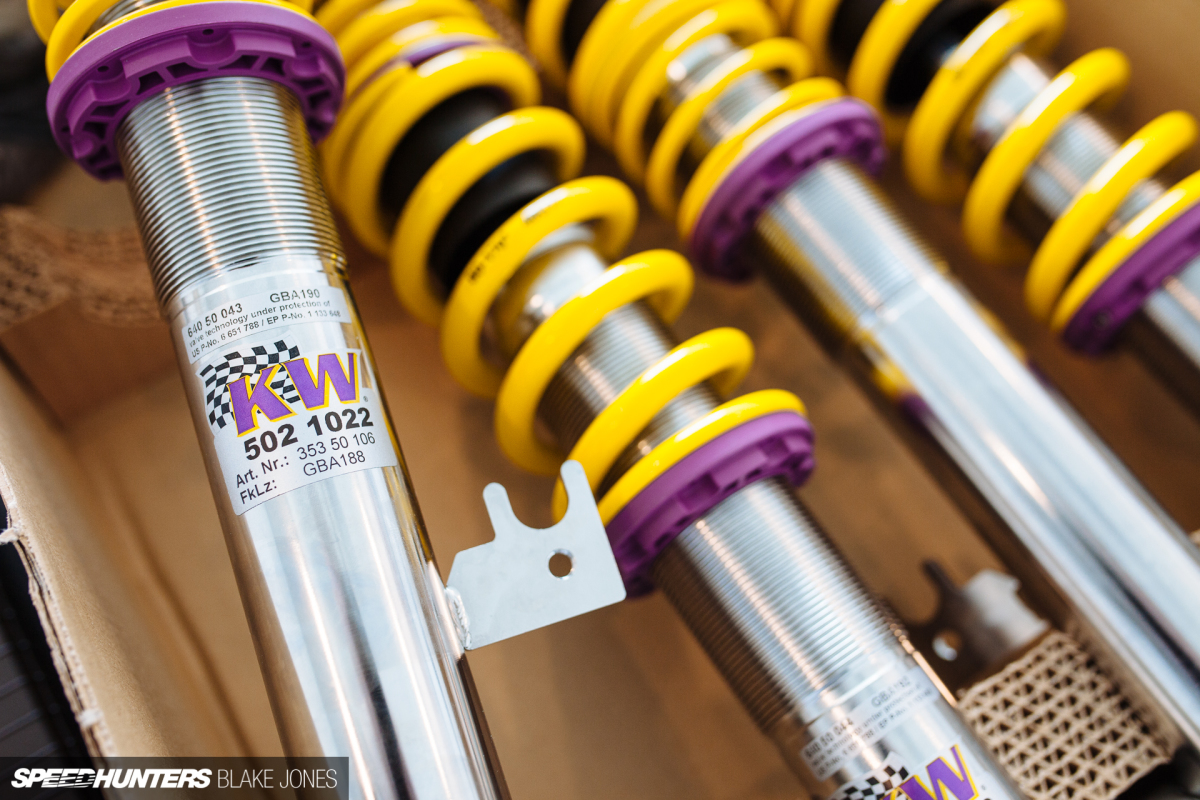 A stiffer spring rate means less roll through corners, which is great for grip. Go too stiff and your ride comfort and ultimately grip will start to evaporate, so the key for KW when developing the kit was to provide a high level of stiffness appropriate for a sports car like the NSX without going too far.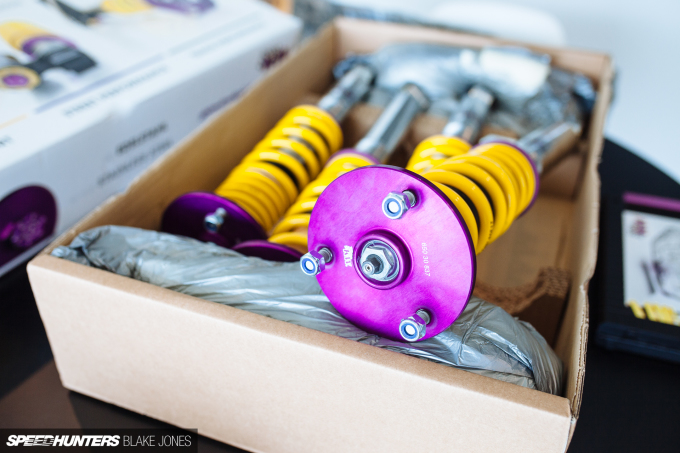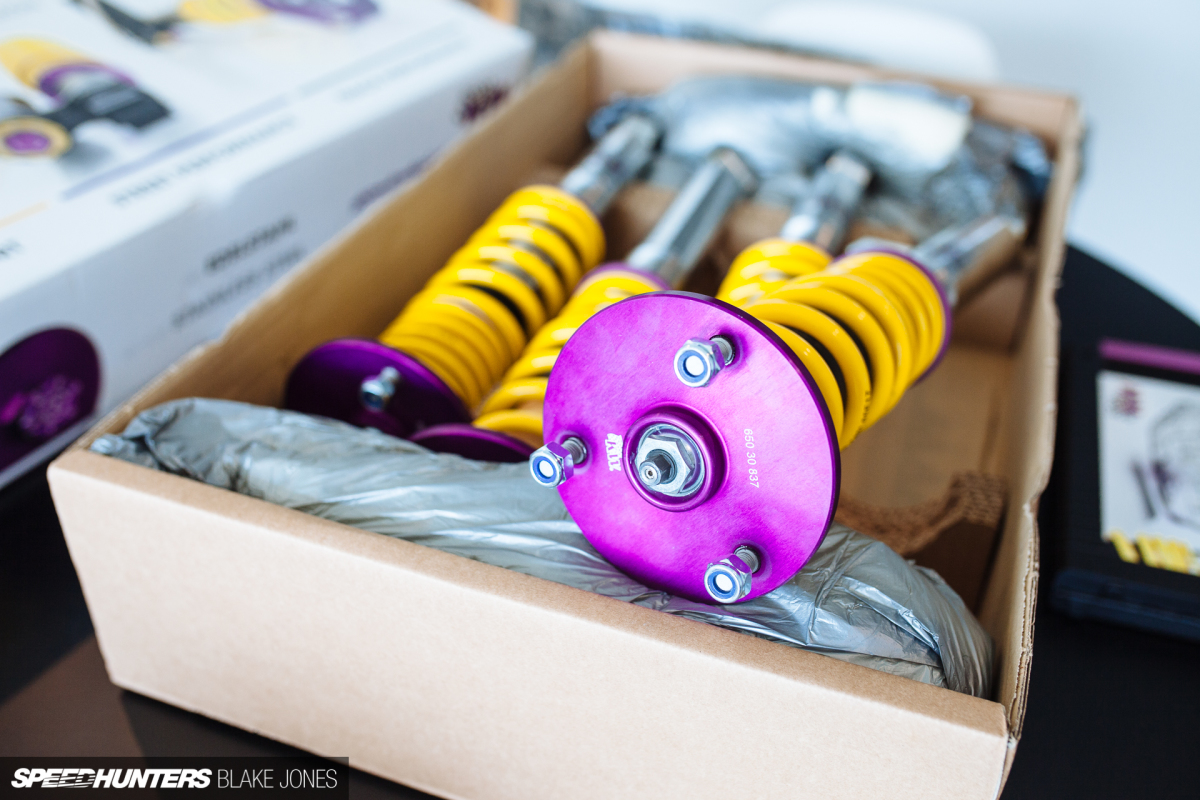 The Clubsport also features KW's aluminium uni-ball top mount to replace the stock rubber units, creating a more rigid mount and thus a more direct and responsive feel. A solid top mount does come at the expense of some compliance, but the performance trade off was well worth it considering my objectives for Project NSX.
Honda NSX, Meet KW Clubsport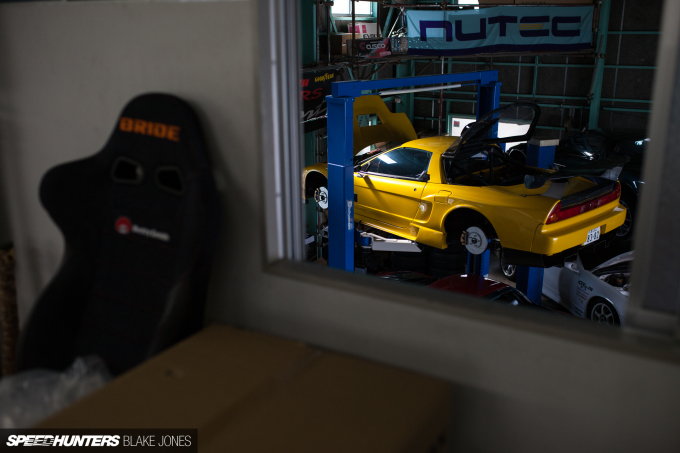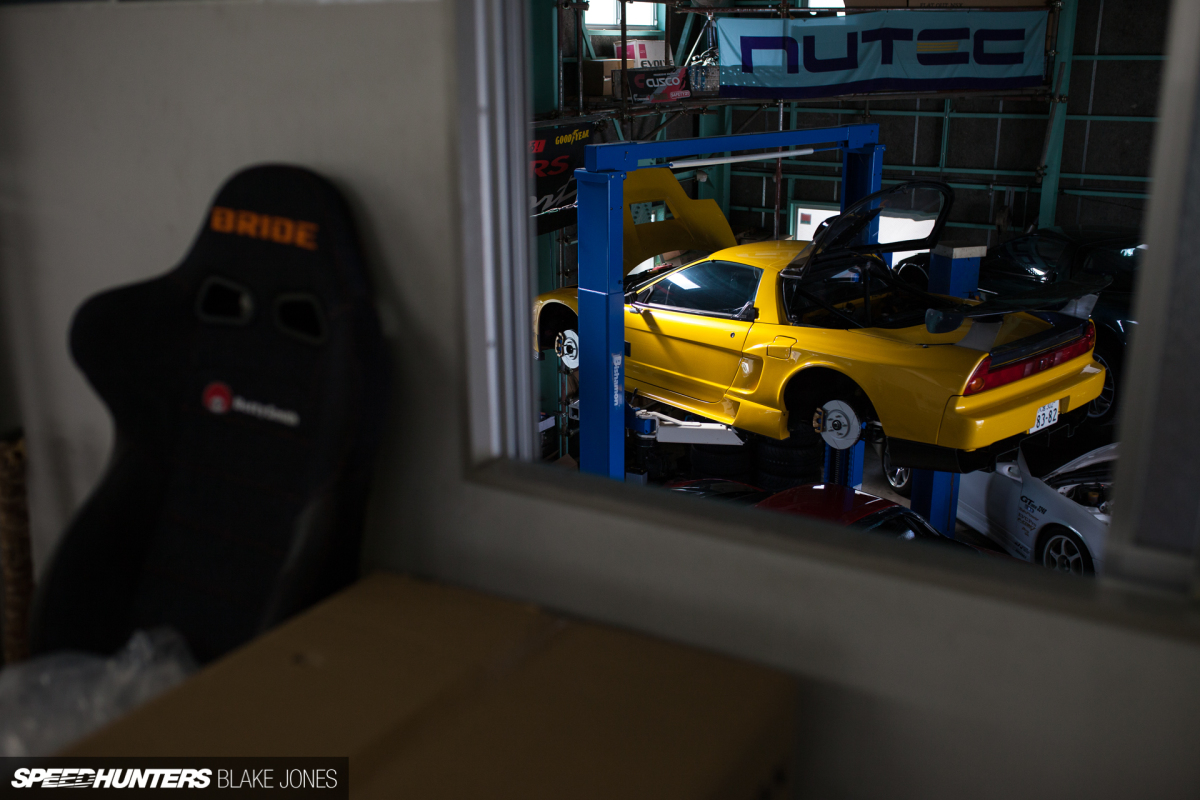 Having a flexible and trustworthy shop is an absolute necessity for most garage-less car owners in Tokyo like myself. I've found both those attributes in Yokohama's Advance, so it was only a quick email before the car was booked in for a Saturday afternoon install. You guys always seem to enjoy when we poke around these Japanese workshops, so while Yagi was getting the car onto the lift I snuck around with my camera to see what I could find.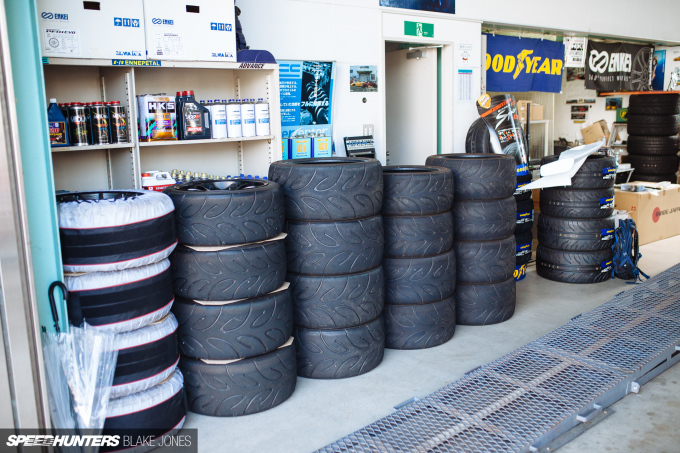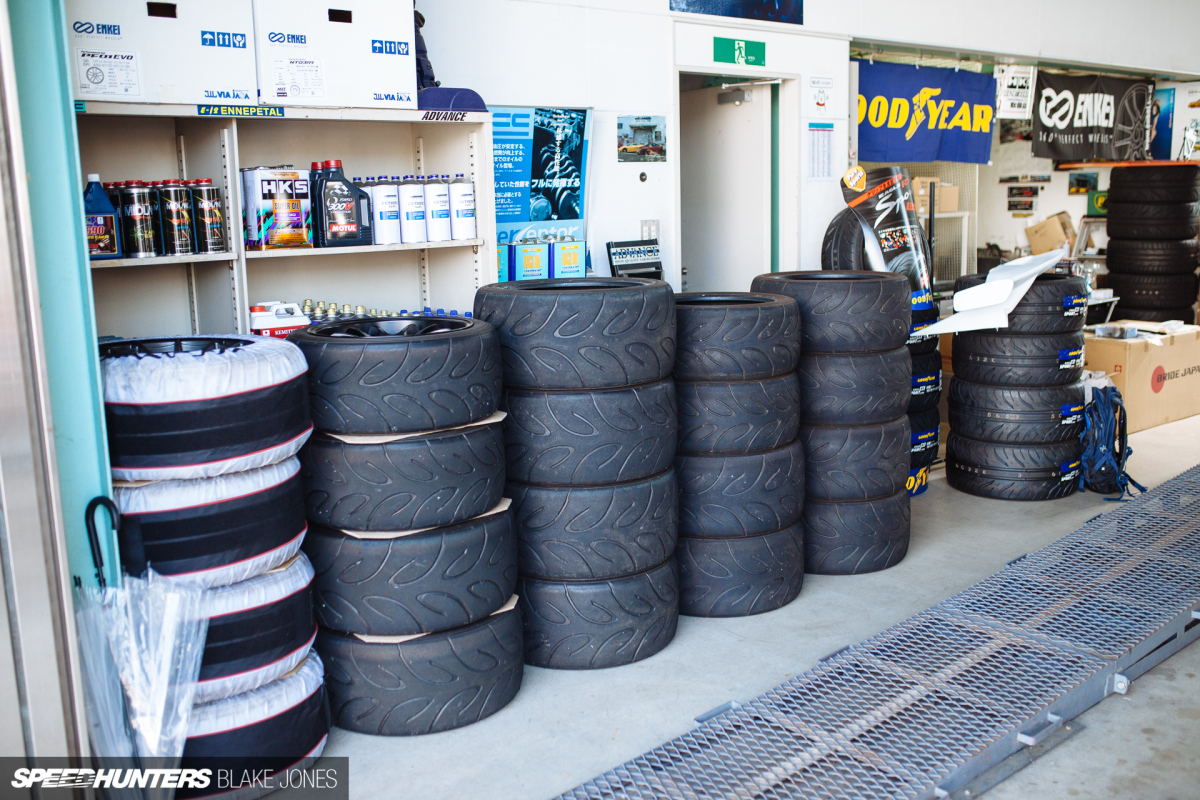 A supply of semi-slick tyres is always a good sign you're dealing with a serious circuit-car shop, so this stack at the entrance did not disappoint. On this day there was the usual mix of NSXs and other Japanese models, including that Z34 we took a look at last month.
Tucked in the corner was the most curious car of all – this white Nissan 300ZX. The Z's '90s lines are certainly coming back in vogue, helped here by that F40-esque wing on the rear hatch. Bonnet up meant missing the big turbo SR20DET swap was impossible.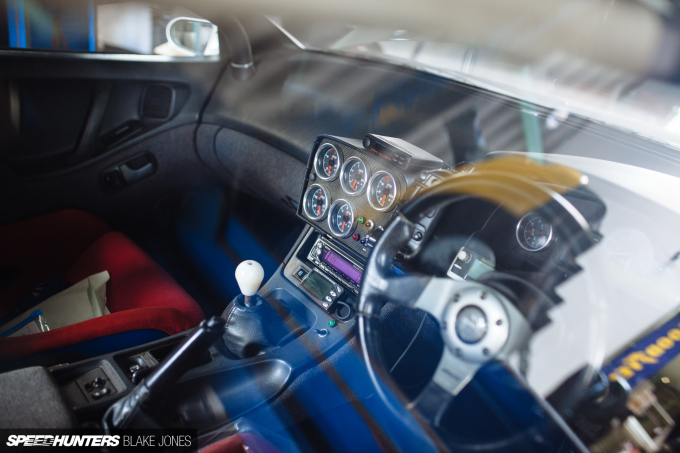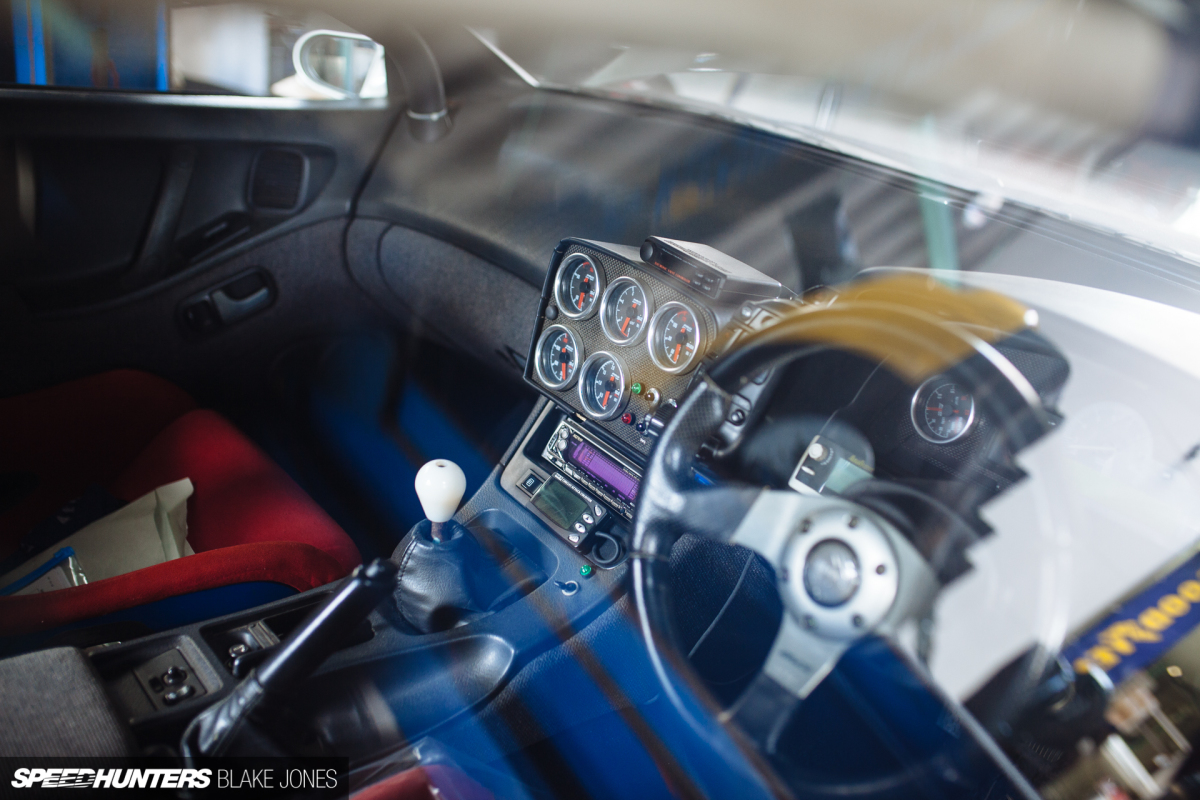 Taking a look inside was a flashback to the peak of JDM tuning – carbon-Kevlar Koenig bucket seats and a Stack digital/analogue cluster only matched by the bevy of gauges squeezed into the centre of the dash. Something so practical yet unique would be a joy to own – anyone want to see if we can get the owner to sell it to us as the next Speedhunters project car?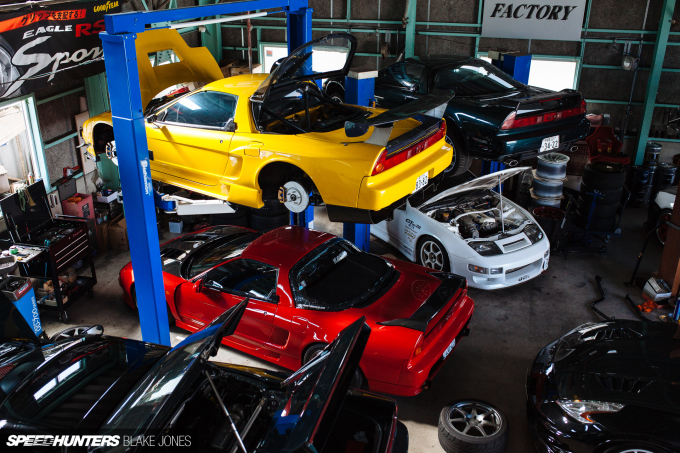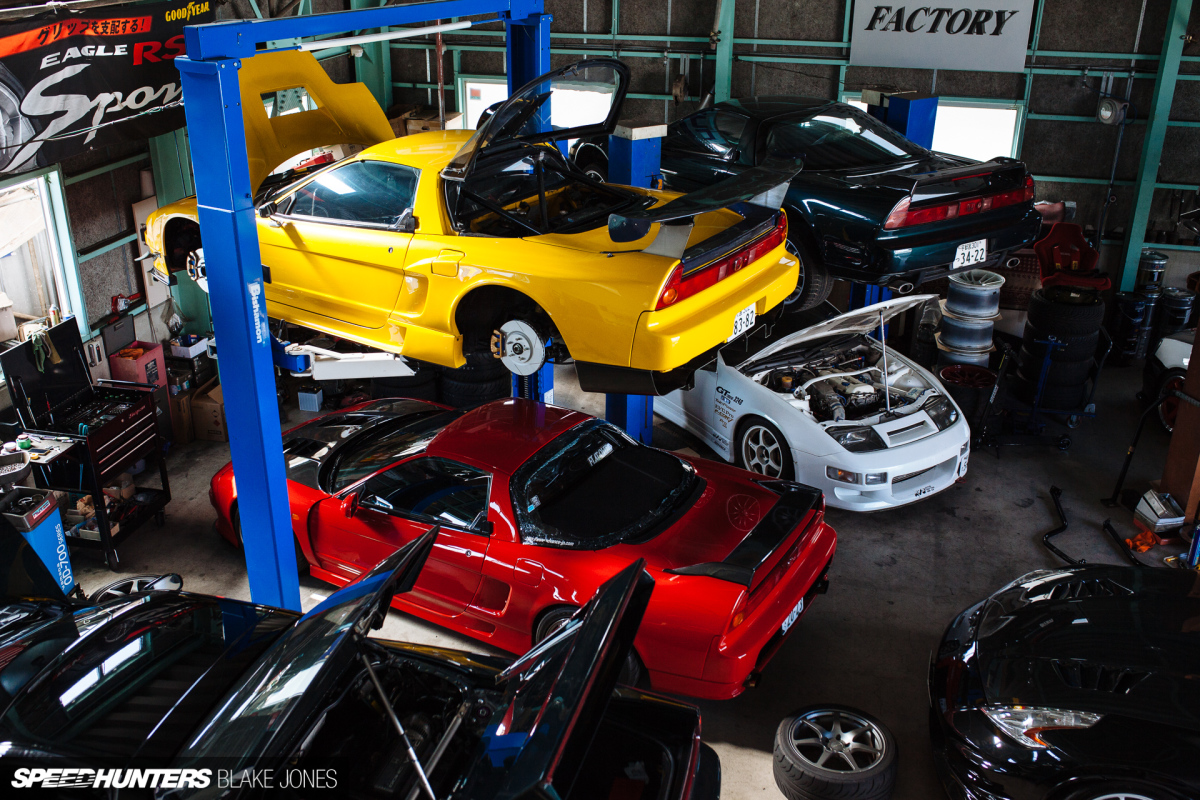 But of most interest to me were the other customer NSX builds. The more I learn about the Honda the more small custom touches I notice on these cars. Most of the customers have owned their cars for years – some even from new – and have worked with Advance to slowly improve their ability to go fast.
This red NSX is the perfect example of a car I notice more about every time – a one owner NA1 in extremely good condition, with a whole bunch of rare JDM performance parts. What's not to love?! Just check out that crazy Ikeya Formula shifter that converts the H-pattern into a sequential up-down shifter. It was in the shop getting the rear glass hatch replaced – apparently it exploded after hitting a bump on the highway!
Customers will often drop by just to hang out, and Masa and Yagi always take the time to put down the tools and have a chat. It sometimes looks more like a bunch of old friends hanging out than a place of work.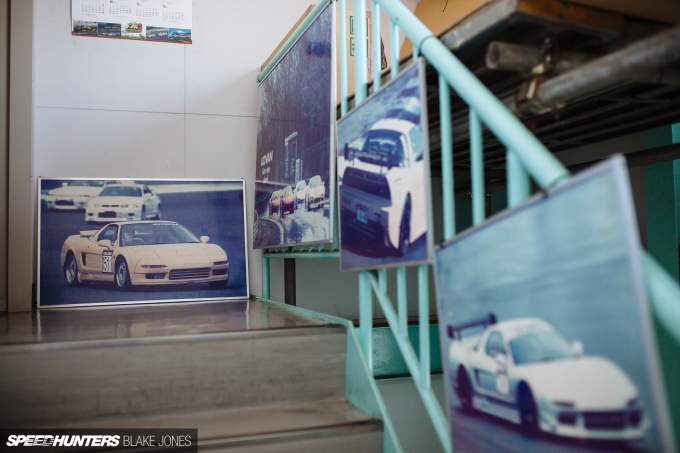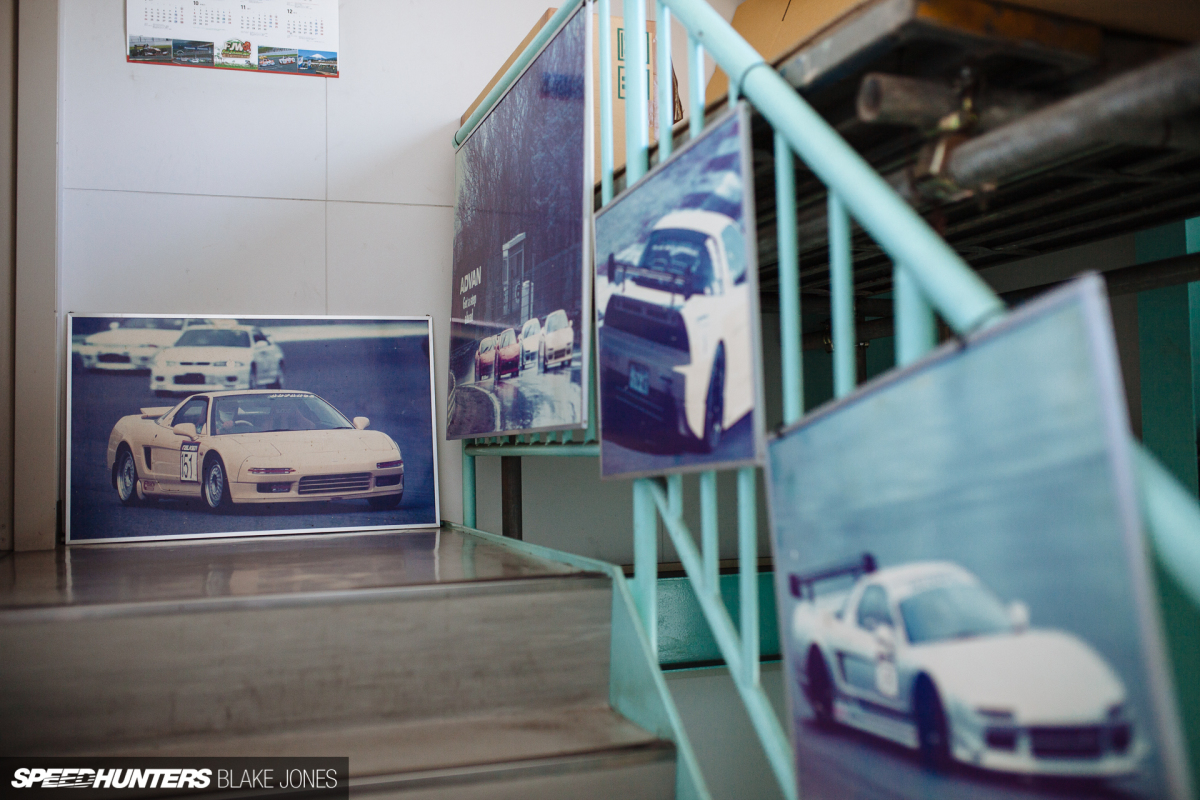 On the way up to the second floor office there's some fading photographs from Advance's early days, when founder Shinbori-san was one of the first tuners to try to eke more speed from Honda's supercar. Shinbori-san tragically passed away in 2010, leaving his son Masa to step up to the helm. He was not alone however – Yagi, who had worked with Shinbori-san for 15 years, completes the two-man team.
The office space is littered with relics of Advance's storied history.
This lower shelf here is reserved for magazines in which Advance has been featured – including issues of Hyper Rev's 'Tuning Bible' which are a must-own for any NSX enthusiast.
Masa was in the office taking calls from customers wanting to register for the next track day at Fuji Speedway in June. In the heat of the moment, I told him I'd sign up too, but now I'm a bit nervous that the car might not be quite ready, with tyres, brakes and fluids on the list before a run at Japan's highest speed circuit. Better get moving!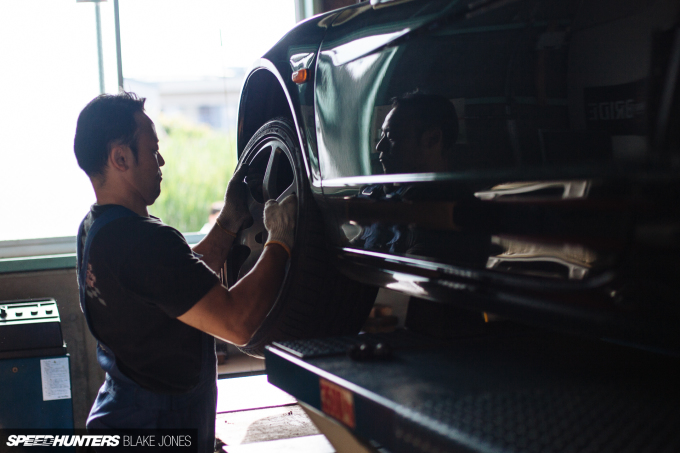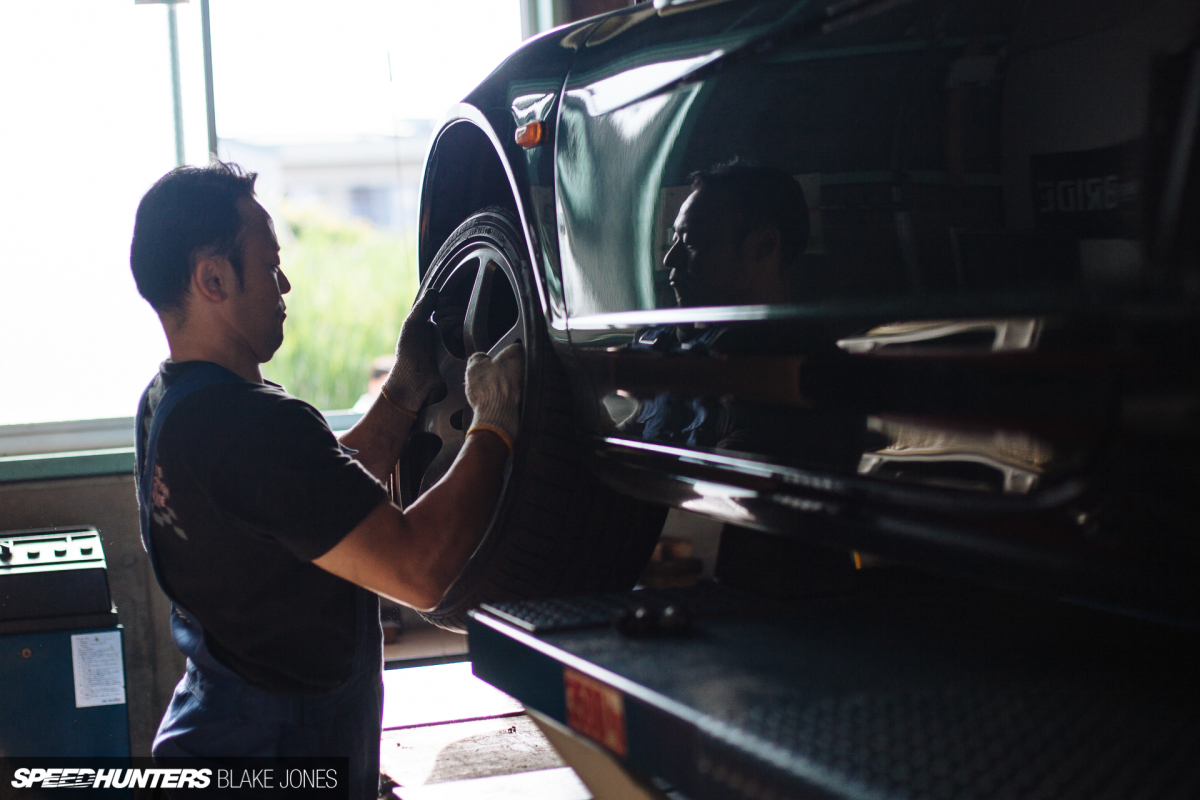 Respectful of my tight schedule, Yagi got straight to work. The car went up on the lift and a piece of tape was placed on each of the fenders for later height-setting measurement reference.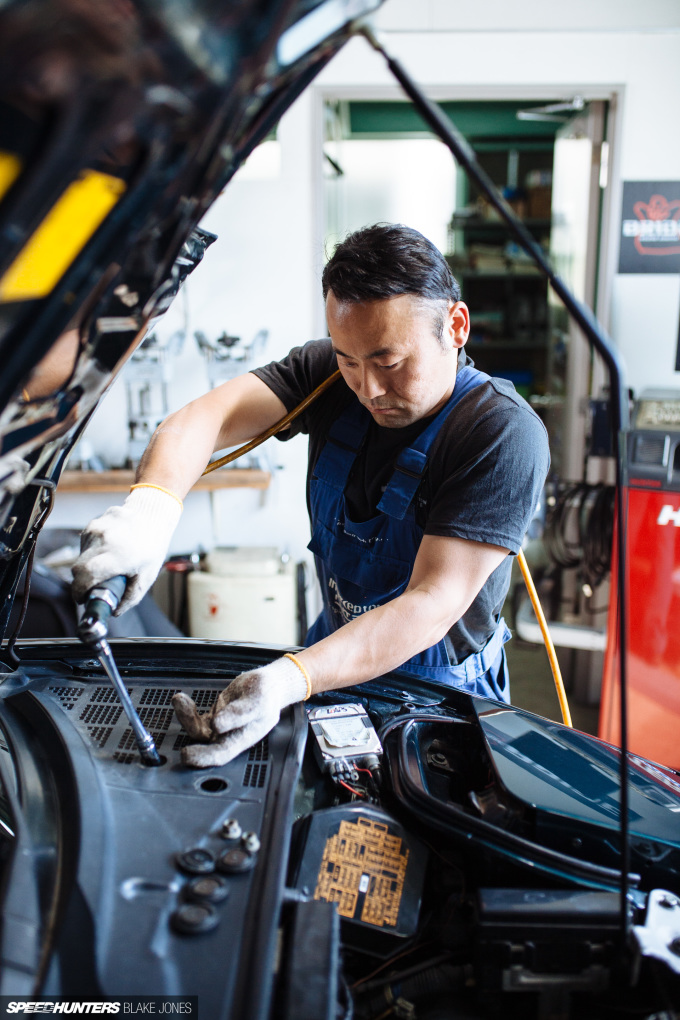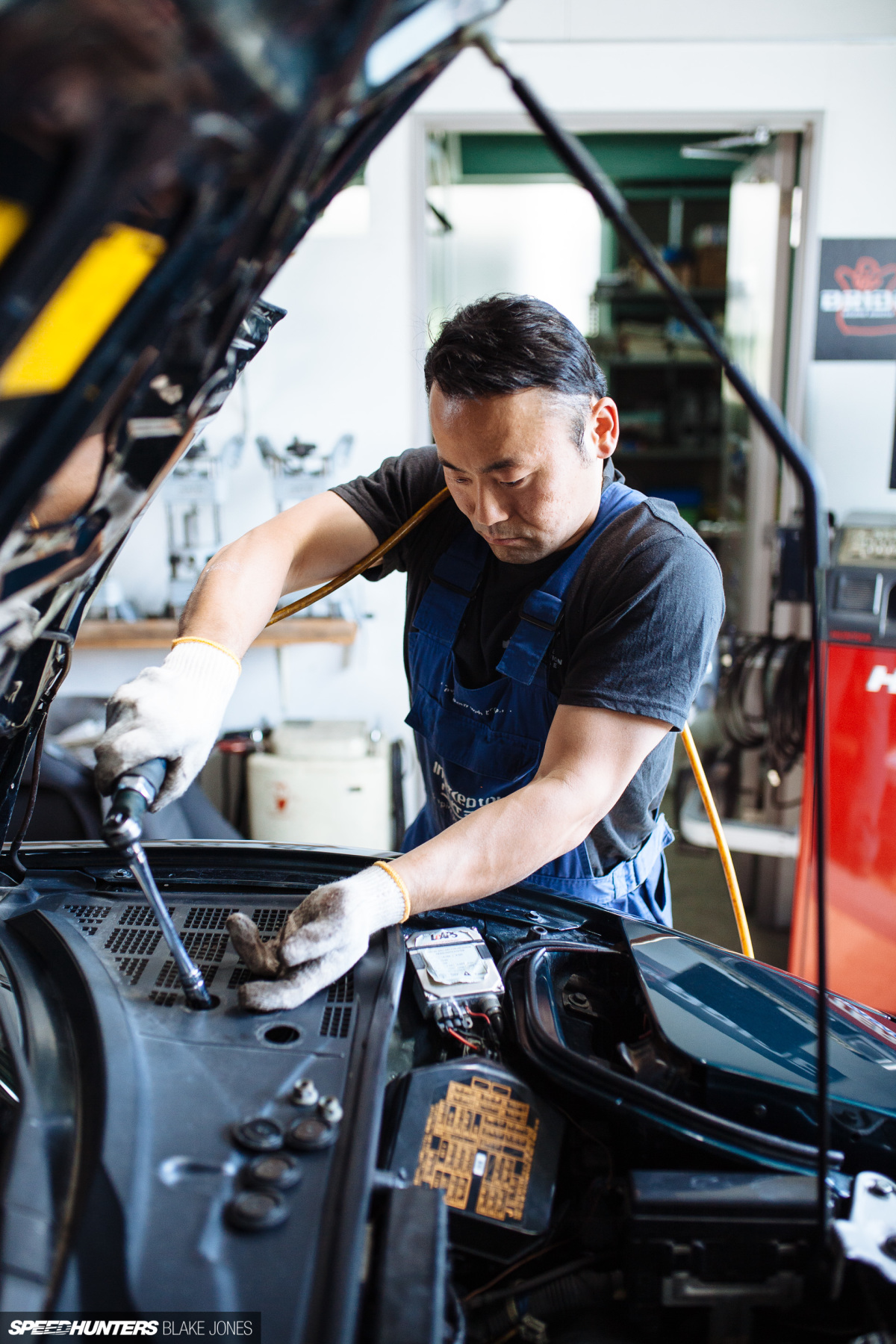 The wheels were deftly removed and Yagi made his away around the car with the rattle gun to remove the bolts holding each of the stock coilovers in place.
In the NSX, coilover top mounts are easy to access – the front just requires four plastic covers to be unclipped, while at the rear the mounded plastic vent that sits behind the rear hatch would need to come out.
I took the opportunity to weigh both the stock shocks and the KW Clubsports, as part of my mission to document the performance benefit (or downside) of each modification as precisely as possible. Getting extra power from the C30A is neither cheap nor easy so saving weight is of utmost importance for the build. A pleasant surprise then that the KW's were on average 1.6kg (25%) lighter at each corner! Although it does raise the question if a shock body counts as 'sprung' or 'unsprung' weight…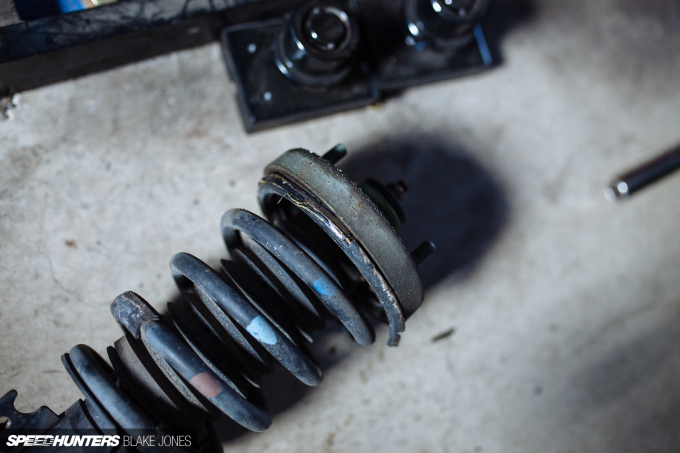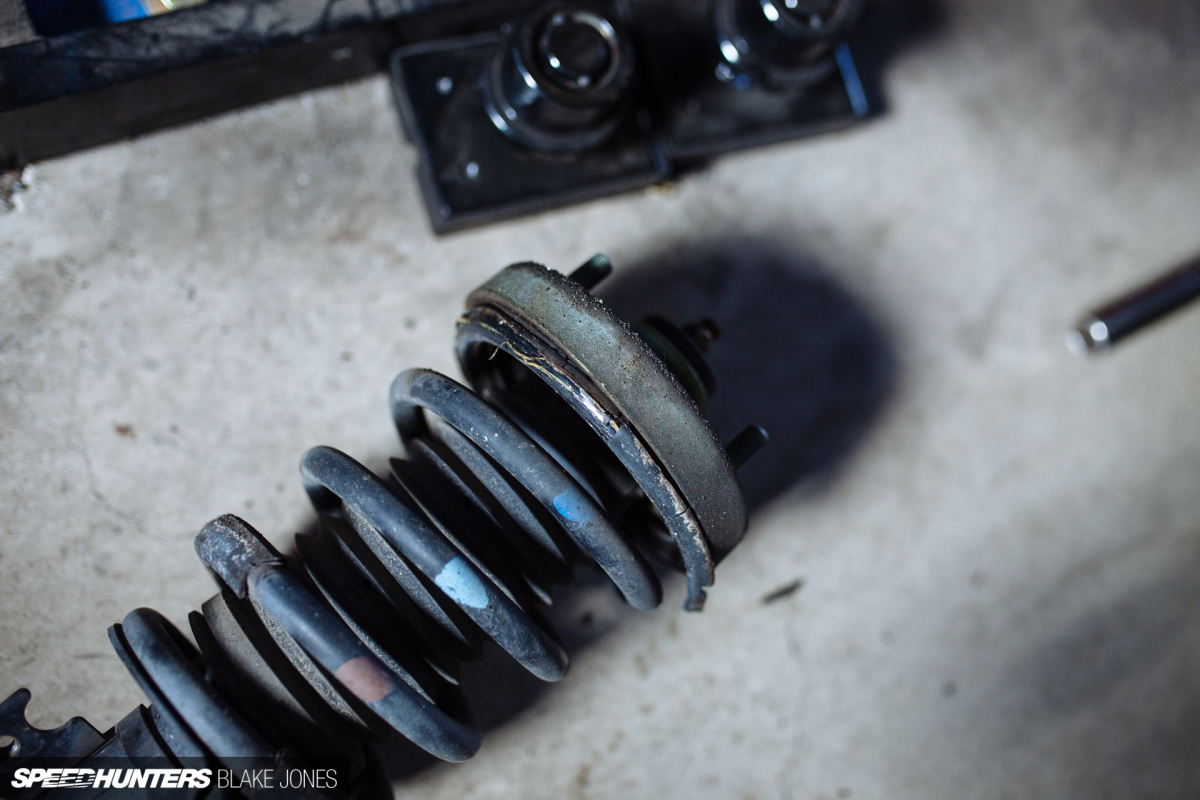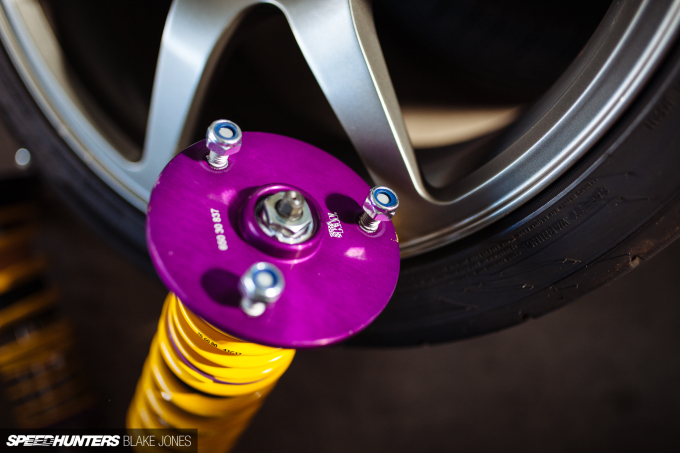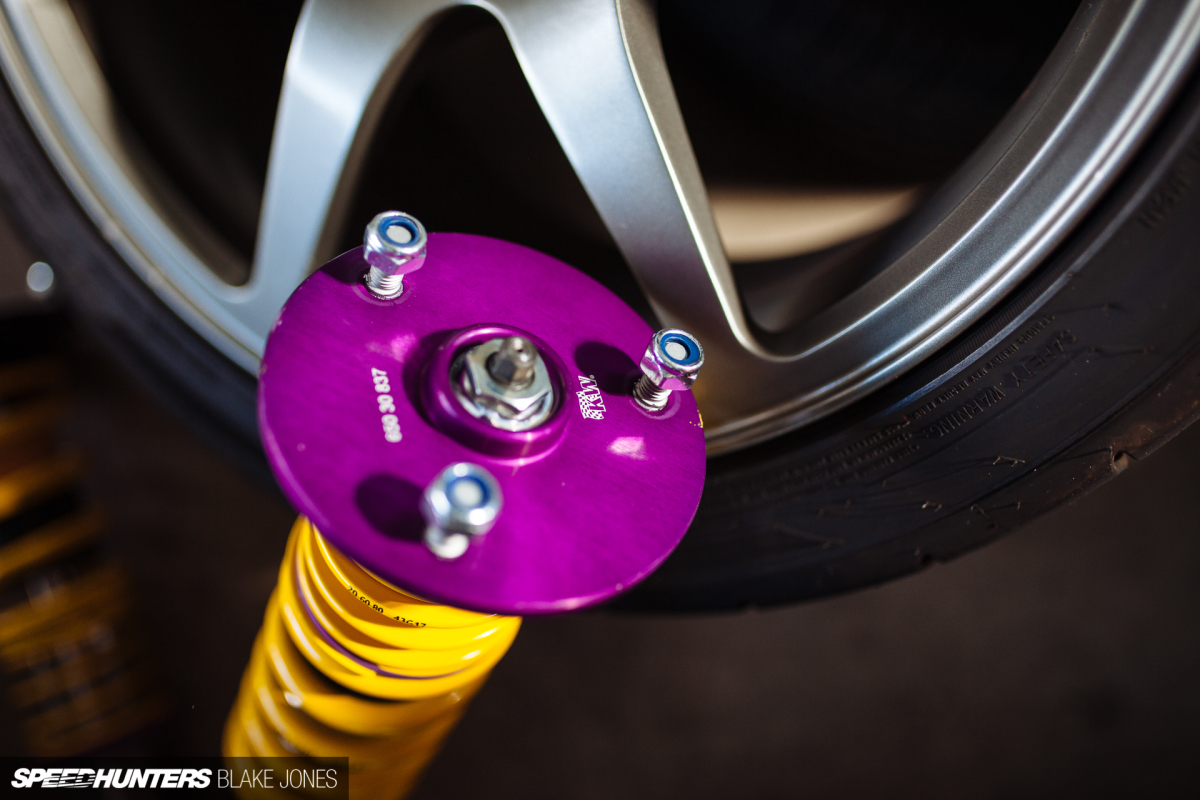 As with most cars the factory top mounts are rubber units, and at 25 years of age, the NSX's had seen better days. The KW aluminium mounts are sealed and will never fail like the stock unit above.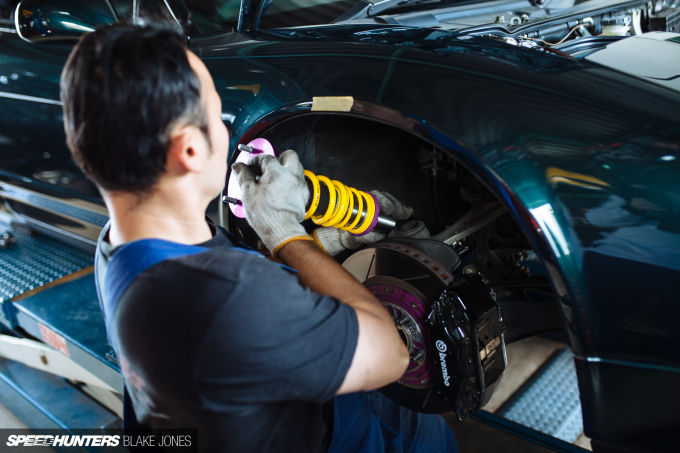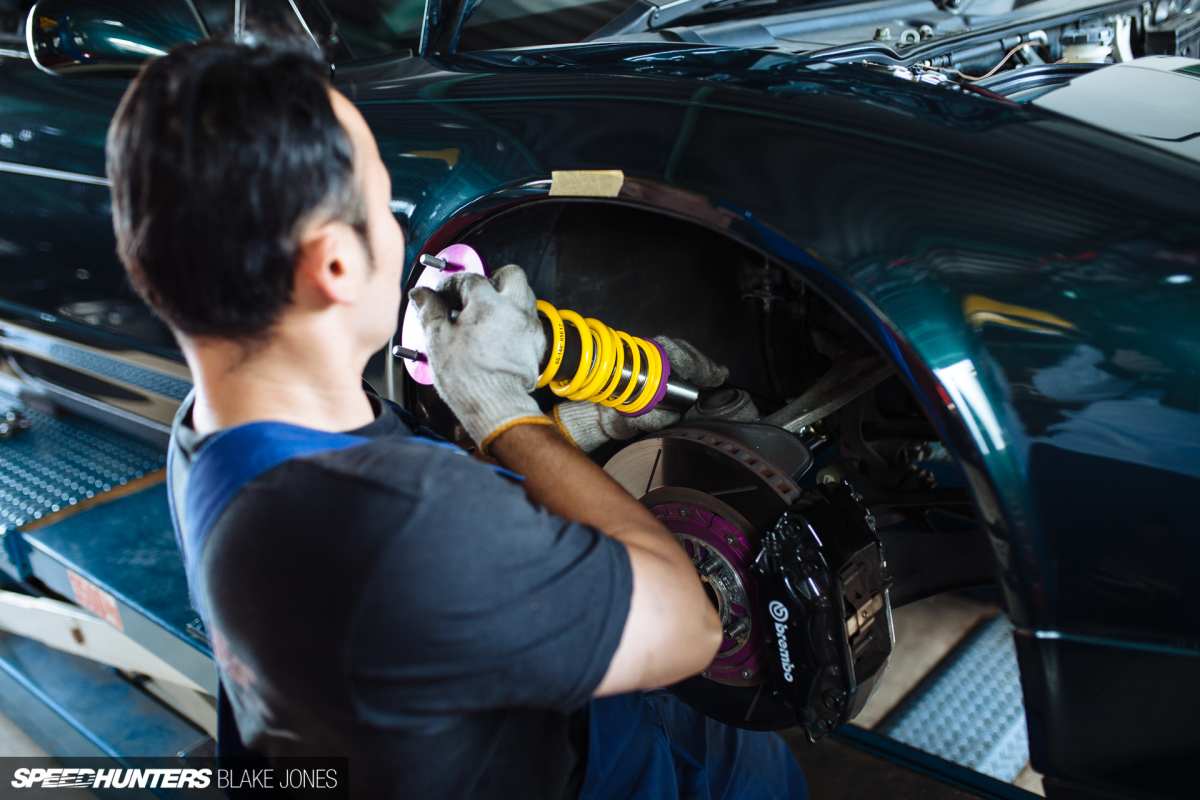 The units were then carefully manoeuvred into place.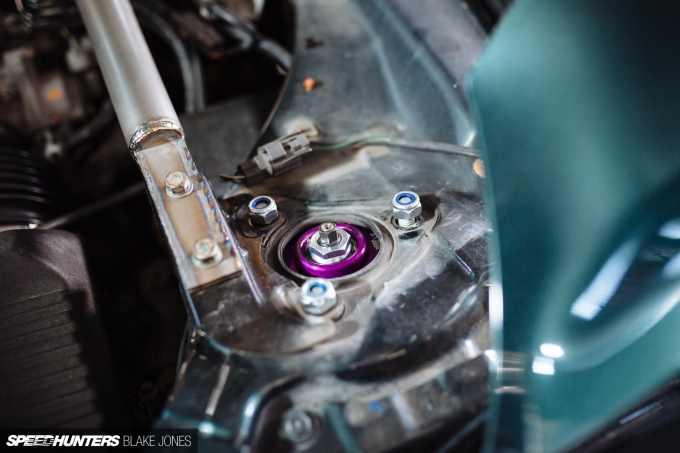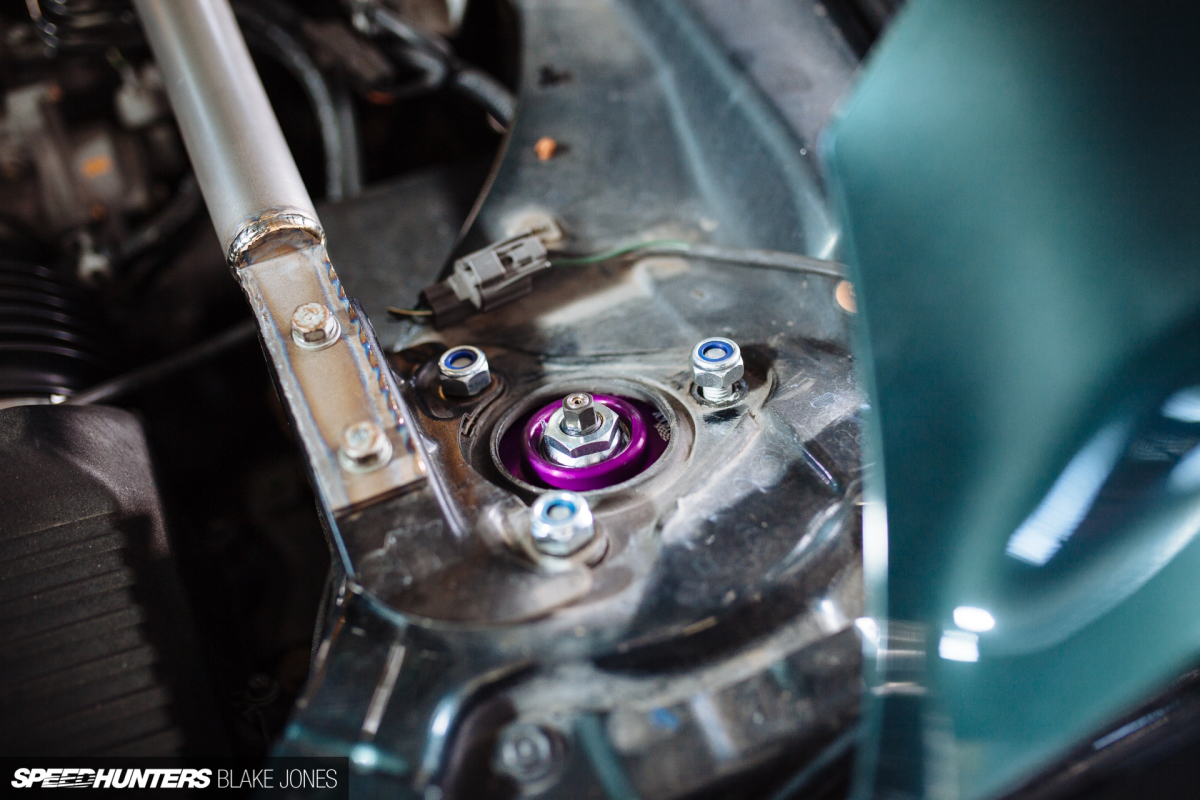 Once everything was aligned, the nuts were hand tightened before being finally torqued to specification.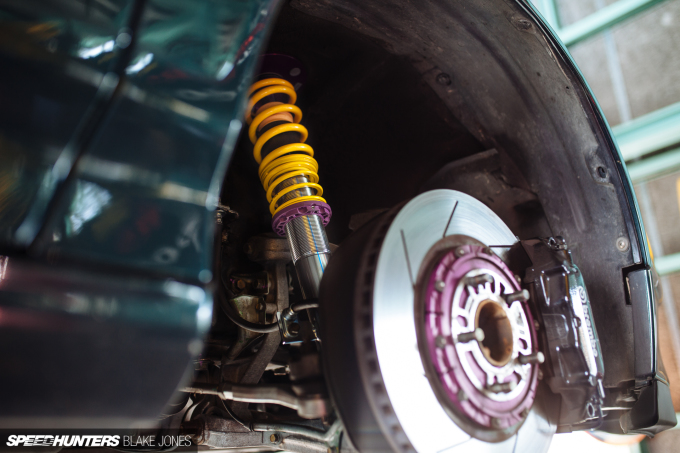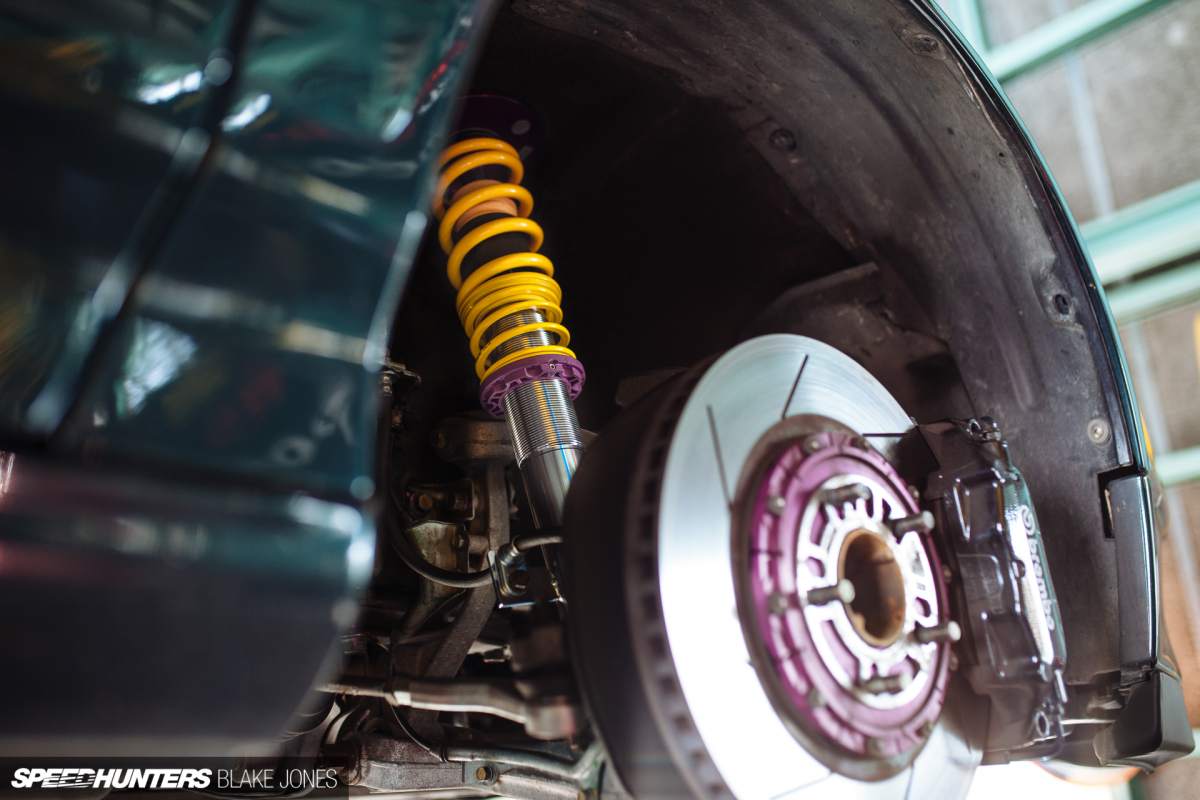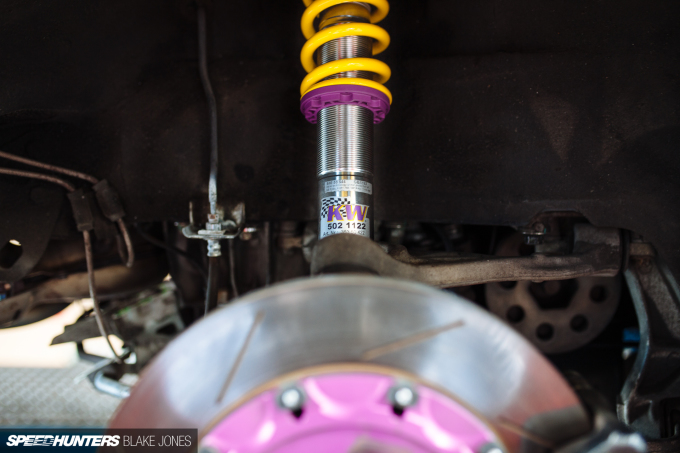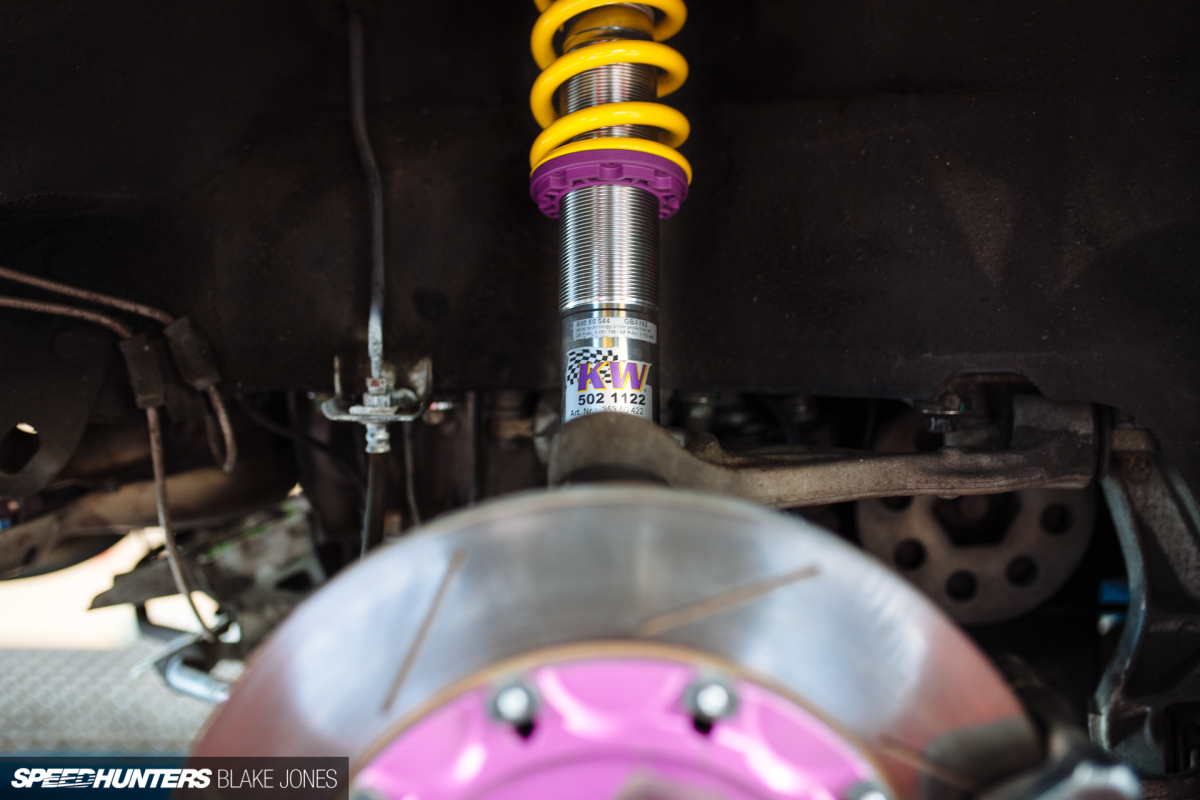 It's almost a shame to hide the handsome KW's inside Project NSX's dirty wheel wells, so I made sure to photograph them looking spotless for posterity. At least I can take comfort that the stainless steel inox-line bodies will be impervious to any sort of corrosion.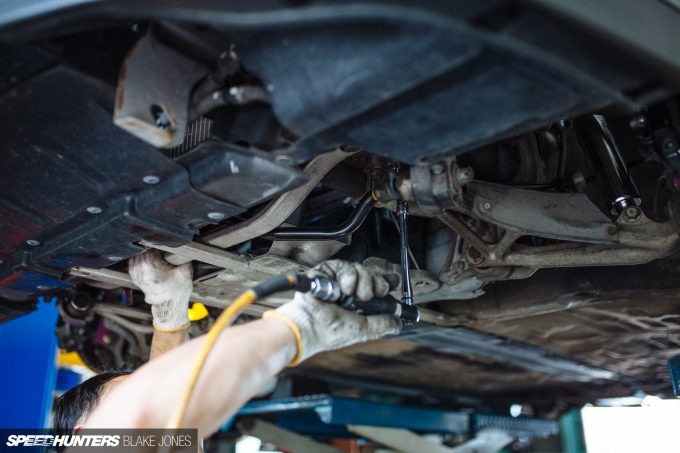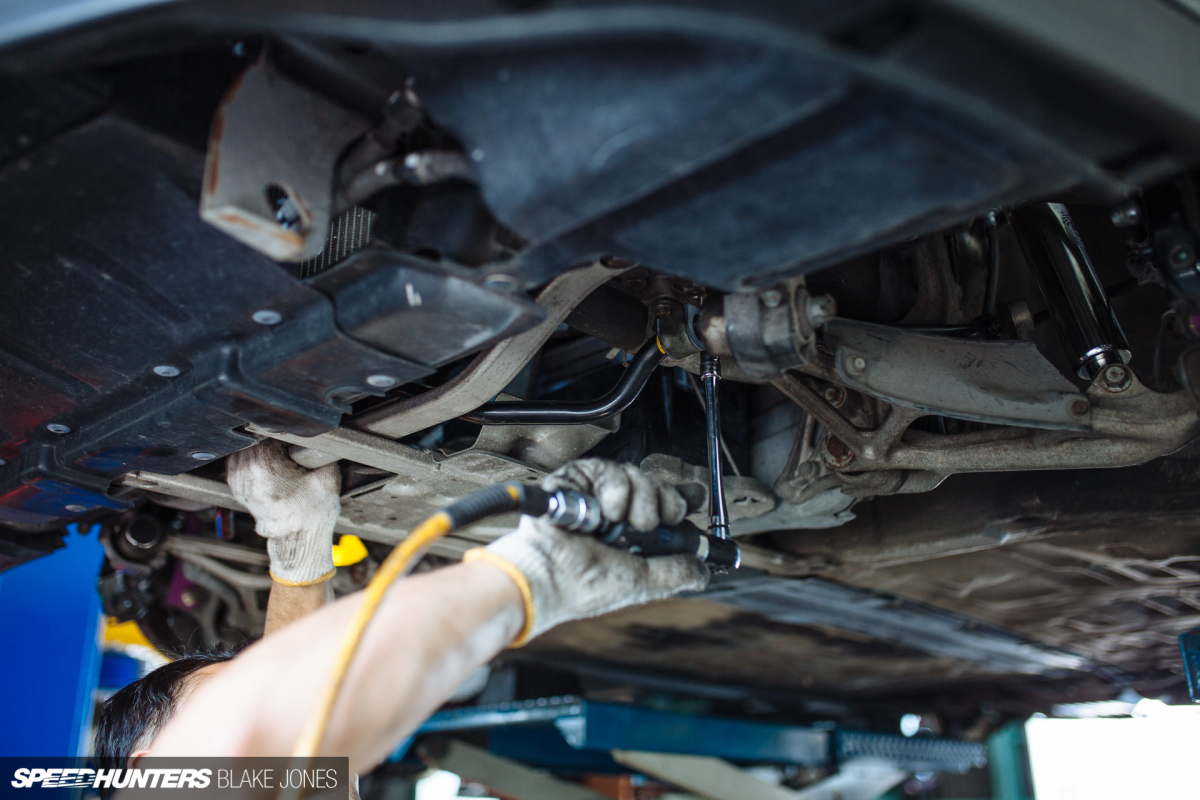 At the same time the coilovers were going in I decided to install a beefier OEM front sway-bar from the NA1 NSX-R. Yagi is a quick worker so I didn't manage to snap a photo before it went in, but here you can see him installing the new bar. It's 3mm thicker than stock and should usefully stiffen the front end. The rear bar is being left stock for now based on the recommendation of Advance, but if the front end starts to push I might go back to the stock bar.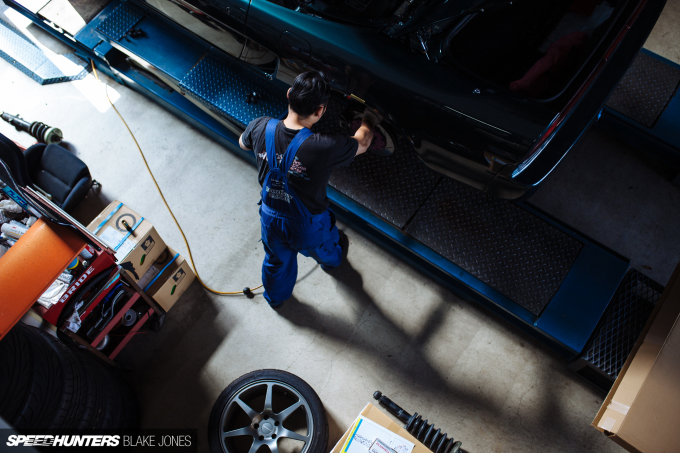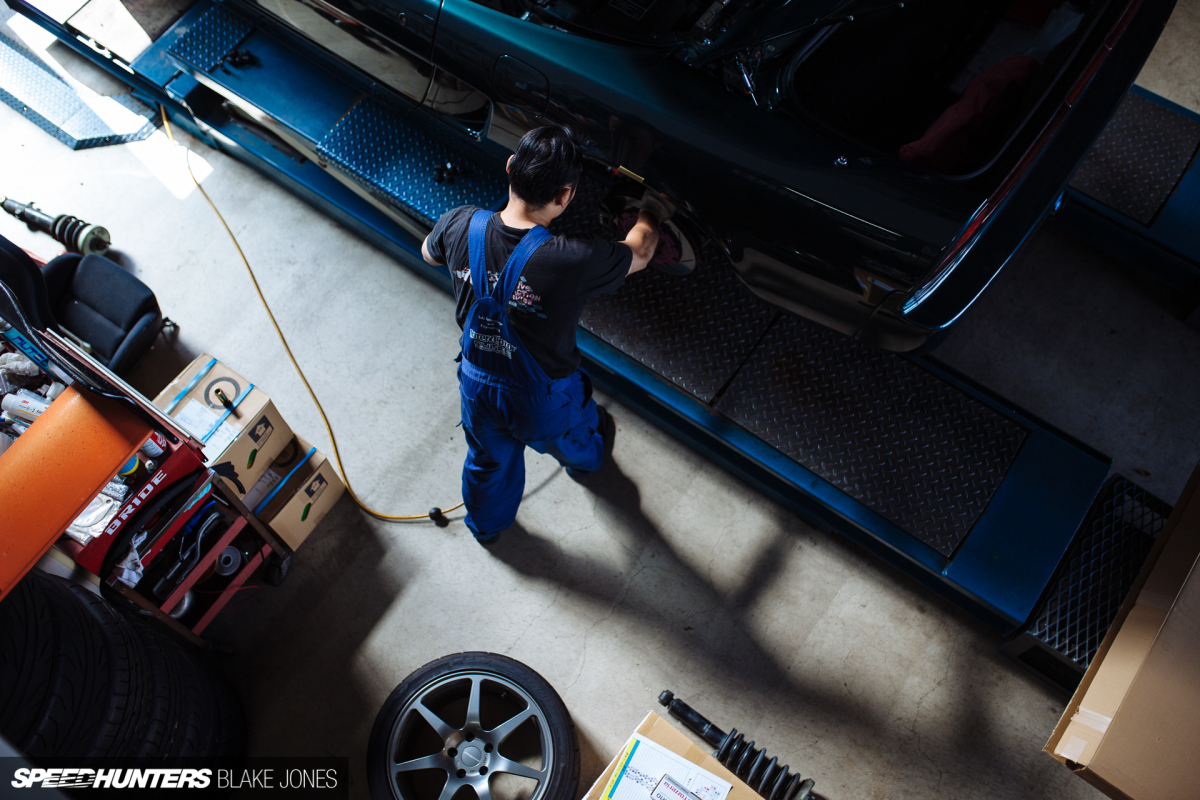 Yagi then asked me how low I wanted the car. Being indecisive, I threw the question back at him 'osusume wa nan desu ka?' to which he laughed. There were two options: his ideal ride height for a road/track NSX, and the legal height. I'll let you guess which option I chose.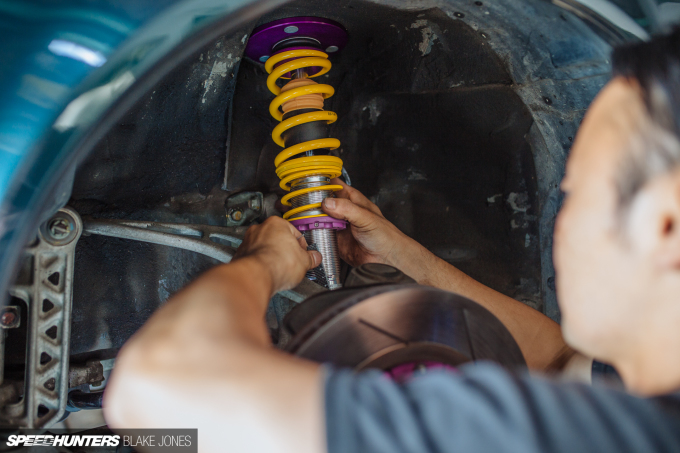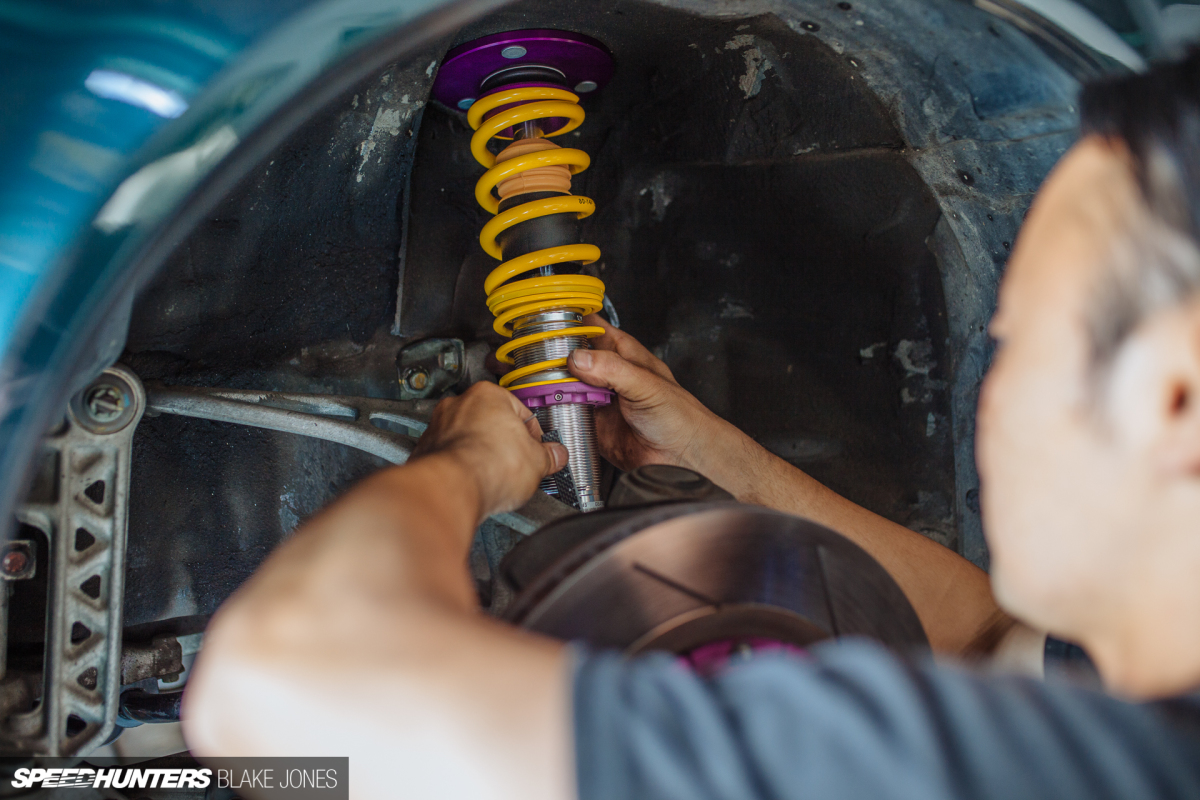 Height adjustment is made via an adjustable spring perch mounted on the shock body, as you'd expect.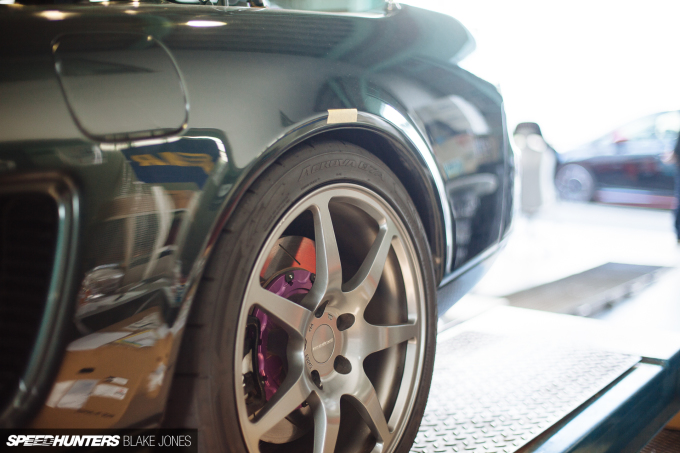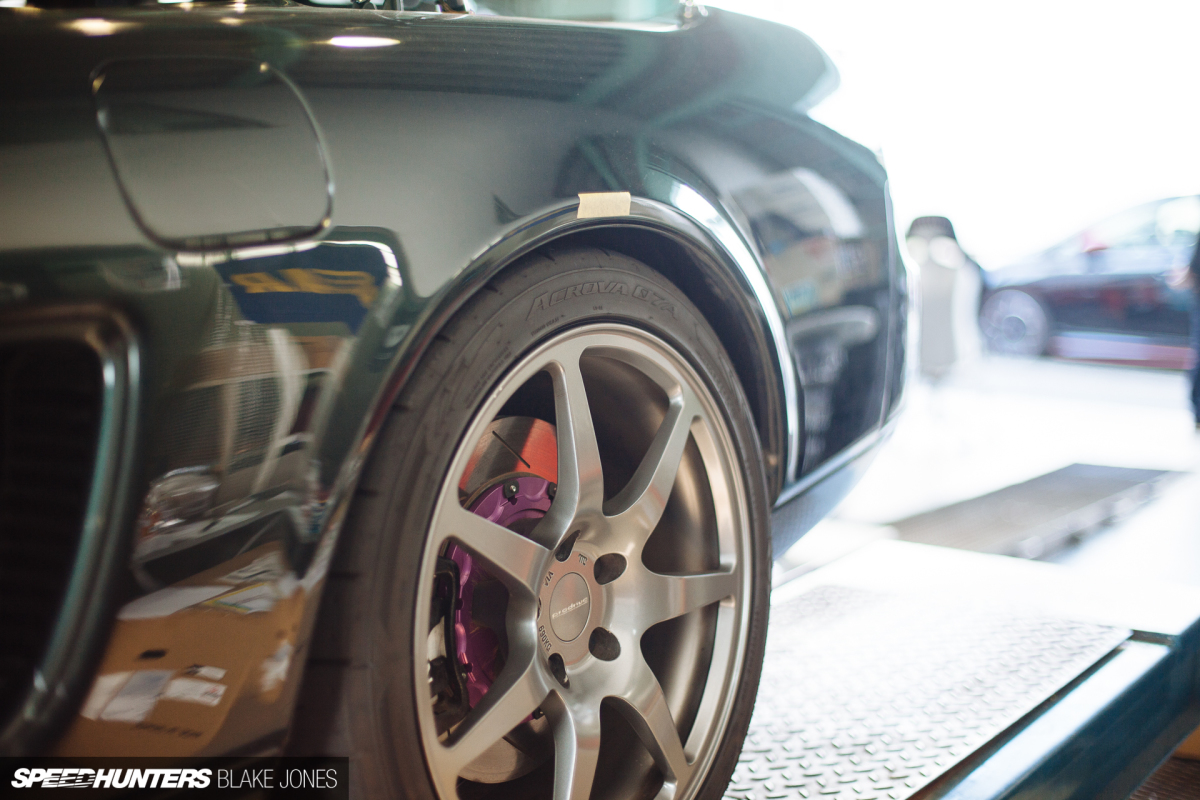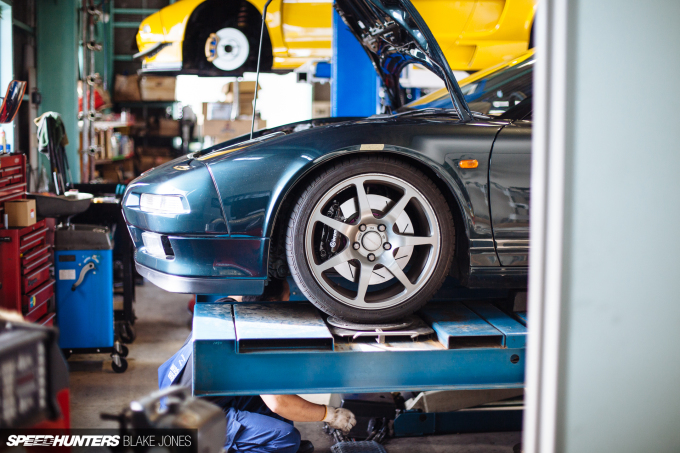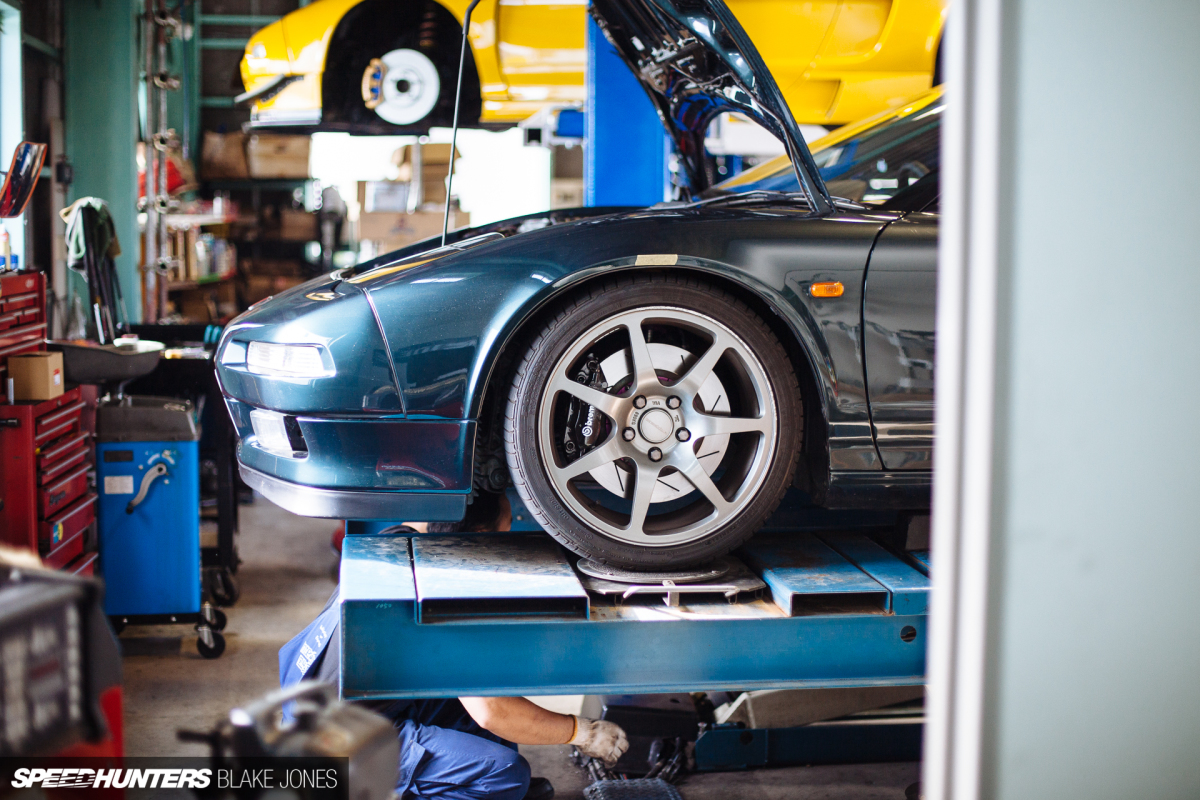 After a few cycles on the lift, Yagi had the new height set – about 30mm lower at both ends than before.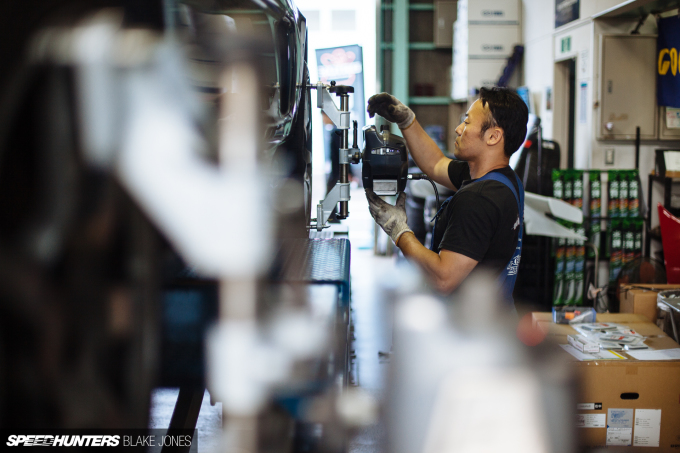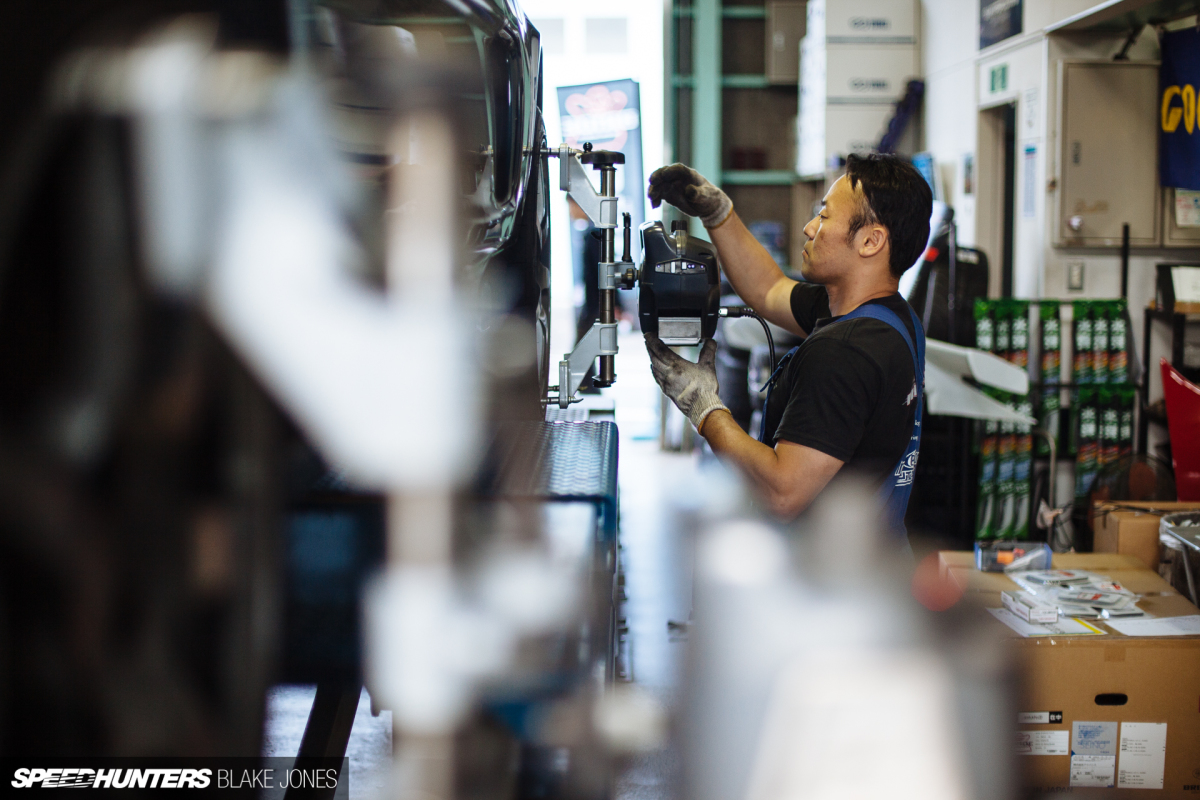 A significant portion of Advance's work is pre-track day preparation, of which alignment is an integral task. There's no strings or bobs to be found here – Yagi uses a laser system from Hunter.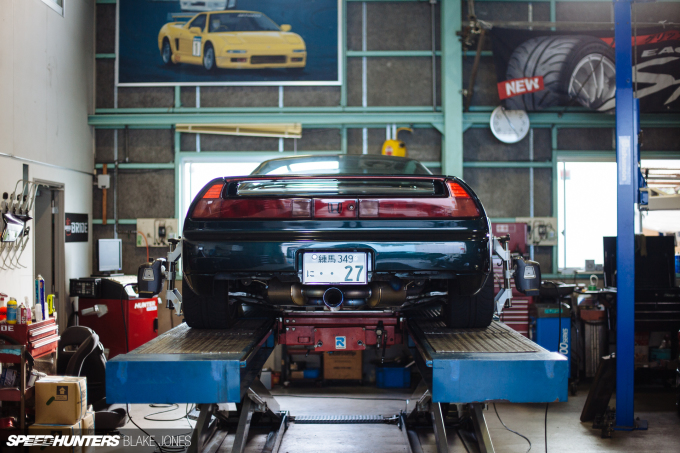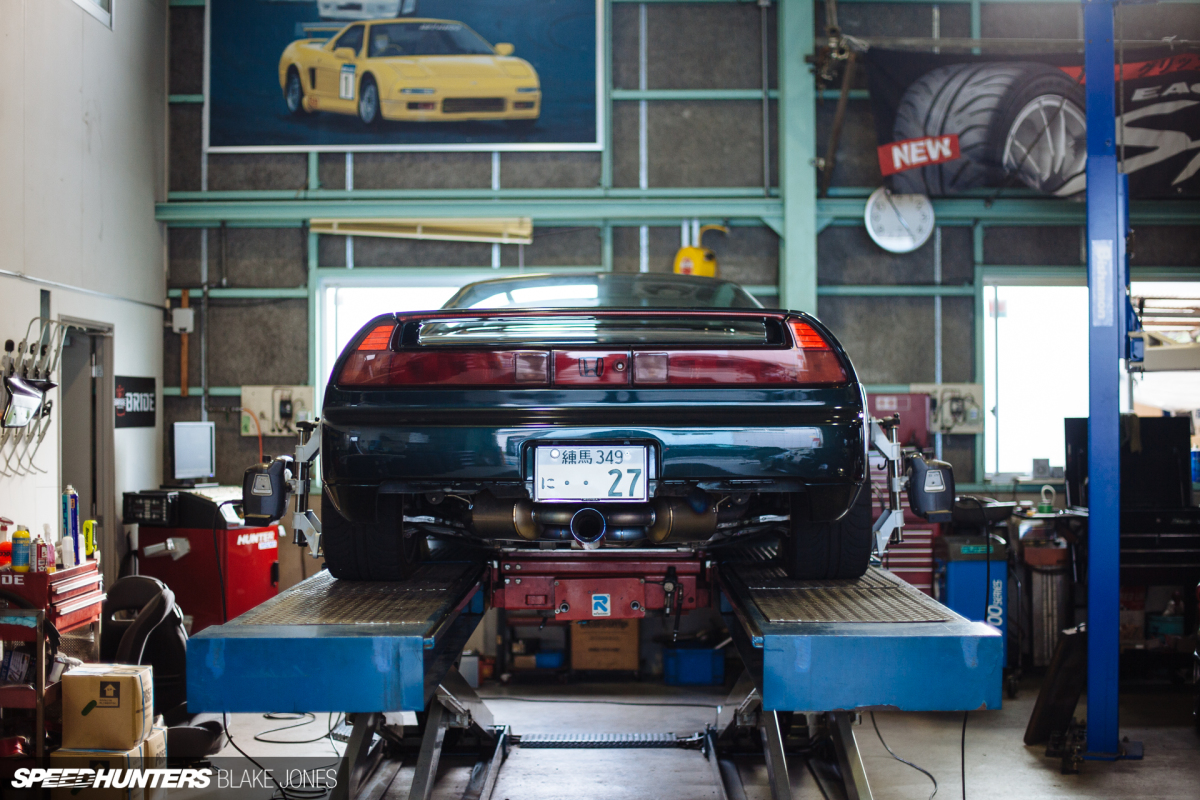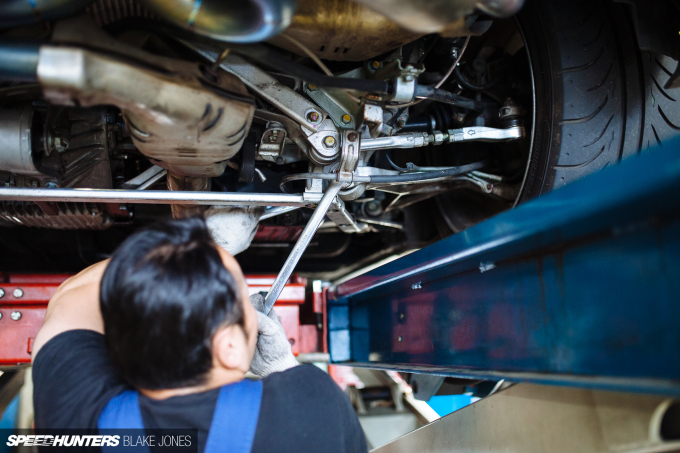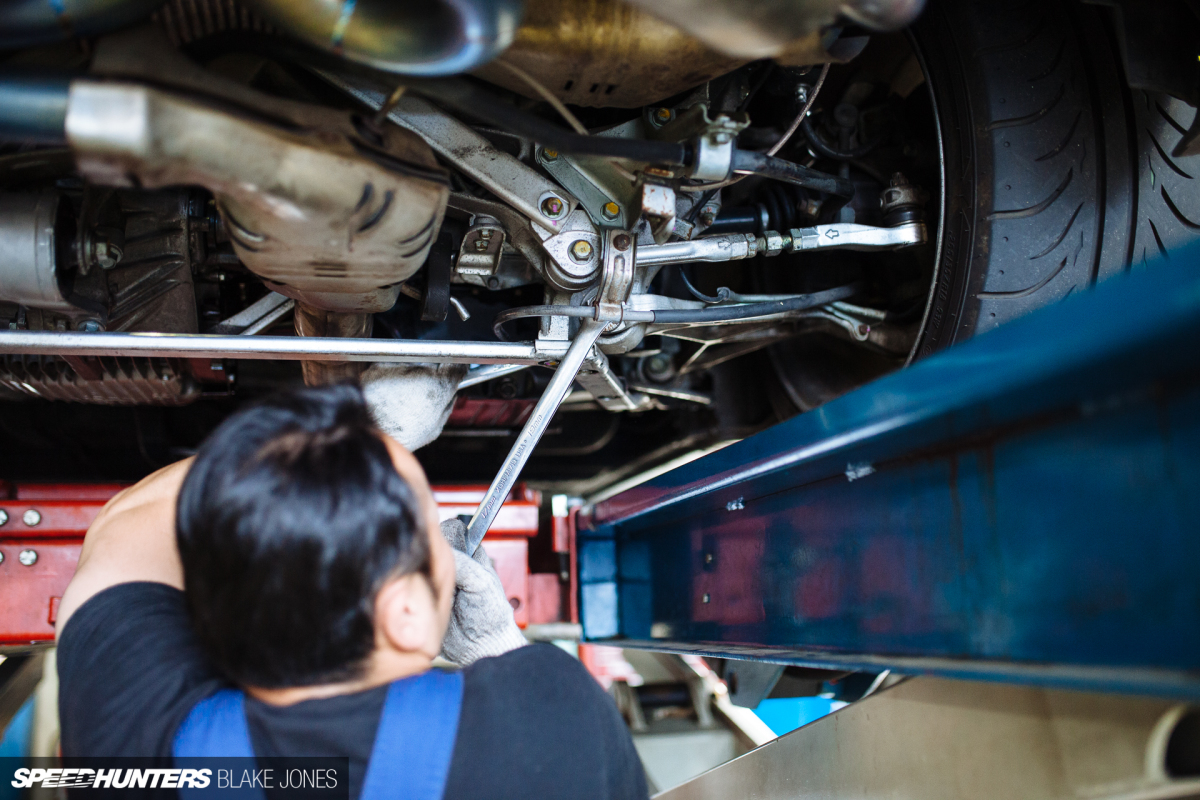 Despite paying for dozens of alignments over the years I've never stuck around to watch, so it was a pretty interesting process. The laser system means Yagi can quickly get each setting right (with an audible and visual confirmation from the machine) without the need for a second send of hands or eyes.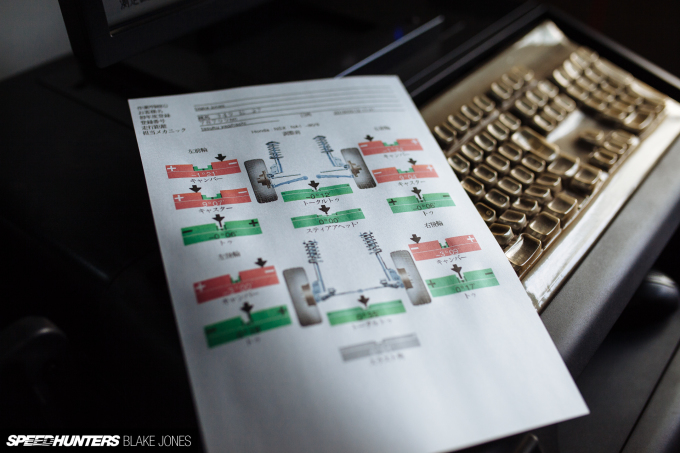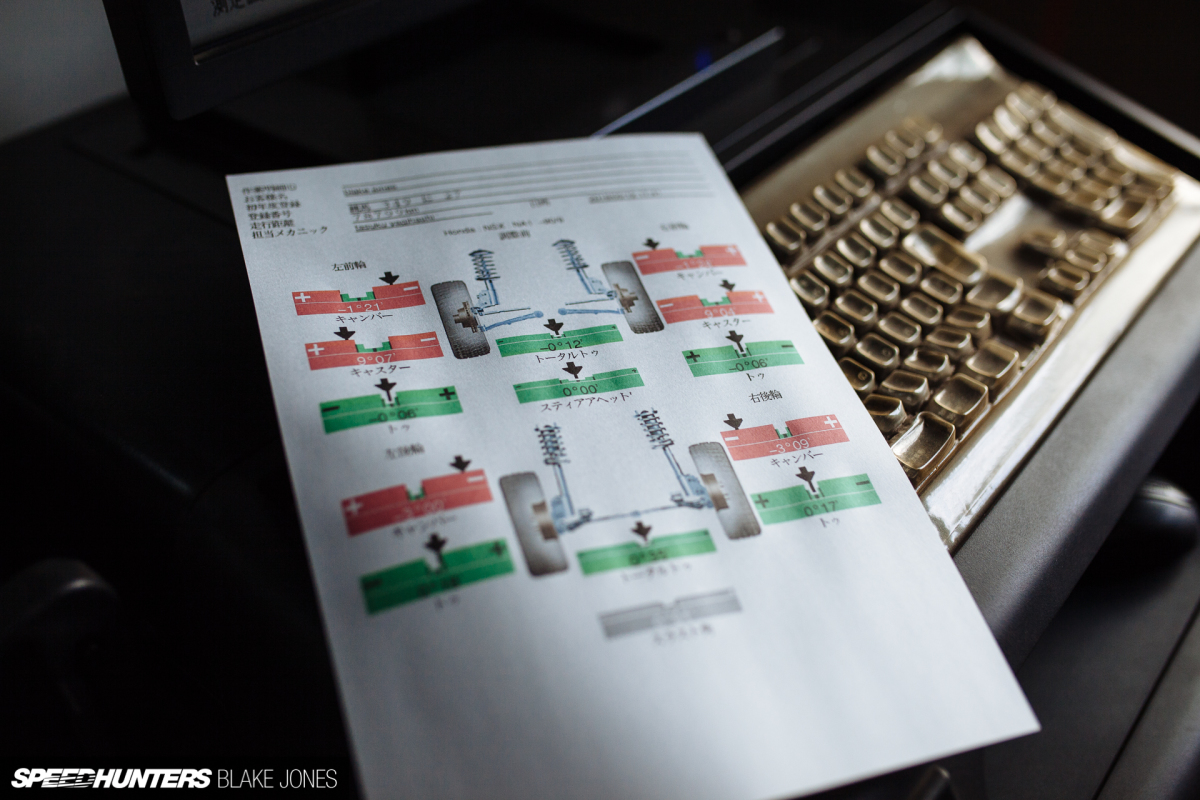 At the end, I got a print-out with my new alignment specs – sportier than stock but nothing too extreme considering the street tyres I'm using at the moment.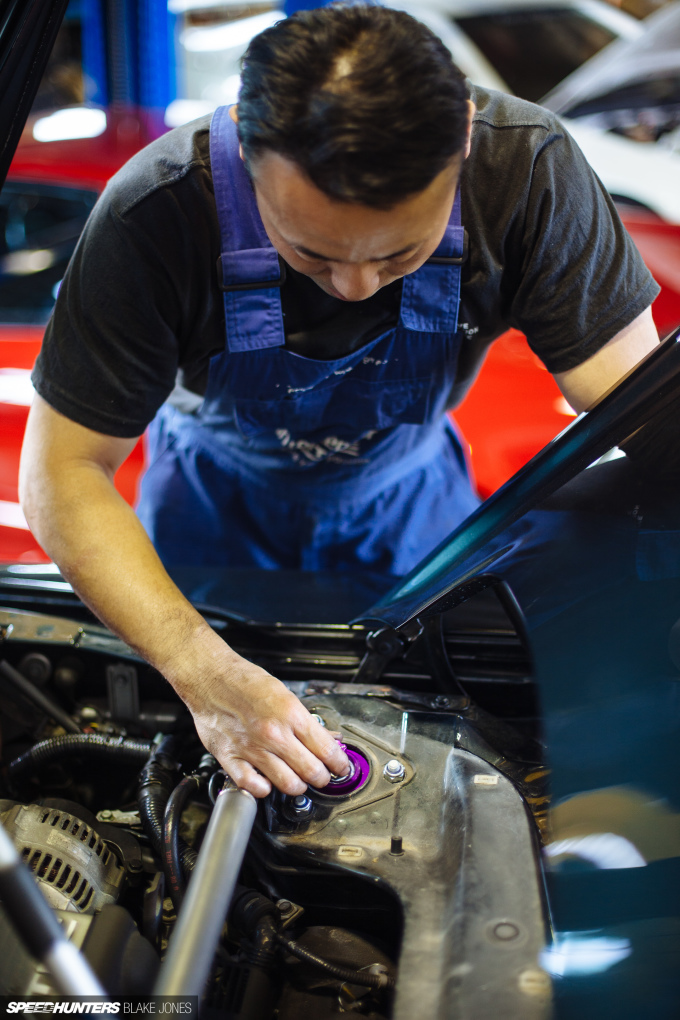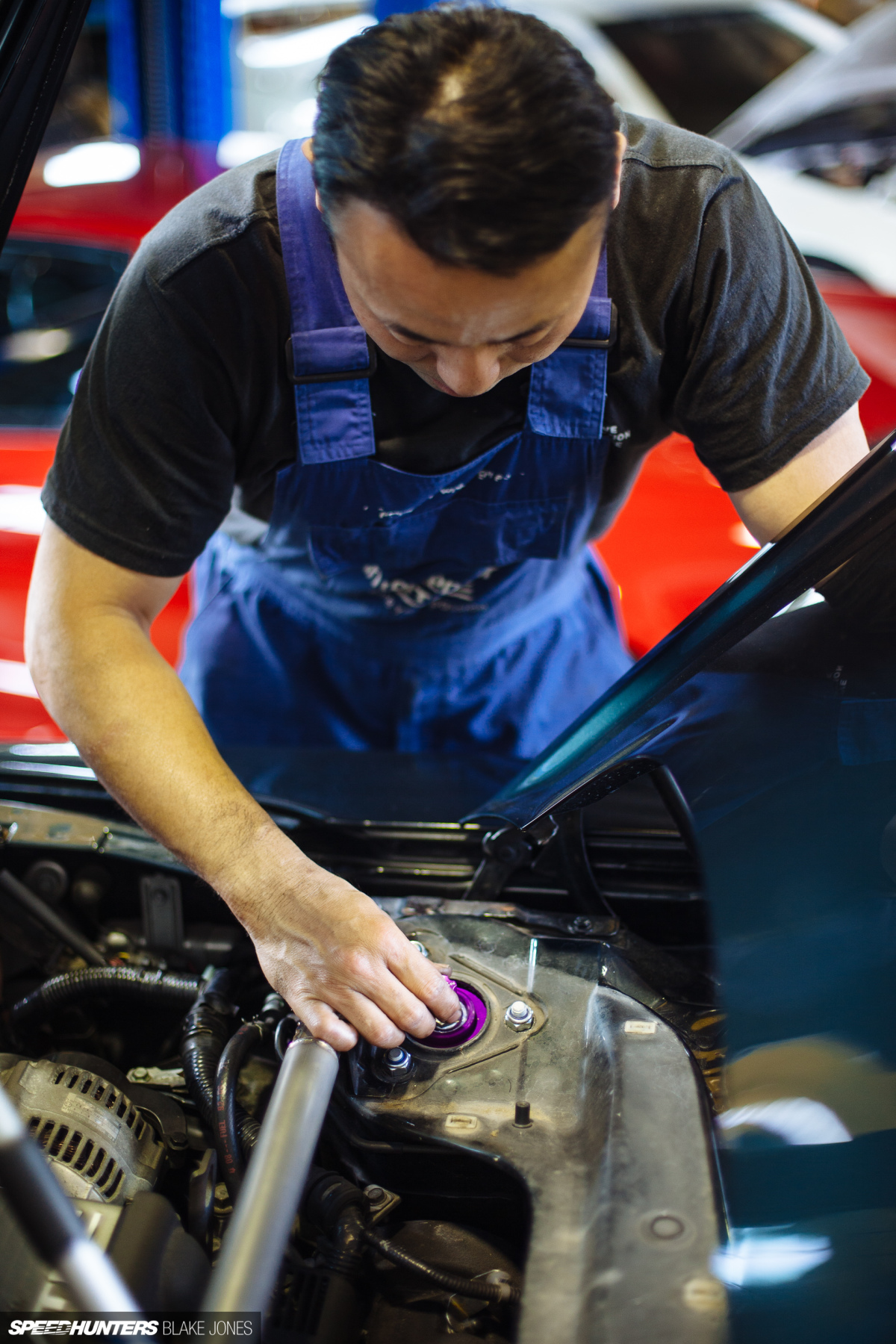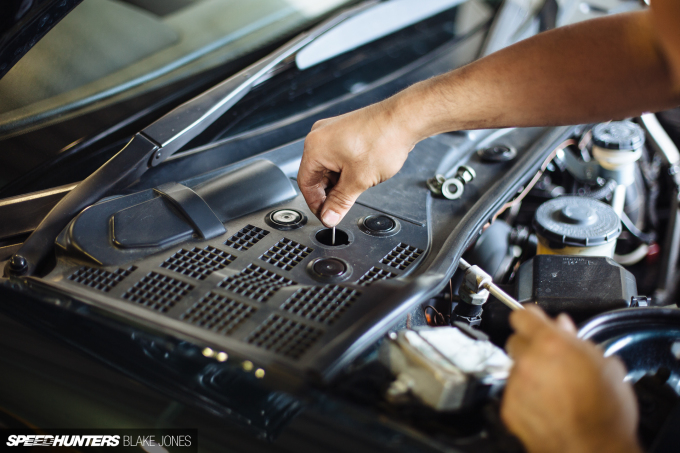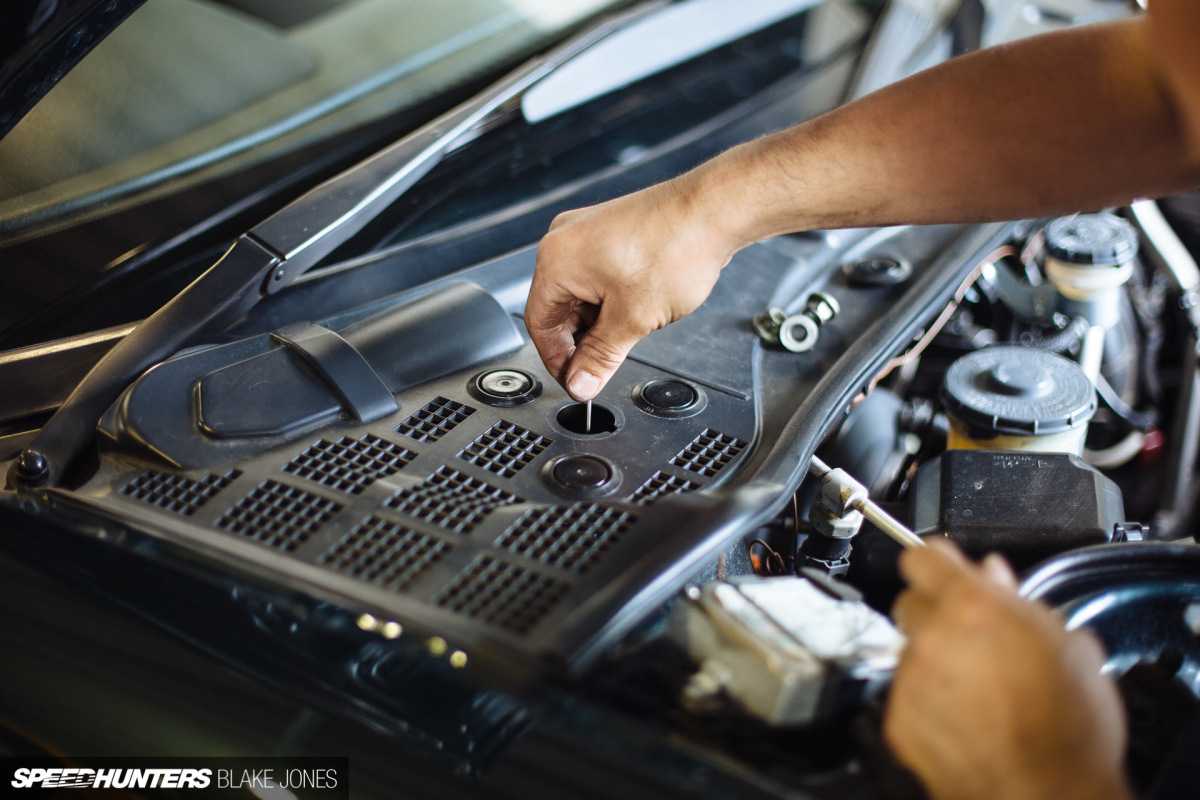 Those easy-to-access top mounts mean setting the rebound will be a quick and easy job. My plan is to start on the softer side and gradually ramp up the stiffness if needed in the future, so Yagi set both compression and rebound to full hard and then backed it off by five clicks.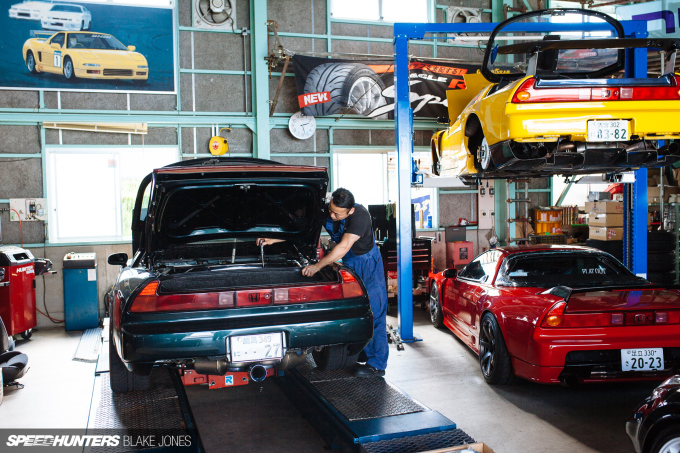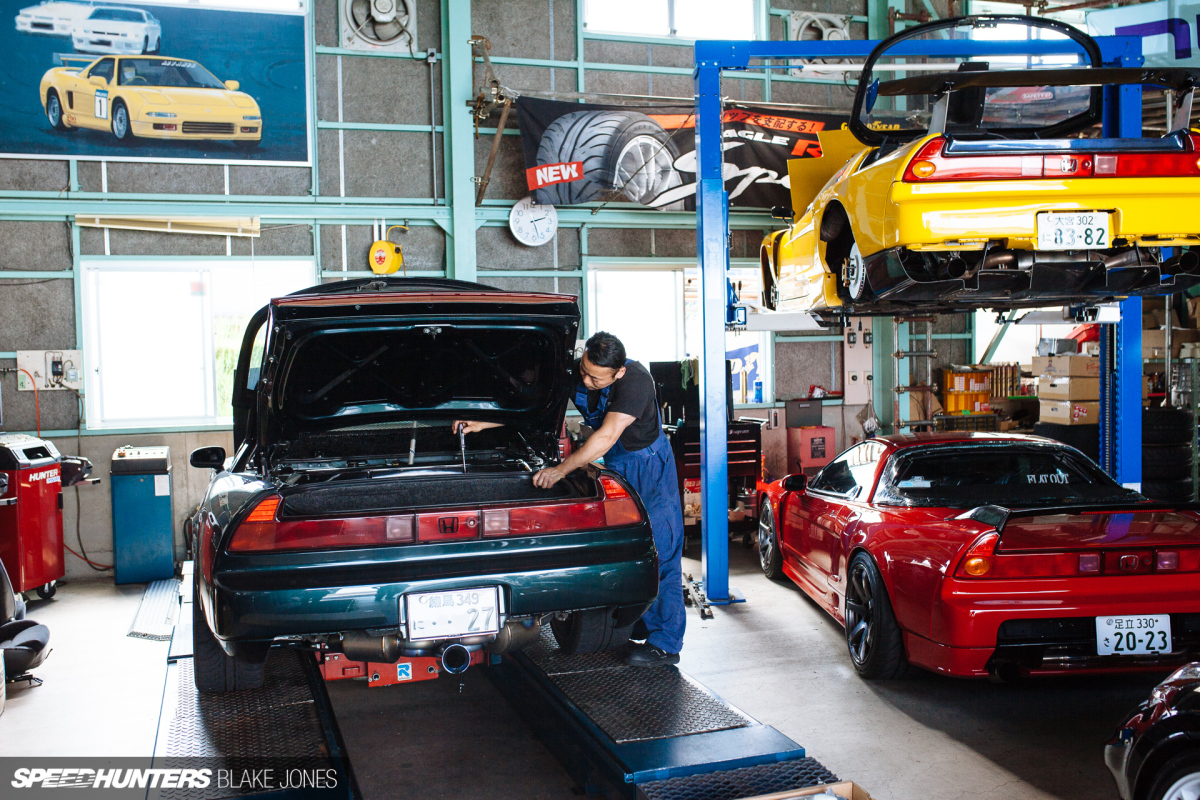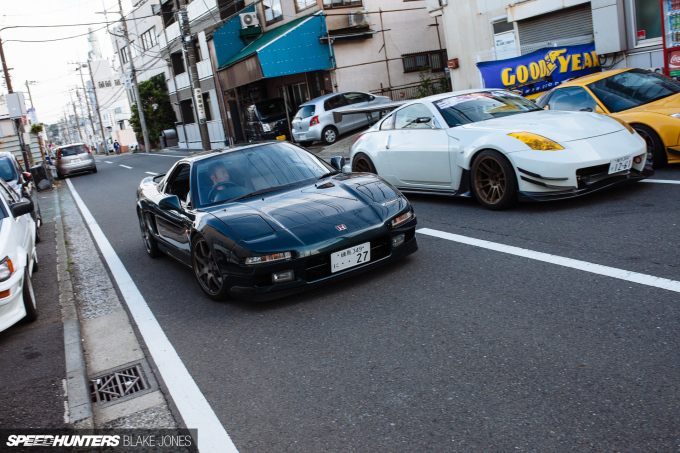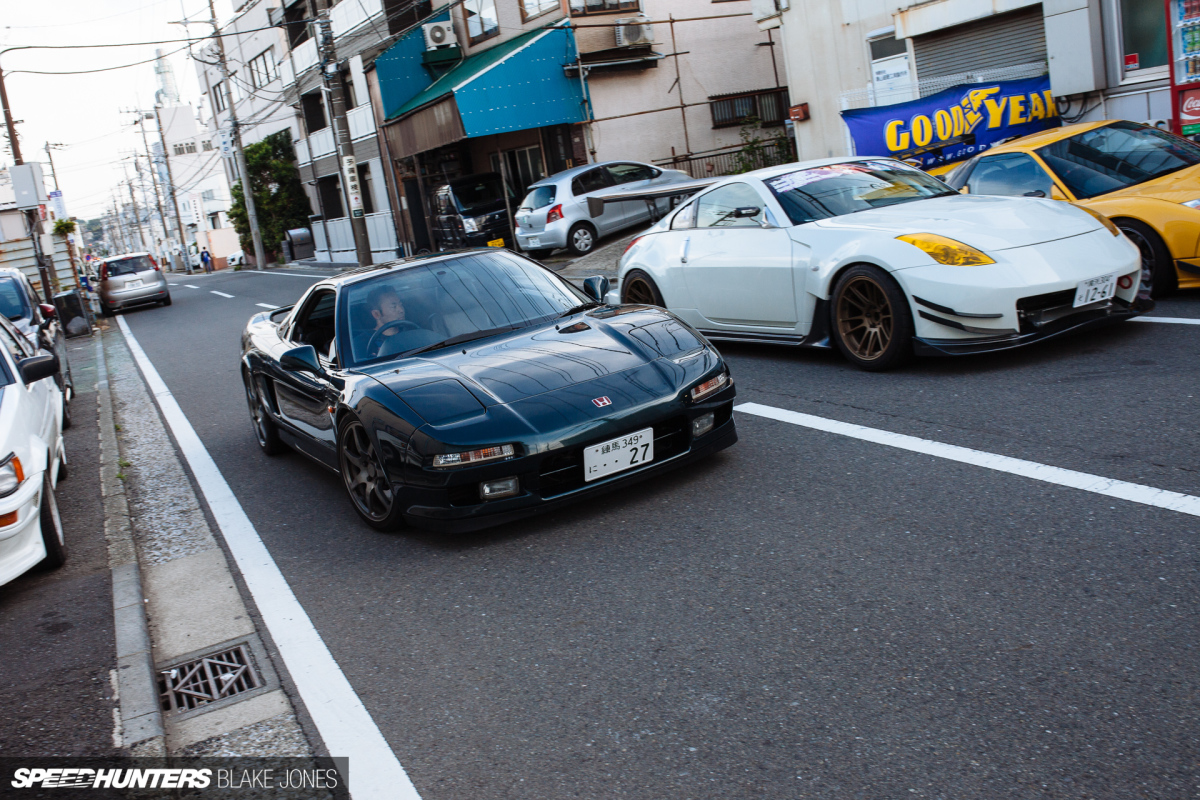 The only thing then left was for Yagi to take the car for a quick test drive and verify that his settings were correct and everything felt as it should. It was also the first time I could see the car at its new height – it looks so low now!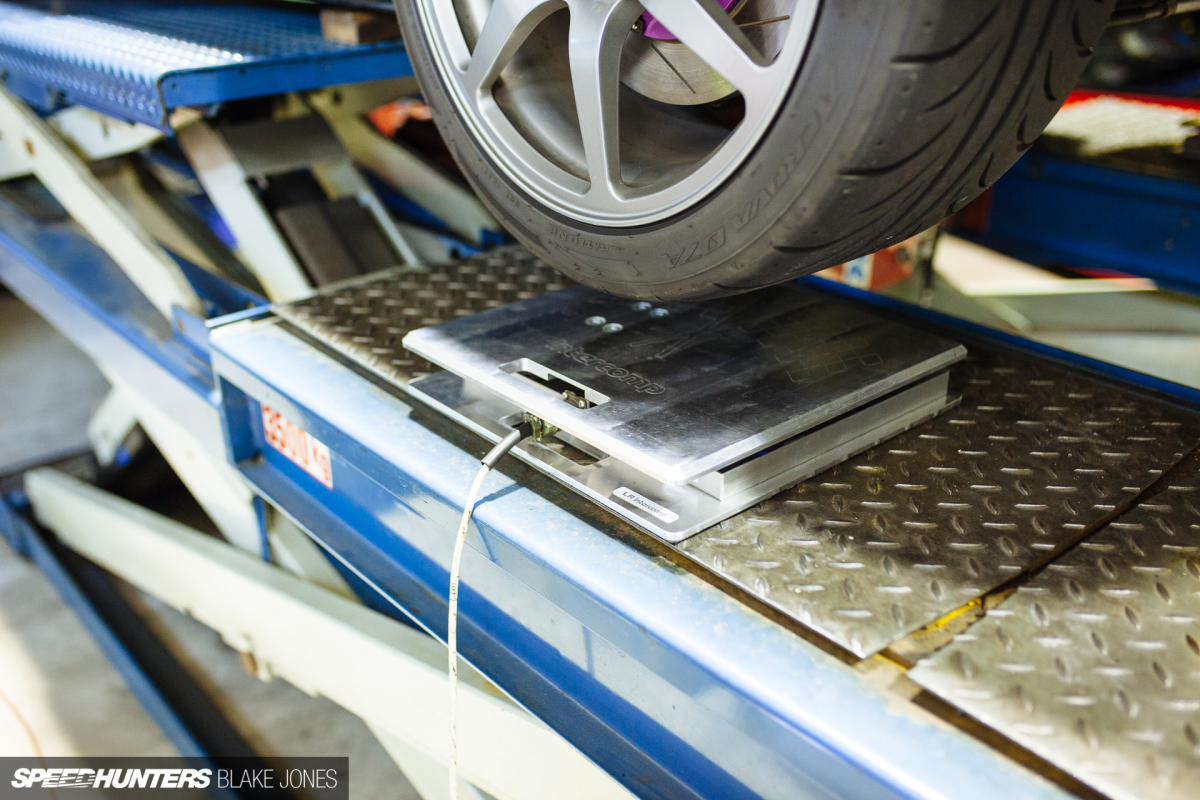 We also did a corner balance and I was able to check the overall weight of Project NSX, which I'll go into in the next build instalment.
Final Impressions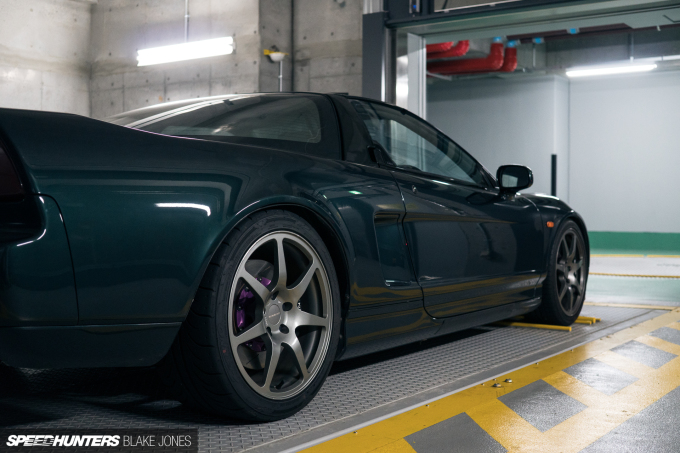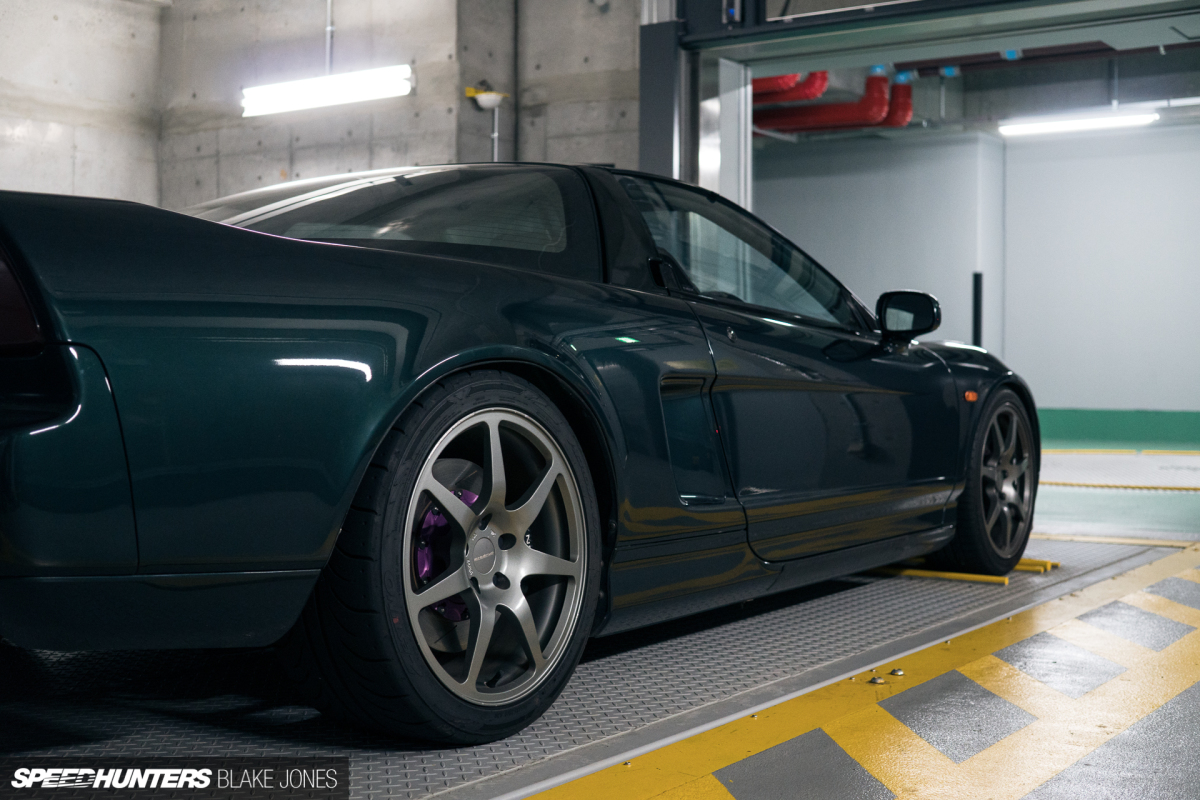 We all know that a dose of low can really bring out the best in a car's looks, and I really think Project NSX finally looks like a bonafide supercar with that fender gap all but gone.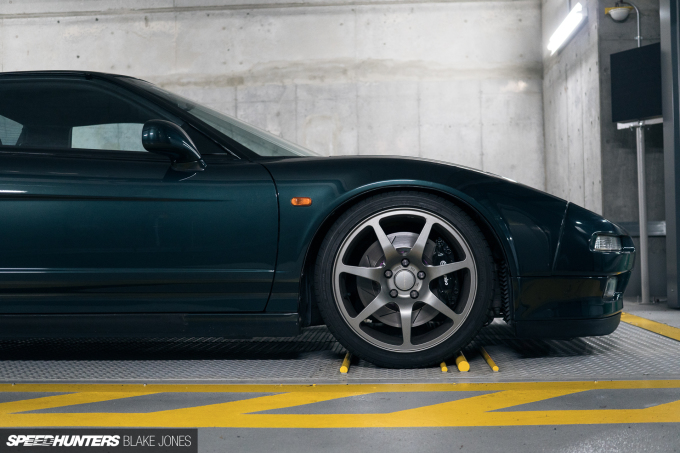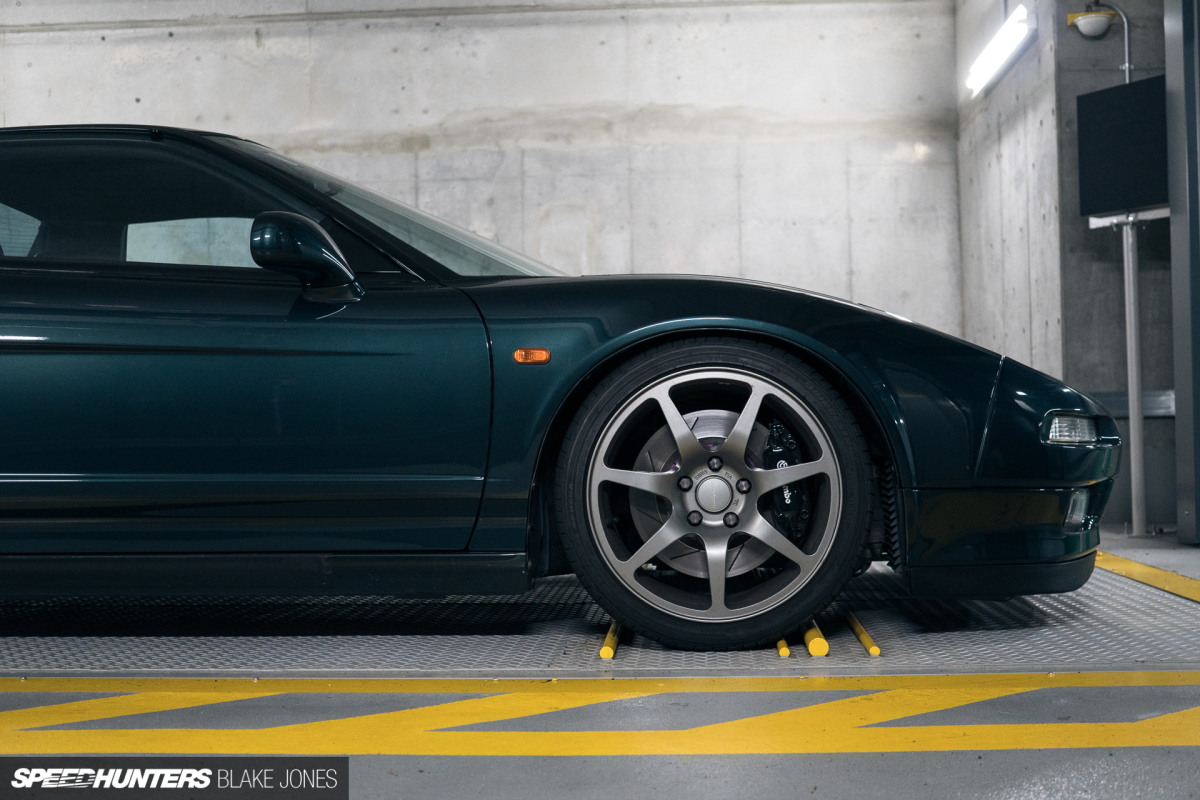 Aesthetically, I think the height is pretty much spot-on. It's had the effect of making the wheels look larger, and has further convinced me that going down a size in diameter would be ideal for the look I want. The only risk is that 16-inch front wheels may not clear the Brembo calipers.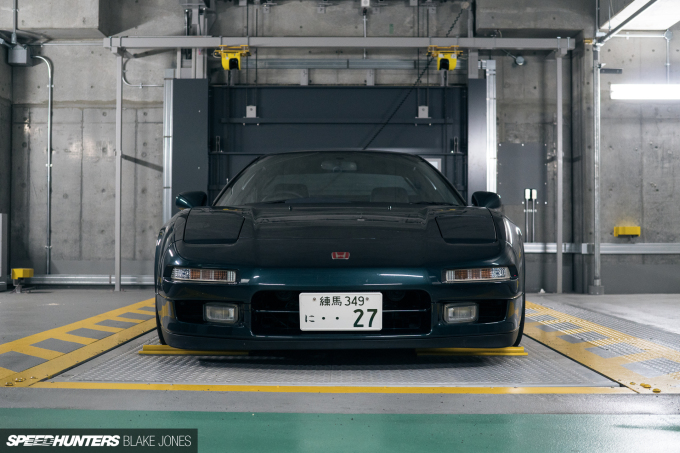 The NSX was a low car already, but with the new height I can literally drive it under the boom gate to access my apartment parking – how convenient.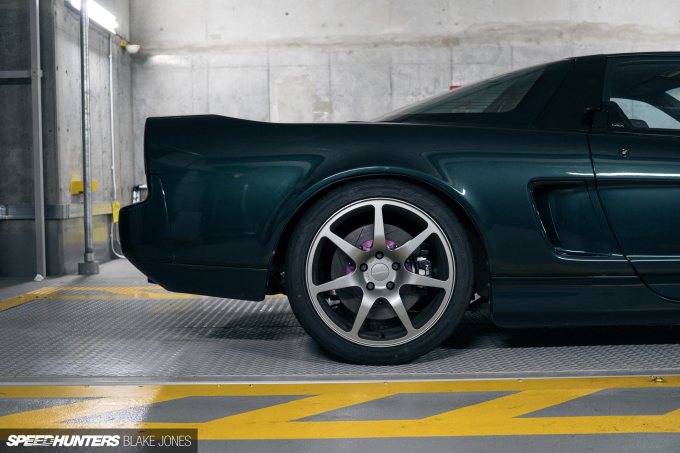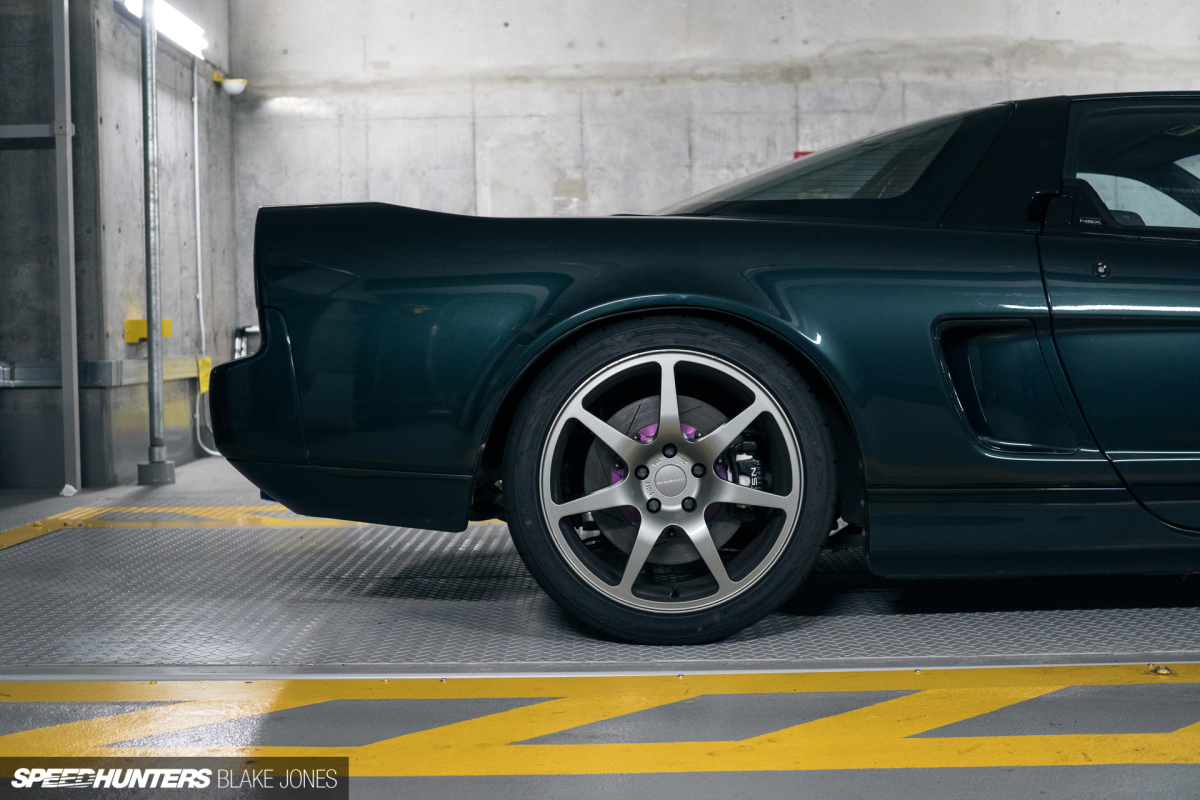 Having only covered approximately 50kms since the install I will save a more detailed review for a later story. Suffice to say, body roll is barely noticeable on the road and the ride – although firm – actually has a silkiness to it that the stock suspension lacked.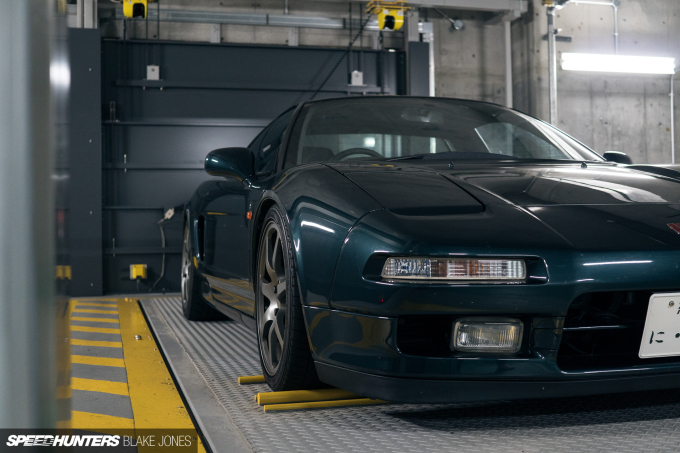 The real test for these Clubsports will of course be on the racetrack. Installing new suspension is only the first step in chassis set-up, and I'm itching to start playing with the adjustability of the coilovers to find a setup that suits my driving style best.
I still owe you a look at some of the other performance parts fitted in the meantime, so hold tight for next month's update.
Blake Jones
Instagram: blaketjones
blake@speedhunters.com
KW Suspensions
KW Suspensions Japan
KW Suspensions US
Hashimoto Corporation
Cutting Room Floor