Mooneyes Style
It's crazy if you think about it, but a movement like Mooneyes Japan, which was originally designed to bring American hot rod and custom car culture to Japan, has ended up injecting even more energy into the domestic scene. It's all about accepting different styles and promoting anything to do with car customization, no matter how simple or complex it may be.
All in all, it makes Mooneyes Japan events like the Street Car Nationals and the Hot Rod Custom Show great places to bask in the special atmosphere that it's all evolved into. With the annual Odaiba event, which I attended this past Sunday, I'd say that 90% of the cars on display are privately owned and primarily built to be driven on the street (as the name of the show suggests), and that's one of the things we like most about  it.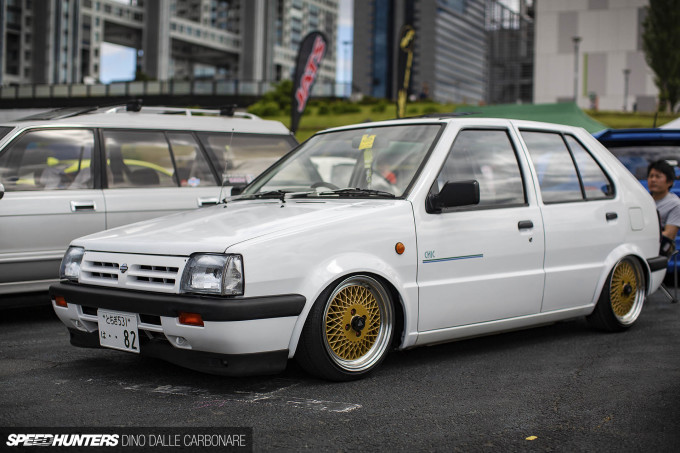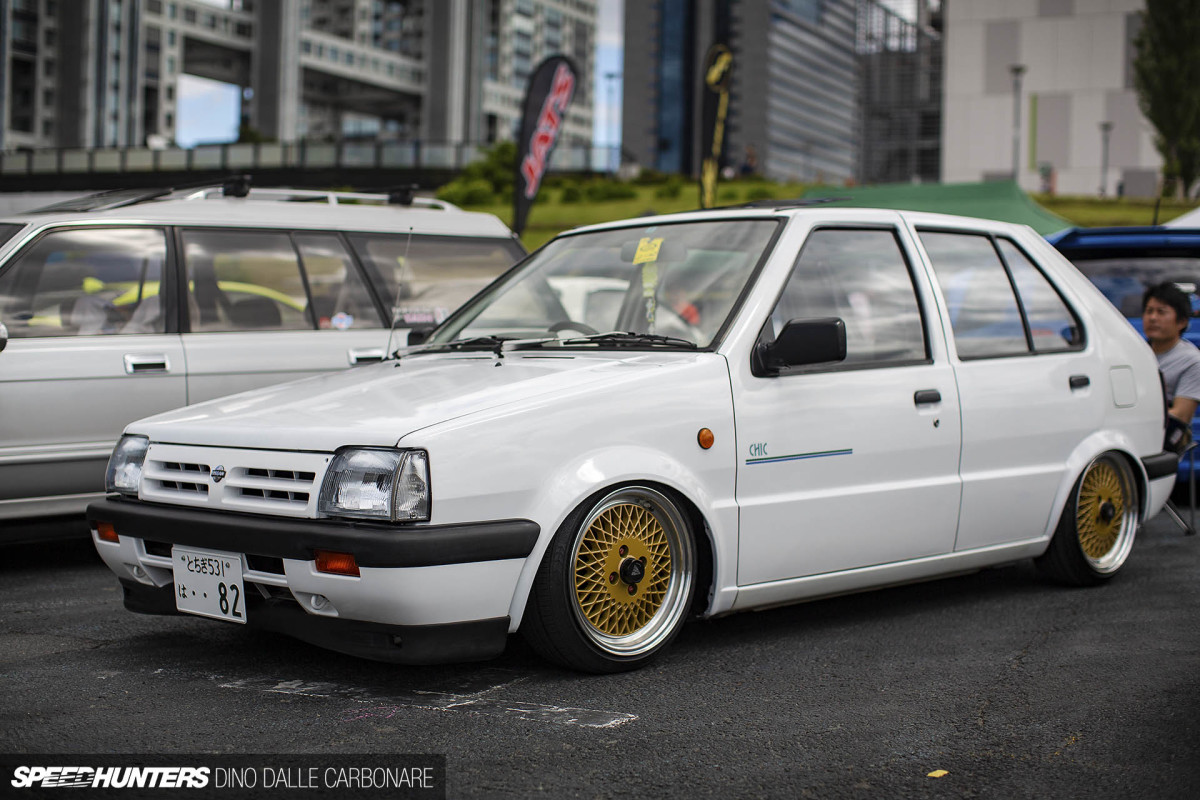 On the back of the '62 Lincoln Continental, I've selected a few more cars that stood out to me at the Street Car Nationals. First up is this K10 Nissan March Chic, which is another great example of how a set of wheels and a ride height drop can make any car look a whole lot better.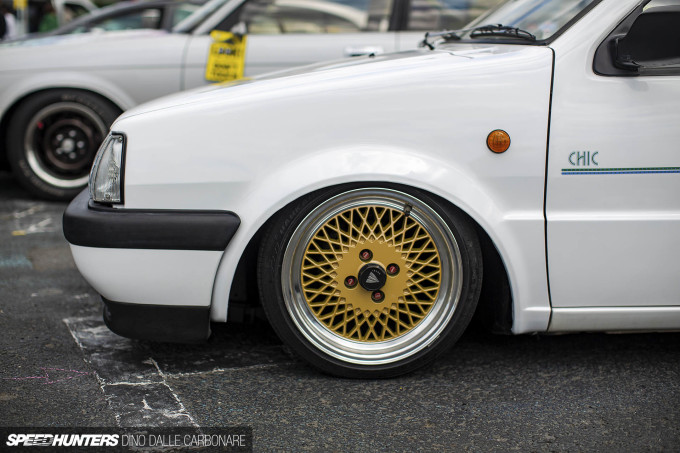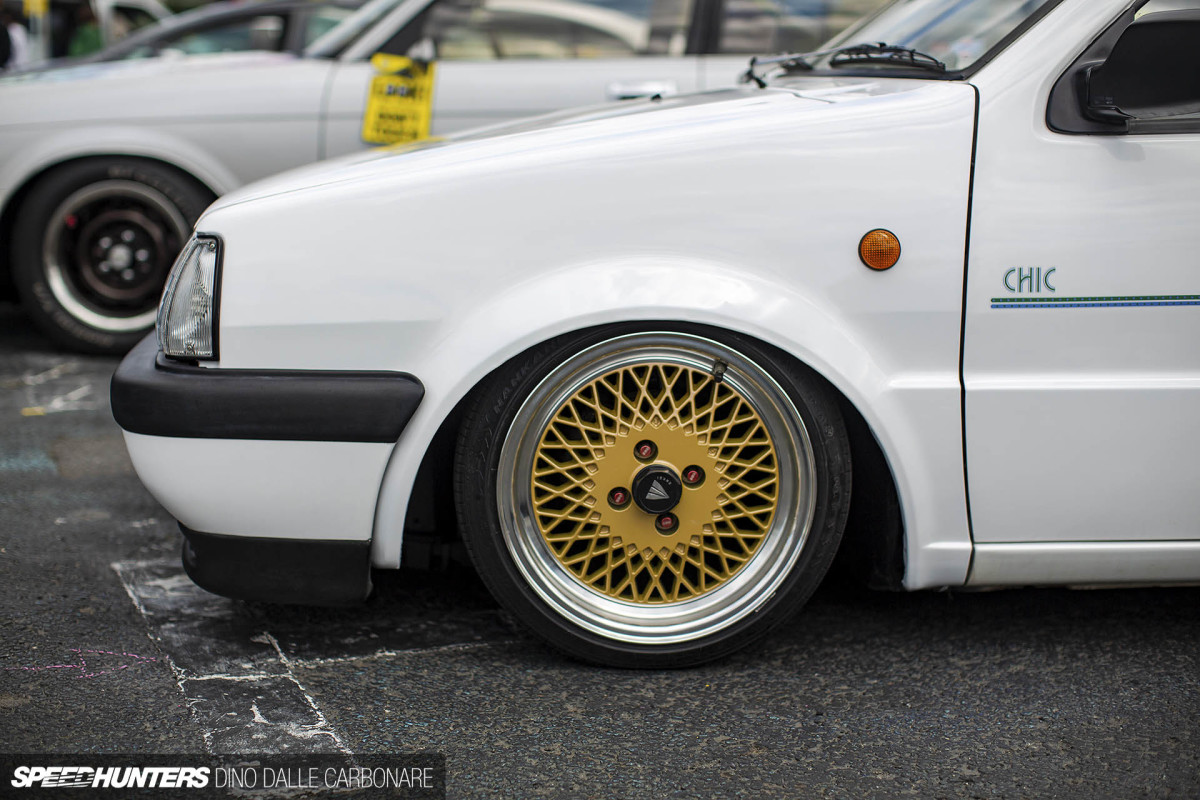 The wheels in question are Enkei 92s, a modern rim based on a classic mesh design that provides a retro look.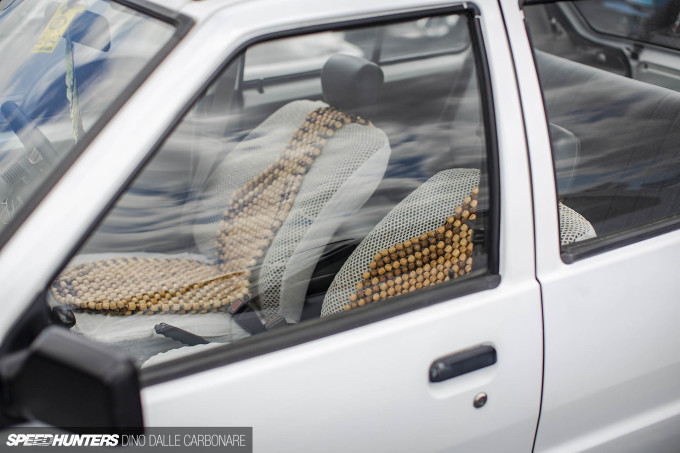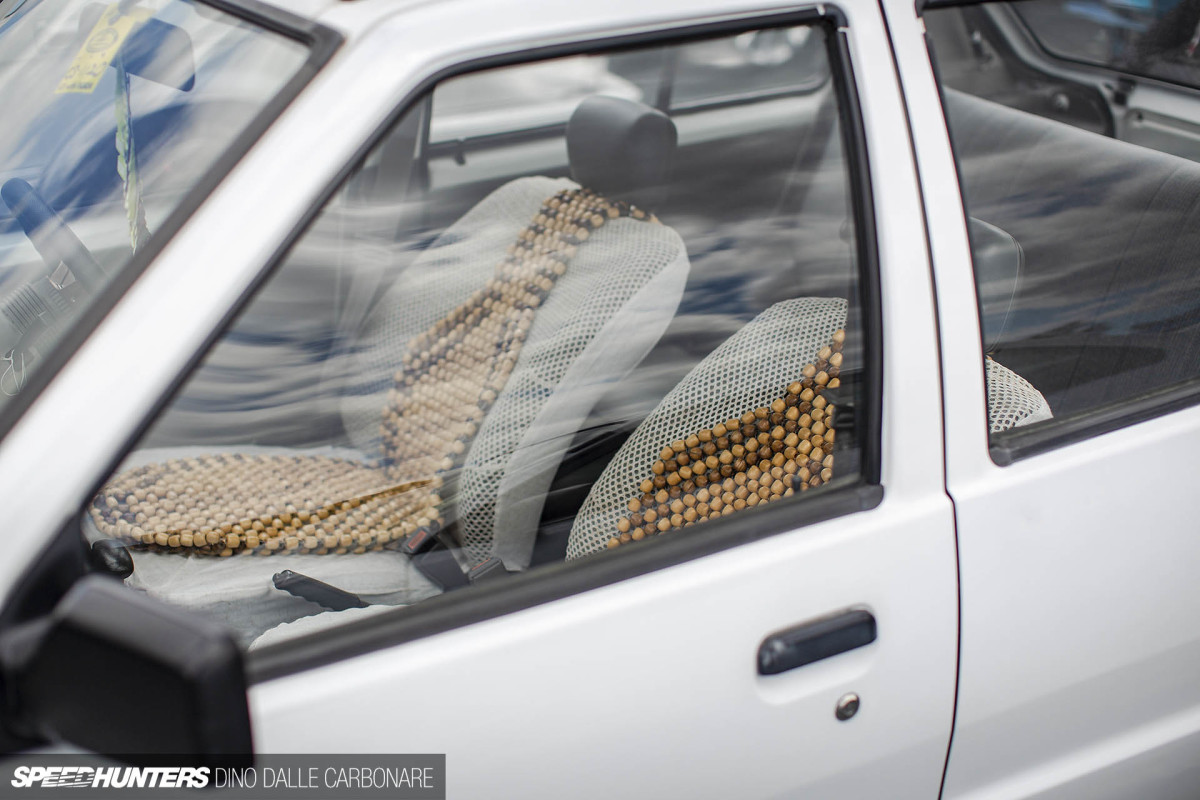 I had a flashback to 1986 when looking through the glass; that was the year my dad purchased similar wooden bead covers for our family car's seats as they were supposed to not make you sweat as much during summer driving in the days before every car had A/C.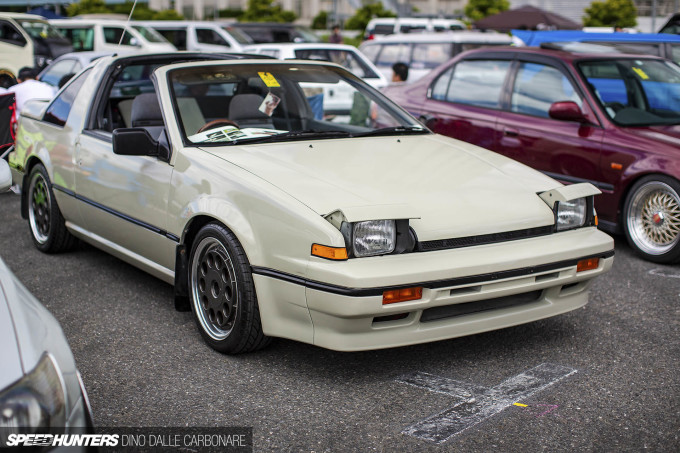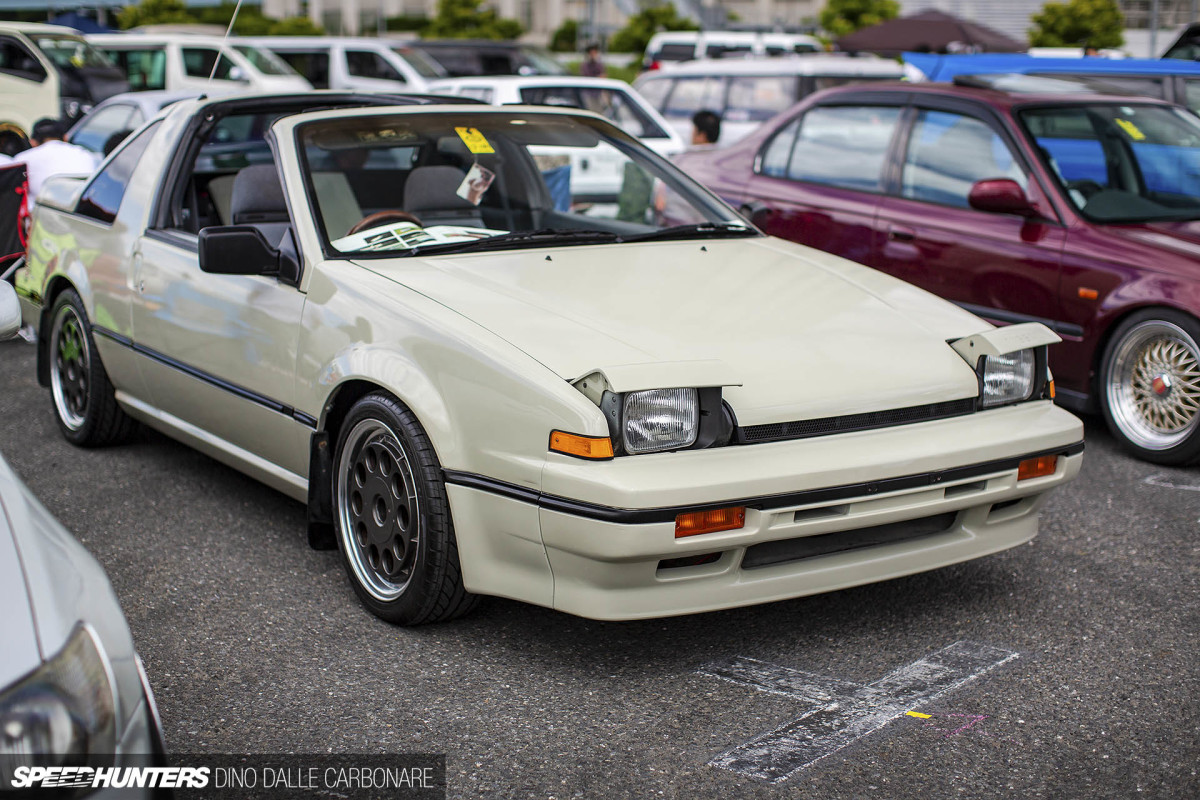 Keeping it in the Nissan family was a little rarity that I just couldn't pass up sharing. The N13 EXA (Pulsar NX in the US) was a curious machine that basically combined a few different cars into one. It was a coupe with a T-bar roof, so had two removable panels, but then it also had a shooting brake-type canopy that would convert it into a weird and wonderful station wagon-looking thing.
If that wasn't enough, it embraced the 1980s all the way with pop-up headlights.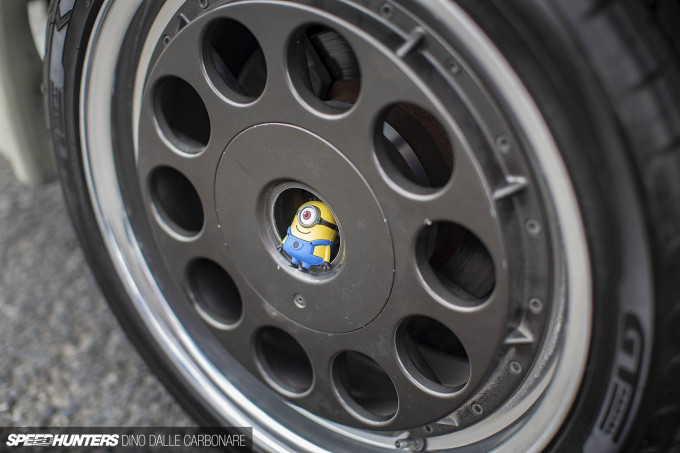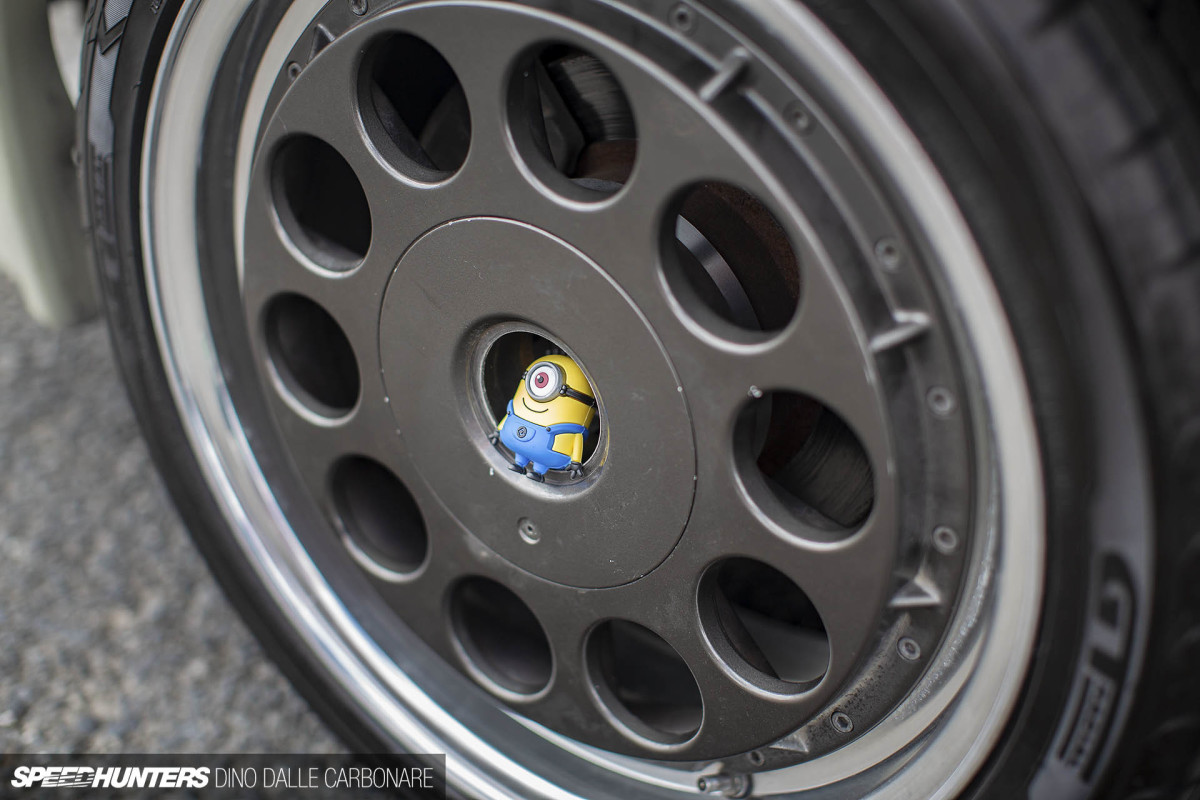 Yeah, this made me laugh too!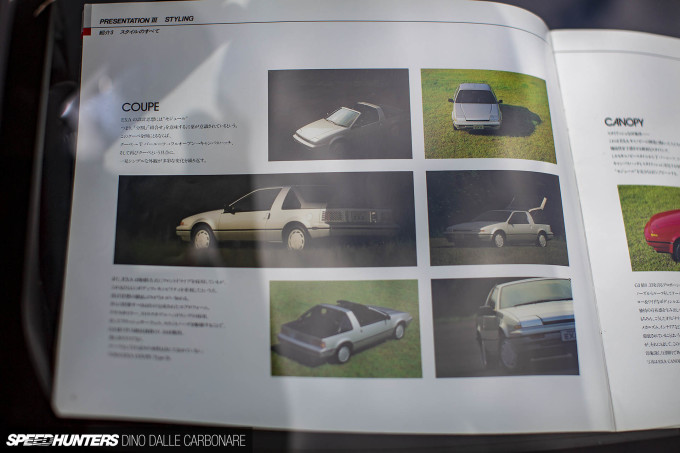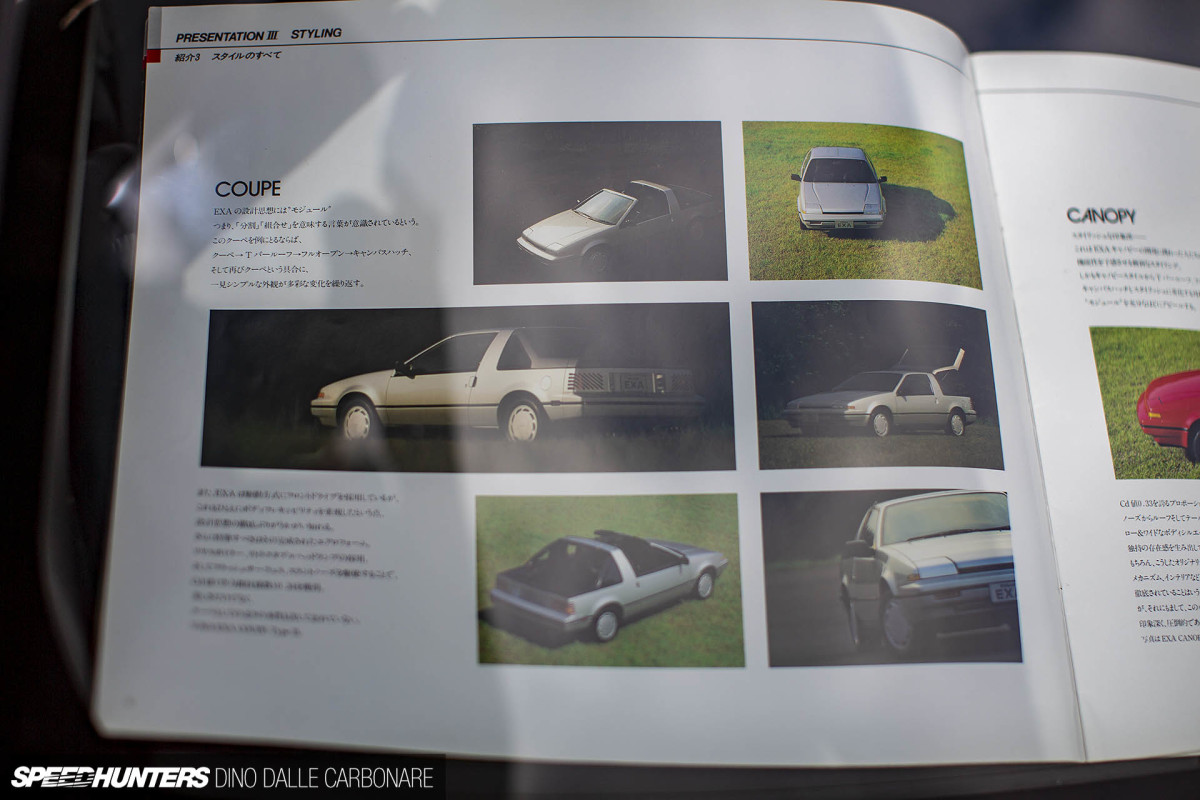 A neat touch was the car's original brochure displayed on the dash.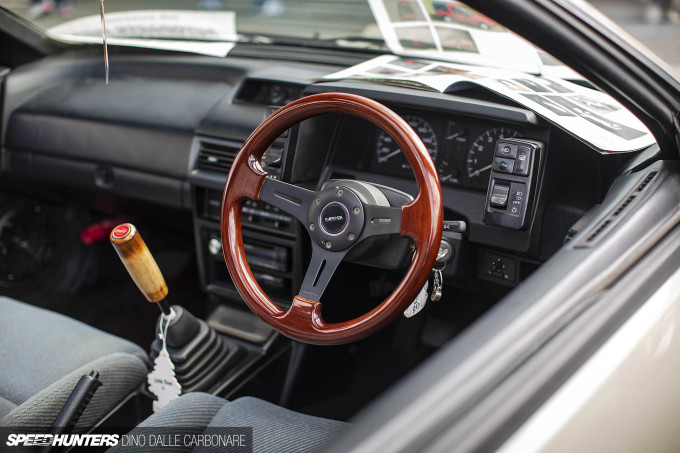 I totally forgot to grab a picture of the other page which showed the shooting brake canopy panel, but if you zoom in above you can see the reflection in the glass.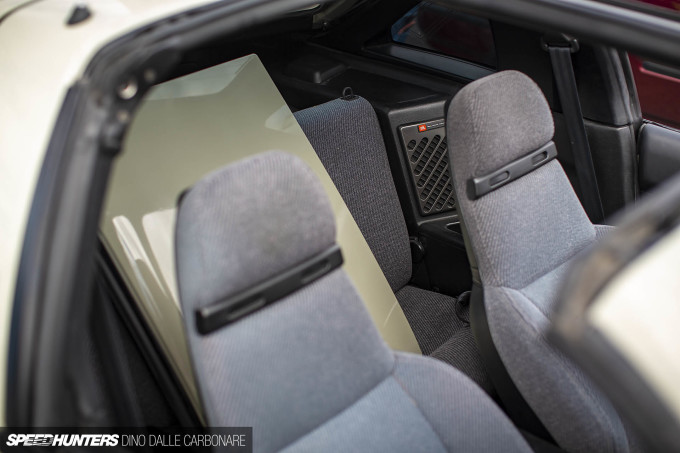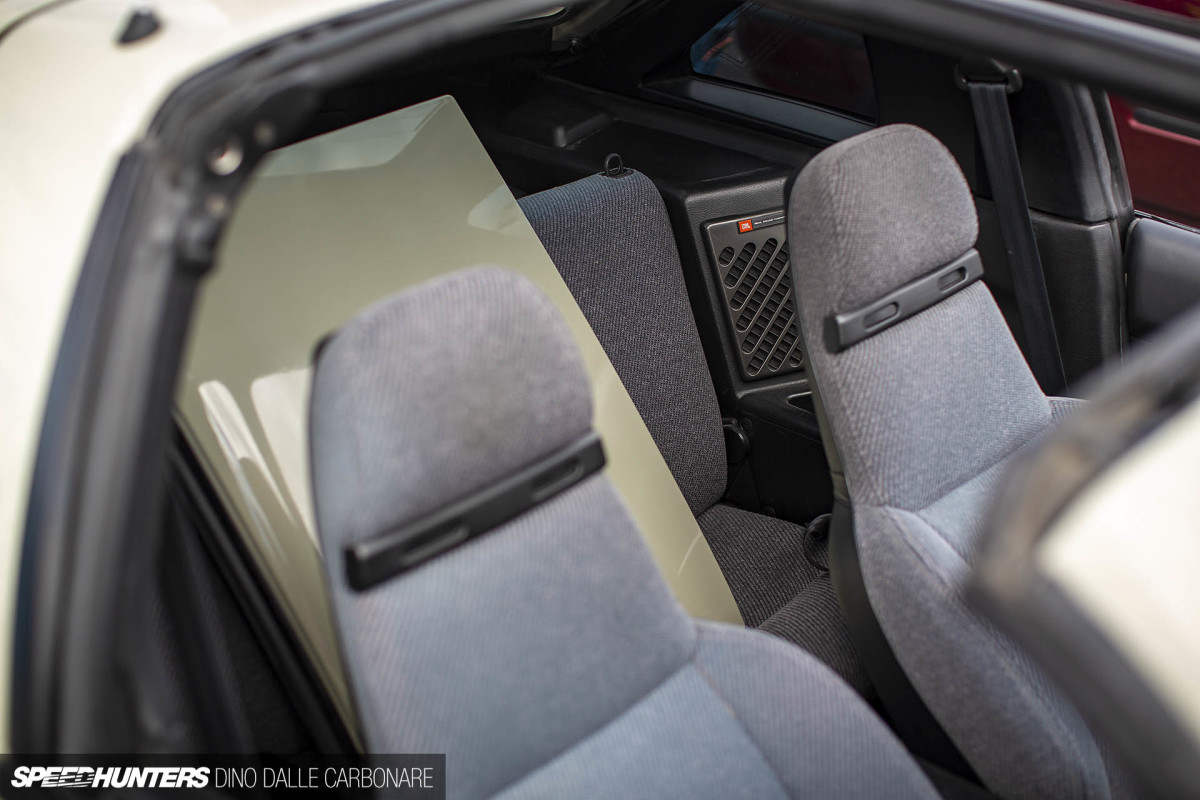 There's not a whole lot of room for backseat passengers, perhaps just enough for a couple of children. It seems like a handy place to store the roof panels, but I'd imagine there would be space for those in the back too.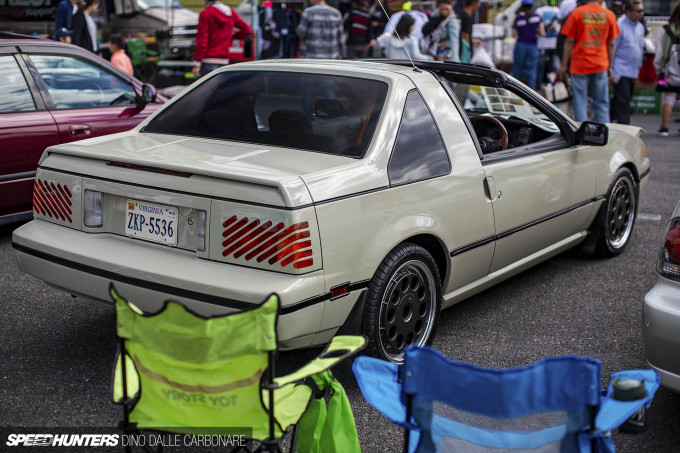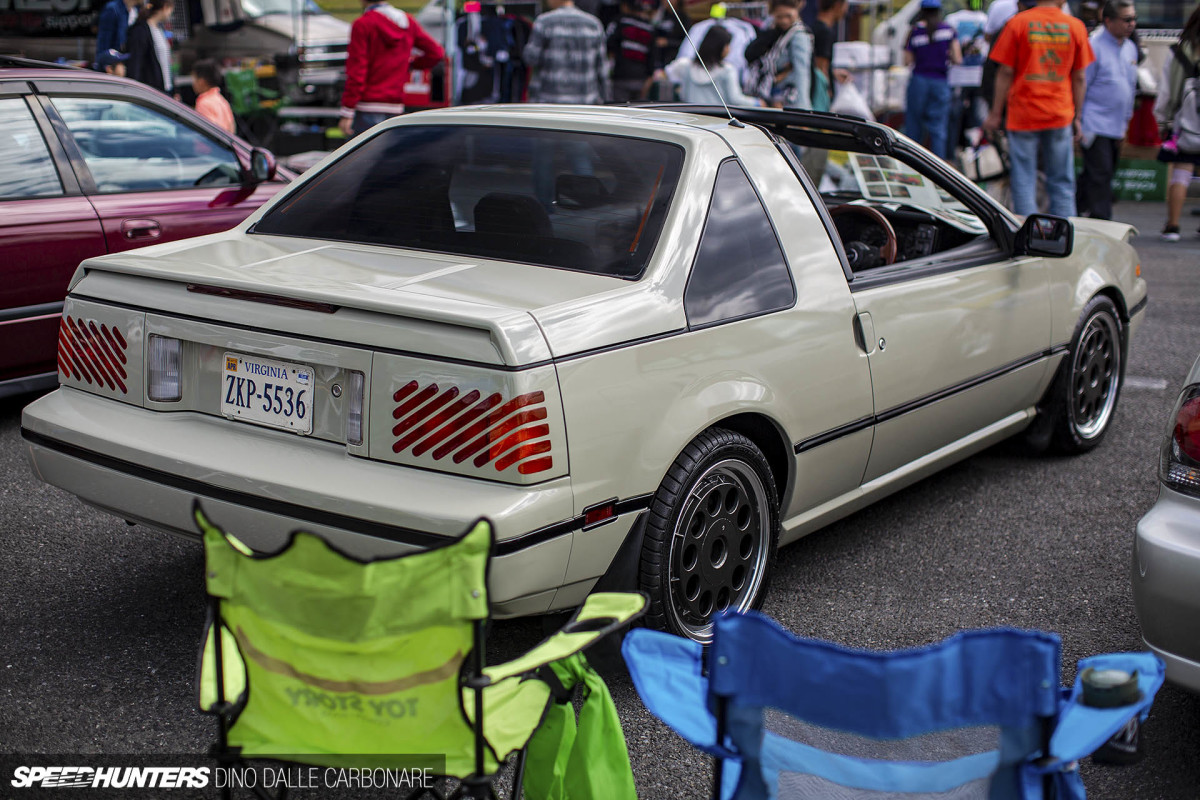 One of the most recognizable design traits of the EXA were the rear taillights covers with diagonal cut-outs running across them, but I was surprised to find that they're made from what appeared to be vinyl. Extra USDM points for the Virginia plates.
Toyota Generations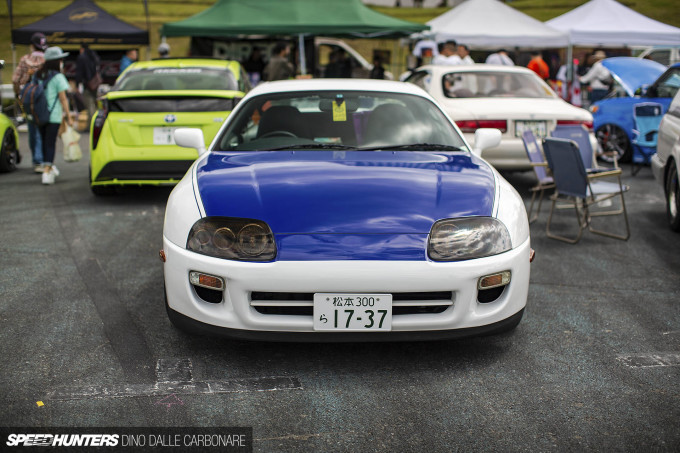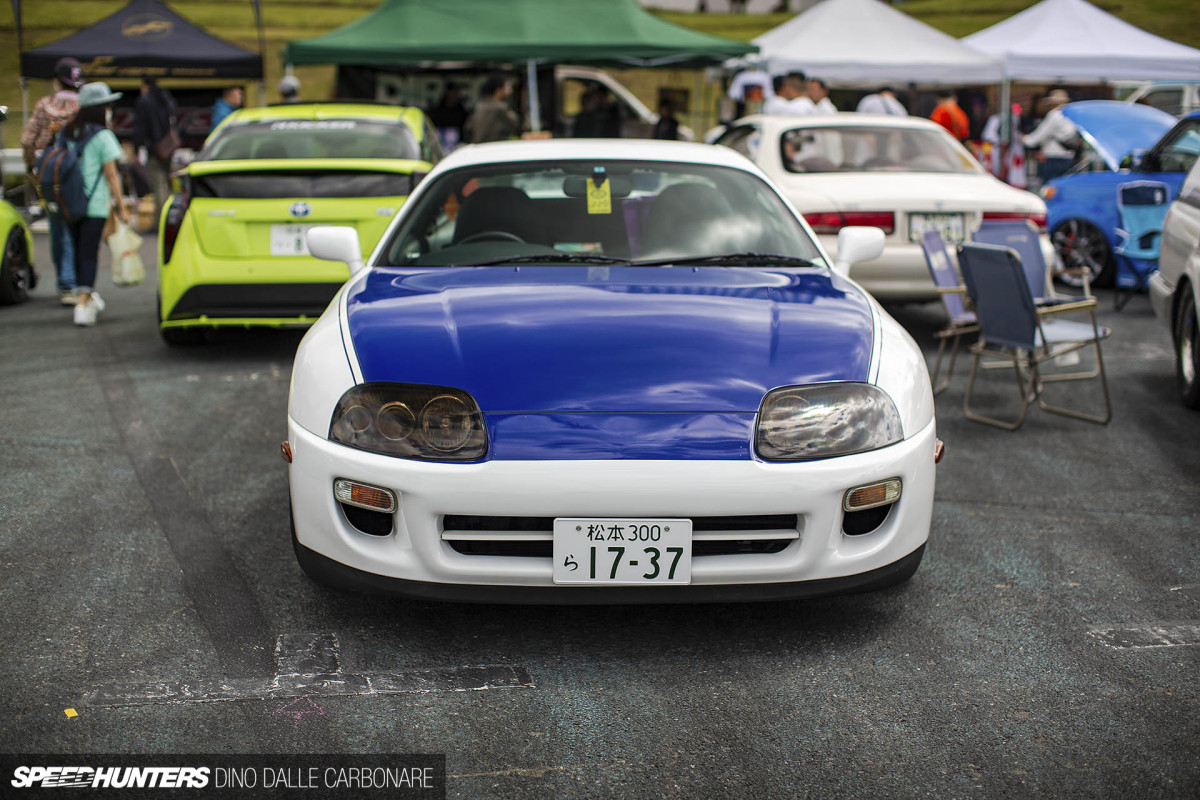 We're jumping ship now and moving onto Toyota and a JZA80 Supra. But this was a completely stock-looking example, so what gives?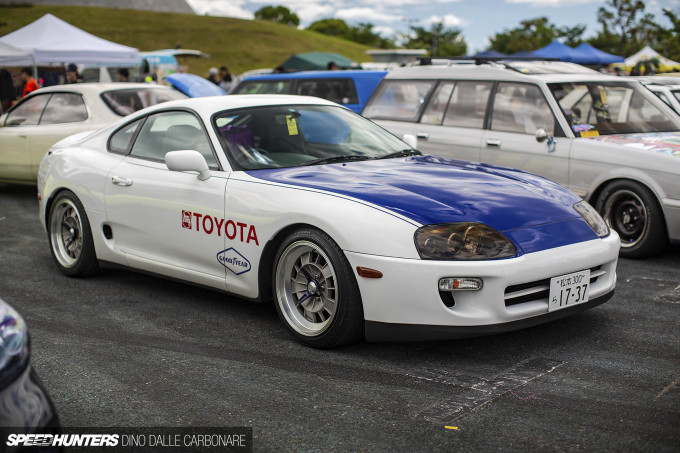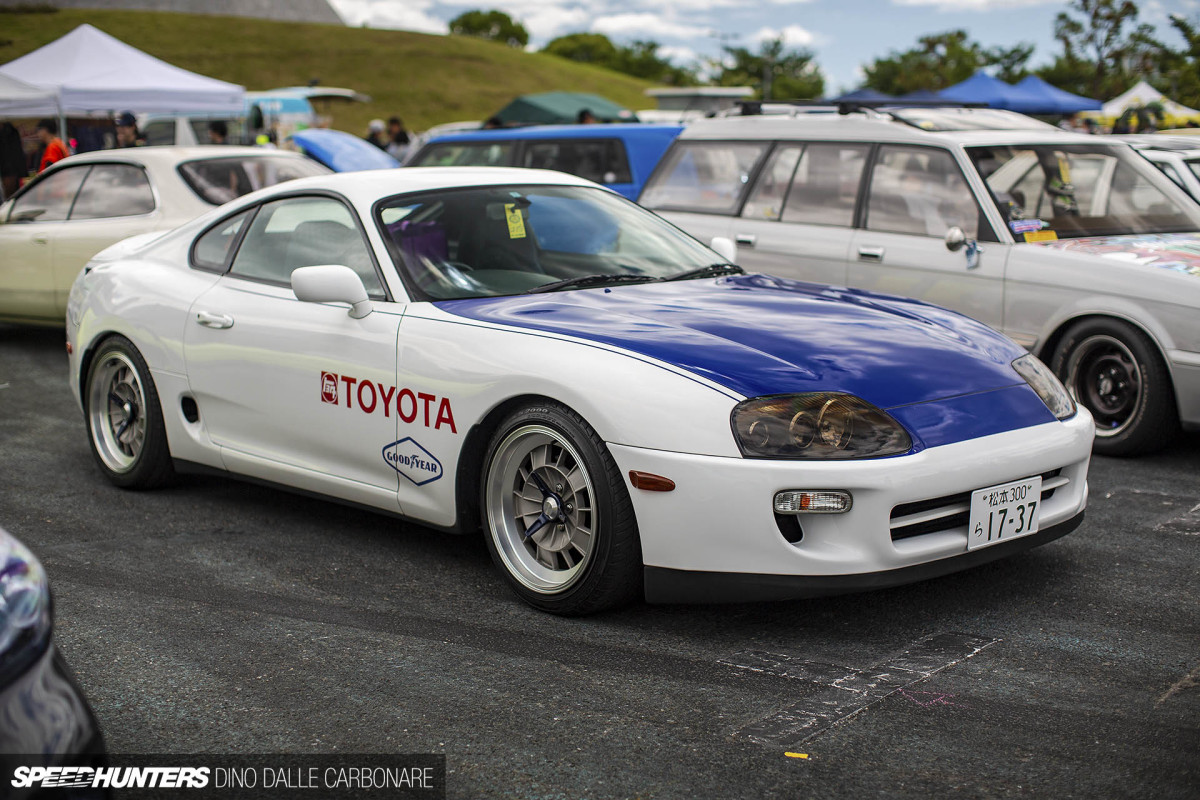 Well, I thought the homage to the race version of the 2000GT, with the blue hood, pinstripes and the Toyota markings on the sides, was quite cool. But then I noticed the wheels and realized they were 18-inch replicas of the ones used on the race car, with red (dummy) knock-offs on the left and blue ones on the right.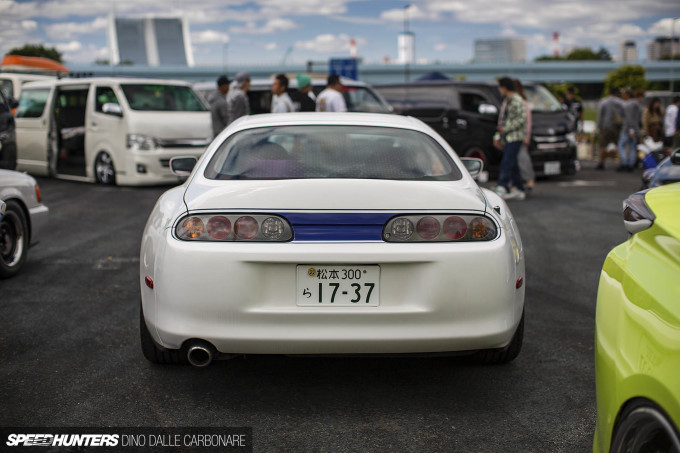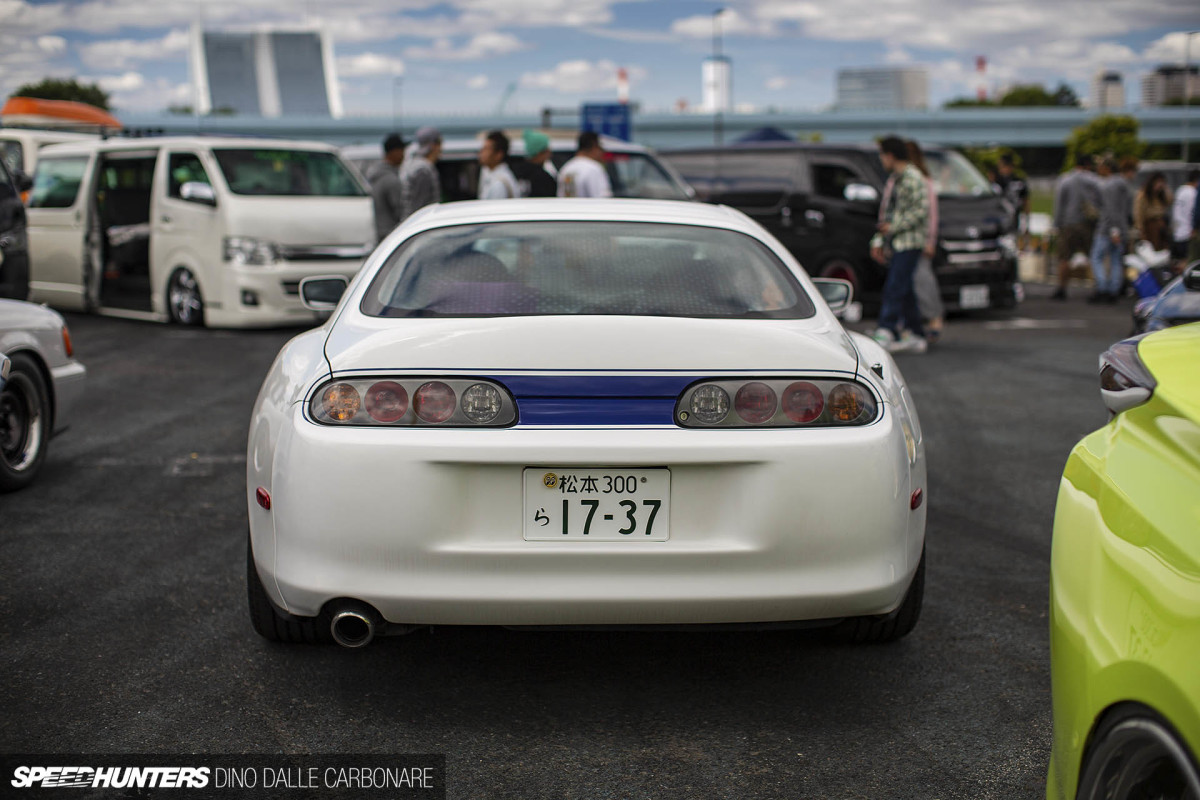 It's definitely something different.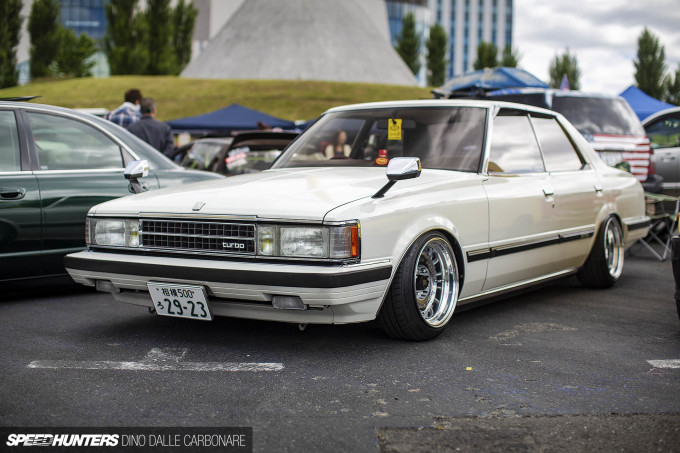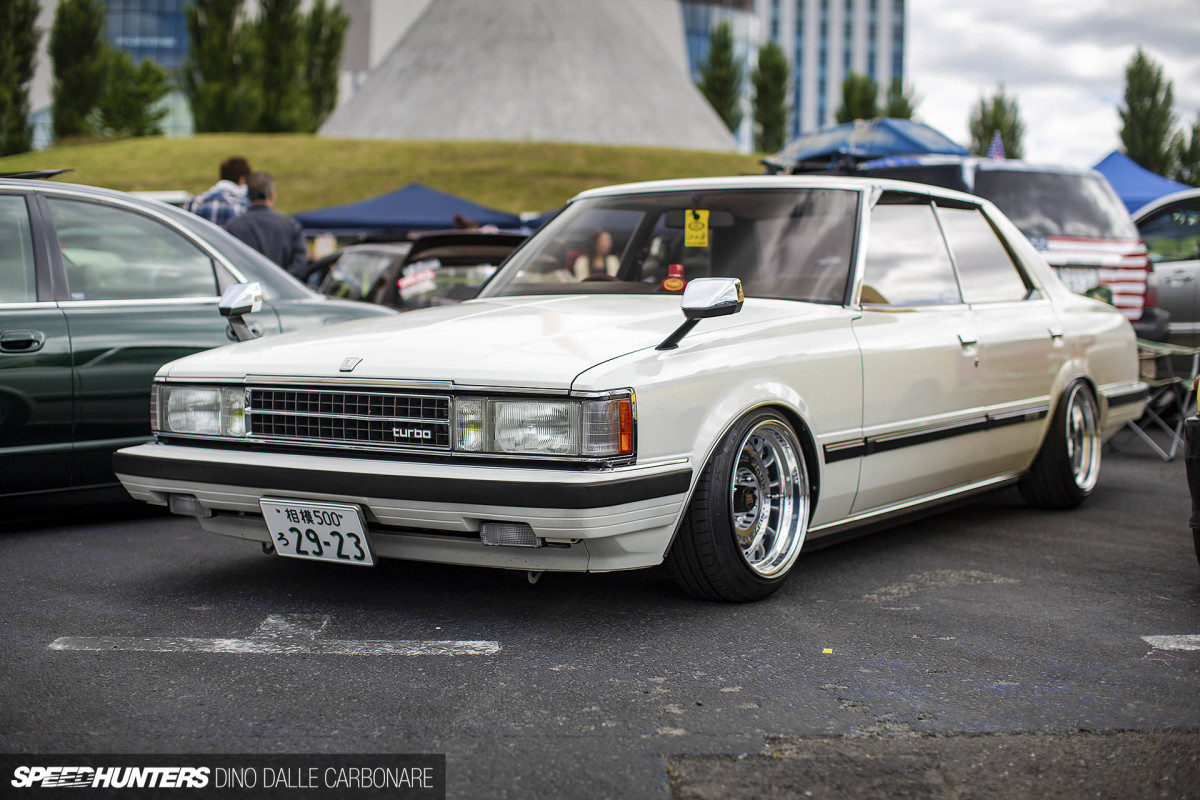 If you're into mid-'80s Toyota tanks, my next find should be right up your alley. This is a GX60 Cresta Super Lucent Turbo powered by the M-TEU version of the M-series engine, good for 160ps. It may have retained its stock body but it was looking rather delicious due to some stance perfection.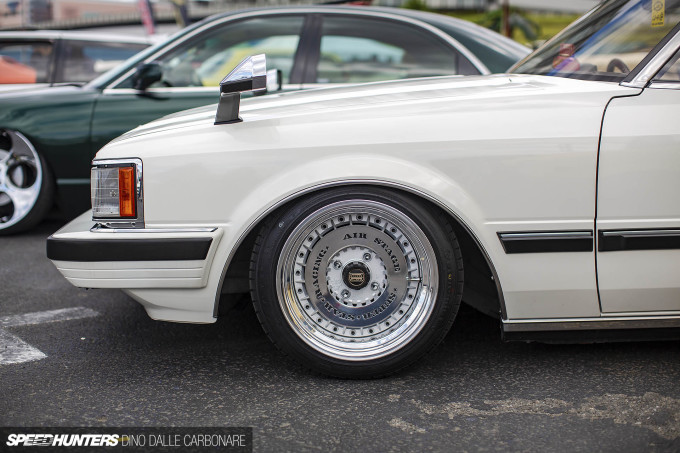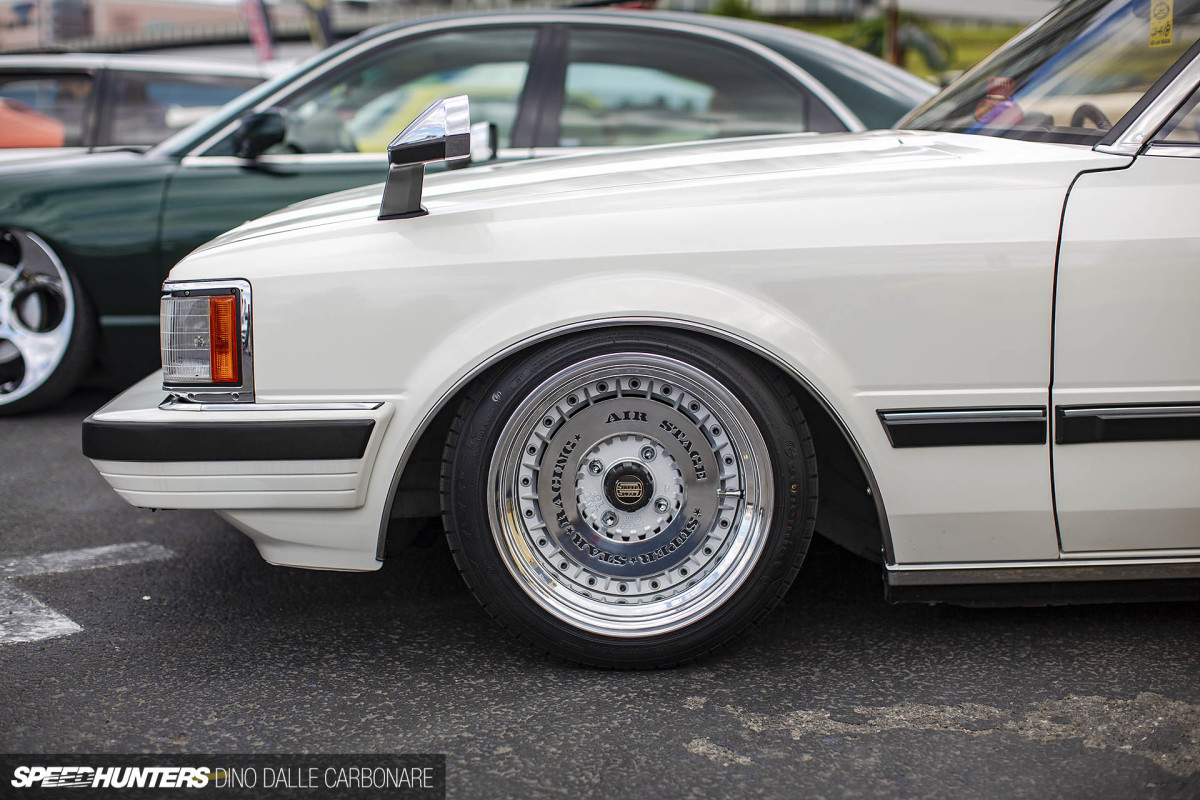 The pièce de résistance are the Super Star Racing Air Stage wheels which sport a polished almost turbo-fan center section.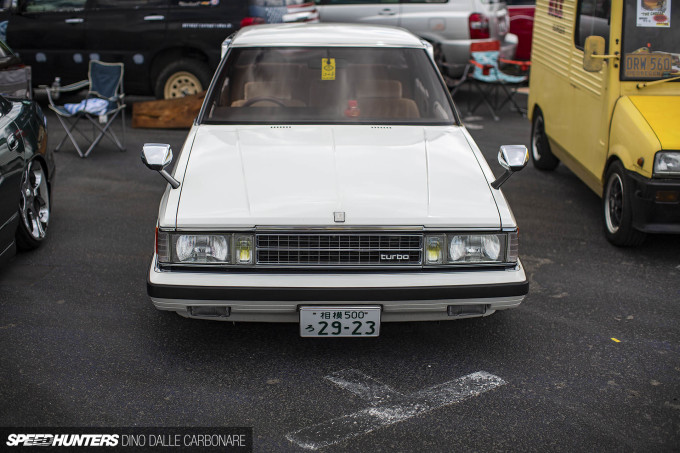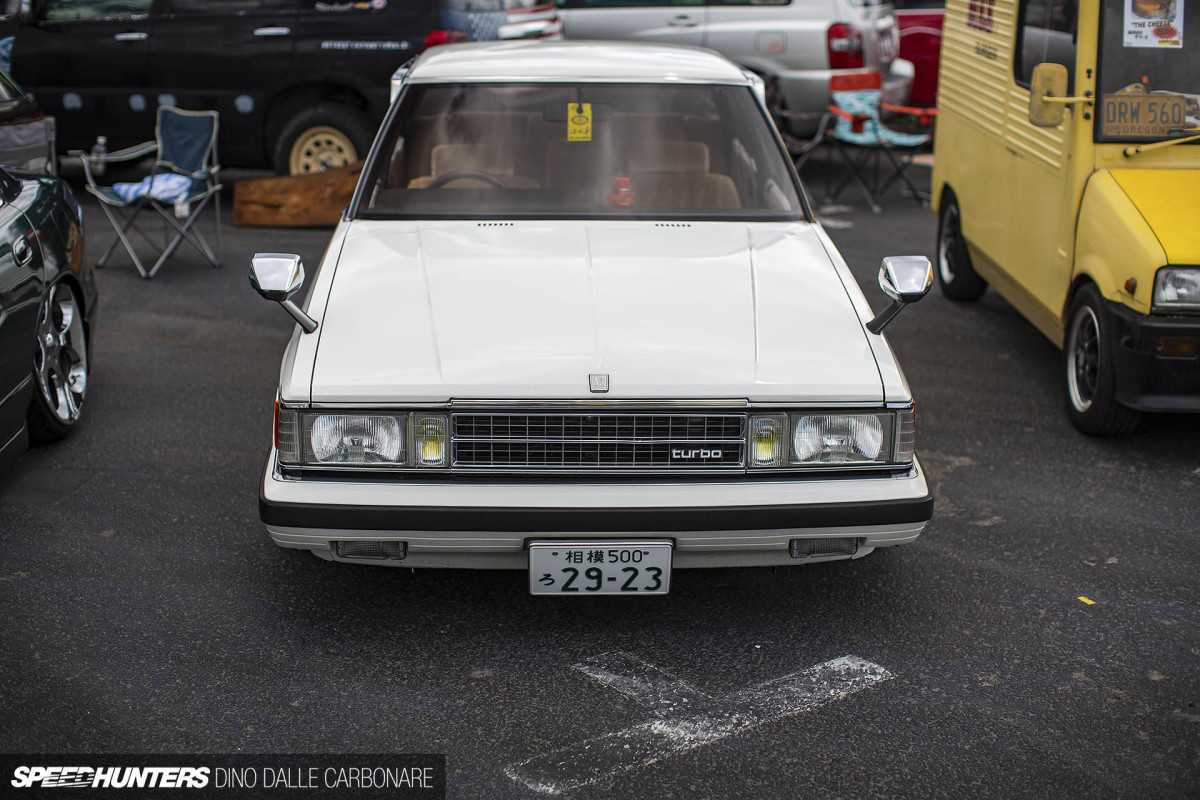 There is something so unique and special about these super-angular Toyota designs from that special decade that was the '80s, and it's crazy to think that they built the Chaser and Mark II on the same platform. Toyota has always been a master at overcomplicating things, but then being able to make a profit.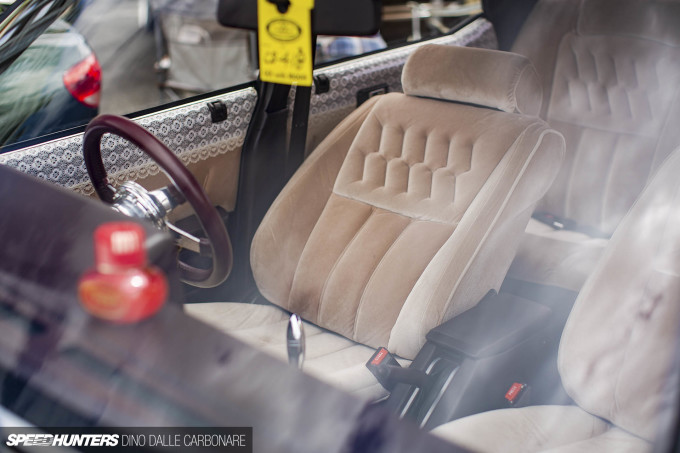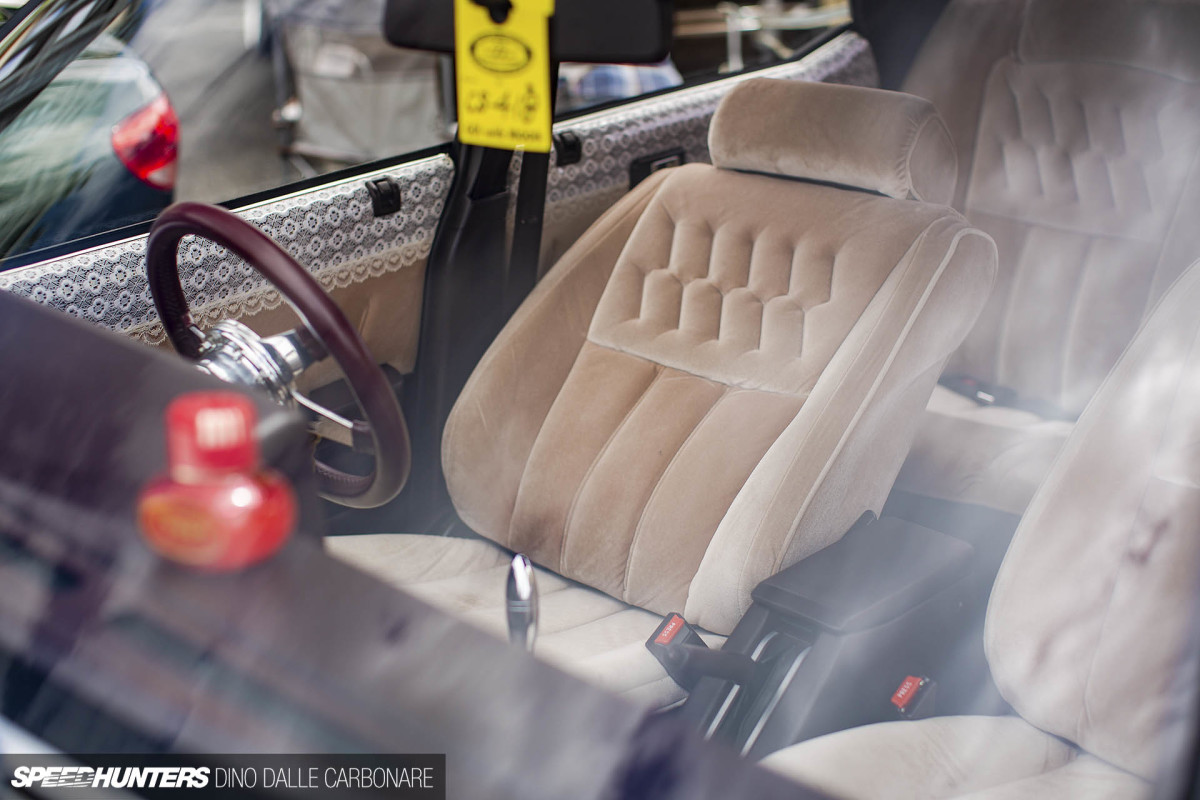 Look at that glorious plush velour interior, pimped out with the lace dealer option for the tops of the door trims. It doesn't get much better than that, does it?
The lack of B-pillars and the angles of both the rear glass and trunk line give the sedan an almost coupe-like look.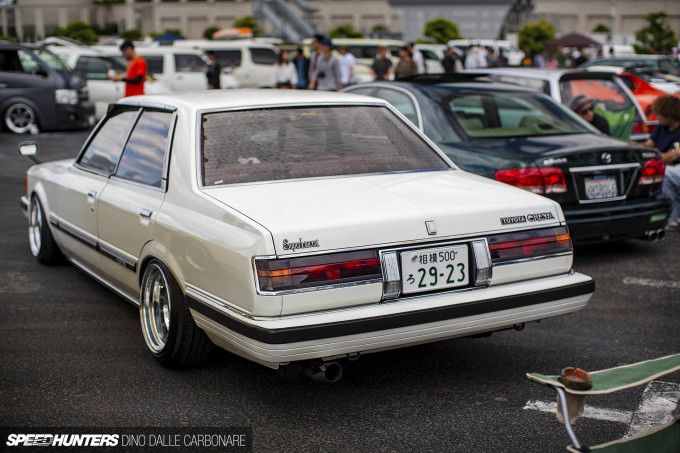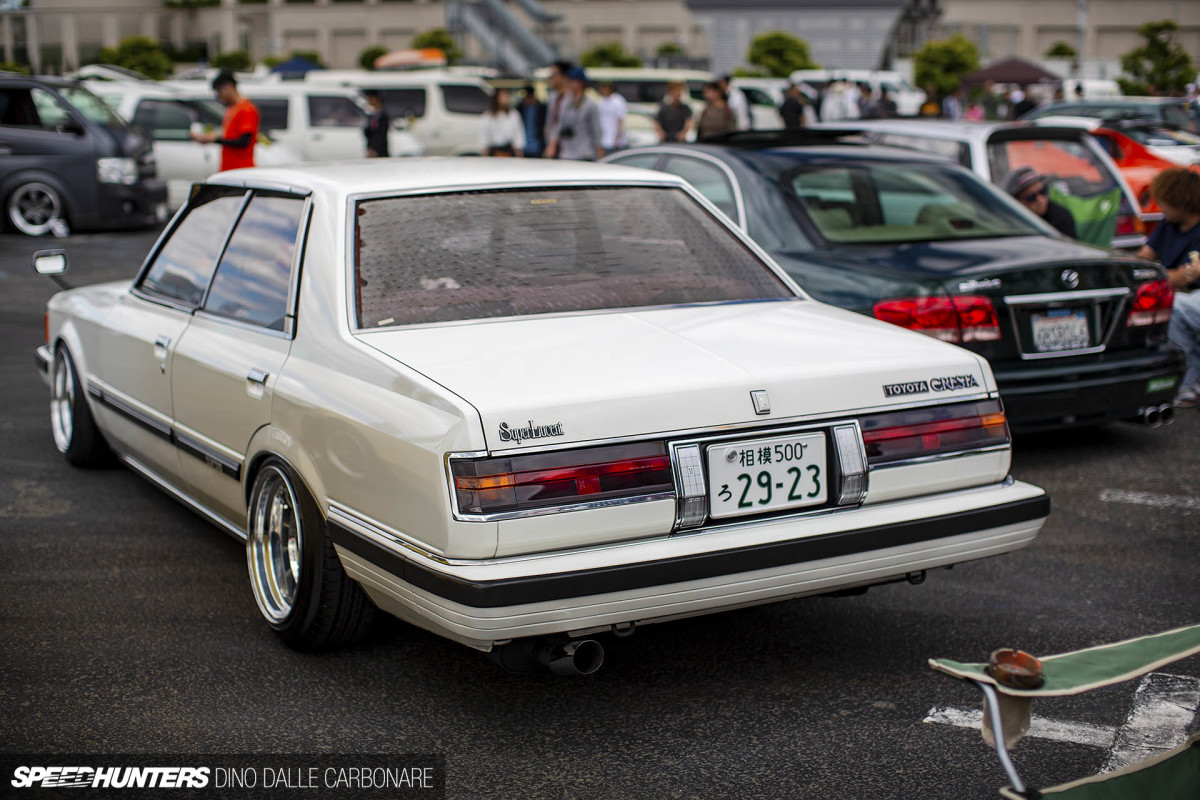 This is definitely one of the best generations of the Cresta.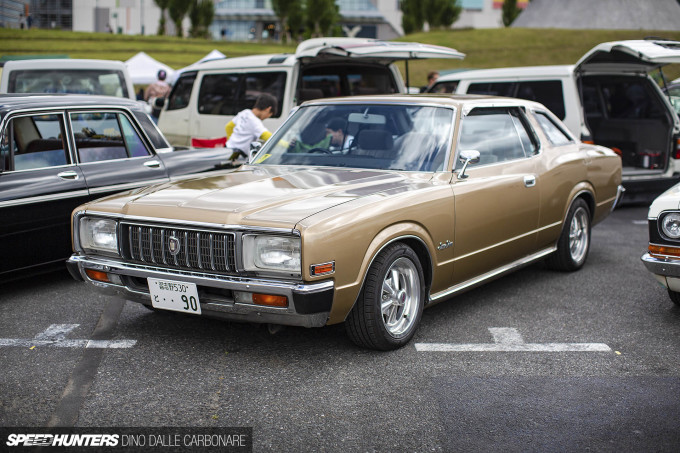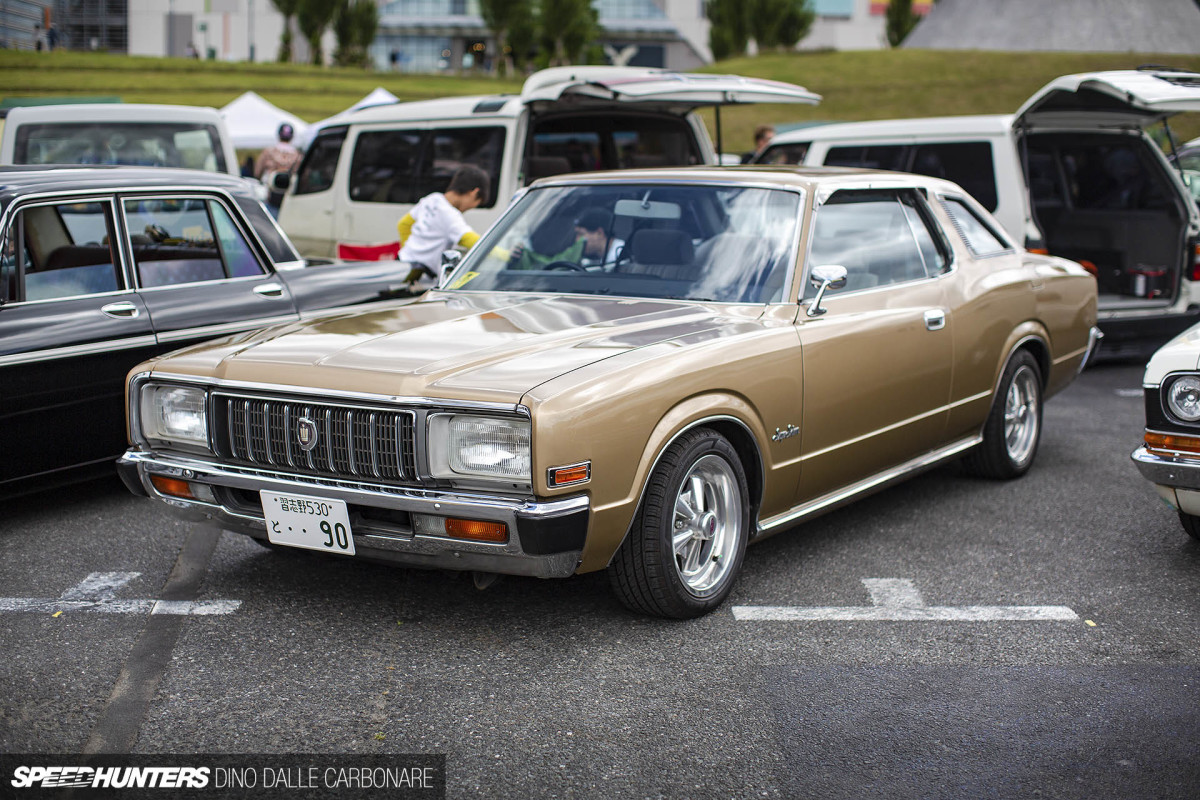 Let's wind the clock back a little further, to the mid-1970s, with this S80 Crown Coupe.
This is textbook Mooneyes Japan awesomeness: find a rare body style of a popular car like the Toyota Crown, fit some American muscle car wheels – polished Cragars in this instance – and drop the suspension for a tasteful result.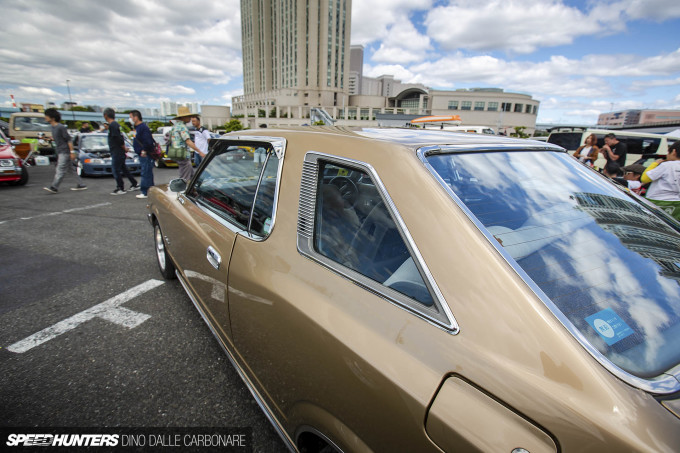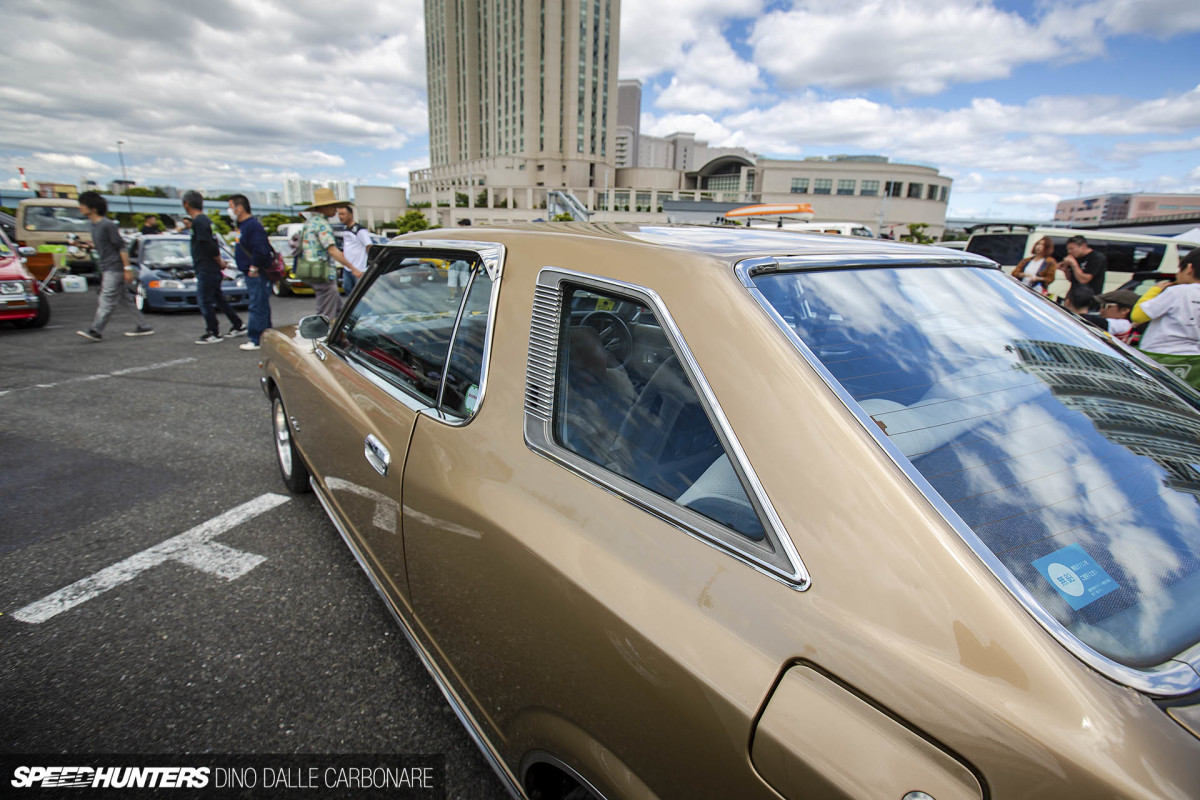 Just look at the design of this thing! If Toyota wants to make itself a little more exciting, all it has to do is look back and take in some of the creativity its designers used to have.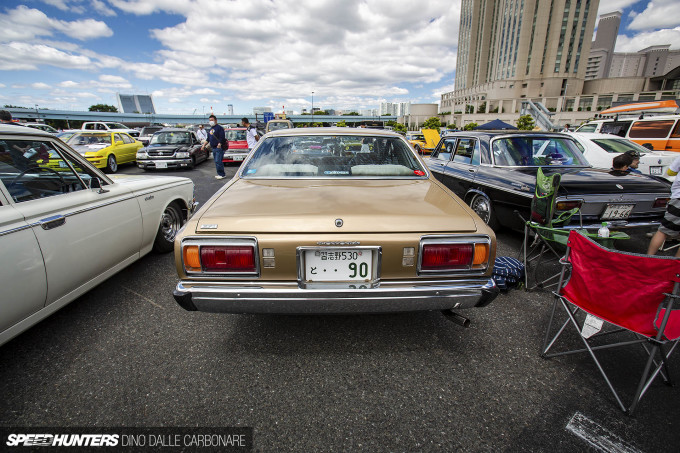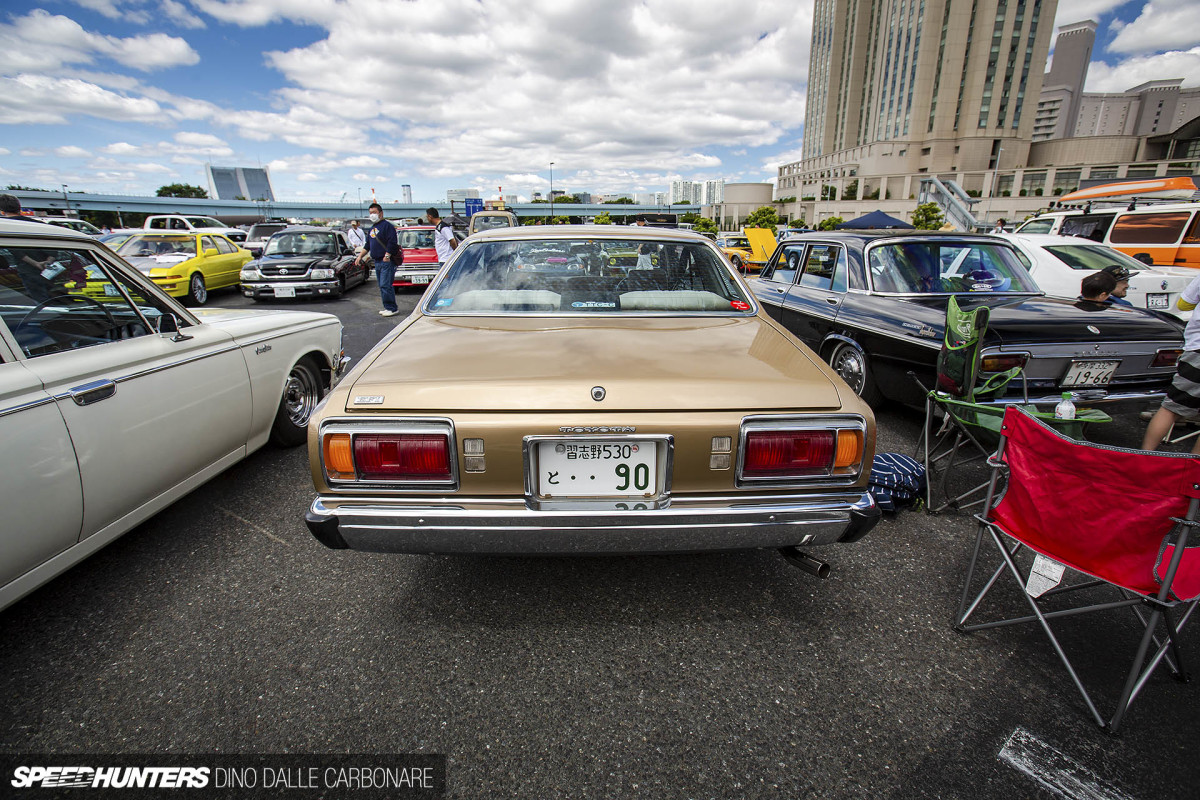 I for one would be so happy to see a modern day Crown coupe; after all Toyota is the master of sharing platforms to create countless body shapes. Put your hand up in the comments if you're with me!
DC2 Perfection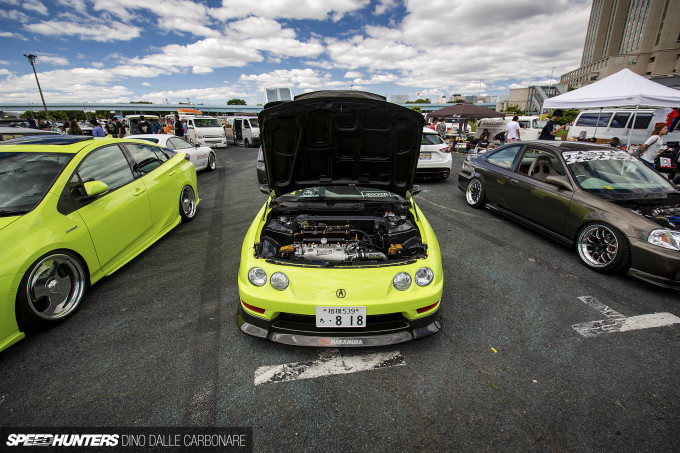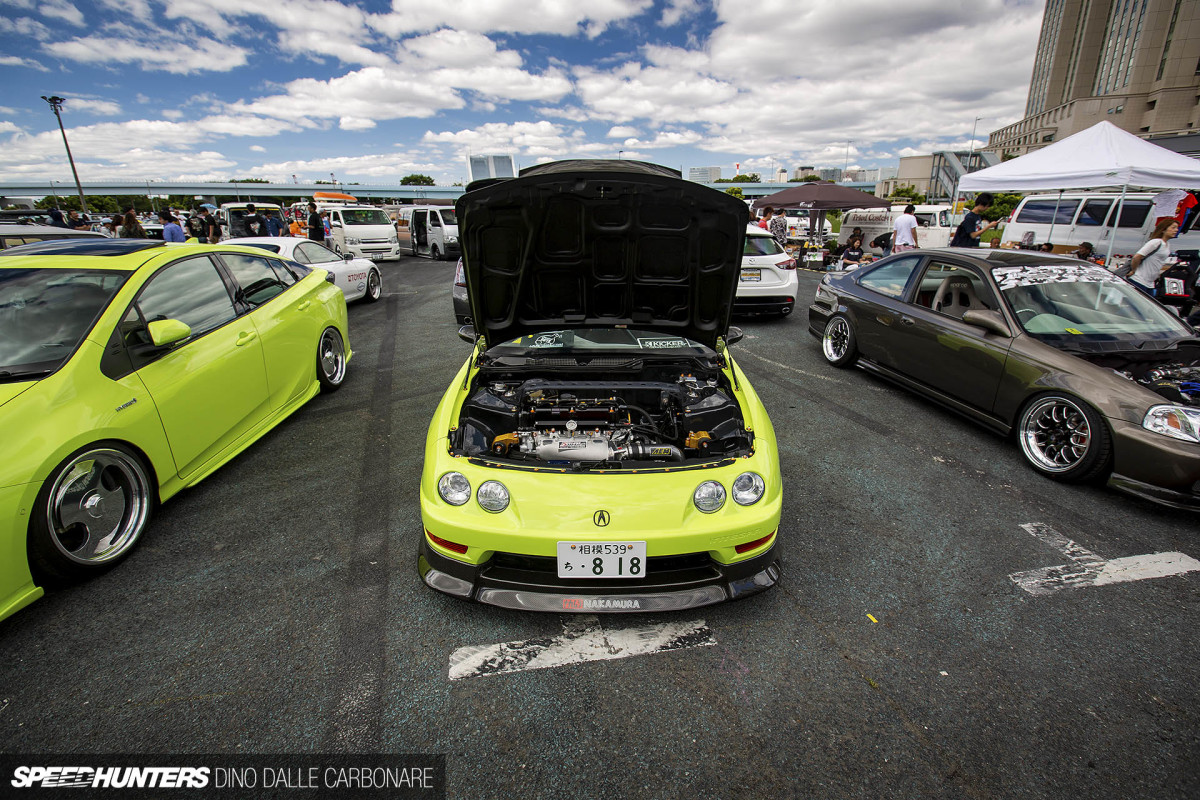 To wrap things up, here's a Honda build that's a little more performance oriented. That Acura rebadging is not just a visual thing, the owner of this DC2 has embraced the USDM approach all the way.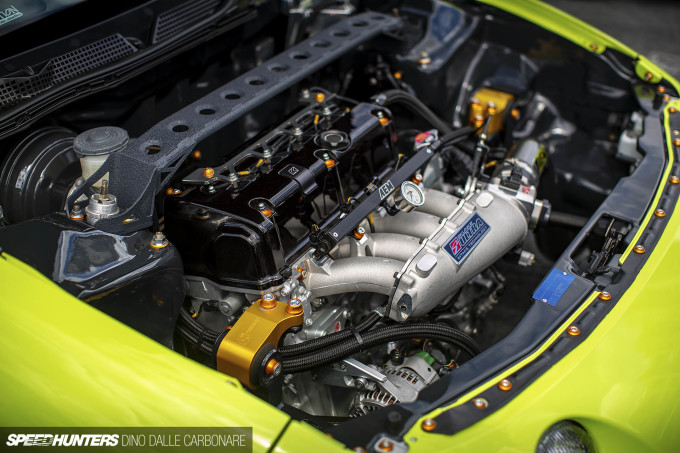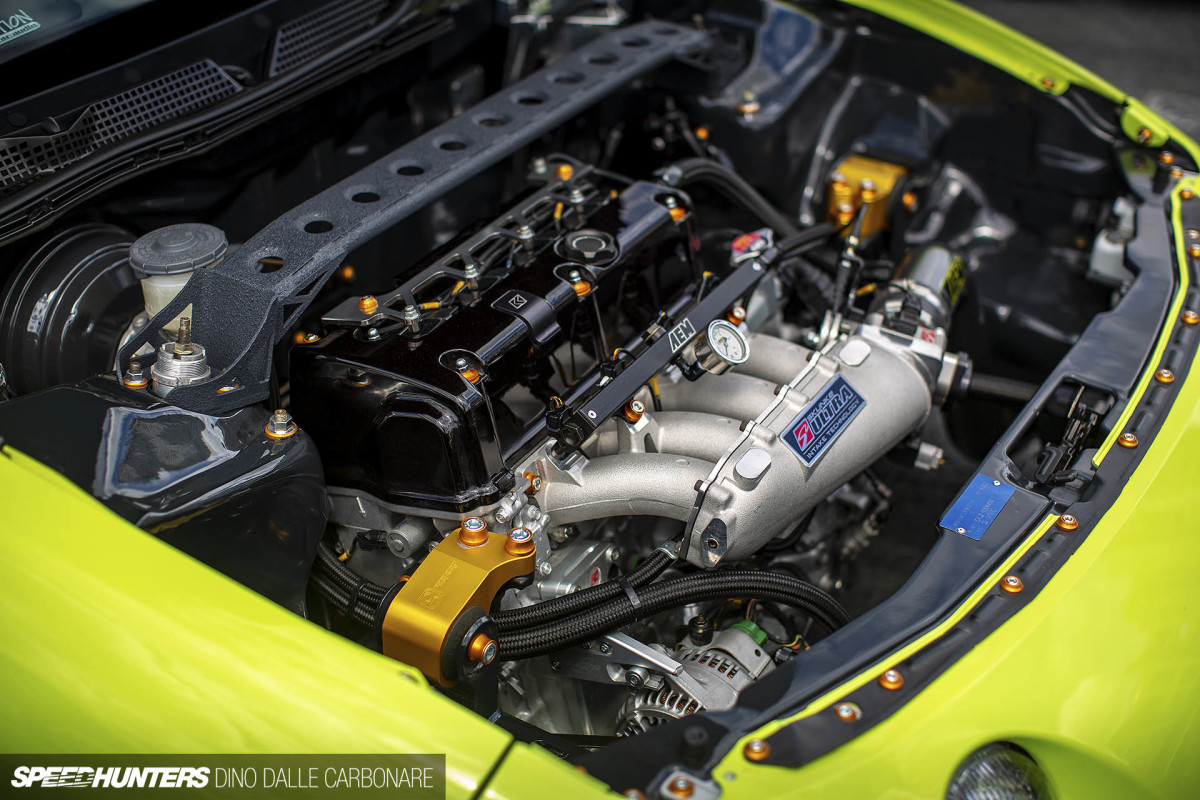 It's not only the K-swap that makes this car, but the amount of aftermarket equipment that's been thrown at the engine.
And the execution was faultless – top-shelf upgrades from Skunk2, K-Tuned and AEM, and a shaved, cleaned up and repainted glossy engine bay to display it all in.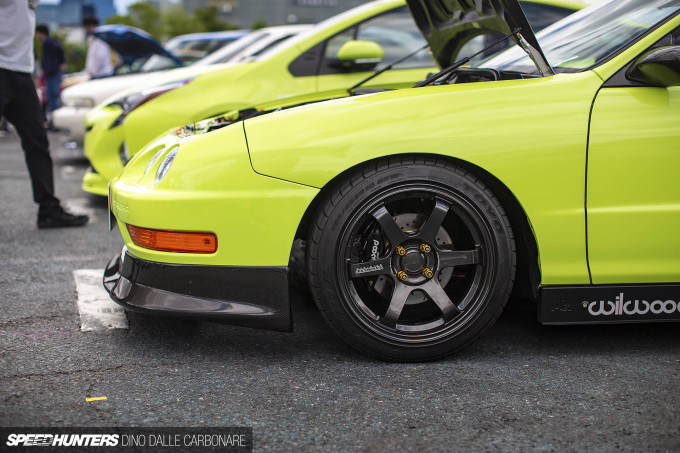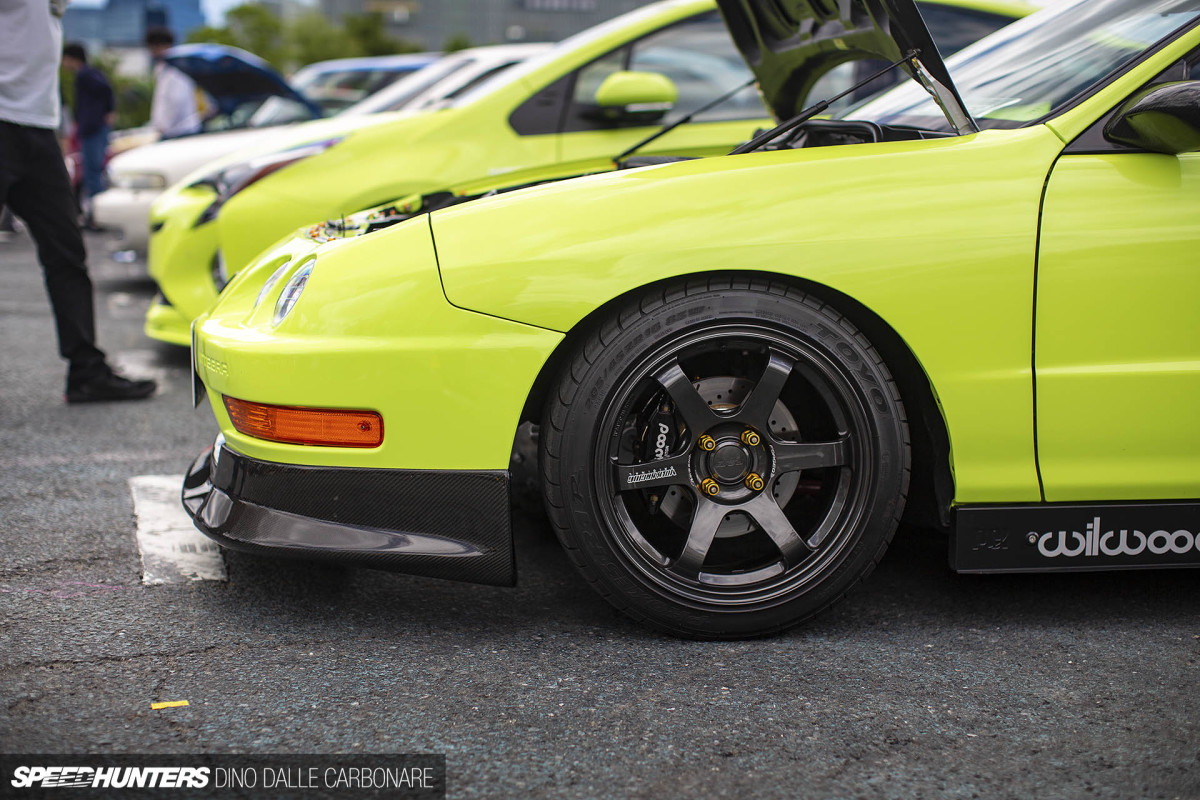 The Wilwood brakes are something I haven't seen much on Hondas in Japan, and the RAYS Volk Racing TE37 Sonic wheels in Diamond Dark Gunmetal are a wheel choice you just can't fault.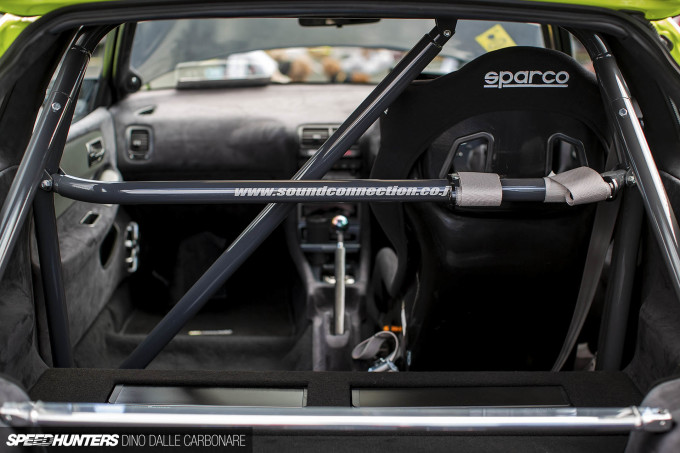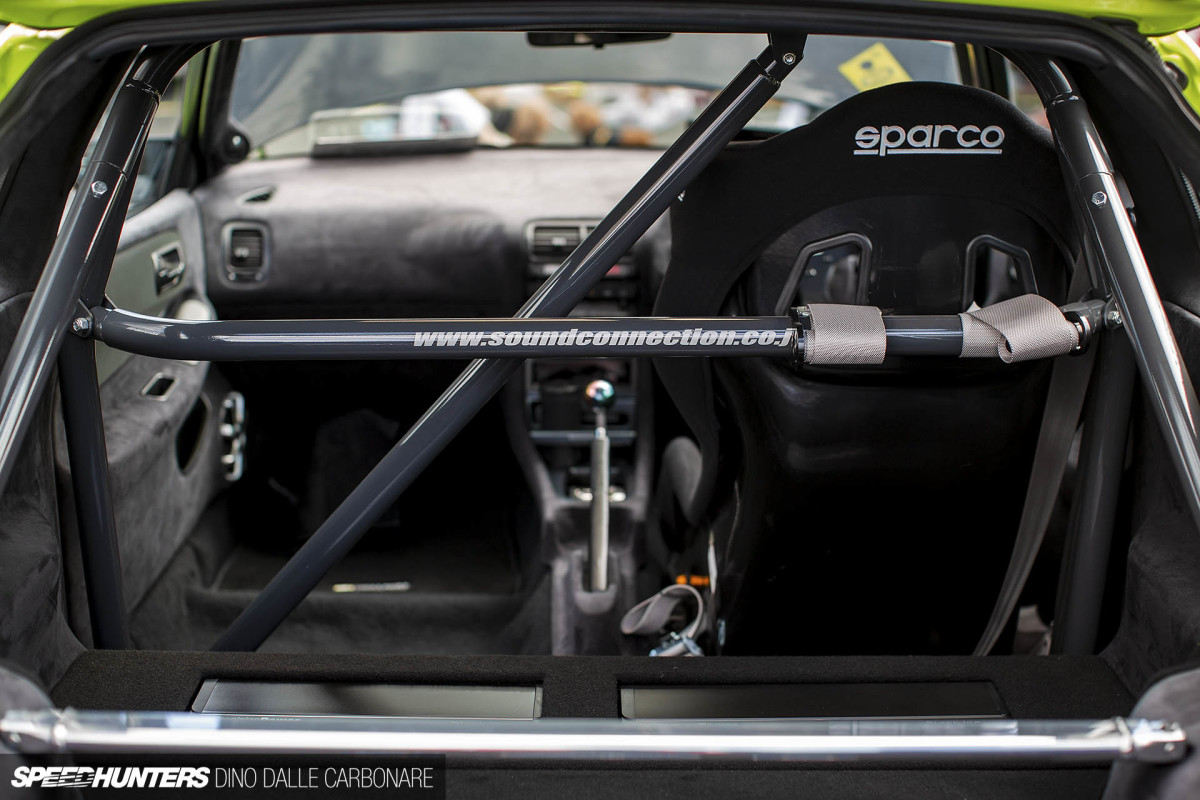 The attention to detail was carried right throughout the car too.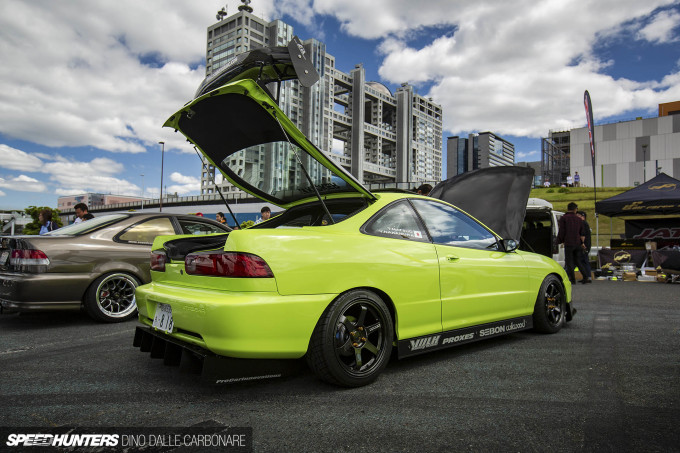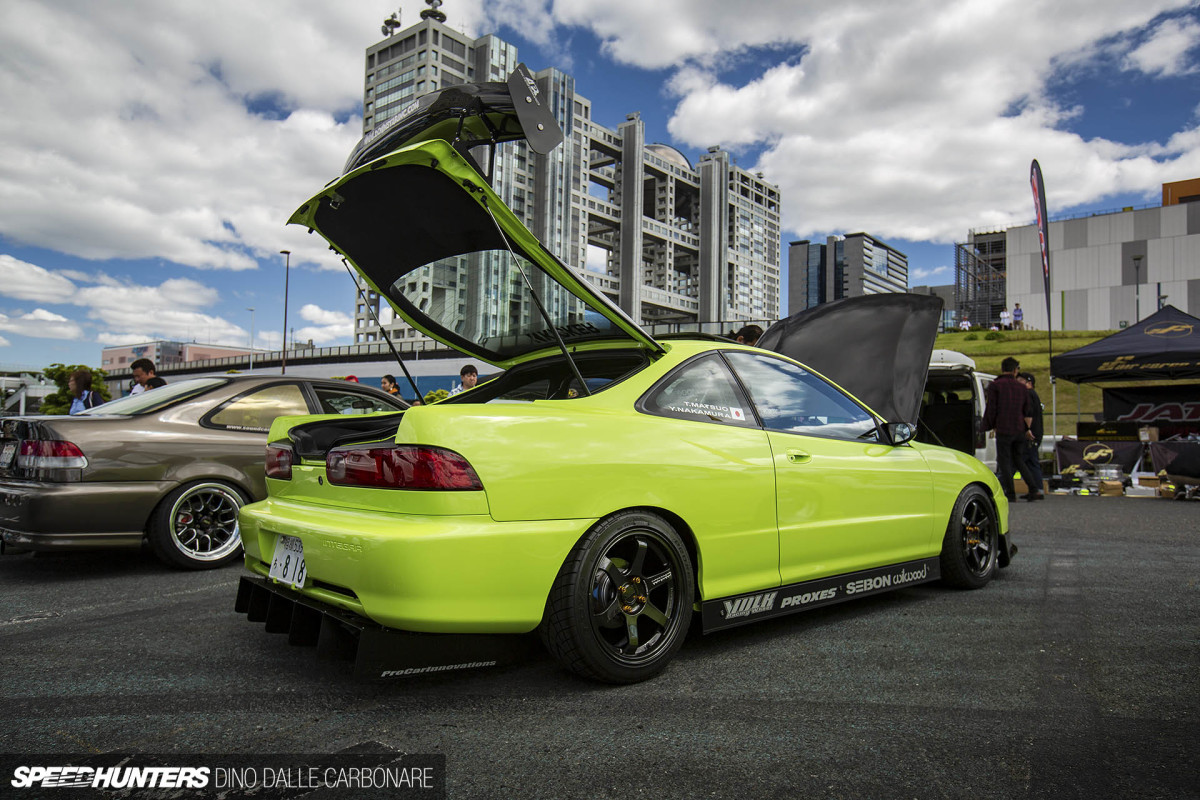 In fact, if the owner is reading this, message me please as I couldn't find you. I'm sure there are a lot of readers who would love to see a feature on this car.
I've got a lot more to share with you from Odaiba, so make sure you check back soon for my next story from the Mooneyes Street Car Nationals.
Dino Dalle Carbonare
Instagram: speedhunters_dino
dino@speedhunters.com