A Focus On quality
The BMW scene in Japan has always fascinated me, and if you've followed Speedhunters for some time you'll probably understand what I referring to. From stumbling upon track-prepped E46 and E92 M3s in the Fuji Speedway and Tsukuba paddocks to the more stance-oriented builds that have become popular lately, a great culture has been developed around this brand.
As is the case with a lot of the style we see in Japan, you could say that inspiration from around the world has been combined with a little je ne sais quoi to create something that's undoubtedly and recognizably Japanese. Studie AG always comes to mind as they've done great at catering to the aftermarket BMW world, but there's also another brand that in recent times has really made a name for itself.
Despite going into business back in the late '90s, you could consider 3DDesign as a relative newcomer given the company only actively started making its own aero and dress-up parts 12 years ago. Today their catalog includes a wide range of front and rear spoilers, diffusers and side skirts, all offered in FRP and CFRP, along with some new performance products.
Having heard that 3DDesign has some interesting plans for the future, I stopped by their recently-opened HQ in Yokohama for a little catch-up with Endo-san, the man behind the brand.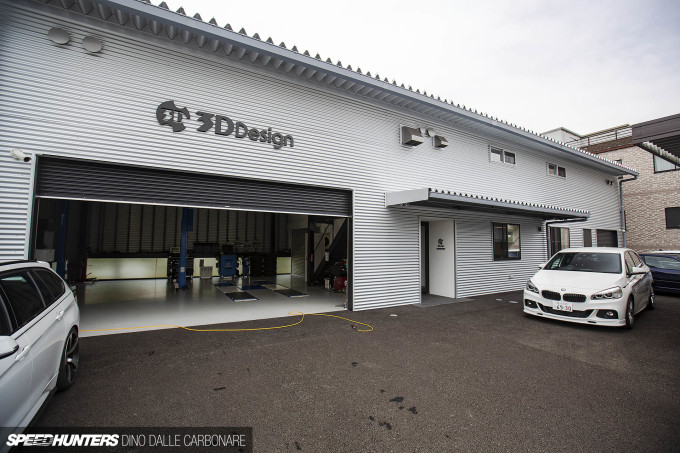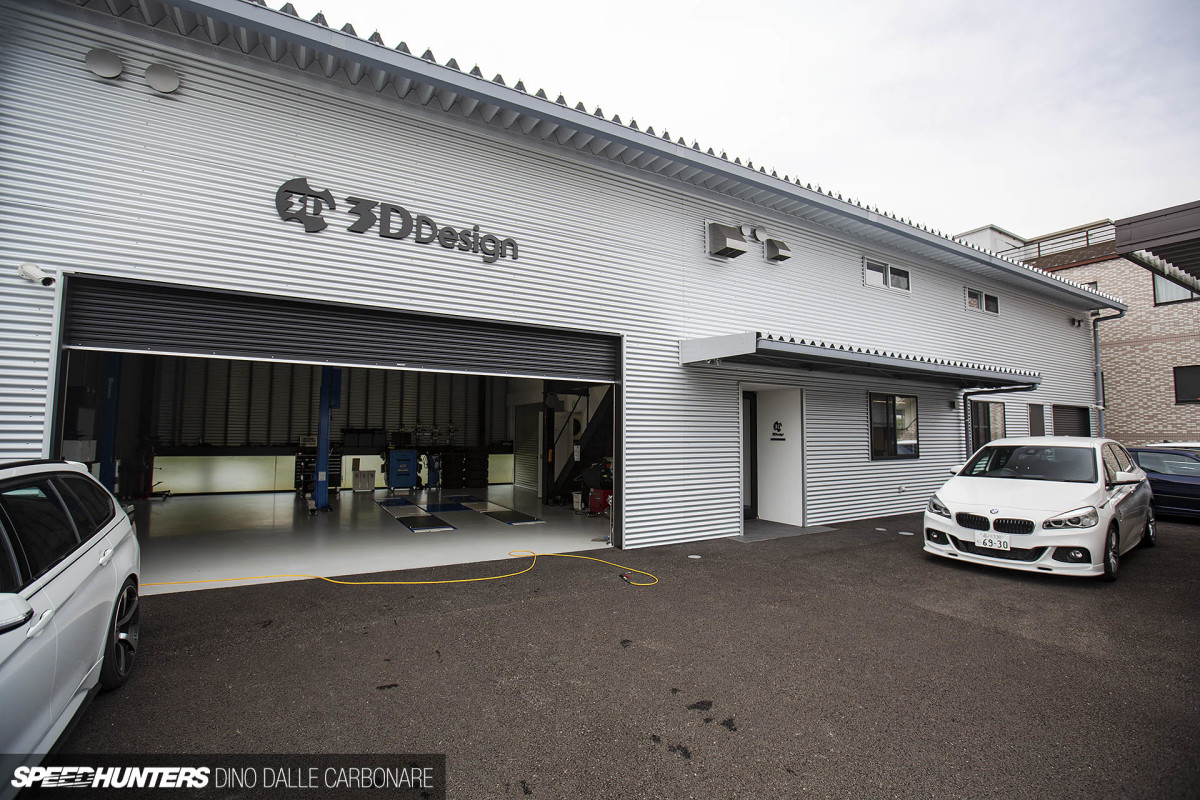 Located in Tsuzuki-ku, which I like to refer to as a hotspot for Japanese tuning shops, 3DDesign now have a proper facility where they can work and fit their parts directly on customer cars.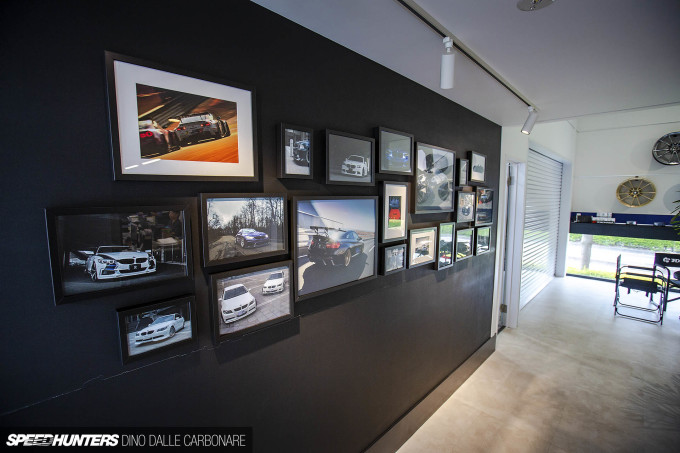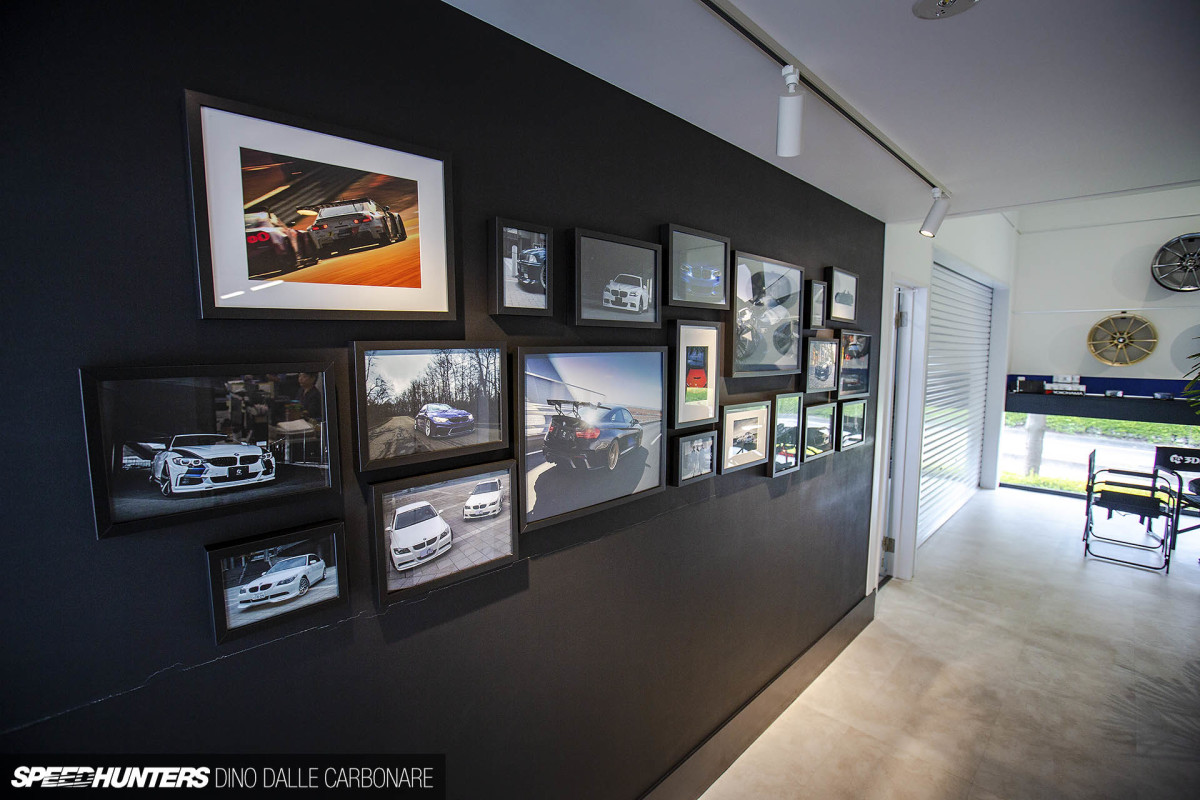 Walk through the front door and you are greeted by a gallery of all the cars and builds they've been involved with, including a lot of Studie AG's own race cars.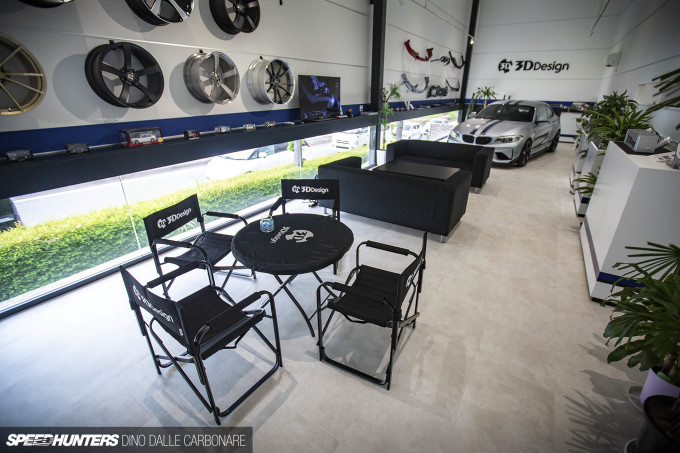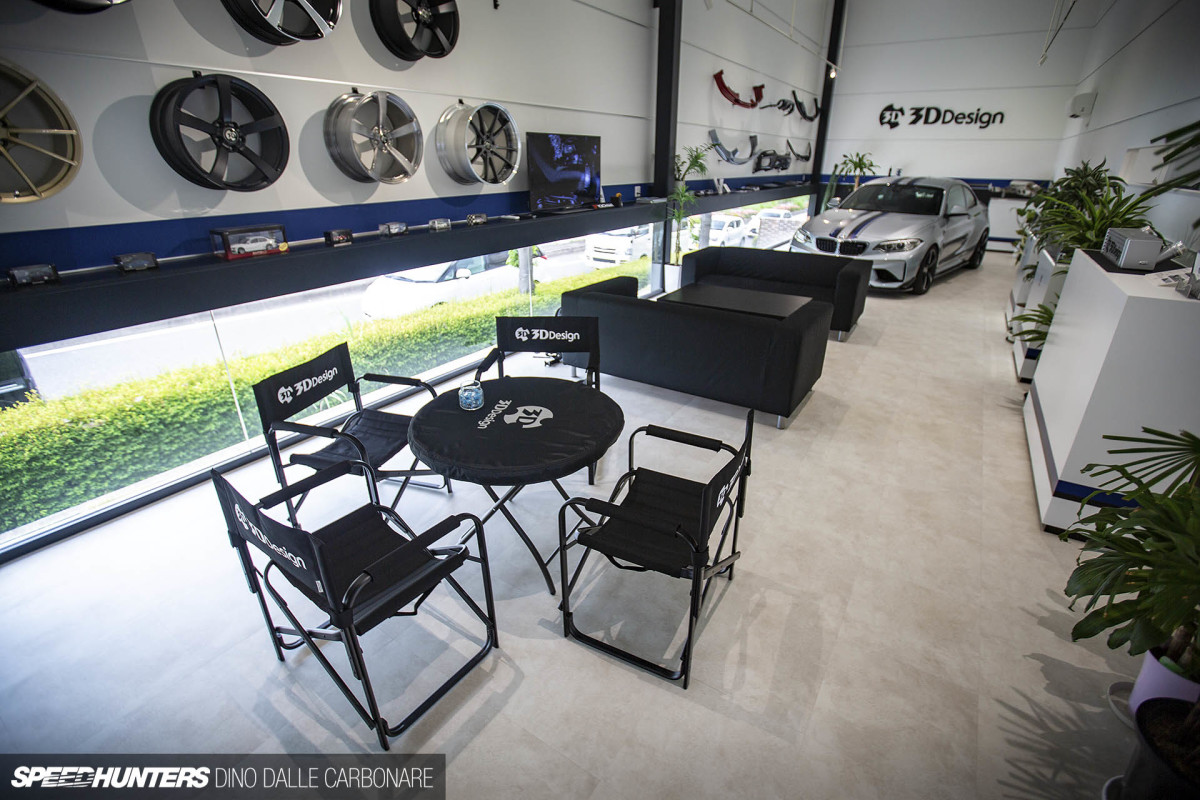 There's a neat little meeting and showroom area where you can check out most of 3DDesign's products, which are either displayed on the walls or in little cabinets. And that's exactly what I did first.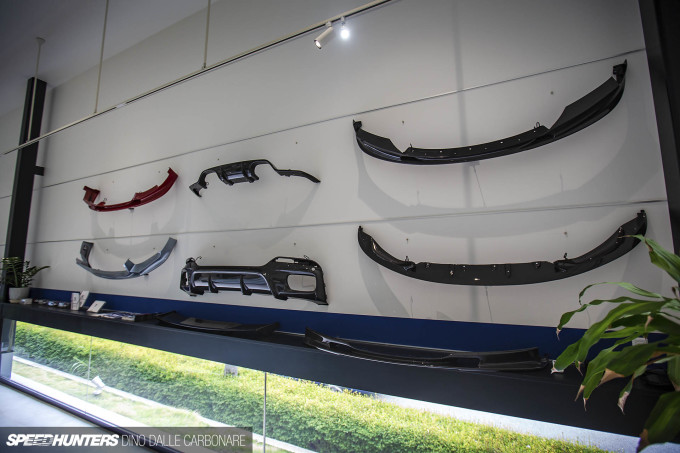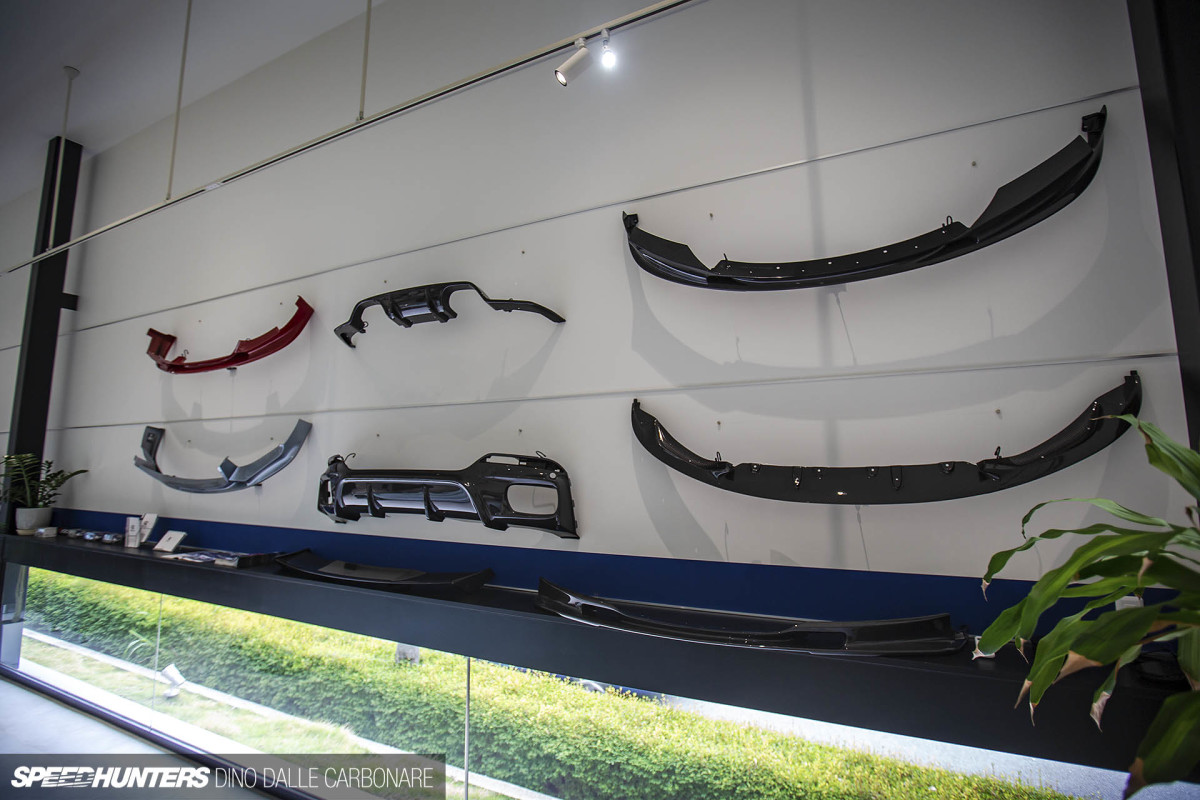 I'll start with the parts 3DDesign originally become well known and respected for, and what continues to make up the bulk of their business today.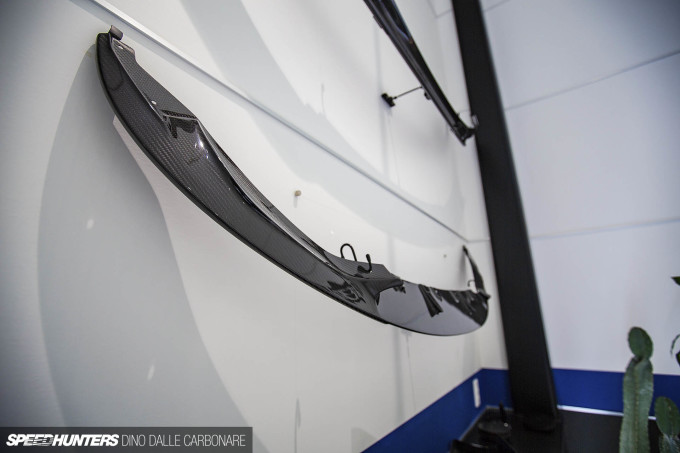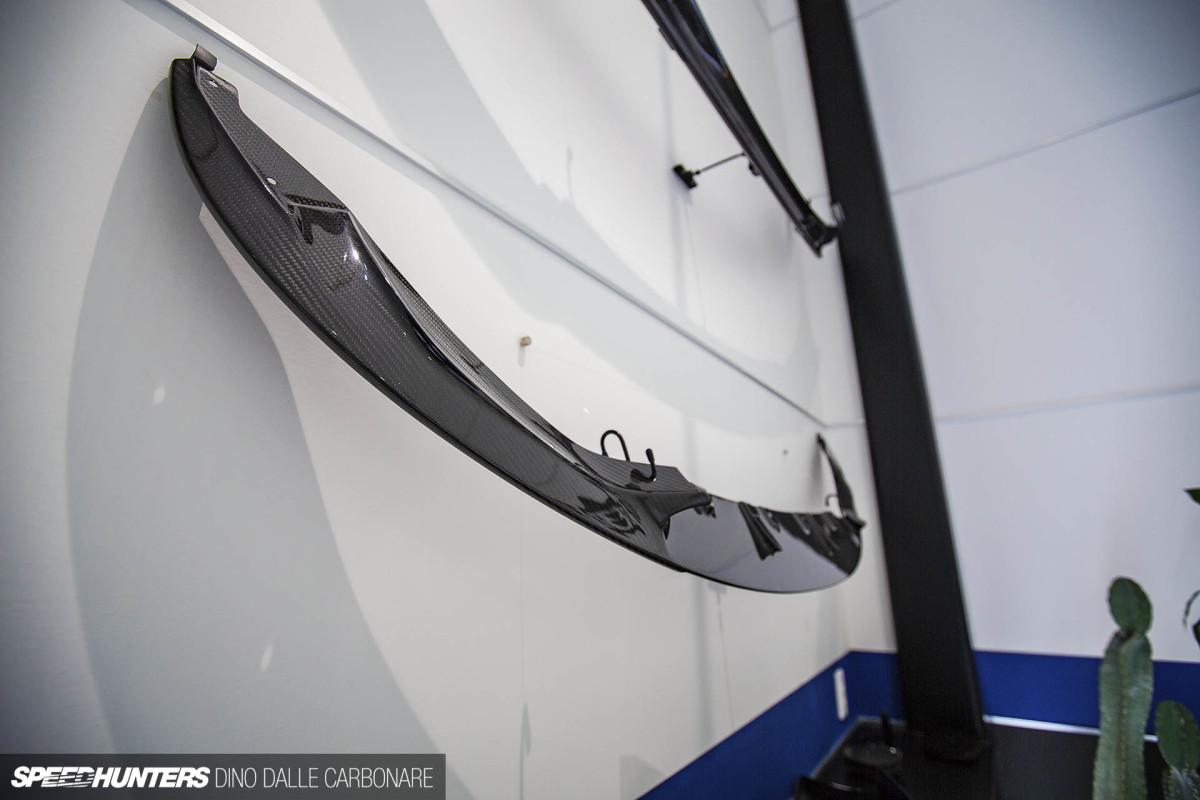 You may have noticed that the majority of BMWs these days come out of the factory with aggressively-styled front and rear bumpers, especially with the M and M Sports versions; but somehow they almost seem unfinished. Well, that's precisely what's addressed with these lip spoilers; they add a nice protruding diffuser-like look to the front of most BMW models, helping also give the impression the car is sitting lower to the ground.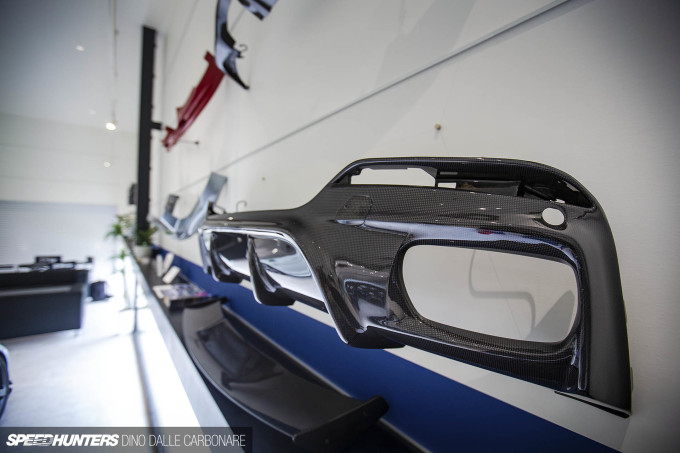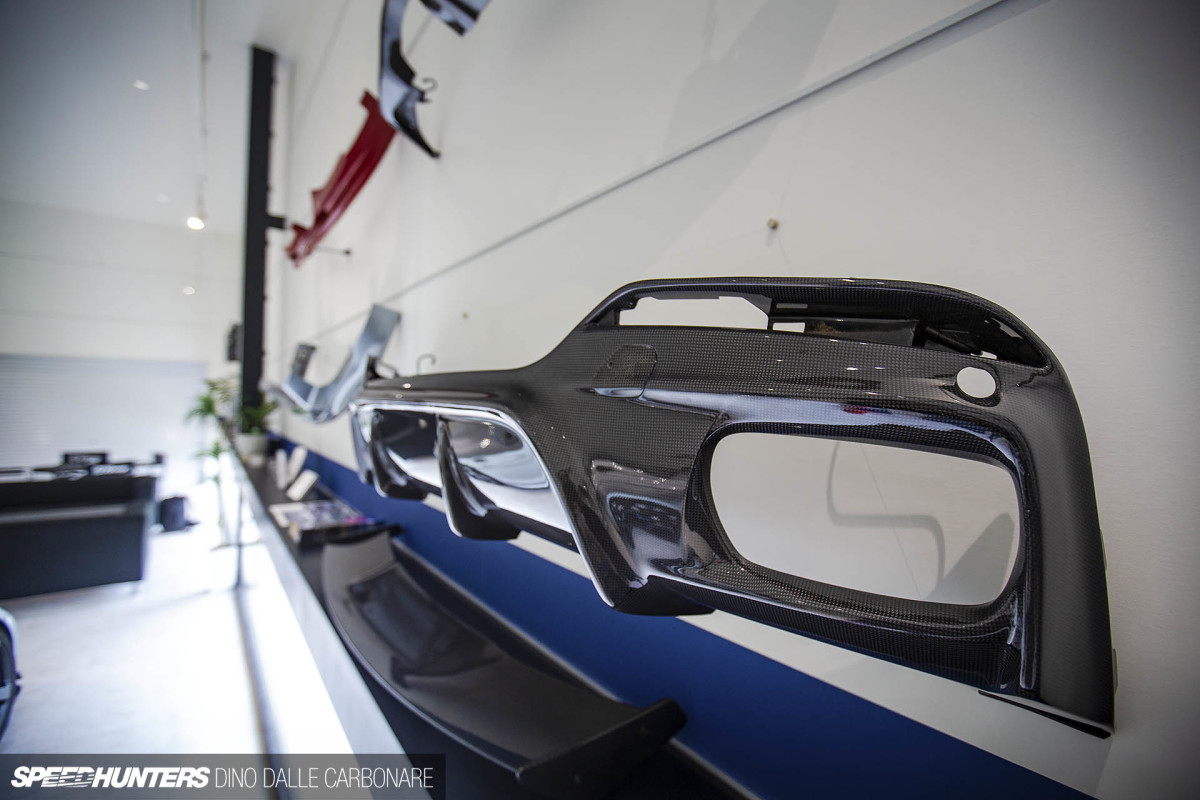 There are skirts and lower sections for rear bumpers available too, just in case anyone wants the full 3DDesign look.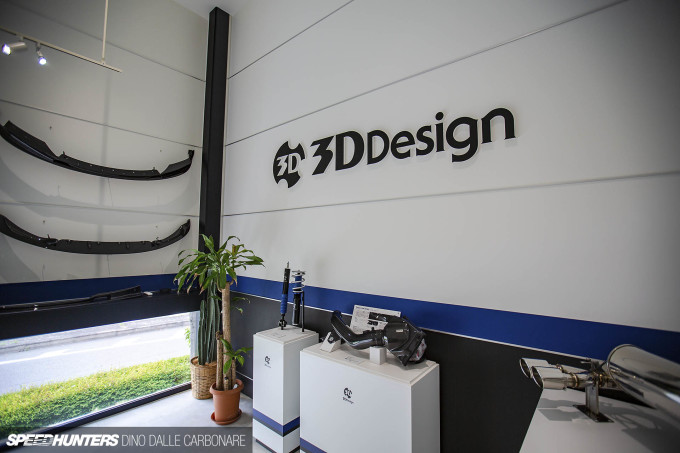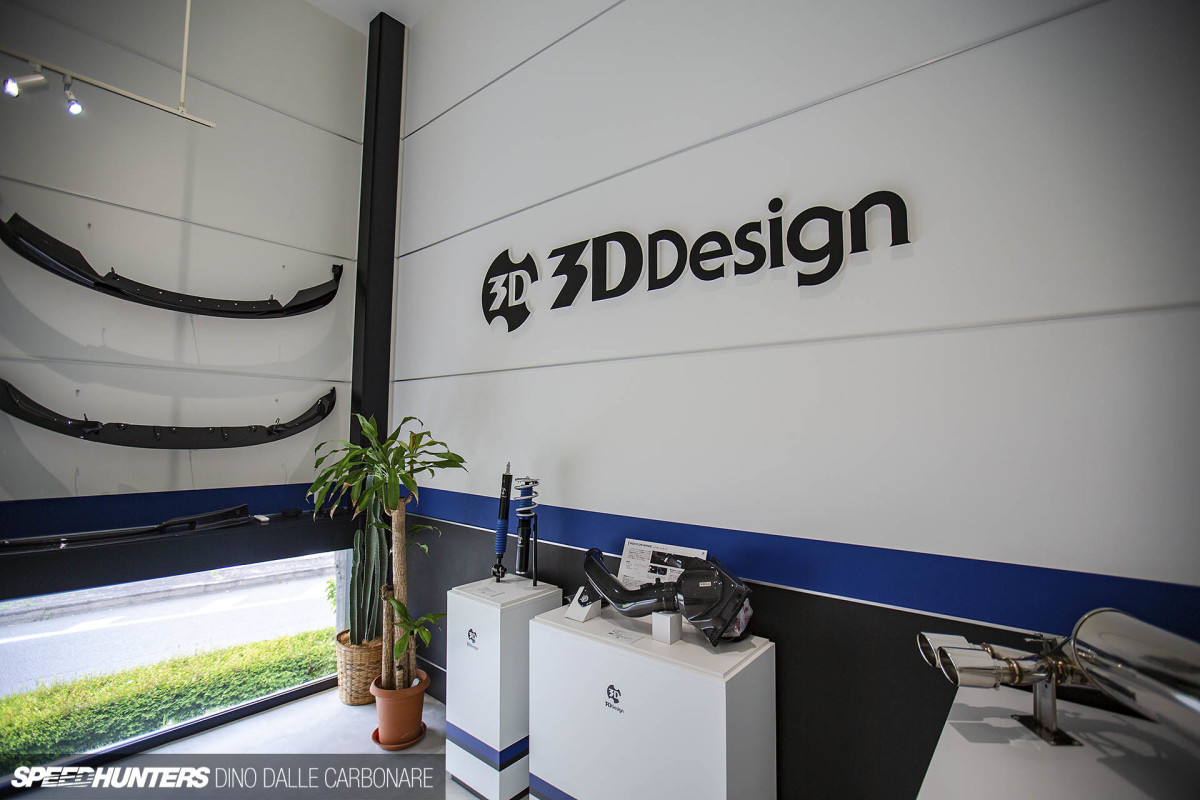 And most do.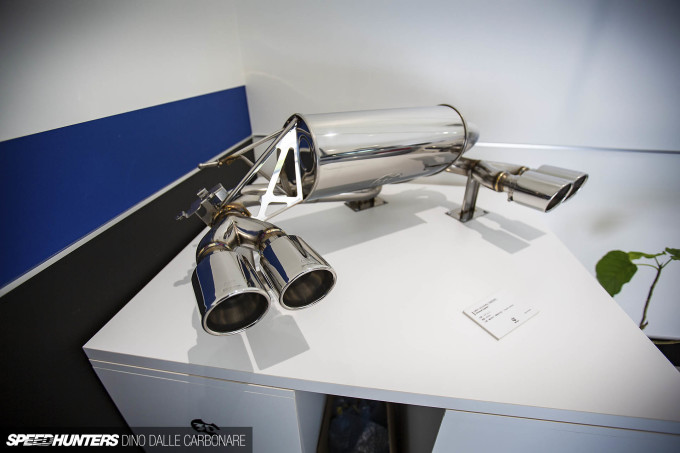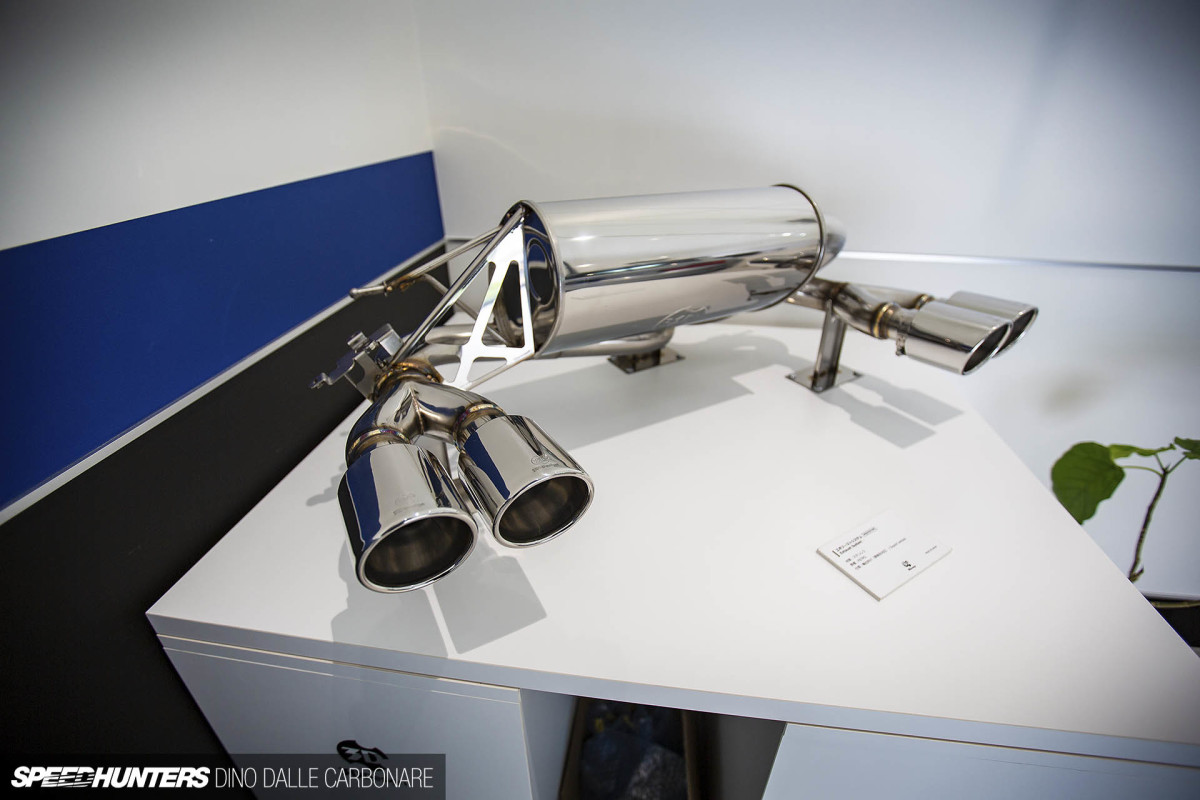 Simple performance upgrades like cat-back exhaust systems and mufflers make up another important side of the business, and one that's picking up rather quickly.
There are also sexy carbon fiber induction and airbox conversions that replace BMW's cheap-looking factory intakes with something a little bit more special, while liberating a few extra horses in the process.
3DDesign Parts At Work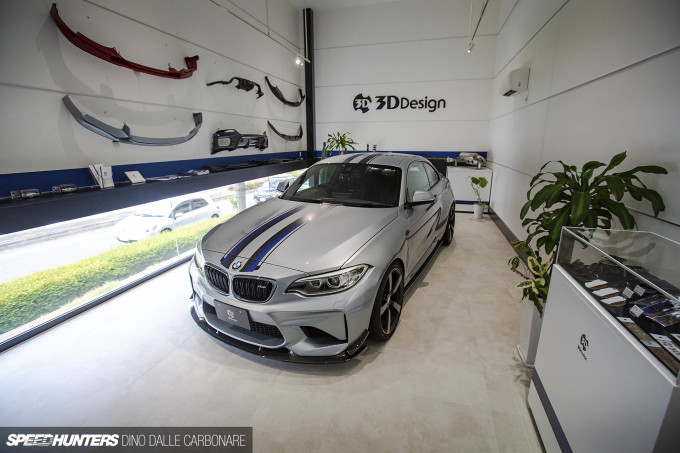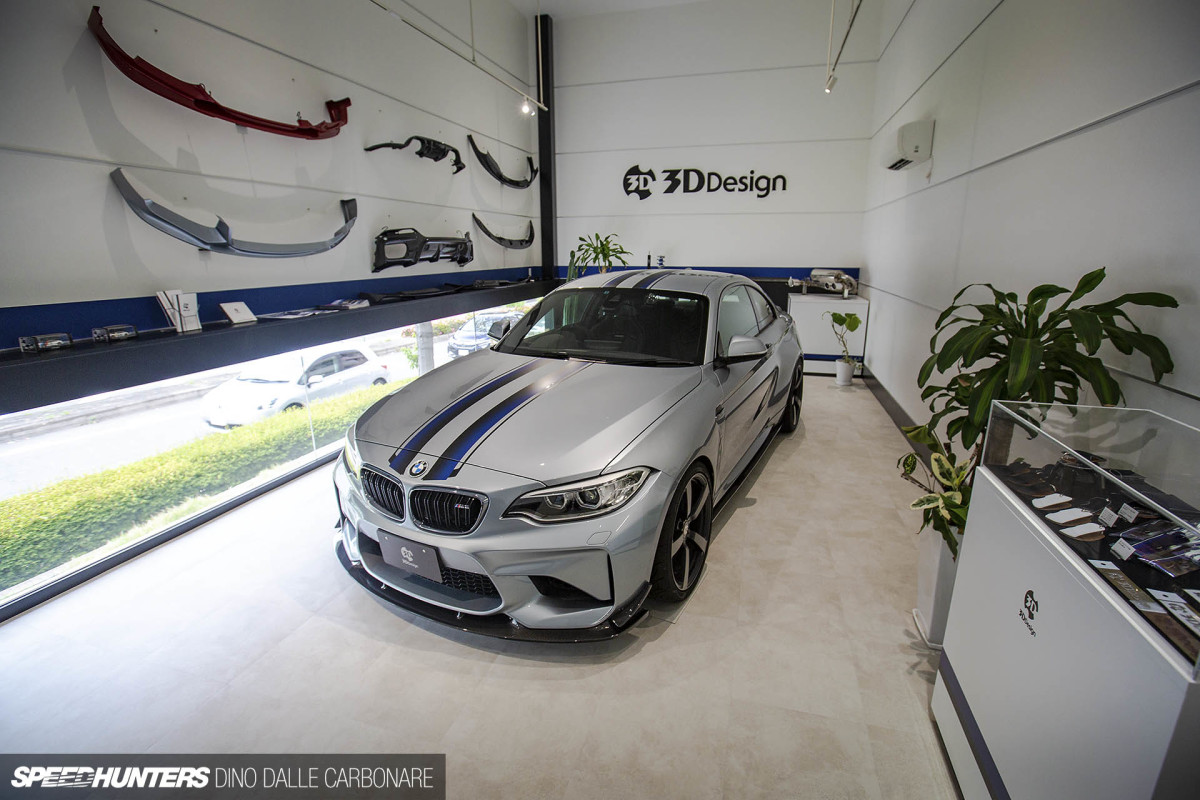 With pretty much every single BMW engine featuring forced induction these days, there's a lot that can be improved on with simple bolt-ons. 3DDesign's BMW M2 'complete car' is testament to that. Featuring every part that they make for the model, Endo-san and his team have managed to extract more performance and give the M2 a more aggressive look.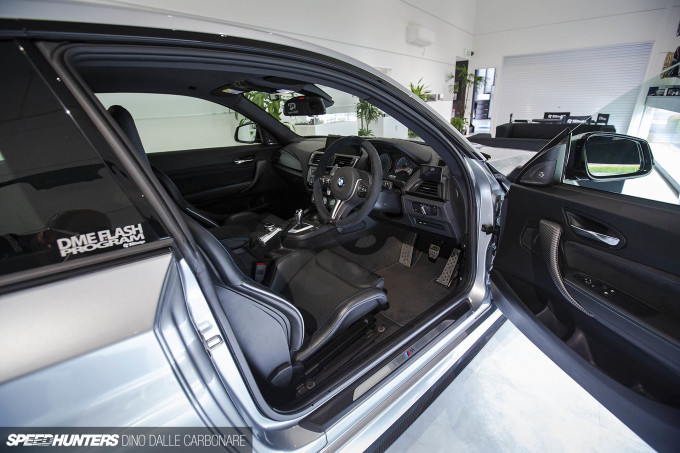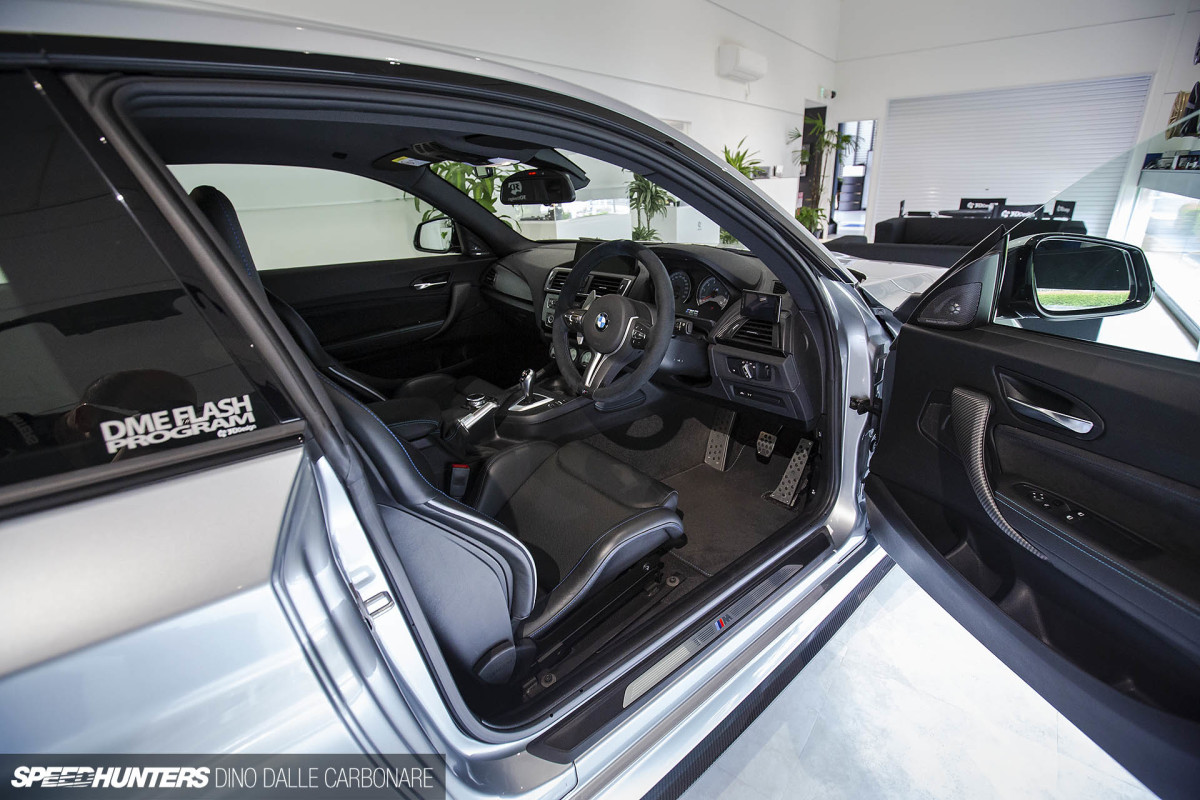 Swing open the door and you instantly notice the small but subtle additions that help turn the cabin into an even more driver-focused space.
First up, the stock front seats have been replaced with a pair of reclinable leather Recaros that sport an embroidered 3DDesign logo on the headrest section.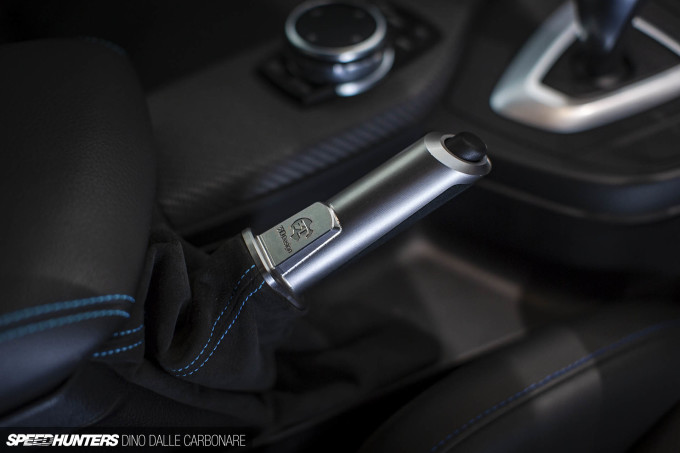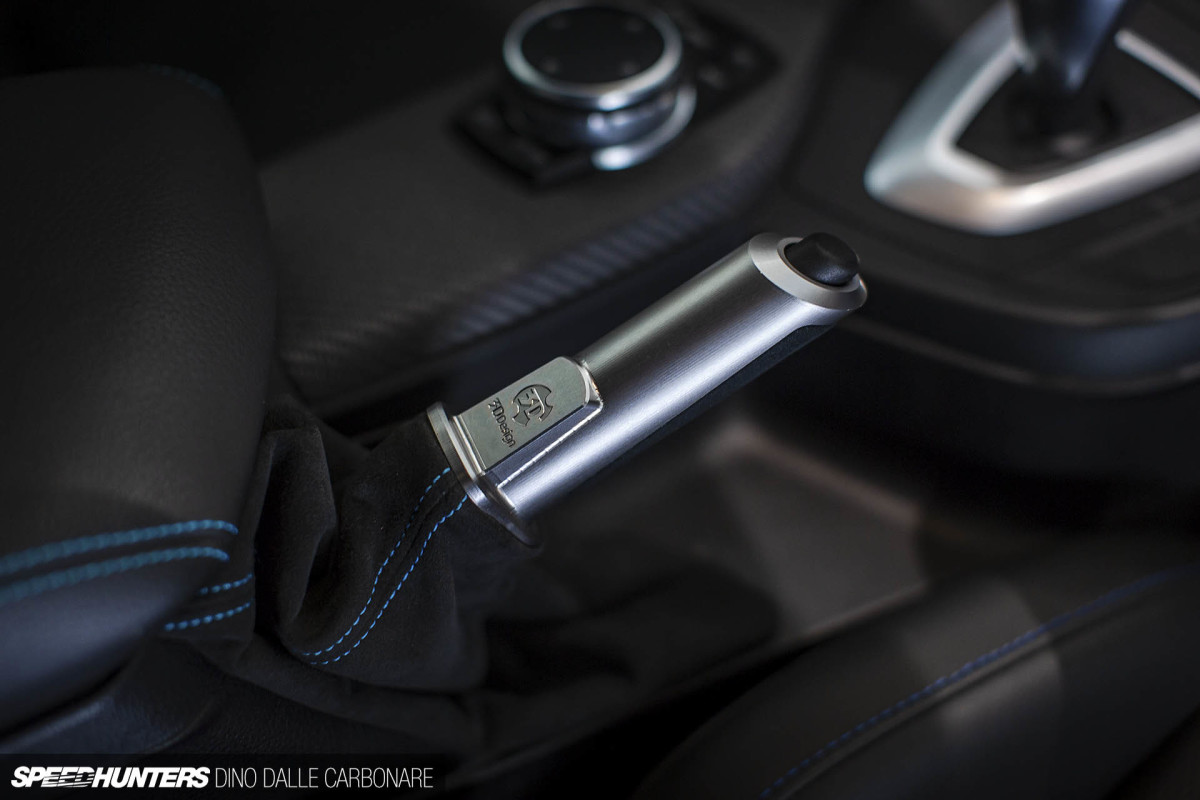 Being a product design major, Endo-san is quite particular when it comes to the way his parts are made. I noticed straight away that the handbrake lever replacement is not only milled out of billet aluminum but also has a fine texturing to the surface for a nice tactile feel.
It's the same deal for the shifter paddles, and most importantly of all they fit in with the rest of the factory detailing in the cabin.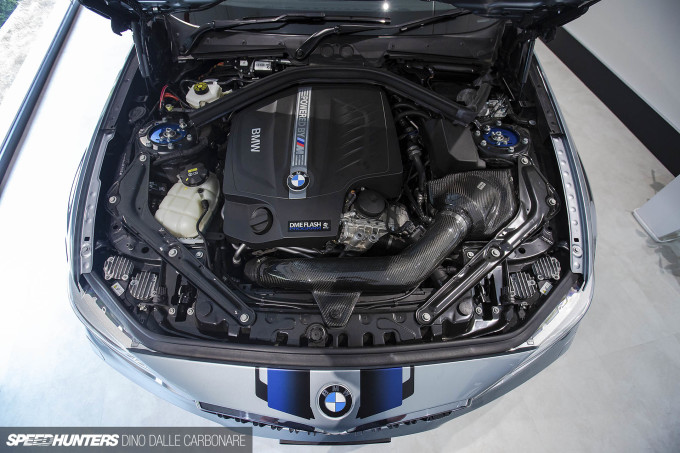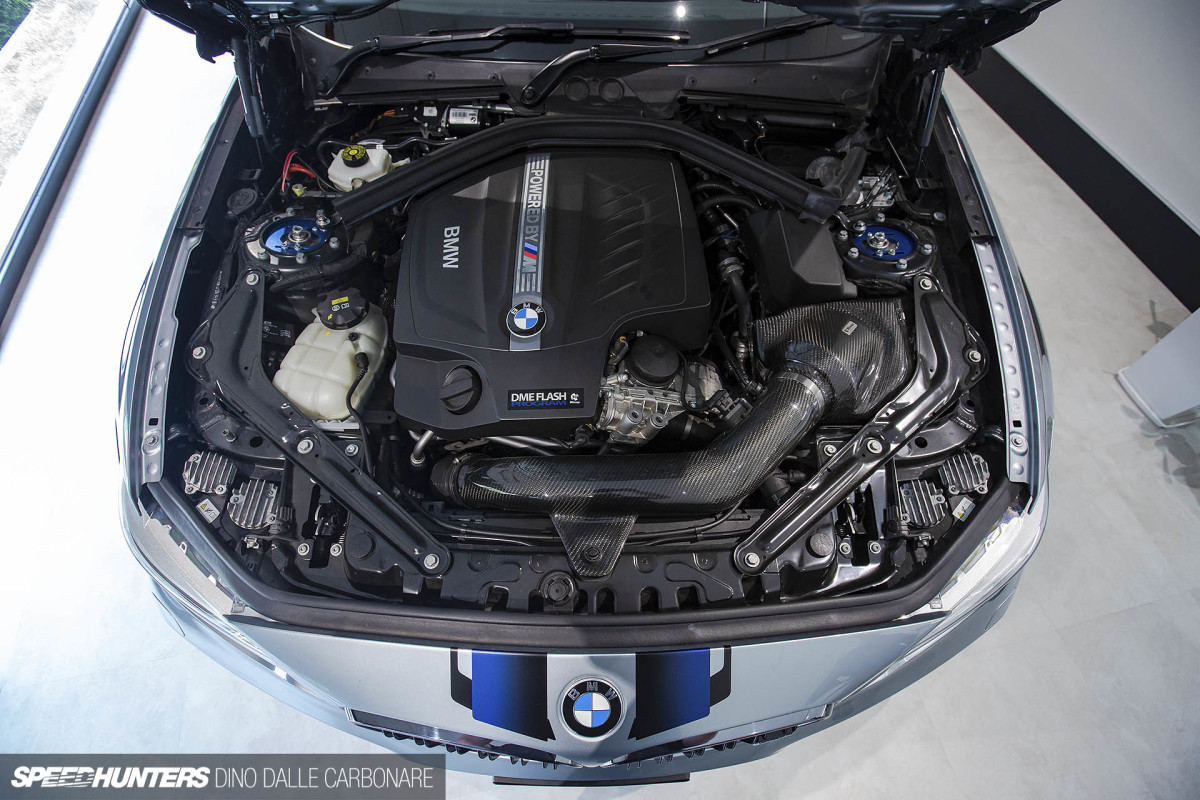 At the heart of the F87 M2 is the N55B30 which in stock form pumps out 370hp. Thanks to a full exhaust, an intercooler upgrade, the carbon intake you see above, and a custom reflash of the stock ECU, 3DDesign were able to bring the number up to 444hp. This is still very much within the safety parameters of the stock components and again a reminder why turbo cars are fun to play with.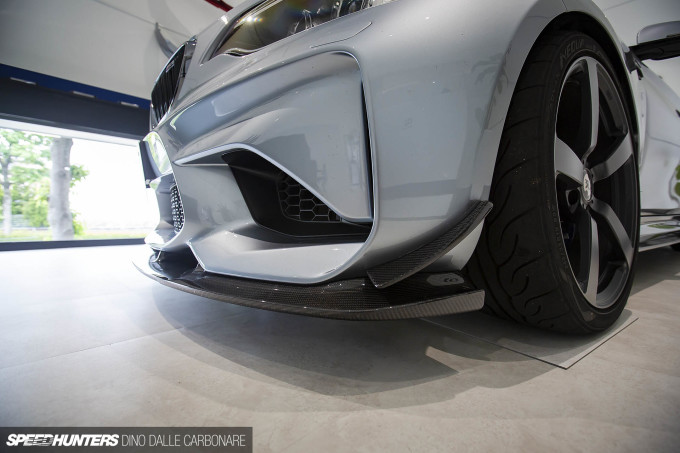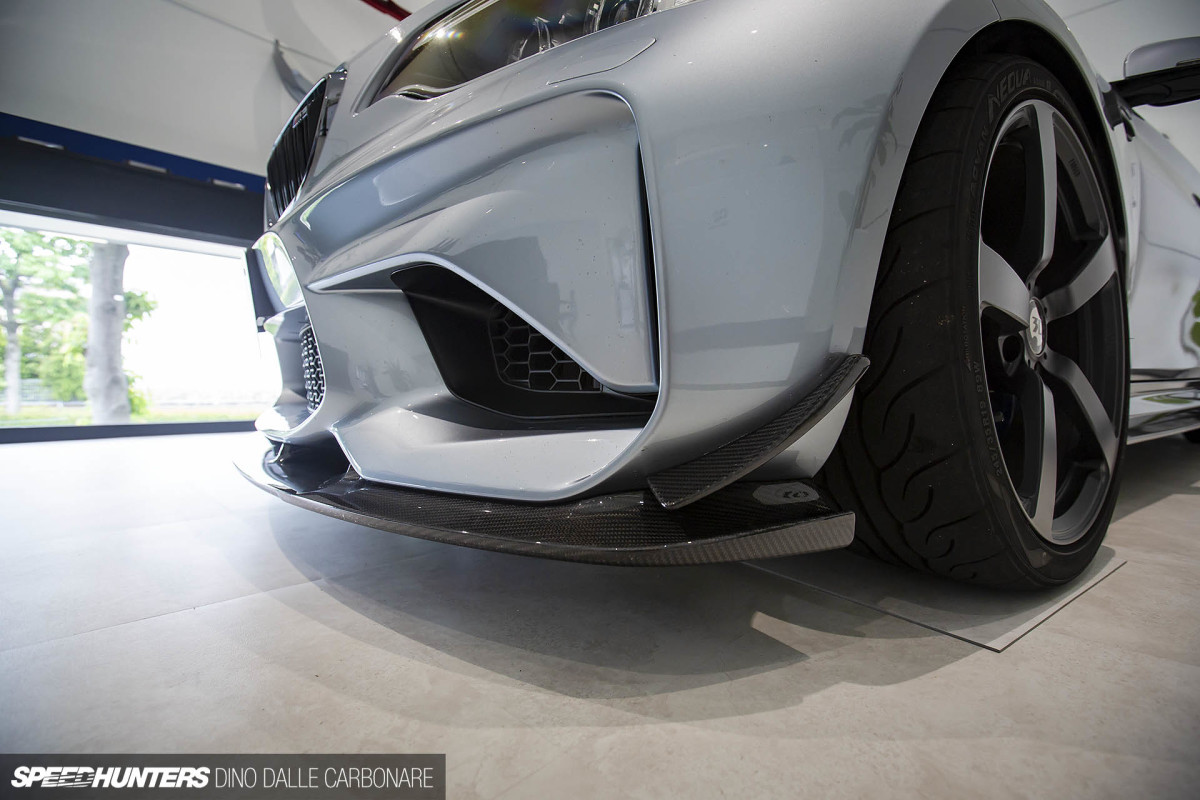 The carbon fiber splitter nicely integrates with the flared intakes of the stock bumper, while a pair of small canards were added as the car is often driven around Fuji Speedway.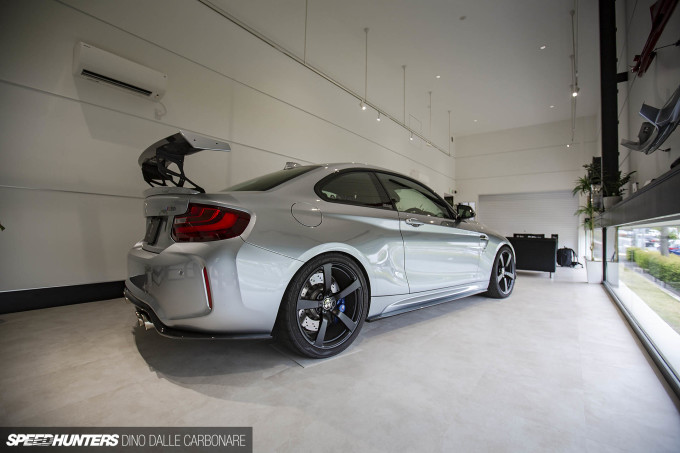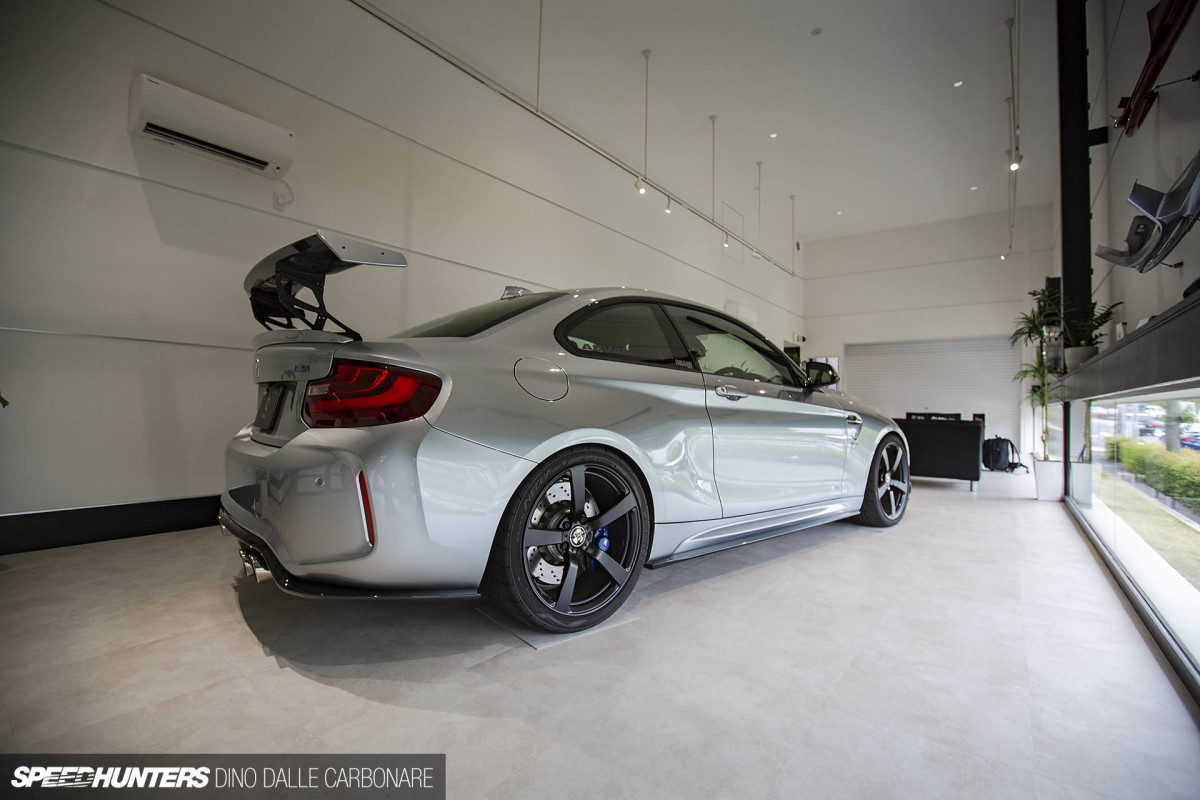 That lower carbon fiber profile is brought around the sides of the car with a pair of skirts, and a final rear piece ties it altogether at the back.
A small wing was thrown onto the trunk mostly for visual gain, and if you look closely you'll see the 3DDesign exhaust poke its quad pipes out from the carbon diffuser.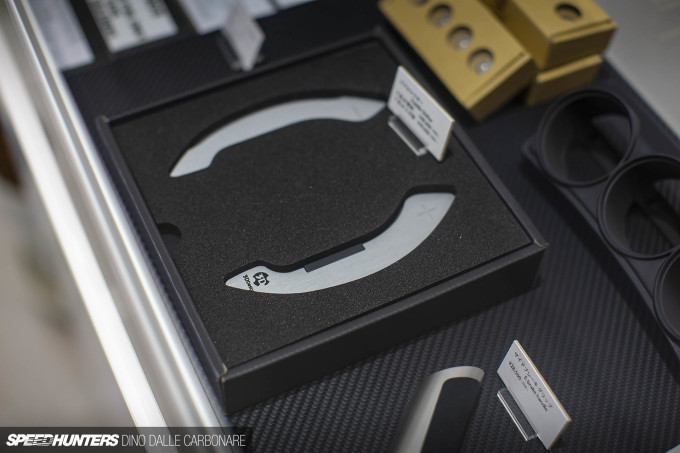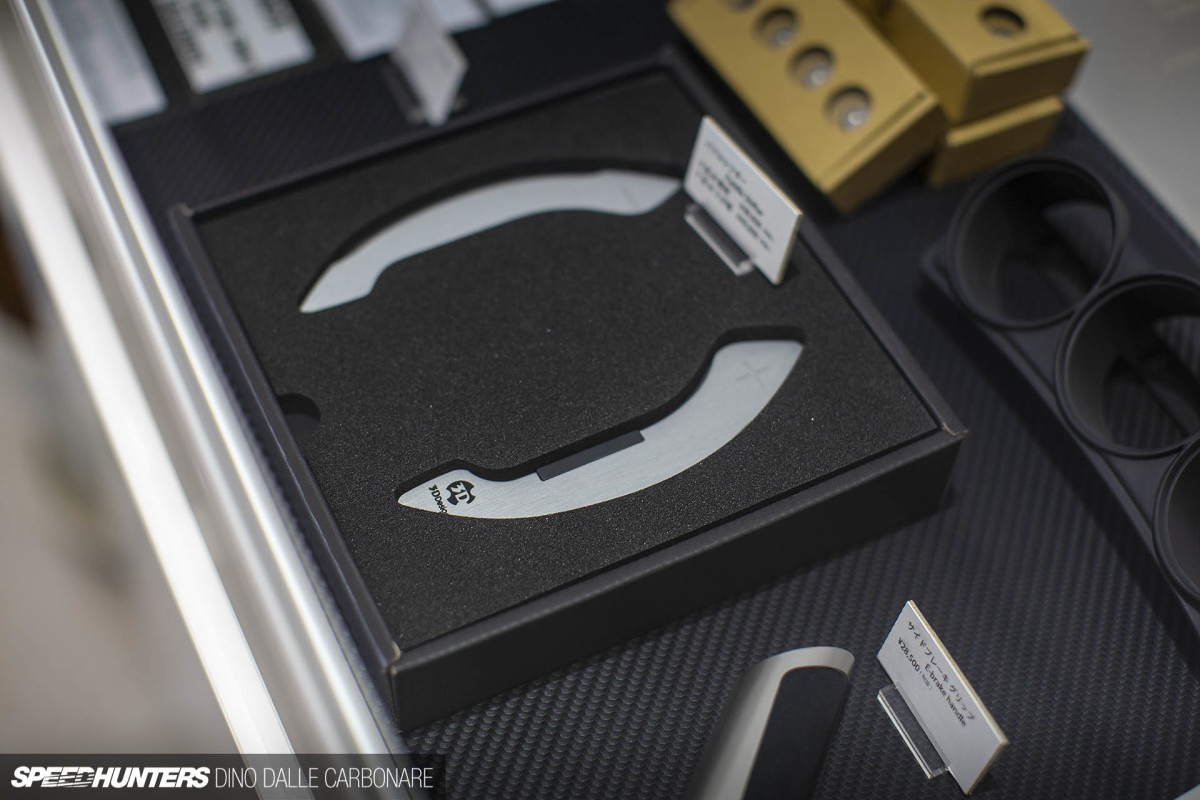 On top of the paddles there are few other interesting goodies that 3DDesign make, like leather pouches for key fobs and billet pedals to highlight an often overlooked detail on modern cars.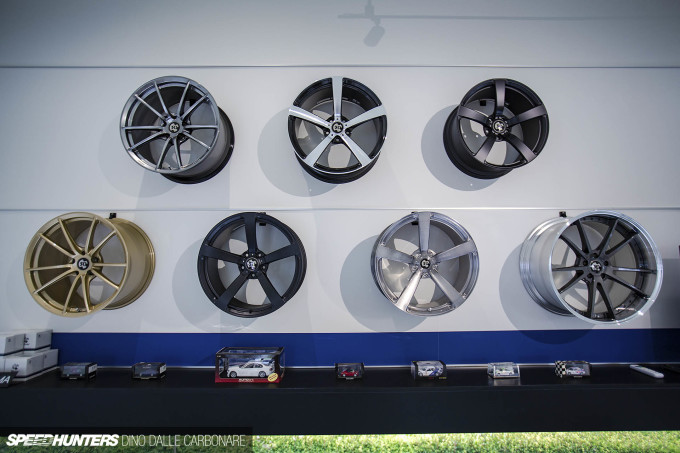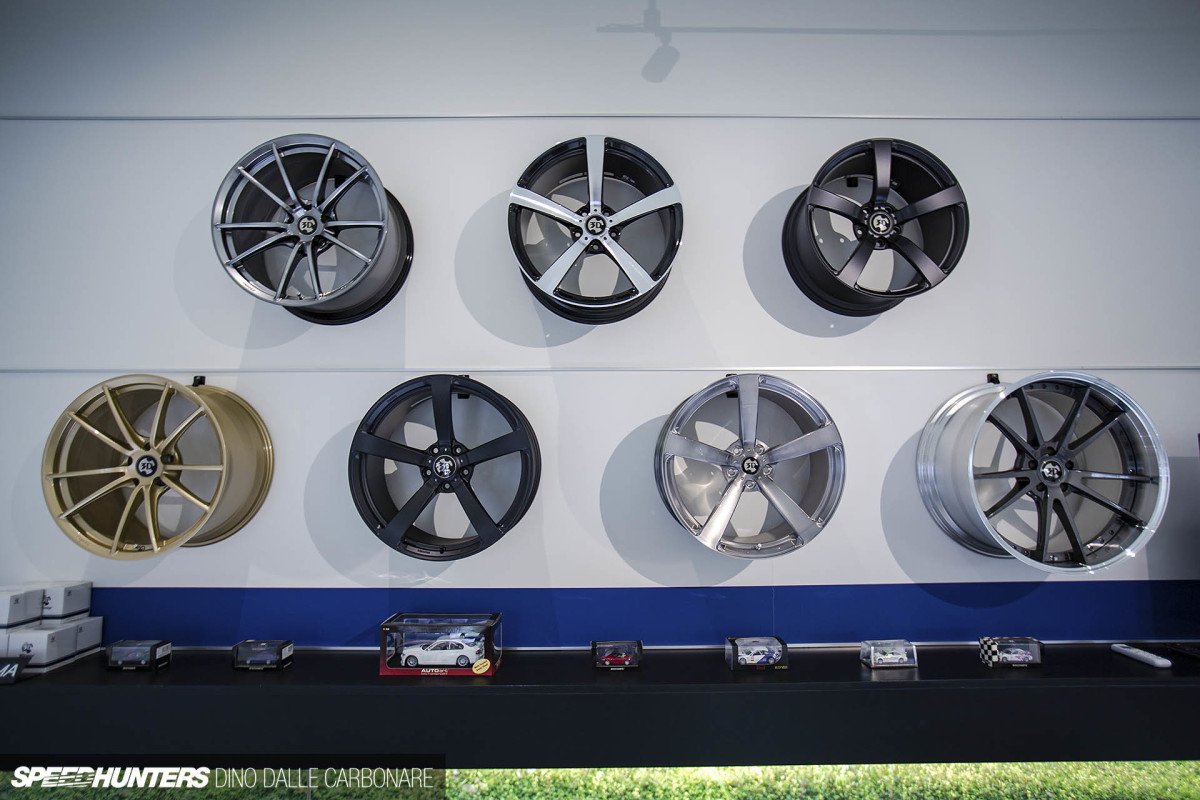 Their selection of wheels consists of two main models: a Hartge-esque 5-spoke, and a 10-spoke available in 1-piece and 2-piece versions.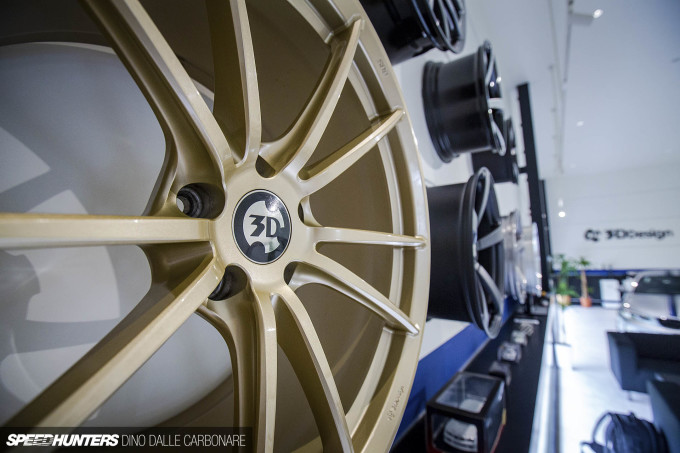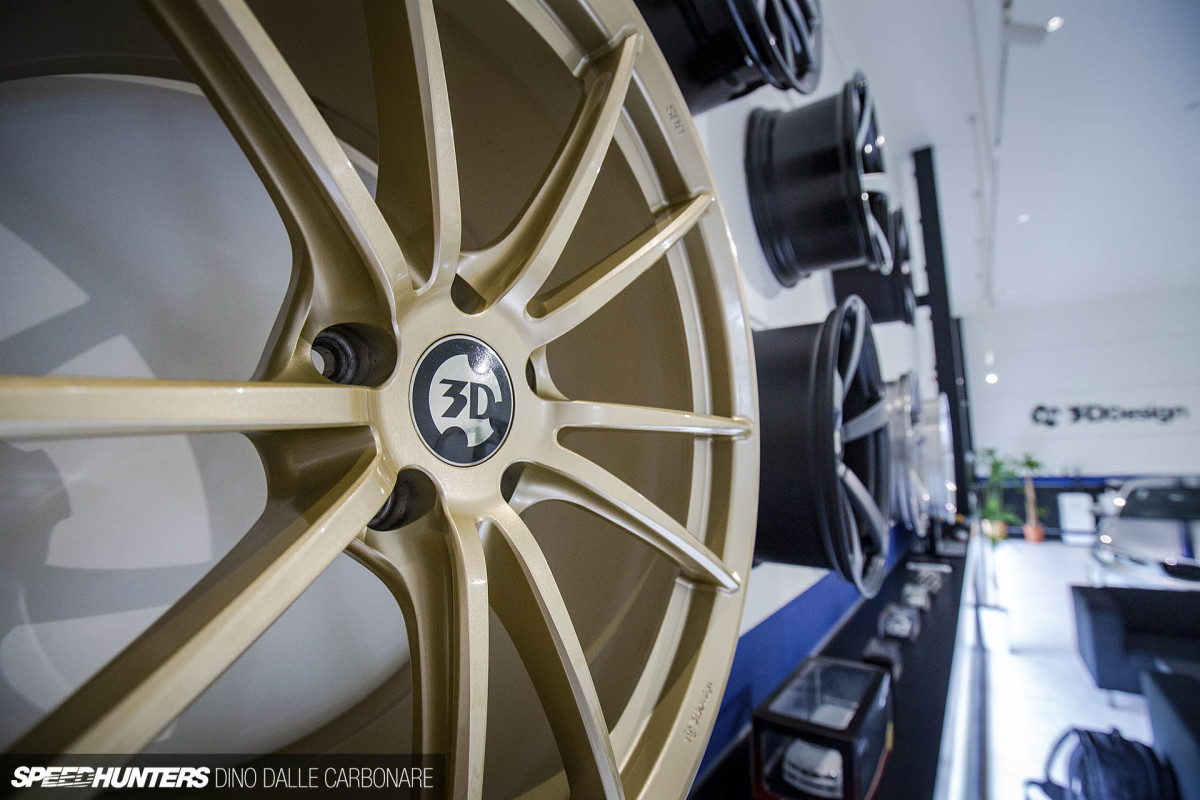 They also offer their center caps if you want to give a more personal touch to wheels from other manufacturers.
The Next Step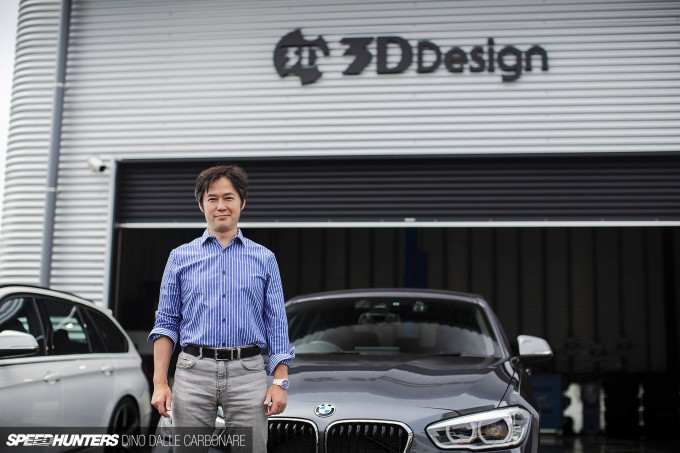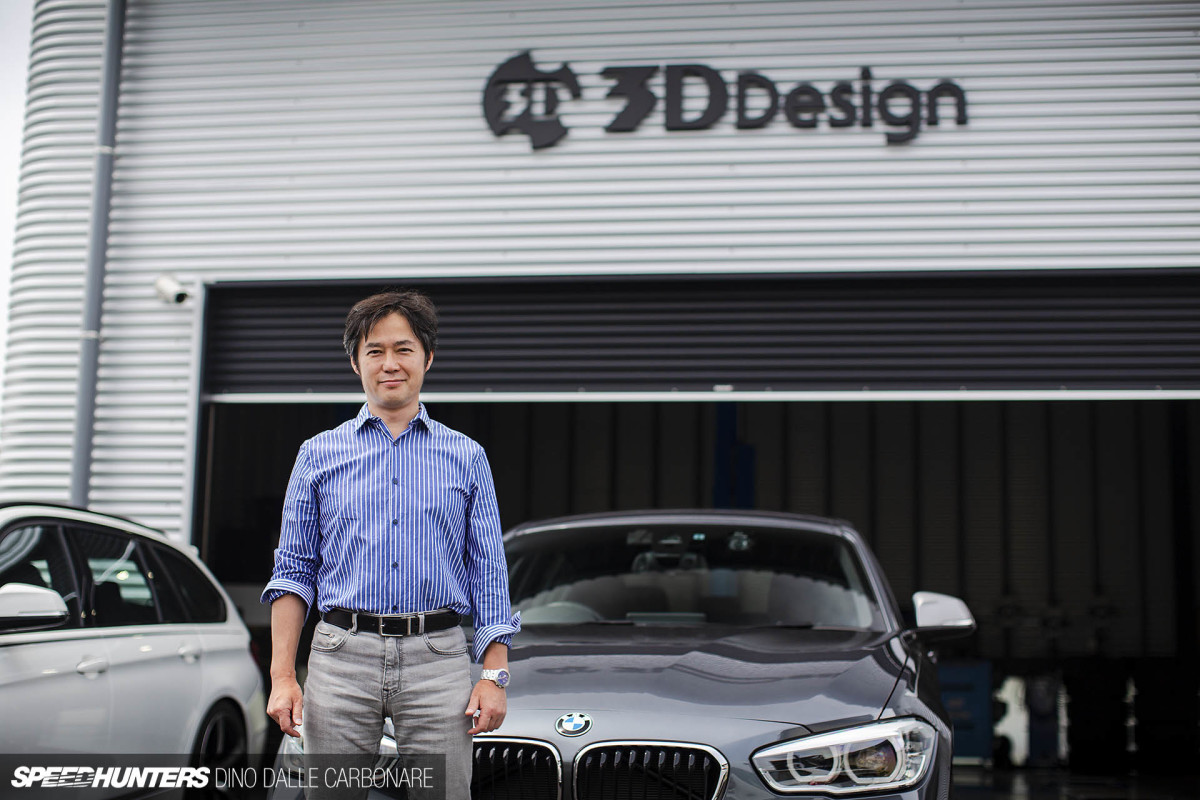 Endo-san told me that 3DDesign's next project, aside from continuing to develop parts for new BMWs and expand the range of current products, is to offer complete cars. It's an approach that a lot of tuners are going with these days in Japan, and one he feels is a natural progression in order to continue building brand image.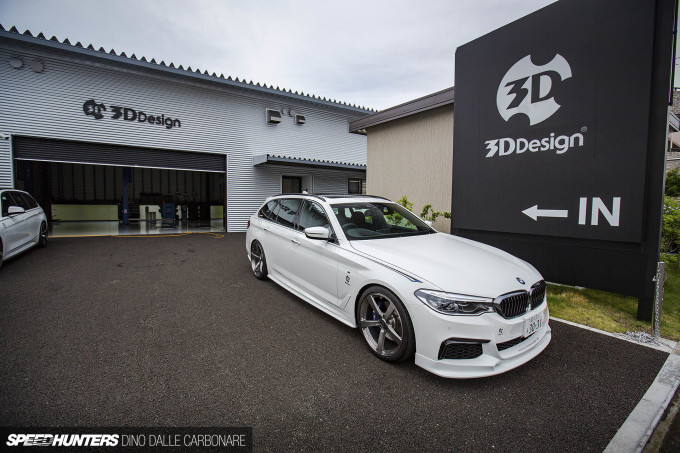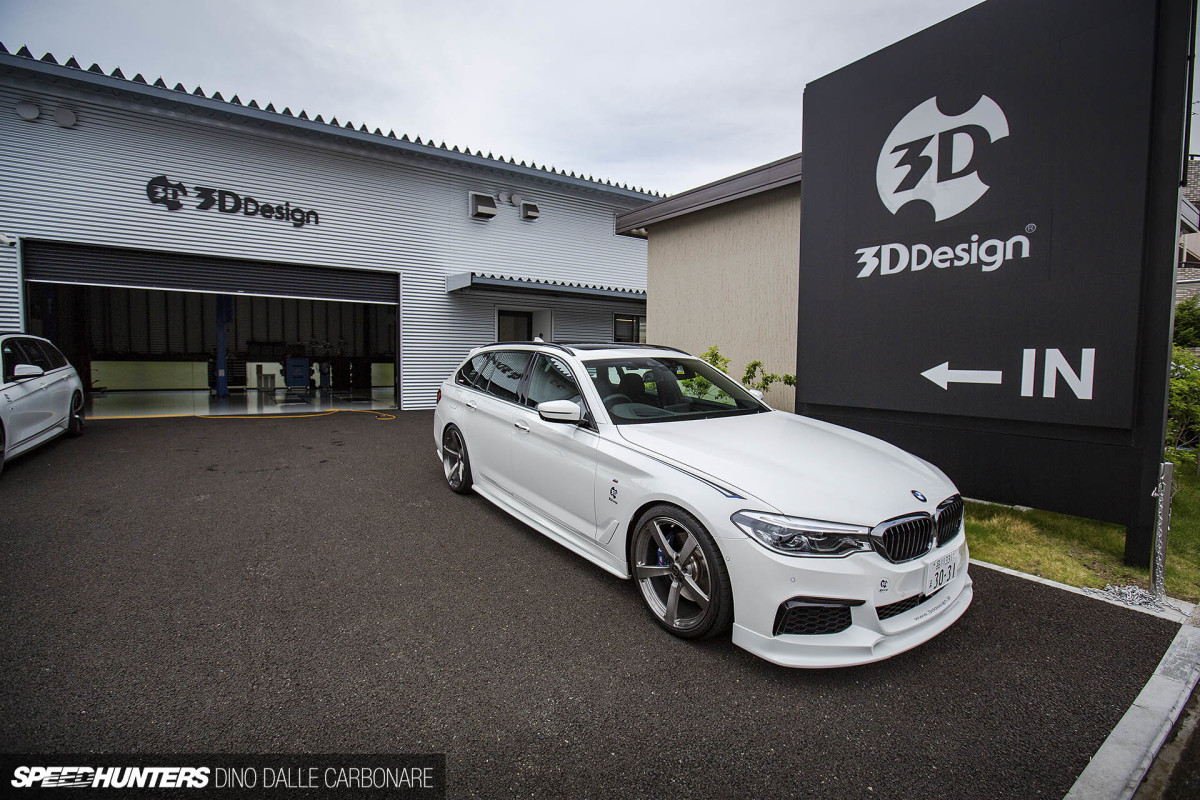 One car that I instantly drooled over when I first pulled in front of the shop was 3DDesign's G31 530i Touring, a daddy-mobile with plenty of space for the kids but enough grunt up front to deliver a fun driving experience.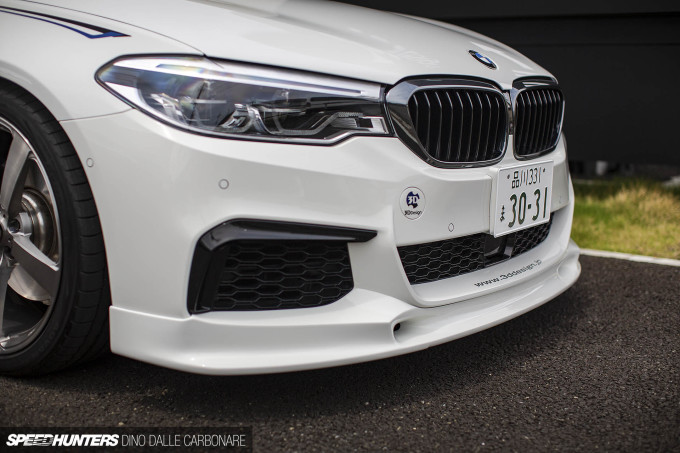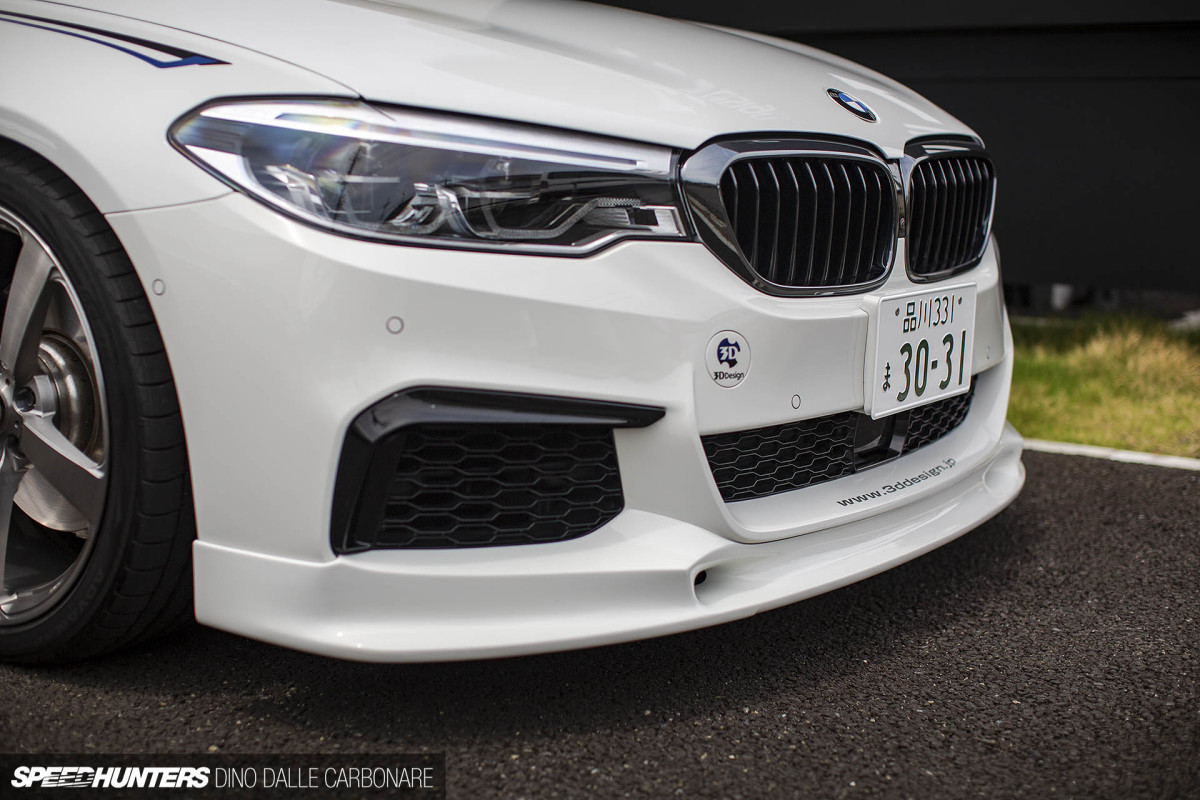 Their front splitter and side skirt package have it a real edgy feel to them.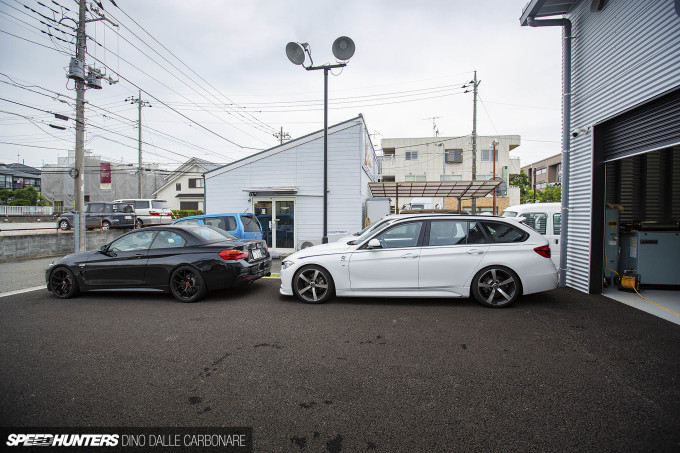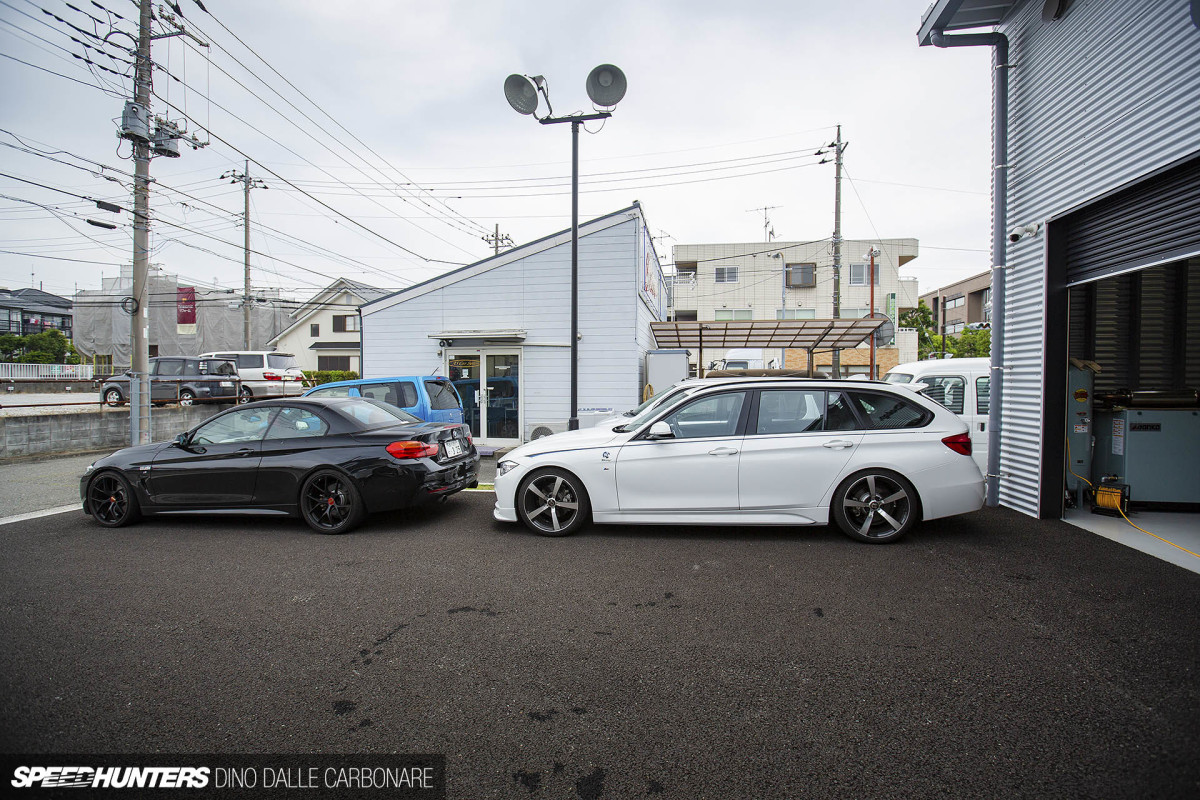 Among this group, Project Drop Top was feeling a little incomplete without any additional exterior dress up parts. I'd love to slap on one of 3DDesign's carbon splitters but I'd be terrified to scrape it when tackling steep ramps. What to do?!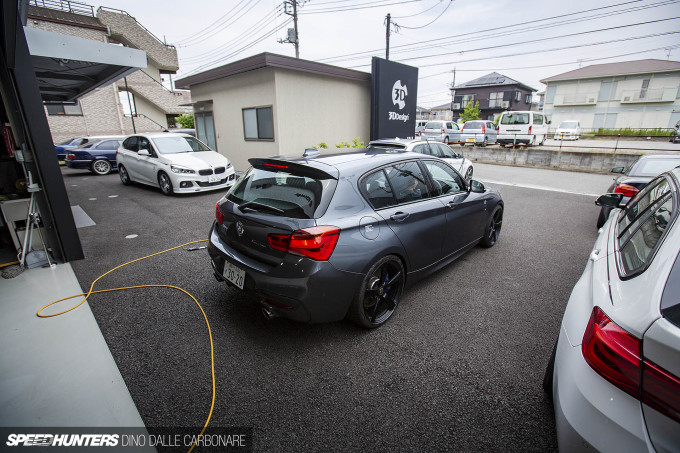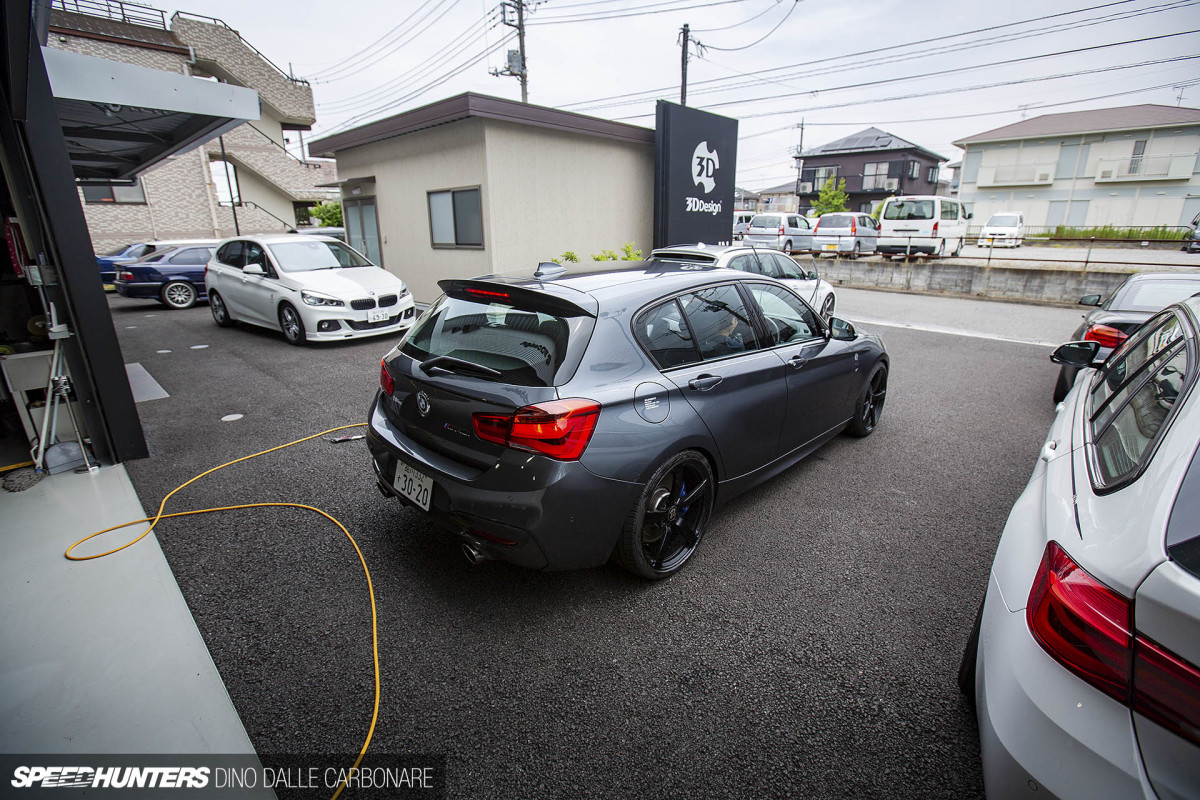 This LCI 140i is a recently completed project that they've had a great deal of success tuning. Endo-san threw me the keys and we took it for a quick spin so I could get a firsthand experience of the improvements, but I'll talk about in a separate spotlight on the car.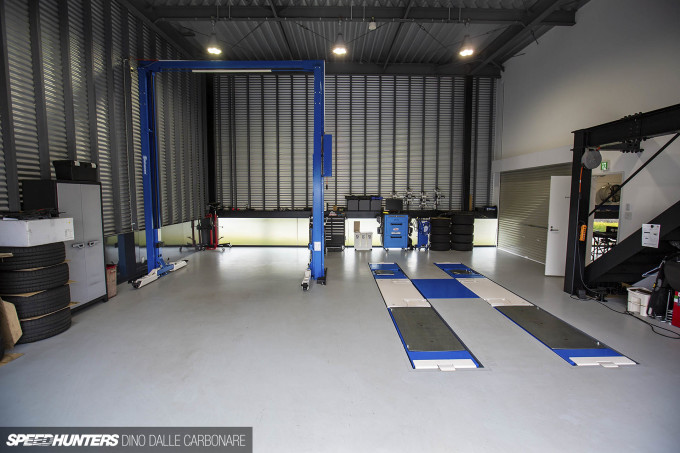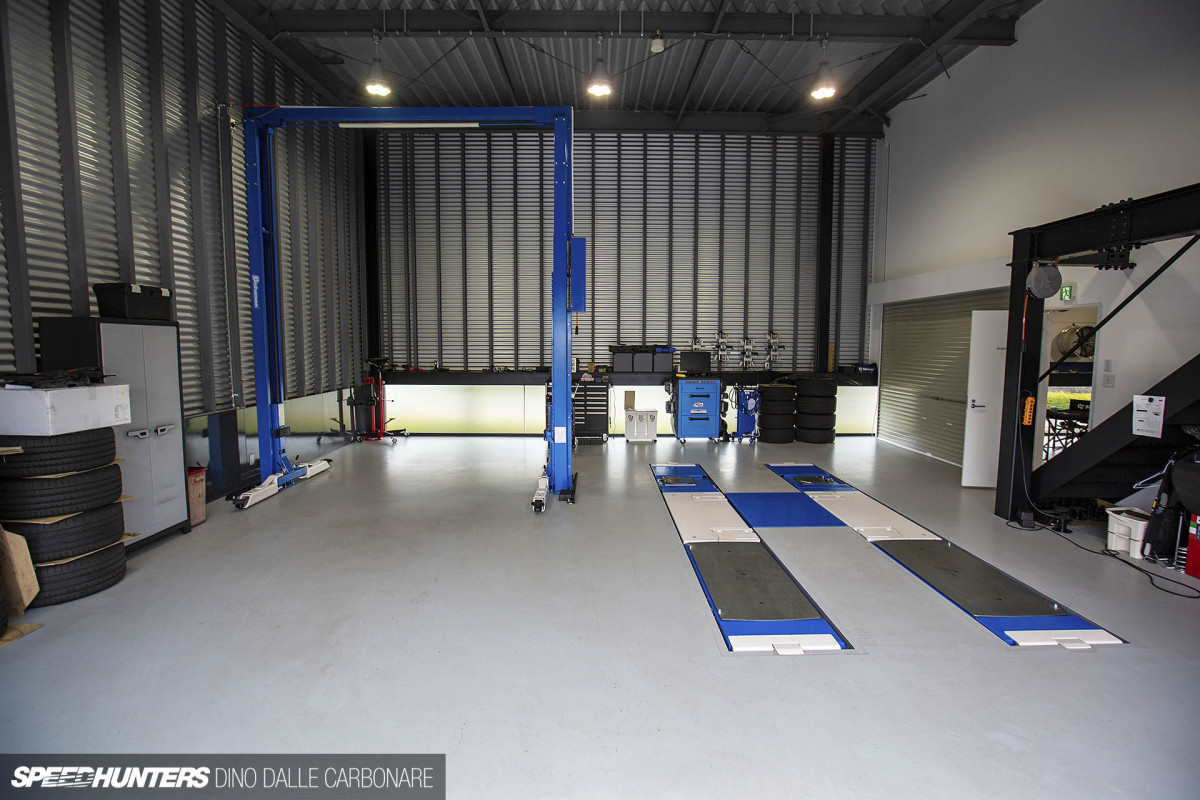 Next to the showroom there's a super-clean garage where customer cars can be worked on. The actual production of 3DDesign parts is taken care of at another location.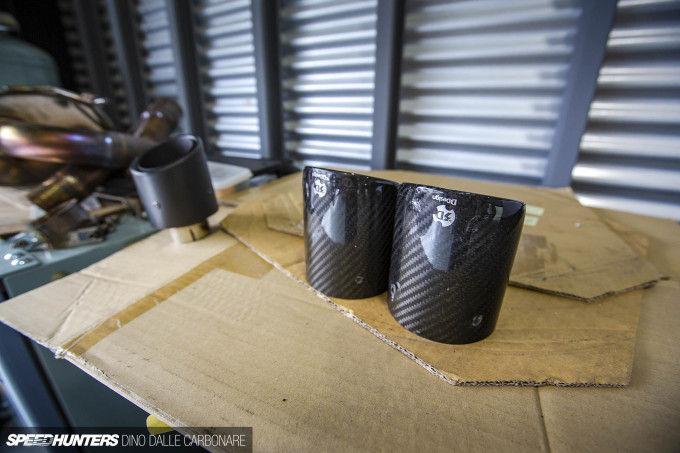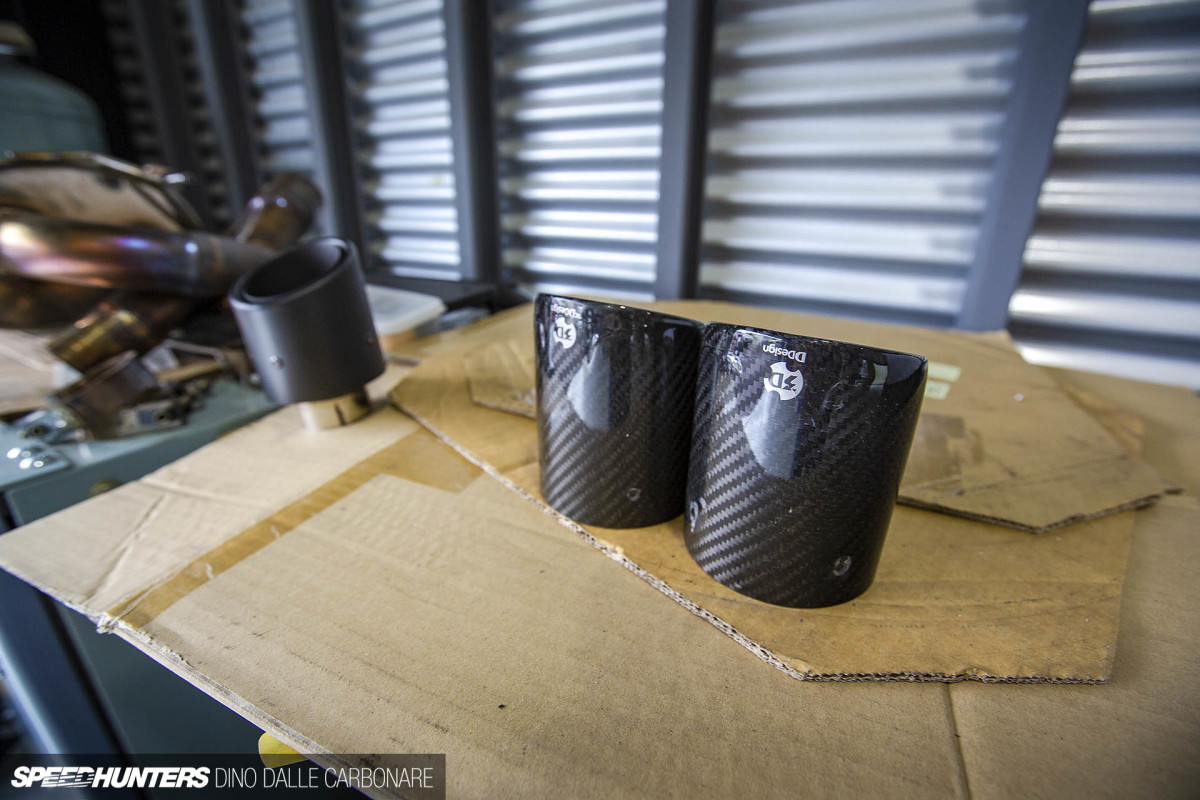 I spotted some glossy carbon fiber tail pipe finishers in the corner of the workshop, something Endo-san tells me they'll be offering soon as an option.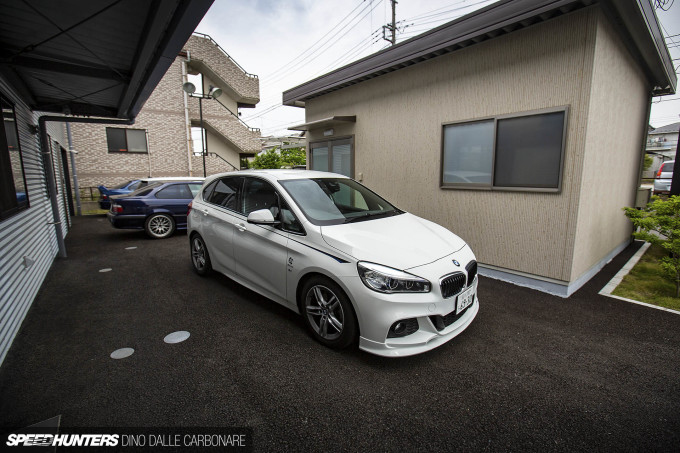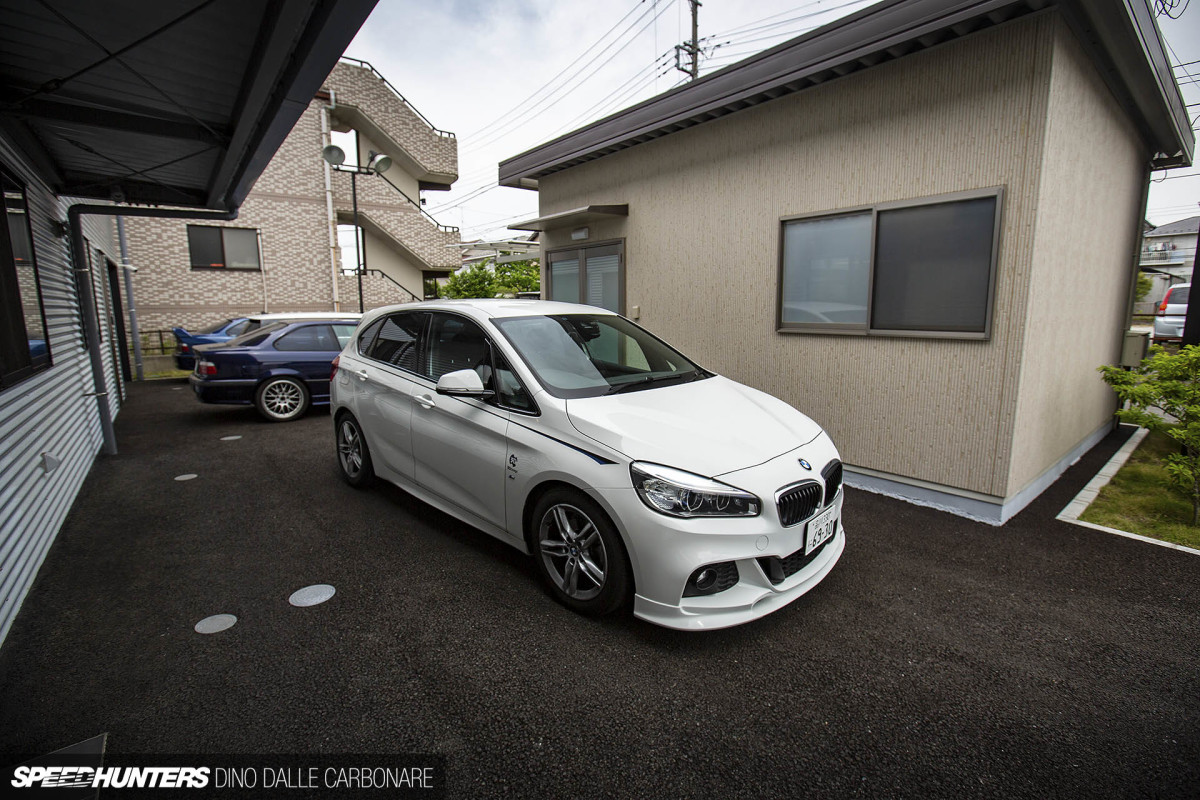 It probably won't surprise you that in Japan the 2-Series Active Tourer is really popular; anything that looks like a van sells like hot cakes here. 3DDesign also has a line-up of parts to cater to these family-friendly people movers.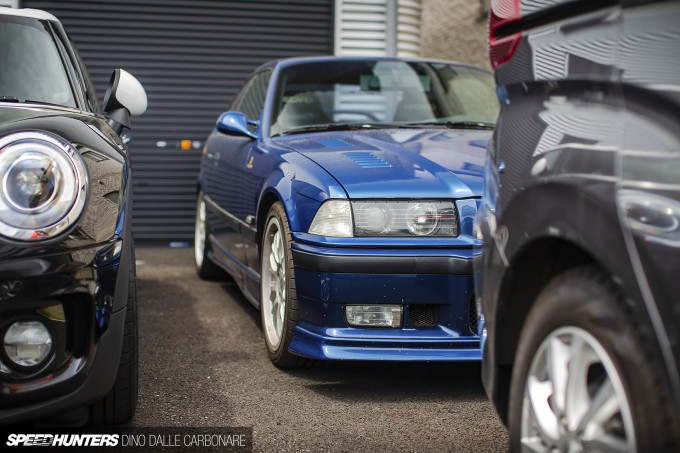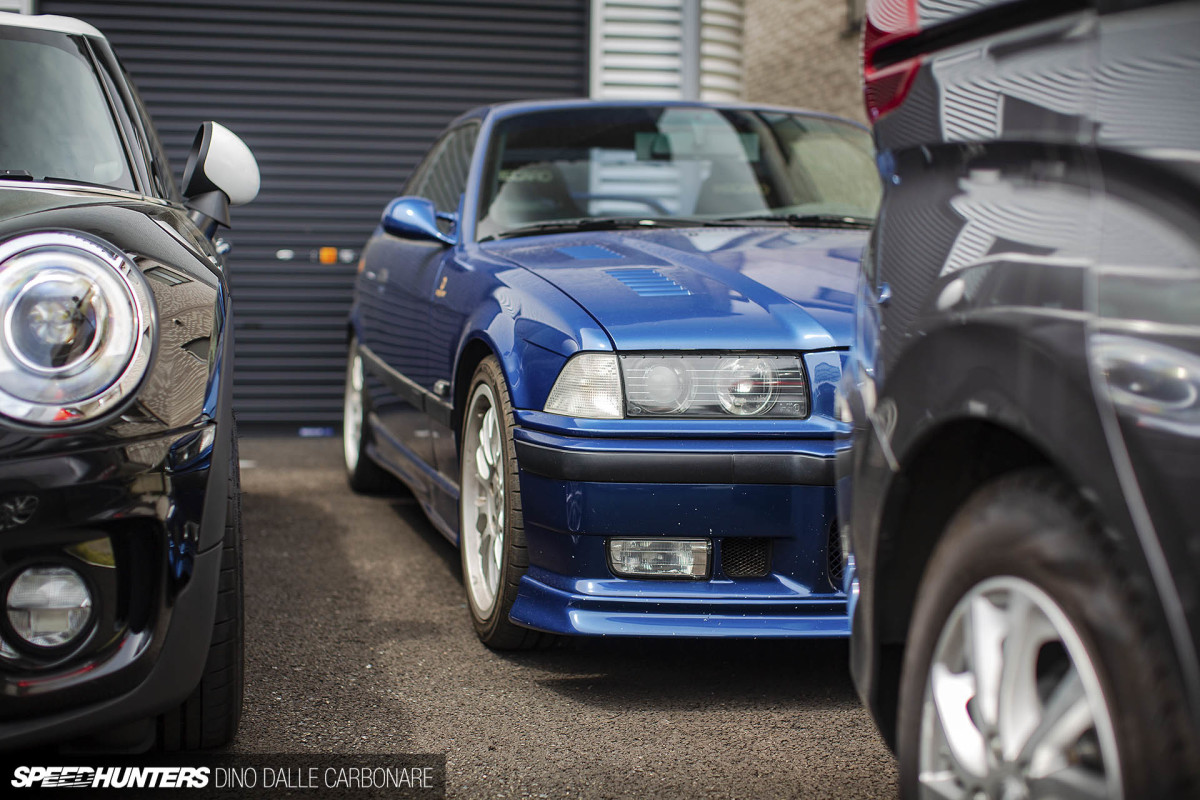 Tucked away in the back of the employee car park is where I had a rather unexpected surprise.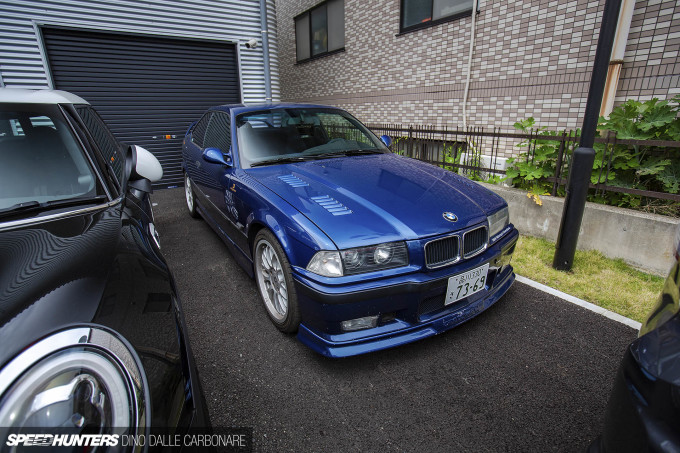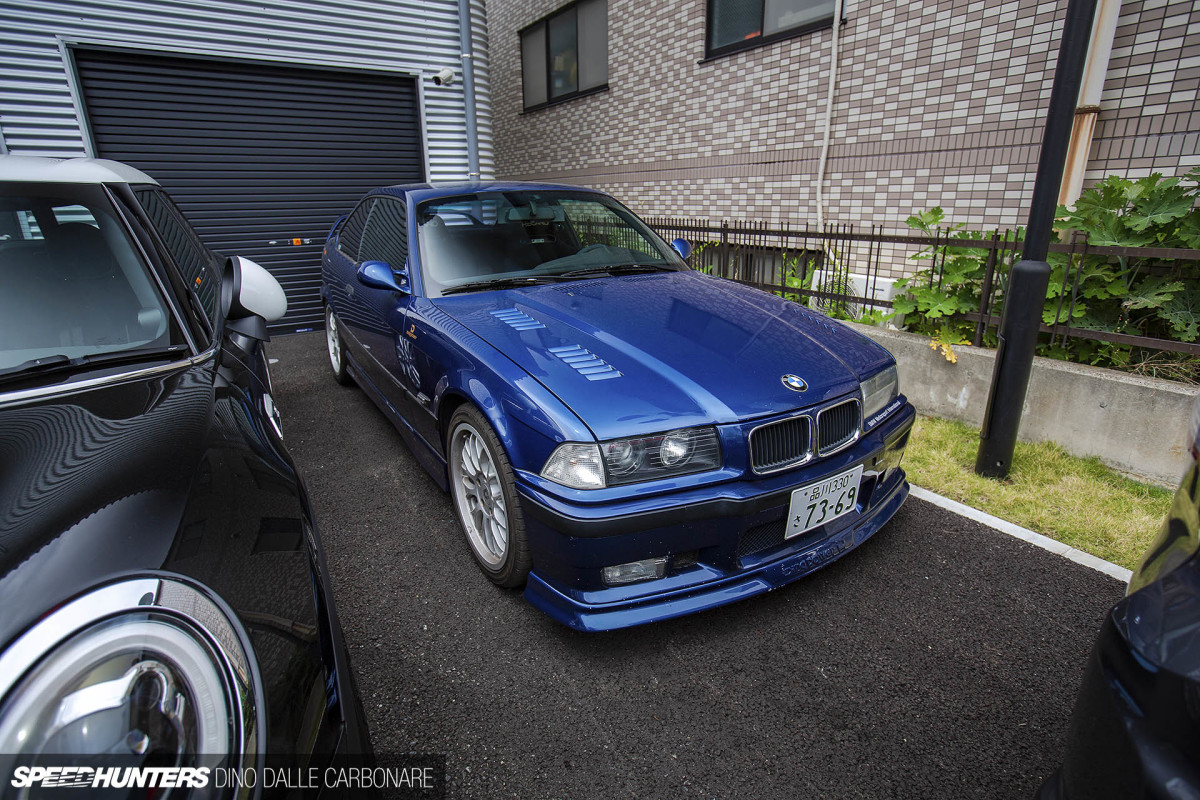 It might not be a well known car outside of Japan, but this E36 M3, owned by Endo-san's business partner, is a special machine.
Built by Iding Power – the only tuner to ever be given the OK by Gordon Murray to modify the McLaren F1's engine – the M3 runs a fully rebuilt 3.2L engine developing around 370hp. Years back I drove Iding Power's demo car for a feature I was collaborating on with Motorhead magazine and I was amazed by how sharp the handling was and how cleanly the engine pulled.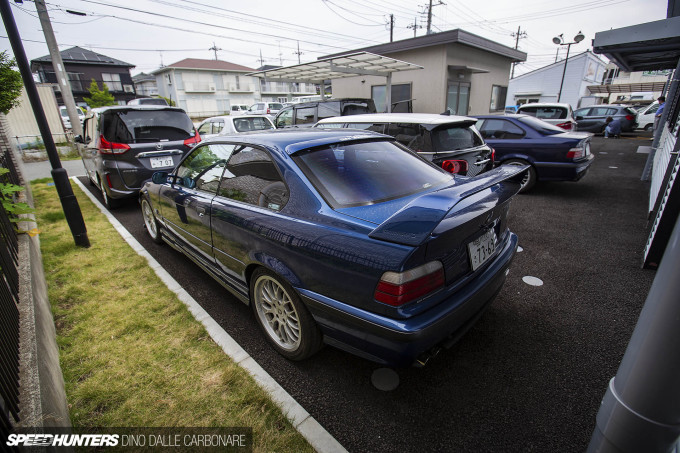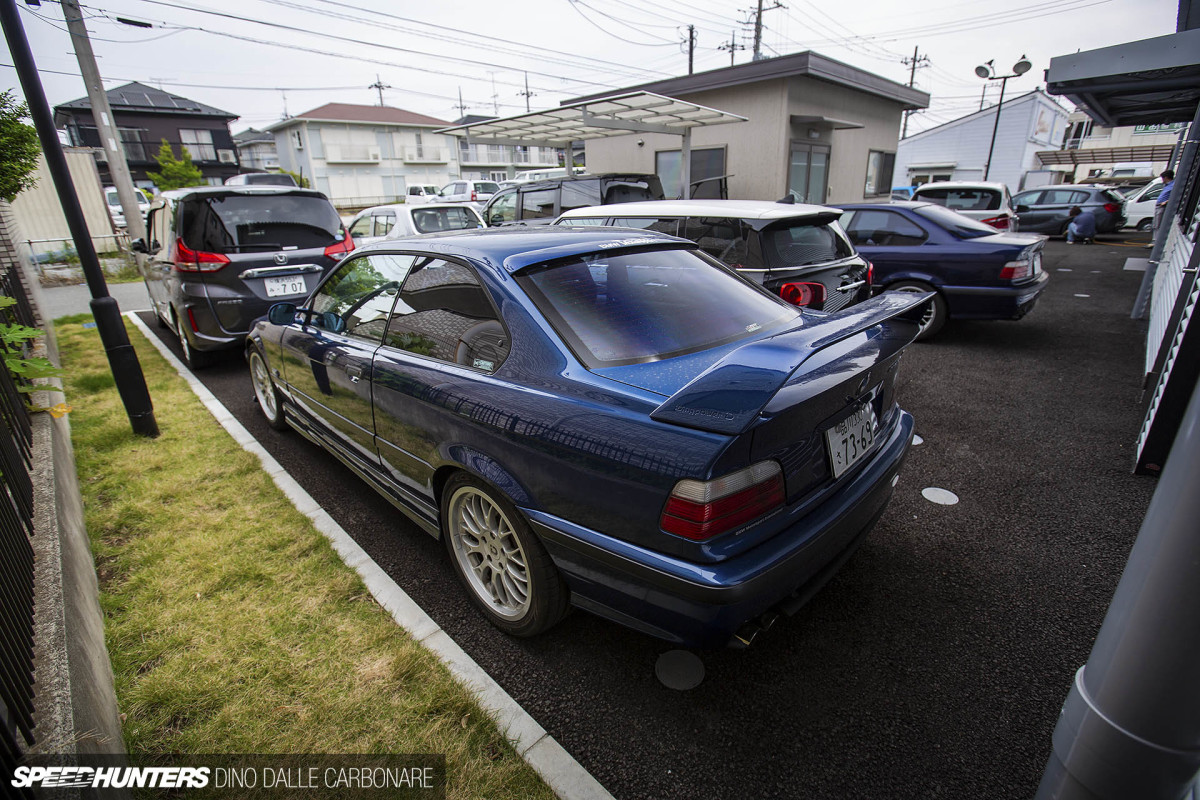 In fact, Iding Power should probably be my next port of call for a shop tour…
Make sure you check back soon to read all about the 140i I had a quick blast in.
Dino Dalle Carbonare
Instagram: speedhunters_dino
dino@speedhunters.com