Wild Wild West
Who knew driving in a straight line could be so exciting?
Actually, it's a fairly safe assumption that any time you're traveling at over 200 miles per hour, you're having a good time. I was blown away by how many cars were indeed hitting this magic number at the Never Lift Half Mile last weekend. In fact, a certain C6 Corvette broke multiple world records making a pass at 236.10mph. Absolute insanity, but more on that in a moment.
The Coalinga weekend is the classic West Coast grassroots half mile event and the only place you'll find a half mile race on this side of the United States. As such, this weekend was about more than having a good time; it was the place to get serious.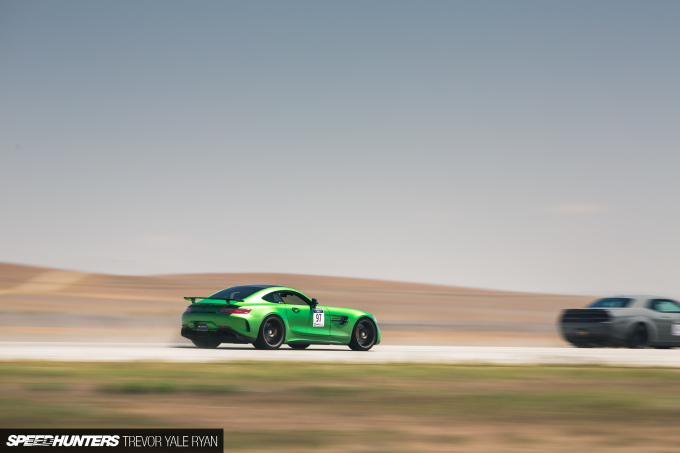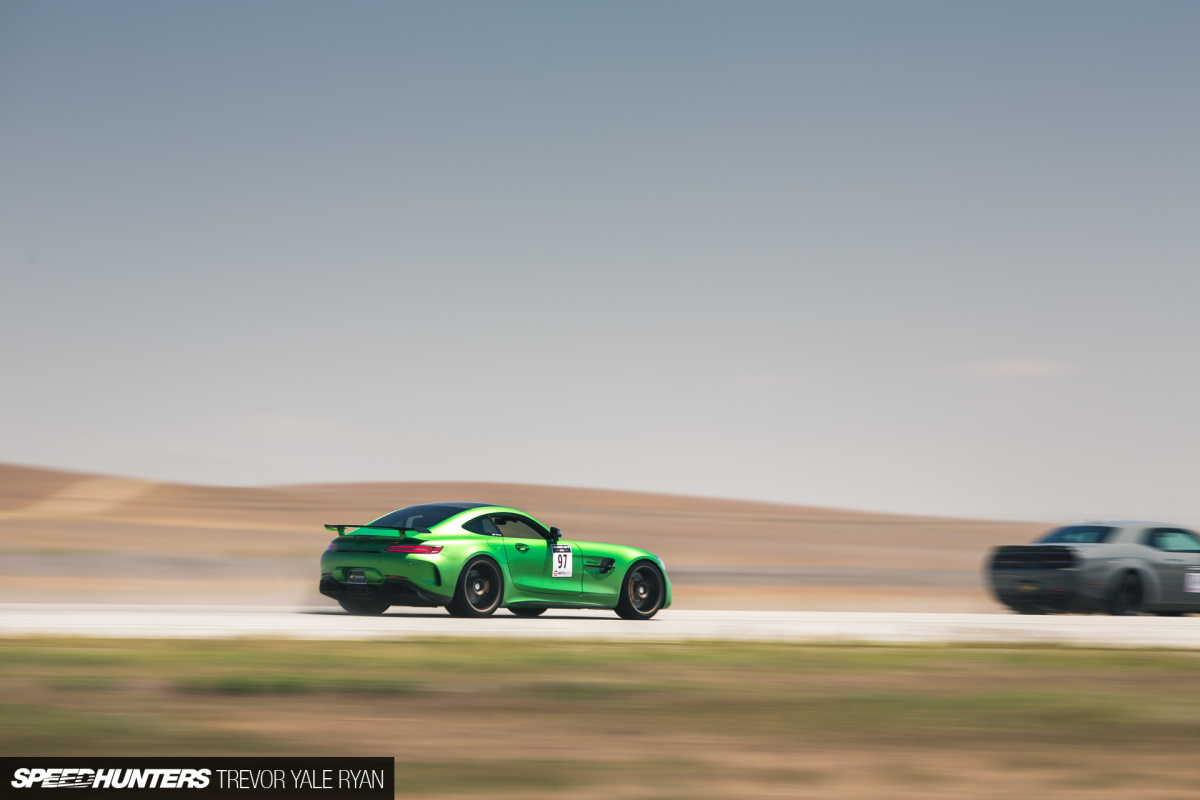 A lot can be learned from giving your car a proper thrashing and the popularity of half mile racing is only growing. It's a place where high-end factory cars can be pushed to their limit, as well as a playground for tuners and huge horsepower behemoths.
As you likely know, this event is literal Speedhunting for the drivers. It's strictly a top speed contest so the fact that one driver is in front of the other is entirely irrelevant.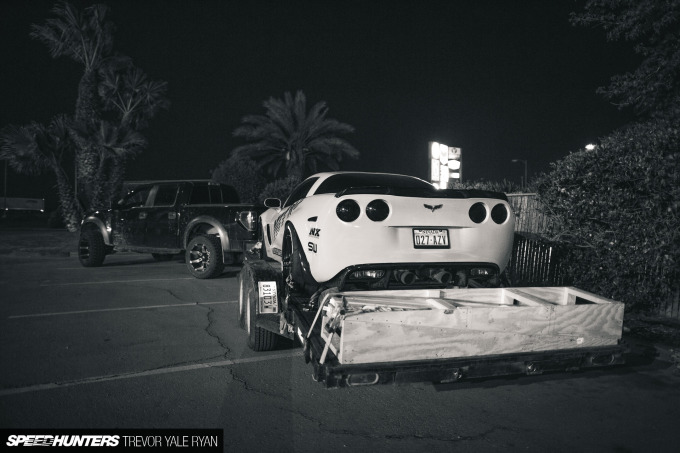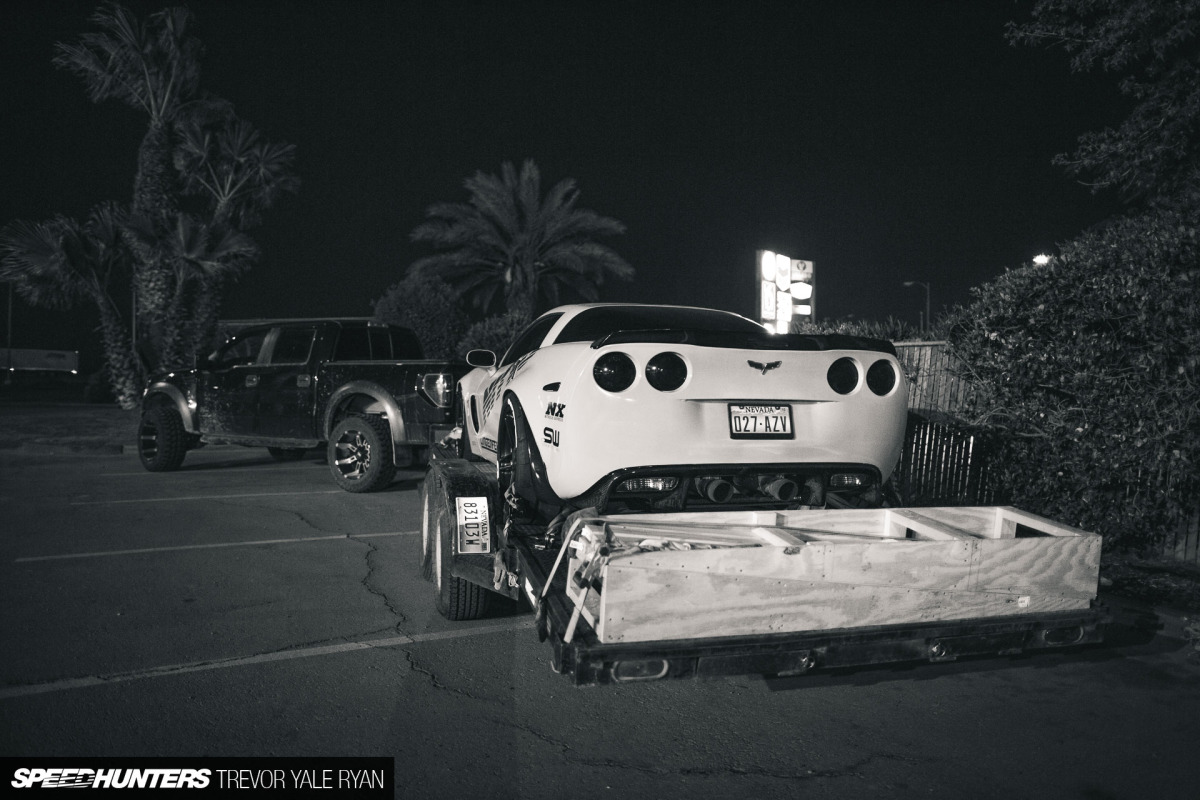 But I'm getting ahead of myself; before any racing could be done everyone had to make it out to Coalinga in Central California in the first place. When I arrived at my hotel, I knew I was in the right place. You can also tell when you're in town from a certain smell, but I've already touched on that.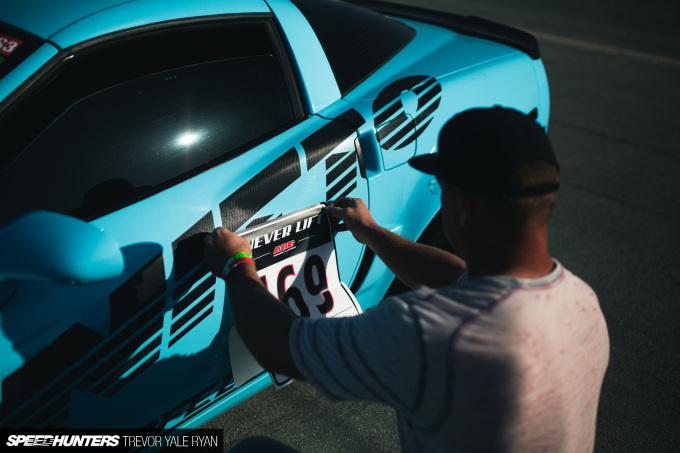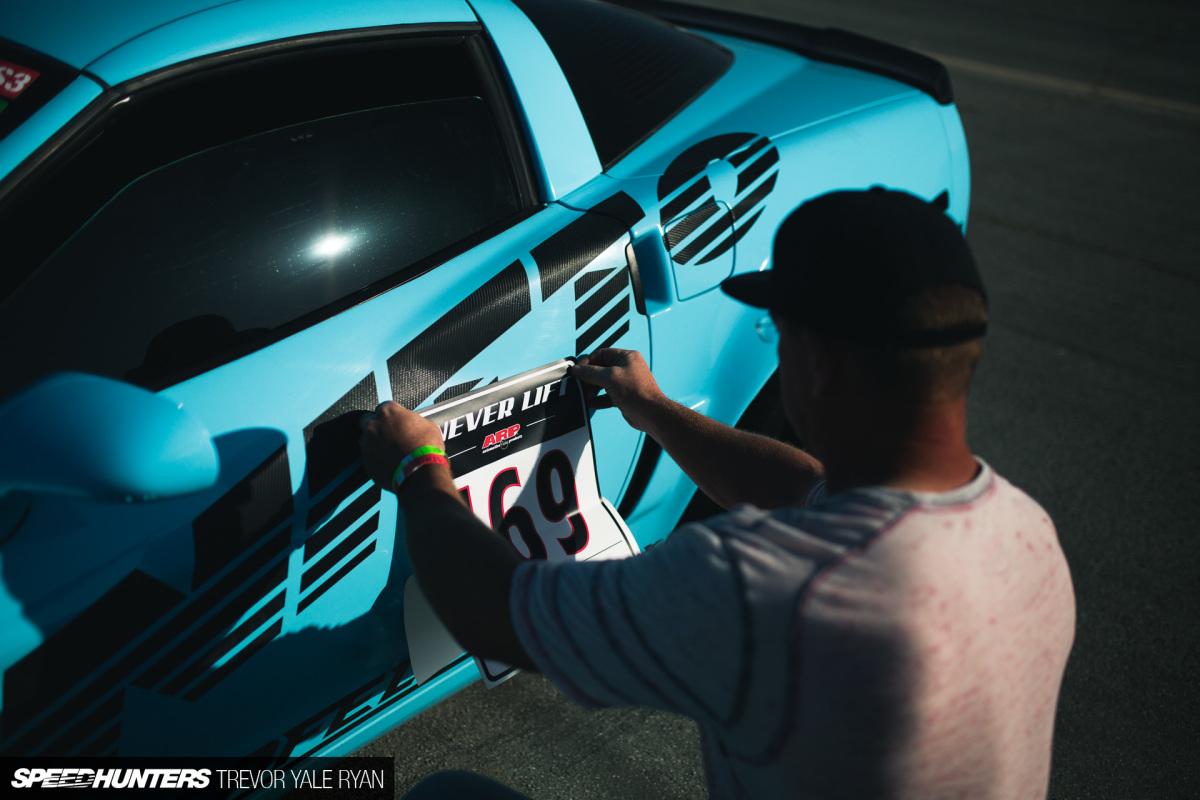 Aromas aside, the next morning I spotted the Corvette from the hotel lot out in the makeshift paddock at New Coalinga Municipal Airport getting ready for a day of high speed adventures.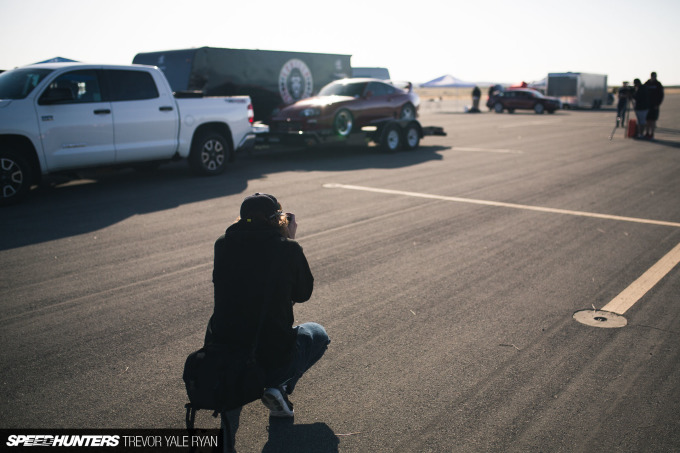 It's worth mentioning that the paddock at the Never Lift Half Mile is completely open to spectators. It's a great place to bring a camera out as anyone can go home with decent photos of their favorite cars.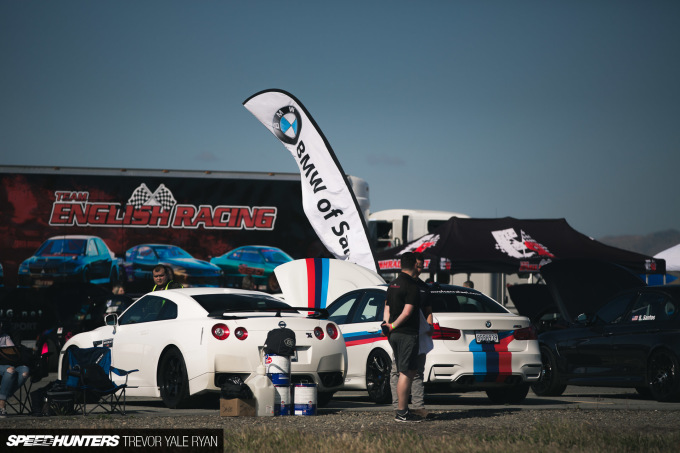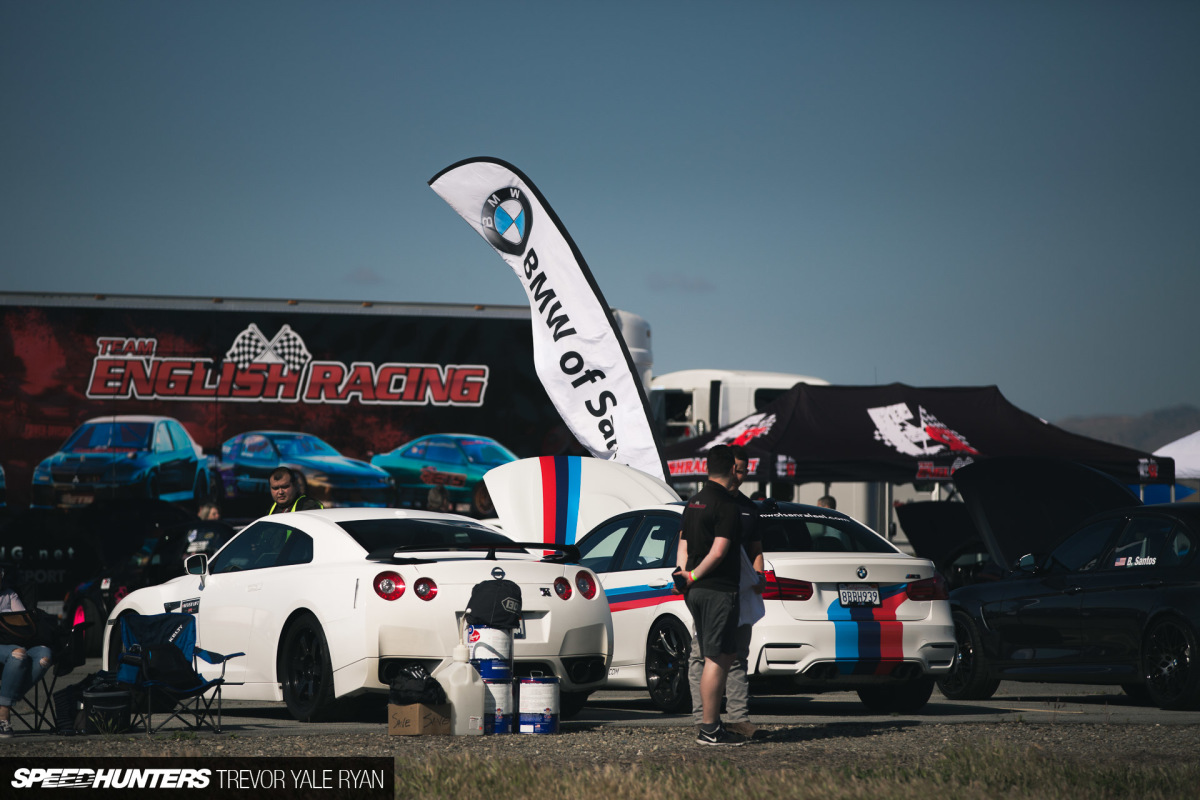 As the morning went on, more cars, booths, sponsors, and spectators began to pour in.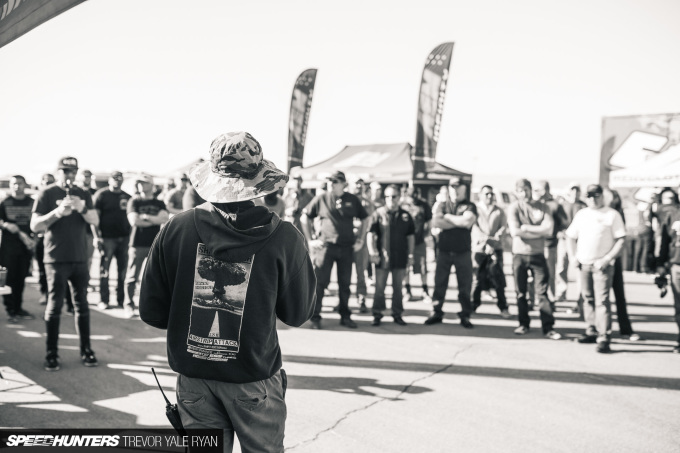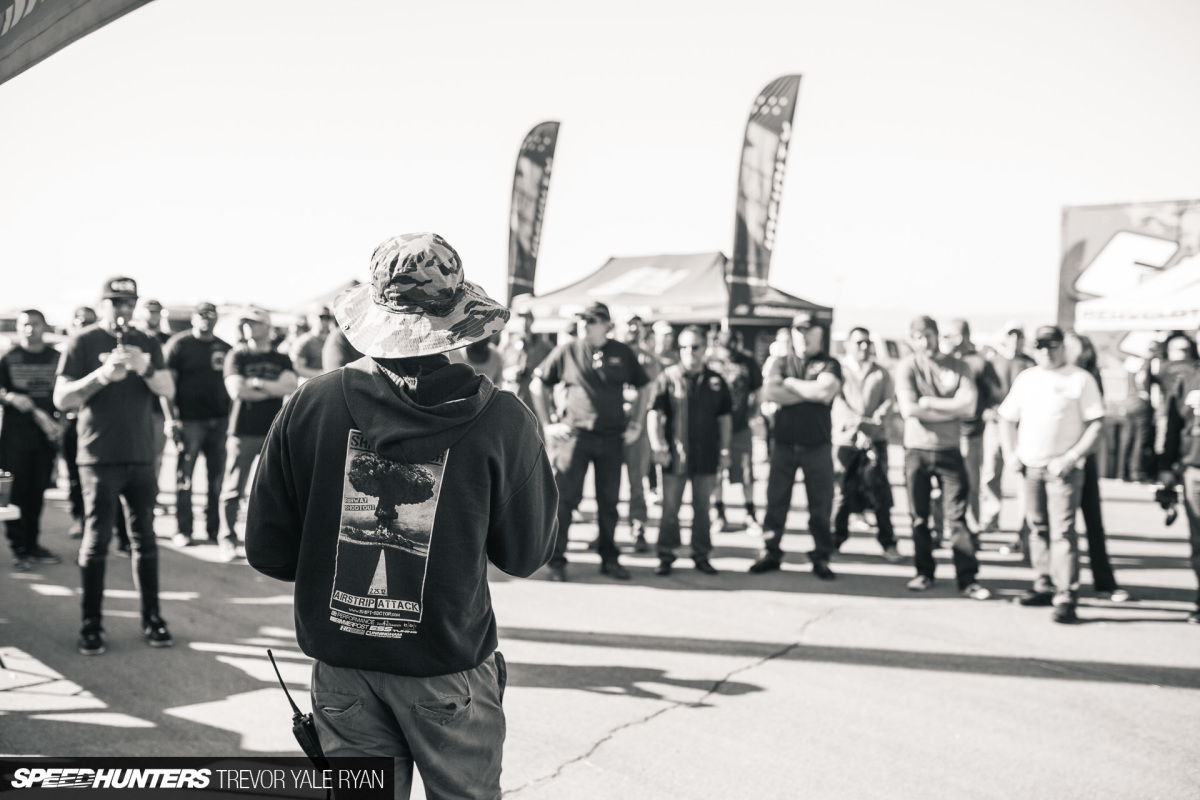 First thing in the morning Ryan Fisher gathered everyone up before the track went hot for your standard drivers meeting. Safety at these high speed events is obviously the first priority, and the fact that we were at an airport made what Ryan had to say even more important. As it turns out, some of the runways are technically still active during the event (ask me how I know).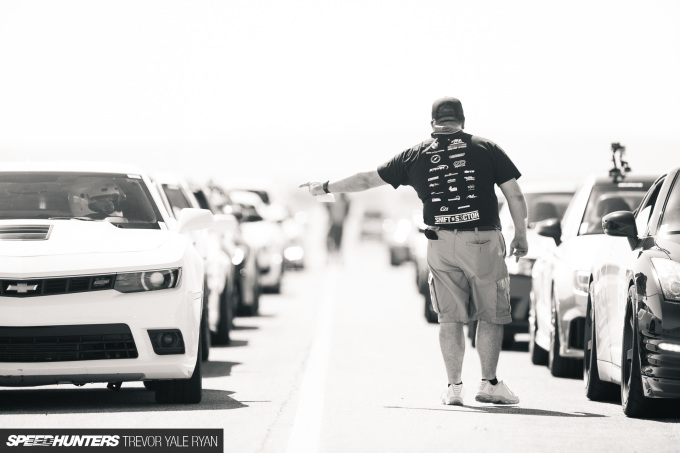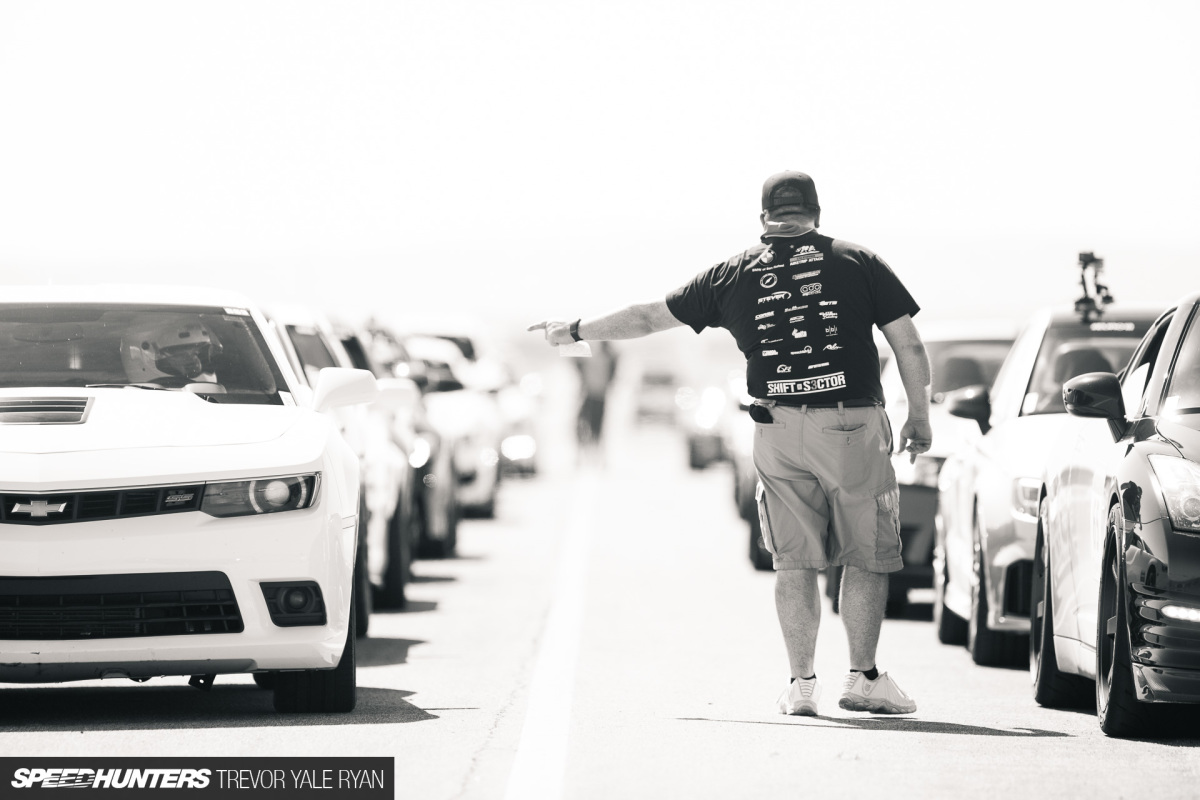 After the chit-chat the competitors were lined up, ready to hit the track.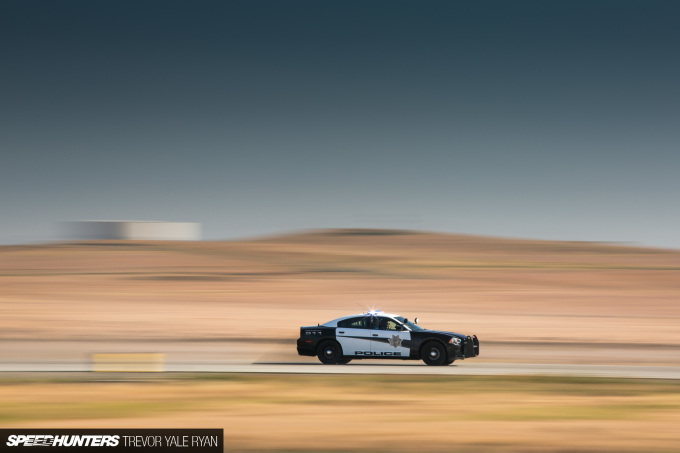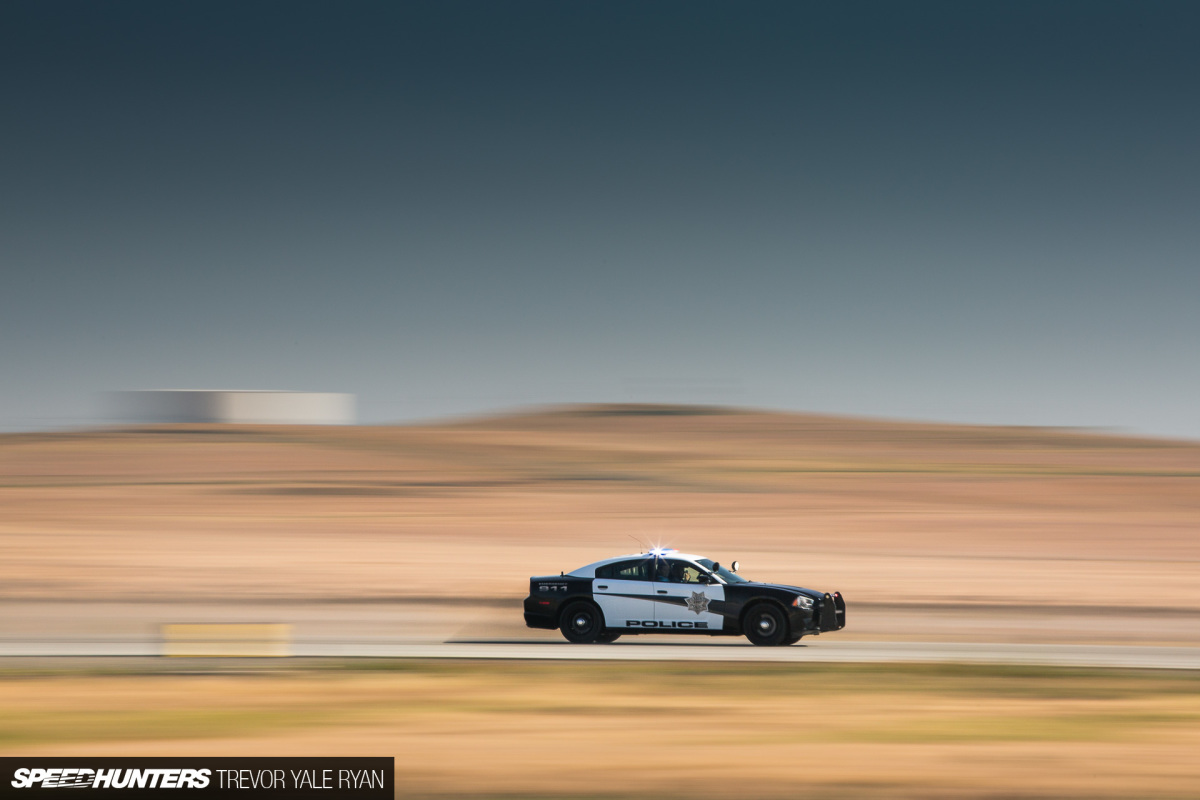 At 9:00am sharp a cruiser from the Coalinga Police Department made the first pass of the weekend. While it was one of the slower runs of the day, I'm sure it beats their normal drive down Highway 5.
On The Line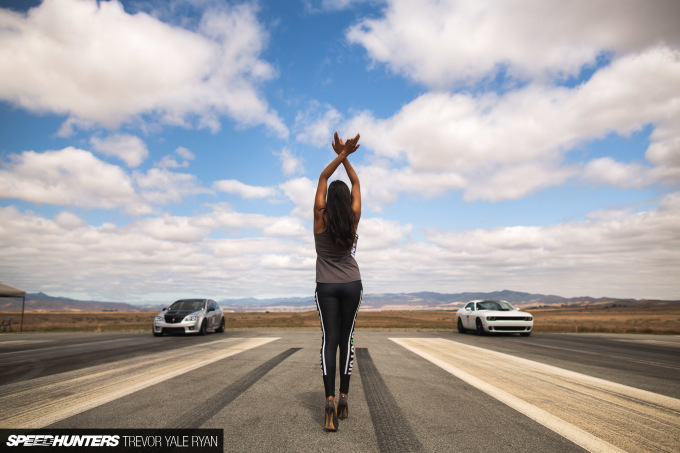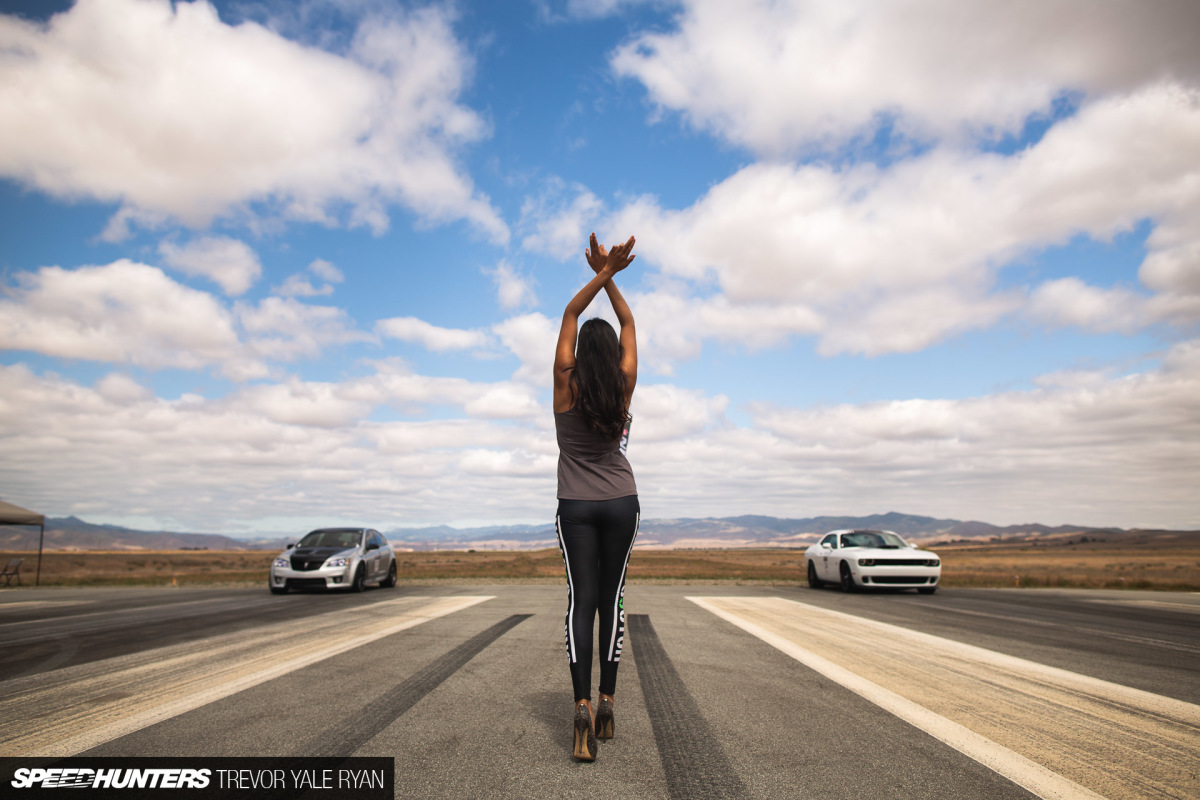 Over at the start — which was, unsurprisingly, half a mile away — things were heating up.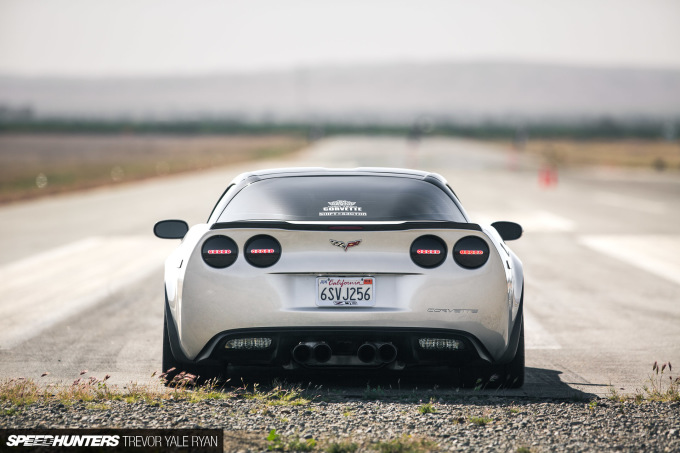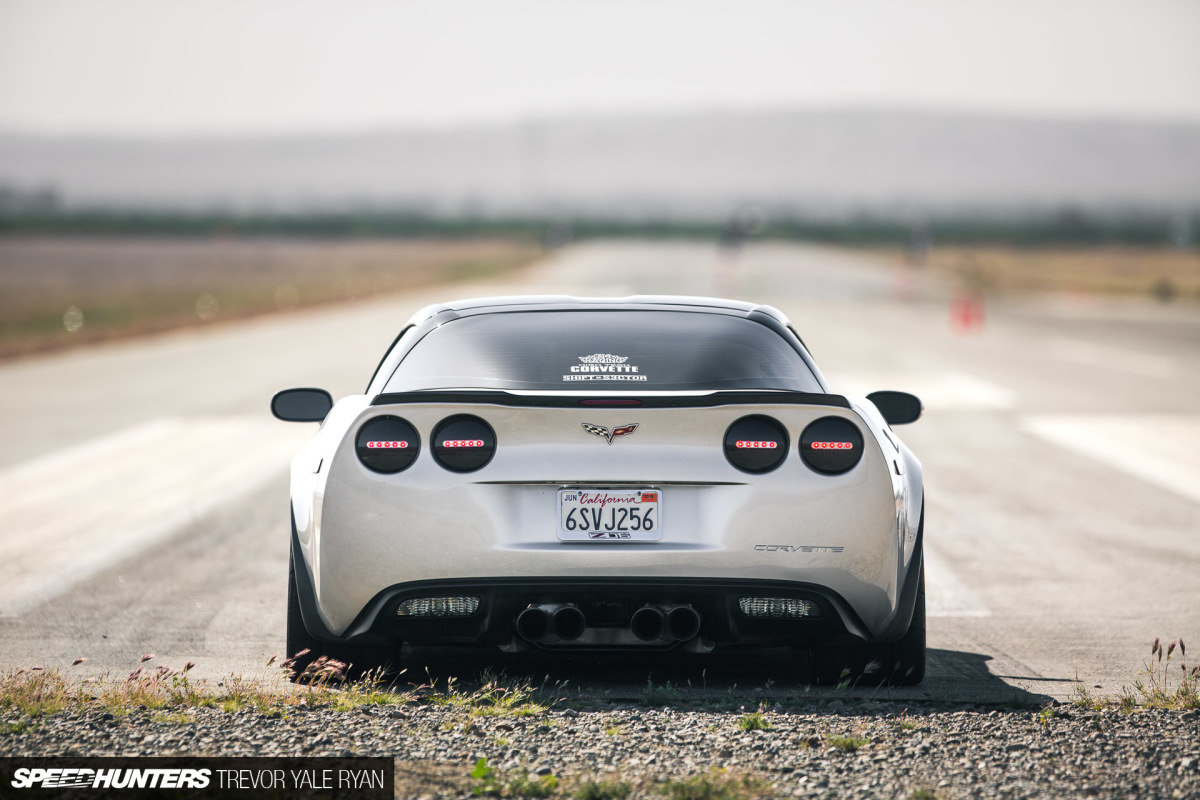 While the temperature was only in the 70s, the course is so long that mirages form and heat waves distort your view of the finish line.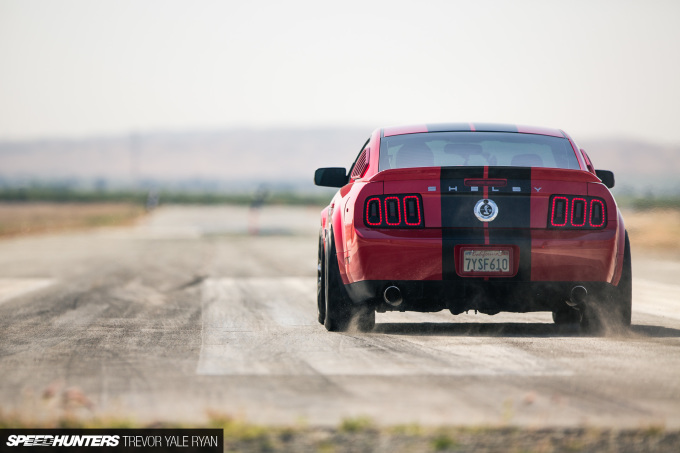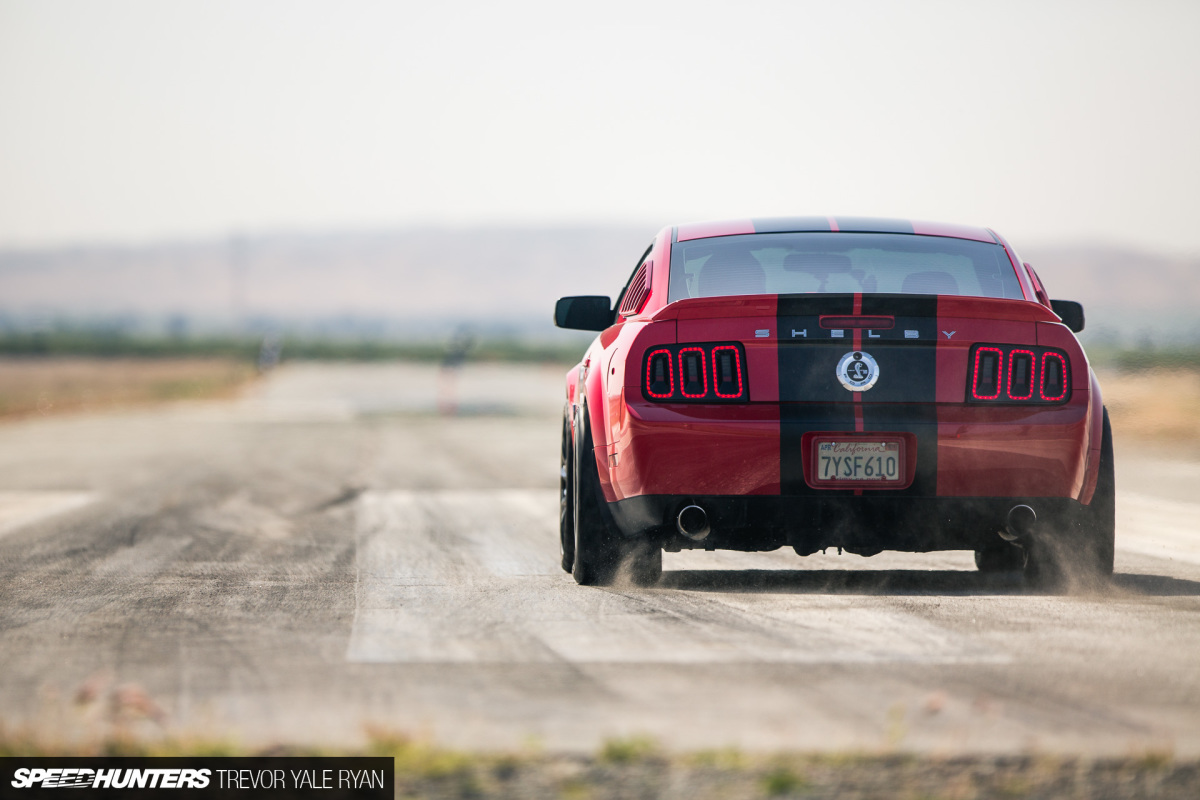 The main challenge of the day for the high horsepower cars is finding grip, though. I'm told that Coalinga is one of the more slippery tracks; you can see the dust being tossed up at the start, and through the finish there are plumes of it shooting out from the cars' under trays.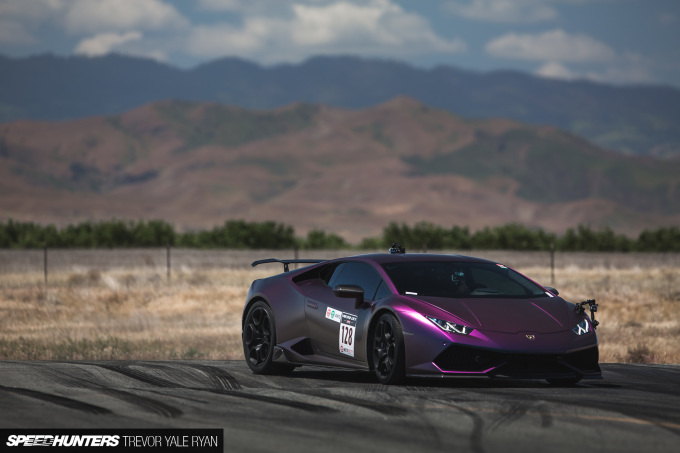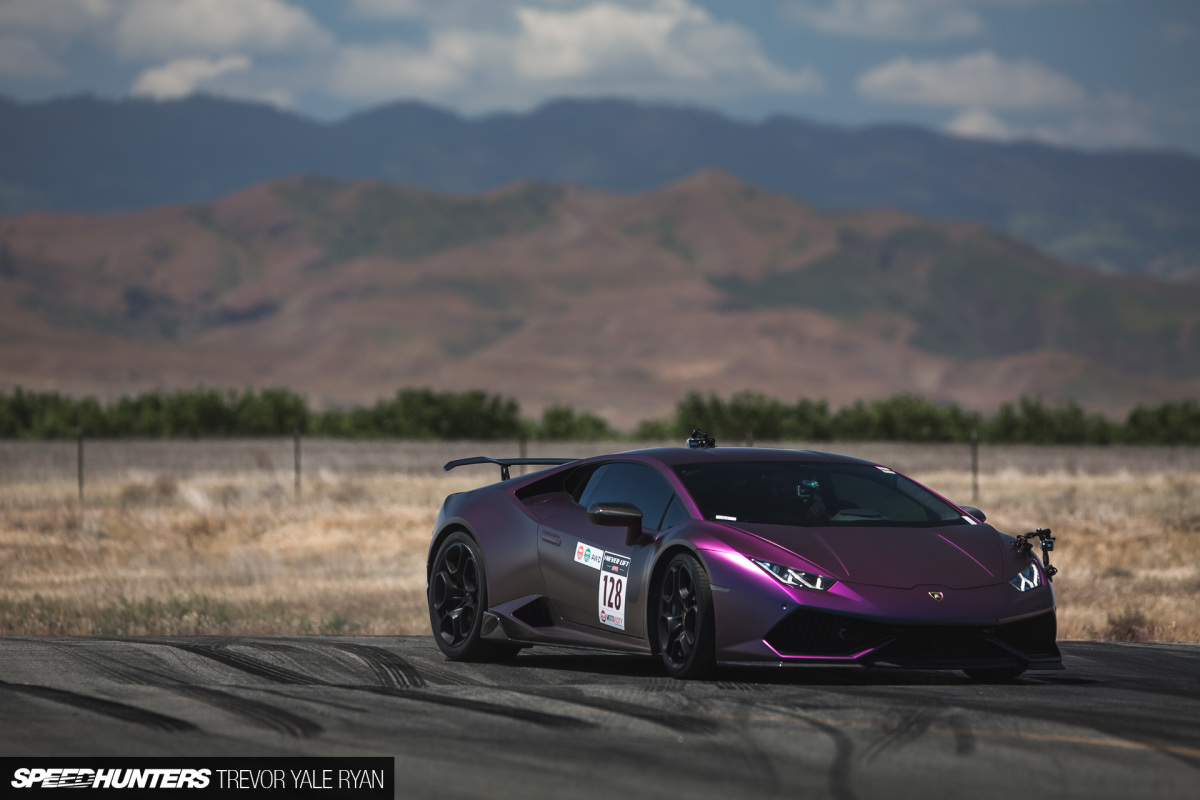 Due to this, all-wheel drive cars really have the advantage out here. Once you're over 100mph most cars have a relatively level playing field when it comes to grip, but having four wheels to put the power down makes a huge difference at lower speeds.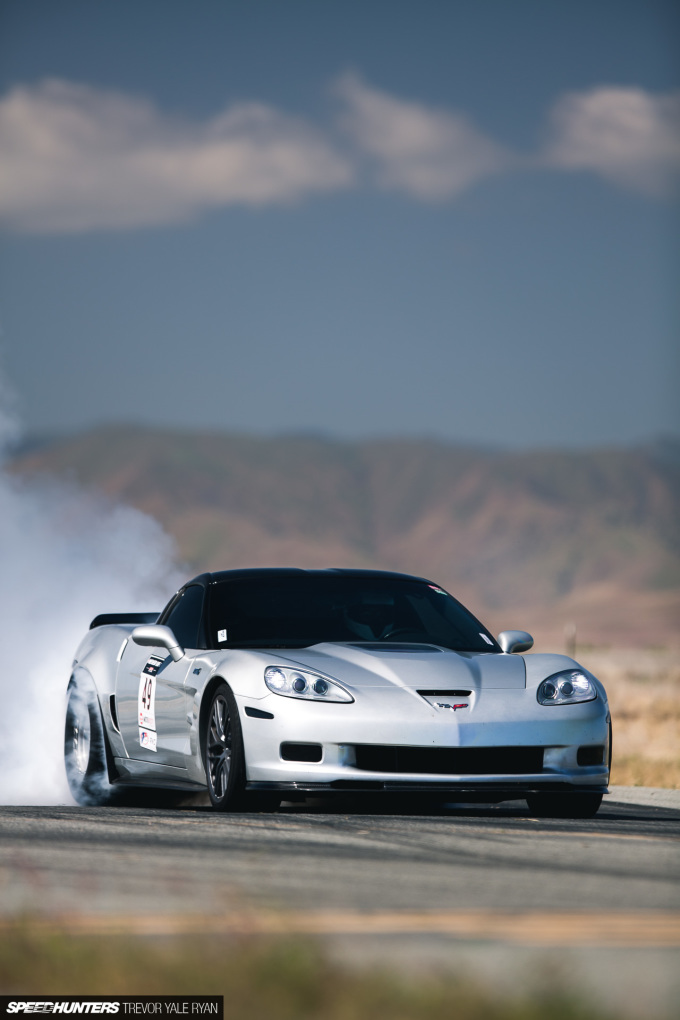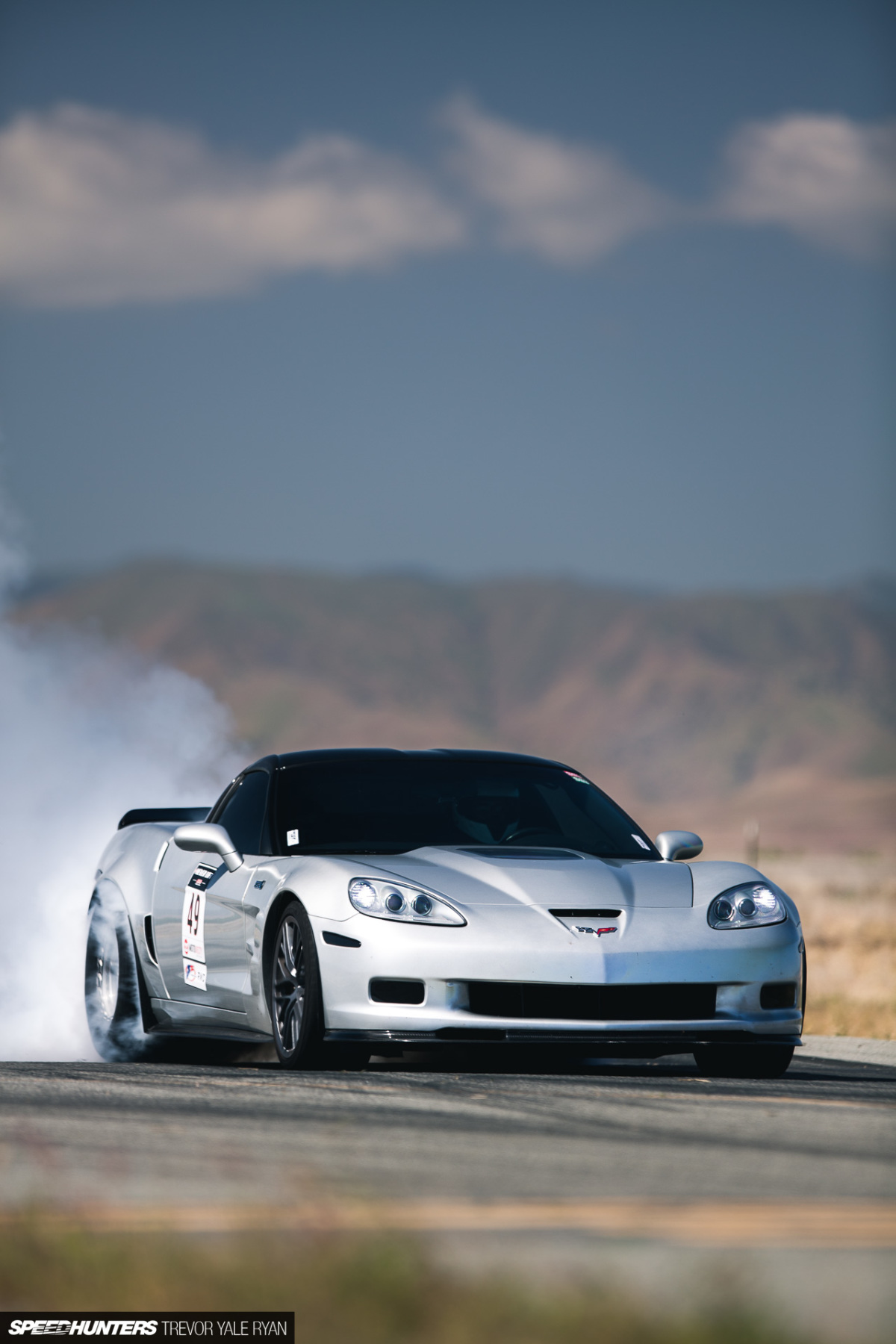 To help the rear-wheel drive (and front-wheel drive) cars in this regard, a good burnout always makes things nice and sticky out back (… or front).
I really do wish I could just watch cars do this all day long.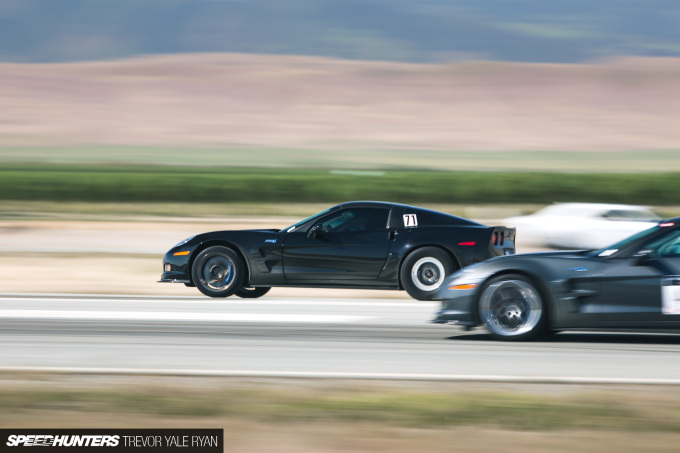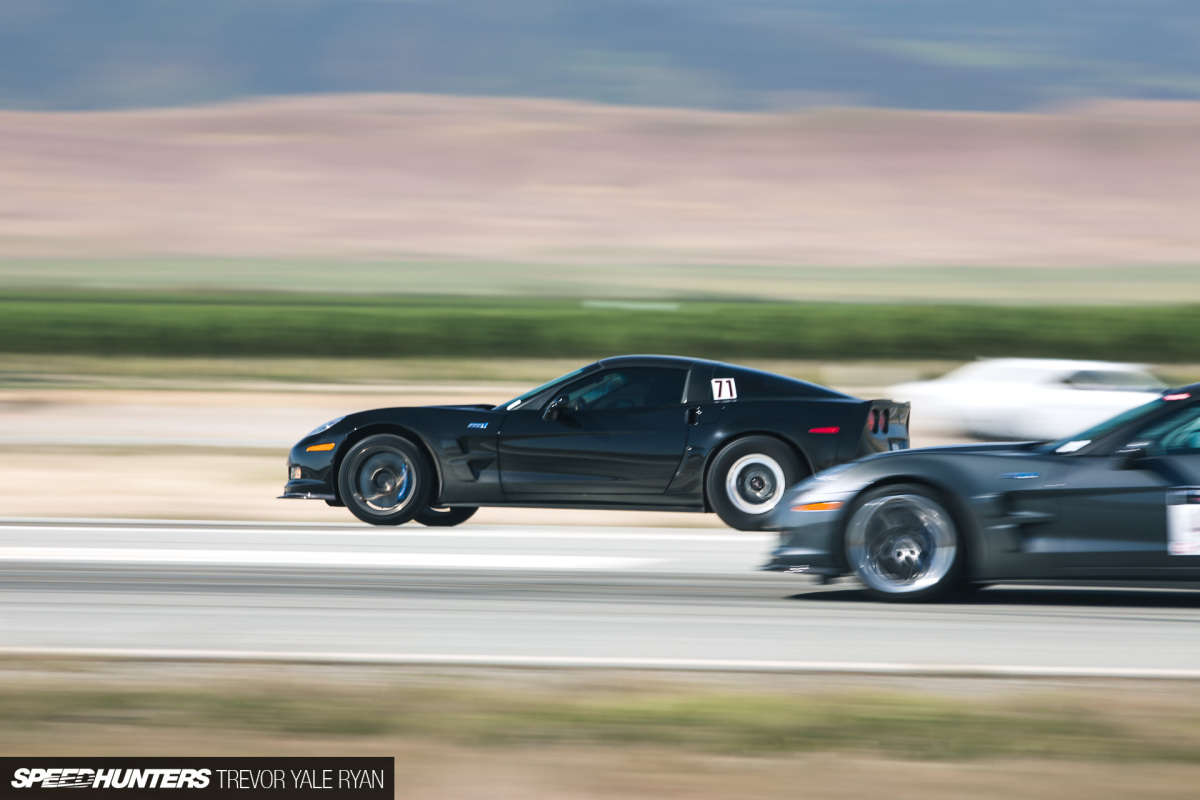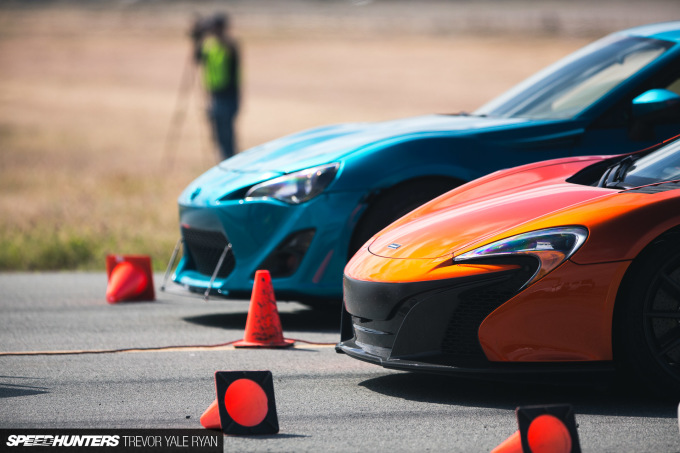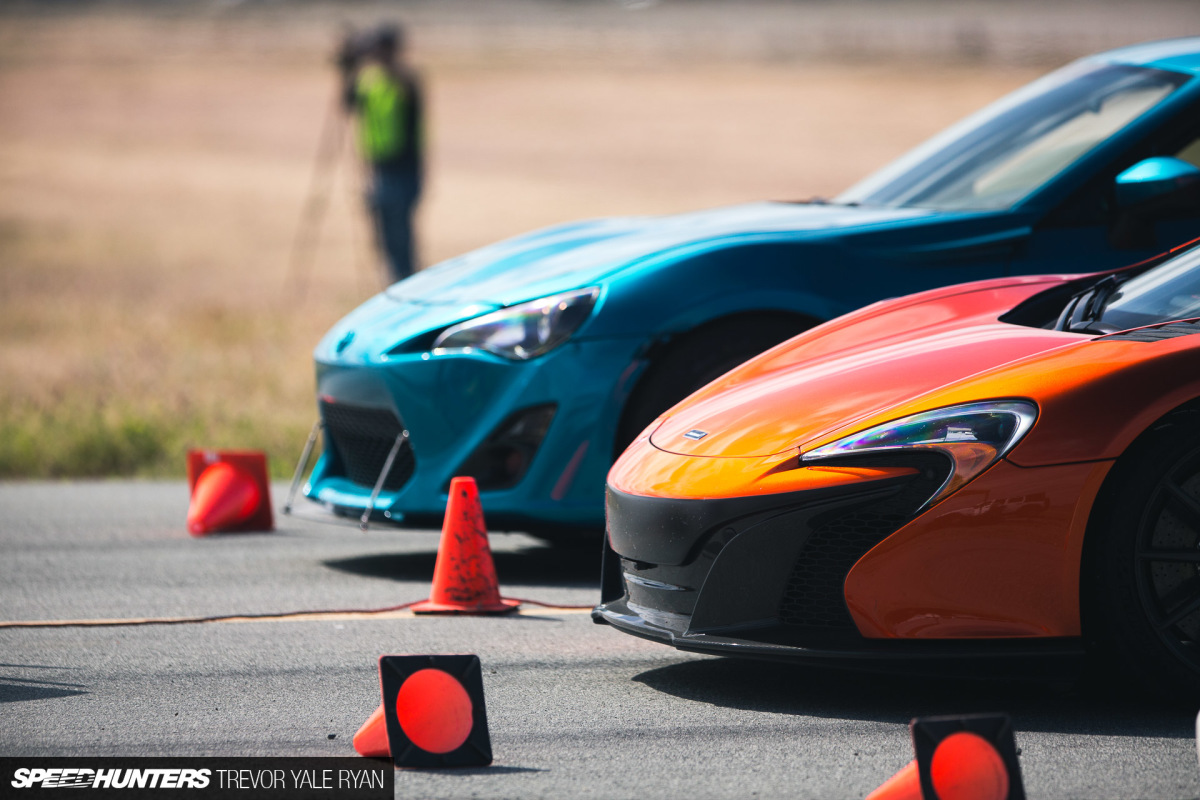 As you would expect, there were many traditional muscle cars from the big three at this event. But it wasn't just American iron out on the tarmac; plenty of examples from all makes were in attendance.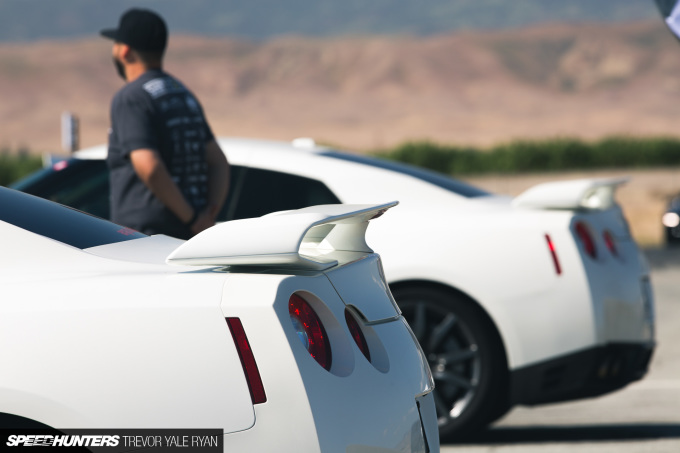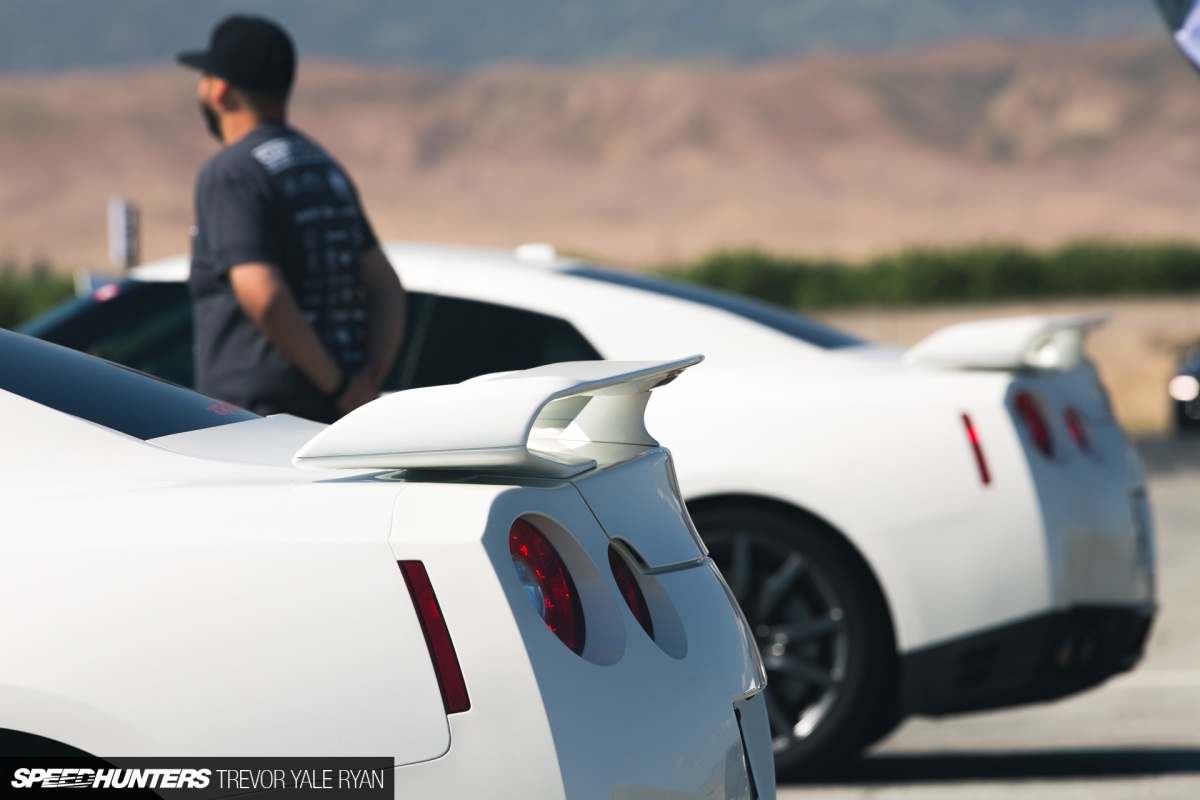 Of course, the R35 Nissan GT-R seemed most plentiful. Capable of holding massive power and putting it down, these would be the cars to beat this weekend.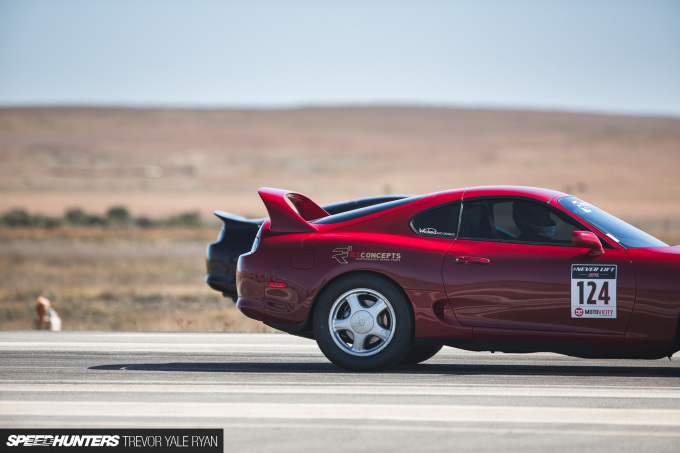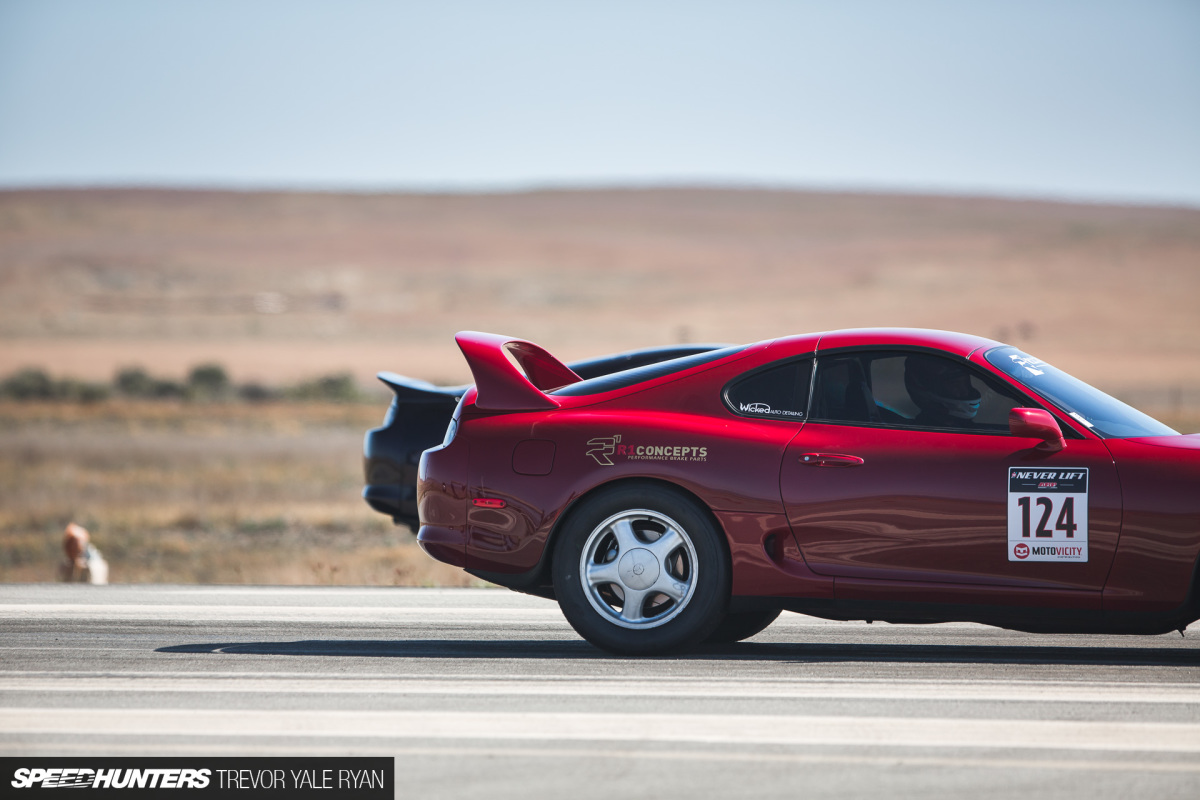 Another unsurprising popular model at Never Lift was the JZA80 Toyota Supra, as high horsepower from a 2JZ motor is nothing new. If you're concerned by the lack of coverage of this chassis in this story, fear not: I'll be sharing a closer look at these cars specifically in the coming days.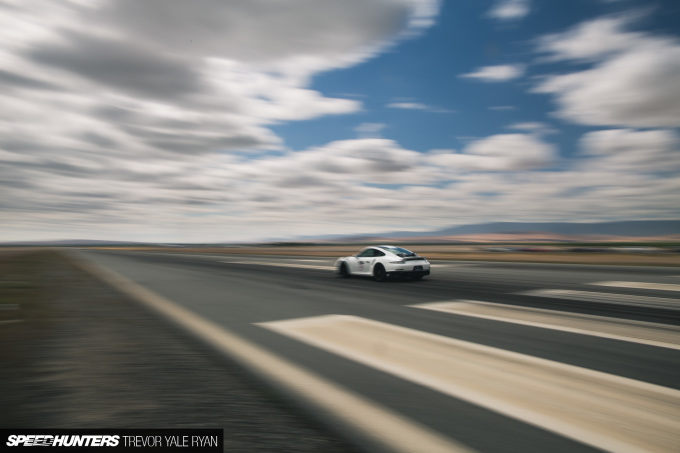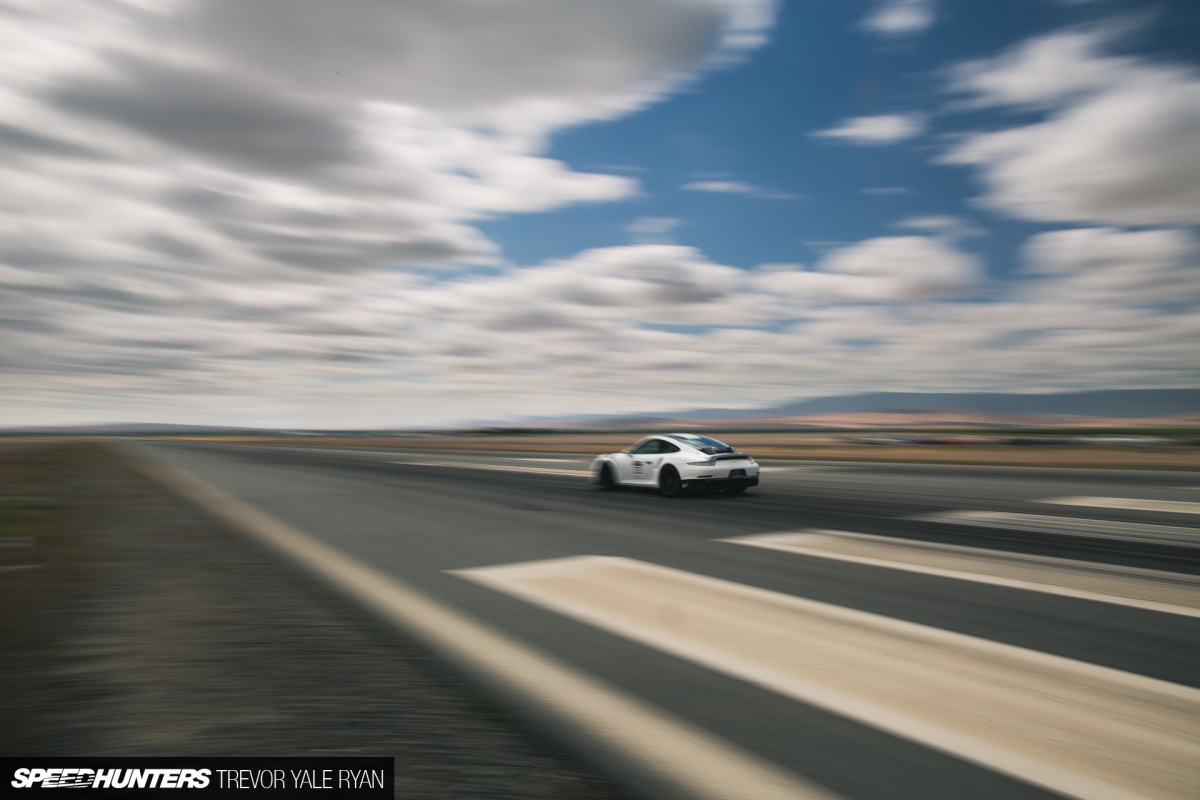 While there were plenty of cars you would expect to see, there was also a nice mix of surprise attendees.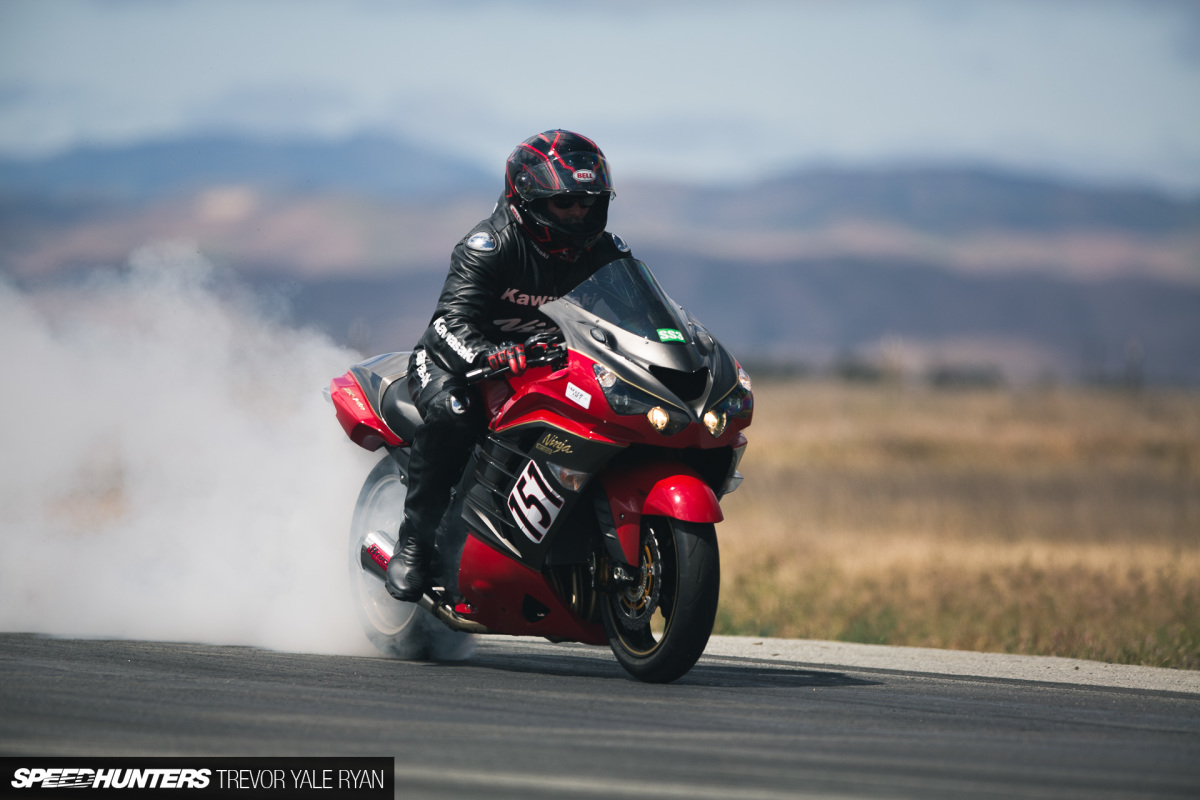 The craziest of all had to be these guys, though.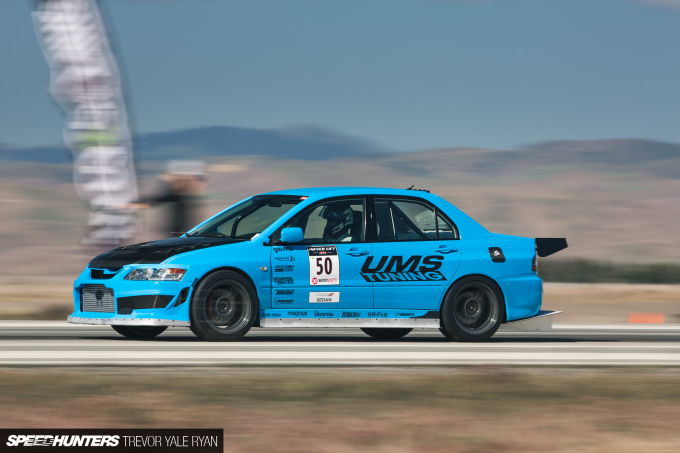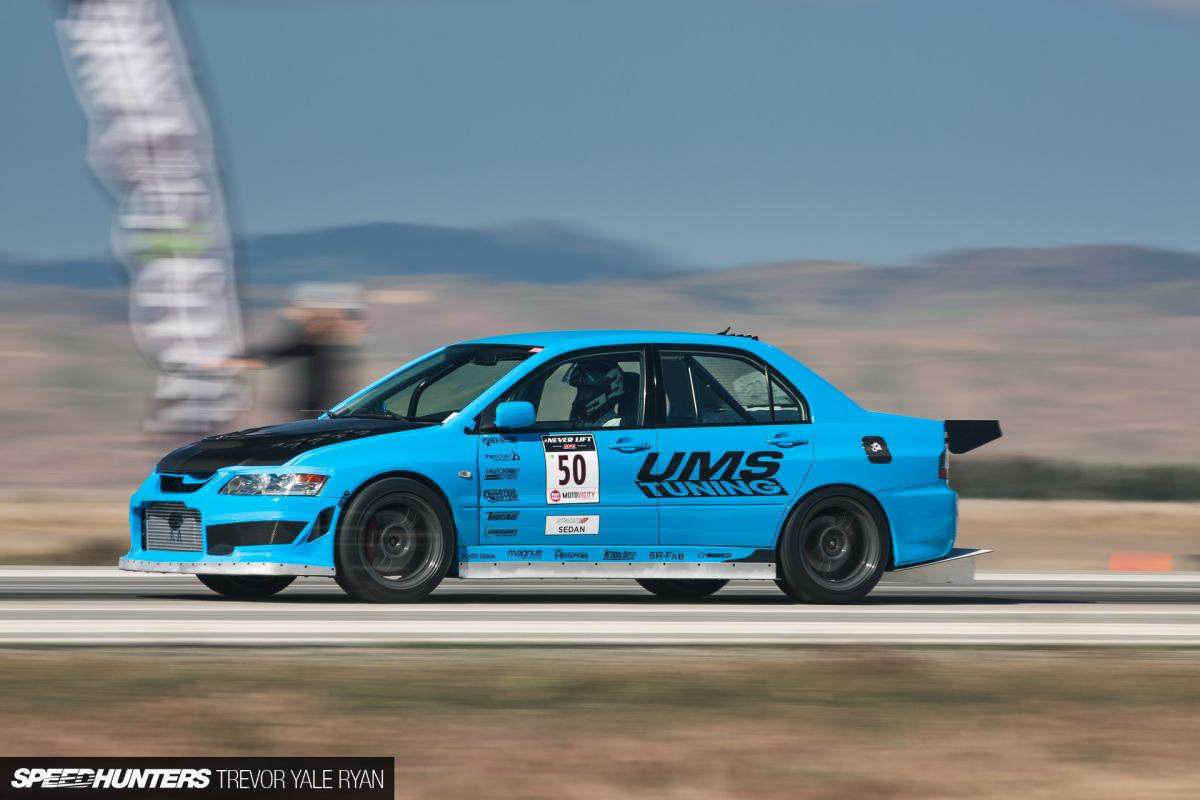 Although there was no competition class for the bikes, there were five classes with prize money handed out on Saturday and Sunday to the top two drivers in each category. As you would expect, there's RWD, FWD, AWD, as well as naturally aspirated and sedan classifications.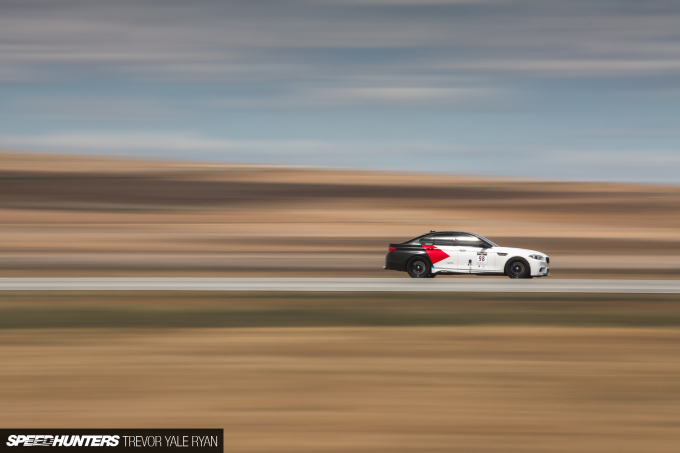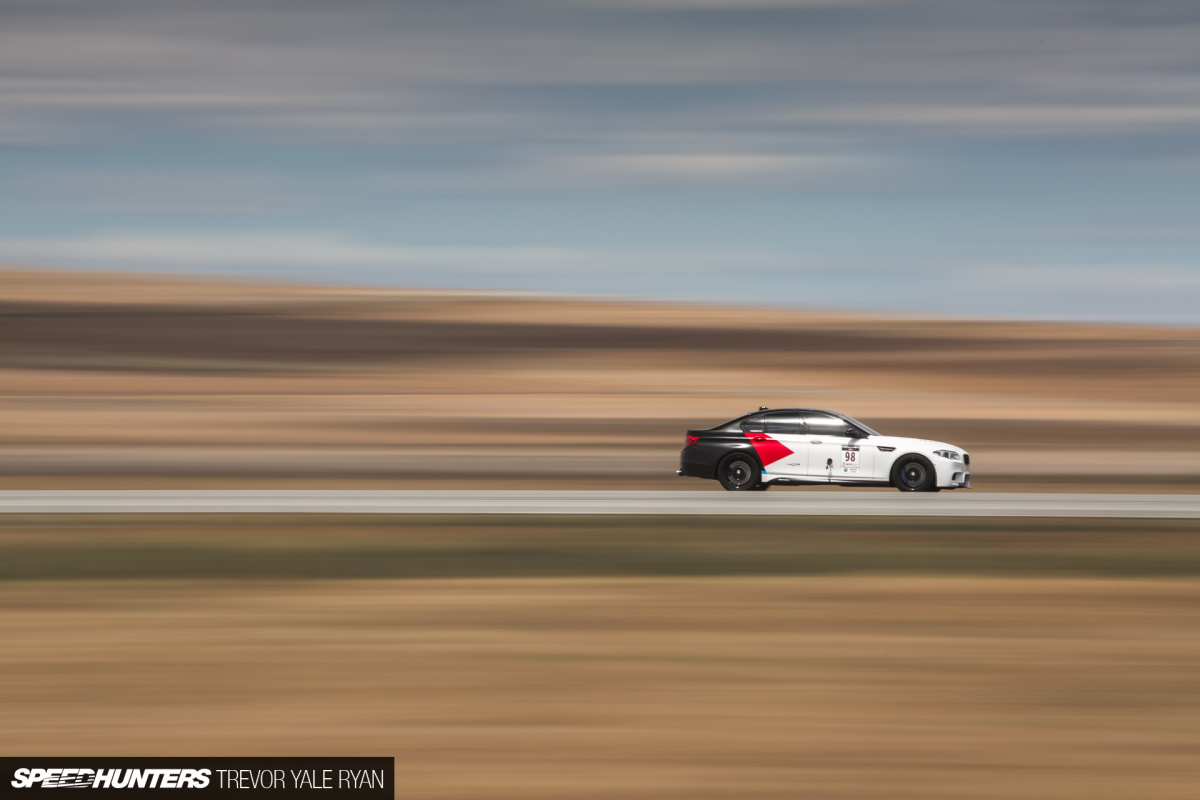 By popular demand another group was added for Sunday only, the BMW/AMG class.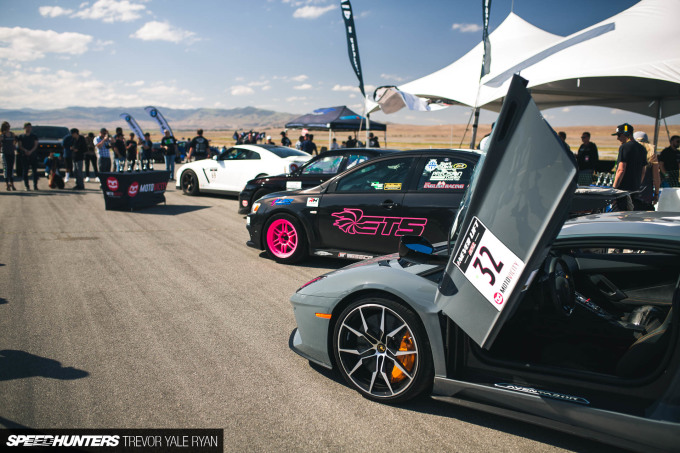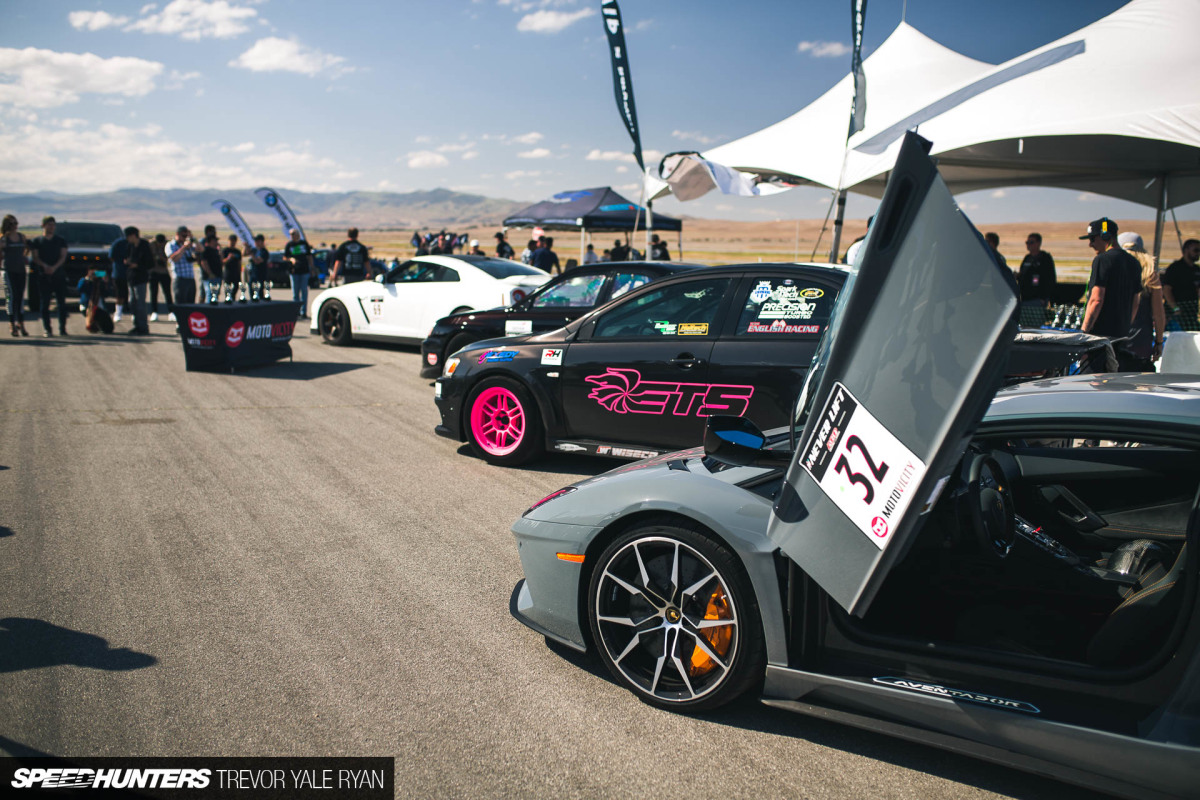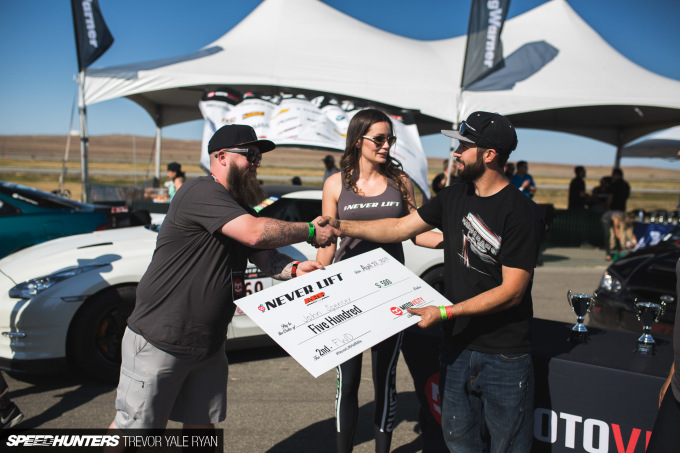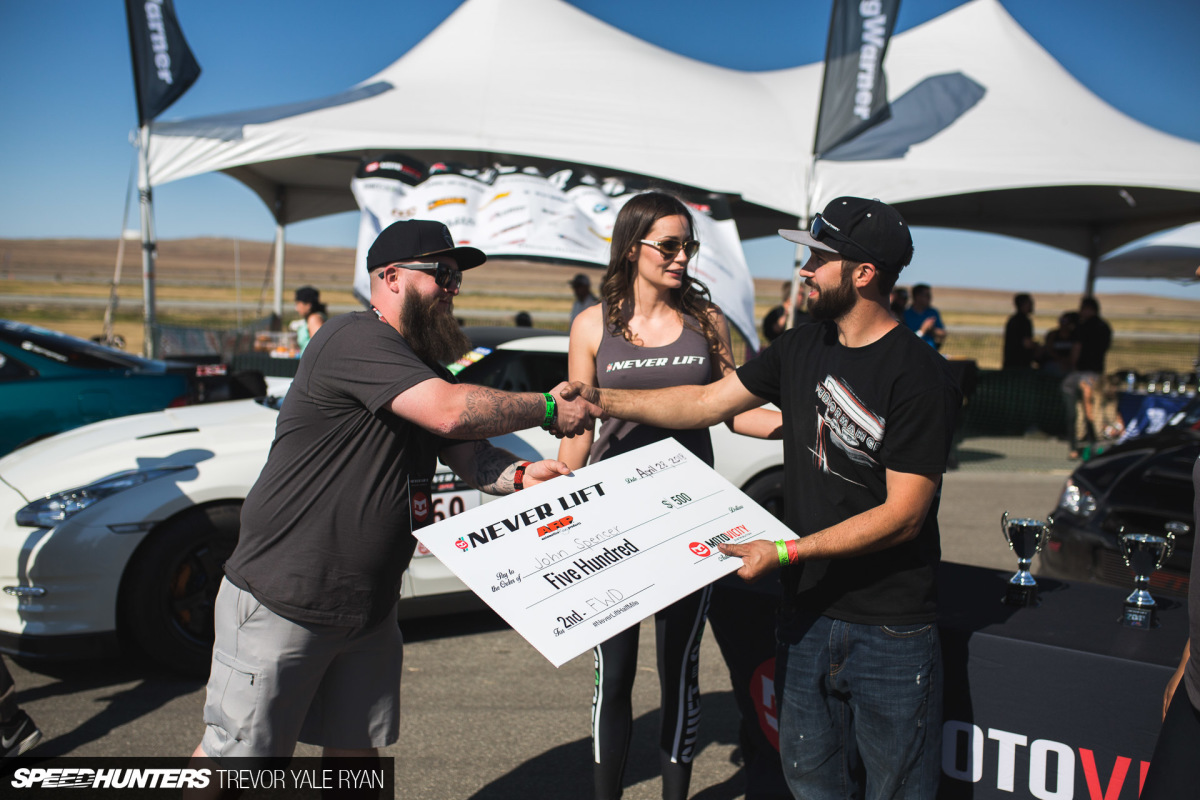 To get that aforementioned prize money, the top two from each class face off at the end of the day. First place would walk away with $2,500, and first loser, also known as second place, would get one fifth of that amount (also known as $500, if you don't know how numbers work).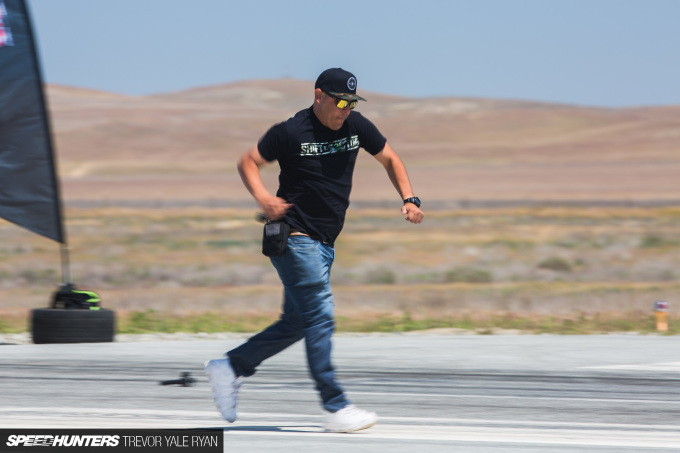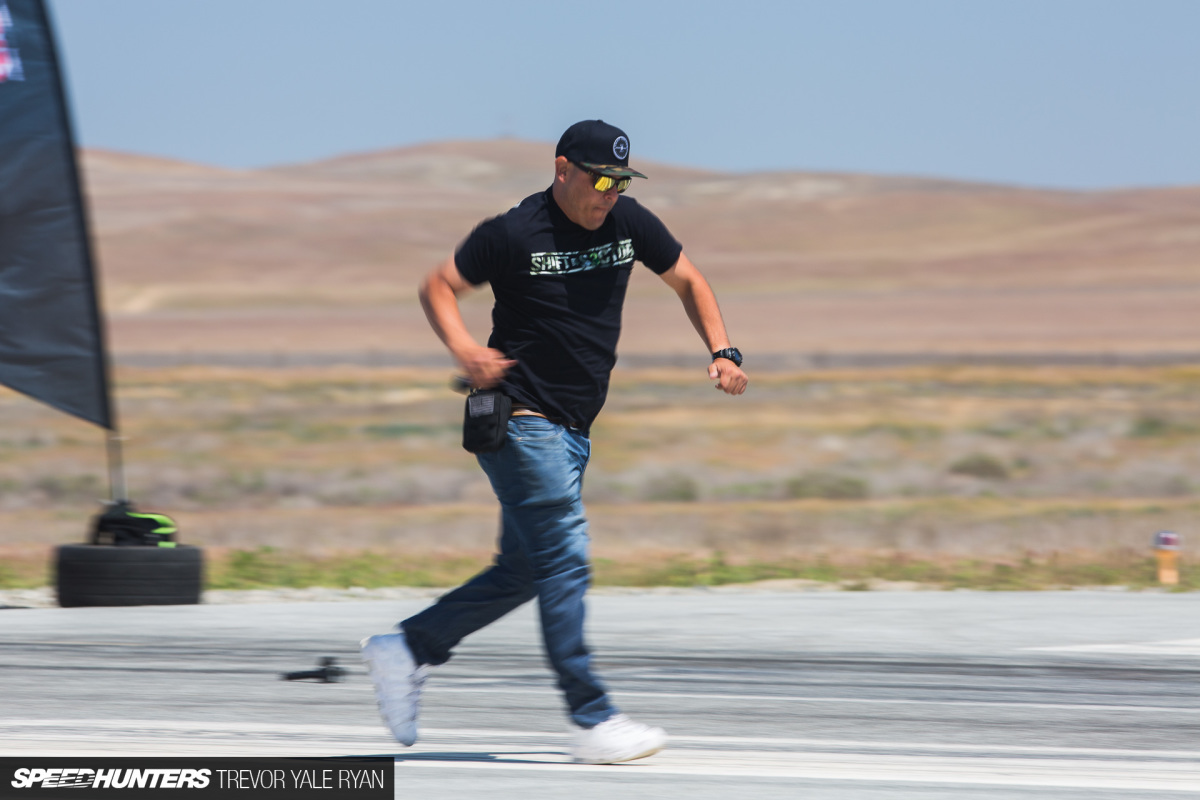 Unfortunately for Johnny there was no prize money for speedwalking. He would have had it if there was though, I'm sure of it.
But I'm guessing you're more interested in seeing a Corvette launch off the line than this bloke, so here it is.
Through The Paddock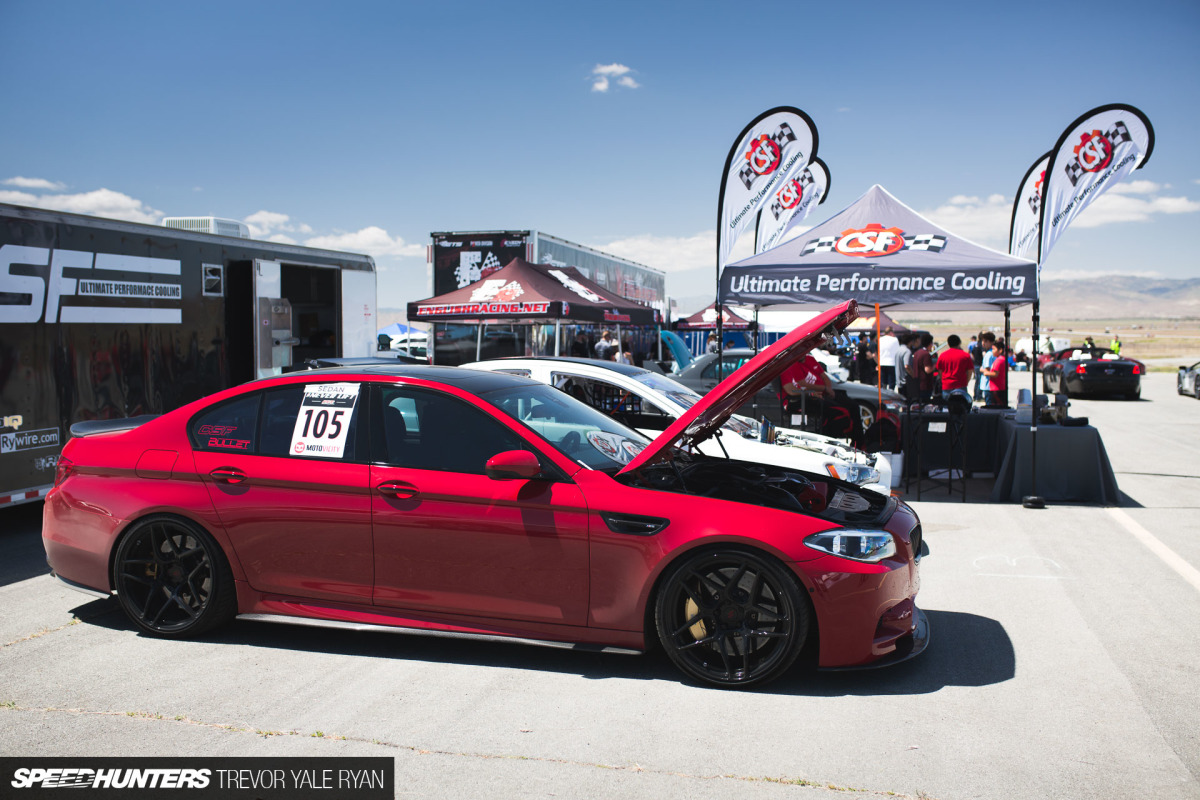 On the other side of the airstrip there was plenty of activity as well. Beyond the cars getting prepped, sponsors had booths set up to show off their latest and greatest innovations.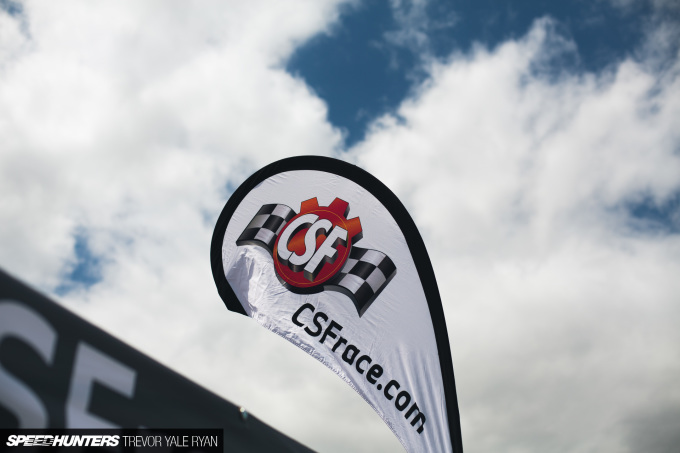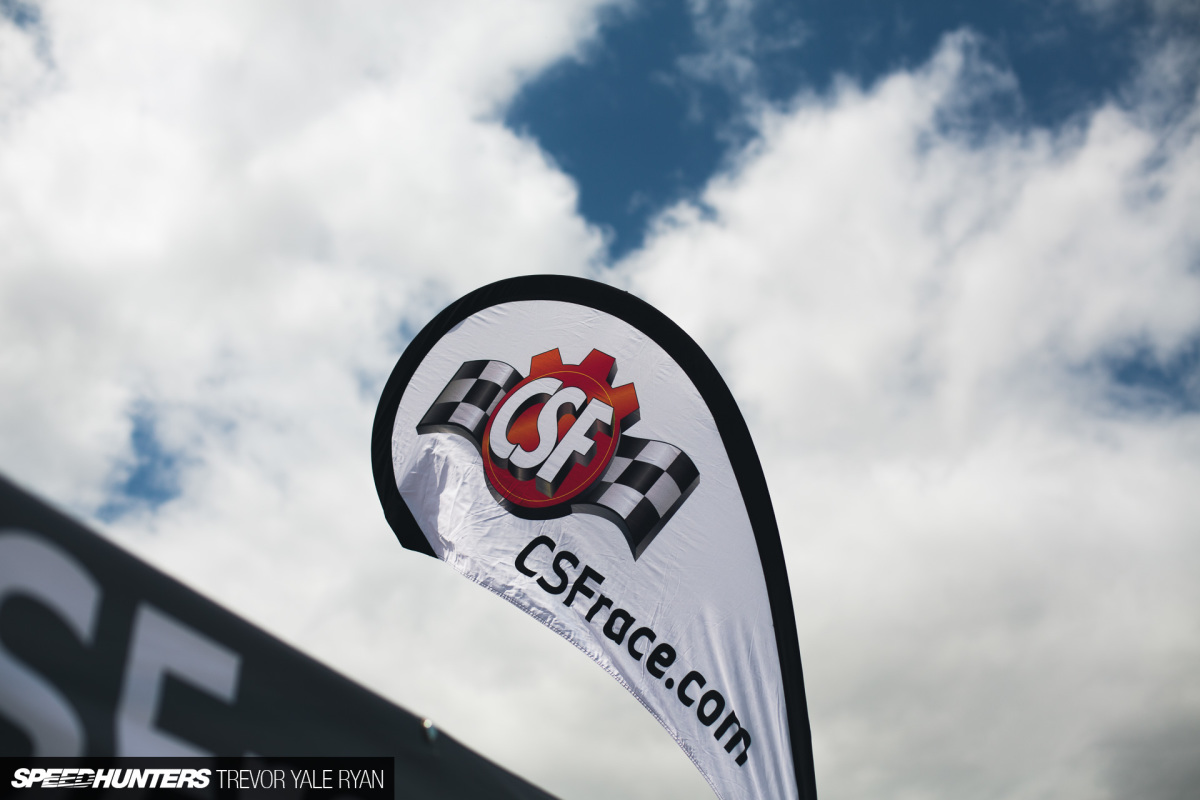 In a similar vein to other forms of motorsport, the technology tested here has a trickle down effect to road cars. While super-efficient heat exchangers aren't strictly necessary from the factory, when you start pushing tons of boost and power through your motor, the equation changes.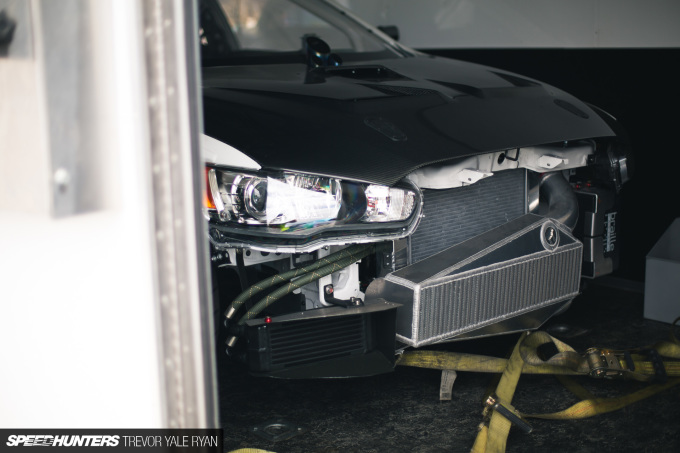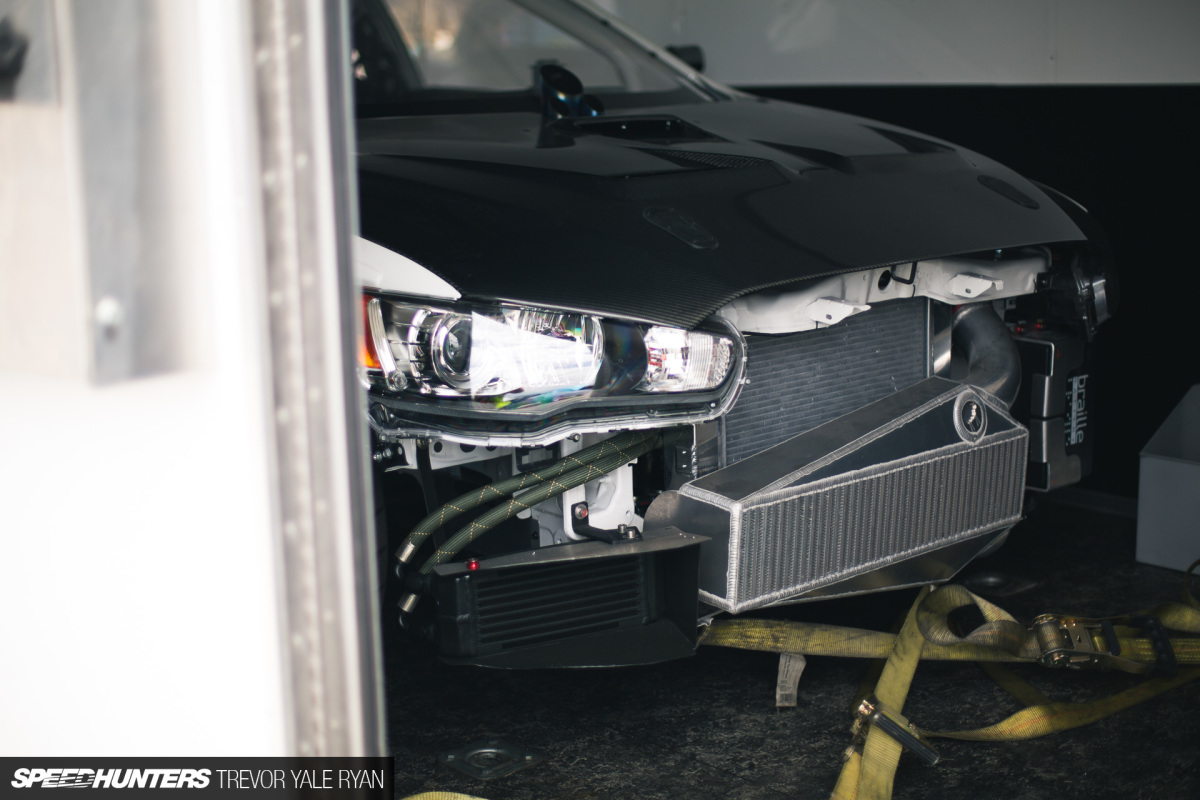 Unfortunately, the CSF Evo X had some teething issues and was unable to make an all-out pass over the weekend. But this is a car that was built to be raced, not parked, so I'm certain the Mitsubishi will soon complete its transition from SEMA mode to beast mode and be back out tearing up the track.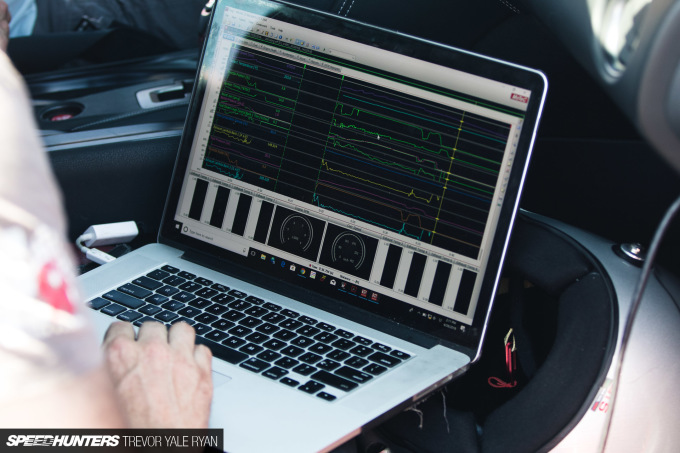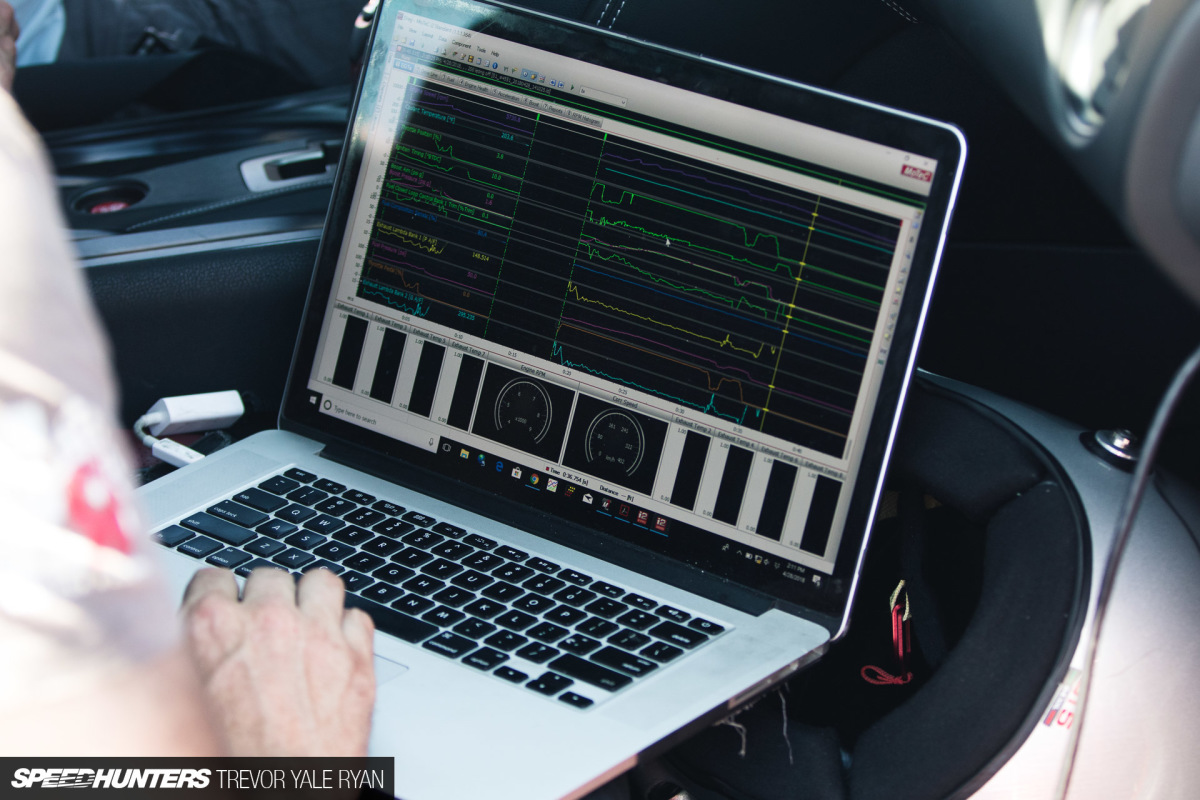 While certainly a proving ground for any build, the event is also a bit of a tuner's wet dream; so much information can be learned from this sort of driving. Whether you're testing a fuel curve, tweaking your setup or developing new parts, there is no substitute for the real world.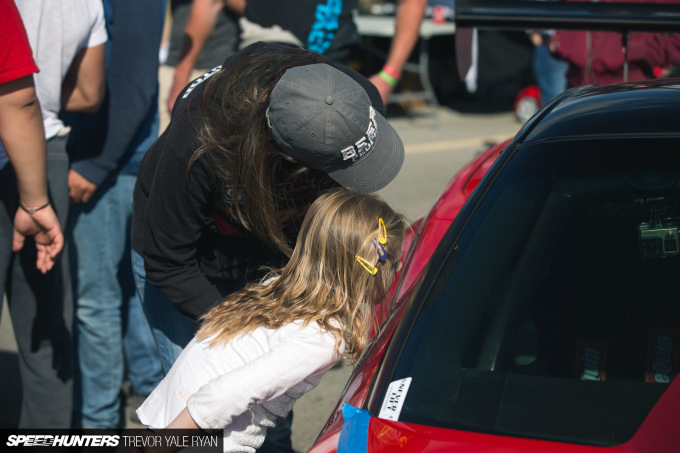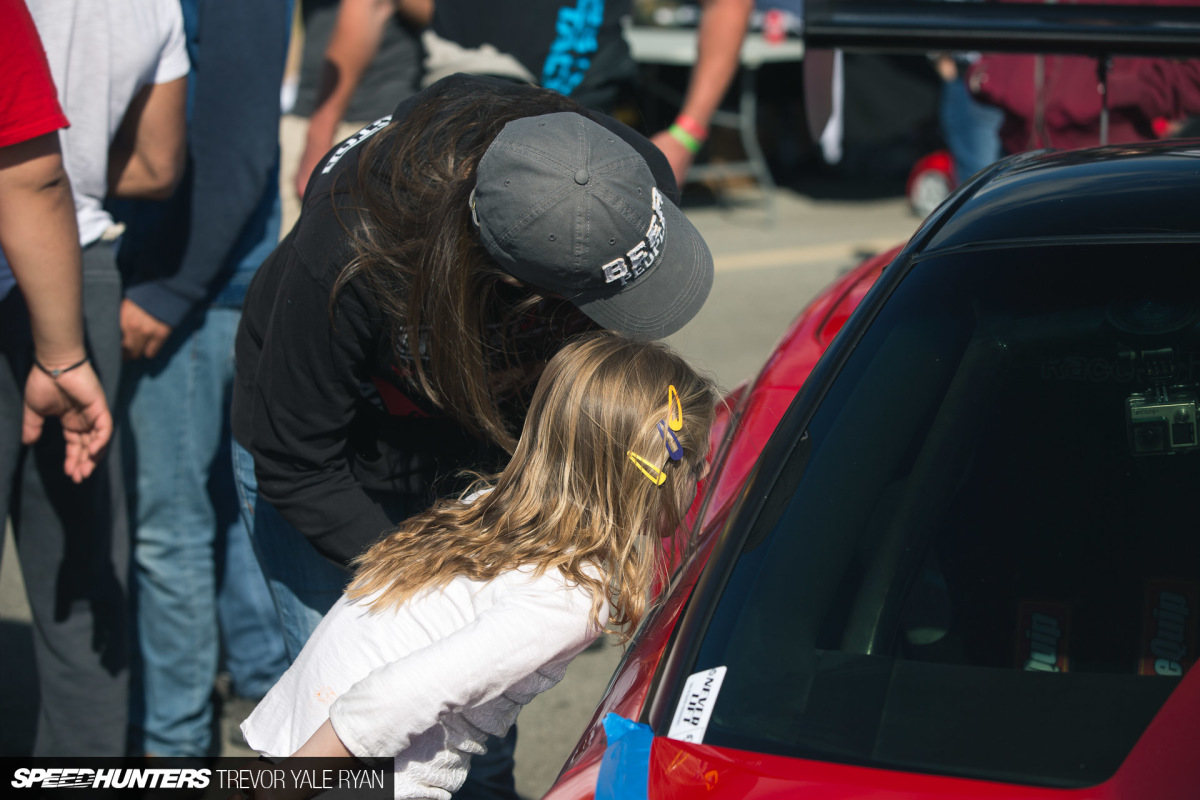 Other groups were having their own sort of fun, while spectators were afforded the chance to get up close and personal to their favorite cars.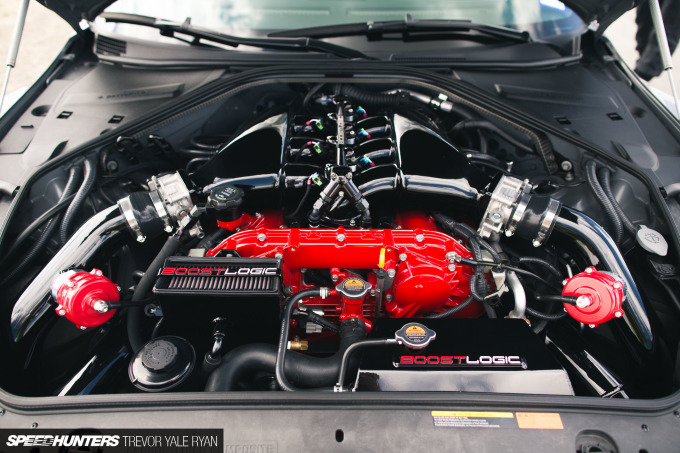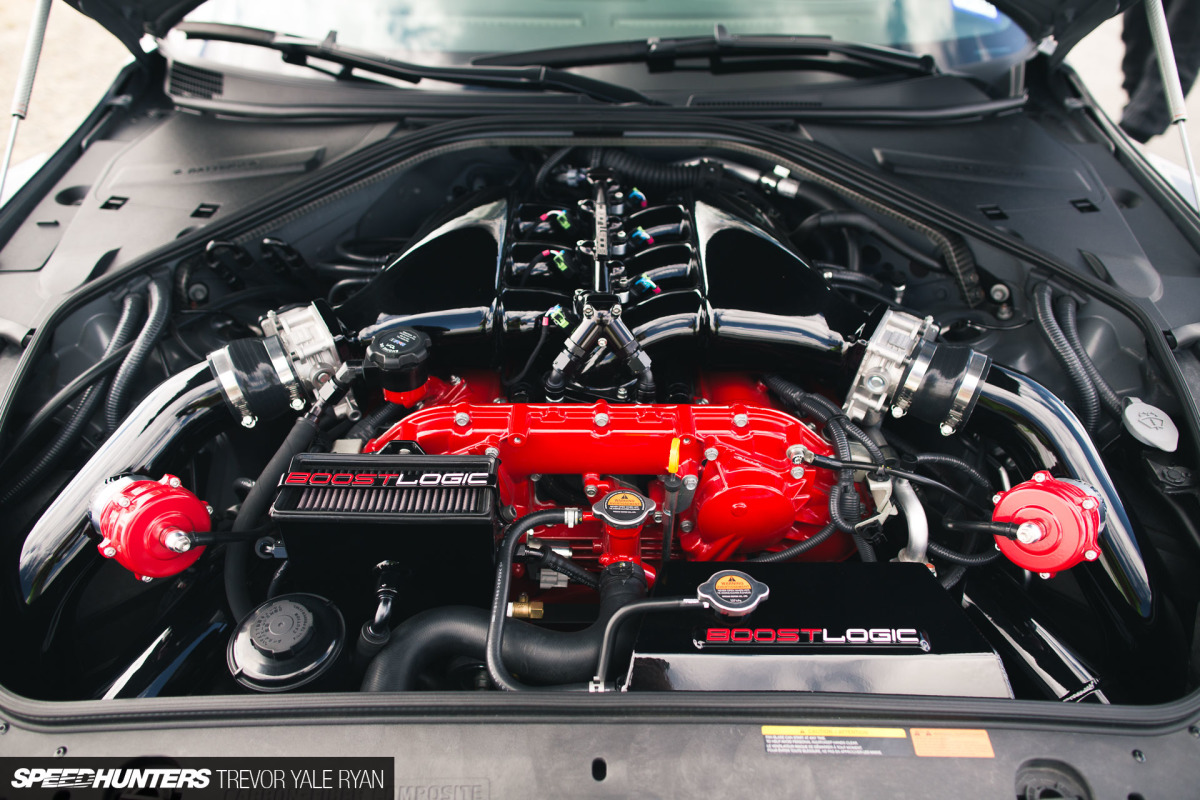 Despite all the dust about, some cars were suspiciously clean. But I wasn't complaining.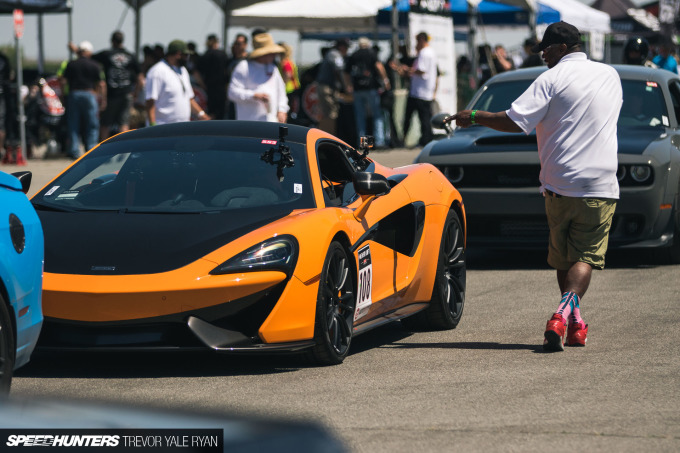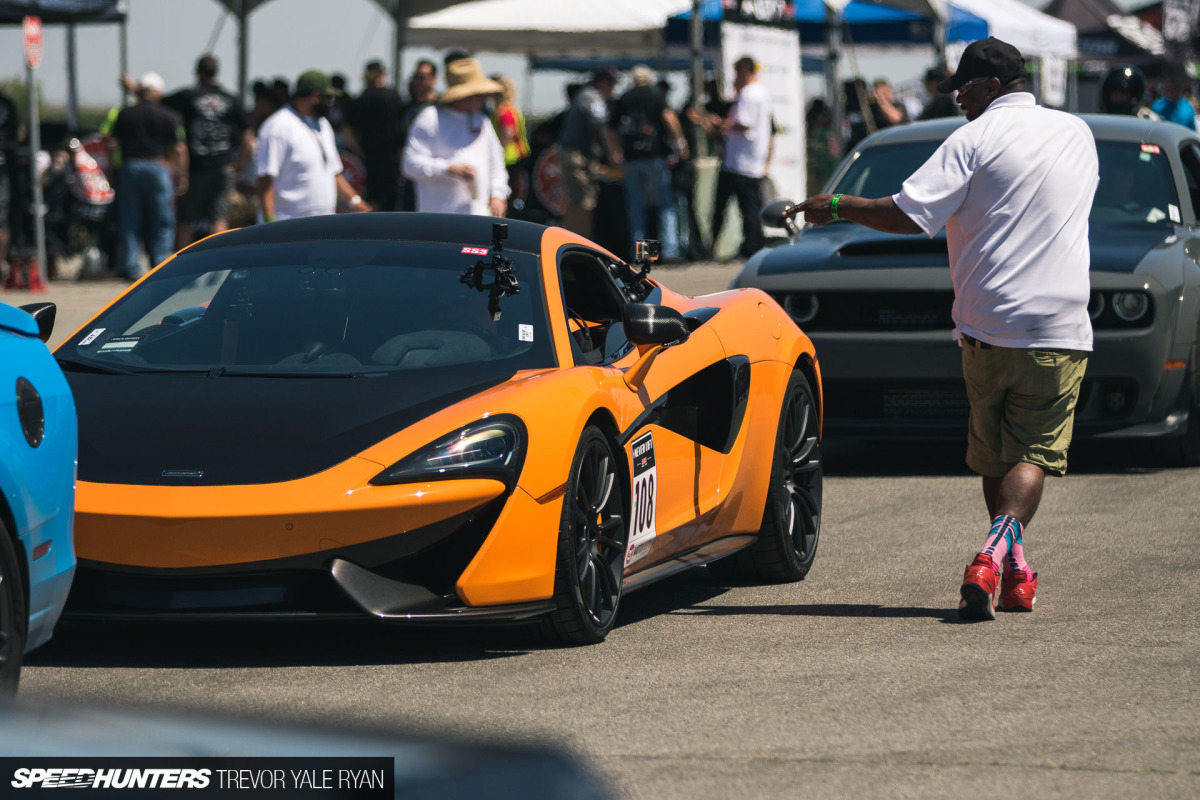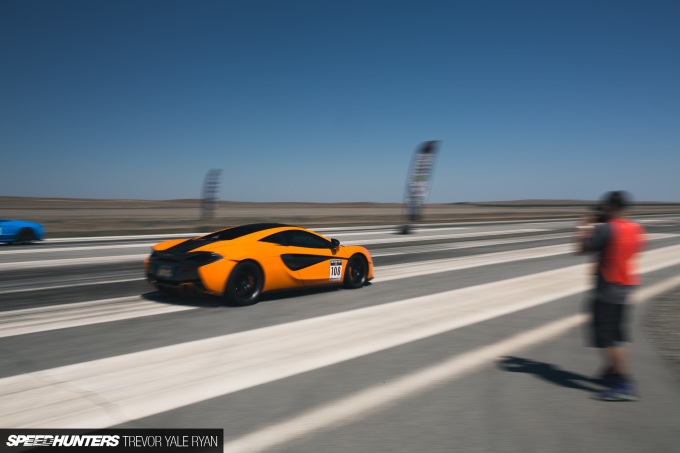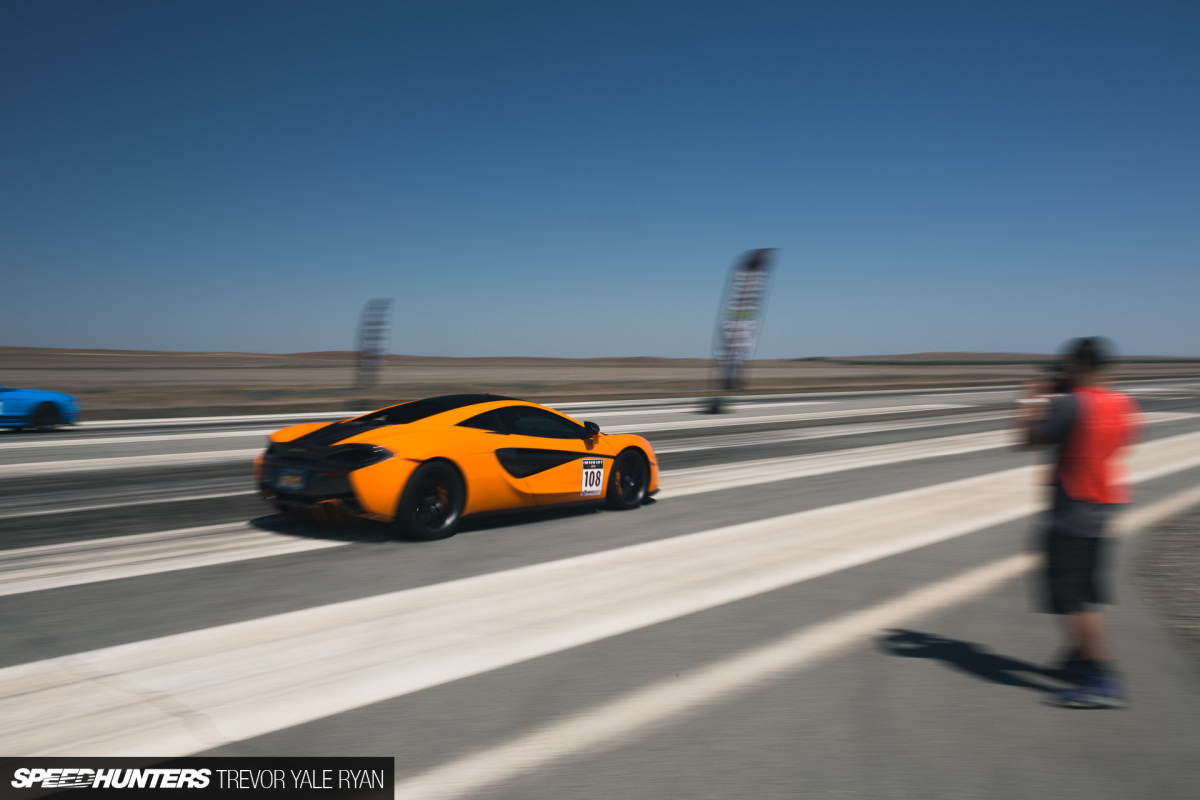 It was rather cool to see these cars squeaky clean rolling through the paddock one minute then launching down the runway at top speed the next.
Another cool aspect of the paddock was the VIP area where I was able to get out of the sun, have a snack, and get a few edits done. It was a long day of shooting and the liquid energy was a necessity.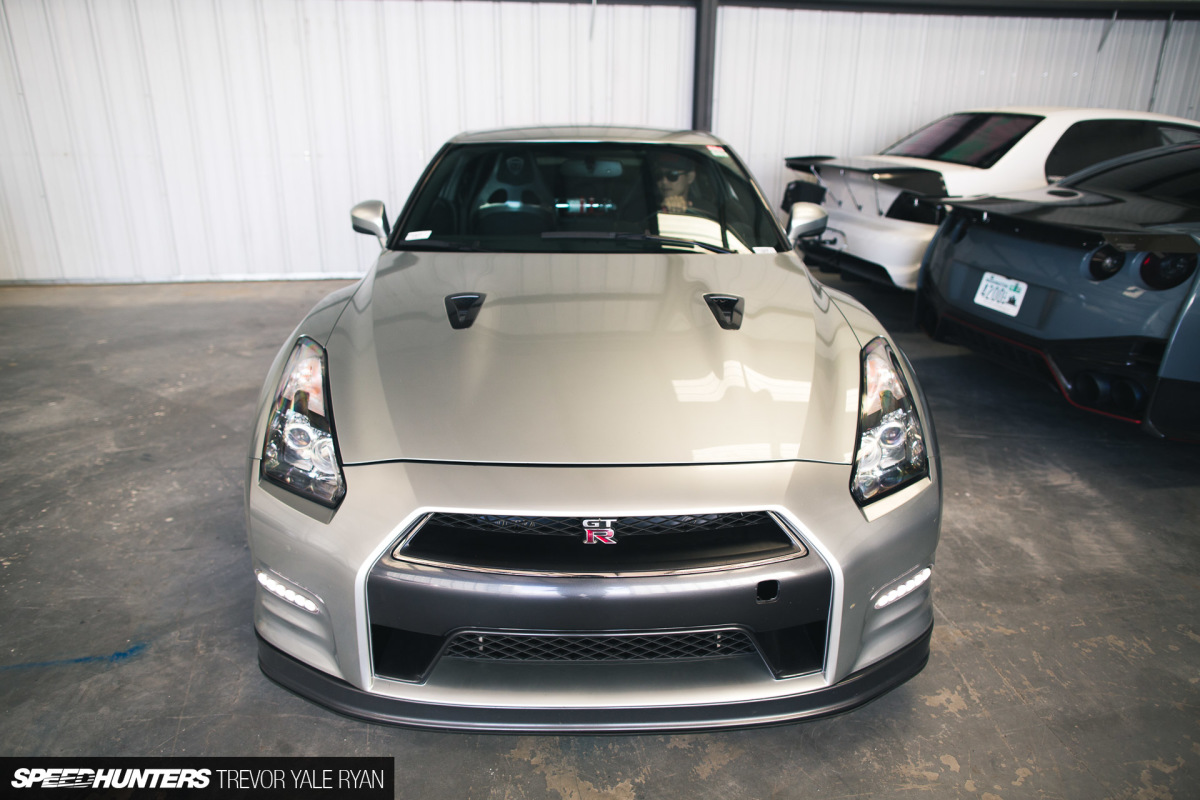 As the day came to a close the beasts were put to bed; a handful were stored on site in an empty hangar while others were driven back to hotels for a night's rest.
Day Two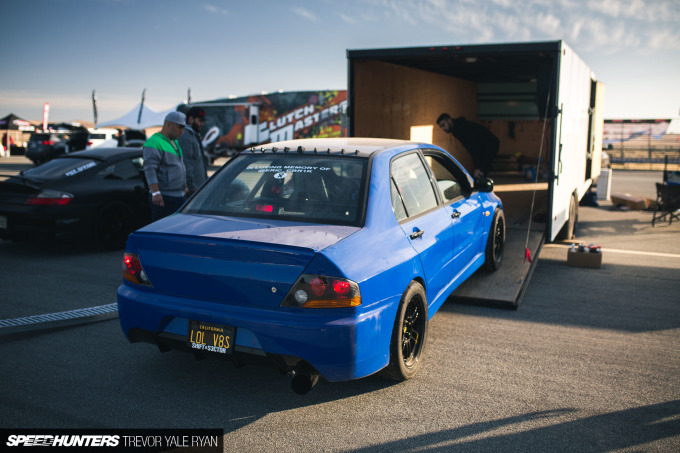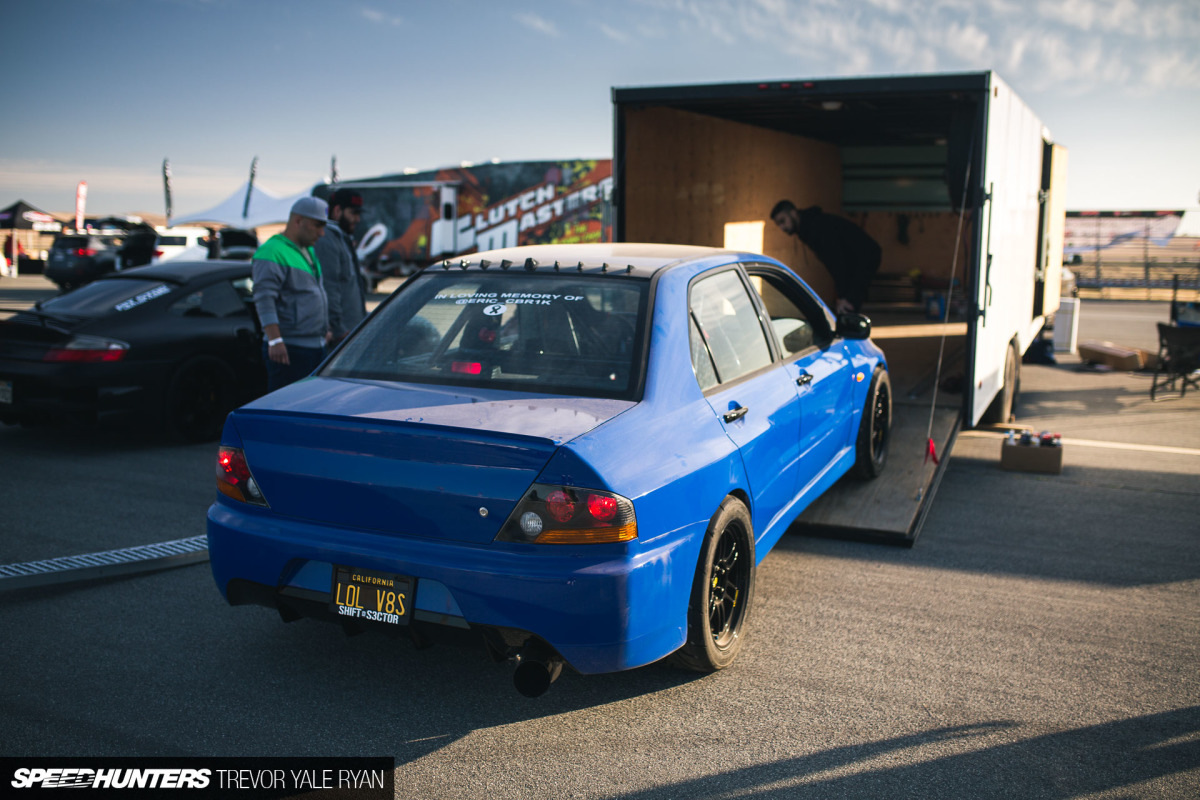 Bright and early the next morning, we were back at it.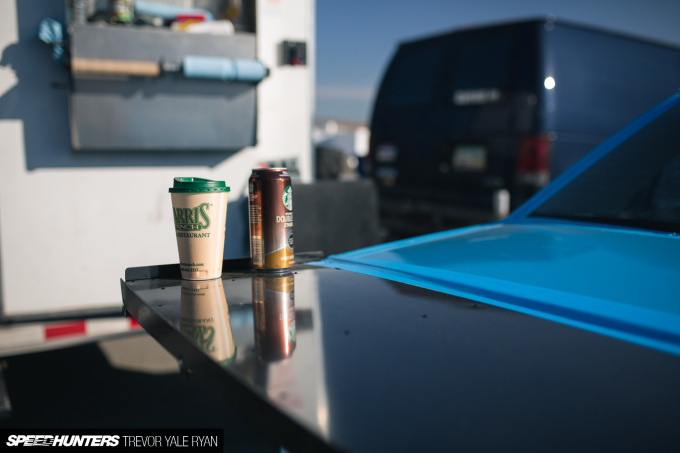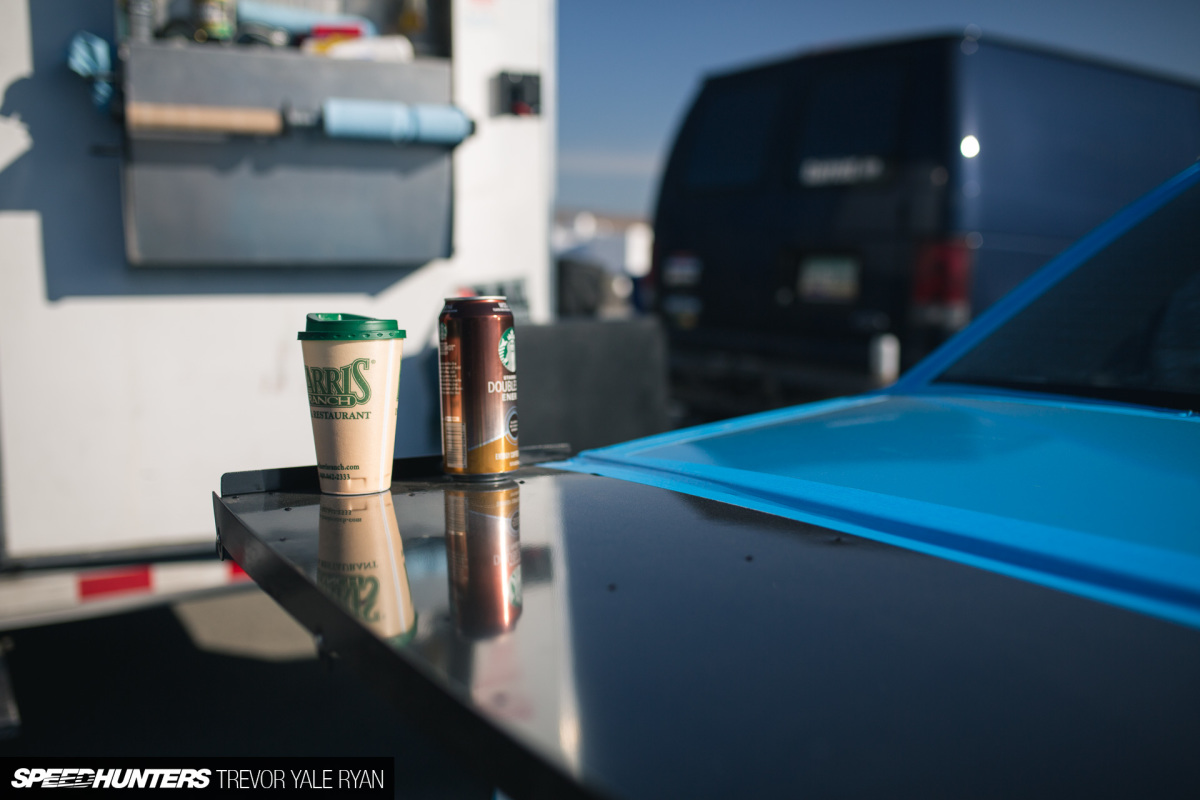 Again, powered by caffeine.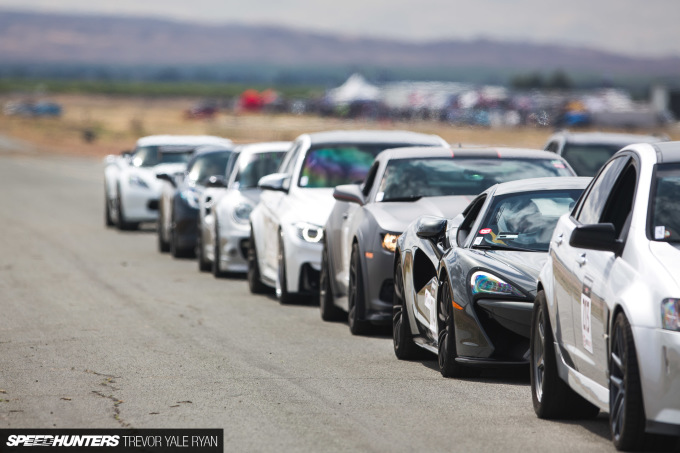 The line was as varied as ever with a number of different cars showing up for Sunday.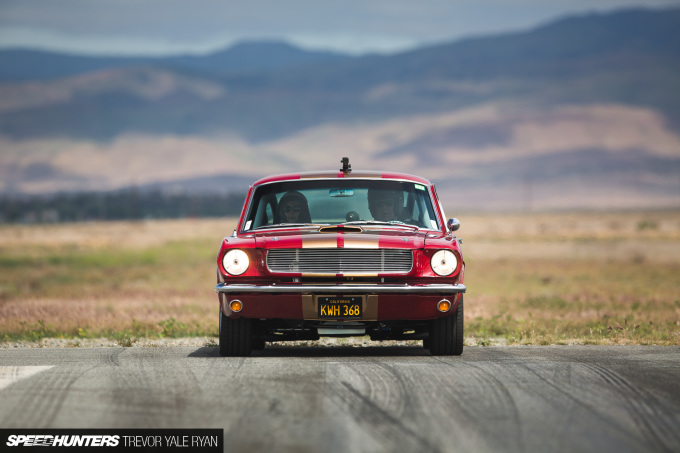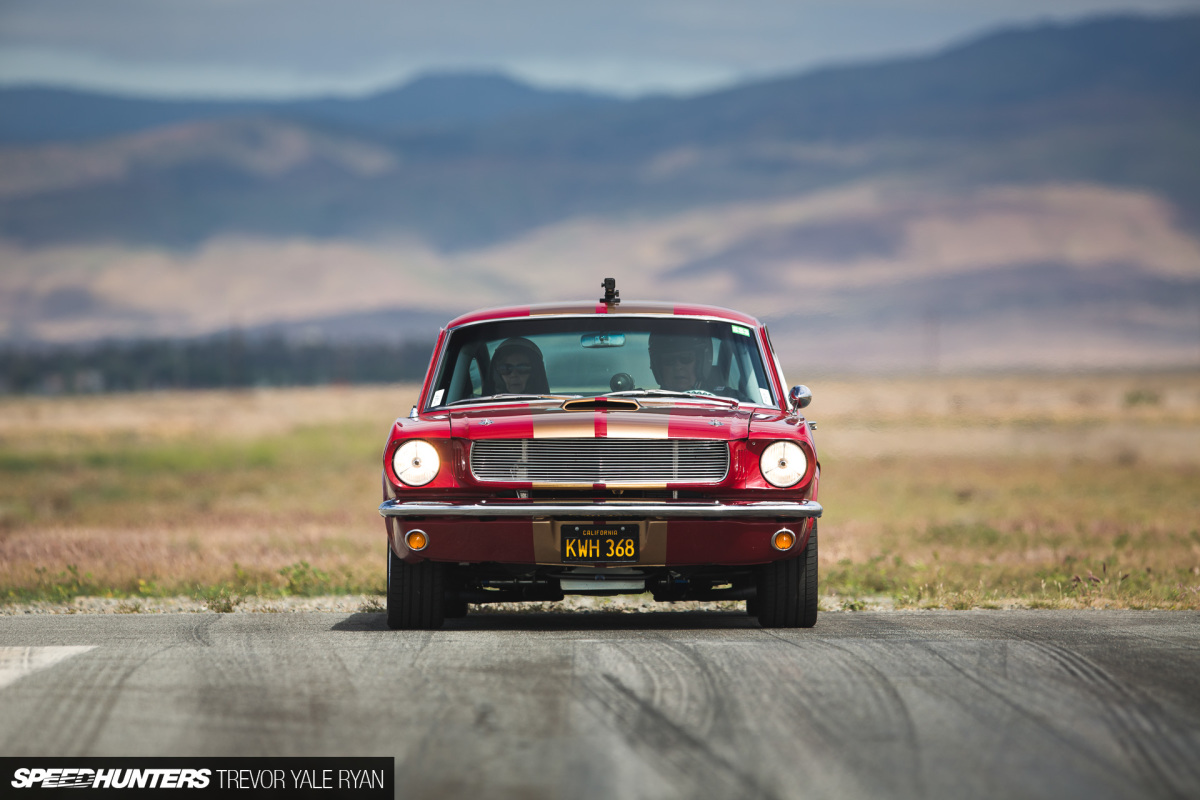 I hadn't expected a new batch to come through, so it was a nice treat getting to shoot a few cars I hadn't seen the day before. Personally, I thought this first-gen Mustang looked rather tasty.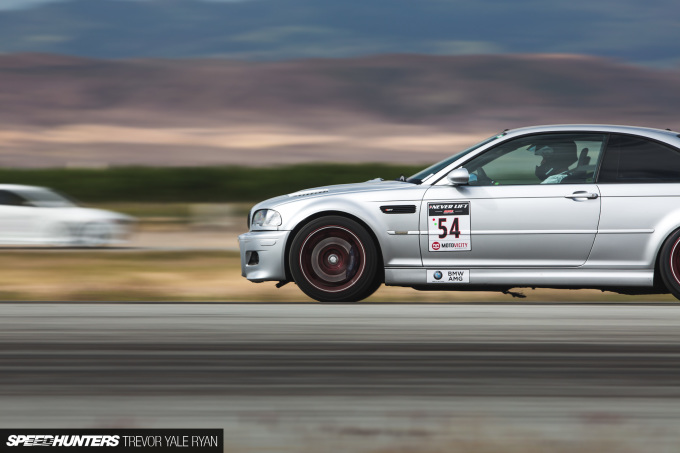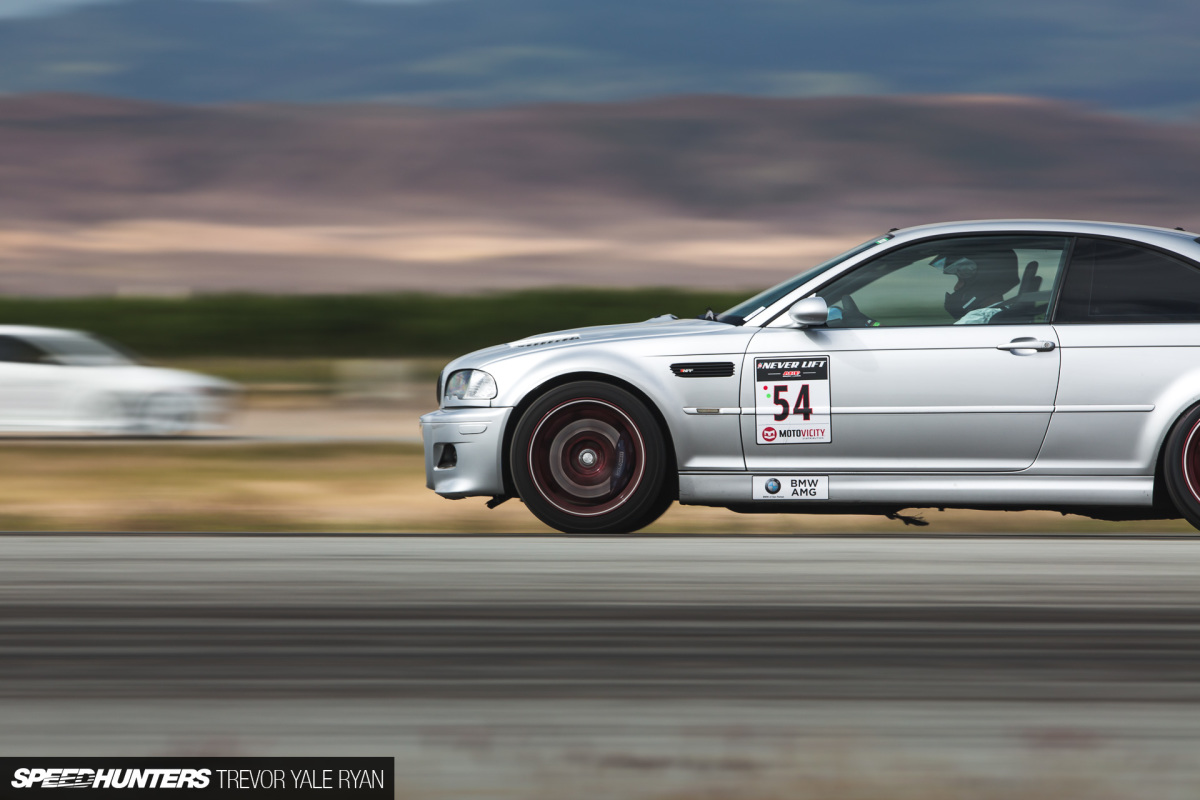 And if anything, the cars were going faster and faster as the weekend went on.
Launch after launch, finish after finish, until the last race of the day. While some cars inevitably packed up early, it was great to see so many drivers hanging out to watch the finals and sneak a few extra runs in.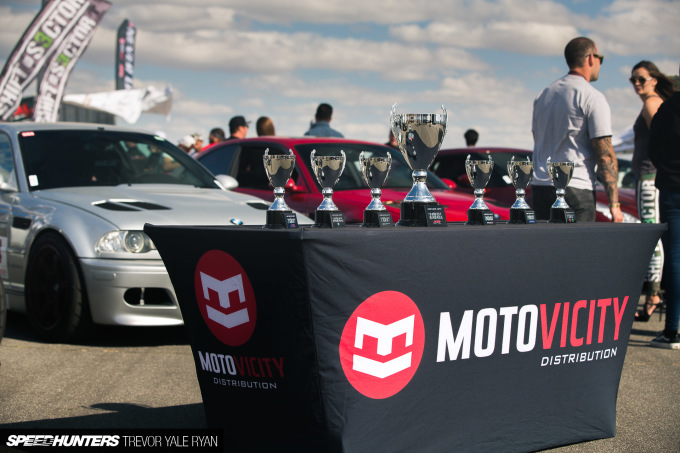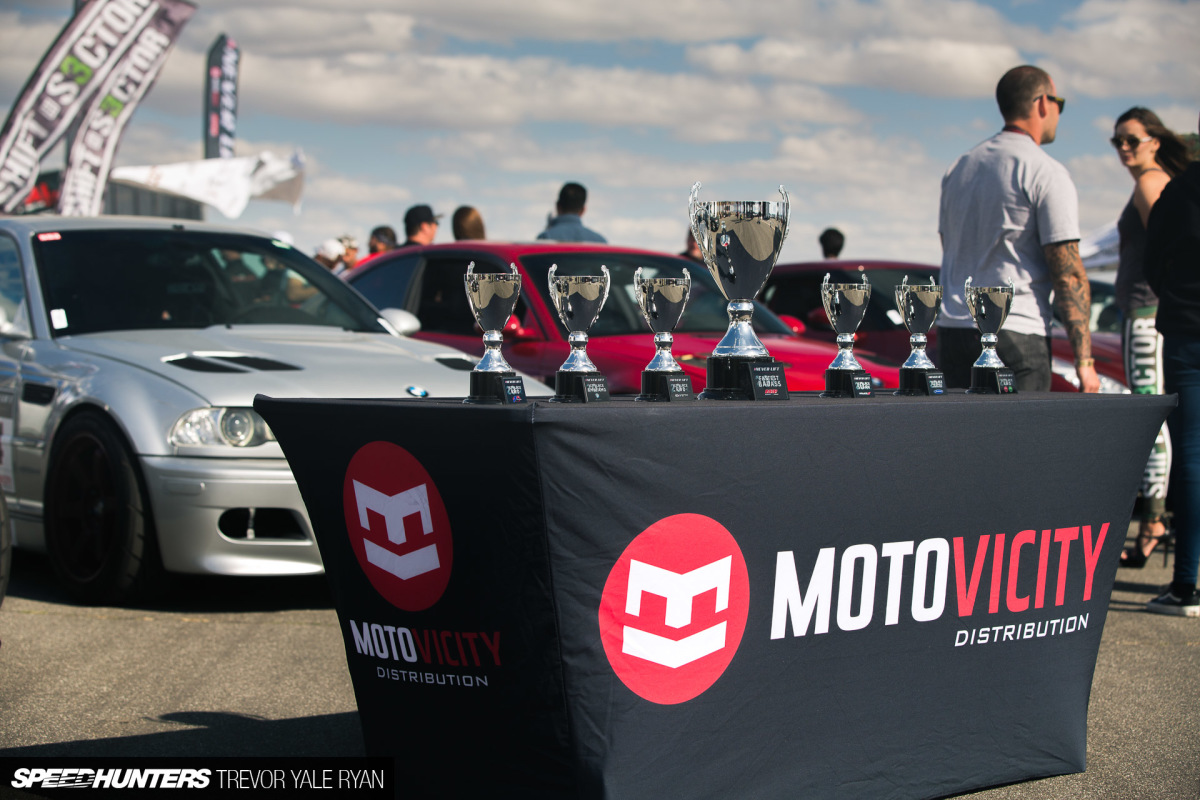 But finally, the track went cold and it was time for the trophies.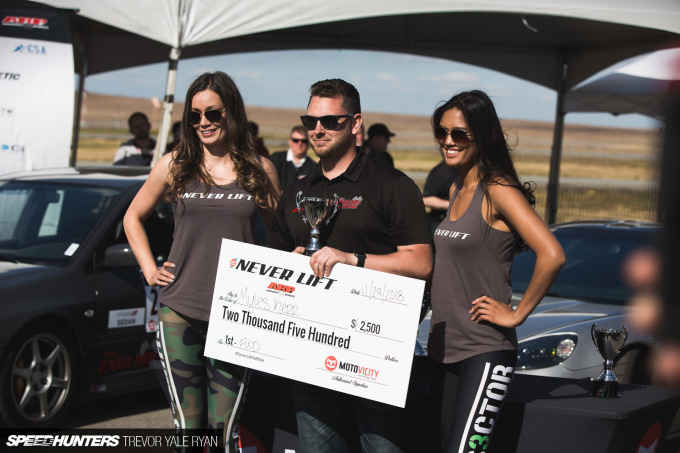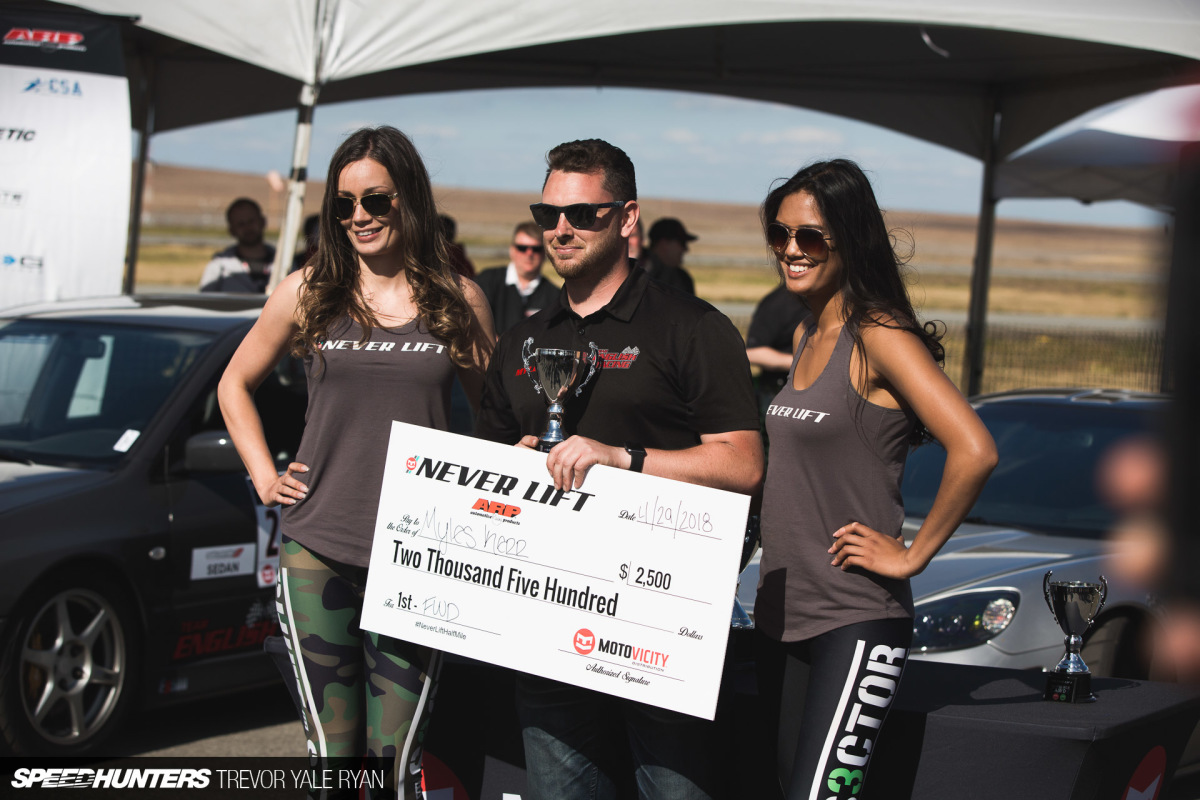 The English Racing crew positively cleaned up this weekend, but most notable to me was Myles Kerr's 207.47mph (333.89km/h) pass.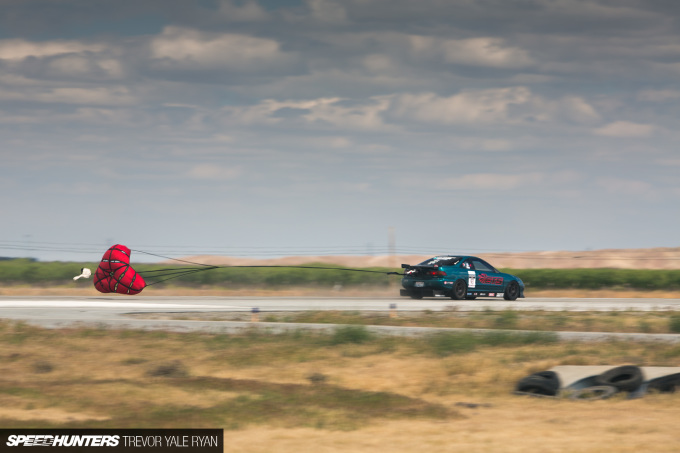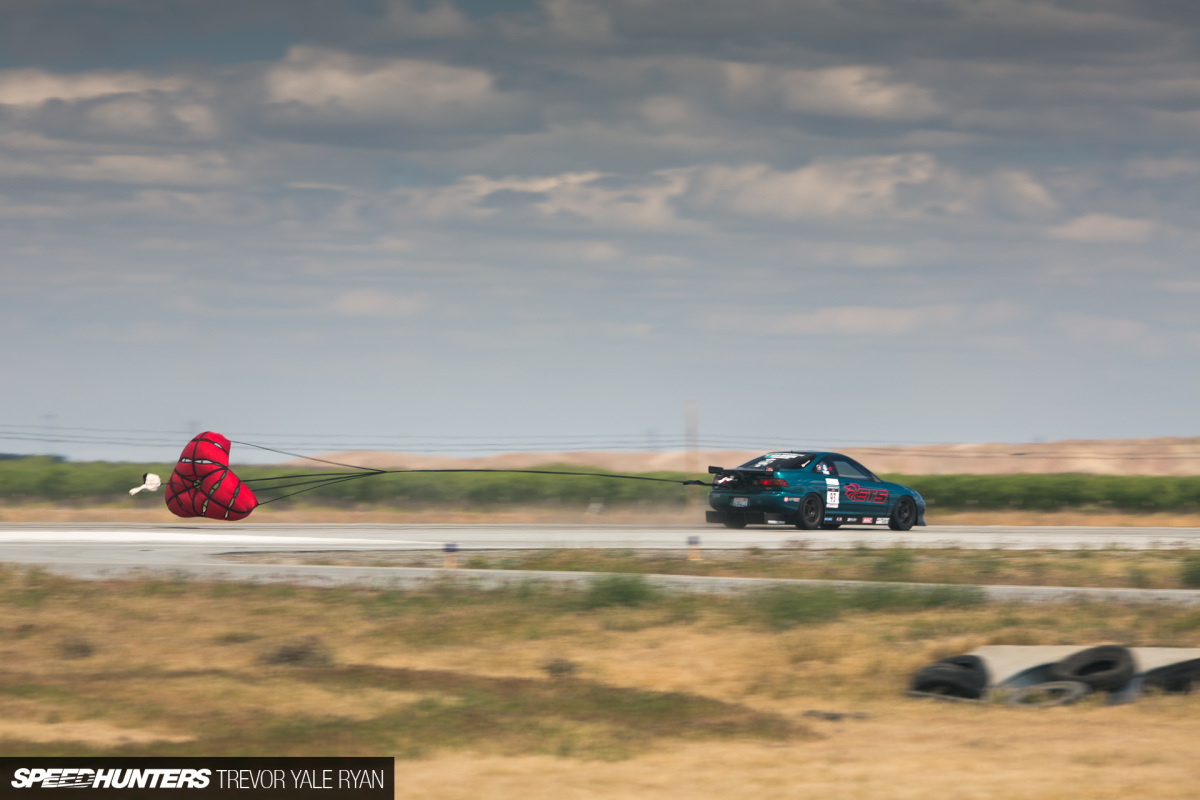 In a 1994 Integra. Bad. Ass.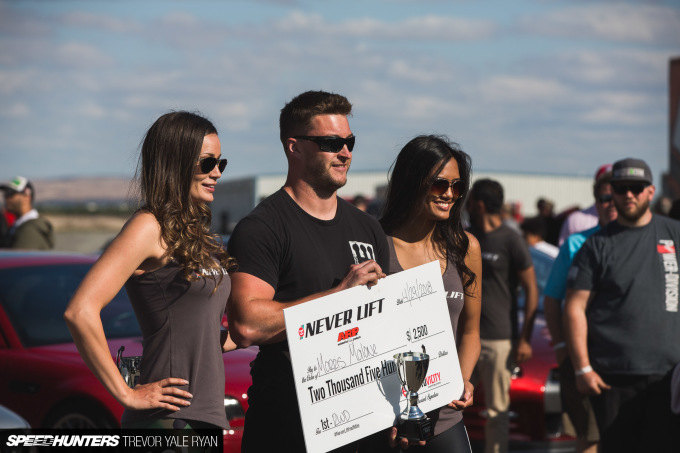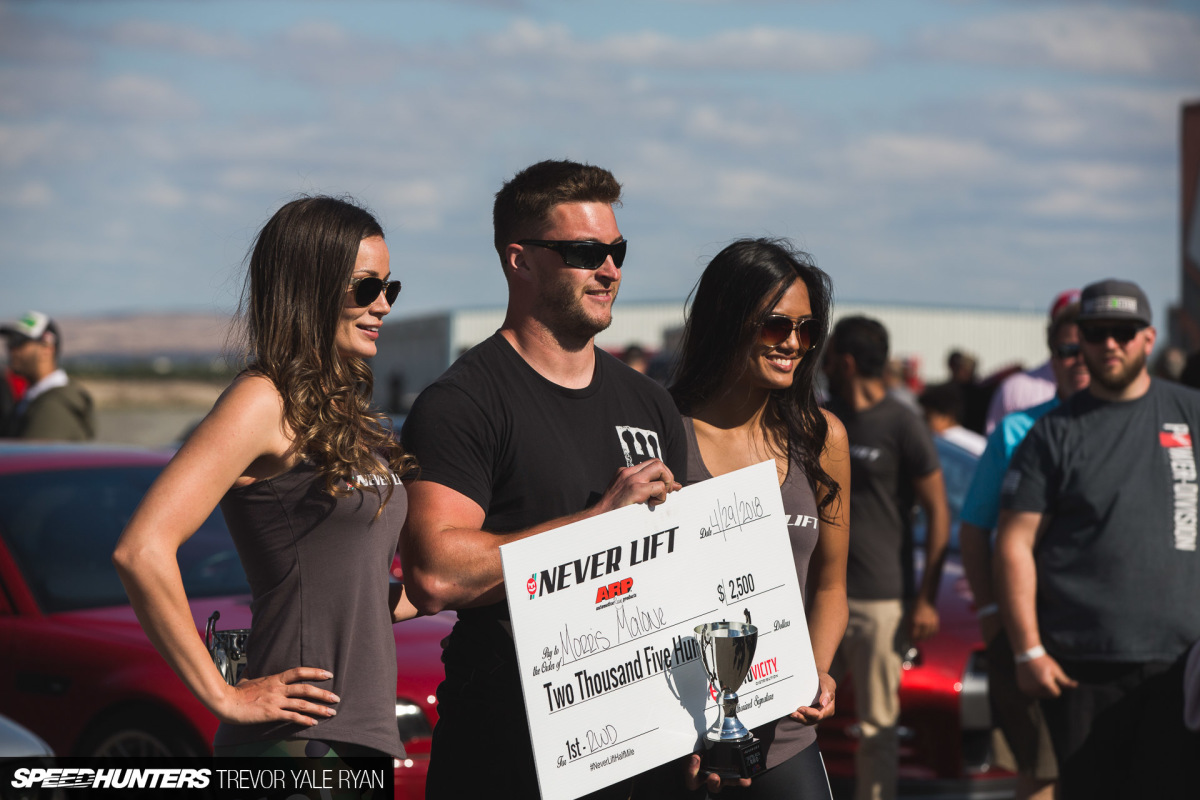 But the king of the castle was Morris Malone and the Malone Racing team coming home with three trophies, as many giant checks, and two world records.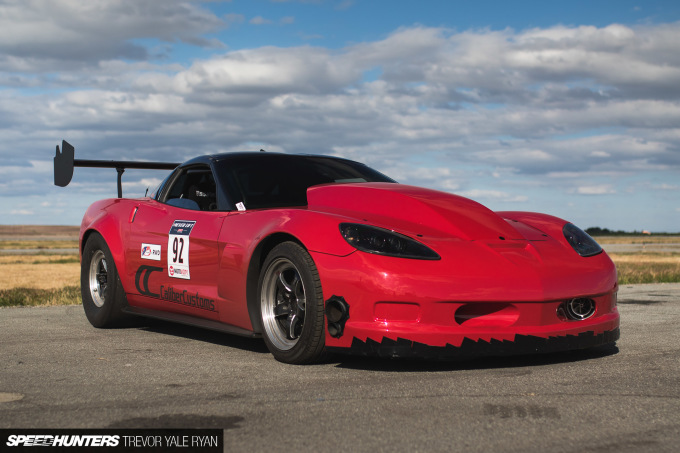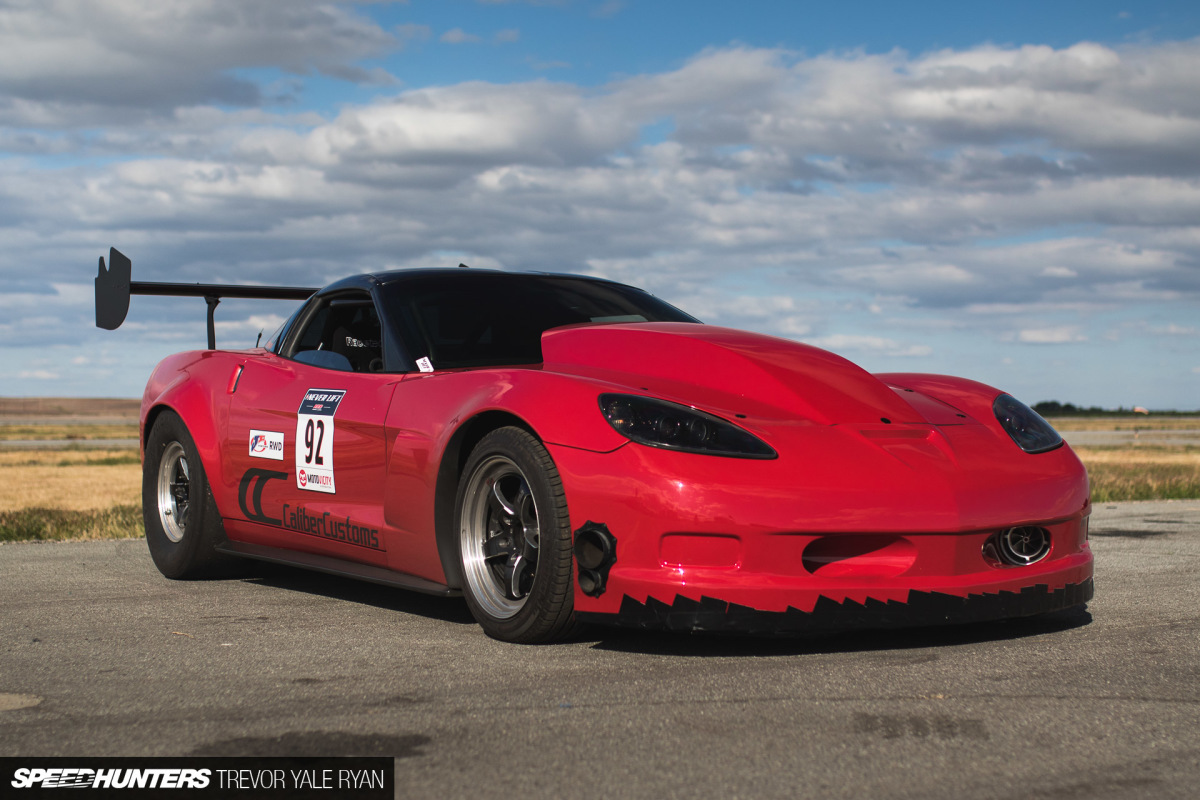 Detailed results can be found on the Never Lift Half Mile website, but I've already spoiled the surprise on this one. Morris was the one clocked at 236.10mph (379.96km/h) in his C6 Corvette, making this car not only the fastest Corvette but also the fastest RWD half mile car on the planet. Of course, there will be a story on this record-setter as well.
There was just far too much good stuff at Motovicity's Never Lift Half Mile, but if you're me that's a pretty good problem to have. If only I'd pocketed some of those Red Bulls when I had the chance…
Trevor Yale Ryan
Instagram: tyrphoto
TYRphoto.com
Cutting Room Floor