Not So Civil
Don't feel bad if the emerald hues of Calypso Green had you fooled; the flawless panels and pristine paint sure would do a convincing job of blending in by standing out a static car show.
But despite the impeccable finish, this 1973 Ford XA Falcon coupe is no show pony. The show circuit is far too tame and civilised for its owner, Tim Nelson.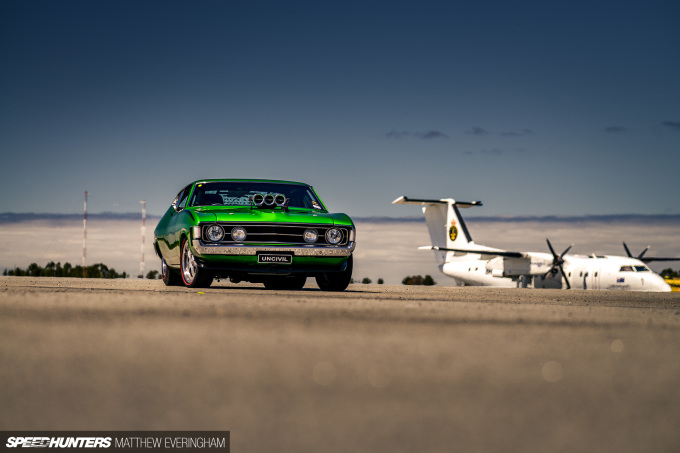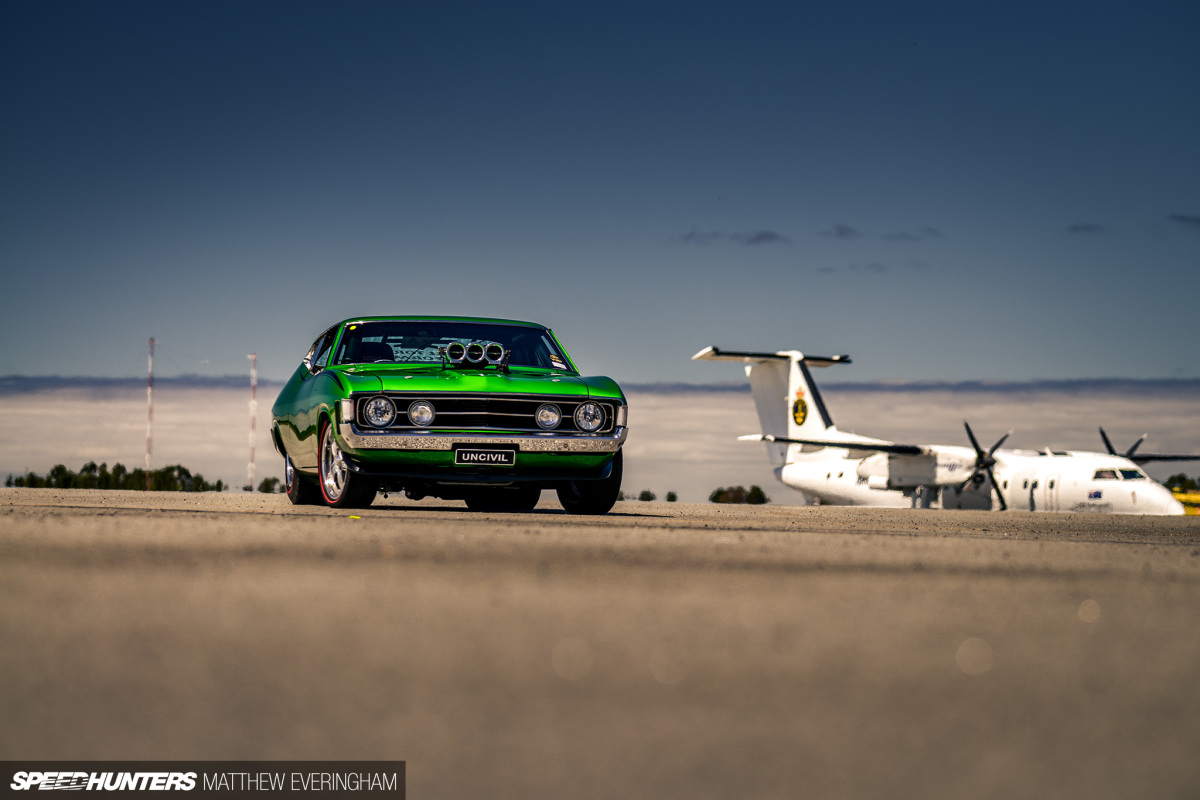 When this heavy-hitting, methanol-swilling, big green monster comes to town, you expect things to get quite uncivil, and rather quickly too.
You'd probably never guess just from looking at it, but the Falcon's main civil duty is to send as many tyres as possible to oblivion.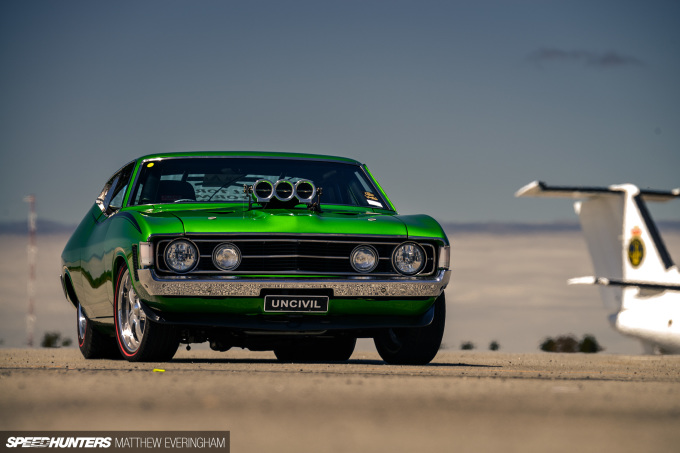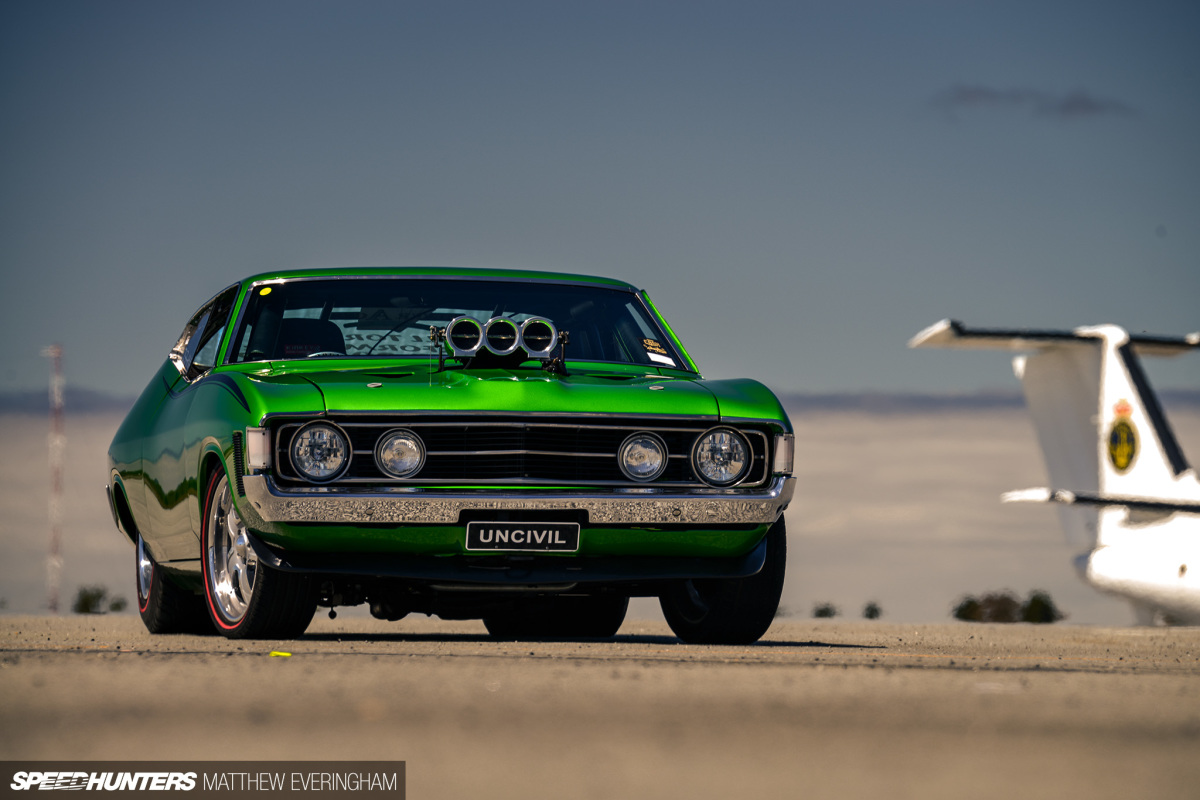 Sadly, there was a strictly 'no burnout' policy at Albany Airport during Racewars this year, but the video evidence presented below of the fat Ford generating a metric shit-tonne of synthetic clouds on cue cannot be argued with. Perhaps the car's environmental superpowers played a small part in the earthly colour palette selection.
I almost couldn't sleep the night following meeting Tim and the curvaceous coupe. I mean, what kind of maniac builds a car to this calibre just so they can rip massive skids? This guy must have a few screws loose upstairs, if you know what I mean. It defies logic to put so much time, effort, and cold hard cash into a casual burnout sled.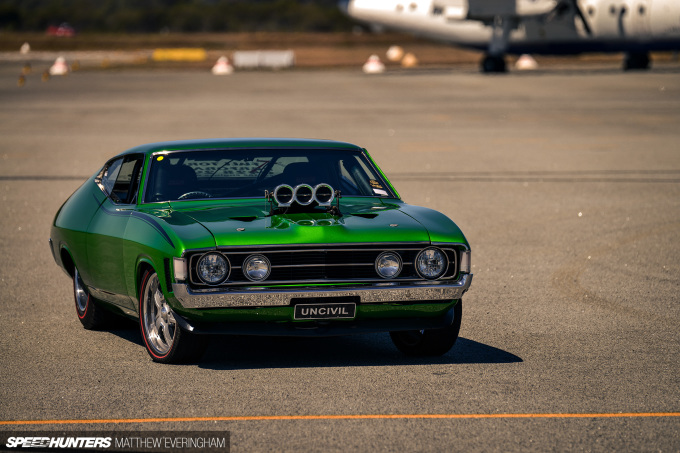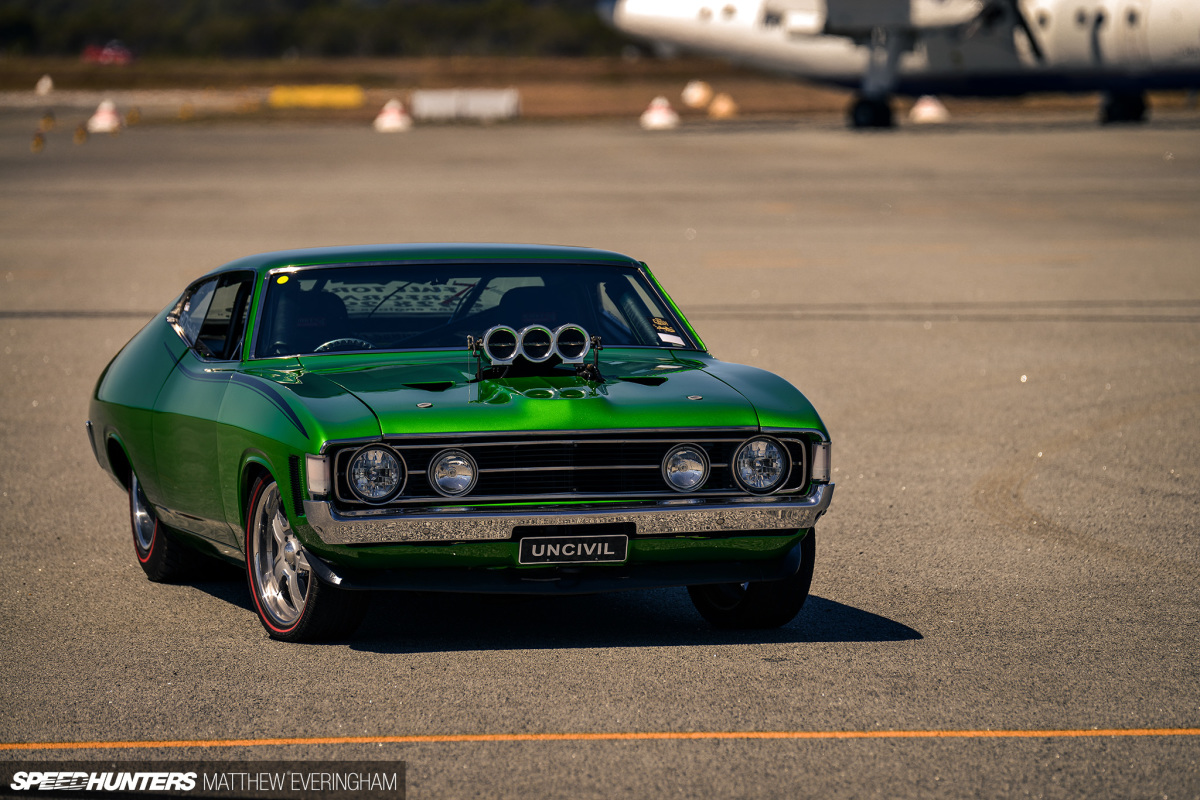 For those outside of Australia, when I'm talking about skids and burnouts, I'm not referring to when you make a cute little squeally off the lights; nor do I mean that one time your mate's tyres spun around the whole corner. No, I'm talking about real Australian burnouts, Summernats style. The type that simultaneously unites angry environmentalists and divides a nation of car fans. It has to be the dirtiest, harshest and most mechanically punishing motoring hobby.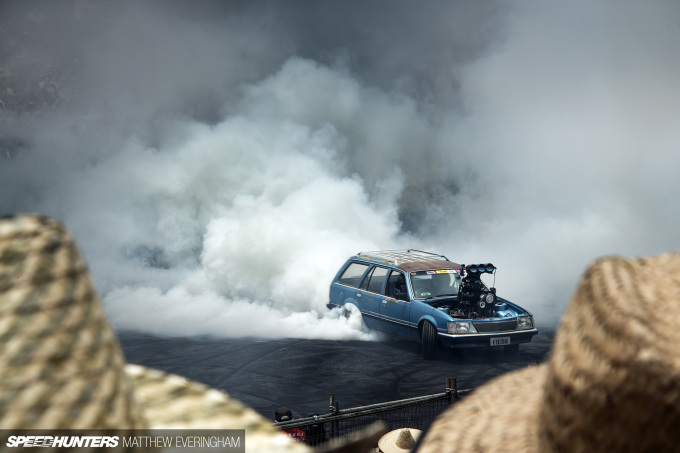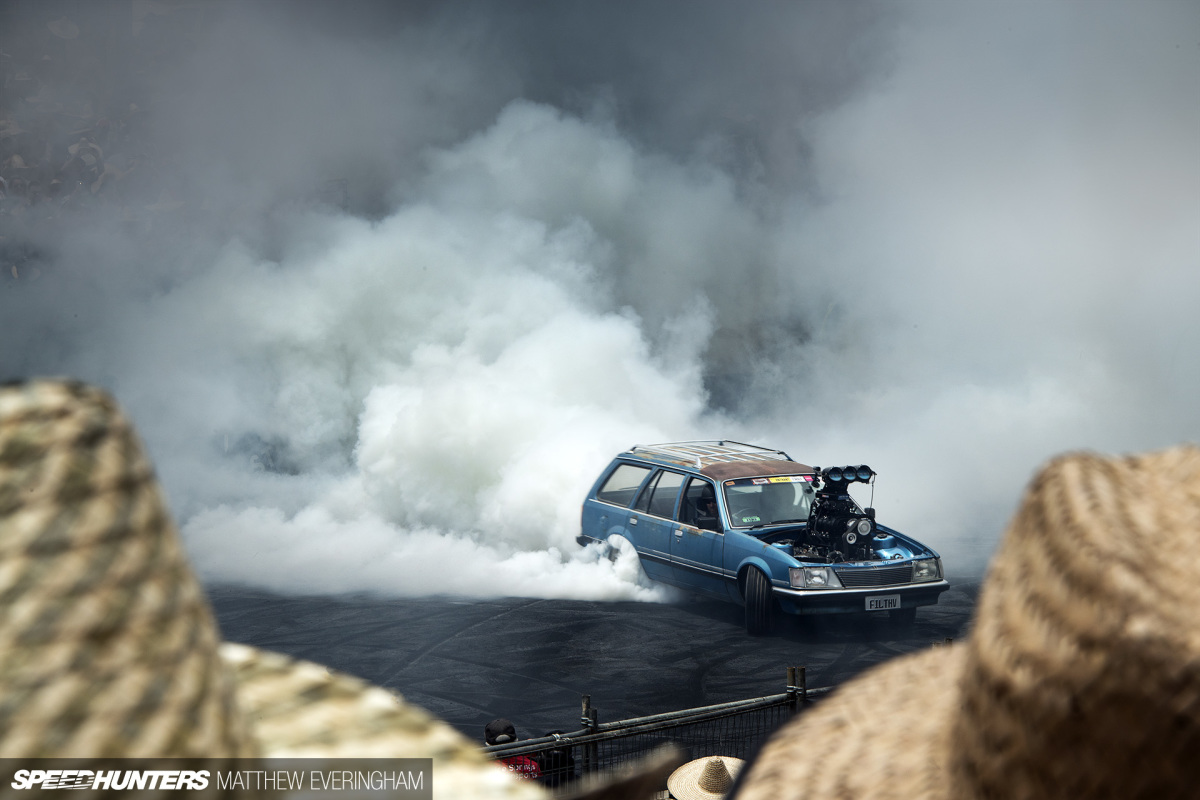 If you've ever witnessed a skid and didn't feel even a teeny-tiny bit of mechanical sympathy for the vehicle in question, I'm sorry to you inform you that what you saw was not a real skid. Certainly not as rated by the Australian Burnout Classification Board (trust me, it's a thing. Maybe). The board has the final say on not just what constitutes as a fair-dinkum skid, but also controls the approval list of authentic '70s cock-rock, acceptable brim width on Mexican hats worn outside of Mexico, and also owns the calibrated tattered black singlet that all others are measured against.
If none of this makes any sense, do yourself a quick favor and cue up any track from Cold Chisel or AC/DC, crank the volume to 11, and the revisit my Summernats 30 coverage for a truly memorable virtual experience.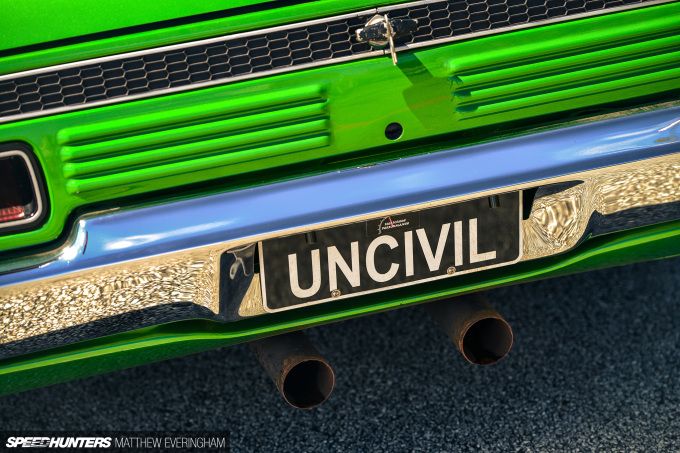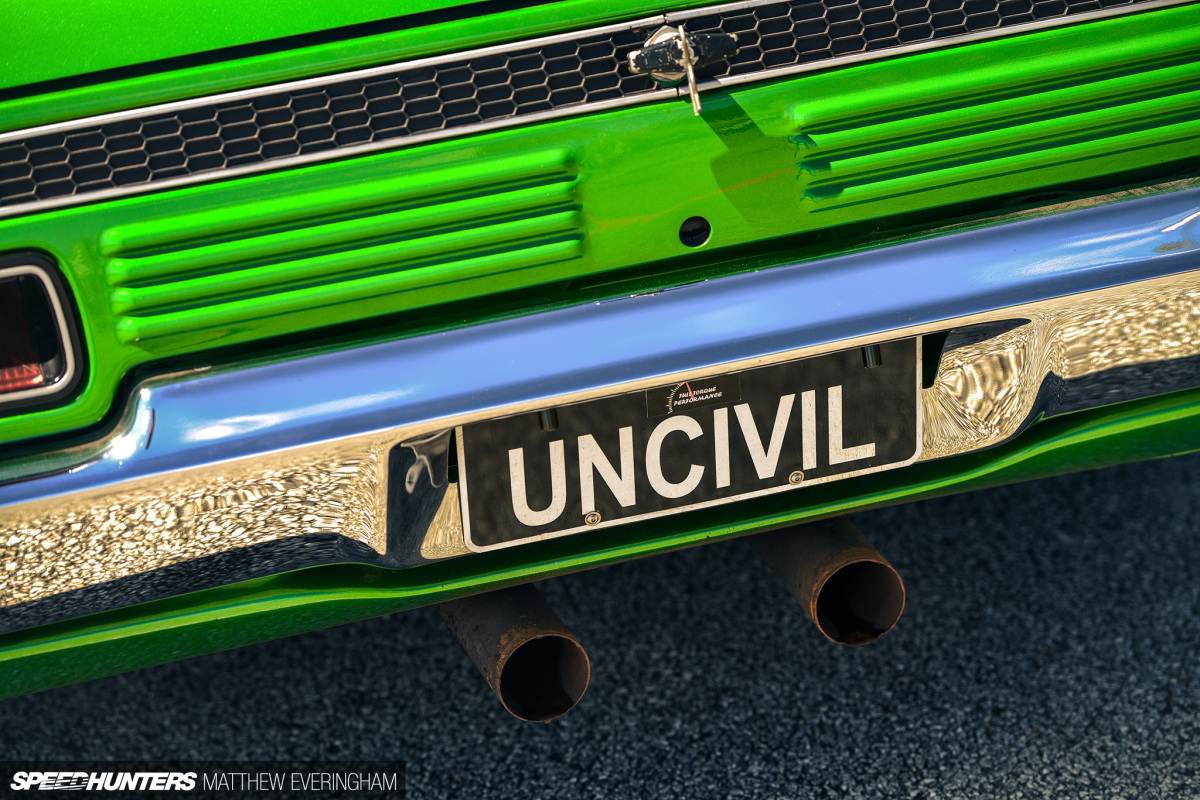 With my name-calling and edutainment quotas fulfilled, let's move right along and take a look closer look at one of the greenest, meanest Falcons built to be partially destroyed that we're ever likely to come across.
The Best Plan Is No Plan
Unlike so many of the amazing builds that we see featured on Speedhunters, Tim never planned to build the XA up into anything more than a clean and reliable weekend cruiser. So how the hell did it end up here? I'm glad you asked…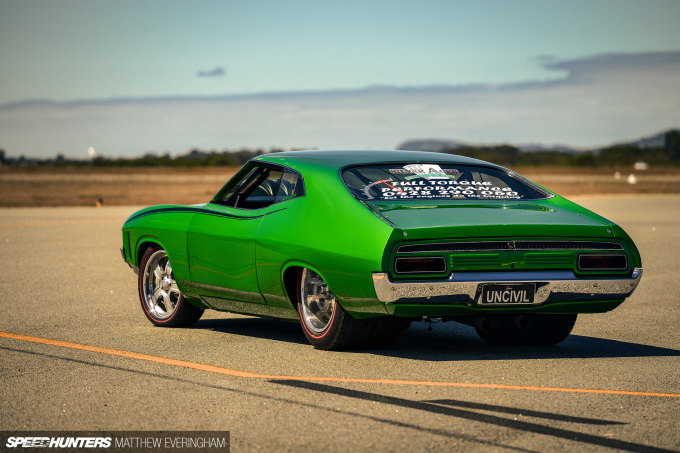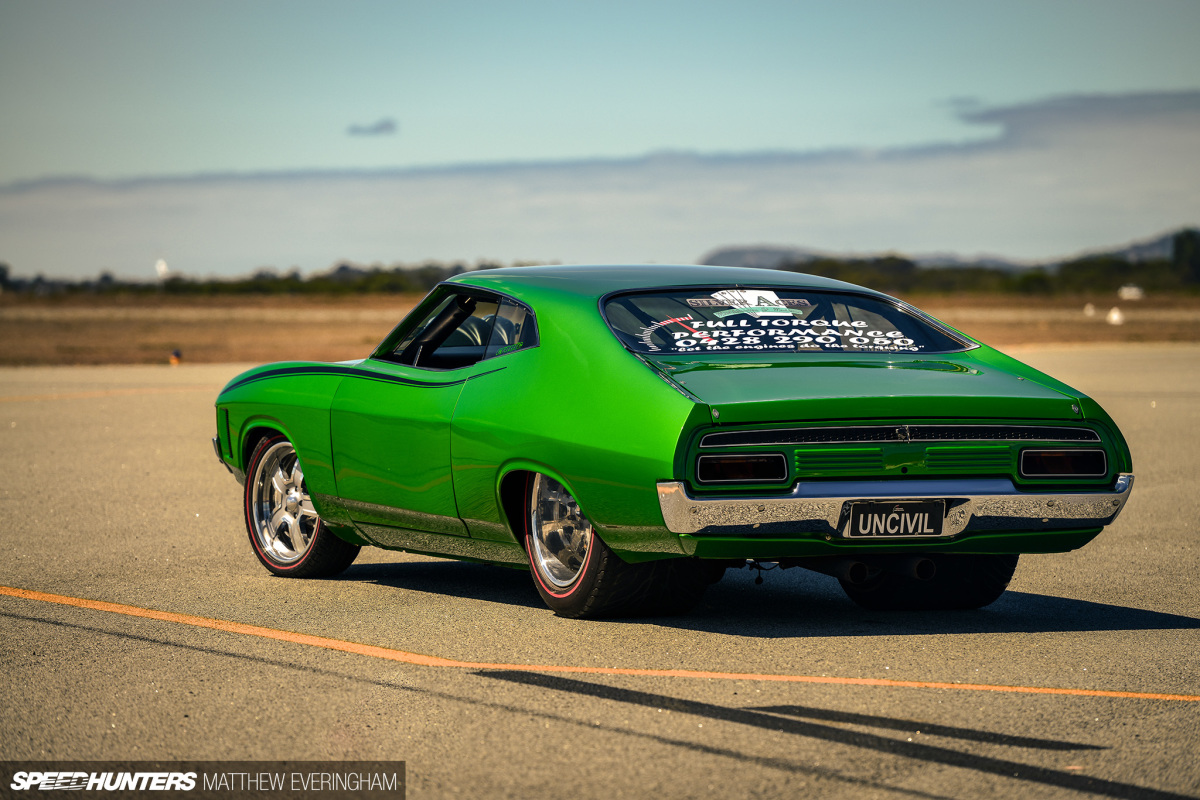 From what I'm told, the main reasons we have to be thankful for the creation of this glorious monstrosity are, in no particular order: Long days at work. Swan Draught (apparently Western Australia's second most popular local beer). Long nights on computers. Bad ideas. The miracle of internet shopping. Rust.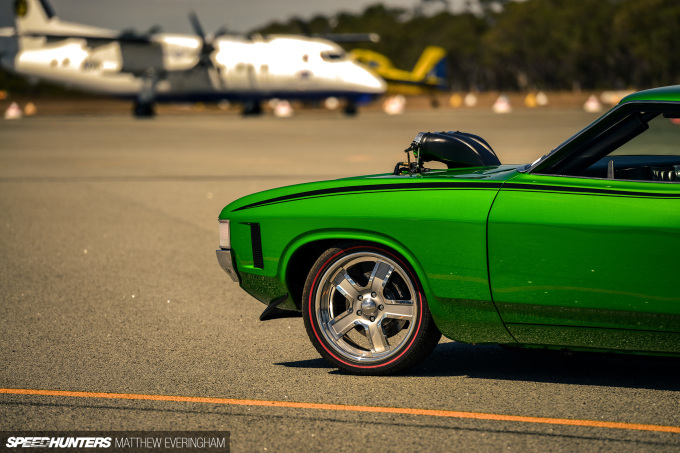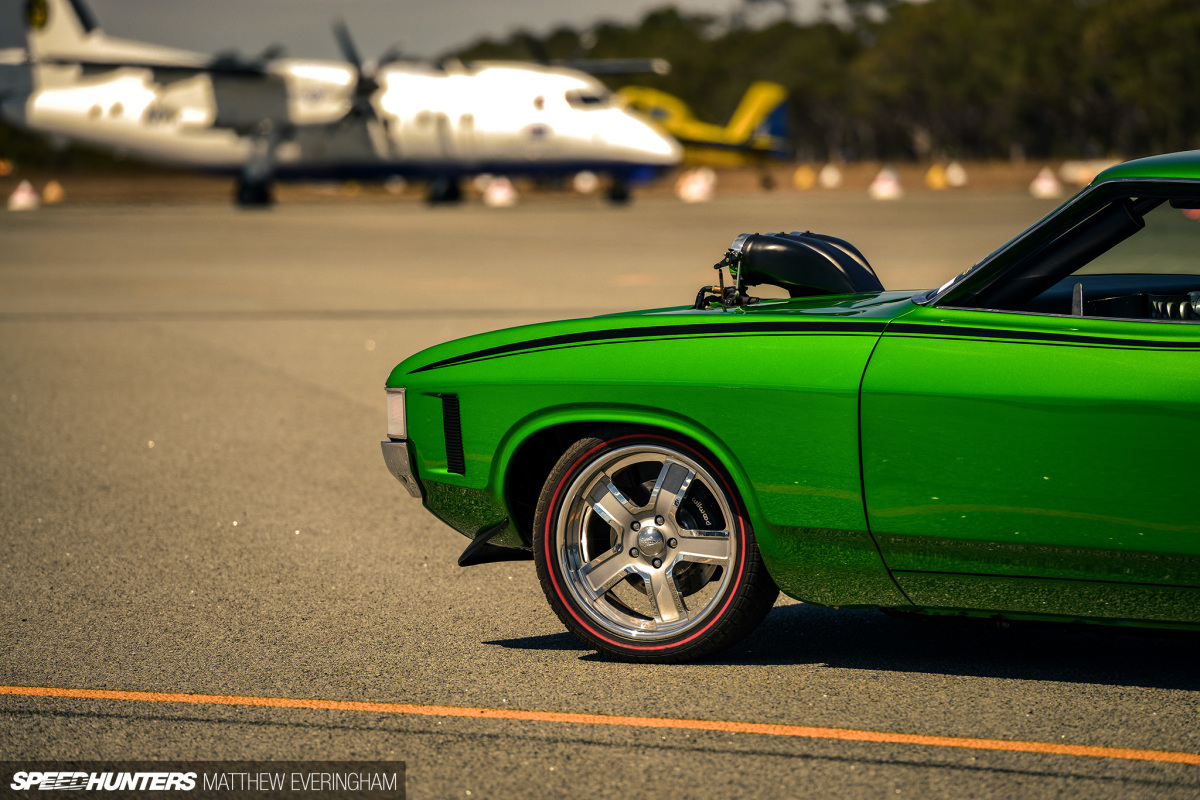 To simplify things, the true catalyst for the build to escalate to this point was shoddy workmanship. Sub-standard fabrication and a lack of care in storing the car saw the coupe left exposed to the elements behind the unnamed workshop, an easy place for it to be forgotten about. The rain didn't forget it though, and the flecks of exposed metal didn't forget to bubble up with excitement to form a decent amount of automotive cancer.
Tim, being the upstanding citizen he is, could not be held accountable for letting what he considers to be one of the finest automobiles produced on Australian soil rust out of existence under his care. It was time to strip it back and make things right.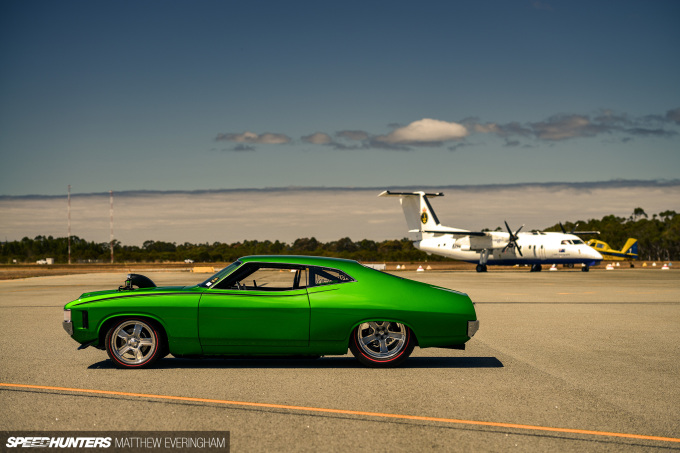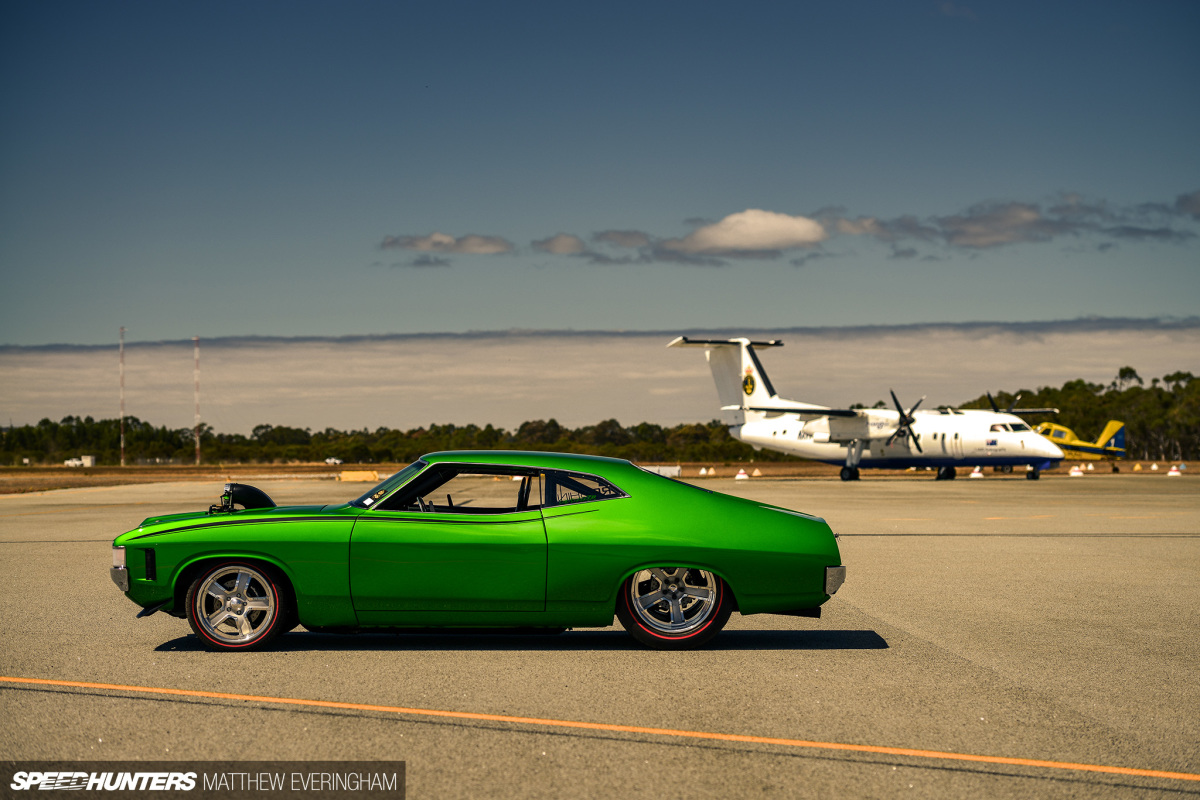 The coupe was brought back home until more worthy establishment could be located, but the original plan for a quick respray and new rims was no longer a valid option.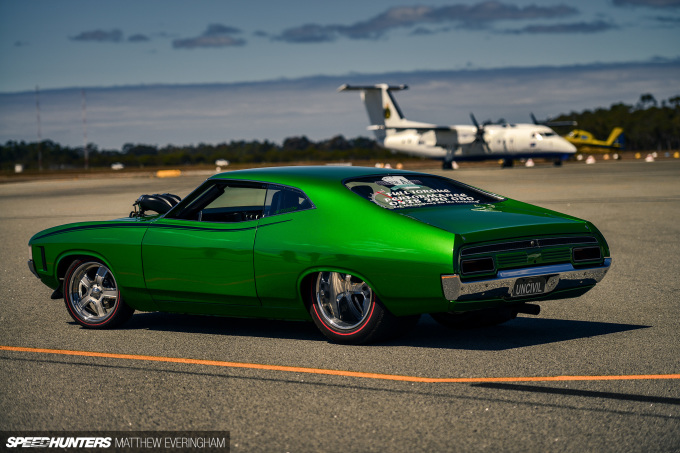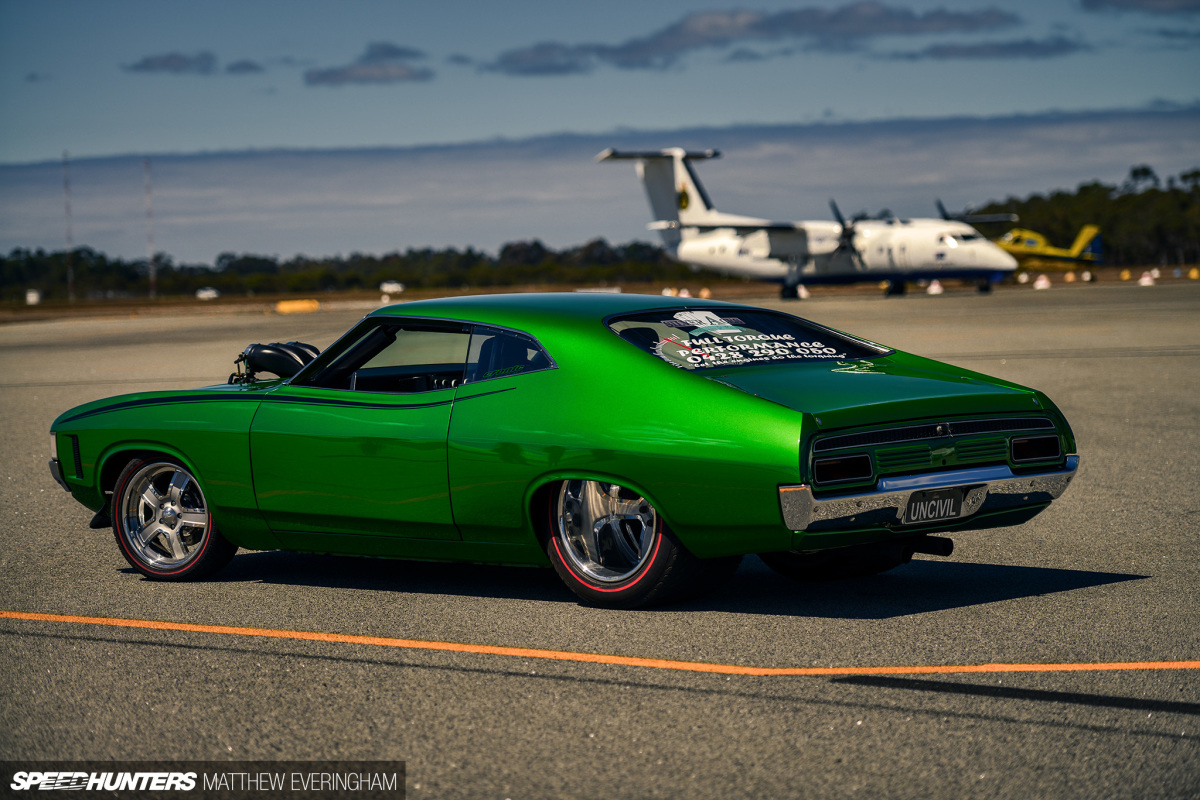 The next stop, a panel shop that belonged to a friend of the family, seemed like the answer, but genuine unforeseen circumstances meant that they'd be unable to finish up. Sadly, the XA returned home unfinished once more.
It wasn't until a chance meeting when Tim purchased another XA Falcon that his luck changed; the previous owner ran a paint and panel shop called Silver Aces. Using this sedan as a reference, he was good, too. Finally, our Coke bottle-shaped coupe had somewhere worth rolling out of the shed for.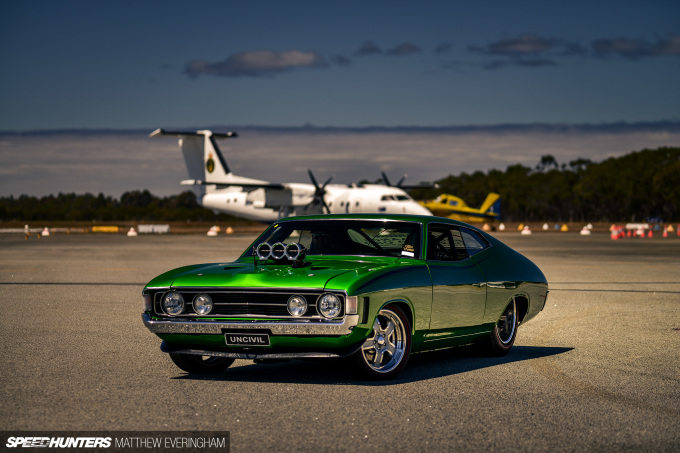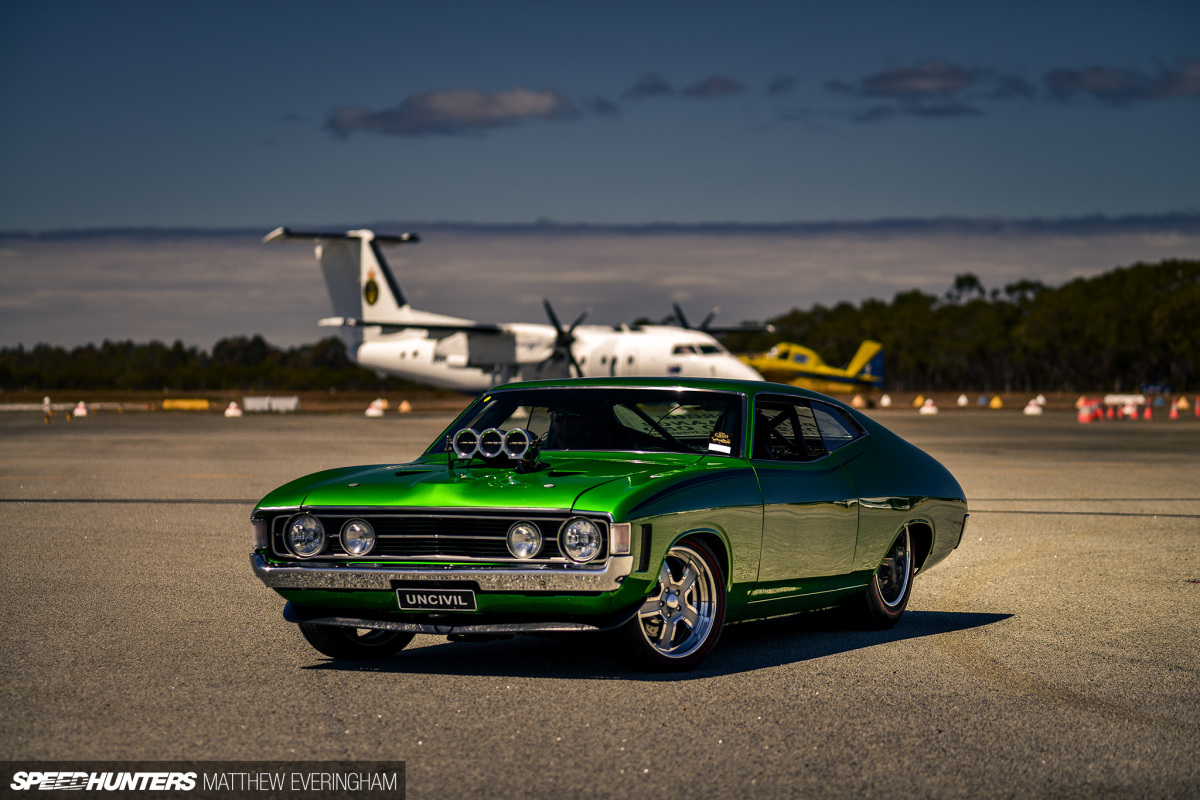 After five long years, the car was almost complete. With a few extra tricky piece of fabrication and the mental wheels fitted up, the build finally looked as it does now.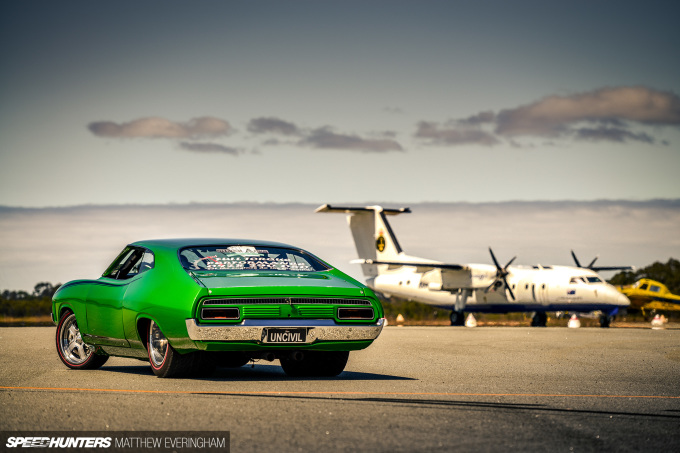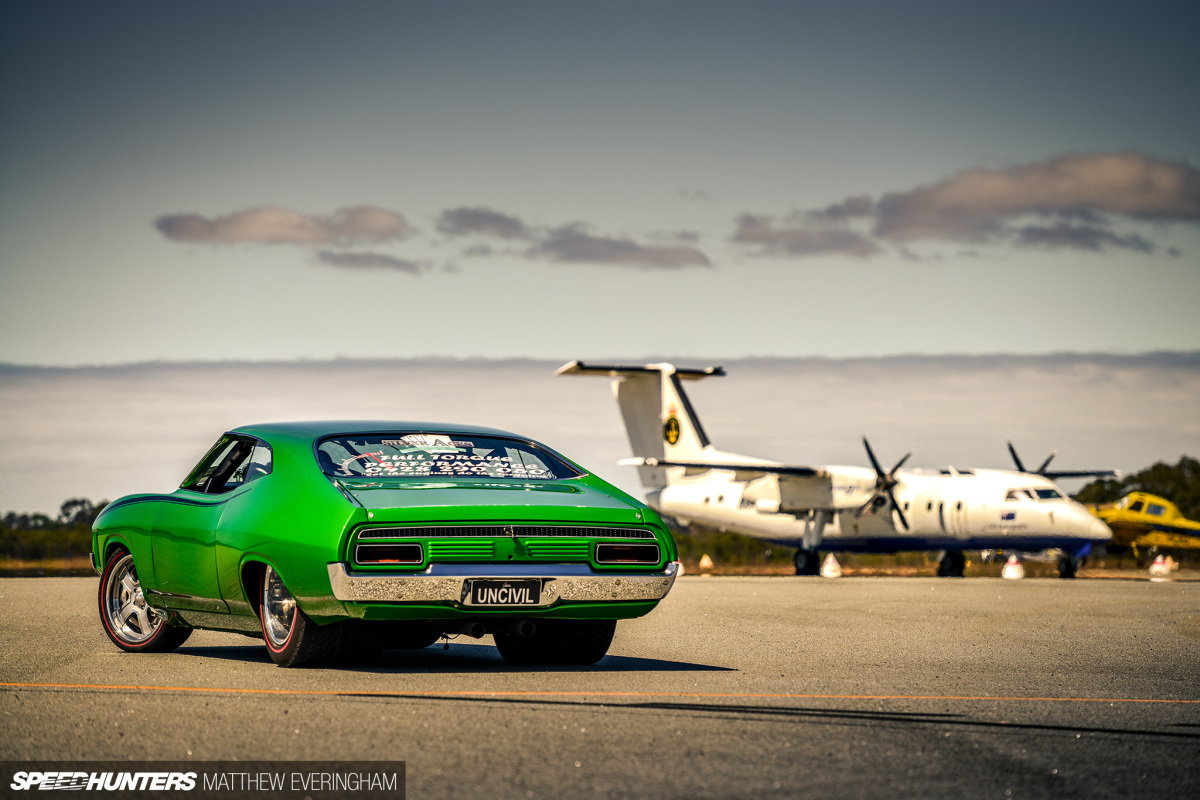 Party In The Rear
Tim's eyes lit up and his voice lifted an octave when I asked him what was special about this particular model. His enthusiasm teleported us both back to Allan Moffat racing at Bathurst, a string of stand-out Street Machine magazine builds, and of course back to the movie Mad Max. Max's 'V8 Interceptor', a post-apocalyptic police chaser, was also a Falcon coupe (albeit an XB model), and its amazing look was created using mostly publicly available aftermarket kits and parts.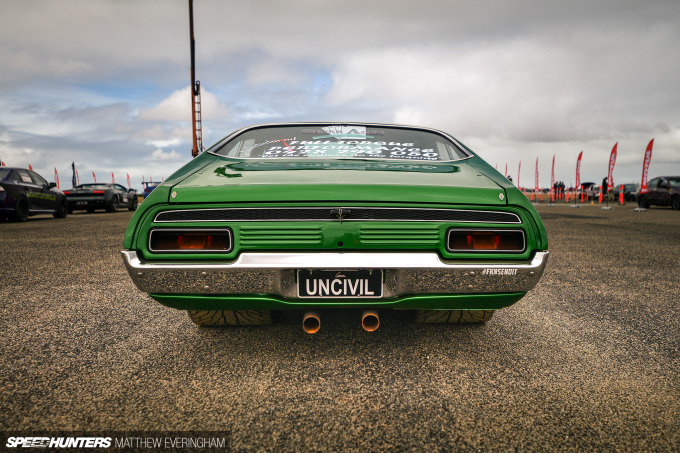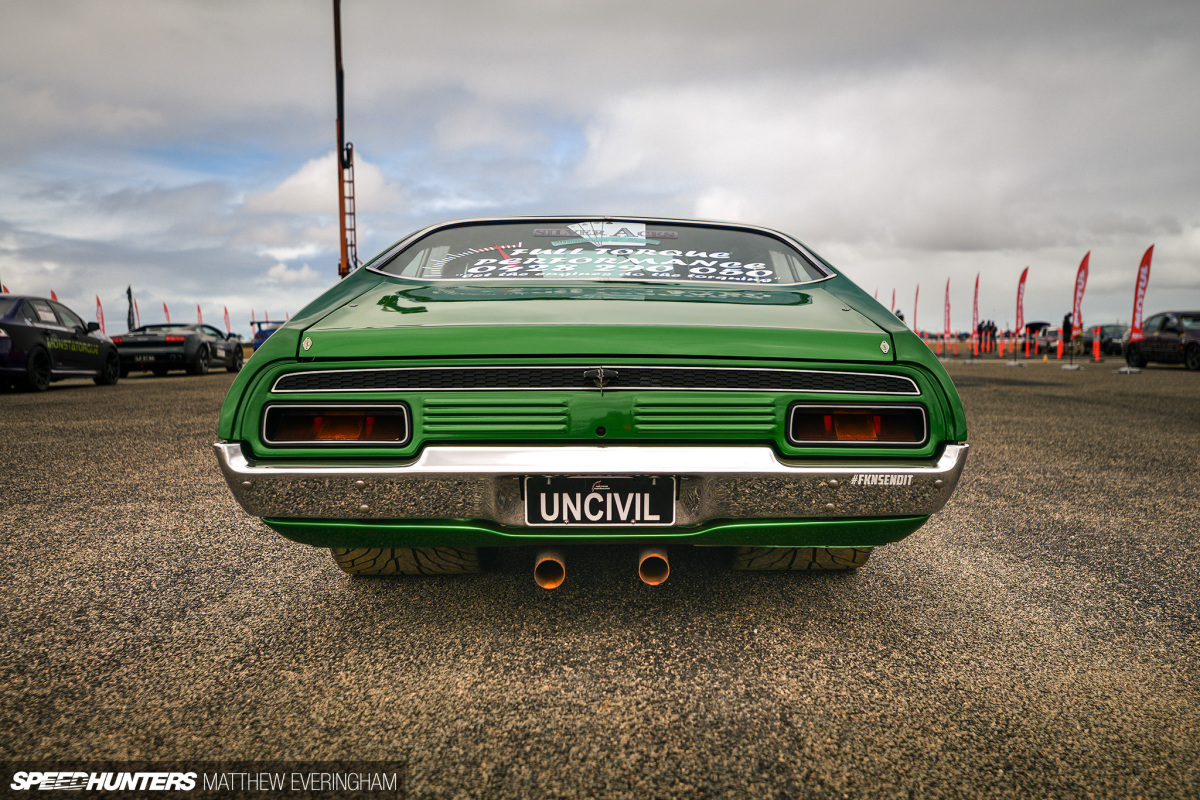 I can't help be feel that even the real Mad Max would be partially intimidated if he managed to cop a look under either Tim's bonnet or the XA's rear guards.
The original plan was for 18×15-inch wheels out back, but a stern talking to from Adam at Cronic Customs resulted in a pair of the widest Mickey Thompson street tires being purchased, and subsequently 20×18-inch wheels to mount them on. Don't get your calculators out – that's a whopping 33-inches worth of rubber under the rear end. The extra width also required the Showwheels Flow rims to be custom-made with triple hoops; essentially each rim is three times the width of most standard sizes. Still, Tim's green machine displayed no hesitation getting off the line in a hurry when the flag dropped at Racewars.
A set of 235/45R18 tyres wrapped around 18×7-inch rims look like a comparative pair of cheese-cutter wheels on the front end.
In the brake department, Wilwood 4-pot callipers and larger rotors that take full advantage of the extra real estate provided by the big wheels replace the aged factory setup. An RRS rack and pinion conversion and adjustable coilovers bring the steering and suspension into the modern age, too.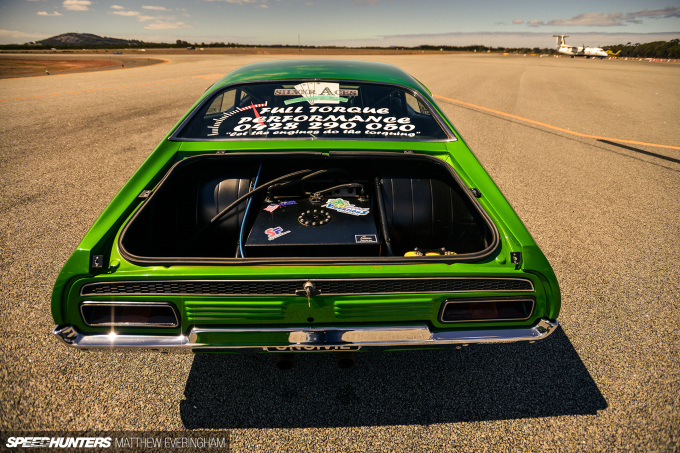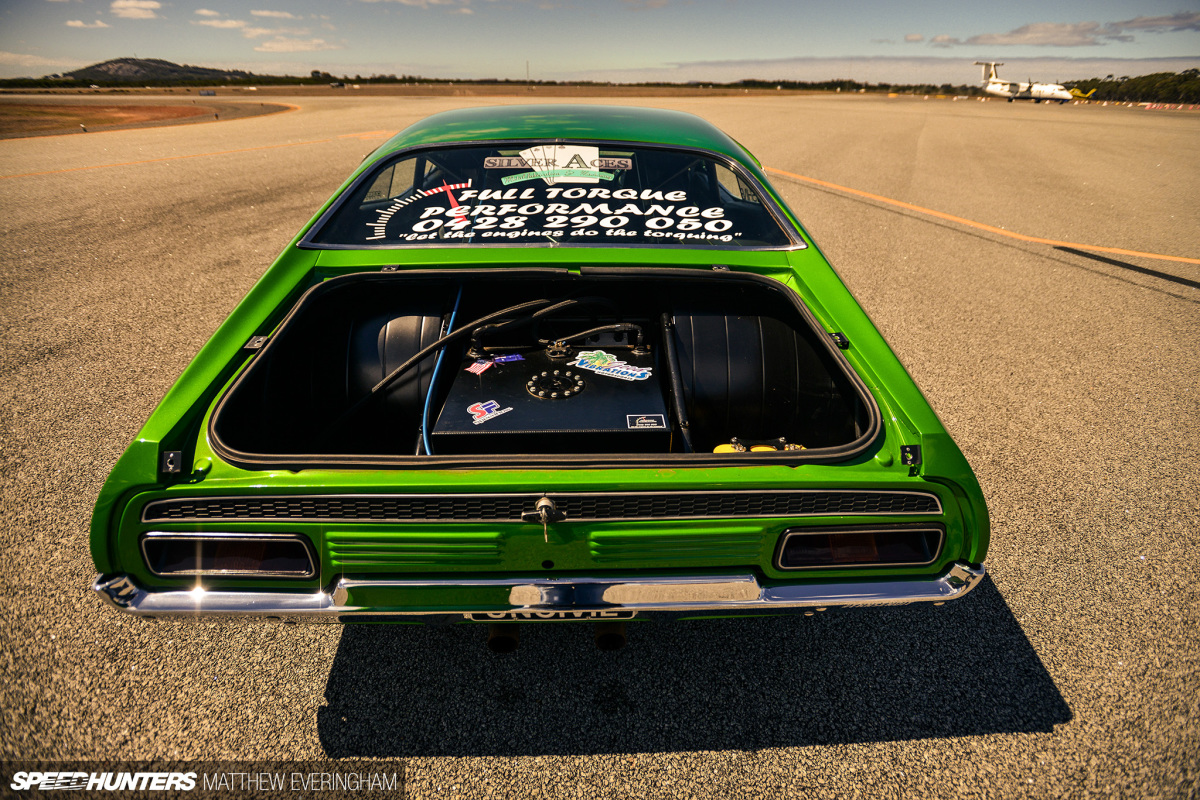 You can see just how extensively the rear tyre arches have been remodelled with the boot lid removed. Neatly squished between the tubs sits a methanol fuel cell, fuel pumps and battery.
Business Up Front
It's now time to get to the heart of the matter and find out where all that methanol ends up. Under, and protruding from the bonnet rests a none-too-subtle-looking Ford 393ci Cleveland V8.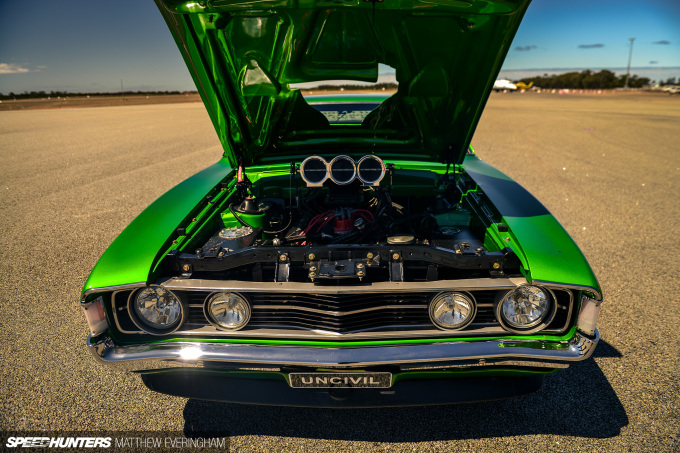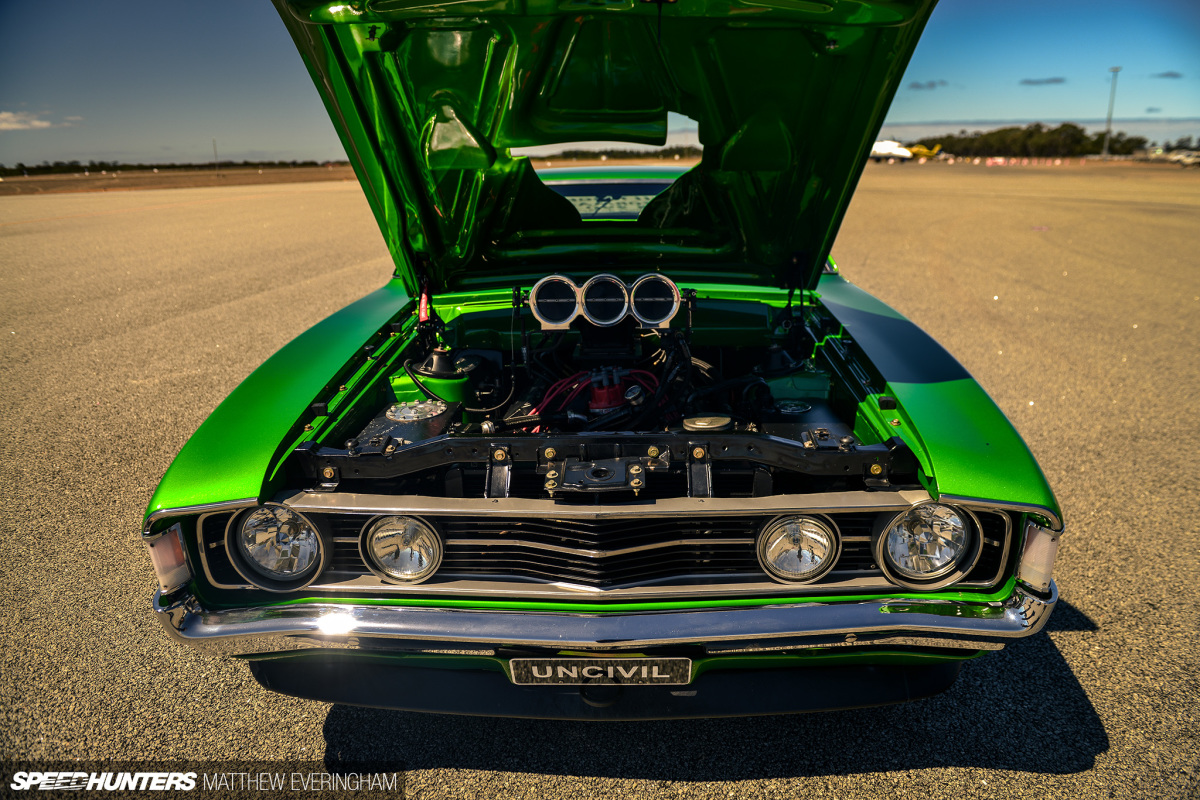 Tim's own two hands managed to take care of the majority of the mechanical aspects of the build at his engine shop Full Torque Performance. All the wiring, fuel system, engine and transmission building and suspension was on his own time, leaving only some aluminium fabrication and final engine tuning to be outsourced.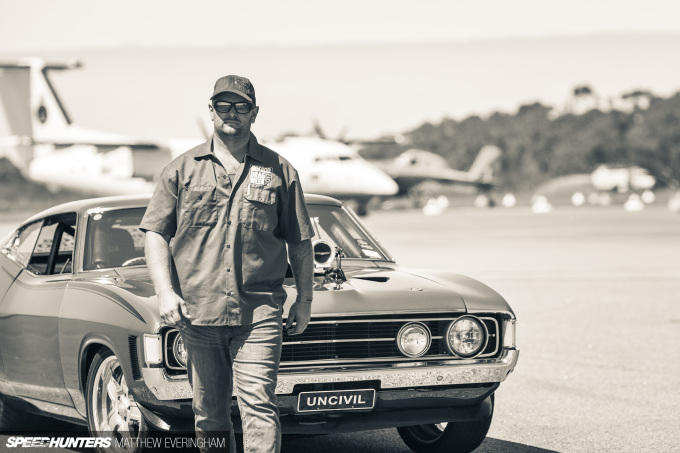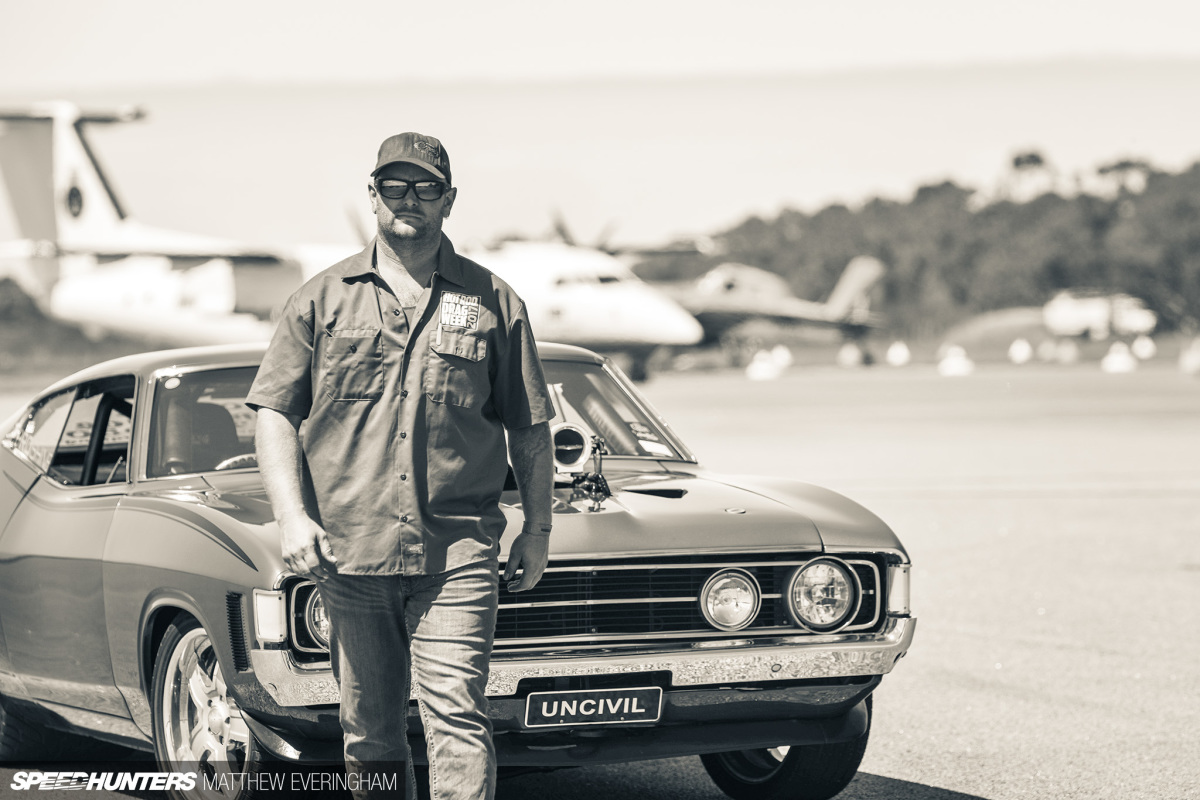 The most noticeable feature is the Enderle Big & Ugly injector hat which sure makes a statement. It sits atop a modified Weiand Hi-Ram tunnel ram and Australian-made AFD four-valve alloy heads.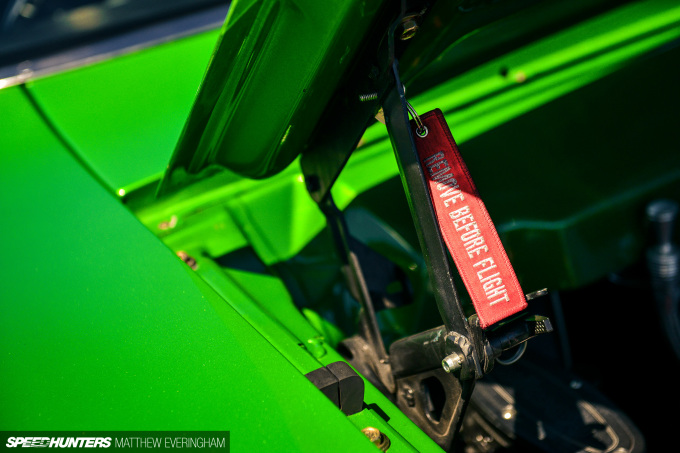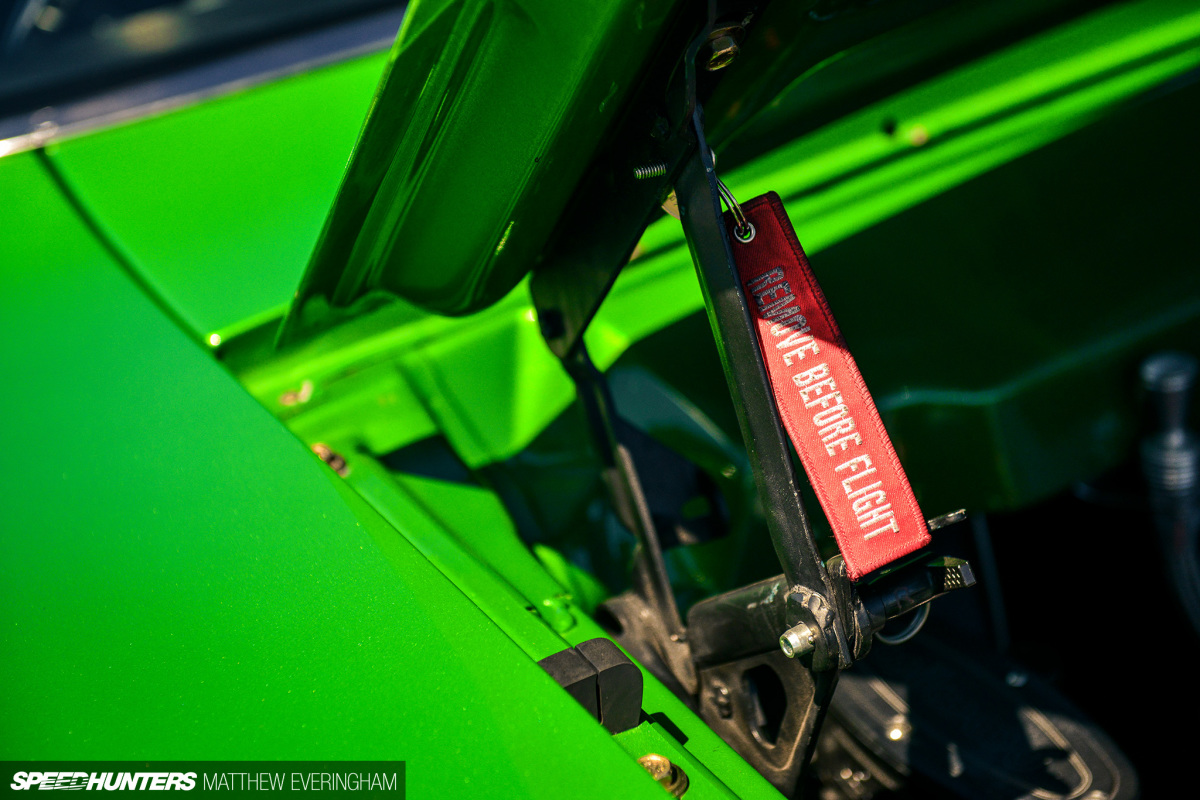 The internals received the same grande treatment as the exterior, and to quote Tim directly, a "pretty f#cking big" Competition Cams solid camshaft and springs are fitted. There's also a forged crank, ACL race bearings, Trend 3/8 push rods, and SRP forged pistons with Hastings rings to ensure the Cleveland is as close to bulletproof as possible.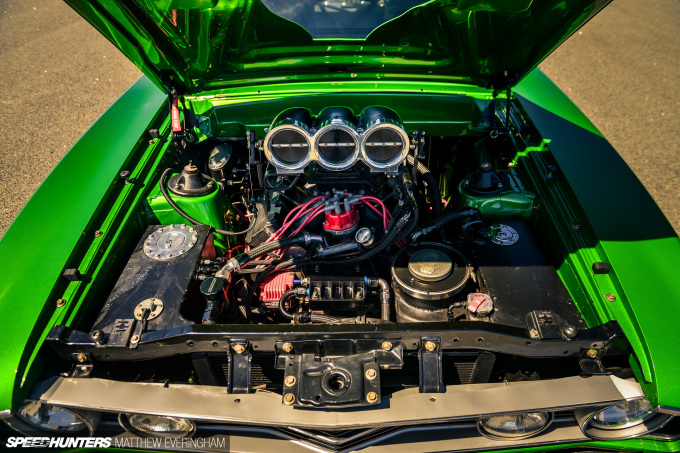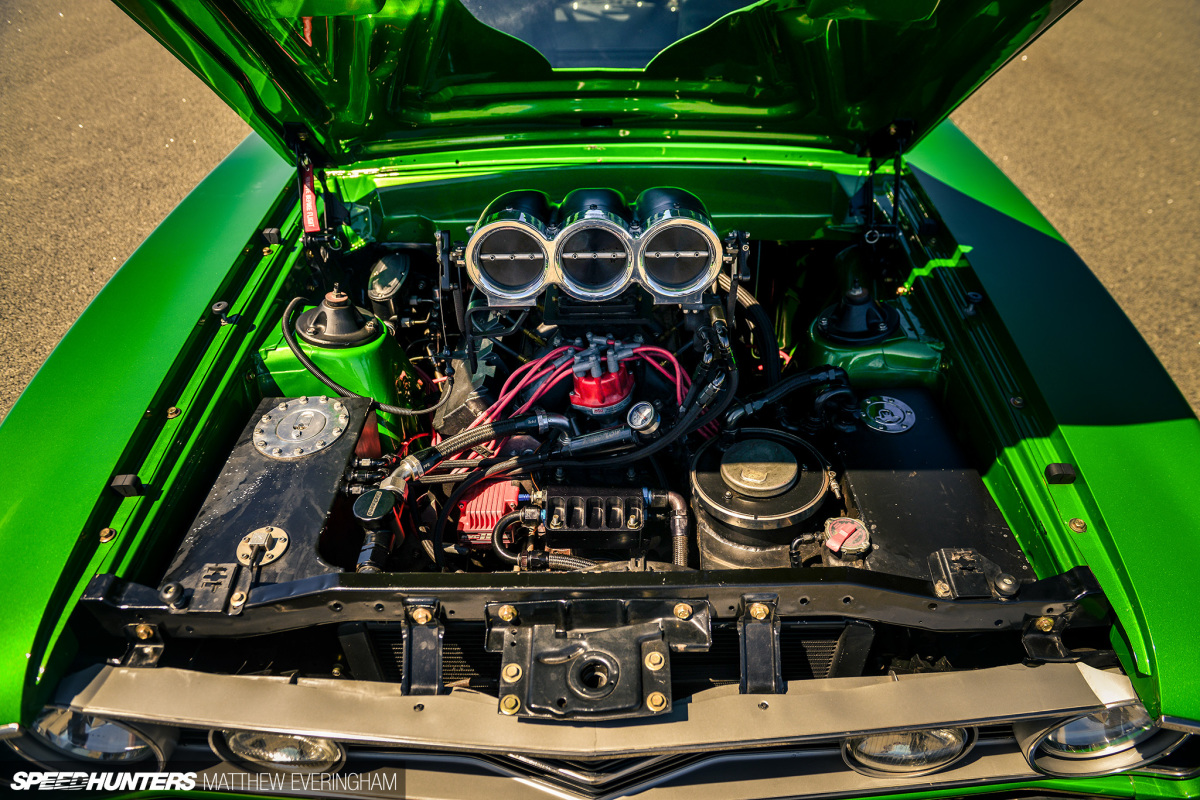 I say bulletproof, but because nothing is burnout-proof. That said, the coupe has been running consistently for two years now; a four-stage custom dry sump system has probably added some level of insurance against burnout-related catastrophic failure.
An MSD 8AL ignition kit sparks through an MSD Pro Billet distributor and leads kit, while the exhaust gases are vented through to a custom twin 3-inch system. Engine cooling is controlled by a custom Aussie Desert cooler and Spal thermo fan.
Finally, engine power is transferred to a 2-speed Powerglide trans with a 3,500rpm stall convertor currently fitted for burnouts. Tim says that a 5,000rpm stall for racing is on the cards in the near future.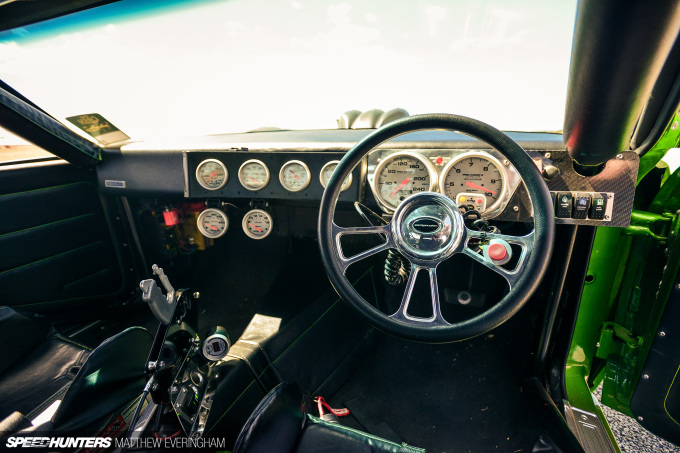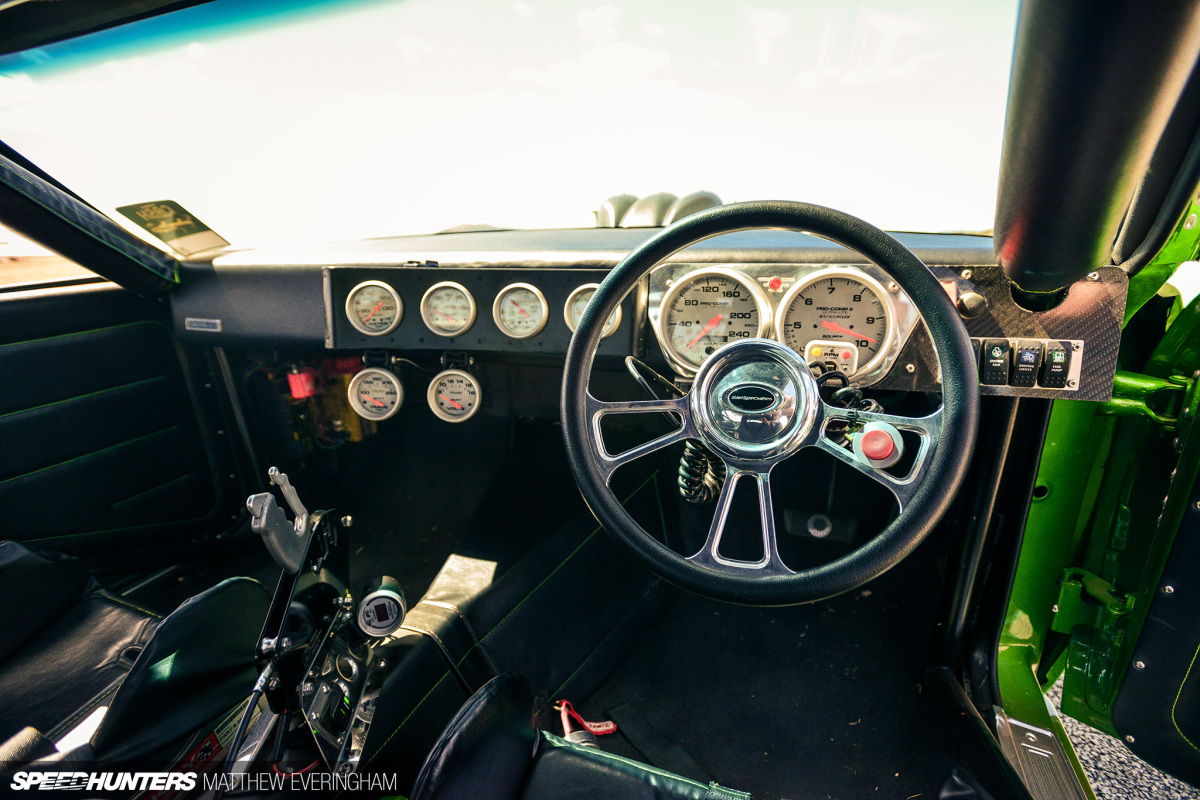 Safety wasn't overlooked during the build, and a full SFI-rated case and bellhousing are there to protect legs if something untoward was to happen at high revs.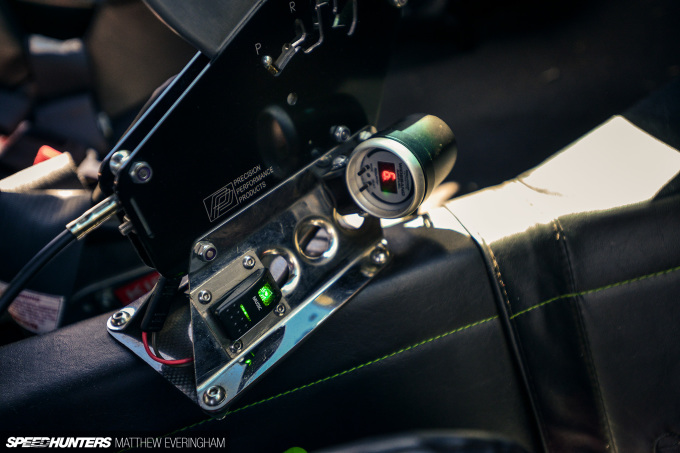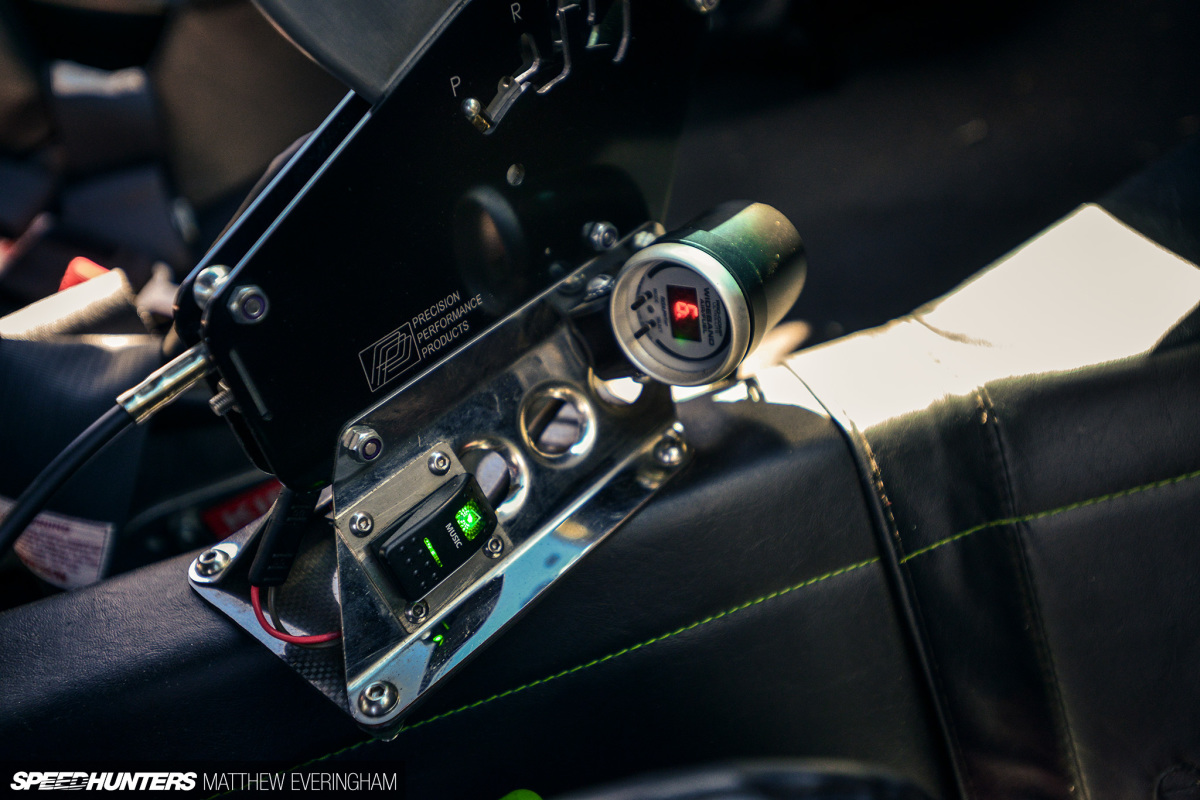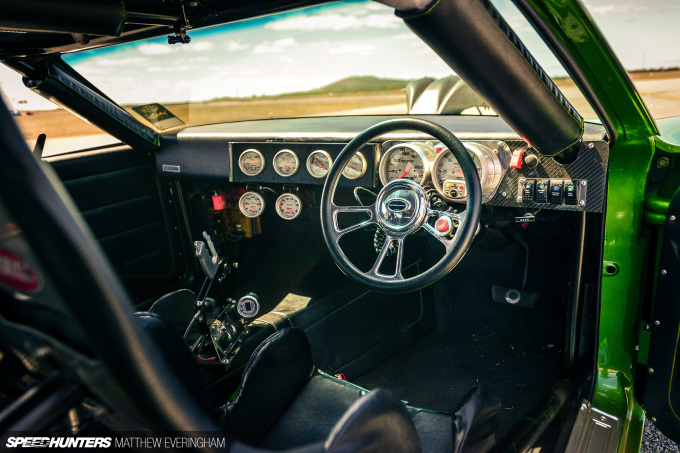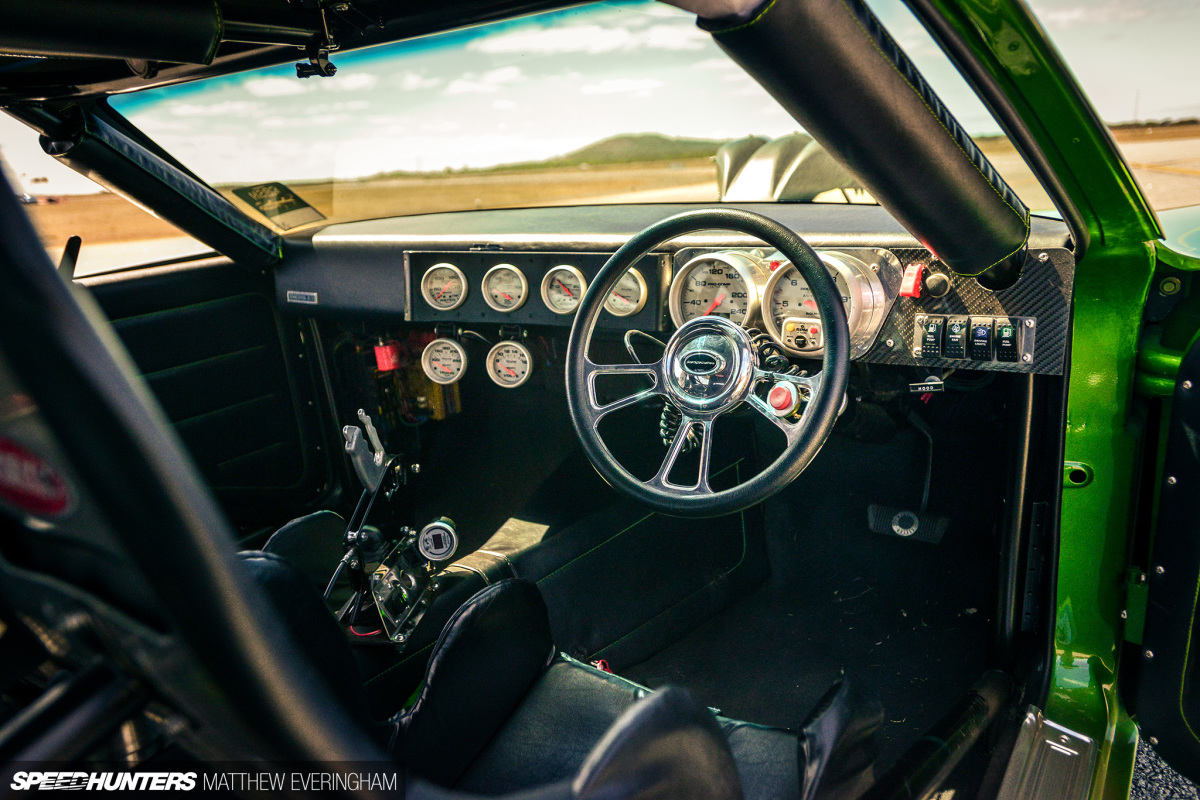 Once again, the same no-corners-cut business plan is evident wherever one looks around the interior. It's simple and uncluttered; all the important controls and information are laid out an easy to use and almost elegant manner.
A pair of Kirkey race seats and an SFI-approved roll cage are the final pieces of an unruly but fun creation.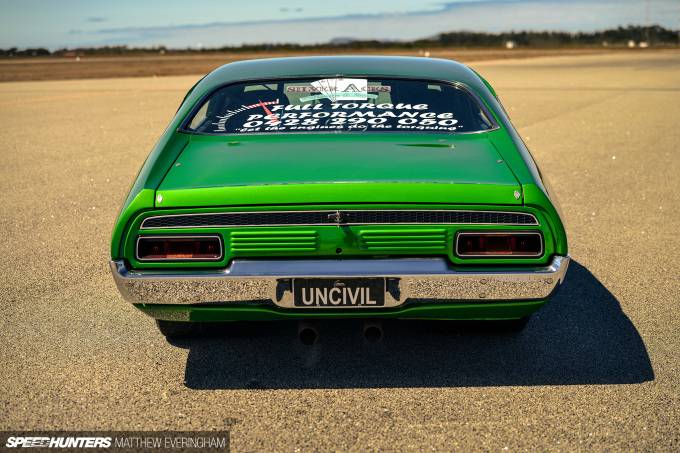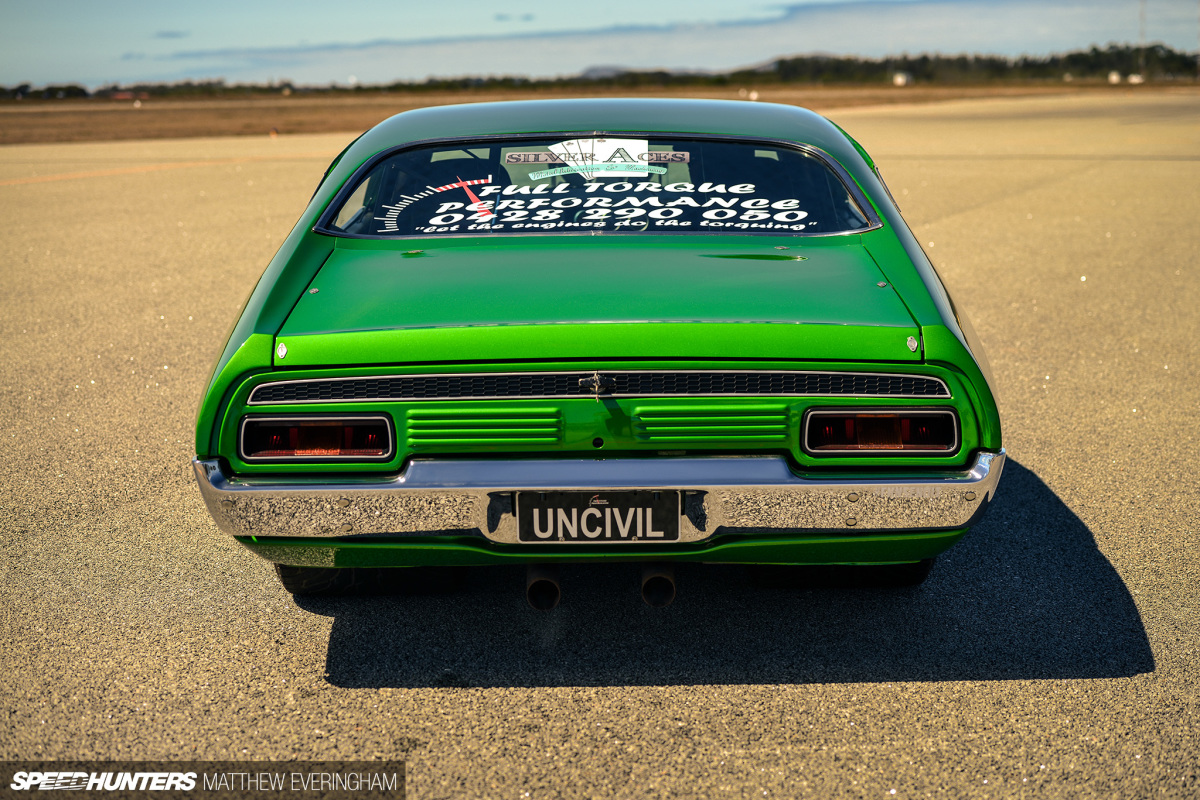 Taking you guys on a detailed tour of such a finely detailed car just makes me shake my head. I still don't understand why someone would build something to this high standard, just to thrash the shit of out it. I mean, at least half of me is impressed, but I'm left feeling a little confused.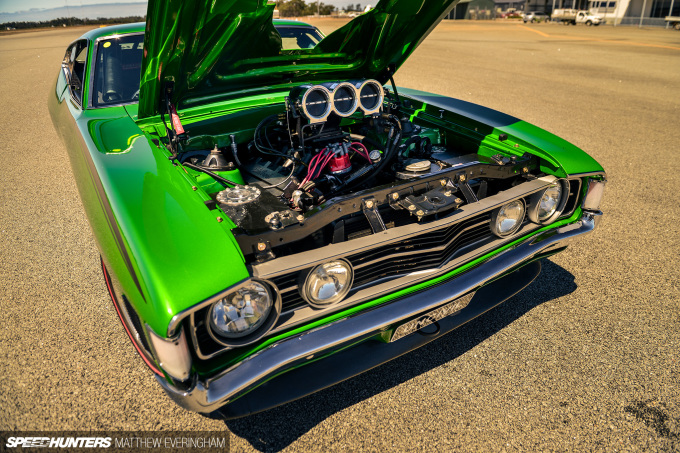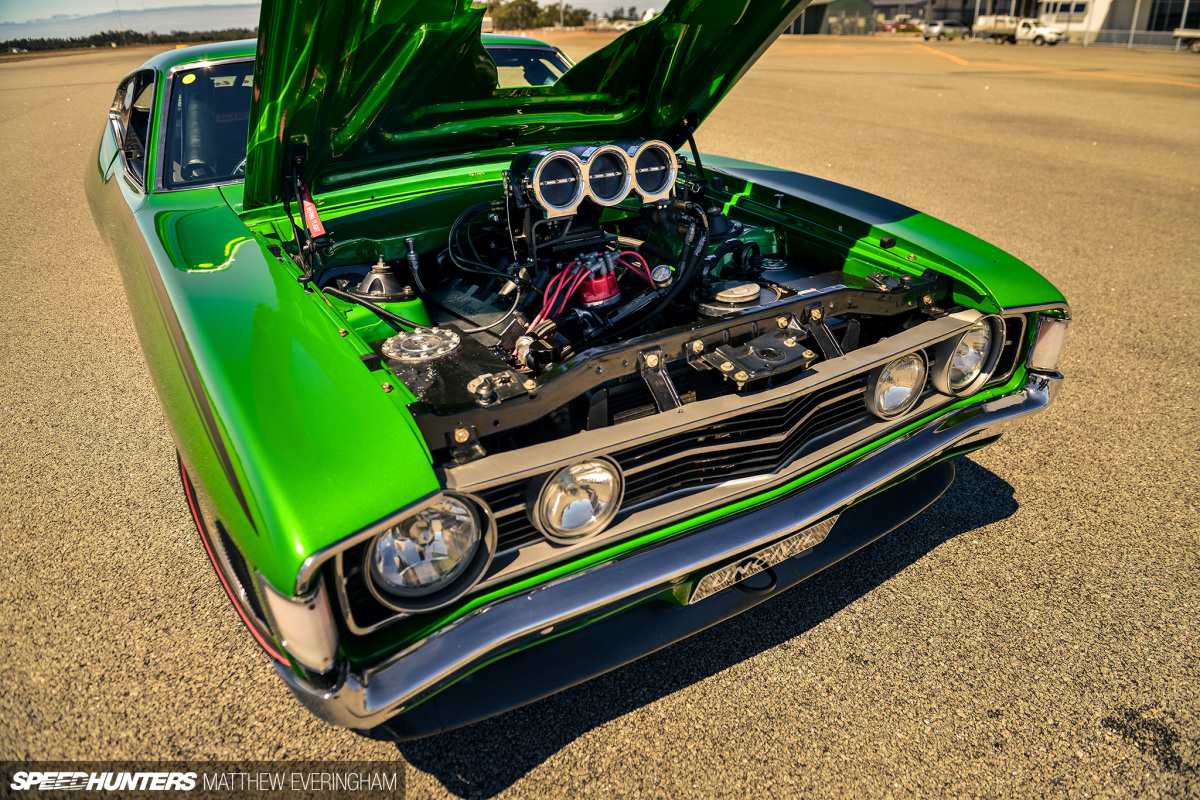 Despite my confusion, this car makes me happy. I'm happy that someone out there is committed to building what they want, how they want. I'm happy that I get to meet these wonderful, oddball characters, and most importantly, I'm happy to have found another piece of Australian heritage ripping up massive skids with no remorse.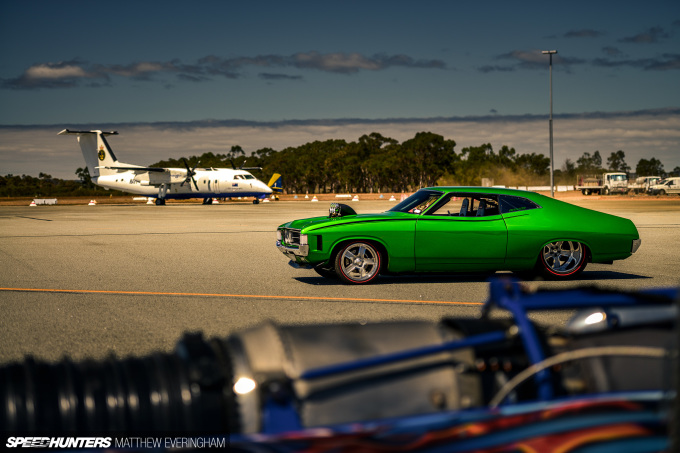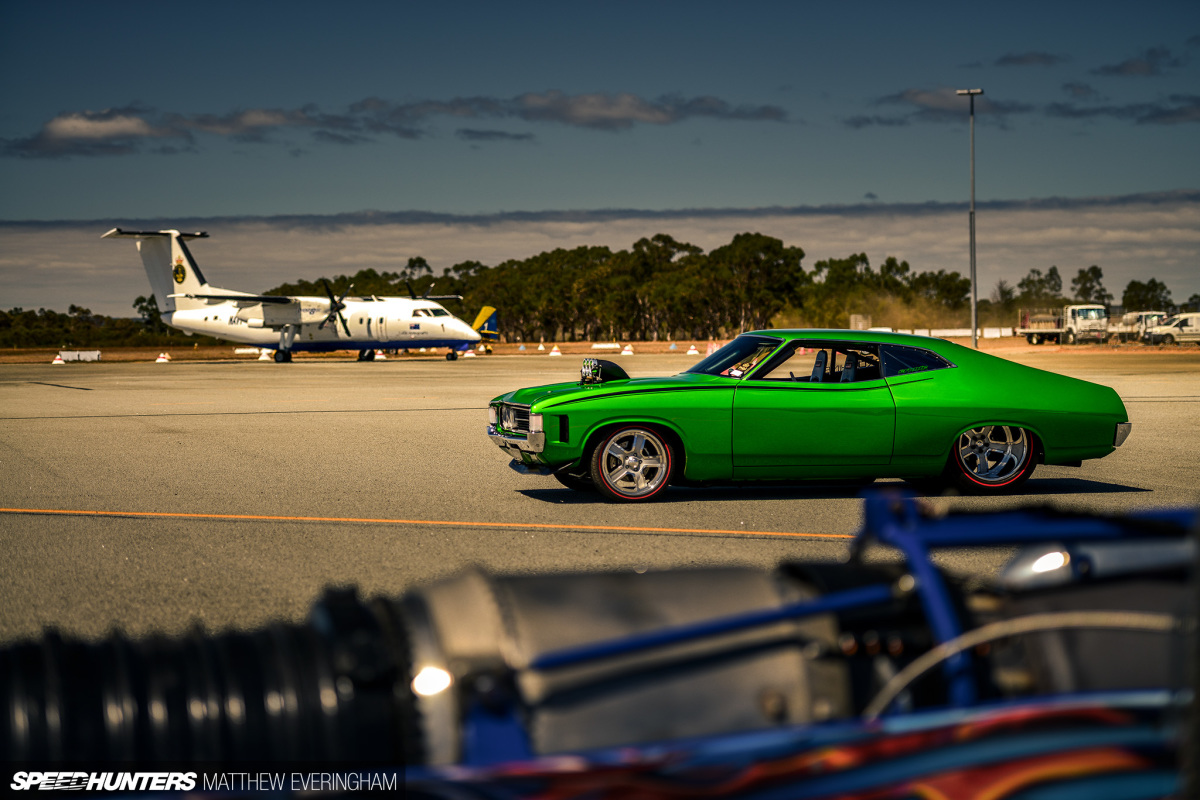 And in my book, that's a lot better than an XA Falcon collecting dust in a dimly lit collector's garage, never to be driven again.
Matthew Everingham
Instagram: matthew_everingham
matt@mattheweveringham.com
Tim would like to take this opportunity to extend a massive thank you to Lauren, Craig, Dad, James at Mr. ProShine, the crew at Mandurah Canvas, Nelg and Swan Draught.
Gallery