Taking Things Seriously
Spine-tingling refreshing. It's not normal to begin a car review by giving away the final verdict, but I took this one a little bit more personal than most.
You see, Alfa Romeo is a brand that I have a special love for. When my father picked up his Alfa 75 – the last of the rear-wheel drive cars from the brand (SZ/RZ were loosely based on the same platform) – back in the '80s, it cemented my already present affinity for cars. I was only nine years old at the time, but hearing the four-pot sing is something that I'll always remember. The 75 made my dad and myself fall for the brand, but that was short lived; not long after it all went to crap for Alfa Romeo.
The move to front-wheel drive models drove a series of big fat nails in the coffin of what was to all Alfisti the best car brand in the world, a car manufacturer that had dominated racing and created great driving machines for the road. But even during the period that lasted a good three decades, the Alfisti never lost hope. They stuck with the brand from one crappy car to the next, hanging onto the short moments of satisfaction they delivered. Only when the right person took over the reins at Alfa Romeo did the tables start to turn for the better.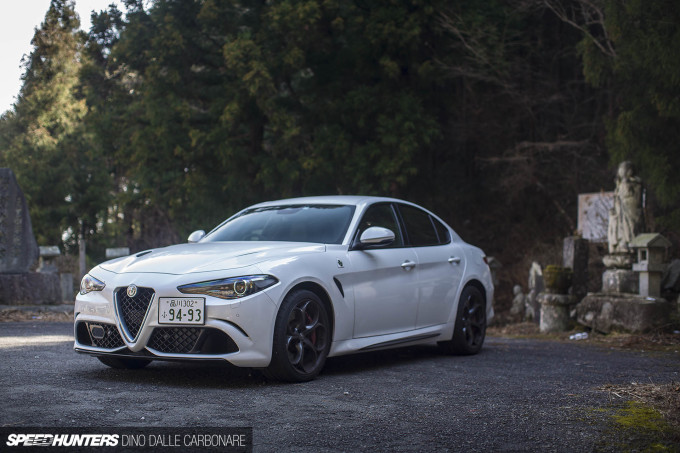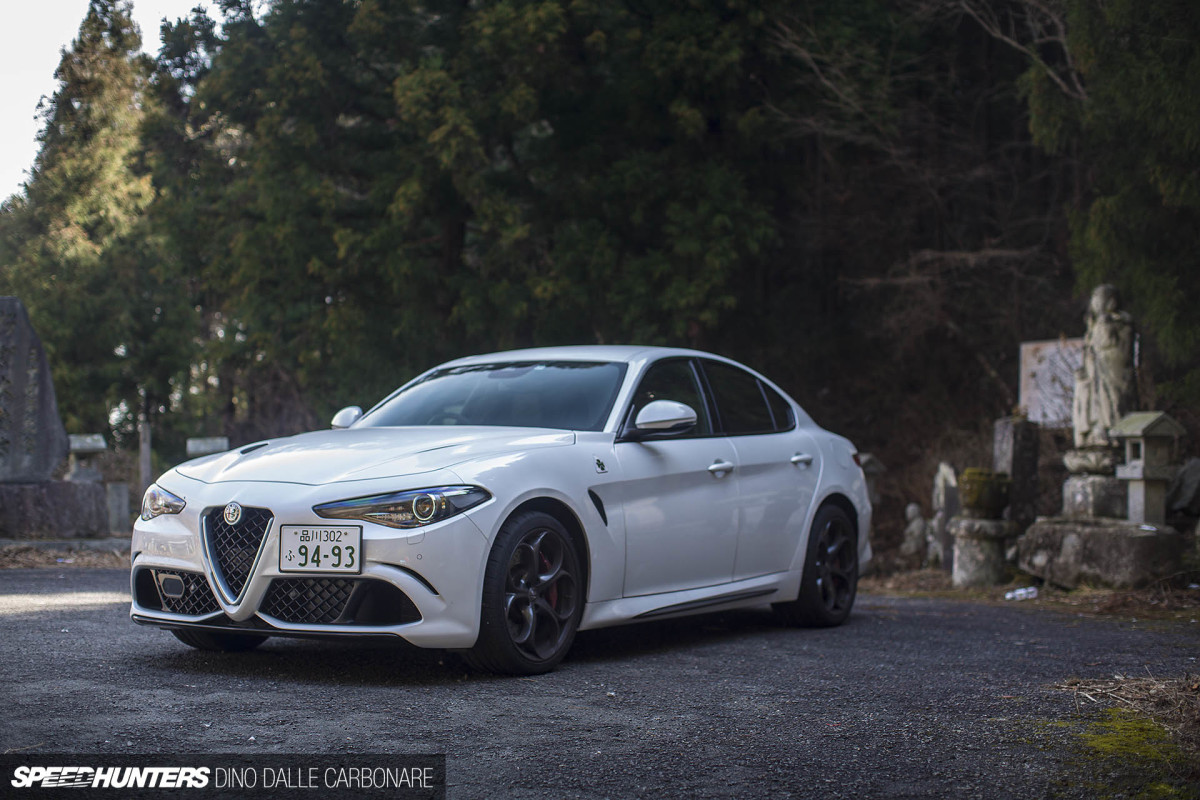 The 4C was the first small step in the right direction and a promise of things to come. But it wasn't until the Giulia surfaced that the 'Alfa is back' feeling started to spread through the car world. I spent a whole week with this white Quadrifoglio, and it was a week of surprise, disappointment, satisfaction, irritation and outright lust.
Yes, I can report back that the true Alfa Romeo owning experience hasn't really changed much!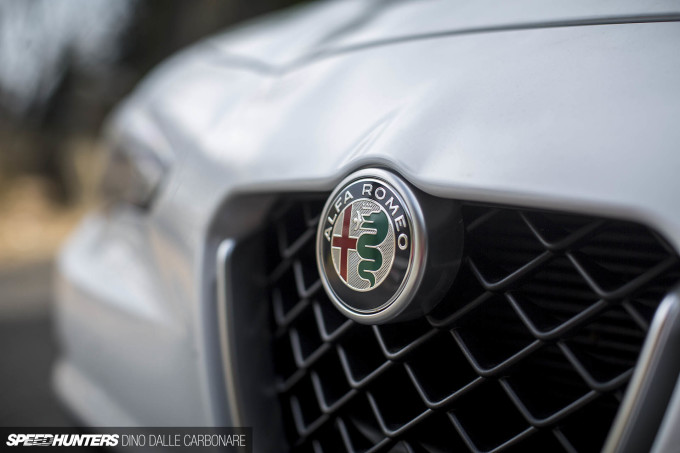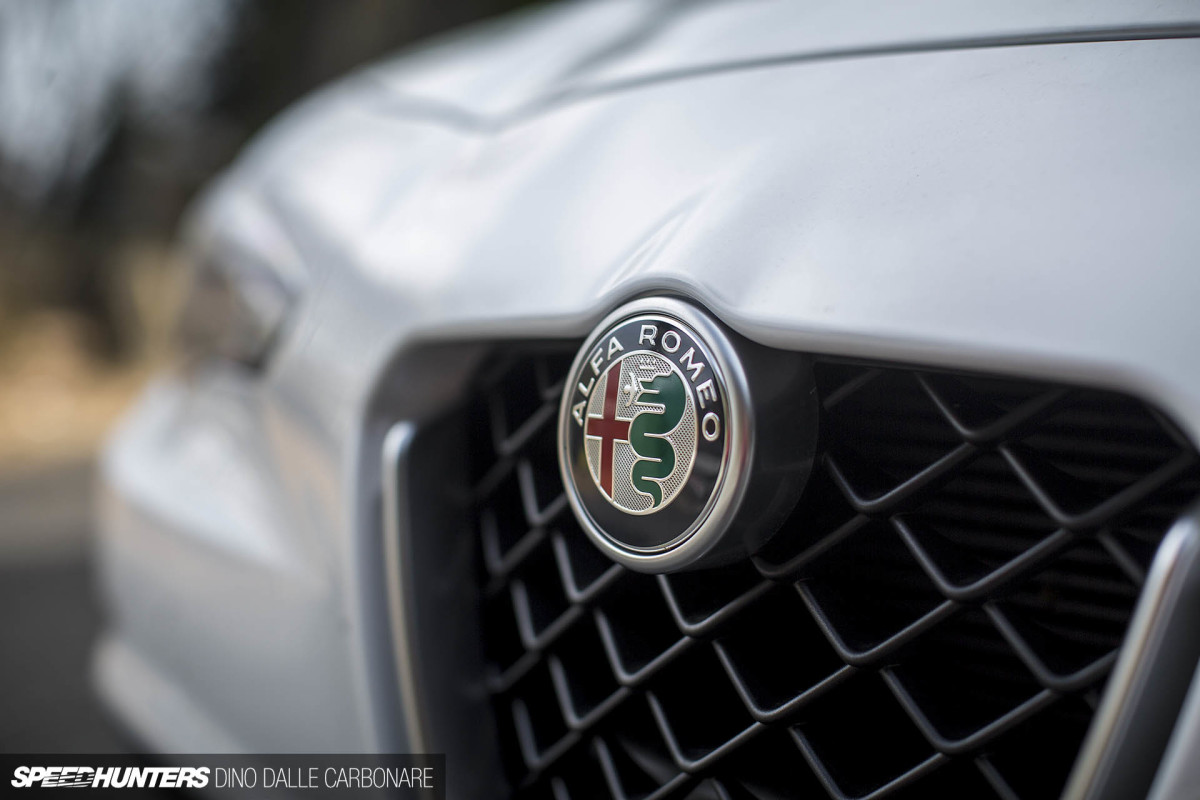 Jokes aside, what Alfa has done here is something very special. If this is what its first high performance sedan looks like, the future is definitely bright.
But the main question here is, would I take one over a BMW M3? It took me a whole week to figure the answer out, and it will require you to read through my ramblings to find out the answer. So let's get started.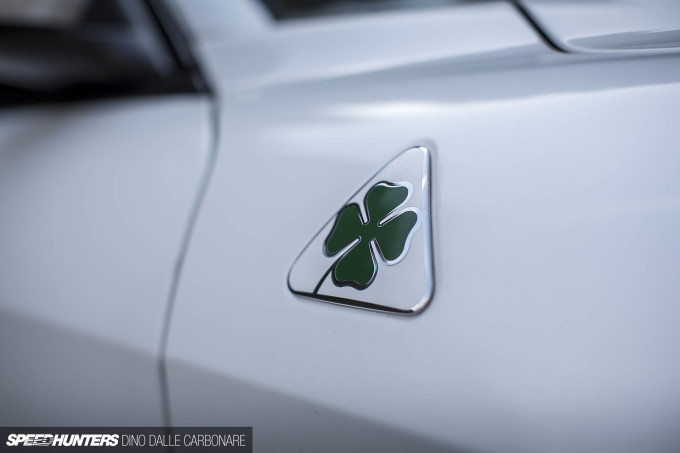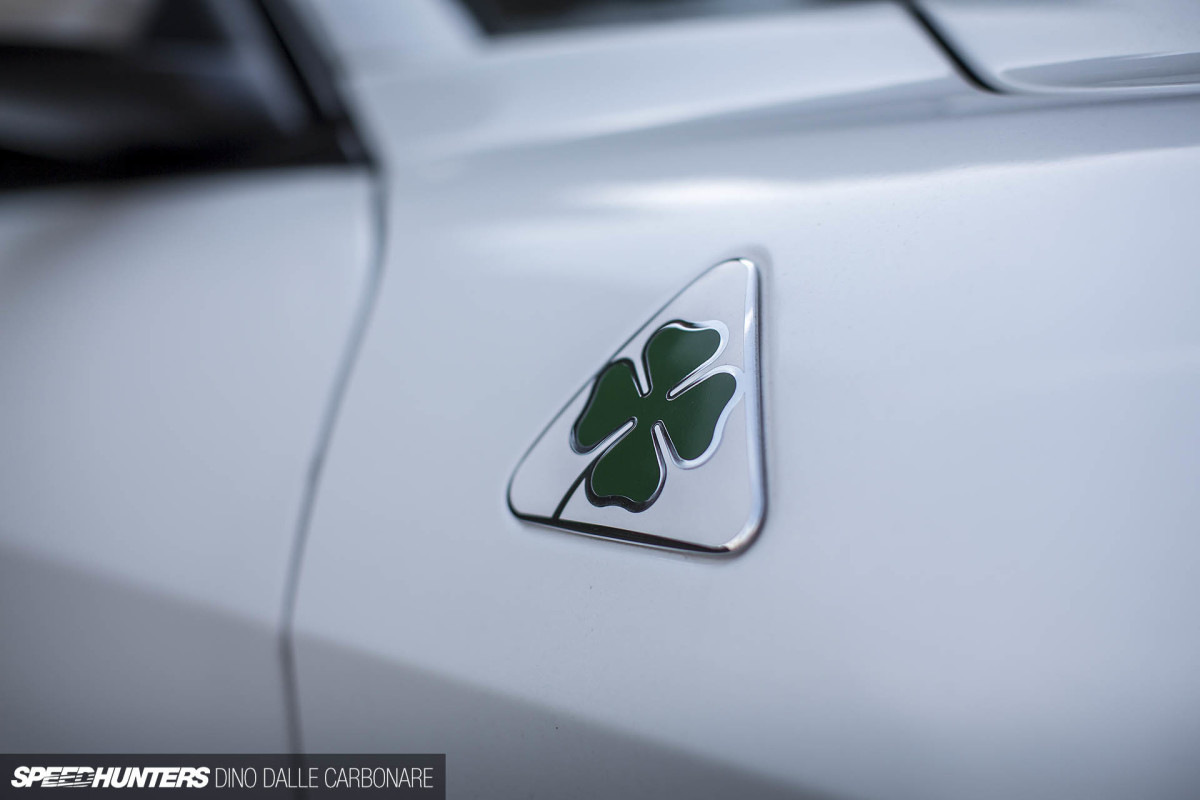 Ever since Ugo Sivocci used it as a good luck charm on his Alfa Romeo race car in the 1920s, the green four-leaf clover – or Quadrifoglio Verde – has been loosely used to designate higher performance variants in the lineup. From now though, it should become the recognizable label like M cars for BMWs, RS models for Audi, and the AMG versions of Mercedes-Benz vehicles.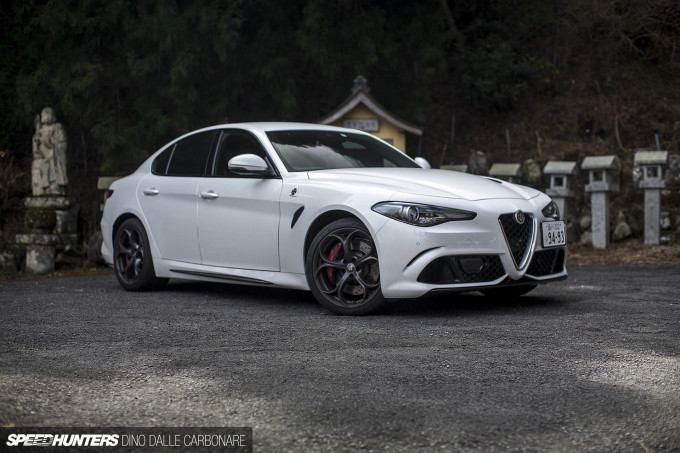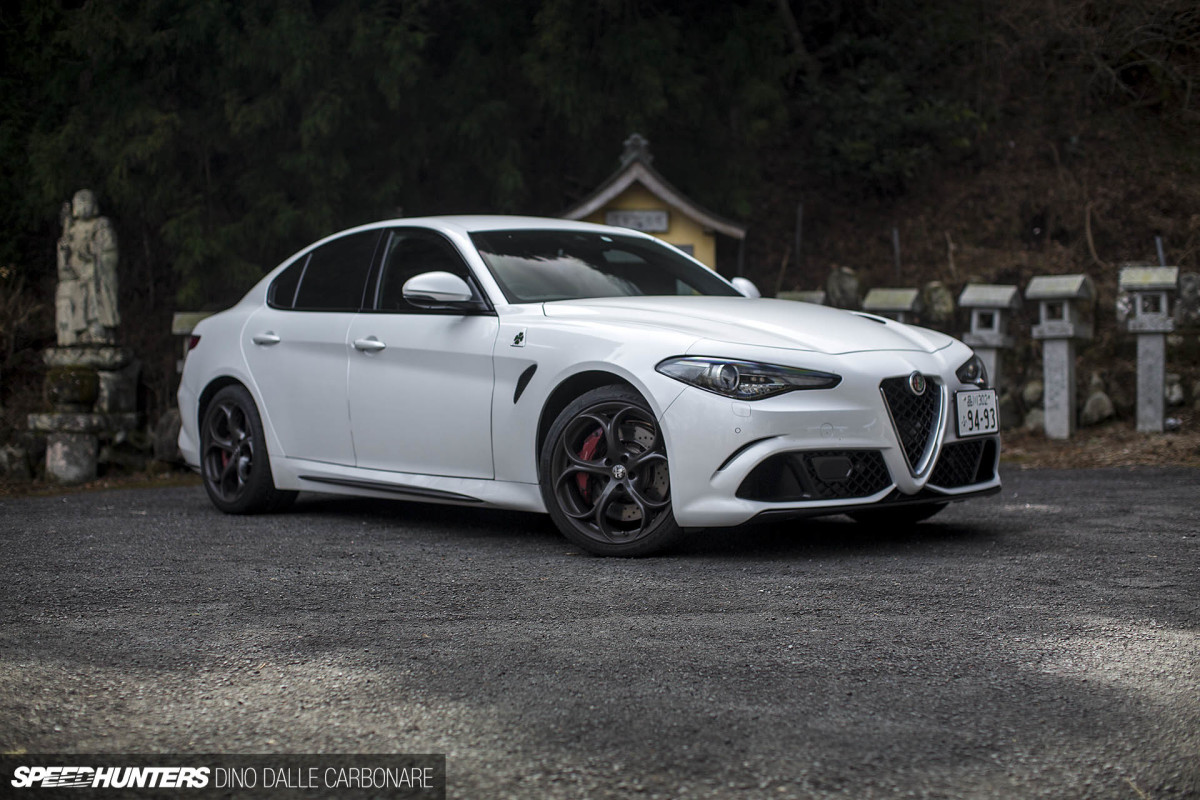 Slowly but surely Alfa Romeo is restructuring itself and backing it all up with proper driver-oriented cars that are well built and offer everything that's expected in today's highly competitive performance car market.
I was genuinely impressed at how un-Italian the Giulia felt; there's some real solidity to it. Even the cabin, which I'll touch on later, has a very teutonic feel about it that again hints at the market the brand is going after.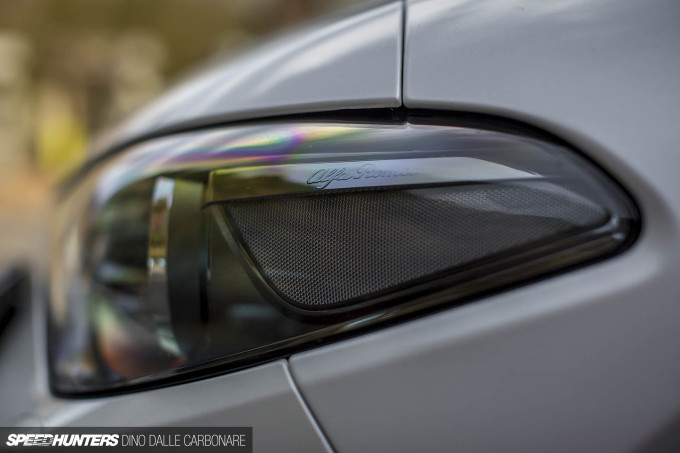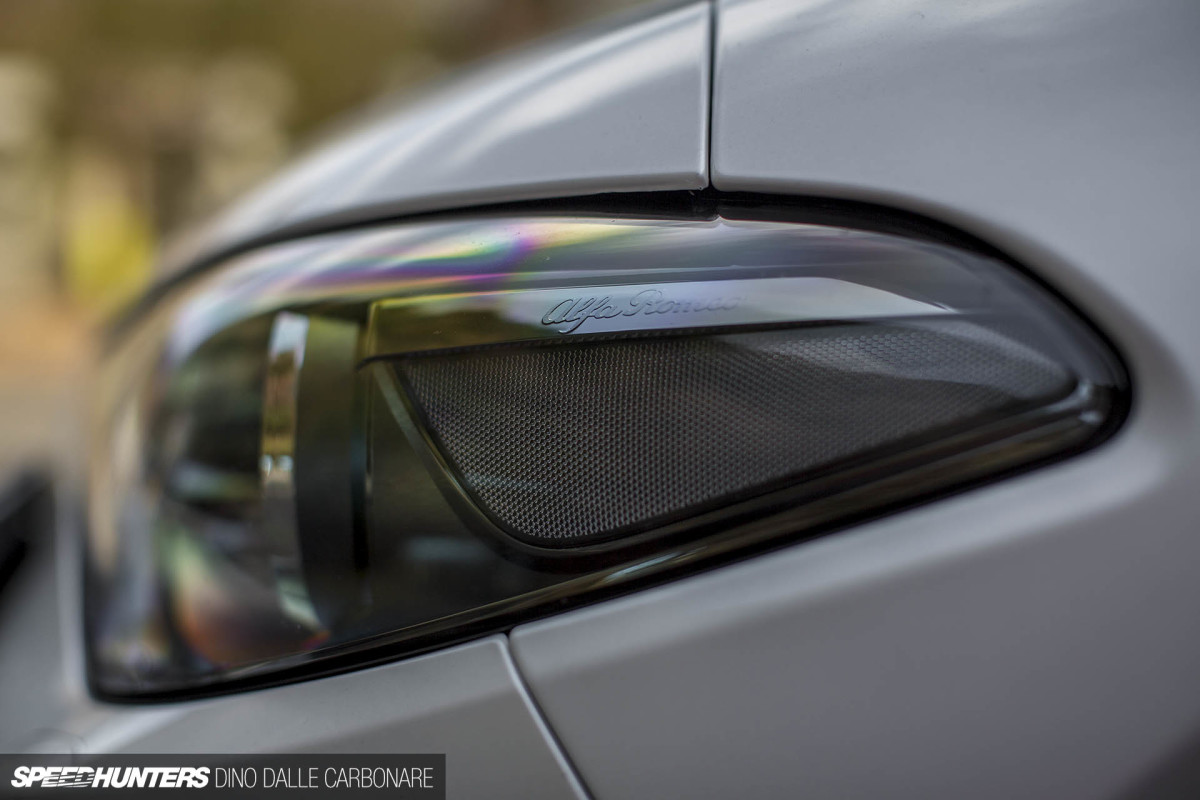 In doing so, Alfa Romeo has managed to make a very pretty four-door sedan and pump proper aggression into it for this 'Q' model.
There are many details that reinforce that premium feel, like the abundant use of carbon fiber in areas including the side skirt trims and the trunk spoiler.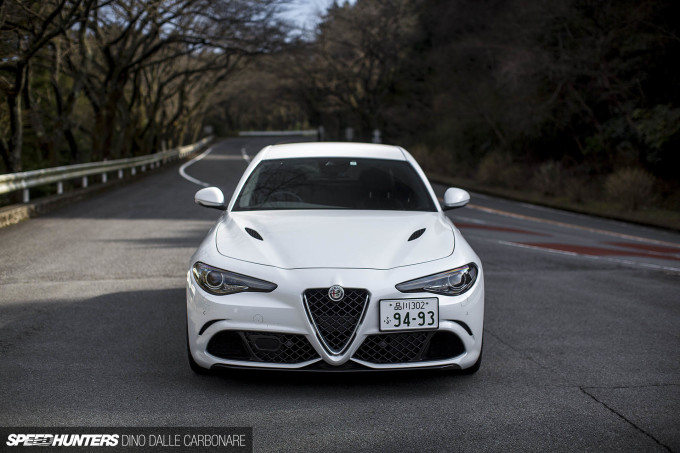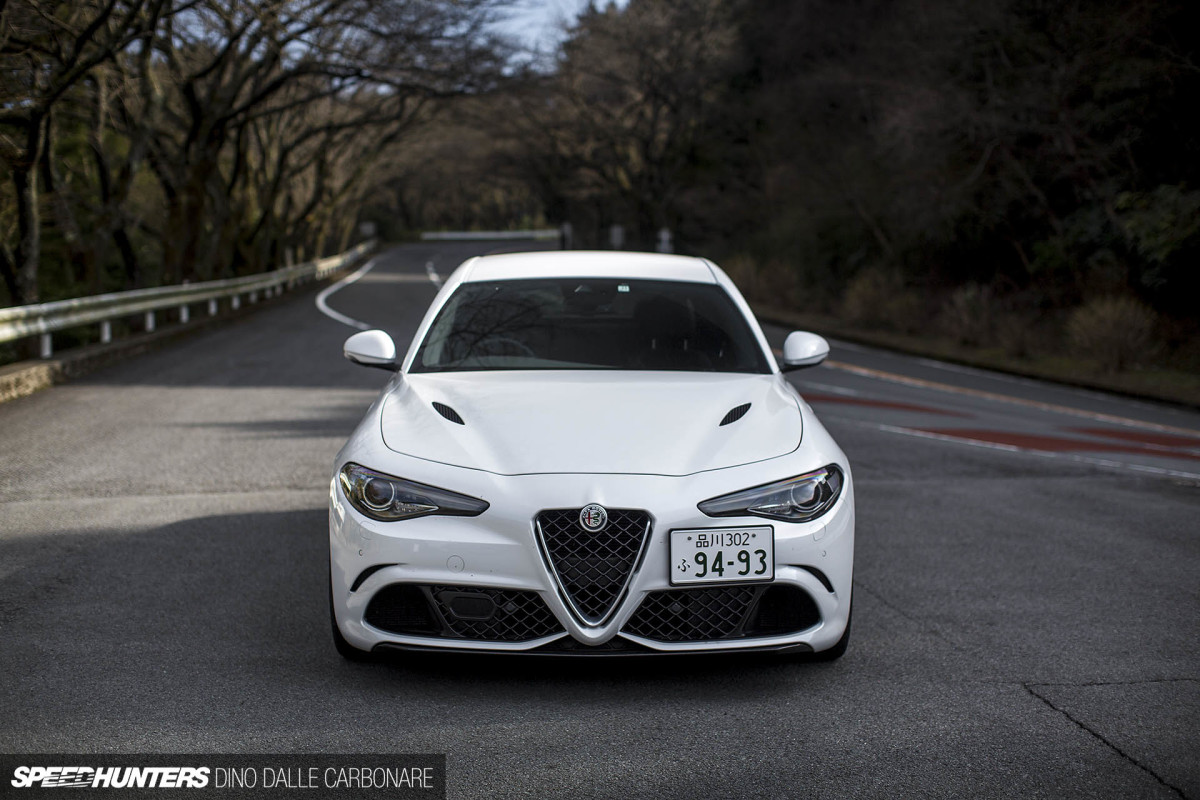 The coolest, however, is the carbon fiber front splitter that only descends at higher speeds to help cut lift. How R31 Skyline!
Power For The People
Open the hood and its lightweight double-skin carbon fiber construction instantly impresses. But it's what's in the bay that really defines this machine.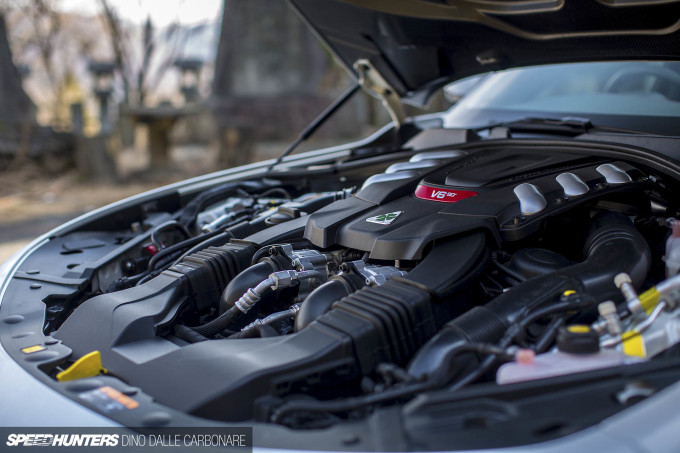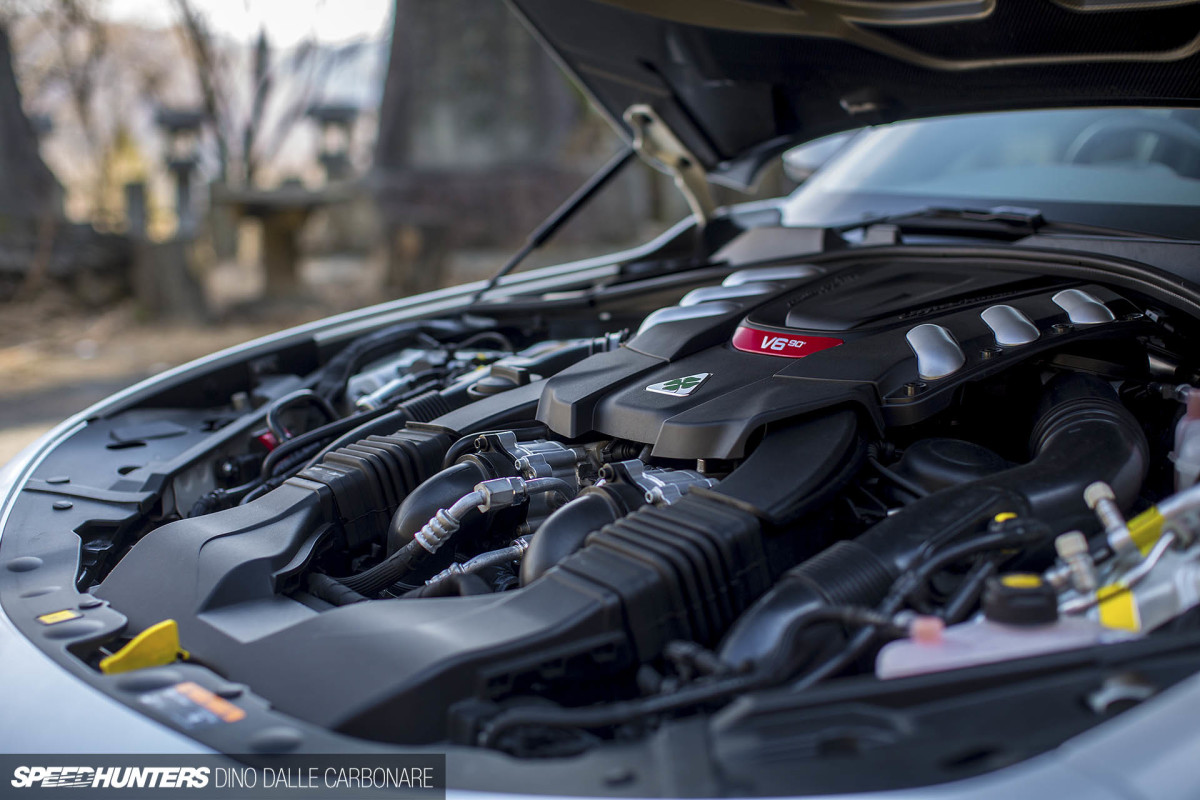 Alfa took things really seriously here, seeking help from Ferrari to create an engine capable of delivering savage performance. Essentially this is one of Ferrari's new generation, modular (just under 500cc per cylinder) 90-degree V8s with two cylinders lopped off to create a 2.9L V6. The wide angle of the banks and resulting offset firing order makes the engine vibrate quite noticeably at idle, but the space within the vee has opened up plenty of room for twin single-scroll turbochargers.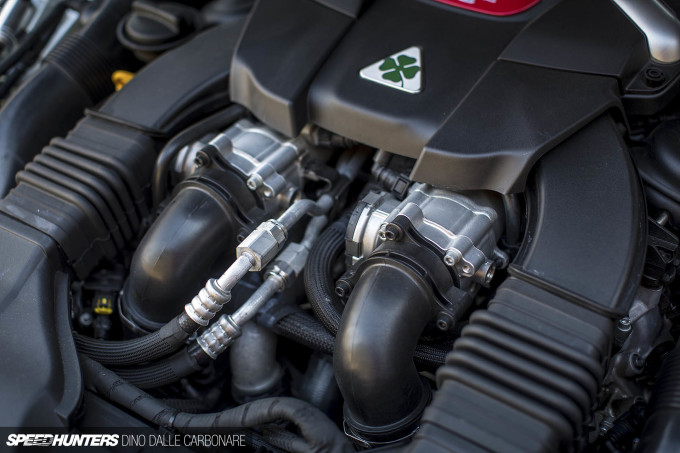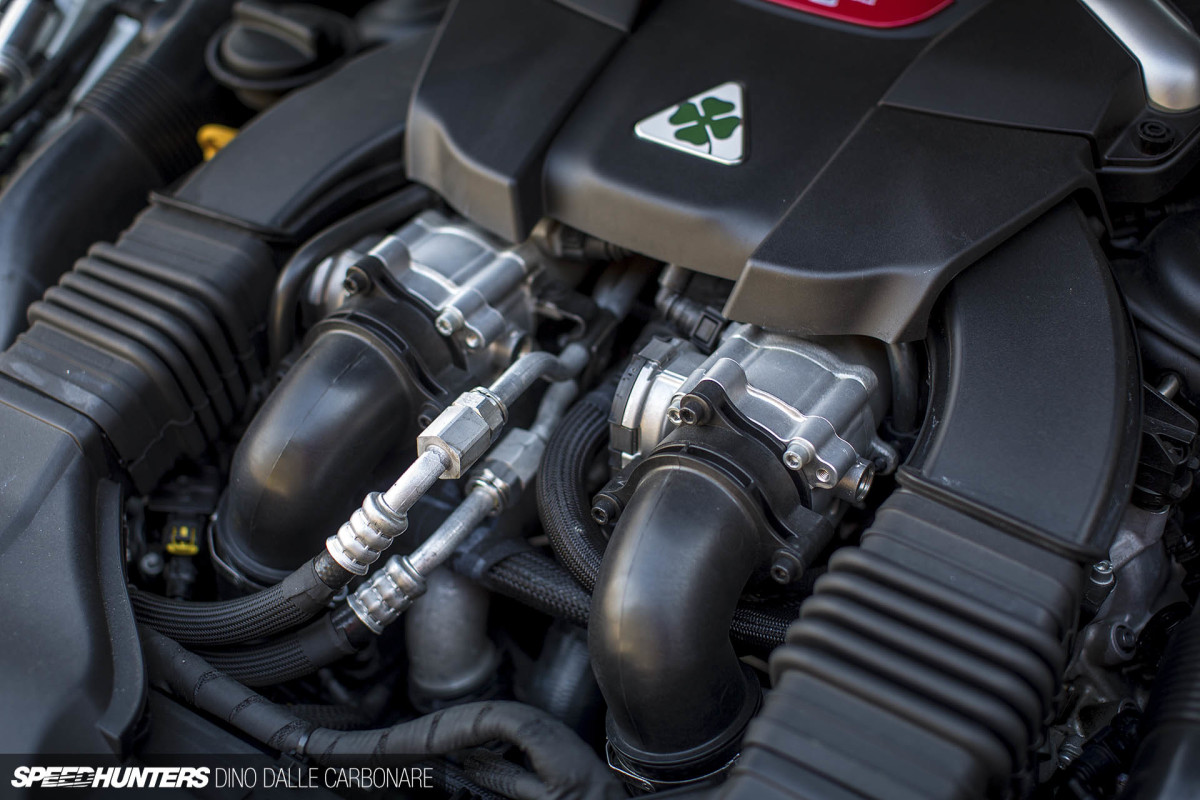 Aside from developing 505hp and 443lb-ft, the engine's coolest trick is how it cuts out one bank of cylinders at lower loads to save on fuel. Call it a requirement or expectation in today's age, giving cars like these a Dr. Jekyll and Mr. Hyde personality all rolled into one.
But it's the outright explosive potency of the motor that will leave you more impressed, or initially confused perhaps.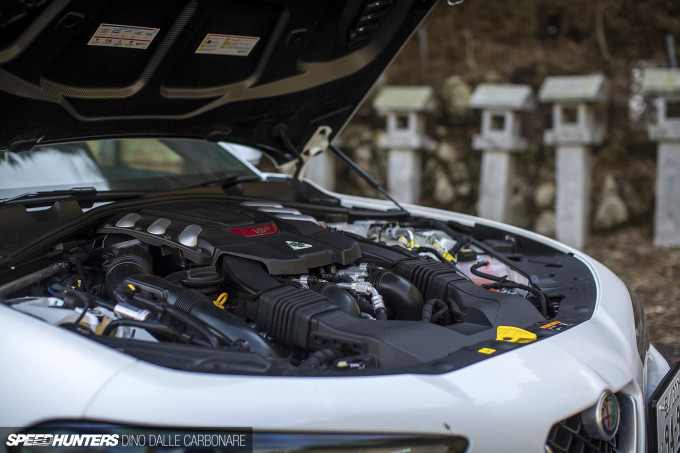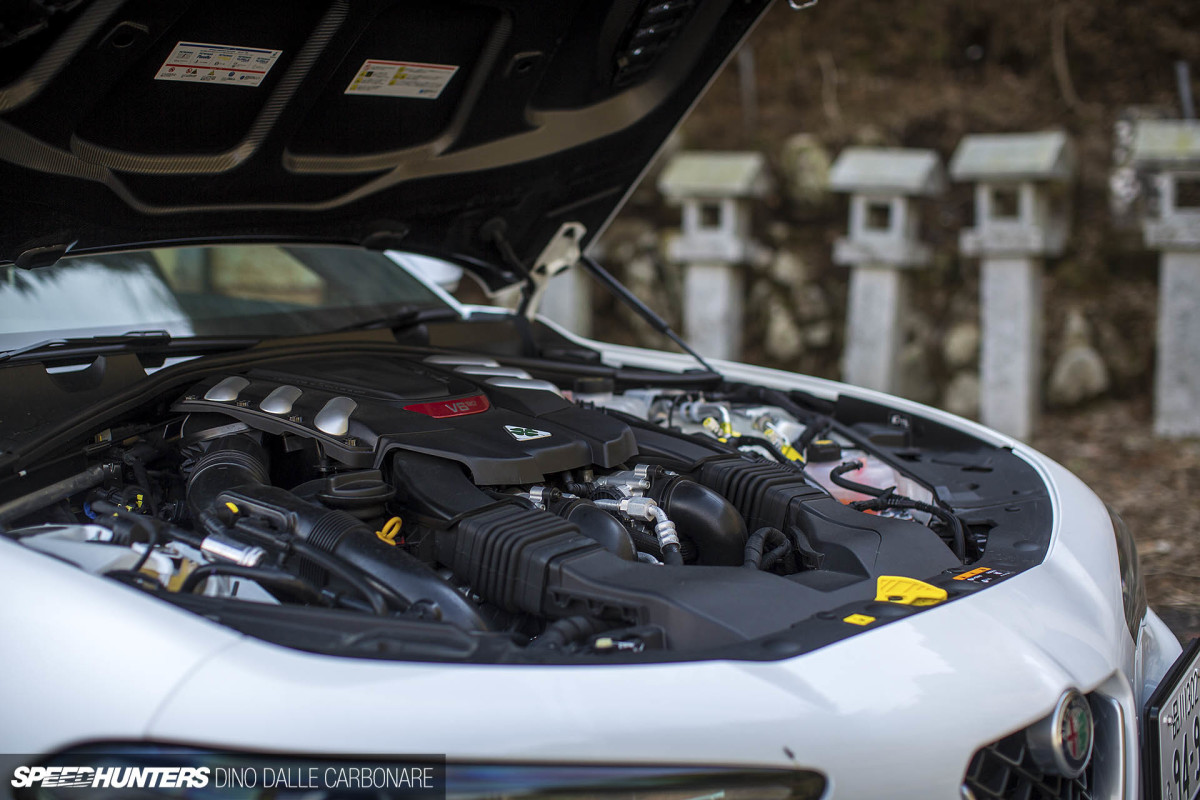 Modern turbo six and eight cylinder force-fed engines deliver instant torque and explosive acceleration as soon as you get on the gas – something that's hard not to love. In the Giulia the rev-happy Ferrari lineage is definitely there; the engine loves to pull all the way to redline and is happiest above 5,000rpm. Evident turbo lag is followed by a fierce mid-range, not unlike an old school Japanese turbo engine from the '90s. I quite enjoyed it, but at the same time found myself in situations where I'd like to have more instant power, or not have to shift down.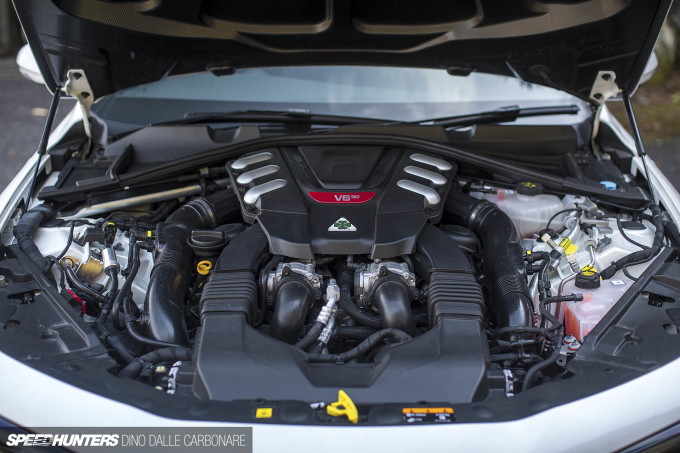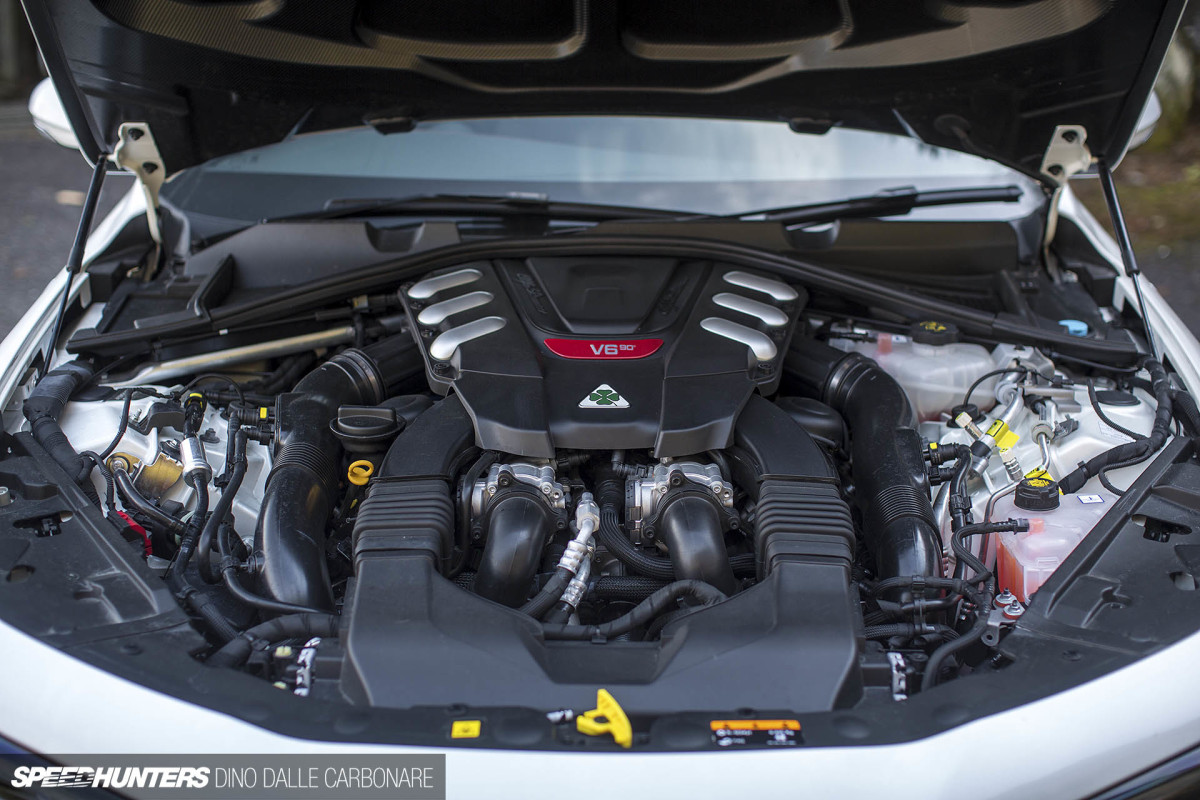 When it hits you better brace yourself, especially if you are in Race driving mode which is the only way to get the full sound of the exhaust. At the same time though, Race model cuts traction and stability control, which is fun but scary at times – especially in third and fourth gears in the wet. I'm not sure if this was possibly an oversight by the engineers, but I haven't driven a car that wants to light up the rear wheels more since I had a Corvette ZR1 to play with. This is an Italian drift machine!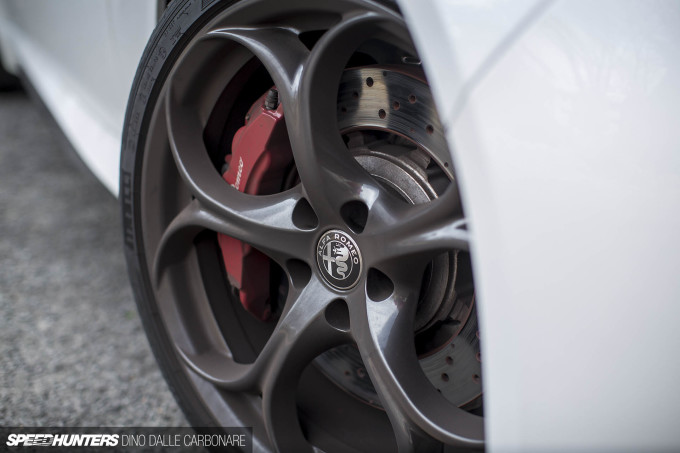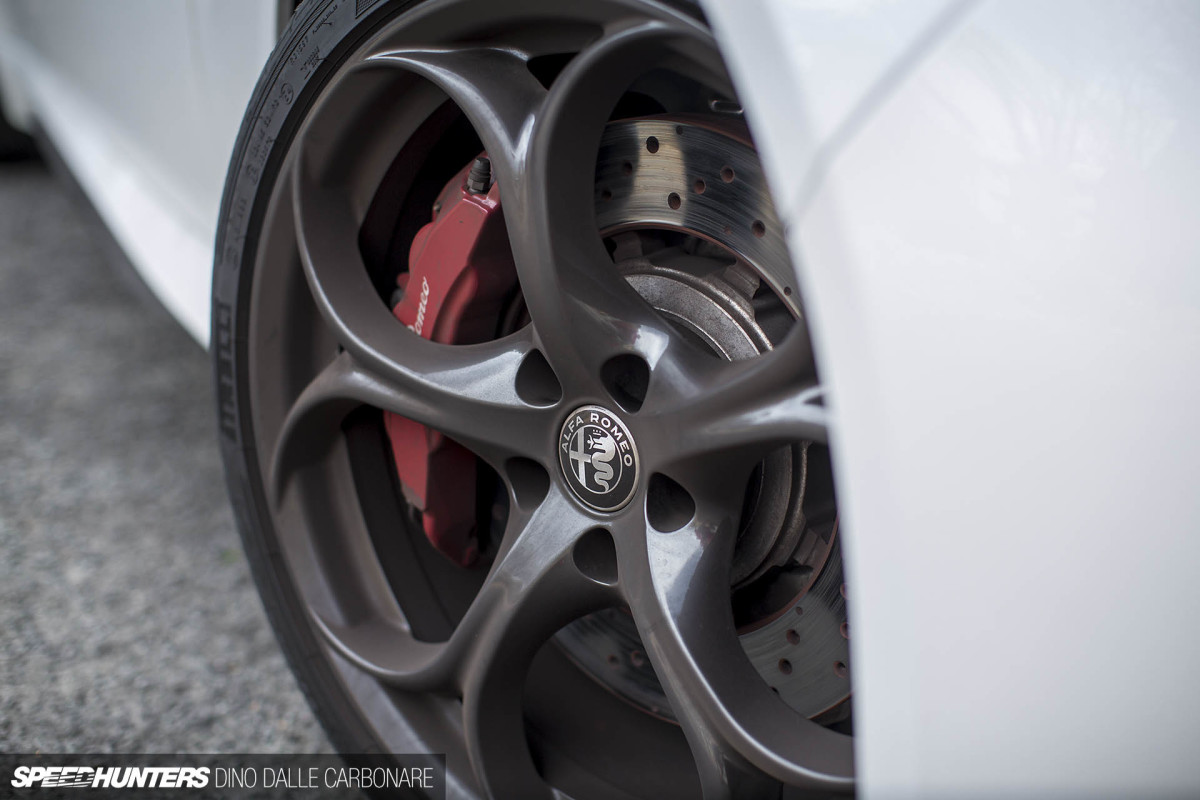 Thankfully, Alfa's engineers equipped the Q with 6-pot Brembo front calipers and smaller 4-pots at the rear for a proper performance brake setup. But while stopping power is there, they've really messed up on the feel.
This is not because it's a badly engineered package, but rather it's the first brake-by-wire system in the world. Yes, you read that correctly, and I was surprised too. In fact, I had to read up on it afterwards as I couldn't comprehend why there was such terrible feedback from the brakes at low speeds; it was almost impossible to come to a smooth stop without having the car jerk on you. In this car the hydraulic system is electrically actuated dependent on the position of the middle pedal. Sound scary? It is a bit, but the biggest concern here is why use such a new technology on an important model like the Quadrifolgio.
It was one of the few things that I didn't like about the car. At higher pace there is no problem, but around Tokyo it was frustrating to say the least. There is a carbon ceramic option available too.
Curiously, the rears had the biggest secondary calipers for the electronic parking brake that I've seen on any car – supercars included. This left me a bit confused as well.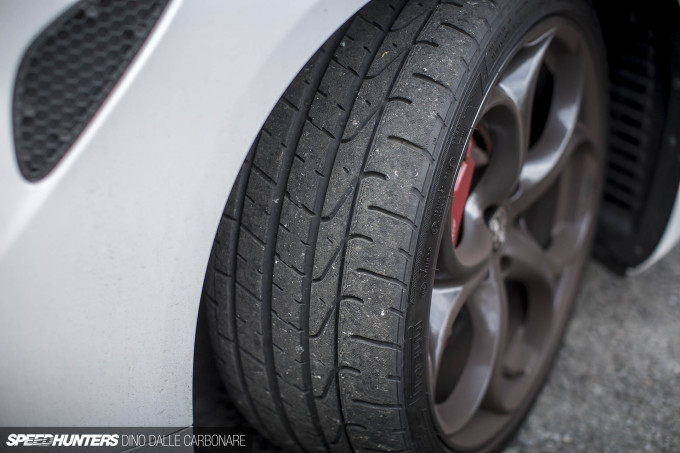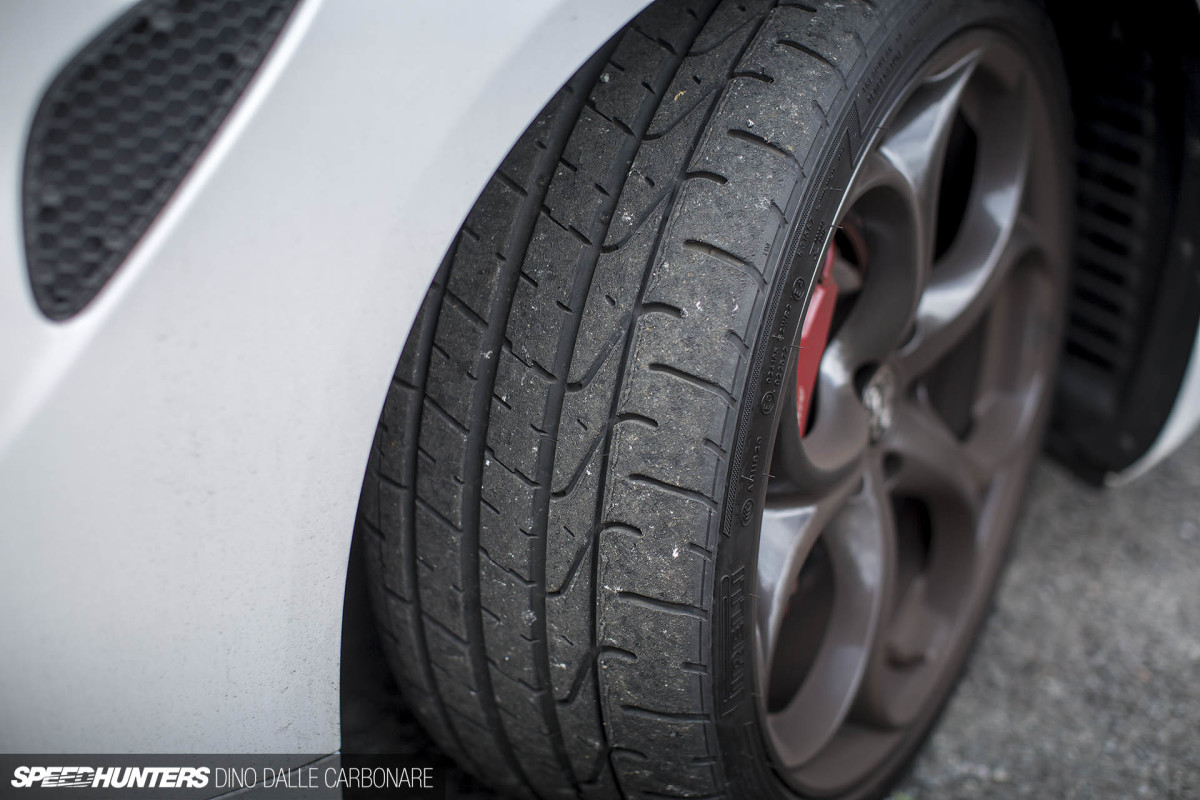 The handling, however, is sublime. This car is on-point with its setup; it's firm but really comes alive at higher speeds. There's virtually no body roll and the turn-in is pin sharp with the car only running wide on some real tight corners that I entered way too fast. The Pirelli P Zero Corsa tires are bubblegum-soft and are insanely grippy to the point that I had to wonder if the car would become a handful if you happen to downgrade and fit cheaper rubber. The rears are always only a throttle stab or some unsettled weight transfer away from breaking loose, and depending on how brave you are you can go crazy with smoky drifts all day long.
Rewarding Through The Turns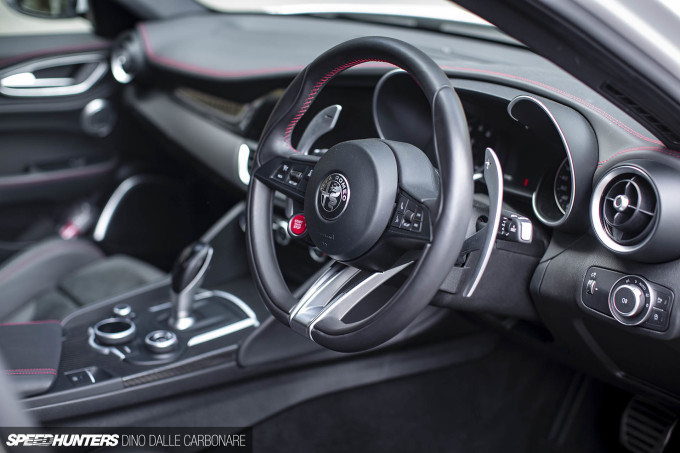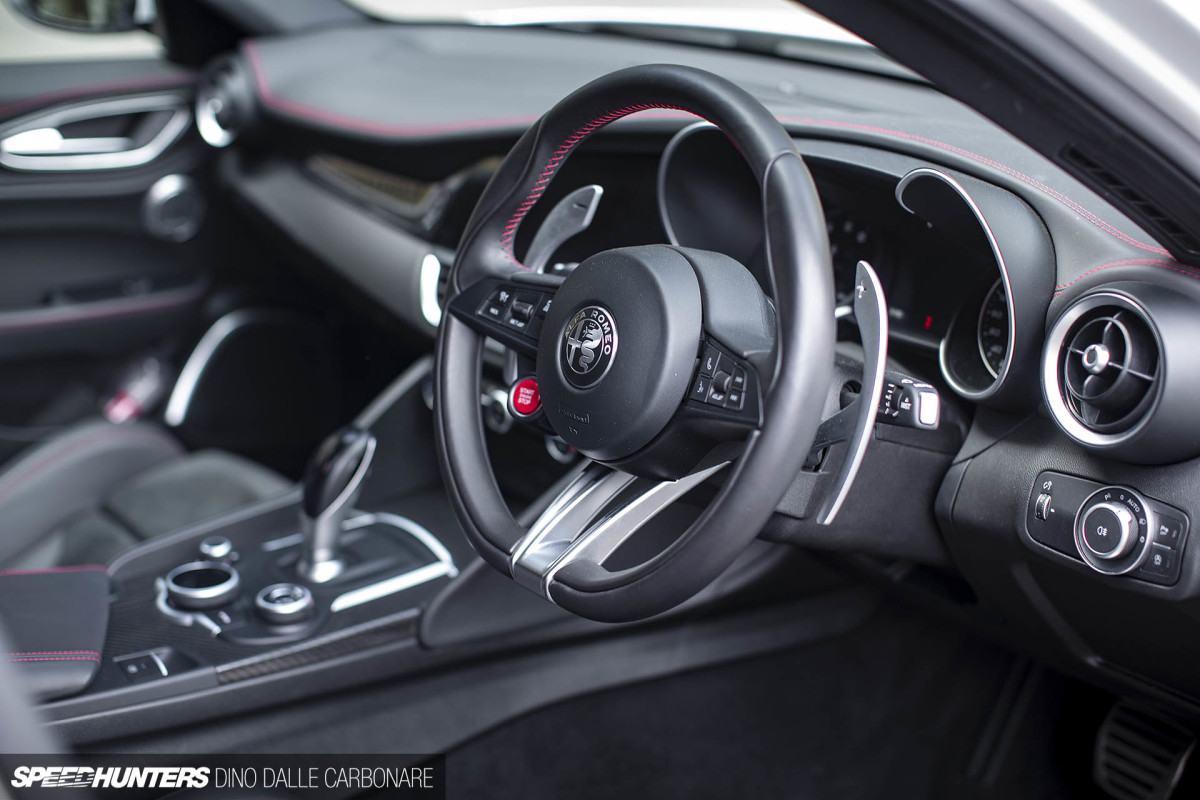 Giulia Quadrifolgios coming into Japan are only available with the ZF 8-speed automatic, a transmission that I have no complaints about. Alfa programming makes it dual-clutch-fast and satisfyingly snappy in Race mode, but given how much torque this car already produces I do wonder how the auto will hold up when aftermarket tuning lifts engine output.
One thing I found a little strange is the sound coming from the exhaust. I'm used to German cars farting on upshifts and crackling and popping on the overrun, throttle release and downshifting, but the Giulia only seemed to reward with noises when going up the gears. Maybe it's something that can be addressed with engine management mapping in a future update.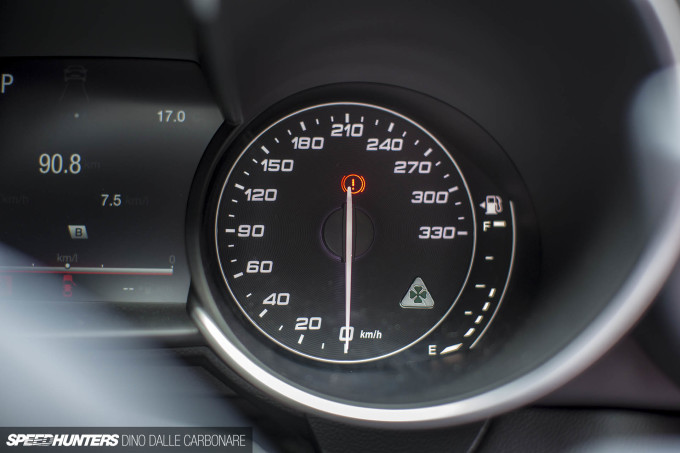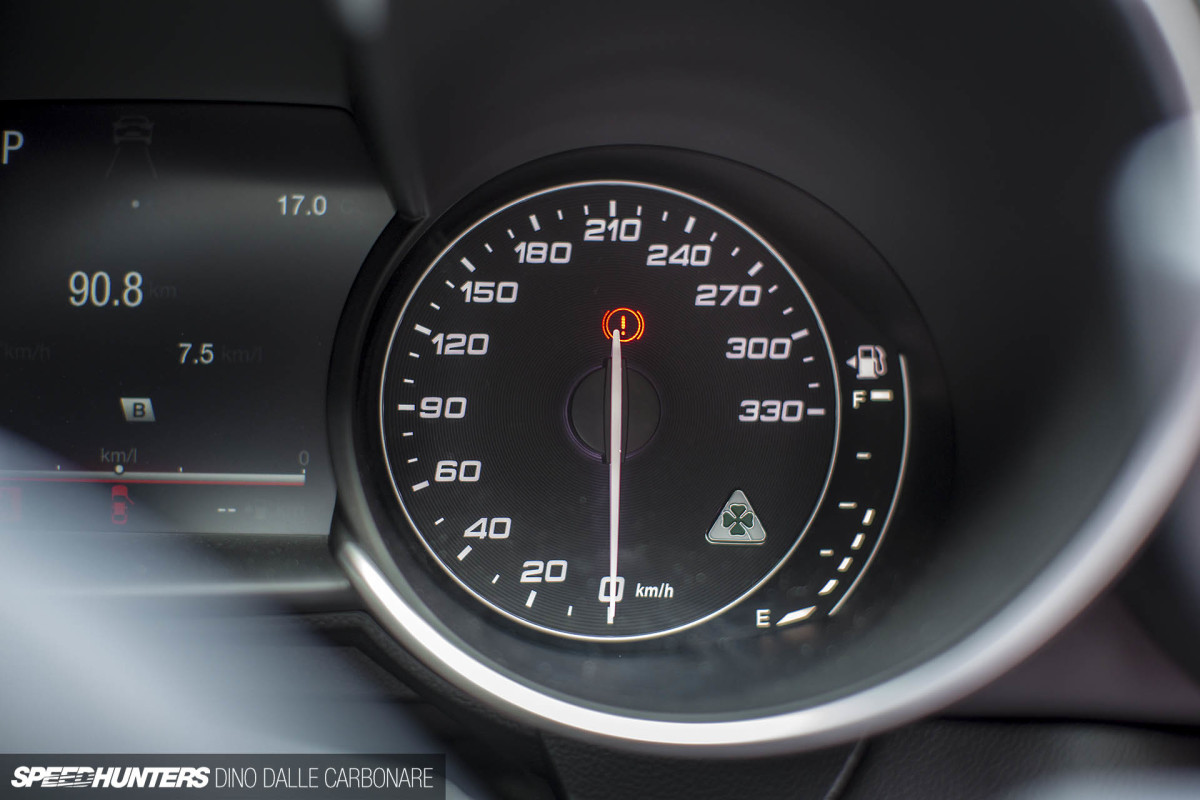 The interior and equipment was possibly a tad too un-Italian. It's all nicely designed and pieced together, but there aren't any details or quirks that you'd expect to find in an Italian car. Instead, you find a somewhat conservative approach, which is perhaps Alfa's way of playing it safe to appeal to a broader audience.
You get used to it though; the interior all works well and it's a great place to be with even if I'd loved to have tried the optional carbon bucket seats.
The LCD center screen in Japan doesn't come with a built-in navigation system as Alfa wants you to use Apple Car Play or Android Auto. I don't really care about that; what I do care about is the absence of performance displays to show turbo boost or various temperatures. Instead, and very strangely, you get a mode that shoes you how efficiently and economically you are driving your 500hp sedan. I don't want to see that, I want to see when and how often my turbos hit their peak of 2.5-bar!
Tokyo By Night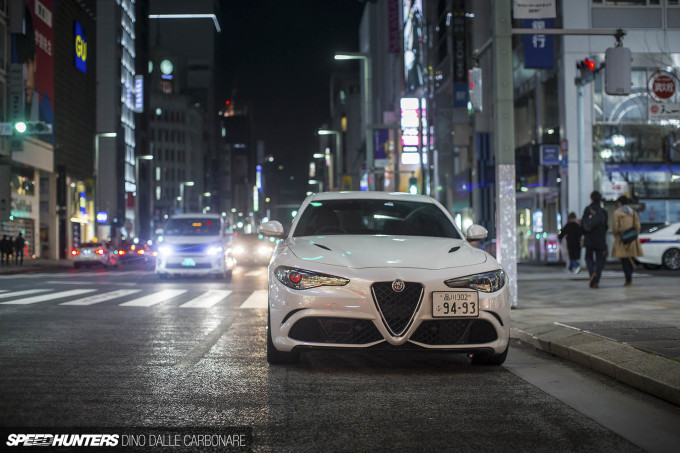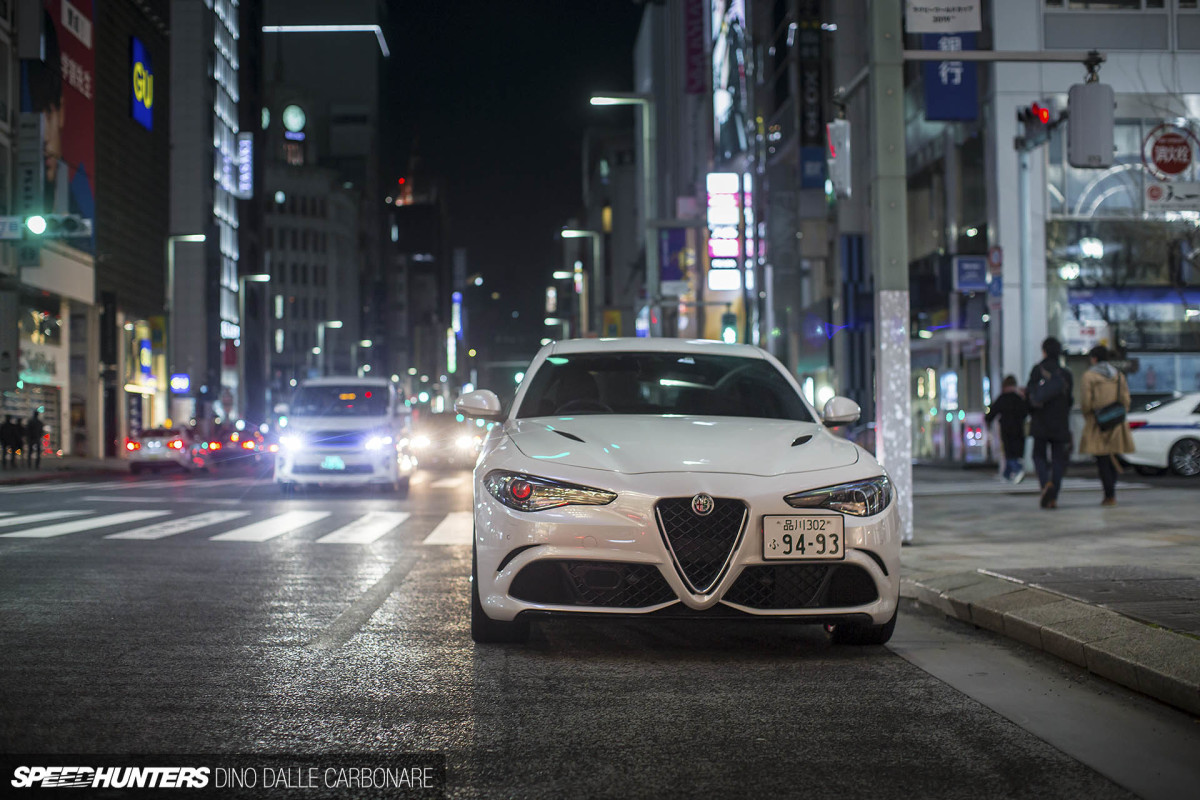 With this story (and the video we're about to share with you below) we wanted to show how a Japanese car enthusiast might use his brand new Giulia, taking a day off work and hitting up deserted mountain roads in Hakone and then cruising around Tokyo at night.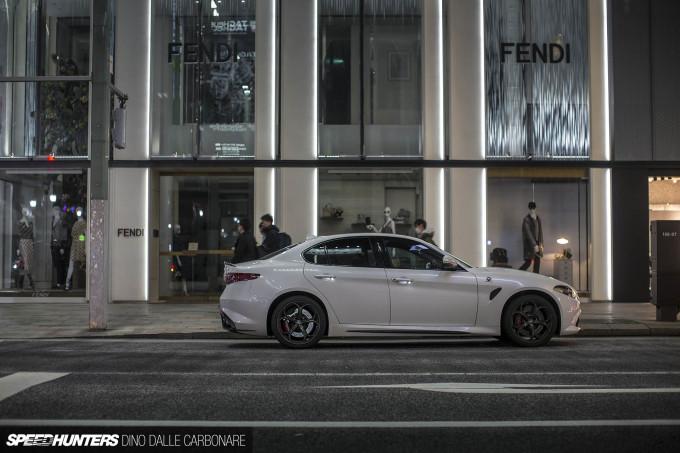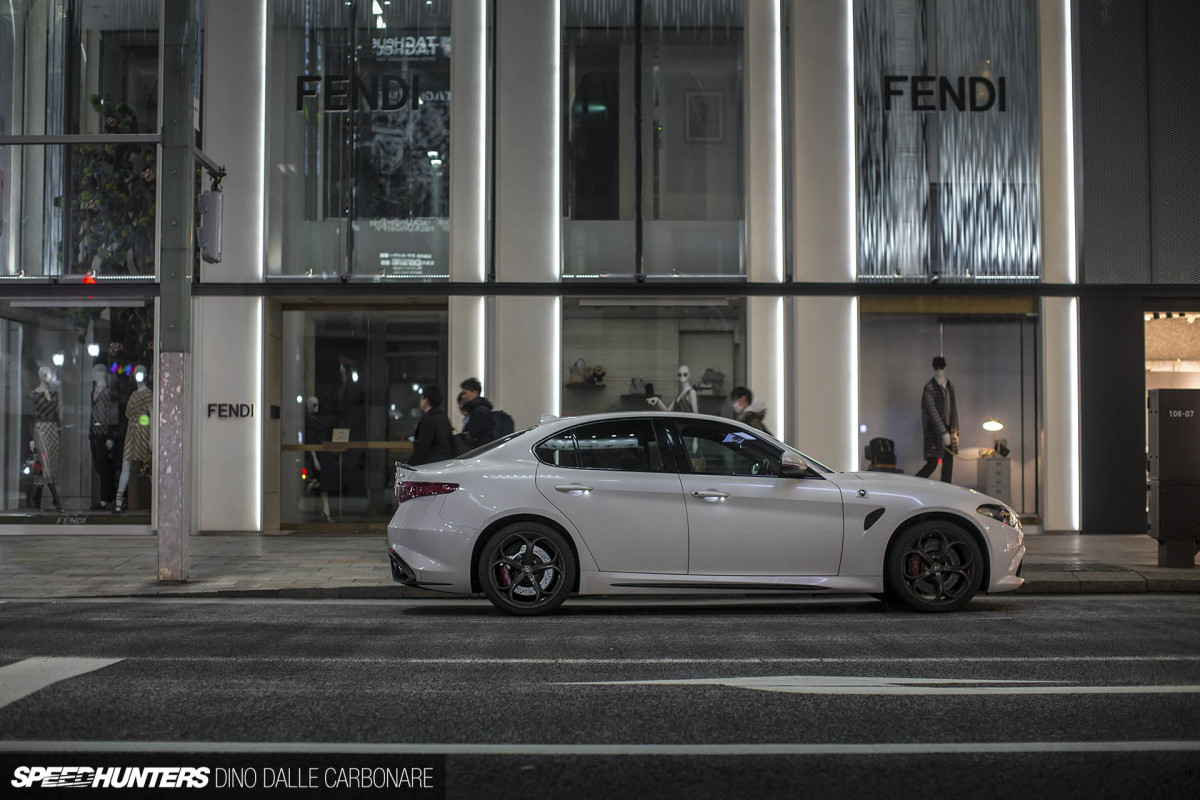 Put the Alfa DNA selector in 'A' mode and the car purrs along at the lowest possible revs, the trans shifts up as soon as it's able to with each gear change imperceptible, and the exhaust valves close to muffle the raucous V6 mutes as you glide quietly listening to music through the Harman Kardon surround sound audio system.
We wanted to put a 500hp car in an environment that it shouldn't feel comfortable in, but driving around Ginza the Giulia Quadrifoglio showed us that it's the epitome of the modern performance car, instantly transformable at the turn of a dial.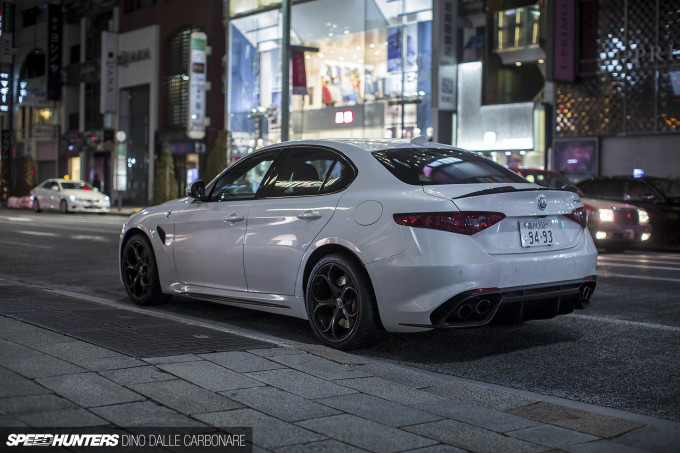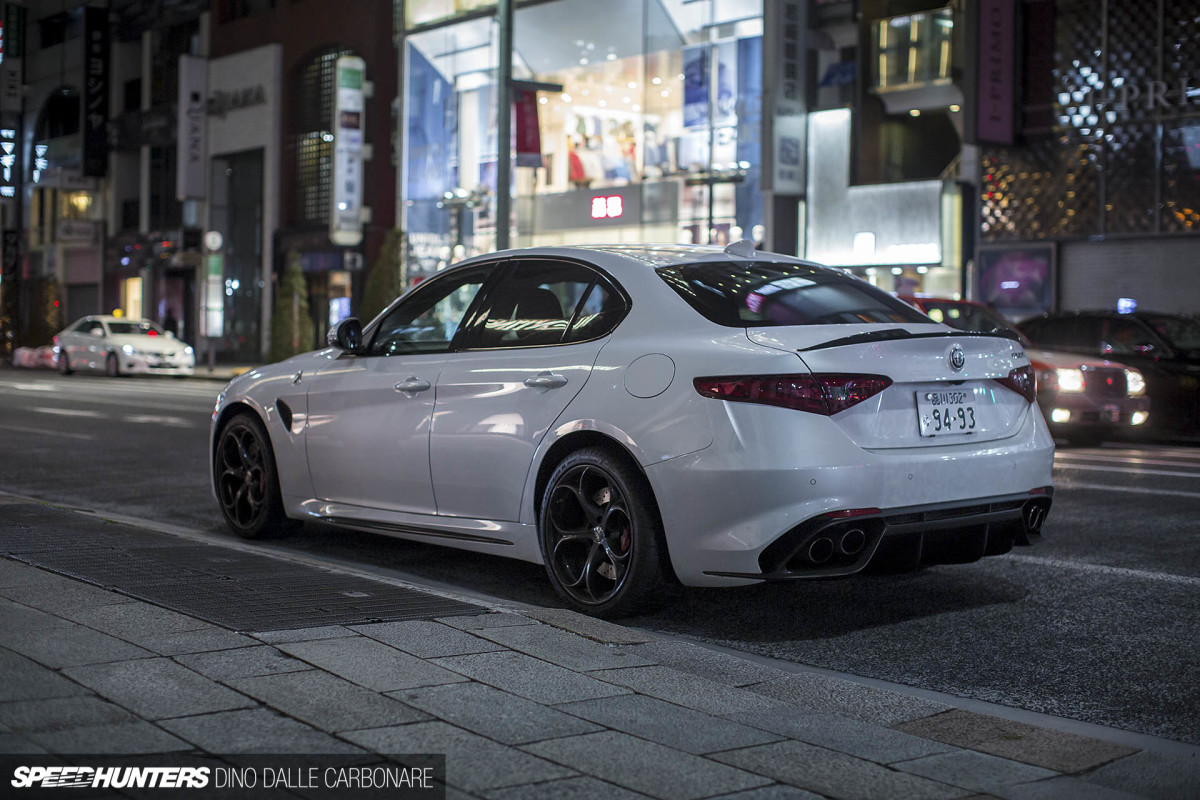 The drive-by-wire brakes and oversized shift paddles that completely hide the indicator and wiper stalks are irritations, but there's nothing that Alfa Romeo has really gotten wrong with this car. That a compliment I never really thought I'd hear myself give to a new Alfa.
I was very sad to hand back the Giulia; I fell for it and wanted to have more fun with it. It's exciting and special as a real Alfa should be without any of the negative things that we've all jokingly come to expect from the brand.
So would I take it over an M3? Yes, I would. It feels faster, and while the handling feel might not be quite as good, it's close enough and possibly more scary to drive on the limit.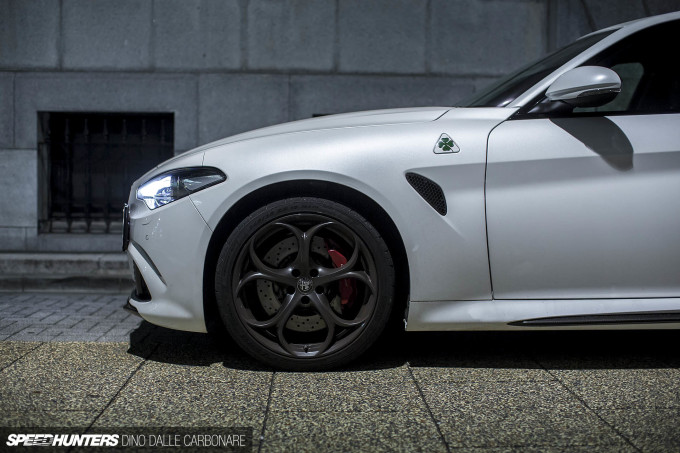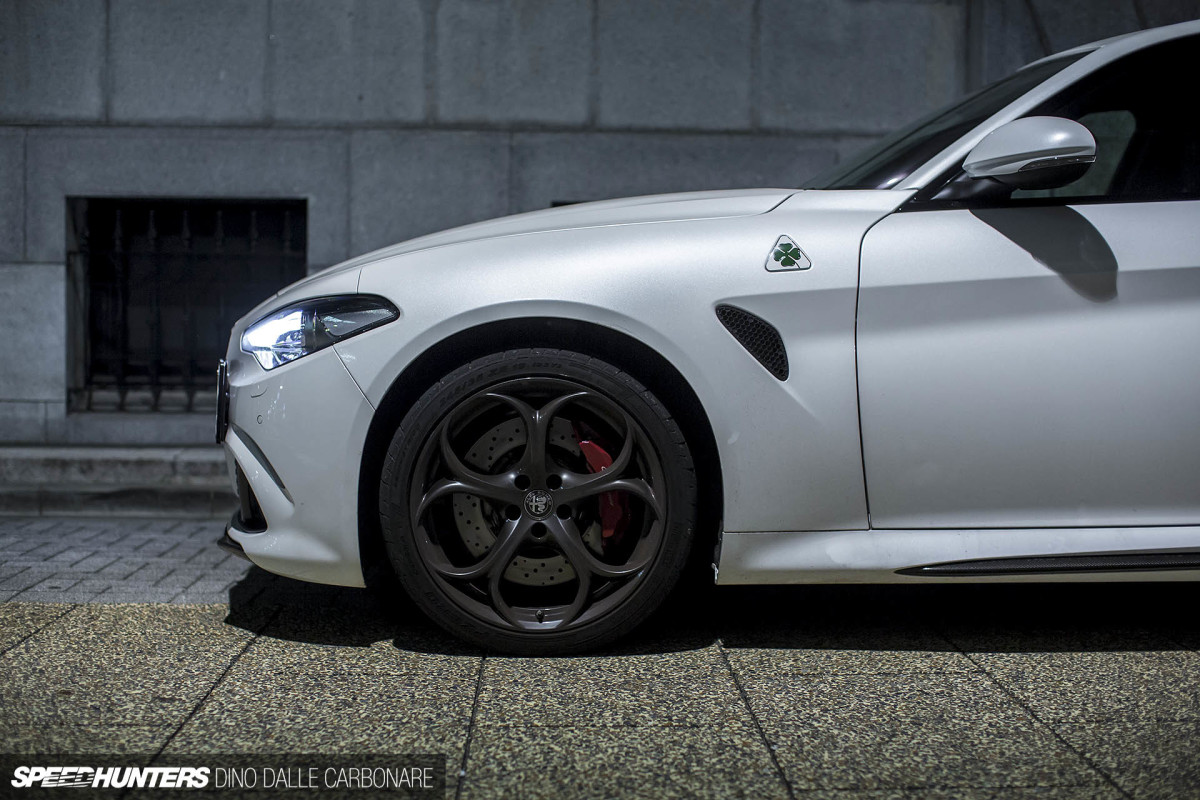 Over the next five years we should see the fruits of FCA's $5 billion investment into this new platform and series of engines. There's rumored to be four to five models including a possible 6C, a long awaited 166 successor, and the one I hope for the most – a wagon variant of the Giulia Quadrifoglio to take on Mercedes-AMG and Audi RS models.
One thing is certain, Alfa is back and it's serious about making awesome cars; Alfisti rejoice. And on that note, it's time to see and hear the Giulia in action – hit play above to watch Ron's video.
Dino Dalle Carbonare
Instagram: speedhunters_dino
dino@speedhunters.com
Video by Ron Celestine
Instagram: celestinephotography