Datsun, Reimagined
It's 1969. You step out of your hotel, don your hat — yes, you wear a hat — and hail a heavy, box-shaped taxi. The interior is a bit dingy and unrefined, but you figure it's that way so there's less for passengers to make a mess of. It's a dull experience, and while being driven you're gazing out the window, wishing you were in literally any other car.
And that's when you see it: a billboard for the all new Datsun 240Z. It's yellow, with some sort of high-tech motion blur shooting off from the back. The low-slung body and the long swooping hood are indicative of something new; your automotive imagination is ignited.
The ancient taxi abruptly arrives at the office where you're to have some meetings and talk about work, whatever that is to you. But your mind keeps going back to that car. Did you read that right? A Datsun? It looked more like an E-Type, or even the Toyota 2000GT.
Definitely not a Datsun, they just don't do that…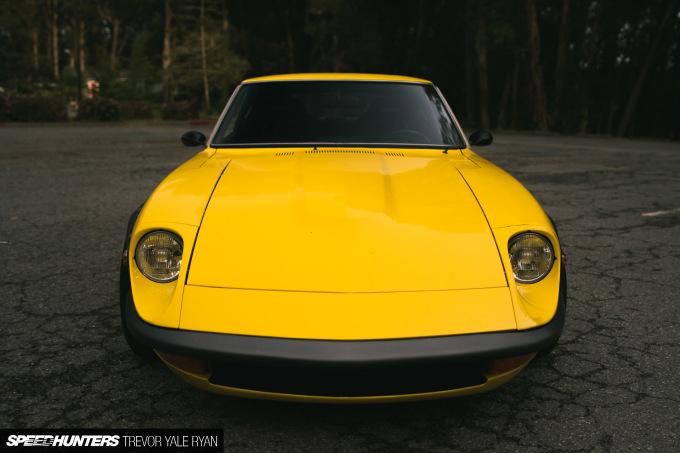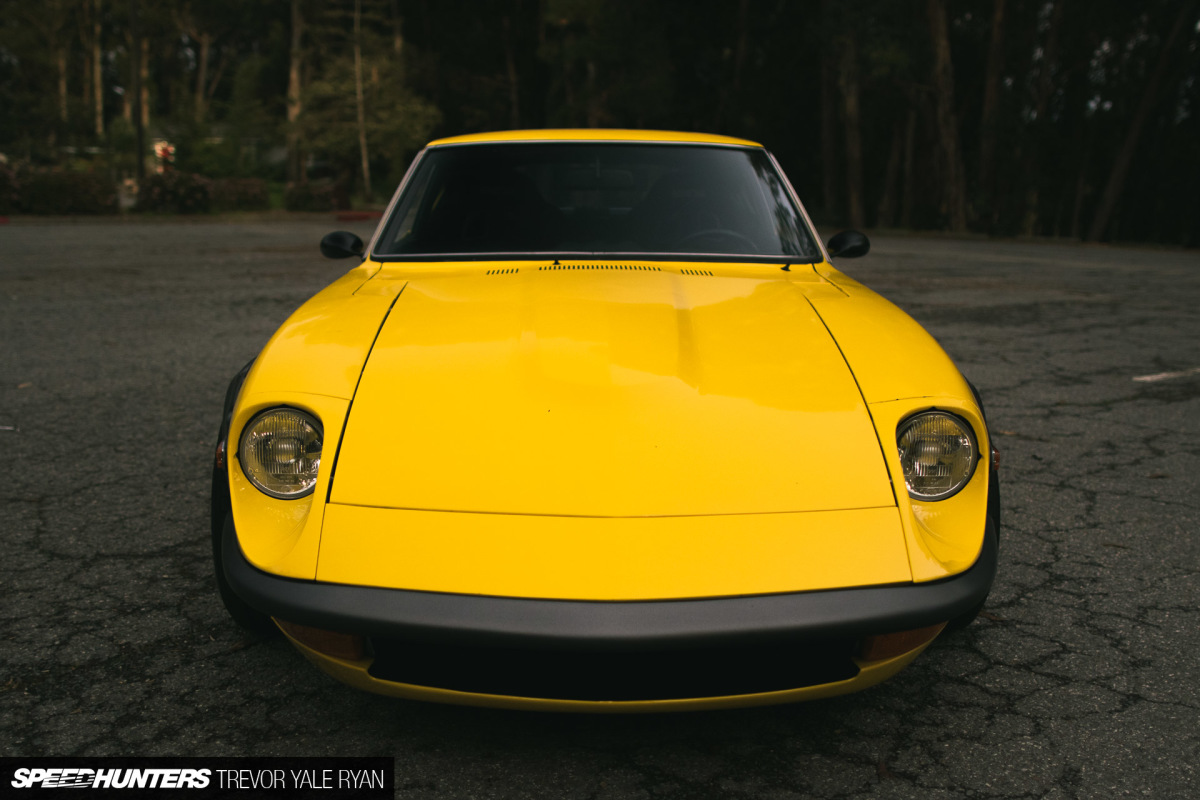 But they did — the Datsun 240Z, a car so far ahead of its time. Today, in so many ways, the S30 still proves itself a timeless creation. Nearly 50 years after the inception of the Fairlady Z they're more desirable than ever, and the aftermarket is still evolving.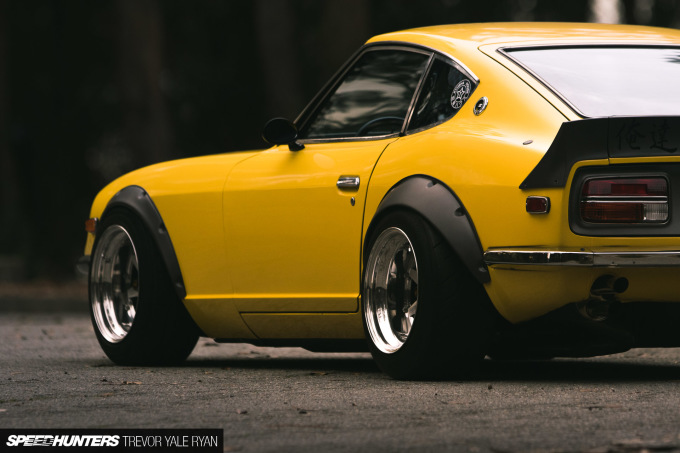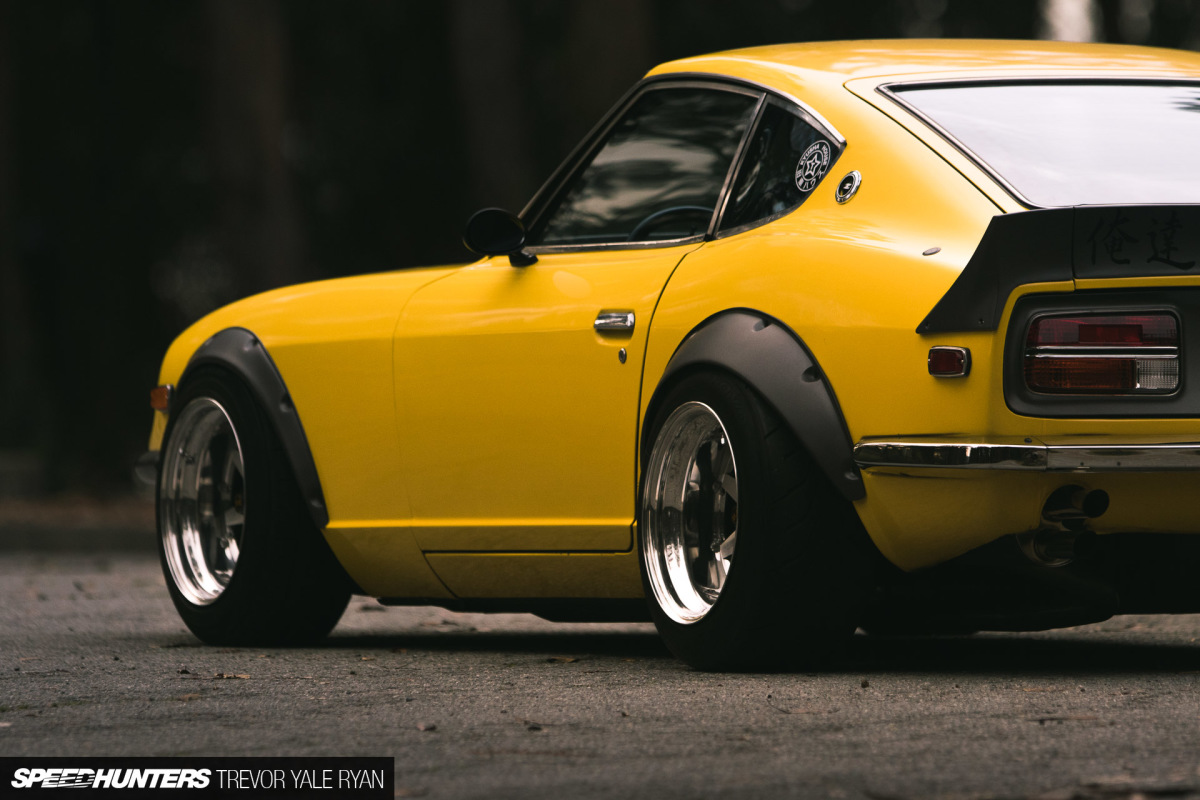 Nothing shows that more than Jeremy Gomez's choice of motor for this build. I've always wanted to take an early 240Z and swap the drivetrain from a later 280ZX into the car, but Jeremy's done me one better with a built 3.5L. But no, it's not a late-model V6 from a 350Z.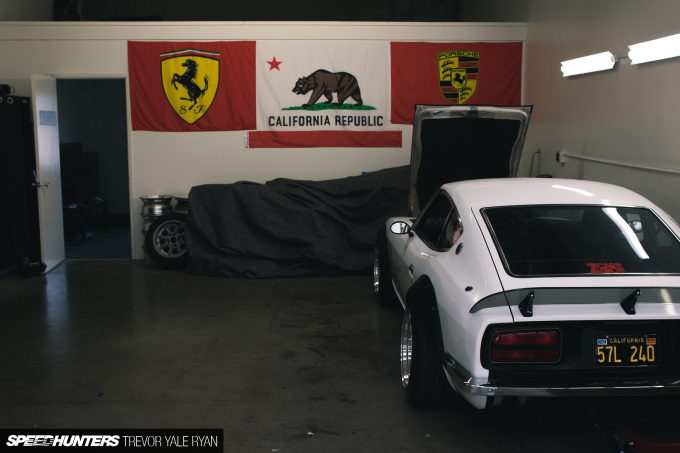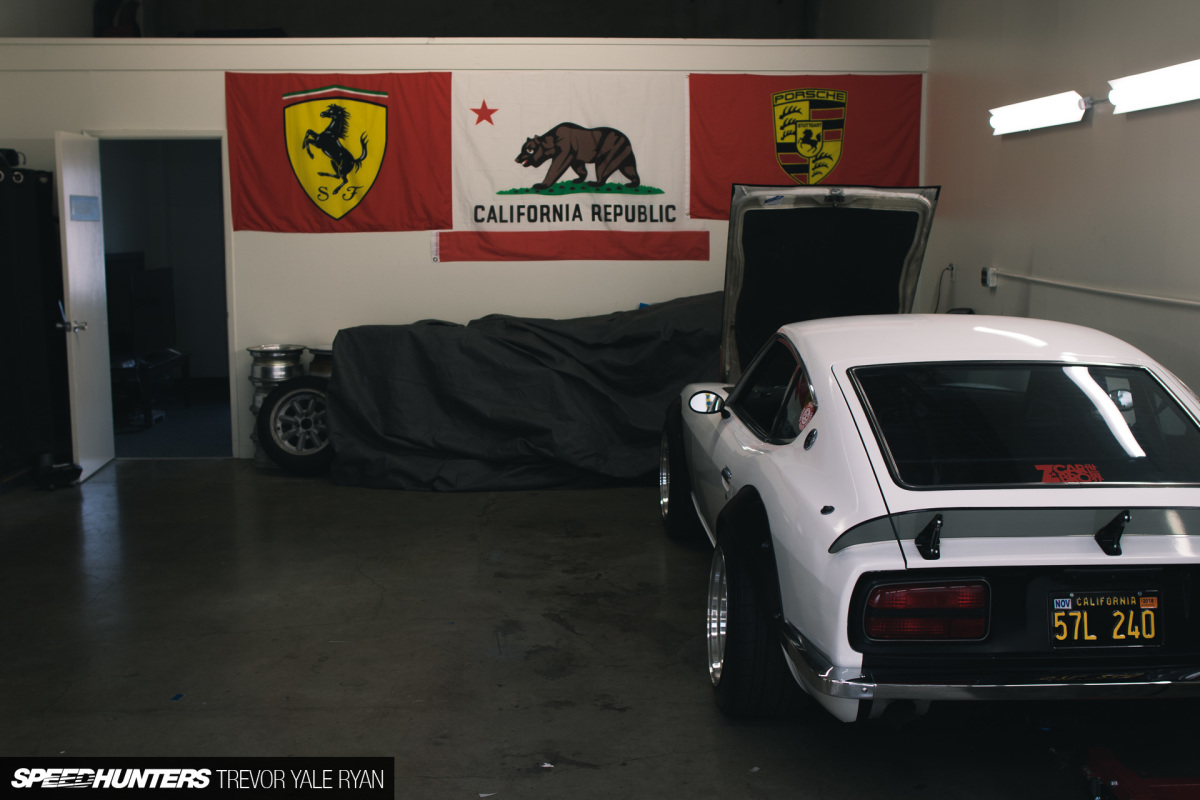 Jeremy put together another 240Z before this one; an LS-swapped handful of a car which, in his words, turned into a build that was just a bit too crazy. For the dozens of you who expressed your concerns in the comments section of that recent feature, this yellow Z should strike the right chord. It was built with a different mindset than Jeremy's white creation, not as power hungry and properly Japanese.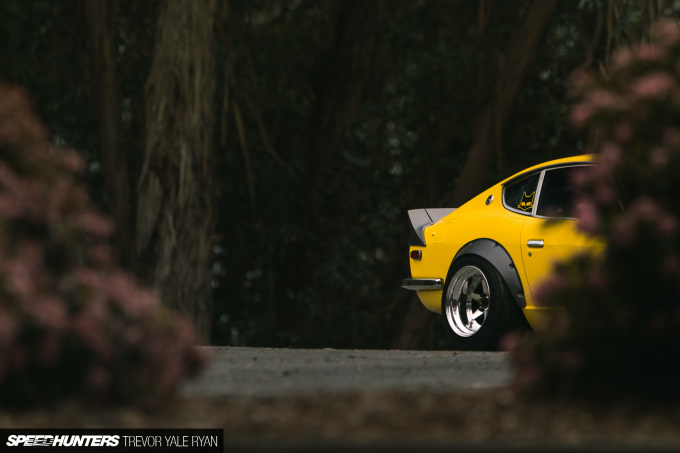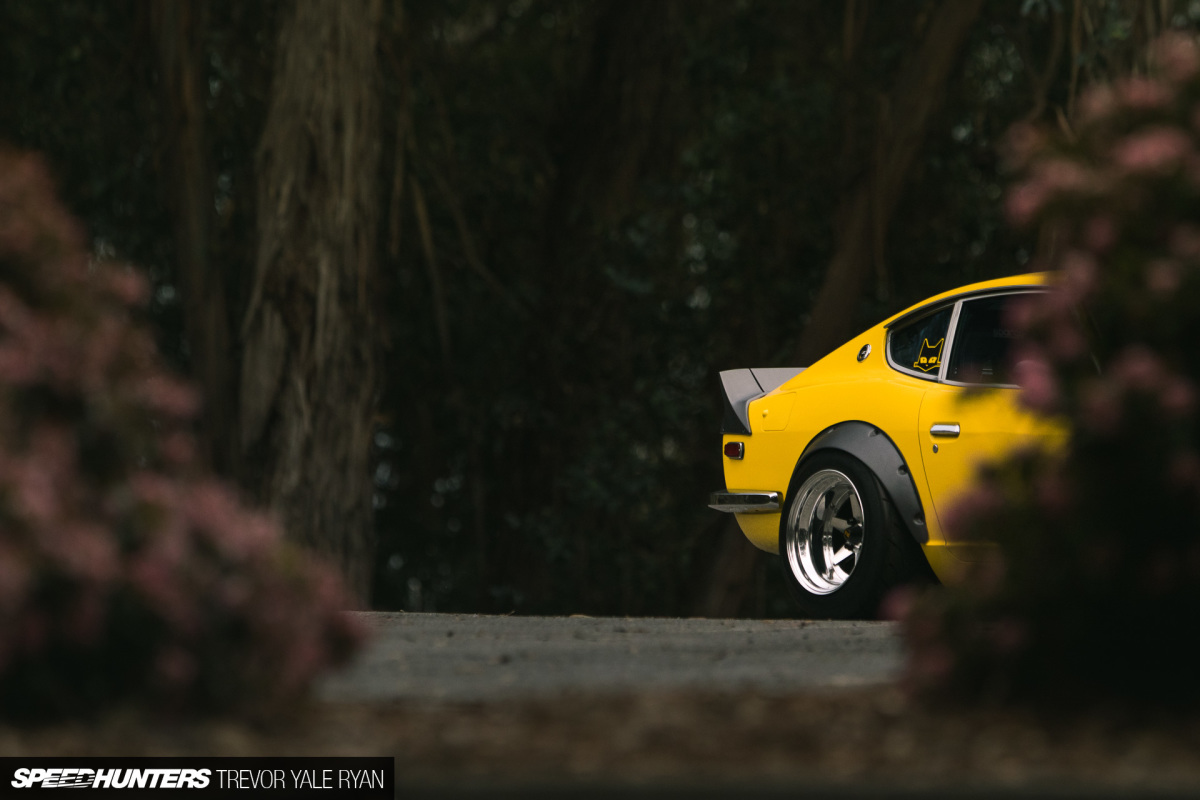 The white car was in progress before Jeremy started travelling to Japan and making friends at the car meets there, and the similarities and differences between the two builds are both obvious and awesome.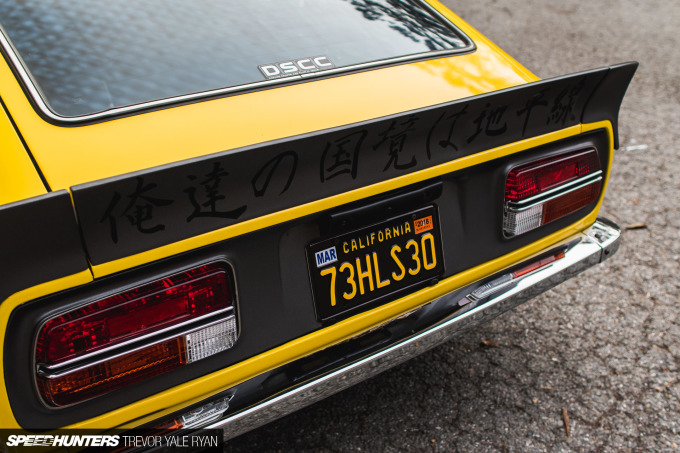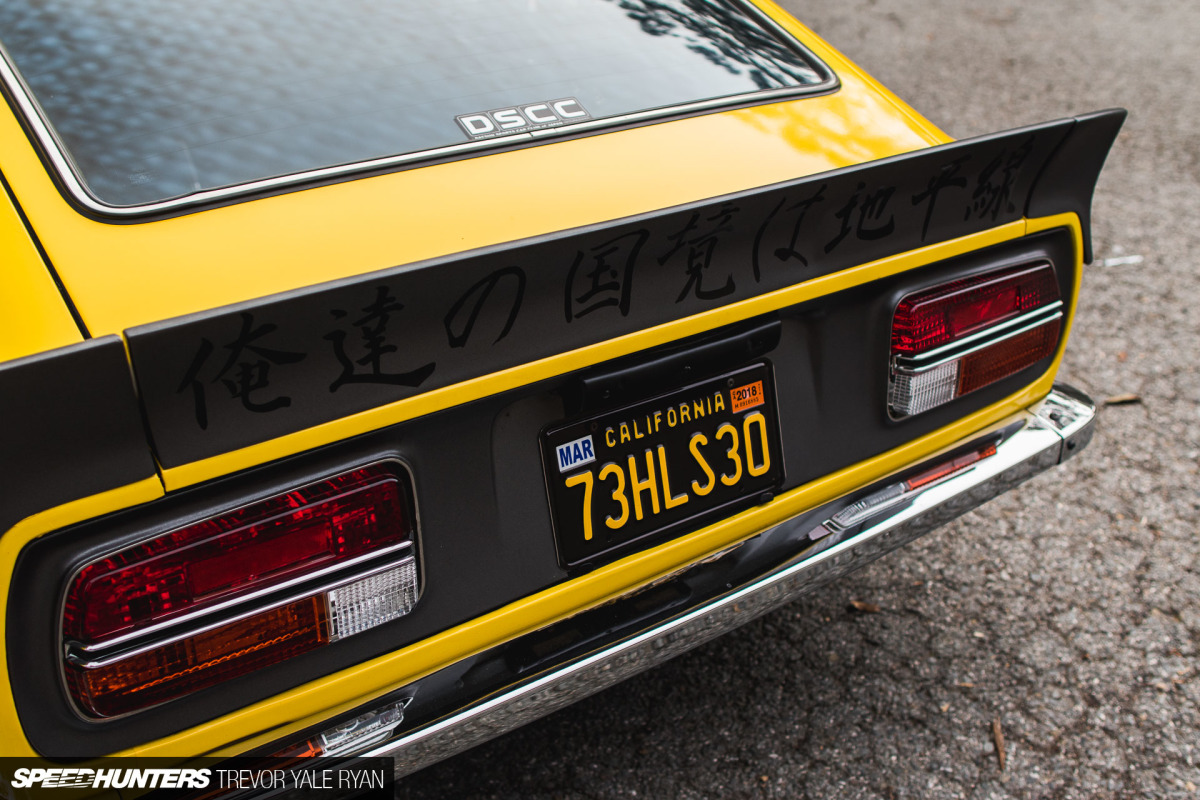 One subtle touch along the back spoiler that I particularly liked is the mix of kanji and hiragana characters that read "Our Border Is The Horizon." While it may not seem noteable, Jeremy's friend in Japan has a similarly built 240Z with the same phrase along the back in English.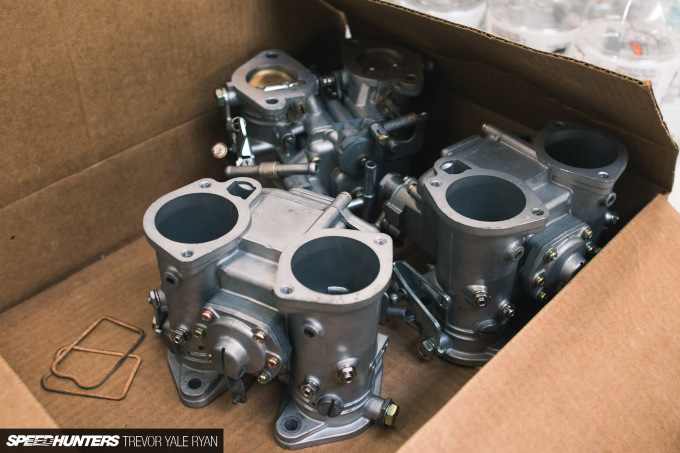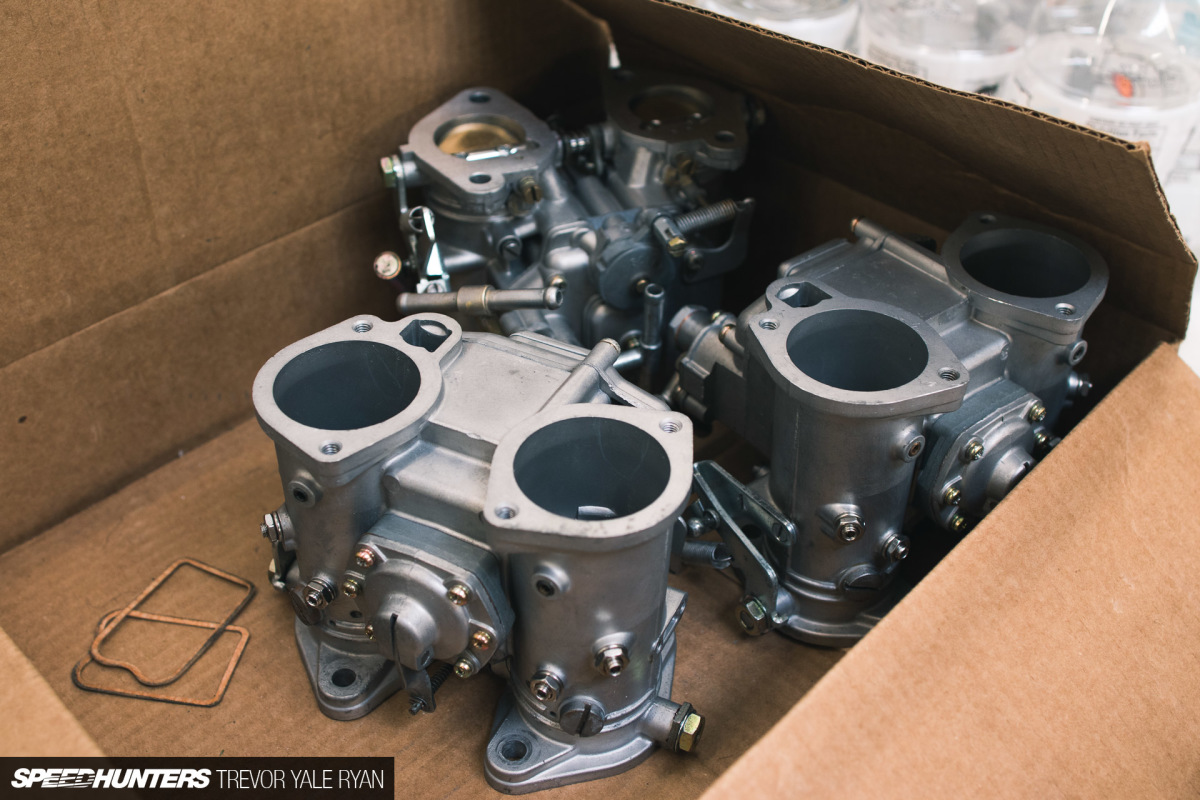 I met Jeremy at his shop where I was pleased to find a number of old bits lying about. He'd spent his afternoon fiddling with a screwdriver to re-jet some cantankerous old carburetors, finishing up just minutes before I arrived.
Jeremy does high-end clear bras and the like, so for this Z he wrapped it himself when he was ready for a change. Around his workshop you'll find dozens of little Z-car models along with the other 240 tucked in the back and an RB-swapped Nissan/Datsun wagon I took some photos of as well. He's clearly a guy who loves modifying cars.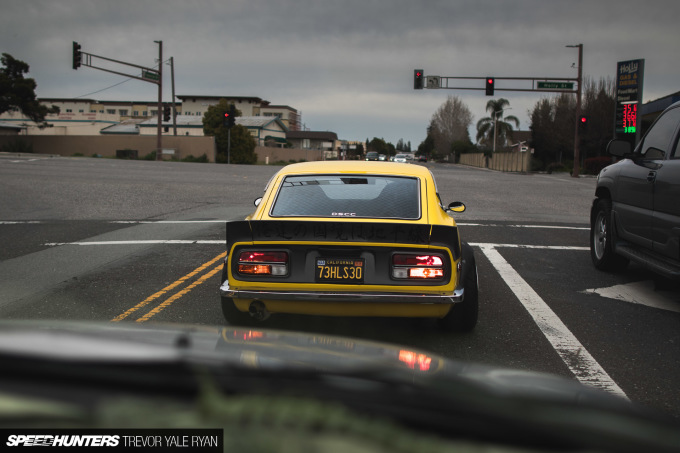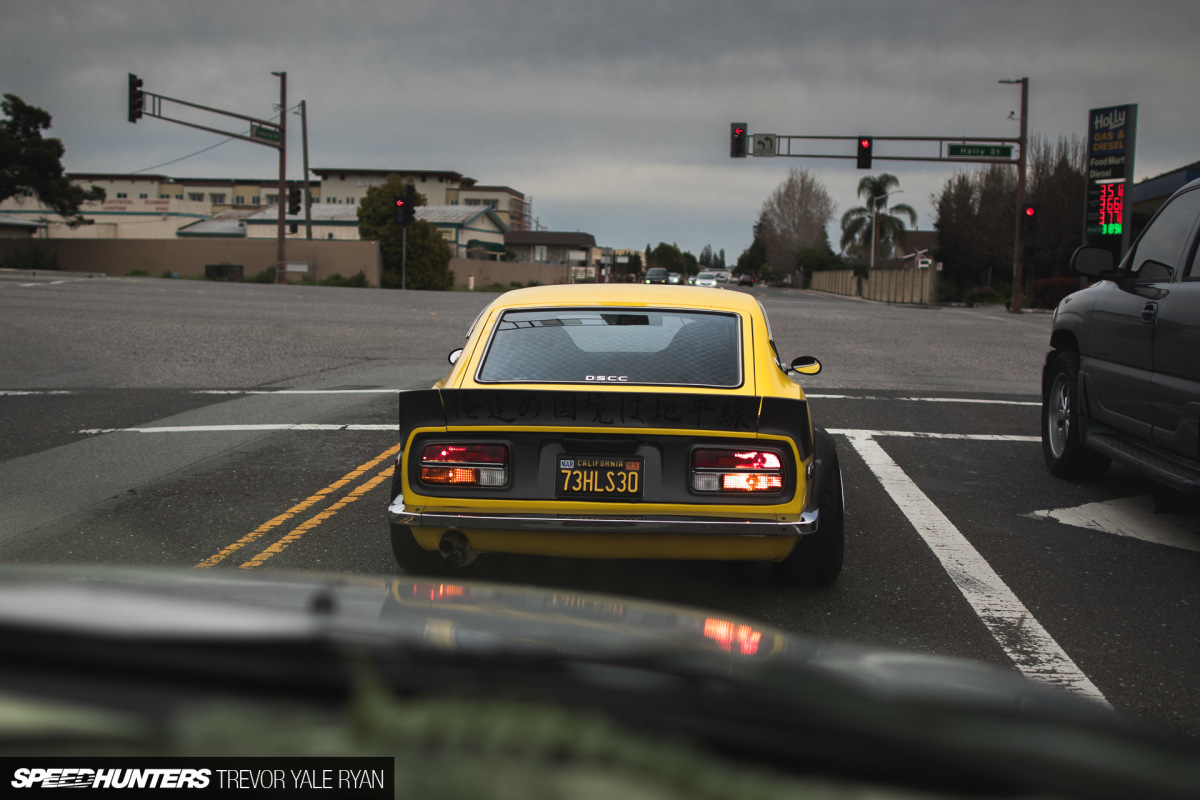 After chatting a bit about the build, Jeremy's old Corvettes, cars he's passed on and the trips to Japan, we hit the road in search of a place to shoot.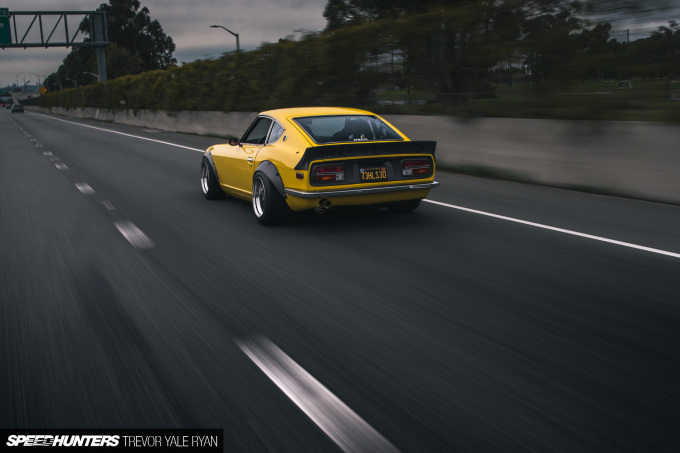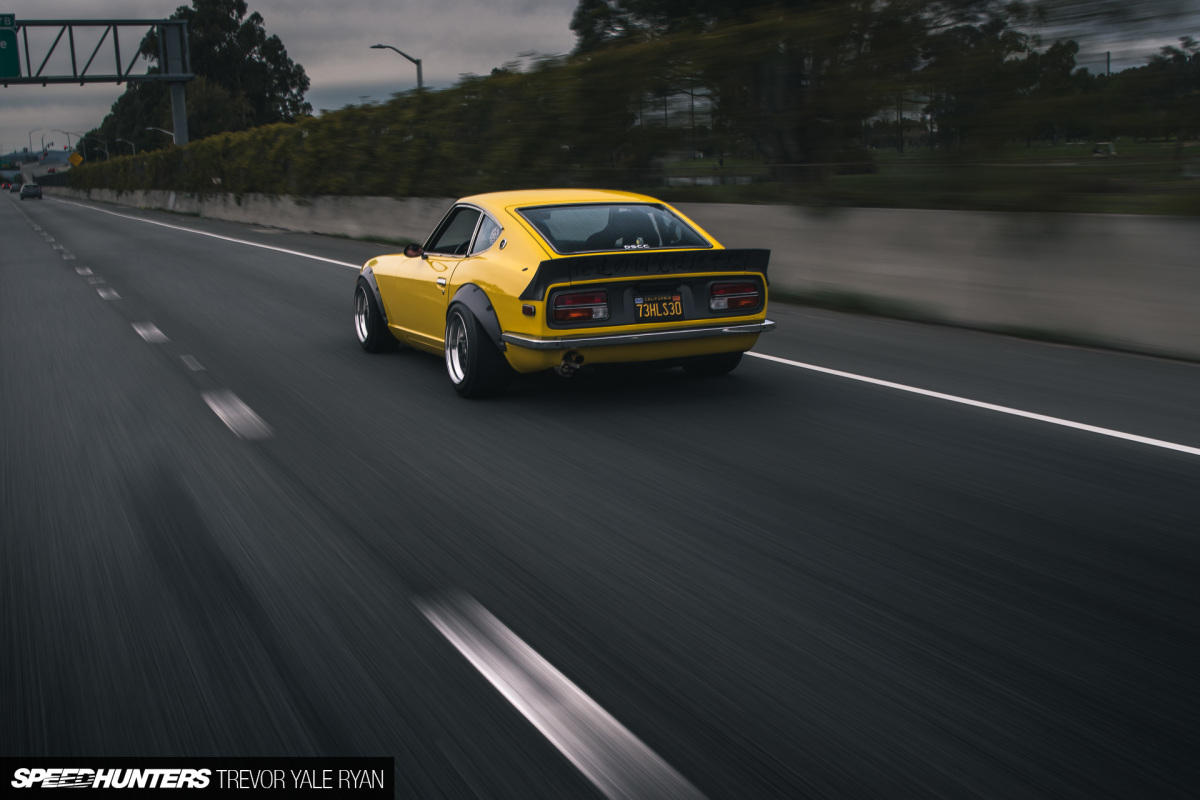 Hearing Jeremy put the throttle down brought a smile to my face, and I knew he had to be grinning too. The carbureted 3.5L straight six just sounds so good.
I know I can't get away with making statements like this anymore without backing it up, so have a quick listen to the clip above.
Into The Forest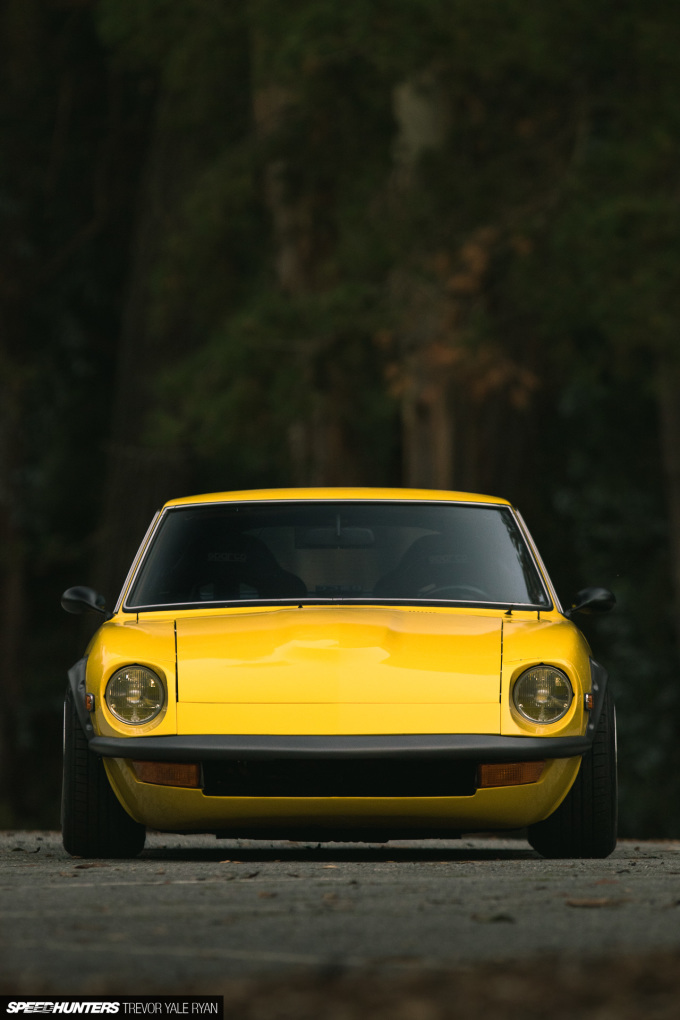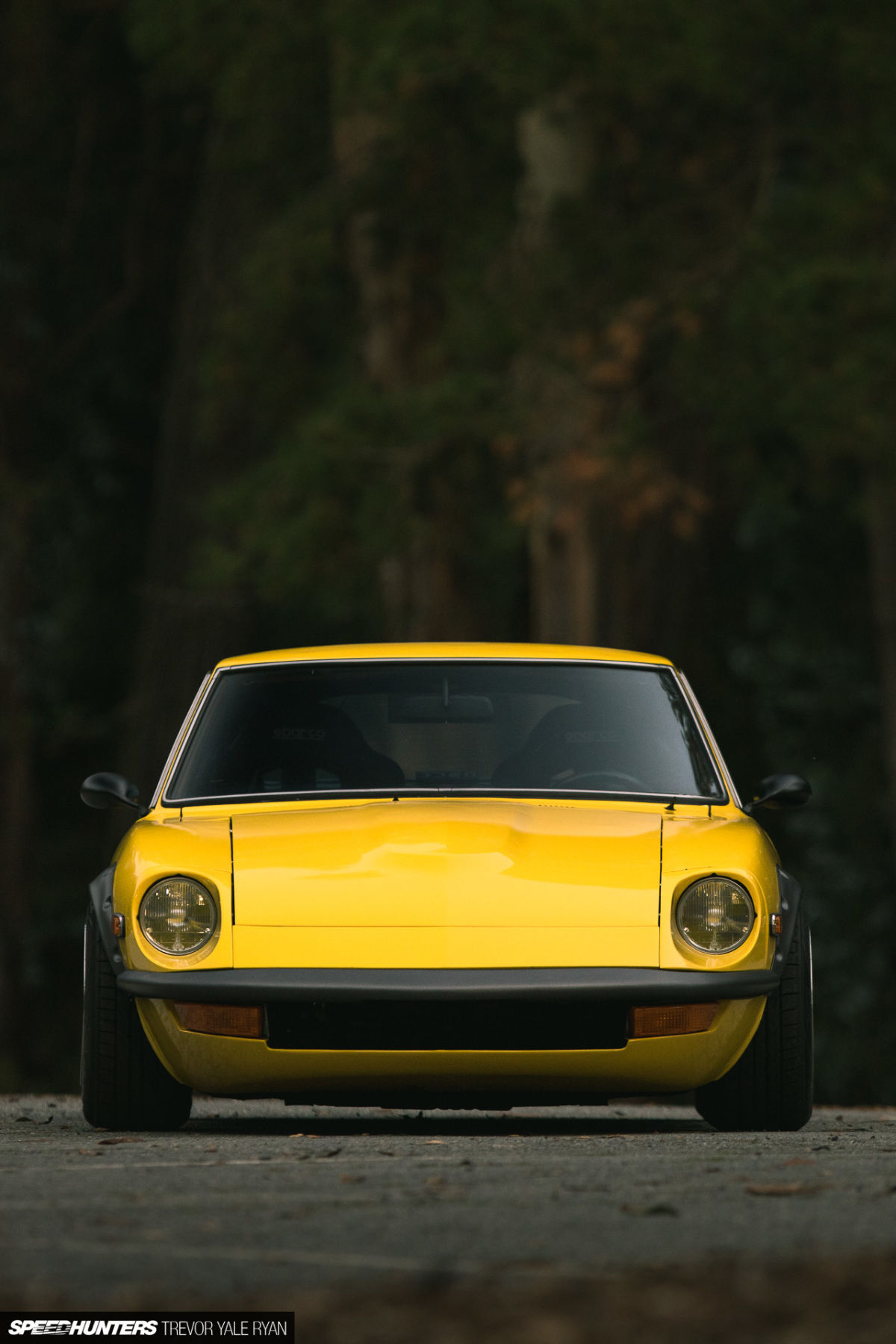 After nestling ourselves into a patch of eucalyptus trees and admiring that nice long nose, I had to see exactly what was under the hood.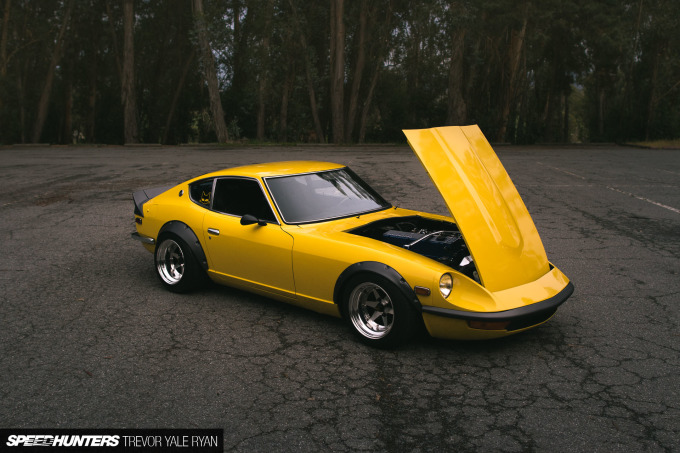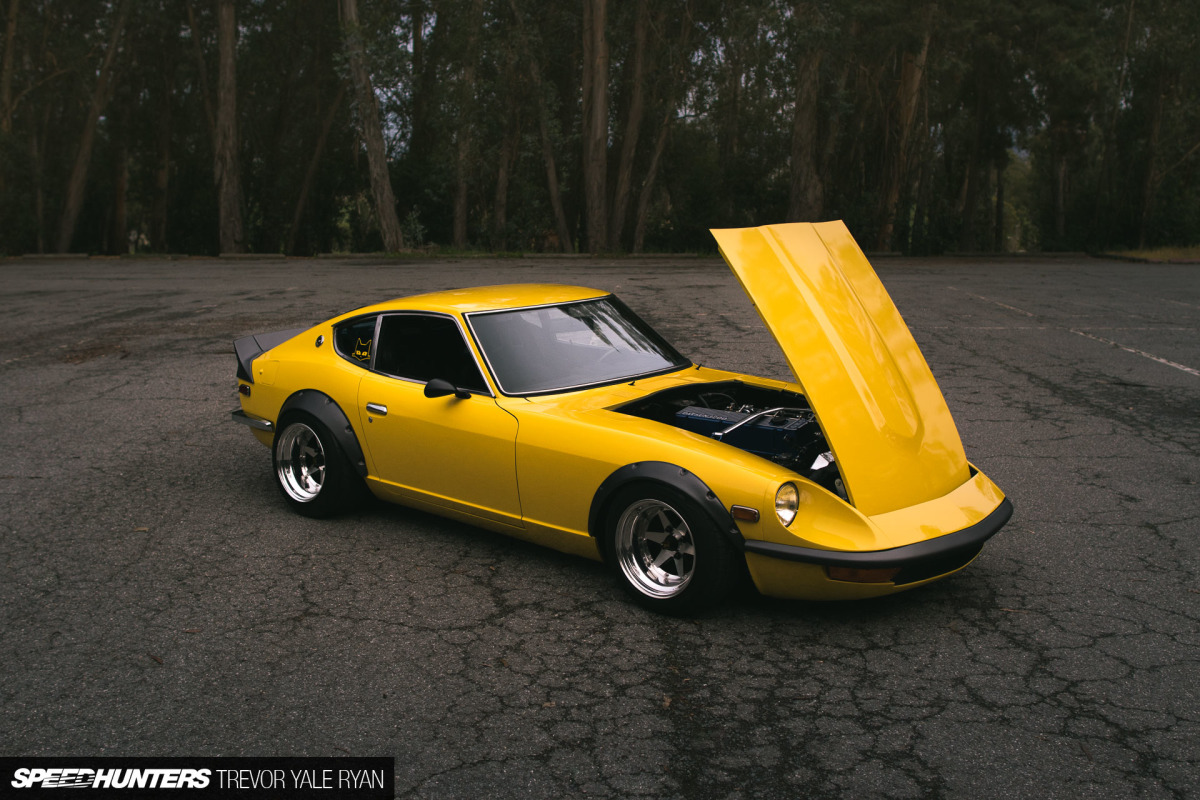 Purists, there's no trigger warning necessary this time. Go ahead and have a look; I promise nothing bad will happen.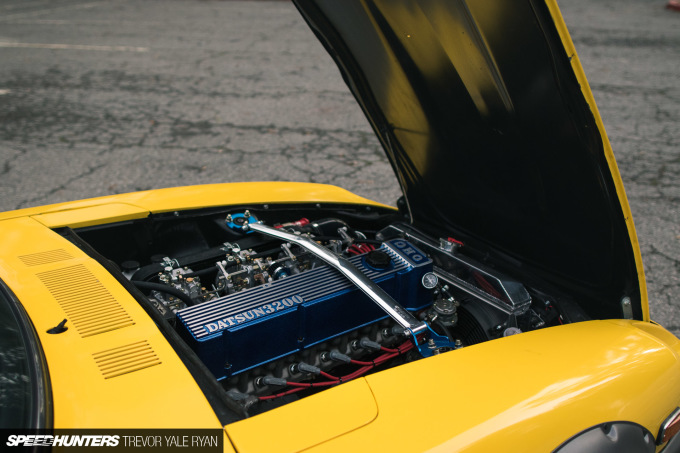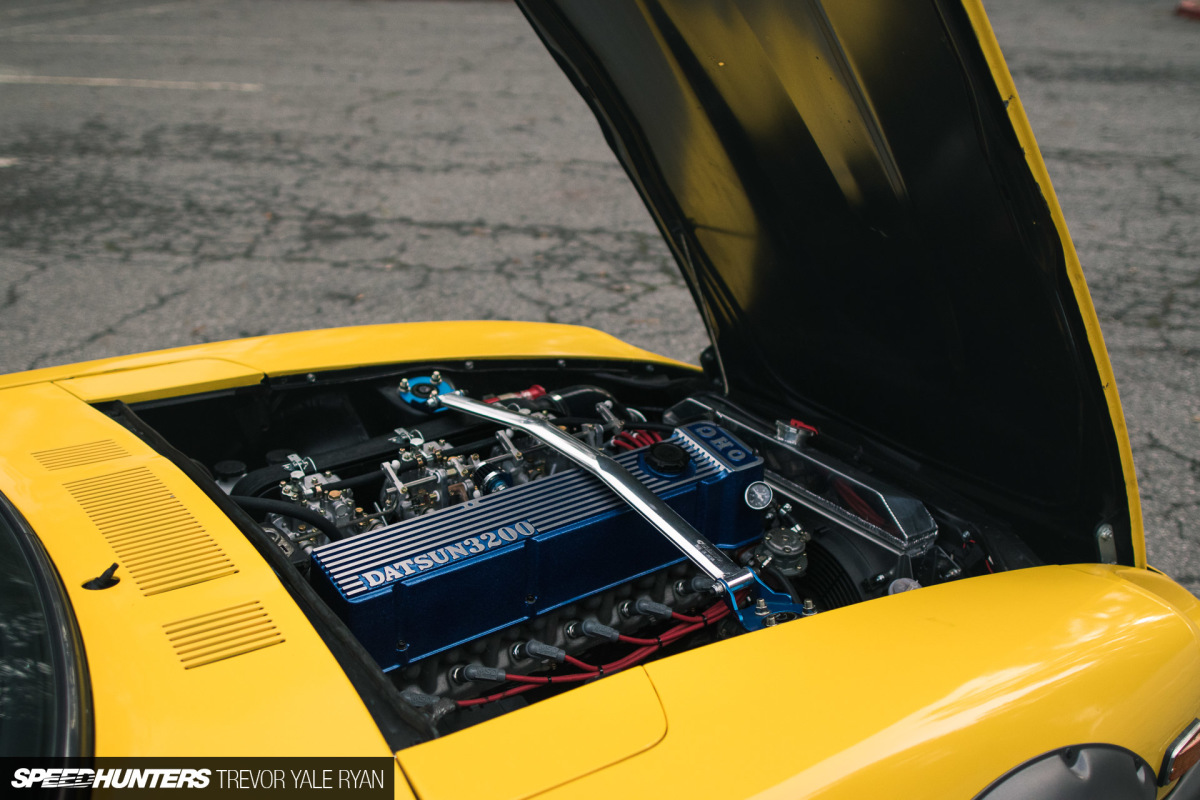 This is one of only a very small handful of these 3.5L motors in existence built by Rebello Racing, a highly respected (East) Bay Area shop that's been doing quality work for over three decades. It's based on the taller LD28 diesel block using a custom long-stroke billet crankshaft to bump displacement up to that massive 3.5L mark, despite what it says on top of the valve cover.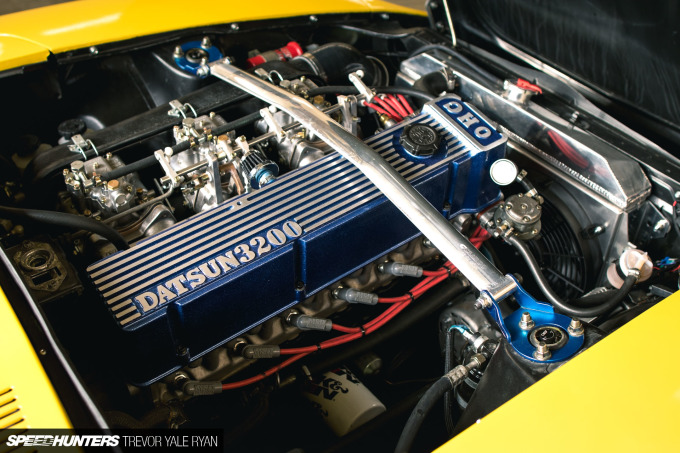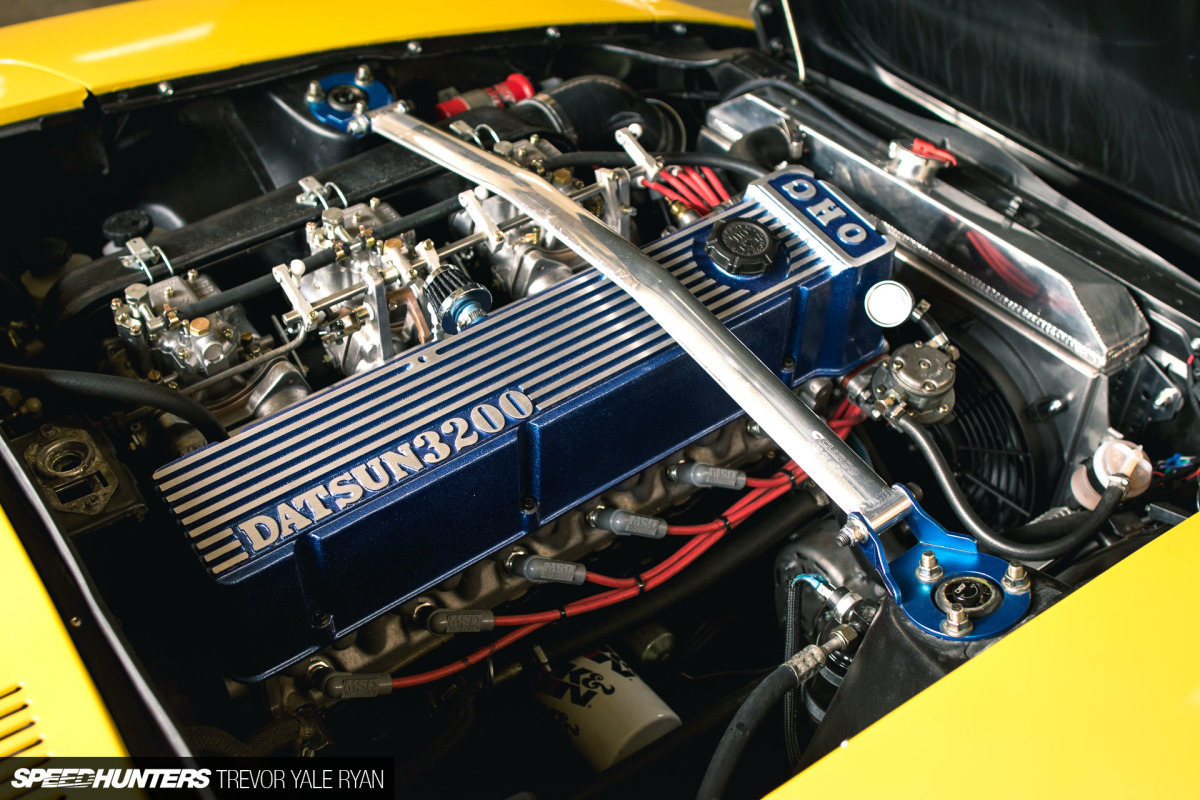 I absolutely love the old Datsun straight six powerplant; with a trio of 45mm OER carburetors fed through a simple, highly functional yet attractive airbox, it's hard to take your eyes off of the monster 3.5L.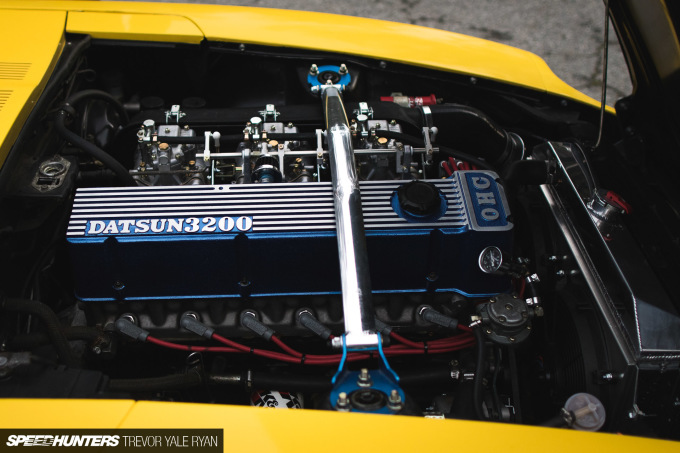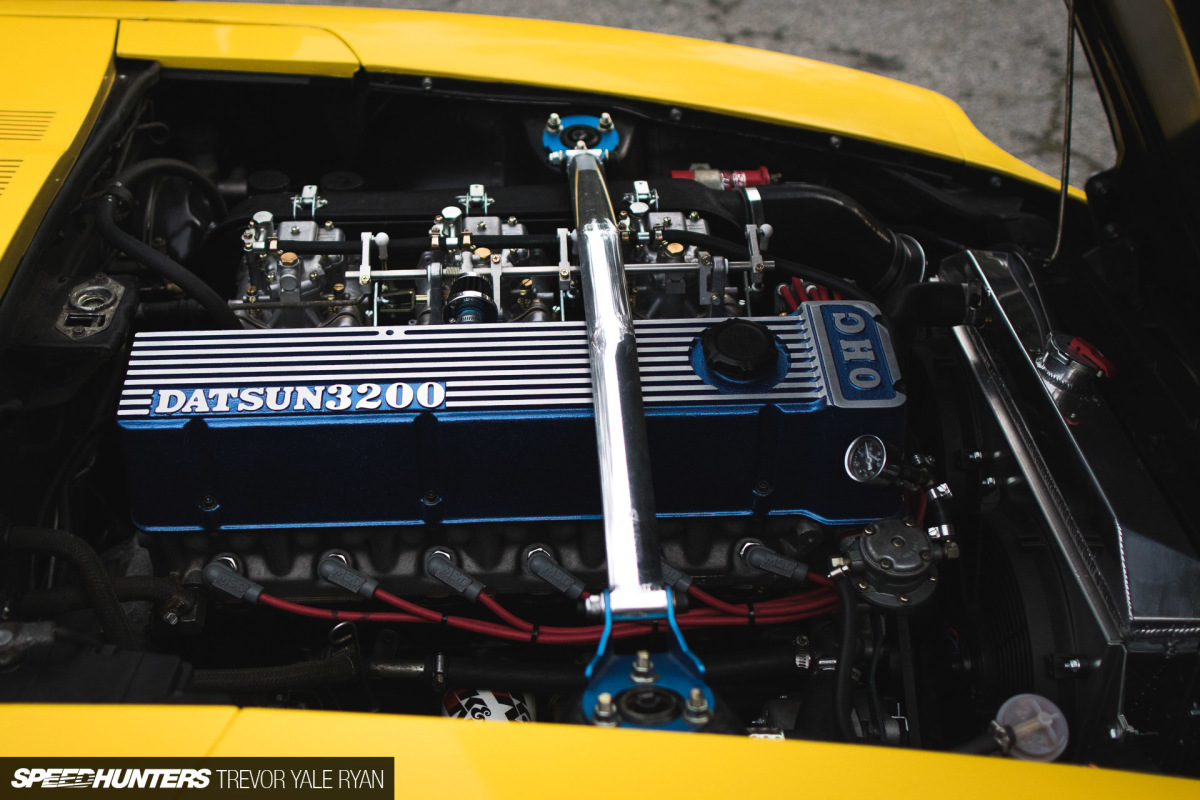 The motor looks so at home in the S30; it's as if this was a high-end factory option back in the day.
The motor itself took over a year to complete, but as this was one of the first Rebello motors to actually find its way into one of these cars there were some complications. Jeremy pointed out that the left-hand side of the taller valve cover he chose for the already taller motor needed to be shaved down to clear the hood.
To handle the extra torque to the wheels, a SR20DET transmission was sourced along with an R180 differential from a Subaru Impreza WRX STI. The CV axles from the STI were also brought over, so it's a setup that you can trust to last.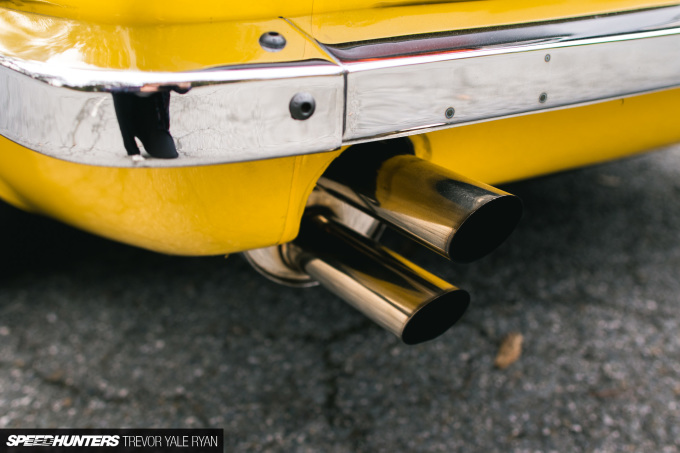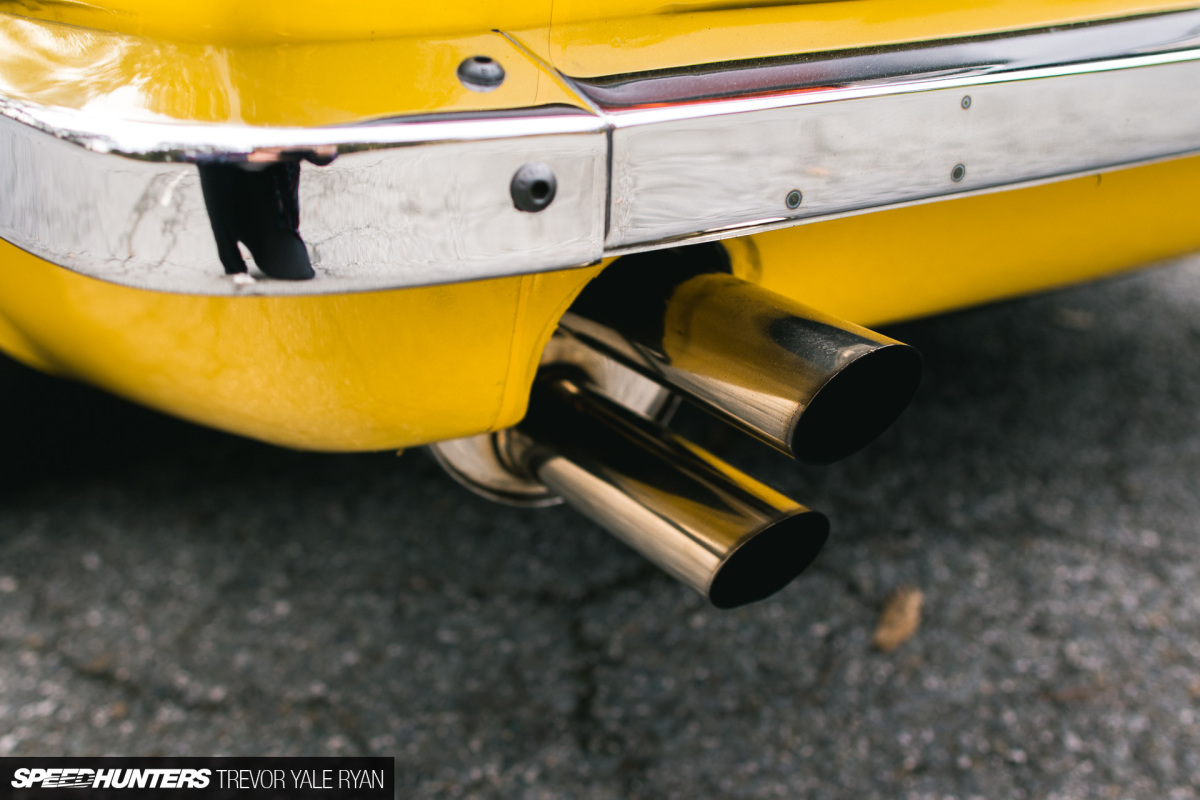 A Zstory exhaust turns spent fumes into beautiful music; if you glossed over the video sound clip, hop back up there and hear it for yourself.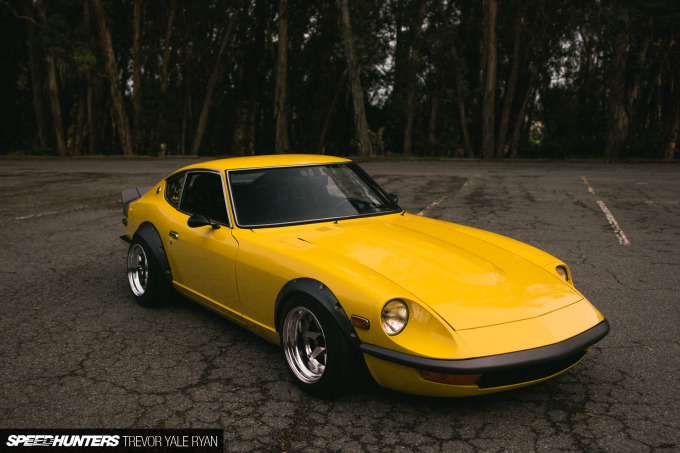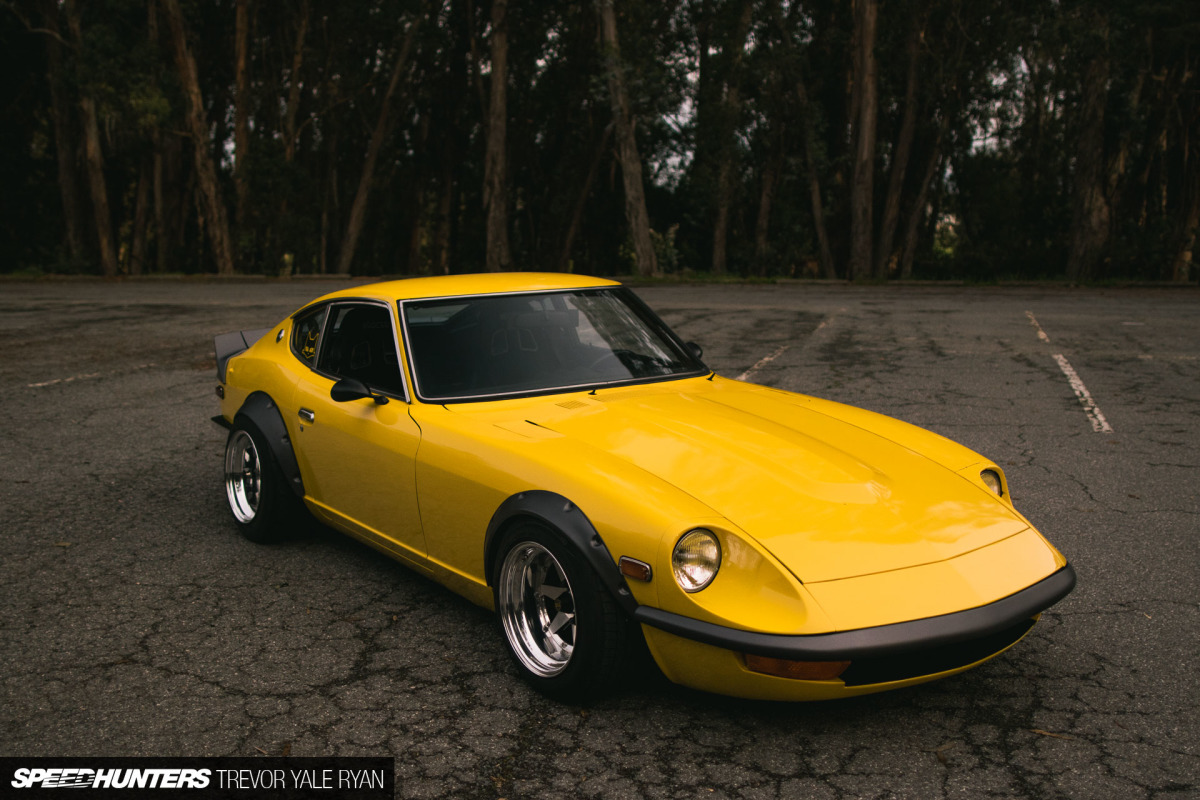 It's a bit incredible, isn't it? While I have love for just about any Z, this thing is just off the charts for me.
Reflecting On The Details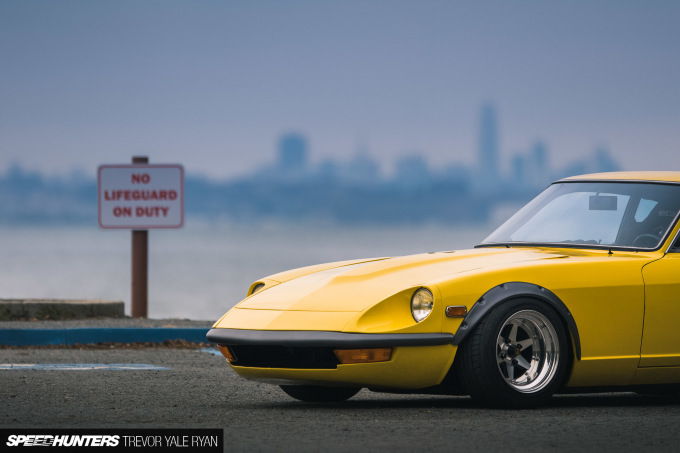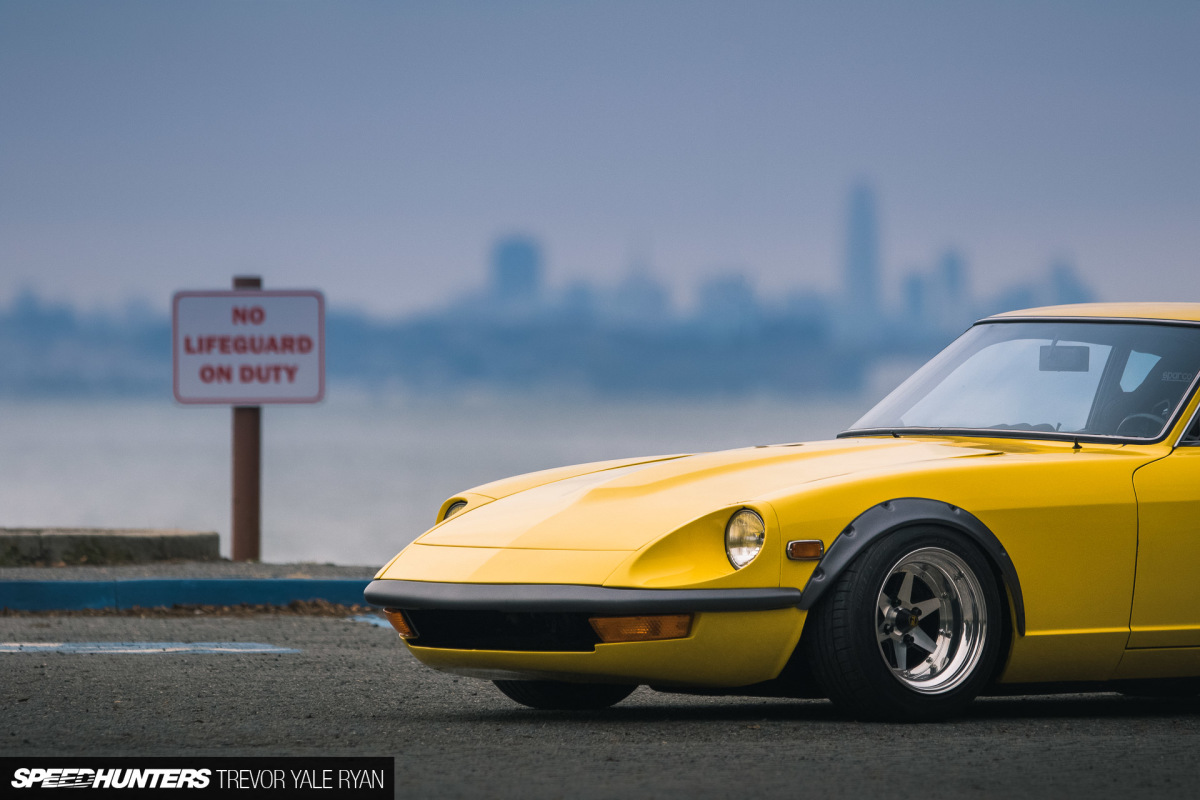 Outside the motor is the extra long front end; it's a Shoukai G-nose conversion that makes the car look as special as it is to drive.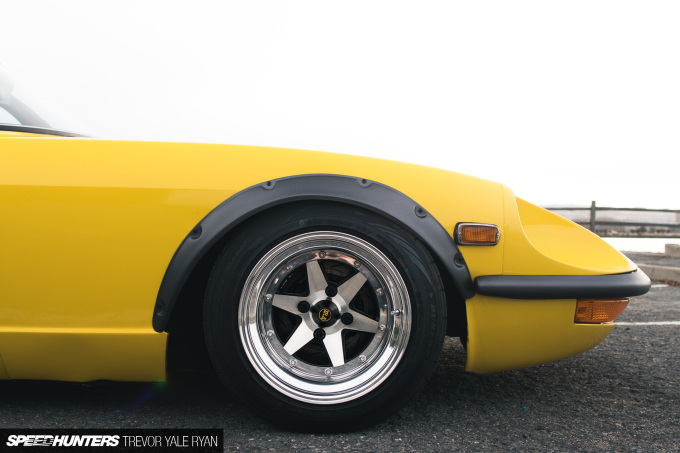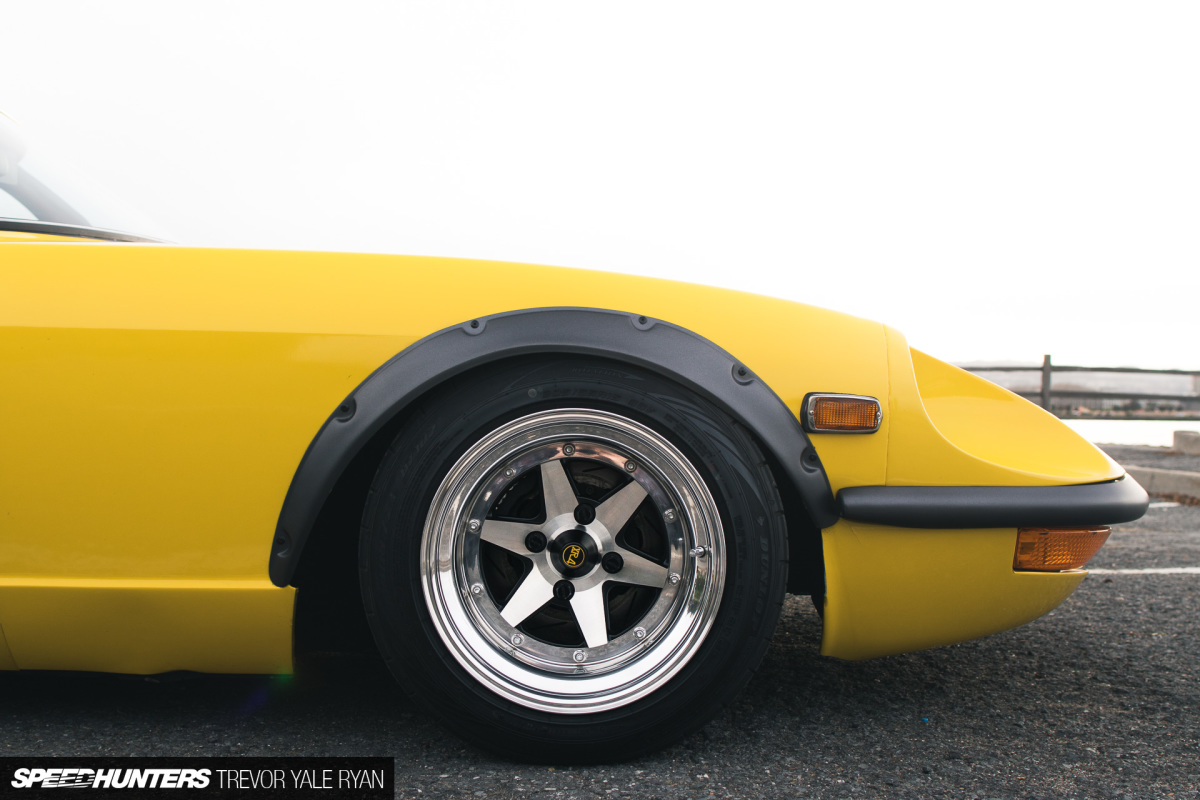 The quite long face of the car is complemented with ZG flares — which house SSR Longchamp XR4 wheels — and exaggerated by the low-down stance. BC coilovers have been used all around to lower the car while improving the handling.
Like Jeremy's other 240, FutoFab tension control rods and ST sway bars help the thing stick to the road. Techno Toy Tuning LCAs in the rear keep the geometry happy. Also helping in the sticky department is a set of Toyo Proxes R888 tires mounted to the 15×9 and 15×10-inch wide SSRs.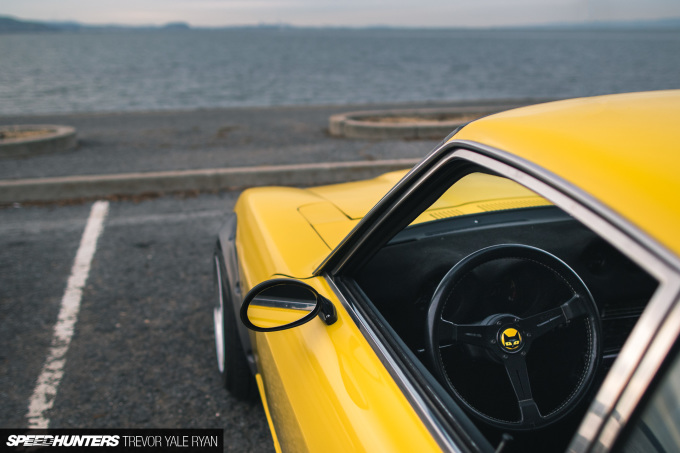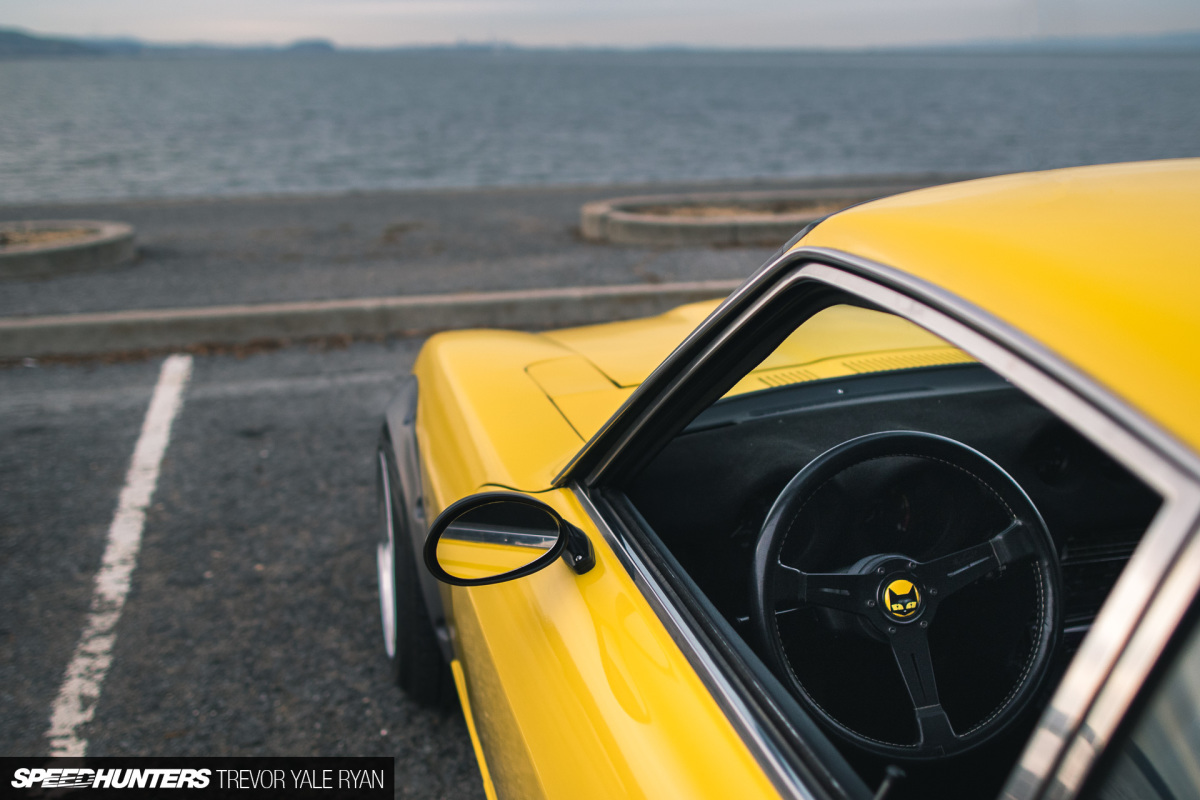 The more I looked at this car, the more I liked it — it's a solid balance of extravagance and simplicity.
A Nardi steering wheel and Sparco seats replace their stock counterparts, but besides these items the interior remains relatively stock.
Jeremy says he has no plans to make the interior fancy, as he's happy with where the car is now. If anything is going to change, he mentioned that he might go for an ITB setup to make that 3.5L even more insane.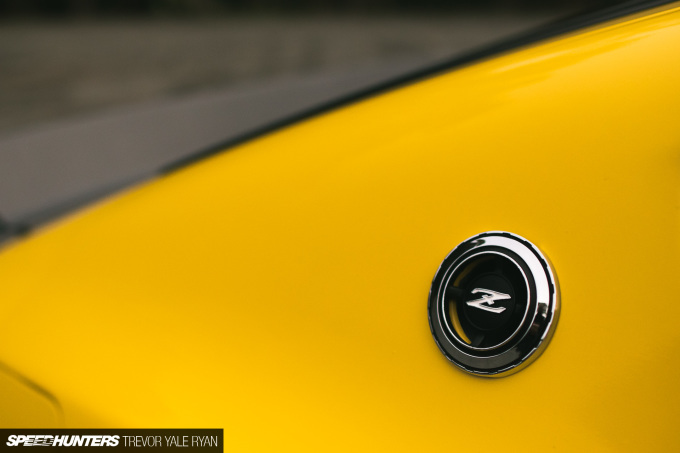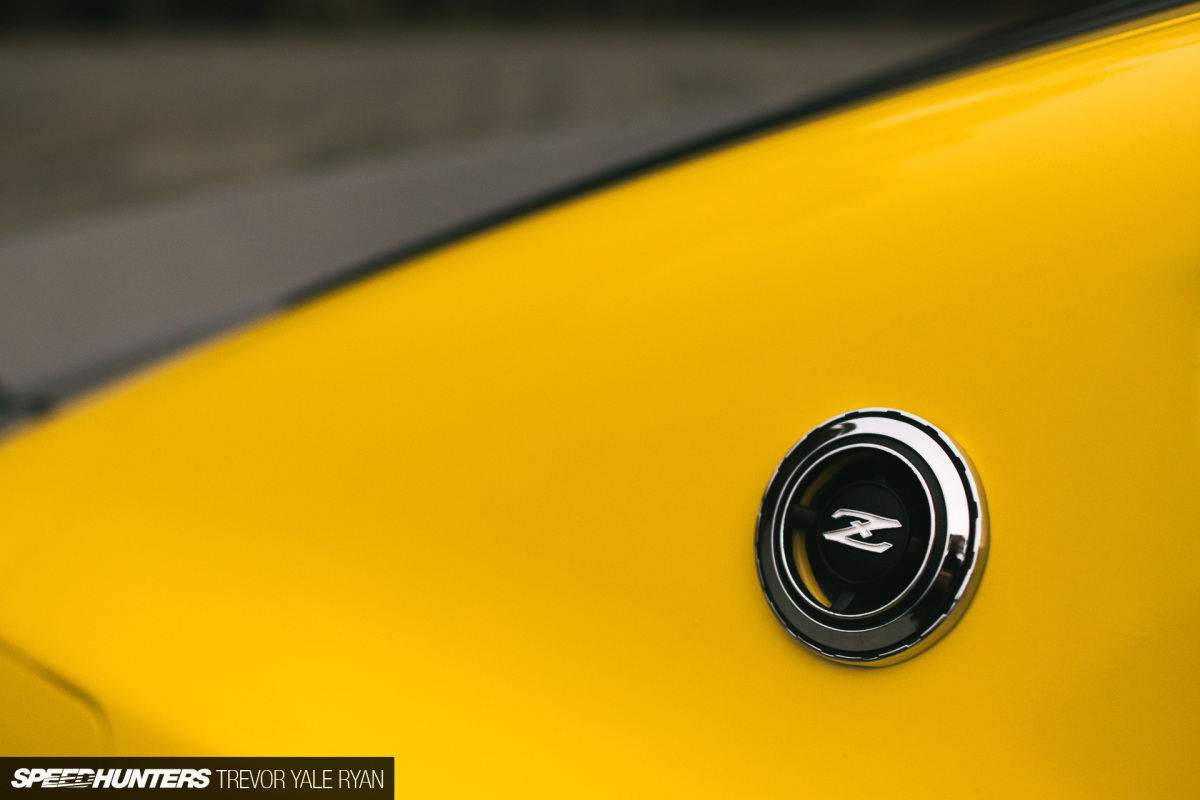 But for now, it's a 240 he's just flat-out enjoying. It's a build that's true to what a Z car should be, with heavy influence from overseas.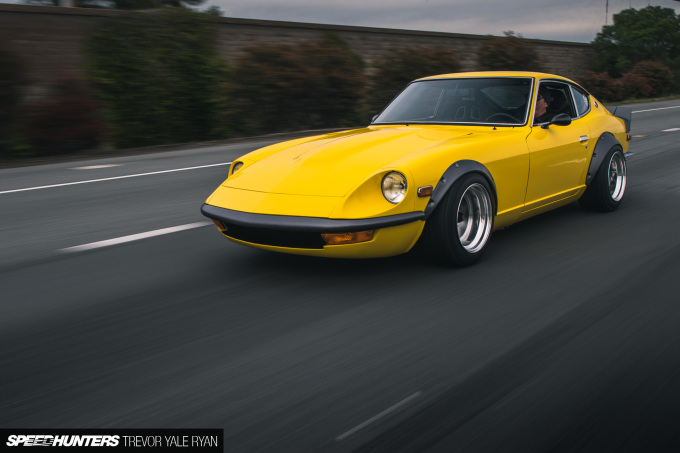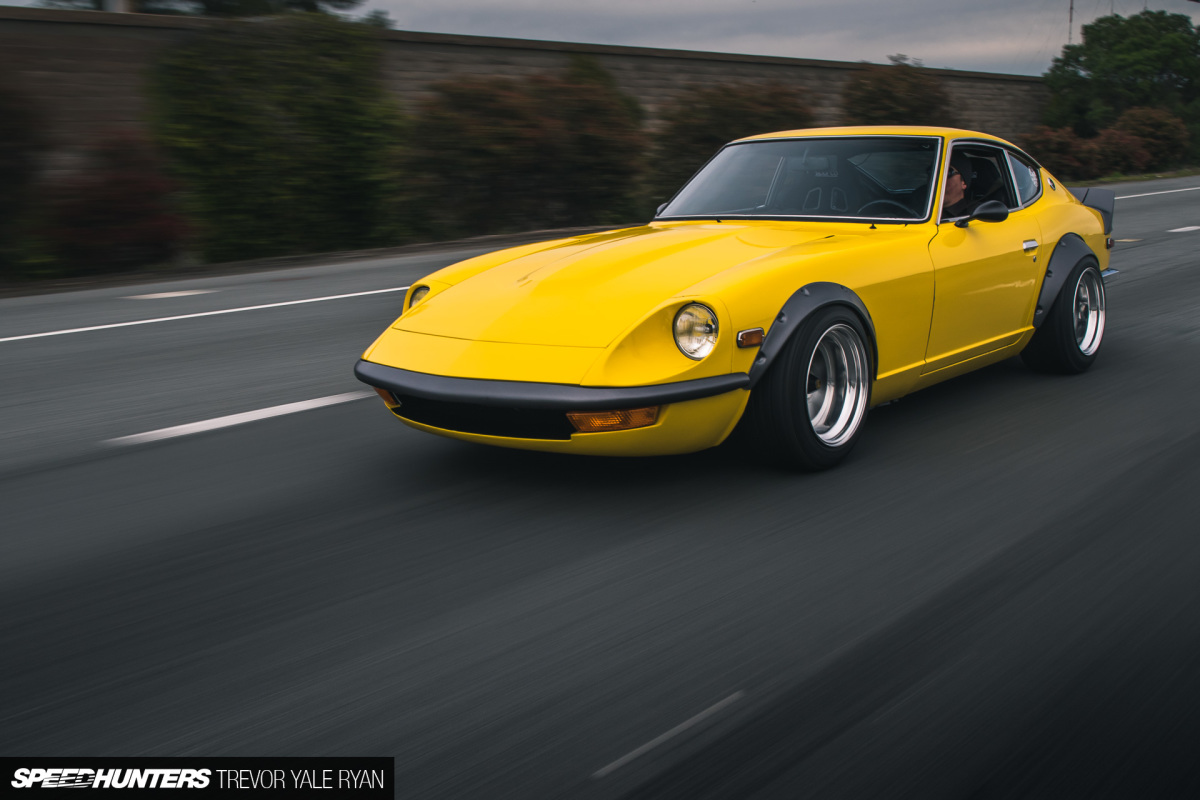 You can tell it's an absolute joy to be behind the wheel, and the car looks great at speed.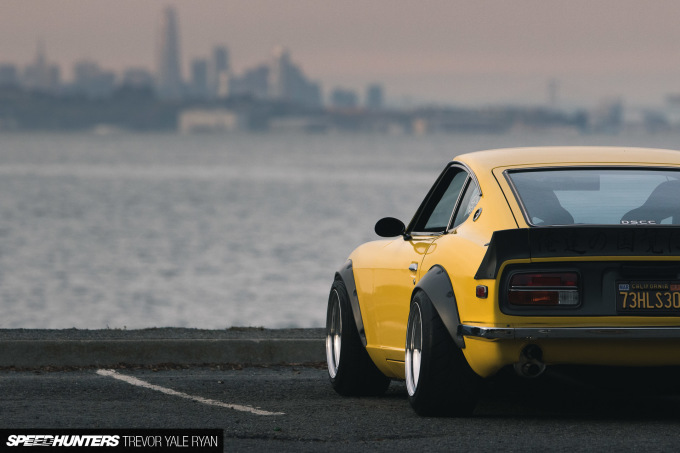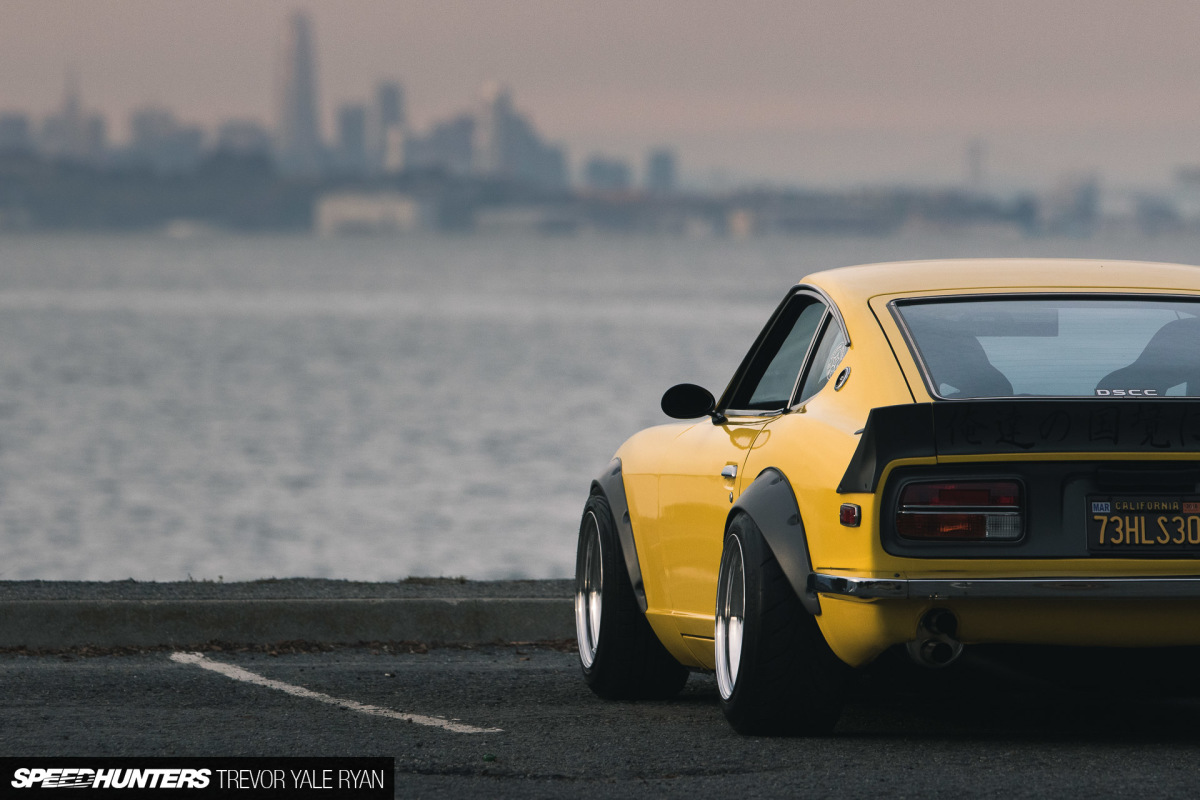 While Jeremy certainly didn't build the car with shows in mind it looks great parked up as well, whether viewed from the rear or over that long glorious Shoukai G-nose.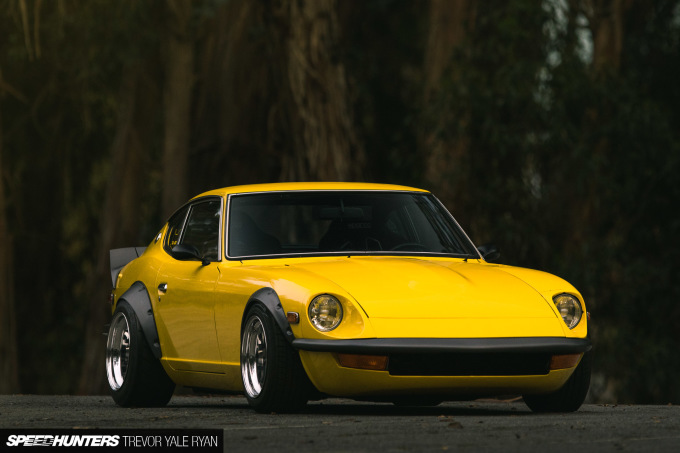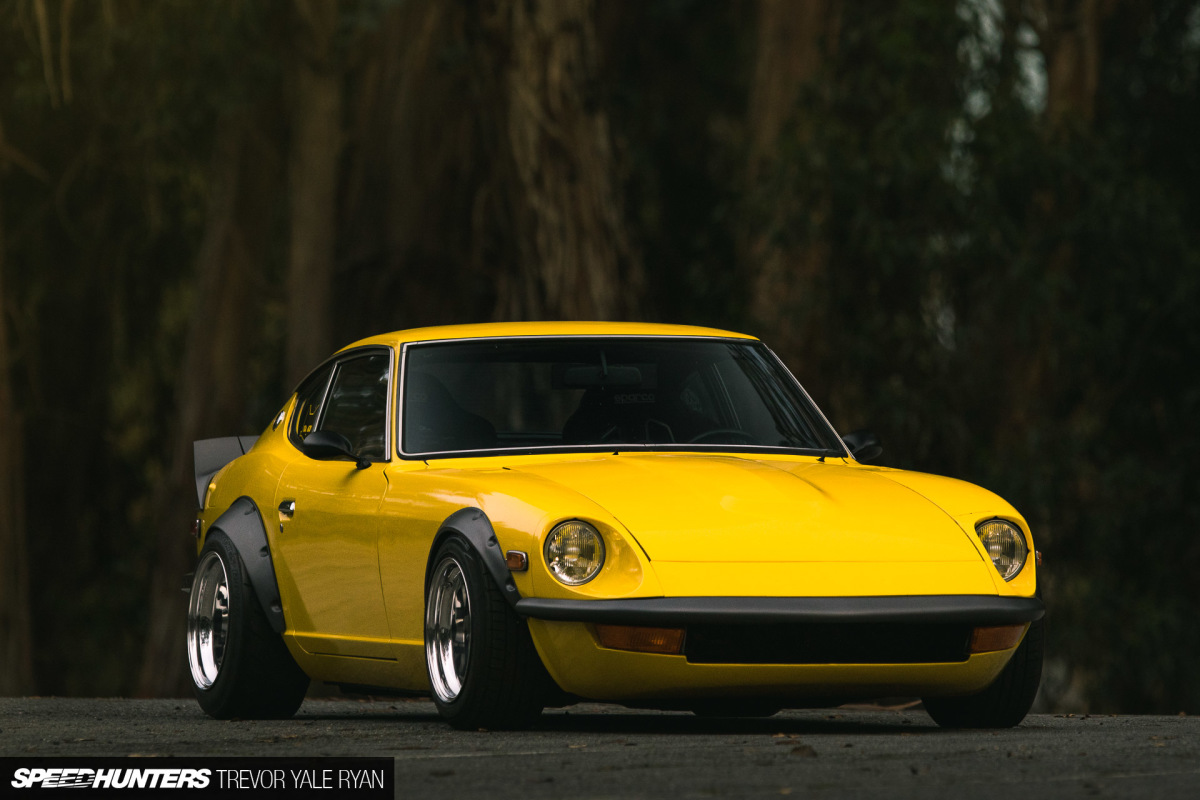 The engine is the centerpiece, but all around, without a doubt, this is of the cleanest and most complete S30s I've ever seen stateside. More than this, Jeremy's 240Z is a truly inspiring build that gives me faith that car culture will never die.
Trevor Yale Ryan
Instagram: tyrphoto
TYRphoto.com
Cutting Room Floor