The Teslonda
I wasn't a huge fan of EVs when I first heard about them.
Perhaps it had to do with the Prius and hybrid stigma, or because EVs are virtually silent. Or maybe it's because I was scared for the future of vehicle modification; I for one am absolutely terrible when it comes to working with anything electrical, so bad in fact that I may have even caught my car on fire while attempting to wire up a neutral safety switch.
With that all said, you may be able to understand why I've been a bit dubious about the notion of modifying an electric car. But that recently changed when I met Jim Belosic and his 1981 Honda Accord, an EV that does 0-60mph in an electrifying 2.7-seconds and runs under 10 seconds in the quarter mile.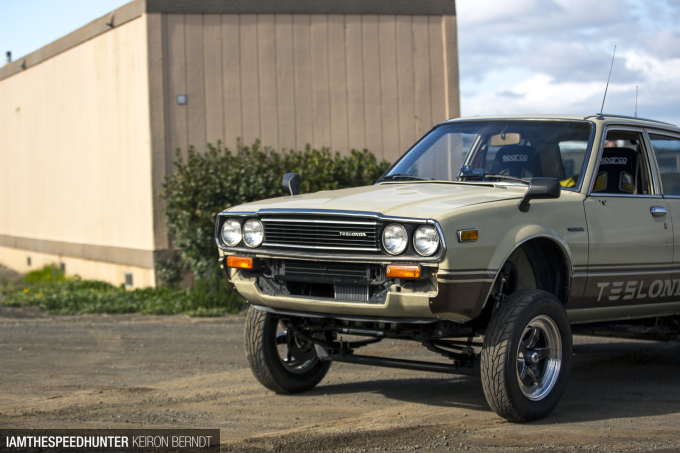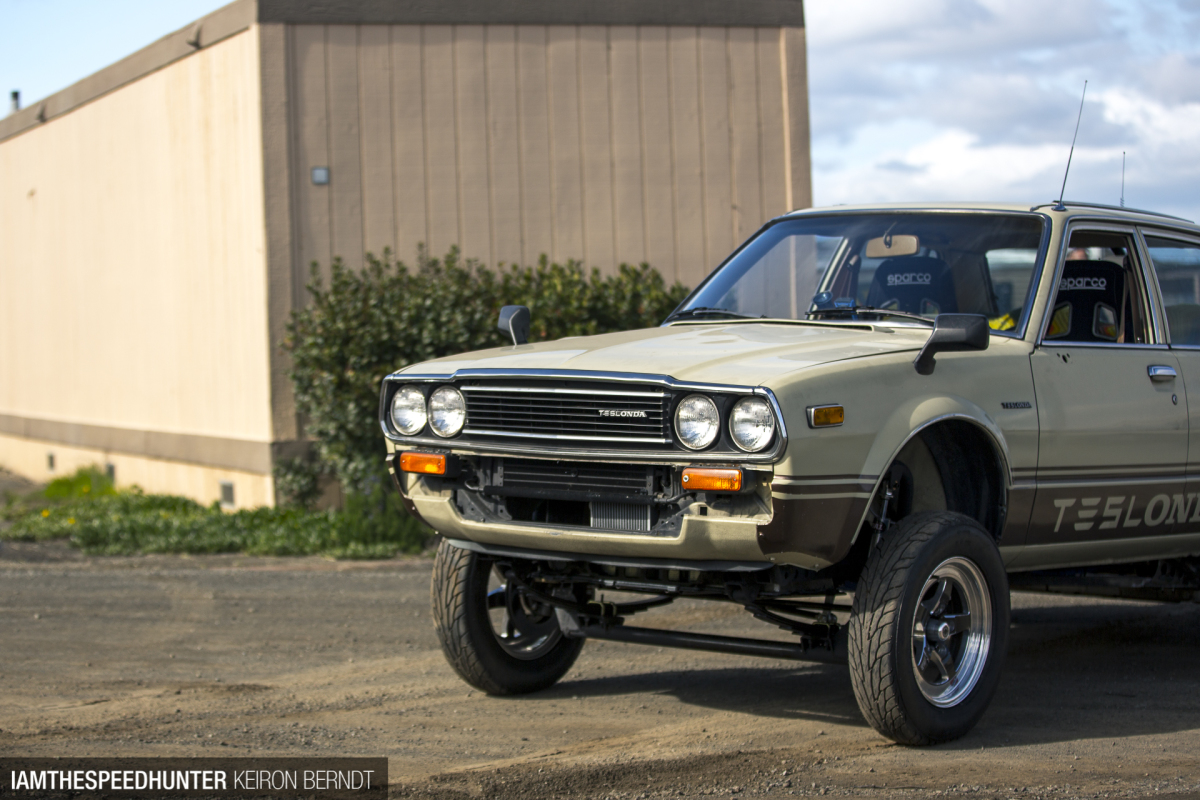 Jim is a head-to-toe car enthusiast who has done nearly everything to cars that can be done. But it got to the point where restoring and hot rodding regular cars the traditional and universally accepted way just wasn't doing it for him anymore.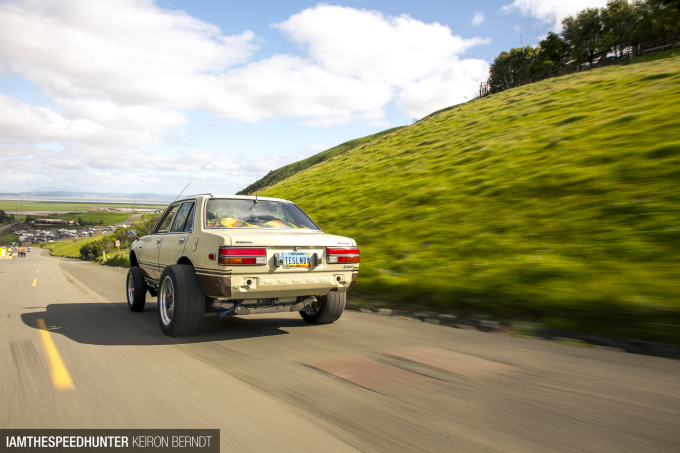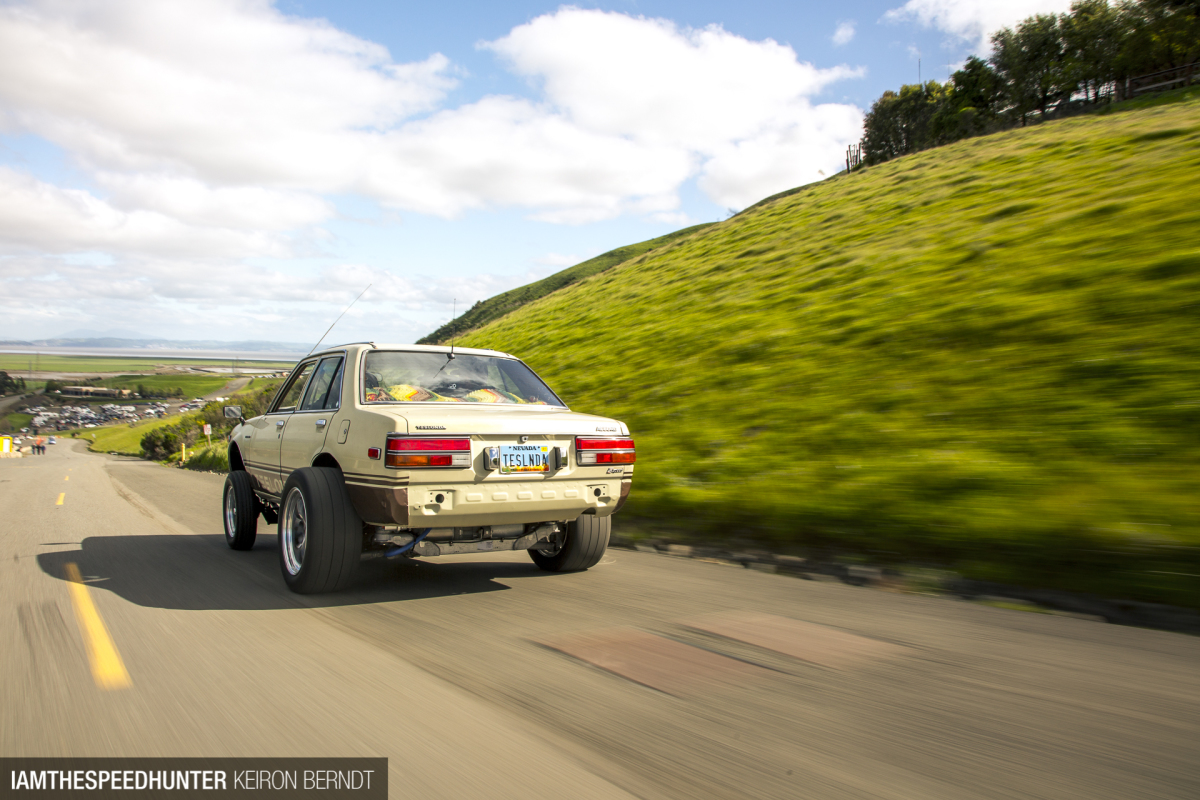 Armed with oodles of knowledge, a strong will and a drive to innovate, he found himself building cars and machines from scratch that definitely didn't follow convention. A couple of steam-powered creations were even in the mix.
But after starting a software company, Jim found himself lusting to work with his hands again. When a friend bought a Nissan Leaf the true fun began again.
While the Leaf isn't the fastest or coolest electric vehicle on the road it was the perfect place to start, and before long it was fitted with a motor controller and modified inverter. It was at this point that Jim realized that electric was indeed the future, and that he needed an EV project of his own.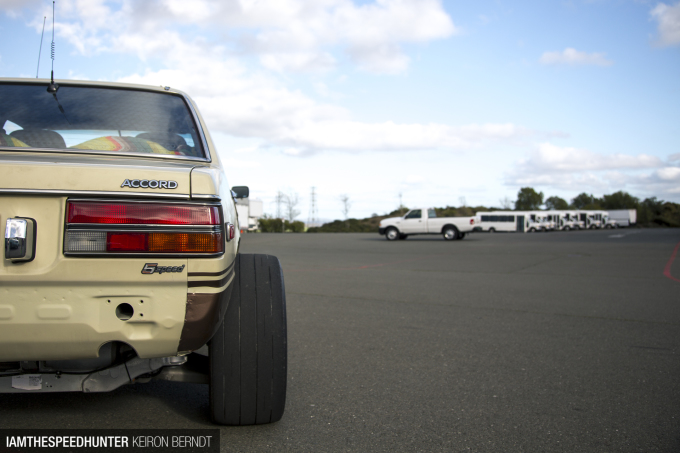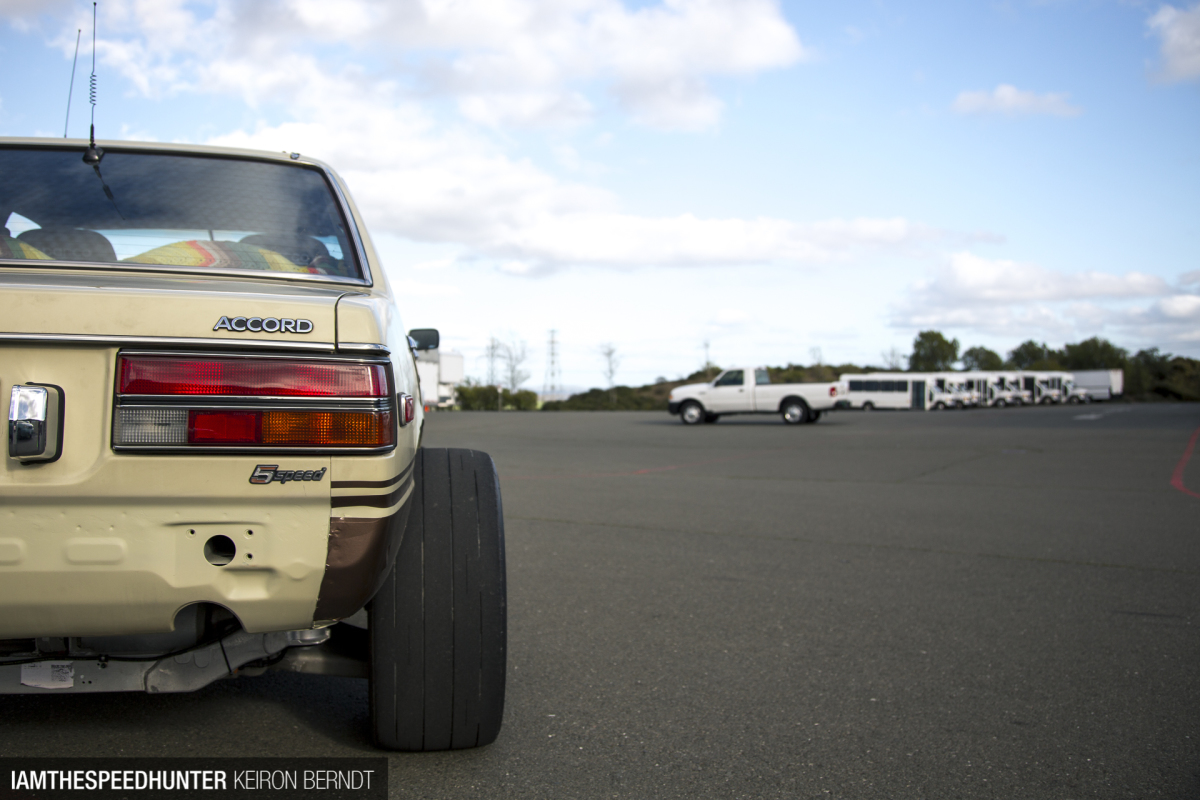 If you're wondering 'why a 1981 Honda Accord?', you'll be pleased to know that Jim's reasoning is vastly better than the common 'why not' answer.
It all started when, at the age of 16, he bought an '81 Accord, then promptly destroyed it. While Jim eventually moved on, a couple of years ago he came across an Accord for sale in the same model, year and colour as his original, and nostalgia took over. With so much more driving experience under his belt in the time since, the Accord's 66hp 1.6-liter engine did little to inspire. But Jim had an idea. After some more research on electric motors, systems and batteries, he went all-in on this rear-wheel drive, EV Accord.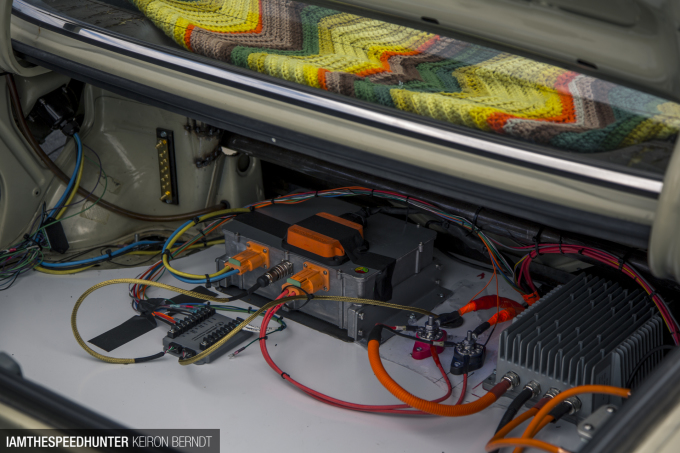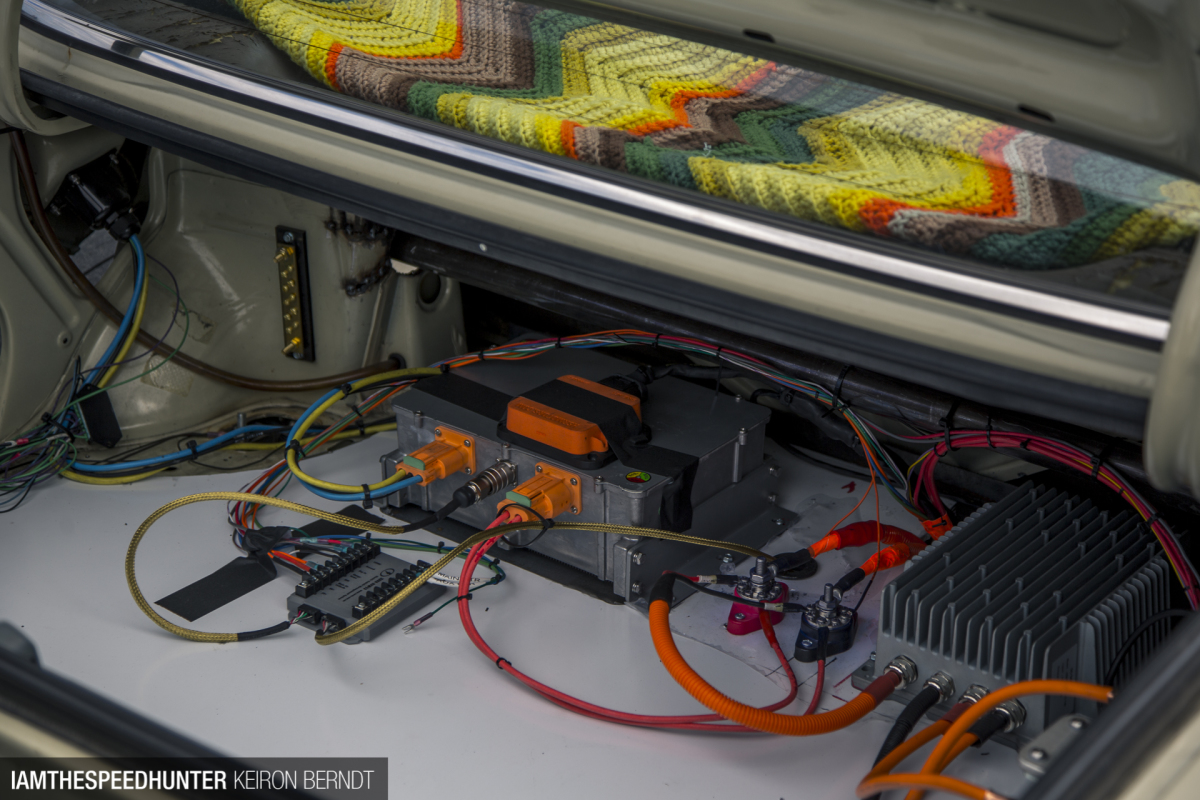 The drive unit was taken from a wrecked Tesla Model S P85 (hence the car's Teslonda moniker) and is paired with a motor controller from a fellow electric car modifier, Jason, otherwise known as the "Tesla Hacker". The batteries were purchased on eBay and were originally from a totaled Chevrolet Volt. The rest of the parts came from EVWest.com who are the leaders in electric conversations; the owner of that company drives a self-built electric BMW E36 M3 Pikes Peak car.
Jim says that sourcing the components wasn't hard, but fitting everything into the Honda was another story.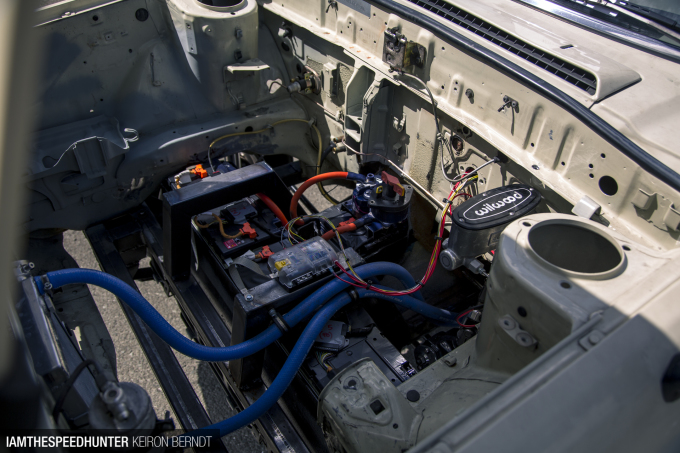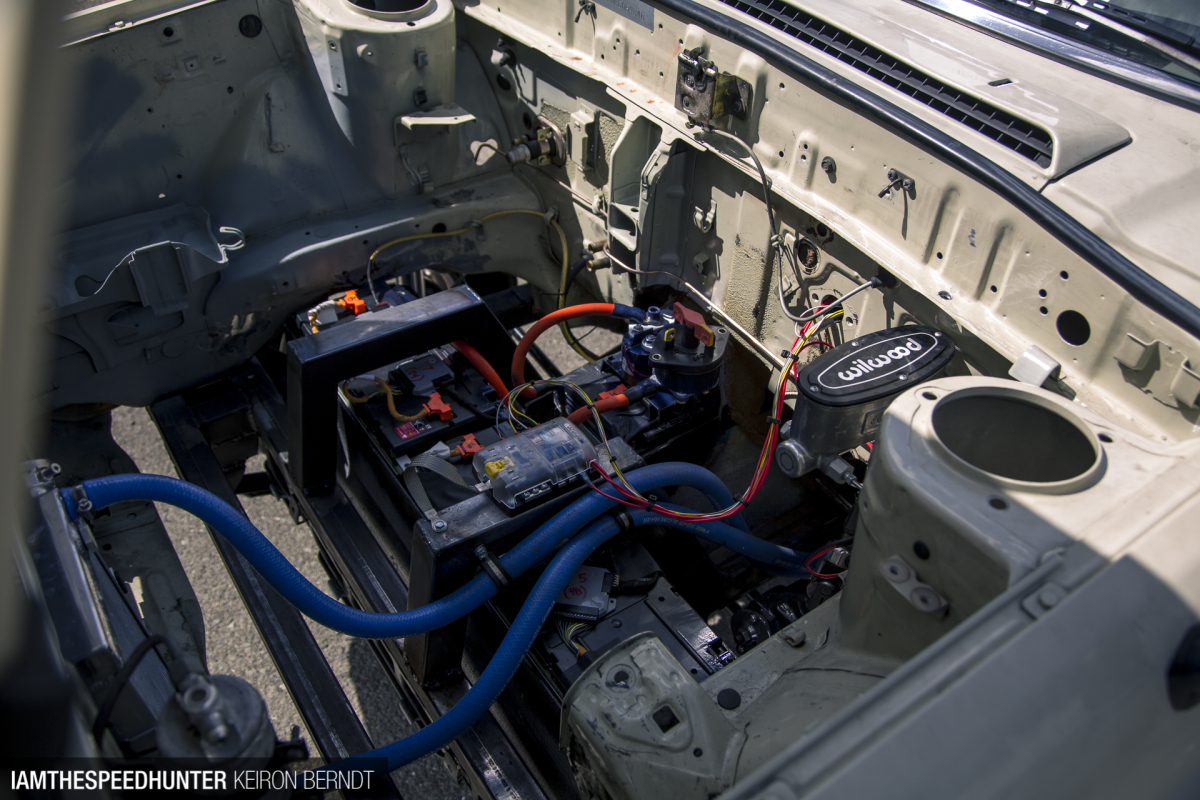 'Just drop the batteries and motor in, plug in some wires, charge it up, flip a switch and you're done, right?' Not entirely. When all the parts started to show up last Christmas, Jim realized that he'd have to completely rethink the style of the car. A good example of this is the width difference; the Model S's axles are 76-inches hub-to-hub but the Accord is only 72-inches wide.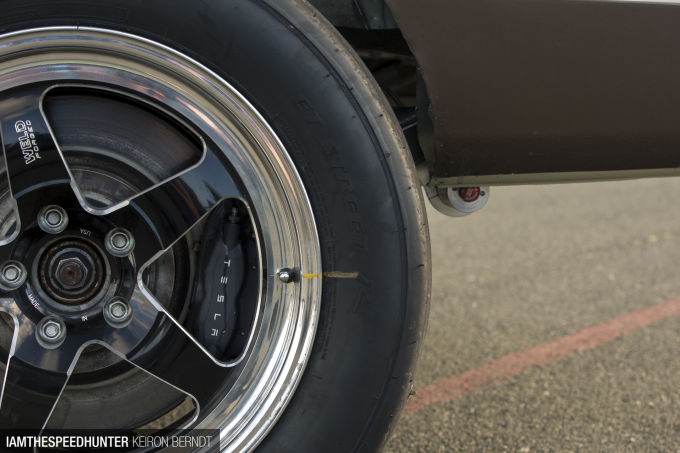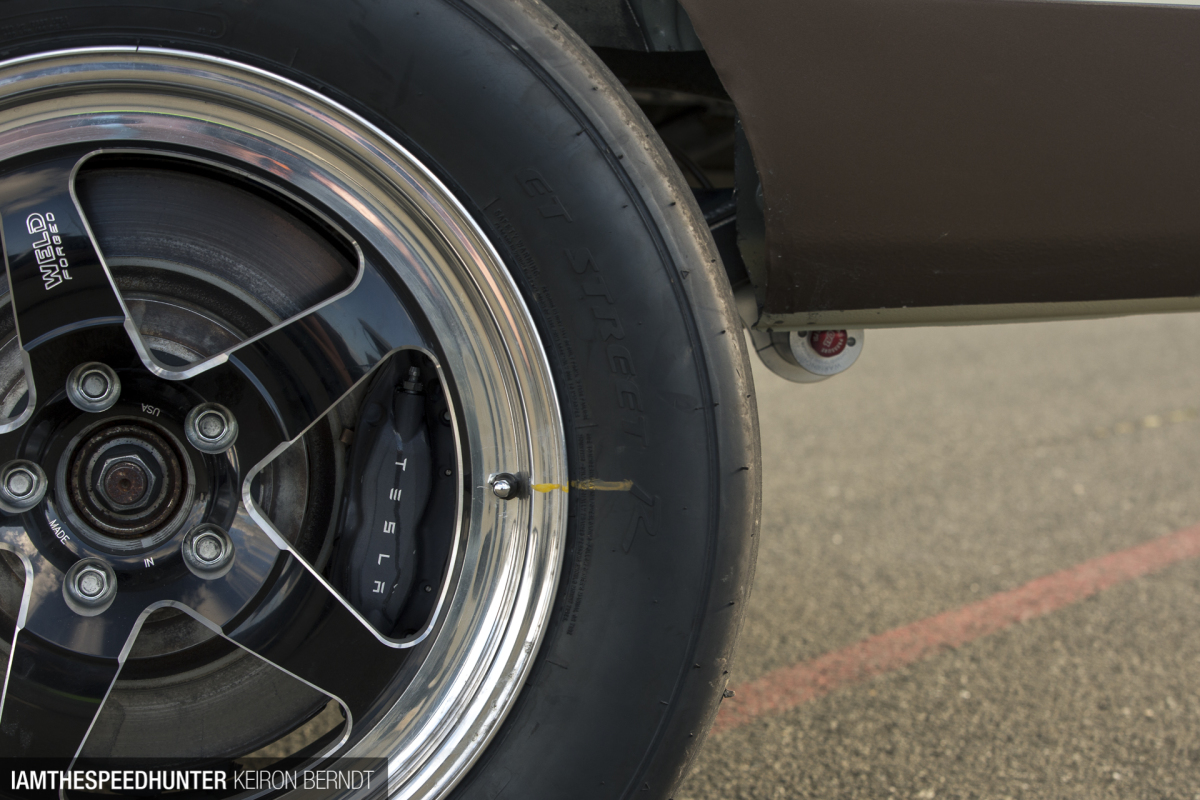 The battery pack also posed a problem; in order to fit everything into the car all of the front suspension pick up points would be compromised. The answer? Jim took the classic gasser approach from 1960s drag racing, installing a straight axle and a set of leaf springs.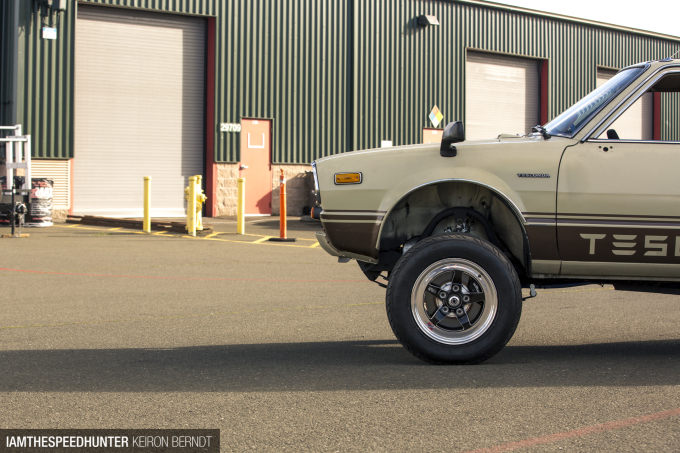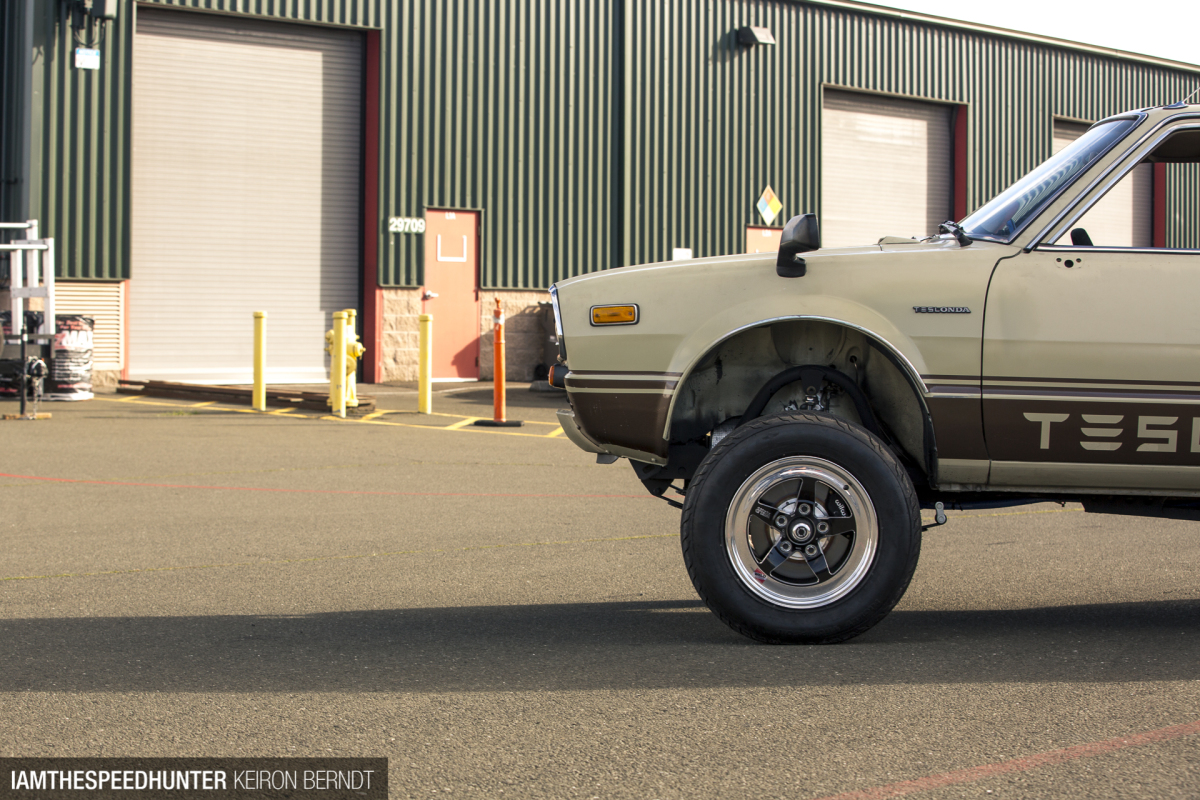 To keep the retro drag theme going, next came a set of Weld Racing wheels shod in Mickey Thompson tires –  26x6x15 Sportsman S/R Radials up front and 305/45-18 ET Street R Radials out the back.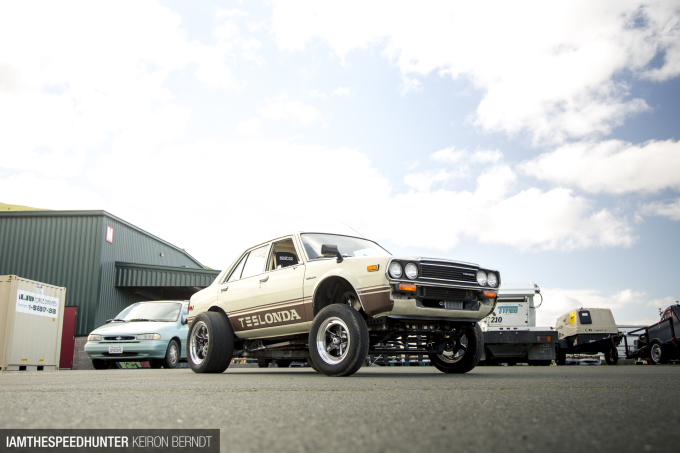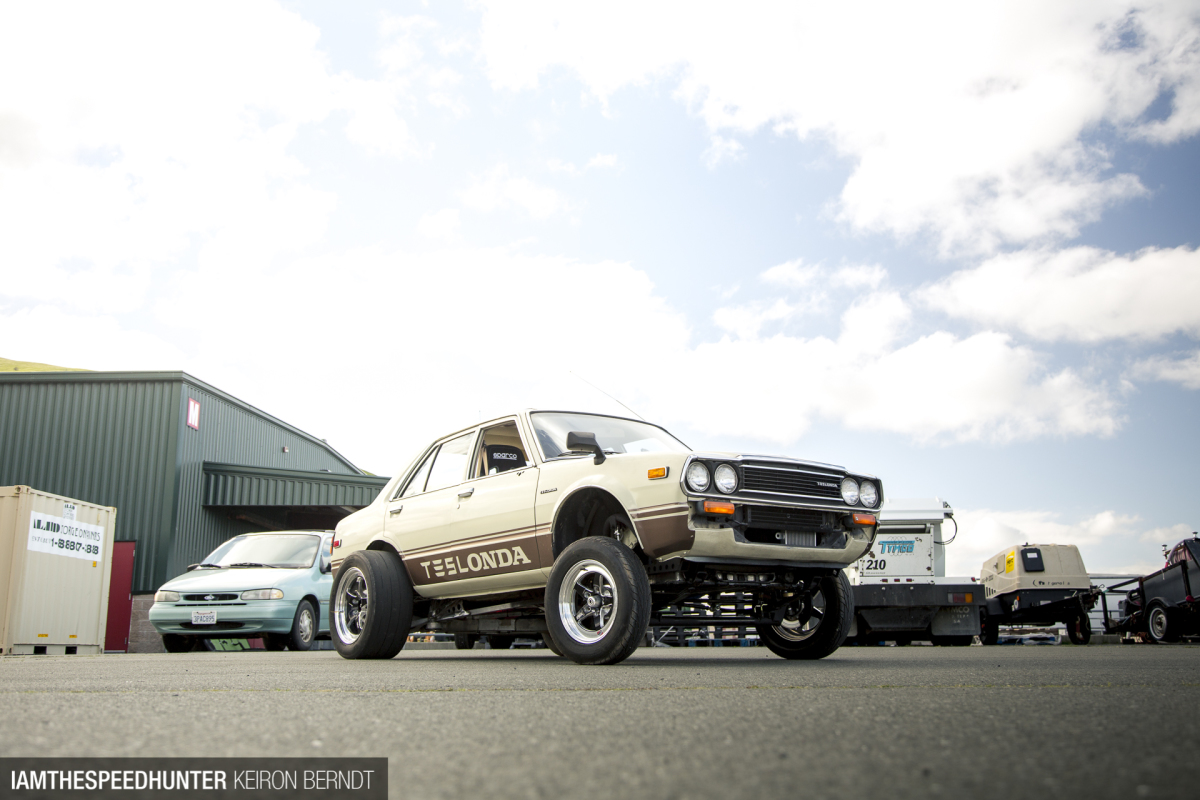 When Jim first envisioned the Teslonda project his idea was to create a sleeper of sorts, but while the gasser style did away with that notion entirely it made the build a whole lot easier to realize. In its newfound guise the Accord looks like it's ready to crush anything in its path.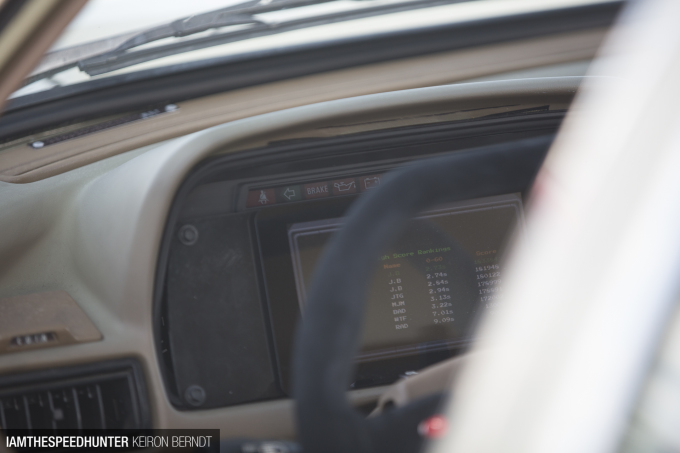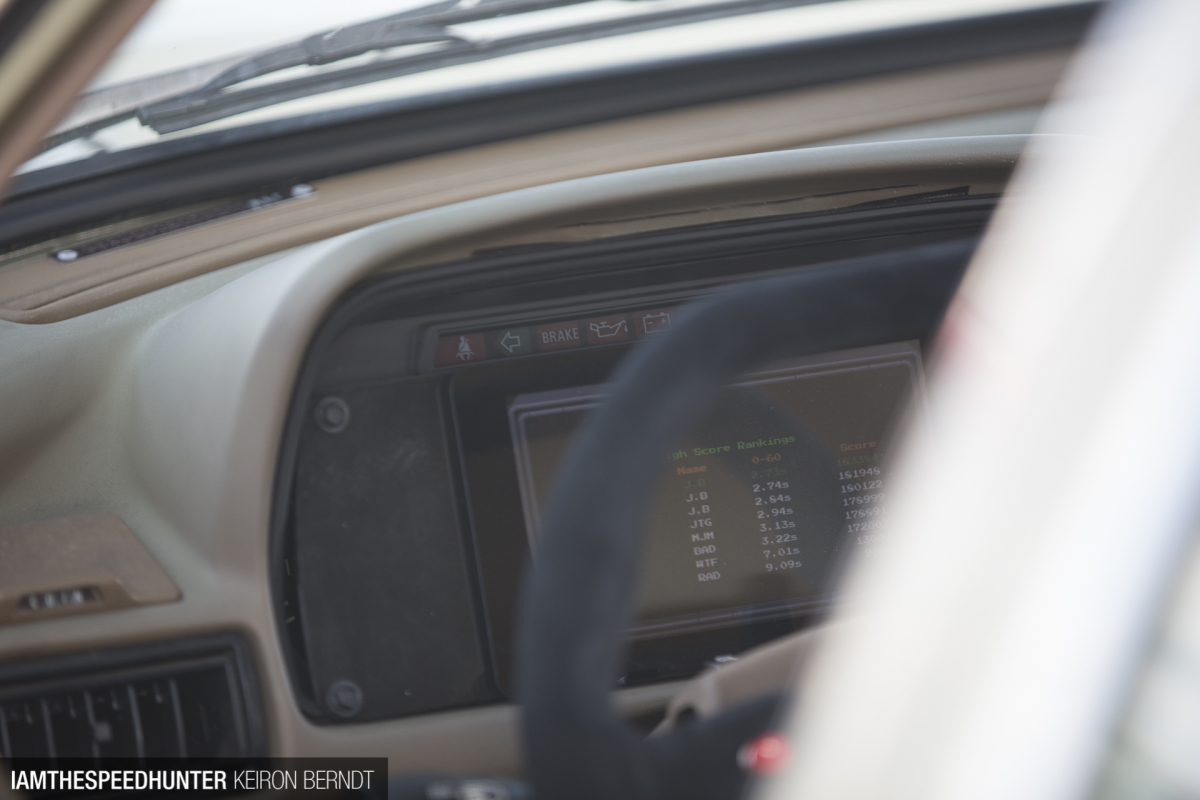 Due to some unfavorable weather of late Jim isn't too sure of the car's exact travelling range, but he estimates that his 16kWh battery should allow about 50 to 60 miles per charge when driving "reasonably". Of course, just like an internal combustion engine, the deeper you bury your foot the less you'll go on a tank of gas, or in this case, a charge.
Over the past three months, at the pace of roughly two hours a day, the Teslonda has rapidly become a reality, but it's far from finished. Aside from the Raspberry Pi dash and Vbox-fed 0-60mph leaderboard, there's still a lot to do.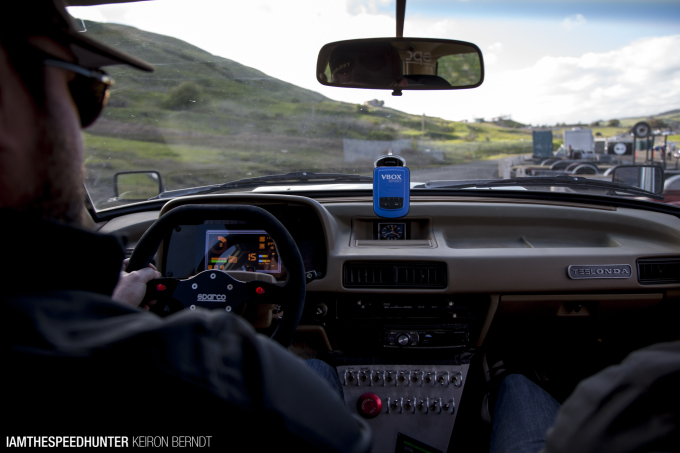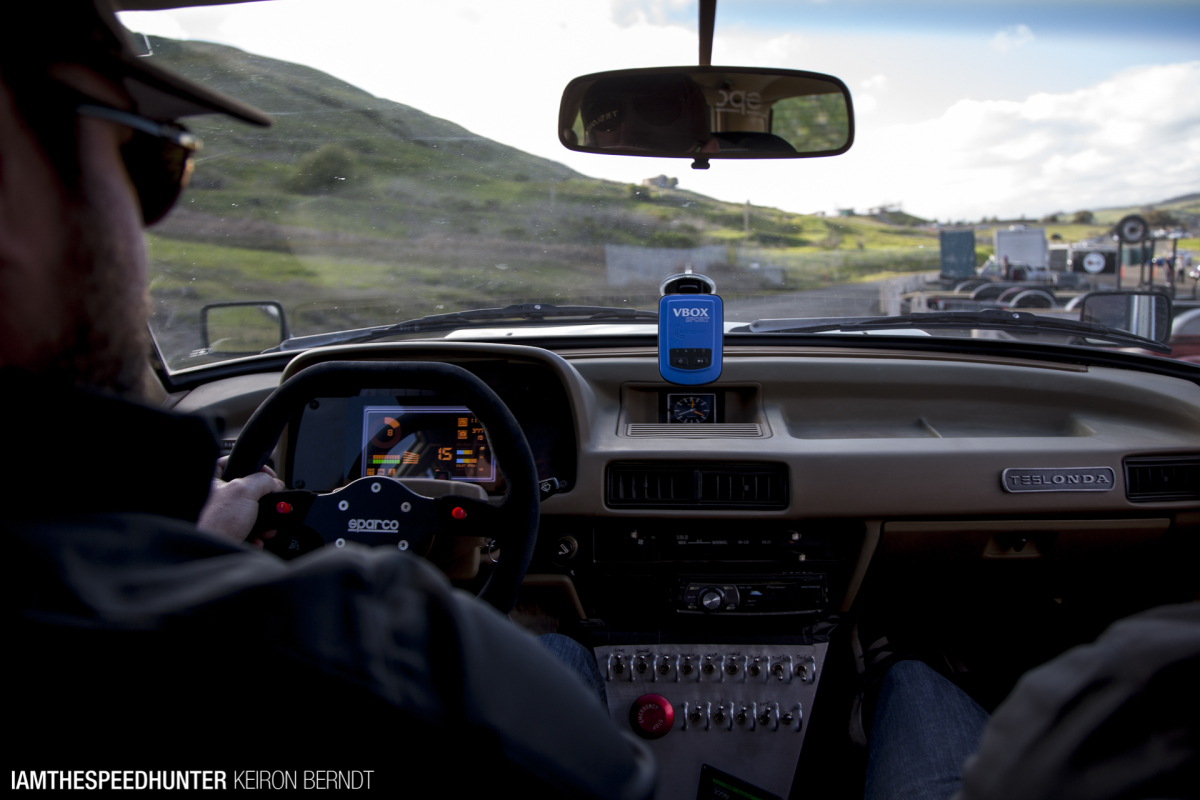 A roll cage, carpet, better seat belts and some cosmetic additions are all on the way, according to Jim.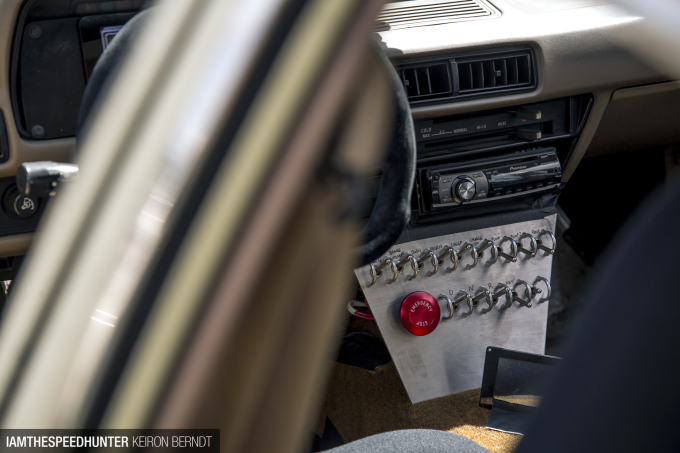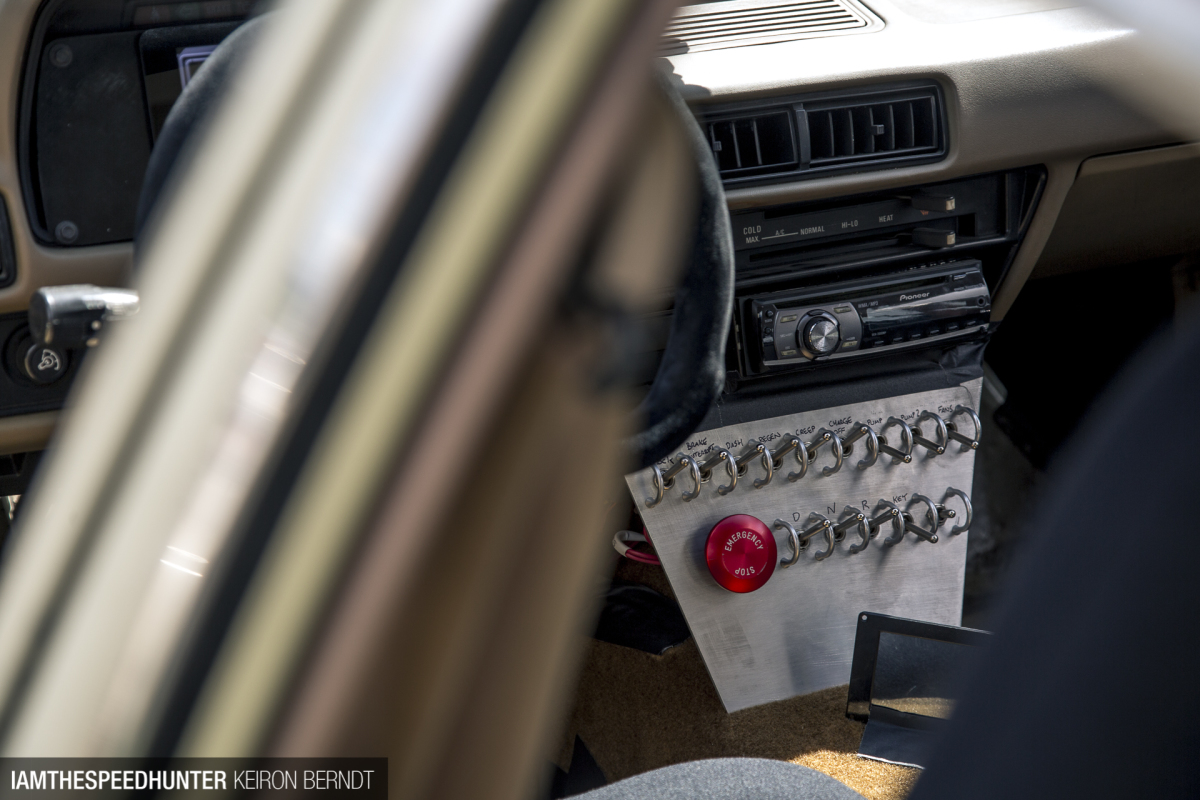 Along with interior bits, more batteries may be added to help with the voltage situation. Currently it's sitting at 393 volts, but as each volt drops the equivalent of around one horsepower is lost. A larger battery capacity will not only help with power but longevity as well.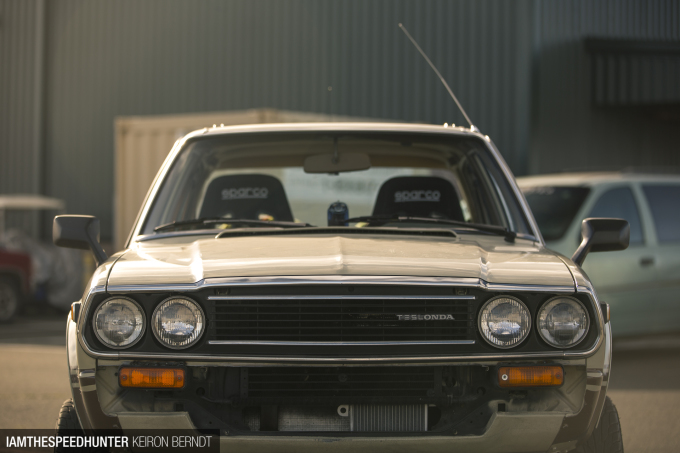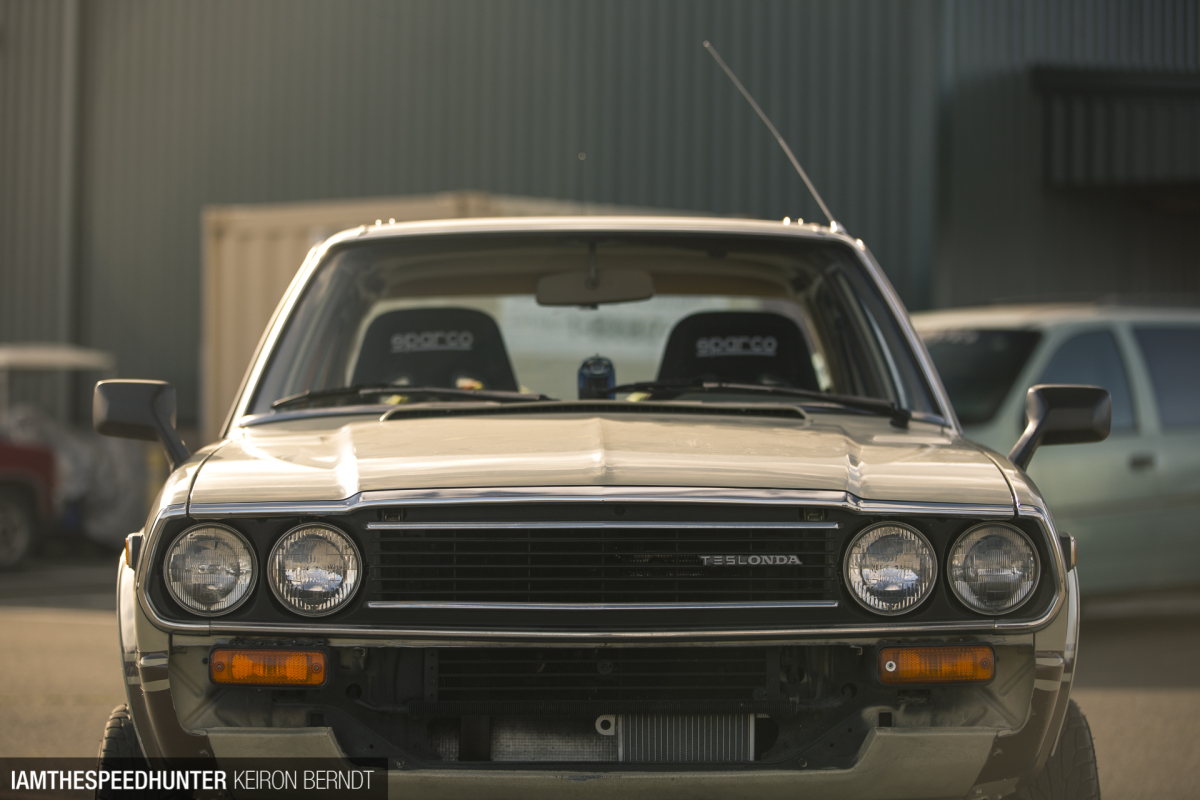 While the Teslonda may be on another level, there's something else that sweetens the deal: It's completely road legal. But not only is it registered and insured, Jim drives it whenever he can.
As I alluded to in the intro, the Accord has gone 0-60mph in 2.7-seconds, but this is only really the start for Jim. The next car on the list will be something AWD, dual-motored, and of course, electric; the allure of building something with hypercar performance from salvaged parts is just too much to resist. The goal is to be able to keep up with a new Tesla Roadster, so Jim's aiming for 0-60 mph time of just 1.9-seconds, which is equivalent to 1.86Gs!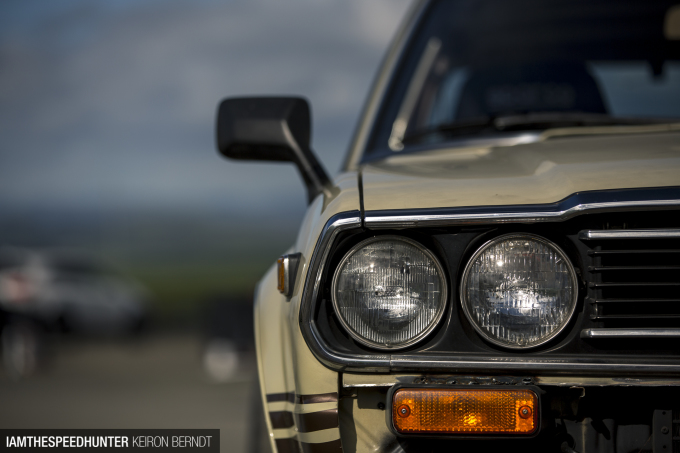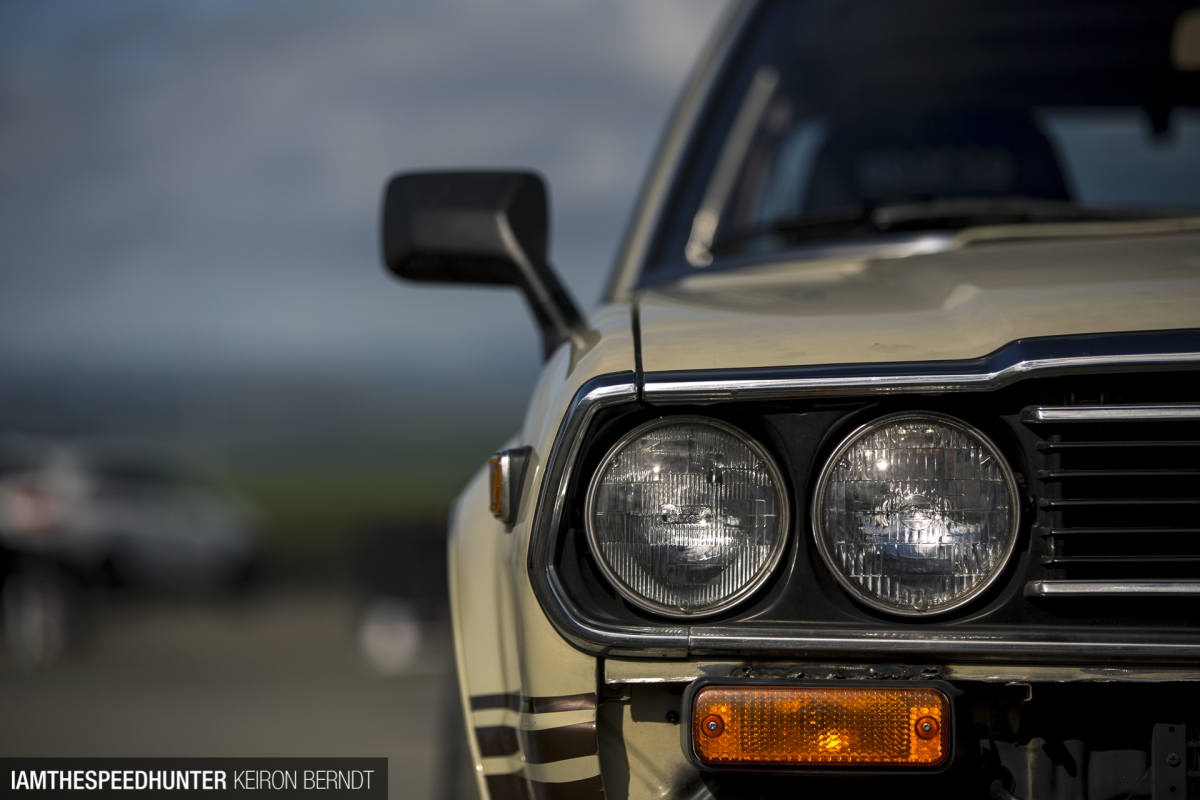 Hot rodding started off with daredevils racing their modified cars in the early '30s on dry lake beds, but it's since evolved into an all-out culture. The drivers started to demand more from their cars as they wanted to continue to push the boundaries of speed, and this led to mechanics and engineers coming together to invent new parts. It also gave them the freedom to experiment with their own wild ideas.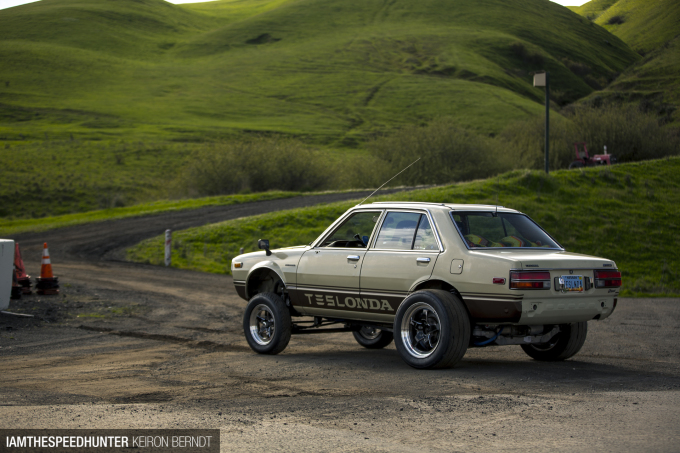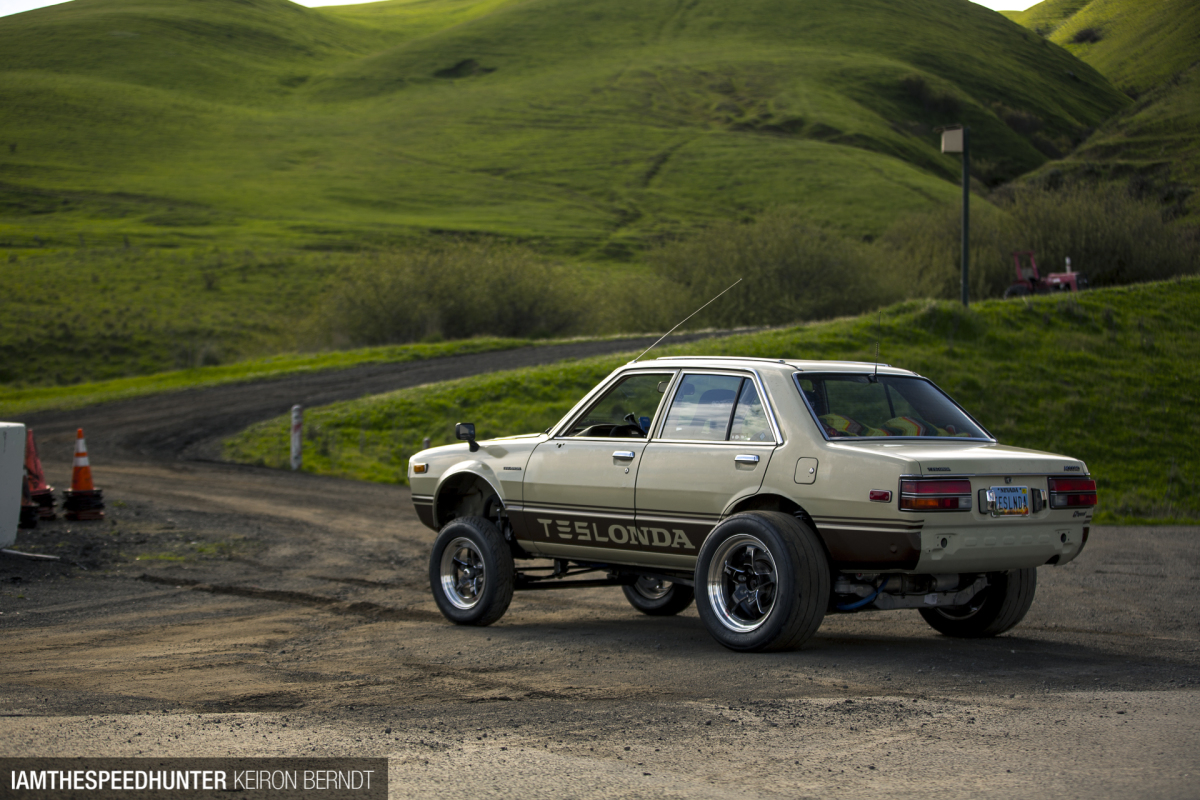 The Teslonda team is powering the next wave of innovation when it comes to electric vehicles, along with encouraging everyone, young and old, to get involved. Whether it's a Chevy Volt or a Tesla Model S, Jim believes it's worth trying, and I think he's right.
In the near future, it'll be exciting to buy upgraded inverters, batteries, and capacitors from Jegs instead of carburetors and pistons.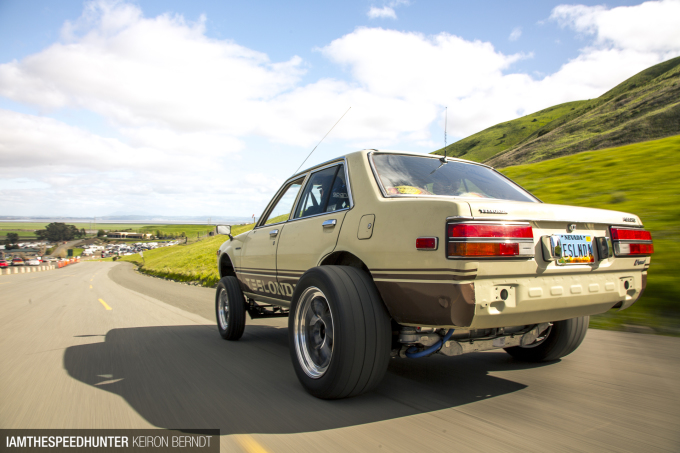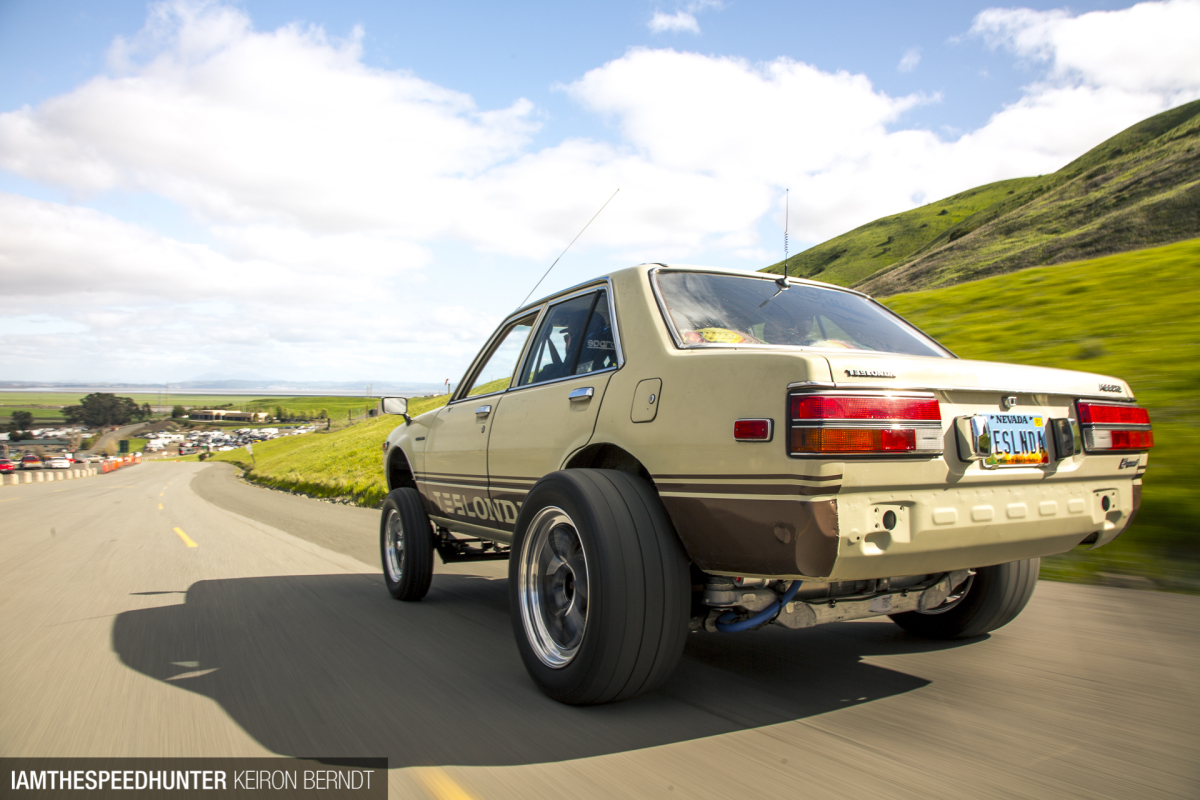 My irrational hate of EVs was quickly stomped to bits after going for a ride in the Teslonda. Maybe it was the lack of noise under acceleration or the surge of being violently thrown into the back of the seat, or maybe the fact that my rear left the seat and I ended up smashing my head into the roof. Regardless though, I can attest to the high score figures and what can be done with a bit of innovation and dedication.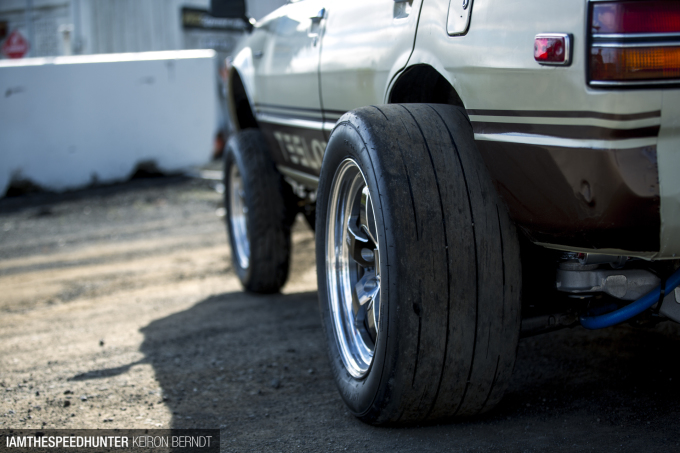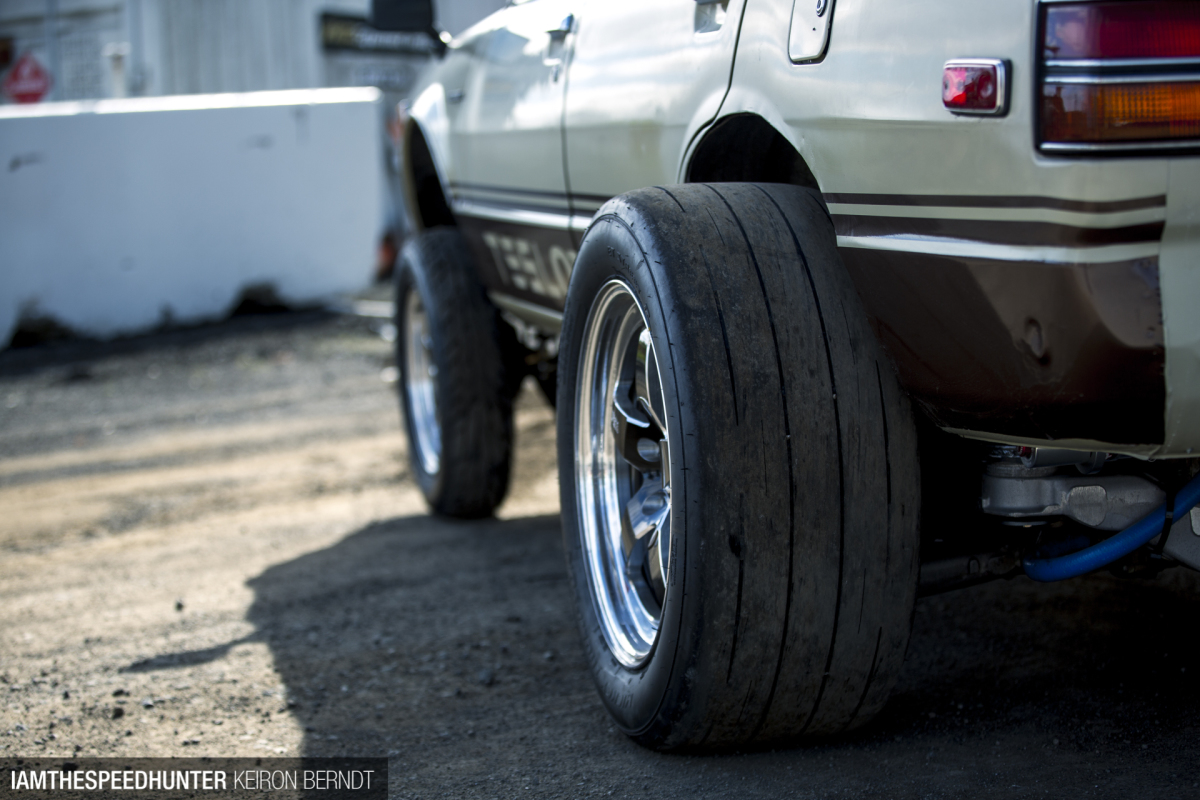 No turbo, no supercharger, no engine – it's completely electric. Shocking, right?
You may be thinking that Jim is bonkers (I can attest to the fact that he's absolutely mad), but that's why I'm now excited for the future of EVs and the part they'll play in performance car culture.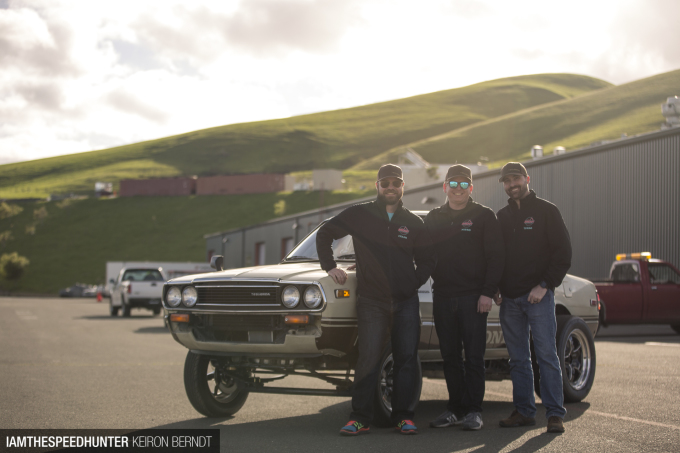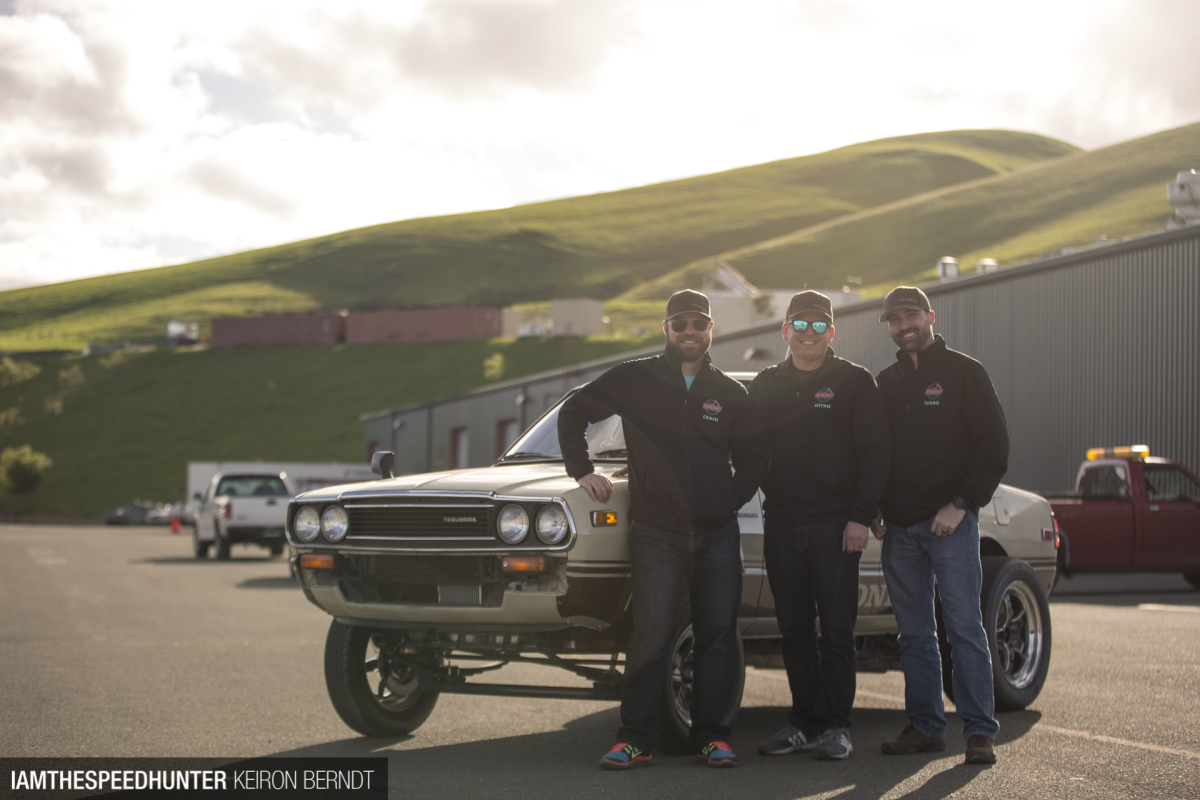 Jim summed it up perfectly when he said: "We figure that if electric is the future, we better learn about it now. Otherwise, we're going to end up like those old guys who are scared of fuel injection."
To be quite frank, I wish more people would embrace this mentality when it comes to change. I'm thankful for the opportunity that allowed me to step out of my comfort zone.
Keiron Berndt
Instagram: keiron_berndt
Keiron Berndt Photography
Cutting Room Floor