Uncharted Territory
Owning an FD3S Mazda RX-7 is no simple task. With numerous rituals and general maintenance needed to keep the 13B-REW engine in check, an FD3S isn't exactly the easiest thing to live with when it comes to a project car.
That said, owning an RX-7 in the Philippines – specifically in metro Manila – becomes a tall order. Parts are hard to come by, and if you pair that with a general lack of expertise in rotary engines around town, it's safe to say that keeping a third-gen RX-7 running here is a sizeable mountain to climb.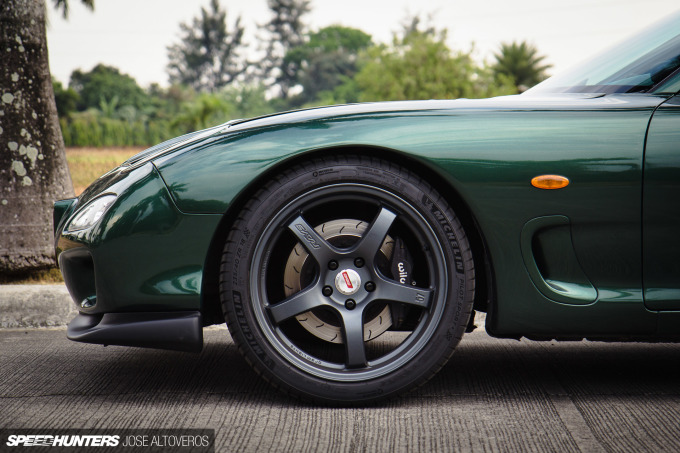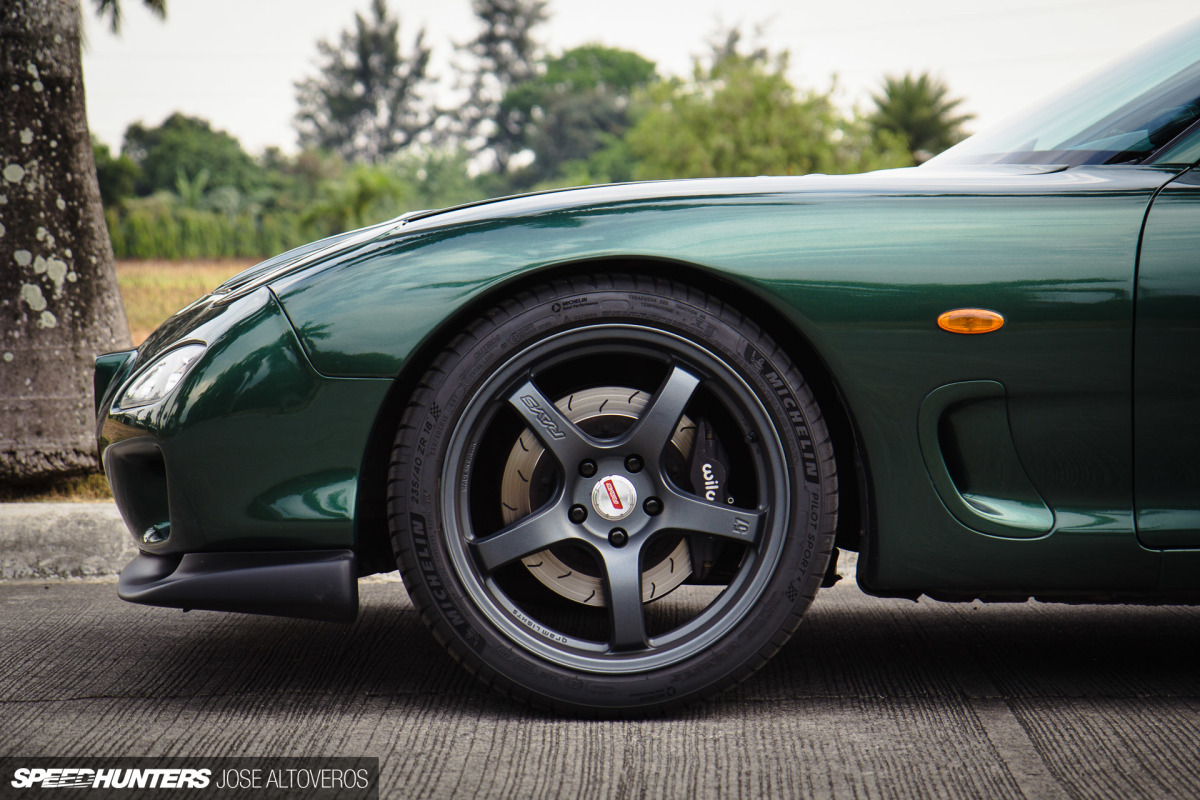 Despite these hurdles, you can't really stop someone from chasing their dreams; and that is exactly what Aurick Go continues to do with his 1999 RX-7.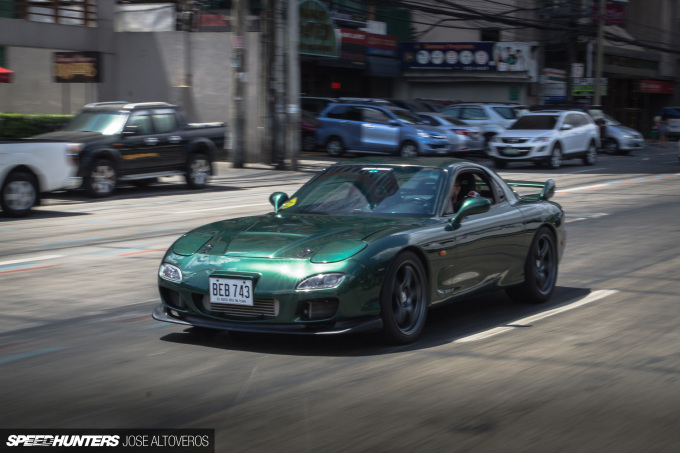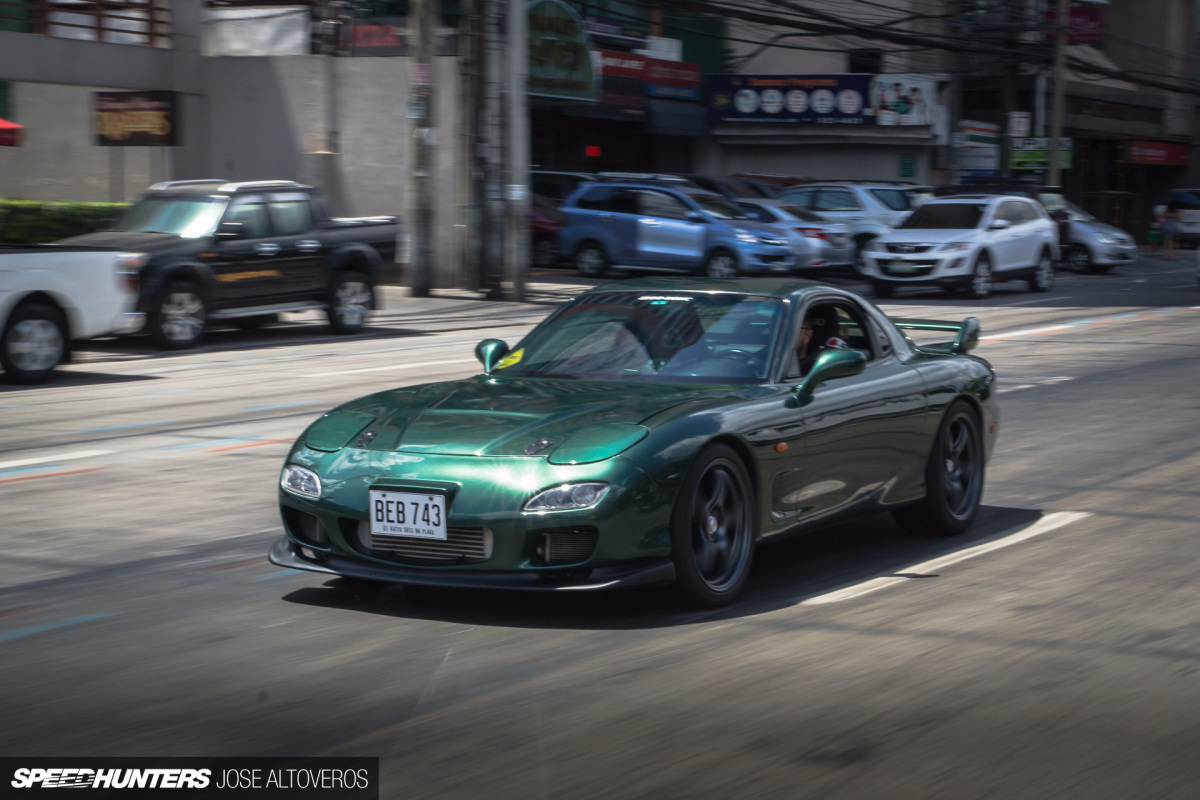 Trading it for a perfectly decent Subaru Impreza WRX back in 2015, Aurick has slowly turned the FD3S into his dream machine, one capable of taking on both the track and the unforgiving streets of Manila.
Way back in his teenage years, Aurick already had his sights set on owning an FD RX-7. He credits this mainly to the influence of Initial D, as well as an encounter with one at a dealership when he was just four years old.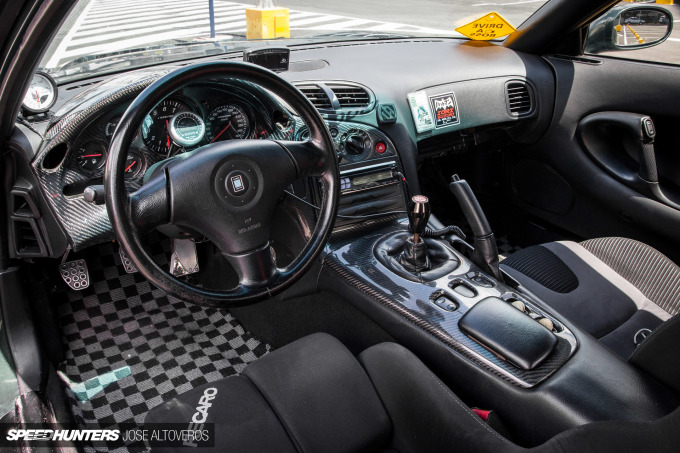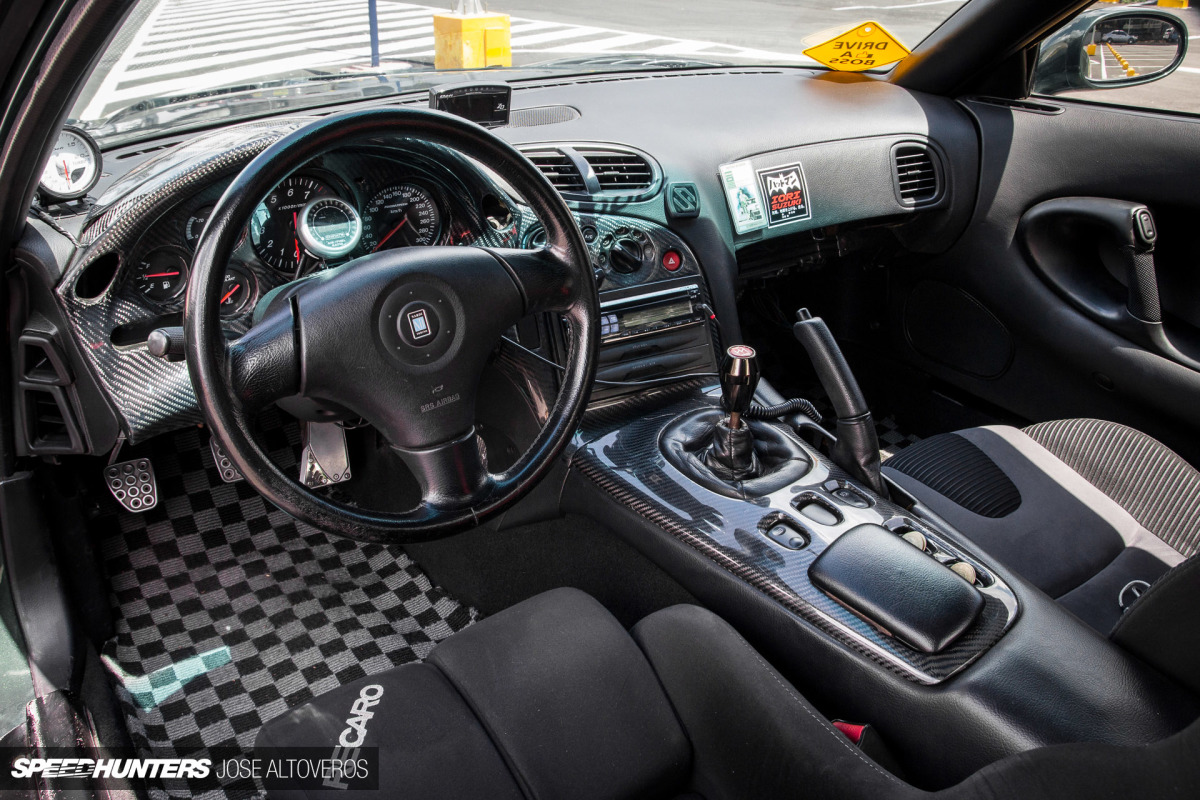 Being an original 99-spec JDM car, the RX-7 was originally right-hand drive. As it is impossible to register right-hand drive vehicles in the Philippines it needed to be converted to left-hand drive in order for it to be road legal, and thankfully the previous owner already took care of this problem. A USDM donor car was sourced to ensure the cleanest conversion possible, and it's straight left-hand drive all the way down to the gas latch release and the signal stalks.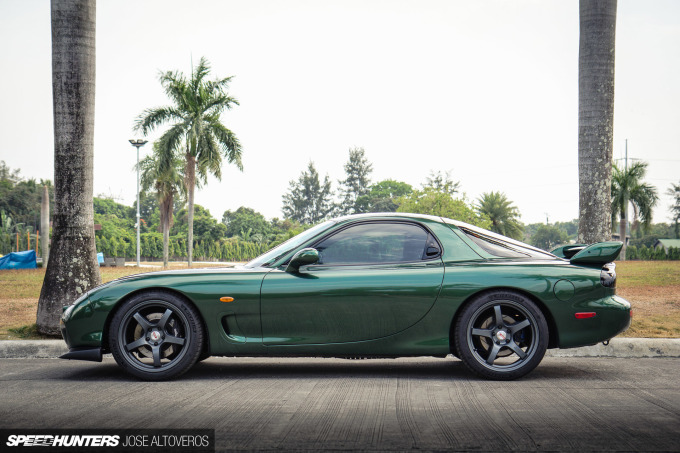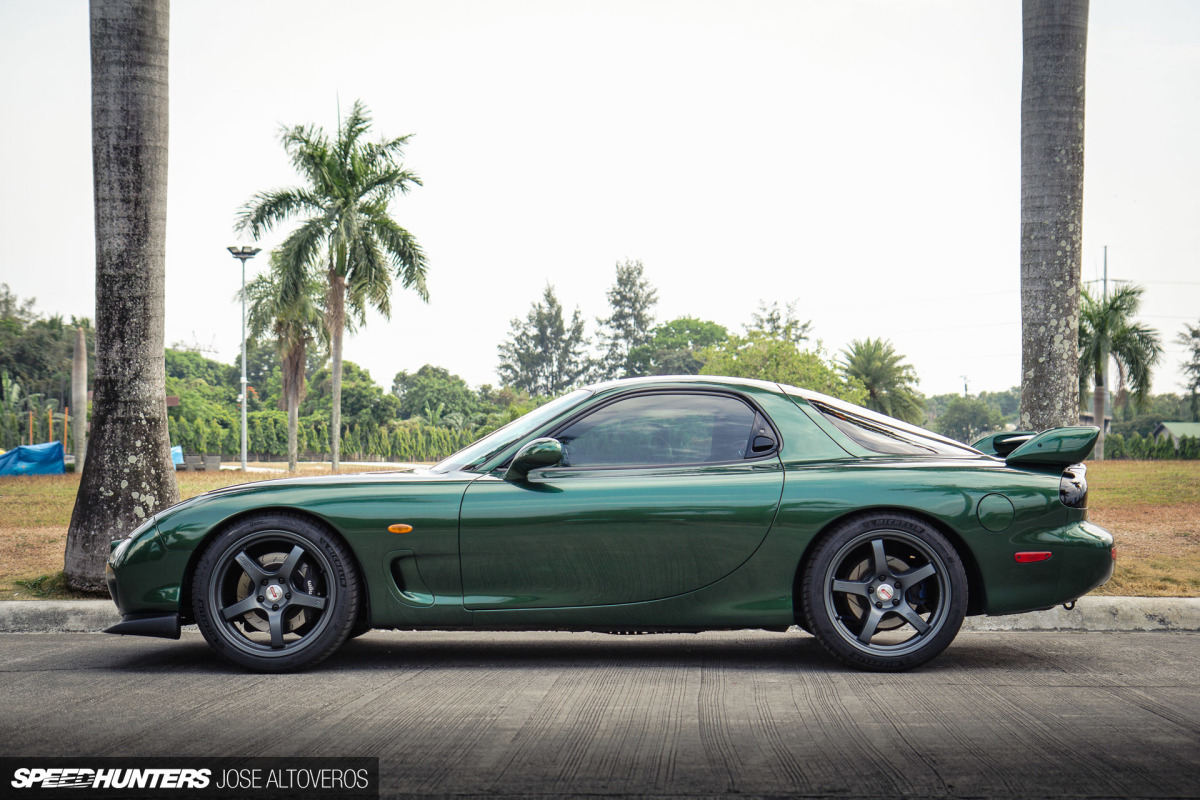 Upon picking up the RX-7, Aurick immediately set to work making it his own. A good friend supplied him with a rare set of Mazdaspeed MS02 wheels to give the FD its own distinct look. More recently however, Aurick switched to the set of RAYS Gram Lights 57CRs in Gun Blue II you see here. Despite the MS02's rarity, the interest of having larger tires with better traction fitted outweighs the novelty.
With the original Vintage Red paint looking tired, Aurick decided to breathe new life into the car by respraying it in BMW Deep Green Metallic. A set of Car Shop Glow LED bumper lights and Ver.4 taillights were then installed to bring the timeless FD right up to date.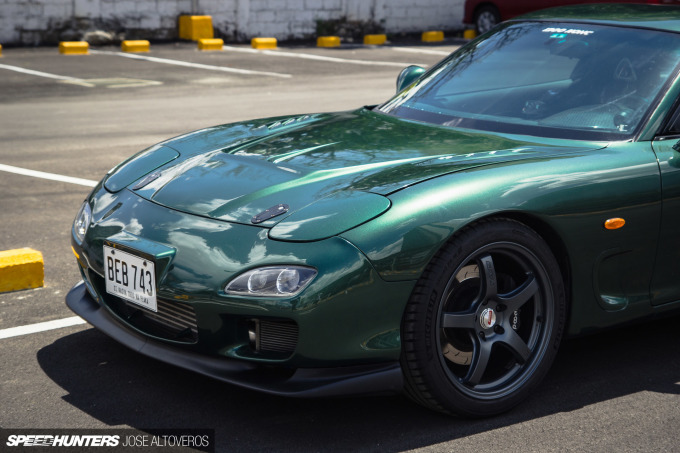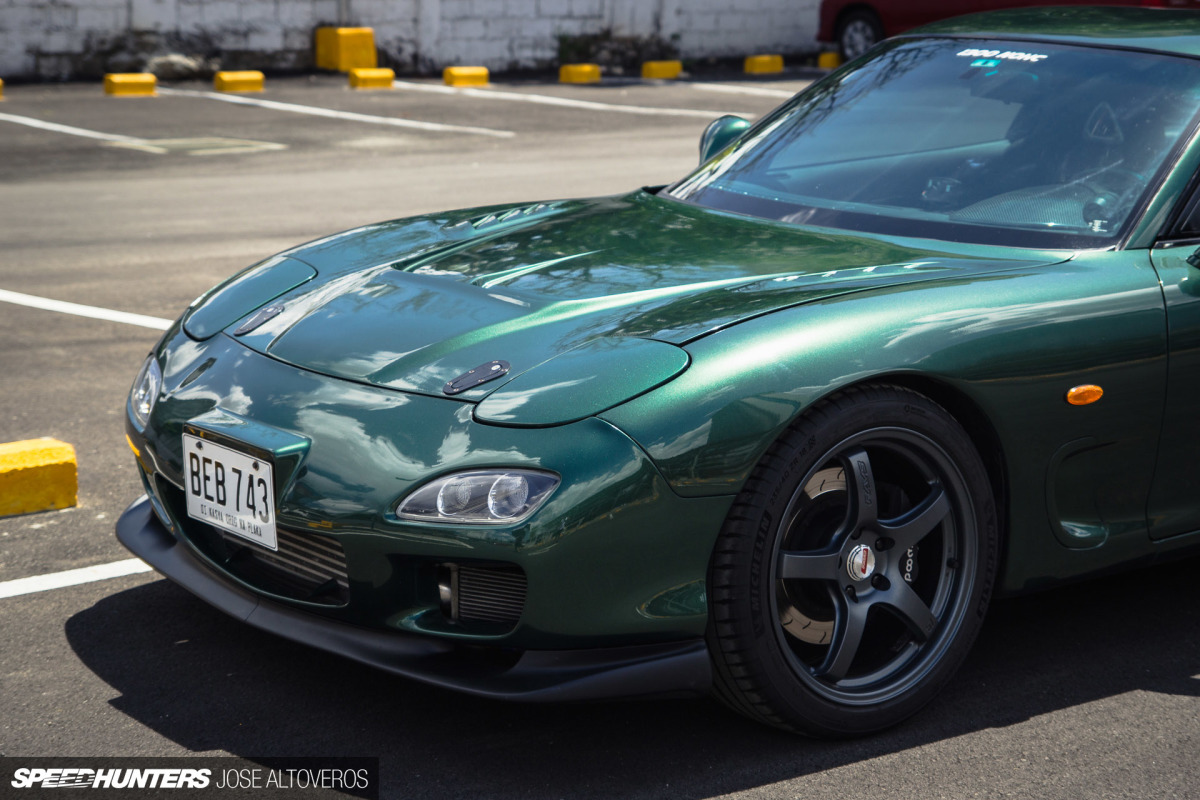 On the outside, Aurick's FD may look tame compared to other RX-7s out there. Pop the hood however and you'll see that it's fitted with all the right parts to make rotary ownership in Manila that bit more bearable.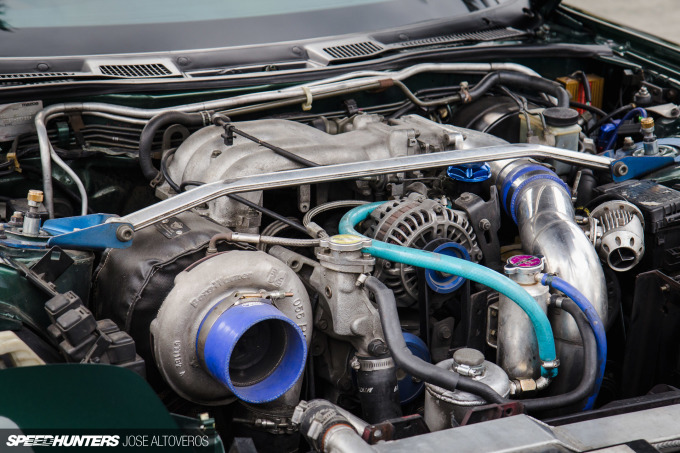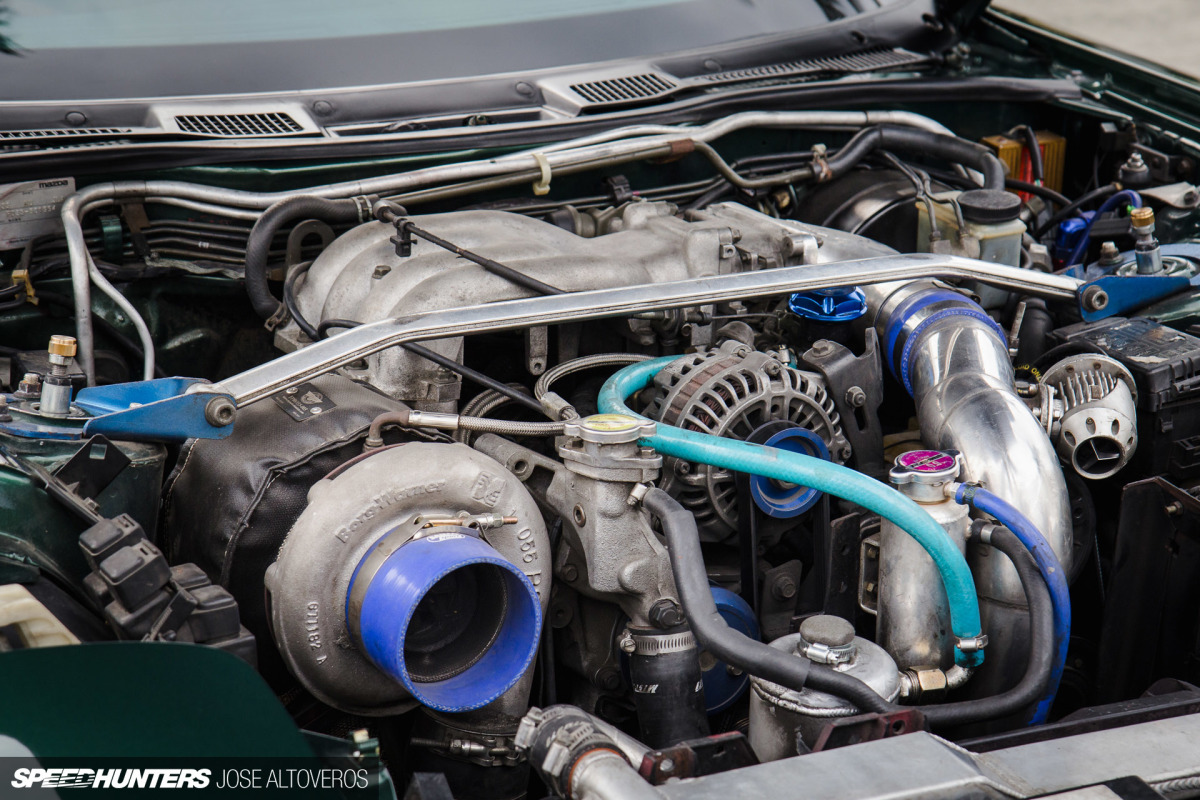 For peace of mind, the 13B-REW was rebuilt with new Goopy 2mm seals and oversized main bolts. With the engine out, it was also logical to have it street ported for good measure. The stock twin-turbo system was then ditched in favor of a custom single turbo setup revolving around a BorgWarner S360, freeing up space in the engine bay and ridding it of the rat's nest of vacuum lines from the factory twins.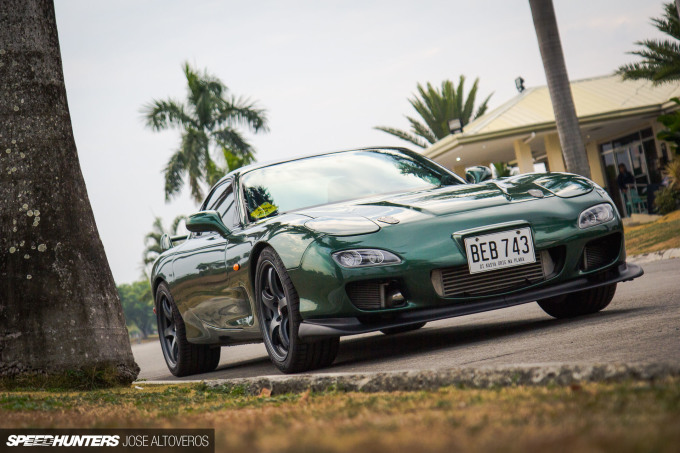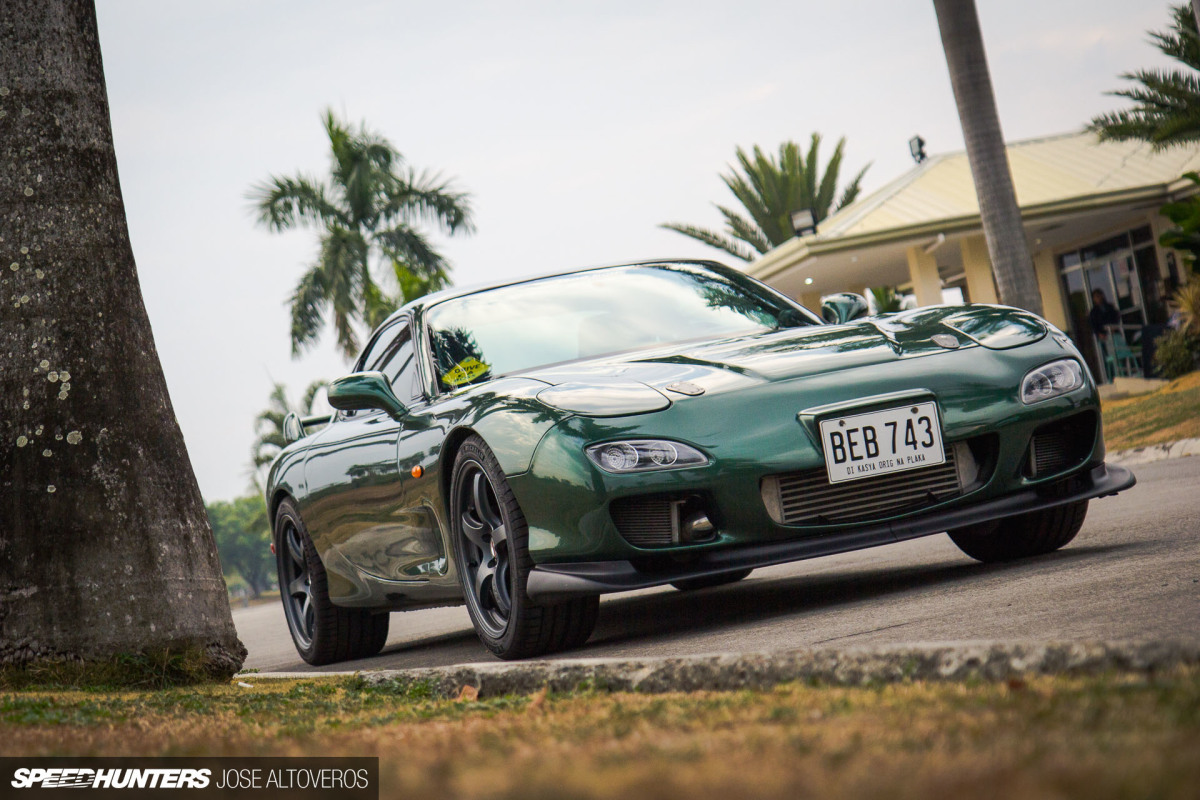 An Adaptronic standalone ECU ensures a healthy 409hp to the rear wheels – more than enough for street and occasional track use. This setup also helped deal with the gremlins of '90s Mazda electrics. While the photos do show the car running a front-mount intercooler, the setup is currently being revised to provide better cooling for the circuit and during really hot summer days.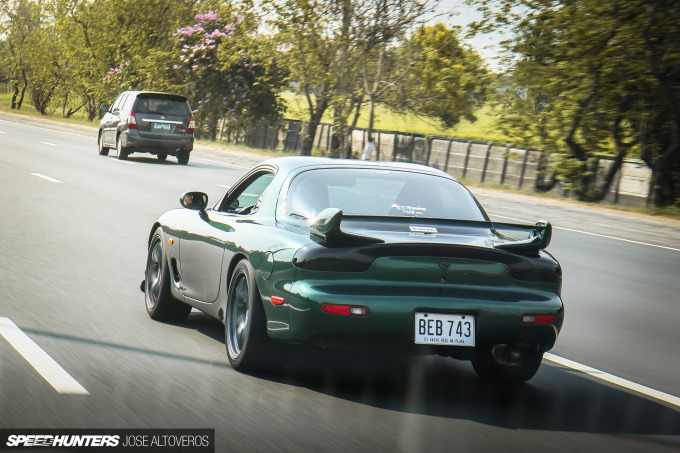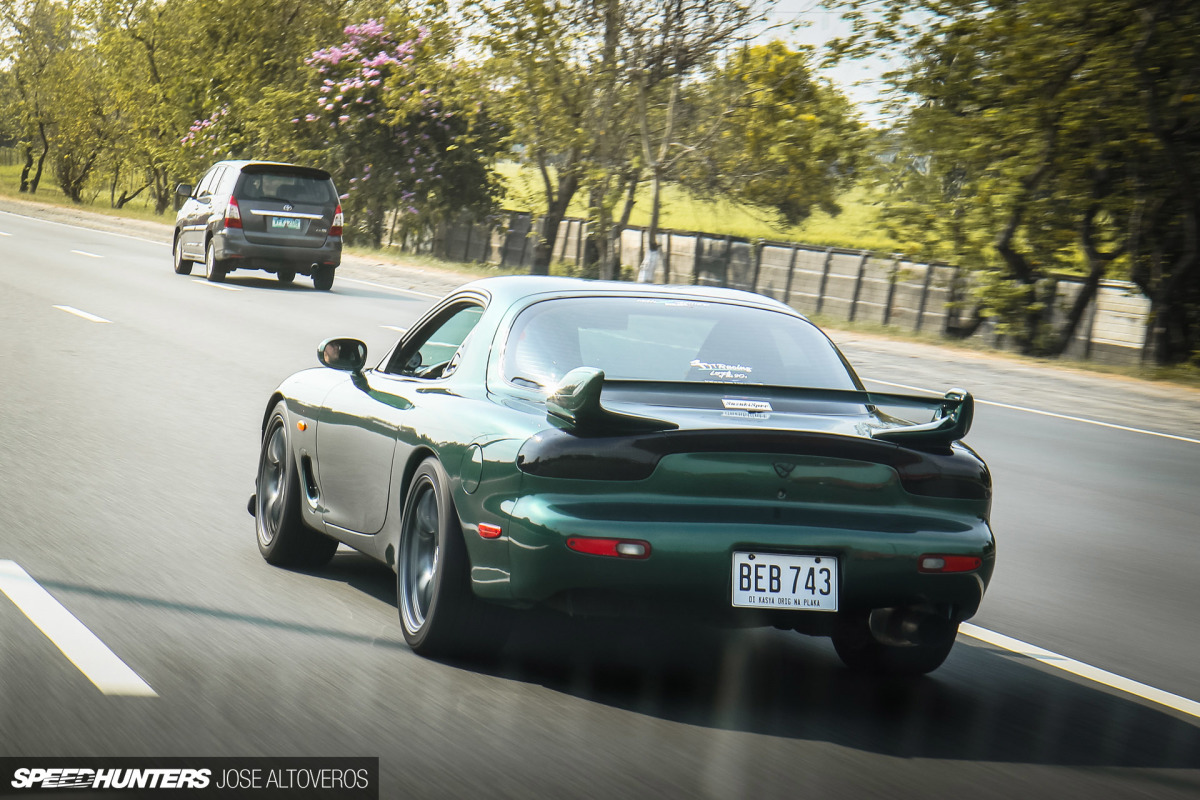 Handling improvements come by the way of Öhlins Road & Track DFV coilovers, and Sakebomb Garage took care of the brakes by fitting a Wilwood 4-pot setup at the front and slotted rear rotors for more stopping power.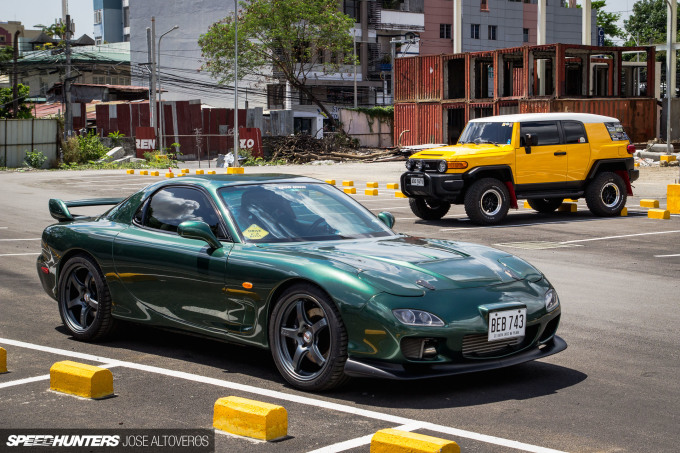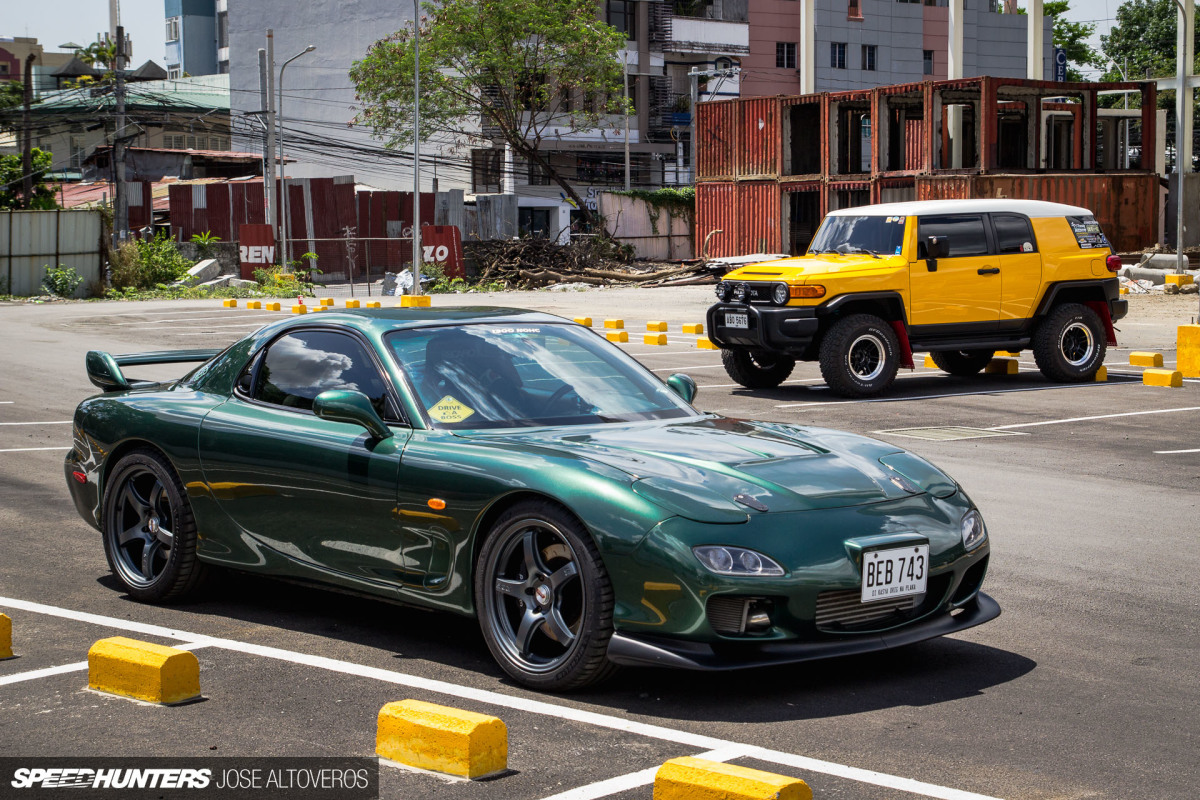 Despite metro Manila possibly being one of the worst places to own an RX-7, you'll still see Aurick driving his prized FD3S around town. If you catch the dark green FD at the lights, don't be shy to say hello!
Jose Altoveros
Instagram: themangjose_
Tumblr: yourneighborhoodcarguy
How To join the IATS program: We have always welcomed readers to contact us with examples of their work and believe that the best Speedhunter is always the person closest to the culture itself, right there on the street or local parking lot. If you think you have what it takes and would like to share your work with us then you should apply to become part of the IAMTHESPEEDHUNTER program. Read how to get involved here.
 Gallery