It doesn't feel that long ago, right?
Maybe it's been the travel, but it only feels like last week when I last checked out this car. Then, it was a rolling shell, partly assembled with some mocked up bodywork. Today, it was just about to be a running and fully functional car when I arrived.
The crew at Stone Motorsport have been keeping me up to date on their K24 powered S15 Silvia, but it was still a surprise to see it so close to completion earlier on. In saying that, they would almost certainly have preferred to have been much further along than they currently are. Despite tackling maybe 90% of the build on-site, it was that 10% of outsourced work that occasionaly came back to haunt them.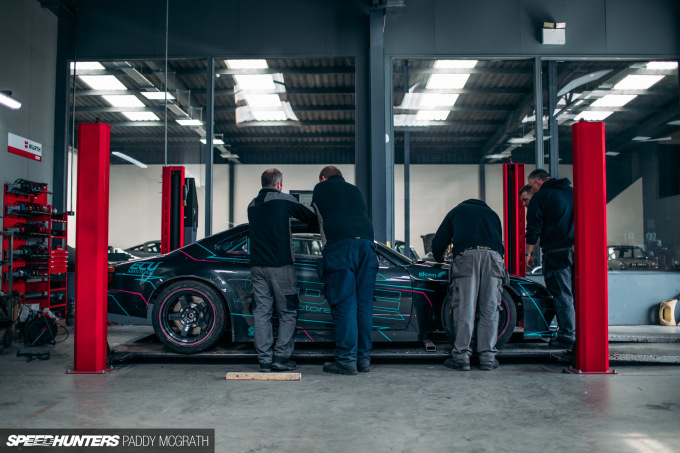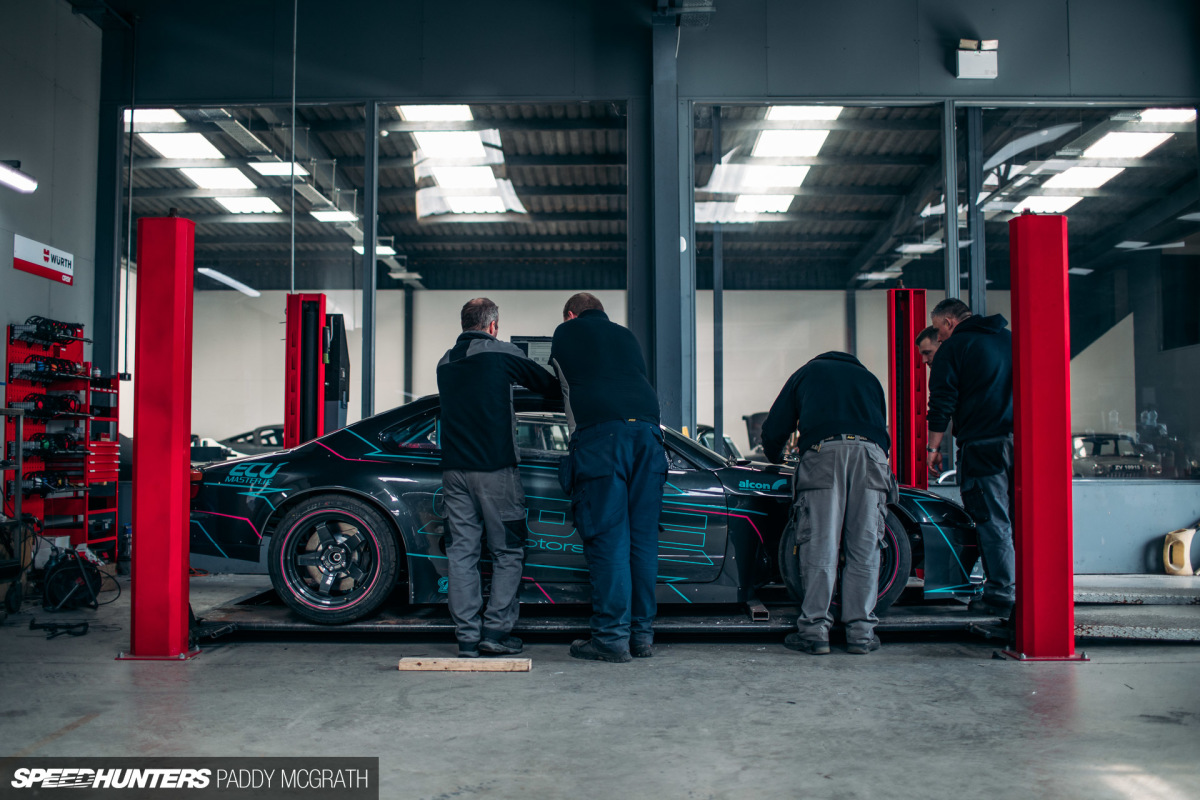 From the wrong parts being shipped, to vital components being delayed, the net result was a crew who were – and still are in some respects – up against the clock. The final hurdle which needed to be overcome was a boost issue when the car was on the dyno the night before my visit.  Simply put, the internally gated turbocharger (chosen for weight reasons) couldn't vent enough boost, so the team had to design, fabricate and install a twin-external wastegate setup with a screamer pipe today before they attempted to tune the car again.
It was about this time that I showed up…
Despite a string of late nights, spirits were high. Perhaps it was simply just delirium, but there was a good sense of humour and a team motivated to just keep getting shit done. Everyone had a job, and those that didn't were on hand to help those that did.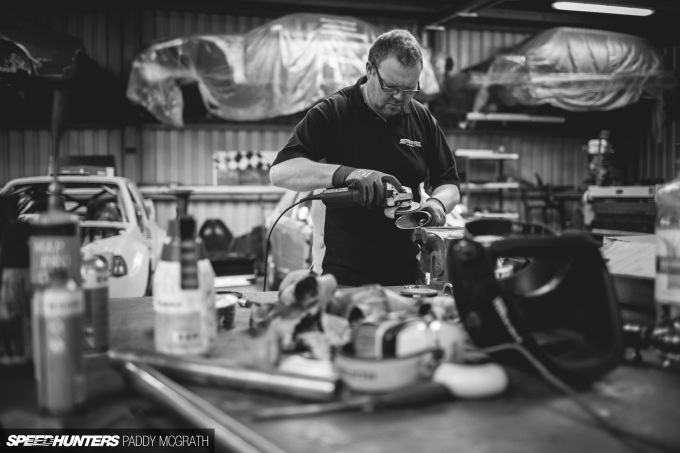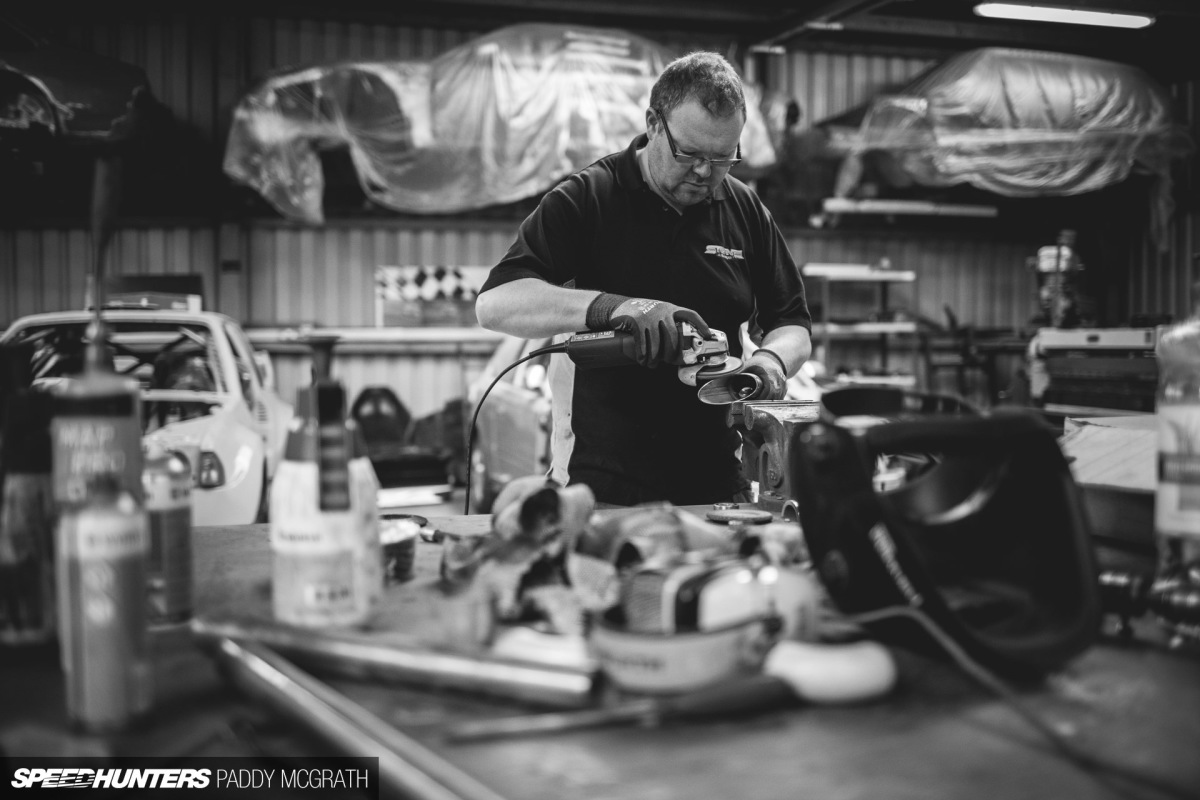 The custom manifold had to be unwrapped, modified for the external wastegates, and re-wrapped. This is obviously a simplified version of what happened and doesn't include the countless measurements, mockups and modifications etc. I get to witness a lot of builds up close and it never ceases to amaze me the seemingly simple things that take so much time. Obviously, it would be easy to quickly bodge these last jobs in order to make up time, but it's at this point where good and great builds go their separate paths.
By taking the time to measure twice and cut once, and to do the things the right way, is certainly more beneficial in the long run. While John, Patrick & Vinny set about installing the manifold, I could quickly take in some of the details completed since the last time I saw the car. The finished, sparse, interior is quite nice and I especially like the single piece front clip.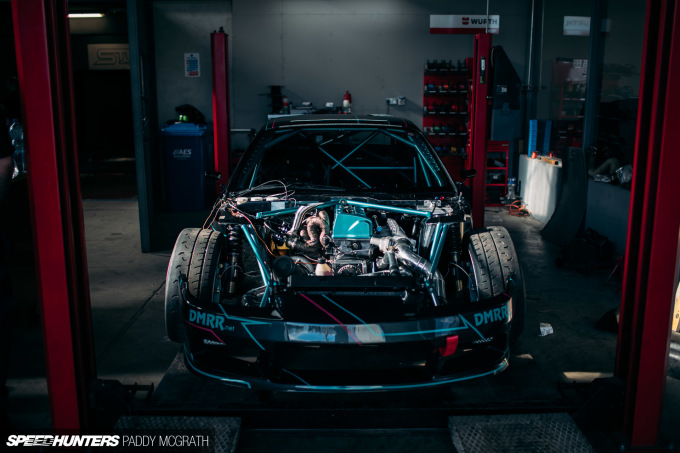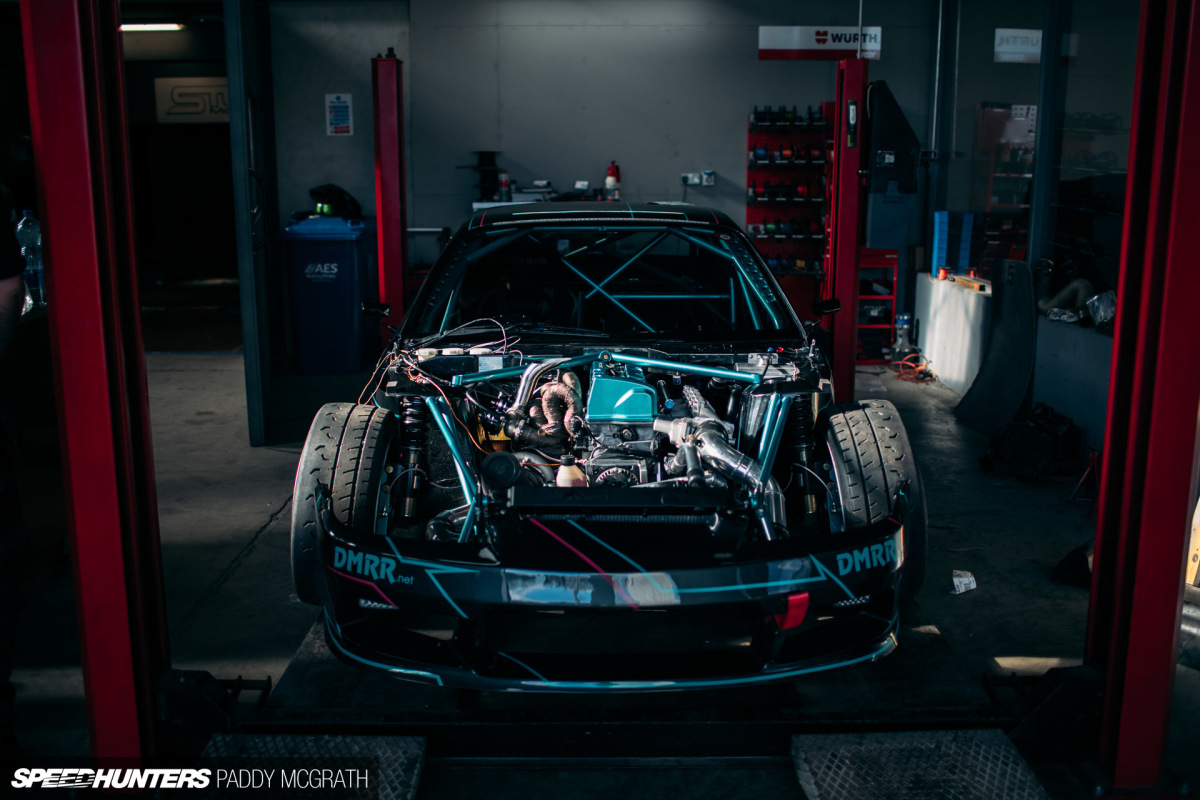 When said clip is removed, it gives the car an almost Pro-Mod drag look, despite the wide front wheels. With all significant weight sources mounted as low as possible – check out the front mounted alternator due to the position of turbo and dry sump system – it doesn't look like a typical S-chassis build.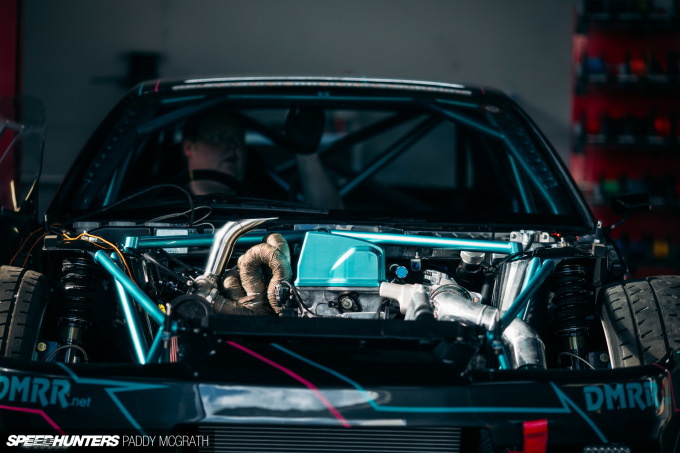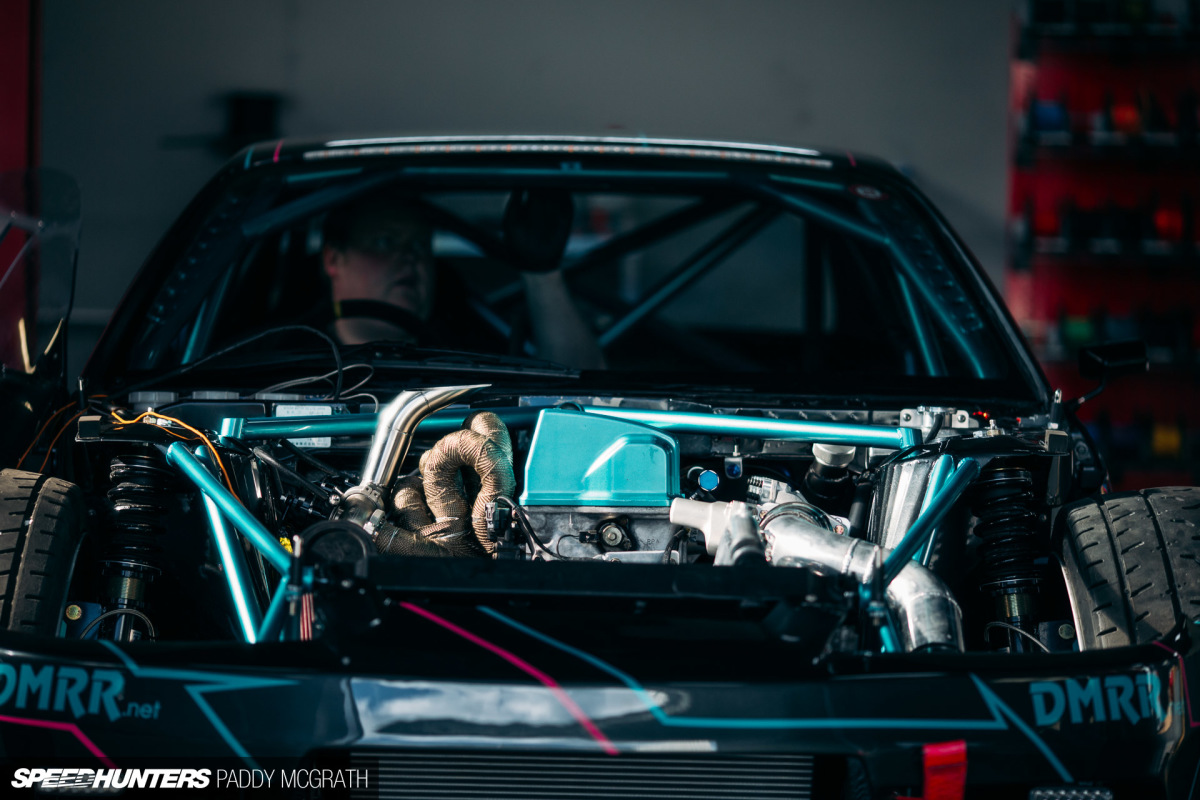 The team were preparing for the first round of the Irish Drift Championship this coming weekend,  but I still wouldn't necessarily describe it as a drift car. It's has been built with the idea of being a multi-discipline vehicle, and one with the aim of being competitive on all fronts, with just some minor setup changes.
With everything finally in place, there was time for one last checkover, top and bottom, before the car was started and moved off the ramp and back into the dyno cell.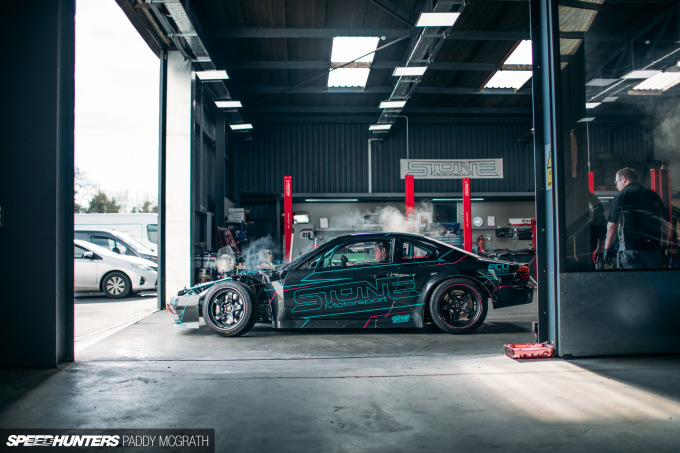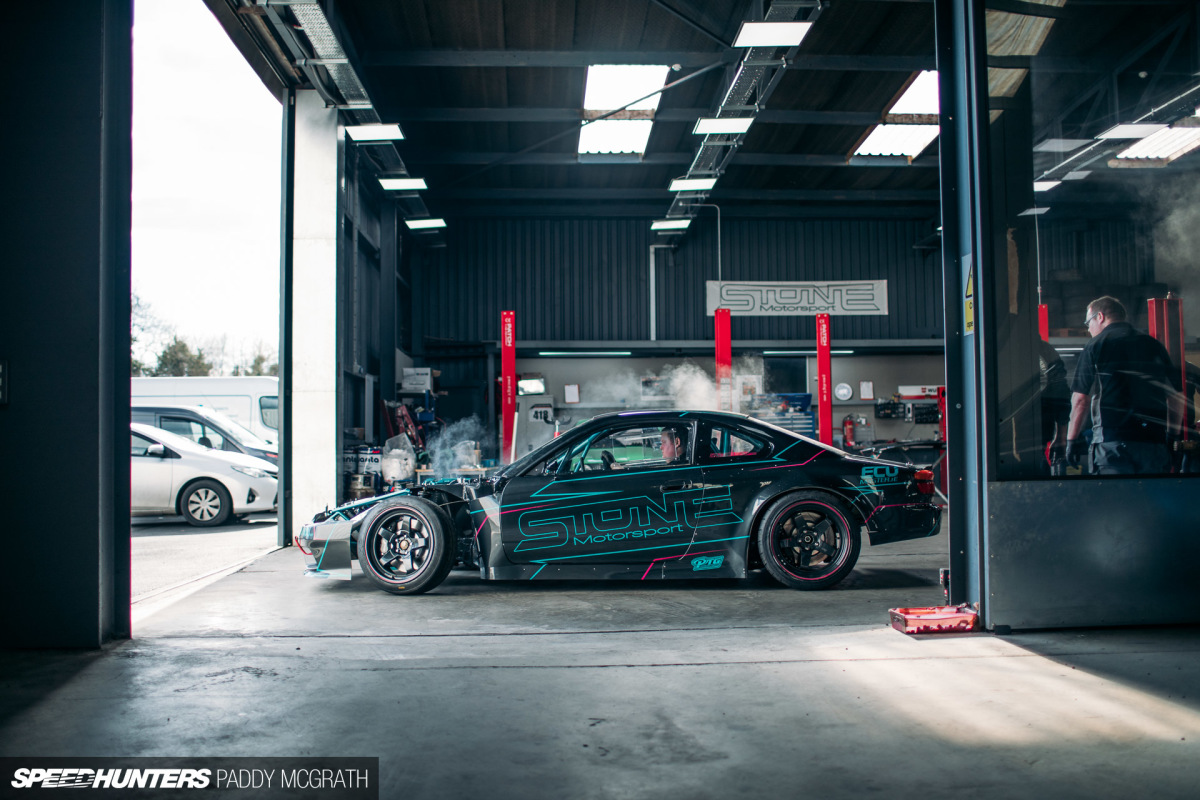 With smoke burning off the manifold wrap, the car gingerly moved about under its own power with just a very basic tune. At this pace, the car was surprisingly quiet, but that was all about to change.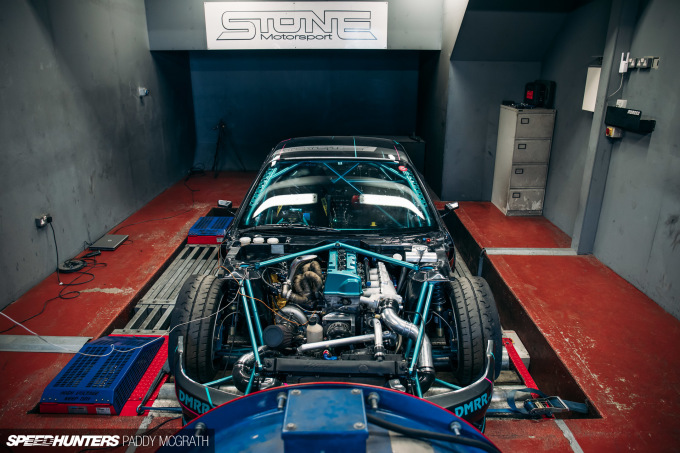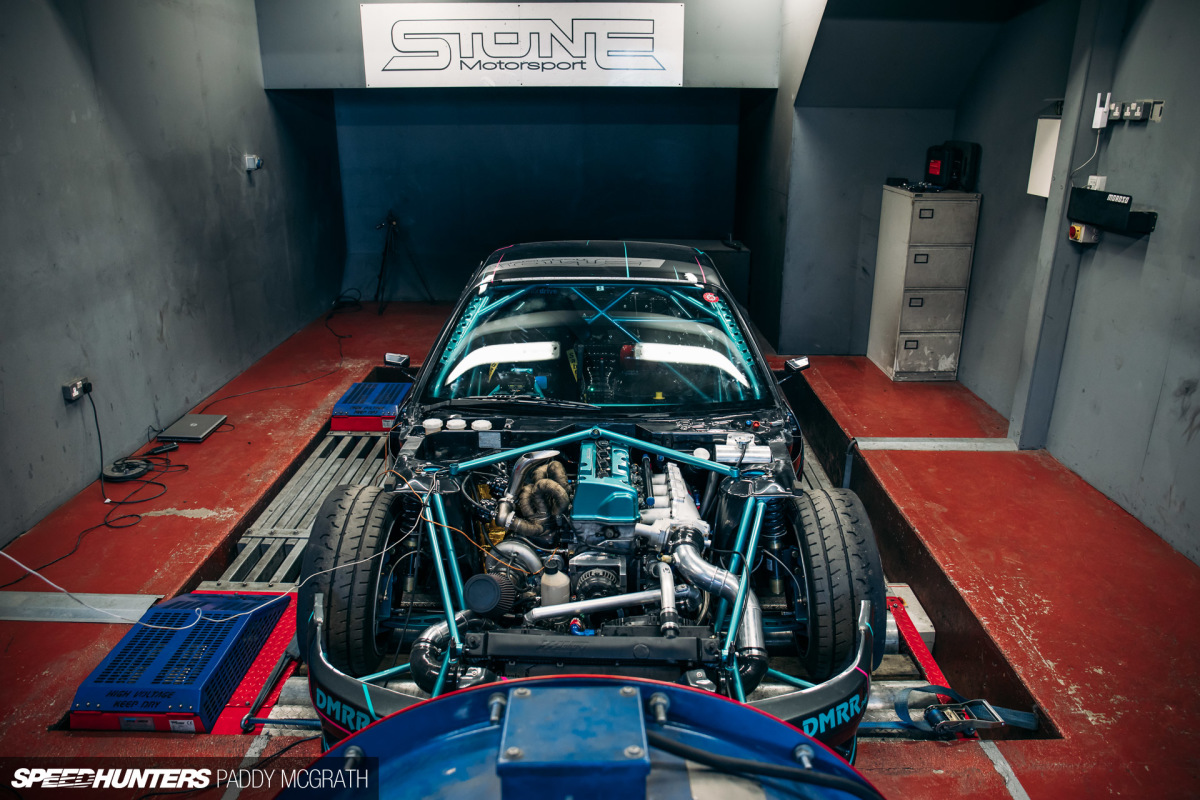 Strapped onto the Dyno Dynamics rolling road, fluids were checked again before more fuel was added.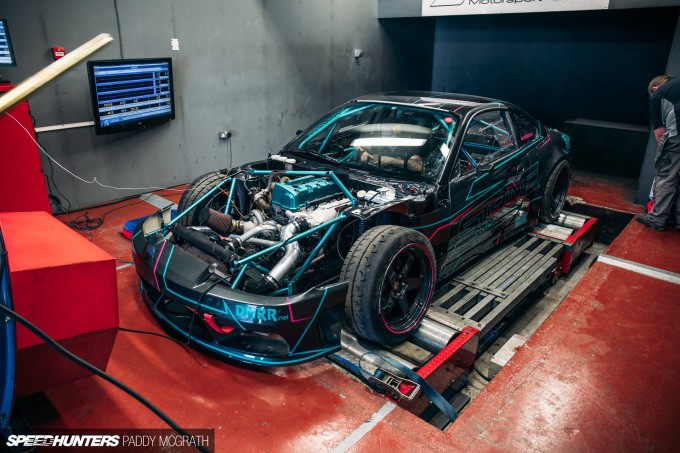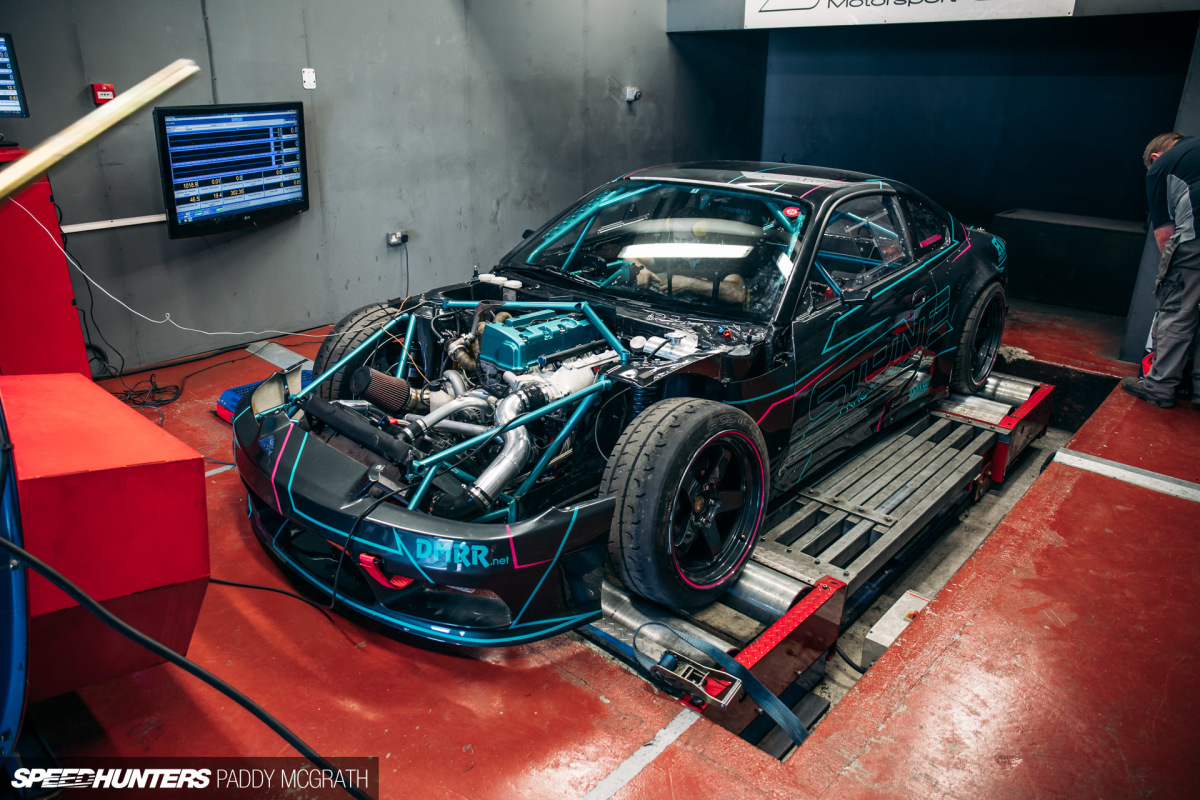 A baseline had been previously established, so it was a case of fine tuning the setup to create a reliable, but still potent, initial map on the car.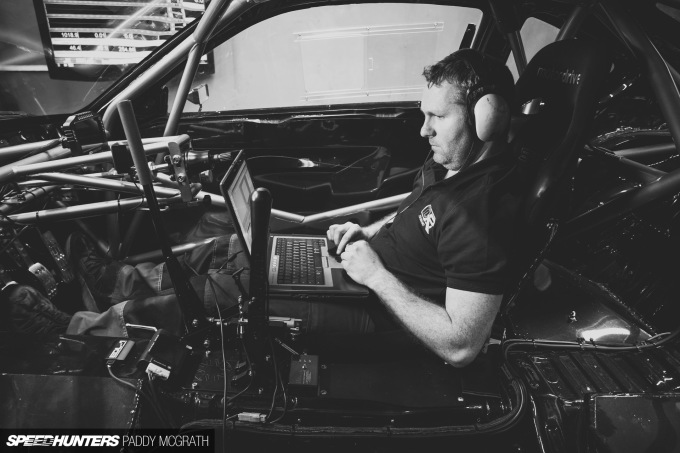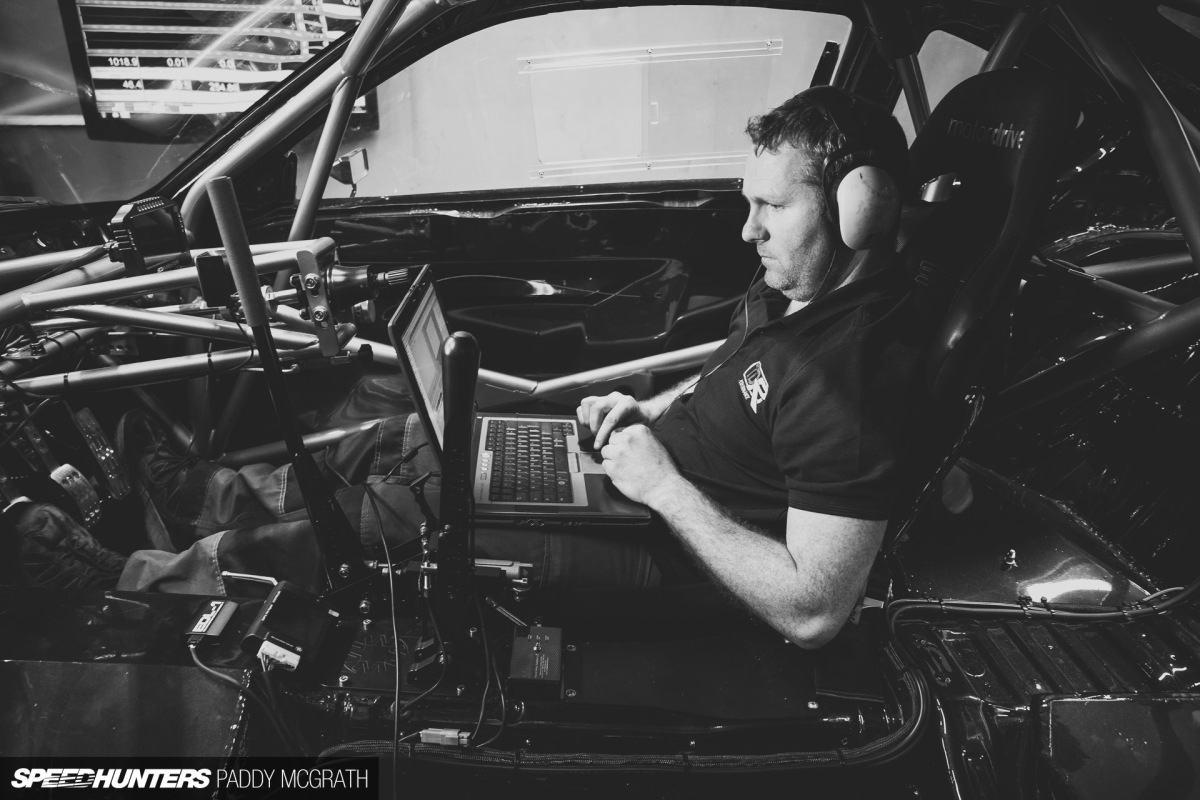 At this point of a build, the most important part is getting seat time so reliability is key. Joe Power, Stone's in-house tuner, works closely with the team to deliver exactly what's required. Working methodically through fuelling, boost and ignition timing, it wasn't long before it all came together. He also has to ensure that all of the technologies in the car were fully co-operating, such as the flat-shift system on the Samsonas sequential gearbox amongst many, many others.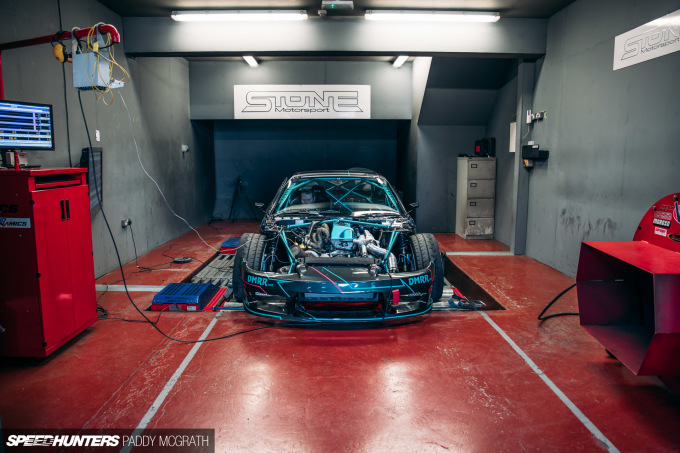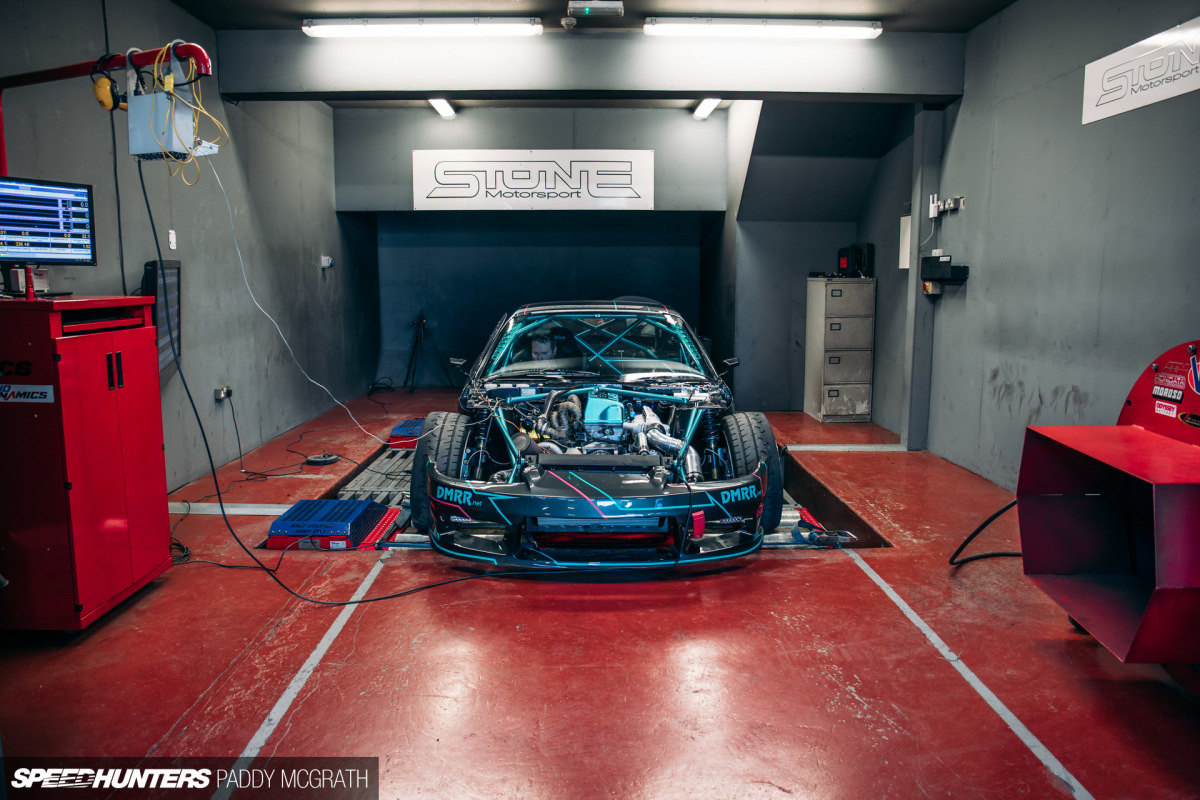 All of a sudden, it was ready.
We had discussed earlier in the day that if everything went well, what would be the best way to mark the occasion? There was really only ever going to be one outcome, wasn't there?
We figured that the one question that everyone was going to ask was how does the car sound, so this is the answer to that question. Straight from the dyno cell, the car exited the workshop and straight into some nice, clean donuts. Volume up, folks.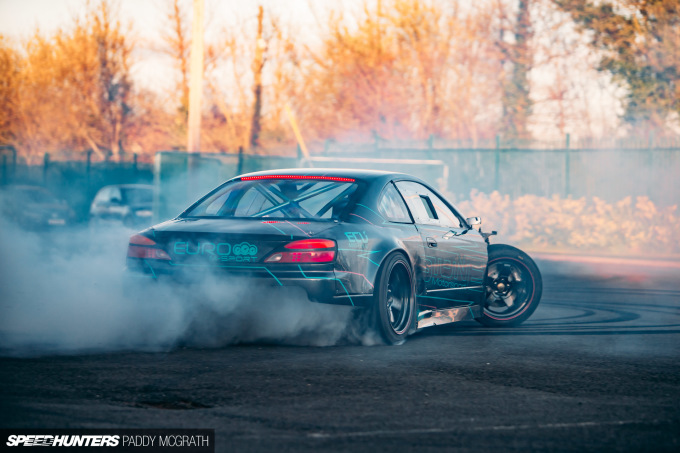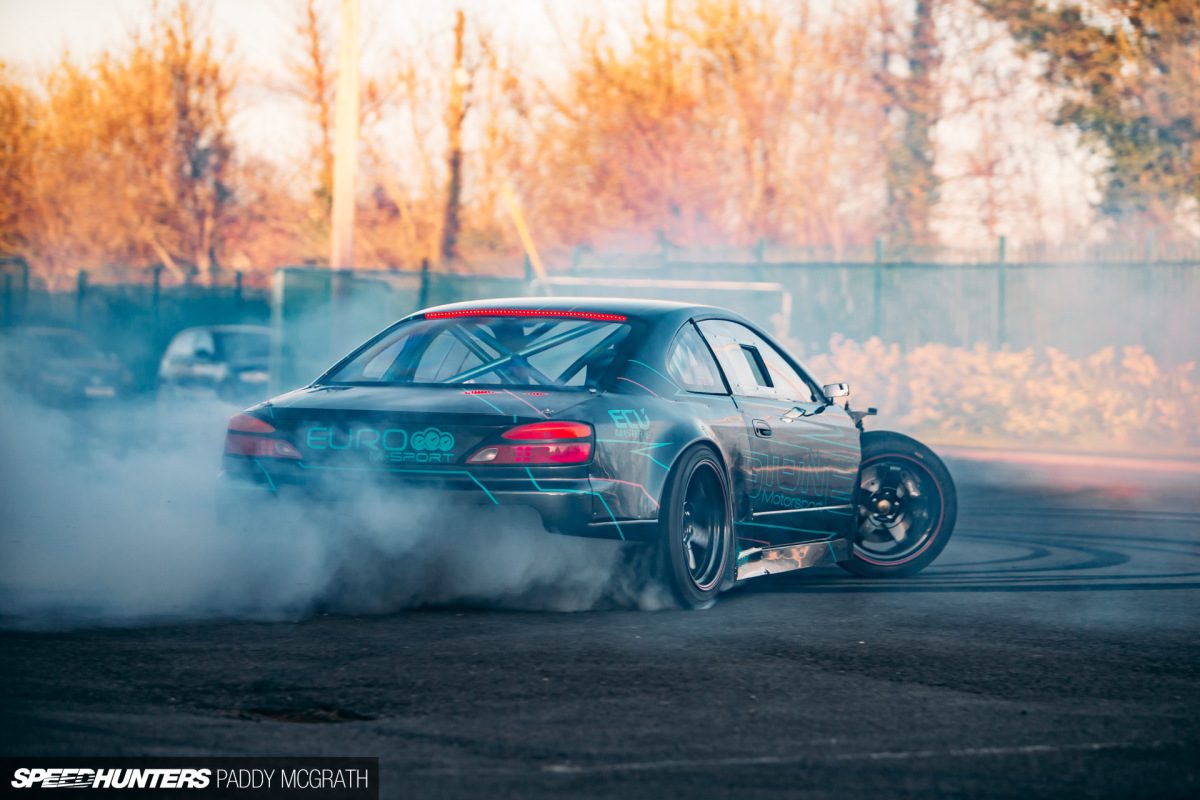 With the combination of the side-exit exhaust, screamer pipe and 8,000RPM rev limit, you can hear how crisp the car is and how eager it is to rev. There's a lot of new ground covered already for the team involved behind the car, and I'm sure there's still much more to come.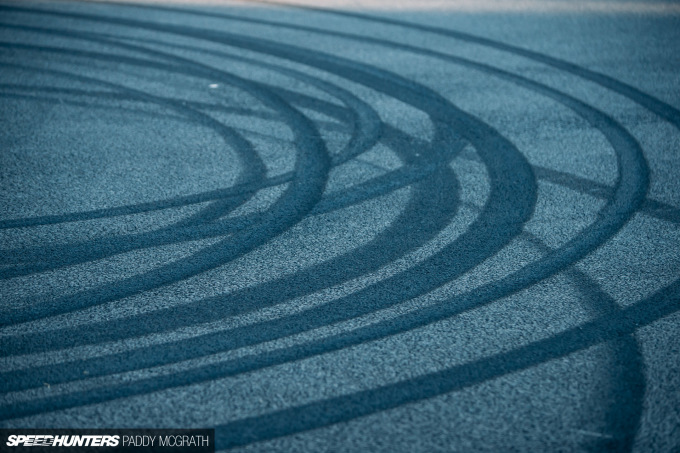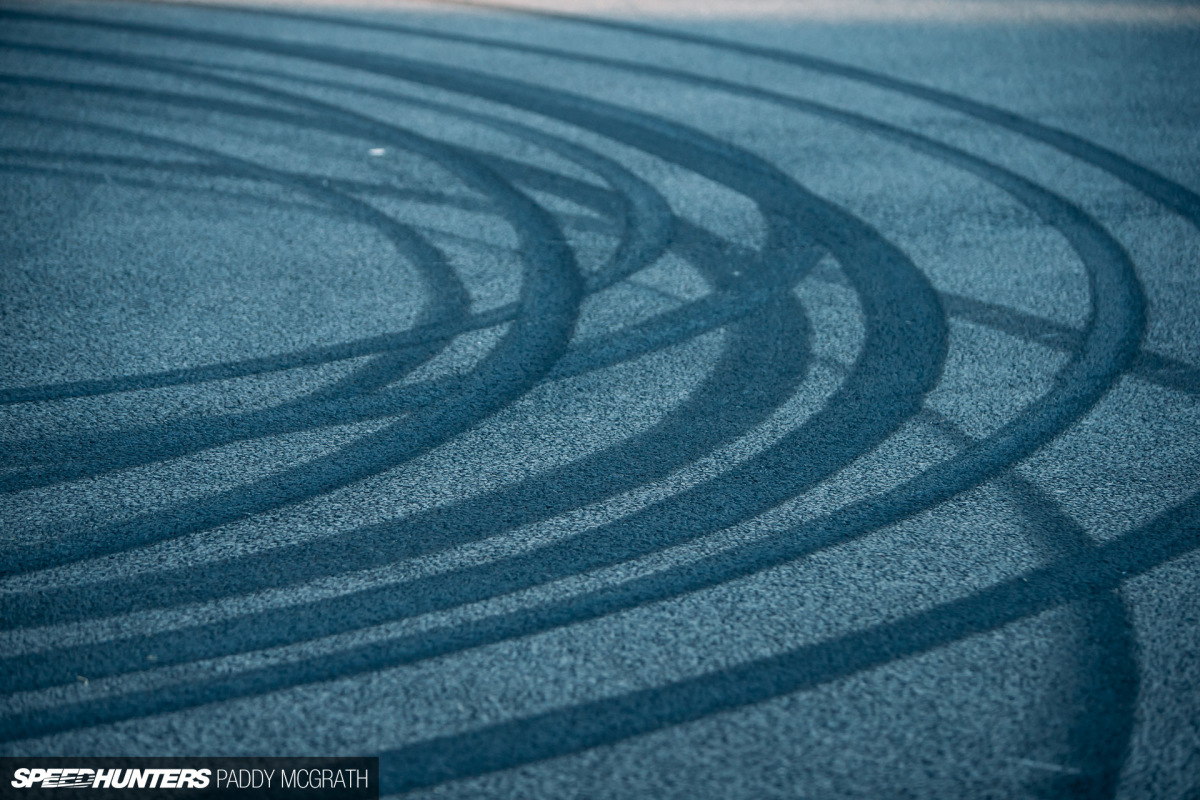 This isn't a typical build for Ireland, or indeed most countries. It's not the first K-swapped Silvia, but I'd wager that it's maybe the most advanced outside of drag circles. It's also a welcome change to the sea of 2JZs and V8s swaps which currently dominate our tuning world.
Tomorrow, the first test session will be completed and hopefully so will its first event on Sunday, all going to plan. It is a little bit of a baptism by fire, but the pressure cooker of competition often helps to develop a car much quicker than a non-competitive environment.
As said above, it's early days, but I feel that it will be the car's grip setup that will likely attract the most attention…