The Most Un-Lotus-like Lotus
I'm just going to say it: I've always steered away from the idea of a slightly more comfortable and luxurious take on a Lotus. This is precisely what the Evora promised to be when it first launched back in 2009.
In my mind, a Lotus is a car you buy to drive hard on winding roads and/or take to the track. There's no real other use for it, and every experience I've had in the first and second generations of the Elise and Exige has always pointed to this fact. I've had a few chances to take an Evora out before, but I never took Lotus Japan up on the offer, always preferring to grab the latest and greatest (read: fastest) limited edition Exige that happened to be around. The Exige S was the last one, a car that blew my mind by redefining what the lightweight sports machine was capable of when given more power. But that was four years ago, and in more recent times Lotus has brought a refreshed and refined Evora to the table.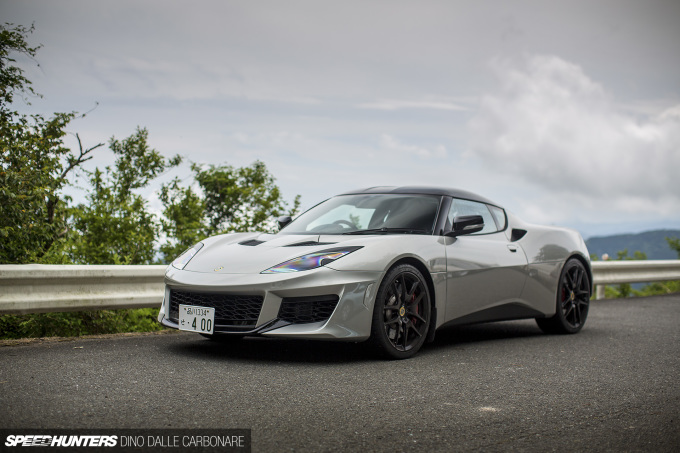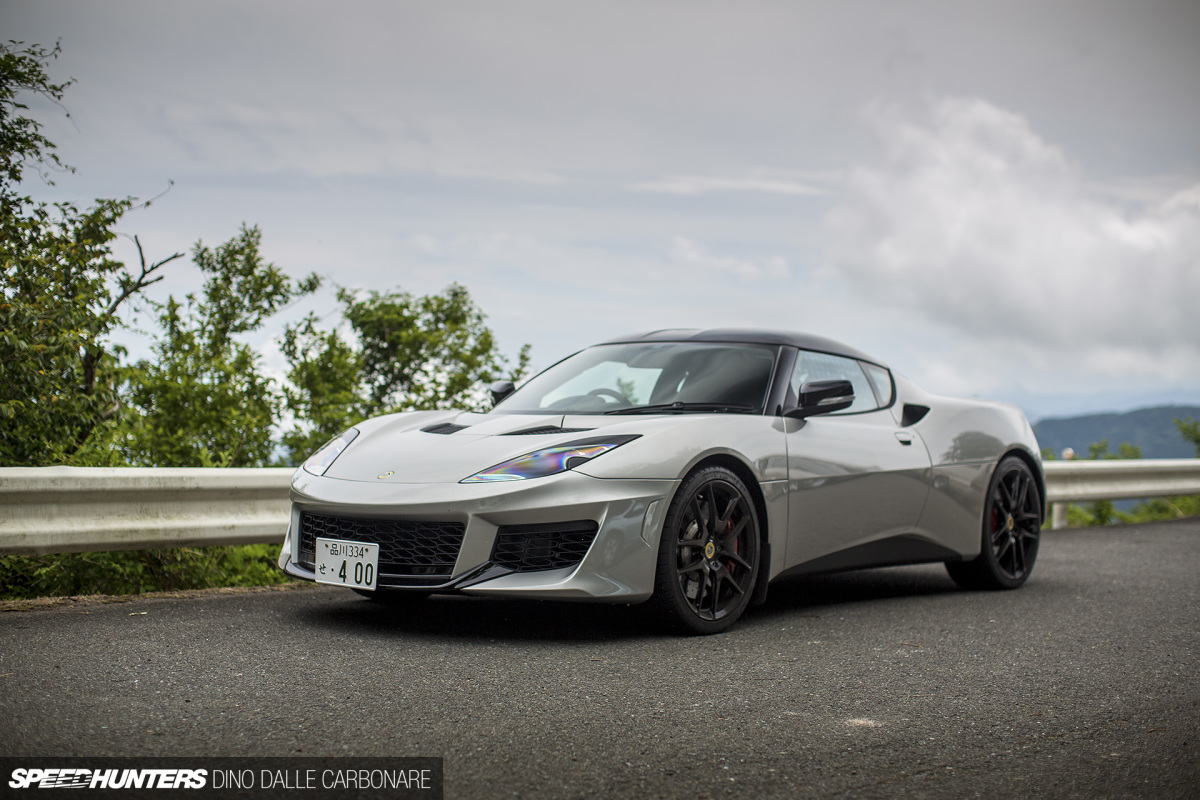 This little 2+2 Evora 400 is the base model of the range, and before I go any further let me say this: the car I took out was an automatic. Crazy, right? A Lotus with a torque converter seems as sacrilegious as attempting to make a Lotus luxurious in the first place. I thought it was a good match; I'd subject myself to the most un-Lotus-like car Lotus makes, ridiculing it and entertaining you guys in the process.
But you know what? The preconceptions I had about this car were all wrong.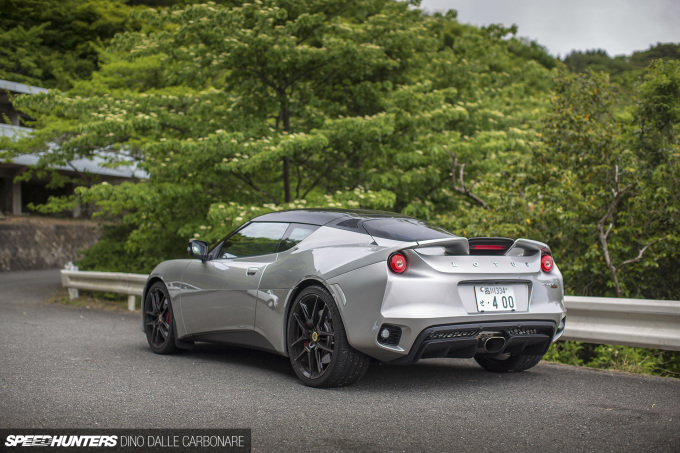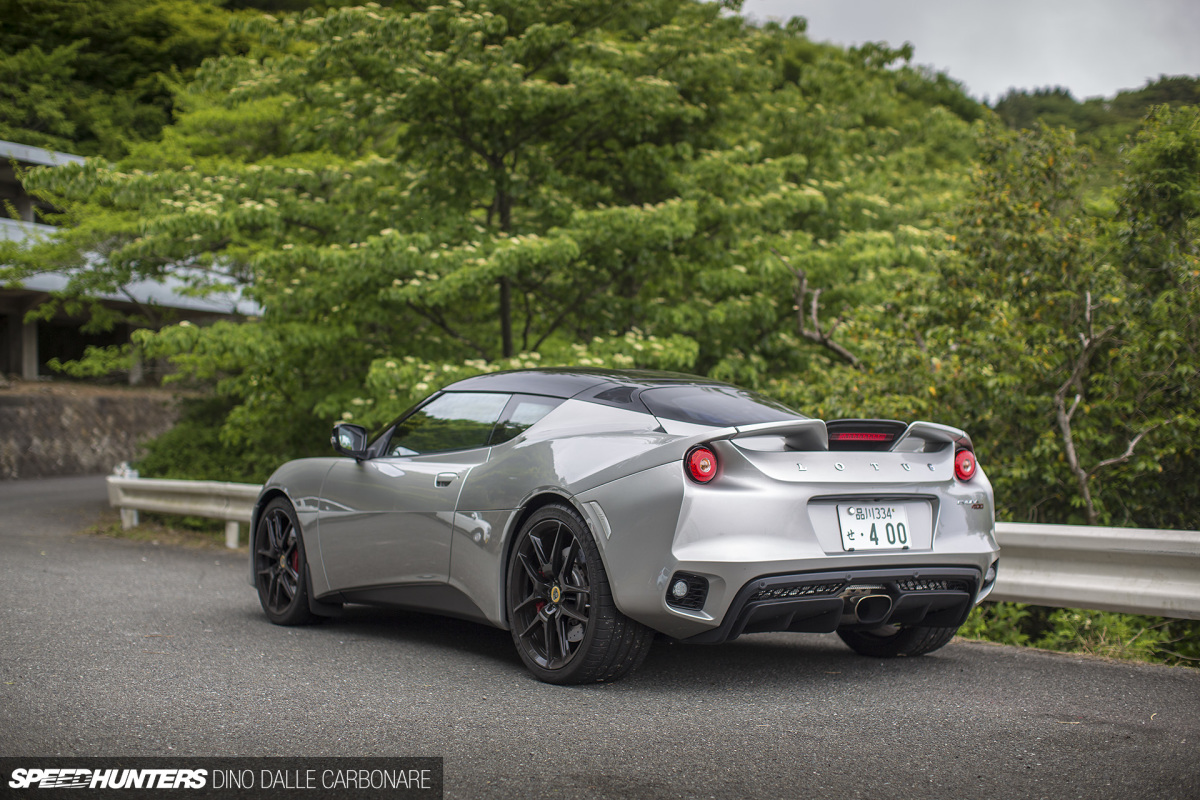 Lotus learned a lot with the inaugural production run of the Evora, and this new refreshed version is the fix to all the issues that plagued the more grown up Lotus in the first place. I came to this realization rather quickly. After grabbing the 400 I had to go and pick my son up from kindergarten and drop him off across town at his martial arts class, so I was using the little sports coupe like a daily. I left the transmission in D for the journey, but upon my son's request gave it a quick squeeze while driving through a tunnel.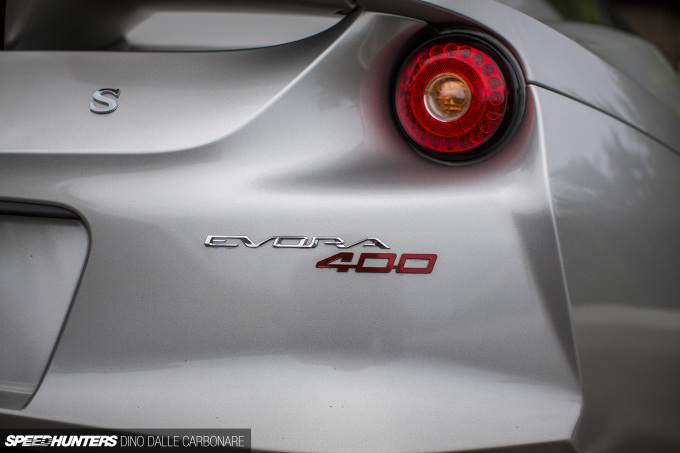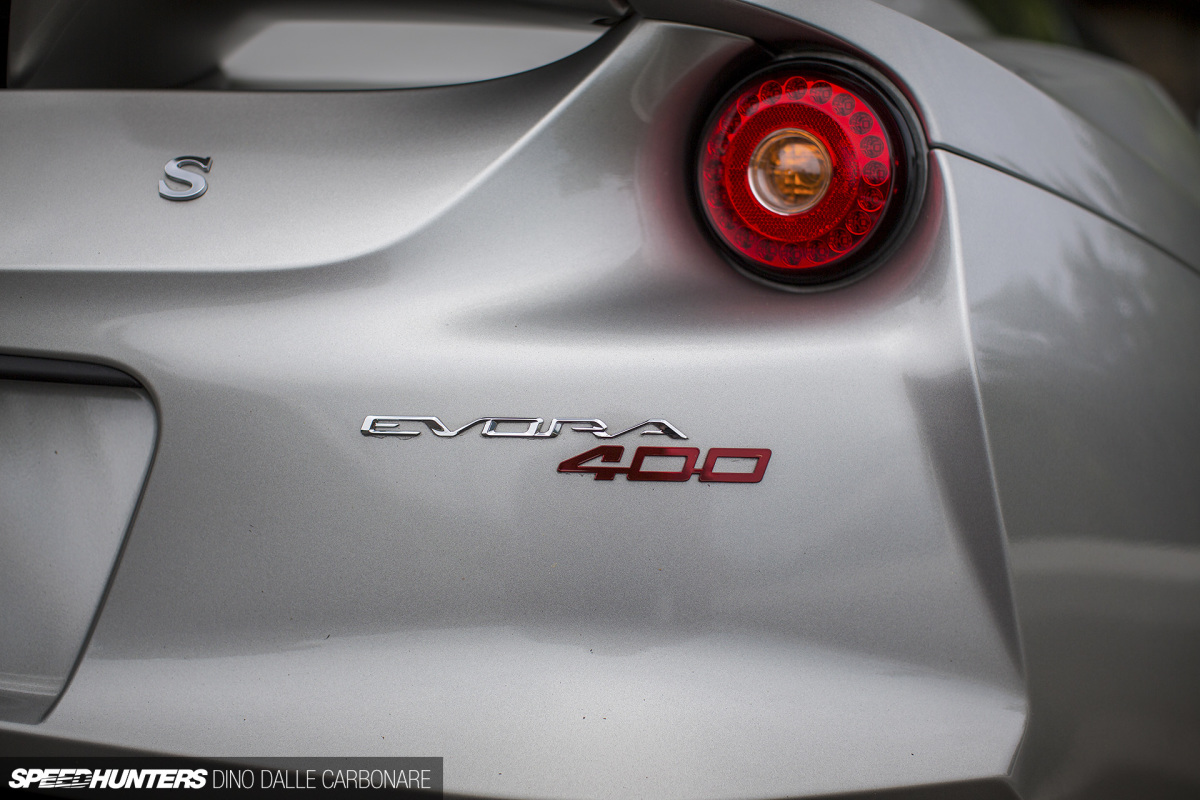 Wow. While my son giggled I was left speechless; the sheer acceleration that's available at any speed quickly recategorized the whole Evora experience for me. It suddenly felt more supercar than sports car and there was obviously many hidden talents I'd have to explore during my few days with the car.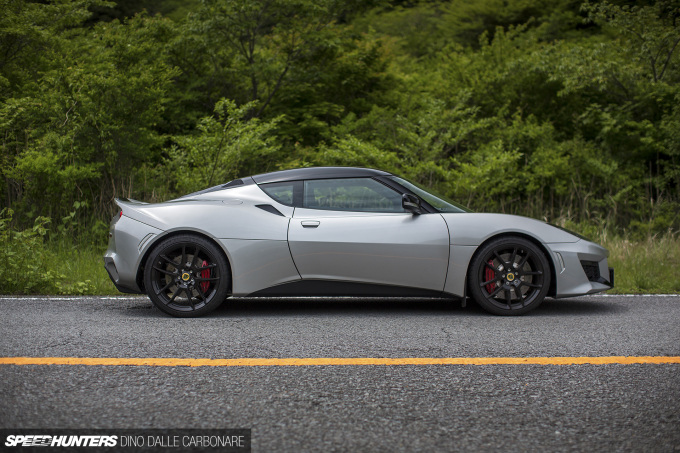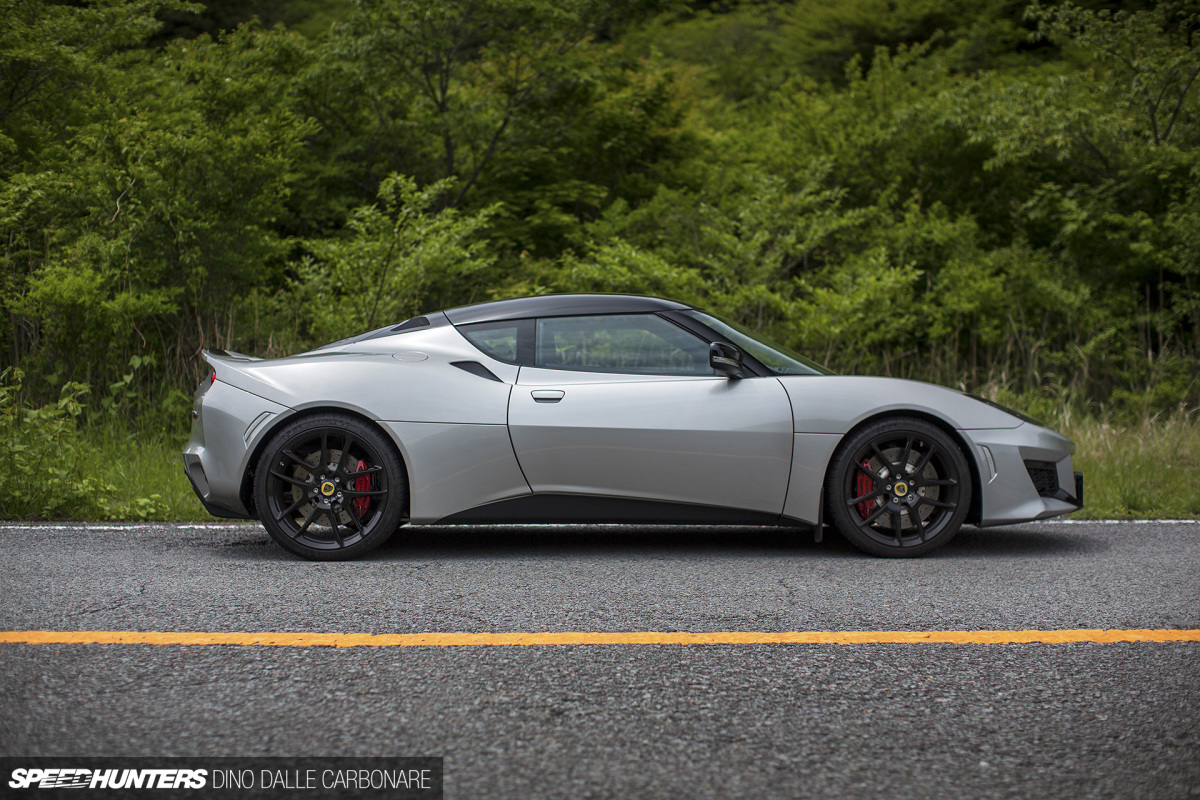 Those days weren't just going to be spent running errands around the city though. I did what any person living in Tokyo would do to if there was a need for decent roads: I headed down to Hakone for one enlightening afternoon.
Understanding The Concept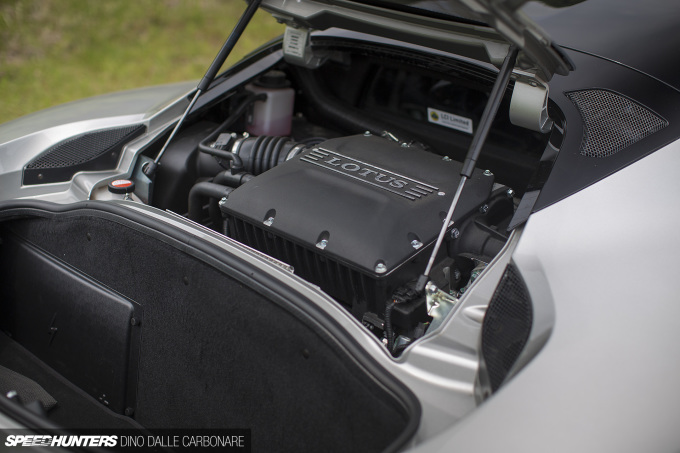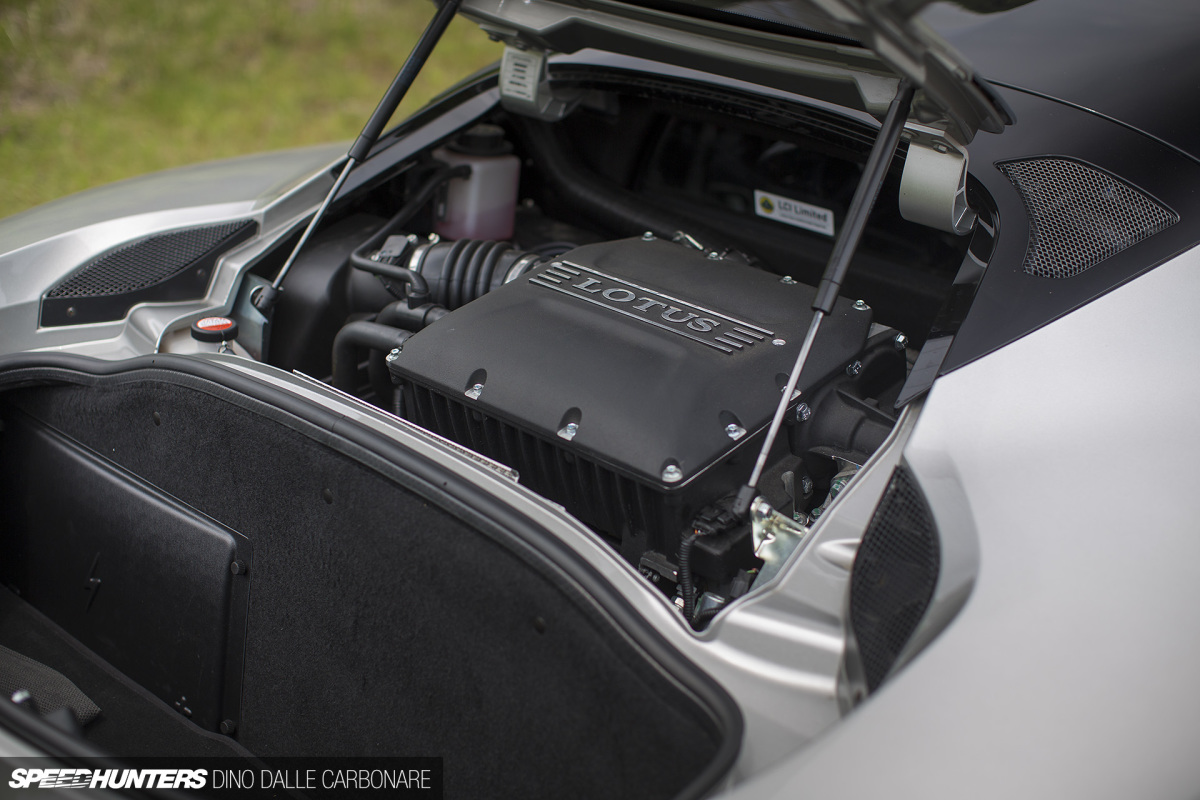 But before I talk about that, let's get into the numbers, starting with the engine. I've said it before with the Exige S and I'll say it again here: it's quite impressive to think that this motor is the same 3.5L V6 that powered the old Toyota Camry, albeit with a supercharger bolted onto its intake. How can something so common and uninspiring on paper translate into something so special out on the road? The quick answer would be the weight, or rather the lack of it. But then again, the Evora 400 hits the scales at 1,407kg (3,102lb), which makes it 280kg (617lb) heavier than an entry level Exige. That's crazy if you think about it; it's just a little lighter than a Porsche 911 S, also hinting at the biggest fish Lotus is going after with this car.
But there's a wide spread of torque, peaking at 3,500rpm with 302lb-ft that makes progress and acceleration explosive.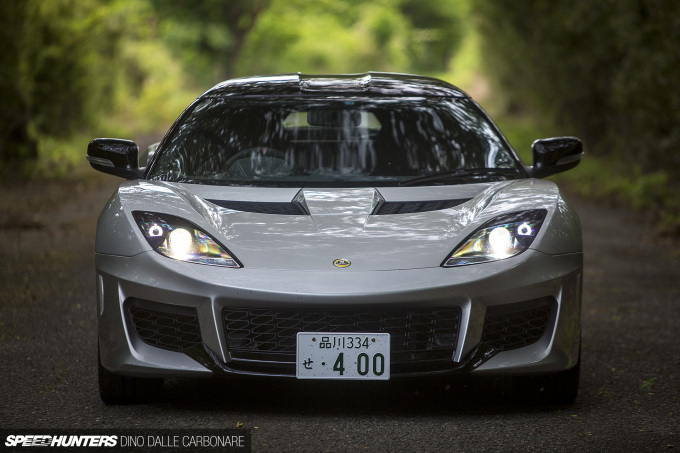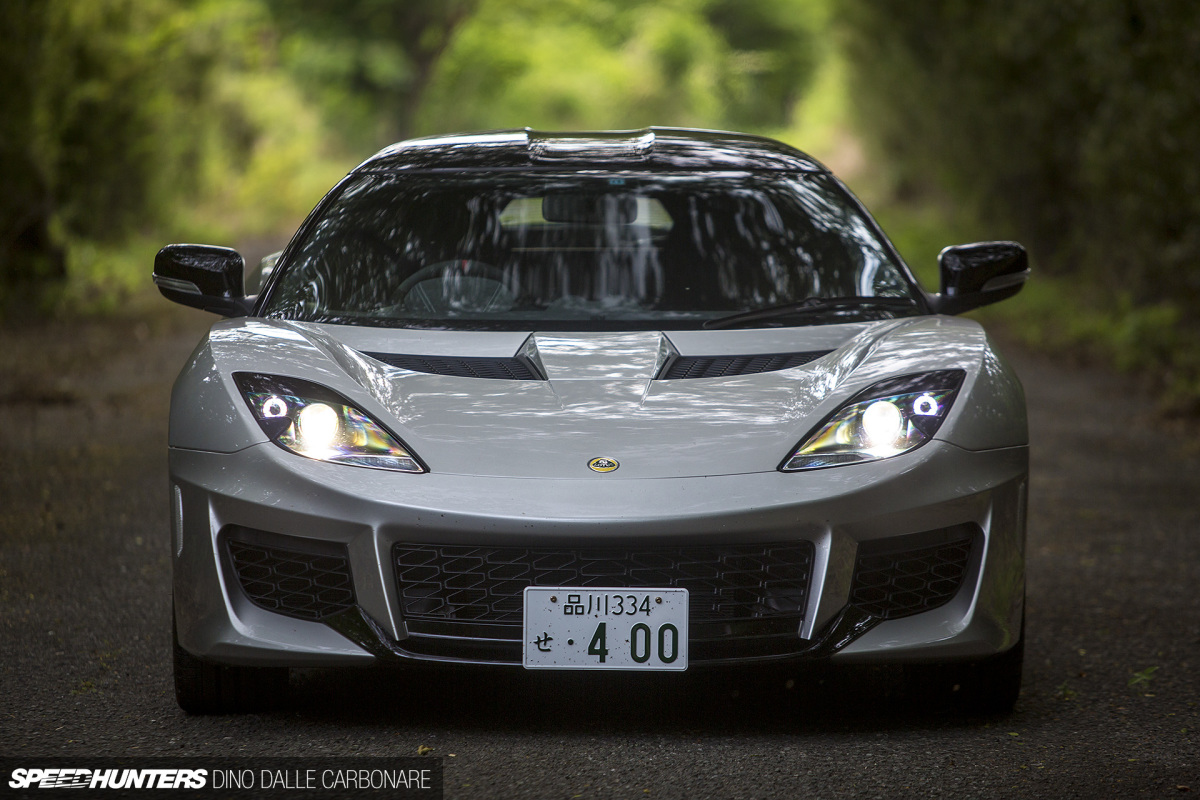 While there's no way the transmission will fool you into thinking that it's a dual-clutch like the new breed of ZFs tend to do, the way in which Lotus has programmed the shift management is pretty awesome. Aside from the first to second shift, which is very slushbox-like, the rest of the cog-swapping is fast and snappy, especially with the drive mode switched to its most extreme setting. There's nice throttle blips to rev-match on the way down the gears, and in no way did the auto feel like it was taking anything away from the driving experience. In fact, it added to the car as a whole, making it refreshing and rewarding at a fast pace, and comfortable when driving normally.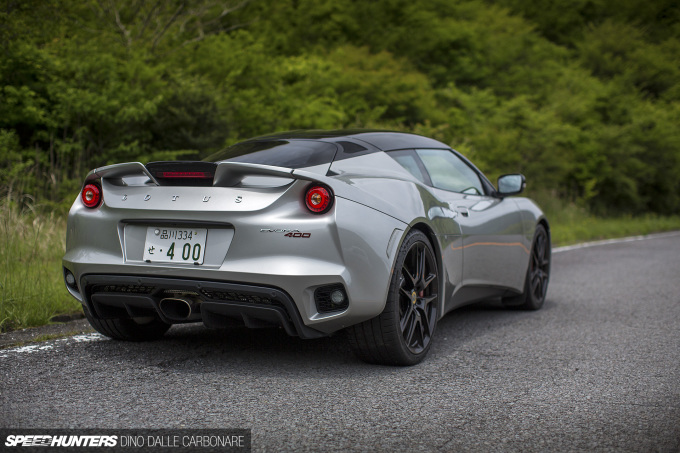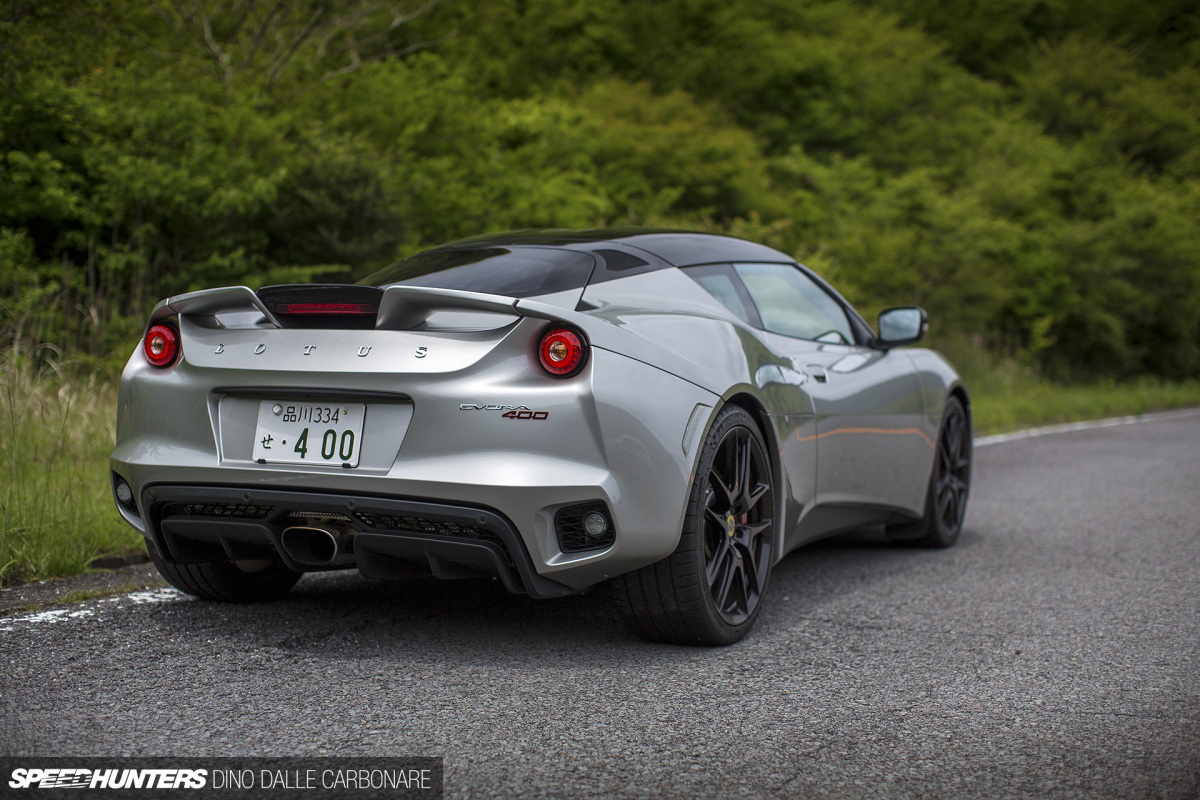 It gives the Evora a true modern-day supercar feel, one that allows you to go from daily driver to track monster at a flick of a switch.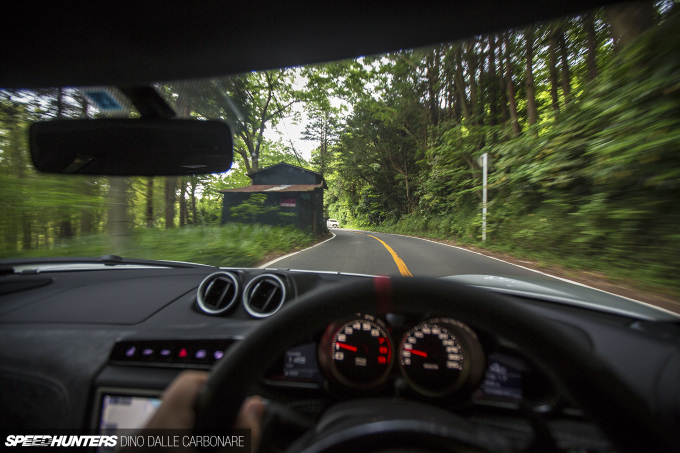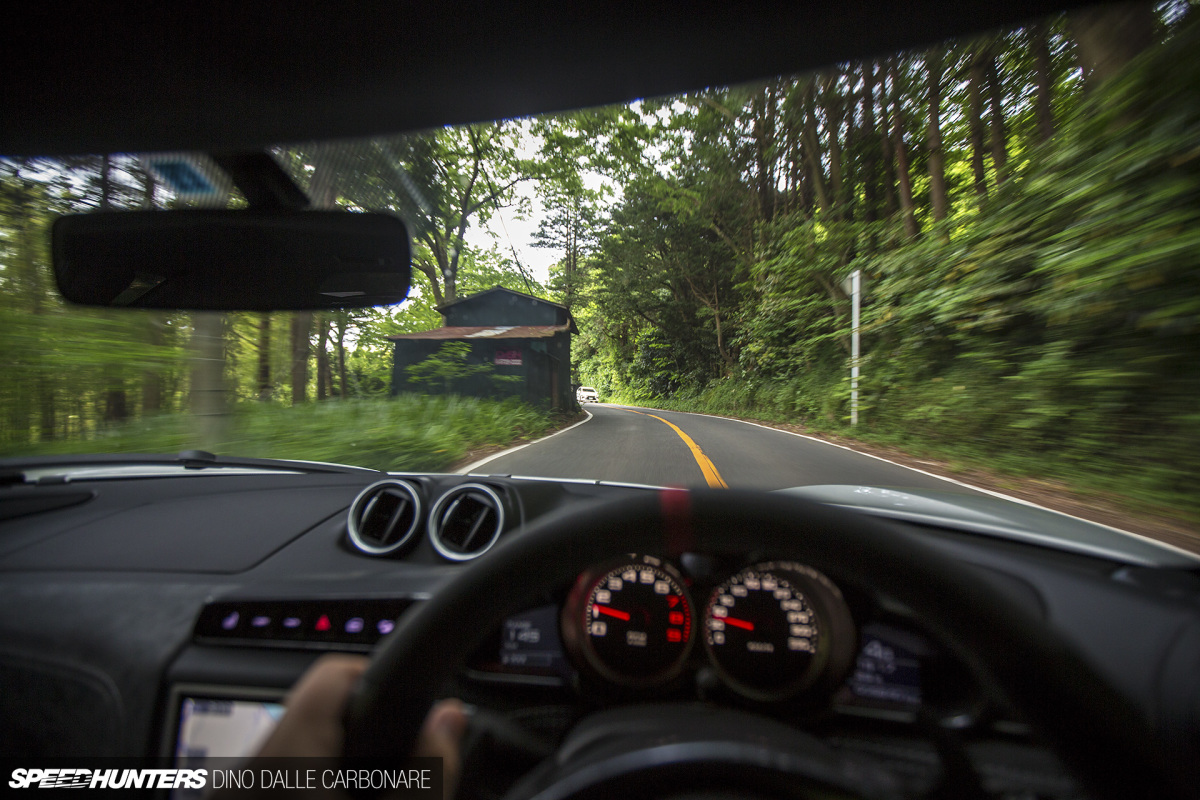 So driveline-wise it was all surprisingly good, but what really made me grin ear to ear was the handling. If there's one thing you can rely on with a Lotus it's the way it performs through the bends. Ever since my first drive of a slightly tuned Mk1 Exige a good 15 years ago, every Lotus I've gotten behind the wheel of has been the perfect example of how a sports car should feel and respond.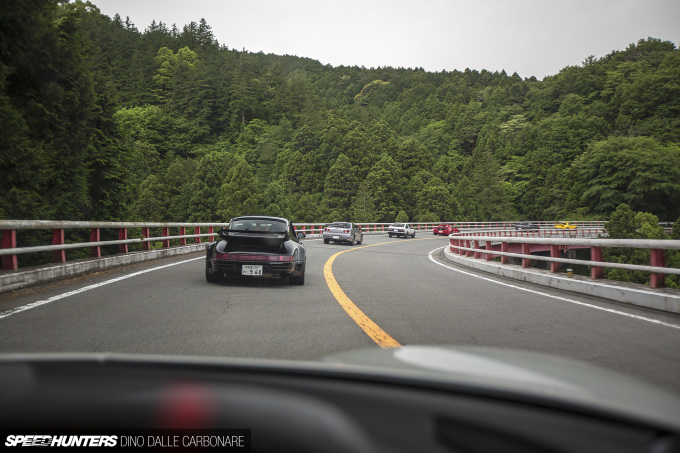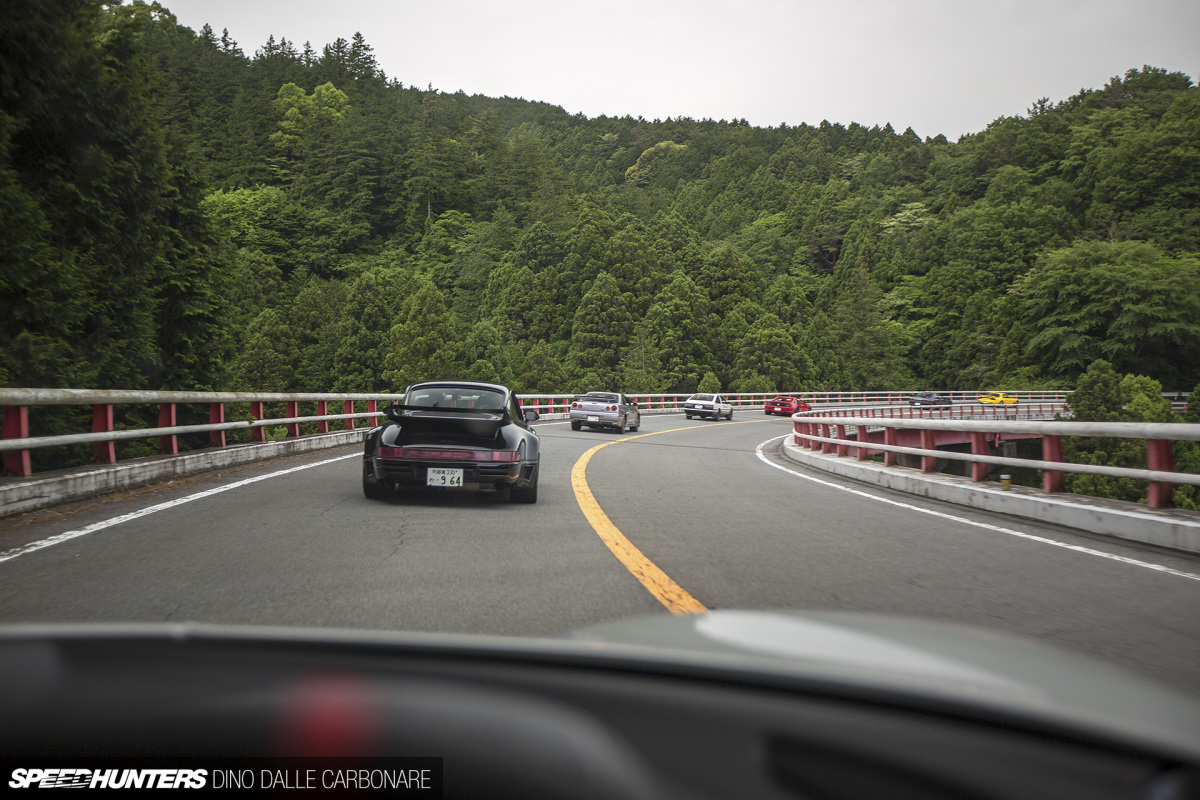 There's something that has to be said about the way the Evora performed at the Mazda Turnpike, which is a fast and demanding piece of road. As you can see in the above image, I caught up with the Fun 2 Drive guys while I was out there.
The Turnpike has the smoothest tarmac you could dream of, but when you up the pace there are a lot of dips and bumps to tackle. I've driven over these bumps a good few hundred times now in all sorts of cars, so I can pretty much judge how good or bad a chassis and suspension responds. Some cars get a bit busy tackling imperfections at speed and with the dampers properly loaded up, but the Evora took it all in its stride. It really inspires confidence too. You learn that there's so much more compliance left in the car even when you feel like you are on the very limit of grip. There is so much information being fed through the steering as well as your rear end, and you can feel how each wheel is responding to the abuse you are putting it through.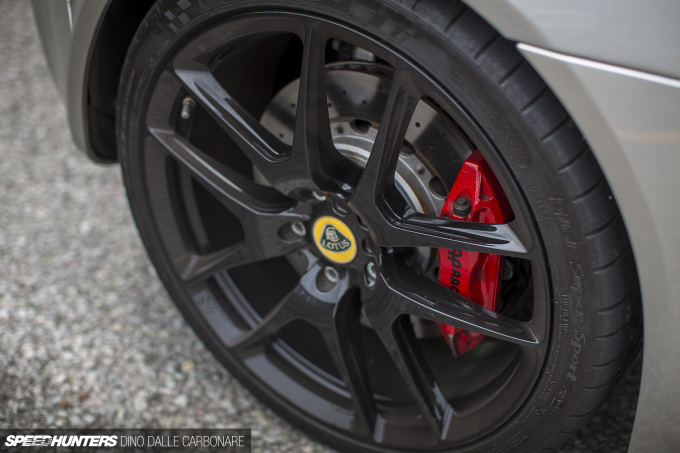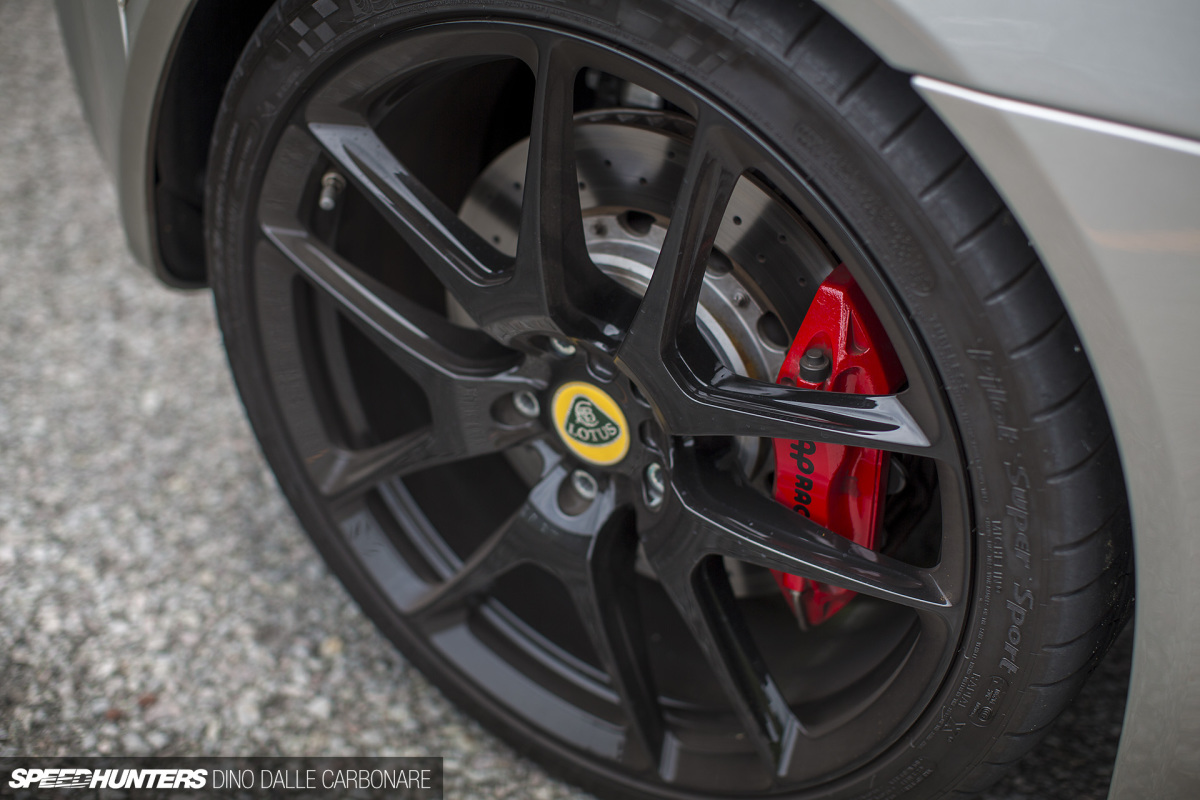 The Evora was sitting on Michelin Pilot Super Sports, so the grip available was monumentally high, despite the car beautifully moving around beneath you when you switch off the stability control. That said, to get it to do so you really have to be carrying some serious pace. Braking? In a word, phenomenal. The AP Racing setup is not only strong and beautifully progressive, but it can take some serious torture, something I found out while descending down to Yugawara Onsen which is the biggest test for brakes on my usual Hakone test route.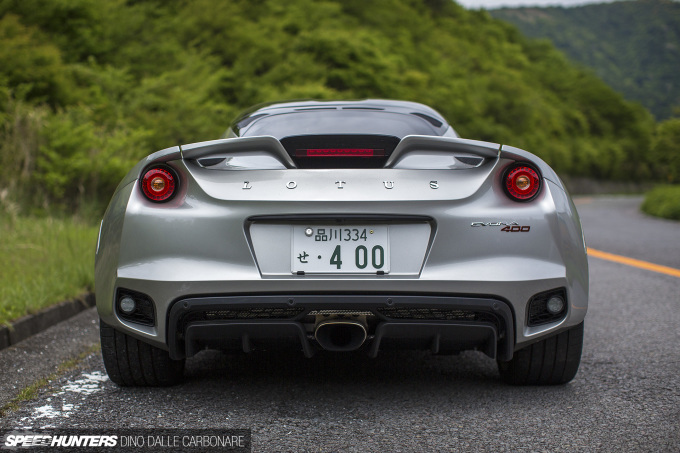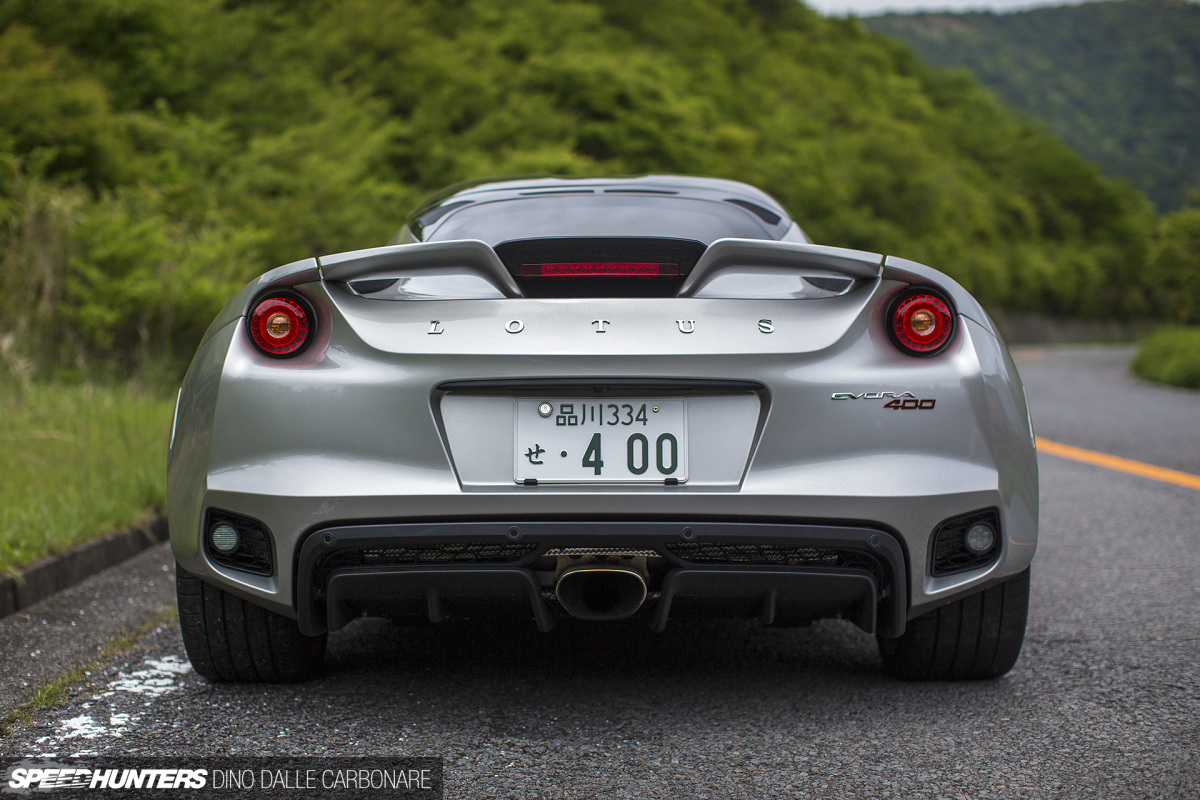 Design is subjective so I won't comment on the car's looks per se, except maybe to say that while it may not be the prettiest model in the Lotus line-up, it's certainly evolved nicely in this second refreshed version.
There are a few nice aero touches that dot the exterior, and being a Lotus you know that if they are there it's for a reason.
Lotus Hits A Home Run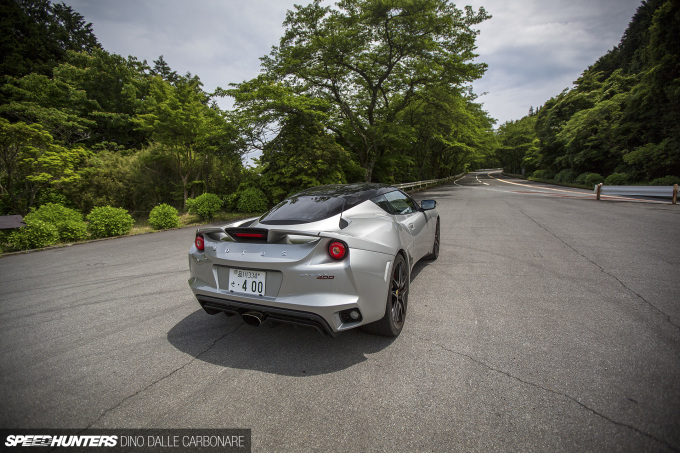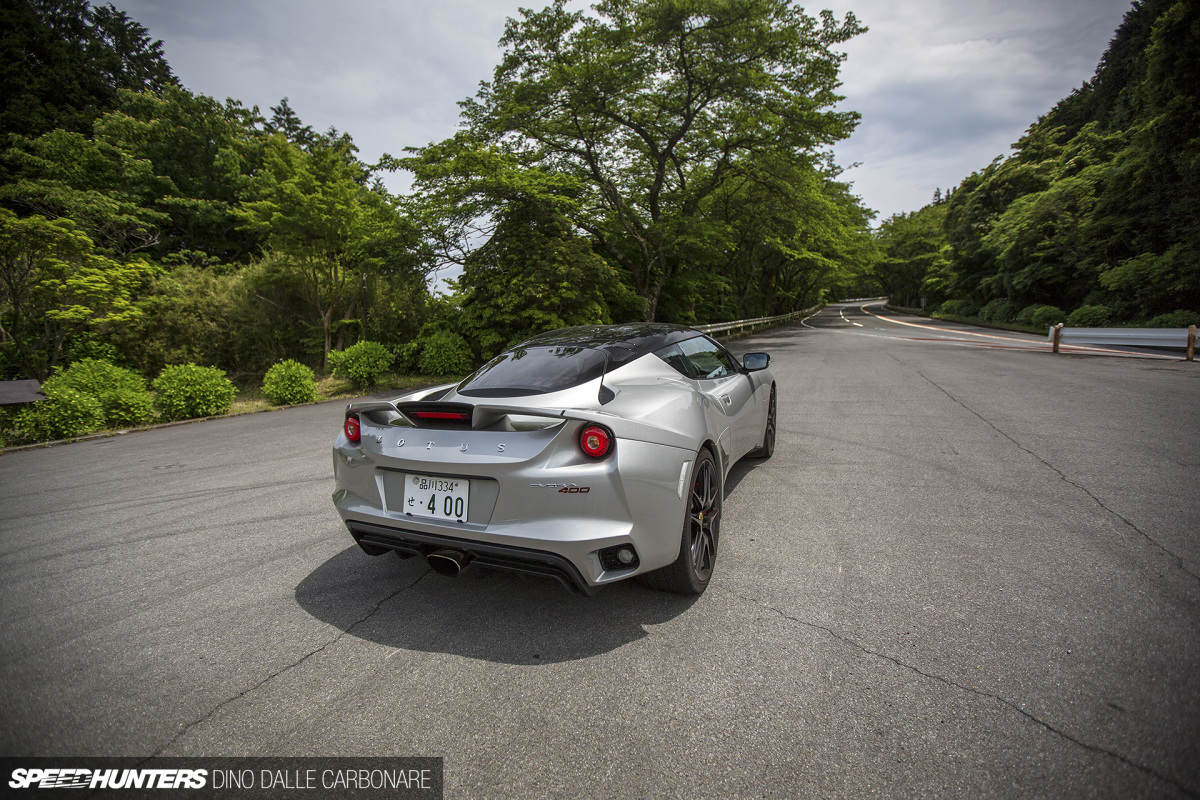 I spent the entire day going up and down the superb mountain roads that span out from the top of the Turnpike, and there was no section of tarmac that the Evora didn't feel like it owned. From fast-paced stretches like the Turnpike itself, to tight second/third gear passes, it was rewarding all the way.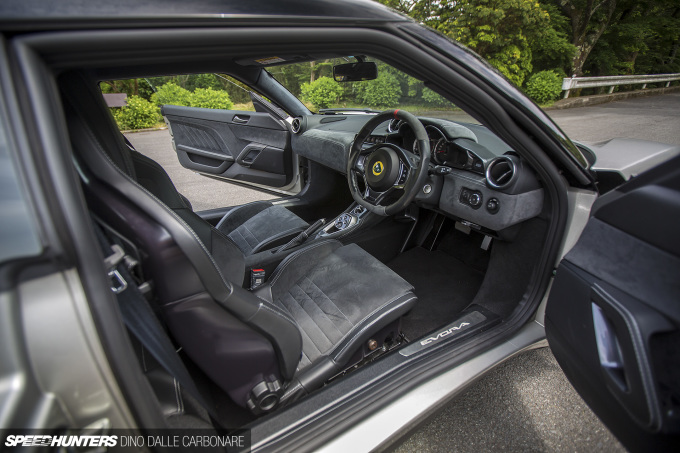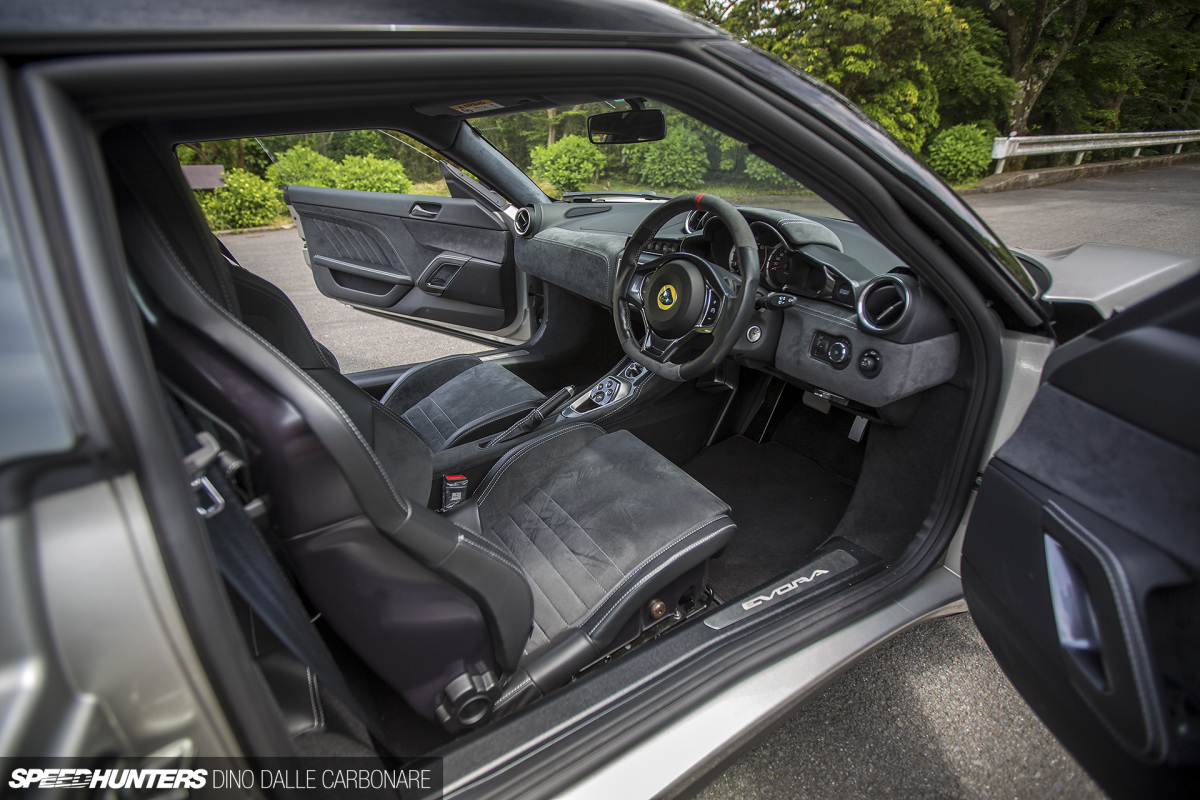 After I quoted this car's 1,400kg curb weight, I'm sure that many of you guys felt cheated. The interior is partly to blame for the un-Lotus-like weight, but just look at how the cabin is trimmed and appointed. From the reclinable buckets, the leather and Alcantara coverings, and the overall design of the dash and center console, this is one hell of a nice place to spend any amount of time in.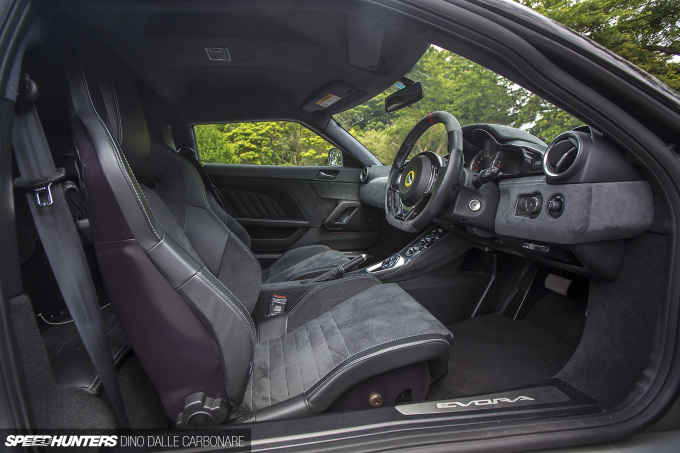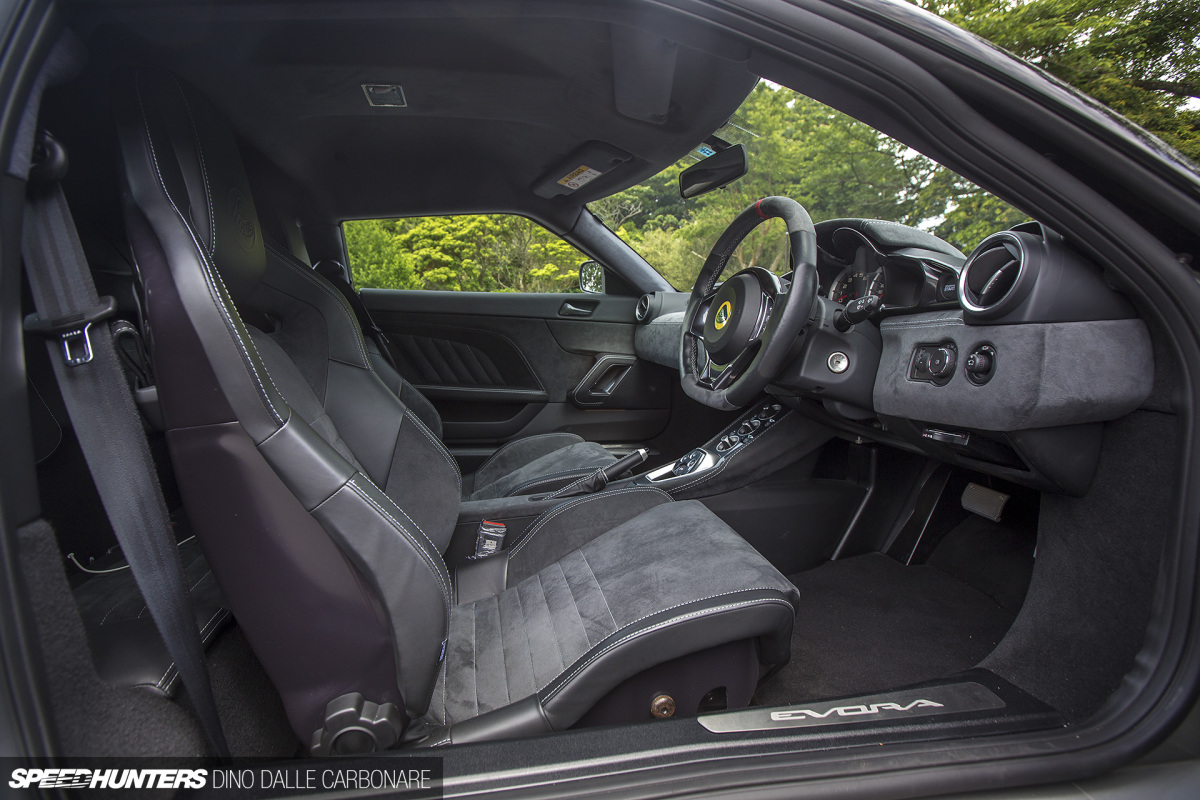 To me it strikes the right balance between a focused track car and a comfortable daily, in a way that only Lotus knows how to do. It almost felt weird sitting in such a well-appointed cabin with a Lotus badge staring back from the steering wheel.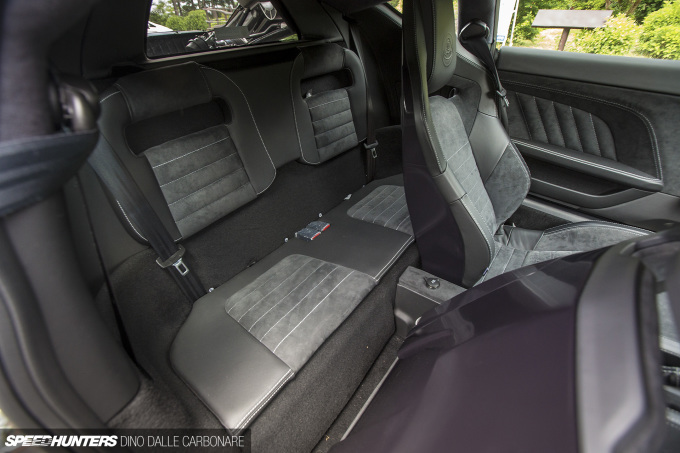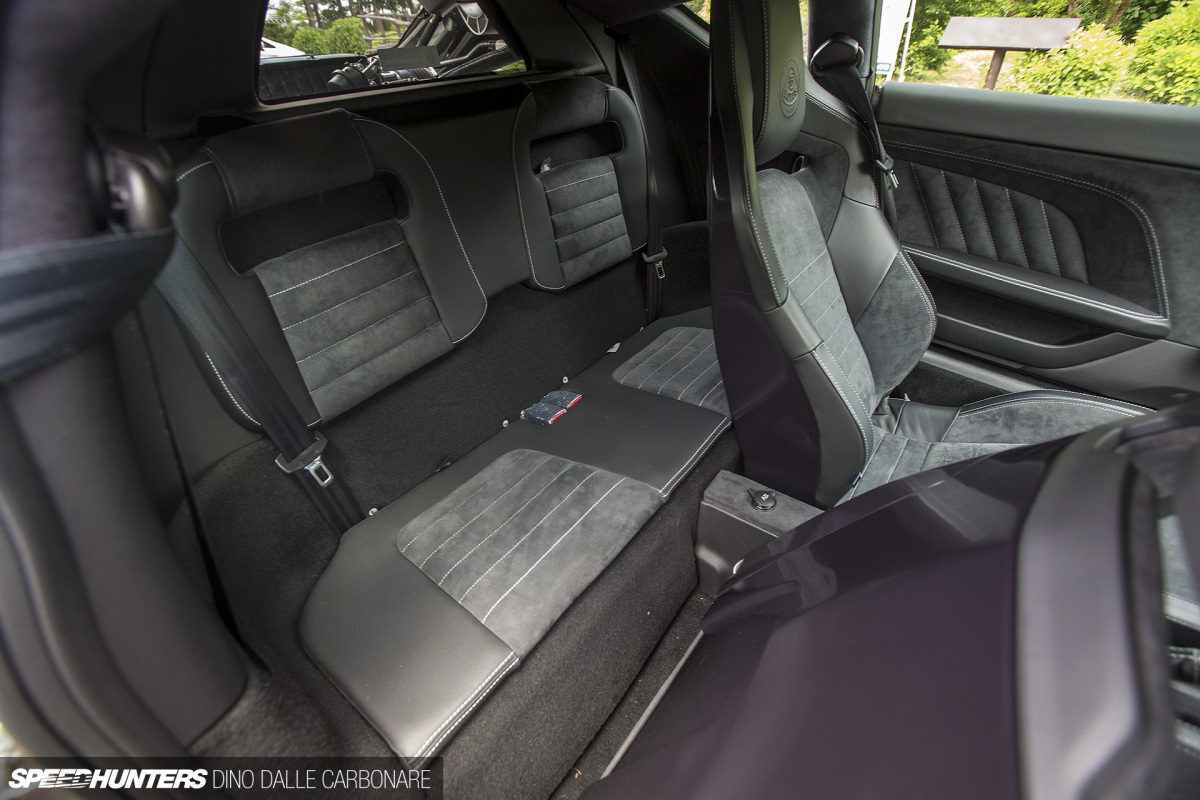 Like the old Elan 2+2, there's rear seating, but given how much actual space there is it's really only suitable for a baby or toddler, or for carrying bags and other small goods. But having this extra cabin room is a bonus in the market the Evora is trying to make a go of.
There's nothing to complain about from the driver's side of the interior. You get a simple dash with a pair of LCD screens that allow you to flick through a variety of menus, and a nice layout of round switches above the navigation screen where you can select the drive modes, open the valves on the exhaust and – believe it or not – control the seat heaters.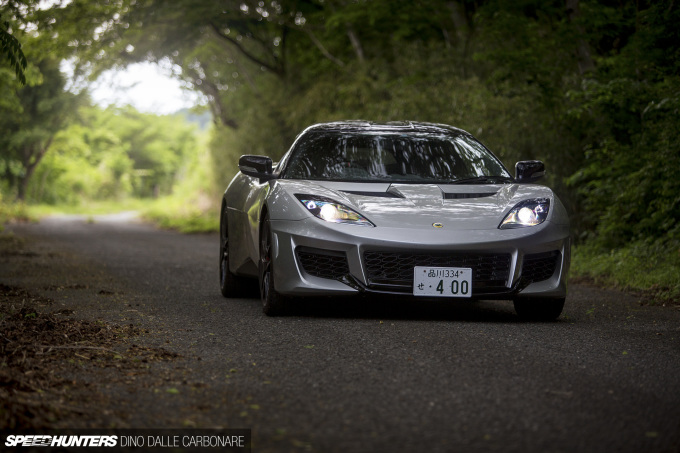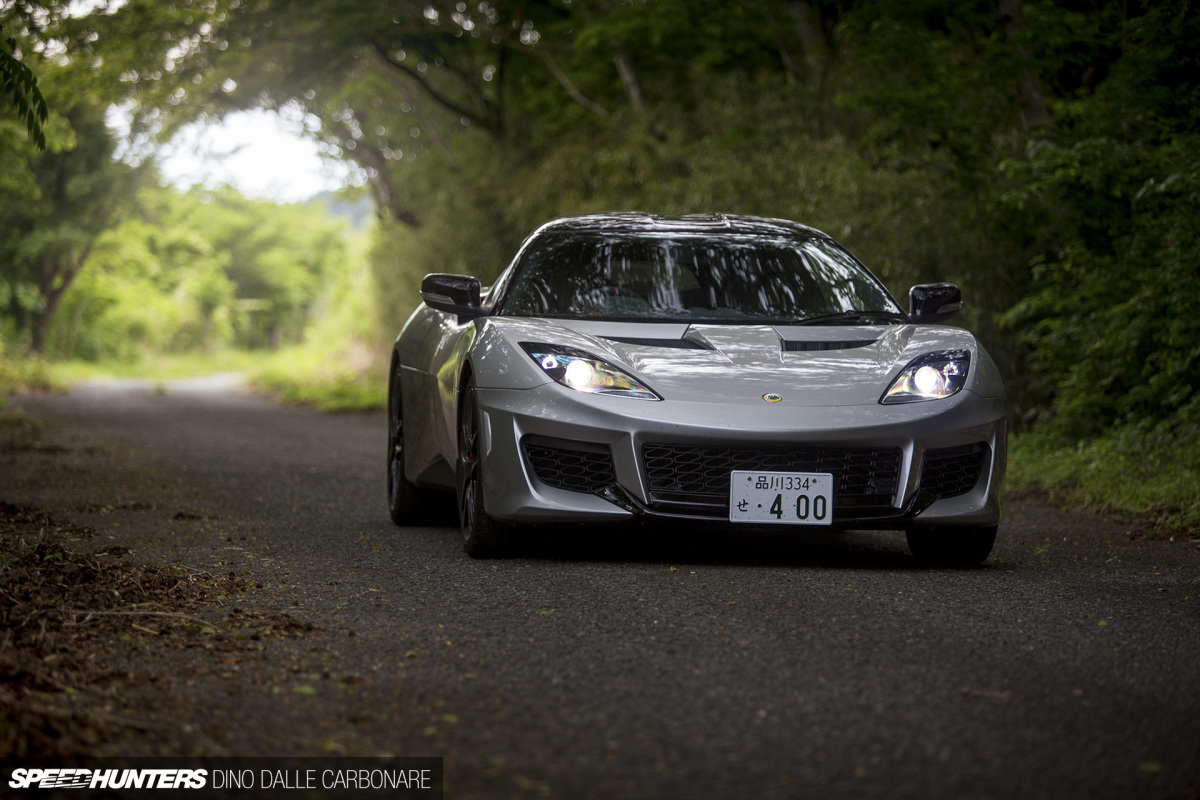 But really, there's nothing to be surprised of here; this is simply a cycle and an evolution that a lot of manufacturers go through to adapt to an ever-evolving market with equally evolving demands. Lotus has done this in its own little way. While we will probably never see a Lotus sedan or SUV, the Evora is here to expand on that image of a sports car, one that still offers the right driving dynamics, but wrapped up in a package that is nice to live with.
I think with this latest execution and the even hotter Evora models in the line-up, even the die-hard Lotus purists should be able to get behind this car.
Dino Dalle Carbonare
Instagram: speedhunters_dino
dino@speedhunters.com