Deadline Set
Those familiar with Speedhunters, and the annual SEMA Show in Las Vegas, might recognise the name Jonny Grunwald.
Jonny was formerly Bulletproof Automotive's project manager and has a string of project cars and builds under his belt, including his own personal FD3S (the white one), so he's definitely got the right credentials when it comes to building a world-class SEMA showpiece.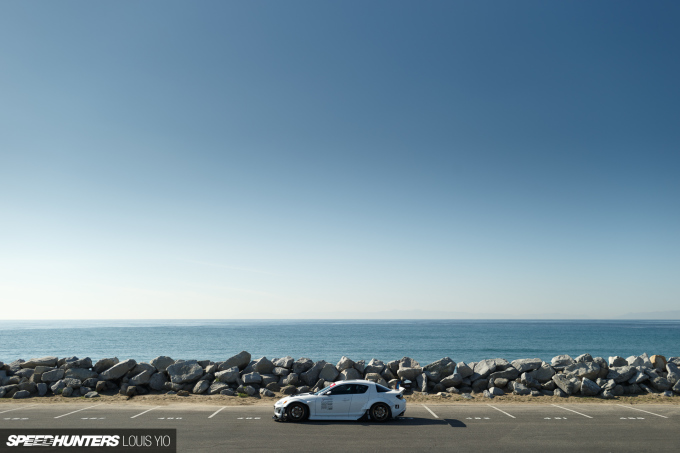 The seed for this built-for-SEMA RX-8 was actually planted by none other than notable rotary headcase Mad Mike Whiddett. It was during an encounter with Mike at Fuji Speedway in Japan that Jonny first saw then-unreleased renderings of Miura-san's upcoming Pandem RX-8 kit, which the sideways-happy Kiwi had a hand in helping design and would be applying to his latest BADBUL drift build.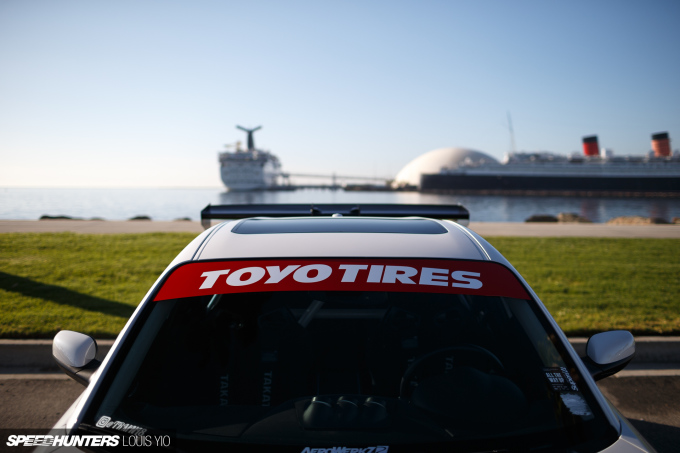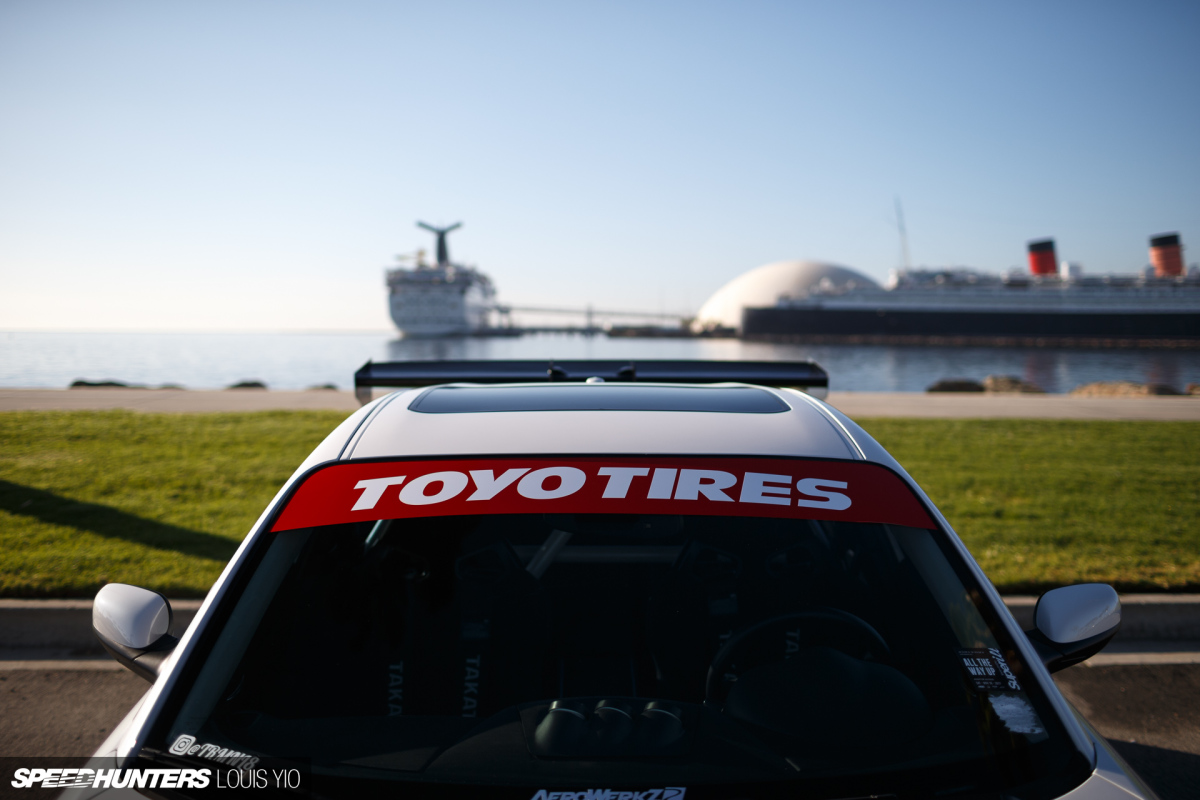 While impressed, Jonny thought nothing more of it, until just five weeks prior to SEMA 2017 when he was offered the opportunity to build a car on behalf of TRA Kyoto/Pancross and Toyo Tires for the show.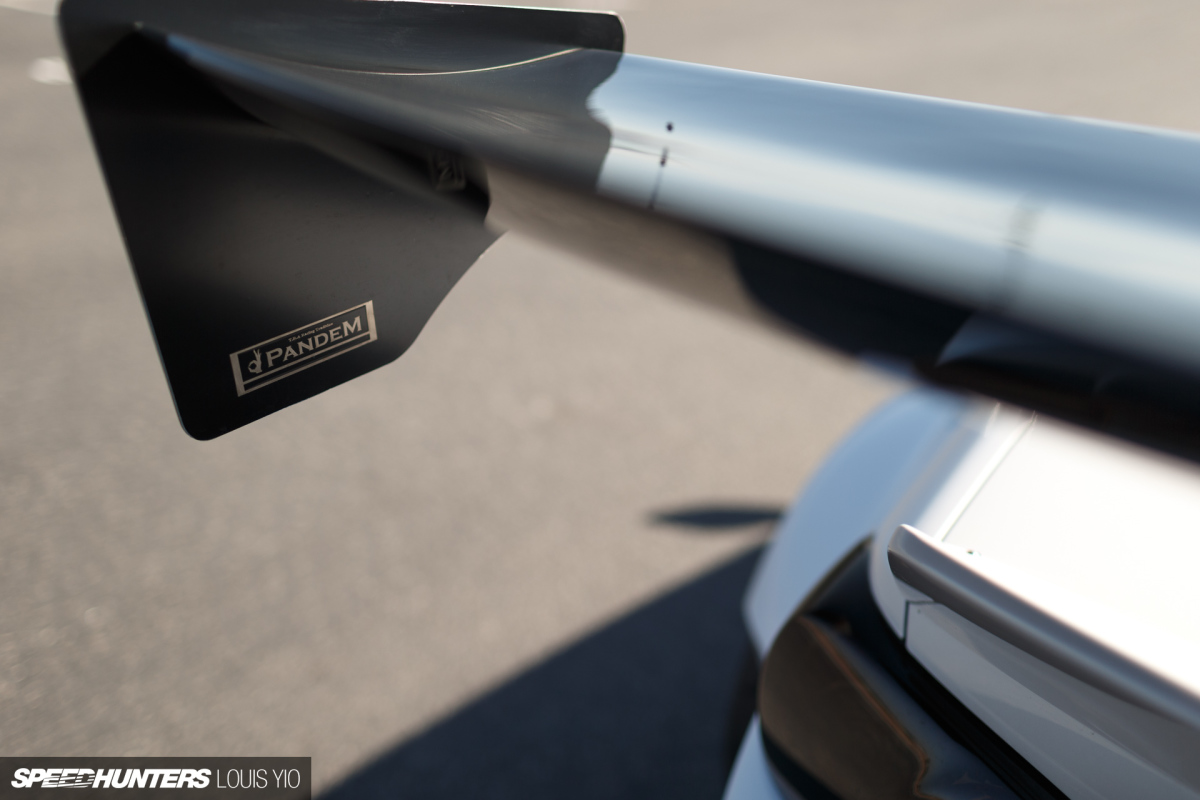 Before he could even think about saying no – less than 72 hours later, in fact – he'd sourced a car and it was being stripped down ready for the build. Work began on the engine build first, before the team started on the body.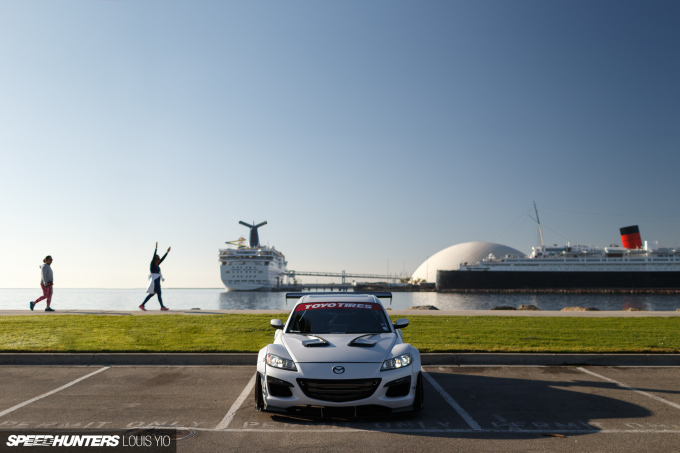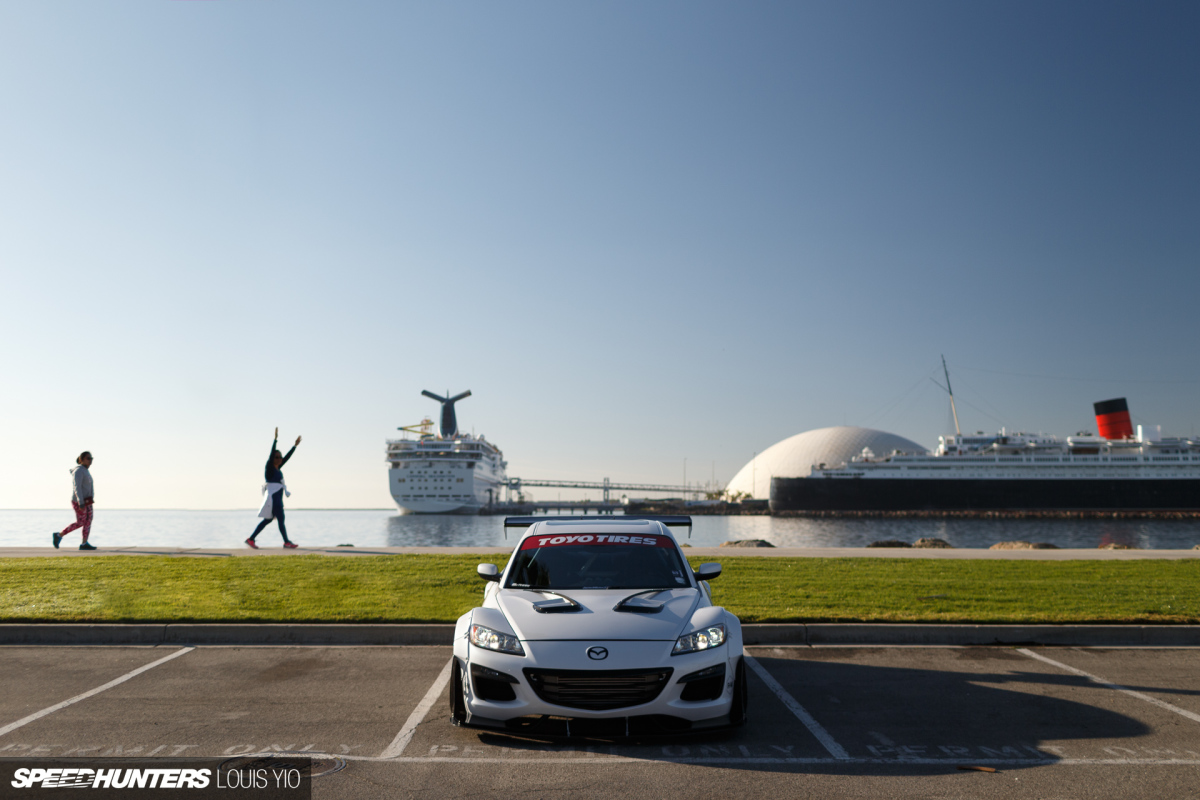 Flying back to Los Angeles fresh from TCP Magic's Formula Drift Japan Okuibuki win, Jonny and the Lucky 7 Racing team began work on the RX-8 with its stock exterior before the kit would arrive less than two weeks before SEMA. The kit that Jonny last saw in the renders was soon being unloaded from boxes at Auto Explosion Body Shop in LA, where the team began cutting and fitting it to the Mazda.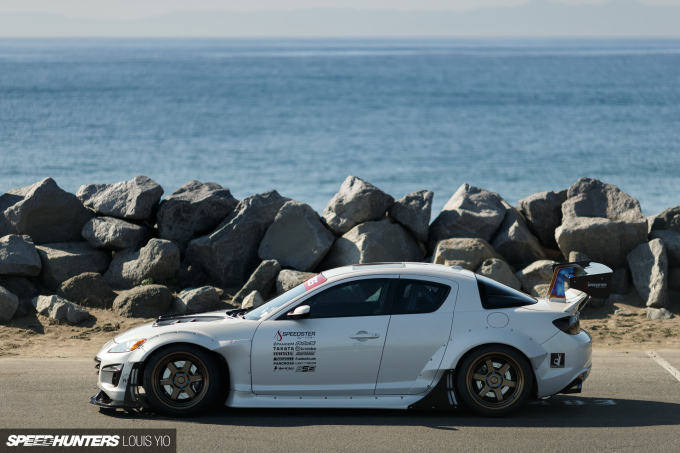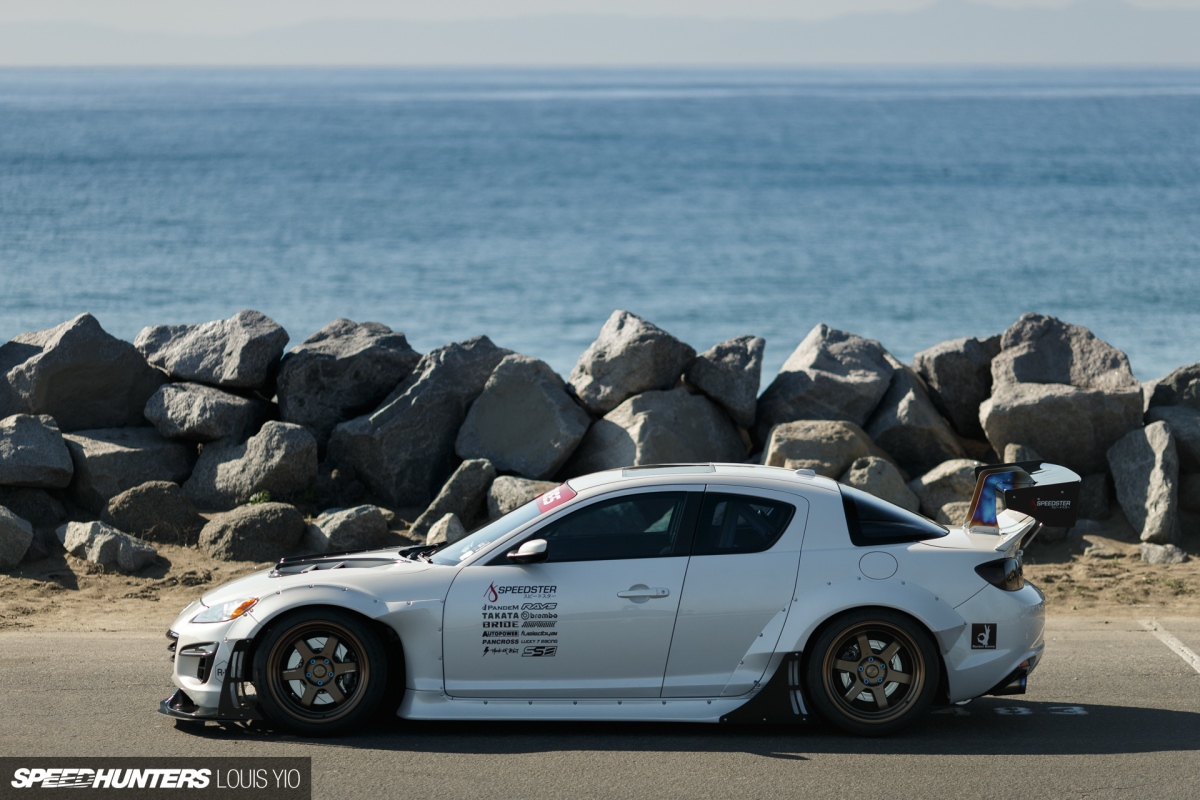 The exaggerated overfenders add substantial width to the RX-8's comparatively understated design, seemingly swooping and flowing around the wheels.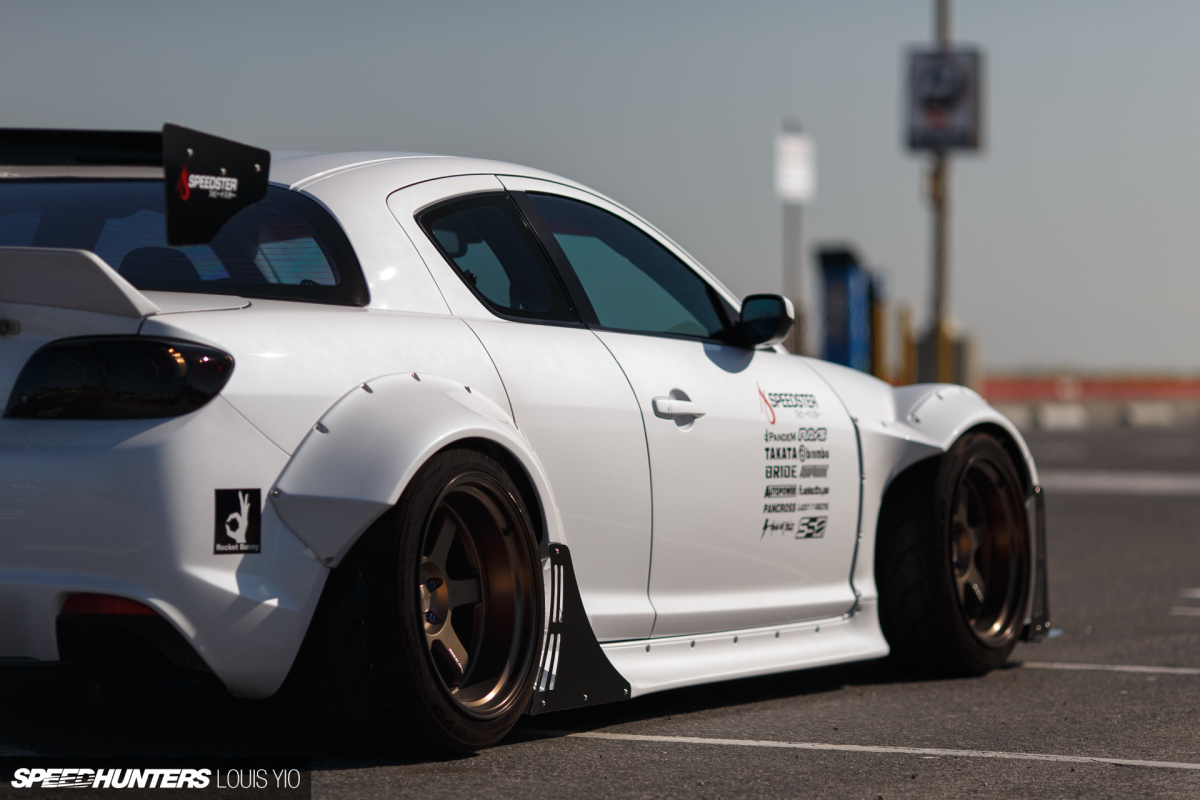 I'm usually not the biggest fan of this style of kit, but on certain chassis it works better than others. In my opinion, the RX-8 is definitely one of those chassis.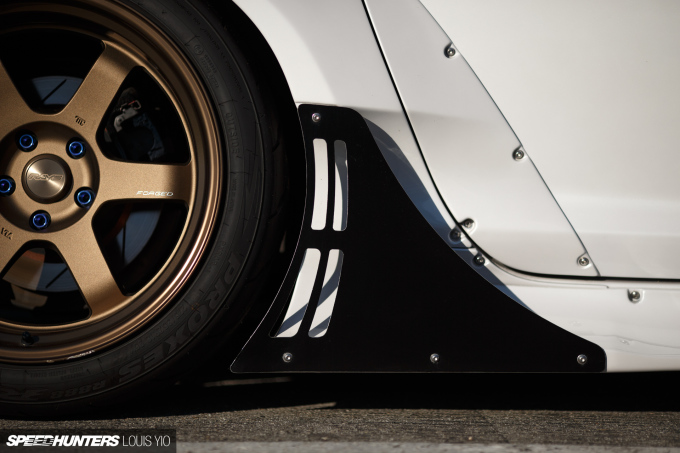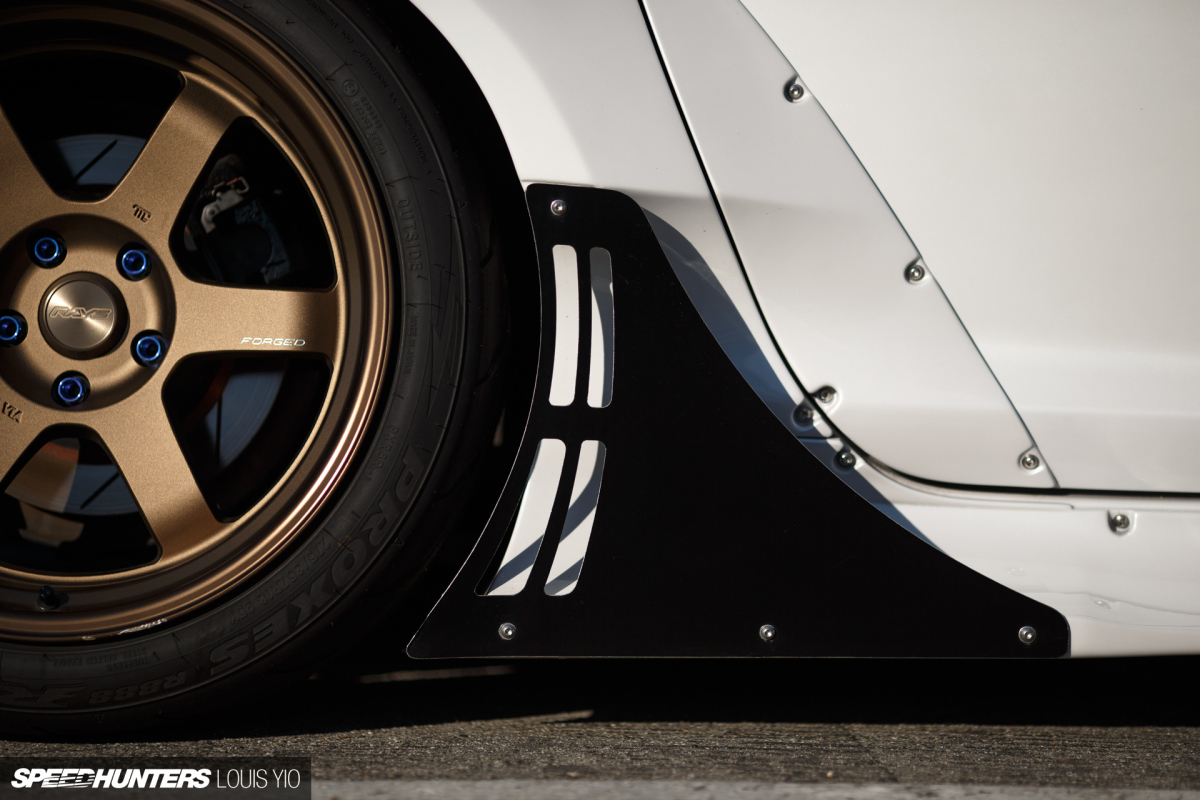 The kit follows the familiar lines of Miura-san's previous work, dipping in sharply at the bottom of the fenders. The addition of alloy canards on the front bumper and side skirts helps this design feature integrate better, I feel.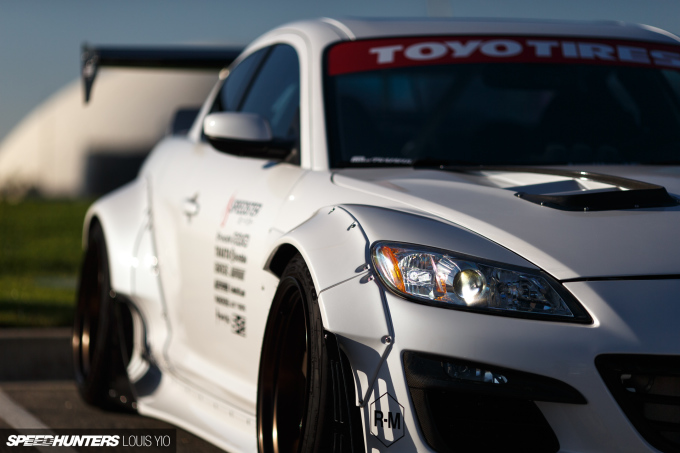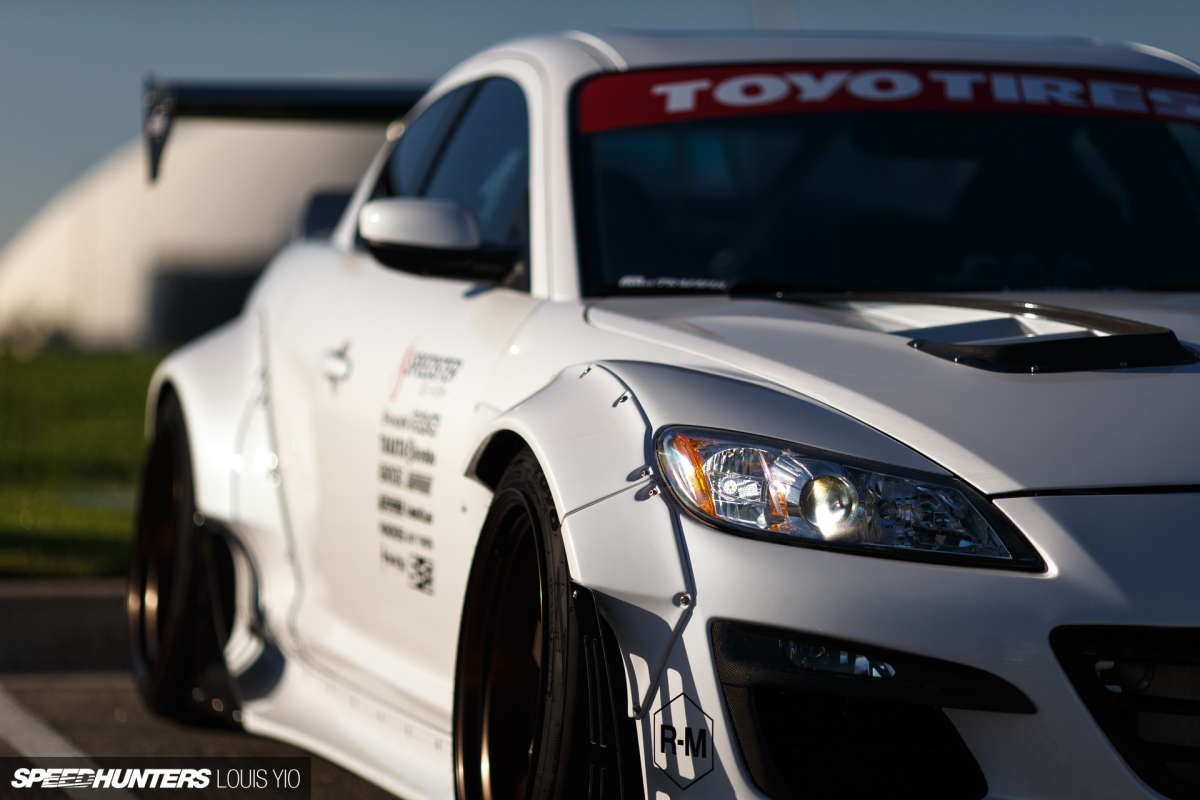 As is often the case, the hardware and lines have been left exposed, creating a clear distinction between OEM and aftermarket.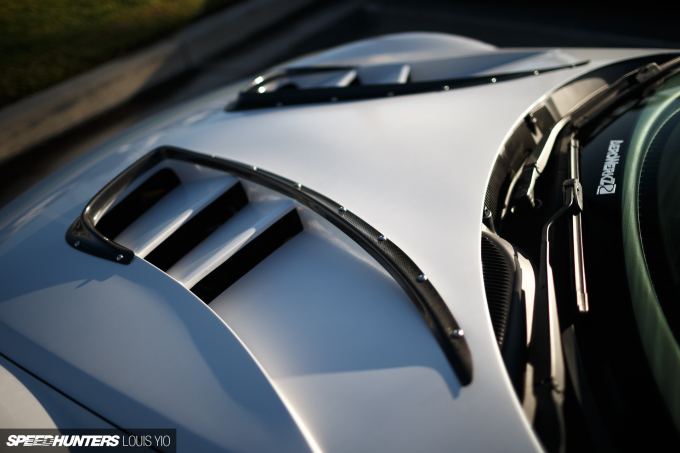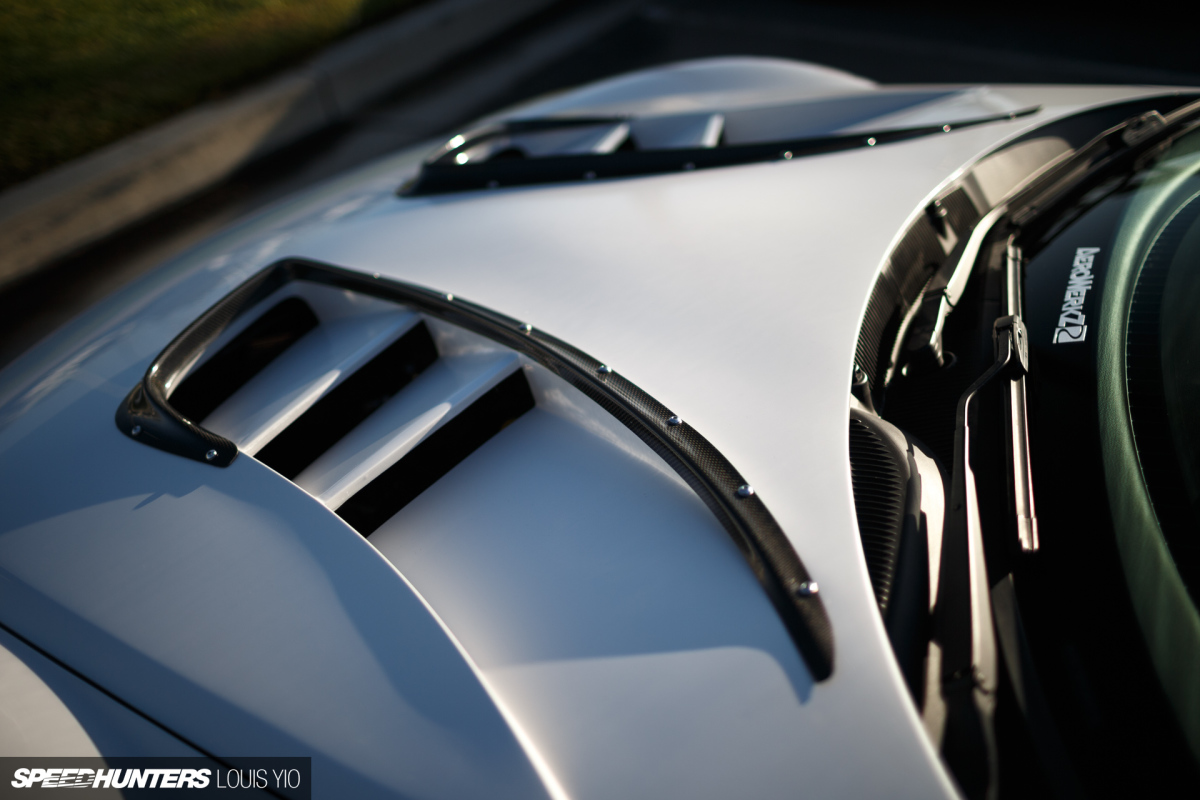 Jonny also opted for an aggressive RE Amemiya hood complete with RE Amemiya carbon hood vents.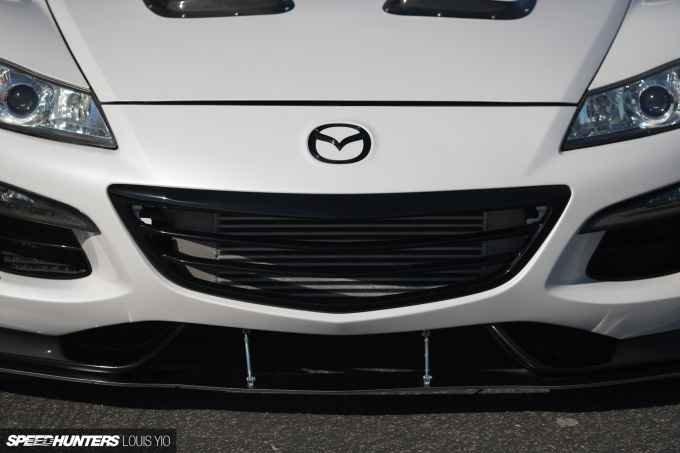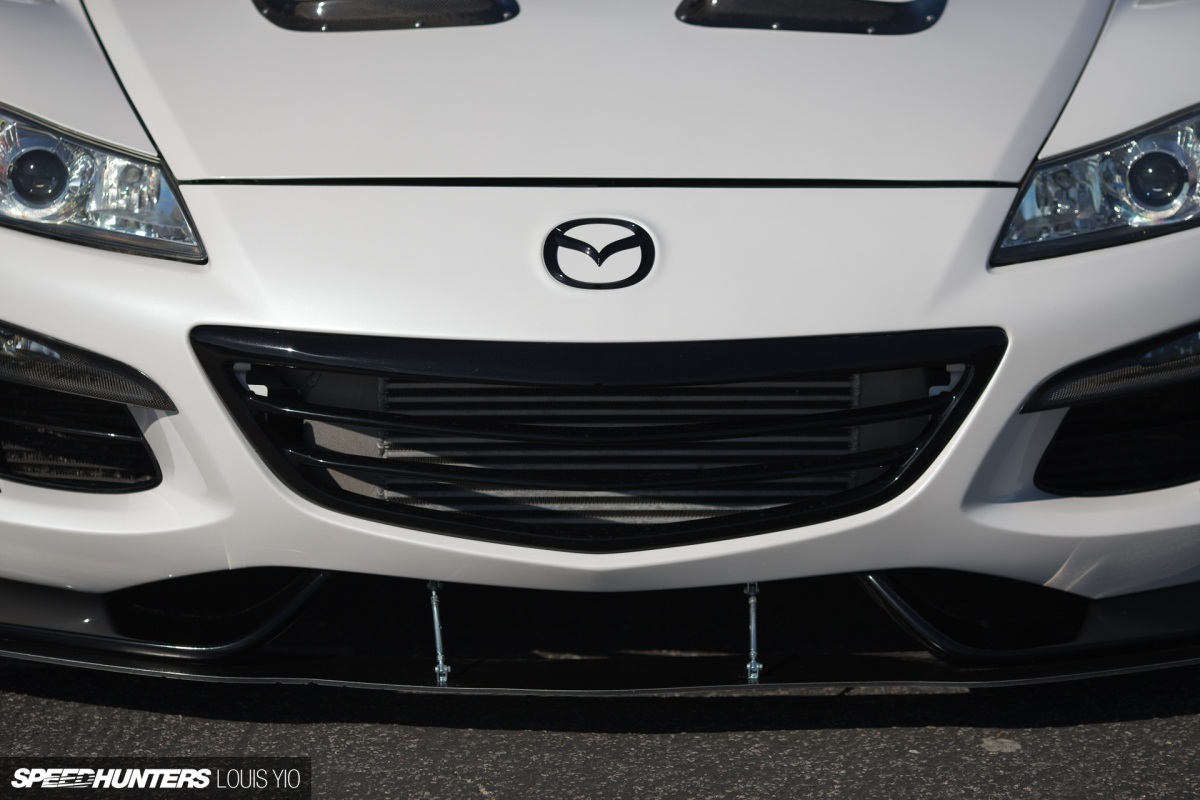 RE Amemiya also supplied the aftermarket front grille and carbon fibre front bumper garnishes, which complements the Pandem kit's aggressive front lip nicely.
Almost There
One element that Jonny opted to change about the Pandem kit was the rear wing stays, choosing to have them redesigned slightly taller, and cut in titanium. In fact, Jonny actually remade all of the aluminium aero devices on the front bumper, rear quarters and wing end plates from titanium, but not everything made it onto the car.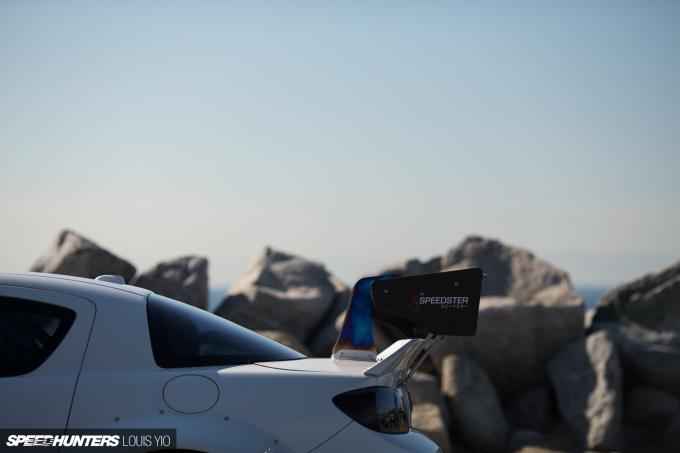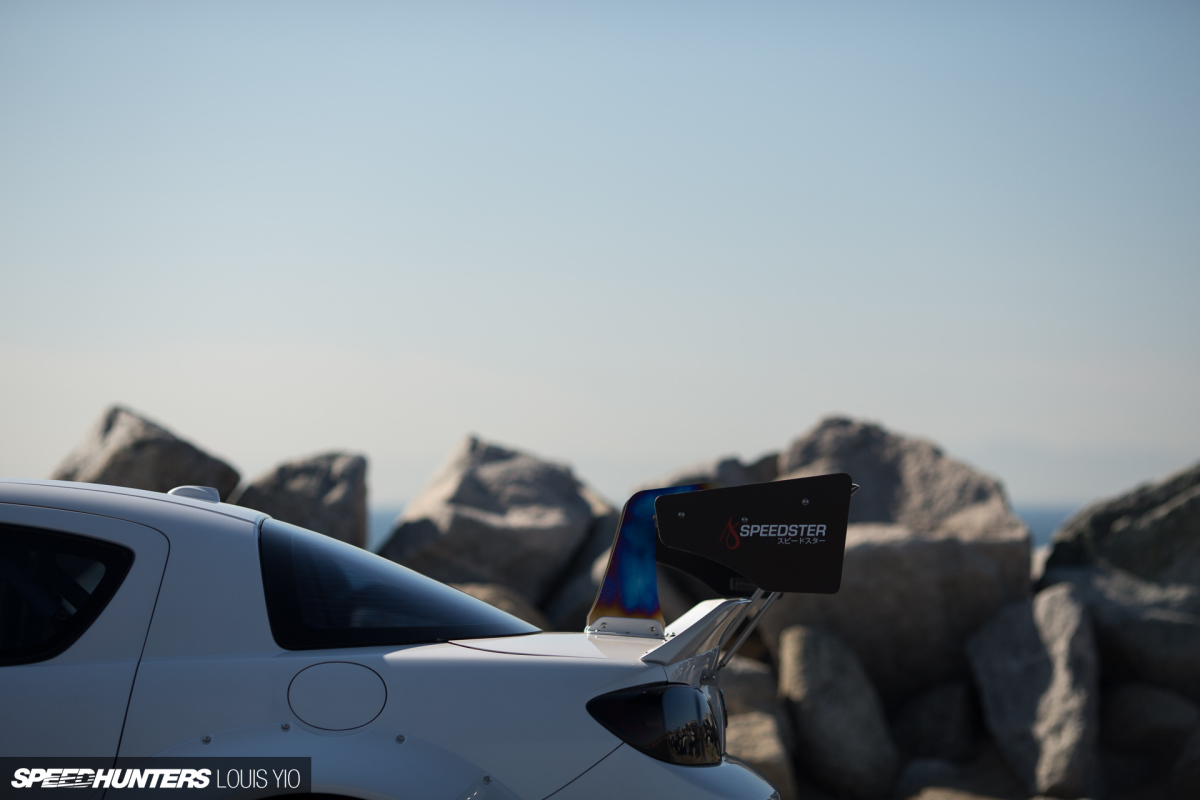 "We had to wait until the aero arrived from Japan," Jonny says. "It was just nine days before SEMA – we then scanned, redesigned them in CAD, water-jet cut the titanium, and then burned them by hand. The amount of time and labour that went into these details were insane, only for them not to be used except the lengthened and redesigned wing stands. They get hate, but I love them and smile because of how much work went into that detail."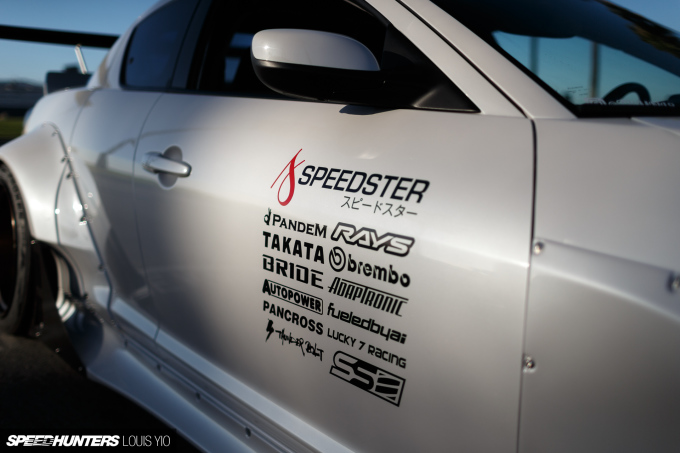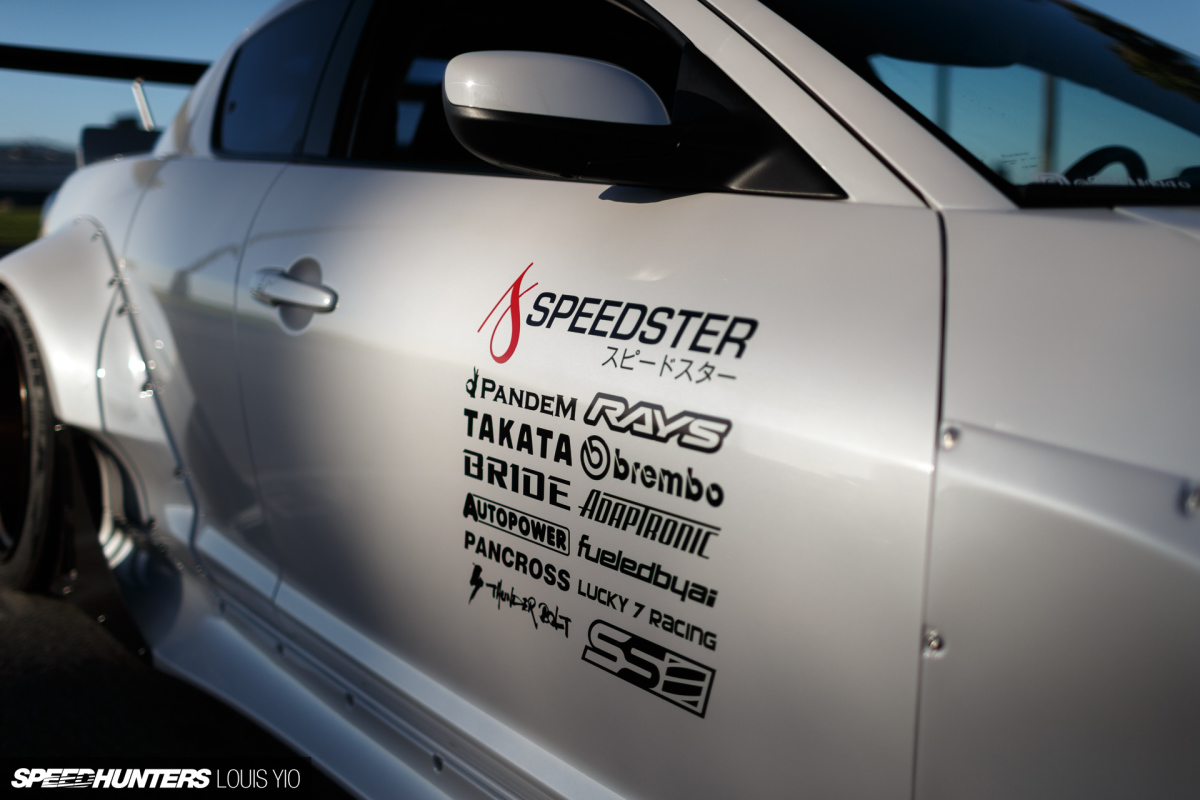 Once finished, the bodywork was coated in BASF RM Mineral White Metallic paint, with contrasting black sponsor graphics.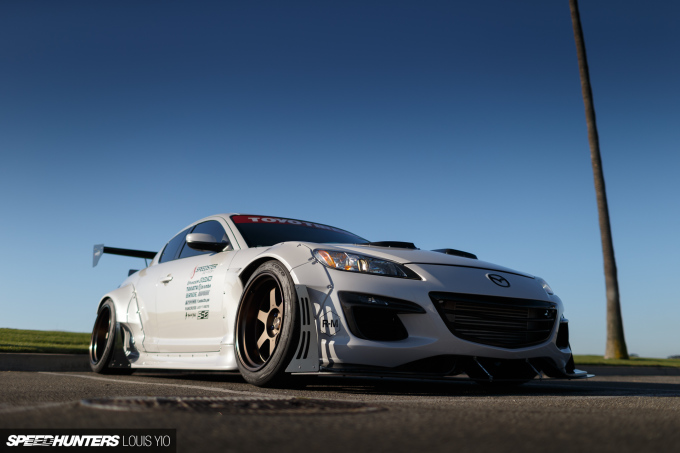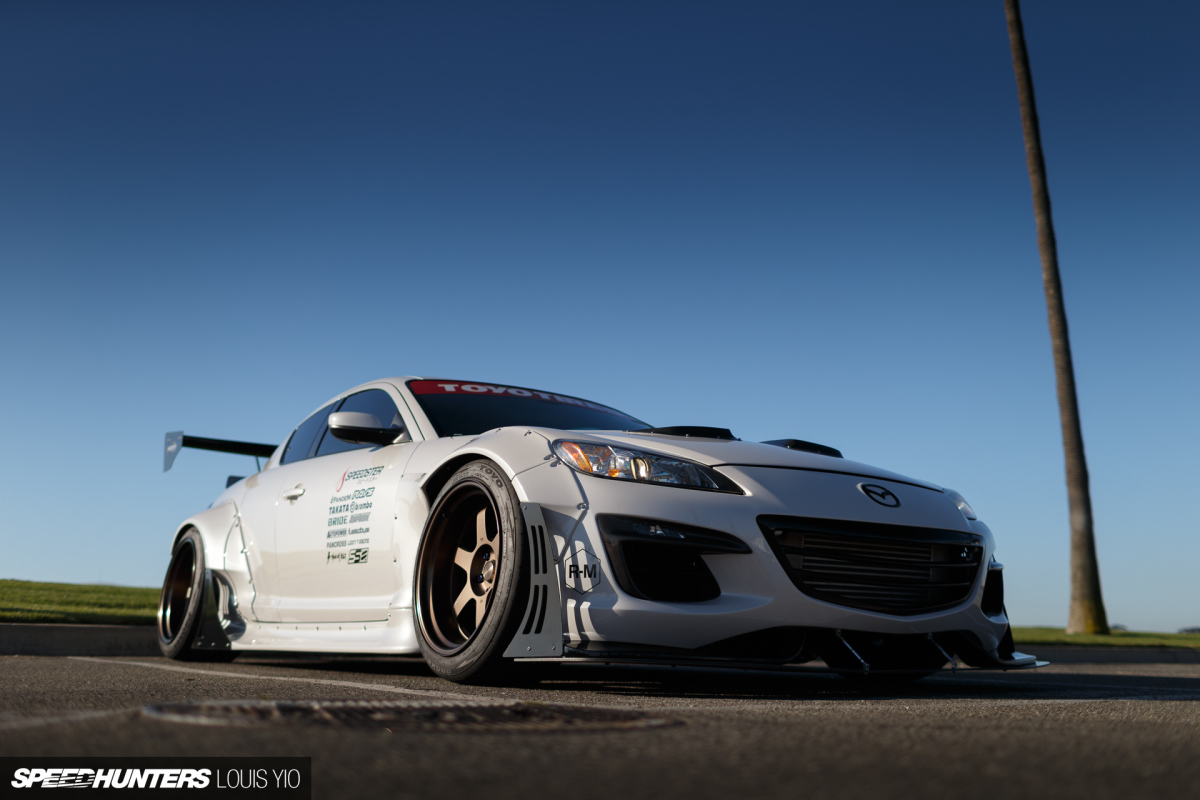 When it came to setting the Mazda down to ground, Stance Suspension XR1 coilovers complete with an air cup kit were used. P2M adjustable control arms all around allow for fine-tuning of stance and alignment.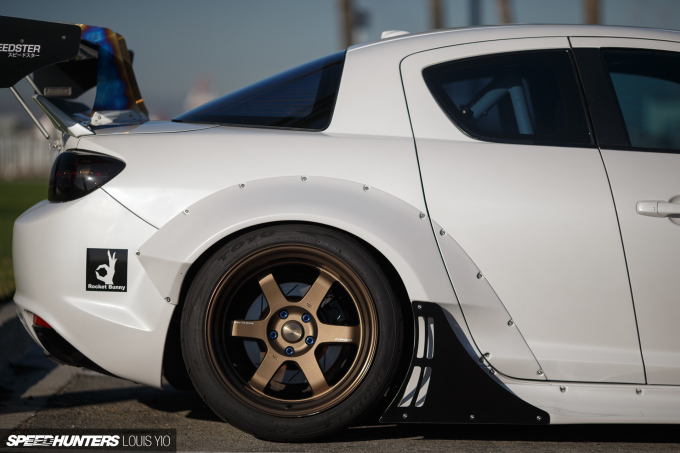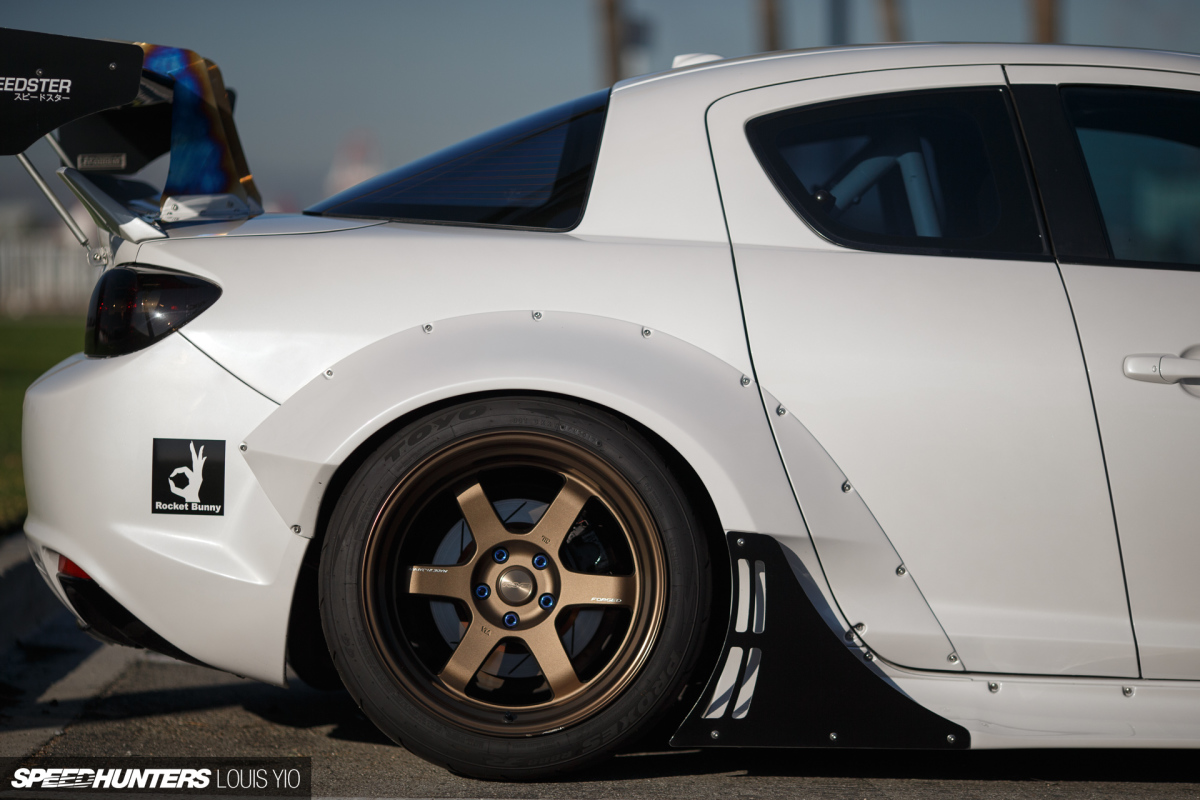 A set of bronze RAYS Volk Racing TE37V Mark IIs measuring 18×10.5-inch -25 up front and 18×12-inch -33 adorn the four corners, mounted with Thunderbolt titanium lug nuts.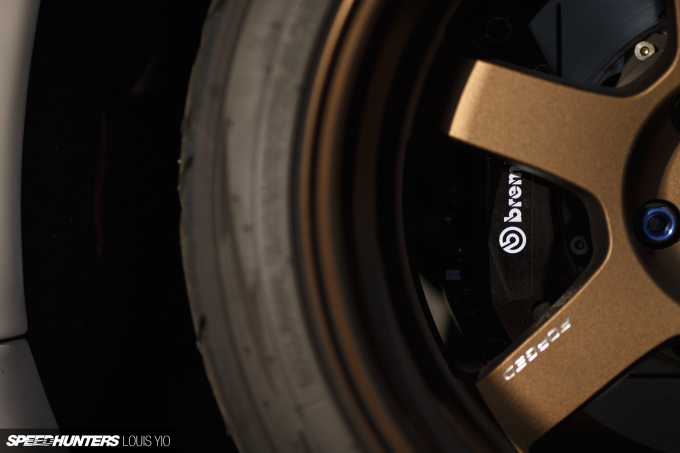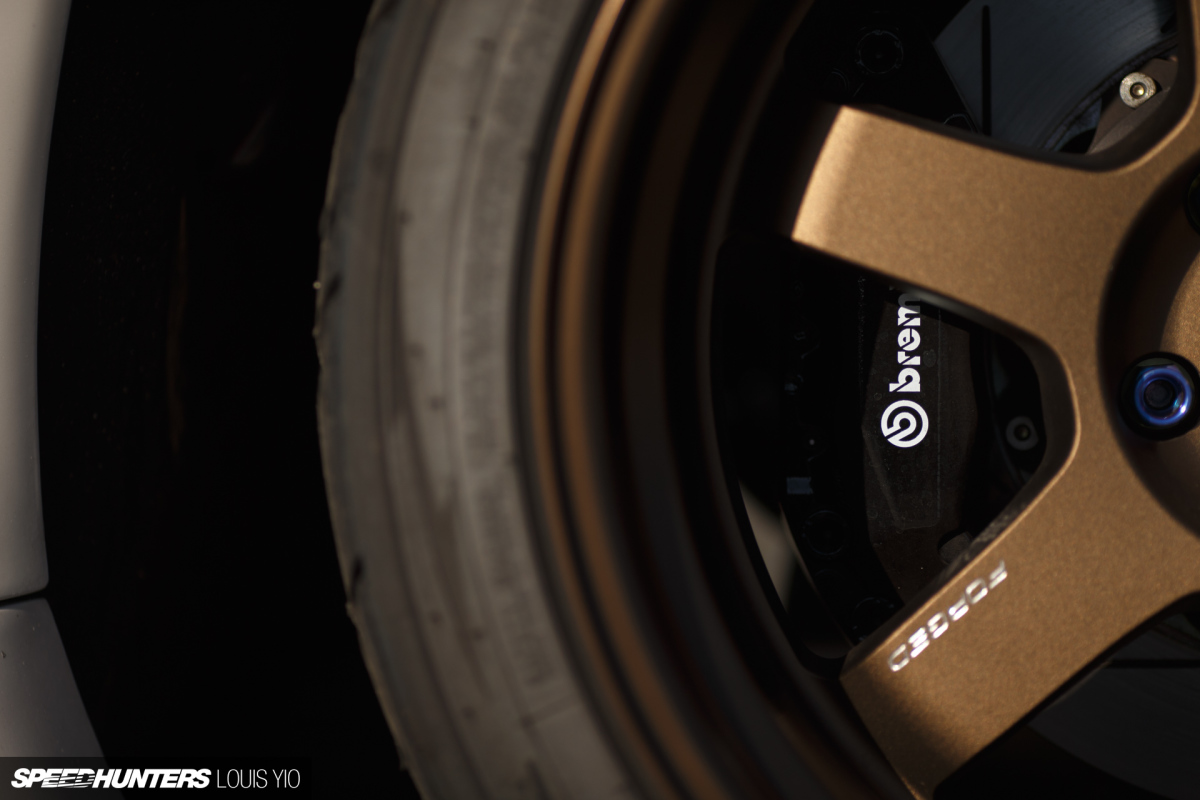 A Brembo Gran Turismo big brake kit peeks out from behind the recessed spokes.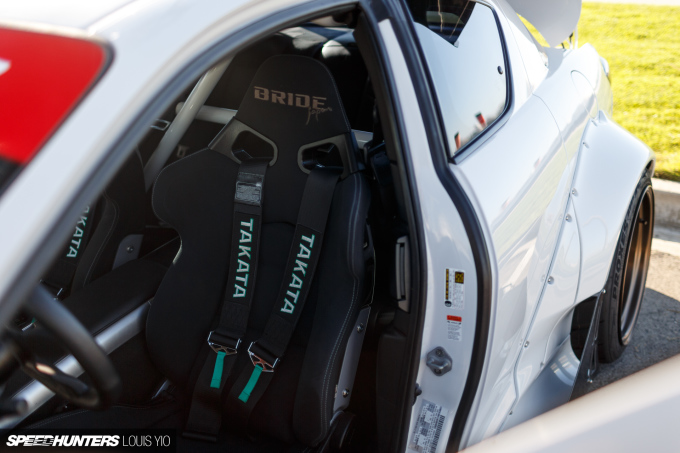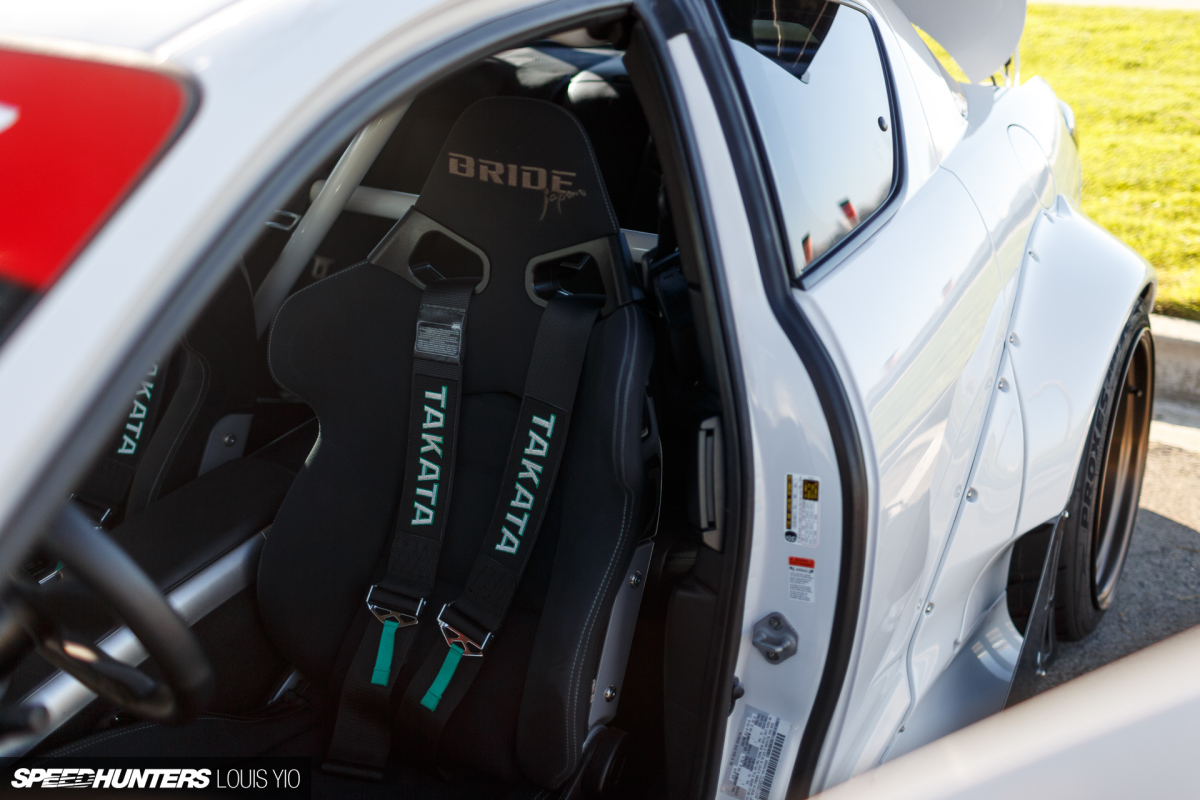 Inside the cabin, the quality of parts, fit and finish is as high as outside. A pair of carbon-shell Bride Vorga Limited Japan Edition seats are paired with Takata Racing 4-point harnesses, surrounded by an Autopower Industries roll cage.
The immediate controls are a Personal steering wheel mated to a Works Bell quick-release for ease of entry and exit. The manual box is stirred with a Tommykaira x Rowen shift knob, whilst a trio of Defi gauges allow for close monitoring or boost, oil and water temperature.
Cutting It Close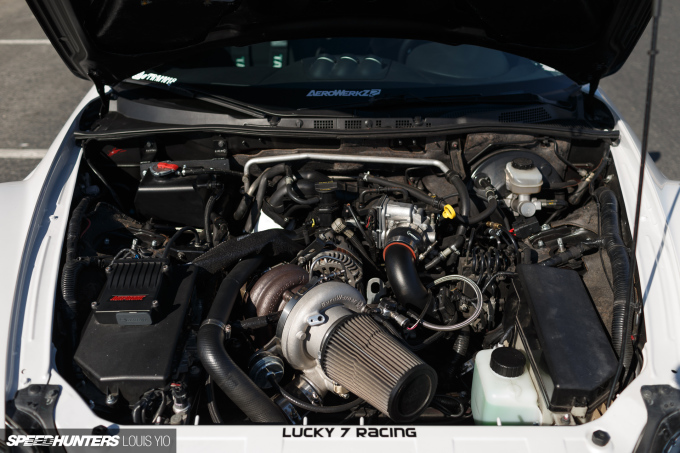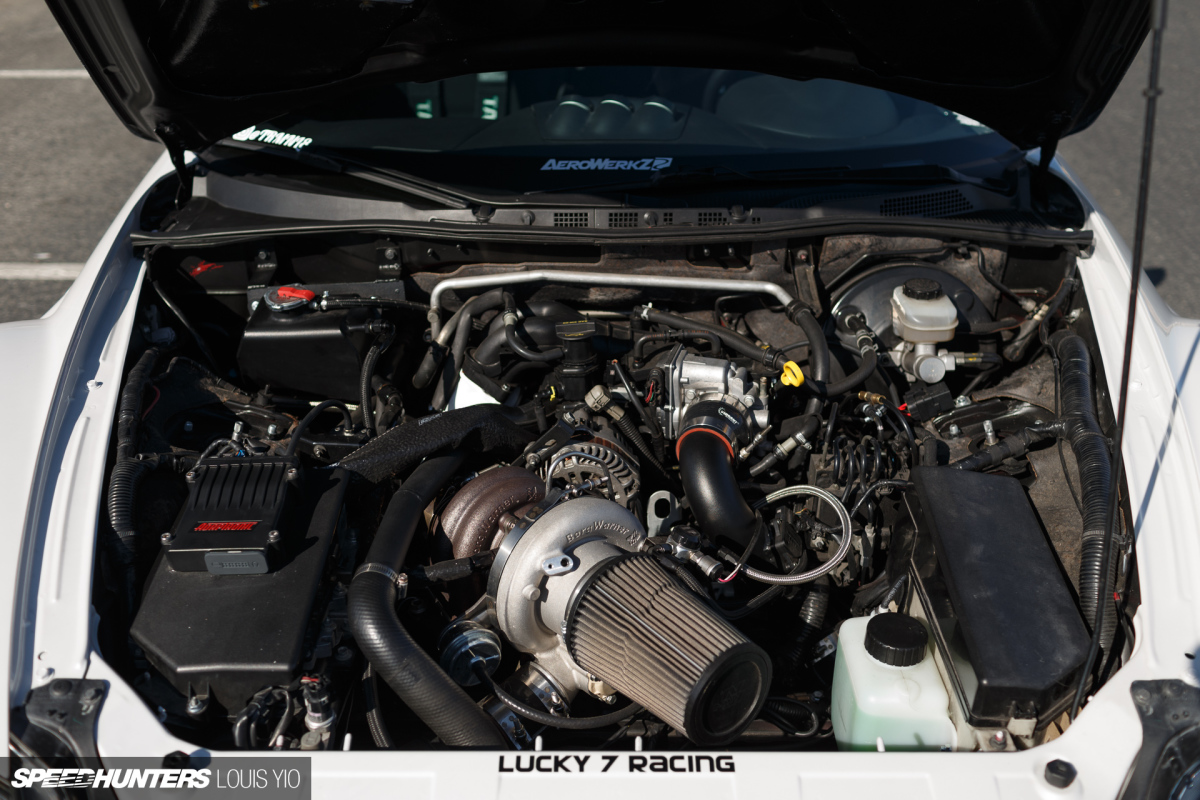 Whatever your feelings towards Miura-san's exterior creations, perhaps the real focus point, and attention, towards this build should be what lies under the bonnet. See, although there's hardly a generation of RX that's especially well-known for long-term reliability, the RX-8's Renesis engine gets even more of a bad rap.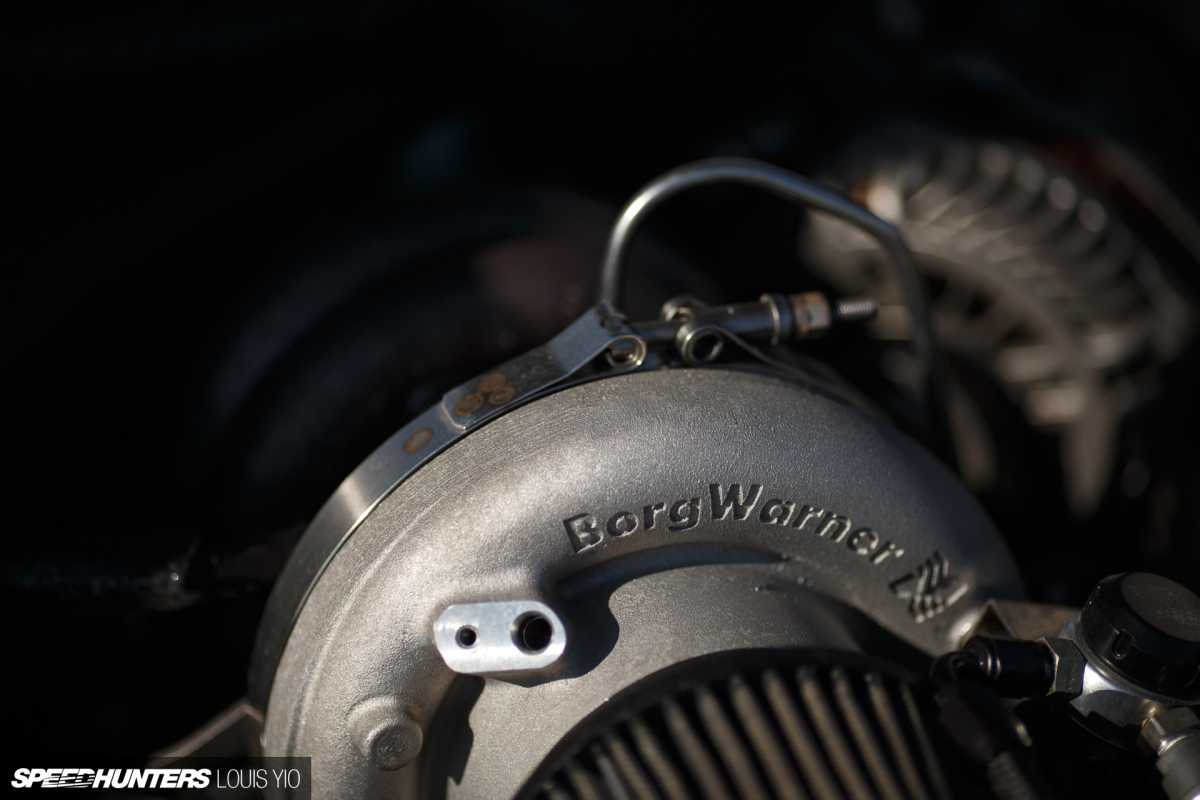 While many would have been tempted to swap in the tuneable 13B-REW, or even a – gasp – 2JZ or LS motor, Jonny decided to do something that not many have done by turbocharging the stock Renesis II motor. What's more, with the deadline for SEMA looming ever closer, he had just two weeks to do so.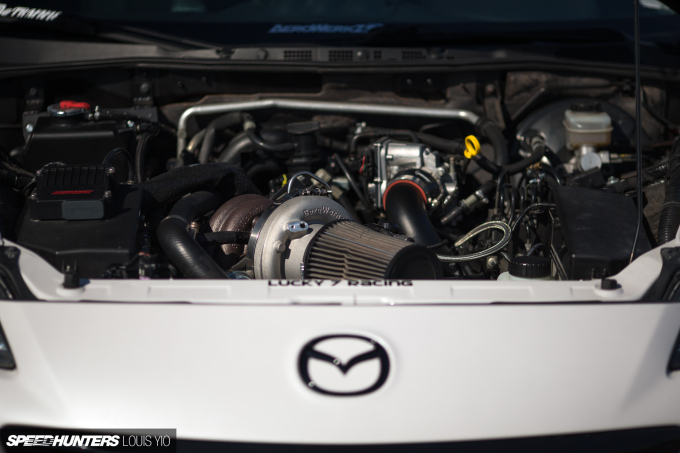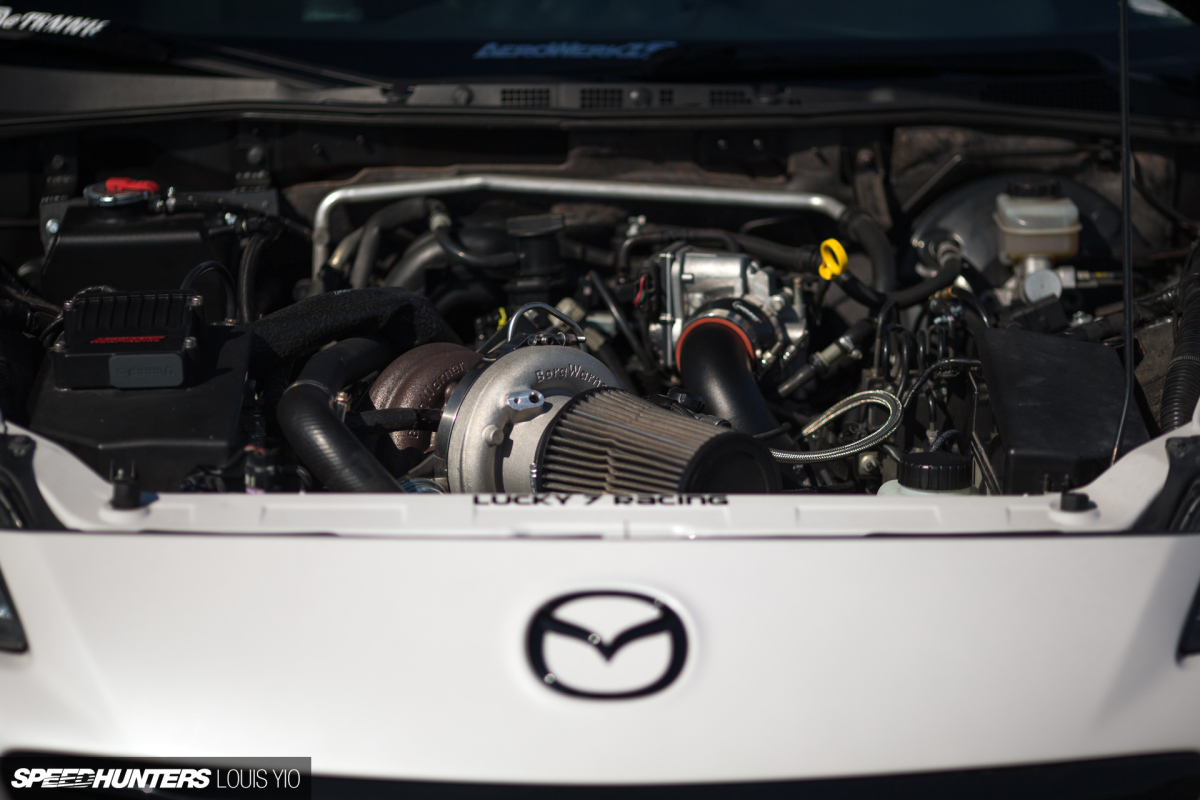 He enrolled the help of Turblown Engineering in Minnesota, who had previous experience of earlier model RX-8s, to get the job done. Turblown created a custom manifold for a BorgWarner EFR 9174 turbo, whilst also supplying one of their oil catch cans and a 10mm engine stud kit.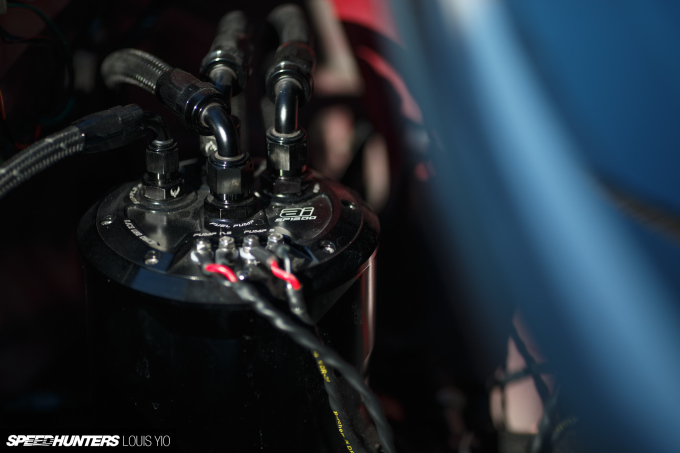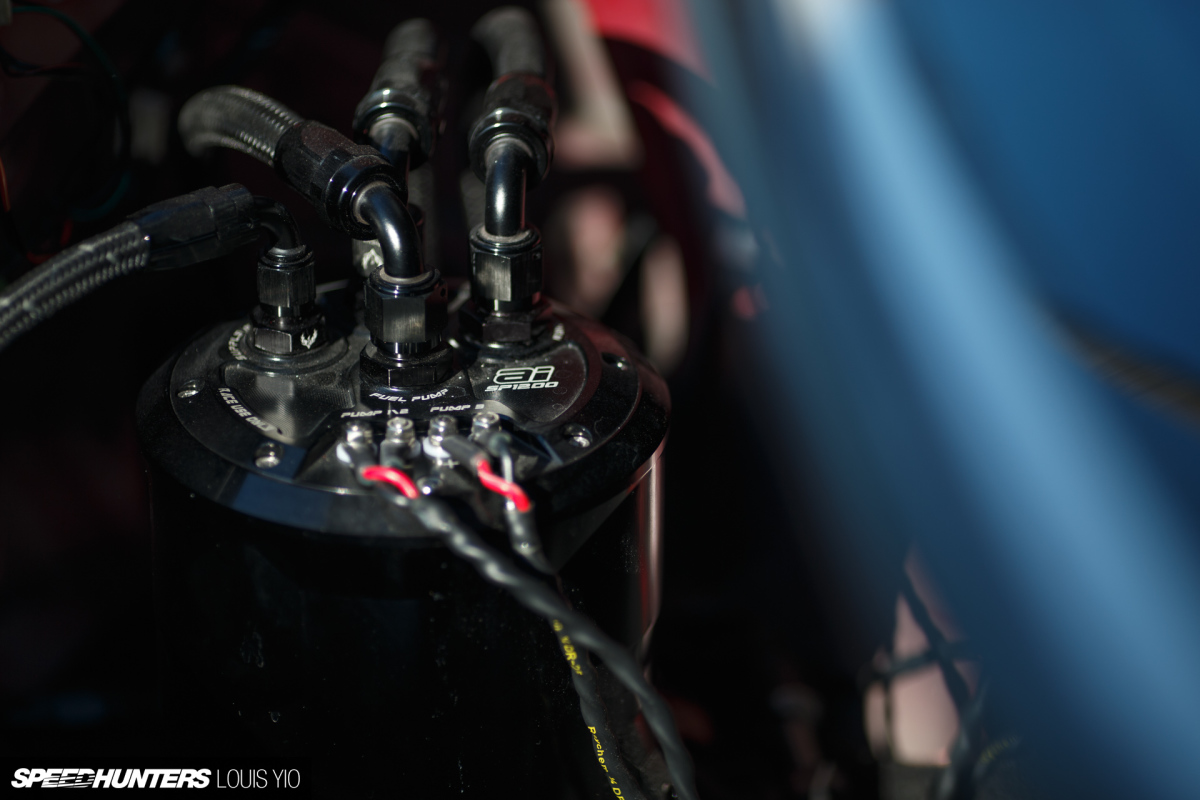 Meanwhile, back at Lucky 7 in LA, the team raced to create the fuel system needed to persuade the charged Renesis motor to make all the right noises. An Aftermarket Industries SP1000 surge tank, single 300lph in-tank and two Walbro 450lph external fuel pumps, Turbosmart FPR 2000 along with a custom fuel rail and four ID1750x injectors all join forces to ensure that minimal distance is travelled, but maximum fun is had, between fuel stops.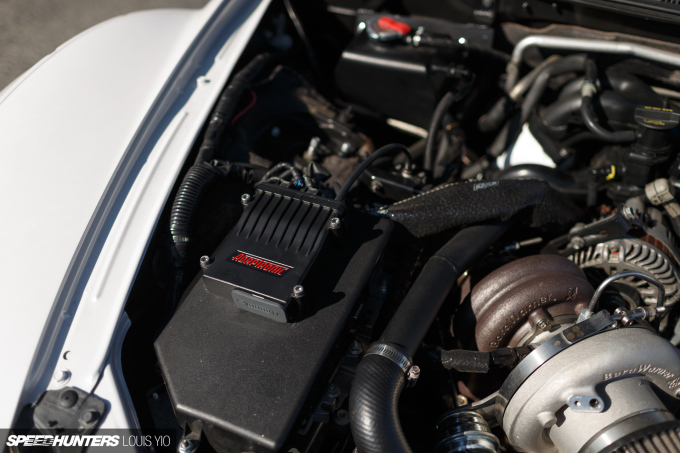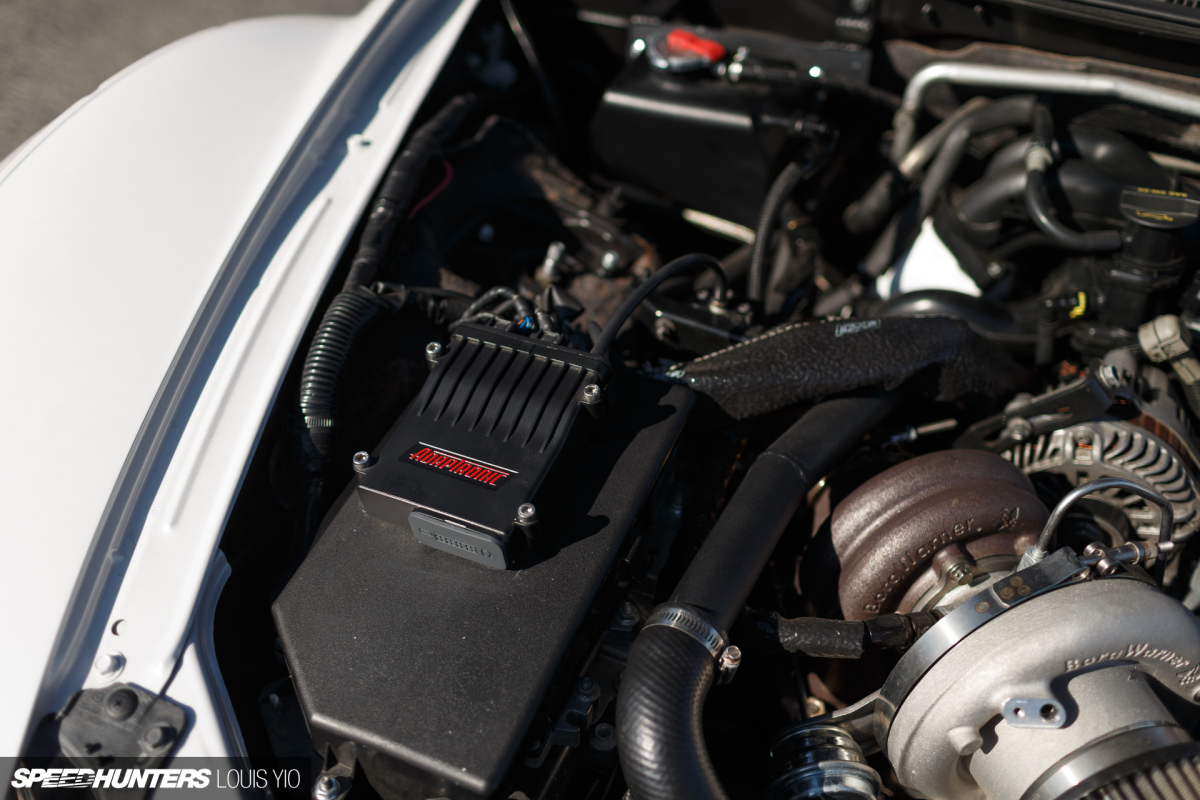 Lucky 7 also created the custom wiring harness to retain all OEM functions whilst making the motor and accessories play nicely with an Adaptronic M2000 ECU.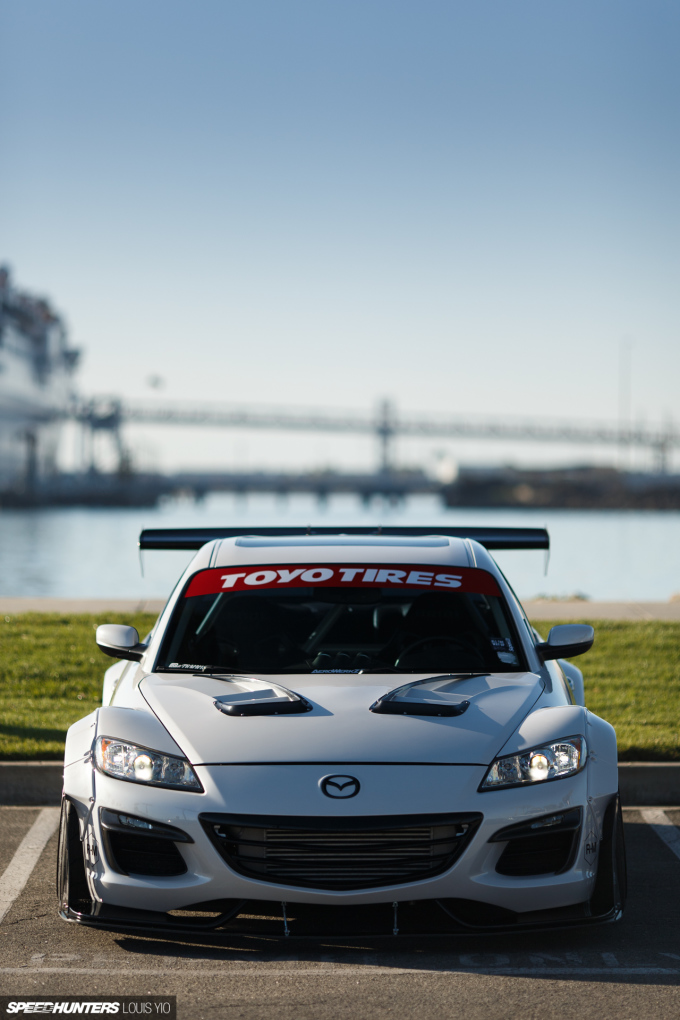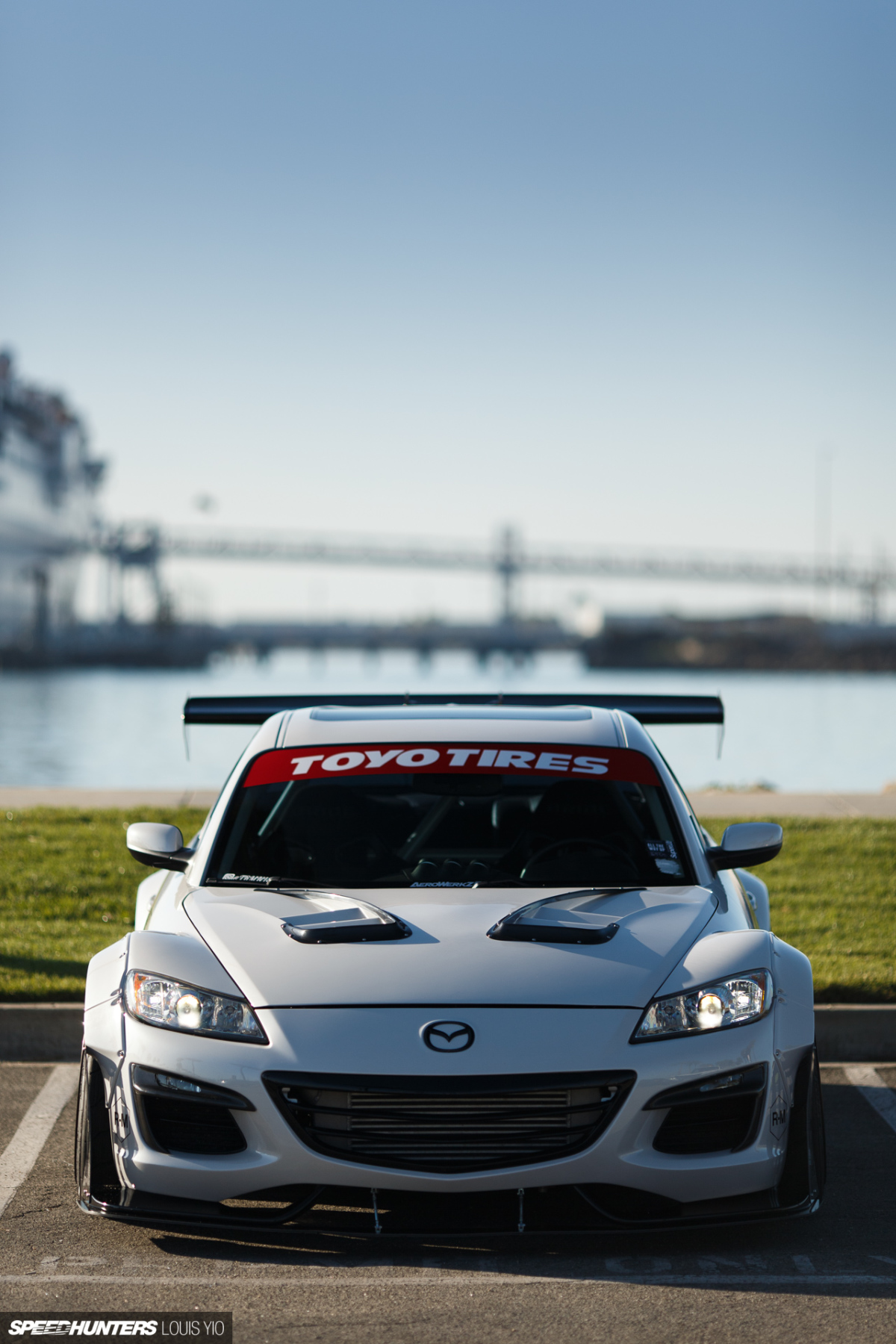 Once the manifold and turbo was united with the motor, Lucky 7 then went about fabricating all of the pipework to connect up the custom Treadstone Performance front-mount intercooler.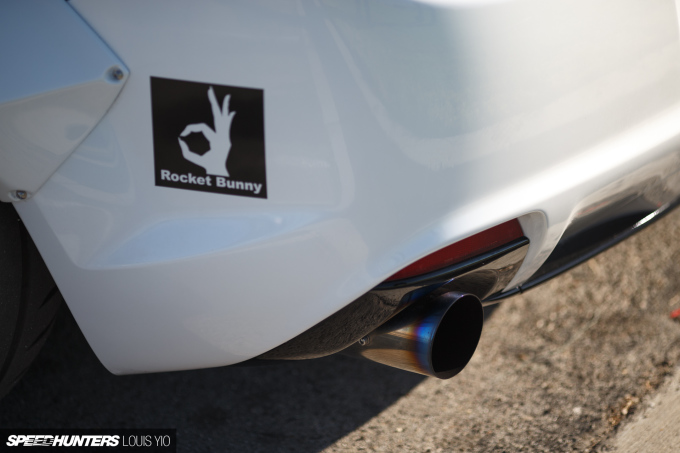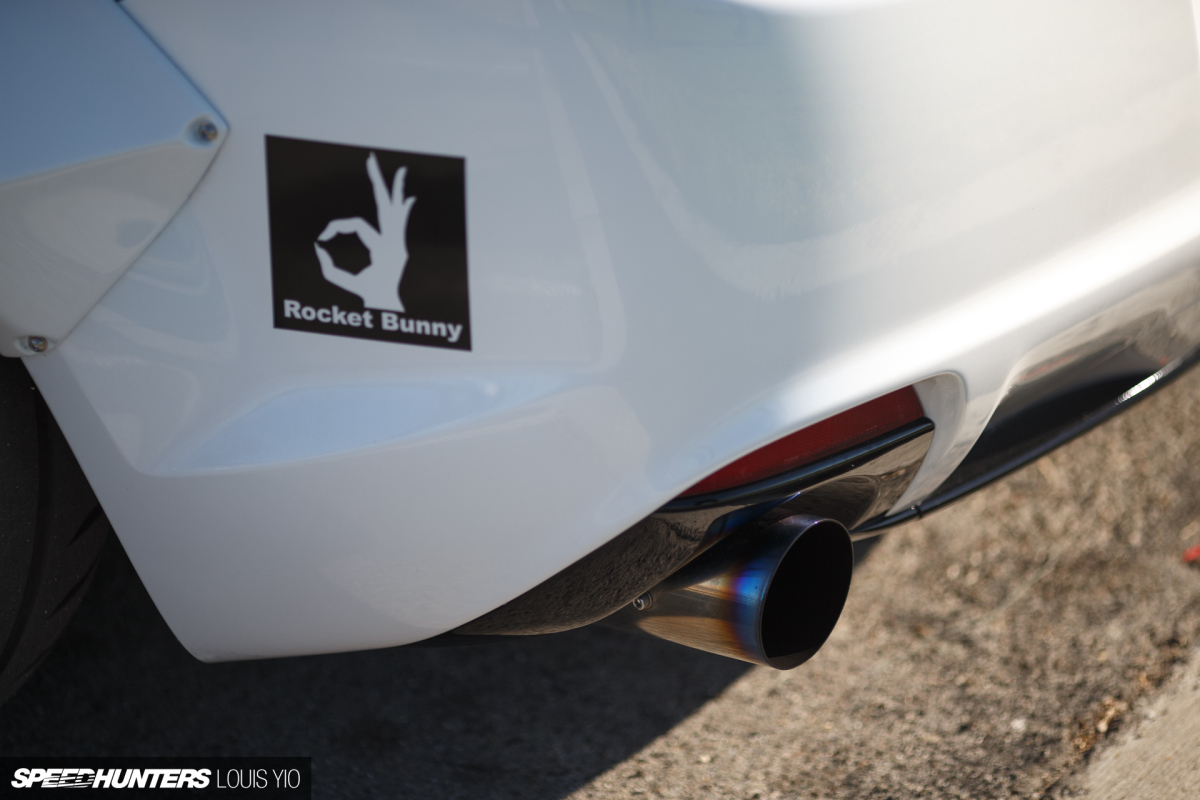 A HKS Hi-Power exhaust ensures that sufficient whistles, pops, bangs and brap-braps are shared with those in the immediate vicinity.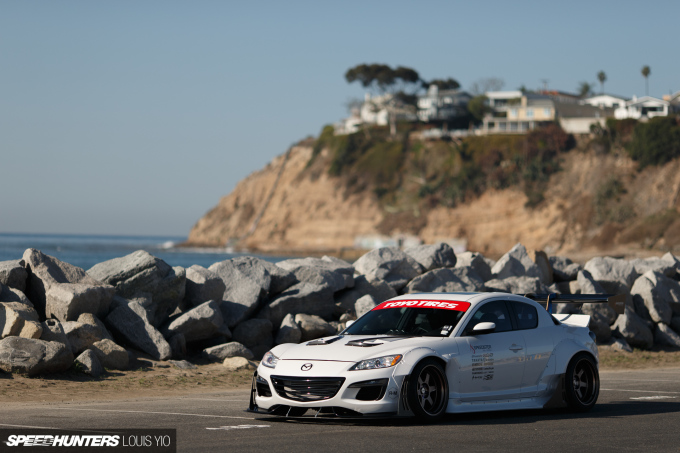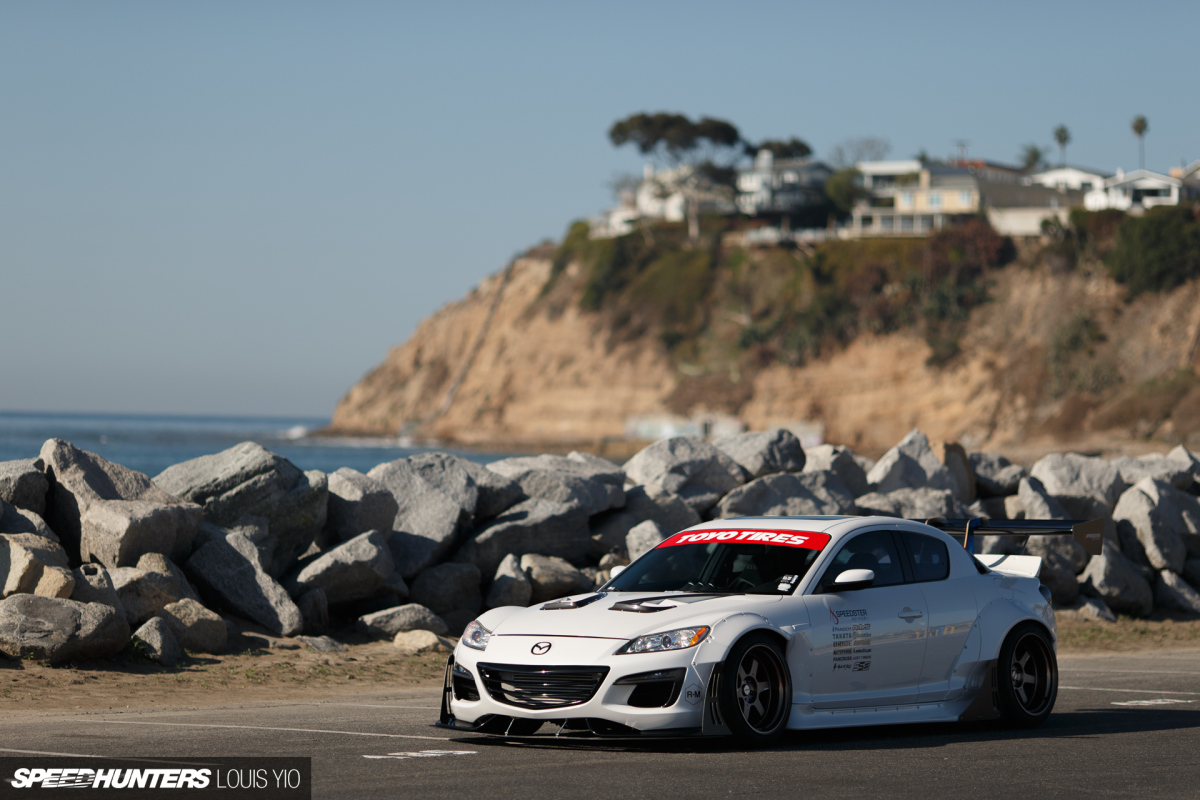 Drivetrain upgrades in the form of a SPEC Stage 3+ clutch and aluminium flywheel, along with an OS Giken 1.5-way LSD were added too.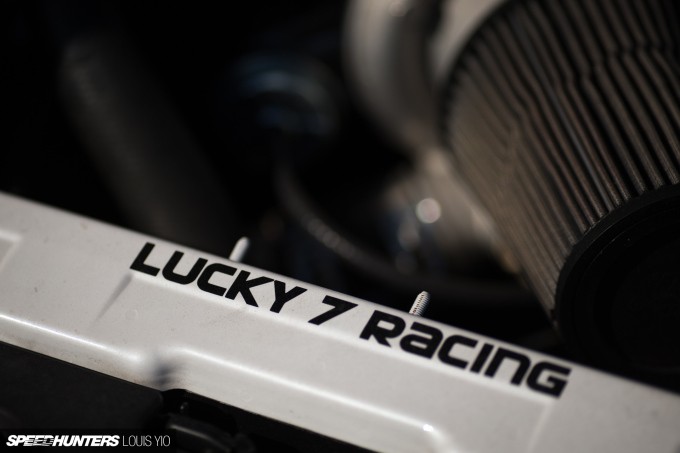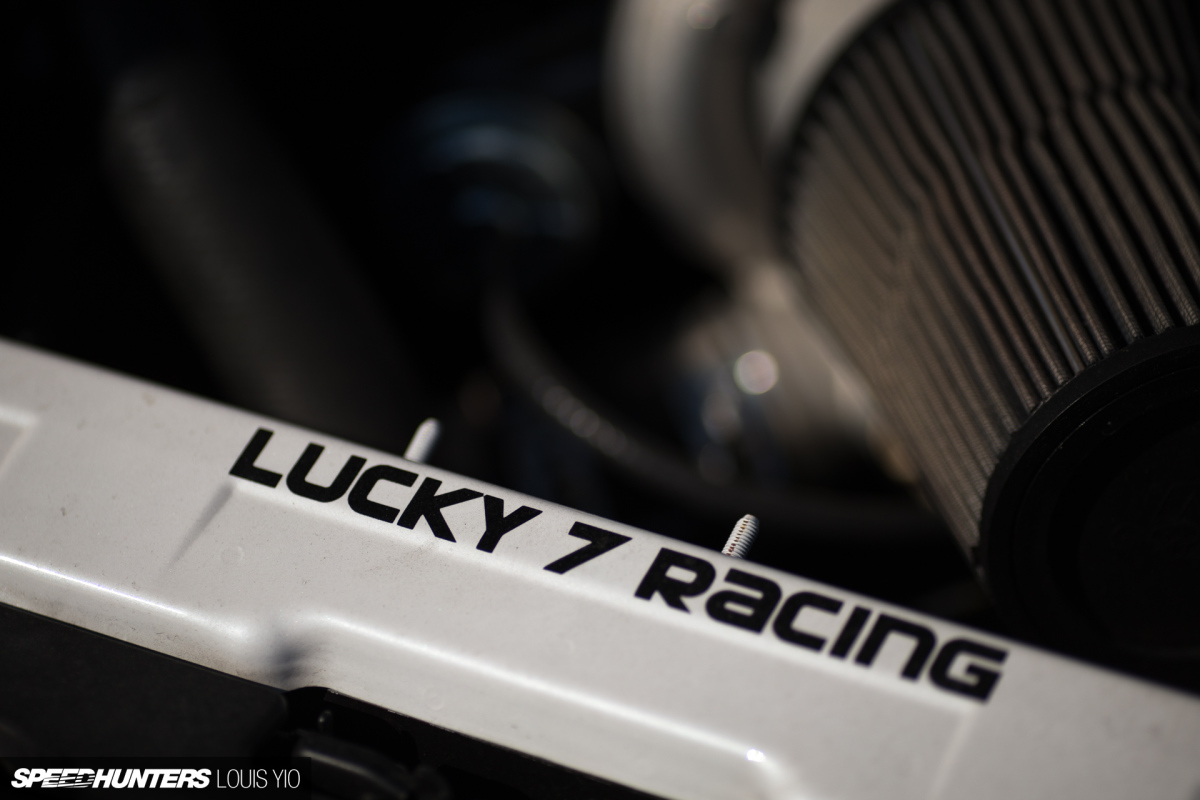 I should mention that, whilst doing all of this, and with a firm deadline not far away, Lucky 7 also built up a spare, somewhat experimental, bridgeported Renesis II motor, complete with Goopy Performance 2mm oversized apex seals and Phenix Industries hardware. I guess to itch that 'what if' that was tickling away at the back of their minds.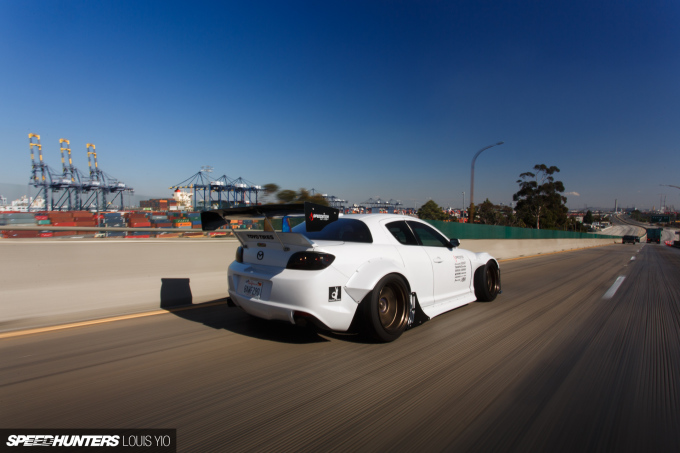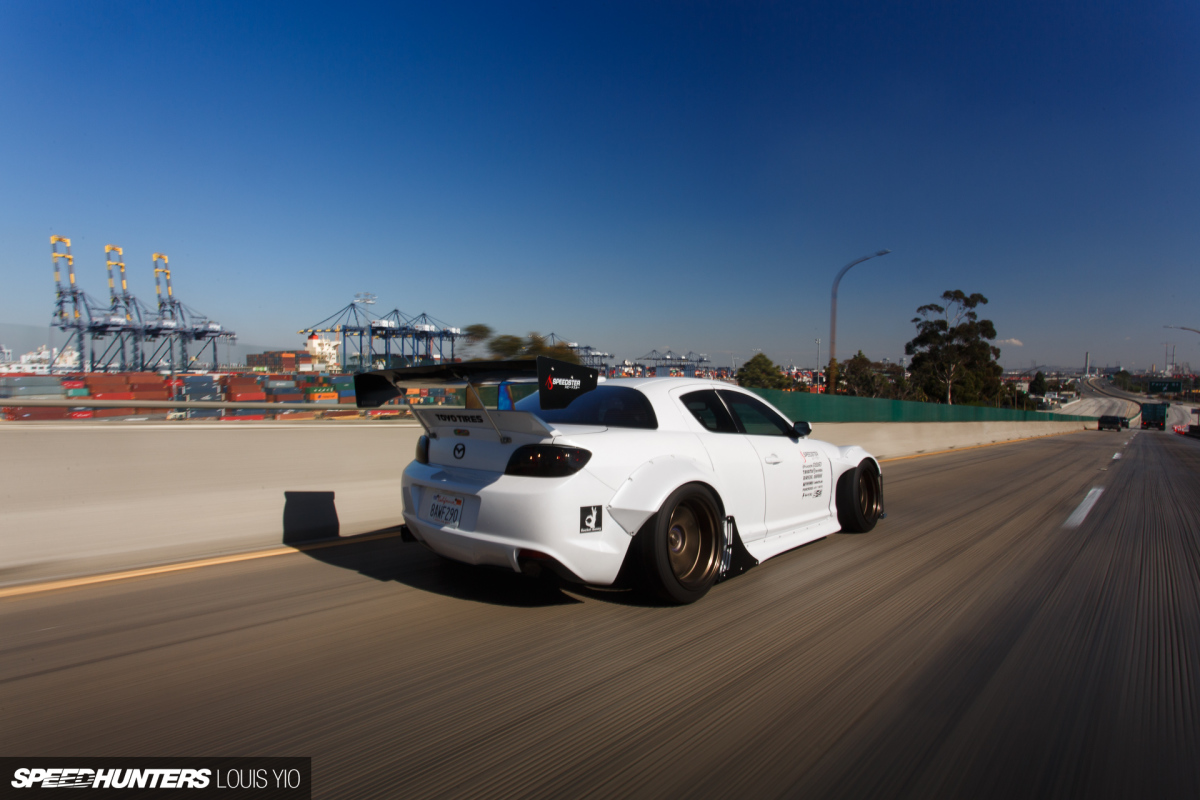 The original stock – but now turbocharged – engine, was dyno tuned in LA with remote assistance from Elliot White of Adaptronic over in Minnesota with on-hand assistance of Garage Life Tuning. The team completed over 100 dyno pulls over the course of 24 hours in perfecting and stress-testing the motor. The result was a not-shabby 408whp and 335wtq at 19psi on E85 fuel, which is the best results Jonny has heard of from the OEM Renesis II internals.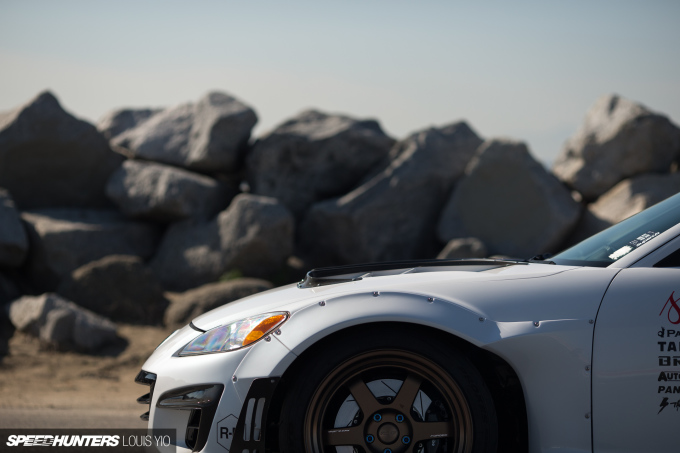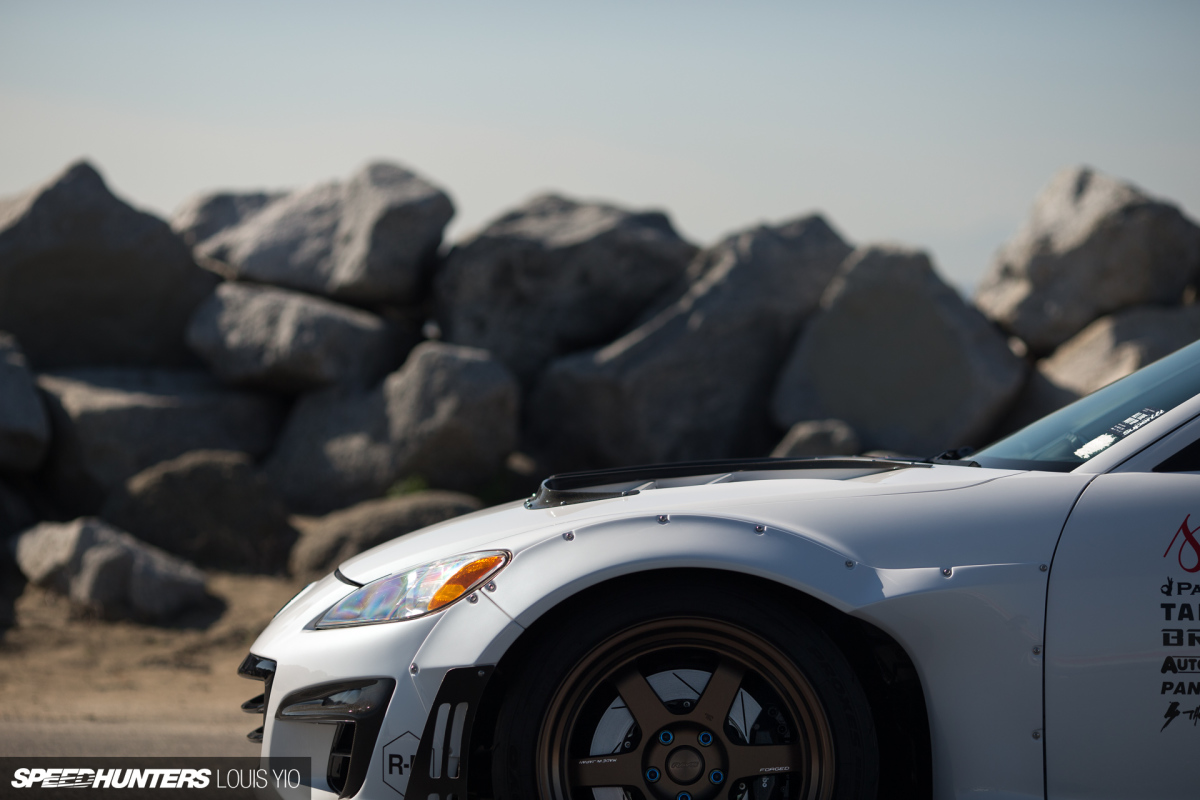 With all of that hard work in the bag and running well, you'd have thought the engine part of the build done. But with 48 hours to spare before SEMA load out, Jonny decided to roll the dice and drop in the experimental bridgeport engine. Elliot White took an overnight flight to Los Angeles from Minnesota to make sure the car could successfully run at the show.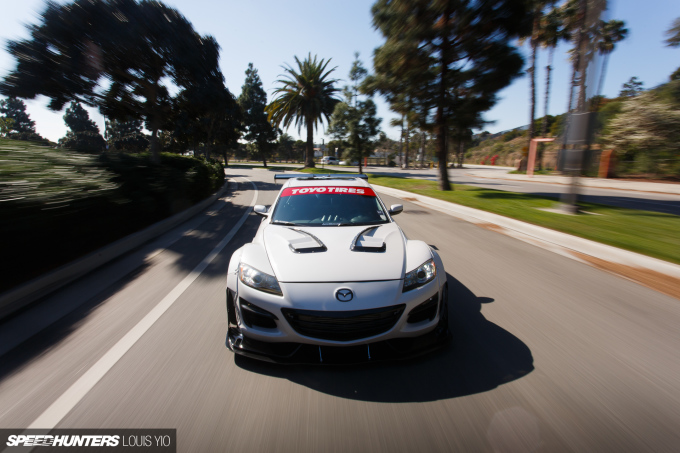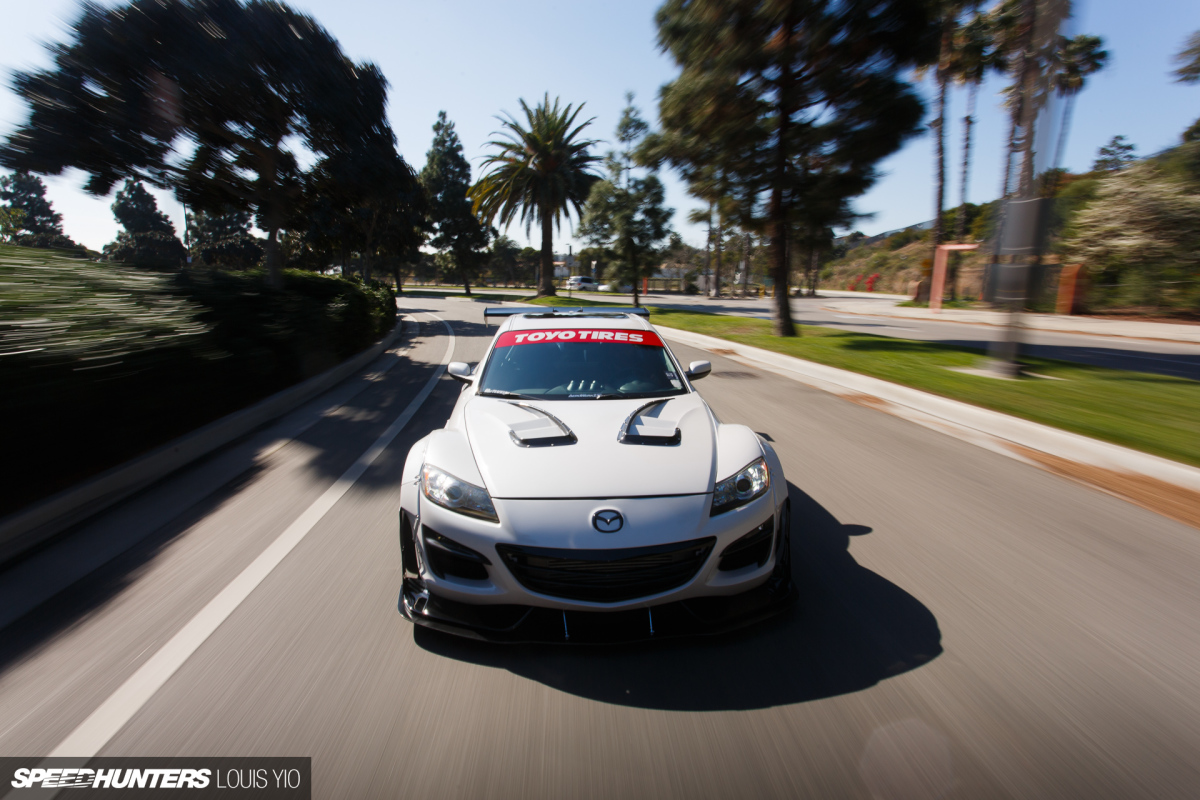 Jonny tells me that bridgeporting the Renesis engine is a point of contention amongst the RX-8 community, but with around 1,000 miles now on the experimental motor they are ready to start dyno testing. Estimates are in the 450whp range at the same boost pressure. "It's a much more relaxing and comfortable ride in-contrast to the time attack-inspired RX-7," Jonny tells me. "I haven't had air conditioning for the past decade! Since this is a really crazy, but street-oriented build, I just want to enjoy it as much as possible by going to as many events as I can, and supporting our local rotary community."
Words by Jordan Butters
Instagram: jordanbutters
jordan@speedhunters.com
Photos by Louis Yio
louis@speedhunters.com
Instagram: lusciousy
Jonny would like to thank: TRA Kyoto/Pancross, Toyo Tires, RAYS, Lucky 7 Racing, Turblown, Garage Life Tuning, Autopower, Adaptronic, Stance Suspension, Brembo, Bride, Auto Explosion Body Shop, Fox Marketing, Takata, Aftermarket Industries, Speedster Oil, Derek Chan, Mad Mike, Taisuke Kawato, and Speedhunters.
Cutting Room Floor