If you've already seen my event coverage from this year's Ultimate Dubs, then you'll have noticed that there were quite a few cars present of the non-Dub variety.
Well, in the spirit of keeping things balanced, this is the first of a handful of Dub-only spotlights from this year's show, and boy is it a good one.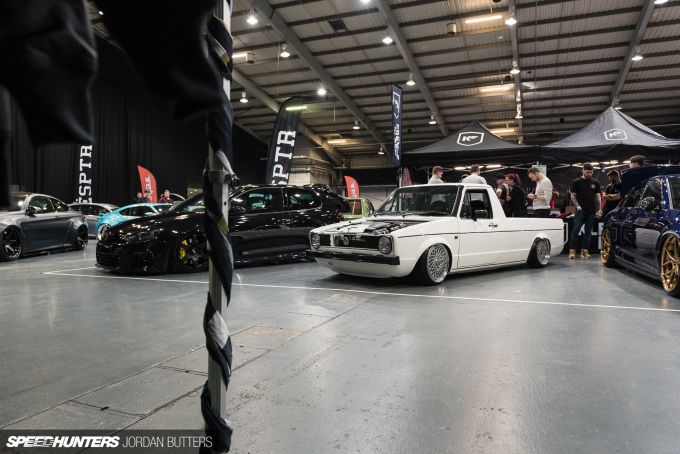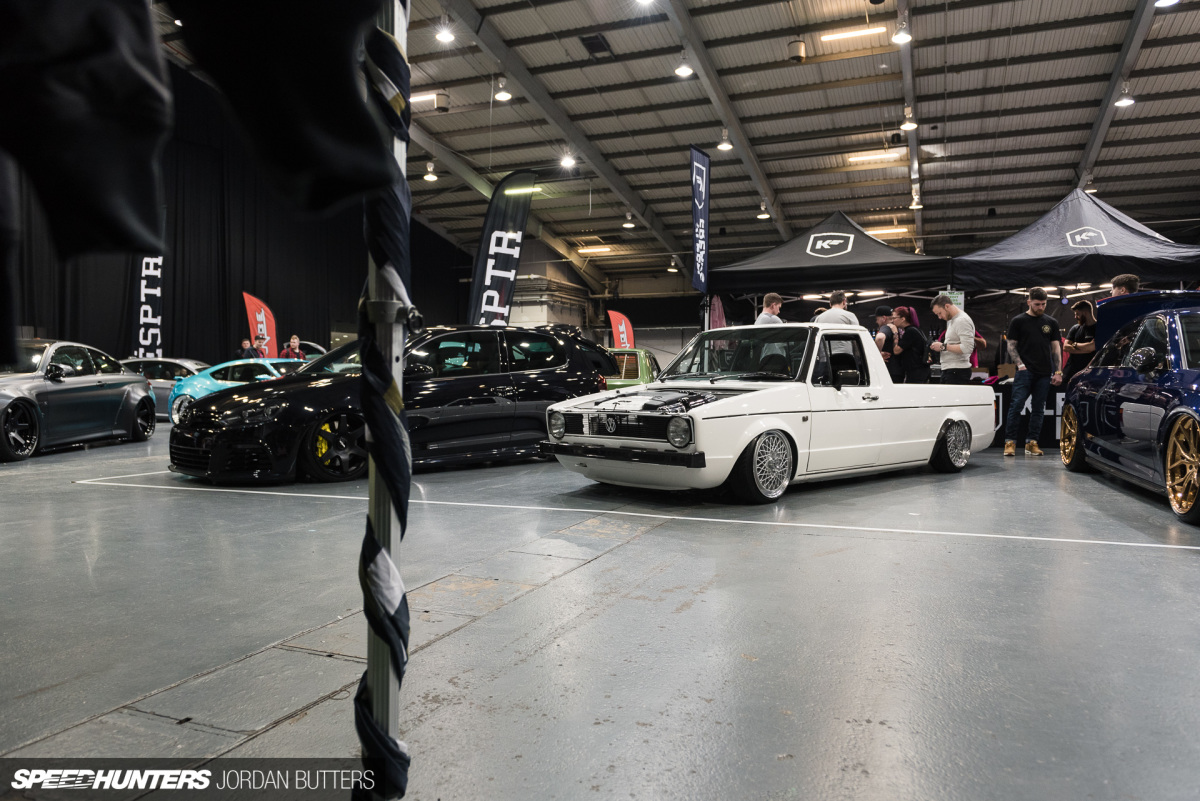 This immaculate 1992 VW Caddy Sport was purchased unseen by Paul Walker (yes, he knows) around four years ago. It was a bone stock model in need of some love, so was shipped straight to Jon Hinchcliffe at Route32 for work to begin. With Jon being versed in the art of air ride installation and knowing a thing or two about swapping R32 lumps into Mk1 chassis, it was clear the direction that Paul wanted to go with the Caddy.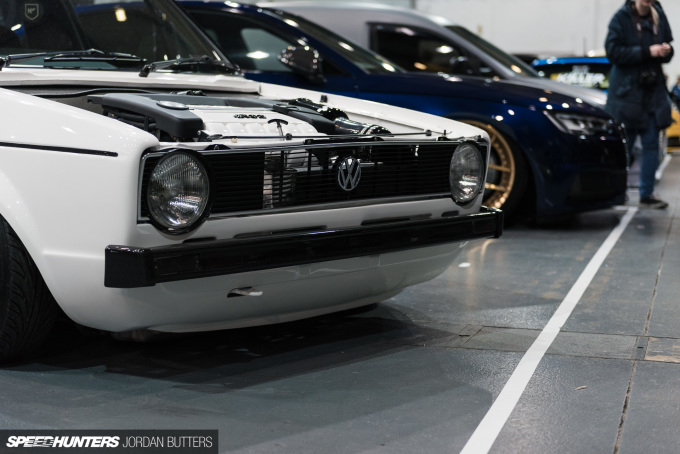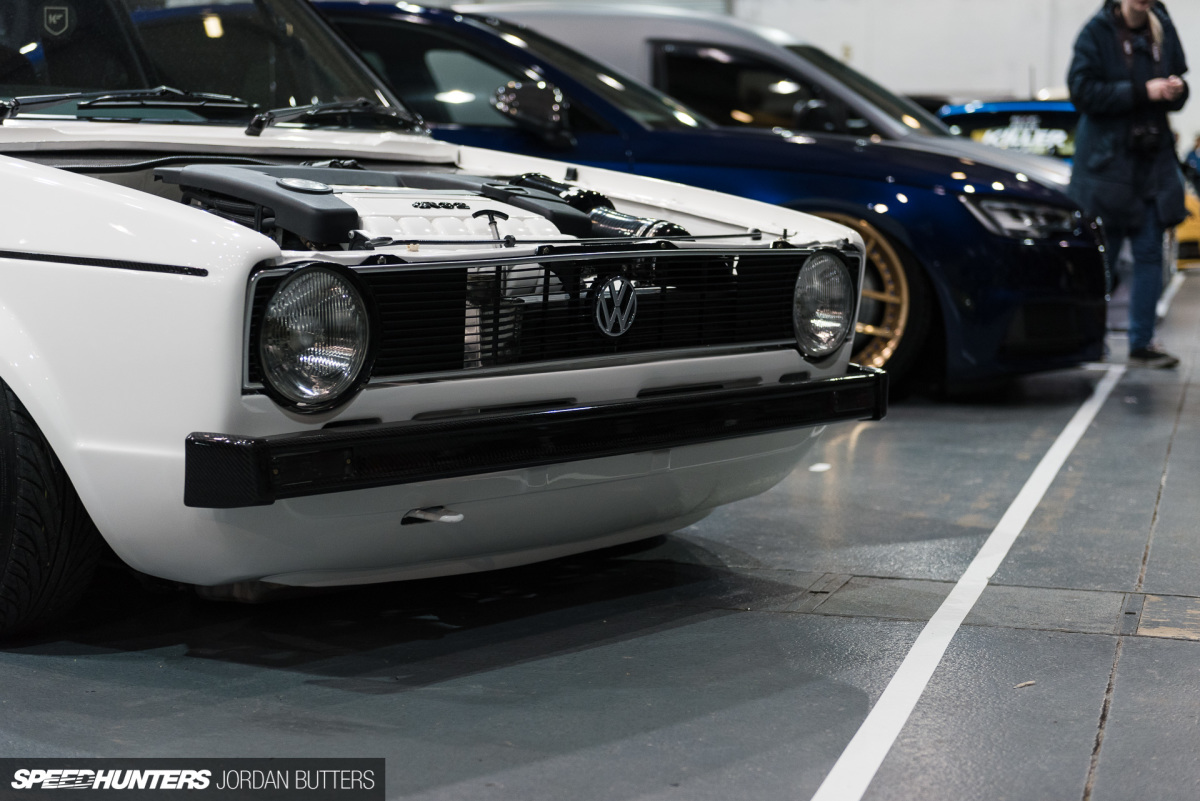 "The main motivation on doing the R32 swap was that no one had done it before in a Caddy, so I thought 'why not?', Paul tells me. "Funnily enough, a guy called Joe Tavella in the States had the same idea so it was a race to see who got done first. He won!"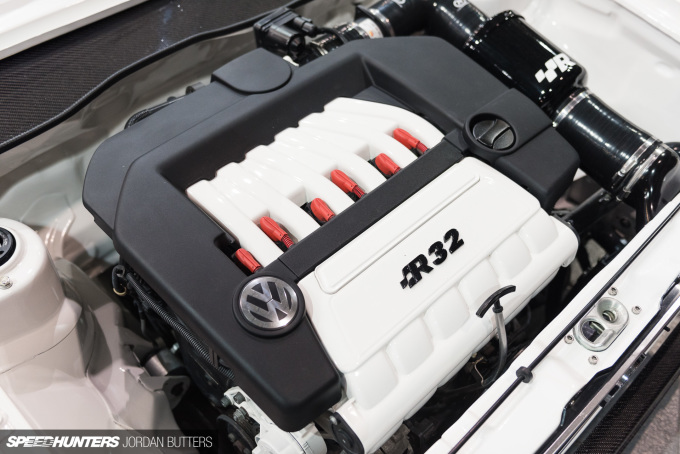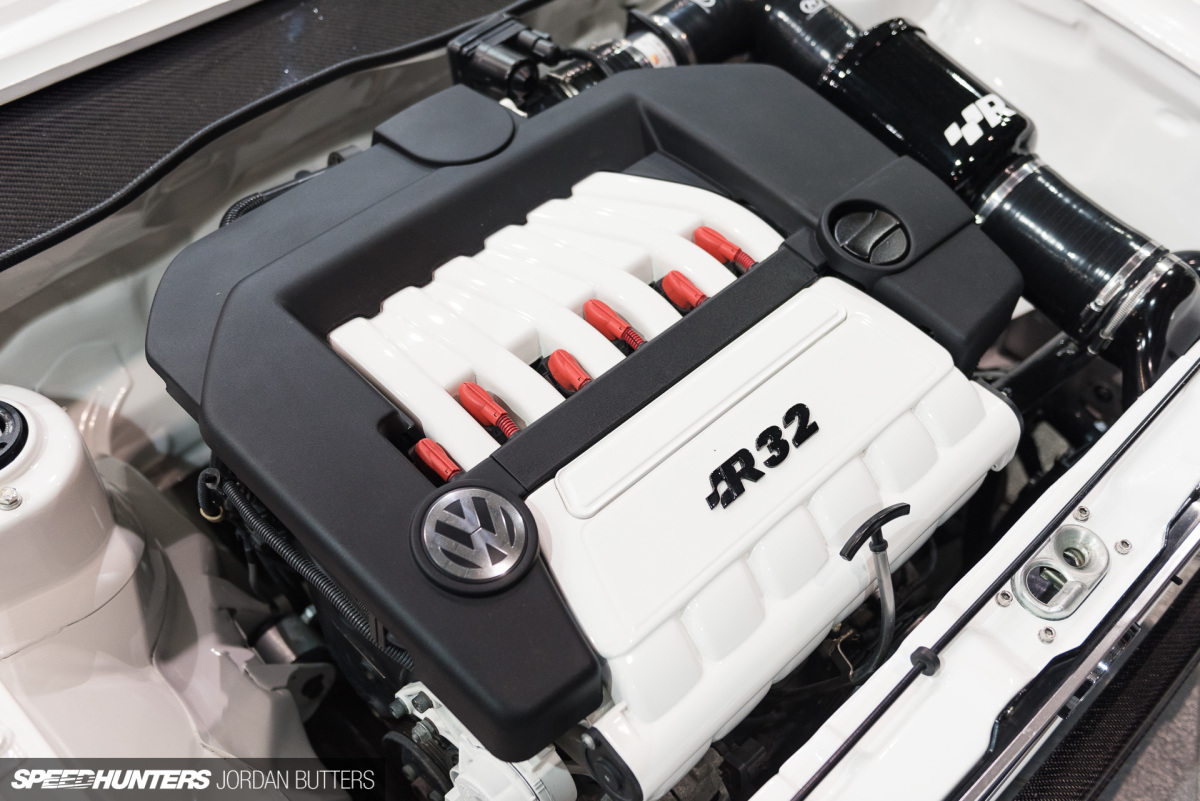 Turns out, there's a reason that an R32 motor hadn't been dropped into a Mk1 Caddy before, and part of that reason is that it's far from a 'drop in' kind of job. The process called for lots of custom-made parts, sensors and clever problem solving. The other issue is the size of the engine – it's a big old lump – so getting the right balance of sump clearance and ride height, whilst ensuring that the bonnet closed (removed for the show) was vital.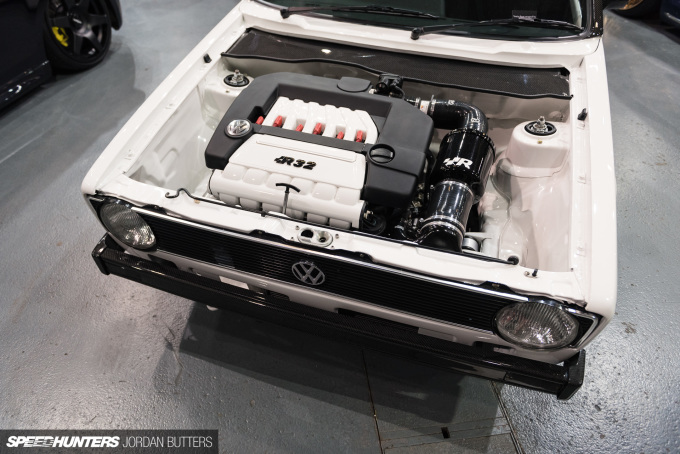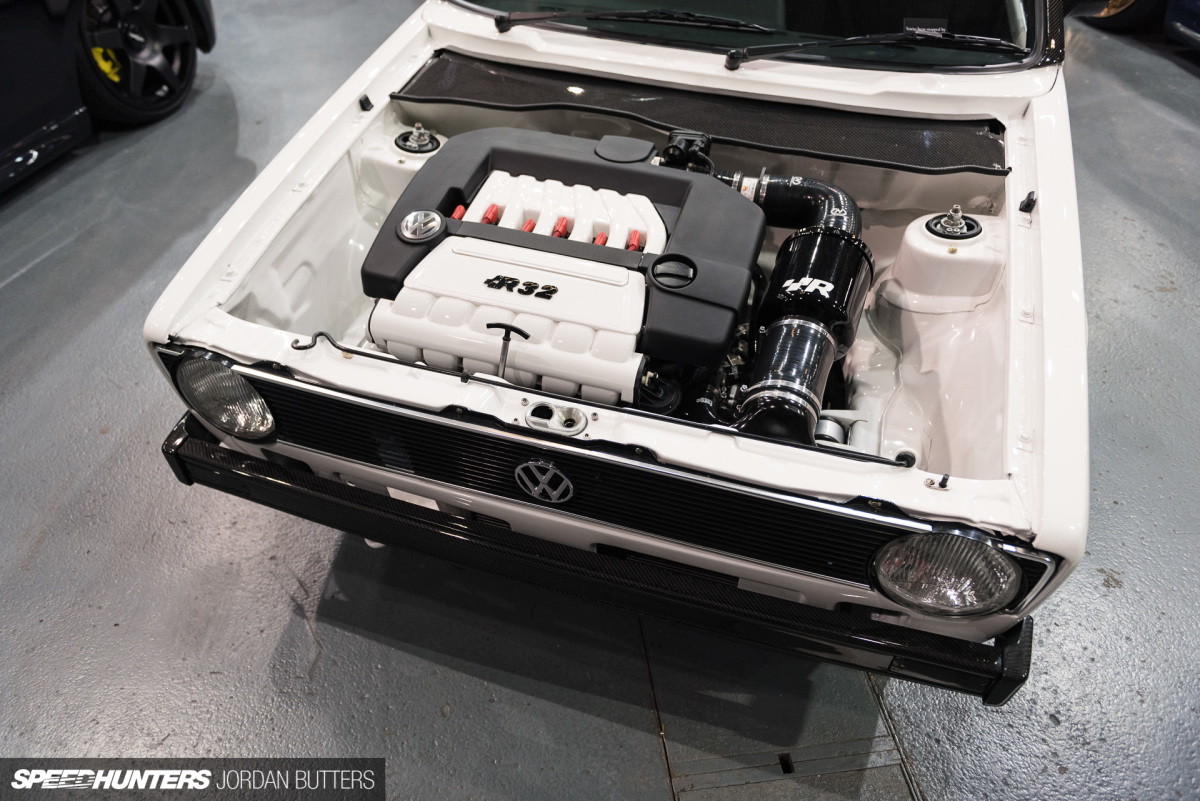 Before the engine went in, the bay was fully smoothed and tucked, leaving just the monster motor occupying the space. Even the radiator is tucked away out of sight. A carbon fibre rain tray cover completes things, but it's not the only carbon you'll find in here – even the gearbox is carbon skinned.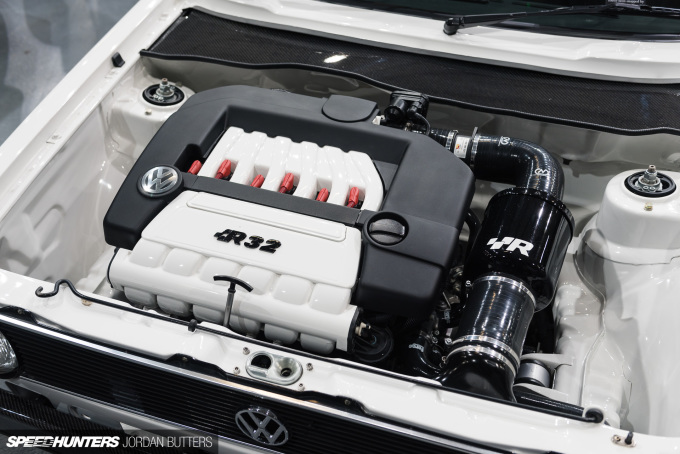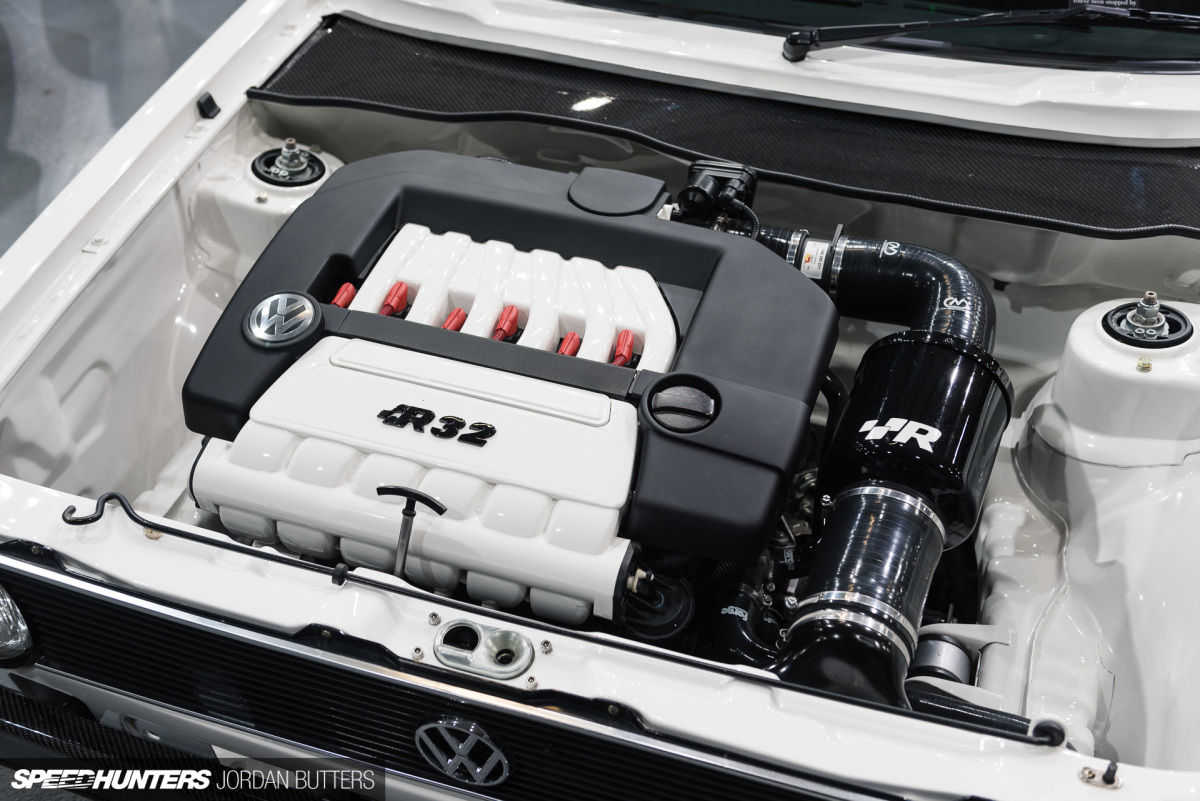 Eurowise mounts were used to locate the powerplant, while a custom manifold was fabricated to mate up the engine to the rest of the exhaust system. A VW Racing filter and Samco hose kit keep the cool air flowing, and the R32 motor has been tuned with a stage one re-map.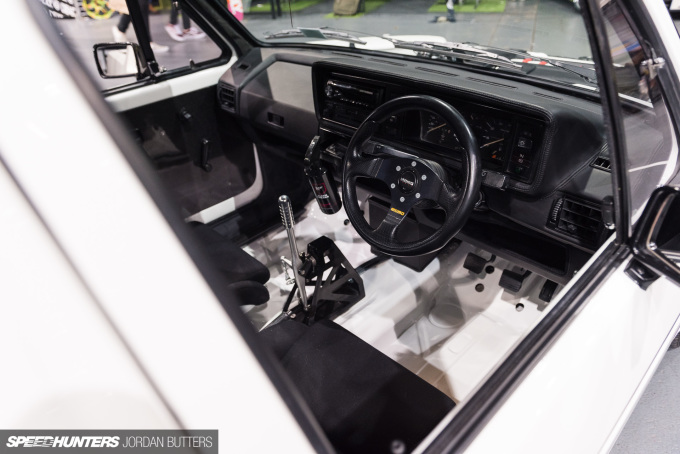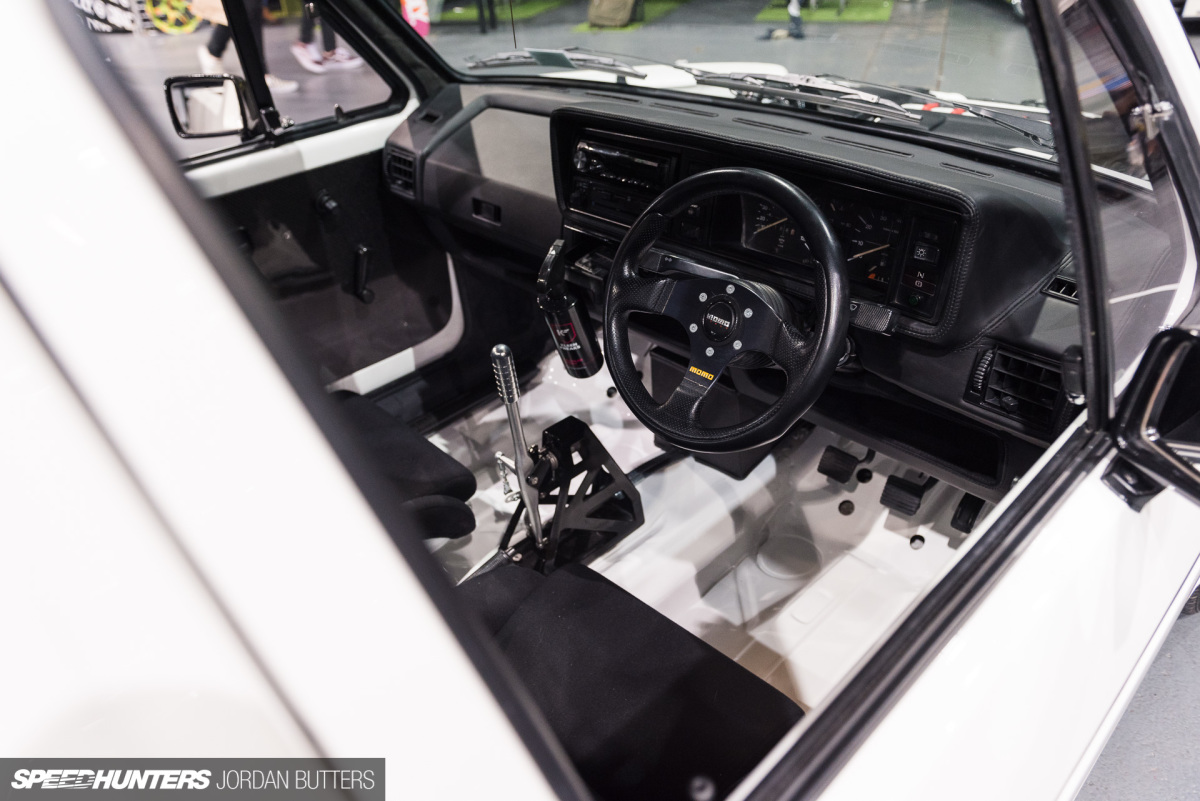 Power is around 270bhp and 270lb-ft torque, so in a chassis like this where there's not much to it this thing must fly! At least Paul's honest about things: "I won't lie, it's not a car you can casually jump in and have a relaxing drive anywhere – it's very loud. A mix of no carpets or sound deadening coupled with a near straight-through exhaust, massive fuel pump noise and limited slip diff whine and you get the idea. But I love it all; driving it is more of a special occasion and is a proper break from the norm of driving the normal day to day stuff."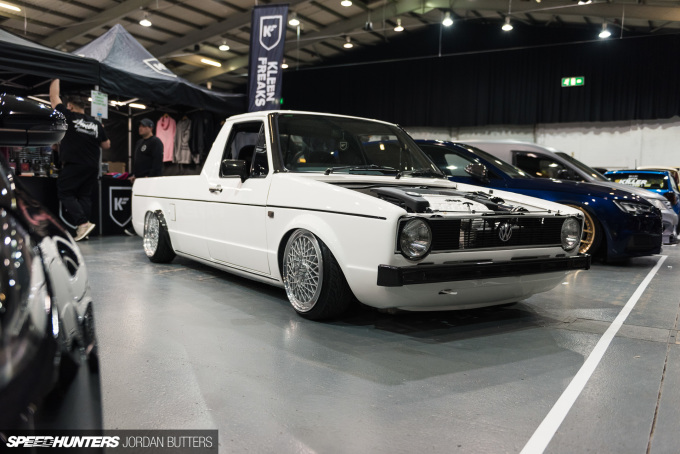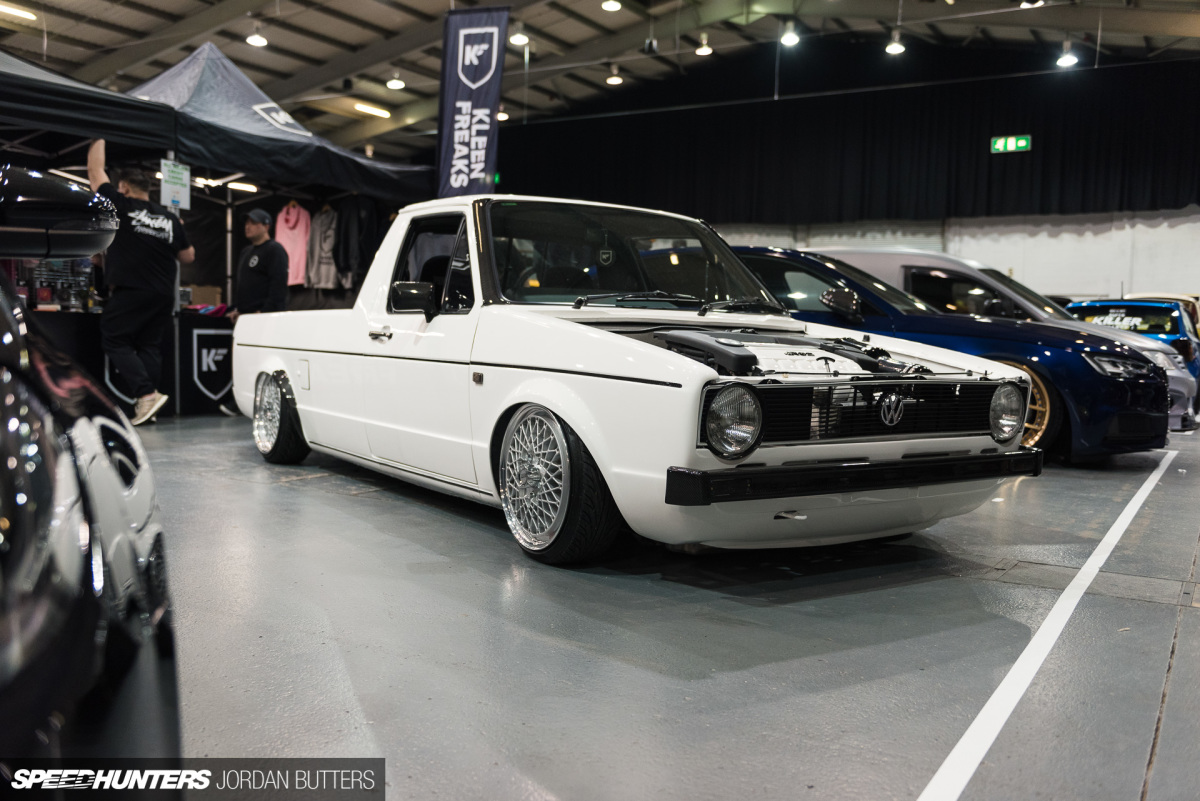 While the car was with Jon at Route32, the Air Lift Performance V2 system was installed too. Not that you can see any hint of the setup – there's not even anywhere for it to hide really, but Paul reassures me it's tucked away neatly under the bed floor with the V2 controller hidden in the ashtray. This was mated to Gaz front struts and the 4-link rear axle.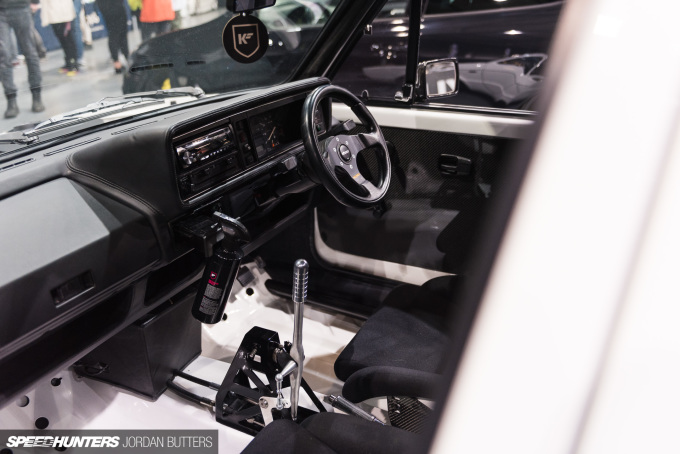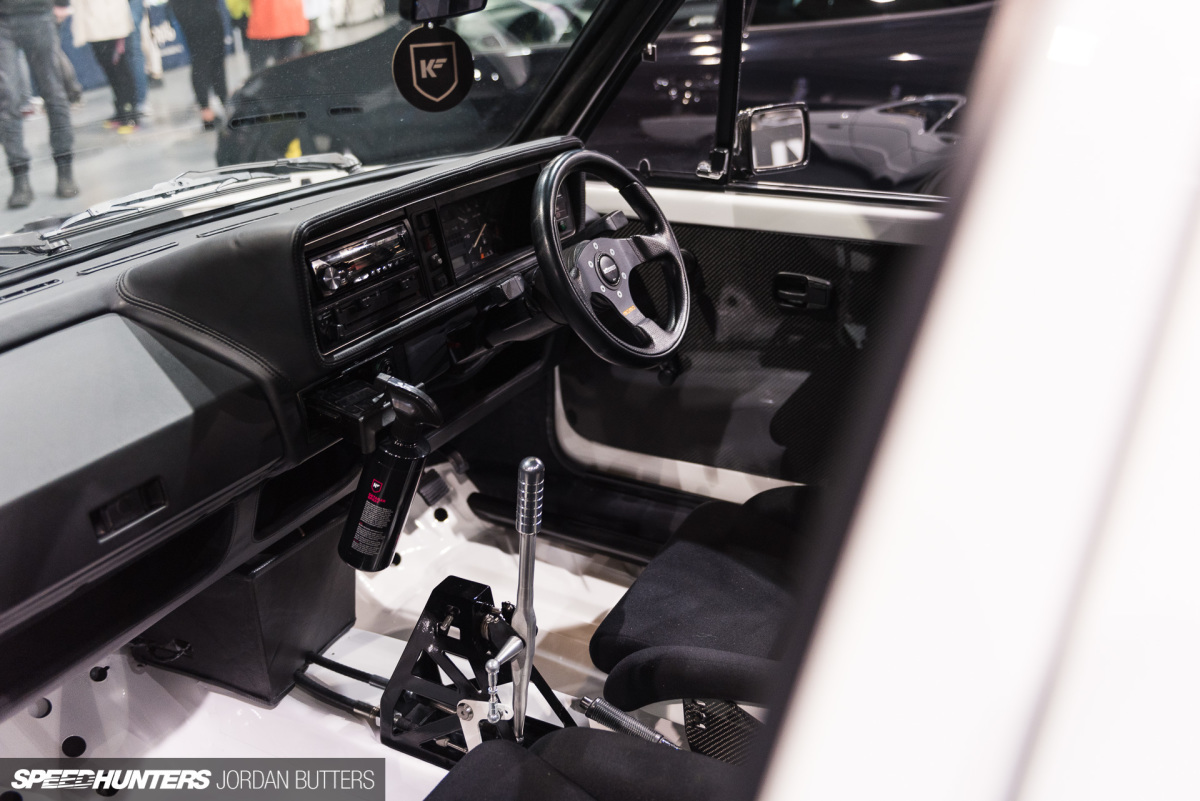 The interior is clean and minimalist; Paul stripped back all the carpet and sound deadening, replacing it with a clean coat of bright white paint. A pair of Recaro Pole Position seats on carbon mounts sit in front of the nappa leather-clad dashboard and underneath an Alcantara roof-lining, separated by a TR Motoring tower shifter. There's yet more carbon on the door cards, handbrake and handbrake cover too.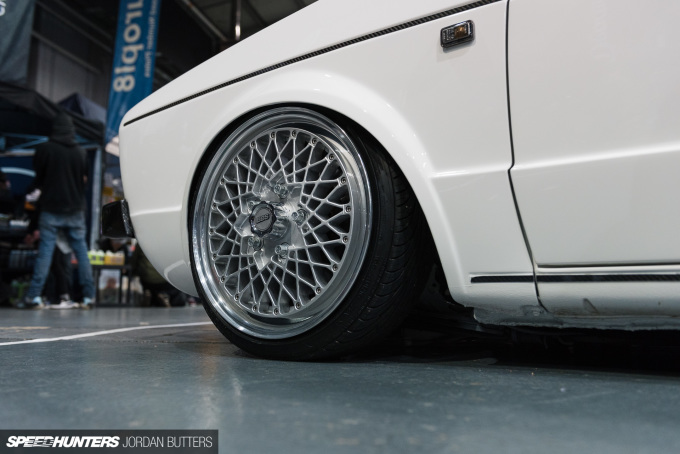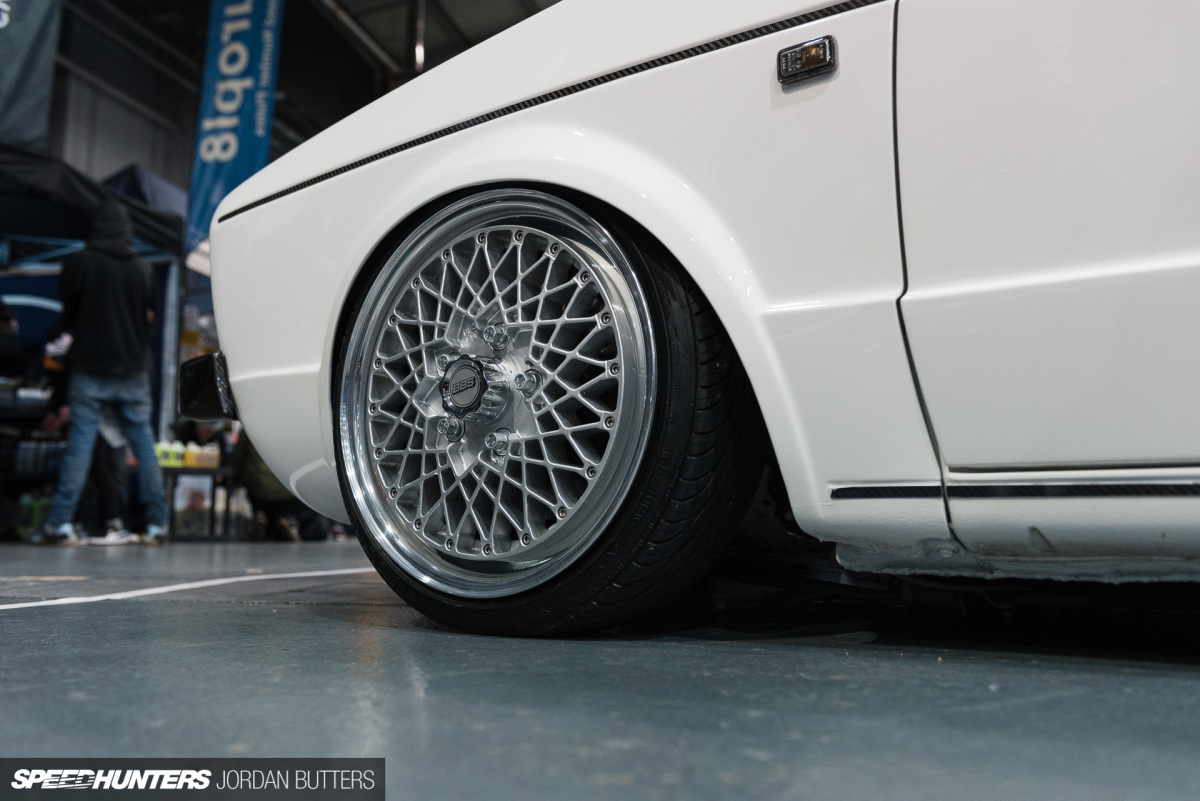 A set of classic BBS mesh wheels hide Wilwood 4-pot brakes and drilled discs. It's a timeless wheel design that suits the Caddy's shape perfectly.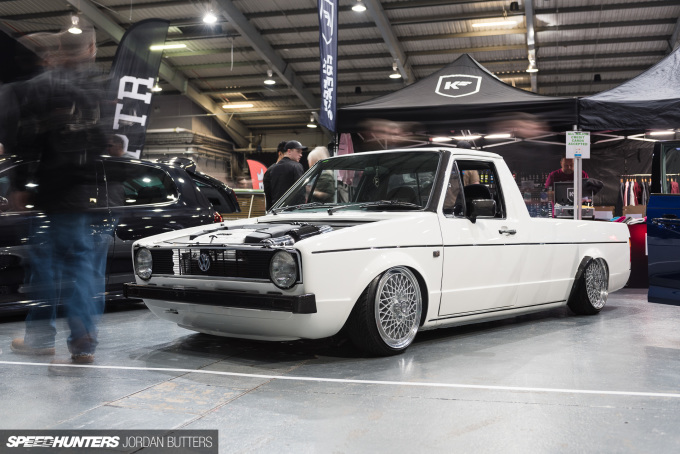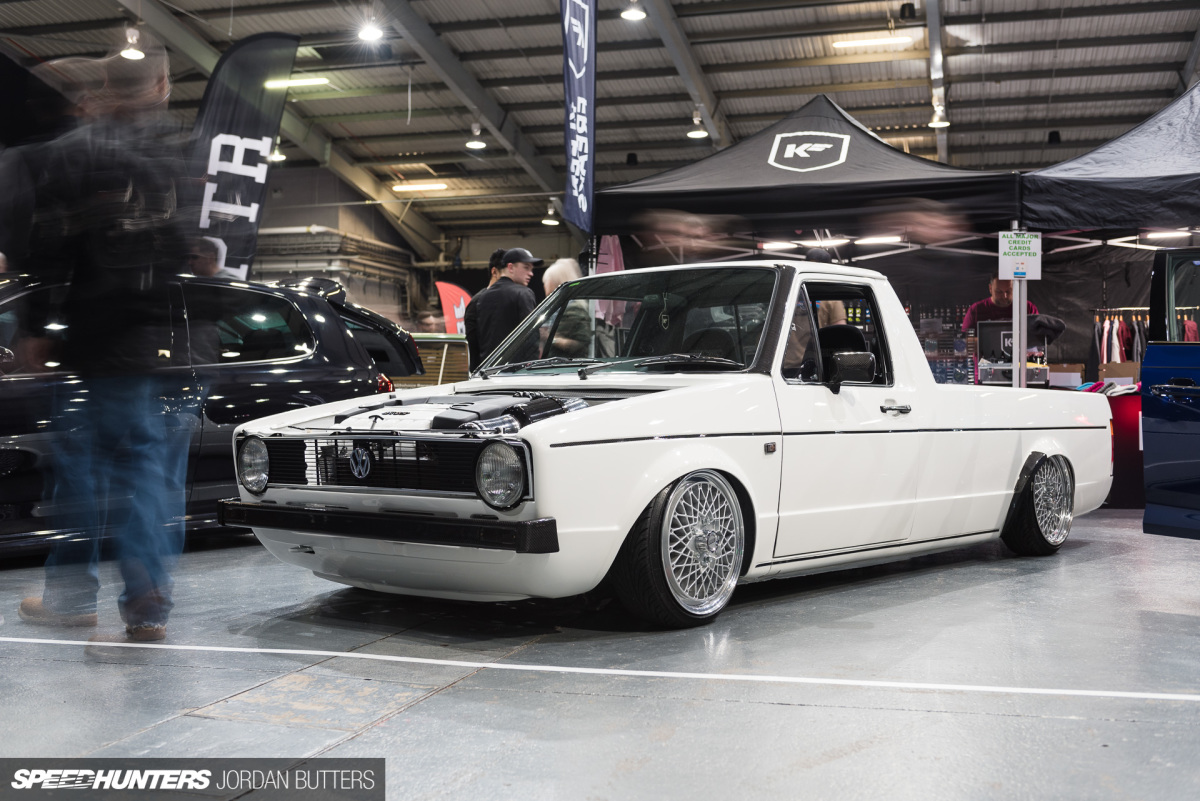 Paul built on the Caddy's OEM design features, adding subtle but involved improvements and lashings of carbon fibre along the way. The front wings were smoothed into the front panel, while the rear quarters were smoothed into the rear light panels. Carbon front and rear bumpers, carbon mirrors, wheel spats and A-pillar trims complete the look along with subtle composite sill strips.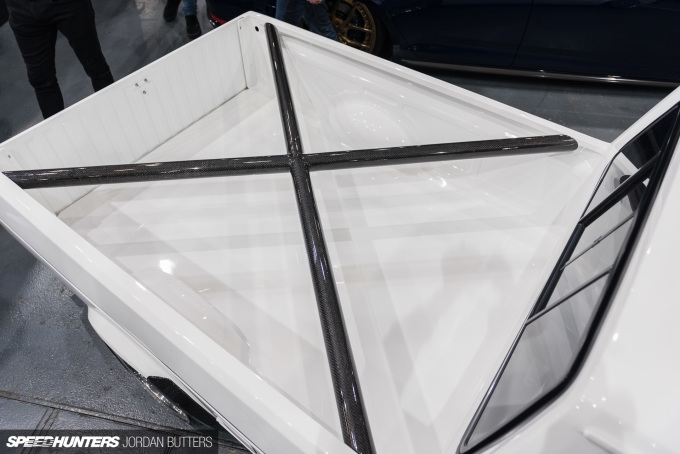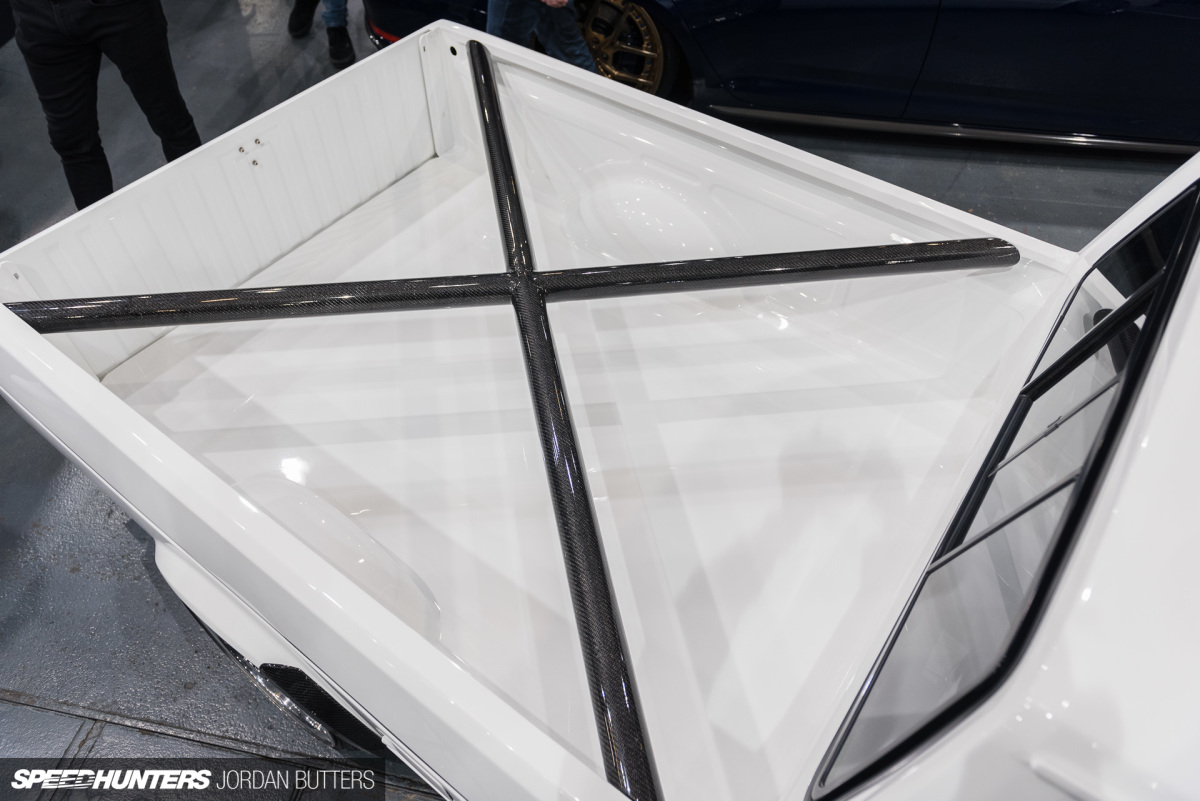 At the back things aren't quite so subtle. A custom rear cab panel, along with smooth bed floor are overlooked by a huge carbon x-brace across the bed.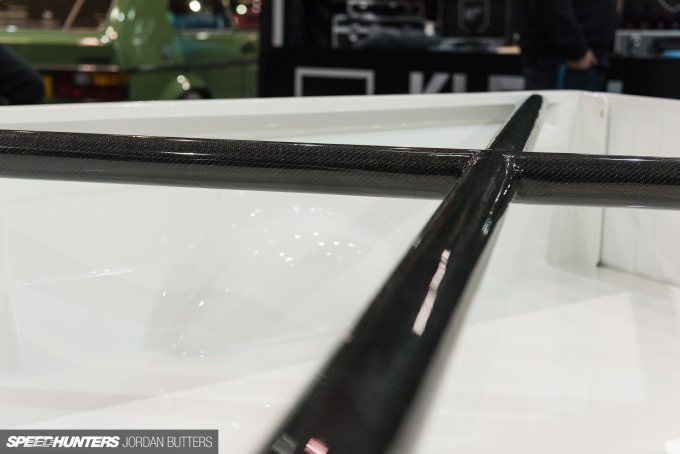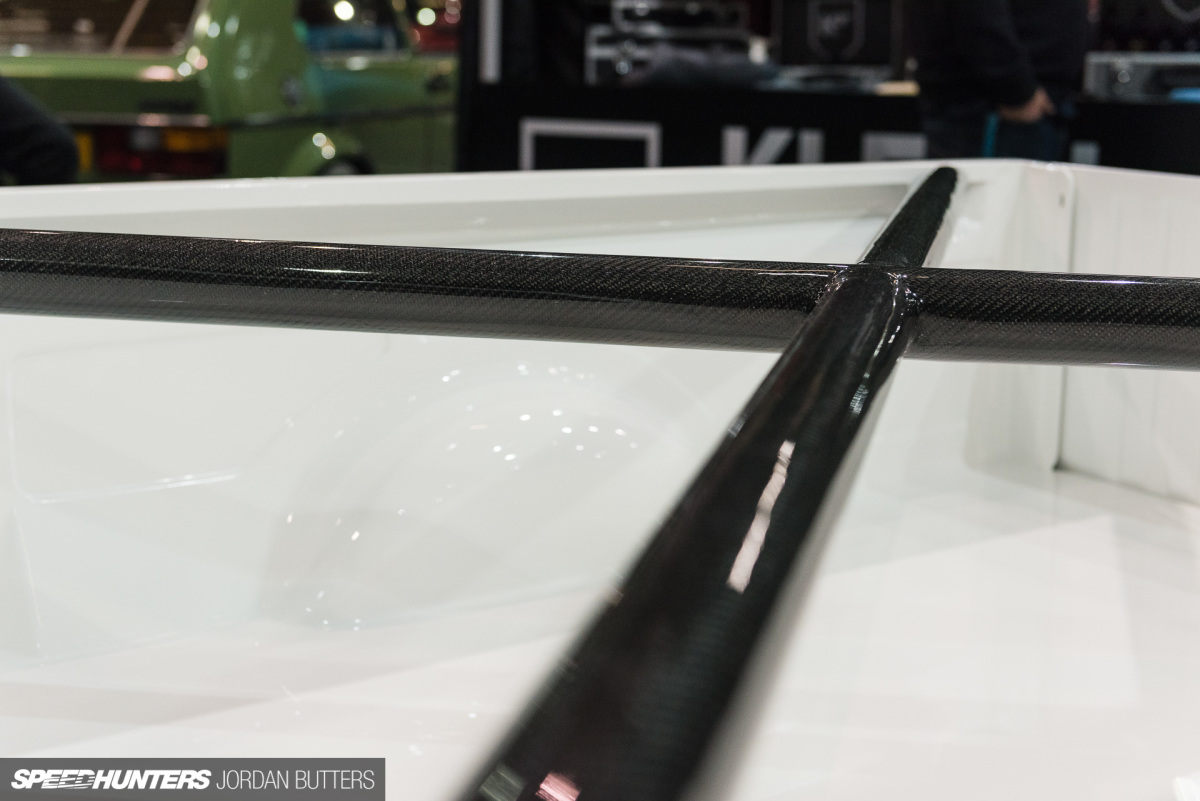 Paul won't be loading any big payloads into the Caddy any more, but the carbon brace isn't just for show, as he explains: "The 'x' was actually designed to stiffen the whole rear end as it used to wander all over the place at speed. In fact, you could see the bed sides moving at times. It's improved the handling loads and drives like a tin-top now. Anything was an improvement on the stock pickup handling, so I'm happy!"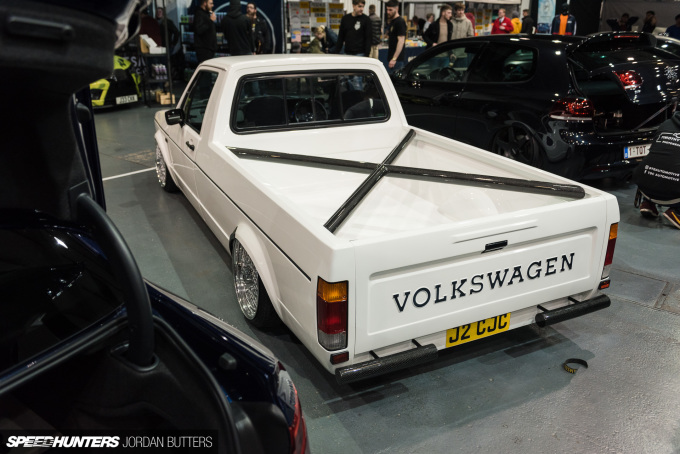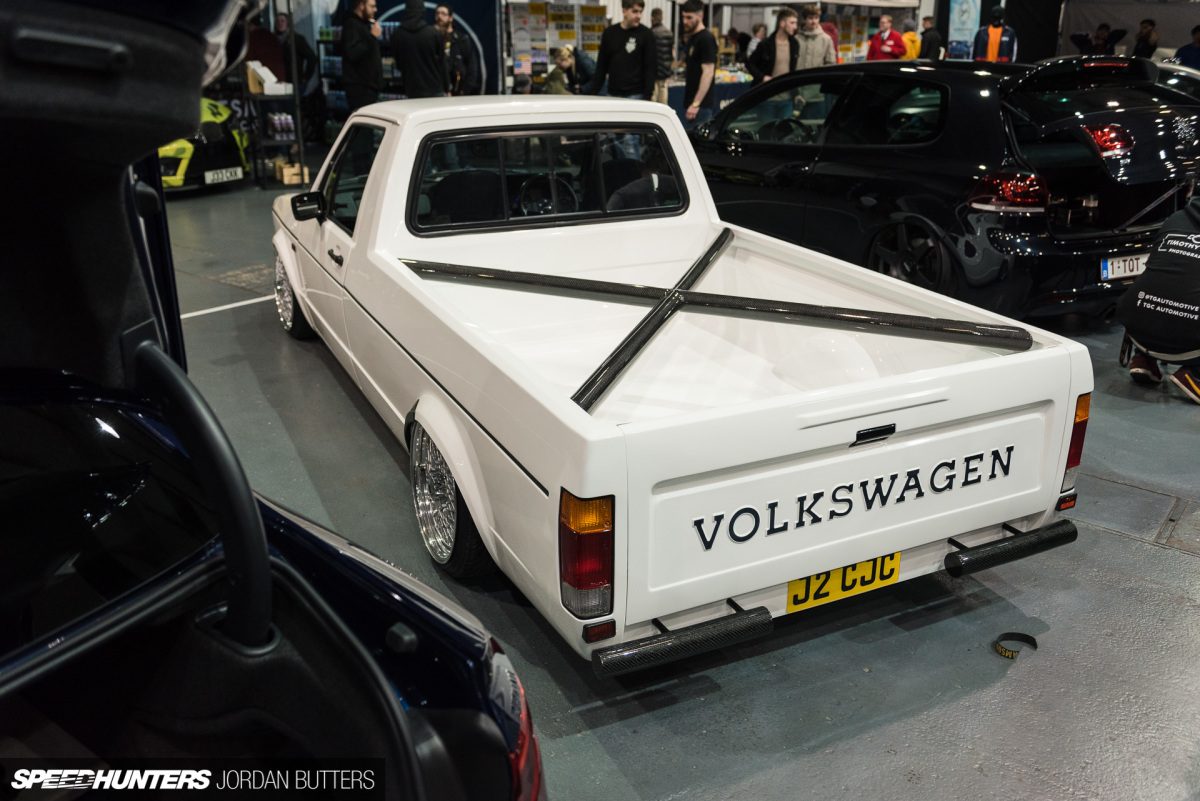 "All of it is special to me as it's built exactly how I want it. I think the clean look of the finished article is my favourite aspect of it; there are so many little details that most people don't even notice until they walk around it a few times. My plans now are to enjoy the car this season as I missed it all last year. I'll add some more carbon details throughout the year to freshen it up. The next big change will be a turbo or supercharger, once I figure out how to make it all look pretty in the bay."
Jordan Butters
Instagram: jordanbutters
jordan@speedhunters.com