You'll Bruise The Gin
When I think of an E-Type, I think of a stuffy old man with a sweater wrapped around his neck, leaning against an impractical and expensive masterpiece of British design. It's pristine, with chrome bezels around the headlights and gorgeous, swooping bodylines that follow the long hood and culminate in the bulbous rear end.
The owner talks about boring things, such as himself, and he's not one to drive his car unless it's to show off. Even worse, he drives it delicately because he doesn't understand that the E-Type is a proper sports car equipped with disc brakes, rack-and-pinion steering and independent suspension, nor that the car utilizes a lightweight monocoque construction. Likewise, he doesn't understand that all of these elements that made the legendary '60s coupe so great to drive at speed also triggered other manufacturers to follow suit, giving us dozens of great sports cars and exotics in the following years and decades.
While I've only had this experience once, and it's in no way fair to pass judgment based on a singular encounter, it's made a lasting impression on me. So, what I don't think of when someone says 'E-Type' is a brutal, high-revving all-out vintage race car. However, that sounds a lot better than my other scenario, so let's get into it.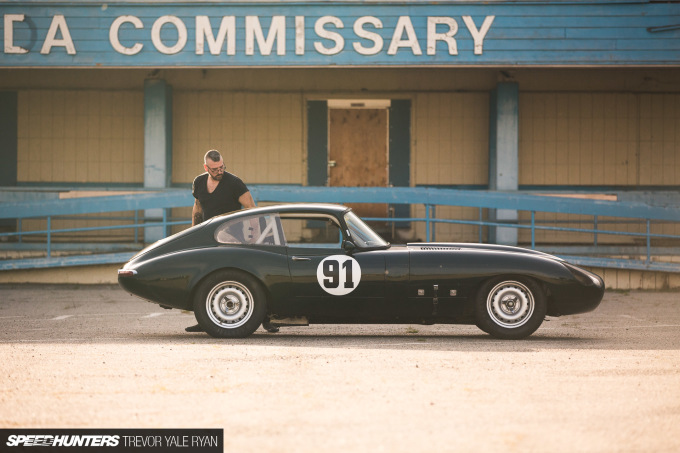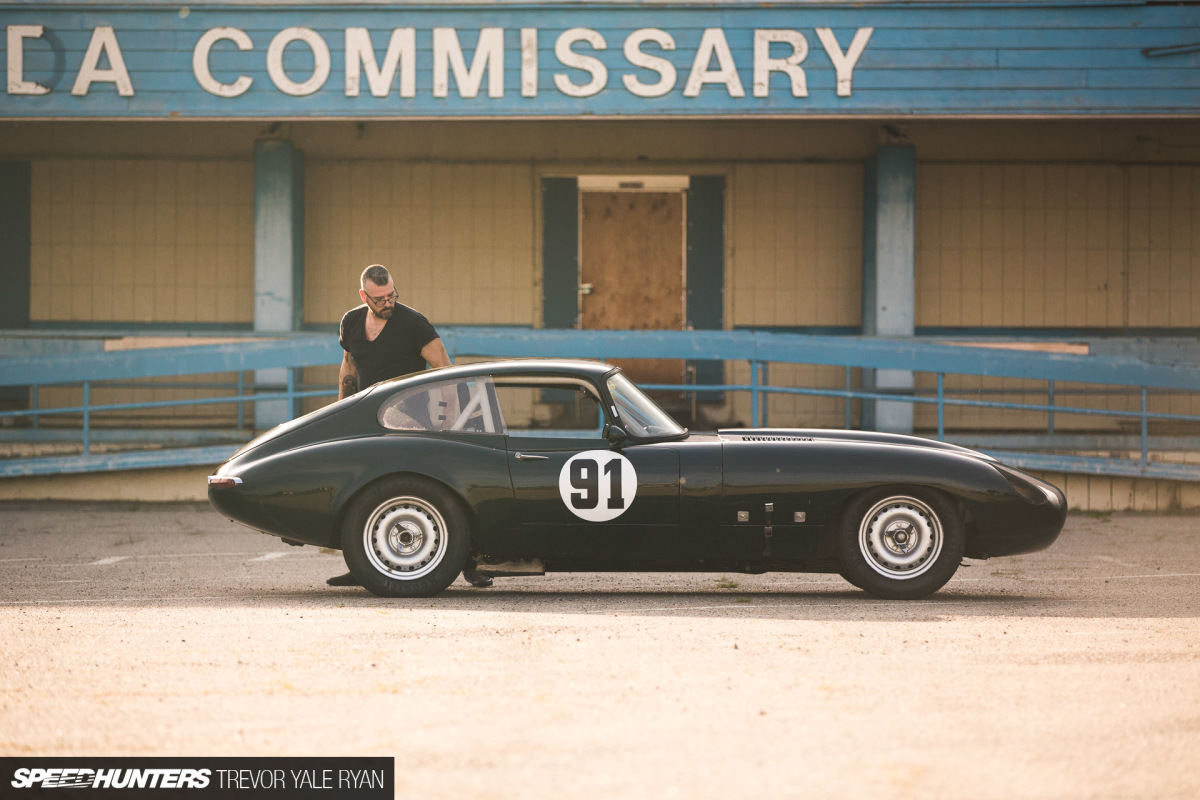 Any time you shoot any car it's always necessary to understand the owner; I think this is good advice when buying a car as well. After all, what sort of fellow has a 57-year-old race car that's registered for the street?
Well, Sergio Edell is the sort and this is his 1961 Jaguar E-Type racer. But, likely, it won't be his for much longer since the car is soon going up for sale. This is nothing new for Sergio, who started buying, fixing, and selling cars years ago, and eventually the hobby spiraled out of control. Now he's a collector of sorts, with everything from low-mileage DeLoreans to rare imported Datsuns that he regularly drives.
While he admits the E-Type is a phenomenal machine, it's not one that he's personally able to enjoy that often. In fact, the race engine only has around 100 hours on it since being built in the early 2000s for some US$30,000. I don't even want to know what it would cost now to do the same, and Sergio is keen to not find out either.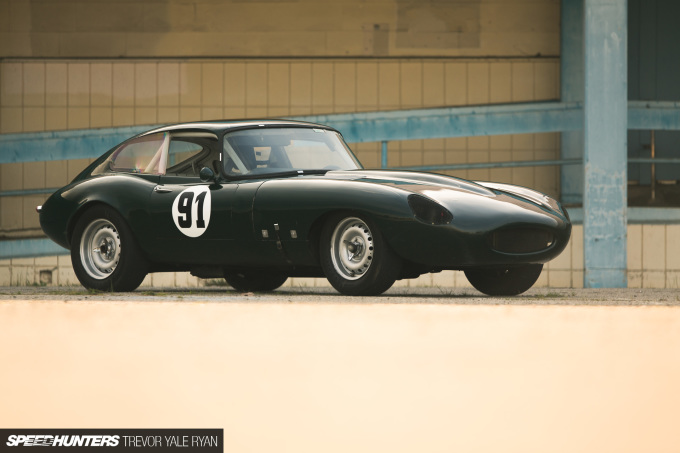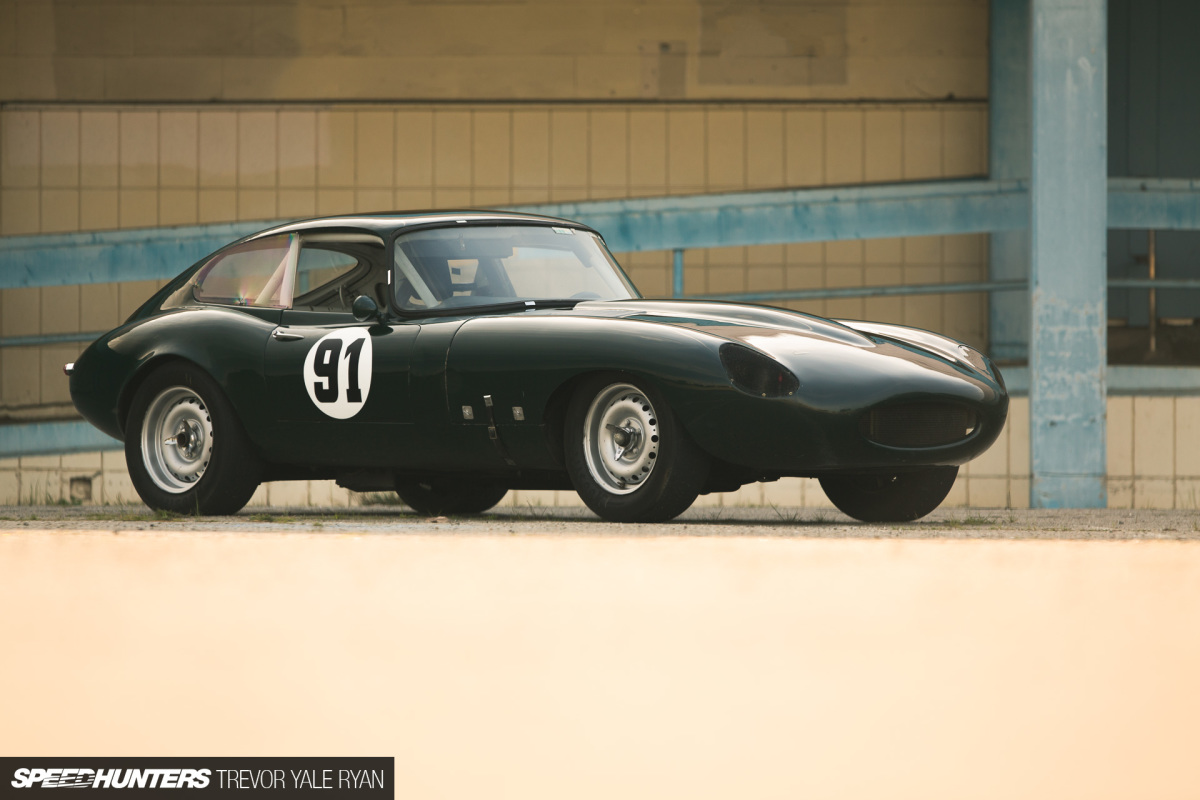 However, that didn't stop him from opening up the 3.8L straight-six in proper fashion. After all, it's certainly not a delicate thing, and with the race exhaust pumping out a side pipe under the driver's arse it is quite glorious on the ears. For once, have a listen at the video below.
It's shameful to admit that this is the first clip I've ever made, but I couldn't let this car cruise off without at least grabbing a sound bite.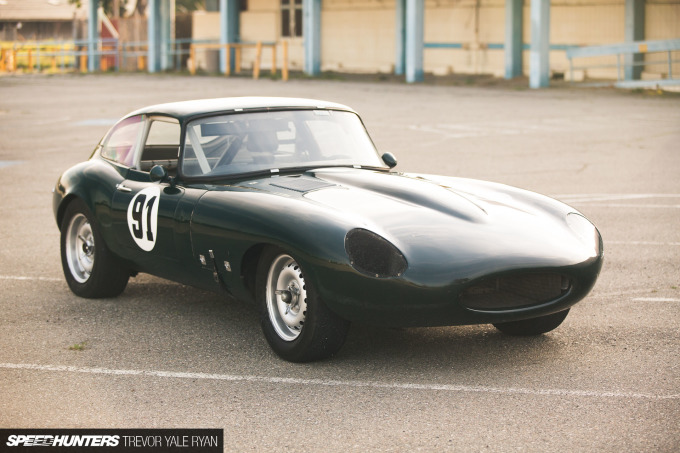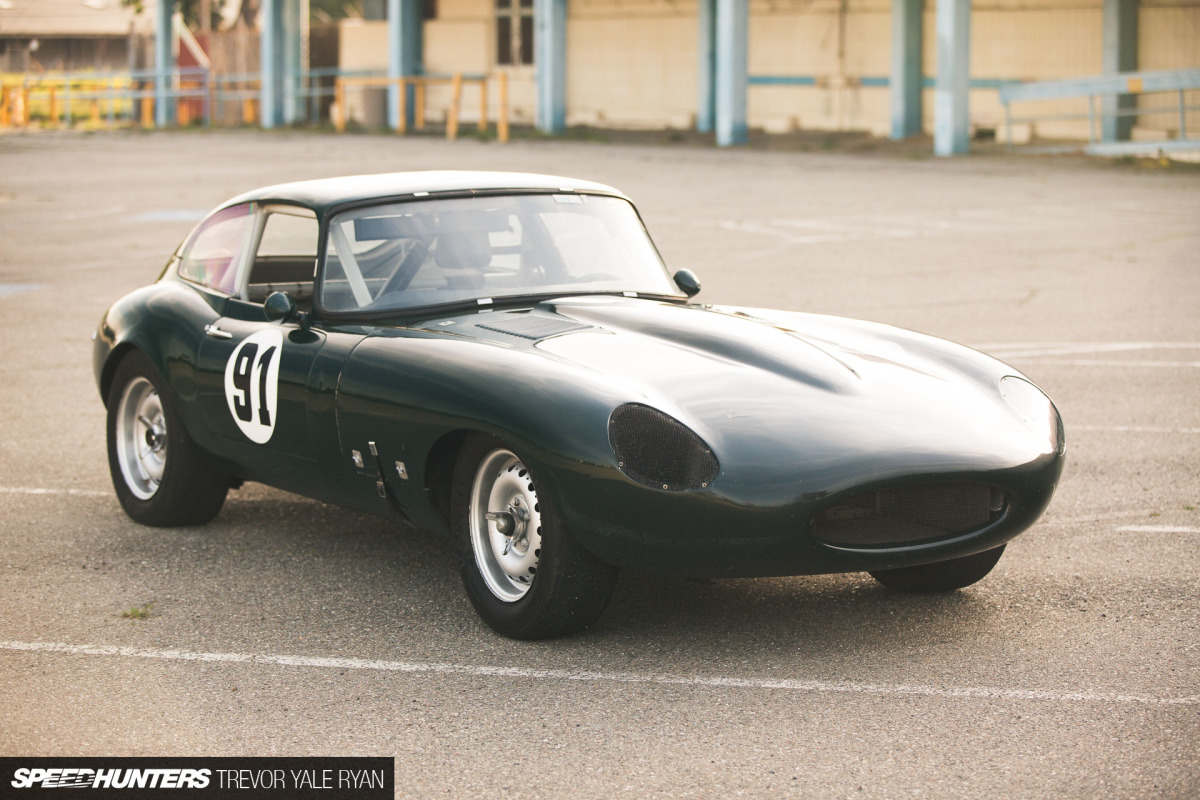 Although the prodigious six cylinder hasn't been used all that much, the fact that this car even exists is enough for me.
This thought takes me back to the hopeless gentleman I started this story with. Perhaps I'm way off as far as E-Types go (again, my sample size is a bit small), but as with many exotic and classic cars, they seem to always get restored to factory-spec condition. While that's all great and dandy, it's just a bit dull.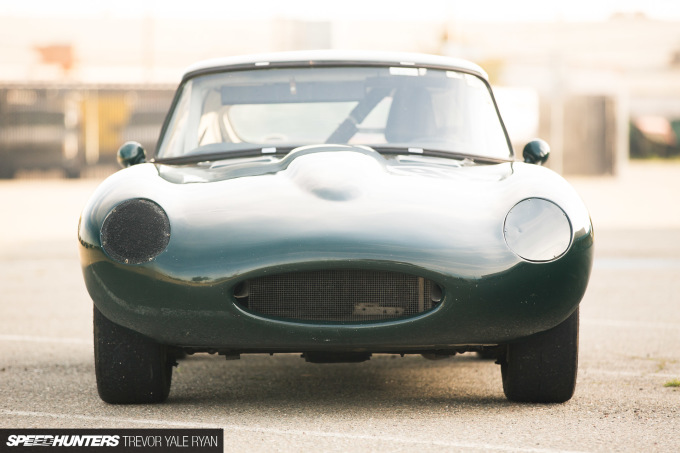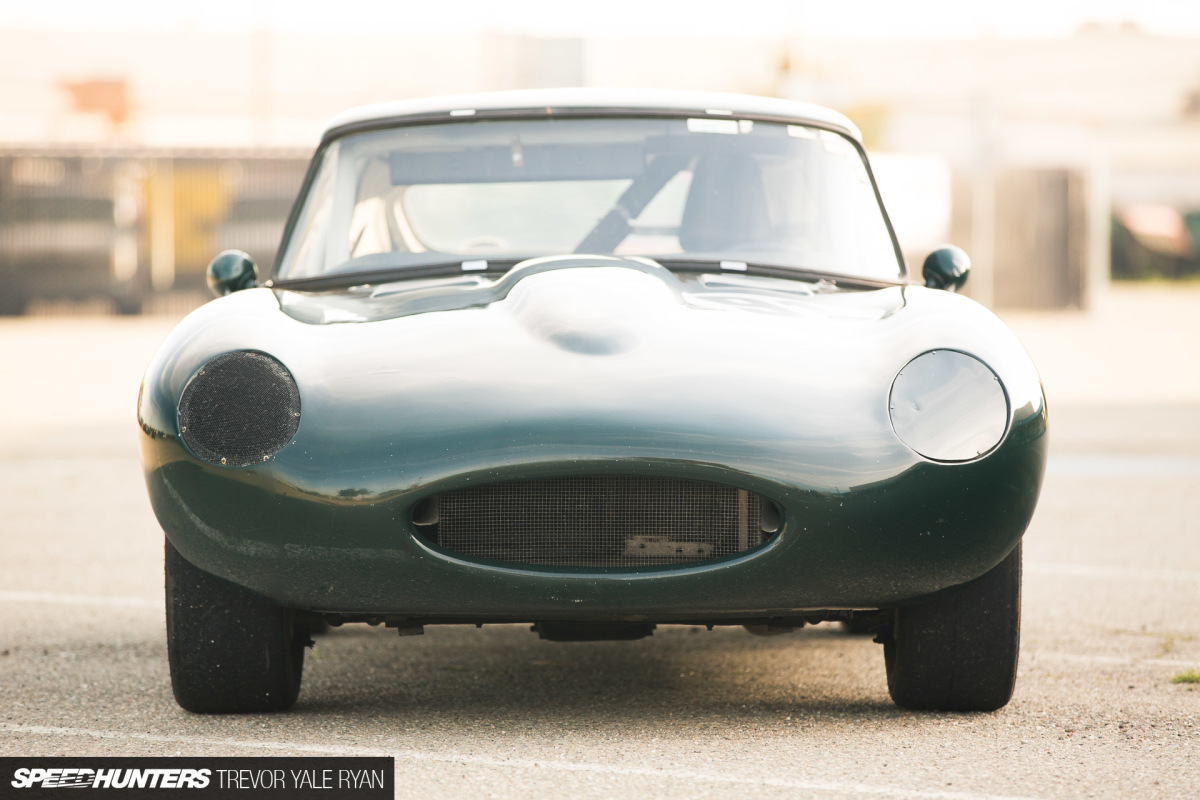 While this may very well be the eventual fate of the car, I'm glad I got to photograph it in its current state. It was a very competitive car, always finishing in the top five during its time in the Vintage Auto Racing Association series.
While certain upstarts — who don't read stories like this anyway because they don't include the words 'bespoke' or 'immaculate' — would likely turn their nose up at the E-Type, I suspect these are the same ones who find it in themselves to dutifully explain that James Bond orders his drinks the wrong way, bruising the gin and clouding the martini. Again, a bit dull.
This is not the way this car is supposed to be, but that's exactly what makes it so much better. Sometimes, you just have to live a little.
The Trimmings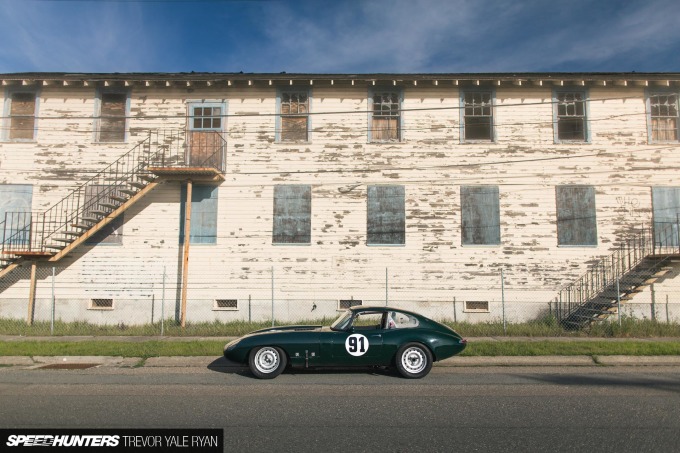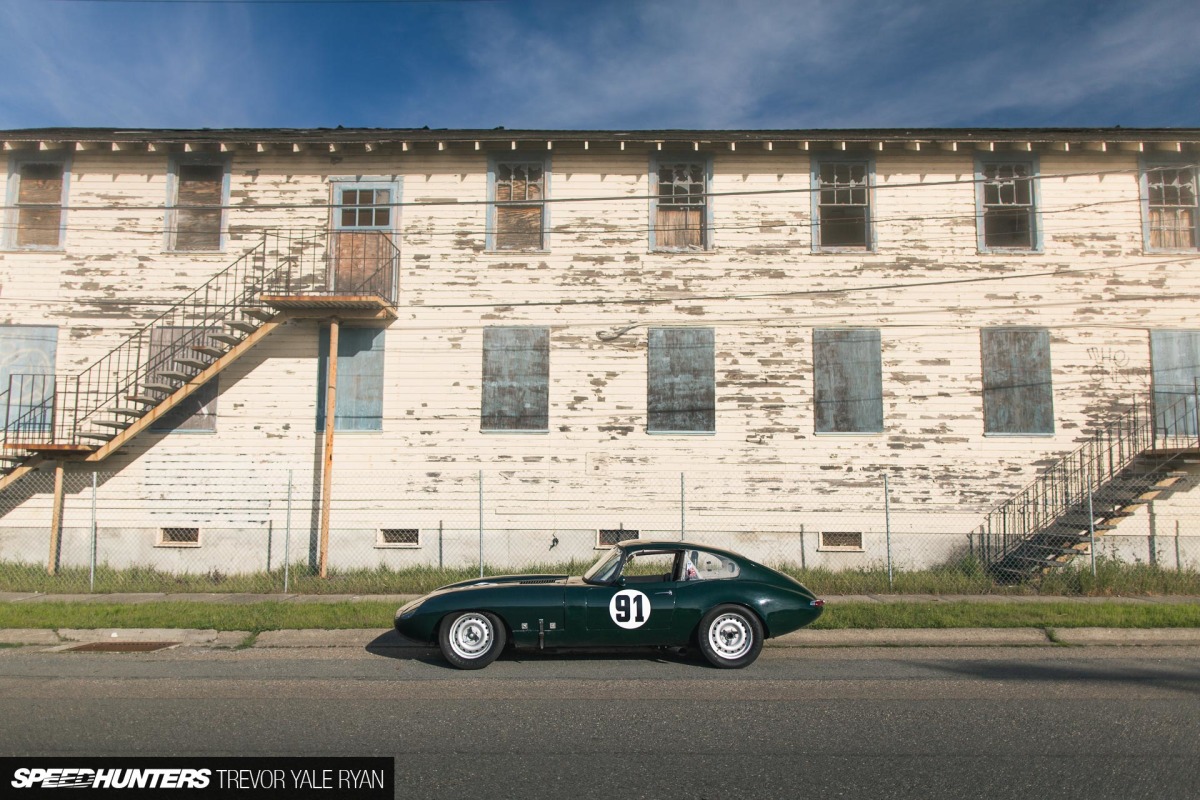 Sergio and I cruised around the outskirts of an old military station looking for spots to shoot the old Jaguar. I'm not sure what these particular buildings were for — we were promptly and unsurprisingly kicked out of the old barracks and abandoned hangars — but it's interesting to think that decades on the car is still working while the facility is not.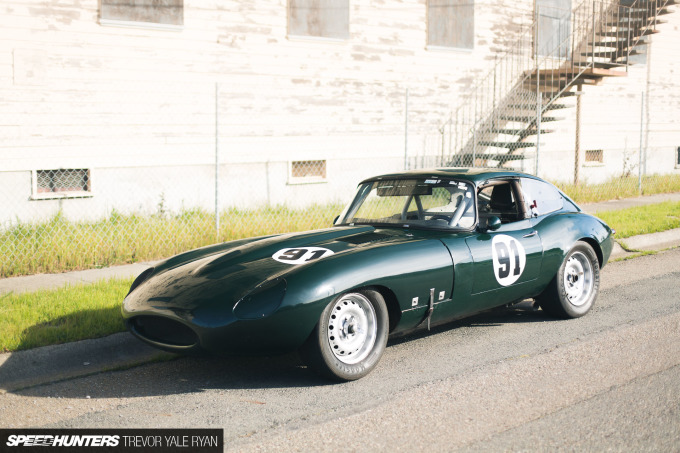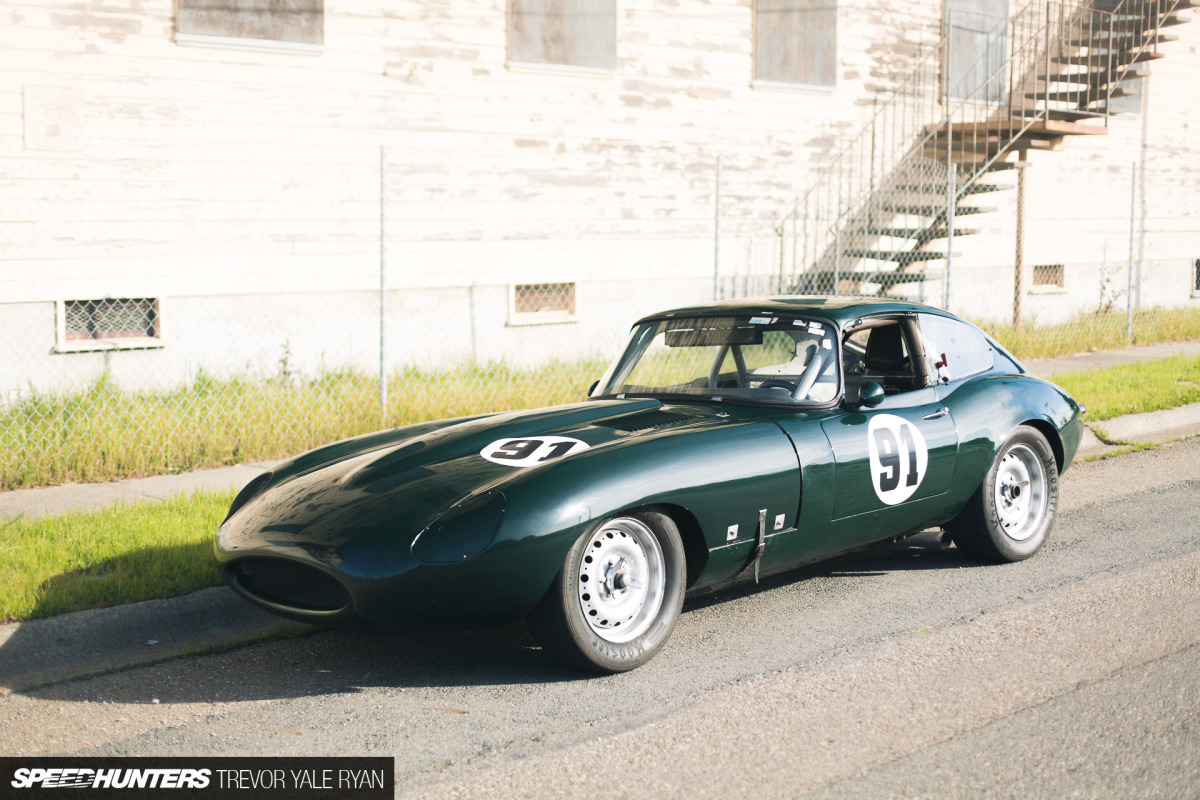 In fact, most of the station sits in complete ruin, with no one wanting to take responsibility for tearing it all down.
In stark contrast, the car — while it has its bumps and bruises in the British Racing Green paintwork from years of actual racing — is an item that dozens would jump at owning.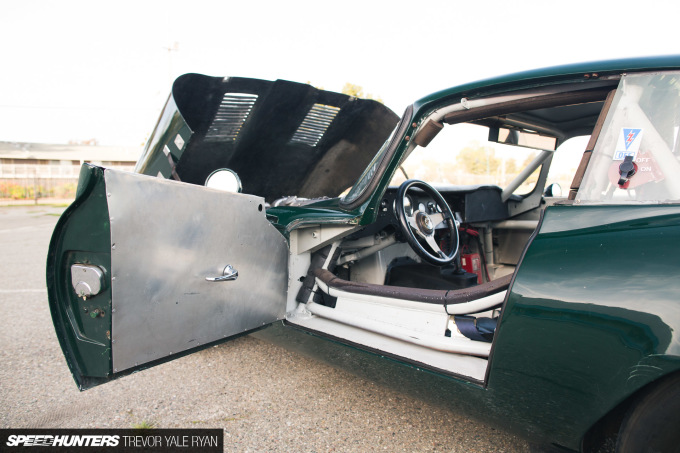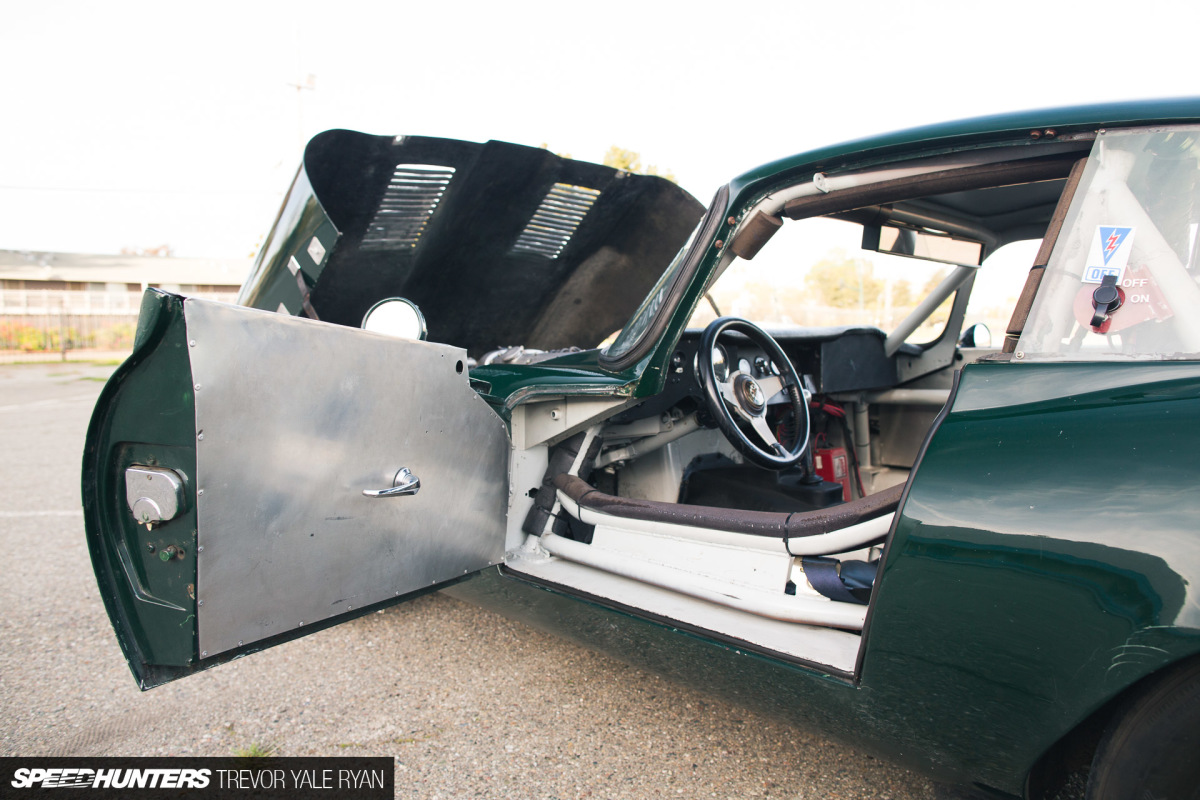 To me it's one of the best E-Types I've ever seen; a vintage mix of safety and insanity.
It's completely lived-in as well, and Sergio hasn't found it in himself to button up the patina from its racing days. I enjoyed noticing that by far the most worn part of the car is where the fancy footwork happened.
As you can see, the driver's seat is slung nice and low with a headrest and harness attached directly to the roll cage.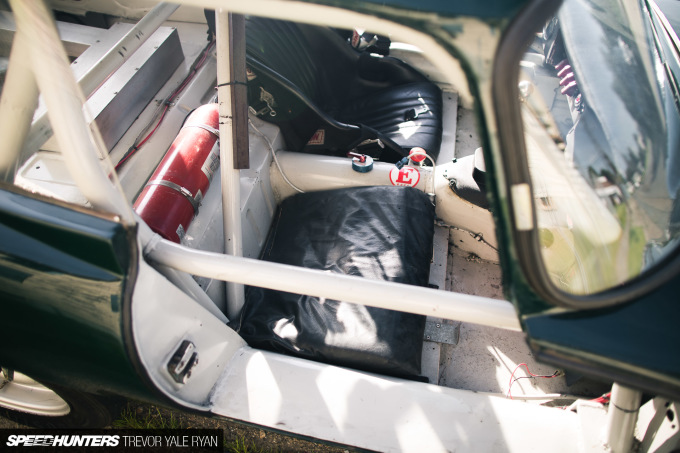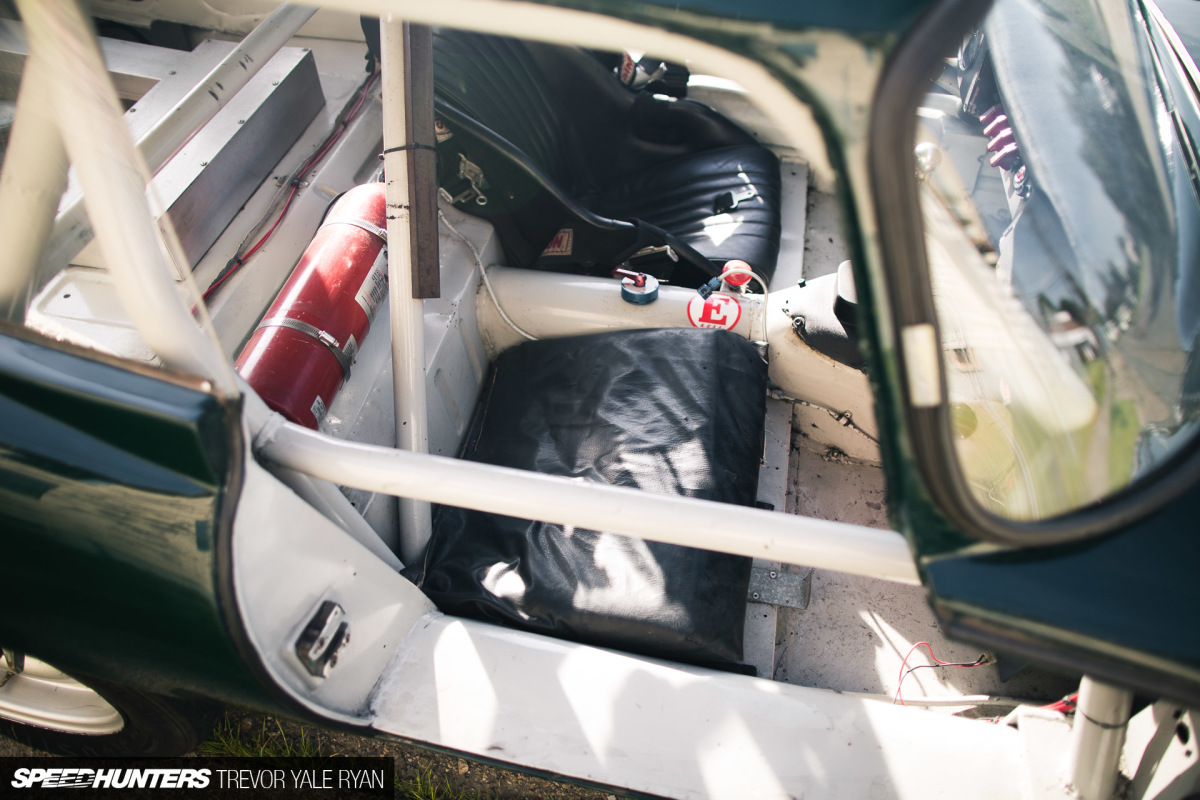 If you're looking for a horrible time, feel free to ride shotgun.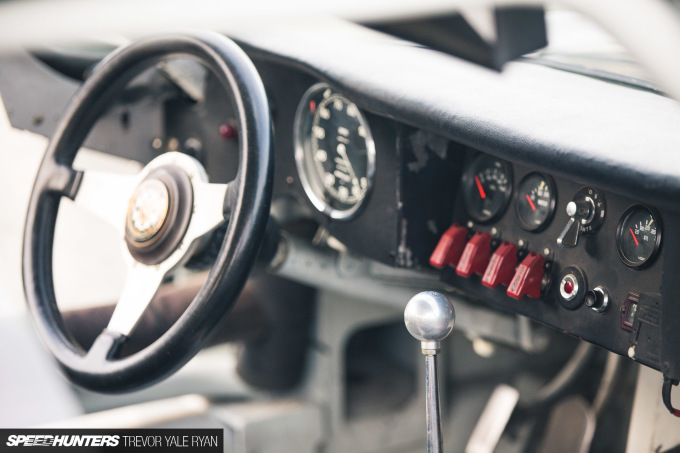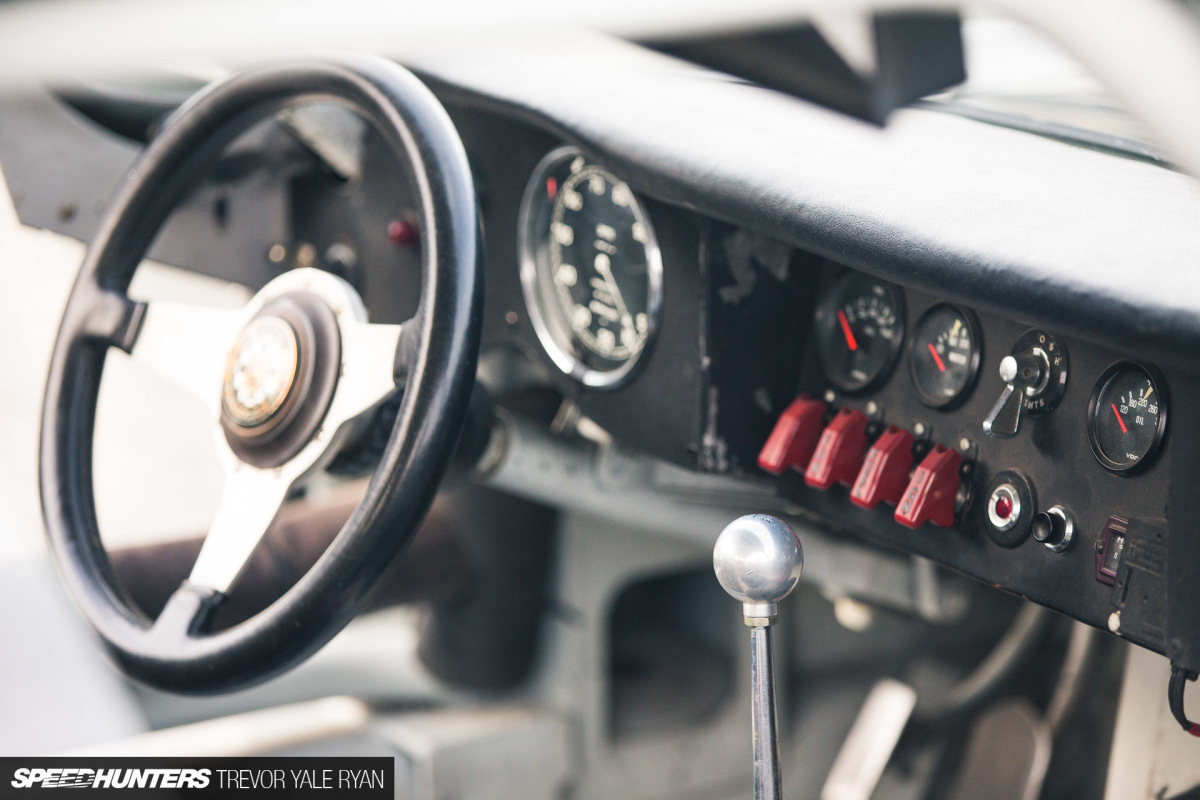 Between the two seats are a bunch of fiddly race switches and knobs, as well as more safety equipment.
An upgraded ignition system can be found partially in the cabin as well, and of course an easily accessible switch to shut it all down.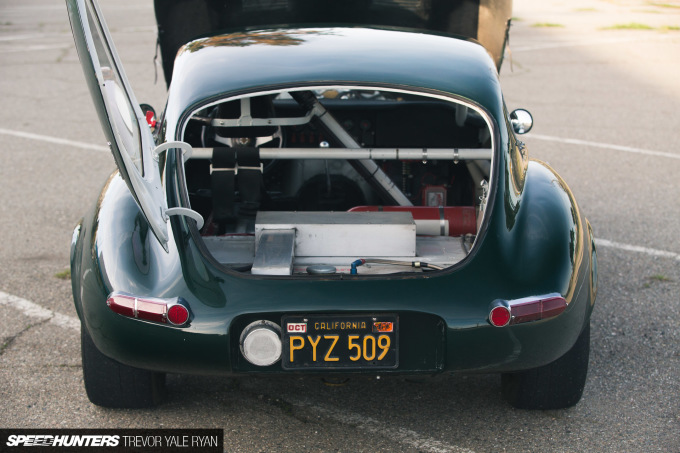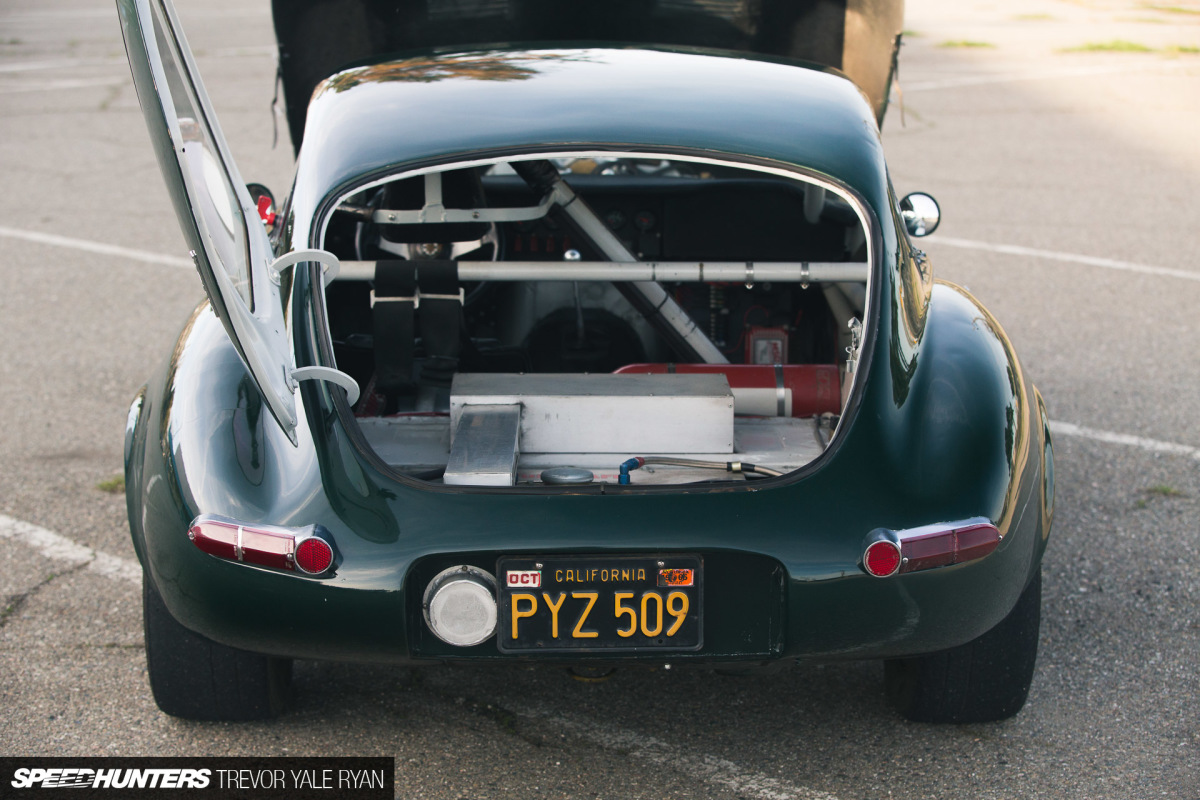 Moving around the back end of the car, you'll find more race-bred odds and ends.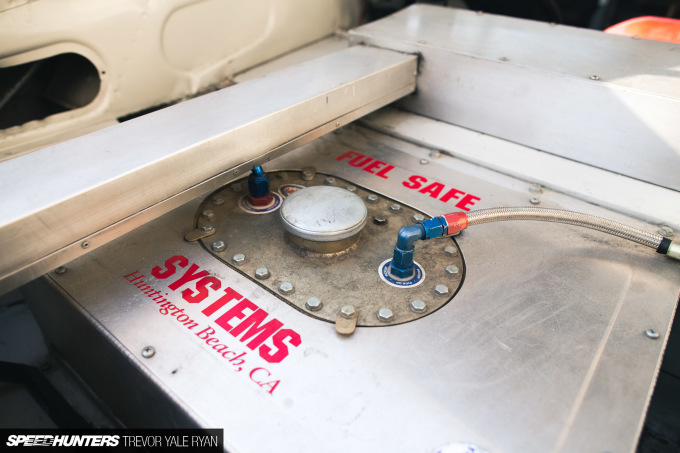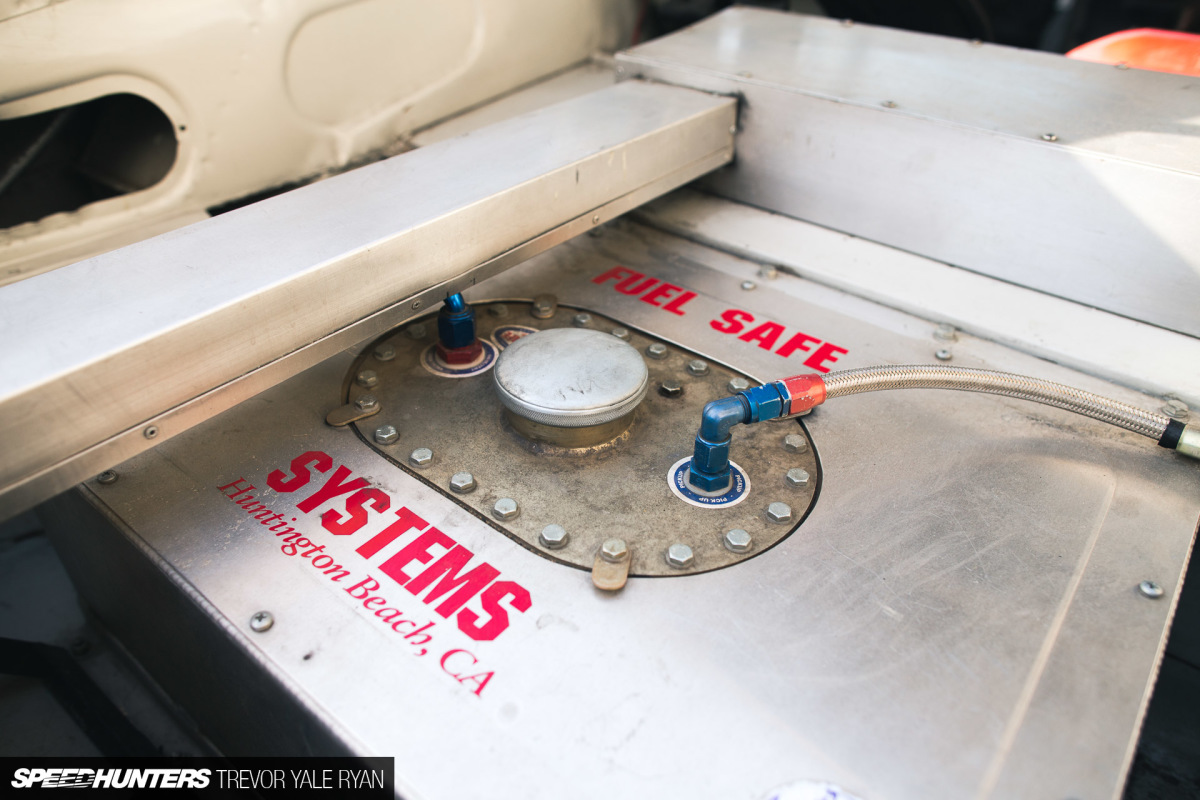 A fuel cell is a necessity while an old pump draws the 106 octane liquid gold up towards the motor.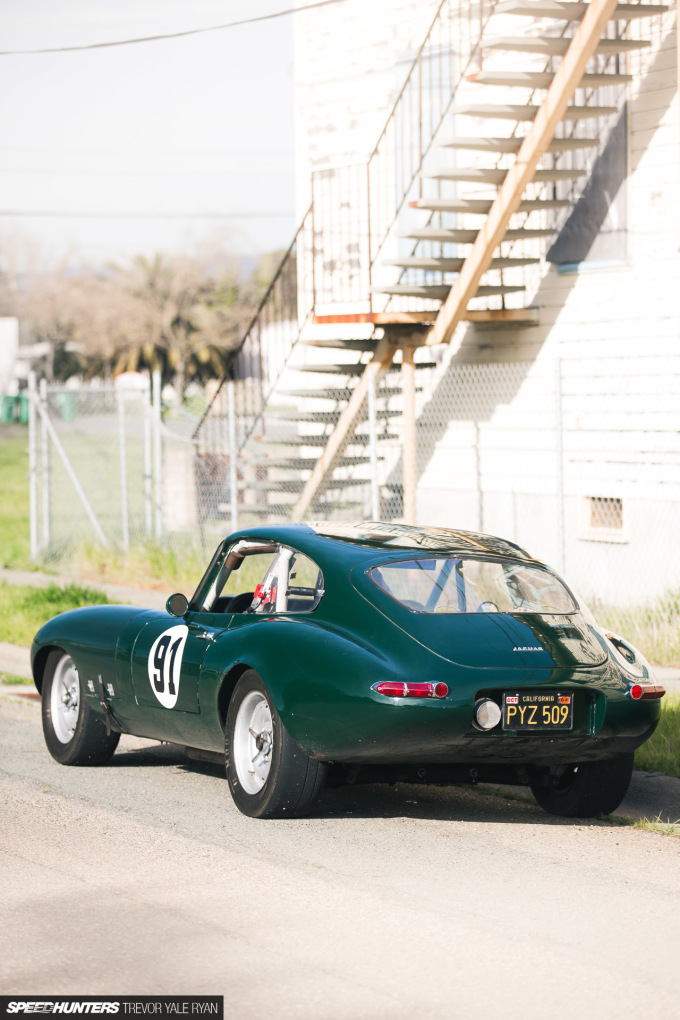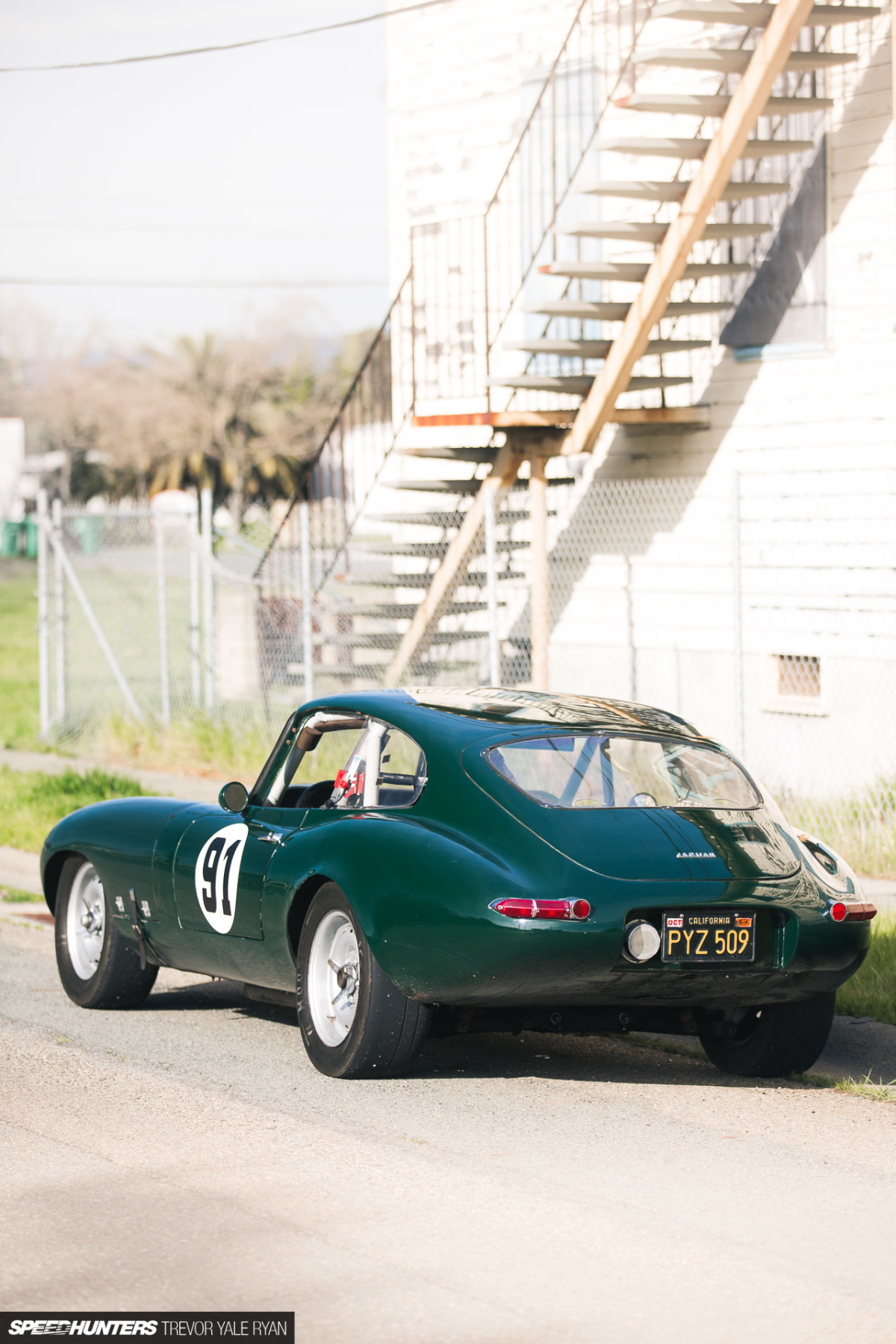 Inside and out, it's an awesome machine.
Racey
I alluded to the incredible 3.8L race engine in the clip earlier, and I'm sure you're eager to unbuckle the belt straps and have a look under the long bonnet – I know I was.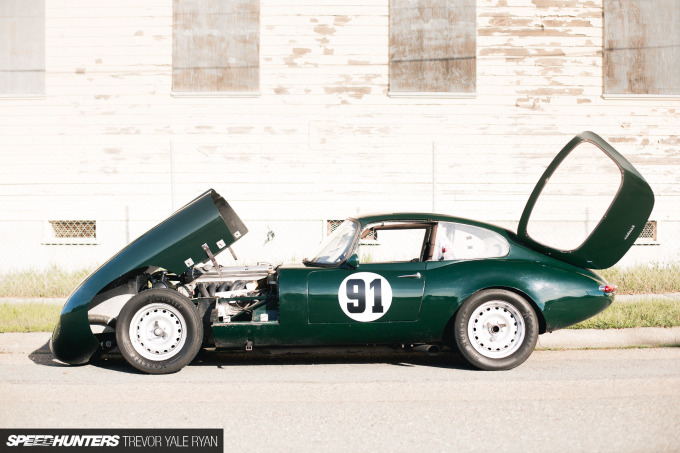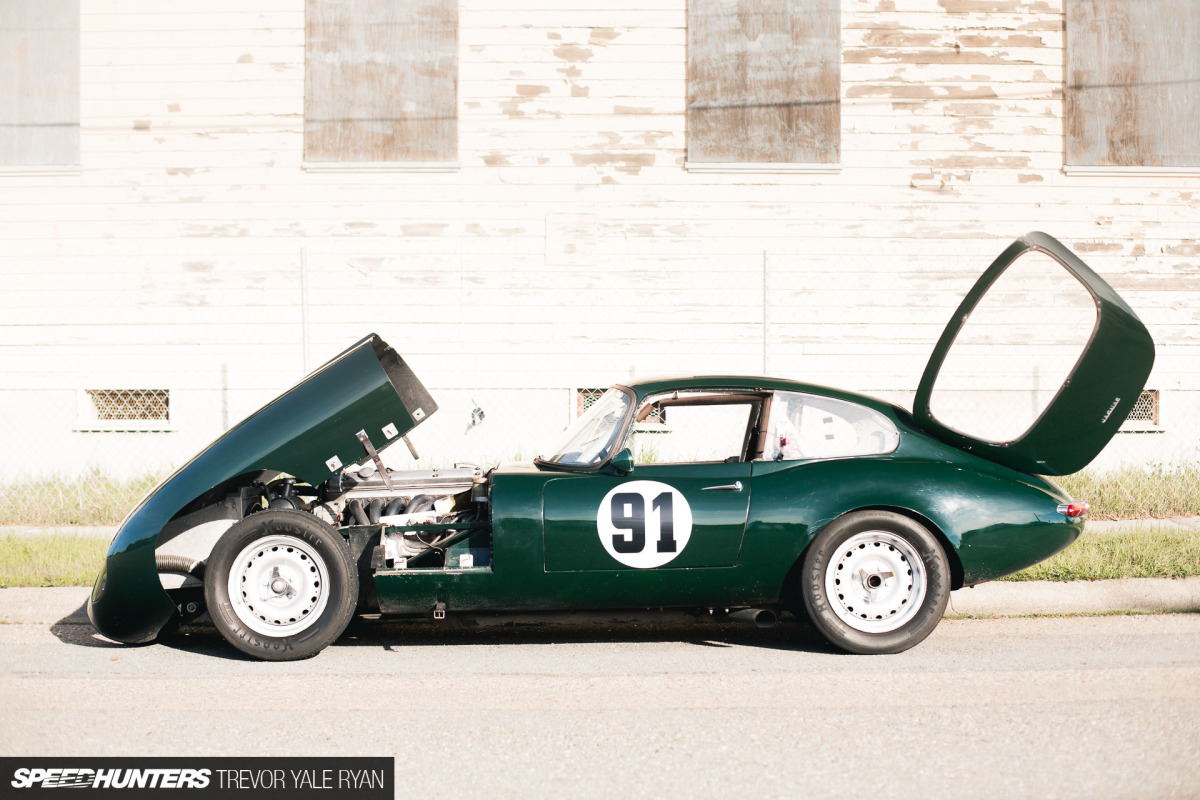 It's a two man job and as we opened her up, I noticed tons of gravel bits pouring out of the opening in the front of the hood.
The tires are from when the car was last raced nearly two decades ago in the VARA series, but they're still sticky enough to toss a comical amount of loose road bits about.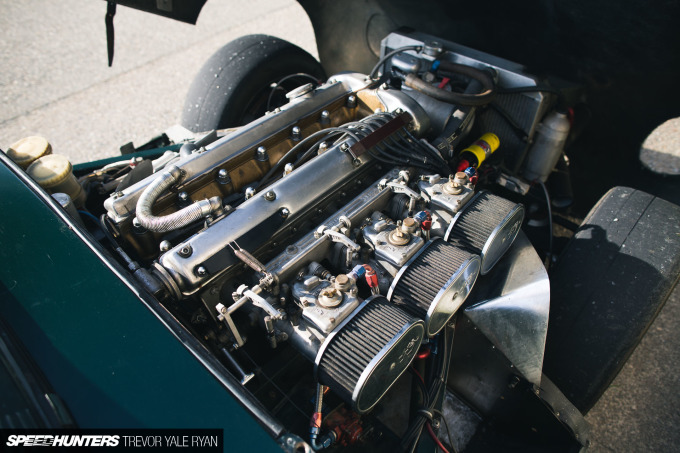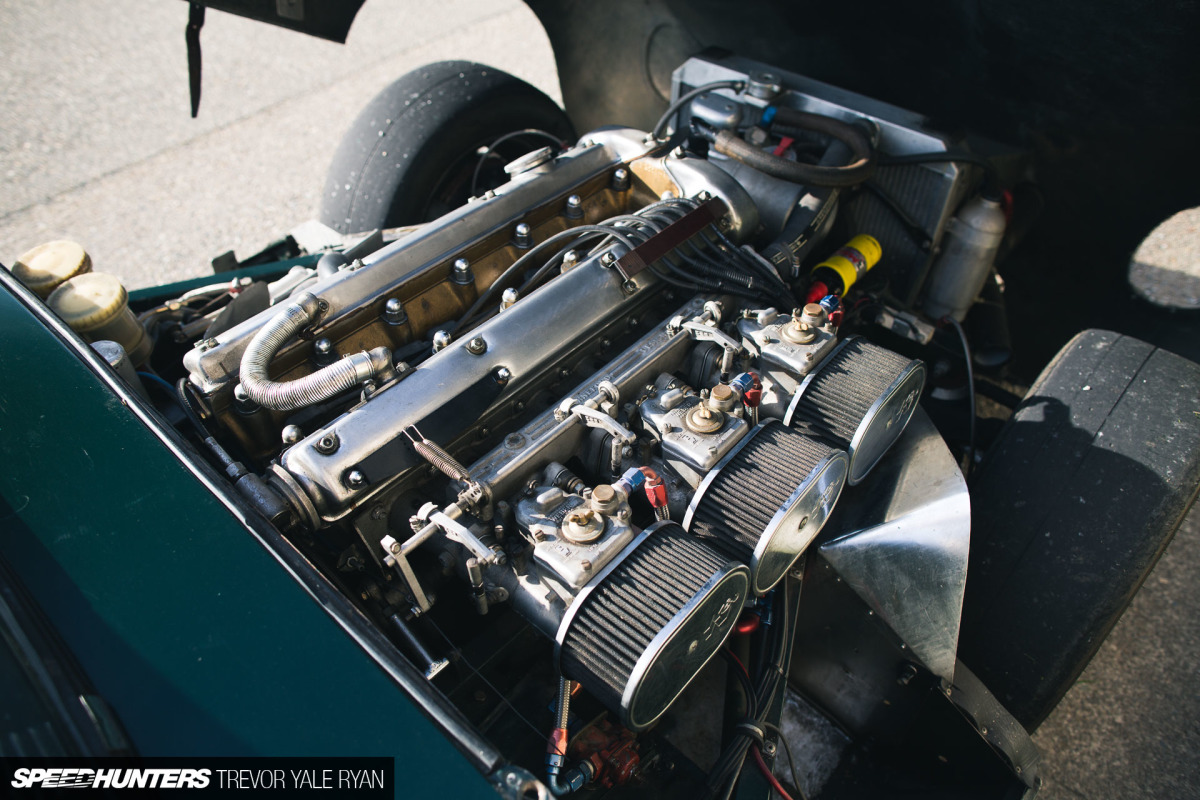 Without further ado, behold the mighty 3.8L sraight-six heart of the beast.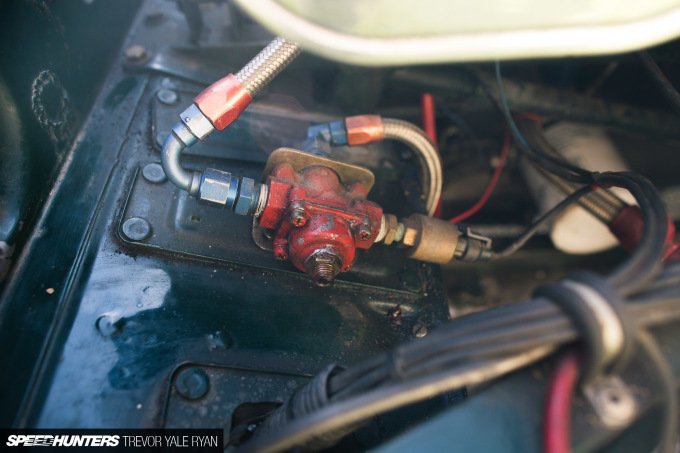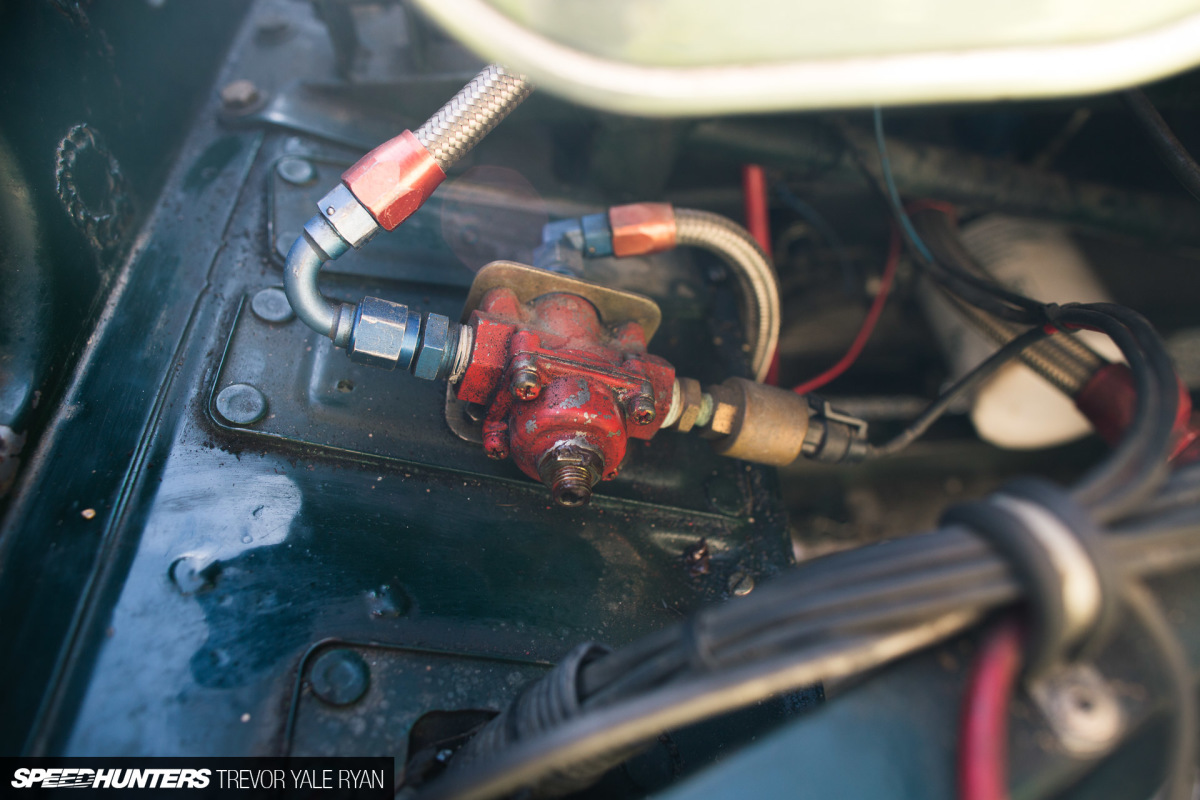 It's a pleasant mix of '80s race-inspired bits, and untouched, crusty old parts.
Fresh air is sourced from where the passenger headlight would normally be, and subsequently sucked into K&N filters which are mounted to a trio of Weber carburetors.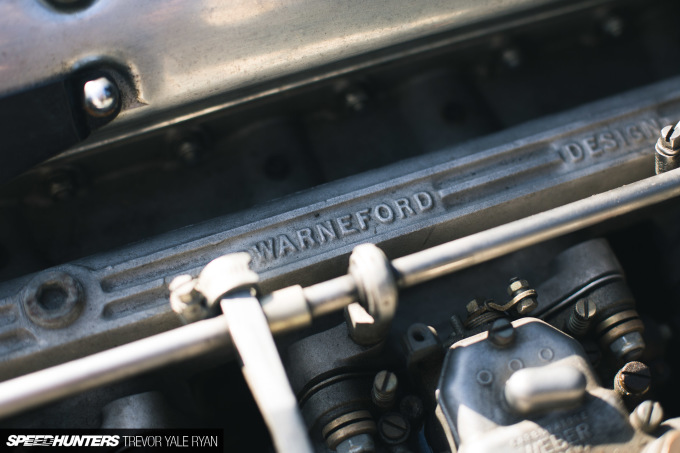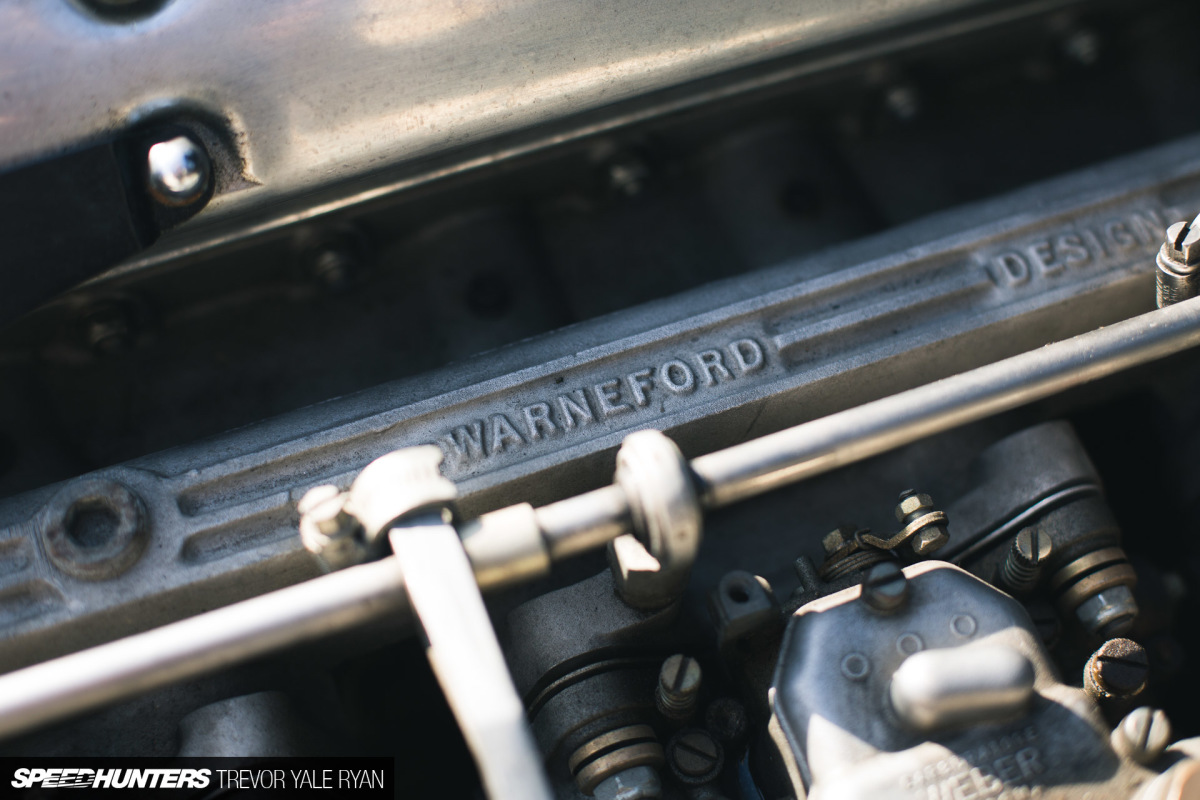 From there, the air-fuel mixture is channeled through an intake manifold with "Warneford Design" cast into the top of it. I found plenty of information about Warneford intakes on various BMWs and vintage Mini Coopers, but was unable to find much substance for its application on an E-Type.
While Warneford was designing and manufacturing manifolds as early as the 1950s, this leads me to believe it's a rare and period correct part. Perhaps someone a bit more well-versed in these will chime in on the comments section below.
Since the build is well-maintained, heavily upgraded, and very fresh, it starts right up every time and has had zero issues. One such upgrade is the ignition setup I touched on earlier, with the coil mounted towards the front of the engine bay
While milling about, I found a few stampings that would be of great interest to any collector. While the motor has certainly been revamped, it's numbers-matching to the chassis, complete with a list of the recommended lubricants from a bygone era.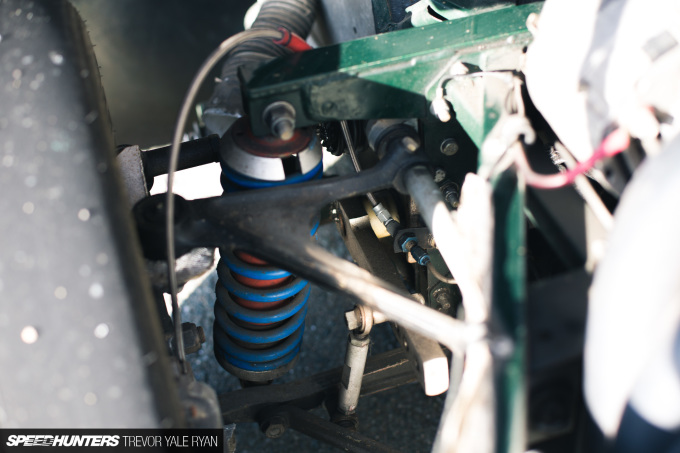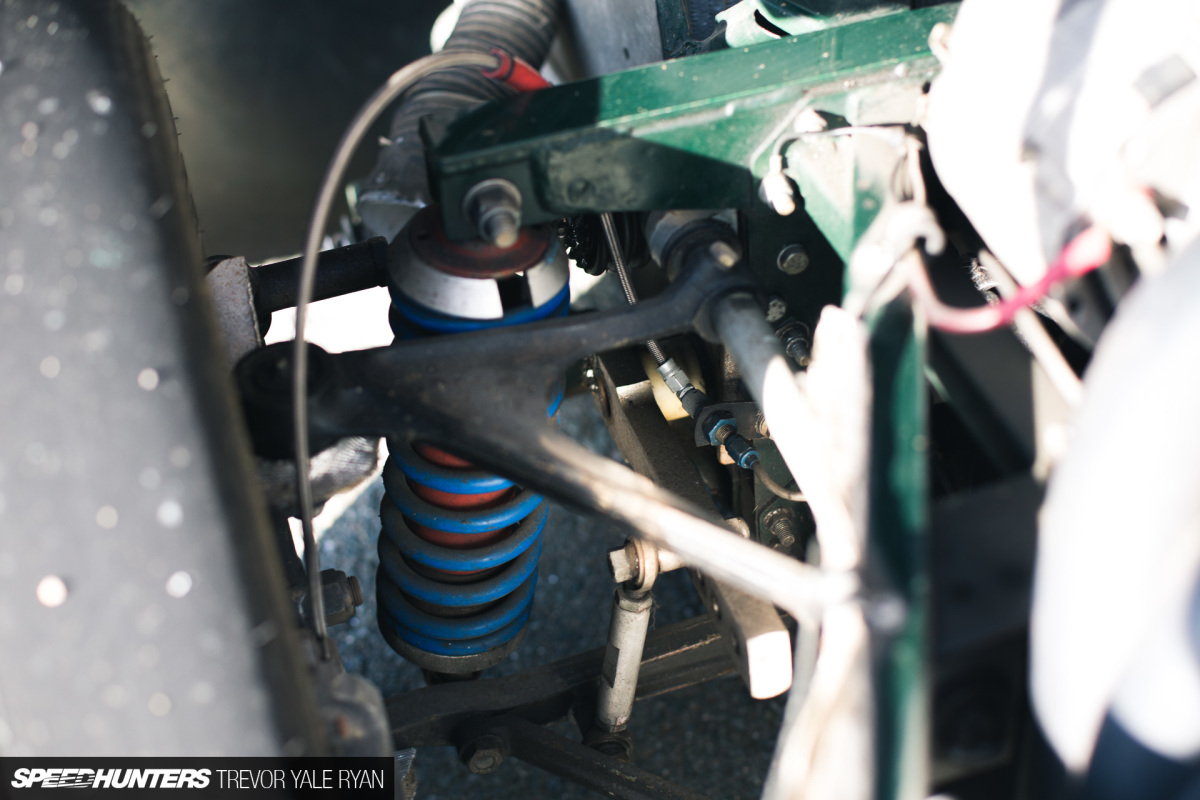 Other bits around the car also speak to its racing heritage. Again, it's old school goodness sprinkled with more modern bits like the steel braided brake lines, newer struts, and other maintenance items that have been replaced through years of abuse at the track.
While the car was quite sophisticated for the '60s, if you look at the frame you can see how simple it is at the same time; not only were these cars good performers, they were also (relatively) affordable off the showroom floor.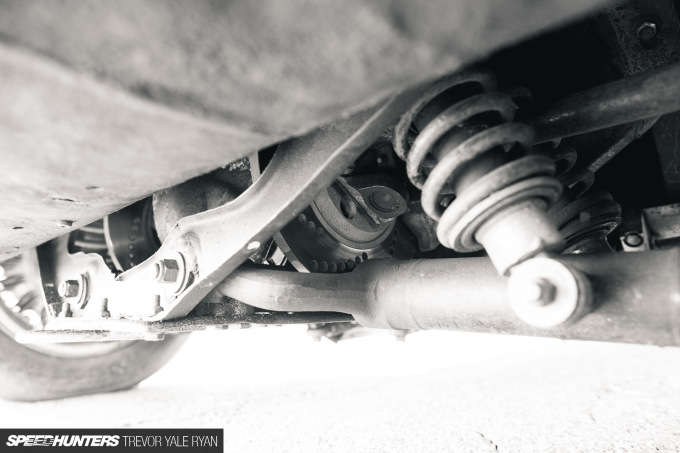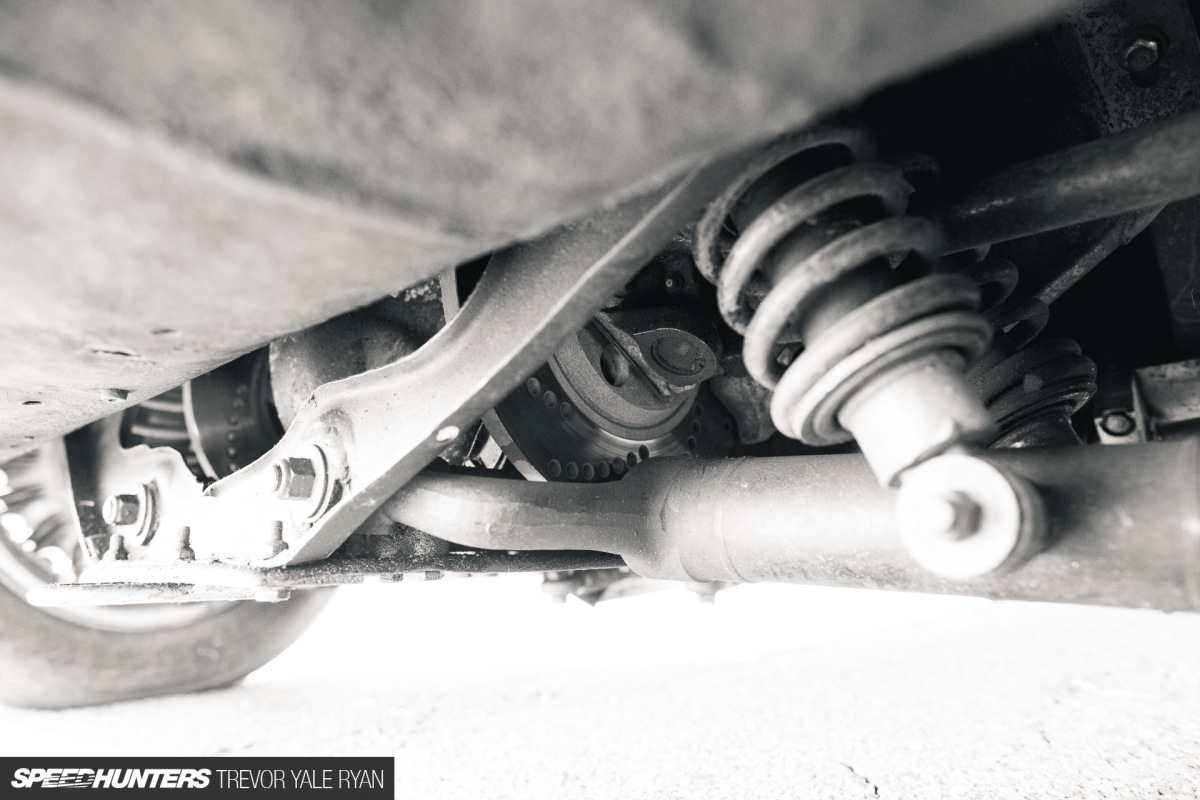 You may have noticed some boxy aluminum structures in the boot which are there to feed cool air to these inboard brakes on the independent axle. It's a clever design that makes use of a subframe and greatly reduces unsprung weight, as well as moves that weight closer to the centerline of the car.
All in all, it's a testament to the high-tech (for the time) engineering that went into making the E-Type an iconic classic performer.
Beauty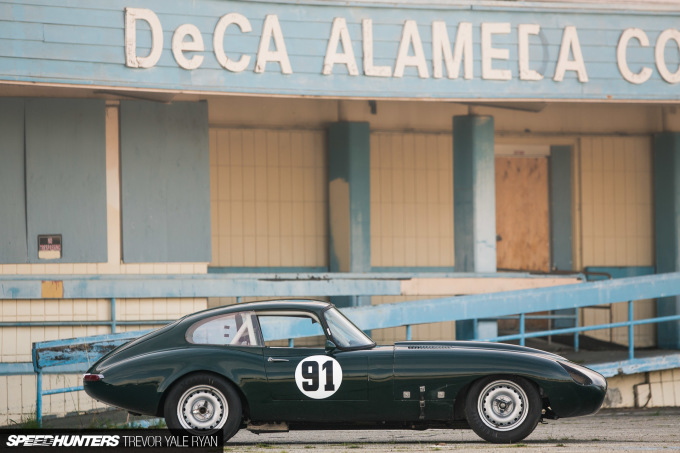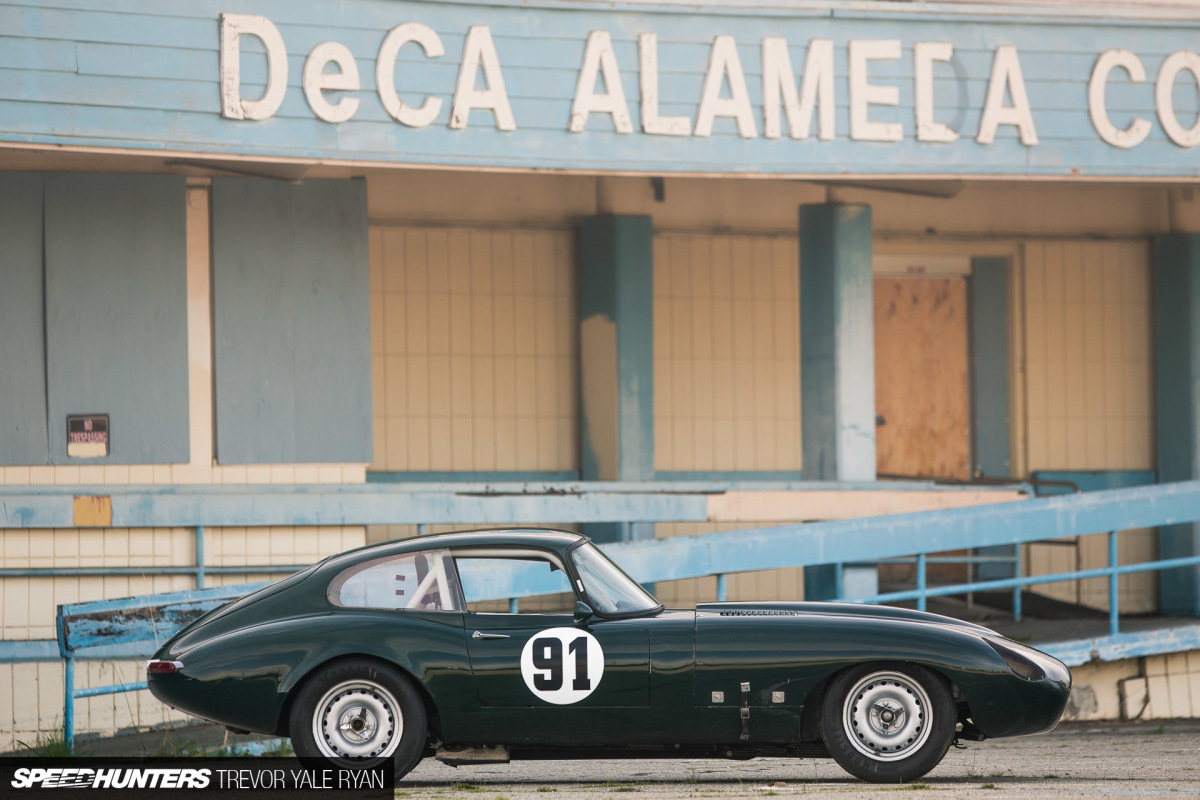 Apart from the performance, especially of the particular car at hand, you have the incredible timeless styling.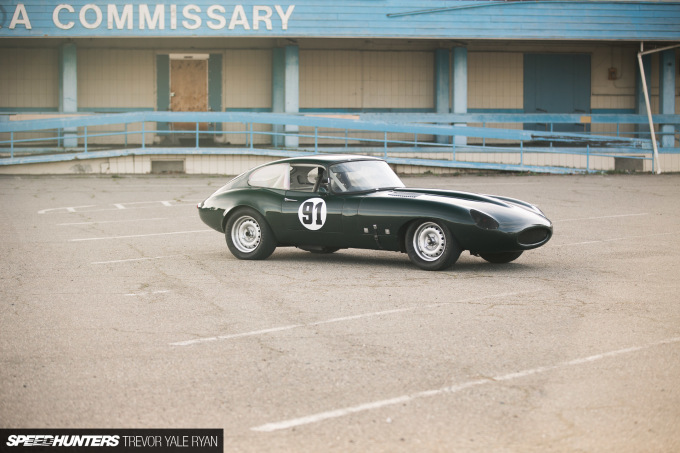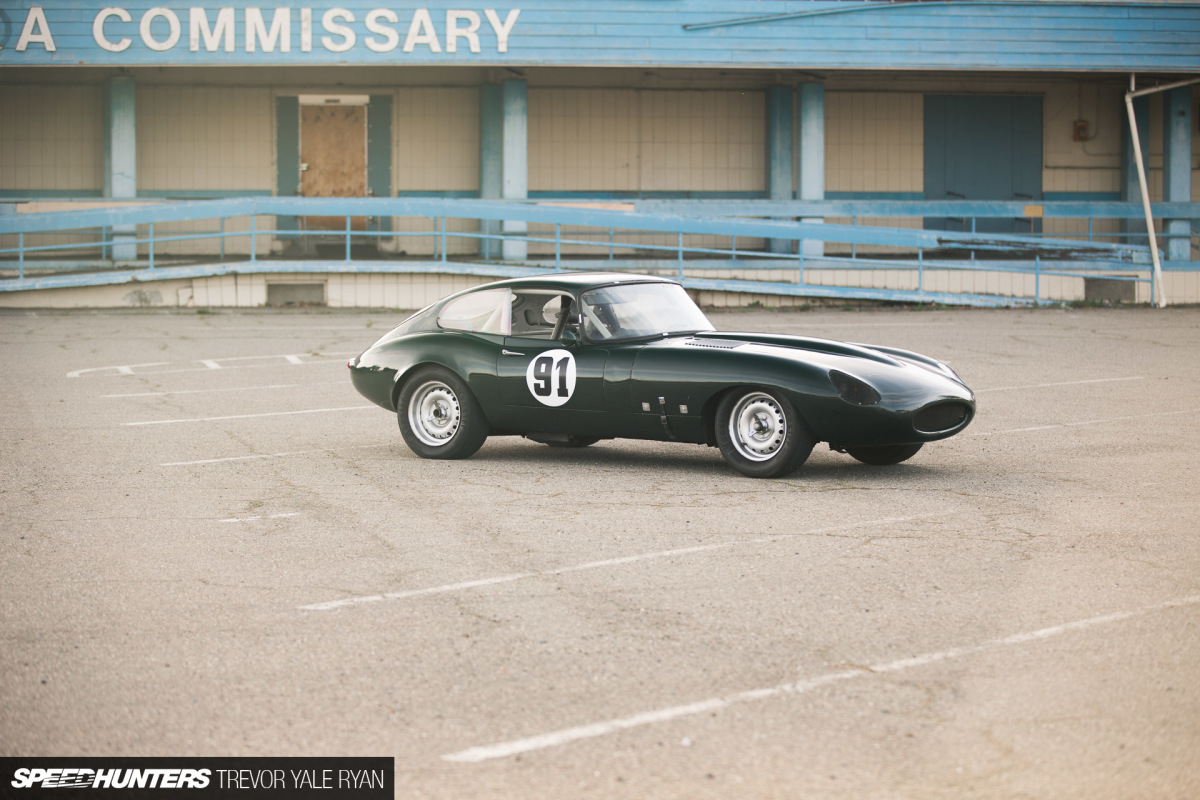 I can't quite put my finger on what exactly it is that makes this car so damn beautiful, but it just is. If a factory was to build a car today with the silly fish face that the E-Type has, it would just be, well, silly. But somehow they turned this funny face into one of the most recognizable and gorgeous creations ever built.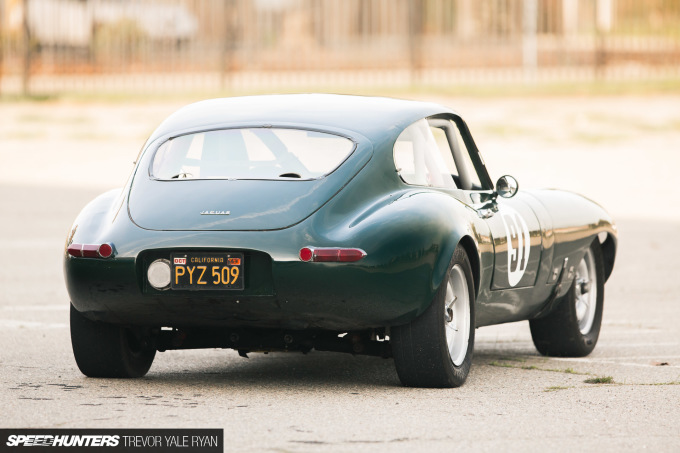 It's these design elements that we no longer have that make this car a bit sentimental for me. While prices are skyrocketing with some cars approaching half a million dollars (and one rare lightweight example selling for $7.4 million), it's still in the realm of affordability right now.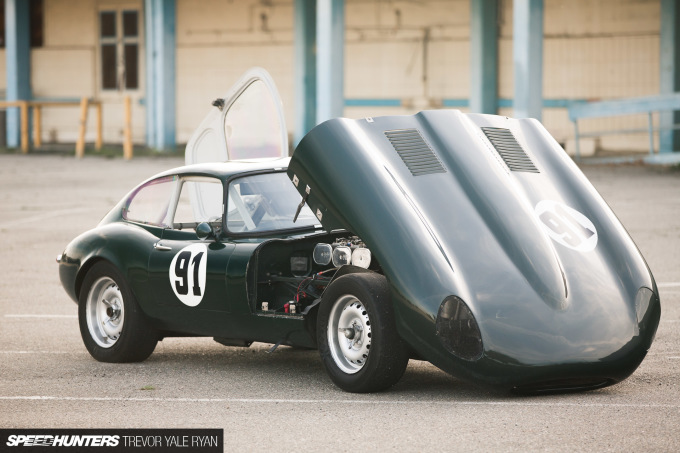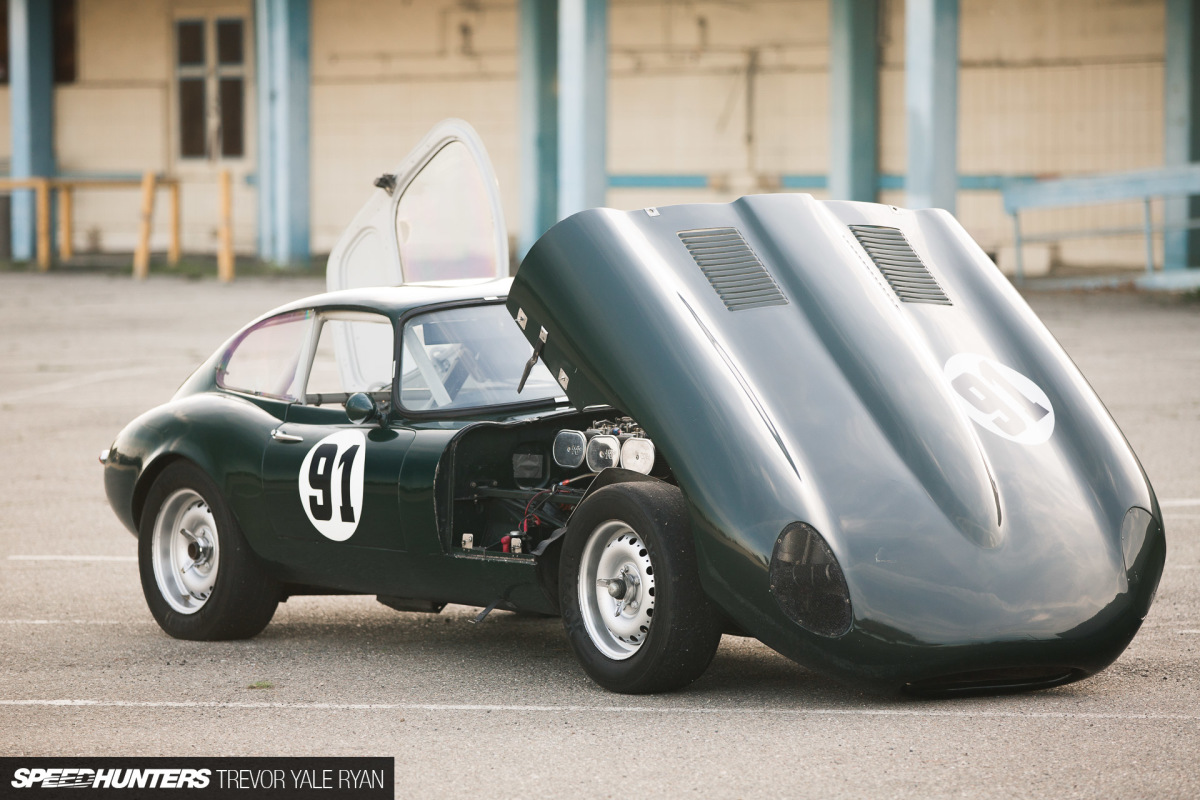 As we opened the car up one final time, I again was struck by the lasting nature of the automobile. You might have noticed from the above signage that this is another decommissioned location, where decades ago men and women in the US Navy would go for groceries. Now, it's boarded up, shut down, and literally falling apart.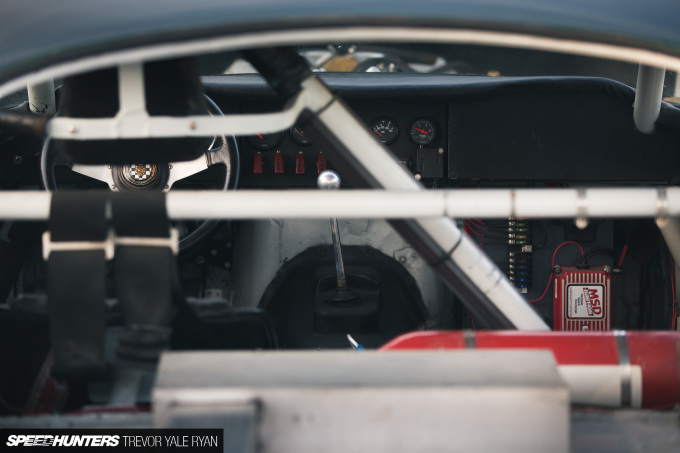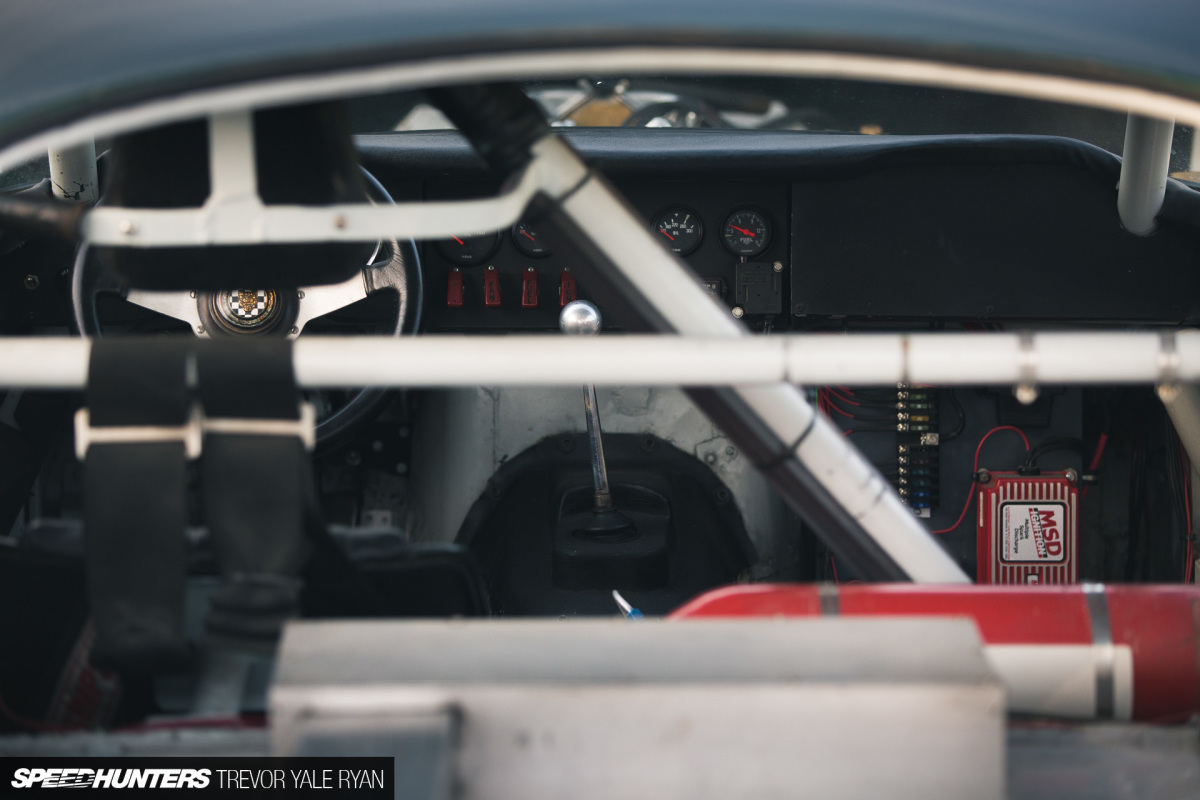 Meanwhile, the E-Type is alive and well, howling proudly each time the 3.8L is turned over. As the sun went down Sergio and I kicked back and talked cars.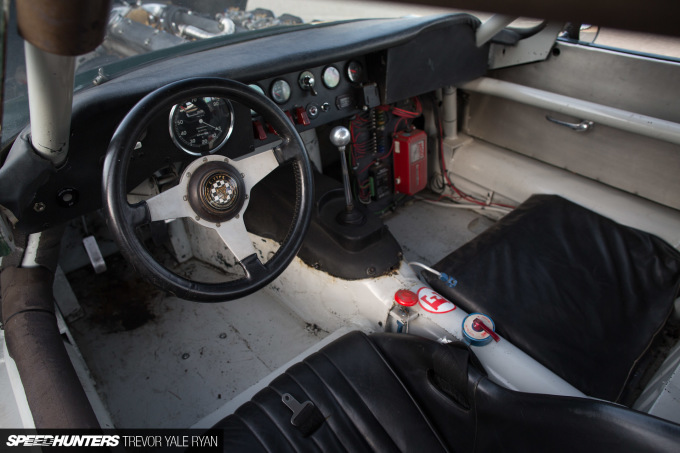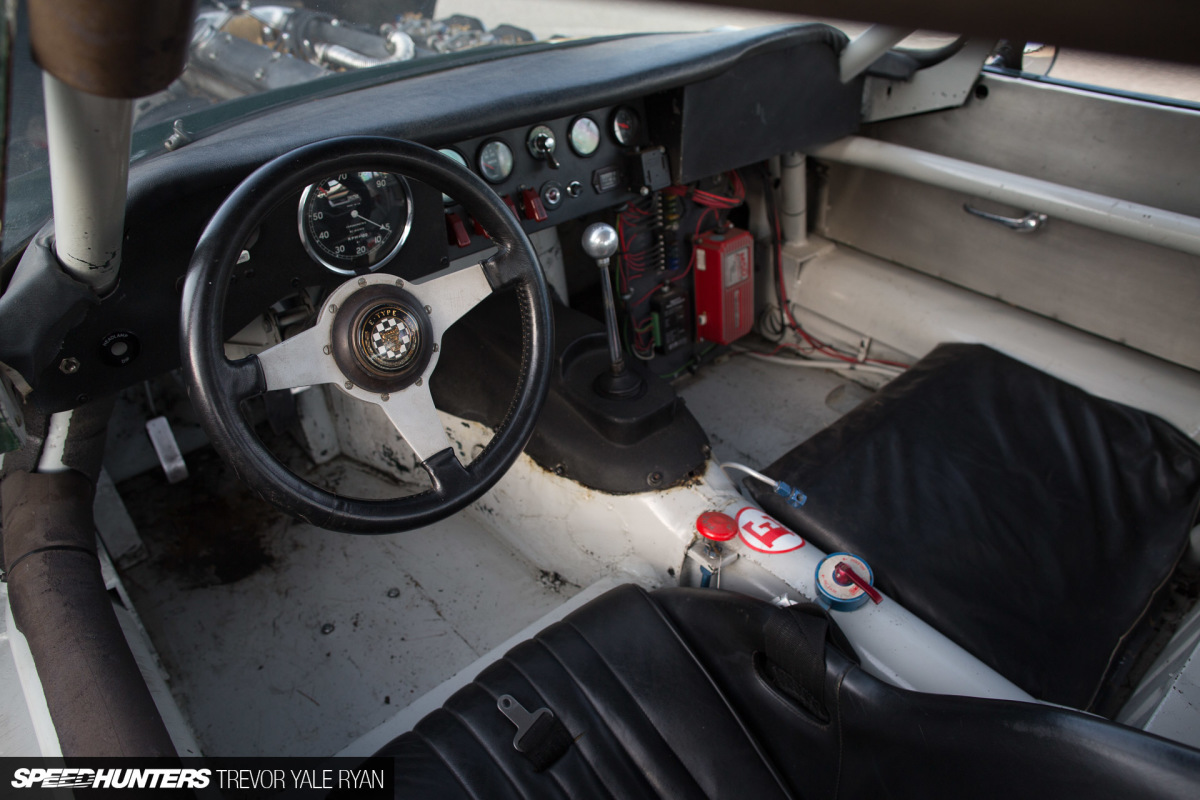 As a collector, Sergio says an important part of the Jaguar is the fact that it's the first year E-Type and a rare left-hand drive US model, not to mention the fact that is has the VIN plate and a California title so he can legally cruise it around to car shows and other events.
Sergio originally purchased the car thinking he would get into vintage racing, but just decided not to after all.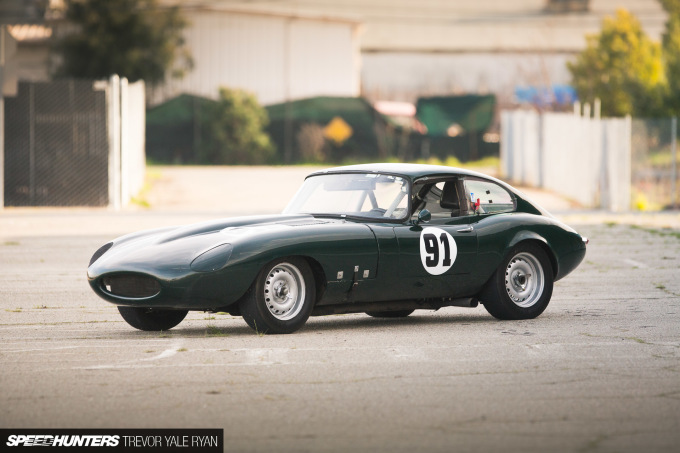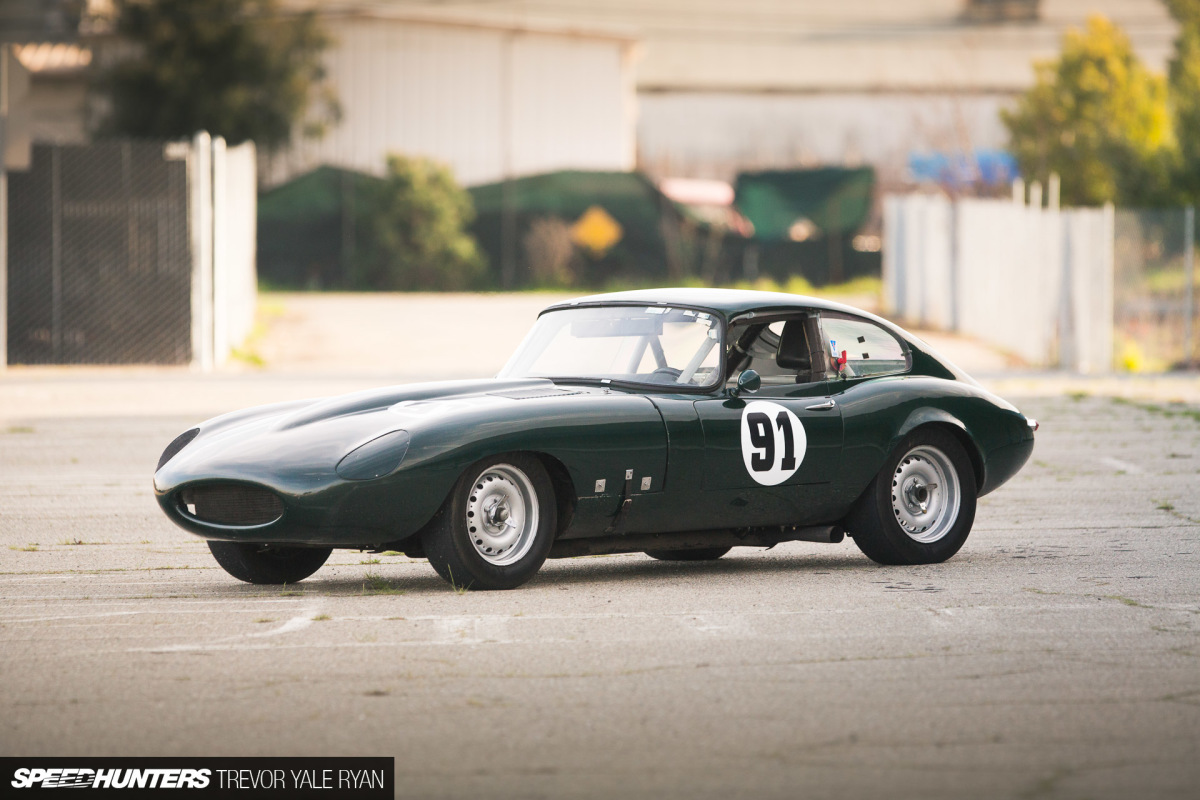 Having worked hard its whole life, the E-Type is now enjoying a bit of a retirement stage. Pampered and looked after, but allowed to exist as it wishes and as it was built, just begging for a drive every now and then.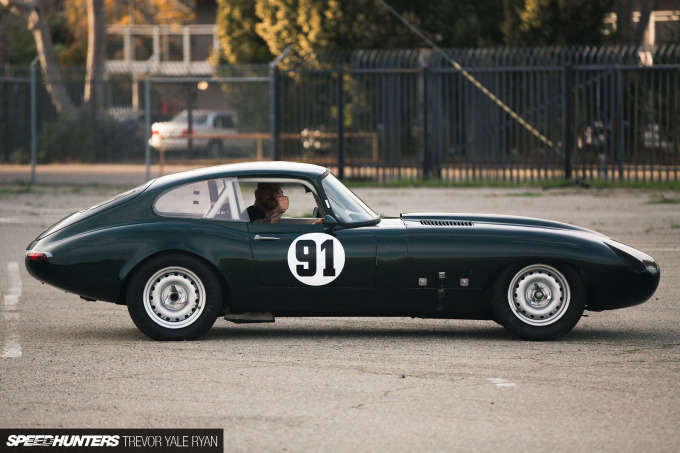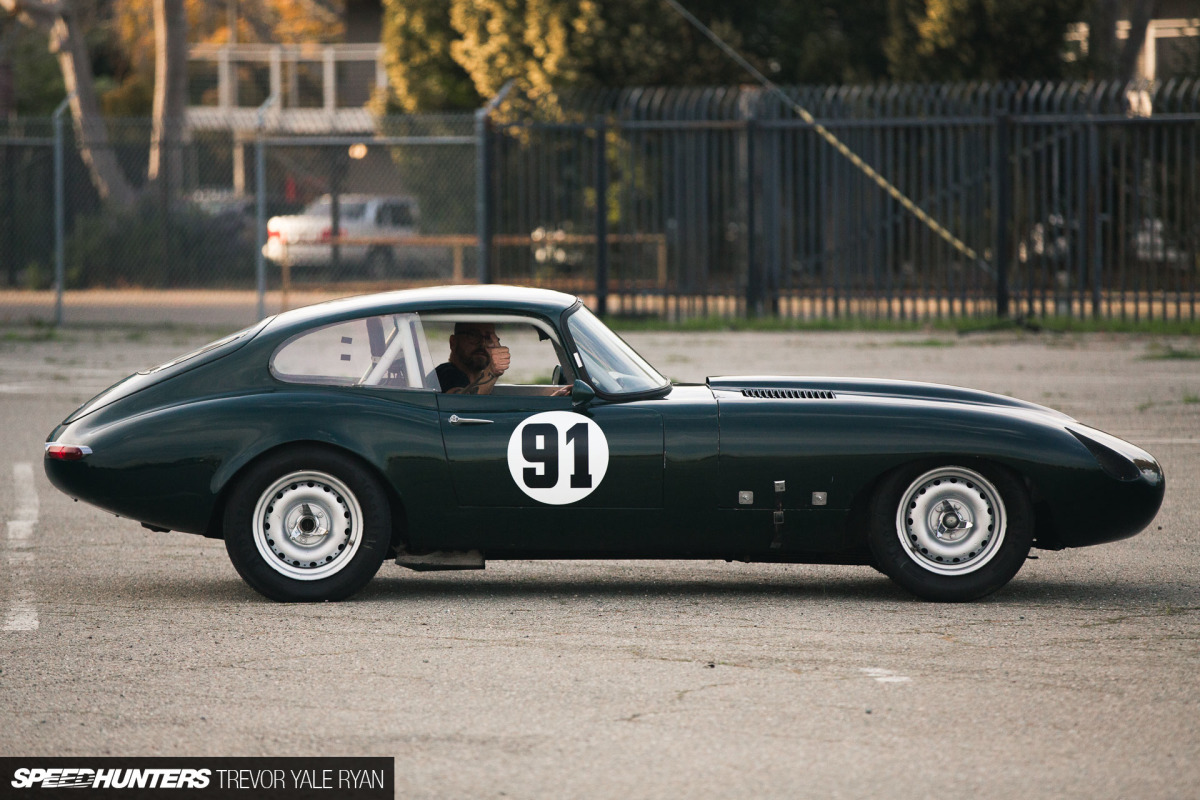 Ah, the golden years.
Trevor Yale Ryan
Instagram: tyrphoto
TYRphoto.com
Cutting Room Floor