Telling A Story
This is a story I've been working on for a while. I wanted to take my time so as not to make it feel like any other shop tour, because it's just not.
This is more about friendship, respect and passion than anything that can be quickly categorized and easily dismissed. This goes deep, as in a way I've always felt part of what RAUH-Welt Begriff stood for and has become. People overthink it all, calling it a movement or a club, but in reality it's just one man doing what he likes with the cars he's come to love. An expression of style if you will, one that conjures up images of wild 911s, but one that has remained unchanged ever since the very first RWB Porsche was built.
This is an ode to a master, a moment to ponder over what has to be the single biggest custom automotive movement we'll probably see in our lifetimes; something that's not only added an important facet to global car culture, but one that has solidified Japan as a true trendsetter.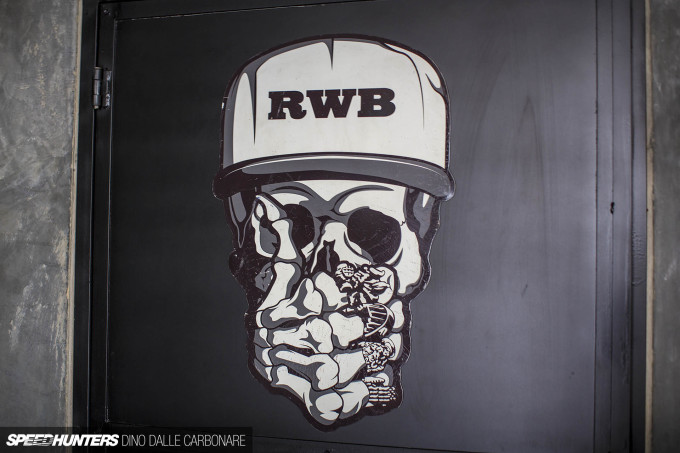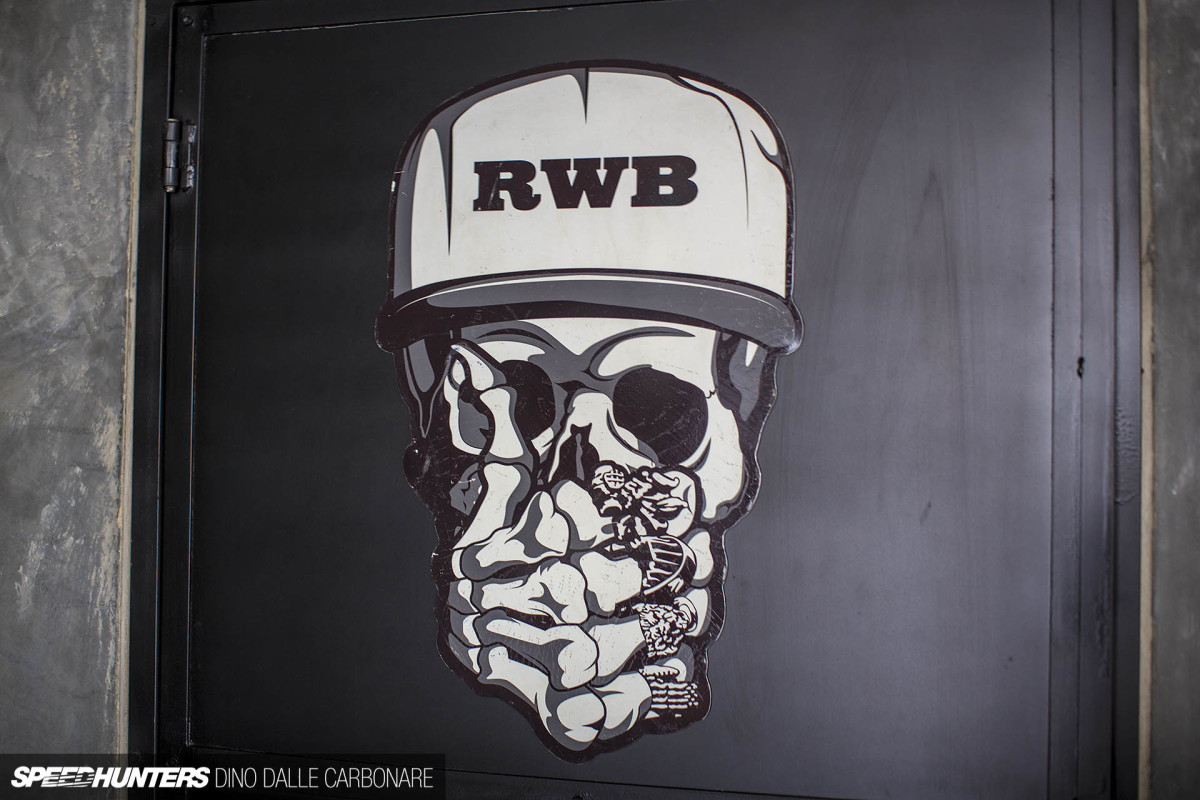 As Nakai-san continues to travel the world, building 50, 60, 70 cars a year, the pace the RWB brand has been growing at is overwhelming. And if it wasn't for the insight of a very special RWB owner, nothing you see here would have ever been possible.
I first met Christian Coujin back in 2014 when I covered Art of Speed for the first time in Kuala Lumpur. There we spent some time chatting about one of his first RWB 911s, Furinkazan. Our paths have crossed countless times since then, mostly at RWB builds which he always tries his hardest to attend. His love and enthusiasm for the RWB brand is only surpassed by the deep respect and friendship he holds for Nakai, and he feels truly blessed to have met someone he considers as a great artist of our time.
Seeing Nakai-san work, sculpting his three dimensional automotive canvases all around the world quickly sparked an idea to create a place that could celebrate all that RWB stands for.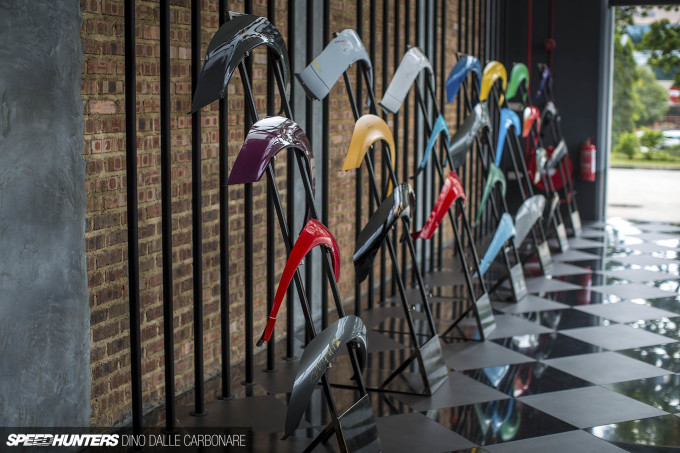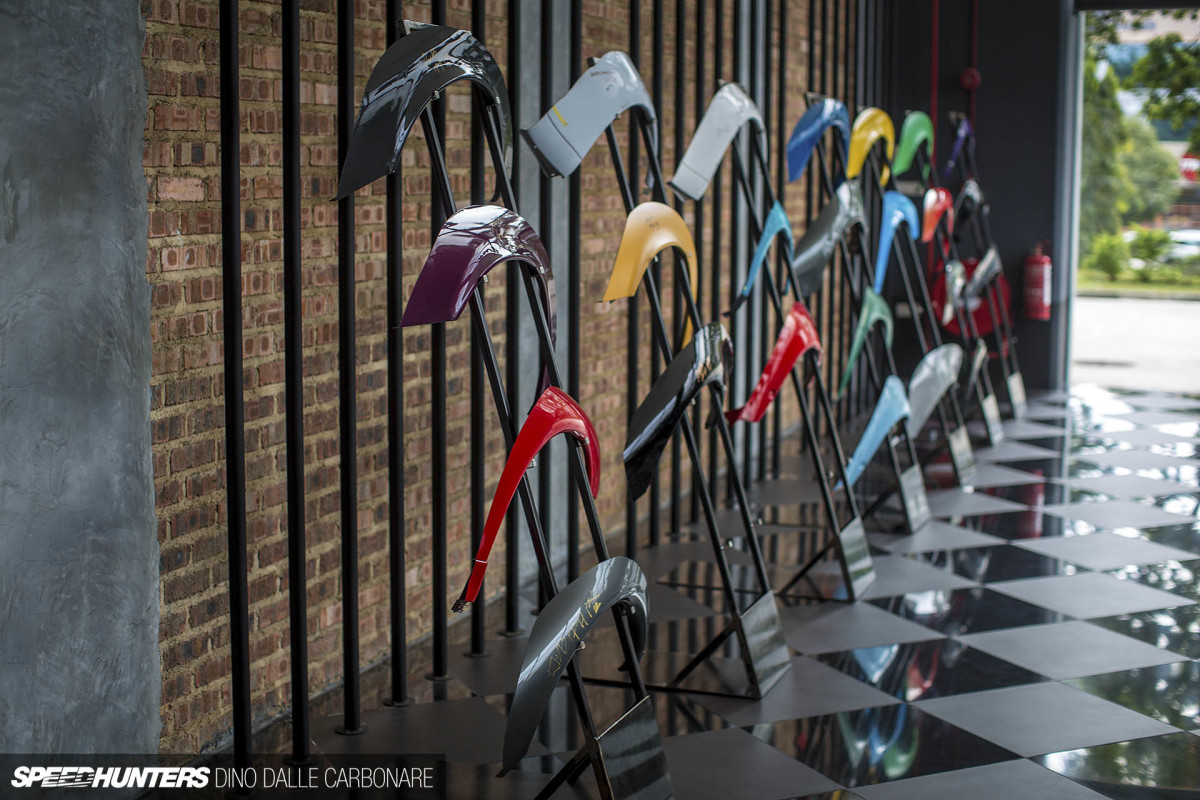 And how could I possibly turn down the invitation to be present at not only the opening of the RWB Museum, but also the build of Christian's seventh RAUH-Welt Begriff Porsche, which would be completed on the seventh of January – his birthday.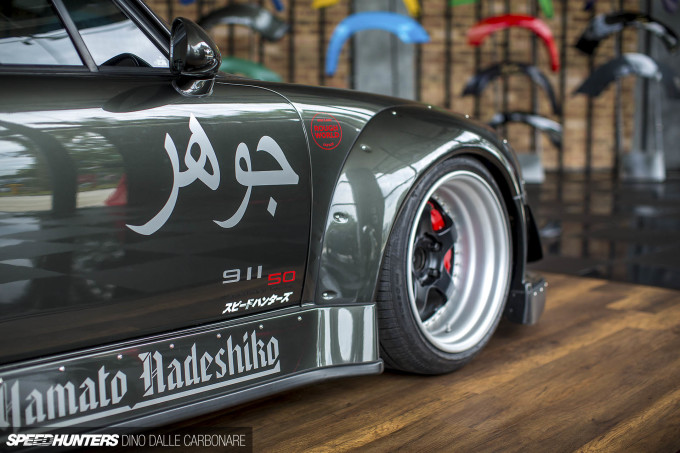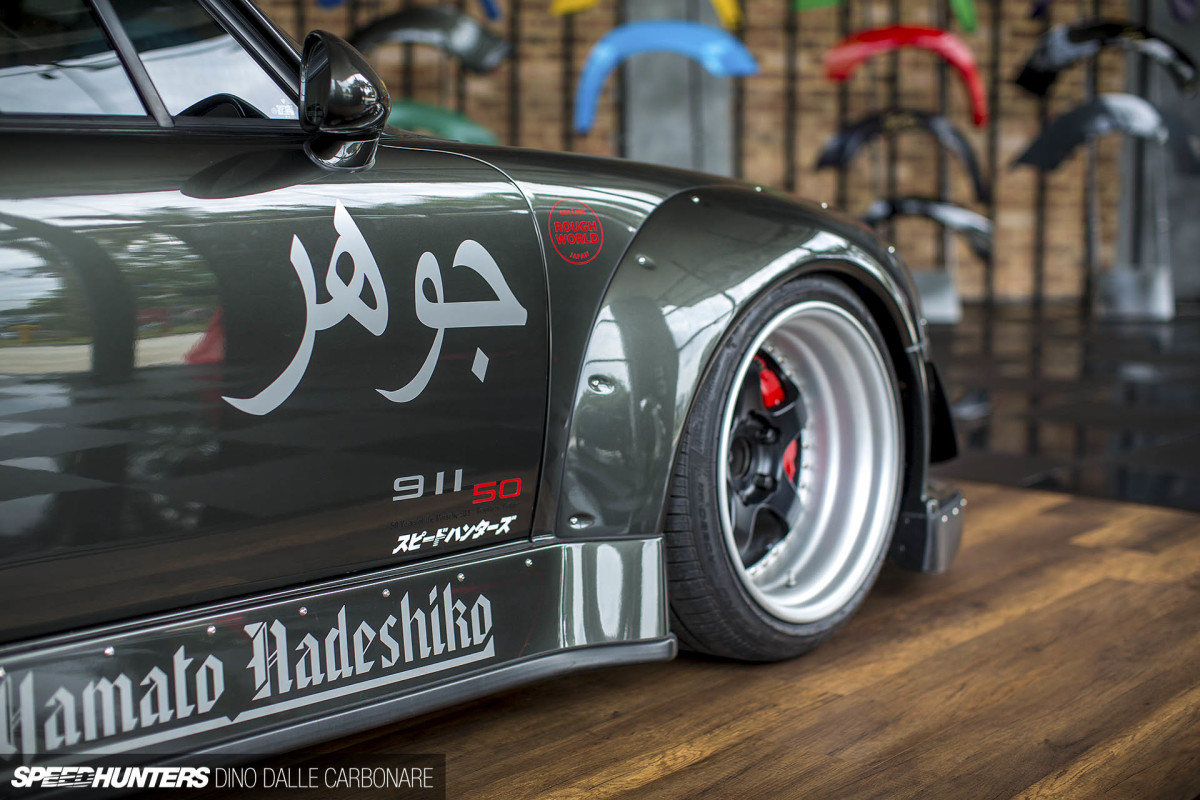 Despite early January being the craziest time of the year for me, I knew I'd kick myself if I missed such an important moment in RWB history, and the opportunity to bring you a detailed tour of what is possibly the coolest and most well executed celebration of automotive culture I've ever seen.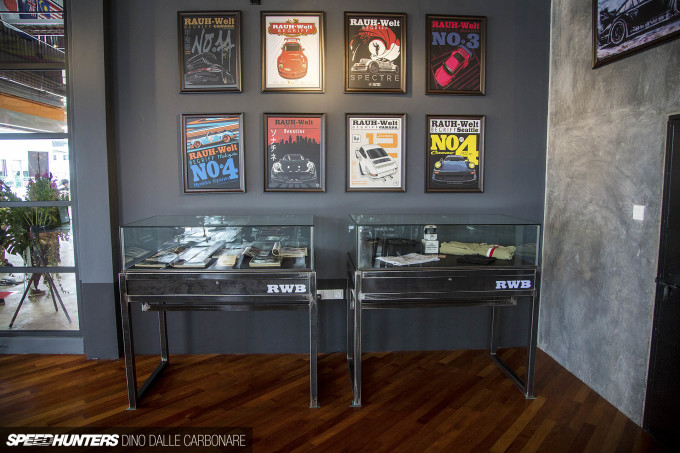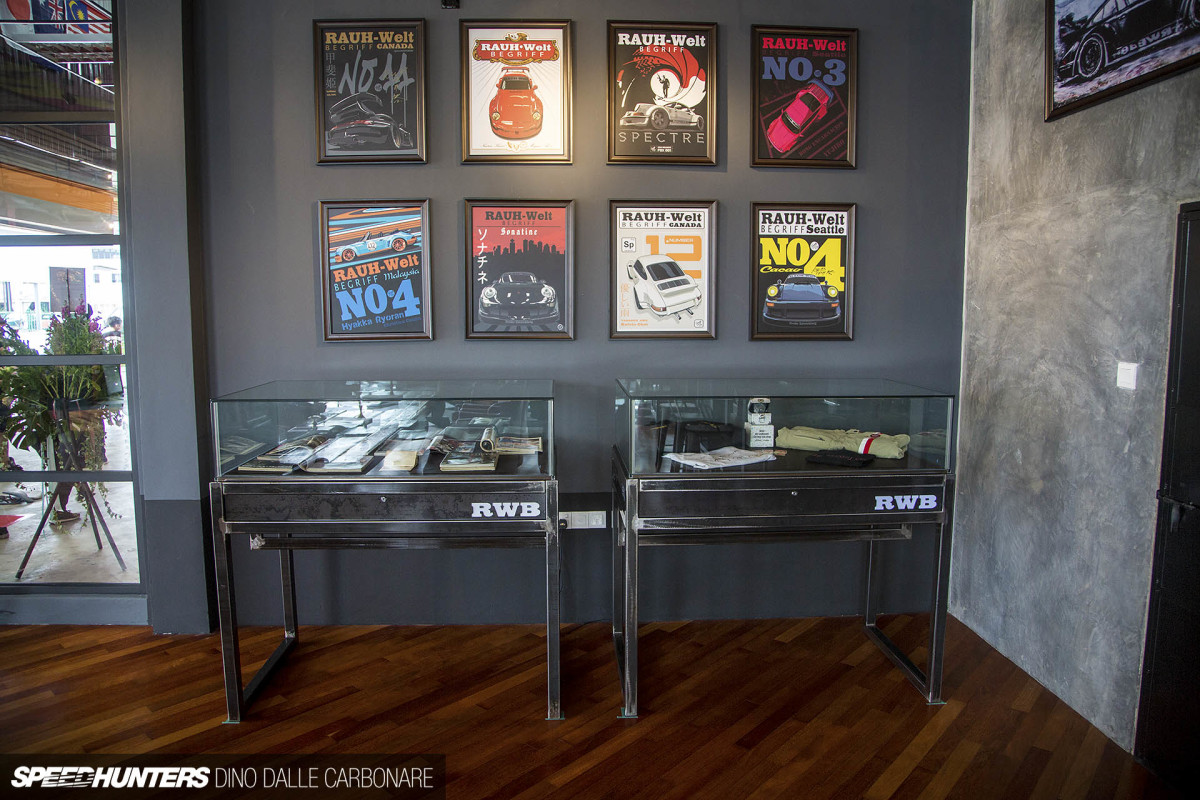 This museum has been a few years in the making; the sheer scale of the idea and the final goal that Christian had envisioned in his mind wasn't going to be an easy one to execute. If you want to do things right you have to put a well structured plan together, and I have to say the final result blew me away. Christian is definitely a guy that doesn't do things by halves, and I'm sure by the time you scroll down to the last image in this post you'll also be of the same opinion.
So how to do it? How would he celebrate all that Nakai-san has created and showcase it in a cohesive fashion? Trust me, it's not as easy as you may think, but the first thing you'll see when you walk into the main museum area are glass cabinets containing memorabilia that chronicle the early days: Nakai's move from AE86s towards the 911 and the style he has created.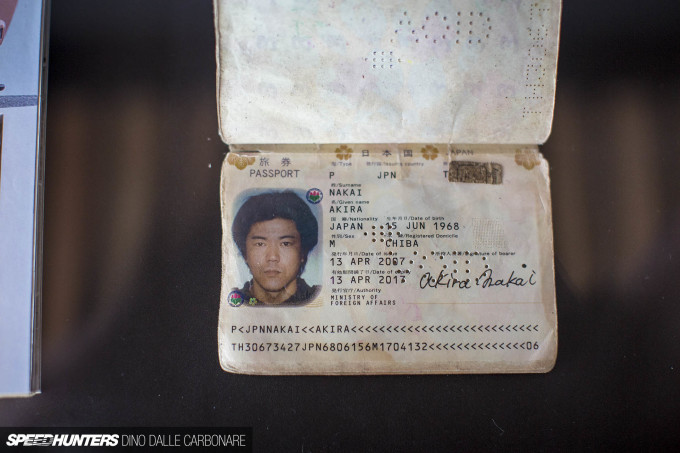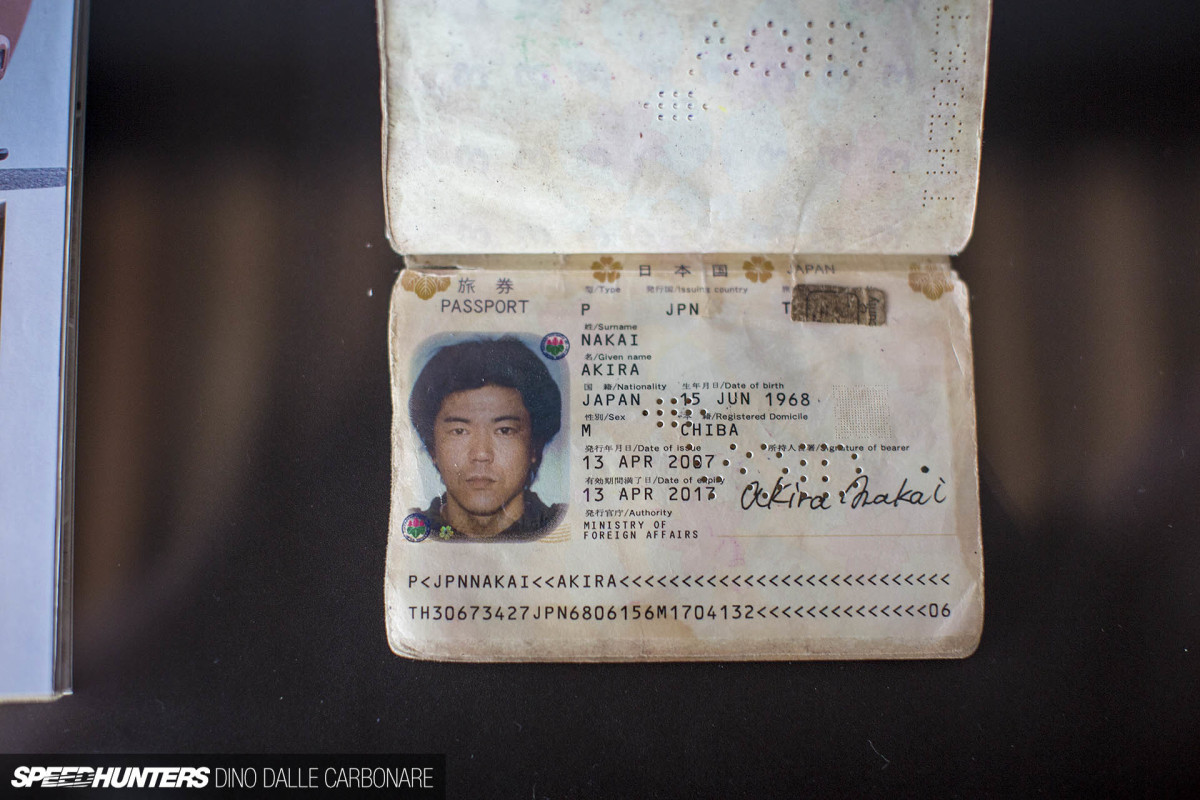 Nakai-san donated a number of personal possessions from his shop in Chiba, including some old Japanese magazines from the mid-to-late-1990s that he's featured in. Yes that's Manabu Orido in one of them!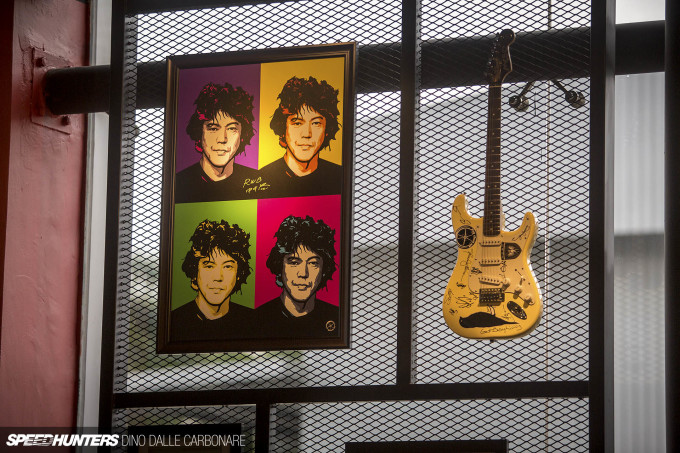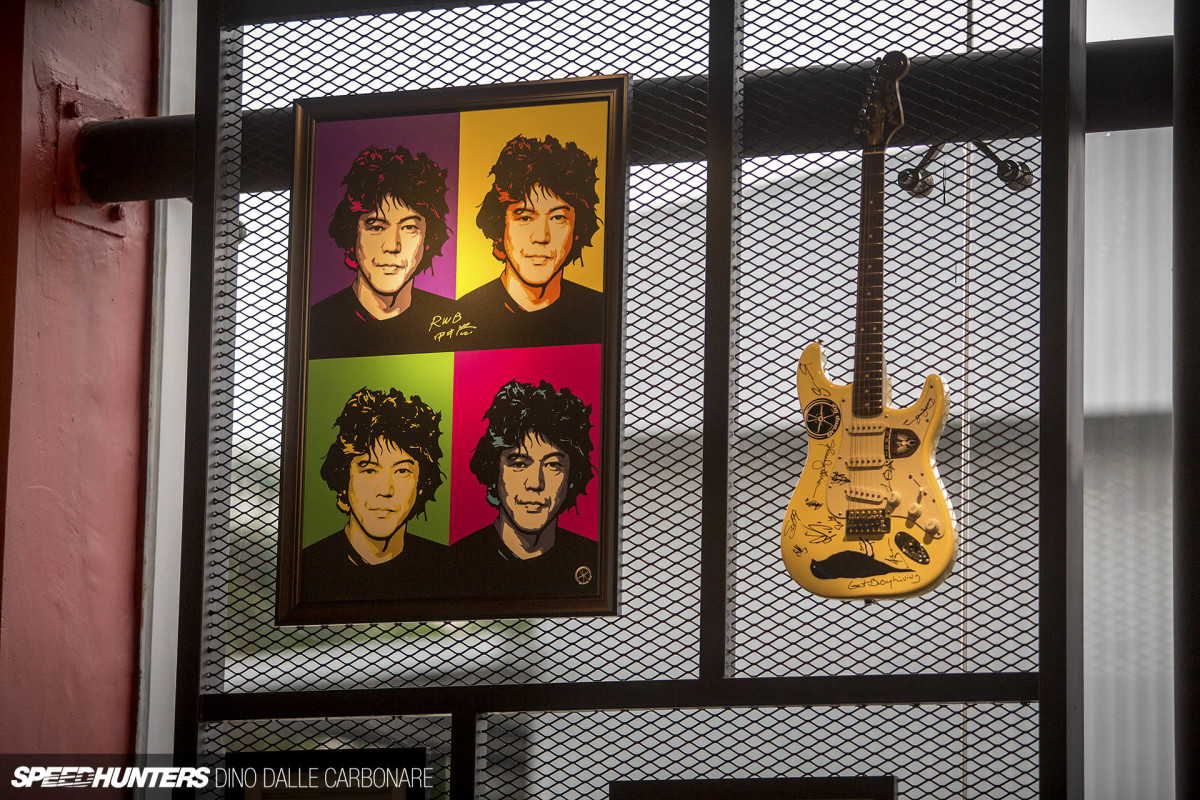 The decor is really on point; custom-built grates over the massive glass windows of the main showroom are used to display prints and other memories from Christian's and Nakai's travels.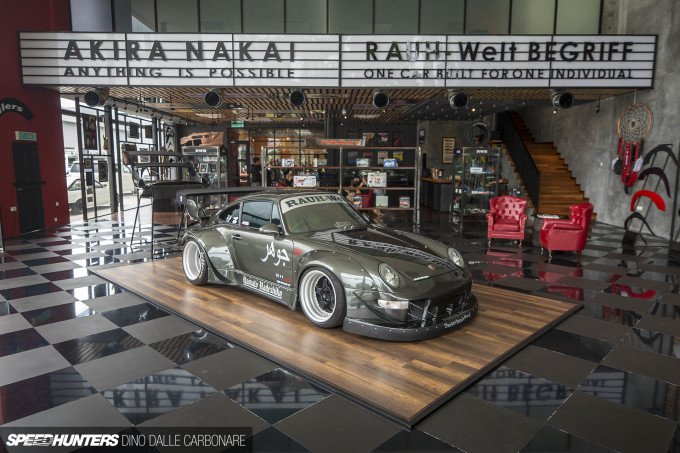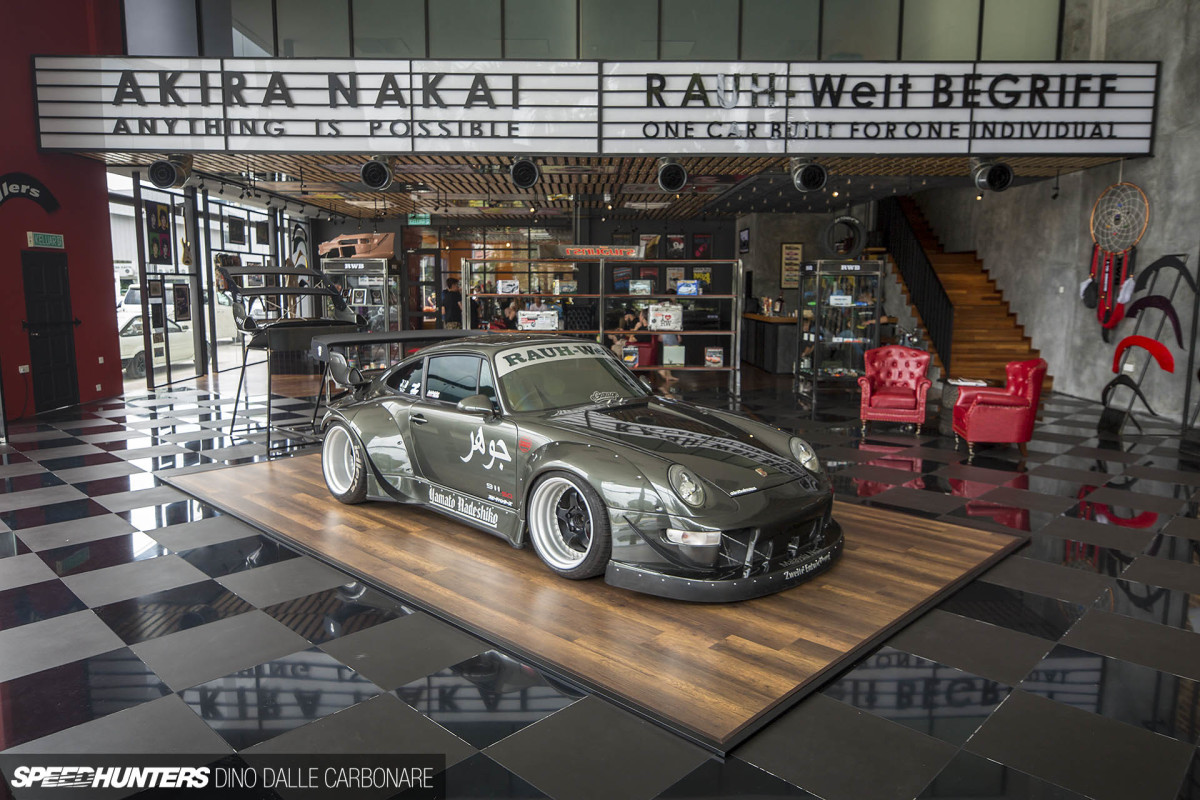 As you enter through massive metal sliding doors that resemble castle gates, you are greeted with a pretty breathtaking view of the entire museum area. It's at this point that you pause momentarily, take a deep breath and visually absorb it all, the V8-powered Yamato Nadeshiko 993 staring you right in the face.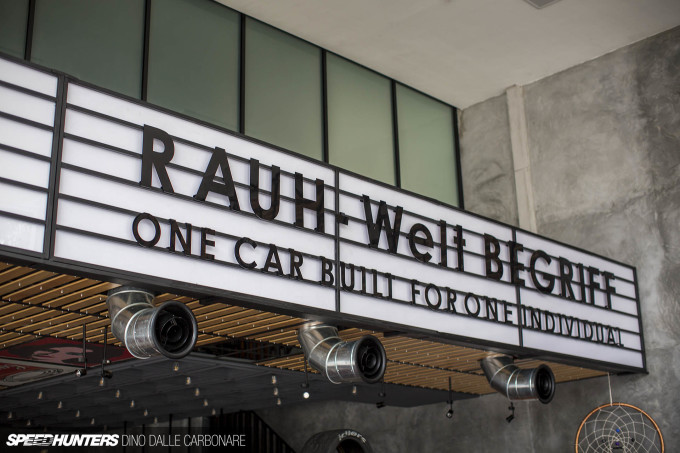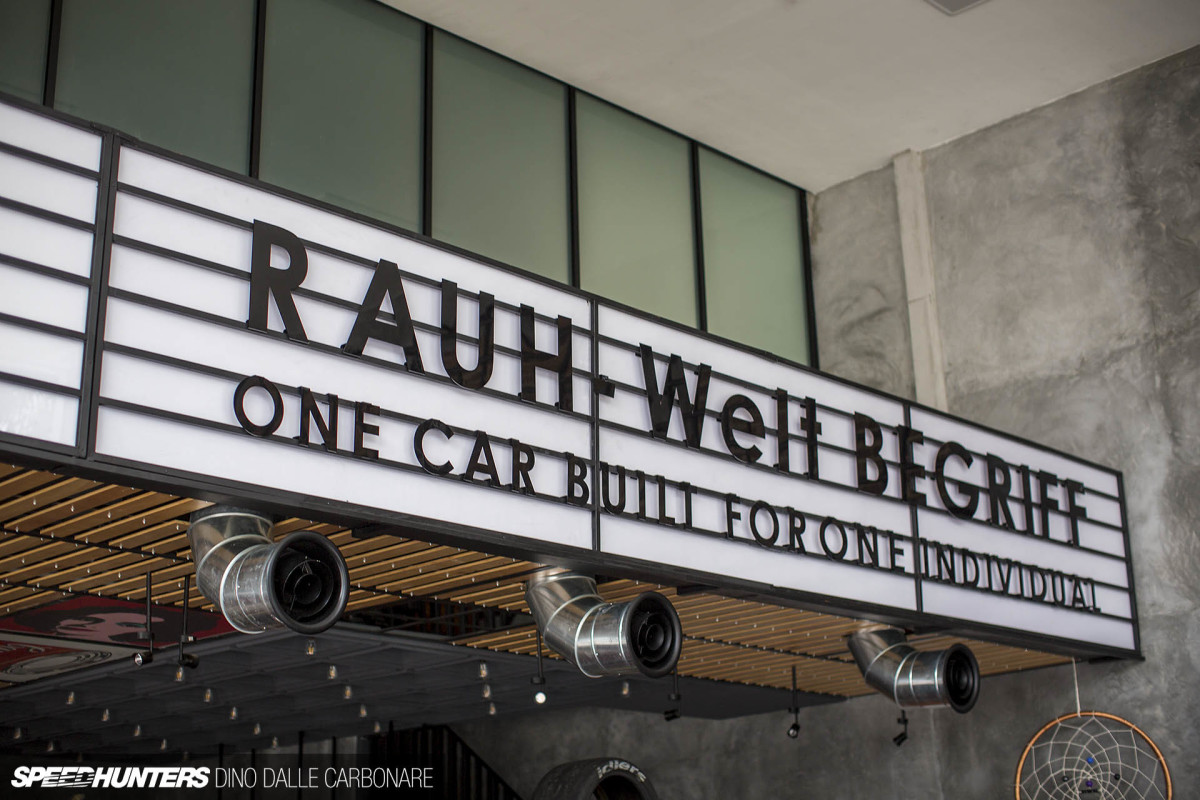 The main theme of what RWB stands for is clearly spelled out for you on the backlit old cinema-style signboard.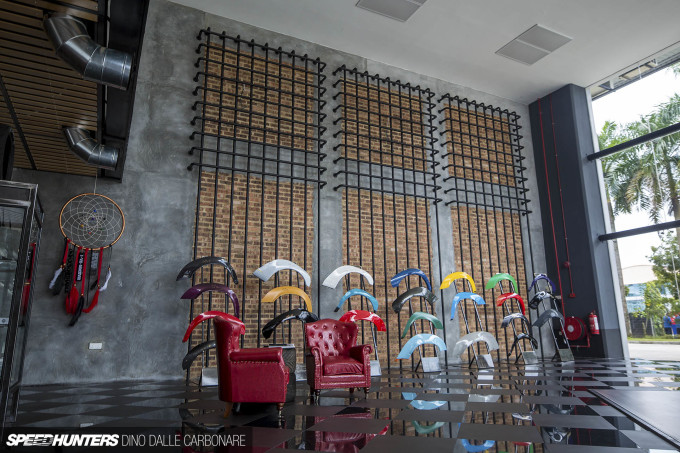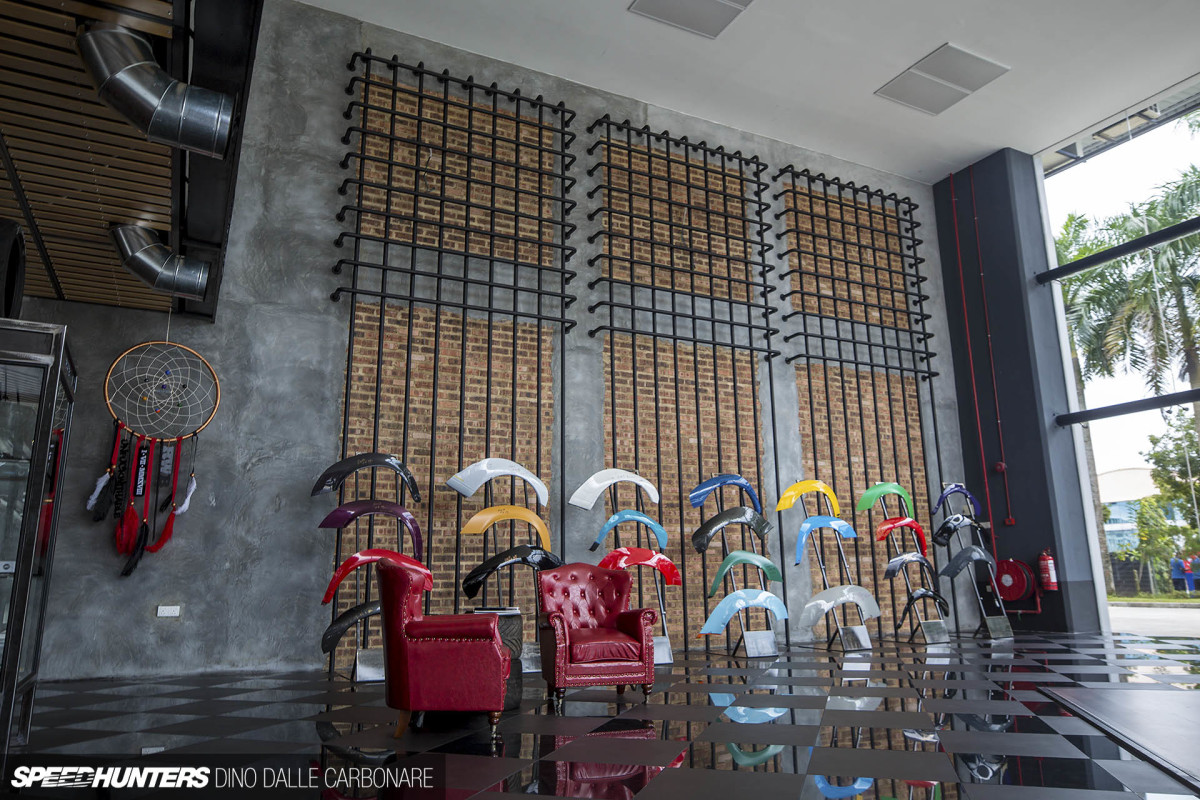 To the left, the lofty height of the ceiling has been taken full advantage of and decorated with a series of tall brick sections to provide a contrasting backdrop for a collection of cut fenders that RWB owners have donated to the museum.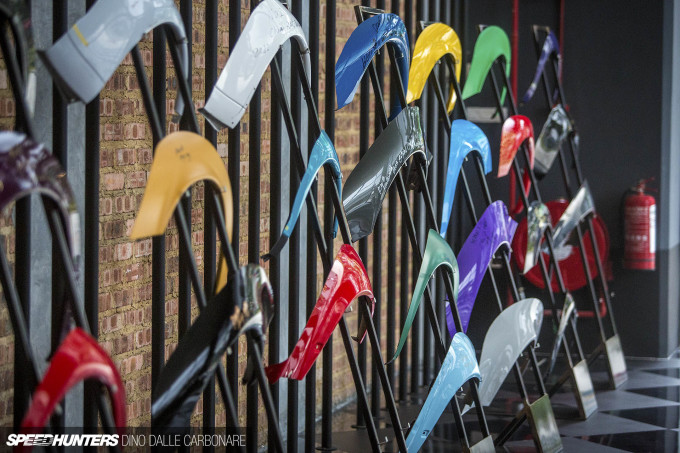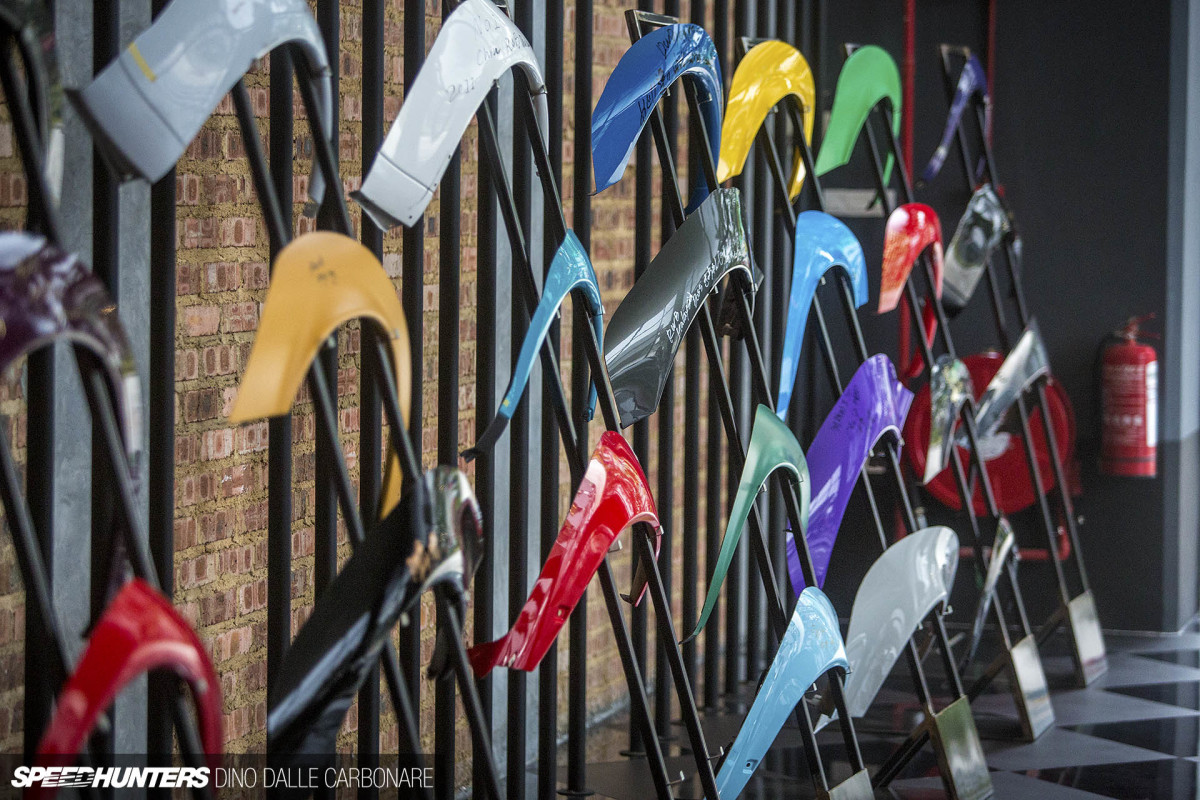 No less that 24 911s were used for the creation of this display. Pretty crazy, right? It's all has so much meaning as well; once you go the full RWB way there is no turning back. It's like getting a tattoo or a scar for life, you are either in it for the long haul, or not. Each cut fender piece has a message from the owner, bringing back a lot of memories for those that were present at a specific build.
Moments In Time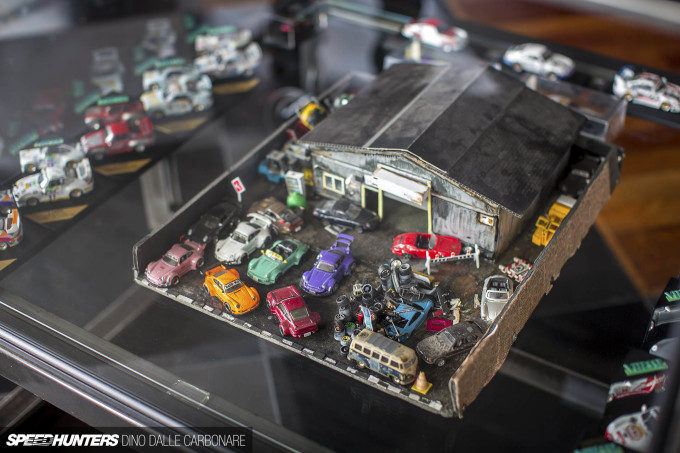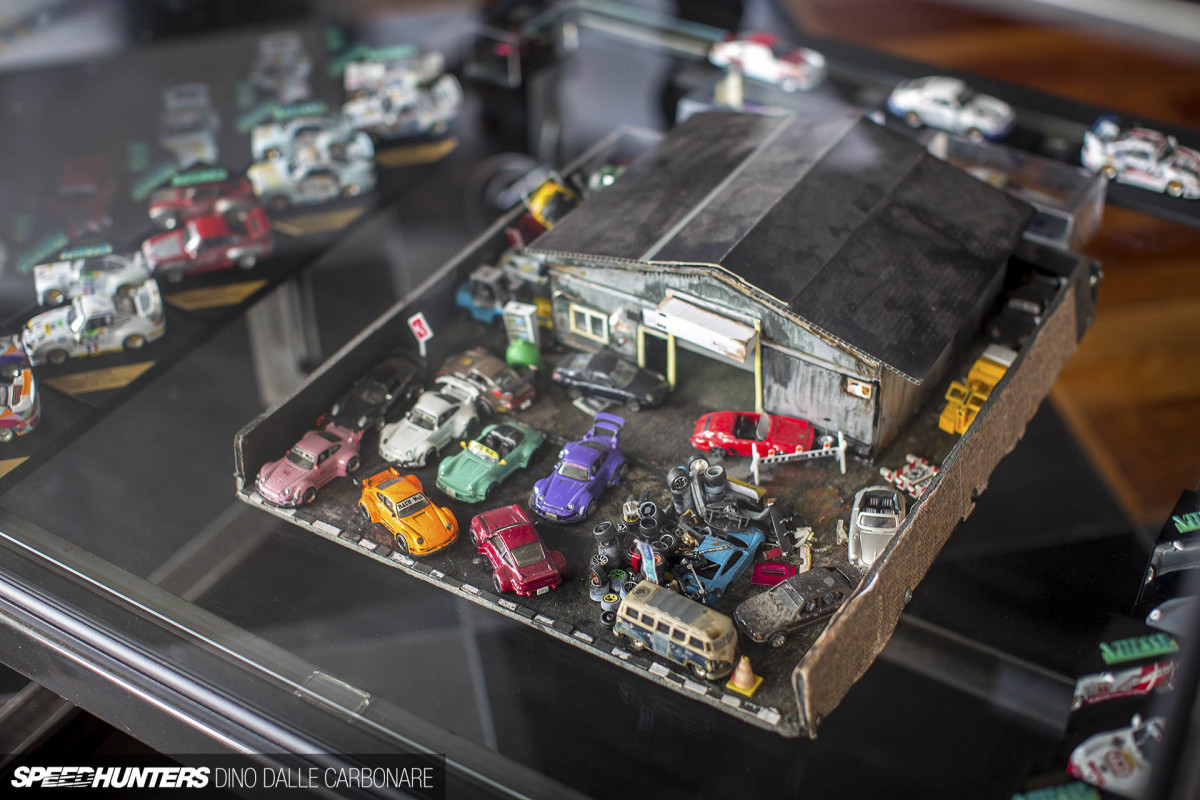 Separating the main open area of the museum from the lounge are a series of display cabinets and shelves, all jam-packed full of memorabilia and random stuff people have donated. Like this scale recreation of the RWB shop in Chiba, one we first saw back in 2014 at the first Art of Speed I covered.
Next to Nakai is Christian's own custom made action figure, armed with as much JD as it would take to turn any RWB build into a proper party.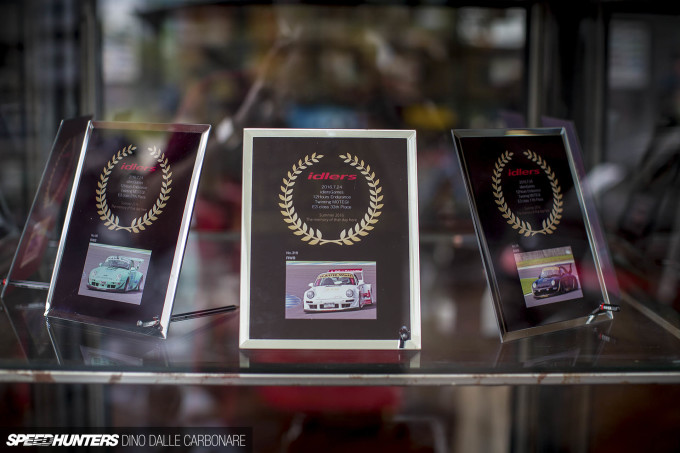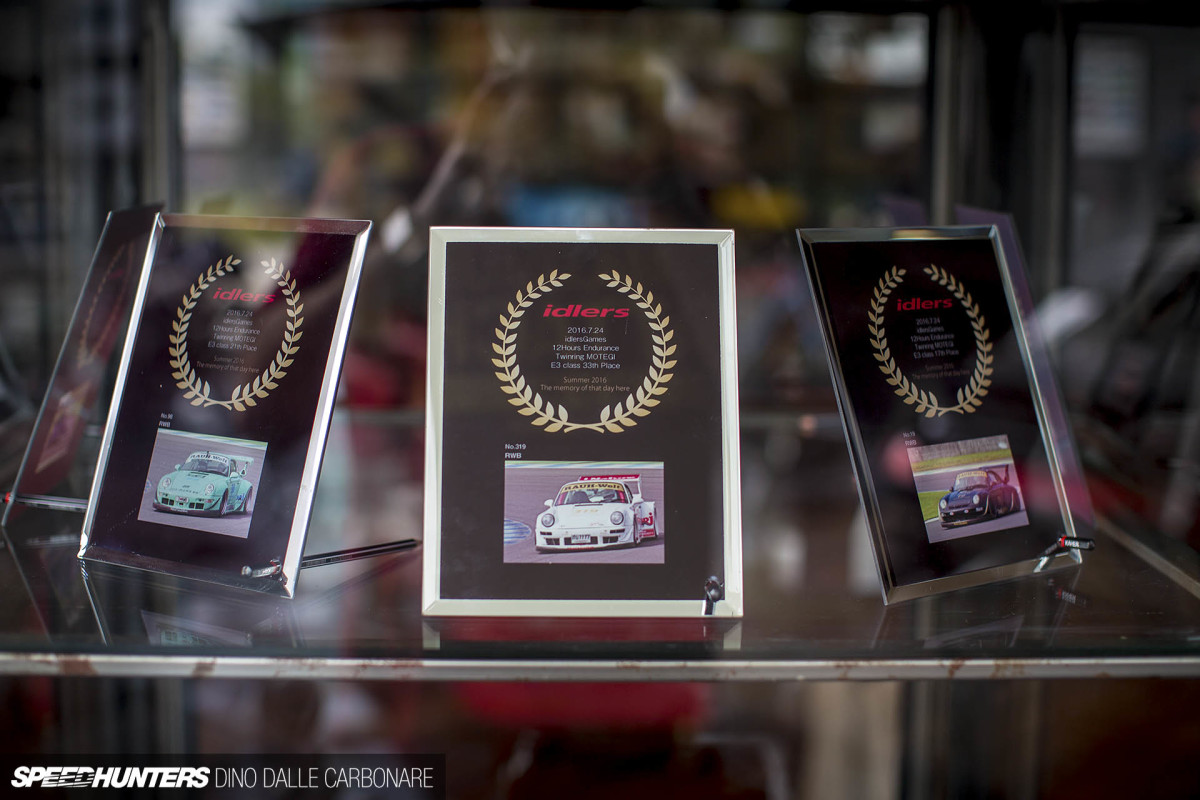 There's even a few trophies from the idlers races that Nakai and his domestic and international customers have created. I've driven in a few of those 12-hour races, and they've provided some of the most fun experiences of my life.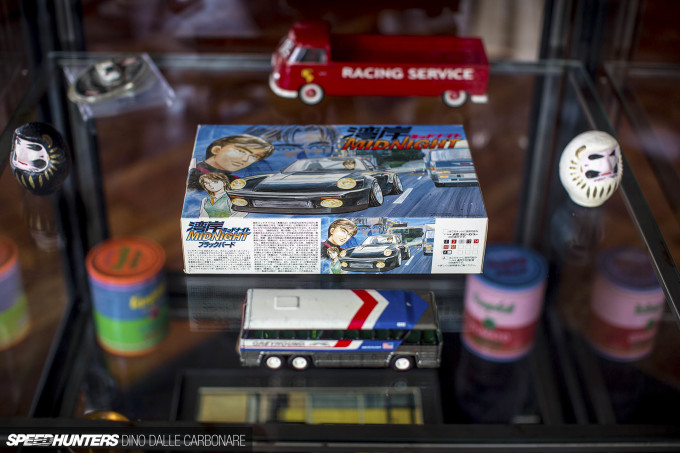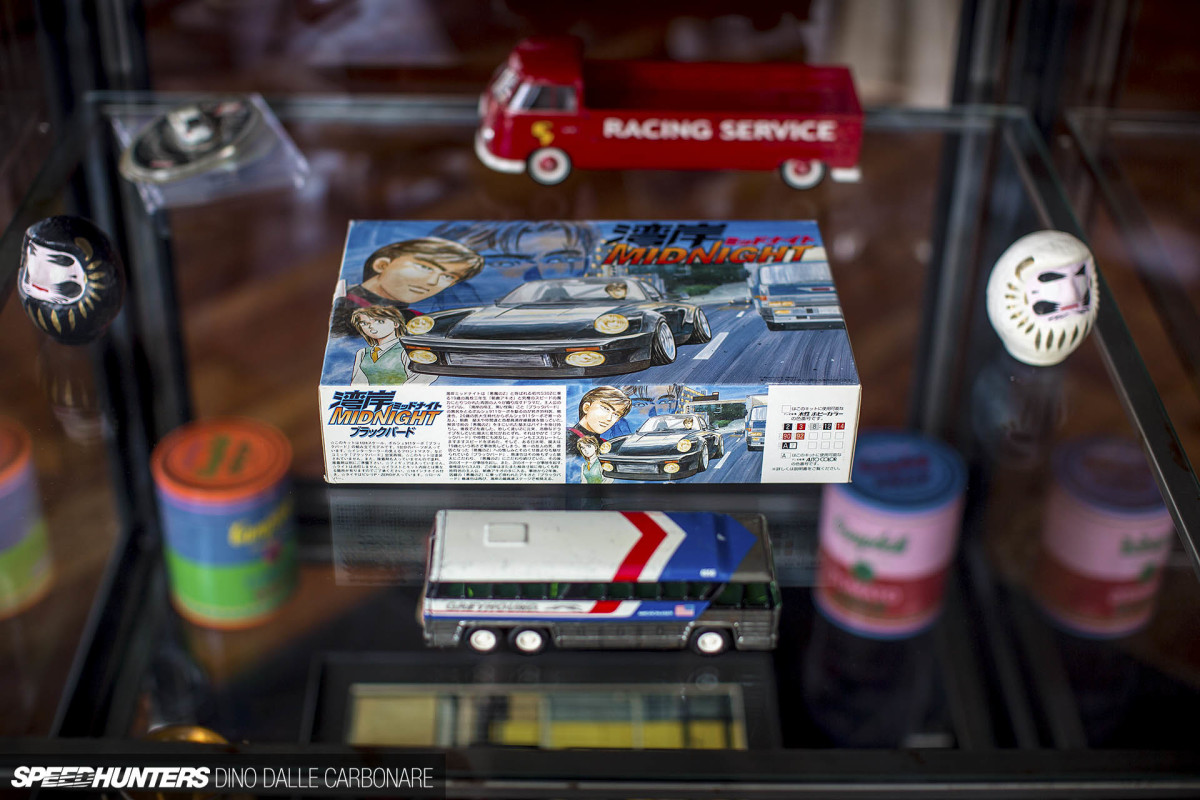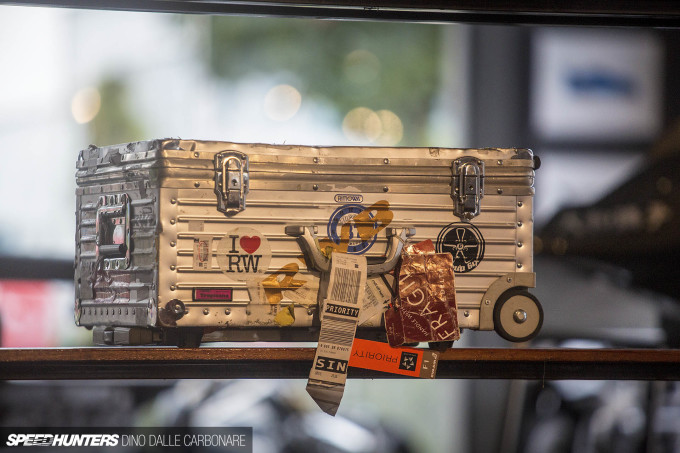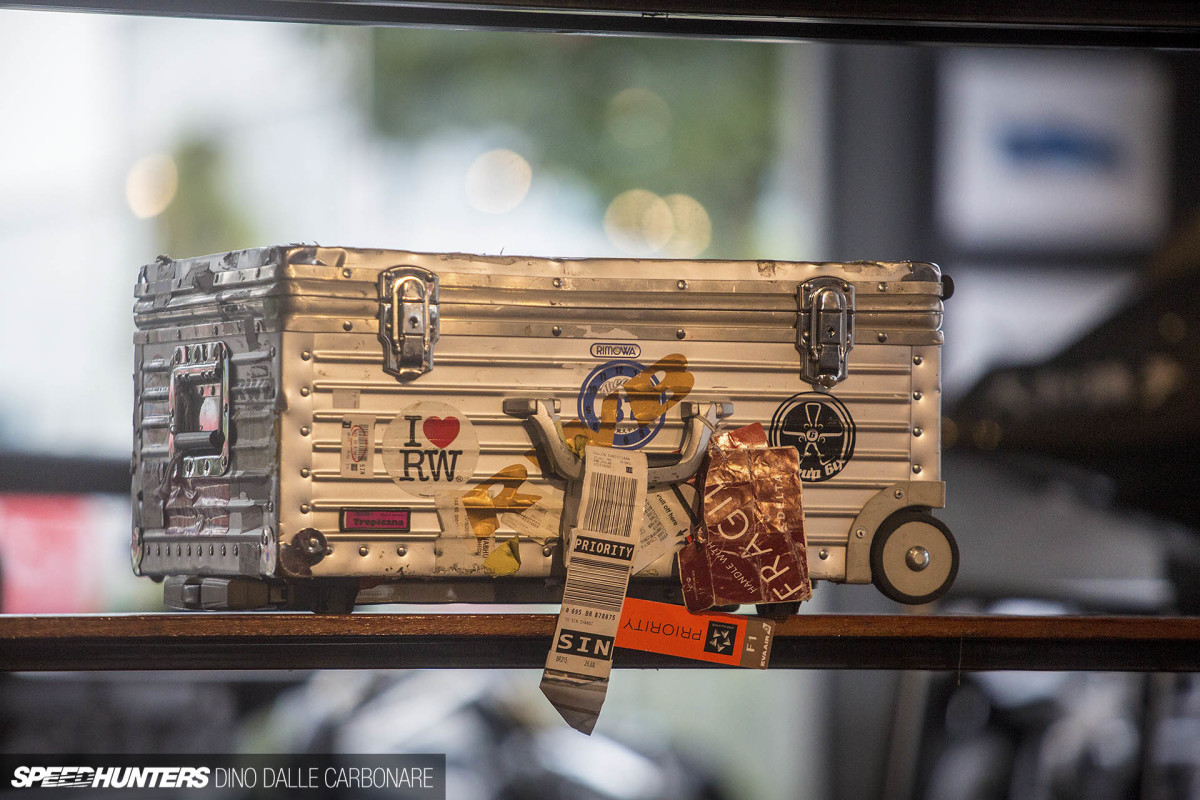 Even one of Nakai's Rimowa suitcases has been passed on, left exactly as it was once he was done using it. Of course these are never used for clothes, just tools and other bits and pieces he brings from Japan to any build. His clothes are usually carried in a simple supermarket bag. Because Rough World!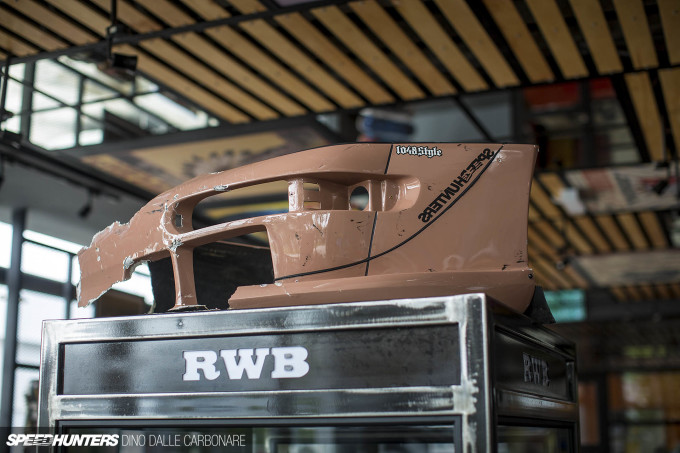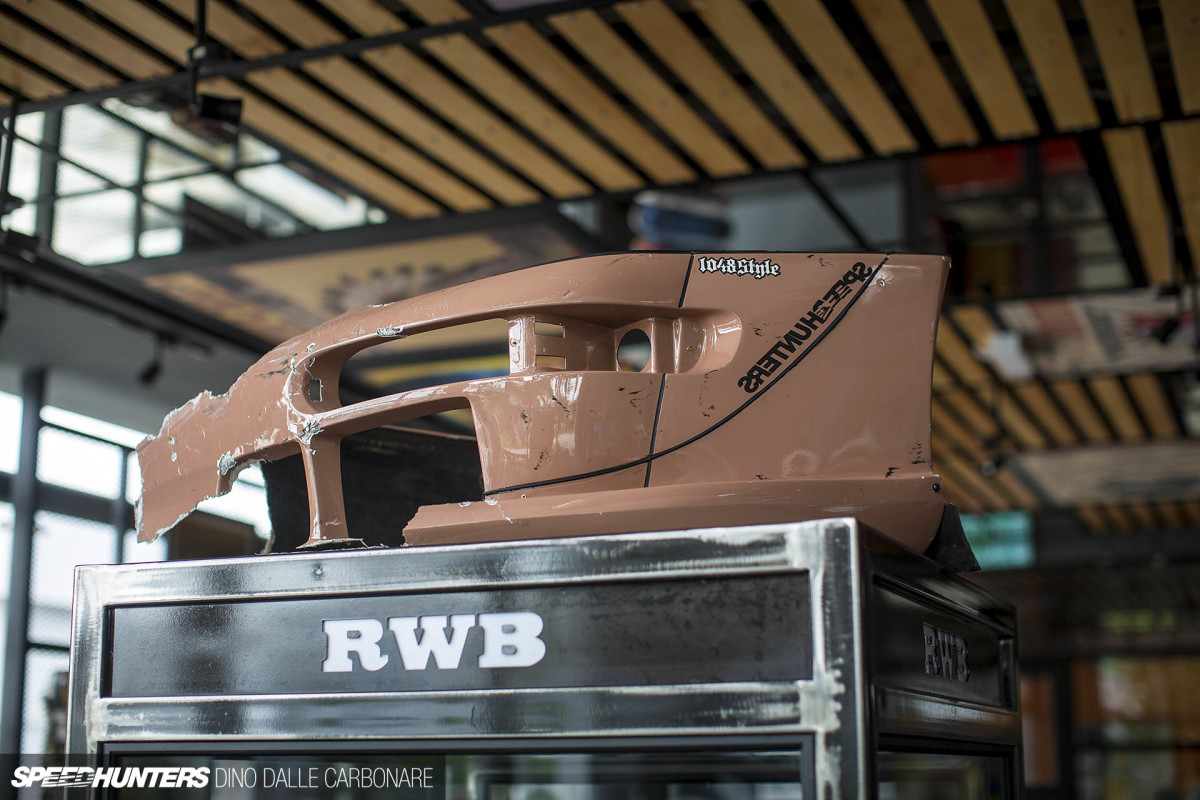 A very personal thing for me to see, however, was the damaged bumper (well half of it) from Adriana, the car I was driving at the idlers 12-hour endurance race at Motegi in 2016 that ended up being totalled. I have a piece of this car hanging on my wall in my office, so seeing another part of it on display in Malaysia was quite weird, yet brought back so many memories.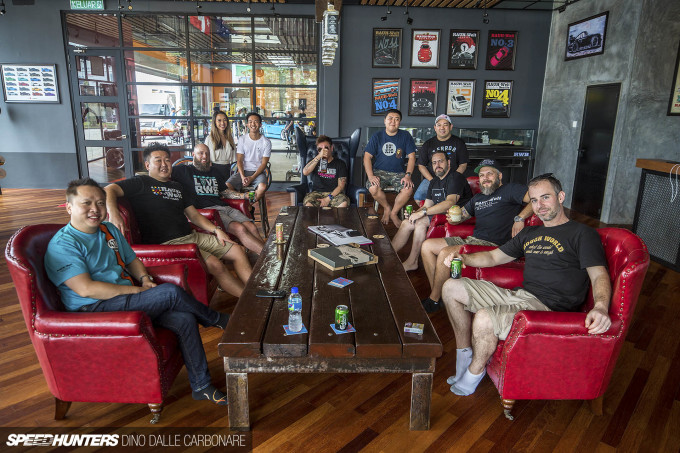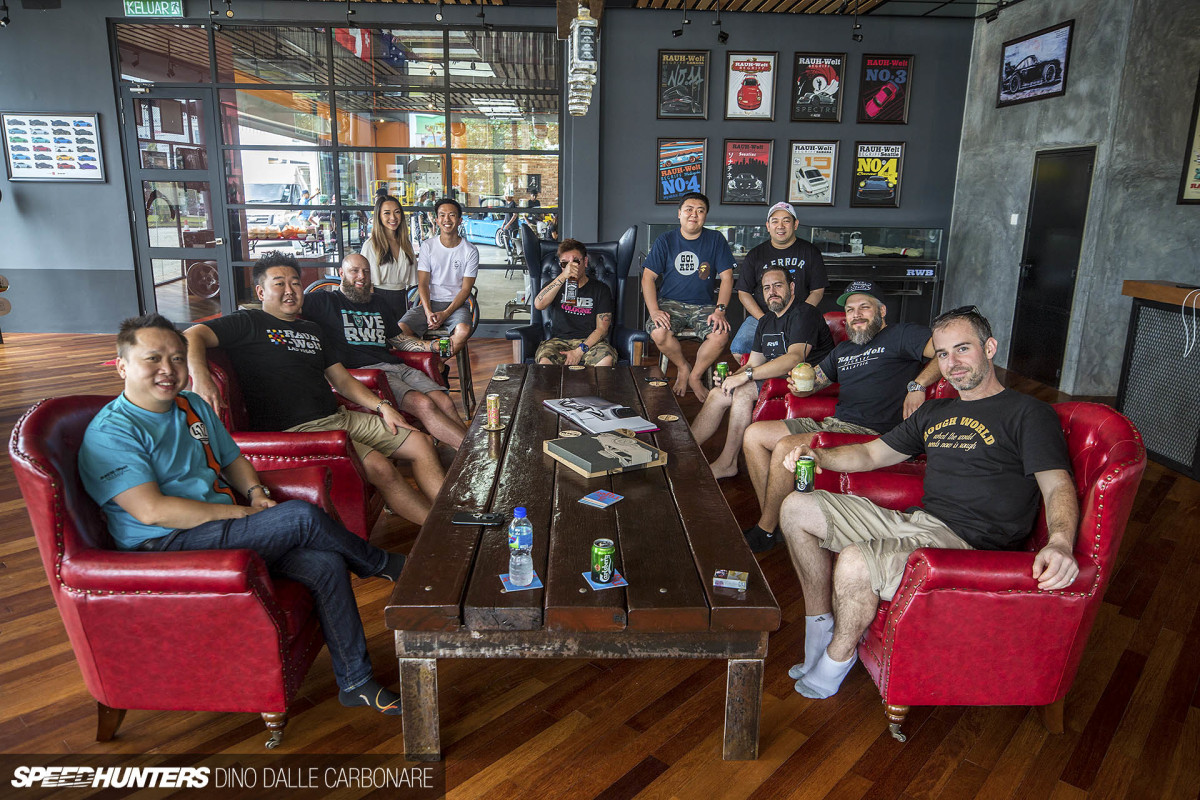 And this is the lounge space, comfy leather sofas and a table custom made out of reclaimed wood as a center piece to chat over, share a few drinks and make memories with like-minded folks. And there was a large group of people that Christian had invited over from every corner of the world, all part of the RWB family, and all making time in their lives to spend a few days together for this special moment.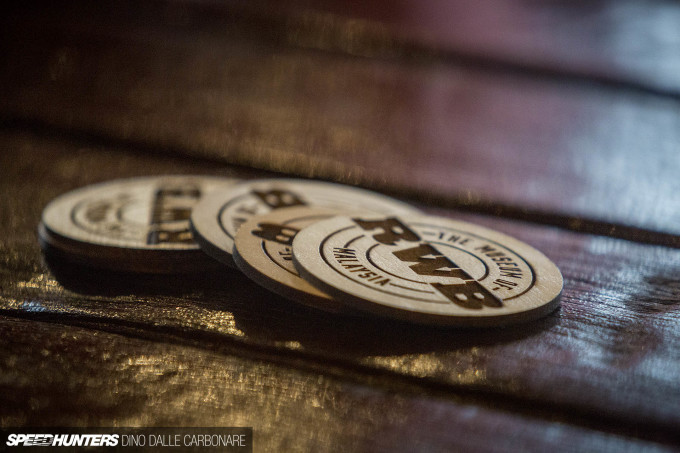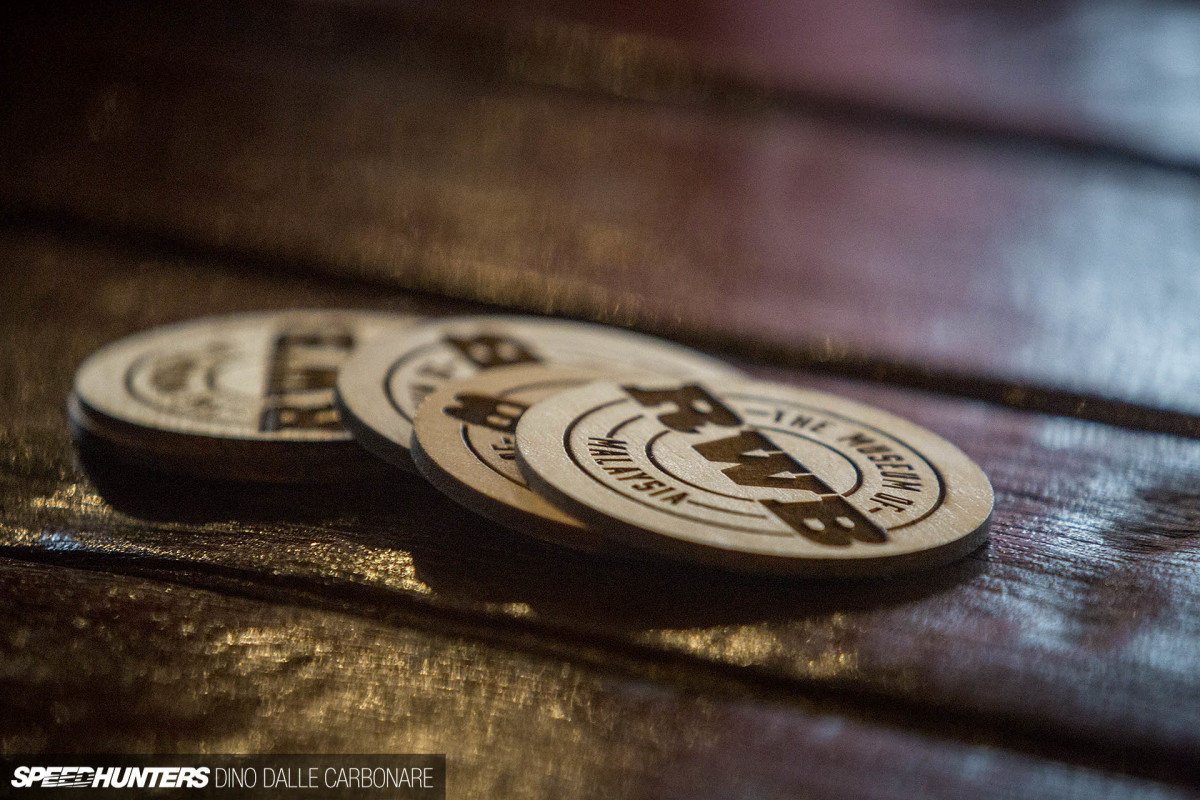 But we'll get to that a little later. There is still a lot more I want to show you of this special place, right down to the decor.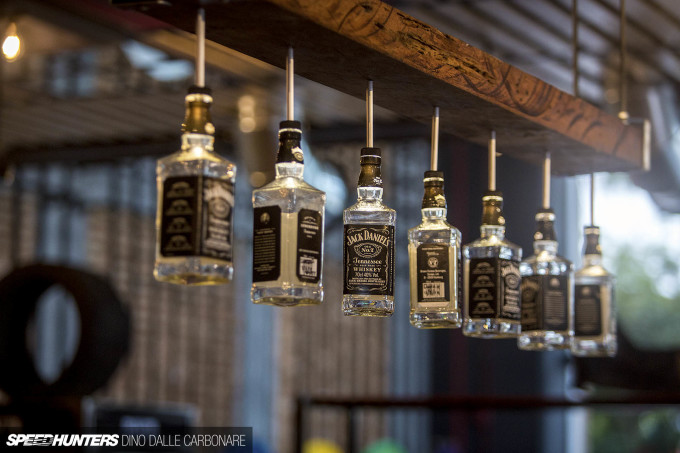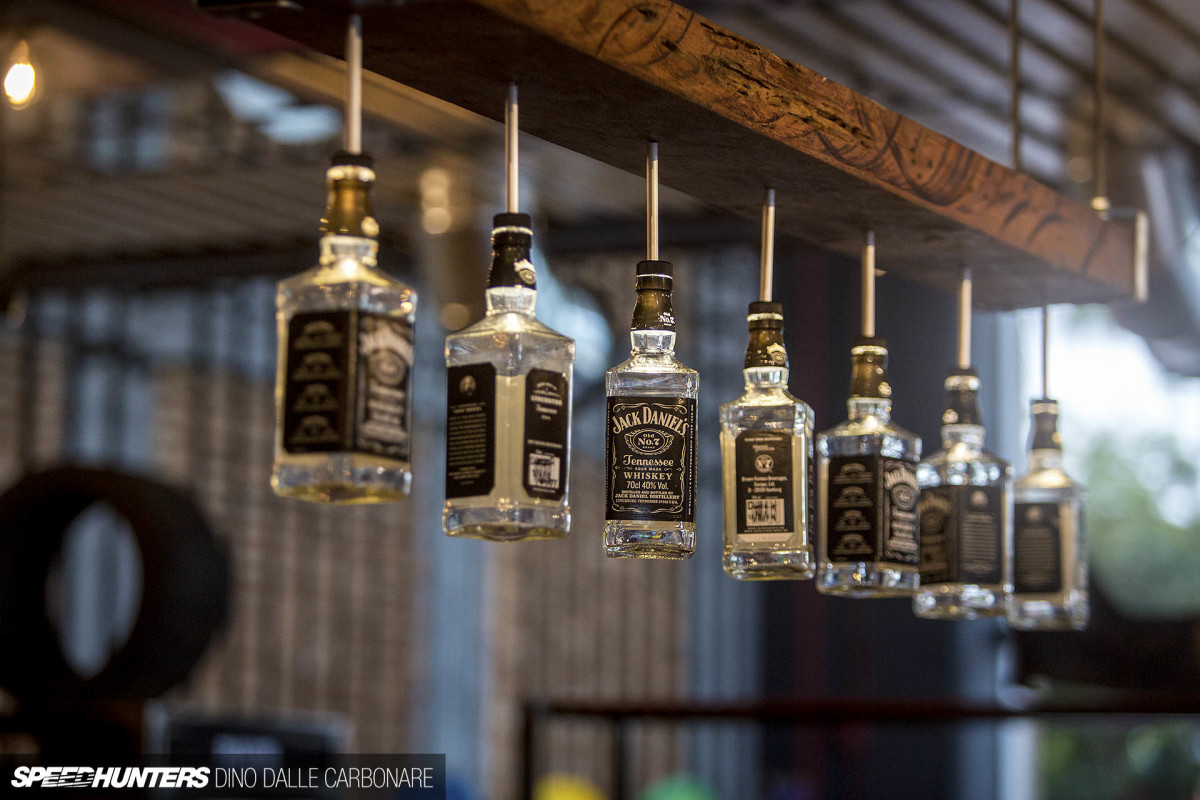 During my first day at the museum this light fixture was being put together and wired up, before being hung over the the big table. I'm not sure what was harder, the creation of the piece or the work that went into emptying the bottles!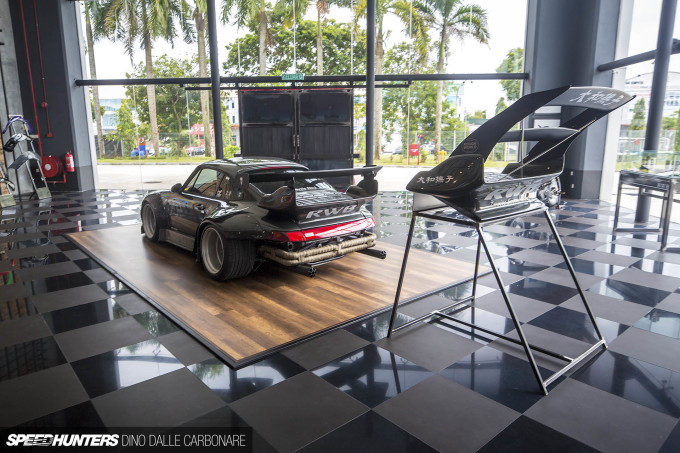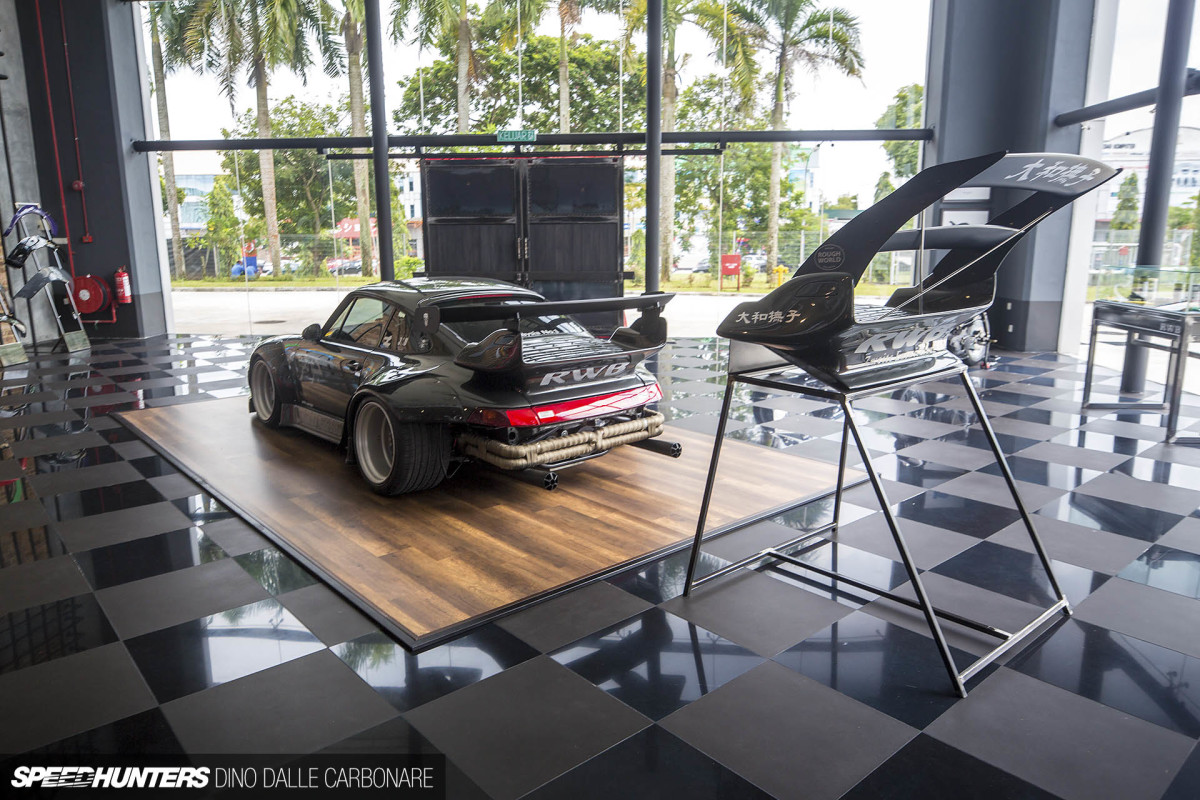 Every time I stepped back into the museum part of the garage – and that was often as it was an air-conditioned getaway from the hot and steamy garage area where Nakai was working his magic on Christian's number seven – I couldn't keep my eyes off this V8-powered monster sitting centerstage. Right behind it, on its own pedestal, is the Rotana-style wing.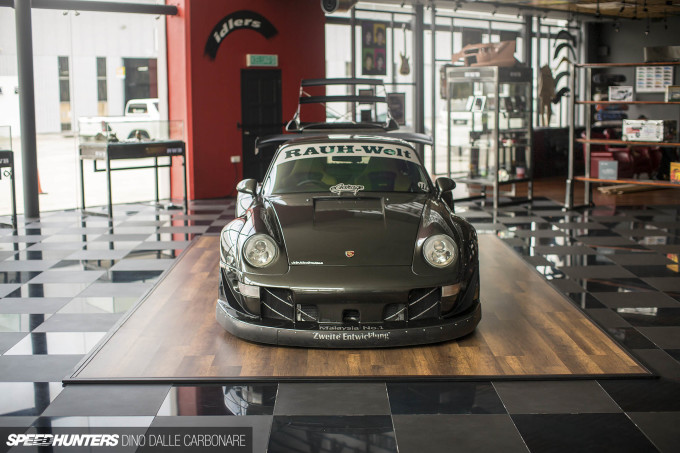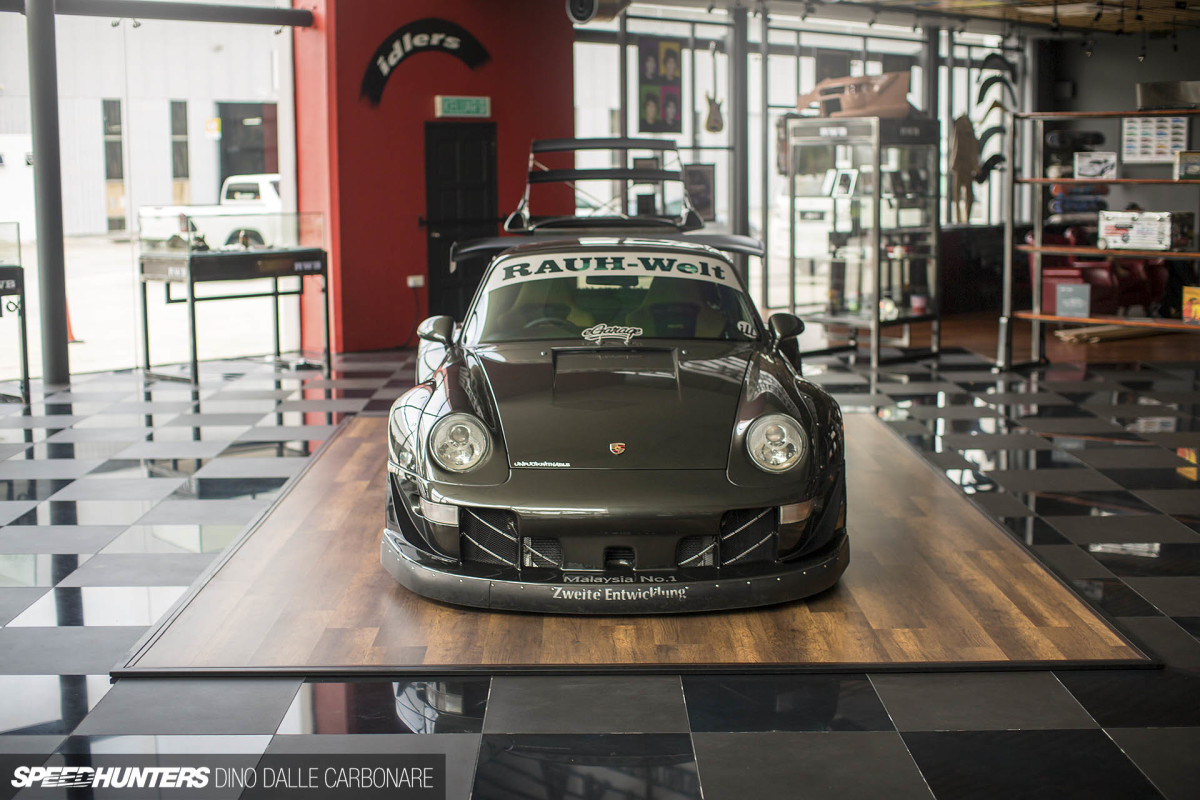 This fits in just right with a few RWB cars that are far beyond the norm; cars like Stella Artois and Rotana from Nakai's own collection, to creations like Pandora sporting a powerful motor built by Promodet. With 700 naturally aspirated horses coming from an American V8 it's sure to ruffle many feathers, but then again isn't that what Nakai has done since the very beginning? Christian has spent time fine tuning the engine management side of things and will be taking the car out for some testing at a track in the near future. Now there's a crazy feature idea!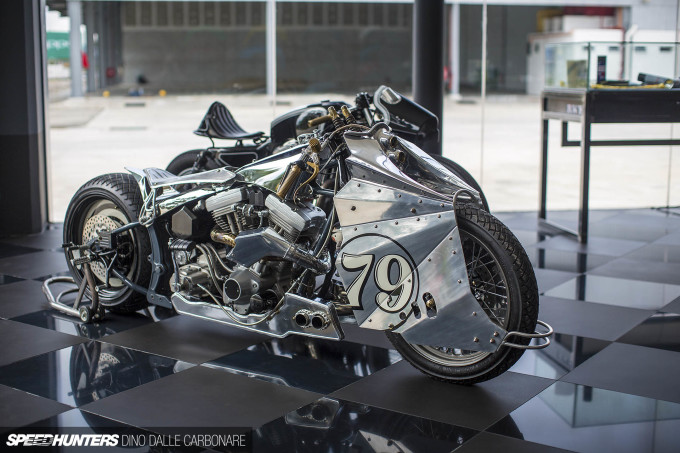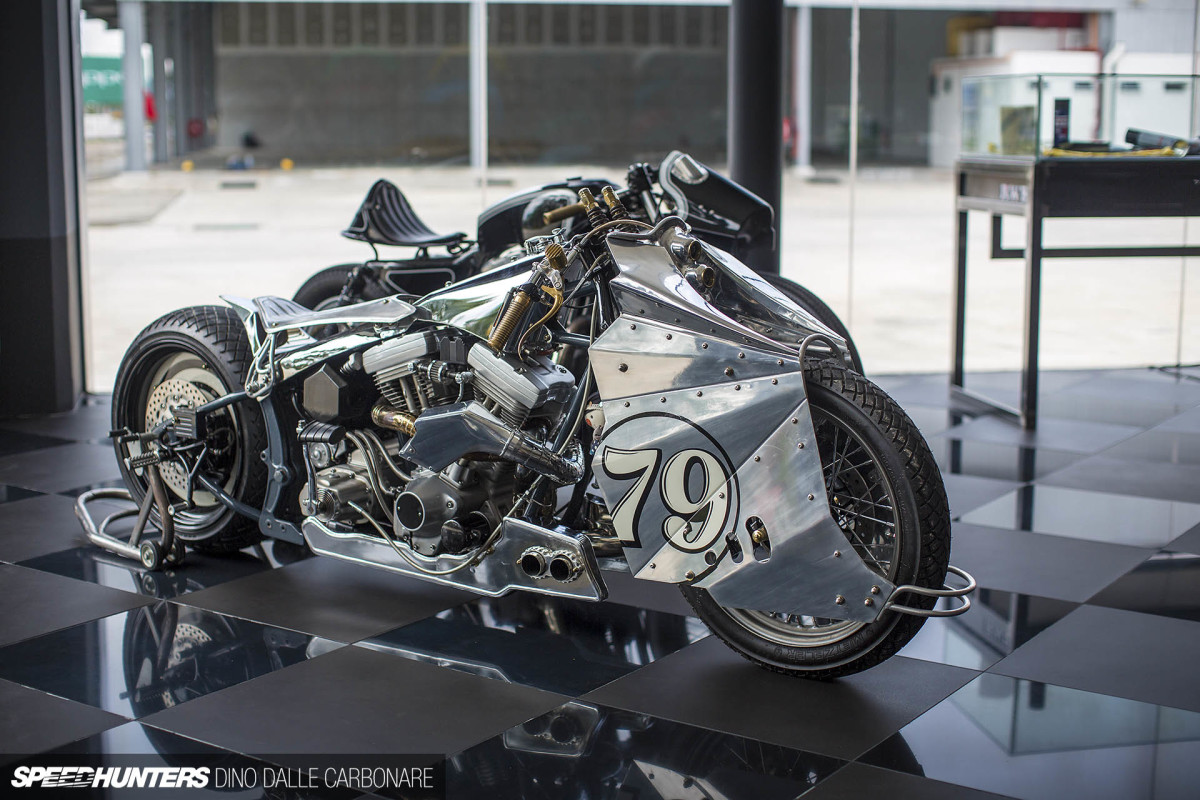 Sitting in one corner are two other works of art, but of a different kind. These bikes were built by Beautiful Machines, a respected custom motorcycle shop out of Kuala Lumpur.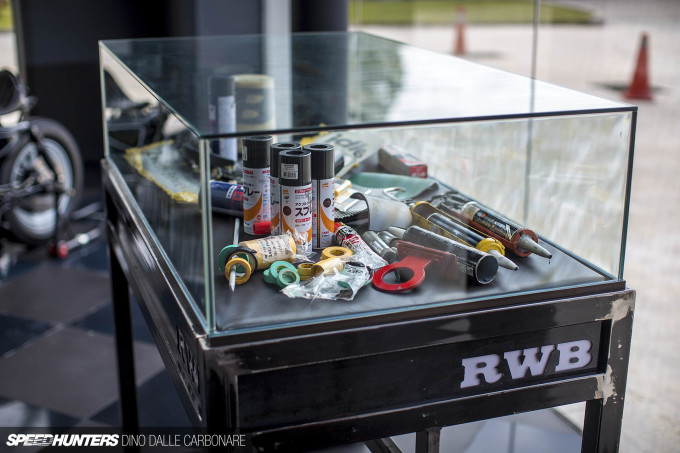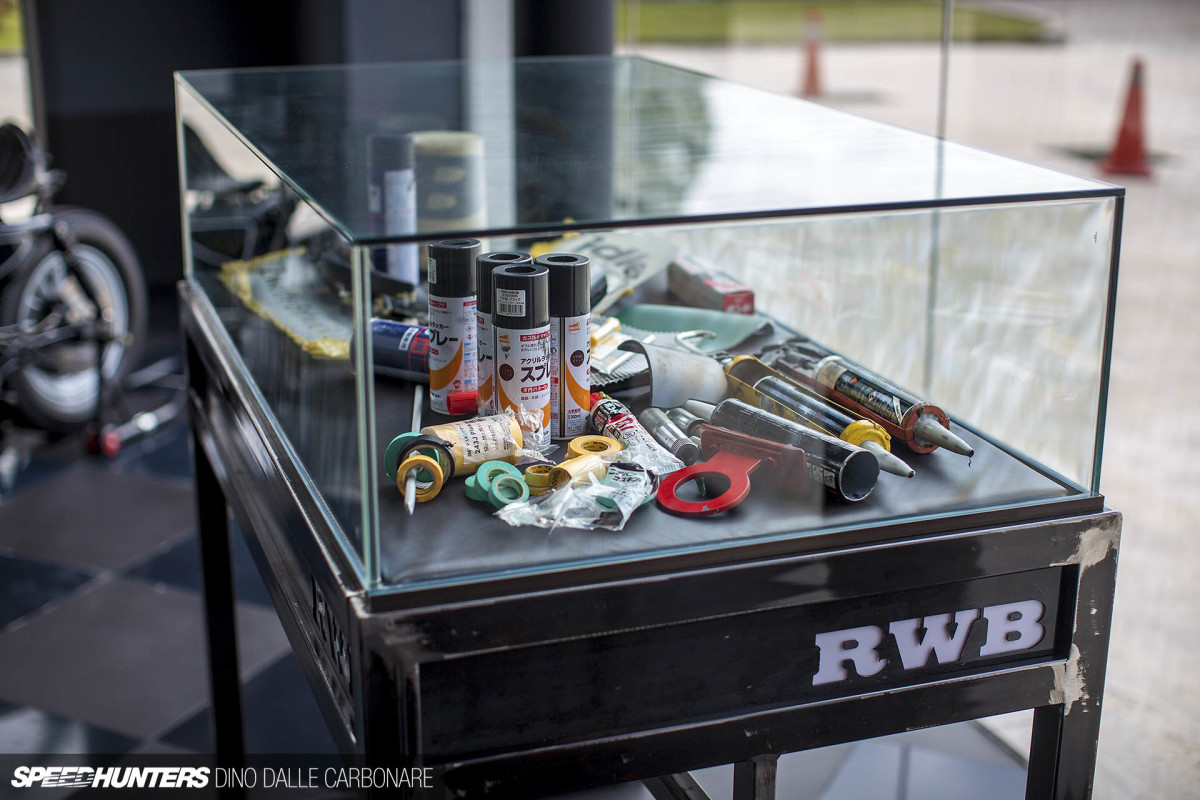 One important goal of the RWB Museum is not only to celebrate all that Nakai has accomplished with his unique approach, but also to get people to understand and appreciate the process.
That's why in one display cabinet you'll find some of the things that Nakai uses in the transformation process. Inside there's the black silicone canisters that he uses to seal the fender flares, bumpers and skirts onto the cars, as well as black spray paint used to coat things like bumper grilles, and an iconic idlers tire stencil. For me, though, the most interesting thing about all of this stuff is how Nakai just continues to source it all at his local hardware store in Chiba; it both defines his simple way of doing things and also how he's stayed true to his style throughout the years.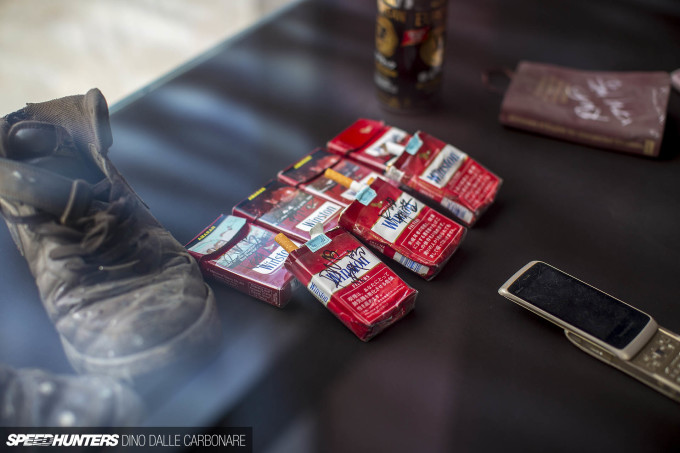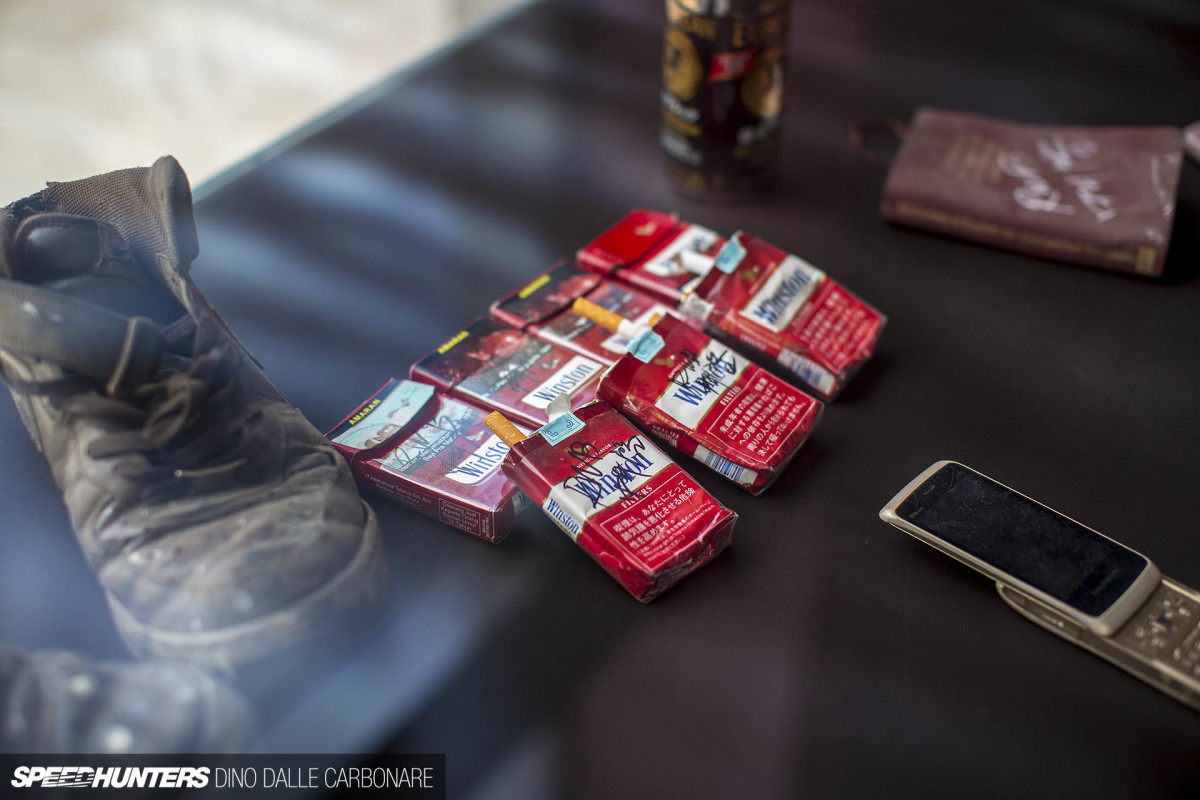 Where Christian has really hit the mark is with these series of artefacts, if we can call them that. From the packs of Winston cigarettes Nakai brings with him everywhere, to the ancient flip phones that he used back in the day and that he still has in his pocket.
And then his well used pair of Nike Air Force 1s that look like they have been through a war zone or two, as well as his pocket English-Japanese dictionaries, which are a perfect way to show one of Nakai's most defining traits – his humbleness. When I met him for the first time over 10 years ago he didn't speak one word of English. Now, when I stop by his workshop in Chiba he greets me with "Hey Dino, what's up?" He's used his fast-paced life and his continuous travels to exponentially improve his English, which has helped make RWB the international family that it has become.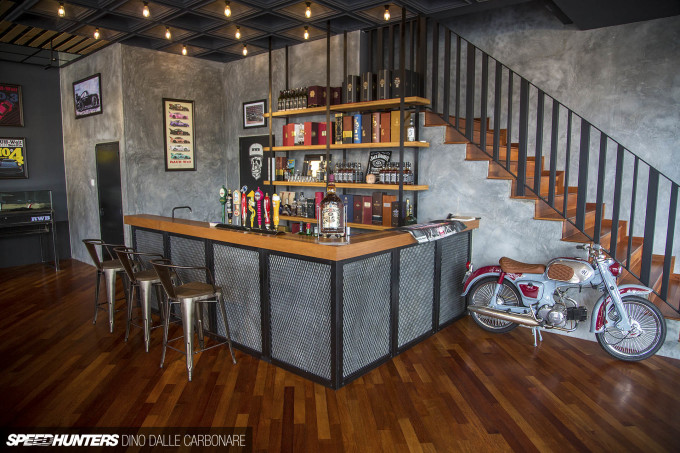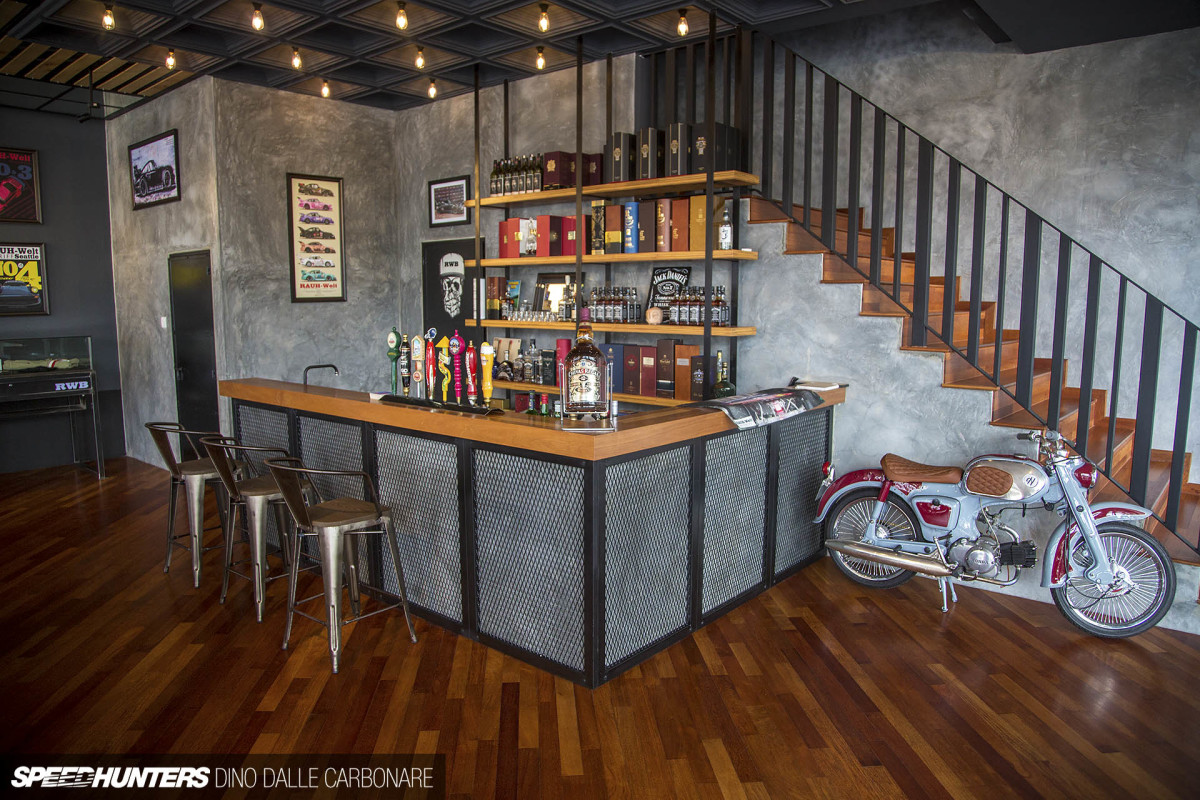 Being a fusion between a museum, garage, workshop and most importantly of all – a man cave, there was obviously the priorities to get right. That's why there's an extensively stocked bar area where guests can be entertained.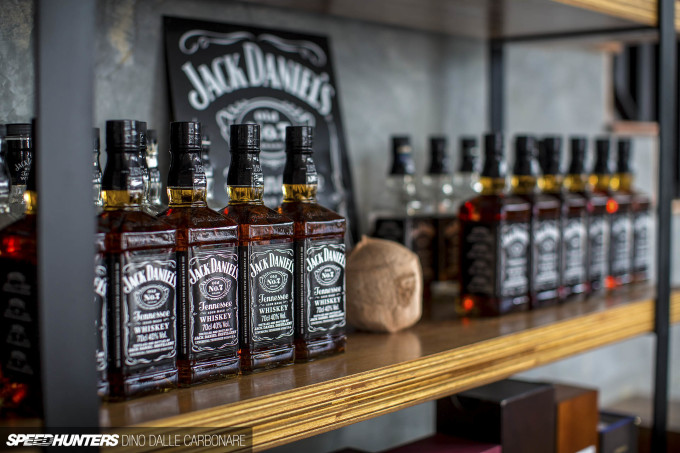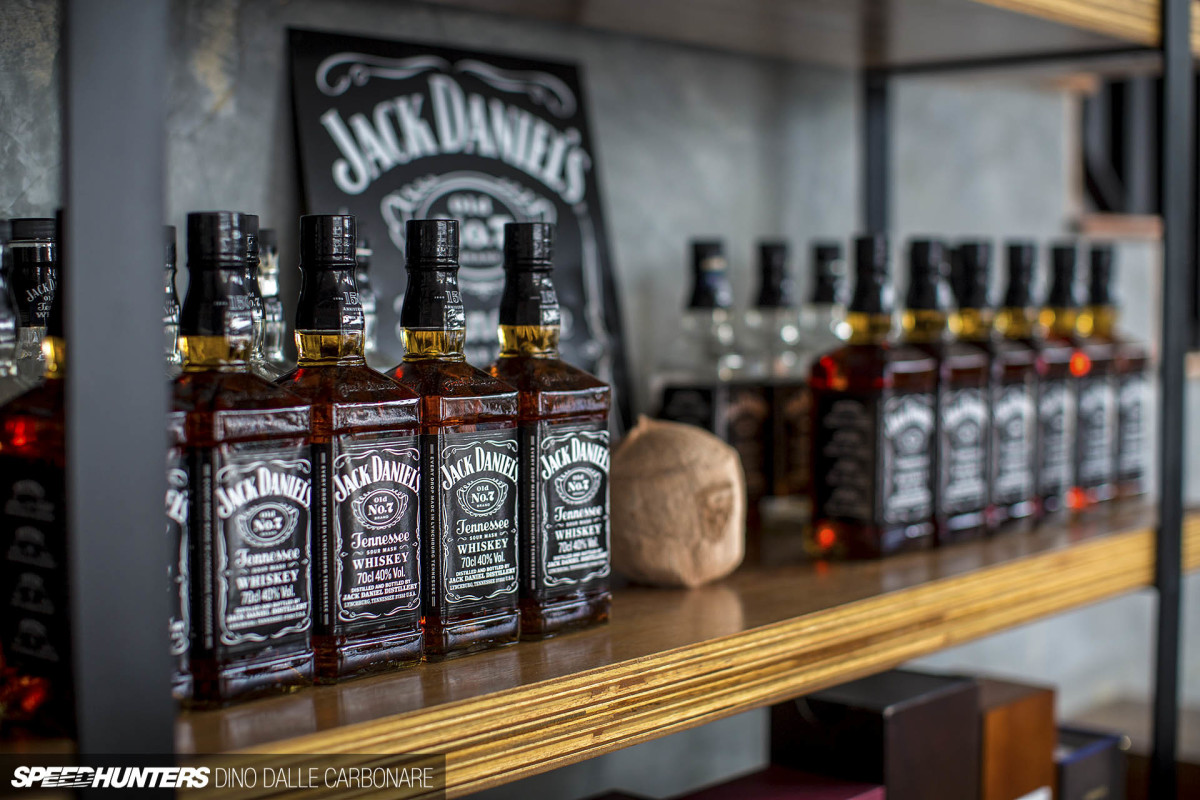 And the JD can never be too far away.
As well as more prized possessions of the distilled and adequately aged kind. The coconut has got nothing to do with alcohol of course, it's just become another thing that Nakai is known for in South East Asia. Every time he builds cars in these hot and humid tropical countries he loves to sip on fresh coconut water.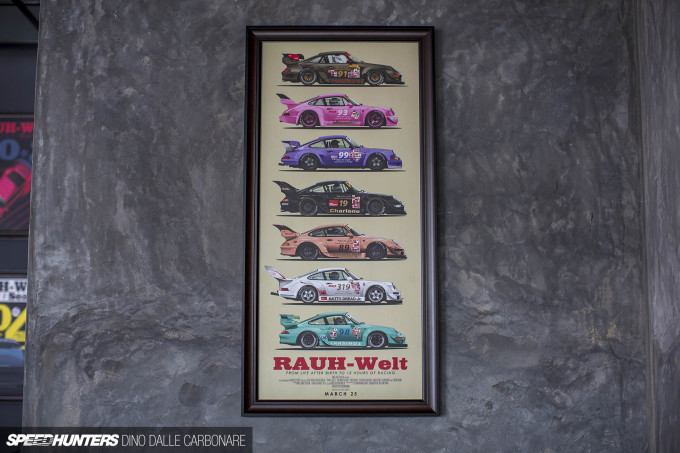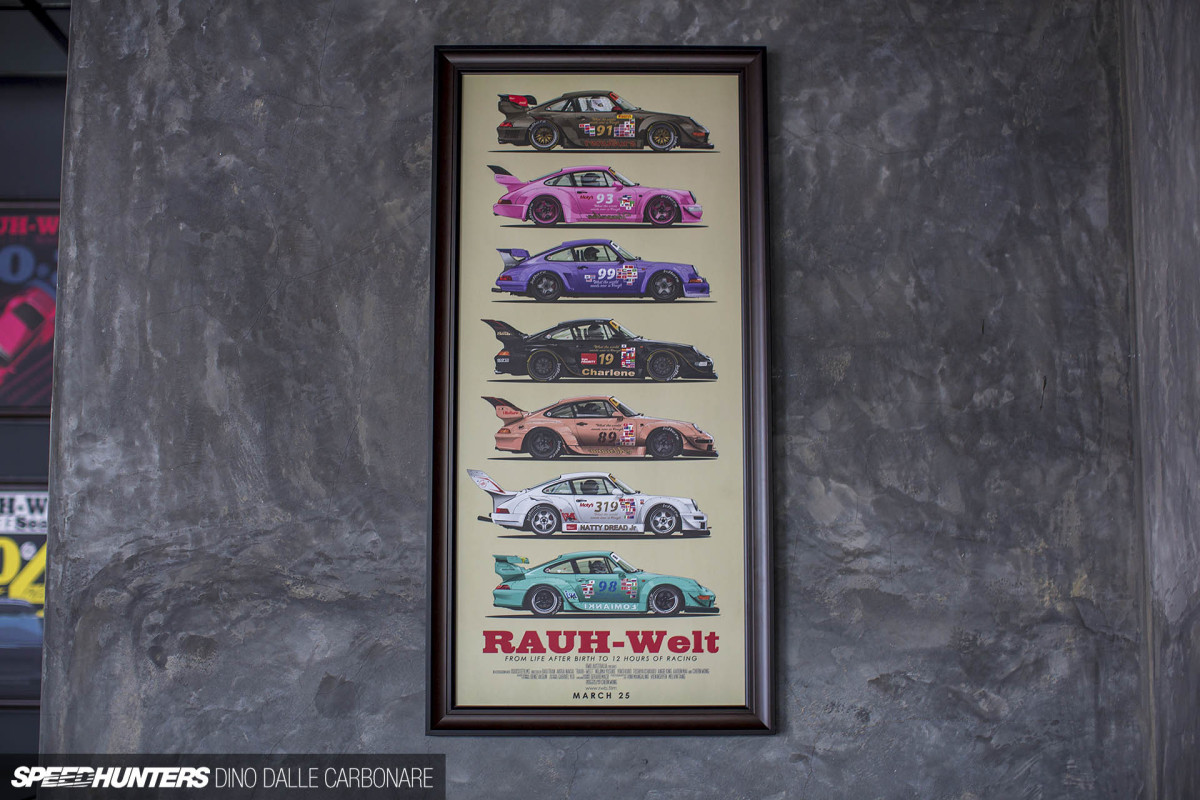 It's easy to be mesmerized by all the prints that are scattered around the place.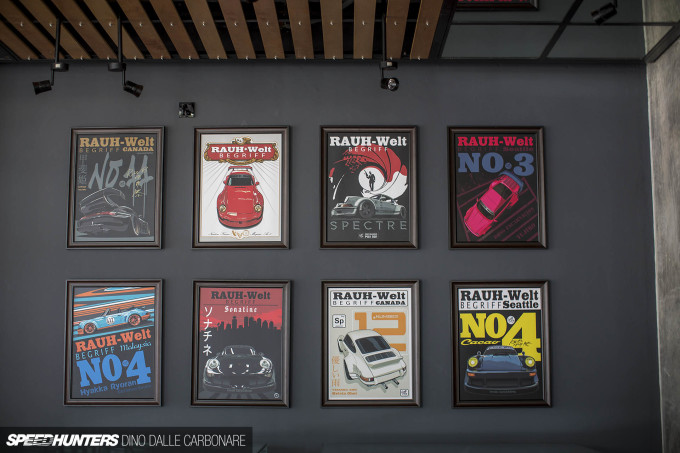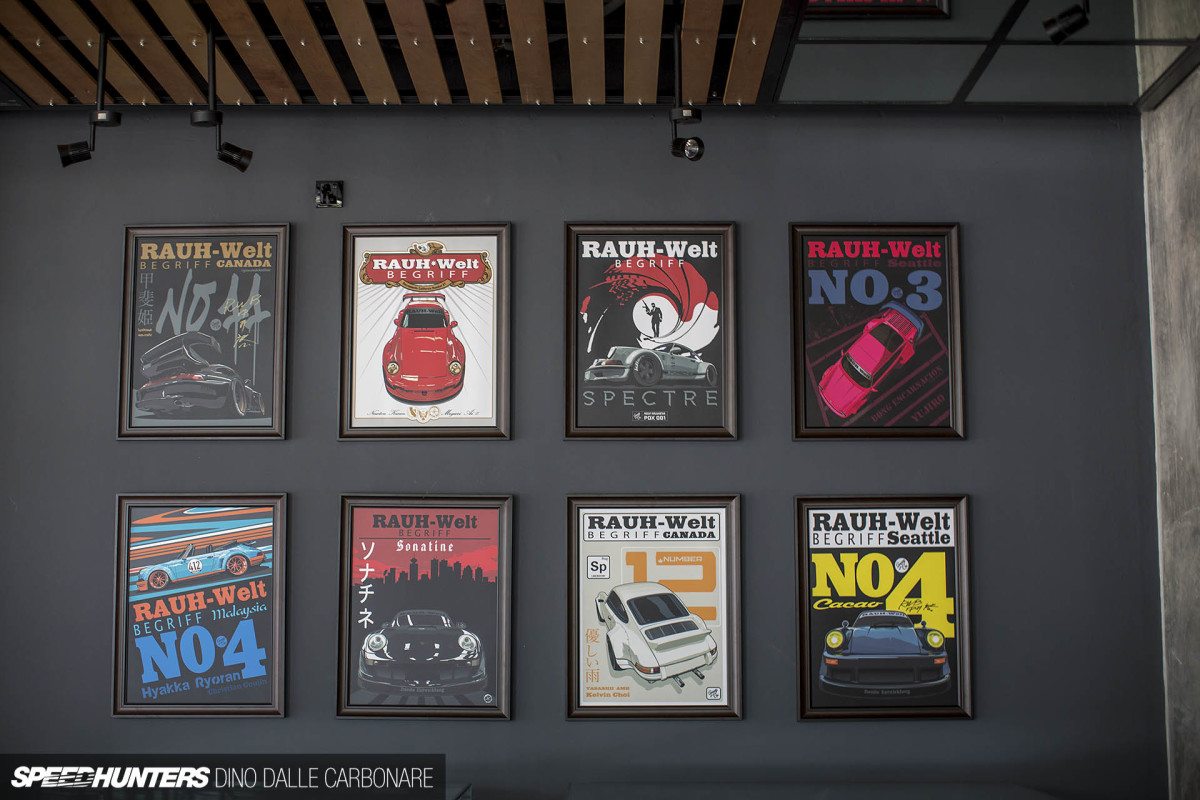 Including these custom made ones from Group 6ix in Seattle where Christian's home away from home is located.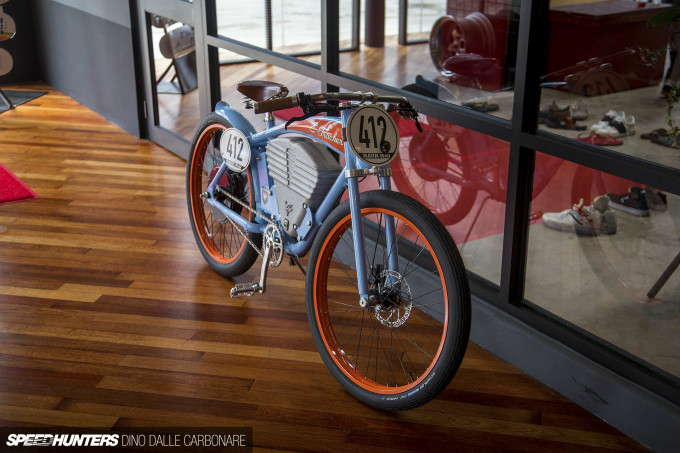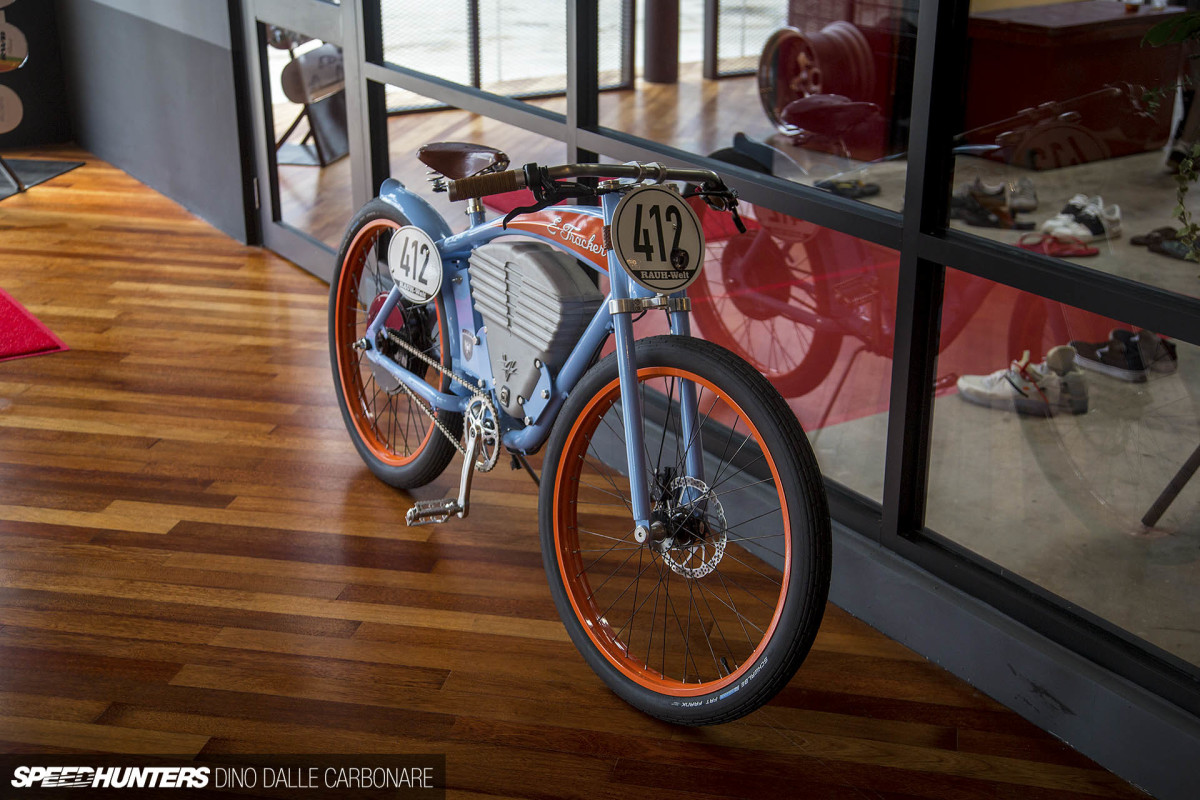 And speaking of custom things, check out this two-wheeler from Vintage Electric Bikes that was painted to match Hyakka Ryouran, the Gulf-liveried 964 Cabriolet that marked Christian's fourth build.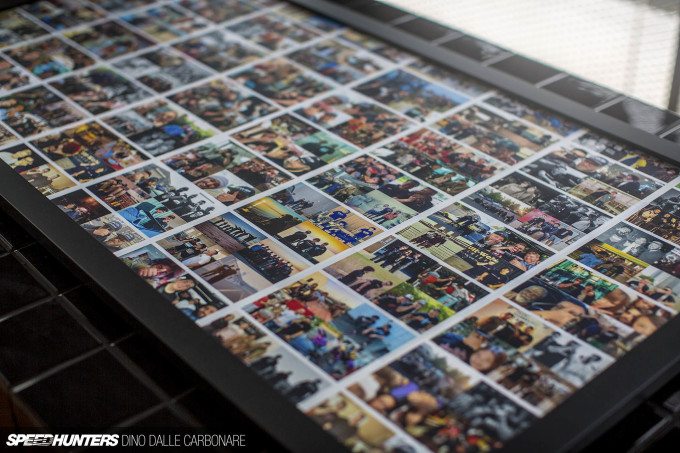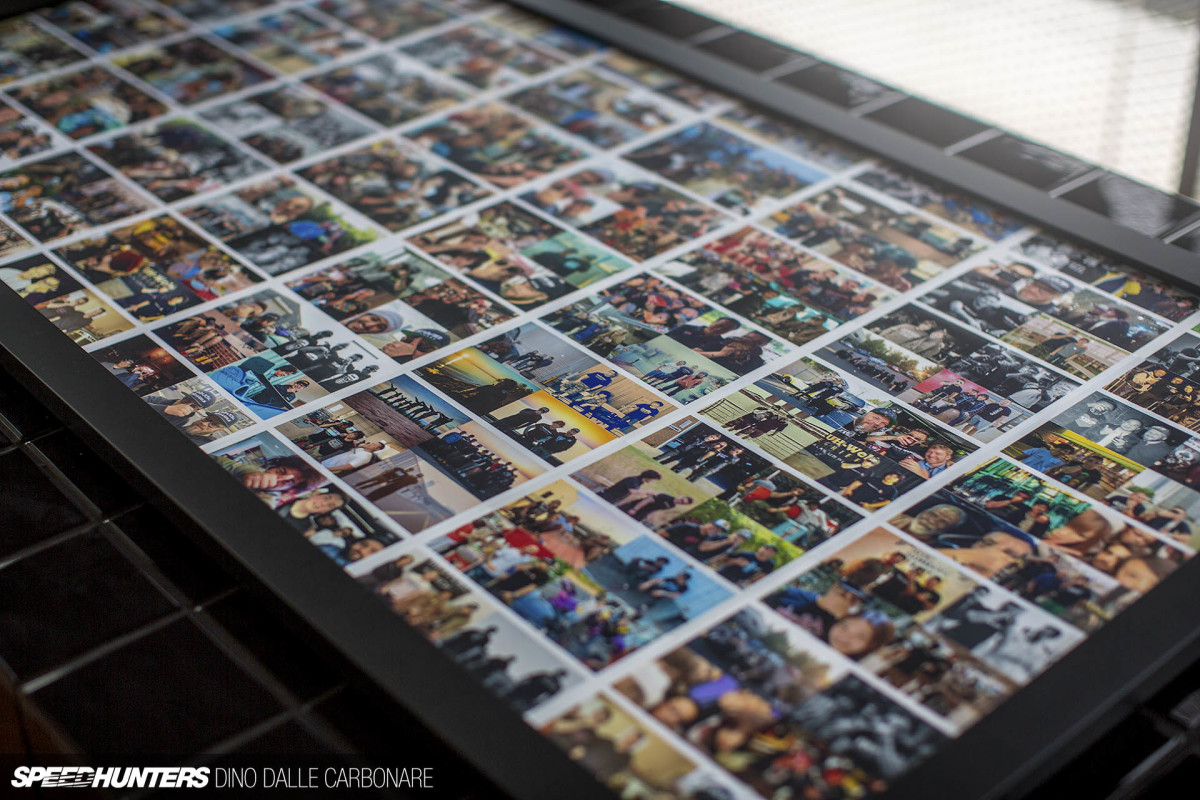 My favorite piece, however, was this big collection of images, each taken with people, friends and fellow RWB owners during the many builds and special events that have been held around the world. It's a piece that perfectly represents that strong bond that Nakai has managed to create between all his customers.
The Royal Approval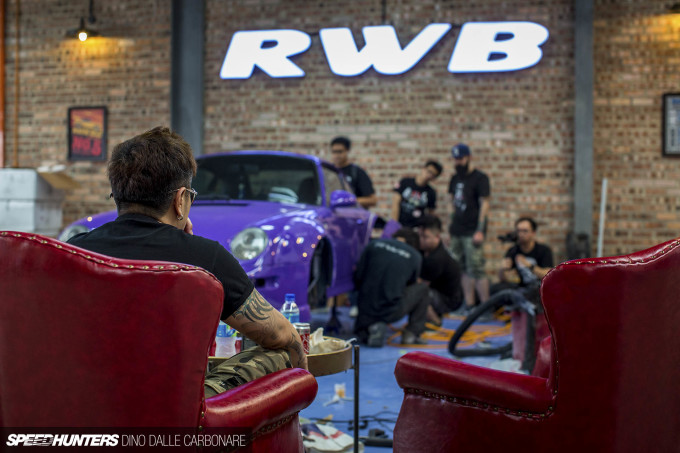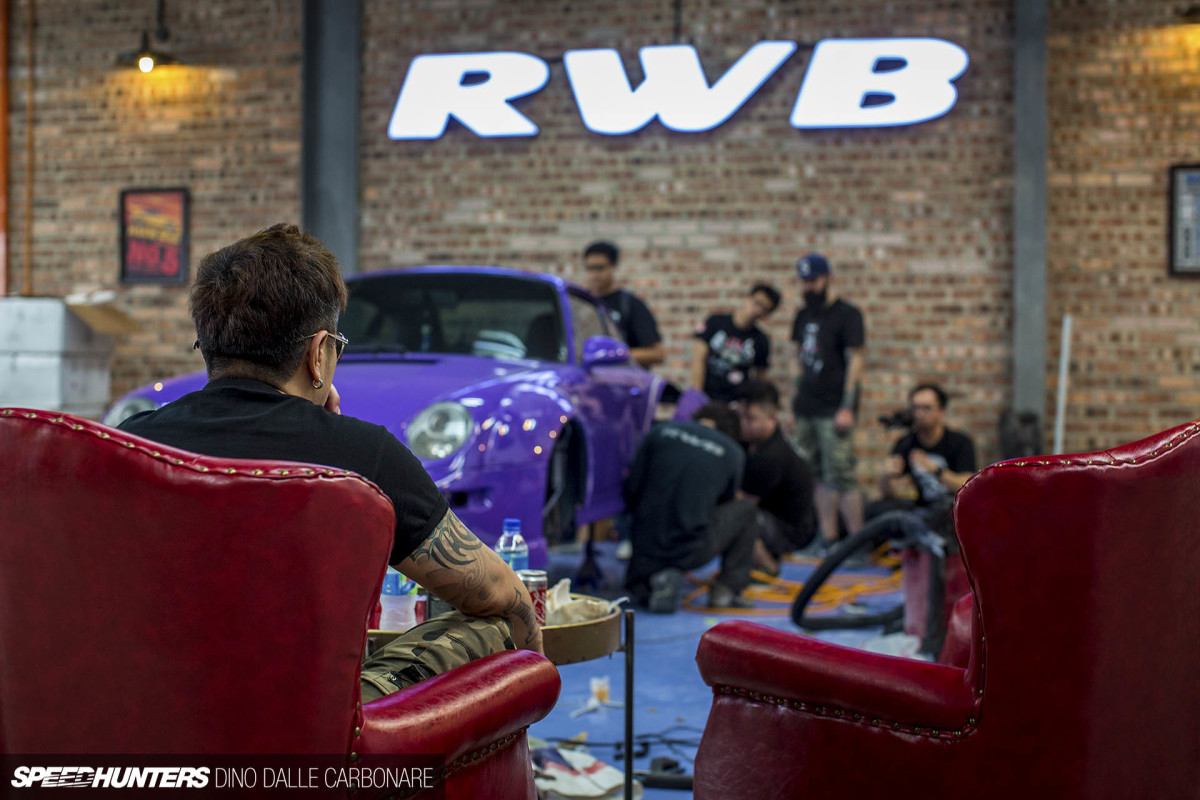 Christian in the meantime was enjoying being surrounded by so many friends while watching Nakai work away at his latest project.
I'll have a separate post on this build next week so I won't get into any details here, but I wanted to continue showing you the garage portion of the facility that is there to not only house an ever-expanding arsenal of cars, but also to be RWB's second home.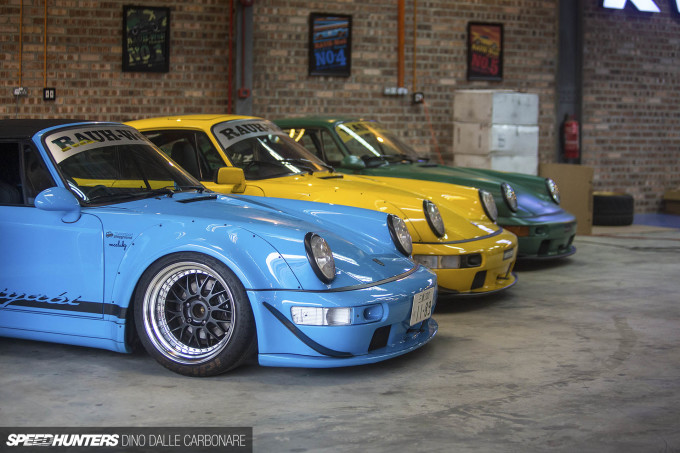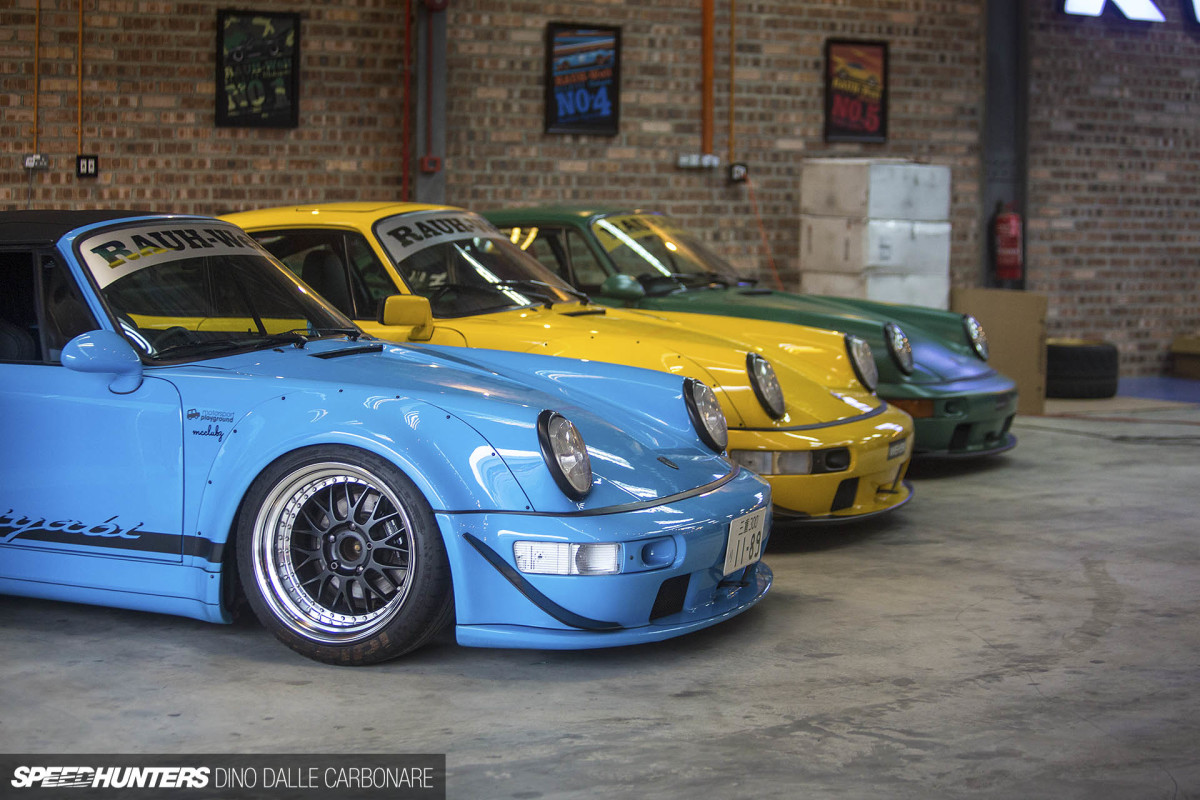 It was also really cool to see Kuala Lumpur's first RWB build, Miyabi. I will never forget this car, as with the help of the owners I was able to shoot some of my favorite driving shots ever with the Petronas Towers in the background.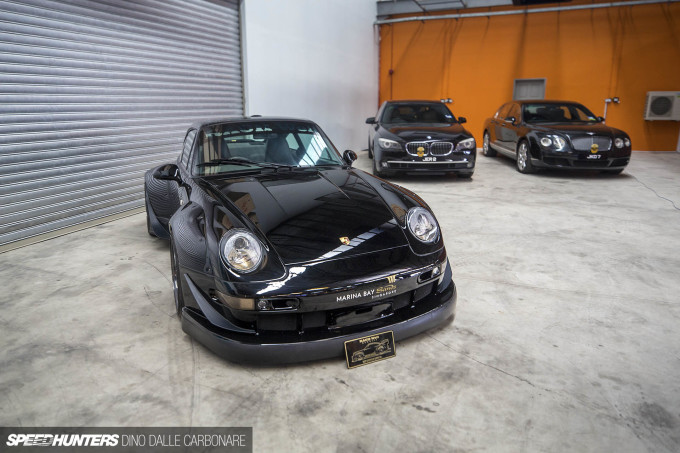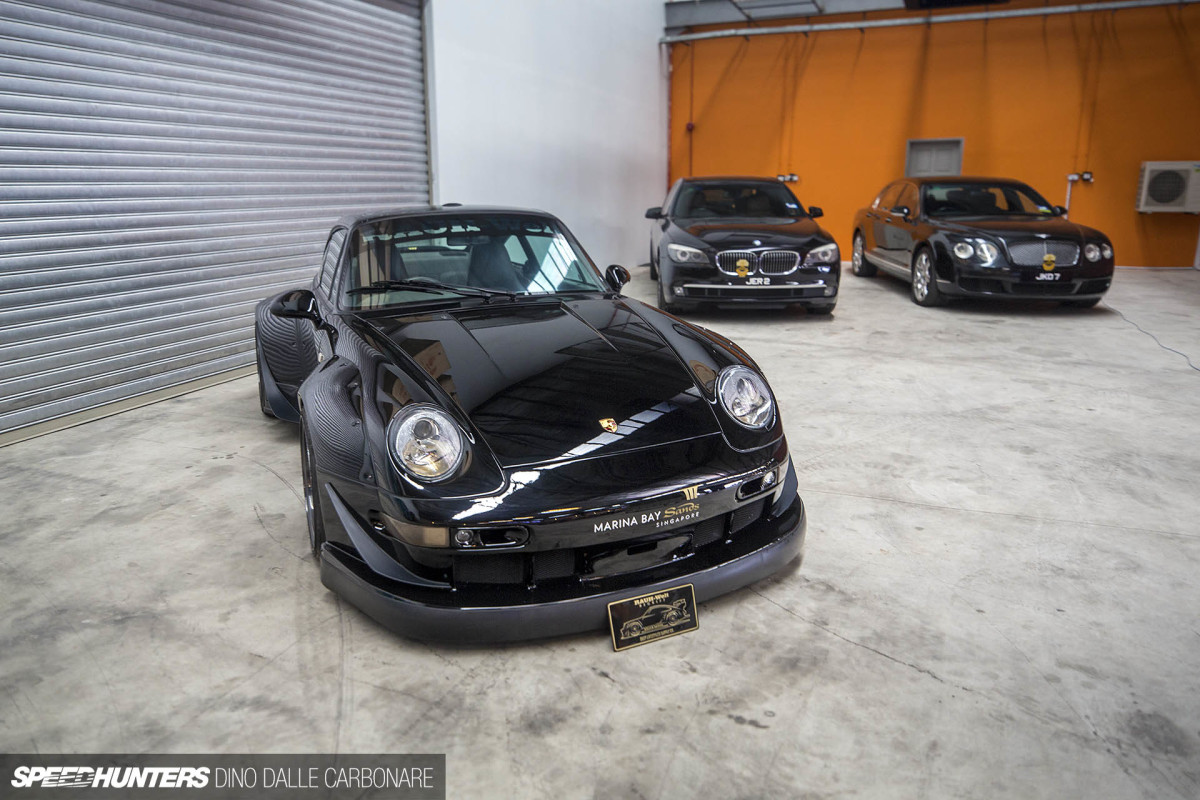 Everywhere you look it's RWBs!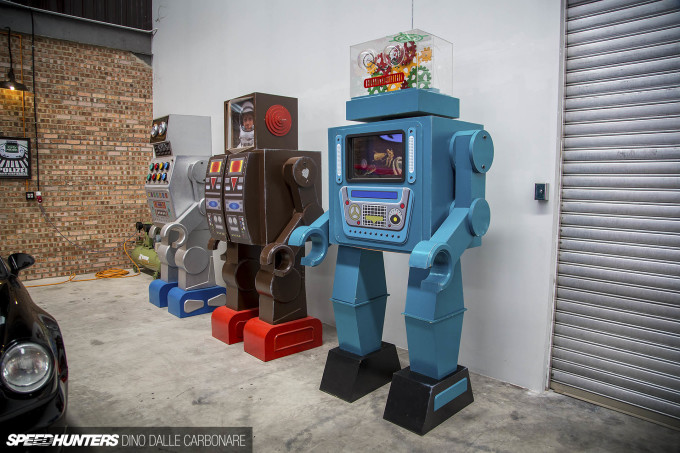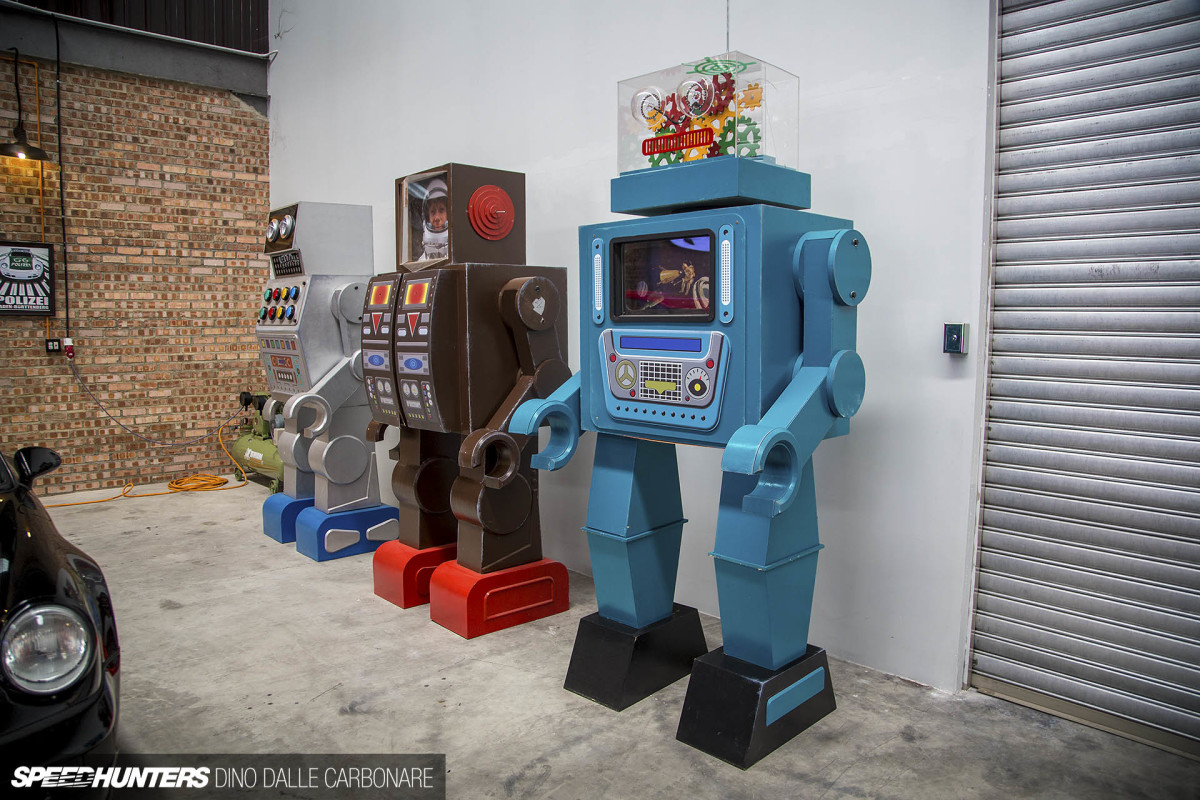 The decor is entertaining, even in this area of the building.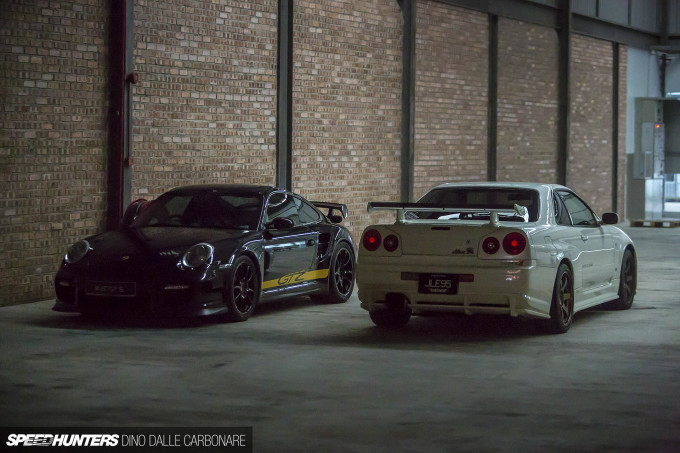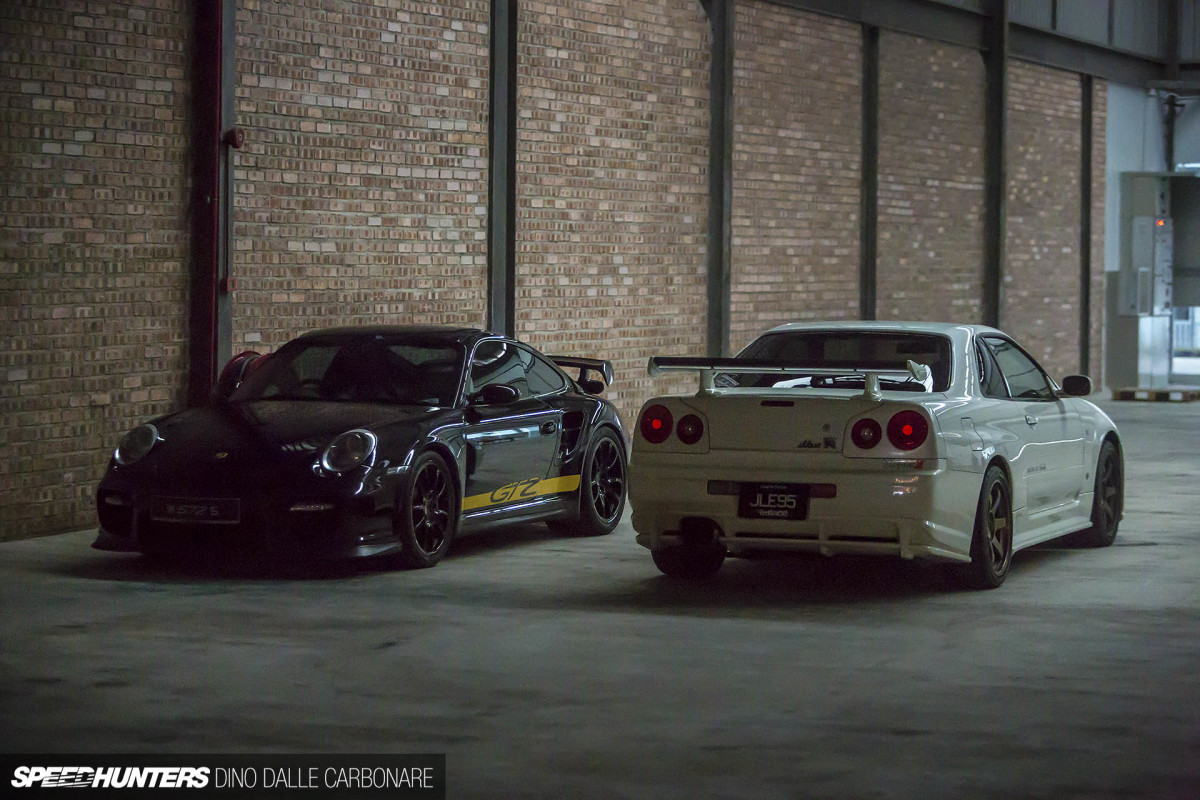 And on the other side of those indoor shutters lies another cave housing a few more special cars.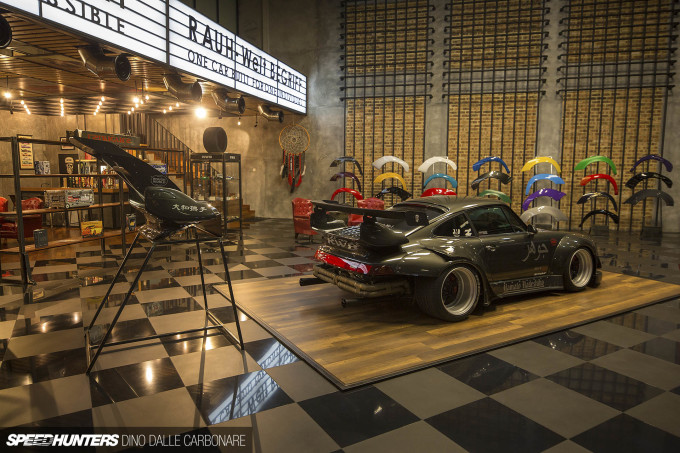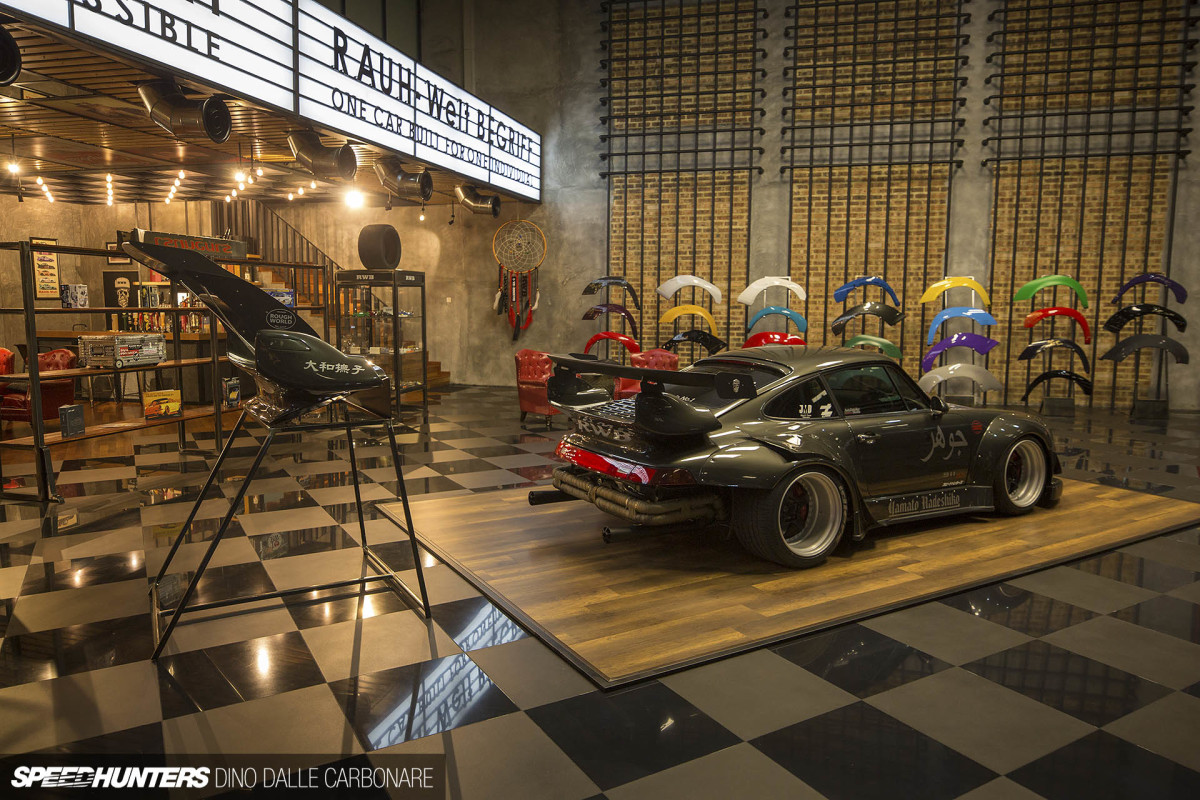 But nothing can beat the warm atmosphere that develops inside the museum once the lights are flicked on at night. It's such a relaxing space to sit down and chat with people that in no time become your friends.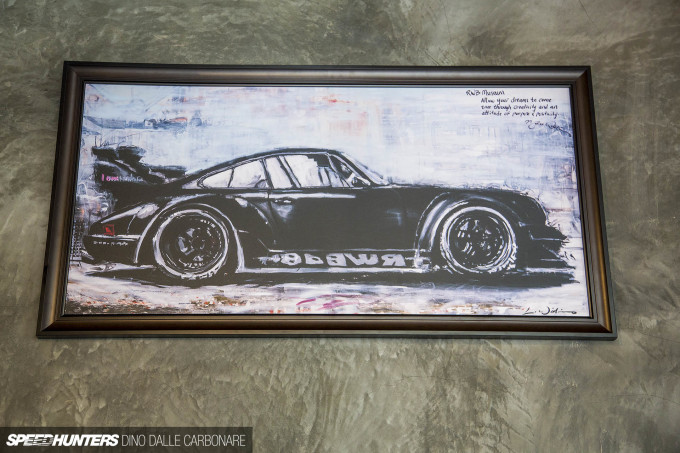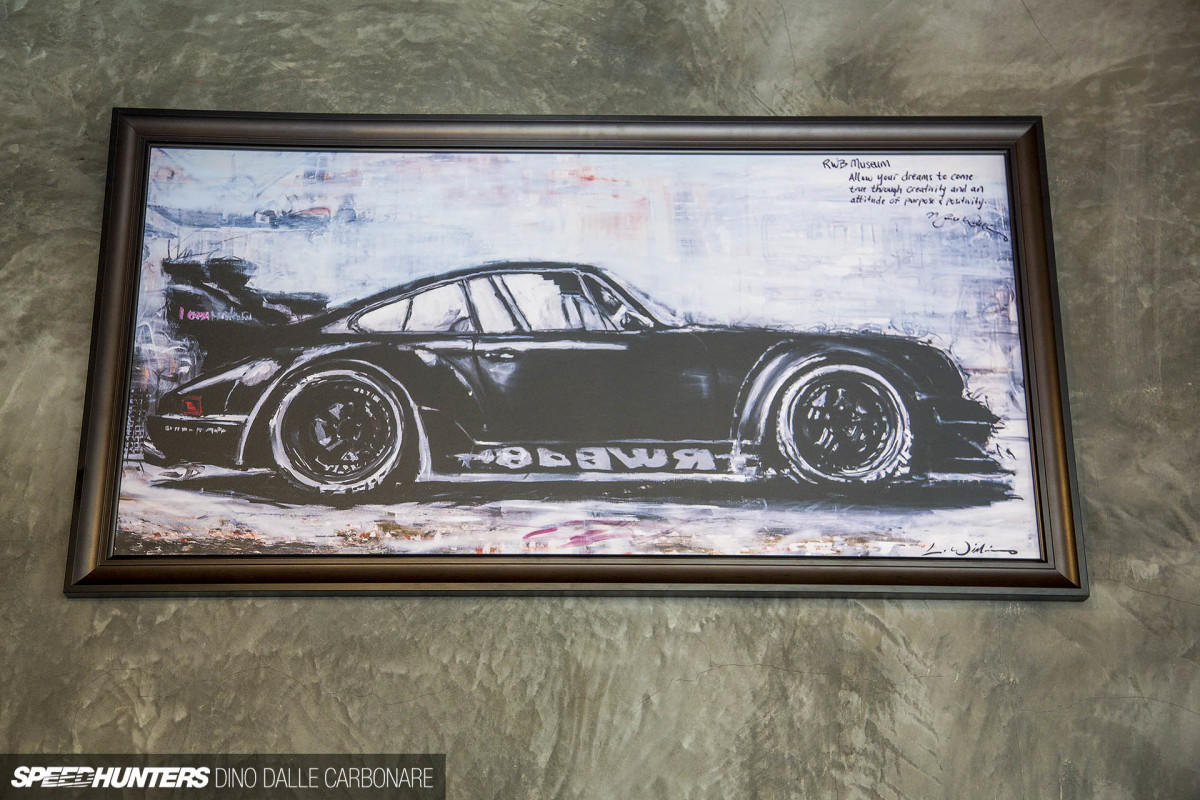 All inspired by one man with one simple vision.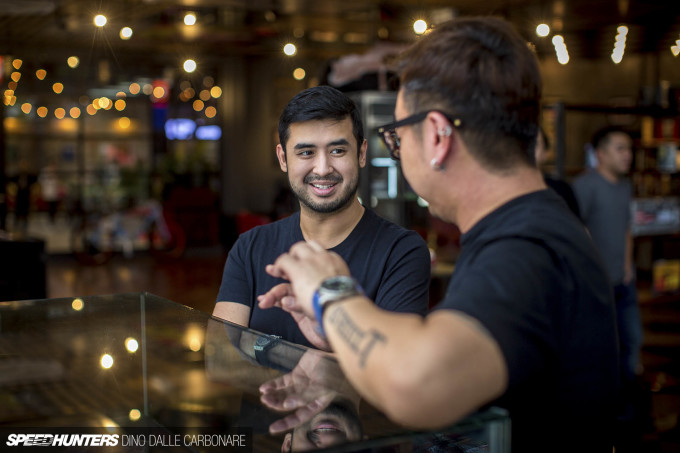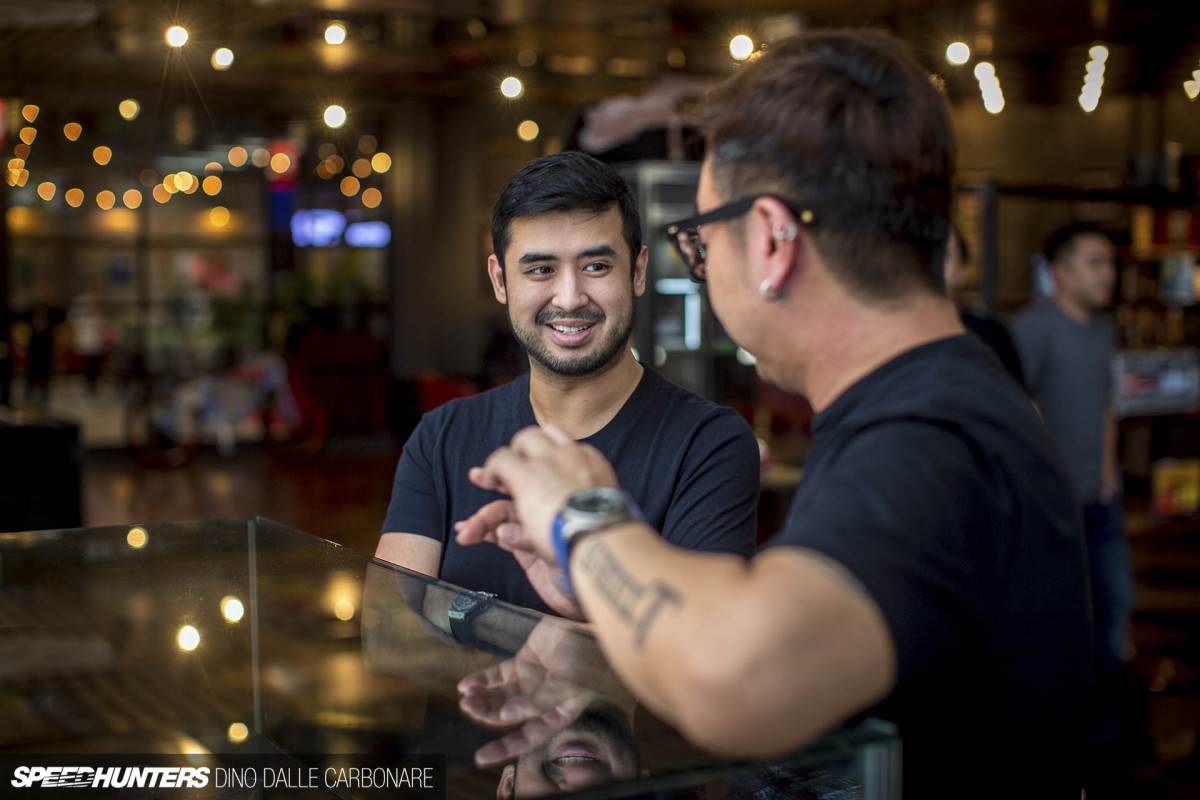 And as a true testament to Christian's efforts, the grand opening was also graced by a member of the Royal Family of Johor, His Highness Tunku Idris, who just so happens is as crazy about cars as you and I are.
He was interested to find out more about the RWB movement that he'd seen countless times on social media, and arrived at the right time to meet the man behind it all.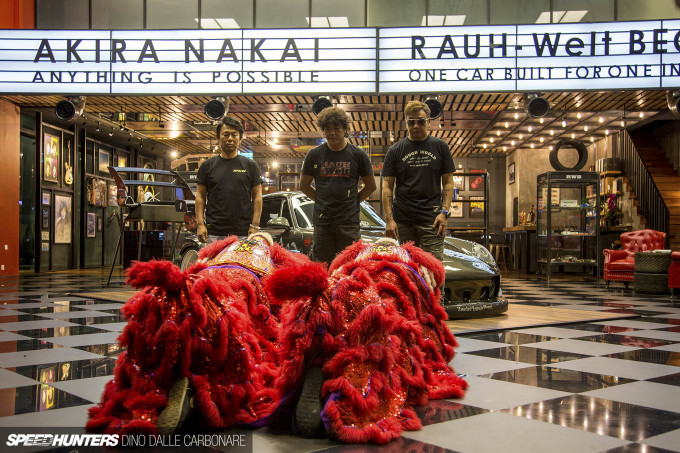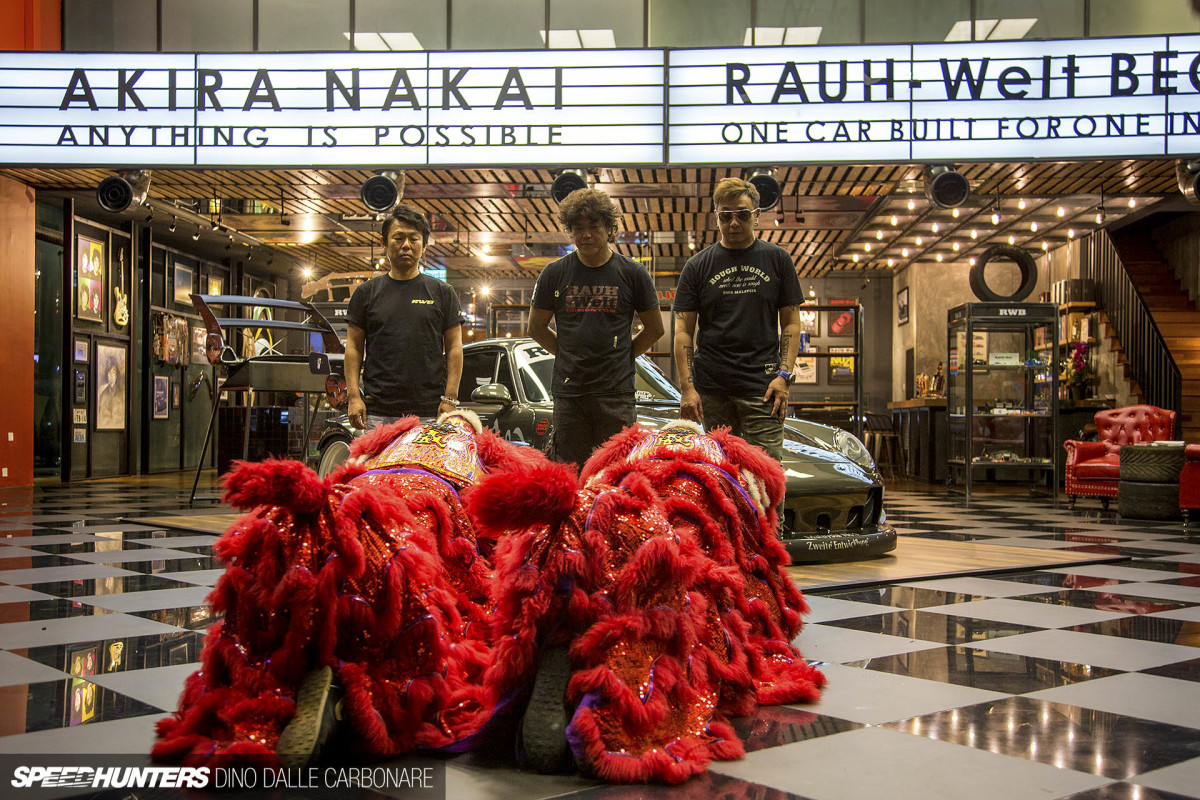 The official unveiling of the museum on the 7th of January was topped off with a traditional Chinese opening ceremony where two mystical lions danced around the venue to bring good luck.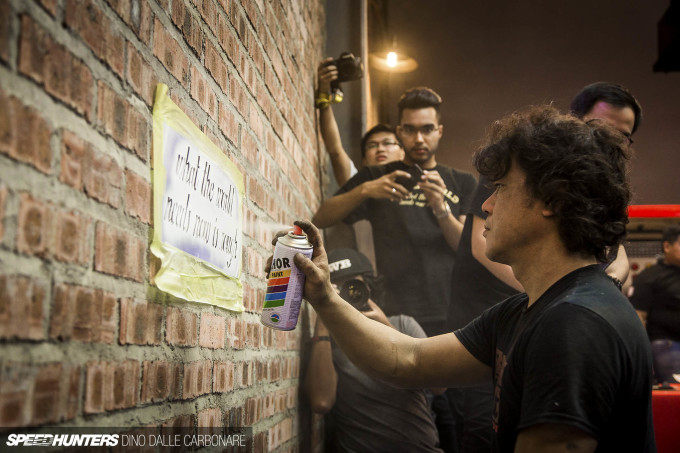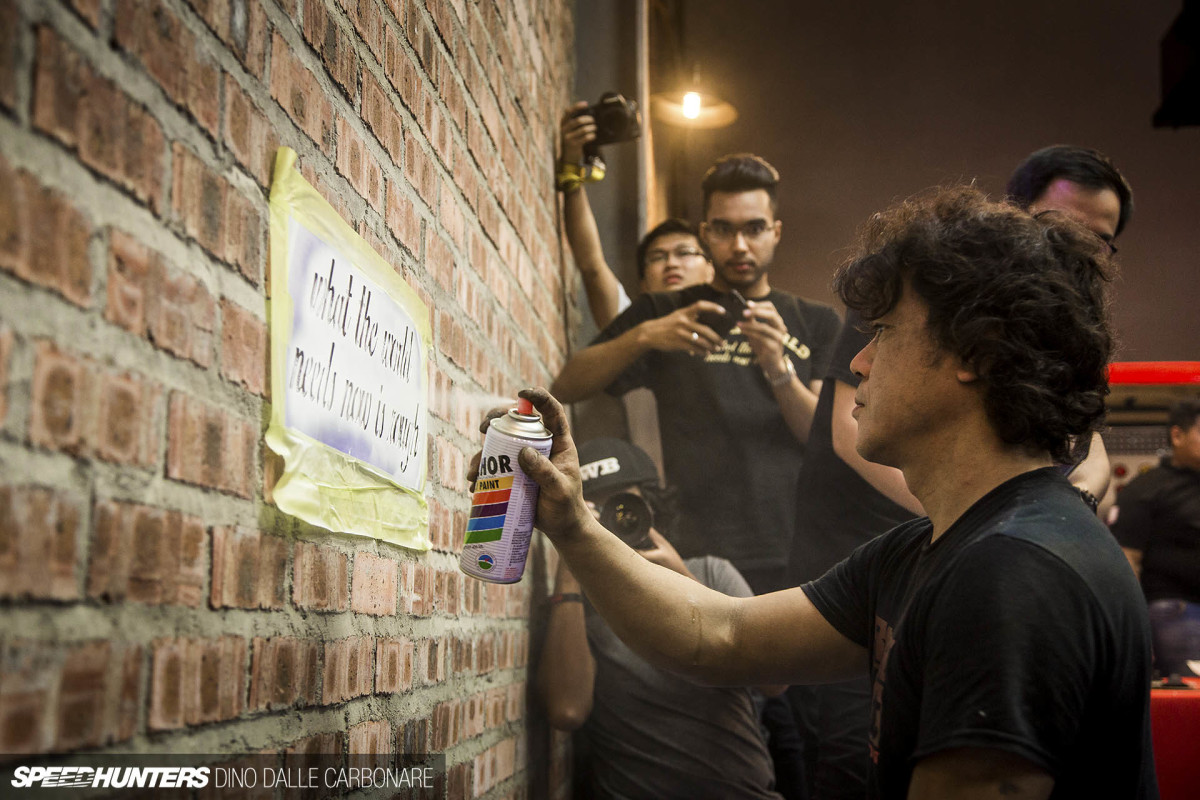 After Nakai was done putting the last wording on the 993's engine cover, he left his very own personal mark. He turned around, moved the stencil from the car to the brick wall behind it and proceeded to pass a few layers of white paint over it. It reads: what the world needs now is rough.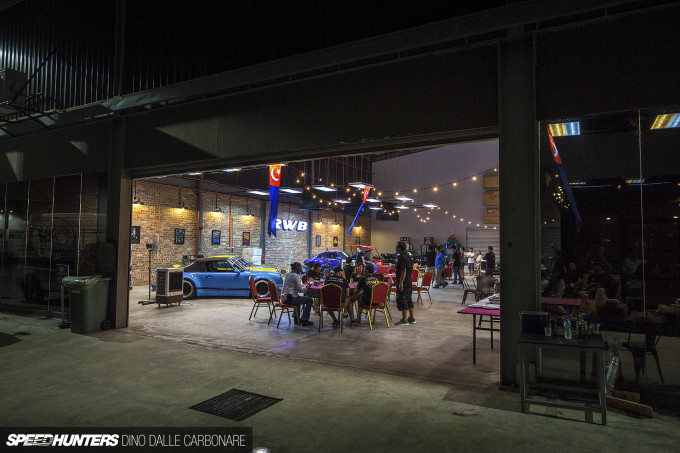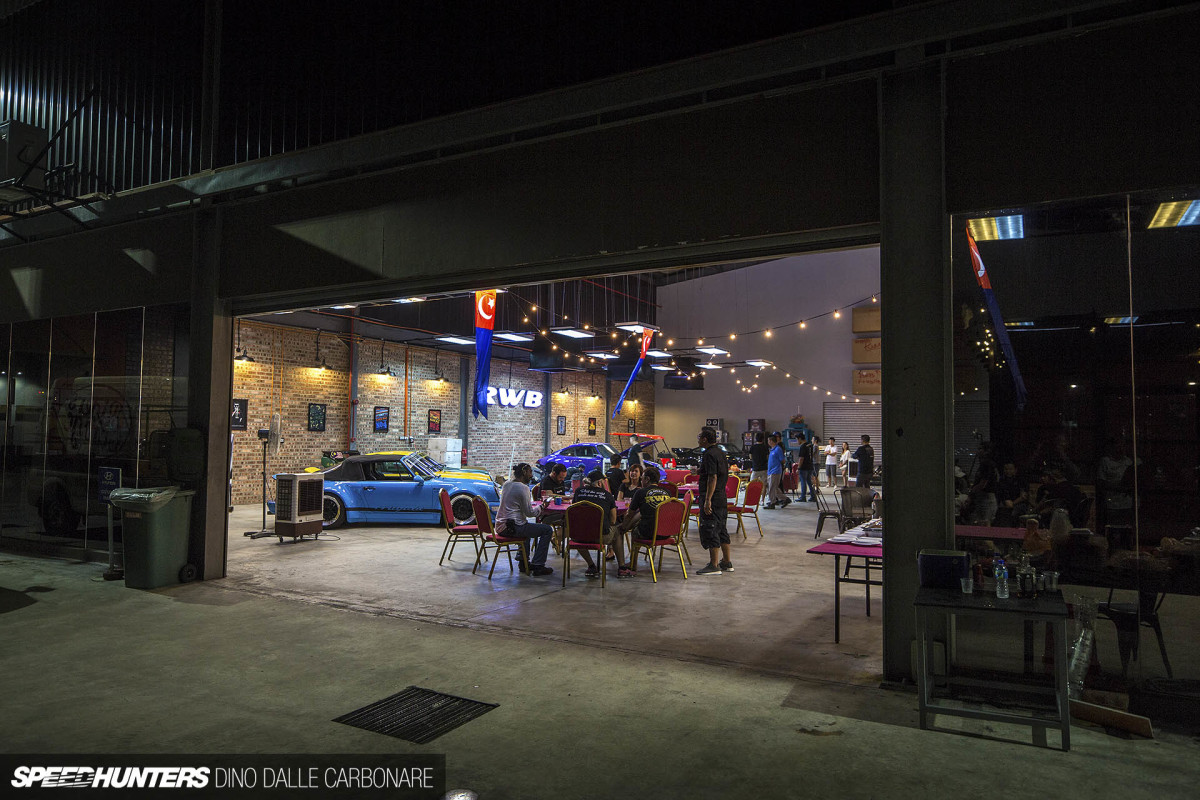 It was a true honor to be present at the RWB Museum opening and to watch another car come to life.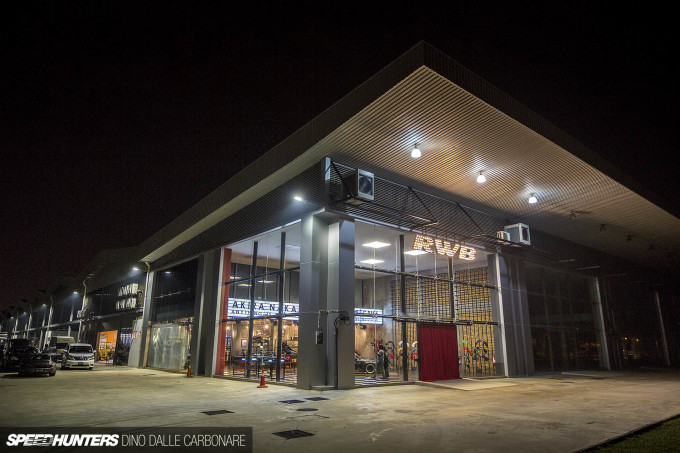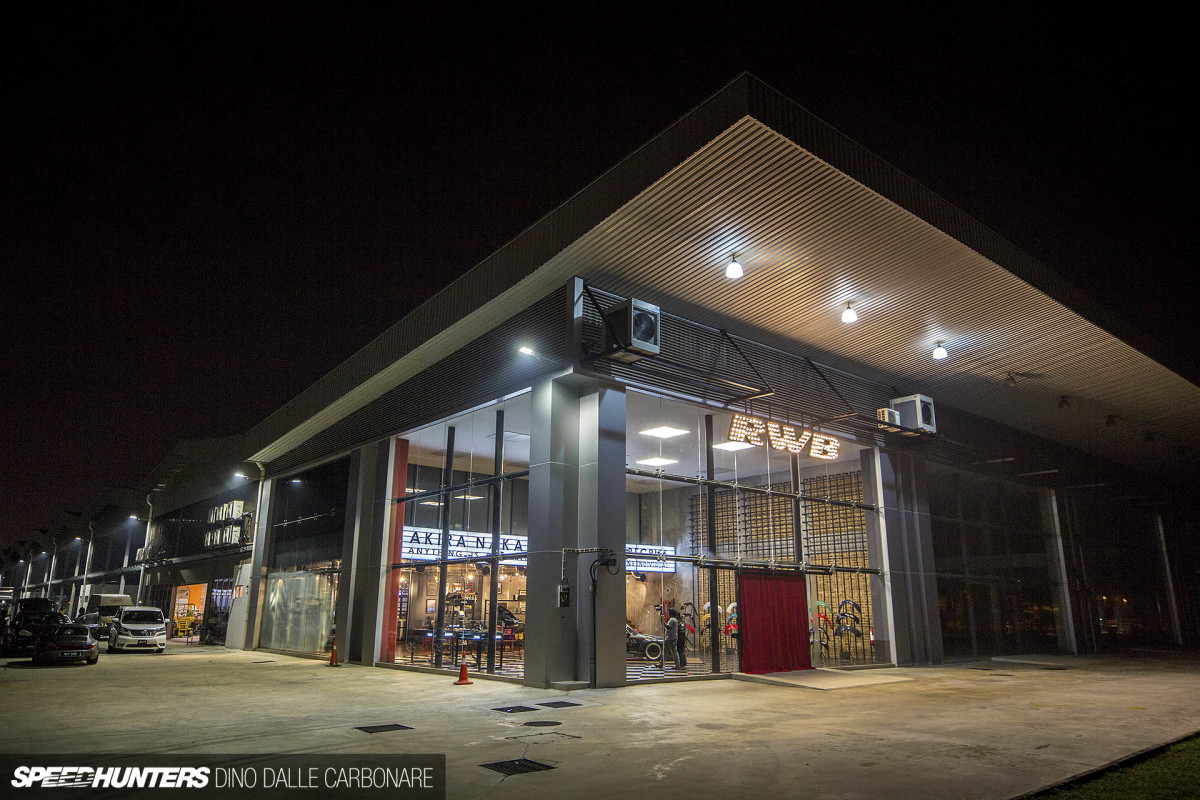 The best thing of all is sharing it with you; a special story for a special brand that is made up by a group of equally special people.
Dino Dalle Carbonare
Instagram: speedhunters_dino
dino@speedhunters.com