The Greatest Story Ever Told
I'd hate to sound arrogant, but prepare yourselves for one of the greatest stories ever uncovered by a Speedhunter.
This is modern-day Shakespeare. Forget Romeo and Juliet, this is the epic saga of two man-children, one dumb idea and an unhealthy love for Australia's shittiest car. Let me introduce you to Jon, Jamie and their AU Ford Falcon.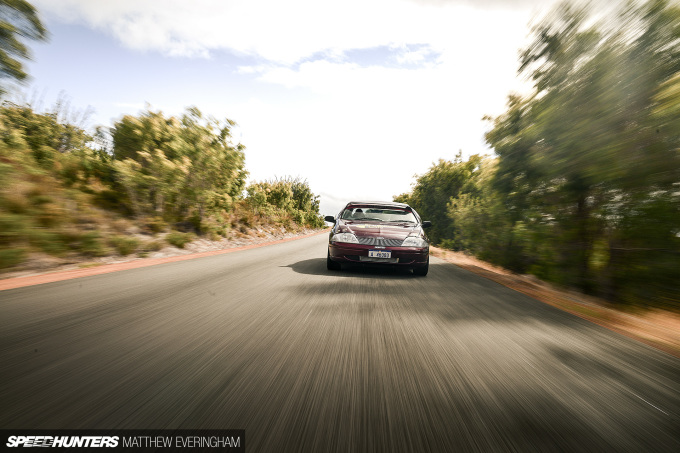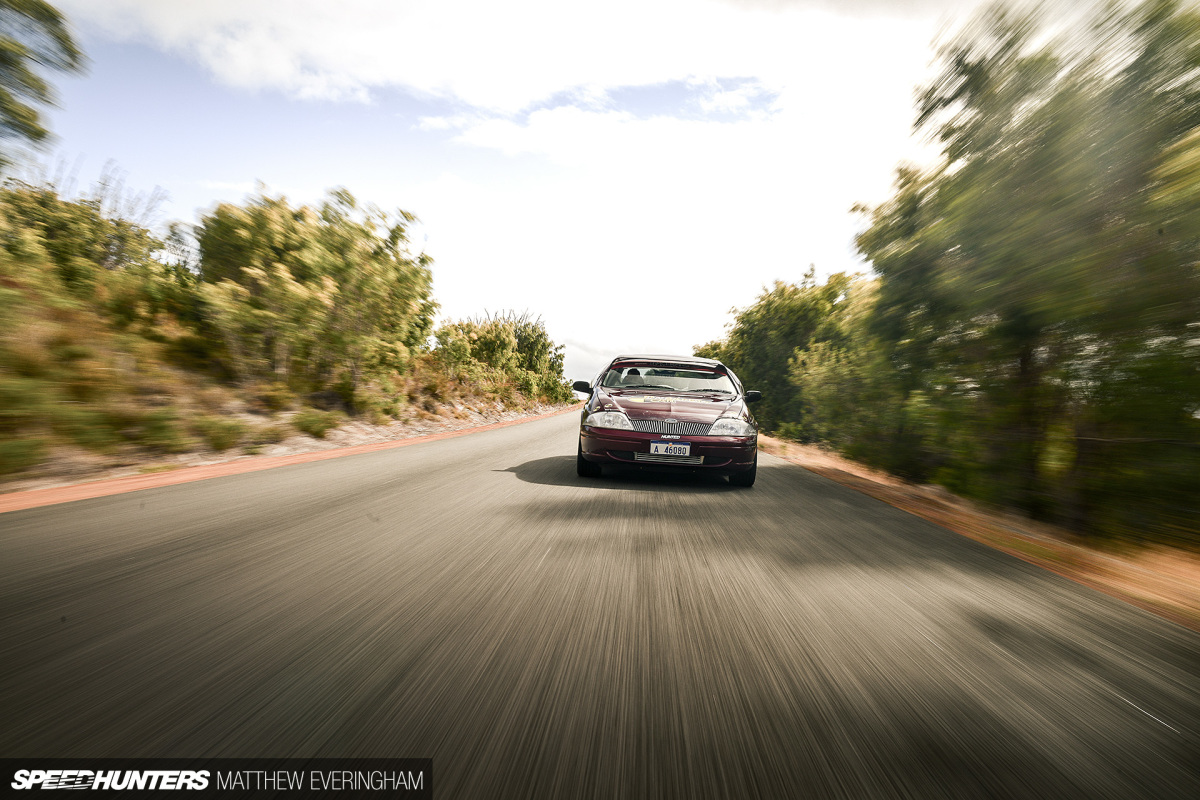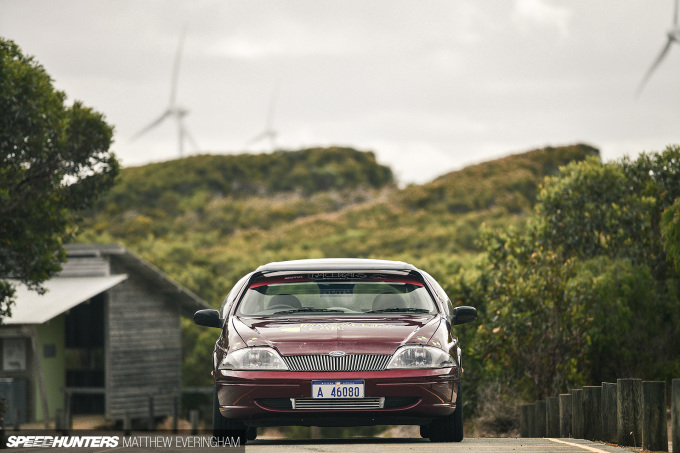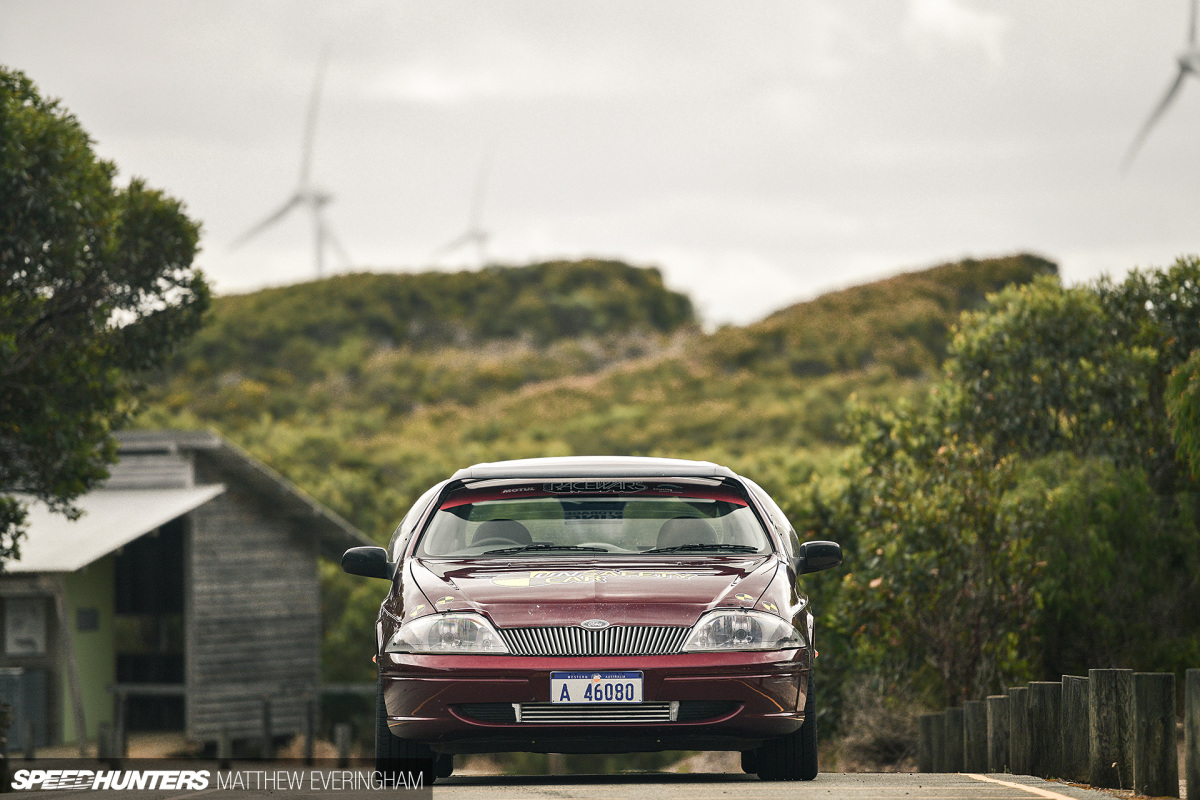 Fellow Aussies and our New Zealand cousins will need no introduction to the AU Falcon, but let me quickly introduce the rest of the planet to the ugliest car Australia has ever produced, in 'Forte' specification. In standard form, its asthmatic 'Intech' 4.0-litre inline-six produced a stated but questionable 157kW (210hp). The struggle was exacerbated by a sluggish automatic gearbox that just barely managed to drag the 1,550kg (3,420lb) of cockroach-shaped land barge from point A (usually a taxi rank) to point B (usually a pub).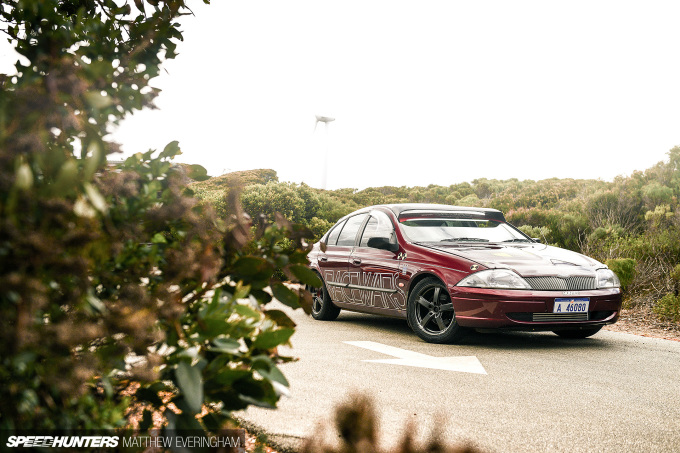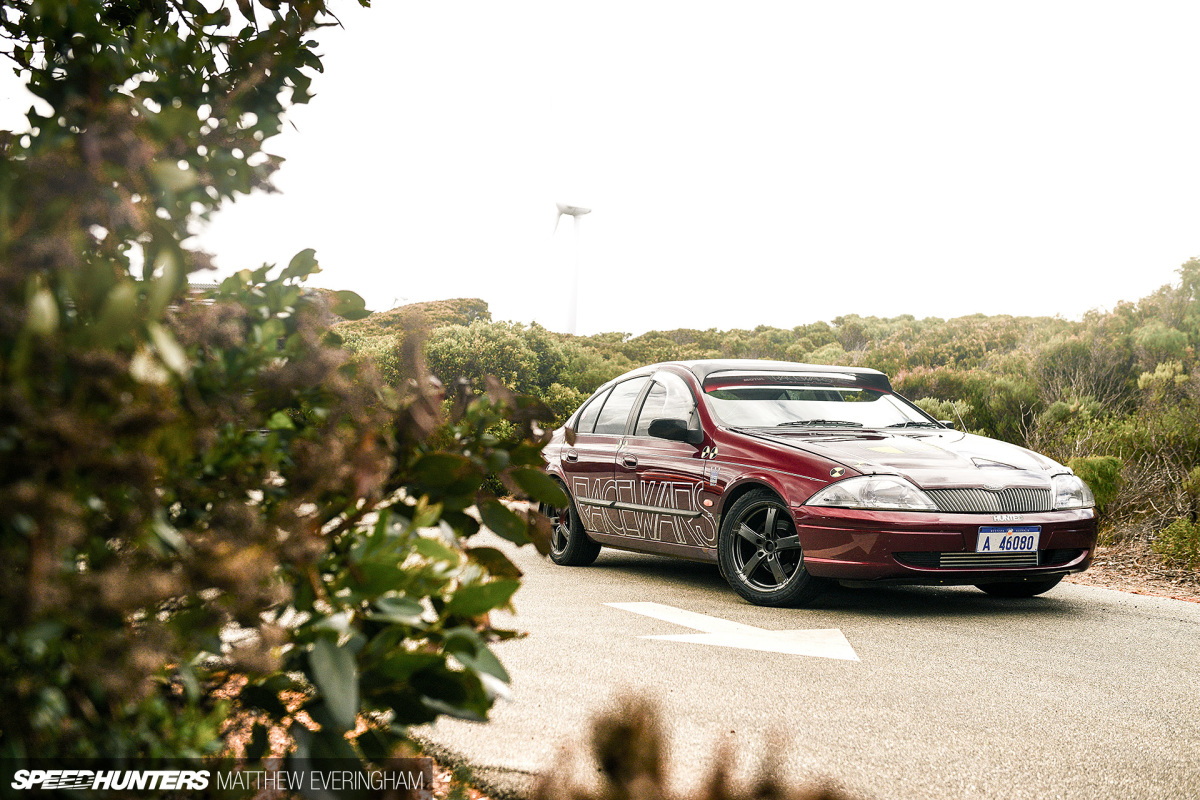 Locals have spent much time debating whether the low point of the AU Falcon was its lacklustre styling, borderline-adequate power delivery, or its ability to handle like a wet bar of soap during any driving conditions.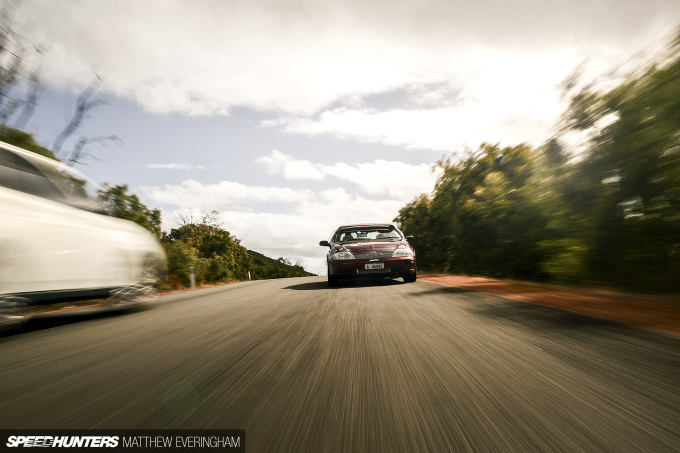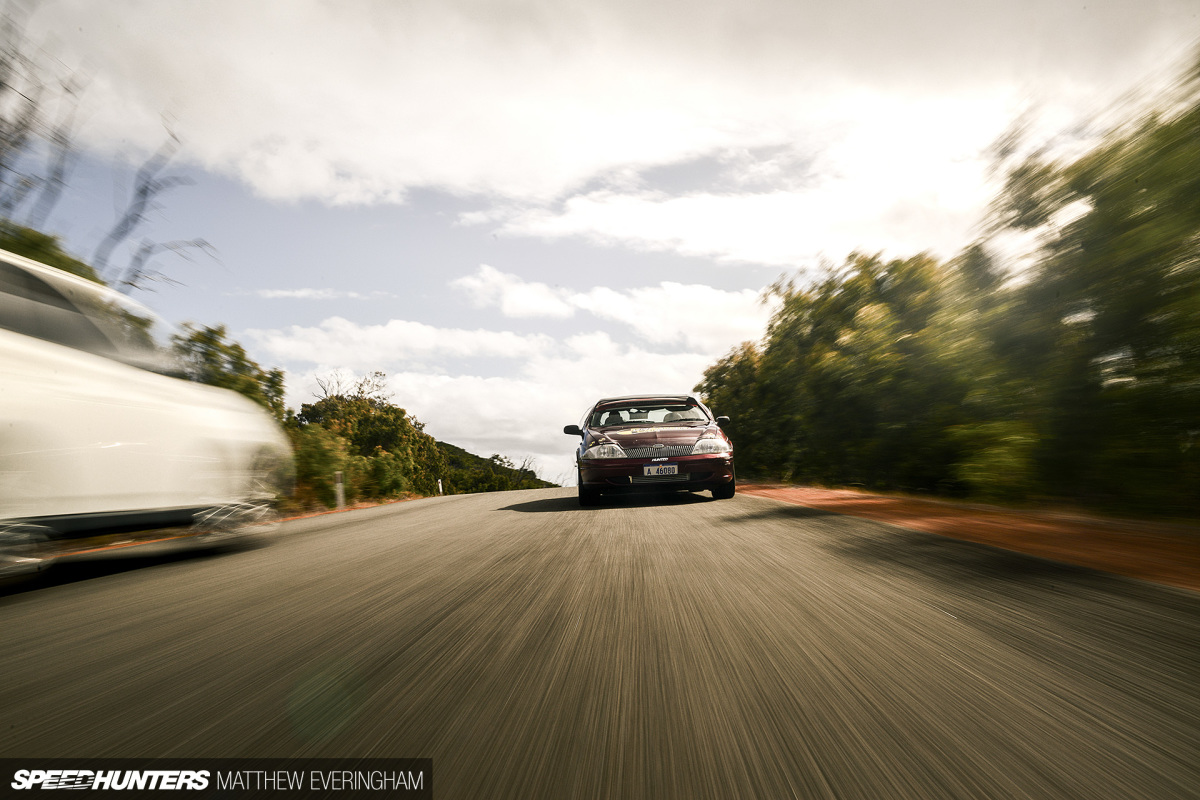 A story of this magnitude, dare I say one of Australia's most important moments of motoring, demands more than a simple secondhand retelling. So, for now, I shall let Jonathan Murray, destroyer of tyres and also a founder/co-owner of Racewars, loose. Take it away, Jon.
The Best Of Bad Life Choices
It took several hours and innumerable messages, endless memes and a bewildering level of support from people not usually known to involve themselves in my silliness for us to finally convince a UK-based friend that the reason the AU Falcon is now so highly revered is because it was initially received with such distain.
In spite of well-founded reservations that we were out of our minds, the collective members of a rather large and boisterous group chat were able to explain with questionable but profoundly unwavering logic that the AU Falcon is so goddamn good because it's so utterly f**king terrible.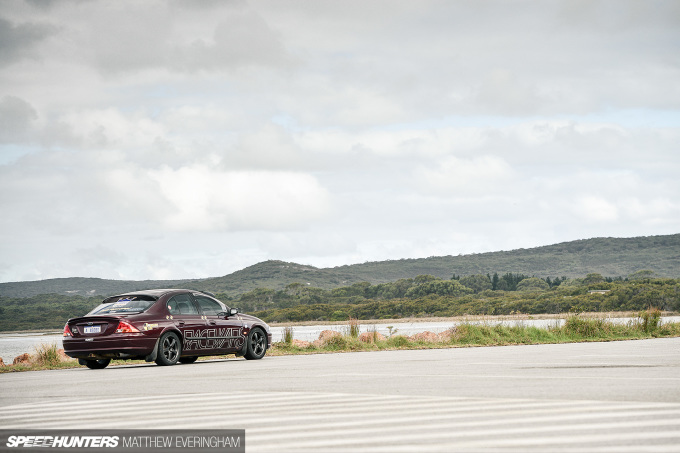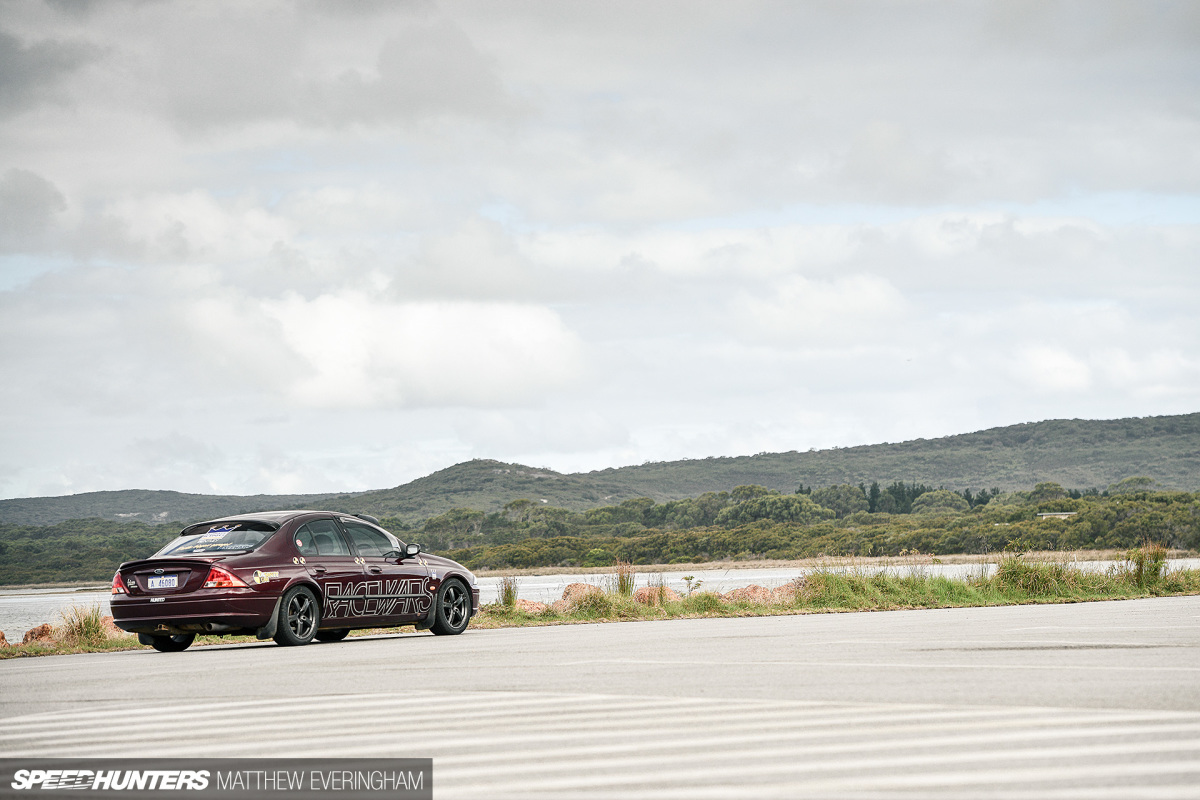 With his understanding of the world rearranged and the AU Falcon now implanted in his mind as something akin to an automotive demigod, Lukian's next question was just how brave we were going to be when it came to winding the boost up. You see, we didn't just have any old series one AU Forte…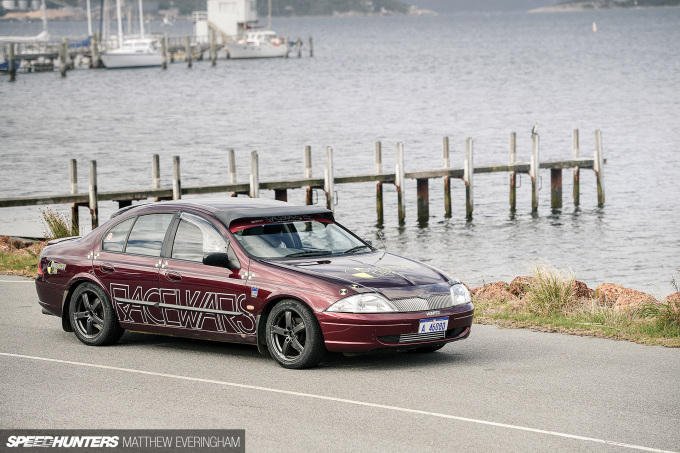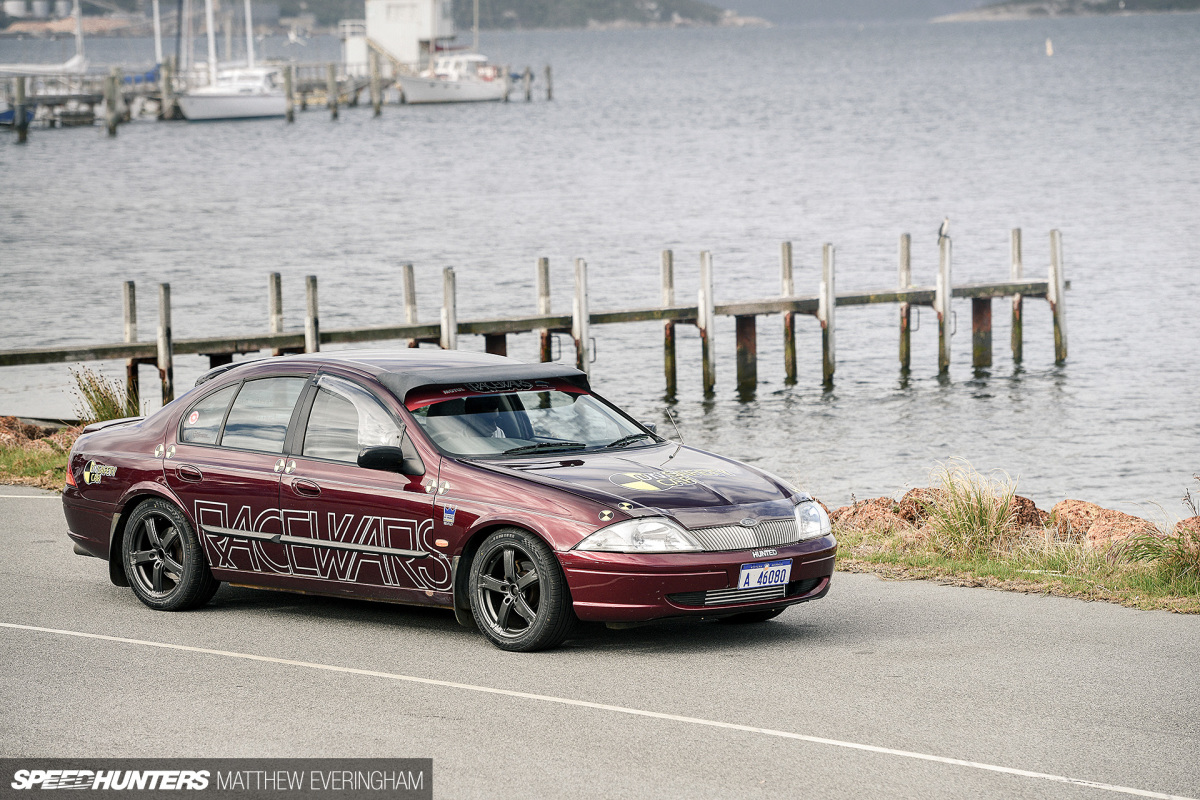 The story of this burgundy beast goes back a few weeks prior to this group chat re-education session. In the lead up to Racewars 2018, fellow event director Jamie and I were headed down for a pre-event planning meeting with the local authorities. A four-hour long drive may sound like a tedious trek to some, but Jamie and I have always relished the time on the road as it's a great chance to switch the phone off, escape our crazy real-world commitments, and talk endless amounts of shit about what we love most: car culture.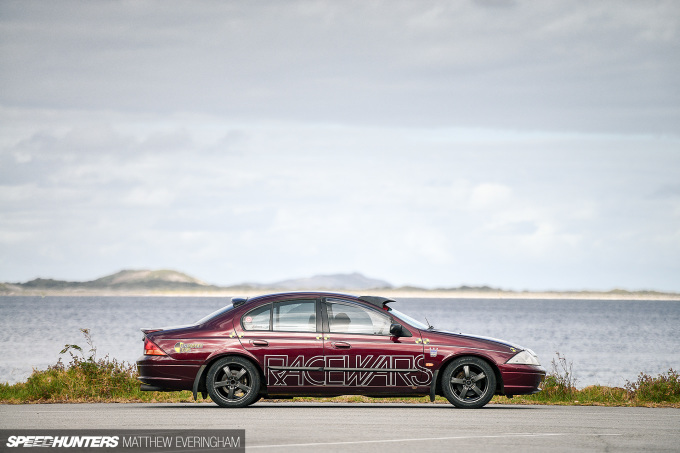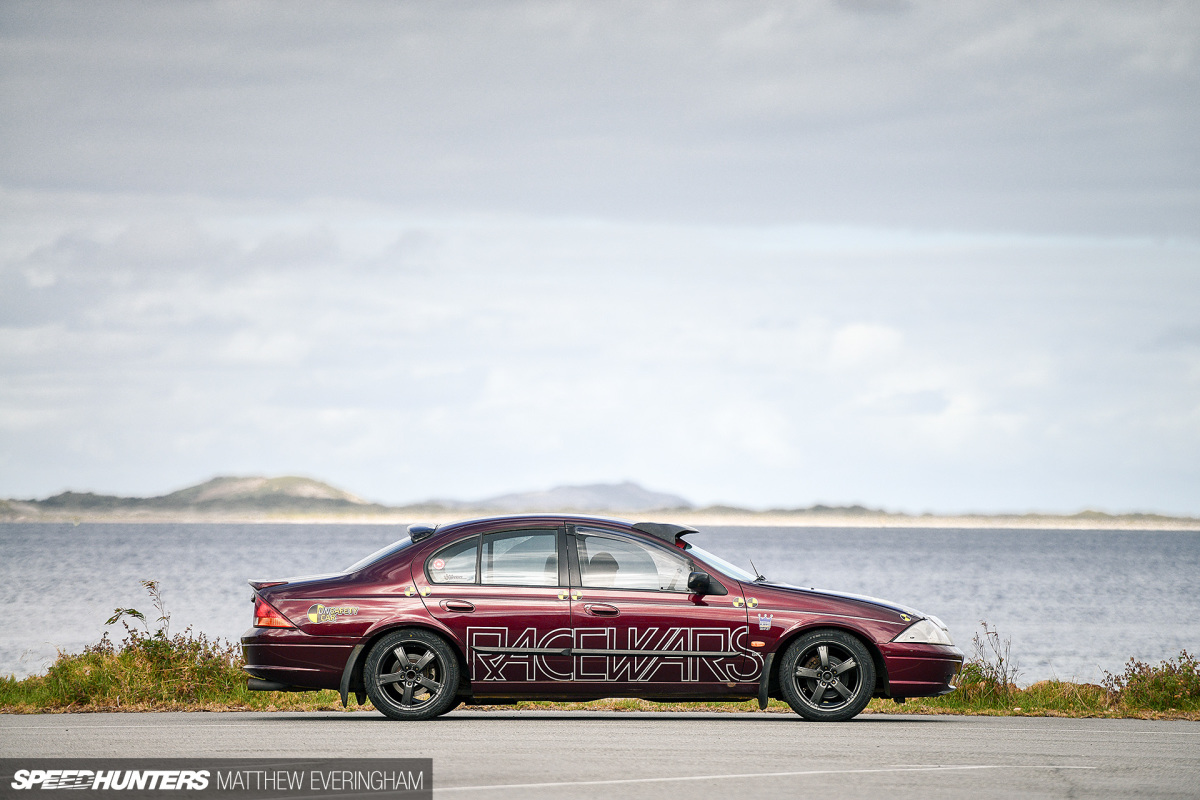 It was about two hours into the drive when we got talking about what we were going to do for a course car for RW18. There were no more LS3-powered Holden Commodores SS-Vs in the local rental car fleets and at the time we were having no luck getting a press car. It was then we had what turned out to be a truly inspired idea – we'd build a course car.
We went back and forth between all manner of things, but we kept on returning to the AU Falcon. Fast forward a few more hours and upon our arrival into beautiful Albany the laptops were whipped out and we were logged into Gumtree (Aussie's Craigslist) looking for a suitable base car.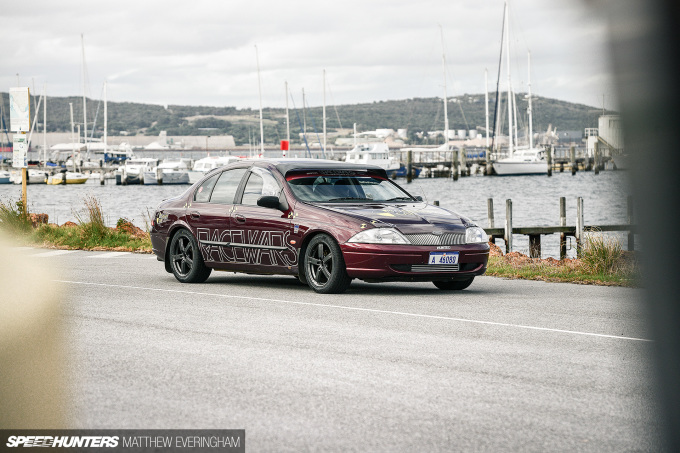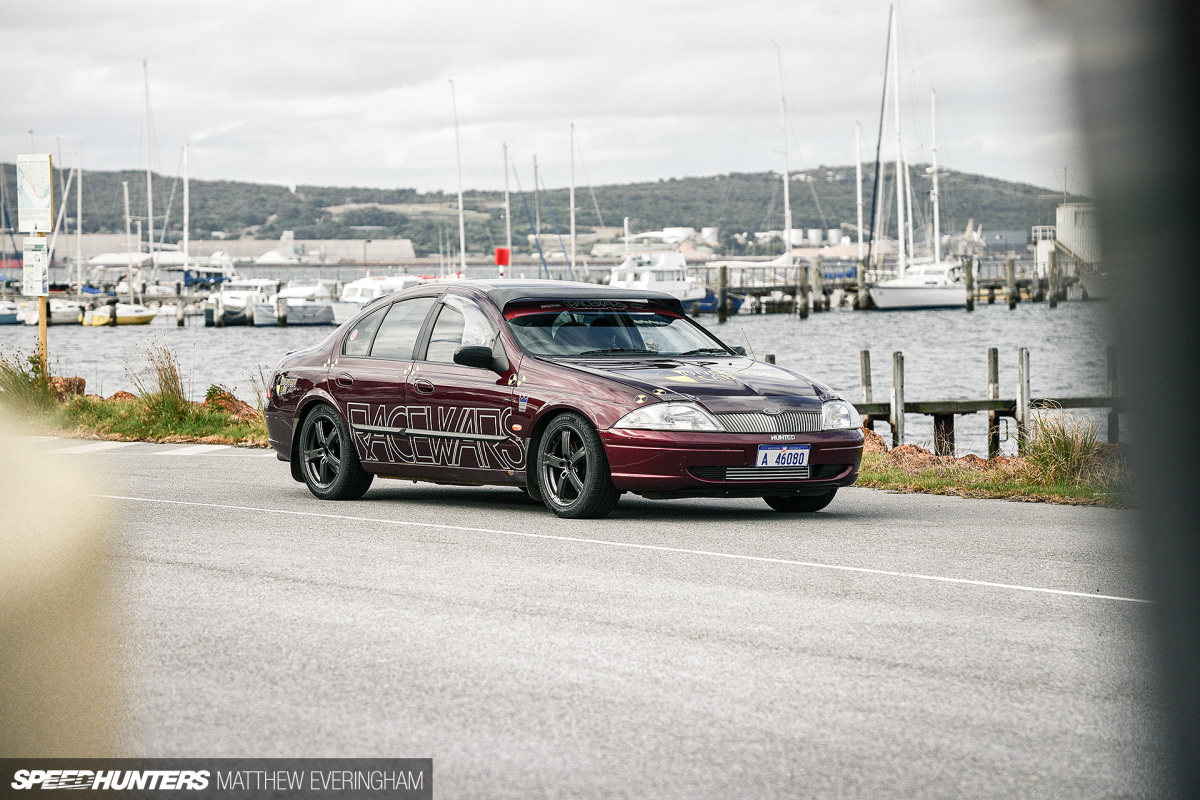 Not even a minute after kicking off our search, the holy grail appeared: A one-owner, series one Forte (the absolute poverty pack base model), just a couple of minutes drive from our hotel. The ad had only been live for a few hours but we couldn't contain our excitement – we needed that car and we needed it now!
The seller didn't really understand our excitement; to him it was just a car that was used to commute from his farm into town. The legendary robust engineering and durability these AUs were blessed with meant he'd enjoyed a trouble-free 112,000kms with it, but now it was time to move it along for something newer. I took the car for a short drive and found no issues; Jamie handed over the cash and it was done.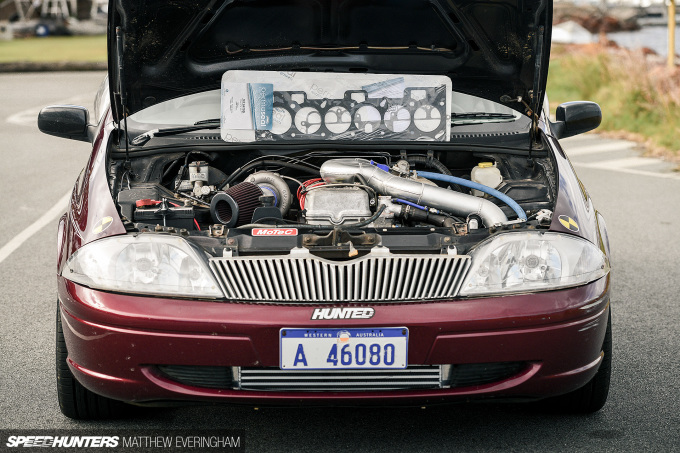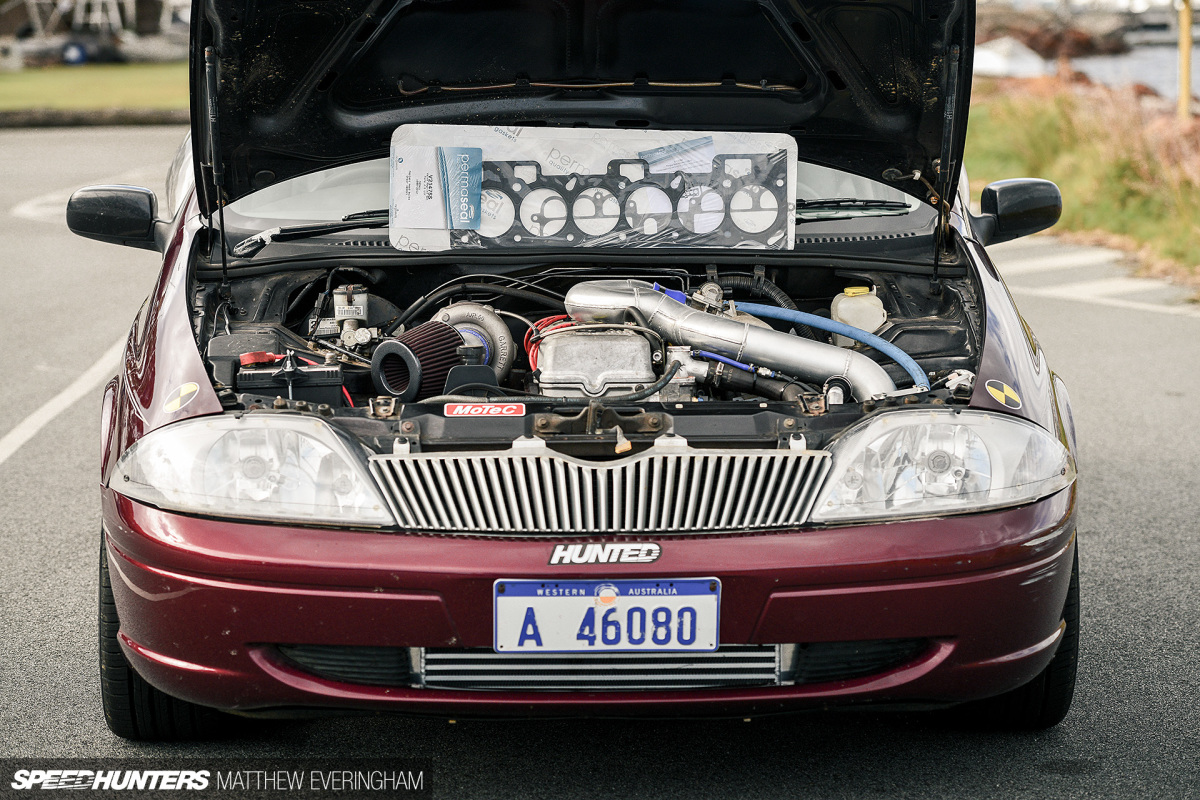 When word first got out that we'd gone and bought an AU our inboxes lit up with mates asking what the hell we were smoking. Both of us already had garages full of other toys and we certainly didn't need another one. However, when we said that we were going to turn the Falcon into a 10-second ¼ mile car for less than $10,000, people started to take an interest.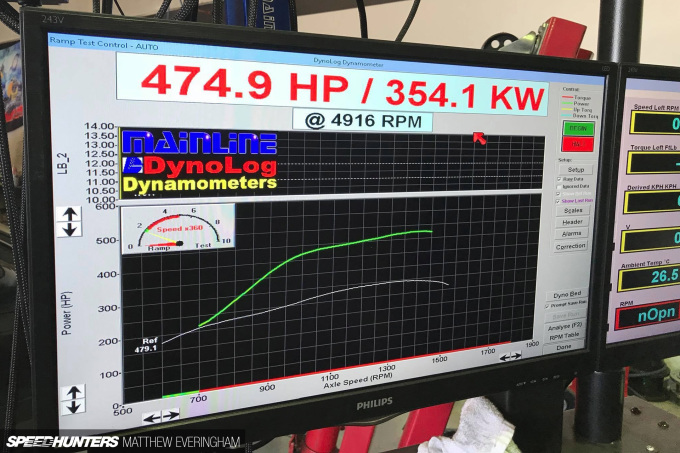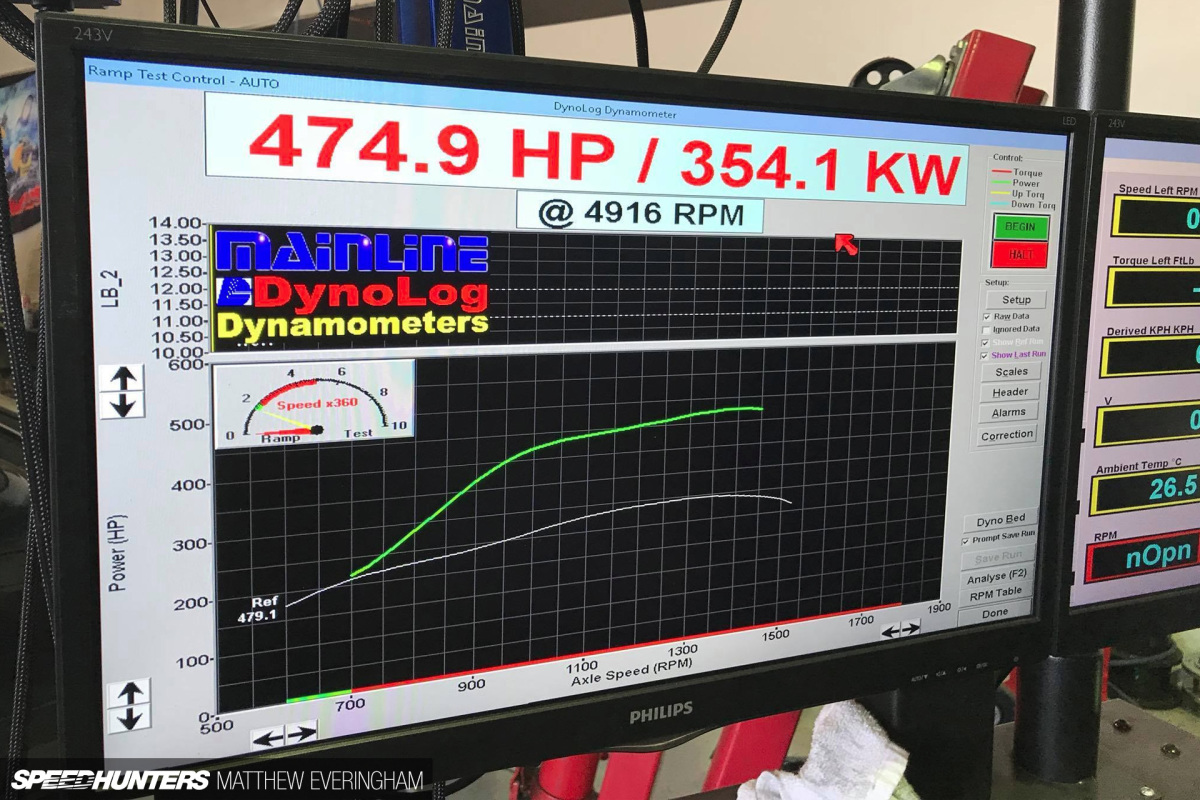 You see, our Forte left the Ford factory with a near on bomb-proof iron block engine. While this era of car predates the legendary 'Barra' twin-cam motors, the fundamentals of the older single-cam 4.0L six are the same. In stock naturally aspirated trim they're exceptionally lazy, but they love boost.
Our first evening of AU ownership was capped off by Jamie and I doing a live feed in a pub carpark introducing the world to our latest bad life choice. The comments section erupted and we quickly realised that we had a hit on our hands. People loved it, and faith in our stupid idea was reaffirmed. The AU was clearly the car of the people, the loveable anti-hero, and the four-wheeled middle finger to common sense, better judgement and rationality.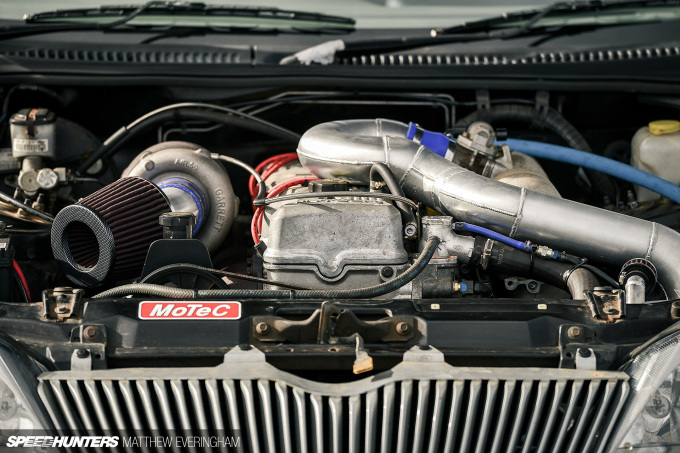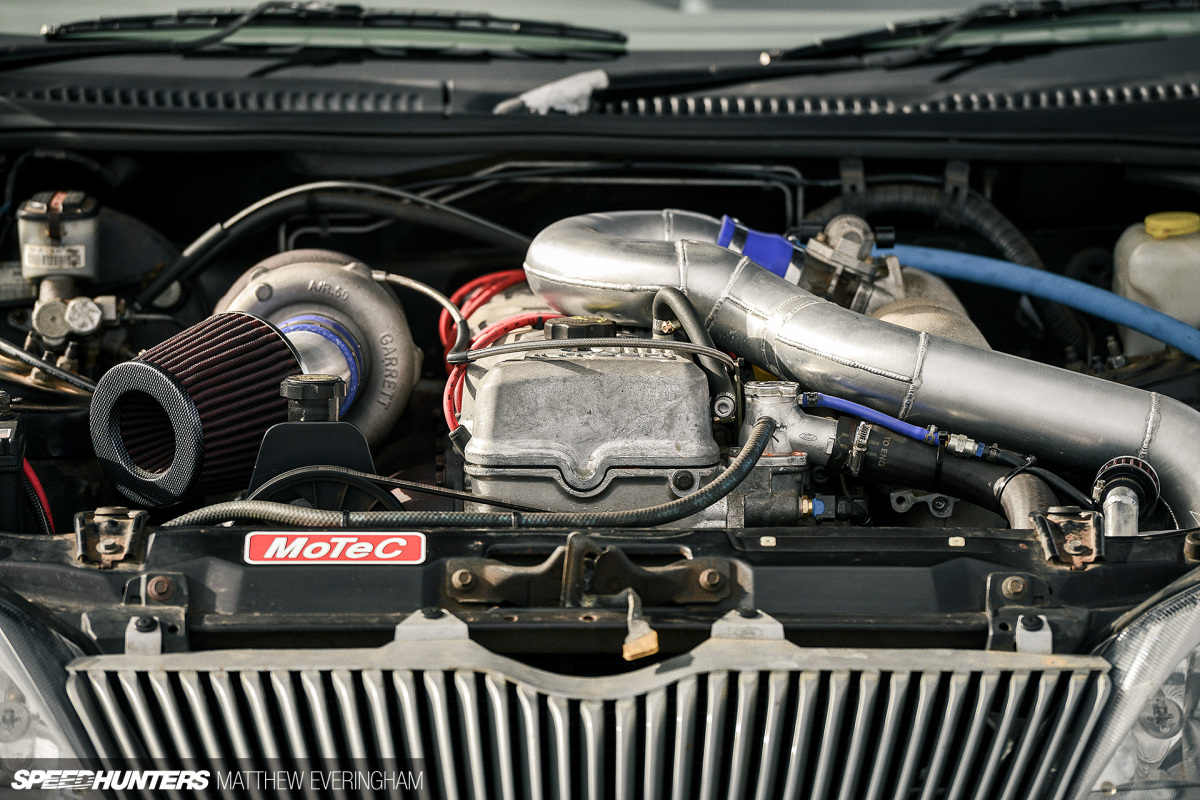 With only a few months before Racewars it was going to be a mission to get the AU done in time. Most of Western Australia's performance workshops were already up to their eyeballs in RW builds, but I was able to get the car slotted in with a friend who shares our penchant for poor life choices and has the spanner-swinging skills Jamie and I lack. The only catch was this person didn't want anyone to find out he was building it as he wasn't keen on a heap of numpties coming to his workshop wanting to do copycat builds. With the condition of anonymity agreed to our mysterious mechanical artisan took the AU and set about making it great.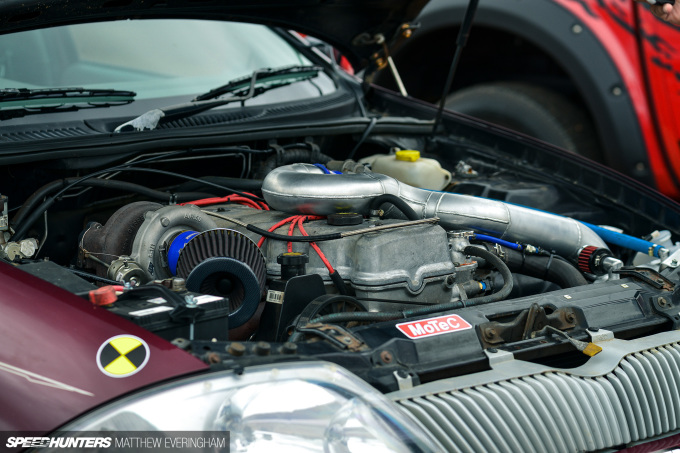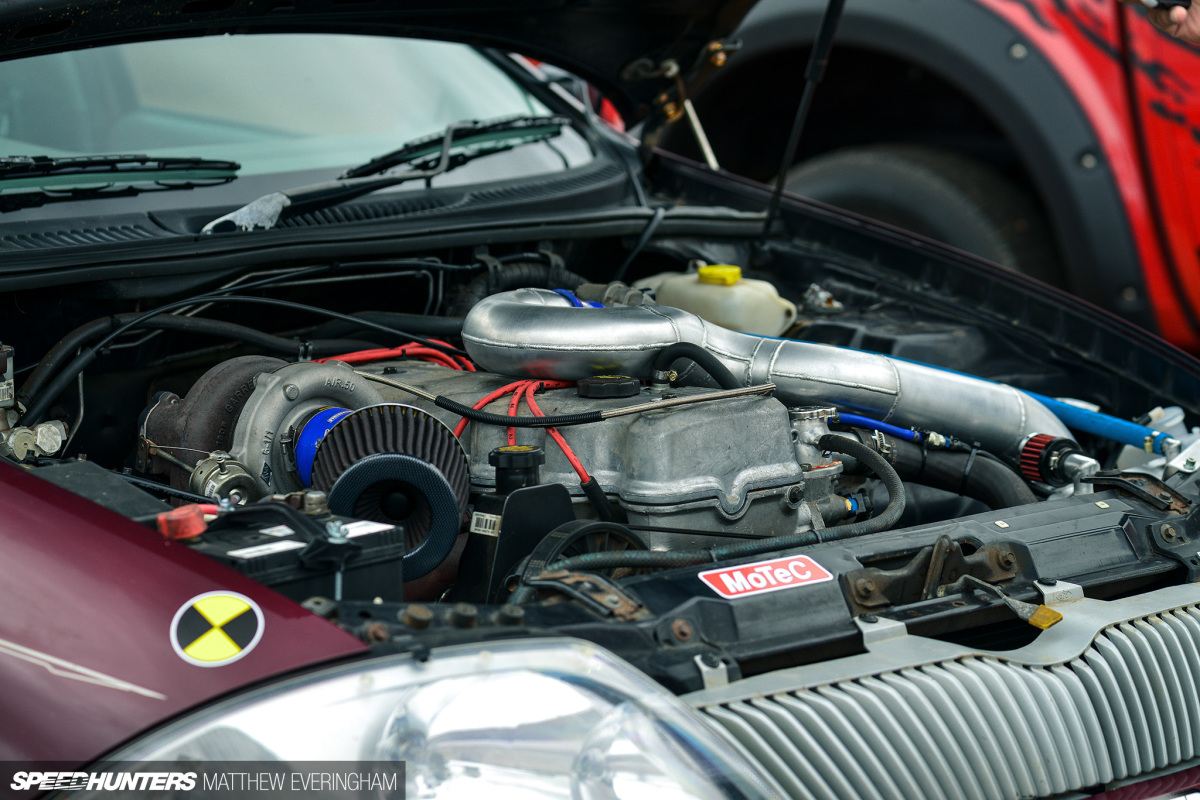 Many things happened in the intervening few weeks between the car going away and it being reborn as a bad-ass boosted sleeper. Various turbos were tried and didn't fit; parts were fished out of rubbish bins; our spare parts for some of our other cars were raided/donated to the cause, and all manner of ghetto, everything-fits-if-you-hit-it-hard-enough-with-a-hammer engineering was unleashed on the Intech. We opted to keep it as near on stock as we could hope to while bolting on a turbo, so mechanically all the engine block copped as some fresh valve springs and a head gasket.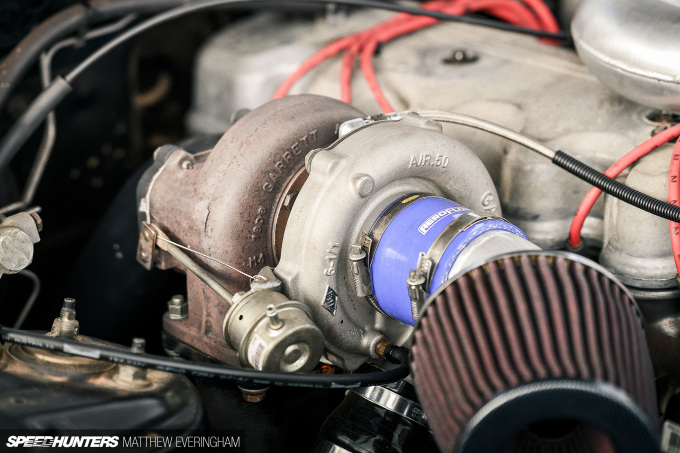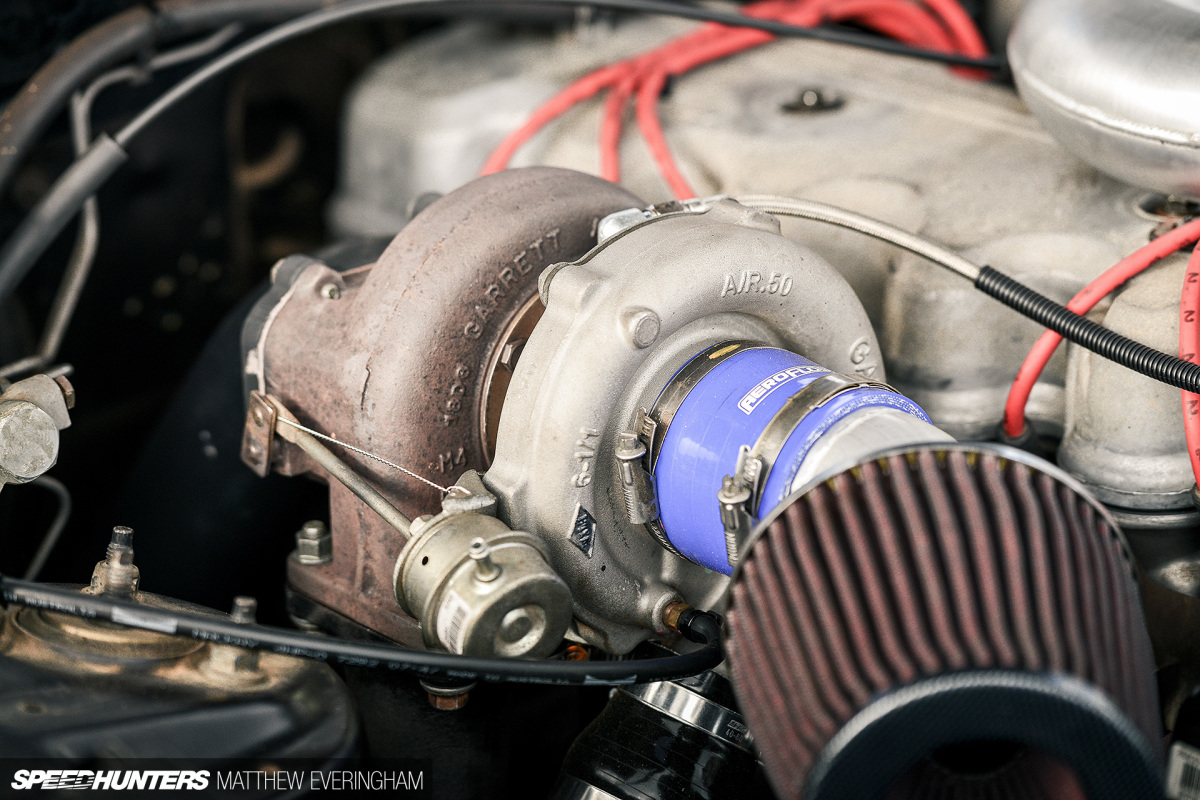 After trying an old school Garrett T51R we dropped back to a Garrett GT35 so we could fit it under the bonnet and not have to move too much around in the engine bay. We then bought a cheap and very nasty turbo manifold and intercooler kit off eBay. After de-capping some spare R35 GT-R VR38DETT injectors and fitting an upgraded pump that was laying around, we now had the fuel system to feed the engine the copious amounts of E85 it would need.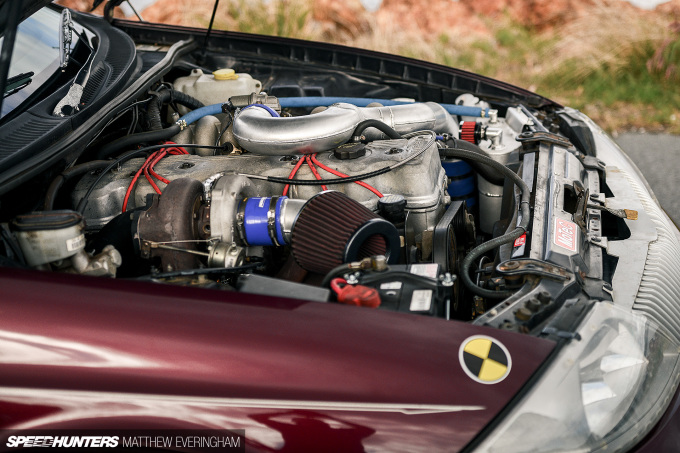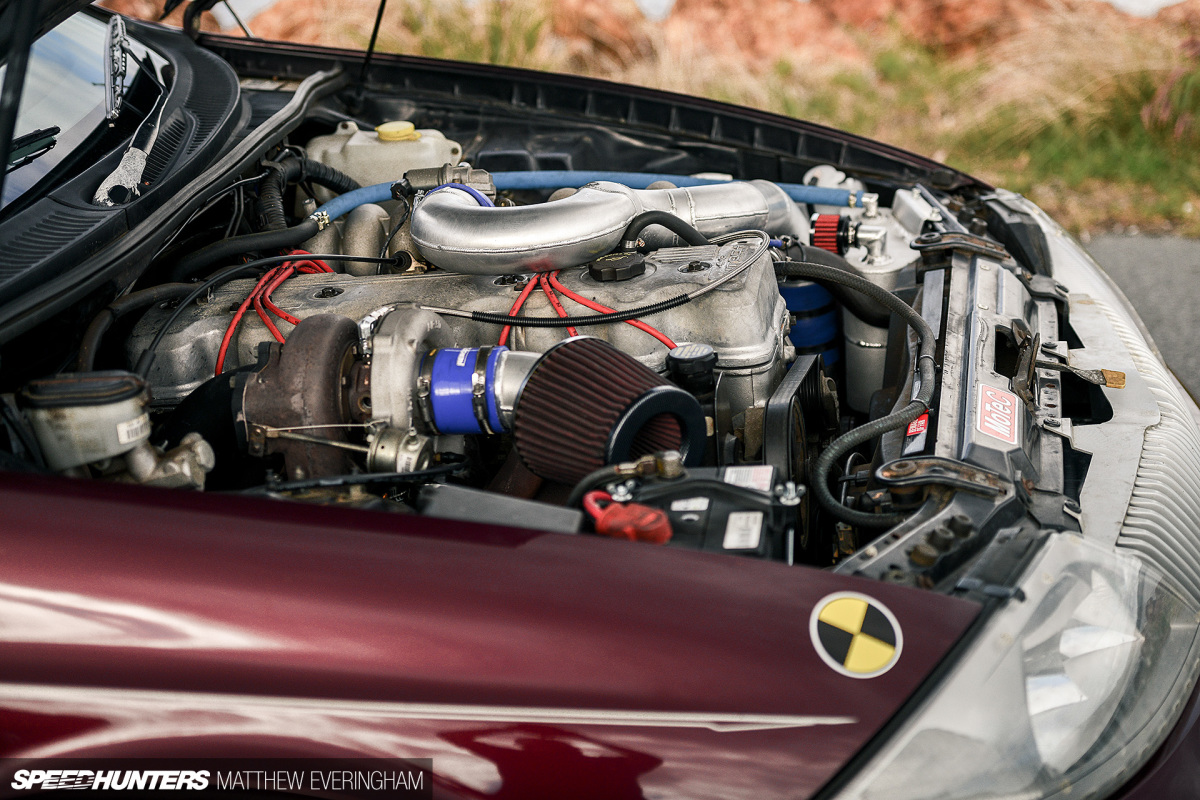 Rather than try and reflash the stock ECU, my spare MoTeC M800 was wired in to control the chaos with a Shift Kits Australia transmission controller manualising the stock BTR 4-speed automatic. Fab work was kept to an absolute minimum in order to keep the costs down and abide by our goal of keeping the whole project under $10K. Dumpster diving even scored us a catch can off an E46 M3 race car that slotted into the AU's engine bay perfectly.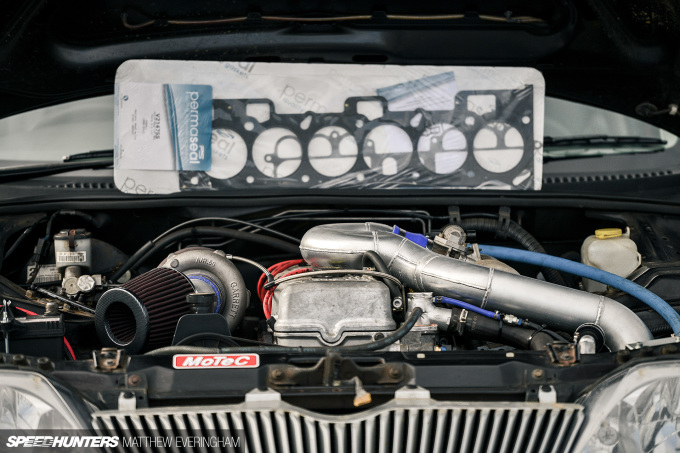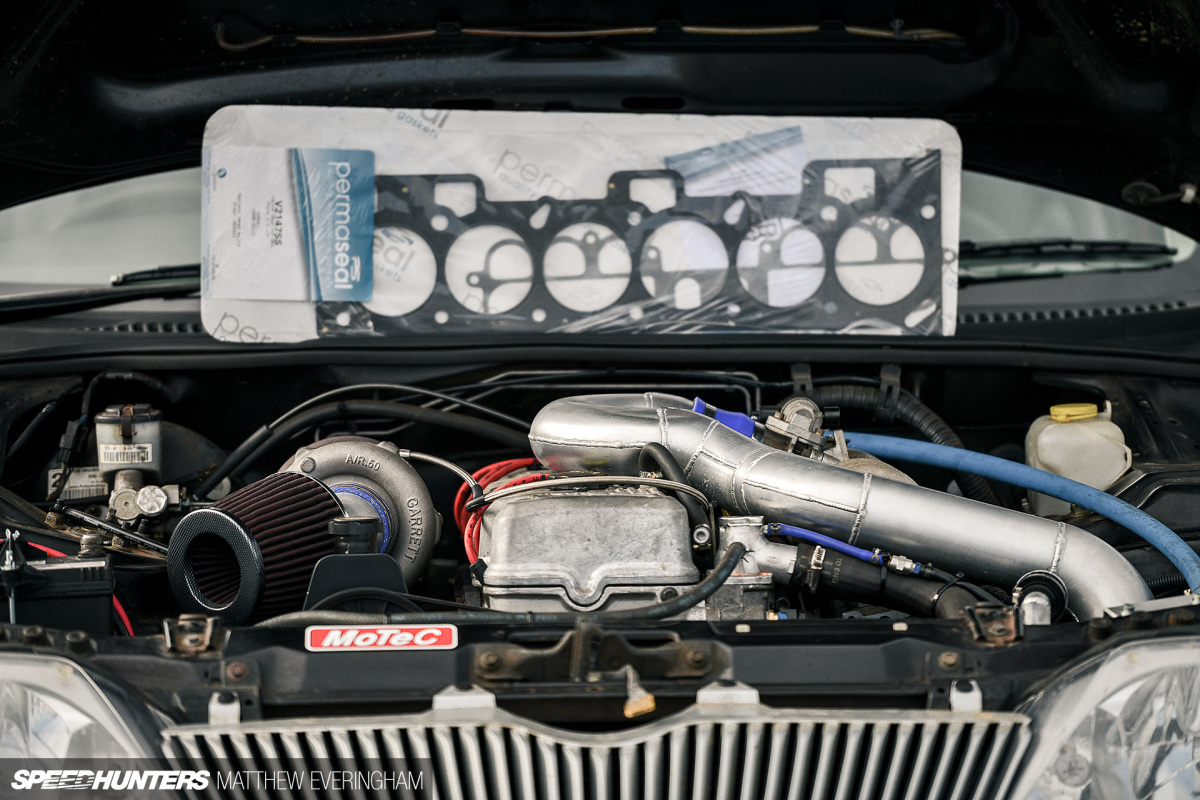 The AU was built to handle Australia's roughest and toughest roads (the model designation actually stands for AUstralia) so it had a sky-high ride height with marshmallow-soft suspension and more body roll than an ocean liner. Given we wanted to turn the wick up we couldn't run the risk of having a shitload of power in a shit-handling car, so we ordered brand new shocks and a lowering kit from our friends at a local auto parts store. We also swapped the tiny 15-inch factory wheels for some larger 17 inch wheels (which were once again found in a pile of parts out the back of the workshop) so we could get some rubber under it.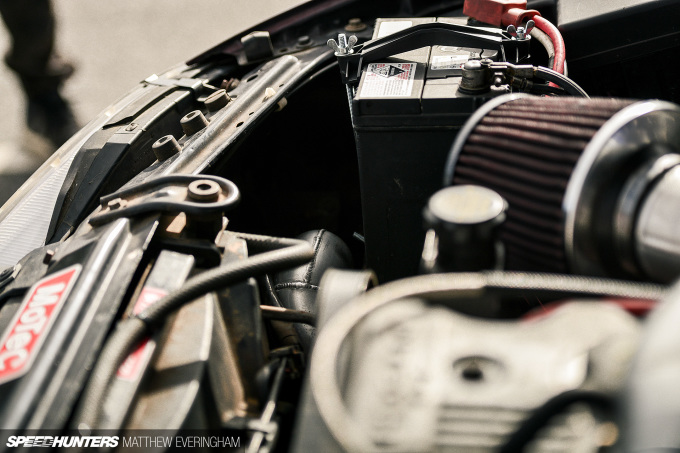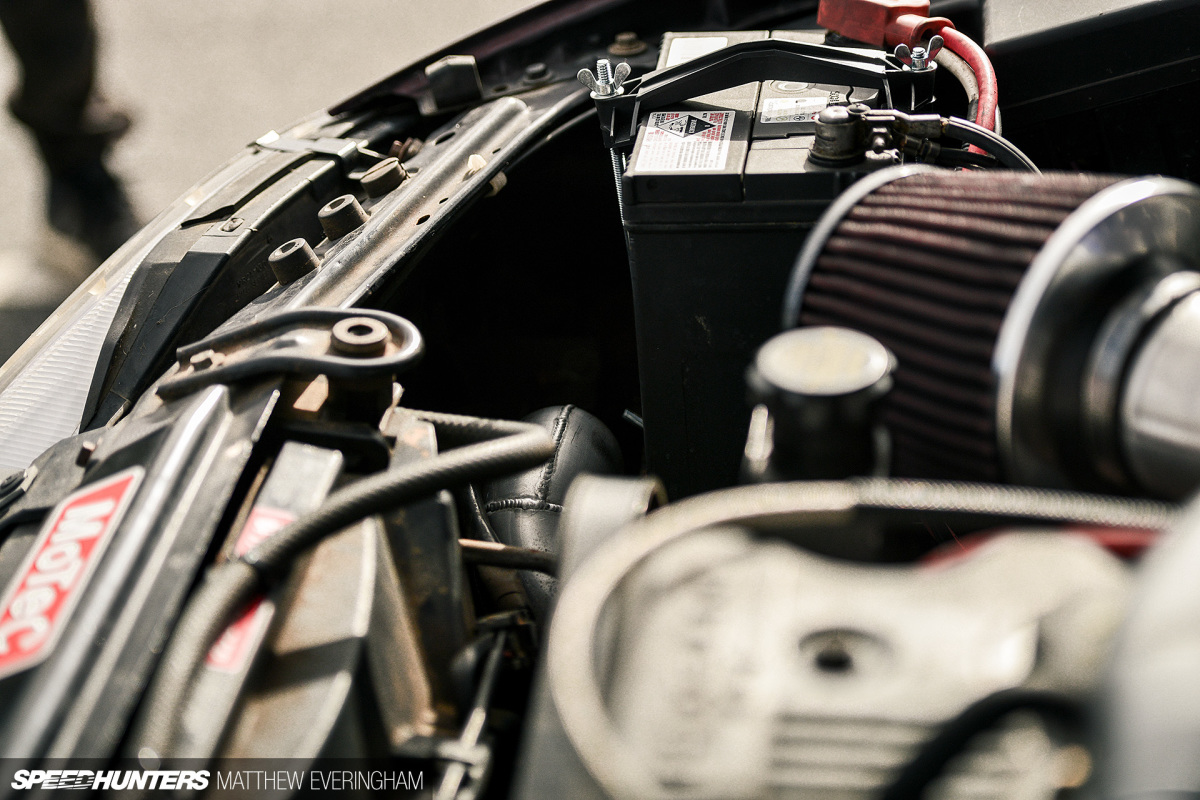 It ran, it drove well enough, and then it was time for us to see what it had. After a grand total of 30 minutes on the dyno it made 420hp on 17psi boost. That may not sound like a lot, but given it had 150hp stock it was a massive improvement.
A few days later we returned to the same dyno for a pre-Racewars dyno competition and after some more fine tuning (adjusting timing and screwing in even more boost) it made 475hp at the wheels on 20psi, on a scorching hot and humid Perth summer afternoon. Speaking to the mysterious mechanical artisan, he was confident that it had close to 500hp in it if we spent some time on it, but we were more than happy with tripling the factory output and driving it was already absolutely hilarious as it came on boost so damn early and so damn hard it was impossible to keep it from lighting up the tyres.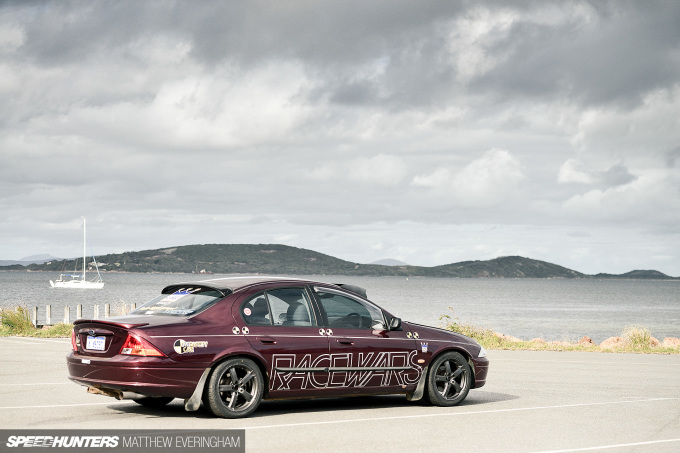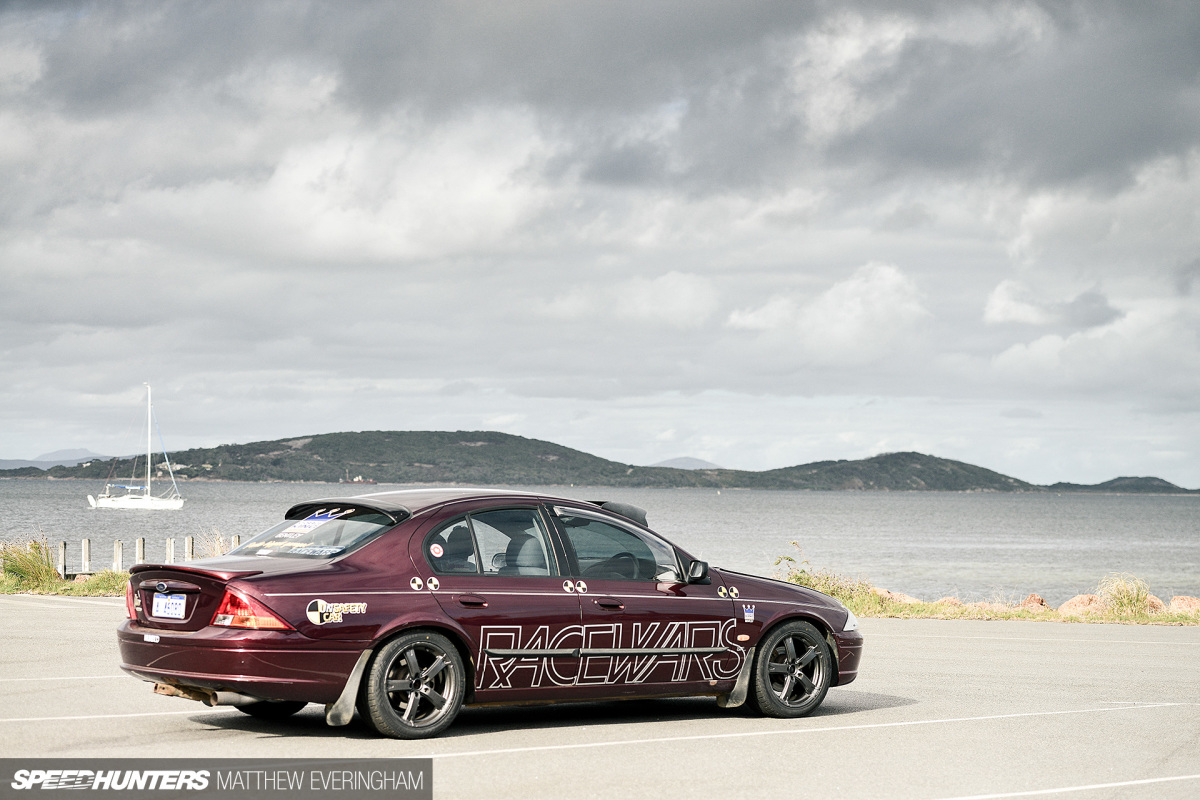 With its newfound lease of life thanks to a lung full of boost, the Forte was put on the trailer and sent back to its old stomping ground in Albany ahead of its time to shine at Racewars 2018. We'd been driving the AU around on its 420hp tune for a week and a bit and had marvelled at just how nice it was to drive considering what it was. It didn't get hot, it idled nicely, it was timid enough in traffic and then if you stomped it would hunker down and feel like it would rip a hole in space and time. Our random impulse purchase had delivered. Come what may we'd built ourselves an absolute weapon for next to nothing and it wasn't an absolute shitbox either.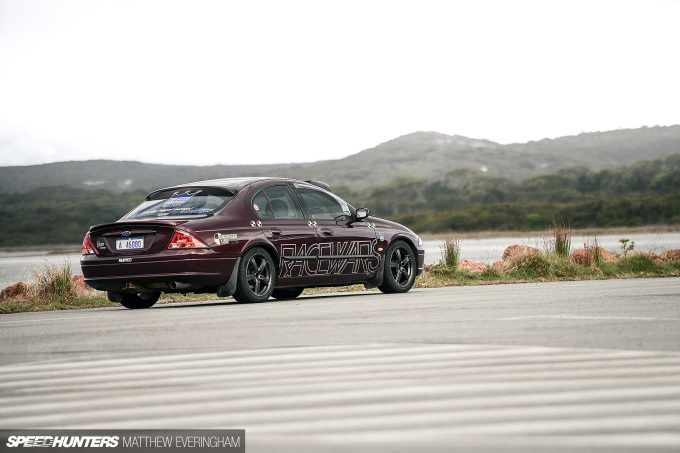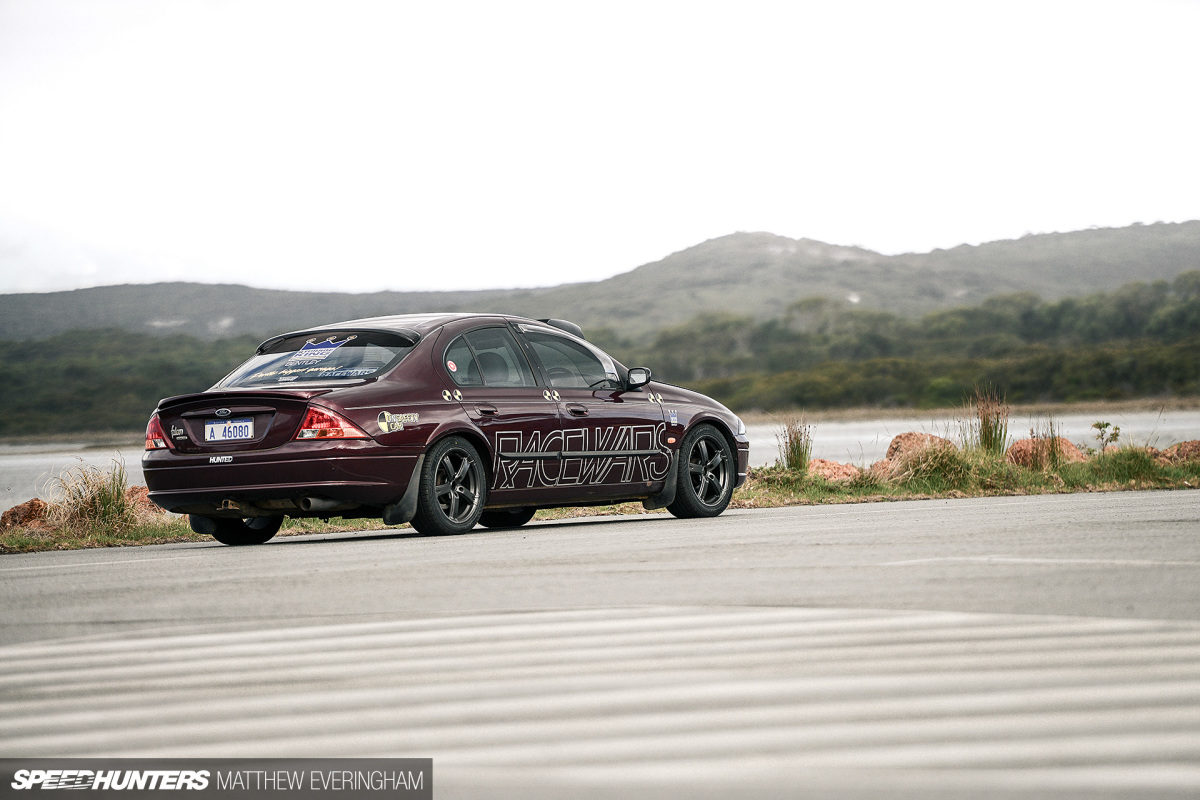 When the Speedhunter arrived in Albany and needed wheels to get around we chucked him the keys to the AU. Matty didn't manage to break it, which given what he does for a day job is testament to the AU Forte's fortitude. Everyone who drove it loved it.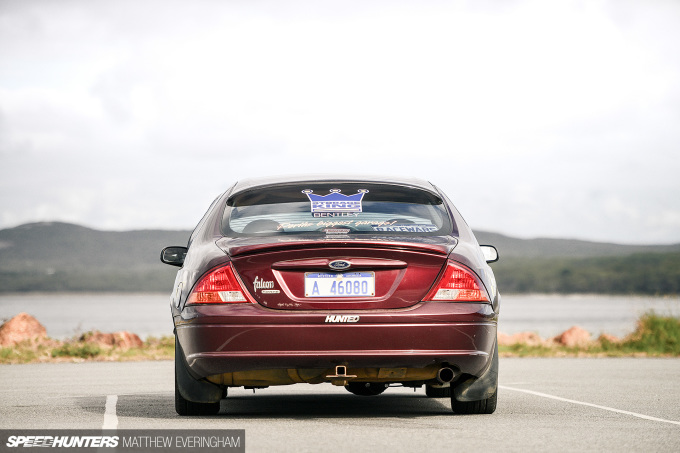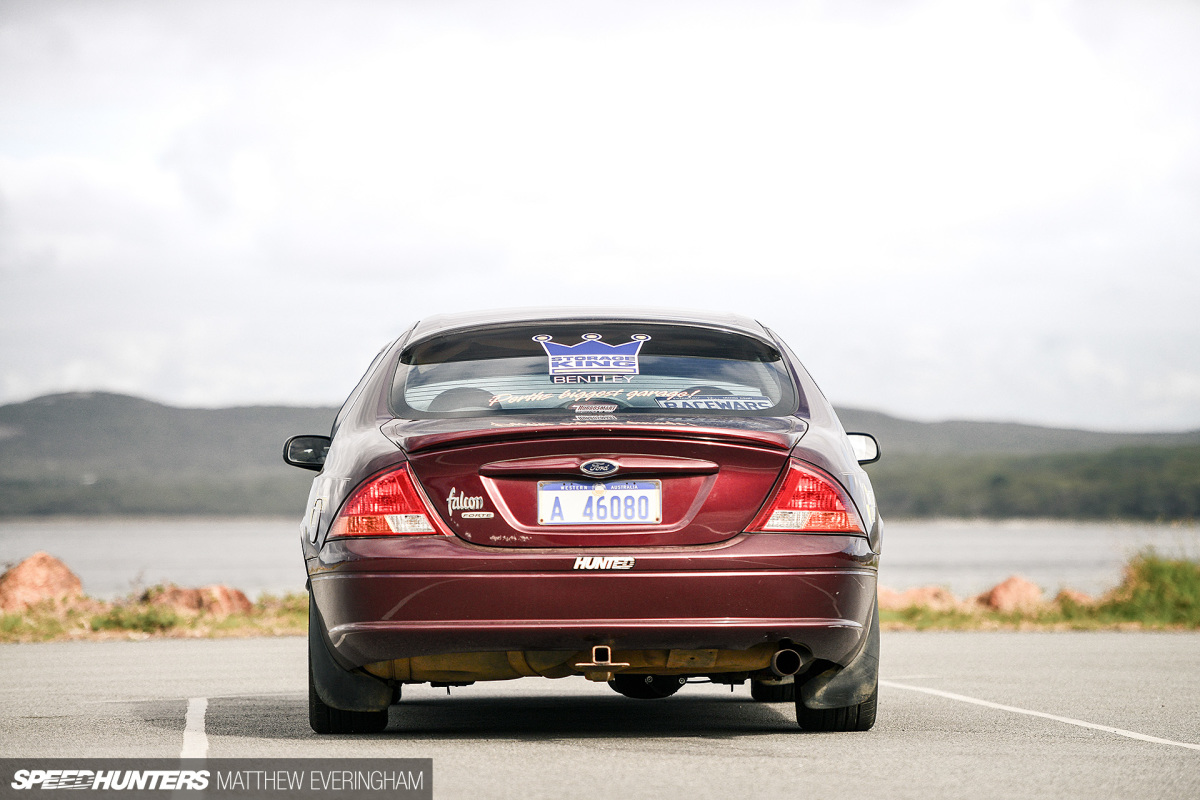 Broken Dreams
Race day arrived and Jamie and I were run off our feet. I'd broken my head (a story for another time) and should have still been in hospital or at the very least resting, and to make matters worse as a result of the stitches and open wound on the top of my head couldn't put a helmet on to race the Falcon. I was gutted.
Thankfully the mysterious mechanical artisan happened to be in Albany for the weekend supporting some of his other cars and could take up driving duties.
He grabbed the keys and lined it up for its maiden competition pass against a good friend of ours with his modified LS7-powered Corvette race car. The 'Vette got the jump on him off the line as the Falcon fried its tyres through the first and second of its four gears, but by the time it clicked into third the tables had turned.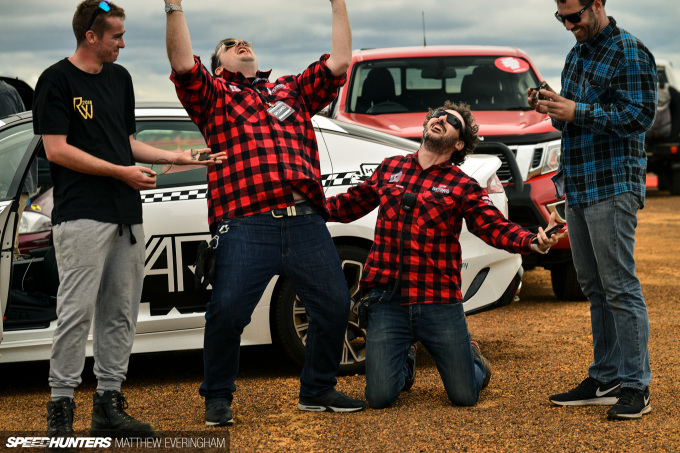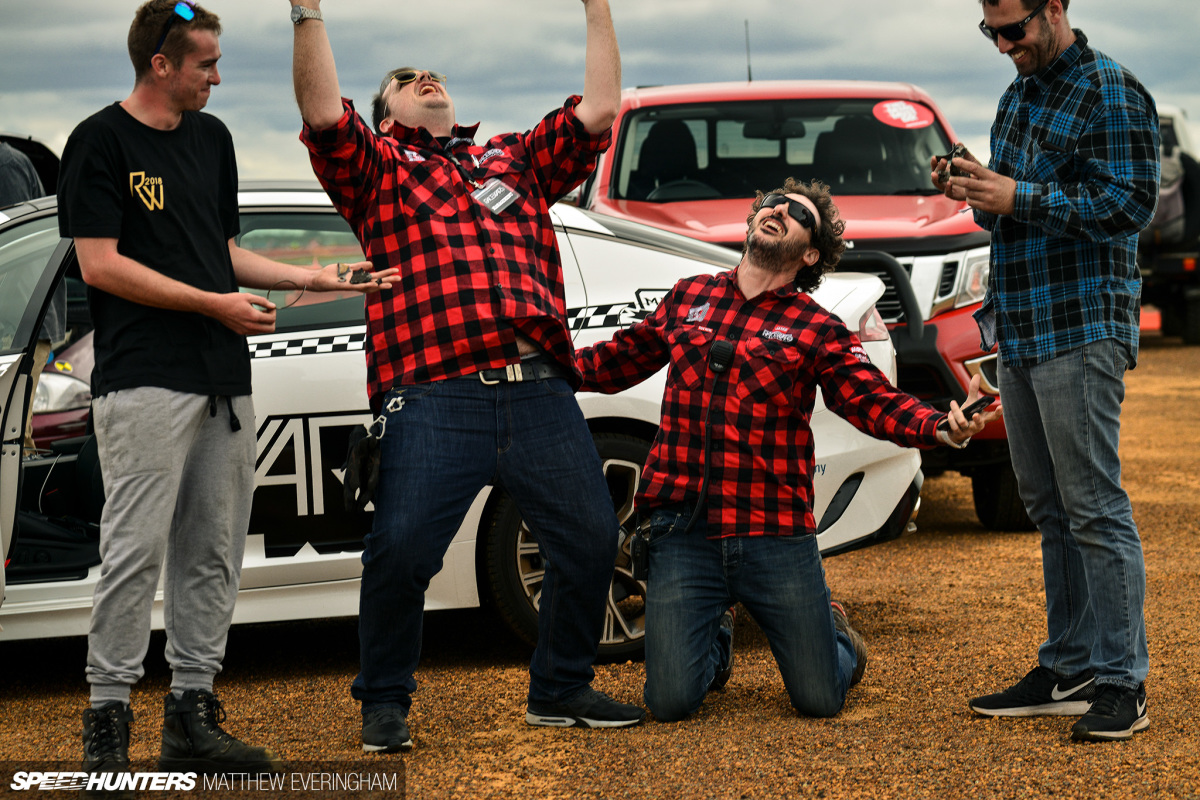 The AU came storming past the Corvette and started to gap him, but as it clicked into fourth all went to shit in a smoky haze of shattered dreams and a shattered block.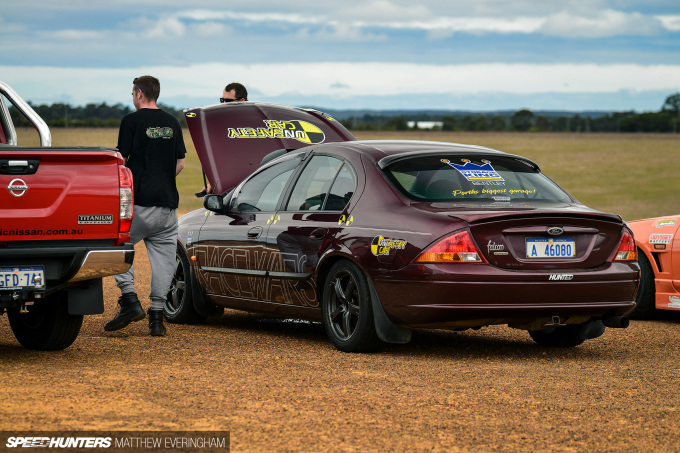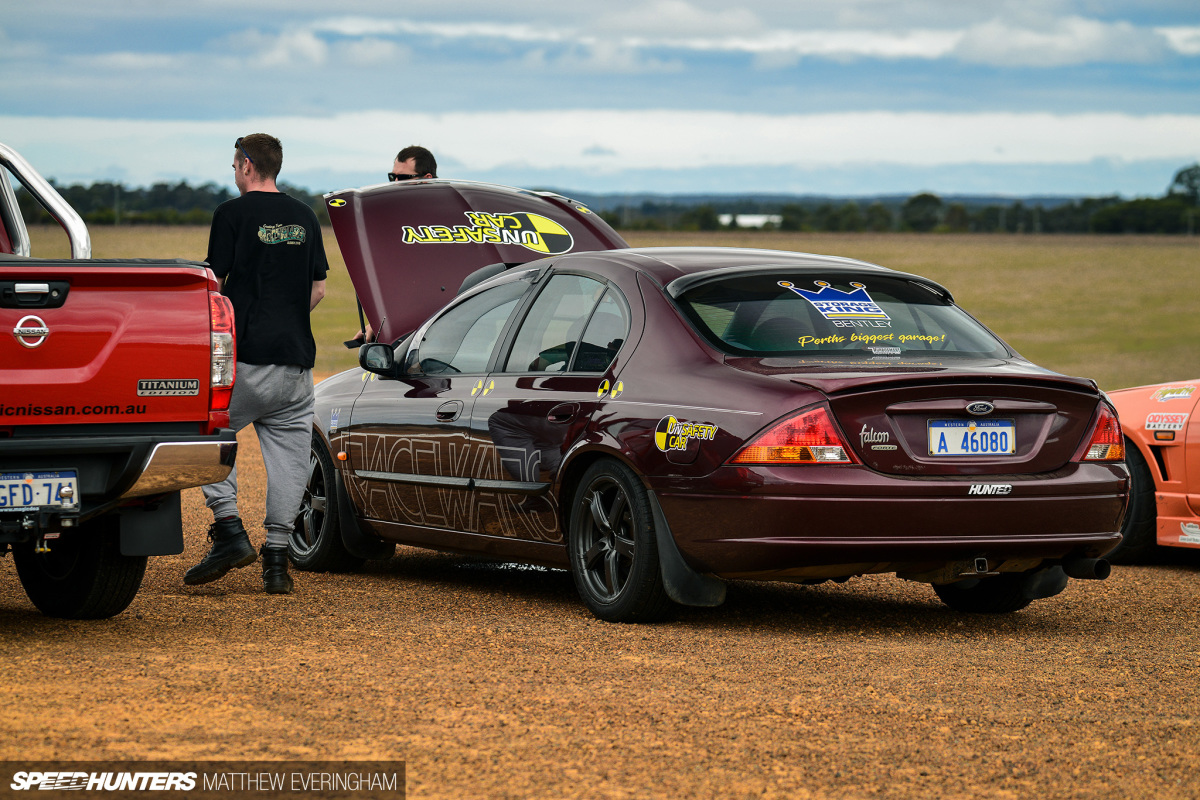 The mysterious mechanical artisan still won't tell me how much boost he rammed down its throat to chase down the Corvette, and I've not seen the logs off the MoTeC yet either, although we did see evidence that it was able to achieve its 10-second ¼ mile goal (if only just).
A track side post mortem revealed the mighty AU fell victim to a connecting rod failure and for most people that would be the end of things. The AU wasn't going to go out like that, though.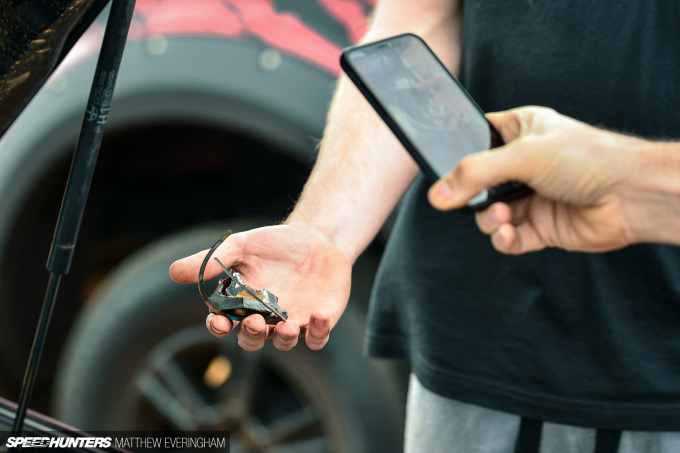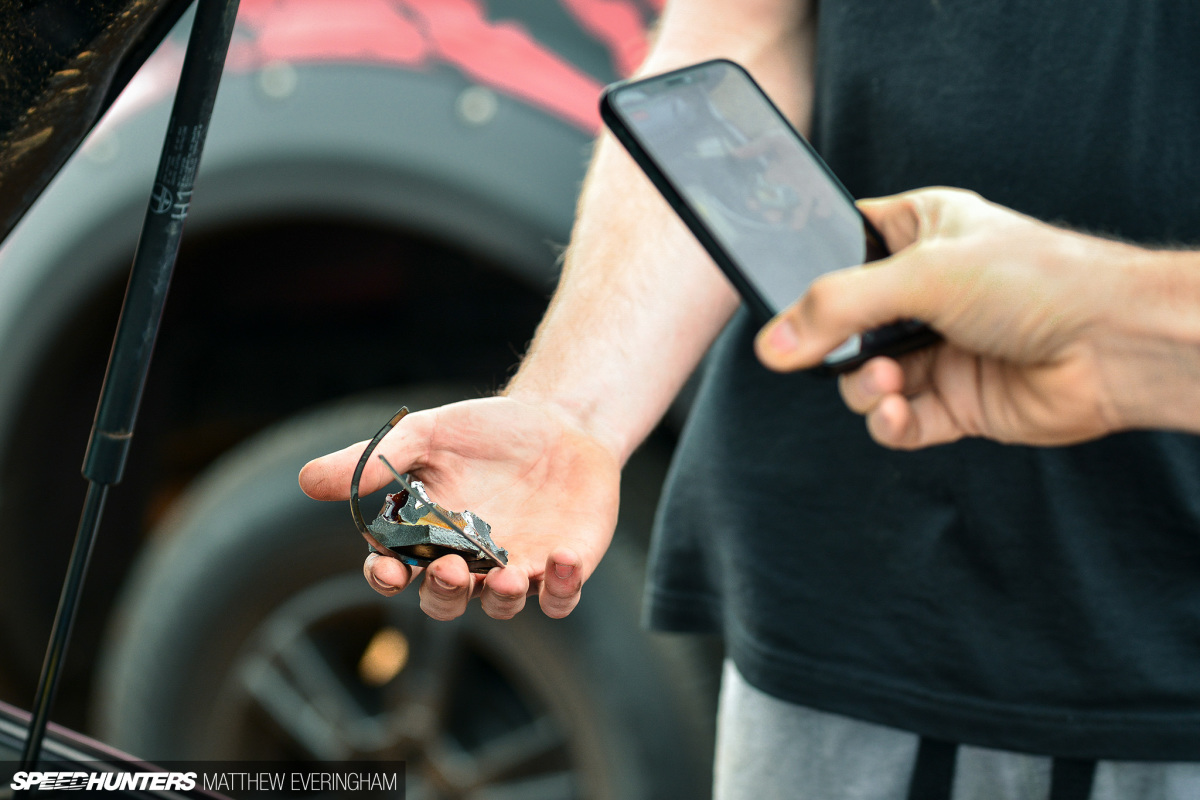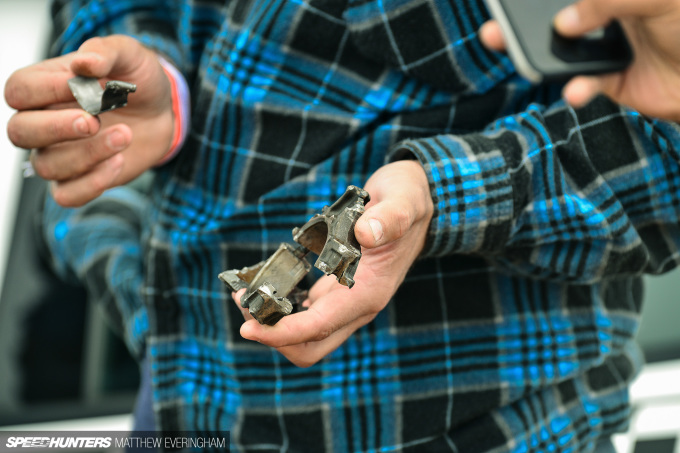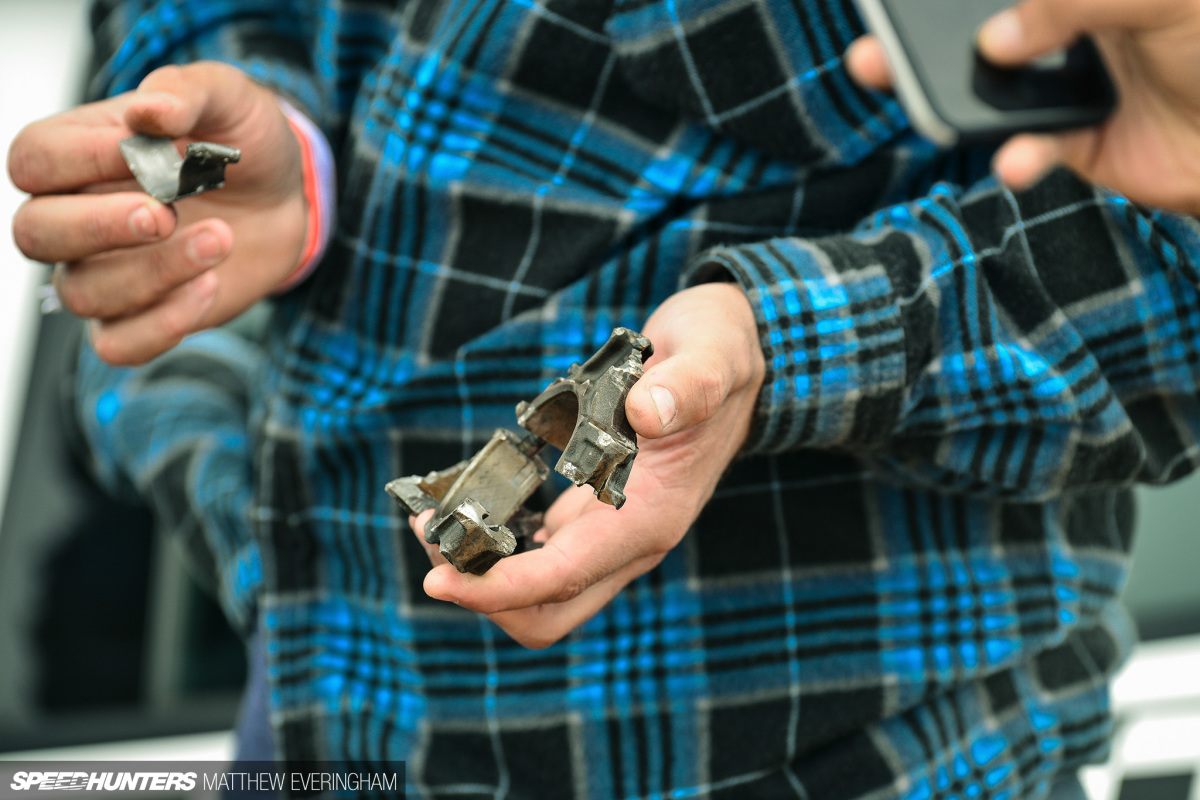 Mortally wounded, it was left safely at the end of the track while racing resumed for the day, but when it came time to load it up on the trailer it gallantly fired up on its remaining five cylinders, fluids still seeping out of its obliterated block. It wanted to win; it knew it could win and we're going to bring it back to life and make sure it does nothing but f**king win.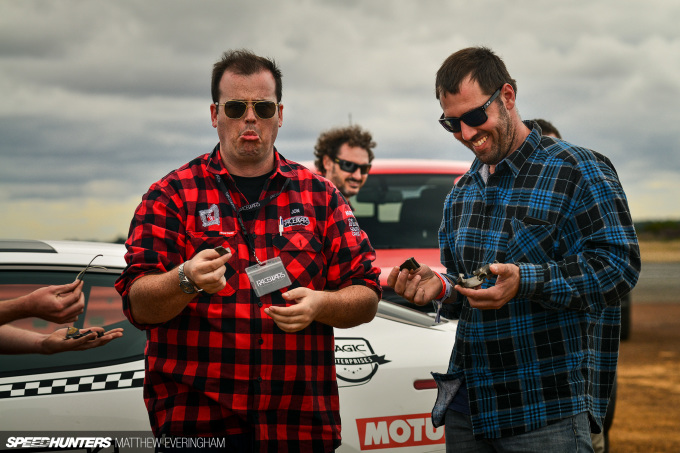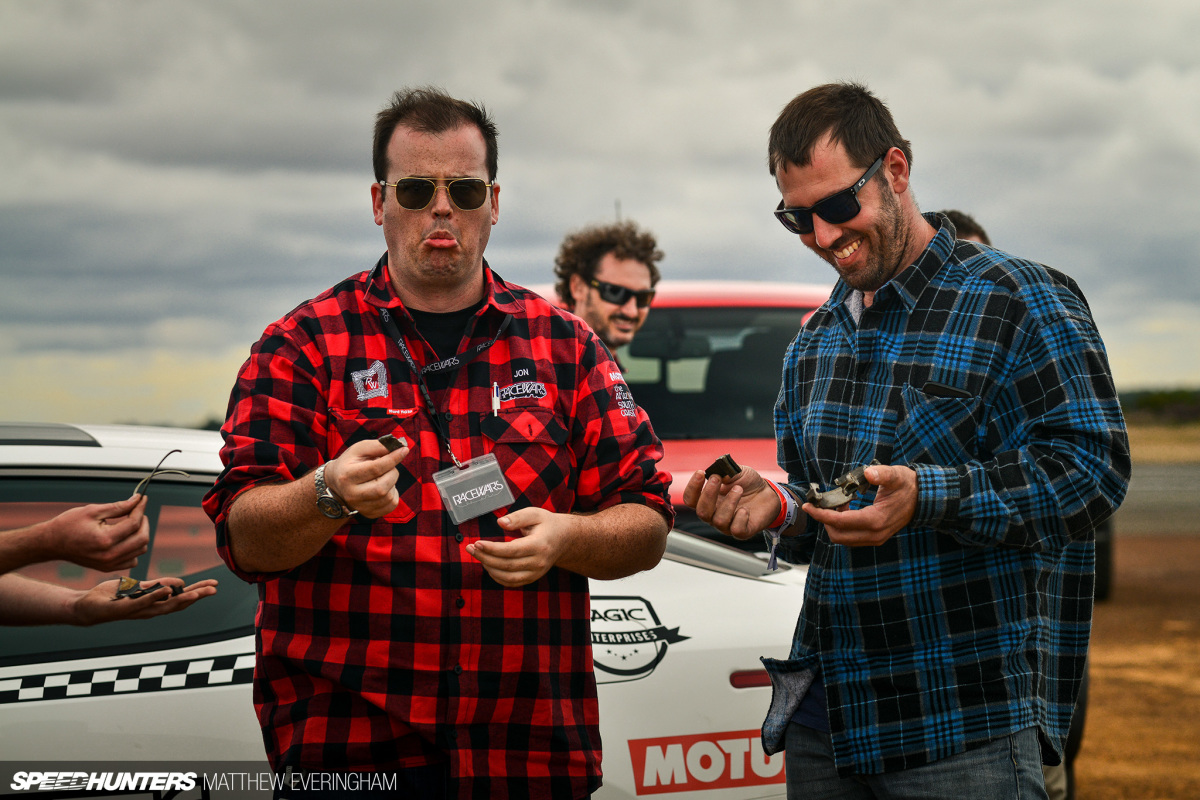 Plans are already in place to revive the AU, and this time, with more than a few months up our sleeves and some knowledge from what we learnt the first time around, we've decided it's time to step it up properly and run a 9-second ¼ mile pass. Oh, and to also hopefully not bust another block!
Matthew Everingham
Instagram: matthew_everingham
matt@mattheweveringham.com
Story by Matthew Everingham and Jonathan Murray