How does that song go? "I love R34s and I cannot lie?" It's something like that, I'm sure.
But, yes, I'm consumed by this specific generation of the GT-R, and I'm not 100% sure why. While I have an idea in my mind of a perfect BNR34 build, I'm always on the look out for examples to share, whether it be ones built for stance (remember this one?), or something like this circuit-spec creation from Auto Gallery Yokohama.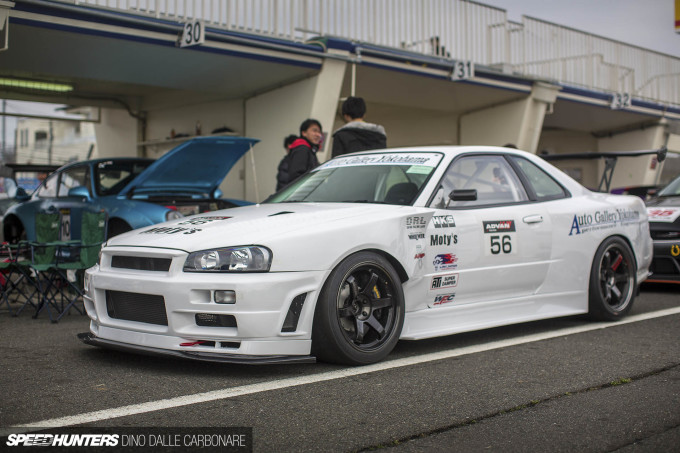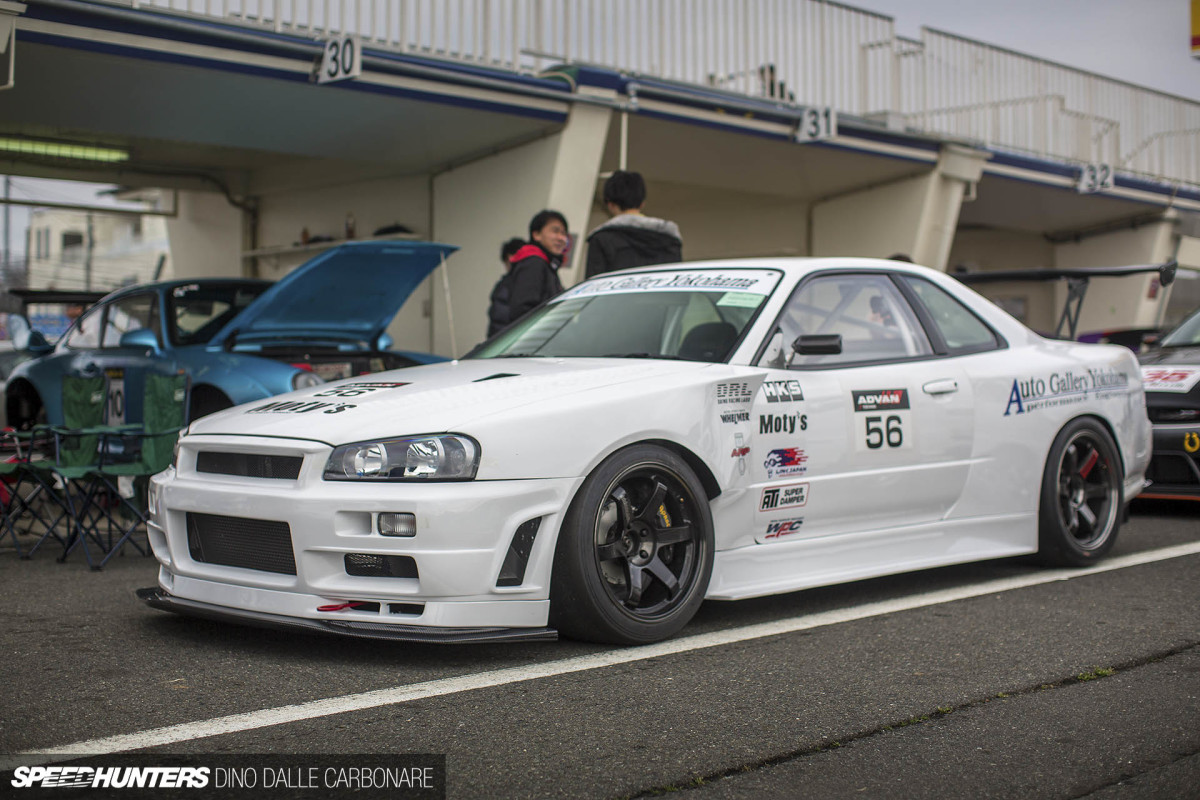 In my mind, this is as close as you can get to the perfect R34 GT-R track-ready setup, and with a name like AGY behind it you know it's a quality build.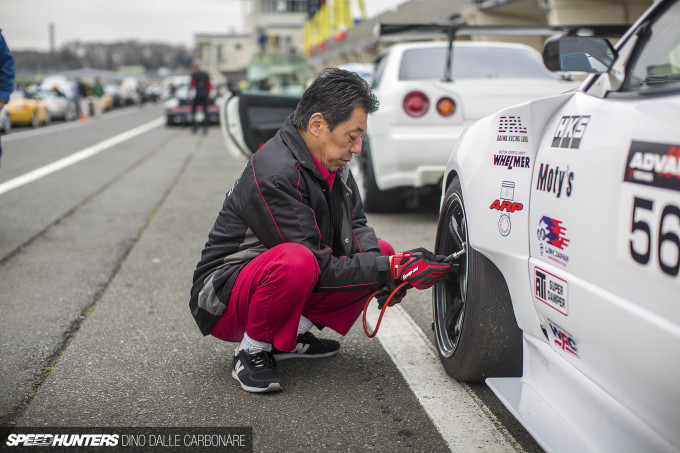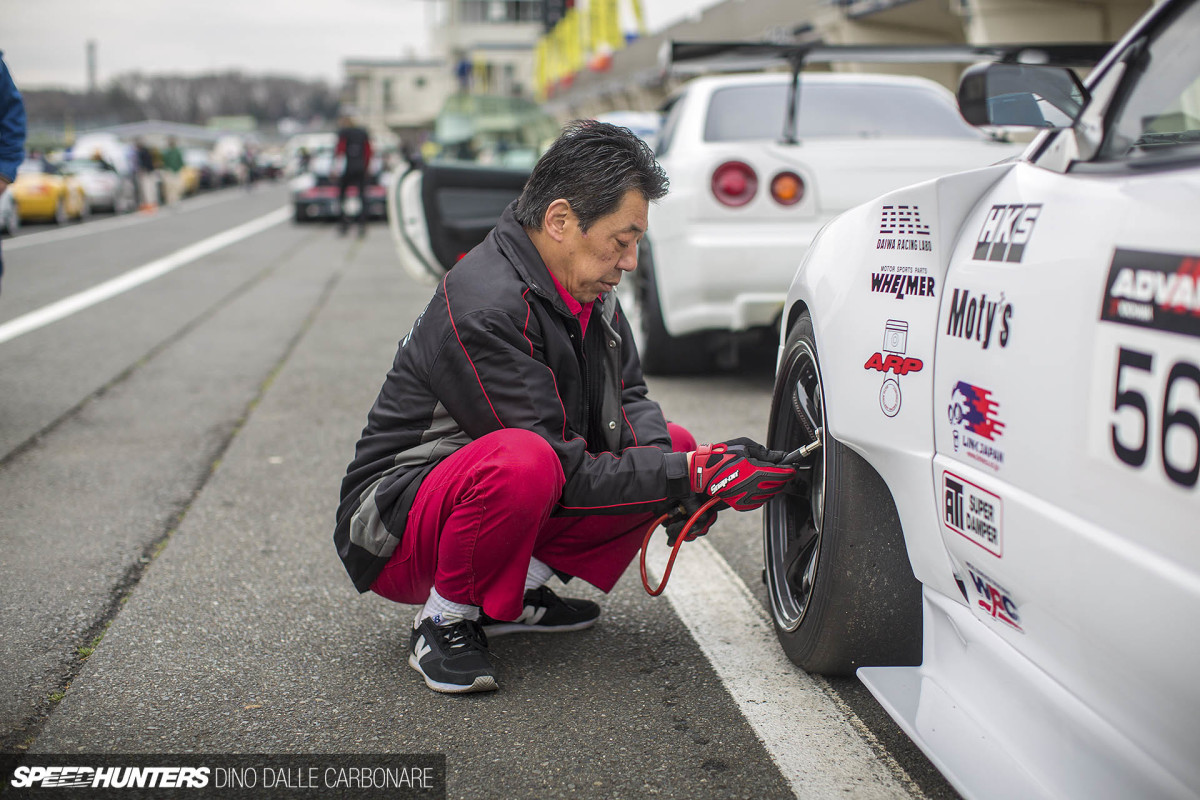 This was one of two customer-owned R34s plus an R35 that Koizumi-san of AGY was looking after at last weekend's idlers Games event at Tsukuba Circuit.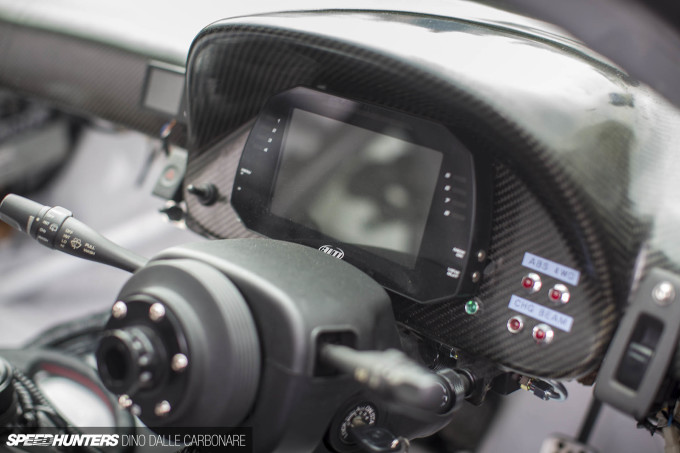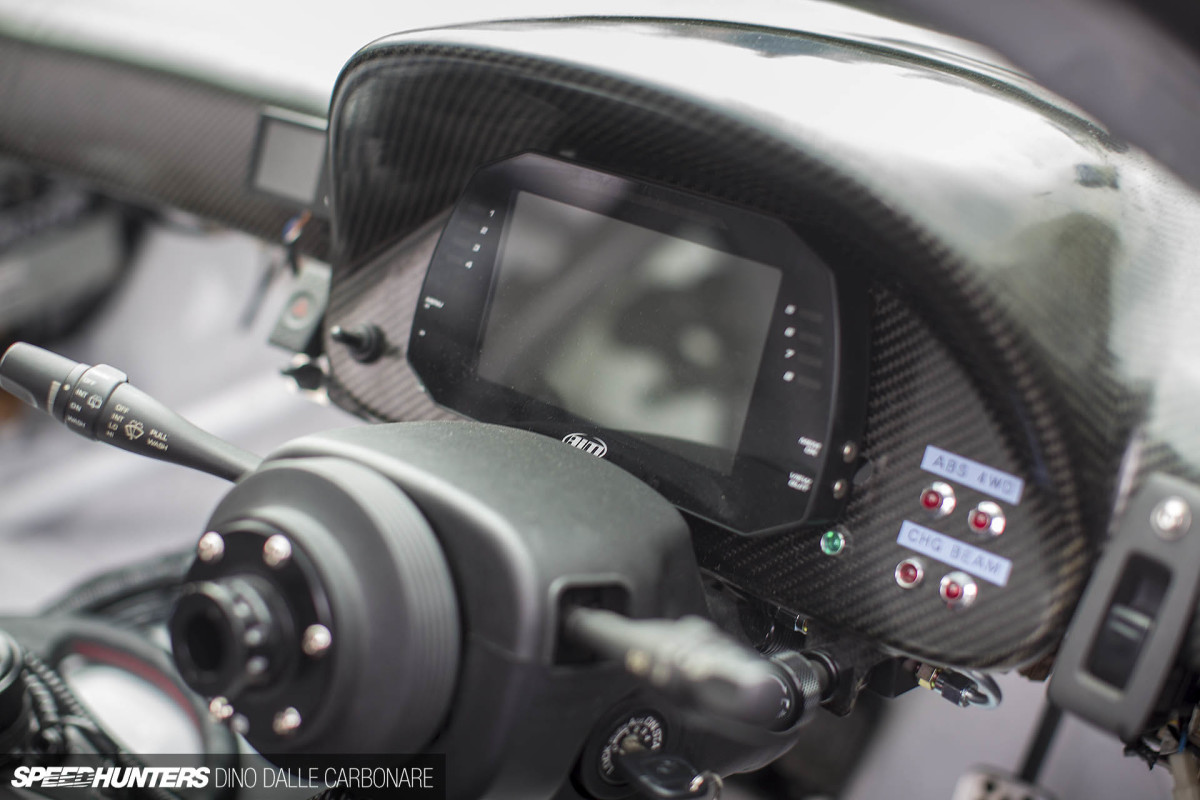 It's a full-on track oriented build that was created from the ground up with a strengthened chassis and a totally stripped out interior. In fact, there is only a thin carbon molded dash and hooded cowl that houses the AiM digital dash; everything else has been binned in the pursuit of simplicity, and weight savings.
AGY is respected by everyone in the GT-R tuning world, but their true speciality is transmissions. In fact, they've built a reputation on everything to do with Nissan drivelines, from tougher gear-sets and synchros for the 5-speed gearboxes used in the R32 and R33, to rebuilt and performance-tuned transfer cases. They do it all and do it well, so it wasn't surprised to see a stock shifter in this R34. You'd expect it to have been replaced by a sequential in a car of this calibre, but AGY does a special Getrag gear-set, which while not cheap can handle a hell of a lot more power and torque than the stock one.
On top of the welded in and gusseted roll-cage, this car also sports some damn nice carbon door cards.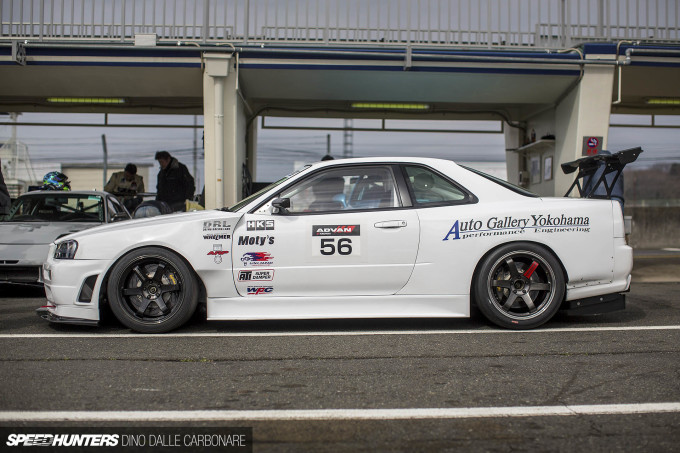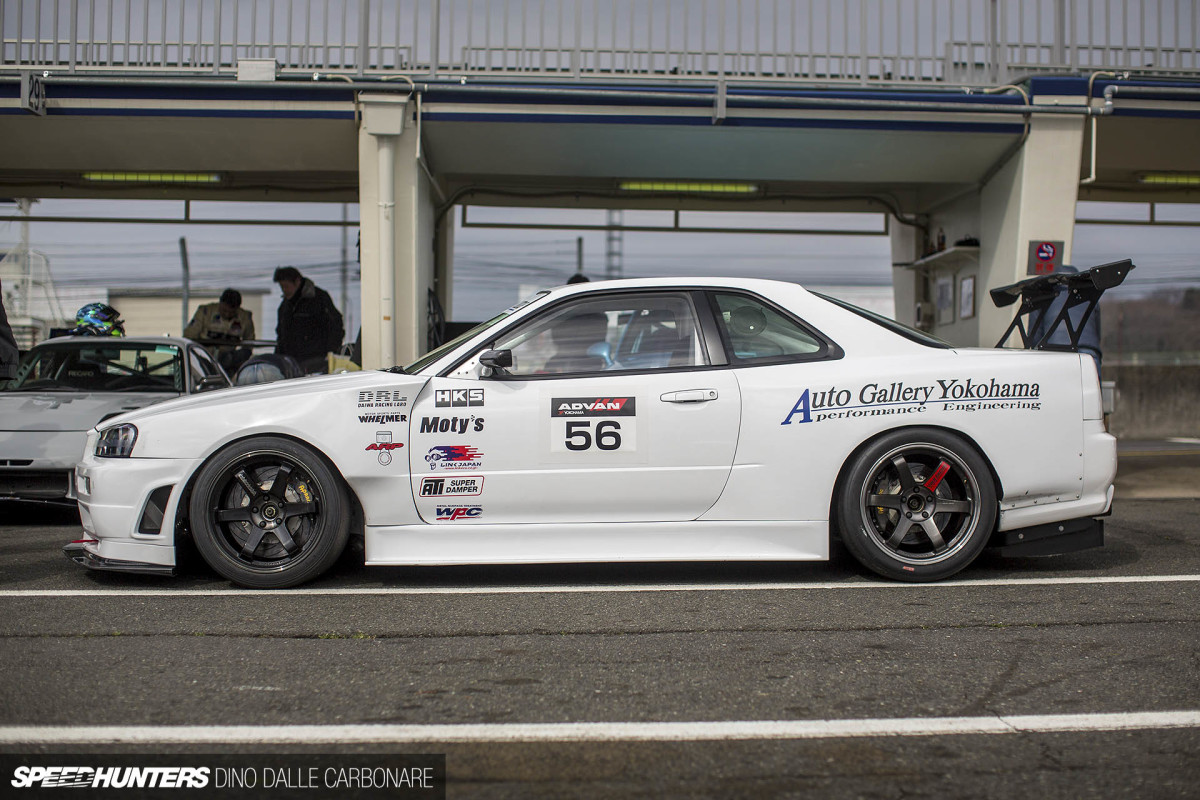 It's definitely one of the toughest-looking track R34s we've come across in a while.
Widened front fenders with a tucked in lower section transform the front end, and there are riveted-on wider fender panels at the rear.
They're there to contain 300-section racing slicks, which themselves are possibly the reason why we've only seen AGY cars at idlers events – where slick tires are permitted – lately. Serious AP Racing brakes tucked in behind RAYS Volk Racing TE37SL wheels ensure the car has the sort of middle-pedal confidence you need in a powerful track machine.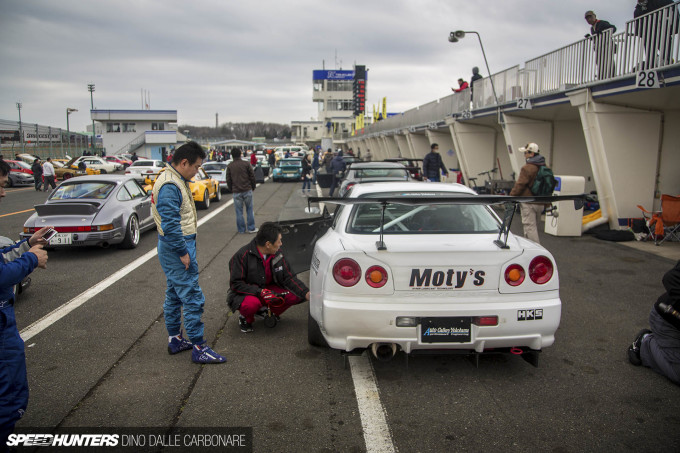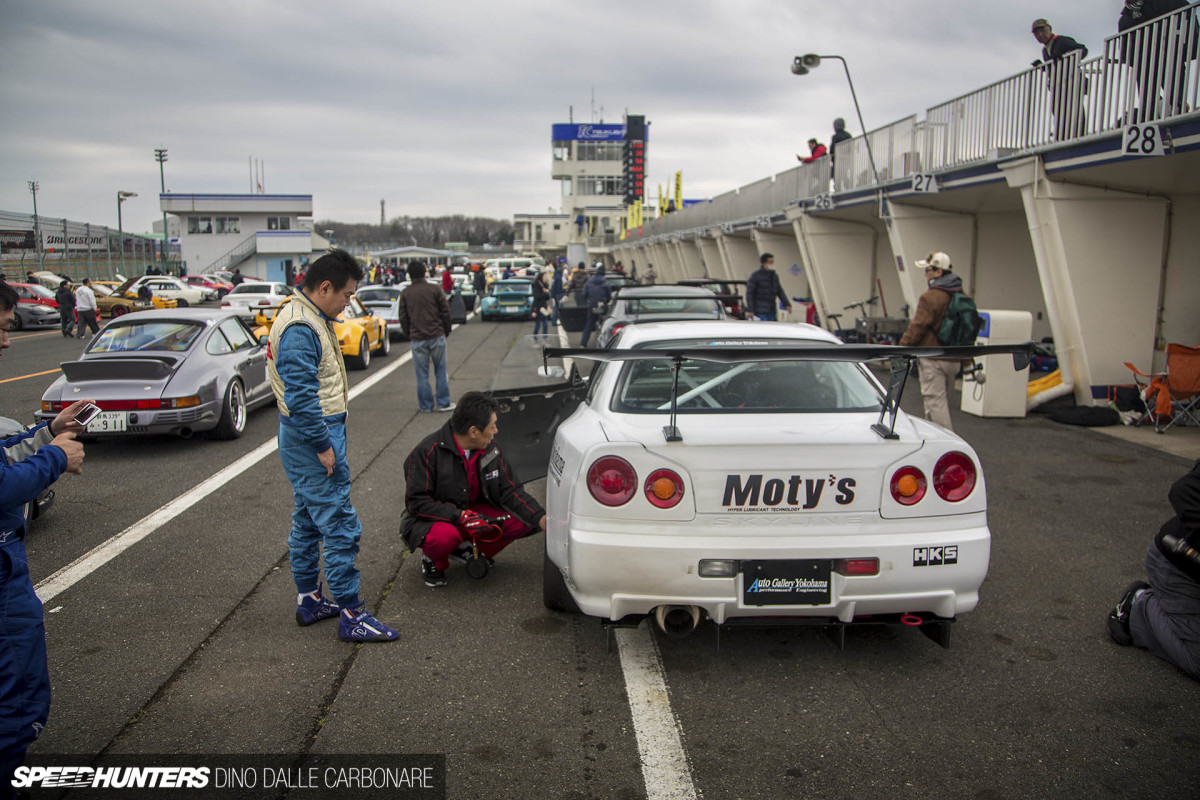 The most refreshing aspect of all? That's easy – the lack of exaggerated aero. Don't get me wrong, I'm all for using aerodynamics to shave lap times, but there's something so right about a car that just looks simple. Not that a big GT wing is in any way subtle, but you know what I mean.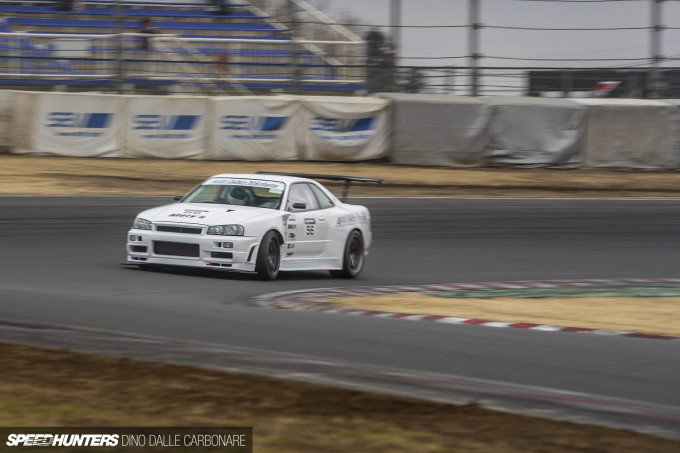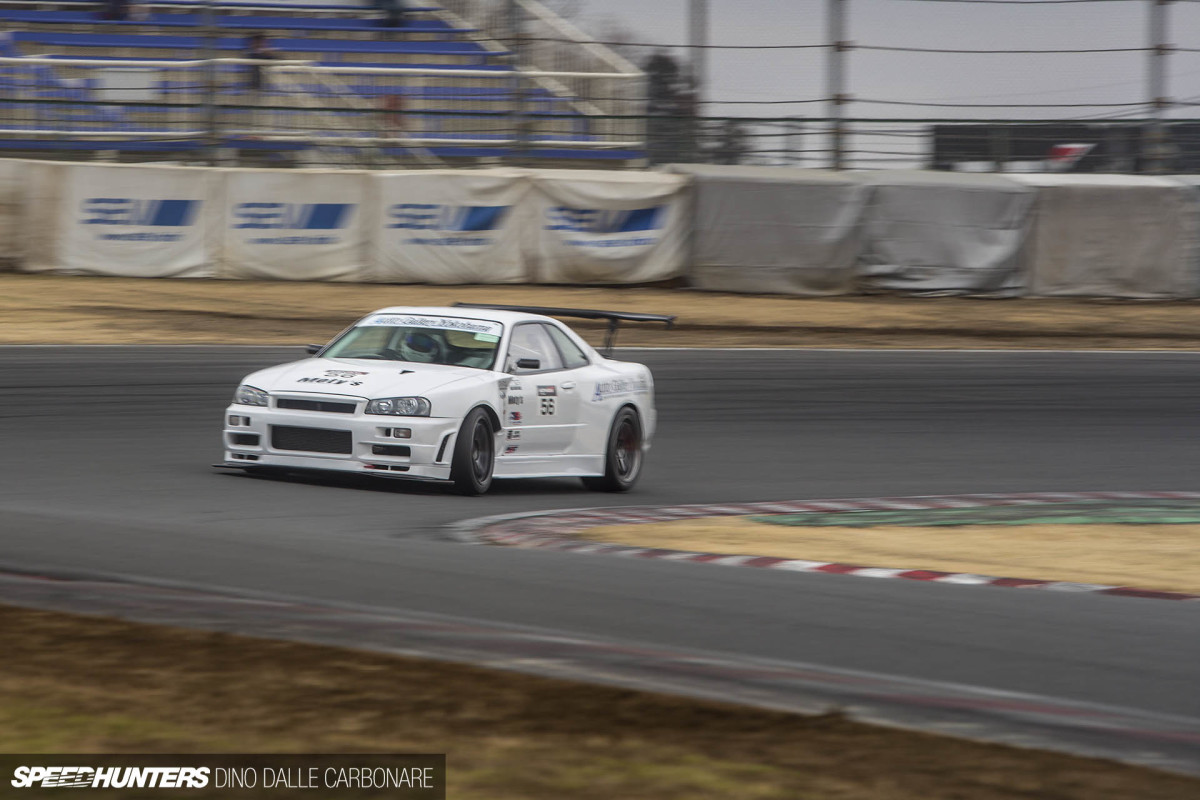 That's possibly why the Skyline looked so damn good being put through its paces around Tsukuba.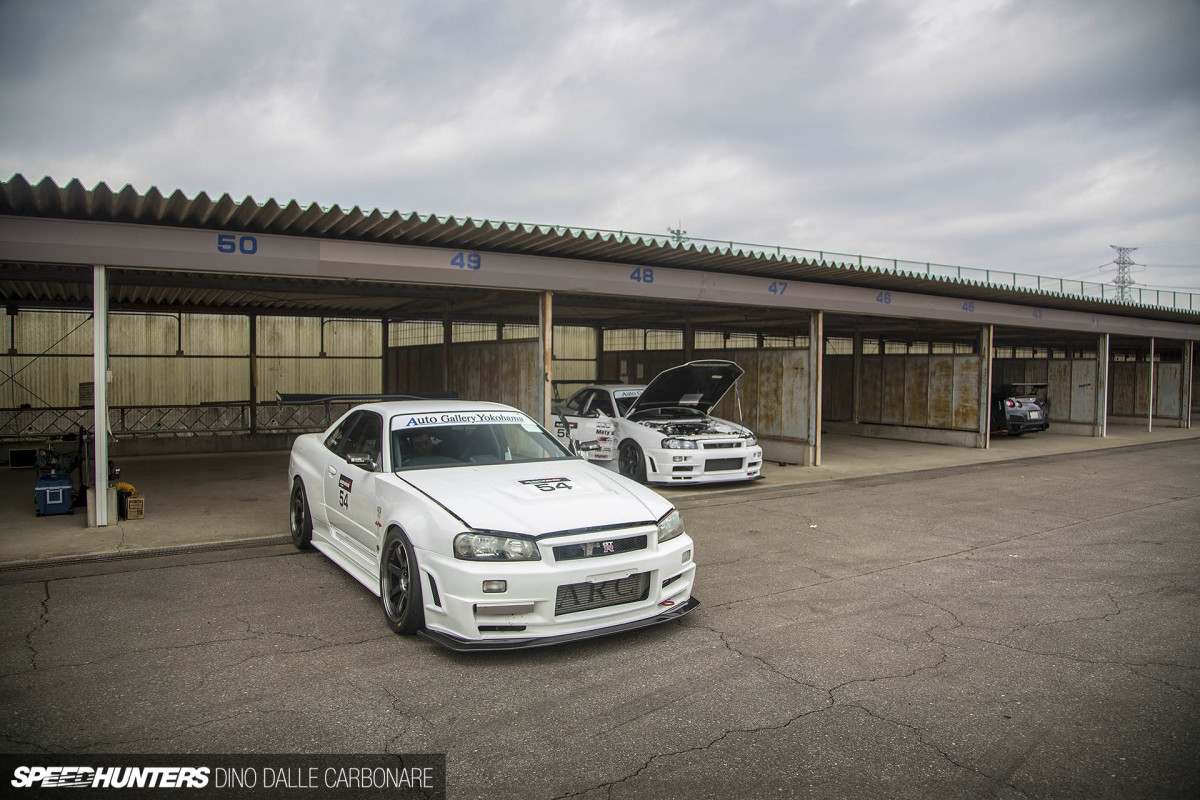 I was really curious to see what was under the hood of this car, but every time the AGY team completed their outing they'd disappear. It turns out they had rented a few garages in the back paddock.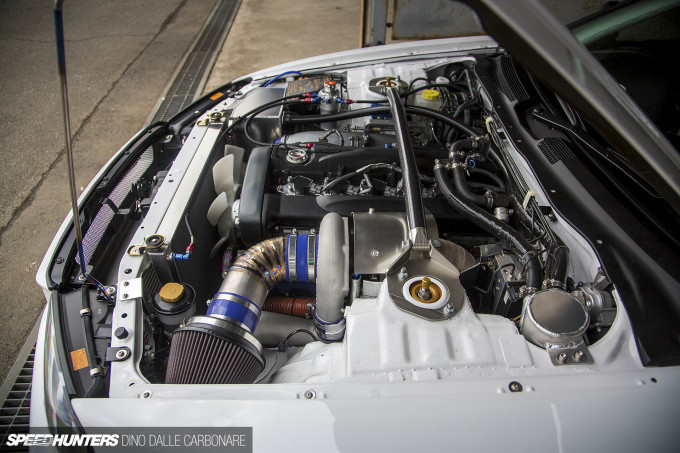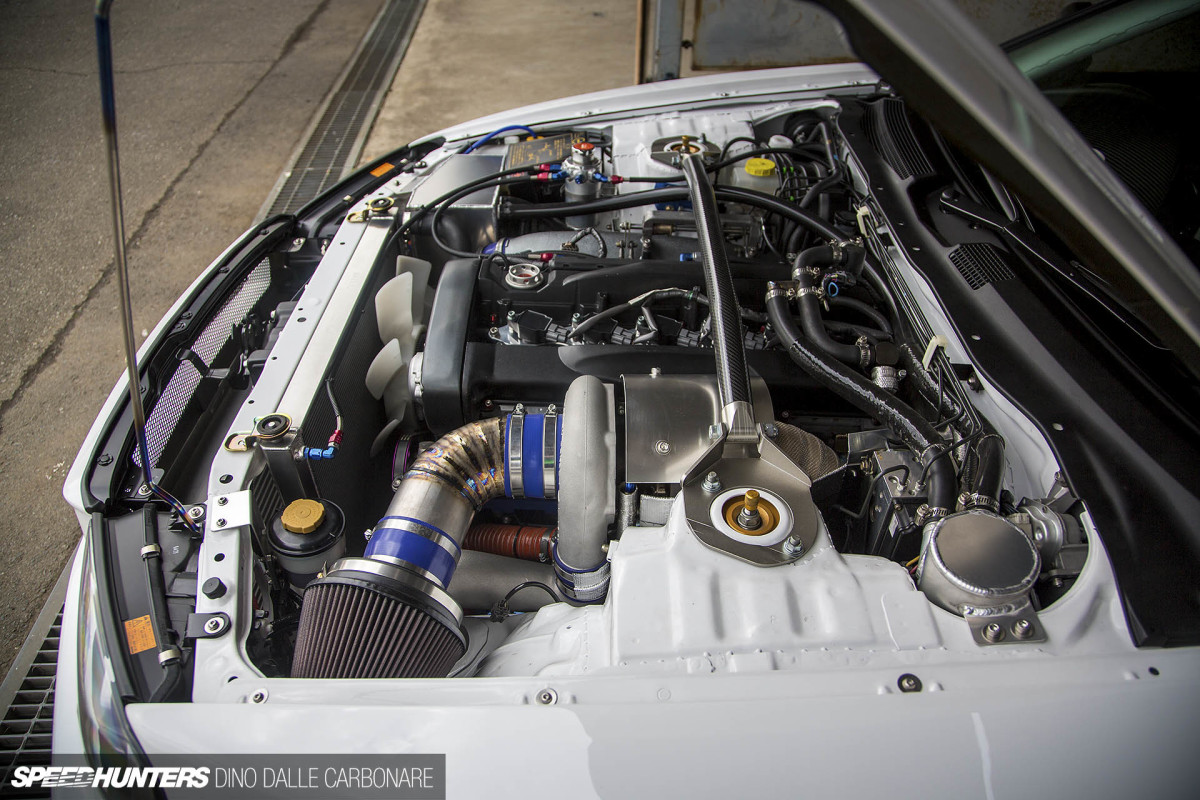 When I finally found them the carbon bonnet on the wilder of the two R34s was up, showing off the fully built 'RB28′.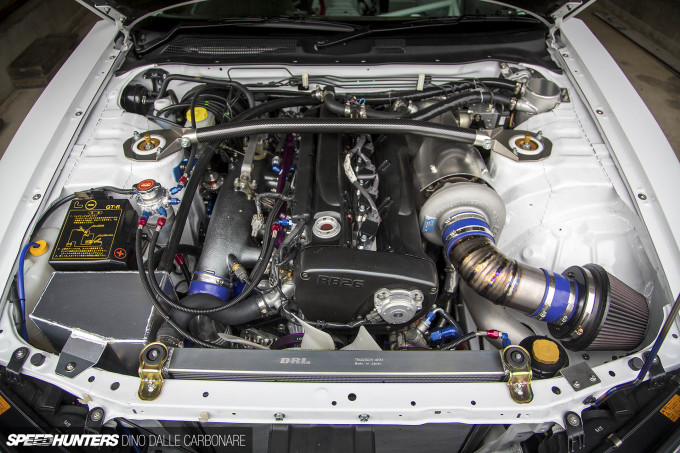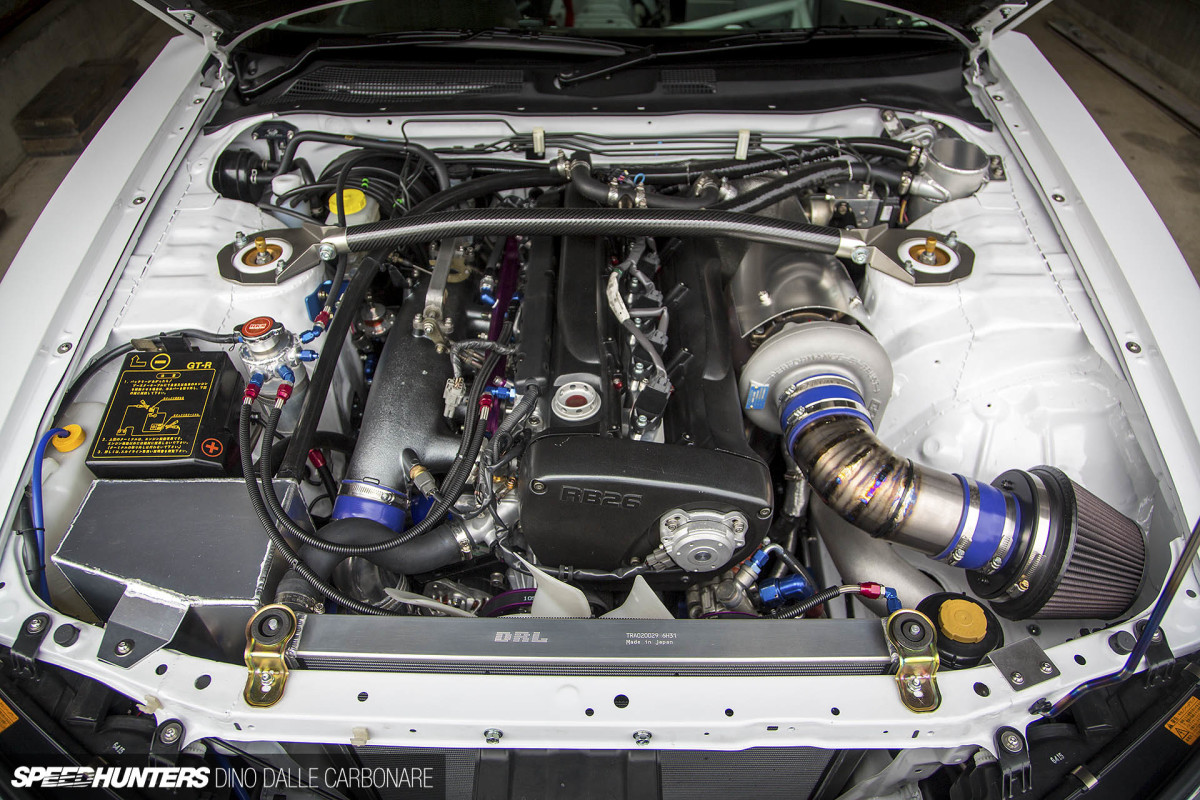 With a Trust T88-34D turbo, but not even an HKS V-Cam or aftermarket intake plenum in sight, it's a simple yet brutally effective setup. The use of a Link ECU shows that even loyal HKS shops like AGY are now playing around with other engine management solutions.
The result? Turn the volume up and enjoy the music of our people; GT-R owners that is. More to the point, ones that run big singles.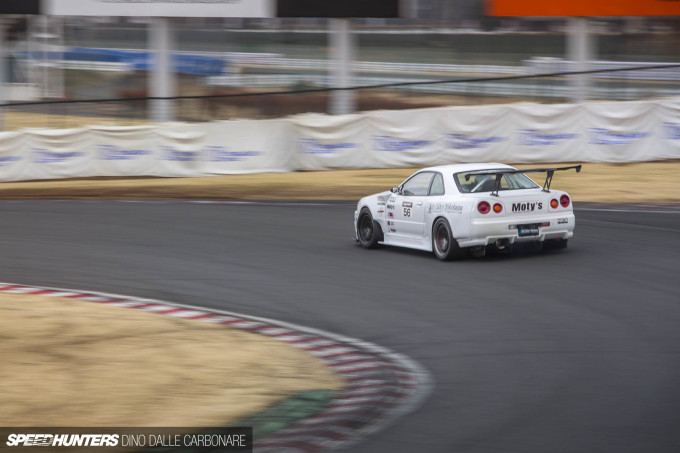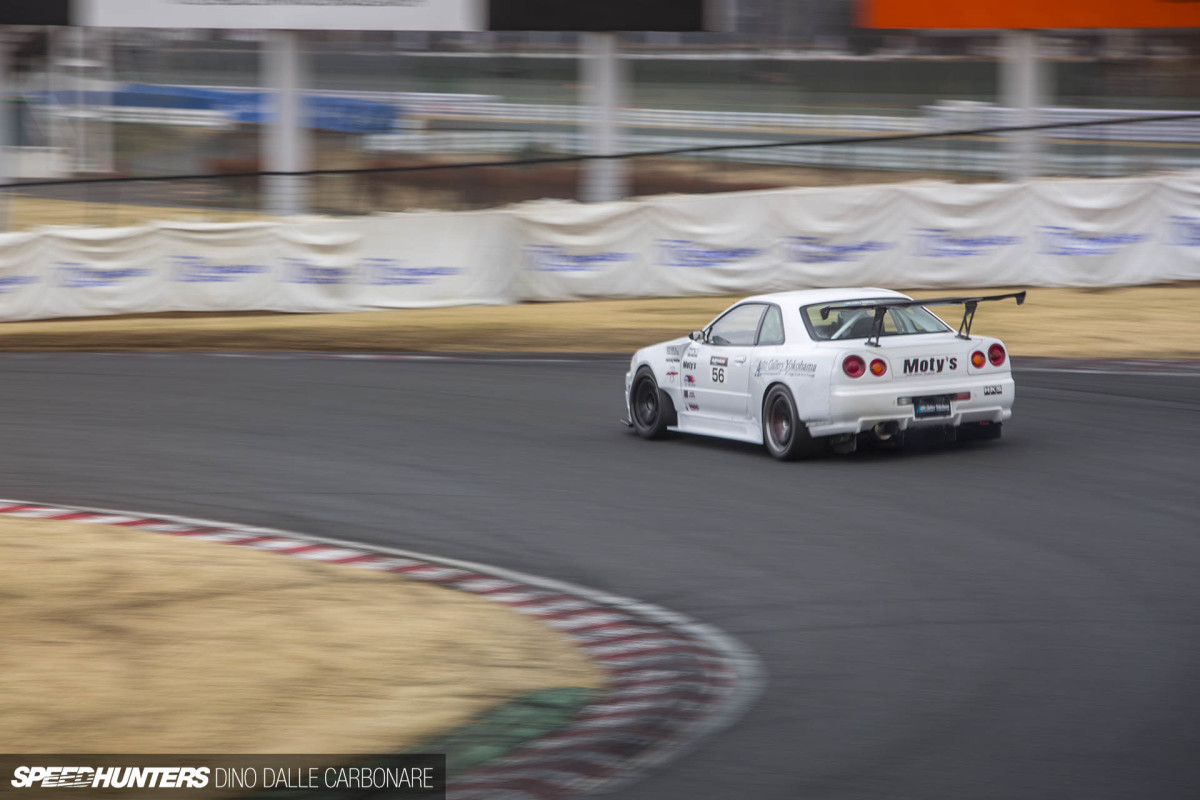 As speculators polish and baby the rarer of the R34 breed, rubbing their hands in anticipation of values continuing to rise, here's a guy that doesn't really care. He just wants to drive and build a badass track BNR34. Fist bumps all round!
Dino Dalle Carbonare
Instagram: speedhunters_dino
dino@speedhunters.com