One of the key skills to hunting speed, is to get involved on the ground from the very moment that there's even an idea being tossed around.
More often than not, these ideas rarely move beyond this stage. They forever remain as the product of big dreams without the ability to make them happen. We're all guilty of this, myself included. What could have been…
Some of these ideas do advance, and before you know it, things are happening at a much faster rate than you could have previously anticipated. Case in point: Stone Motorsport's K-swapped S15 Silvia. When I first started with Speedhunters, we were always involved in some way of documenting builds from the ground up. There were often times where we even had a lot of input, too. Chris Rado's Scion tC, Vaughn Gittin Jr.'s RTR-X and  Darren McNamara's DMAC-86, to name but a few.
Maybe the rapid advance of social media has relegated the idea of the build thread to the history books, and maybe this is a fruitless exercise, but part of me feels that there's still value in documenting a build outside of character limits or with really small photographs on Instagram.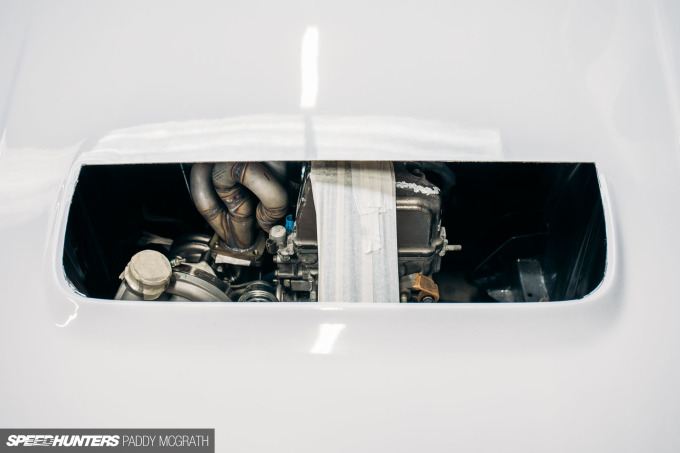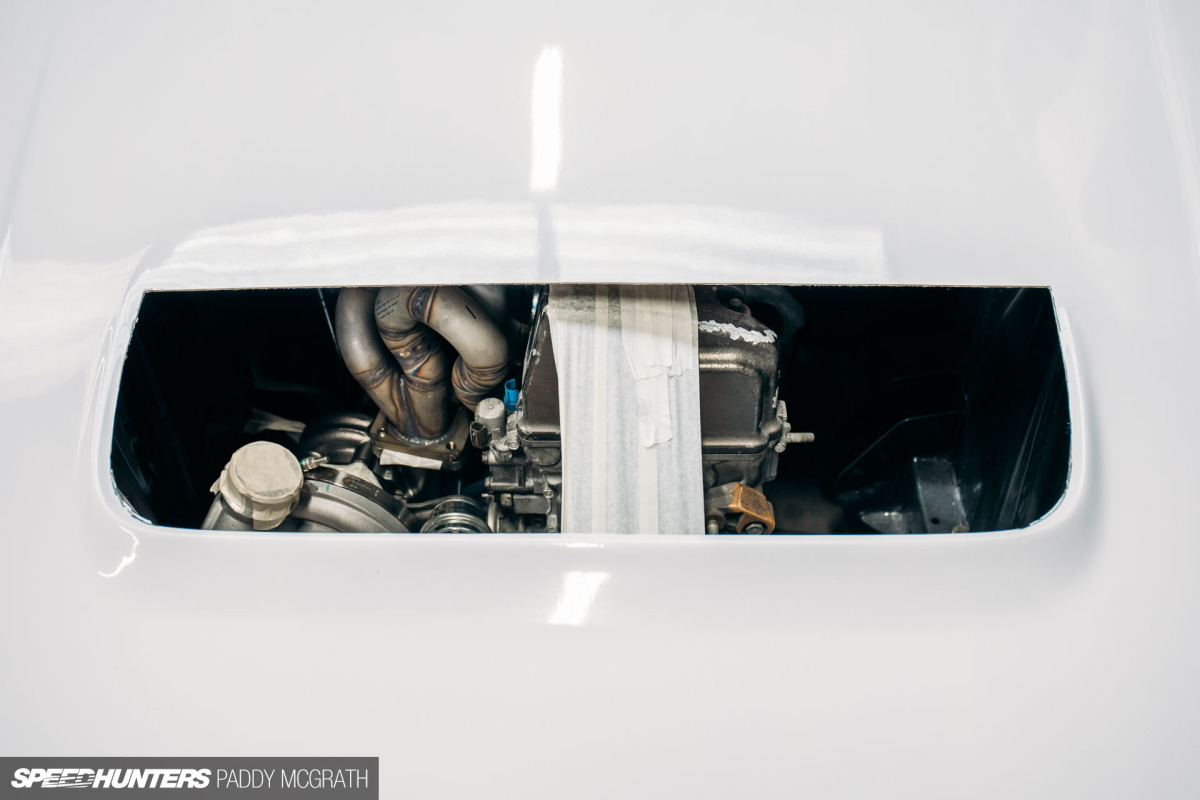 I had to check, but it was September of last year when we last documented the progress of this particular tin-top racer. A lot has happened, but the ethos has remained the same. Chassis fabrication has been completed and the bare, caged shell has been painted.
When I visited – literally a few hours ago at time of writing – John Stone was quietly working on making the bodywork fit, before it's removed and moulded so that spares can be made.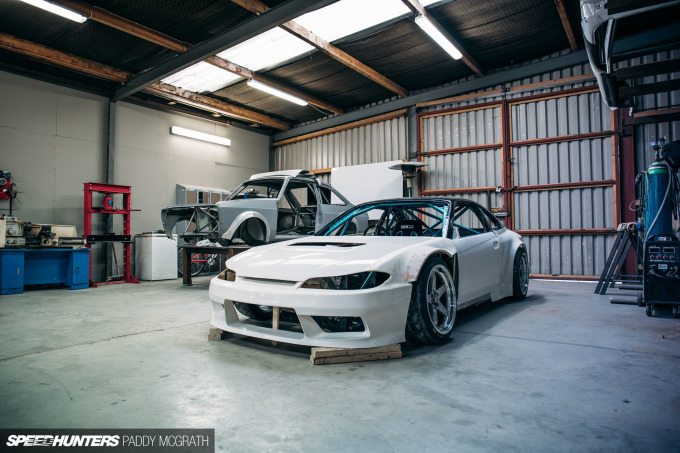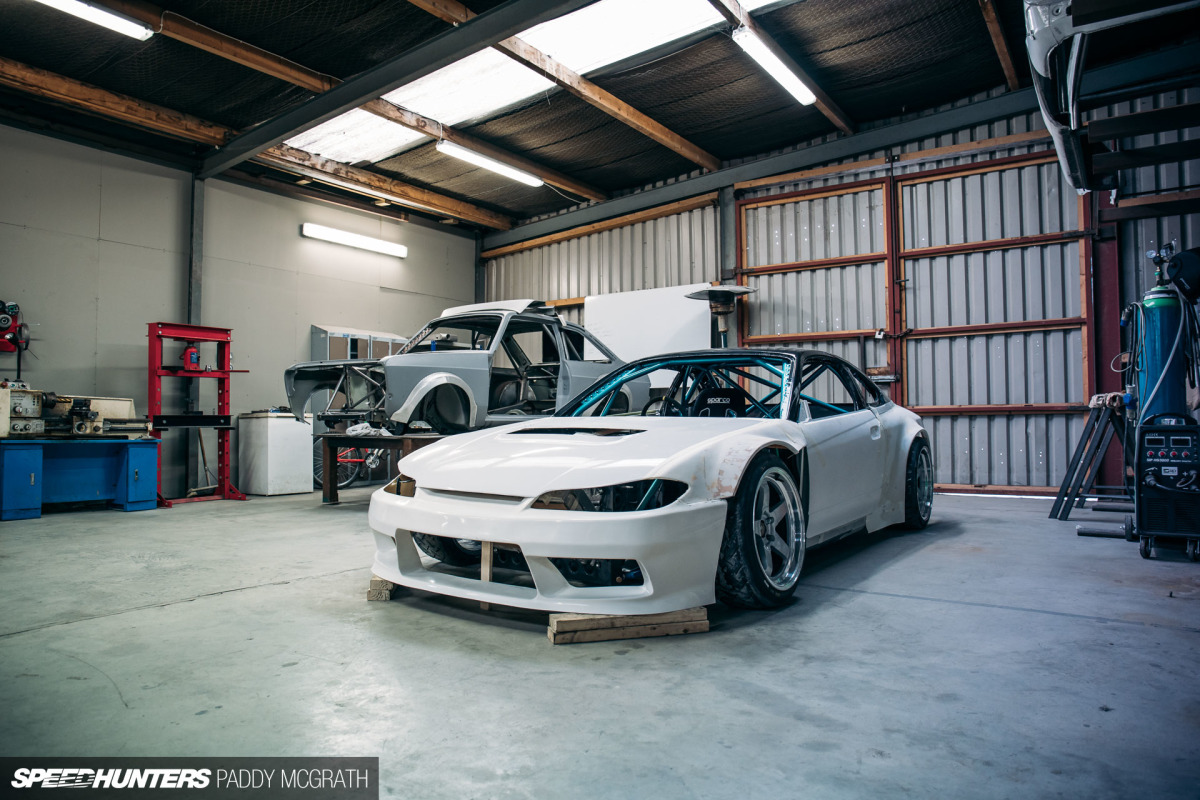 So much has changed with the Silvia, that nothing really fits off the shelf anymore. This is the first time I'd seen the car on the floor, although it was only just about rolling in order to ensure the bodywork was correct. What struck me the most was how much lower it is than I expected.
The aim is to run the car in two trims; one for time attack and hillclimb with a comprehensive aerodynamics package to make the most of a slick tyre. This 'go fast' setup is estimated to weigh 940kgs (2,072lbs) wet, while the second drift setup (without the aero package or slicks, but with extra steering lock) has a sub-900kgs (1,984lbs) target weight.
John spoke about this being as about as low as they can go weight wise, without resorting to drastic – and expensive – measures. Instead, their focus has been about placing the weight that remains in the most optimal locations. For instance, the driver's seat is fixed in place, with an adjustable steering wheel and pedals to suit the driver. The battery will be sunk into the passenger side floor. The engine bay has been extended back into the car, in order to move the dry sump tank back as far as possible.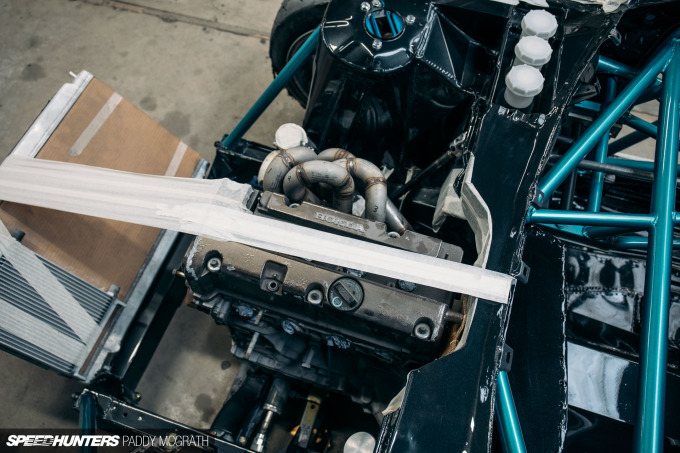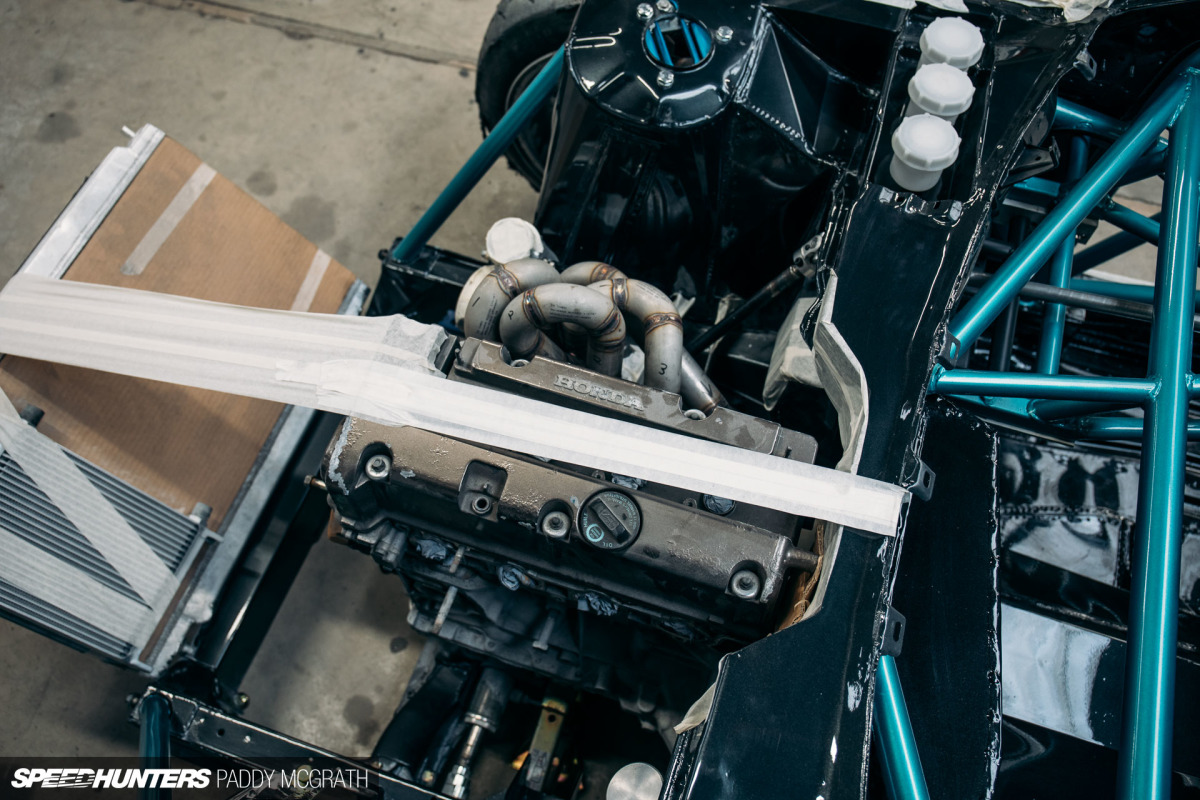 Regardless of what trim they run, the car will be Honda powered. At the moment, they're using a K20 as a stand-in while they complete their K24. The masking tape, currently supporting the radiator, won't be a permanent fixture on the car.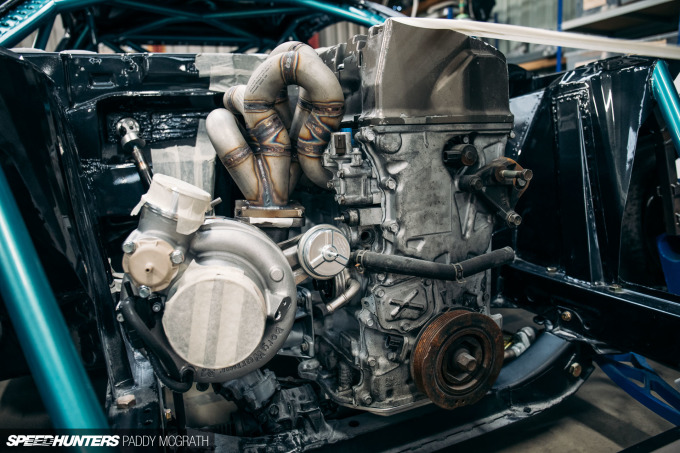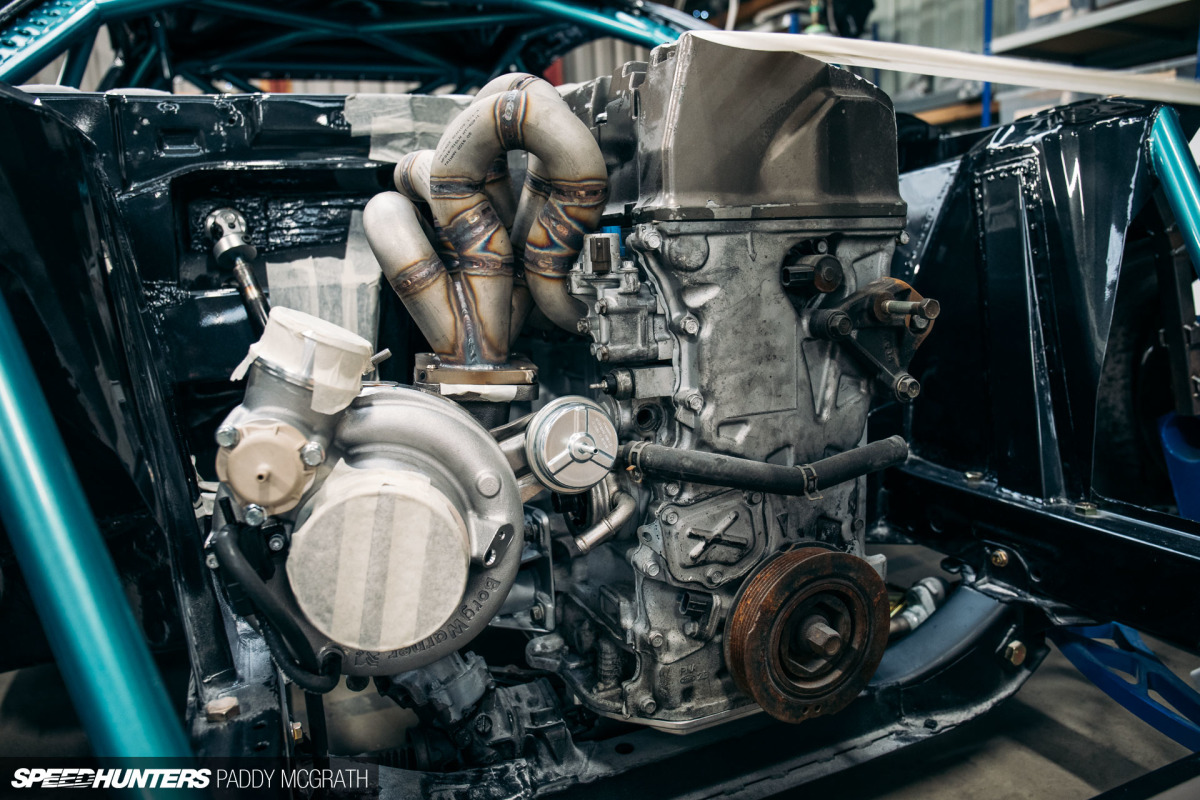 A BorgWarner EFR 8374 will supply enough boost to produce around 550-600hp to the 2.4-litre motor, which hangs low on a custom equal-length manifold that they made in-house.
In case you're wondering why they've chosen a longitudinally mounted K-series instead of a 2JZ or V8, it was a decision that was primarily based on weight. The K24 is approximately 100kgs (220lbs) lighter than the inline-six, and its smaller dimensions mean it can be positioned in a more advantageous location within the engine bay.
John told me that the K24 is slightly taller than the K20 (by 19mm), which they've allowed for but will require a custom valve cover to clear the underside of the bonnet.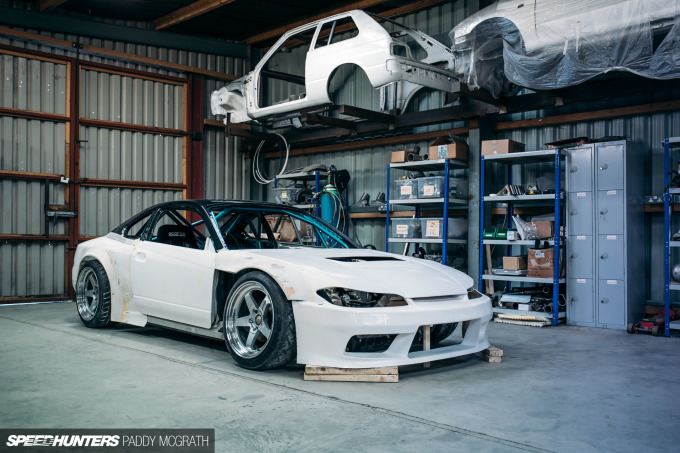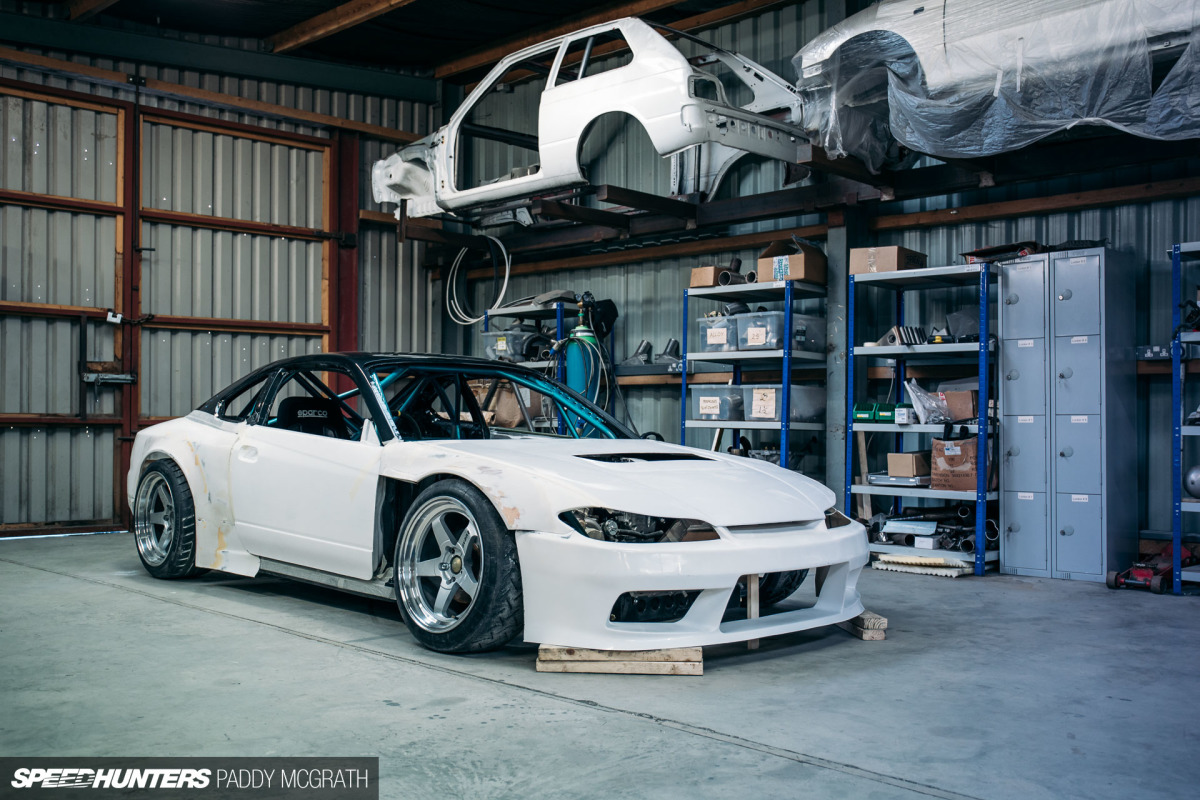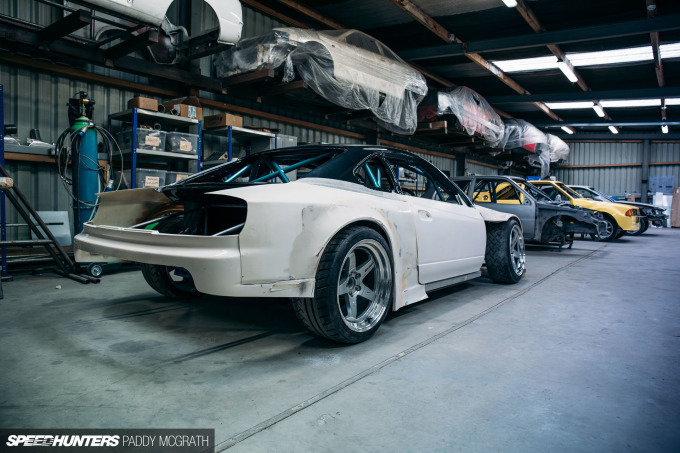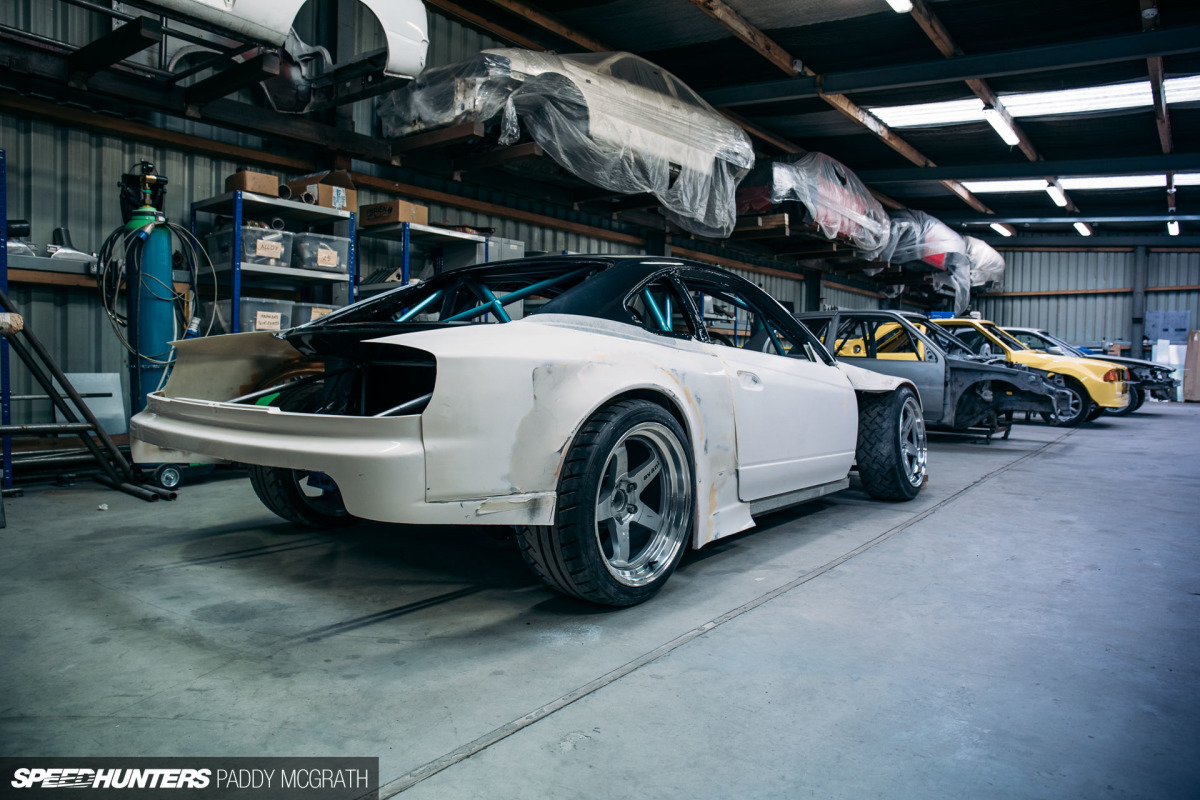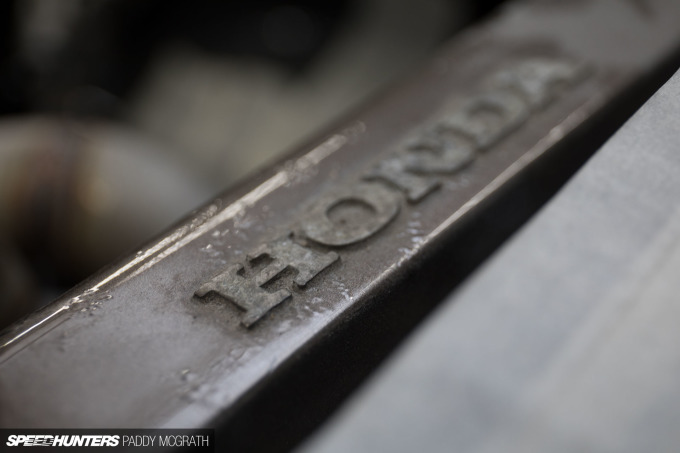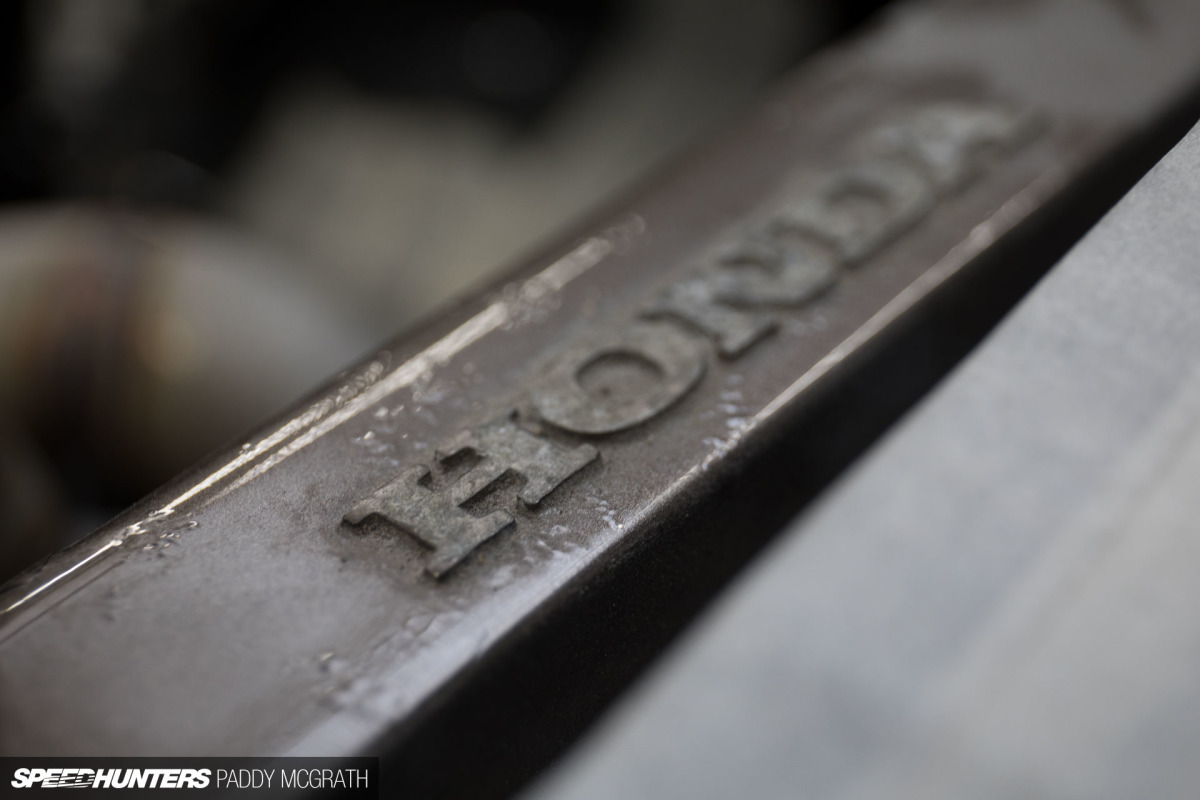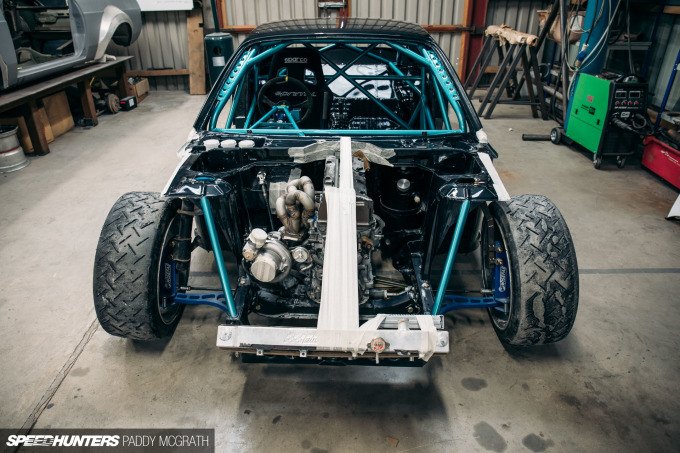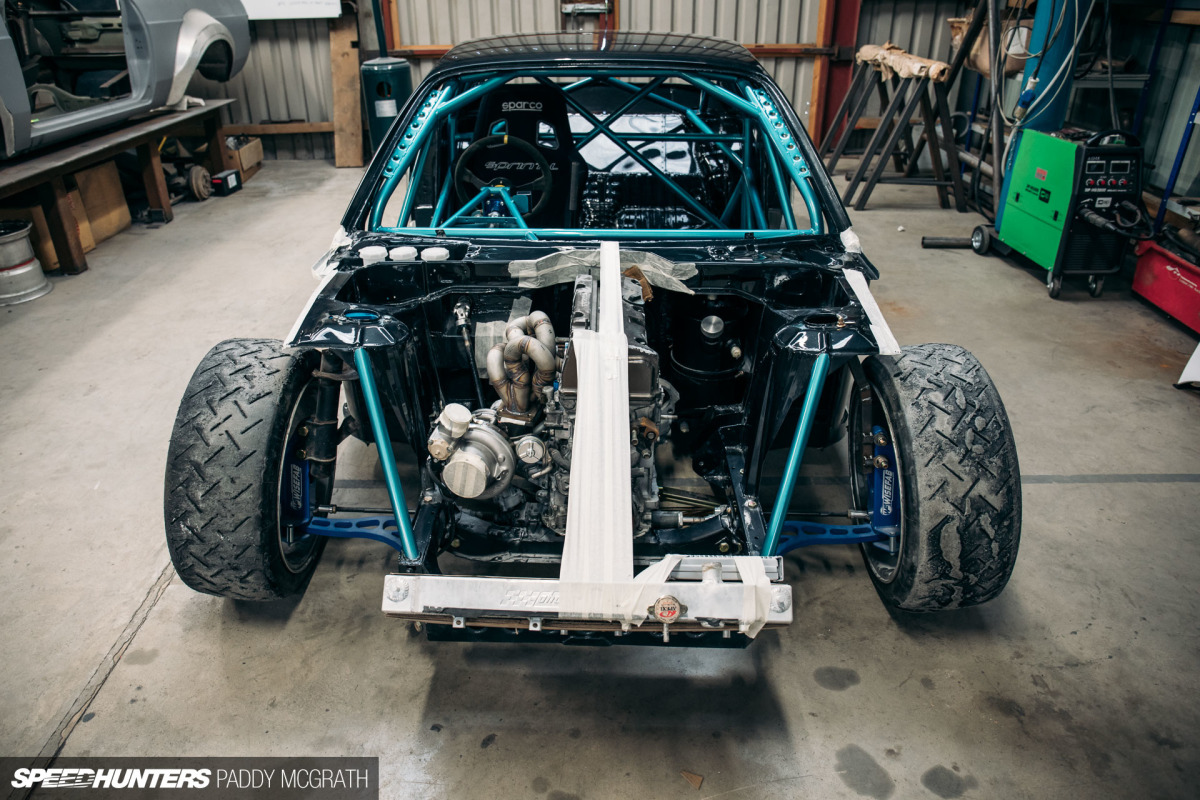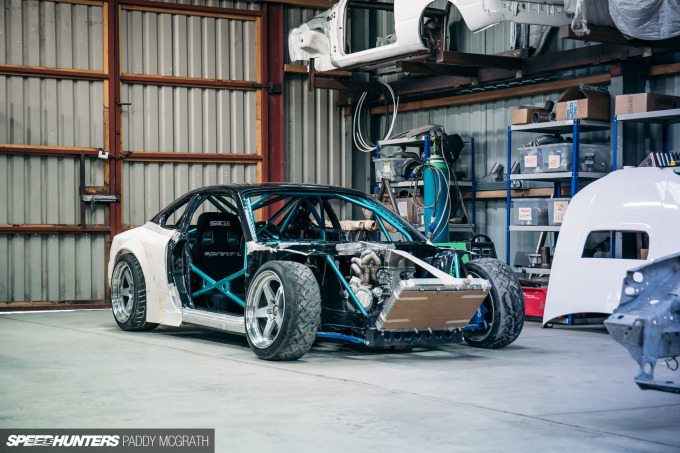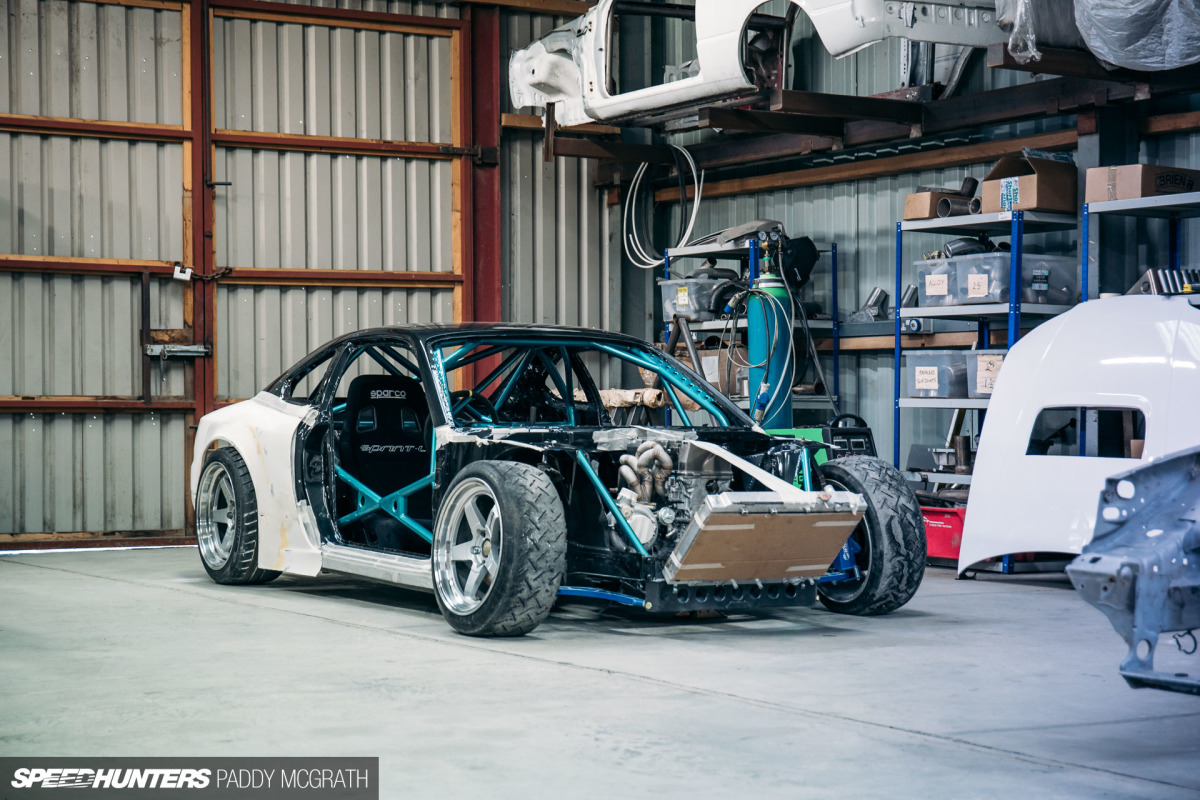 There's still a while to go yet, and no doubt lots of further incremental improvements and decisions to be made. There will be problems and solutions, questions and answers all to come, while not to forget the creation and implementation of a full aero package, without the benefit of a wind tunnel or CFD modelling. Instead, John has taken it upon himself to study aerodynamics in order to get the basics right and work from there.
It's not a car being built for world domination, but rather one that can be effective in various disciplines within Irish motorsport. While there's no shortage of talent and ability involved with the car's development, it isn't an unlimited budget build either, which makes it more interesting for even the casual viewer.
Maybe the build thread isn't dead just yet?
Paddy McGrath
Instagram: pmcgphotos
Twitter: pmcgphotos
paddy@speedhunters.com