No Brostang
Yes, this '68 'Stang does look like a ride fit for Death himself.
While Mustangs have been known to aim for crowds lately, this badass machine instead murders tyres, fuel and common sense. But who needs common sense when you have something like this in your garage?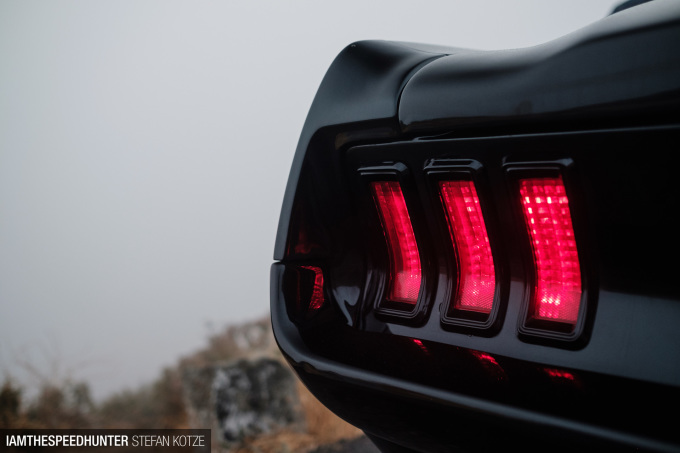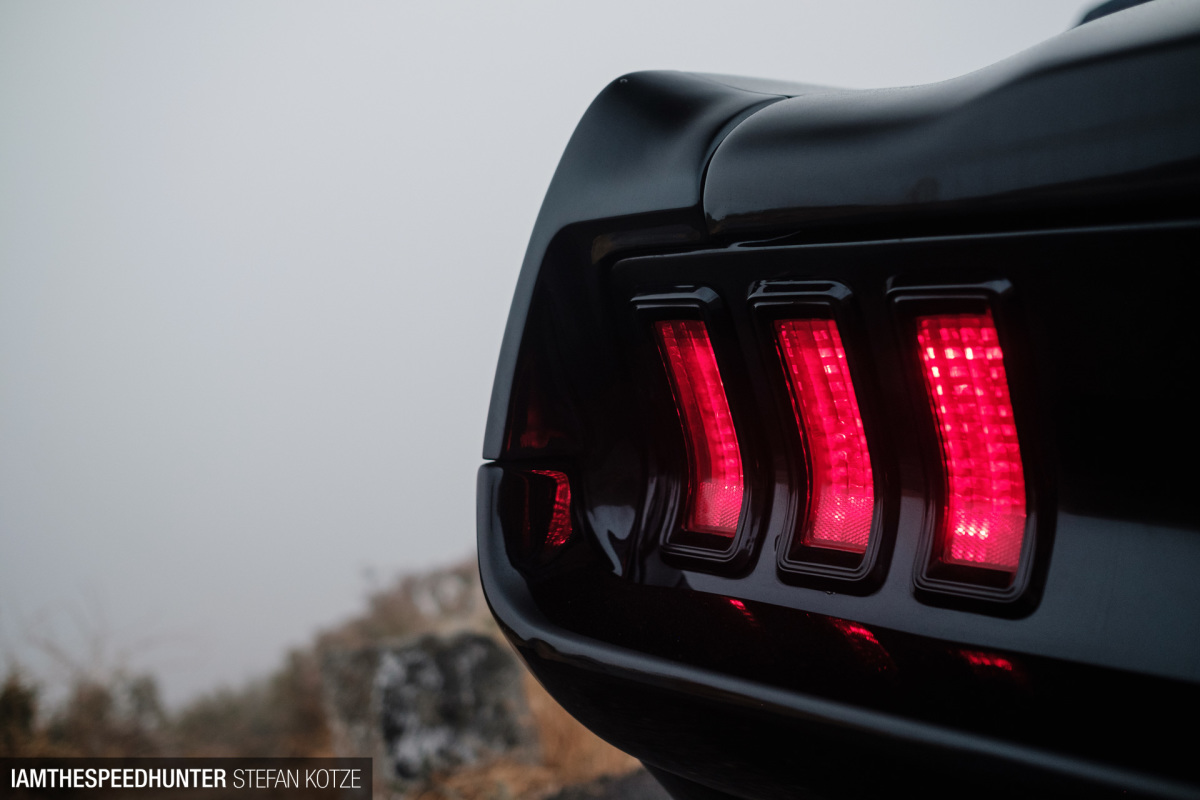 The story of Laurent Decalion's 1968 Ford Mustang Fastback starts a few years back, when he first spoke to Chad from Sportech, a custom car shop in South Africa, about it. Over a few drinks, he discussed his desire to build a proper Mustang.
It took nearly a year of planning and discussion before they settled on just how they would build the Mustang of his dreams, which specifically had to be a circa '68 Fastback. With Chad being performance orientated, he pushed for a car that would stop, turn and handle exceptionally well, while also making an abundance of horsepower.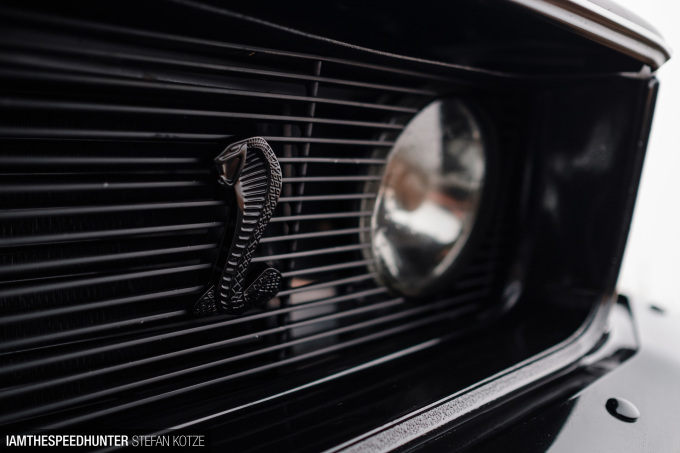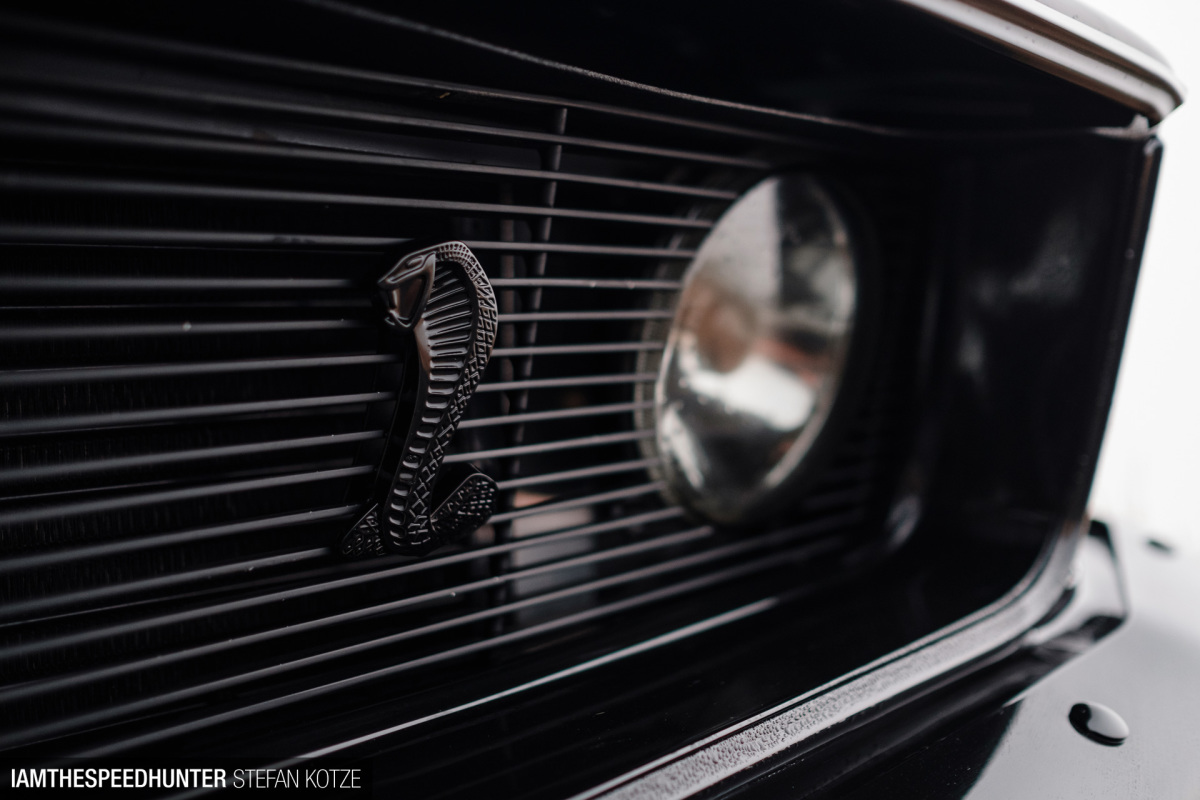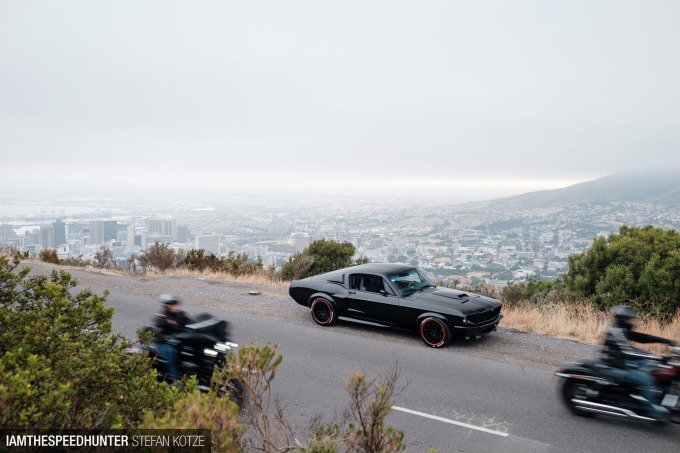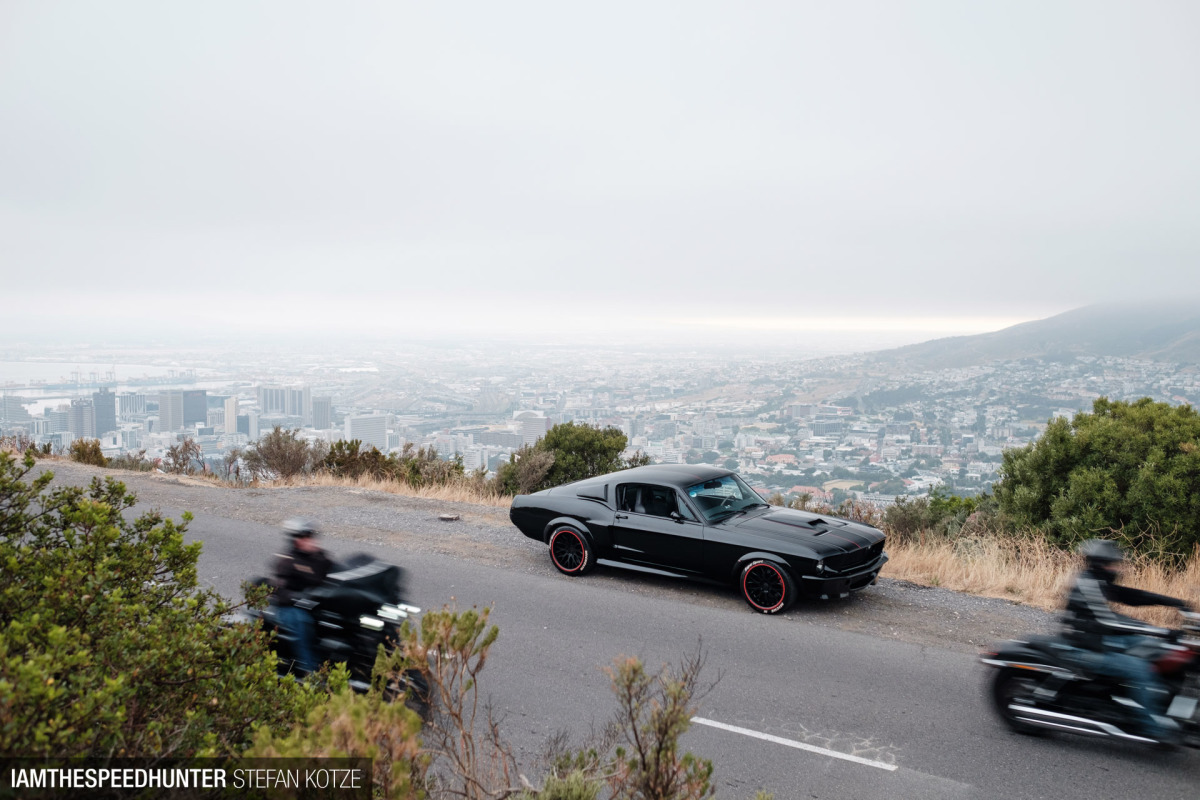 The search then started for a car and eventually one was located in Cape Town. It was supposedly a completely rebuilt car, but to pretty low standards. It looked decent, but drove average with underwhelming power. Under the skin, lots of shortcuts had been taken.
The car was shipped up to Sportech in Johannesburg, where they started a complete strip down of the car. The parts that could be sold were let go – like the motor and gearbox – and the entire body and chassis was stripped to bare metal, which is where they encountered some major issues.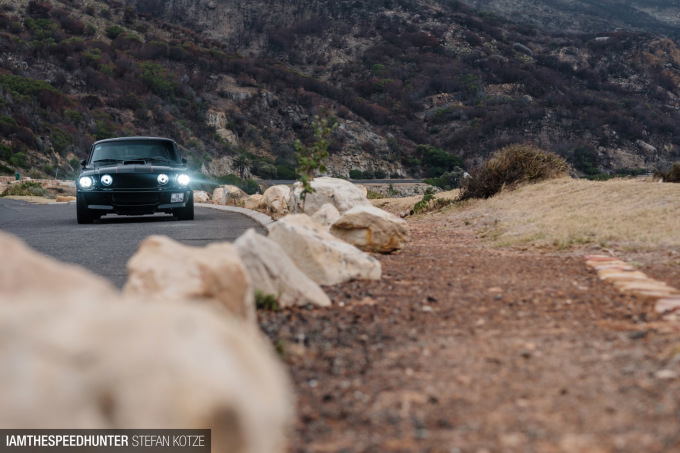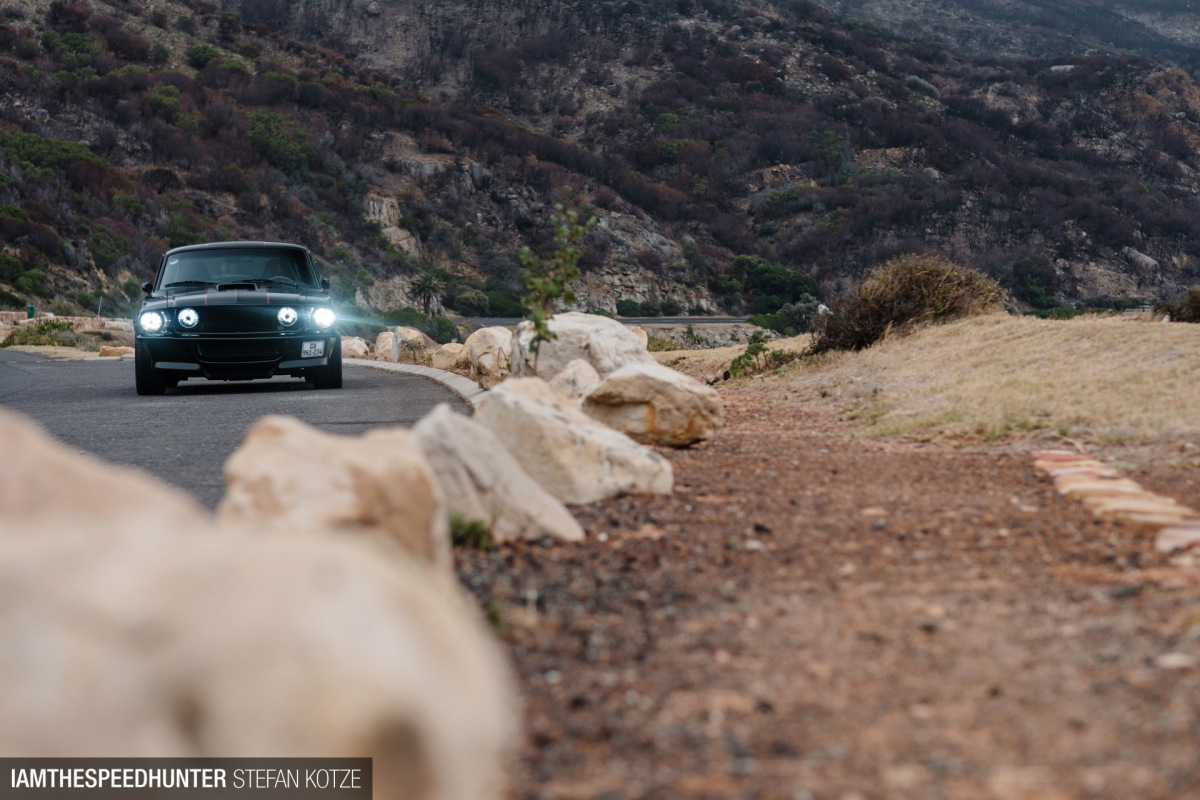 The car was in pretty dismal condition underneath the paint, with body filler everywhere, uneven gaps and also some rust. To remedy this, they had to replace certain panels, as well as welding in fresh metal to fill up holes and gaps. The entire car was also seam and strength welded. When all that work was completed, it received its new paint with spectacular results.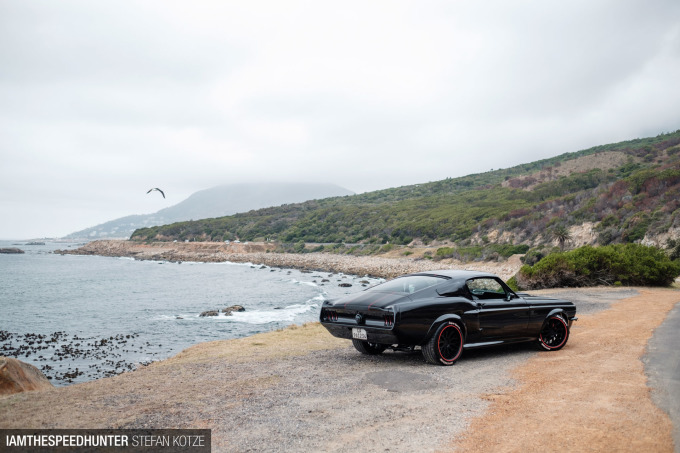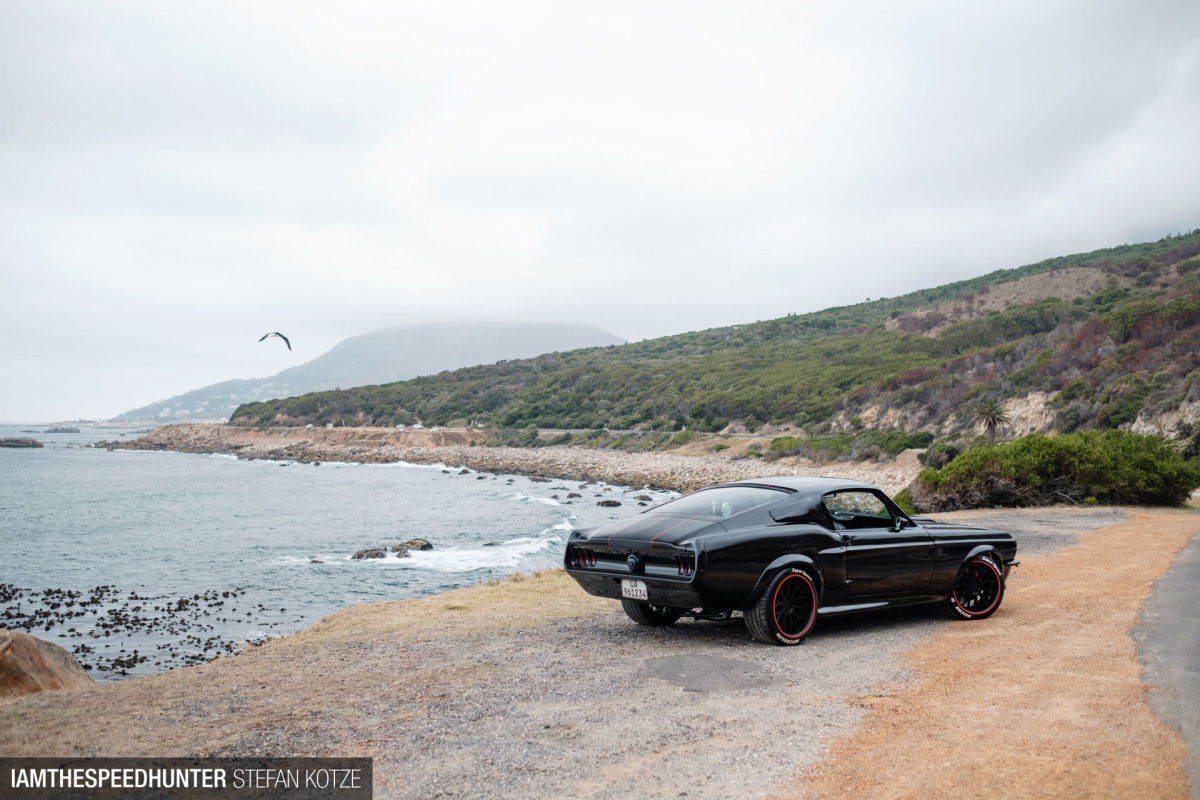 This first part of the process took around six months to complete. While this was taking place, they searched for what they felt was the best suspension for the car; a full Heidts setup. It now runs fully adjustable coilovers in the front and rear of the car, along with sway bars. They used polyurethane bushes wherever they could, as well as custom lower control arms and uprights.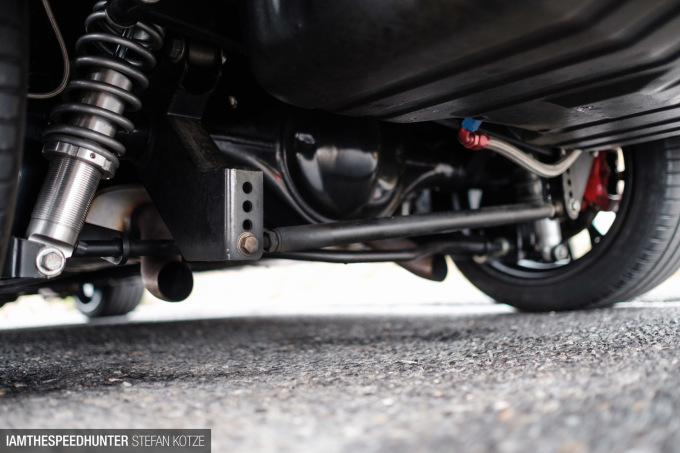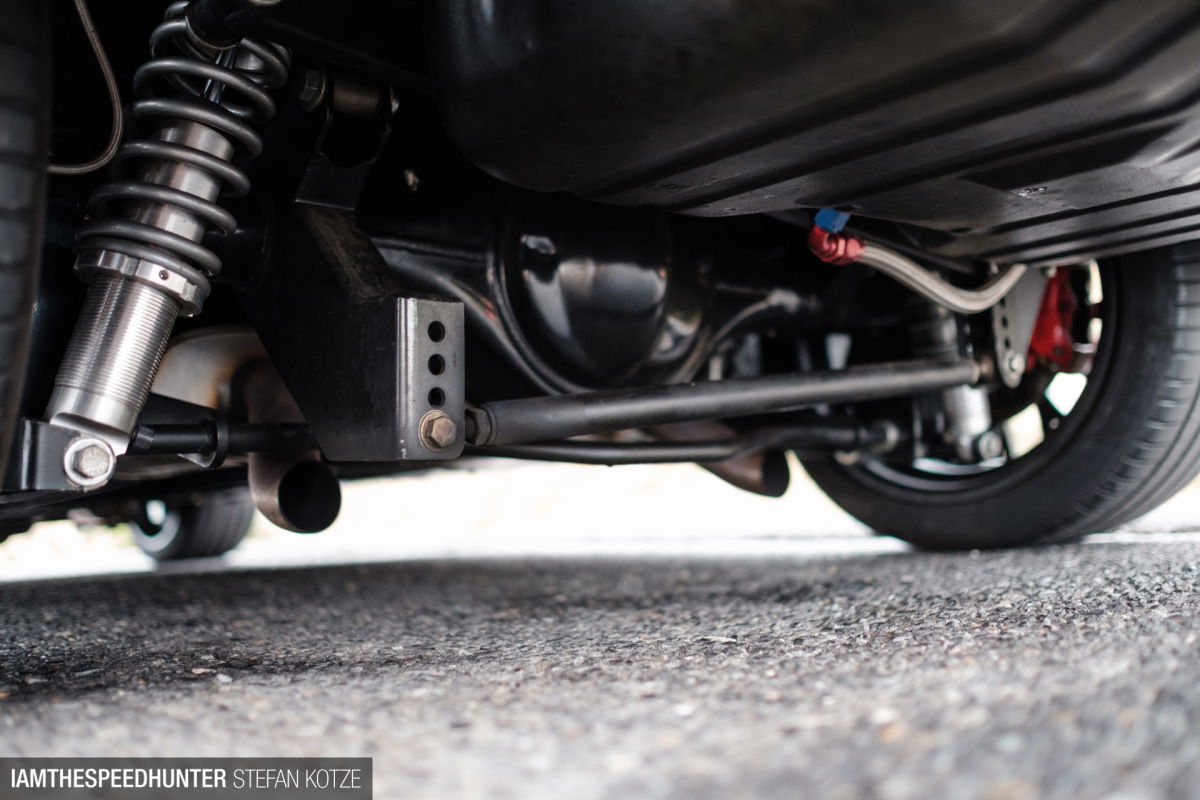 The front suspension is a weld-in setup, which enabled them to cut out the shock towers, making more space for the massive motor that would be slotted in eventually. Between the rear suspension sits a hefty 9-inch limited slip differential, another hint of the power this car produces.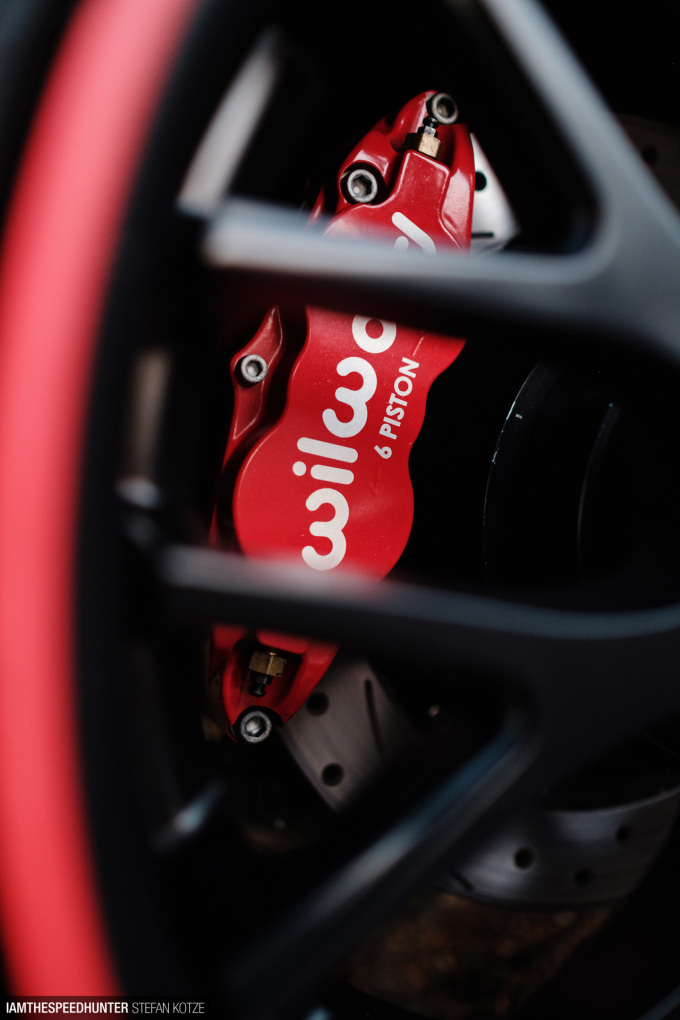 To help the car stay away from any potential crowds, it was fitted with a 6-piston Wilwood brake setup, along with braided hoses, Wilwood master cylinder and special compound brake pads, so that the brakes could are immediately effective from cold. The Wilwood master cylinder was used with an integrated electronic brake booster, so that the pedal feel is like that of a modern car.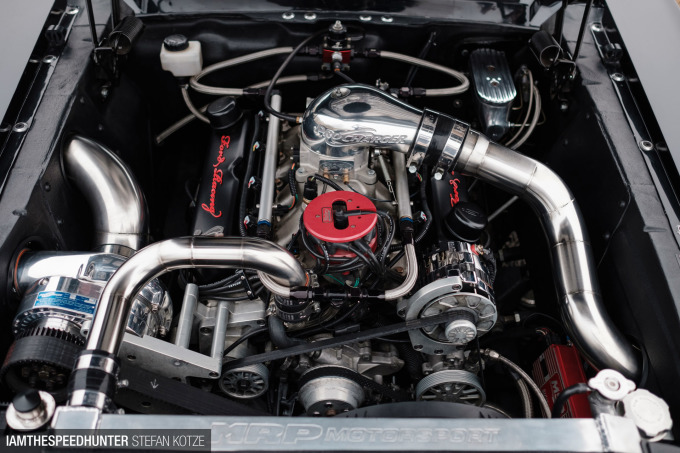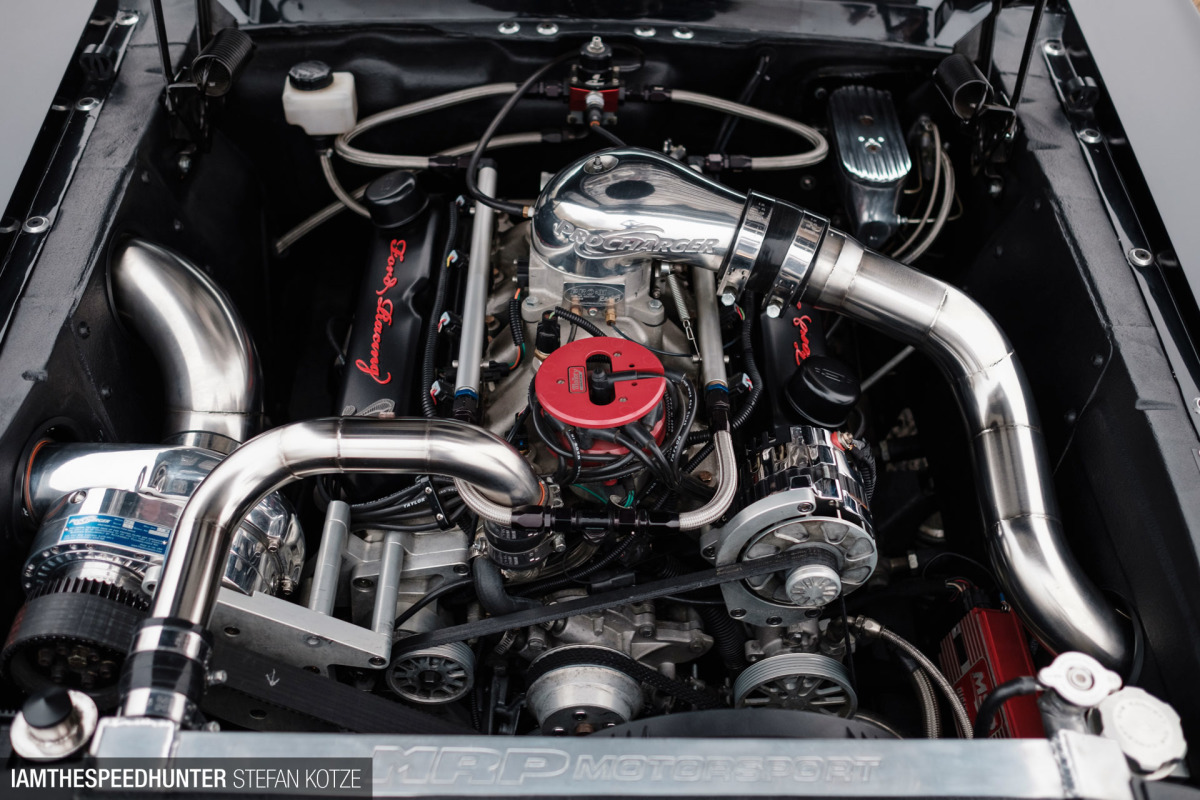 Now, we get to the juicy part. I believe that 'juicy' is maybe best description of this motor, as it gets a dismal 1-2 kilometres per litre (2.3 to 4.7 US miles per gallon). What's fuel consumption anyway? This ain't no Prius.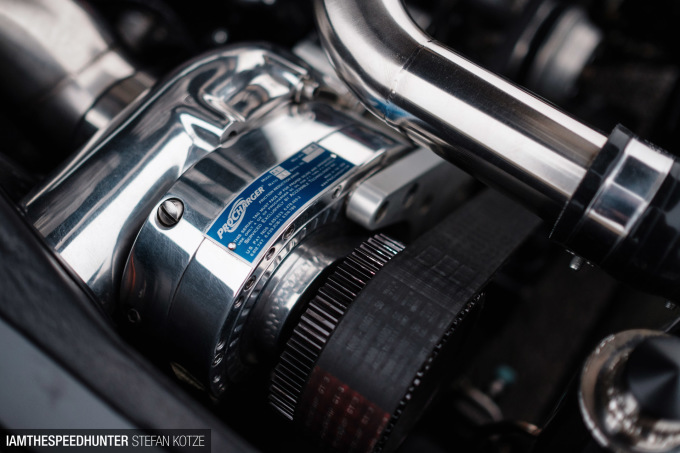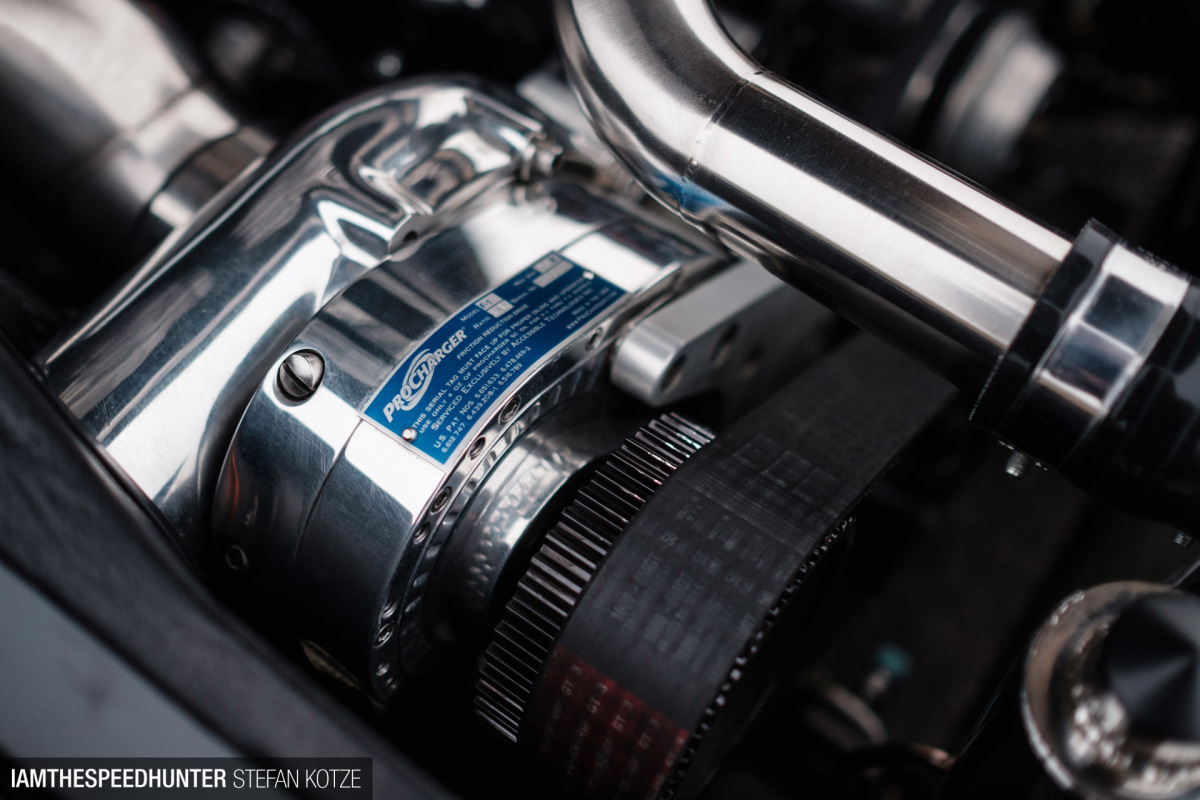 A specially built 408 cubic inch (6.7 litres) crate motor was commissioned from Proformance in the States, but instead of it running an old school carb setup, it runs a fuel-injection system with a huge Procharger resulting in around 800hp and 1000Nm (737ft-lbs).
The engine was built specifically for the requirements of the higher South African altitude, as well as the quality of fuel. When the engine arrived from America, it was supposed to be a bolt-in setup, but Sportech found that the supercharger exceeded the height, so the bonnet couldn't close.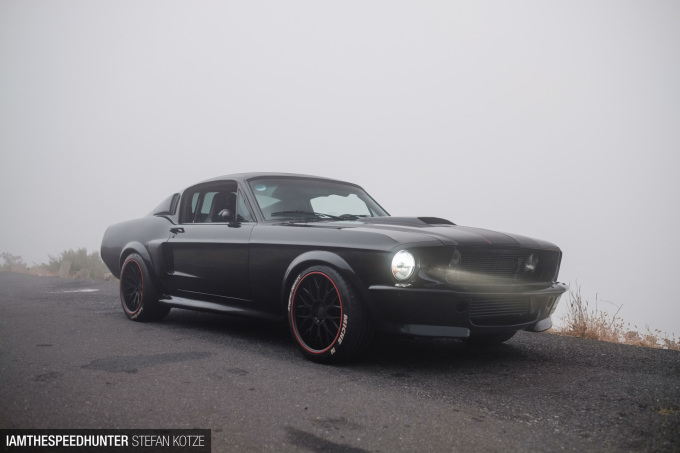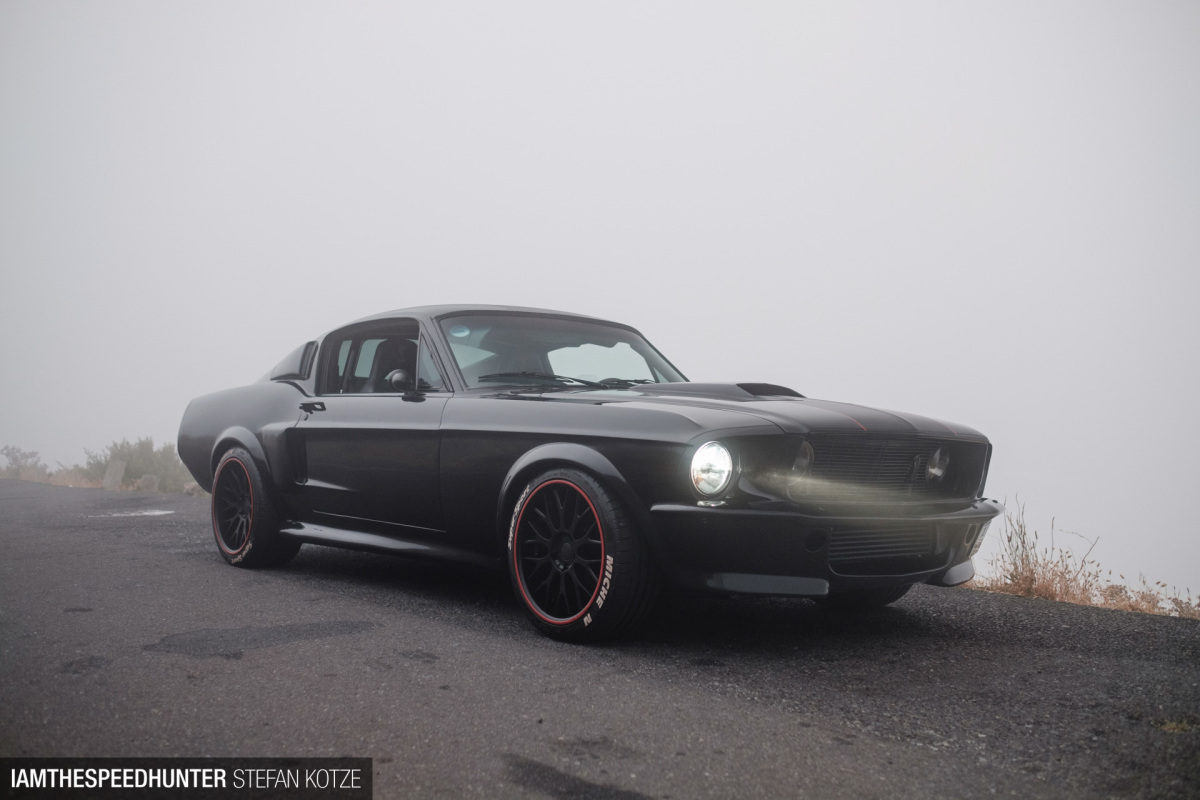 They then had to drop the motor lower into the chassis, taking into consideration that the oil sump would also be lower now, so it was quite a mission to get right, but they got it done. The car also runs a massive MRP Motorsport radiator, with a huge fan, oil cooler and gearbox cooler, to make sure all the temperatures are kept under control.
The car even has air conditioning now, can you believe that? On the ignition front, the car runs two ignition systems; an MSD system as well as a Mallory, while Aeromotive products keep the fuel supply and pressure sorted.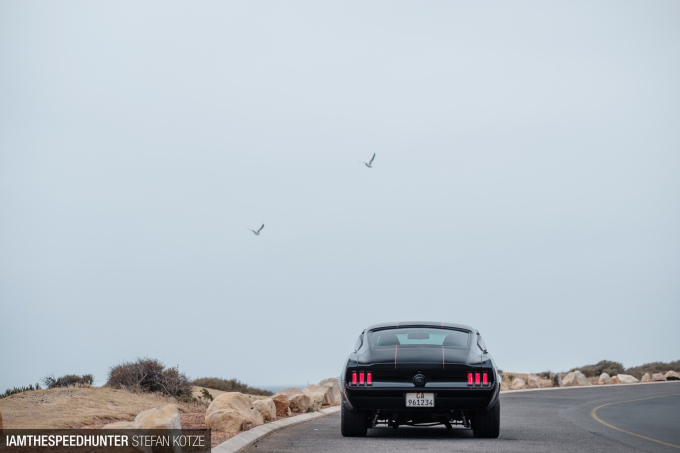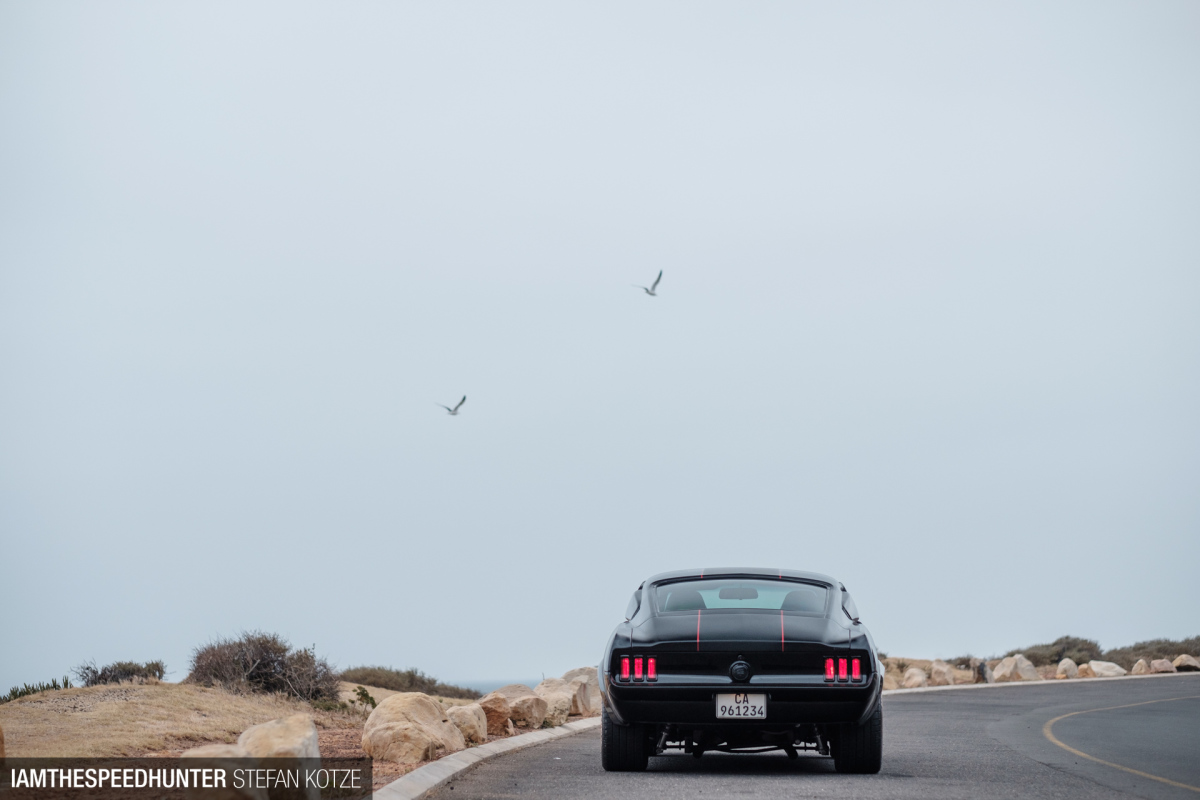 To keep everything running as it should, a local engine management system was chosen and the car was tuned in Cape Town, as that's where it lives. Custom boost pipes were built in-house and actually run through the fenders on the left and right of the car, while the exhaust is also a custom built piece, which exits at the bottom of the car.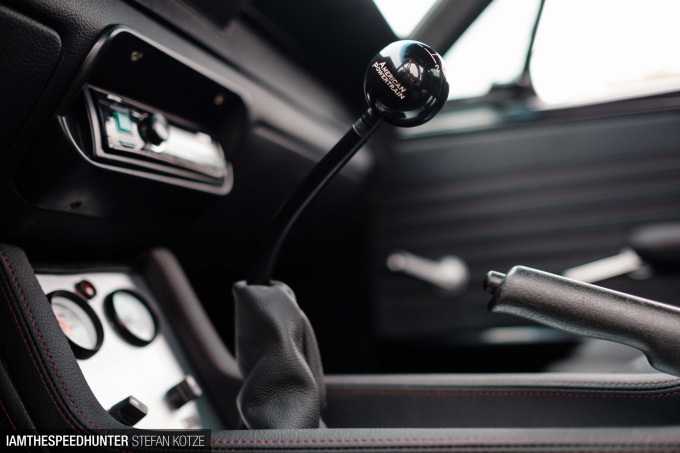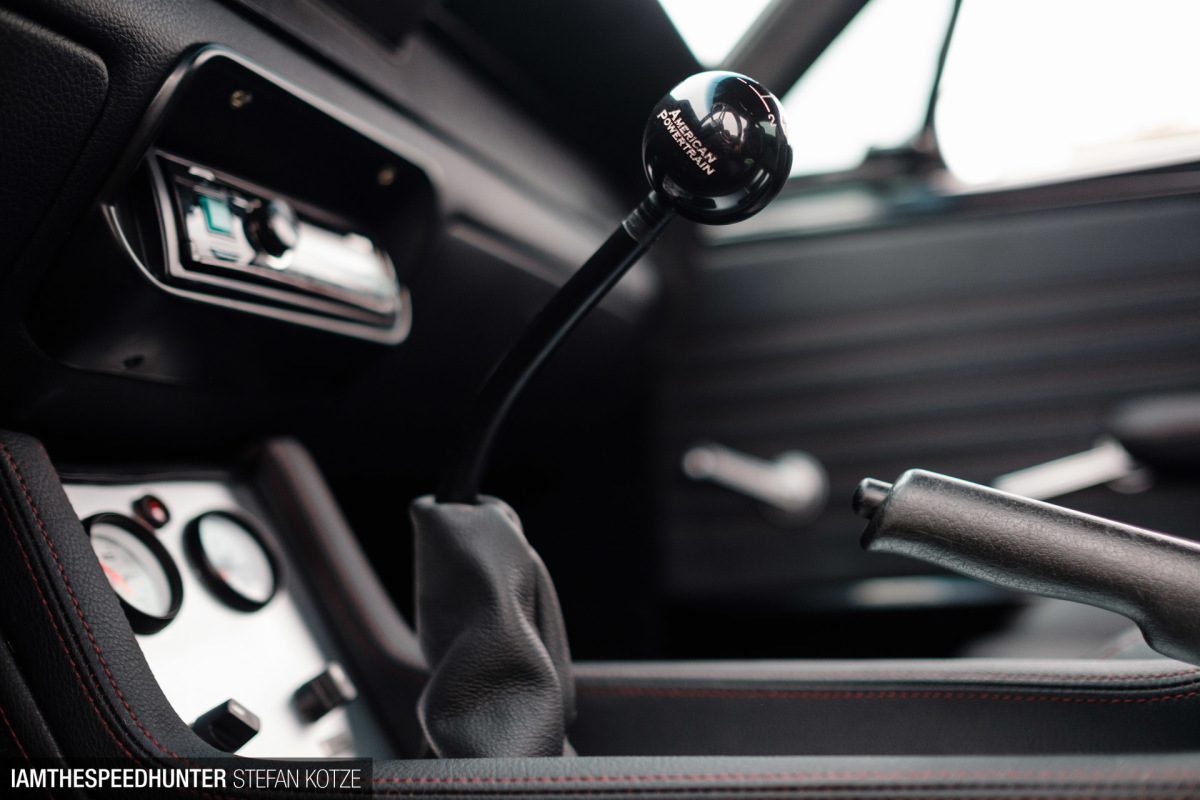 The whole motor setup was then connected to a manual 5-speed Tremec gearbox, with a special clutch to hold all that torque, because trust me, this thing really pulls.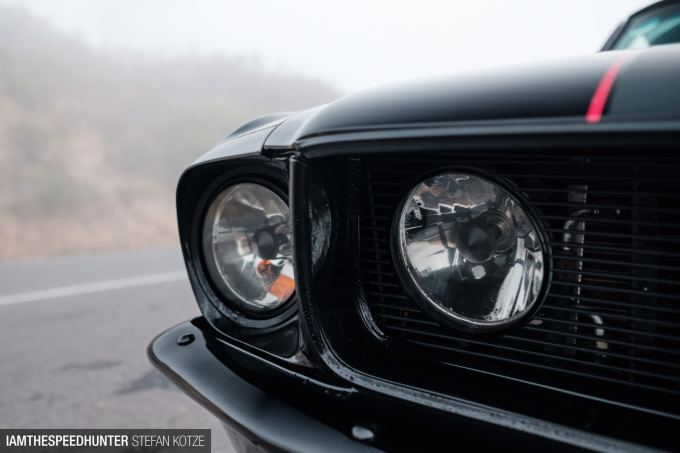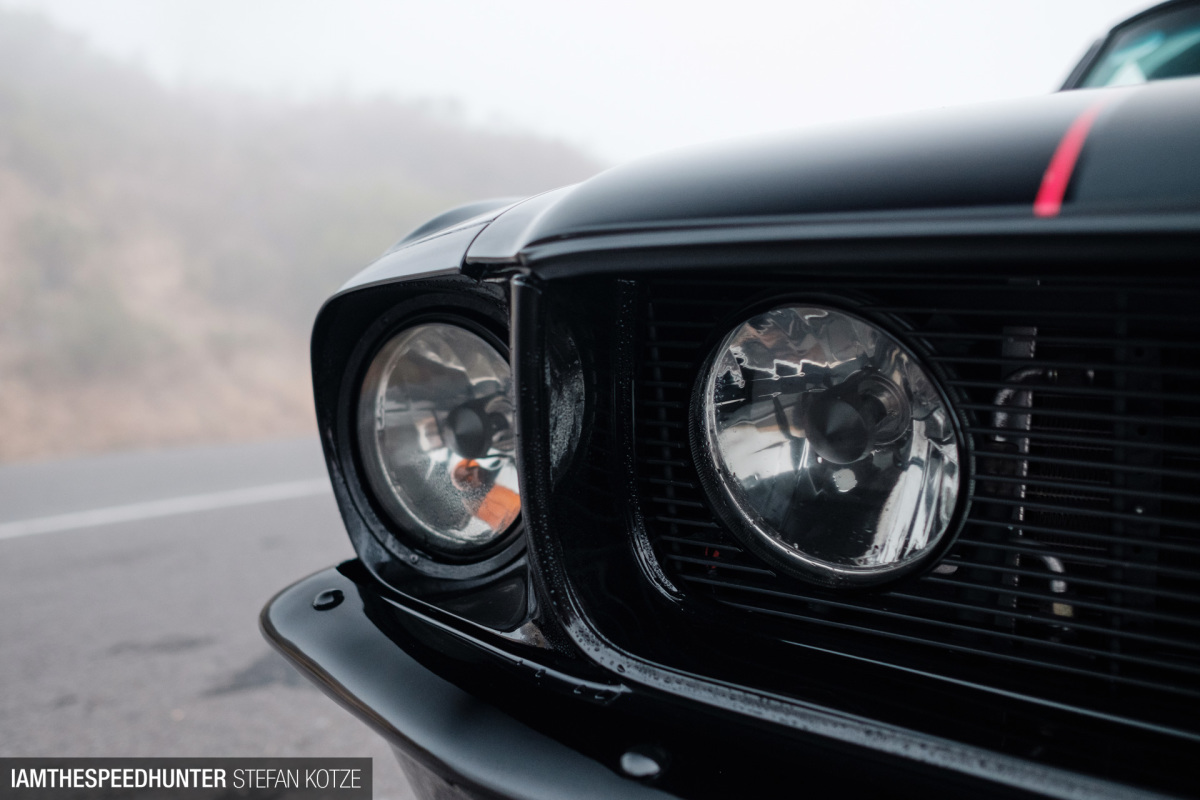 On the outside, the all black paint was complemented by matte black stripes with red accents. Every piece of chrome on the car was also blacked out, with HID lights fitted up front.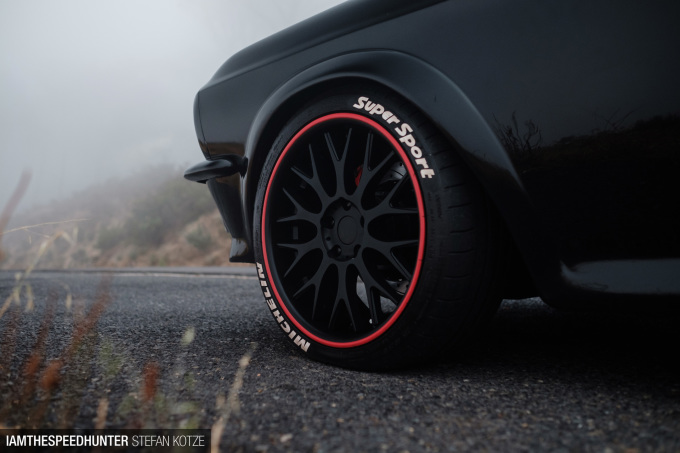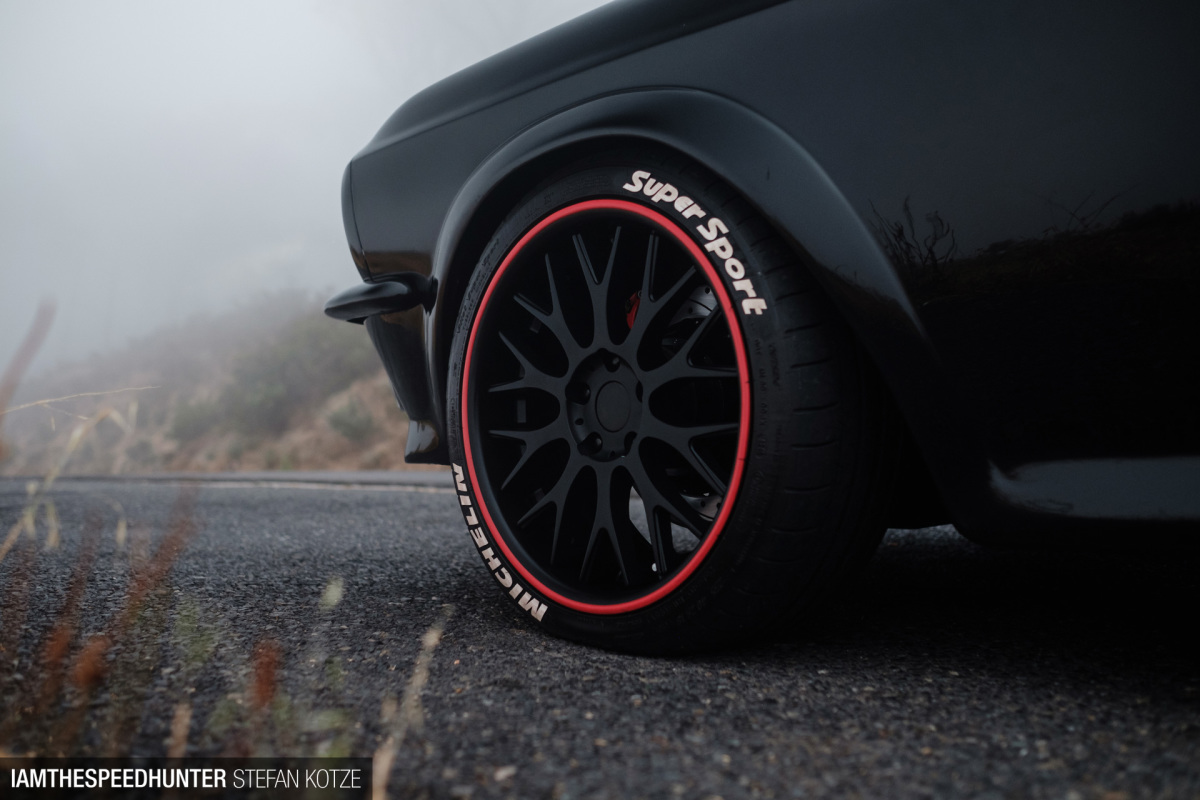 When it came to wheels, Laurent had seen a design that he liked and Sportech then had the wheels custom made in the USA, as they needed a very specific offset. The wheels needed to be pushed out as far as possible, without tubbing the body, as they still wanted to keep the rear seats inside the car. The wheels, finished in matt black with red wheel protectors, are shod with Michelin Pilot Super Sports, in 285/38R18 and 255/45R18 respectively.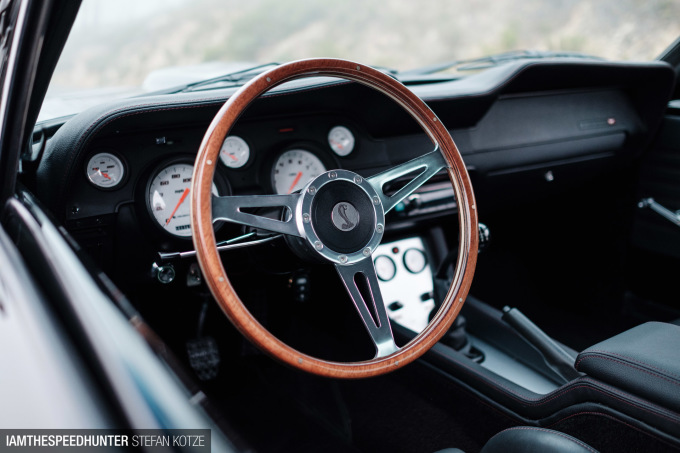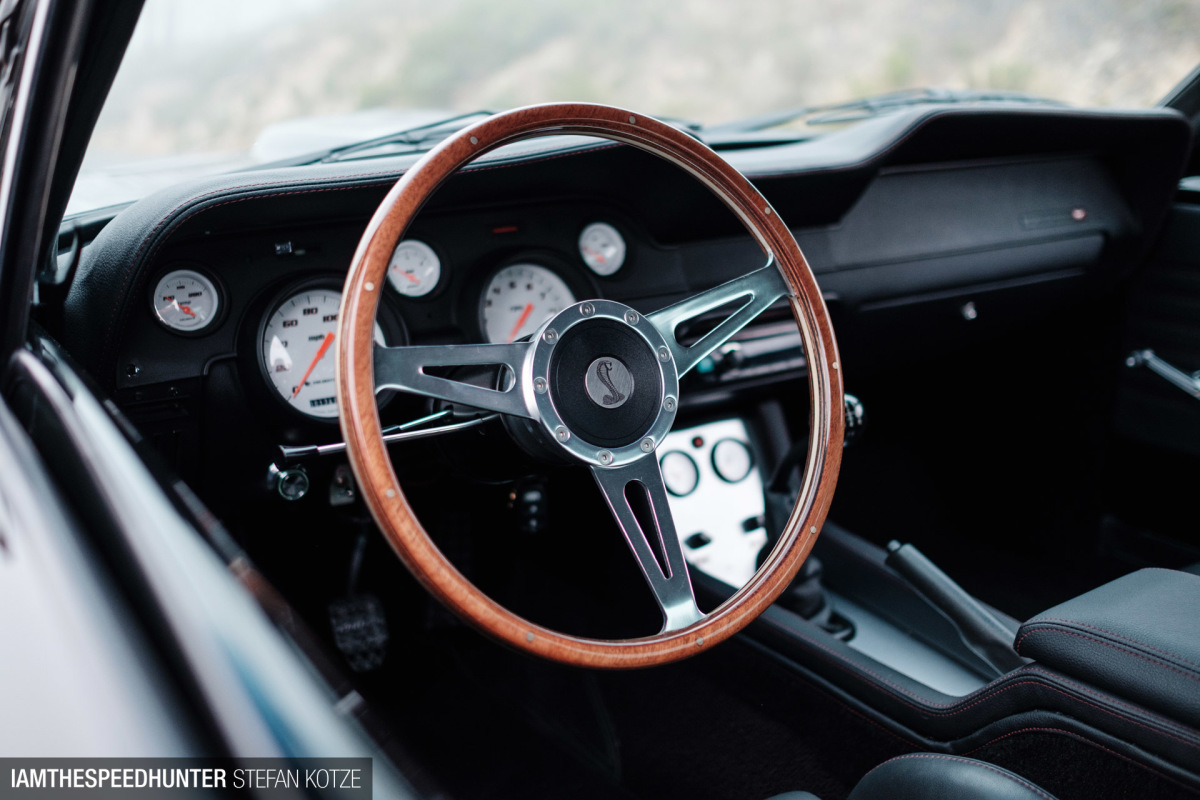 Finally, we move to the inside, which is a nice place to be. The entire carpeting was redone, while a new dash was also ordered and then trimmed before being installed. White Velocity gauges replaced the originals, helping with the more modern feel of the car, while a centre console was custom built, housing a few more gauges and switches.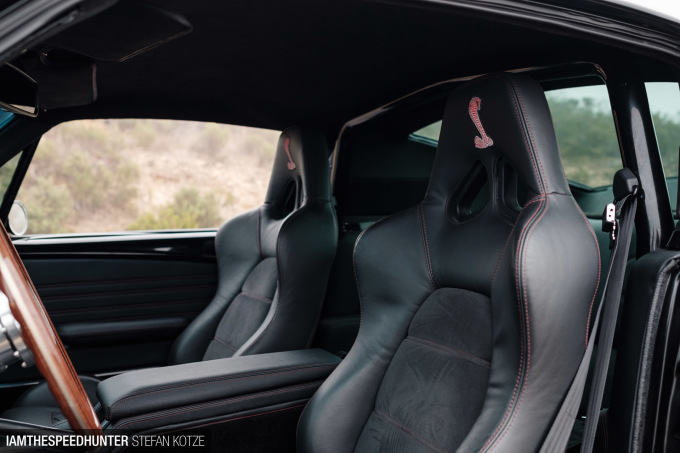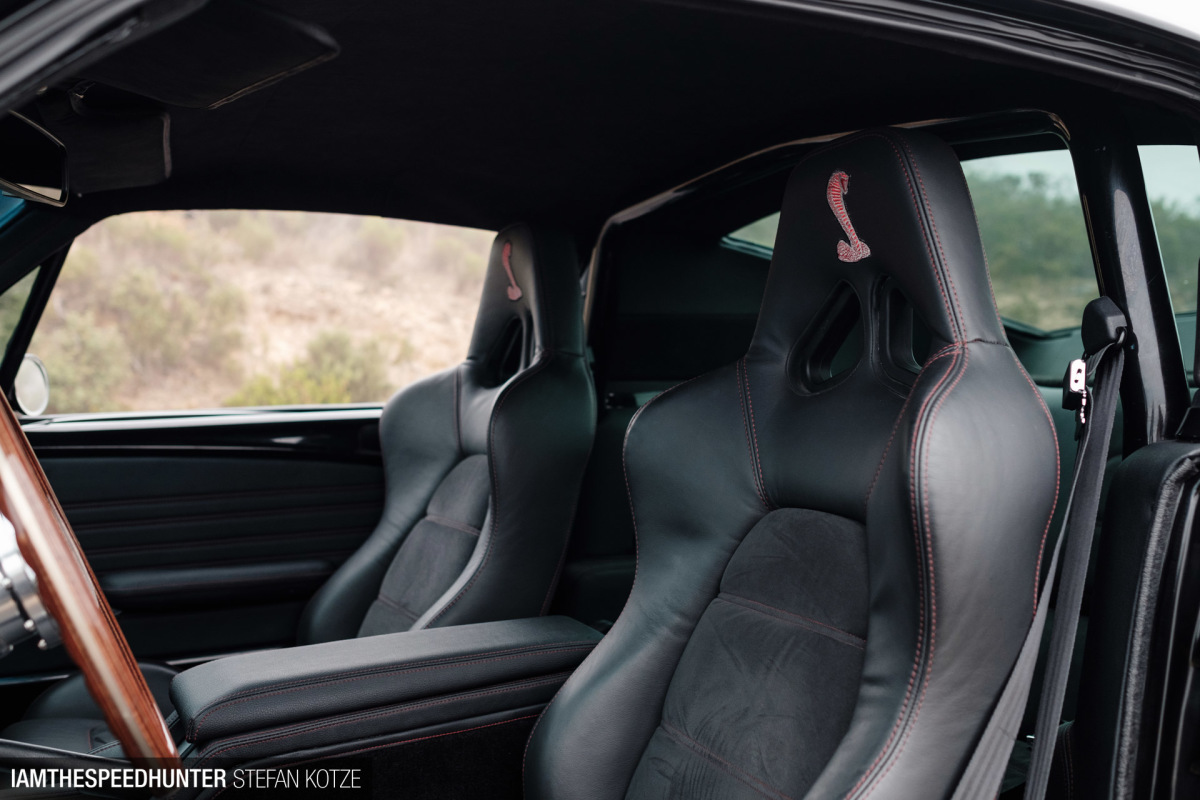 The gear lever is an item from American Powertrain, while acquiring the steering wheel became a whole mission on its own. It took almost four months to find the manufacturer of the wheel, but it was the perfect fit, so it was well worth the effort. The seats in the car are Sparco items, which were completely recovered with leather and Alcantara, along with the door cards and rear seats.
Lastly in a car with this much power under the hood, extra safety for the passengers is always of importance. So, a custom rollcage was built, but was kept as close to the roof as possible in order to take up as little headroom and space in the car as possible.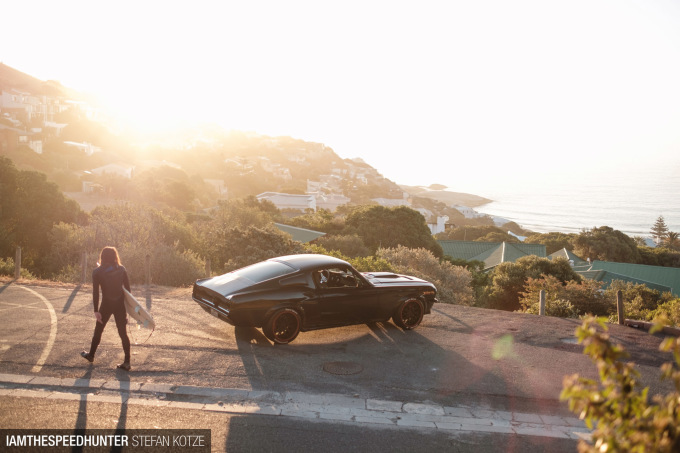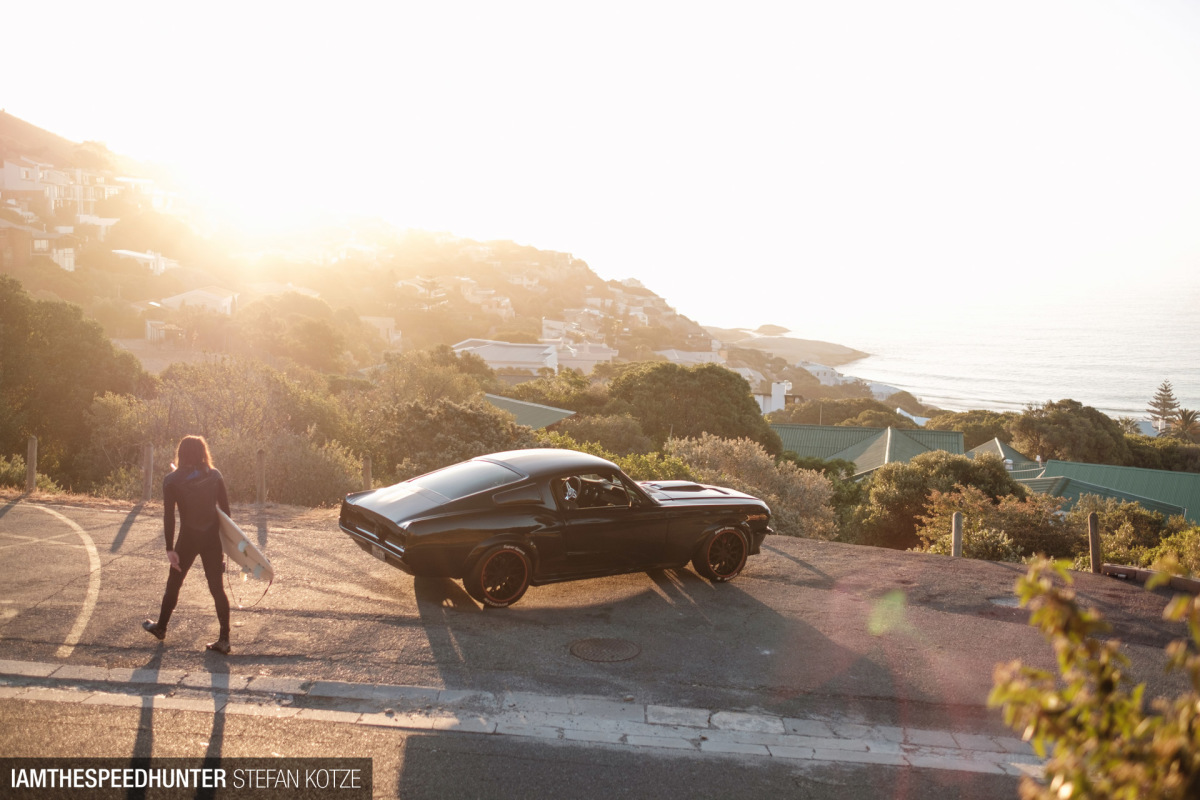 So in a nutshell, what is this car all about?
Well it certainly looks like an old-school muscle car, but it drives like a modern day powerhouse and I can guarantee you, driving this car anywhere, especially on the scenic Cape Town roads, it gets more attention than any supercar ever could.
A Black Death might be a good death after all, then.
Stefan Kotzé
Instagram: stefankotzephoto
www.stefankotze.com
info@stefankotze.com
How To join the IATS program: We have always welcomed readers to contact us with examples of their work and believe that the best Speedhunter is always the person closest to the culture itself, right there on the street or local parking lot. If you think you have what it takes and would like to share your work with us then you should apply to become part of the IAMTHESPEEDHUNTER program. Read how to get involved here.
Cutting Room Floor