Frustrations Or Enhancements?
As much as I love attending car shows, they tend to be an exercise in patience. But patience is something that, admittedly, I really need to work on.
In order to capture crisp car photos without any distractions, you have to plan on getting into events well before the general public enter. Being a Speedhunter often allows this luxury, and I'm truly grateful of that.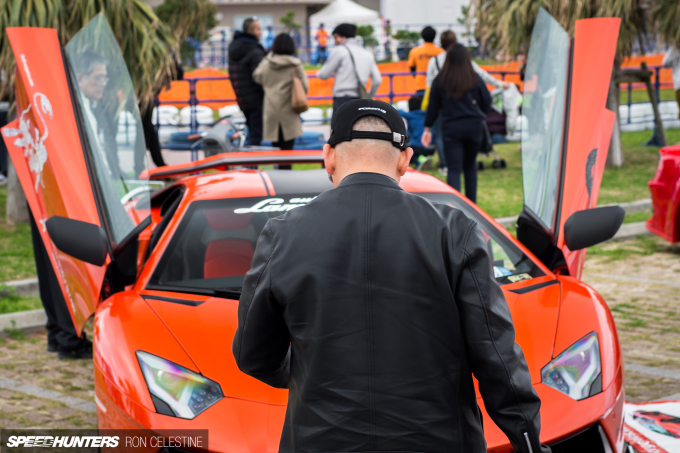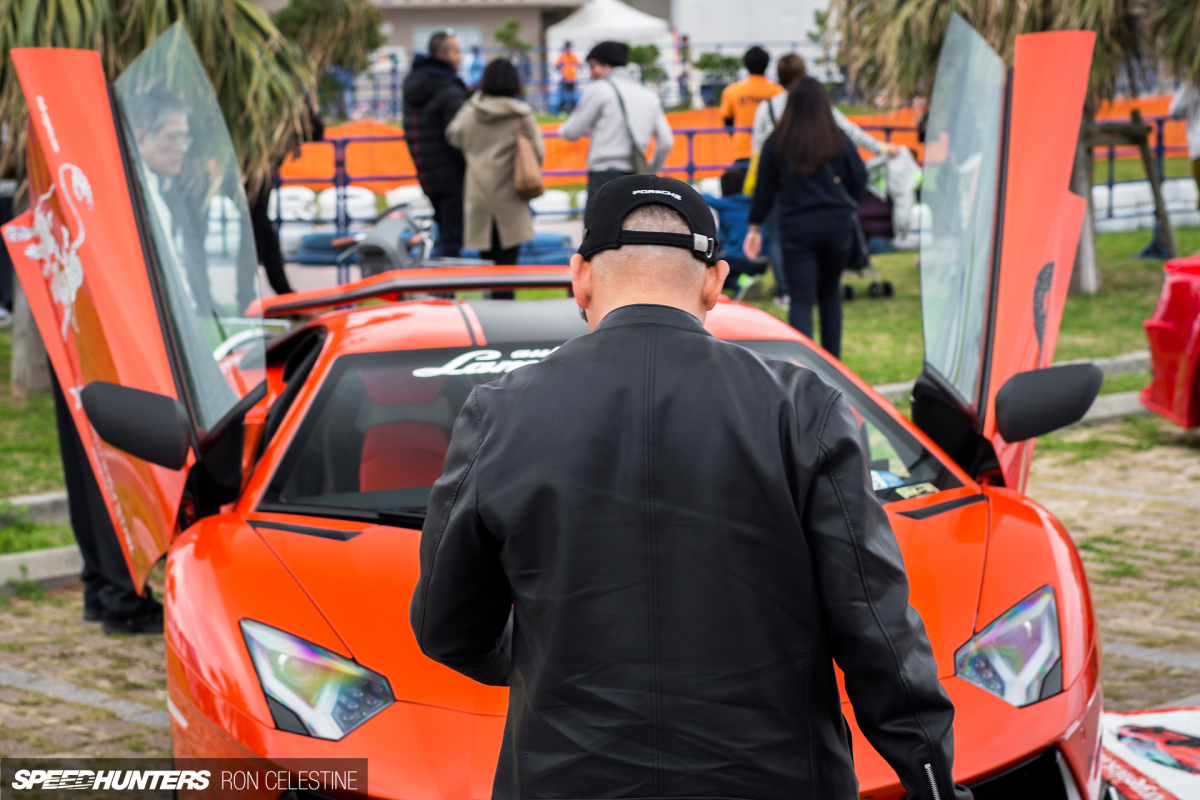 But for the events I cannot enter beforehand, or when I simply fail to beat the sun up and arrive too late, I just have to deal with people repeatedly walking into my shots. #SpeedhunterProblems I know, but I'm sure it's one that any of you who shoot at car shows can sympathize with.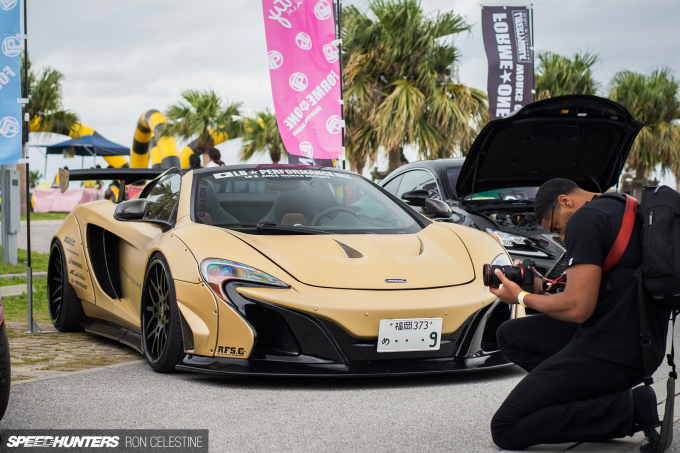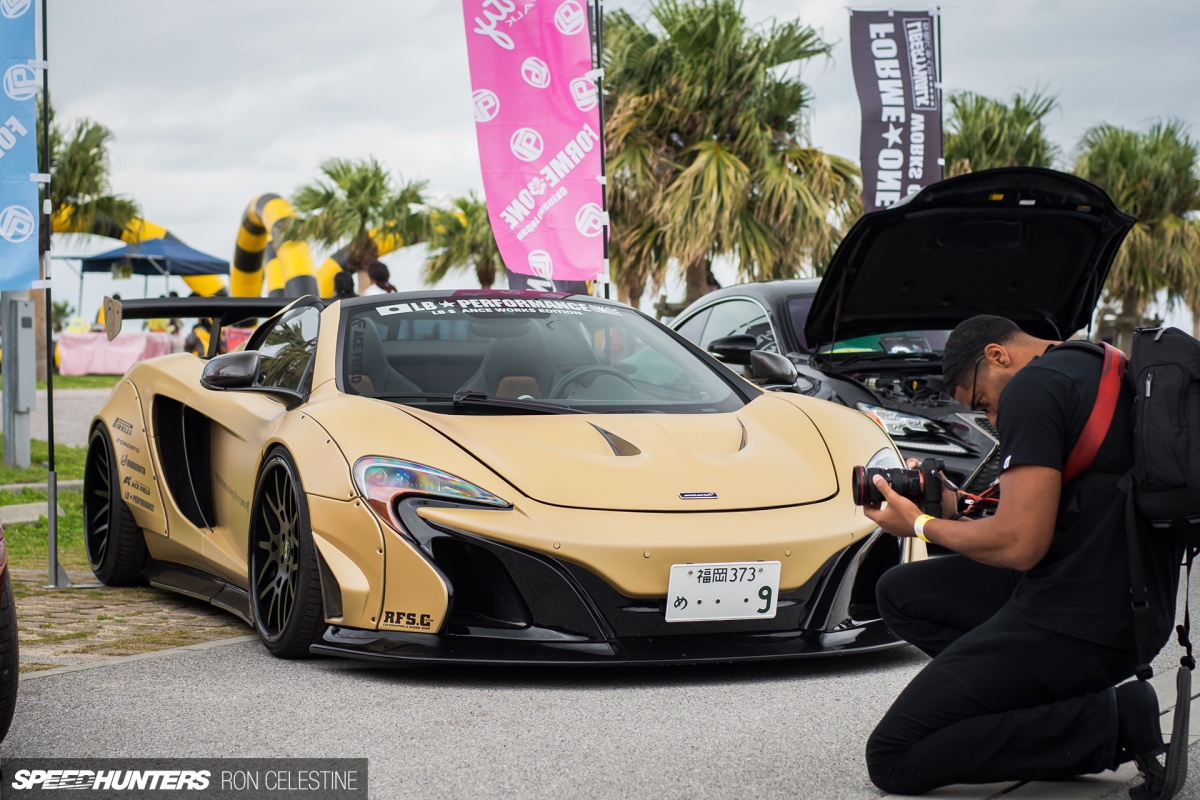 So patience is required; you sit there, trying to pick your moment and hoping that you'll be able to grab a clear shot. But when you're attempting to cover an event like the Okinawa Custom Car Show, the waiting minutes quickly begin to add up.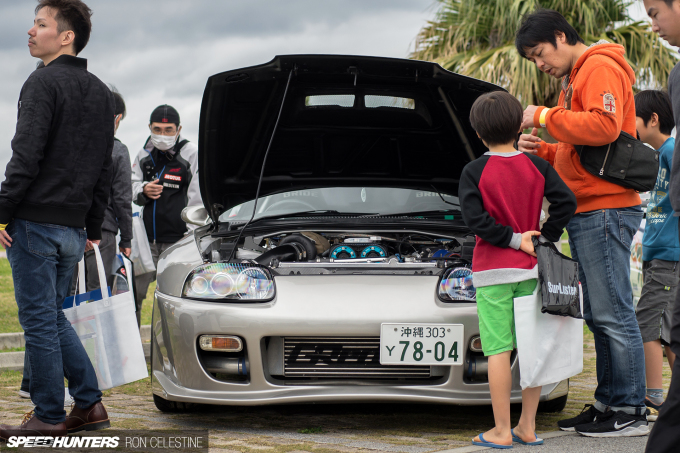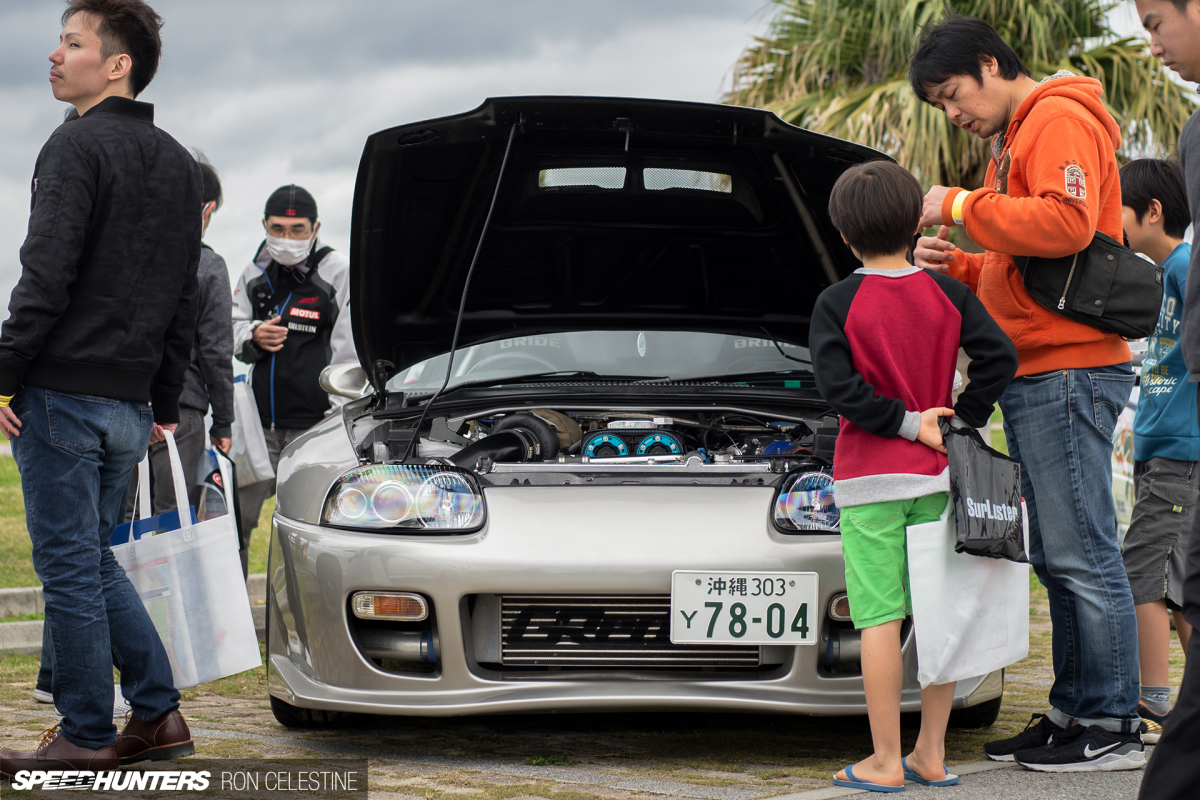 But then again, having people in your shots doesn't always have to be a bad thing. It is a show after all and the human element tends to make things a bit more interesting than just a straight shot of a parked car.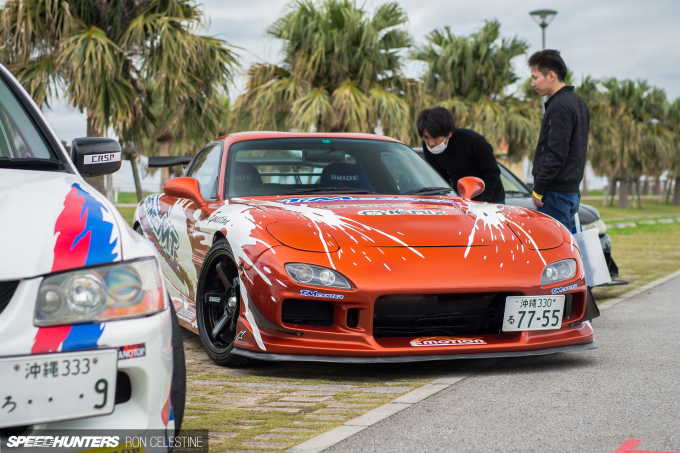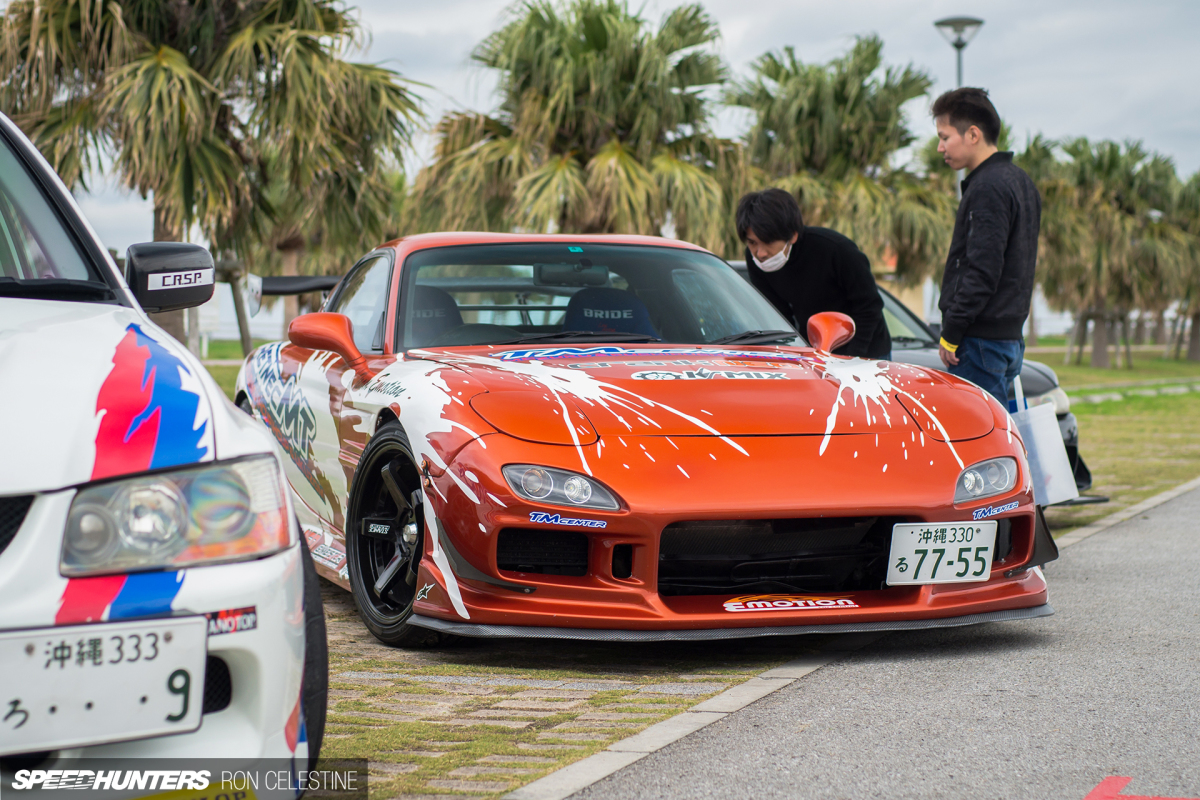 So this time around I decided to try something a bit different by working with the distractions rather than trying to work around them, thus bringing out the event's festival vibe.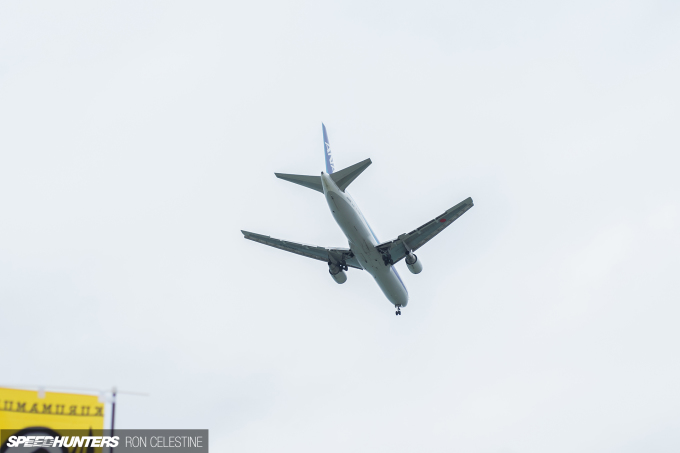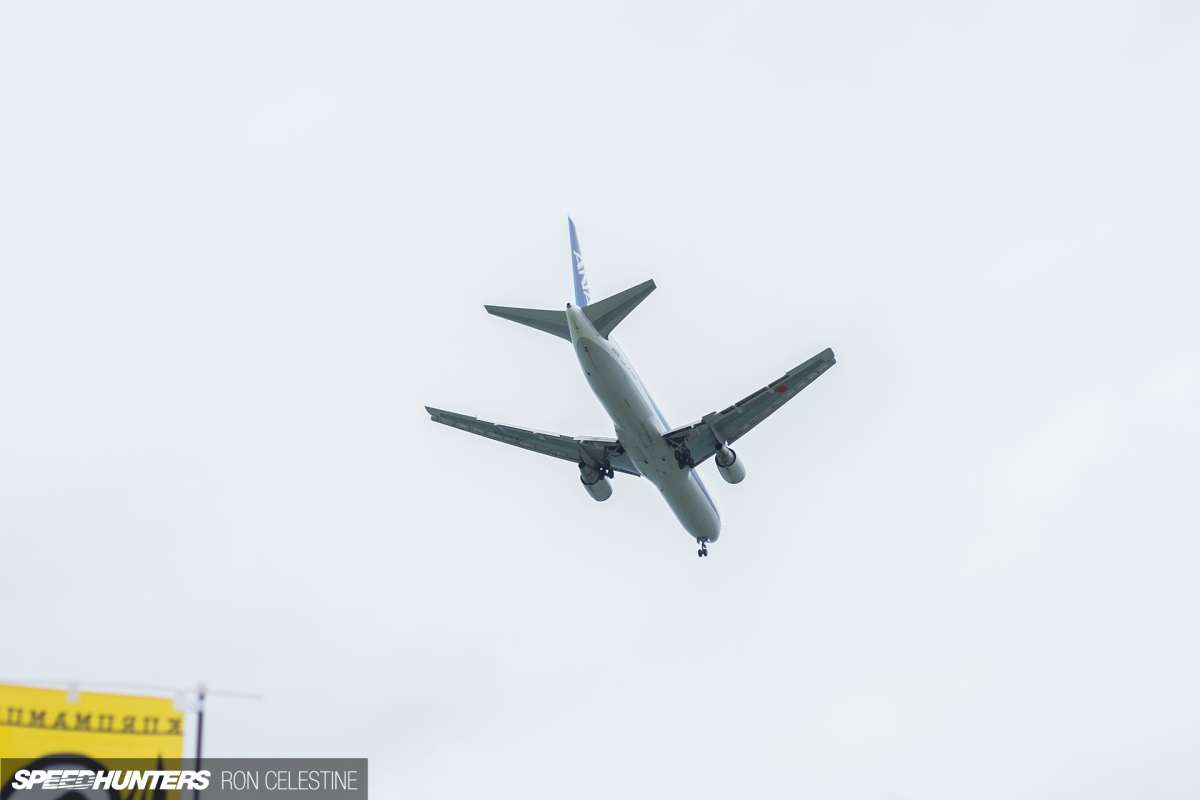 This included the constant commercial jets and other aircraft that flew over directly above.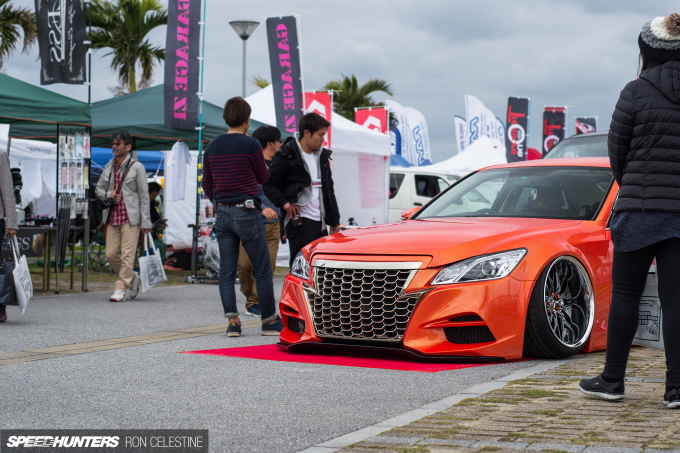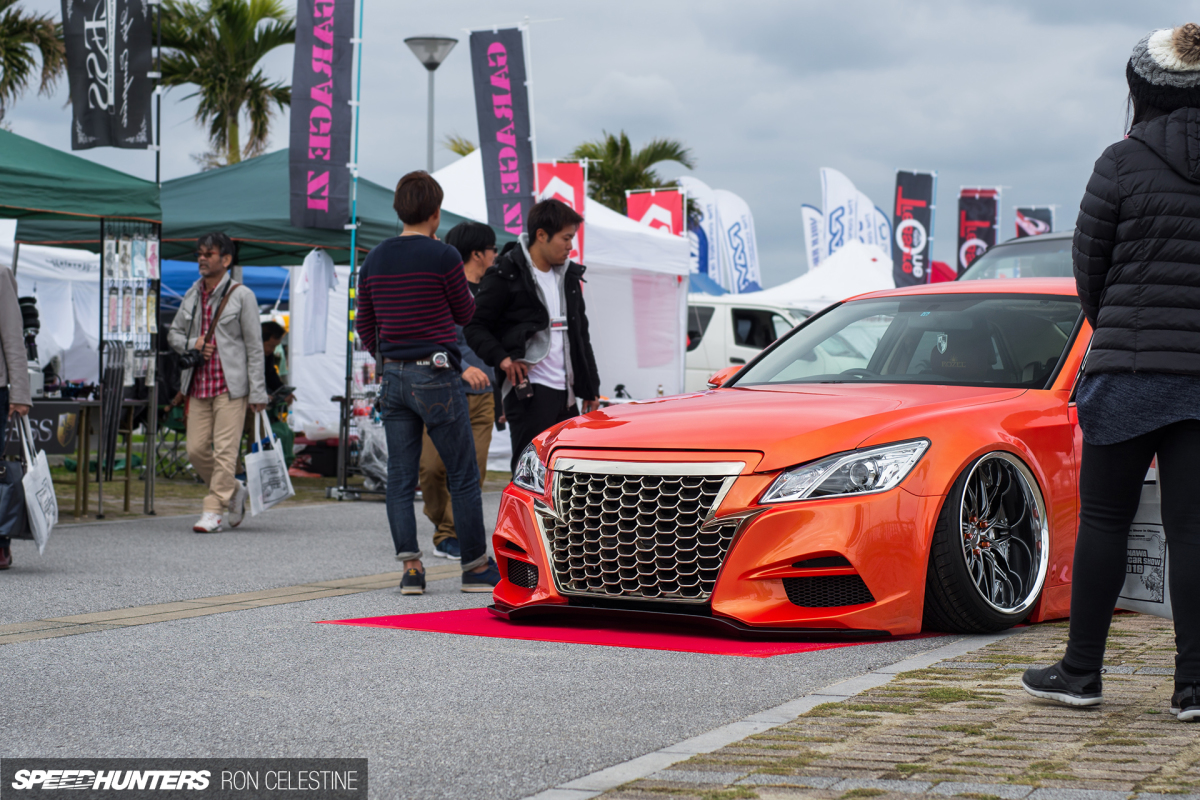 The Okinawa Custom Car Show is one of the big events that happens on the little island.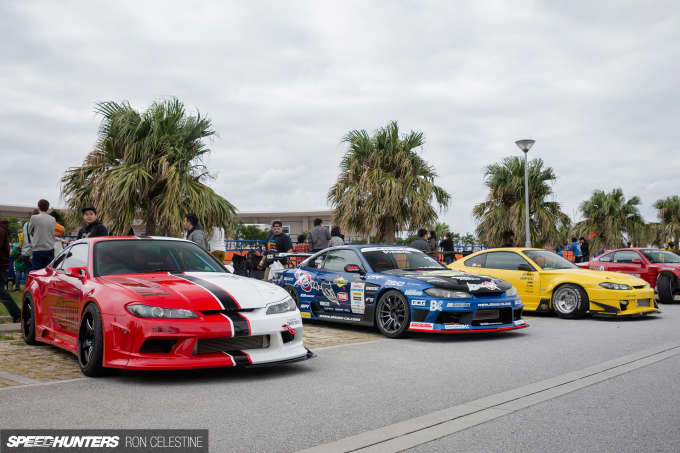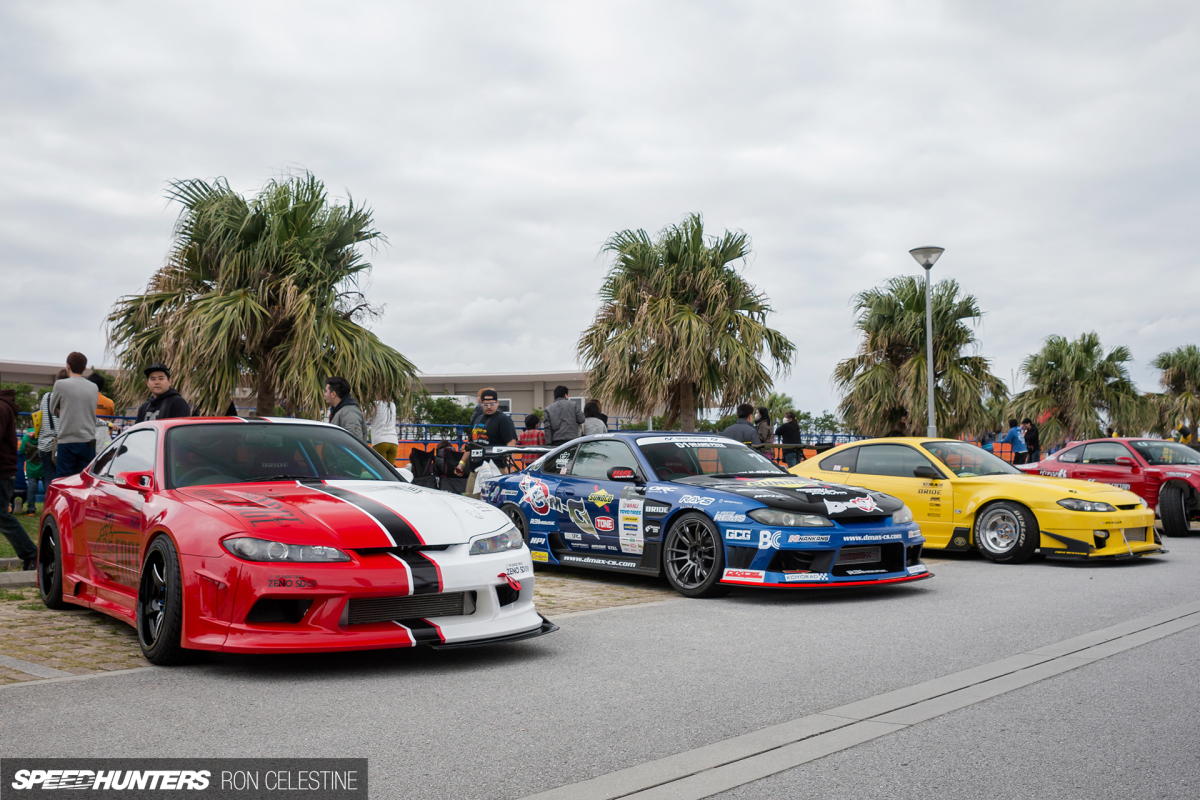 To my surprise, many of the tuner shops and companies that had taken part in the Tokyo Auto Salon  a couple of weekends prior made the trip down to Okinawa with their parts, apparel, and demo cars in tow for the two-day event.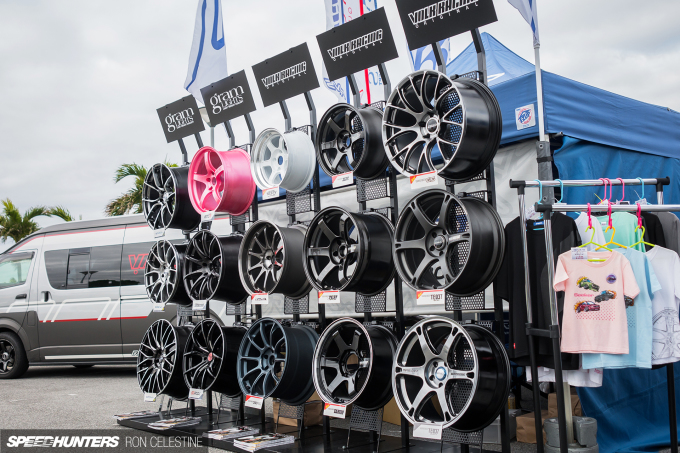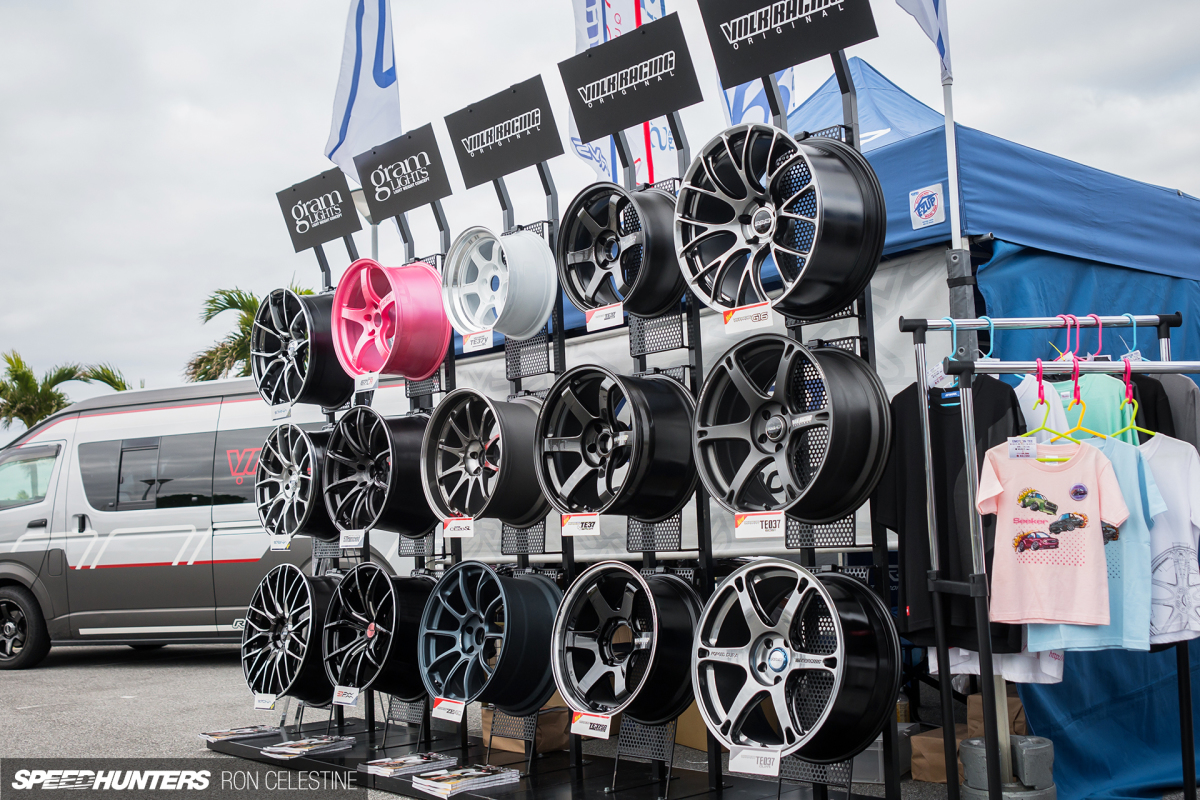 As Matt recently discussed, searching for parts online is handy, but checking out offerings in person at an event can't be matched. And there was a lot to look at, at this one.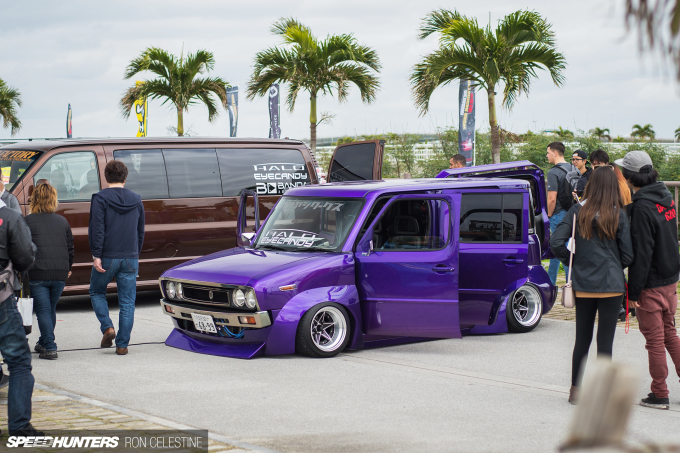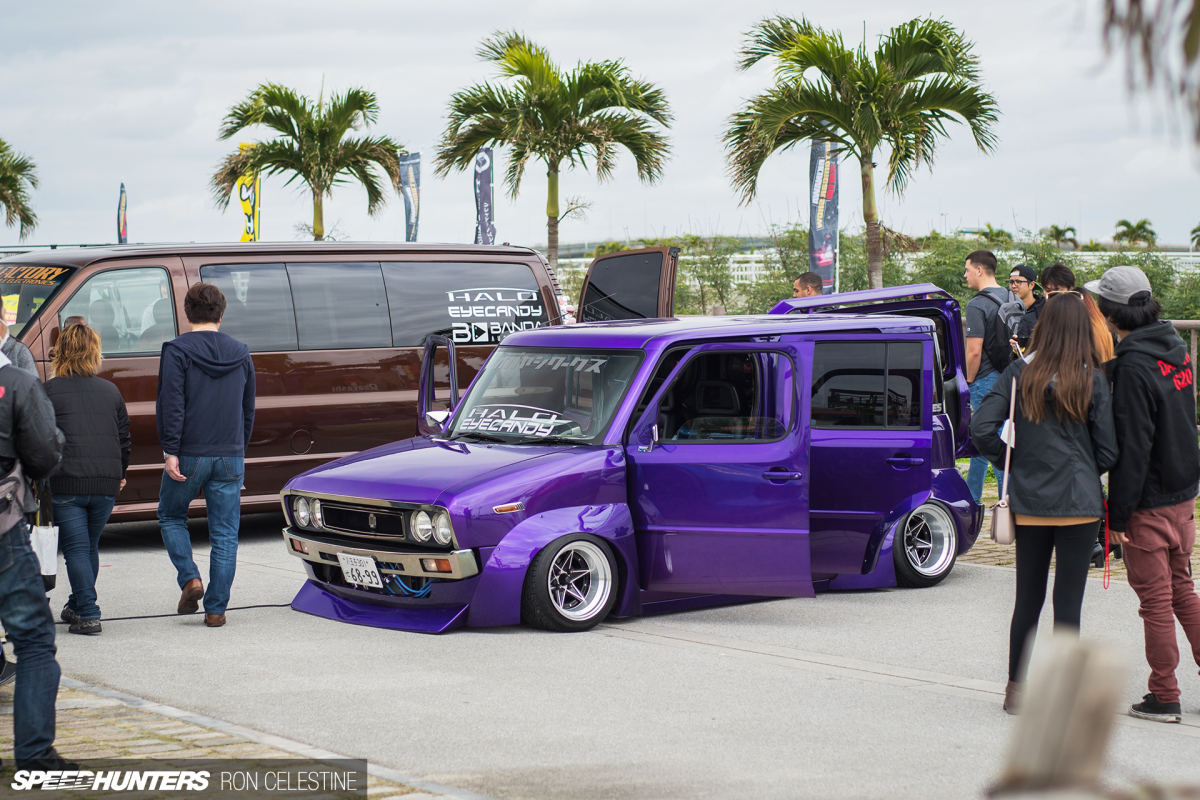 Nissan Cubes are a popular vehicle choice for US military service members in Okinawa; they're spacious and incredibly affordable which makes them a great choice for a daily beater. This example takes things to a whole new level though.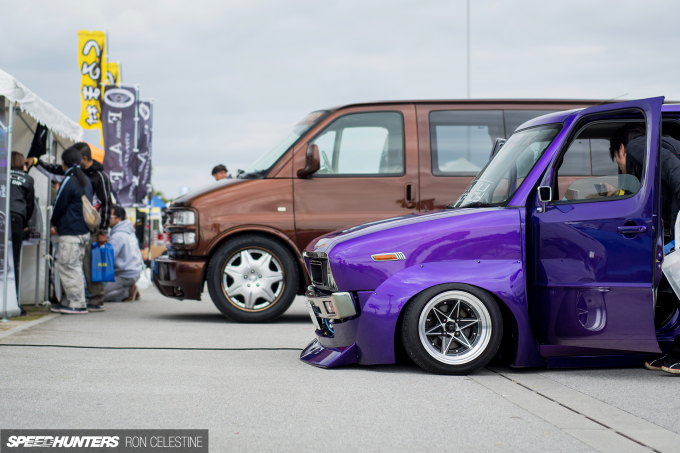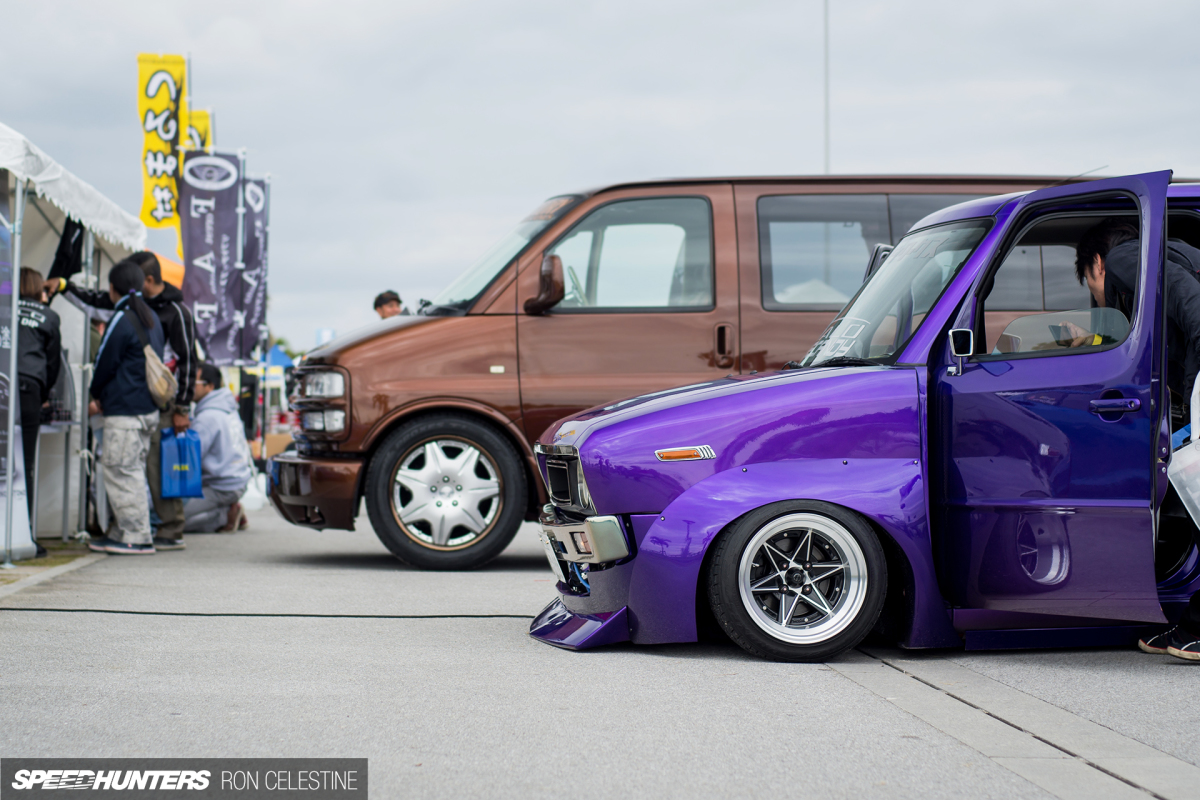 Featuring a Nissan Laurel style front end conversion and ticking off all the details for a shakotan vibe, Halo Eye Candy's Cube was one of the more unique cars at the show.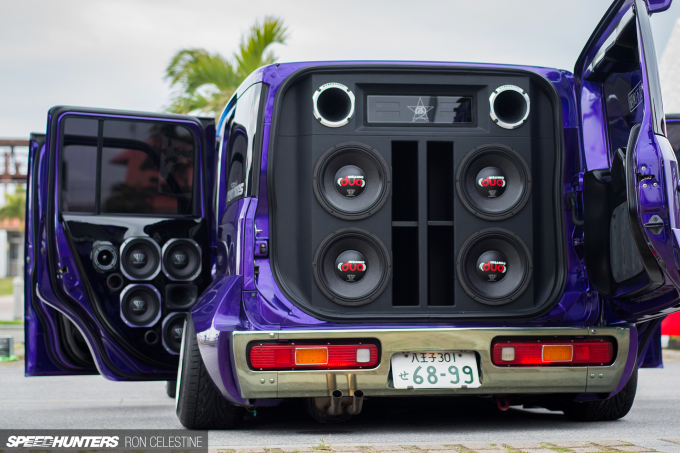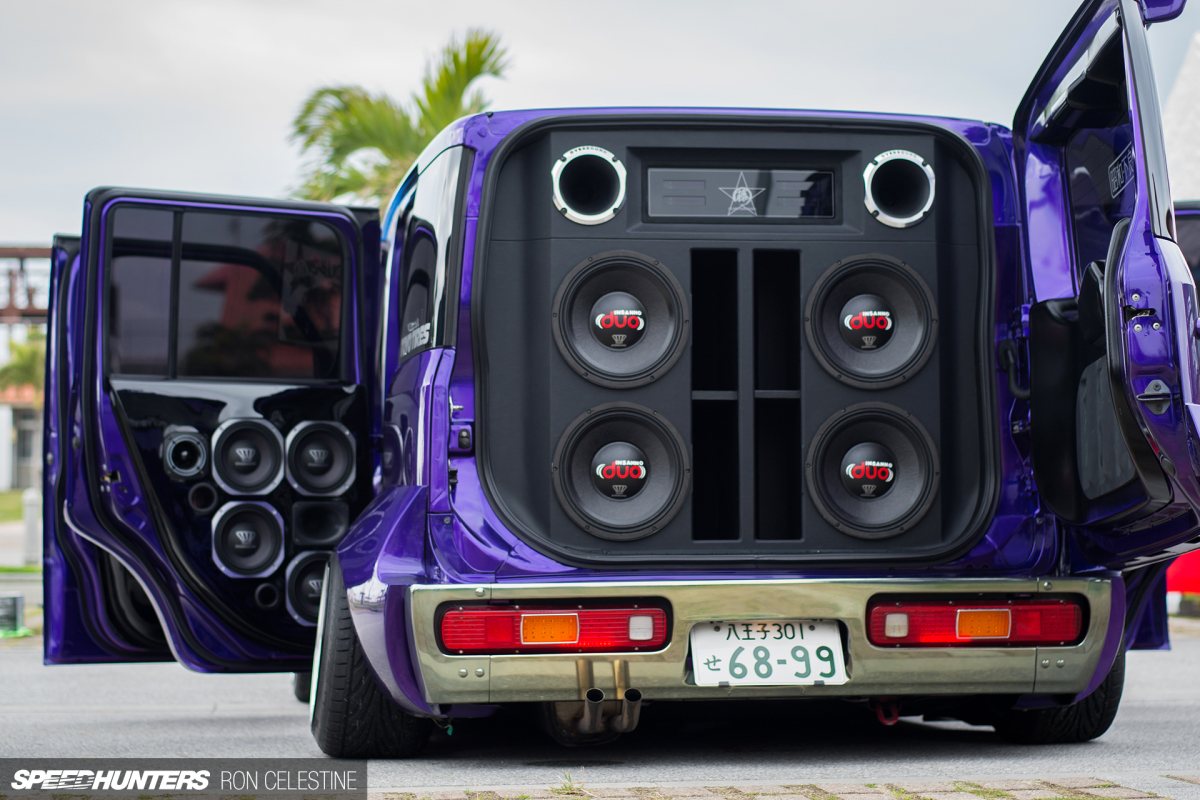 It also had one of the loudest but clearest car audio systems I've ever subjected my ears to. Just crazy!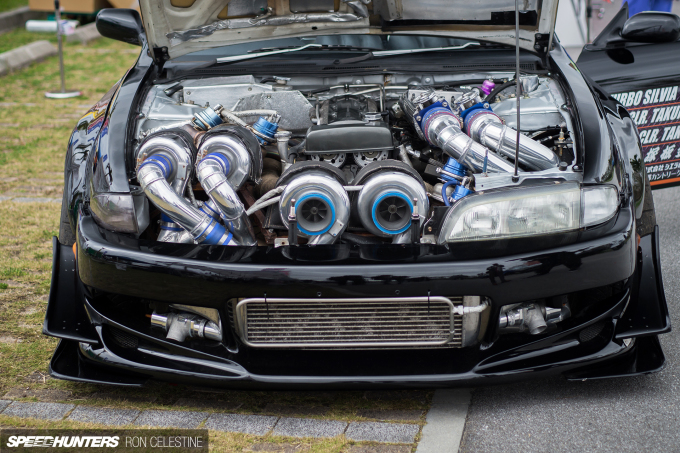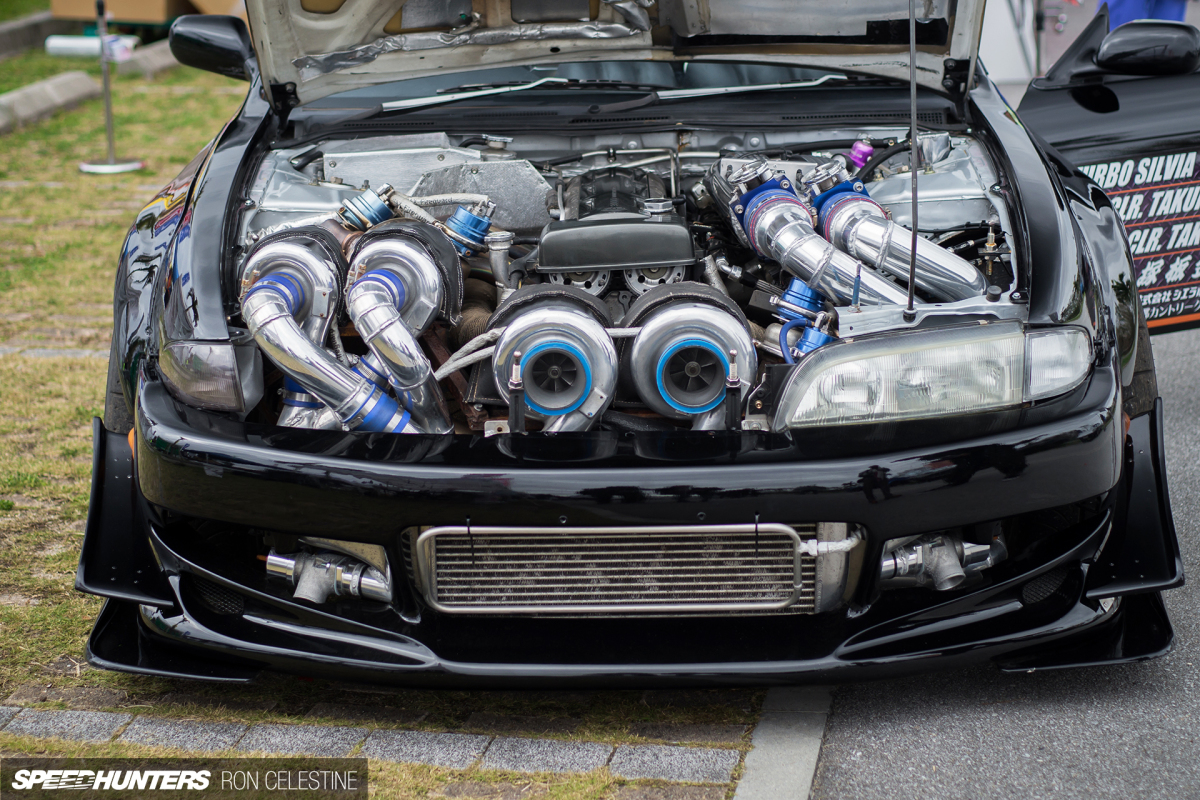 "Unique" might not be the correct word for this Nissan Silvia S14, though.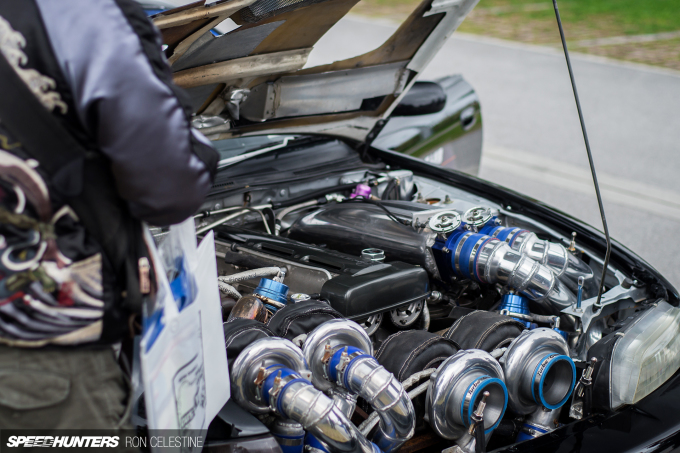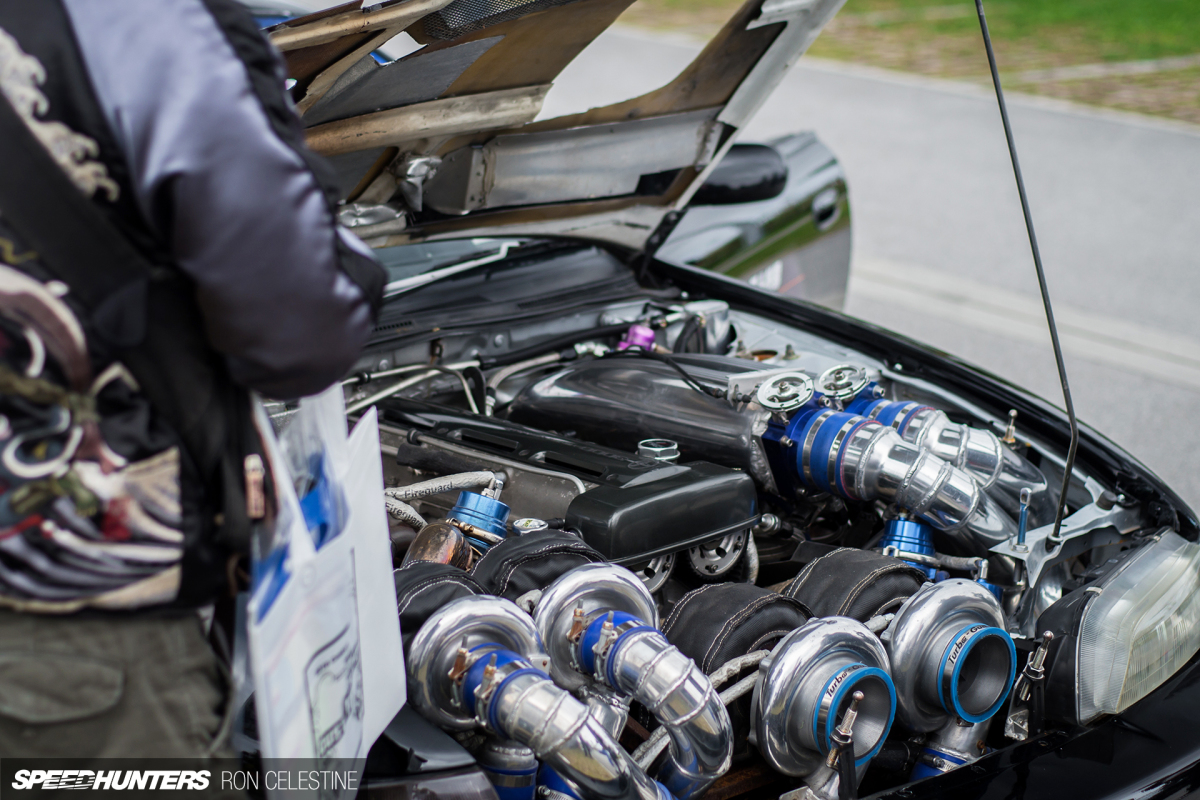 Having seen all the video footage online of this quad turbocharged 2JZ-swapped S14 drifting around tracks, seeing it in person only cemented my thought on the car: it's absolutely batshit insane. I can't help but love the thing.
It's hard to even know where to begin with something so ridiculous as this. There's even a mini jet engine bolted to the rear to provide downward thrust for additional downforce.
The 4×4 and off-road movement is starting to grow on the Japanese mainland, but thanks to the American presence and tropical-like climate of Okinawa, it's quickly gathering pace on this little island too.
Shops have also noticed the trend and begun creating lift kits for various kei vans and trucks to appeal to the market that wants to retain the benefits of cheaper running costs and lower taxes that these pocket-sized vehicles provide.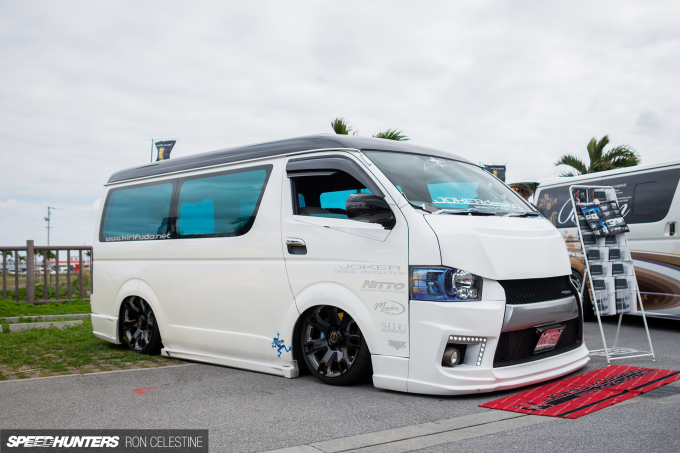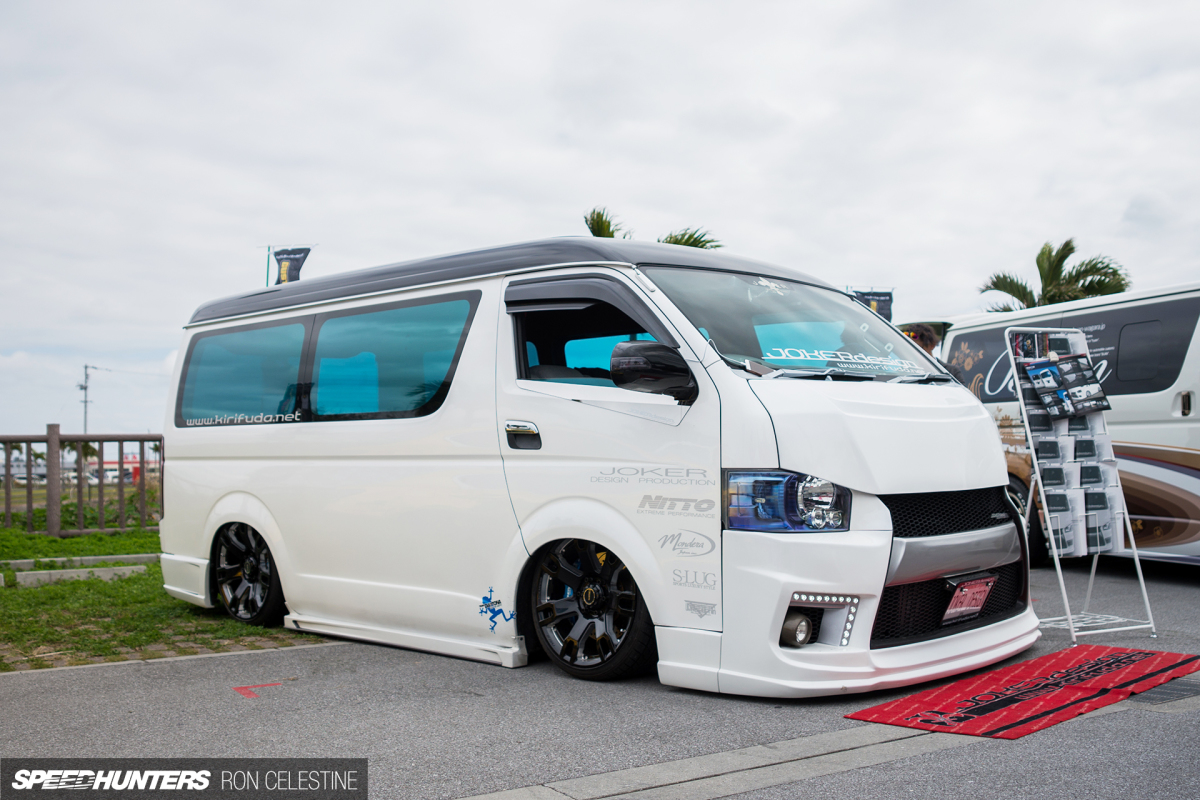 On the subject of appeal, van culture is something I really want to explore more, and there is no better place than Japan for that. With Okinawa being one of Japan's only regions to currently have an increased birth rate, it makes sense that vans are a popular choice of transportation. So why not take it to the next level?
Having more than enough space, these Vellfires, Alphards, and even Hiaces are transformed into luxurious people-movers with full reclining captain seats, more screens than a small club, and a stance to ensure they fit right into any car show.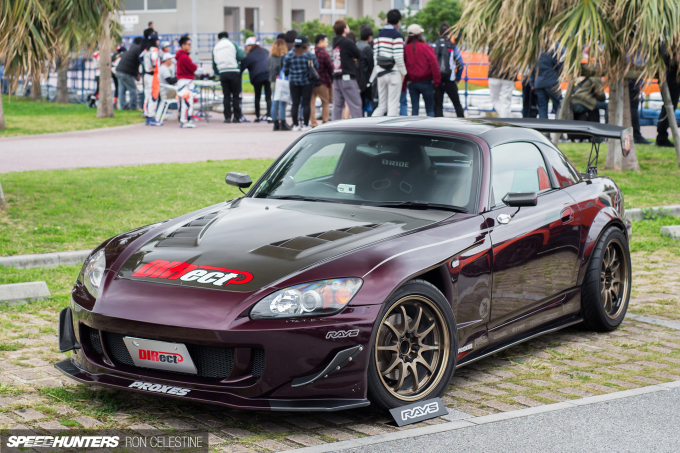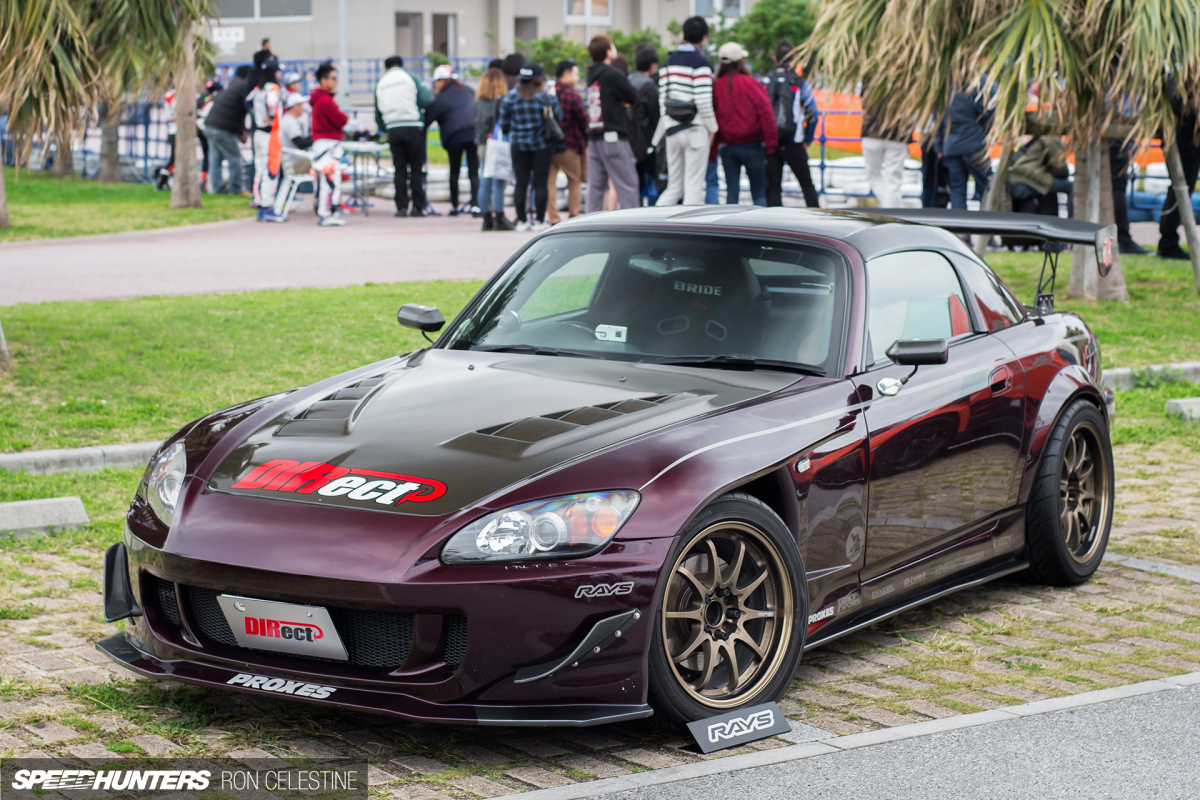 As with the other big events on the island, including the Koza Motorsports Festival, Crank Neo is one of the main driving forces behind the Okinawa Custom Car Show. I really do need to feature their Honda S2000 demo car…
The American Influence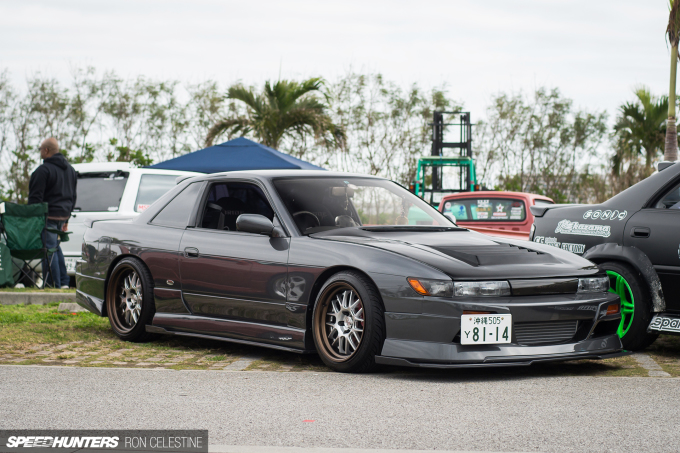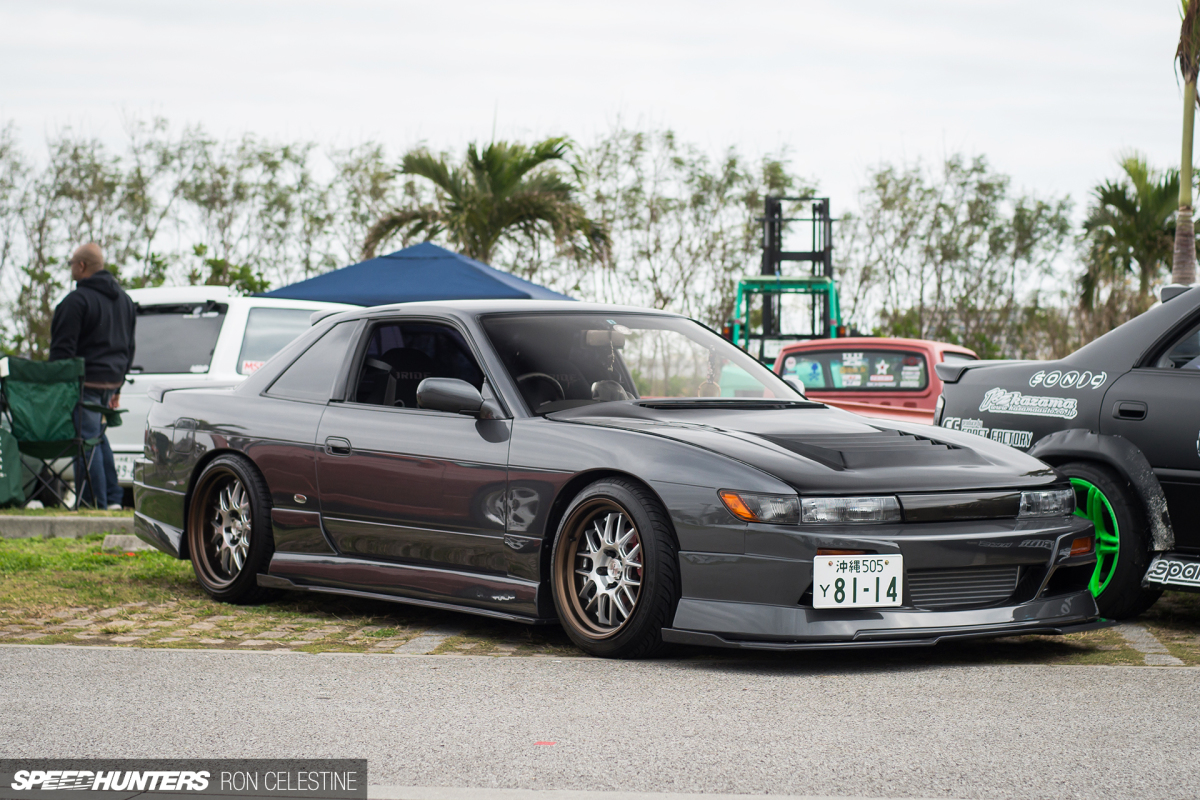 With over 60% of the American military bases in Japan located in Okinawa, you can always be sure to find a decent numbers of 'Y' plated cars at any show.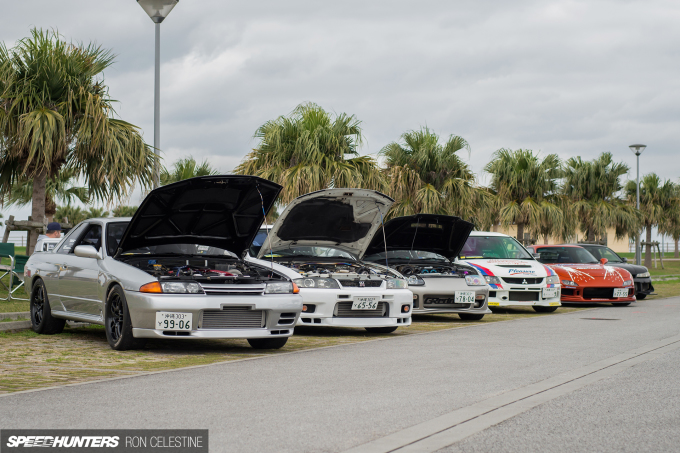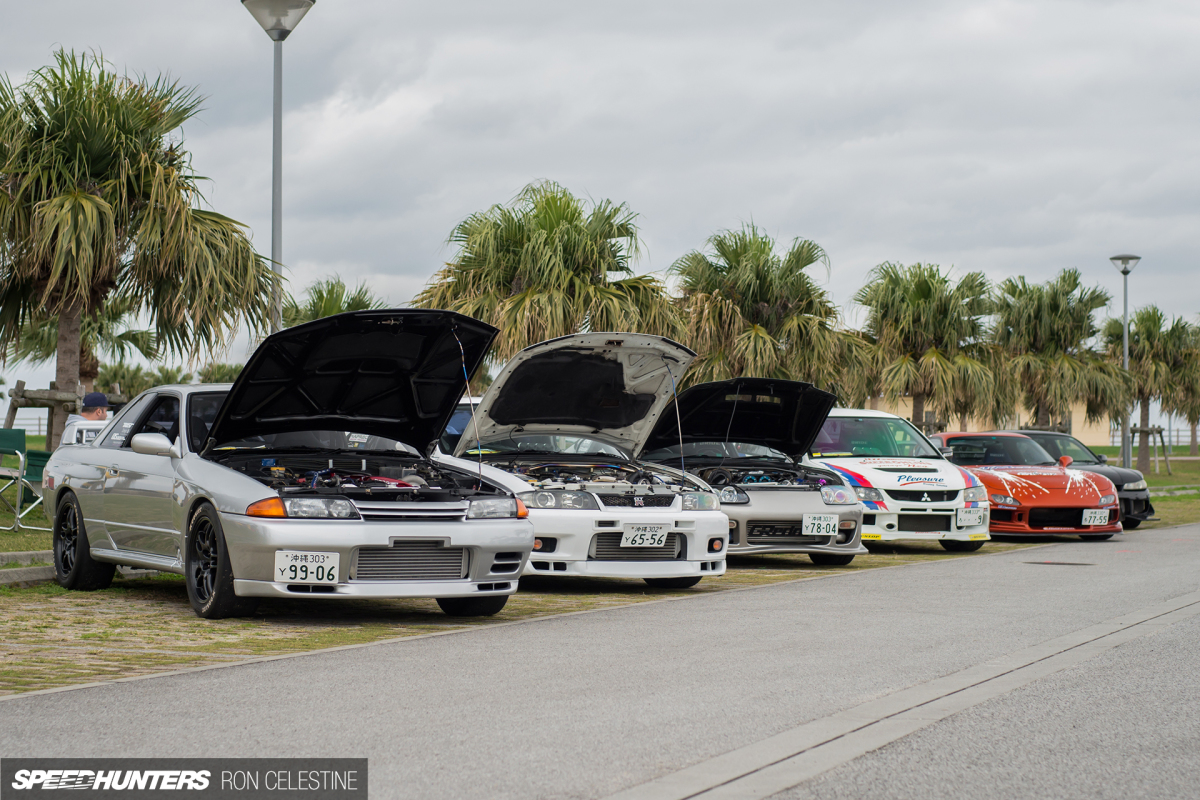 This one was no exception and even had a small section dedicated to cars owned by military personnel.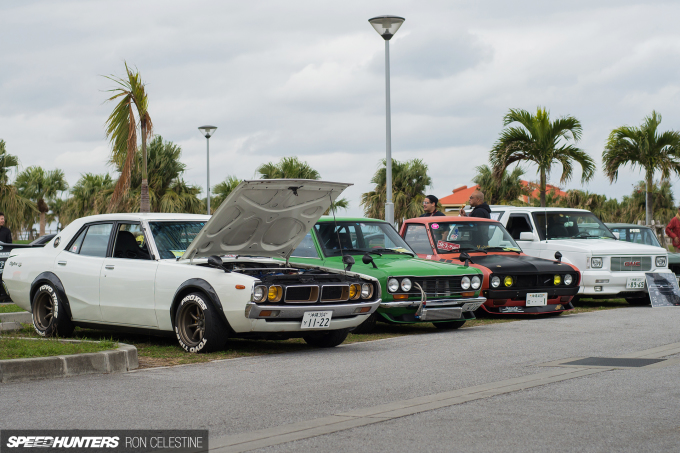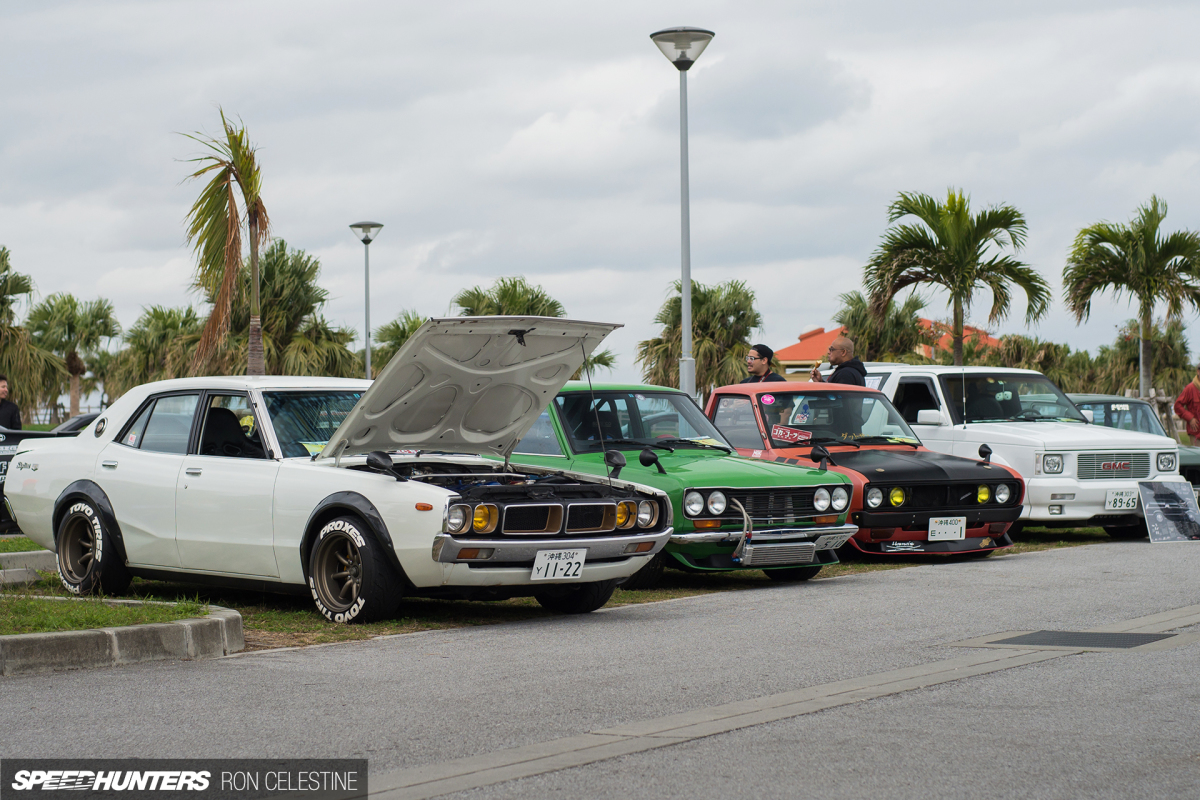 While the first row of 'Y' cars I came across featured some high-powered machines, the row next row hosted a few classics including the C110 Skyline sedan and Datsun 620 pickup I featured last year. I still need to get a closer look at that 510 and Typhoon..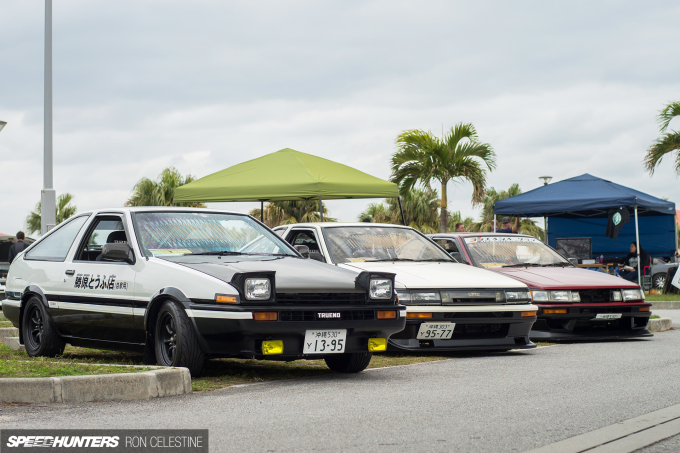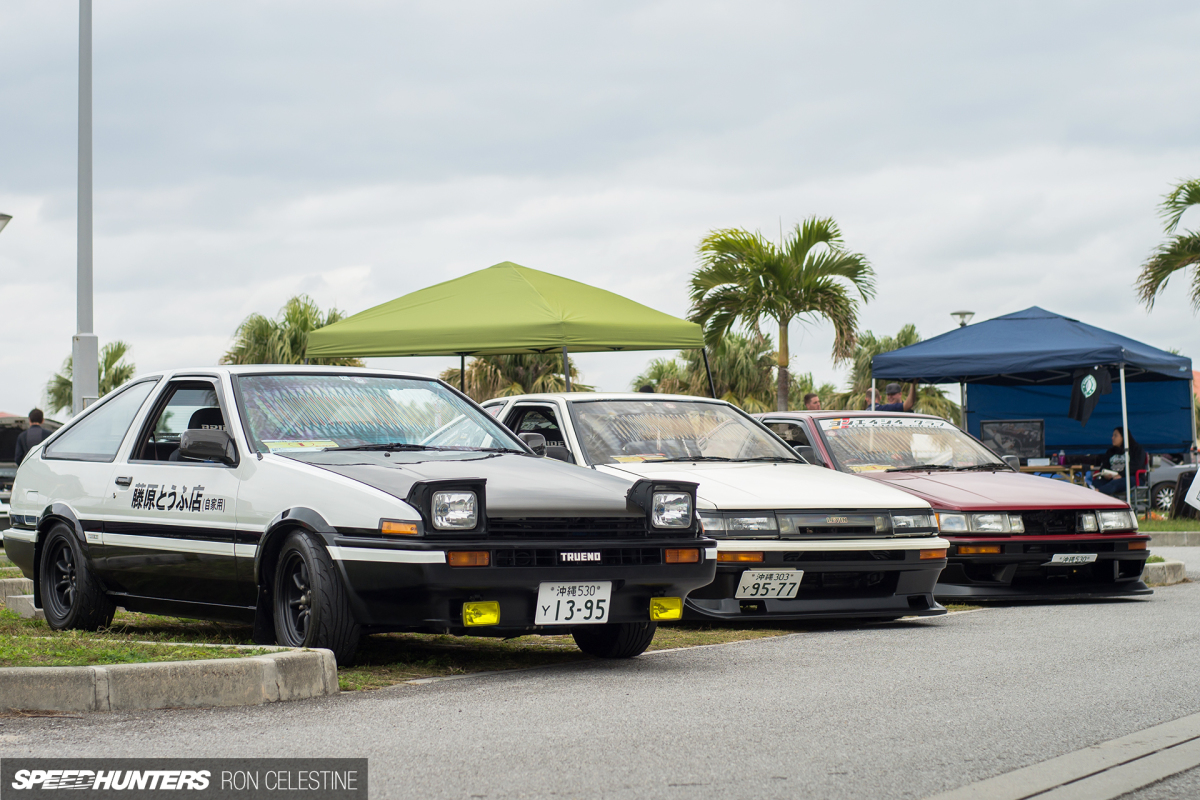 The last little section was dedicated to Hachirokus. I've seen many replicas of the famous 'Fujiwara Tofu Shop' AE86, but Alex, the owner of the Trueno above, has taken his car to the next level.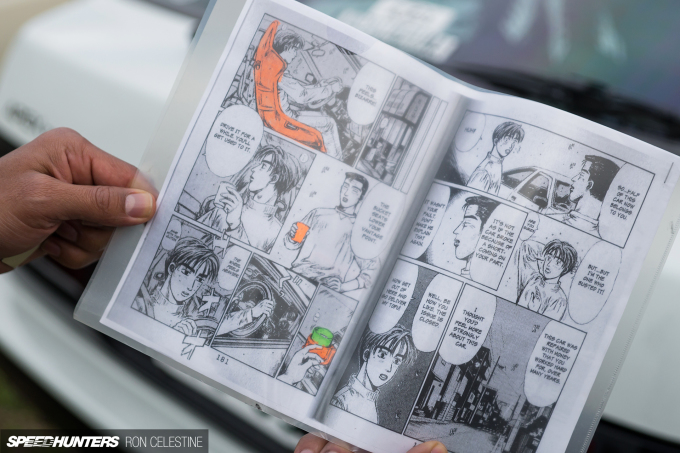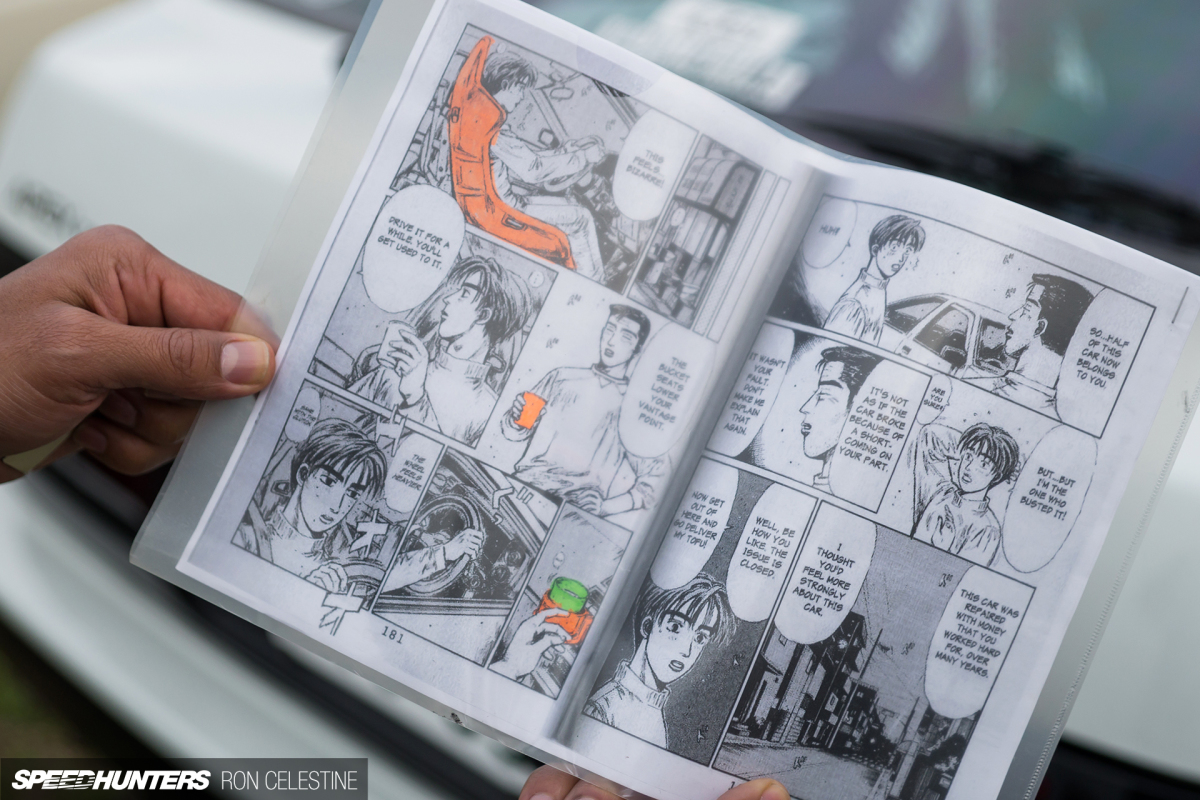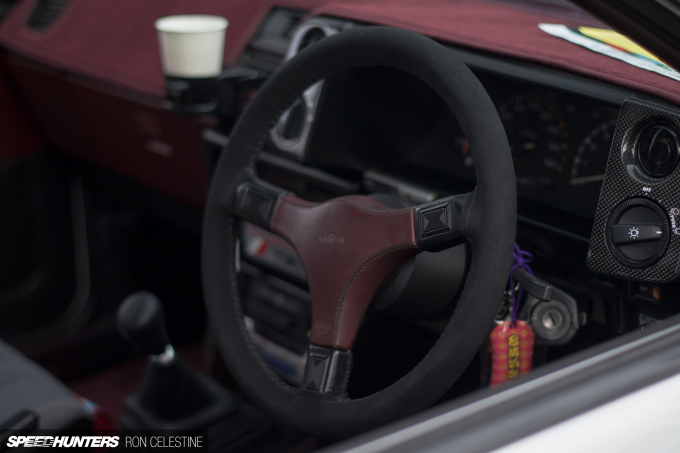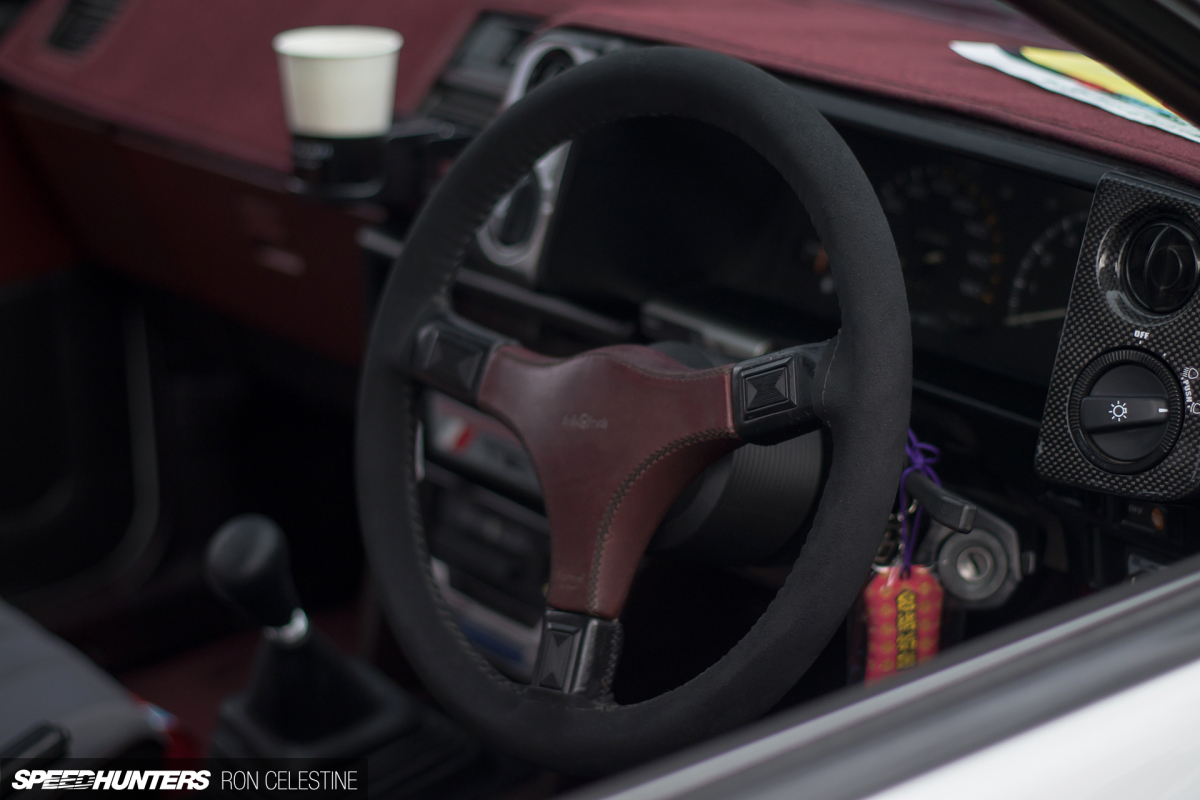 Having lived in Japan for long enough that he actually watched the Initial D series as it aired on TV, Alex became so obsessed with Takumi's AE86 that he sold his high-powered GT-R to build his own. Armed with photocopies of the manga, he's replicated the famous Hachiroku with staggering detail.
This level of passion and creativity is what I love looking for, and more often can find at car shows in Japan. You just have to keep the human element involved in your hunt.
Ron Celestine
Instagram: celestinephotography
The Cutting Room Floor