Social media is both a gift and a curse when it comes to big events like the annual Tokyo Auto Salon.
Once upon a time you'd look forward to seeing tuning shops' latest reveals throughout the numerous halls of the Makuhari Messe, with no Facebook, Instagram, or Twitter to spoil the surprise. But thanks to always-evolving communication technology, we're now able to tune into live updates as these builds come together, and on the back of this more and more shops are essentially revealing their final results days before major events. Yes, it's a great way for companies to build hype and grow their social media reach, but in doing so it takes away the excitement of the unexpected.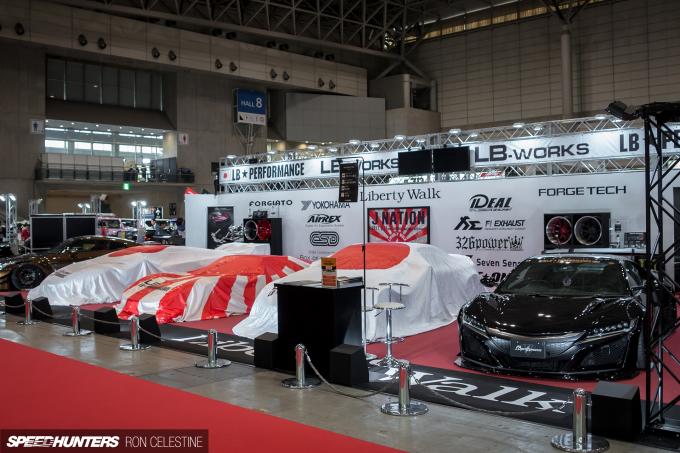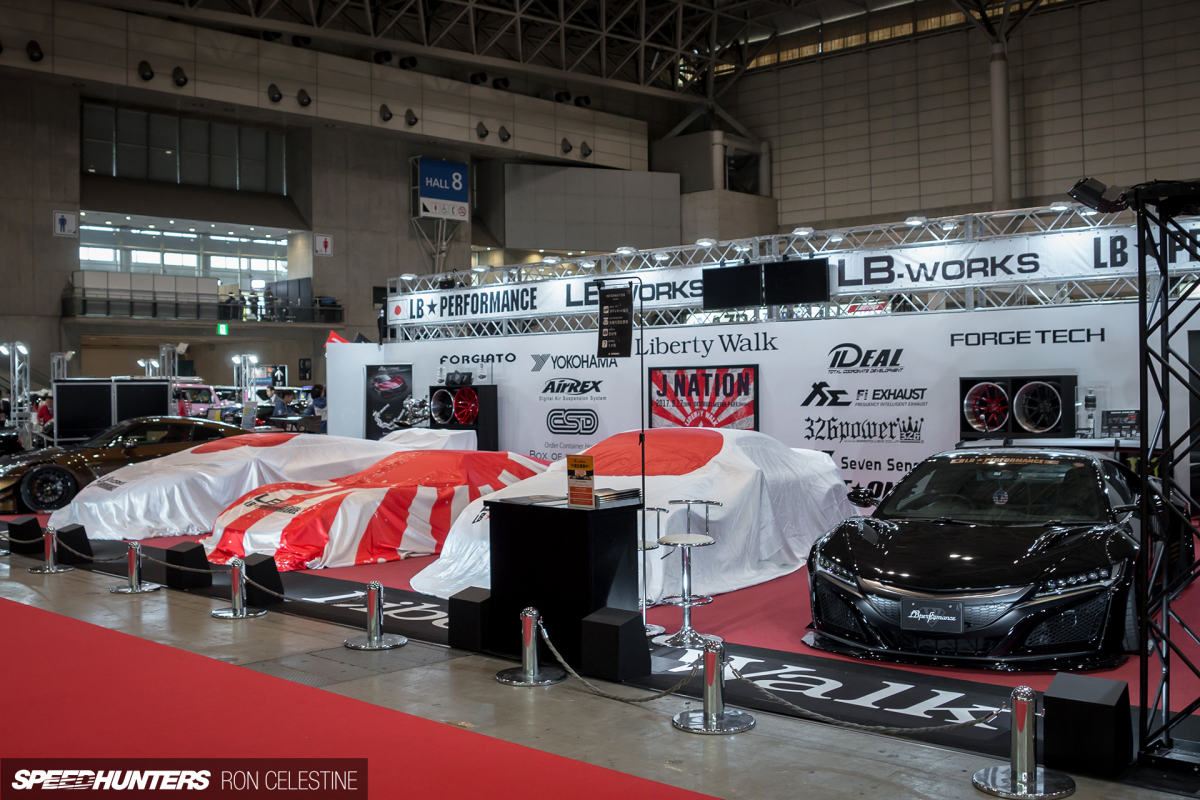 Kato-san of Liberty Walk decided to do things a little bit different for this year's Tokyo Auto Salon, fighting the urge to leak the newest additions to his bolt-on overfender family all over the internet prior to the event. For the first time in a long time, no one really knew what he had brought to the TAS party.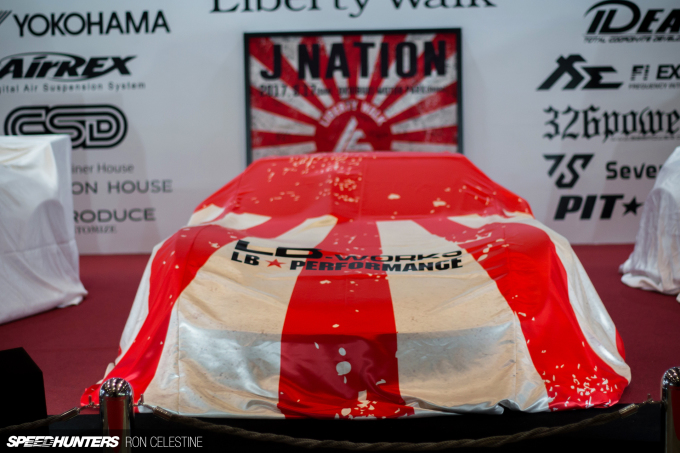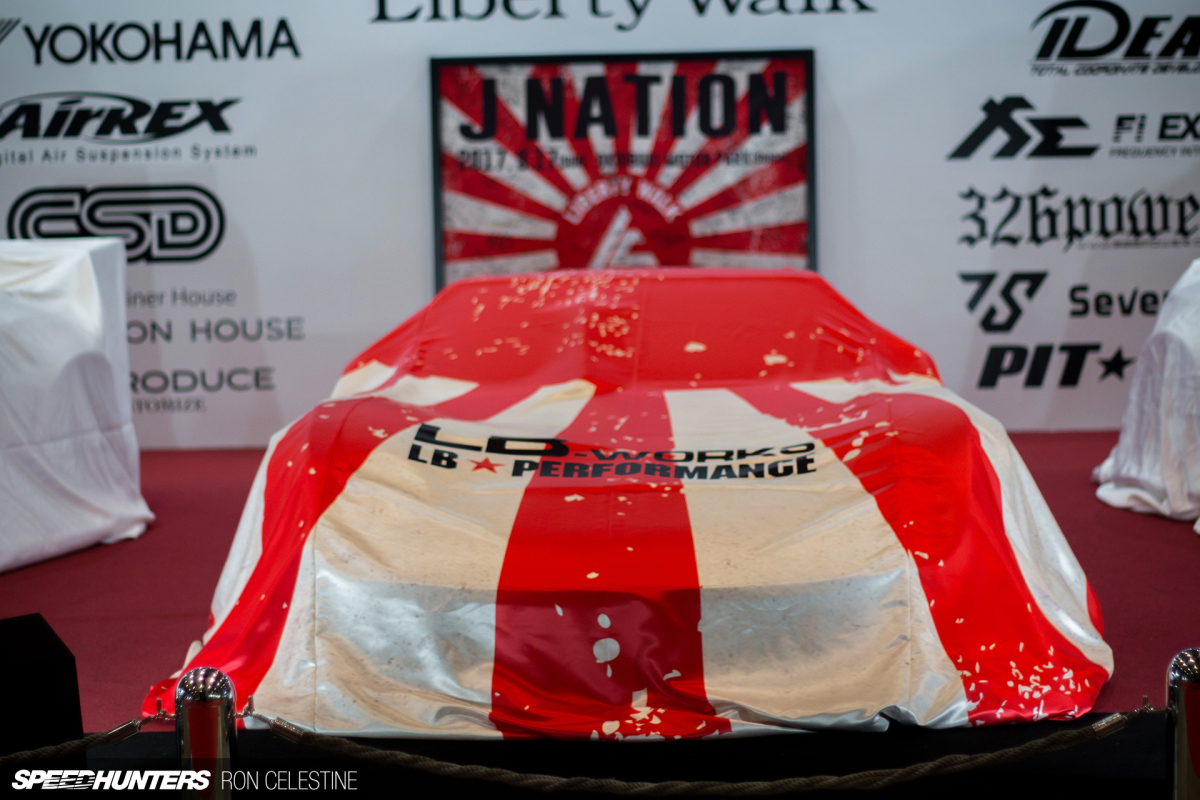 This one was especially intriguing.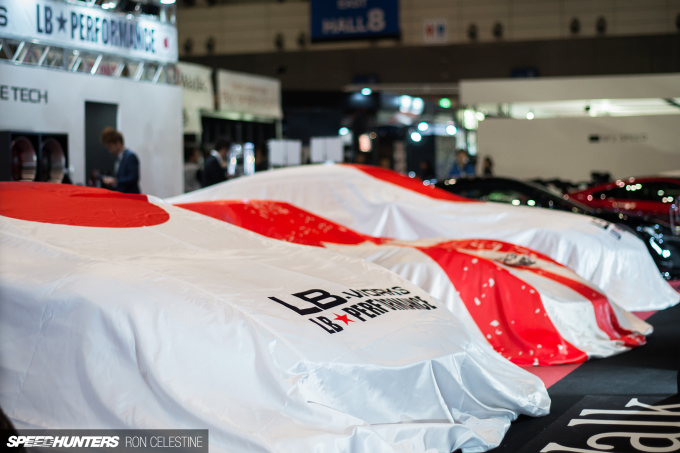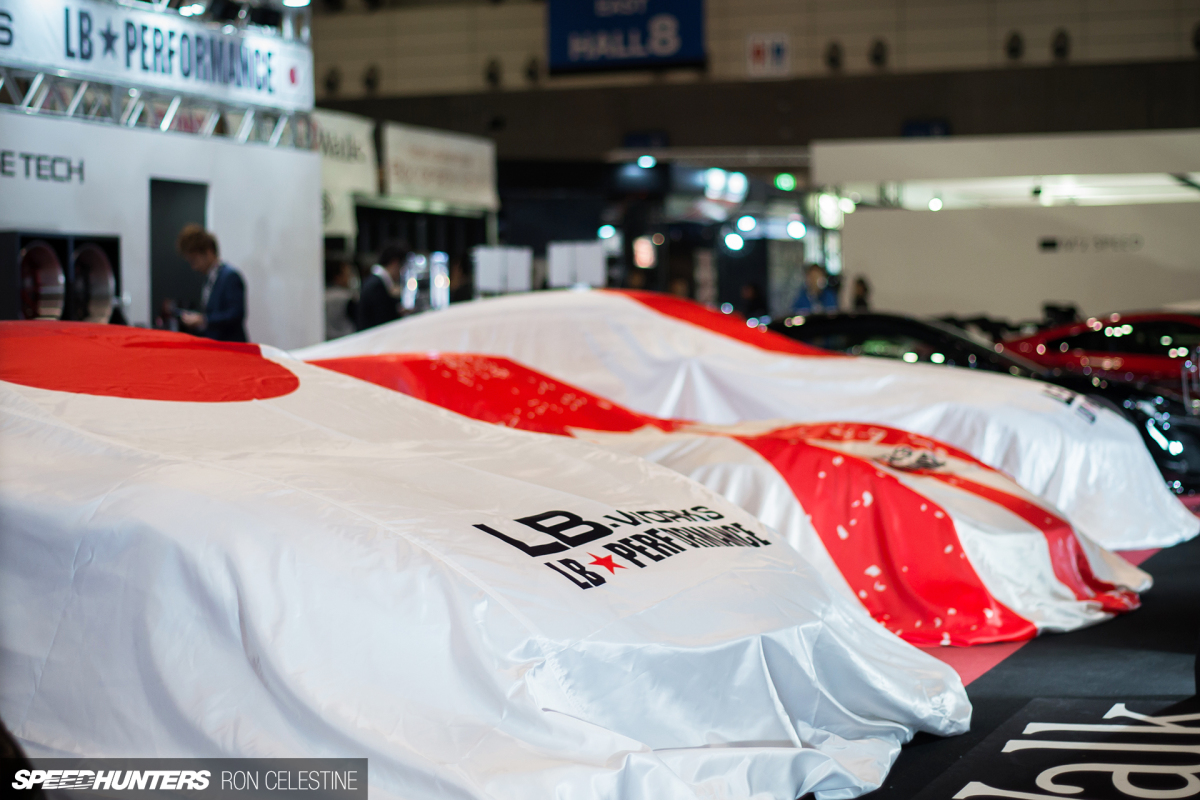 Before getting to what was actually under the covers, which thanks again to social media you probably already know, I had a bit of time to venture about the huge Liberty Walk booth and see what other cars Kato-san had brought along to support the triple surprise.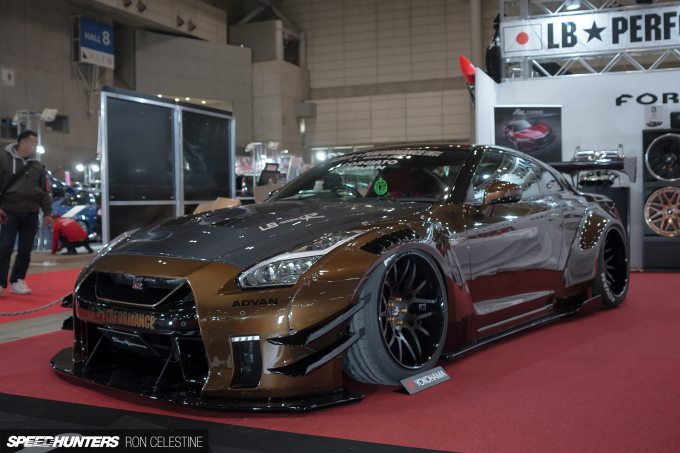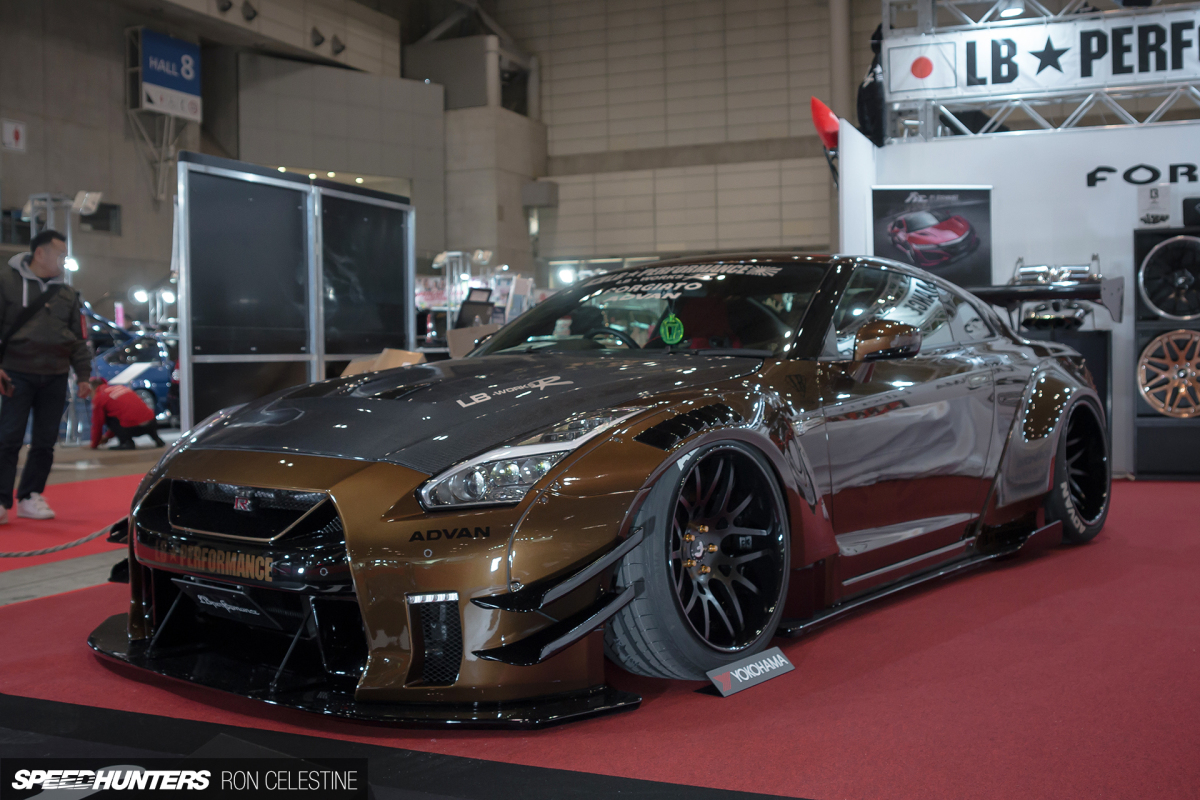 Given that it's been one of Liberty Walk's most popular offerings to date, Kato-san decided it was time to revamp the R35 GT-R wide-body kit with a updated version he calls the LB Works Type 2.
This new kits sports more aggressive front bumpers, canards, diffusers, rear wing, hood, and of course widened fenders.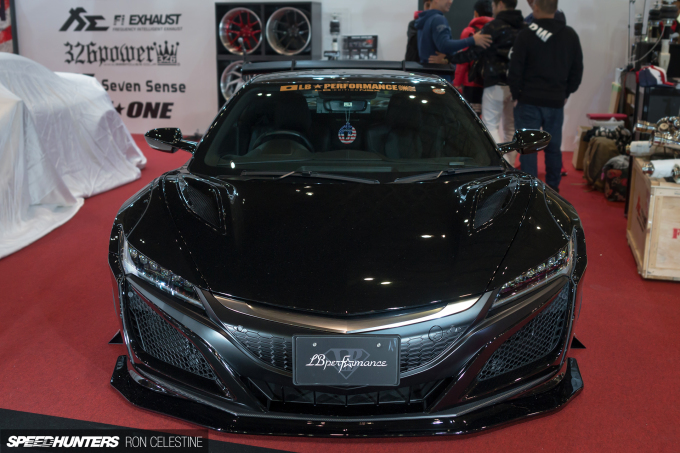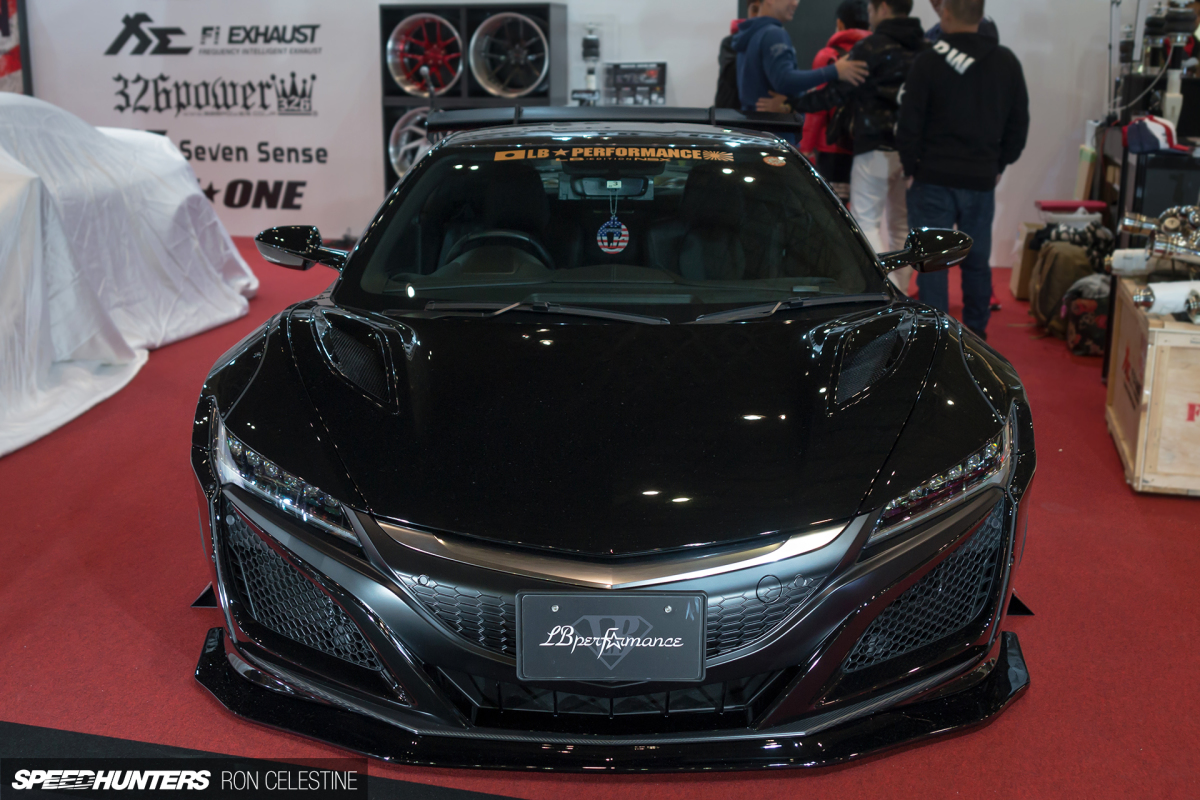 Across from the R35 GT-R was one of two new NSXs at Liberty Walk's booth, this one sporting the fully completed overfender kit that was lacking when Dino and I paid a visit to the shop a few months ago.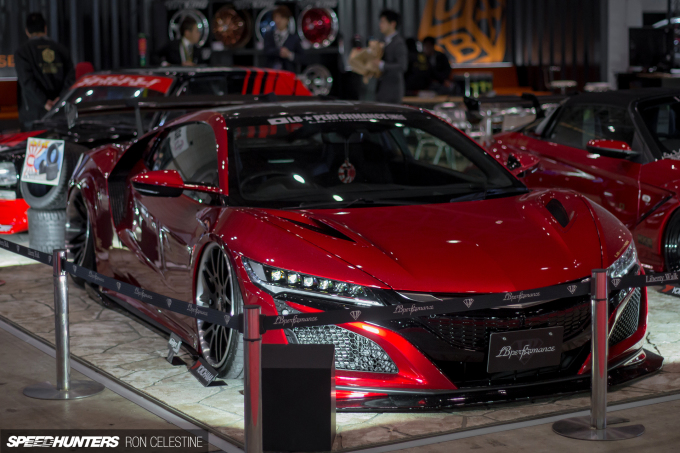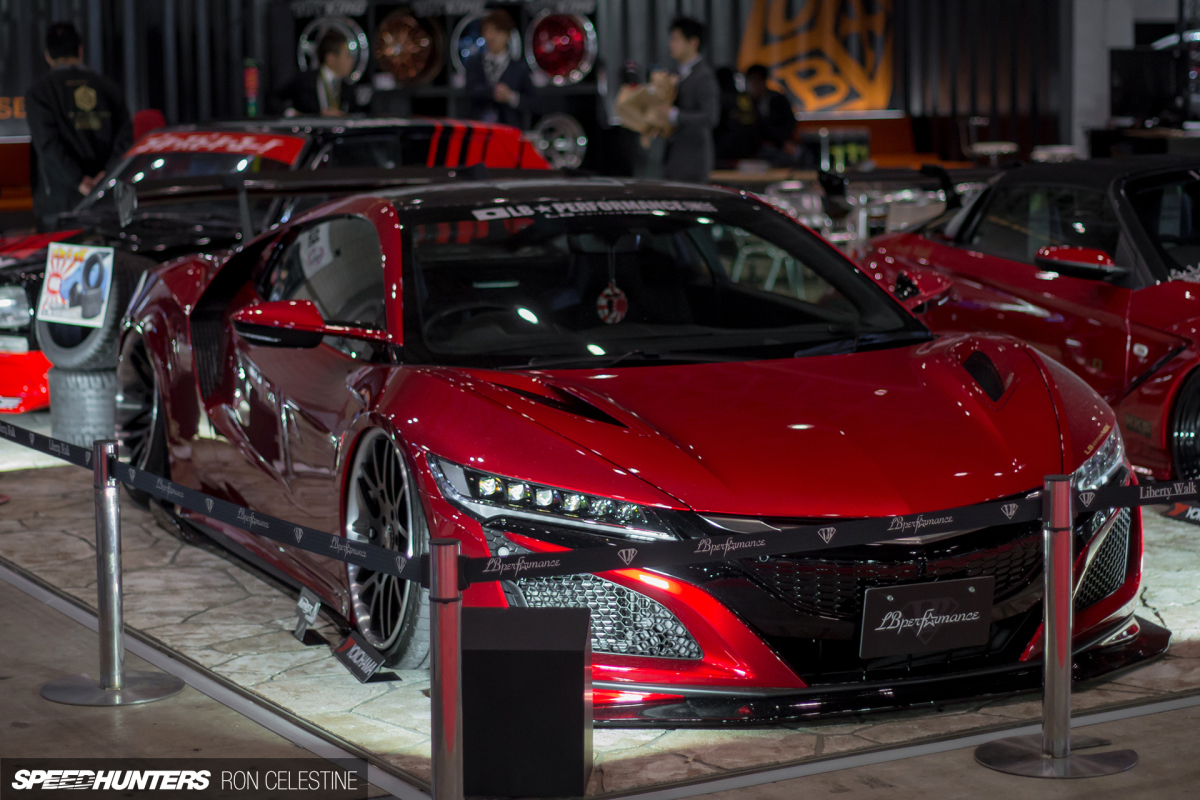 The other car was the stock-fender LB Performance version, which we saw on Speedhunters when it first released. If I ever found myself in possession of a new NSX and had to choose between the two kits, I'm not really sure which way I'd lean…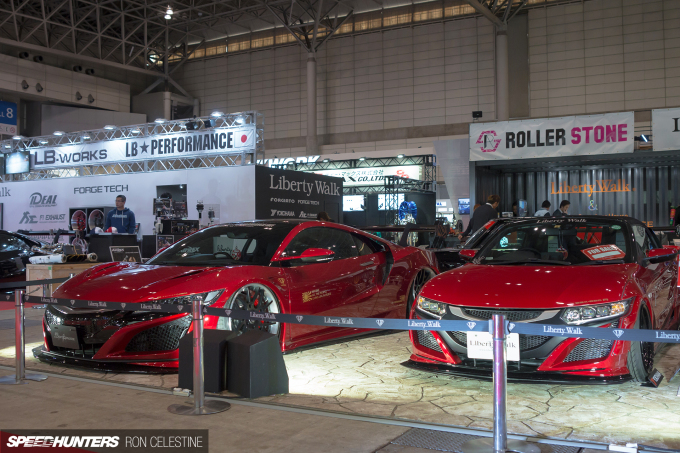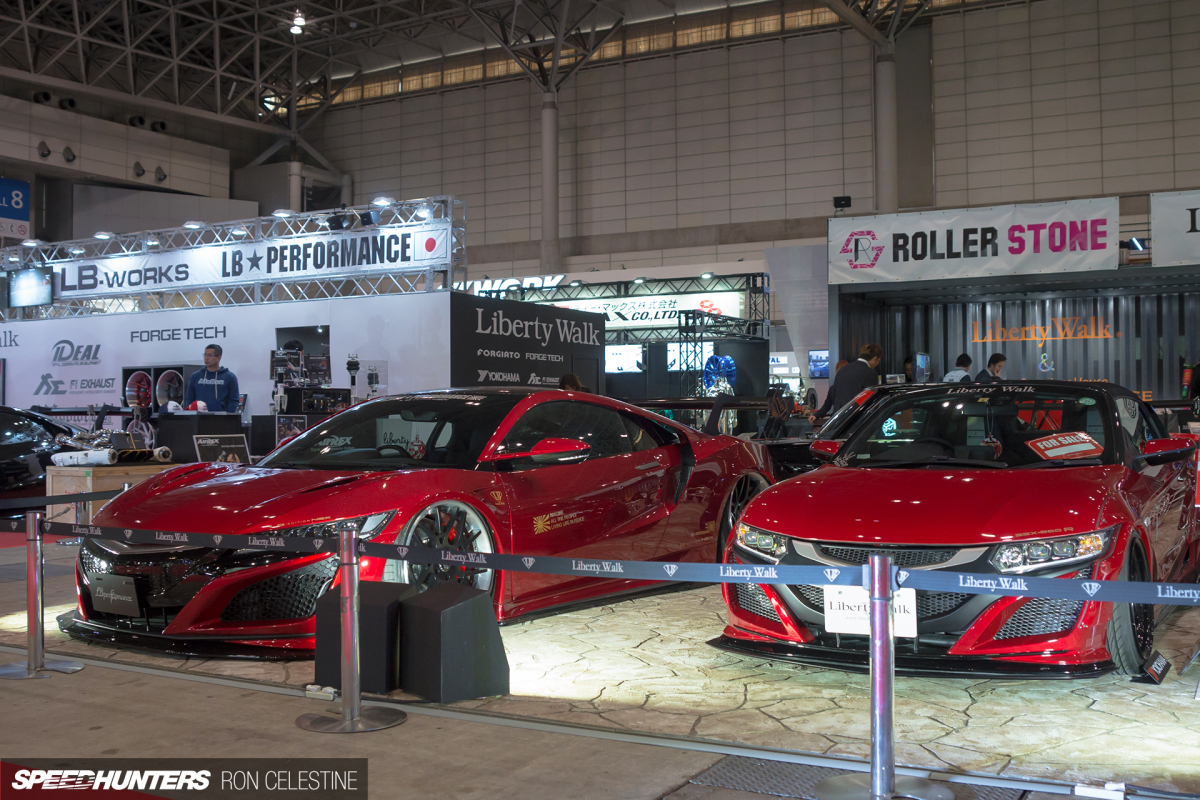 It's quite possible that I'd forgo both and just pick up a Honda S660 for Kato-san and his team to go crazy on. Because who wouldn't want to own a baby NSX?
The S660 looks oh-so-perfect with or without overfenders, and really only requires a tweak in the suspension department and the right set of wheels to really set it off. The want is still strong with this one.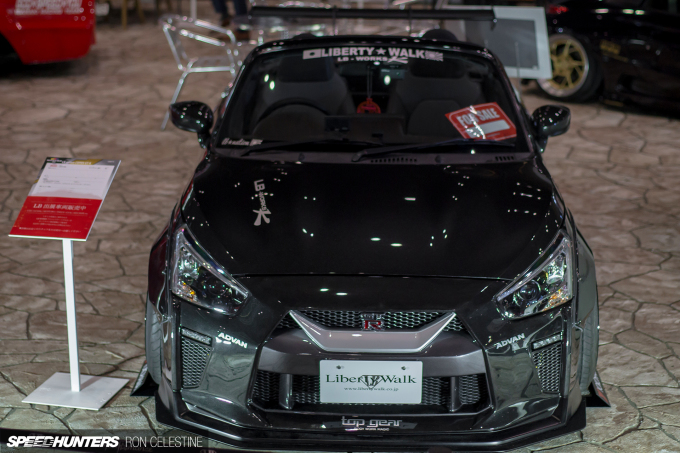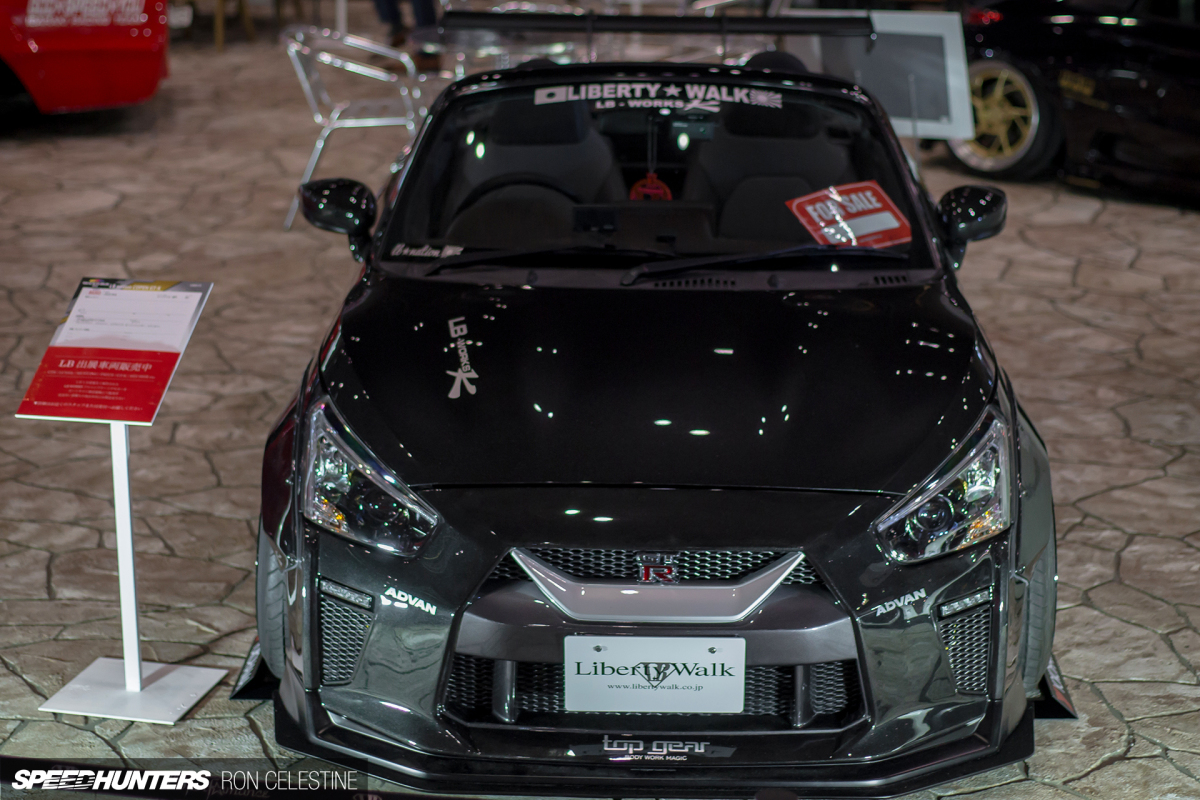 Seeing the popularity of the S660, Kato-san decided to create a baby R35 GT-R out of a Daihatsu Copen. The kit is called the GT-K, K standing for kei. 
Having one of the biggest slices of TAS show floor real estate, Liberty Walk didn't have any trouble finding room for some of its older creations either.
If you're looking to take a piece of Liberty Walk home with you but the option of a wide-body kit is out of reach, there's plenty of other ways you can spend money on the brand.
As the time to remove the covers approached, Kato-san's gamble to keep some of his new creations secret really looked to have paid off. I haven't seen a bigger crowd gathered for a car reveal in a very long time.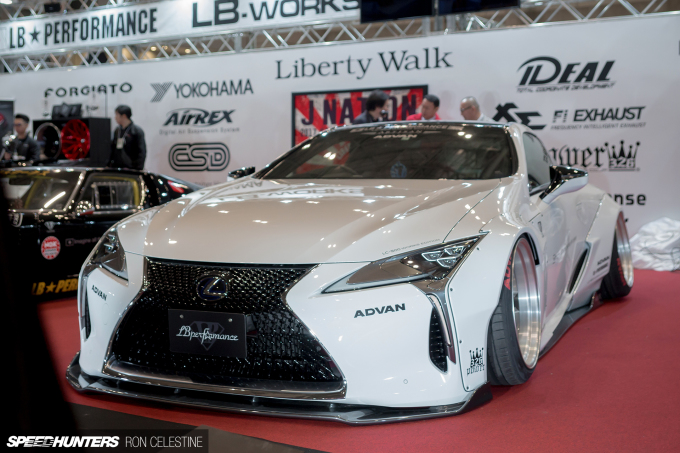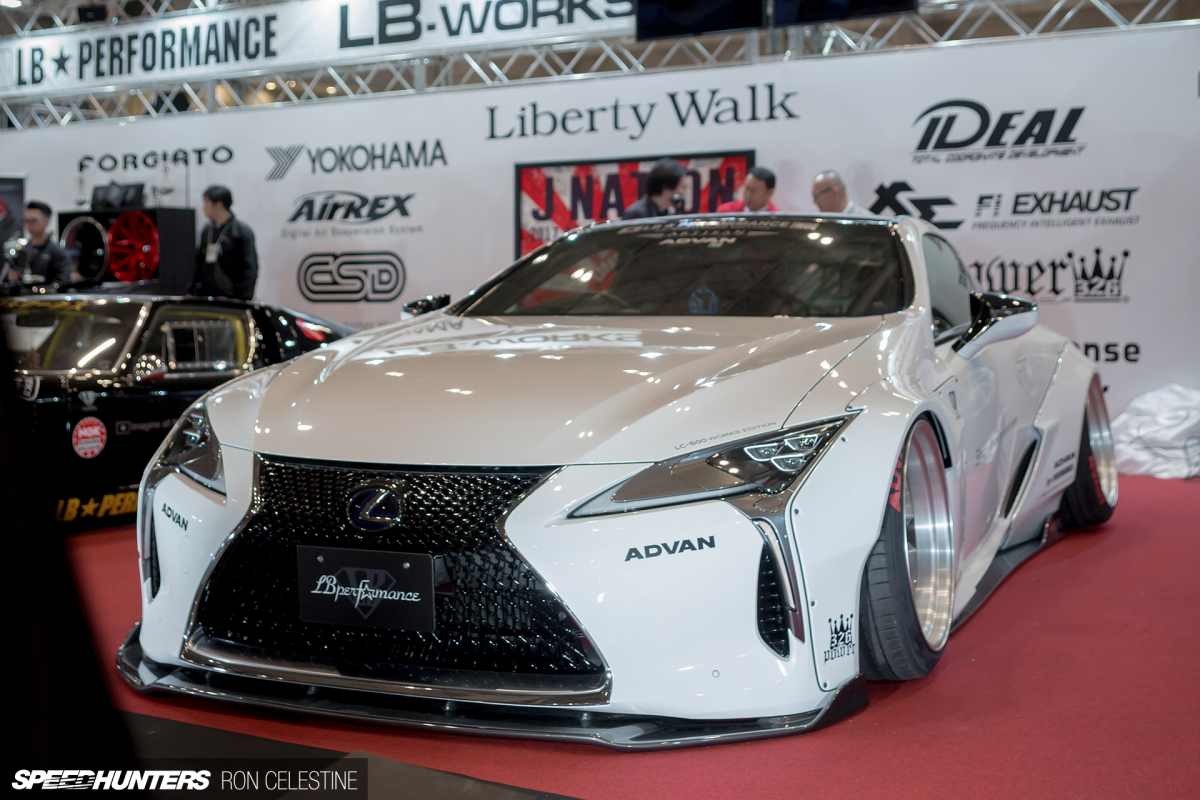 Up first, and to my actual surprise, was this Lexus LC 500. I've noticed a styling pattern with this new model at TAS, but I'll save that for a different post.
Next, a limited edition Lamborghini Aventador kit. Only 50 of these kits will be made in total: 30 for domestic customers in Japan and 20 for those in the rest of the world. I'm not sure how functional all the extra aero actually is, but I do know that the sum of all parts looks absolutely stunning.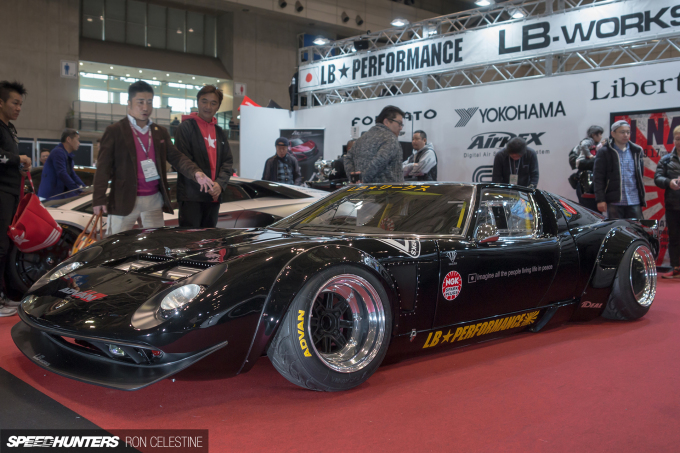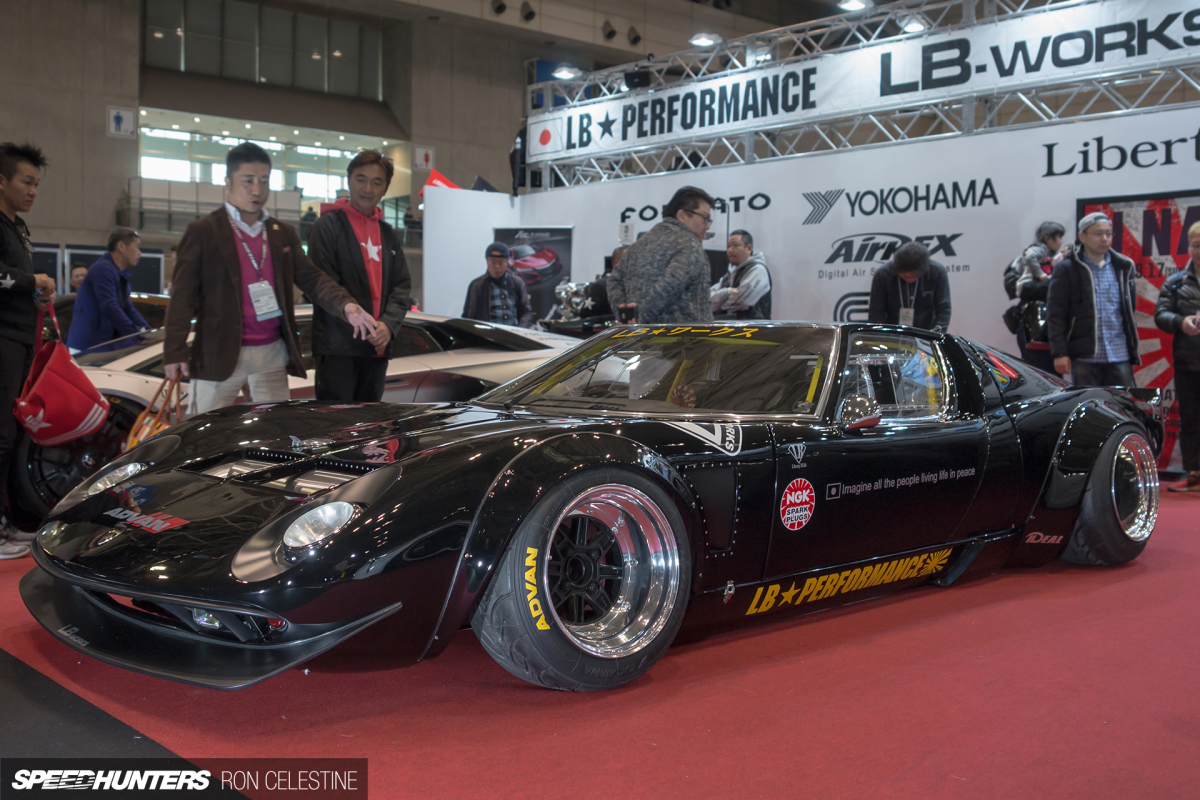 Finally, the biggest surprise of all – the Lamborghini Miura. The kit is simply called the LB Works, and it's simply mad.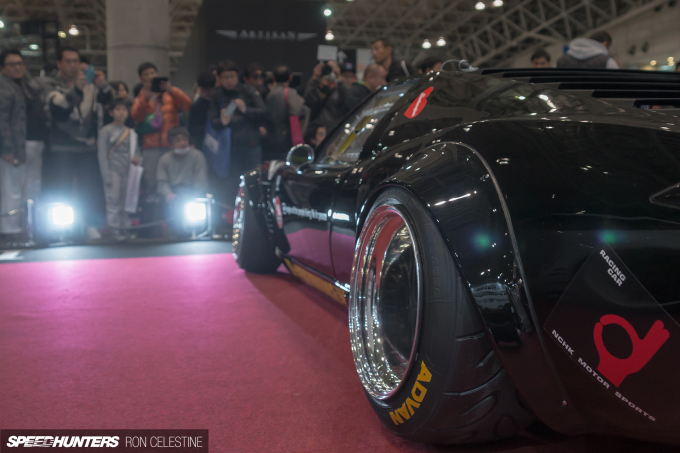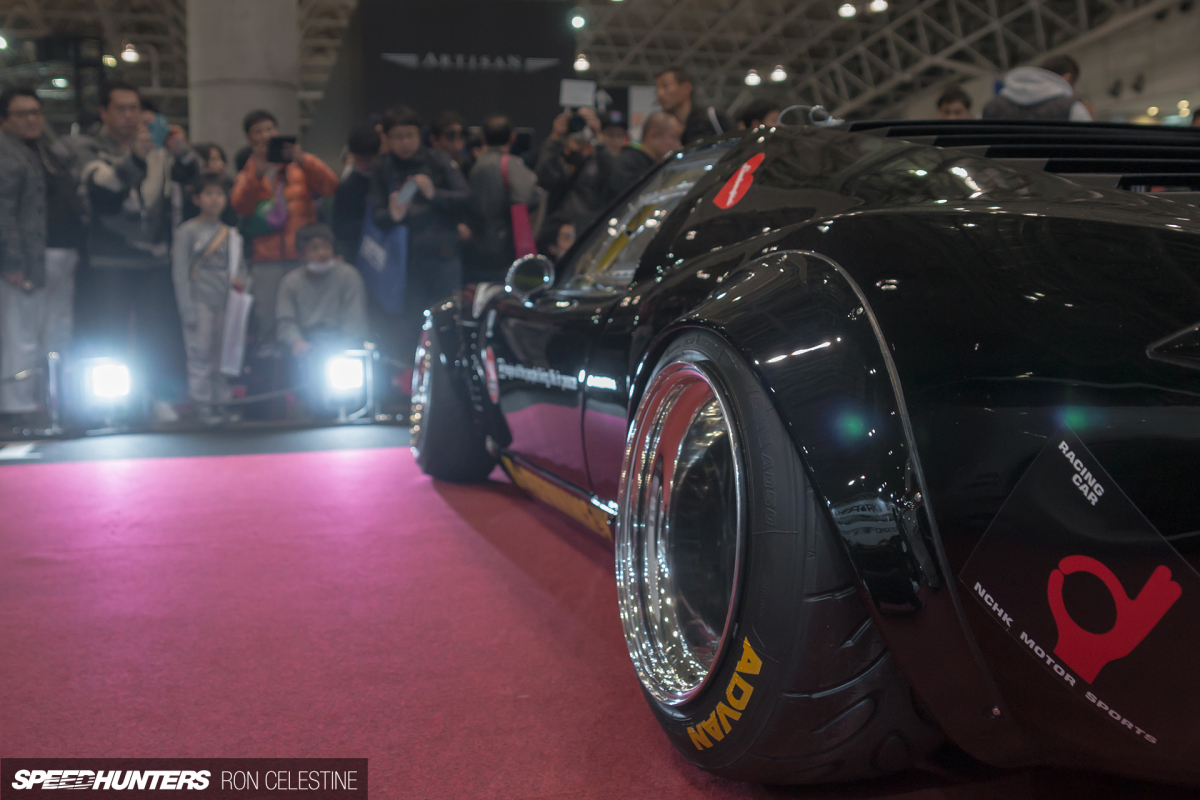 I don't think I've ever seen a genuine Miura in person here in Japan, and that still stands now. That's right purists, you can stop holding your breath – this is a replica built by the LB team, from a Ford GT40 replica.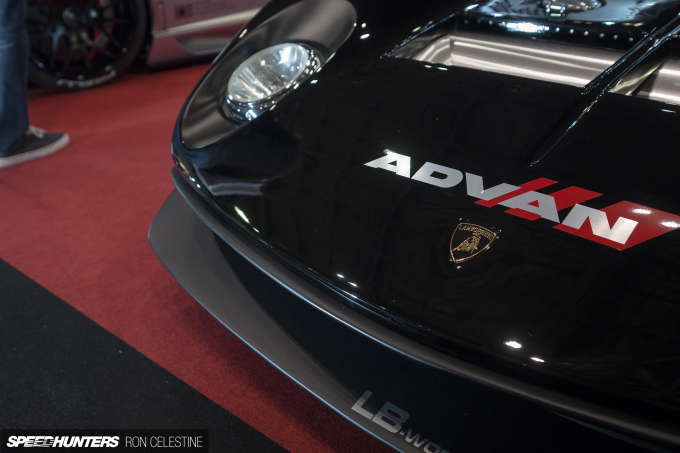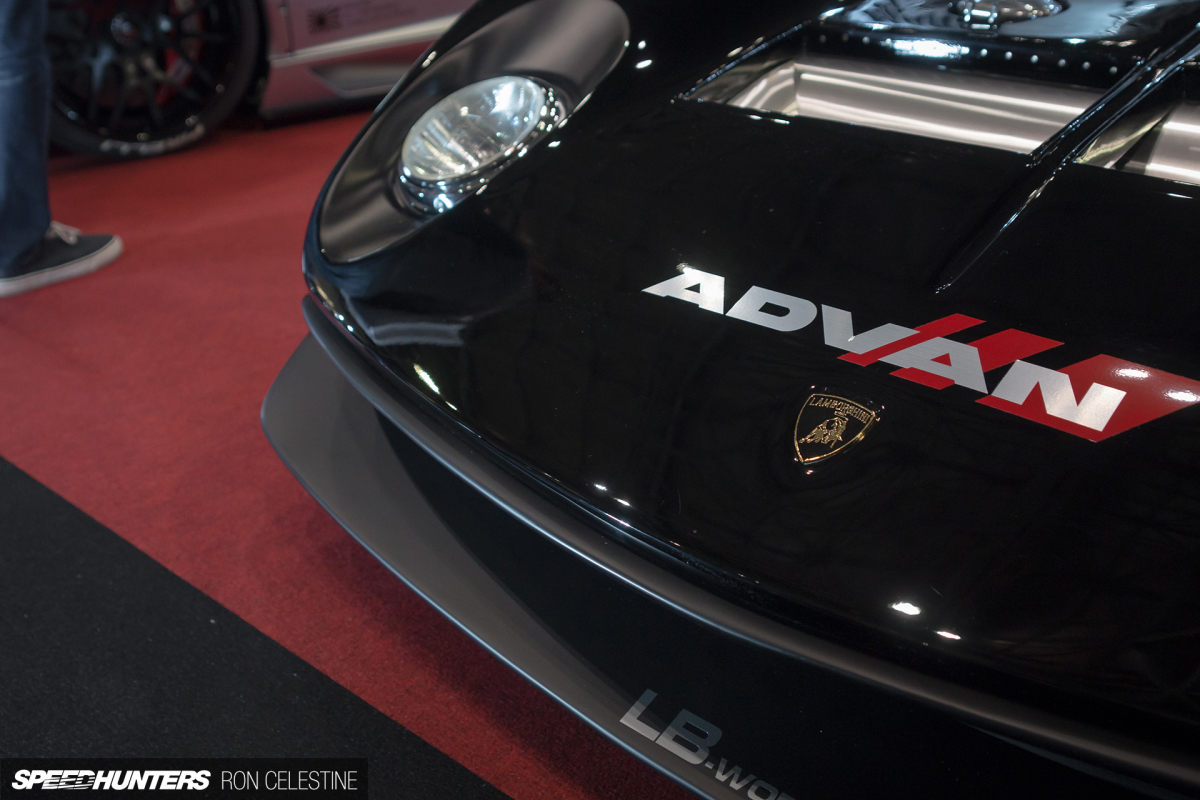 I've kept things brief with these cars because next week we'll be getting the chance to spend time in the wild with all of them. So you can think of this post as an appetizer before the main course.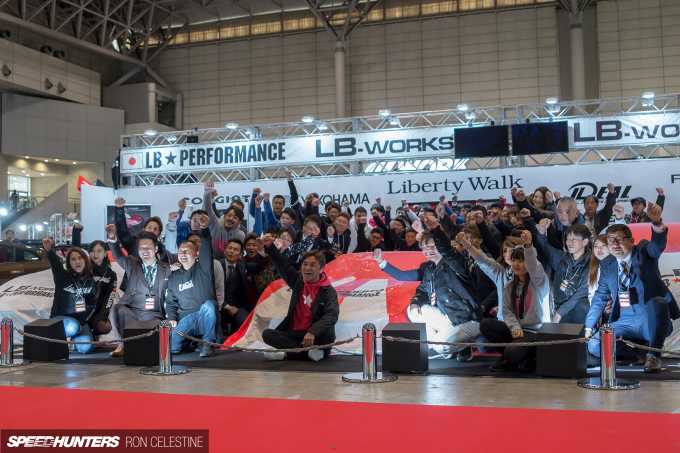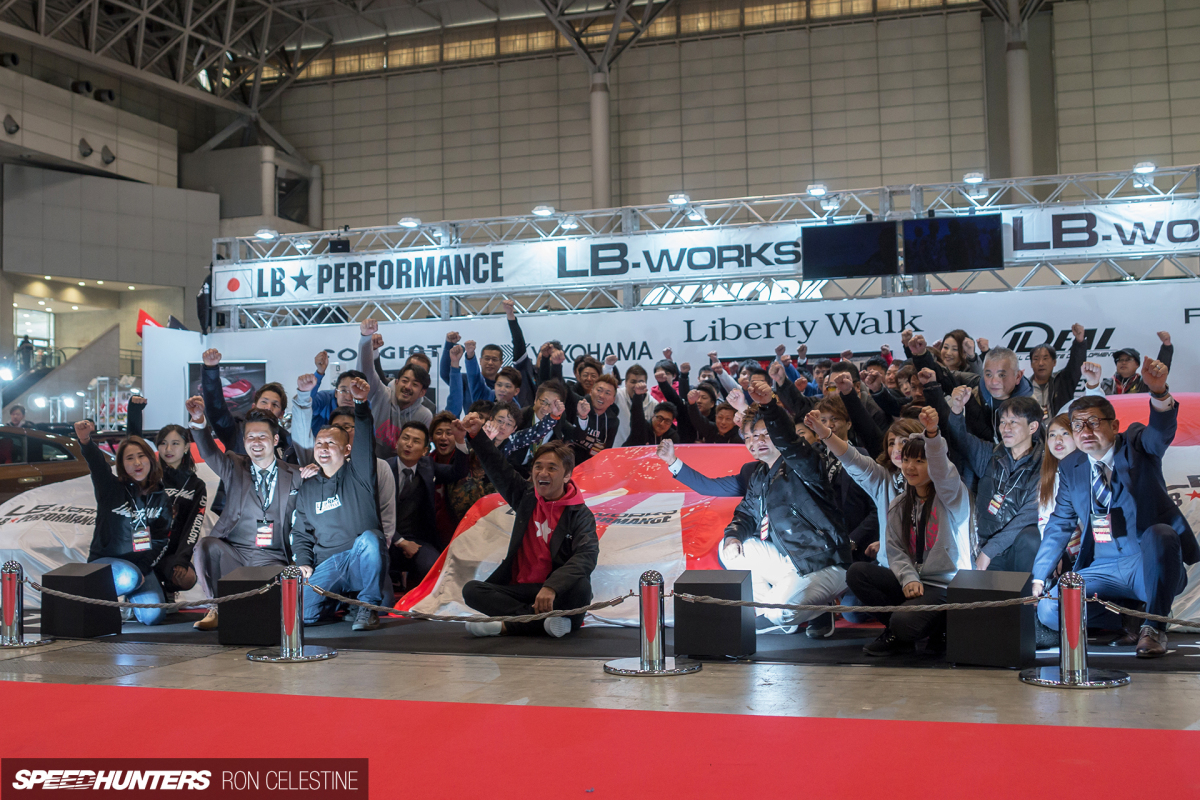 With the year having just begun, Kato-san has plenty of time to create plenty more unique and likely controversial pieces. In the meantime though, I'm interested to hear what everyone thinks about his latest creations – especially the LB Works Miura.
Ron Celestine
Instagram: celestinephotography