We Crave More Than Just Looks
Shows are a tough one for me. I love the visuals, the cars built to grab attention, and all the new styling products that go with them. But it doesn't last long. Sooner or later I naturally flock to cars that have the show and the go to back it up. After all, substance is what we should all strive for in a car, so that's what I made a pointing of hunting out at this year's Tokyo Auto Salon.
Don't for one second assume that this post includes every car worth mentioning at TAS 2018; I'd have to include thousands of photos if that's what I had to do. But keep in mind that what you don't see here, will sooner or later probably pop up as a feature or spotlight, as our hunt in Japan never ends. There is so much awesomeness happening and cars worth covering that it's almost mind blowing.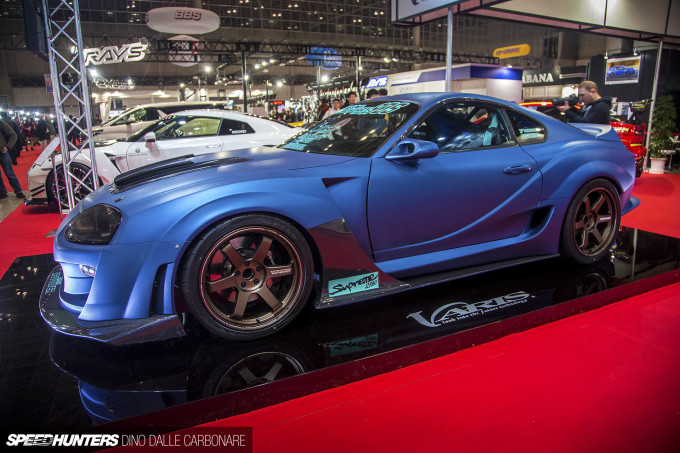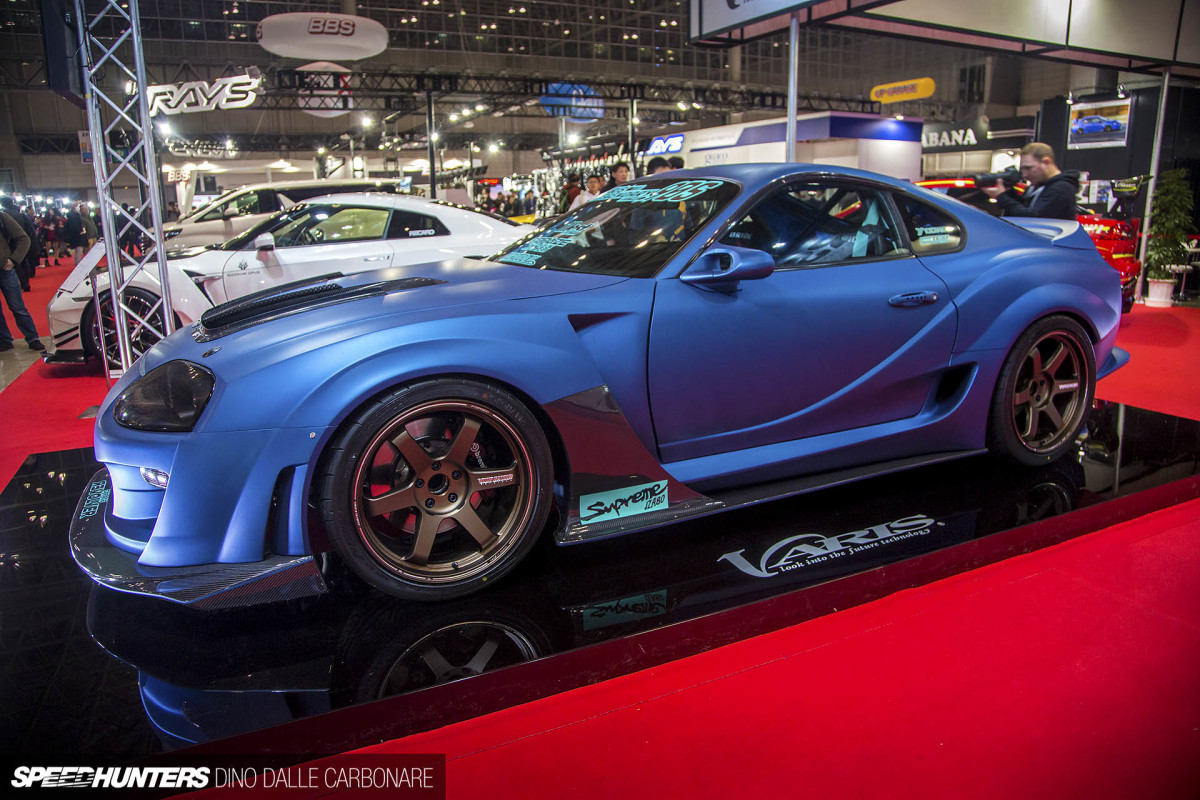 To kick things off, I want to return to the Garage Revolver JZA80 Toyota Supra we saw in my event preview post from set-up day at the Makuhari Messe.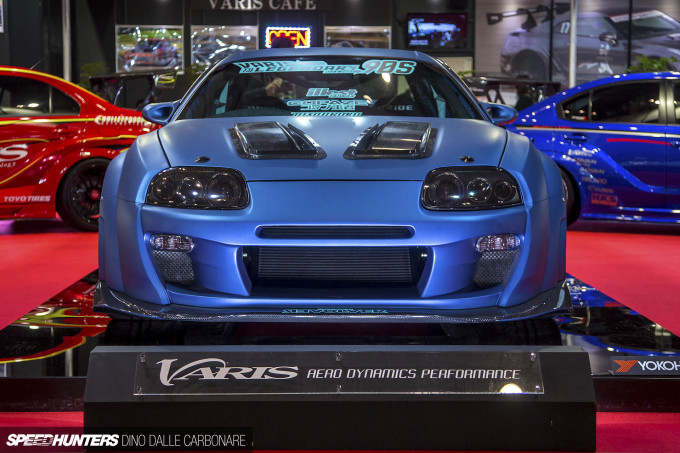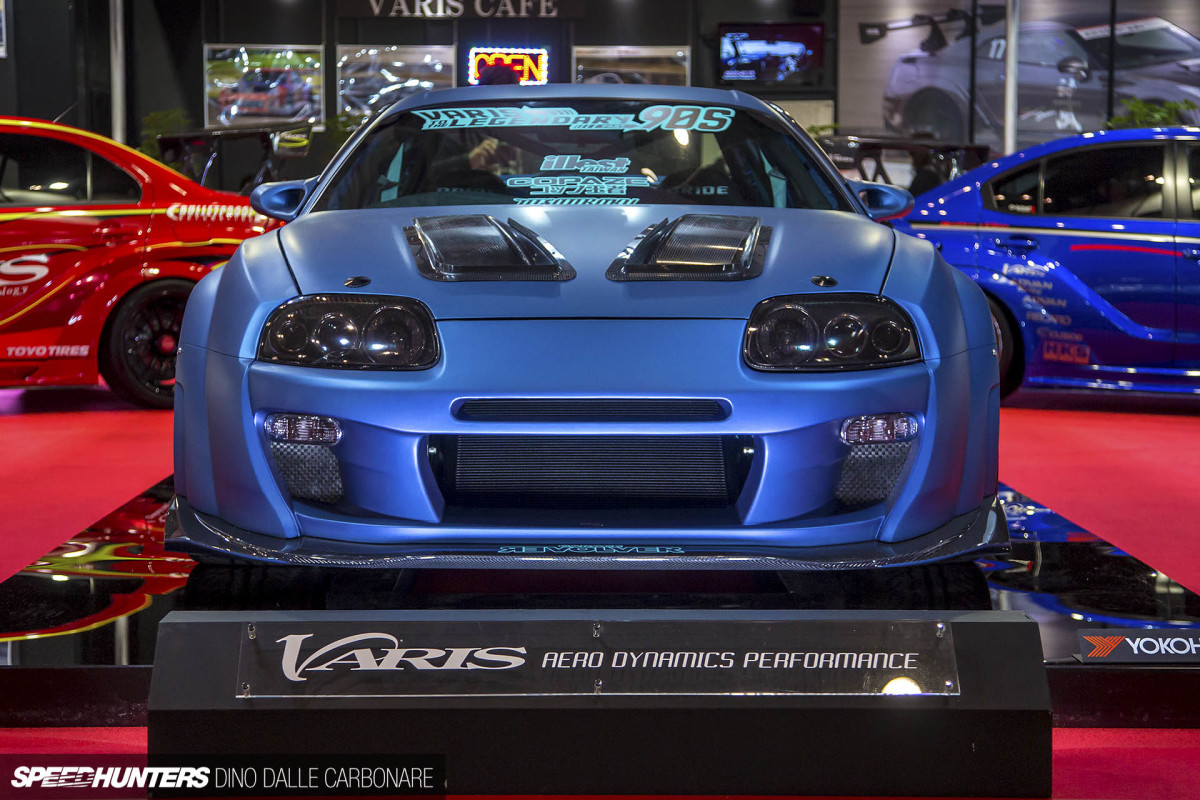 This car has special importance for me, because it seems that Supras have all but disappeared from Japan. You hardly ever see one out on the street these days, and very few Japanese shops still build Supra demo cars or develop parts and upgrades for them. But this collaboration between Do-Luck and Varis may well spark some interest back in a favorite chassis from the '90s.
You'll be glad to see that this is far from a solely aesthetic exercise; there's a fully-built beast of a 2JZ under the vented hood, a T88 by its side, and a horizontally-mounted intercooler to maximize flow.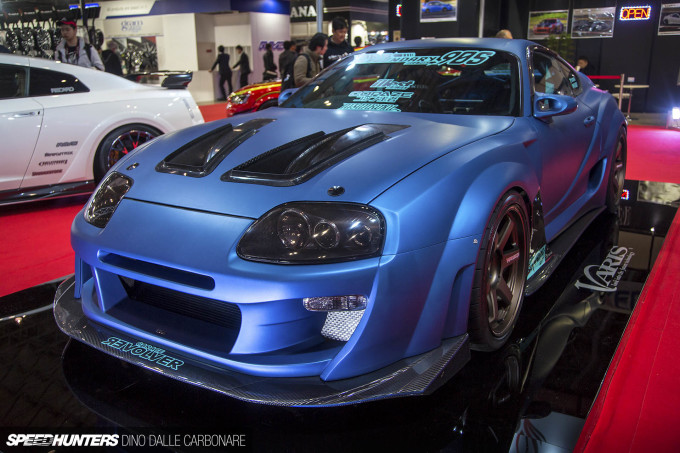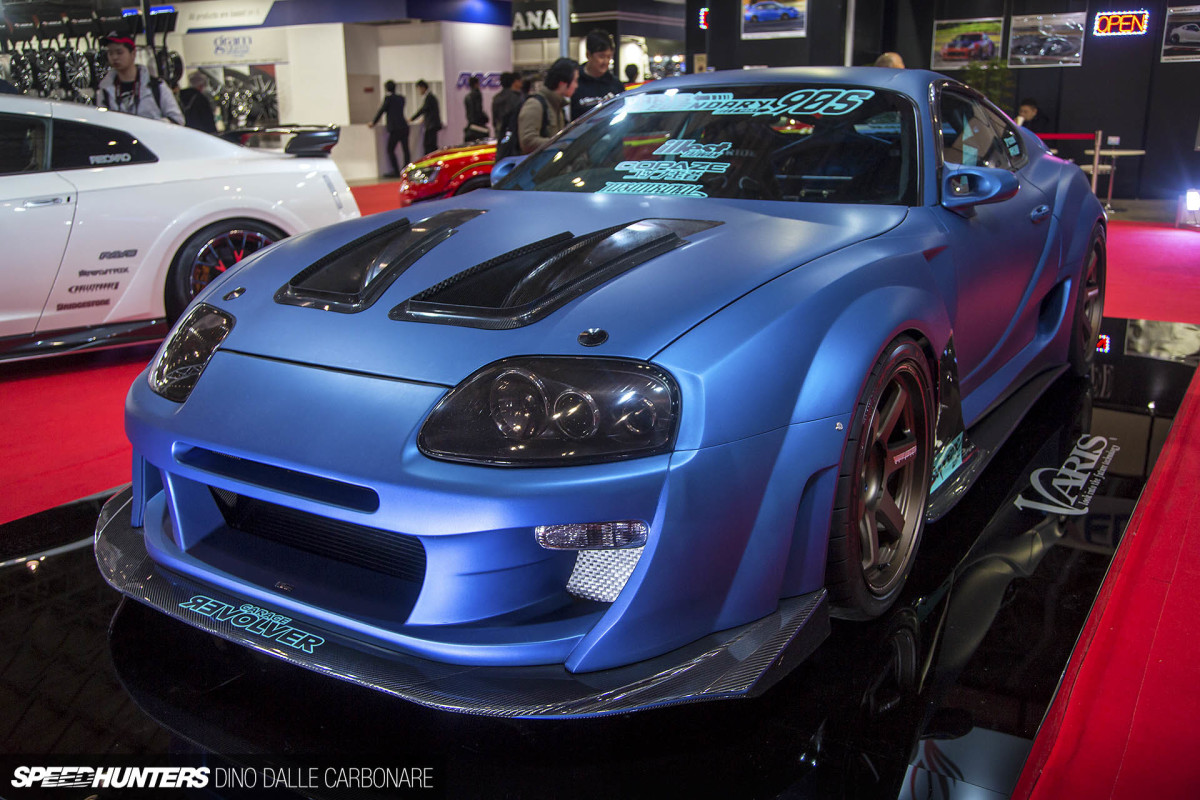 The guys at Varis spent months sculpting the wide body aero, coming up with something that not only transformed the lines of the car but also looked new and fresh. It's all about aggression, from integrated fender flares on widened front fenders, to swooping profile lines that help define the new shape of the rear guards.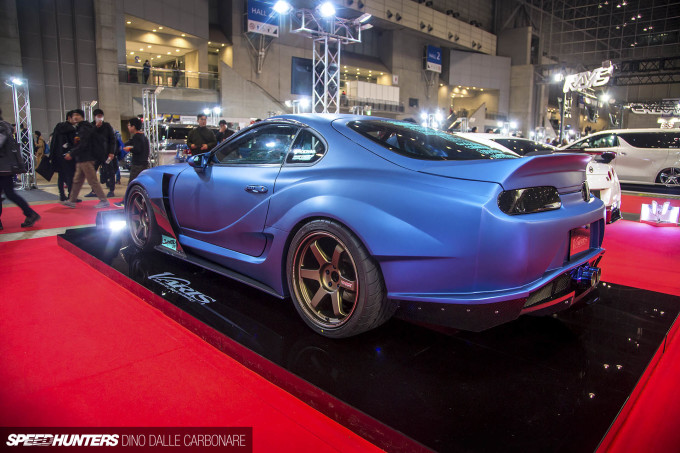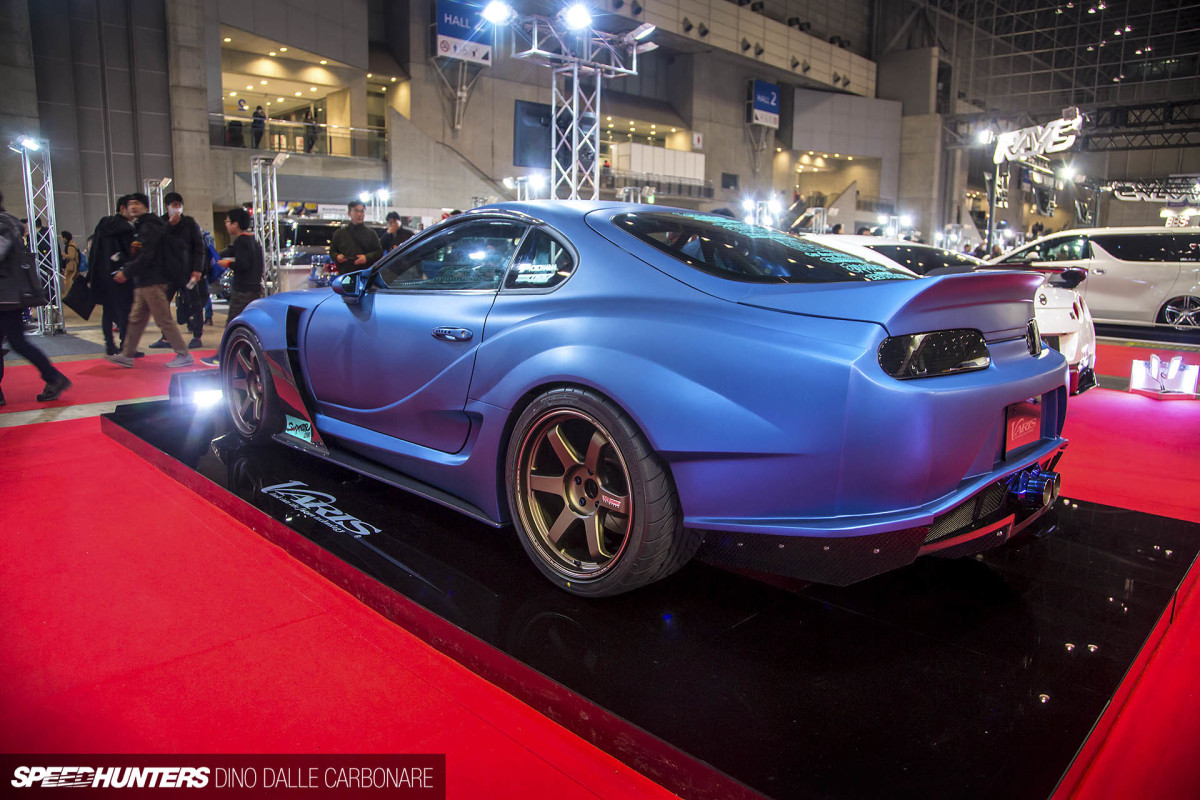 The best touch is perhaps the absence of a GT wing; Varis has gone with a trunk spoiler design that gives the Supra a drag or high-speed car feel.
Before you ask, yes, a feature will be coming. We just need to wait for the owner to be fully satisfied with the car; he wants to have the engine bay shaved and wire tucked before we immortalize it with our cameras.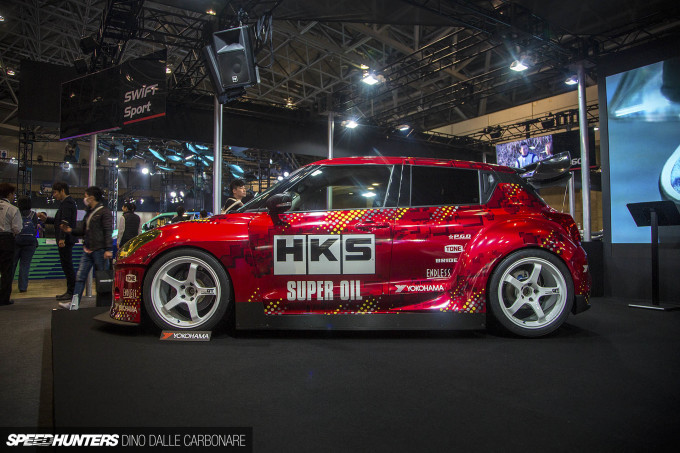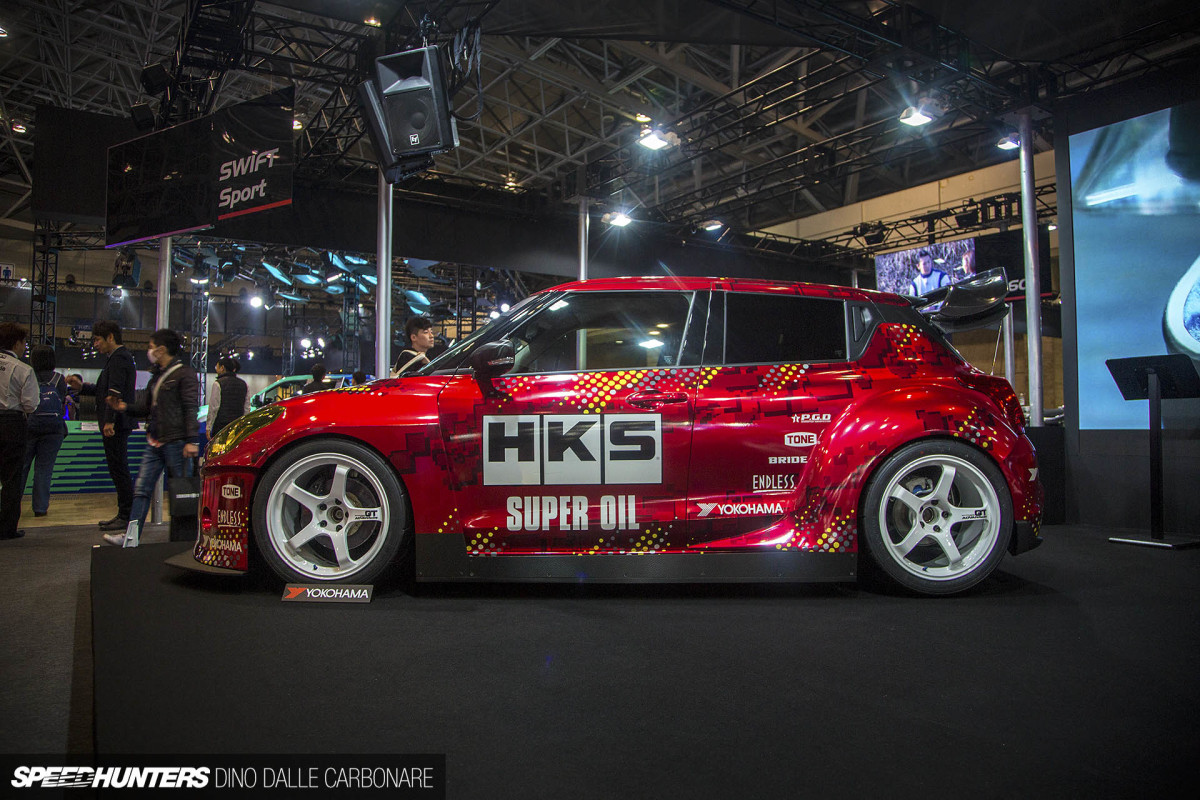 Next up is HKS, a company that's always a welcomed sight at TAS, and who has its much-anticipated Premium Day happening this weekend at Fuji Speedway. On top of the TRB-03 time attack Toyota 86, which might be setting a lap record at Tsukuba this month or next if all goes according to plan, the famous Japanese tuner also brought along a surprise addition to its development fleet – a new-gen Suzuki Swift Sport.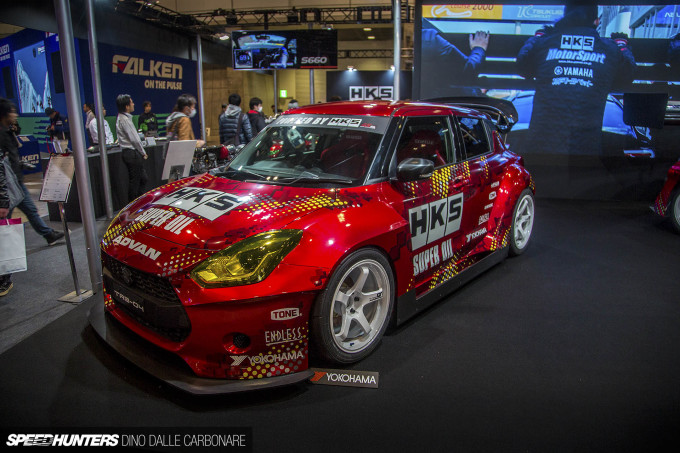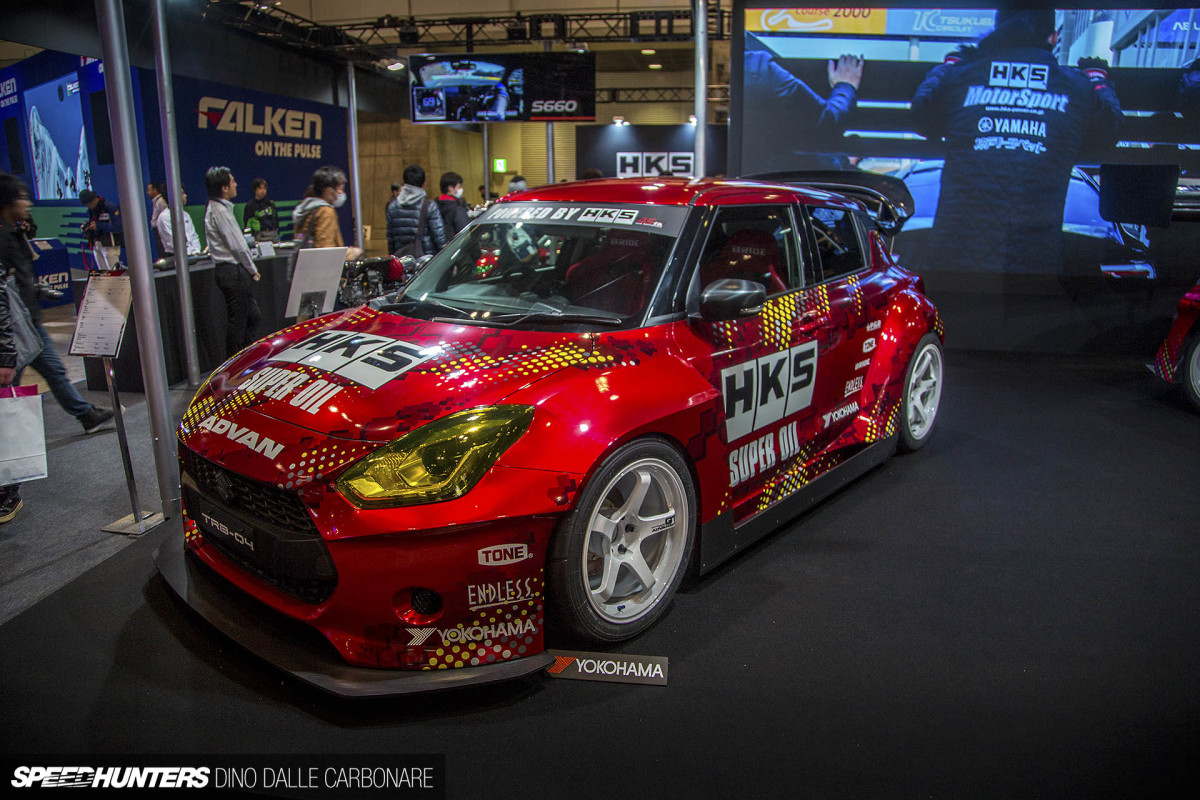 These fun and affordable cars are already quite popular in amateur time attack here in Japan, but HKS is pushing the platform to its limit with this build. Info is limited, but you can expect the Swift to be chasing the FF lap record at Tsukuba very soon.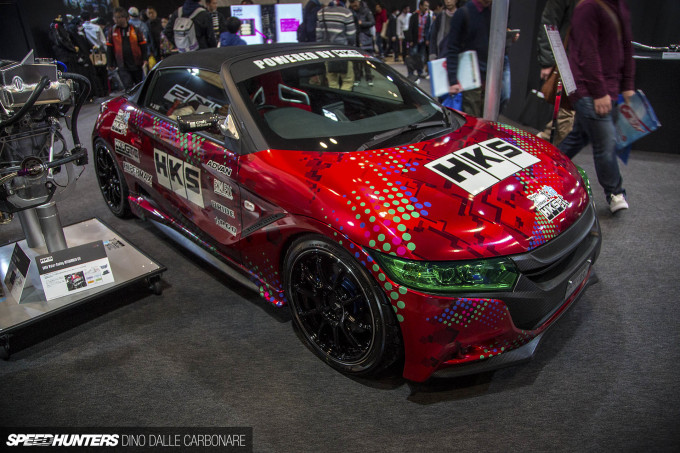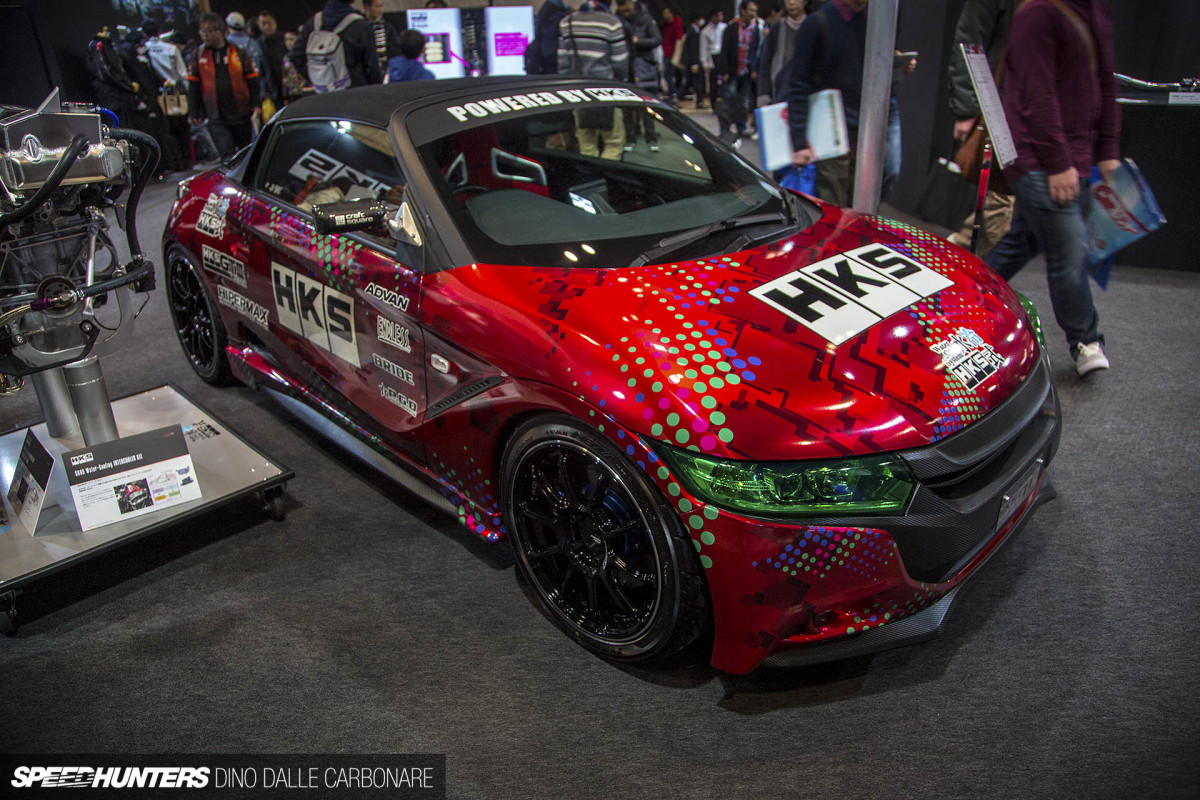 Then of course there's the little S660, a model we really can't get enough of here at Speedhunters. We'll be having a little drive of this development car within the next month.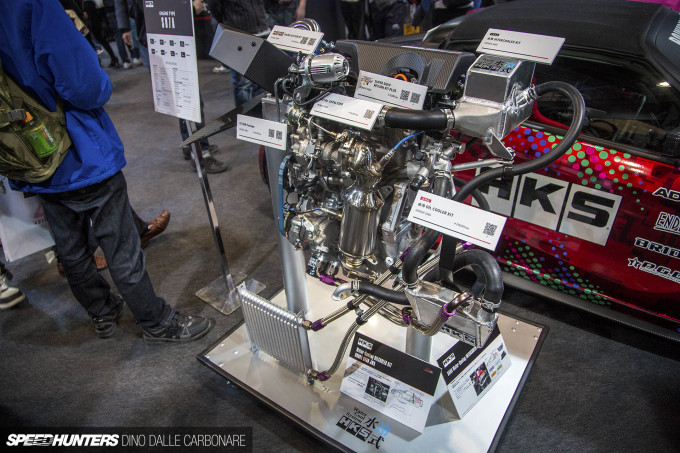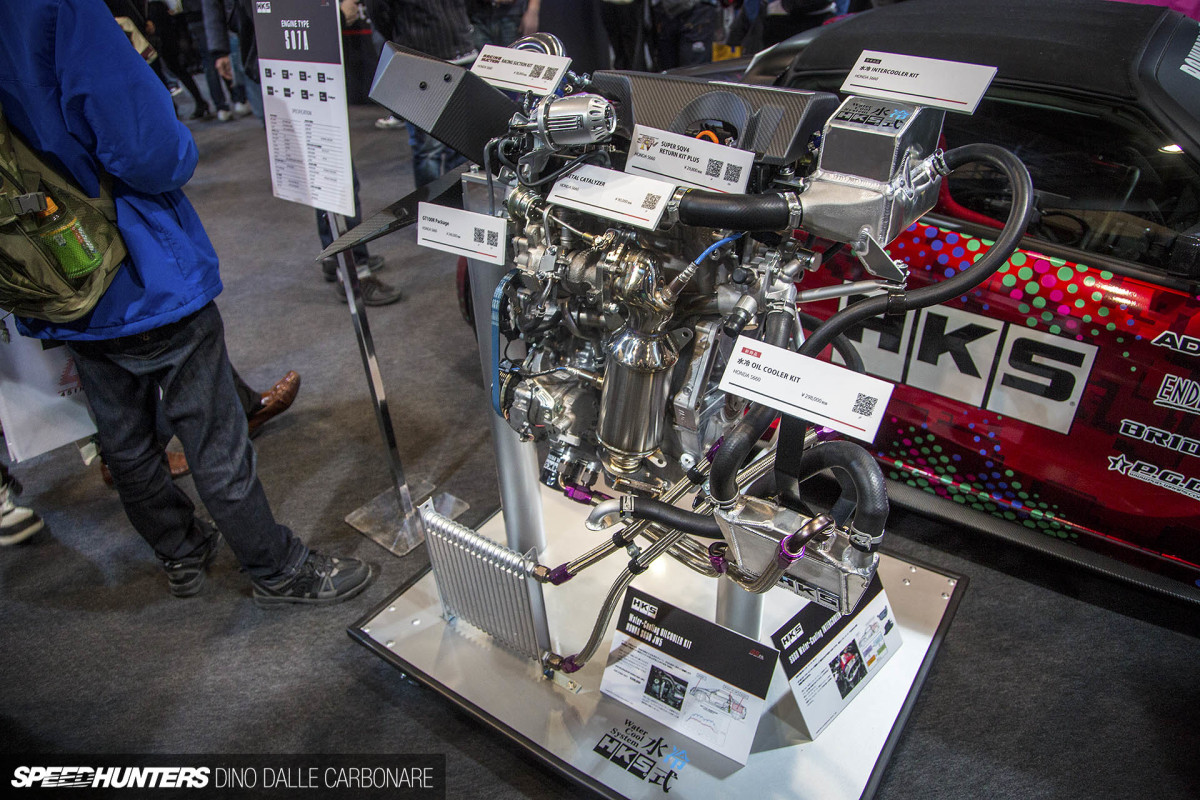 It runs the same modified turbo offered in HKS's street car kit and a ton of other cool aftermarket components for reliability, including what may well be the smallest charge-cooler we've ever seen.
Japan & Rotaries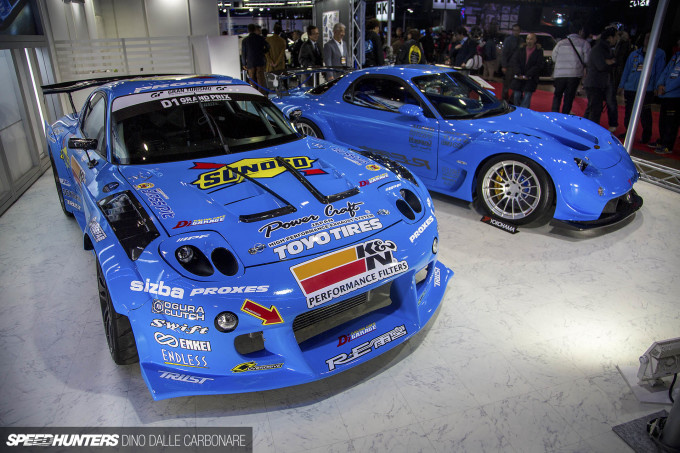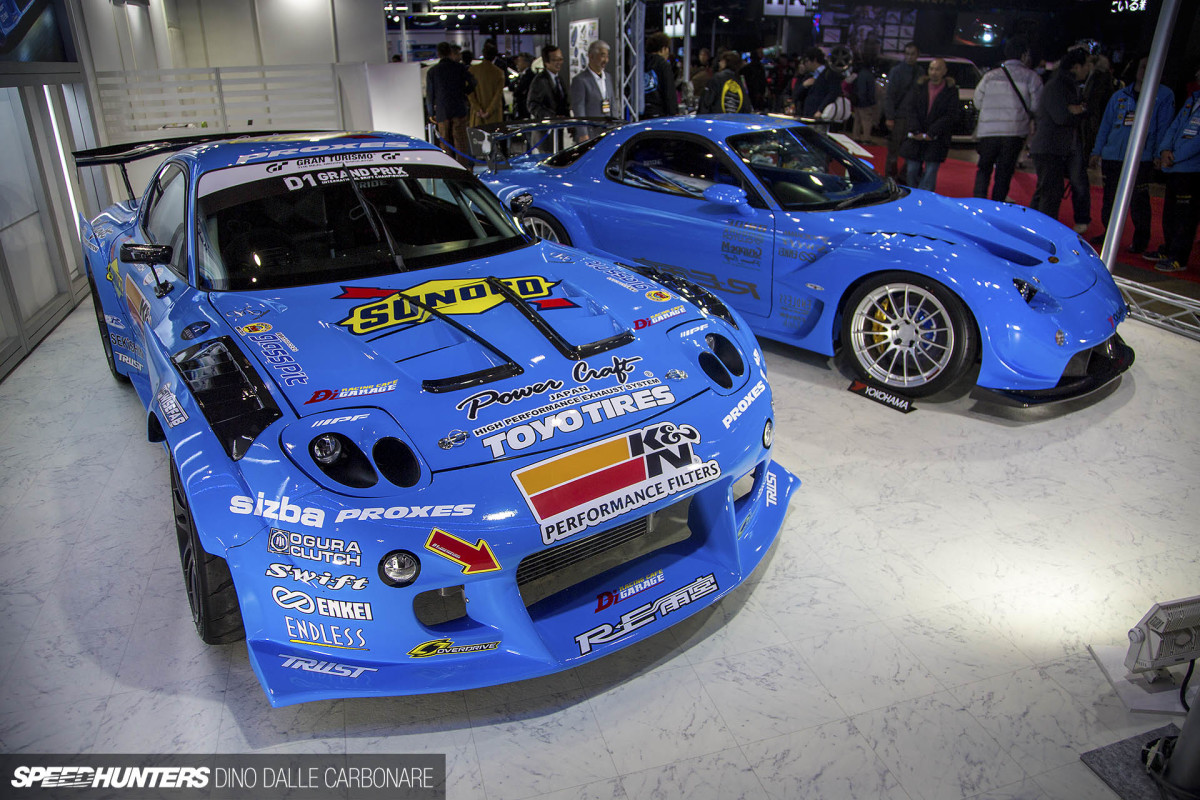 What would Tokyo Auto Salon be without showing what RE Amemiya has been up to over the last 12 months. Amemiya-san might be getting older, but he seems to find inspiration year after year and managed to show up with two wild demo cars for the 2018 show.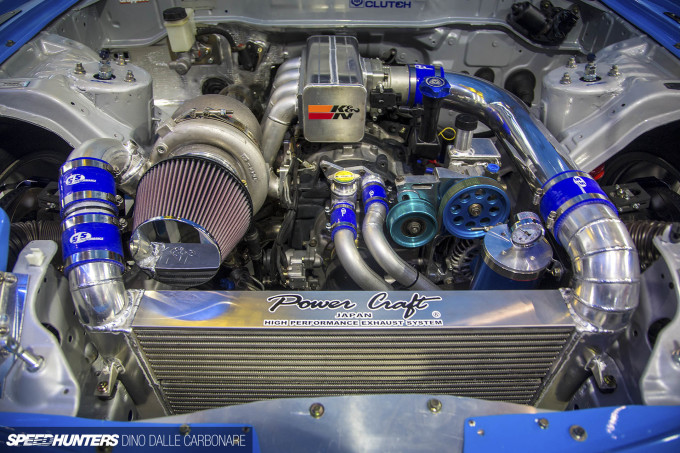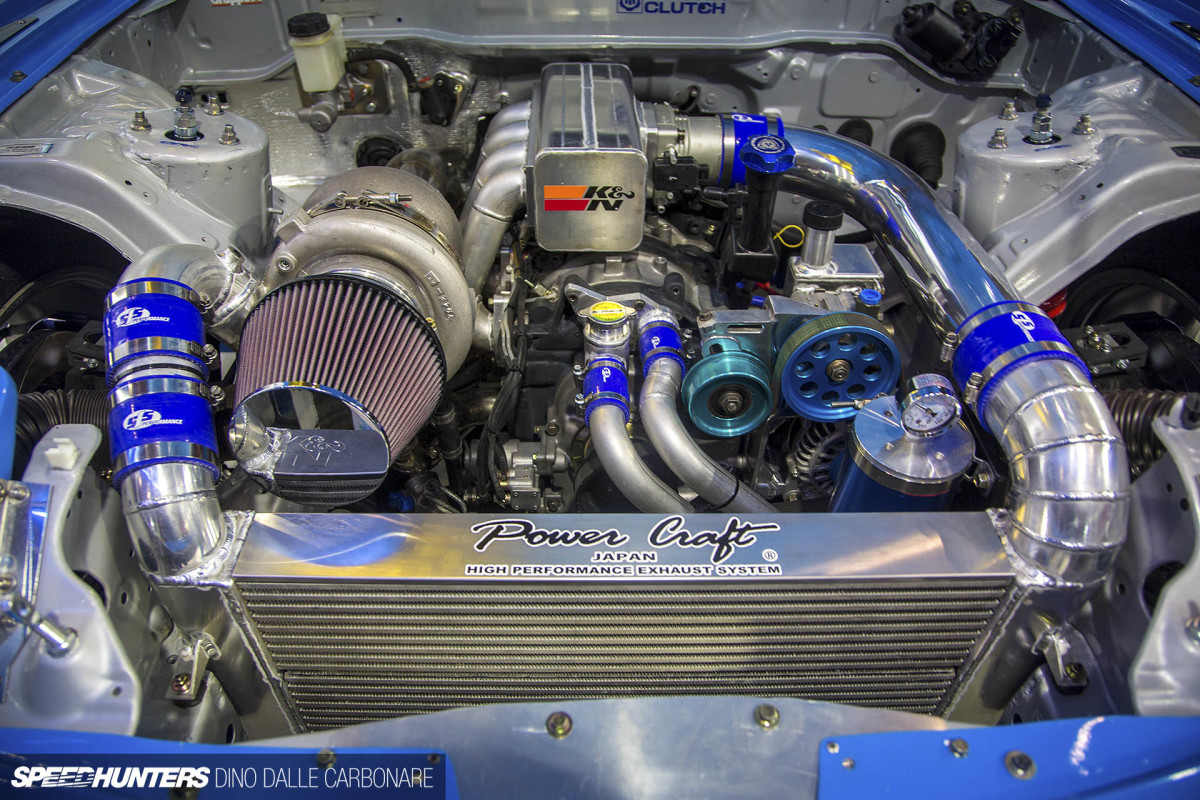 The car on the left, sporting an instantly recognizable livery, is the shop's pro-spec D1 Grand Prix drift machine. It's a refresh of last season's car and sports an updated 20B in order to take this year's championship by storm.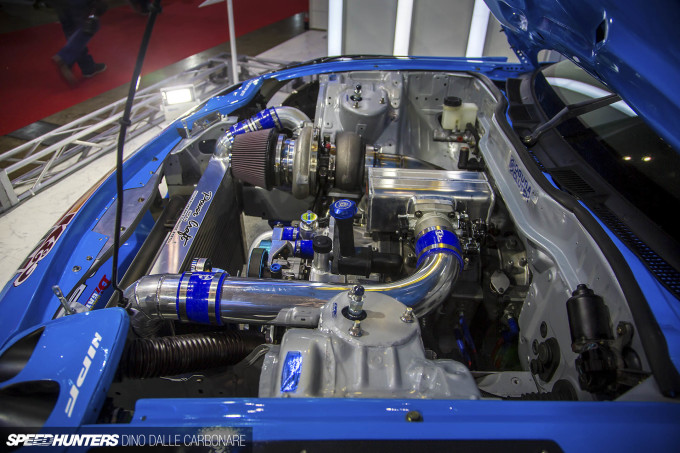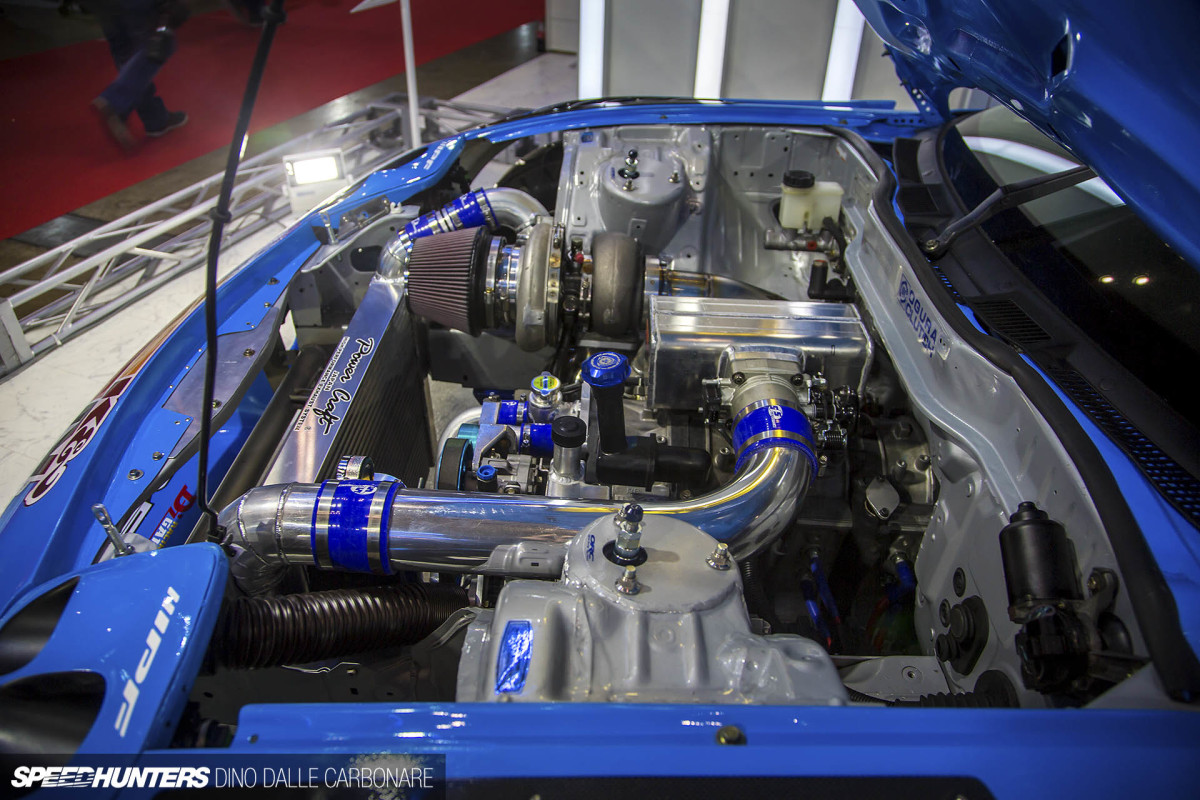 The three-rotor engine may be capable of approaching four-figure power levels, but it's been set up for response and instant power and torque delivery. 700hp is the magic number, and it's always there as soon as Matsui-san gets on the power. This year's evolution has a pretty curious intake plenum design, but apparently it's something that works best with the goals they had for the engine.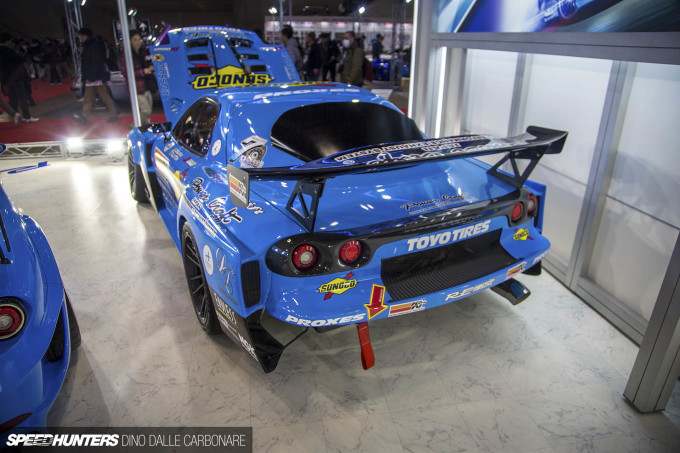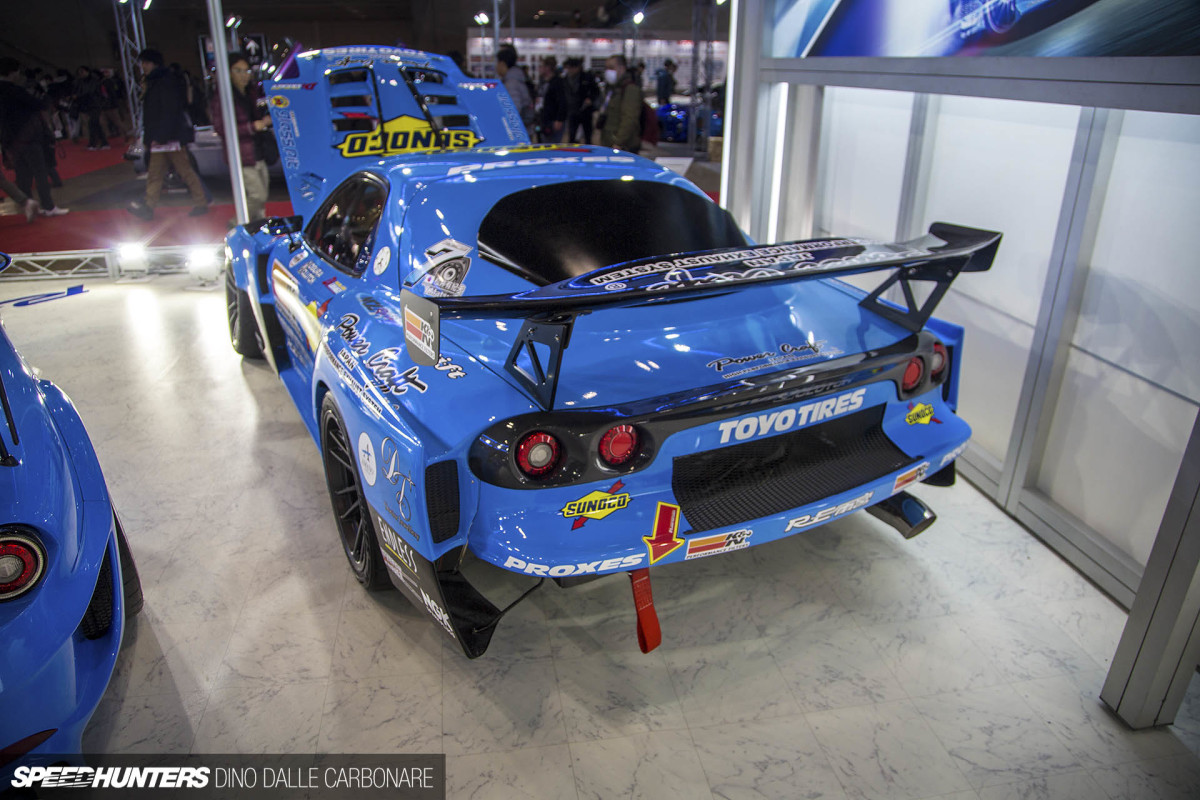 There are also a few aero tweaks here and there to ensure the FD3S remains the wildest D1 car RE Amemiya has ever created.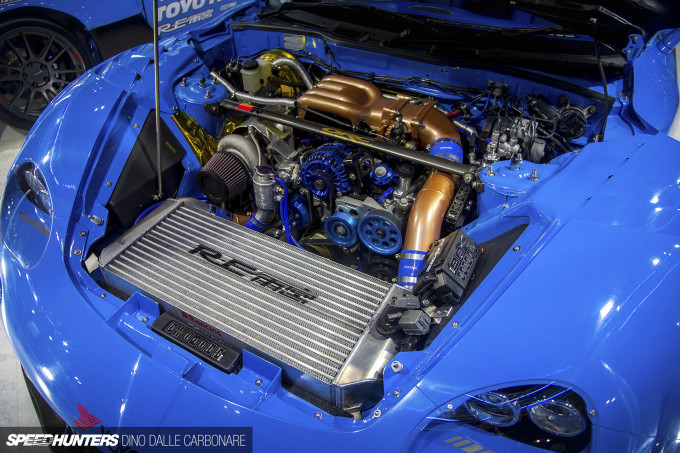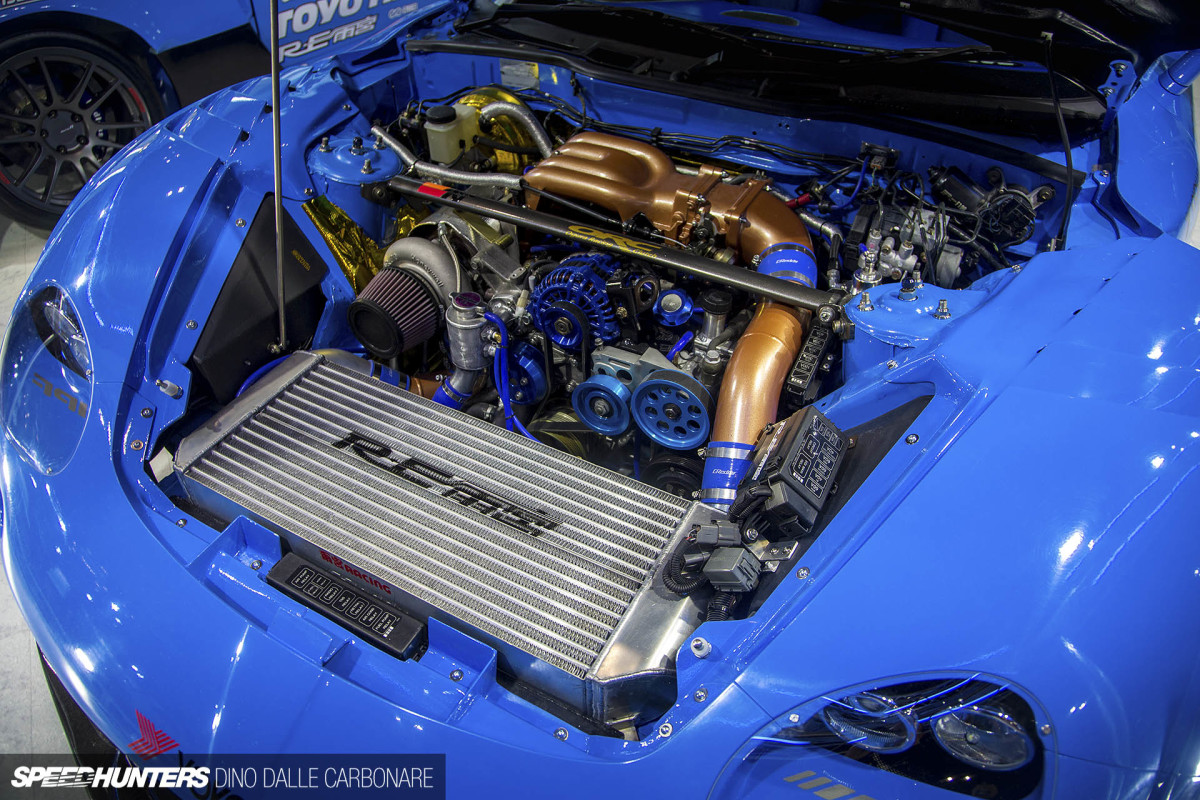 The street demo car parked on the right almost looks conservative in comparison, but it's a bespoke creation aesthetically and one that packs a bridge-ported 13B equipped with a GCG turbo. While power output is around the 450hp mark, the drivability and throttle response is supposed to be lightning fast. I think we should get to drive this thing and report back, what do you reckon?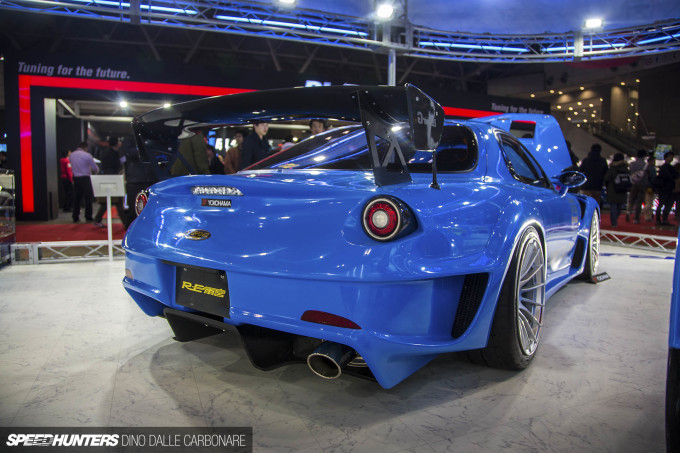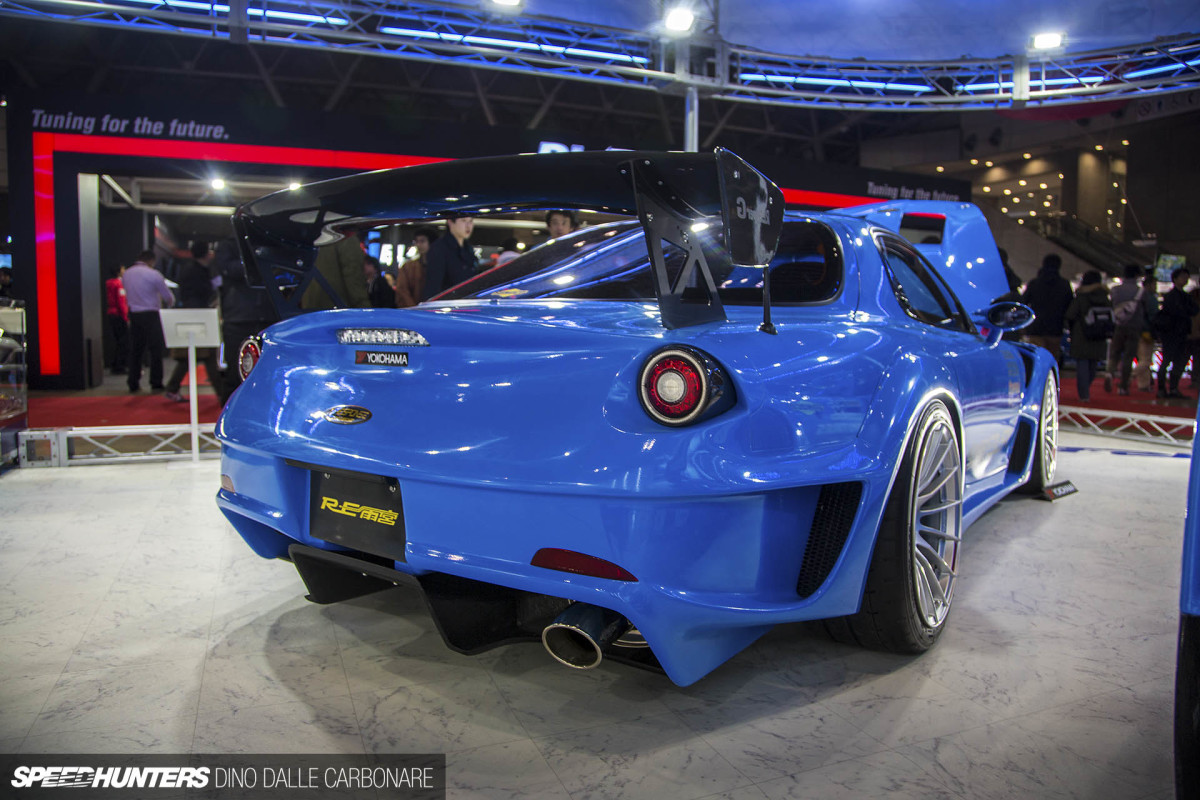 Like all of RE Amemiya's TAS creations, the car will be doing the show rounds this year, but ultimately will be sold as the one-off creation it is. It just goes to show how well the FD3S lends itself to complete conversions like this, but if anyone from Mazda HQ is reading this, please give us a new RX-7 soon so Amemiya-san can work on something different for a change!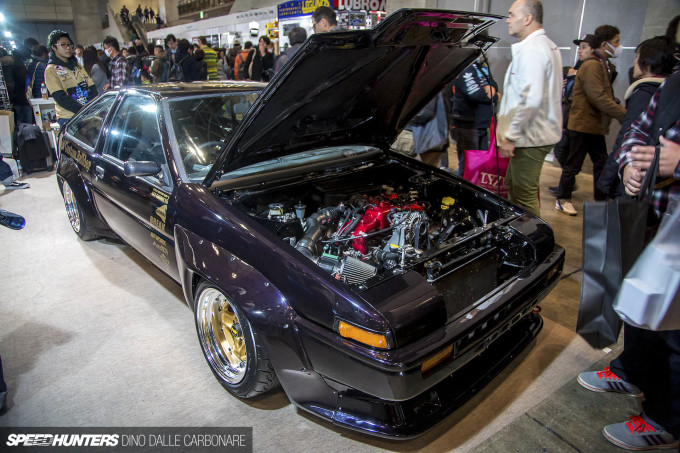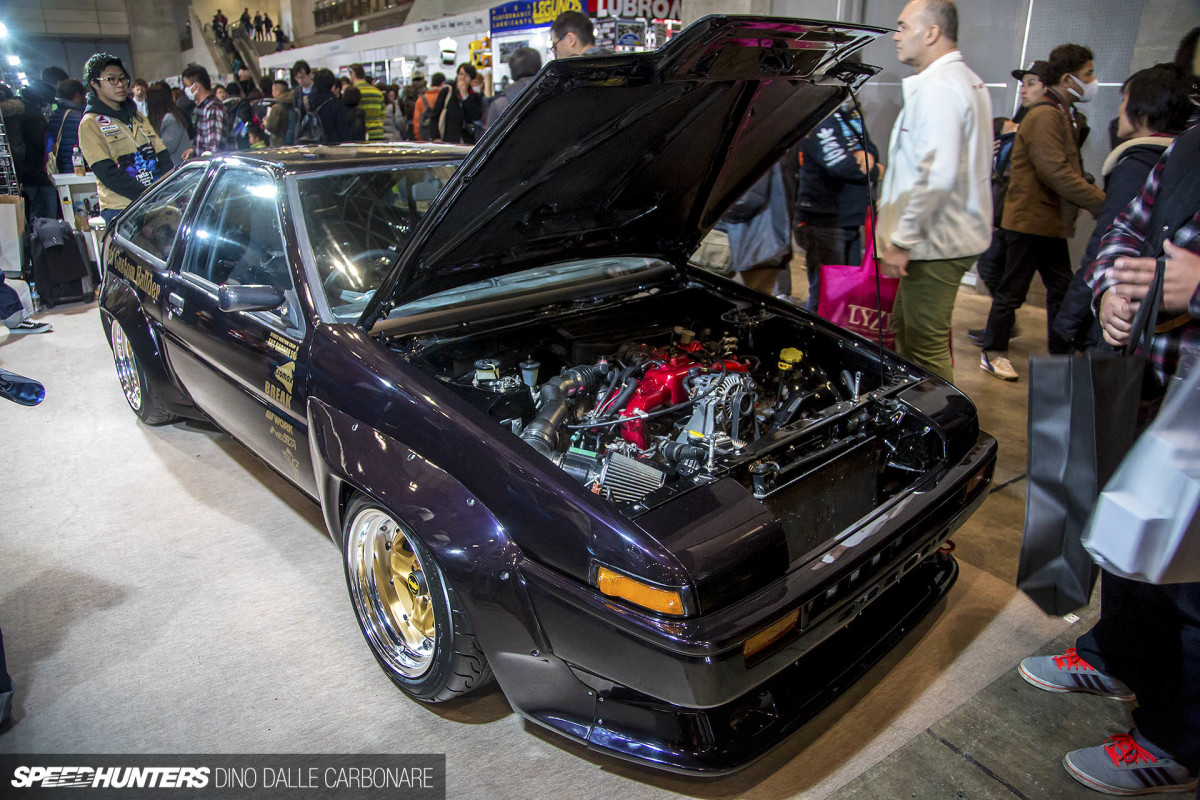 If you want different, it's hard to beat a familiar chassis running an unconventional engine swap. This AE86 Trueno from Wiz, a Japanese automotive engineering university similar to NATS, is now powered by an EJ20 of all things.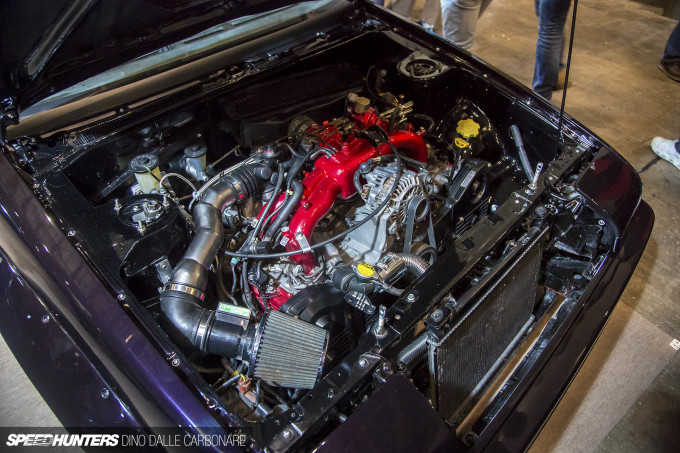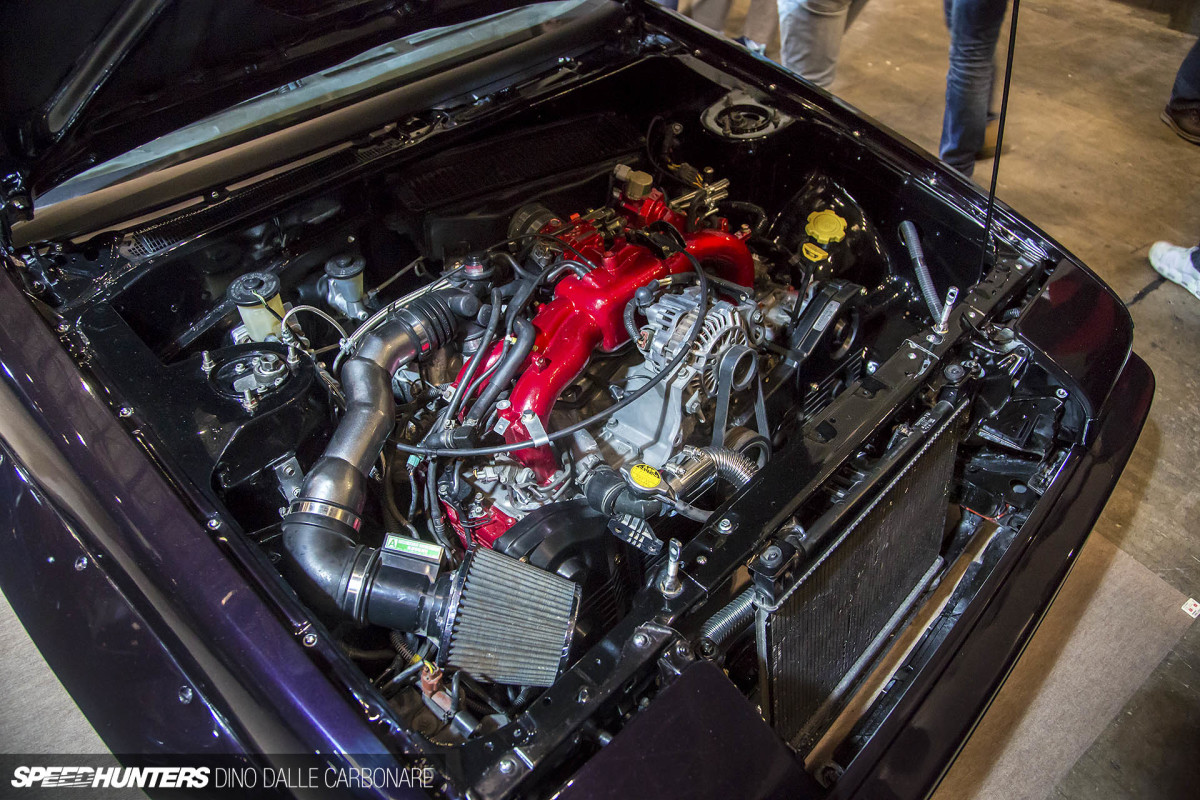 Named the EJ86, it's like a strange vintage take on a new-gen 86/BRZ (the ZN6). After all, the 4U-GSE/FA20 is based on the EJ series of Subaru engines.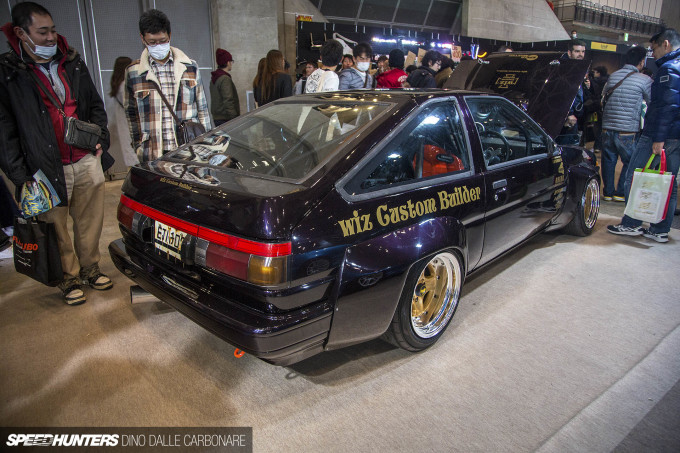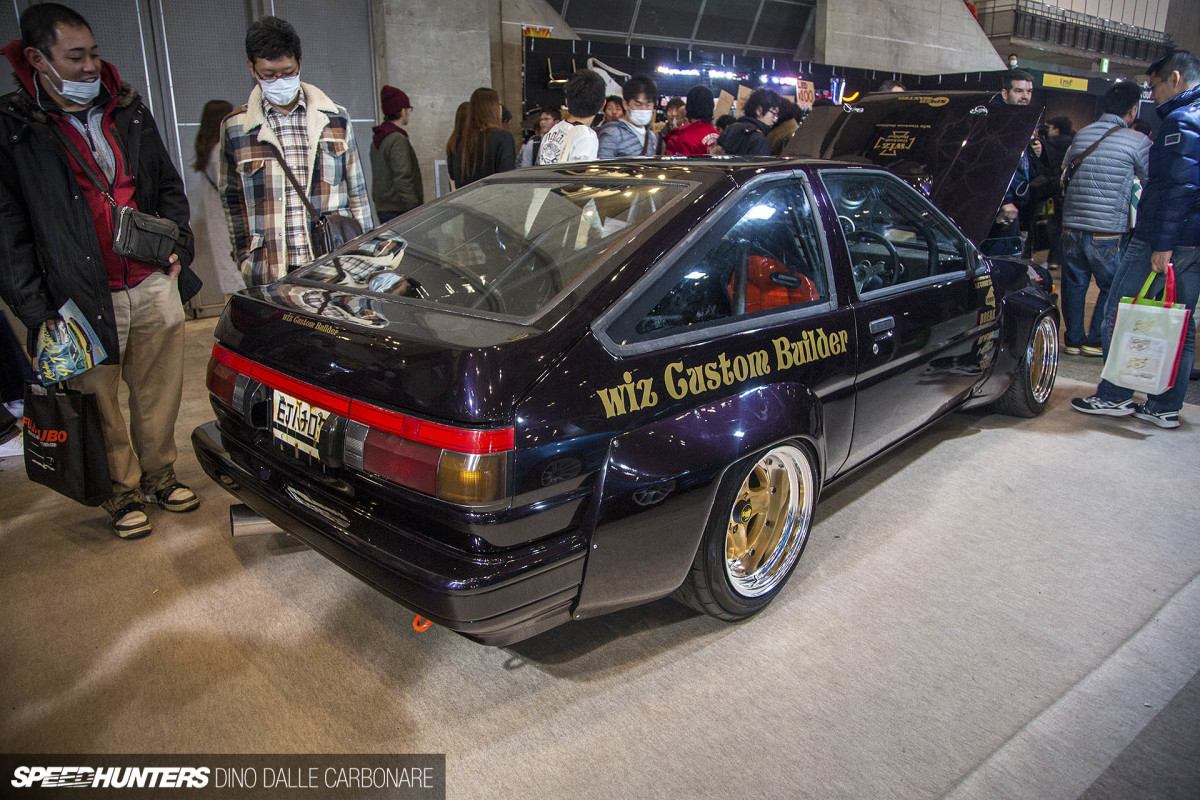 The car wears TRD N2 fender flares and a set of Work Equip 40 wheels wrapped in Yokohama Advan AD08R rubber. It's all very legit, a properly executed and tastefully built Hachiroku.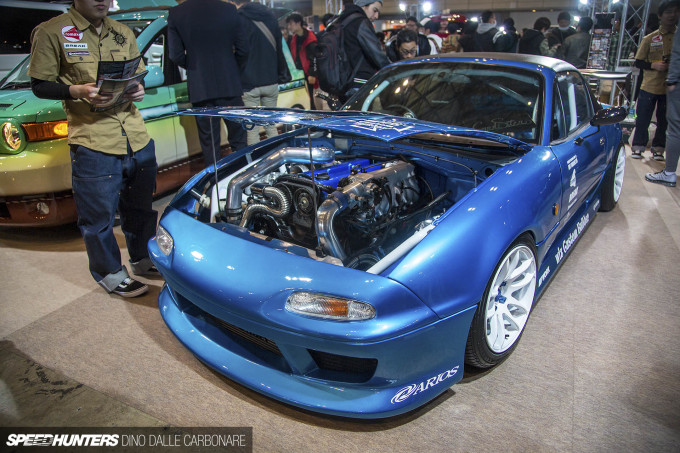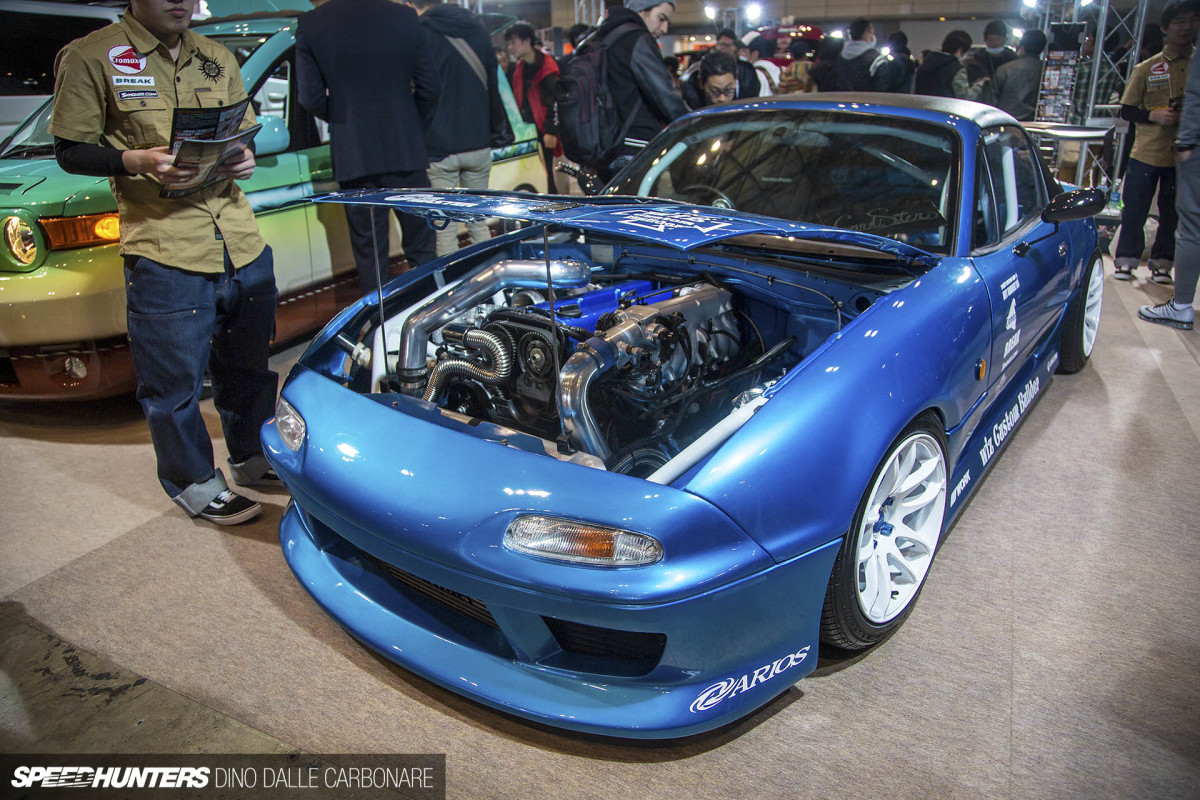 The NA Eunos Roadster displayed next to it was also created at Wiz, and it's even crazier. I still can't believe they managed to squeeze a Toyota 1JZ into this tiny little car!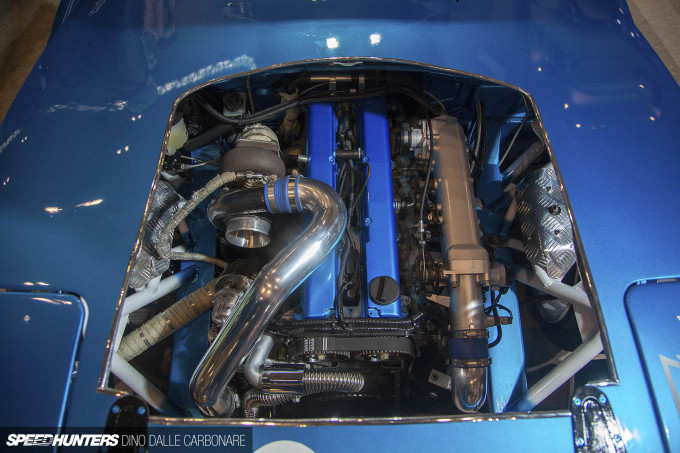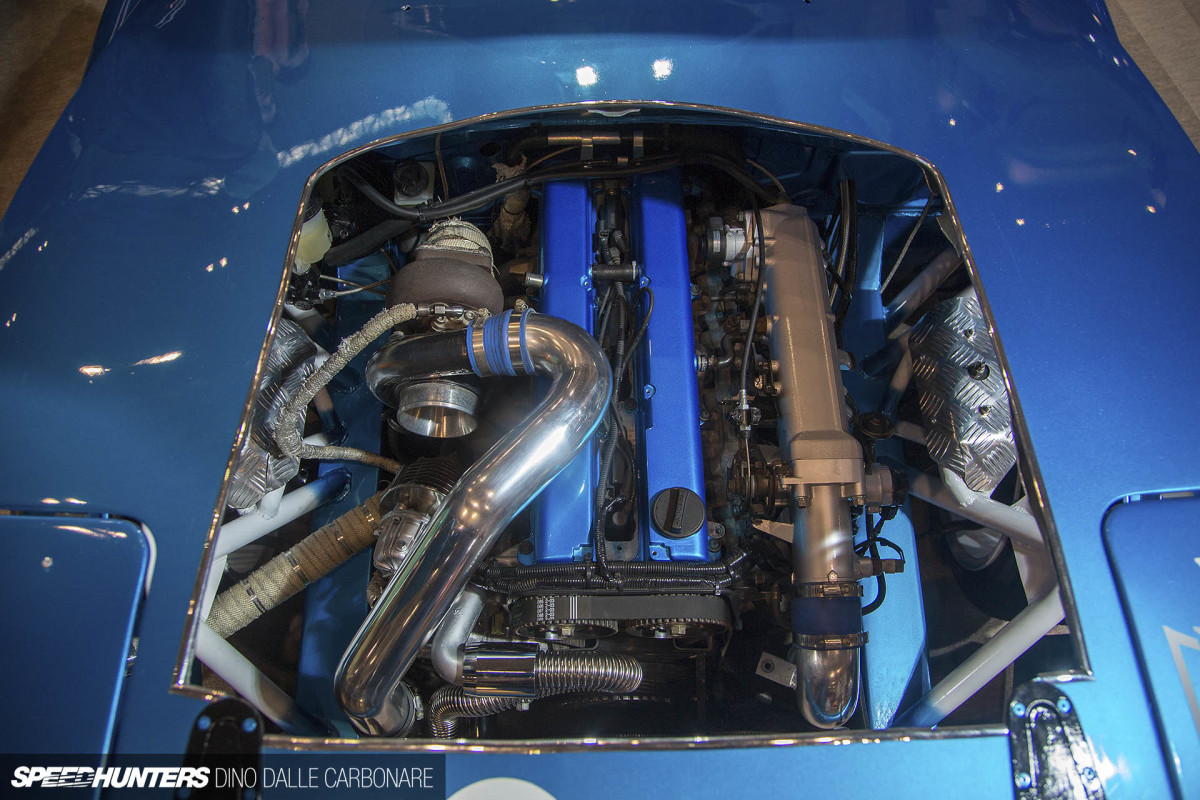 Because of the limited space, the engine runs a top-mounted turbo with external wastegate – which looks great – but is only quoted as delivering 280PS, so I'm guessing it's running a conservative amount of boost.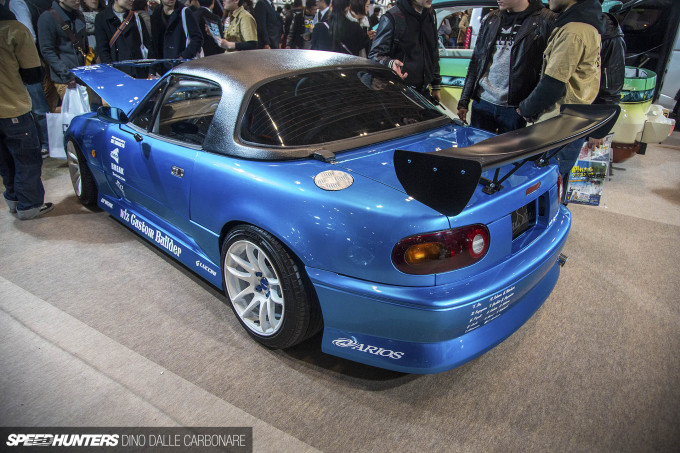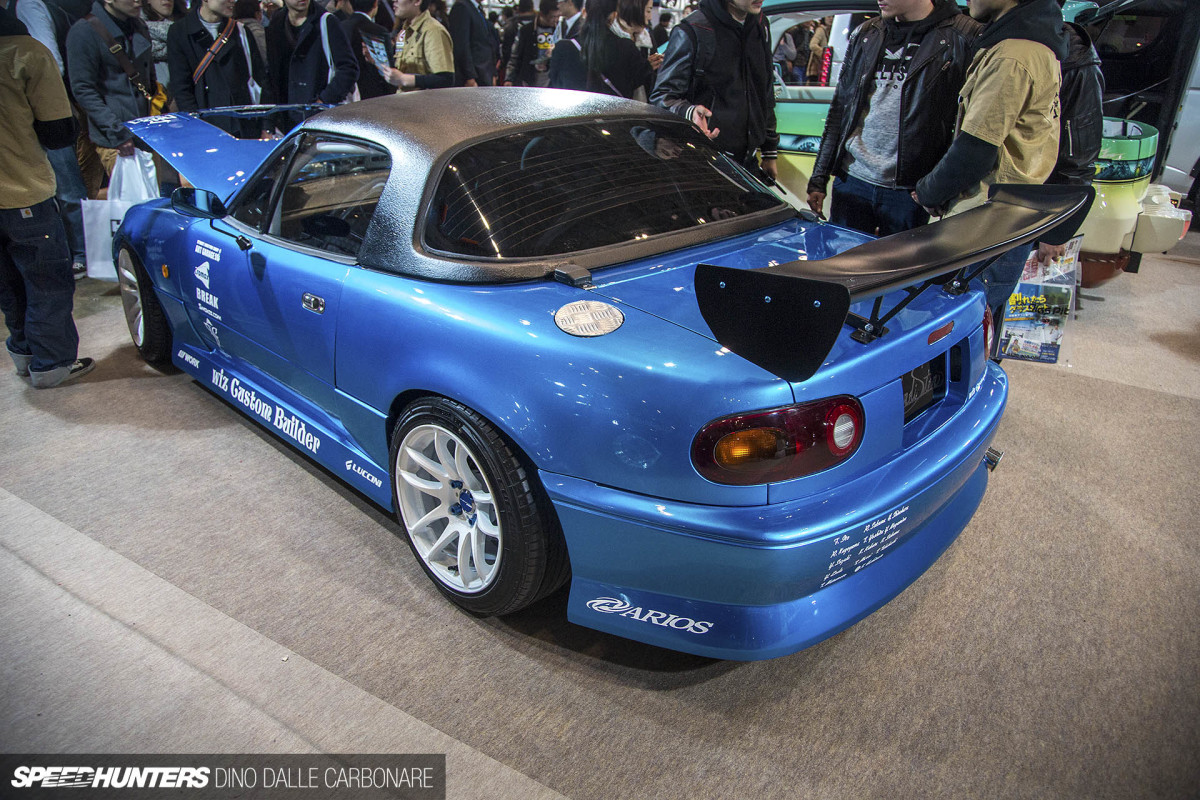 That's not a bad thing considering the chassis it's powering – wheel spin in the first three gears would definitely be a thing in this build. I also love the simple Arios aero and Work Emotion wheels, which all combine to create what must be one hell of a fun package.
The Essence Of Design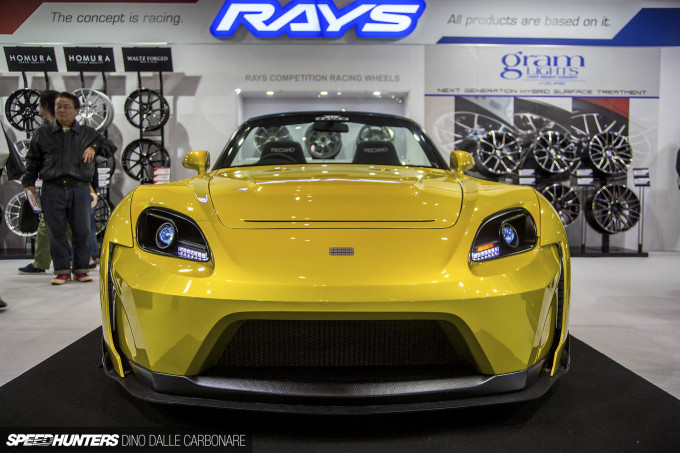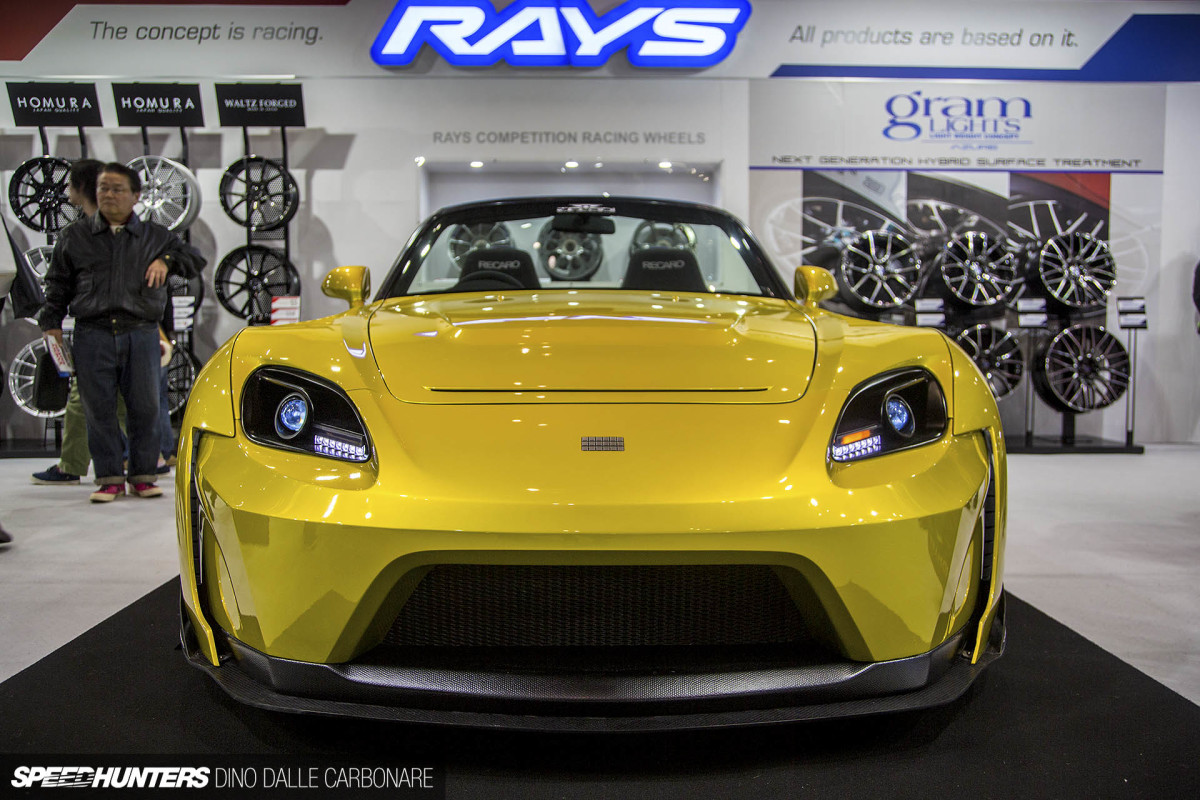 The final car I've decided to share with you didn't even show its engine bay, but I'm running it because it represents something special in my eyes. In the heart of the RAYS booth, and showcasing the new Gram Lights 57ANA wheel, was the Tamon Design Honda S2000.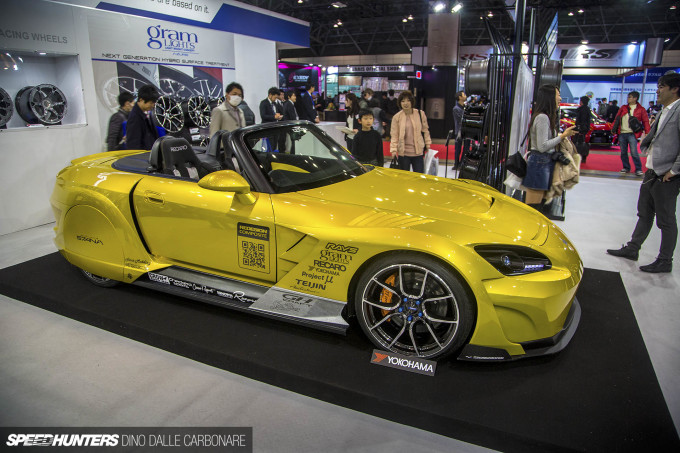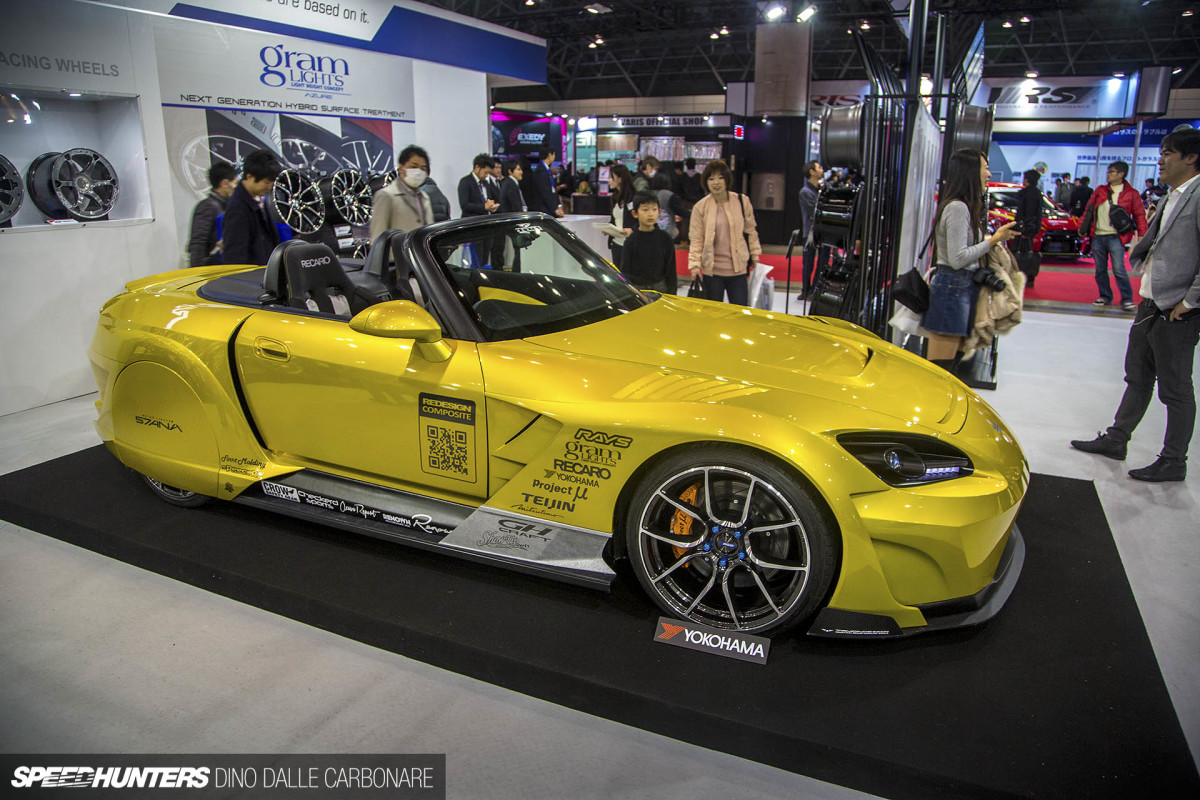 It's a wild representation of a car that so many of us love, bordering on motor show concept rather than what we're used to seeing at tuning shows. Design and execution is top notch, and that's because Tamon-san, the man behind the Tamon Design brand and cars like these, is a true designer.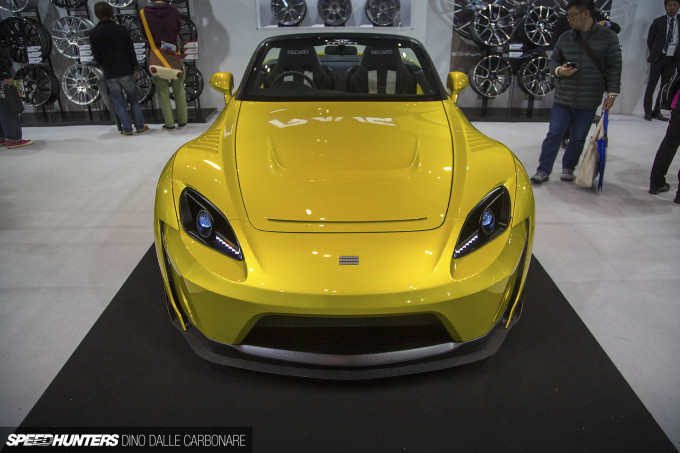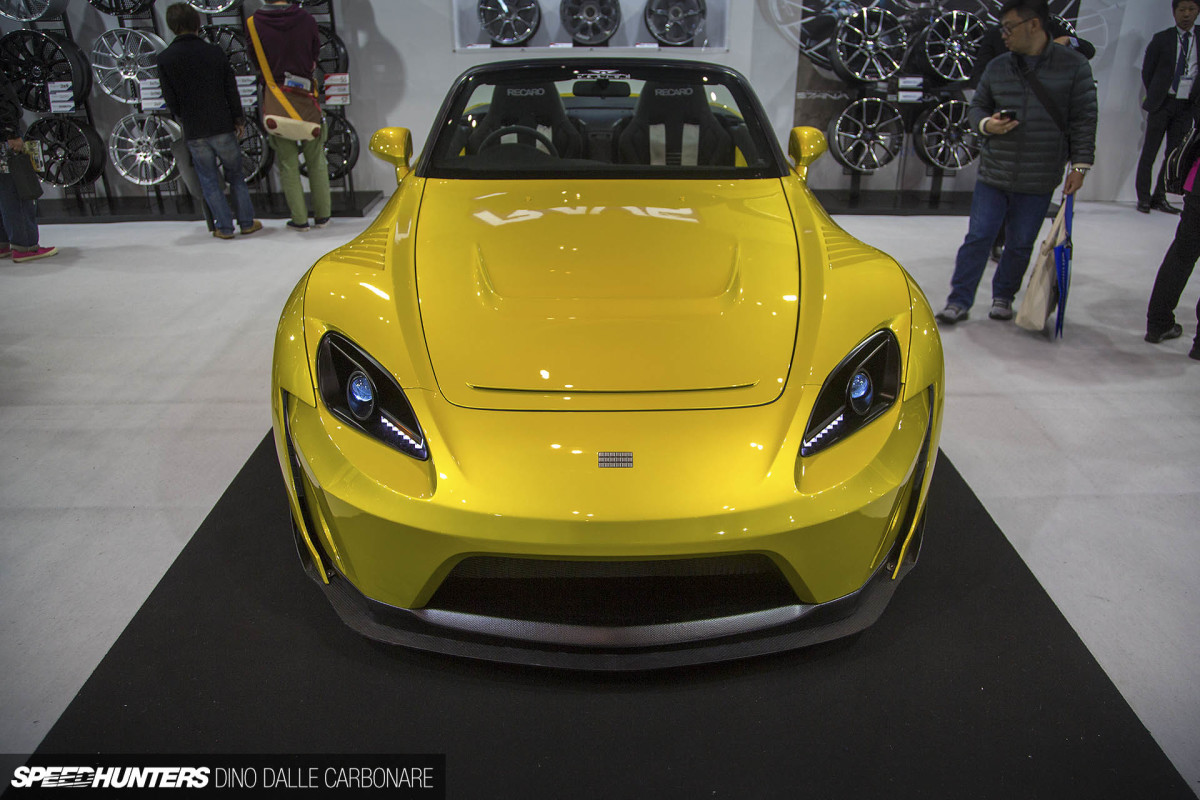 I hold him in high regards as he's a real visionary with a sense for proportion and style. He's a Japanese Giugiaro or Pininfarina in my eyes, and every complete car he's ever created has always made me take notice. This isn't a car built for the sole purpose of selling aero kits – it's done out of a love for the essence of design.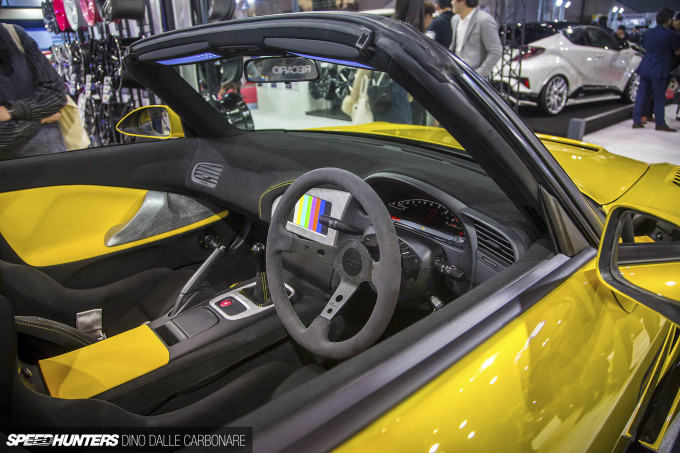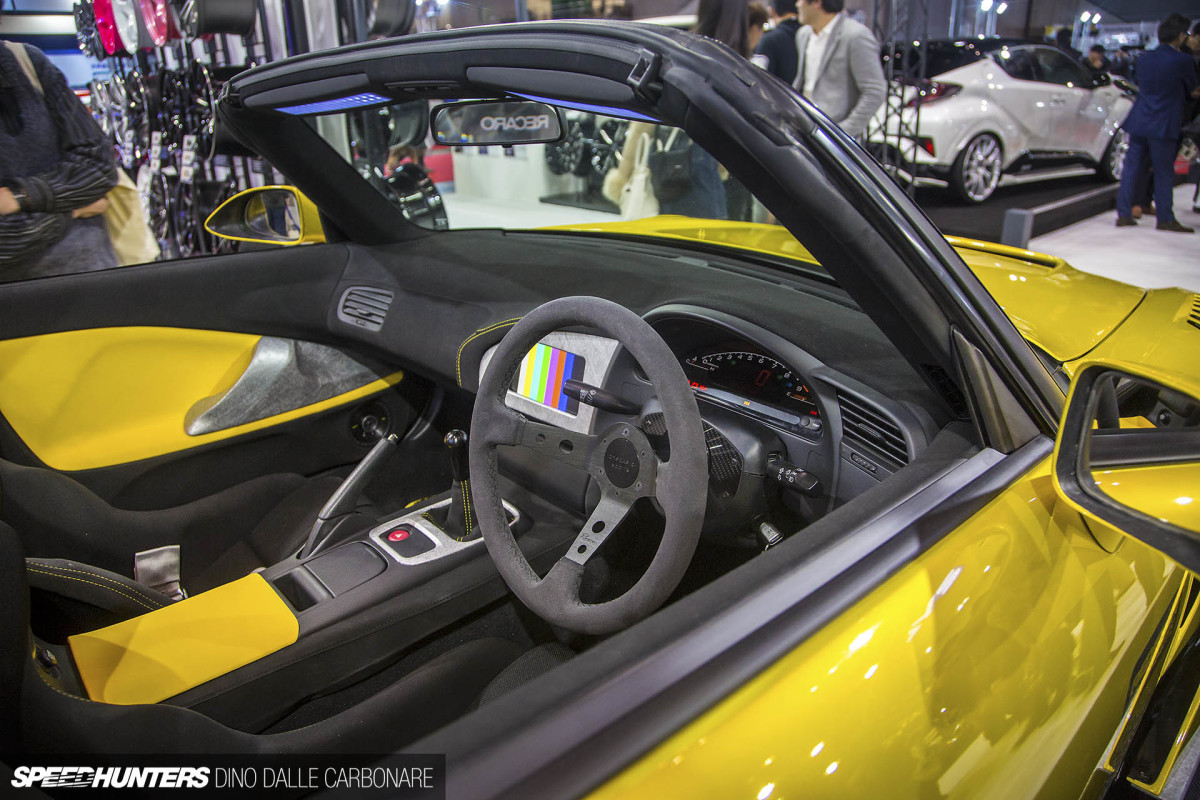 And that unique style follows through to the cockpit where a metal-like texture from the side skirts is used on the door grab handles. The SMPTE color bars on the 2DIN screen had sort of '70s feel; I don't know why but I liked that a lot.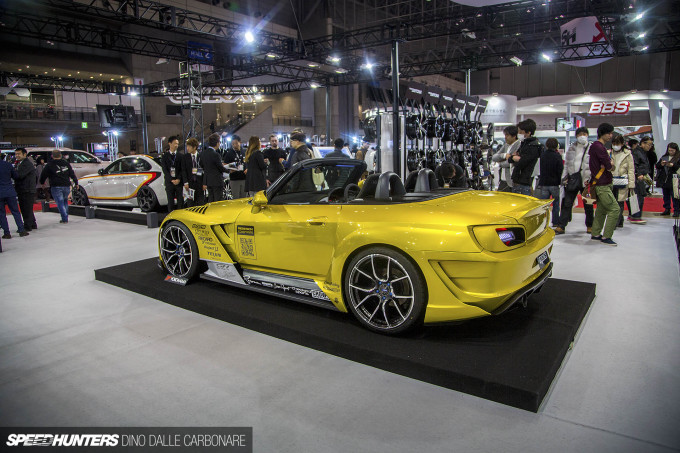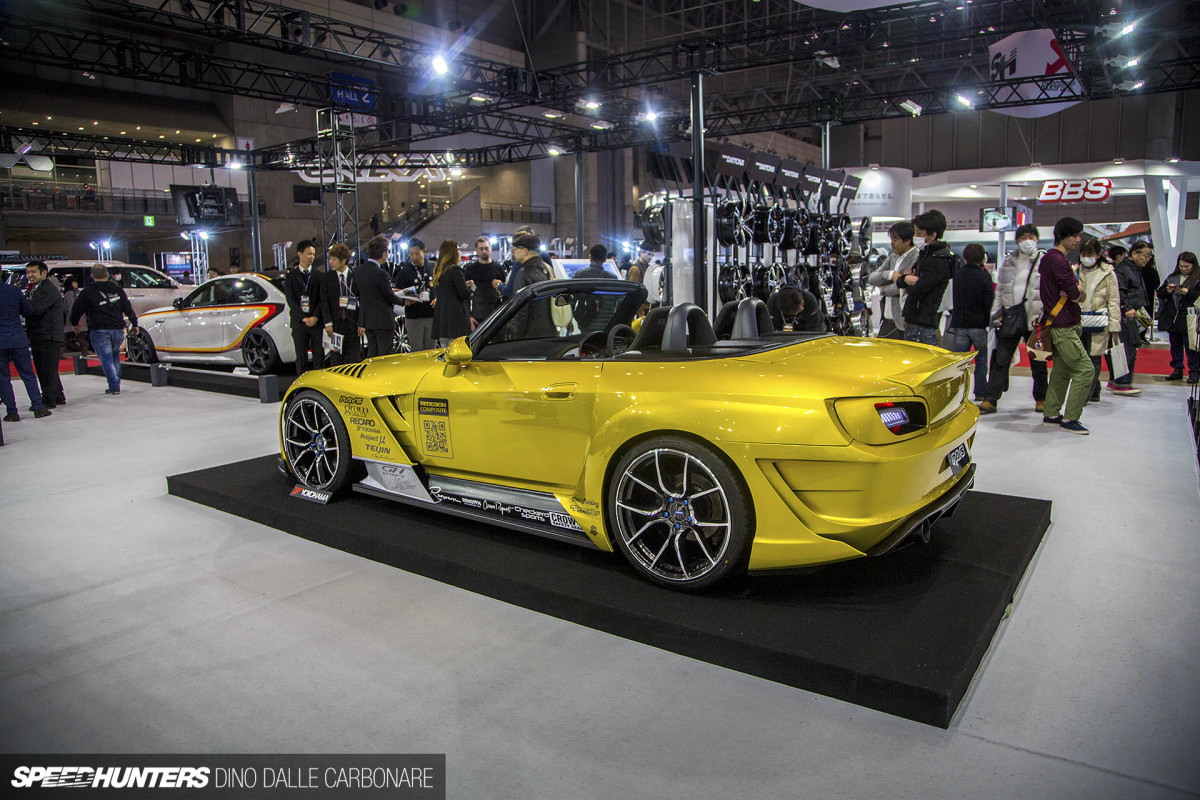 The rear wheel cover was removed on one side showing off the rear 57ANAs.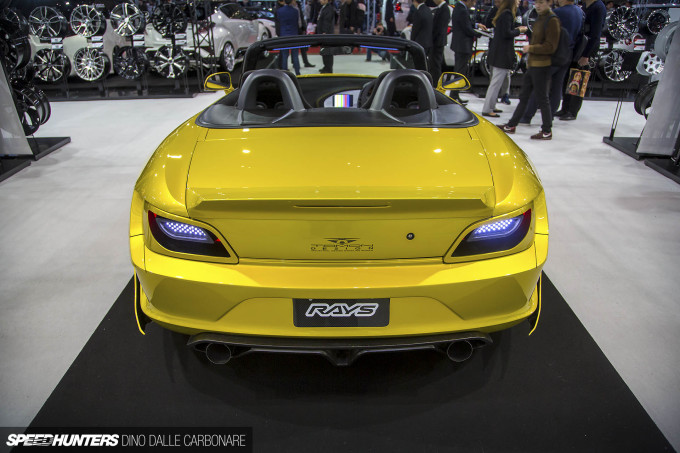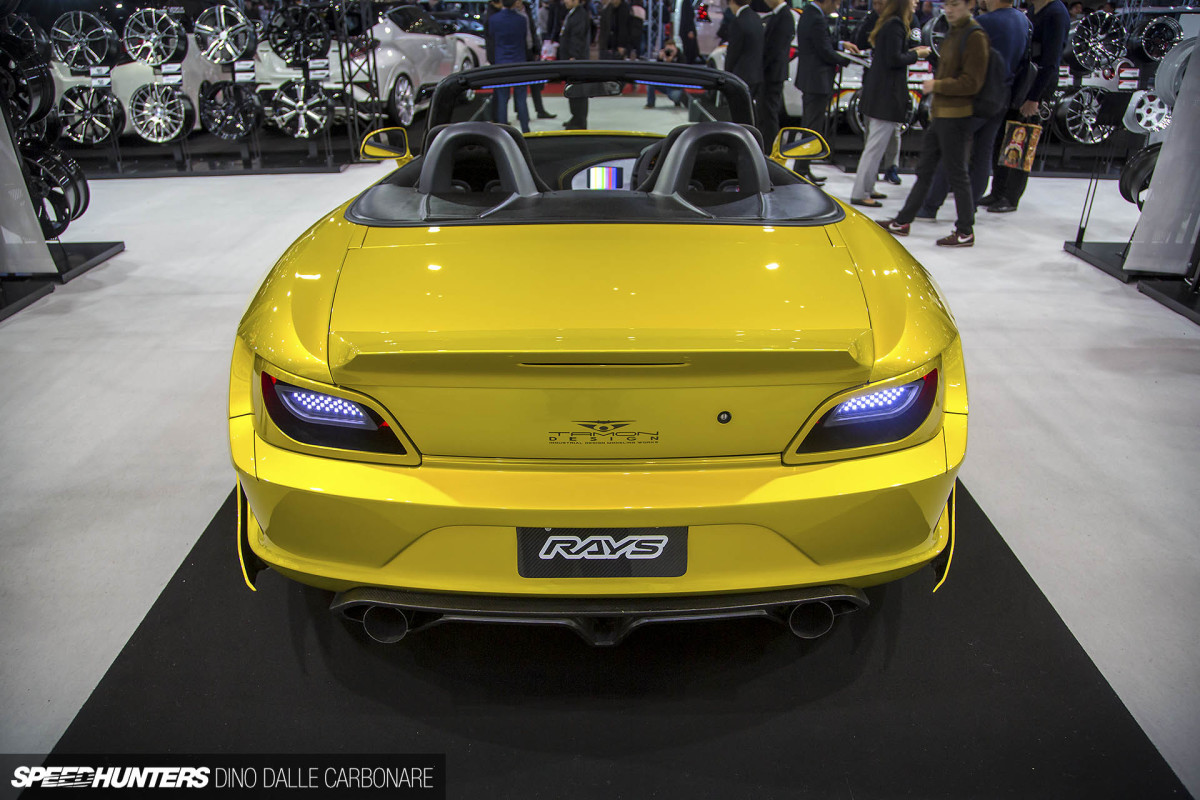 Much like the one-off front projectors, the rear LED taillights really help transform the presence of the S2000, and I'd personally like to see Tamon Design versions of so many Japanese cars. In fact, manufacturers should probably hire him to sort out their sports cars and help inject some funk into their base designs.
With this much cool stuff happening in Japan, plus the inherent love for cars, it's safe to say this is a scene that will continue to evolve, grow and progress, while always continuing to provide the outside world with inspiration.
Dino Dalle Carbonare
Instagram: speedhunters_dino
dino@speedhunters.com