Chasing A Dream
As someone who considers himself seriously lacking in the DIY and skilled crafts department, I have open admiration for those who are able to hand craft things themselves.
The determination to tackle something that you've never done before, simply by enrolling in the School of YouTube and absorbing enough information until you feel empowered and informed enough to just throw caution to the wind and give it a go, is a pretty cool quality if you ask me.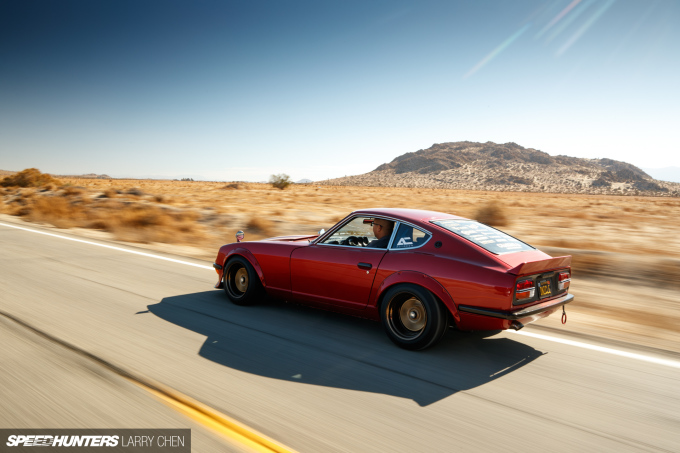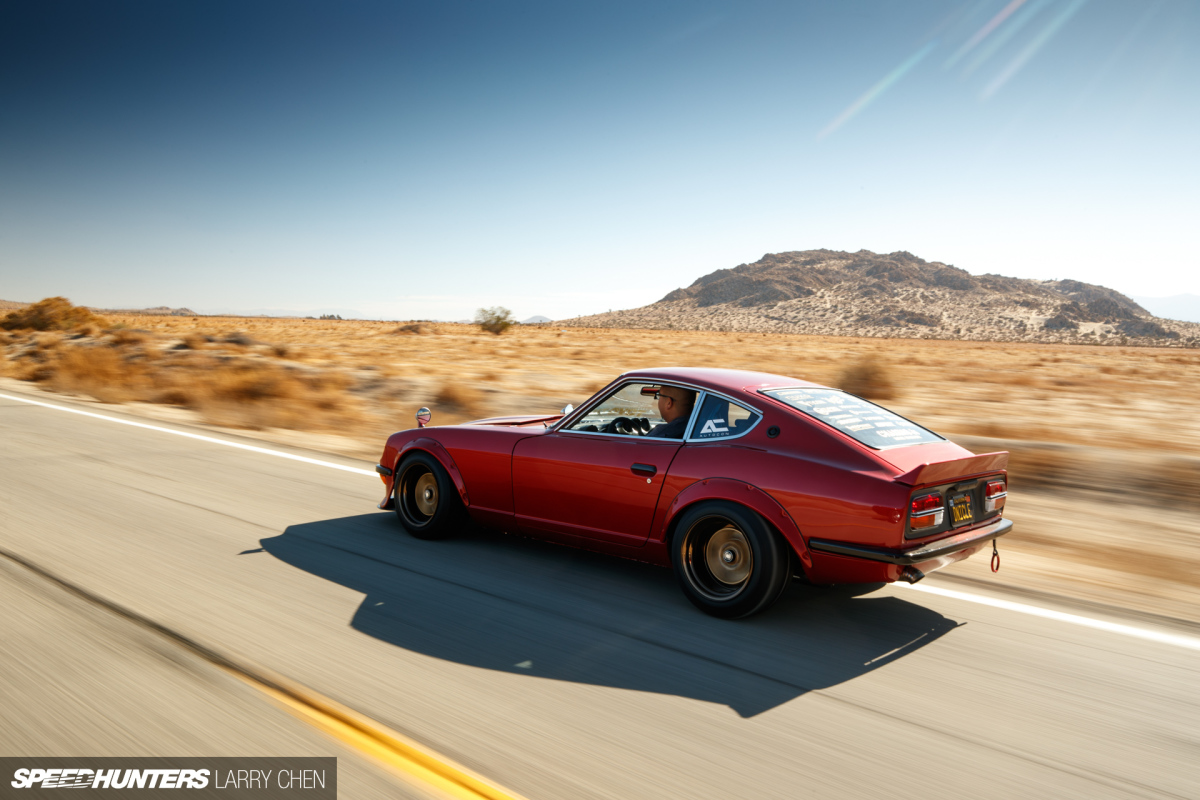 The 240Z in front of you has been in Dominic Le's possession for just over a year now, but some of you may recognise it from its debut at the 2017 SEMA Show back in November. The aim was to reimagine a classic with some modern touches, but without any unnecessary bells and whistles; just a raw, clean car that would turn heads and could be driven hard.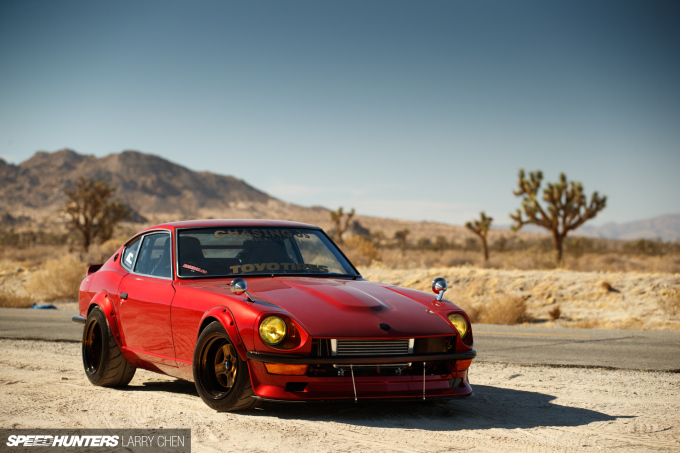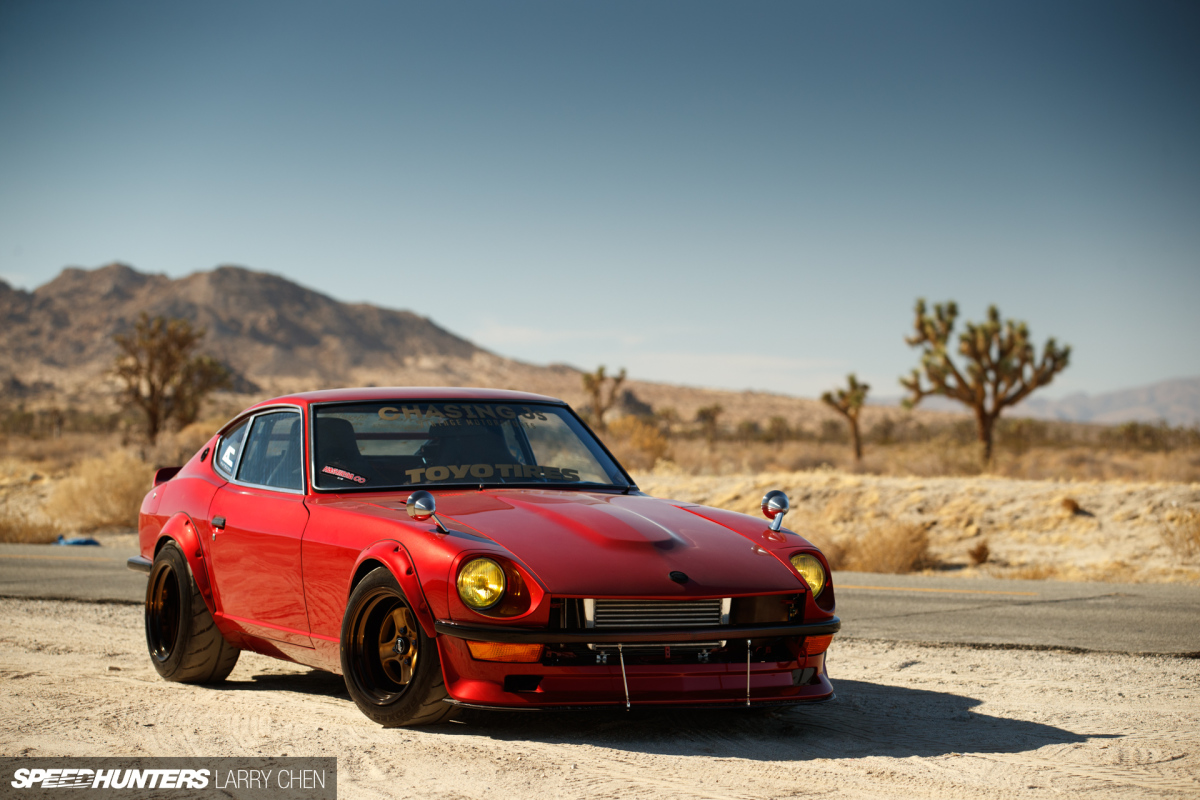 Dominic ultimately wanted to push the limits of what he could build at home. That's right – pretty much everything here has been done by Dominic and his friends over the course of six months. He's entirely self-taught at this, too.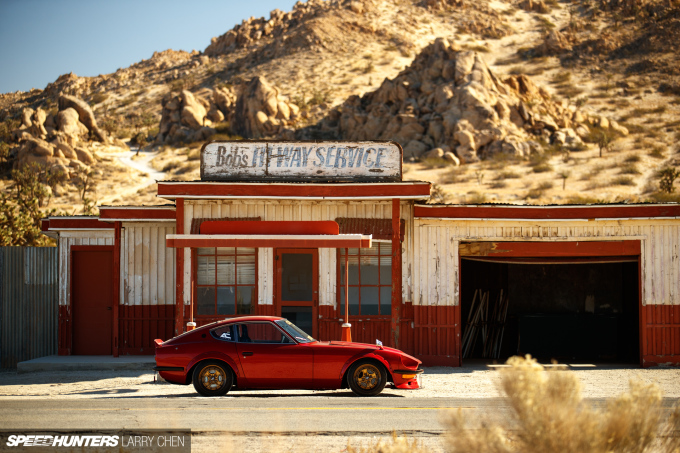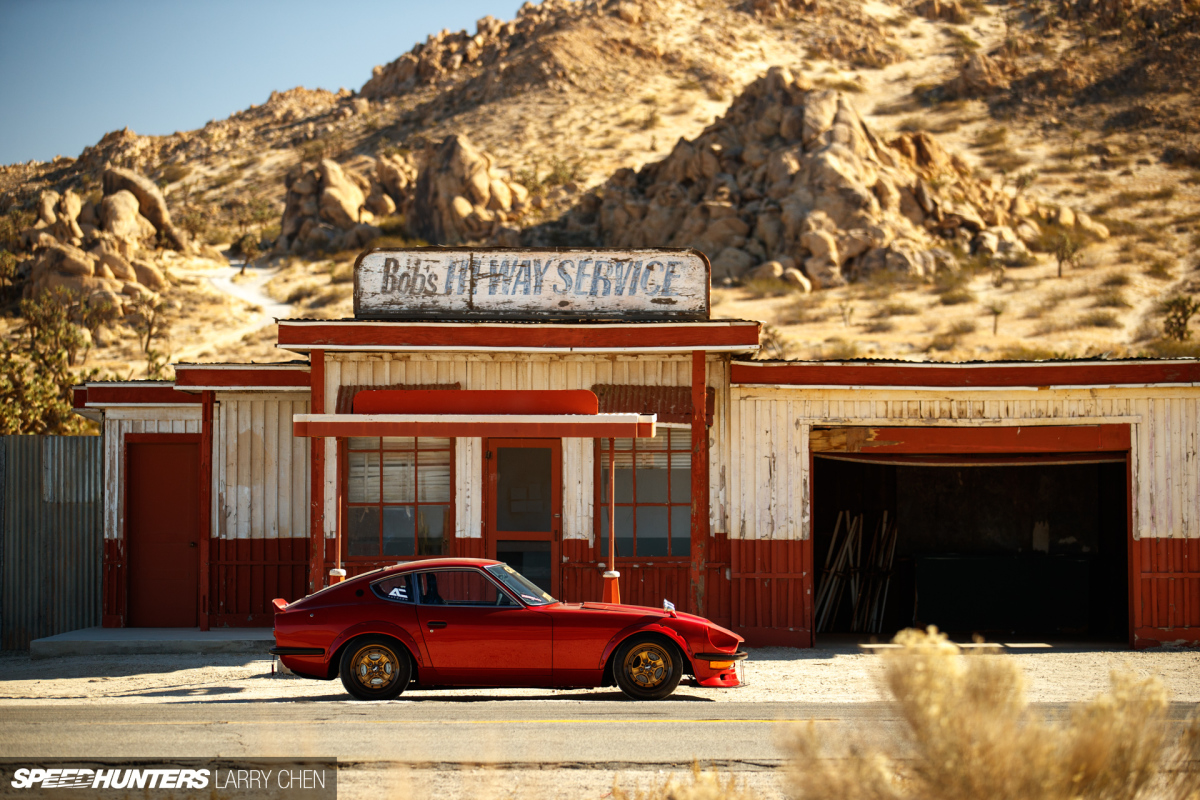 Some jobs, like the titanium welding and the paint were outsourced, but Dominic did as much as he could up to that point. Building the 240Z was as much a learning experience as it was a means to an end.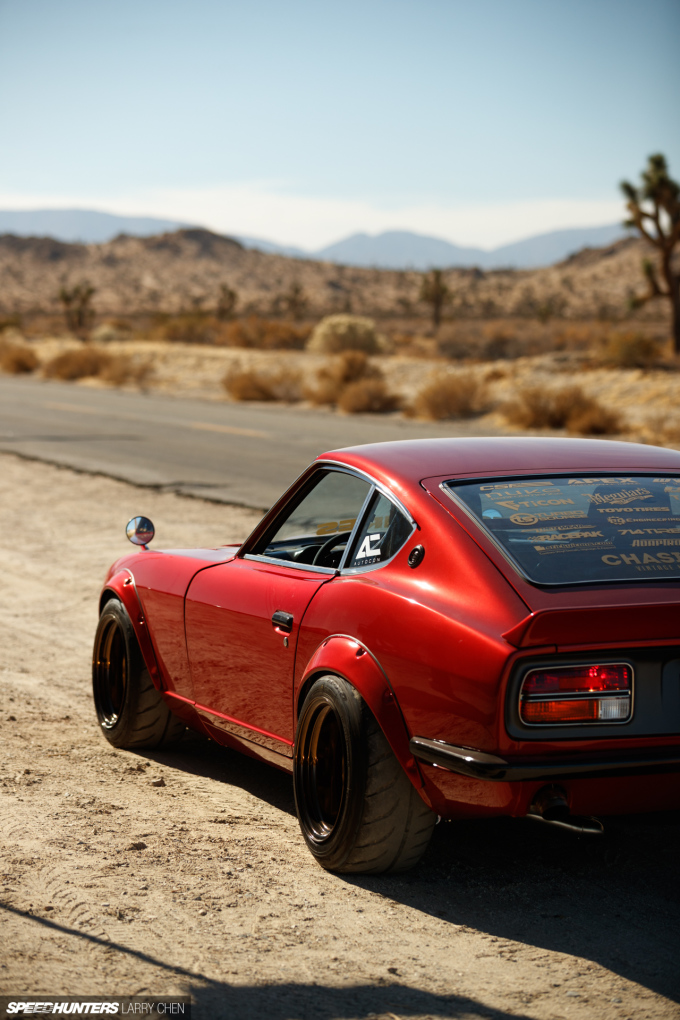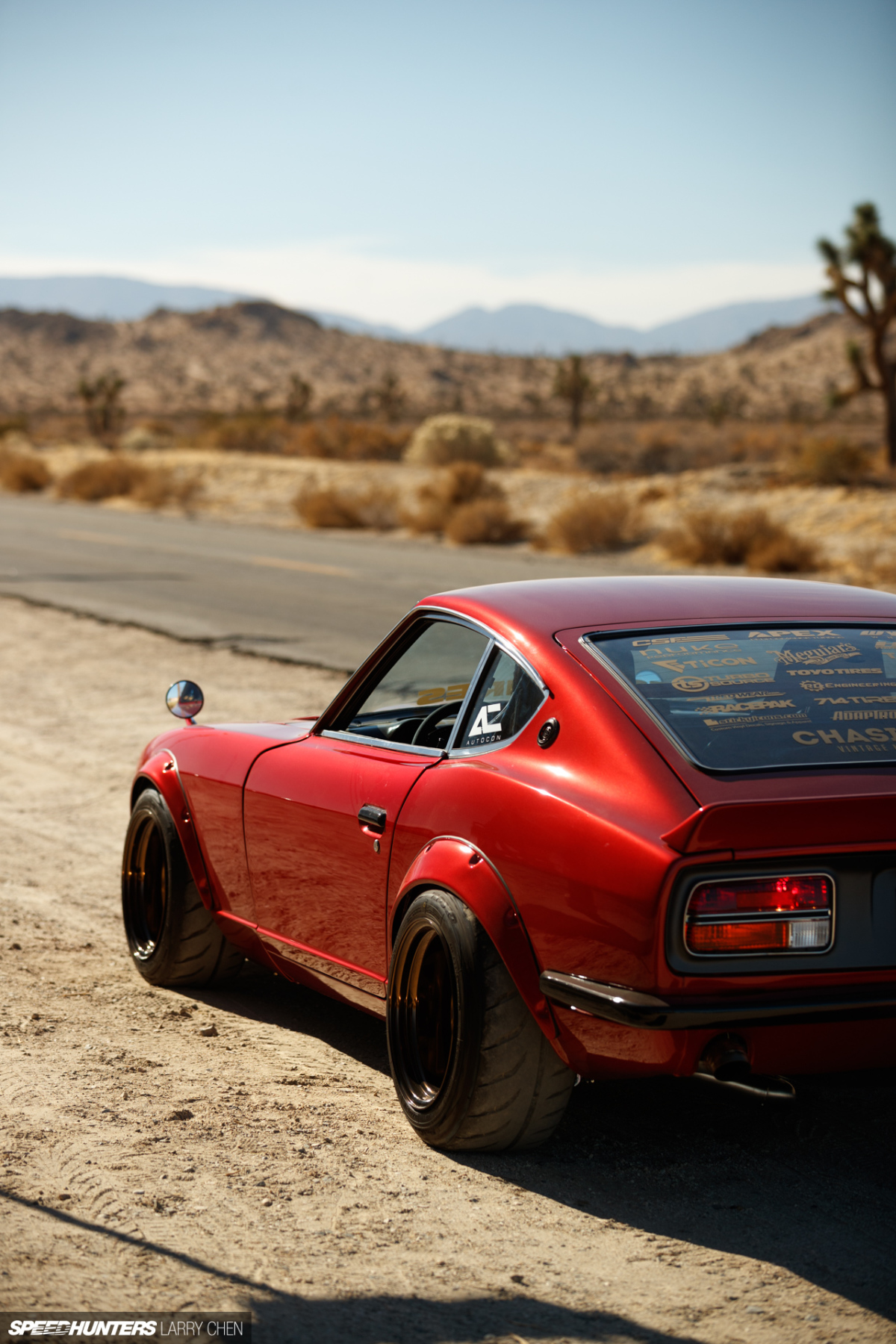 On the surface, the exterior appears a reasonably simple recipe. Building upon the Z's classic shape, the addition of Datsun ZG flares bulks up its road presence, whilst giving the wide Work wheels much needed breathing space.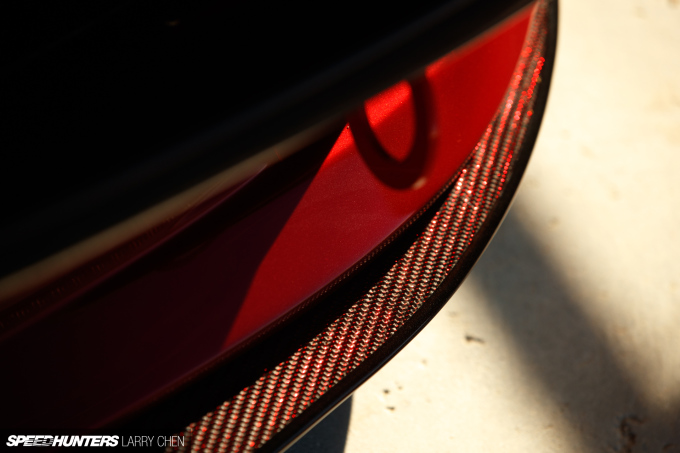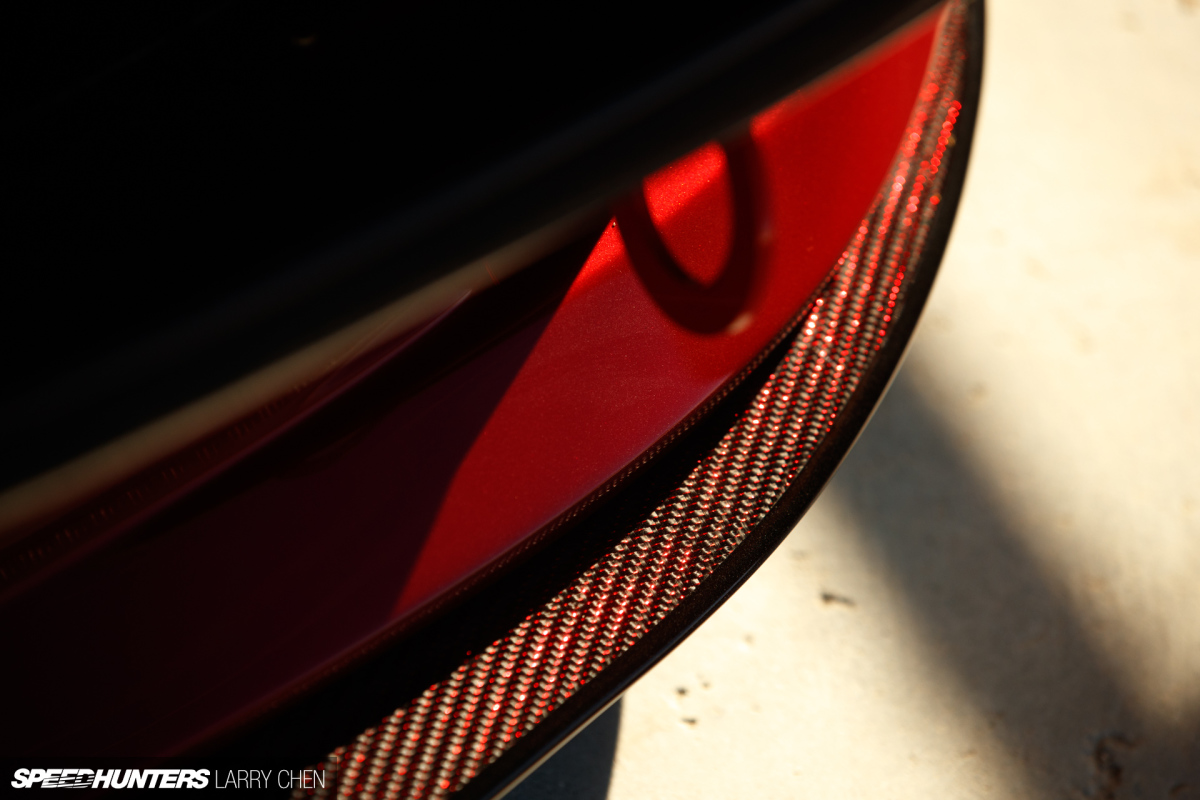 A custom pair of Chasing Js red reflection carbon fibre front and rear bumpers, and front splitter were added – the red is woven into the composite, giving it a near black appearance that reflects hues of crimson.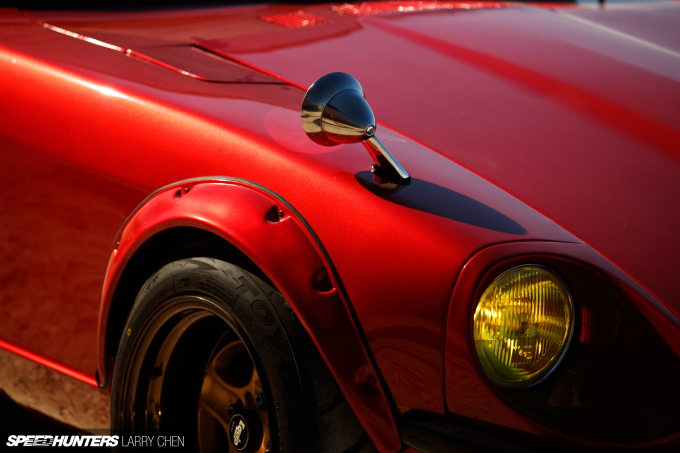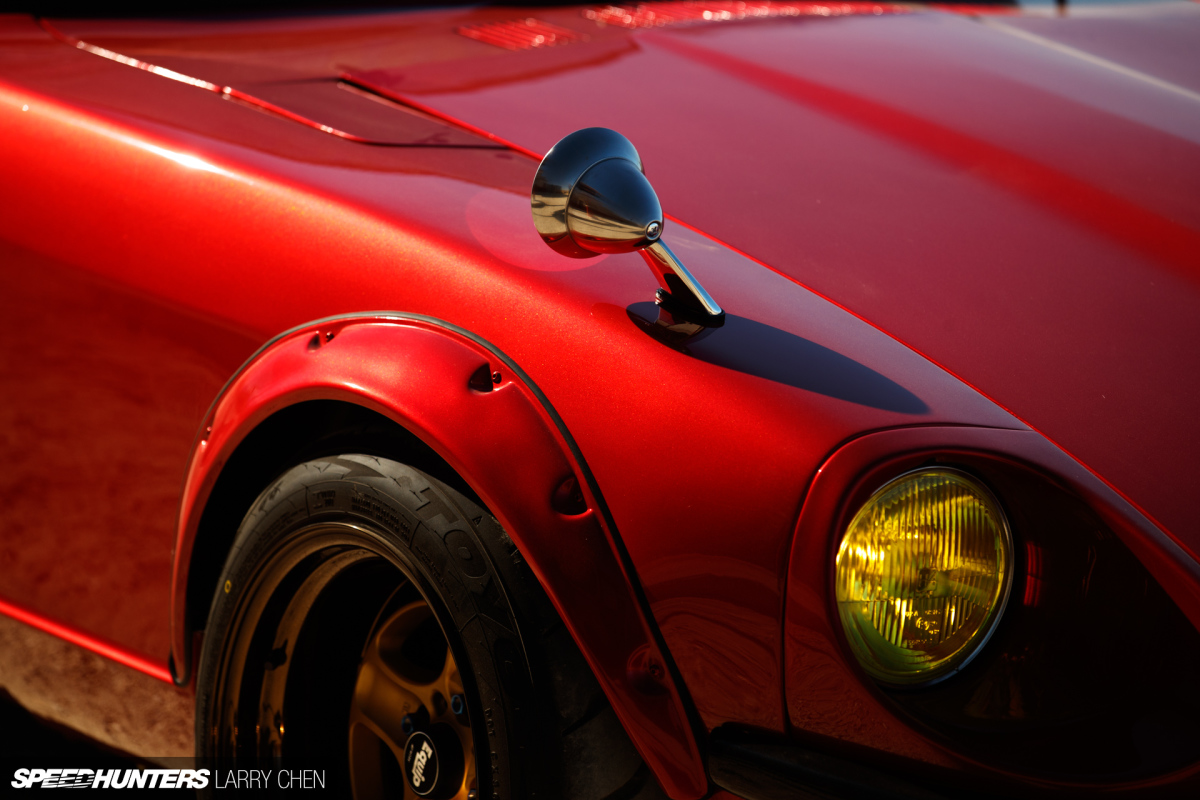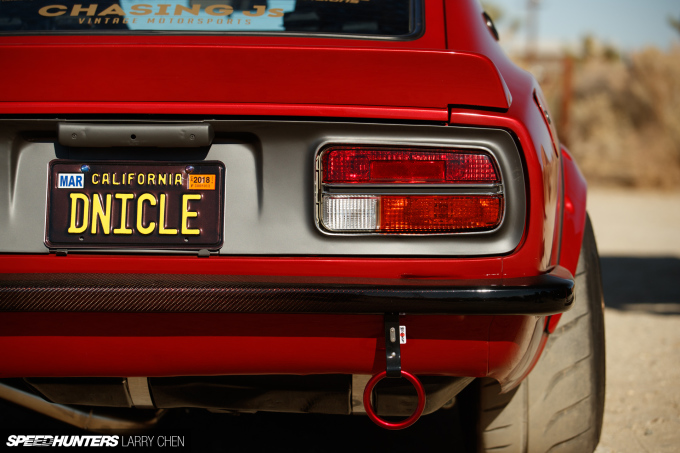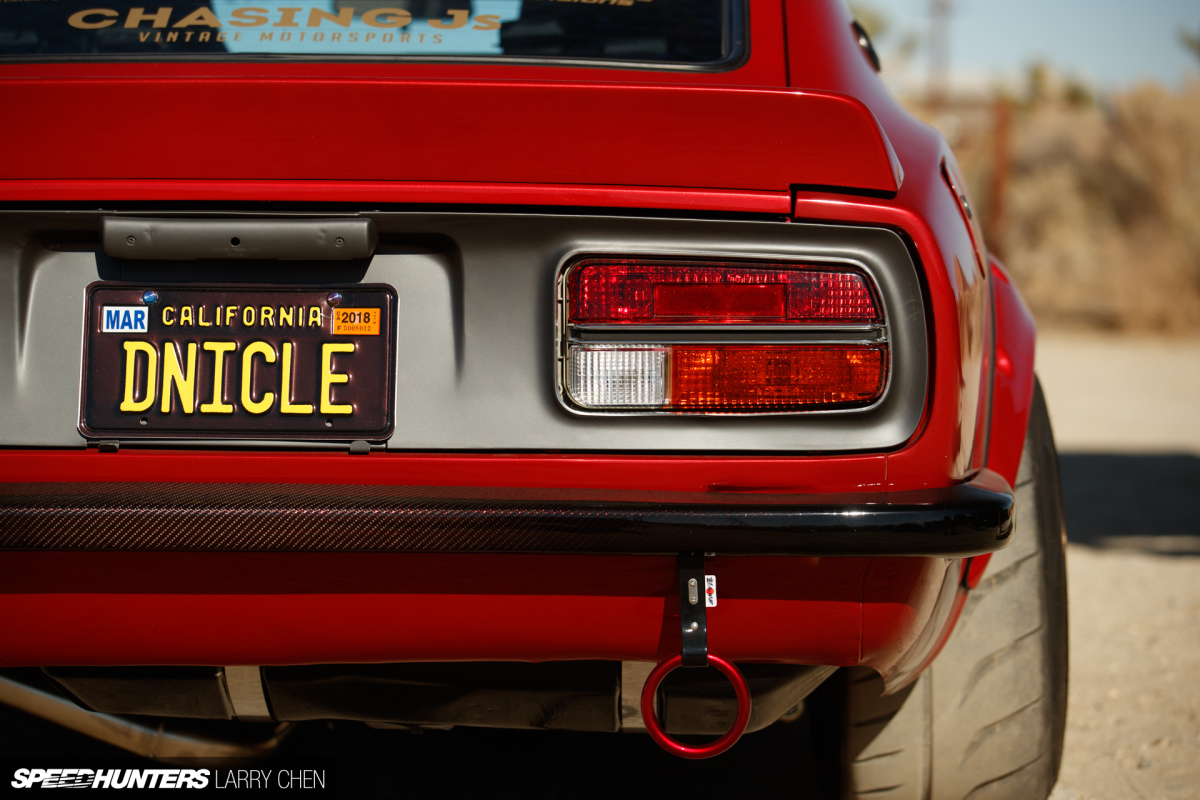 Other small details, like the carbon fibre door handles, OEM fender mirrors, and JDM rear lights add the finishing touches.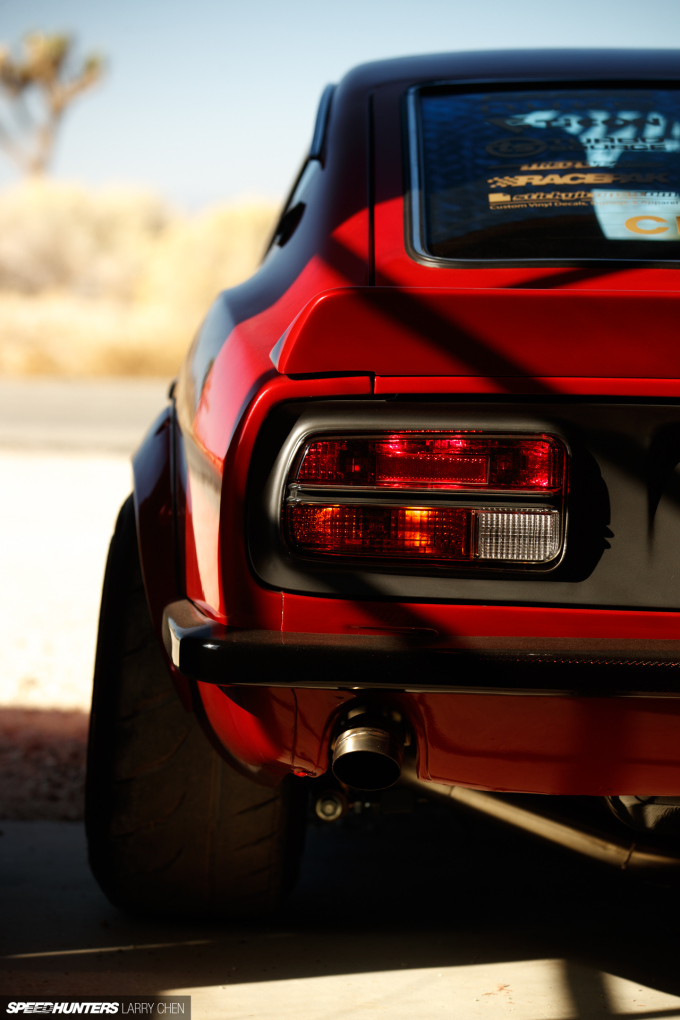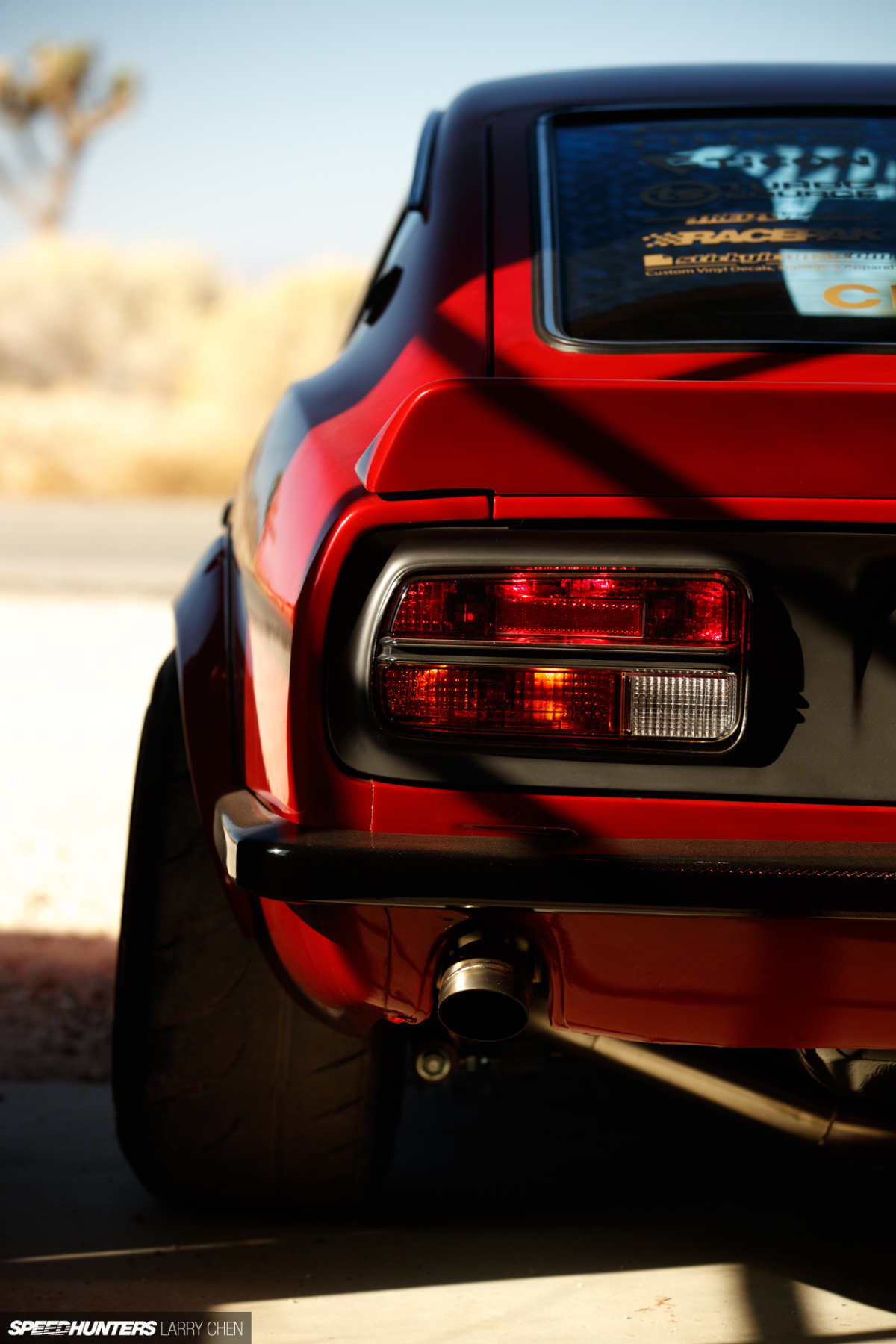 The whole lot is coated in a deep PPG red. I think Larry's done a pretty good job here of conveying how the light and shadow plays with the paint.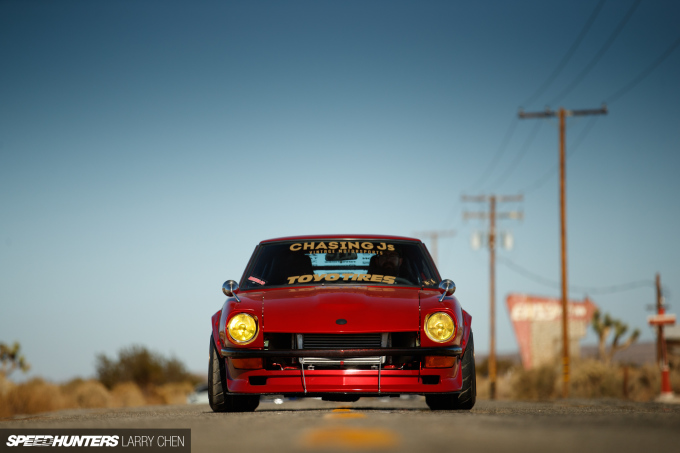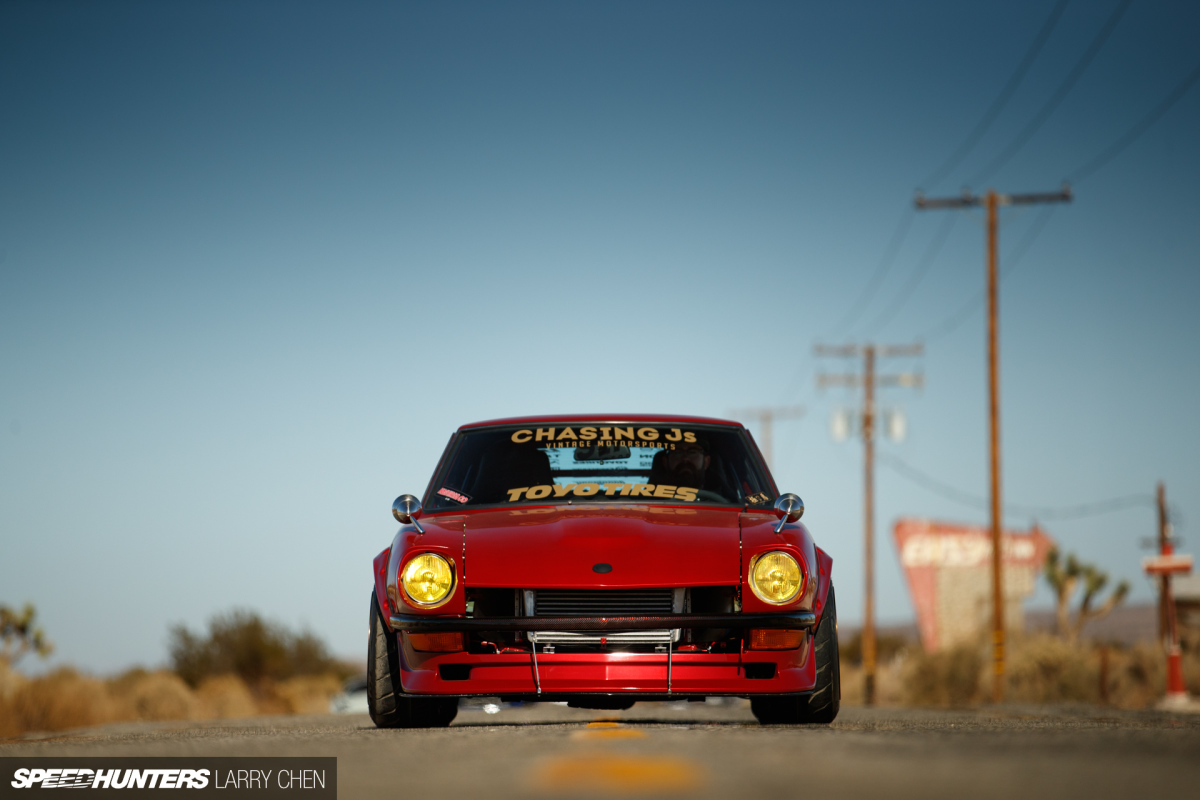 The Z is brought down to the ground by a set of custom 32-way adjustable coilovers with Swift springs. Techno Toy Tuning front and rear lower control arms and MSA sway bars offer additional control and adjustability.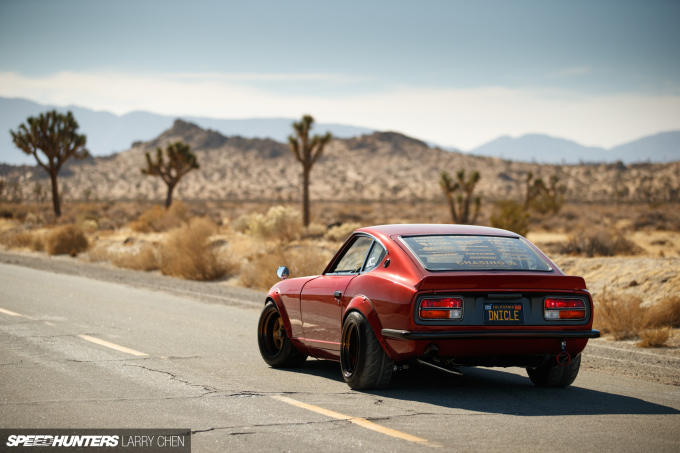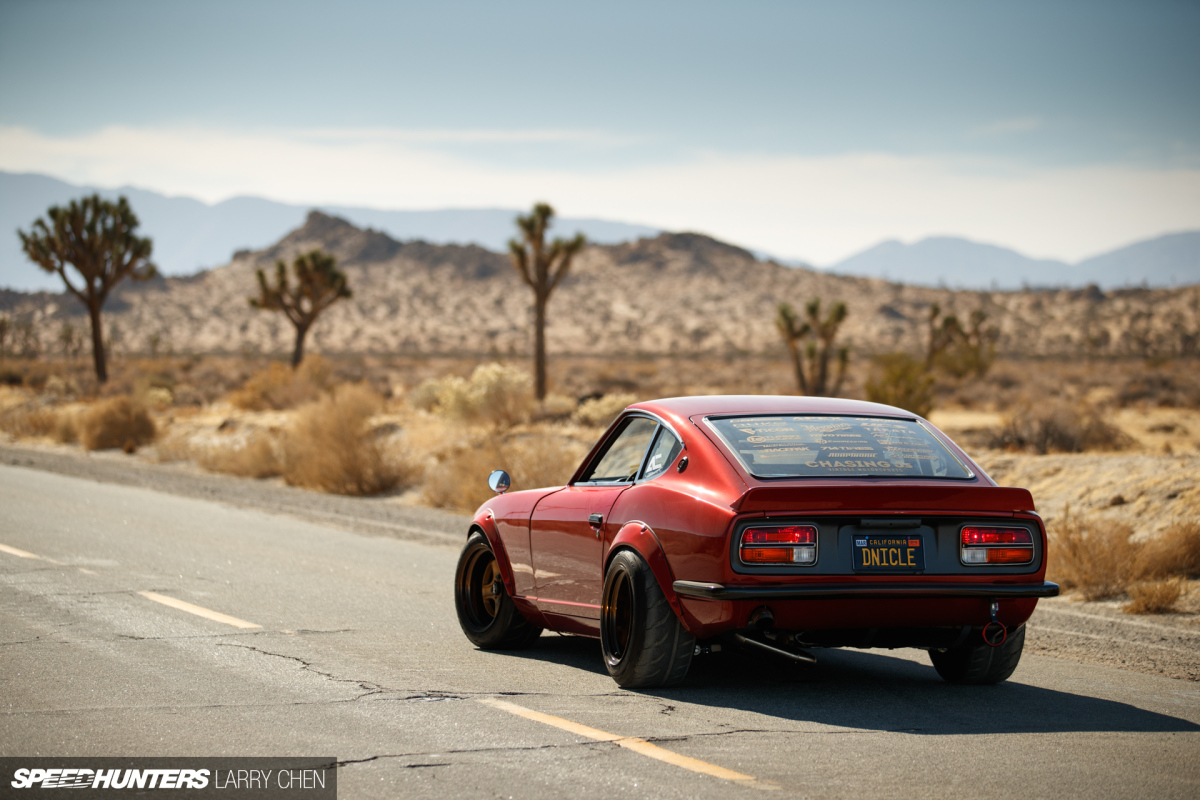 Its unfortunate that all of the hard work underneath the chassis will never be seen as Dominic stripped down every nut, bolt and component to bare metal, before either restoring it or replacing it with an upgraded component.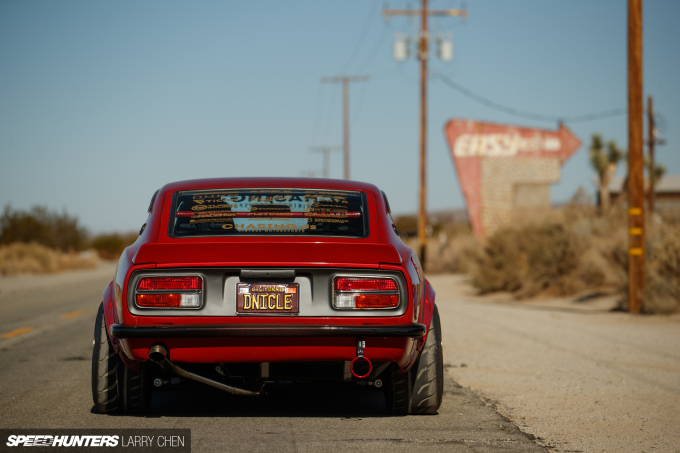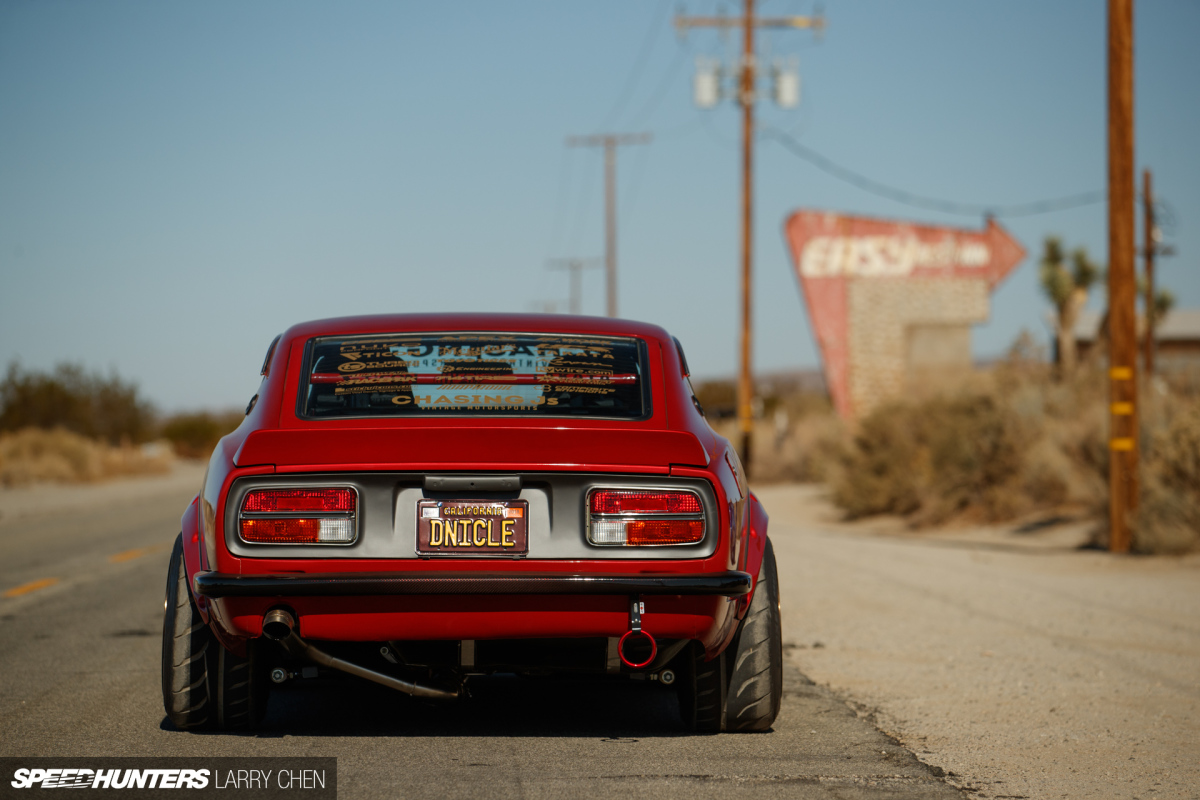 At the back, a T3 moustache bar and R180 Subaru STI differential along with Porsche 930 chromoly CV axles help put the power down.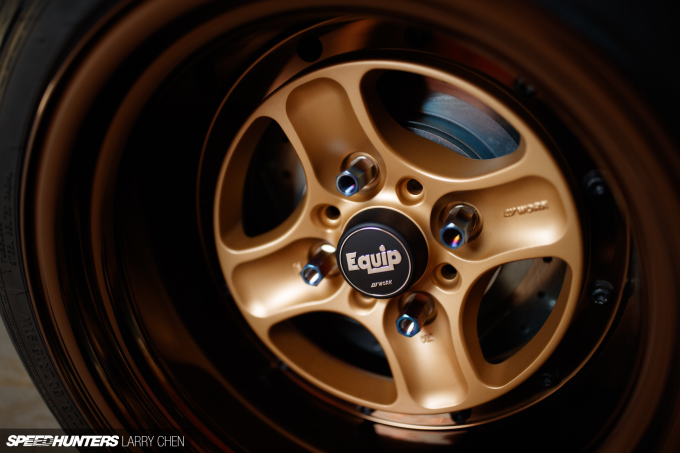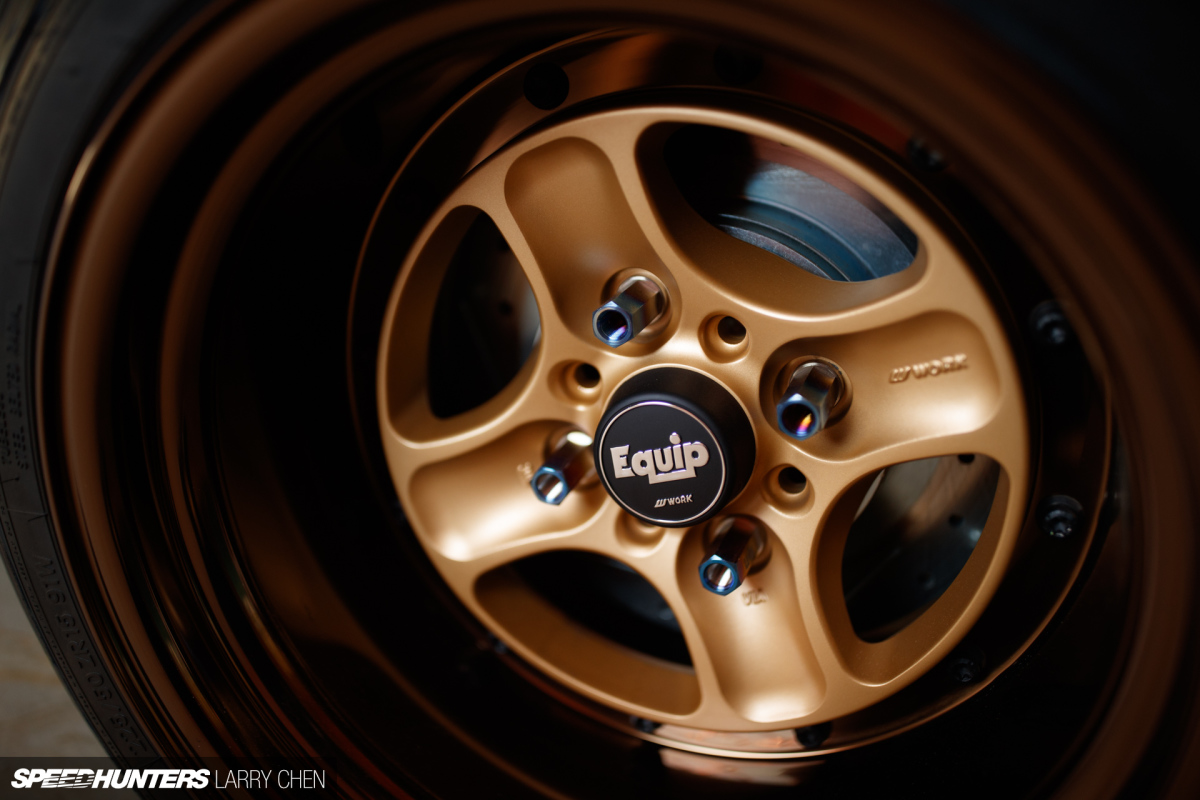 At each corner sits a gorgeous custom Work Equip 40 finished in a one-off bronze barrel and face combo, wrapped in Toyo Proxes R888R rubber. The wheels are the perfect colour to complement the paintwork.
The fronts measure in at 15×10-inches, while the rears are 15×11-inches.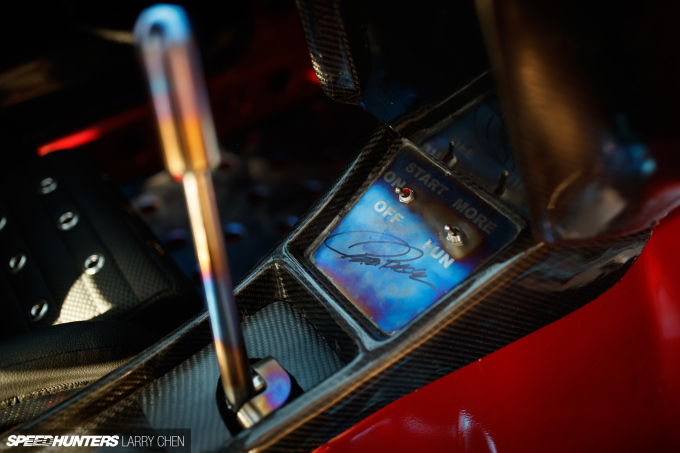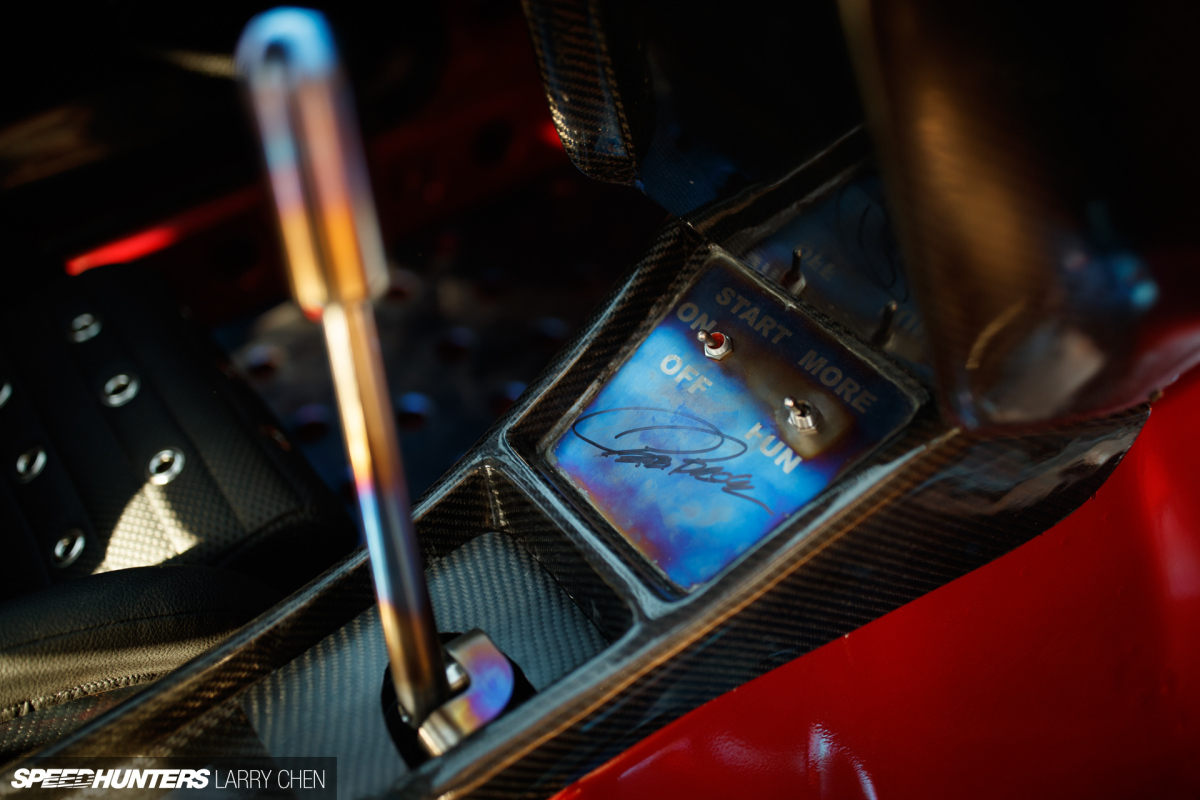 The interior is both raw and luxurious. A juxtaposition in terms, but the exposed metal work, coated in the same PPG red paint as the exterior, mixed with lashings of shiny carbon fibre and touches of titanium shows that lightweight doesn't have to mean bare bones.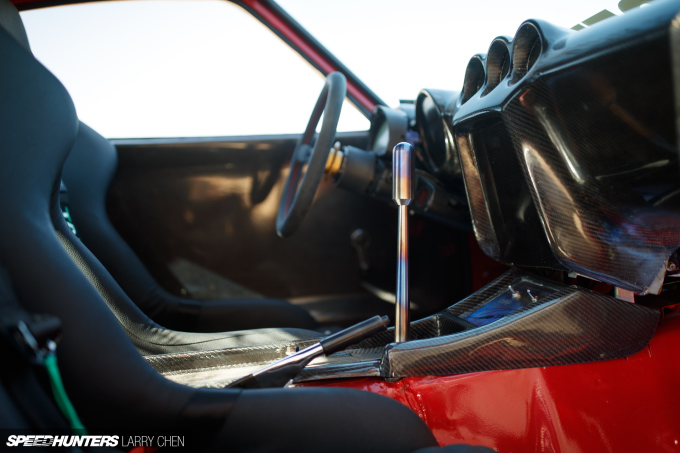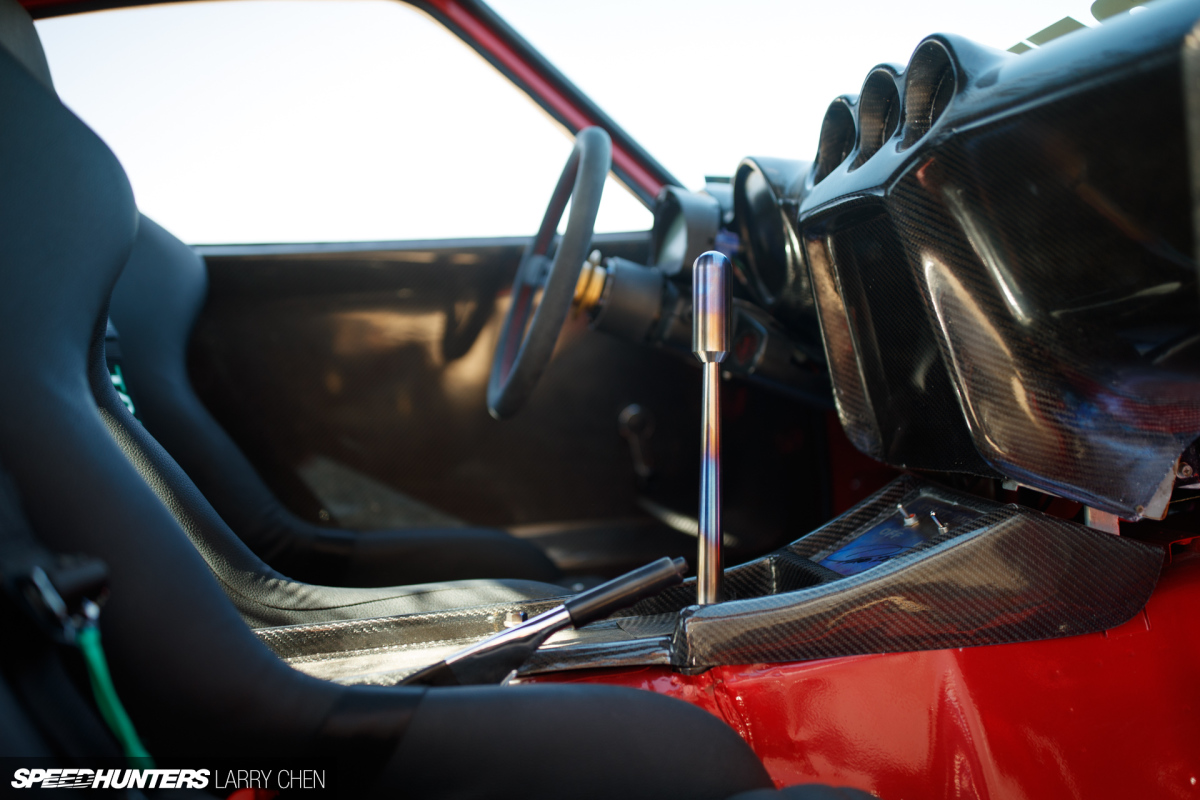 The dashboard, door panels, centre console and tunnel are all made from the lightweight composite, and the whole lot together weighs in at under 51lbs (~23kg). Compared to the Z's stock seats which weigh 60+lbs (~27+kg) each, that's a significant weight saving.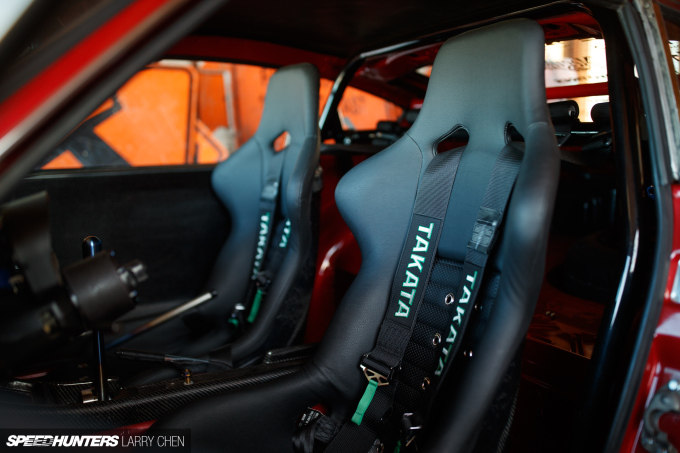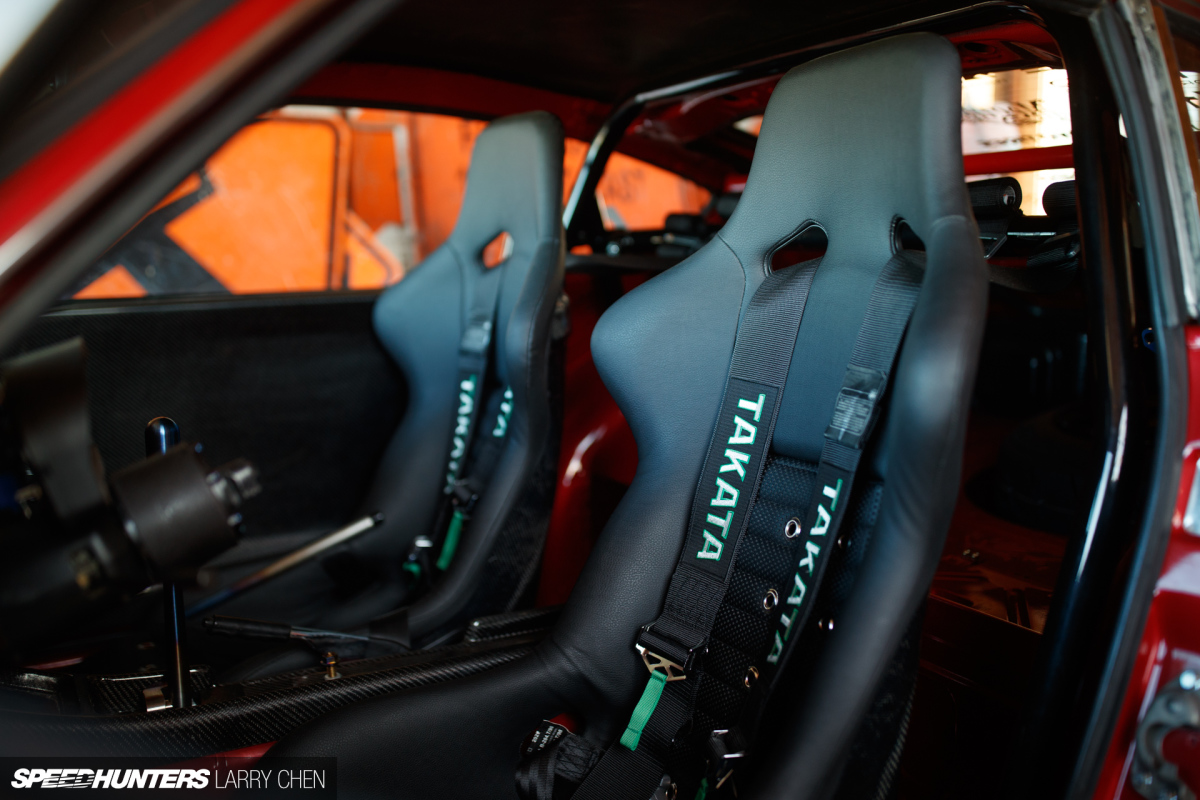 The replacement seats are completely custom carbon items, retrimmed in black leather and adorned with Takata Racing harnesses. A custom rear half cage and Chasing Js rear strut bar helps add to the chassis' rigidity.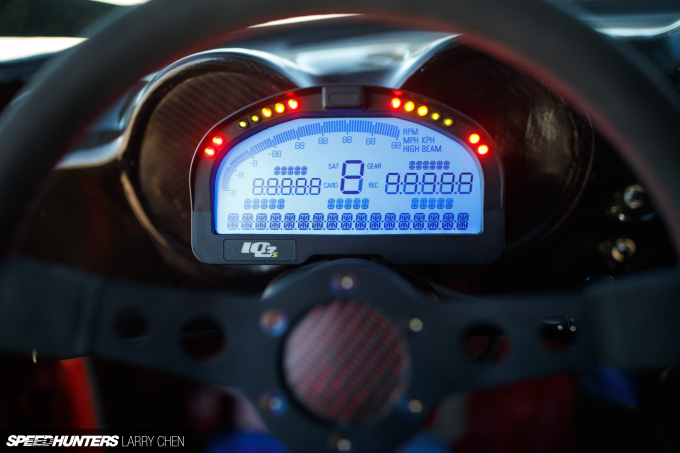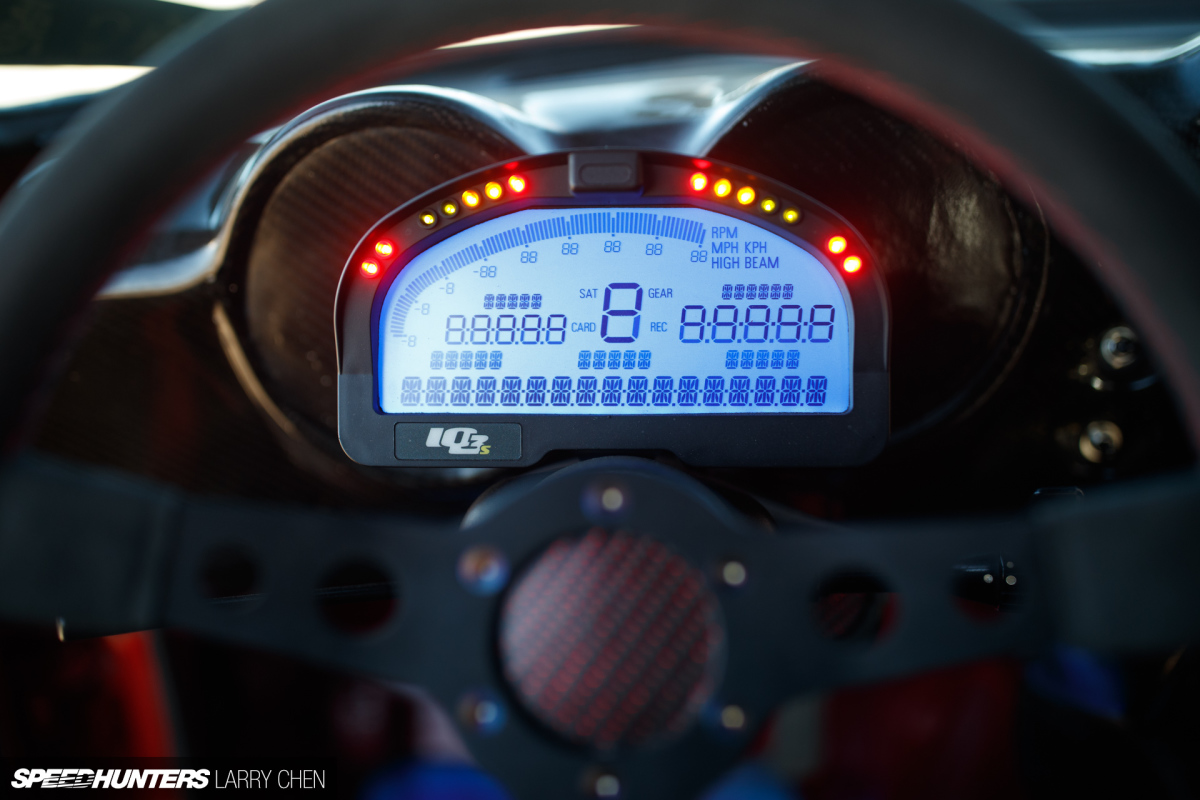 Strap in and peer through the Renown USA wheel and a RacePak IQ3S digital dash flashes to life in front of you. The titanium short shifter is an ATP item of Dominic's design, and despite its height, reduces the throw significantly.
There's not much in here to accompany you, but everything around you is made from the lightest, highest quality materials. The result is a kerb weight under the 2,000lb (~900kg) mark.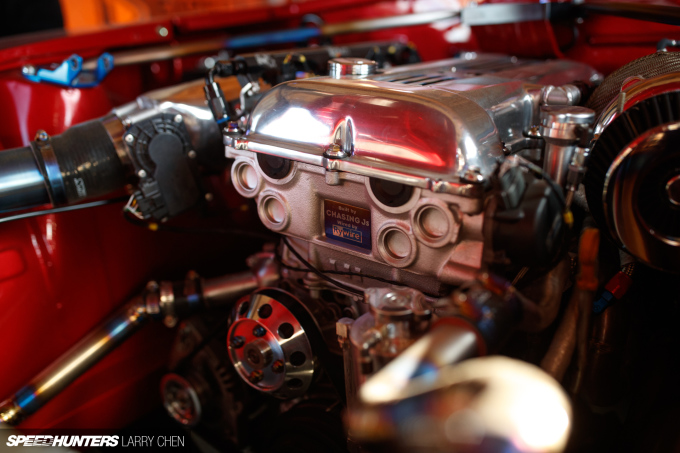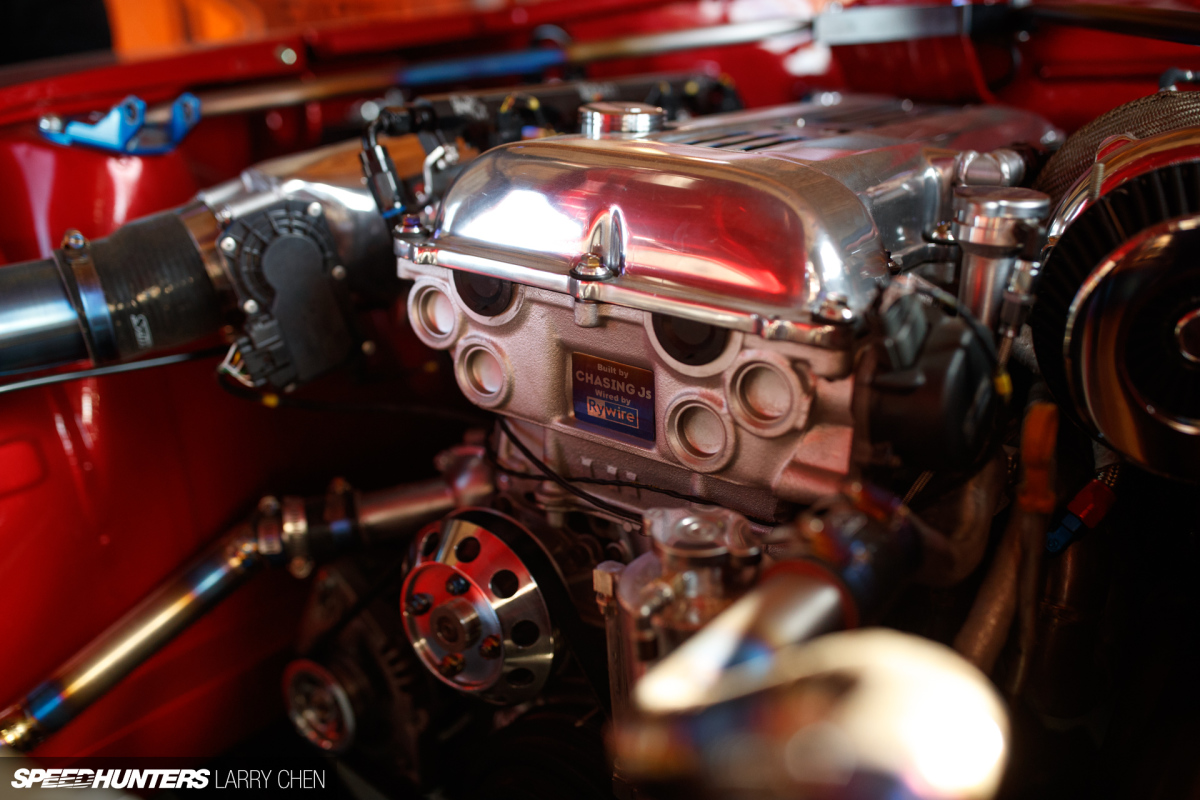 When it came to the power plant, rather than increase capacity, Dominic opted for a smaller engine with two less cylinders than the S30 came with as stock.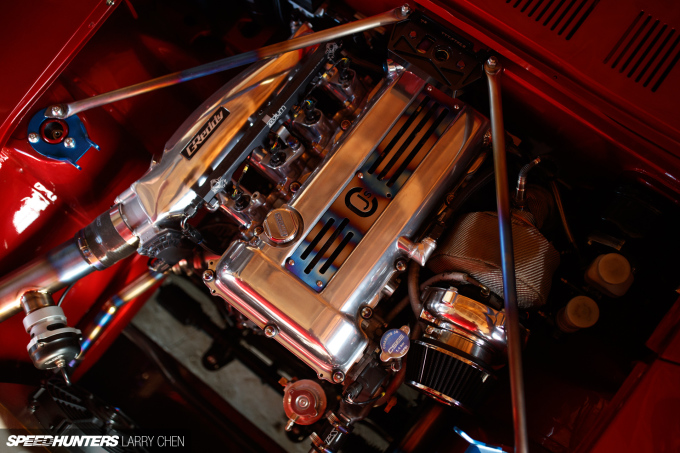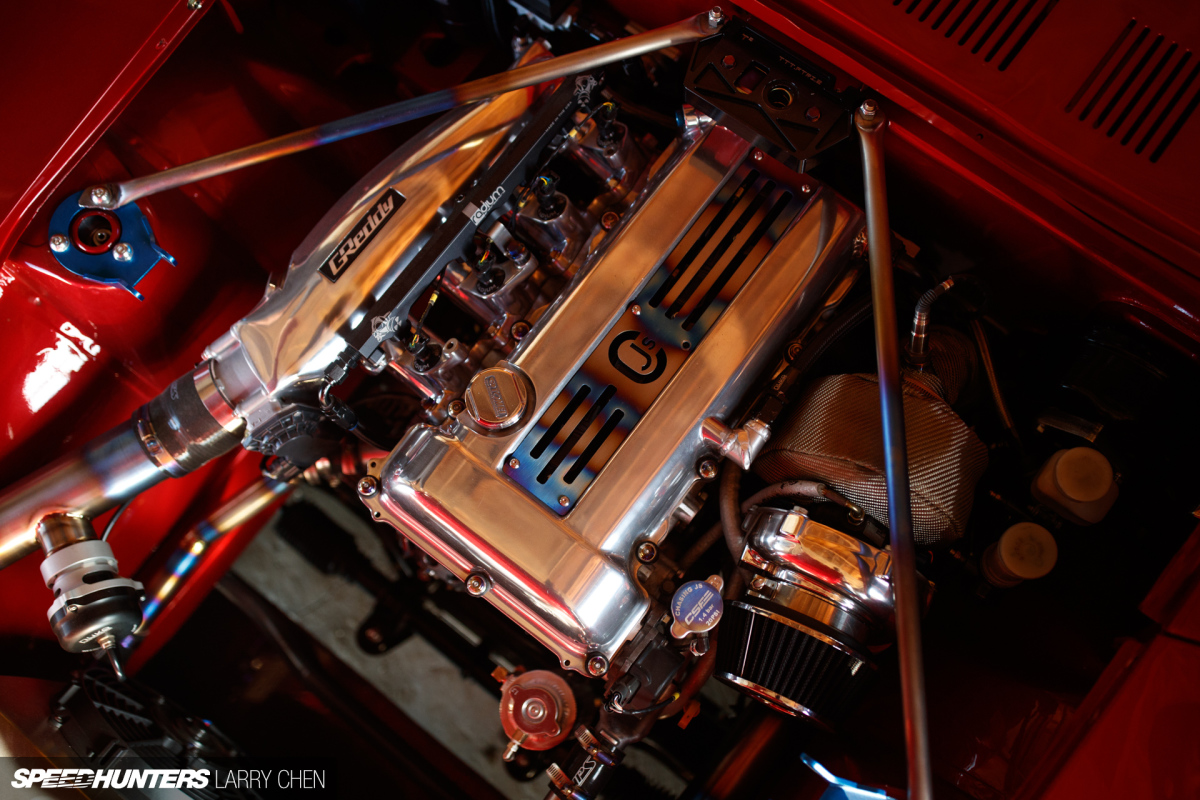 Long gone is the six-cylinder L24, replaced by the popular four-cylinder SR20DET from a JDM import Nissan S13. The SR20 often comes under fire from those who like to get busy with their keyboards online, but it's a proven motor that Dominic is familiar with. There's a huge aftermarket support and it can make really good power with relatively little trouble.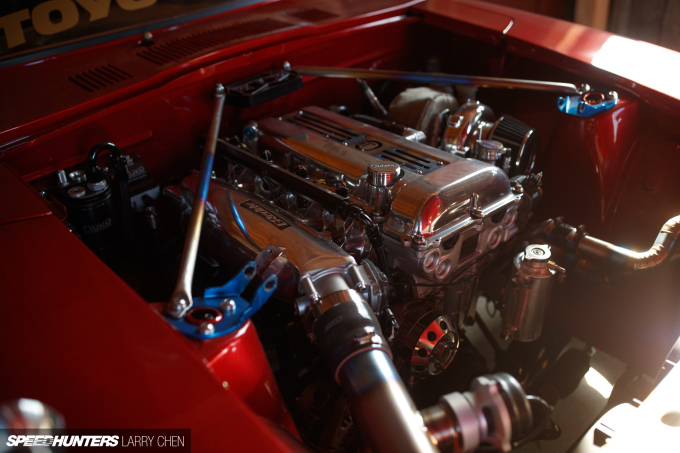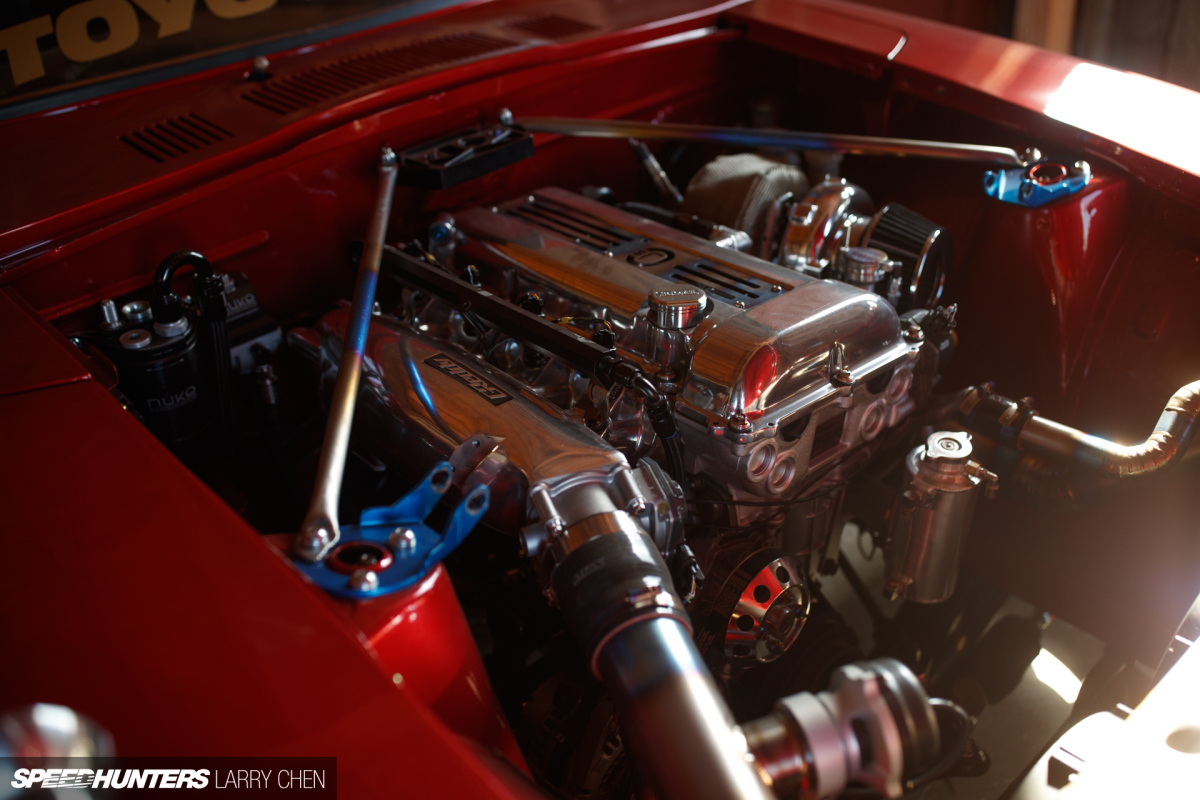 Dominic was keen to keep the weight central in the car, so using the strut towers as an imaginary border, positioned the newer, shorter engine as far back as he could.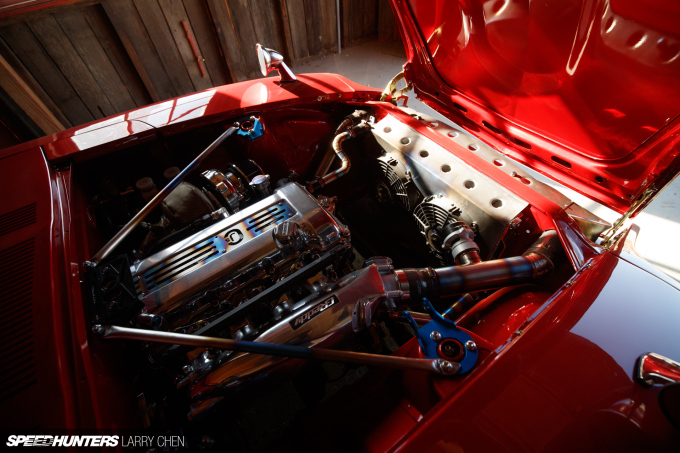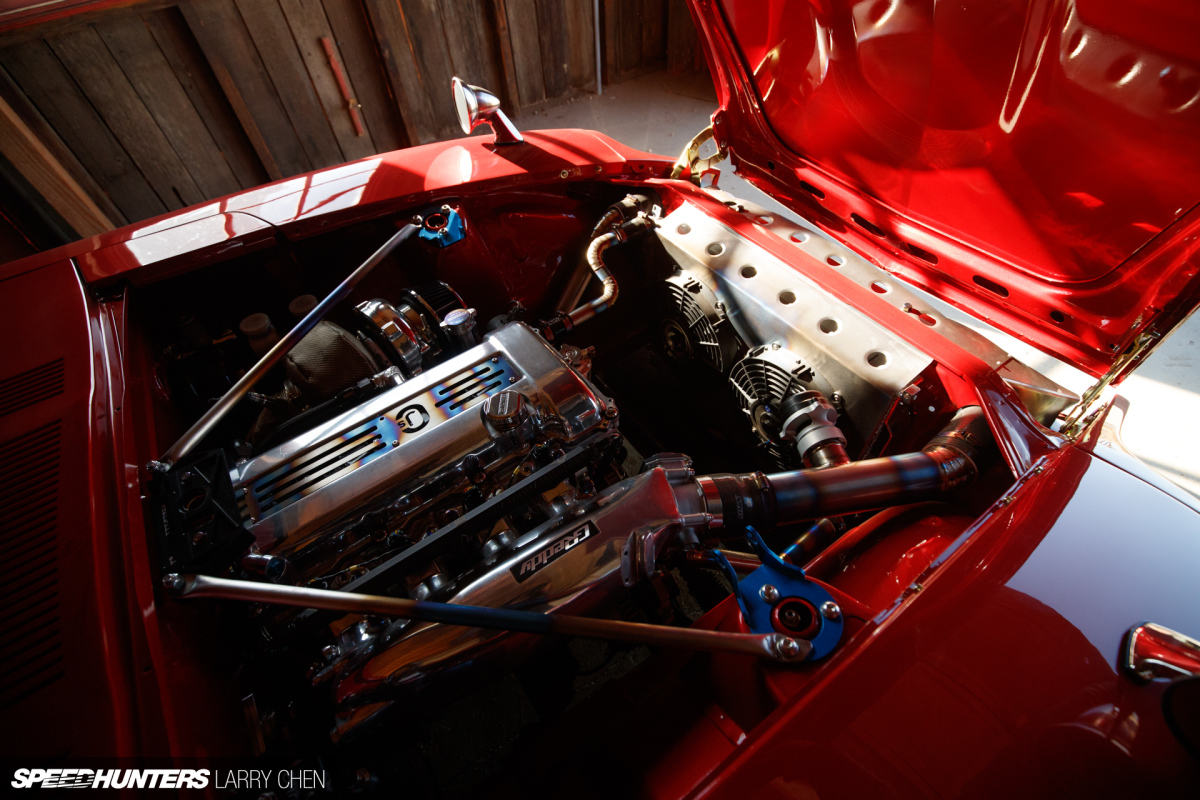 In completely stock form the SR20 would present a nice 50hp or so jump over the L24, but as you've probably guessed going by the rest of this build and these images, Dominic wasn't about to leave things stock. The Nissan block has been ported and polished and is adorned with forged CP pistons, Manley connecting rods, ACL race bearings, a knife-edge counterweighted crankshaft, full Supertech valvetrain, and Tomei lifters and cams.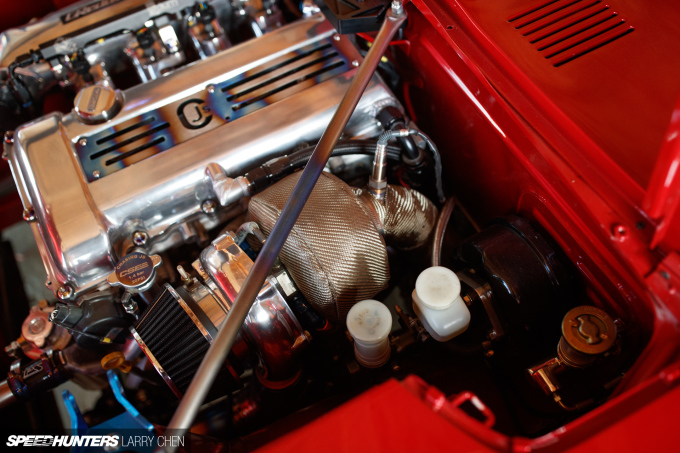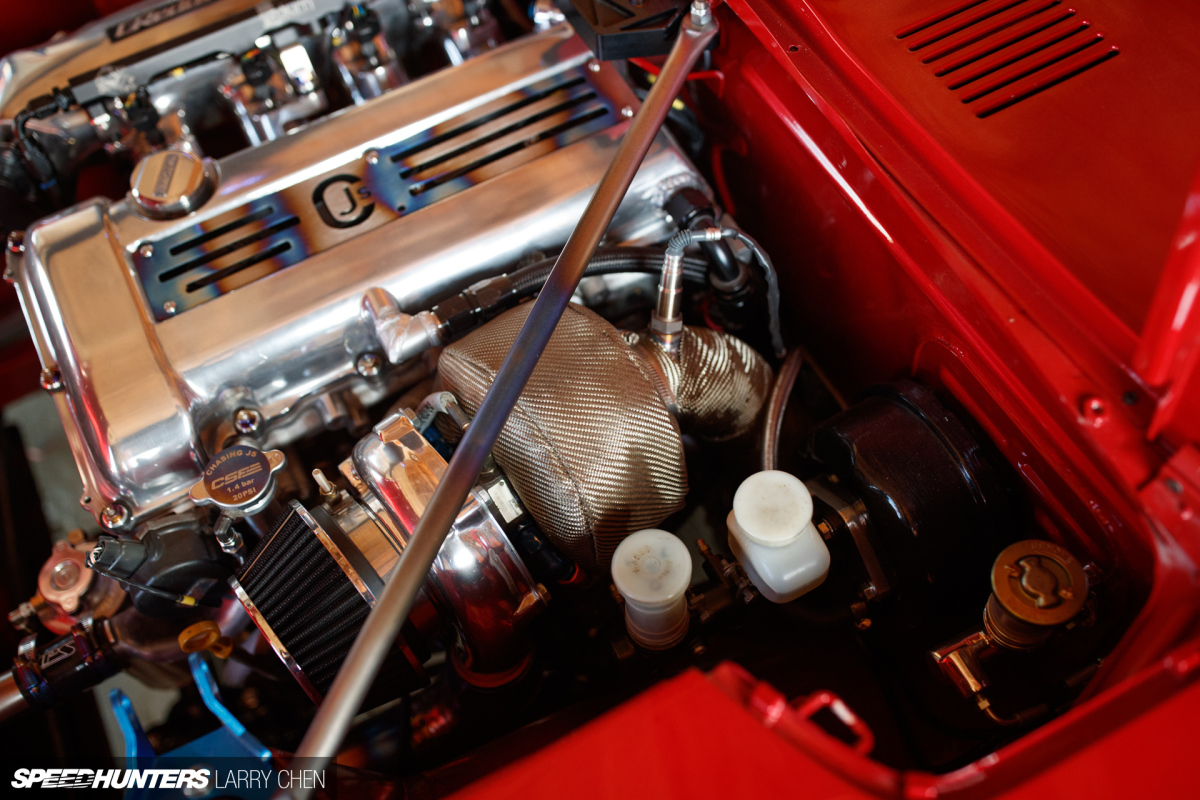 Air is sucked through an Apex Performance custom Garrett GTX3071R turbo and into a GReddy intake manifold, only to be expertly contained by a GReddy metal head gasket. Fuelling is courtesy of ID1000 injectors, Nuke Performance FPR and Radium Auto fuel rail, while a CSF triple-pass radiator helps keep things cool under the collar.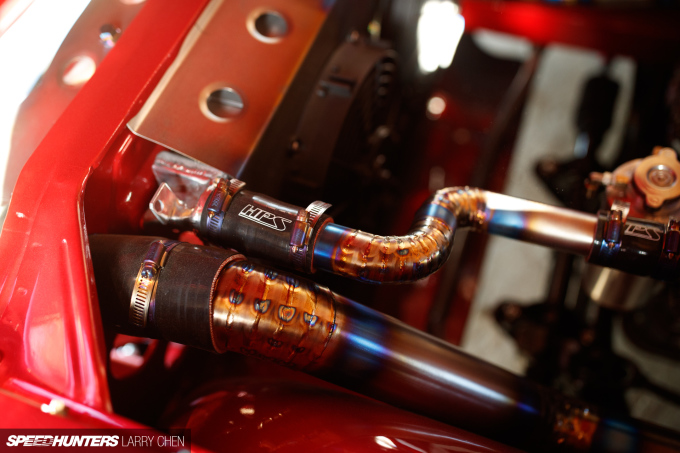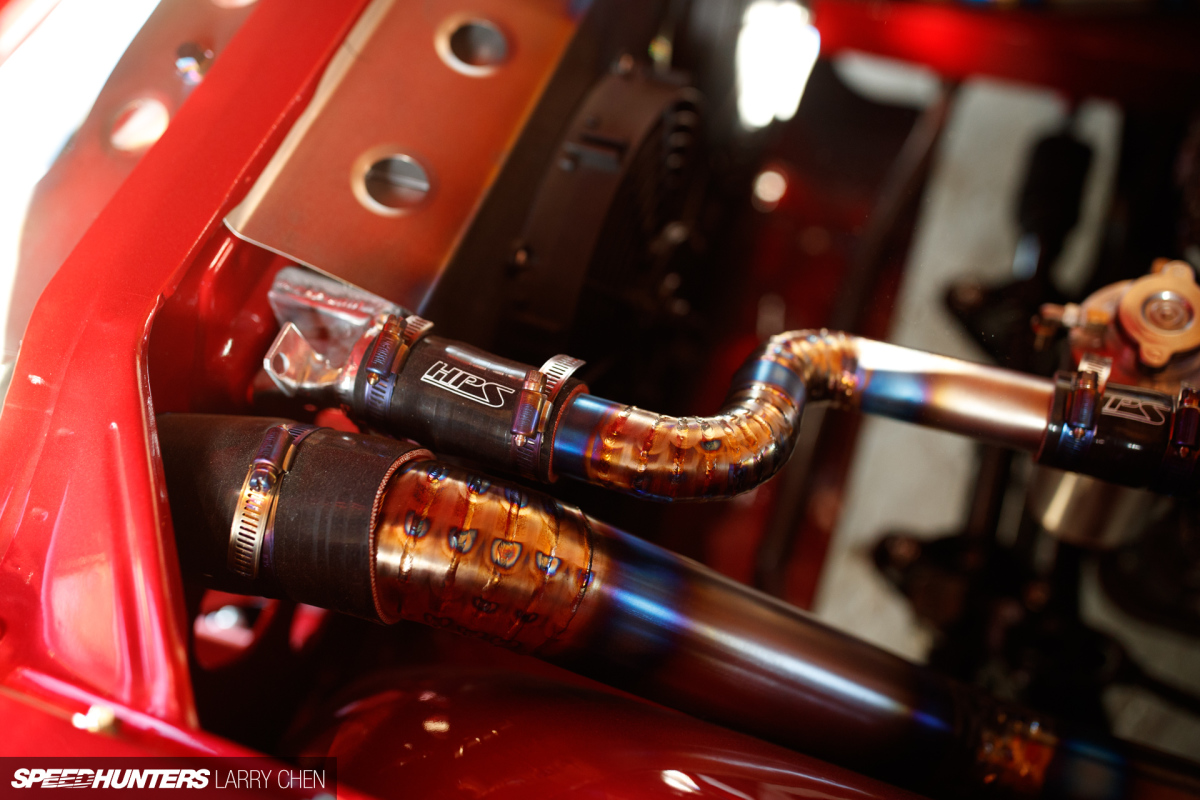 If you hadn't guessed already, Dominic has a bit of a penchant for titanium, too. Every piece of piping in the engine bay has been crafted, by Dominic, from the coveted lightweight material, as is the custom intercooler shroud. Where possible, every nut and bolt is titanium. The strut bar was absent at the time of Larry's shoot but… you guessed it… it's made from titanium, too.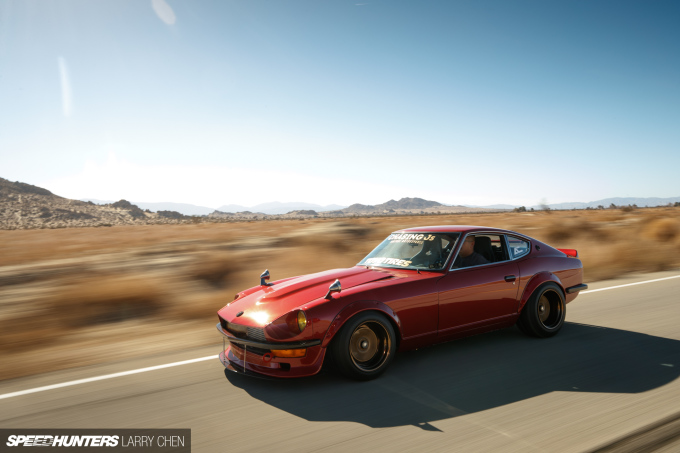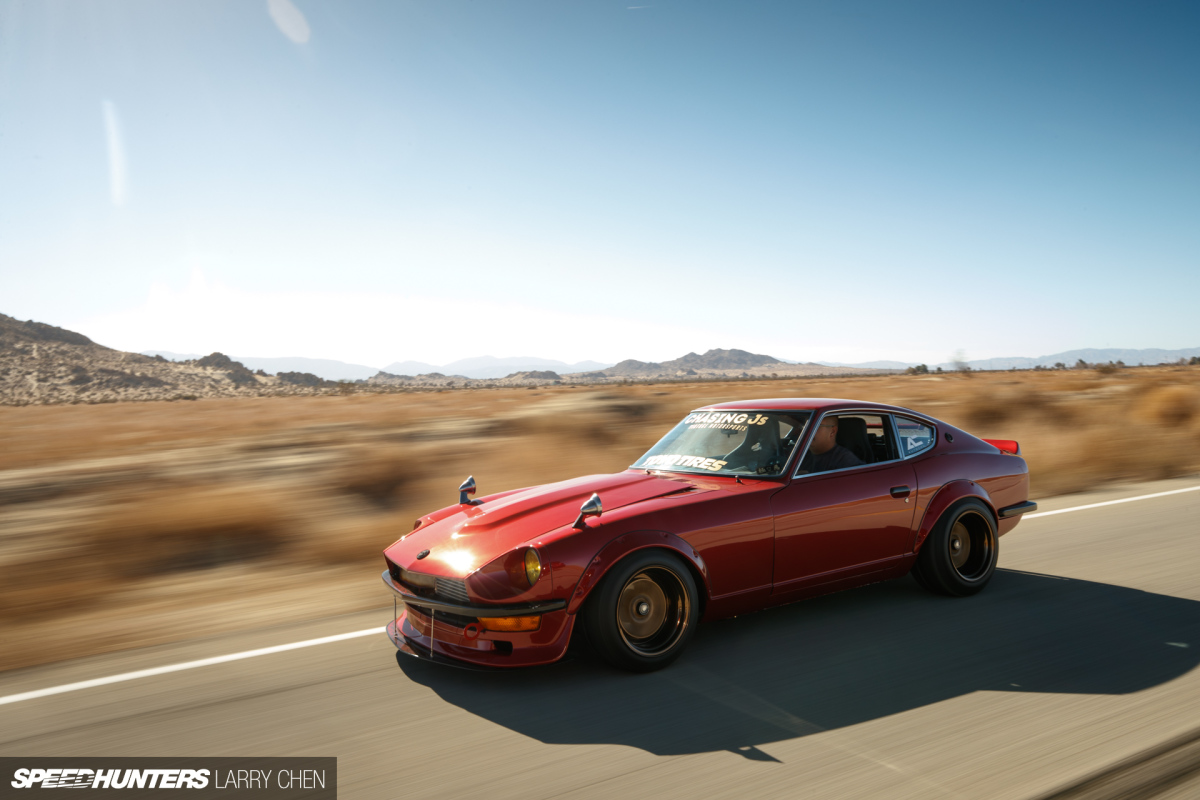 Tuned SR20s are nothing new in this day and age, but there's some clever forward-thinking and technology that's gone into Dominic's build that sets it apart from the rest. For a start, there's no throttle cable – the engine has been converted to drive-by-wire thanks to a Toyota GT86 throttle body, port-matched to the GReddy intake. Amusingly, Toyota Prius smart coils with built-in igniters have been utilised too. Even more surprisingly, these are good for up to 1,000hp in this application. Talk about over-engineered OEM parts?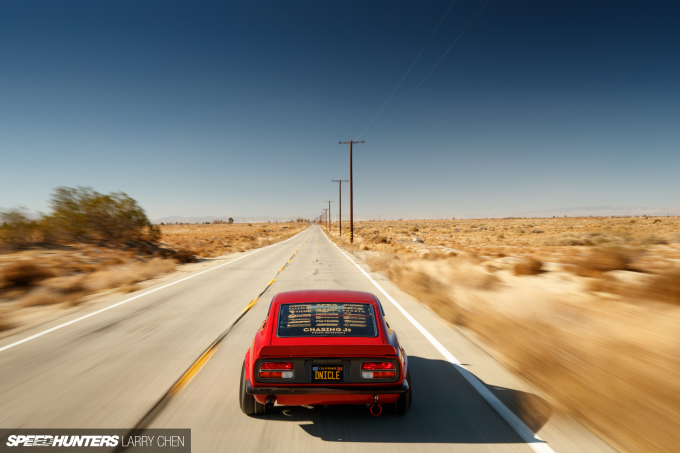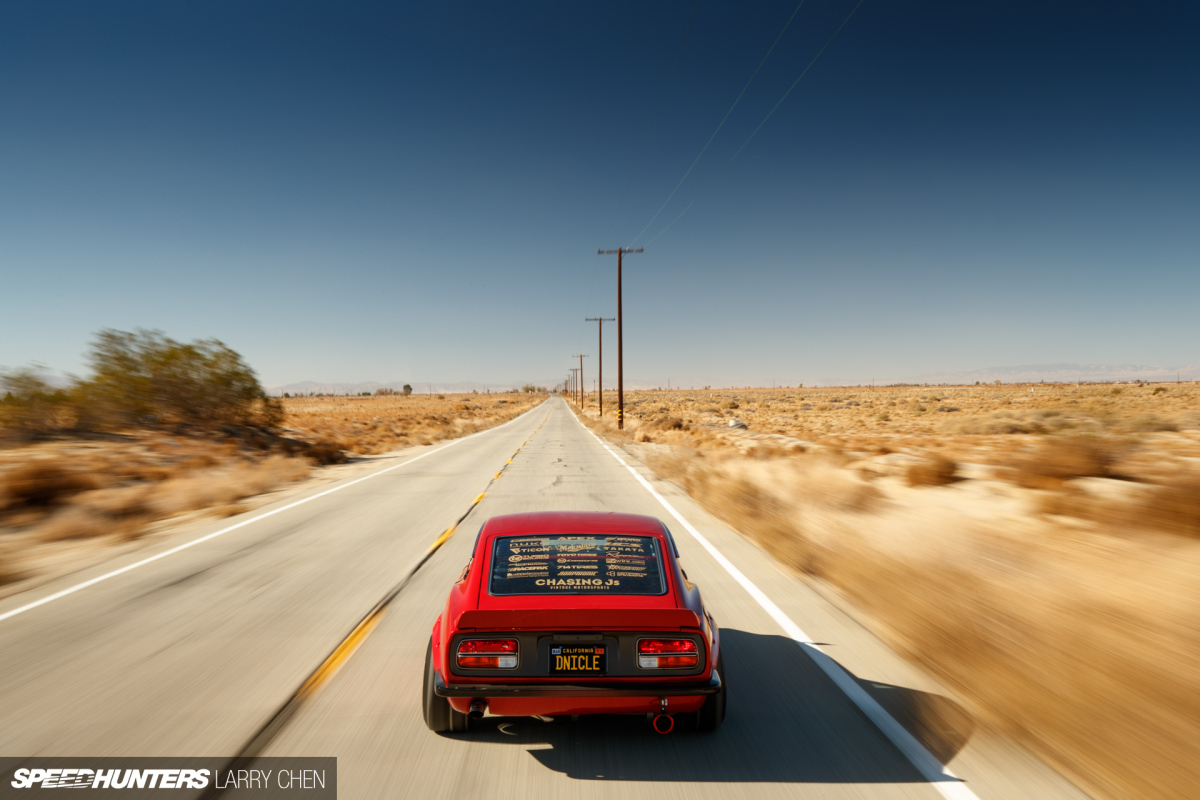 The fancy new tech plays nicely with everything else thanks to a custom Rywire mil-spec wiring harness and Adaptronic M2000 ECU. The result is a modern and sophisticated engine management system that helps propel the 240Z's SR powerplant to the tune of 428whp. Add that number to the kerb weight from earlier and the results are lively, to say the least.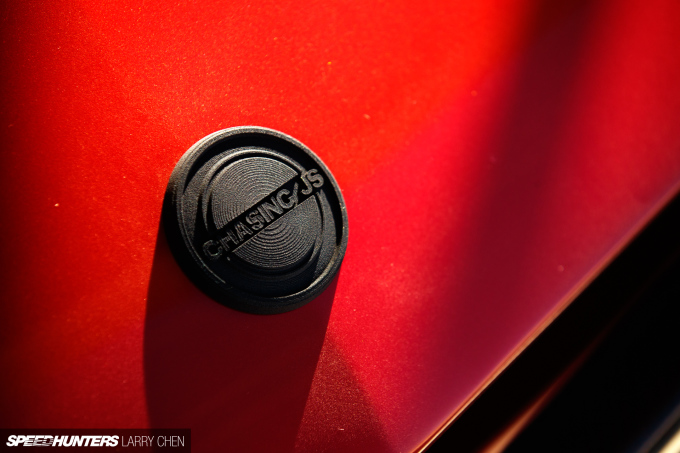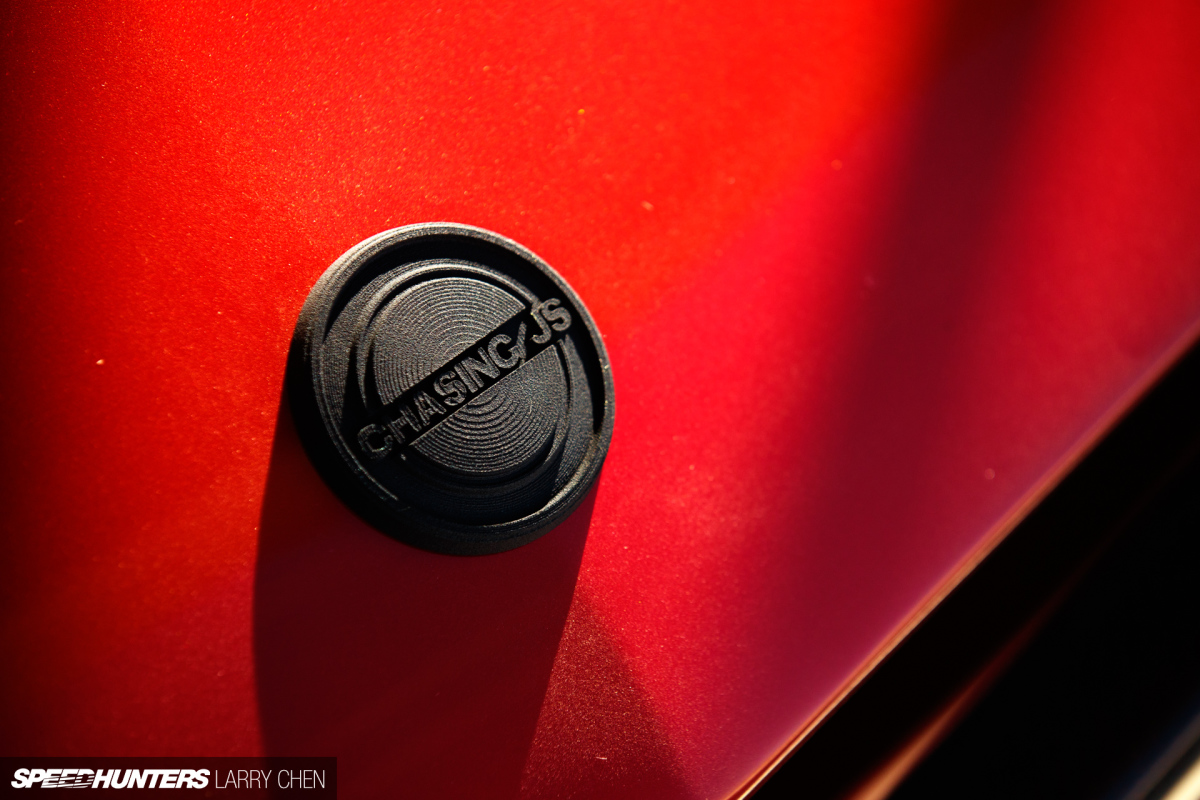 What's perhaps most impressive about this build is that Dominic's 240Z wasn't prepared in a big shop by a company or large team of staff.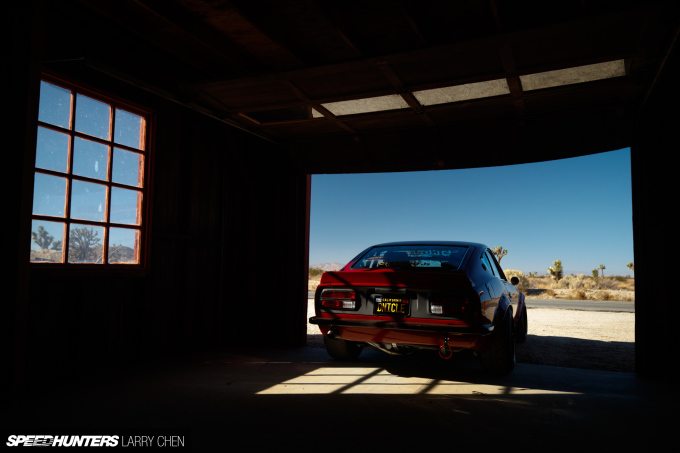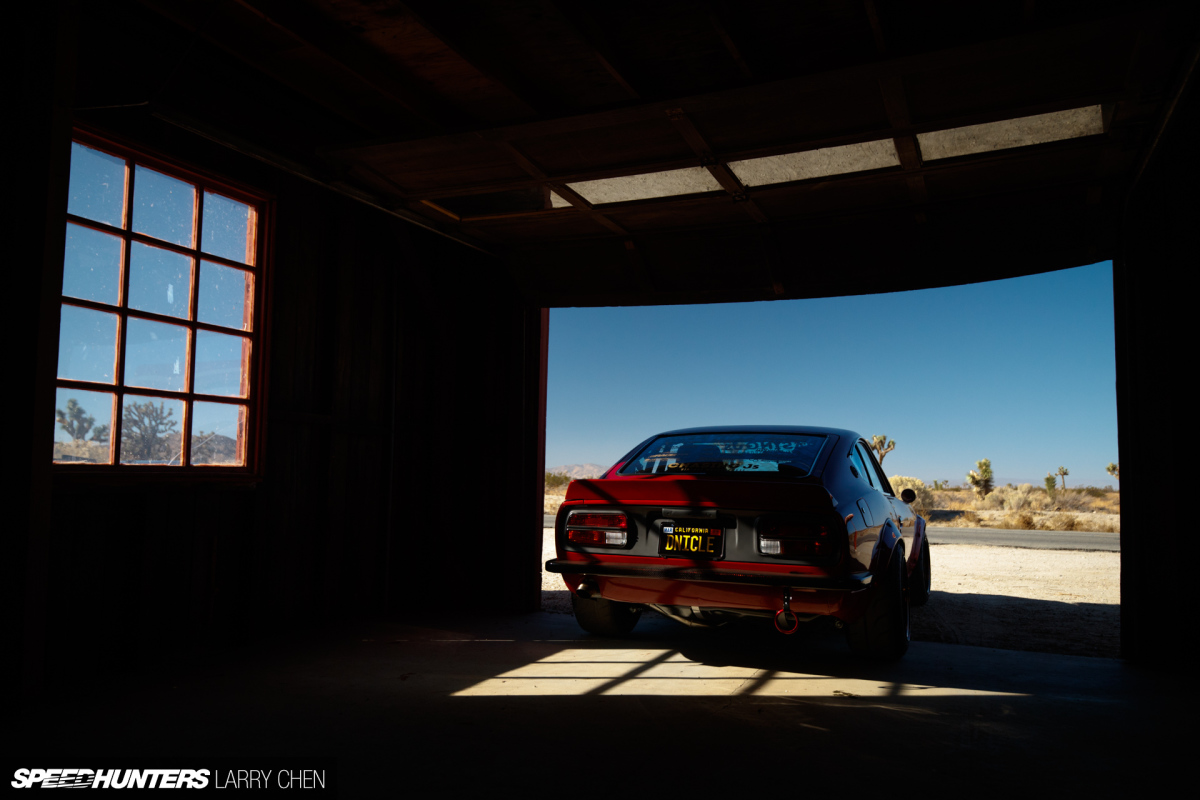 It's a setting that completely belies the quality of work that has gone into this car. It's a build that's fuelled by passion and attention to detail above all else.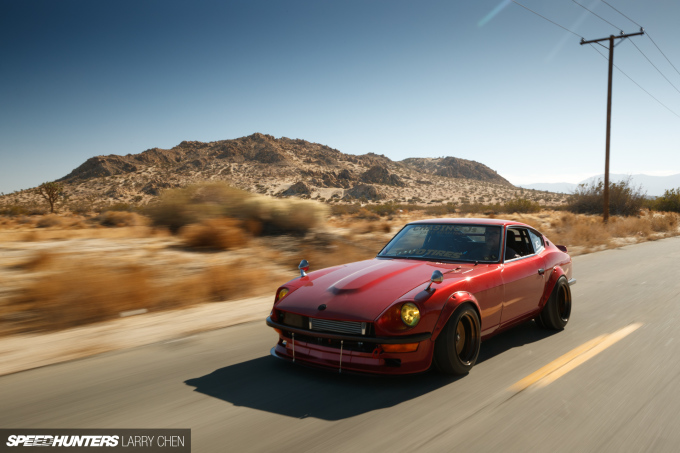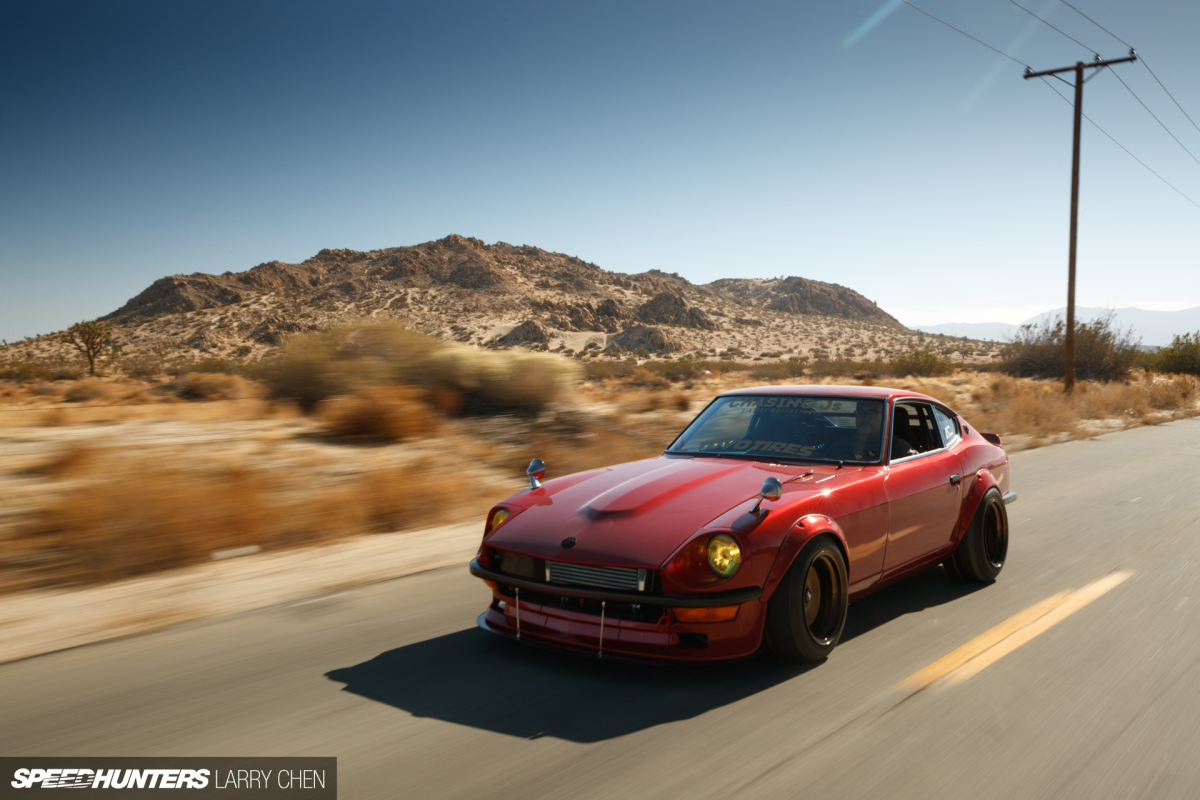 Build done, Dominic's favourite part about his 240Z is finally getting to drive it: "I have been building cars every year and up to now haven't really gotten a chance to enjoy the fruits of my labour," he says. "I just want to get out and drive the car hard, and if things break, well, I'll just fix them and break them again until we get it right."
Jordan Butters
Instagram: jordanbutters
jordan@speedhunters.com
Photos by Larry Chen
Instagram: larry_chen_foto
larry@speedhunters.com
Cutting Room Floor