Up High
I've known the friendly bunch at Driftworks for years now, and always like to keep an eye on their builds and general shenanigans.
Contrary to what the company name suggests, they've branched out from specialising in just drift parts and builds now, so whenever you visit there's almost guaranteed to be something a bit different to distract you. Both the Driftworks team themselves, and their partners in crime DynoTorque, who are conveniently situated next door, are a never-ending treasure trove of automotive goodness. Having kept a check on a little Toyota Hilux that Driftworks co-founder James was building, I knew it would be worthy of a closer look as soon as it was finished.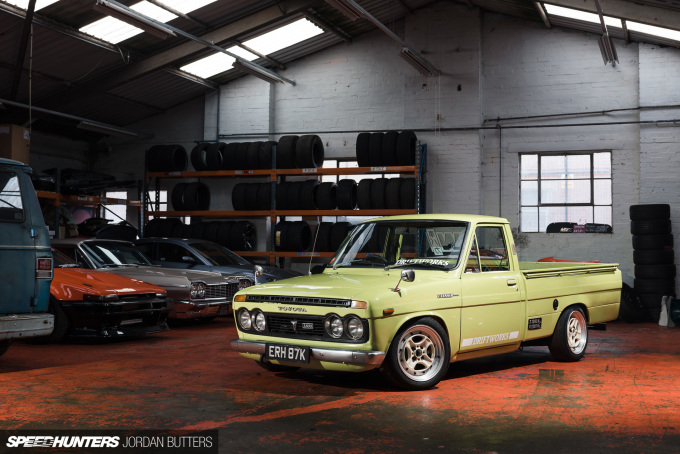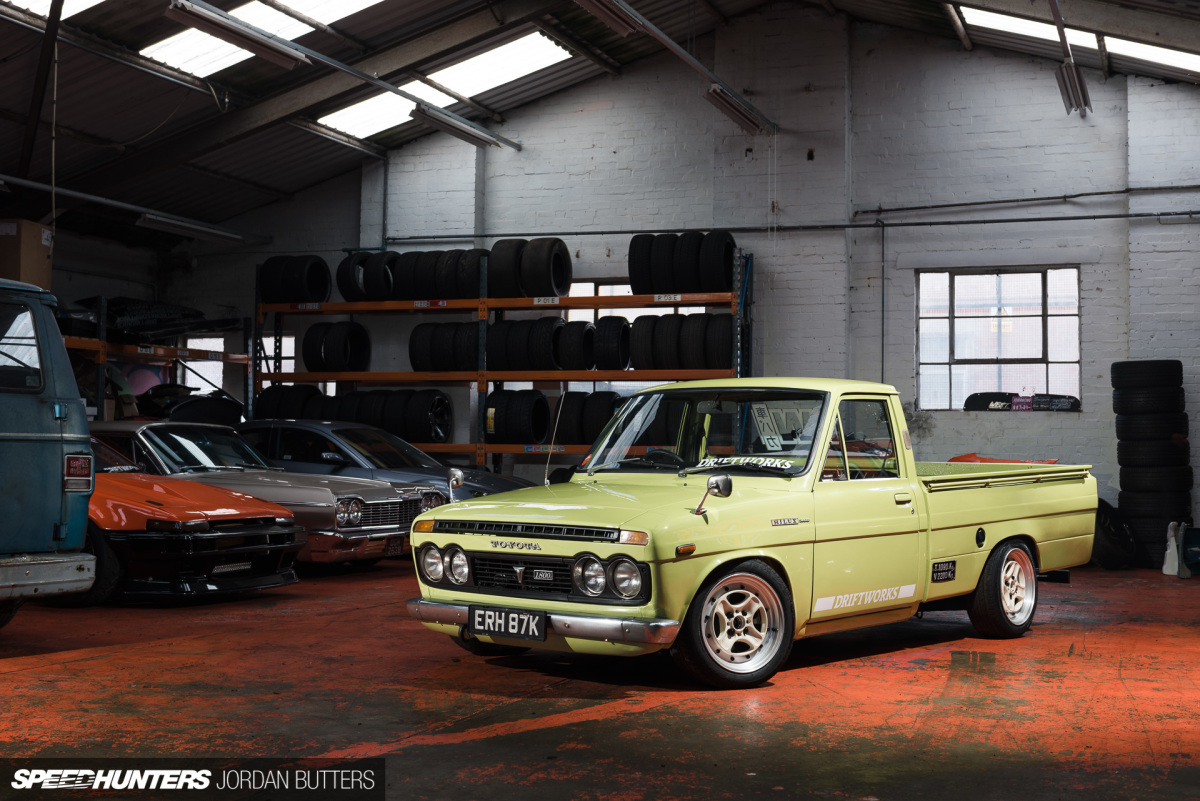 I was looking forward to seeing the truck out tearing up the roads, but on the day we scheduled to shoot, sadly the great British weather conspired against us – i.e it was raining cats and dogs outside as soon as we got set up. So, unable to capture pretty rolling images of the truck in action, and with a ramp at our disposal at Driftworks, I thought why not take a more technical approach and get under the skin of this amazing build.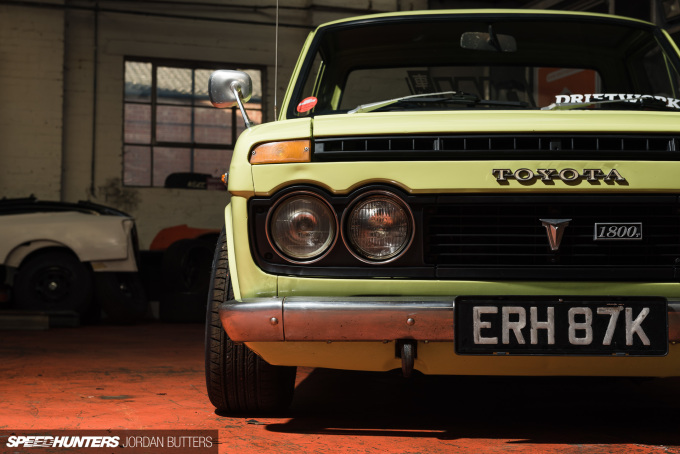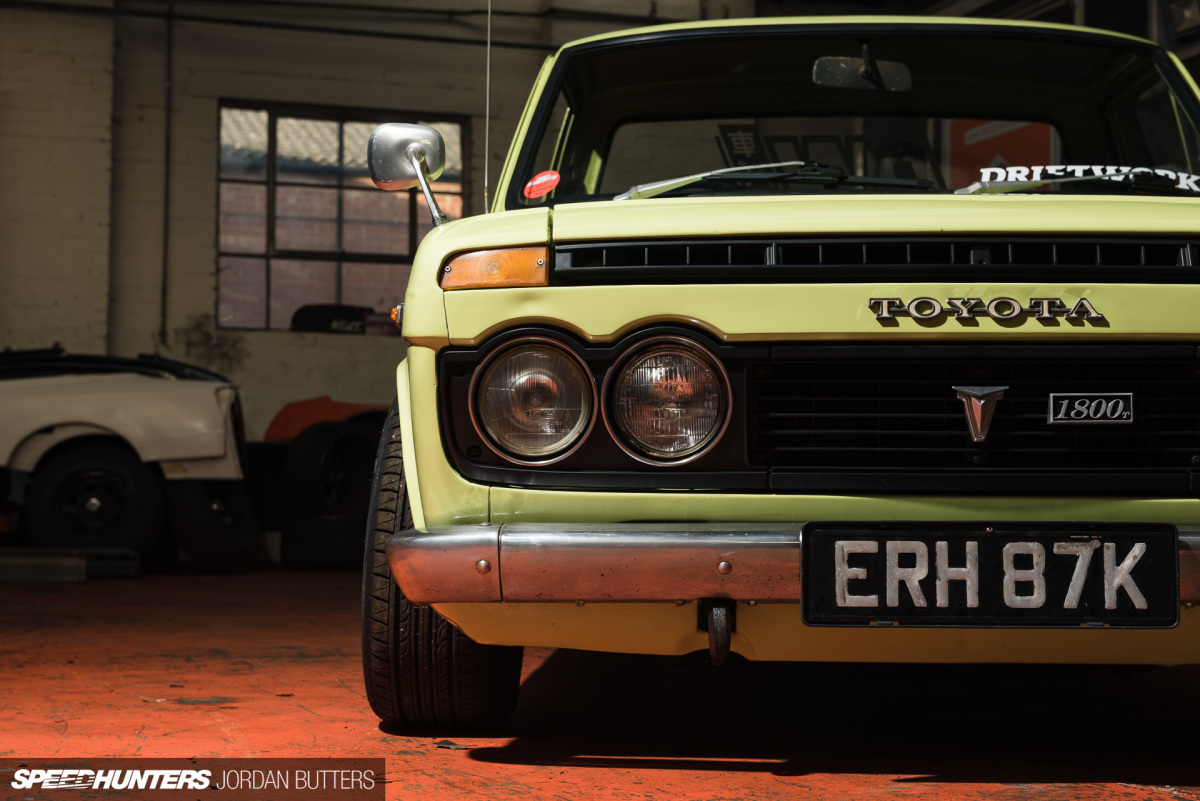 The concept for the Hilux came about when James was looking for a cool new project to take on. The prerequisites were that it had to be retro, reasonably practical, be able to accept a couple of mountain bikes chucked in the back, and yet remain fun to drive.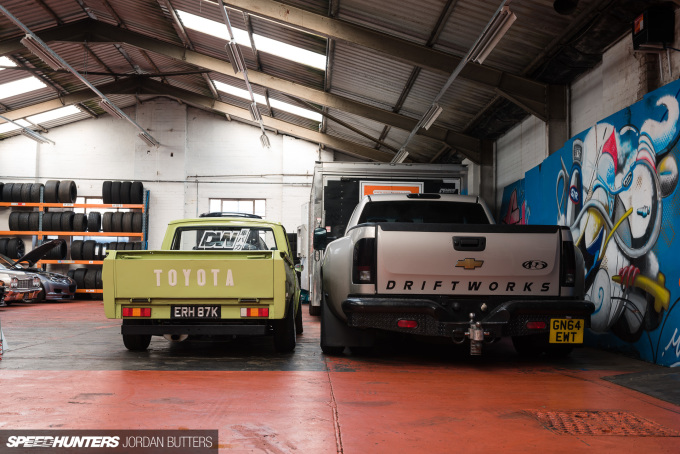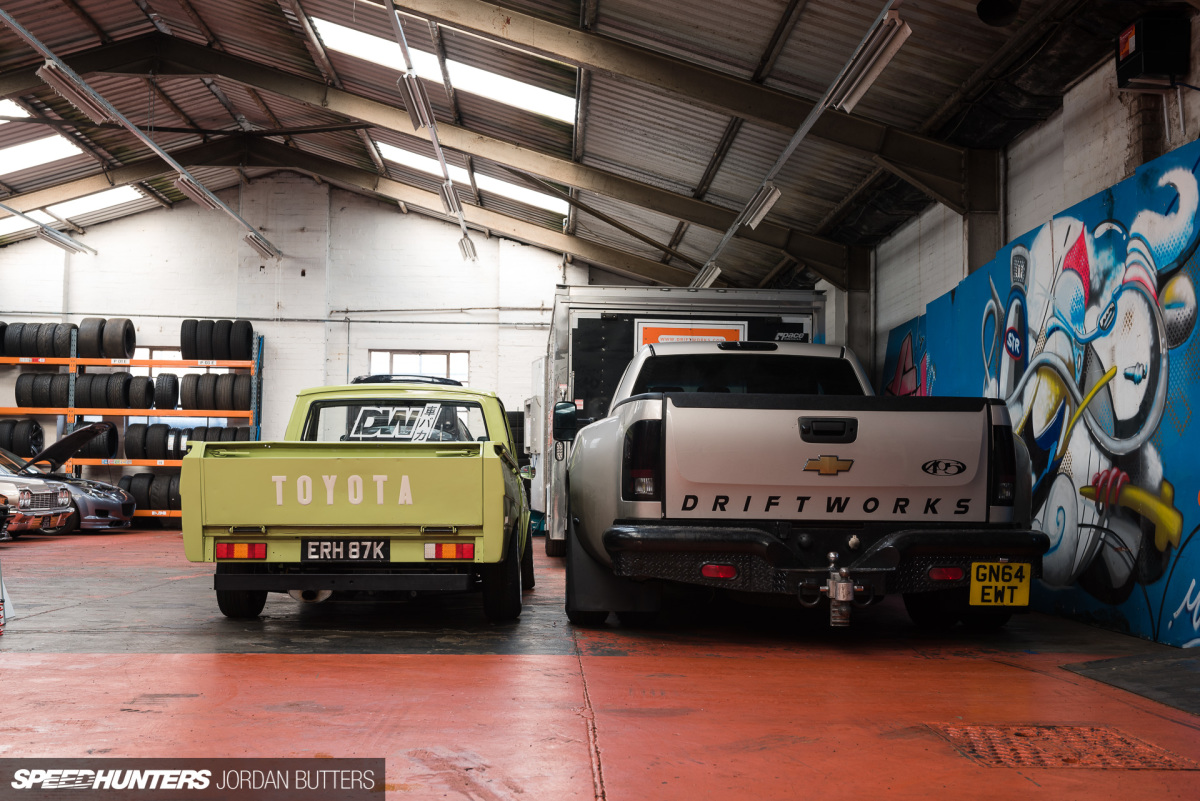 What he found on eBay managed to tick all of those boxes: a tidy and original avocado green 1972 Toyota Hilux pickup with a stock 1,600cc naturally aspirated engine and in rear-wheel drive configuration – already perfectly fitting within Driftworks' mantra, although somewhat smaller than their existing pickup.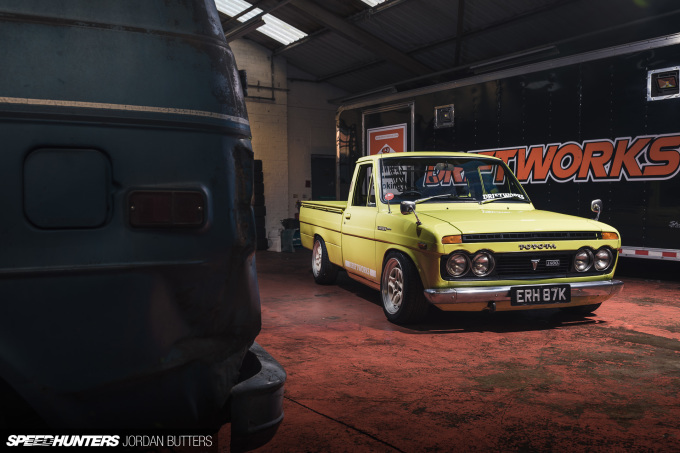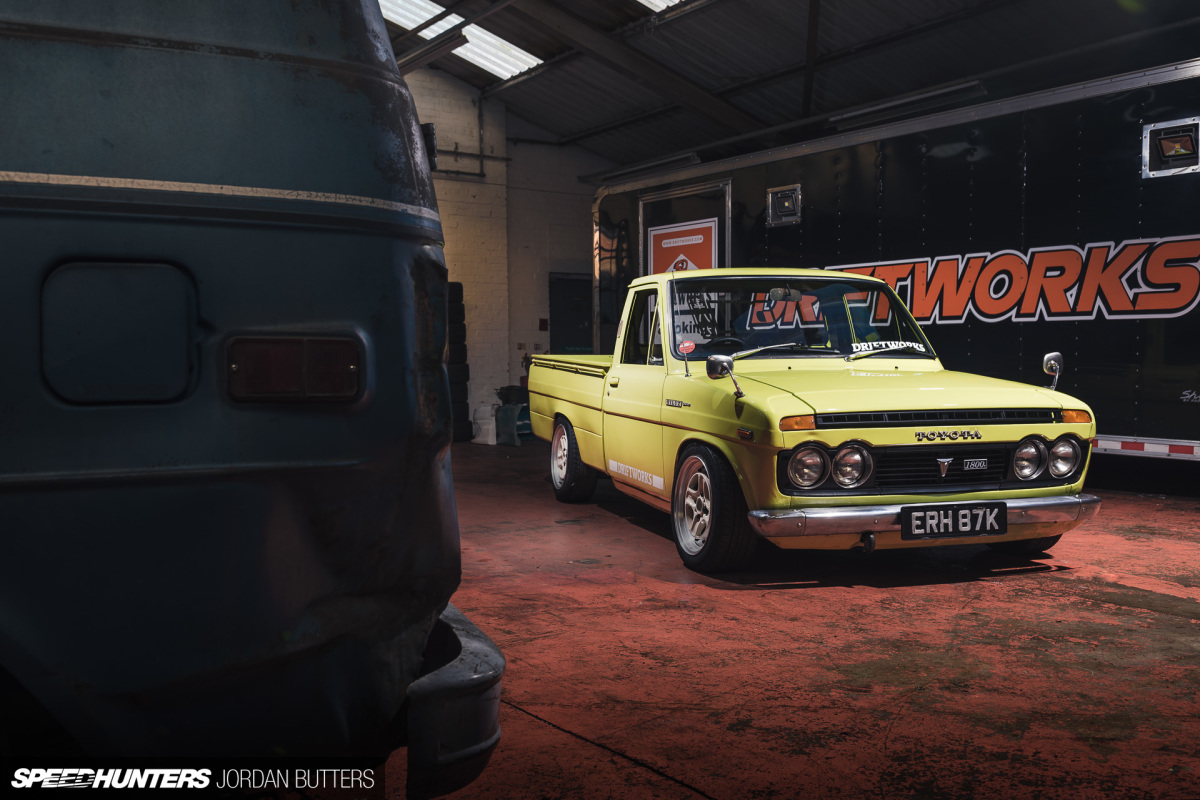 The car was a South African import, so the body was in great shape having been salt-free for its entire life. It also had some quirky features too, like a complete lack of door/bonnet seals and no heating system whatsoever. Apparently in South Africa it's pretty warm and sunny, so these things aren't needed.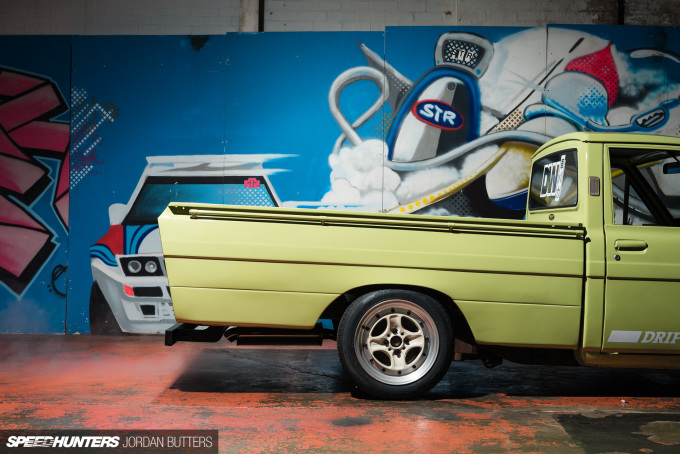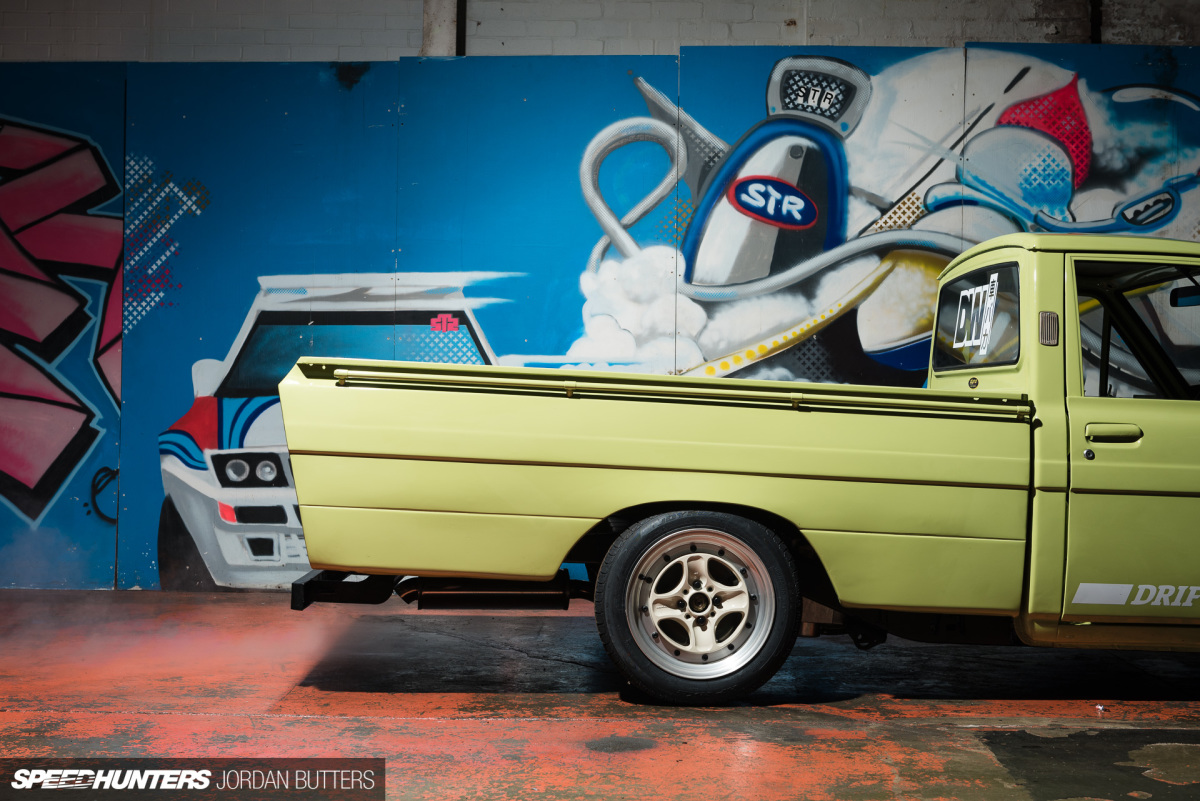 The pickup had an odd column-mounted manual shifter, terrible brakes, a live axle and leaf spring suspension at the back, none of which are particularly conducive to a fun driving experience. Modifying the stock configuration was possible, but it didn't really offer the scope of where James wanted to go with the project.
As happens, things escalated, and the solution came in the form of a Mazda MX-5, which James hatched the cunning plan of mating with the Hilux to create what you see in front of you. Hilux plus MX-5 – can I get a Hi-5?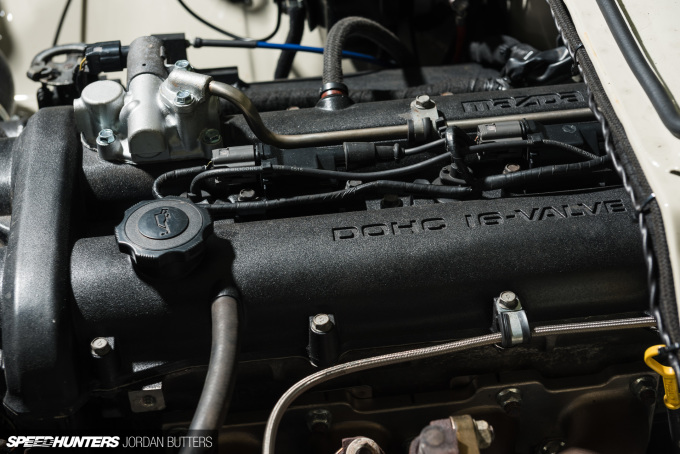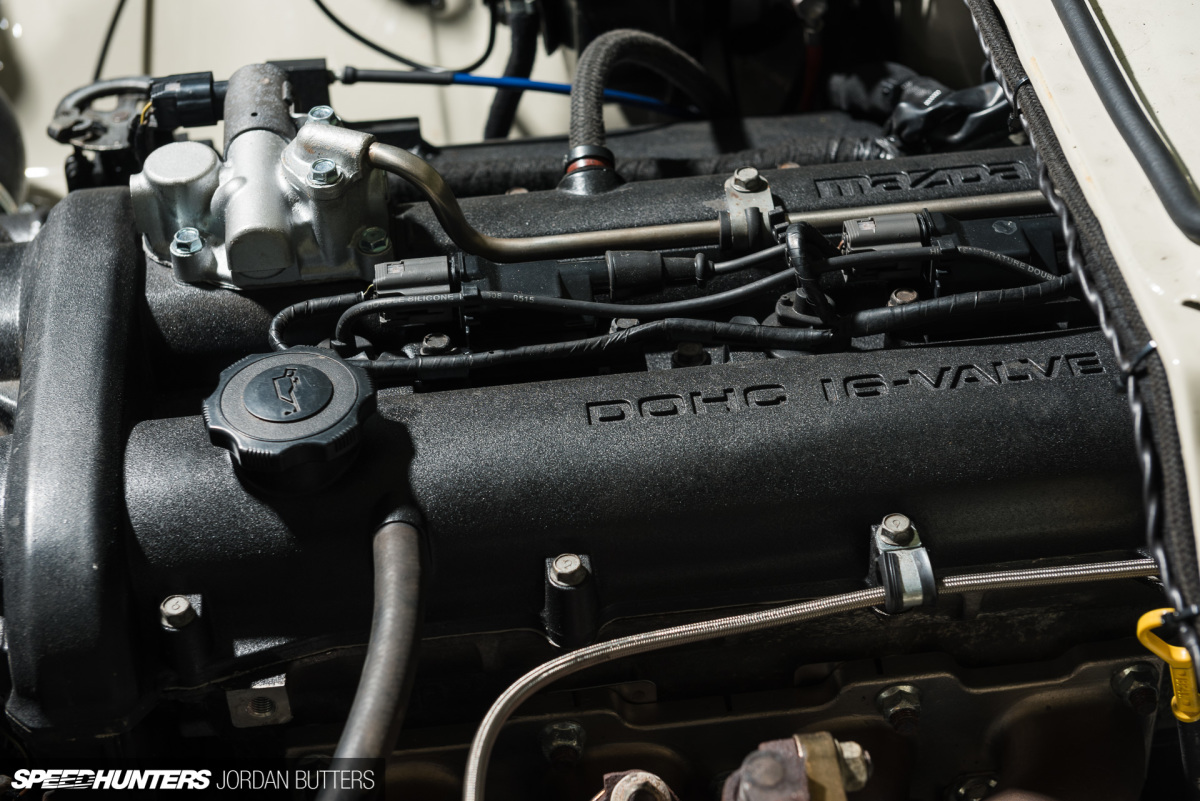 The formula of mating a modern engine with an older chassis isn't new, but I'd have never thought to put these two cars in particular together. Essentially, the plan was to reshell an MX-5 into the truck.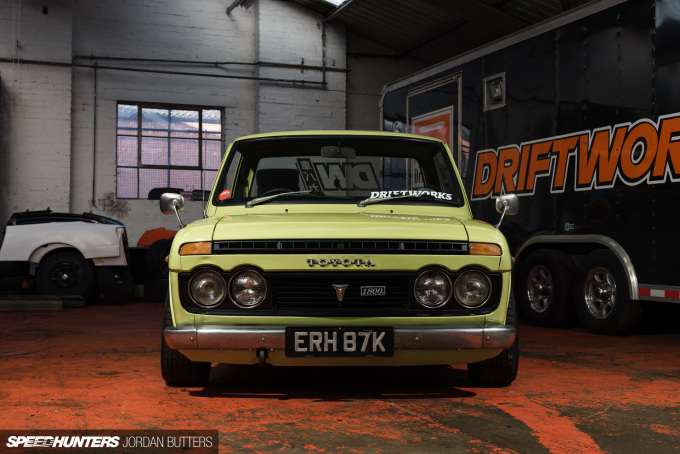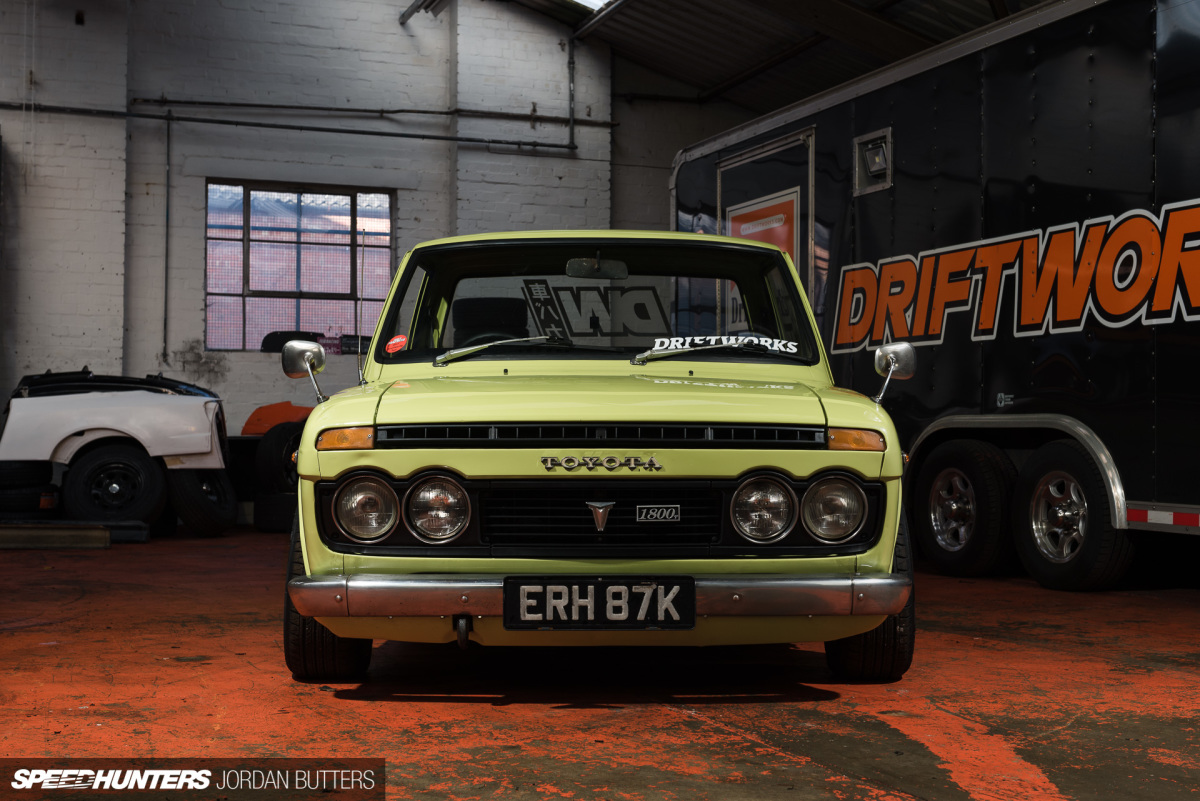 The idea was that by keeping as much of the running gear akin to the stock Mazda as possible, any repairs or replacement parts would be cheap and easy to come by. James sourced a bone-stock late 2001 NB Mk2.5 MX-5 and promptly pulled it to pieces, leaving him with an engine, drivetrain, suspension, and front and rear subframes.
Down Below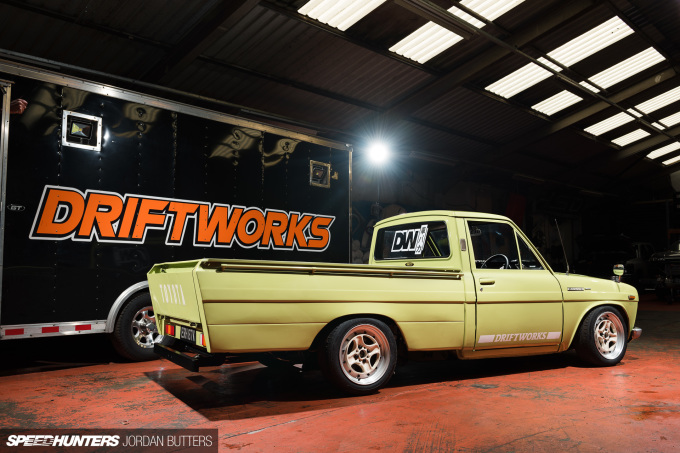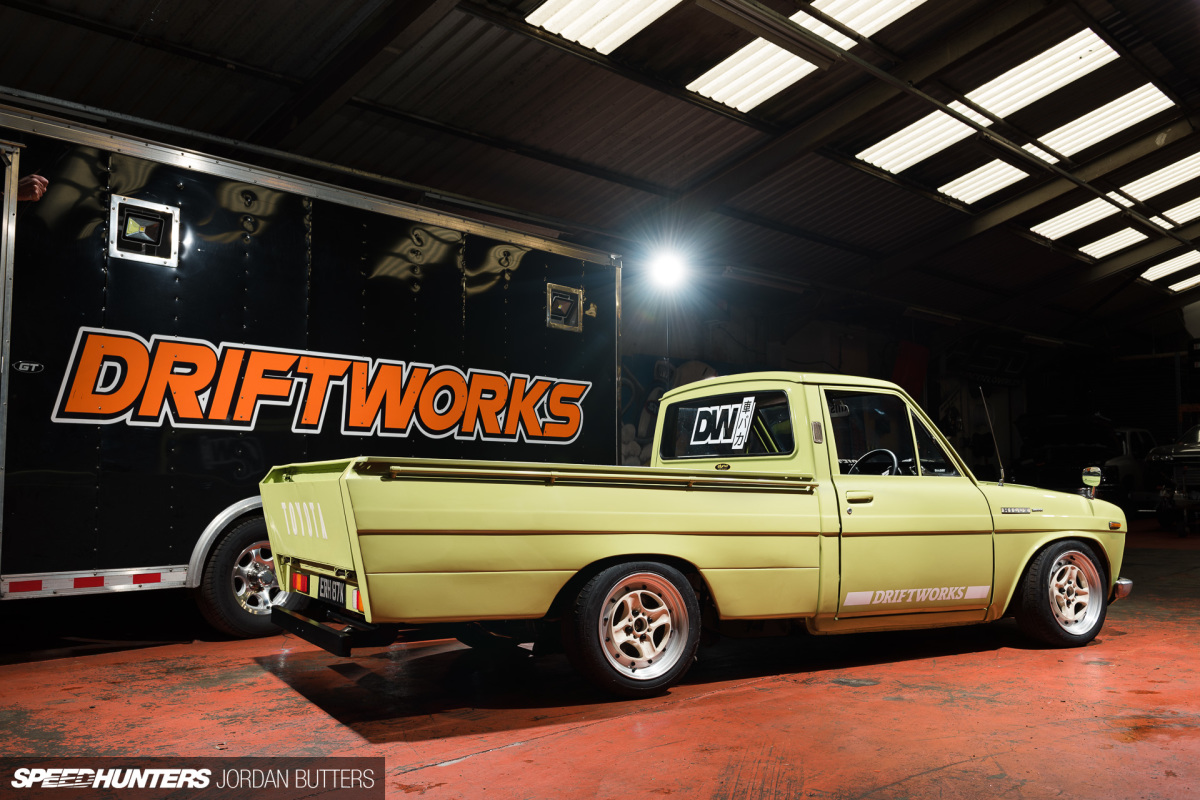 Driftworks' neighbours DynoTorque are most well-known for swapping LS motors into pretty much anything and everything you can imagine, and were the spanners behind the Driftworks LS-powered AE86, so the little Hilux project represented something a bit different to the usual, and threw up some unique challenges.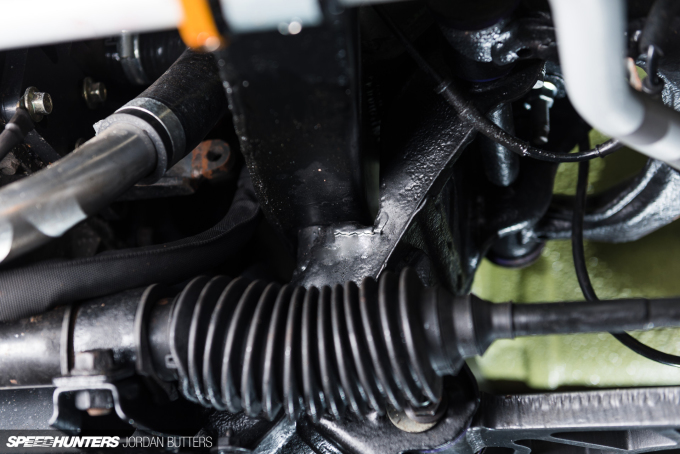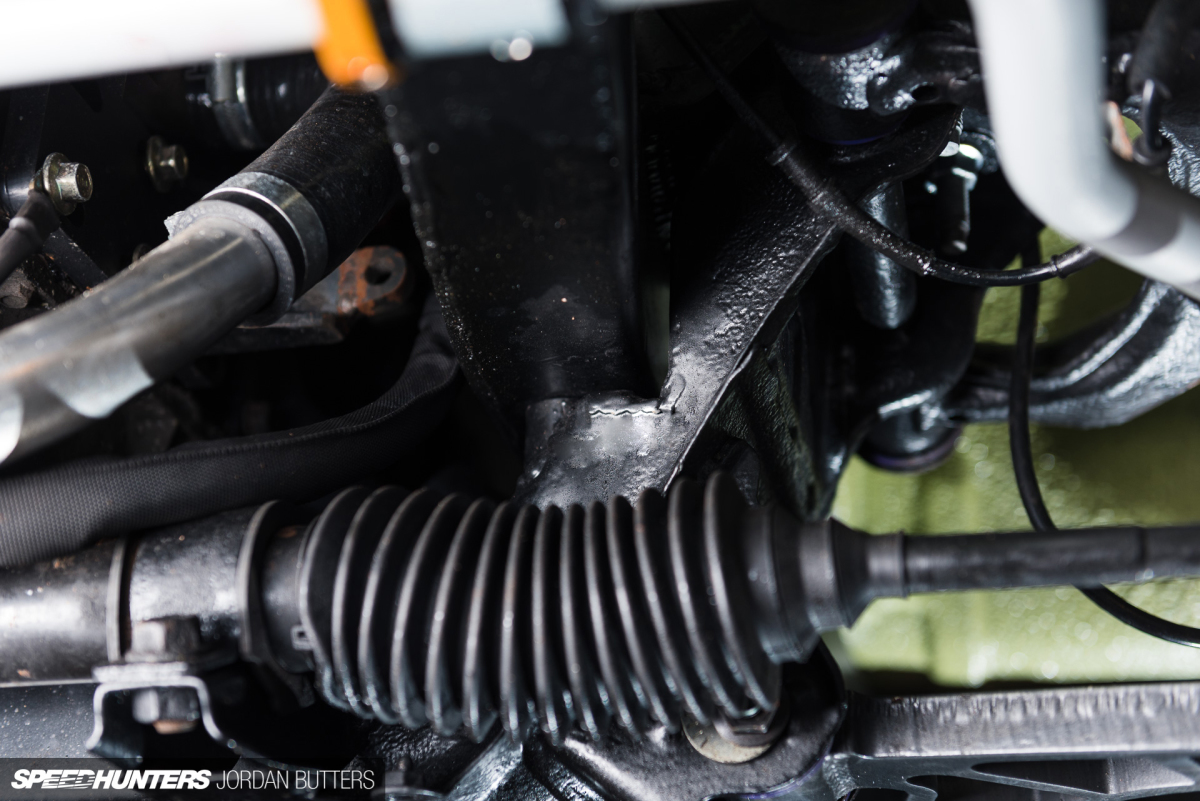 DynoTorque separated the cab and bed from the Hilux frame and set about bringing the holy matrimony of Mazda and Toyota together. As they dropped the cab over the MX-5 front subframe, everything lined up surprisingly well in terms of track width and ride height. The MX-5 subframe needed notching and welding to slot nicely onto the Hilux chassis, which was then reinforced with custom fabricated mounts to bring the two pieces of the puzzle together.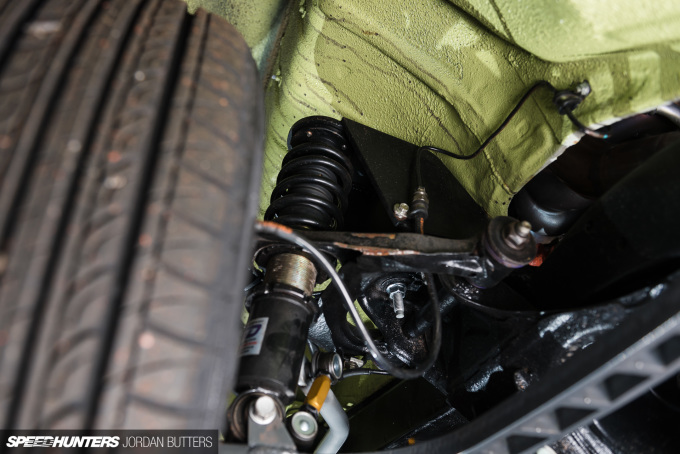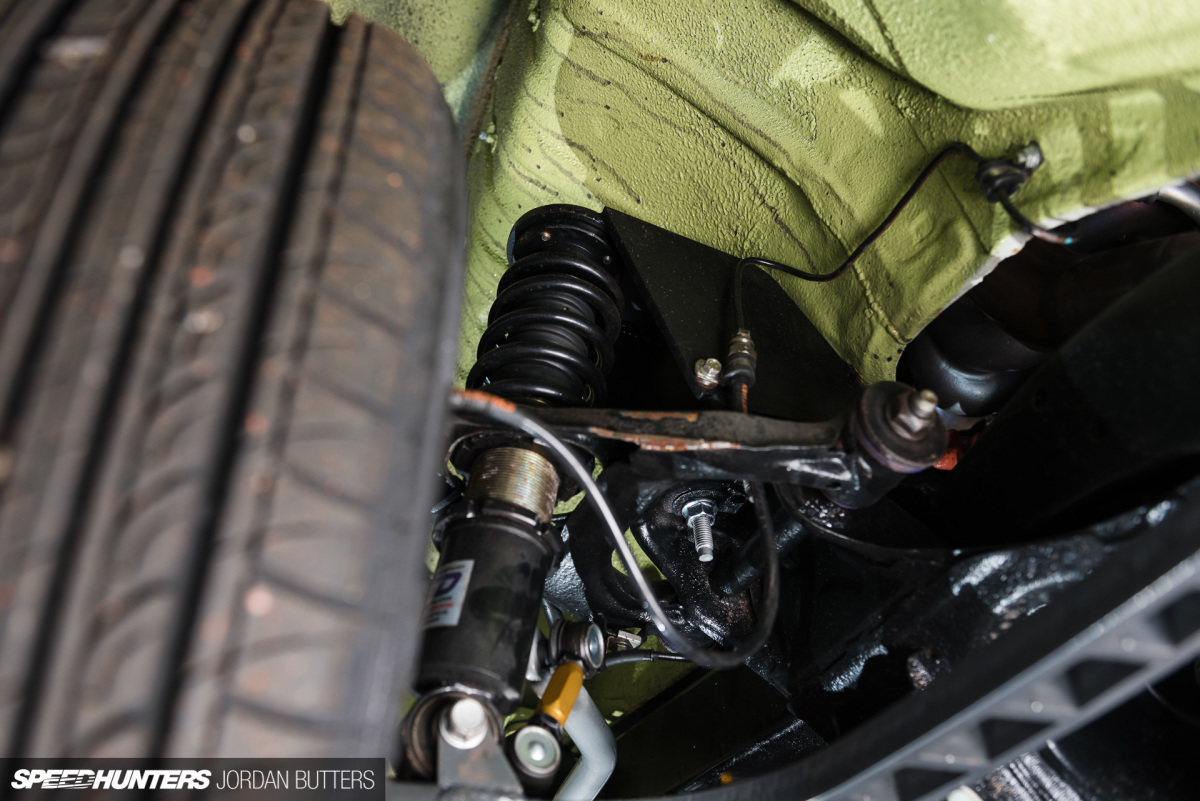 One big issue was that the Hilux doesn't have suspension strut towers in the inner wings, but rather damper top mounts built into the stock subframe, which was now in the bin. To solve the problem, and give the MX-5 suspension a place to call home, off came the Hilux cab while the team laser-cut stainless steel plates to shape and created custom mounts which triangulate up and off the chassis, keeping the suspension sitting in approximately the same place it would on the Mazda, all whilst not interfering with the Hilux inner wheel wells.
There's a lot of fabrication involved, but the whole point of this is that James can then use stock or off-the-shelf uprated MX-5 parts without having to mess around getting various odd bits and pieces to fit from different cars. The truck has to be a usable machine above and beyond all else. It's not been built for the show scene, or for internet stardom.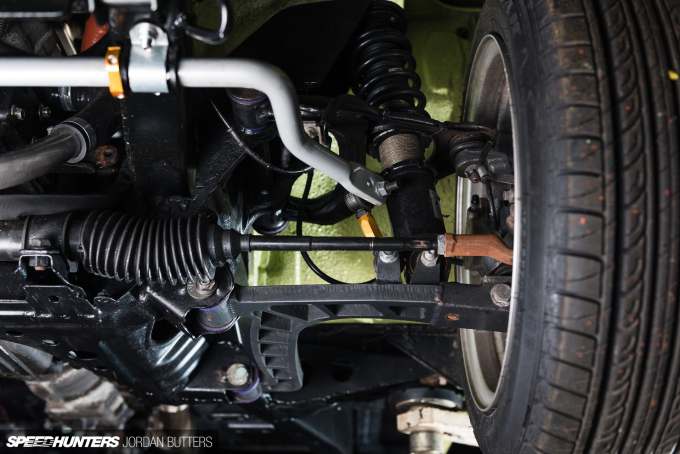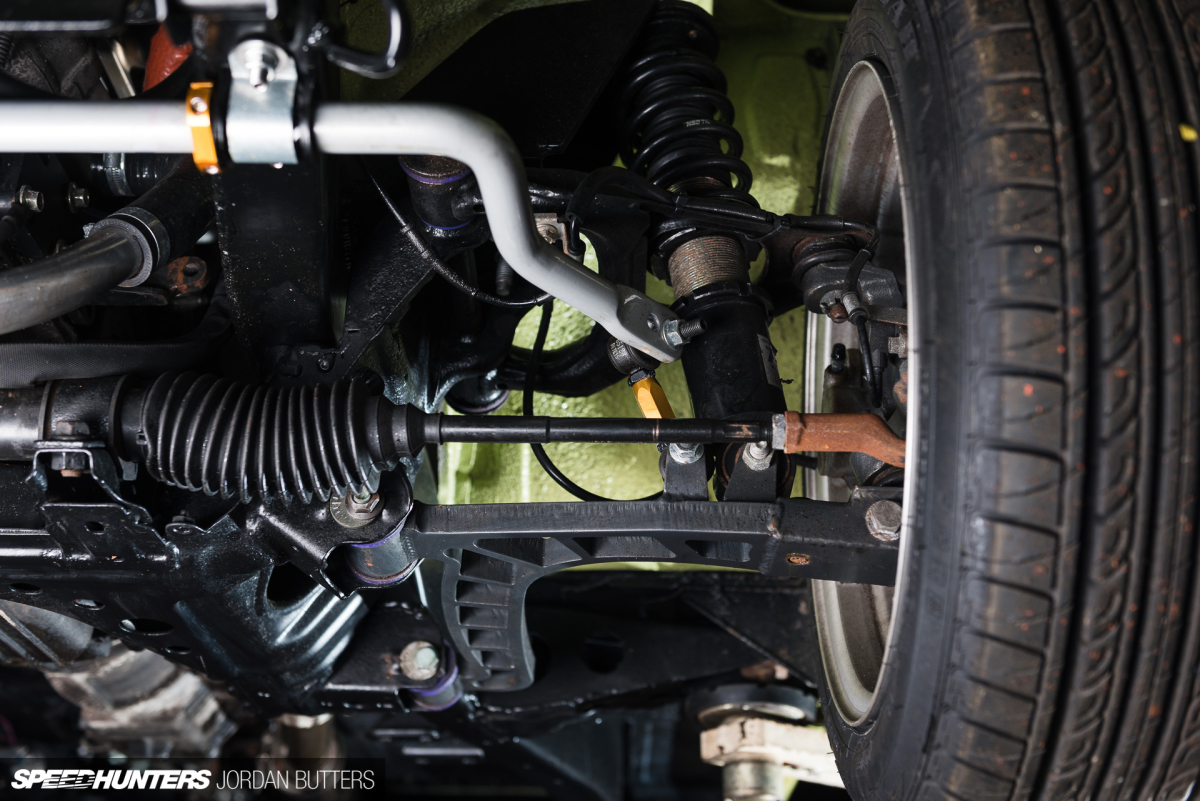 The Hilux utilises a set of Driftworks' own HSD coilovers to bring the ride height and suspension under control up front, along with Driftworks' adjustable arms, off-the-shelf Whiteline MX-5 anti-roll bars, and stock MX-5 steering rack and brakes.
Every single suspension bolt and fitting was then replaced with new or uprated parts, along with new ball joints and new brakes.
Destroy Or Die front steering knuckles help give the Hi-5 a ridiculous amount of steering lock, while Destroy Or Die front lower arms add additional clearance and are camber-adjustable. Snazzy.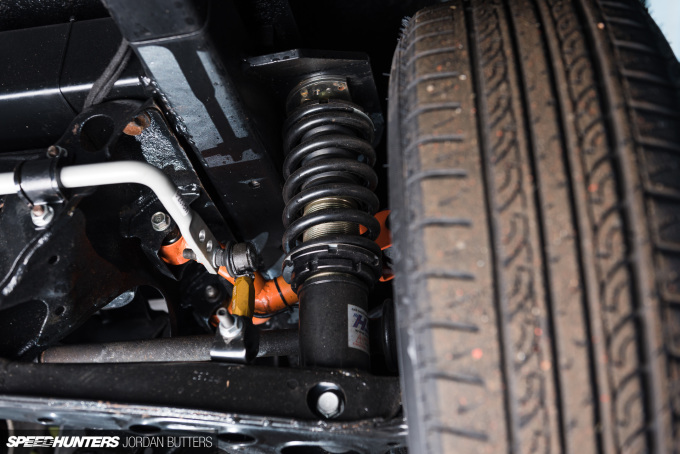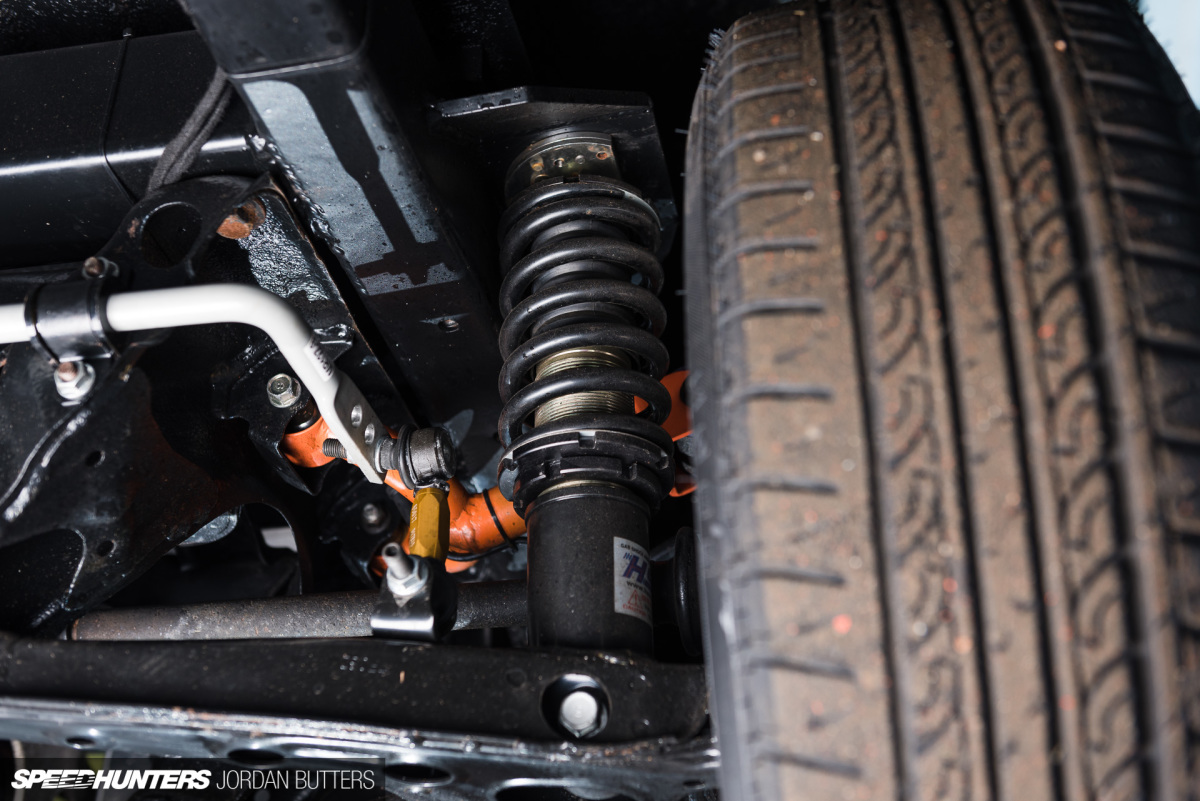 At the back, mounting the coilovers was a similar pickle, with the exception that the top of the coilovers sat pretty much in line with the Hilux's chassis. Again, a chunky stainless steel template was laser cut out and welded into place for the dampers to bolt up to. The Hilux now runs a double-wishbone setup at the rear, utilising some of Driftworks' own adjustable arms.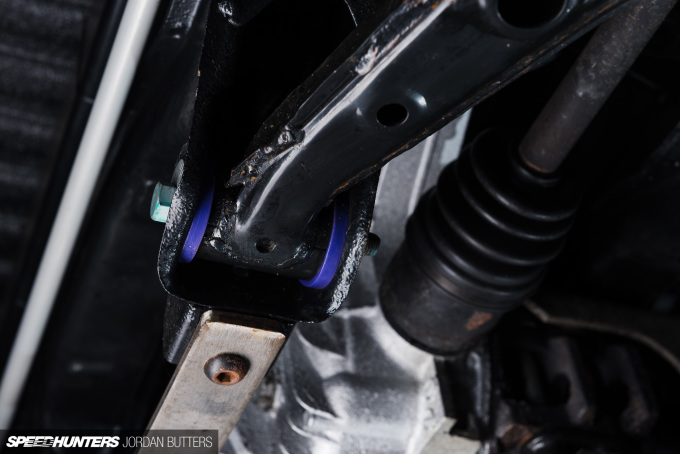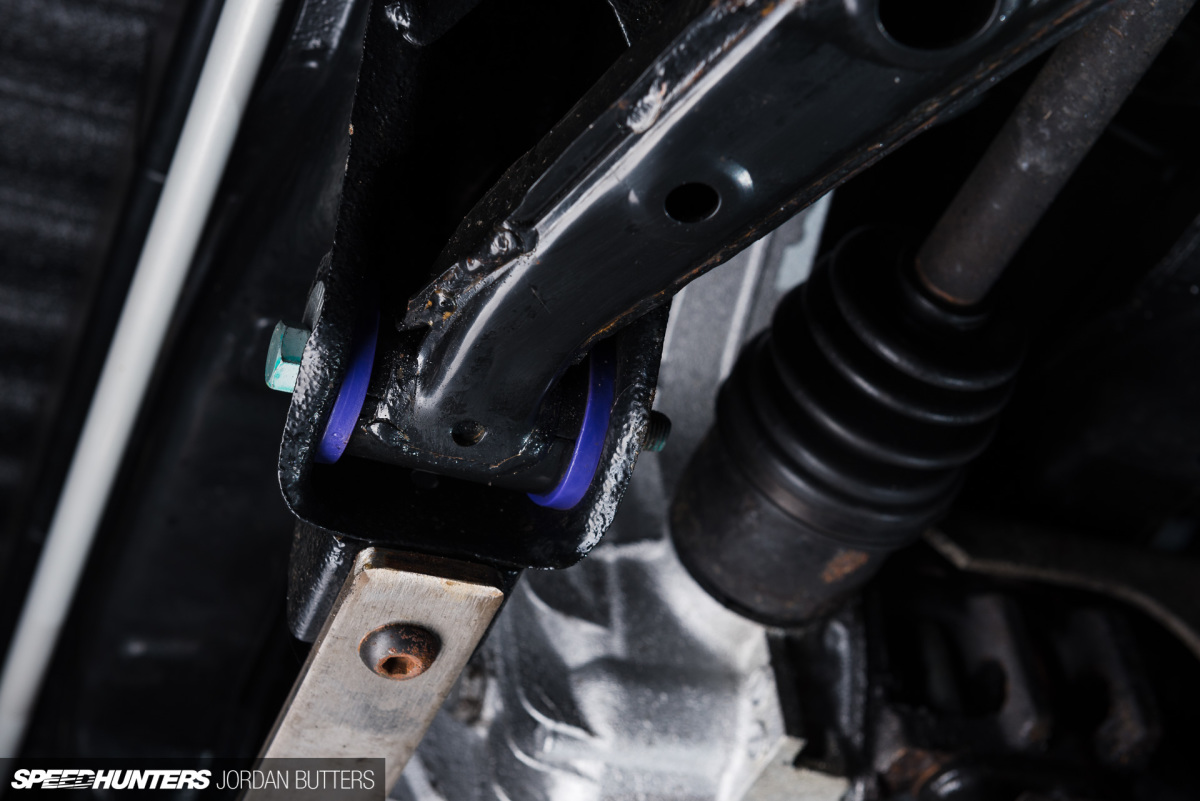 Powerflex came through with some polyurethane bushes for the rear subframe too, completing the transformation from a truck built to transport goods in South Africa to one built to destroy tyres in sunny England.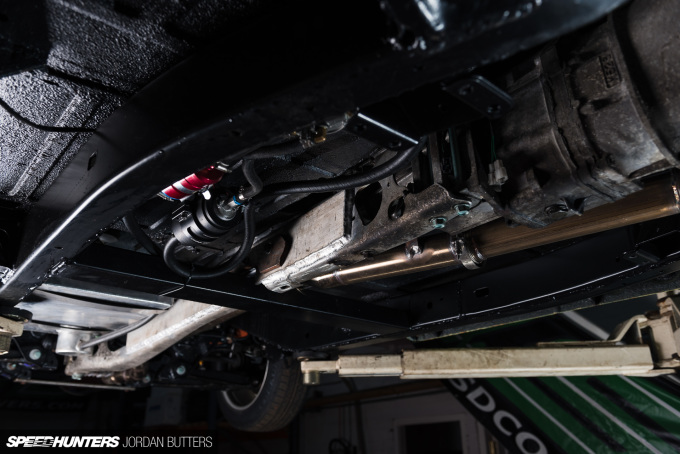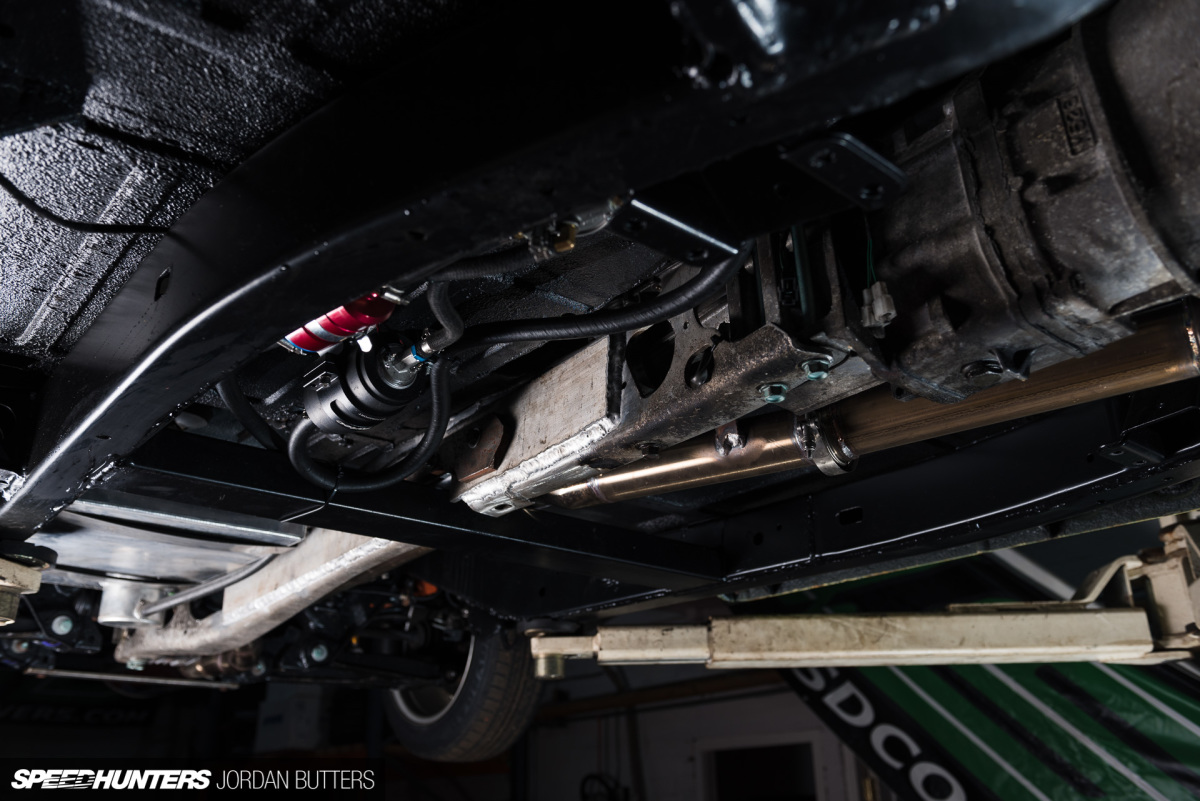 Joining the front and rear bits of the MX-5 together called for some more fabrication. Keen to retain the Mazda's stock power plant frame that ties the engine and box to the rear end, some cutting and welding was needed as the whole shebang had to grow in length by around a foot to accommodate the Hilux's surprisingly longer wheelbase.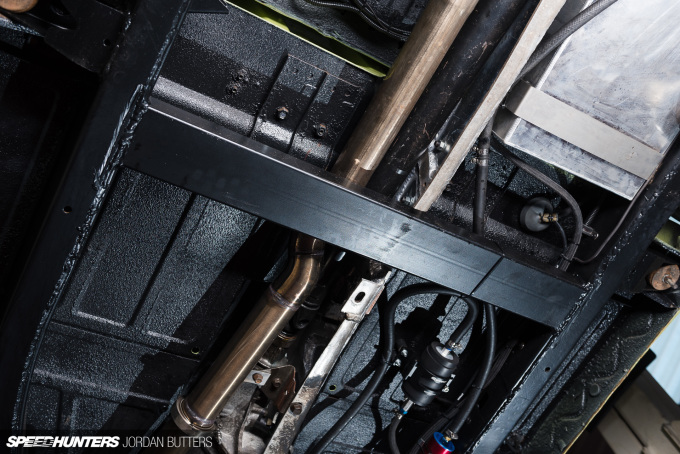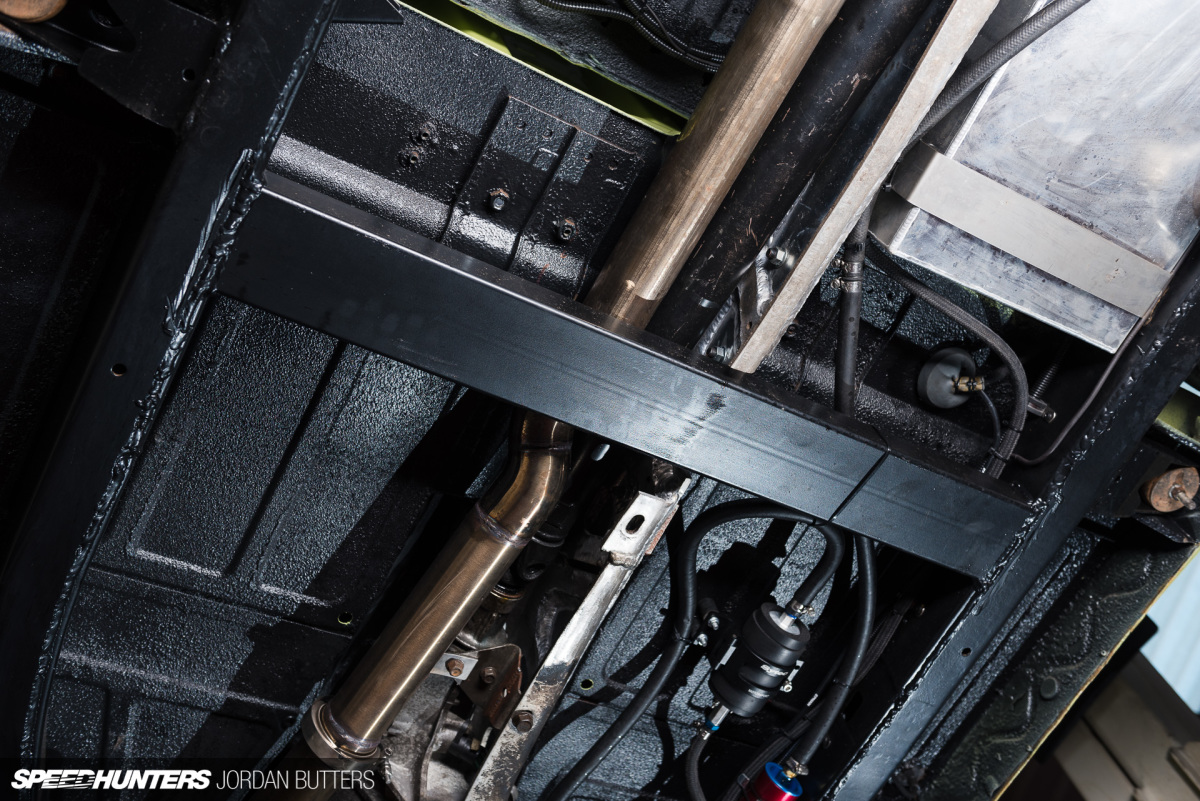 An additional section was grafted into place before being reinforced. Would you believe that welding from 1972 doesn't really cut it in 2018 with such a huge jump in power and with the truck's new purpose in mind? It turns out so, so DynoTorque reinforced several cross-sections along the chassis and went over the original welds to strengthen them, making sure the Hilux stayed in shape with its new-found power, and when under abuse out on track. Everything was then blasted back and zinc primer powder-coated to tidy it all up. If you're a fan of seeing more of the fabrication side of things, then be sure to check out the Hi-5's build thread.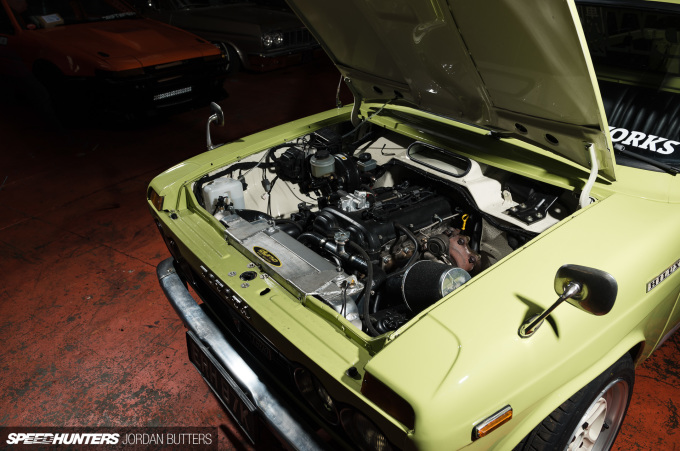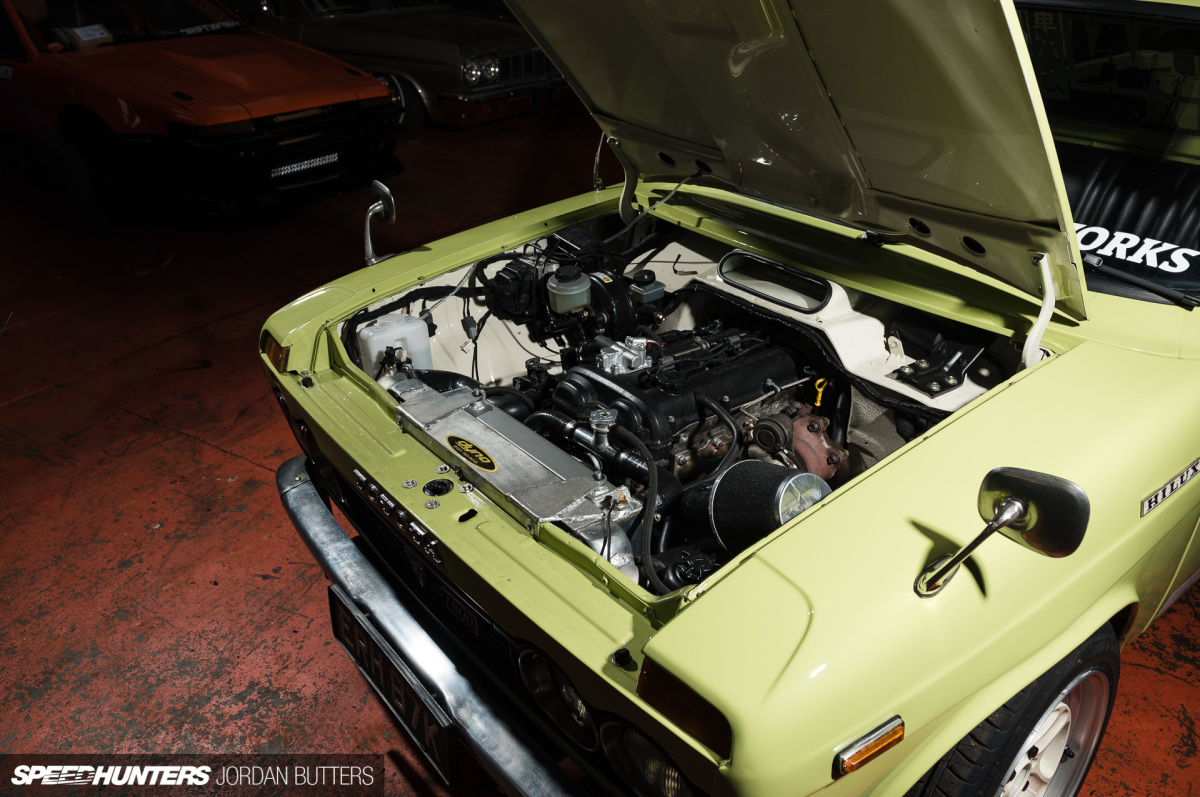 With the chassis beefed up and now starting to look like the foundations of a car again, the cab section went back on to work out engine and box clearances. At this point out came the angle grinder again as the engine encroached on the bulkhead and the stock Hilux transmission tunnel was tiny and never going to cut it.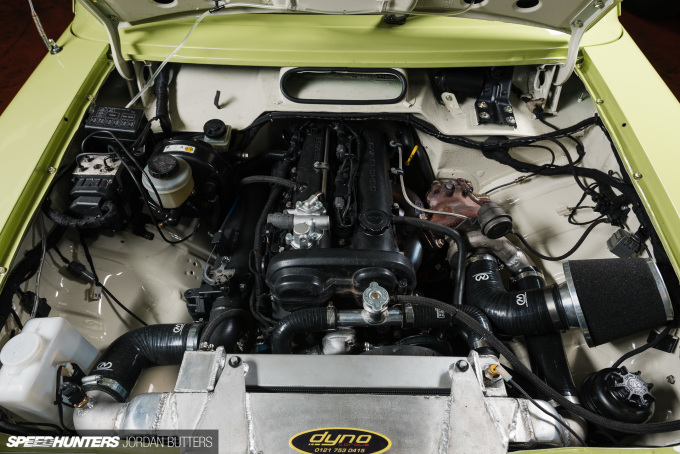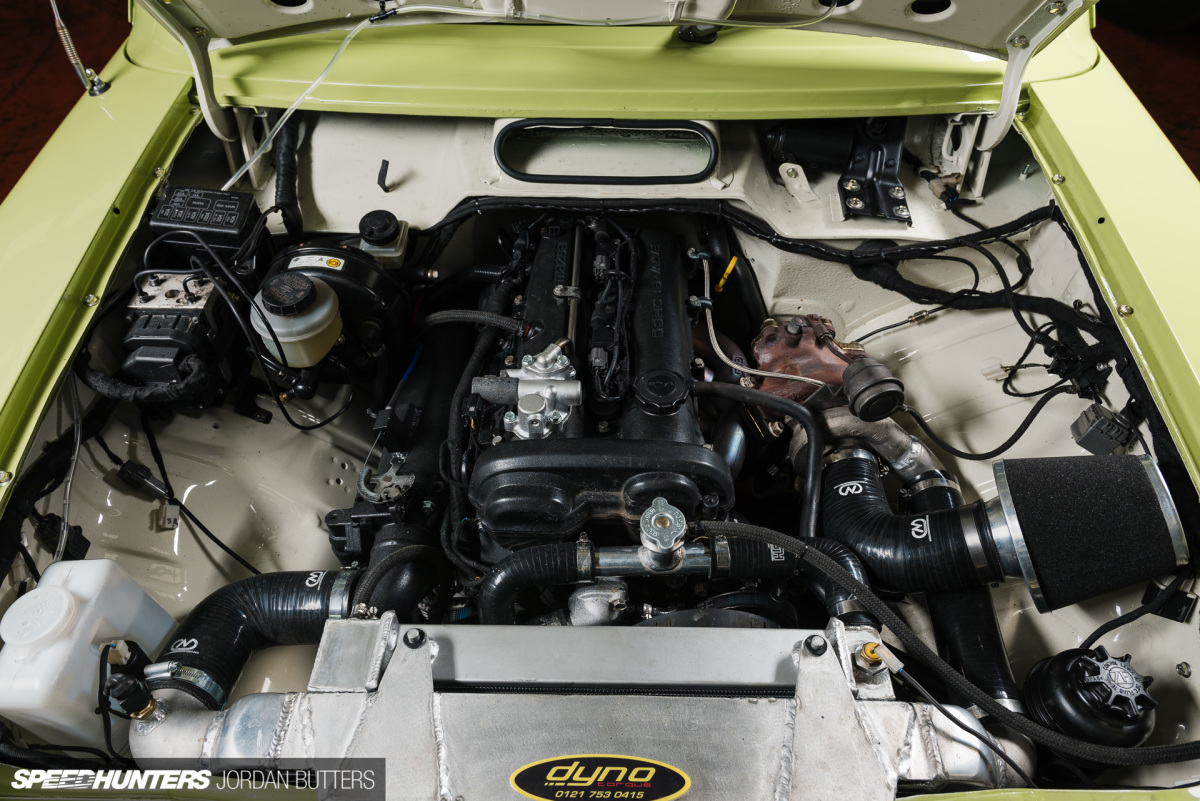 The positioning of the master cylinders on the bulkhead meant that the MX-5's inlet manifold had to be modified to fit. A new one was fabricated from scratch, painted black and is now tucked away nicely. While the cab and bed were away getting a fresh coat of its 'Verde Guacamole' paint, the bay was painted a contrasting cream colour. It's nice and classy.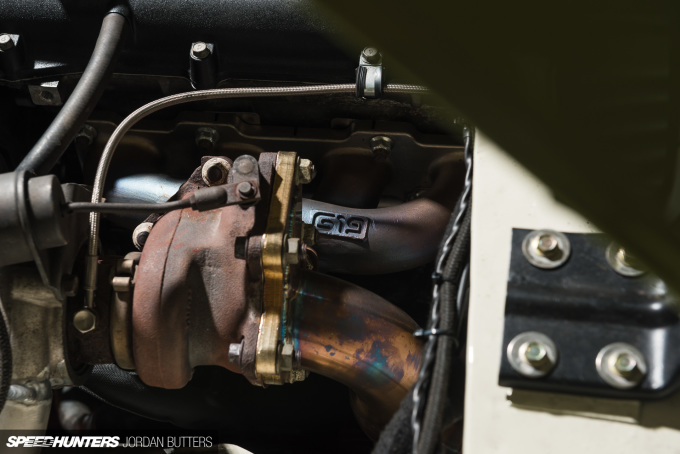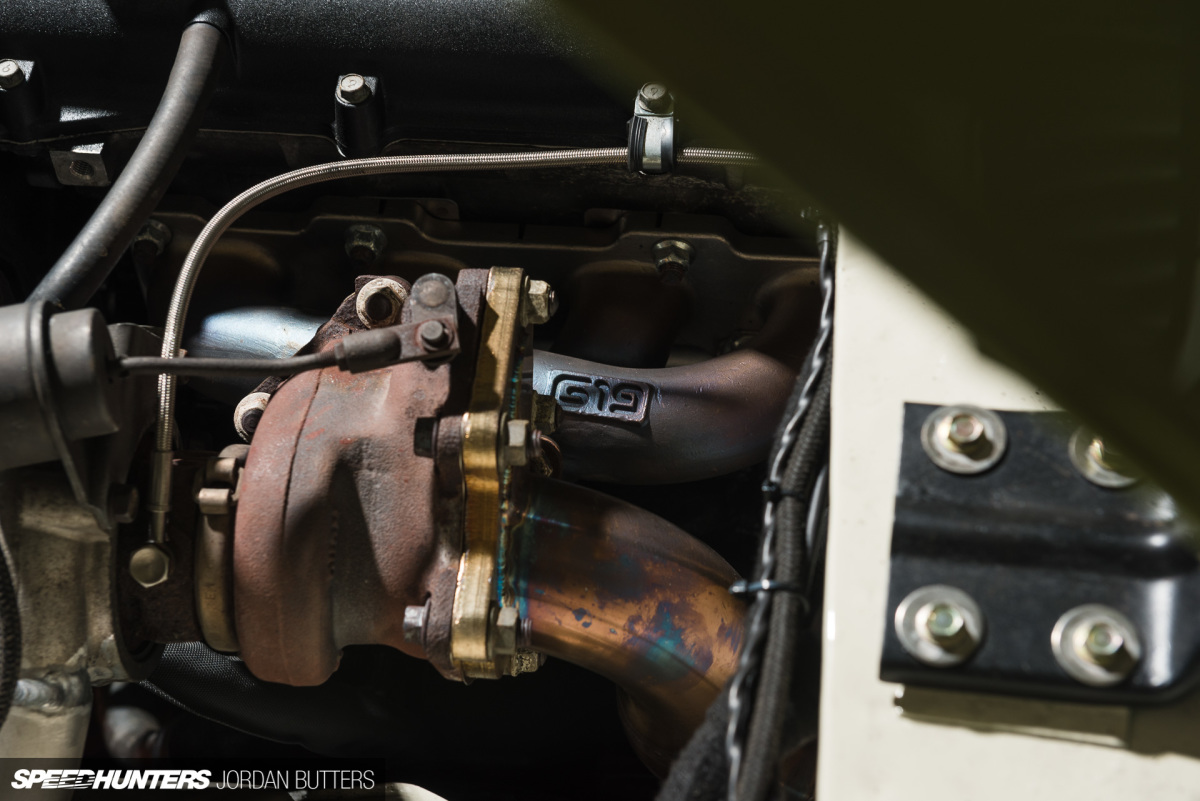 Obviously James wasn't going to be happy with the MX-5's 1.8L VVT power output in naturally aspirated form. Thankfully, these engines seem to take boost incredibly well, so a Subaru TD04 turbo was sourced and mated to the Mazda block using a G19 turbo kit – this consists of manifold, down pipe, beefy turbo mount and all lines and hardware. At last, an off-the-shelf solution for at least one part of the build!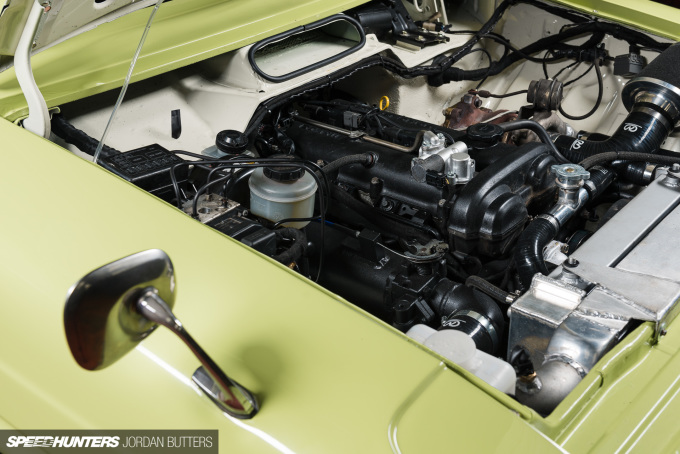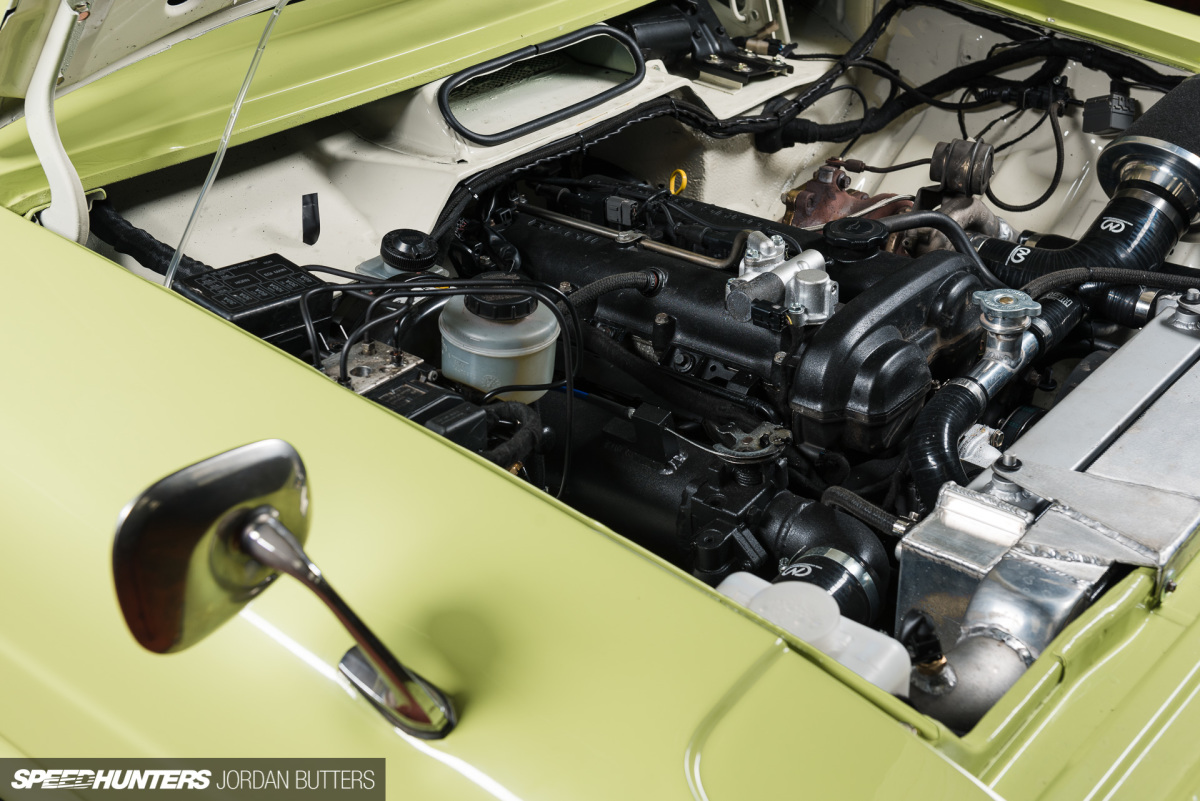 That's the upside of keeping the running gear as close to MX-5 as possible paying off already. The engine is controlled by a Motorsport Electronics ME221 ECU, which is plug and play with the OEM MX-5 loom. Power is around 220hp at 0.6bar (8.8psi) boost, and that's playing it nice and safe with plenty of scope for more.
Peek back underneath and a custom OBP sumped fuel tank is slotted into place, filled with foam baffles to stop fuel surge when on track, and eliminating the need for a swirl pot or anything that might complicate matters. An external Sytec Motorsport fuel pump, fuel pressure regulator and filter are fitted inline, easily accessible for maintenance if needed.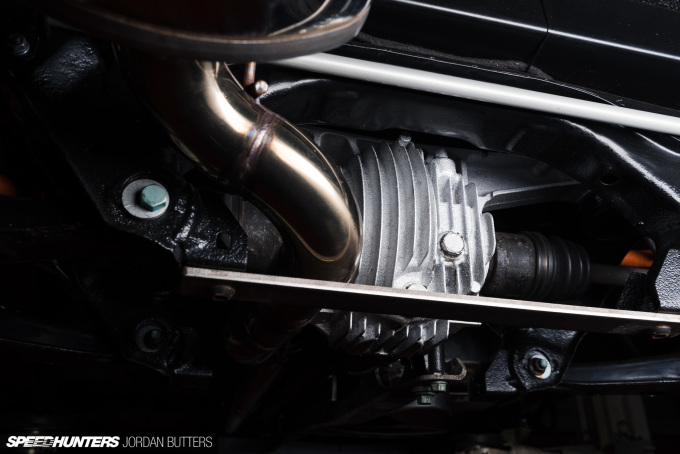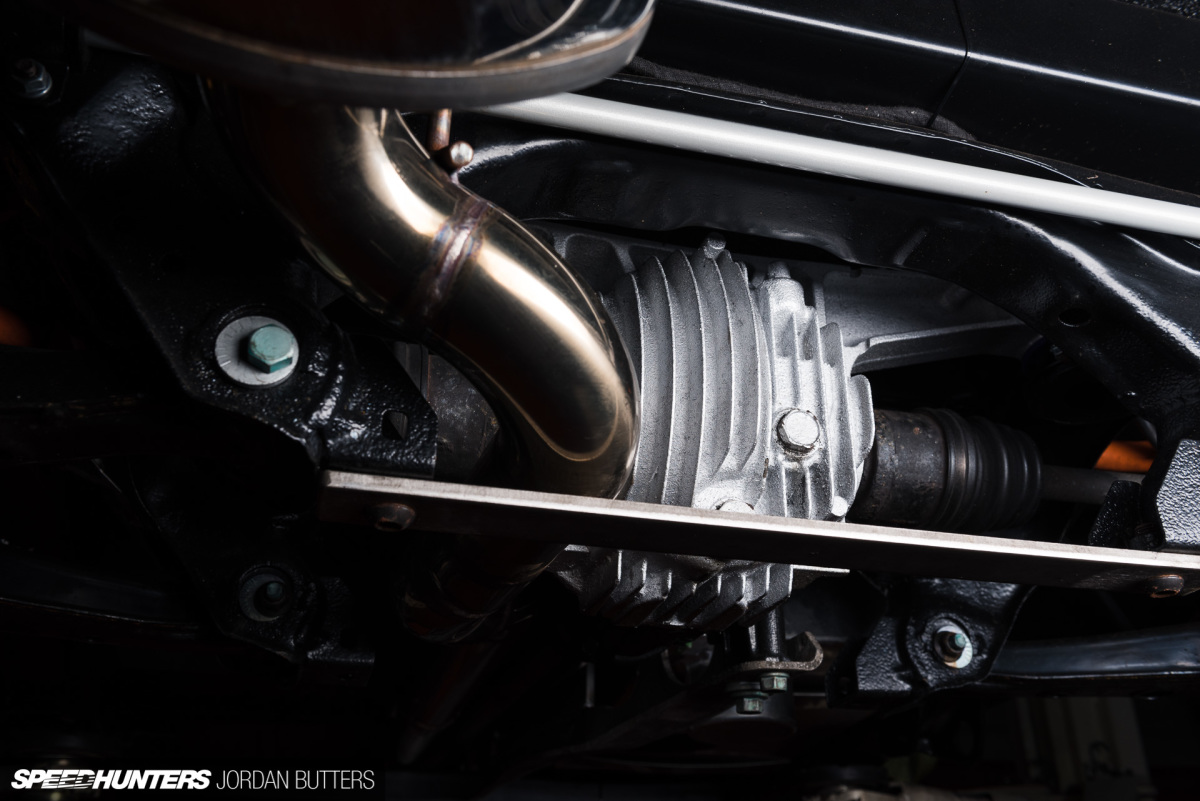 The differential is currently a torsen MX-5 item, which James was told was the one to have. However, after giving the truck a shakedown he may be looking to uprate it as it wasn't great for drifting, so he tells me.
DynoTorque fabricated the exhaust from the G19 down pipe backwards, finishing in a swanky Simons back box with a custom down-swept tip.
You're Too Slow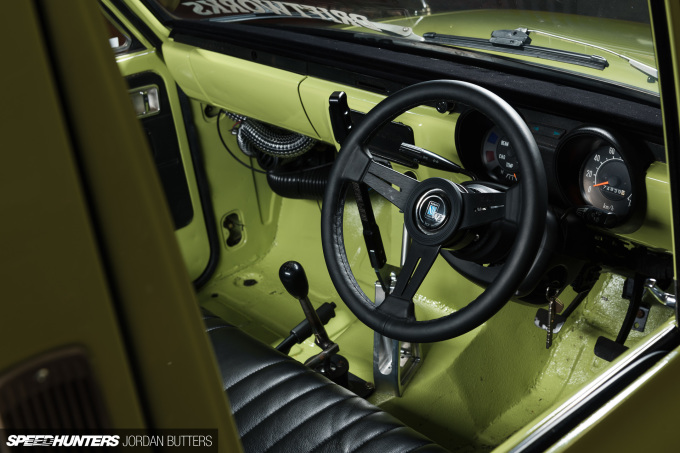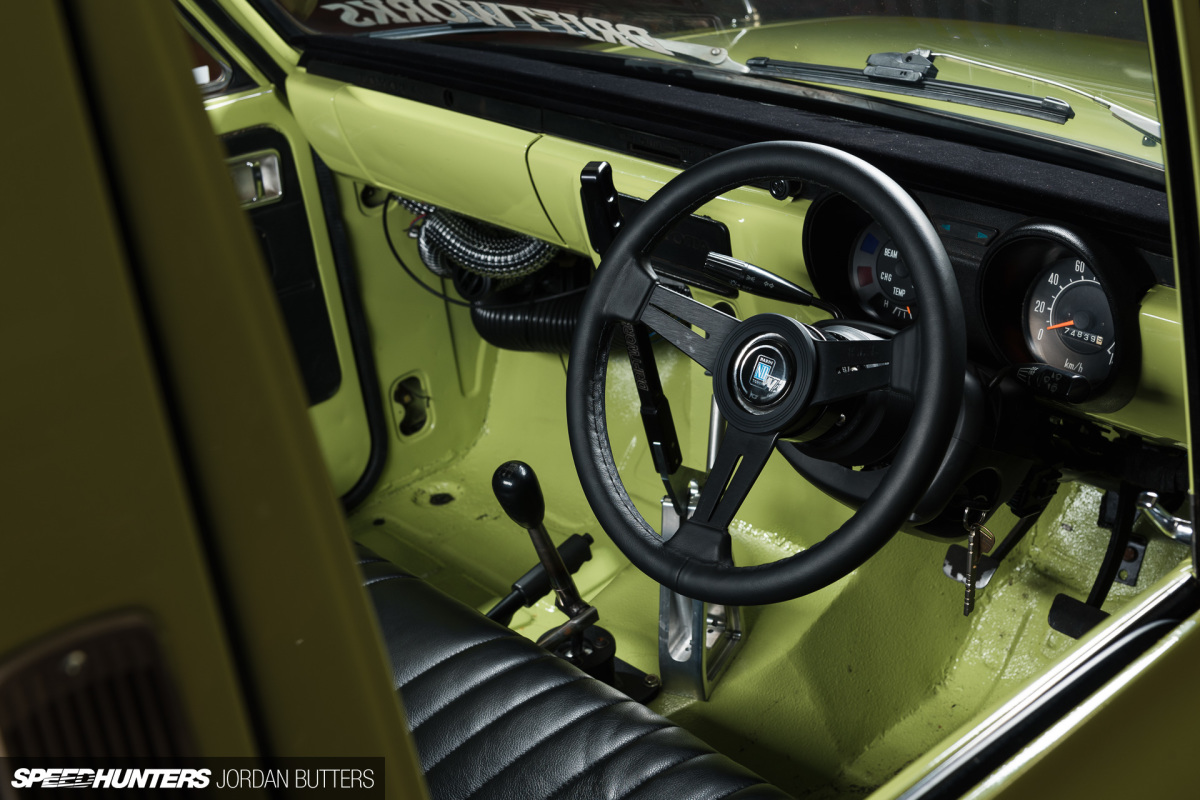 Into the cabin we go for a closer look at what's been done inside. One problem that needed some further thinking was that the MX-5's gearshift wanted to enter the cabin right through the middle of the Hilux bench seat.
To get around this, a linkage system was fabricated to bring the shifter forwards and into a useable position. This sits alongside one of Driftworks' own hydraulic handbrake setups, mounted on the floor but which uses another linkage system tucked up behind the dash to operator the cylinder. It's all a very clever use of very limited space.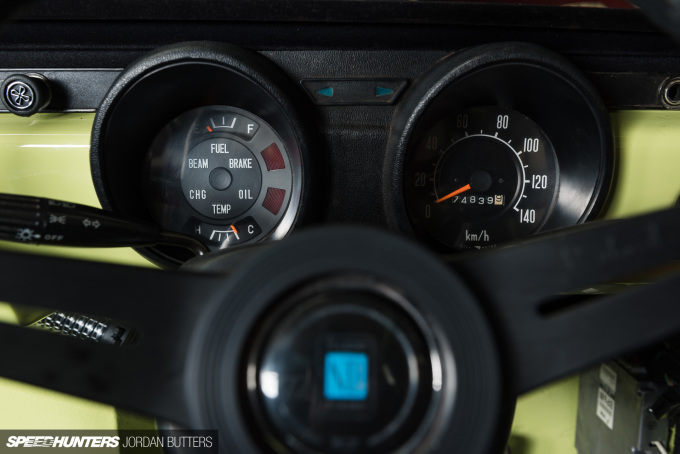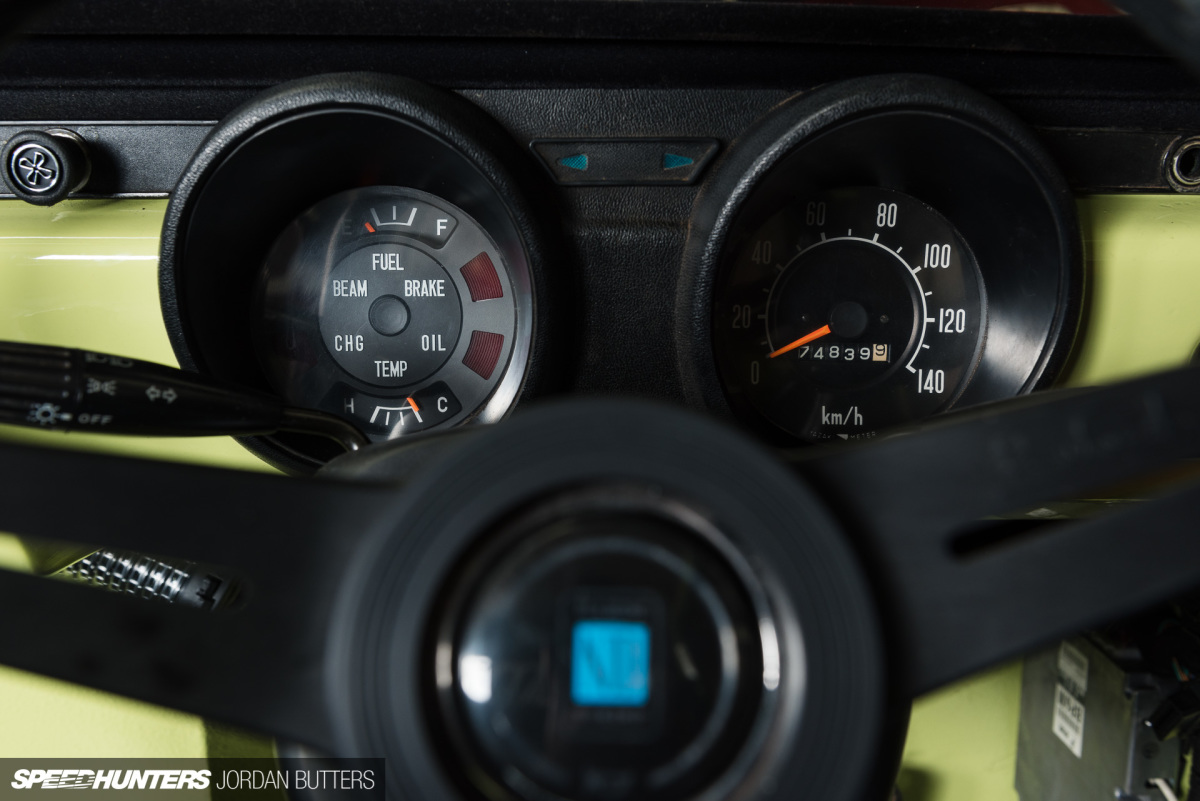 James was keen to keep the Toyota feeling retro inside, so a Nardi wheel sits in front of the OEM Hilux clocks. Bar the installation of a small electric heater, a flocked dash panel and the aforementioned linkages, the interior looks almost as standard.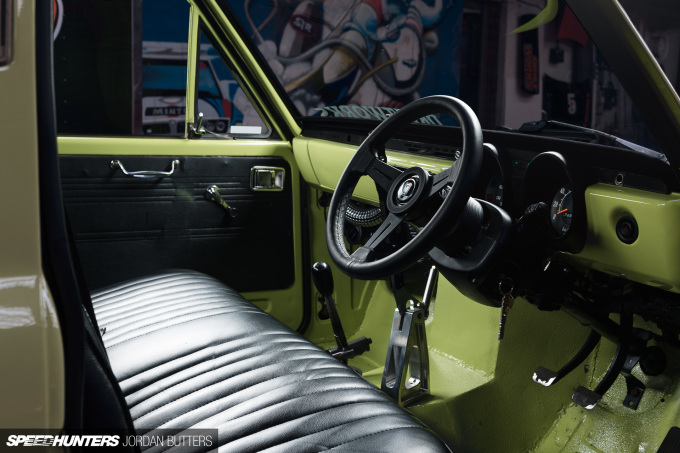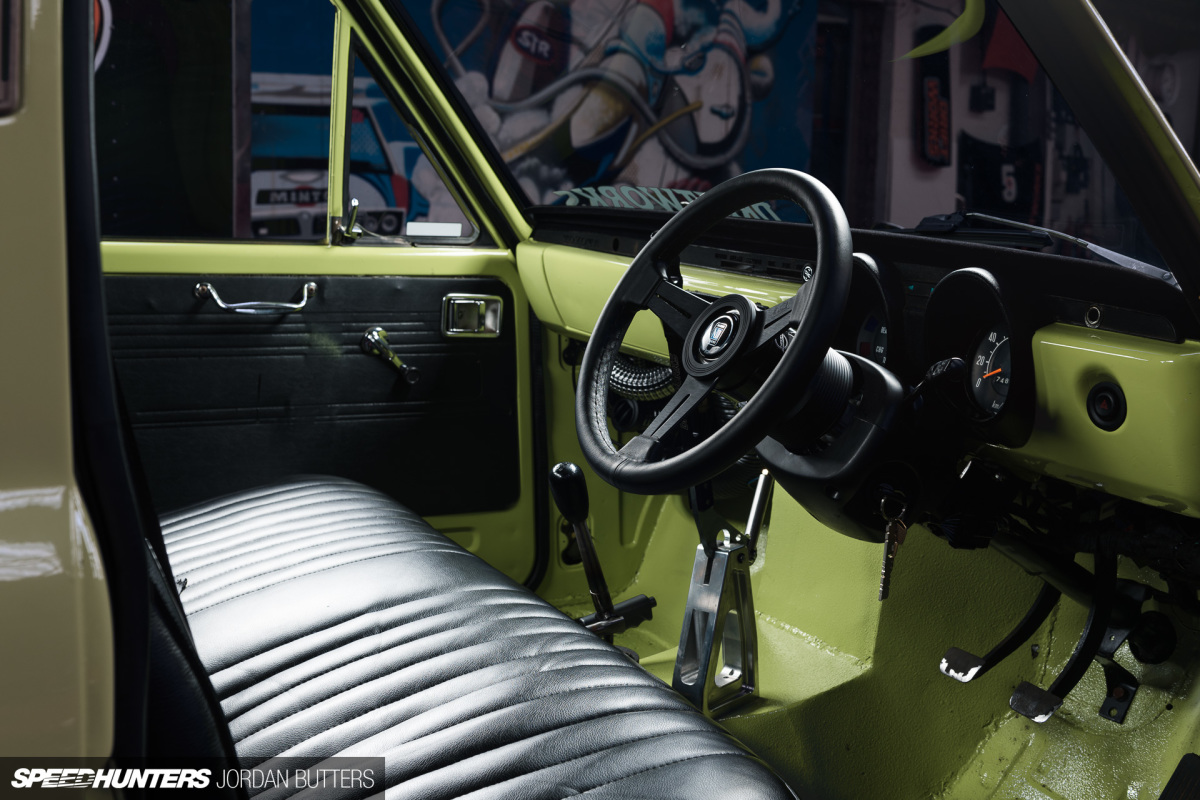 James has retained the Hilux's bench seat, however after the car's initial shakedown at Drift Matsuri last year, he found it less than ideal for holding him in position, despite using CG locks on the seatbelts.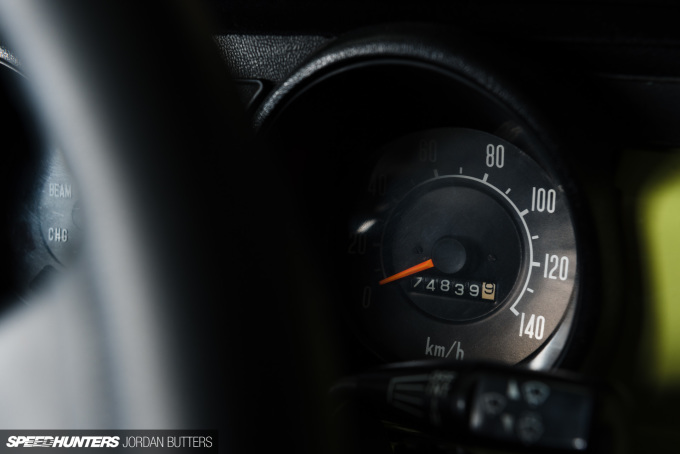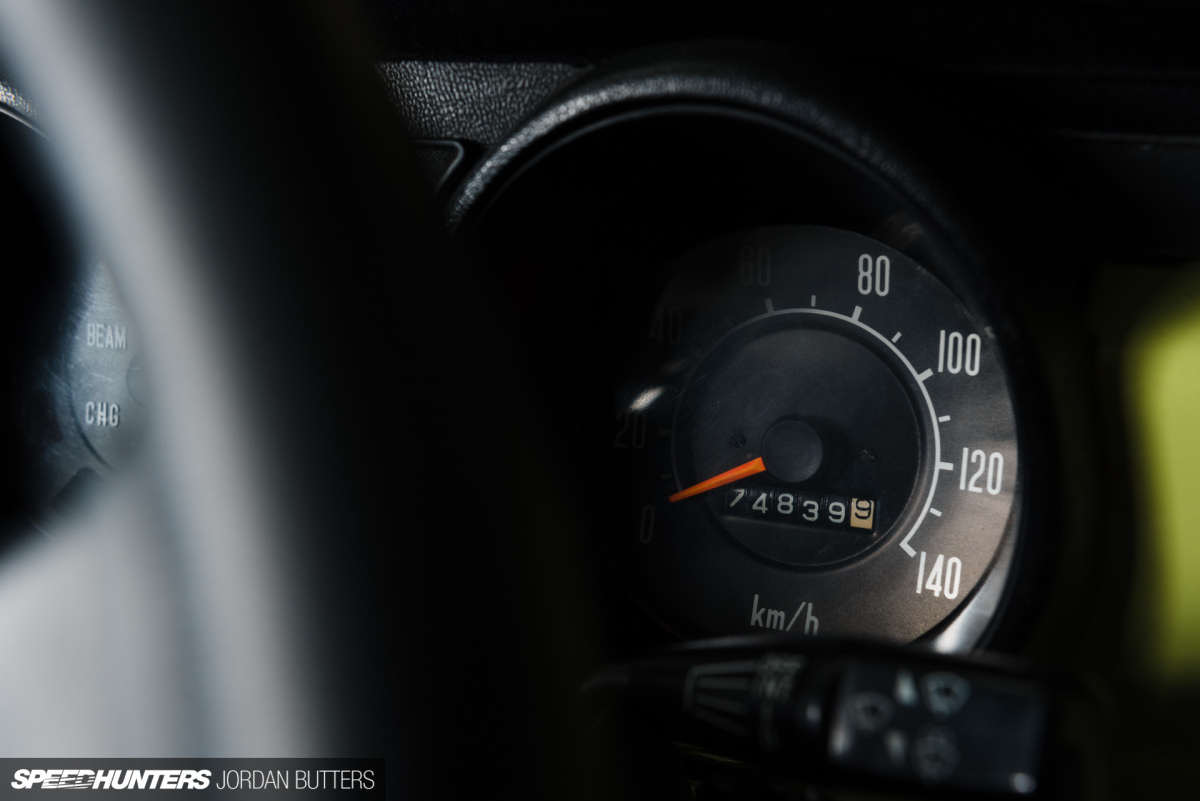 The guys at Driftworks are still looking for a solution to this, as there's really not room to install bucket seats, although talk of using a sculpted rear bench off another car to at least hold the driver and passenger in place might provide the solution, coupled with some form of harness bar.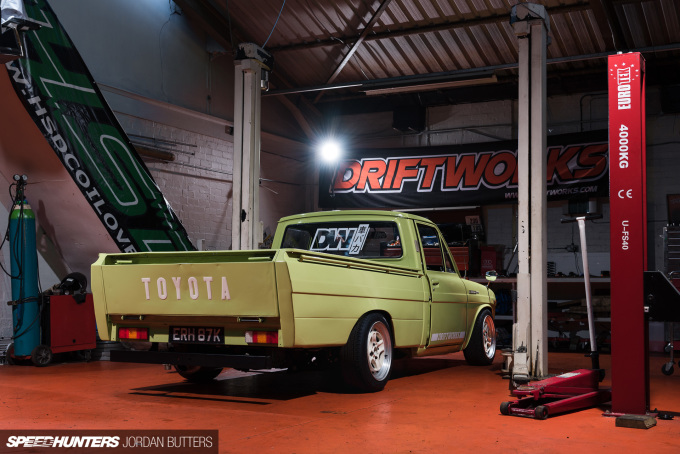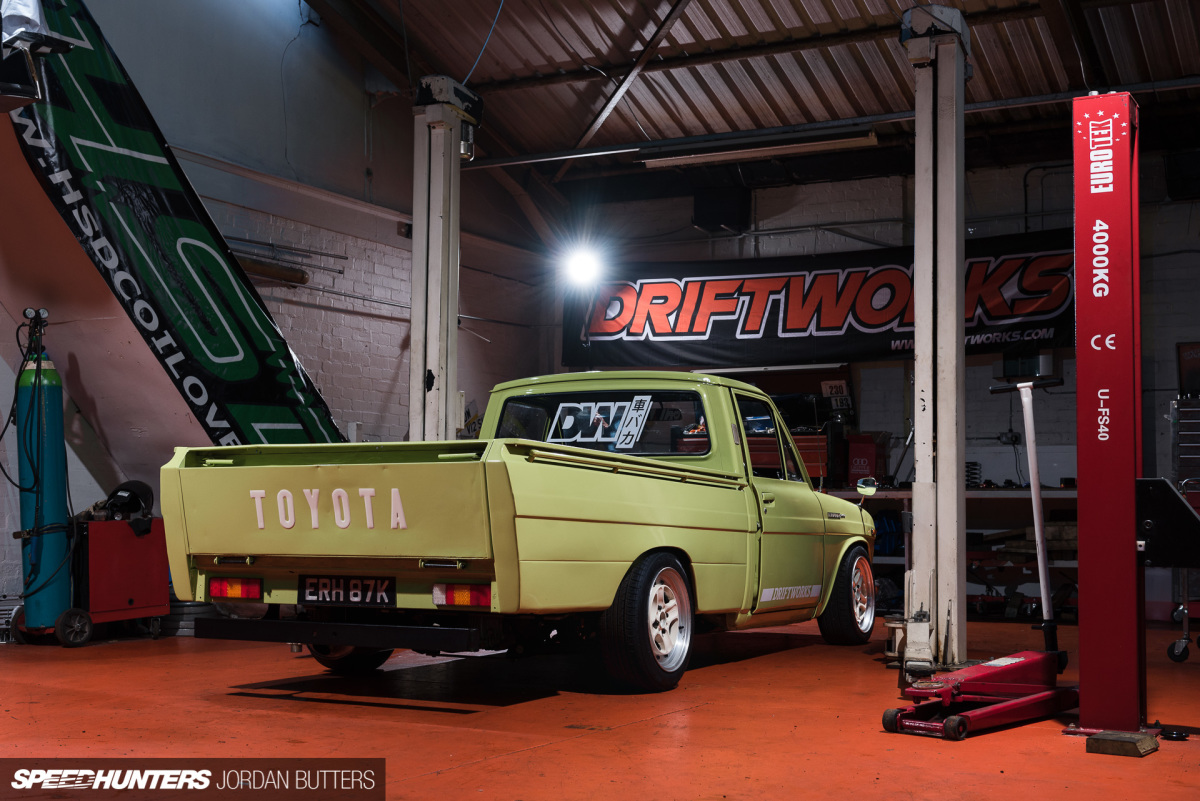 A set of dinky brand-new Work Equip 40s finished in a unique cream colour, sit at each of the Hilux's four corners.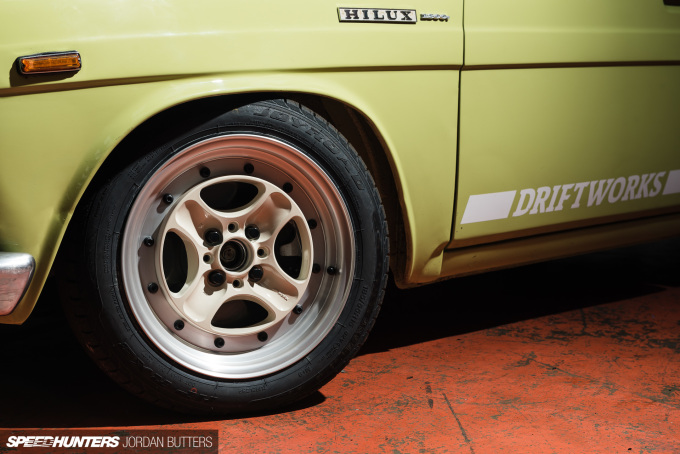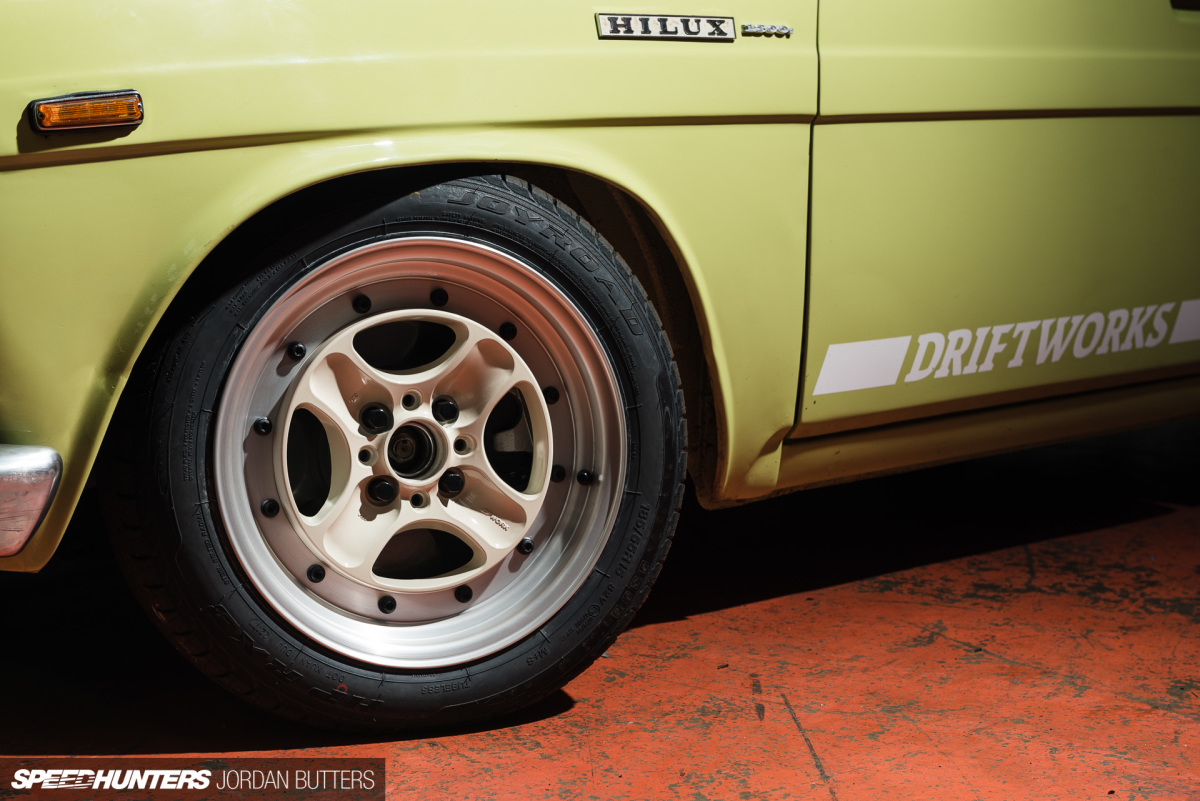 Measuring at 15×7-inch +32, they're about as aggressive as James can get away with, although a slight tweak was needed for the fenders to clear the tyres.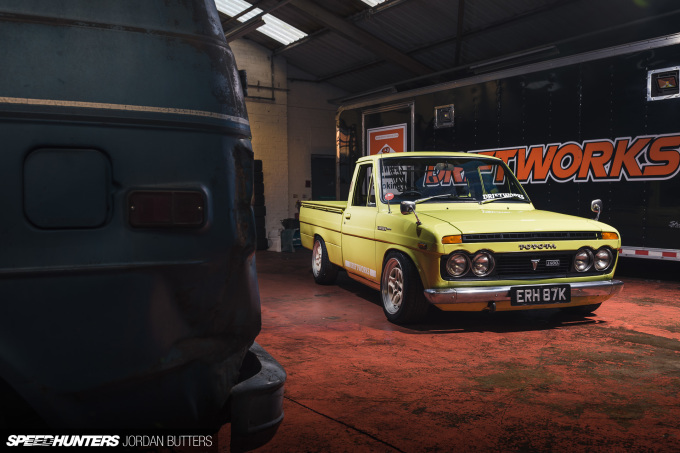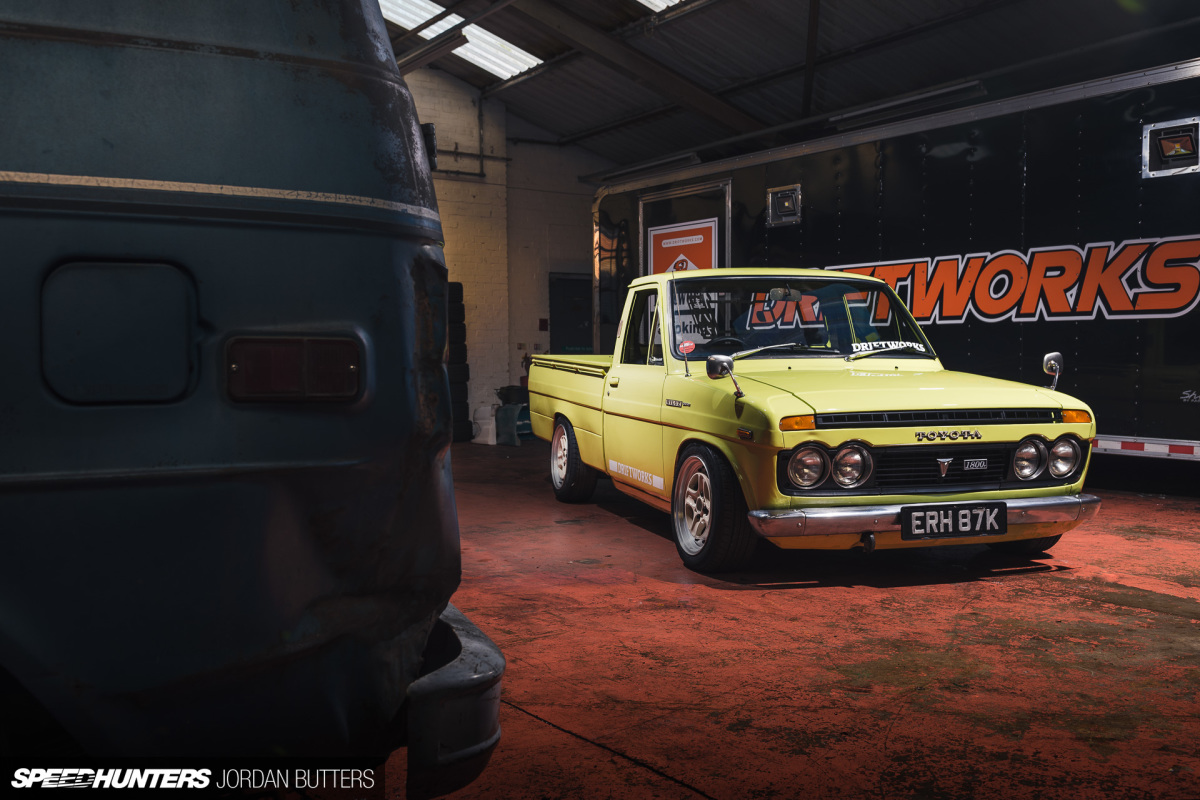 The exterior has been left largely standard, included sticking to the Toyota's original shade of guacamole as close as possible. Although the body has had a full respray, James opted to leave the little dinks and dents as they were, keen not to erase the charm built up over the Hilux's 46-year history.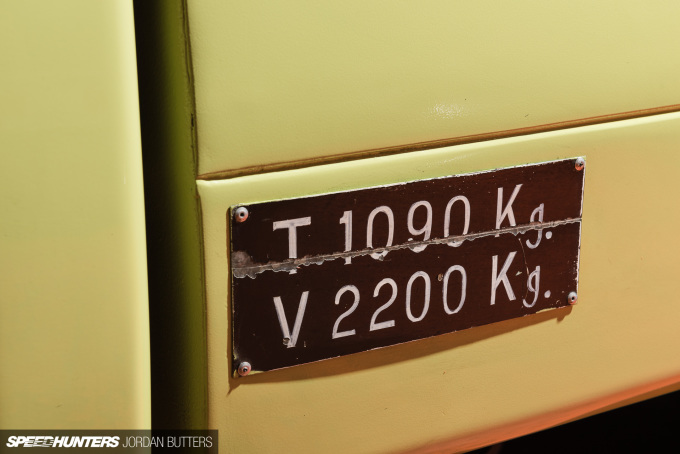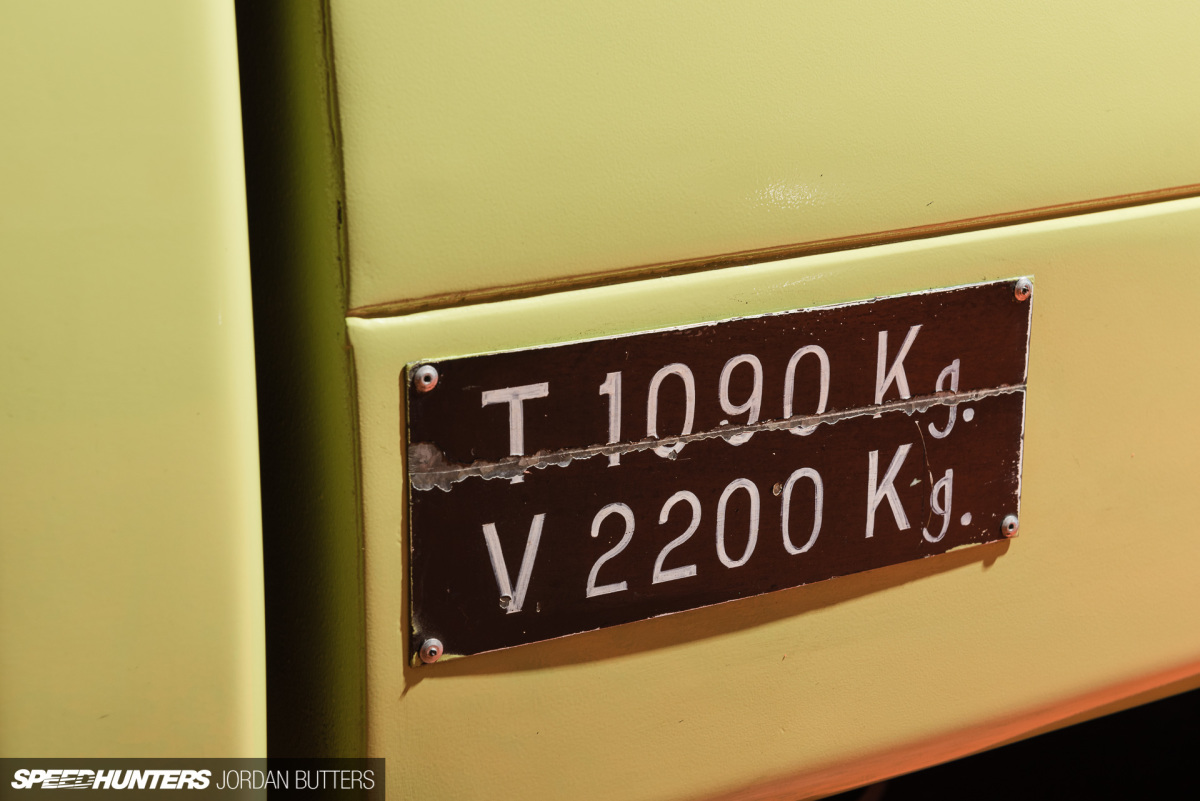 Even down to the truck's original weight plate, which someone has obviously got a bit too close to an immovable object with in the past. Interestingly, the Hilux's new weight is 1,099kg, which is remarkably close to its original 1,090kg. I think James should do whatever he can to lose those 9kg and make it all line up nicely. Horsepower is over four times the original figure though, so carrying that extra bulk isn't an issue.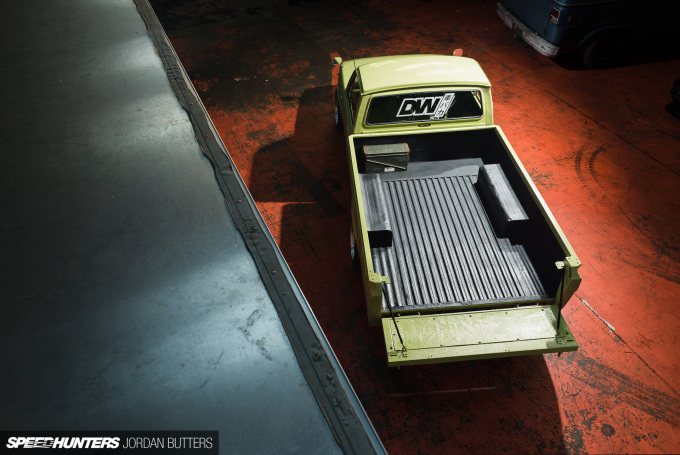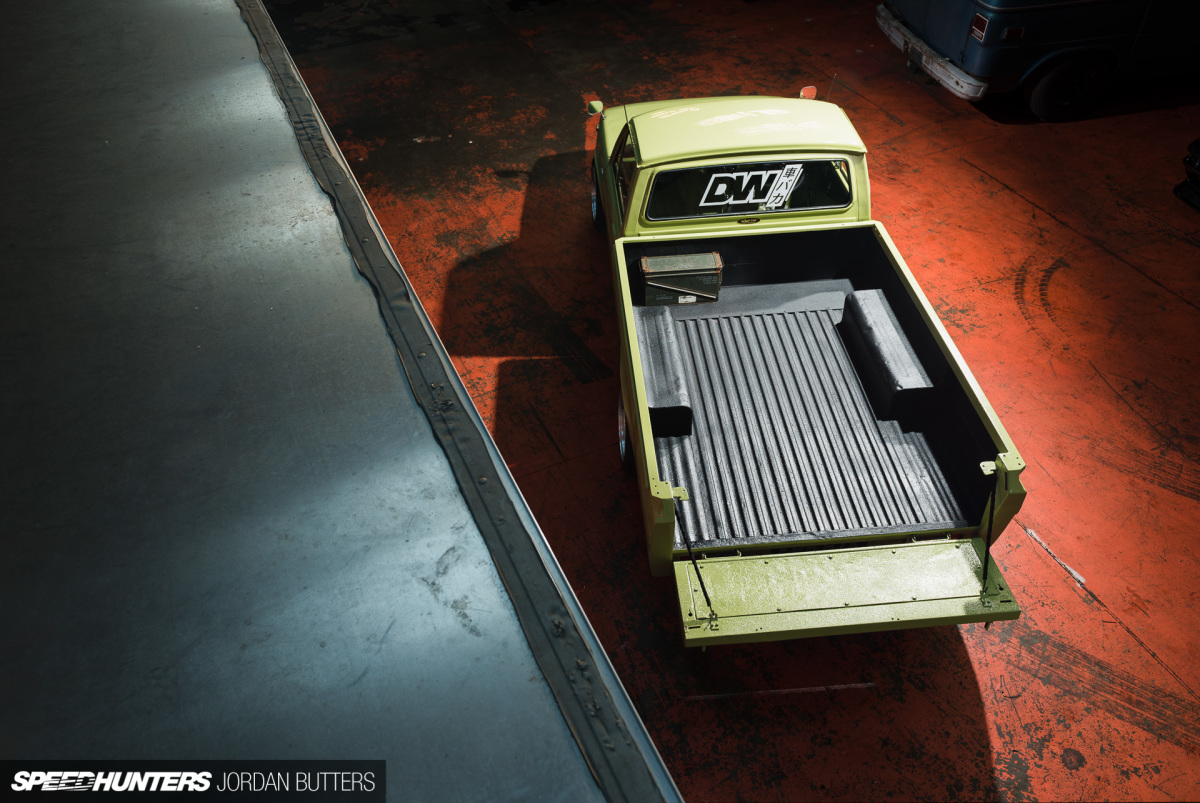 The truck's bed has been overhauled with a new coat of bed liner. Although James strayed pretty far from his original goal of building something simple and utilitarian to haul mountain bikes around in, the Hilux can still do exactly that – it's just a bit nicer and a lot faster for it.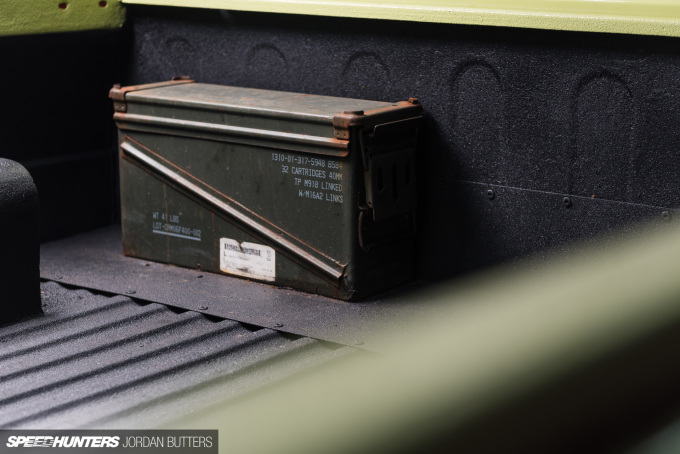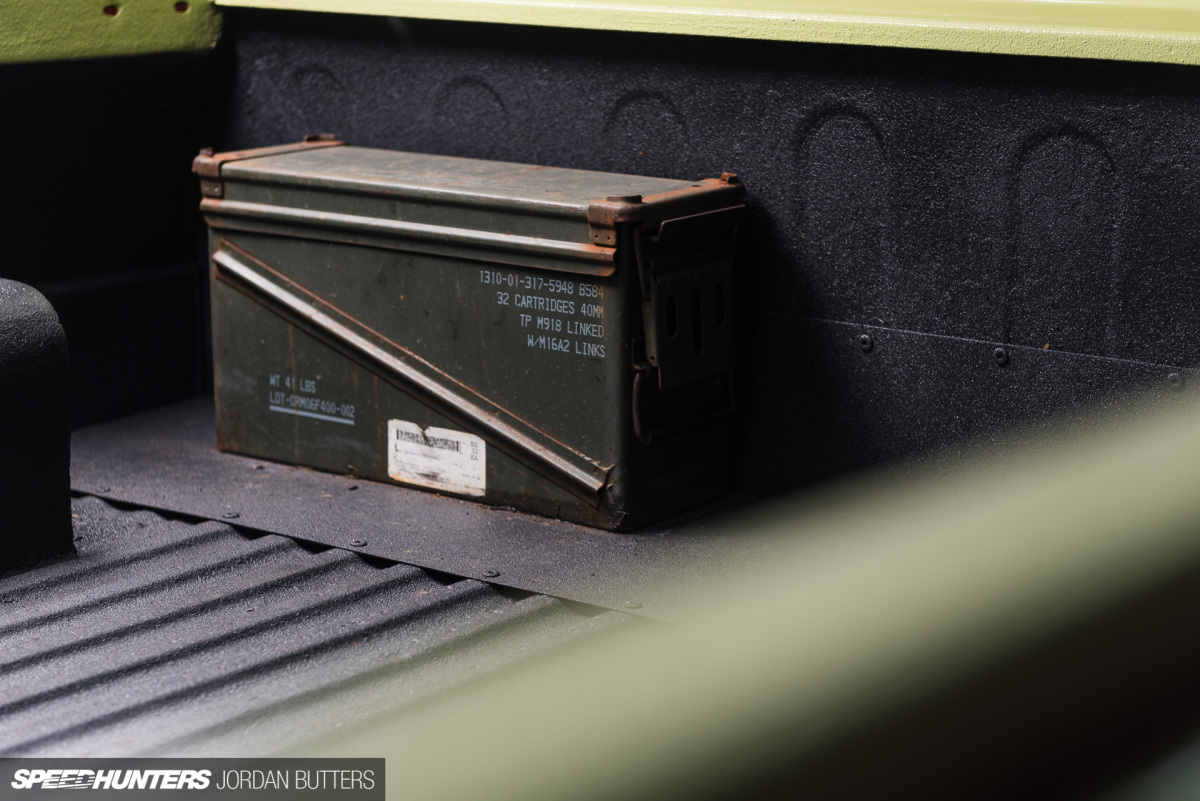 The battery is mounted in a permanently-fixed ammunition box on the rear bed, which is a cool touch too.
Other small changes include the subtle 1800T badges, which were 3D-printed to match the Hilux's original 1600 badges, and updated LED rear lights. If you don't know your retro Hiluxs then you'd never guess at just how fettled with this little Toyota is.
There's still a few jobs to do to finish the Hi-5 off, and a few tweaks to improve it further, but James' initial impressions out on track were amazing. You can see how he got on above.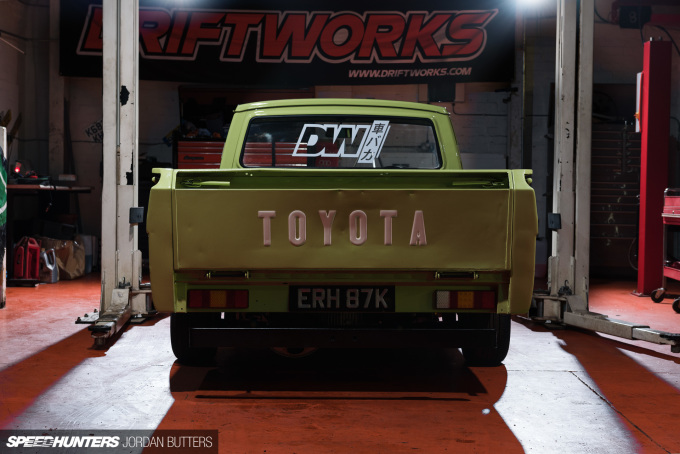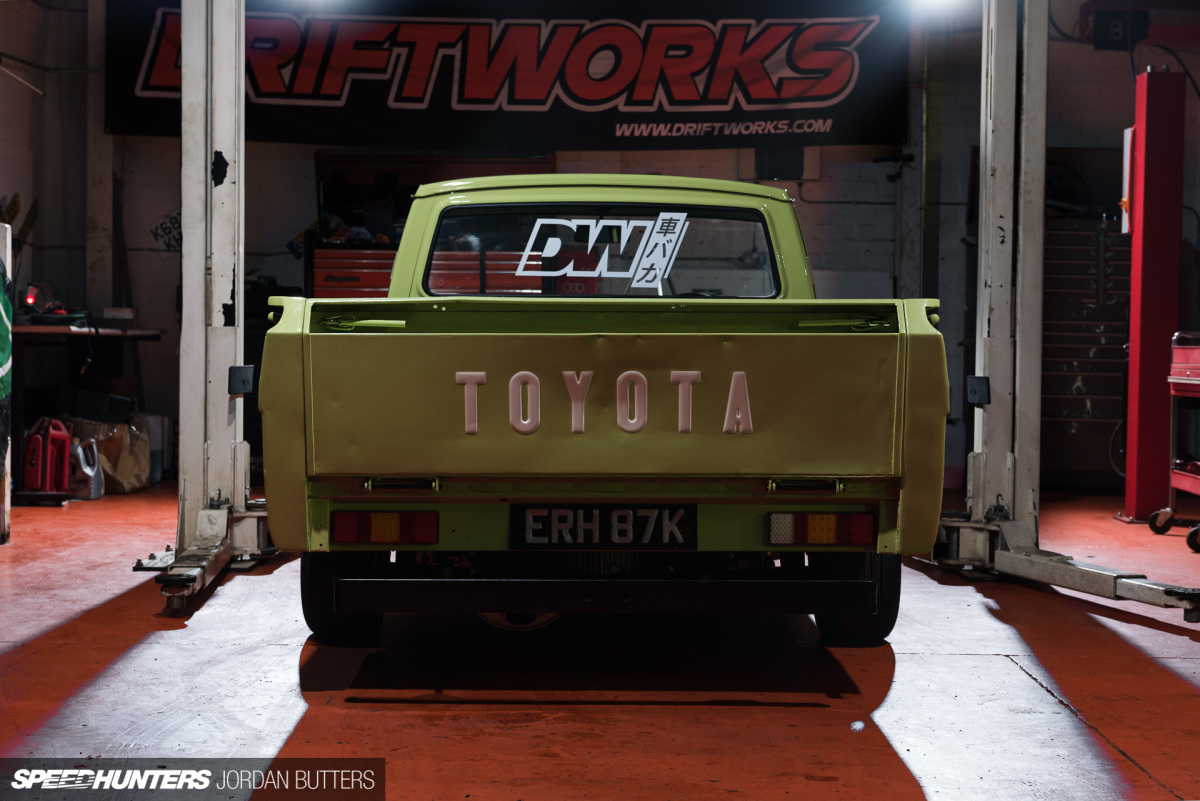 Driftworks and DynoTorque have taken an approach to restomodding that makes an incredible amount of sense. By putting in the hard work early and mating up modern running gear to an older chassis, they've made it incredible easy to maintain and improve on the Hi-5's already stellar performance. Although it's a quirky project, it sticks clearly to the Driftworks' ethos of making a car that's low with good wheel fitment, but is still designed to be driven fast, and with styling that's clean and respectful to the original design.
It's a very cool thing indeed.
Jordan Butters
Instagram: jordanbutters
jordan@speedhunters.com