Akemashite Omedetou Gozaimasu
Japan never rests; it never shuts down. There is never a real pause to proceedings, just a little time alone with loved ones over the first couple of days of the year. It's then right back to business as usual, starting where everyone left off, but boosted by that newfound energy we all summon up at the beginning of January.
And it's sort of been a tradition these last few years that we kick off coverage from Japan with the Daikoku Parking Area's New Year Meeting, an informal, organic event that always manages to put a big smile on our faces while preparing us for what will be a huge month of Speedhunting in the Land of the Rising Sun.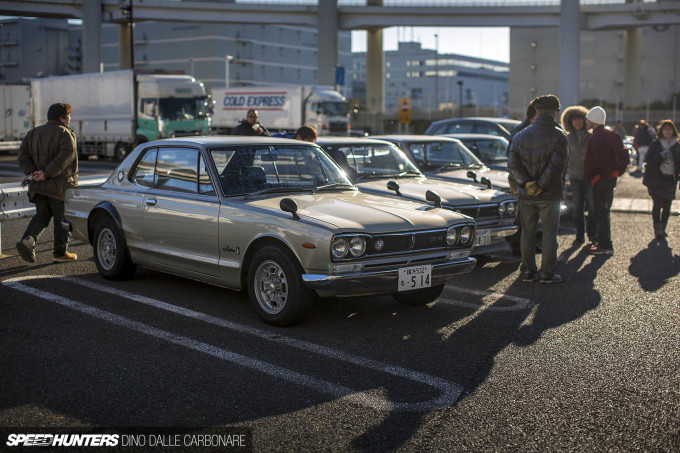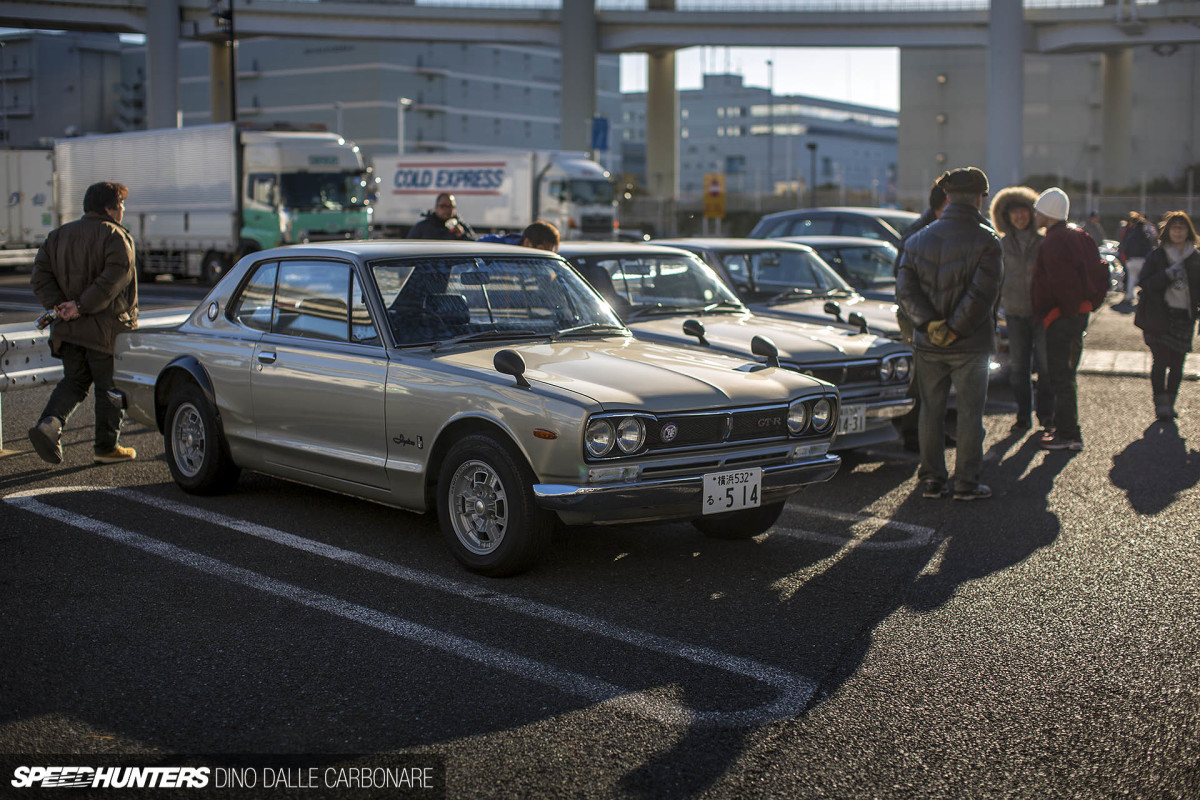 To make the most of the day, I decided to get down to Daikoku PA nice and early. With family celebrations in full swing, most people would only be taking the morning out of their schedule for automotive activities.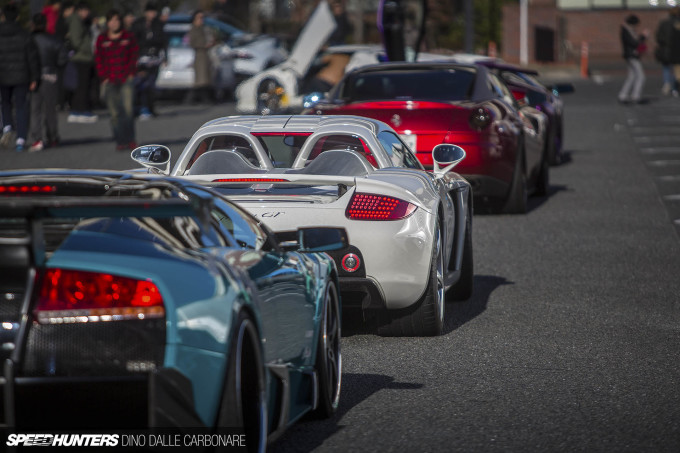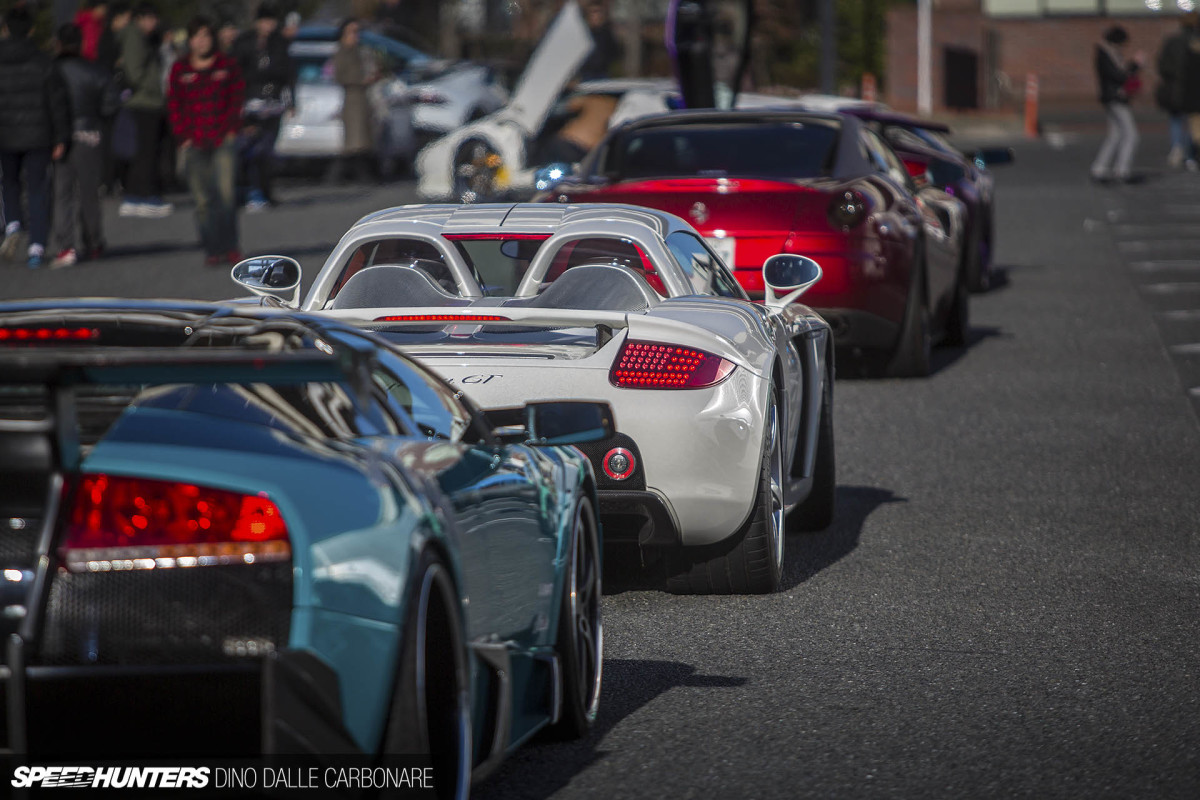 But by 8:30am the place was already buzzing; there was a constant stream of cars coming into the world famous parking area, and all available spots were quickly snapped up.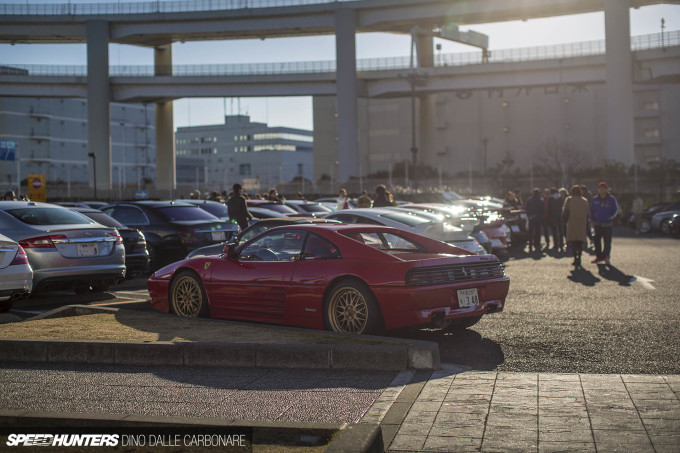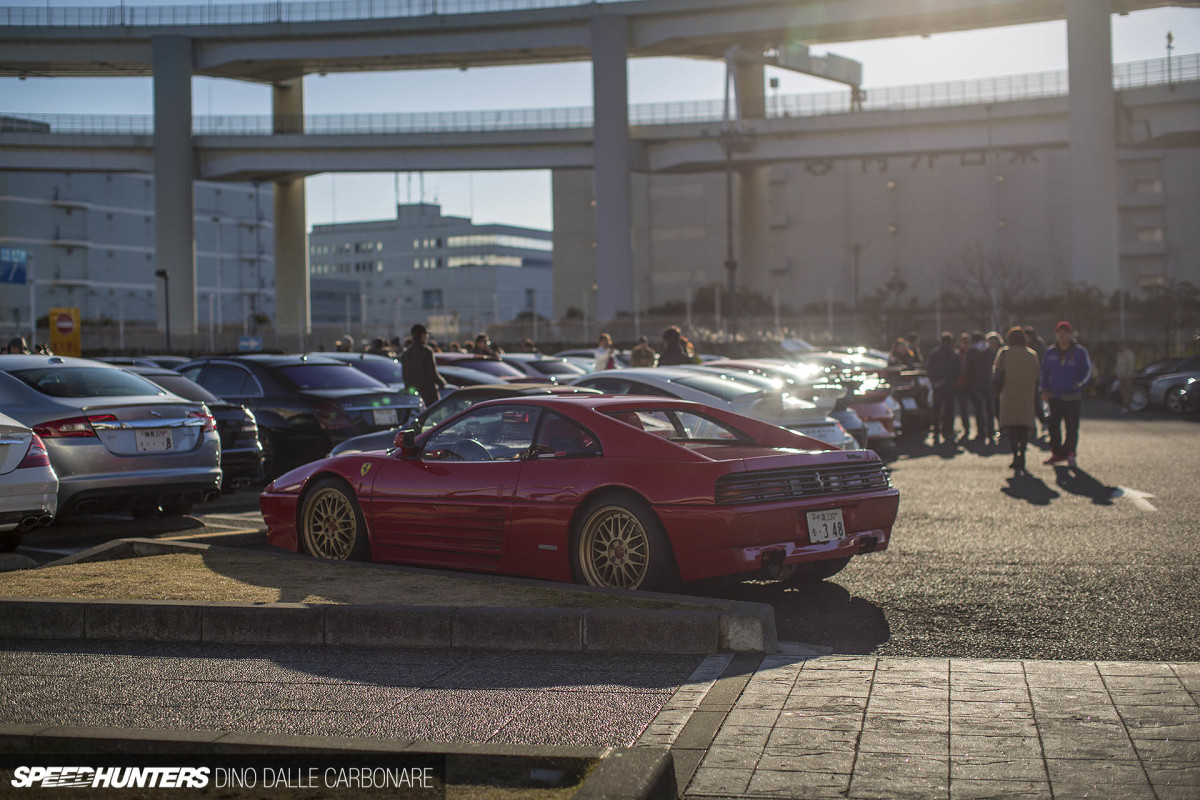 I had time for a quick coffee to jump-start the system and shift me from holiday-mode to work-mode.
To be honest though, it was a struggle to figure out where I should start; the sheer variety of machinery passing by was a constant distraction.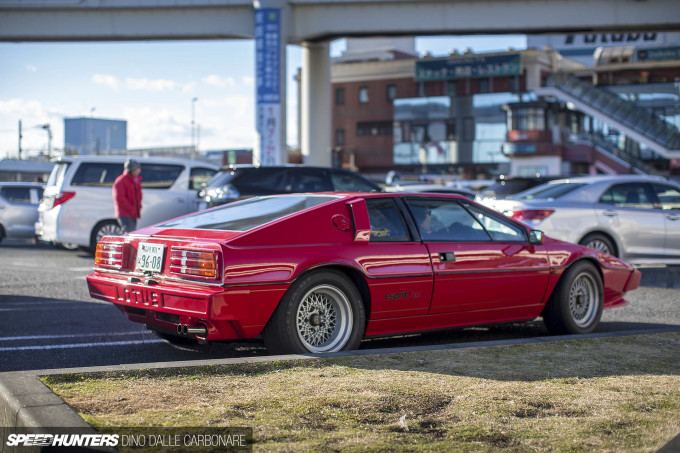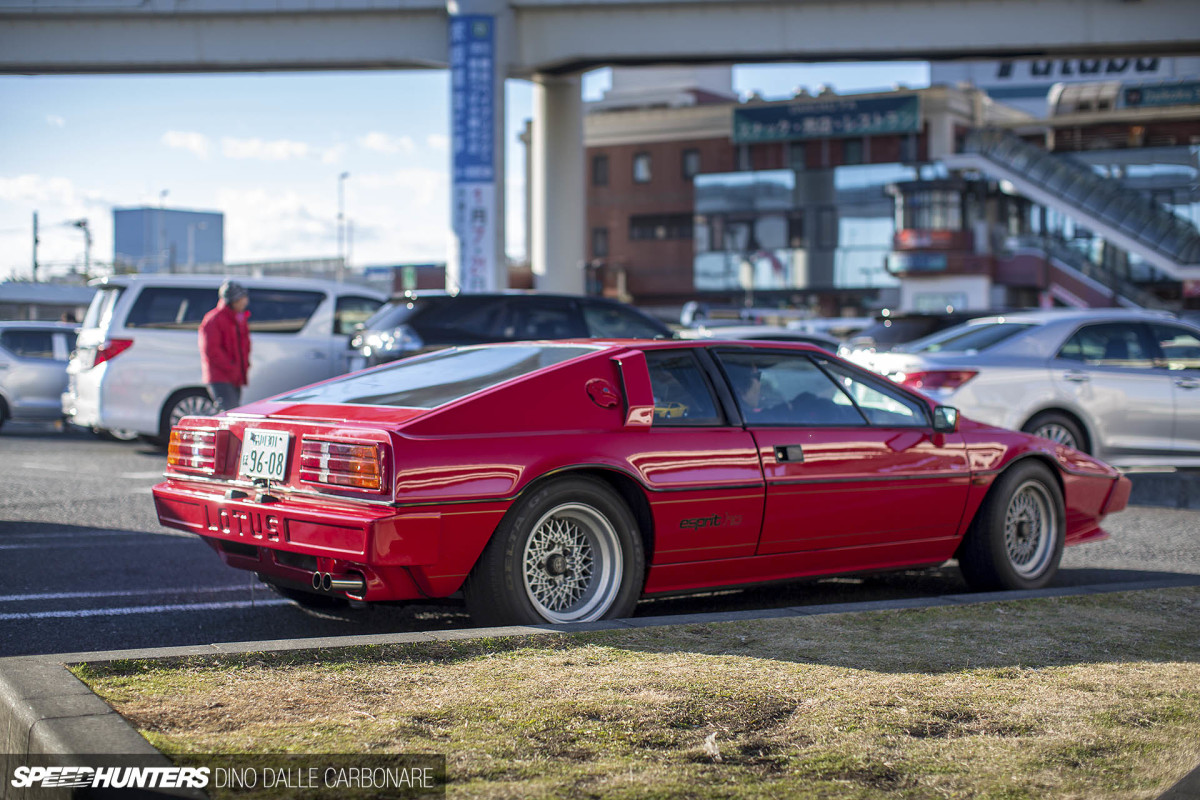 When faced with a situation like this you just end up shooting everything. It doesn't matter either, because you know you're immortalizing pure automotive awesomeness, from old to new and from domestic to import.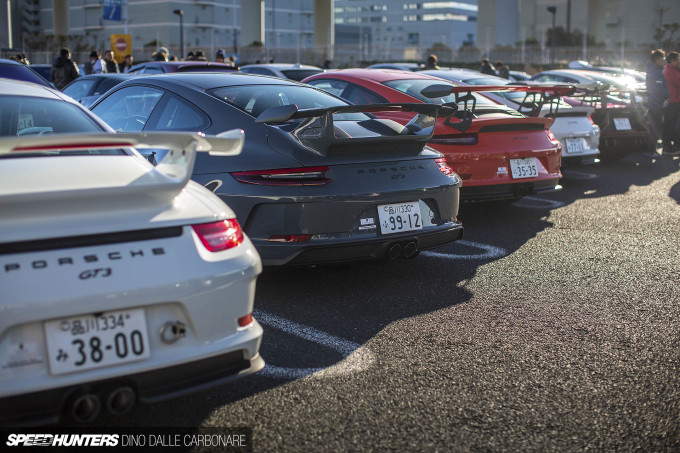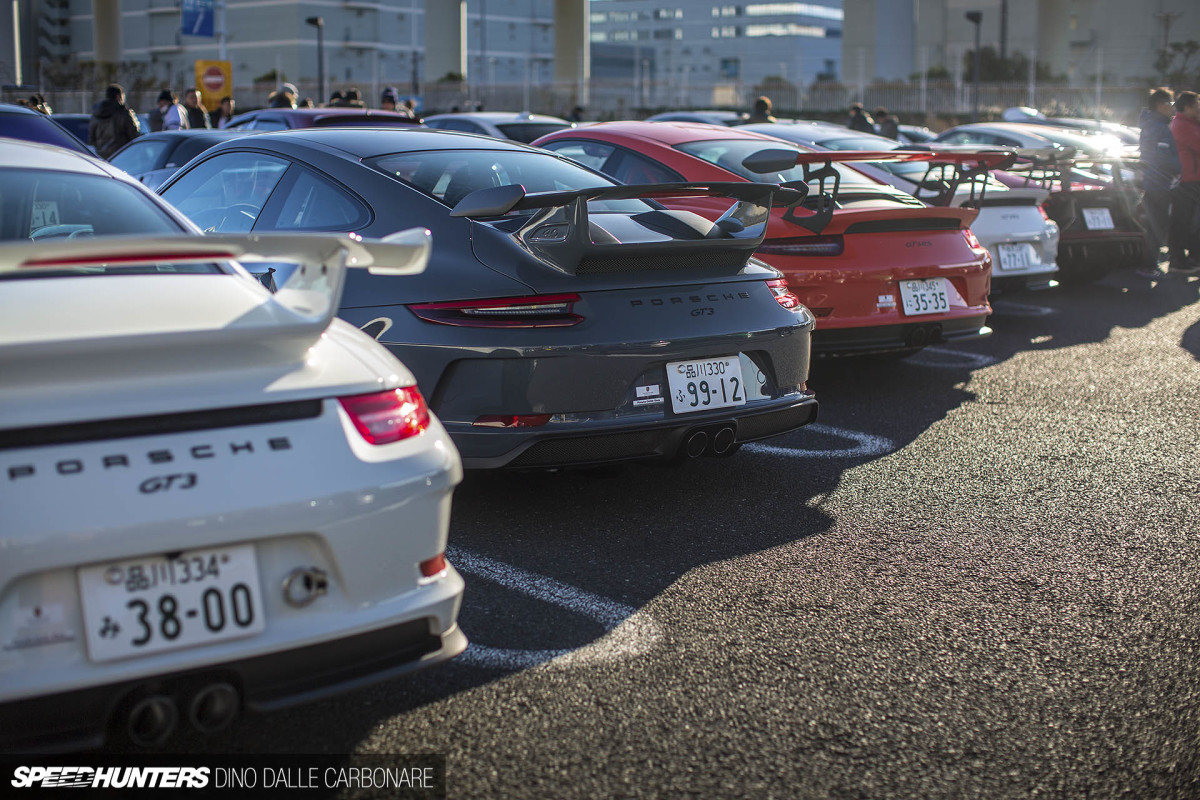 It's always amusing to see clubs and groups of friends that have come in early together taking up blocks of parking spots, in the process creating line-ups like this.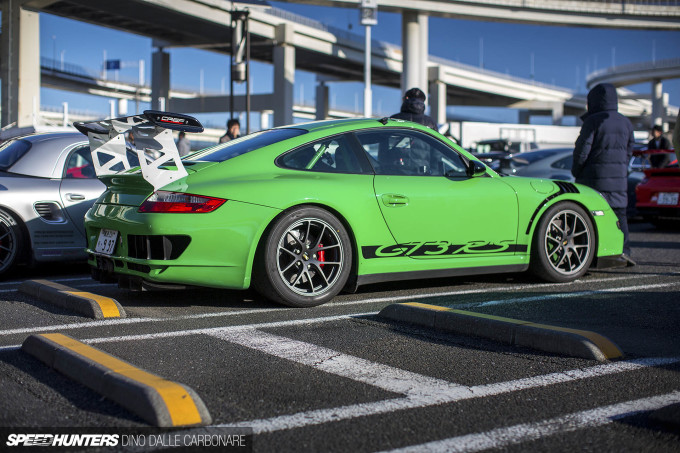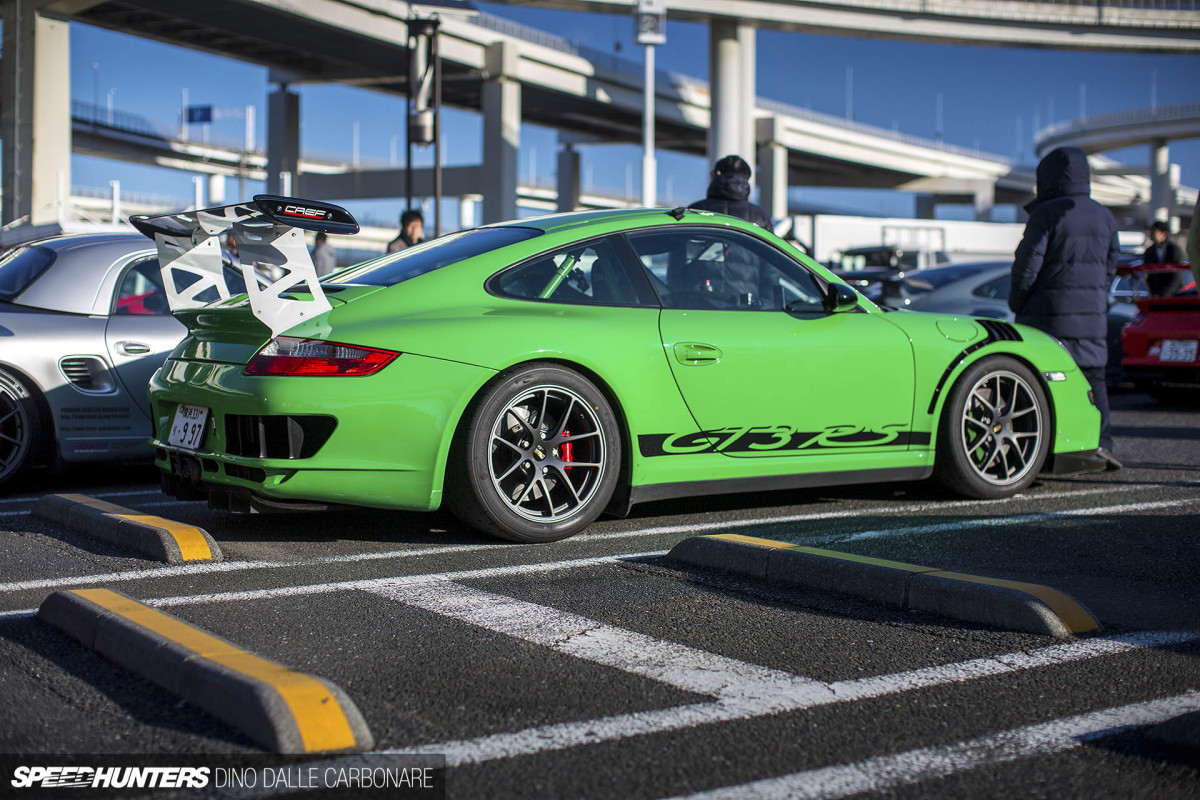 To RS or not to RS, that is the question…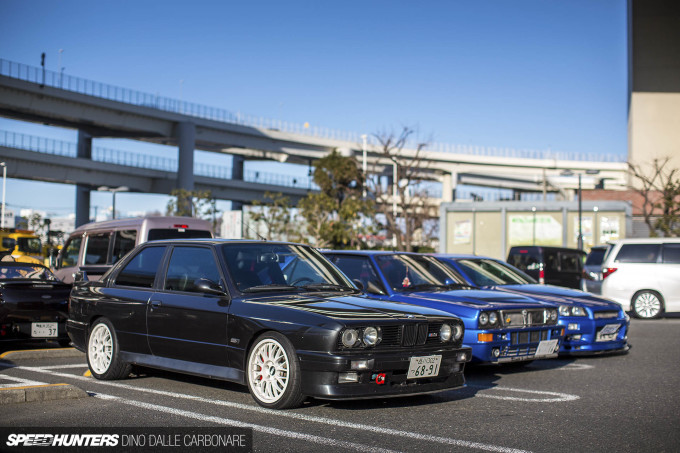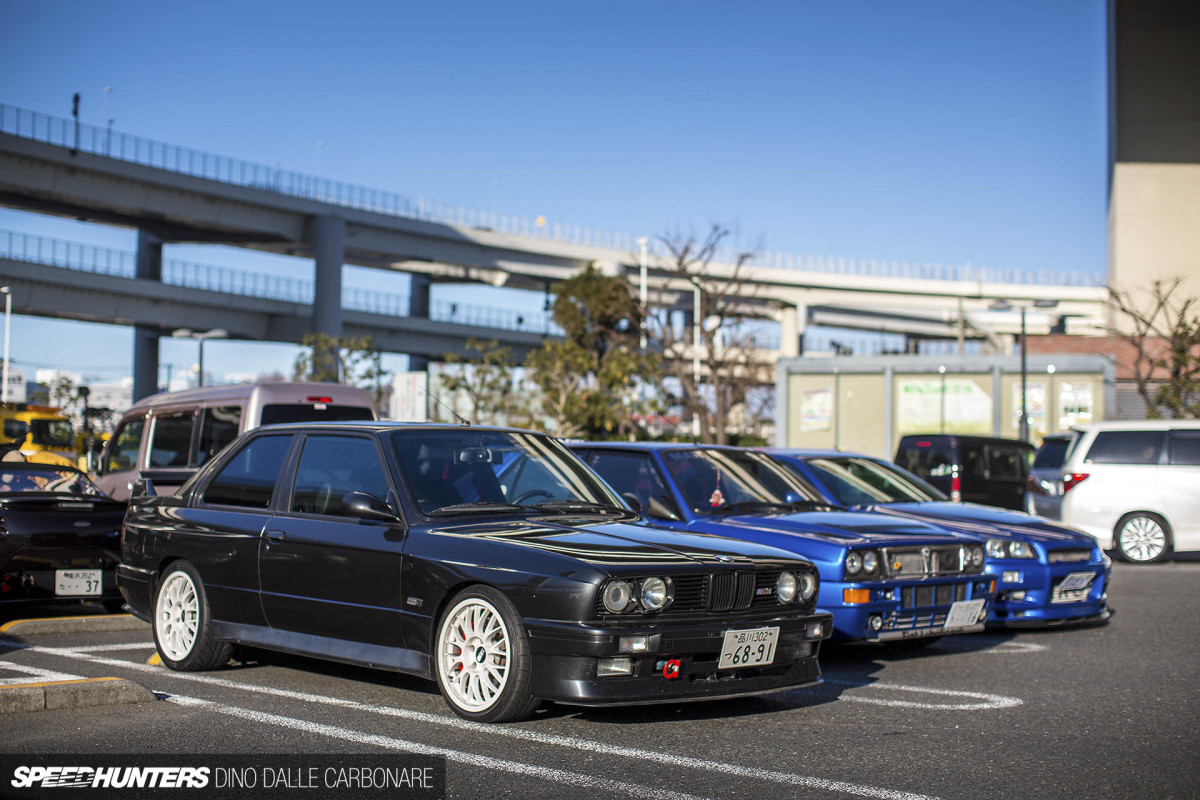 Just take a look at this trio: BMW E30 M3 meets Lancia Delta Integrale meets R34 Skyline GT-R.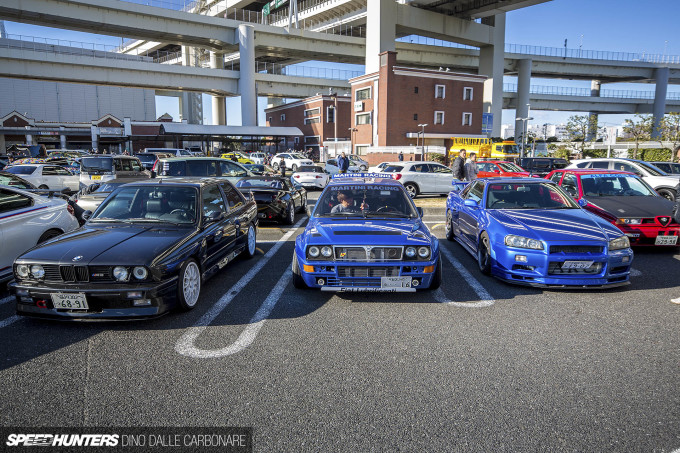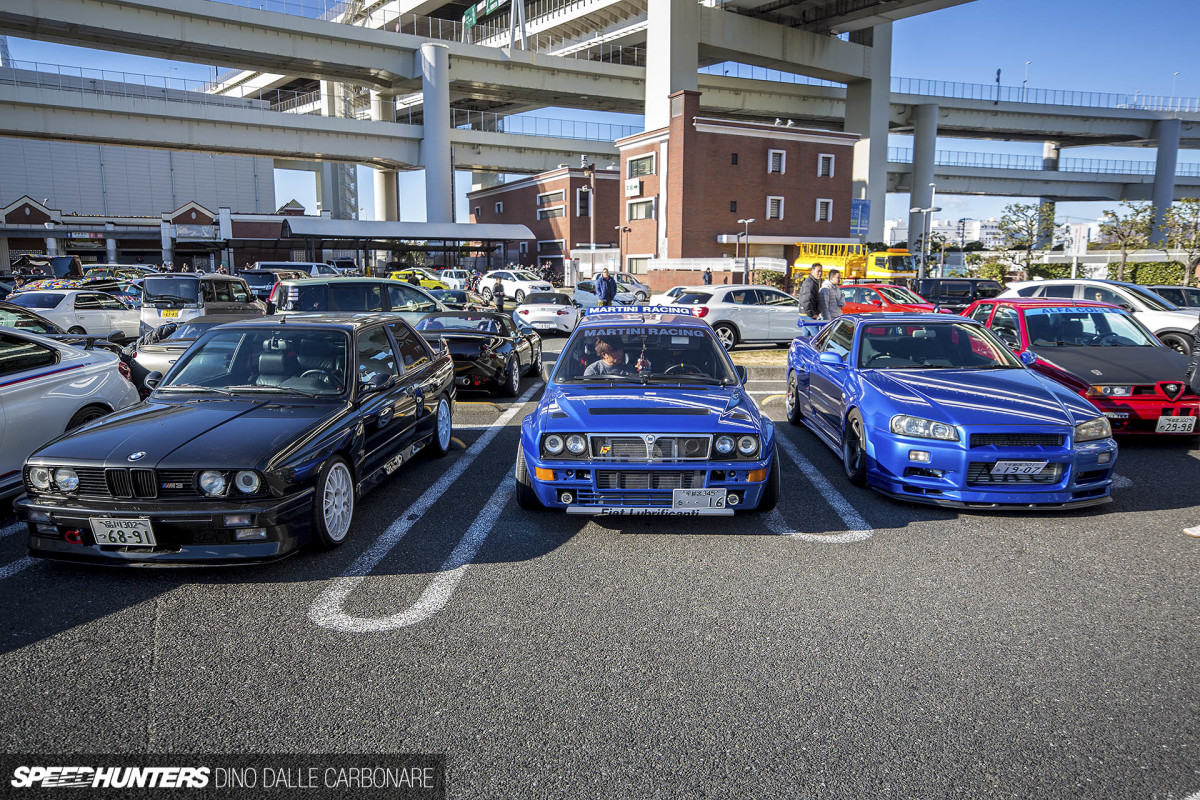 It's hard to choose between these three, but if you really had to, which one would you go for? Obviously you guys already know my answer…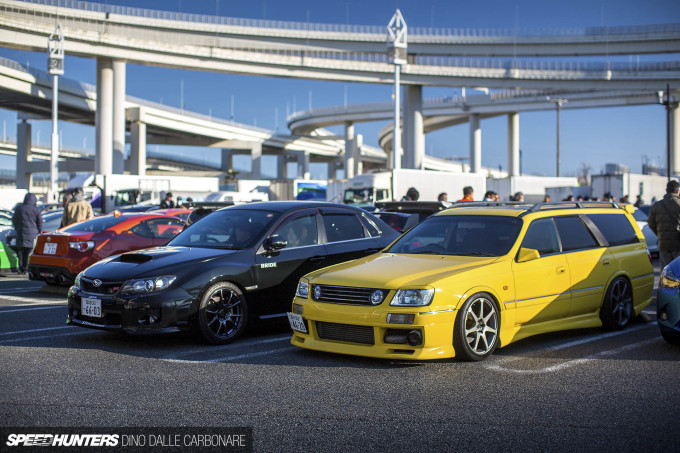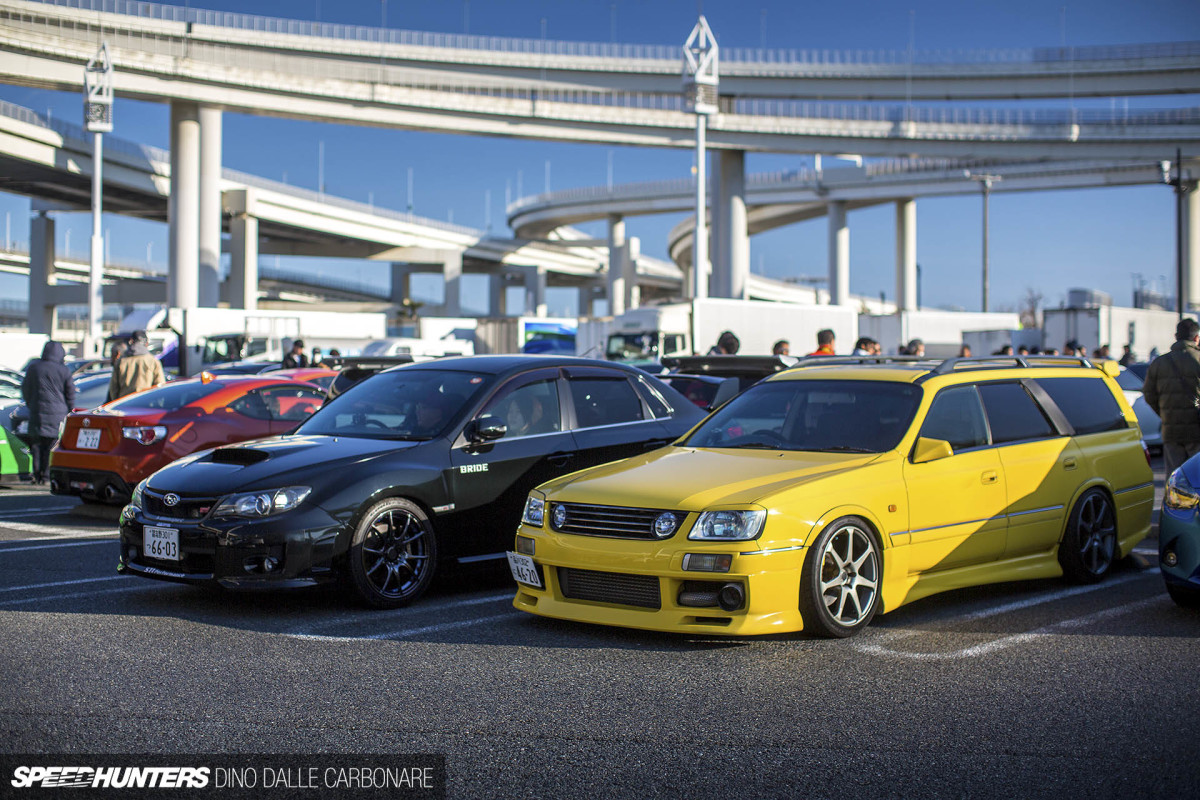 I've just replaced my trusty old Legacy with another wagon that delivers a little more fun, and in choosing a replacement for the Subaru the Nissan Stagea was definitely on my shortlist, but not my ultimate choice. No regrets though; I think one RB-powered machine in the house is enough.
Spot The Rarities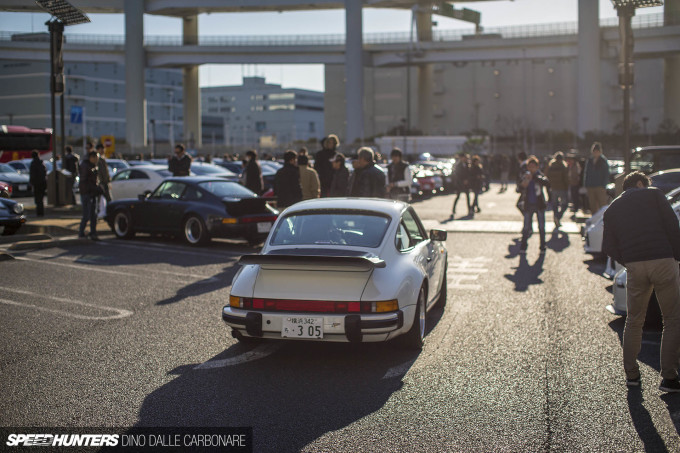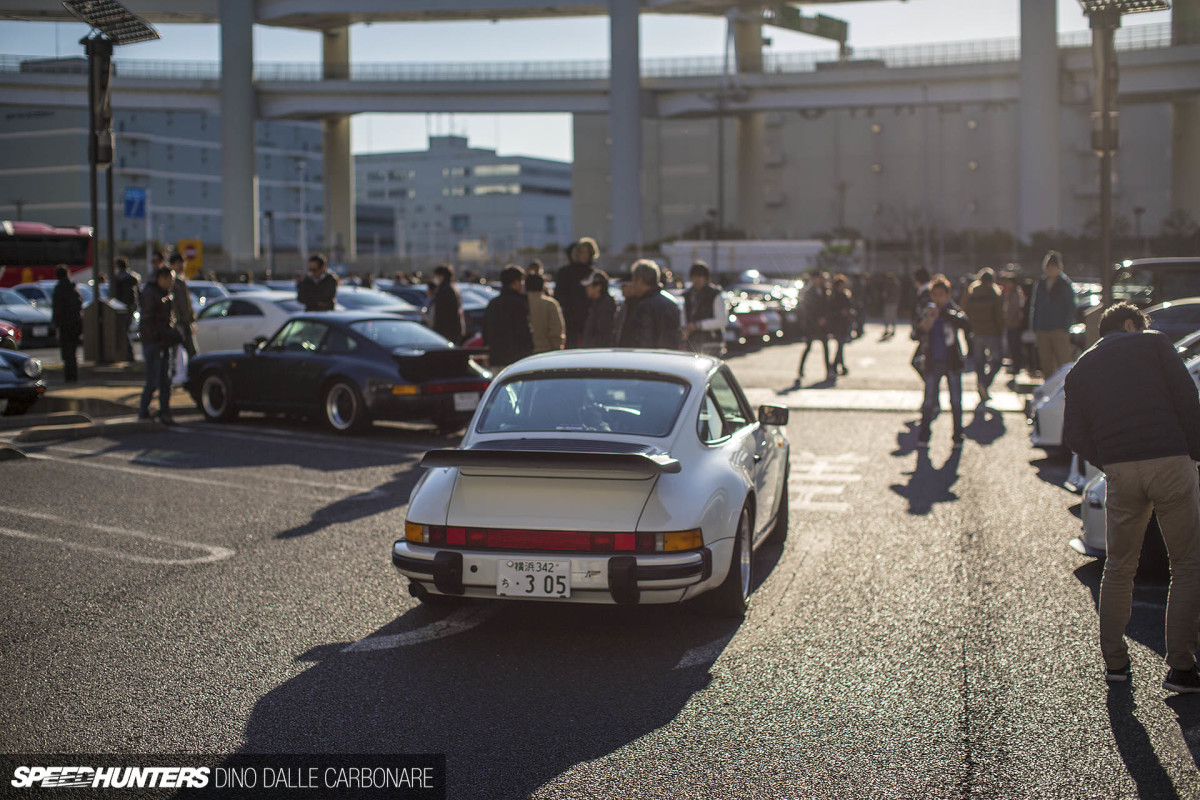 This first gathering of the year is always guaranteed to turn up a few rarities, and later on in the morning there was some impressive metal about the place.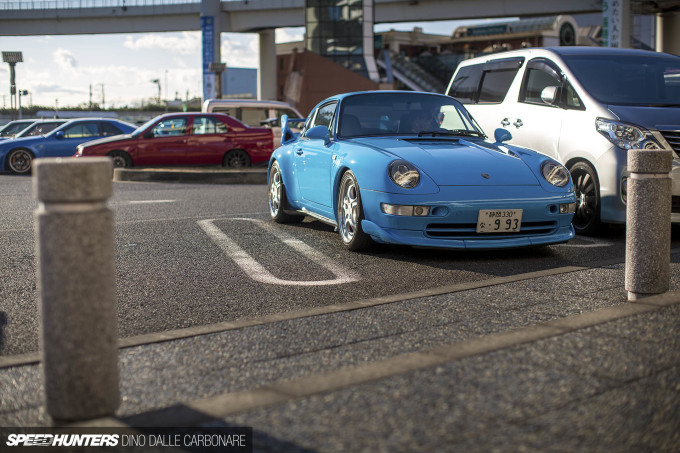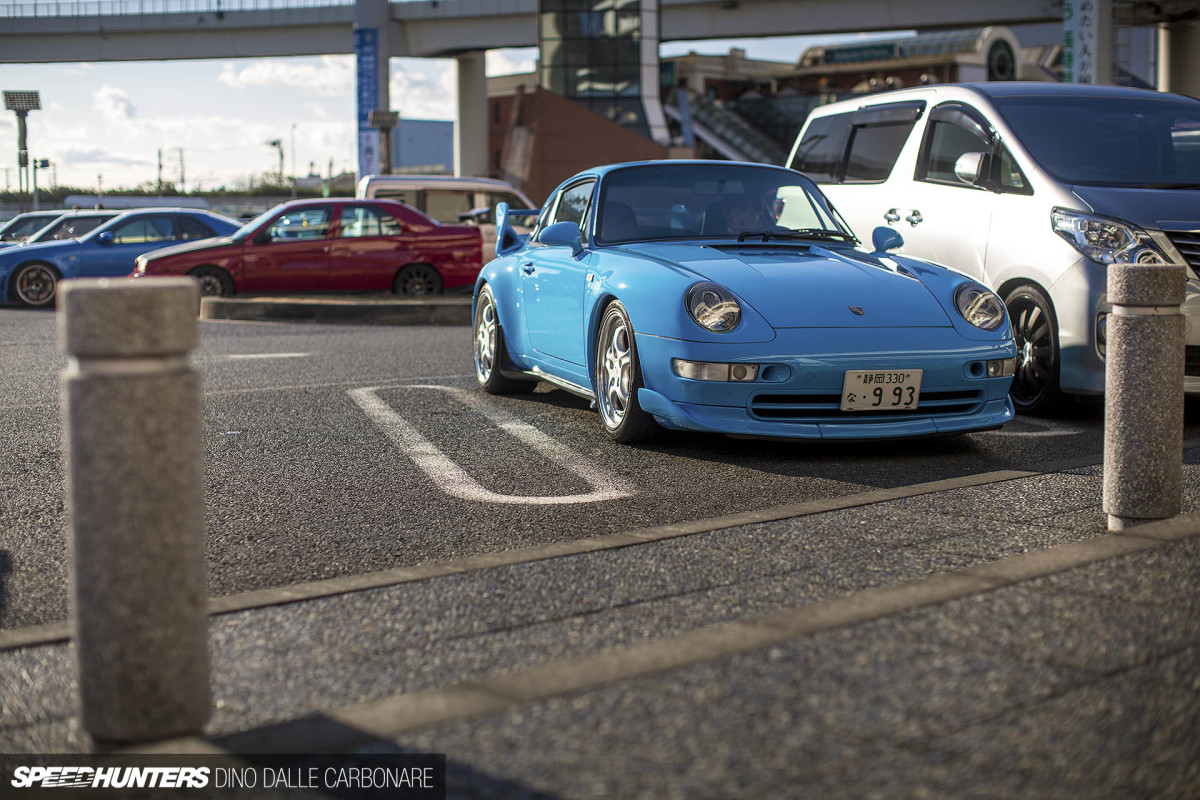 One of the first I spotted was this 993 RS – the real deal, not a replica. It's a car I've come across in previous years, but it still looks every bit the precise driving instrument Porsche designed it to be.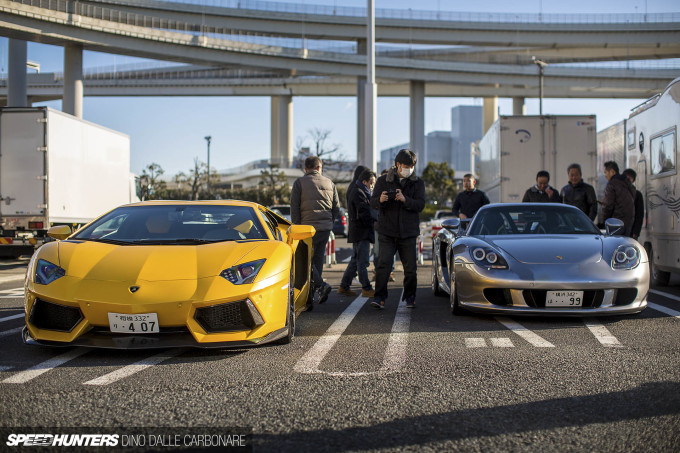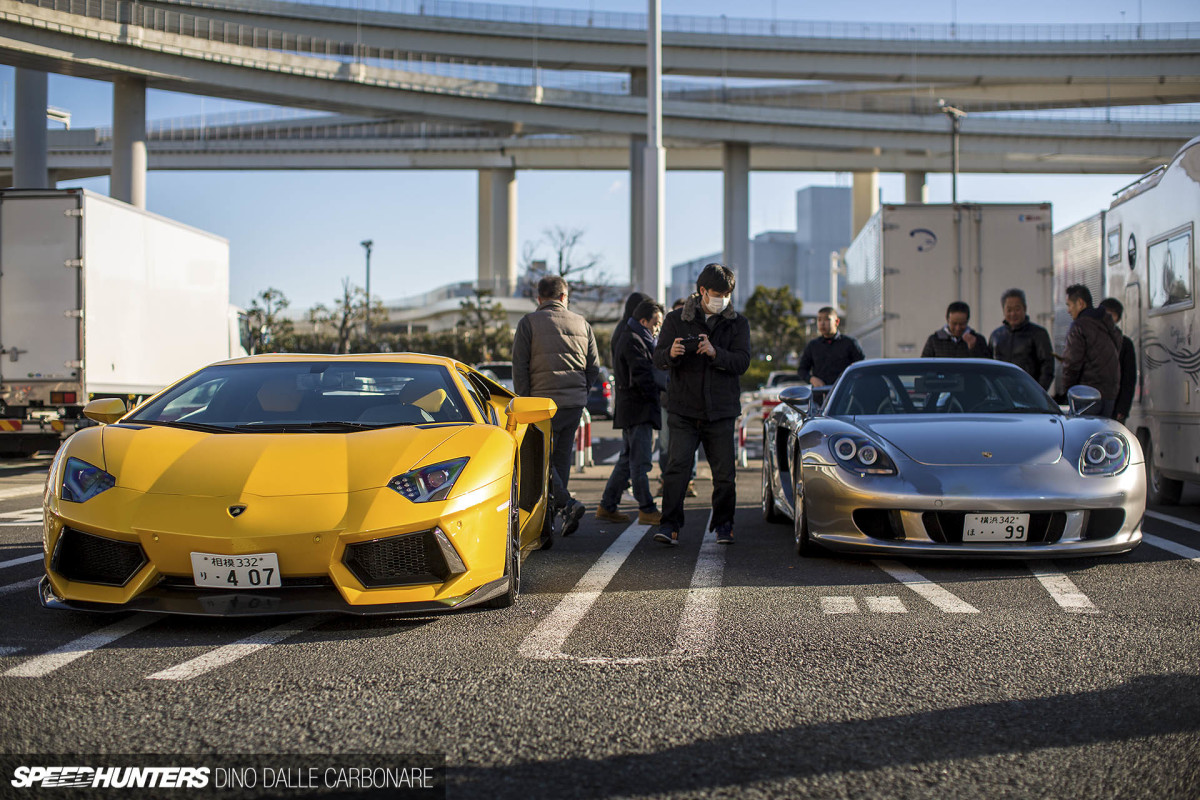 The second is another car from Stuttgart, the Carrera GT. Actually, there were two of these, but no 918s, at least while I was there.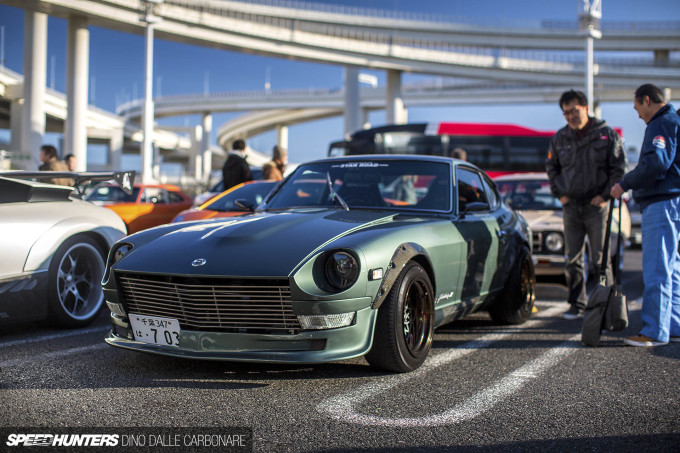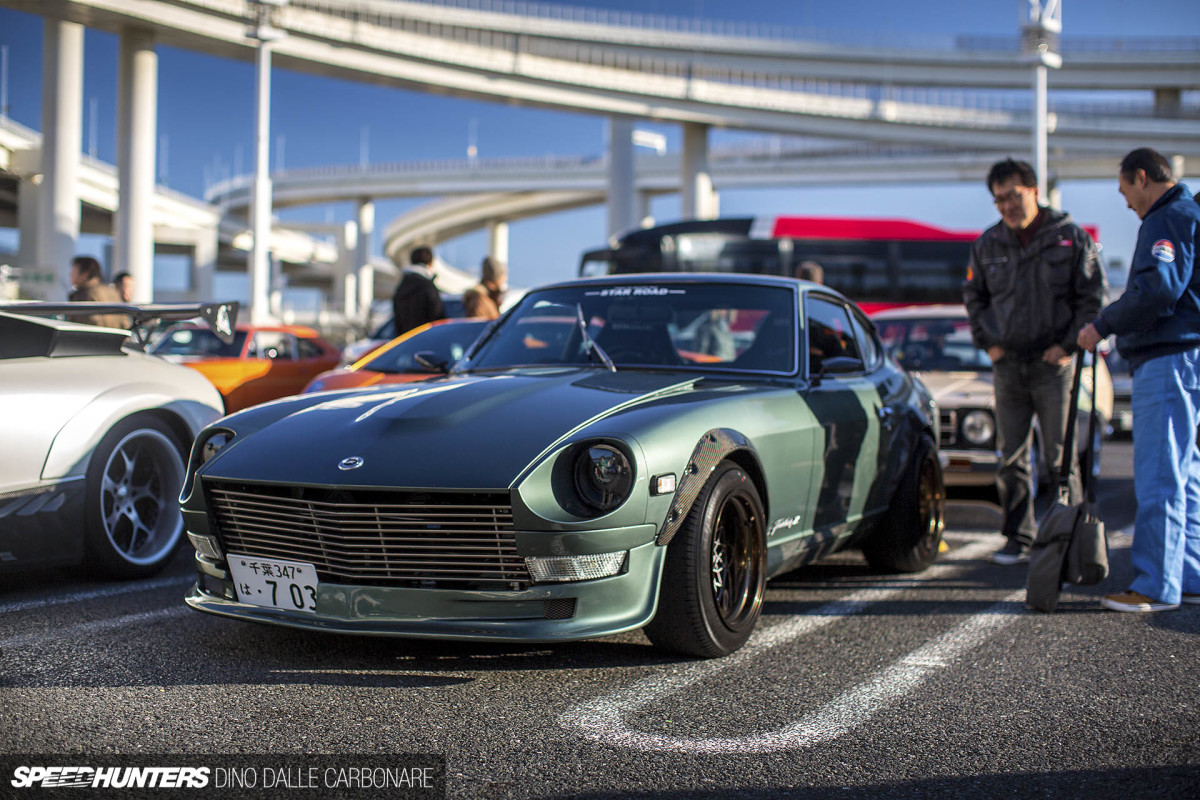 Let's move onto something Japanese and a little more vintage. This beautiful Star Road-built Datsun S30 Fairlady Z was getting a ton of attention, and rightly so. It's not often that I see a Star Road build outside of a show hall, but how good does this look out in the sun!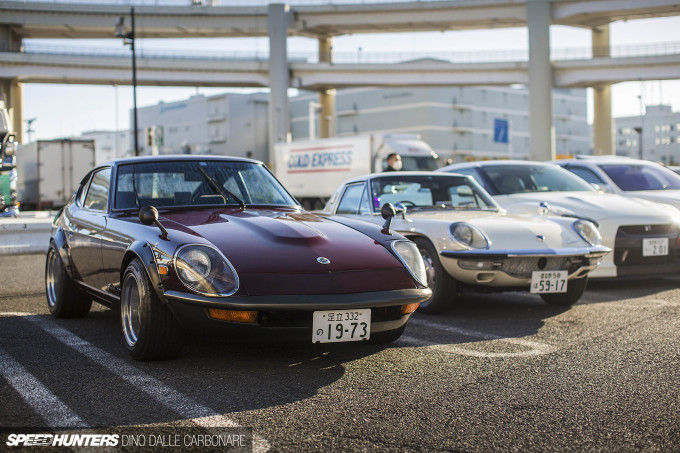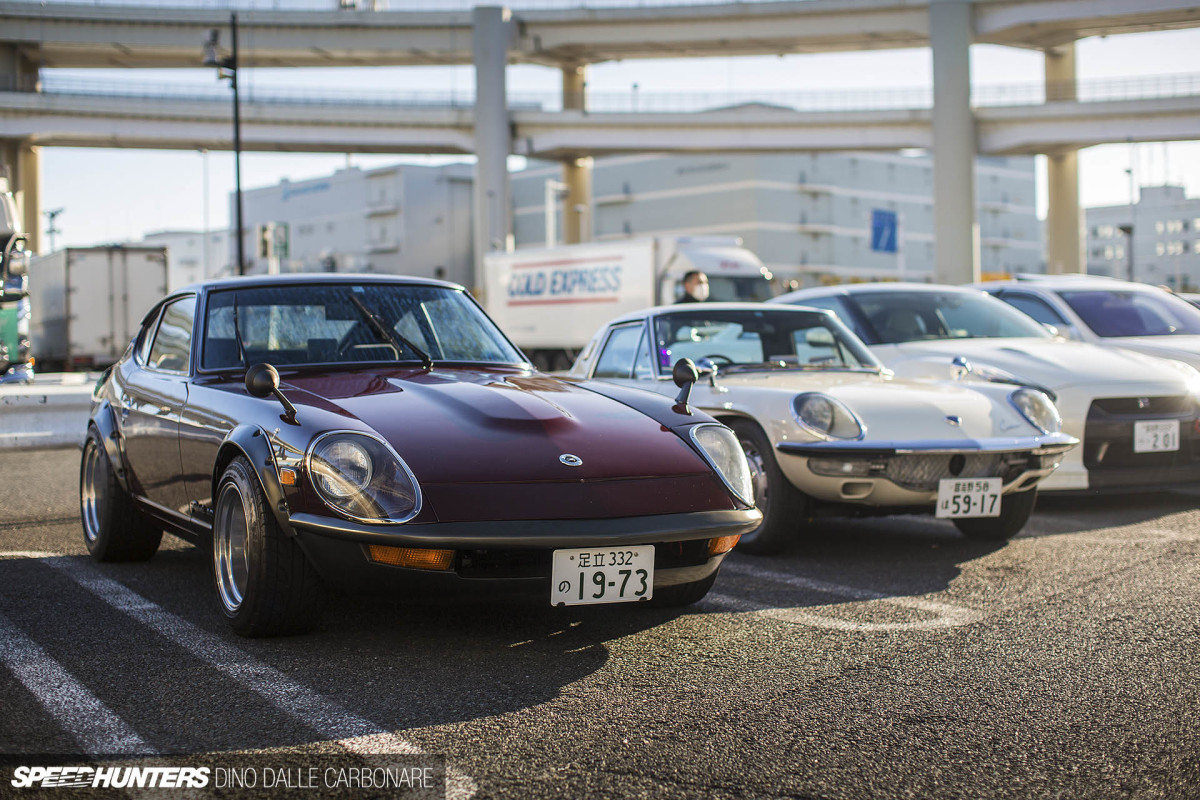 If resto-modded kyushas aren't your thing, you may find pleasure in this pairing – a legit 1973 240ZG finished off in the maroon that defined the long-nose version of the S30, and Mazda's first rotary-engined production car, the Cosmo.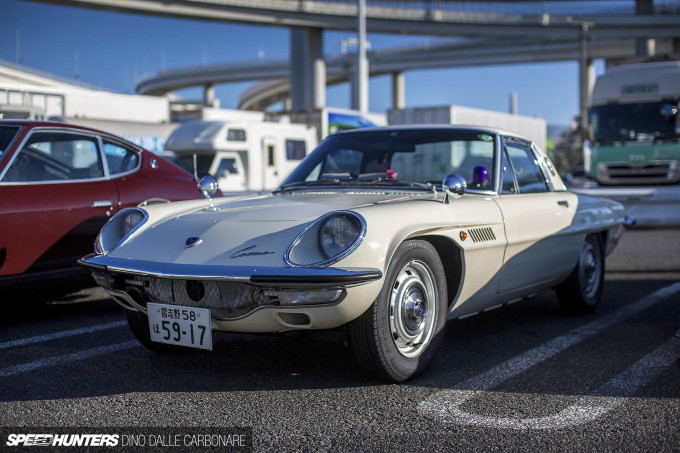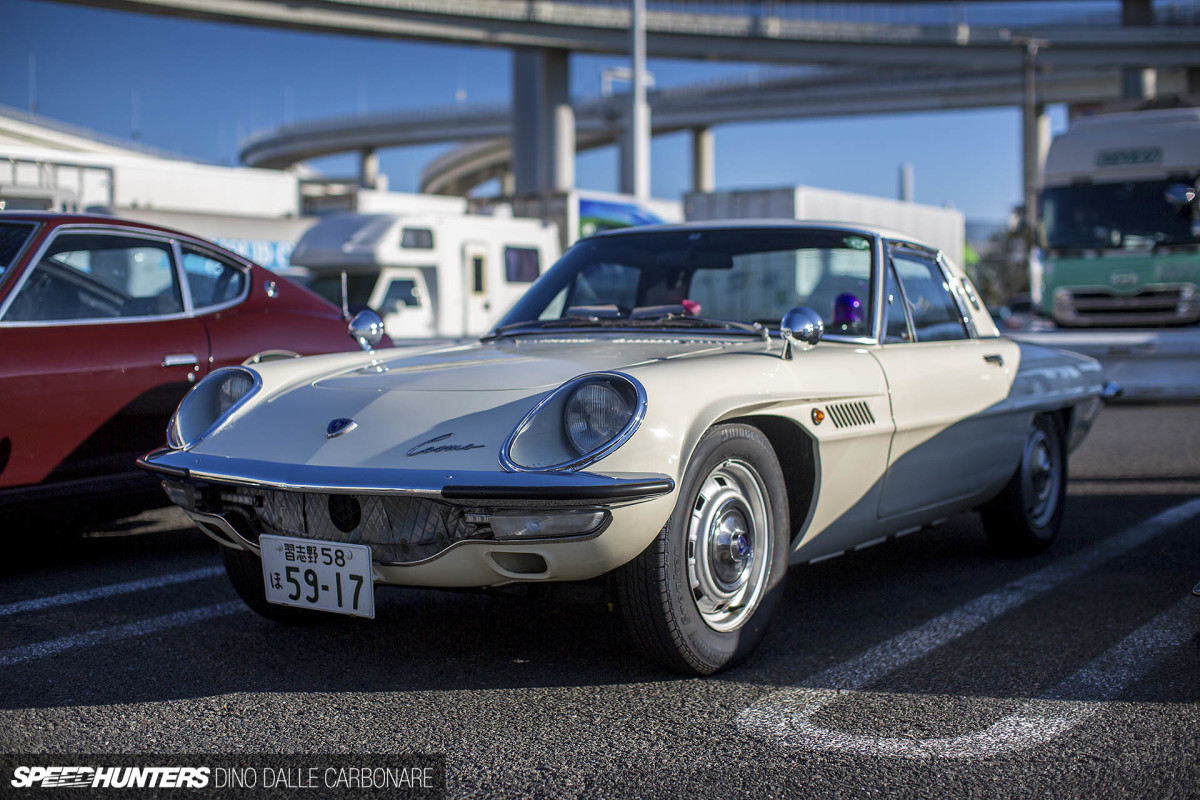 Doesn't the 10A-powered Cosmo make you wonder if another rotary car from Mazda will ever happen? We can only live in hope…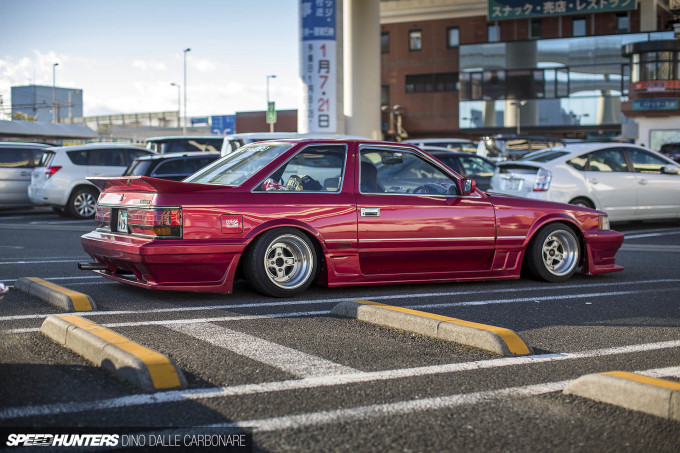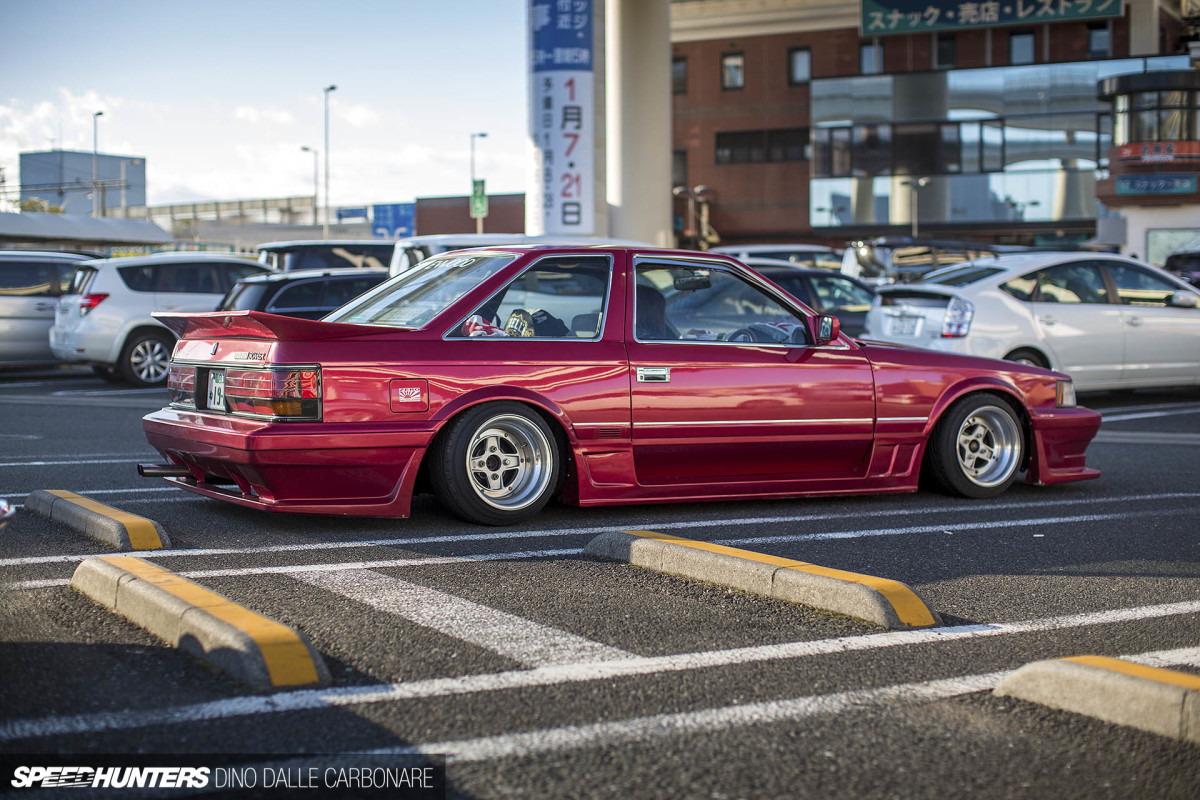 When it comes to cars, Japan manages to mix everything up into an automotive cocktail that just can't be matched. Think about it; where else in the world could you come across a stunning shakotan Z10 Soarer like this, and then turn around to see something so different you can't help but utter 'WTF?!'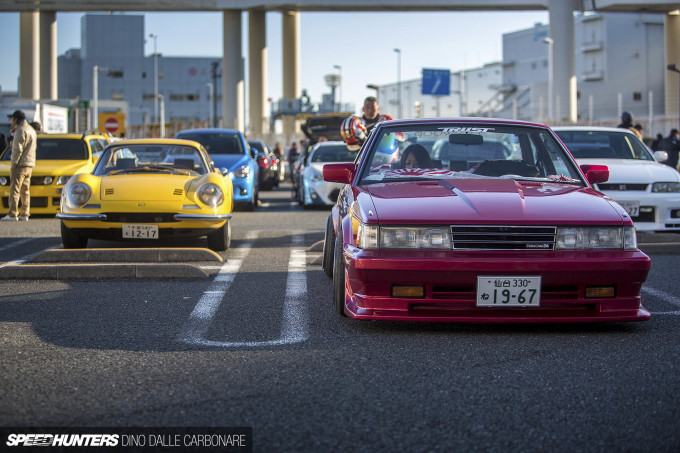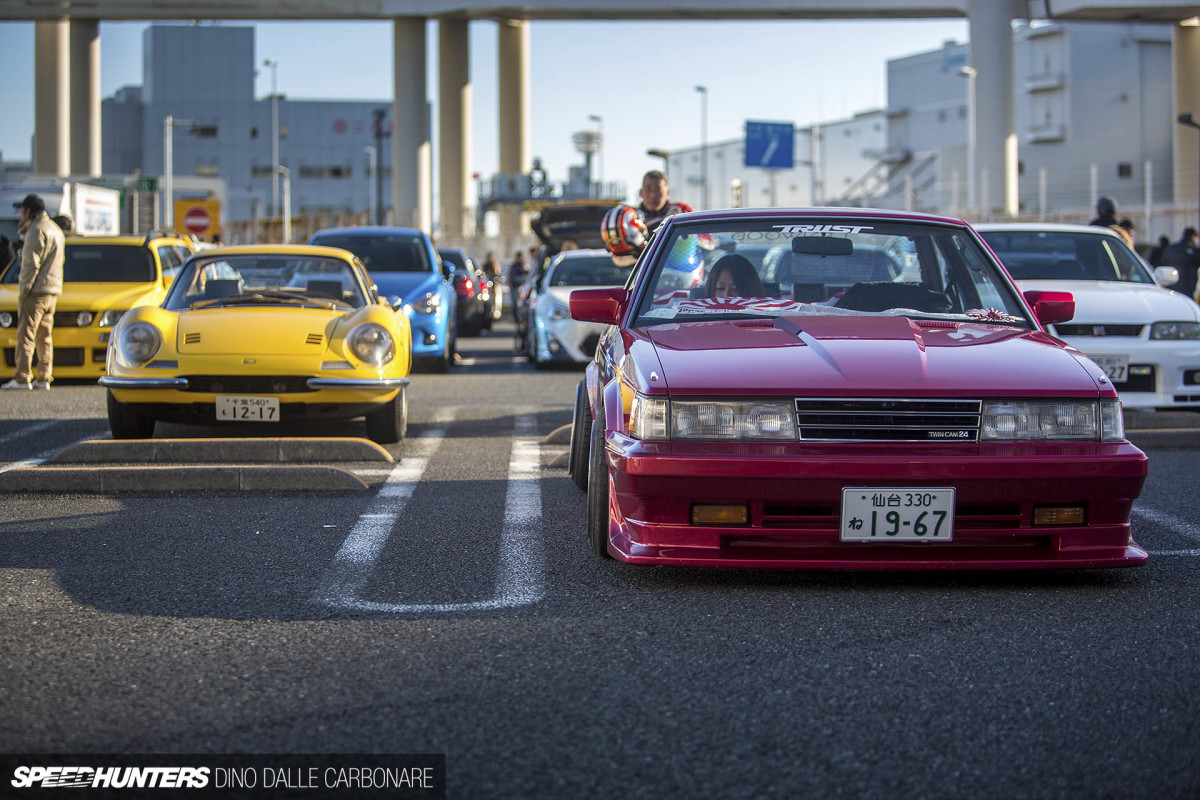 What a pairing.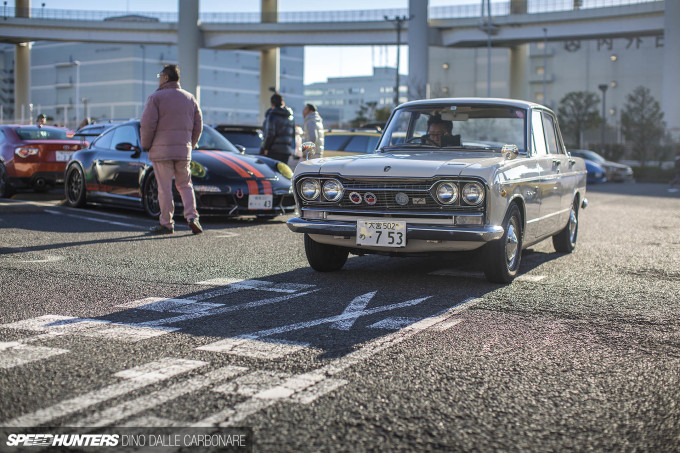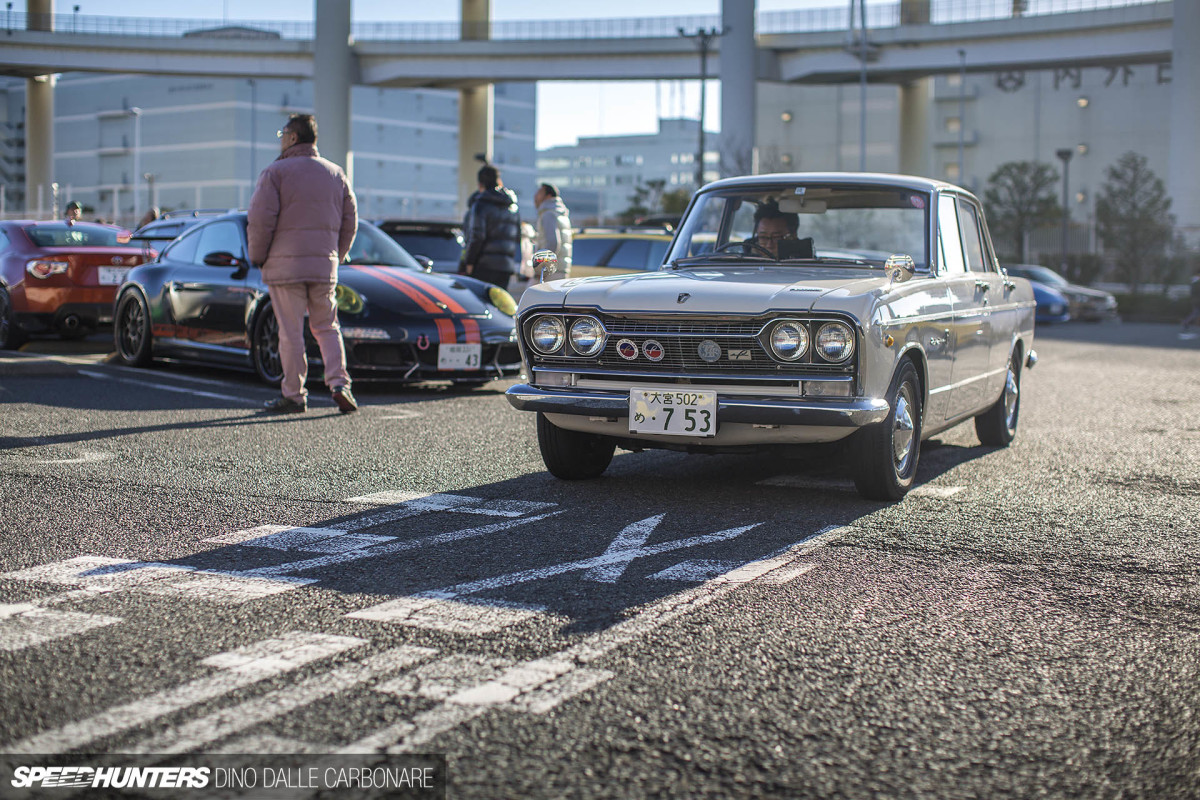 And the vintage awesomeness just kept on coming. This is a very rare S50 Prince Skyline from the late-'60s, the second iteration of the Skyline generation. It's not something you see every day, that's for sure.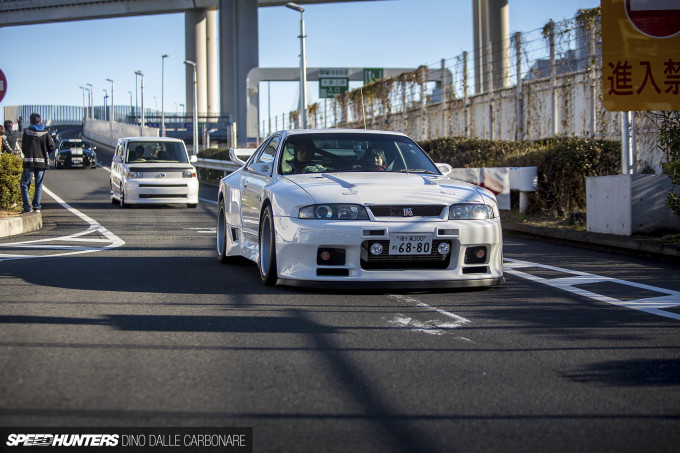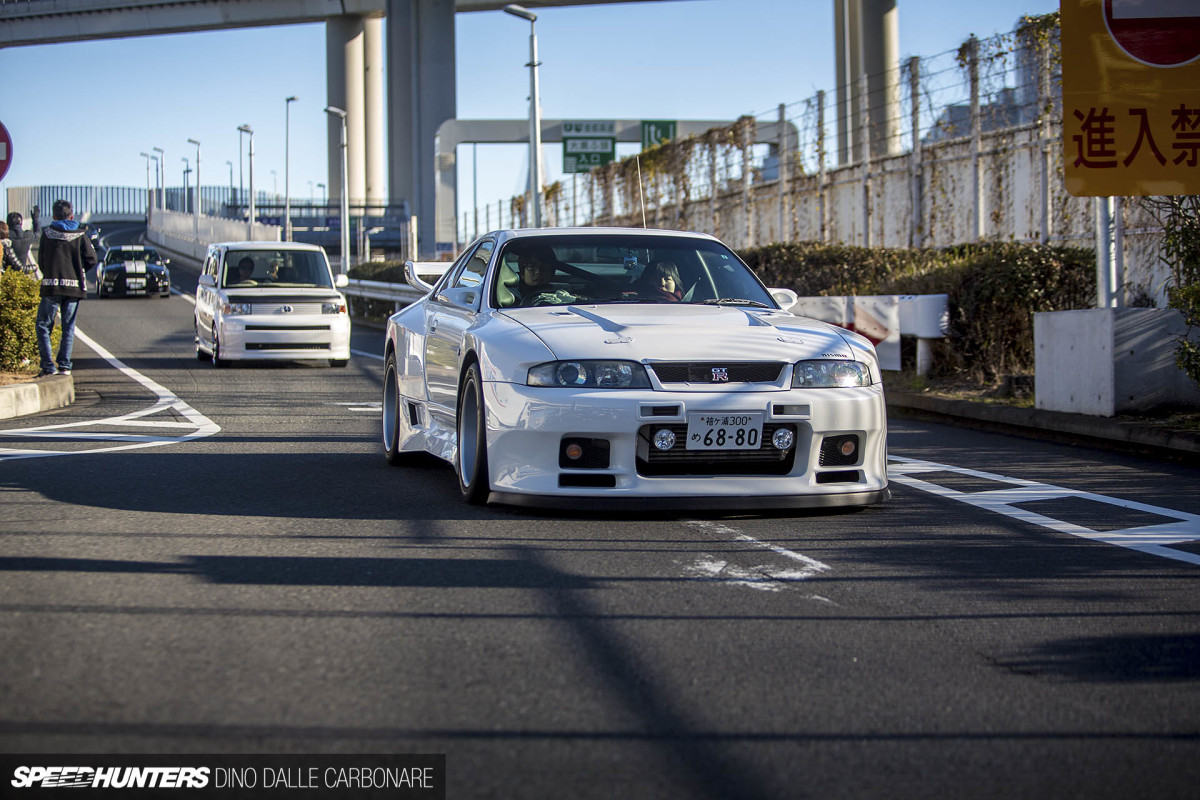 This widened BCNR33 Skyline GT-R redefined 'presence' as it rolled down the off-ramp that feeds Daikoku PA from the Yokohama Bay Bridge.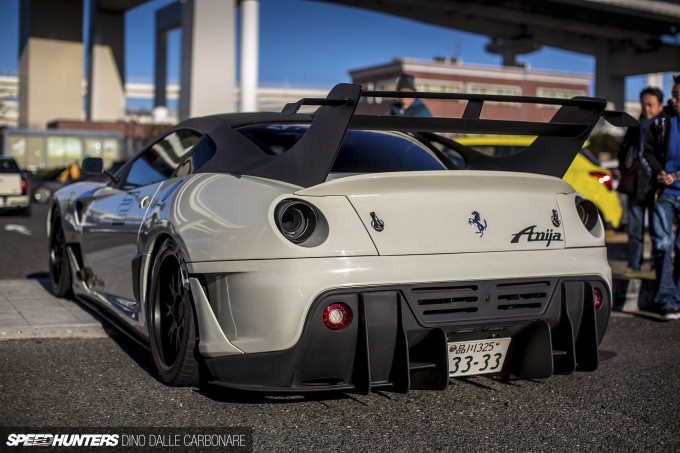 It's never really a New Year Meet until you introduce some unobtainable exotics into the mix, and tuned up examples no less, only as the Japanese are able to do.
The Japanese & Their Exotics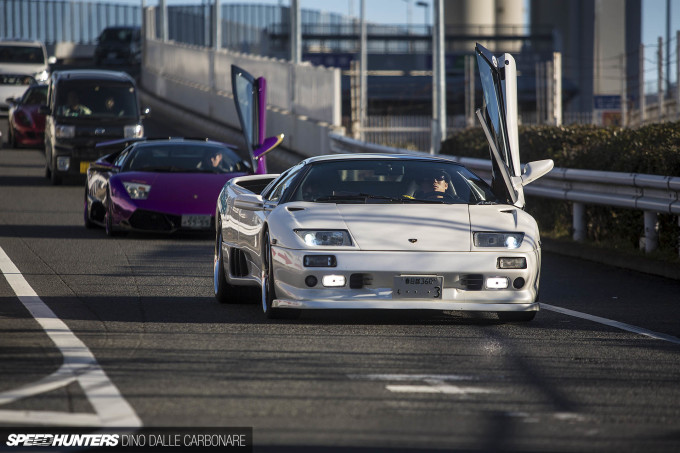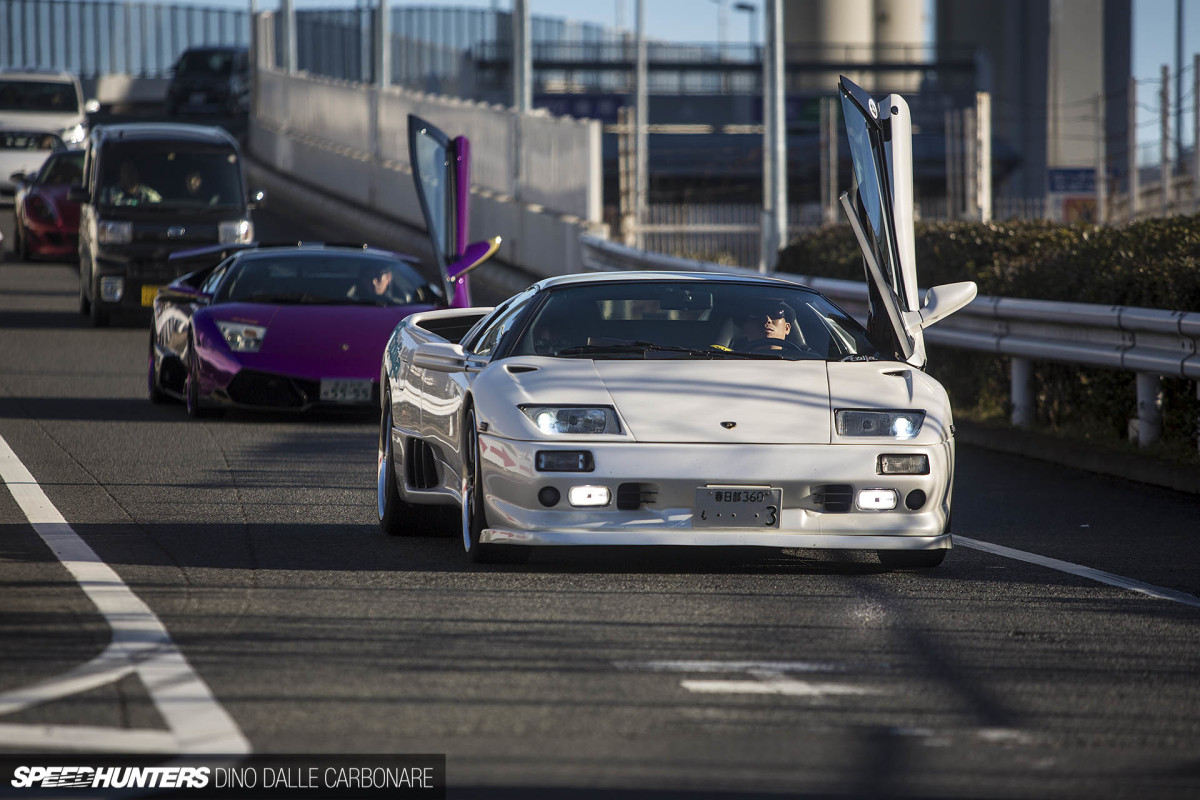 While Morohoshi's crew didn't make a showing that morning, the guys from Anijia did. This is another group of supercar owners who aren't afraid to personalize their expensive Euro metal.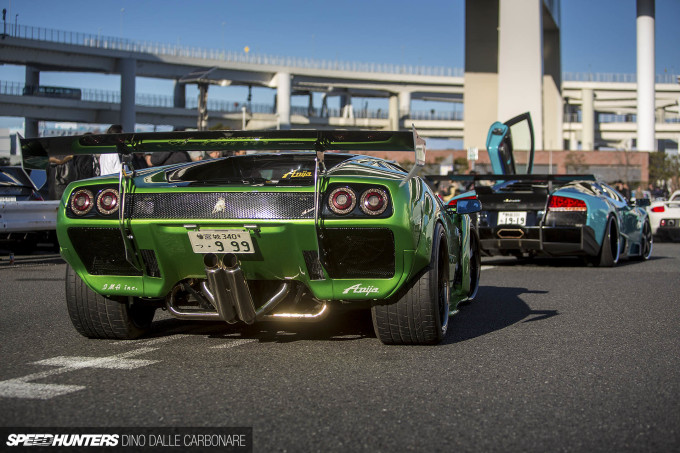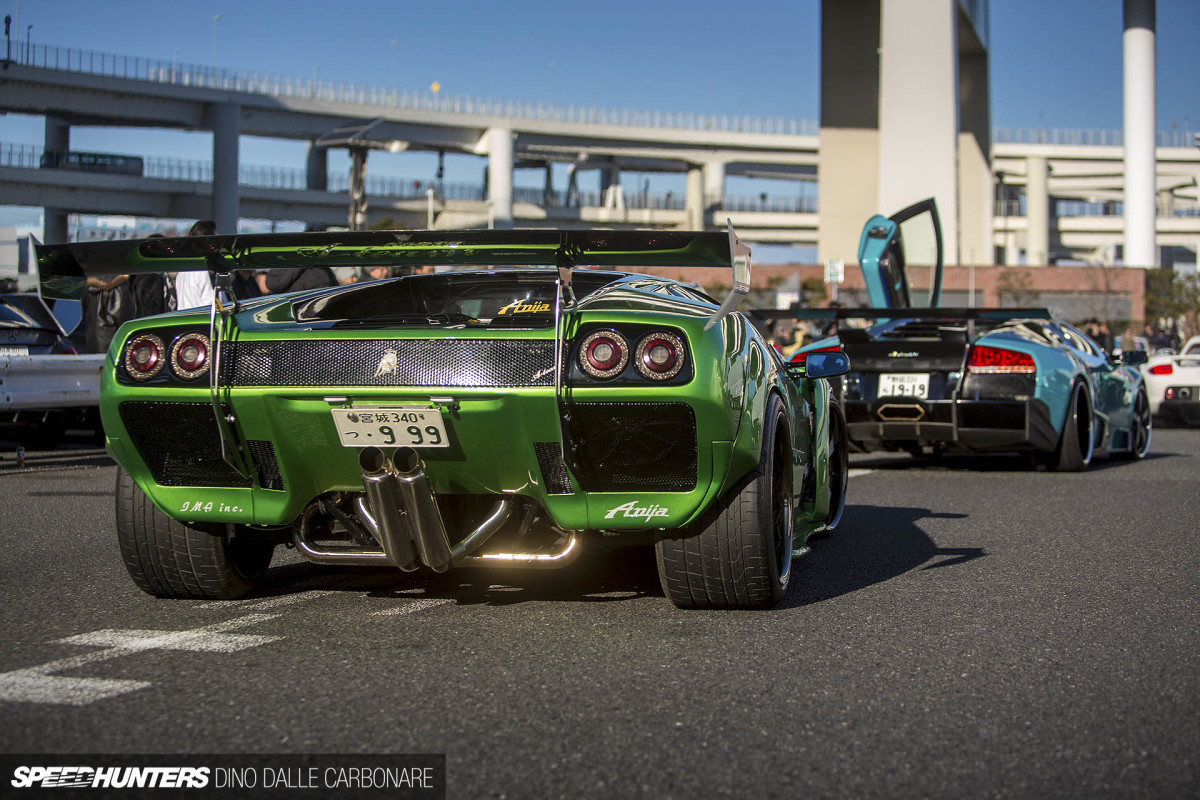 In case you are wondering, yes, this exhaust system was rather loud. But it was a fitting sound to accompany the stream of colorful Lambos that pulled in.
You could easily hang around the entrance to the parking area for hours without getting bored, but once I heard a bit of commotion followed by muffled voices on the PA system I had to go and see what was going on.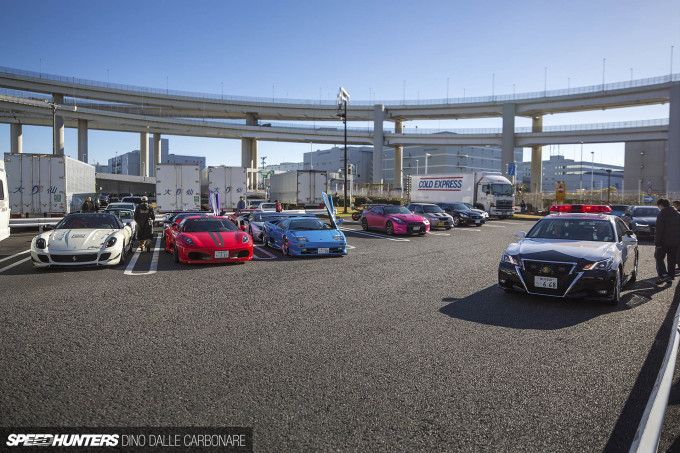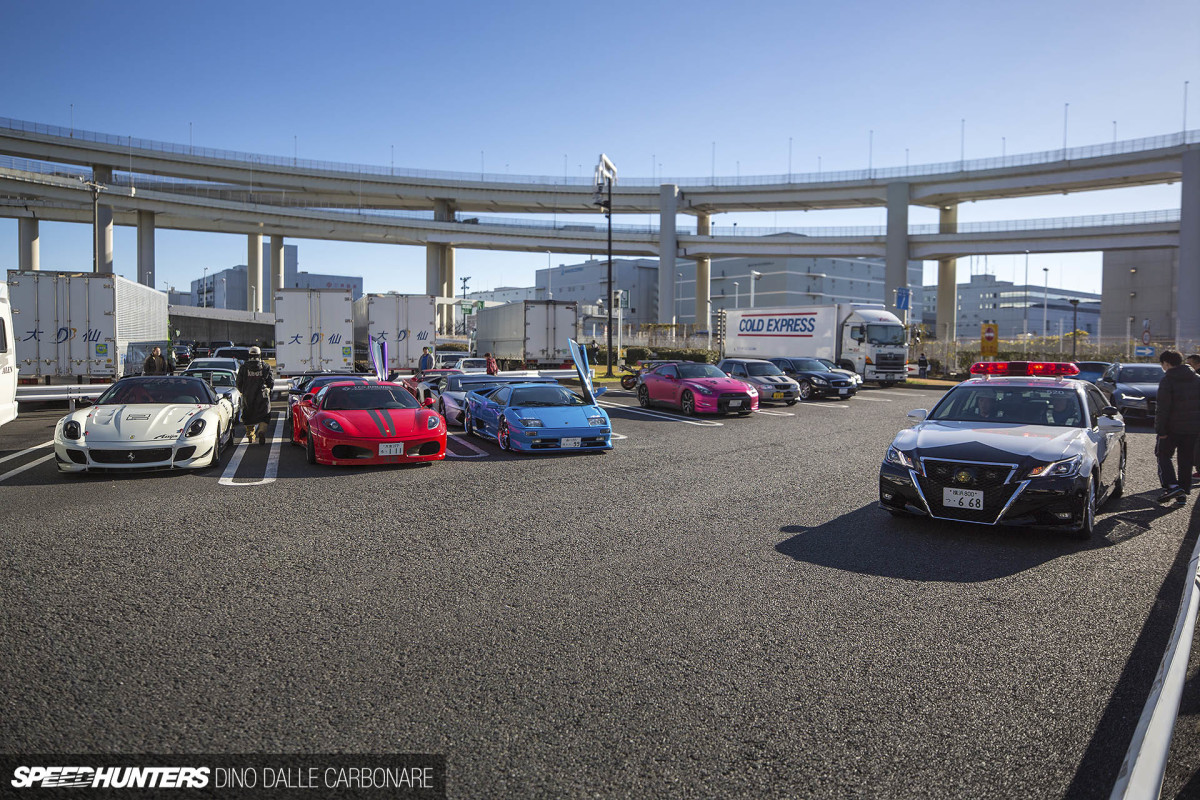 As is the case with pretty much every meeting at Daikoku PA, the police showed up to kindly tell everyone who had parked a car in the truck designated spots that they had to move.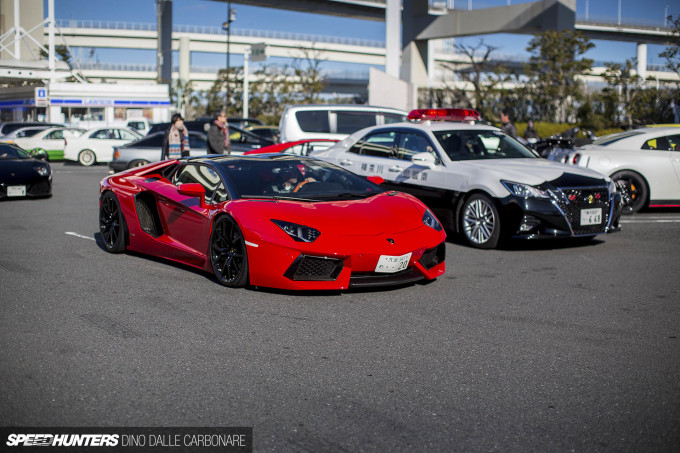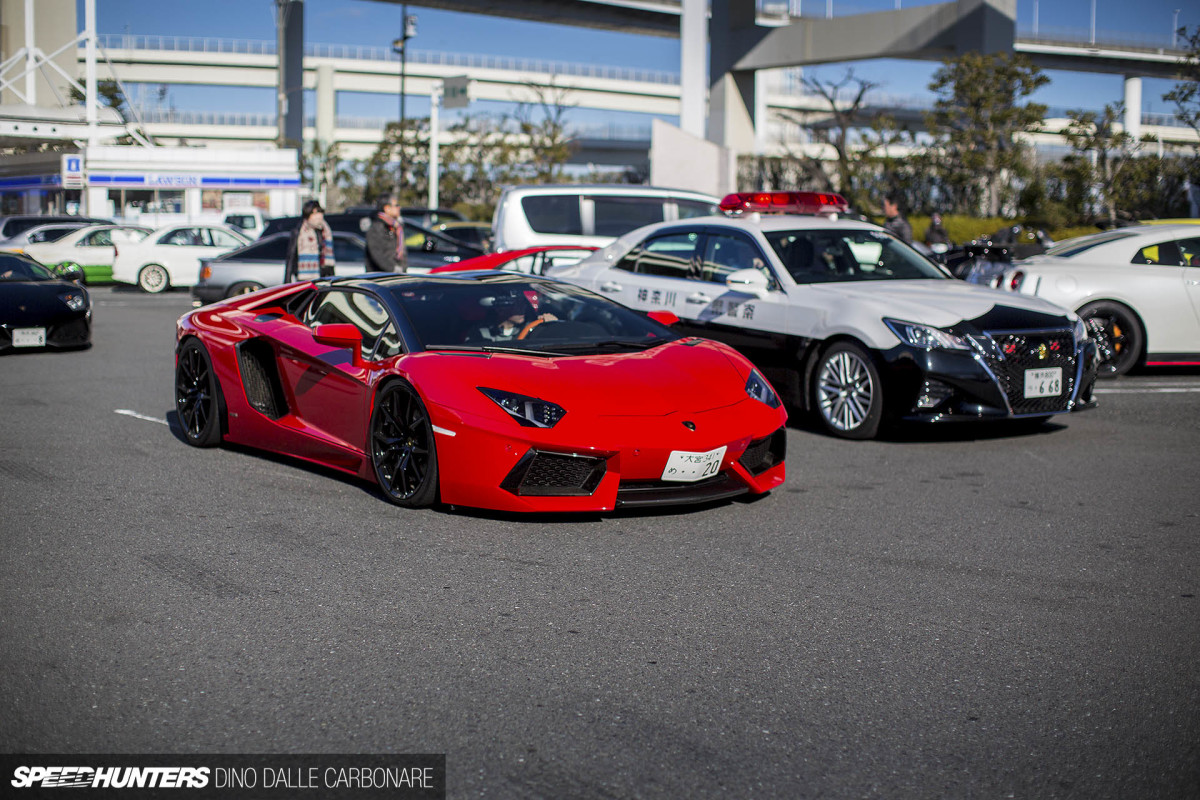 Other announcements followed along the lines of, 'this is a rest stop, not a place to park up and look at each other's cars.' I thought that was quite comical as people have been doing this sort of thing for decades at Daikoku, and the police station has been right there the whole time. It makes you wonder…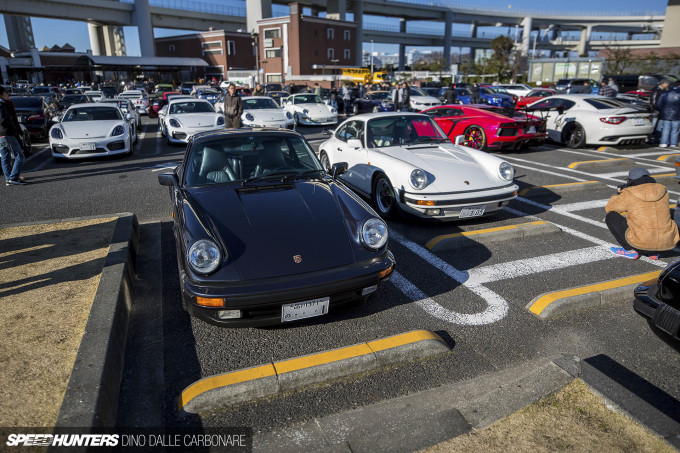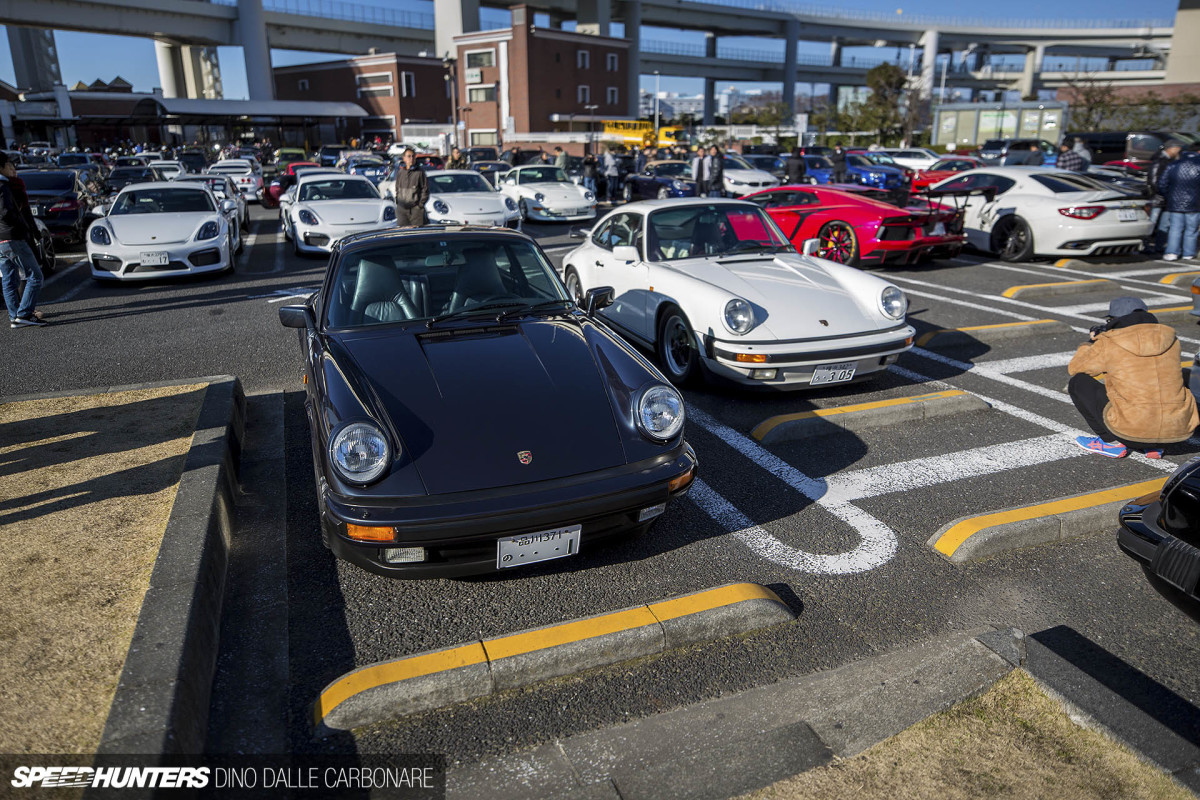 As the supercars were being kicked out of the truck spots, I returned to the regular car spots to check out this pair of 911s. The owner of the black Carrera 3.2, who follows Speedhunters, told me about an abandoned car not too far from where I live, so once the mayhem of Tokyo Auto Salon ends I'll have to go out and take a look. From what I was told, it'll definitely have us shedding a tear or two.
What meeting in Japan, or anywhere in the world for that matter, would be complete without a few Liberty Walk creations. If you checked out my recent shop tour of SunBeam you'll probably recall seeing the M4, now equipped with the AP Racing brakes it was being fitted with.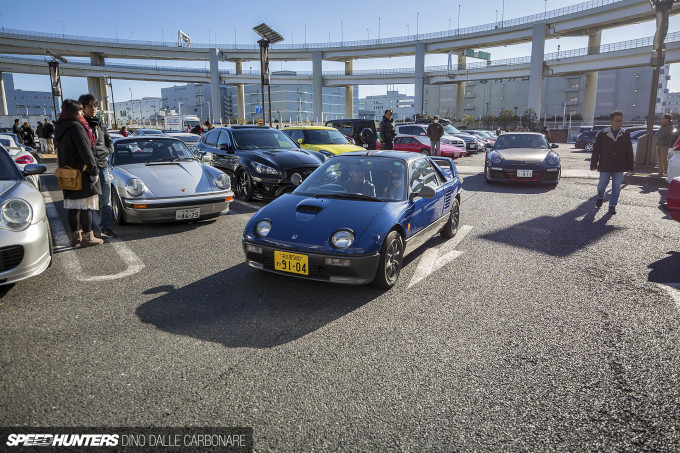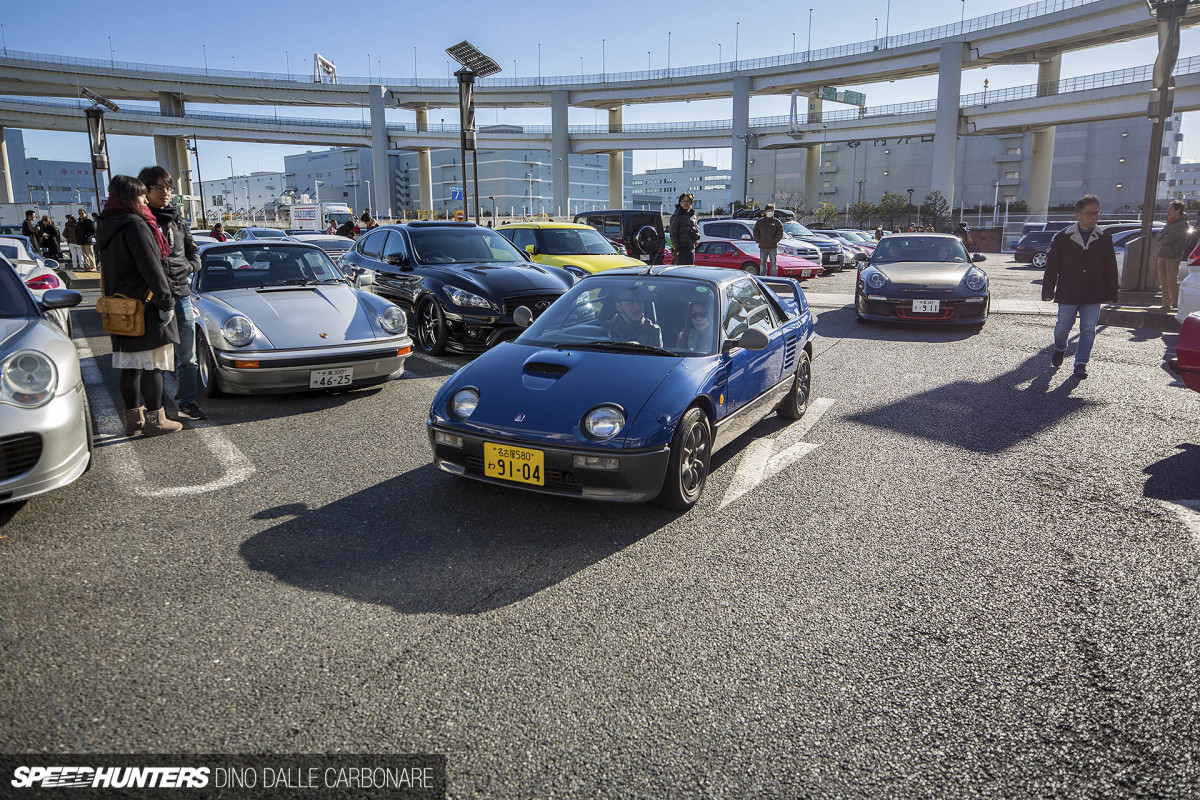 If you're after gems from the golden years of the Japanese car industry, then this gathering never disappoints. The owner of this Autozam AZ-1 drove it all the way up from Nagoya.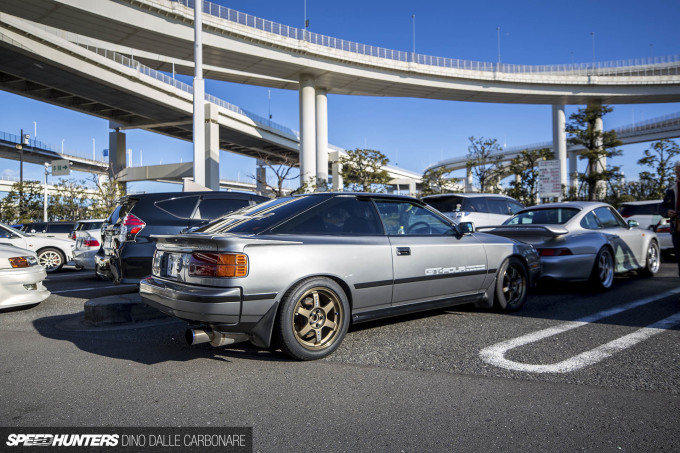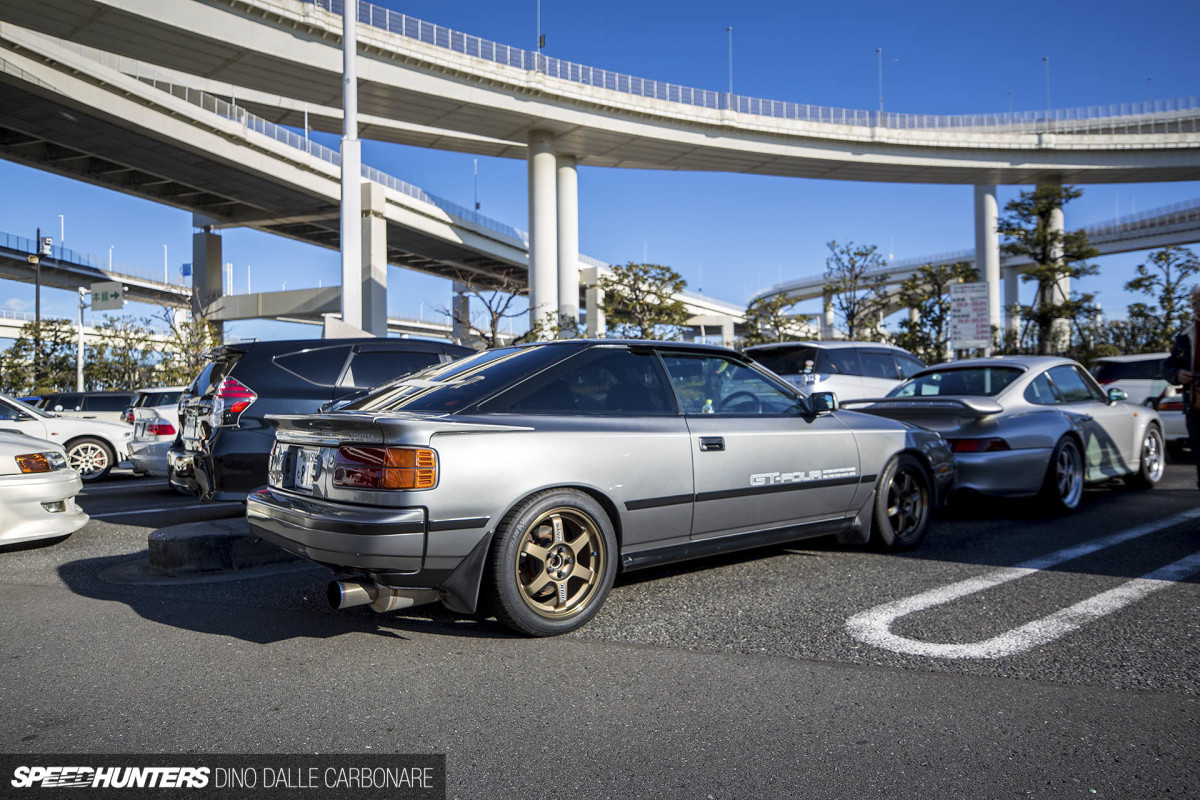 I took special notice of this ST165 Toyota Celica GT-Four because of its simple but effective execution: TE37s, a decent suspension drop, and a nice big titanium exhaust system.
And then all of a sudden I ran. Believe me, this is a rare occasion – there has to be something really special to get me to up my pace and actually run. A Sierra Cosworth RS500 will do that, and when I saw this one reverse out of its parking spot to leave I had to make sure I snapped a couple of shots. These cars are beyond rare in Japan; we've seen Escort Cosworths before, but Sierras are a whole different thing. Amazing.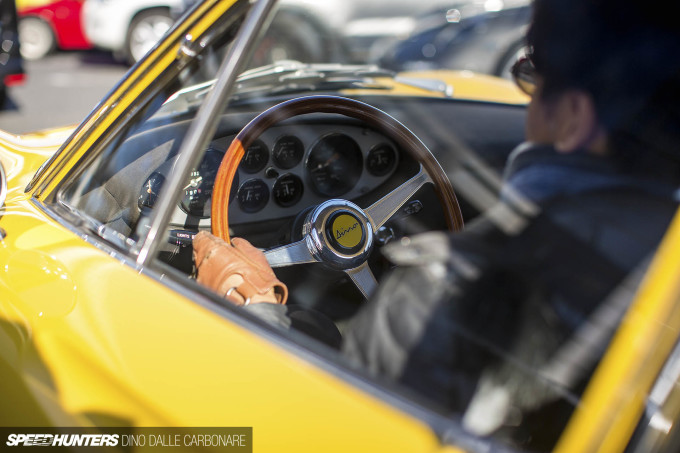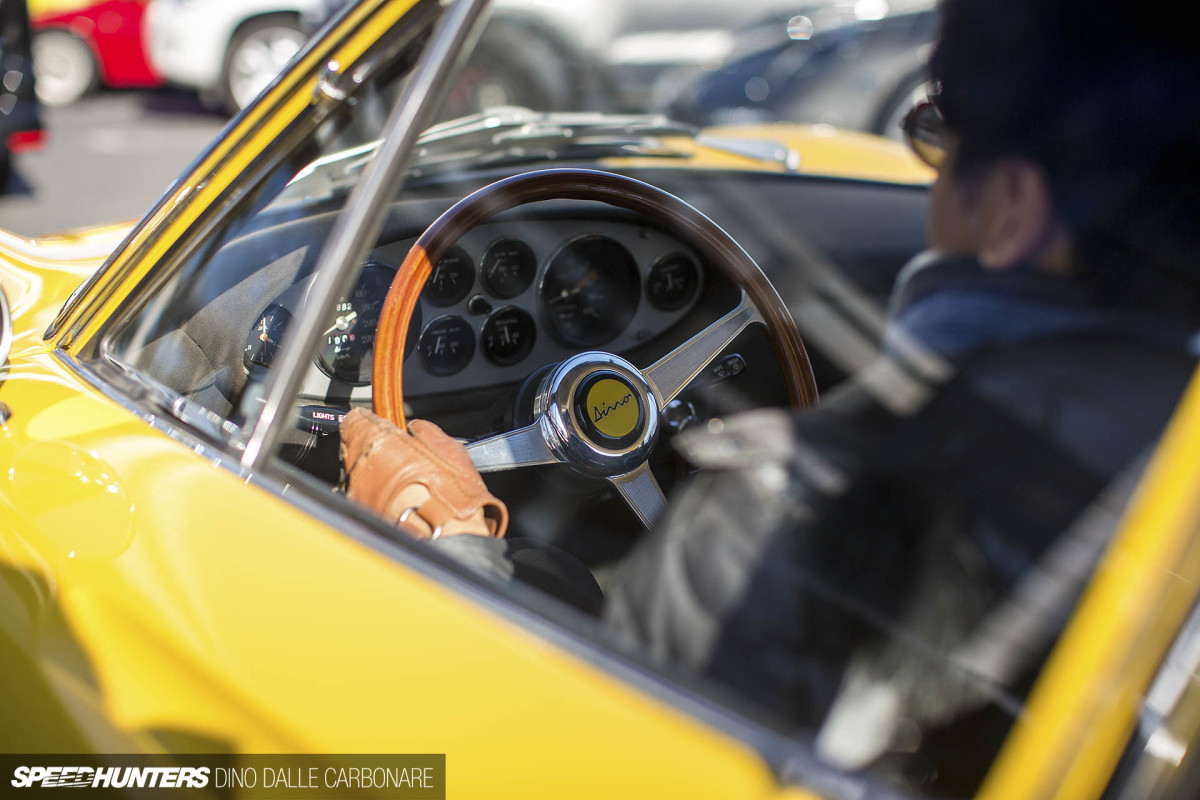 There was constant movement around the parking area; cars that left were quickly replaced by others, which kept things really entertaining.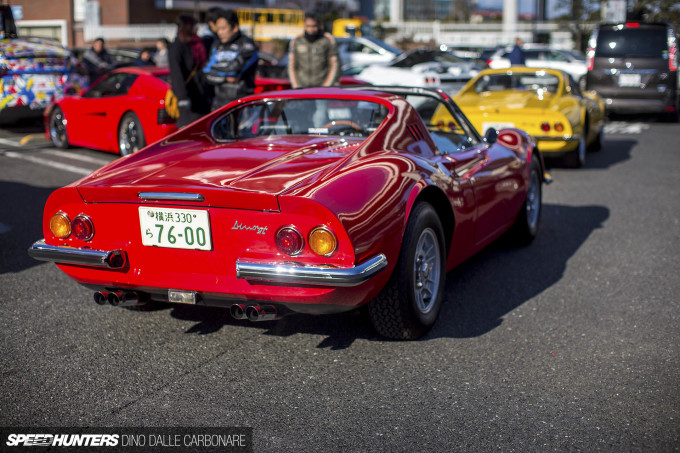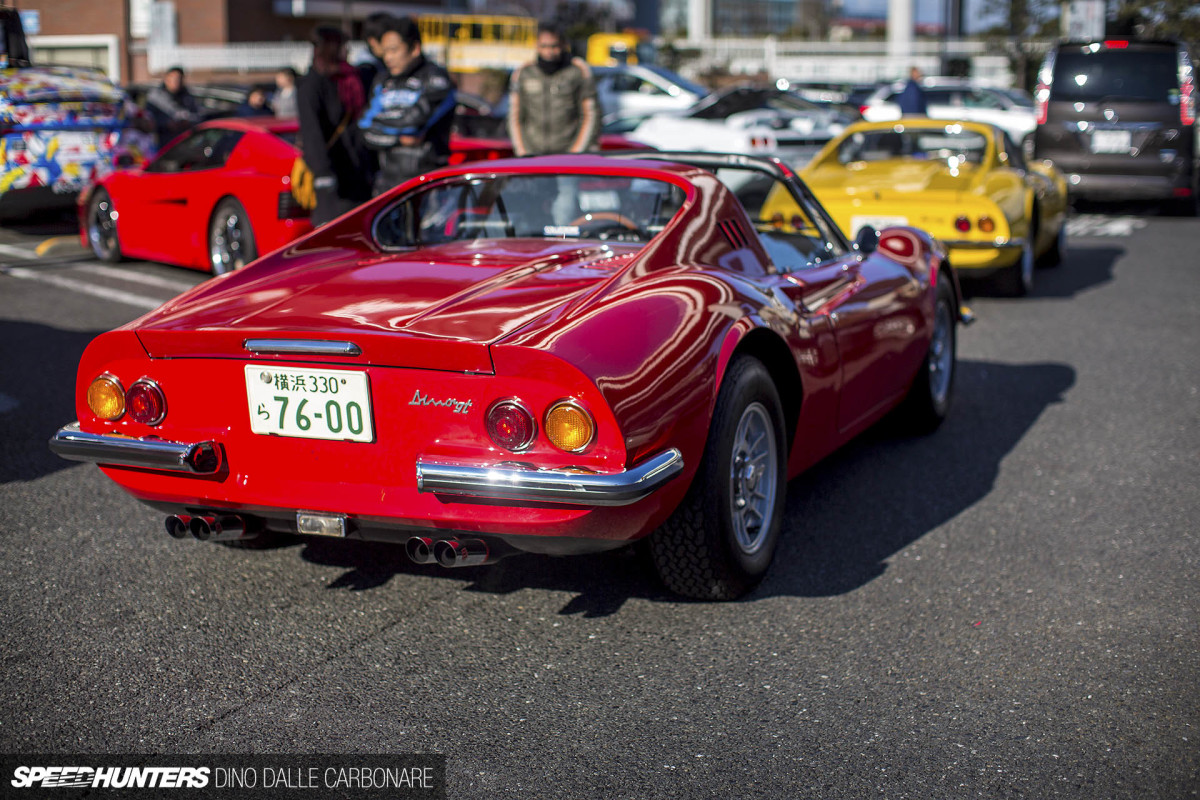 And it doesn't get more entertaining than a pair of Ferrari Dino 246s heading out one behind the other.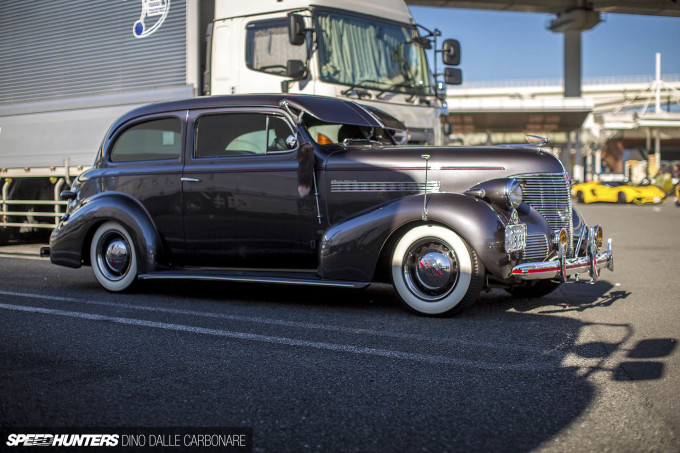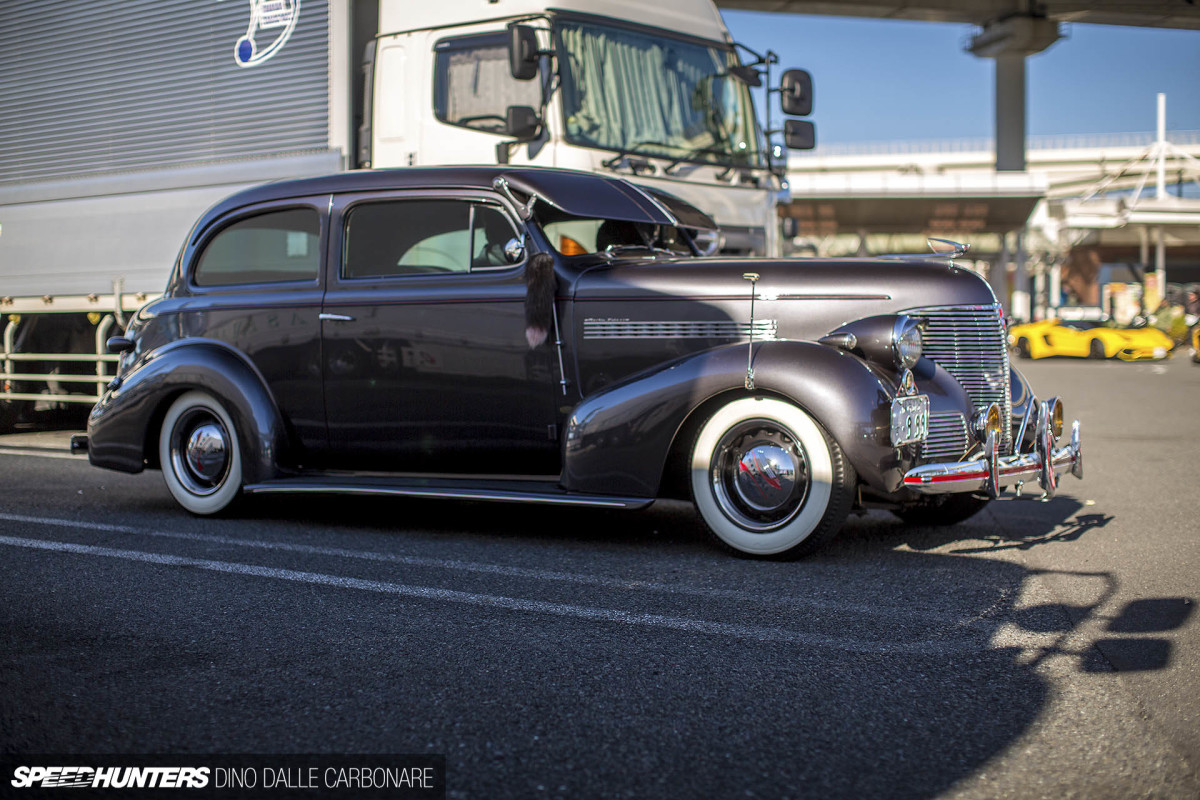 Meanwhile, on the very top of the parking area a little mini-meet had materialized.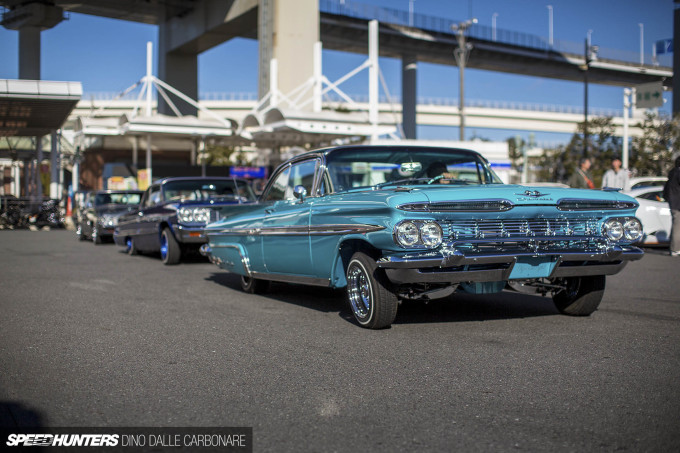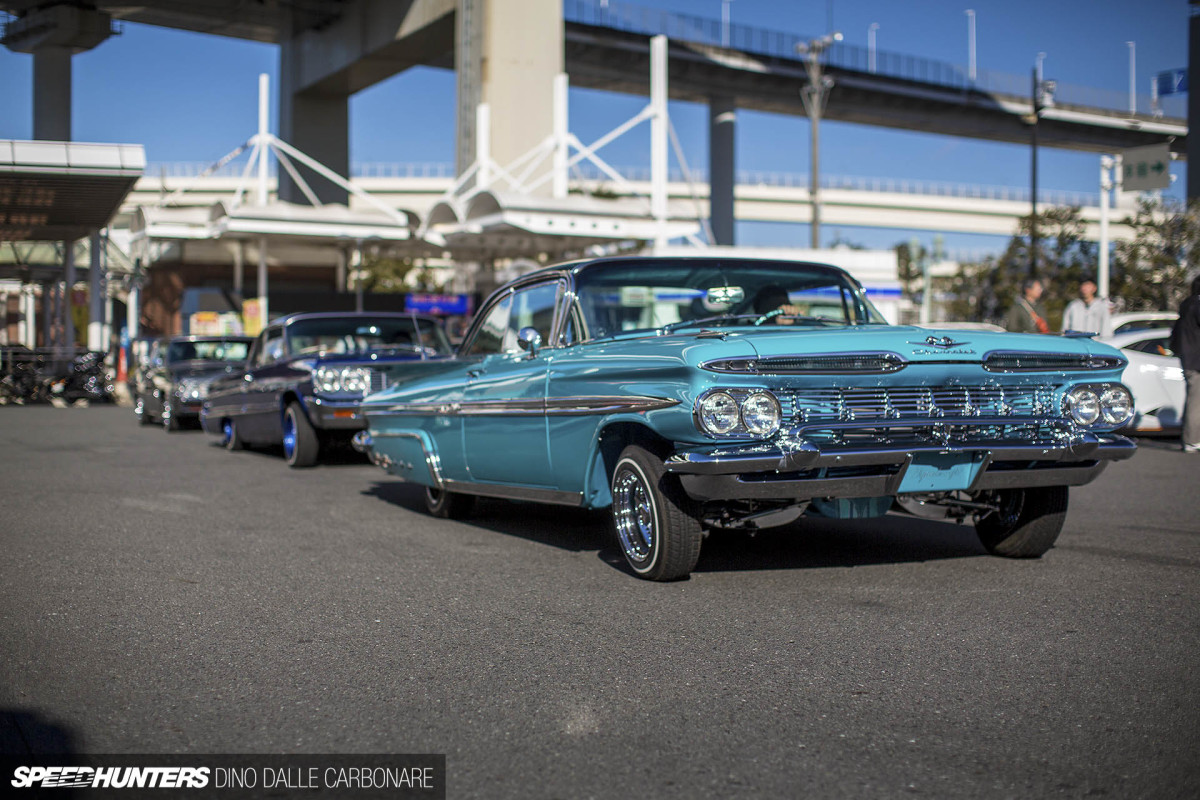 I had heard that a bunch of lowriders would be meeting in Odaiba on the same day, and some must've decided to stop by Daikoku for a little look.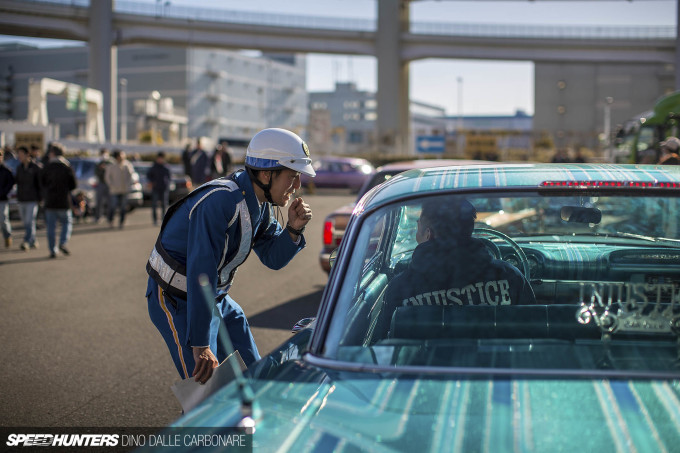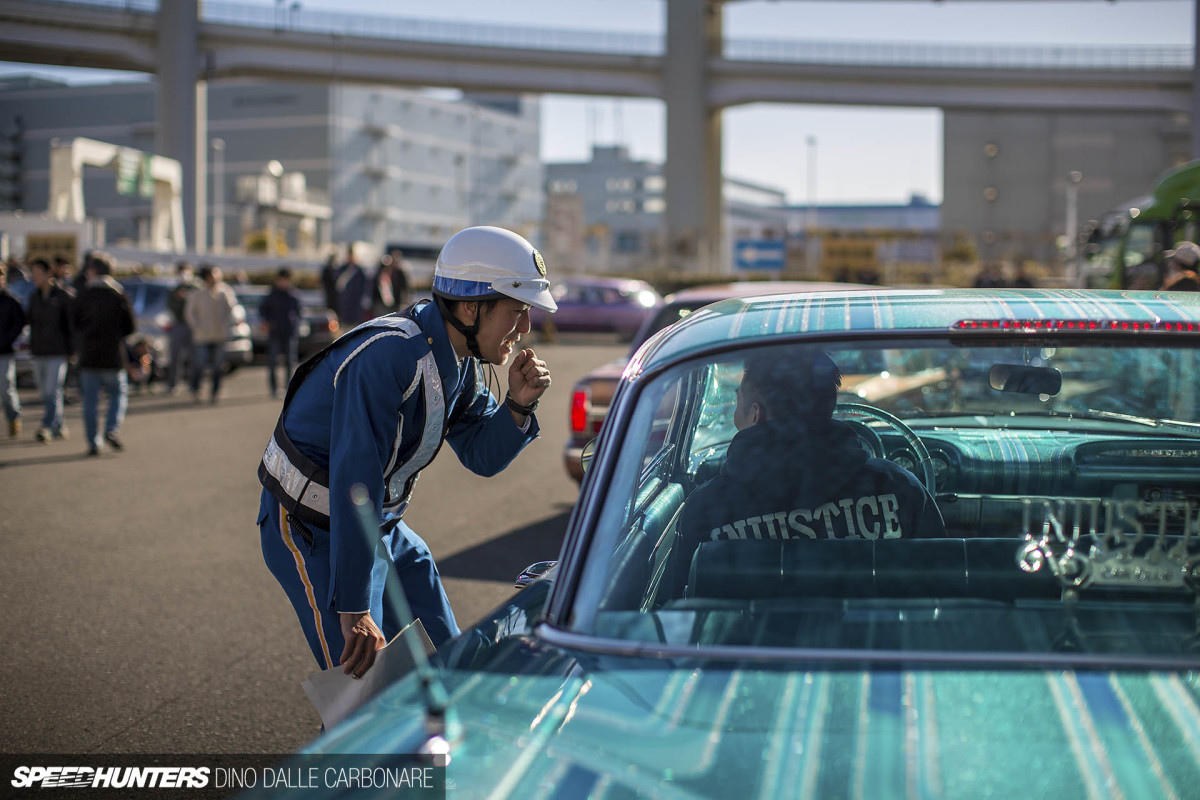 They didn't time their entrance too well unfortunately, cruising in as the police were doing their second clear-out pass of the day through the truck parking area. That said, this image perfectly captures the kindness and courtesy that the Japanese police show when they talk to people. I'm pretty sure no other place on the planet could compare.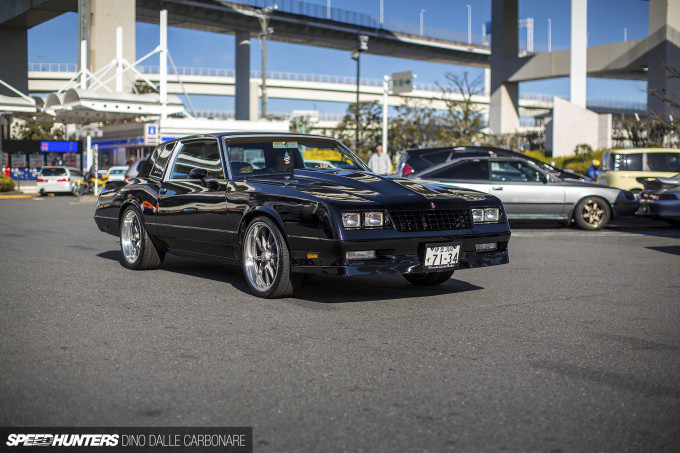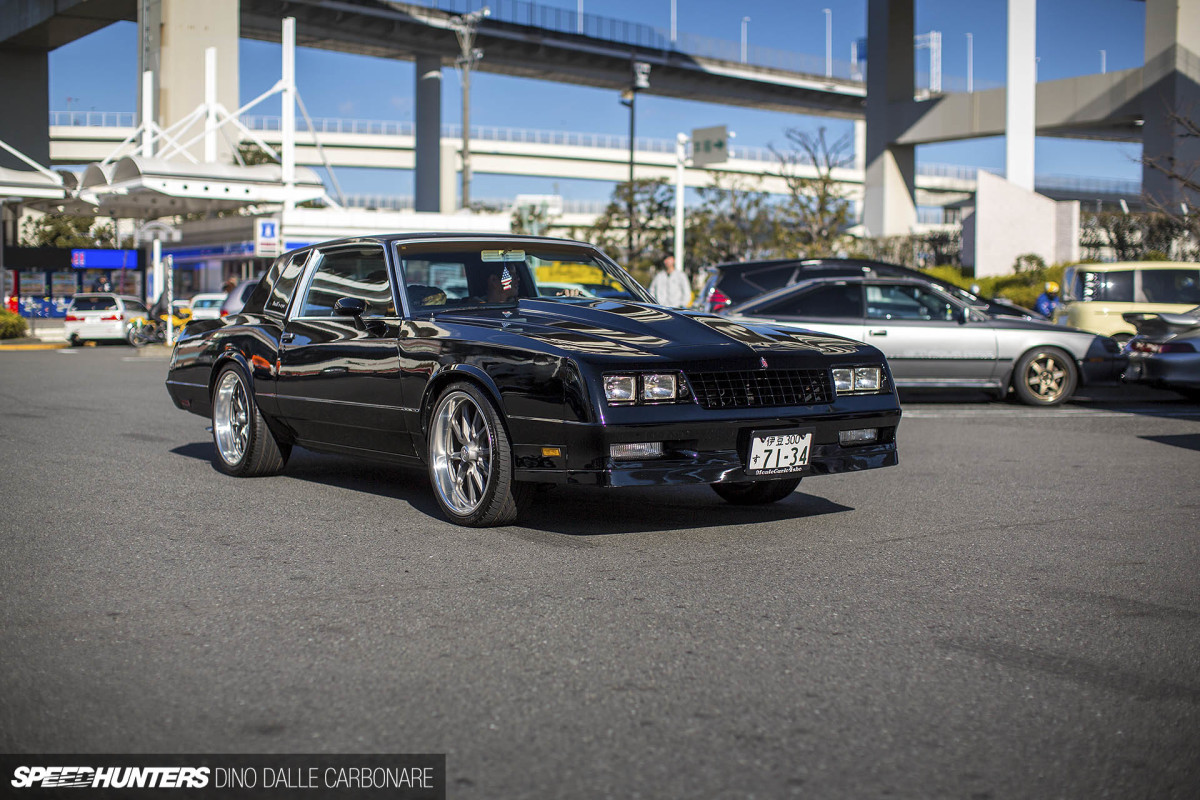 It's a pity these guys took off so quick as there was some awesome metal to be seen, this SS Monte Carlo  being one example.
Mind you, while some left, others completely ignored the police and just stayed put.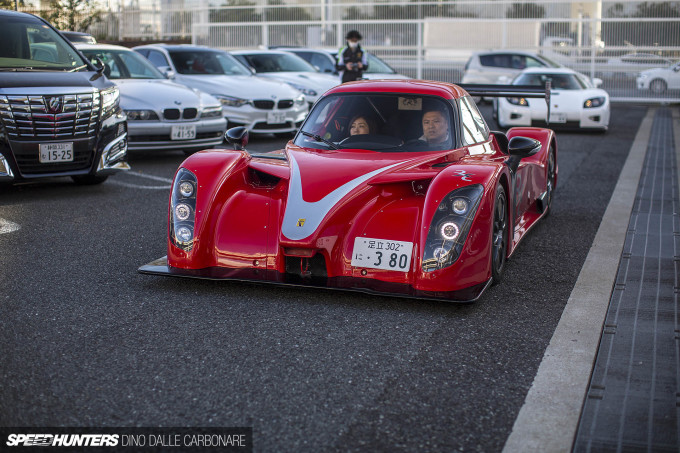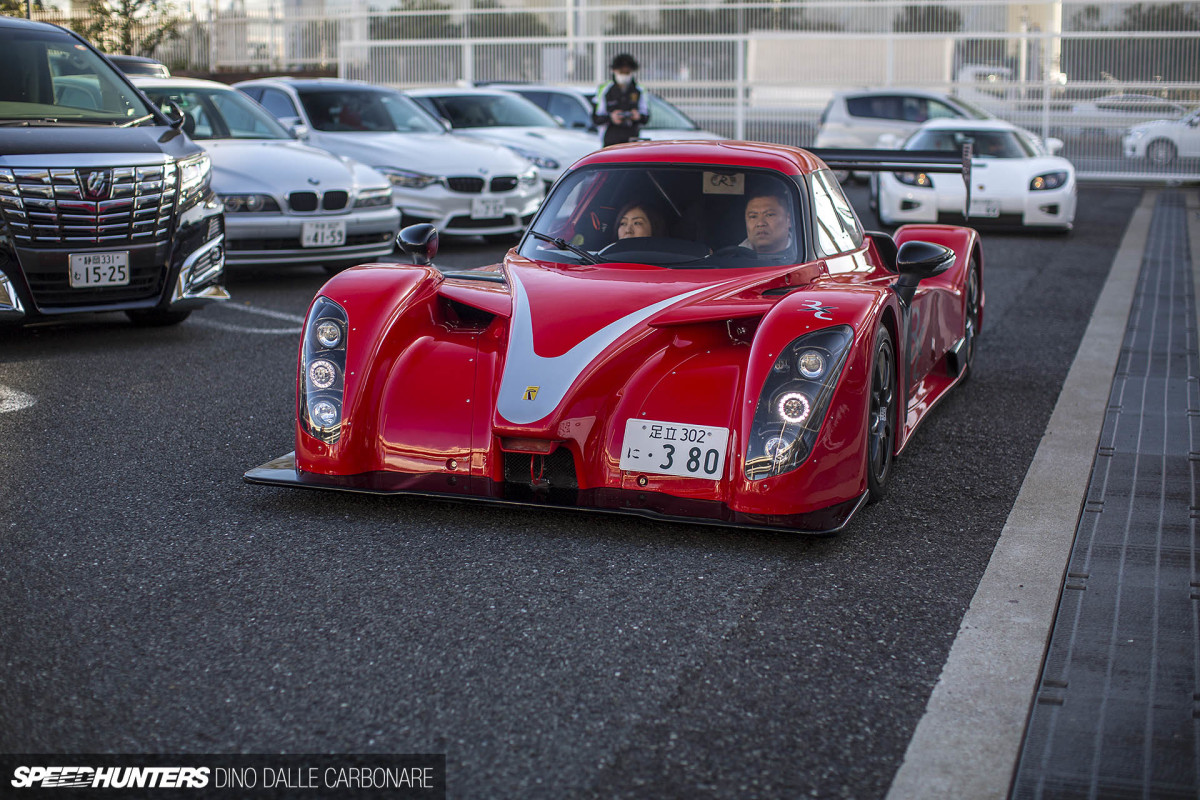 It was soon time for me to call it a day, but as I was making my way back to the car some more special machinery showed up – a Radical followed by something of Swedish provenance.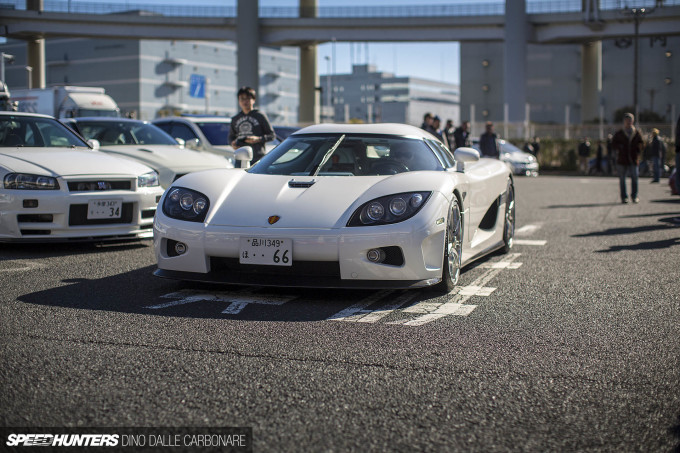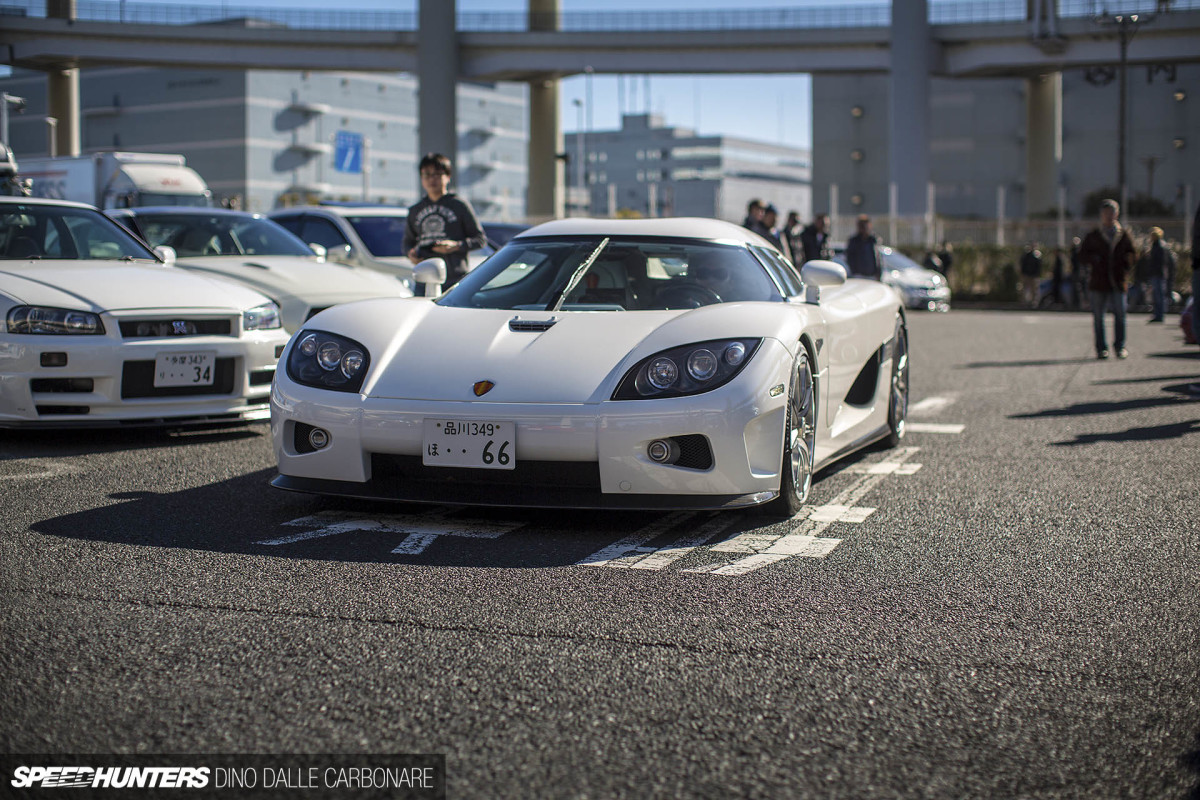 The Koenigsegg CCX might be a little over 10 years old, but it's still very much able to command complete attention of a big crowd of car guys. It's quite the creation.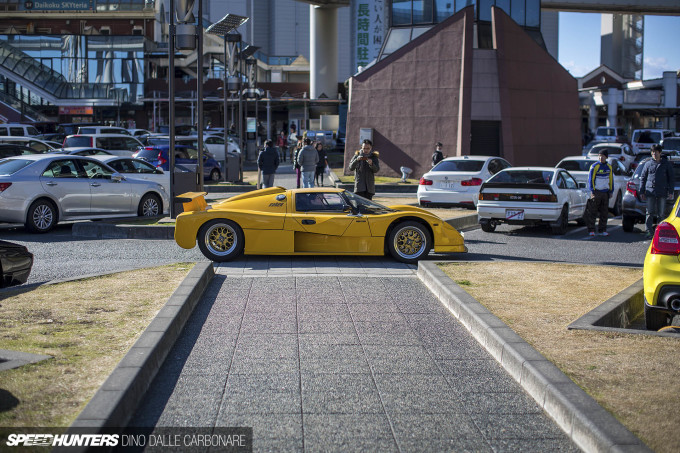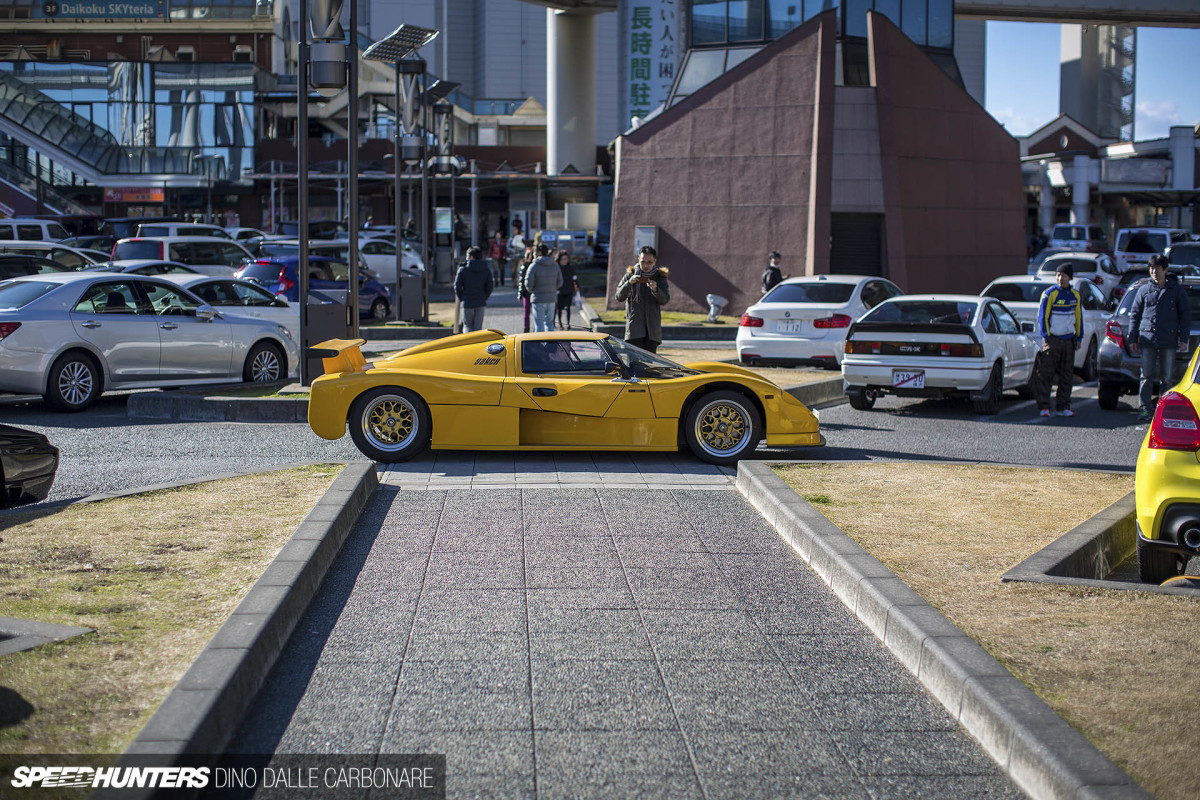 As I was thinking, 'man, how lucky to have spotted an 'egg' right before leaving,' this popped up. The sight of a Saker GT at Daikoku PA perfectly sums up this annual event as well as Japanese car culture. 2018, here we come!
Dino Dalle Carbonare
Instagram: speedhunters_dino
dino@speedhunters.com