A Disappointing Drive In
The San Francisco Bay Area is a bit of a special place. No matter what it is you're looking for, you can find it here. Even in the middle of winter, meets like the Cars and Coffee event that GMP Cars put on last weekend are in full swing.
In fact, these events have such a good turnout that lots of other, smaller spin-offs seem to occur leading up to the main show — one such by-product was a cruise from Pleasanton to Richmond, where Cars and Coffee 'SF' would be held. Of course, this meant getting up before the sun to see who showed up despite the poor weather.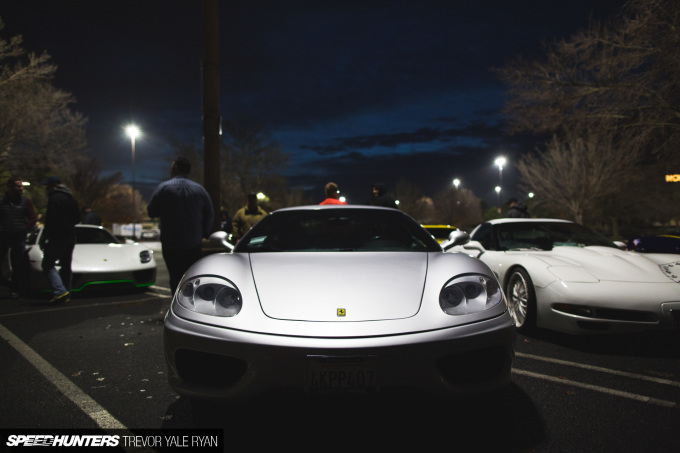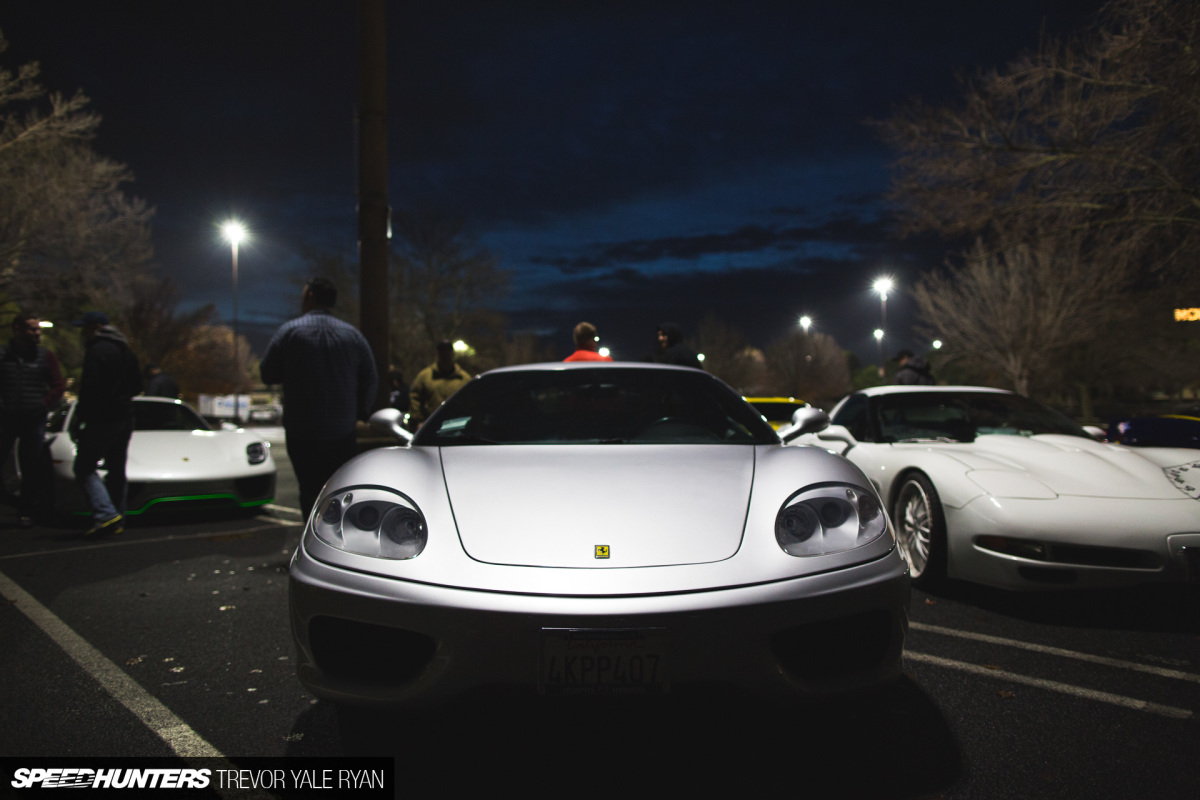 I have to say, I was not disappointed. There was a heavy dose of late-model American muscle present, which is to be expected, as well as everything from a Porsche 918 (hiding behind the Ferrari 360) to an Ariel Atom.
Lucky for the Ariel owner there was no more rain during the day, but with wet roads and no top it was not the most practical choice. But really, what sort of practical person ends up with something as awesome as an Atom anyway?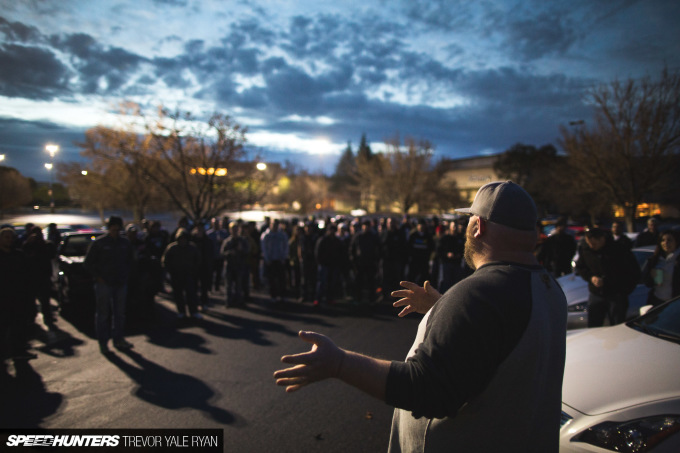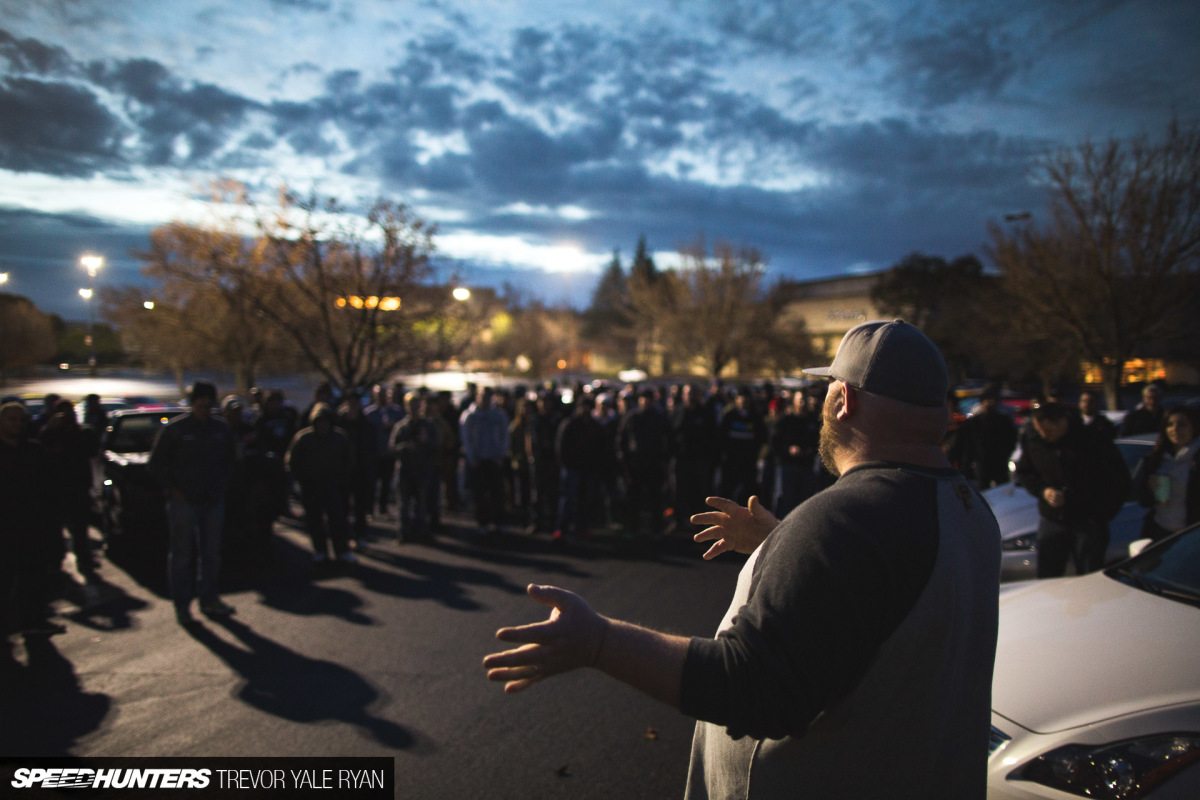 This particular rally over to the show was organized by Tim Booth, who had a few words of wisdom to share with the large, ever-growing crowd that was eager to warm up their cars and start the drive. Essentially, anyone messing about in the rain would be flagged by the entire community and not welcome at future cruises like this.
It's exactly the strict attitude that should be applied to anyone having fun with friends on public streets; all it takes is one black sheep not knowing their limits and everyone's day (or worse) is ruined.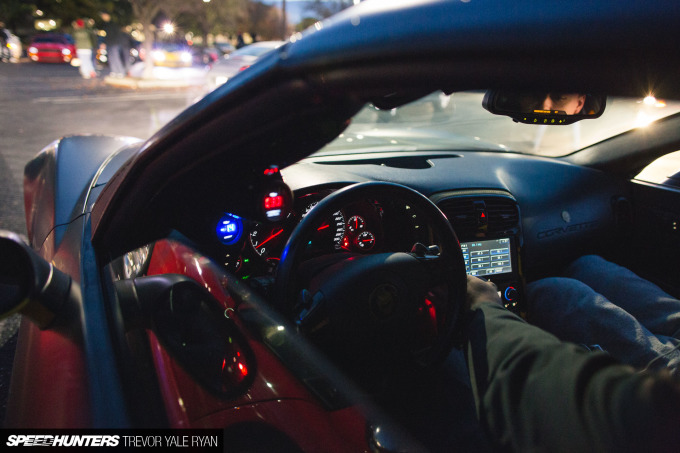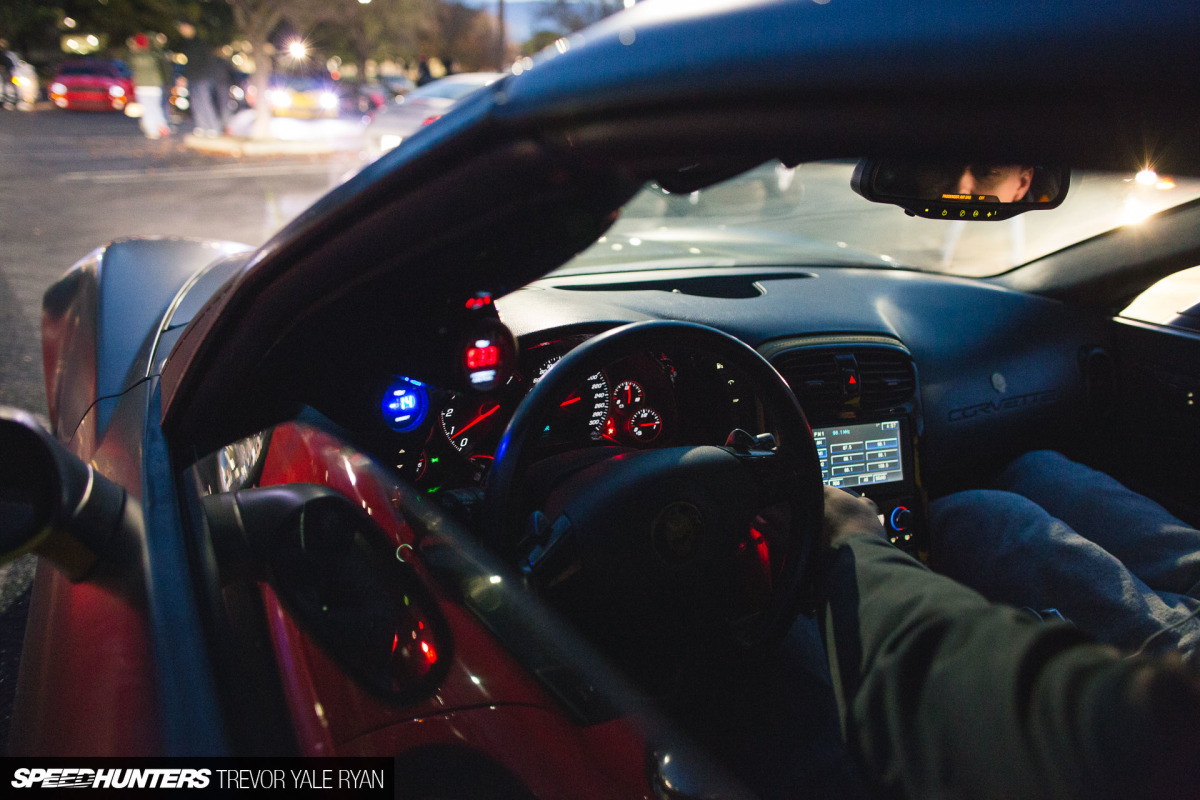 After the responsibility pep talk, engines were started, and revved, of course, as the cars warmed up.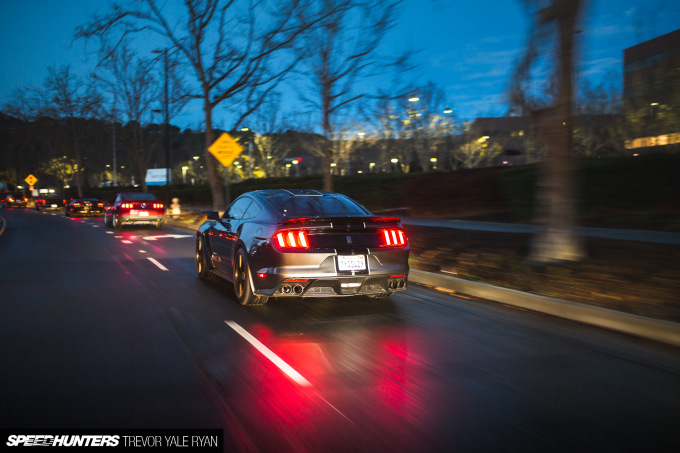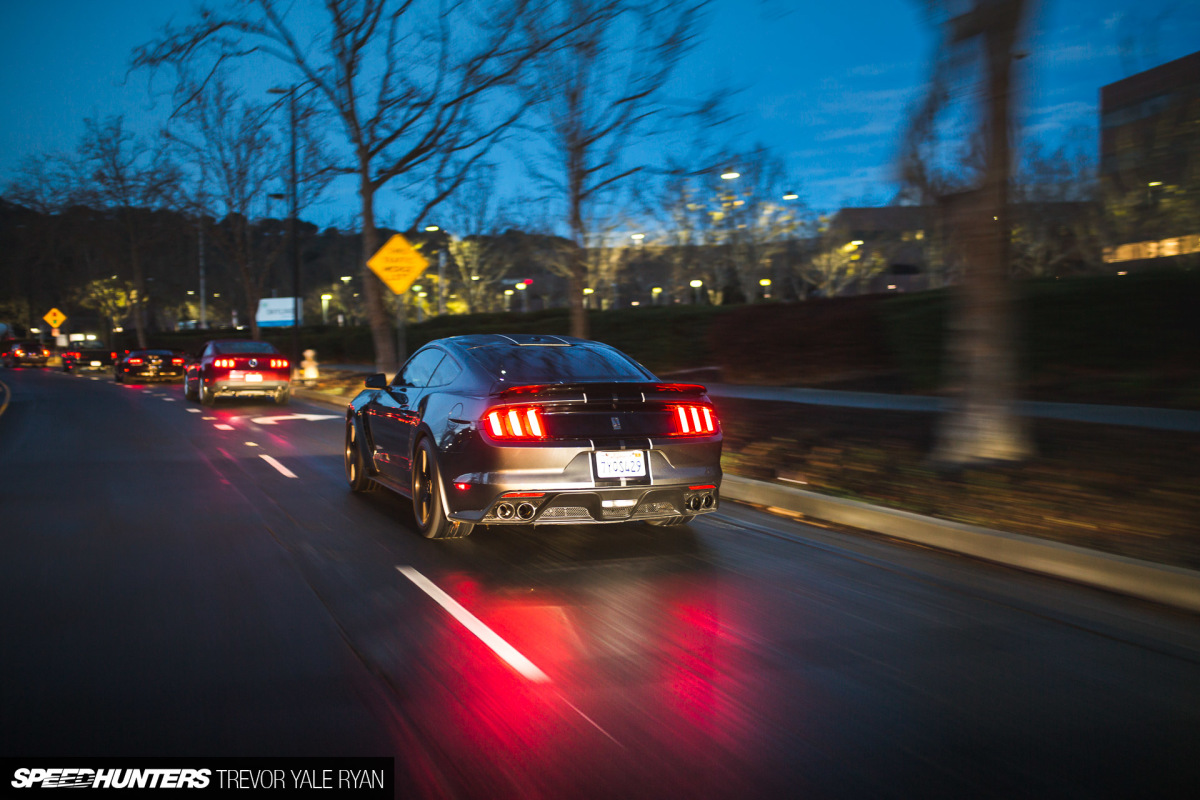 This is where the disappointing part comes in, for me at least. I woke up excited (at around 4:00am, mind you) to get rolling shots on the way to the show; the weather for it was perfect and there would be plenty of iconic cars to shoot in front of awesome backdrops. But as we headed onto the freeway, we lost the pack as four highway options were presented to us and I chose the wrong one.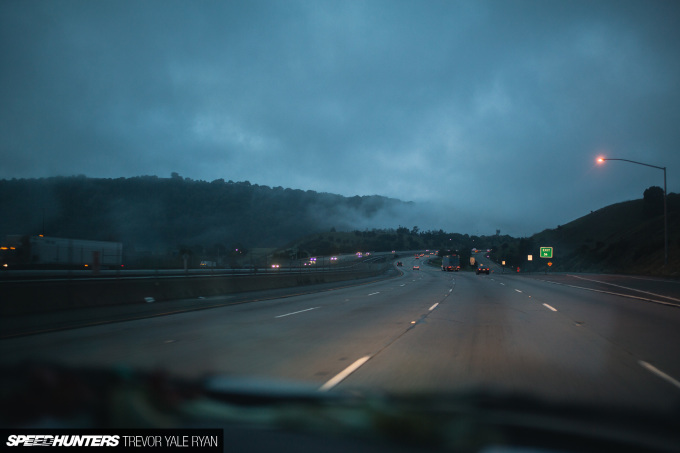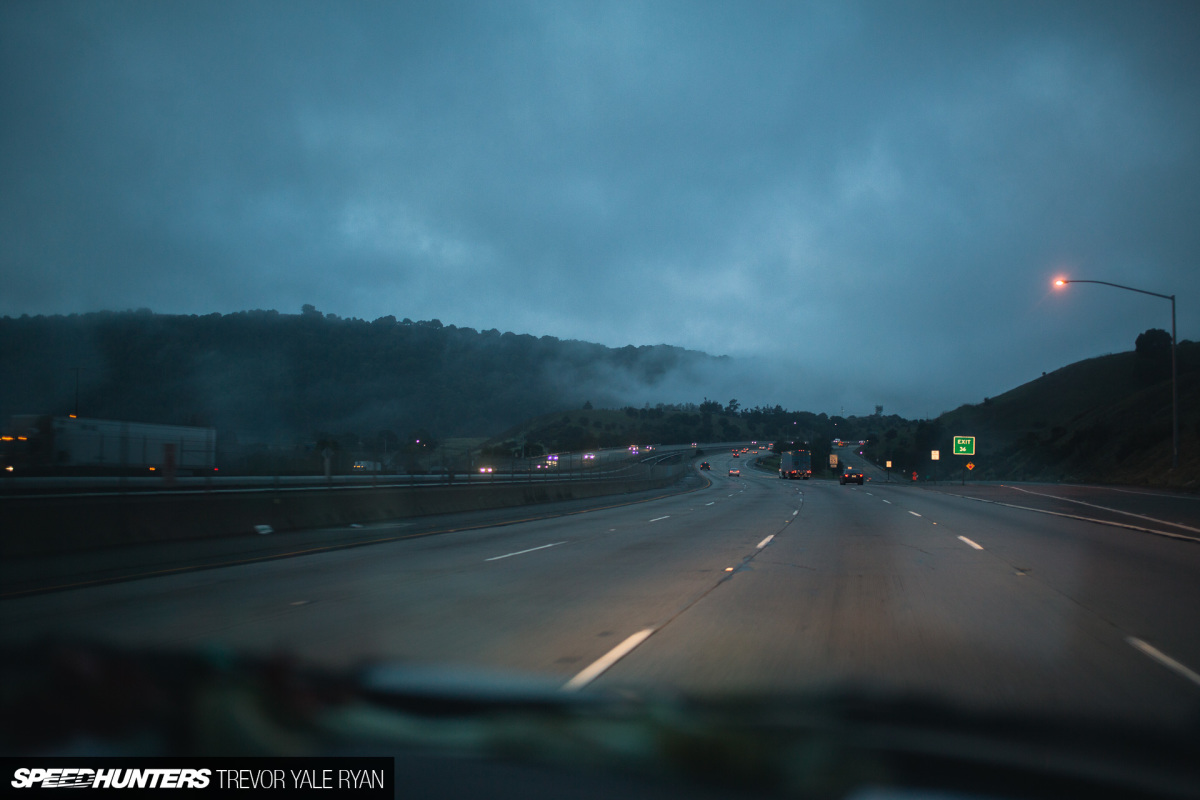 As pumped as I was to get photos, I accidentally opted for the fastest way to the GMP Cars event instead of the route that would take us through the tunnel with the group.
Perhaps I'm being dramatic, but it was one of those moments where it seemed nothing could fix my disappointment; the smooth winding roads through the hills with beautiful fog rolling in during sunrise… But no cars for me.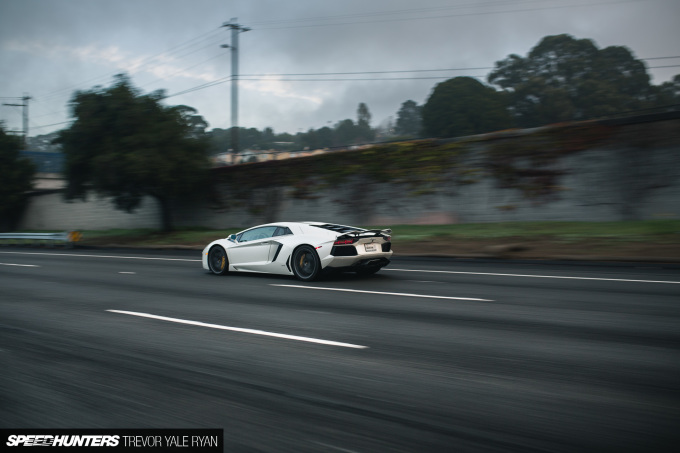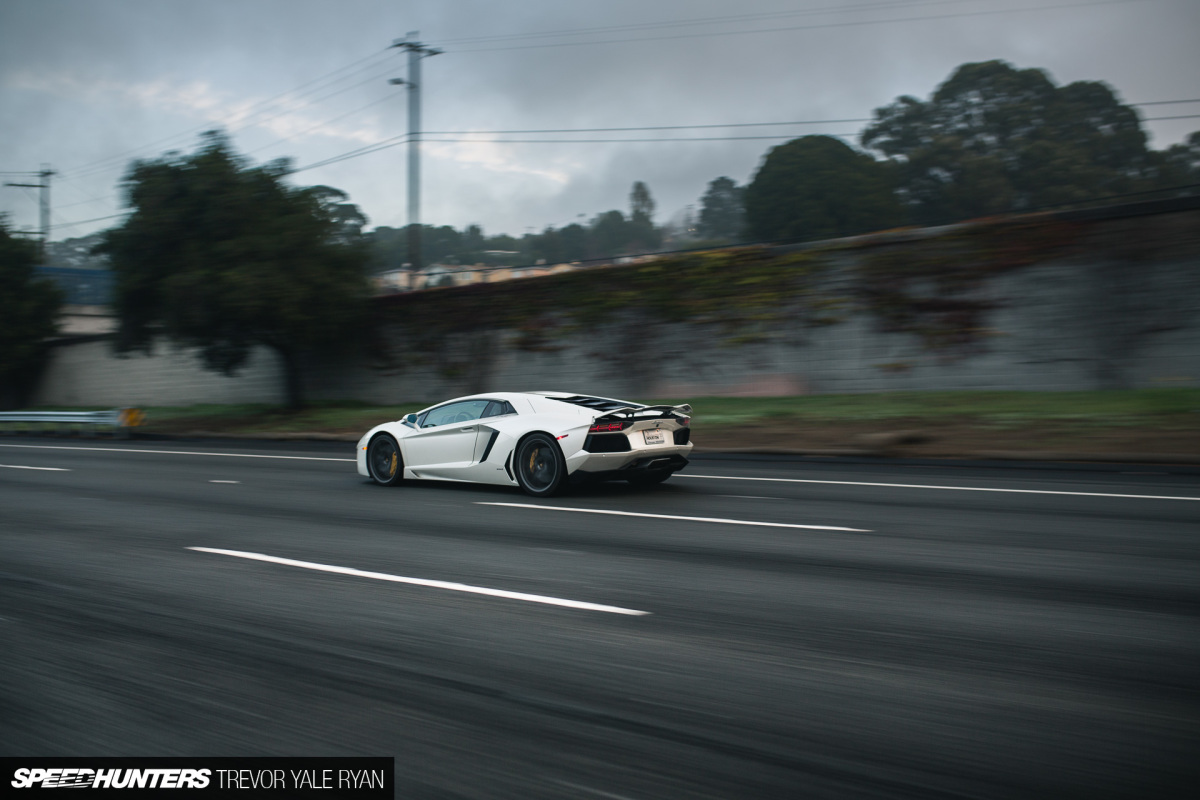 Actually, I did spot one Aventador cruising past, but it was a small consolation prize compared to the dozens of cars rumbling around together on the other side of the valley.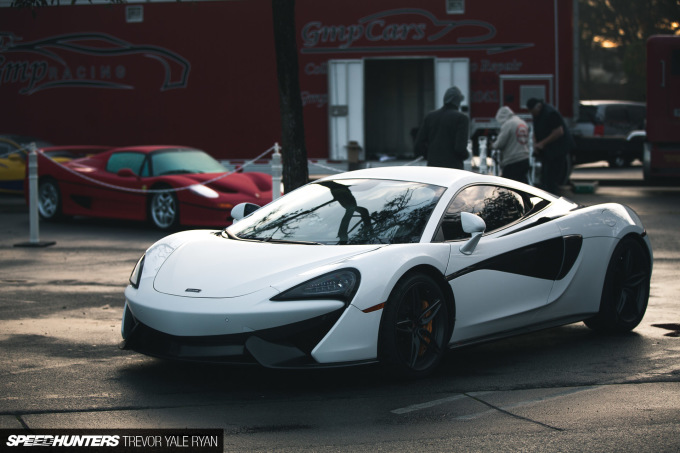 Once we made it to the event, I quickly left my disappointment behind. I was immediately greeted with an immaculate, brand new McLaren 570GT S glowing in the soft light from the still-rising sun. But lurking in the background was the GMP Cars trailer, and if I'm honest, the real reason I came to the event in the first place.
F40 or F50? GMP Cars Says Both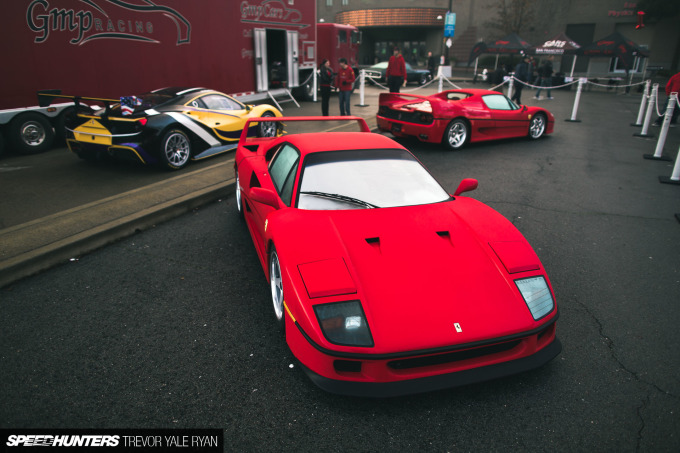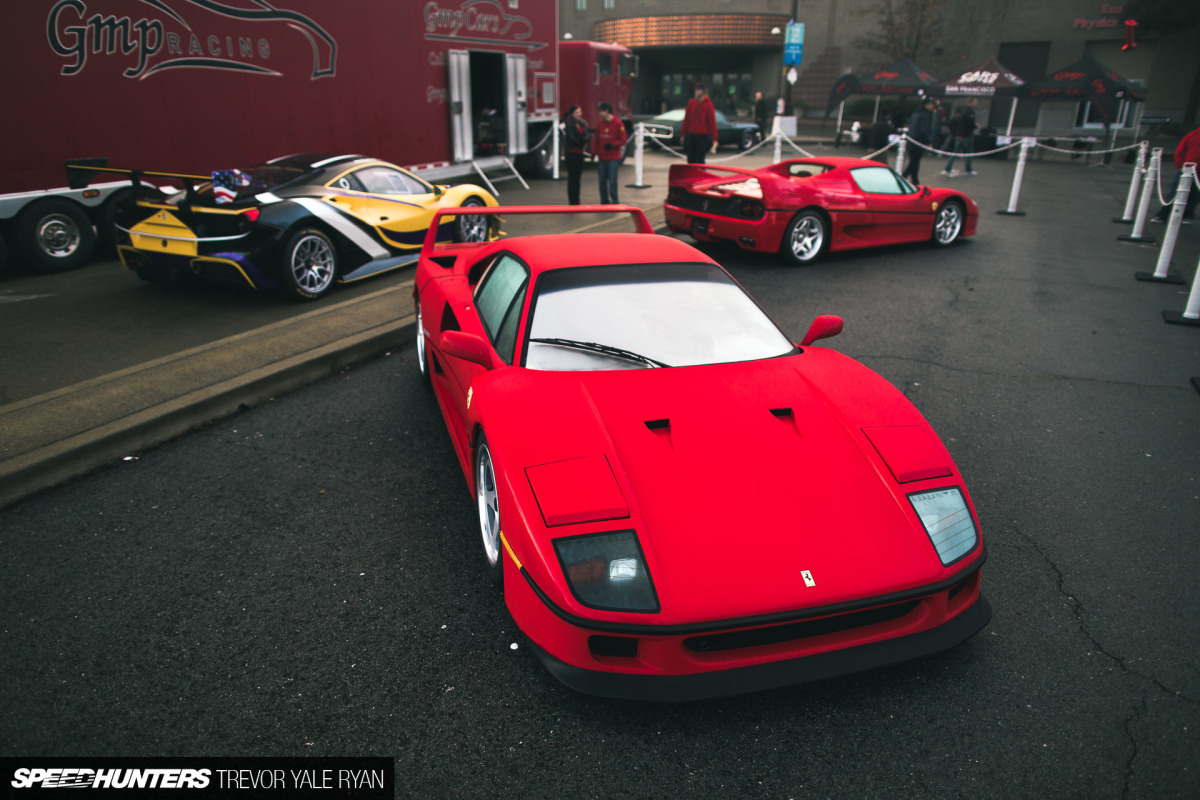 Ferraris, Ferraris, Ferraris. Why choose between two iconic '90s legends when you can have both?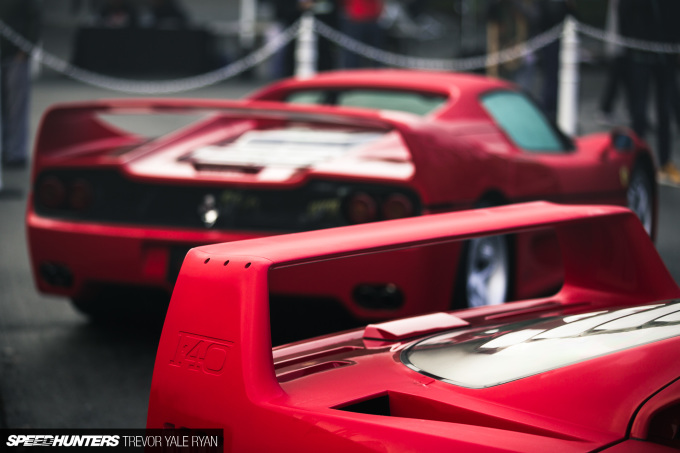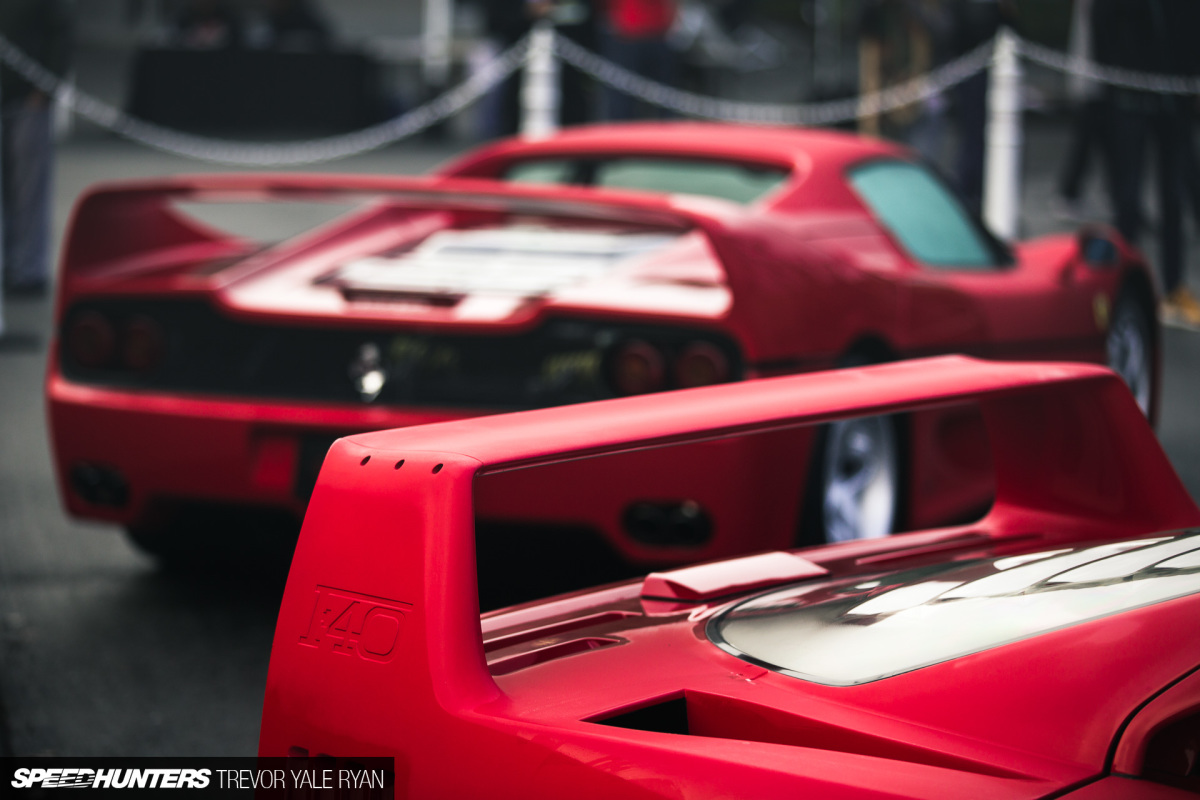 I know the popular answer to the F40 or F50 question, but surely I'm not the only one who would prefer the F50?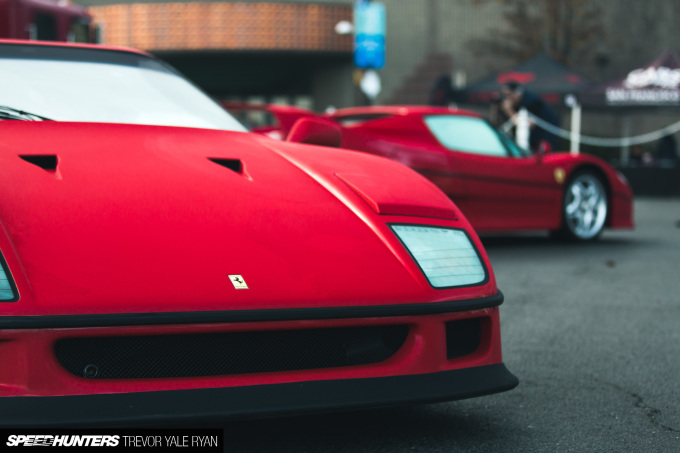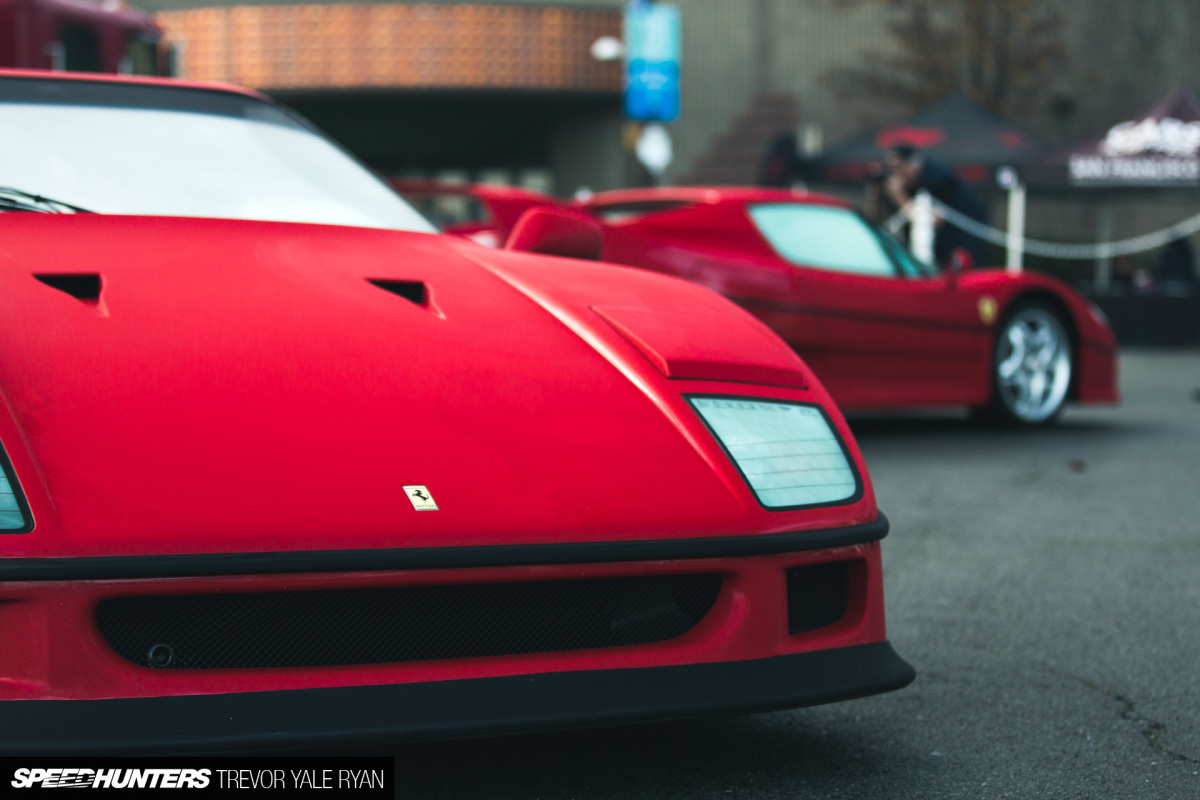 I understand the F50 is bigger, heavier, slower, and when you really stare at the two for any length of time, the F40 is clearly the more attractive option.
But when presented with the keys to both cars, I would take the F50, hands down.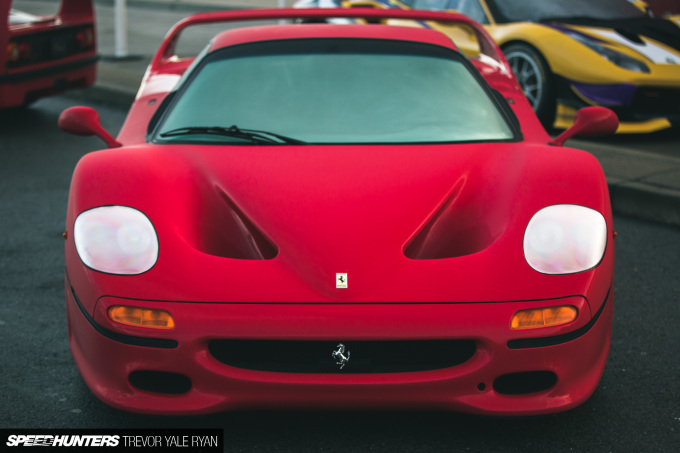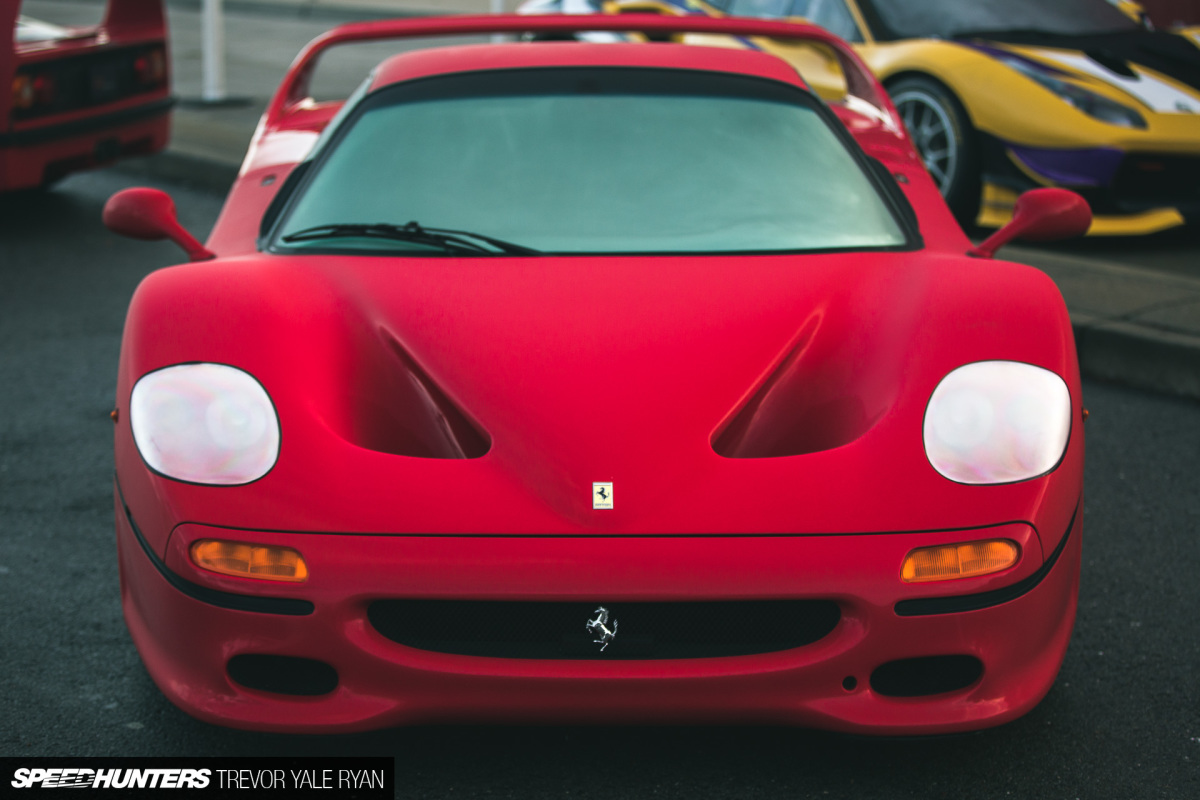 The only reasonable explanation for this that I can think of is the profound effect that the first F50 I ever saw had on me. I remember exactly where I was, at nine or 10 years old, when I saw the car peeking out at me from one of the service bays at an exotic car dealership in Los Gatos. It was perhaps the first time I ever just stood and stared in awe of a four-wheeled machine.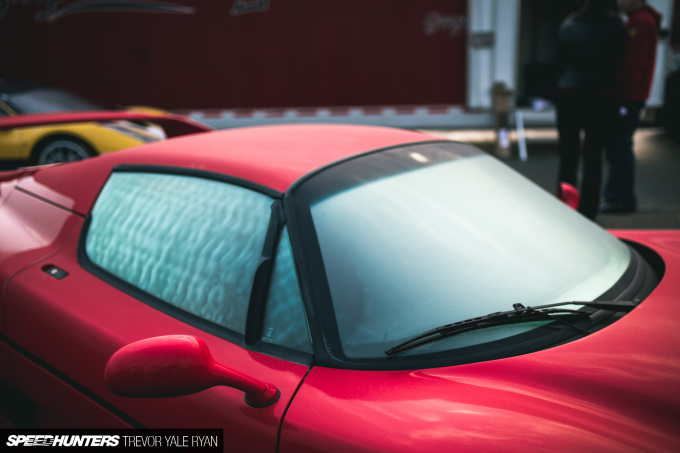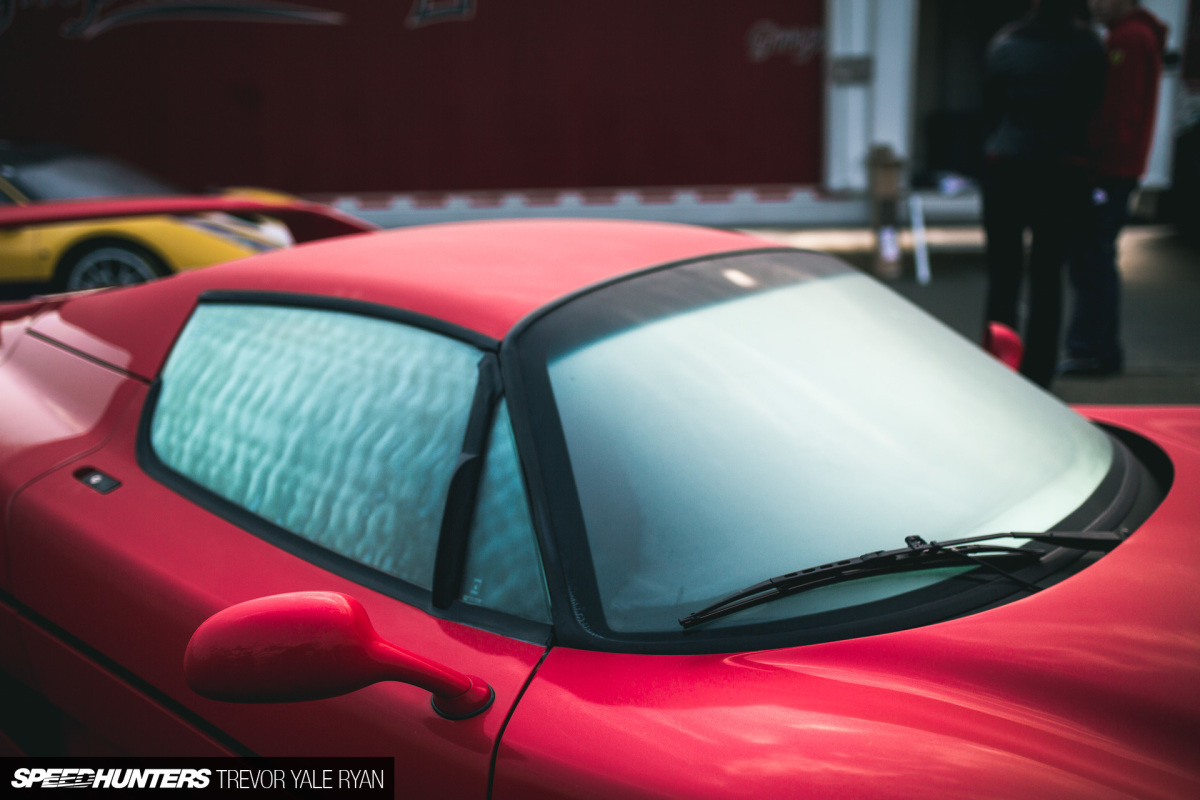 When up against the F40, I know it's the wrong choice, but I just have so much love for this Ferrari. The eerie fogged glass in the cool morning air only compounded the dreamy effect of the F50 for me.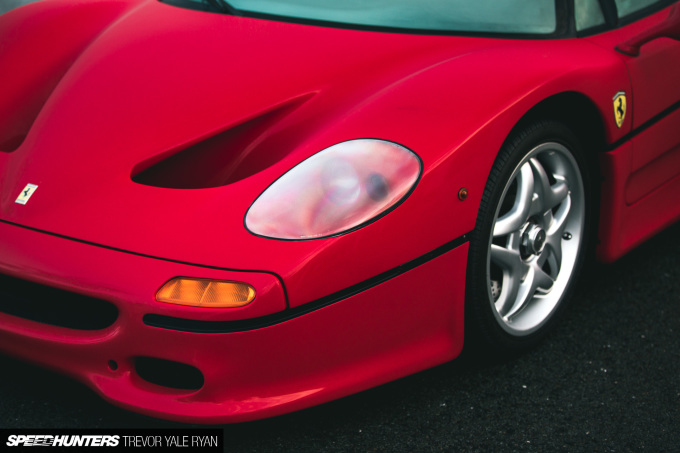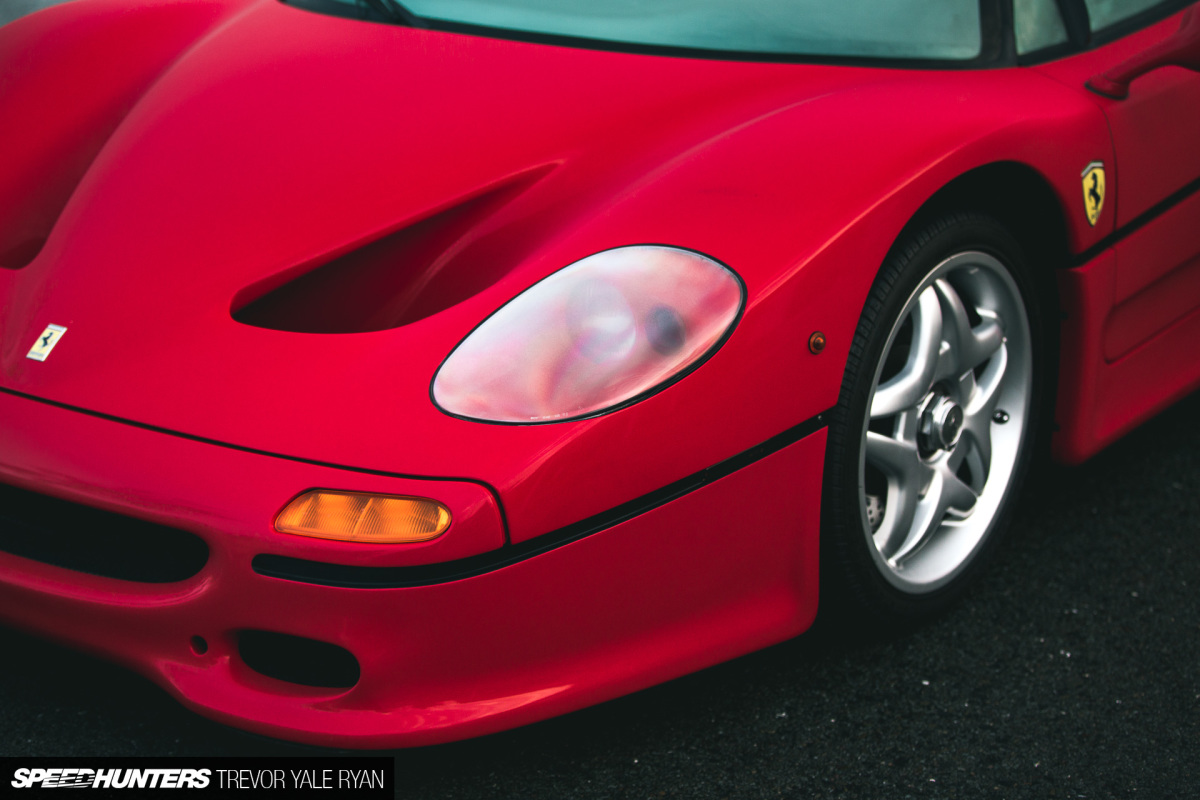 There's just something about it, you know?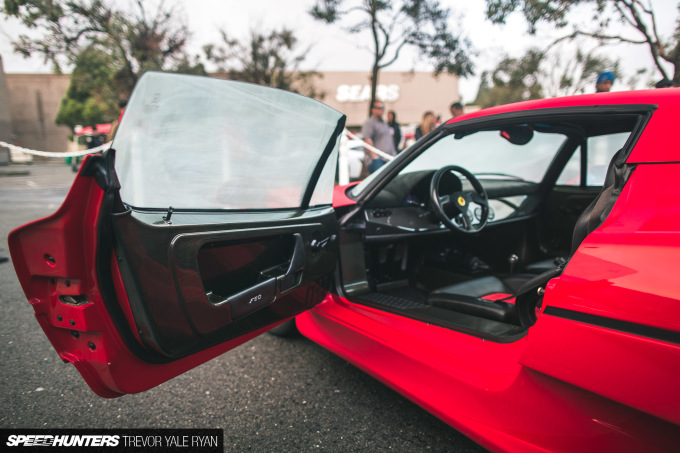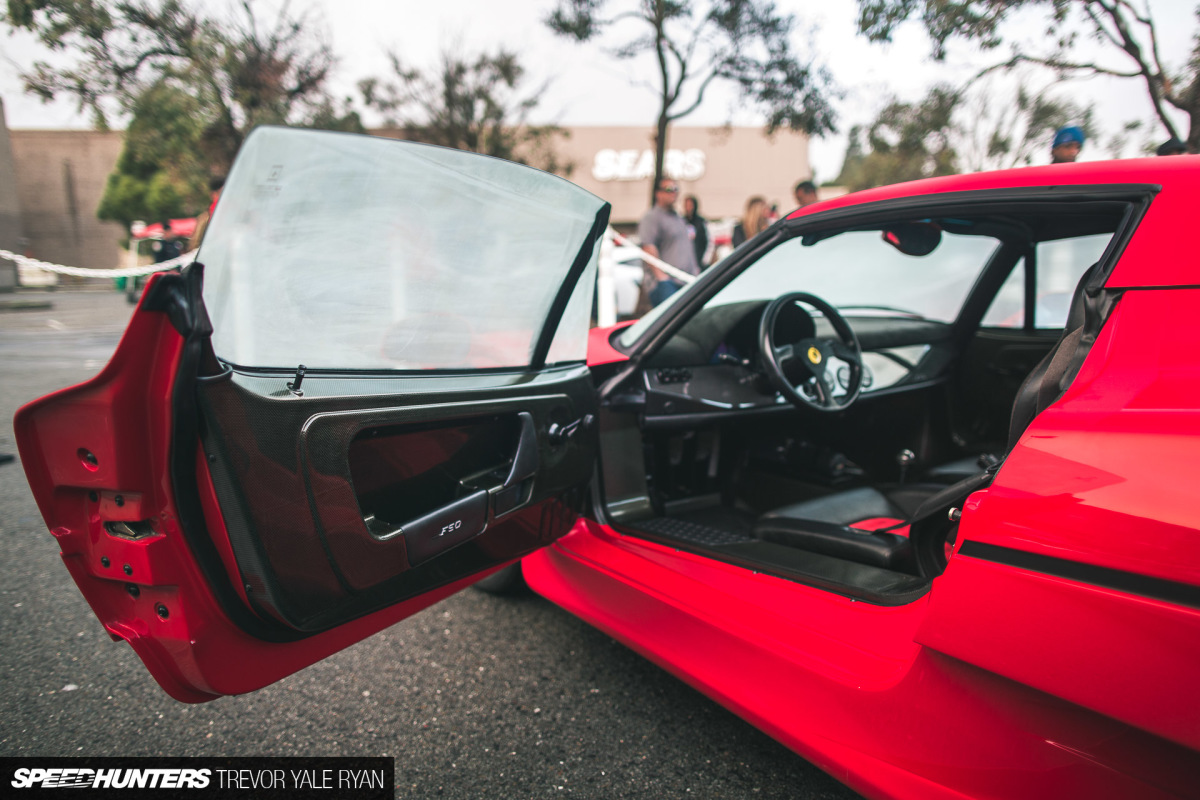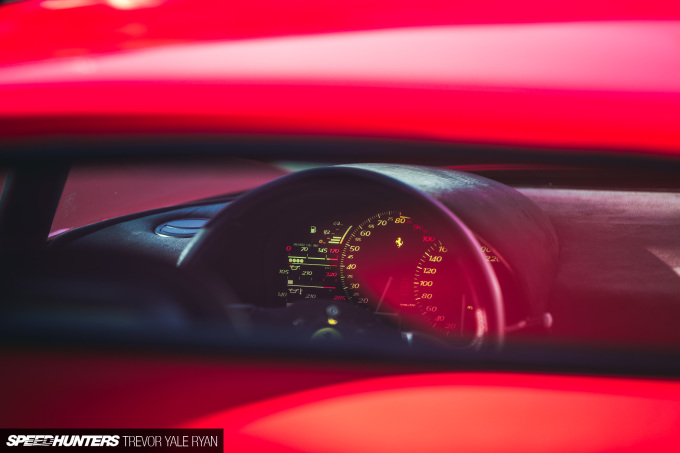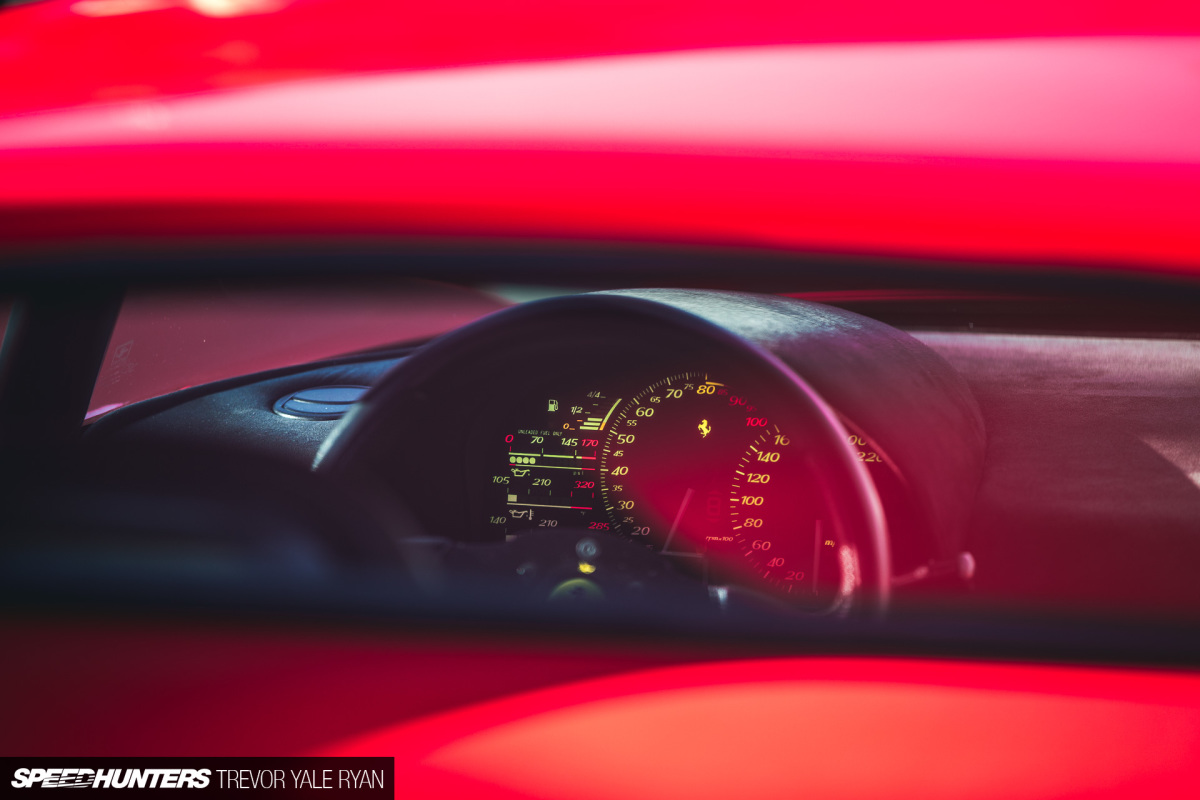 Inside, it's pure '90s gold.
In the back, or more like the middle, is that glorious F1-inspired 4.7L V12. Also packed in the rear, in proper Ferrari fashion, is a gearbox integrated into the chassis and fancy rose-jointed push-rod suspension with adaptive electronic dampers. From the factory, the only thing that's been changed on this particular example is a phenomenal sounding Tubi exhaust setup.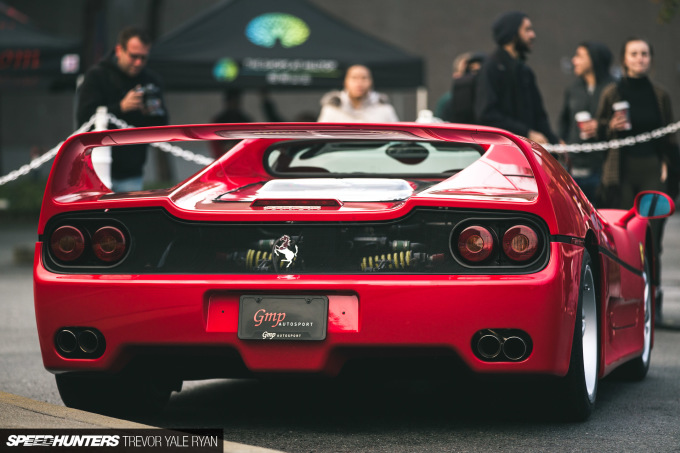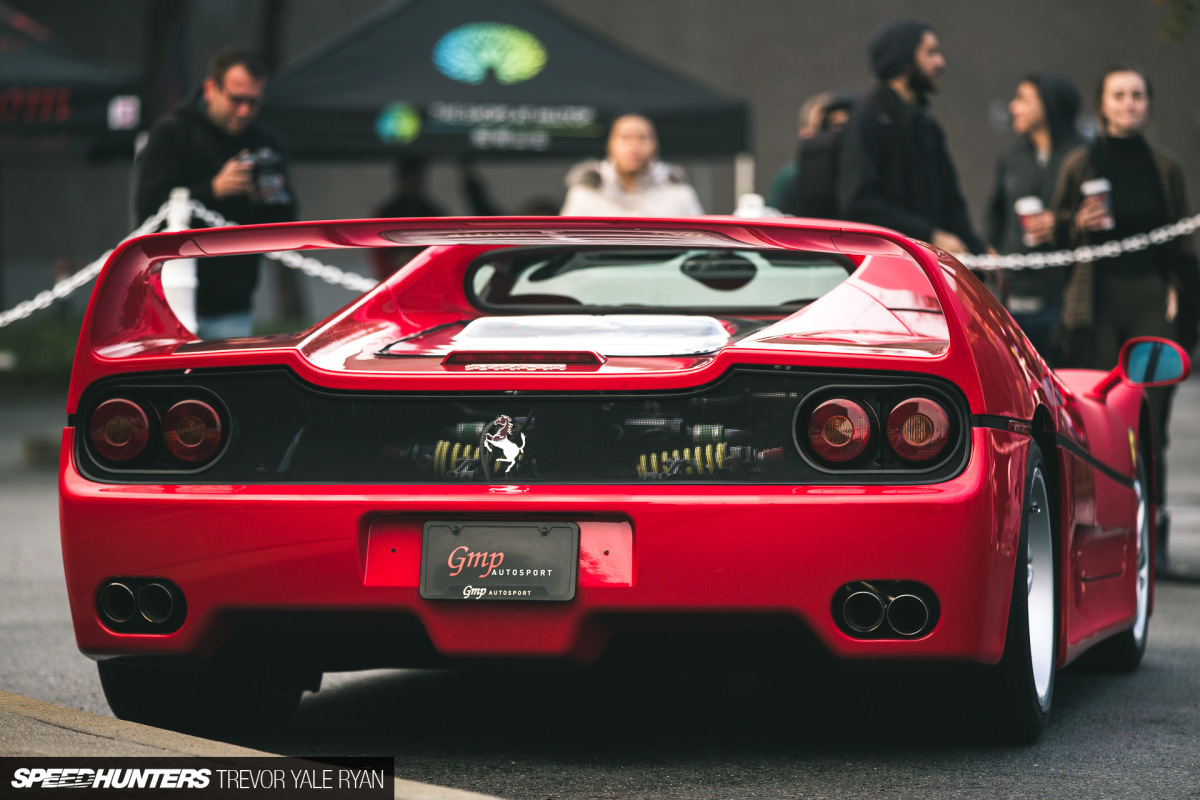 Despite perhaps failing to fill the shoes of its predecessor, the F50 is such a gorgeous thing to behold. As when I was 10 years old, driving one of these models is suddenly high on the priority list again.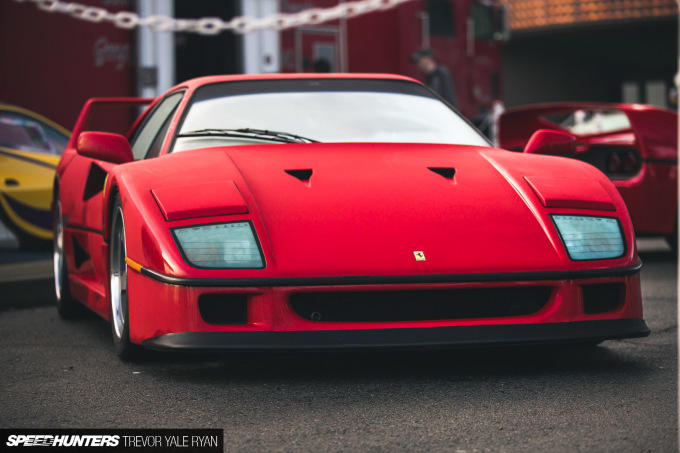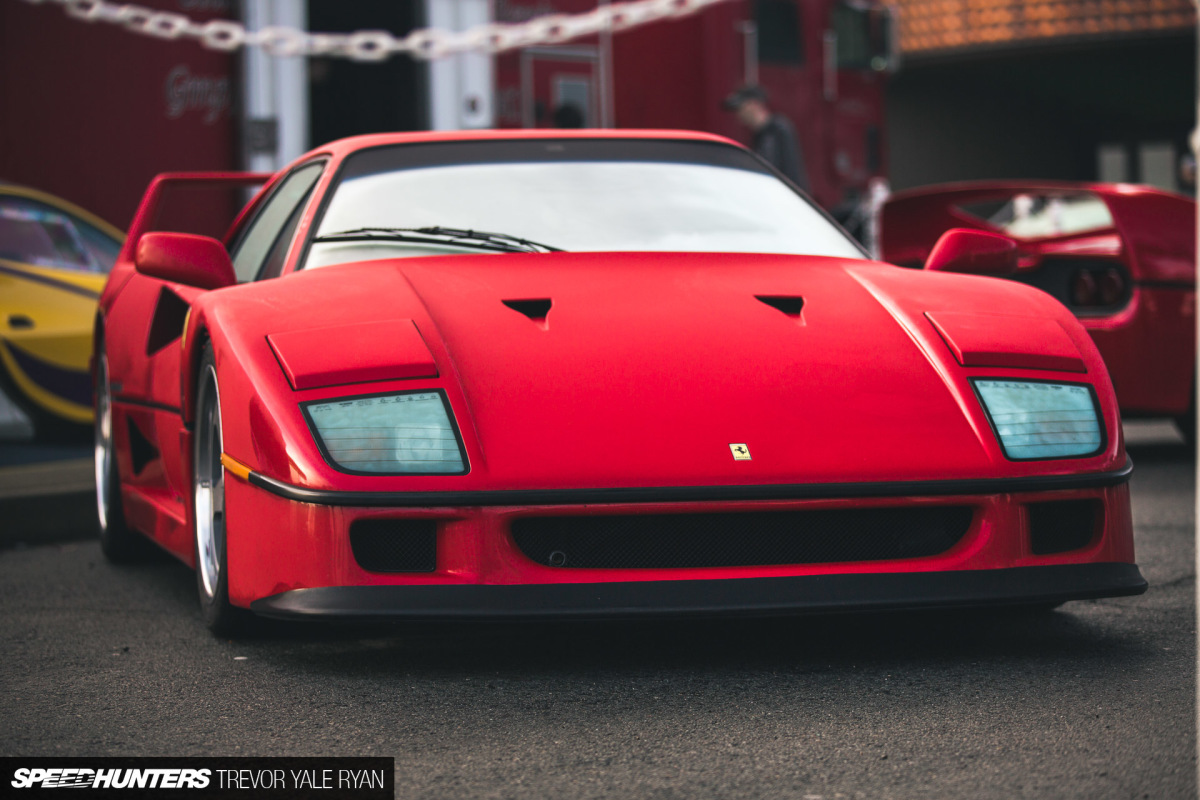 Of course, adjacent to its younger, bigger sibling was the almighty F40.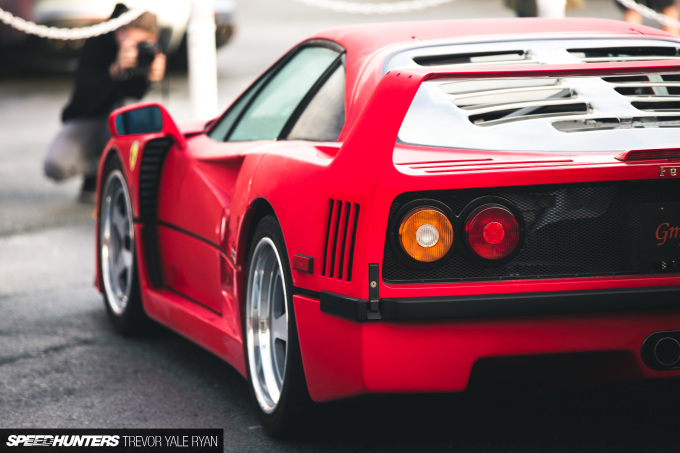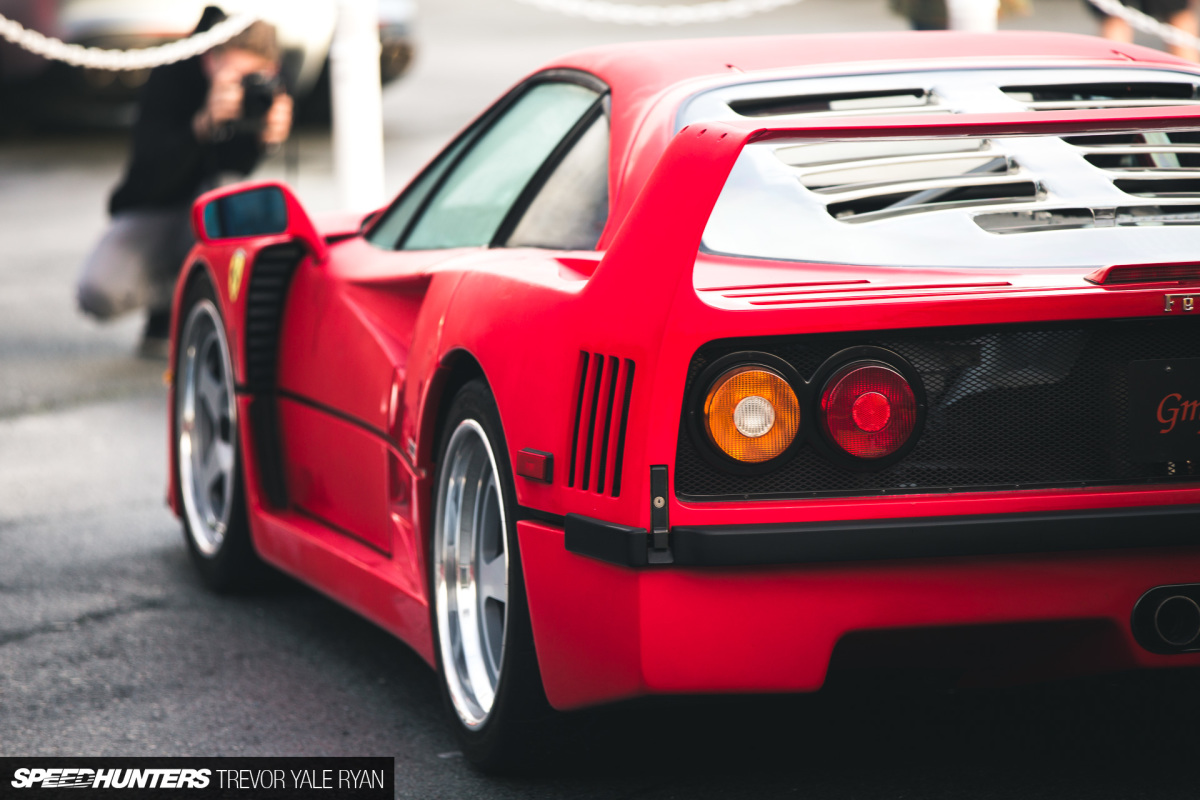 In a completely different way than the F50, the older model is also an aesthetically amazing convergence of engineering and design.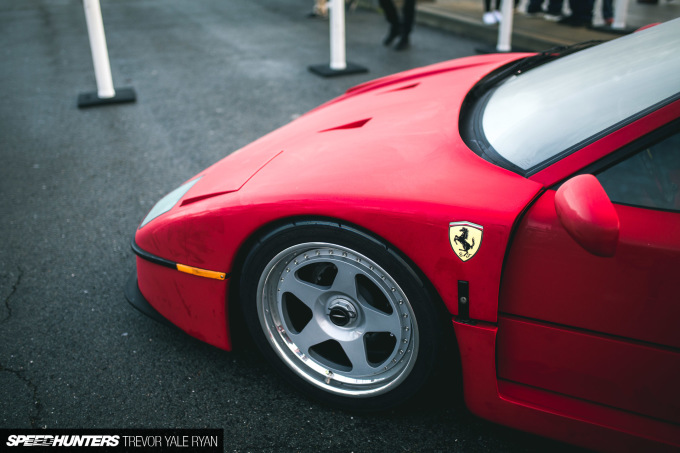 With upgraded 18-inch wheels over the 17-inch versions that shipped with the car, it's a great looking setup, to say the least. The brakes have also been upgraded with some Brembo units for extra stopping power. I'm not sure how many miles are on this one, but here's to hoping these parts were installed because it gets driven at least a bit.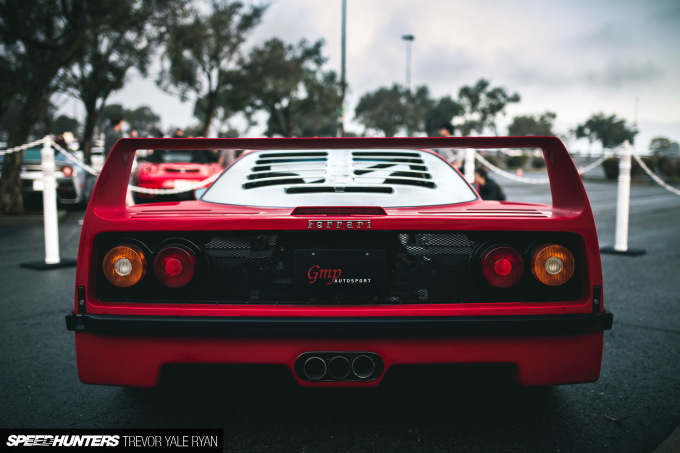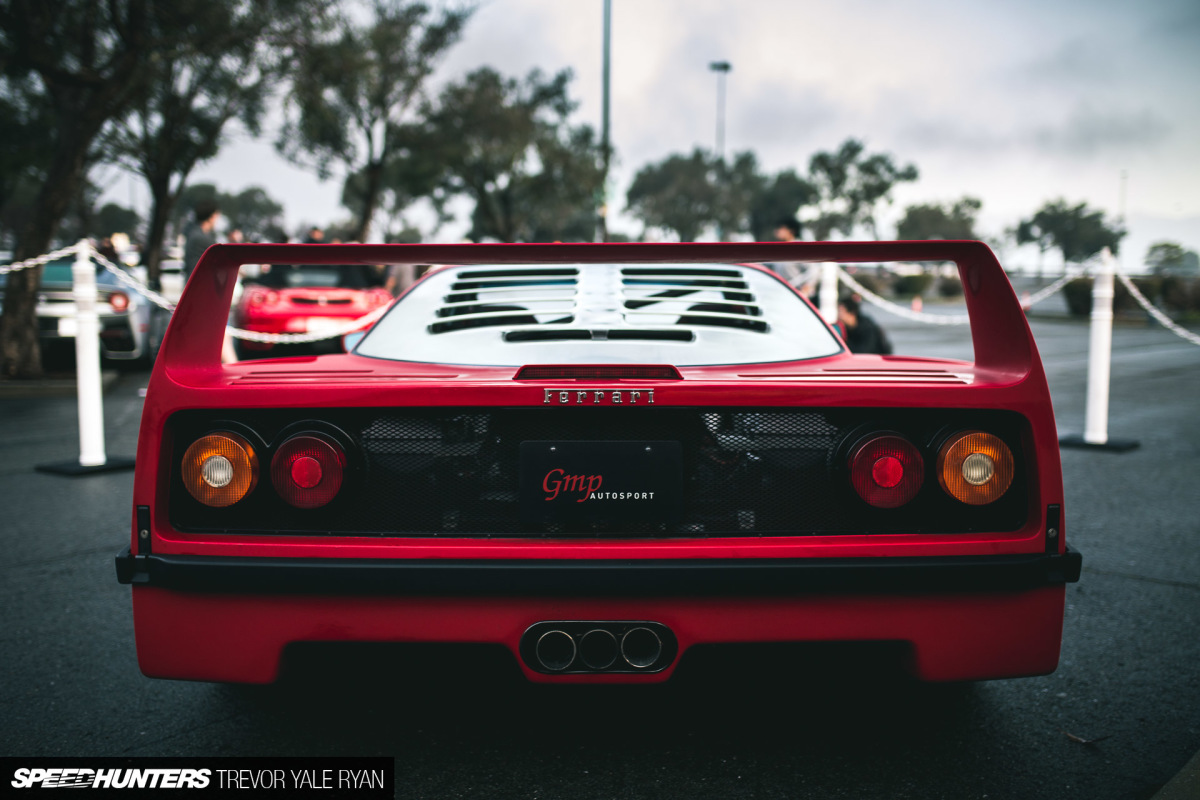 As I'm sure you're well aware, the powerplant in the F40 is a 2.9L twin-turbocharged V8; this car has also been upgraded with a Tubi exhaust. I don't often think of these cars being ones you modify, but if you've got the coin, why not?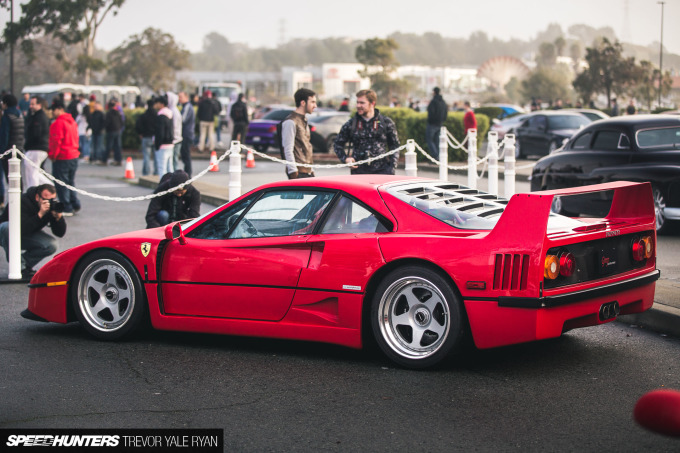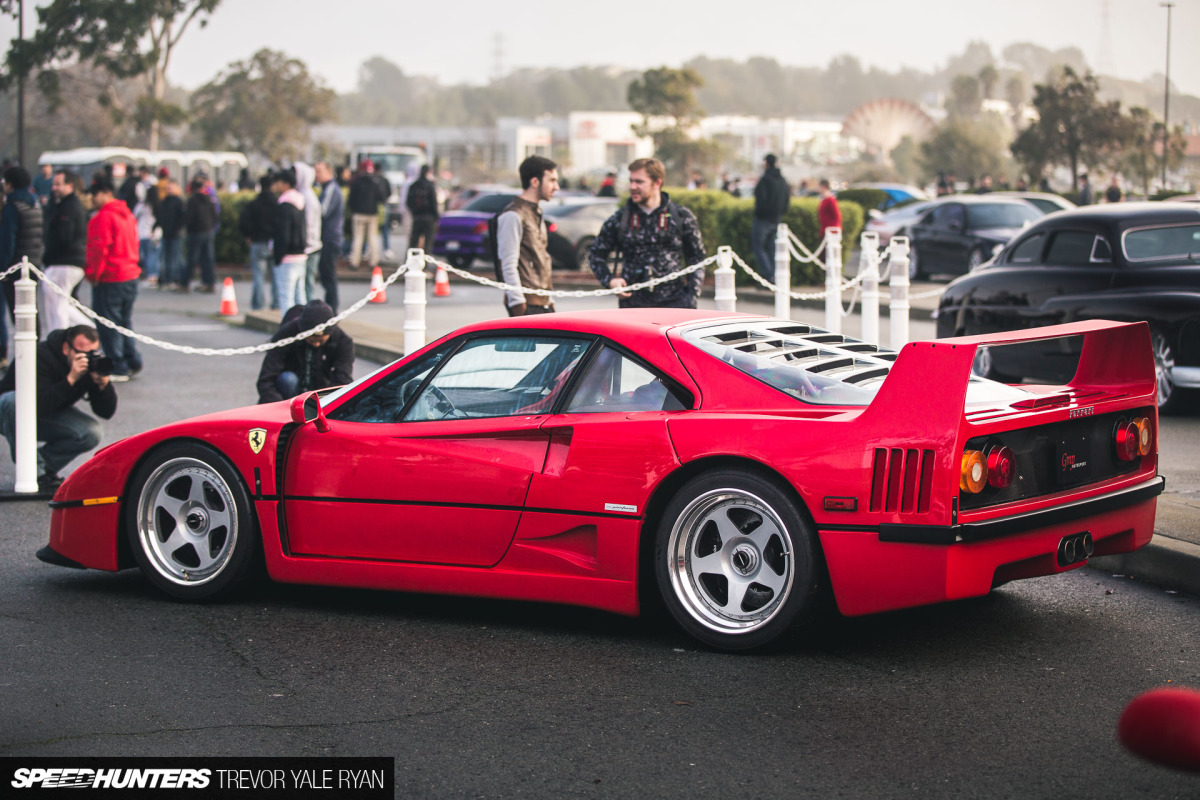 It's astounding to me how different the these two cars really are. From the sharp, angular design features of the F40 versus the swooping bodylines of the F50, to how they source and deliver their power.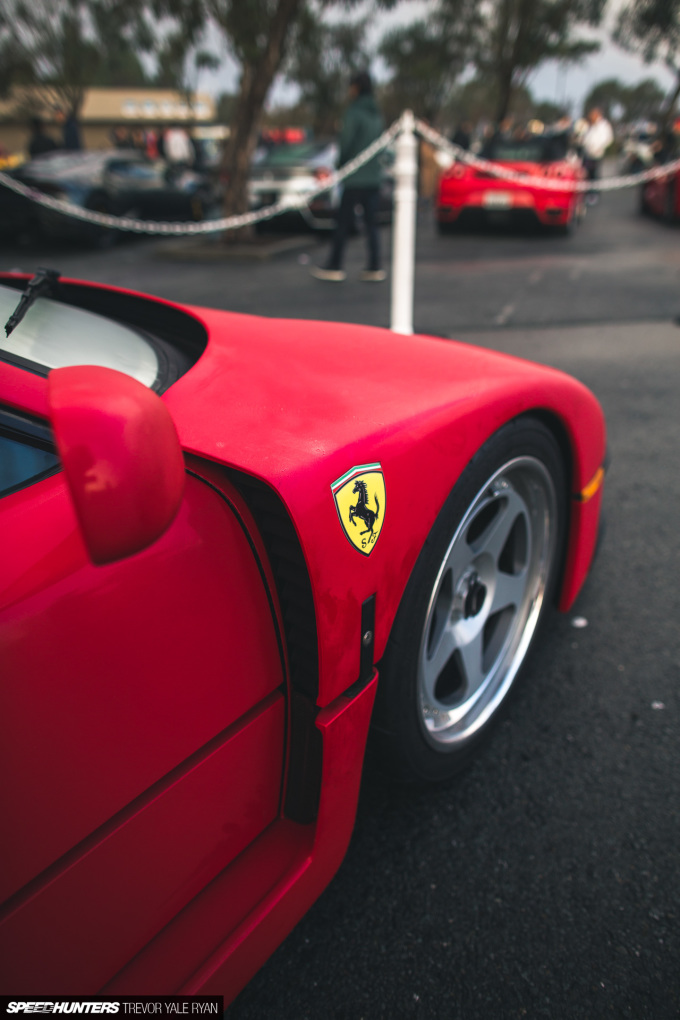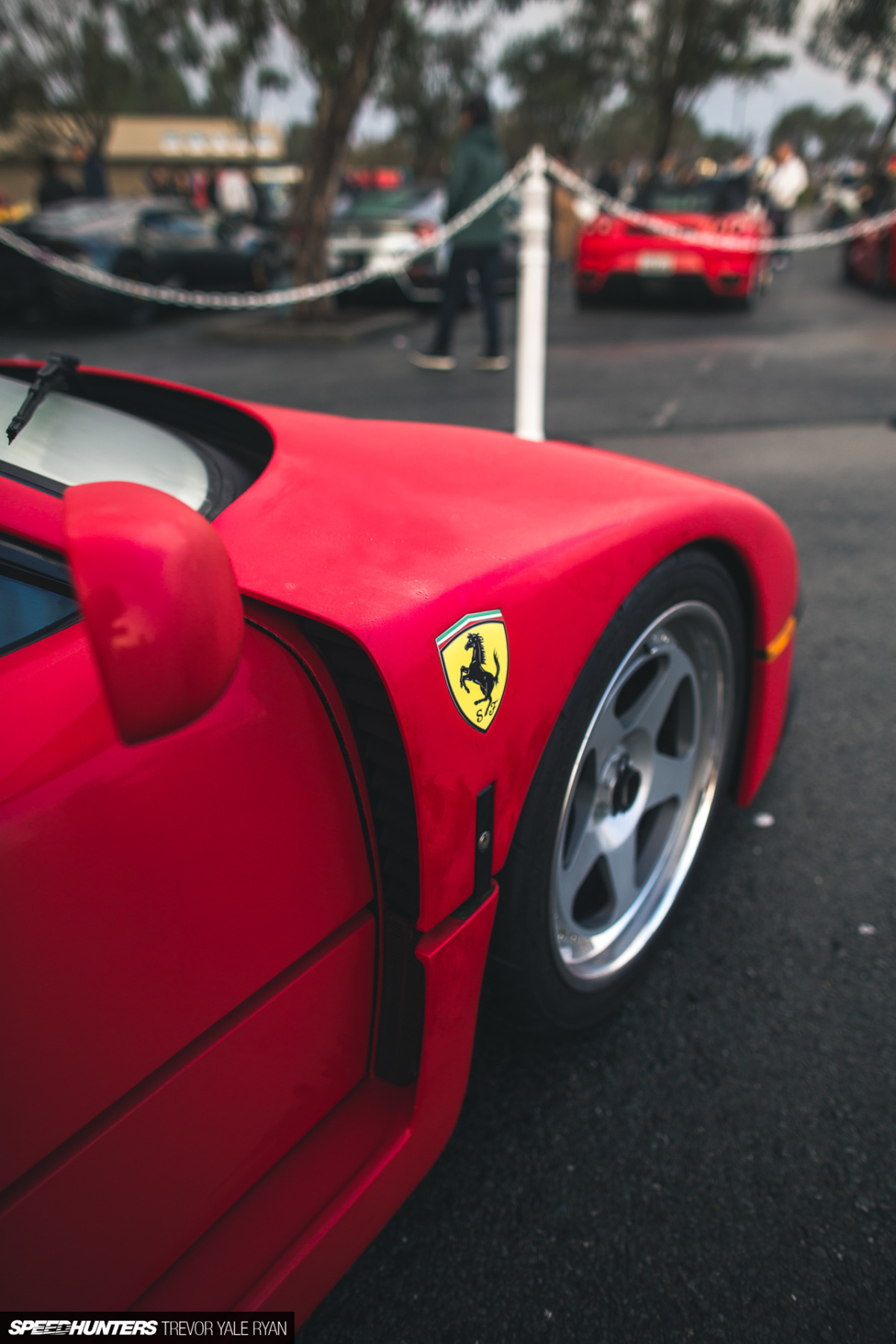 But no matter your preference, the F40 really is a work of art.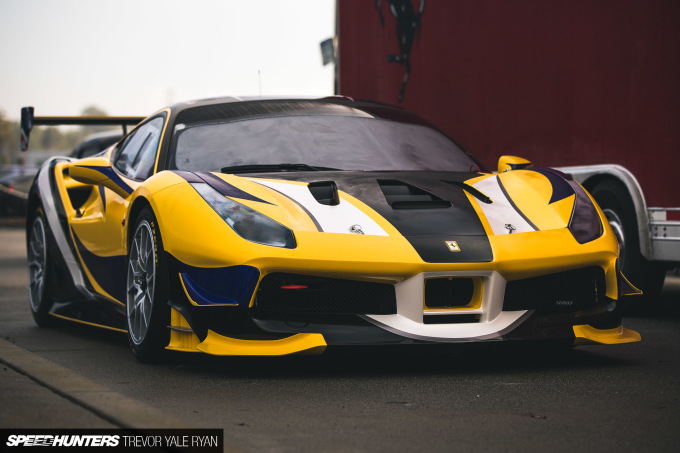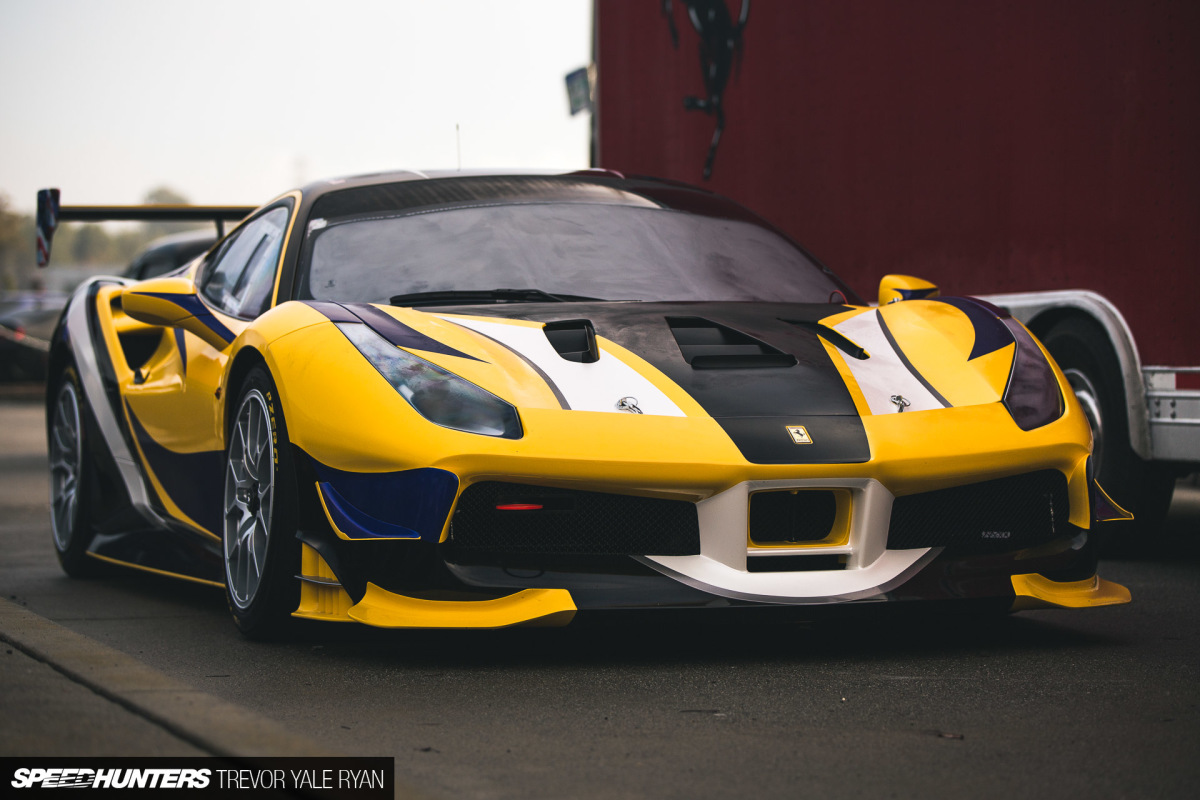 GMP Cars also was kind enough to bring another heavy hitter out to play, this particular one being a brand new 488 Challenge car.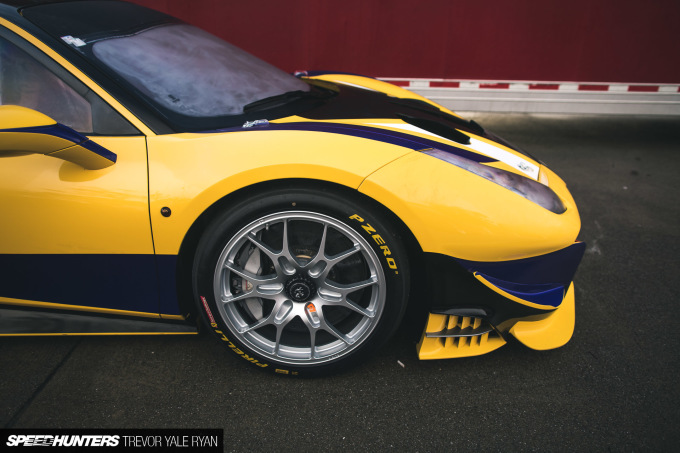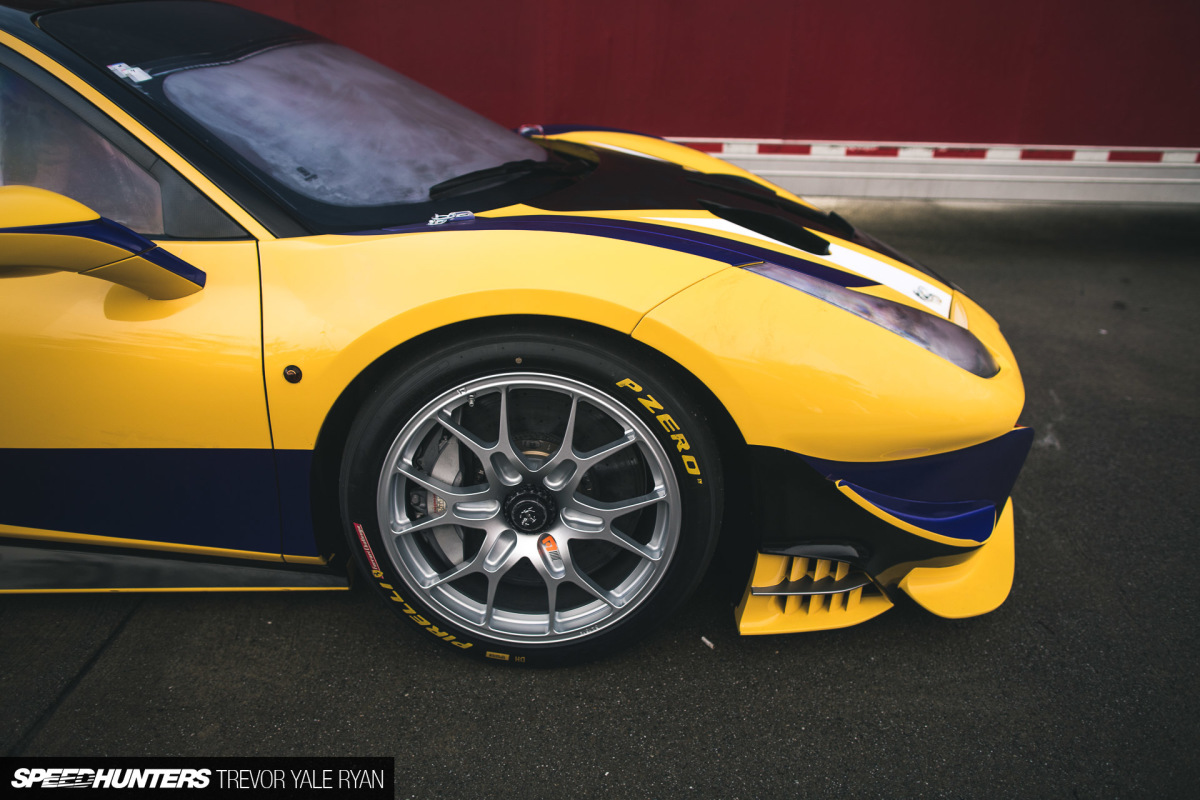 It's the 2017 version, and I can only assume it has a promising future ahead of it.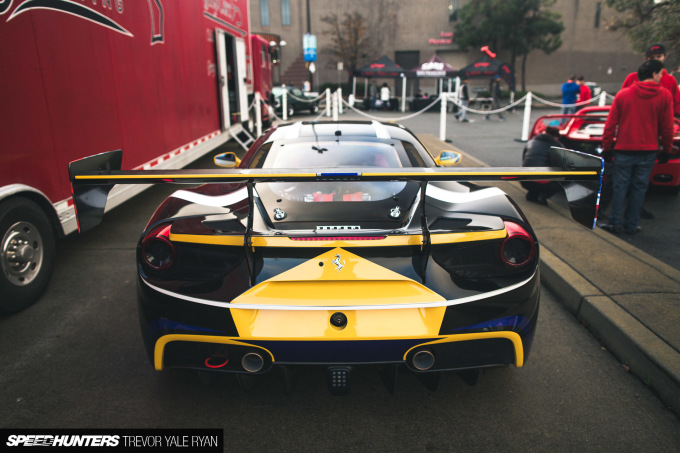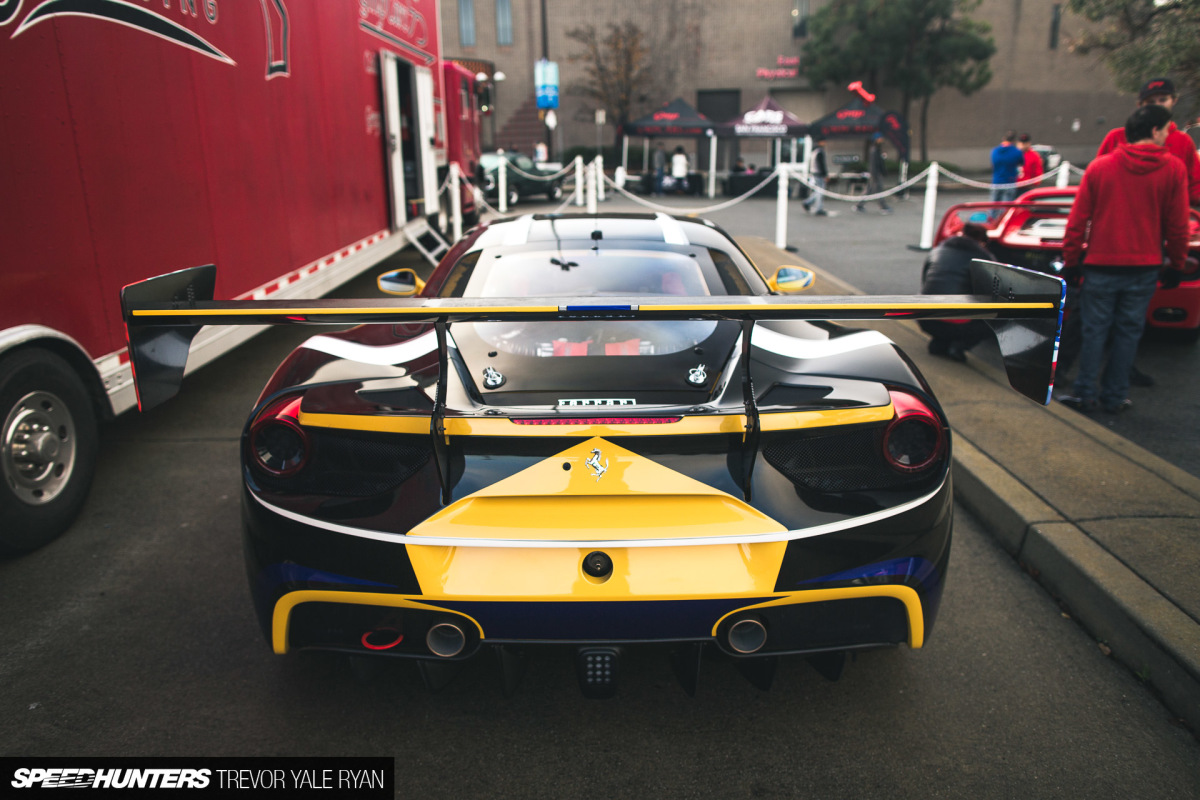 I honestly didn't learn all that much about the car because I was so taken by the other two Ferraris, but perhaps I'll get the chance for a closer look soon.
GMP Cars didn't stop there, though, and in the roped-off area they also had two complete restorations on display. I could have easily spent all day on these five cars, but there were hundreds of others arriving and filling up the lot.
Exotics Abound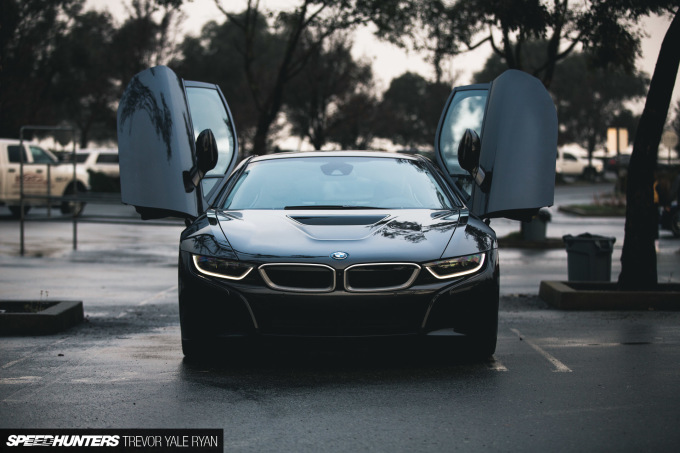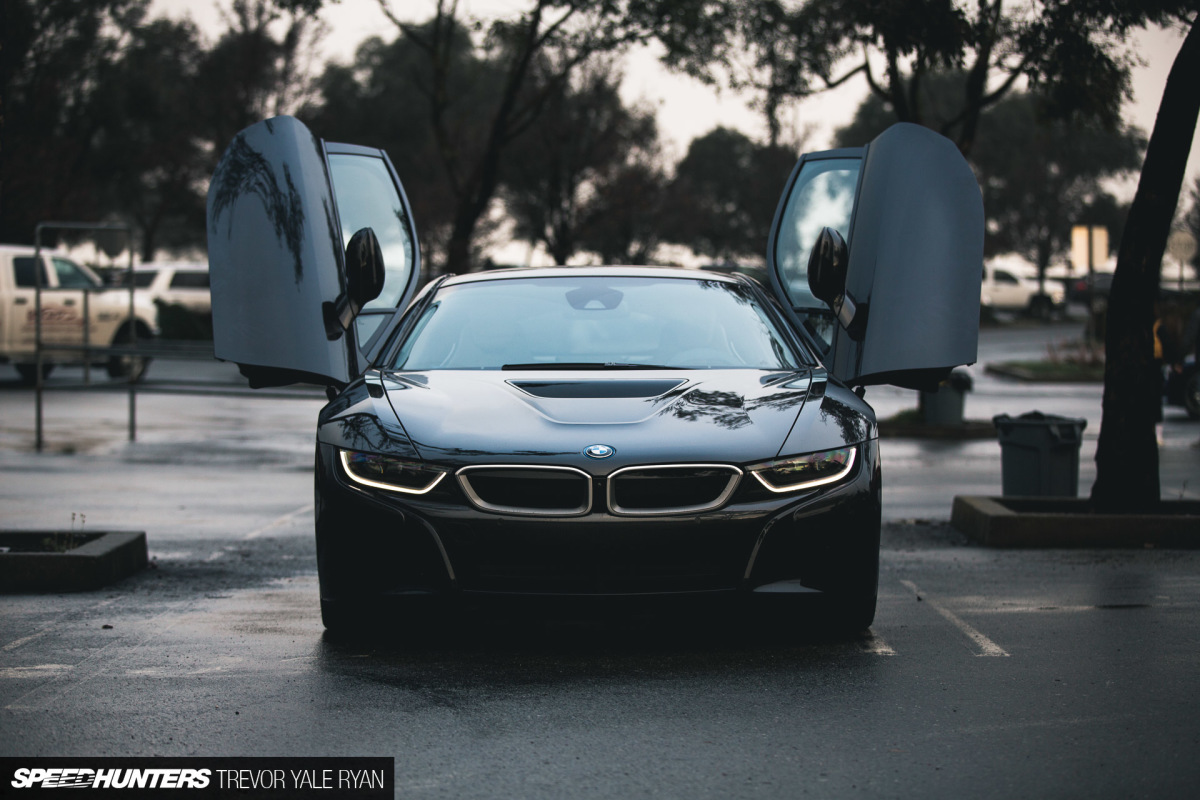 Being the Silicon Valley, we don't exactly have a shortage of exotics in the area. Luckily, most of the owners like to take them out for a drive too, rather than shove them away in a storeroom somewhere (or perhaps it's their fancier cars they keep hidden).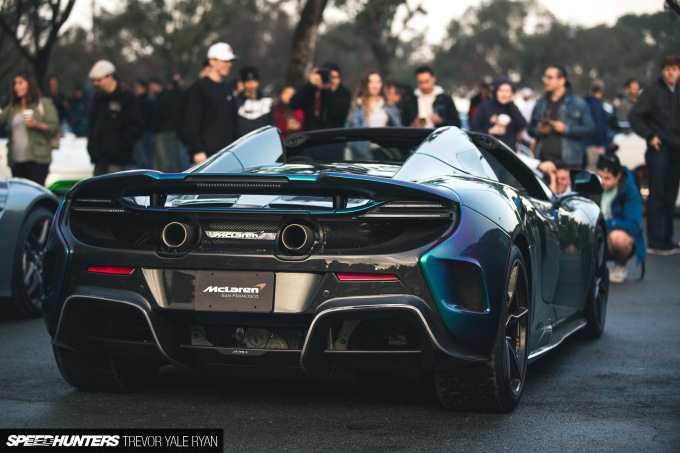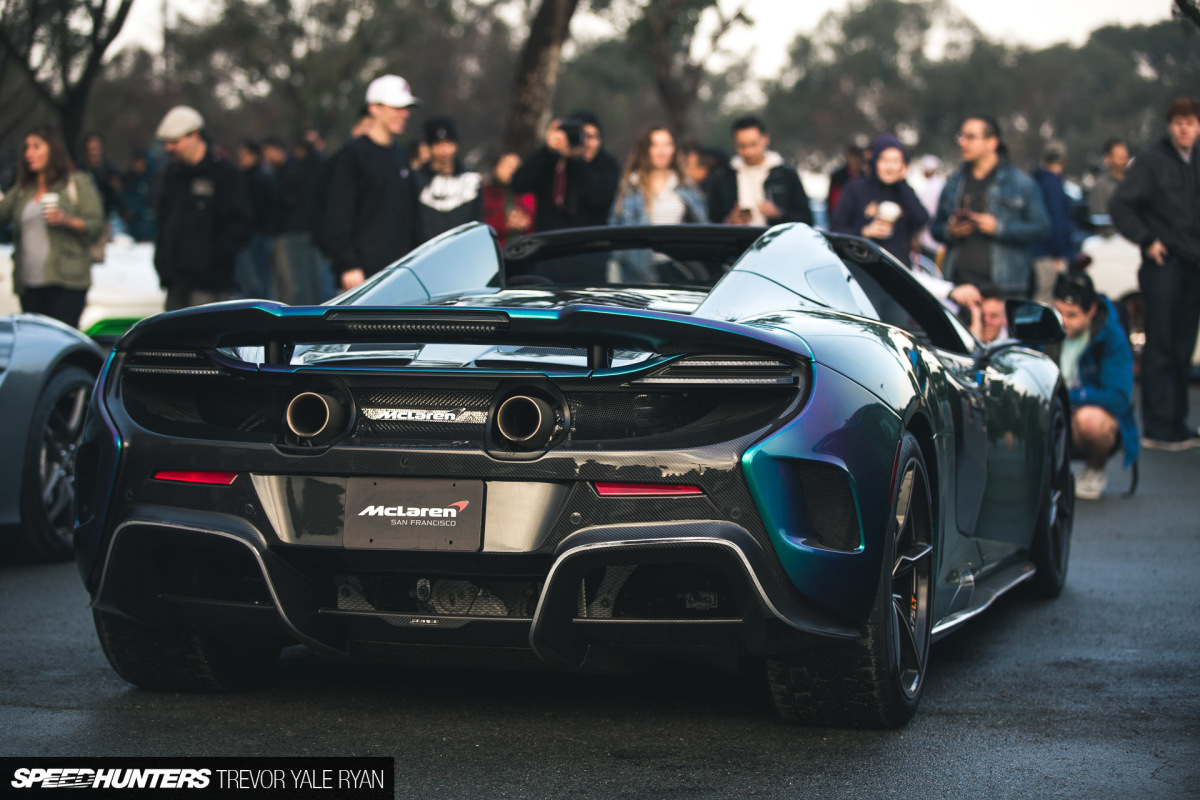 One car in particular that's been evading me for a year or so was this LT — finally I was able to see it in person.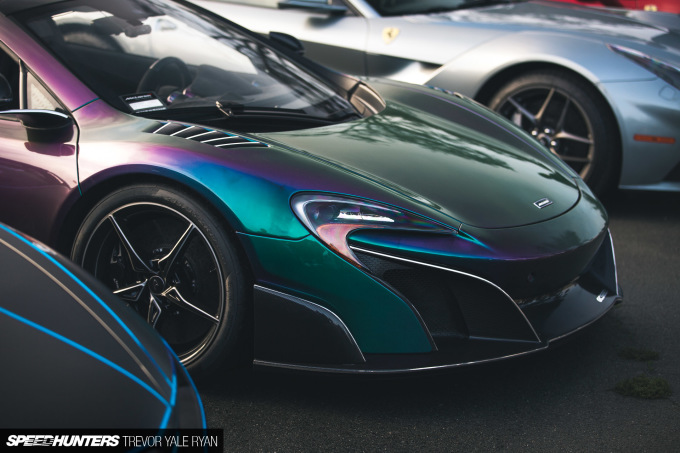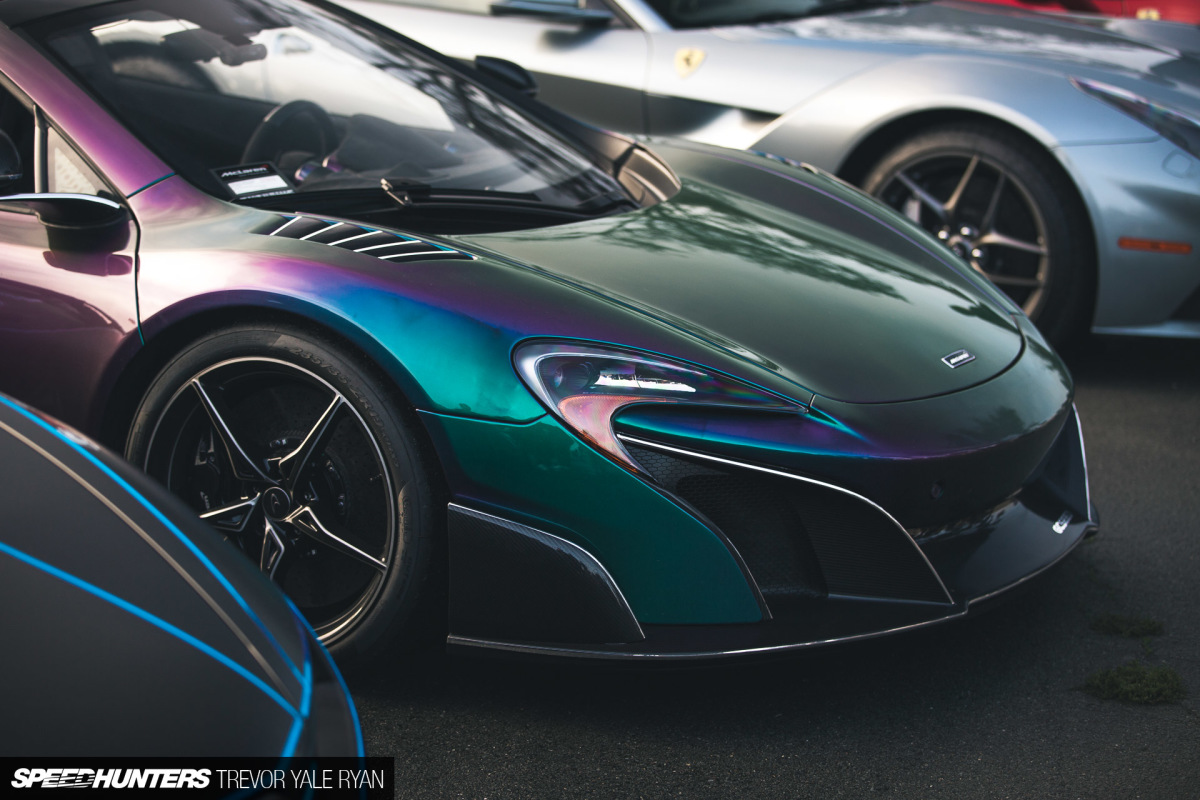 The owner is a young collector in the area with a specific taste in exotics; his McLaren key fob for the car even has a matching paint job.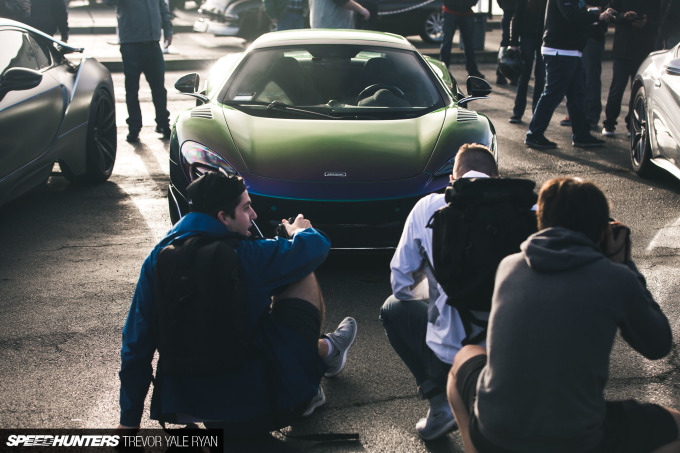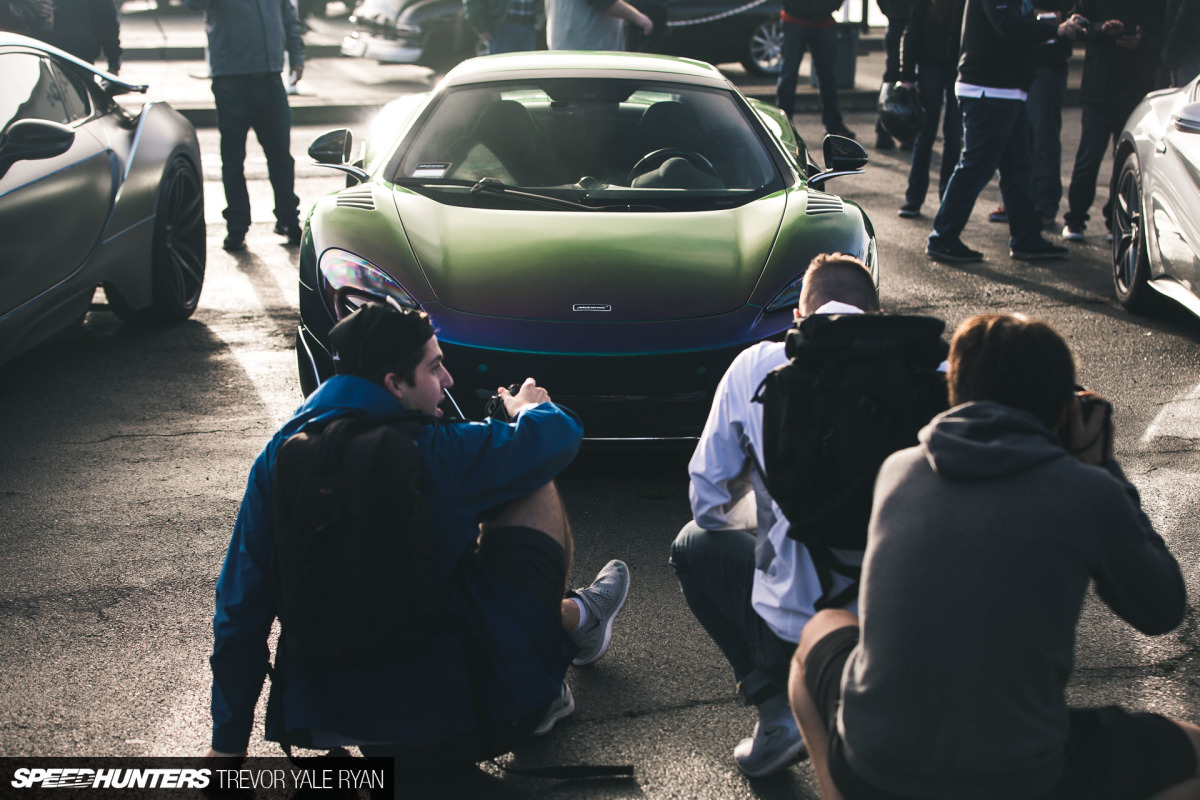 It was definitely popular with the  other photographers present as well.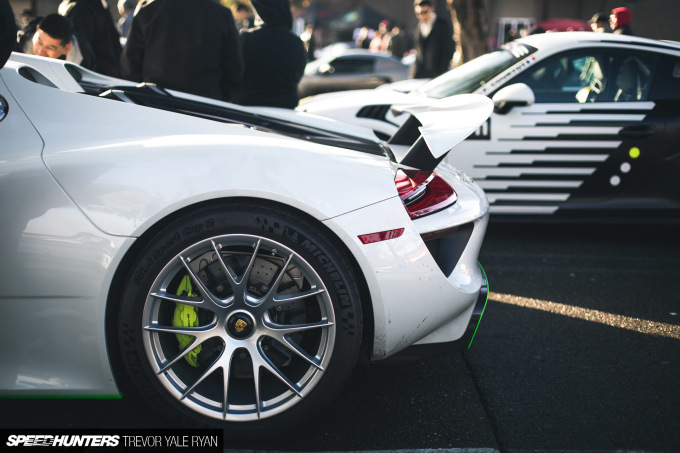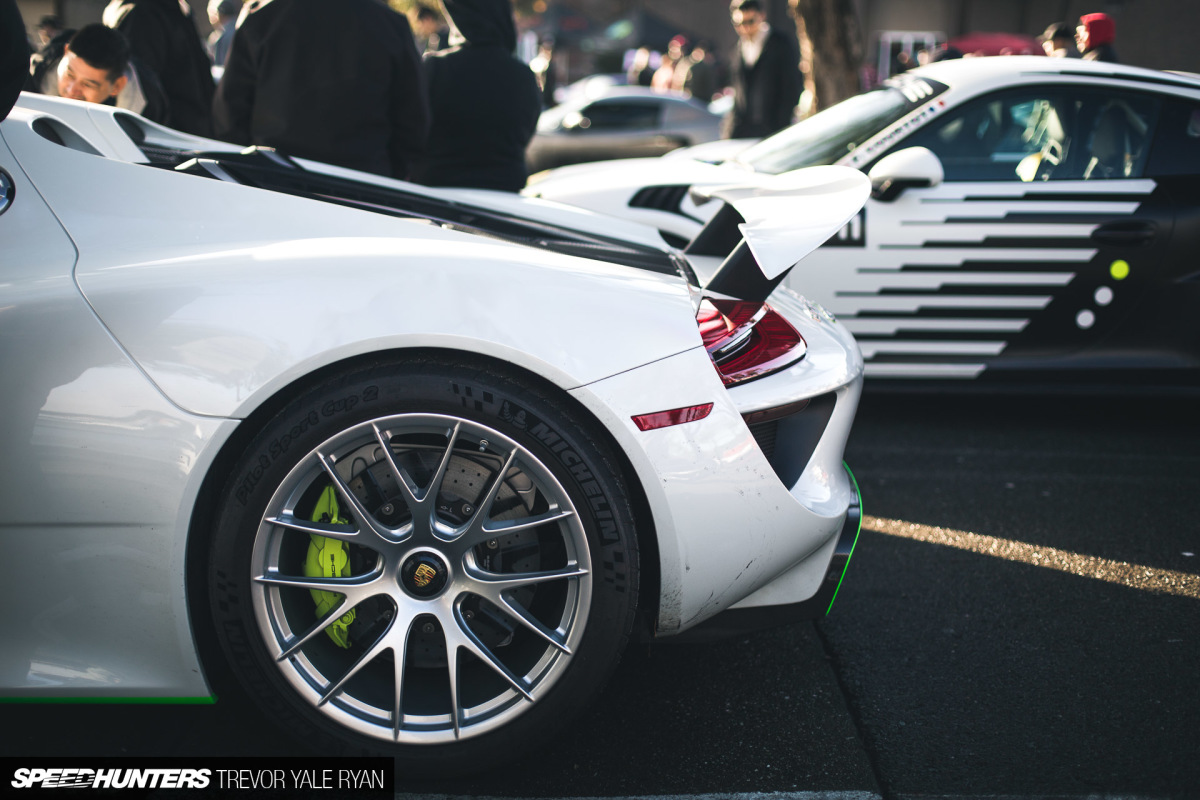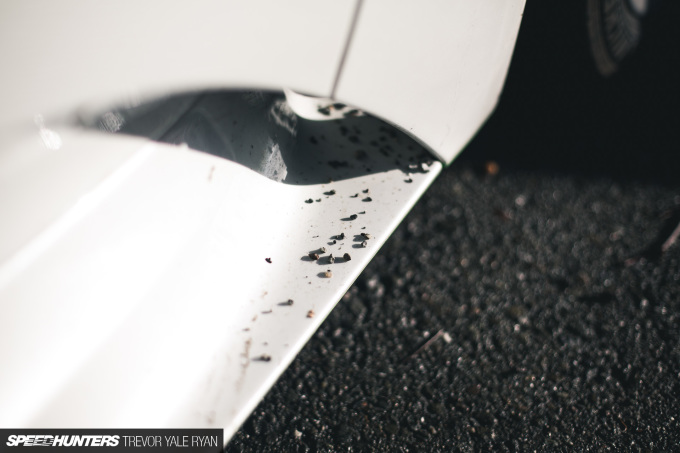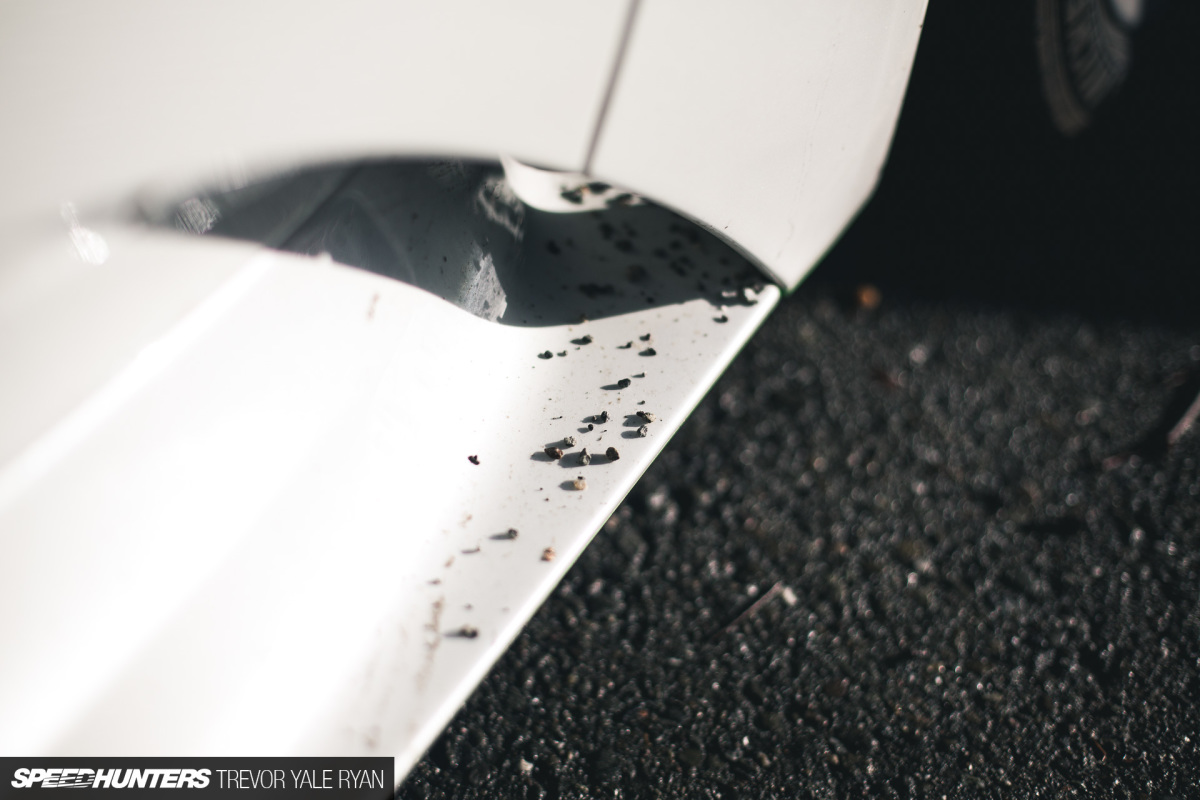 I saw this 918 earlier in the day, and although I very sadly (yes, still not over it) missed it cruising over to the show, it's great to see that this car actually gets driven. That is sort of the point, after all.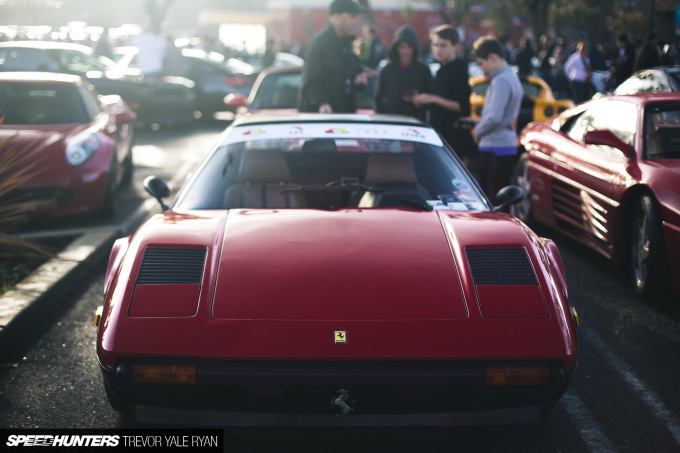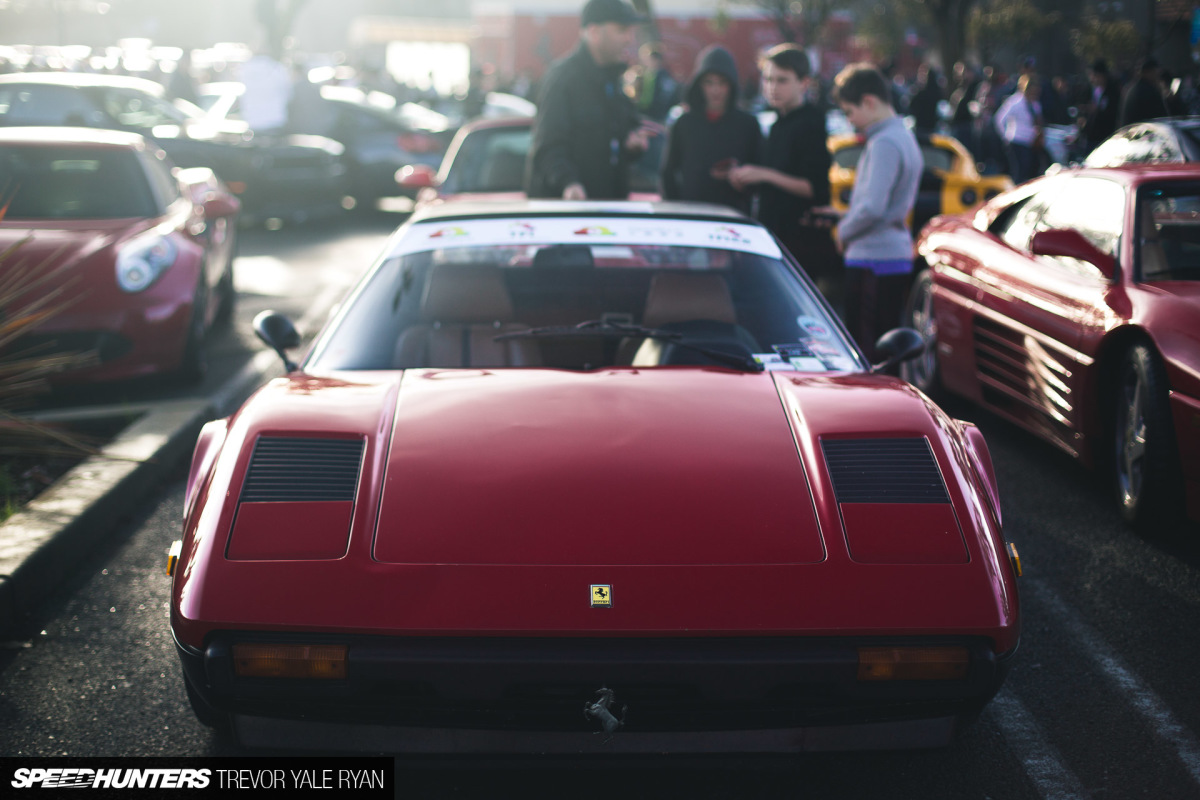 Speaking of cars that are put through their paces, I noticed this Berlinetta had a sticker on the back showing it was driven thousands of miles through a road rally in China.
Noticing this Ferrari was made more special by partially overhearing the out-of-focus gentleman behind the car. He was explaining to the younger lads that this was the car that so-and-so; like I said, everyone's got that model that excites them and that's what Cars and Coffee is all about.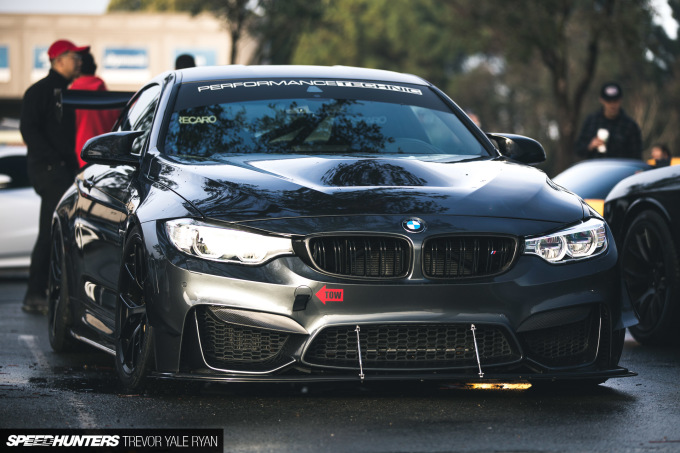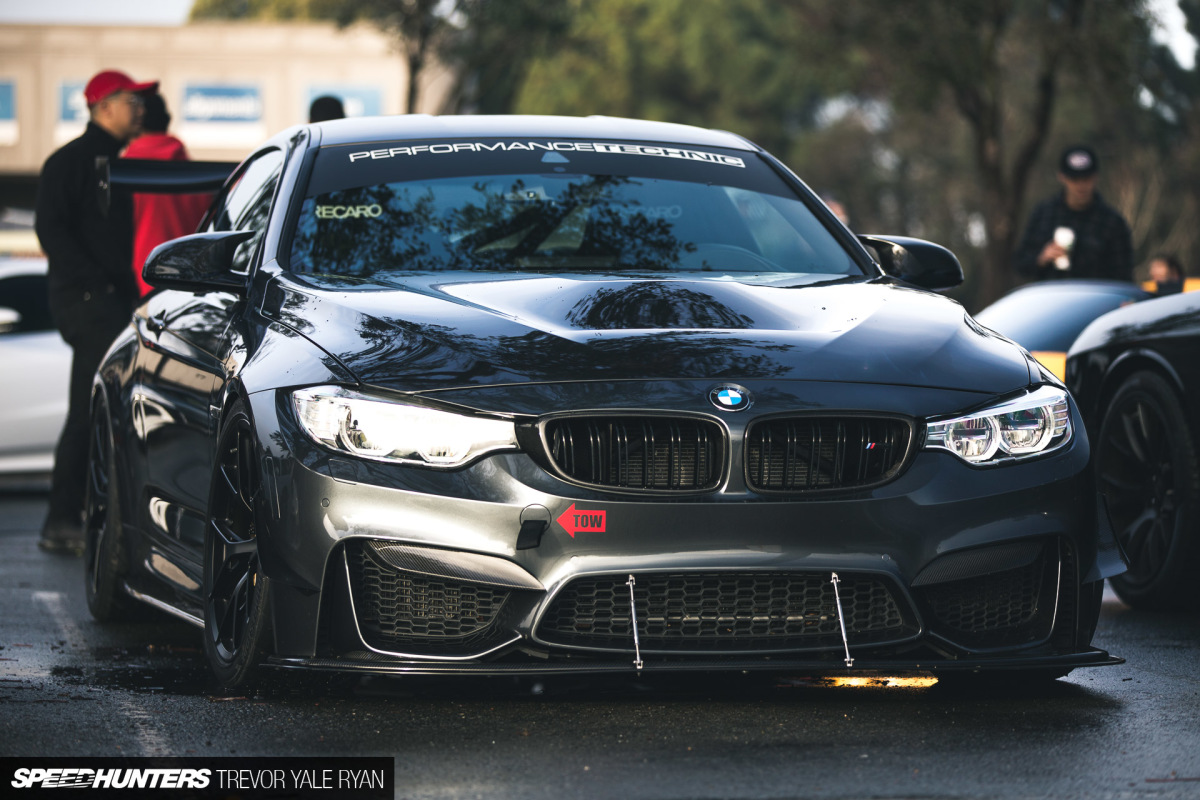 It was also good to see my friend Greg's heavily track-prepped F80 out at the show. I don't know how he keeps this thing so clean given how hard he pushes it at the track.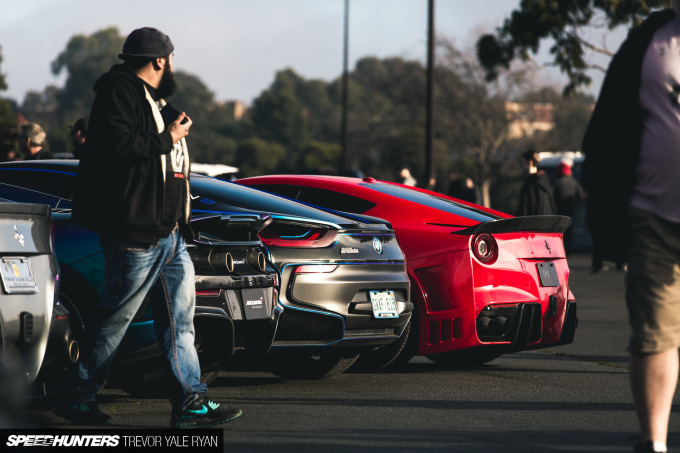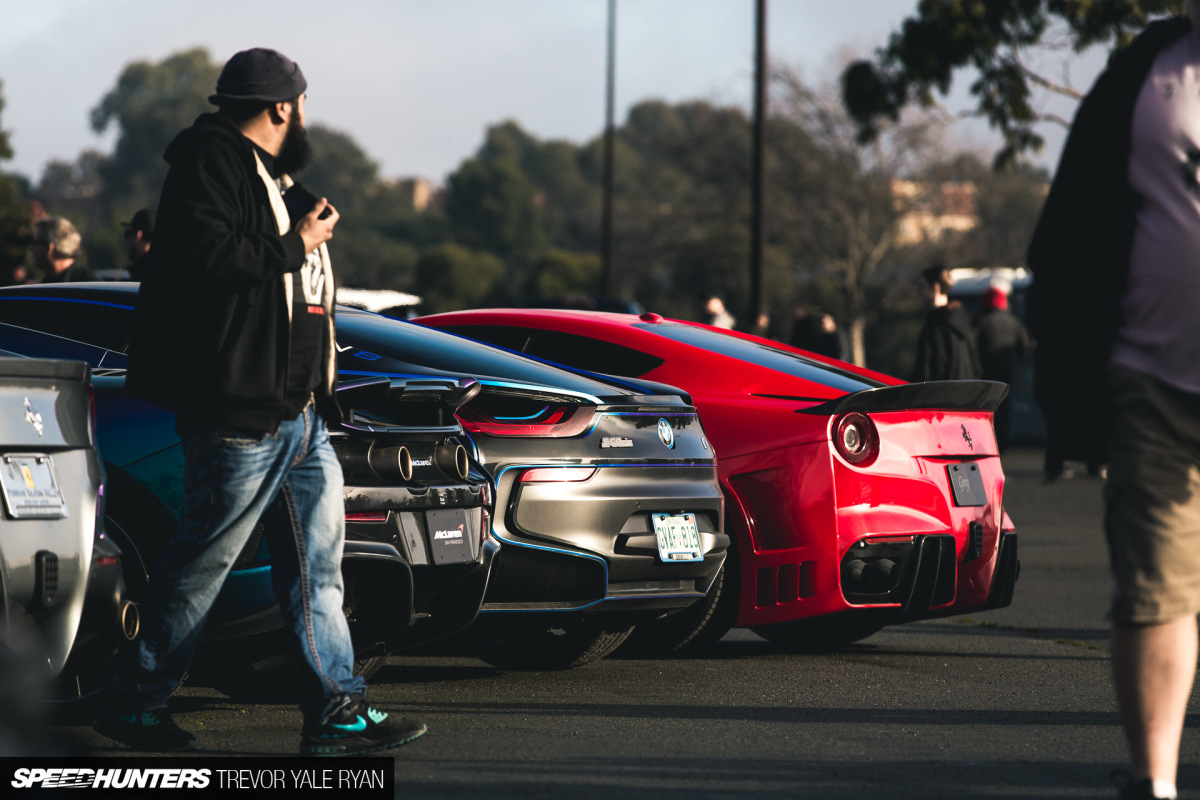 GMP Cars also had a number of other high-end autos floating about the show, like this F12 TDF with AutoVeloce SVR goodies. Another one to investigate in further detail later on.
The Best Of The Rest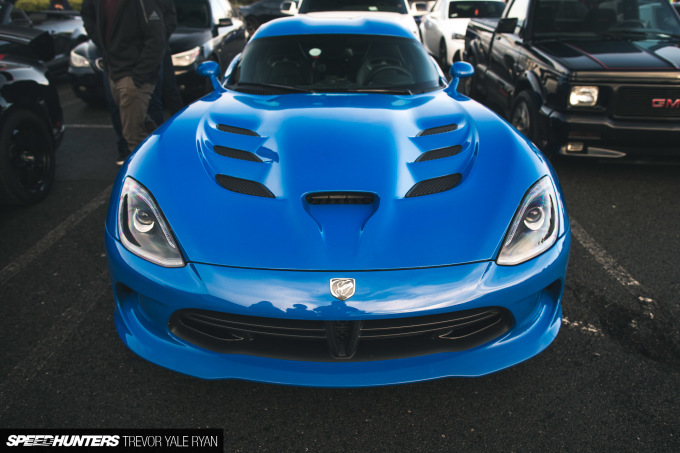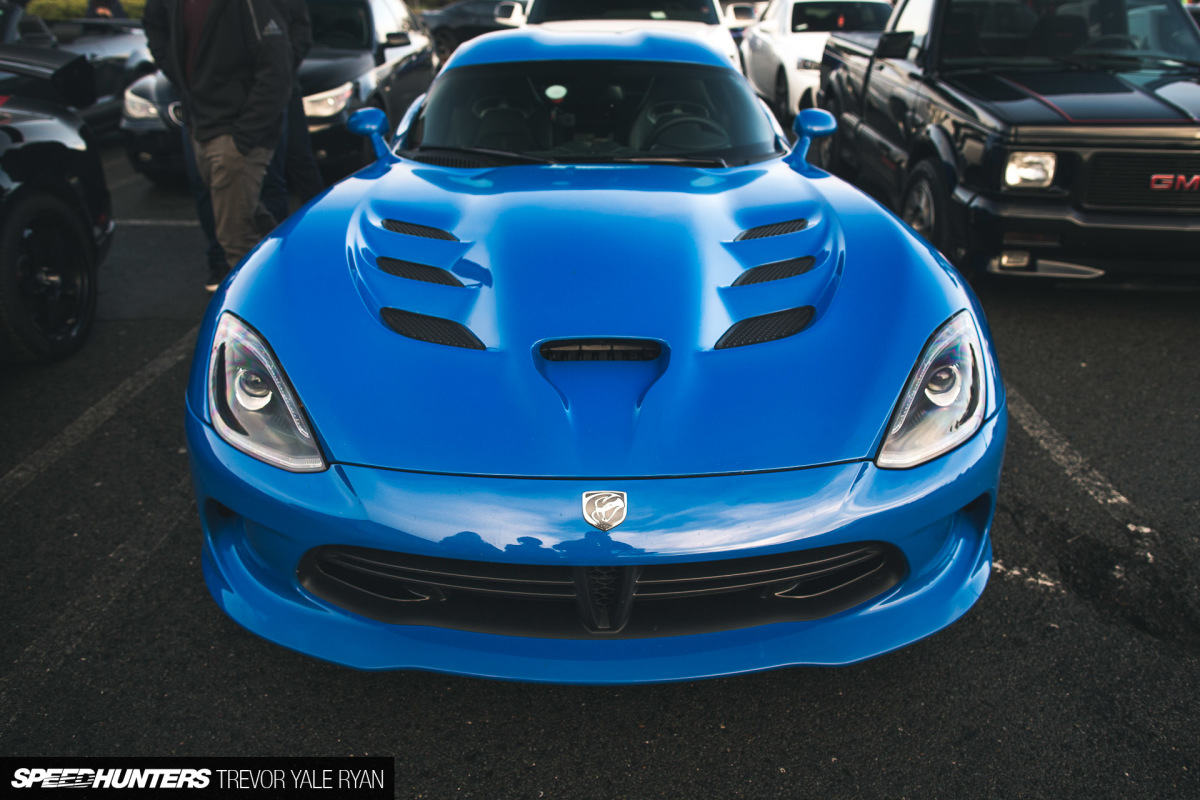 It wasn't just high-dollar European fare out at the meet though, and as I mentioned, the Americans were out in full force.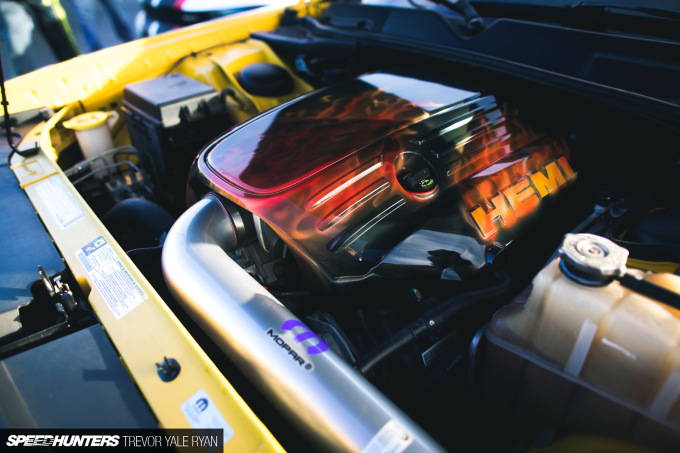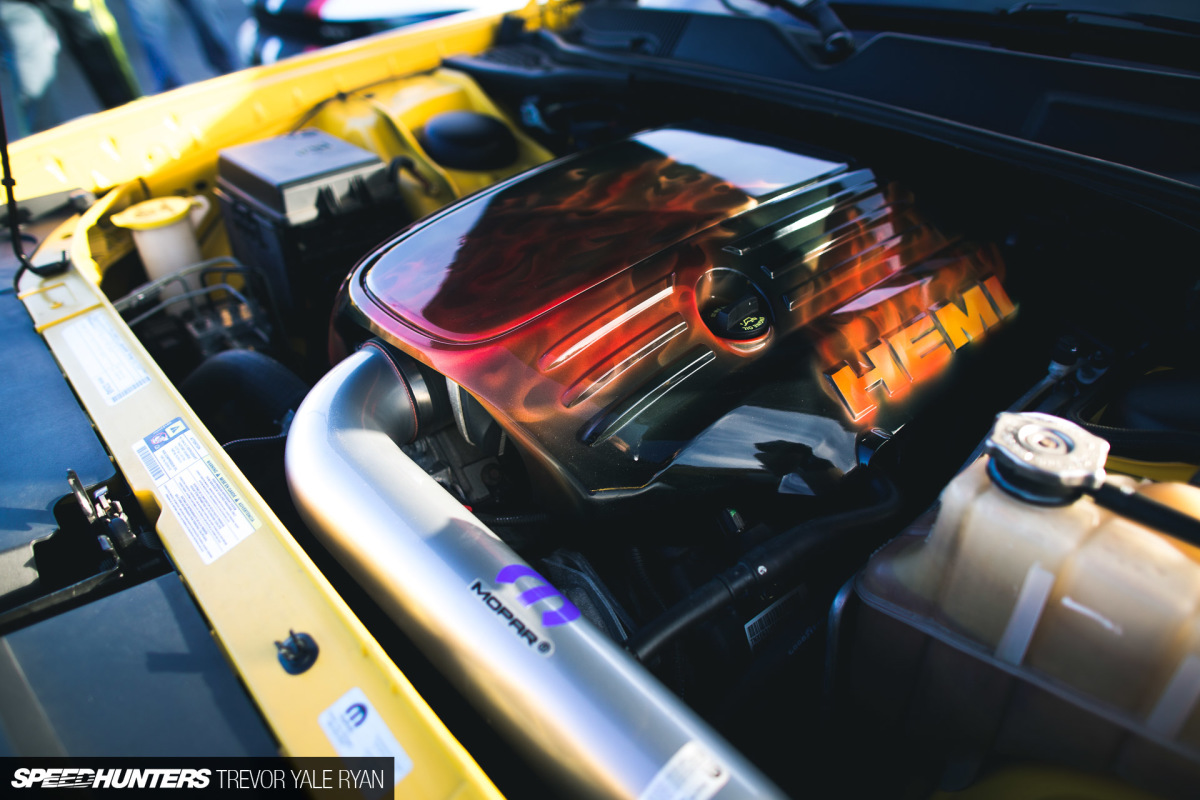 And nothing quite says America like a Hemi with flames, am I right?
It also seems Fords are making a stronger and stronger showing lately, both at shows and amateur track days.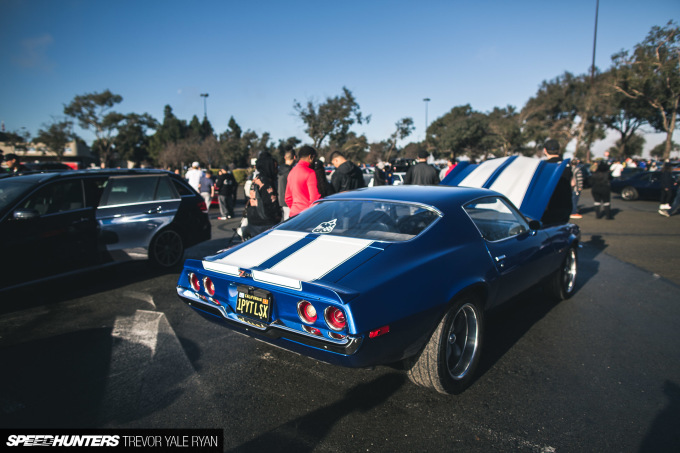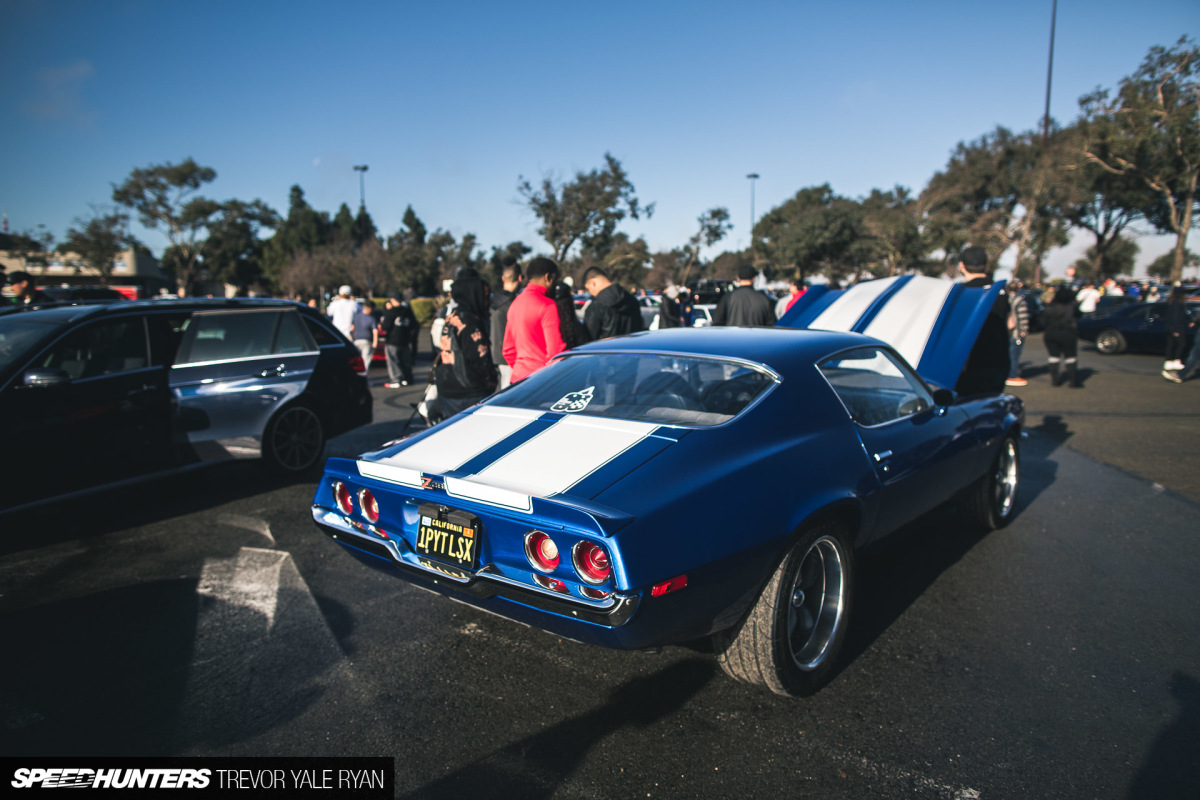 Naturally, some good old American iron found it's way out too.
As did this…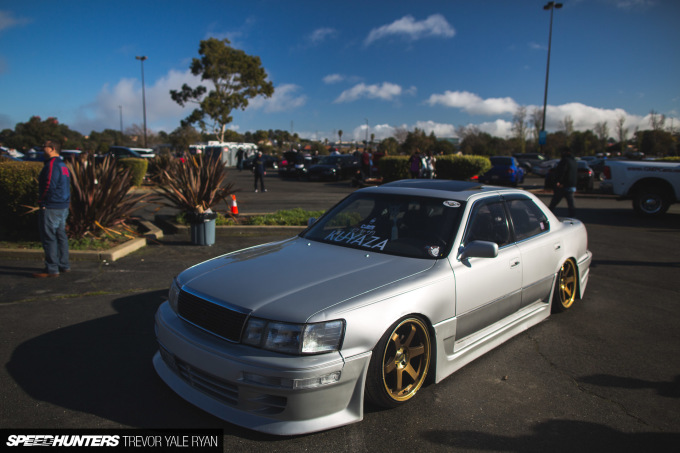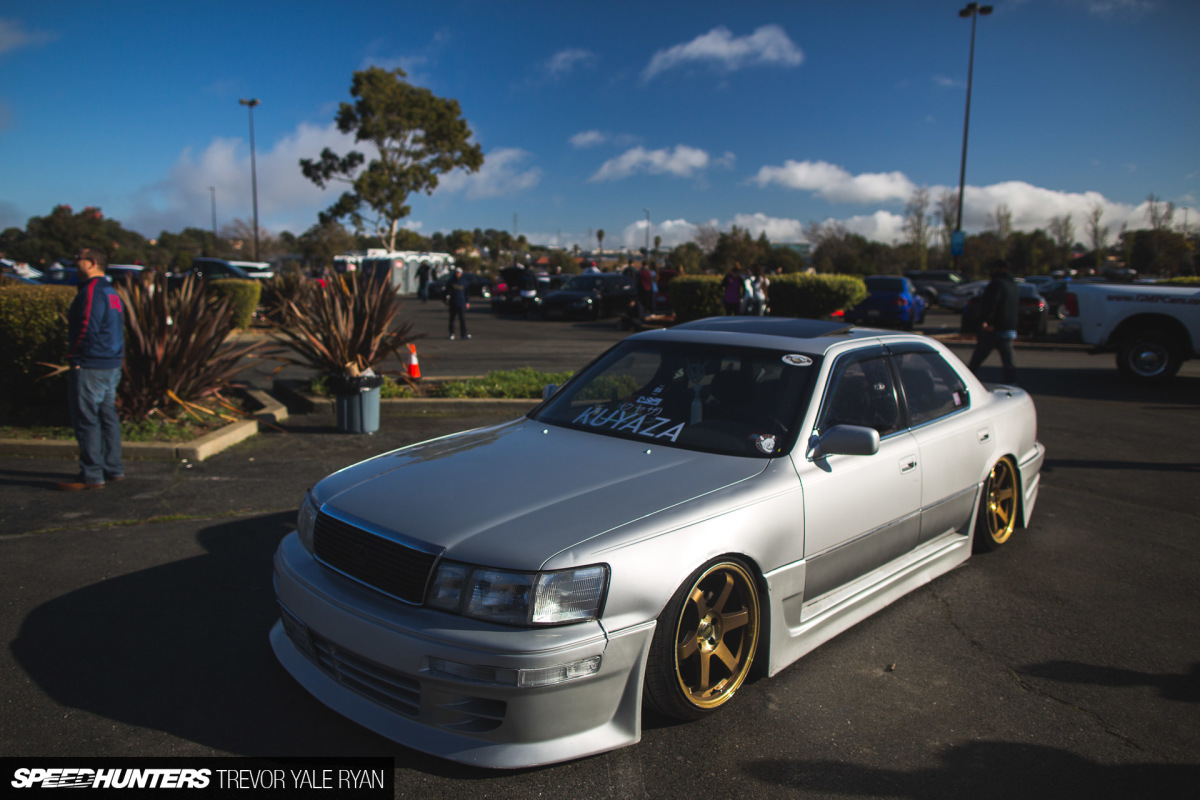 Towards the end of the show I noticed this VIP build roll up. Even if things do seem a bit unbalanced towards domestics, it's refreshing to see a healthy mix of clean builds at Cars and Coffee.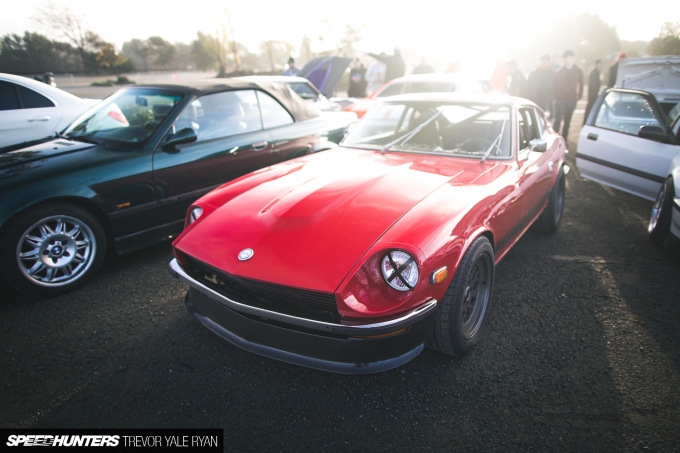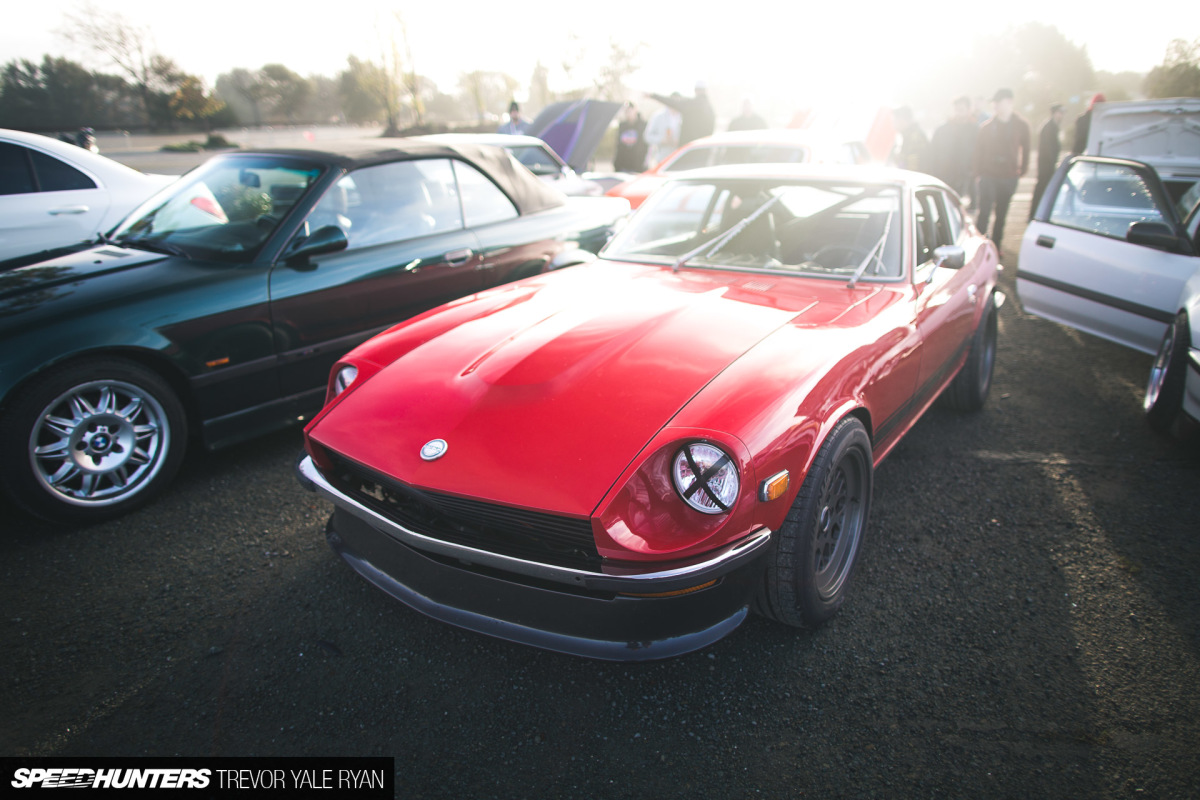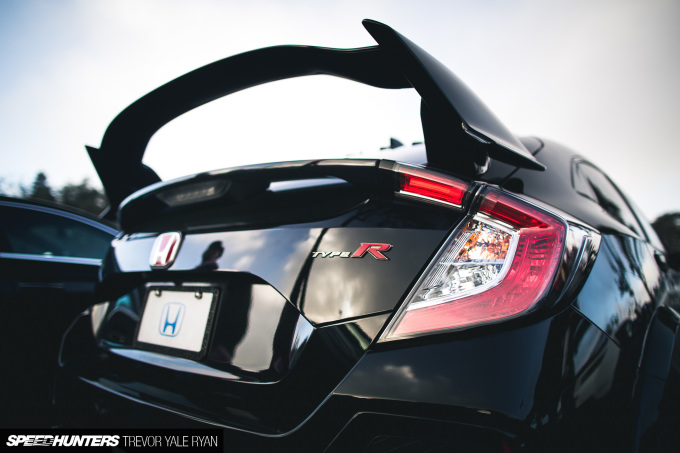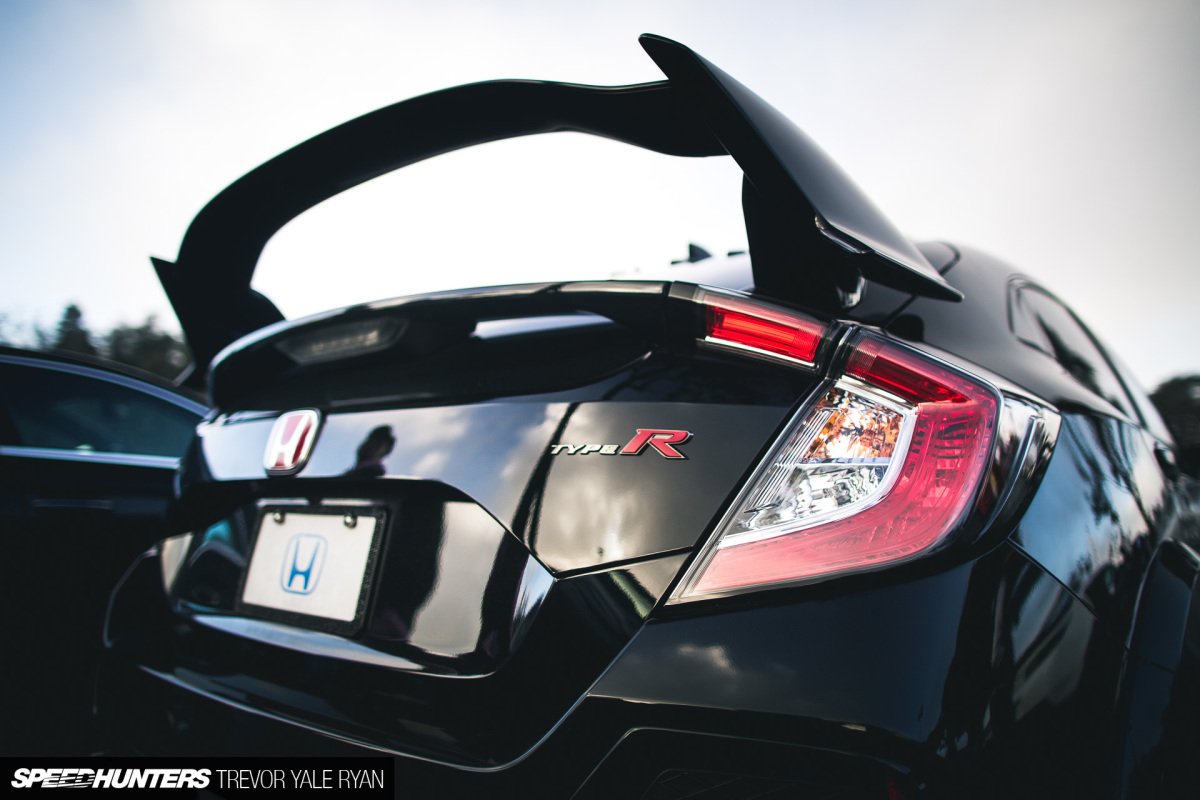 We're also finally seeing the new Honda Civic Type R crop up in the wild around here.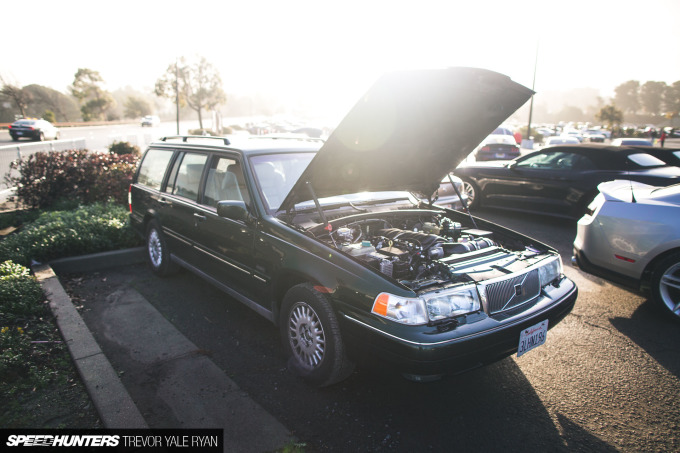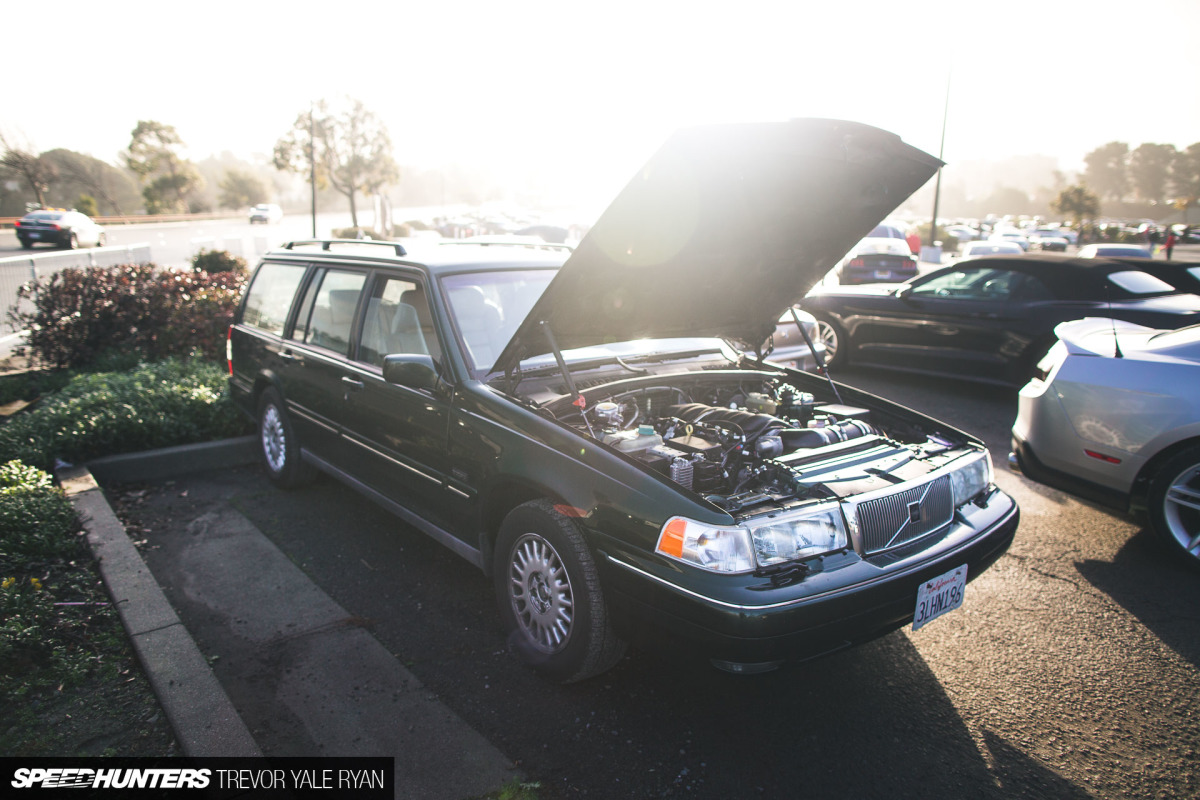 Another obvious favorite was this Volvo. It's the ultimate people carrier, fit for a soccer mom or a college kid who isn't fond of fast cars, except that it has been fitted with an LS2. Nothing remotely hints at the V8 under the hood, either – talk about a sleeper.
There was something from every genre of the car scene here. But more importantly, it was a place where enthusiasts young and old came together to share a morning in celebration of a common love for all things automobile.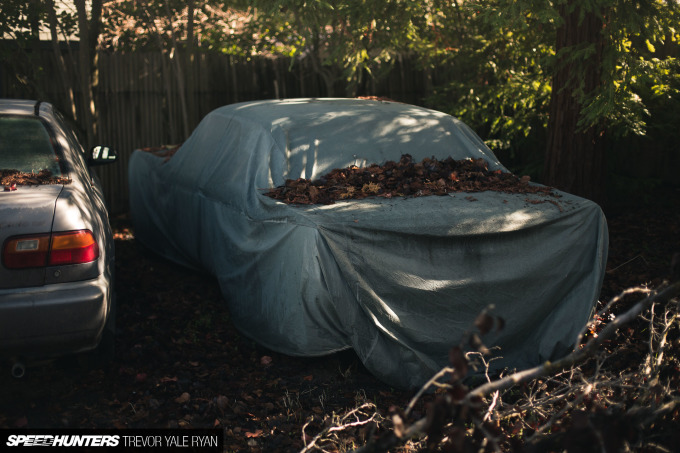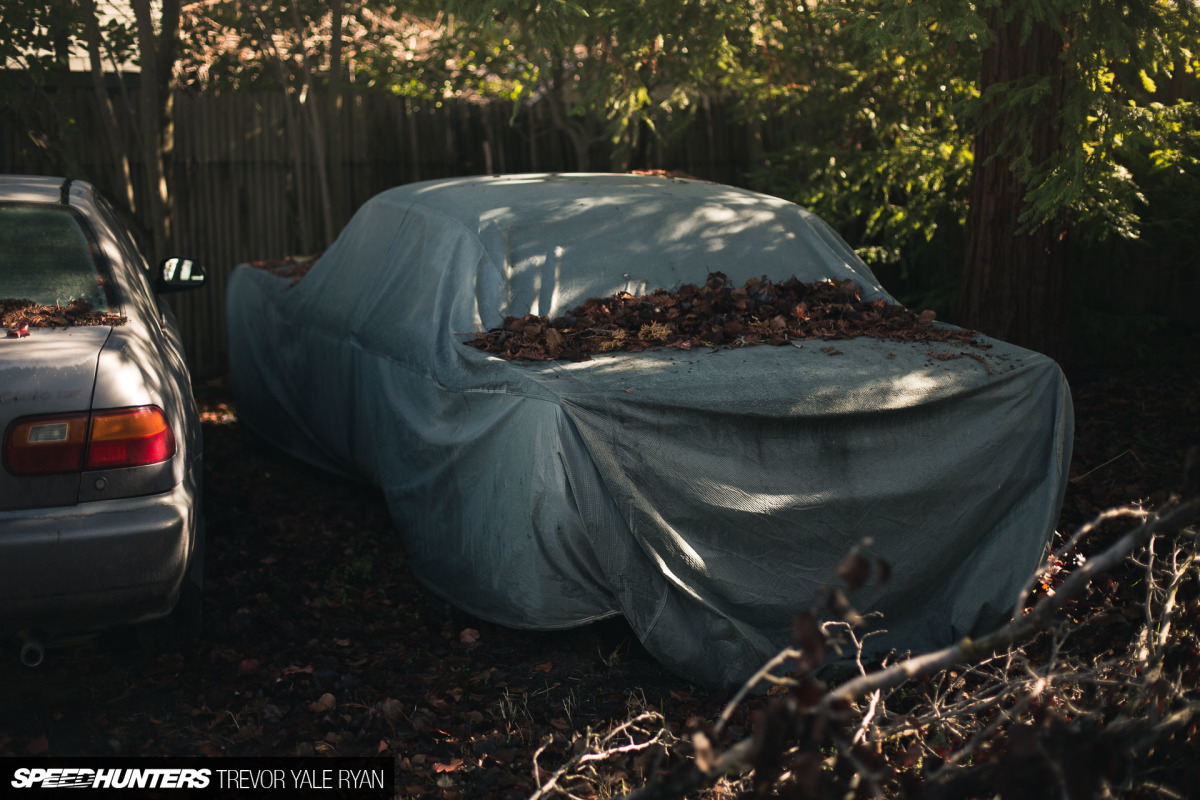 Inspired, I headed north after the meet to my friend's place to begin the resurrection of an old project of mine. You can tell it's been a bit forgotten as of late, but we can hope I get my act together here soon.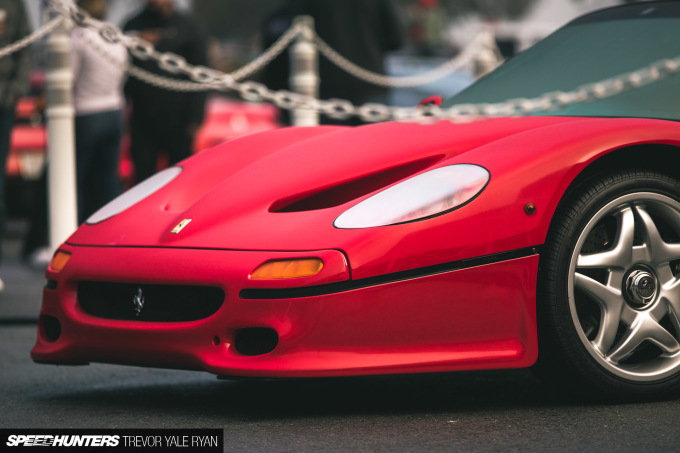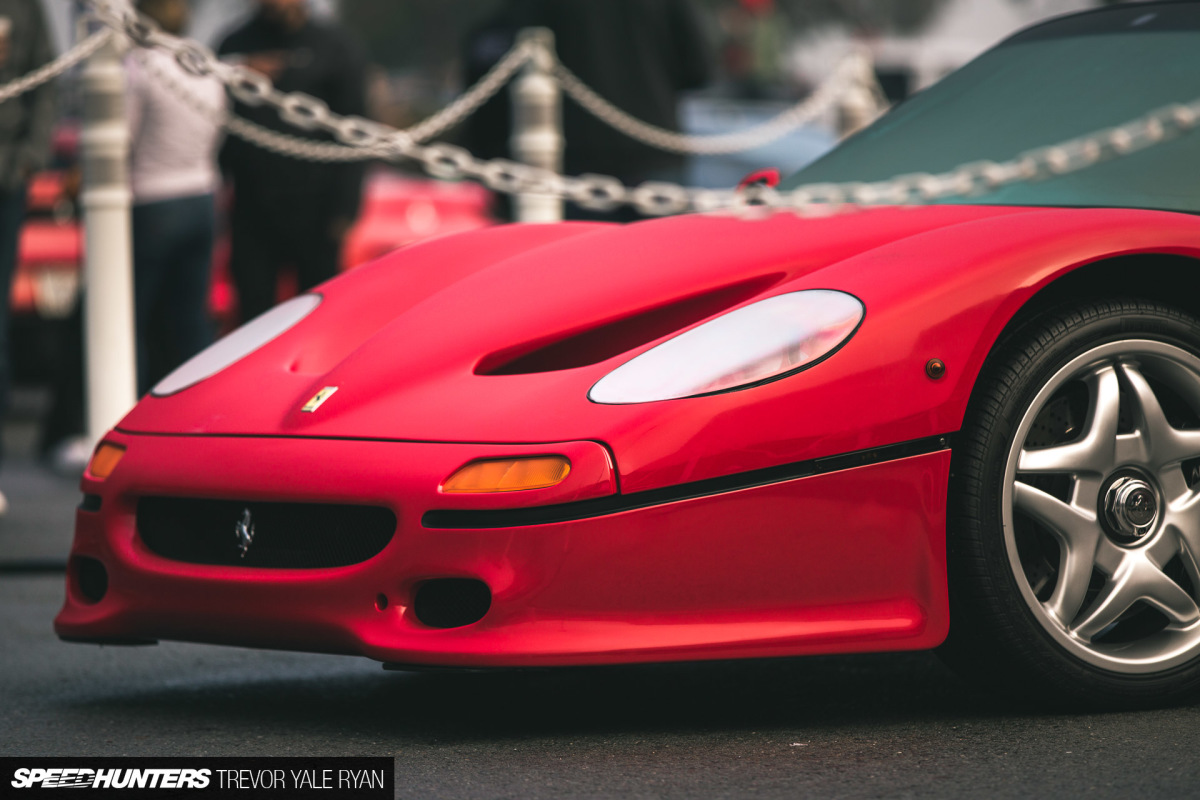 All day though, my mind wandered back to that F50…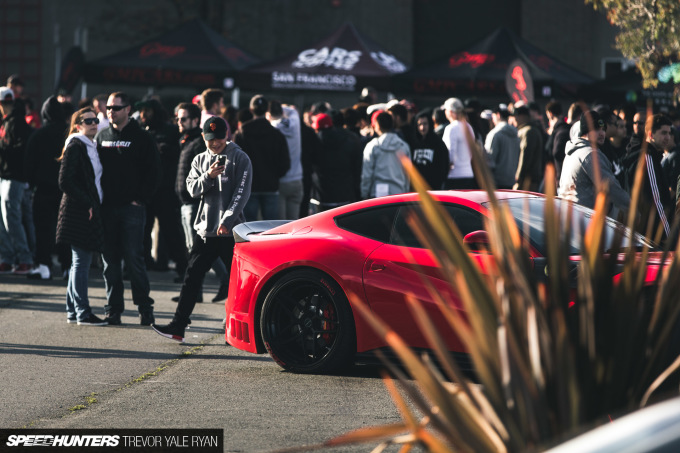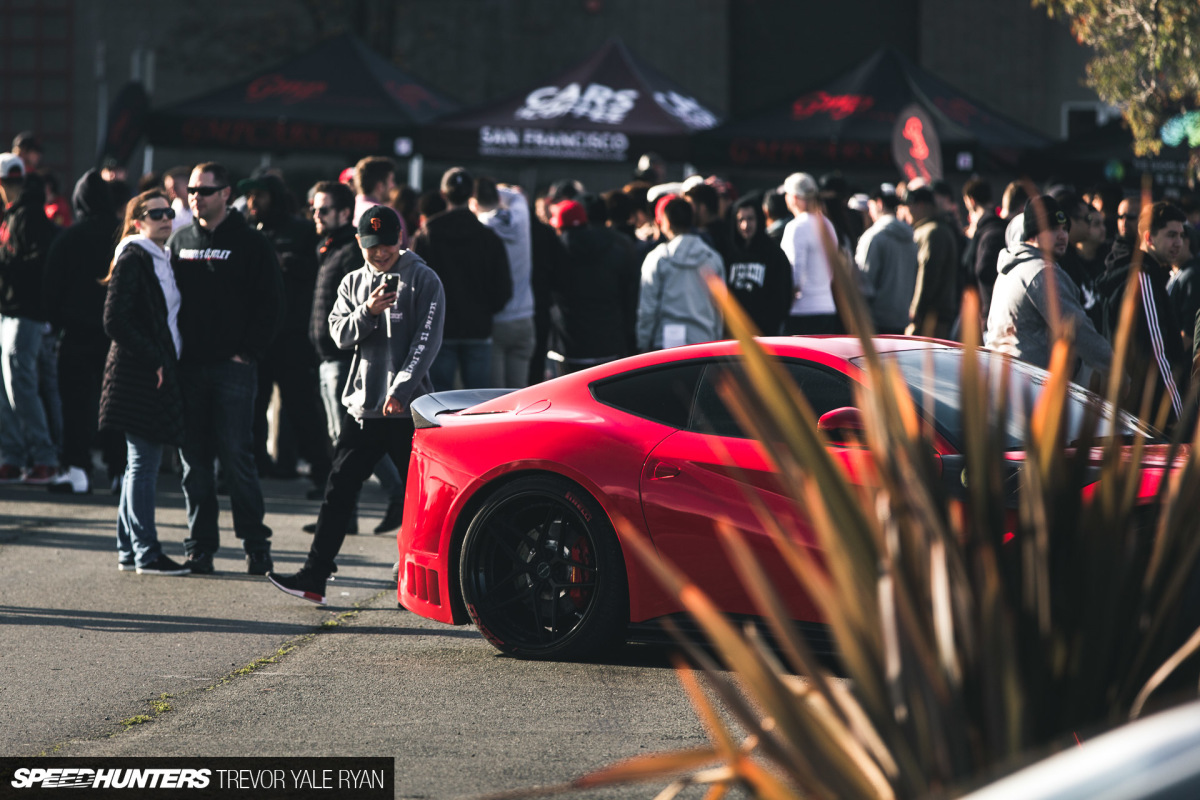 Word is, next month there will be another show and it'll likely be even more packed than this one as the weather improves.
I'm sure I'll be back too. After all, who can say no to Cars and Coffee?
Trevor Yale Ryan
Instagram: tyrphoto
TYRphoto.com
Cutting Room Floor