Preface
Hang on a minute…
What just happened? I swear I was doing a little Speedhunting, then I turned away and somebody stole 18 months out of my brain. I promise this will make sense shortly, and for those of you I don't know, my name is Bryn and I used to regularly contribute to Speedhunters.
Now I'm still a Speedhunter, because that's what I do on a daily basis. But the time to squeeze it into a webpage and get it online is all too rare.
What happened one and a half years ago is what you're about to read. Like a barn find, this article has been locked in a dark corner; but between Paddy and myself, along with some social media poking from the guy the story is about, it has been found alive and well. We hope you enjoy it, and hopefully I'll see you again sooner rather than later.
-BM
I Want A Mustang
I envy people who can build a car. I've slung together a beach buggy in my past, but a bare shell build? Nope, that's beyond my skill set. Then again, maybe having such skill is a curse and a blessing at the same time, an addiction that needs feeding. Maybe that's why it has taken two years (er, 3.5 years now – PMcG) to feature the Huxley Motorsport RA28 Celica, that and it just kept getting better and better…
You see, featuring a car can be a bit like betting, you have to work out the optimum moment to pounce in order to get the best result. Will it get better or will it be crashed? To be honest, with Mark Huxley it could go either way, and then some. Hence the wait.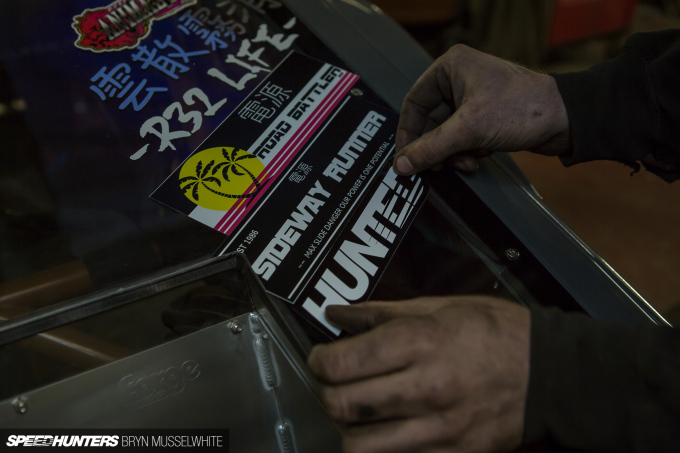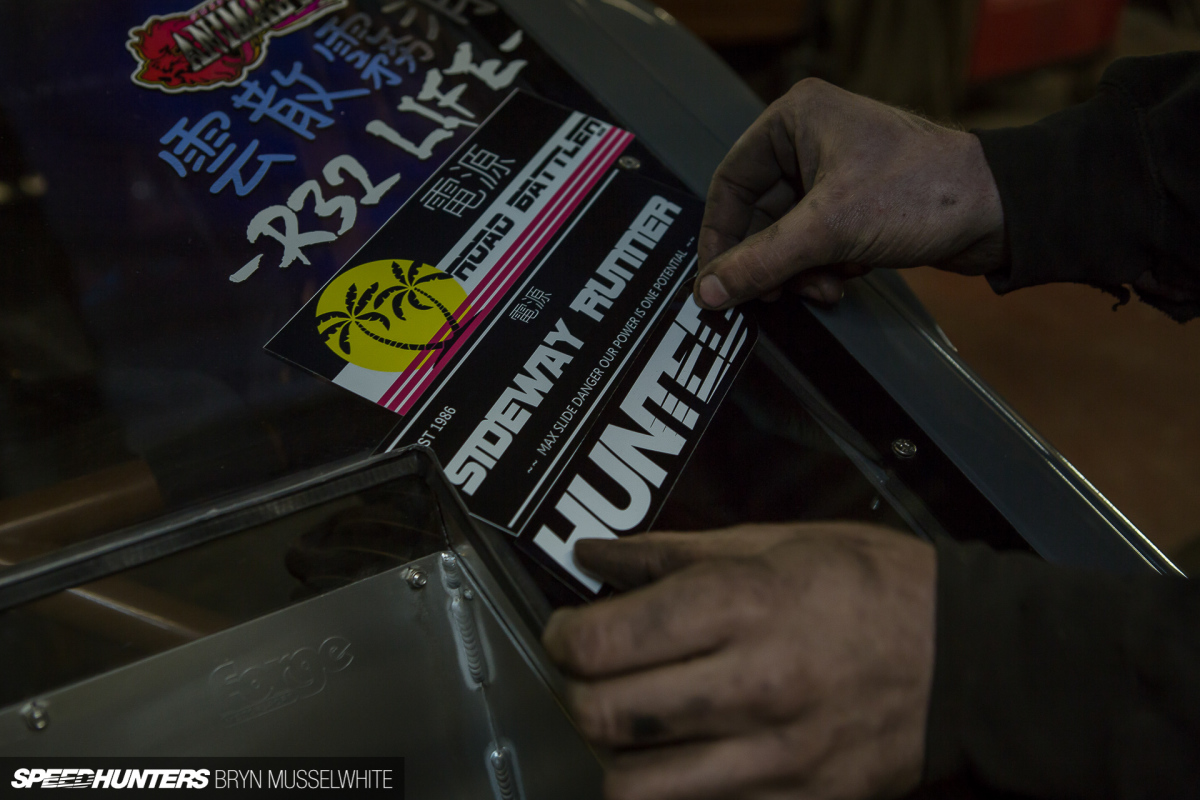 That and the fact that it's worth it. He's worth it. Hux is talented beyond my understanding; drifting to the standard he does still seems to be some sort of voodoo. The blending and blurring of lines as man and machine perform beyond the total of their parts. Outspoken, not shy about anything and always pushing himself, sometimes it feels like Hux doesn't do himself any favours, but when the smoke clears his actions make sense to everybody else.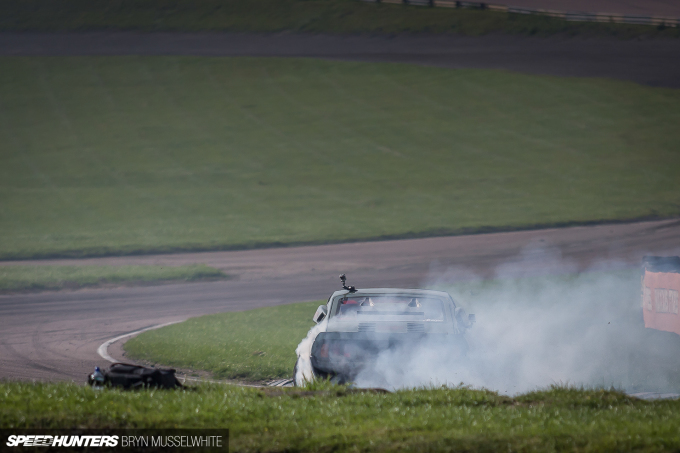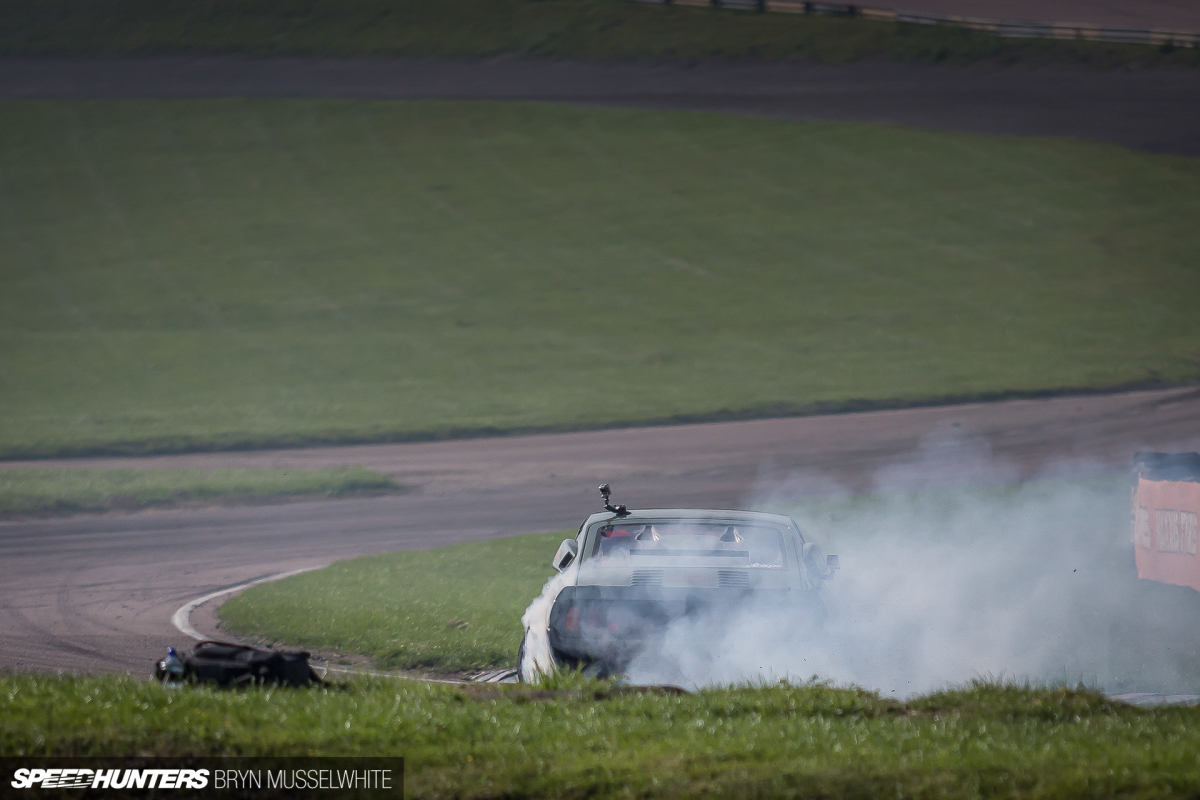 I promise that I did try and photograph the Celica before now. In mid 2014 I went to a British Drift Championship round at Lydden Hill to shoot it, but Hux didn't qualify. I think that's just about the only time he hasn't, so it must have been me who jinxed him. It reminded me of when I shot his old Volvo, the year before, and he snapped the accelerator pedal clean off as we initiated into the first corner, for my first passenger ride.
Back at Lydden, he was pretty deflated and I respected his decision to postpone the shoot, but funnily enough he won the first round of the 2016 championship at the same track. Just another indication that it wasn't quite the right time.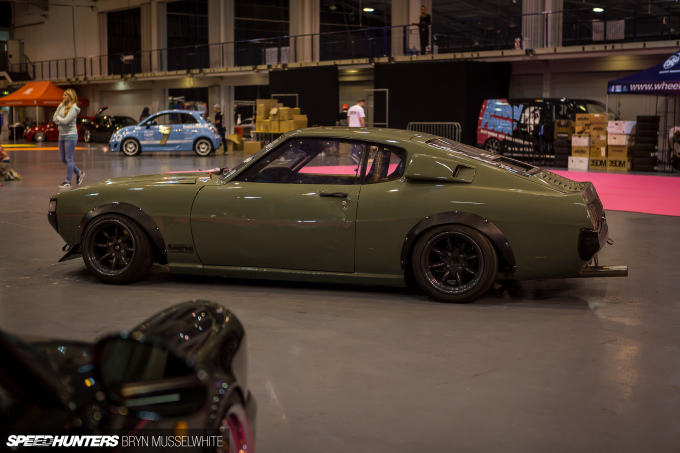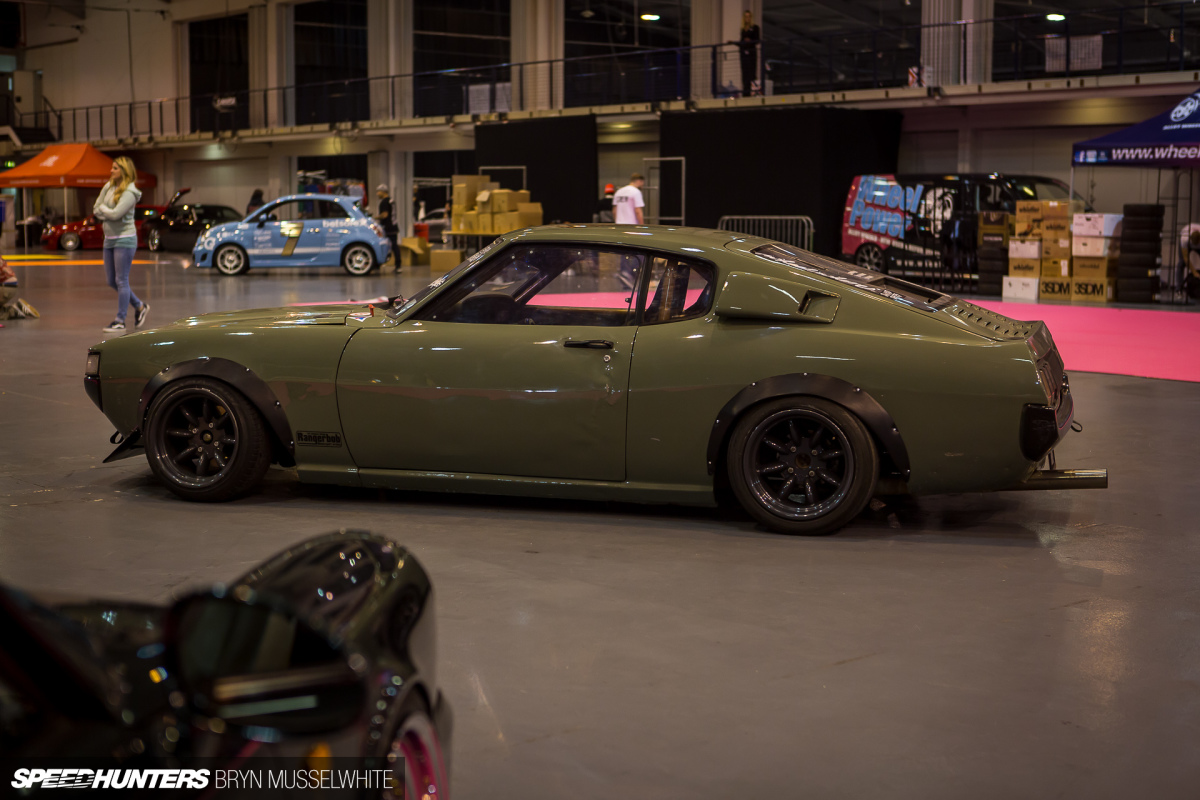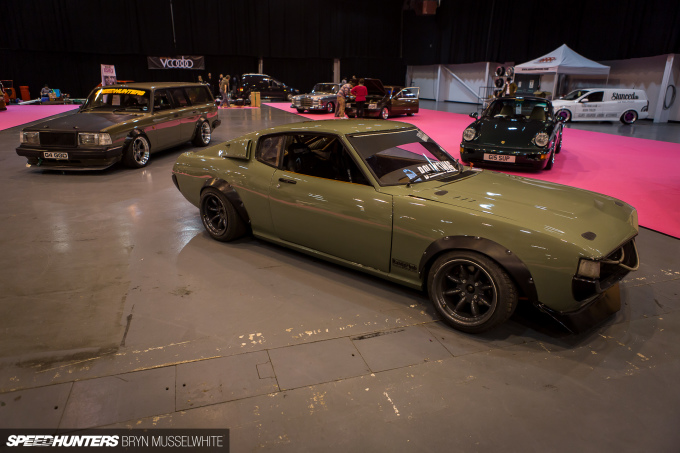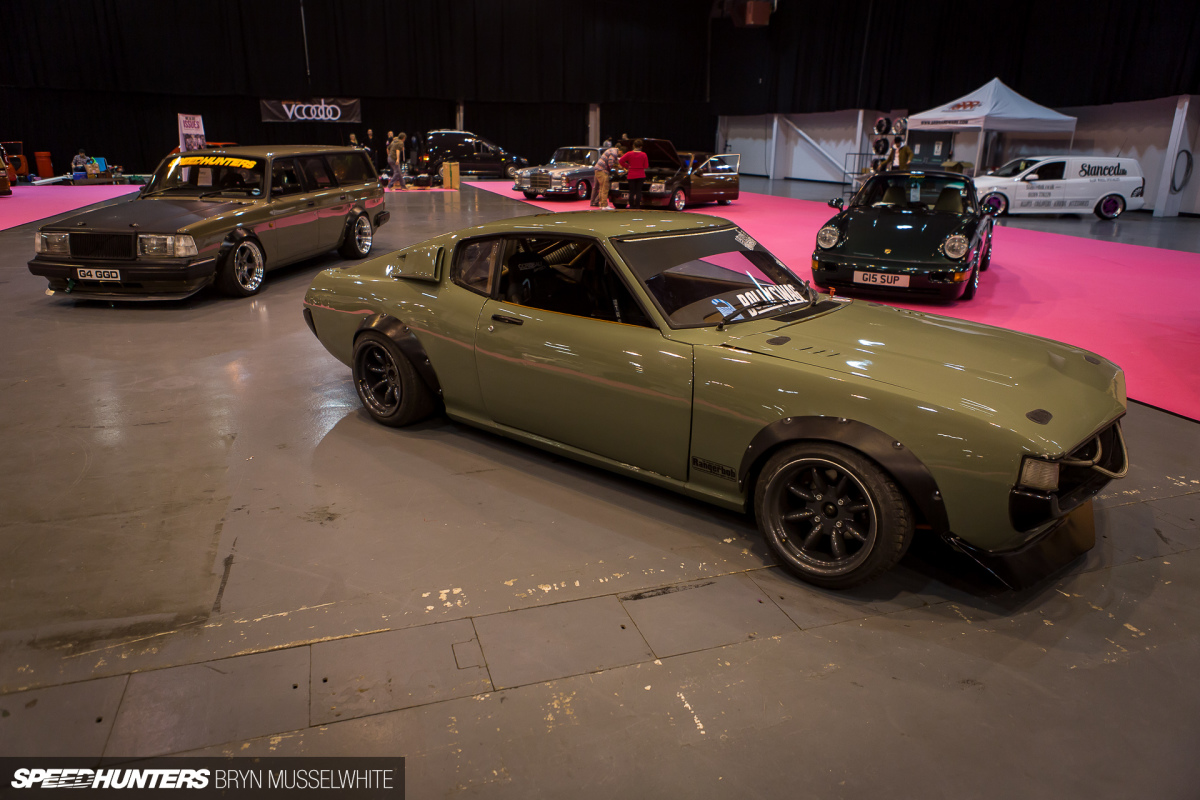 Another opportunity was at Ultimate Stance, an indoor show that we both attended in November of 2014. Stripped naked of its graphics, a lot of us thought this was the best incarnation of the Celica, an ultimate road and track warrior set up in a stealthy skin. But a revamp was due for the 2015 season and a big new sponsor meant Hux wanted maximum exposure for Ensinger who were coming on board.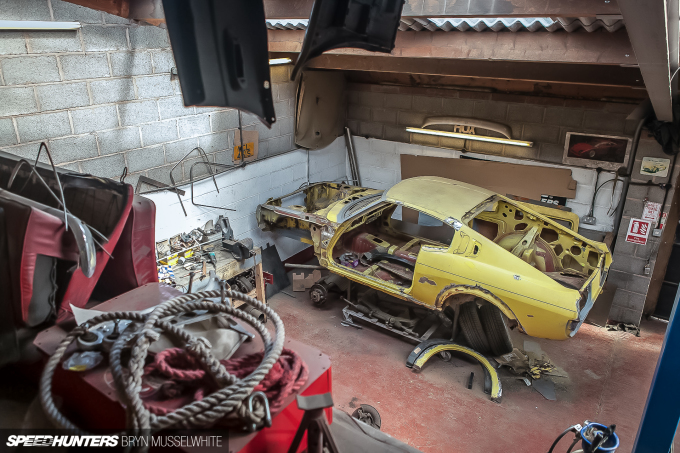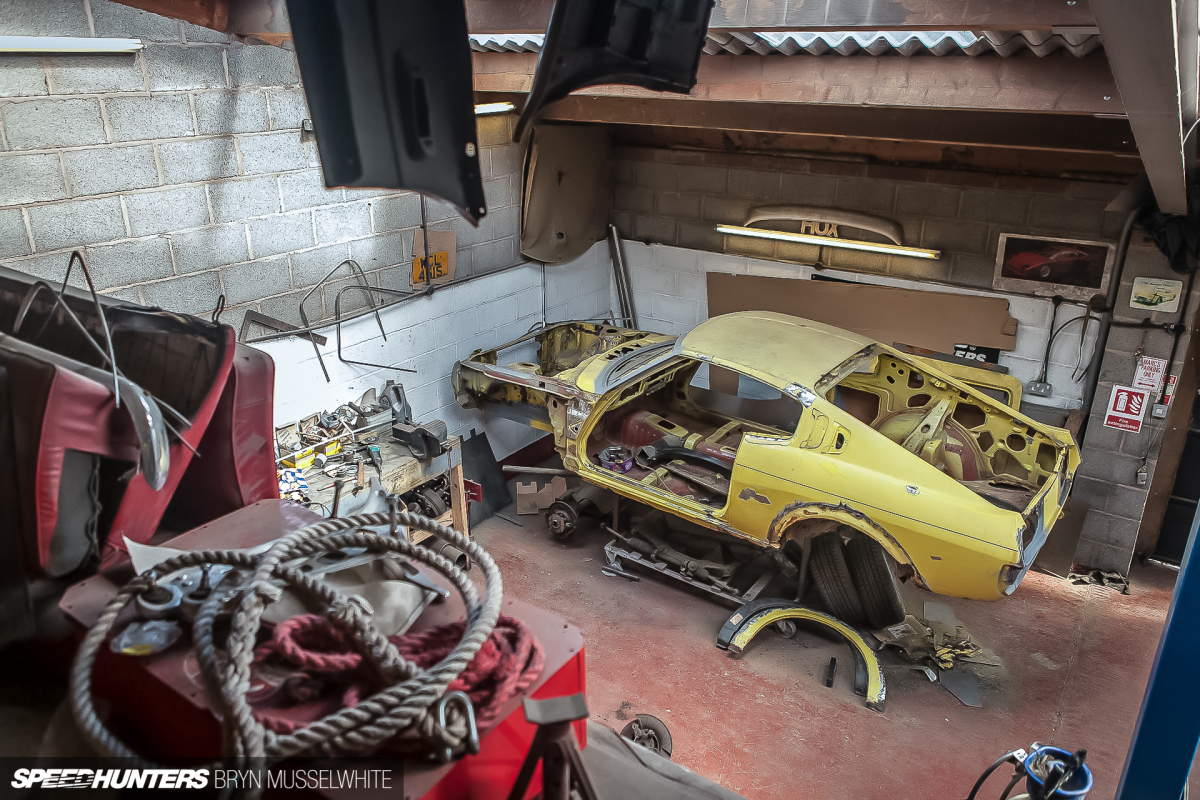 But what about the build? That bit back at the start I got all in a flap about? Well, that's where Hux is really annoying, from a complete barn-find RA28 Celica to initiating his first drift took 11 weeks. Yup, that's not even three months and he runs a full-time race fabrication shop too. Voodoo, pure voodoo I tell you. Even more impressive when you realise the Celica needed three weeks of welding. Oh yes, this puppy was going to put up a fight.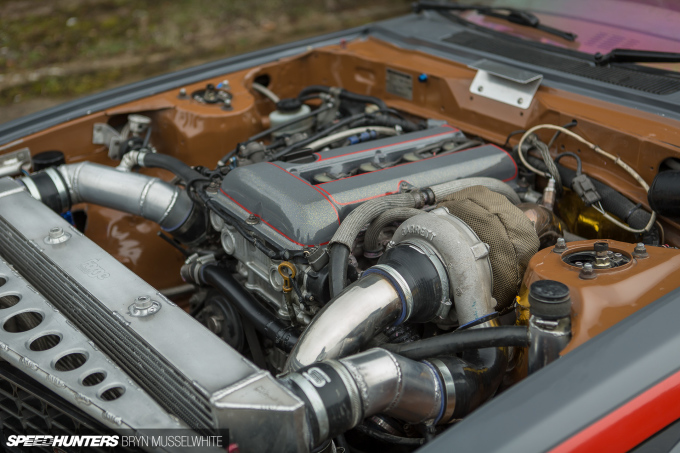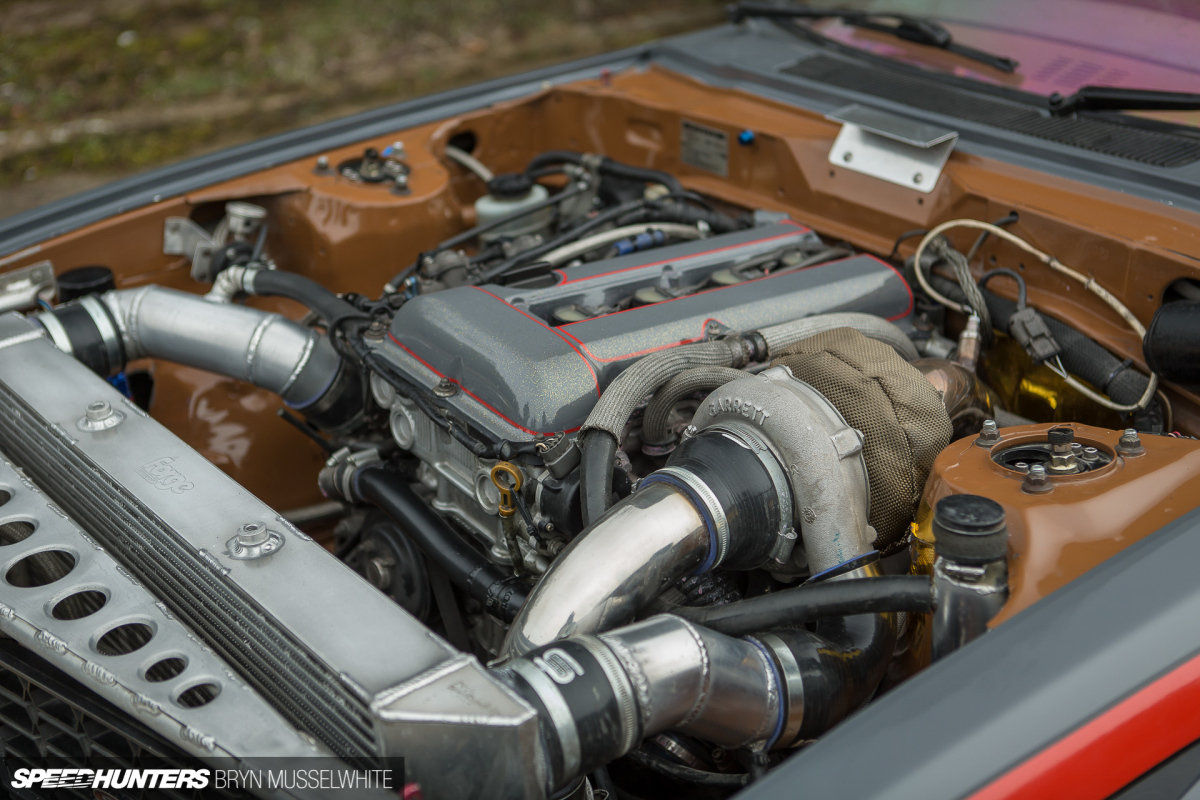 But hang on, why get rid of the Volvo wagon (built in a similar amount of time) after just one season? "Financially I needed to put at least another £6,000 in it to get the 600bhp that I really needed," said Hux. "I'd actually bought a twin-turbo 302 Ford in the States to fit, but for me that was getting out of hand and away from where I wanted to be car wise."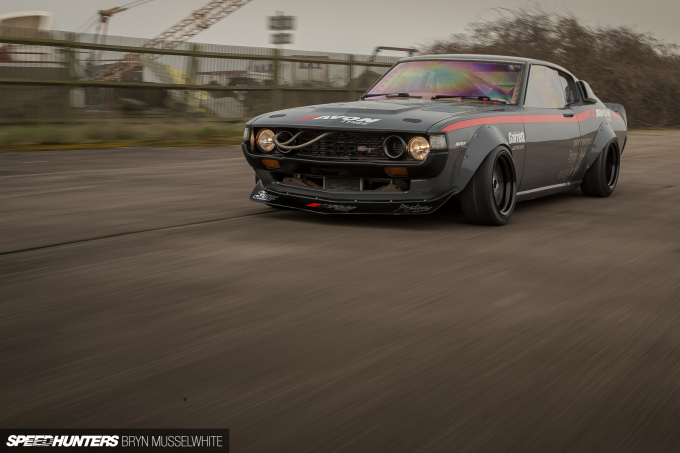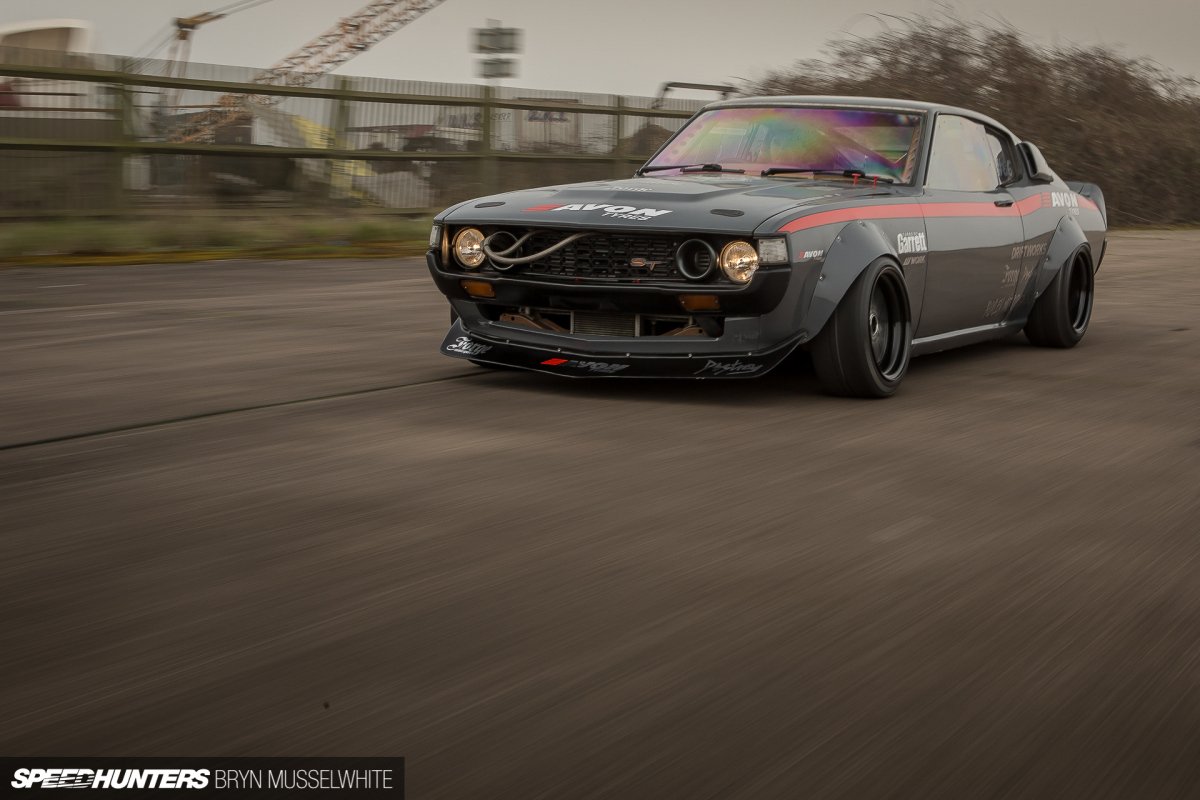 Having moved from his first drift car, a Ford Mk1 Escort estate to a KE70 Corolla, the appeal of a smaller car with bigger power kept bouncing around in Hux's head as he battled with the big air brake shaped Volvo he'd built, "When I got that in my head, I went back to a childhood dream. There was a drag Celica RA28 I followed that was called 'Tokyo Toy'. It ran a Rover V8 and competed in some UK based drag series. That would have been in the late '80s."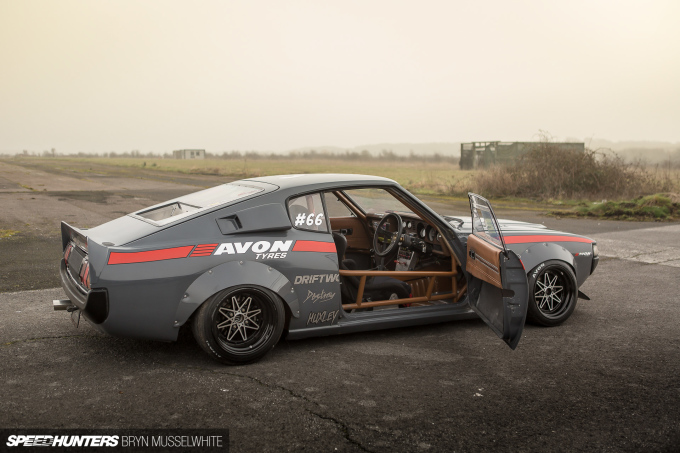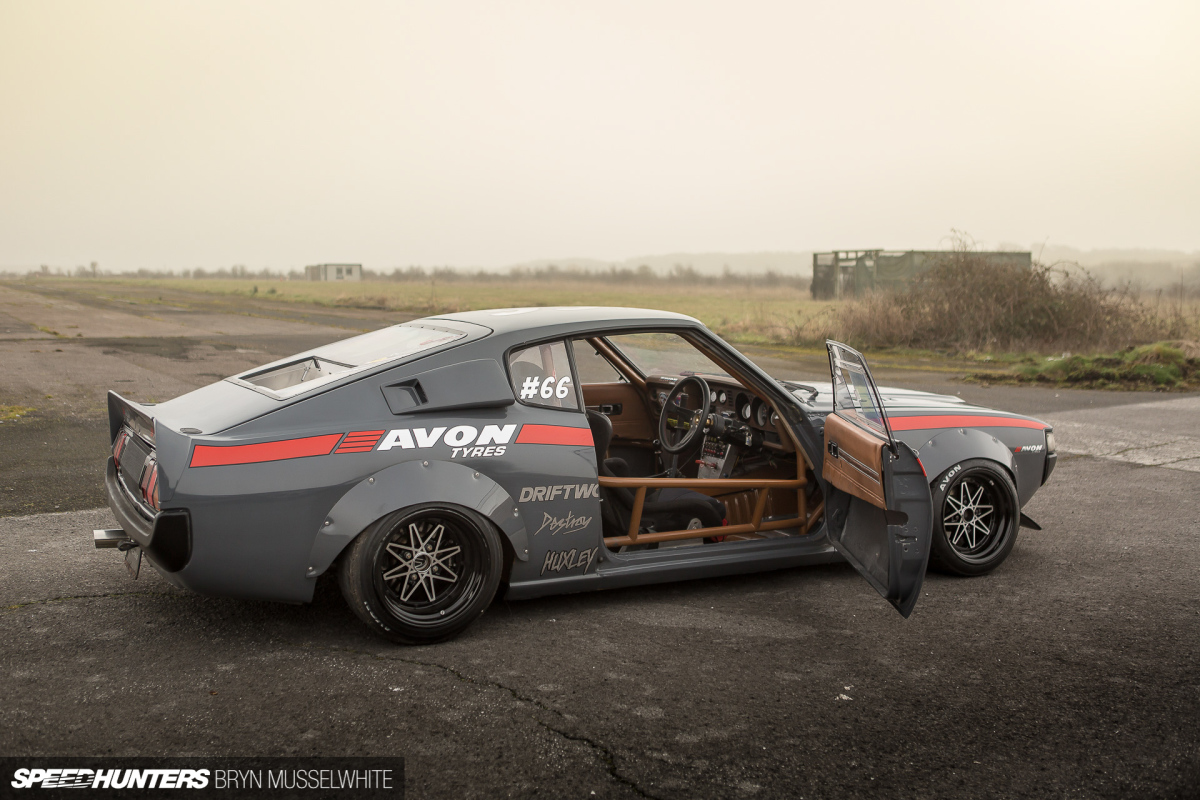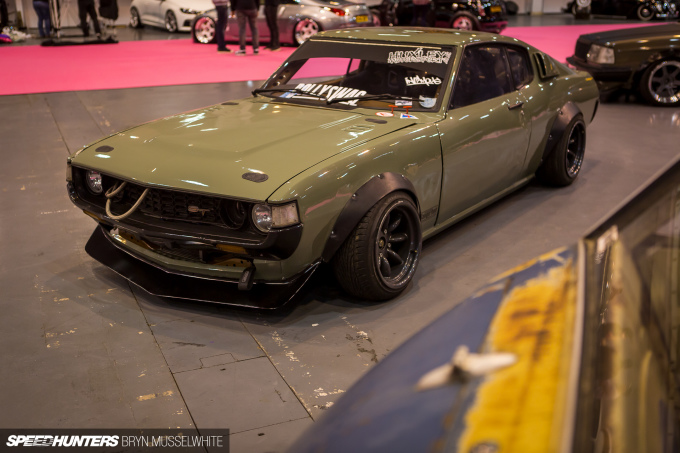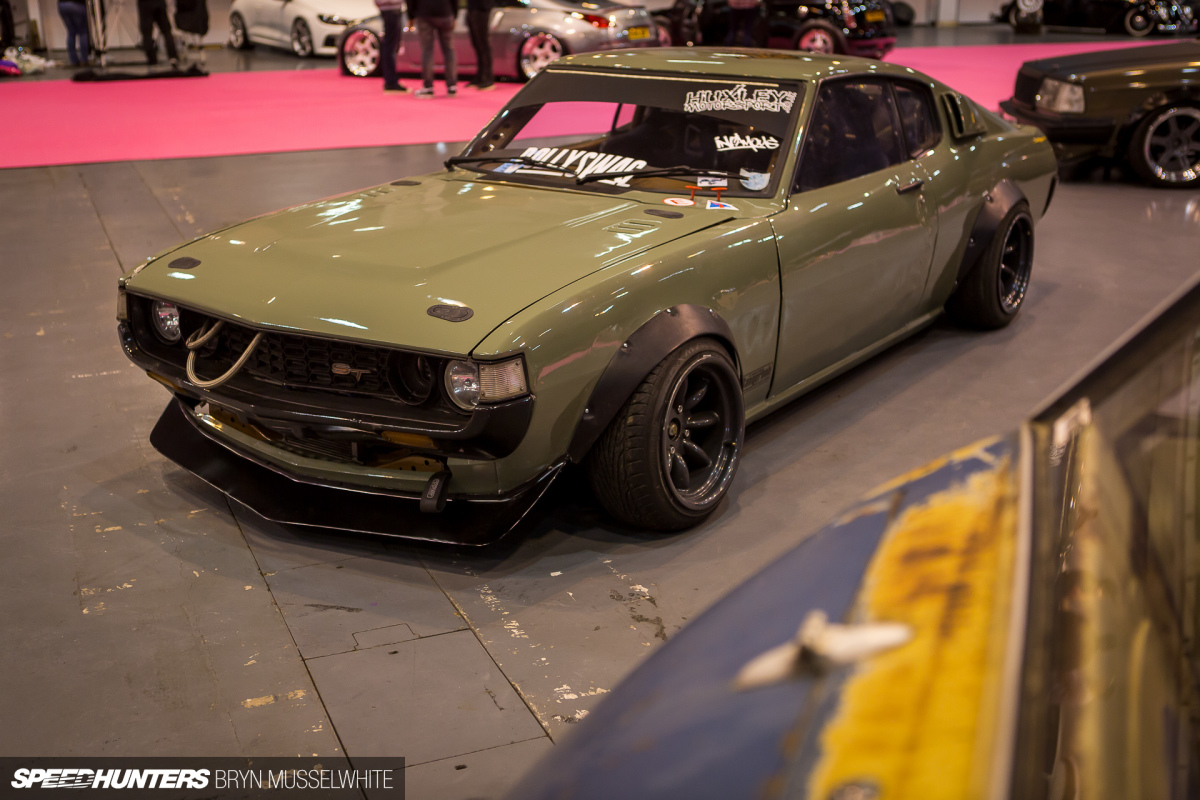 And this is where the real inspiration for all of this comes from, Brian Huxley, Mark's father. "He was a specialist in American and Japanese cars, so he had KE30s a KE70 pickup, loads of different stuff. His first drag car was a Mustang but maybe his most well known one was a KE25 Corolla, called 'Can Do Two', running a small block Ford."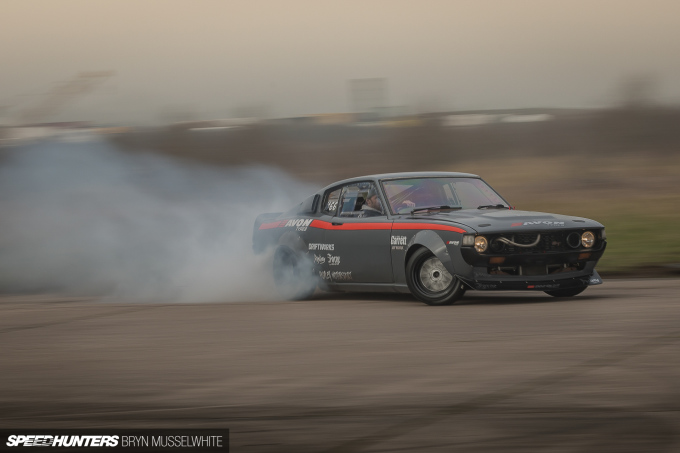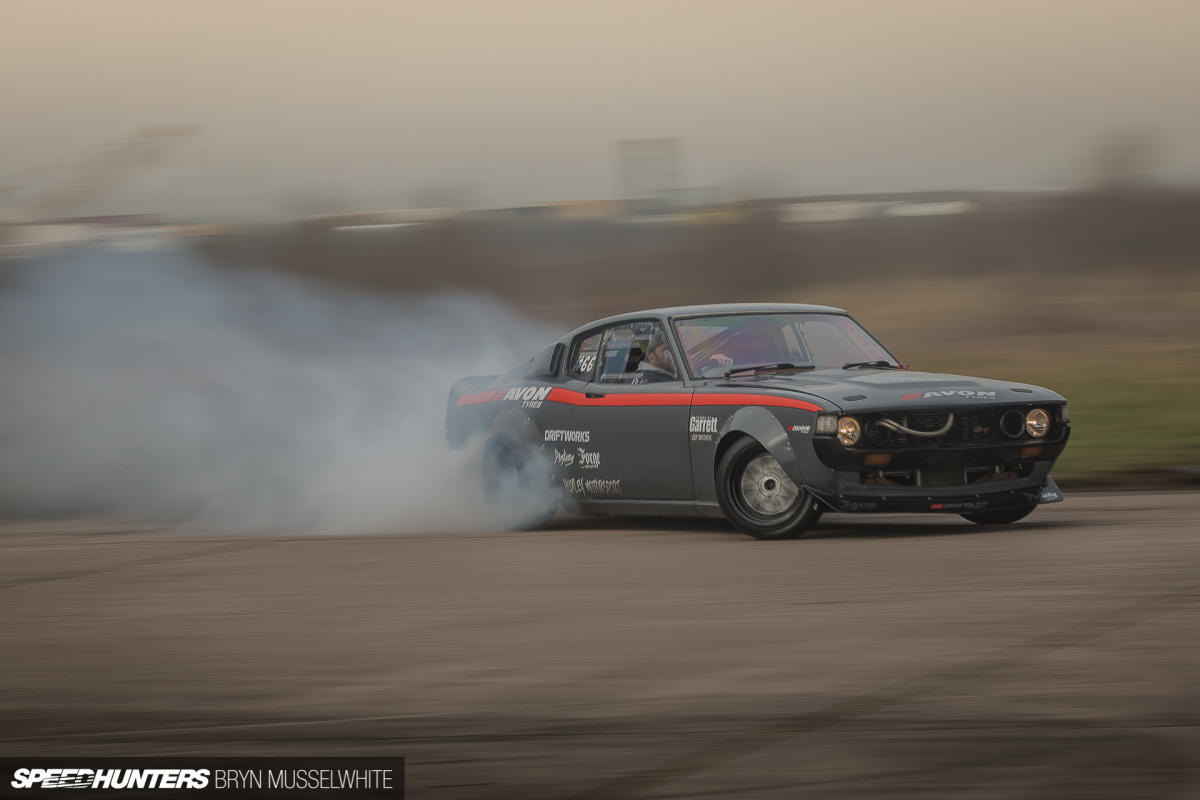 I know all this 'he had' stuff sounds like Huxley Sr. is out of the game, but, no. Right now, aged in his mid-70s, Brian Huxley has a '68 Mustang Fastback with a 514ci V8, that ran 9.11 at 149mph on the quarter mile back in the summer of 2016. This crossover between Japanese metal, drag racing, V8s and looking badass had to come from somewhere, right?
Stripped & Gripped
The insane fabrication skills and love of drifting? Well, I guess they just came naturally. Enough of the bromance though, the initial build was good. I mean really good, and the sort of thing most of us would be happy with. It followed a couple of simple rules Hux works with; guidelines I guess you could call them, or a DNA that runs through all his builds.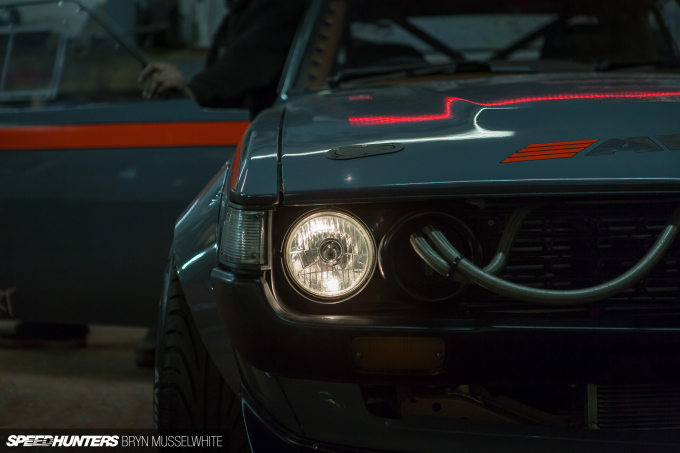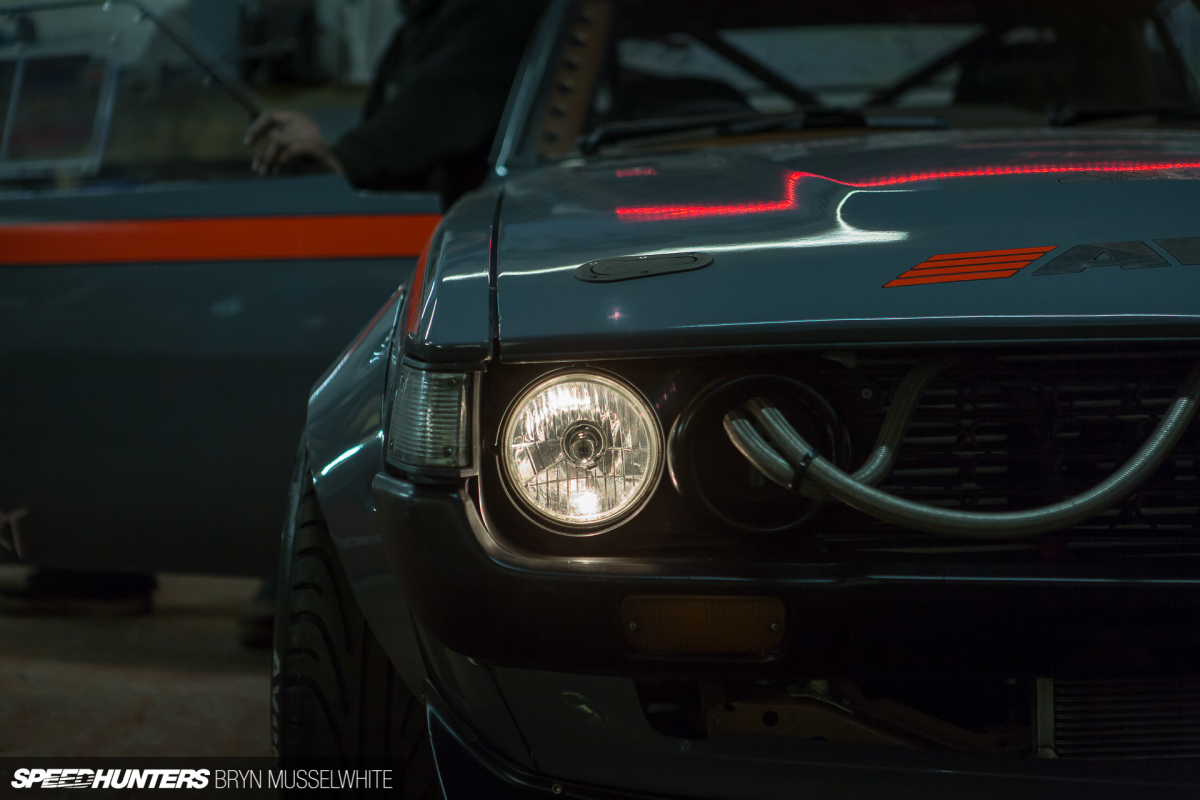 One is it has to work, but not at the expense of making it look good, so form and function have to go hand in hand. Hux explains: "I run a 15-inch wheel because it looks right, it's in proportion." Next up it has to be low, well not low, but Hux-Low. "The original vision in my head was to get the centre of gravity as low as possible. Ballpark figure was to get the roof lower than 50-inches, it's now 43-inches."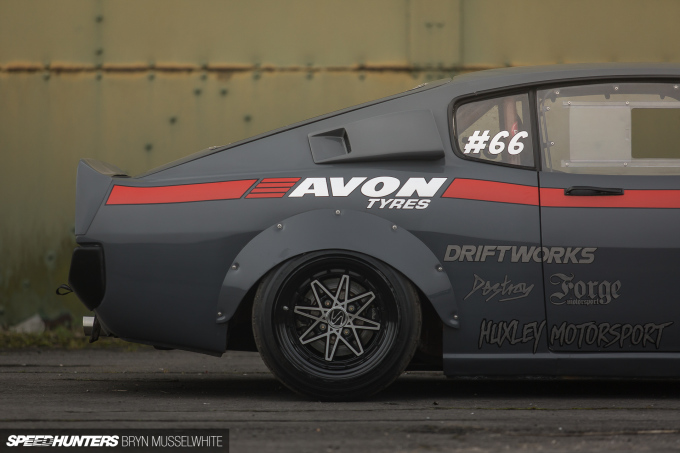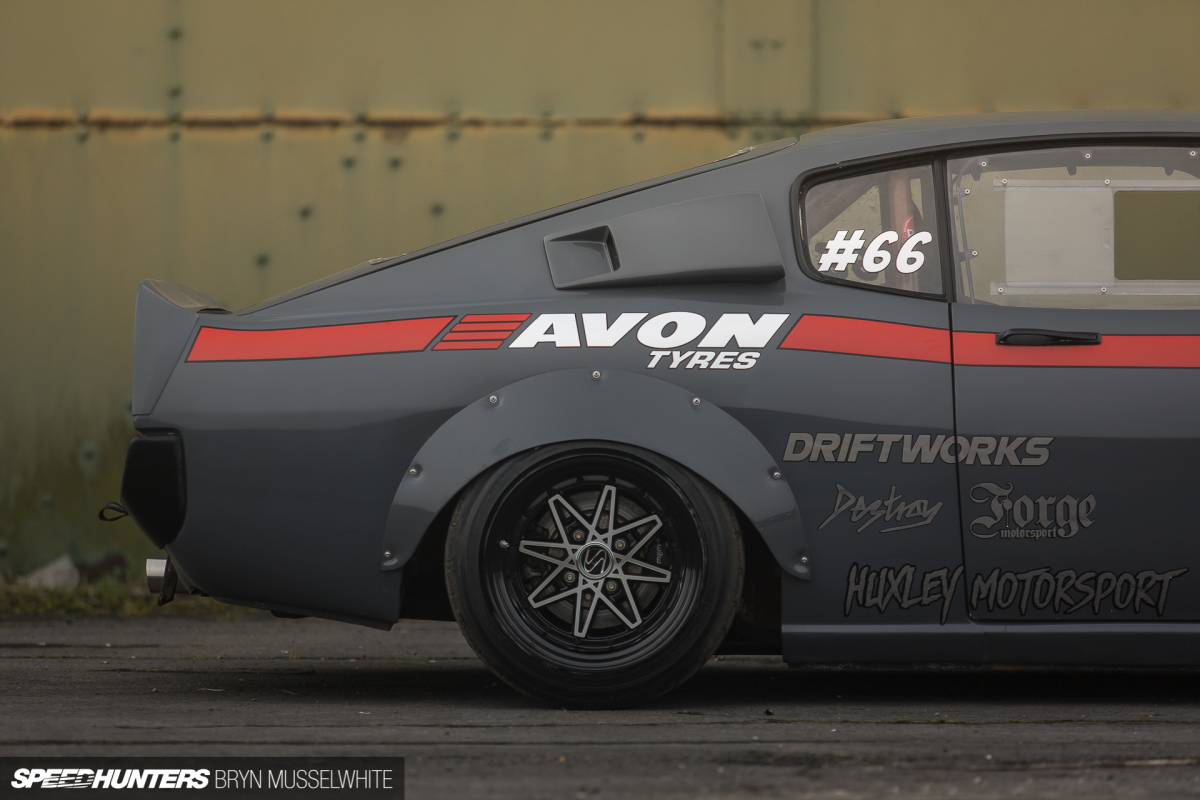 The Celica wasn't done as an easier option to the Volvo. "If I was going to build a car to win every round of a drift championship, I'd be in an S13 with a 2JZ. But I'm in it to be different. Plus smaller wheels equals cheaper tyres, and live rear axles means dialled grip."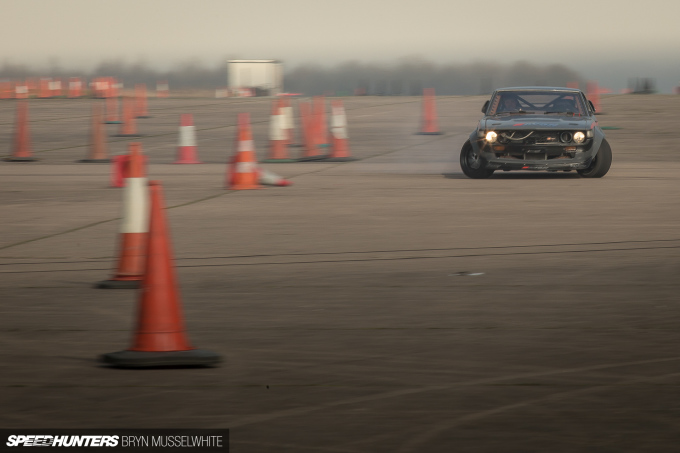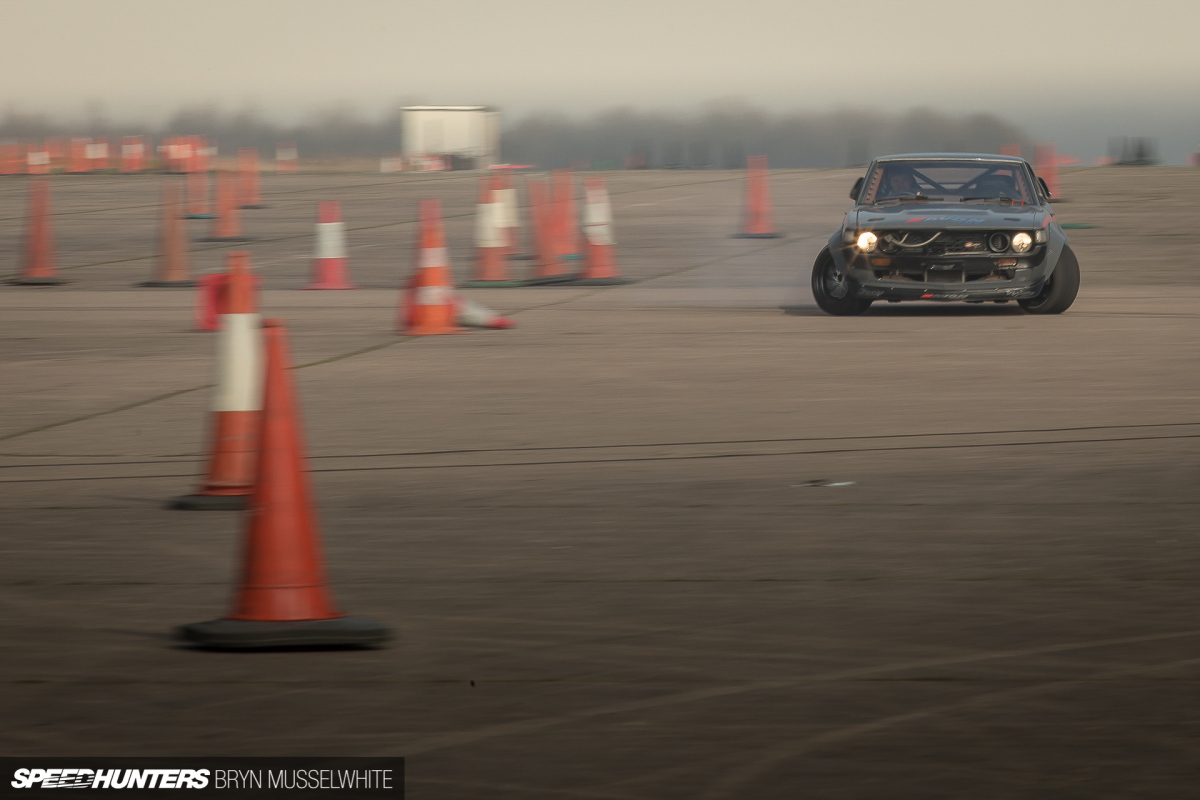 There's another reason for not getting carried away with wide track front ends and big wheels for Hux, something anybody who knows him will know he's passionate about. "Drifting came with style and I'm all about that. I'm just a hot rodder who loves drifting. If it didn't exist, I'd probably be drag racing on the street somewhere."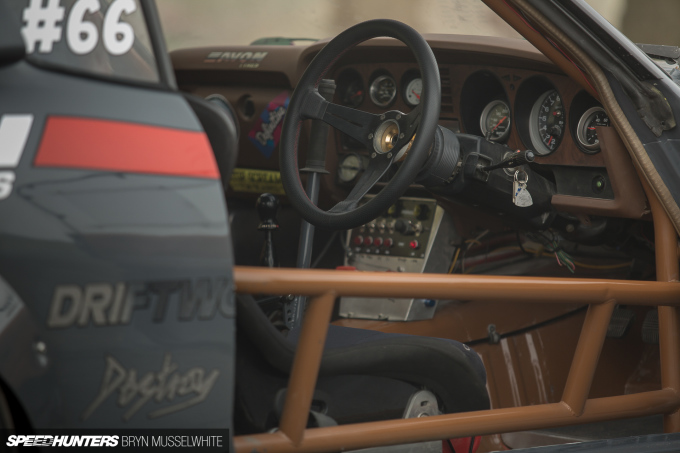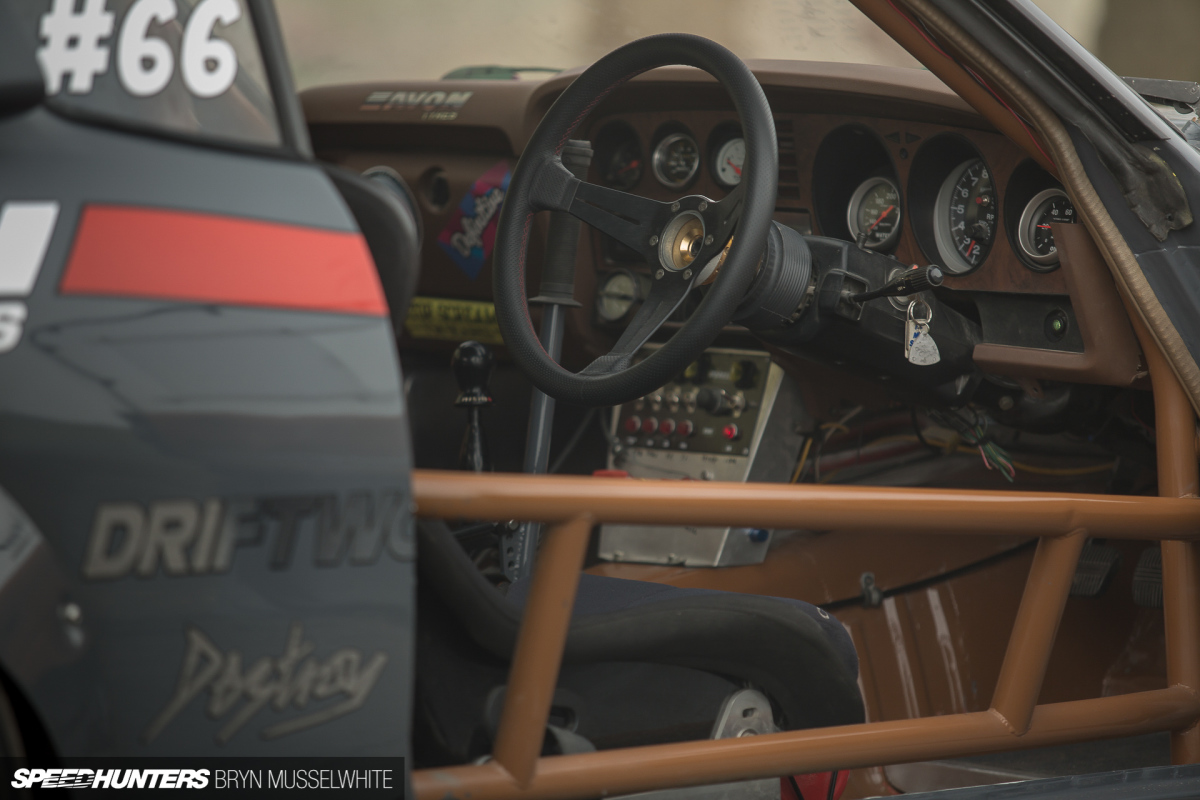 But thankfully it does exist; the Celica is a considered mix of everything that went before it, combining all the knowledge means it now does it very well. The shell looks relatively standard, but there are subtle modifications and tweaks all over it. Hux fitting a new larger/deeper transmission tunnel from front to rear, with a five-linked 8.8-inch Mustang axle narrowed from 66-inches to 57-inches. Up front there's some AE86-based suspension that he bought before he even had the Toyota.
"I preferred the Celica because of the Mustang shape and the Camaro front end feel. I still think about Charger style flip around lights…"
It's such a good shape that really does combine so many different styling cues, but on a manageable, European taste scale. I mean, it doesn't have wide, in-your-face American proportions that can sometimes look out of place on UK streets. I'll get to the tasteful and very well considered additions to that slippery shape later on.
I Just Wanna Go Fast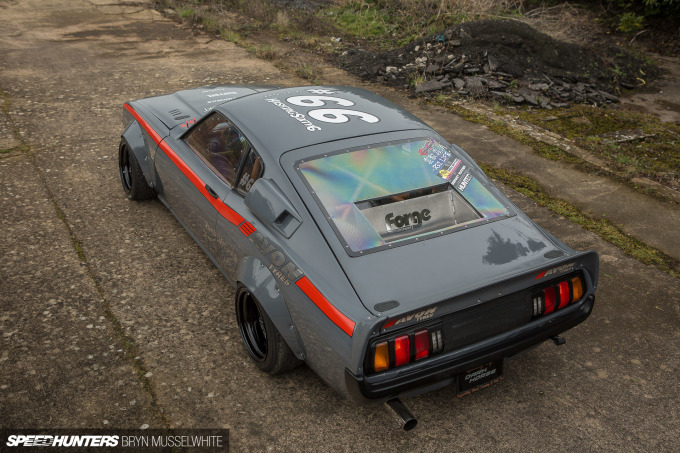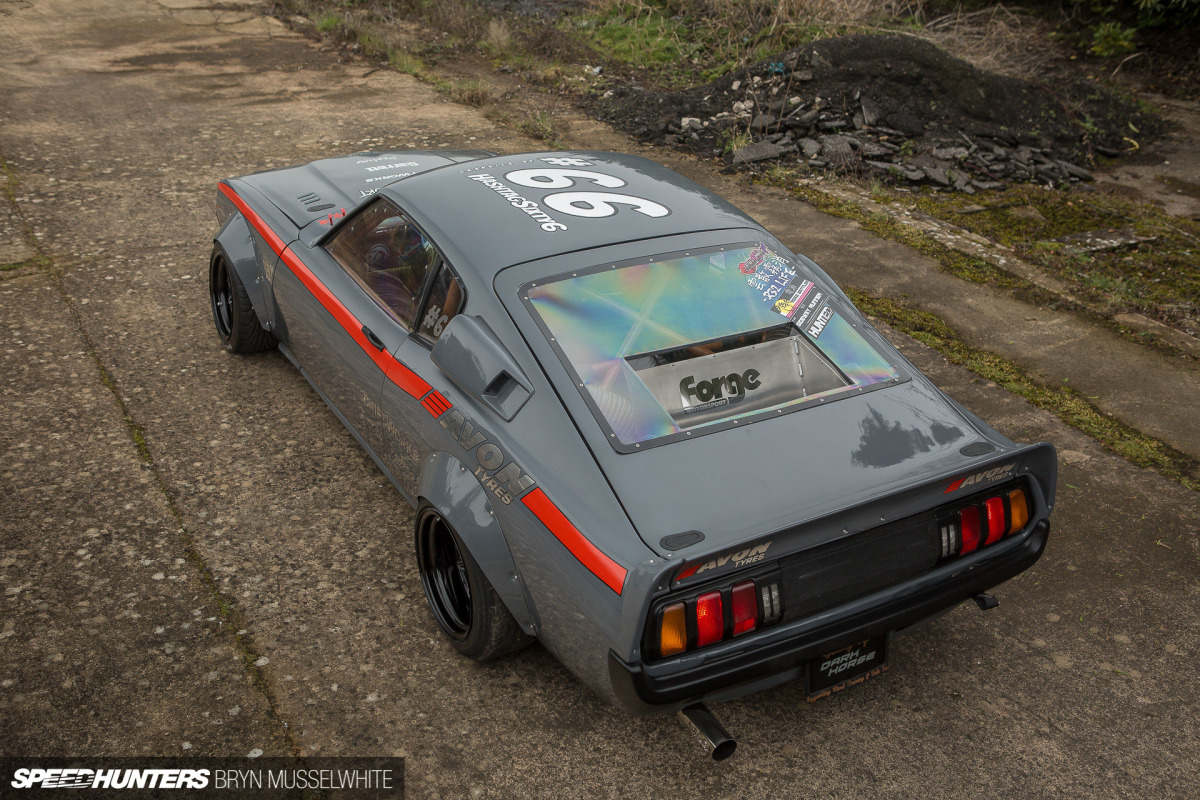 So, was it good to get back in a smaller car again after the Volvo? "The one thing that the Celica brings is the snappiness; judges want quick changes of direction. The Volvo was just laughter, the Celica is just like f**king shit. Ooh, f**king shit! The first time I drove it I was on the start line in the wet at Teeside [a UK drift track]. I didn't know what was going to happen, so I'm going to go in flat out and find out. I thought that this can't be worse than the Volvo? Then, I missed the first clip, but when I was sideways I hit every other clip. Still to this day I've never aligned it, I've always set it up myself and thought that'll do."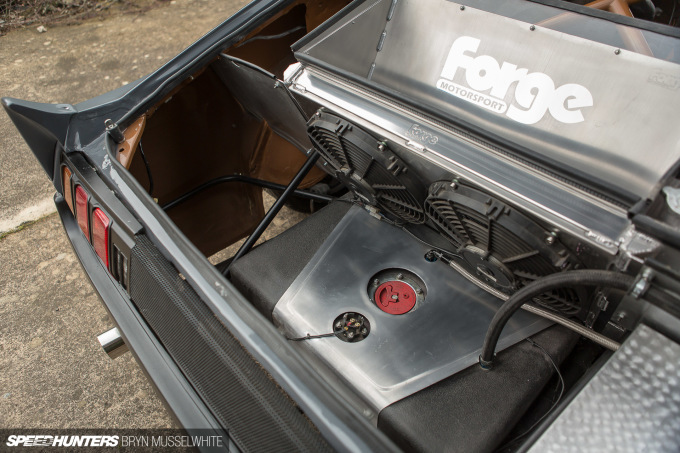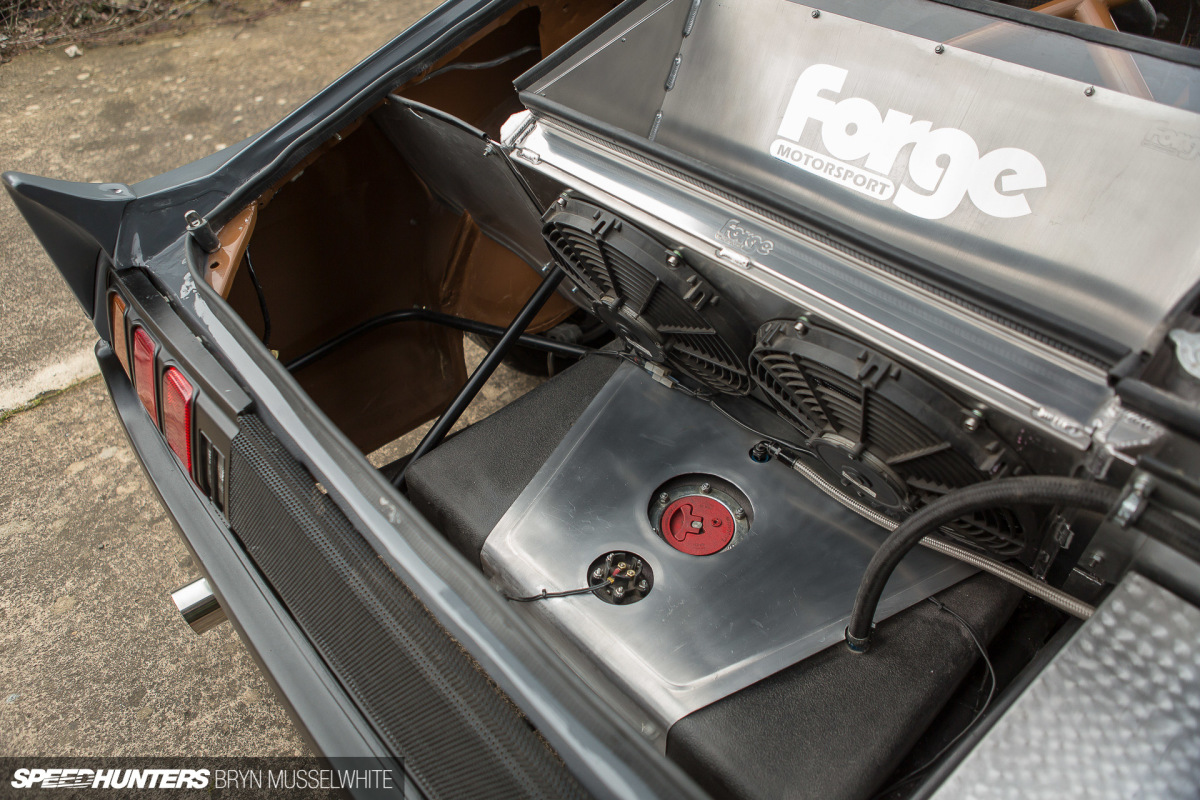 After a hit and miss first season with the build in 2014, Hux picked up a headline sponsor and then a couple more along the way. Avon tyres came on board in 2016 but he's enjoyed support from Forge Motorsport and Garrett Honeywell for two seasons now. Hux saying of the Garrett GTX3071R turbo, "They gave me two and the second one is still wrapped up in the van!"
Prior to Garrett getting involved the SR20 was producing around 300bhp. With a lower compression rebuild and more boost, now it makes 397bhp at 6,200rpm.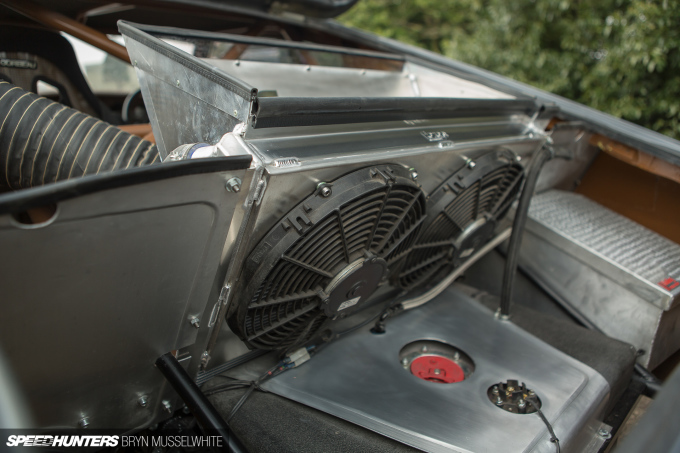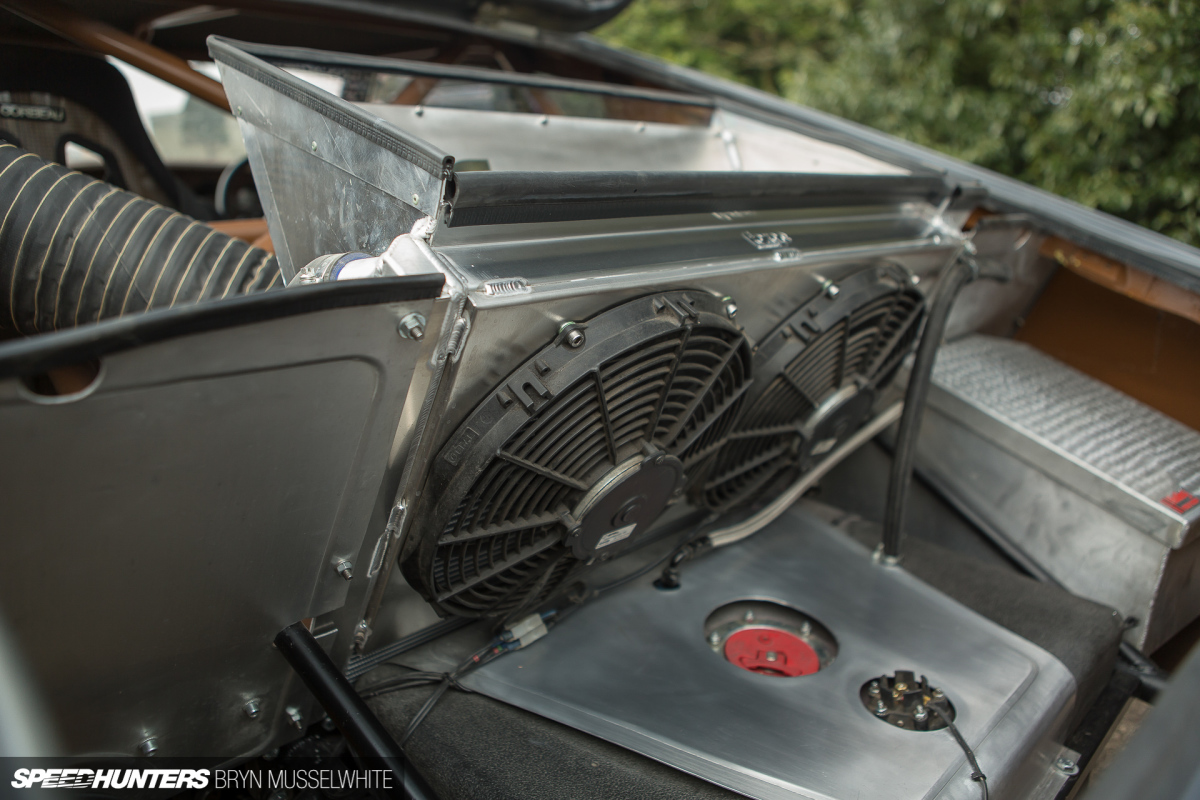 Forge may well be a global name, but they're local to Hux and recognise when somebody is worth getting behind. "Alex from Forge came to the workshop. I gave them some drawings and they made it, we put them in the car and they worked straight away. To this day they go to hell and back to help me with brakes, silicon hoses, everything. They're the best."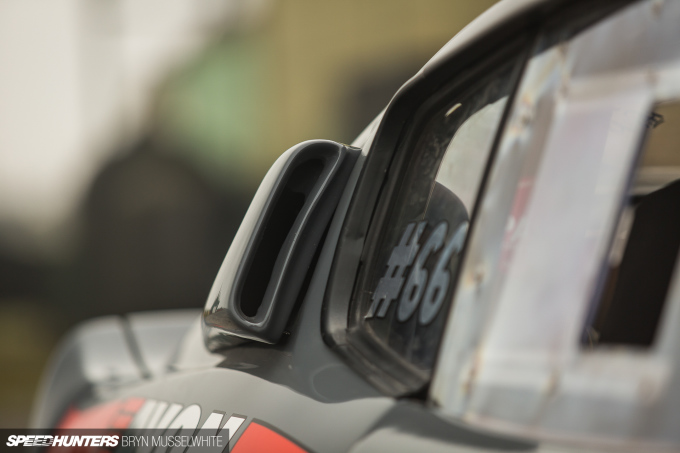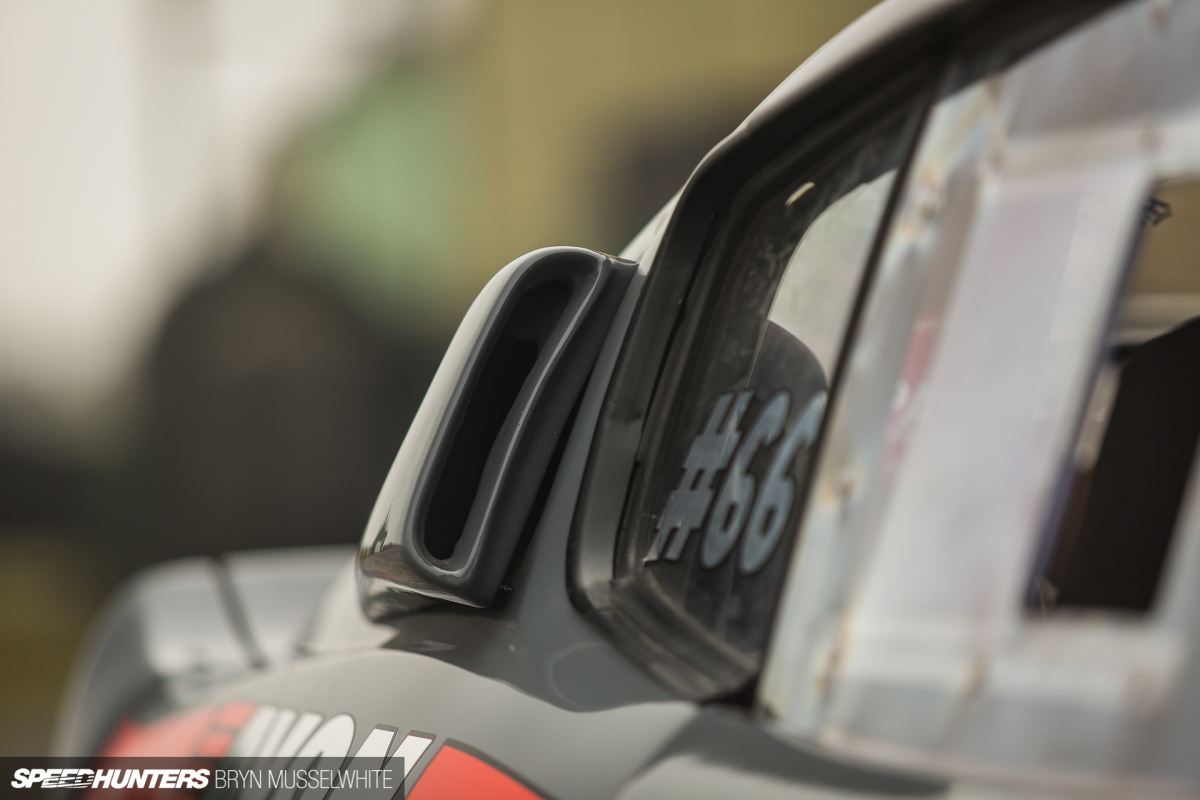 That custom cooling set up in the rear is fed by these pillar-mounted intakes; if you're really keen on your American models you may recognise these as being sourced from a Mustang originally. No surprise there given what I've told you already, eh?
Here you can see them sitting above the now metal arch extensions, fresh for the 2016 season as Hux was fed up of destroying the fibreglass ones in battle or just through tyre-on-arch contact. So he hand-formed these and had them sprayed the same as the body colour. Remember that old crusty yellow arch picture way back up near the top? Well, now the arch goes through the swage line as it's been raised so much. Another reminder of that purposeful stance and the measures taken to achieve it.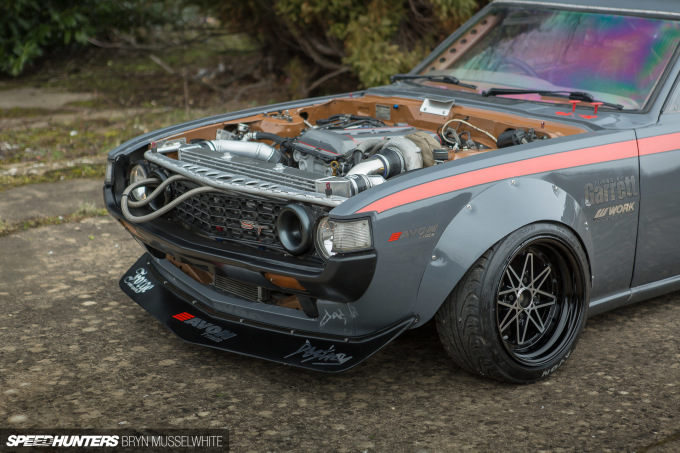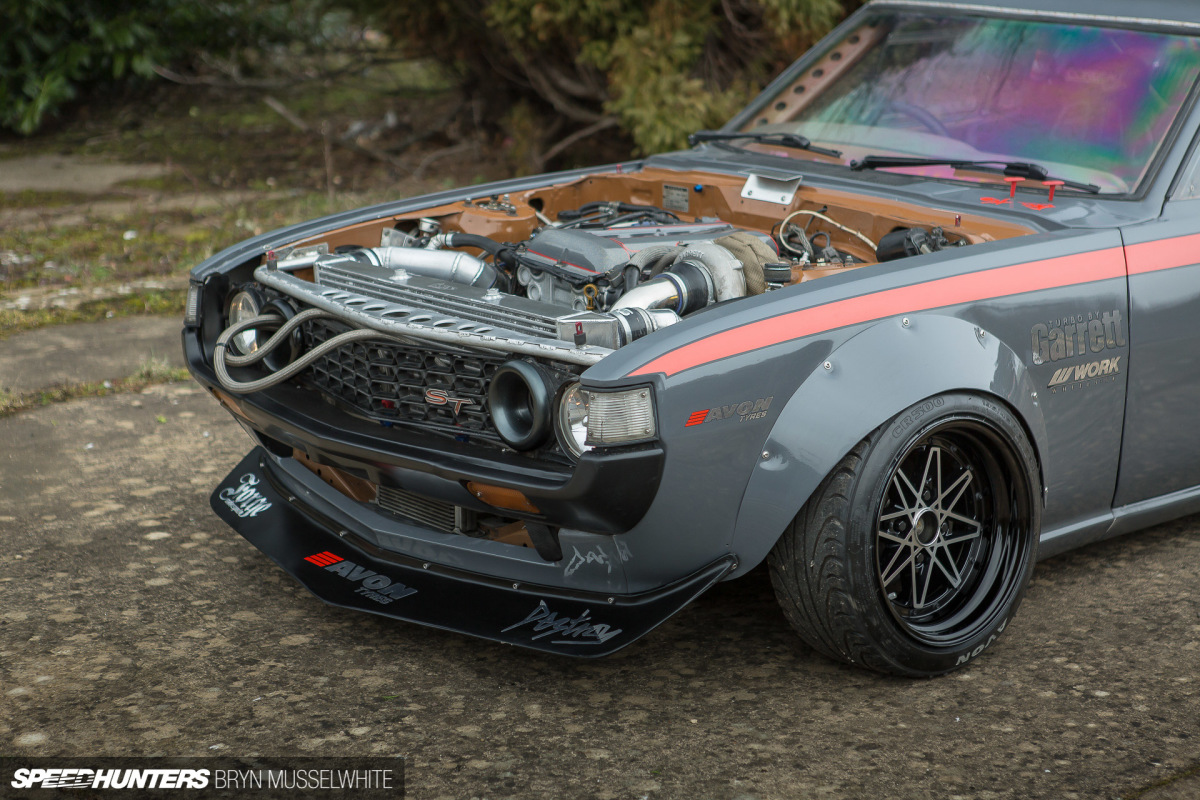 Don't worry, there are limits to the man's talents. "The only thing I didn't do was the paint and mapping," says Hux. Is that it?
Getting the authorities fired up is another special skill Hux has, and I love the story he tells of when he decided to road register the Celica in 2016. Hux sounding genuinely surprised at the reaction he got as he recounts the event, "I went to Martin Richards' (fellow drift competitor and all round good guy) from my house, but the usual route back to mine was closed so I had to drive back through my local town afterwards. I passed a copper and he looped around and closed the road behind me. I went about 300 feet and he pulled me over, then decided to tear me a new one."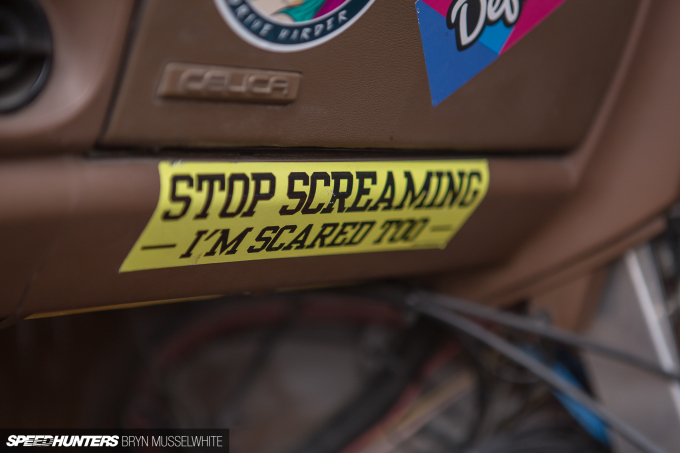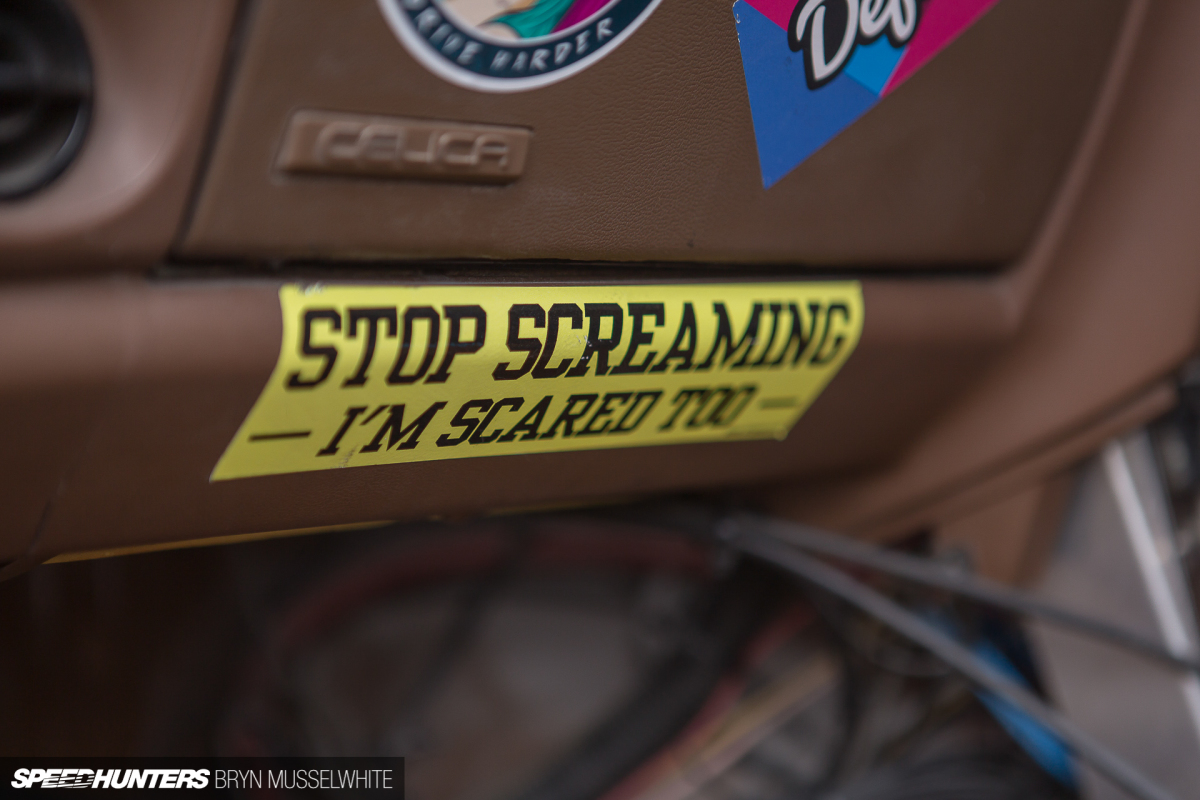 You see, prior to that day when the tax had been paid and insurance cover sorted, the Celica had been off the road since 1989, in which time the UK registration system has been changed a few times, and the computer obviously hadn't updated the authorities with Hux's new found legal status. "I told him his pen would run out of ink before he'd finished his list."
Futureproof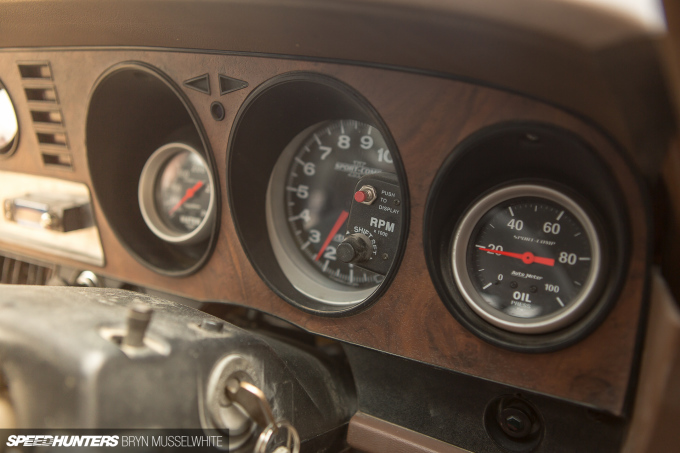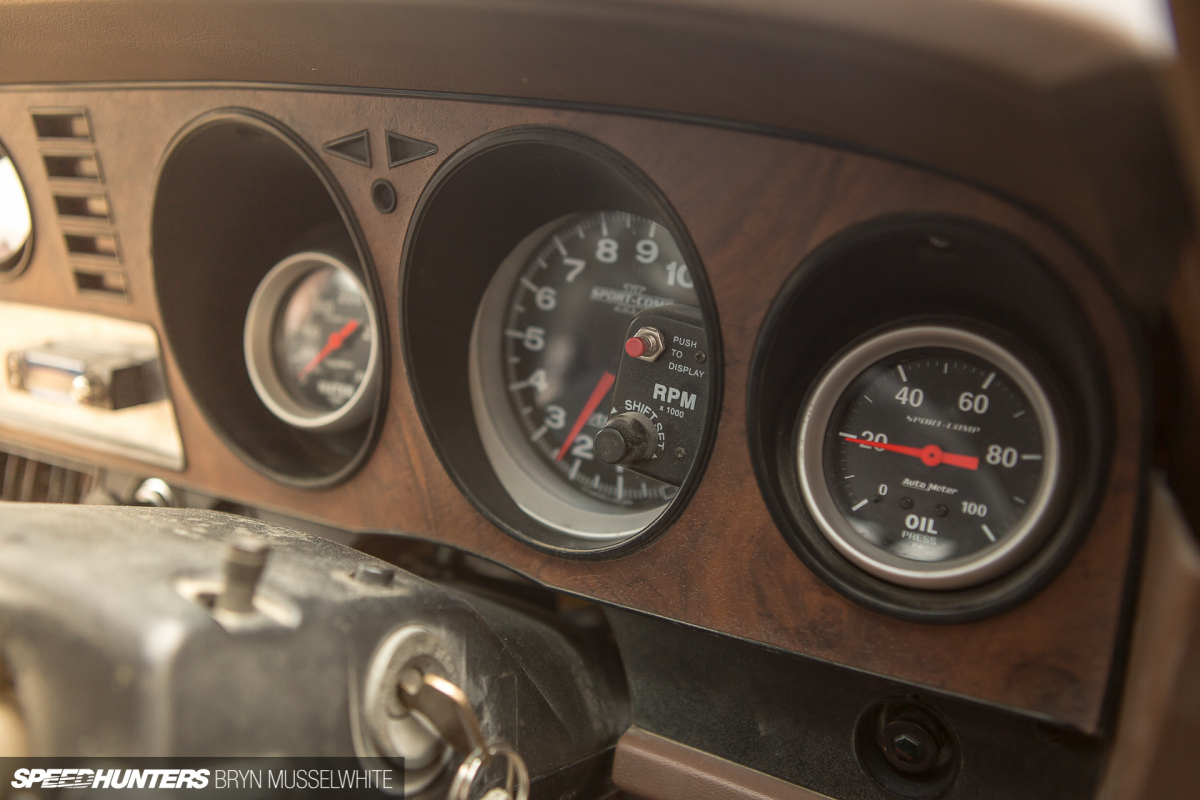 Weirdly, Celica's have never proved that popular as drift cars. Which is odd given how popular the Toyota brand and AE86 is, with the Celica being a slightly larger brother to the legendary tofu delivery car. Hux does know of another RA28 though: "It's the HBO Celica from Japan, I think it competed in 2010, maybe? I think it was in D1, I'd love to know more if somebody knows. I know it's on top of the office at HBO, but I don't know anything about what they're doing with it. I think it had N2 arches, it ran an SR20, with maybe a bit more power and on 16s?"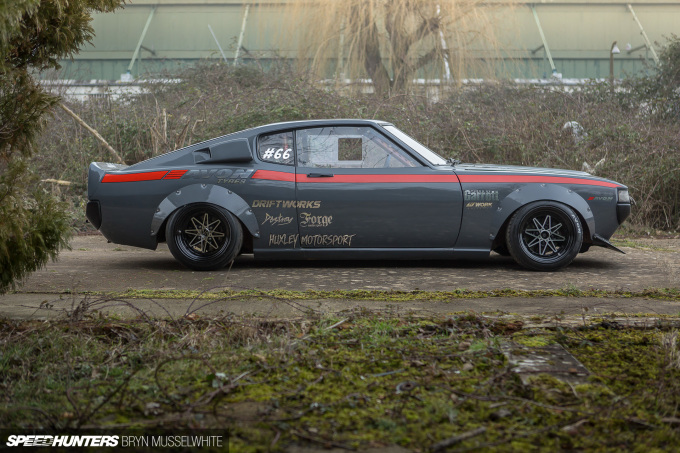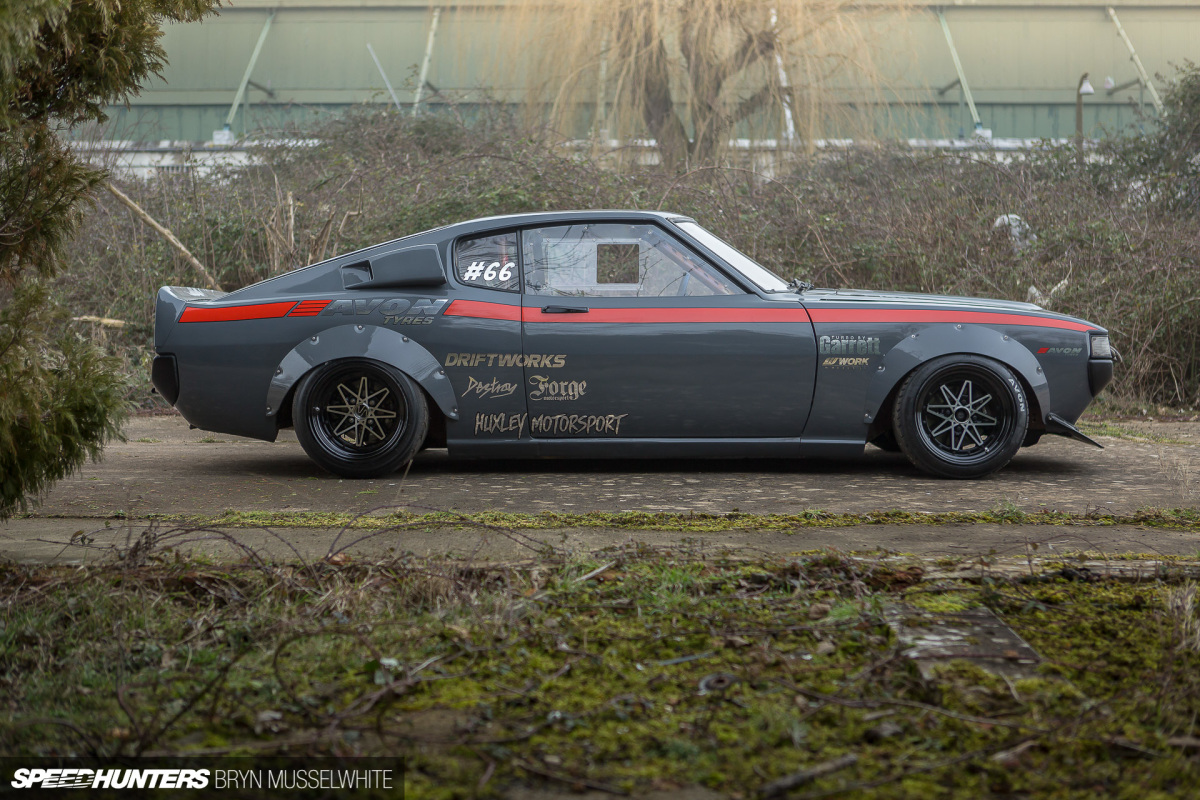 So am I wrong to say this is the world's best Celica drift car? I don't think so. It's certainly the finest RA28 drift car there is, and that's really something, isn't it? To say you've built the best of something there is? Not that Hux would. In fact, he'll probably be annoyed that I've said that. It certainly won't stop him beating on it, that's for sure. Search out Huxley Motorsport on social media (links below) for pics of the damage that's been fixed over the last couple of years. As an example, the fibreglass door skin was pulled clear off when it got impaled on a shotgun exhaust in 2015.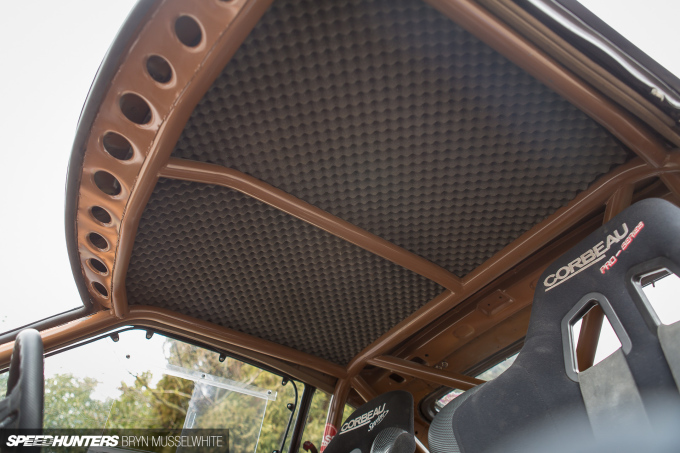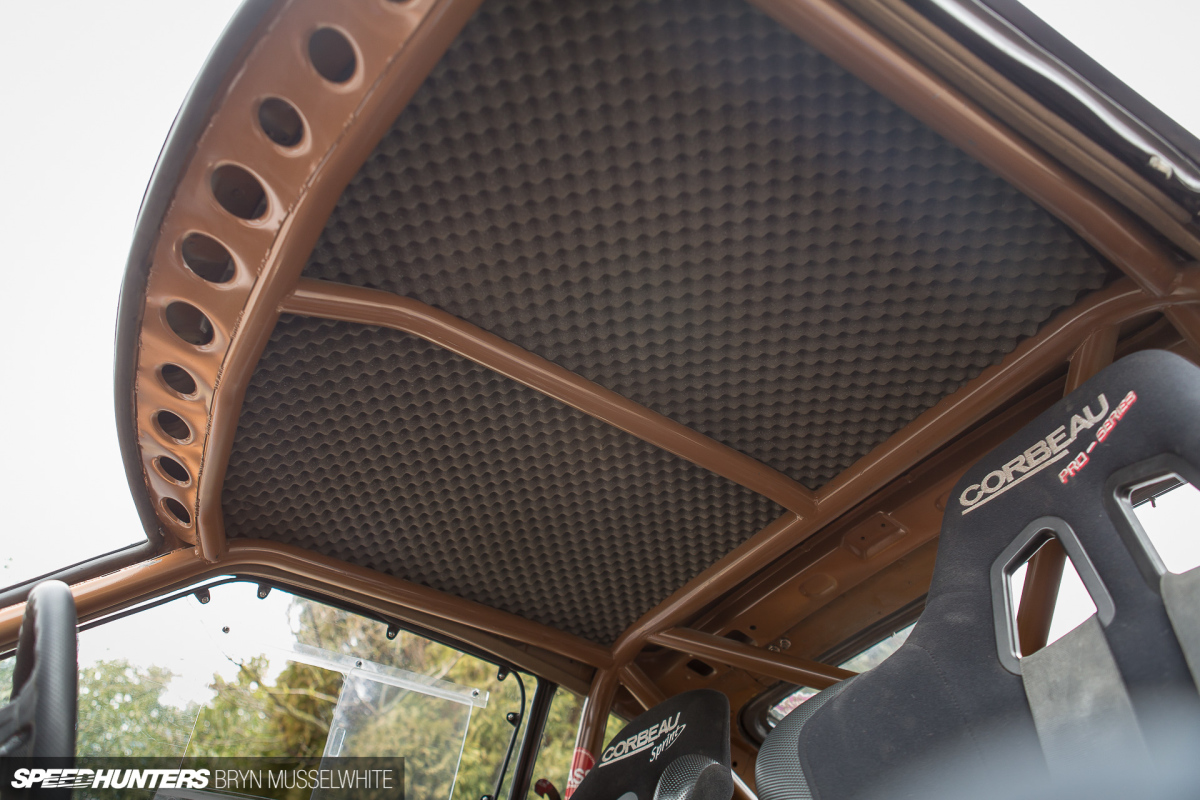 As I mentioned near the beginning of this story, there have been a succession of very cool, successful drift cars from Hux over the past few years, and although the Celica is pretty much his dream car, it might not come as a surprise to find out that he's got it up for sale. "I can't twin turbo this, but I can a Mustang," Hux says.
I respect him for that. Life is too short not to build all of the cars you can. "People tell me it would be worth more standard, but you can't f*ck about with a standard car all your life." And let's face it, he wouldn't have come second in the 2016 British Drift Championship in a standard car, and he did do that in this Celica. Up against mega power, big wheeled machines.
I can't build cars and that's how I became somebody who's owned a Volvo estate for 15 years. In fact, this almost makes me want to sell it and try to build something else… But then I remember that Hux has a habit of making it look easy.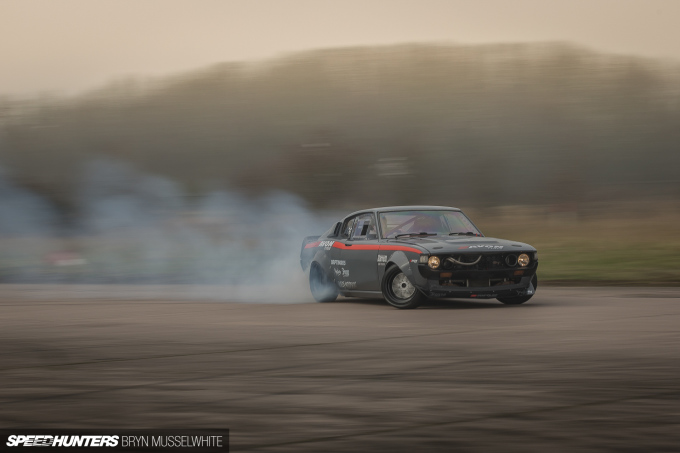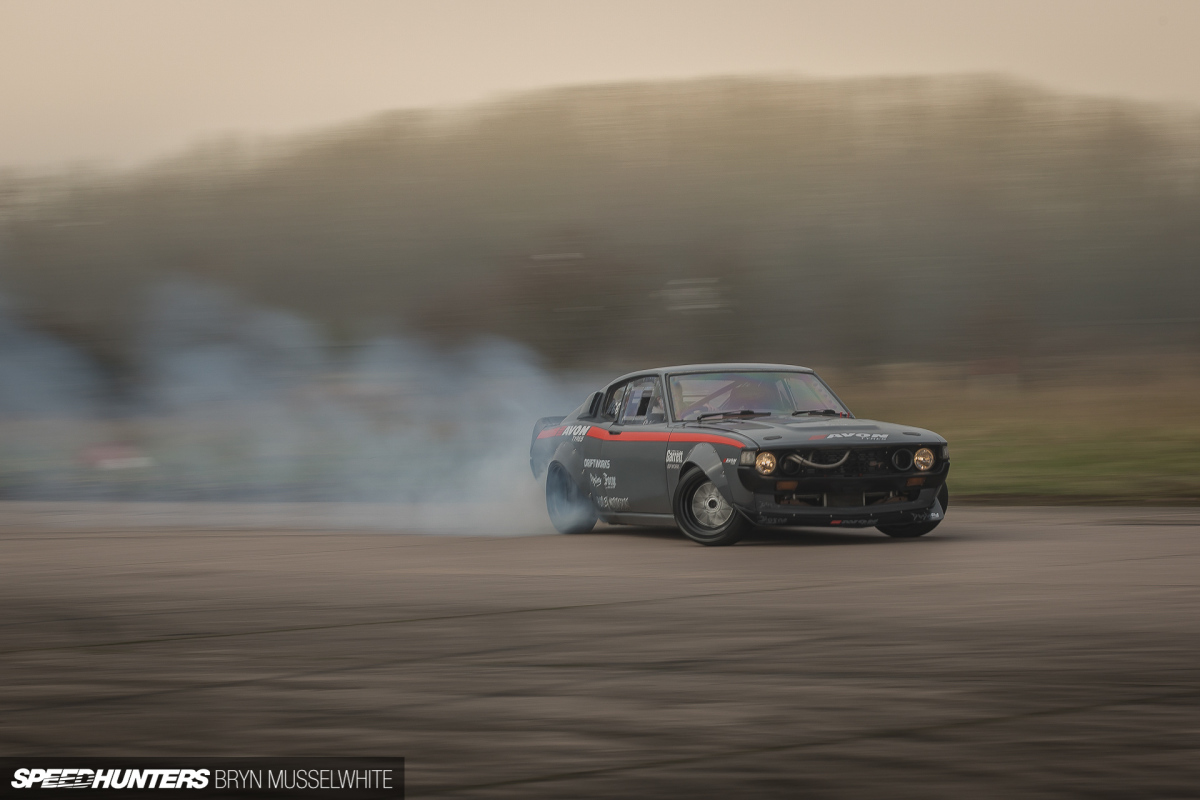 But of course it's not, and as the old saying goes, "If it was easy, everybody would be doing it."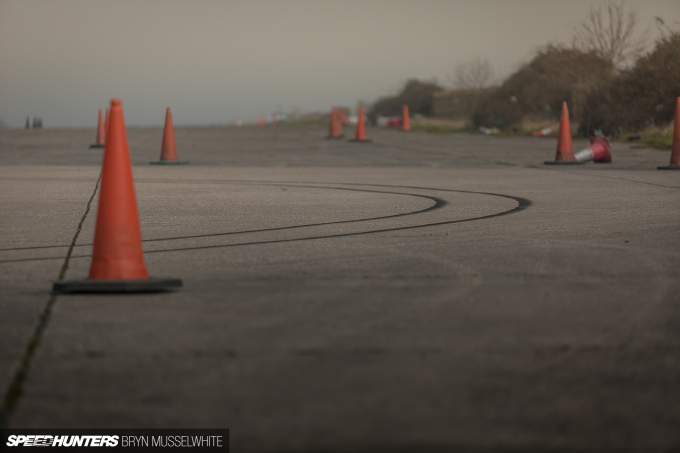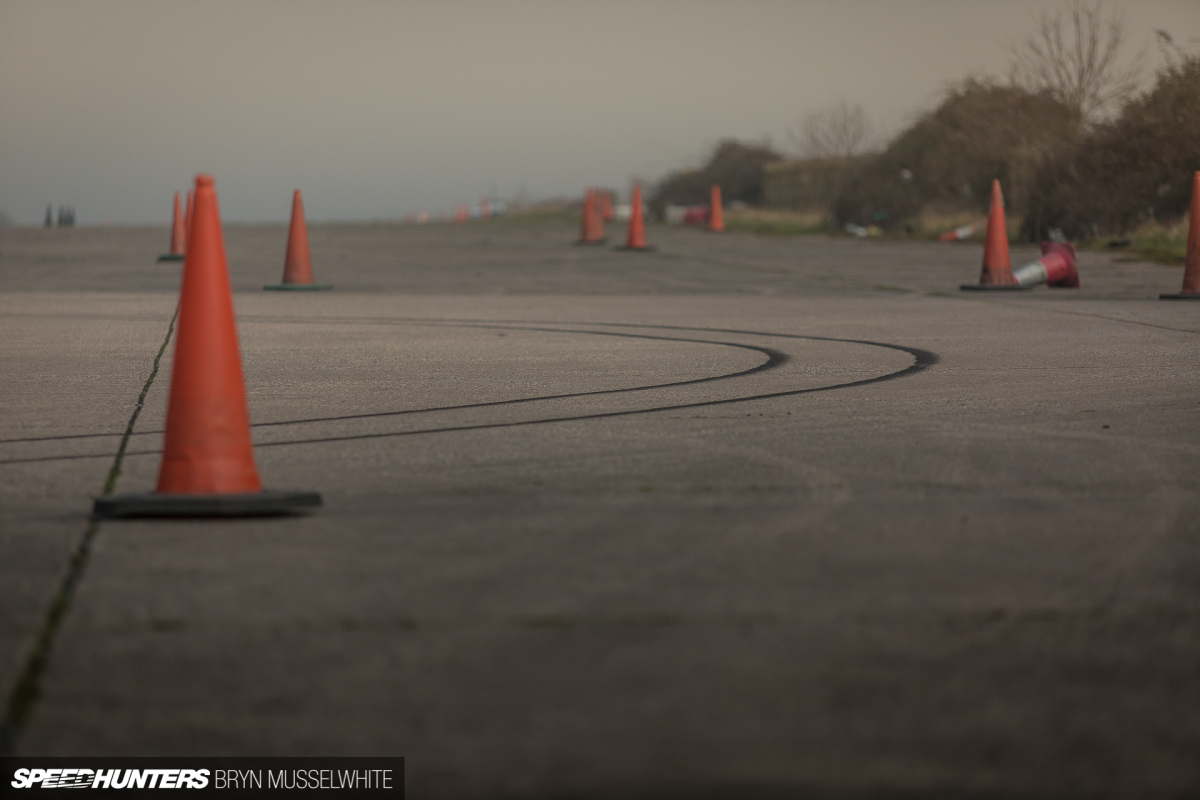 And they're not, it's just Hux, doing his thing and long may that continue. However pothole-ridden, tired and painful the road is, you have to remember the ride is worth it when you're doing something you love.
Bryn Musselwhite
Instagram: Brynmusselwhite
bryn@outrun.tv
Instagram: Huxleymotorsport
This Celica is for sale, and given how long we've taken to run this story the least we can do if you've got this far, is try to spread the word! Because there's a Mustang shell at Huxley Motorsport HQ and we want to see it get built. You can find Hux through his social media channels such as Facebook or Instagram, plus his website – HuxleyMotorsport.co.uk
Mark Huxley's 1977 RA28 Toyota Celica
Power:
397bhp at the crank
Engine:
Nissan SR20DET 'straight cam' redtop (180SX), Cosworth 1.5mm head gasket, ACL race bearings, ARP bolts, ARP head studs, lowered compression, 740cc injectors, custom twin-scroll manifold, Garrett GTX3071R turbocharger, Turbosmart 38mm external wastegate, rear-mount Forge Motorsport custom radiator and alloy pipe and ducting, Silicon Hoses joiners, Forge Motorsport alloy intercooler, Holley race lift pump feeding Forge Motorsport swirl pot, Sytec 044 external pump feeding the engine, braided fuel lines front to back, Nistune ECU
Driveline:
Nissan RB25 gearbox with uprated gears
Suspension/Brakes:
AE86 front clip with custom coilover conversion, Huxlock kit, Driftworks tension rods, AE86 steering column mated to an RA28 column, 8.8-inch Fox Body Mustang rear axle, 5/8th rose-jointed 4-link rear, height adjustable panhard rod, Gaz lightweight shocks, Strange Engineering custom drag race shafts with Strange Spool centre section, Cosworth rear callipers for normal brakes, Wilwood twin-piston callipers for hydraulic handbrake, braided lines
Wheels:
Work Equip 15×8.5-inch +3 front, 15×9-inch -18 rear
Exterior:
GRP bootlid, bonnet, wings & doors, Mustang side vents, custom-made metal front chin spoiler (now GRP), screw-on arches
Interior:
T45 TIG-welded roll-cage, Corbeau bucket seats, TRS harnesses, snap-off boss, AutoMeter gauges
Hux Thanks: "Forge Motorsport, Phil Morrison @ Driftworks, Destroy Stuff – they're the only ones that put clothes on my back and #66 which is my brothers graphics company."
Cutting Room Floor