An Adventure Like No Other
I'd like to tell you about an adventure that changed the way I see off-road vehicles.
The revelation came to me as I was inches off the passenger seat of a very special new-gen Toyota Land Cruiser, as said 3-ton SUV was itself 3-feet in the air. The soft landing and subsequent slide through the silky-smooth desert sand put the biggest ever grin on my face. That coupled with an expression of 'WTF?' as my brain attempted to process what on earth my body was being put through.
But before we get into all of that, let's rewind back to a late afternoon in Dubai during my time there earlier this year.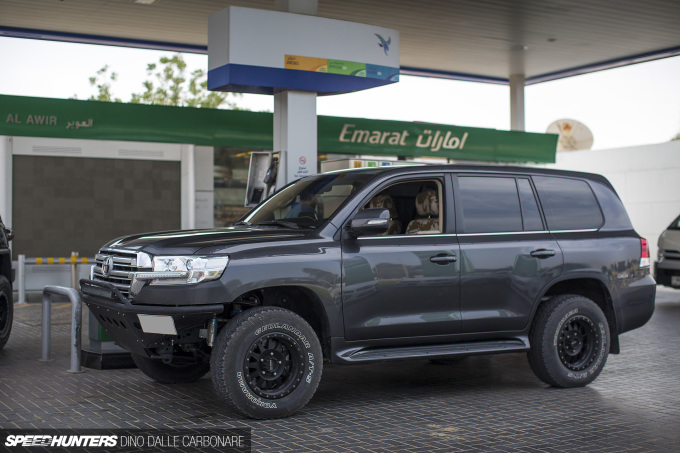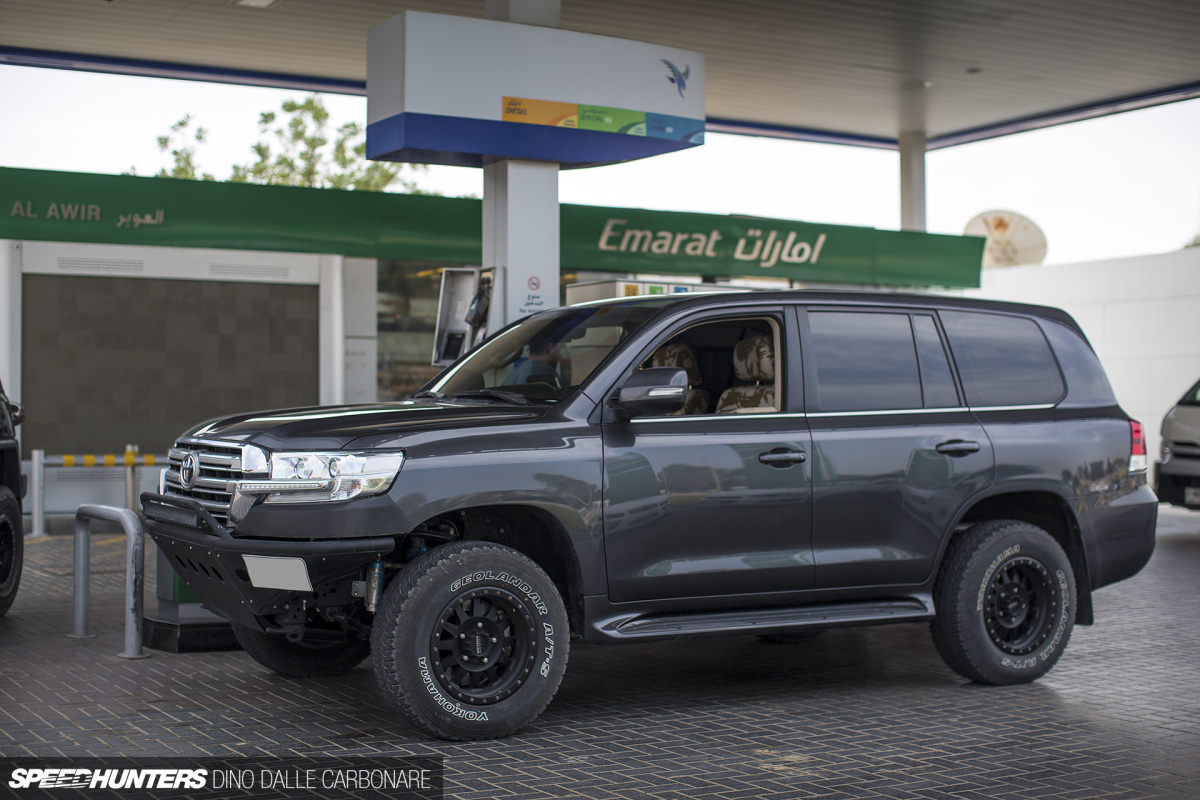 Jumping over dunes was never what I expected to be doing when I flew over to Dubai to cover the RWB Emirates triple build. But that all changed when I met an guy called Ahmad. "I'm going out to the desert tomorrow, do you want to come?" he asked me. To this day, I'm happy that I took up the offer, because I feel it's expanded my love for four-wheeled things more than I ever thought possible.
So there I was, late the next morning – because nothing ever starts early in Dubai (and boy do I miss that) – waiting outside my hotel. Ahmad pulled up with his lifted 5.7L V8 Cruiser, shades in place and sporting a grin. "Ready to roll?" It's as if he knew something I didn't, and he probably did; this wasn't the first time he had taken someone unfamiliar with desert driving out and taught them a proper lesson.
We ventured a little outside the city and stopped for a splash of gas, which of course is cheaper than water in the UAE. That also explains why the engine under the hood of this Land Cruiser is a 5.7L unit and not a 4.6L like we get in Japan.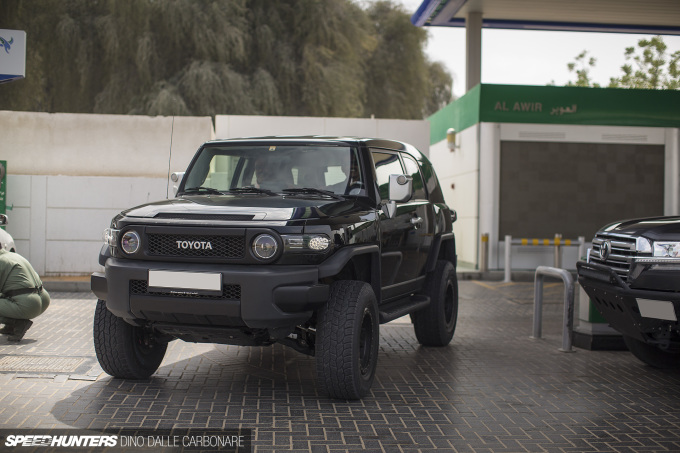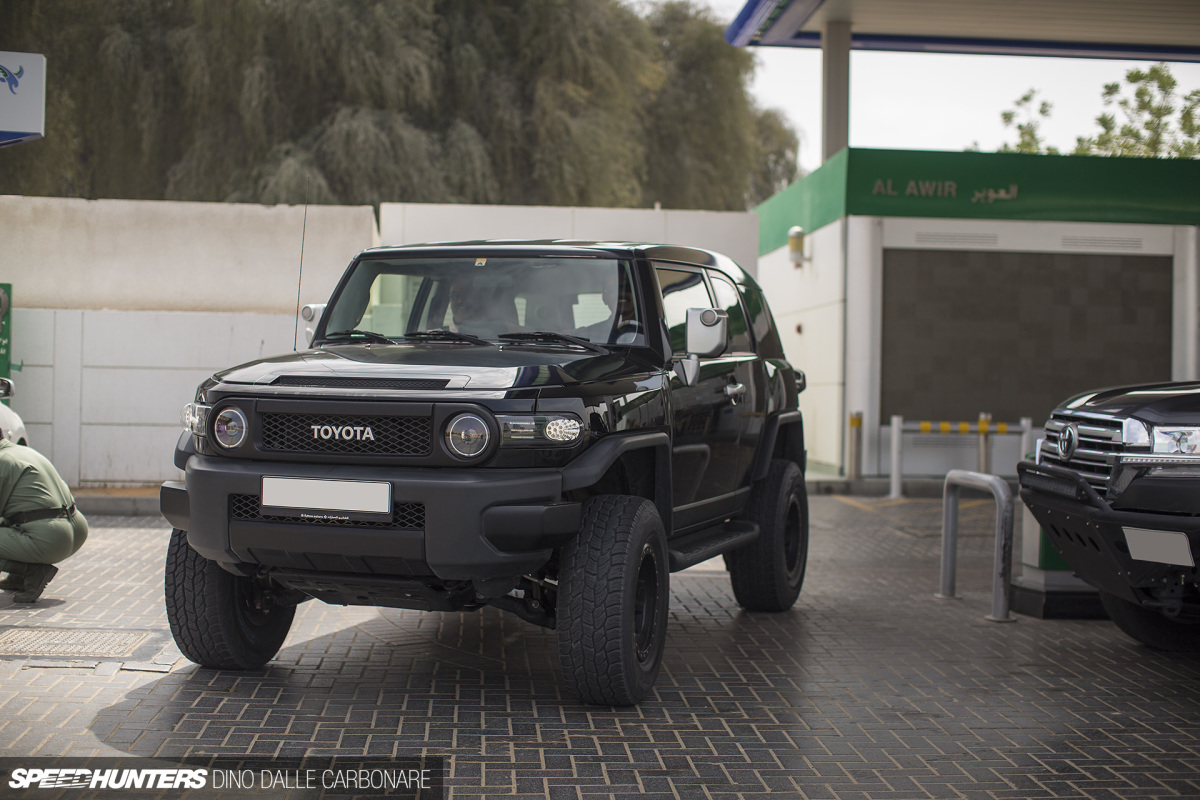 I noticed there were a few other desert-spec rigs around the place, including this lifted FJ Cruiser. We were definitely close to 'the spot'.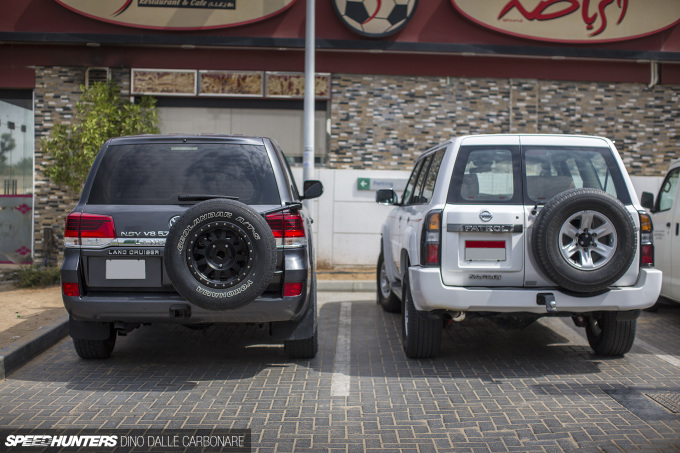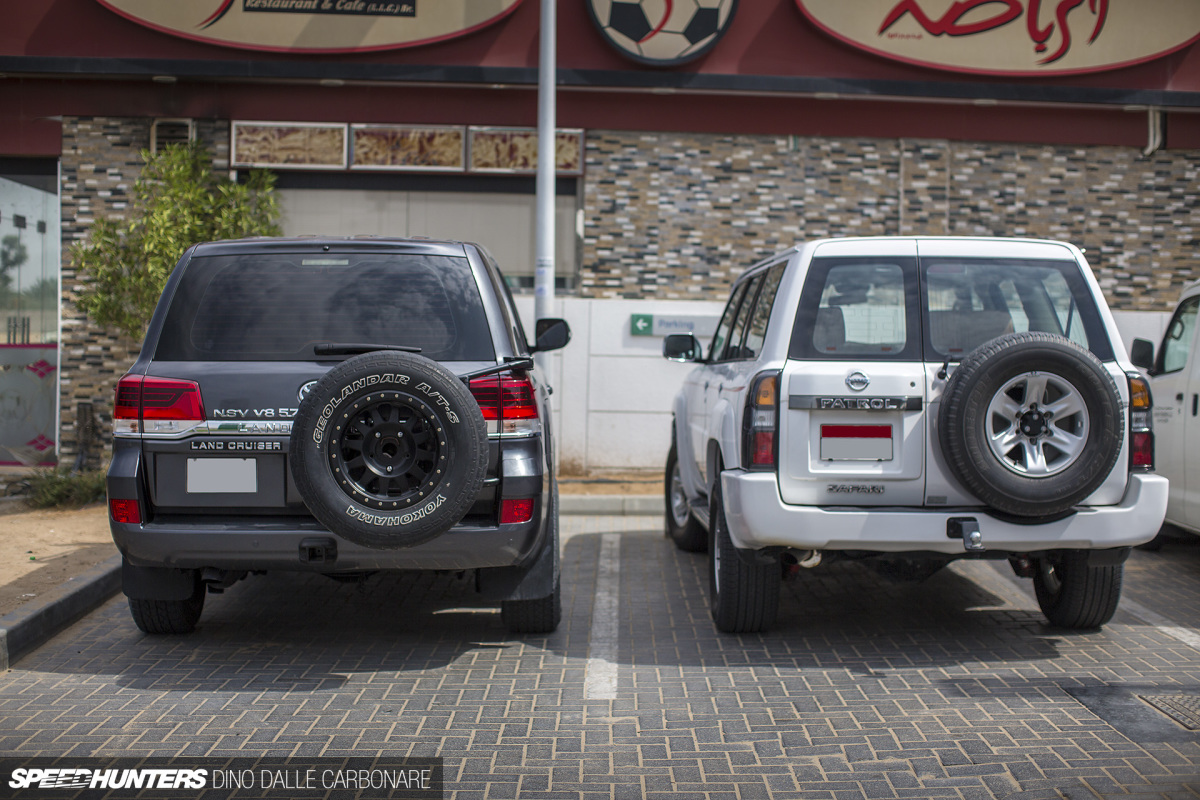 We parked up next to an old Patrol, which in reality was probably not as old as it looks as Nissan is still offering this body shape in the Middle East region. This image sums up the UAE rather well; if you live here and are into off-roading, you're either a Toyota Land Cruiser guy or a Nissan Patrol guy.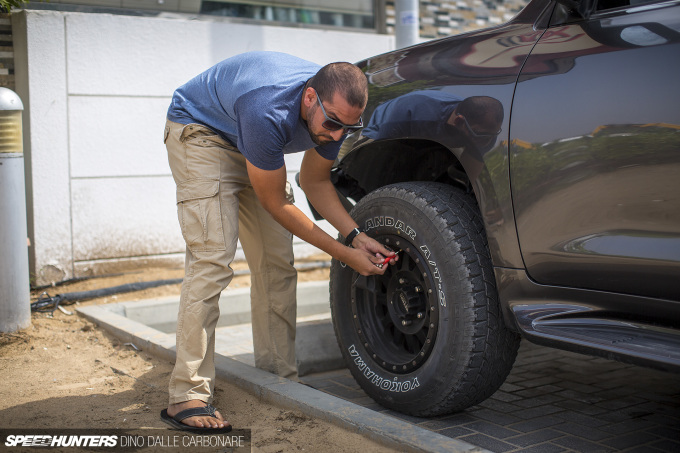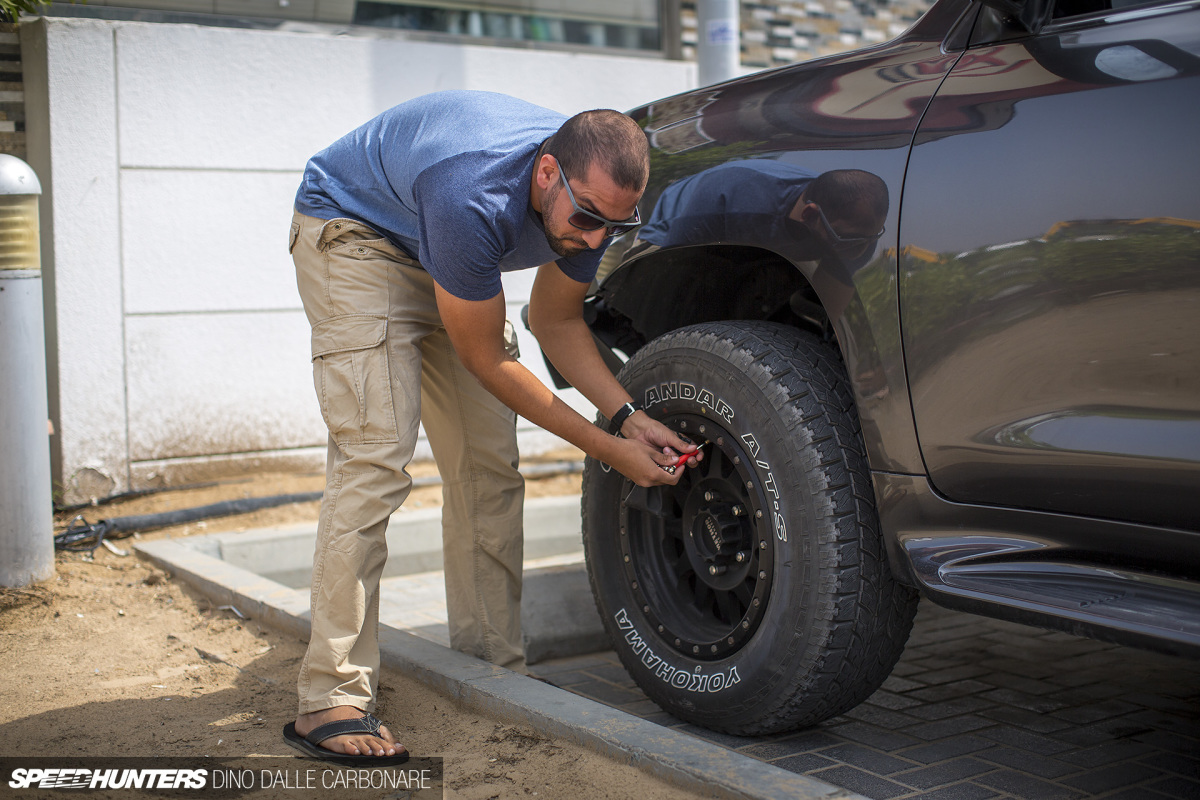 Before we got going, Ahmad had to air out the 285/70R17 Yokohama Geolandar A/T-S tires fitted at each corner. Doing this would allow the tires to deform and create a wider contact patch to help them grip in the sand as opposed to sinking in.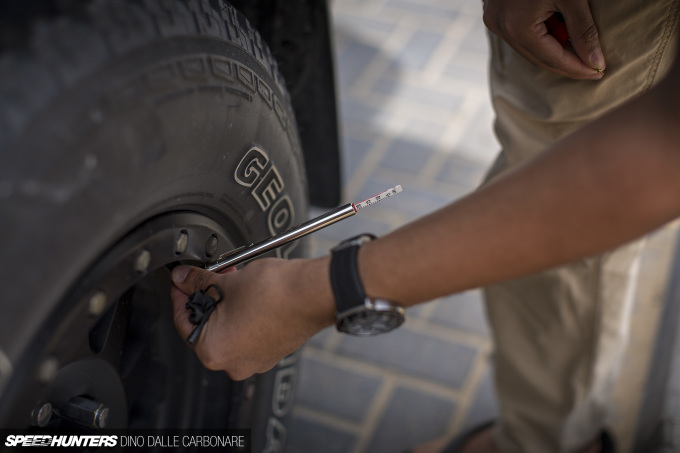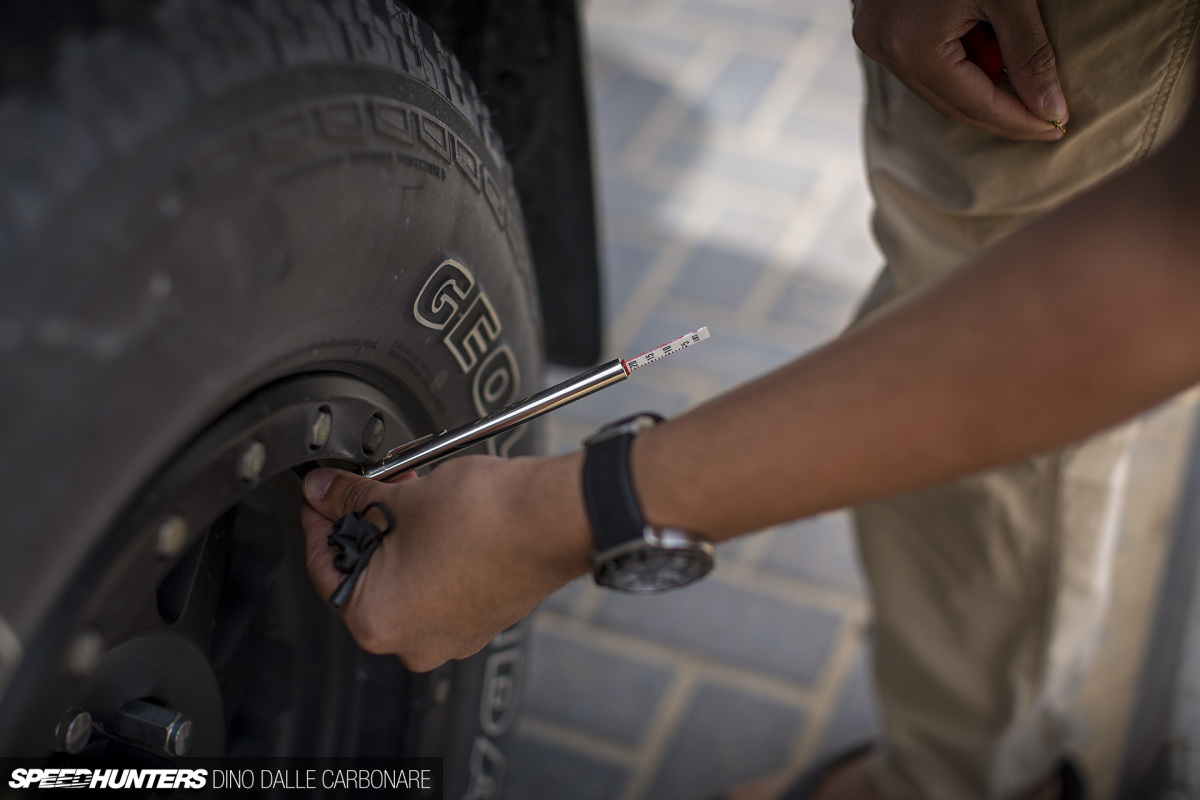 The Method wheels have bead-locks so there was no danger of the tire coming off the rim while out in the middle of the desert.
The NSV badge on the back is a hint that this Land Cruiser is actually a development vehicle. NSV is also the place where Ahmad works.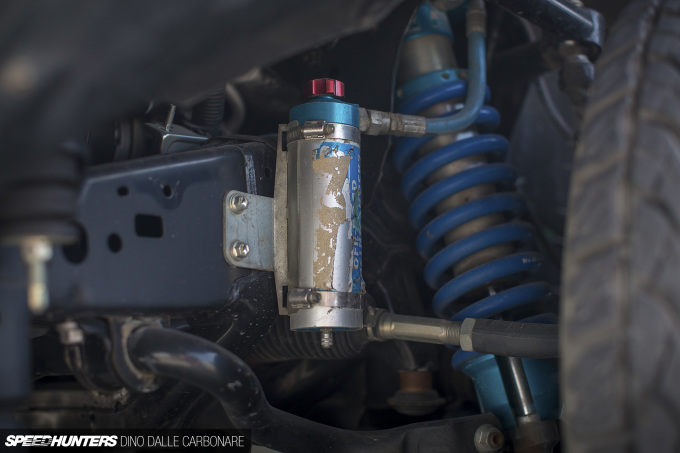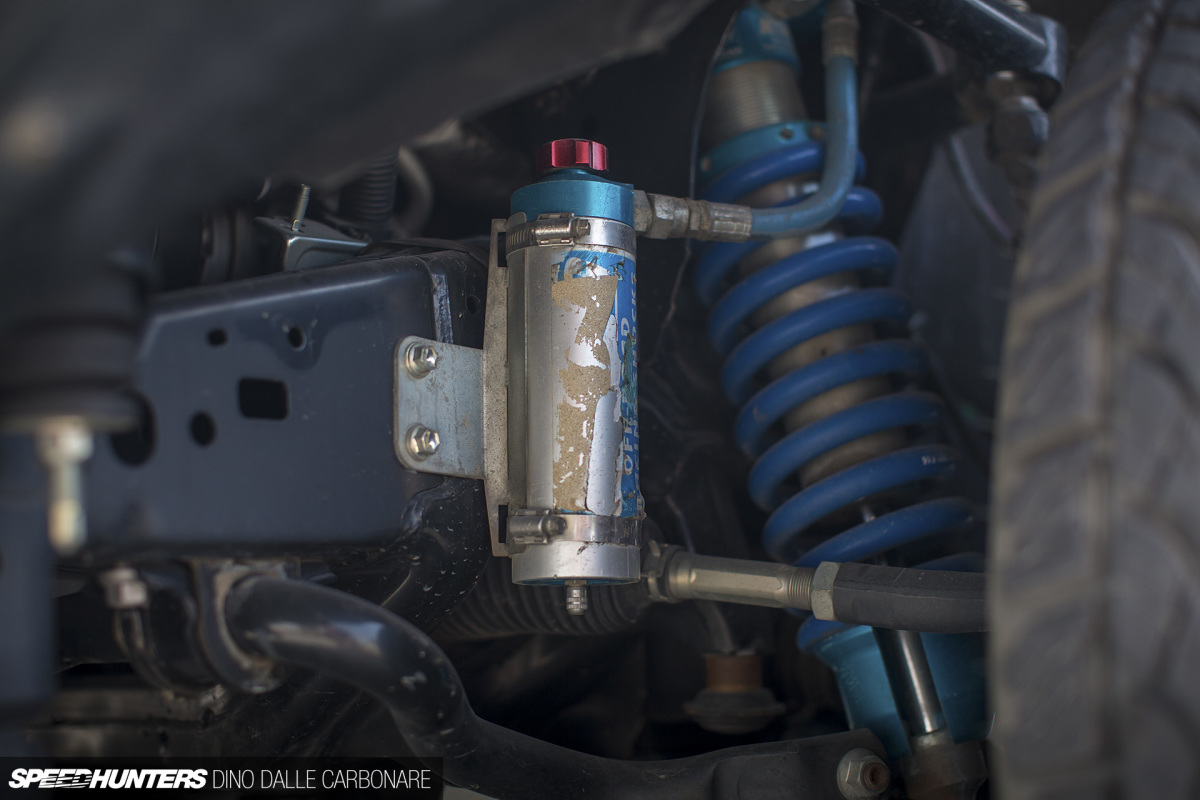 Despite the unassuming looks of the exterior – not taking into account the steel front bumper – many trick parts have been fitted to this beast, including chromoly steel tubular upper control arms and 2.5-inch King Racing extended-travel dampers.
Before I knew it, all tires had been partially deflated and we were off on our adventure.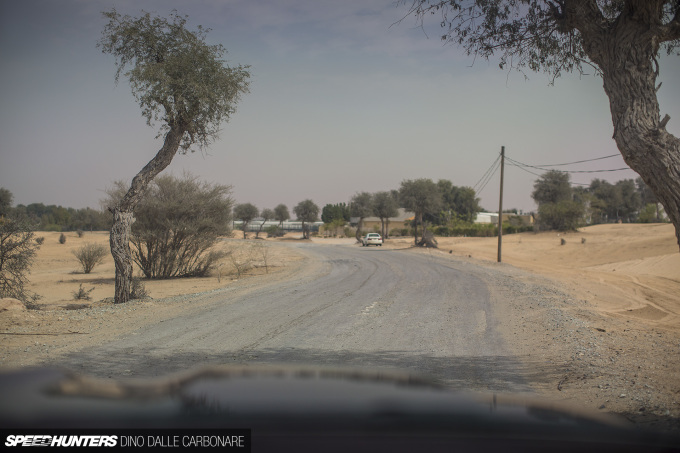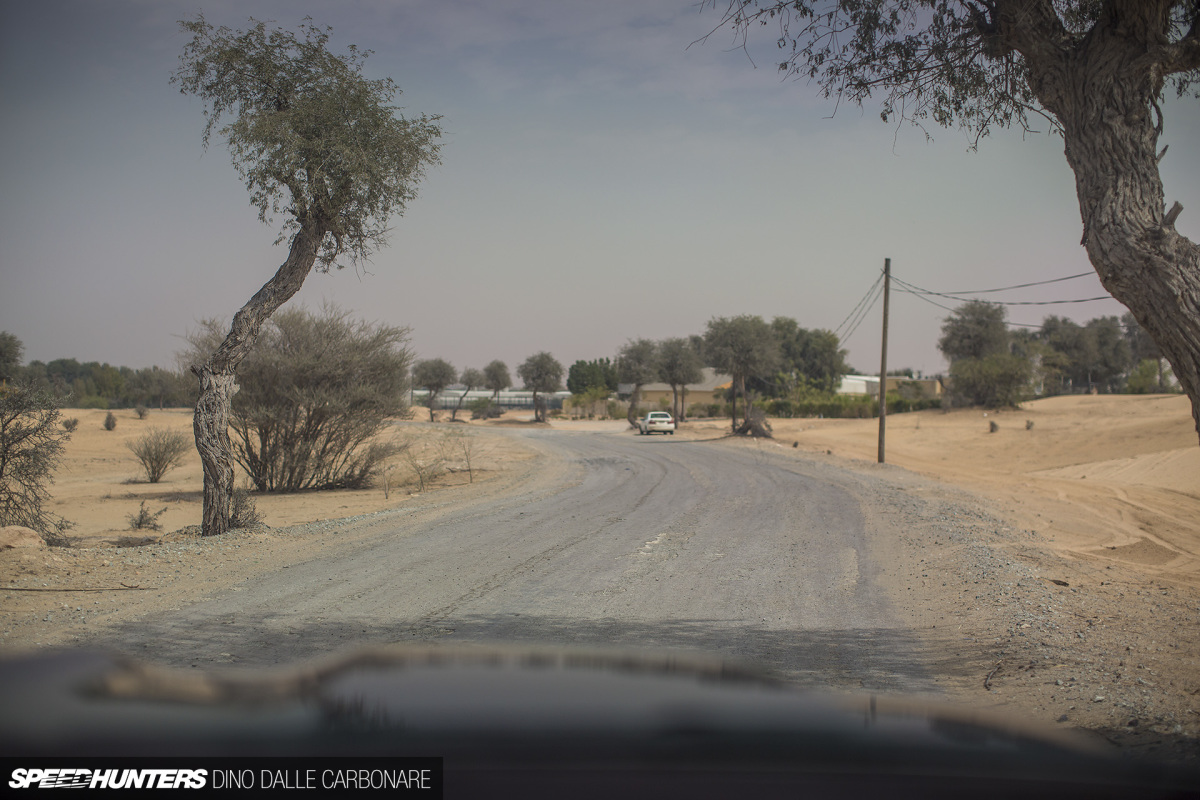 This gravel road was the gateway to the desert, but the way we entered it couldn't have been quicker or more dramatic.
All of a sudden Ahmad pulled a sharp left and instantly we were floating on silky-smooth sand. I had my GoPro and DSLR ready to capture it all, except I just froze. As soon as we were on sand Ahmad buried the throttle and the speed quickly piled on to well over 100mph (161km/h). The rolling smoothness began being interrupted by the occasional bump and kink as we avoided obstacles, and then we were flying in the air.
Jump after jump, the Land Cruiser transformed into the most agile piece of machinery I felt I'd ever been in. We power-slid between bigger and bigger dunes as we penetrated the desert more, and by this point I hadn't even remembered to turn the GoPro on. I was hanging on for dear life, trying not to hit my head on the roof and constantly blaring swear words out of utter joy and surprise.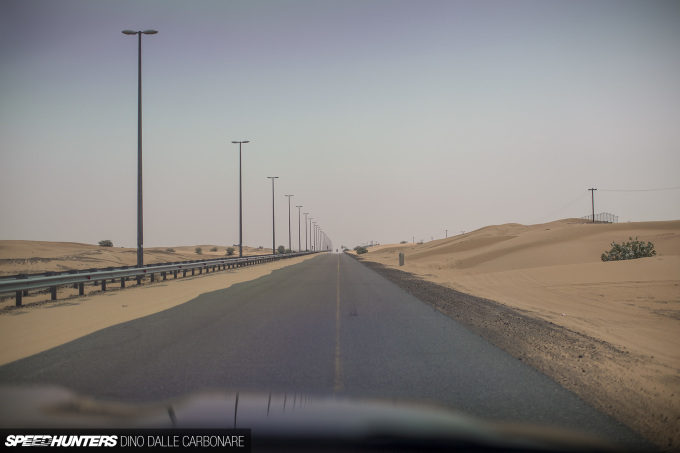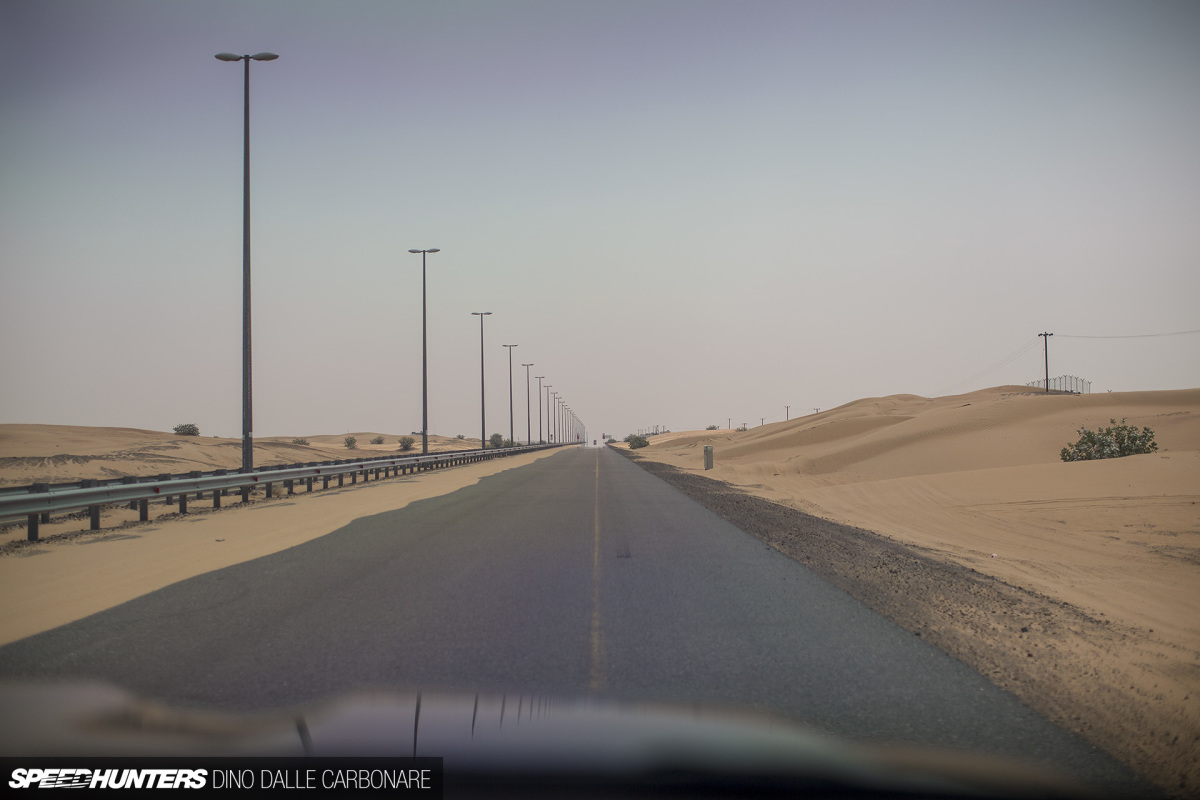 And then boom, out of nowhere we were on smooth asphalt again.
What in the name of hell had just happened? My mind was blown; I couldn't think straight and Ahmad seemed rather amused by my sudden silence.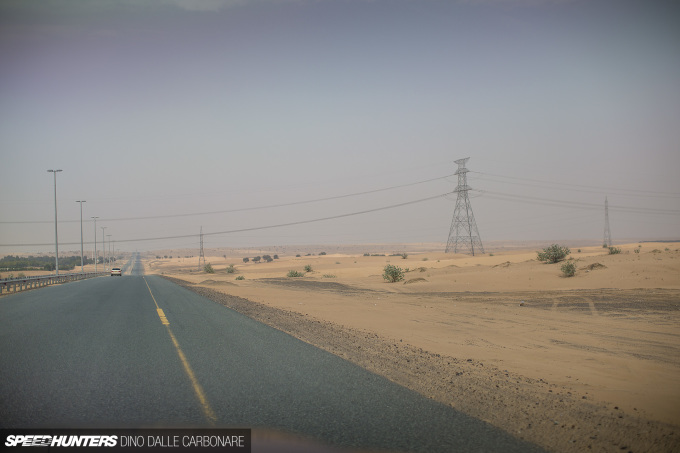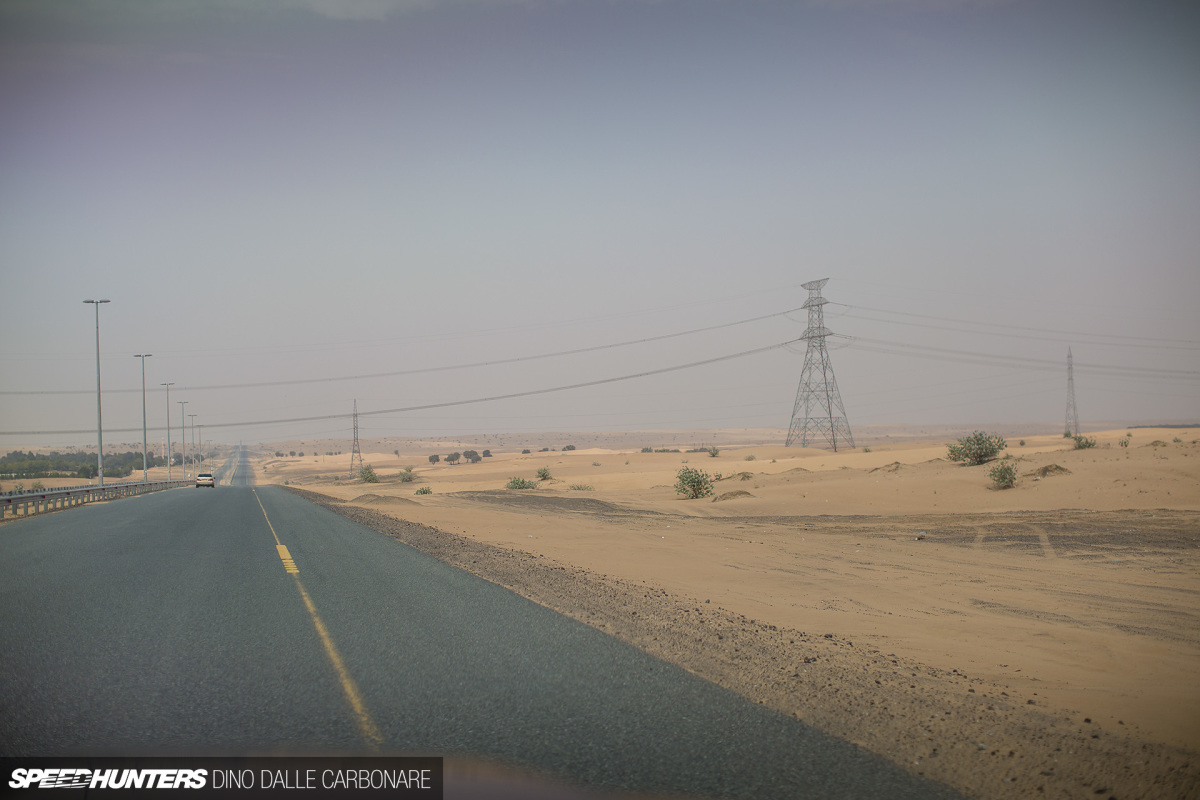 Then I was overcome with guilt; "sh*t!" I screamed, "I didn't get any of that!" Ahmad turned to me and reassuringly said: "Not to worry man, we've got plenty more desert to play in."
Ridiculing Physics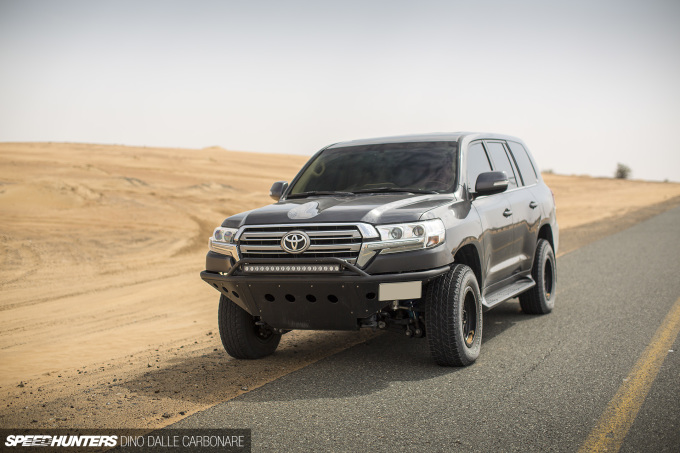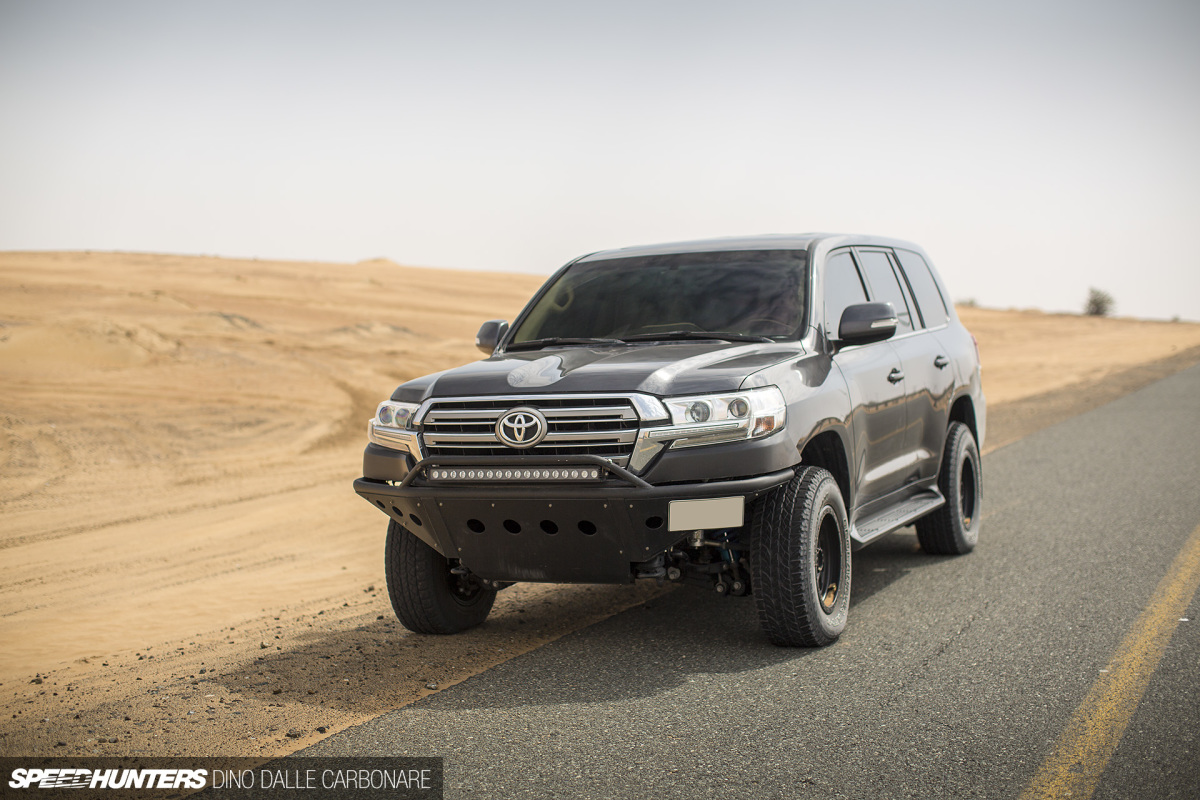 Before we got back into the sand, Ahmad had to pull over as the steering wheel was vibrating rather violently.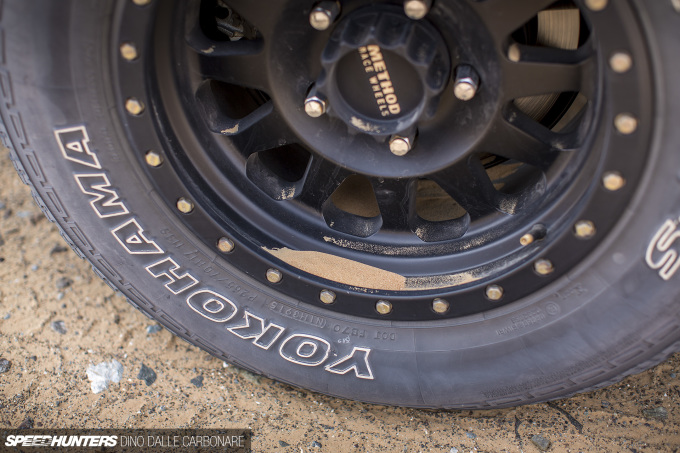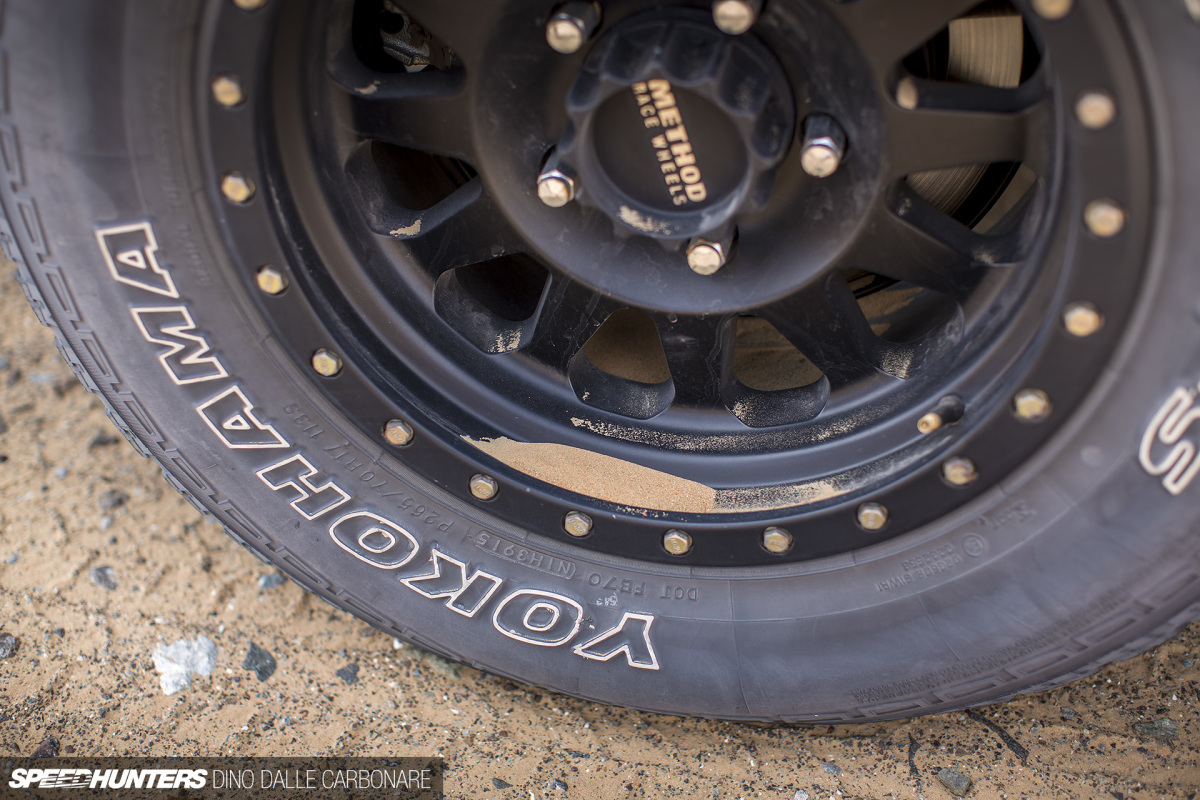 That's what happens when you play in the desert; the wheels pick up sand and their balance gets thrown off. But all you have to do is stop and let gravity take care of it.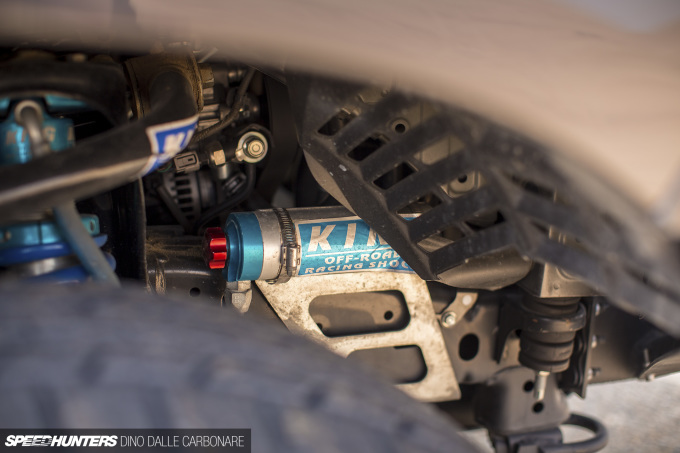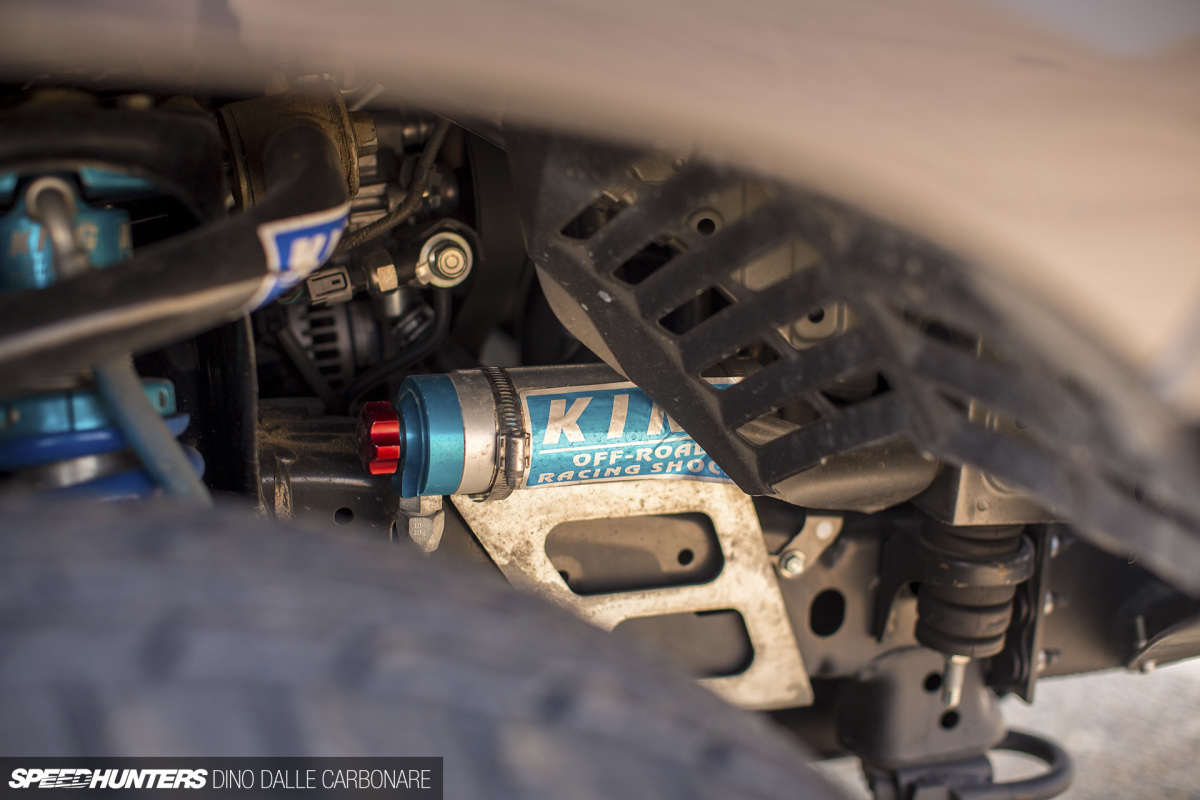 While we were stopped, Ahmad played around with the settings on the massive reservoir tanks. He told me what he was doing, but I wasn't really paying attention…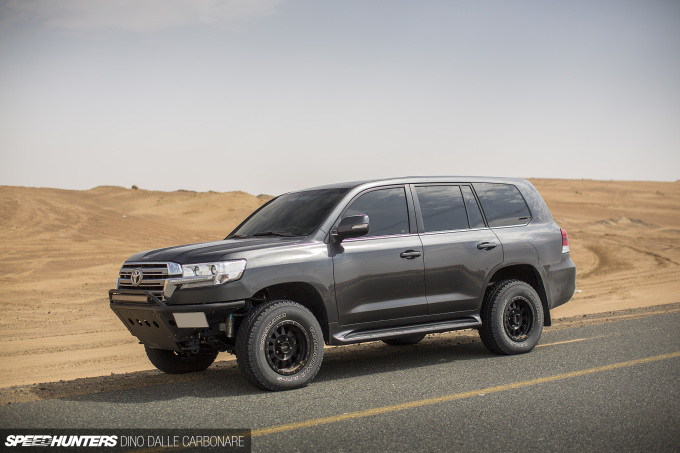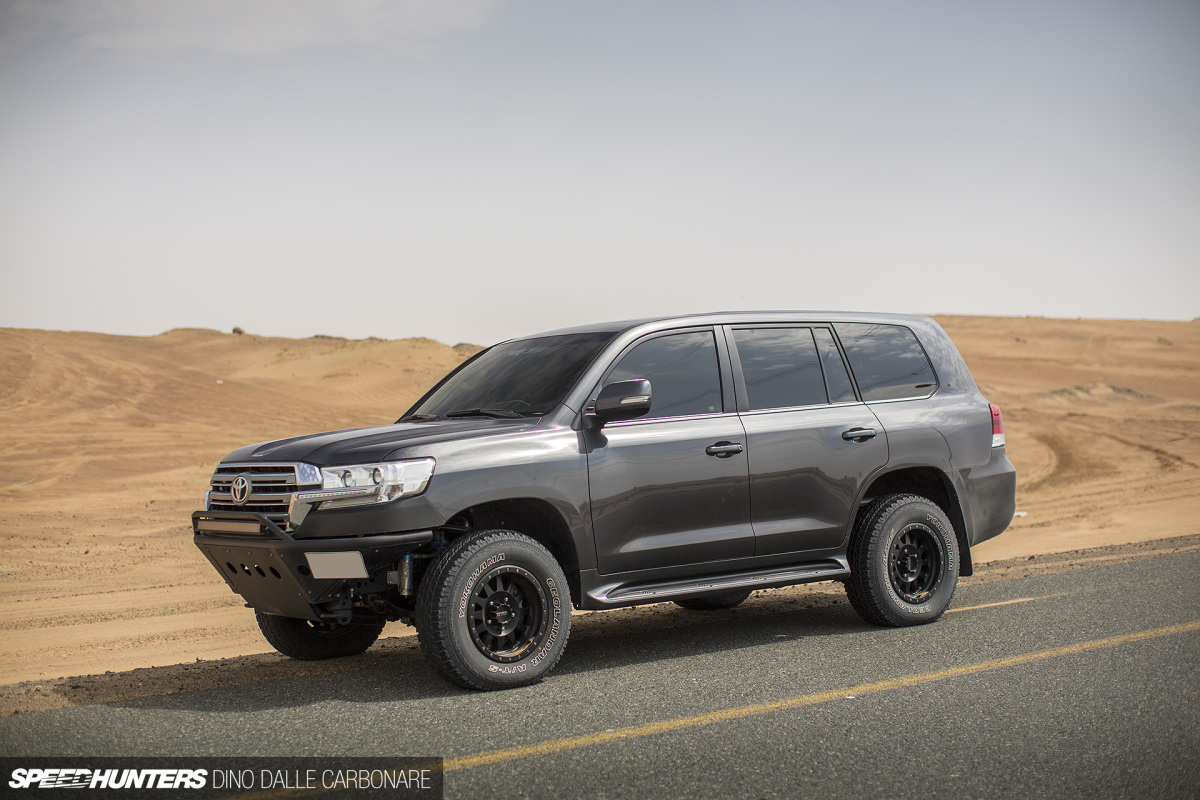 All I wanted to do was hit the dunes again.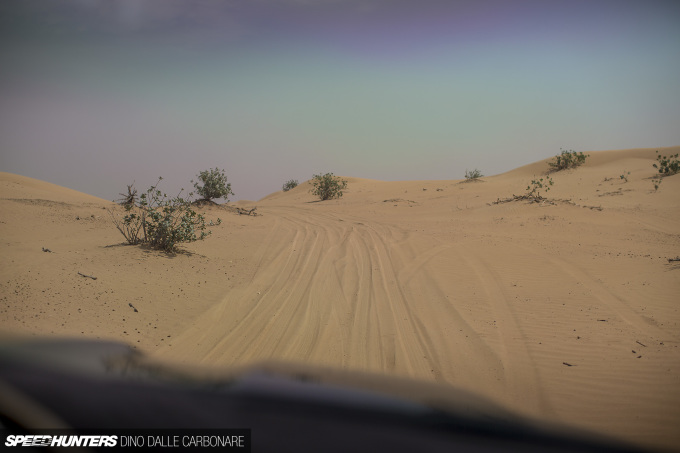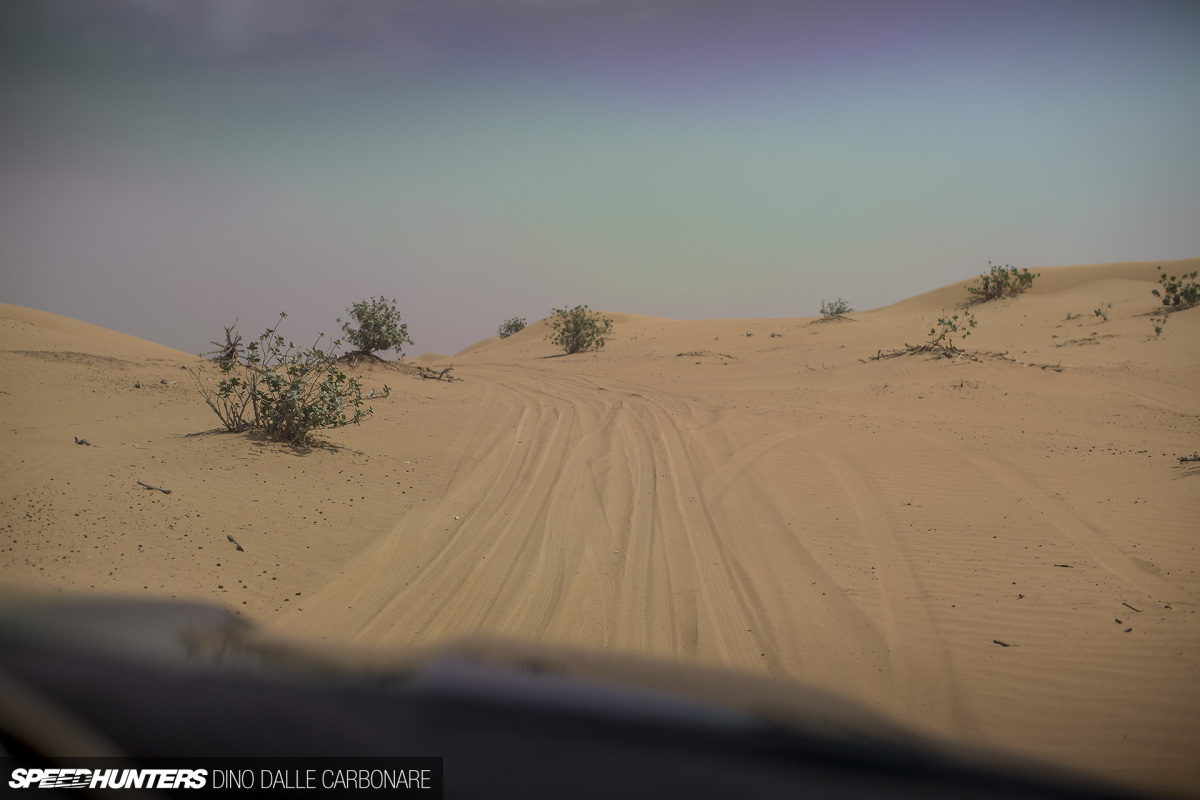 This time I'd document it, or at least try to as the ride is so savage when you are traveling close to 120mph (193km/h) on this sort of terrain.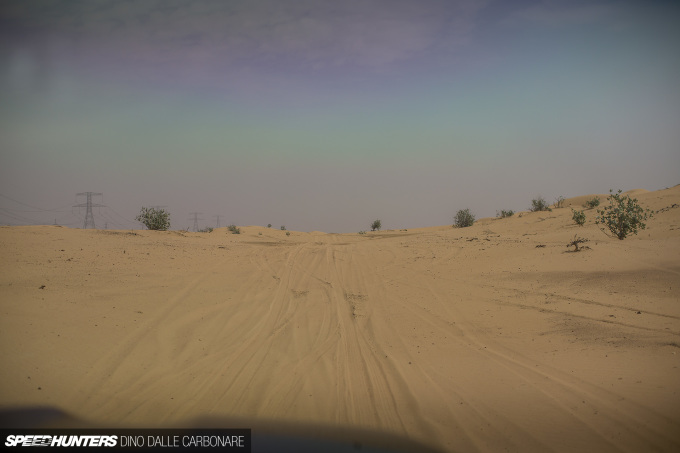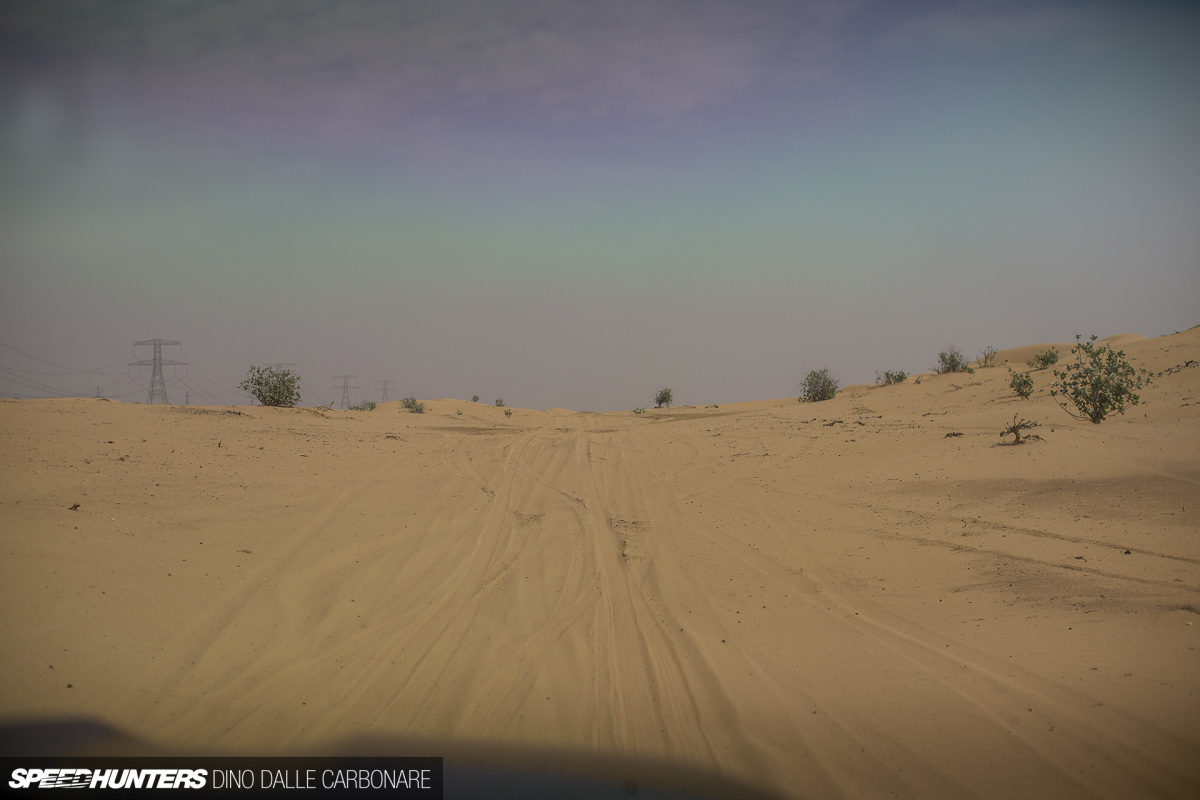 The first thing that I picked up on was just how smooth sand is and how much it delays the handling reactions. Ahmad really had to think ahead, timing his steering movements and throttle inputs to make the big truck dance through the turns and dips.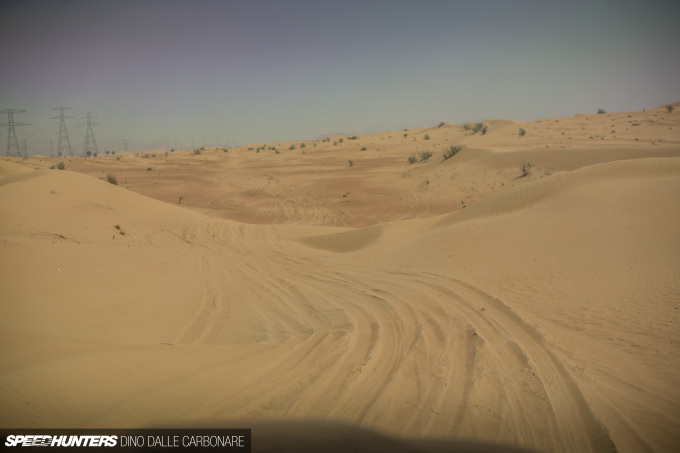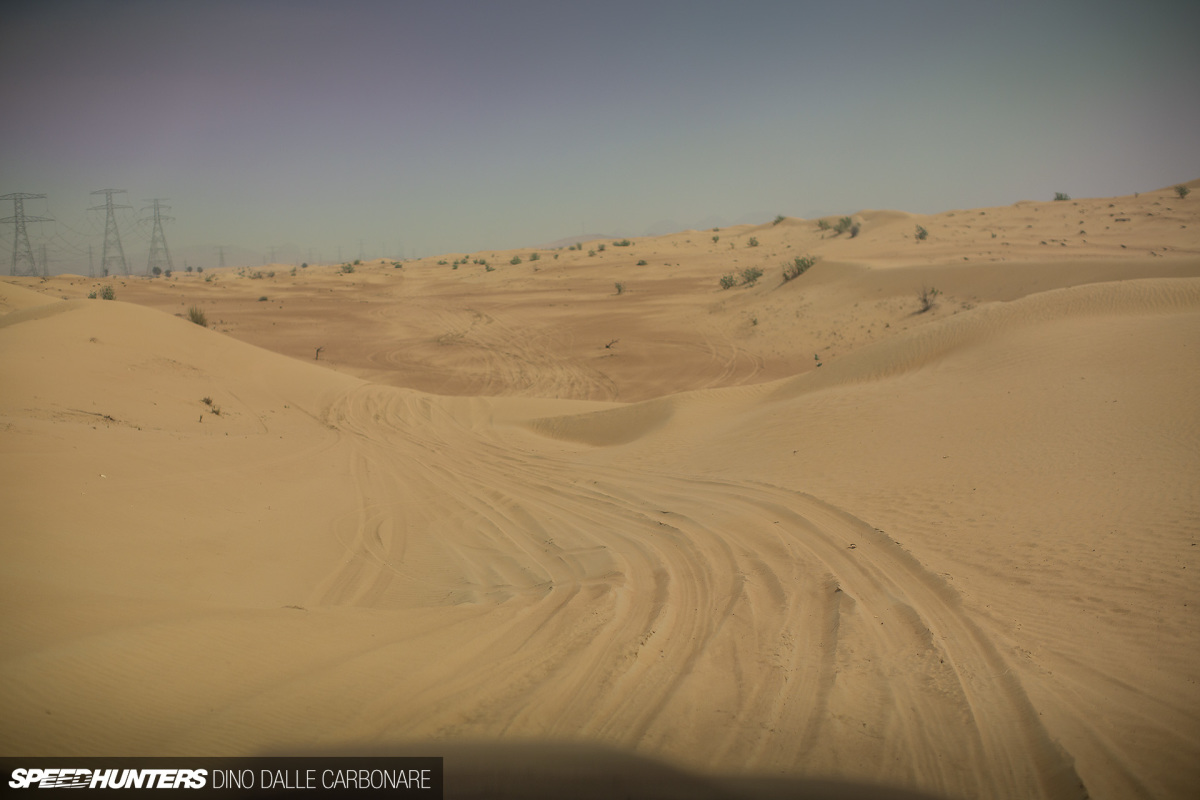 This is where good suspension and driver skill counts for a lot, and Ahmad has both checked off the list. He was literally making his 3-ton Toyota dance through the sand, from lock to lock drifts to massive leaps that took my breath away for a second.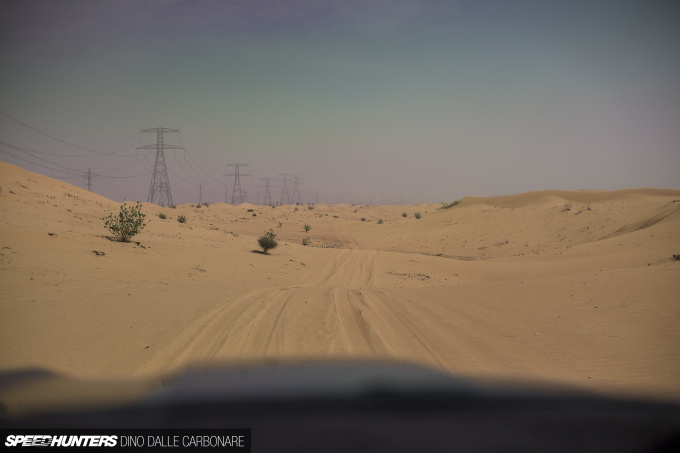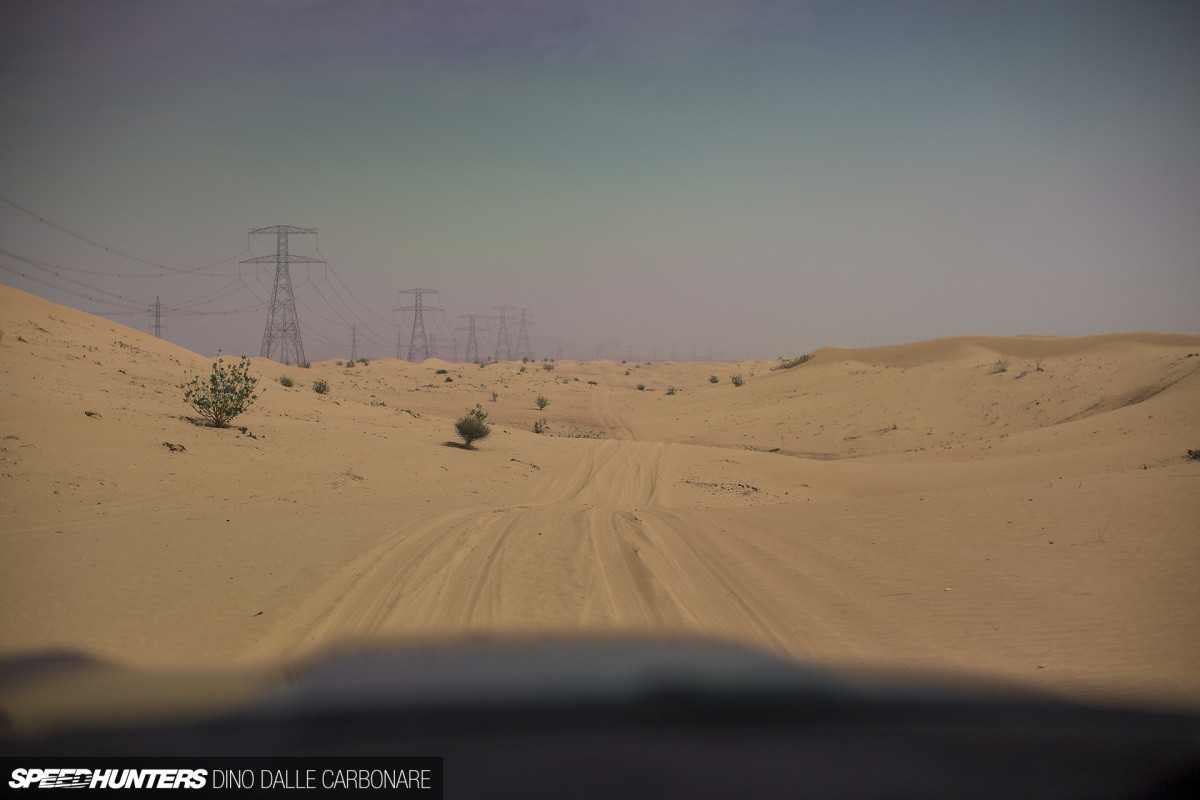 In the pictures the dunes look pretty smooth and easy to traverse, but what the images don't portray is the speed. I still can't believe how fast we were going. And since I'm a complete idiot I actually ended up losing all the content I filmed with the GoPro thanks to an unlucky external HD that went bad. But at least I have these still photos to document the experience.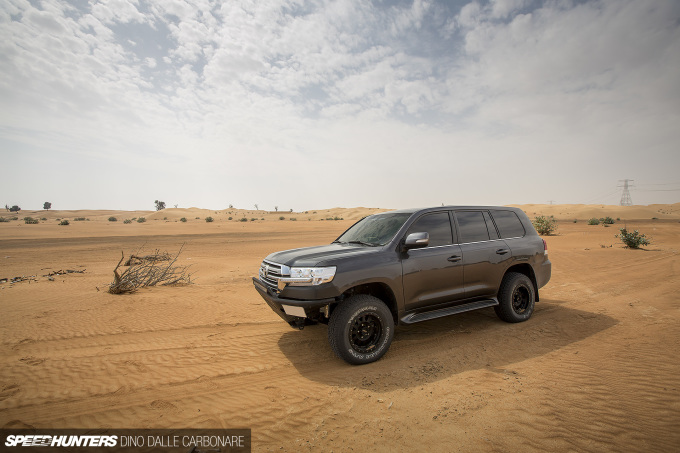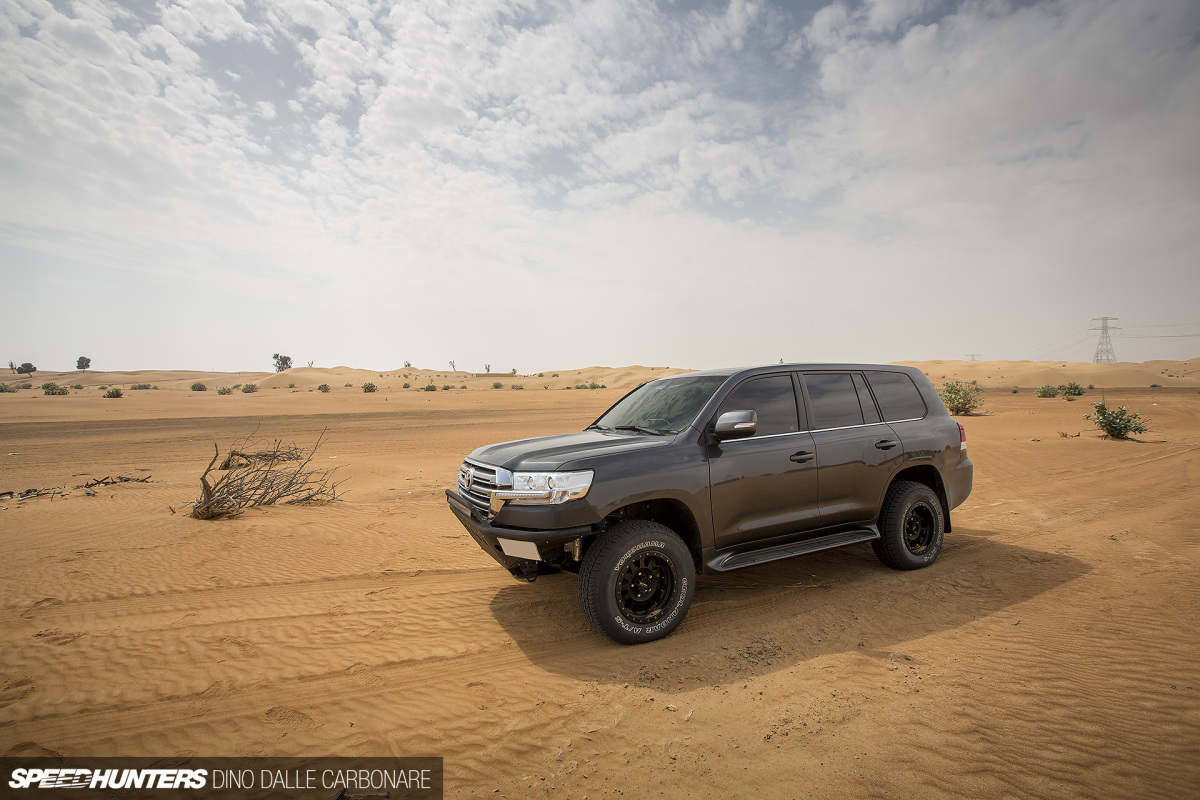 After another wild stretch of desert we stopped in a flat open area for a refreshing drink. Up until this point I had been a desert newbie. Sure, I've done various routes from LA to Vegas over the years, but never had I felt so isolated than at this moment. It was almost eerie, the silence interrupted by the weird sounds the wind can make, not to mention the odd and freaky things you see abandoned.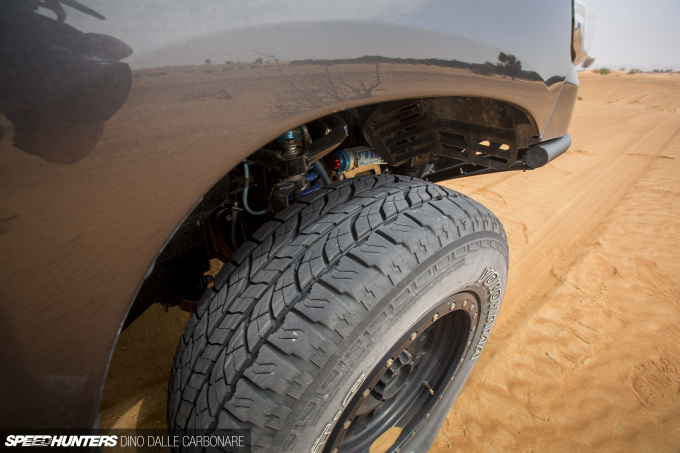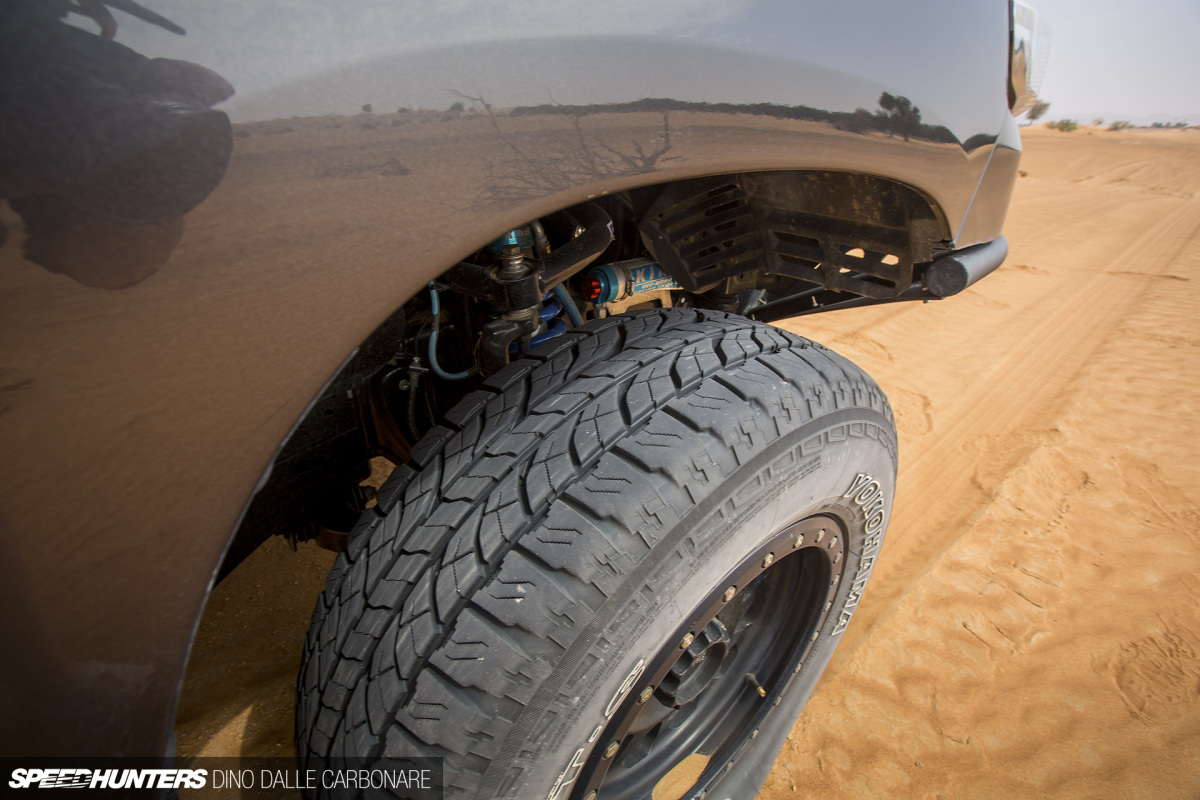 Another curious thing I noticed was how clean the tires looked after being abused through the sand. I guess they got sand-blasted? Okay, I'll stop…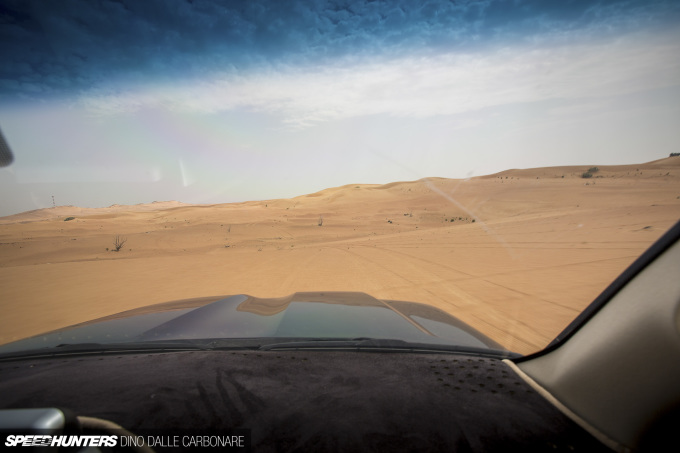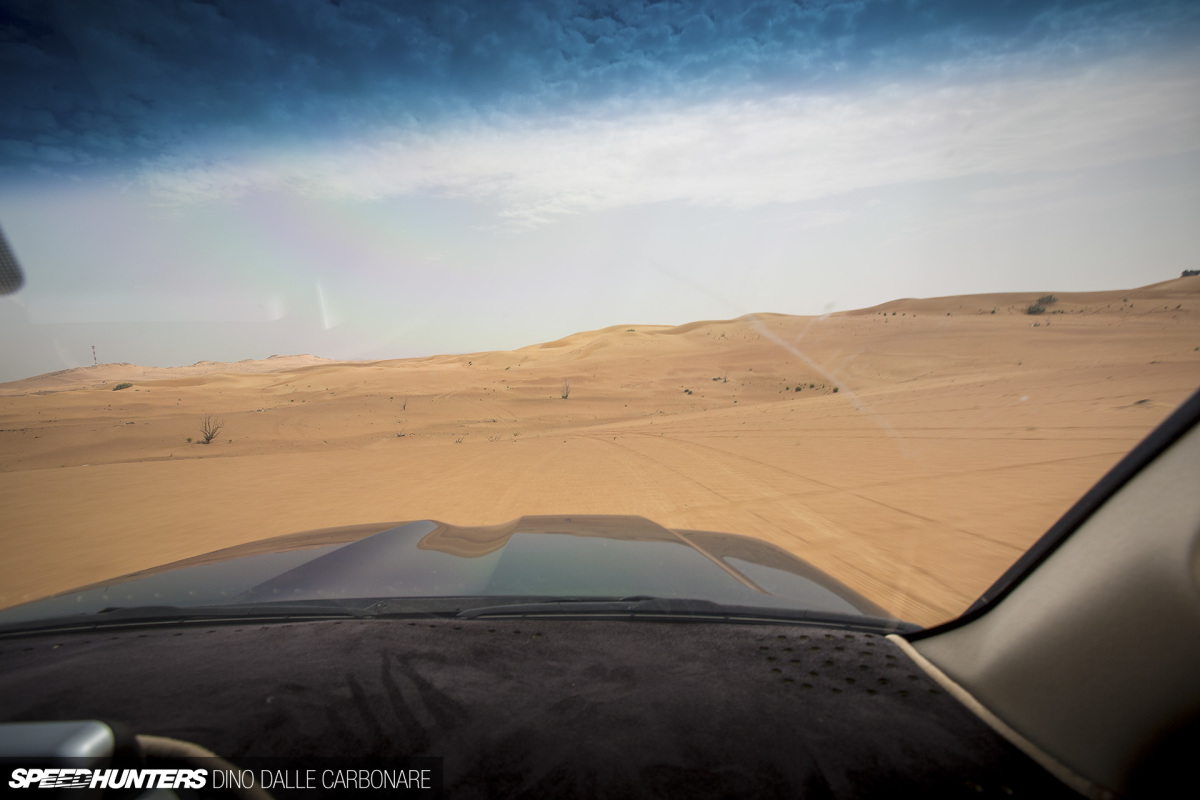 It was time to jump back in the passenger seat and continue the drive.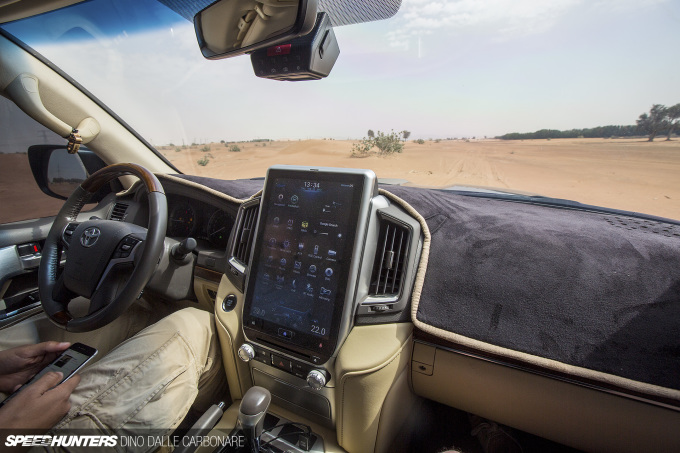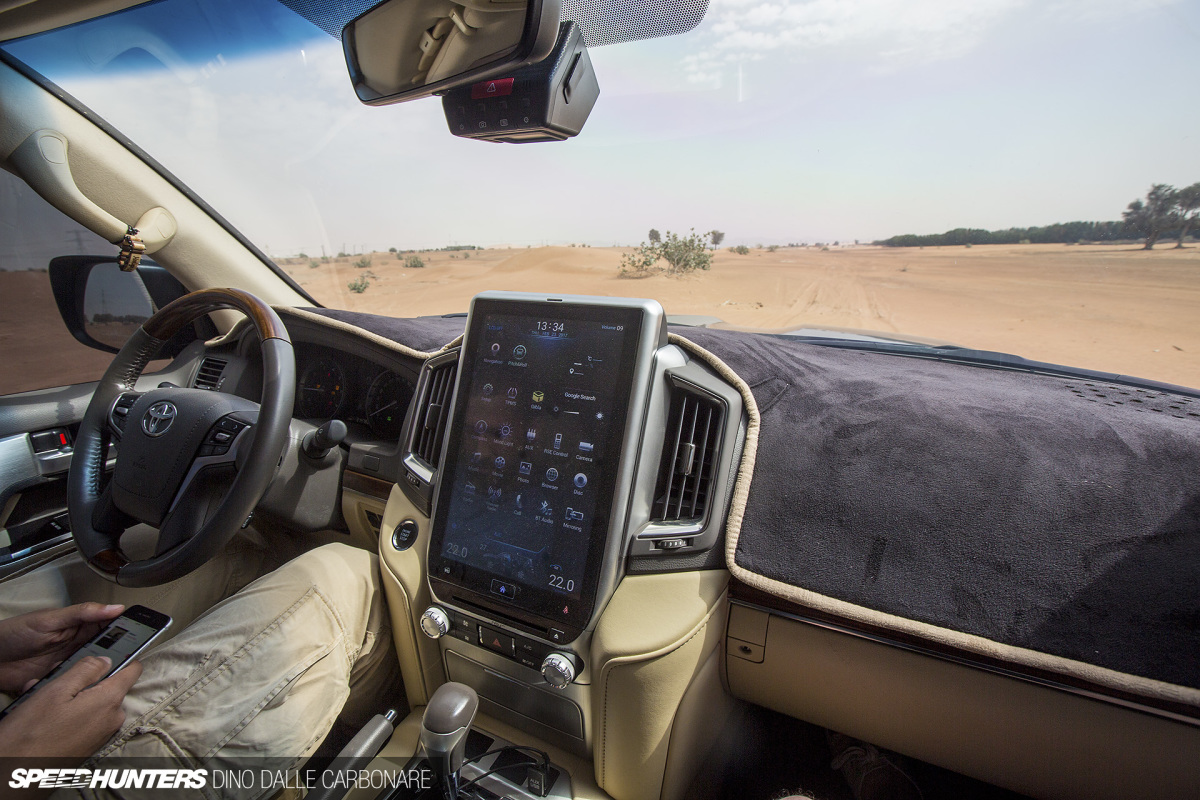 That's when Ahmad started talking me through the prototype center stack screen in his truck. This was a bit of a hush-hush product in February, but it's since been released and is now available through Toyota dealers as an option.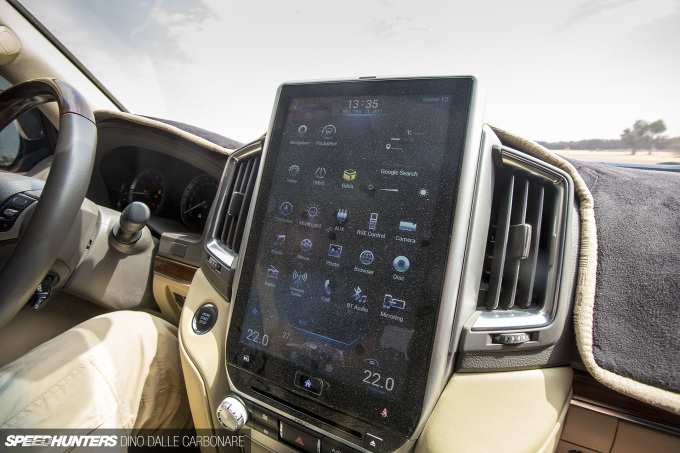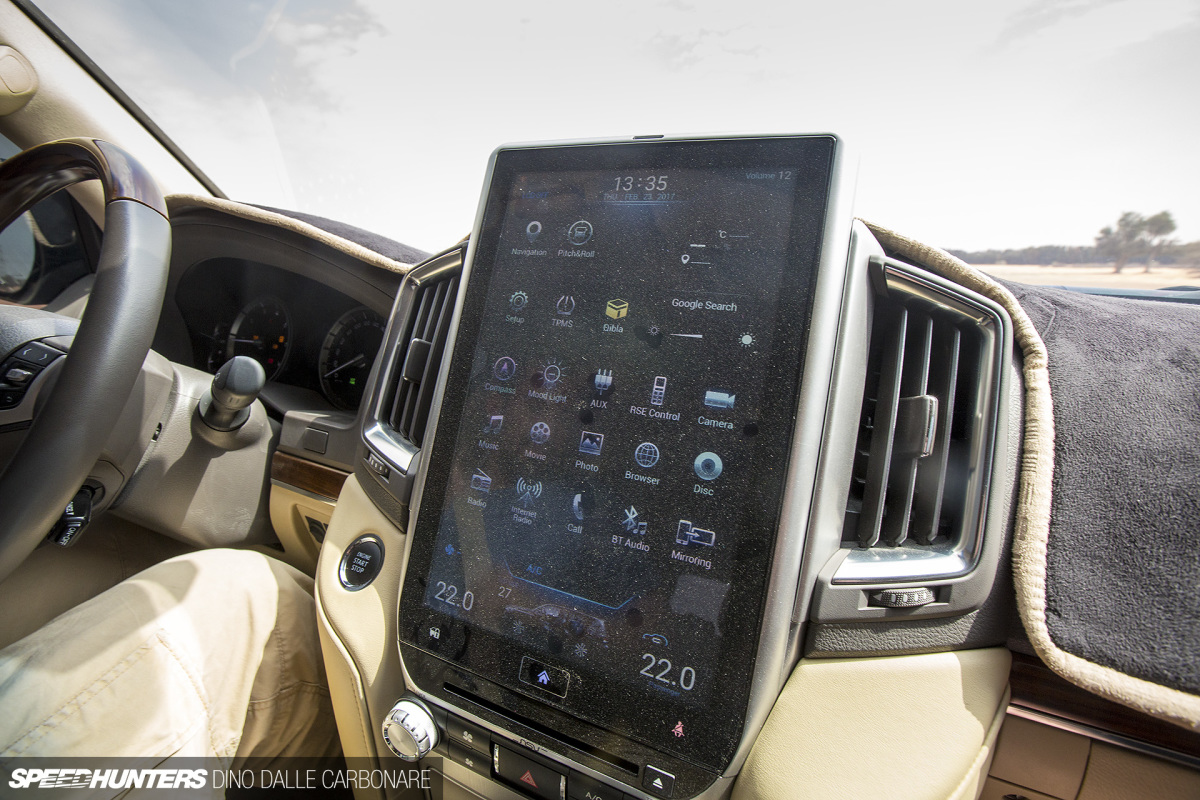 It's basically a touch-screen control unit for the Land Cruiser's infotainment, A/C controls, navigation, and even the displays relating to pitch and roll. It's pretty cool stuff and no doubt something we'll soon see on every Land Cruiser. I mean, how can you not have something like this in your rig?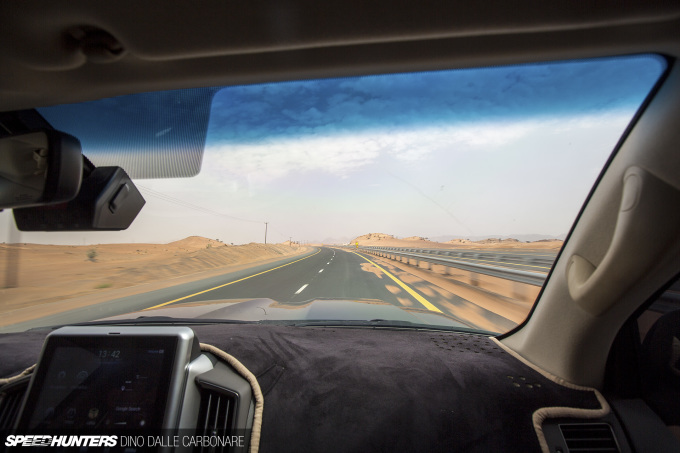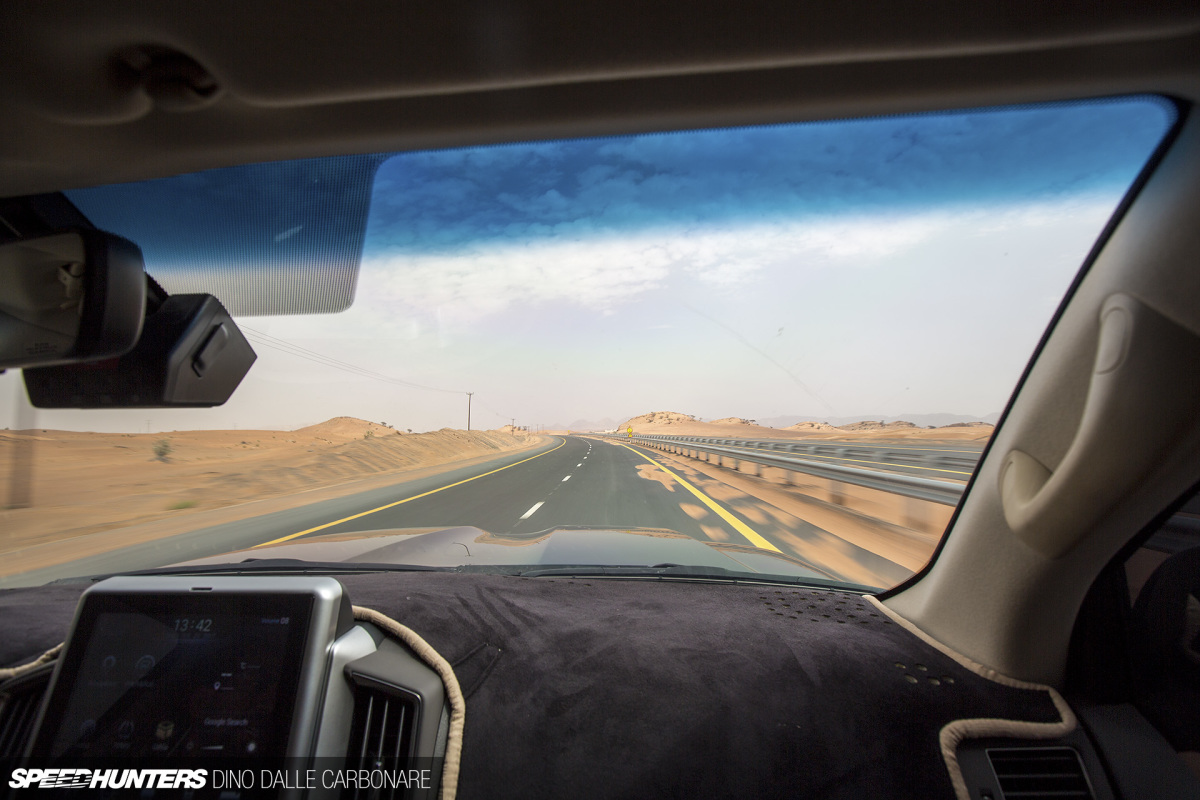 From there it was on to more asphalt, with our next destination being a rather large dune that we were going to climb.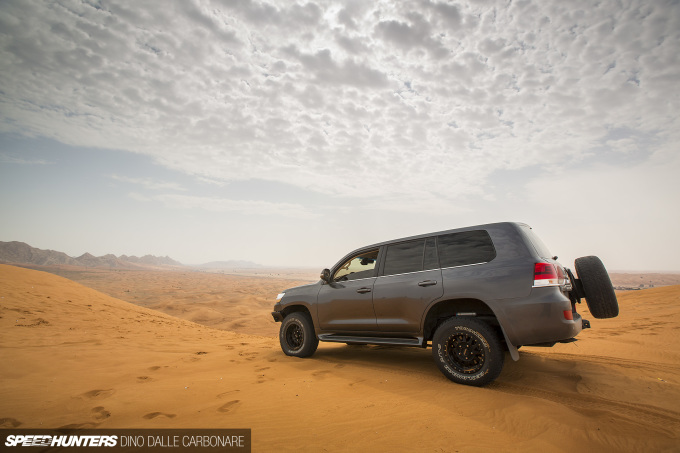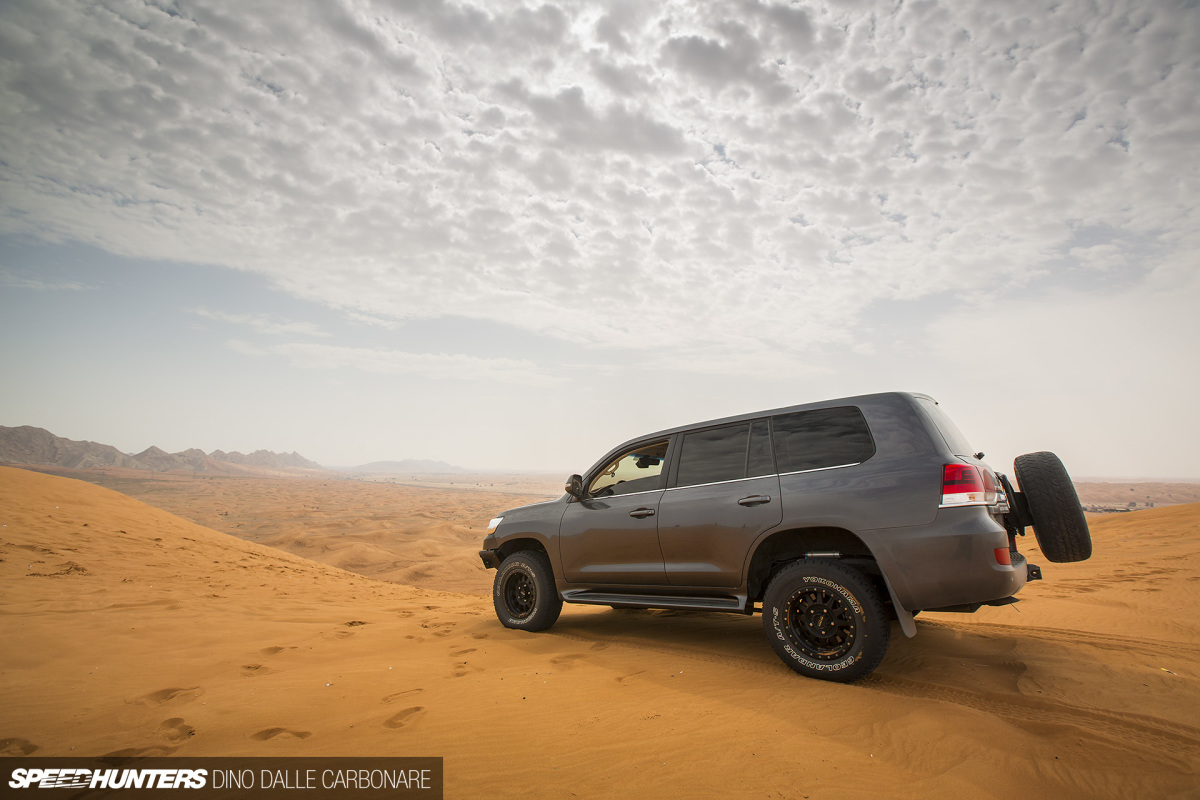 On arrival, Ahmad once again unleashed all the power of the V8 and let the Toyota fight its way up the sandy hill. It's impressive how much power sand saps; the big V8 struggled in the middle but the copious amount of ratios the 8-speed transmission has helped it reach the top without too much drama.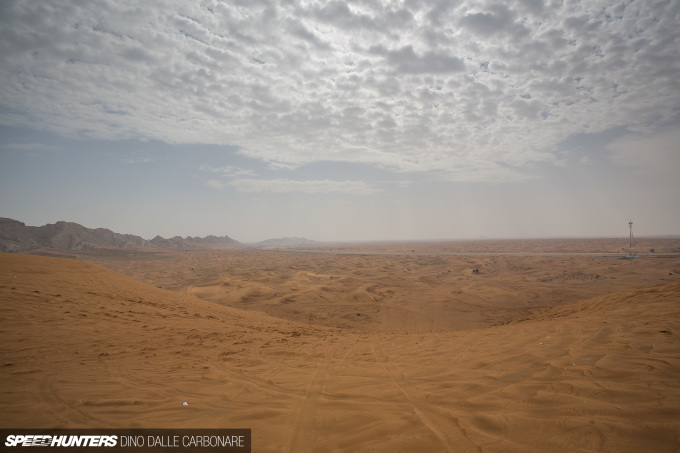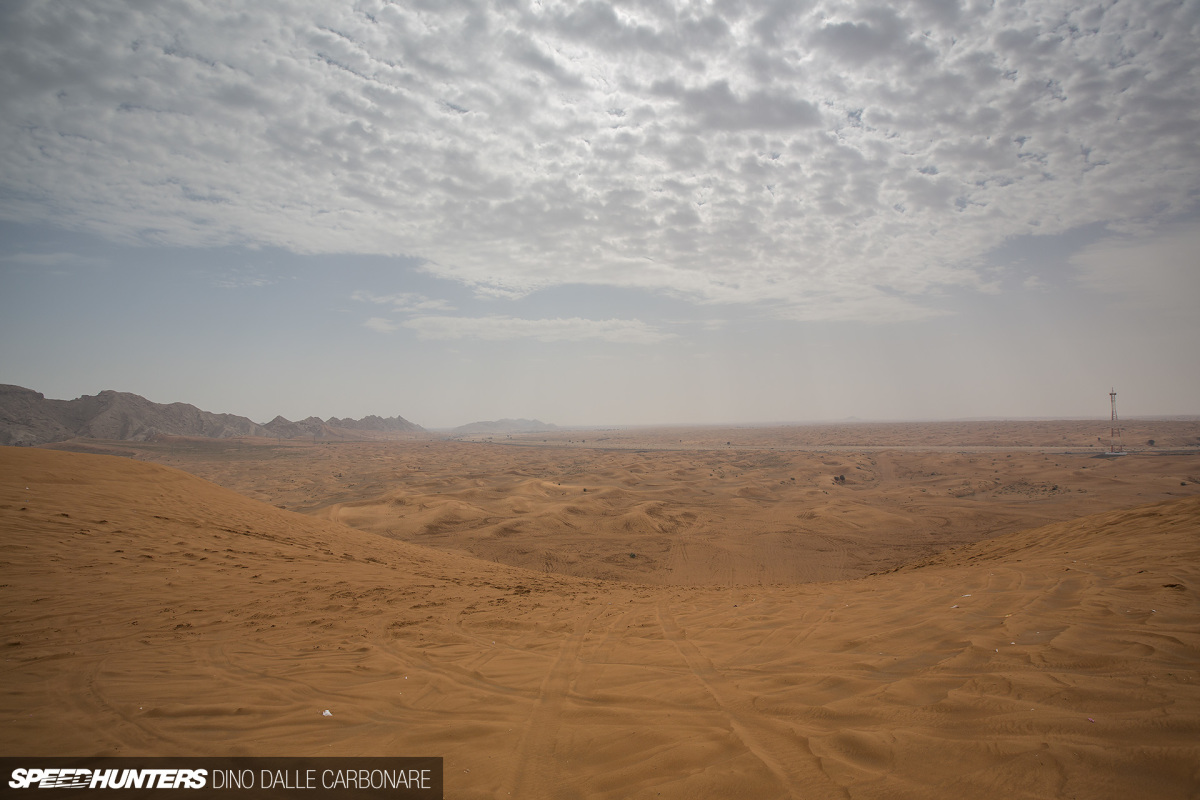 And just like that we were a couple of hundred meters up from where we started. The view was nothing short of spectacular.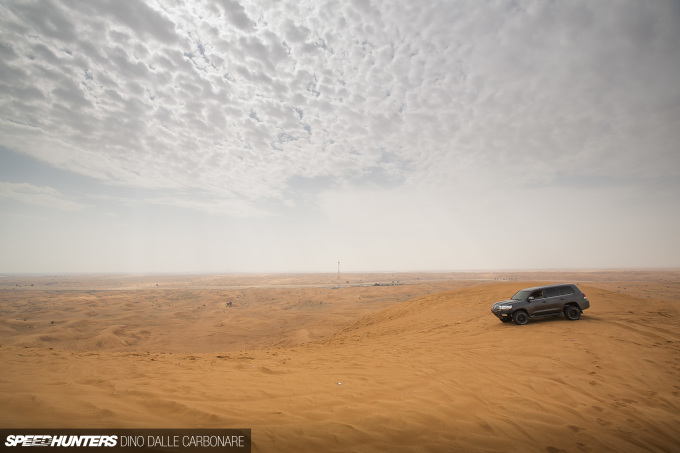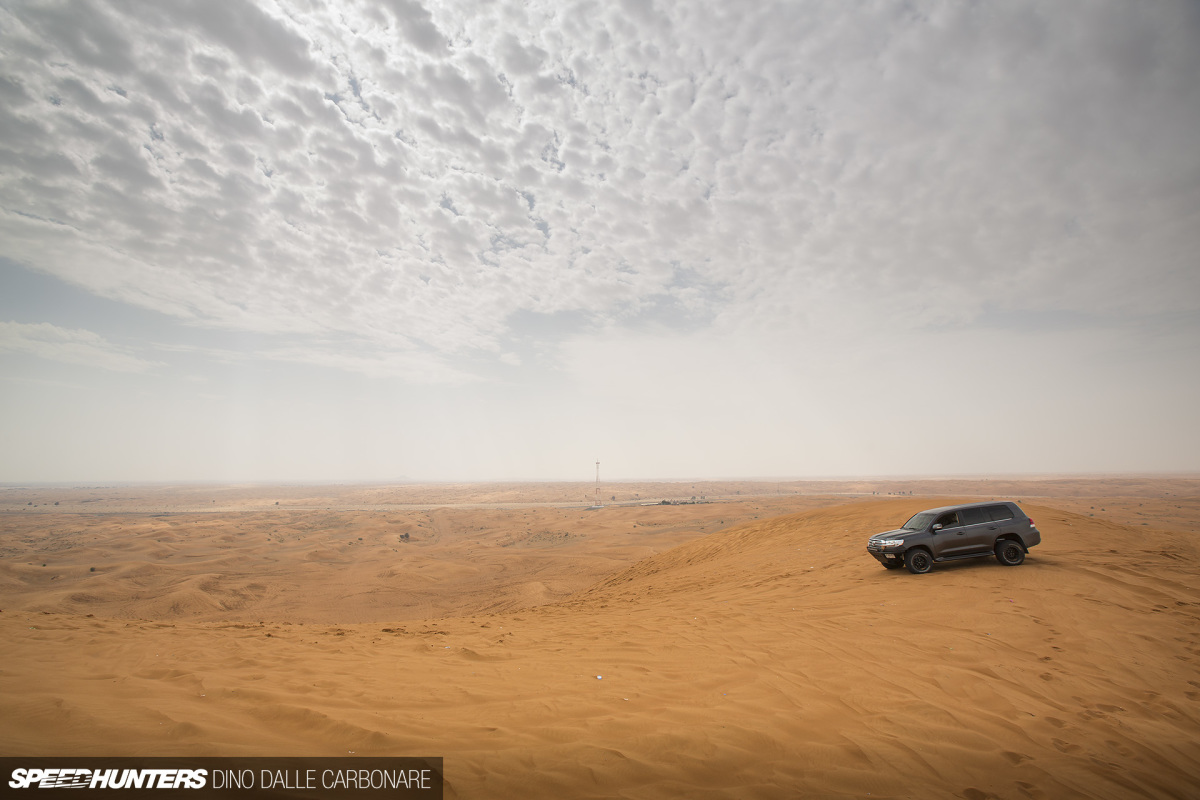 It didn't matter what direction you looked, back towards Dubai or the other side towards the border with Oman, the vista stretched for hundreds of miles.
I didn't know what was more impressive, what I was seeing or the fact that this Land Cruiser had gotten us there. I mean, these are big SUVs I see all the time in Japan on the road, and while we all know how capable they are off-road, being shown first-hand what they can actually do is a whole different thing.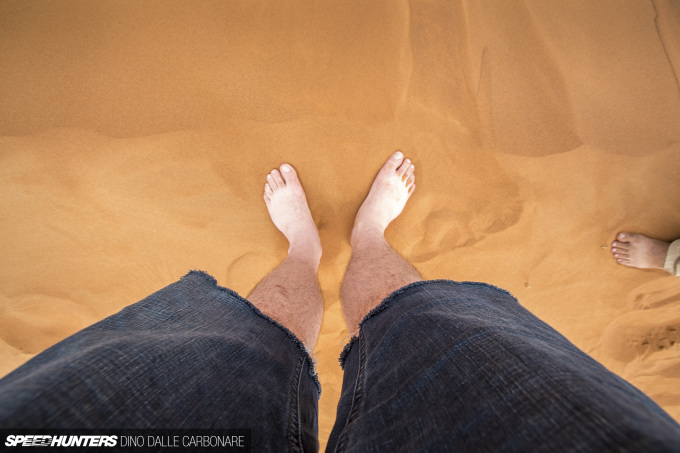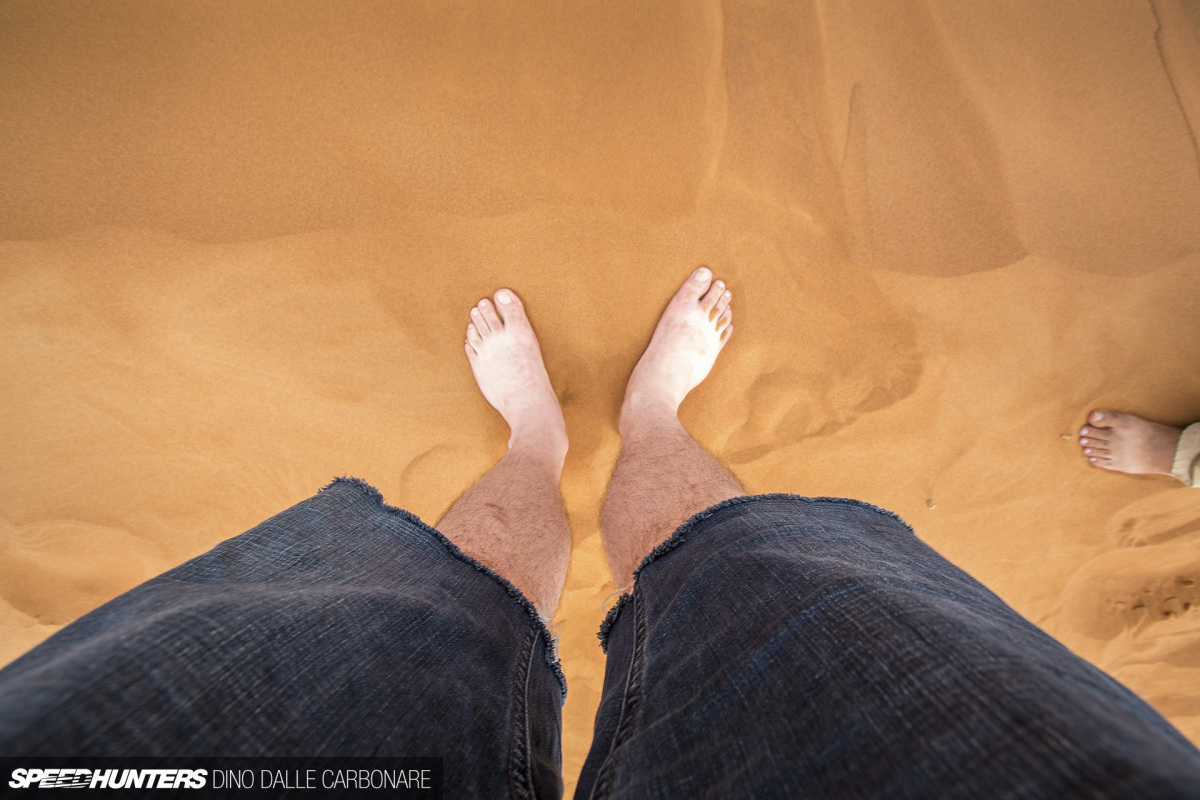 The best way to not bring sand into the cabin? Take your shoes off, even if your pasty white feet will blind everyone around you.
Welcome To Mars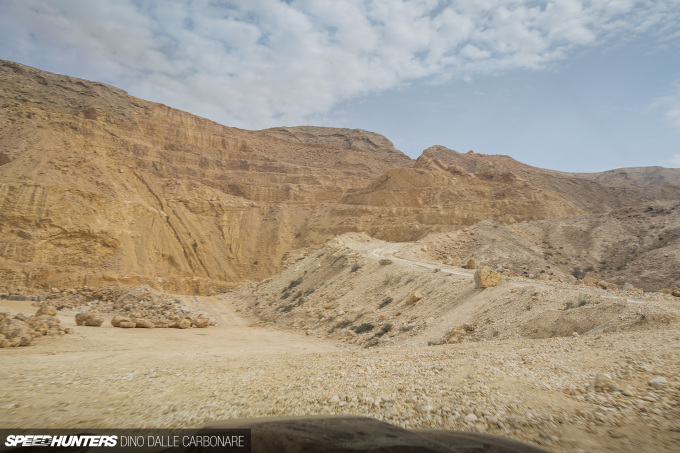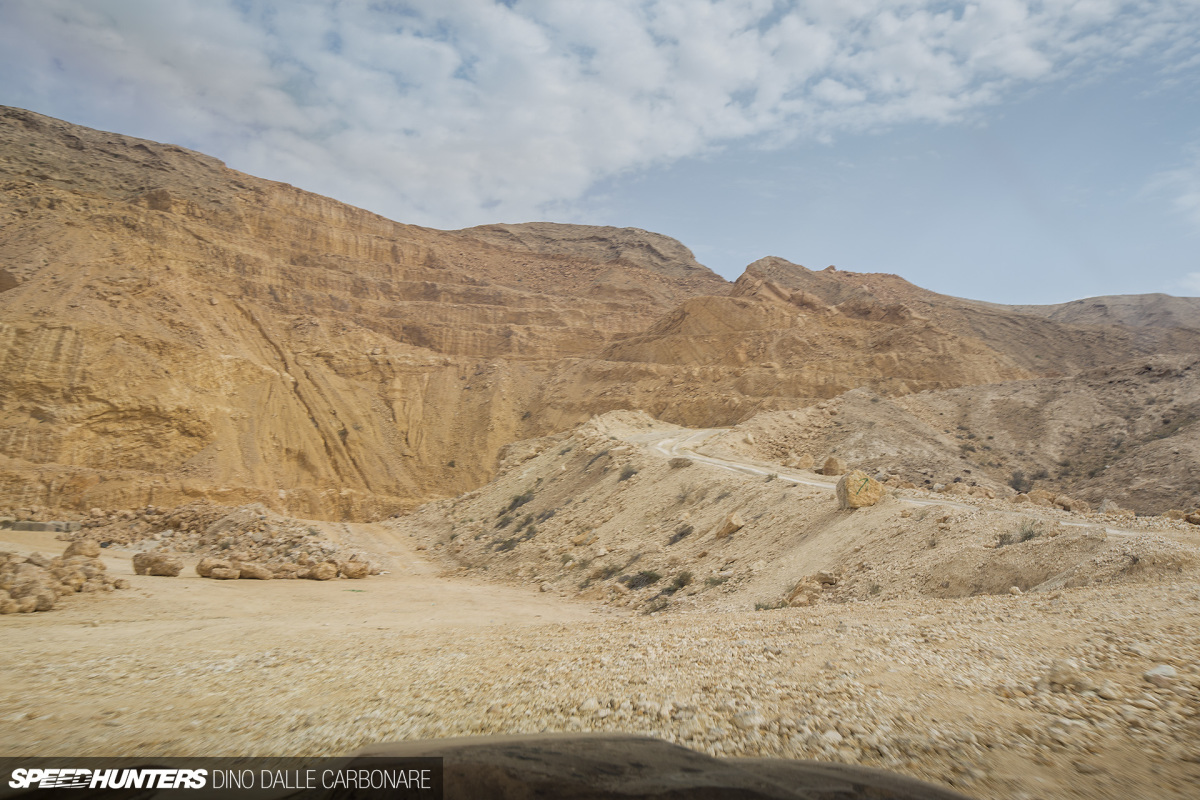 But we weren't quite done yet. There was one more thing to complete this UAE desert experience: rock climbing.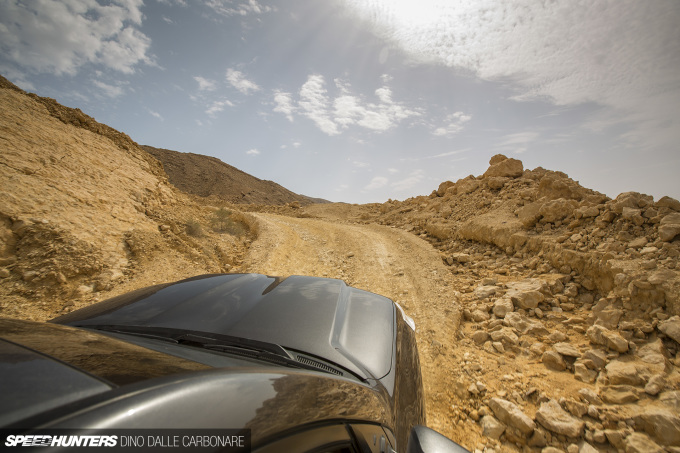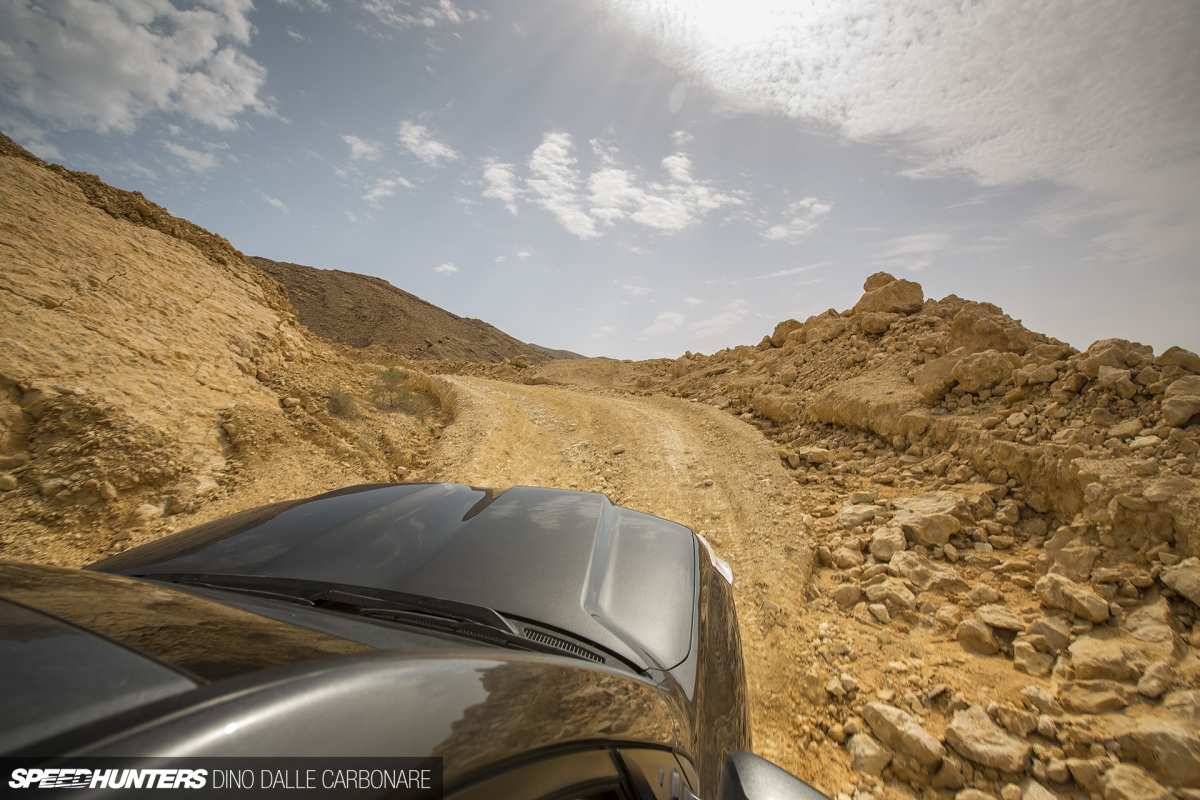 Hell, yes! Where in Japan would I ever be able to do something like this? I was over over the moon, which was fitting as not to far away from the dune we had just climbed was an abandoned quarry which resembled a lunar landscape.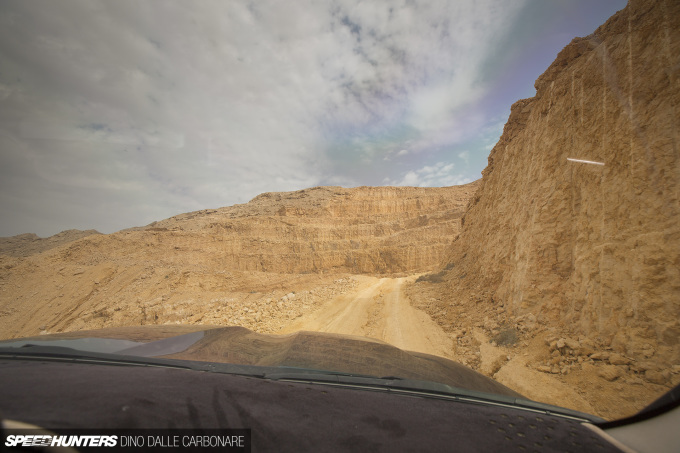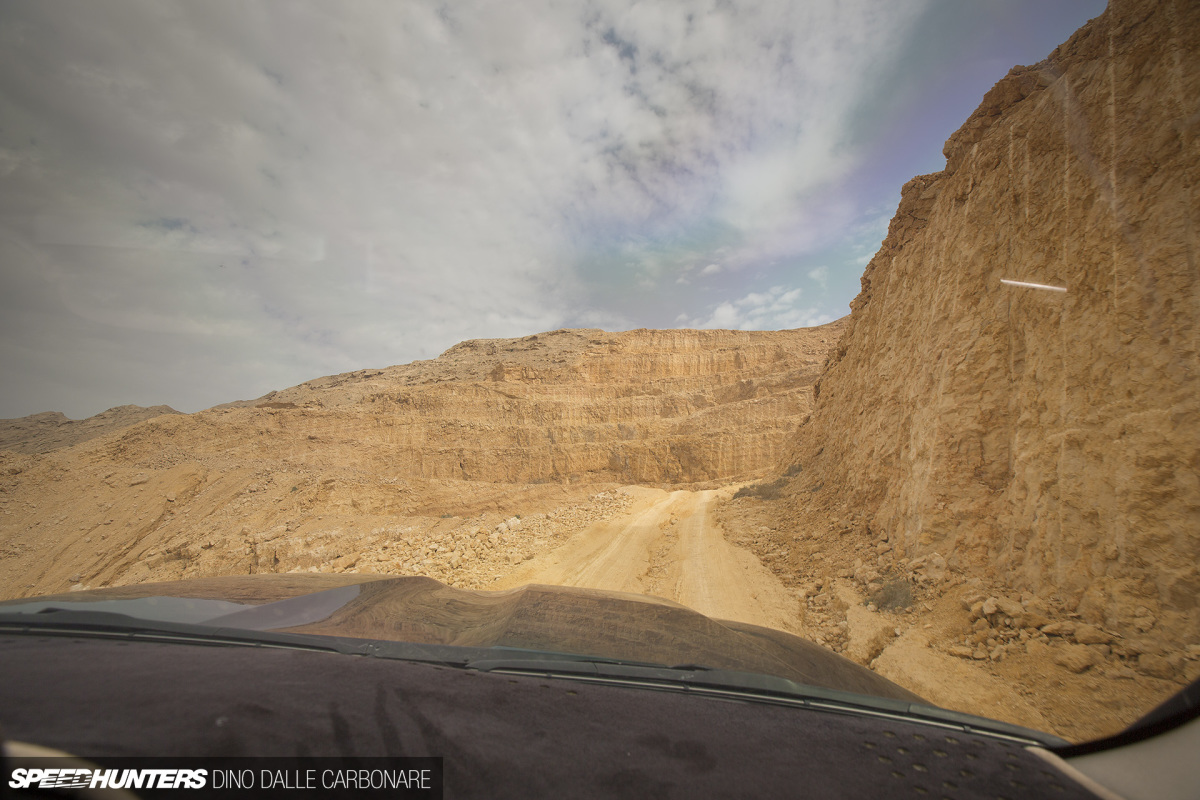 There was a convenient access road until about halfway up; the rest was massive rocks which I thought we could have never traversed over.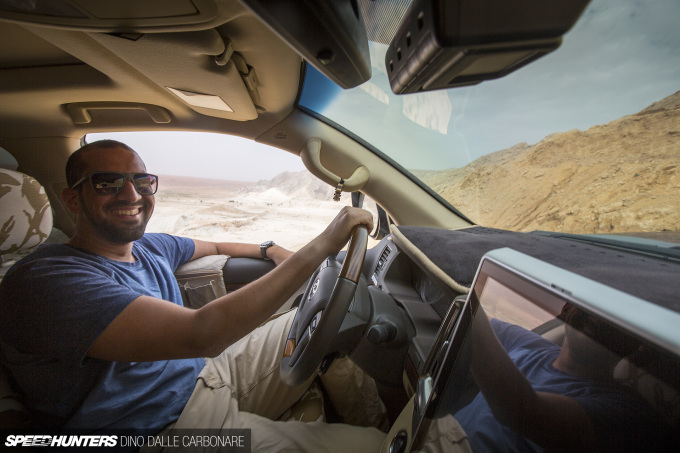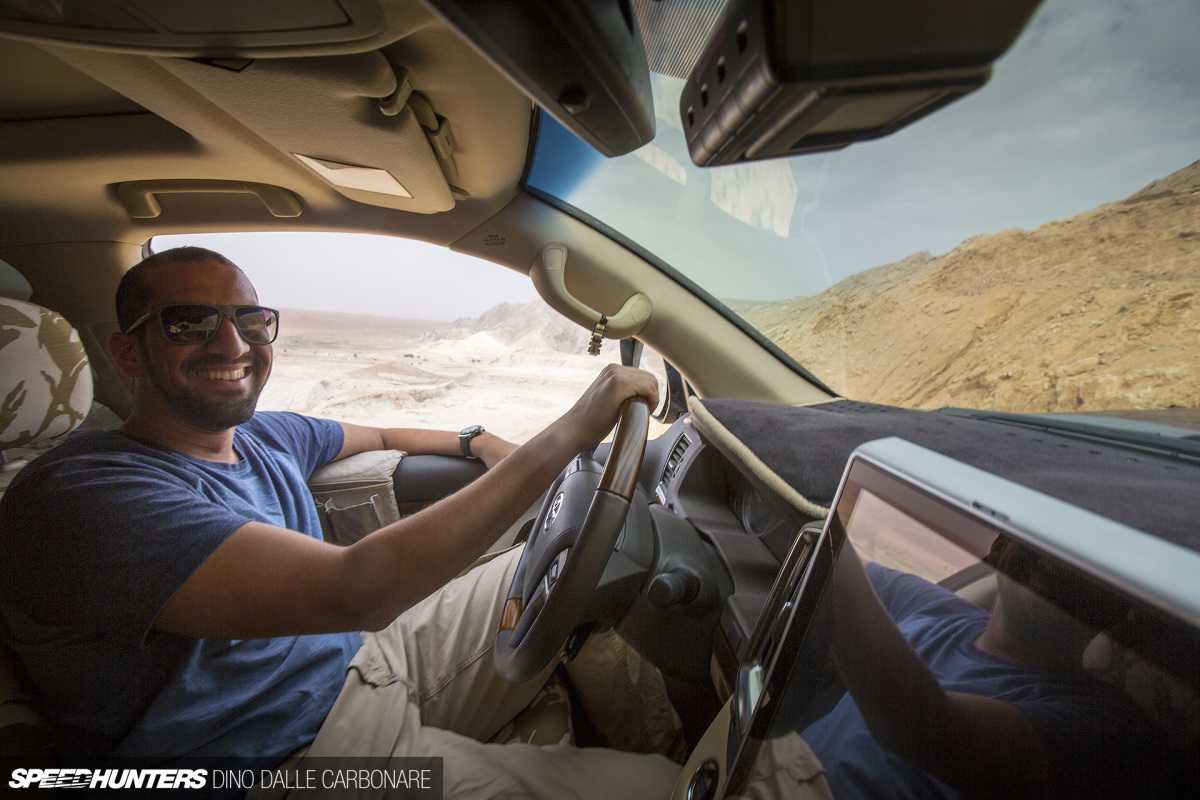 This guy, however, knew exactly what he was doing. He turned the volume up, engaged rock-crawling mode on the Land Cruiser's AWD system, and snaked up the path.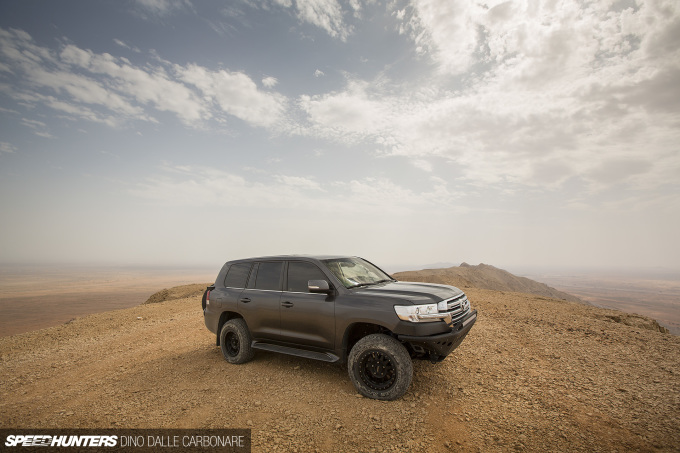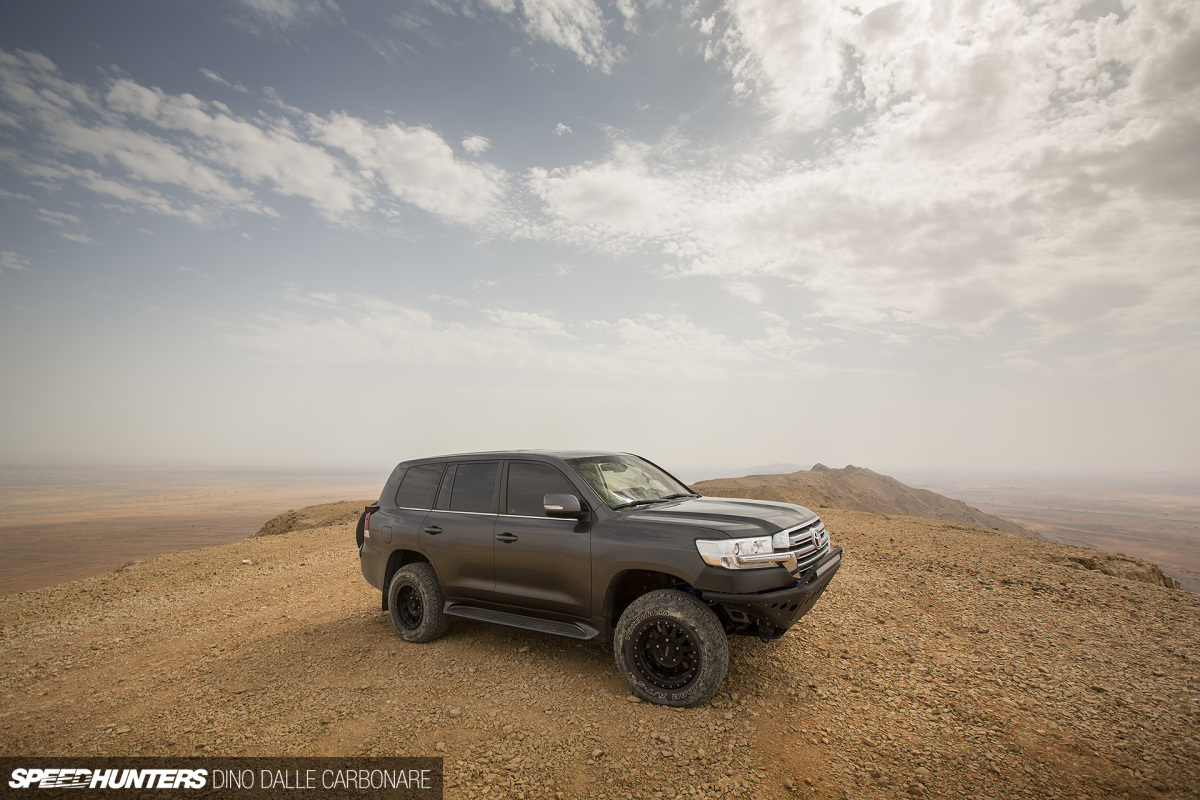 We eventually reached what felt like the top of the world.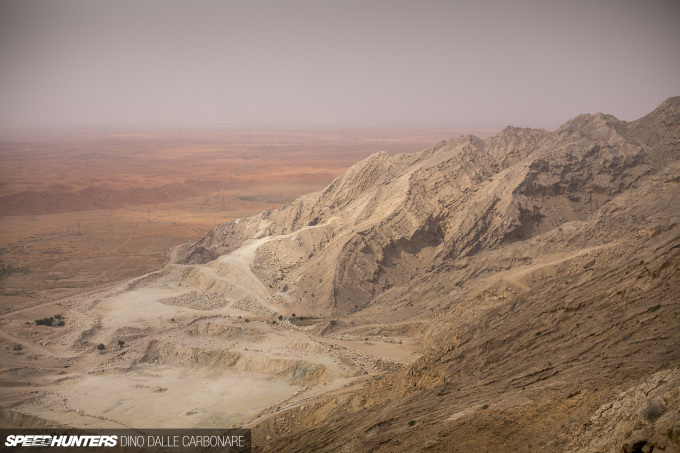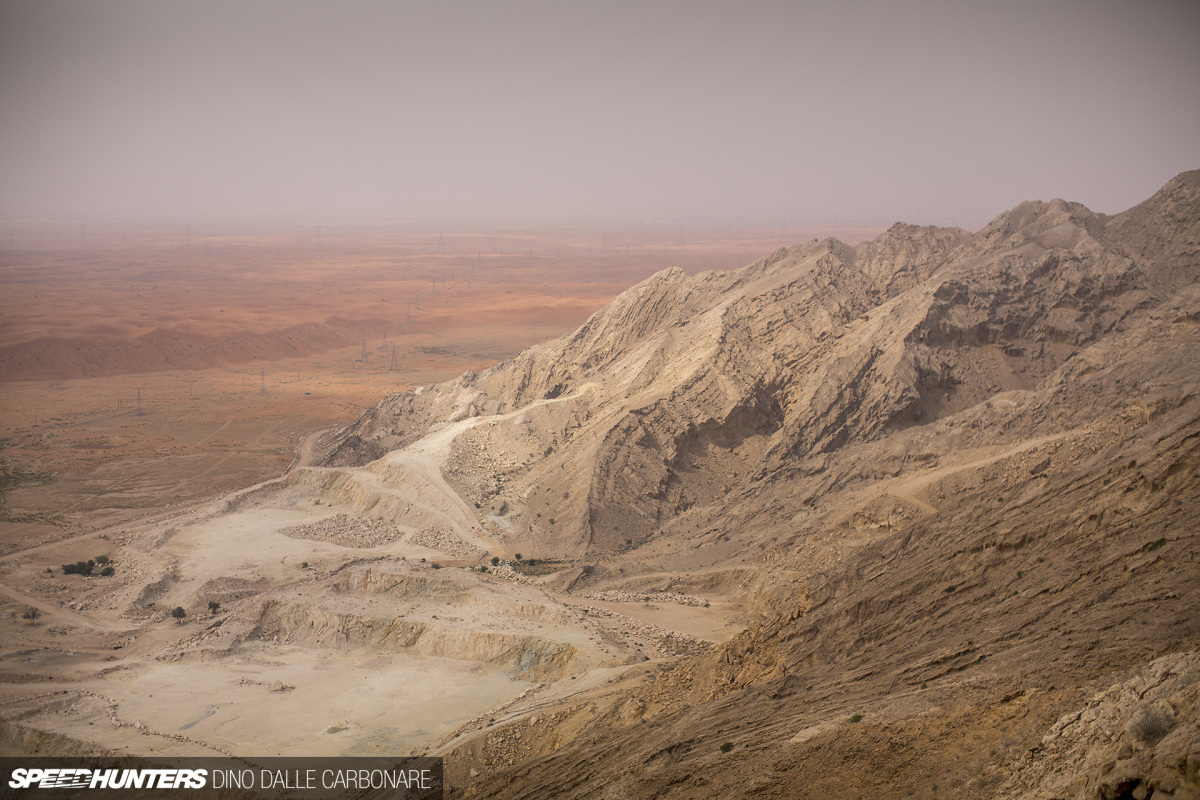 Yes, this was still planet earth. I think.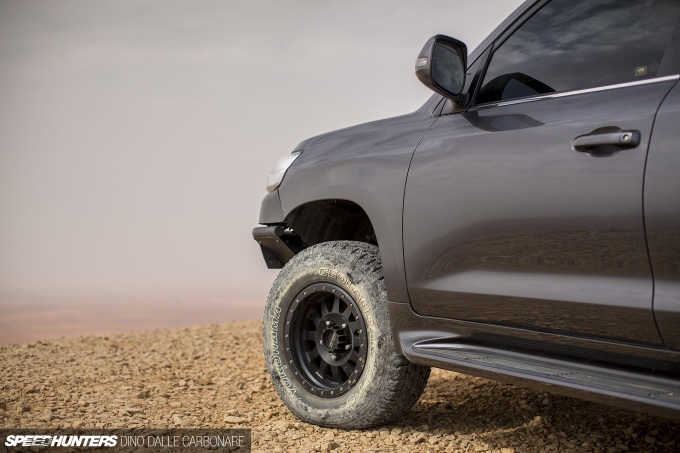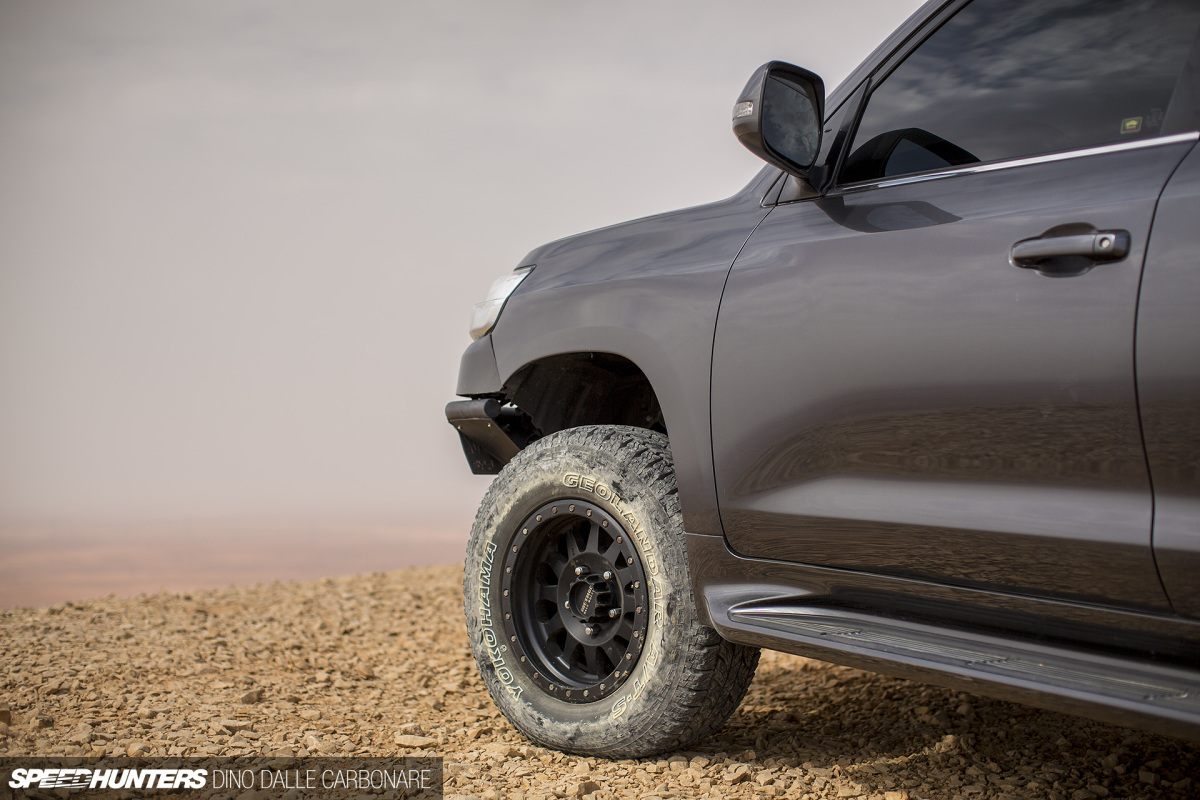 By now I fully understood what a good modern day rig has to do. That is, not only cosset you in luxury and have plenty of power, but be able to tackle seriously demanding terrain with ease.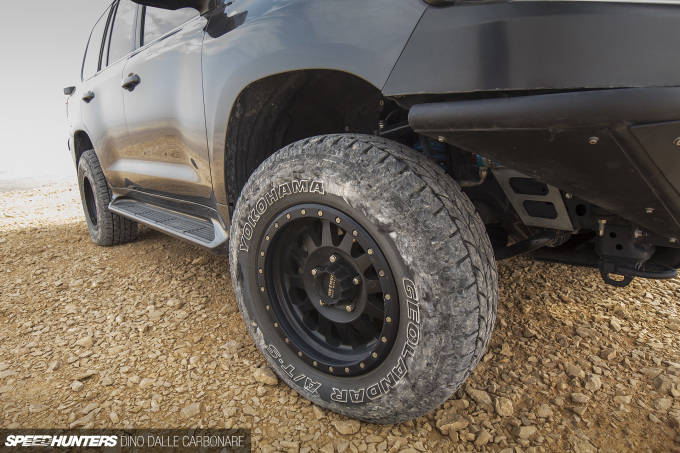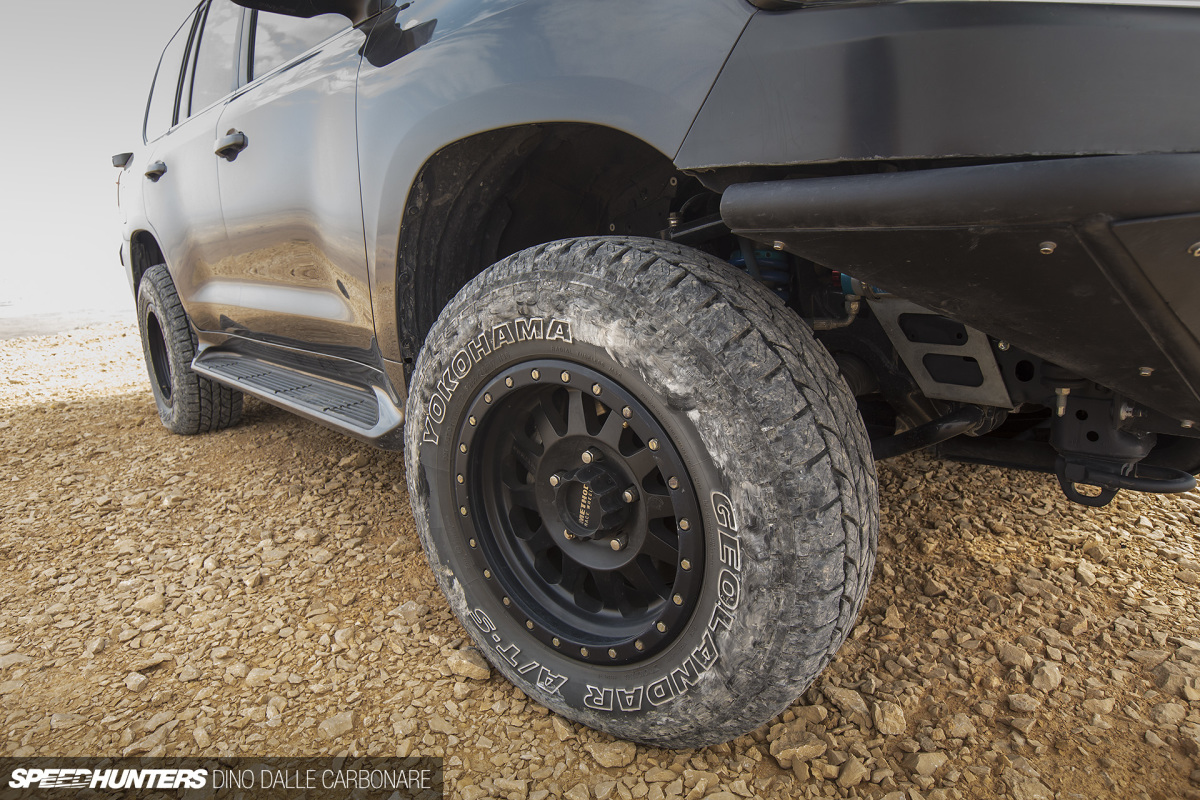 Of course, Ahmad's truck sports the right sort of mods to make it all that more fun and extreme. Look at the sidewall of the Yokohama tires – that's how much of the rubber we used as it flexed and folded under and over while finding grip on the most challenging terrain I'd ever experienced in a vehicle.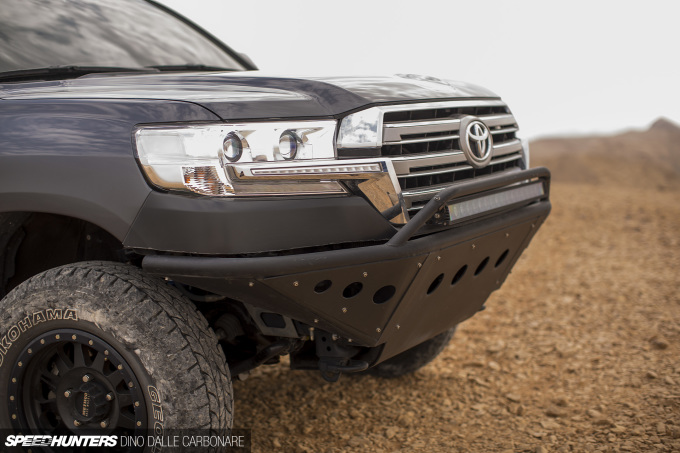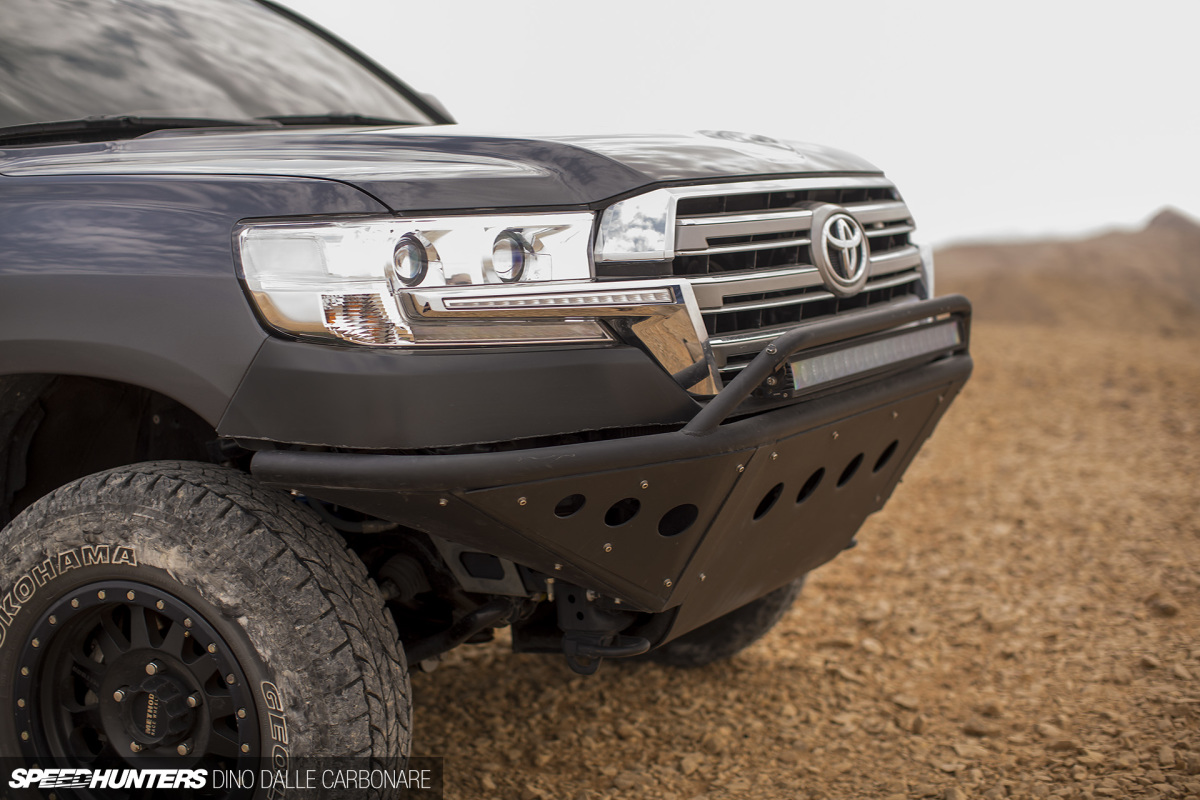 The steel bumper is of course a big necessity; without it you could never event attempt jumps. This also gives you a really steep angle of attack, the steel plating protecting fragile things like the radiators and other ancillaries.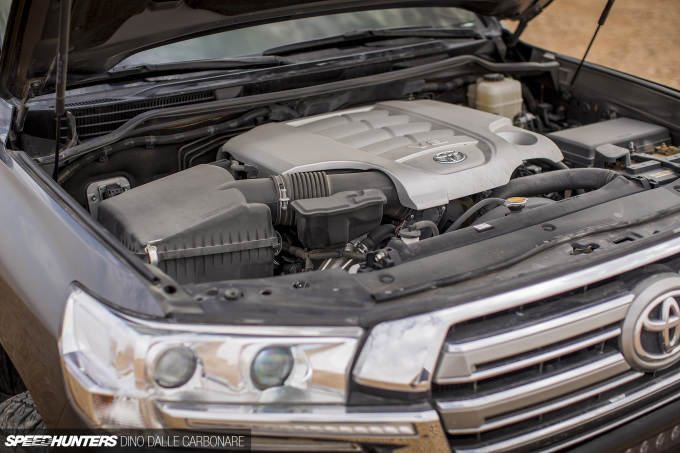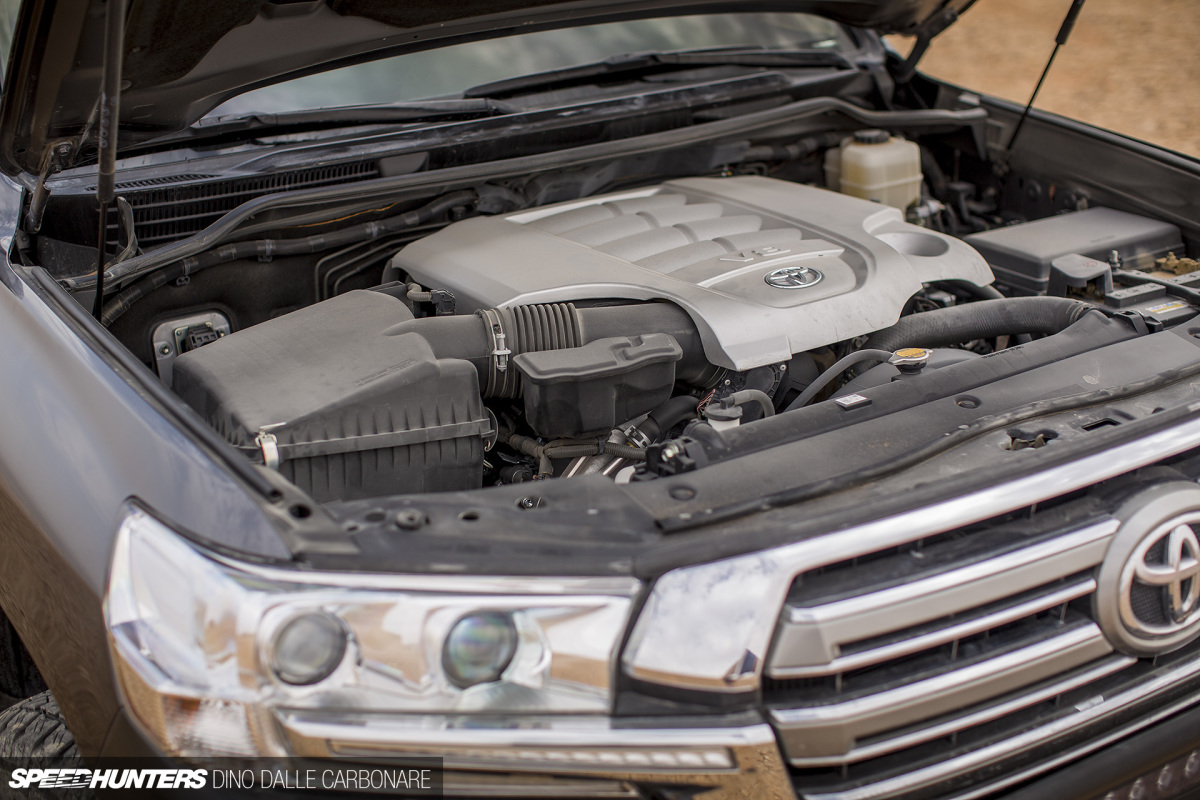 The big V8 seemed unfazed by it all. It's torquey and powerful enough to allow for an impressive amount of fun, even in its stock state. Oh, and doing so in these conditions, reliability is the most important thing, something we know Toyota is good at.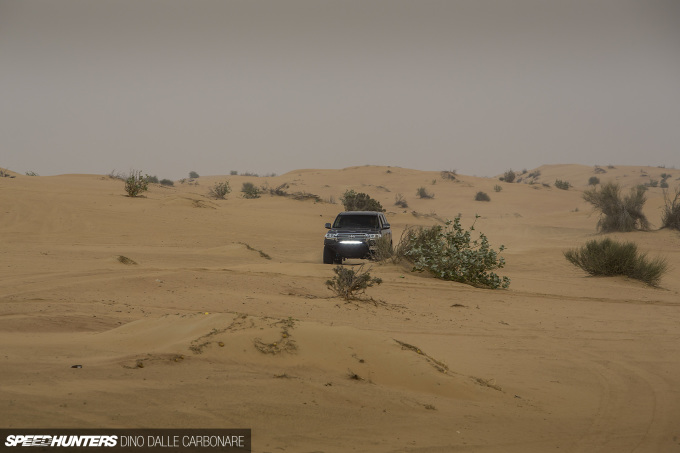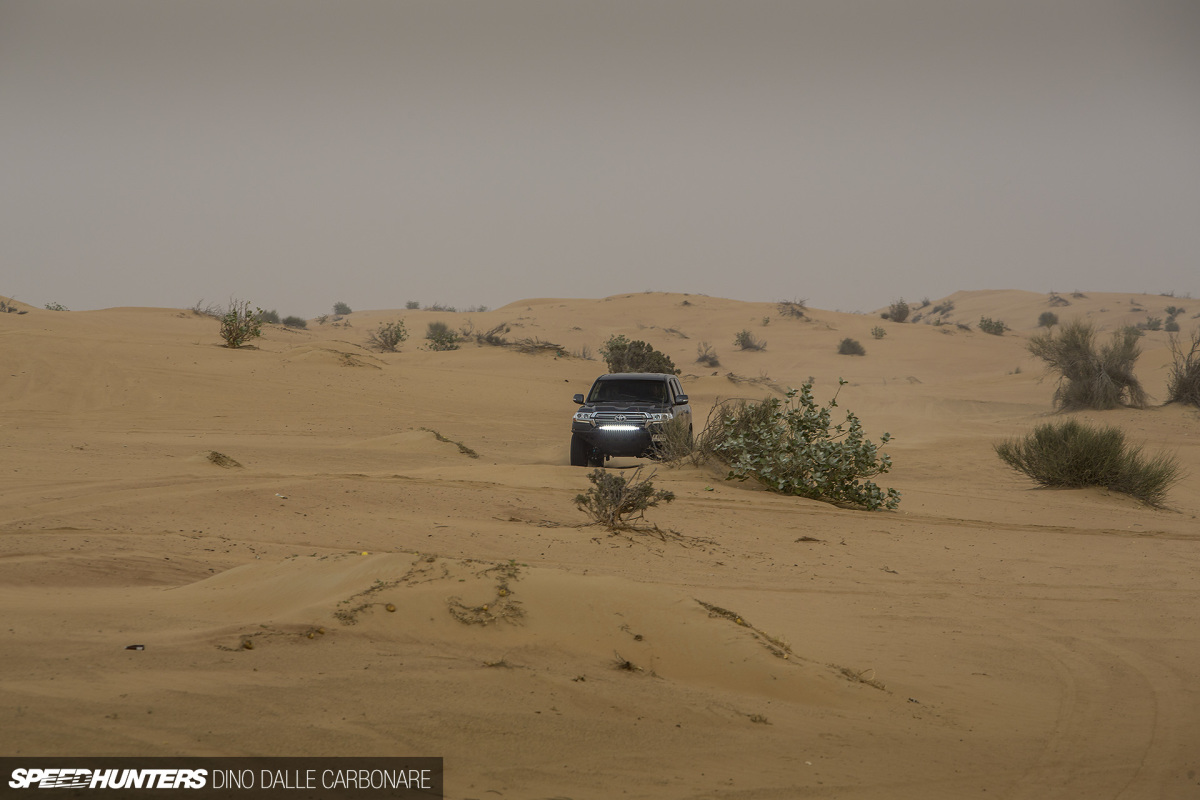 It was a great end to a very special day, but it wasn't over just yet. I asked Ahmad if we could do the initial section on the way back again, this time with me jumping out and grabbing some shots of the Land Cruiser in action. I just had to have more to show you guys than shots from the passenger seat.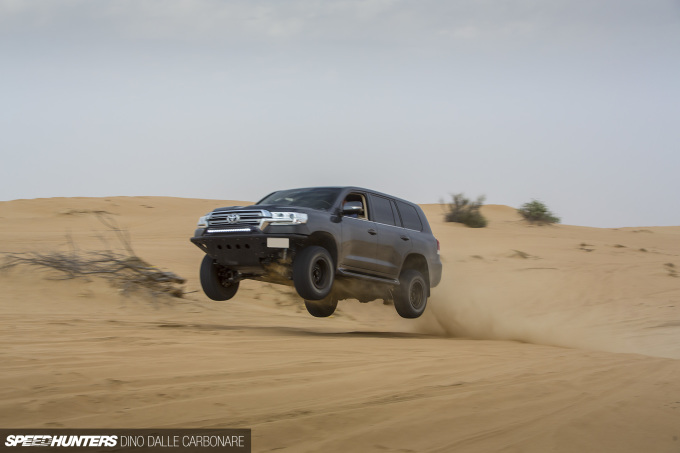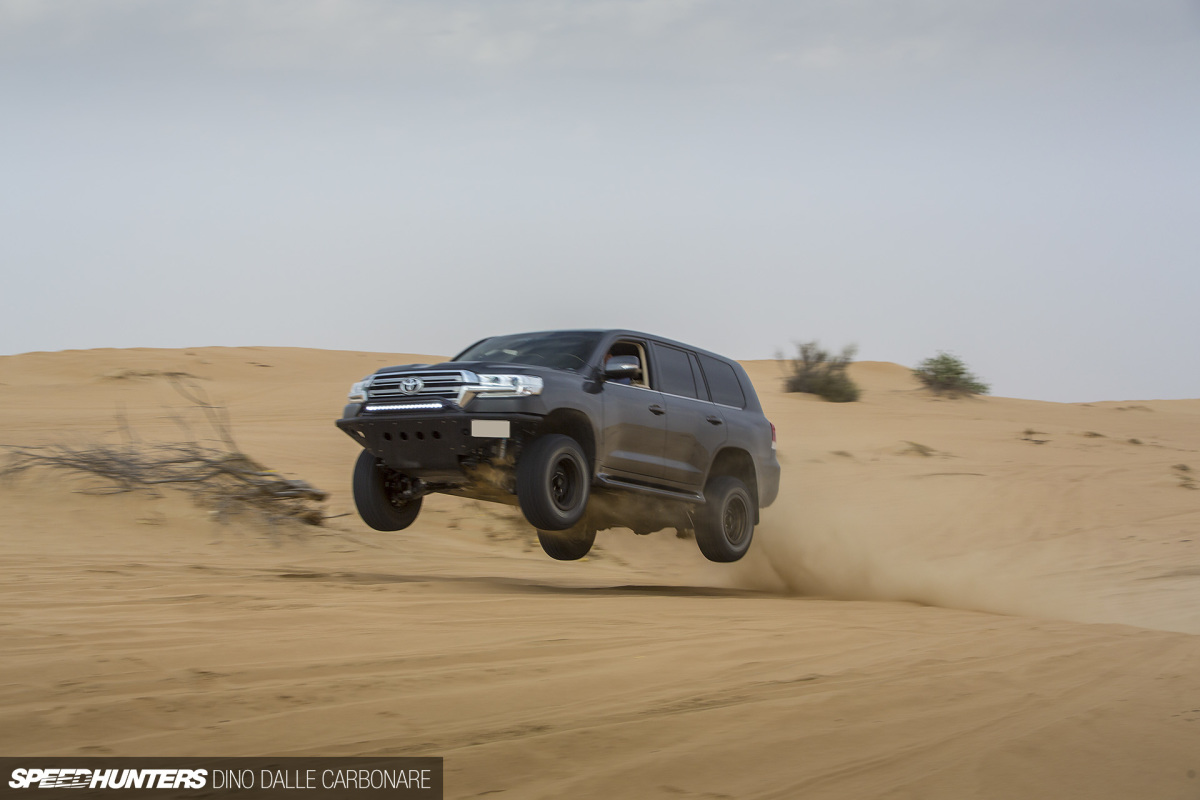 Luckily, we still had a bit of time to play and Ahmad made full use of it.
He even crested dunes, riding at what looked like 45 degrees, fully on the power as the tires shot sand meters in the air.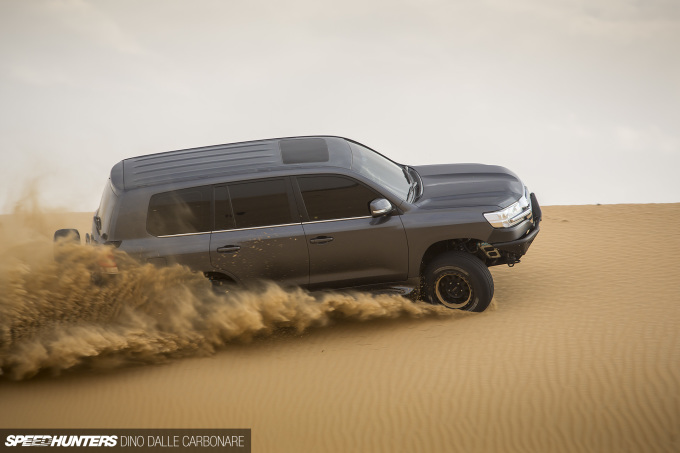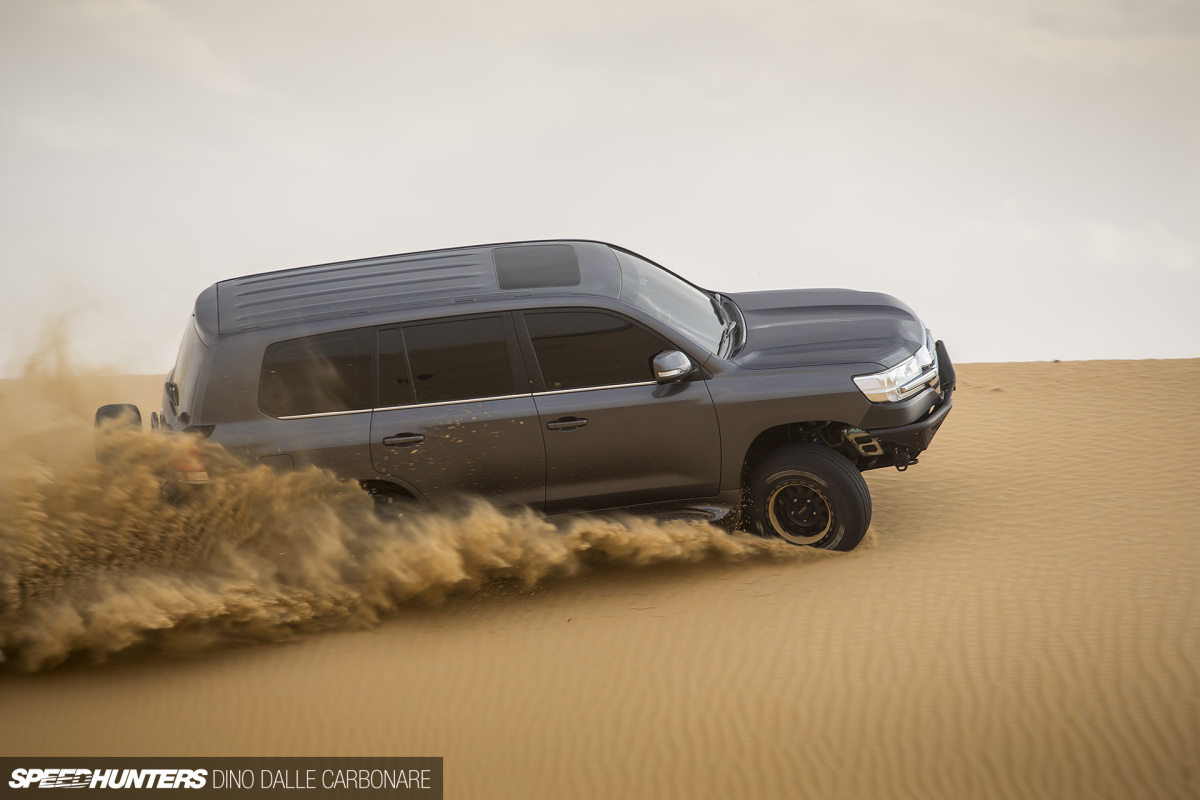 I still can't believe how much fun I had that day, and how stupid I was to not back up the video footage properly. But you know what? This is an incentive; it's an excuse to go back, do it all again and document it in a way that I can get the real intensity of the experience across. Since that day all I've wanted to do is find away to move to Dubai, buy a Land Cruiser and do this sort of thing every day.
Dino Dalle Carbonare
Instagram: speedhunters_dino
dino@speedhunters.com
2016 Toyota Land Cruiser EXR
Engine:
Toyota 5.7L V8 VVTi
Transmission:
8-speed Automatic
Suspension:
King adjustable off-road racing shocks with extended travel, Total Chaos 4130 chromoly steel tubular upper control arms
Exterior & Armor:
30-inch LED bar with spot & flood combination cells, triple-reinforced 4130 chromoly steel tubular bumper with ballistic plates, integrated transmission & fuel tank skid plates
Wheels & Tires:
Method Double Standard 17×8.5-inch wheels, Yokohama Geolandar A/T-S 285/70R17 tires
Interior & Equipment:
Traction & ABS kill switch, airbag kill switch, onboard air compressor with dual-fill capacity, terrain response system, camouflage waterproof seat covers, NSV integrated 13.3-inch SuperAudio unit, lower tailgate stainless steel & wood-lined work bench, chiller/console cool box