Counter SEMA Culture
It's something that we're all acutely aware of.
For all the mega builds that we see, it's the humble, home builds that always hit home the hardest. Before the 2017 SEMA Show, I was embedded at iDL Garage as Deity Motorsports put the finishing touches to Scott Afters' Liberty Walk and Air Lift Performance-equipped McLaren 12C. No doubt, that car was something special to behold in person, but I couldn't take my eye off something far more humble, not 20 feet away.
Just outside the main garage door, parked in the corner of the lot, was James Lam's BMW E36 M3.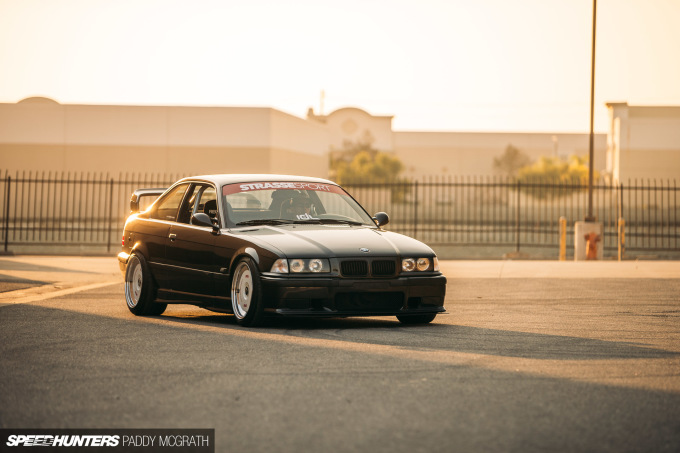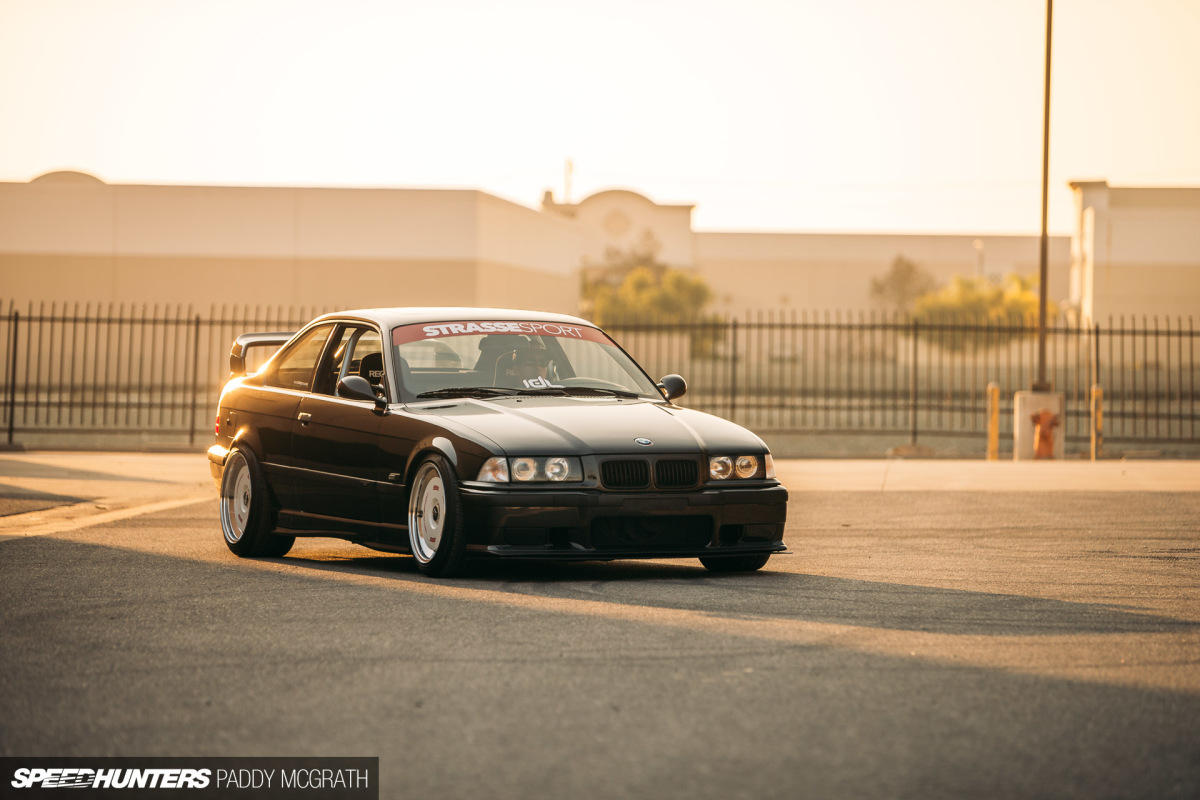 This wasn't a car that was mid-SEMA prep, either. This was (and remains) James' daily driver. With all the hype and last minute panic surrounding the SEMA showstoppers, this BMW was the perfect contrast to the wildest time of year. It speaks volumes when the only preparations James had to make for the shoot was to throw the keys to his friend so we could drive it to the location around the block.
I don't really have any sort of morale building narrative to go with this feature, nor am I aware of an inspiring back story to the build. It was just a case of it still being bright out, I had a camera, and this car which kept grabbing my attention was there in front of me.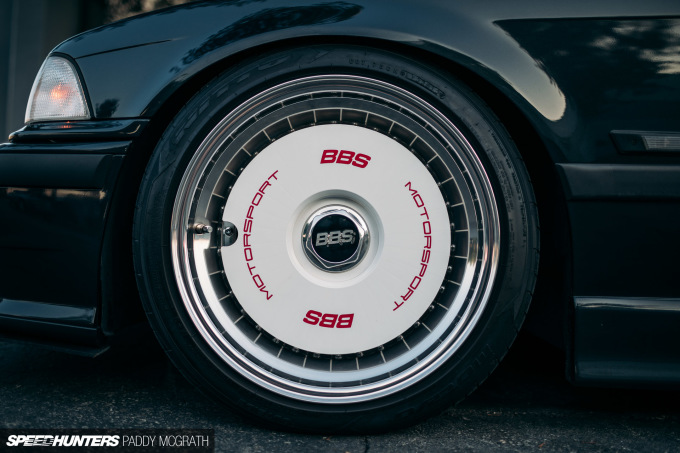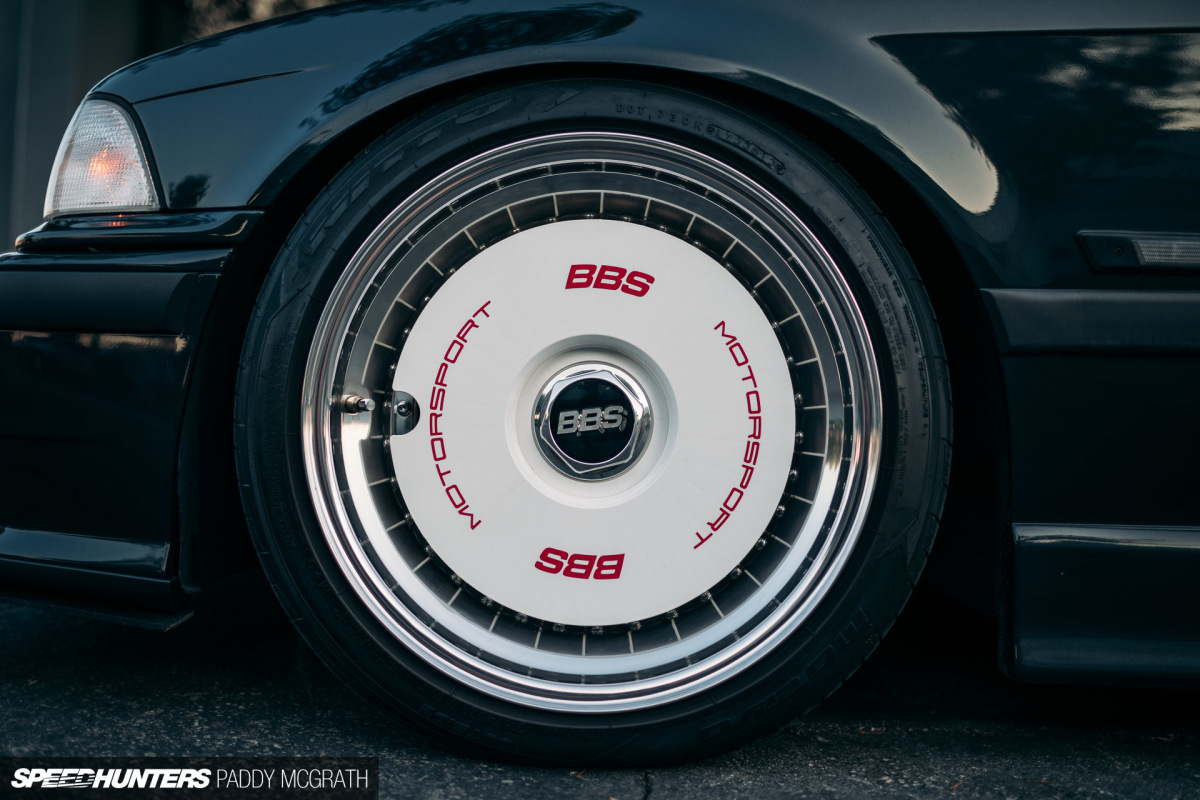 There's a lot of things that I like about this car and how it neatly fuses together track and street elements almost seamlessly. It has just enough of everything, without too much of anything for it all to work as a coherent package.
The E36 model in general is destined to be a classic of the BMW stable, if it isn't already. They're still relatively affordable and I have the feeling that we're going to look back in a few years at their value today like we currently do at air-cooled Porsches with the benefit of hindsight, although maybe not to the same extremity.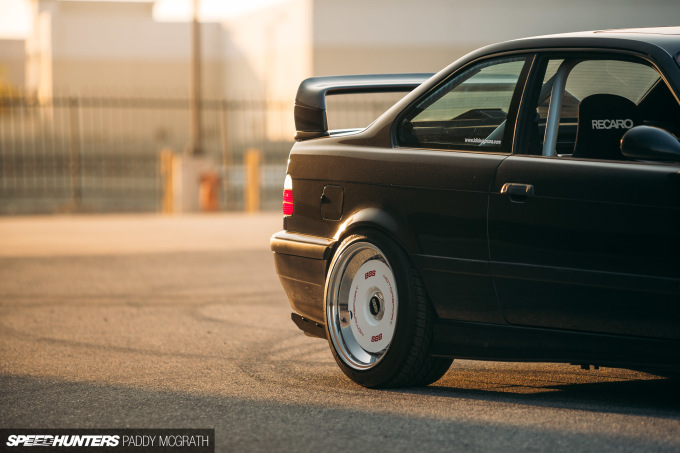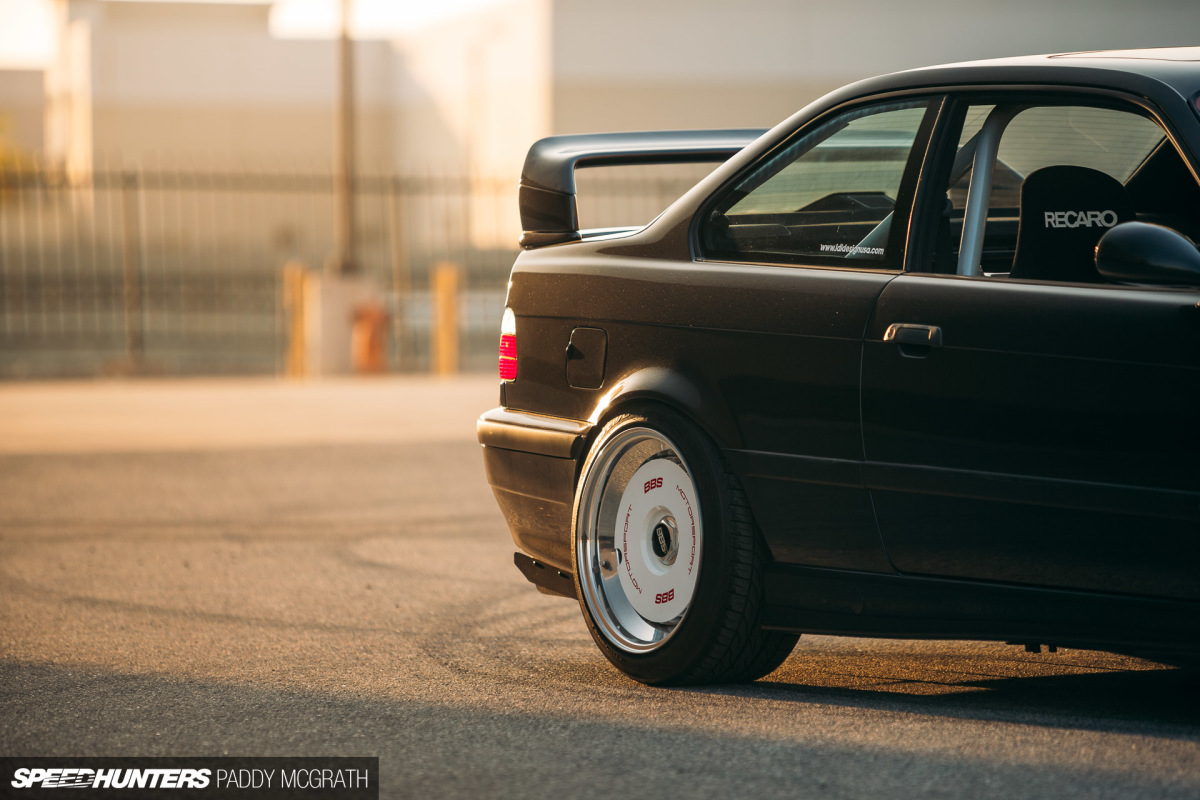 While this is a simple car in many ways, it is still a considerable build. The rear quarter panels, for instance, were flared using non-M E46 front fender arches to fit the rear wheels with minimal negative camber, before the whole car was repainted in Diamond Schwartz metallic by Strasse Sport.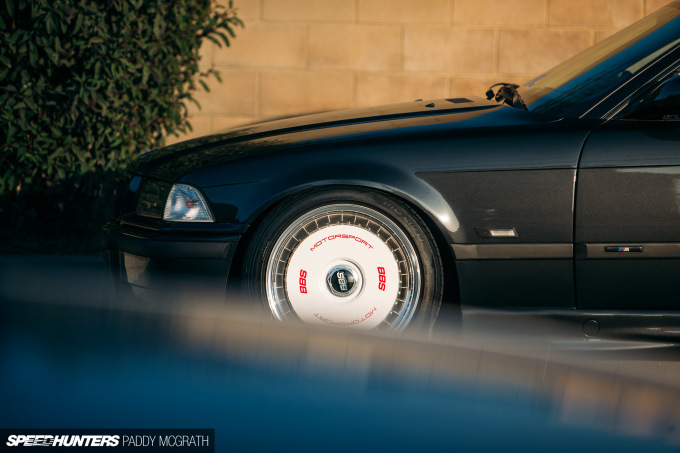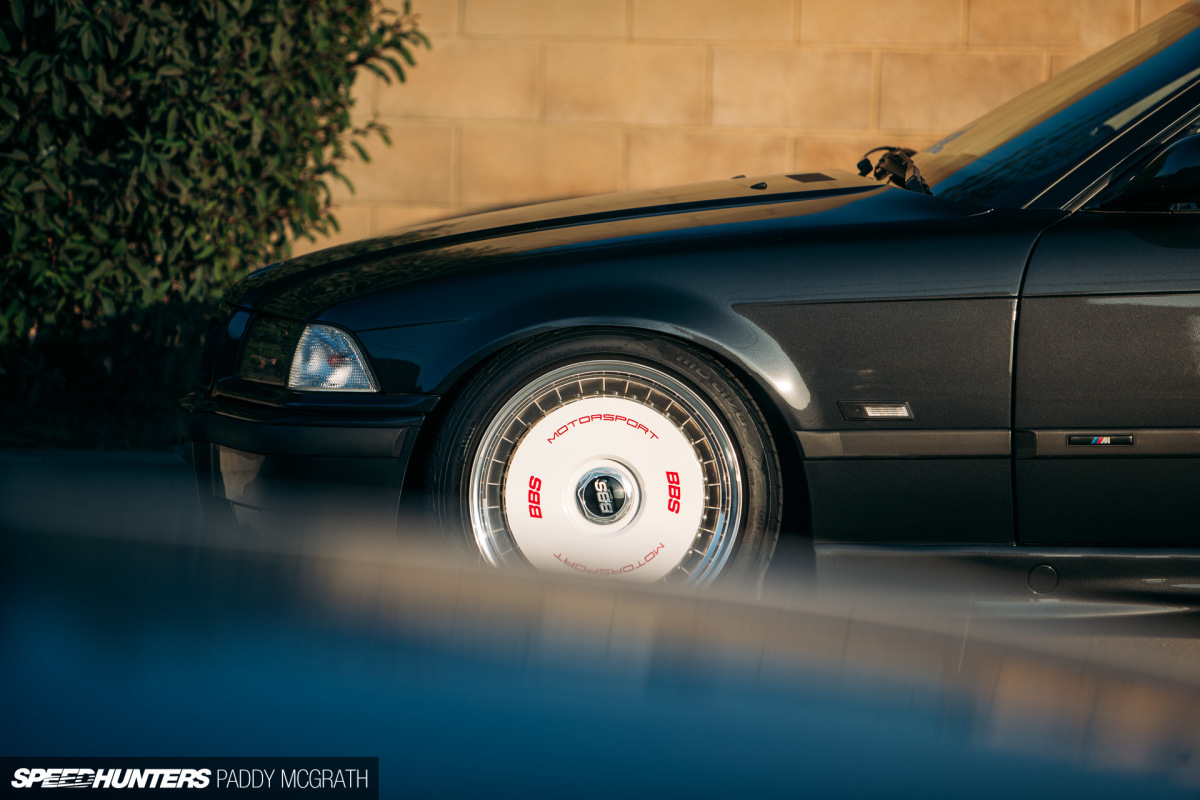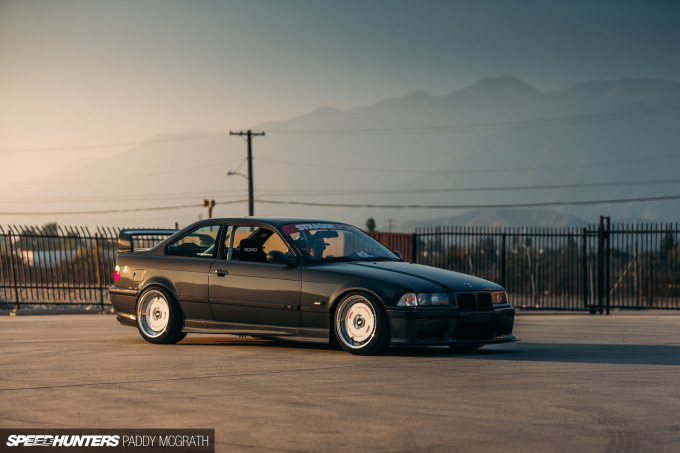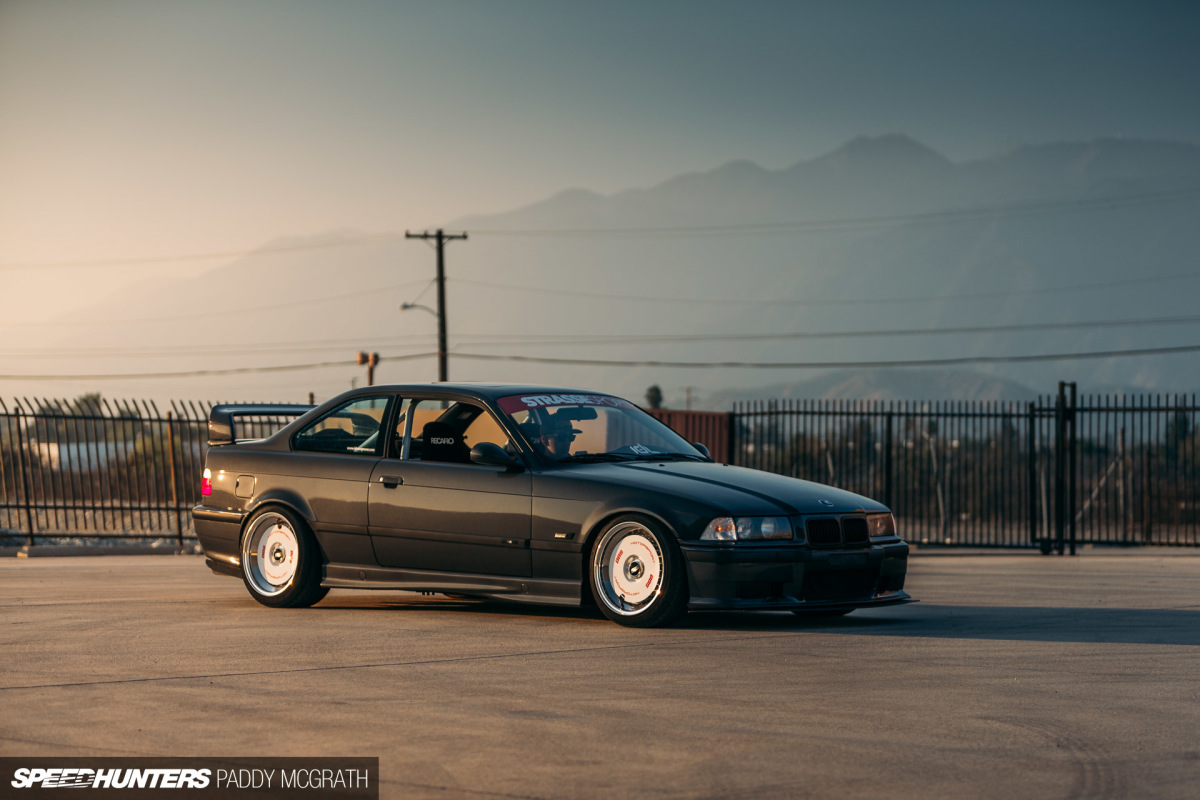 Behind the turbofans are BBS RS wheels measuring 17×9-inch ET22 at the front and 17×10-inch ET22 at the rear. The Nitto Motivos have the slightest stretch with 215-section tyres on the 223mm wide front rims and 245-section tyres on the 254mm wide rears. It's just the smallest of stretches to help the tyres clear the bodywork while allowing a more aggressive wheel fitment.
James chose KW's ST Suspensions coilover setup for the car, along with Turner Motorsport rear shock mounts, '96 M3 front upper strut mounts, a Sparco front upper strut brace, Revshift front lower control arm and rear trailing arm poly-bushings, AKG poly engine and gearbox mounts, and adjustable rear lower control arms.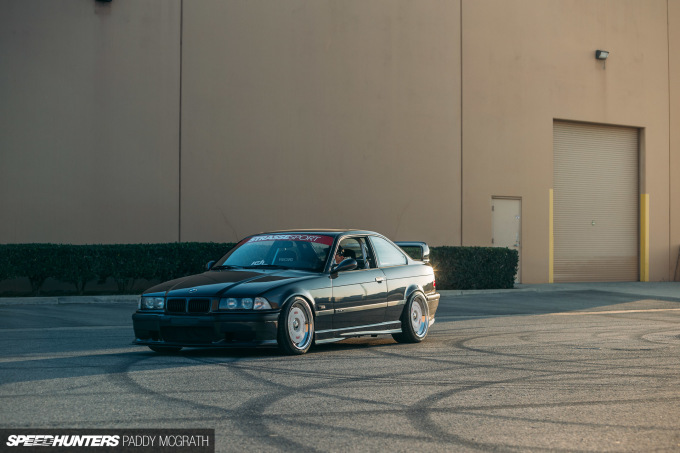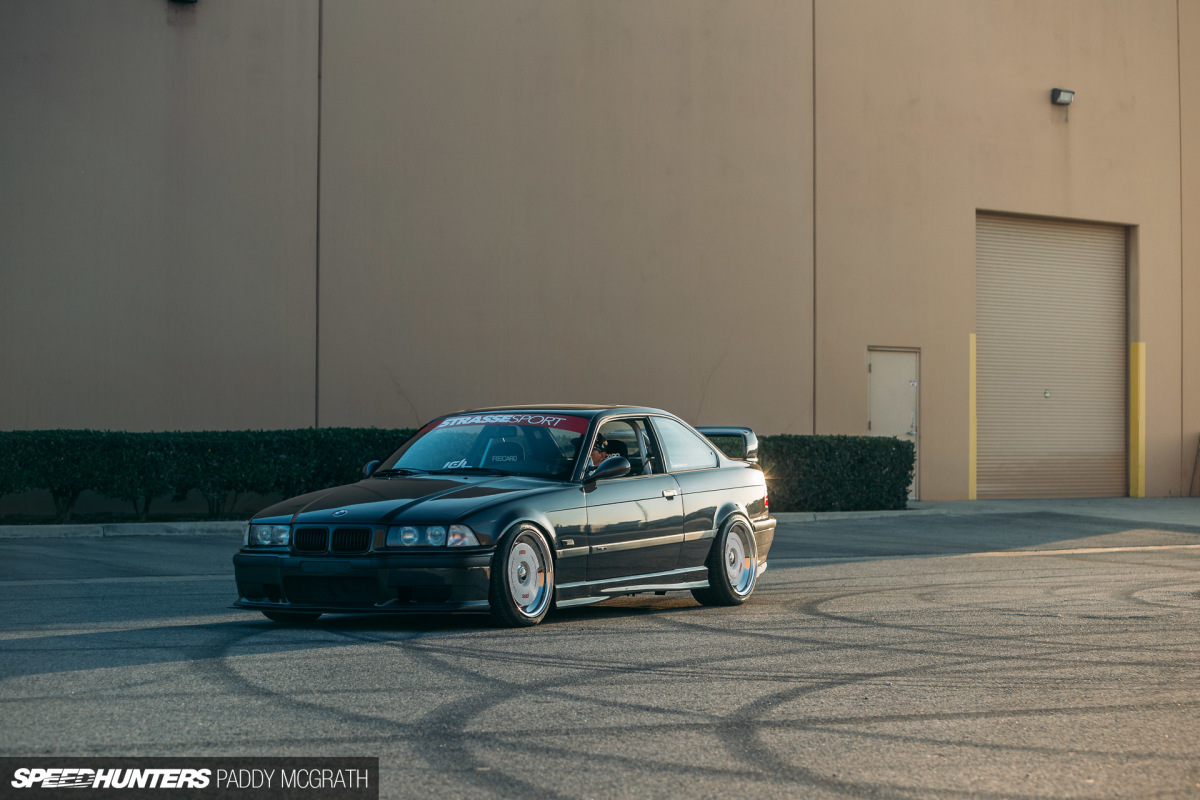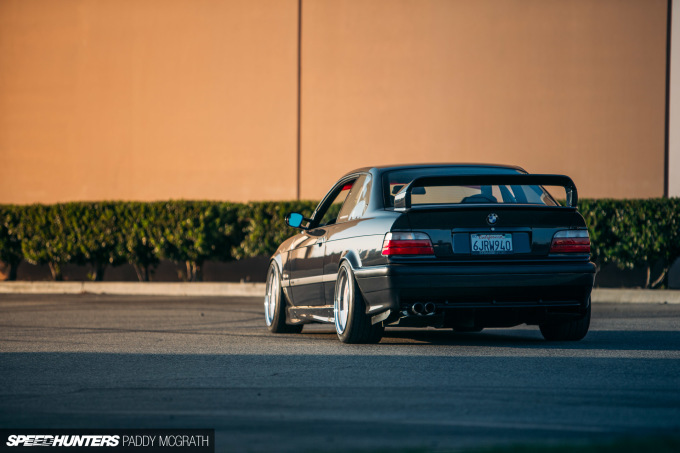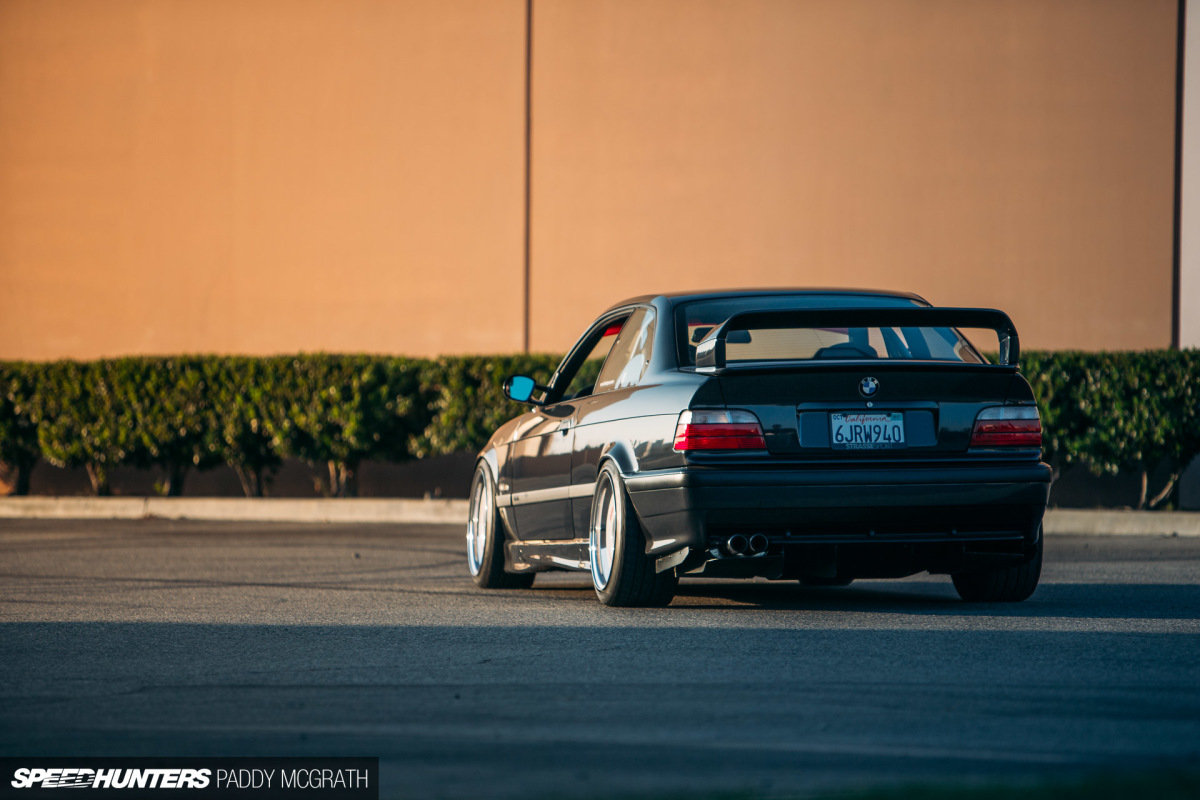 As expected, the exterior upgrades are subtle, too. There's a strict OEM+ vibe going on with a Ma Shaw LTW-style raised rear wing, Mateo Motorsport rear diffuser with a Harrison Motorsport front splitter and under-tray with fog light delete covers installed in the OE front bumper.
"I remember years ago seeing Mike's [Burroughs] S54-swapped E36 from Stanceworks. That was one of the E36s that stood out to me; it was just so simple and clean. That's what I had in mind when I picked one up. It was supposed to be just wheels and a drop, but there is an endless amount of aftermarket support for the E36 chassis and I don't know where to stop," James told me over e-mail, weeks after our shoot.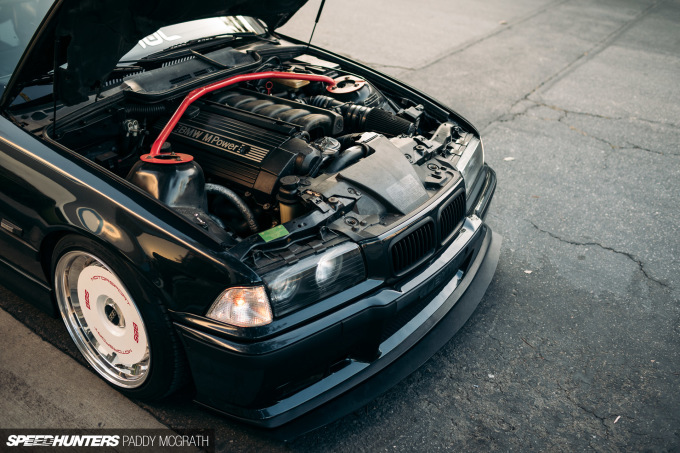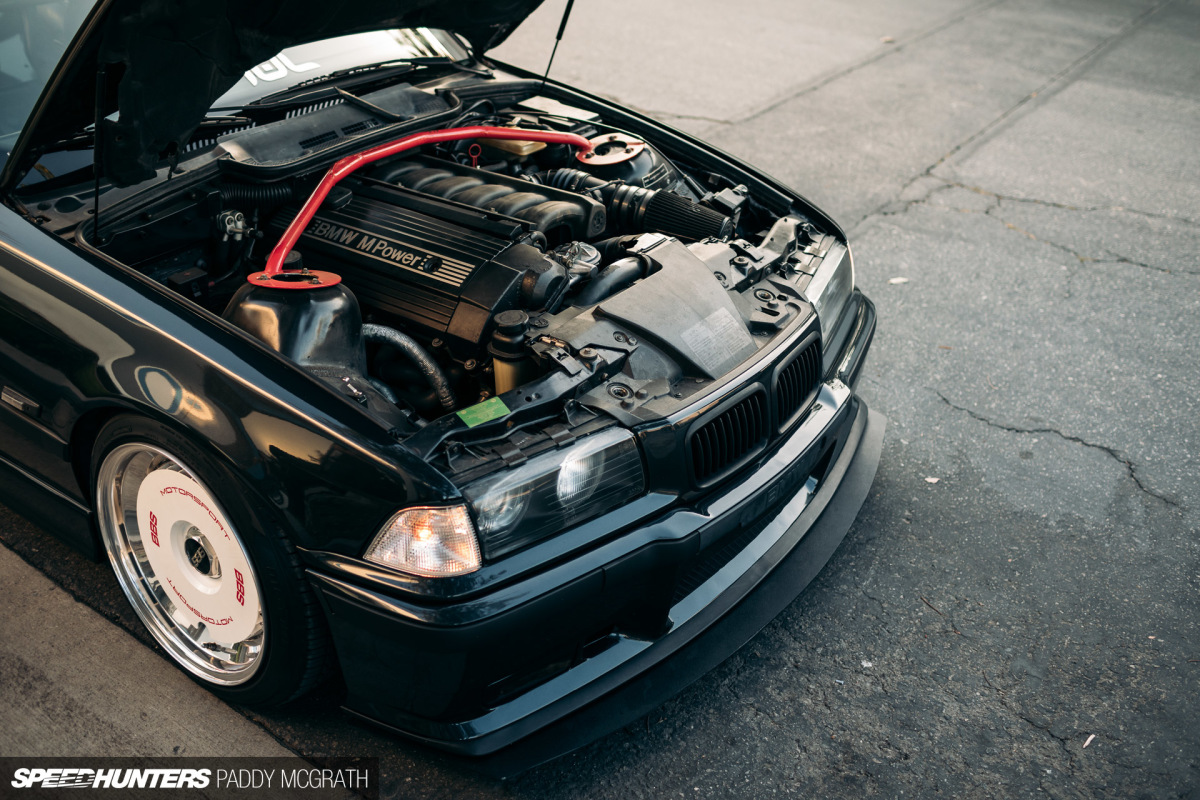 It's well known that the US-spec E36 M3 received a neutered version of the S50, which was down some 40hp on the European equivalent. James has done his best to offset this difference with Turner Motorsports shorty headers mated with an Active Autowerkes Track Pipe exhaust setup including front and rear sections along with their own silencers. There's also Bavarian Autosport ignitions coils and a JB Racing lightened flywheel along with a Turner Motorsport tune.
The interior is a balanced affair too, as you would likely expect having read this far. Just enough to feel special, but still easy to live with from day to day. A pair of Recaro Pole Positions with subtle BMW M branding, a CAE shifter with a Momo Tuner steering wheel are the driver's connection to the car. There's also an Autopower roll-bar, Hard Motorsport door pulls and Aeroflow Dynamics rear seat delete panel.
Who wants back seat passengers, honestly?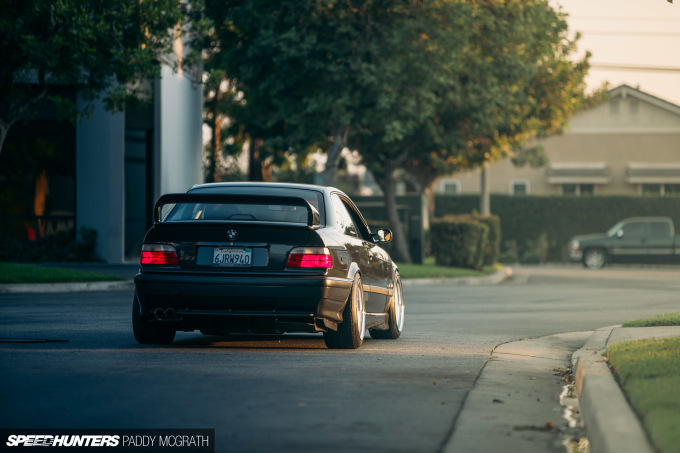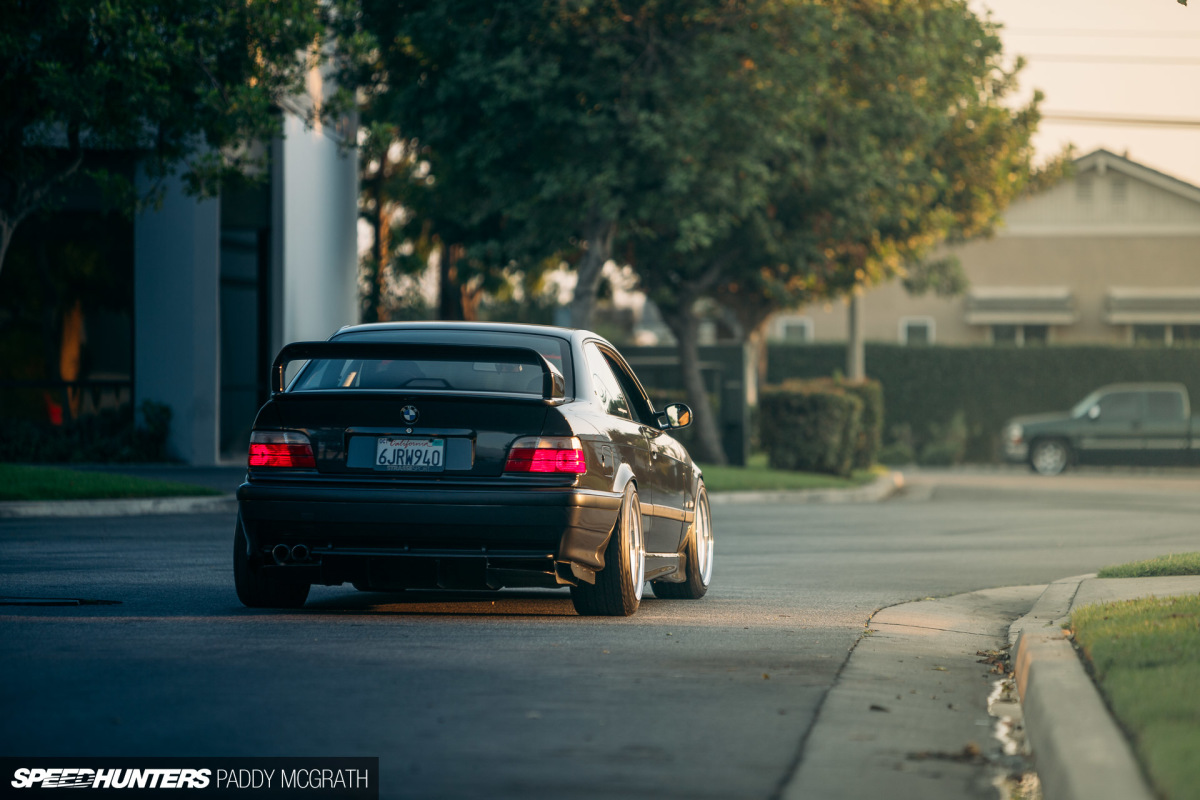 That pretty much covers the main talking points of James' E36 (actually, it also has Brembo brake discs with Hawk street pads and ECS stainless lines), but I hope you agree that it's car that has become so much more than the sum of its parts.
There's something very real about it, which is probably why I spent more time browsing E36 classifieds during the process of writing this article than I should admit to. But maybe this is the last call for the E36 before prices rocket?
Now or never?
Paddy McGrath
Instagram: pmcgphotos
Twitter: pmcgphotos
paddy@speedhunters.com
Cutting Room Floor