Excitement Multiplied
How do you improve on perfection? Regular readers (that's you, right?) may remember my last Prima Tour across the scenic mountains that surround the South Australian city of Adelaide.
It involved a Ferrari 488 GTB on some of the best roads I've ever experienced, so how on earth could it ever be topped? After a lot of thought, the answer was far more straightforward than expected. We'd multiply it. In this case, by a factor of three.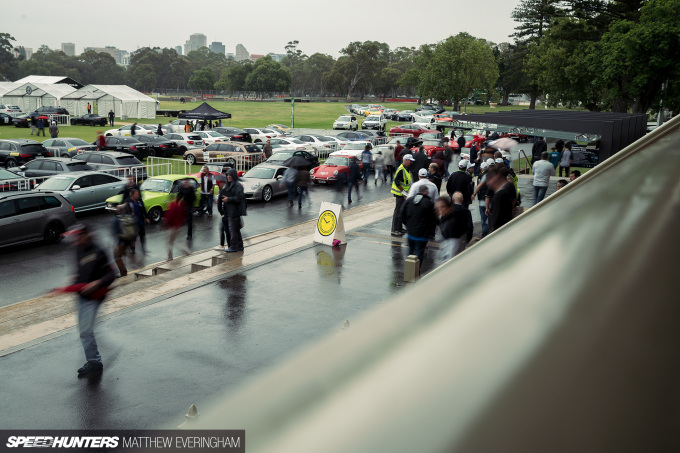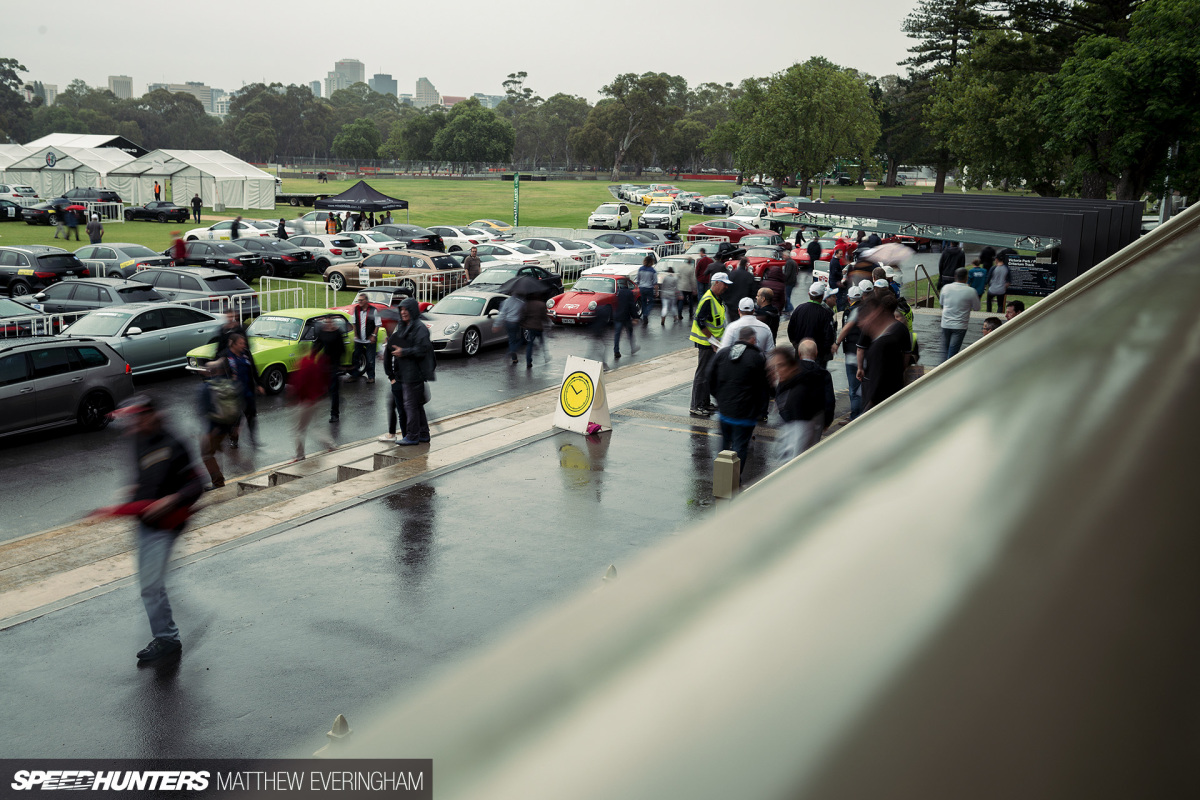 You know what, let's call it three and a half, with an extra zero point five being kindly supplied by Mother Nature in the form of slippery roads and heavy rain for the majority of the day.
To mix things up this year – and to selfishly take advantage of the incredible Prima Tour fleet – I had the brilliant idea to co-drive not one, but three dream machines. Not only would be it be a whole heap of fun, but it'd also be interesting to experience three wildly different vehicles back-to-back in the same environment.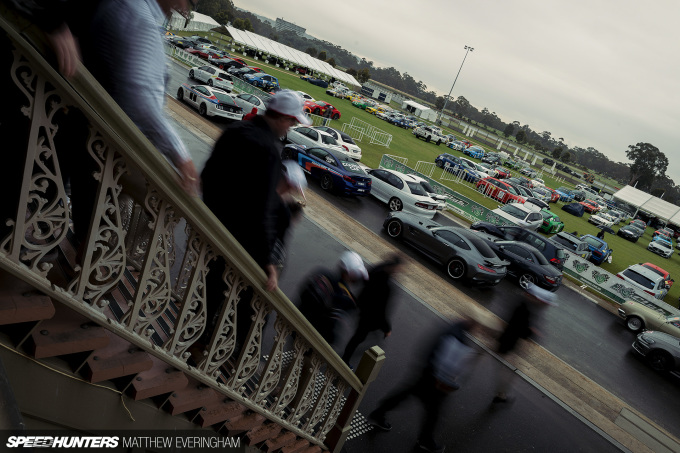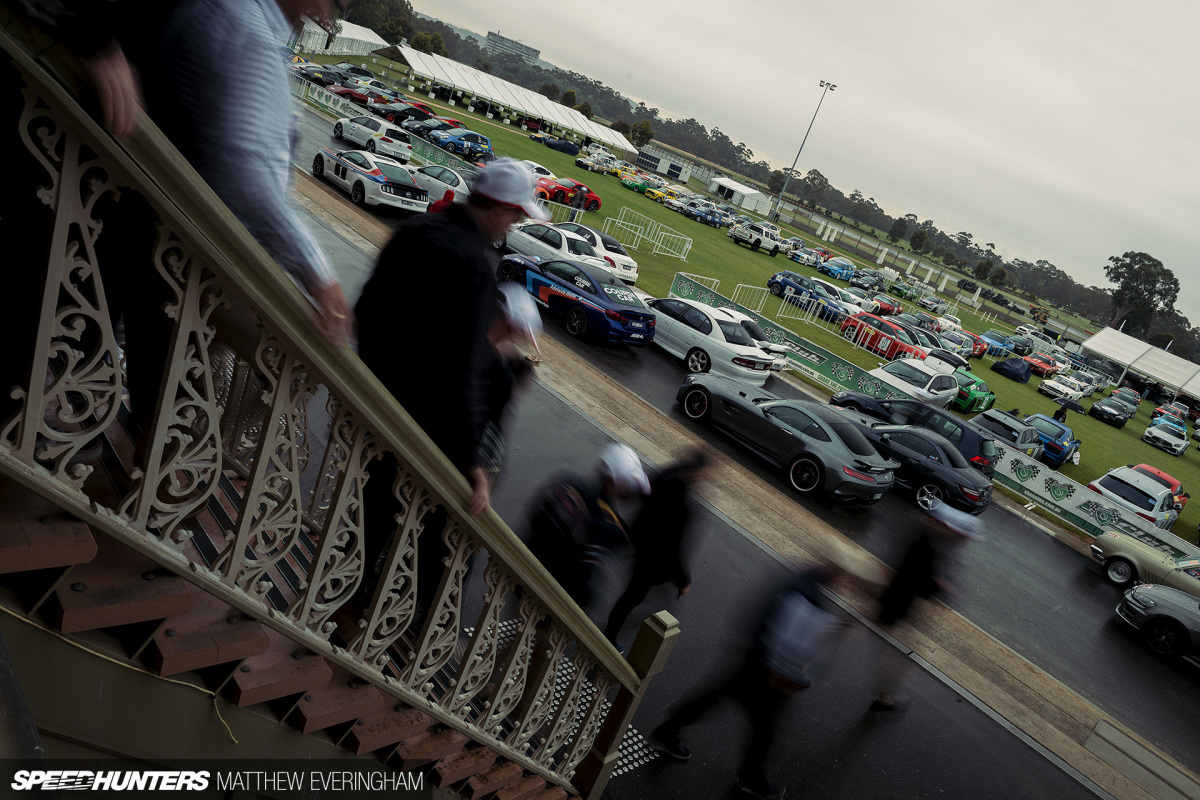 The Prima Tour headlines Adelaide Motorsport Festival, bringing together Australia's most eclectic mix of performance cars. That's something highlighted by the three vehicles I'd be co-driving, each built around a very different driving philosophy. There was Tickford's supercharged 'Bathurst '77 Special' Ford Mustang, McLaren's supreme 675LT, and lastly, Ferrari's definition of family touring, the GT4C Lusso T.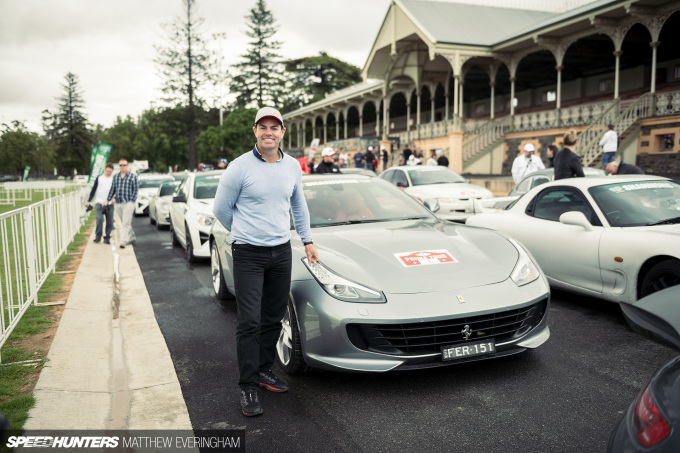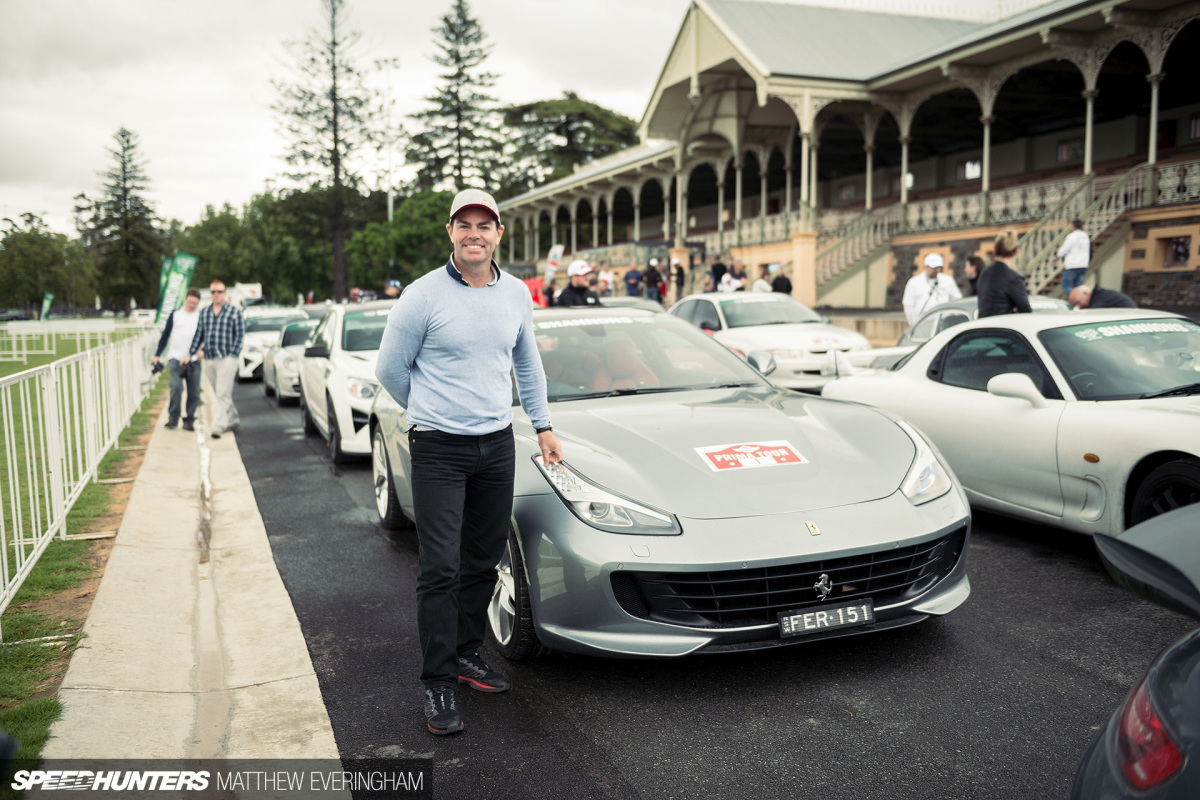 To help me put each car through its paces was a racing driver behind the wheel. Craig Lowndes, an Australian V8 Supercars superstar and basically Car Jesus to many Australians, would drive the Lusso T.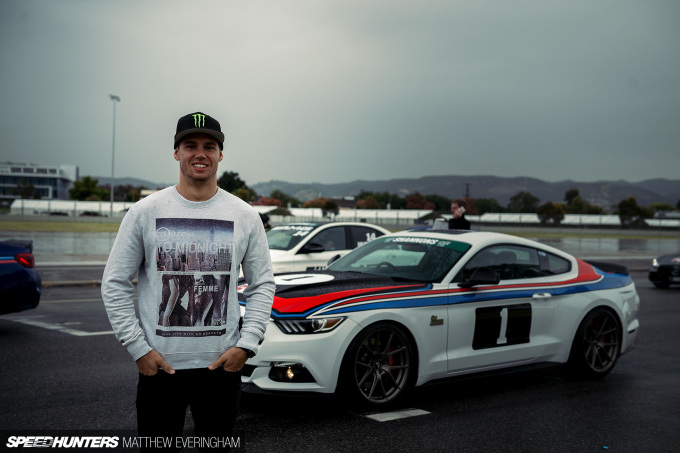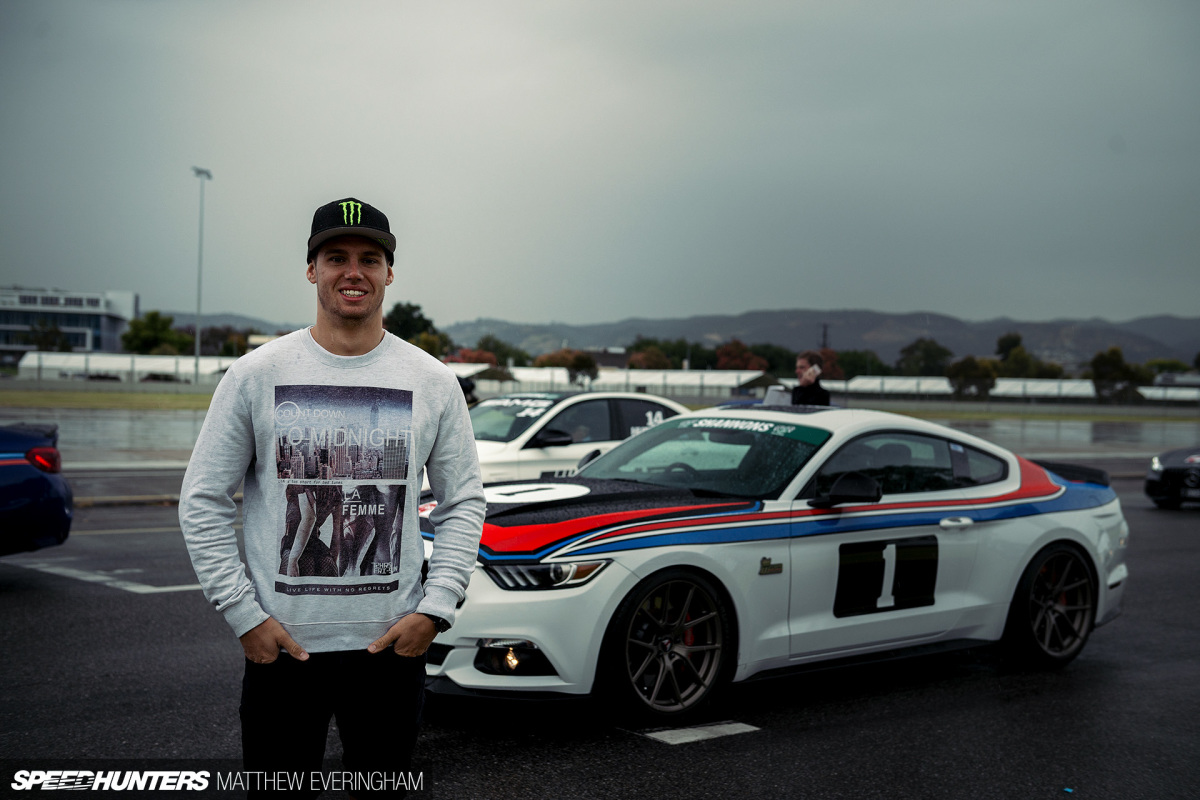 Cam Waters, one of the most promising young V8 Supercars drivers on the block would enthusiastically teach me that traction in Tickford's improved Mustang is entirely optional.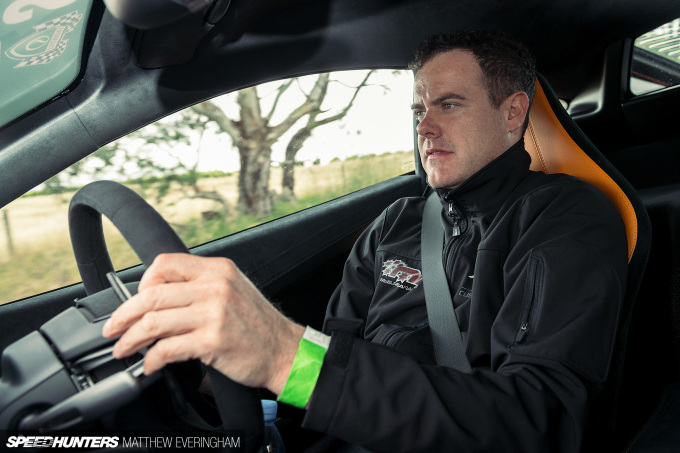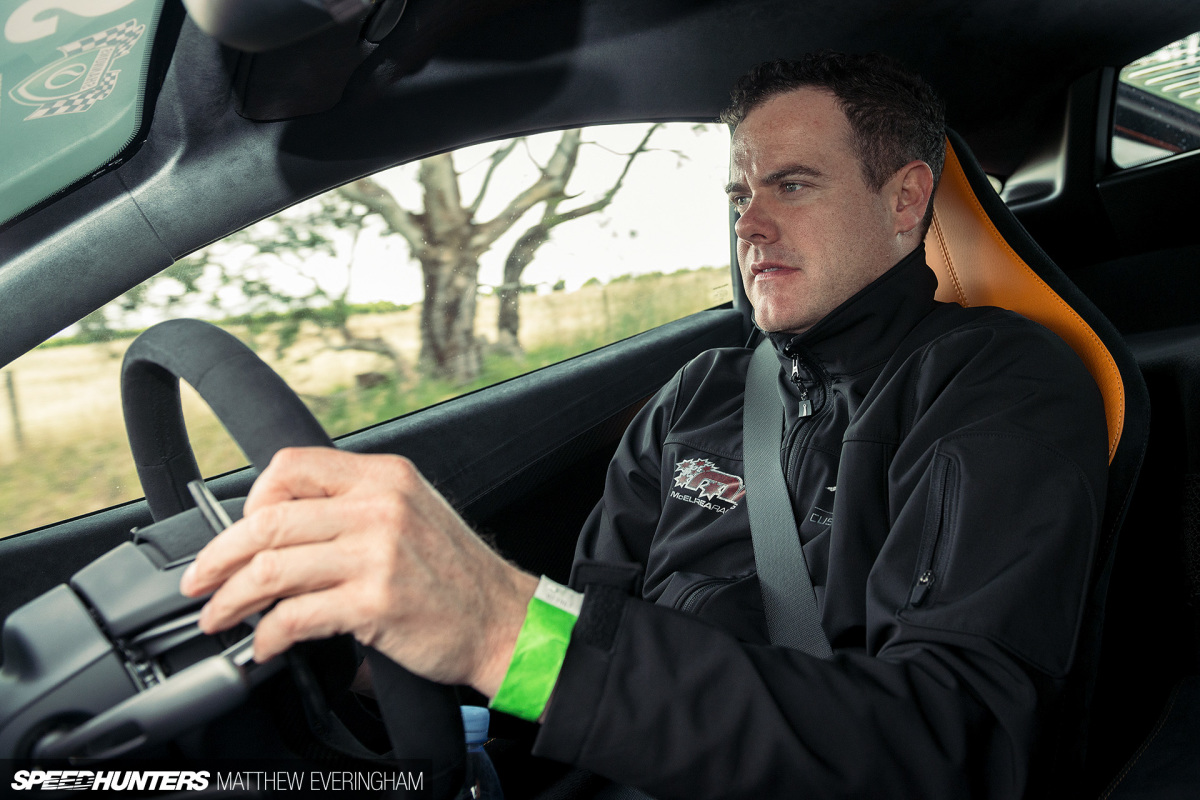 And Benny Stack would do his best to tame the McLaren 675LT. While he's never raced a V8 Supercar, he is quite an accomplished driver. He's also no stranger to the drivers seat in a McLaren; in fact, he's one of the most qualified to demonstrate the car's true capabilities.
I'd spend the majority of the day strapped into a passenger seat, so I made sure to arrive early enough to walk through staging to take in the full range of vehicles on our tour.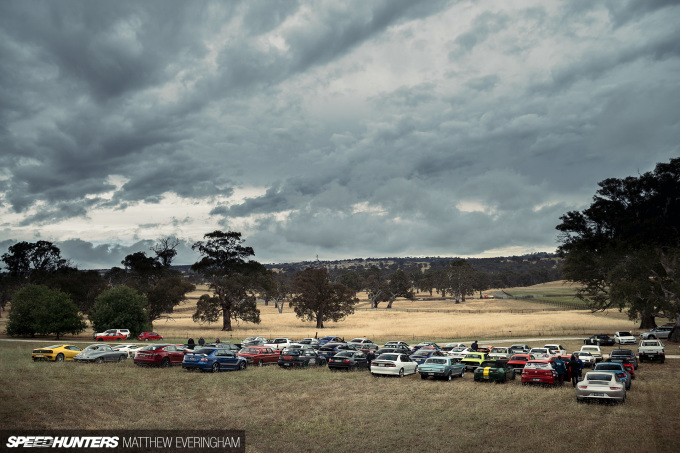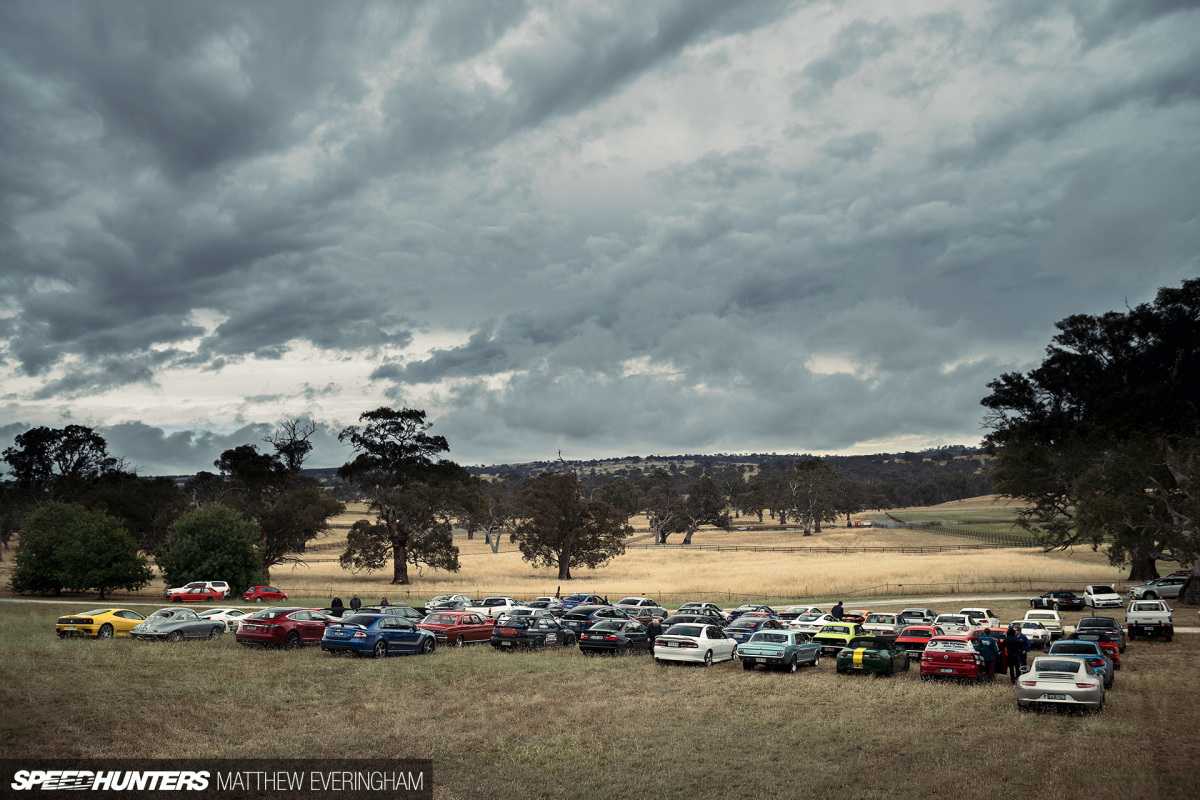 No other event that I've come across in Australia can boast the variety of cars that make Adelaide Motorsport Festival such a unique event on the calendar.
Before too long, it was time to get serious. Even though the majority of the Prima Tour was an open road, we'd get the opportunity to drive along a number of the official rally stages and closed roads.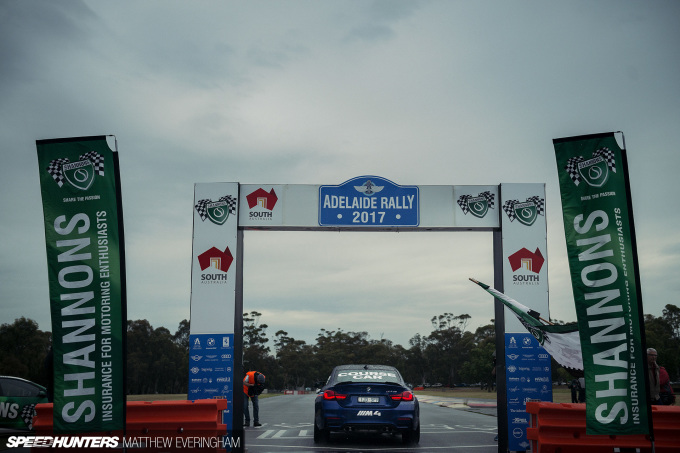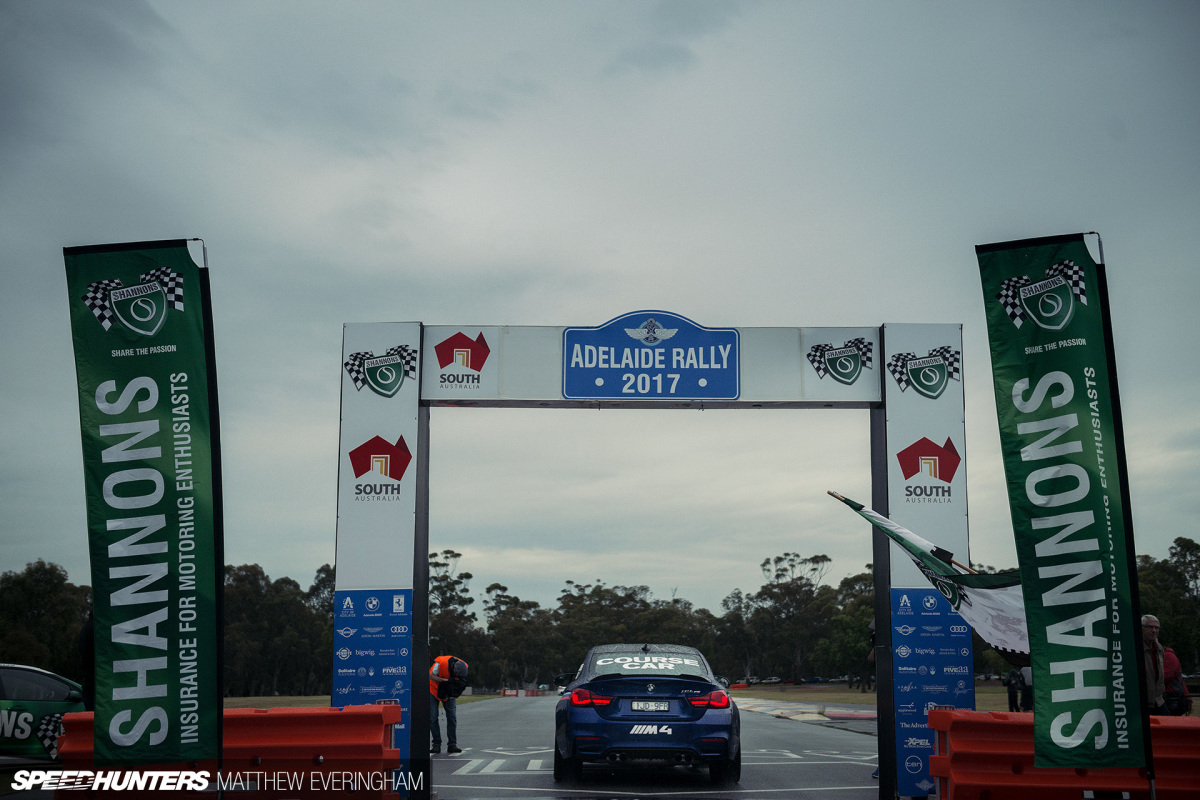 After a quick driver's briefing and safety talk, we were sent on our way.
Party In The Back
Before we dive deeper into the story, let's address the elephant in the room. Did Matt just throw a Mustang into Supercar territory? Yes. Well sort of. Okay, while it may not be a real supercar, it's pure performance was, well, super.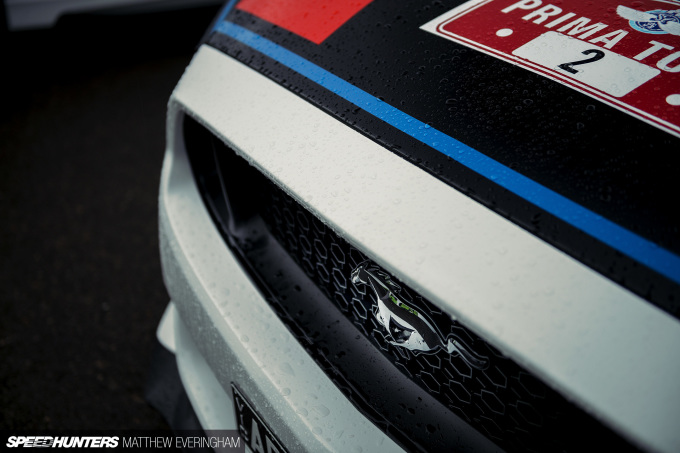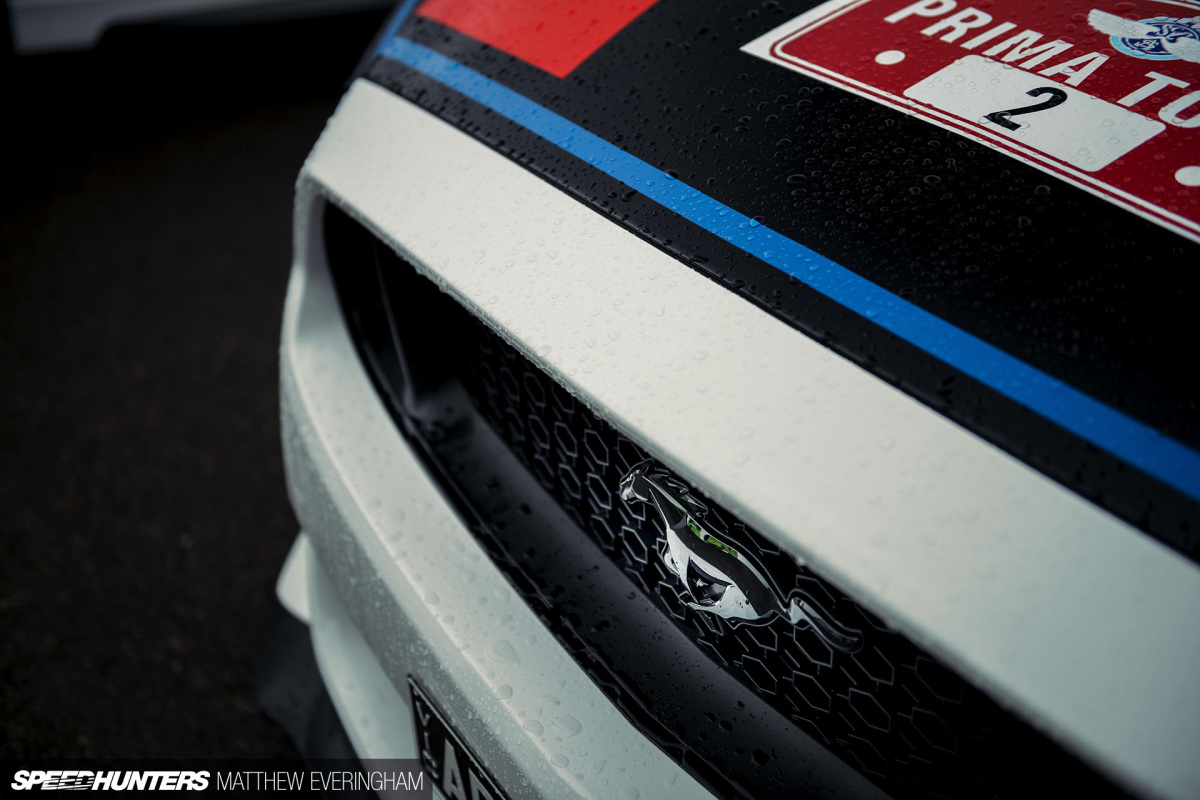 Tickford Race Engineering have been enhancing Australian Fords on a factory level in Australia for as long as I can remember. Previously, their road-going models were limited to enhanced passenger sedans, so the Australian introduction of the Mustang GT, a true sports car, must be a breath of fresh air. That spark of excitement was the catalyst for this, Tickford's most capable street car yet.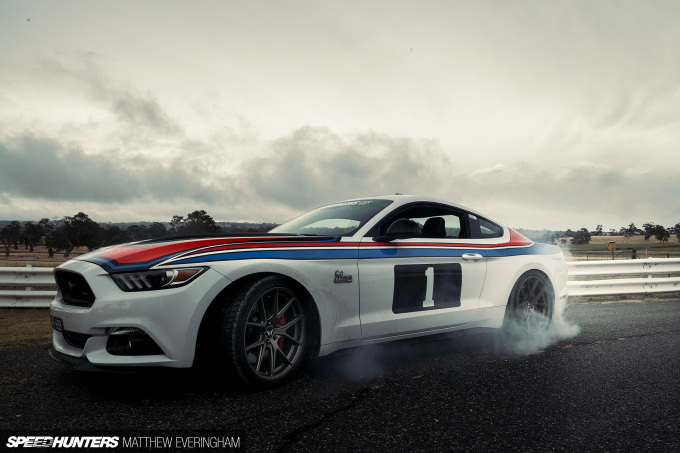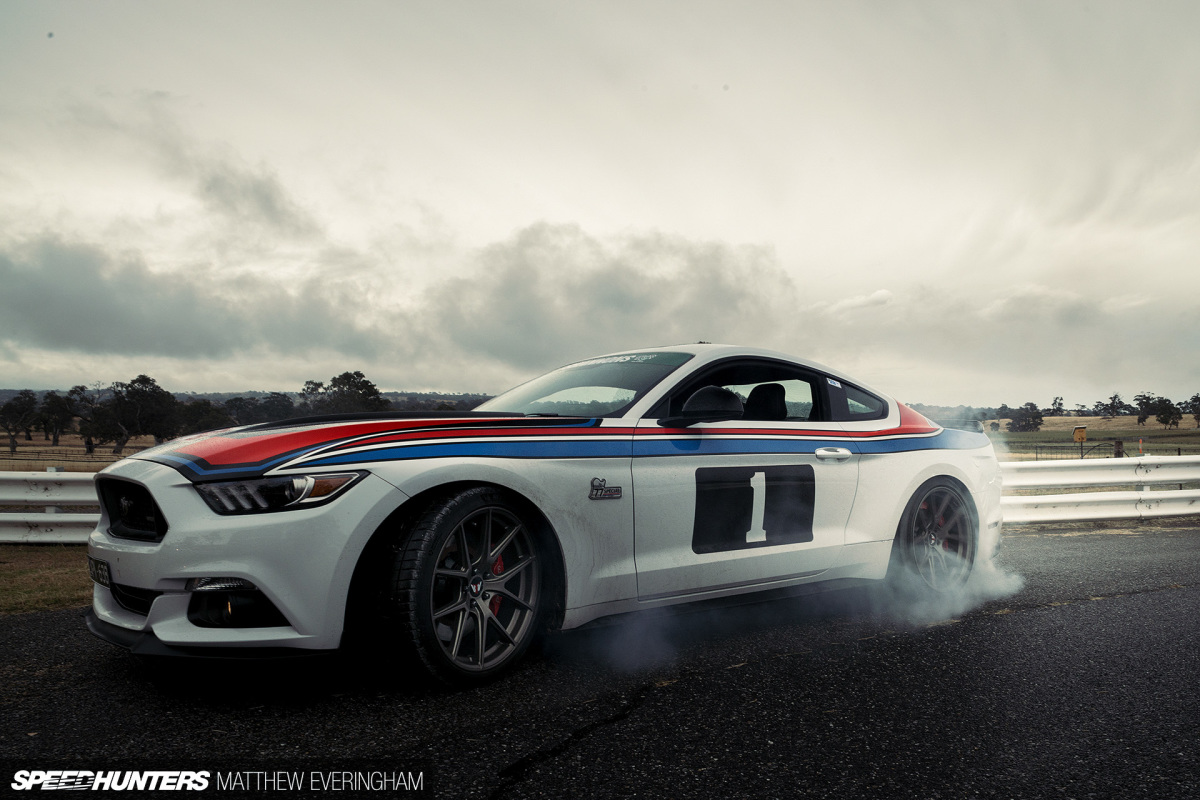 The Bathurst 77 Special Mustang GT's 5.0-litre powerplant runs a Roush-developed supercharger capable of delivering over 727hp (542kW) and 820Nm of torque, so we were only ever a momentary flick of the right foot away from a good time. Fun was multiplied by Cameron Water's obsession with punishing the rear tires at every possible opportunity.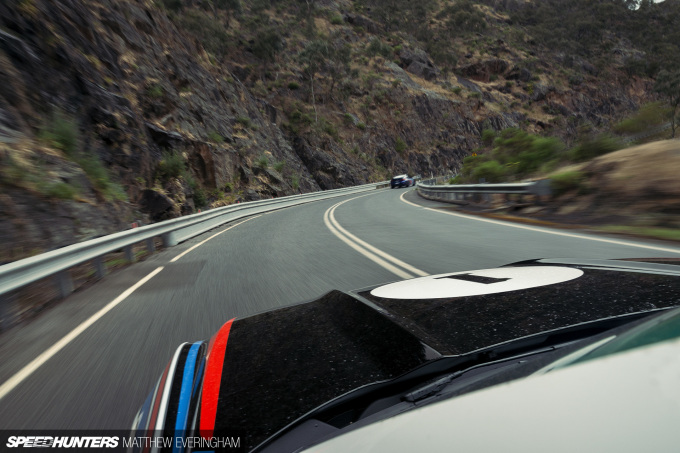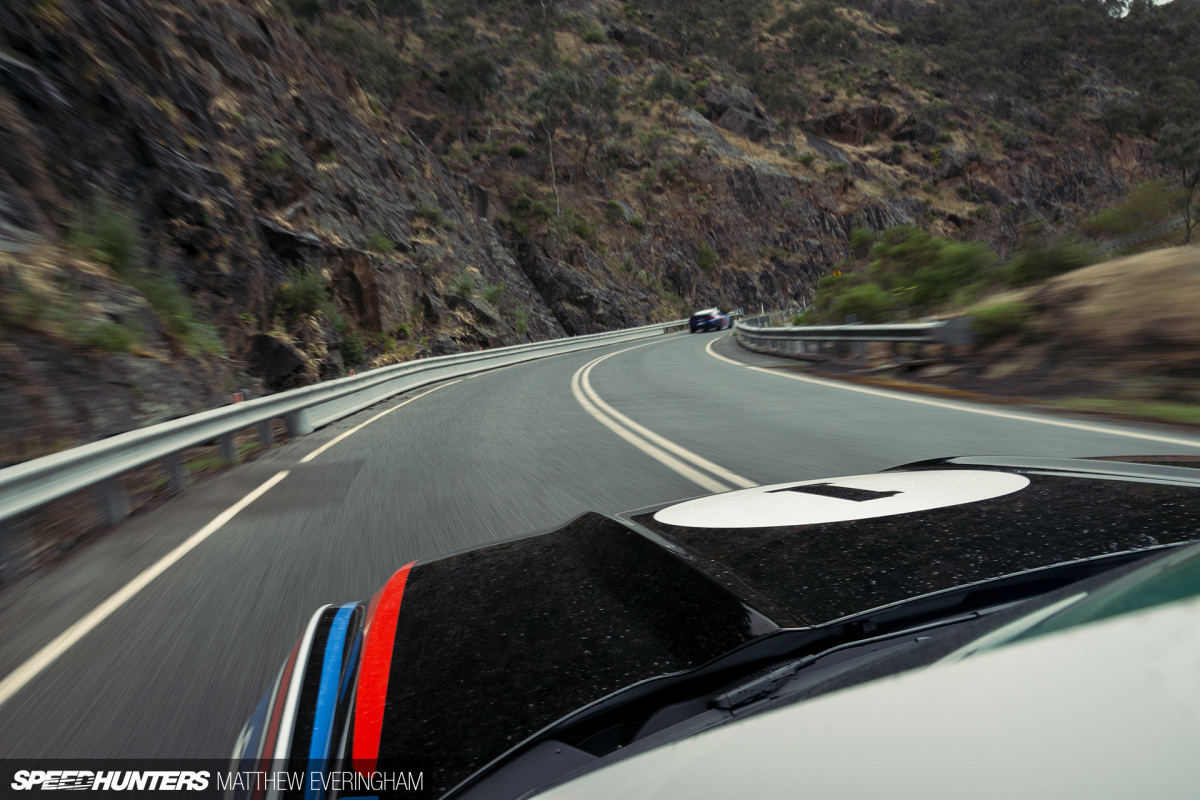 Larger Wilwood brakes bring the car to rest when required, but the most noticeable change outside of the engine bay was just how tight and nimble the usually soft-footed Mustang felt. Apparently, the team went through at least 16 combinations to get the suspension package just right. Whatever it took, it was worth it; the handling is superb.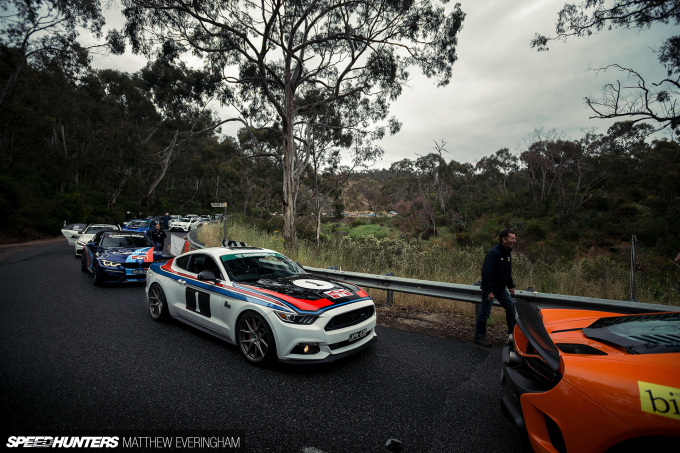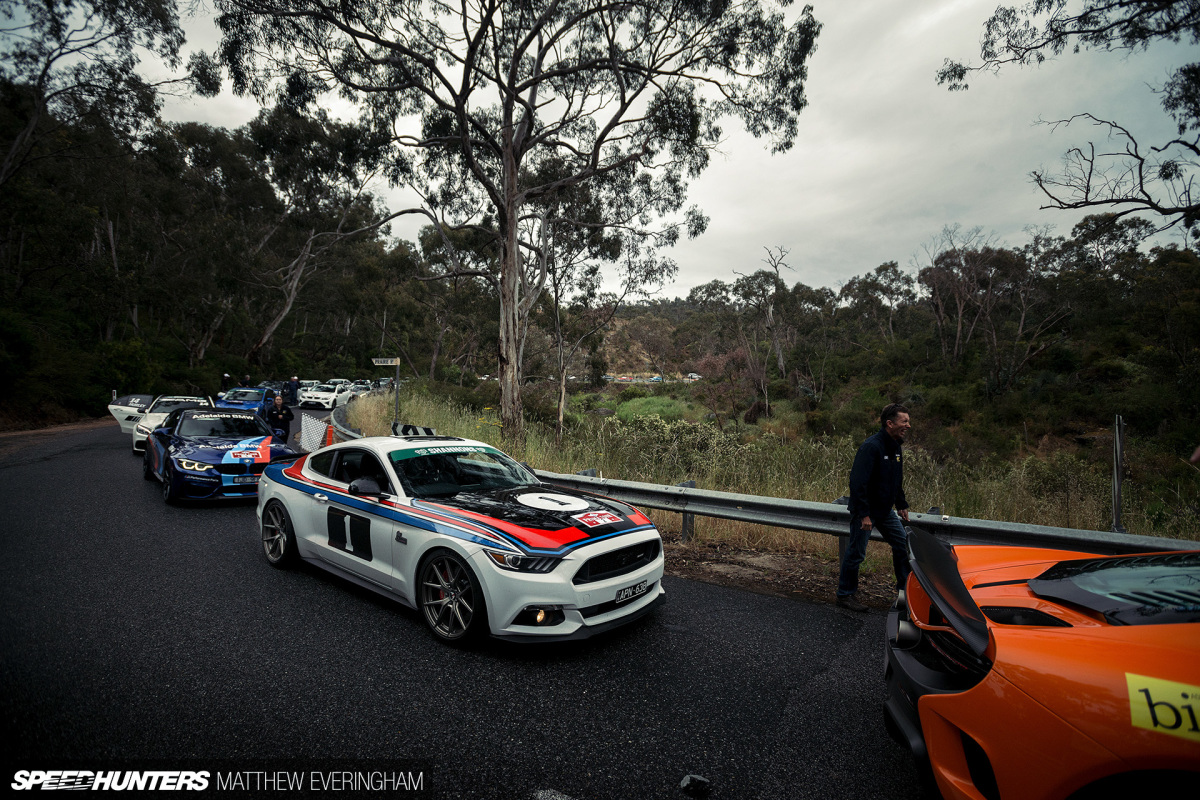 My only gripe with Tickford's build is the volume of the exhaust; I would have enjoyed a few extra decibels. I'd like to imagine that those who are committed to paying the premium price tag for the 'Bathurst '77 Special' might want to hear that their money was well spent a little more than what's currently on offer.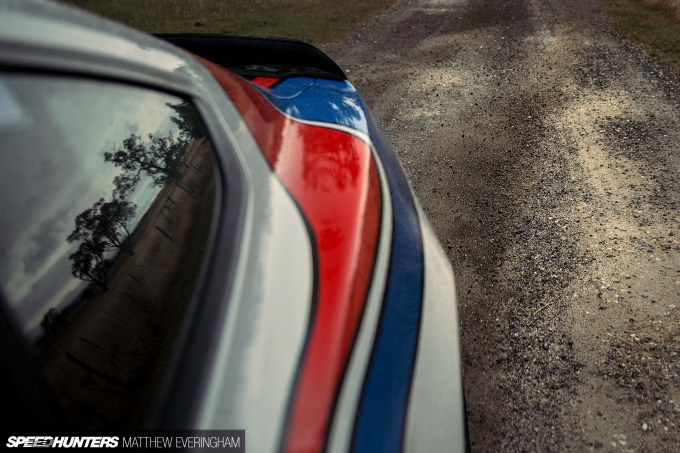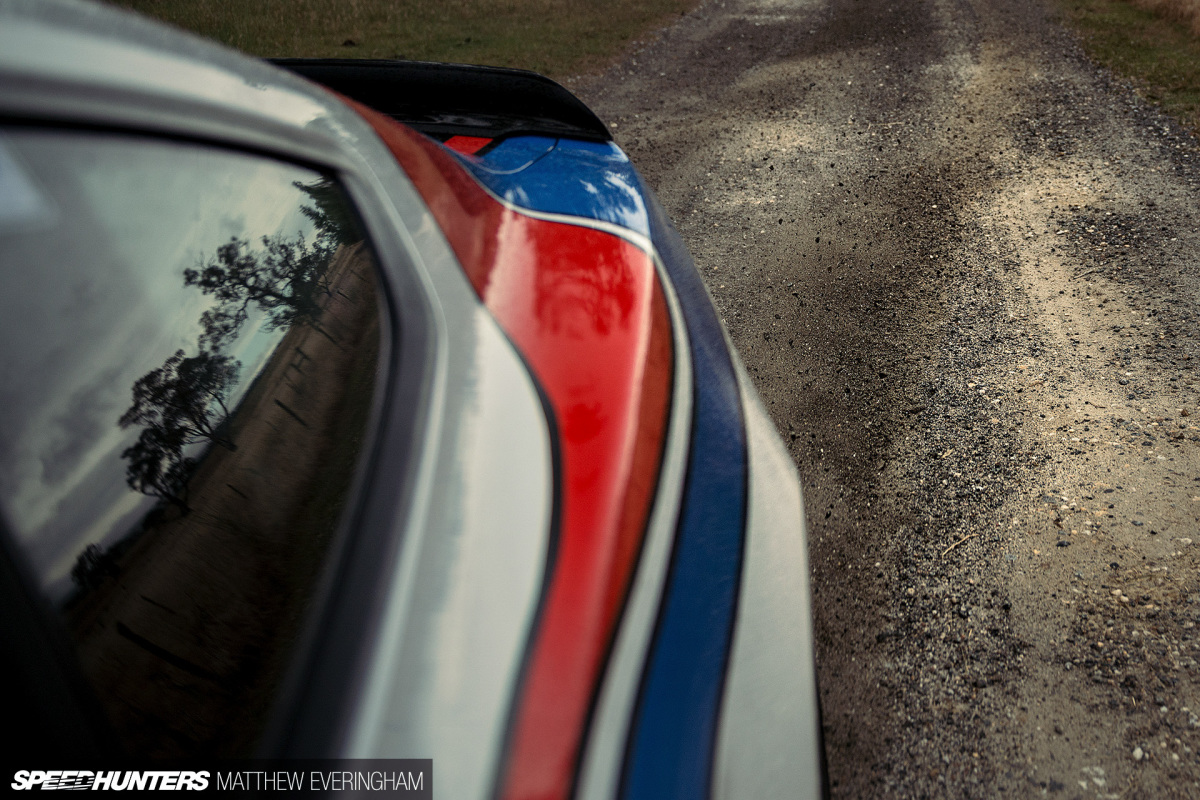 I can already see the comment section being lit up with readers declaring war on me for placing a Ford Mustang into the same league of Ferraris and McLarens.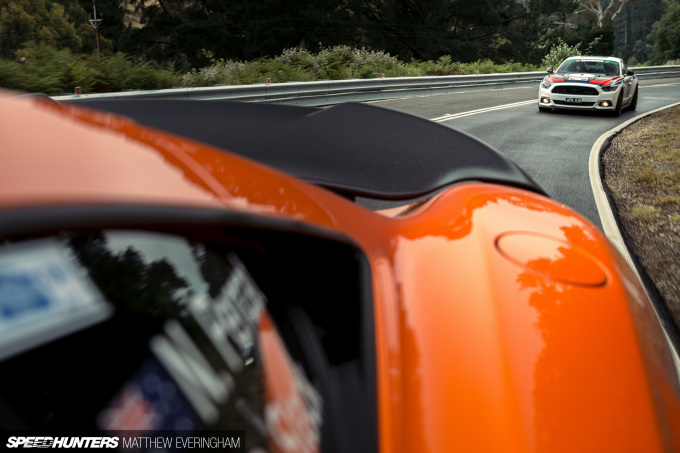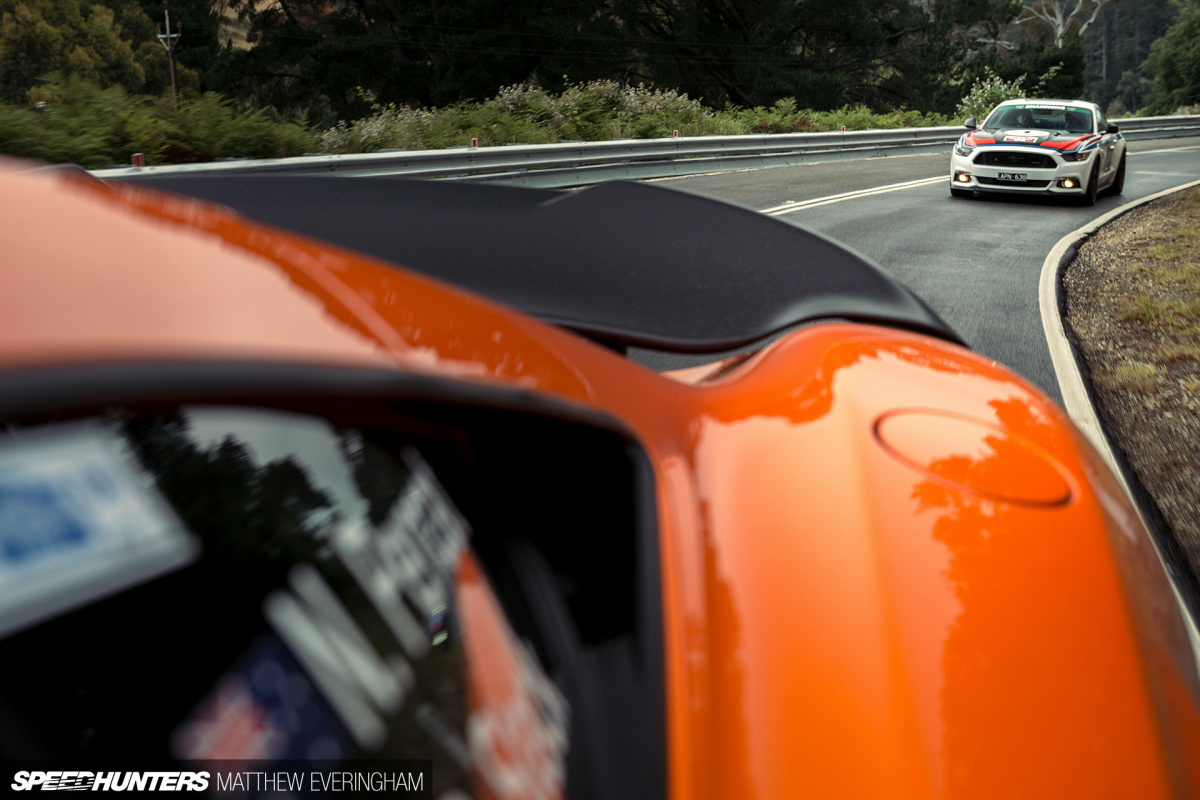 While the differences between the humble Ford and its more refined company of the day were never far from my thoughts, I can say that what the modified sports car for the average man lacked in refinement, it made up for with an overabundance of fun and character. Tickford's enhanced Mustang offered the most the fun of the trio.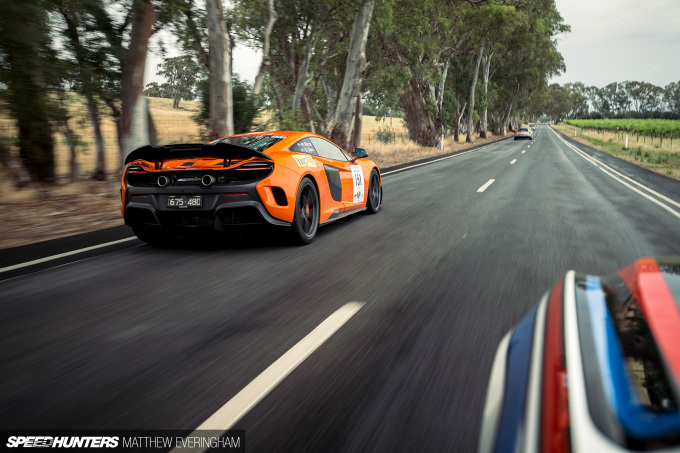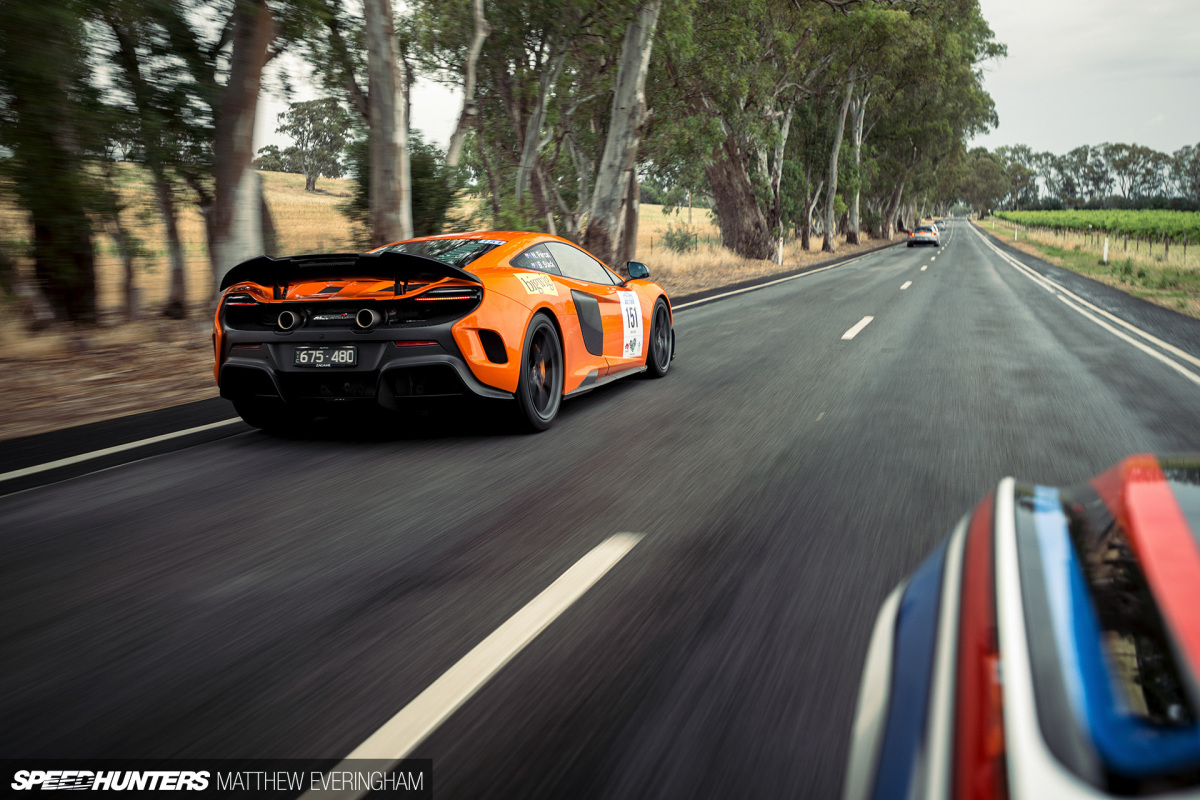 Cameron and the Mustang GT had proven to be fun travel buddies, but after one final jaunt up a narrow hillclimb course it was time to part ways and move to phase two of our experiment.
Not Disappointed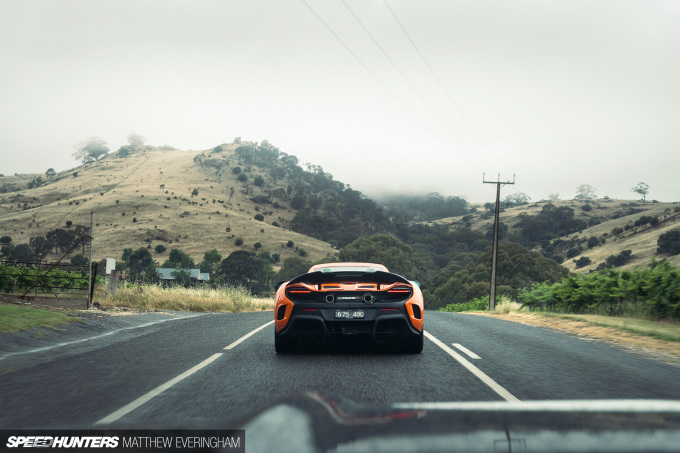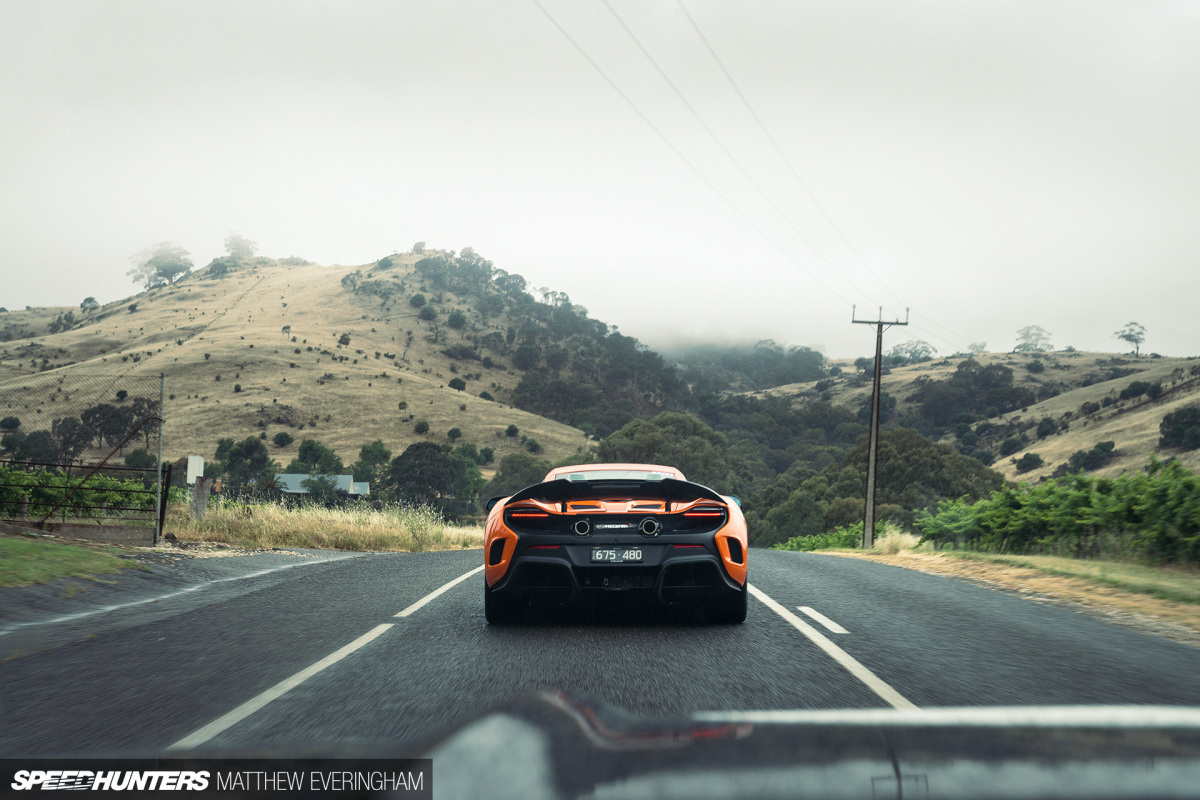 Despite McLaren being a poster car of mine since the F1 debuted in the early 1990s, I'd never had the opportunity to experience one on the road. Meeting one's hero so often leads to bitter disappointment, but I'm glad to report back that this was not the case. It was everything I'd imagined it to be; perhaps even more.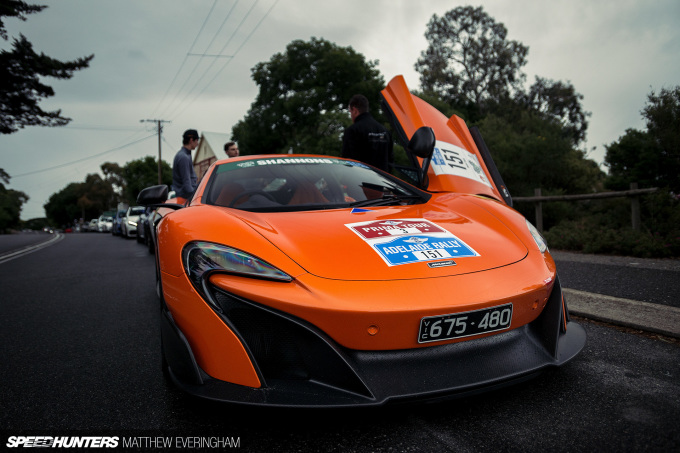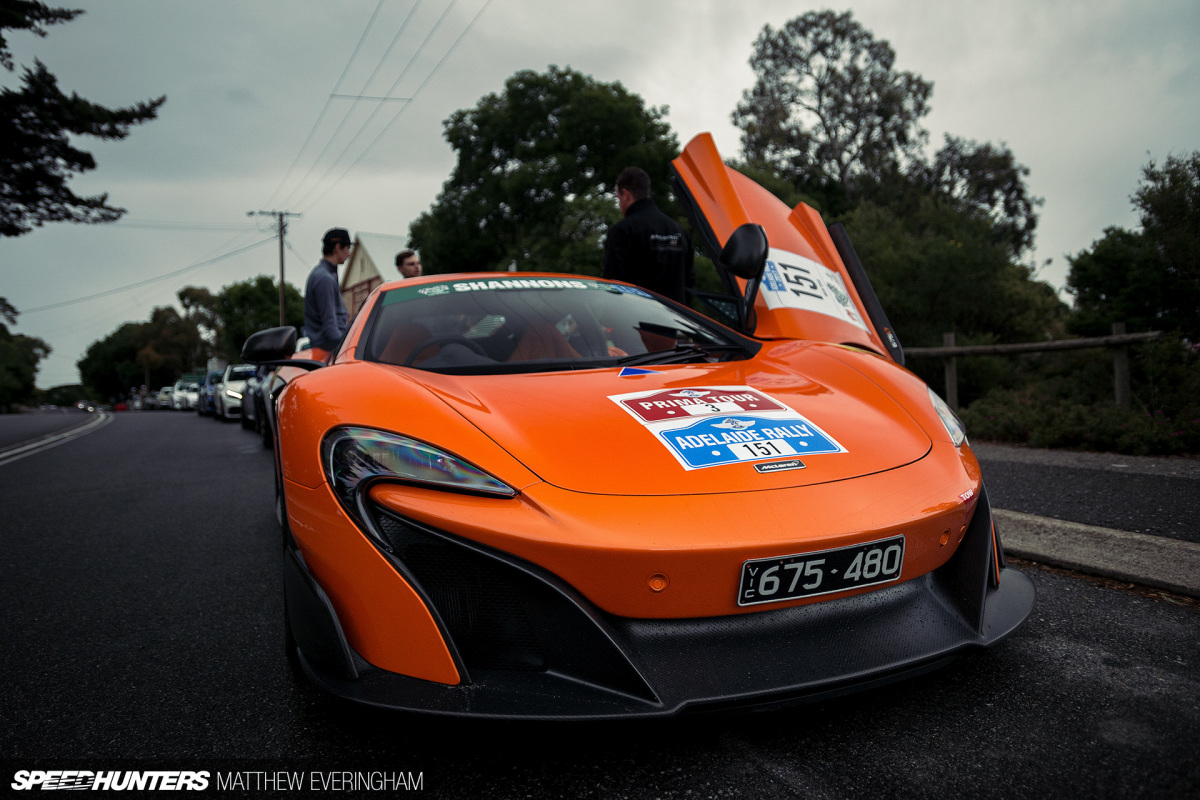 As refined as the McLaren 675LT's alien-like exterior is, it offers an entirely different feel from inside the cockpit; power delivery is brutal when given the opportunity to flex its muscles.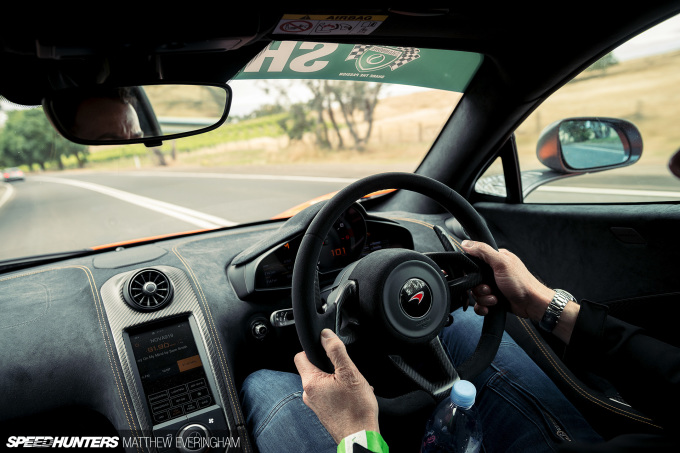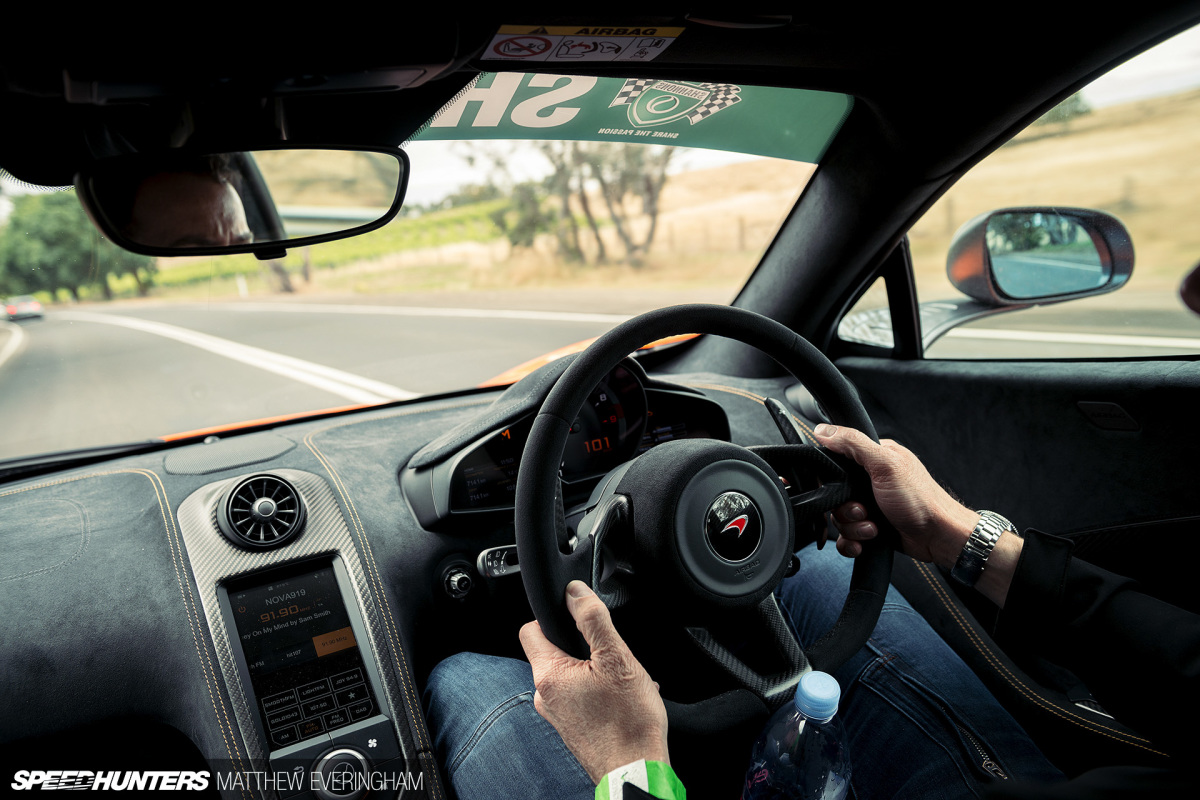 In every aspect practicality and comfort seem to be happily sacrificed for outright performance, just as a pure sports car should be built.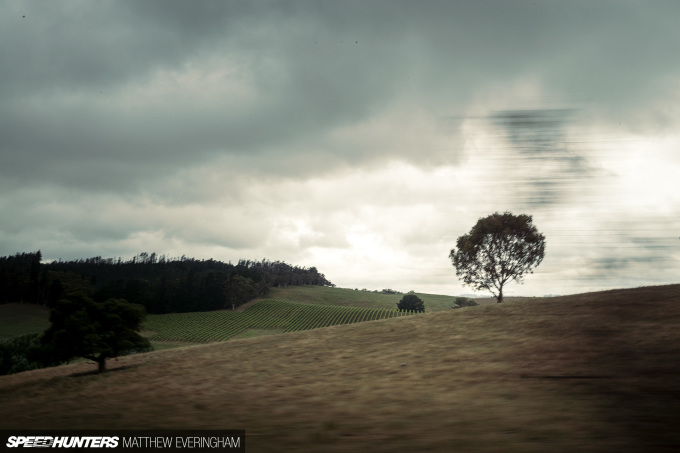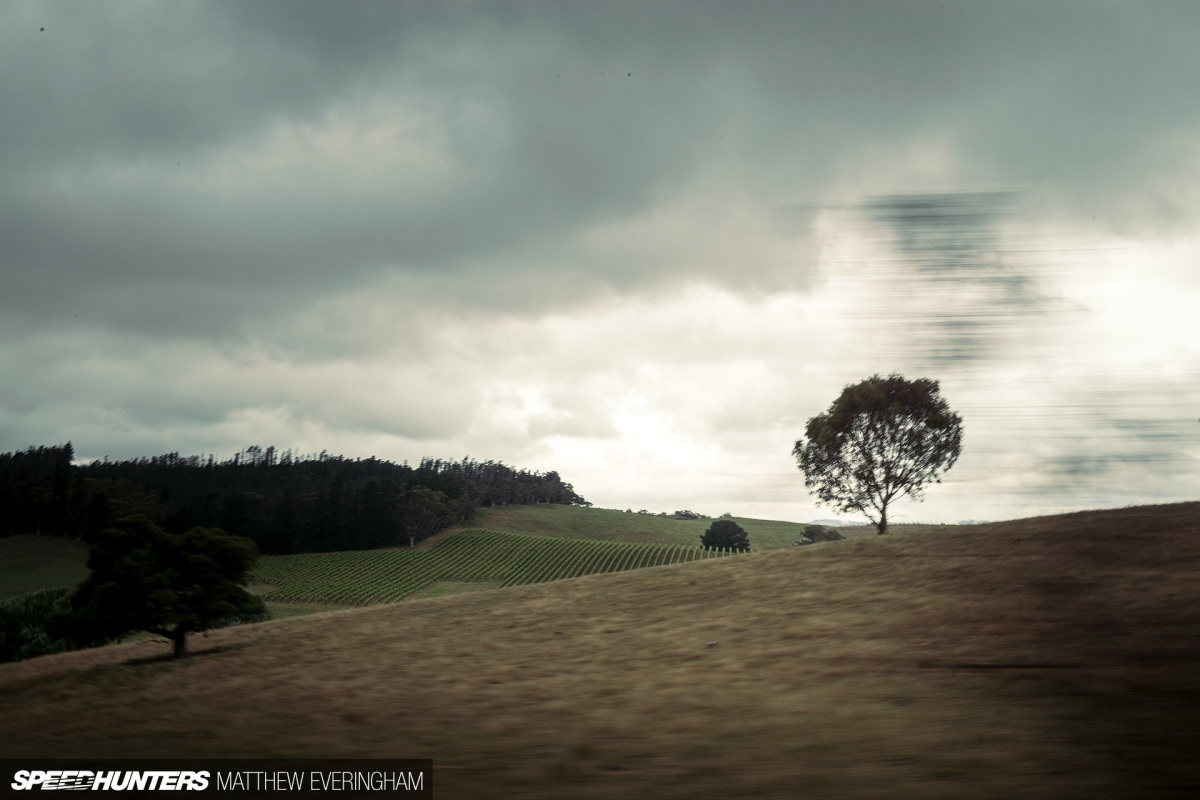 The acceleration was mind-blowing, but that's to be expected with 700Nm of torque and almost zero turbo lag. The experience was only heightened by the growl and snarl of the 665 hp (496kW) 3.8-litre twin-turbo, mid-mount engine just inches from your ears. The McLaren 675LT is unquestionably the fastest factory car I've ever sat in.
Need to reign in some of that excess speed quickly? No problem. Even in the rain, the 675LT's braking was equally impressive as its power delivery. I'd be very interested in experiencing what this monster of a machine is capable of in more suitable conditions.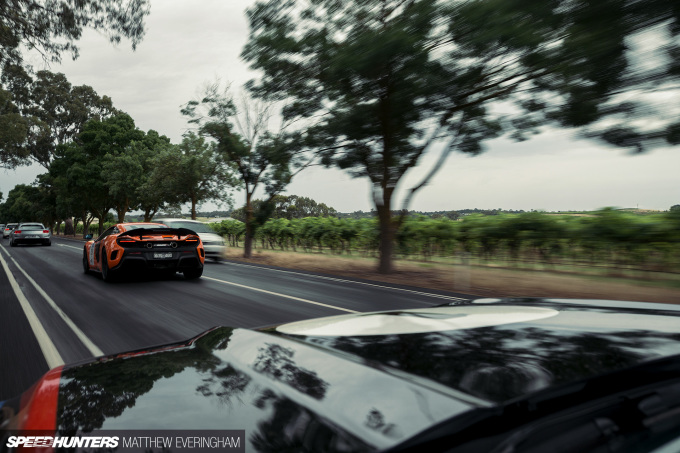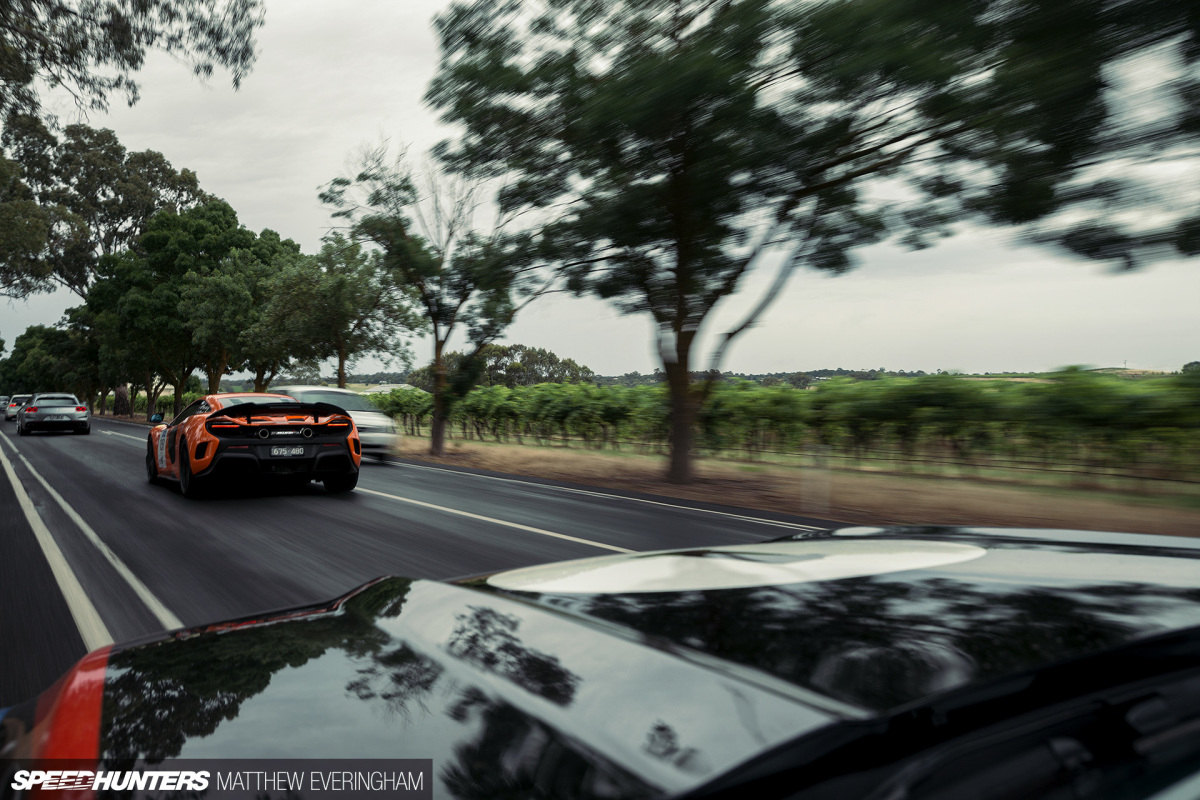 While the McLaren may be as close as I ever get to experiencing a fighter jet, its obsession with pure performance makes it my go-to option for a hard drive. But it's also the car I'd be least likely to choose if I needed to take a quick trip to the grocery store or a daily commute to the office.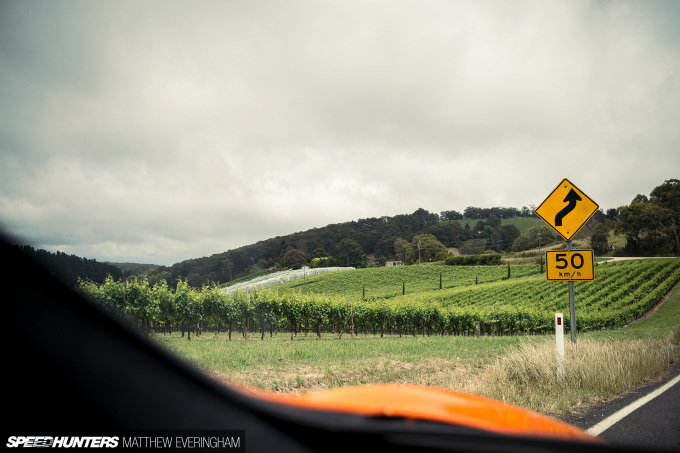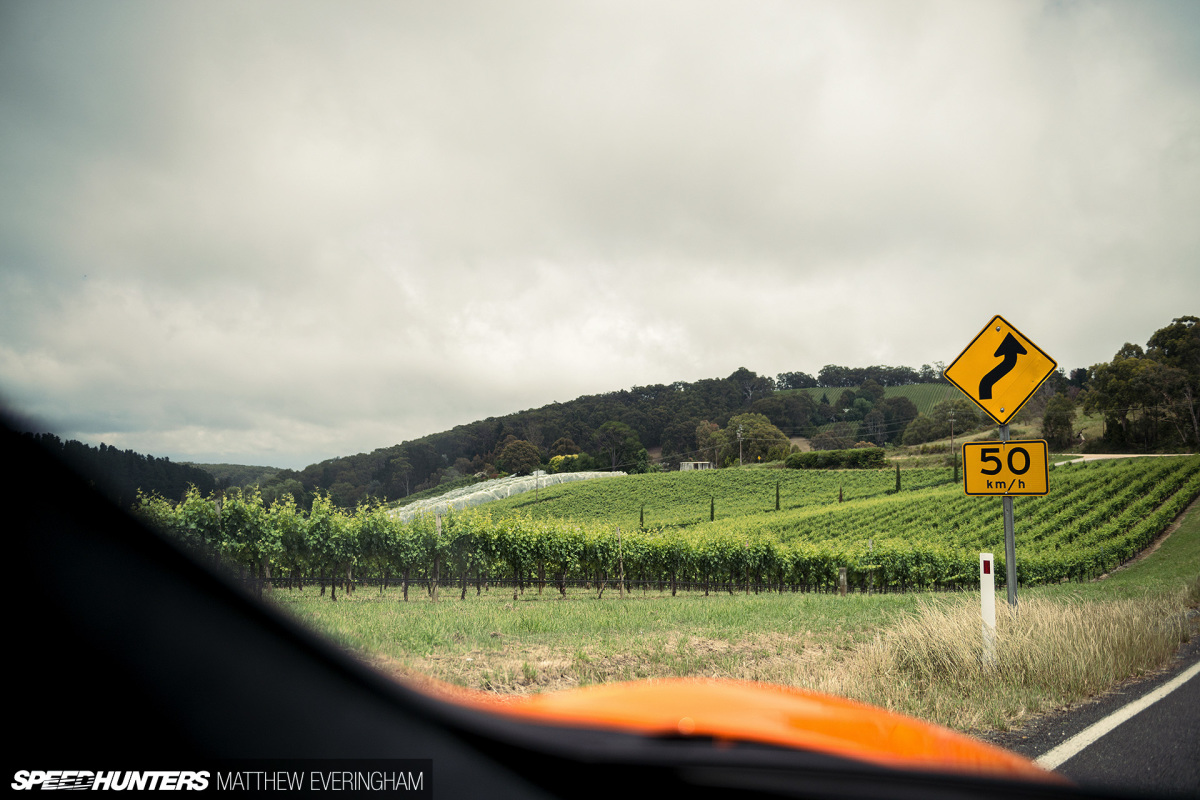 I don't imagine many McLaren owners would be limited to one car of course, but for argument's sake, let's imagine that somebody created a super practical super-sports. How would it compare to both its sporty competition or the humble family car? I'd have to wait until after a hearty lunch at the Deviation Road Winery to find out.
Getting Lusso
With our group unable to eat any more, it was time to pair up with Craig Lowndes and ride shotgun in Ferrari's GTCLusso T for the Prima Tour's final stages.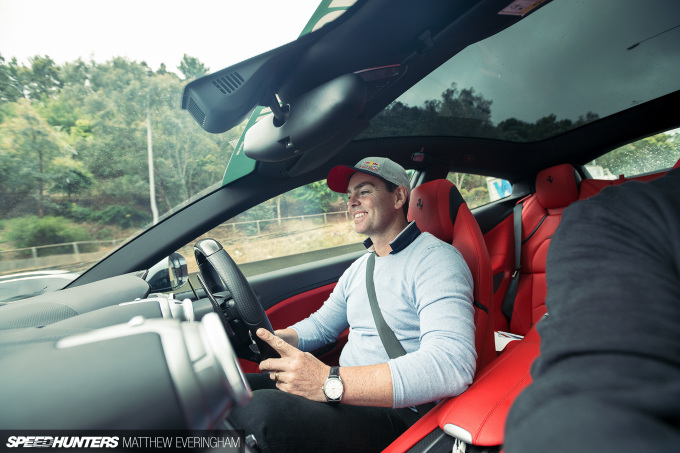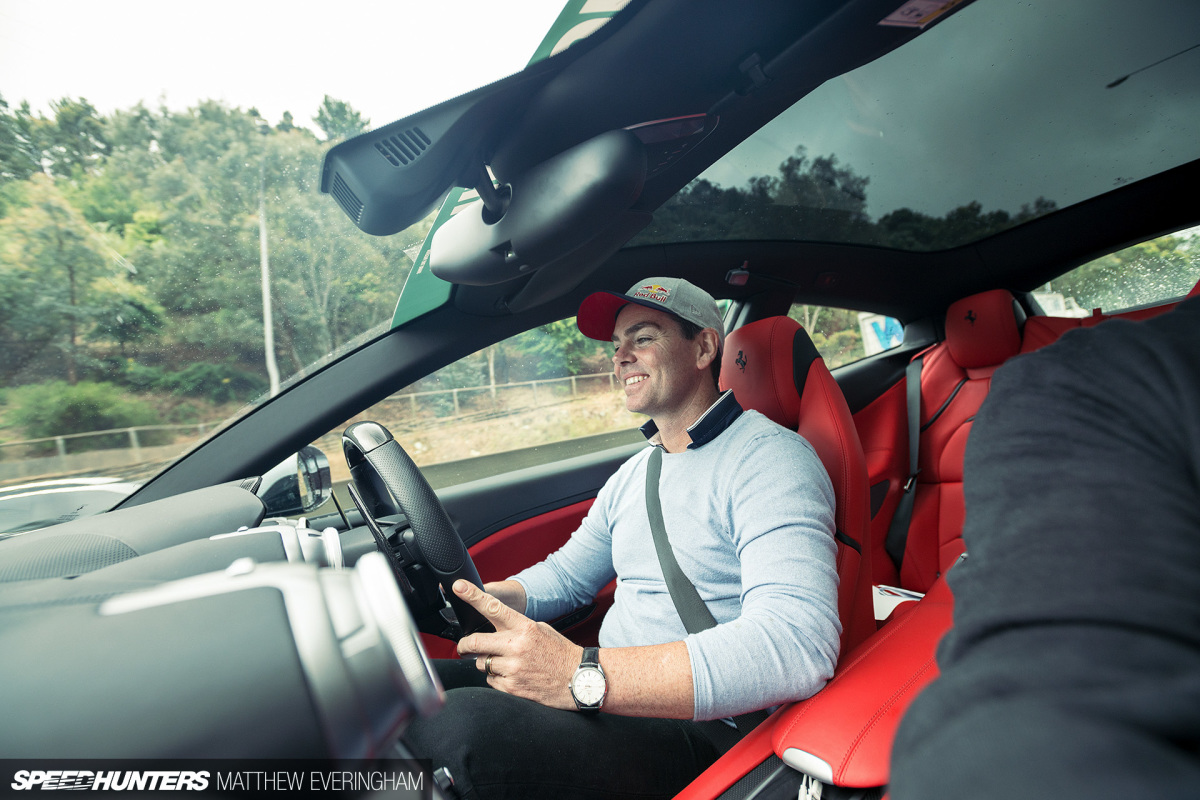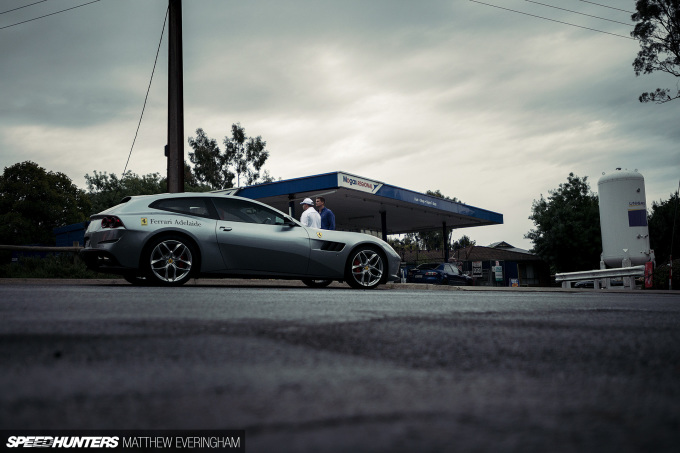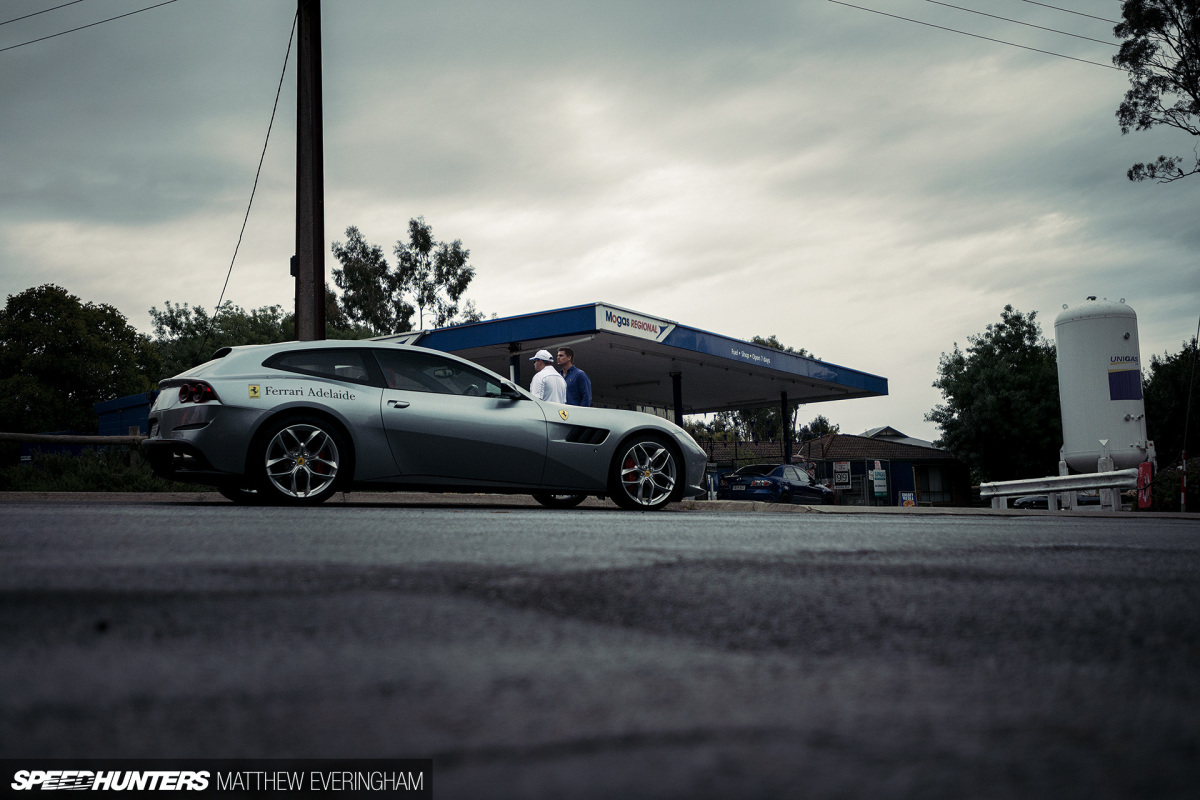 Unveiled in 2016 at the Paris Motor Show, the GTC4Lusso replaces the FF. Its hatchback design is undoubtedly one of the more striking designs from Maranello over the past few years.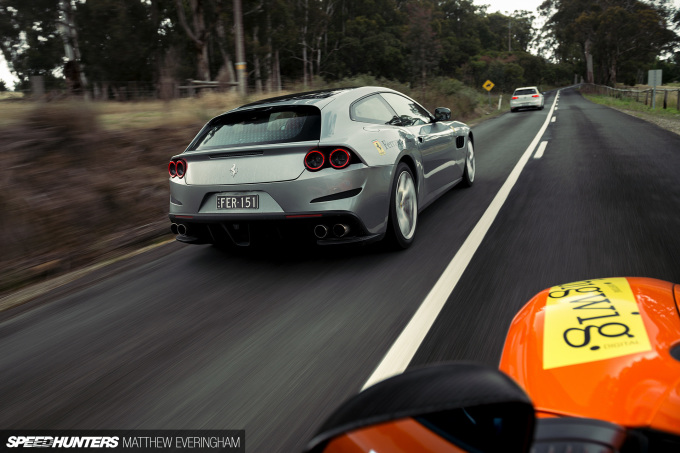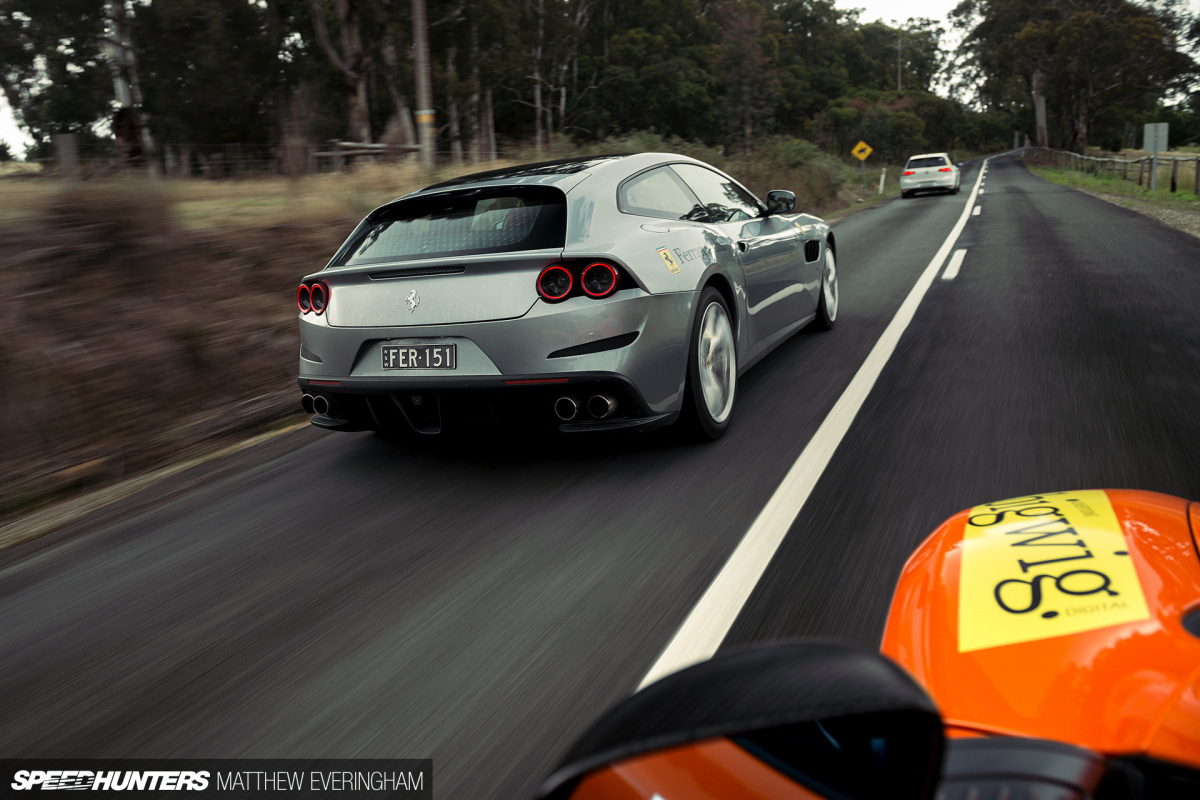 Its twin-turbocharged V8 engine rated to 602hp (449 kW), and 760Nm of torque means you'll be forced to think of another excuse for why the kids were late to school again.
The Lusso T may have been the least powerful vehicle of our trio, but it was difficult to tell from within the cabin. Even in the slippery conditions I don't think we were too far from Ferrari's claimed 3.5-second 0-100km/h (0-60mph) benchmark.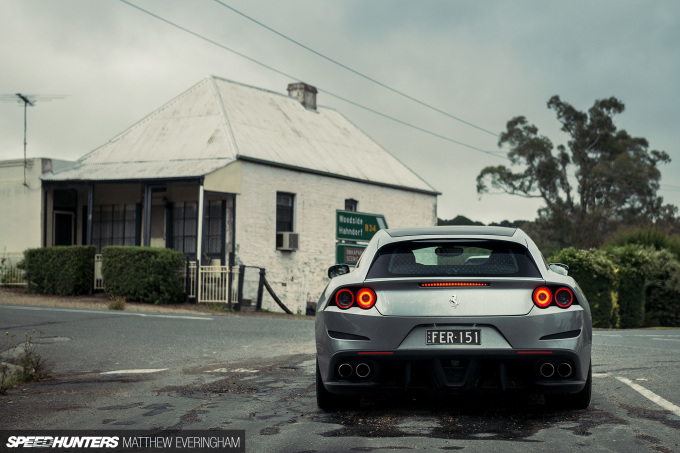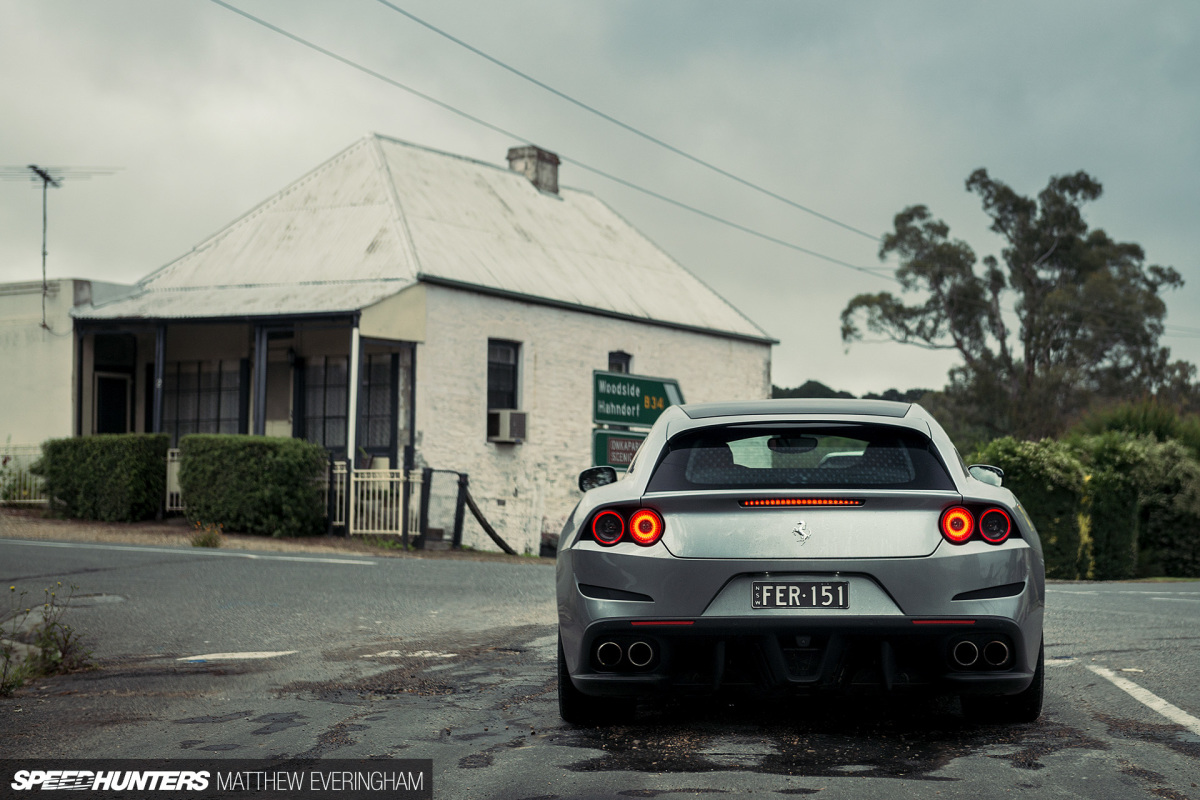 Despite almost needing a set of binoculars to see past the long bonnet that allows for the larger V12 in the Lusso T's big brother variant, the four-wheel steering and active suspension gave the illusion that we were behind the wheel of something half its size. Its fast turn-in gobbled up the ribbon of winding tarmac as made through the tighter sections on our way back to civilisation.
What seperated the Lusso T from the rest of the pack was its attention to detail and inability to compromise on comfort and luxury. The cabin has more in common with a penthouse suite than something you'd find at the racetrack. It's a beautiful place to be.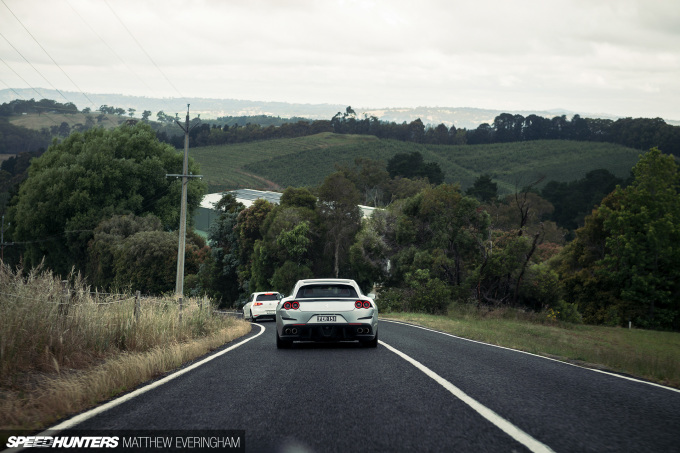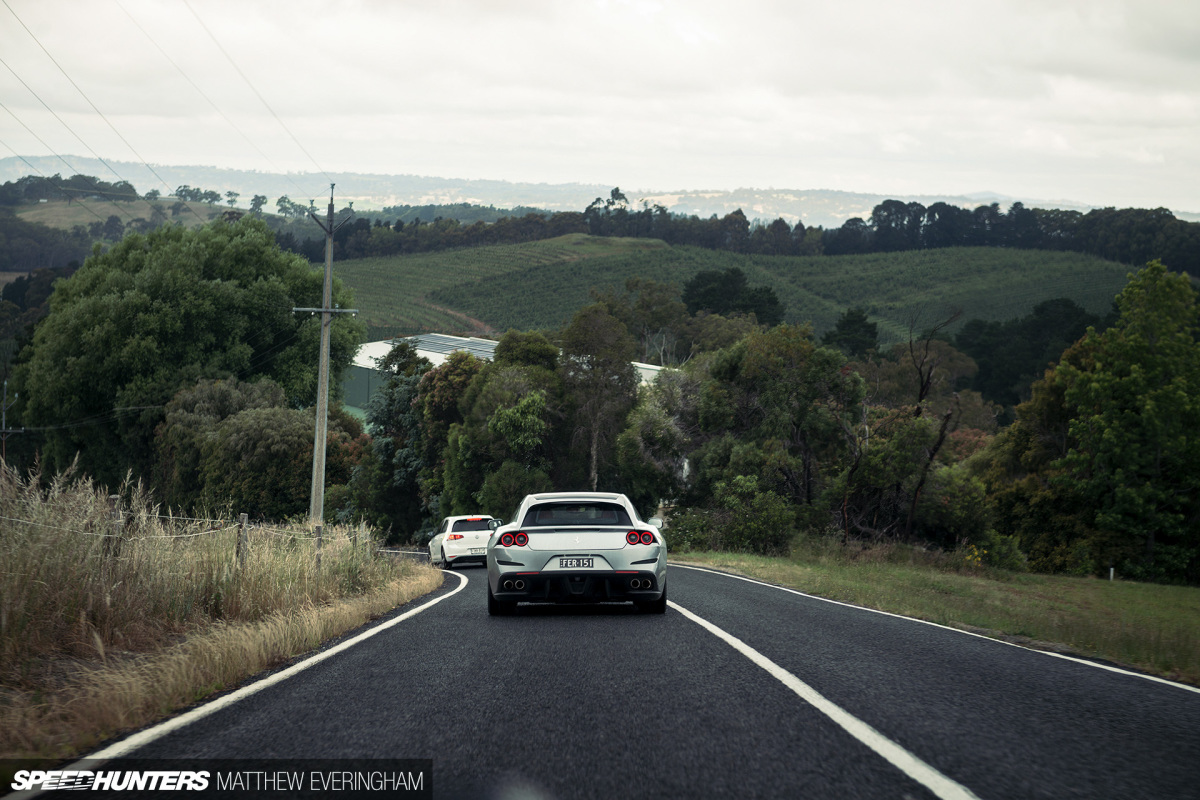 While it might not compete with the McLaren when it comes to pure performance, or Tickford's Mustang for its sense of youthful fun, it doesn't need to. It does a remarkable job of simultaneously satisfying both one's need for speed and desire to be pampered. It would also make an excellent choice for that late night grocery run.
While these were the highlights of the tour, this is not all from this particular adventure. There's still the small matter of the Adelaide Motorsport Festival itself to share with you. More on that, soon.
Matthew Everingham
Instagram: matthew_everingham
matt@mattheweveringham.com
More stories from Australia on Speedhunters
The Cutting Room Floor