So Low, You Can't Go
In the space of just over a week I've taken pictures of hot rodded American cars from the '30s, muscle cars, vintage Porsches, and time attack racers at Tsukuba. Now I can add slammed goodness to the list, all thanks to the 2017 StanceNation Japan G Edition gathering held in Odaiba on Sunday.
If you don't pause for a second to stop and take it all in, you might begin to take Japan's vast love of cars for granted. There's so much to see and indulge in that it can be almost overwhelming. With close to 1,000 cars present, that's the feeling I got when I stepped through the gates.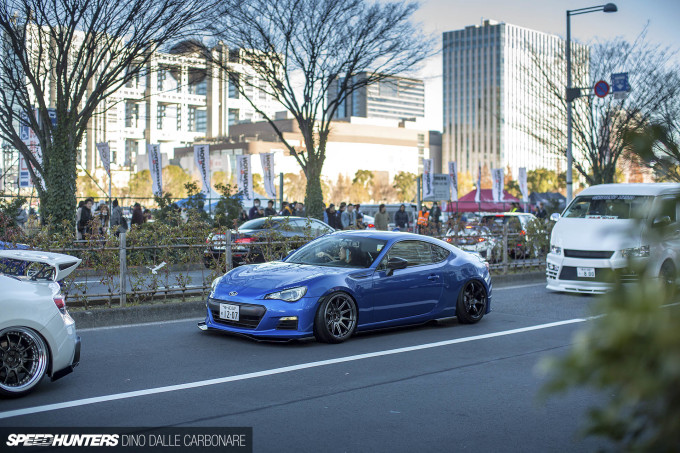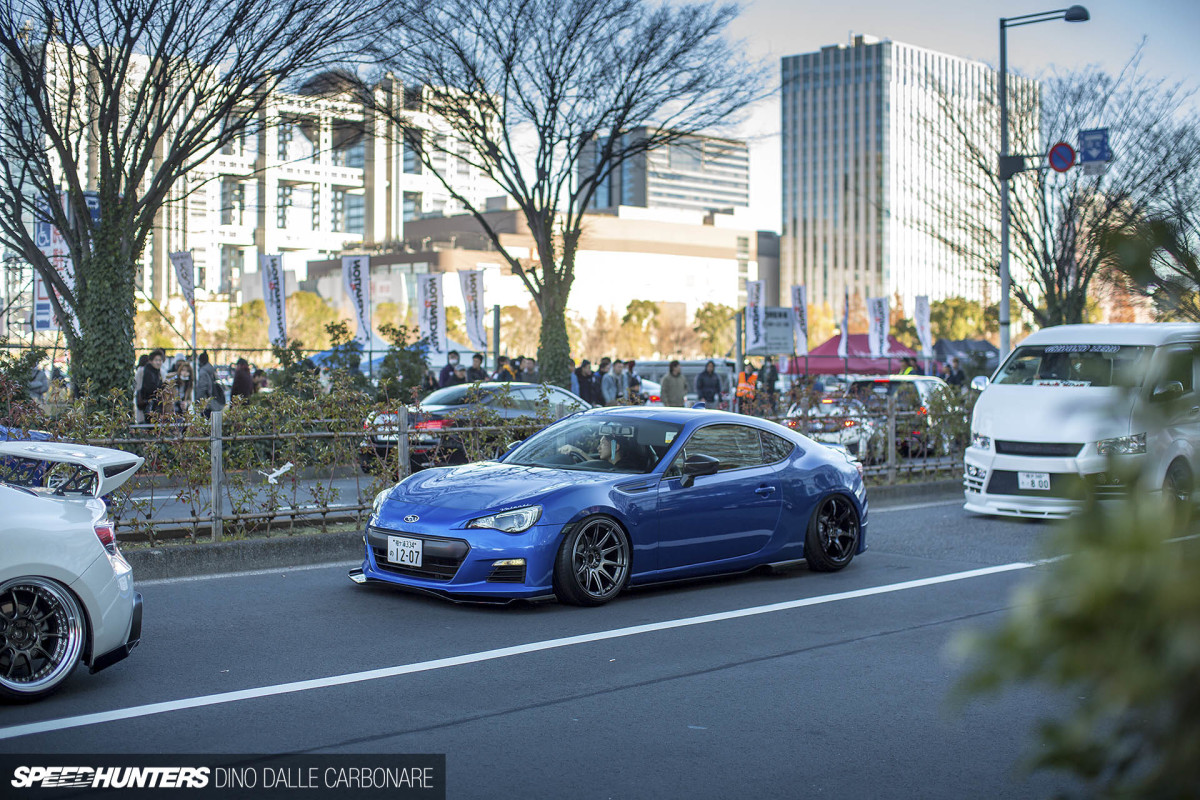 Before any of that even happened, I did the same thing a lot of people choose to do at these static show events – hang out at the entrance and check out the cars driving in.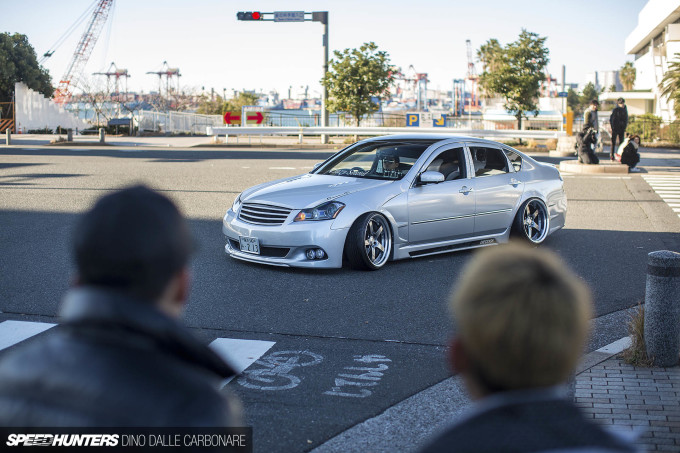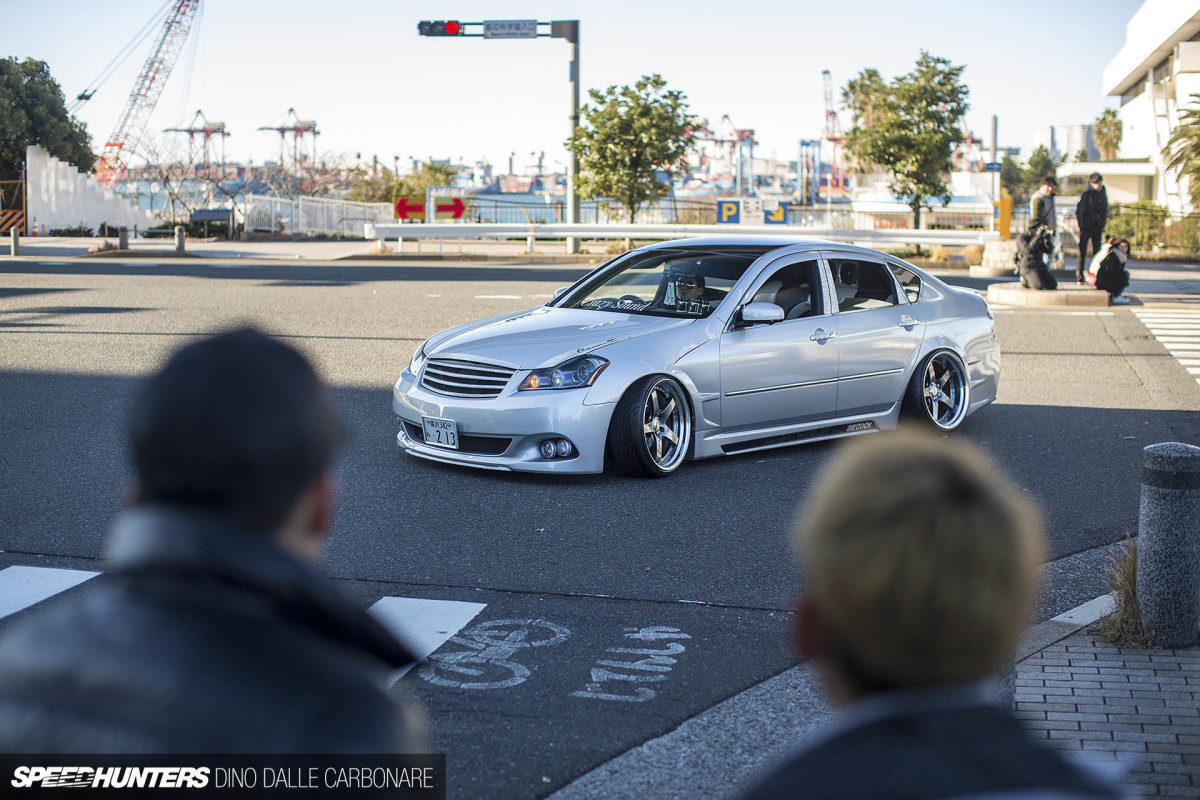 Like the Mooneyes Street Car Nationals, the entire neighbourhood of Odaiba gets gridlocked with cars lining up to get into the event or park in the nearby lots. But with a good percentage of the vehicles being excessively low, the roll-in procedure at StanceNation was taking quite some time.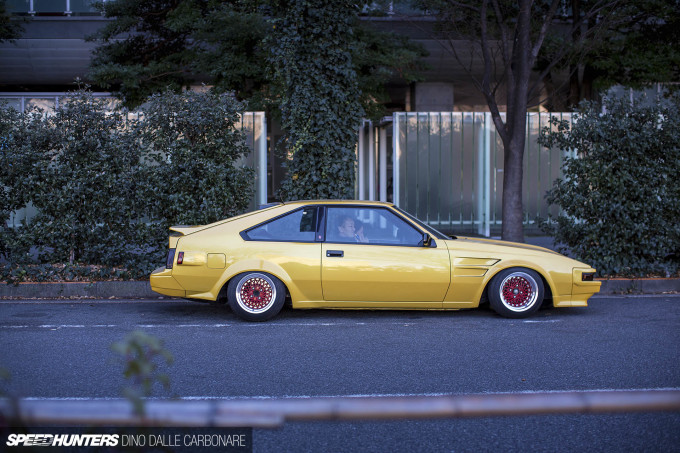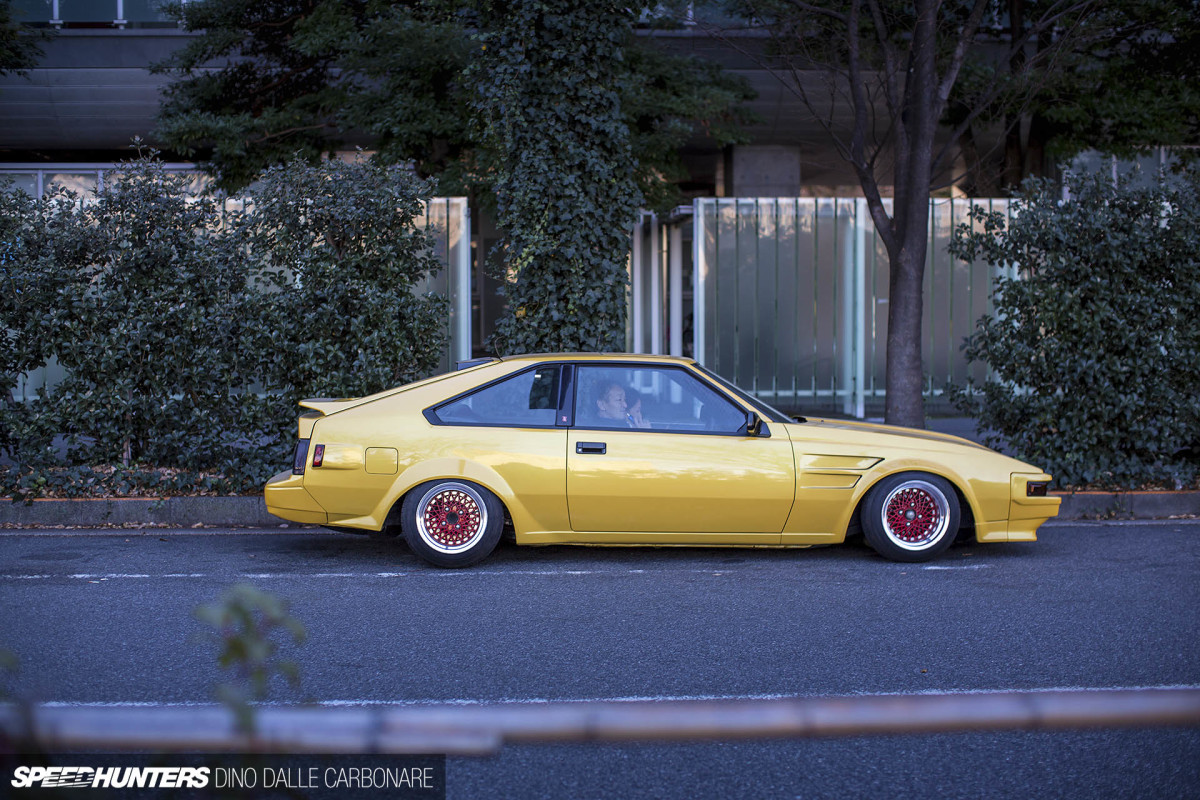 But that's okay, as the entertainment never really stops flowing. This Celica Supra pulled up on the other side of the road, and I had to cross over to the divider to grab a snap as it looked so cool with its bright body color and red mesh wheel centers. As it turned out, this beauty wasn't even in the show and it soon shot off across the T-junction ahead and down to the carpark by the Maritime Science Museum.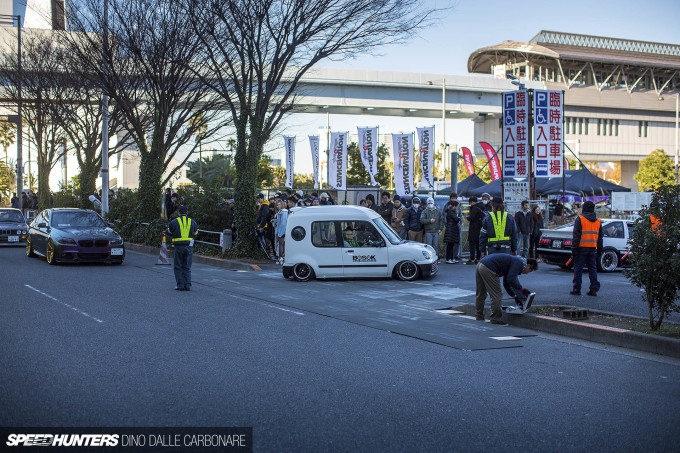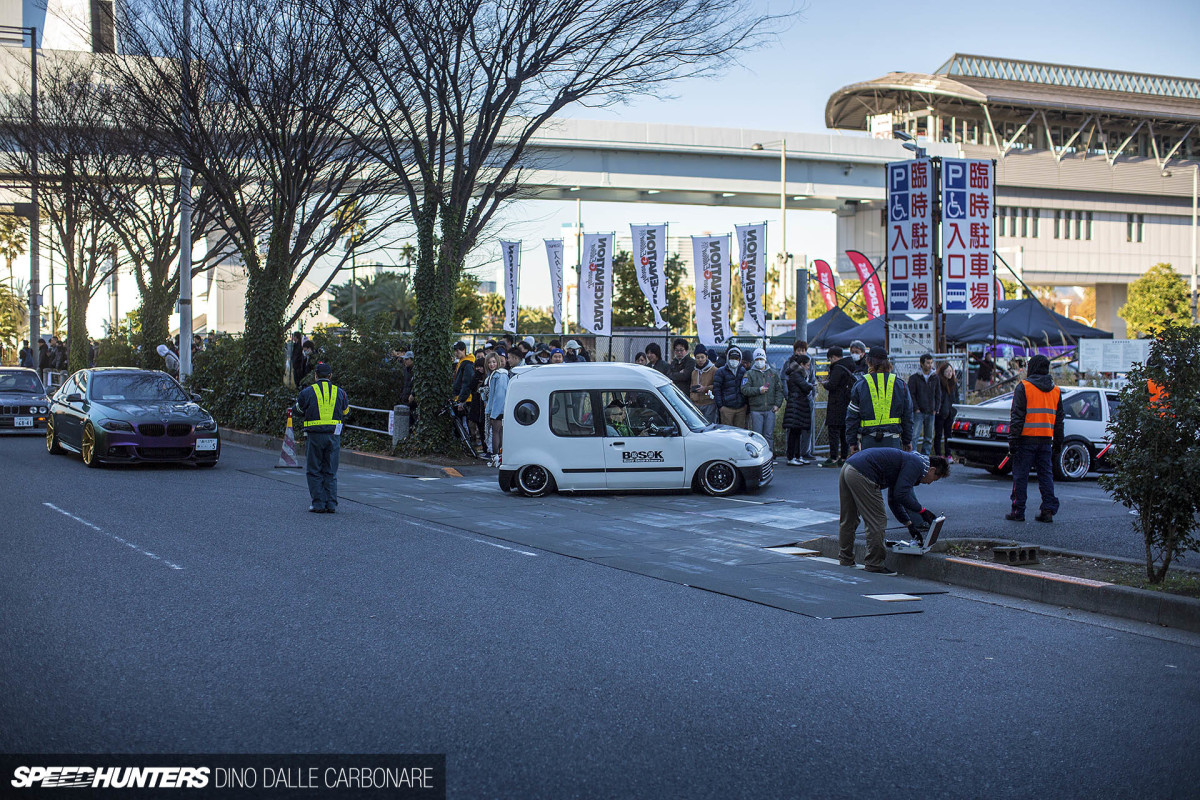 It may have been a good two hours before the show even opened to the public but there were a ton of bystanders observing the procession.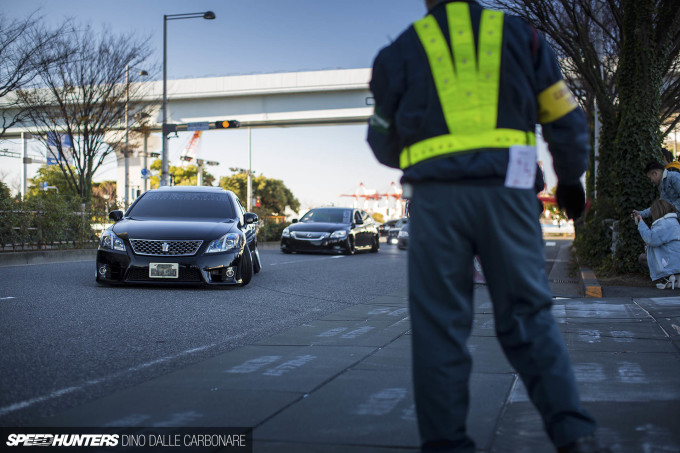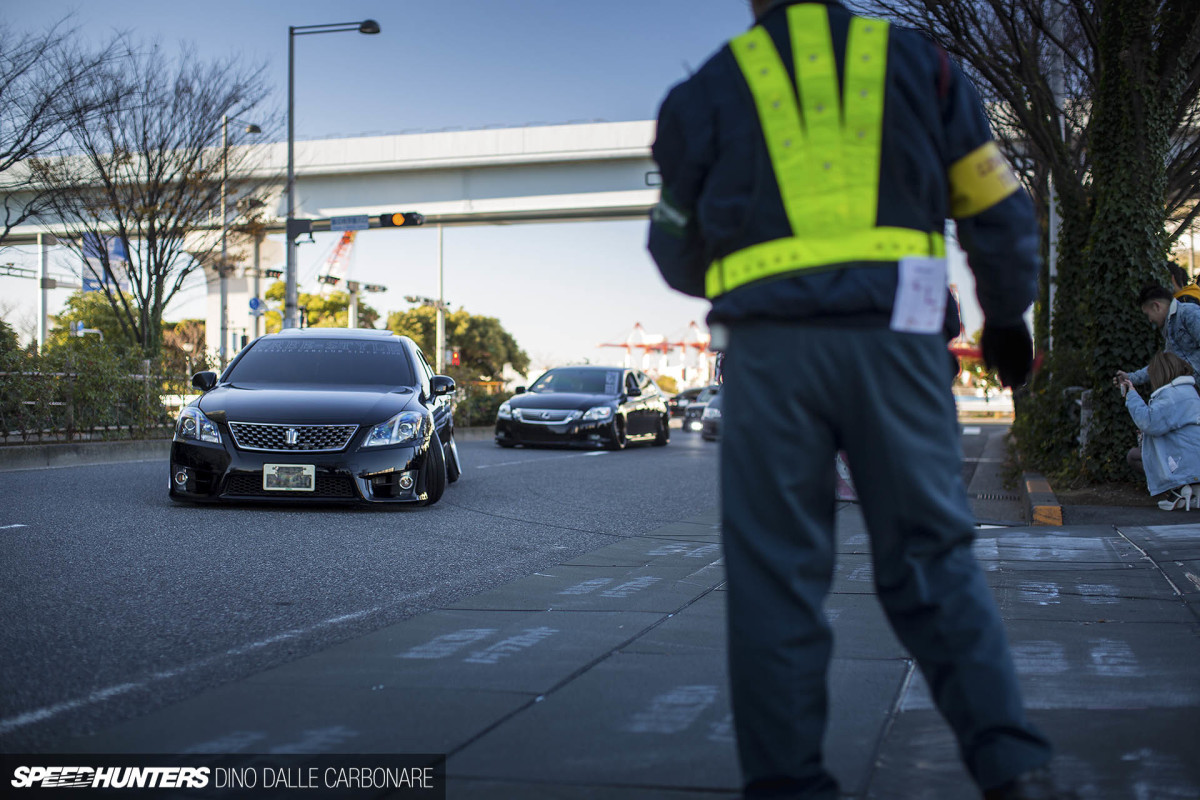 And as you can probably imagine, they were all waiting for mishaps, scrapes, grinds and the occasional spark as the statically-dropped cars struggled to make it up the venue's slight driveway incline.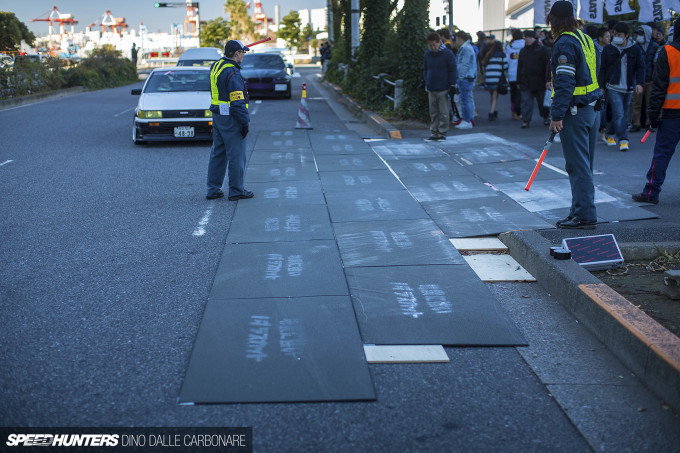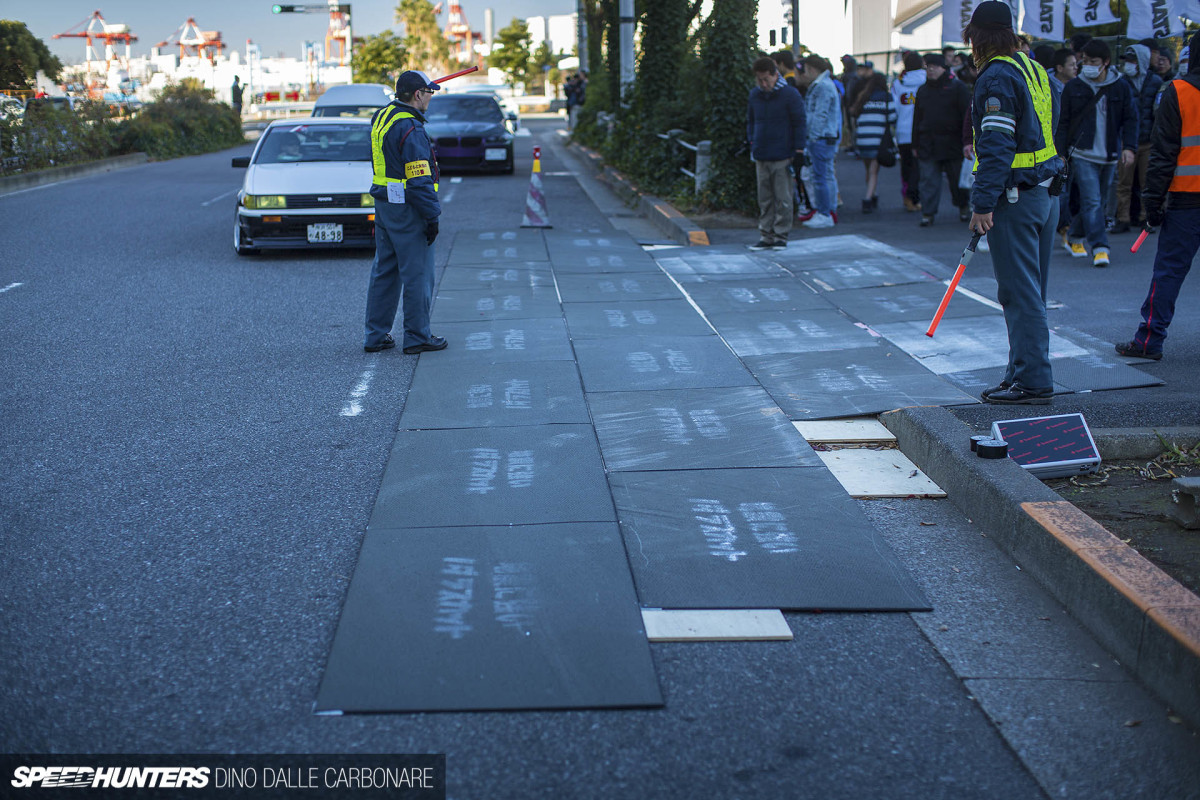 And as much as one likes and enjoys looking at slammed cars, you can't help but have a giggle seeing cars struggle to clear such a minimal rise. To smooth out the barely visible step on the side of the curb and create a smooth entry trajectory (sounds like NASA talk), sheets of wood were strategically laid out.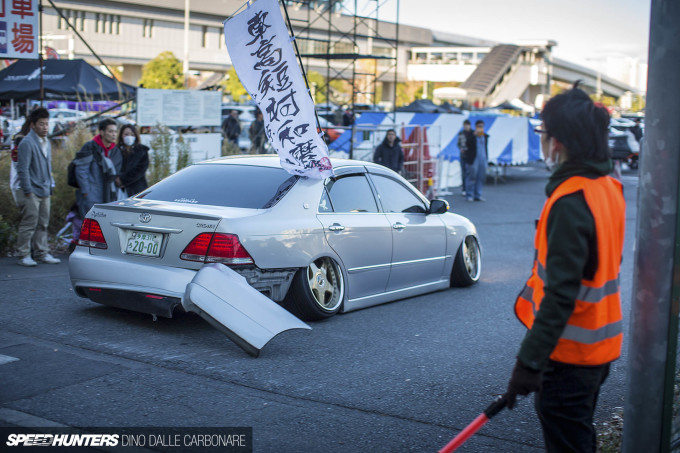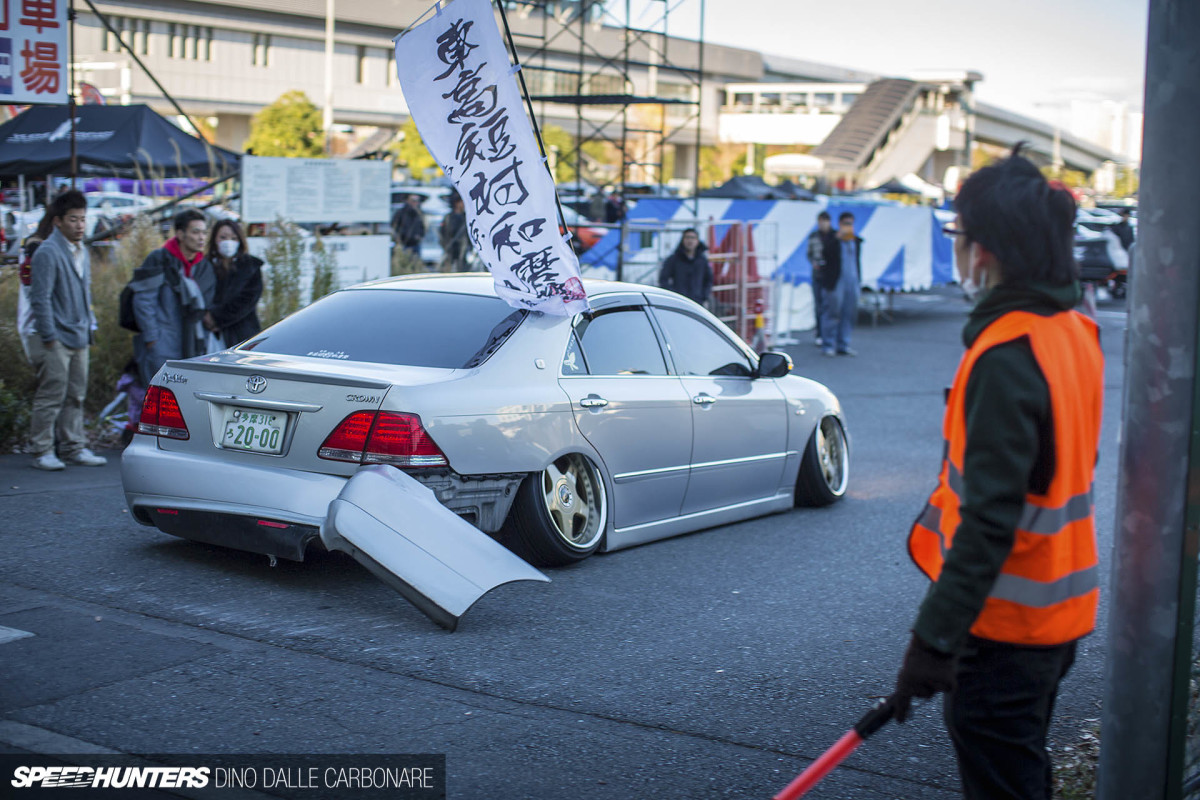 Most of the VIP cars seemed to choose their line of entry and then simply floor it, allowing momentum to take care of the unavoidable grounding. Some got through with just a few scrapes; others suffered a little damage here and there.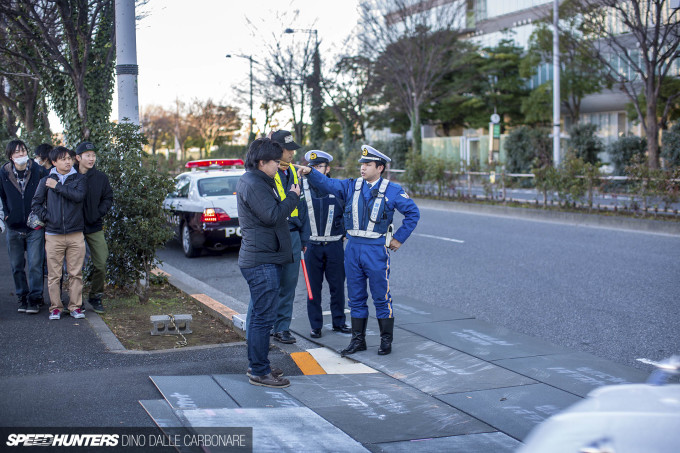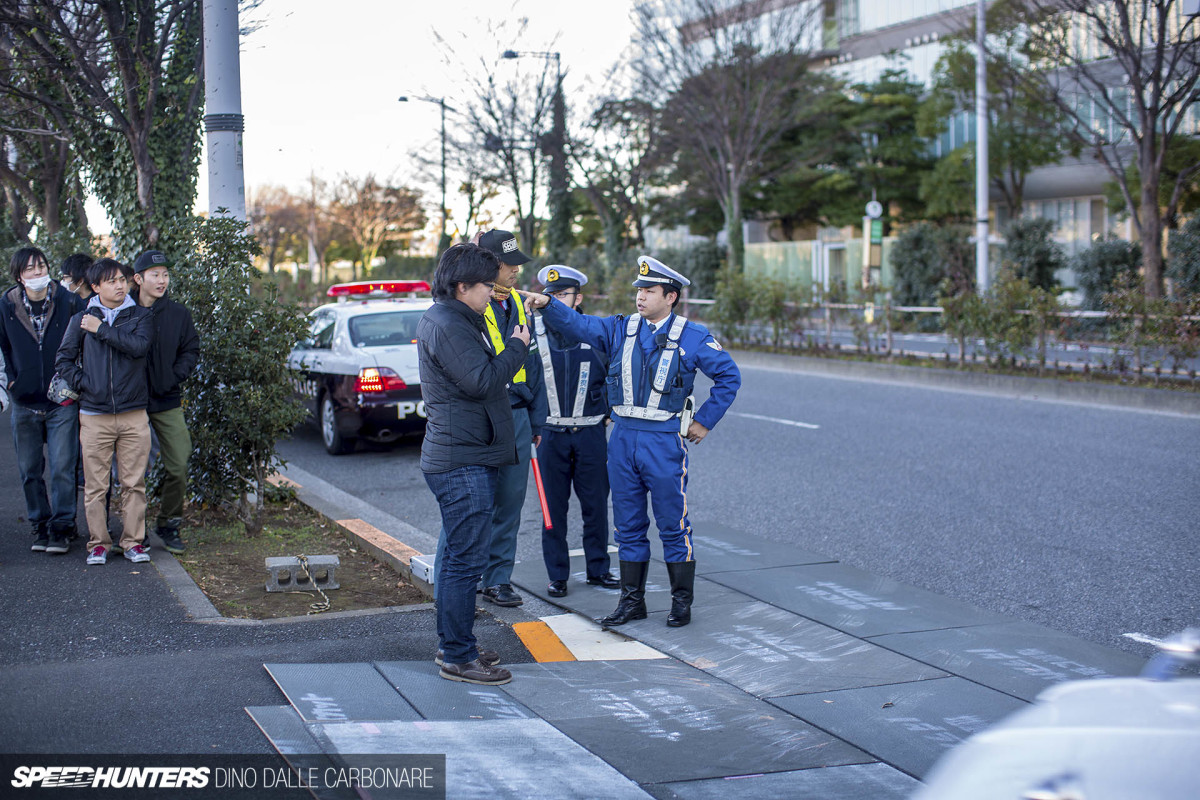 The police came to have a word with the guards guiding cars in, probably asking them to hurry the hell up as they were causing a line that had become miles long.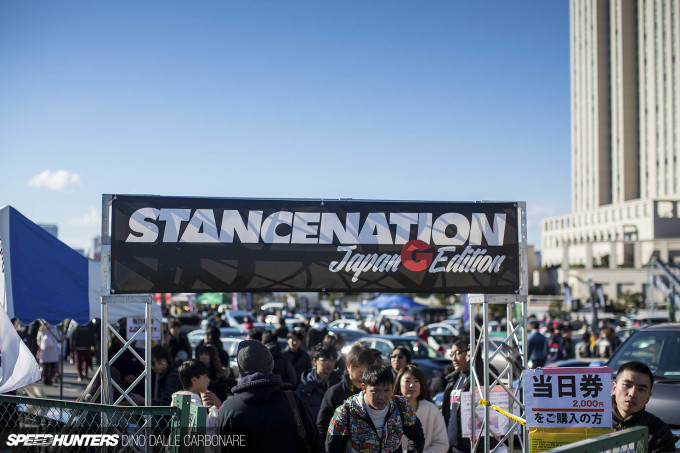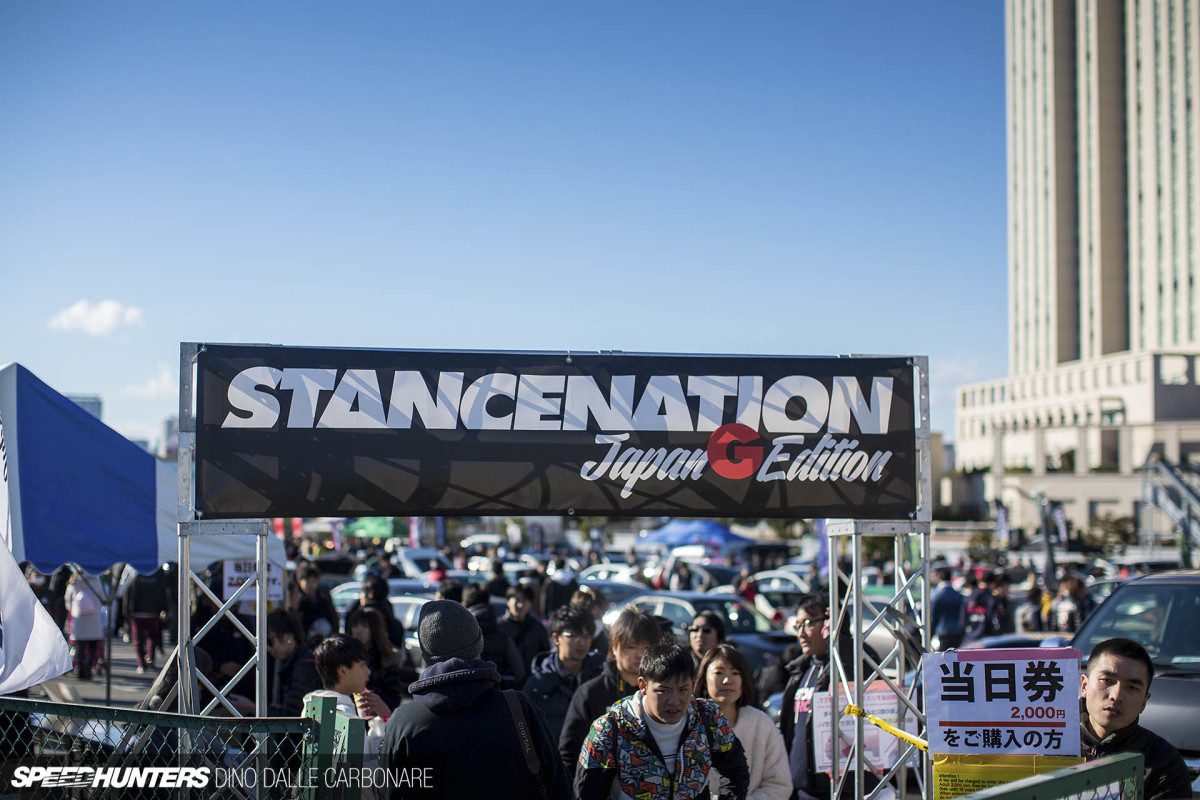 With a ton of cars already inside, it was time to head towards the sun that was already shining on the other side of the venue in an attempt to warm up and start shooting before the bulk of spectators rolled in at 10:30am.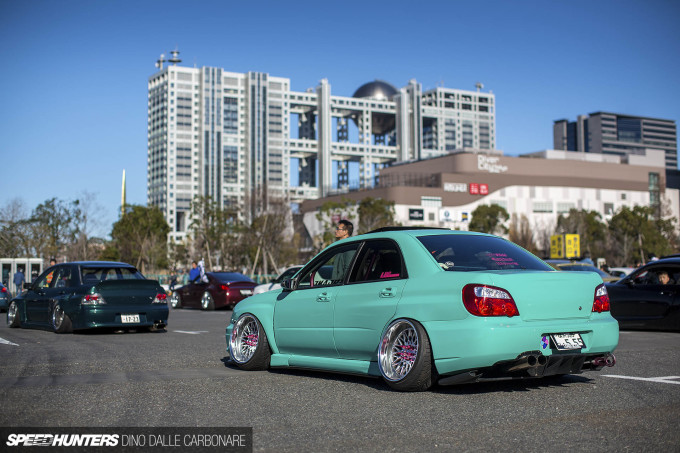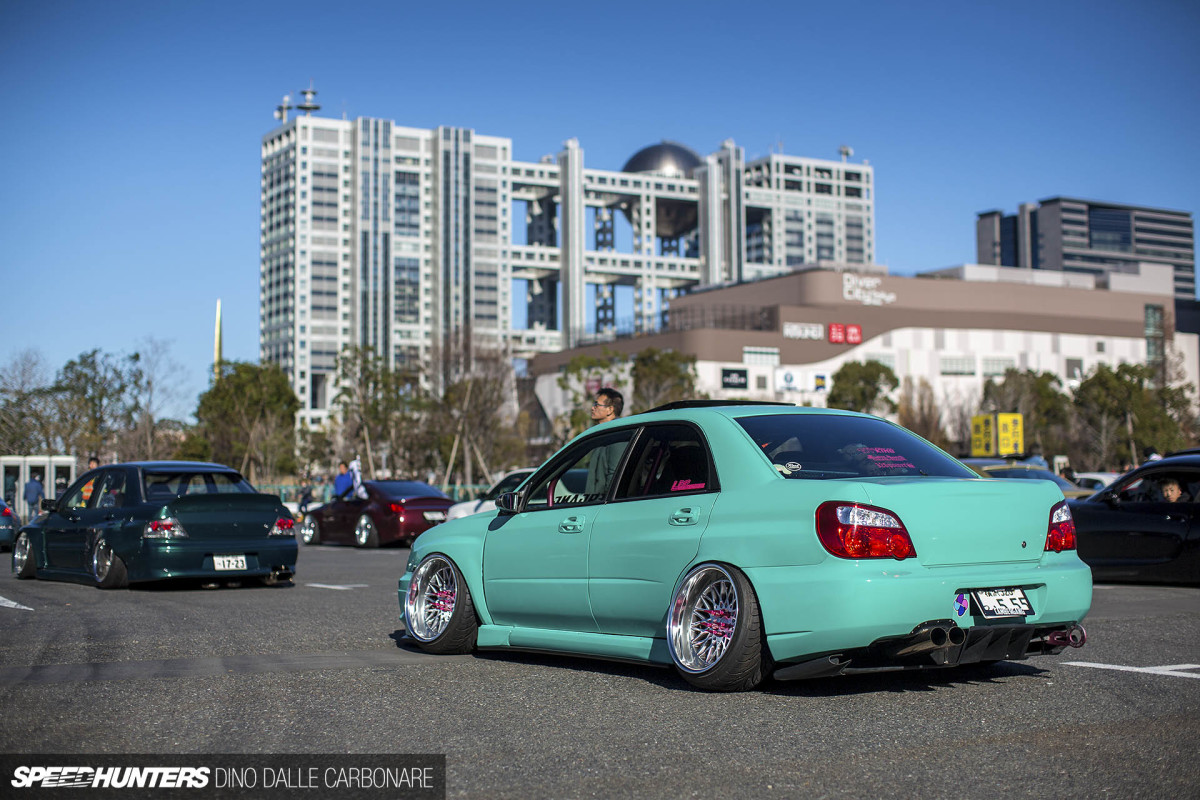 I hadn't been to a StanceNation event for a couple of years, and I was impressed at the freshness of the cars present.
Standing Out Is Key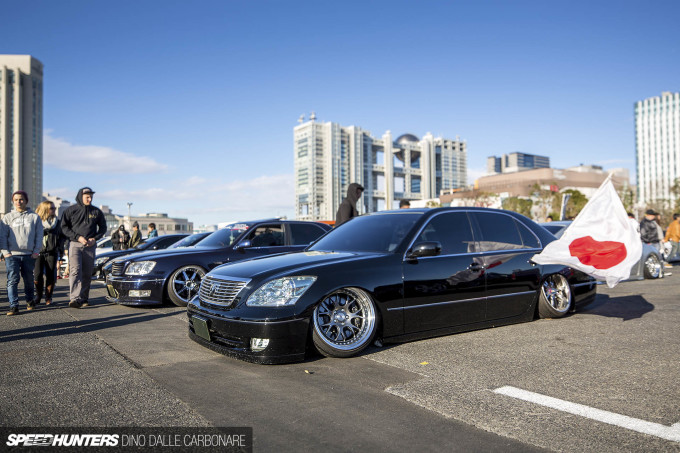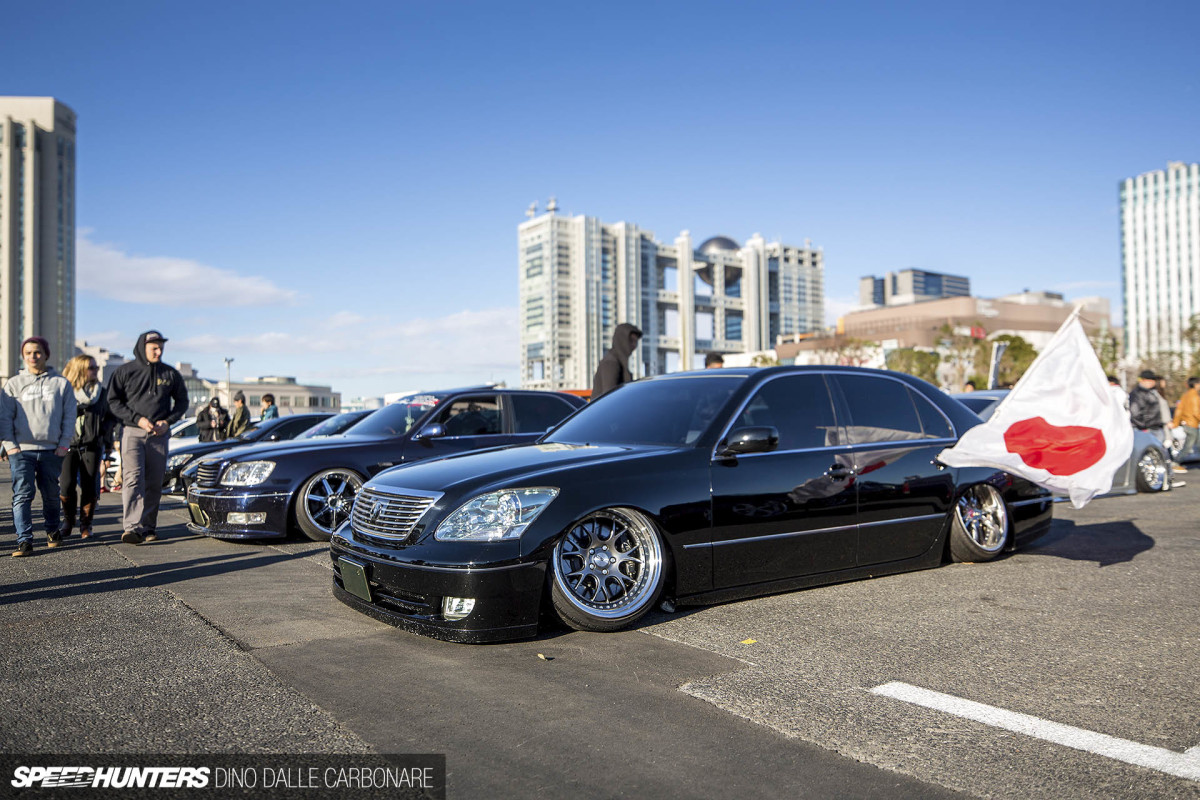 It was as JDM as you can possibly get; a wild mix of flavours and styles, some borrowed, some perfected, others impossibly Japanese.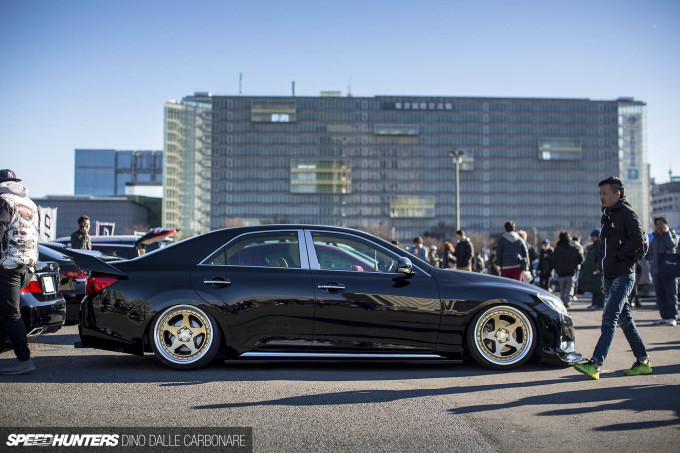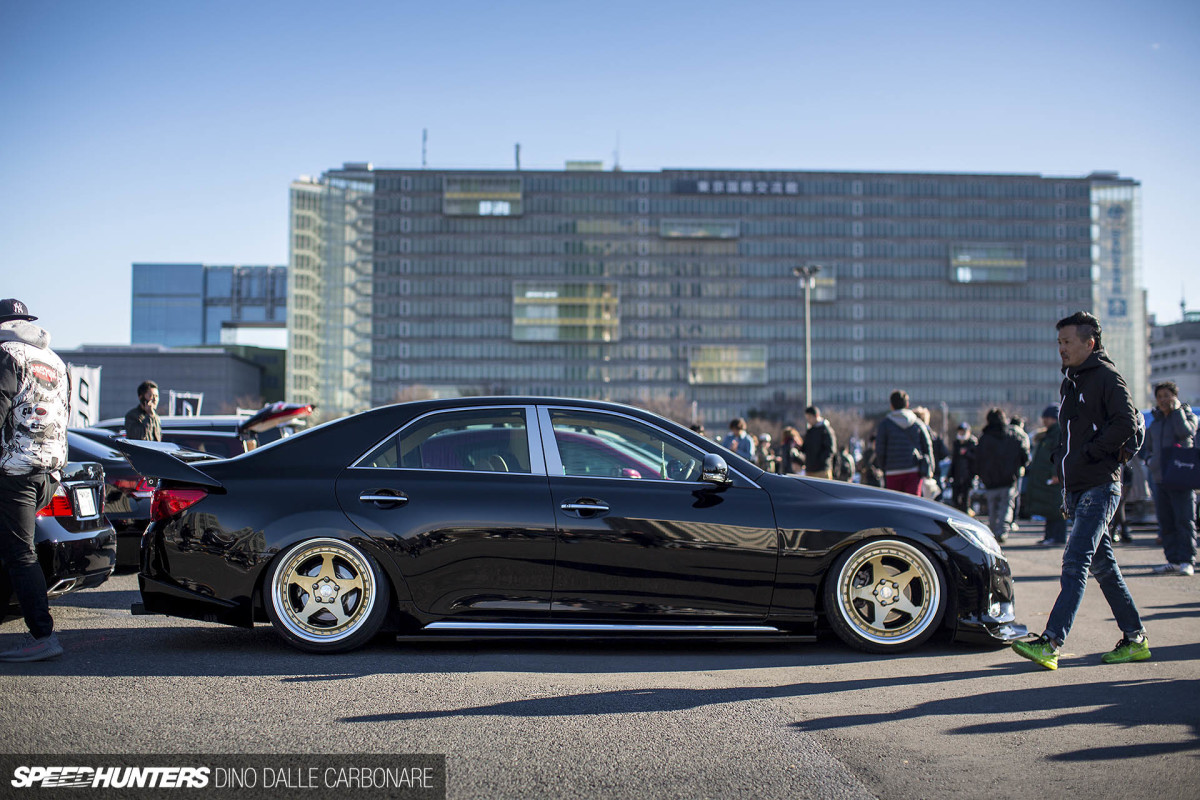 And when you are confronted with such a massive number of cars you have to be efficiently selective, which trust me is very hard to do when almost every vehicle you walk past deserves its very own spotlight.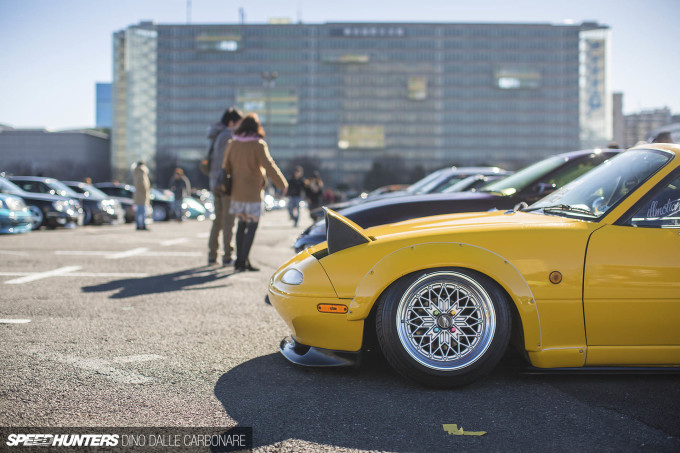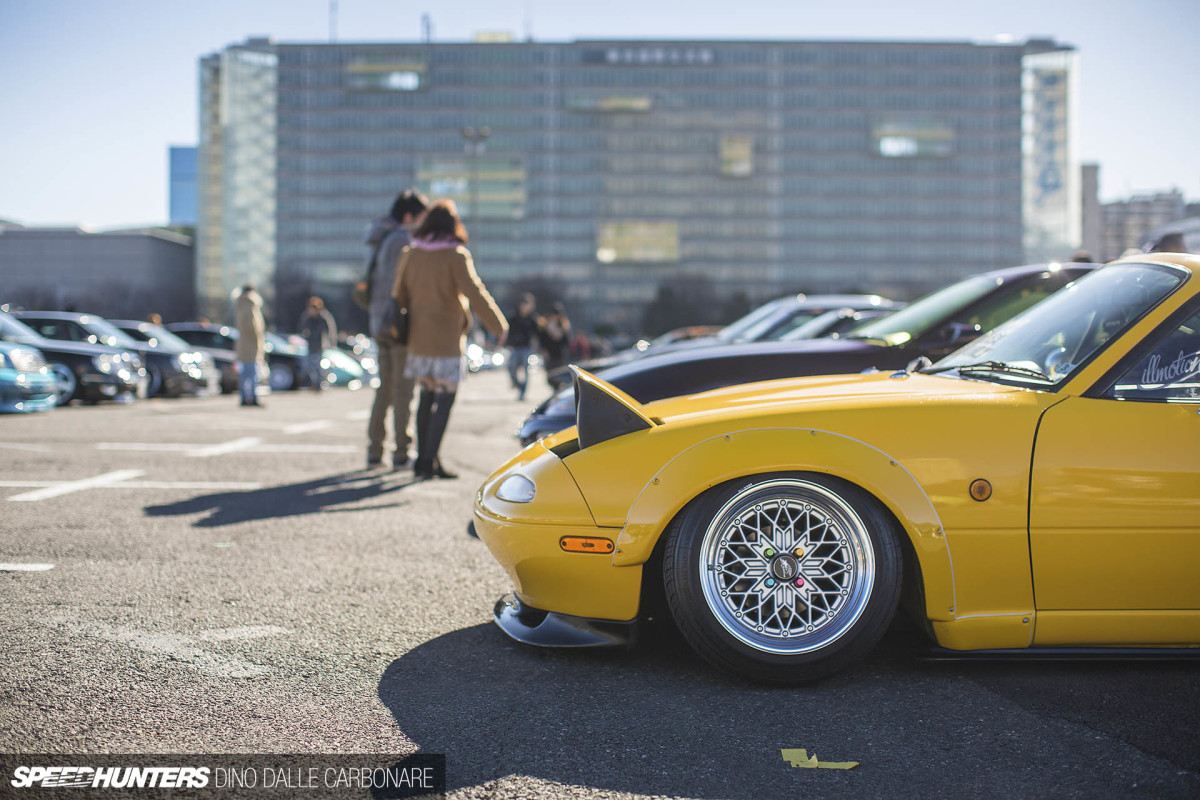 That's why I really don't envy the StanceNation crew, as they have to come up with a bunch of winners for each of the categories they create. Hardest job ever.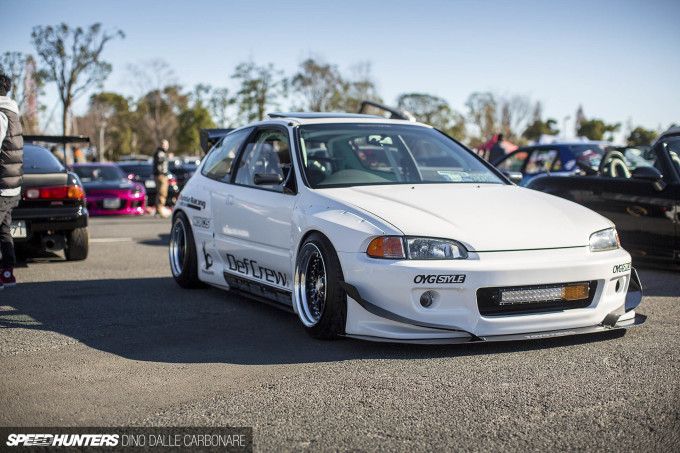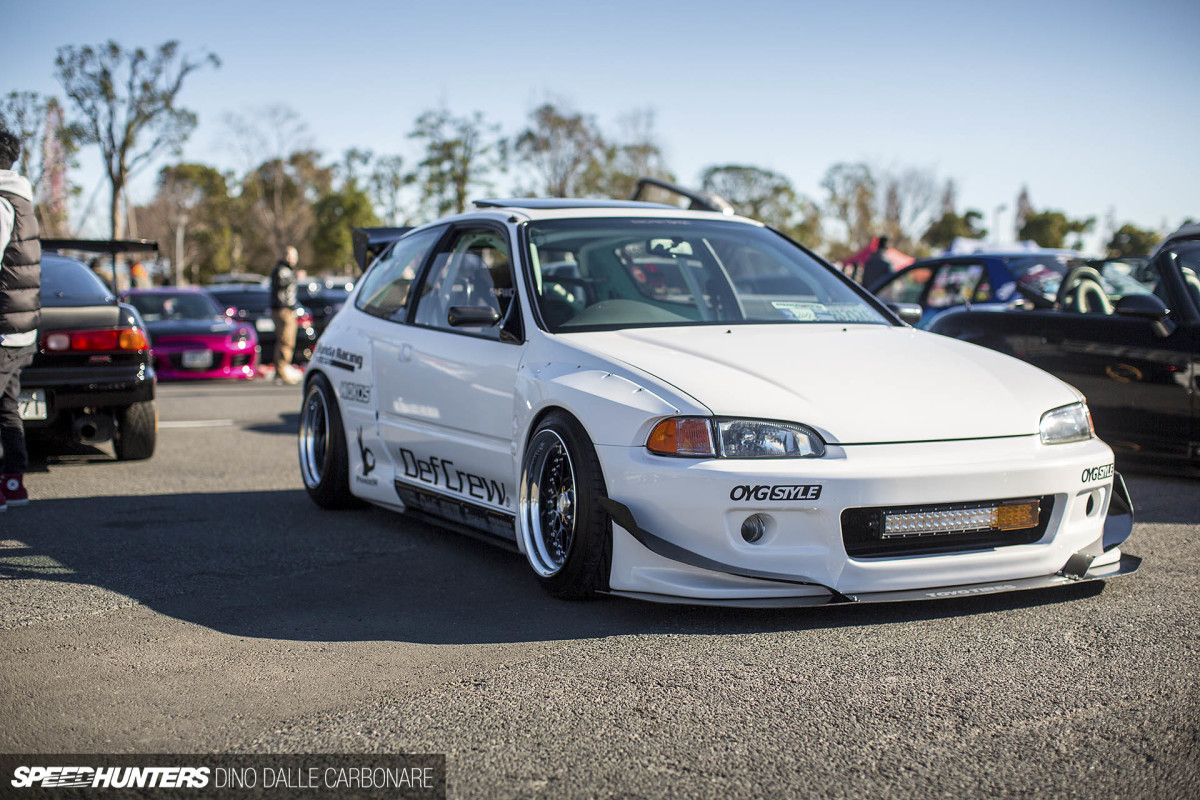 Mine on the other had was a little more simple; I'd wander through the countless lines of cars and pick my favourites. Some stood out more than others and those are the ones that I decided to dedicate a little more space to. So after you read through this first post you can expect to see an additional five spotlights on cars that you would be talking about had you been at the show with me.
I was very happy to see a couple of Kaido Racers sitting there in all their visual glory. These may well be the forefathers of the stance scene everyone is enjoying the world over.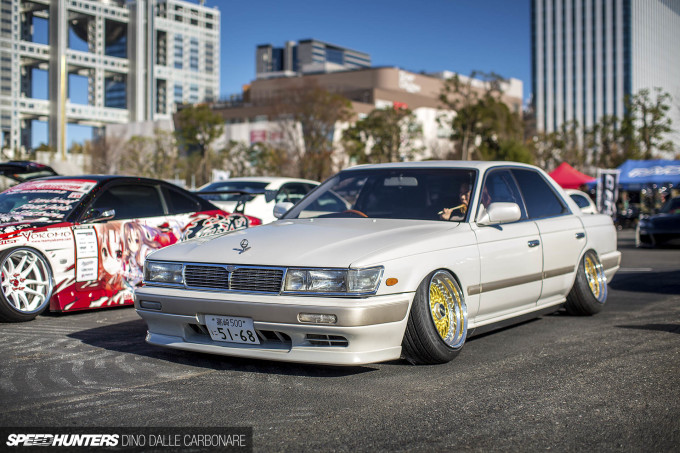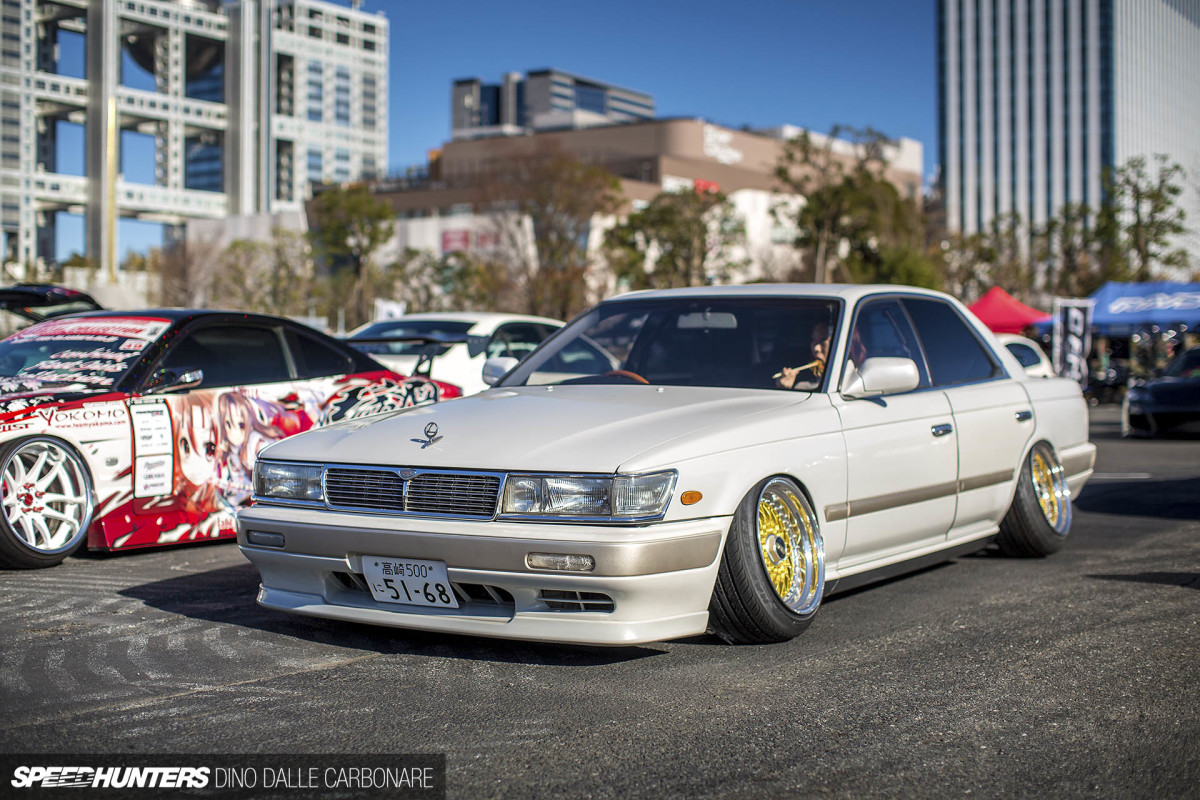 If you break it down to the simplest terms possible, this whole scene is about grabbing attention. Making people look and take notice is akin to a small victory; your car has managed to capture someone's imagination for a few seconds and possibly inspire them. This can be achieved in a variety of ways, from obvious things like crazy exteriors and wild detailing, to the not so obvious and the ones, which I prefer. In my book, if you get people to look but have done very simple alterations, you are a true winner. This Leopard on BBS wheels with opinion-splitting onikyan wins in my book. So simple, yet so effective.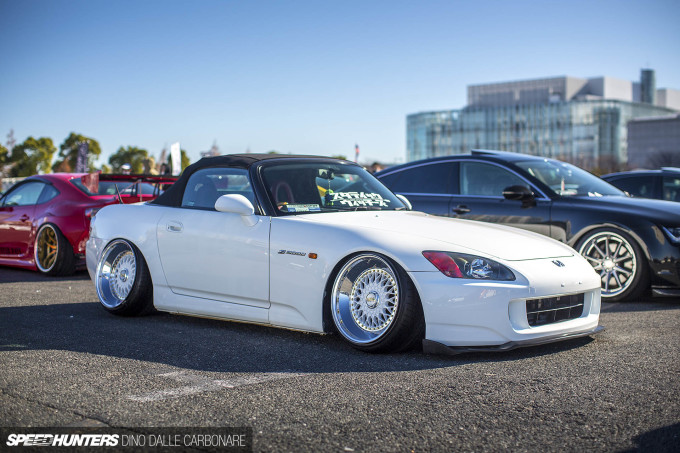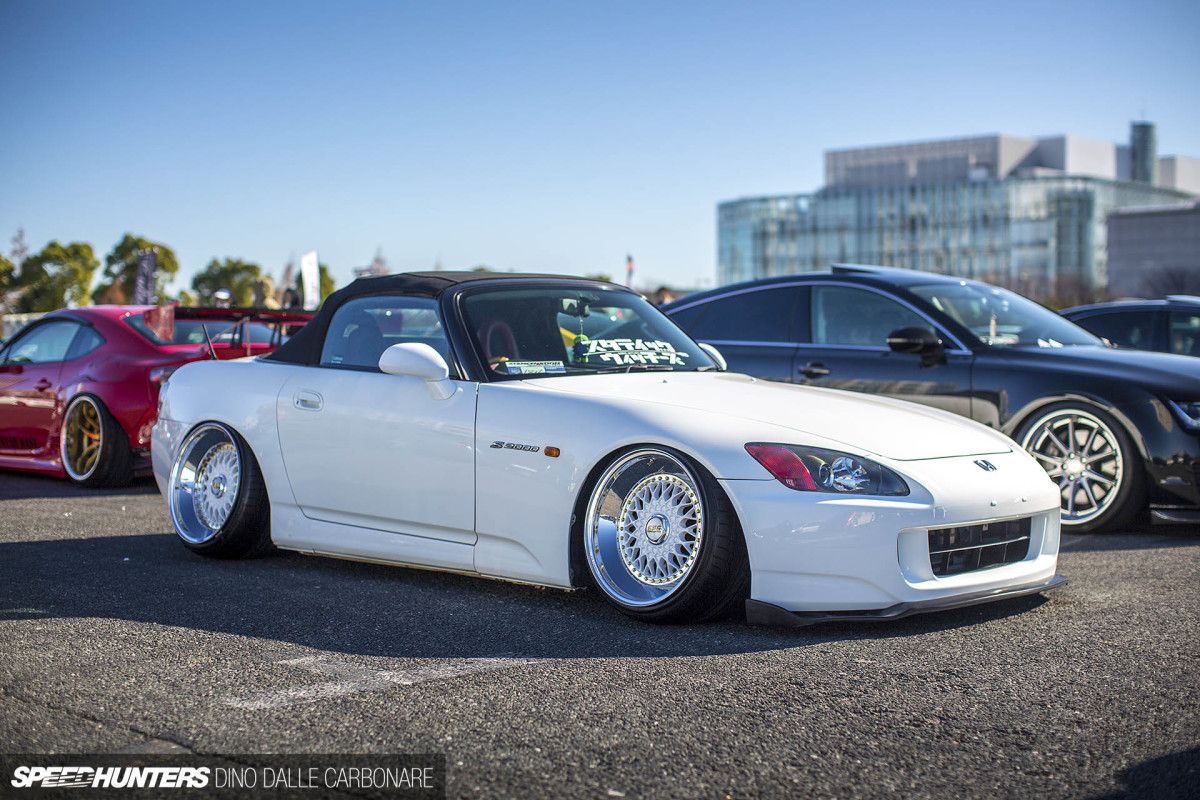 If you are ever going to do a white-on-white theme, this S2000 shows us how it should be done. Damn, just look at that dish!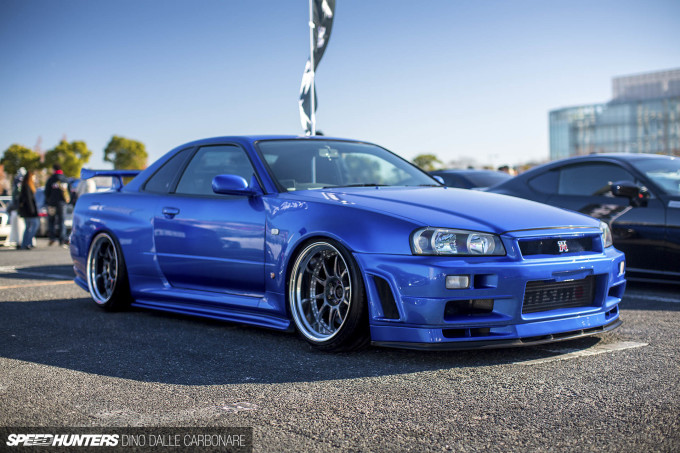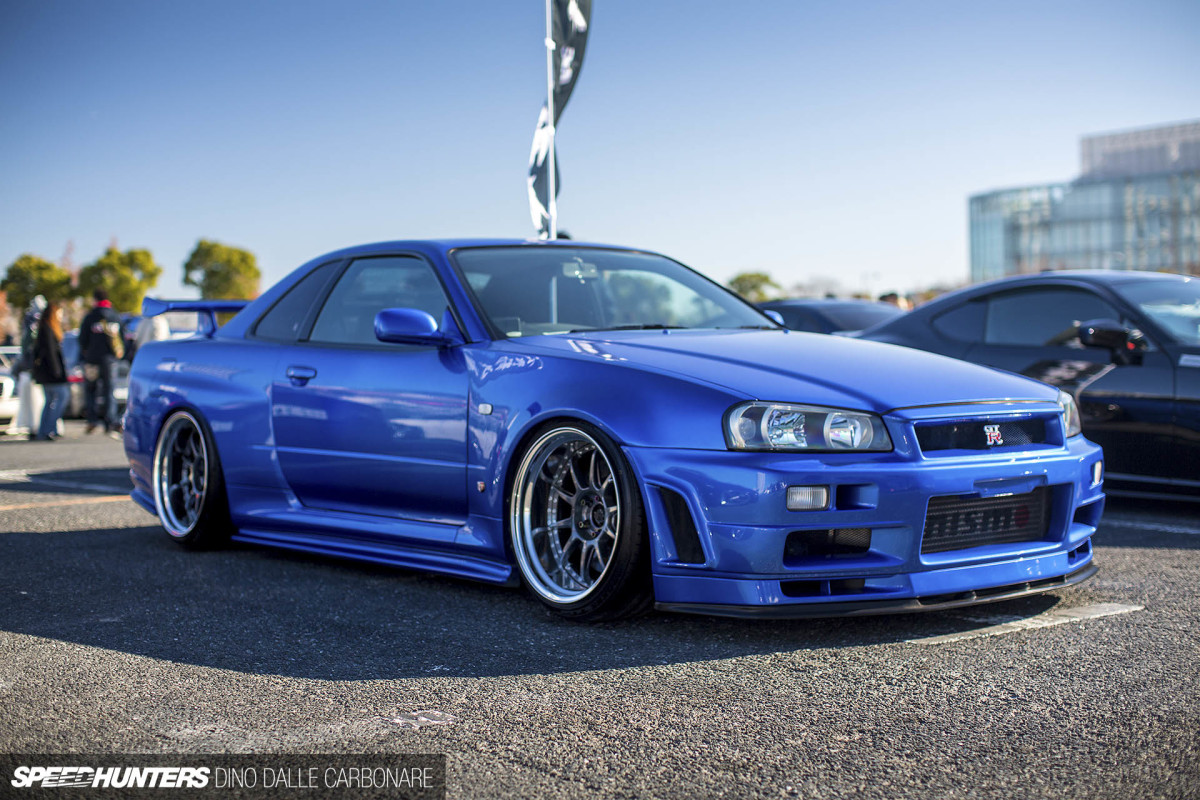 I would have never thought that stance shows would be places to find Skyline GT-Rs, but Japan does things a little differently. This BNR34 sat pretty aggressively on its SSR wheels, but it looked like the owner made sure to dial back out the resulting negative camber with the use of adjustable top arms. If you think this is not something you should do to an GT-R, you're going lose it once I show you another BNR34 I spotlighted…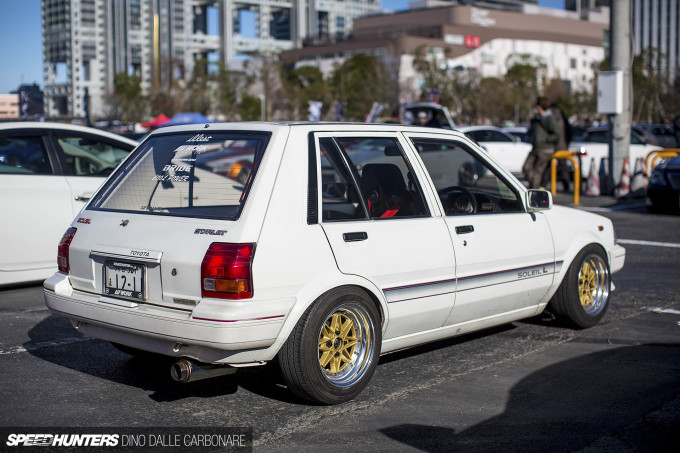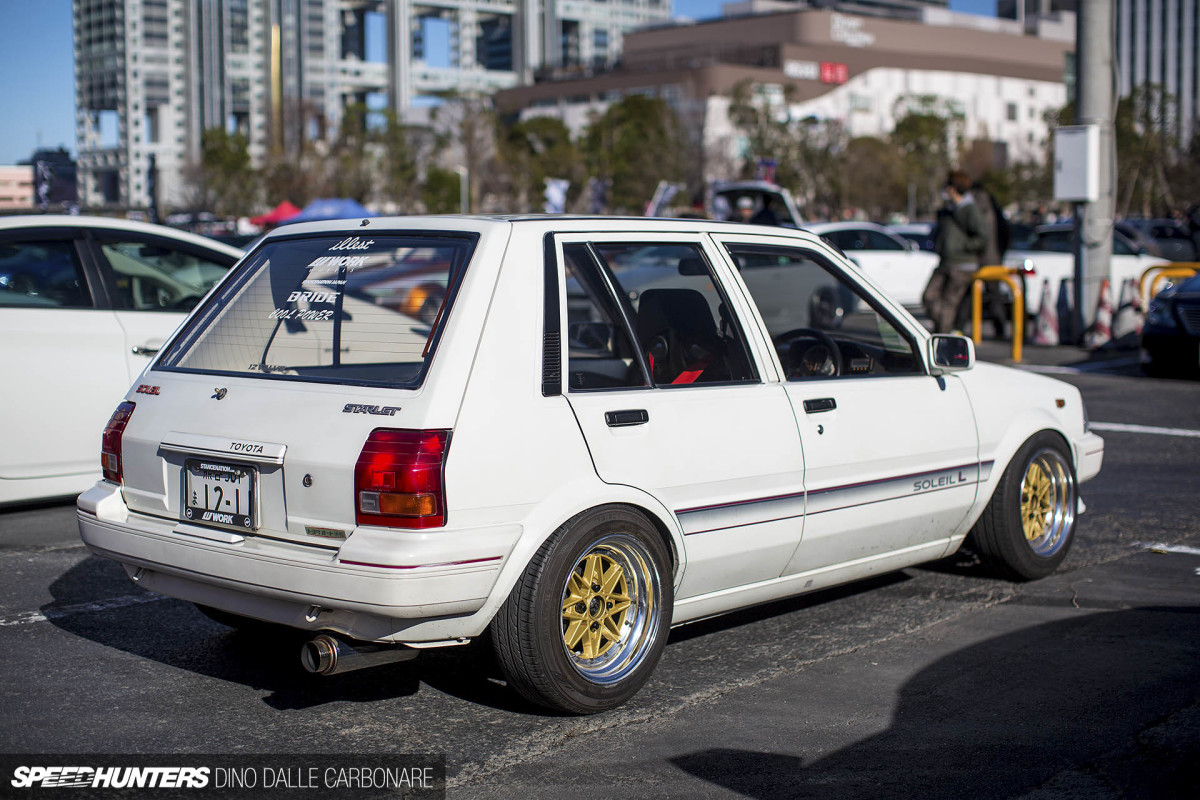 As I stood there taking in the angular contours of this Starlet Soleil, I tried to wonder what would be its modern day counterpart. A Vitz/Yaris? An Aqua/Prius C? A C-HR? I then decided to stop that line of thought as I was about to shed a tear.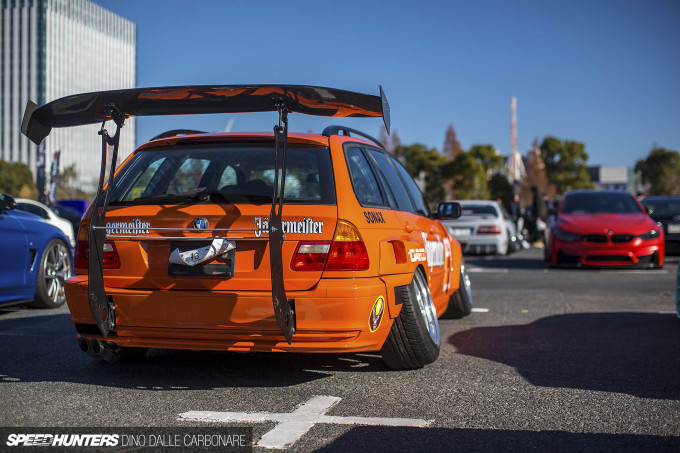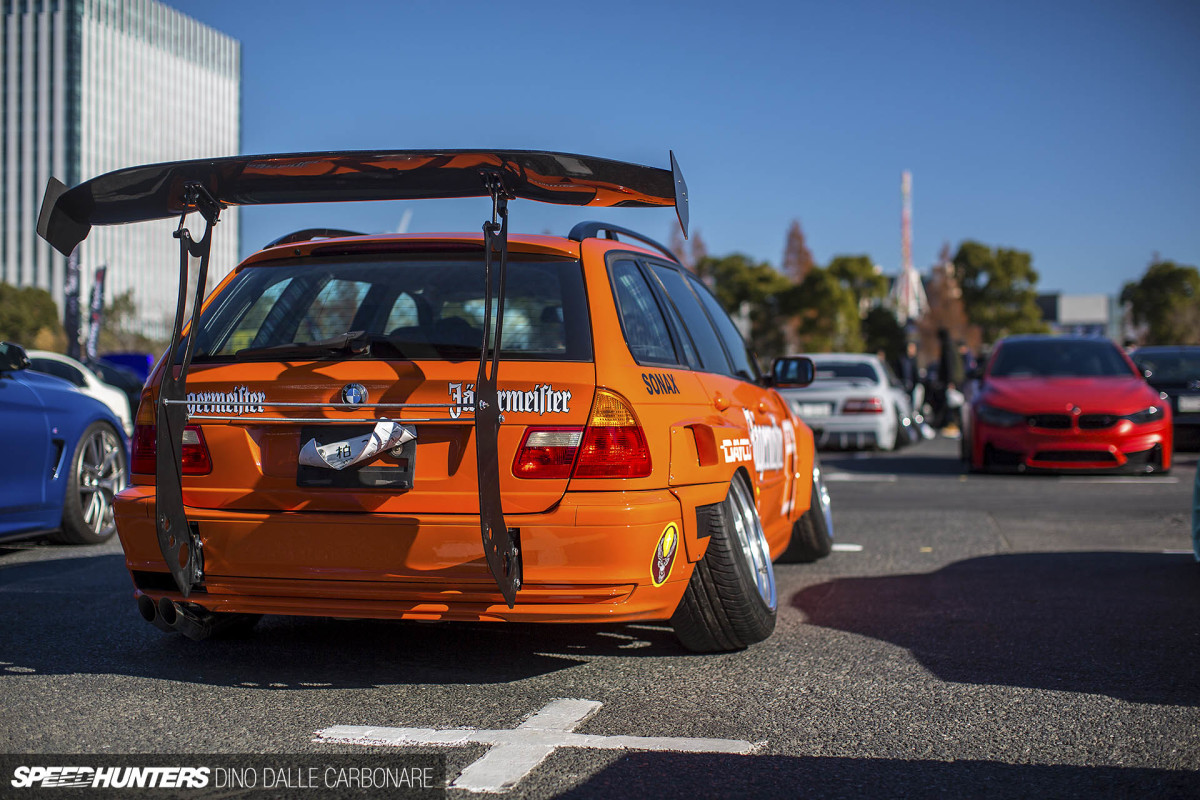 Thankfully, this was the next car I spotted. It made me laugh because of the exaggerated spoiler and the fact that it was one of the few BMW station wagons I've ever seen with onikyan and overfenders.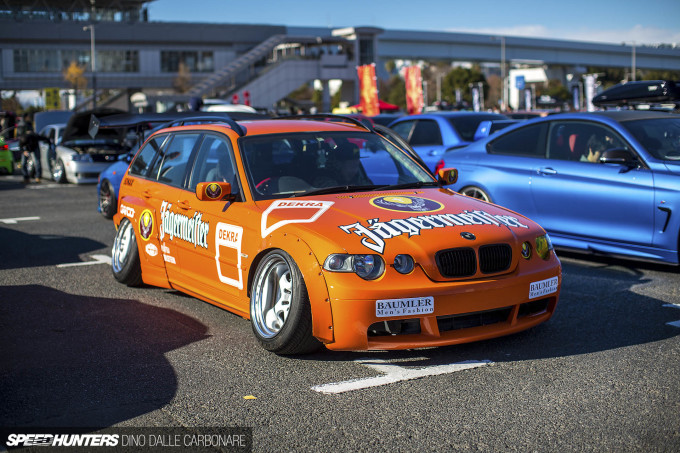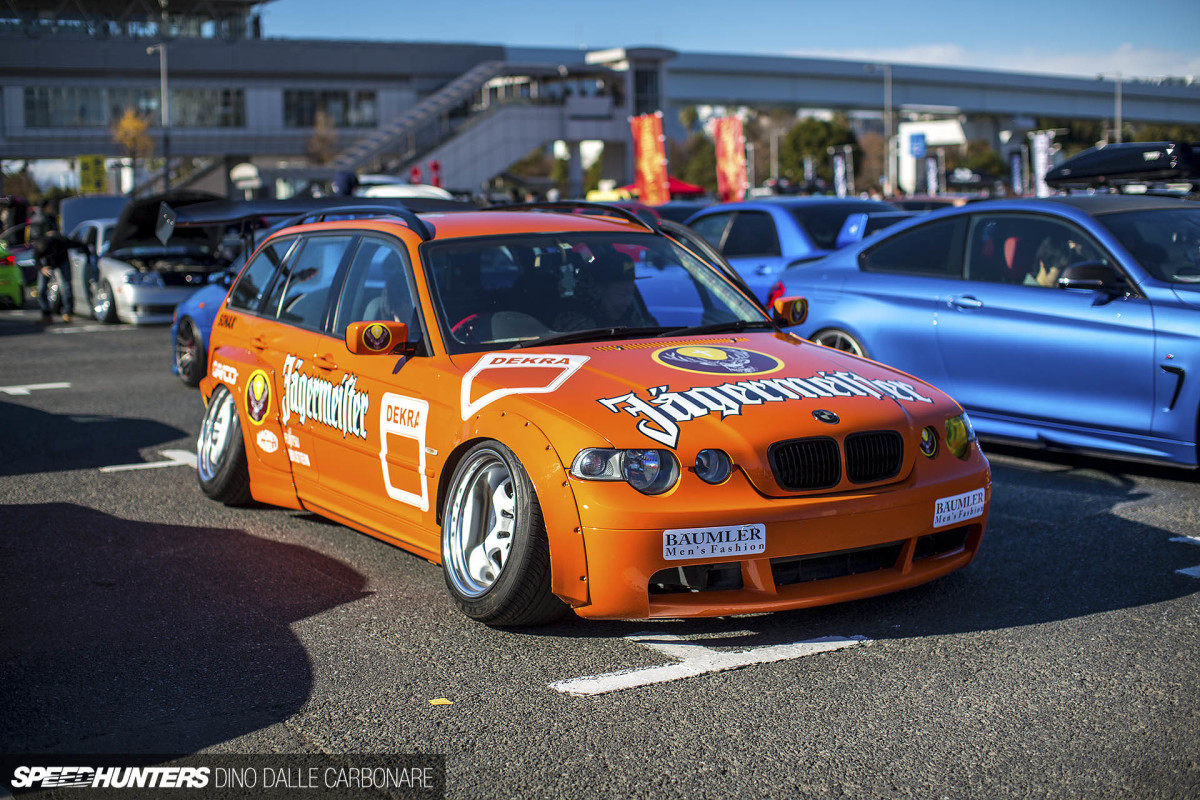 Then I had a look at the front and let out a confused 'WTF?!' A 3 Series Compact front end is possibly the last thing I'd graft on to a damaged 3 Series wagon, but there's no doubt it got a lot of looks, especially with the Jägermeister livery.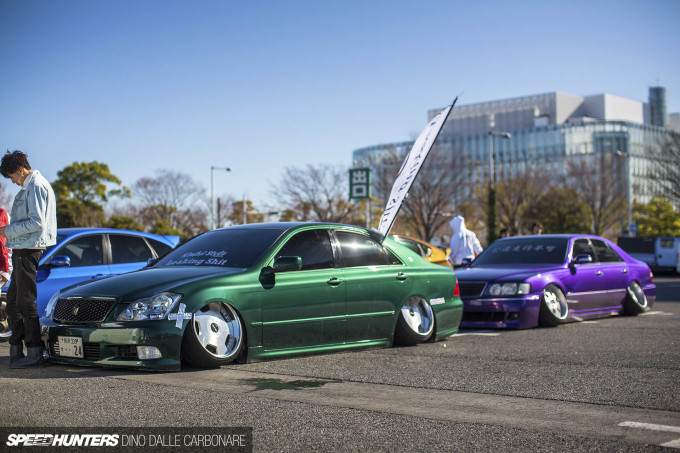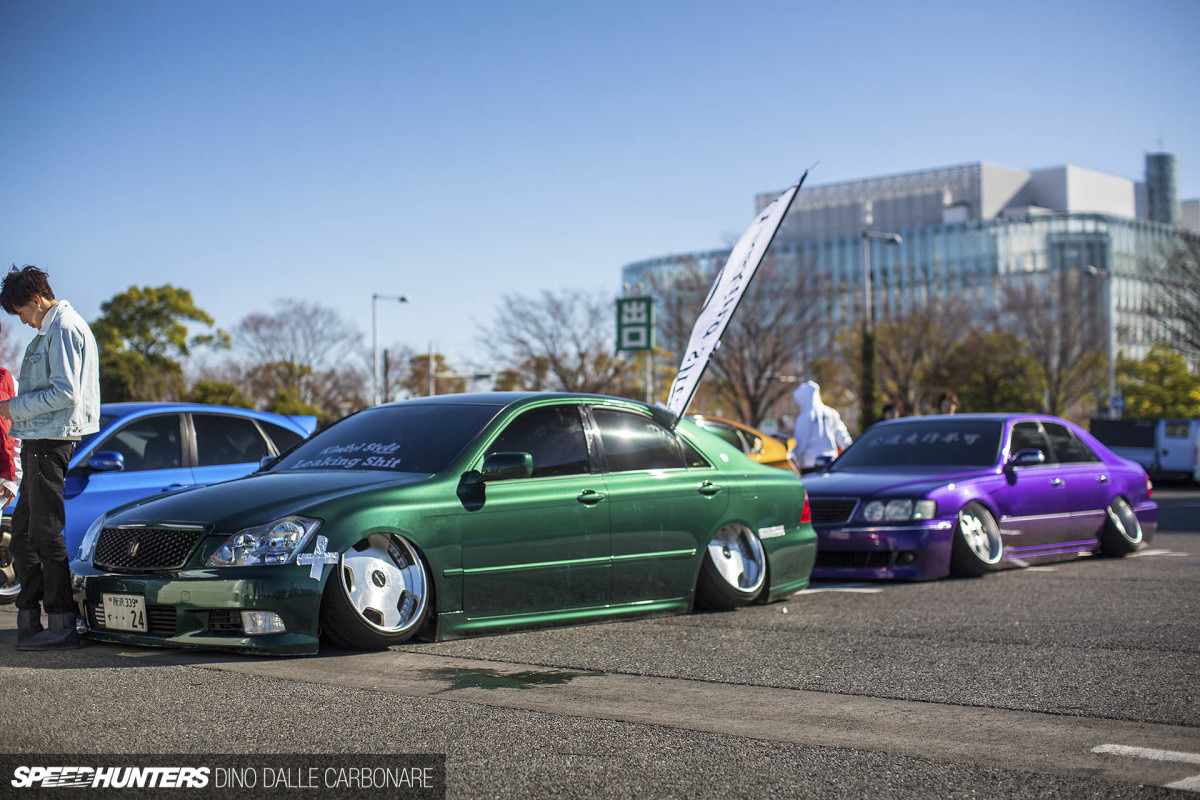 I played a little game with myself, you know just to keep things interesting. I tried to hunt out the cars with the biggest amount of devil camber and I think I found it with this colourful paring. I'll just leave the images here; it's your job to comment on them. I wonder how big their tire contact patches are at the rear?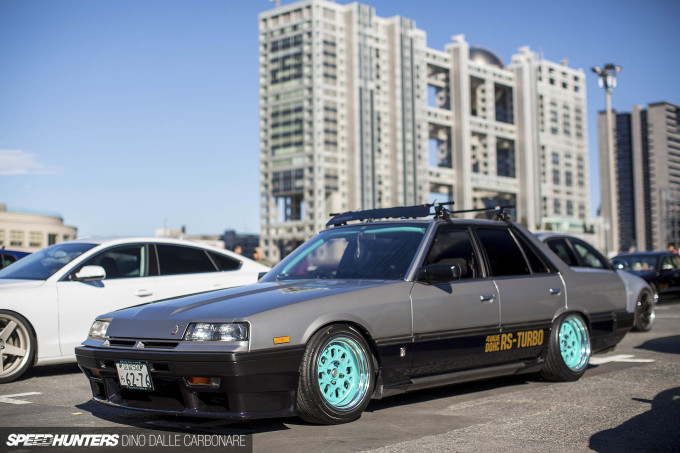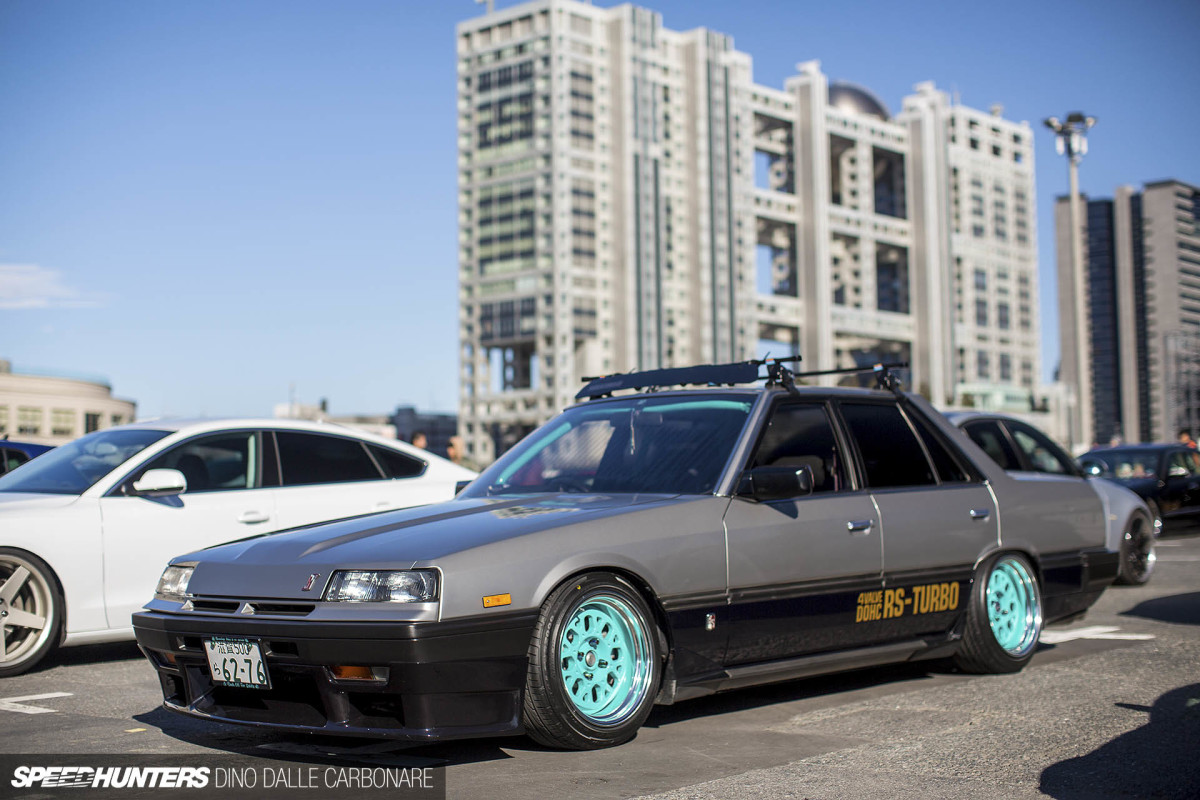 That's more like it, nice and straight fitment on this colorful R30 sedan.
I was surprised to see Ken Nomura and his URAS crew had made it up from Kyushu to display their 2017 Tokyo Auto Salon demo ER34. Nomuken has always liked to break from the norm with boxy and heavily-styled aero conversions, and I do wonder what he'll have in store for us at TAS 2018 next month…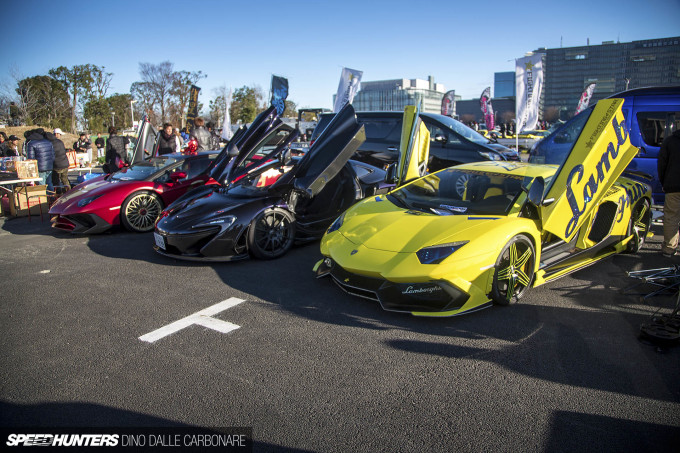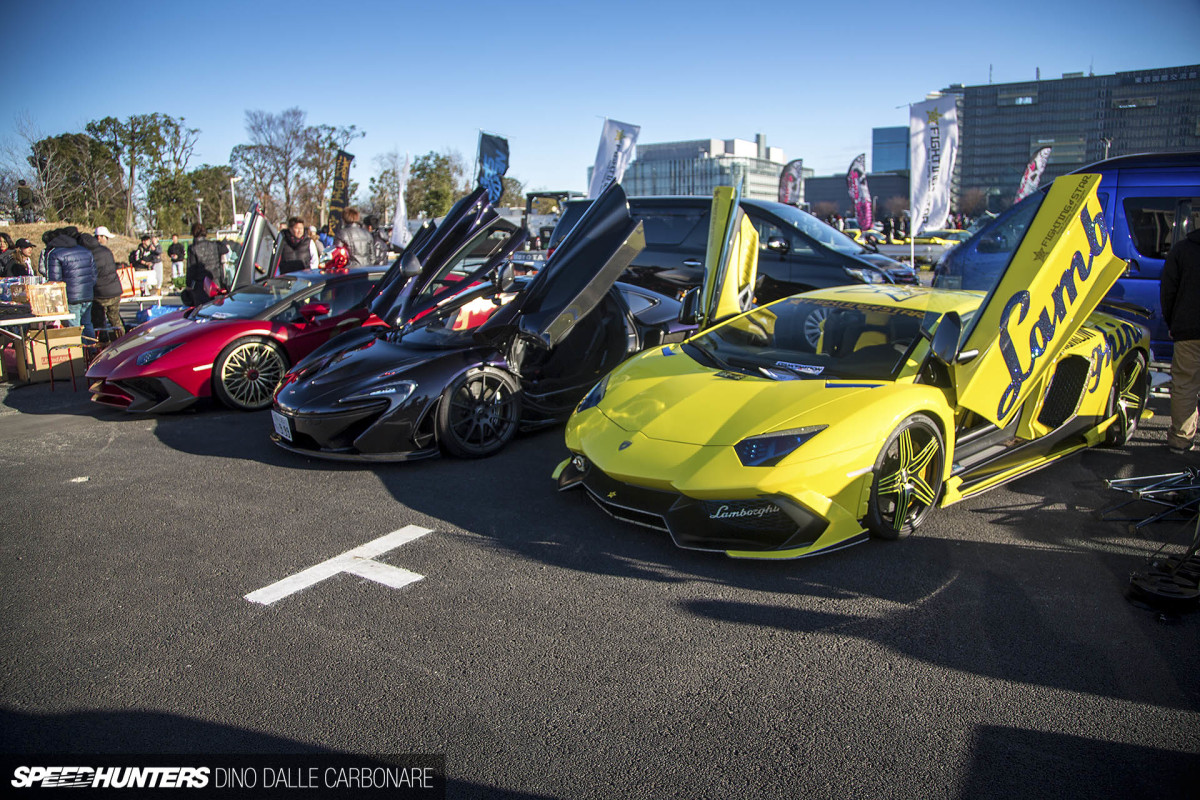 Another surprise was seeing Morohoshi and his Fighting Star crew. It looks like they've now allowed McLarens to join in, but only if they are of the P1 variety. Maybe a Senna will qualify too?
Odaiba Overload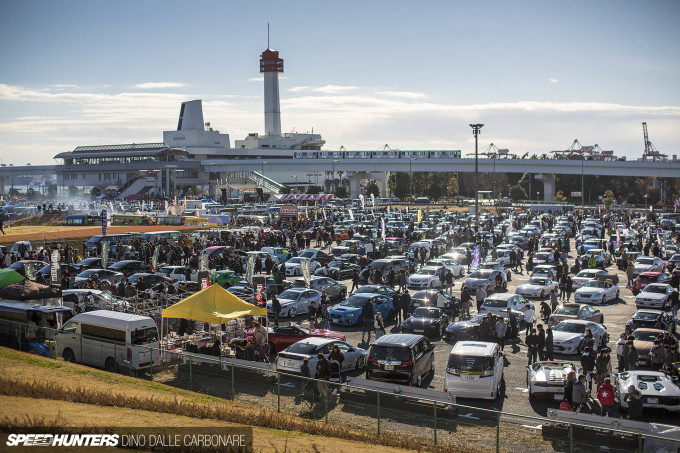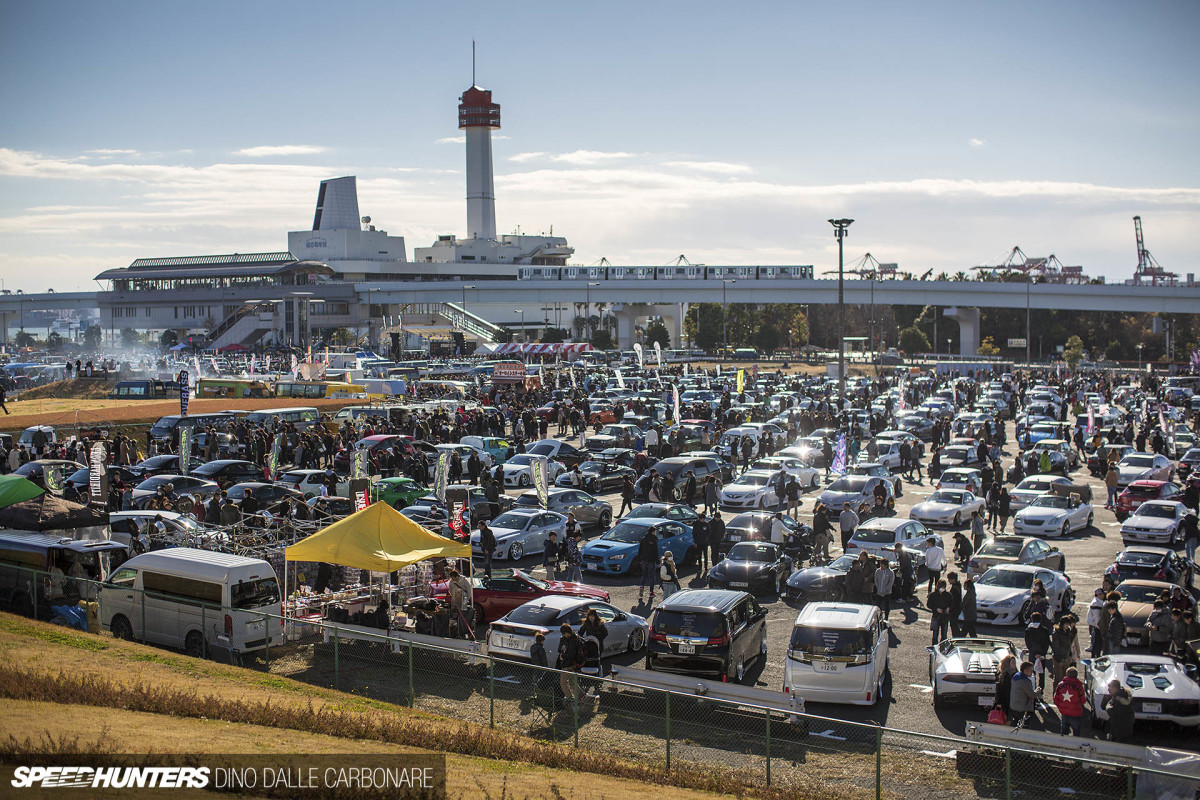 By lunchtime, the show was well and truly in full bloom, and a slightly elevated perspective shows you what it looked like from afar. Keep in mind that this was probably not even a third of the event.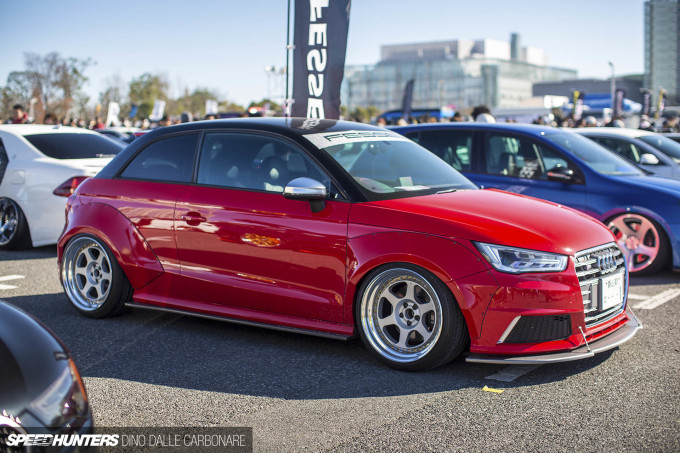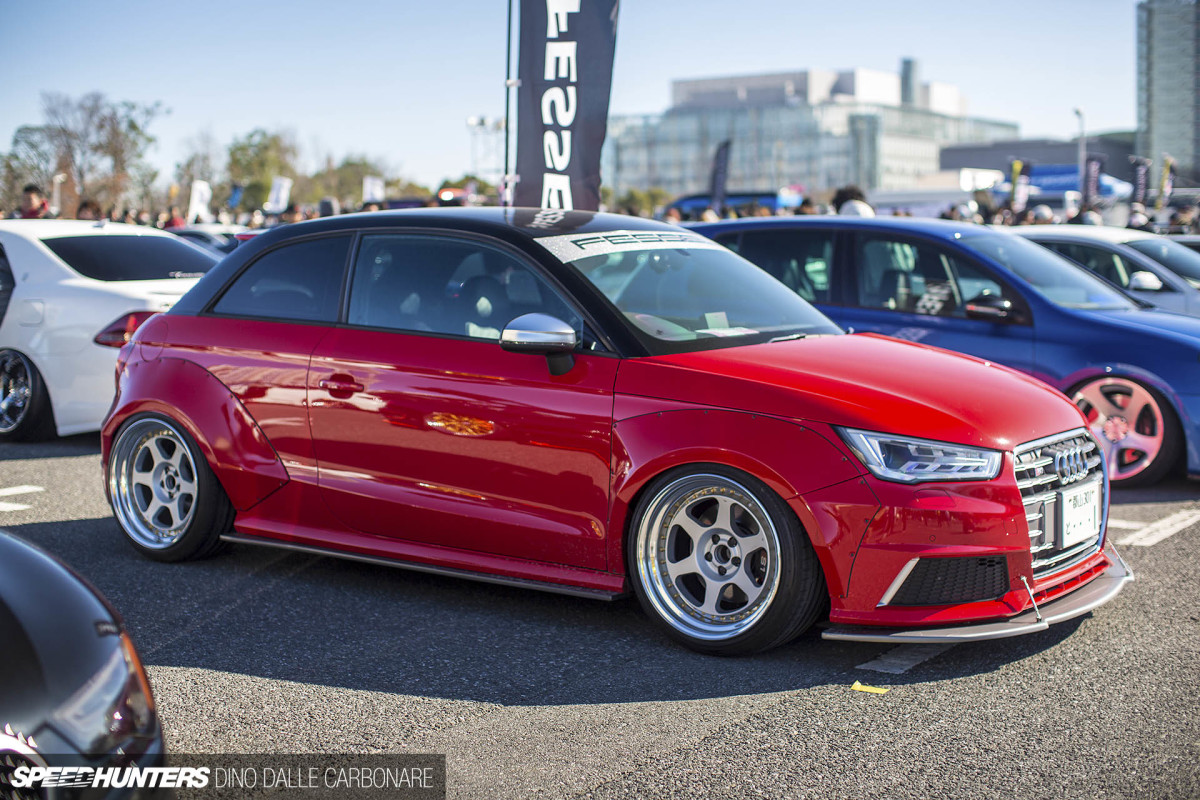 Overfender everything. Yes, we are still far from seeing this trend end. In fact, it's not showing any signs of dying off in any shape or form, but I personally prefer seeing overfenders applied to smaller cars like this A1 rather than expensive exotics.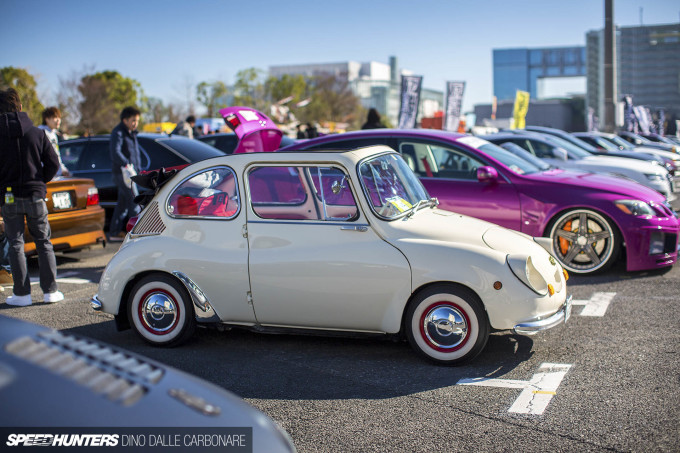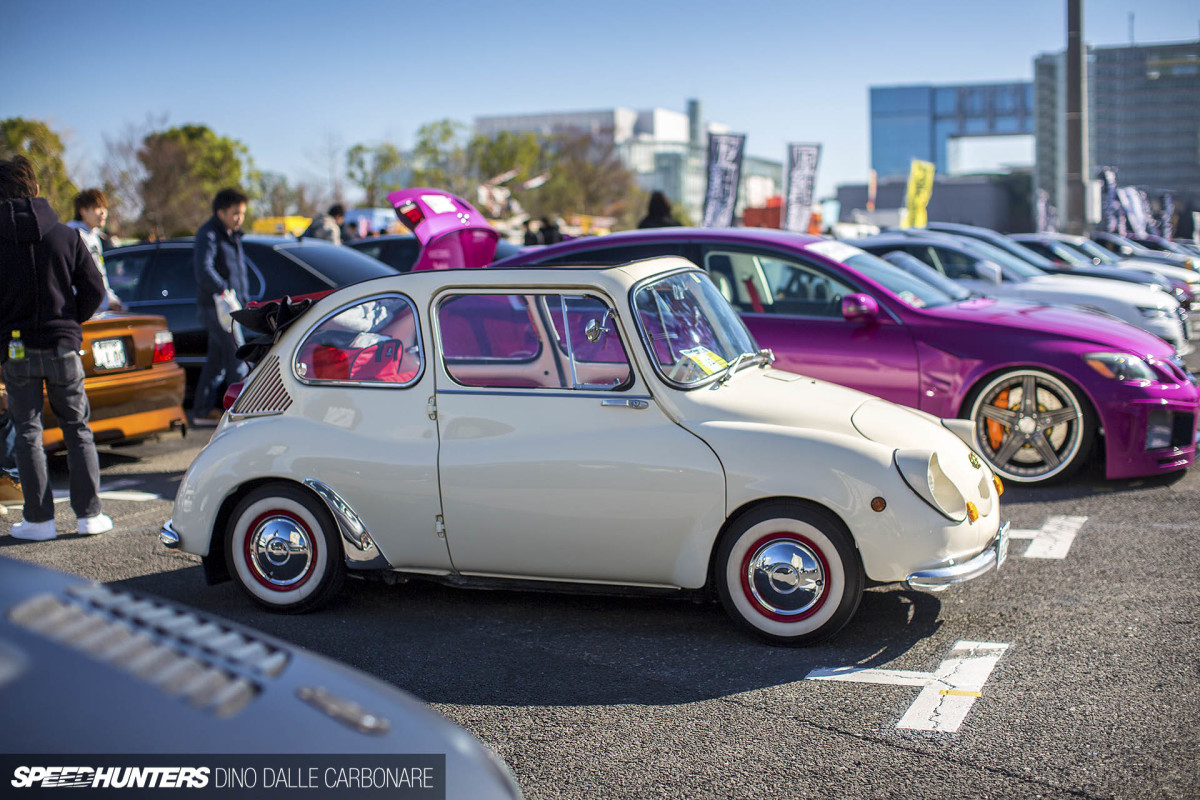 Hunting out the surprises at these shows is really fun, and this '60s-era Subaru 360 among all the colourful slammed modern stuff was one of them. Japan loves variety and we love searching for it.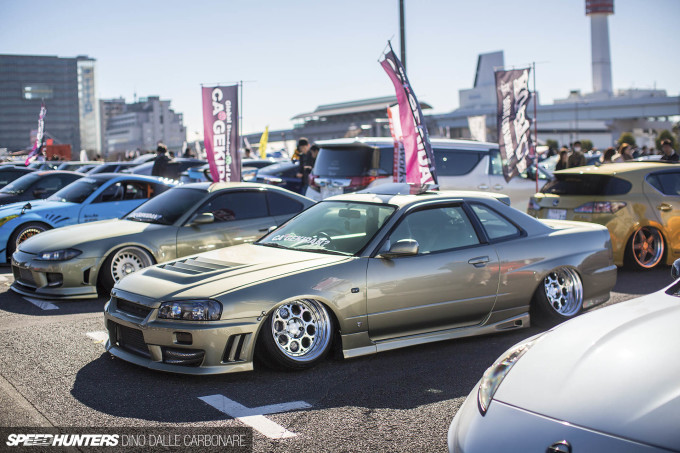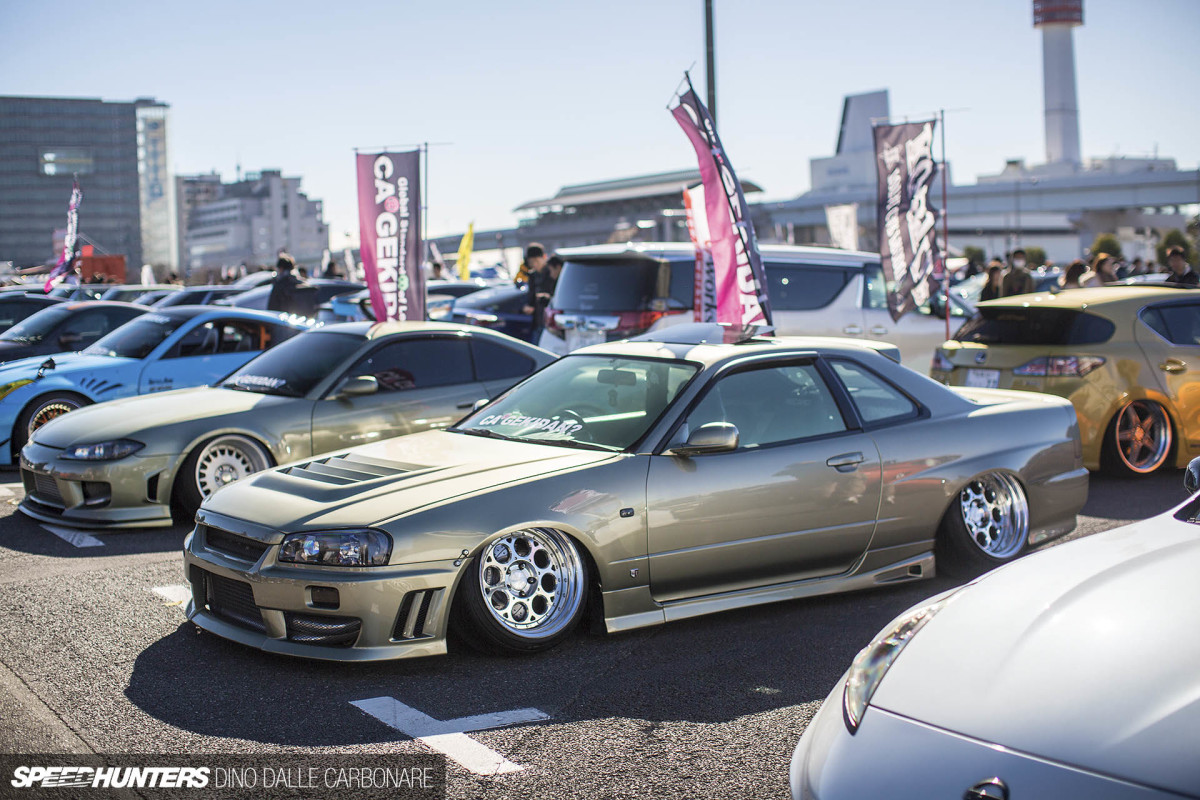 Damn there goes another R34. This GT-T was sitting on Barramundi Design Grandy wheels, which I'm quite a fan of. How does seeing an R34 with copious amounts of negative camber make you feel?
I noticed this AE86 Levin on Rotiform GTBs was getting a lot of attention, so I had to get closer once the crowd cleared a little. Talk about an impressive engine bay. I'm loving how Hachirokus just keep getting so much love and attention from their owners.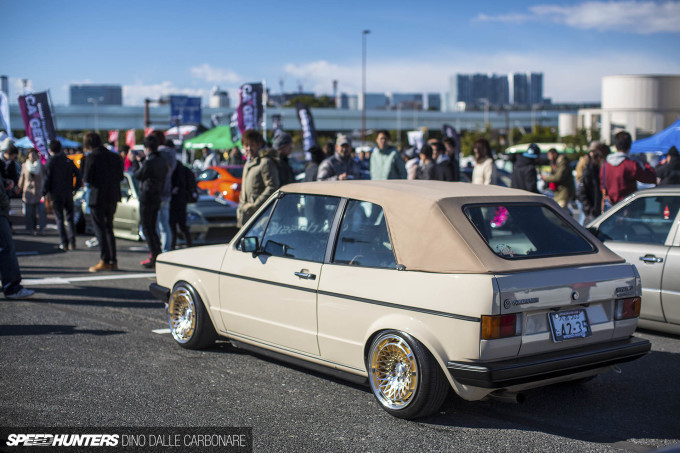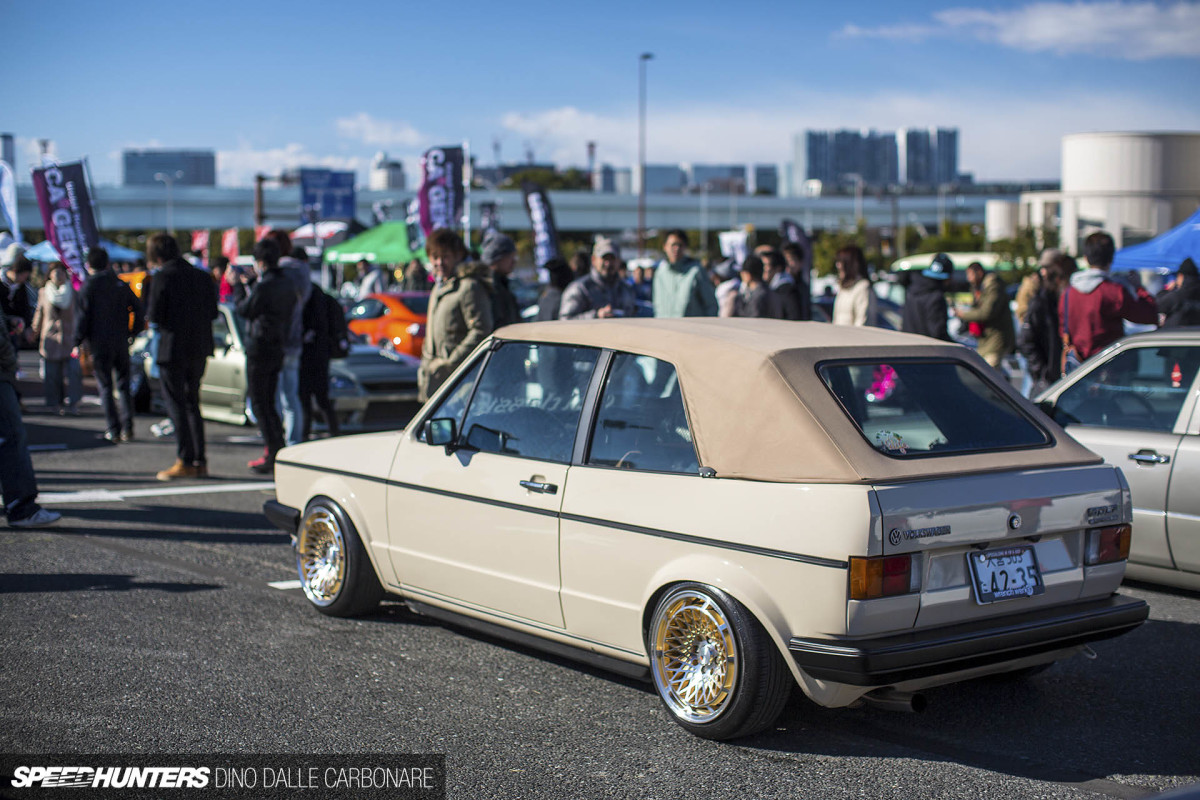 And it's also a pleasure to see cool imports like this Mk1 Golf Cabrio so nicely cared for and sporting the right sort of look, hinting at how the Japanese like to keep their fingers on the pulse when it comes to global car culture.
And now something a little closer to home with this trio of Mazdas.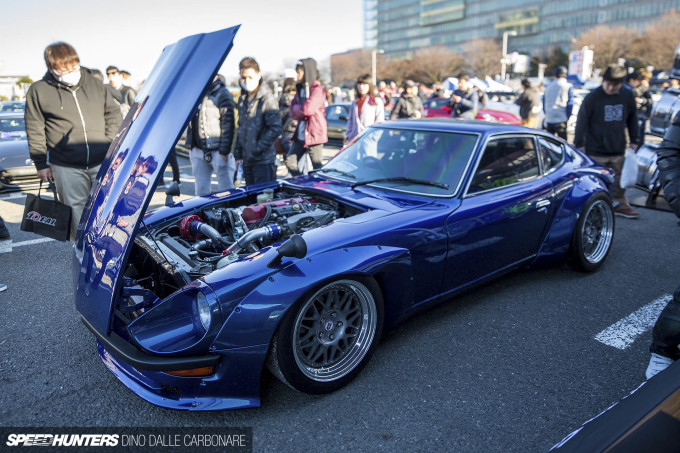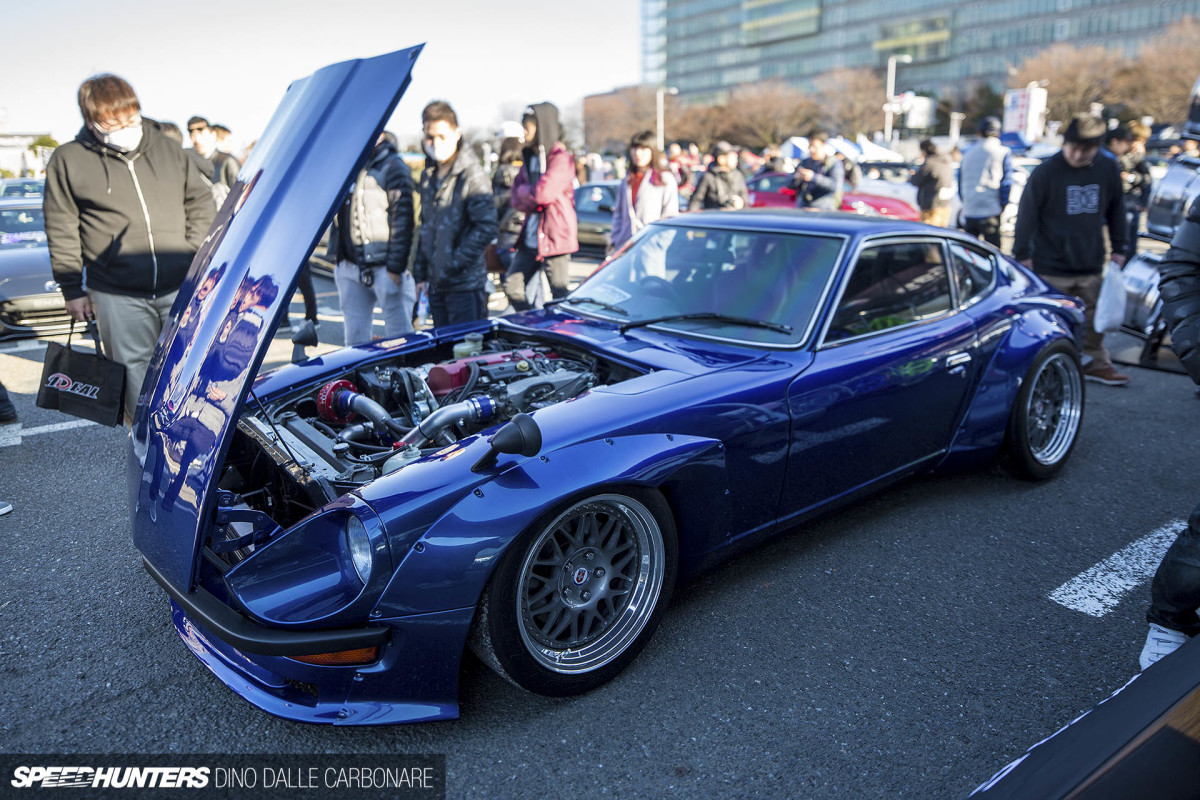 If mixing automotive flavors is a recipe for success, then this S30 is the automotive equivalent of a tangy smoothy. A vintage Z base, spiced up with a Pandem kit, a set of HRE wheels, and topped all off with a Honda F20C engine swap.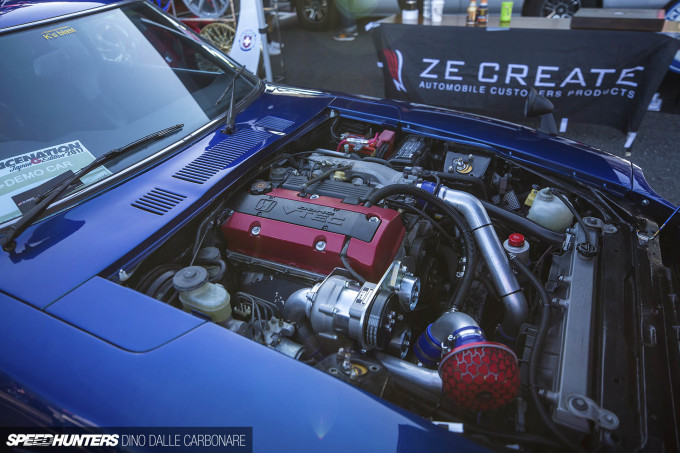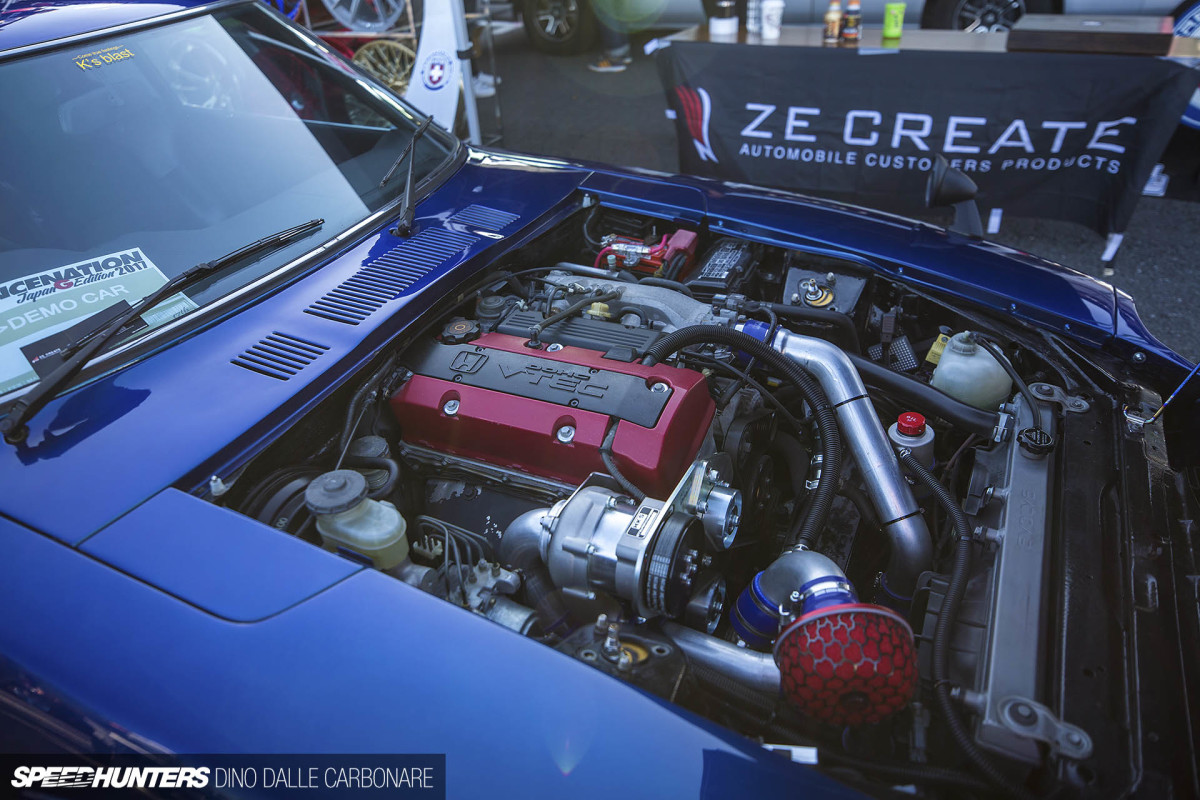 Not only that but the compact – and very well positioned Honda four-cylinder screamer – even sports an HKS GT Supercharger kit for a good 100hp jump in power. This is what we at Speedhunters categorize as feature car material.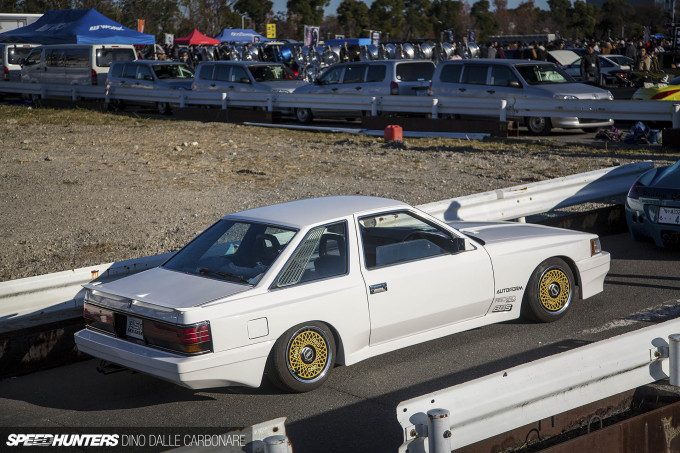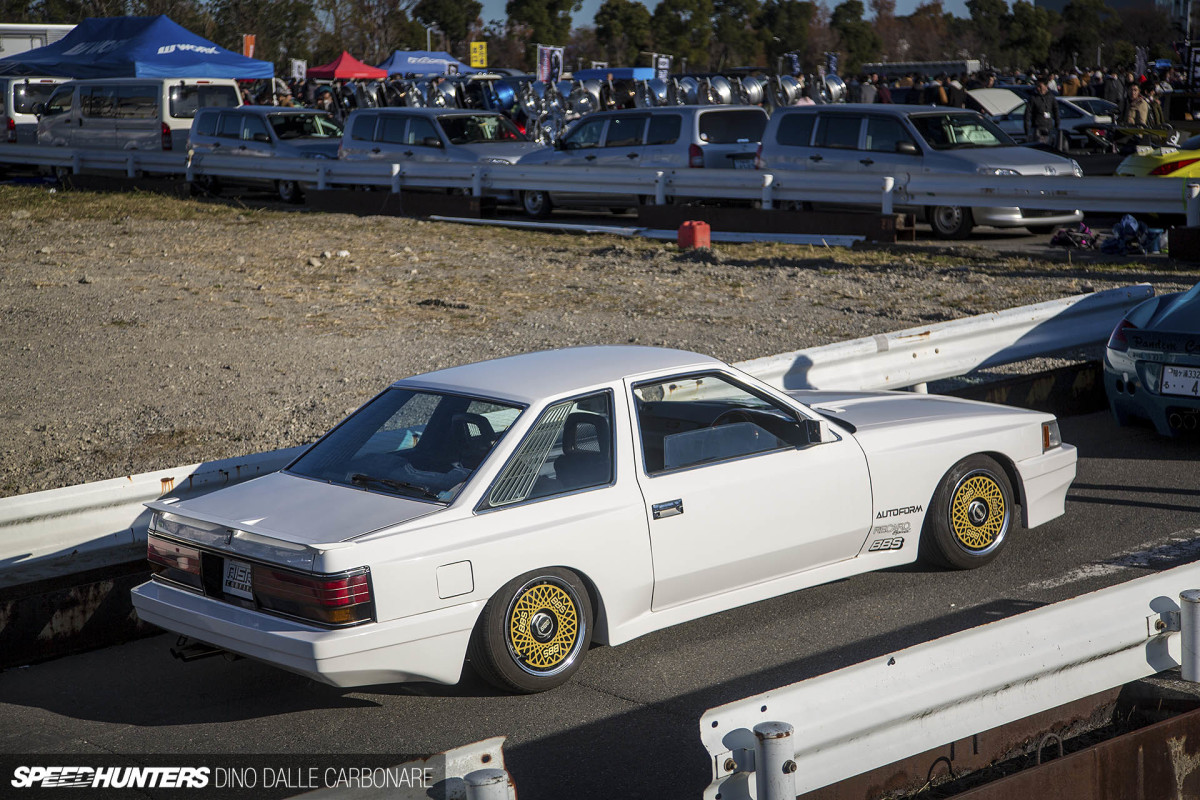 Do you remember what I always say about simplicity? I'll just leave this here; it was one of my favourite cars of the event and I didn't even spot until the very end of the day.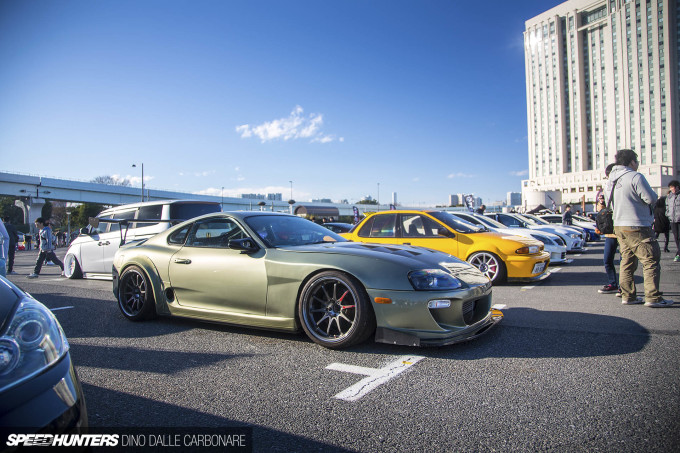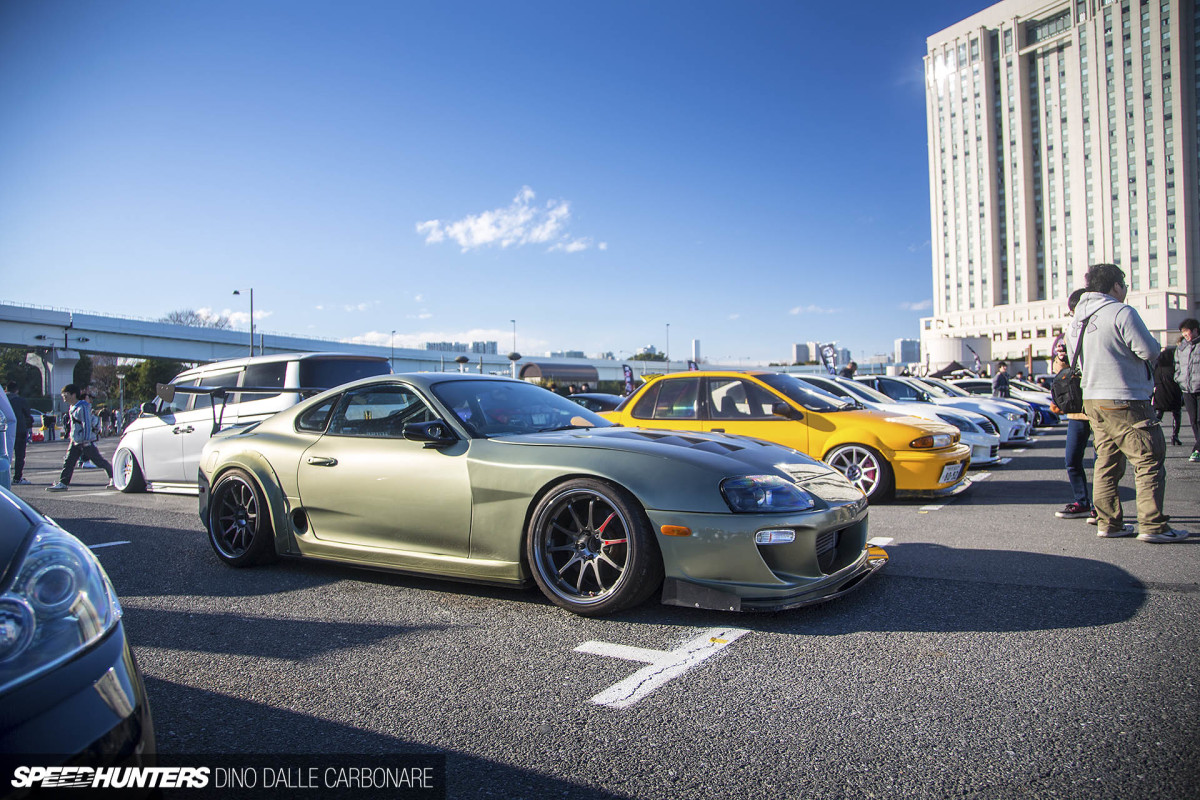 So many Skylines and not even one Supra? I can almost hear the complaints, but don't worry guys, I've got you covered with this widened beauty on RAYS Volk Racing CE28SLs.
Something For Everyone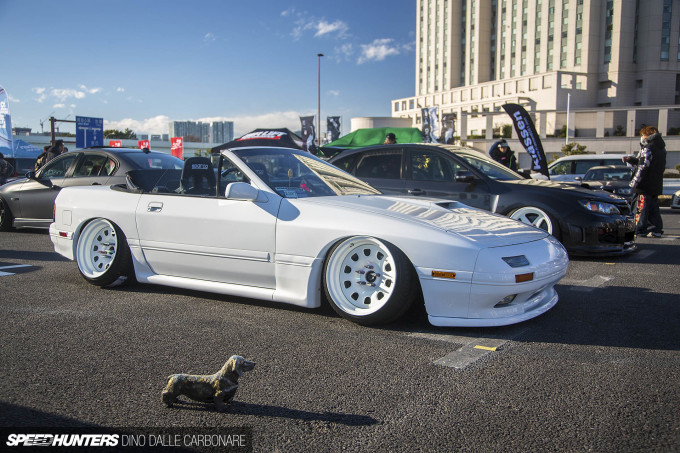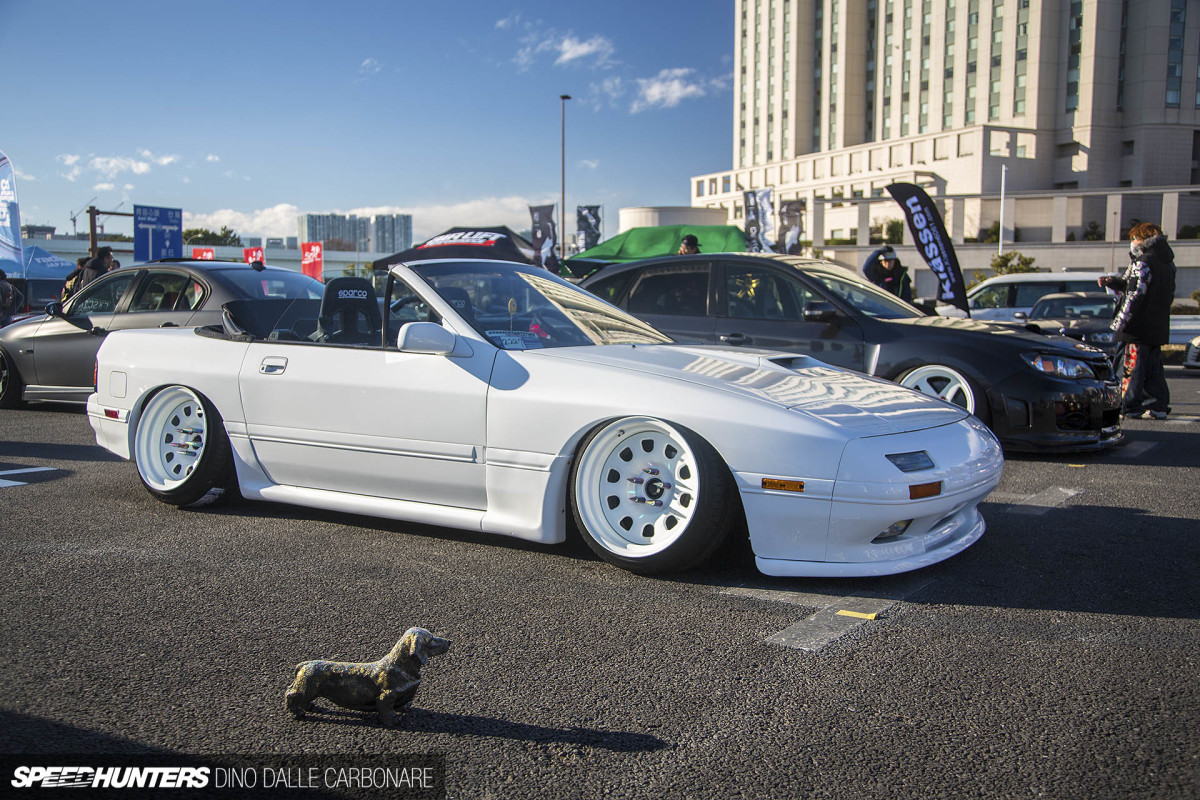 This cracked me up; shakotan dog, shakotan car.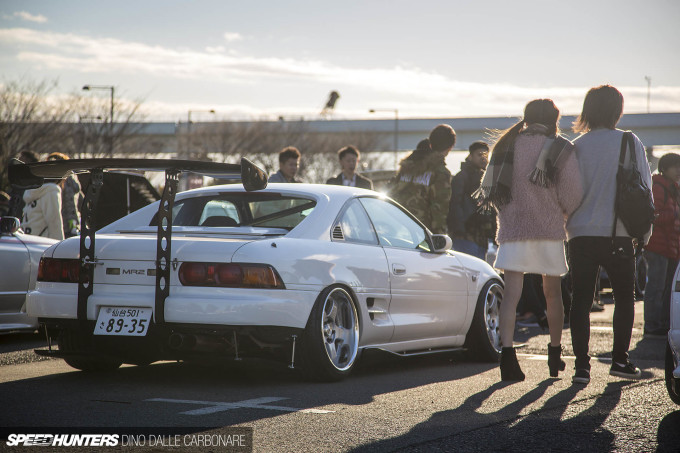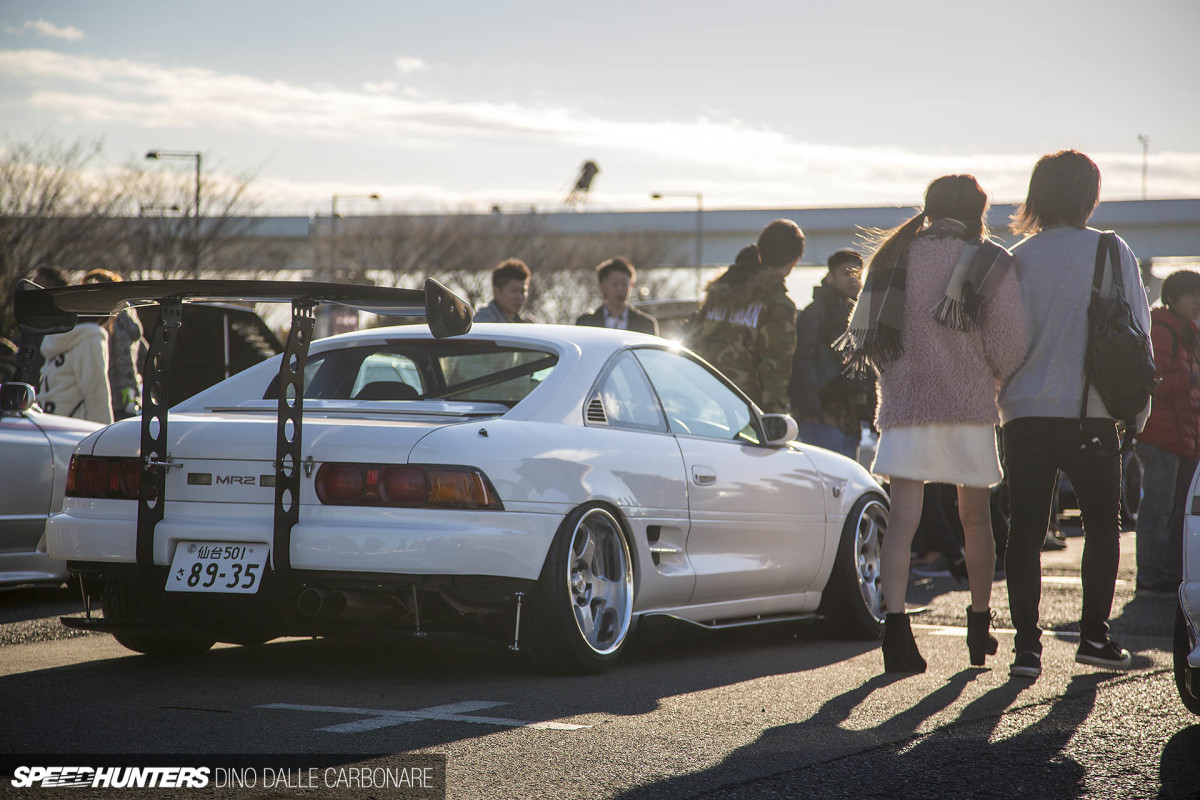 While the majority of cars that we see and often feature from these types of events and shows are of the older variety – an SW20 MR2 in this instance – it's nice when you come across something modern.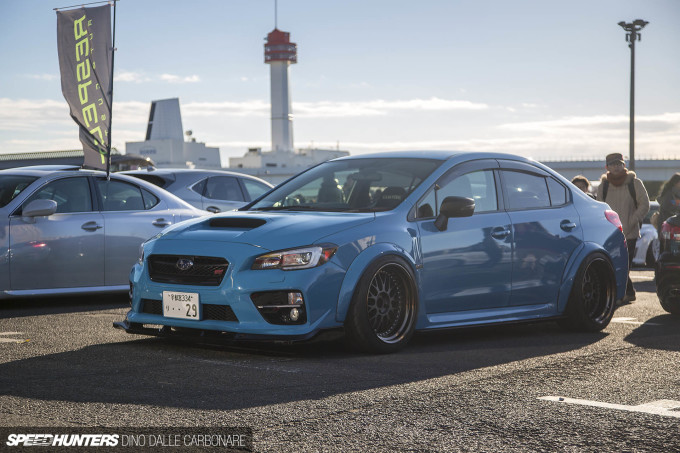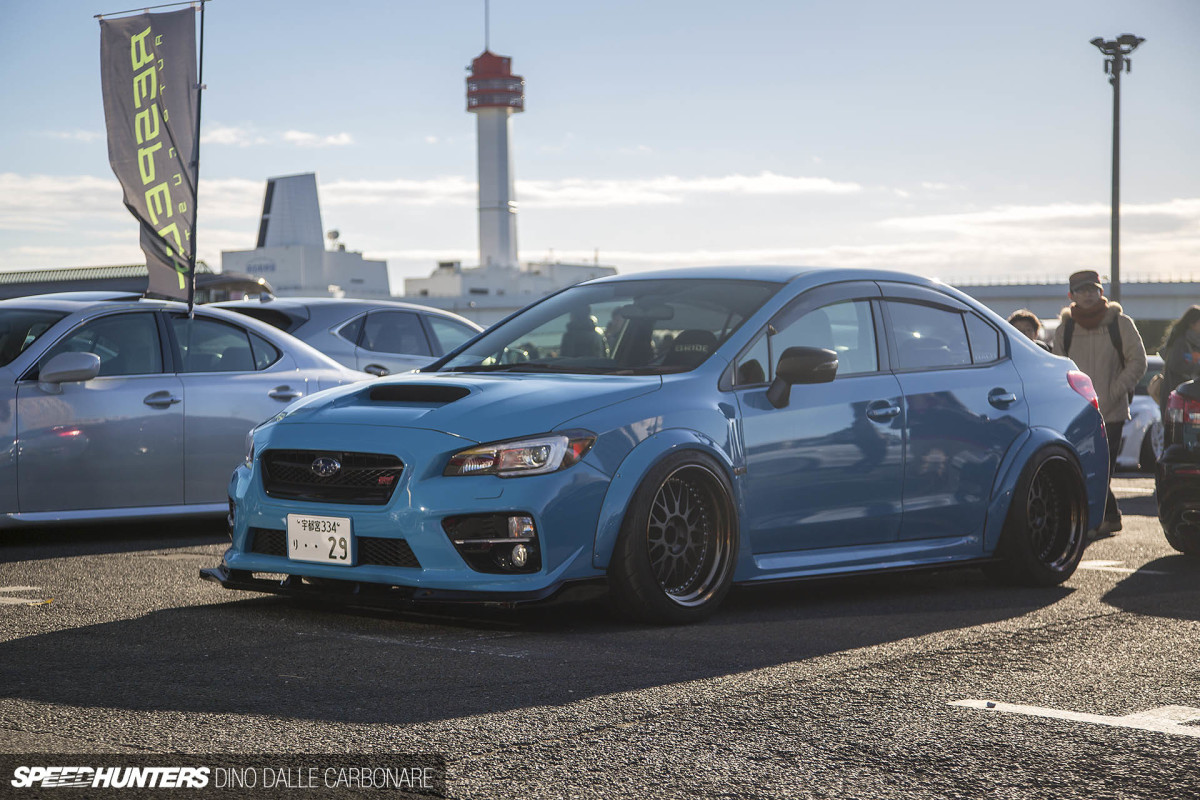 Like the new Impreza STI; it gives a bit of hope that there's continuity in the scene, even if there aren't that many new and affordable sports cars around. The fender flares and rear spoiler deletion has really transformed the look of this one, but I still think it looks like an Evo X.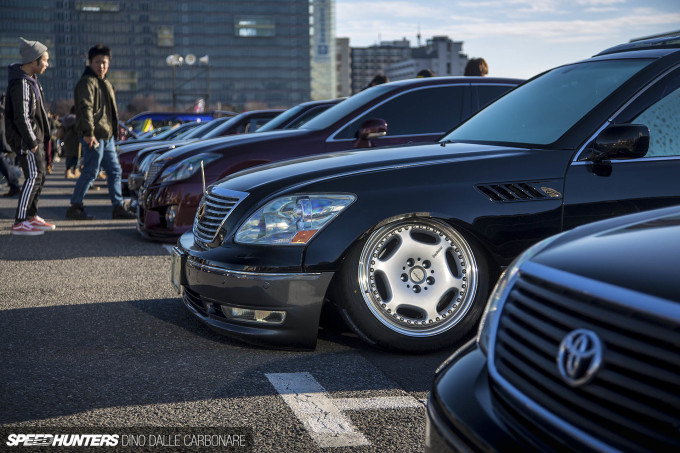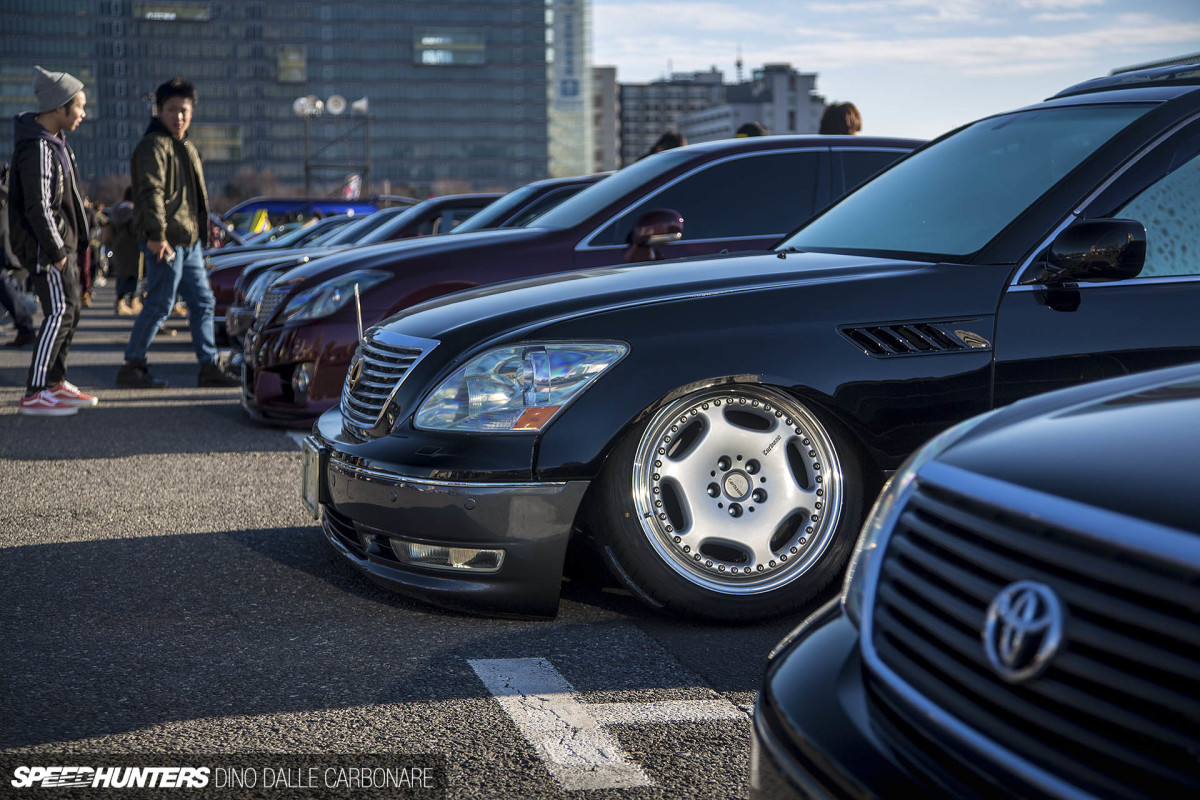 Going German has always been a much revered style of the VIP community, and there's nothing quite like a bit of contrast when spicing up the menacing look of your big-body luxury sedan.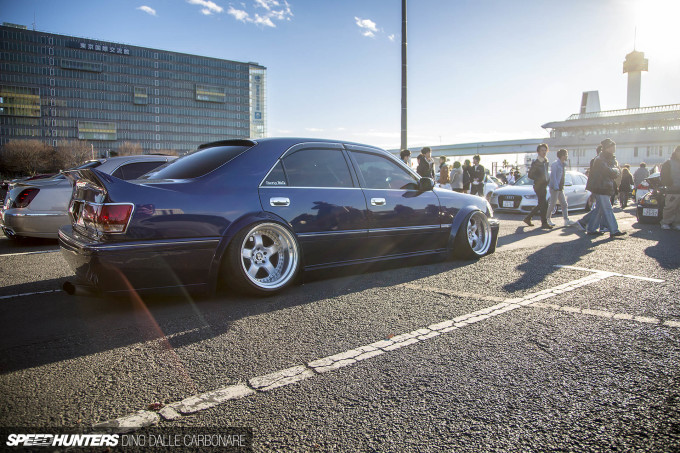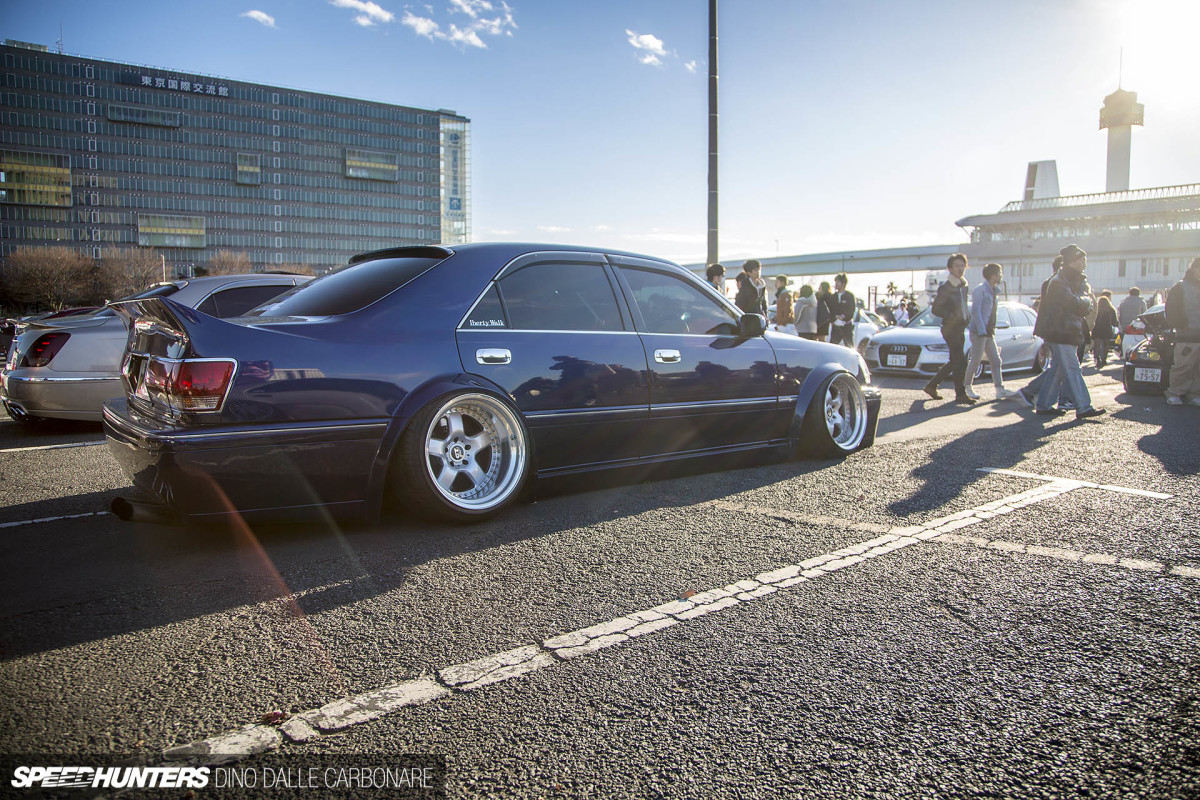 But if you're going to do it properly, you really need to go the whole way with custom fabricated arch extensions and an integrated trunk spoiler. This one was riding on air so it doesn't need to lose half its bodywork when heading to a show.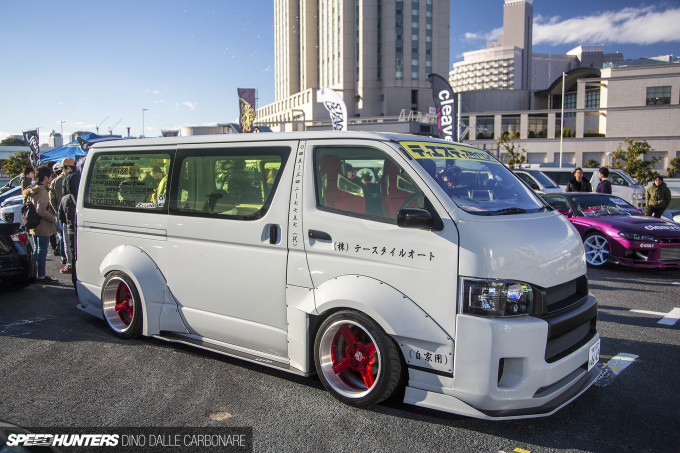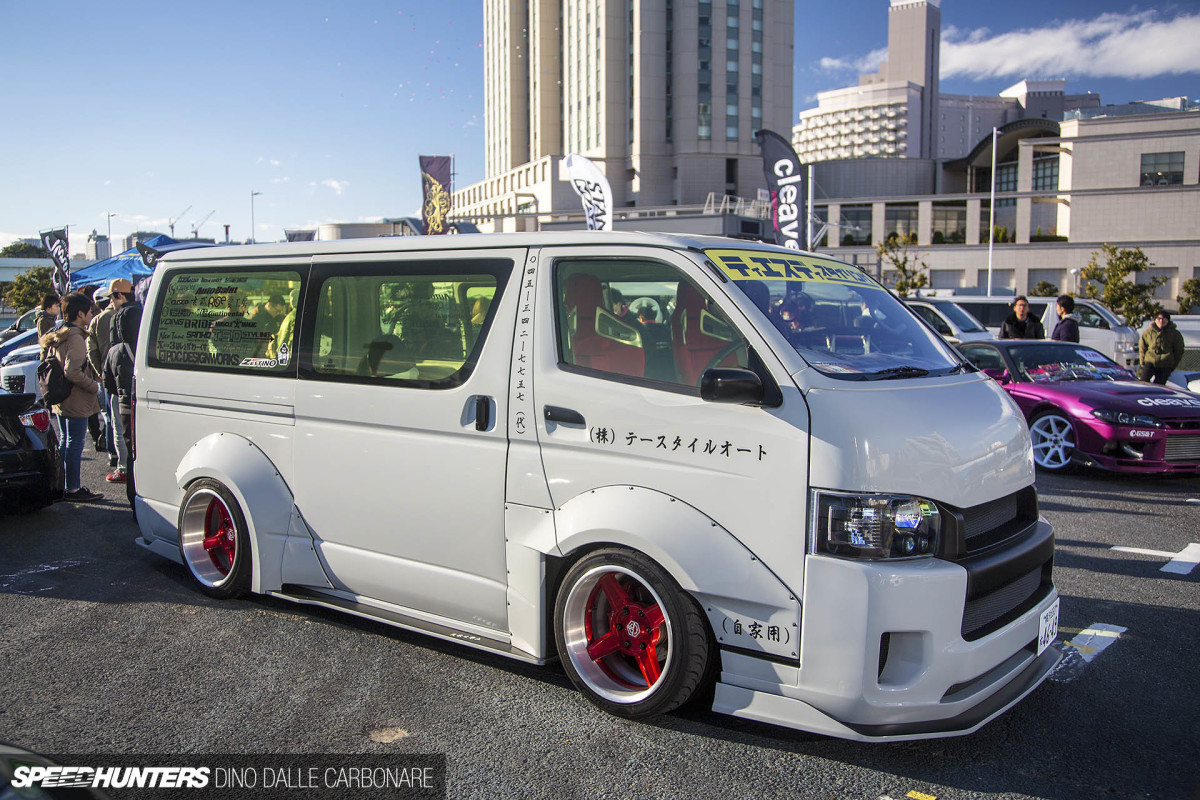 And how could we possibly forget the vans? From your solid rear axle commercial models like the Hiace and Caravan, to the newest and most modern examples, they were well represented at StanceNation.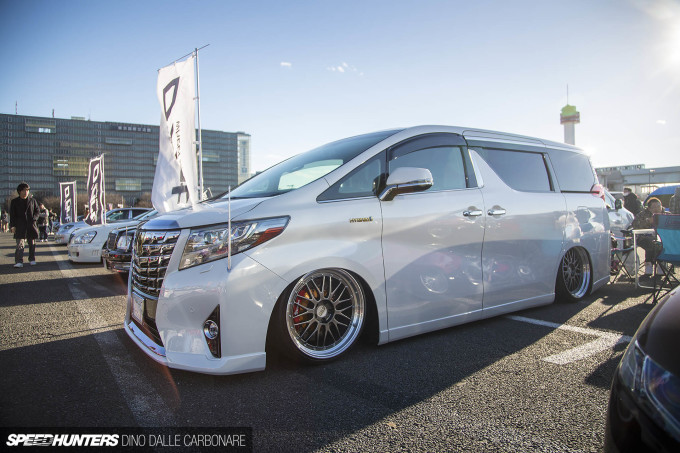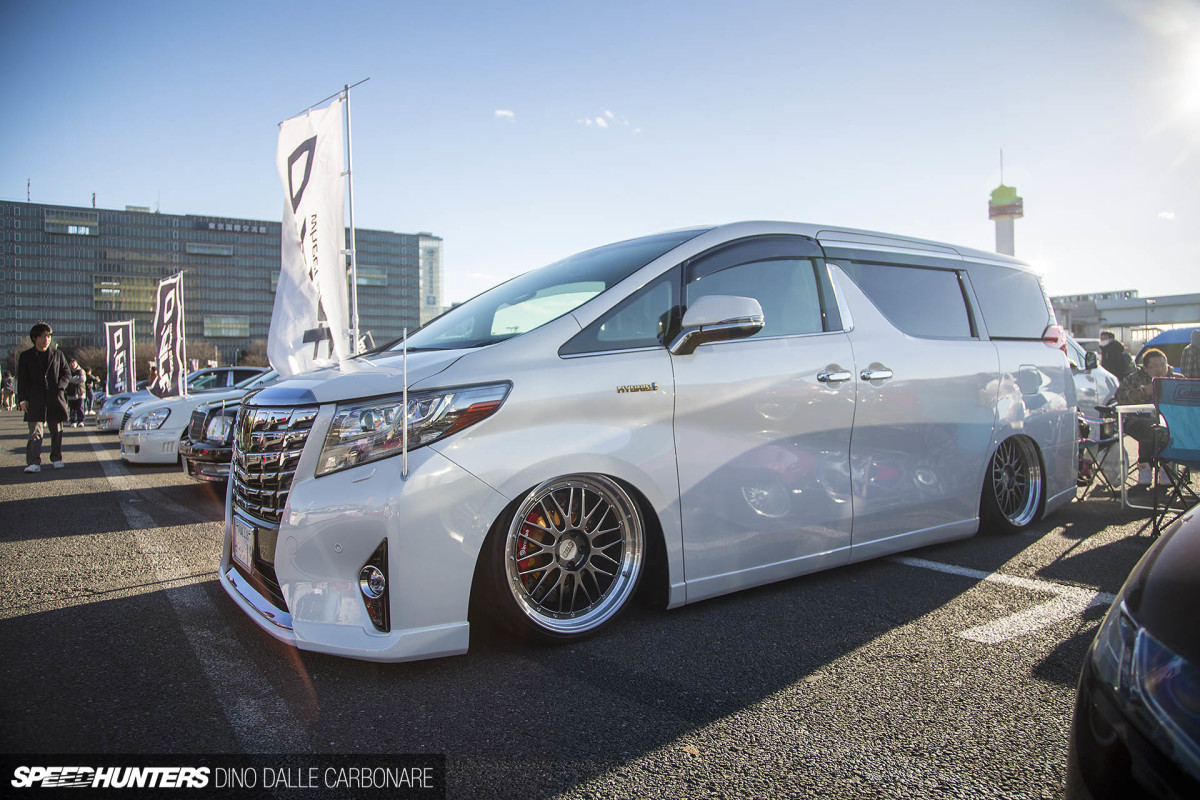 Being a dad, I'm naturally attracted to things like the Toyota Alphard; it's possibly the best car you could ever get for Japanese roads, and since its got more room inside than an average Tokyo apartment you can even live in one. This one on BBS LMs had a nice sporty feel about it, thanks in part to the massive Brembo brakes front and rear.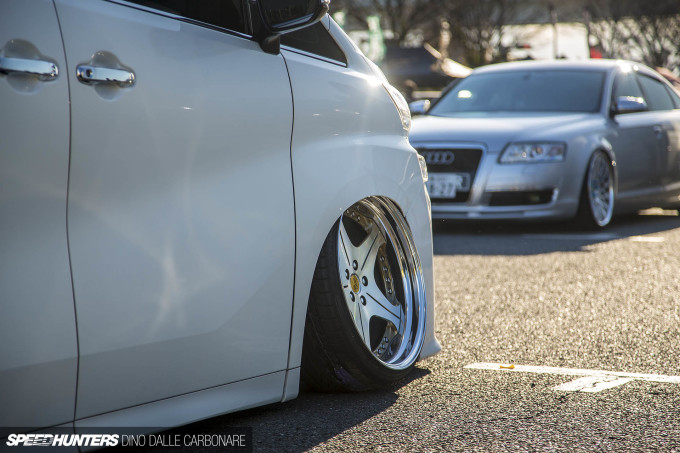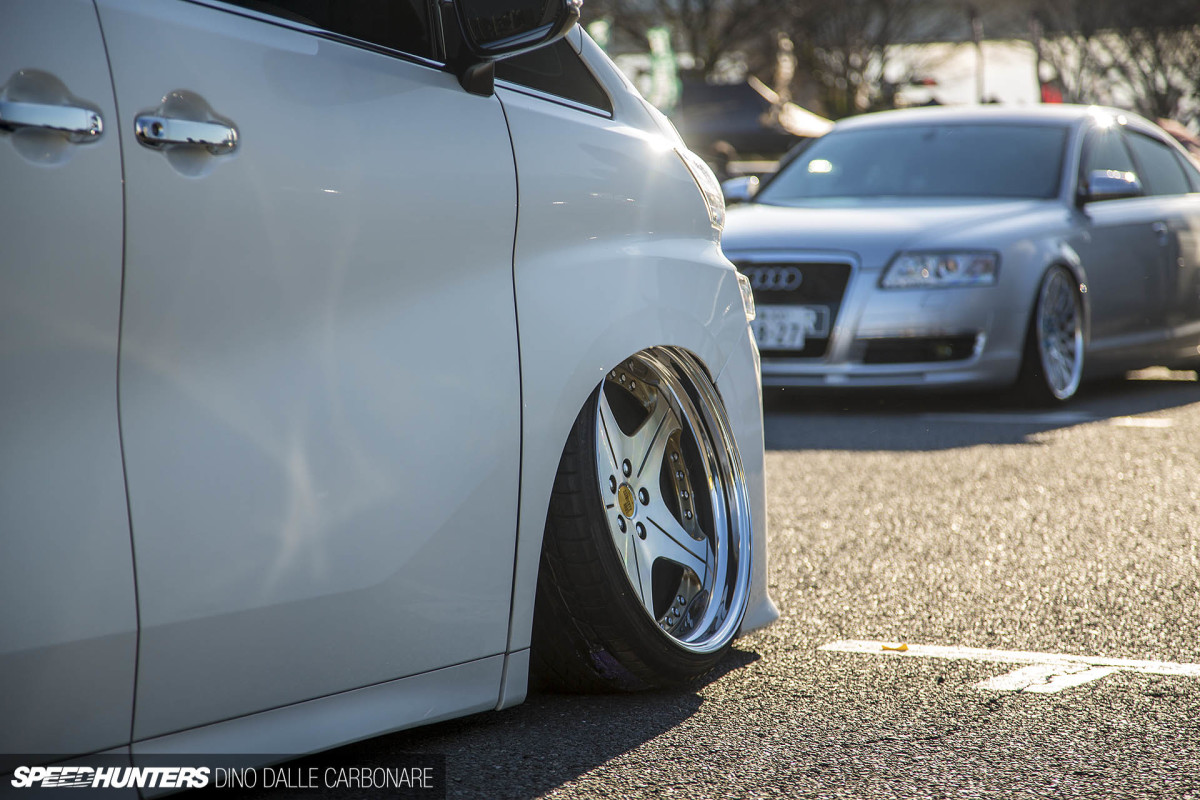 But why cut corners?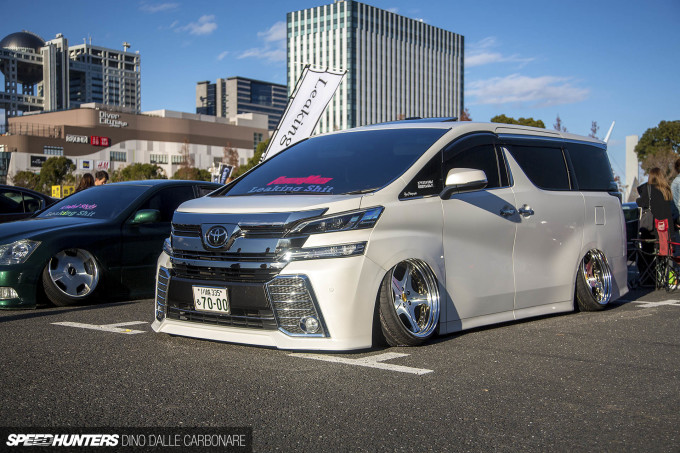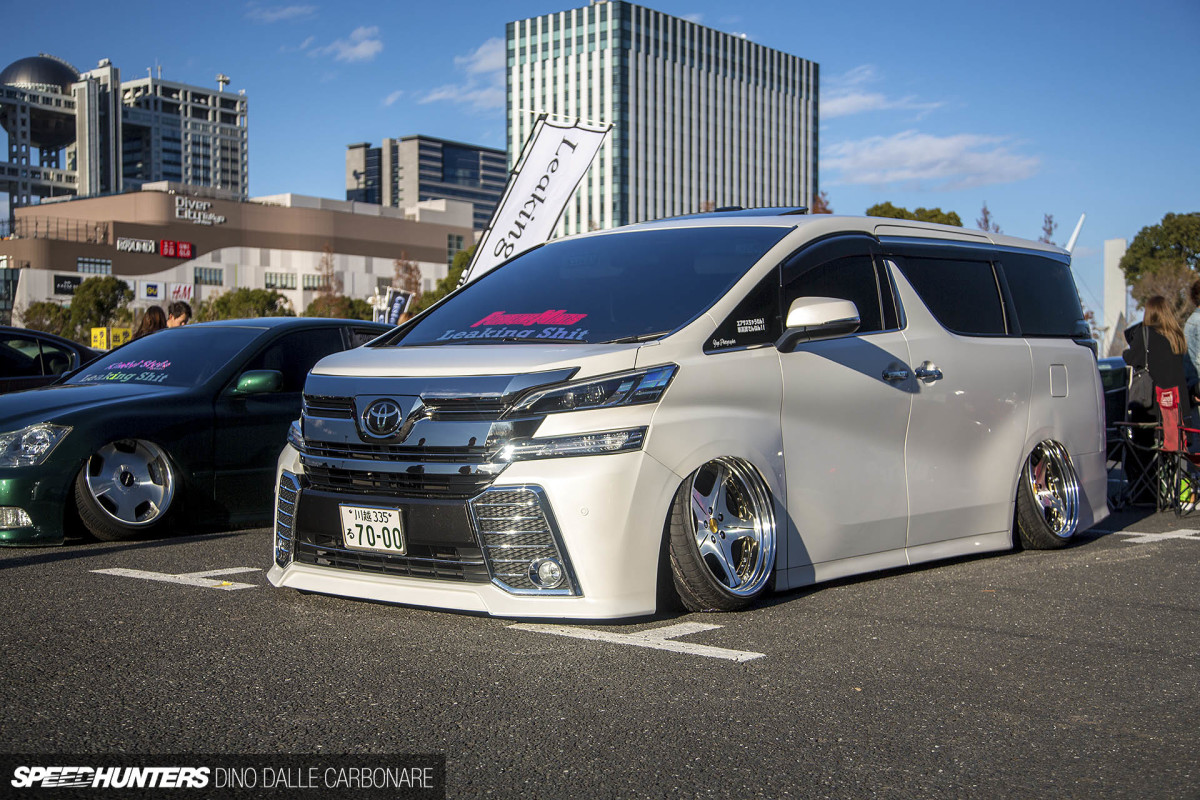 It's Japan after all, everything needs onikyan and this Vellfire did a damn good job of showing it off.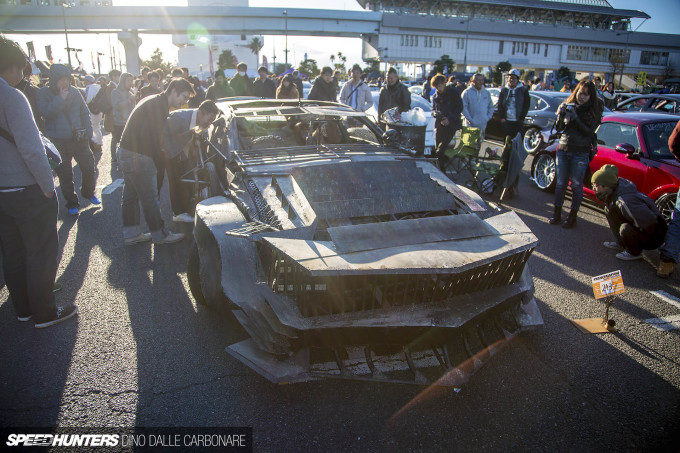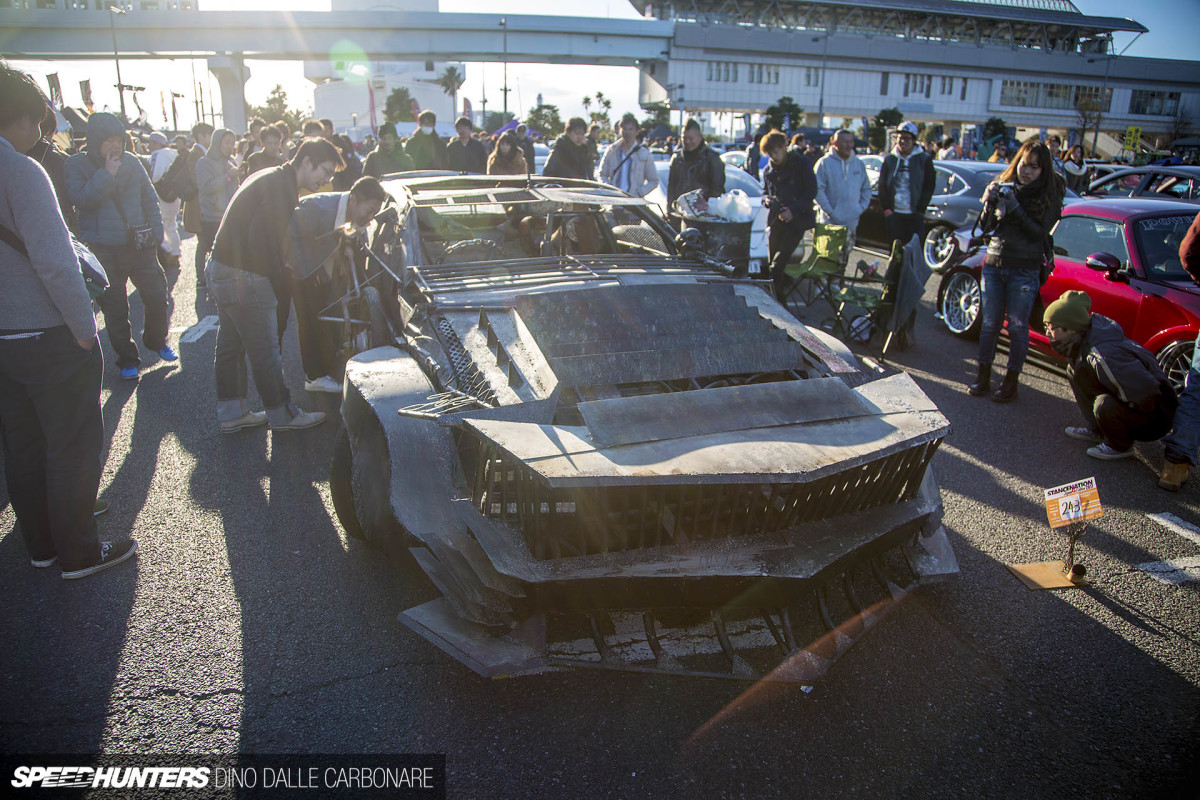 I thought I'd post at least one image of this contraption, which we saw earlier in the year in a slightly less 'evolved' state. There's a Honda Odyssey beneath it all, but by this stage it's possibly more of a modern art sculpture or a rusty garden ornament. People seemed to go wild for it, and it was by far attracting the biggest crowds.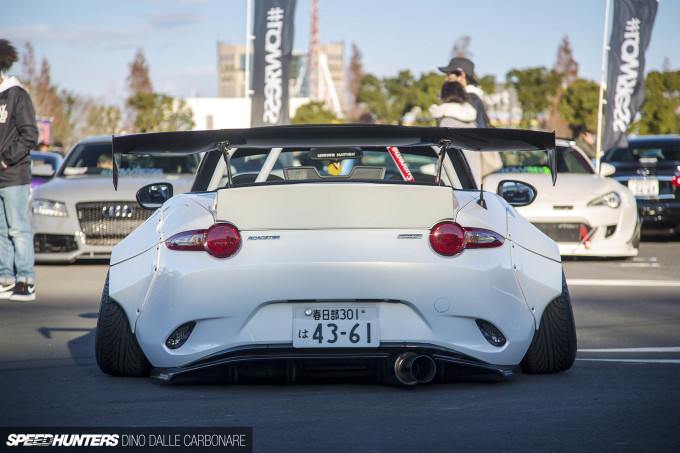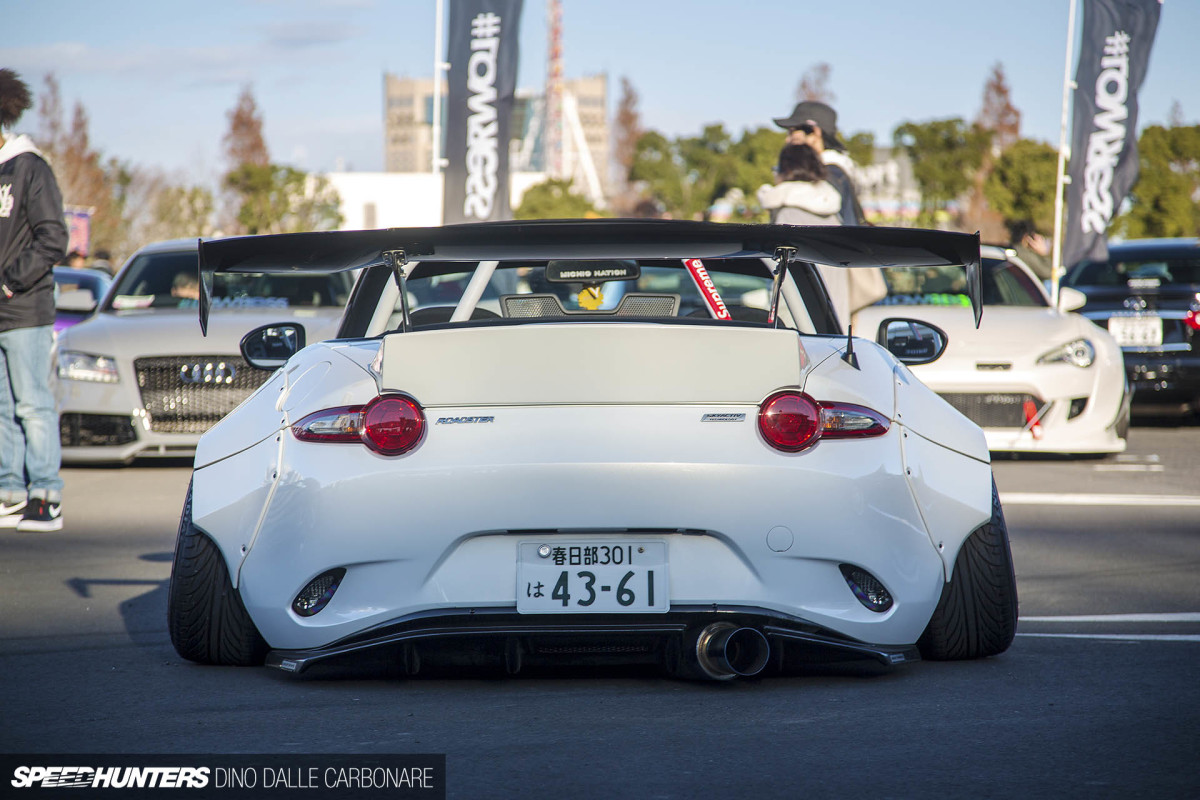 Hopefully this first post has set the tone for what I've got coming next from StanceNation Japan G Edition Odaiba. Most spotlights I'm sure you'll like; one you will possibly hate. But the criteria behind it all is to give you a more detailed look into the cars that stood out to a hunter of s…., well stance this time round. Check back soon for more.
Dino Dalle Carbonare
Instagram: speedhunters_dino
dino@speedhunters.com