Welcome To The Cave
Okay, technically it's a business called AutoDetailer Studio, but it still classifies as a man cave in my eyes, and I'm sure you'll soon understand why.
When I was in Malaysia back in July for Art Of Speed, I got to meet a guy called Darren Chang, someone I probably should have met a while back in all honesty. Ever since I began making my annual visit to Kuala Lumpur, I'd been hearing about this famed 'Bat Cave', an air-conditioned sanctuary of all things car detailing, located deep underground away from the tropical heat of the country's capital. The stories I heard over the years were about how the city's best and rarest cars get looked after there; how at any one time there's a crazy selection of vehicles at hand; how the color temperature of the lights is carefully measured so as to get the most natural light possible; and how sometimes Batman himself stops by to get the Batmobile washed and waxed.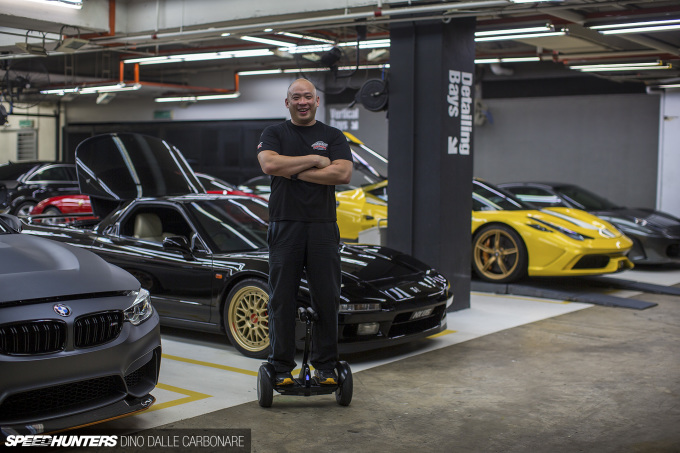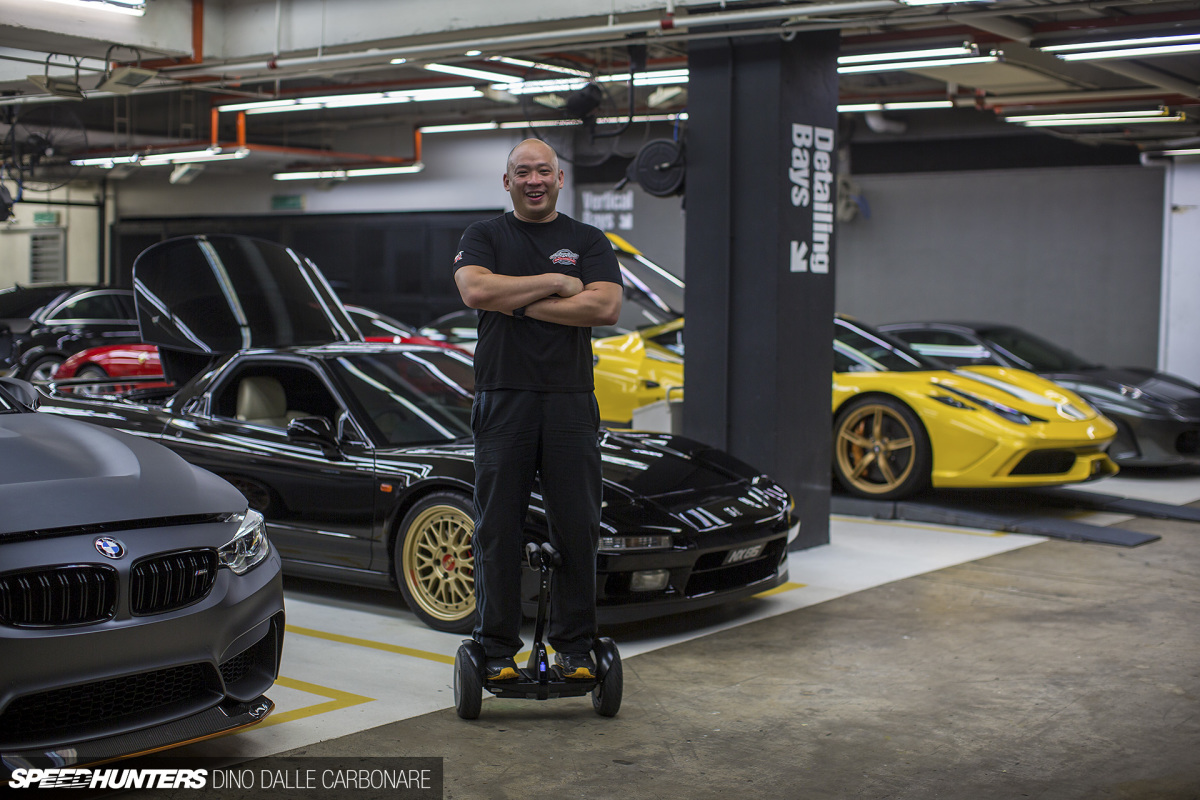 Meet Batman, aka Darren, who probably resembles more an Asian version of Vin Diesel than Bruce Wayne. AutoDetailer Studio's owner is one of us through an through, something I pleasantly discovered after our first brief chat. He's passionate about cars, races at track days with his friends, knows everyone in the local KL scene, and because of his work is respected by all. On top of all that he loves taking photos, and after seeing some of his work he may as well come and work at Speedhunters if he ever wanted to hang up his rotary polisher.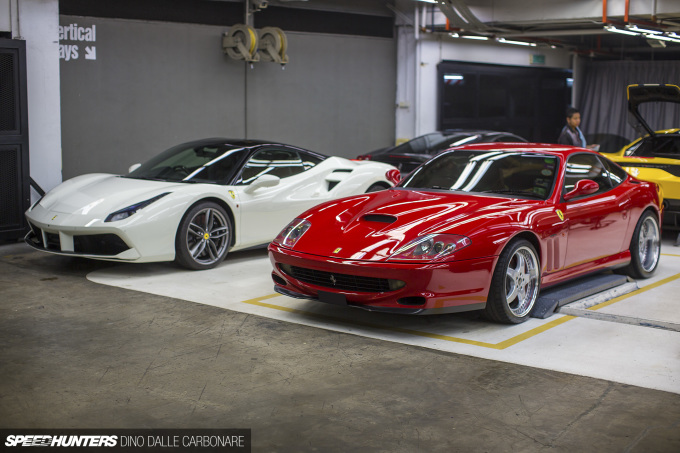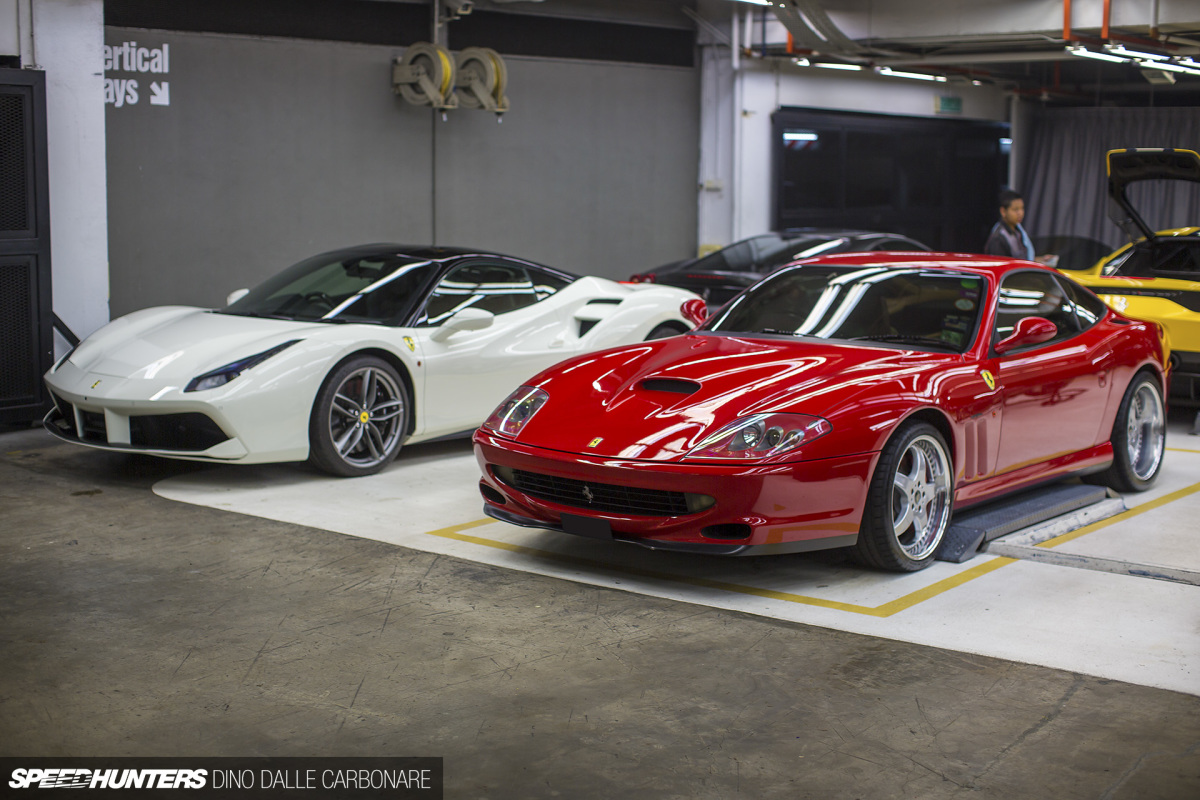 I stopped by Darren's cave the very first day I was in town for Art of Speed, but after one quick glance at the place I decided to leave immediately. You see, I only had about 30 minutes at my disposal before I had to race off to my next appointment, and that was not going to be nearly enough time to take it all in. Once the mayhem of Art Of Speed was over would be a far better time; that way I could spend a good couple of hours at AutoDetailer Studio checking it out.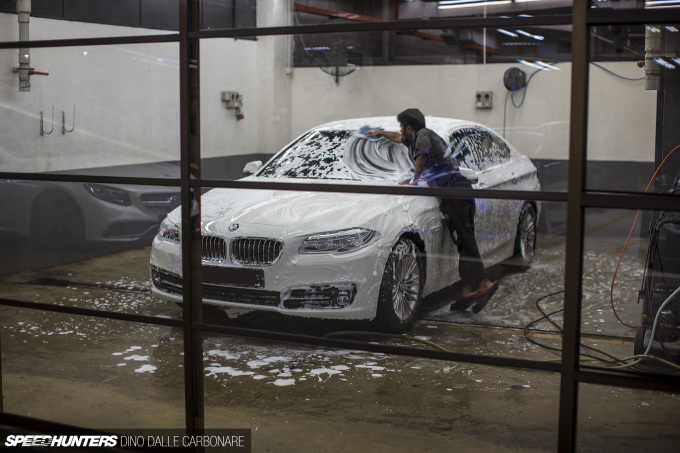 And that's what I did; my final day in Malaysia was spent here, indulging in the customer cars that were in for some TLC and chatting to Darren about how he got to where he is now.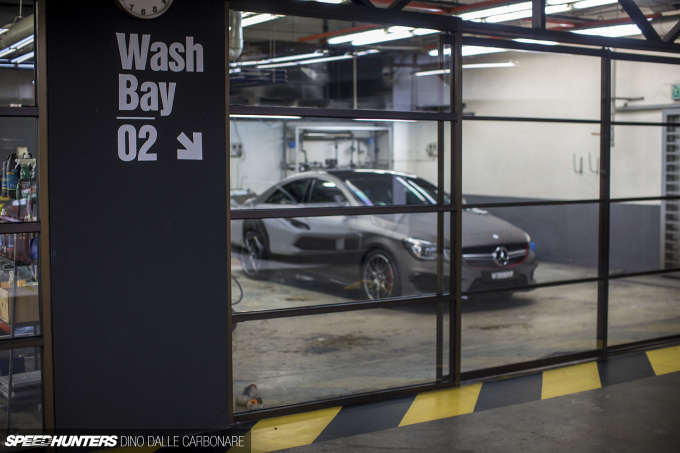 AutoDetailer Studio is located in the corner of an underground parking garage of a big building complex, gated away behind automatic shutters for additional security. Once a car comes in it's taken directly to one of the two sealed wash bays where it can be properly cleaned down and decontaminated using deionized water.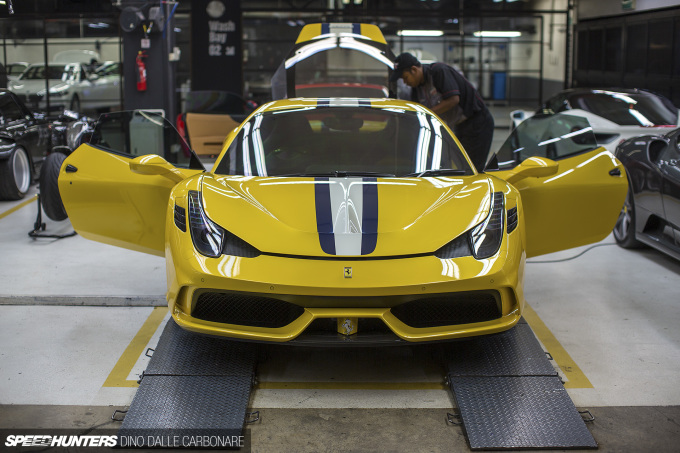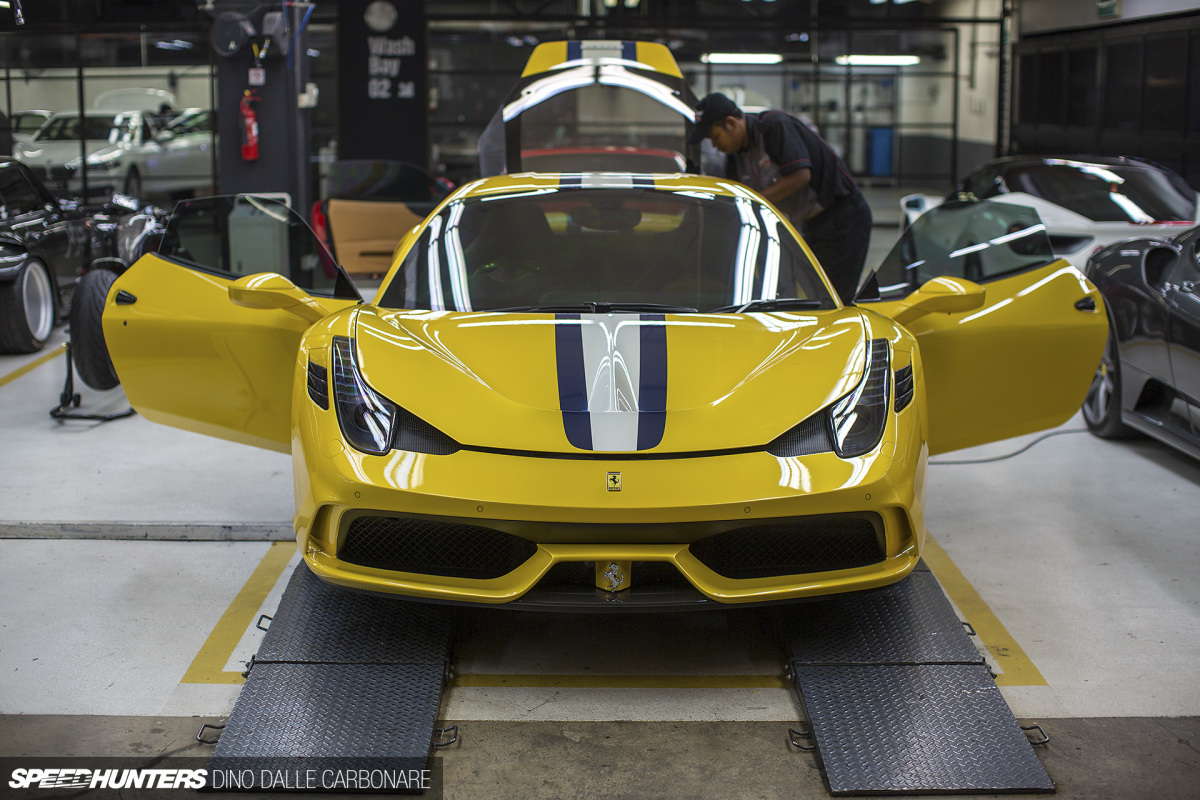 As you'd imagine there are a variety of detailing options available, but the majority of AutoDetailer Studio's customers go for the full monty, which can take up to a couple of weeks depending on what's selected. This can include services like clear wrap protection once the paint has been meticulously corrected and sealed, interior detailing and wheel repairs – the AutoDetailer staff will literally do anything that you request. Going one step further, the shop now also undertakes full repaints and even ground-up restorations, and also offers top-of-the-line car storage, as you'll see shortly.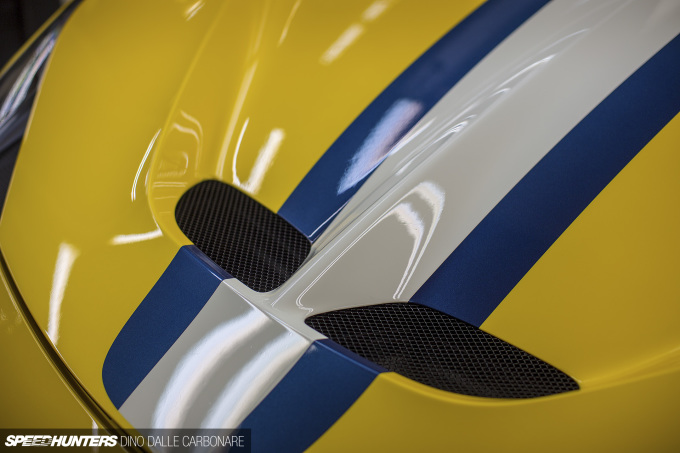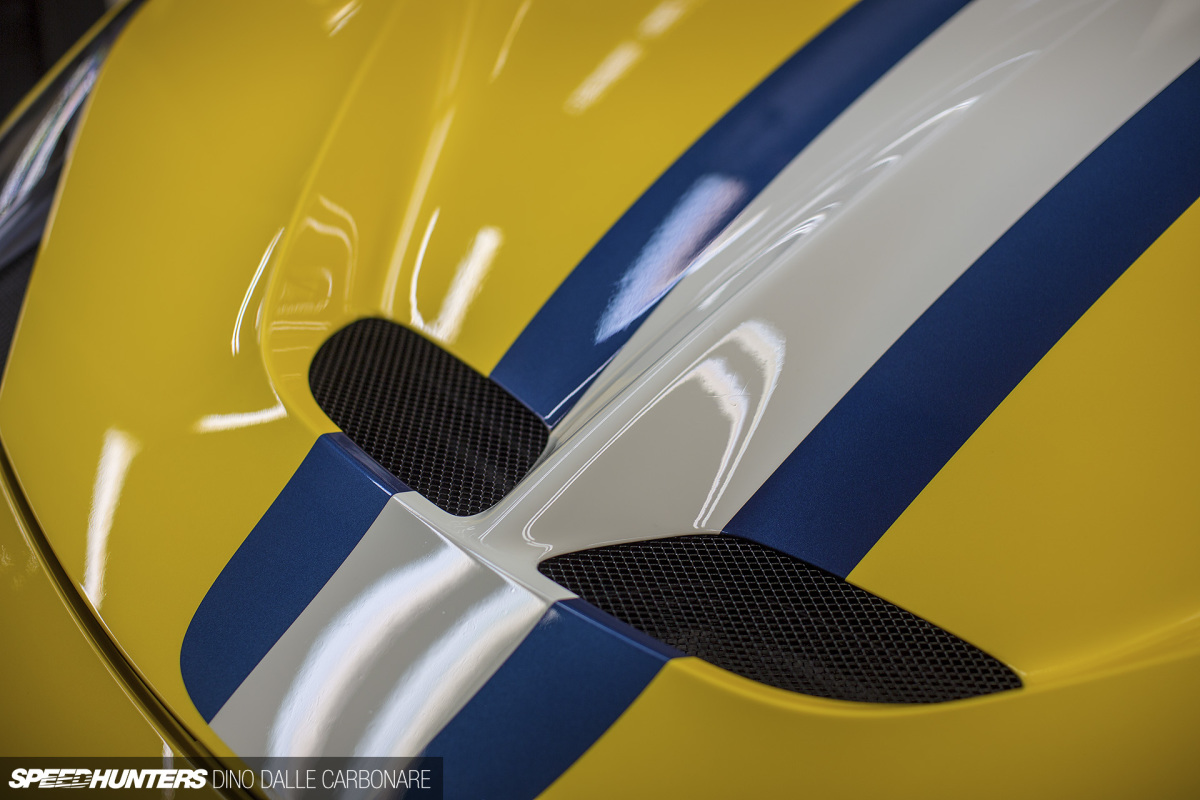 One thing that really blew me away was the aforementioned lighting. It's so evenly spread and creates an intense illumination against the surfaces of the cars.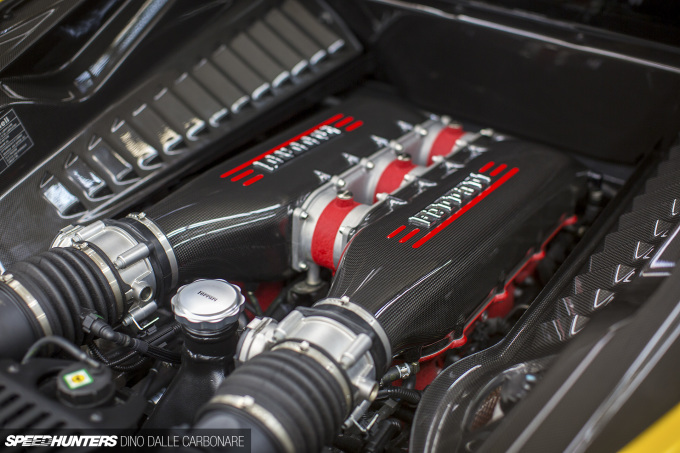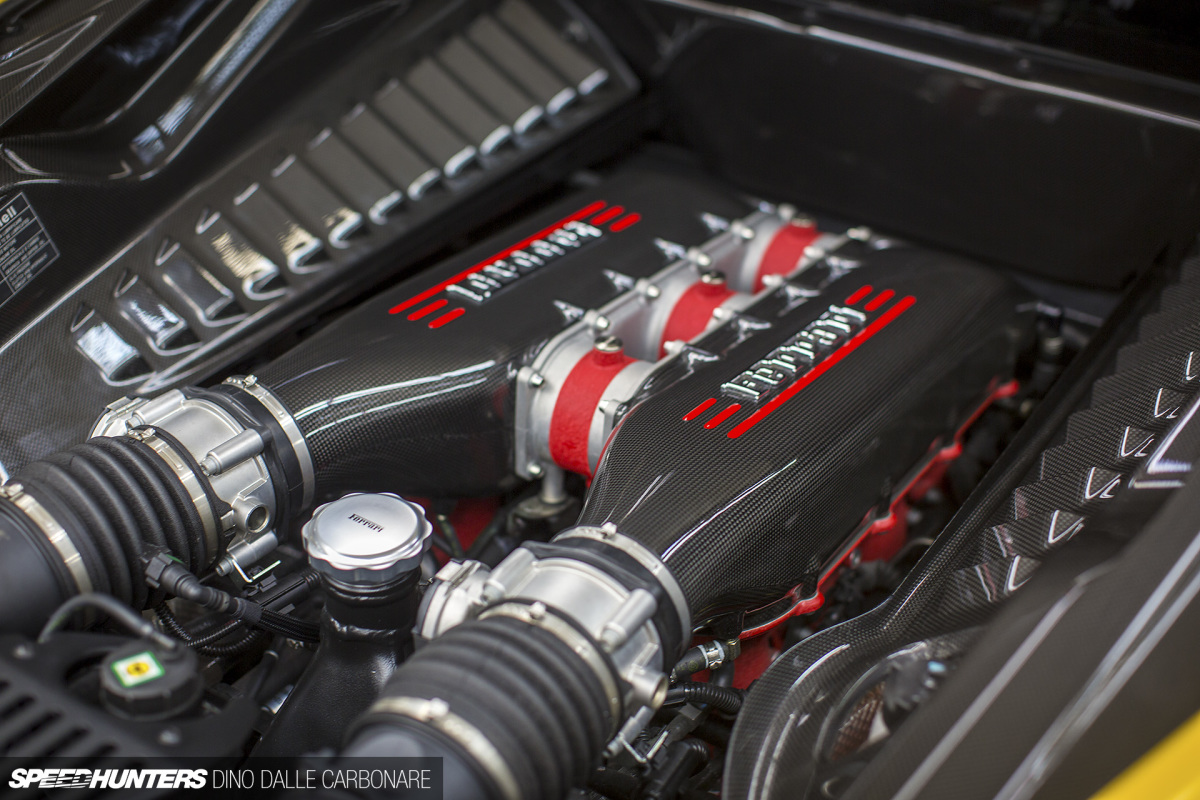 This is of course exactly what you want when you're tackling paint imperfections; the better you can see what you are working with the better the job you can do. And that goes for engine bays too, like this of a Ferrari 458 Speciale.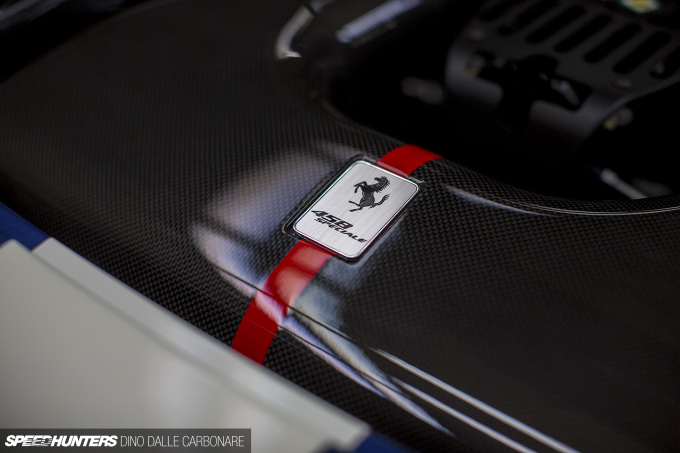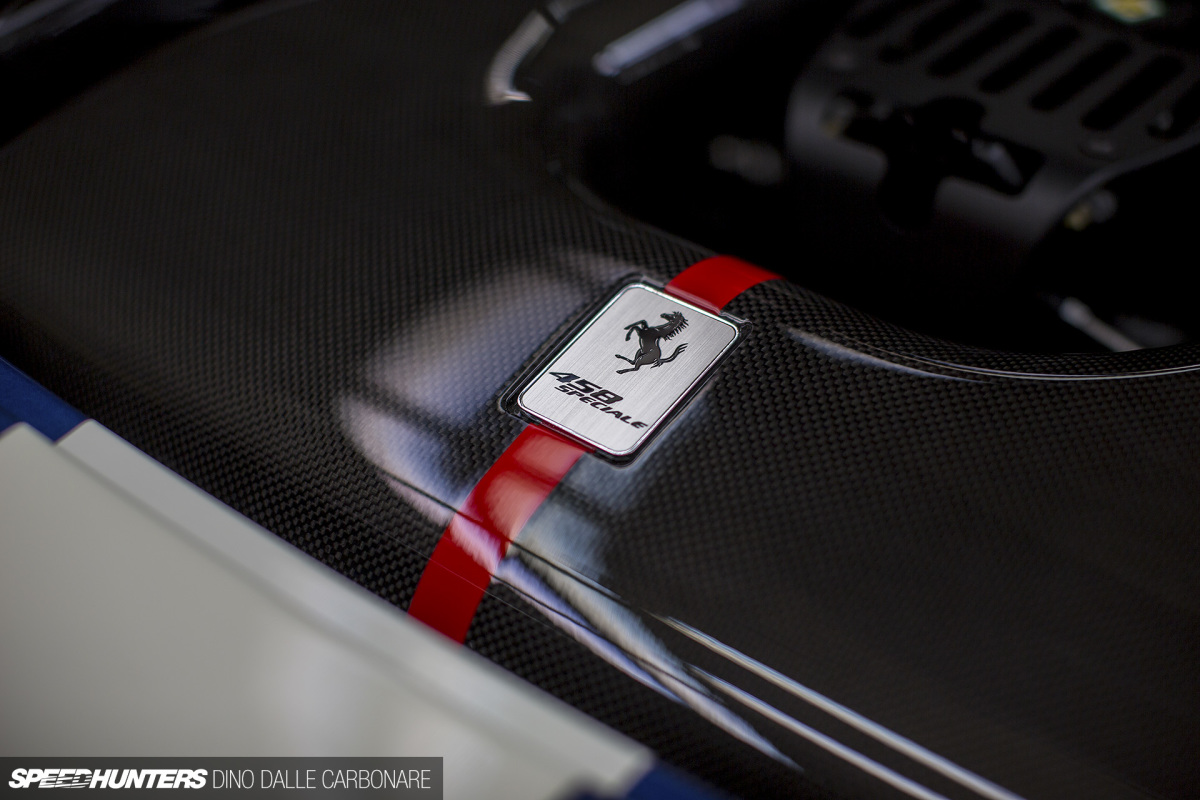 The owner pretty much ticked every single extra on the carbon option list; just look at that shine!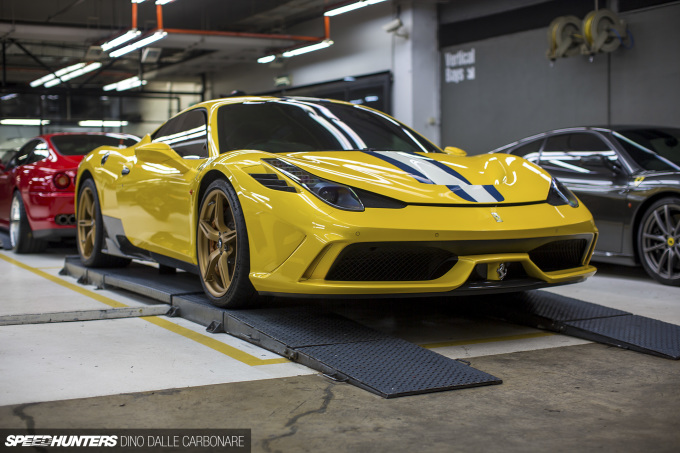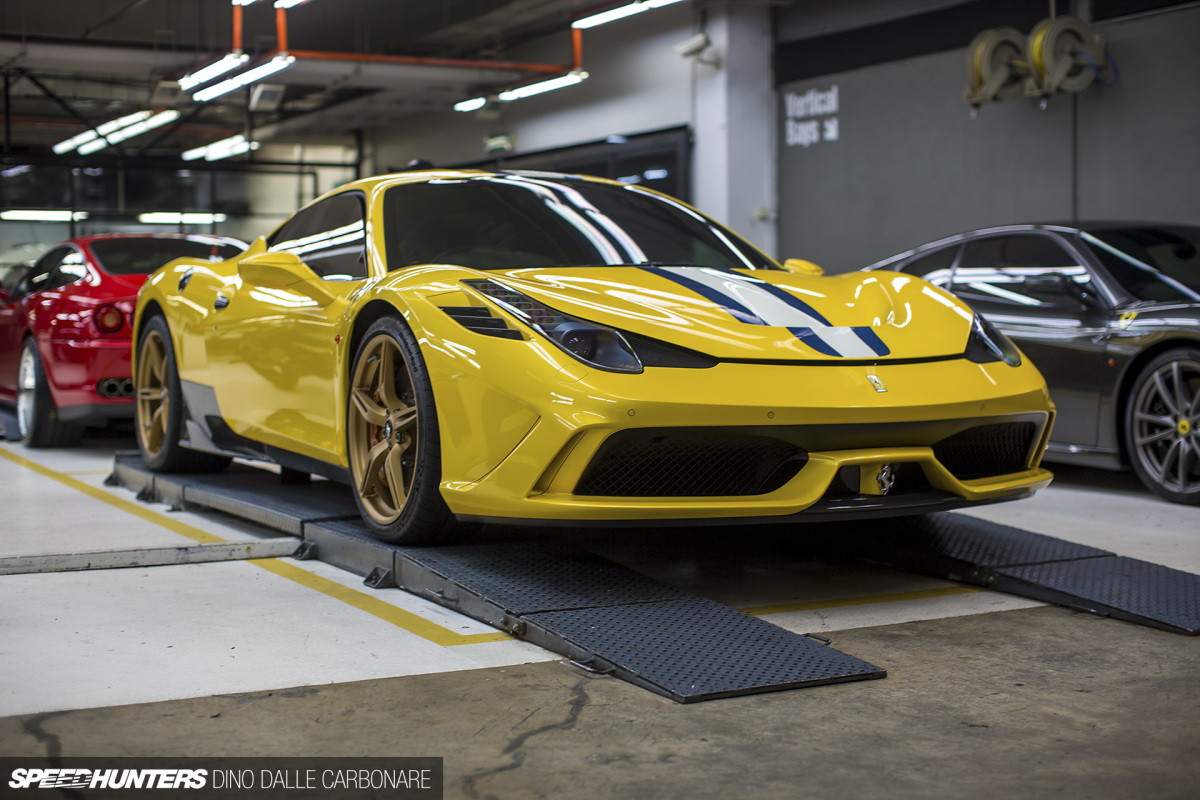 I love checking out places like this as you end up taking away a ton of ideas of what to do to your own car. After seeing what's possible, I really like the idea of wrapping a car in clear vinyl for added protection. It's something I really want to do to Project GT-R once its exterior is completed and some panels are repainted, but that will probably happen in 2030 at this rate.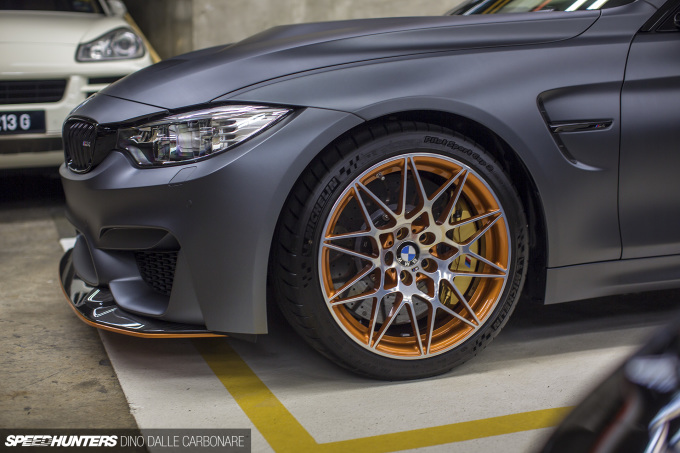 All the rumors I had heard about AutoDetailer Studio were true, especially the selection of cars.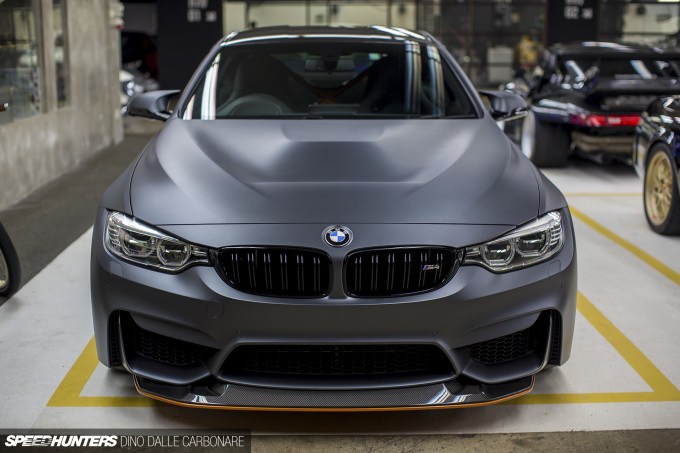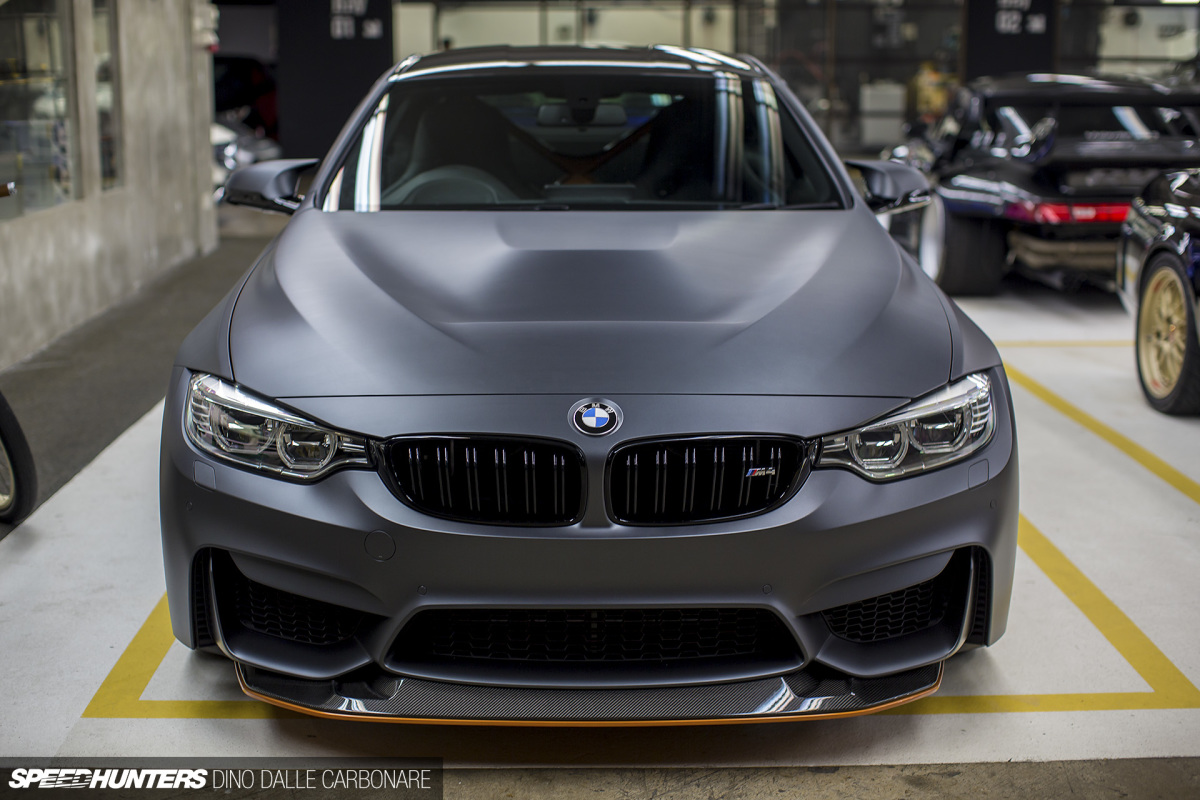 Aside from seeing the concept version of the BMW M4 GTS at the Tokyo Motor Show years back, this is the only example I've seen out in the wild. The additional carbon aero parts and matte paint really add to its presence.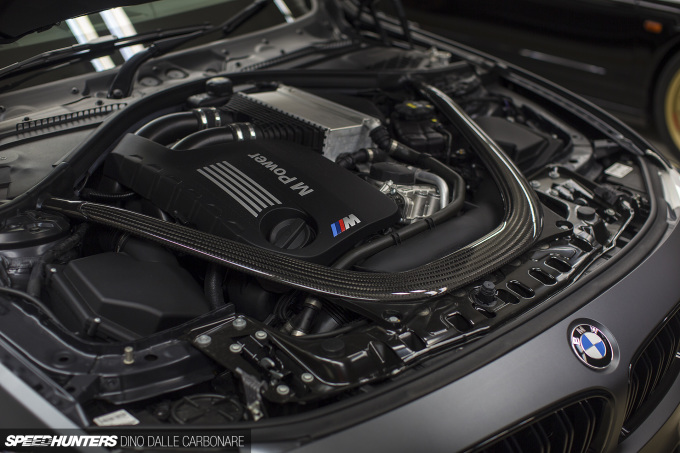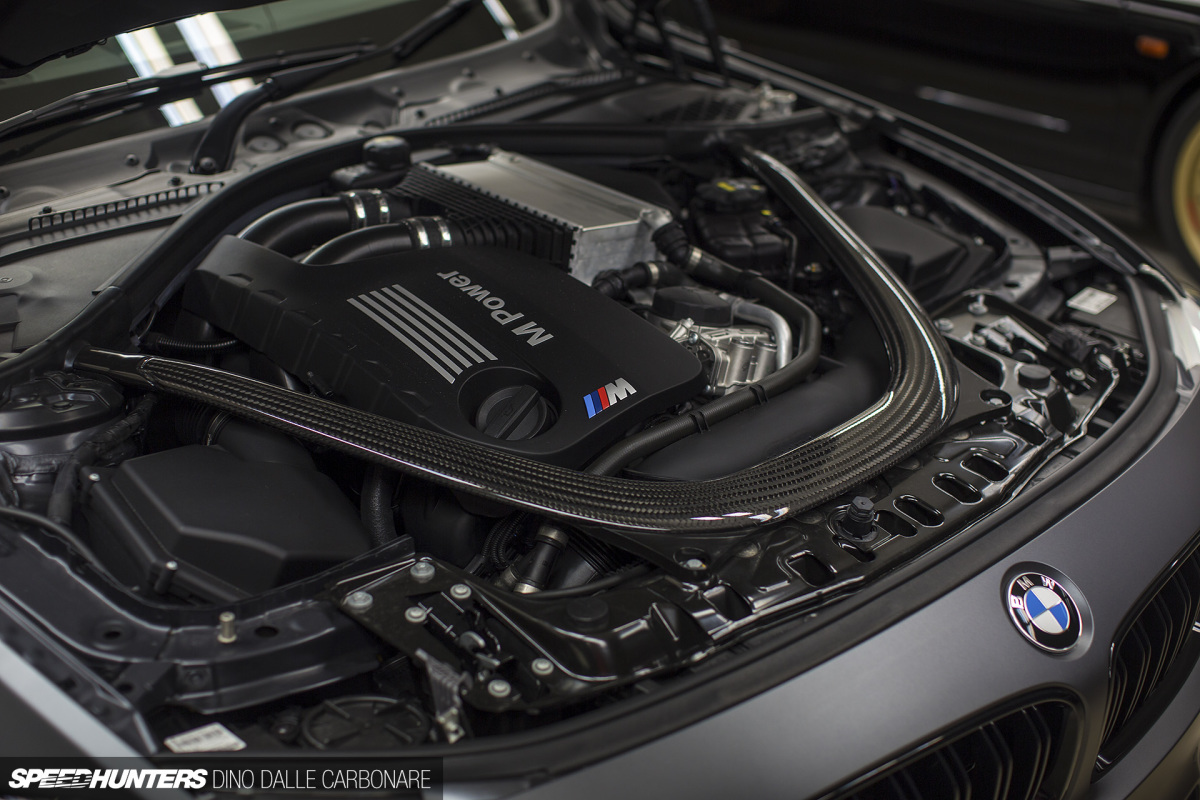 Under the hood it looks pretty much like a regular M4, except for the water injection system of course.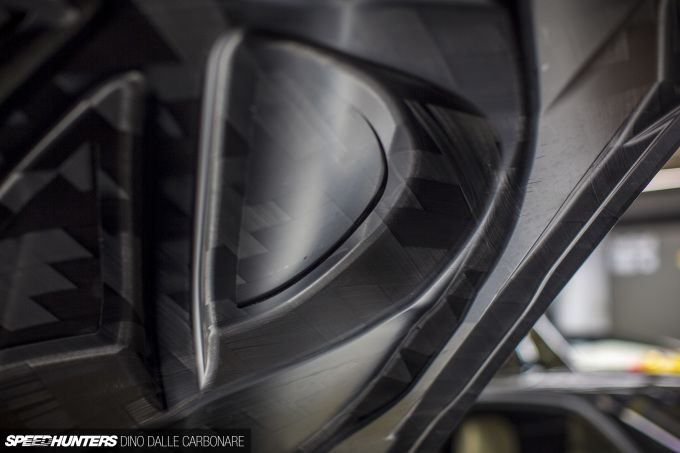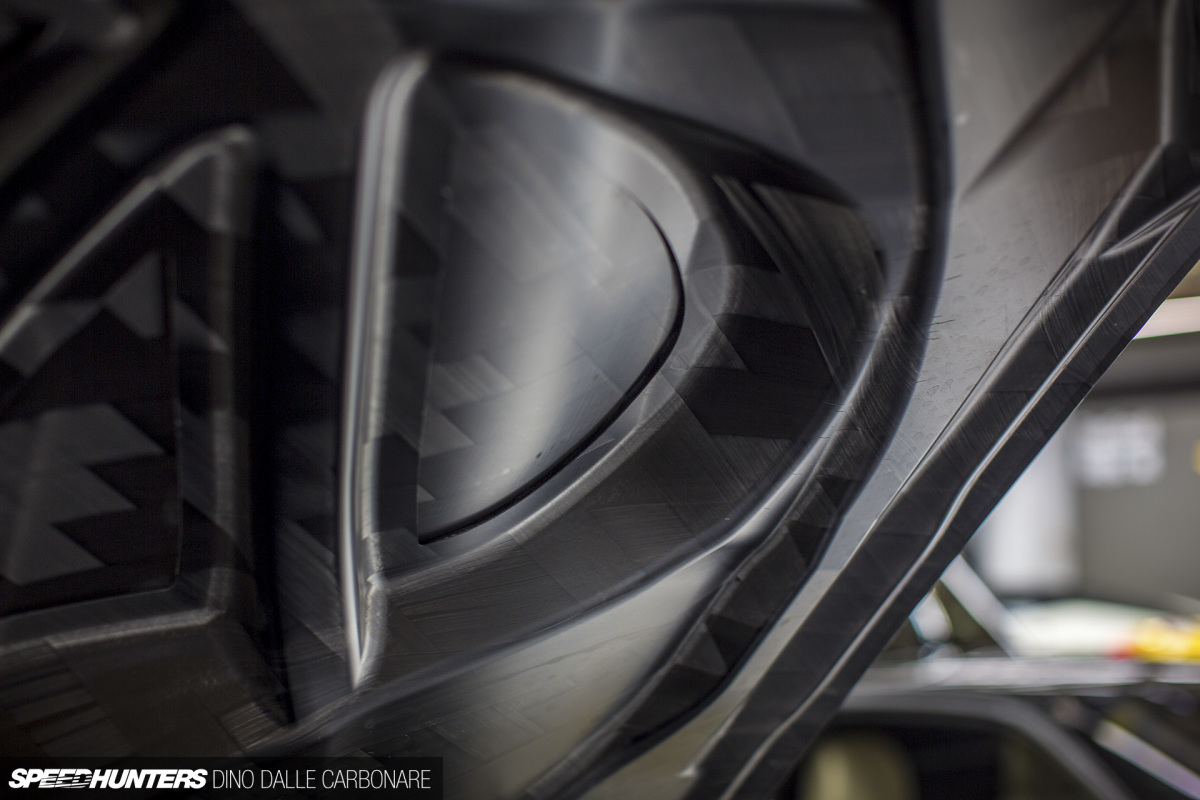 The hood itself is one of the most impressive aspects, not just because of how light it is but the quality of production and the wide-gauge carbon weave.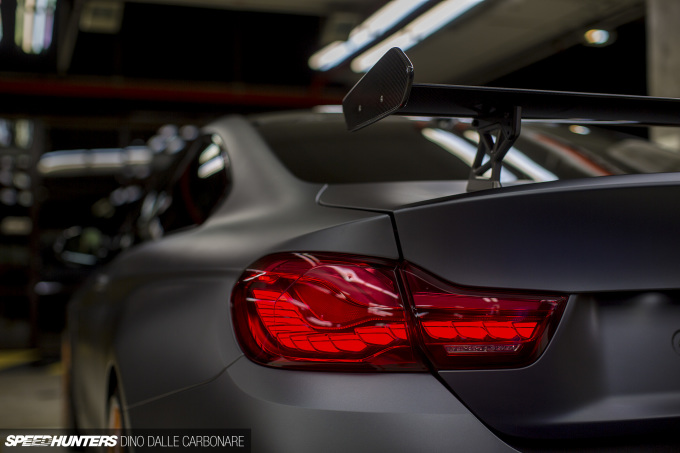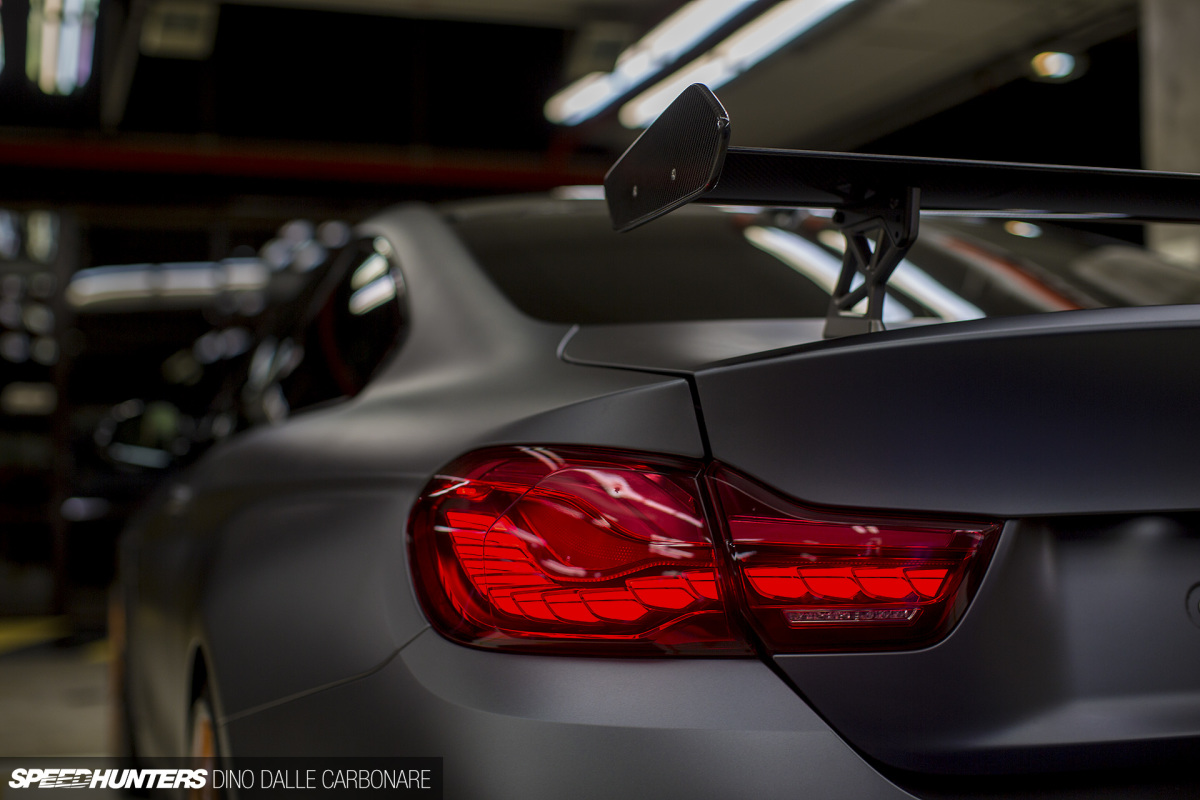 I'd kill to have these OLED taillights on Project Drop Top. This is the future of car lighting, but BMW will not sell you a set if you don't have an M3 GTS to fit them to. It sucks, but that said I'd hate to think what they'd cost…
Candy For The Eye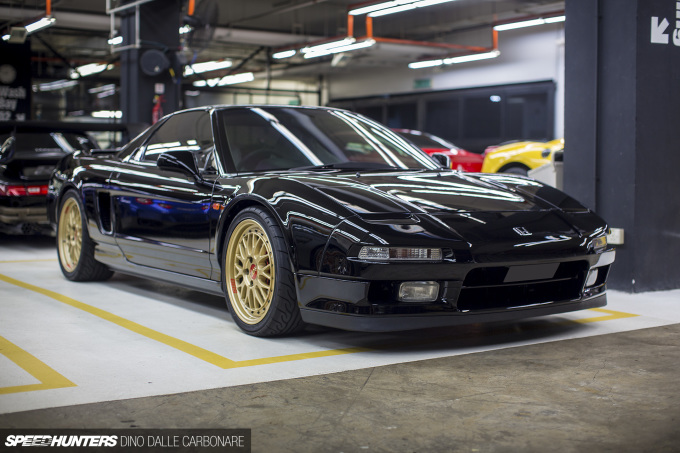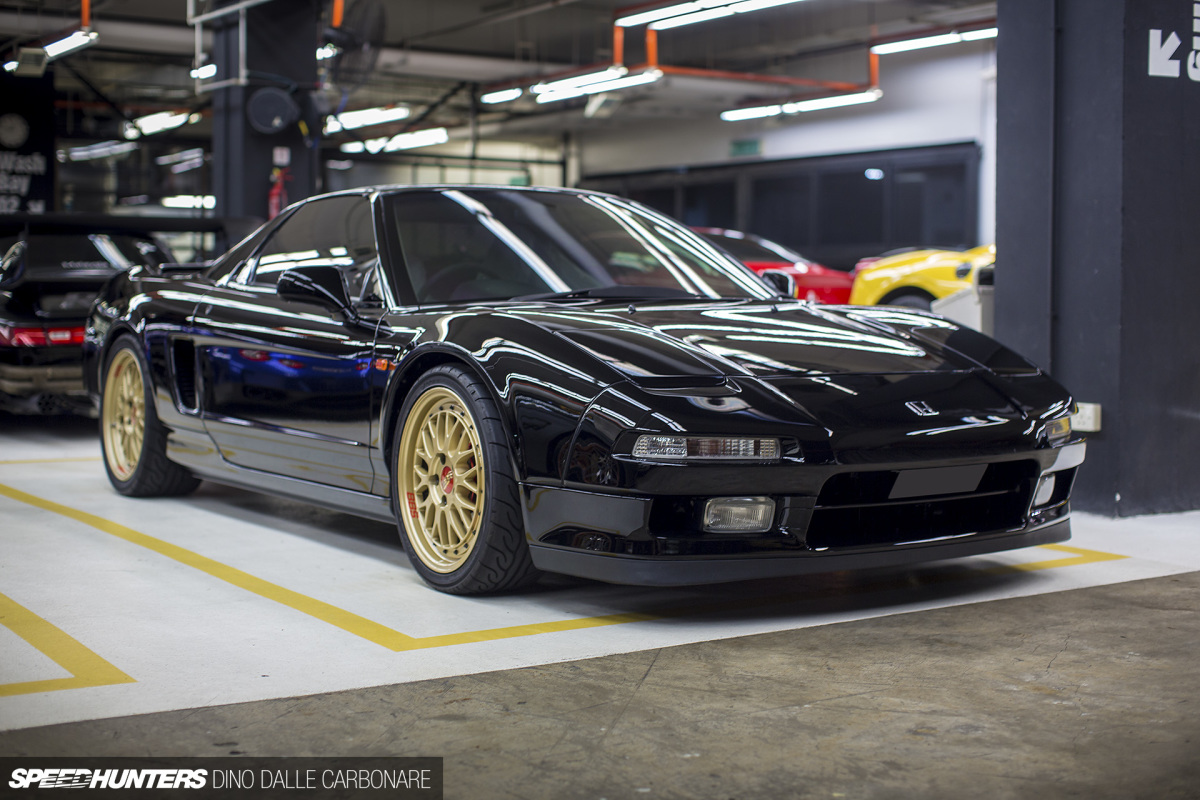 Next to the M3 was this stunning Honda NSX, freshly wrapped in clear vinyl and sitting on a set of gold BBS LMs.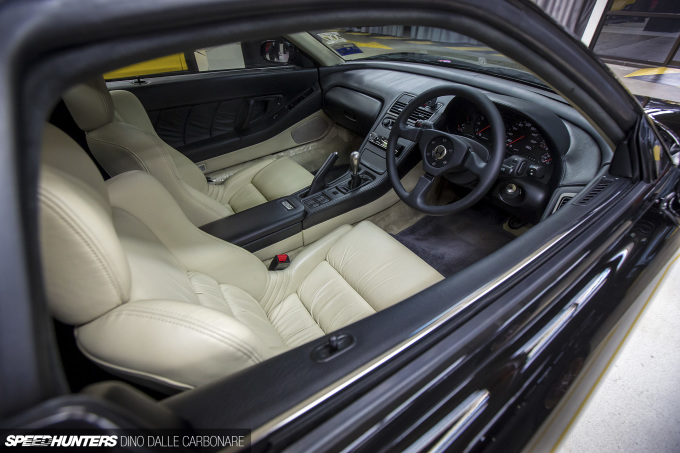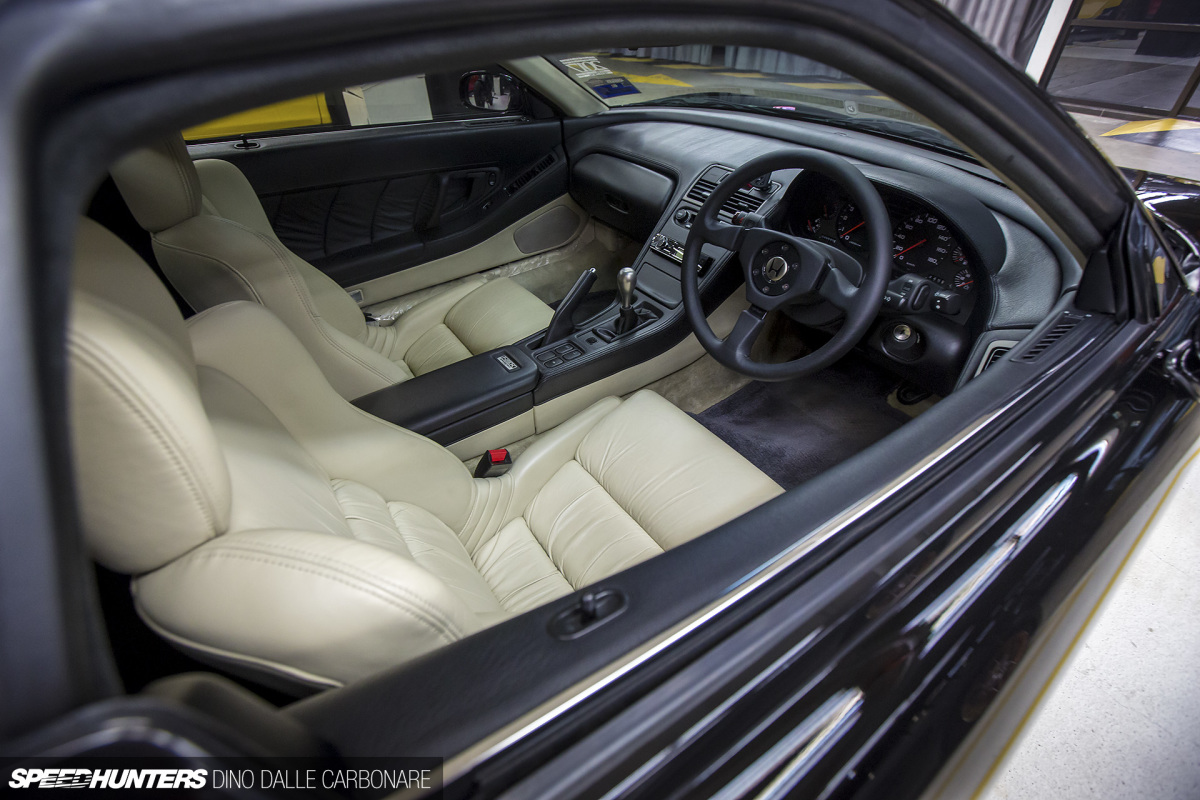 A low-mileage, manual NSX in this sort of condition is worth its weight in gold these days, and I was quite surprised to see it sporting plush white seats rather than buckets. I swear it smelled like a new car inside.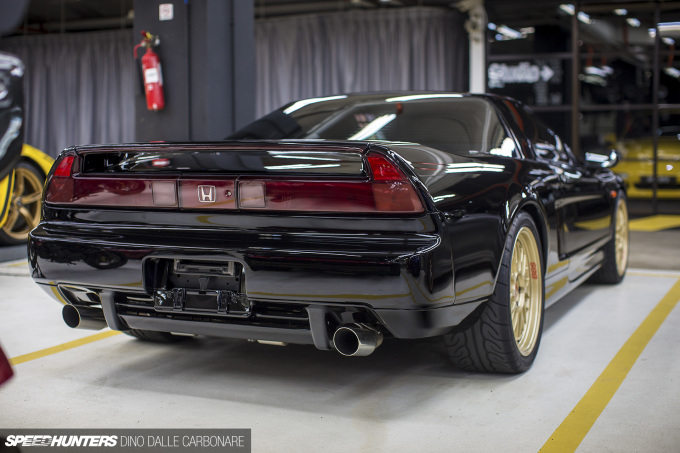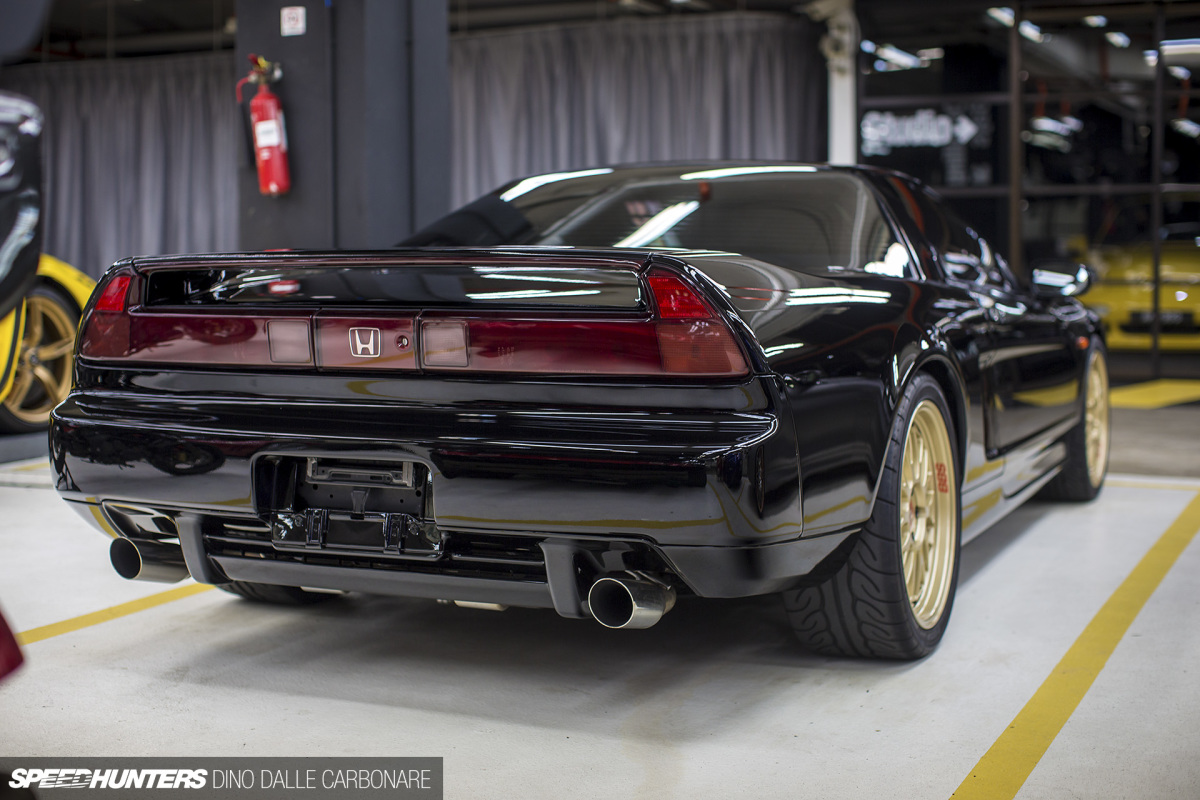 The gold LMs were shod in Yokohama Advan Neova AD08Rs, so I'm assuming the car is put to proper use from time to time.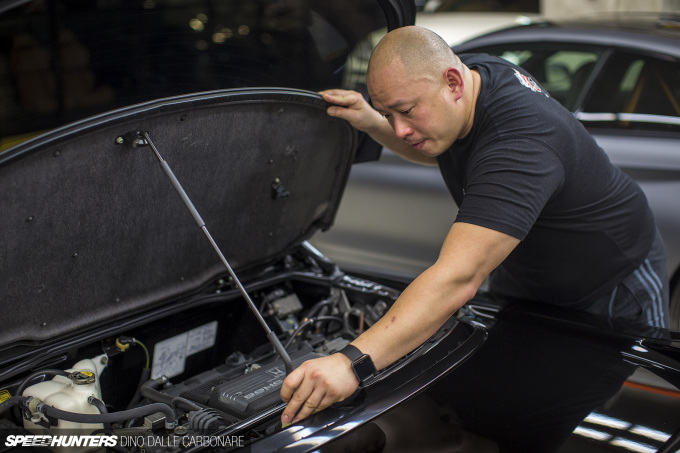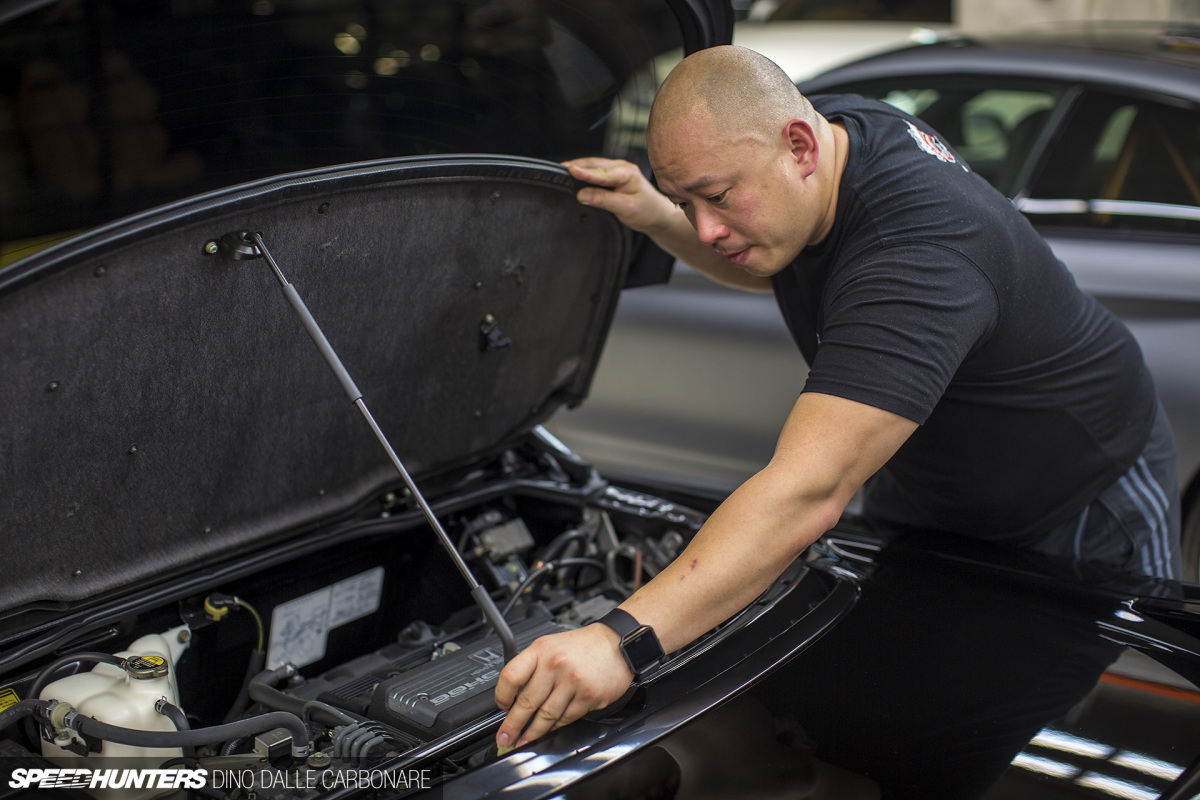 Darren wanted to show me what their engine detailing services can do for an ageing bay.
On top of a thorough clean, a few bits and pieces were also changed out, including the radiator overflow tank and some hoses, making it look like it had all just rolled off Honda's production line. The only upgrade I spotted was a GruppeM K&N filter with carbon shrouding around it to fence off radiant heat from the engine.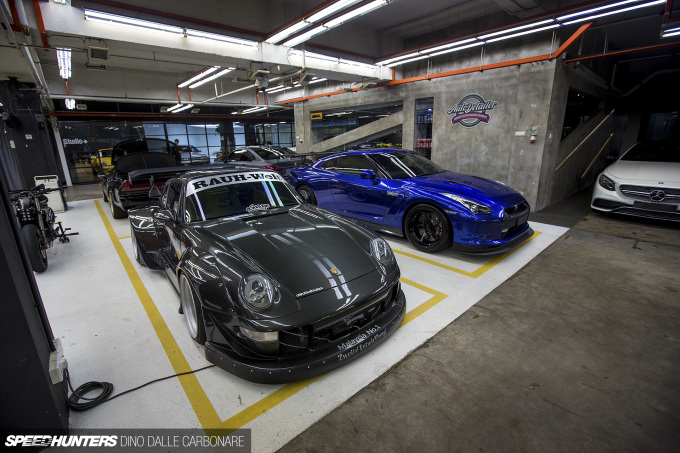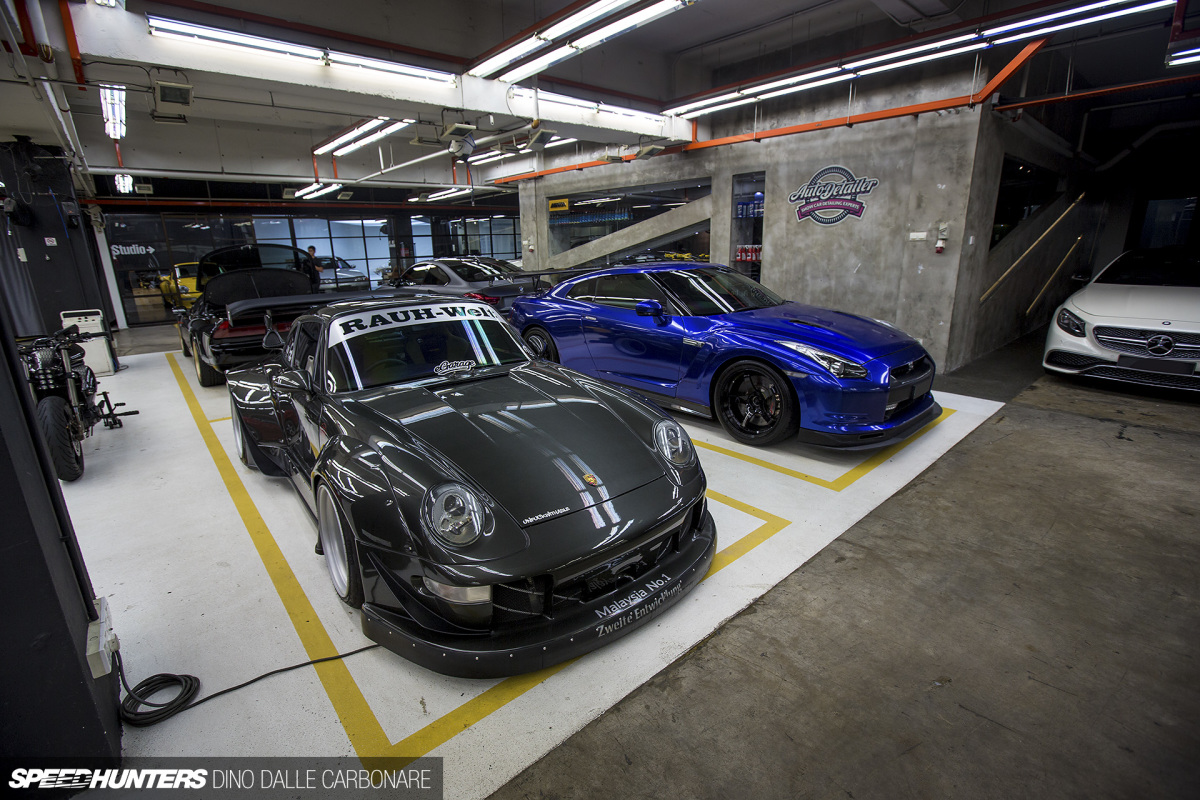 Behind the NSX was a rather familiar 993 – the first RWB that Nakai built in Malaysia, and one that entertained people at the Art of Speed show the previous day where it was fired up and revved on a few occasions.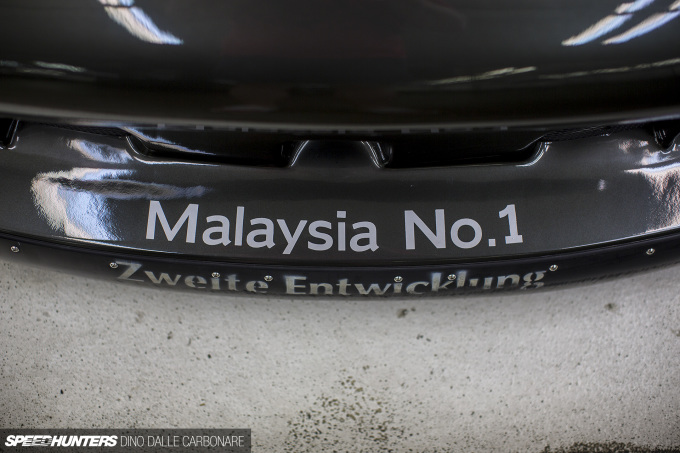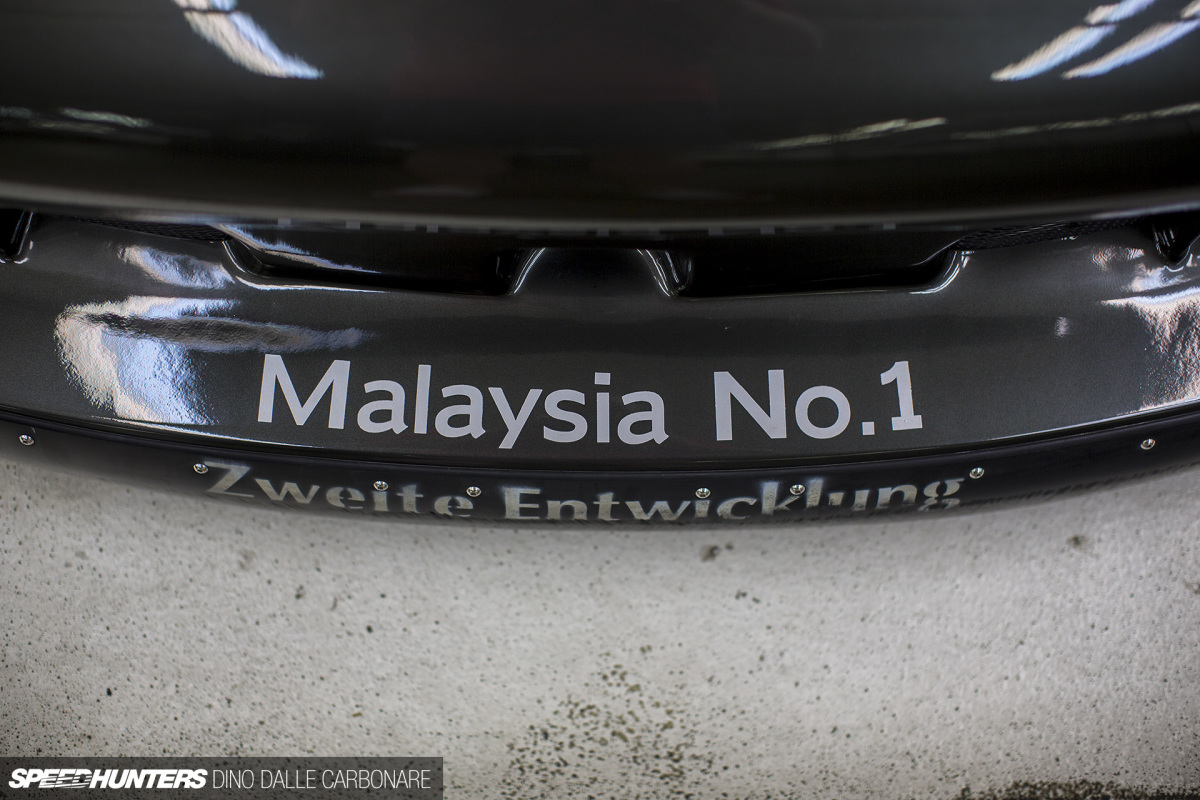 The whole point of that was to show that there's no longer an air-cooled flat-six motor hanging out back, but rather a monstrous and thundering stroked LS.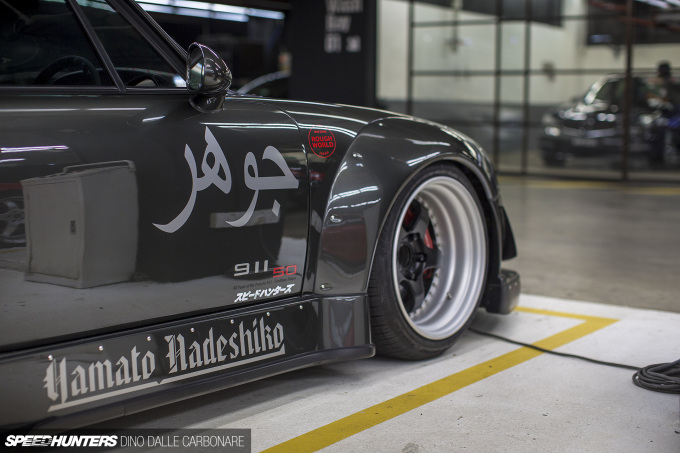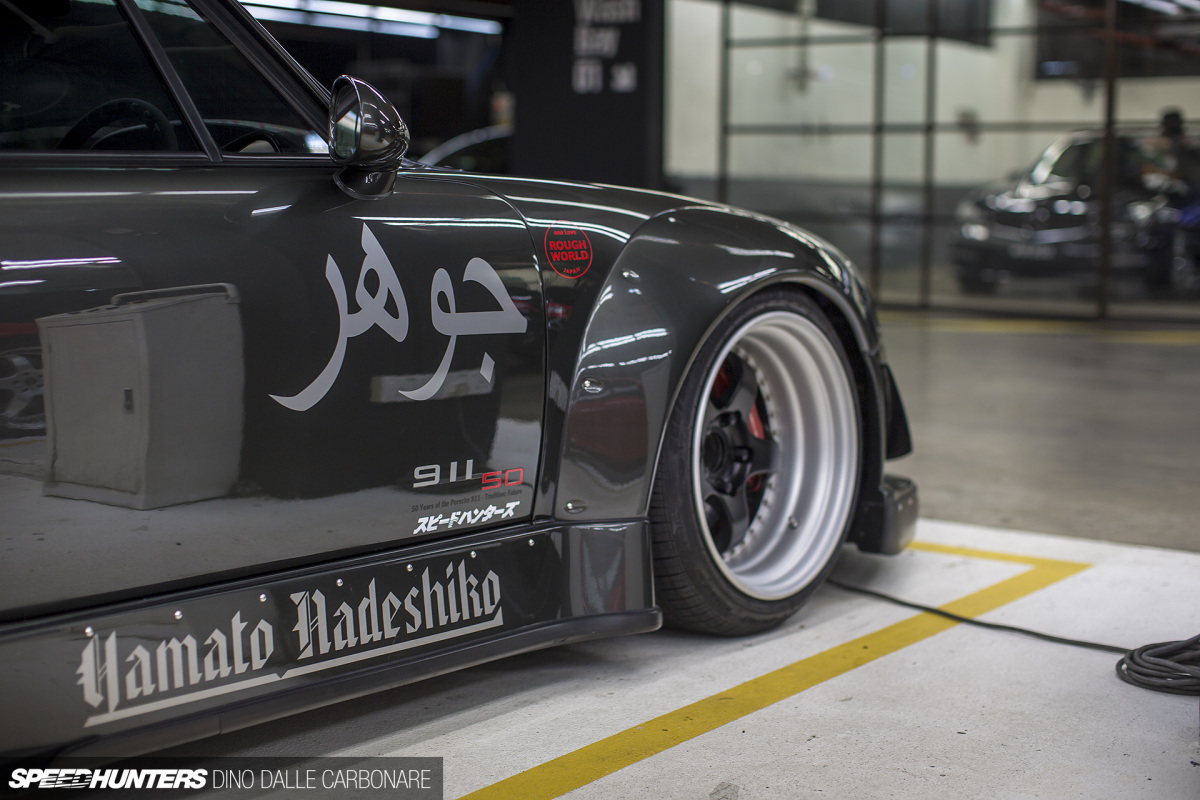 Yamato Nadeshiko translates to the purity of feminine beauty, and this is the automobile embodiment of that according to Nakai-san himself.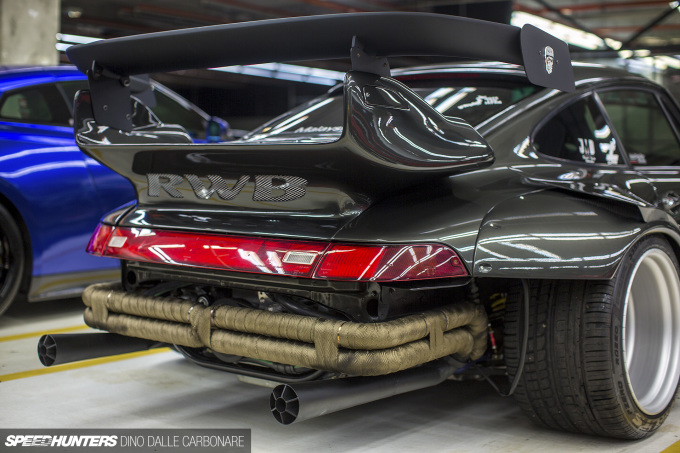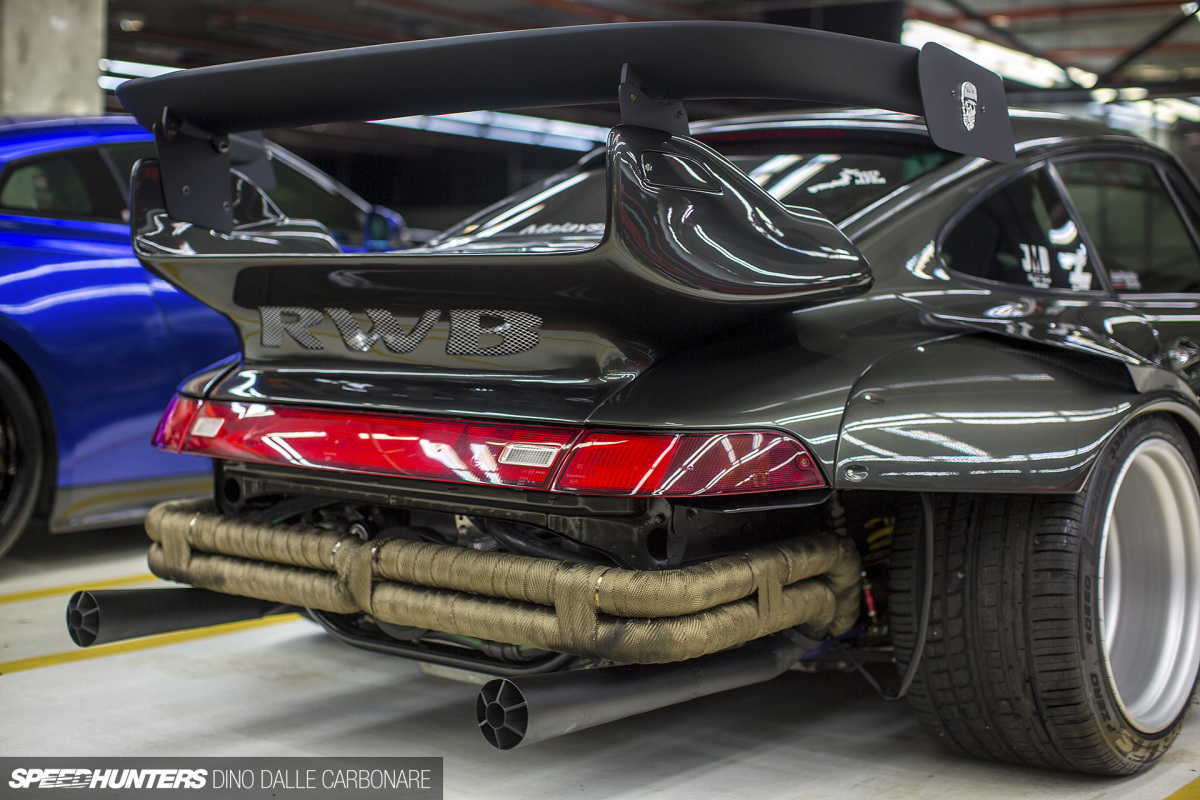 The Porsche belongs to RWB's own Christian Coujin, and is finally all up and running with Haltech engine management to tame the ultra-responsive 6.0L V8.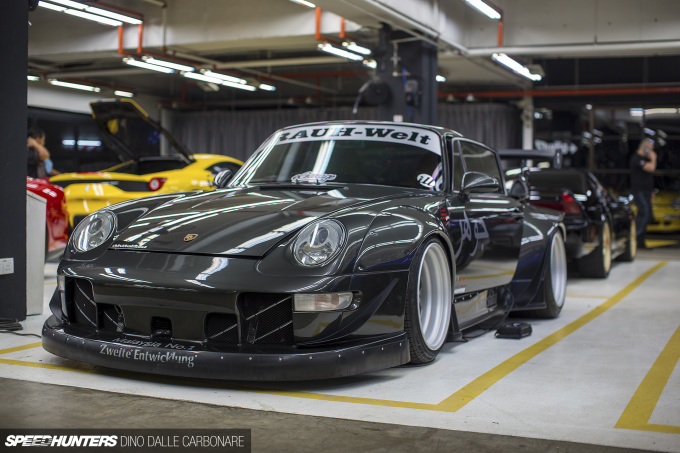 I'll be seeing this car again in a couple of weeks and plan to give it the full feature it really deserves.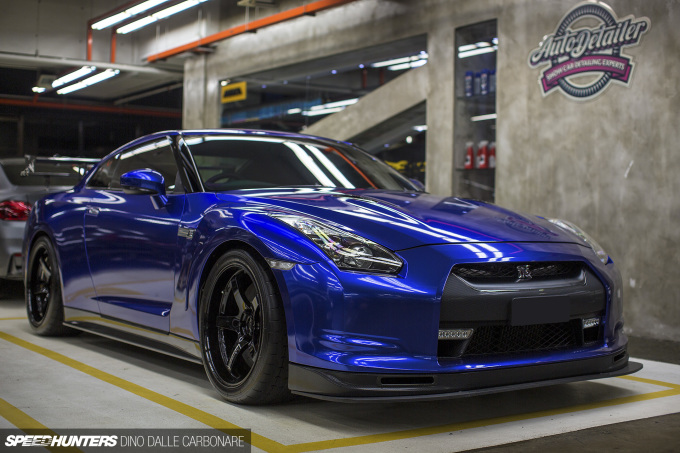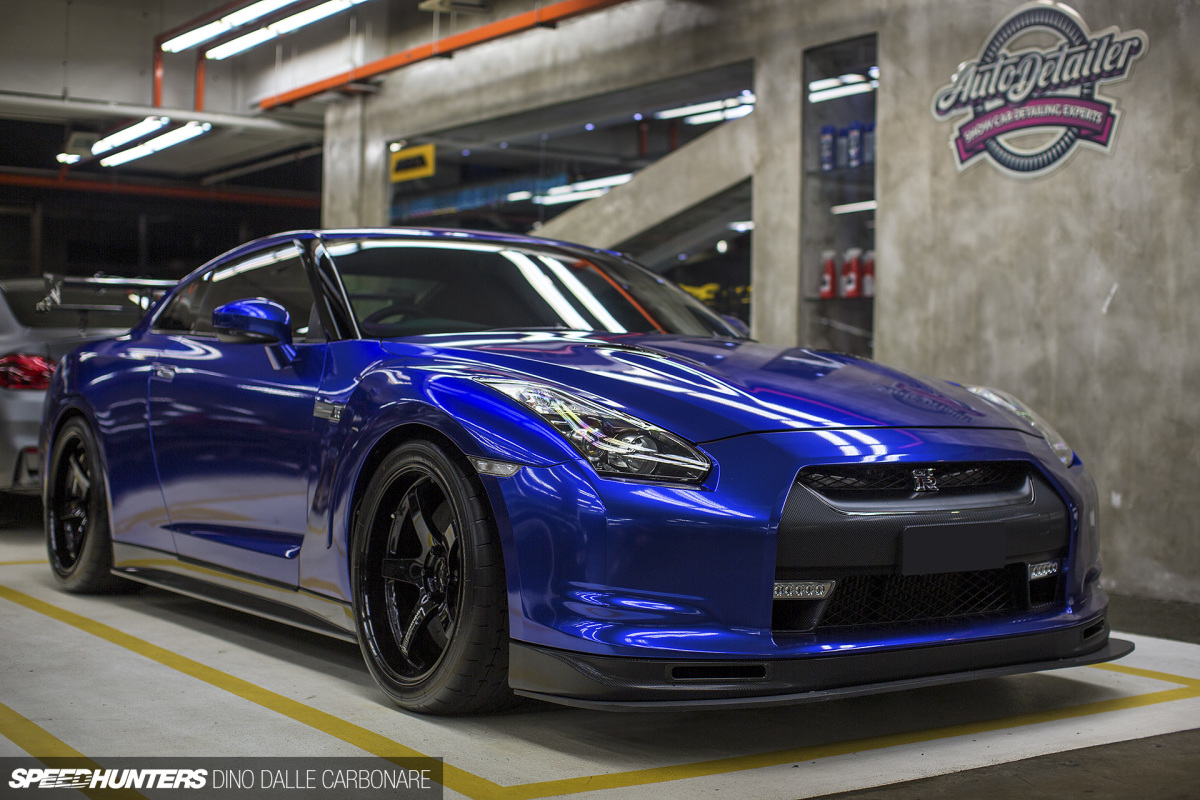 This R35 GT-R may as well be HKS's demo car for South East Asia. I'm not joking as it runs every single upgrade from the HKS catalogue, including a forged 4.1L bottom end, big turbine kit, and a billet gear set for the GR6 twin-clutch transmission. So that would all combine into a reliable 1000+hp with looks to match thanks to a custom candy blue wrap, Yokohama wheels, and giant Endless brakes.
Bikes aren't something we show often on Speedhunters (maybe we should show more of them?), but I had to share a couple of images of this custom creation built by Kenny Yeoh of Kenstomoto. The 'BOBR' as he named it is a ridiculously cool, chopped and bobbed custom Kawasaki ER-6 which looks like something from the future. Even though it was missing its seat when I saw it, you can tell just how low the riding position is. And check out those super-short, heat-wrapped exhausts; I bet it really sounds the part.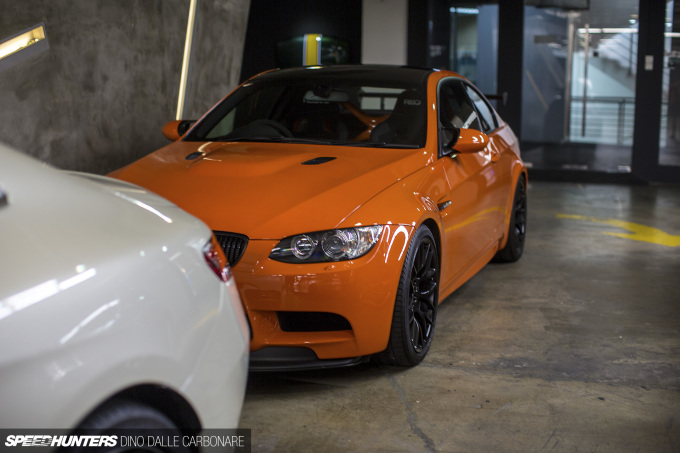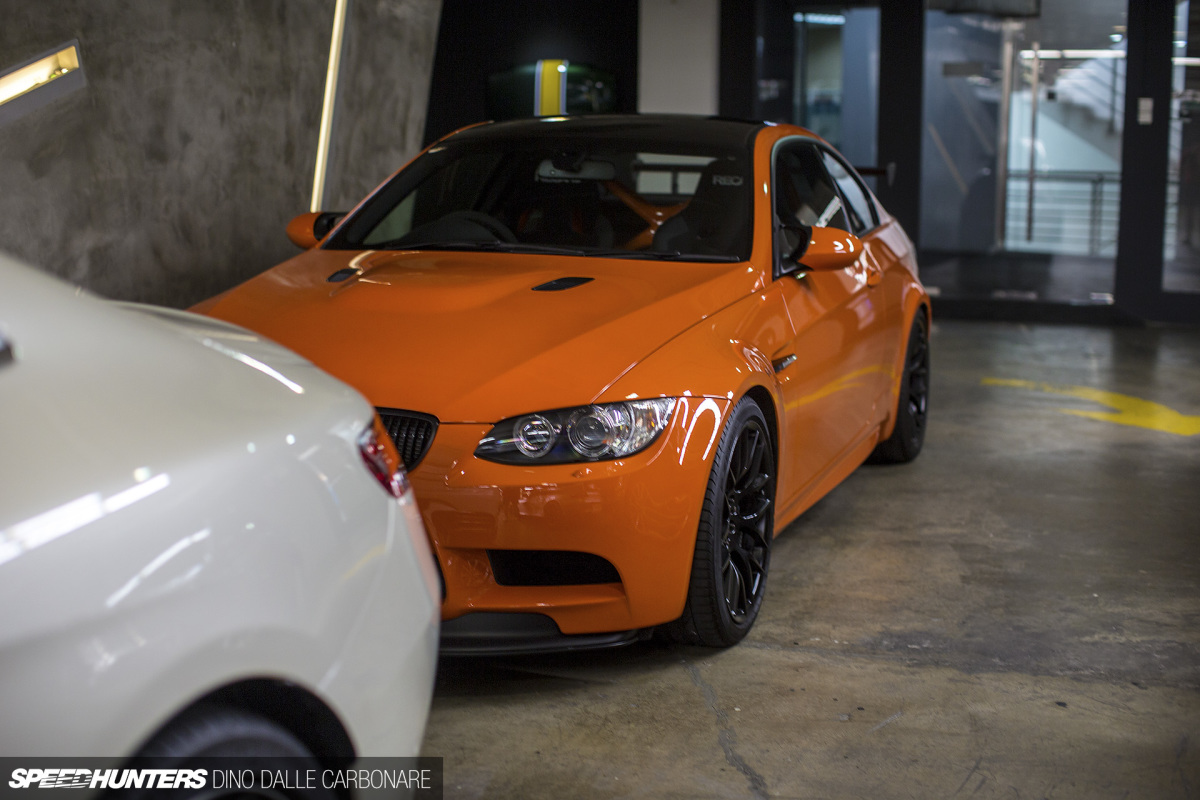 In a dark corner of AutoDetailer Studio I spotted what may well be the most sought after of all E92 BMW M3s. The GTS version of the model was only offered in this rather bright orange hue.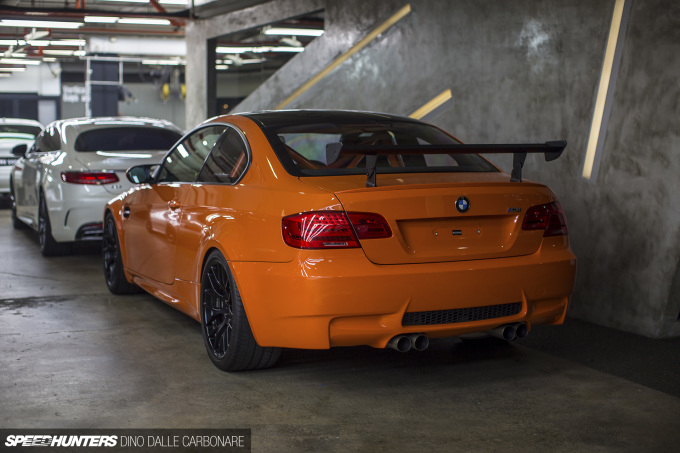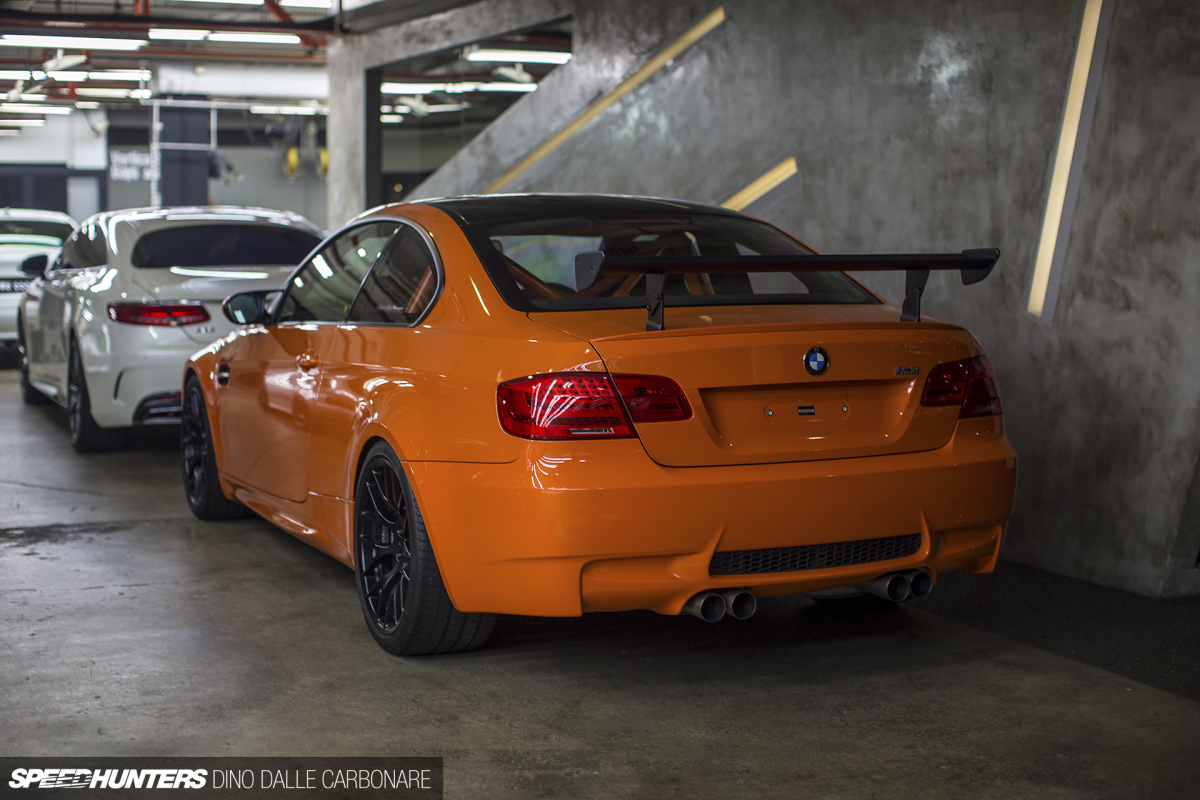 What makes the GTS so special aside from the fact that it's lightened and stripped out, is that under the hood it runs a 4.4-liter version of the V8 that powered the regular M3. Power was around the 450hp mark and it was only offered with a 7-speed twin-clutch transmission. These cars are still worth big money these days – around the same $180K as they cost new.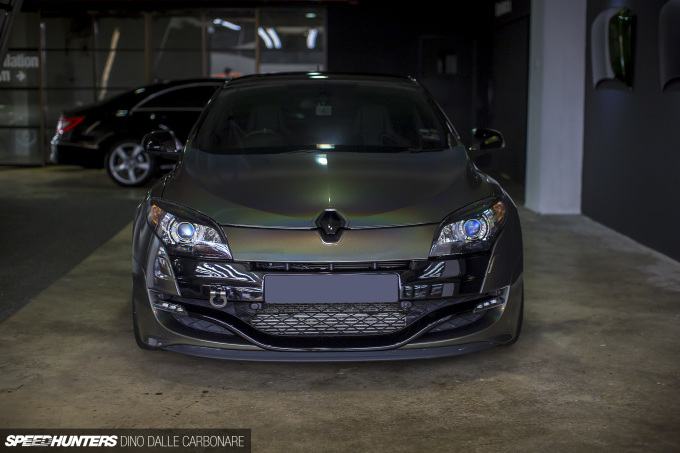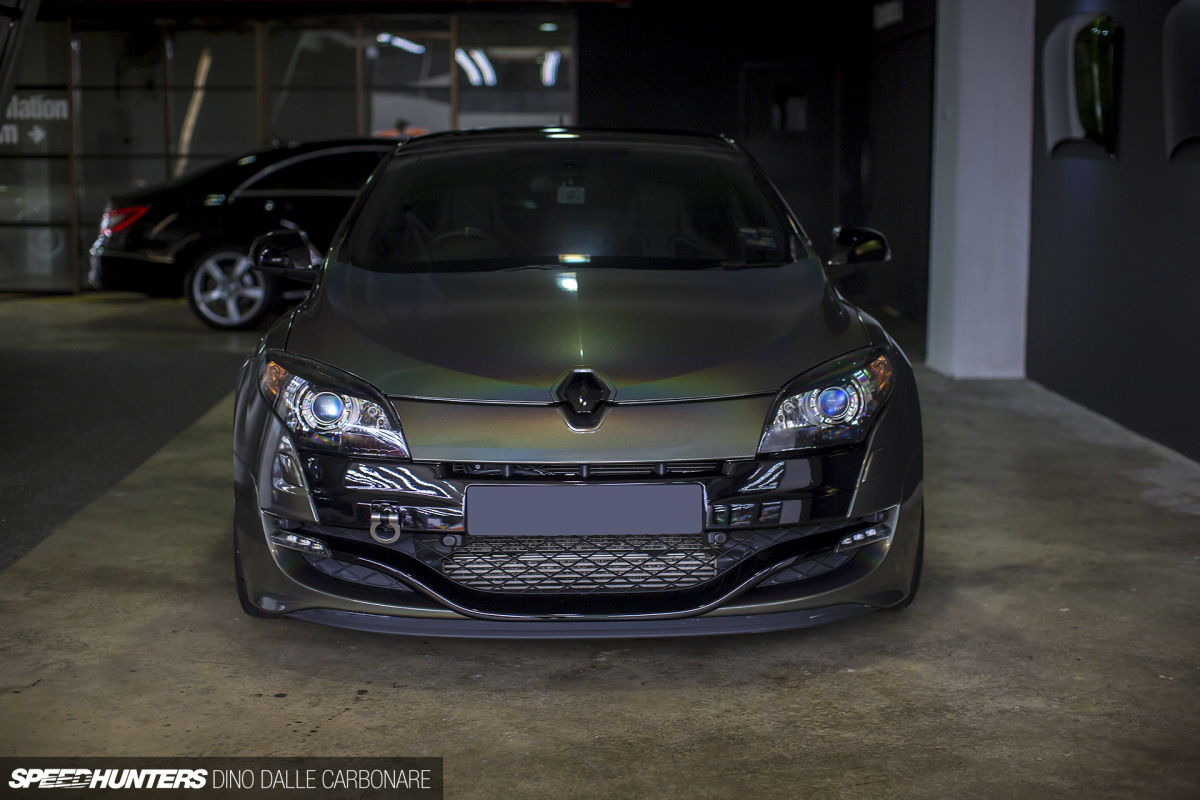 Before long we got to Darren's personal cars. He says his tastes are quirky and unique, which explains his interest in Renault hatchbacks.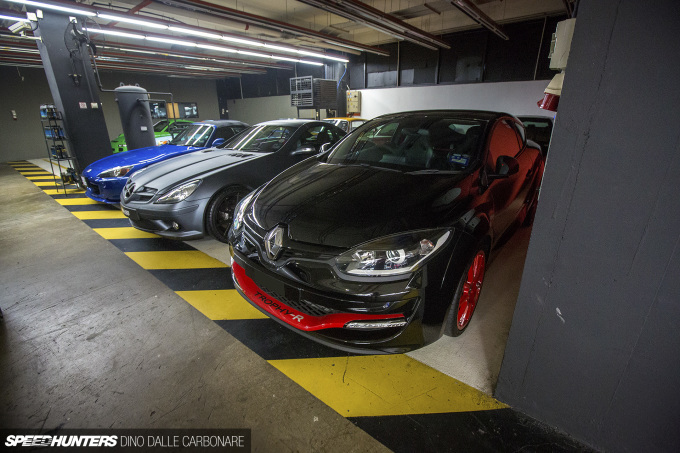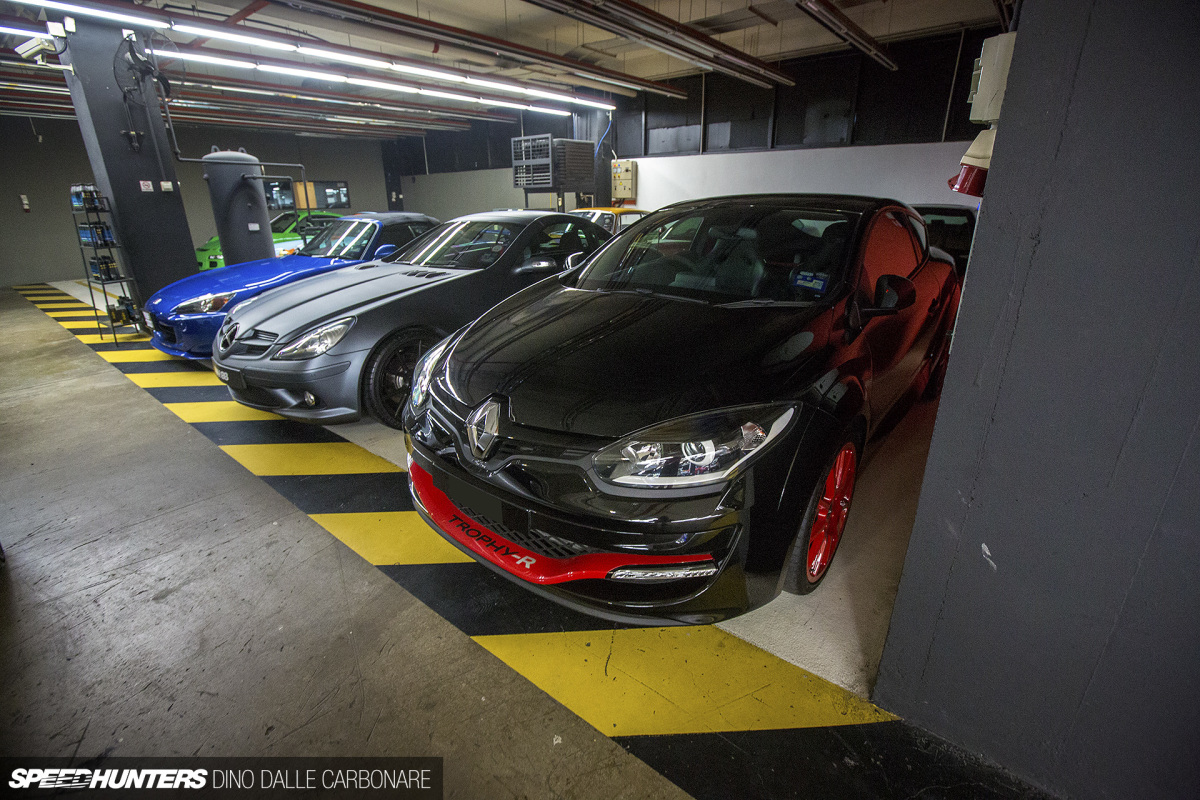 This hot Megane Trophy-R is the car he likes to take up to the mountains for drives with friends, as well as track days at his local circuit, Sepang.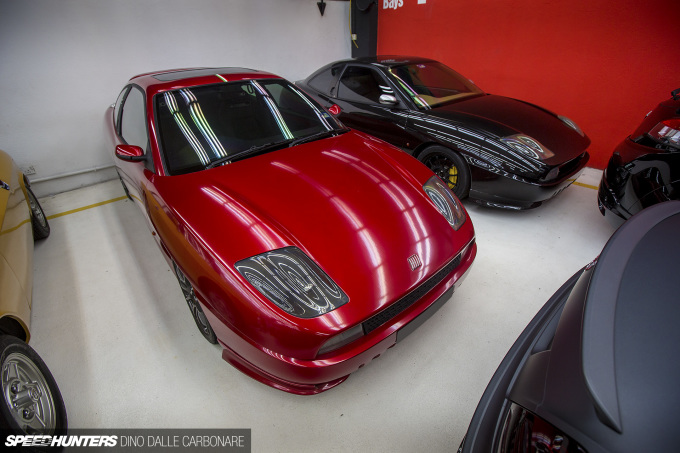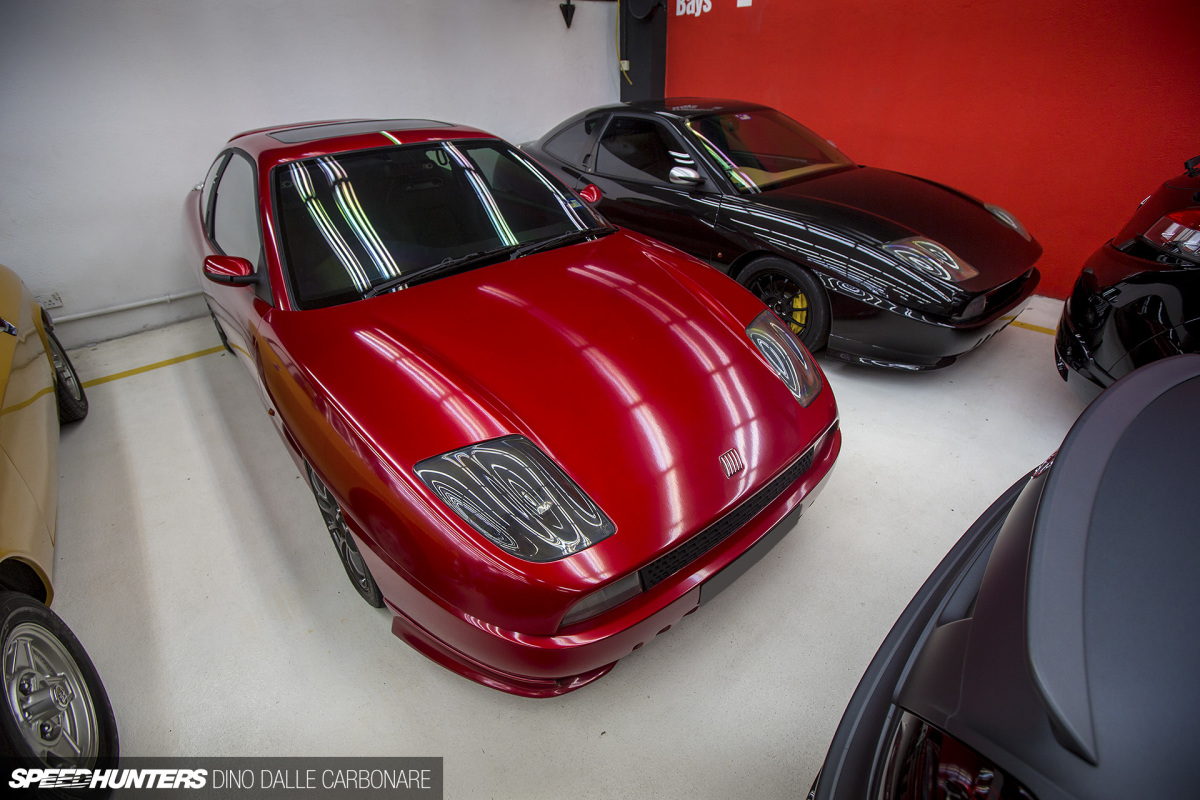 He also has a love of the Fiat Coupe, a car penned by Chris Bangle during his few years in Torino before he moved to BMW and upset a lot of purists with his new visionary designs. These are both turbo variants, but I bet they didn't come off the production line looking this clean.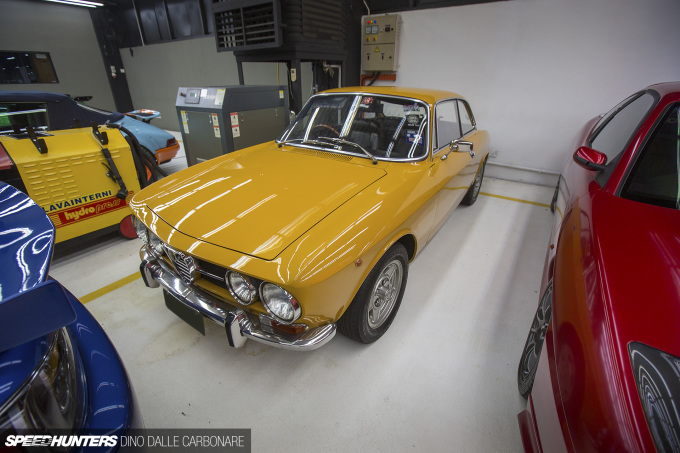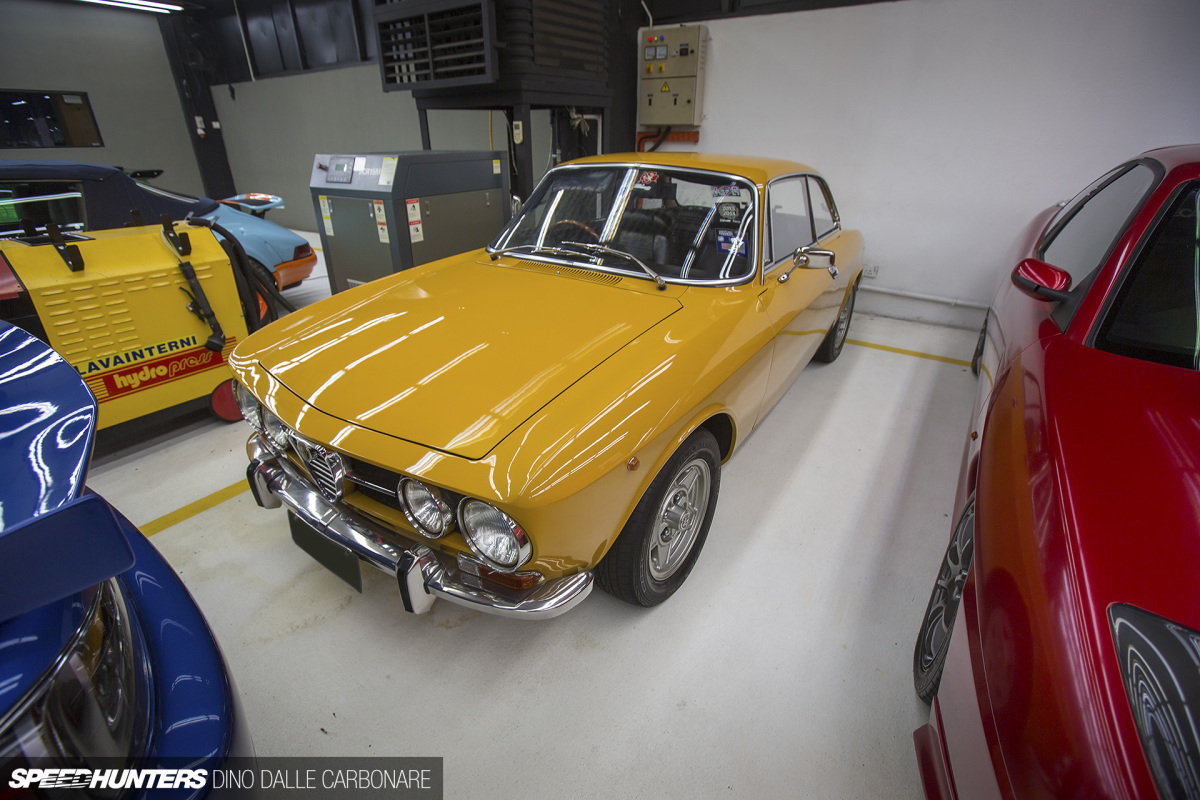 If I ever did get a classic car, it would be a Alfa Romeo Giulia. There's something so right about these things; they were a vehicle designed and engineered for the fun of driving and offered in so many cool and interesting guises. I call it the 'Italian Hachiroku', before the actual Hachiroku (Toyota AE86) was even a thing, so it actually makes no sense. But hopefully you'll understand what I'm getting at…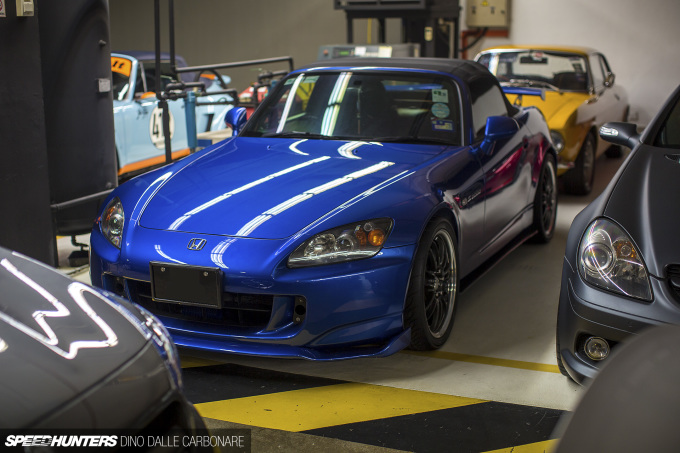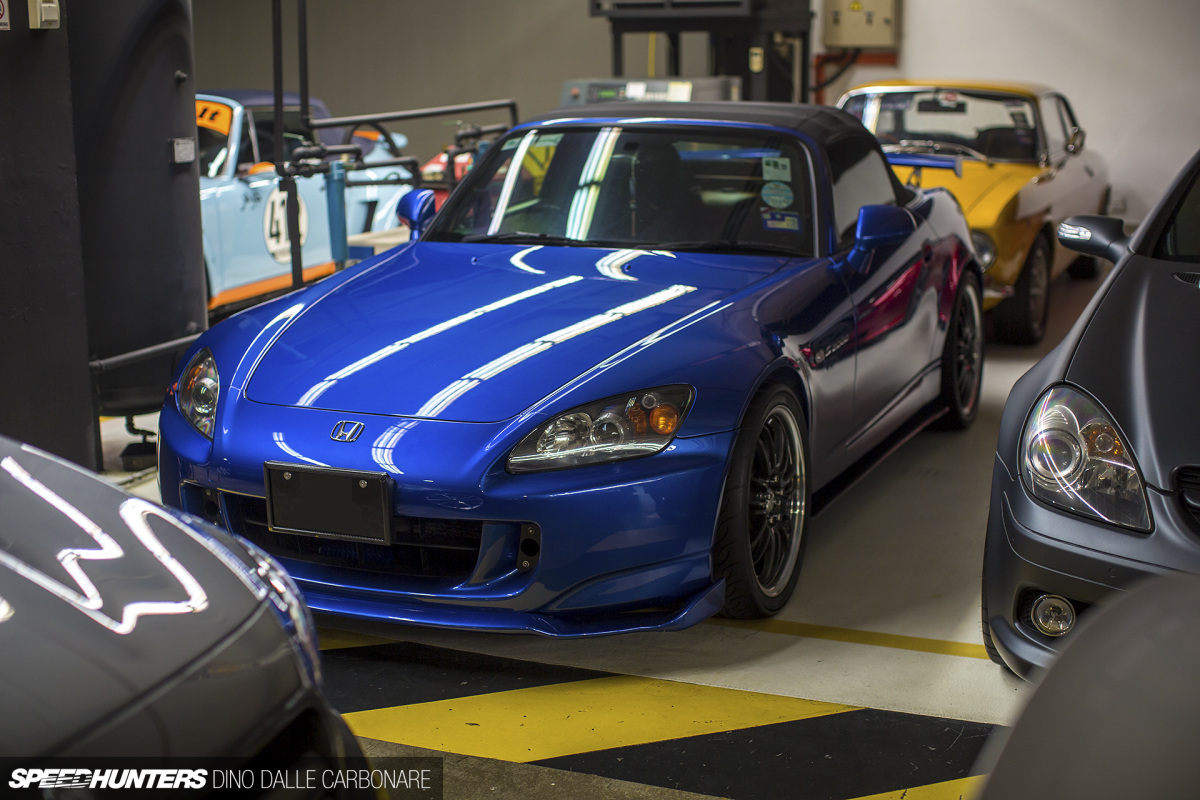 This particular area of the shop and a few other corners are where customer cars are stored. Darren and his crew keep them tip-top, with battery tenders connected and dust kept off. If a car is due to be picked up, the fluids are double-checked, and the guys can even prep them for track day action.
Taking It To Extremes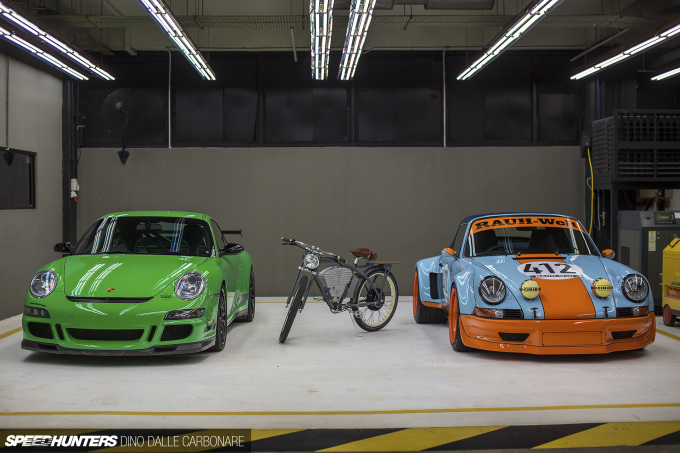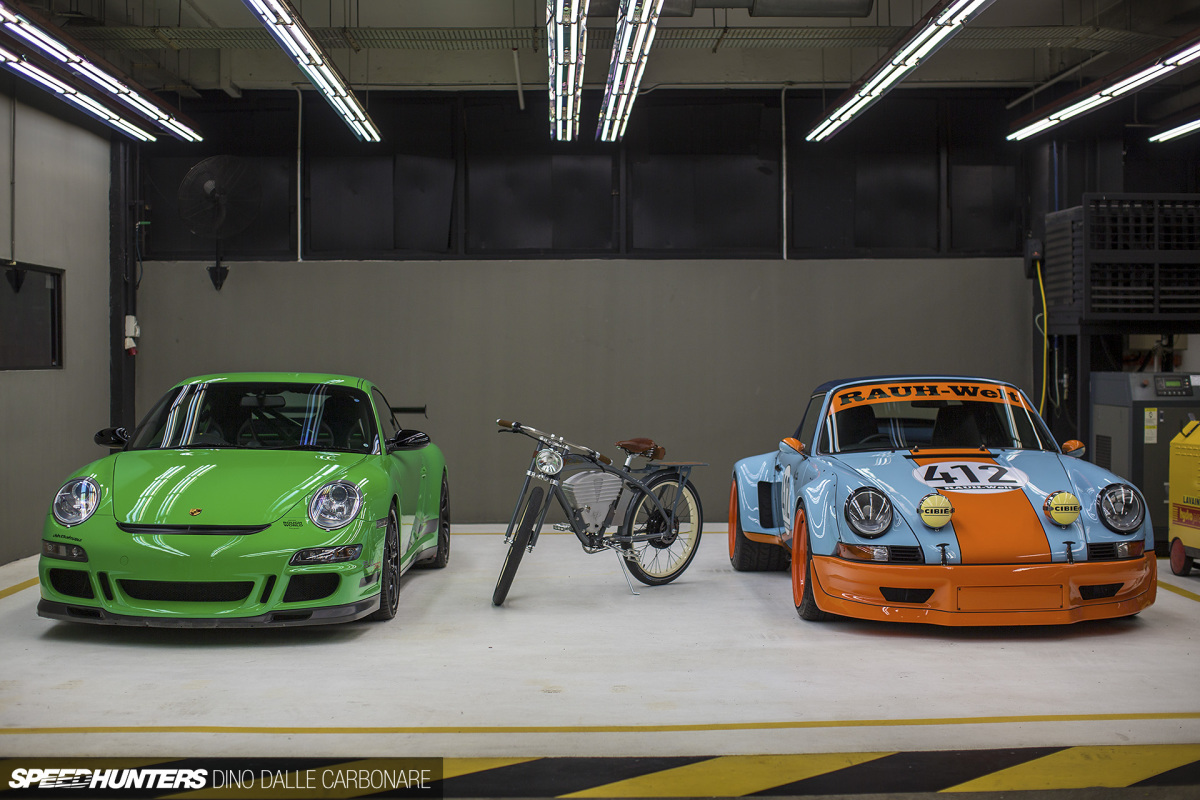 With the upcoming opening of the RWB Museum, Christian sent a couple more of his cars to Darren so they could be given the detailing works. I especially liked the vintage electric bike in the middle there; unfortunately the battery wasn't charged so burnouts were out of the question.
It's crazy that a Kermit Green 997 GT3 RS looks simple to me now. The 991 GT3 and GT2 have evolved in visual complexity so much that these older cars seem so more pleasing to the eye. I do wonder what plans Christian has for this thing…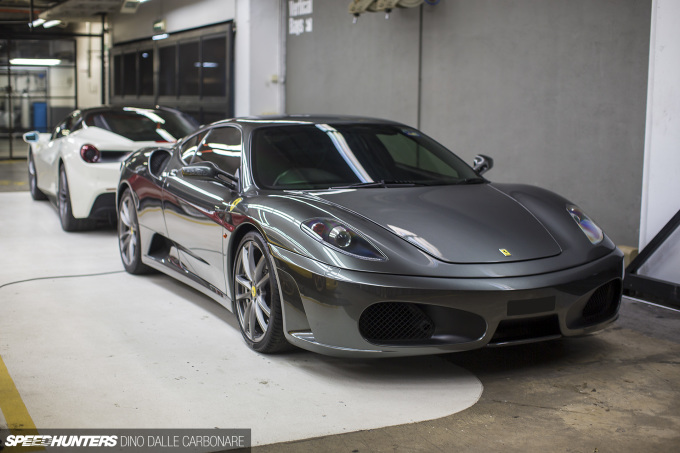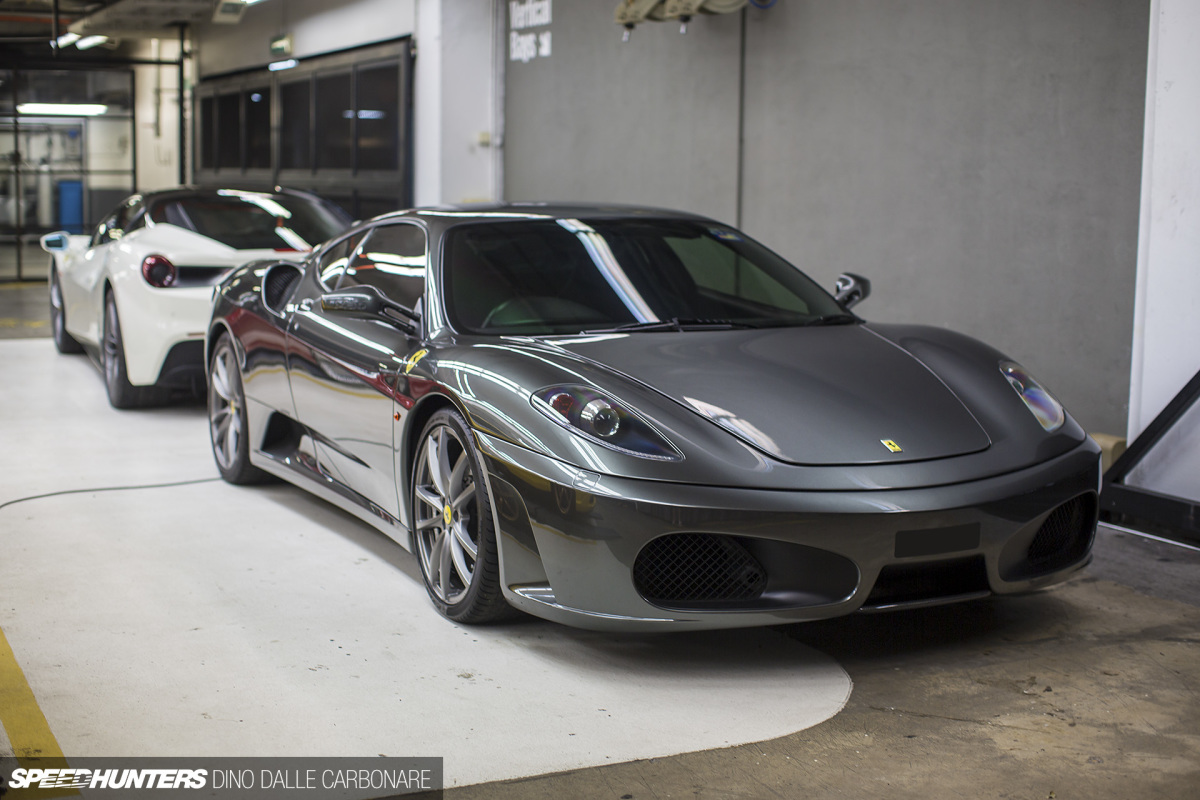 Everywhere I looked there was another exotic, and while I do like and dream about modern Ferraris like everyone else, the lure of the older stuff is just way stronger.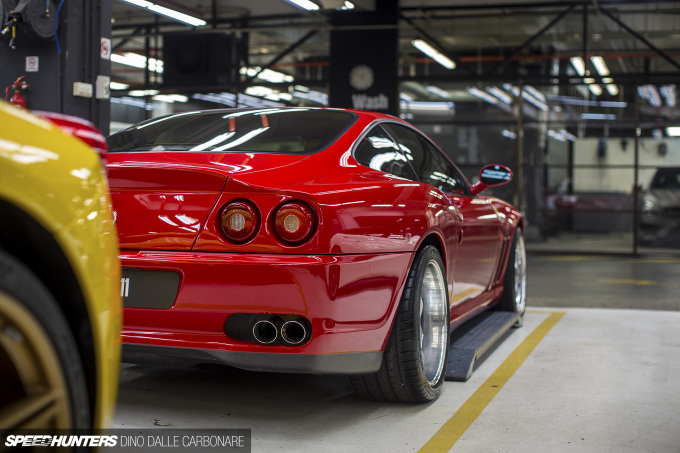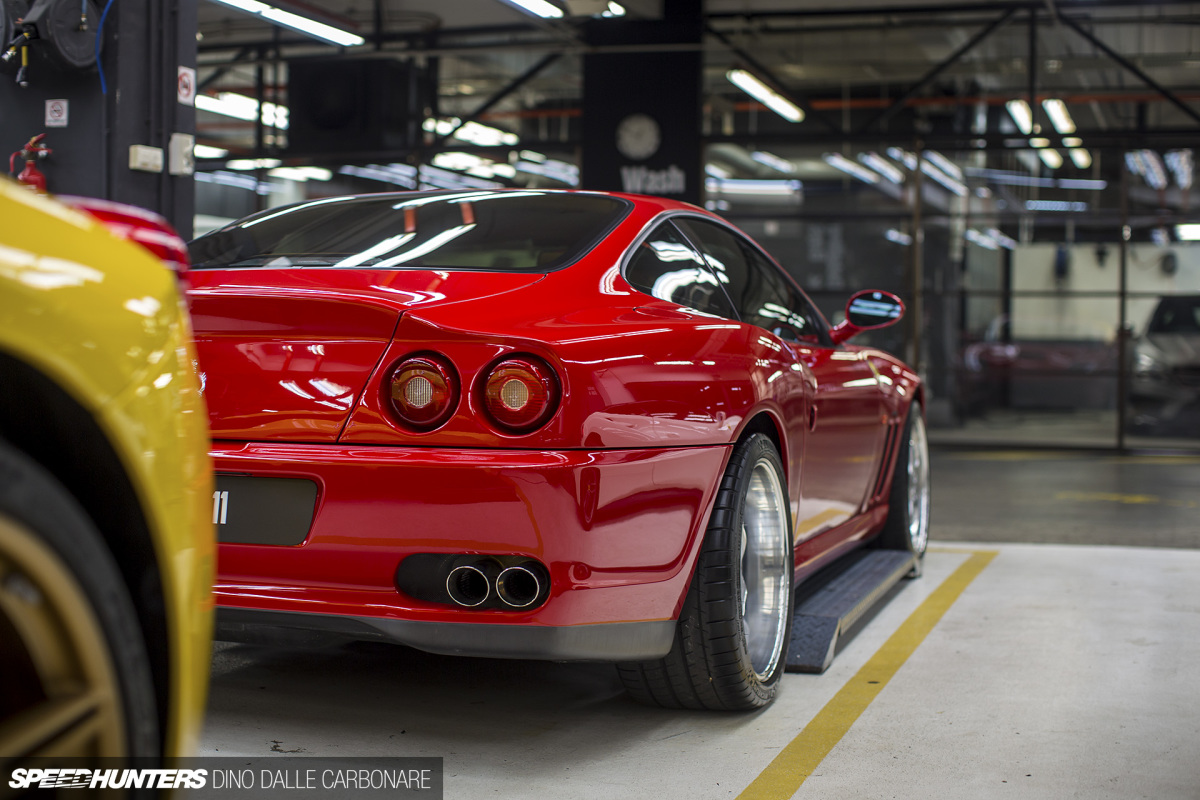 Especially if it comes in a package like this: V12 up front and a 6-speed manual to click through the old school Ferrari shift gate.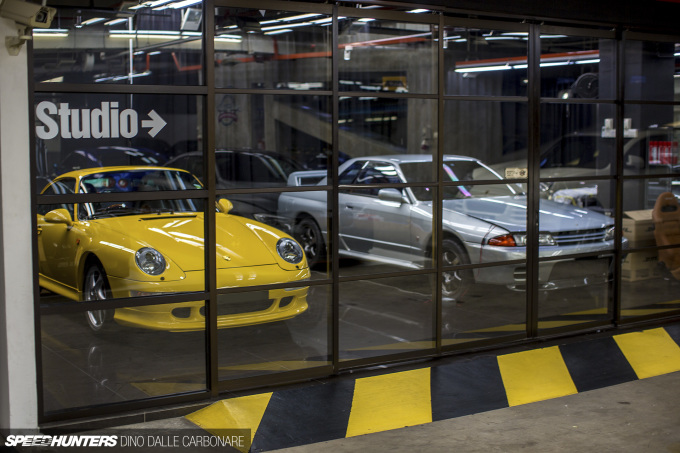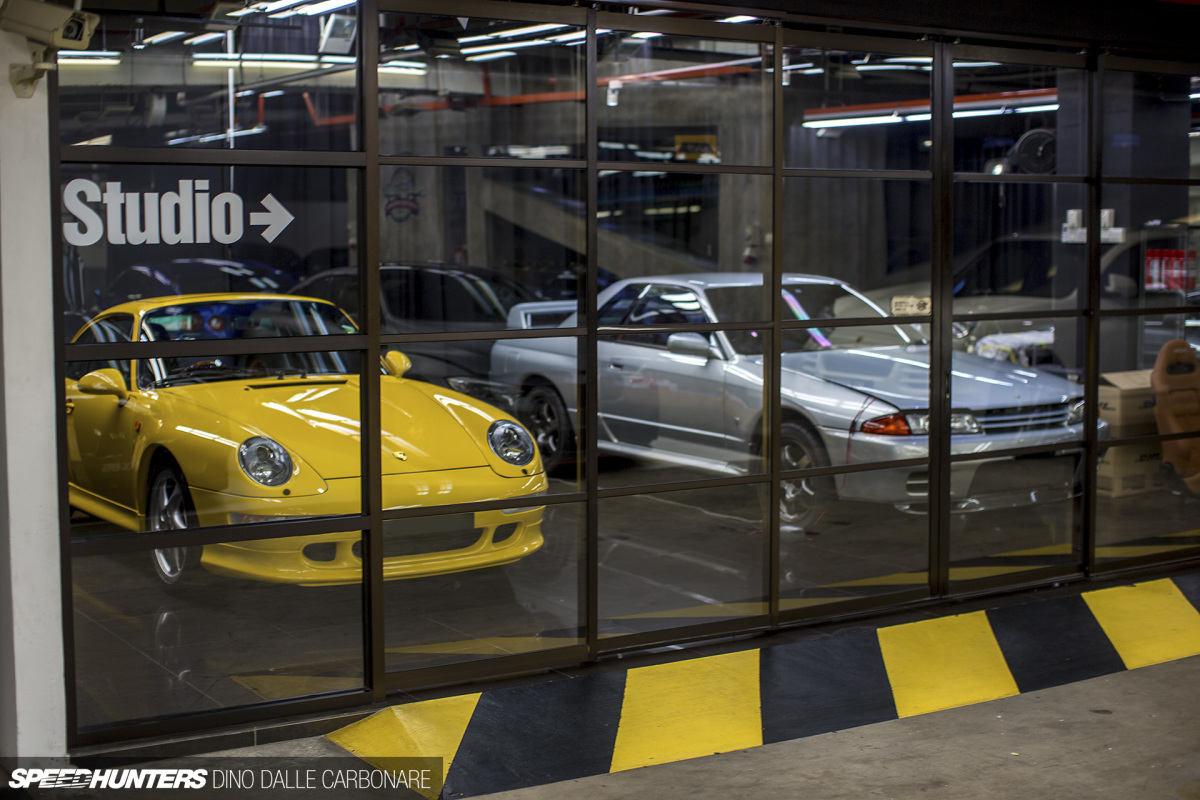 As I alluded to earlier, AutoDetailer Studio also offers storage options for the even the most demanding customers. These two cars are kept in a temperature and humidity-controlled sealed garage.
As beautiful as a unmolested and beautifully cared for 993 Turbo is, my eyes automatically wandered towards the car next to it.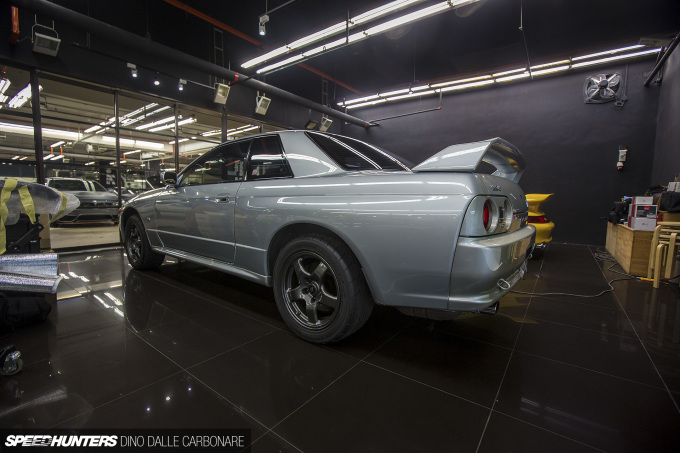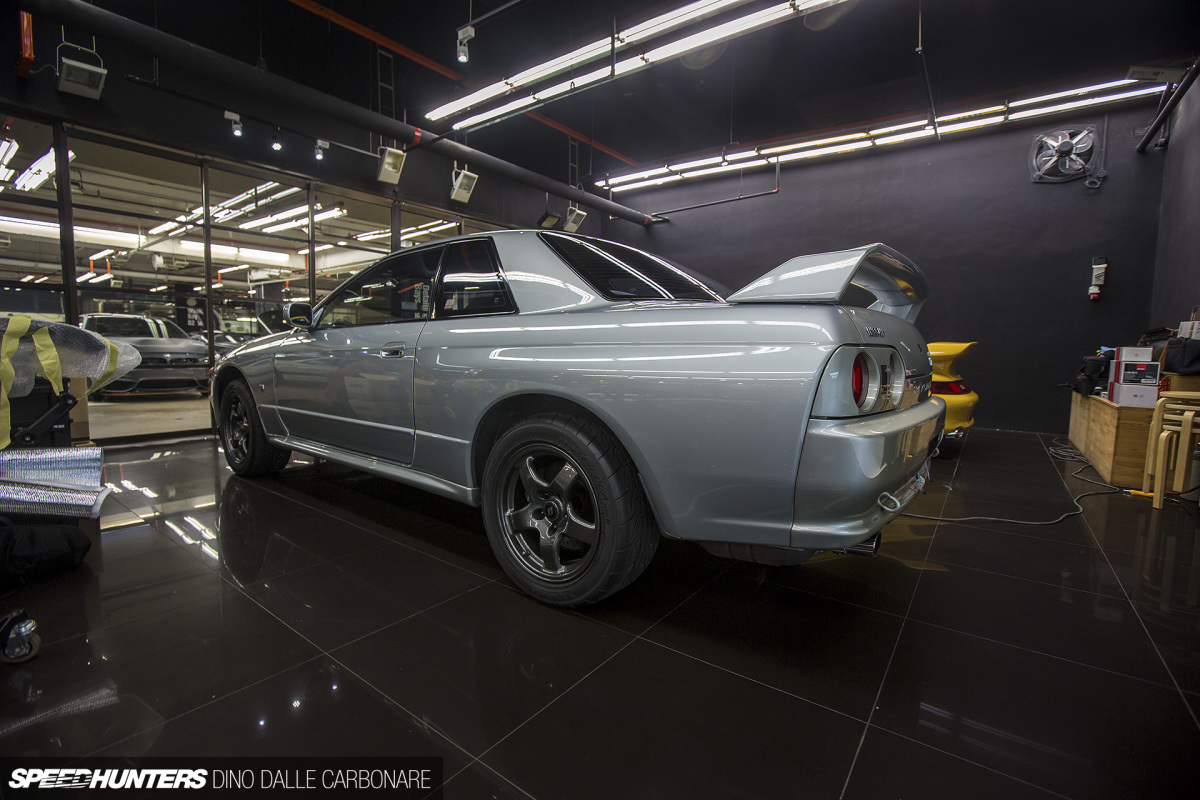 This is a completely stock and low-mileage BNR32 Nissan Skyline GT-R that was imported from Japan and is being kept like it's the gem of a collection. It blows my mind as in Japan I see these cars on the streets almost daily, but the unattainability factor and legendary image has helped turn the BNR32 into a true collectable. At least the special and unmolested ones.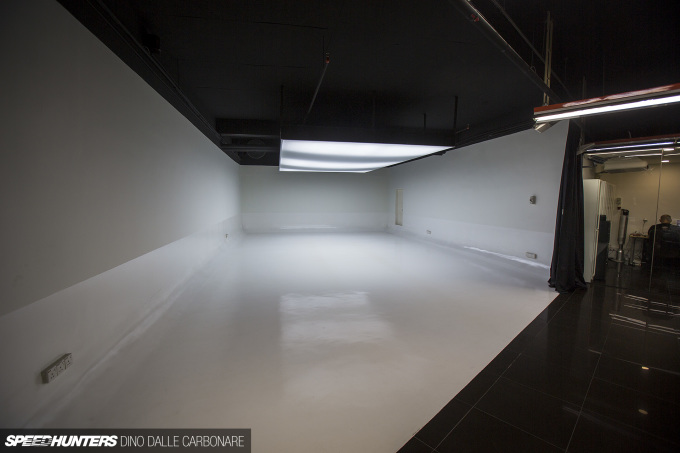 Remember how I mentioned that Darren was into automotive photography?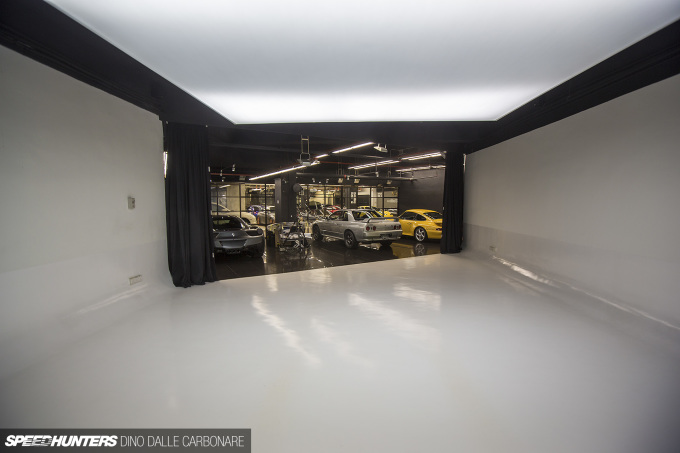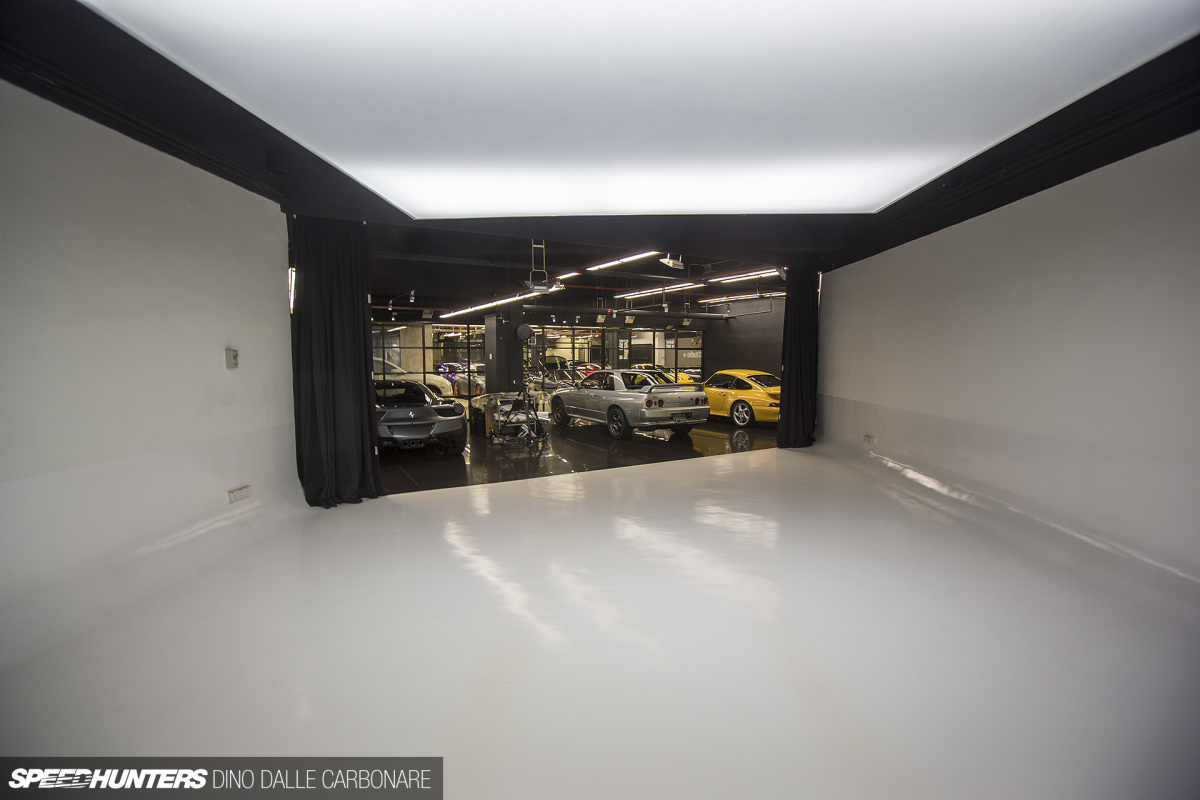 When he was building this shop he made sure to set aside a bit of space for a little dream – his very own commercial-grade studio. There is enough space in here to shoot and move a car around, which also allows him to offer photography services to his clientele.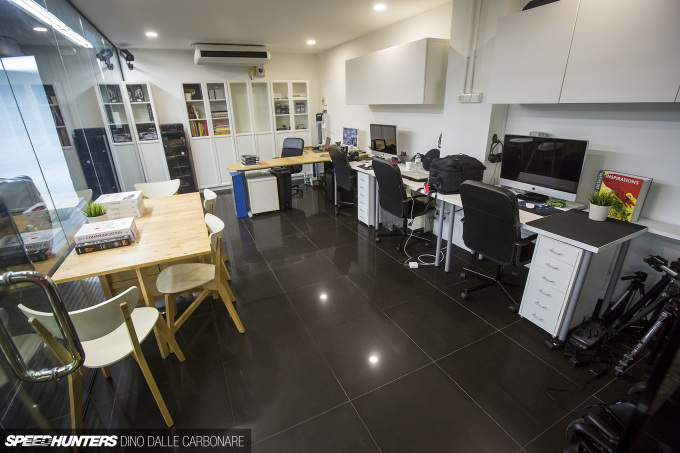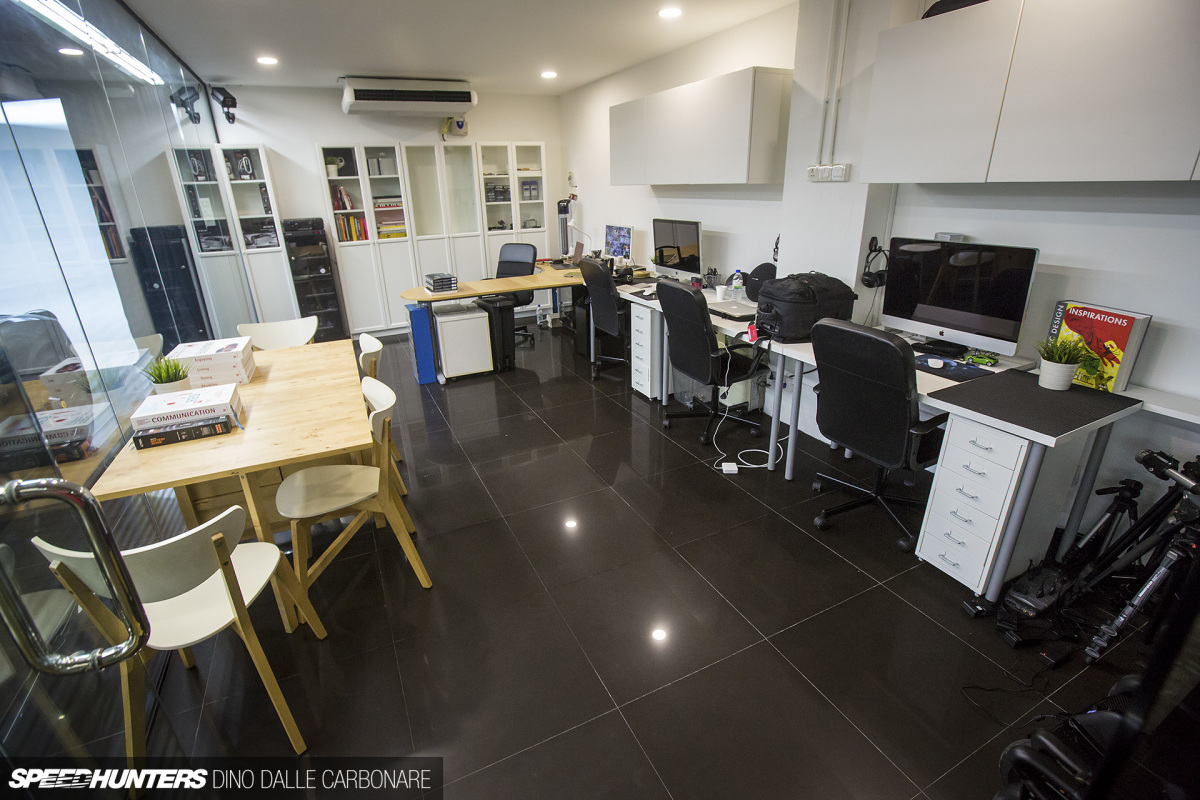 This is where the entire AutoDetailer Studio operation is managed from, the area including space for Darren's video editing production crew who constantly churn out clips of detailing jobs done to special customer cars. This helps get the word out there about the sort of services offered, and also shows the cars the crew are used to working with.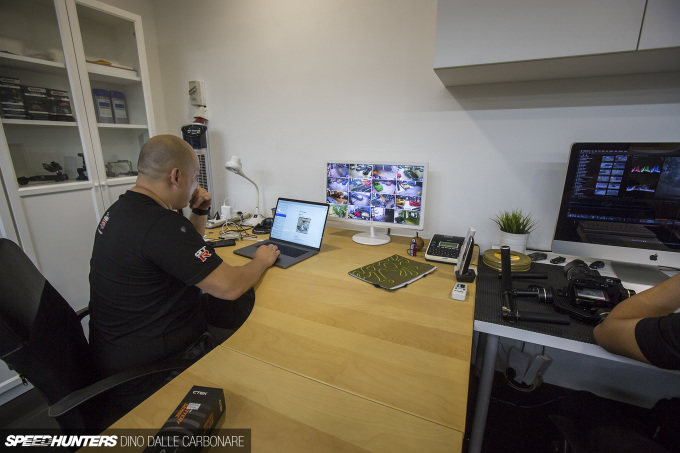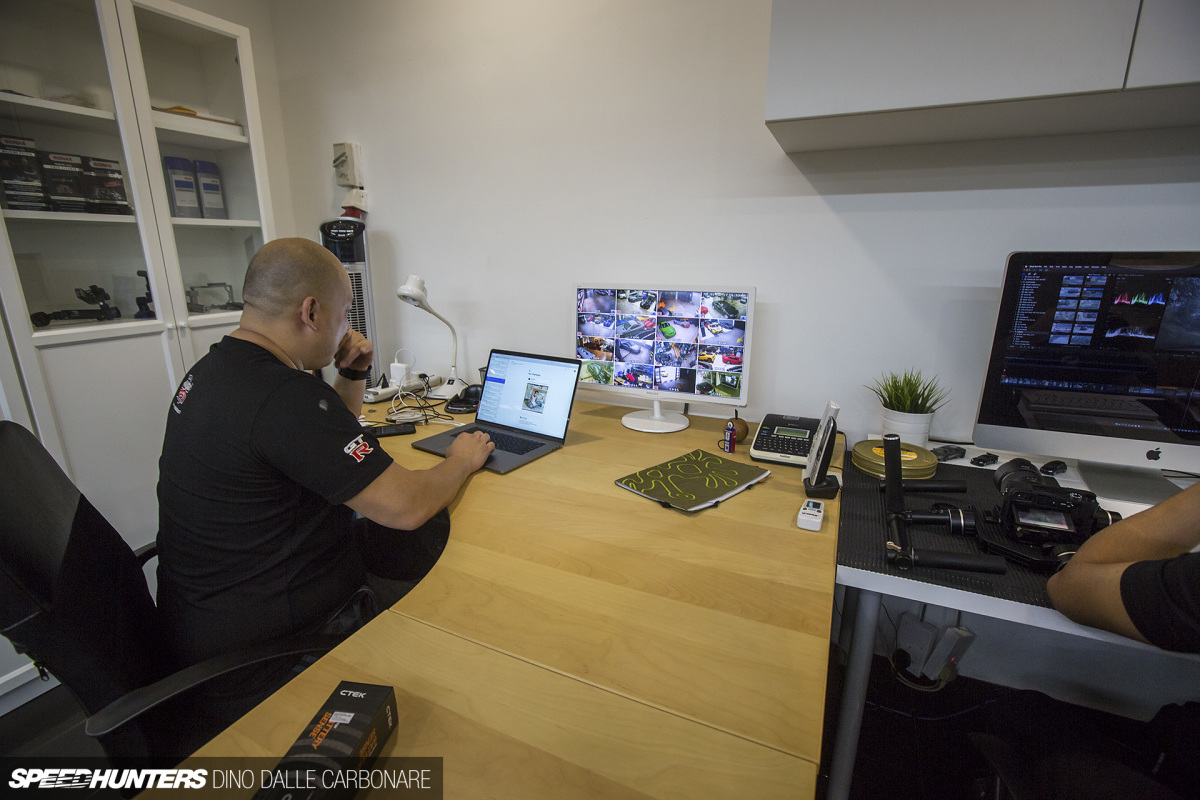 As you can see, Darren can also keep a close eye on all the security cameras scattered around the facility. However, being based in an underground garage beneath a large office building, security is already as good as it gets.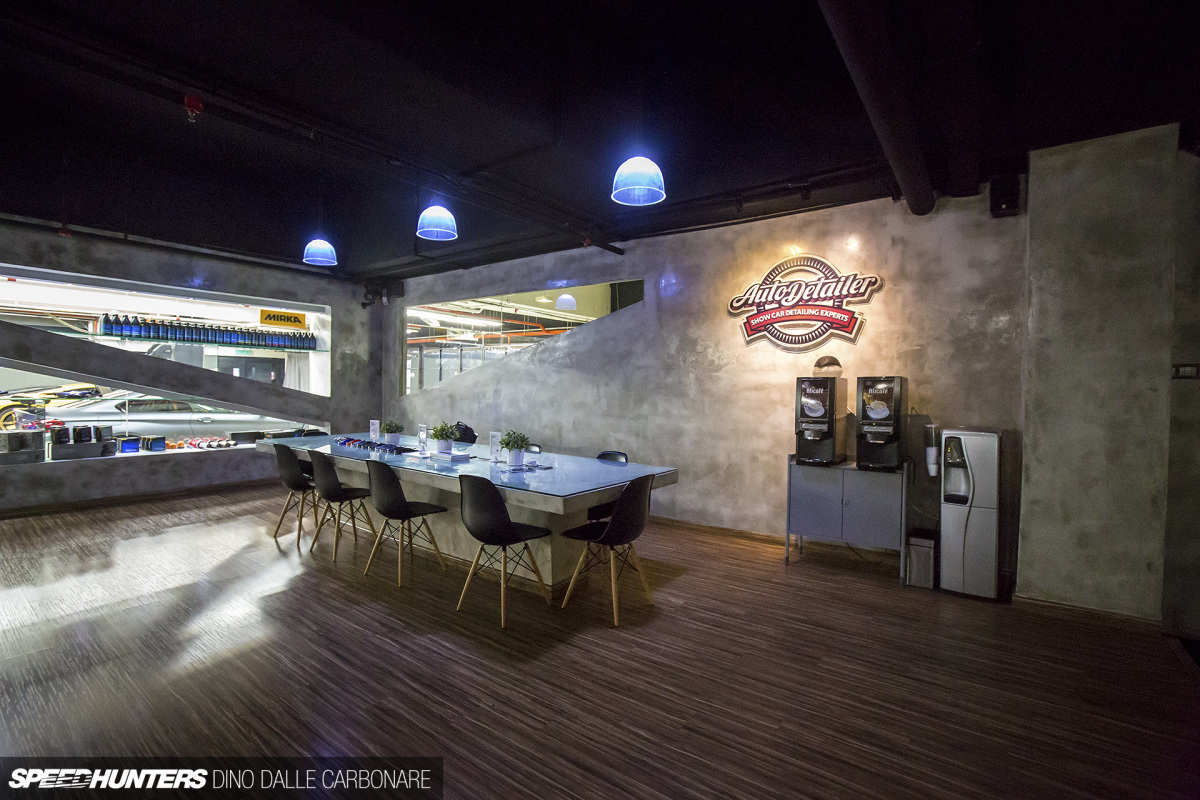 When his customers come in for a quick wash or pick up their cars from storage they can enjoy a quiet sit down in the client area at the center of the shop. This is the heart of the AutoDetailer man cave, a place to chat and chill and have a cold refreshing drink. There are always car videos playing on the TV and things get far more unproductive once the PlayStation is switched on, something I may have been part of during my visit.
There are cool detailing products on display too, but the gadget that caught my attention was the Ctek CTX Battery Sense. You connect this up to your battery and it keeps an eye on the voltage level via a cool app. Darren kindly donated one for use on Project GT-R, and that's just been fitted over at Worx Auto Alarm, so you can expect a little review in my next project update.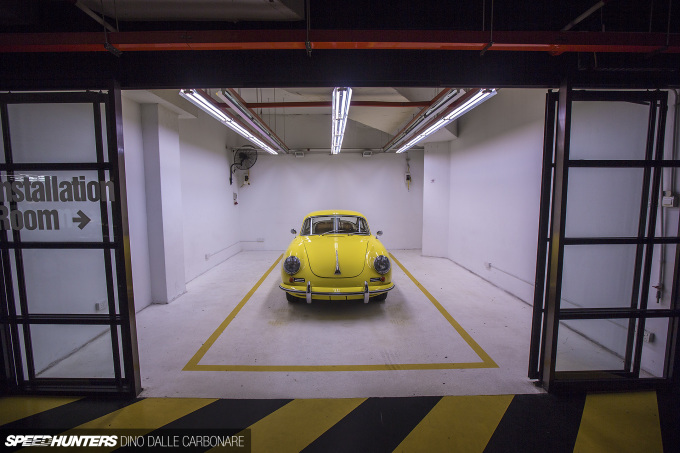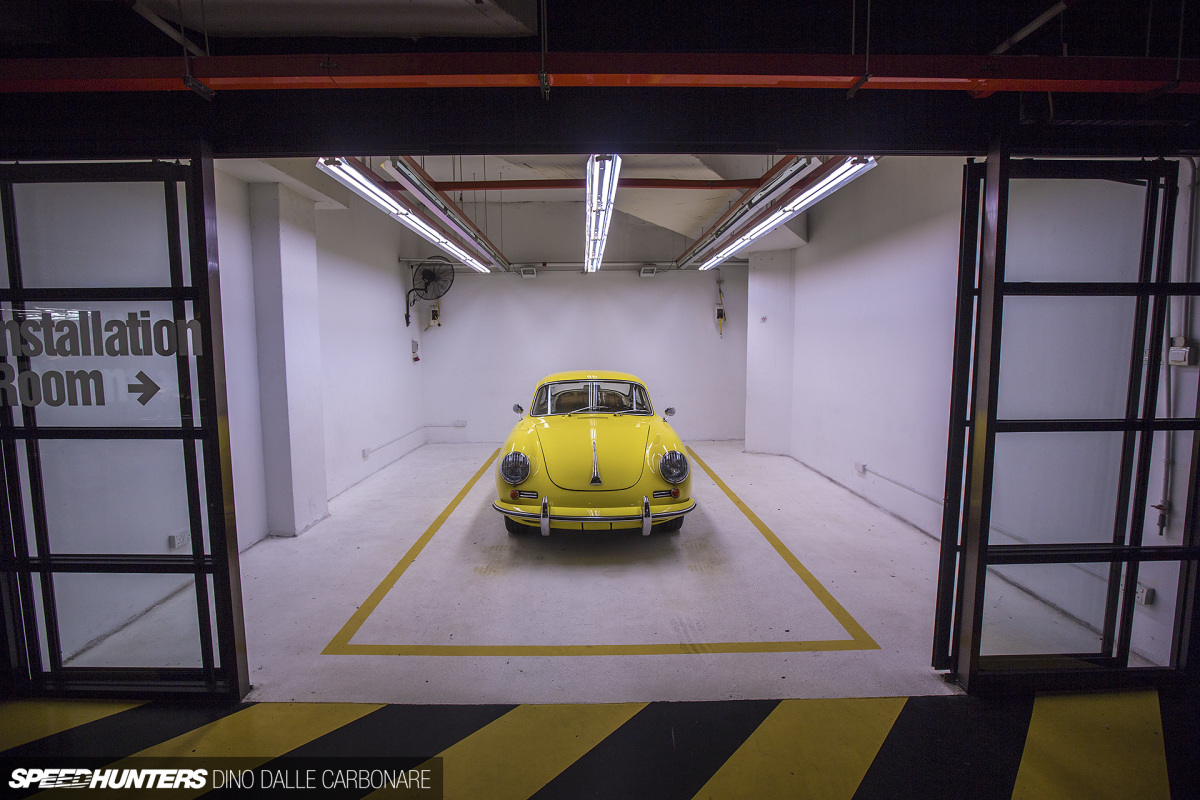 The final part of AutoDetailer Studio is their restoration program, which had just kicked off with this freshly repainted Porsche 356.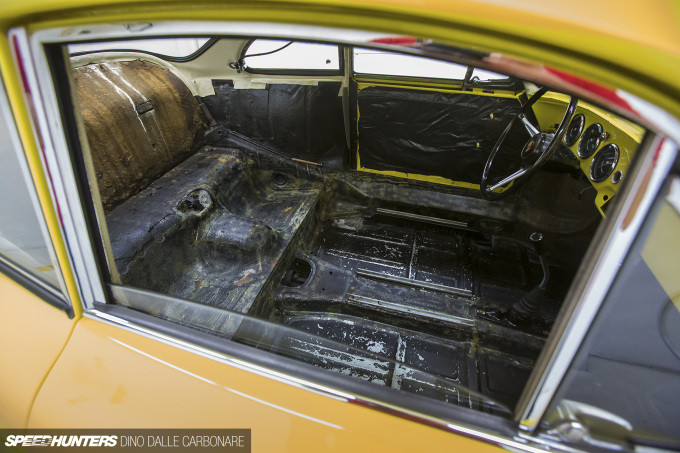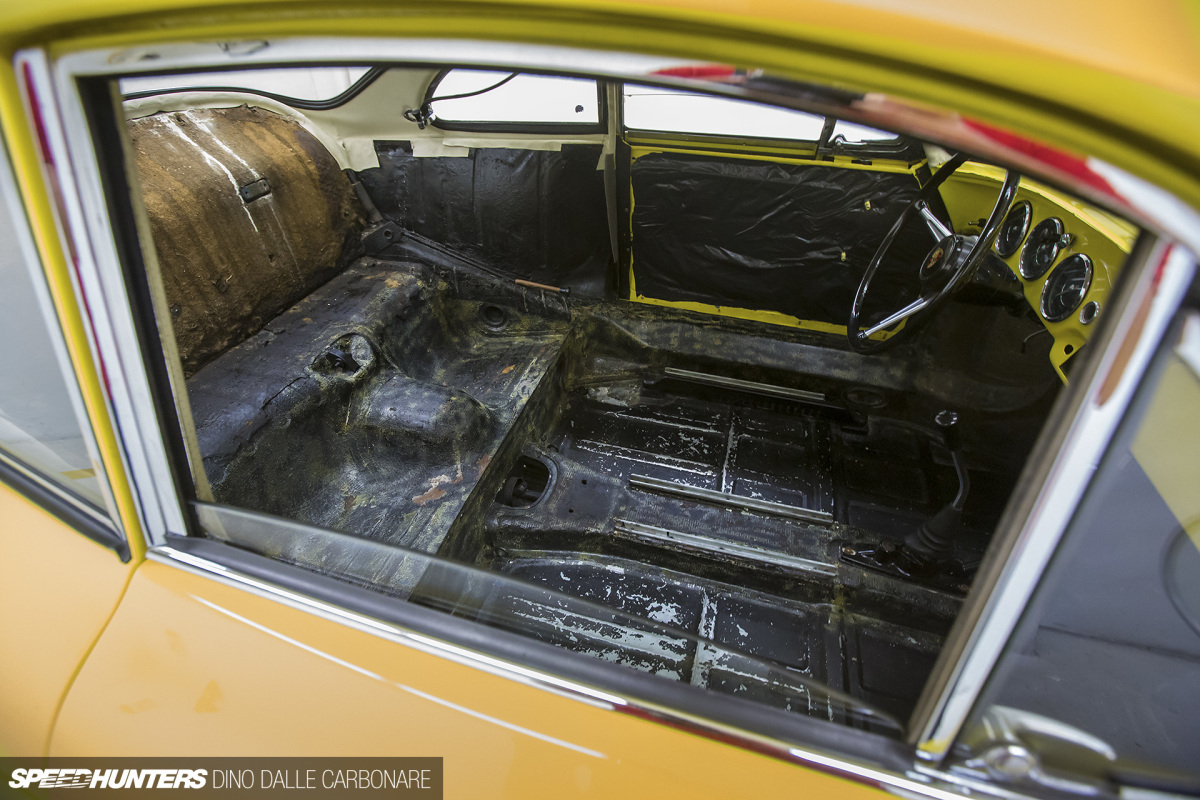 The interior had been completely stripped out, ready for a full refresh.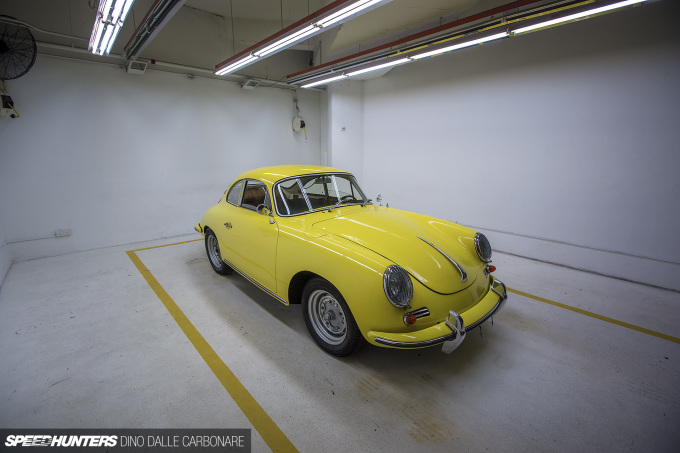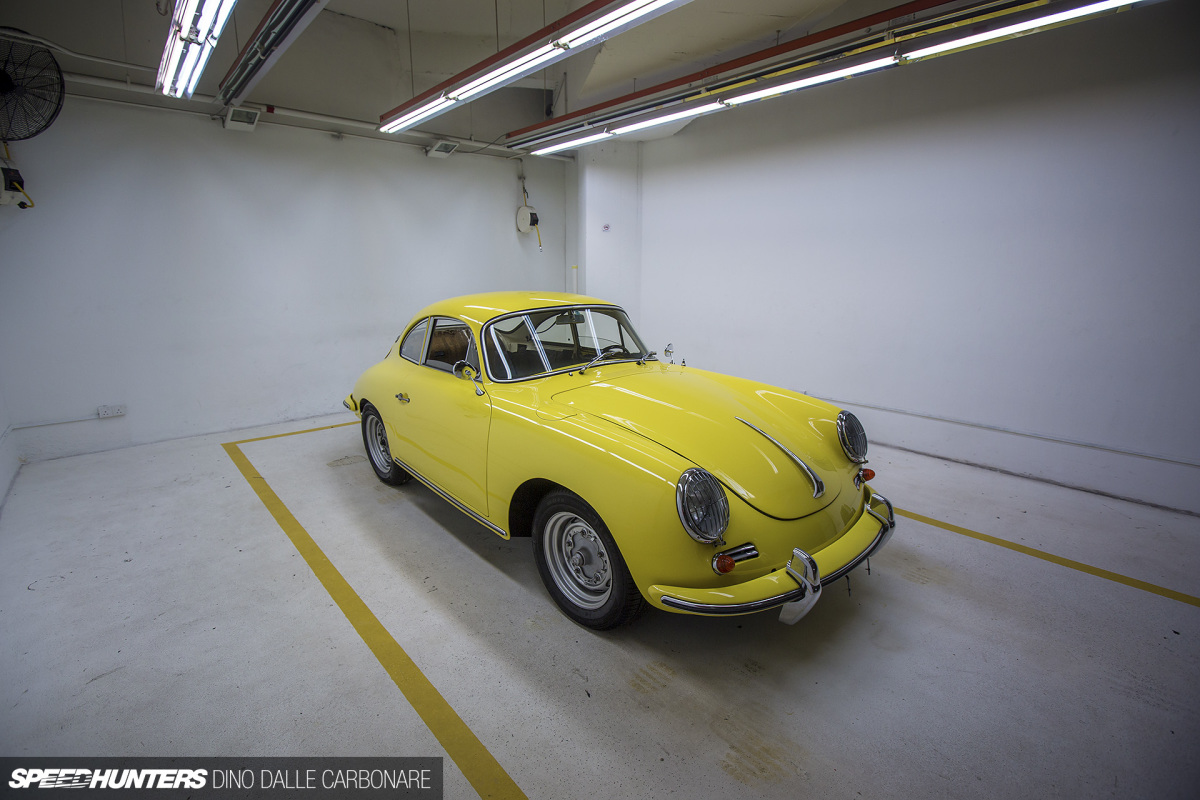 Spending time with Darren and his crew at AutoDetailer Studio was without a doubt the highlight of my trip to Malaysia this year. It's so great to see a business run by people who are truly passionate about cars and extremely fastidious about the smallest of details.
Looking back at this visit makes me feel rather sad about the state of my cars, so I'll stop right here and head out to wash at least one of them!
Dino Dalle Carbonare
Instagram: speedhunters_dino
dino@speedhunters.com