As a Speedhunter, I've travelled to all corners of the world to experience different car cultures, but even when I'm not hunting speed back home in Tokyo, it's impossible to escape it.
Thursday night was a special night. A night of wandering; a night not burdened by the pressure or time constraints that comes with this job. Thursday night was different.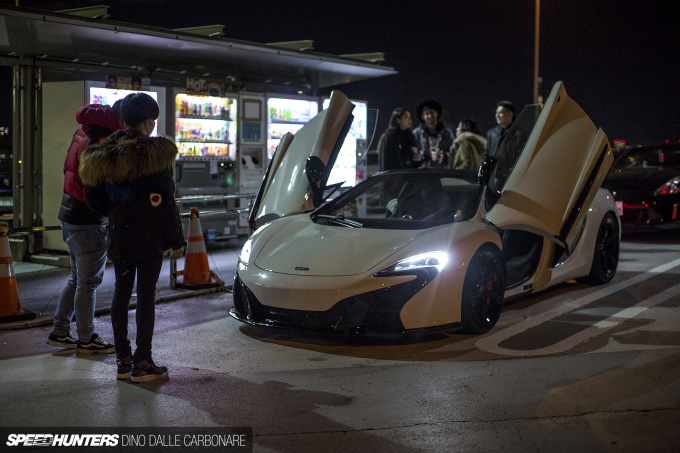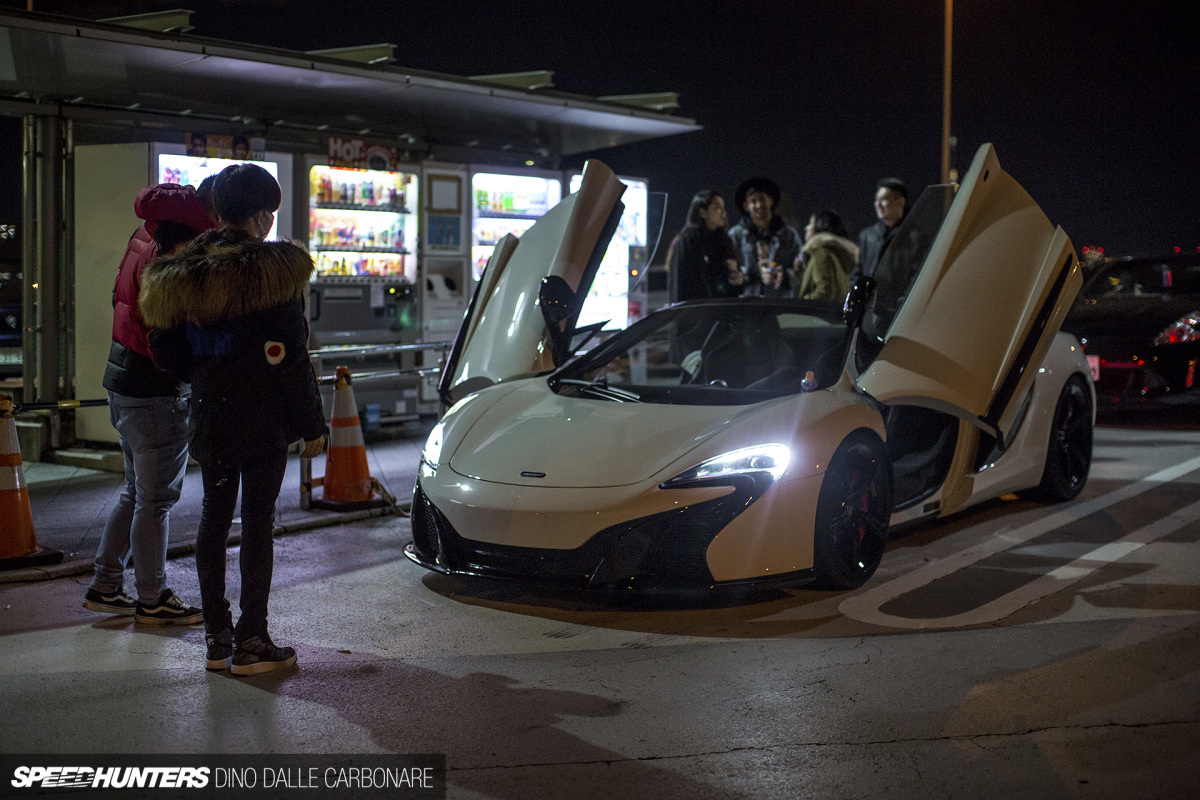 It all started Monday afternoon when Nissan threw me the key to a 2017 GT-R Premium Edition. While having a chat with the man behind the GT-R, Tamura-san, at the recent Tokyo Motor Show, he was surprised to hear that I hadn't had a chance to sample the refreshed R35. This is a car that he developed after taking over the project following Mizuno-san's retirement.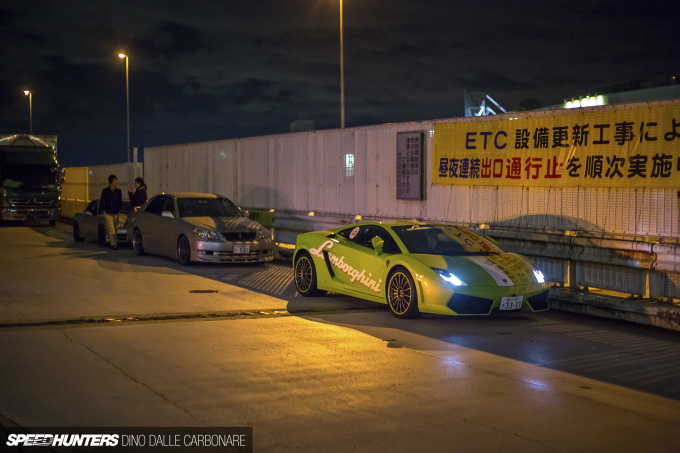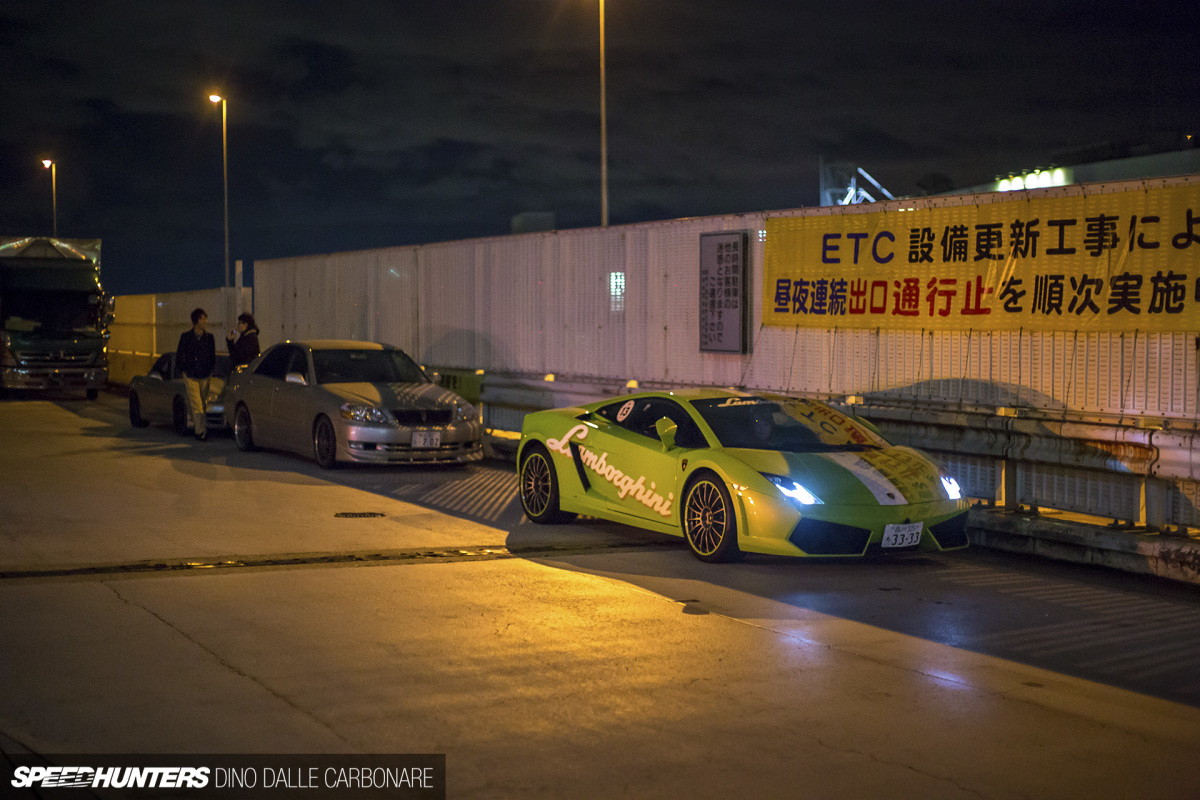 Tamura-san suggested I try the base model first, then the Track Edition, ending with the daddy of them all, the Nismo version. Who's going to turn down an invitation like that?! So that's what I've been doing this week, daily driving the orange GT-R you see in the opening picture as if it was my car, picking up my son from kindergarten and doing the usual domestic rounds. But last night, a rare quiet night, instead of going to bed I jumped into the car and hit the Shuto Expressway. I felt it was about time I flicked the three switches up to the 'R' mode and let her rip.
And that's how I eventually ended up at Tatsumi Parking Area, a place you just have to stop by after a bit of fun lapping the R9.
On this mid-week, national holiday night I had no intention of shooting anything, and to be honest I didn't really expect to see much. But I'm glad I had my camera case with me, because after checking out some cool cars, the bug hit. I knew I had to share what I was seeing with you guys.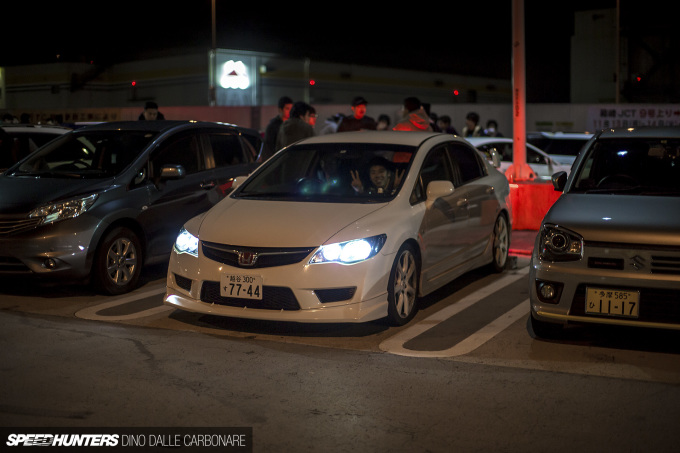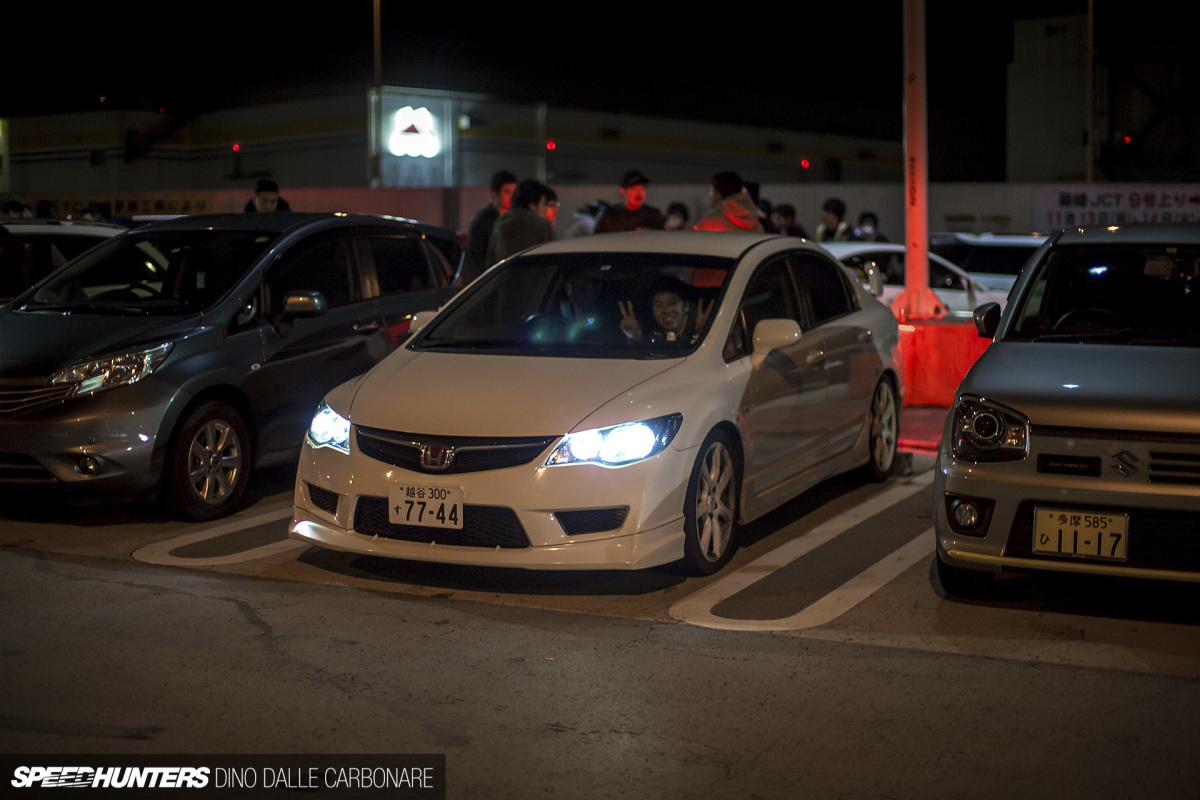 I didn't stay long, but I shot enough to give you a taste of the stuff you might expect to see on a Thursday night at Tokyo's favorite pit-stop area.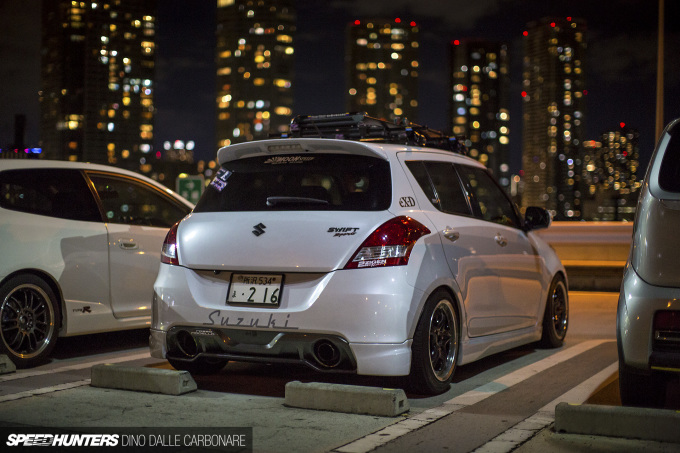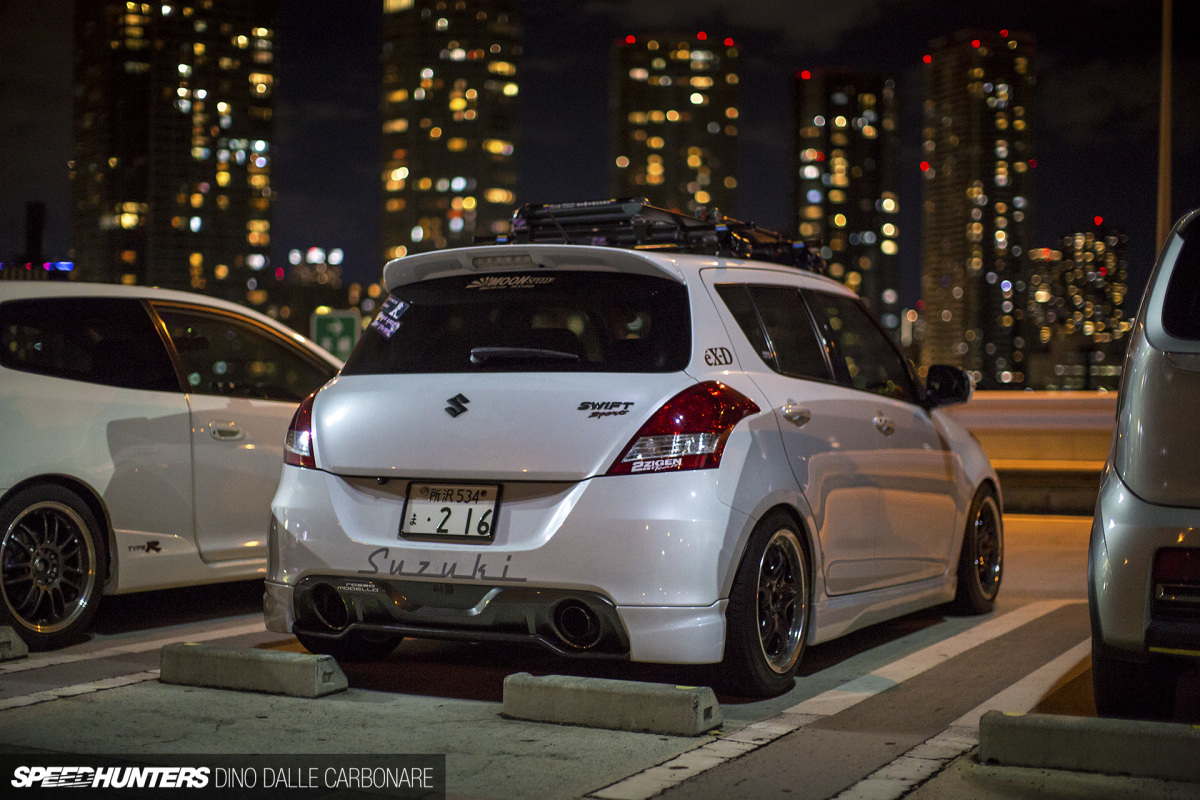 As ever, the selection was varied. At Tatsumi you'll see wealthy millennials flaunting their latest supercar purchases, to more run-of-the-mill cars that excite for their own reasons. It's cool to see how people make the most of what they have, but the best part is watching them enjoy their cars on the R9.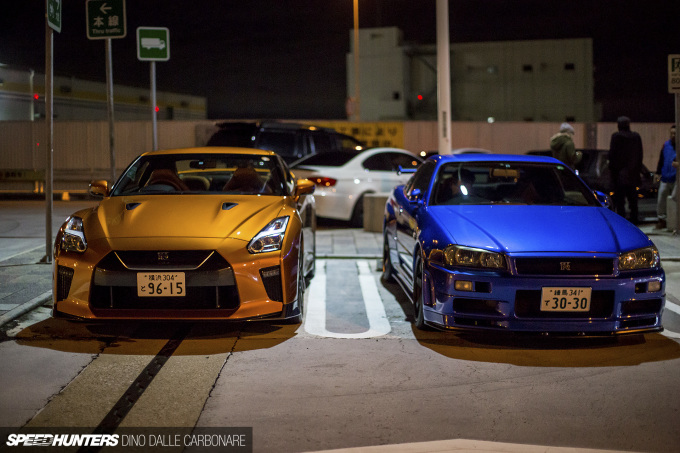 Driving the pumpkin-colored R35 was a good reminder of the amazing job Nissan did 10 years ago when it came up with the next step in the GT-R lineage. This 2017 model flaunts the small improvements made over course of the next decade to the present day, and it's damn impressive. There's not a lot out there that can keep up with the brutal capabilities of a san-go, and I'm not even getting into the tuning side of things here.
And then a spotless BNR34 V-spec showed up, further reminding me where my true love really lies. Regardless of how much its performance pales in comparison to the R35, it's still a very special machine.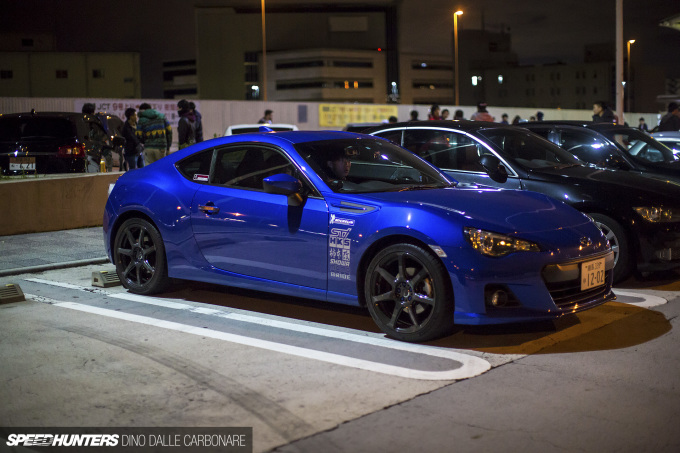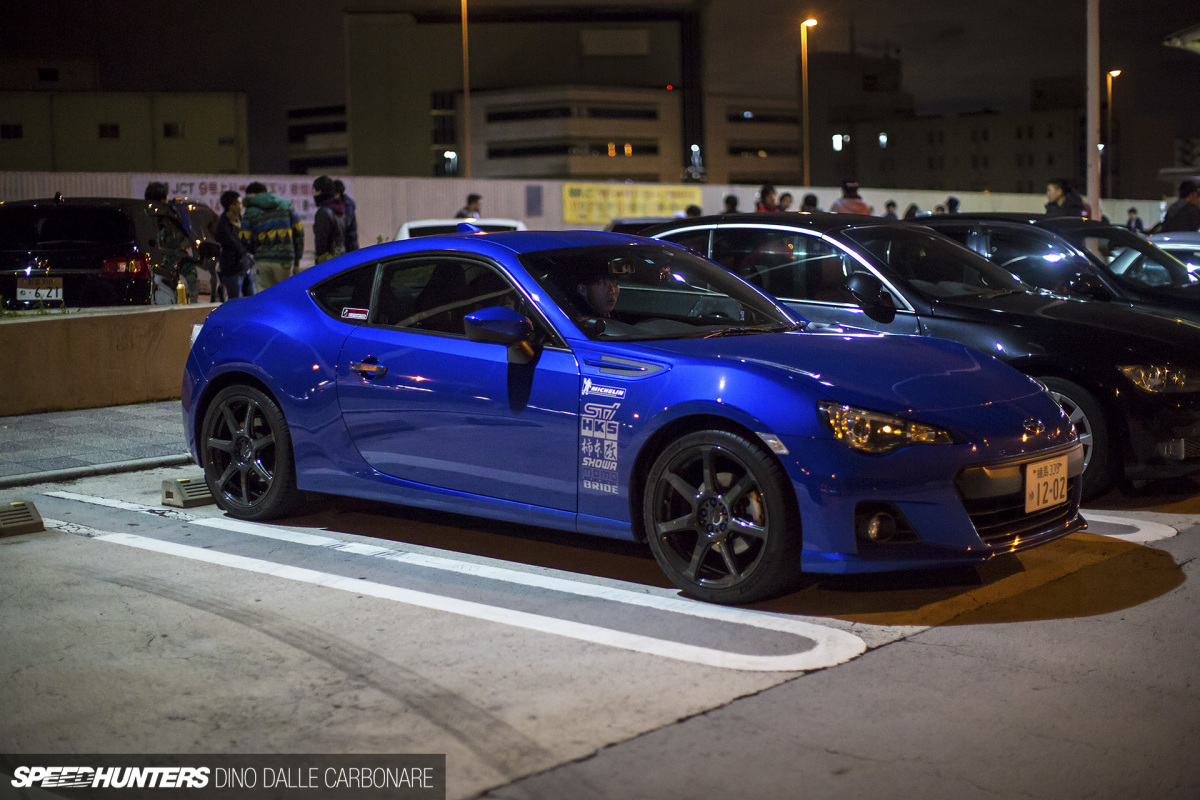 Not too far away was this BRZ, one of the few affordable sports cars that Japan still has to offer us enthusiasts.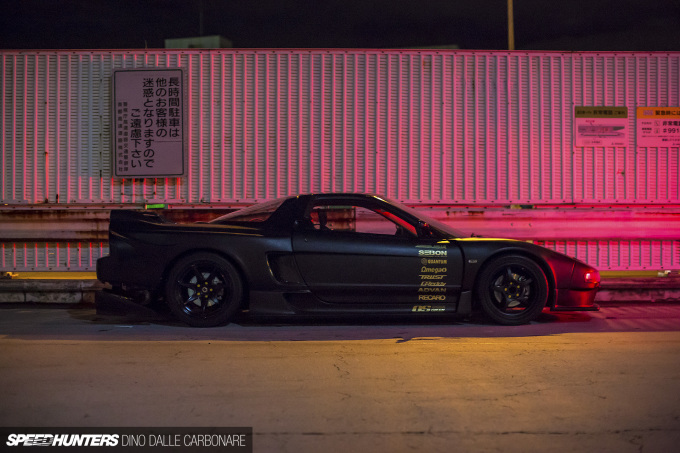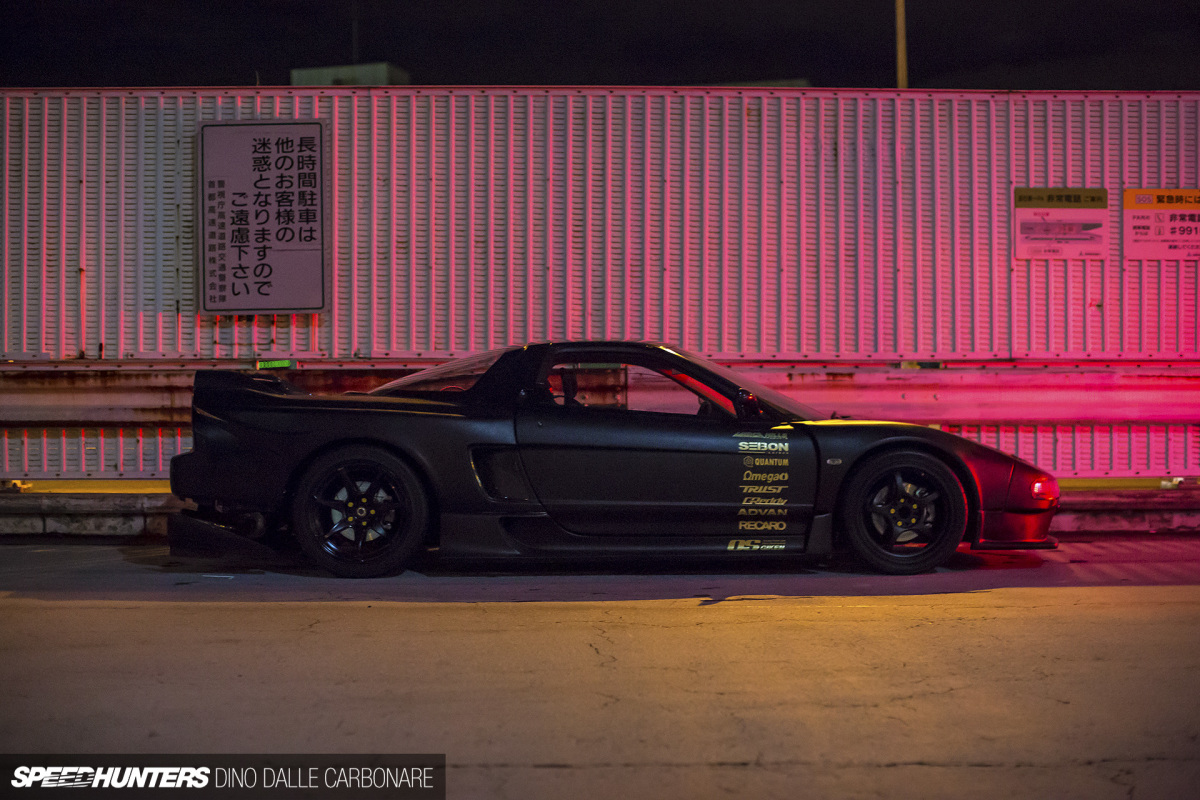 As I paced up and down the small parking area, a raspy and familiar exhaust note broke the silence. I thought it might be Blake out for a late-night blast, but his car is being worked on at the moment (much like Project GT-R). The mysterious matte NSX didn't hang around long, but it was a much appreciated sight, curious aero and all.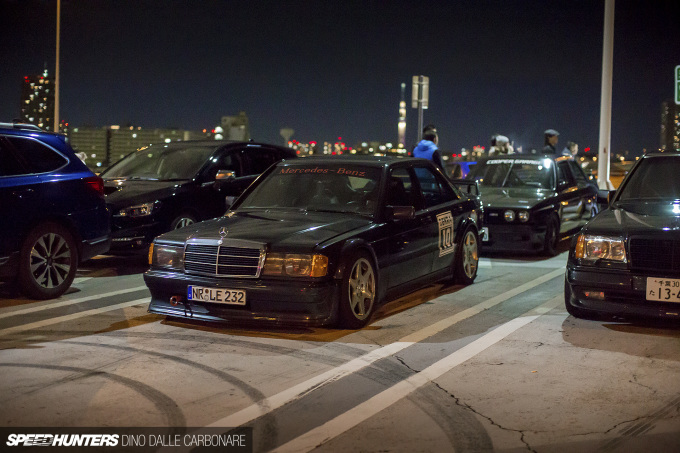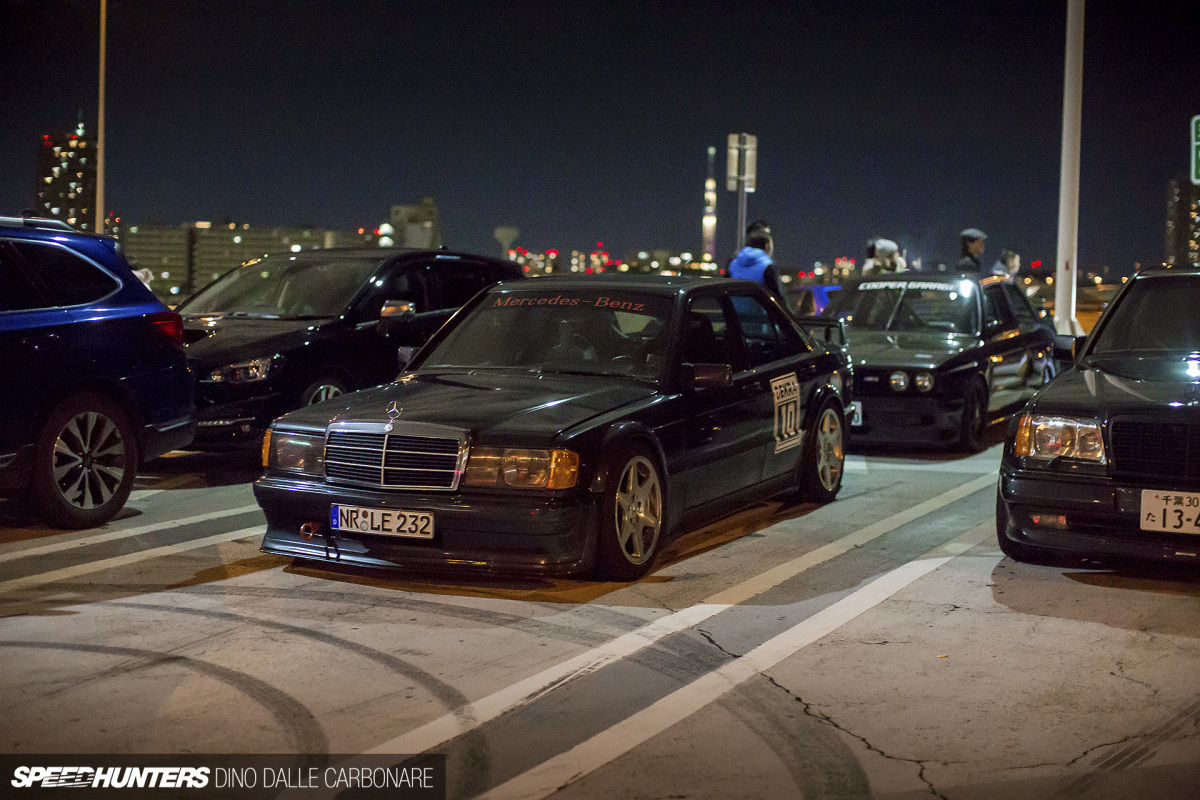 It's funny that I came across a Mercedes-Benz 190E that seemed to have obvious DTM aspirations. You see, I'm setting up a shoot with a very special DTM racer that's part of a collection here in Japan, and had just spoken with the owner the previous day.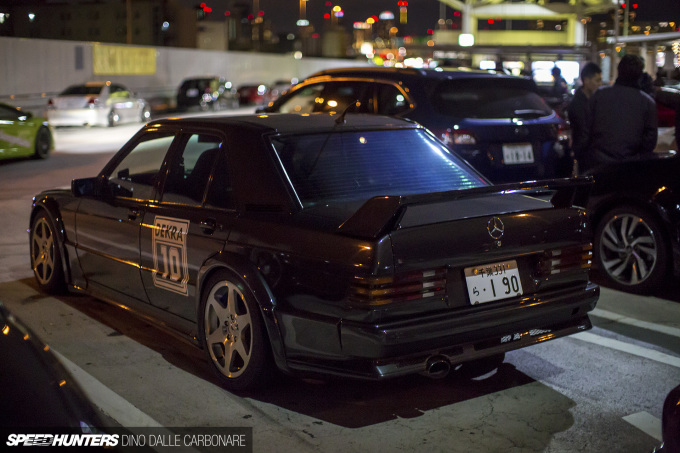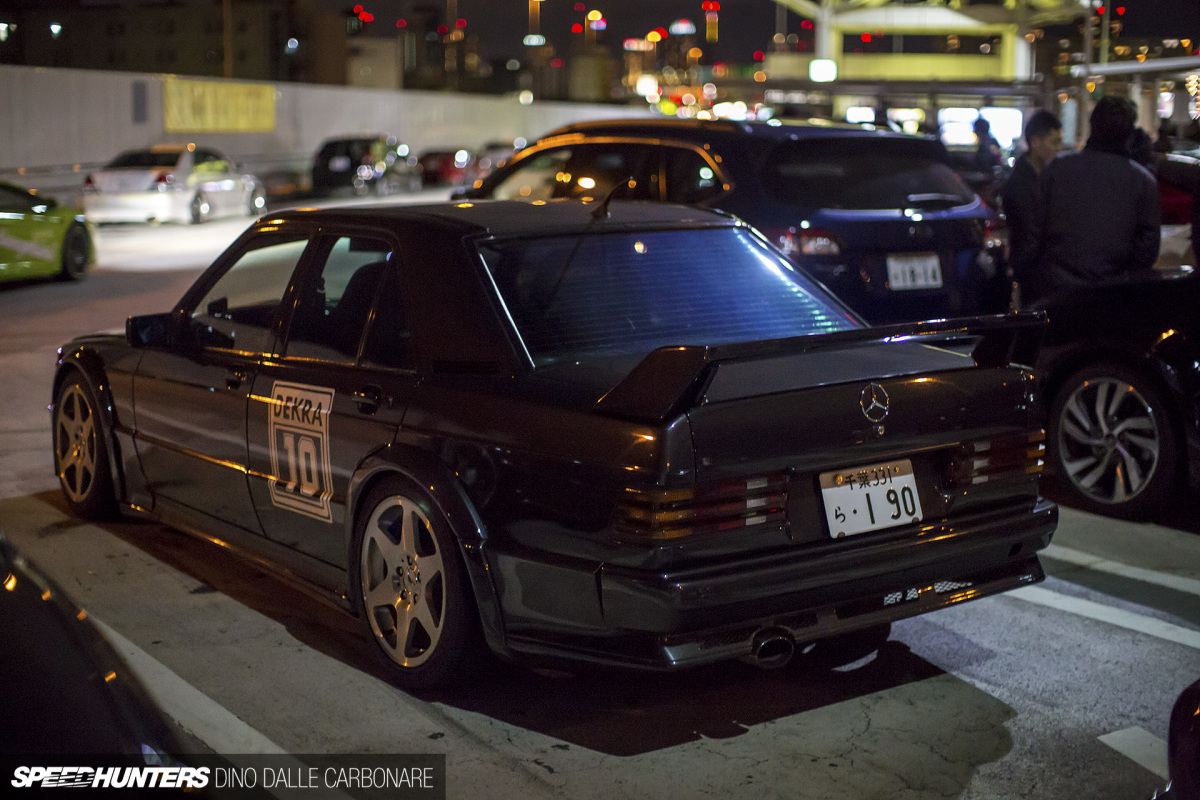 Seeing this car just makes me even more excited about shooting the car I've lined up. You'll have to wait a bit to see that though…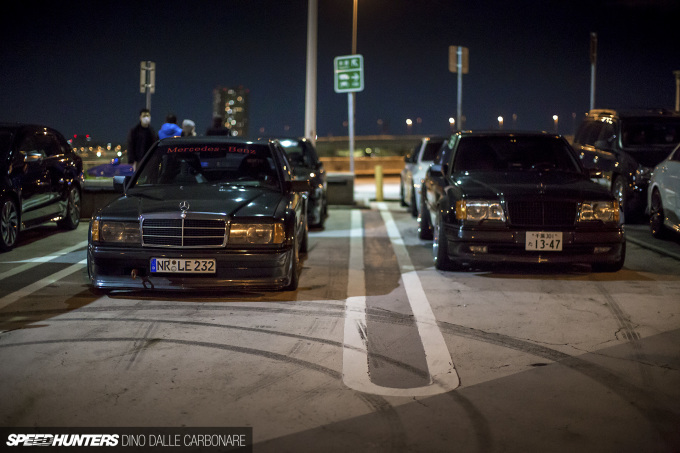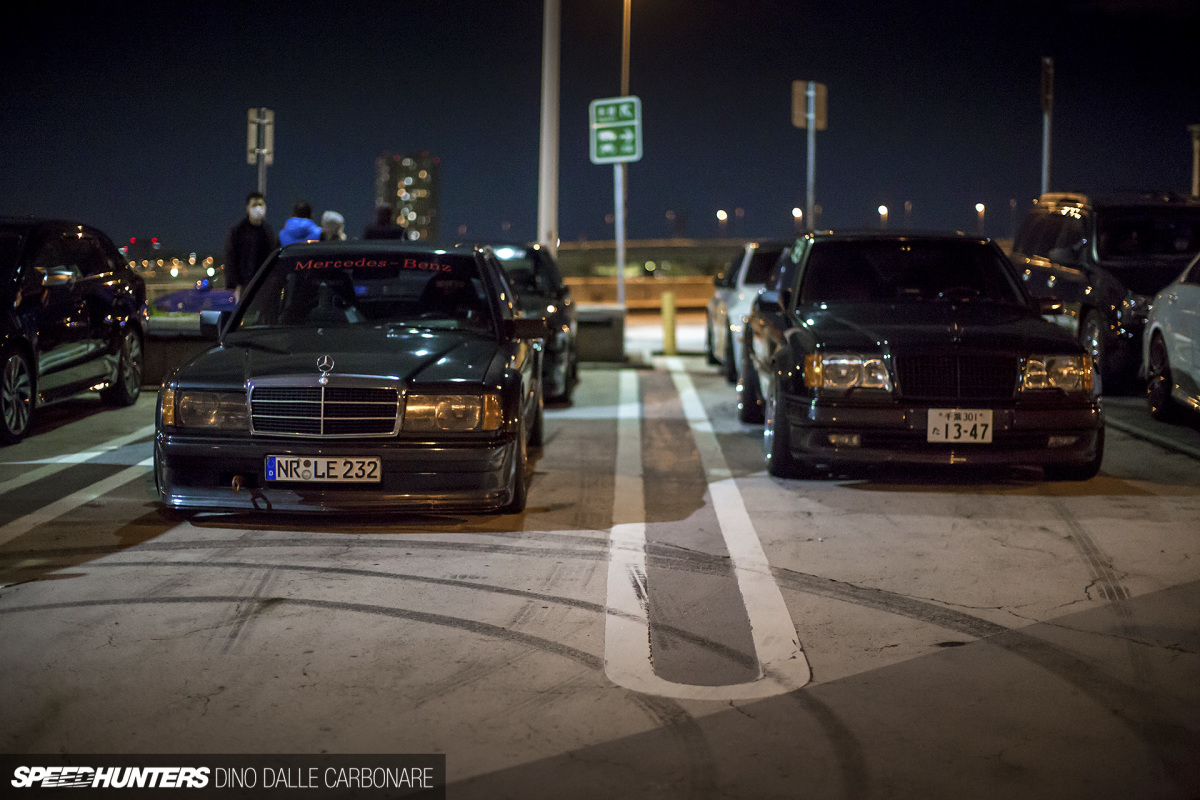 Can you guess what was parked up next to it?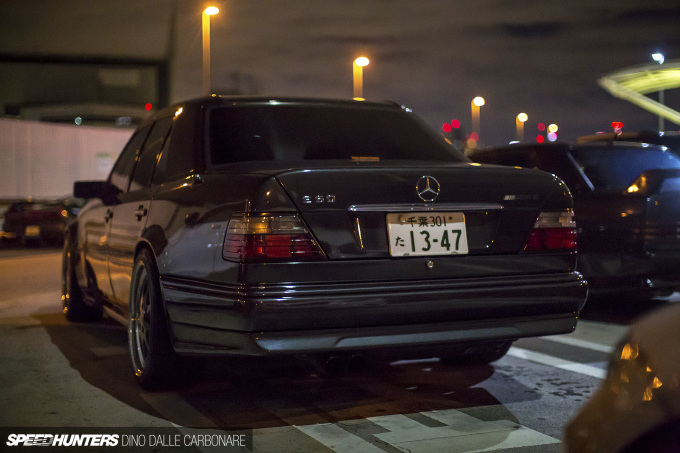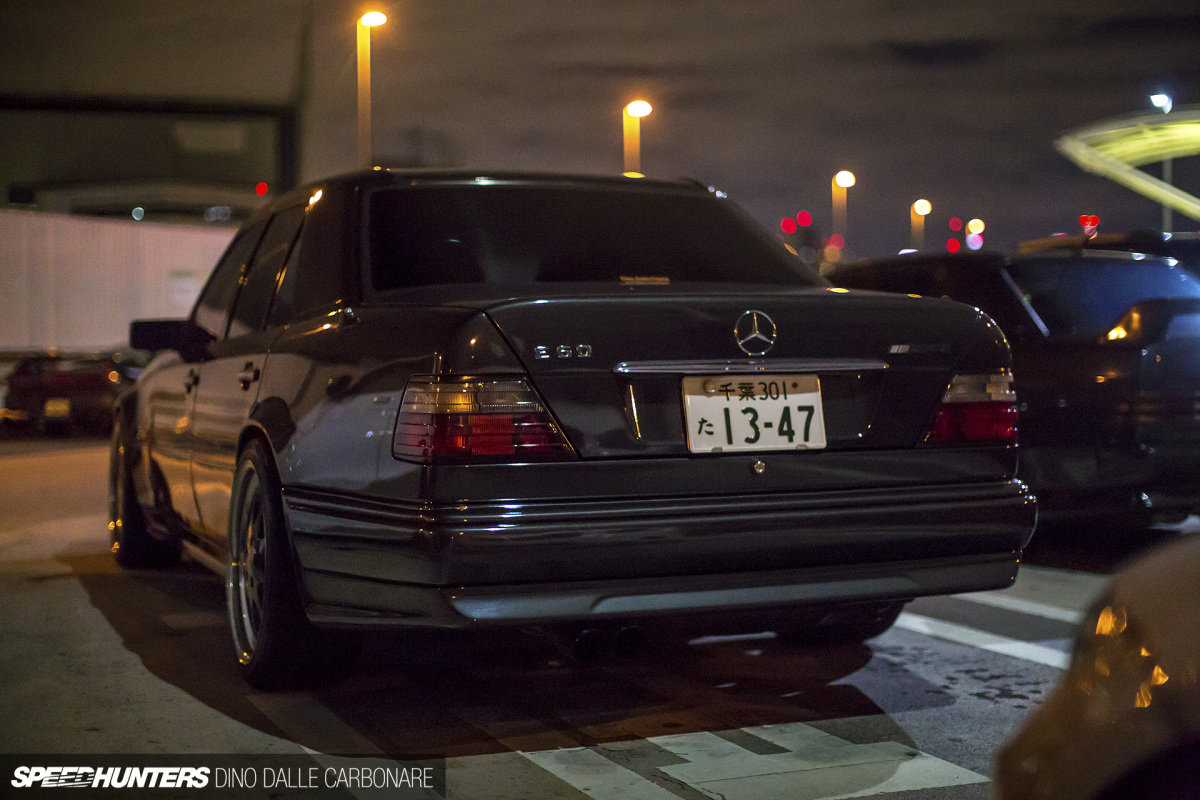 A rare W124 E60 AMG, otherwise known as a limited hot version of the 500E featuring a naturally aspirated V8 that punched out 380hp.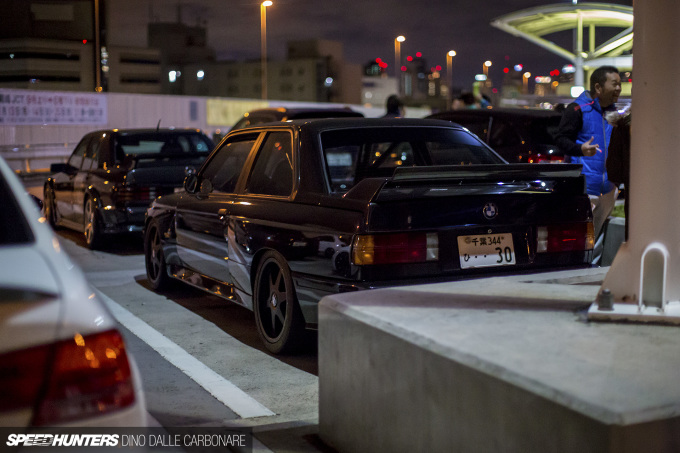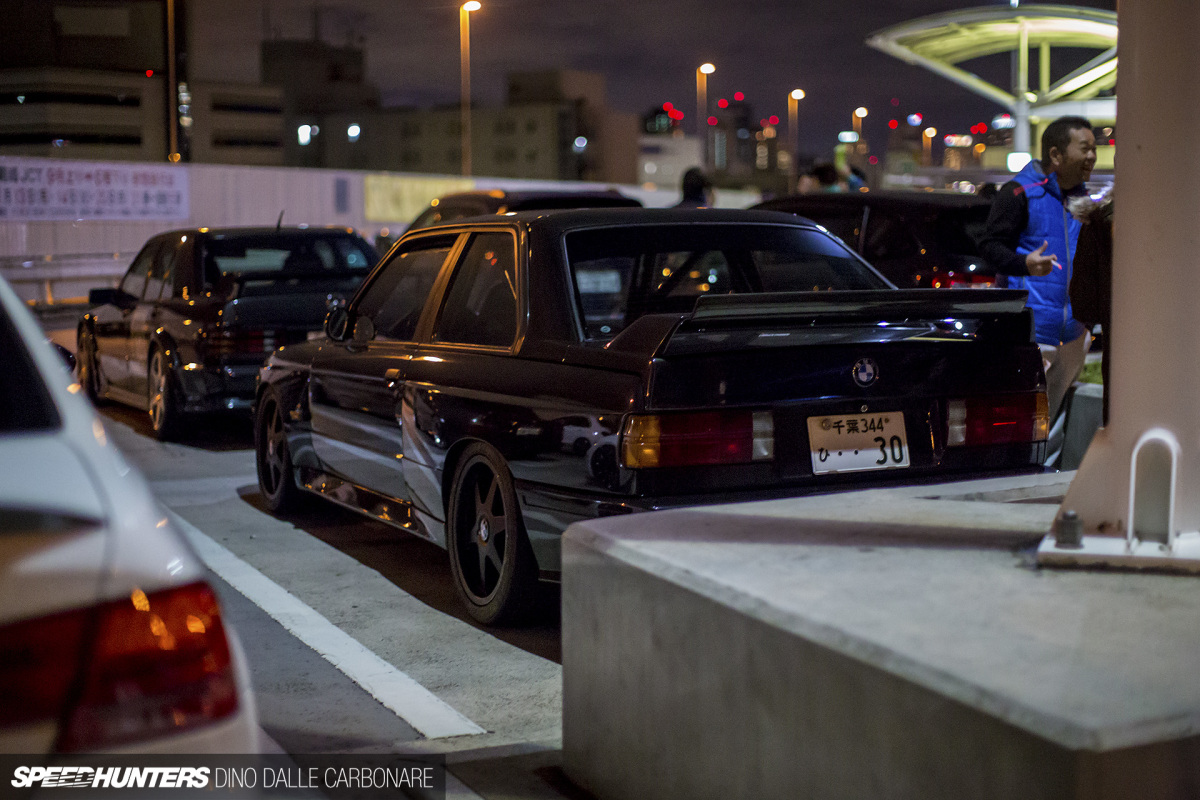 Behind it? An E30 M3. All that I wanted to see from Germany was neatly summed up by this rather special trio. Japan never disappoints.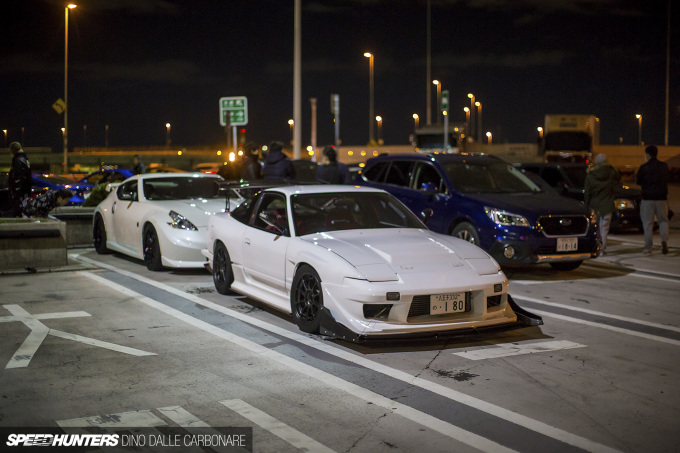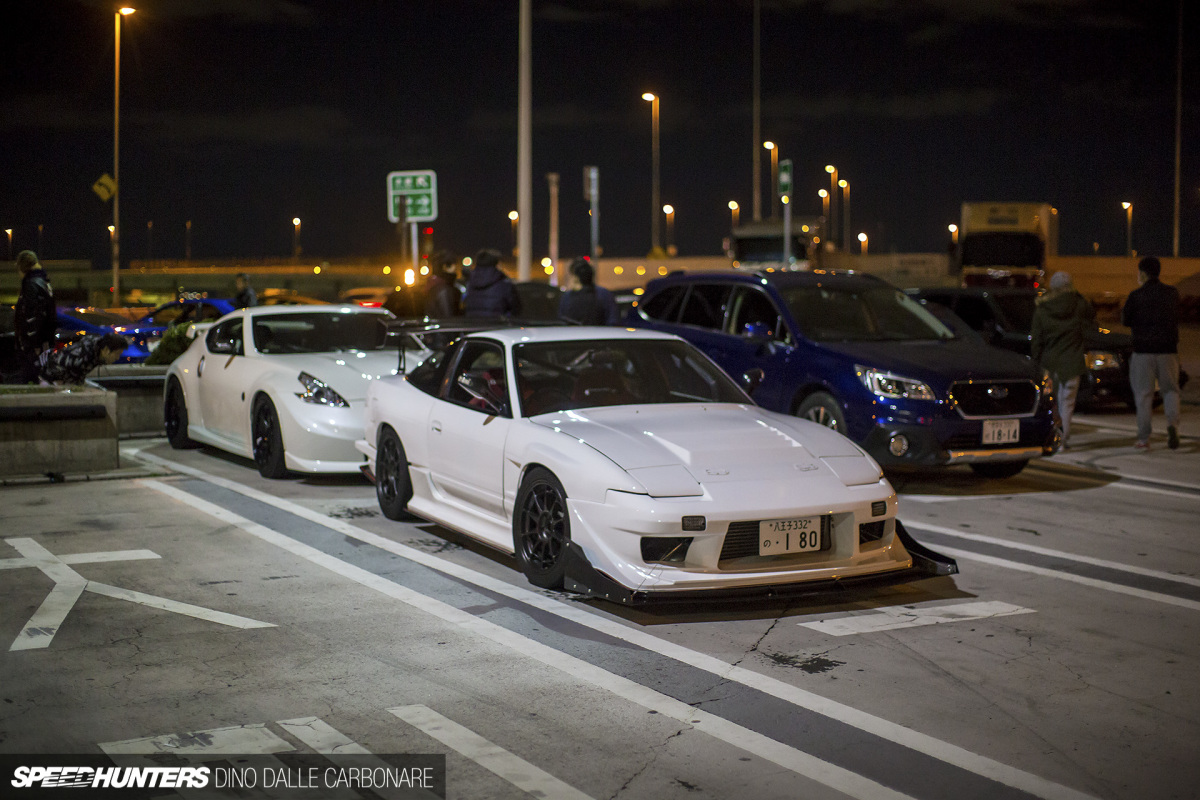 Of course, we can't forget the JDM side of things, and there were certainly a lot of Nissans around. Having drooled over a pair of S-chassis at Ebisu recently, this kitted RPS13 180SX stood out immediately.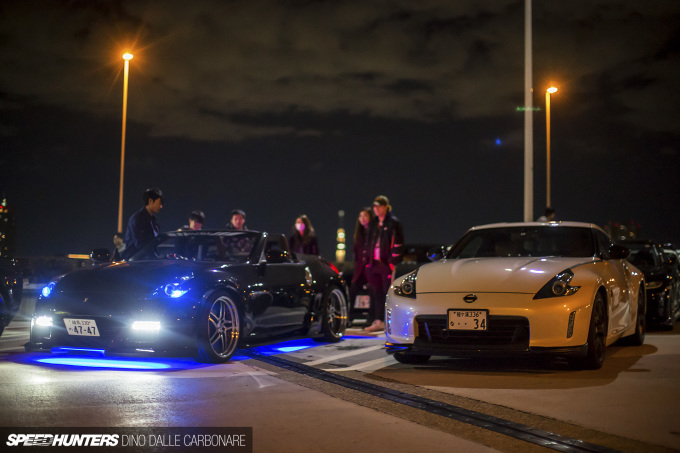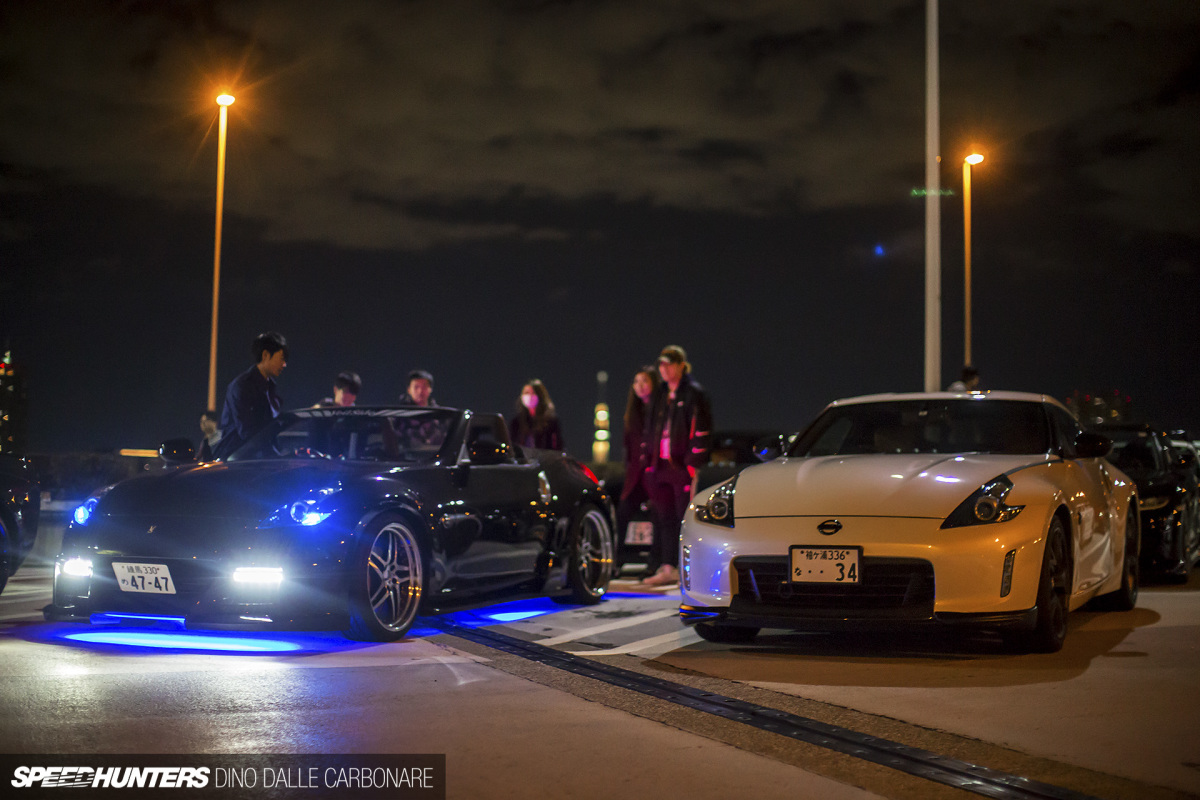 Fairlady Z owners were having a little mini-meet of their own, with a few Z33s and Z34s of various styles and specification.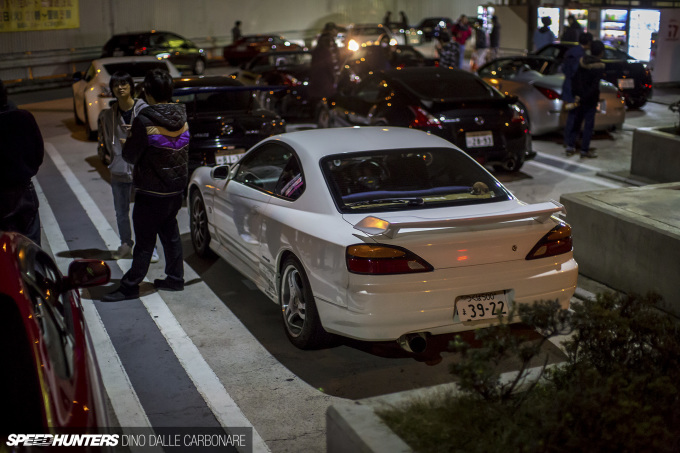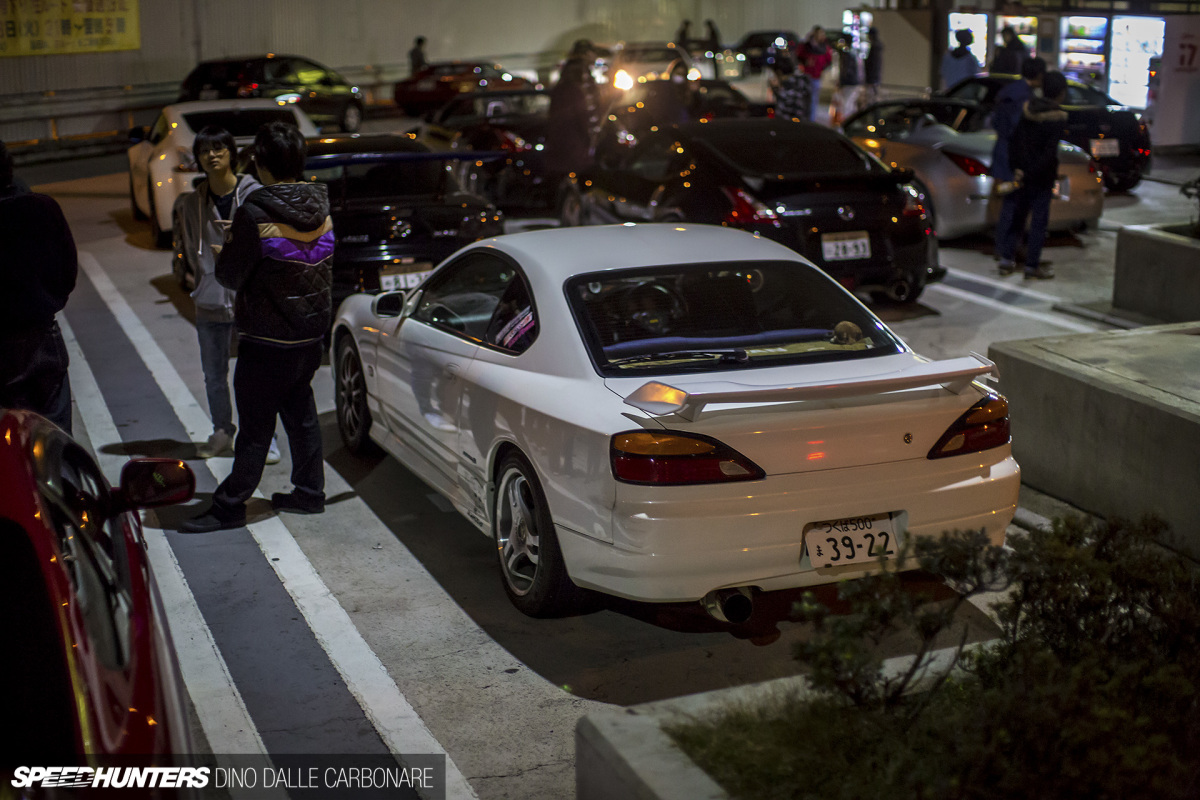 This higher vantage point gives you a look at all the Zs, and a poor Spec S S15 on Yokohama tri-spoke wheels that was cornered in by them.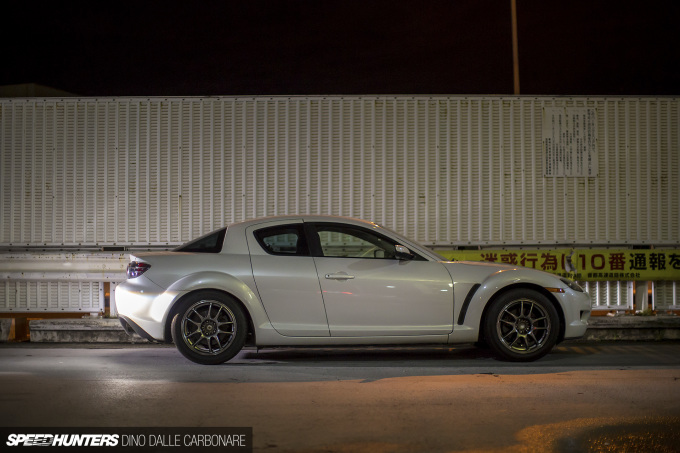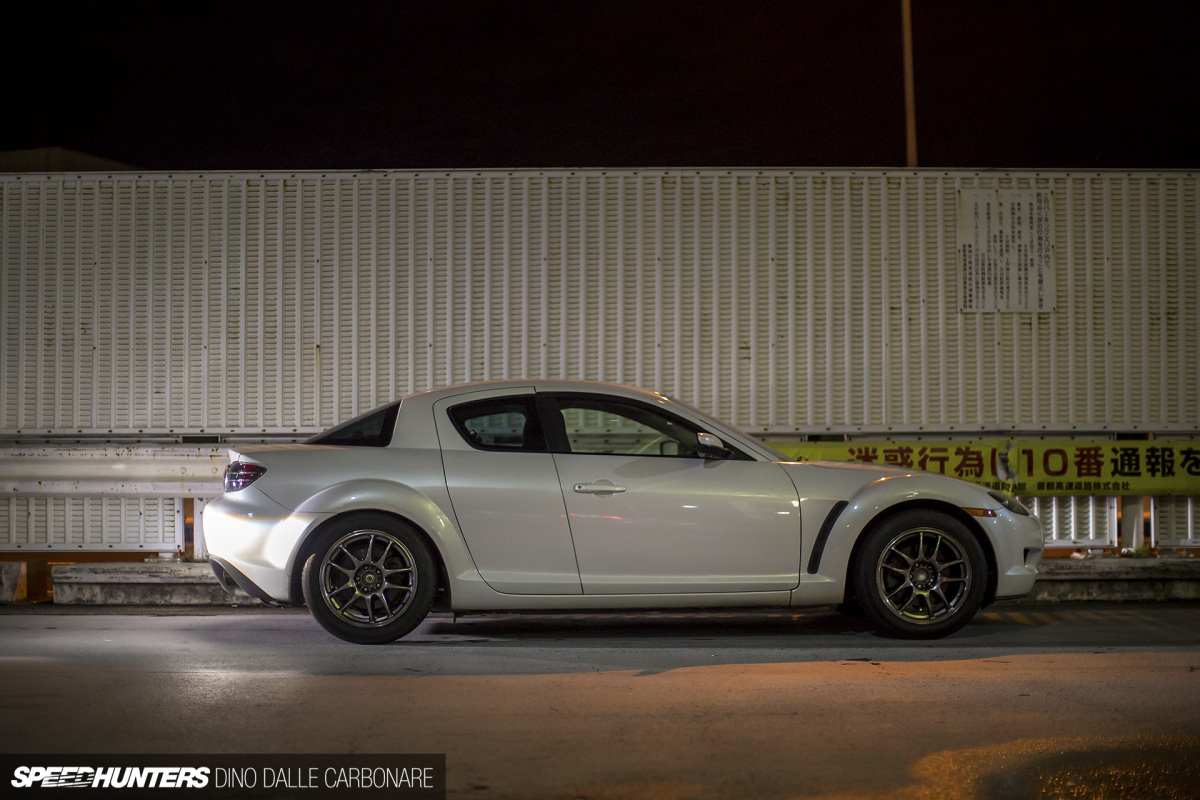 You can't possibly have a night at Tatsumi without seeing at least one Mazda rotary. I've always liked the RX-8 because of its nimble and neutral handling bias. It's no RX-7 due to a massive lack of power and non-existent torque, but it still stands out as one of those cars you'd have in your unlimited collection of cars if money wasn't an issue.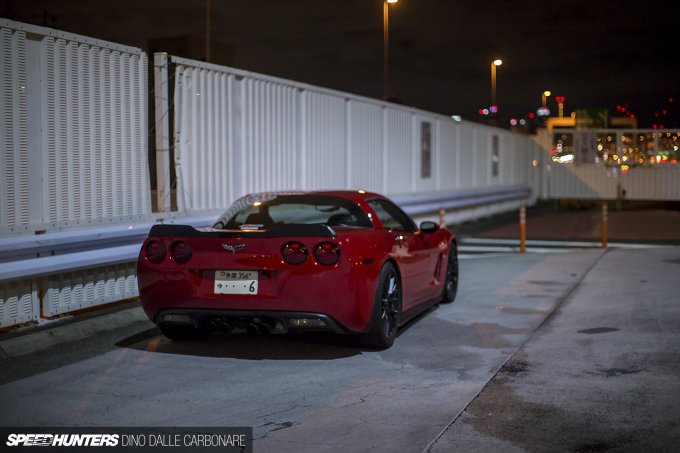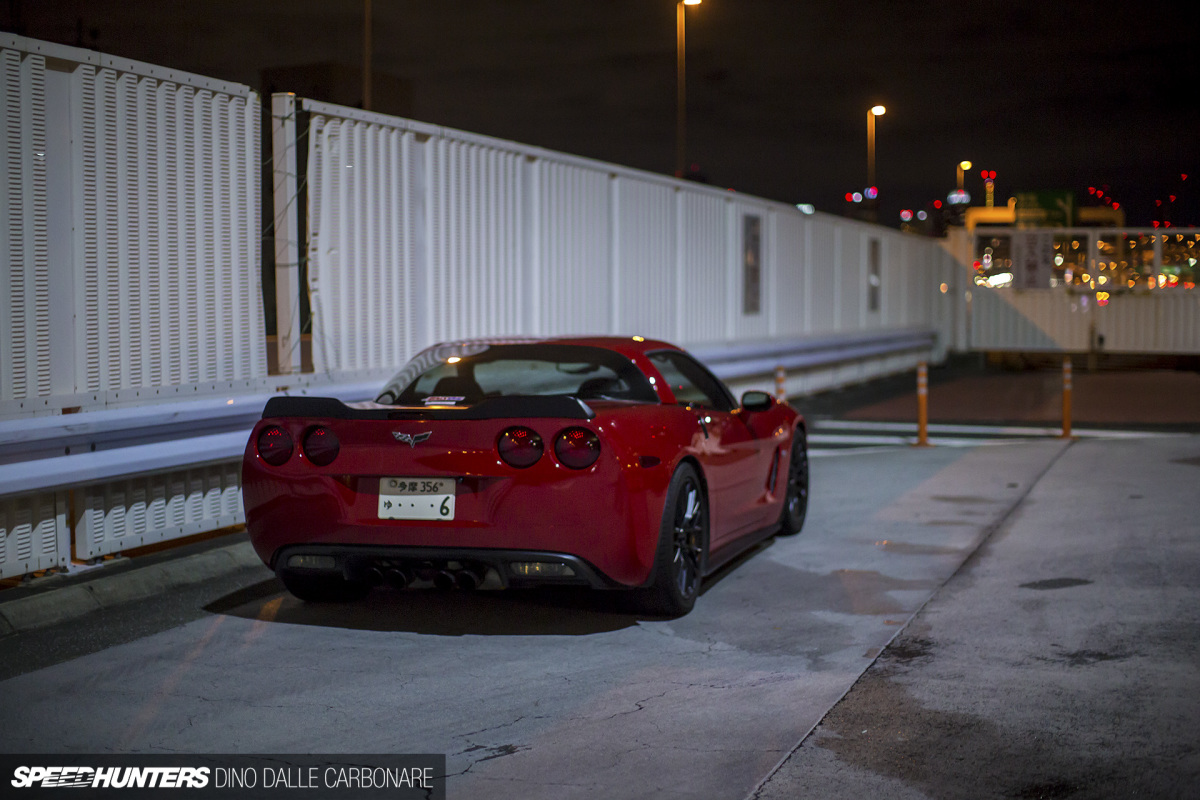 I'd also have a Corvette of some generation for sure. This particular car went out a few times for a lap of the R9 while I was busy taking pictures. It's just so nice seeing people drive the crap out of their cars, then return to the Tatsumi base trailed by that unmistakable 'thrashed car' smell.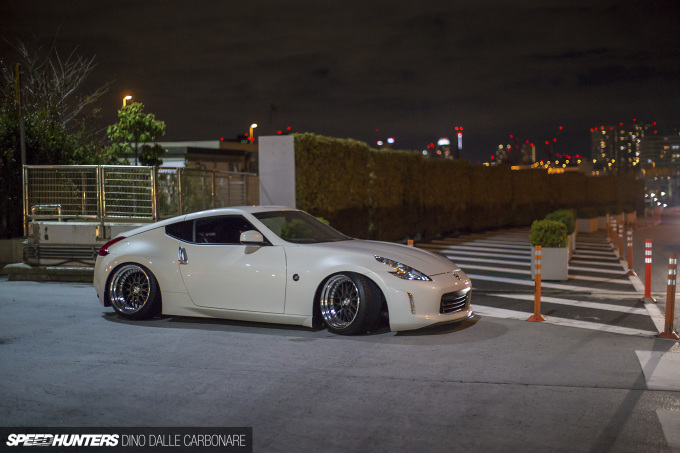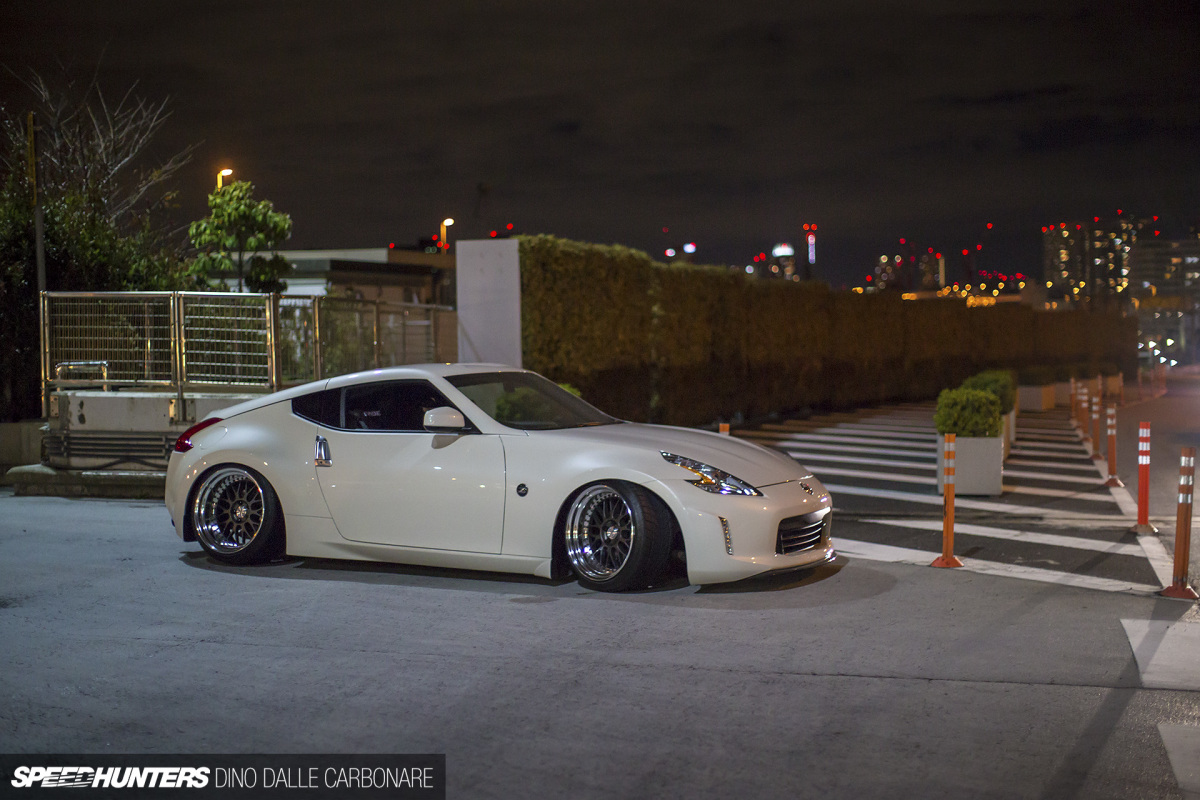 And from function we move on to form, thanks to this rather nicely slammed Z34 on Work Mesiter M1Rs.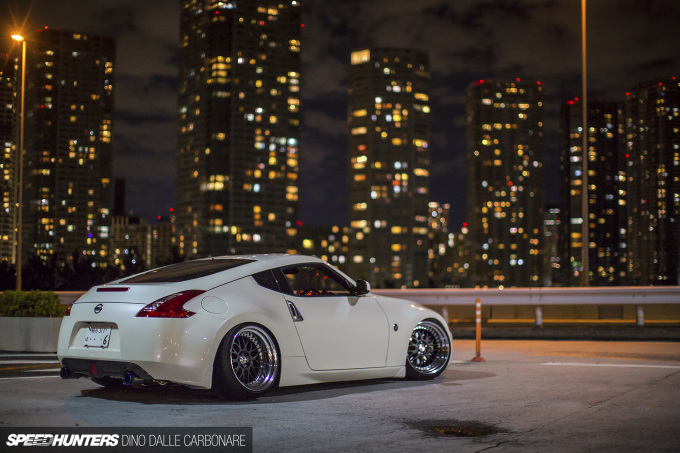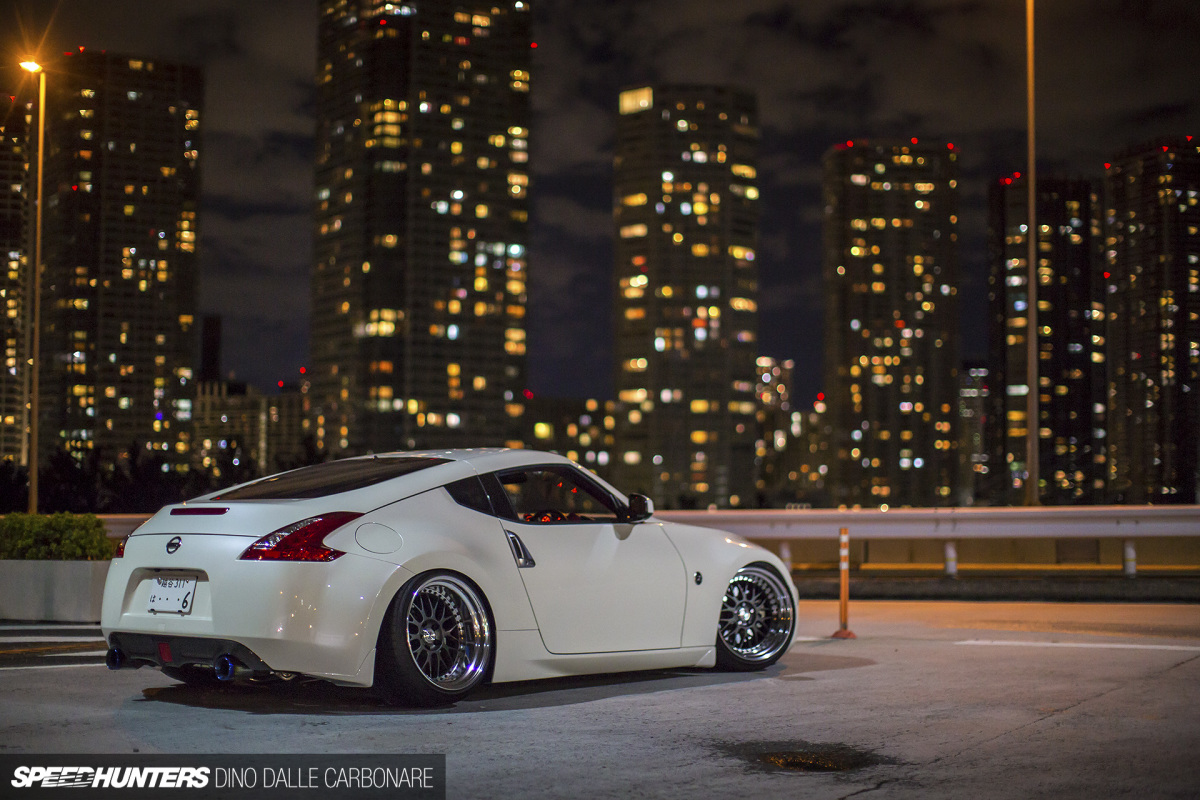 Add wheels and suspension to a stock body and you have all you need. Simple is often best.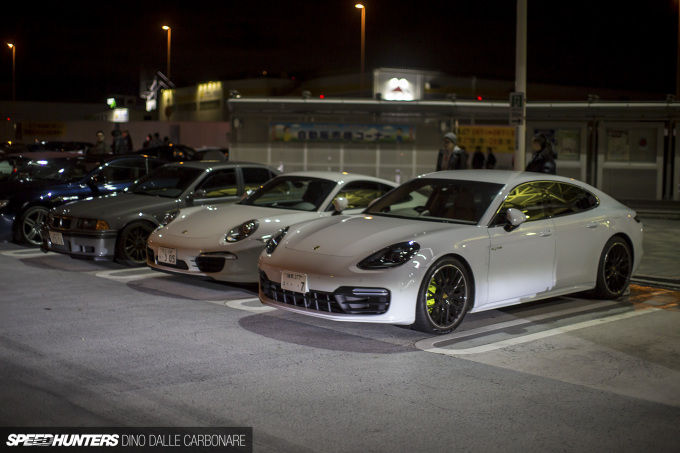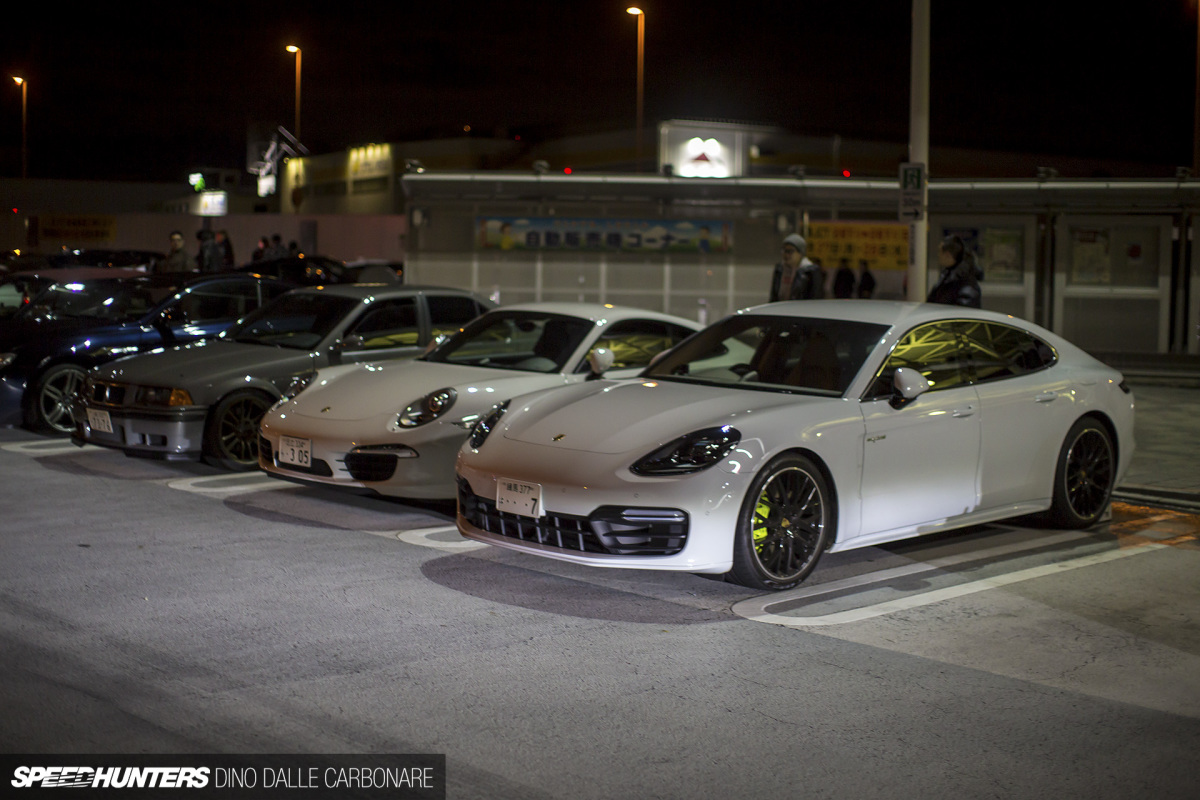 Over in the dark area of the parking area there were some more German cars lined up, and it was nice seeing a new-gen Panamera in the mix. It's not the usual sort of car you see at Tatsumi, but there are obviously some people that actually drive these big sedans rather than just flaunting them around the center of the city.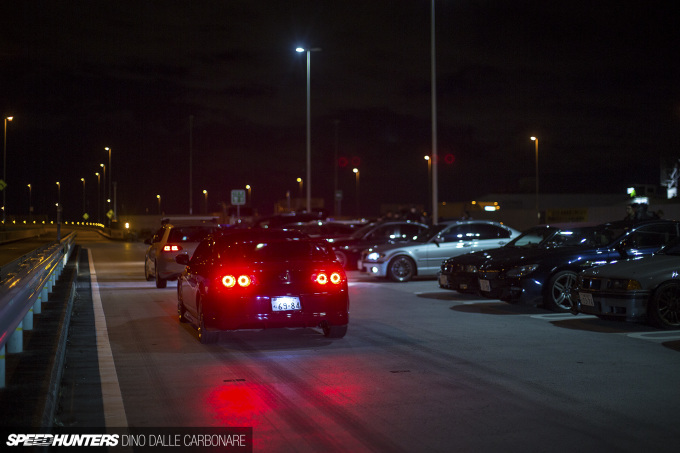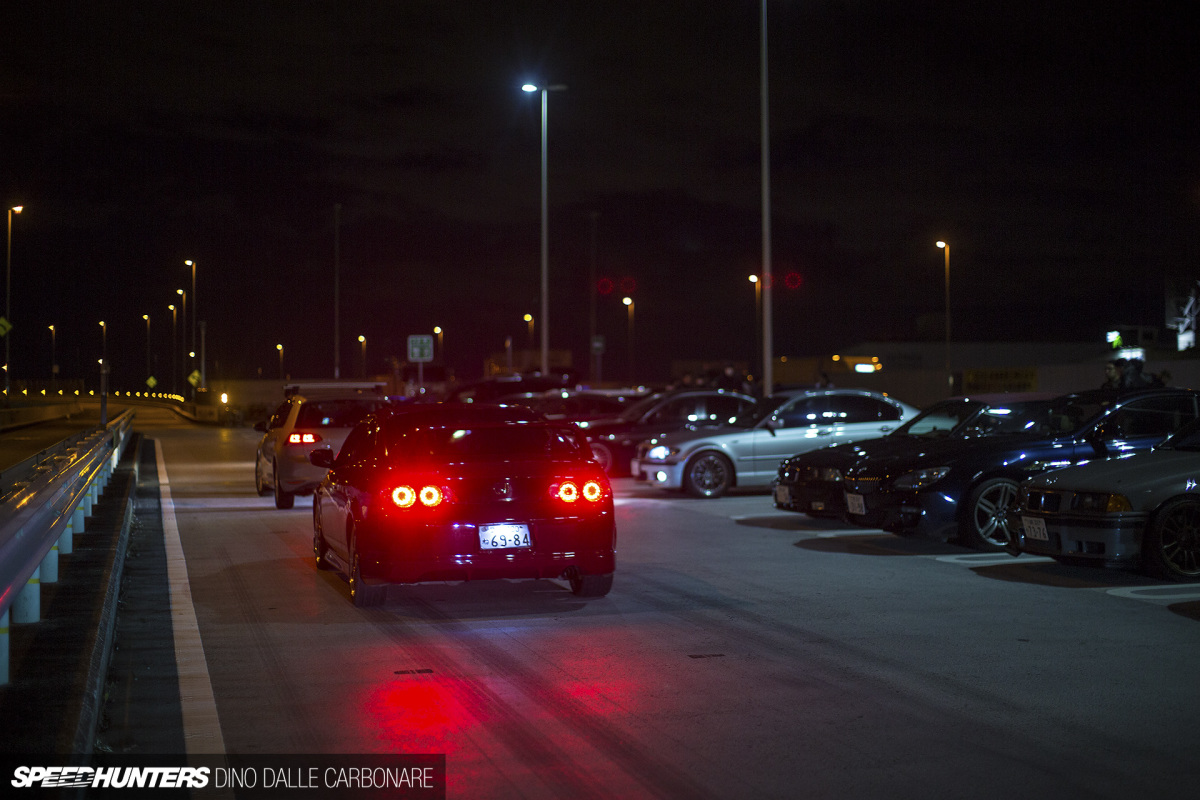 I didn't put this post together for any particular reason. Maybe to let you know that you'll eventually see my Nismo R35 GT-R drive experience on Speedhunters, but mostly for the simple fact that I just wanted to share come cool car sh*t with people that I know get it.
Dino Dalle Carbonare
Instagram: speedhunters_dino
dino@speedhunters.com