Welcome to the 2017 Nismo Festival, presented through an alternate perspective.
I don't know how I can best relay the challenge of shooting the same event for over 10 years. For a lot of guys in my line of work, this wouldn't be an issue; you go there, shoot the same stuff in the same way year in and year out, and that's it, job done. But that bugs me; it's both boring and repetitive to shoot and to expect readers to get enjoyment out of seeing the same cars presented in the same way.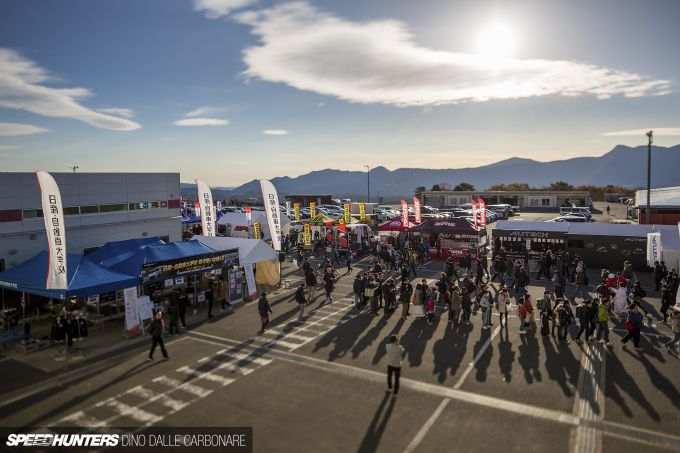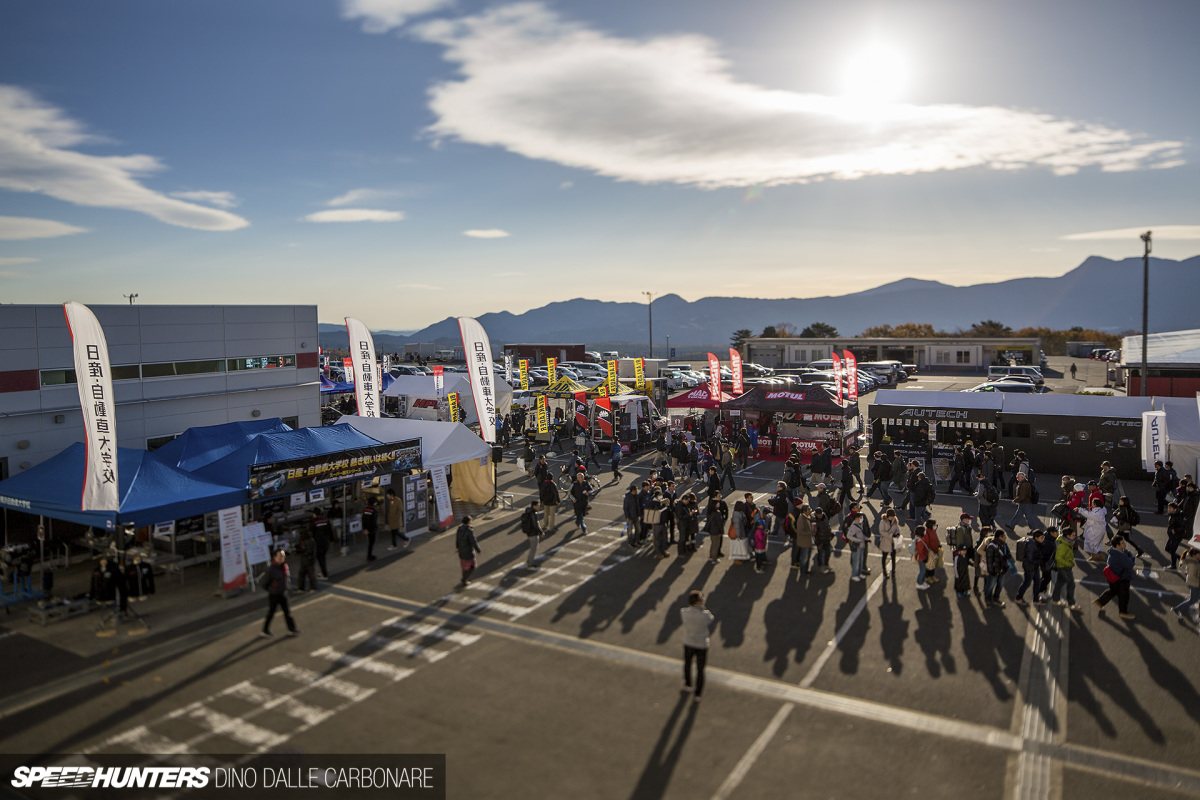 Nismo is partly to blame, too. They always use the same general recipe with the same cars. But what do you expect? They do the best with what they have, and as a fan of Nismo, GT-Rs and anything Nissan-related, this is an event I always enjoy. So how do I get that excitement across without being repetitive?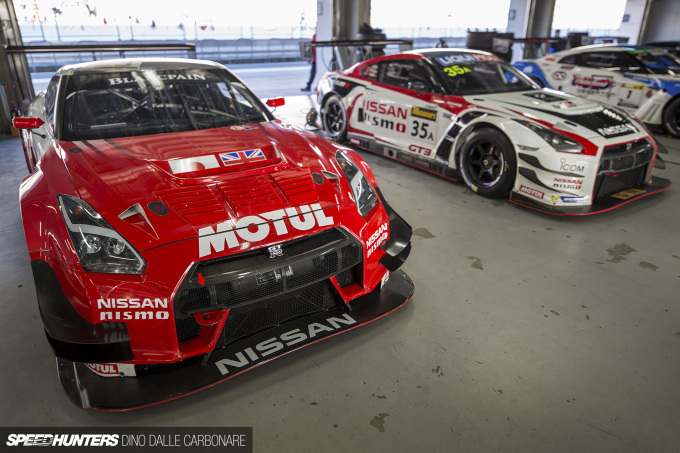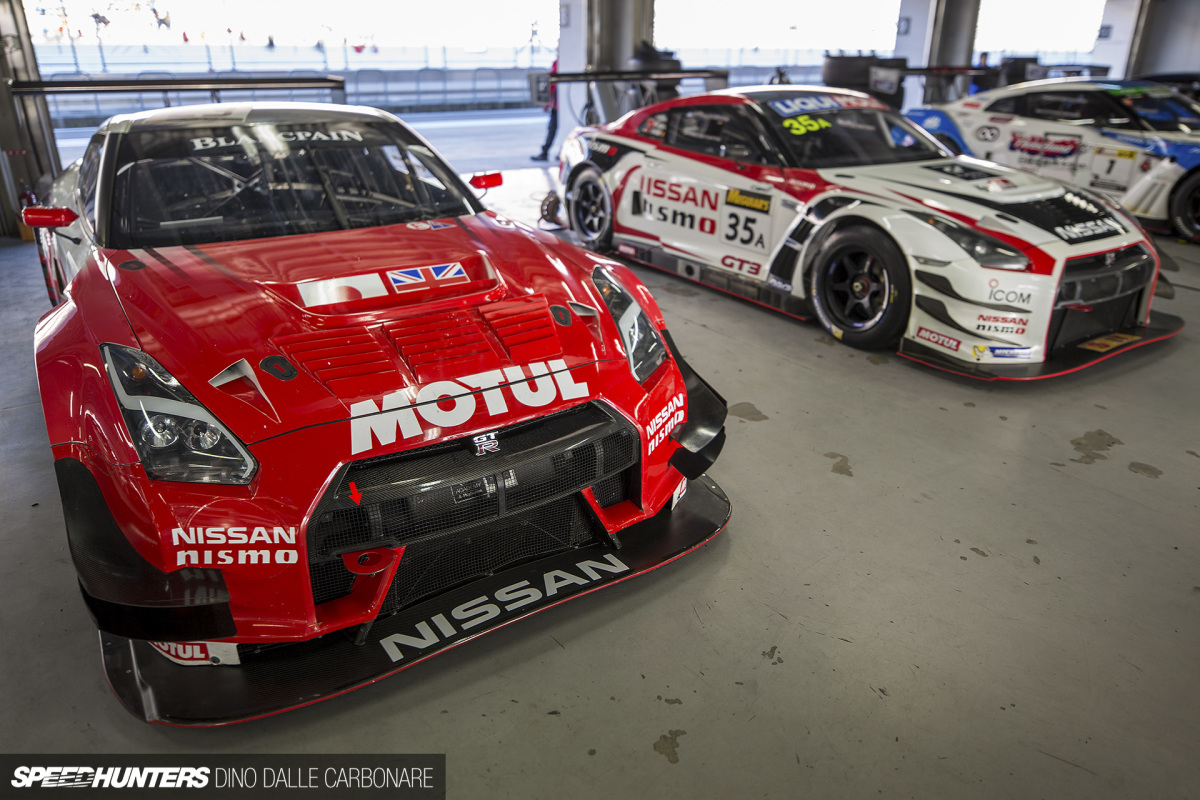 Well, out of pure chance and thanks to a good friend of mine, I found myself borrowing a tilt-shift lens the night before this year's event. With my trusty wide zoom still in for repairs, I needed something wide to get up close and personal to the cars.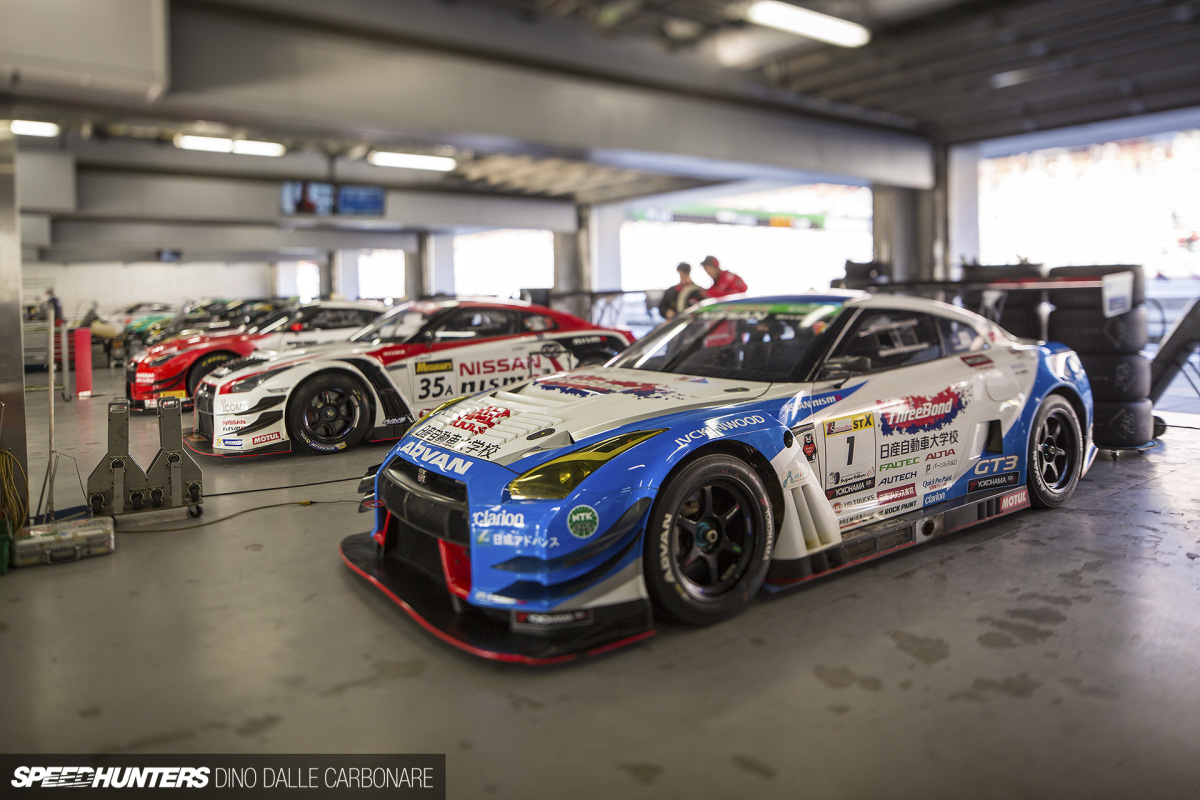 But the Canon TS-E 24mm f3.5 II does so much more than this. It allows the user to manually – as its name hints – tilt the array of glass within the lens up or down on a preset arch, as well as shifting it up and down off axis. Mostly used in architecture photography to correct lens distortion and thus perspective, when used on other type of subjects it can play with the eye, giving the effect that everything you are shooting is something out of a miniature scene. It's weird and wonderful, and depending on how much tilting and shifting you do, you can give a really interesting look to your images.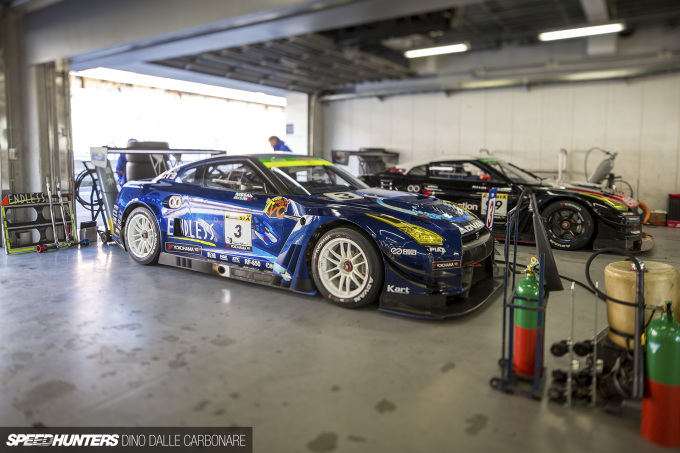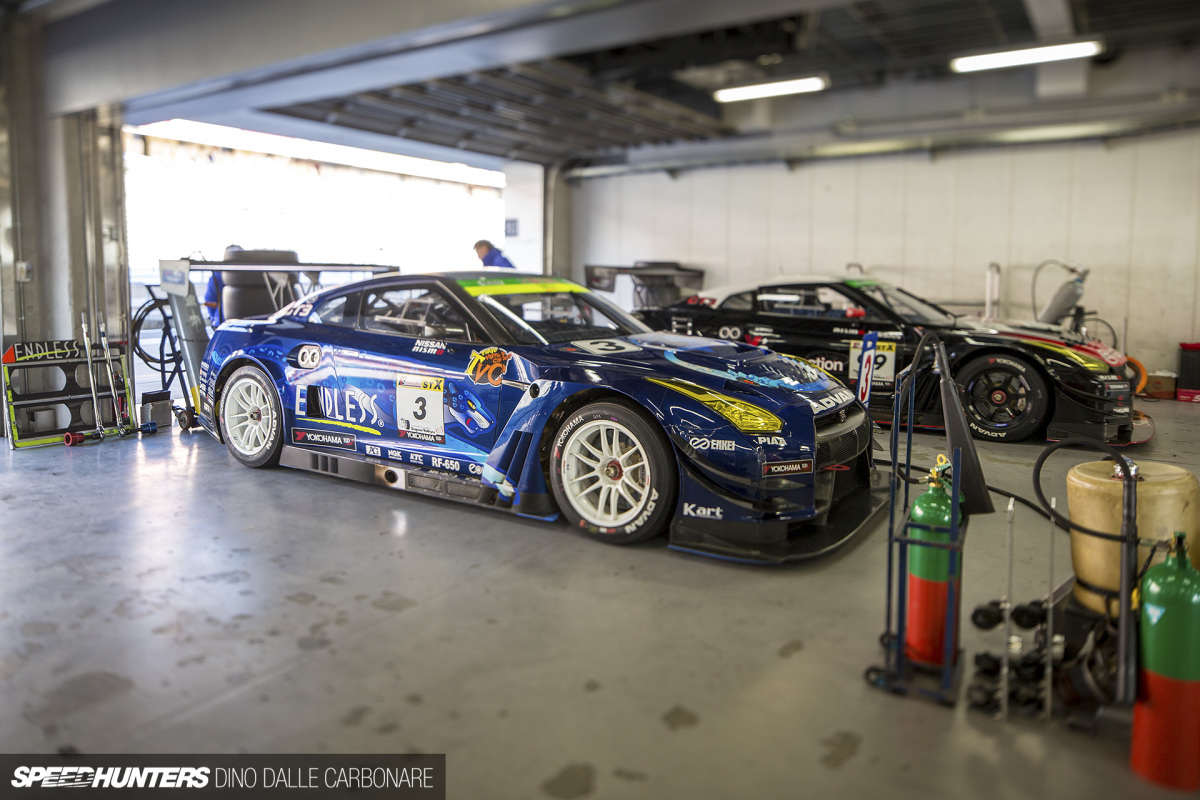 It was so much fun playing around with it that I decided to put a whole post together from this new and unique perspective.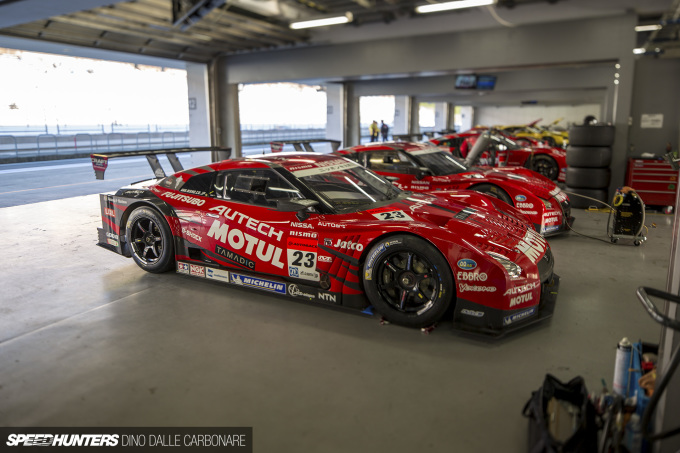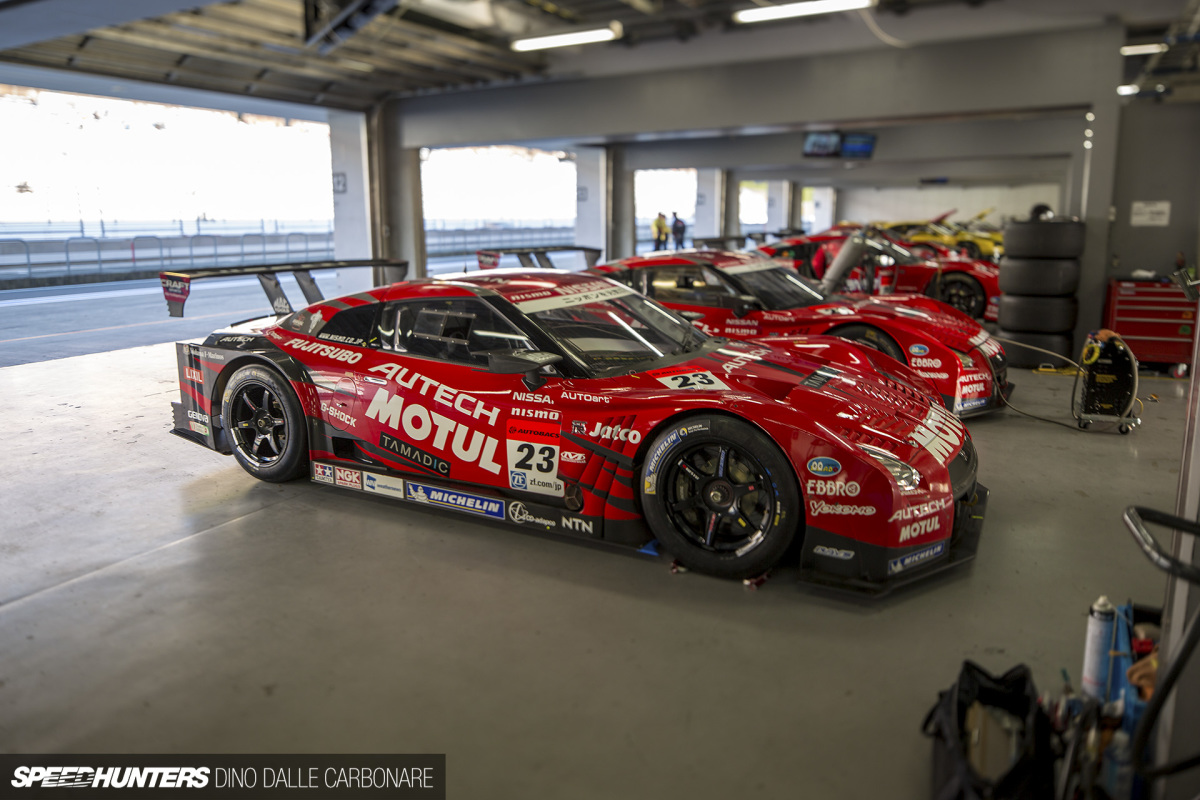 With tilt-shift, you can isolate the subject you are shooting in a way no other lens can do.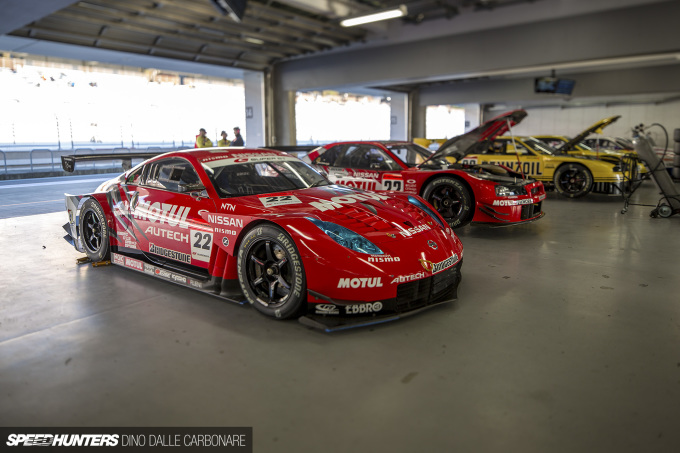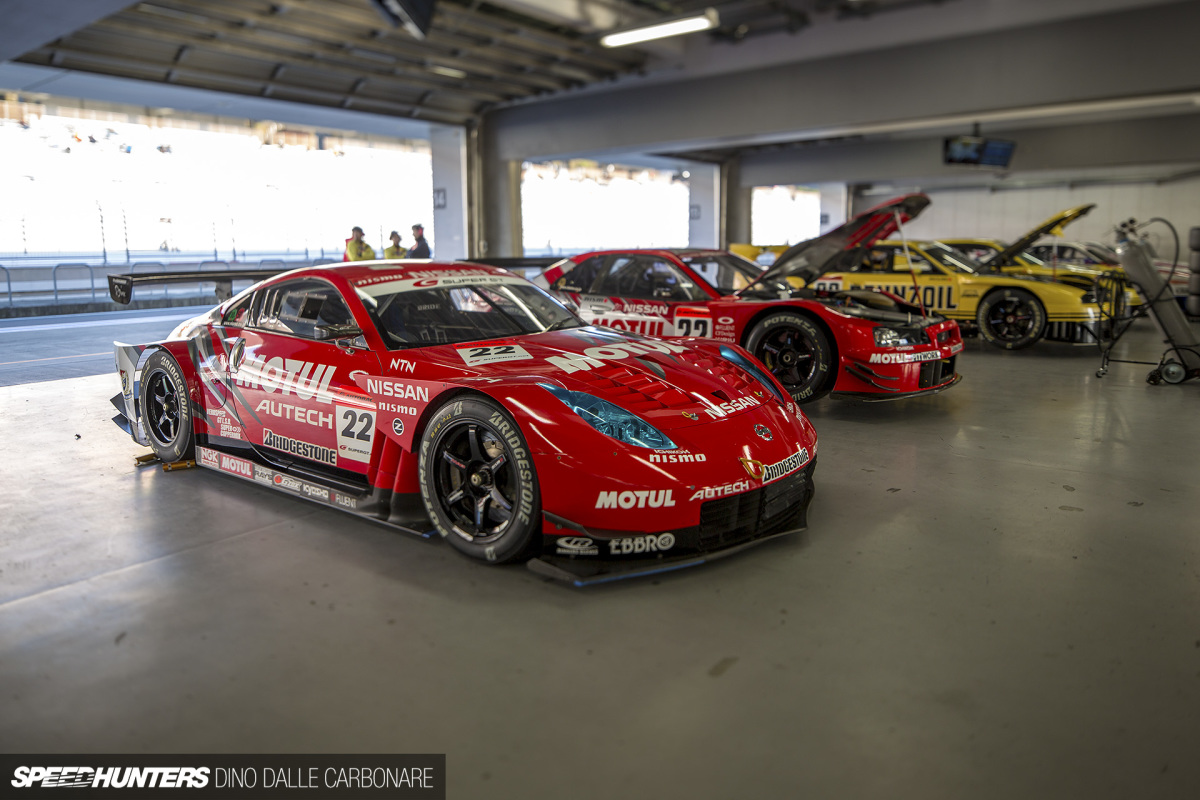 It's as if all of a sudden you are a Jedi warrior of bokeh, a master of perspective. I wasn't sure how well it would work with cars, but after a quick check on the laptop in the Fuji Speedway pits, I was rather impressed.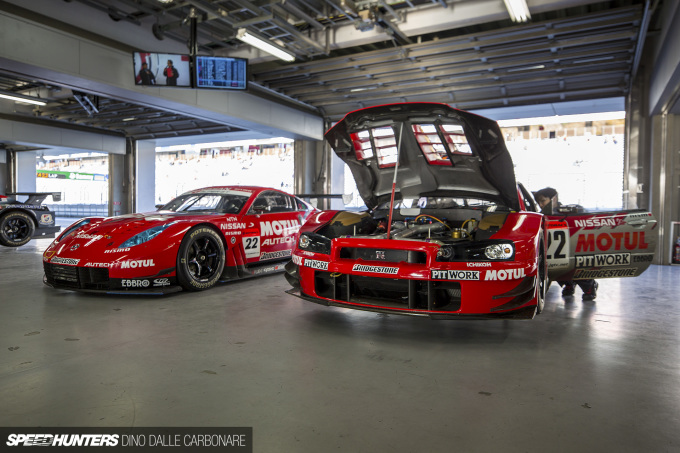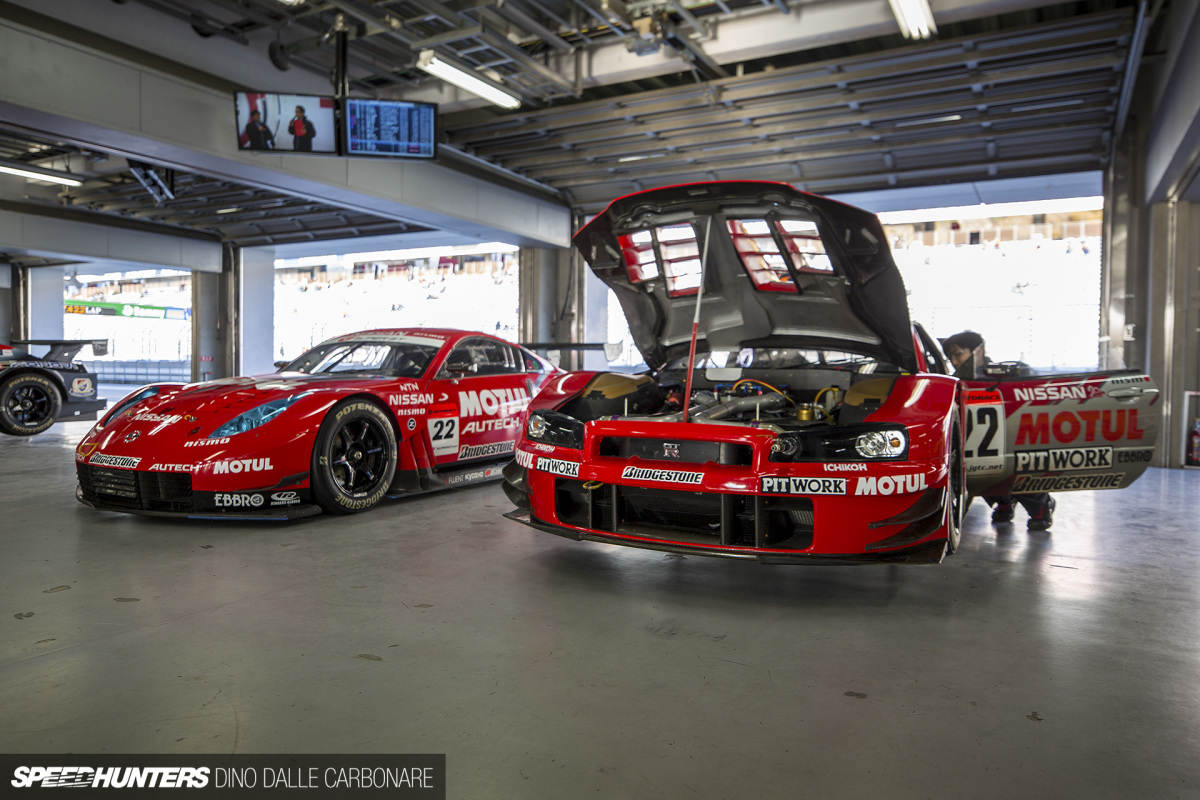 I felt like a little kid playing with an amazing new toy, and to top that I was shooting legendary Nissan racers. It's been a while since I've felt so much joy and satisfaction from behind the camera.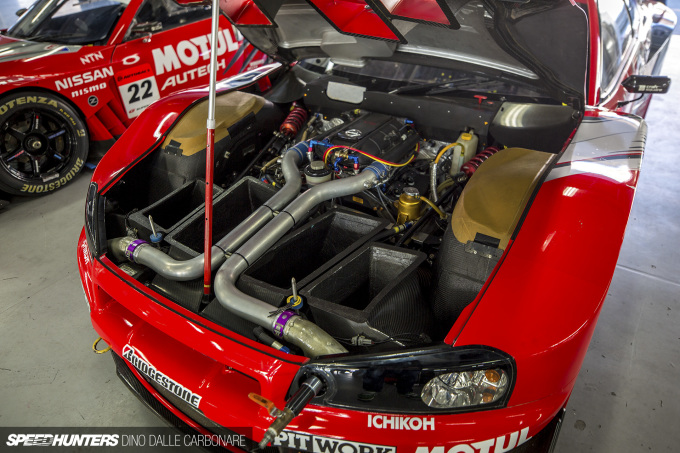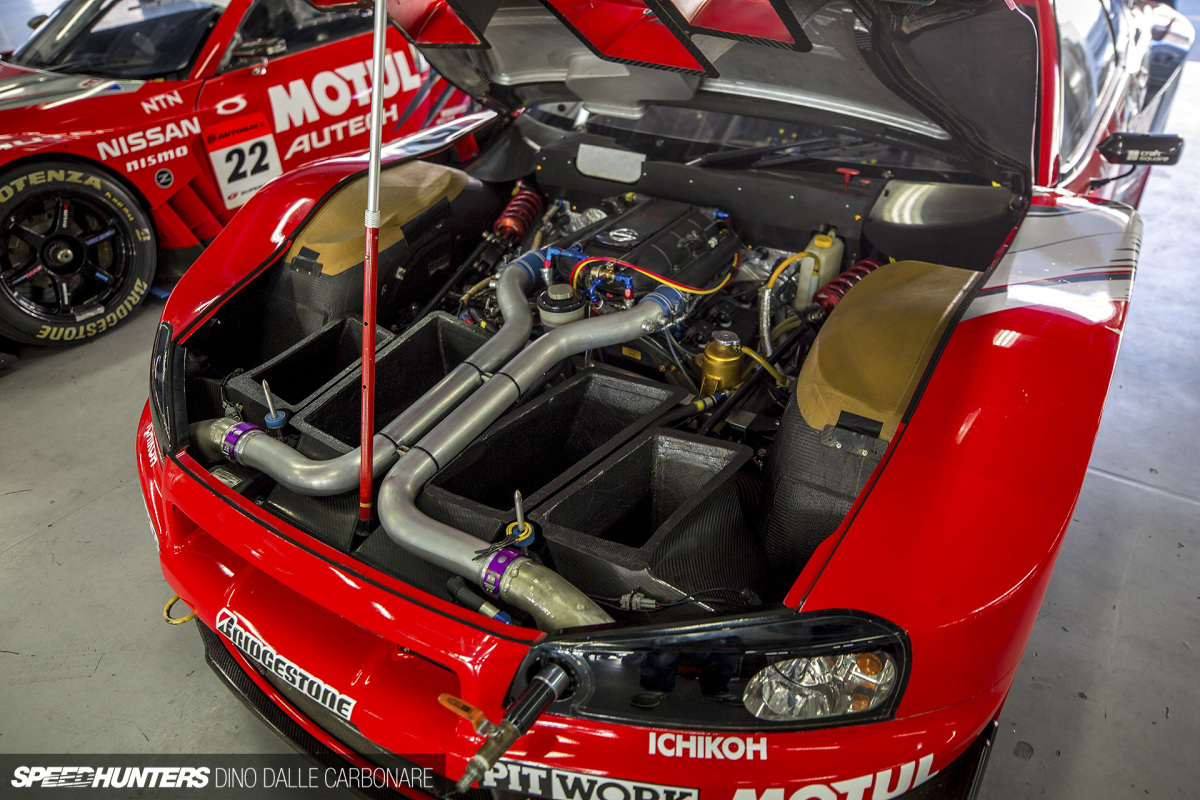 One of the coolest things about the Nismo Festival is the fact that spectators can get very close to cars. And if you're a member of the media, you can get even closer. I got so close to this VQ30-powered Motul GT500 R34 Skyline GT-R  that I self-stabbed my knee on the pointy release valve for the air-jacks. Ouch.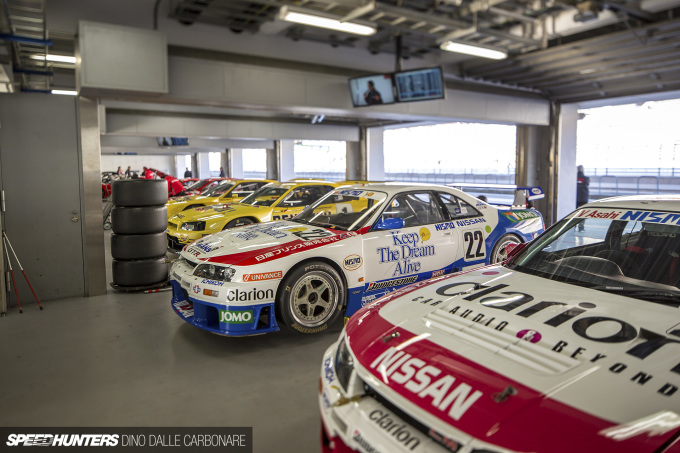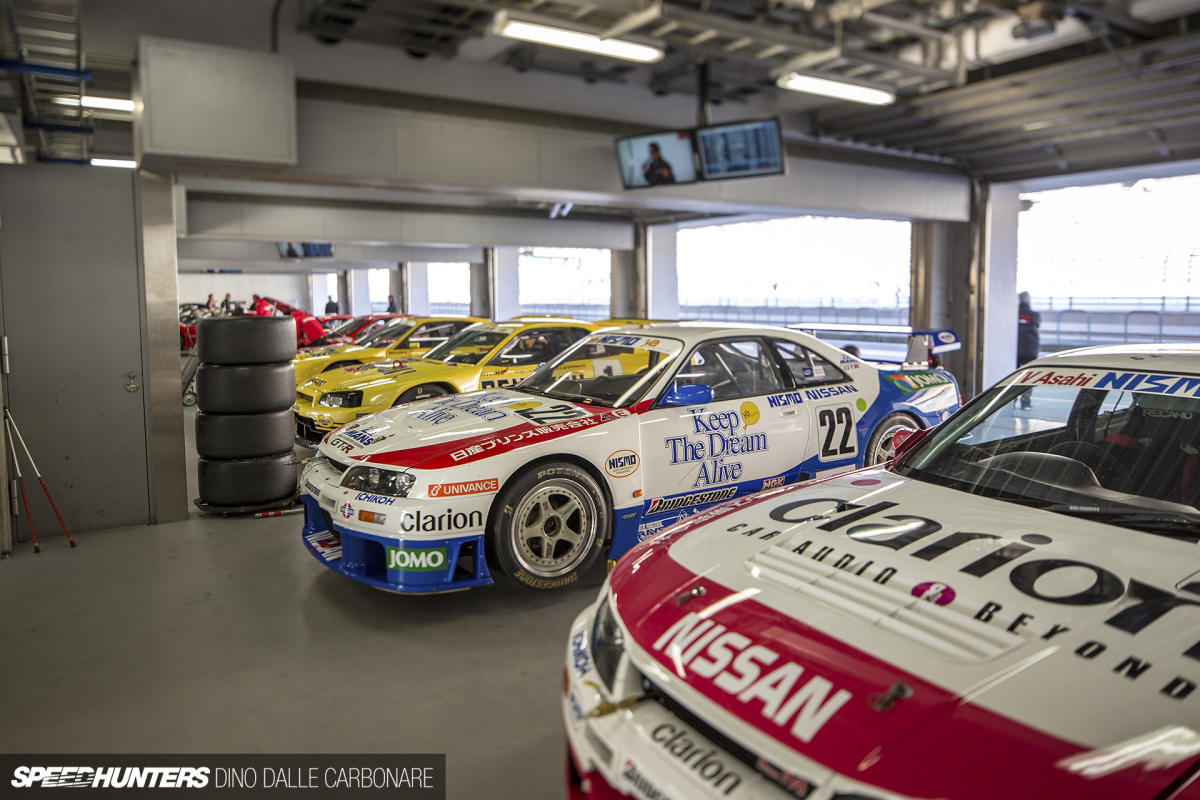 Aside from all the cars that ran in the domestic JGTC/Super GT championships, there was a rather special BCNR33 in the mix. This is the Skyline that in 1995 kicked off a three-year-long Le Mans challenge for Nissan, and this car managed a 10th place finish overall in the famous endurance race.
A nice series of bottoms, don't you think?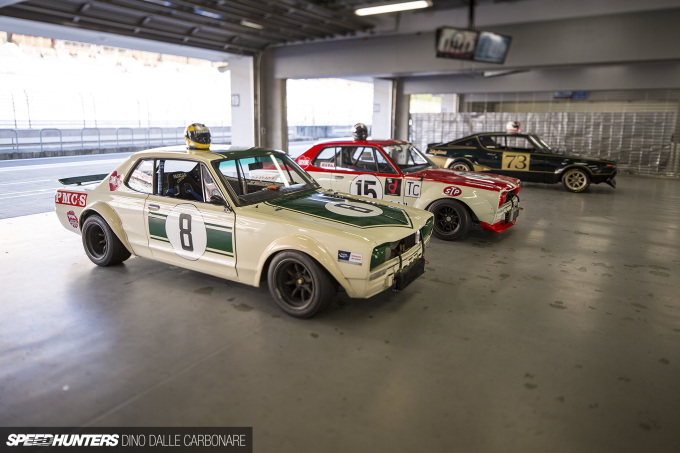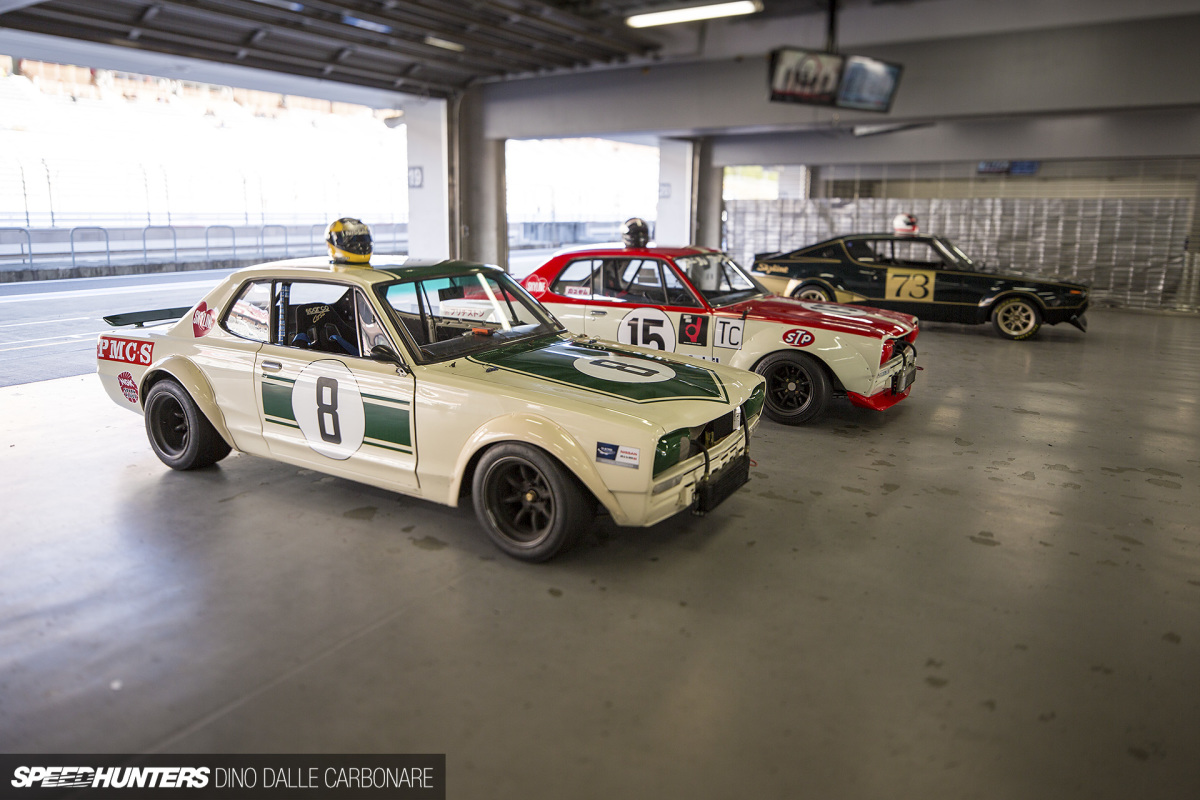 For the 20th Nismo Festival, Nismo wanted to focus on the cars that are tightly linked to regular production models, so single-seater endurance cars weren't as big a part of the proceedings as usual. But the old Skylines definitely were; the Hakosuka and Kenmeri helped Nissan to its initial success in motorsports.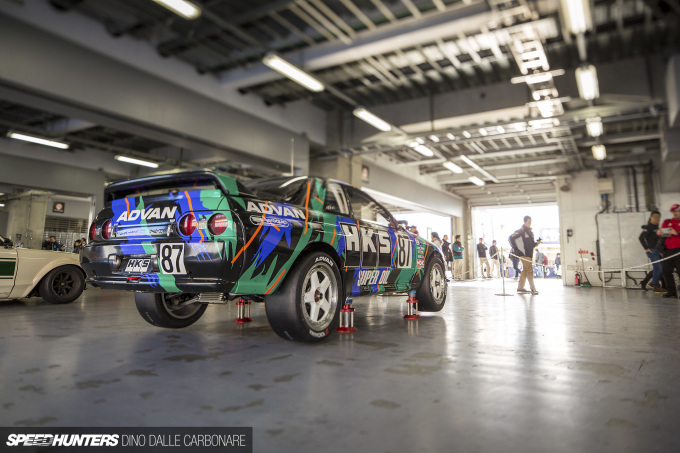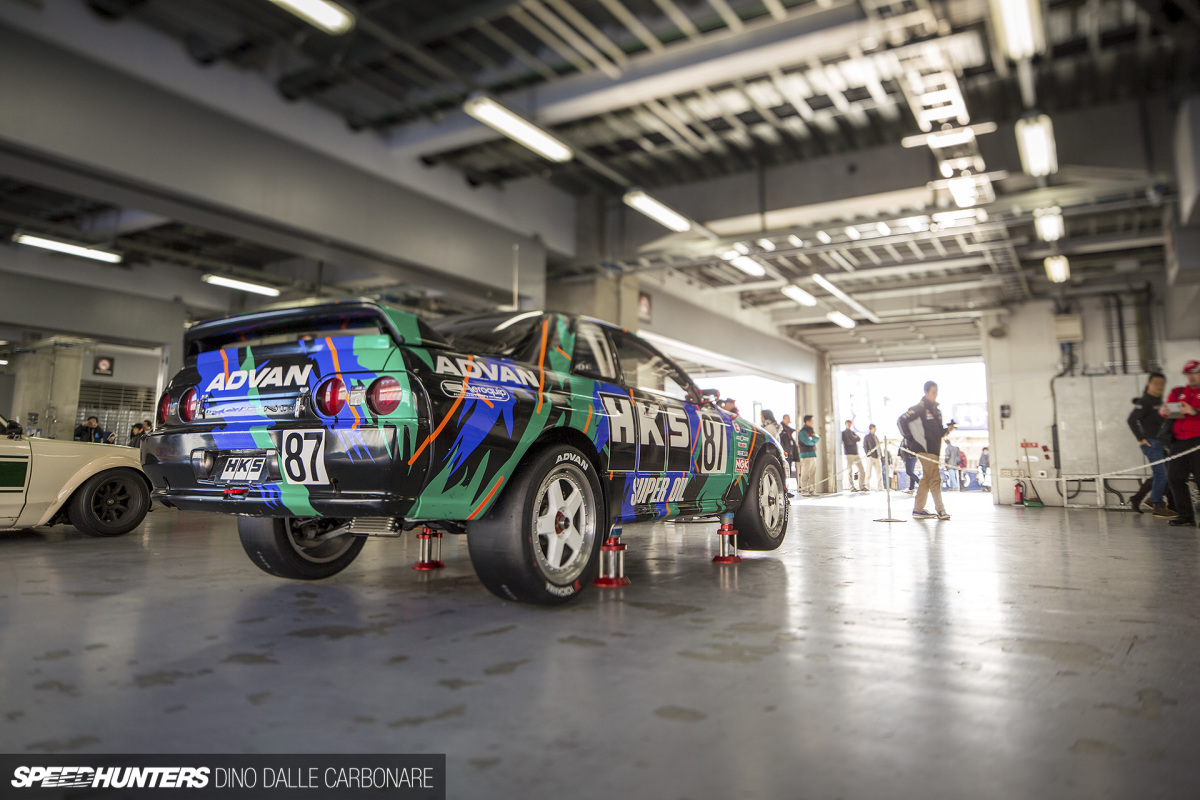 On top of the Tasian and Calsonic BNR32 Gr.A machines, the HKS car was always a big favorite. I can't stress how much presence these cars have, even if they are possibly the most stock looking our of all of Nissan's GT cars. It's also one more reason that an R32 GT-R should aesthetically be left as-is when tuning it up for street use.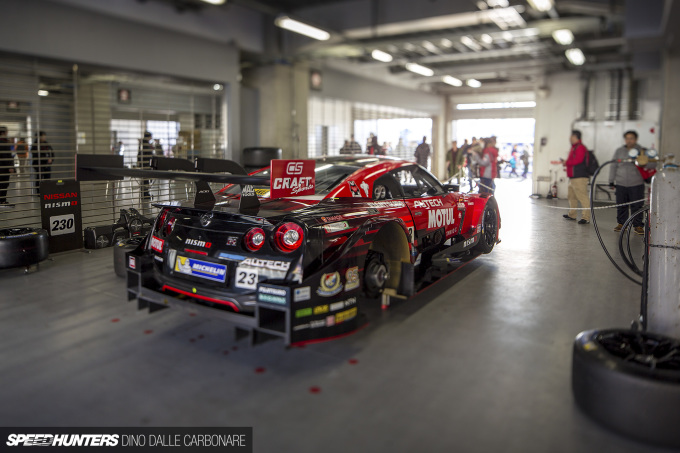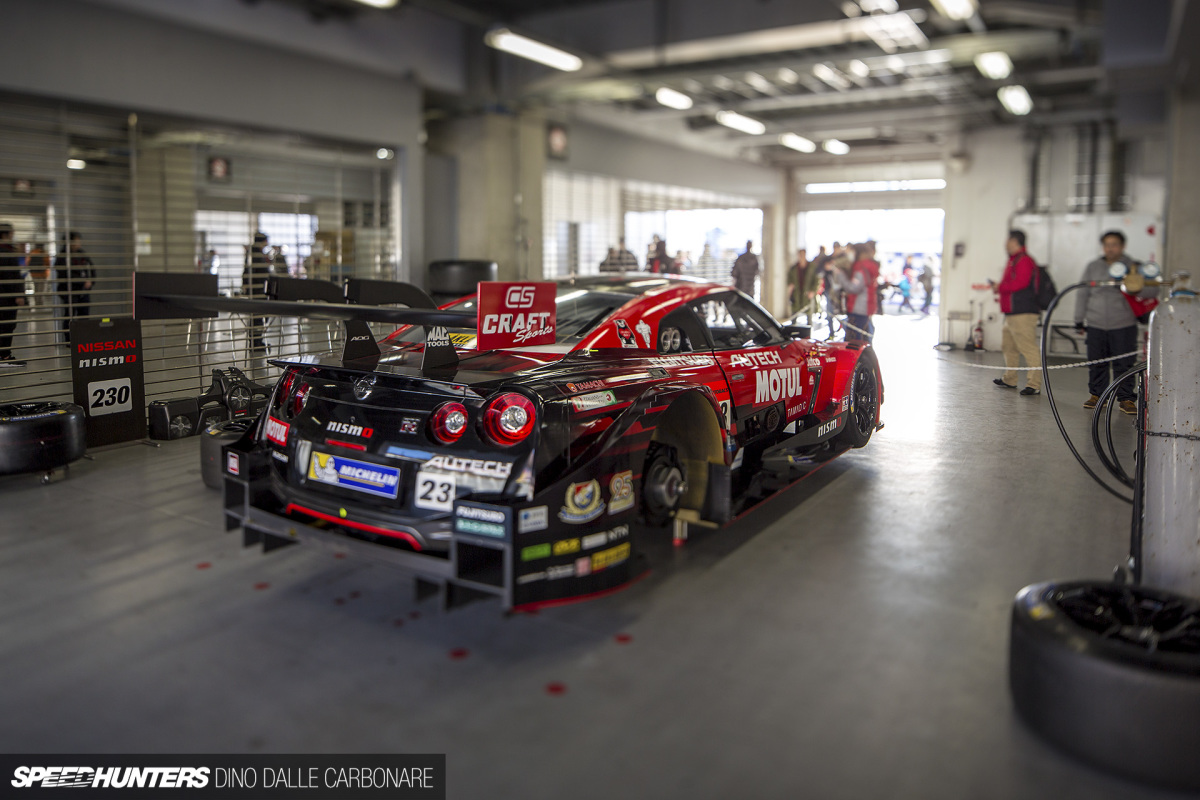 Here's an example of what you get if you tilt the lens close to as far as it will go. That plane of focus tightens up and the blur takes over, making the car look like it's a scale model on a table.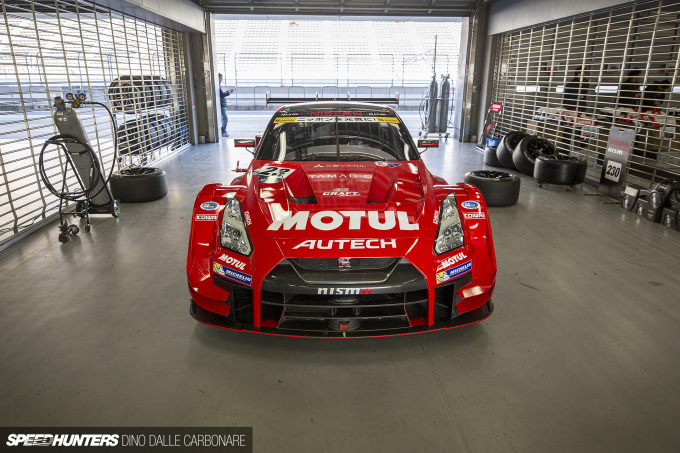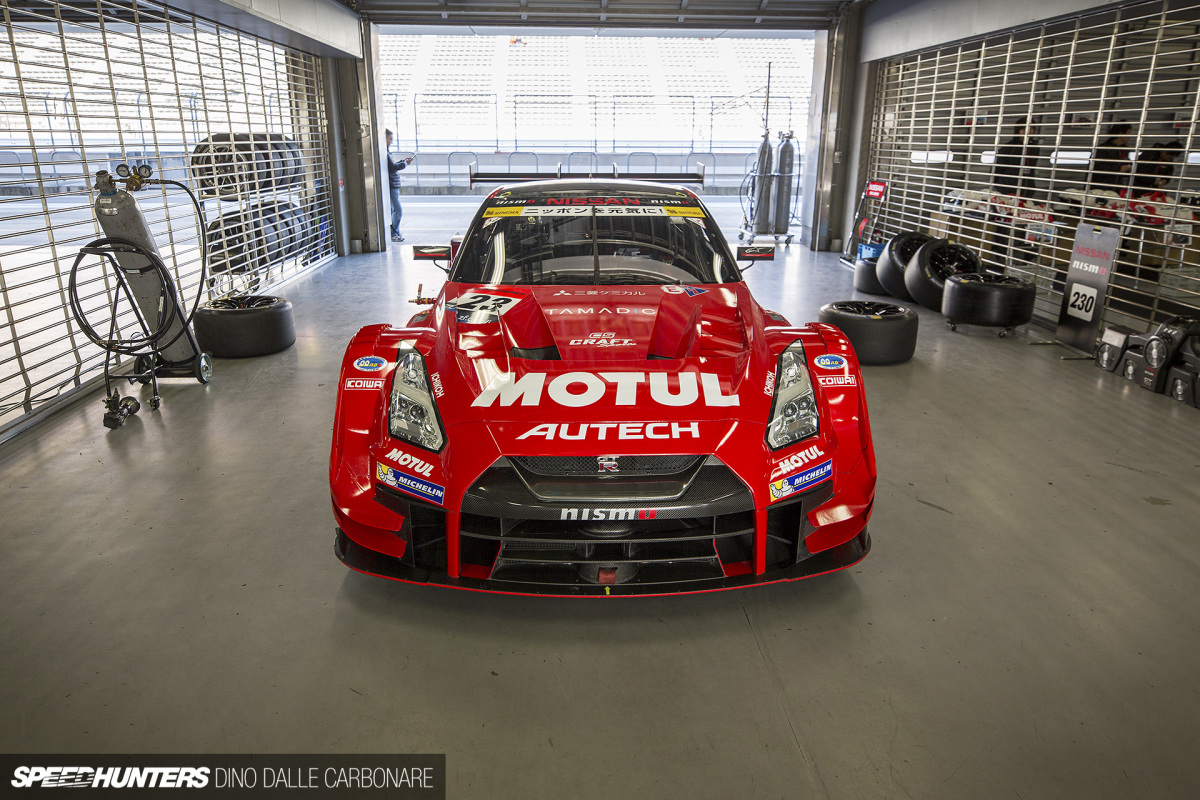 Wind it back a bit and you can get some really crisp images.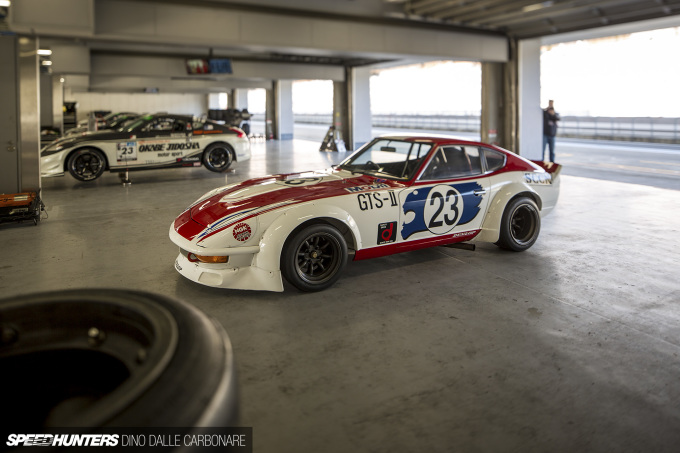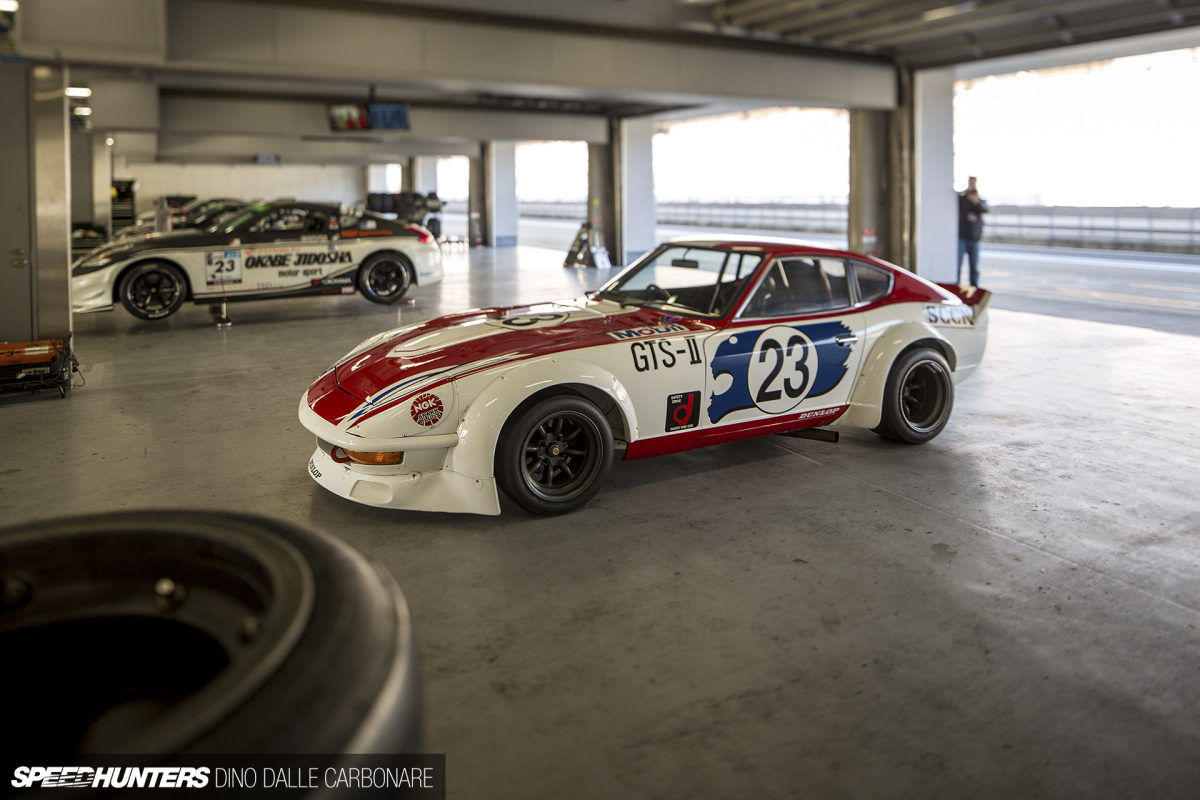 And here's another example of isolation helping make the subject; the 1973 HS30 240ZG GTS-II really pops.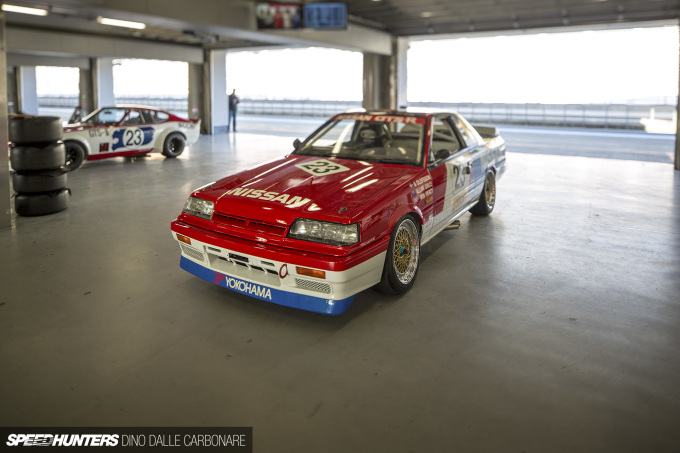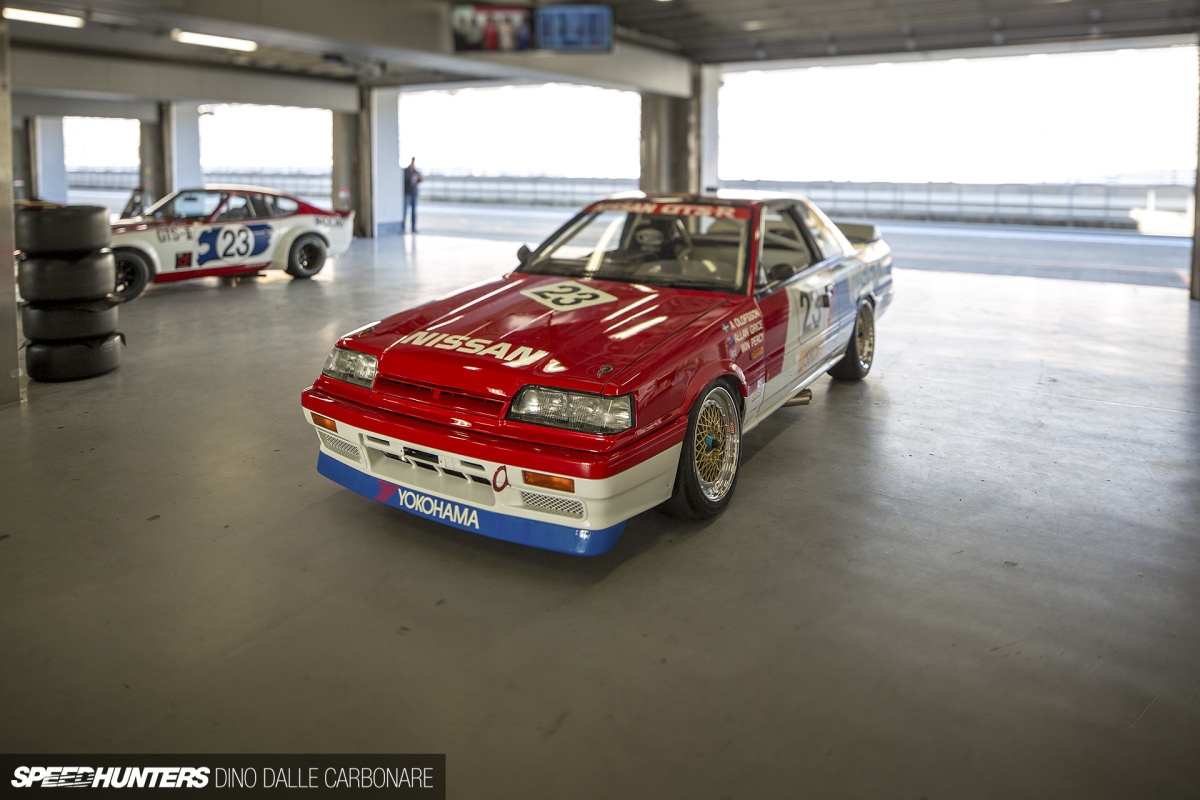 After our recent visit to R31 House, I've developed even more love for the Skyline that preceded the R32.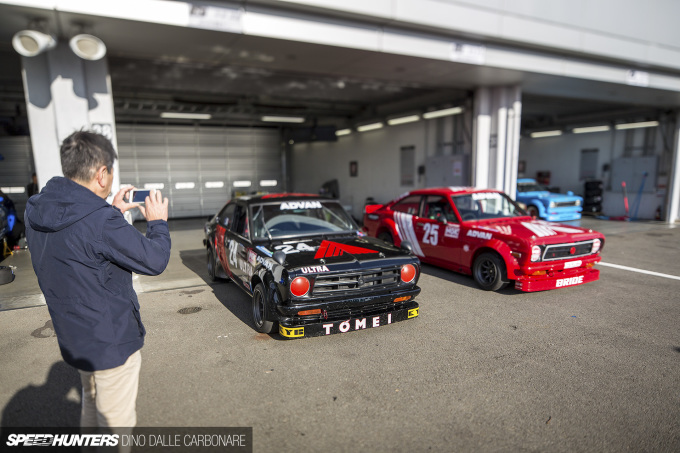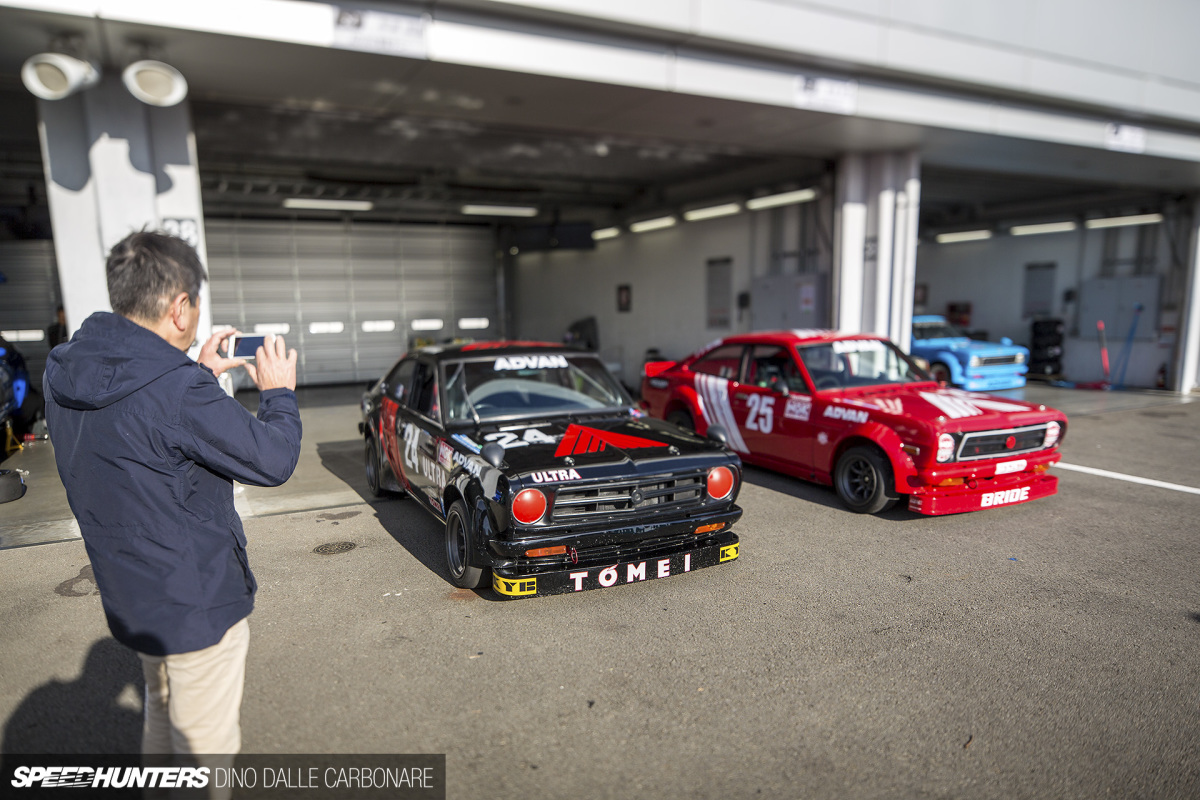 The top section of the pits is where the racing Sunnys live. For years, these little old cars have enjoyed their own race at the Nismo Festival, mixing it up with vintage GT-Rs and Zs to give spectators a nice dose of nostalgia.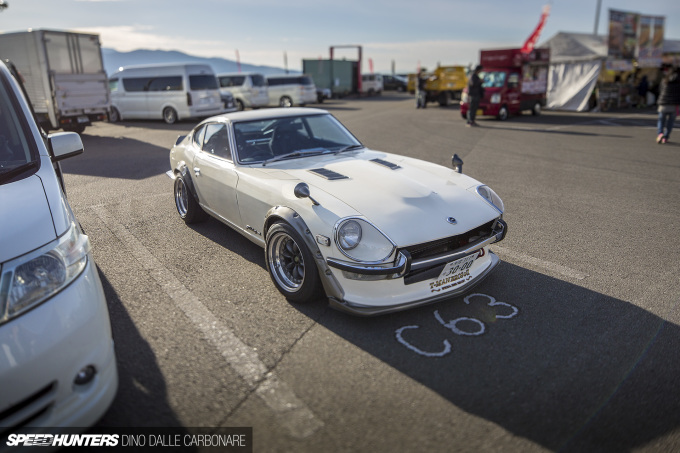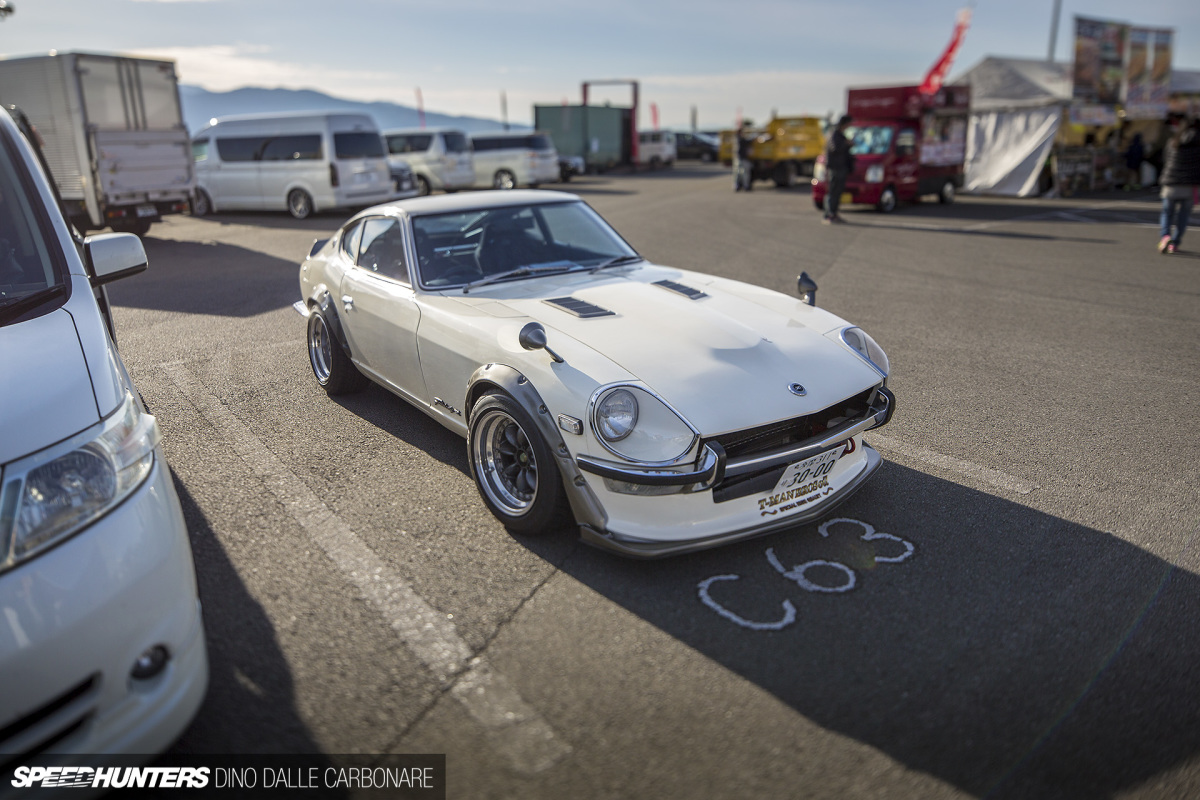 As I was making my way to the paddock area to check out the tuners, I stumbled upon this S30 belonging to the T-Man Bros. crew. Judging by the license plate, it packs a 3.0-liter motor, but I do wonder if it's a stroked L28 or possibly an RB30? I must investigate…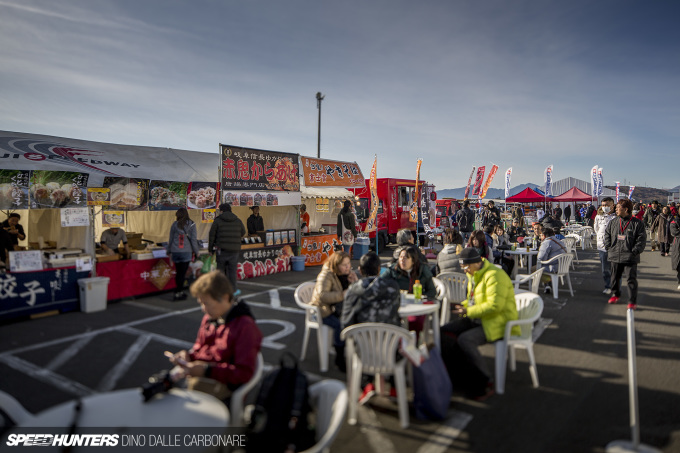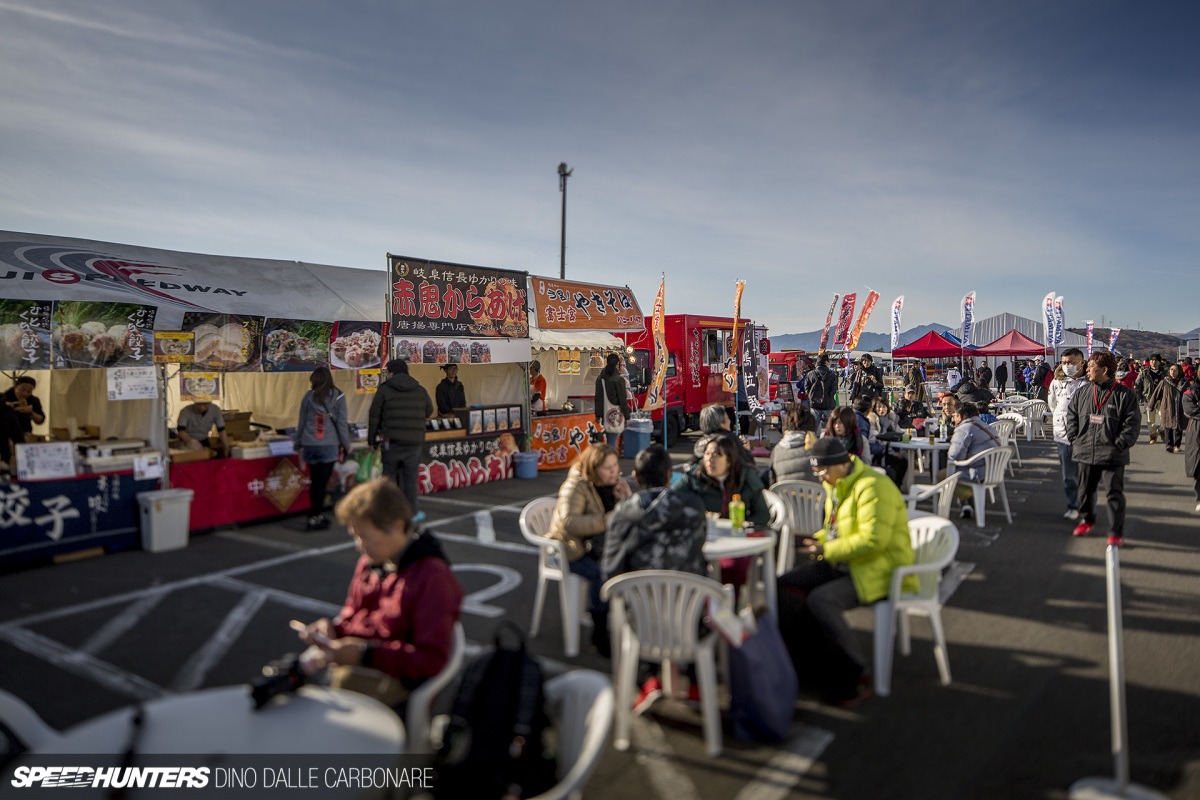 Of course, no event in Japan wouldn't be complete with a food area where you can warm yourself up with a steaming bowl of ramen or nibble away at crunchy pieces of JDM fried chicken.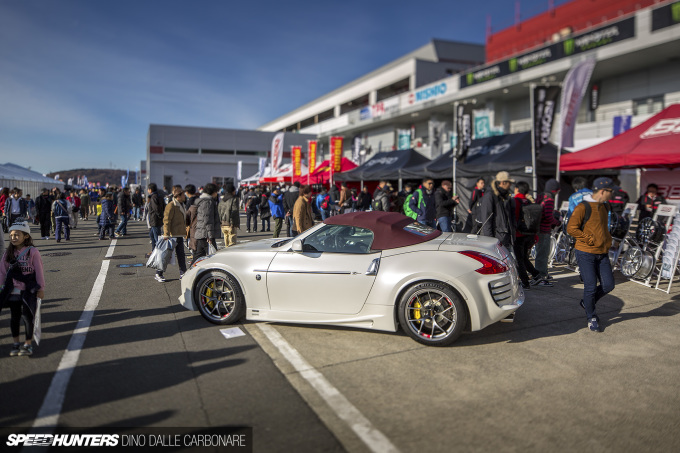 It's so cool to see how Nismo brings the whole tuning industry together for this event. You get to see everyone that has had a long lasting link to the Nissan brand, from Central 20 all the way to Impul and Top Secret; from Mine's and Midori to HKS and OS Giken.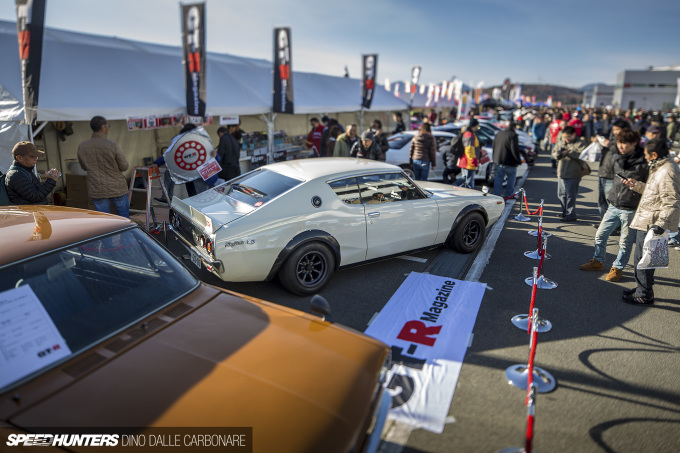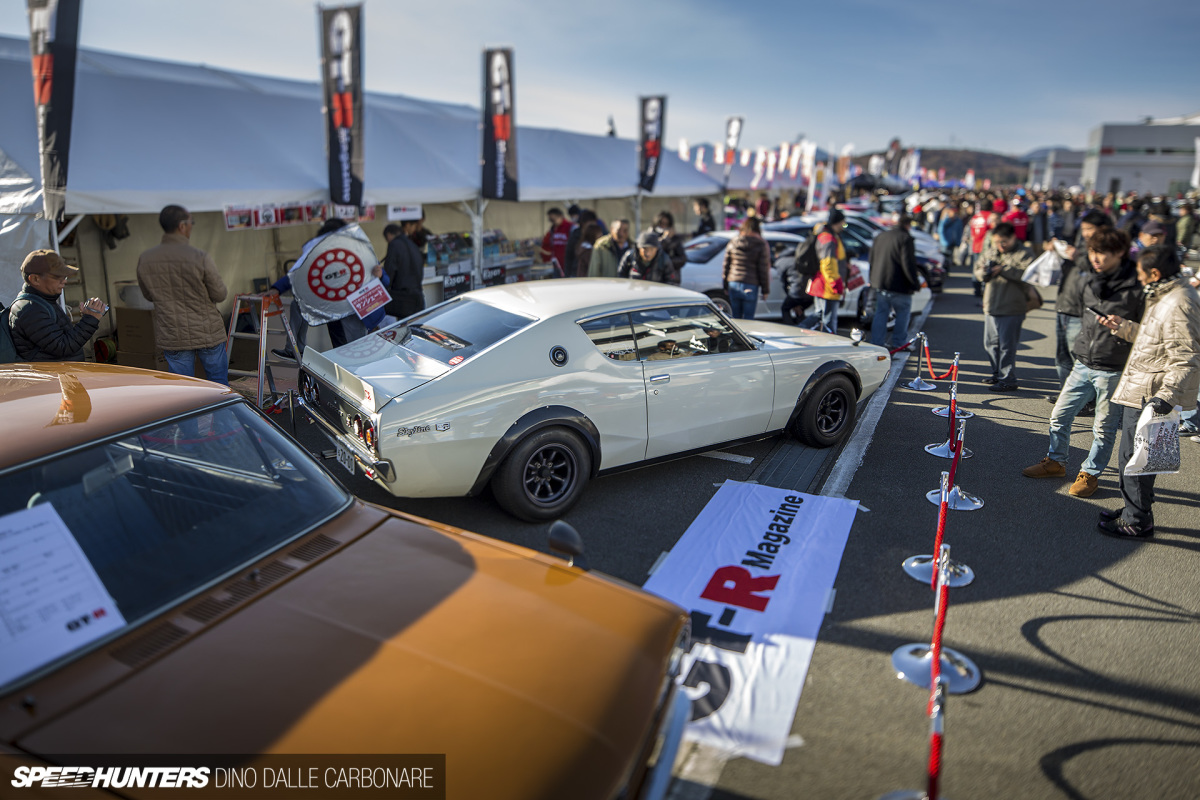 If you recall, we were here at Fuji a few months ago for another big Nissan related celebration: R's Meeting. The organizer of that event, GT-R Magazine, had a massive display at the Nismo Festival showcasing all their cars. Yes, they really do have the entire six GT-R line-up!  #garagegoals indeed!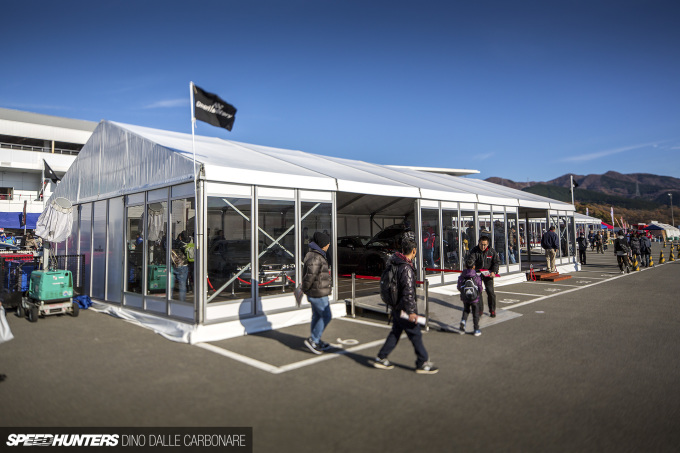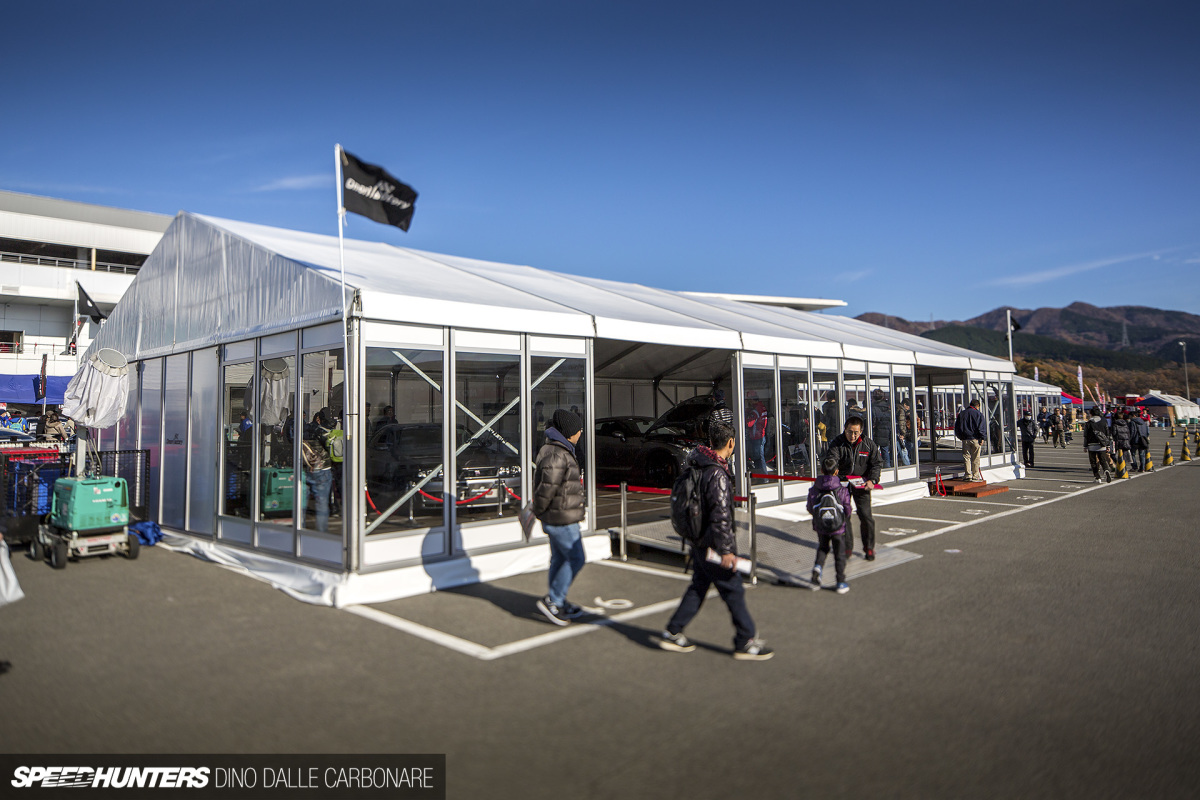 Nismo Omori Factory, the side of the operation that caters to the public, had a nice tent set up showcasing their parts and demo cars.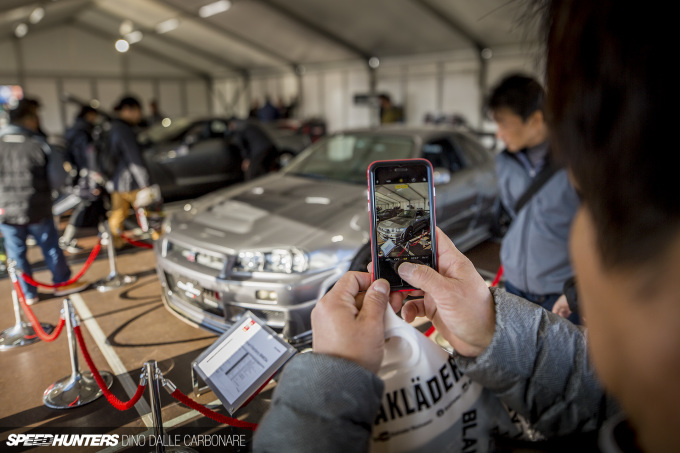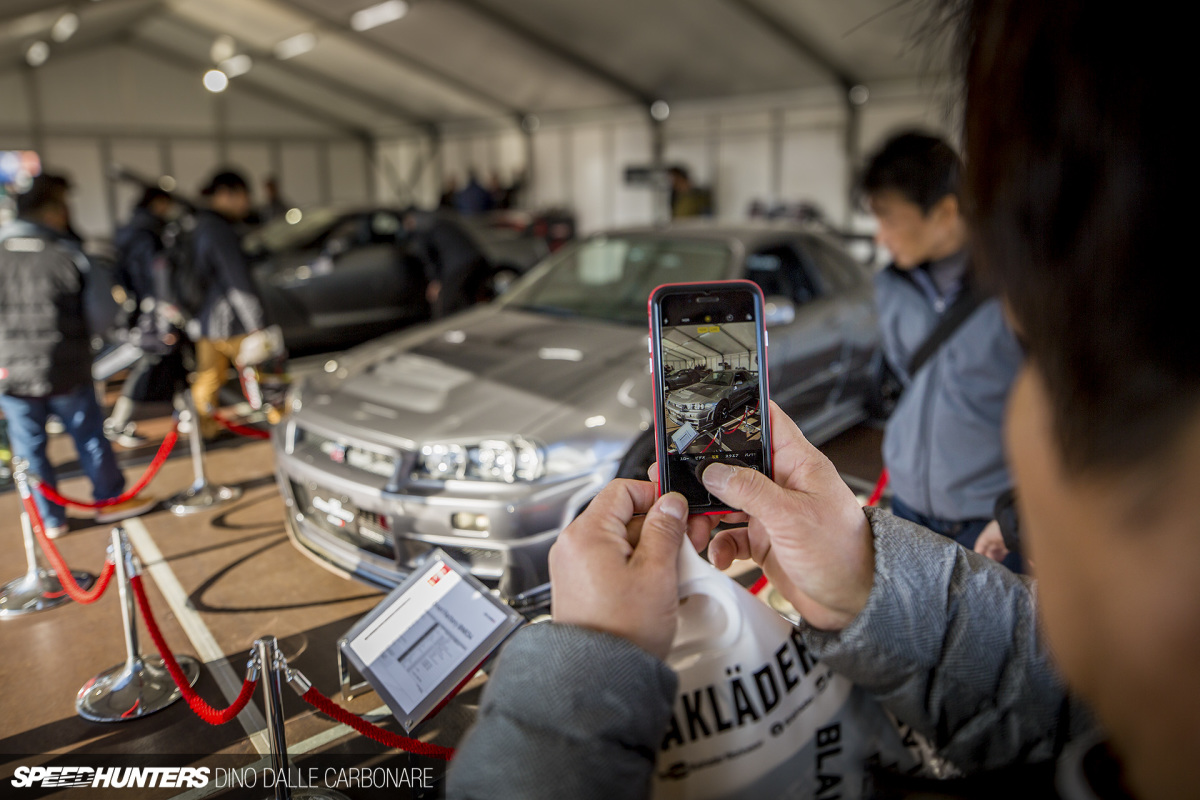 Joining the Clubman Race Spec BNR34 and the Grand Touring Car-based BCNR33, they've now added the R35 to the line-up. So if you have ¥10,000,000 (US$90,000) burning a whole in your bank account, you can bring them your zenki R35 and they will bring it up to current day spec and then some. I think another trip at Nismo is in order, what you think?
Option had a really nice display area together with other publications from the same publishing group, including G-Works, but you will have to wait for my separate spotlight post to find out which car stood out the most.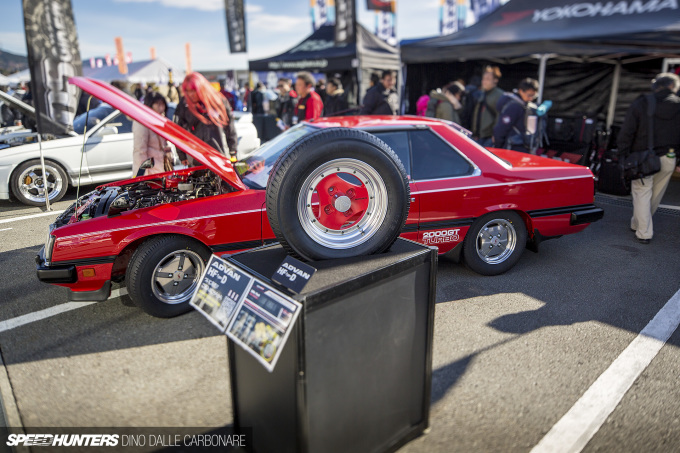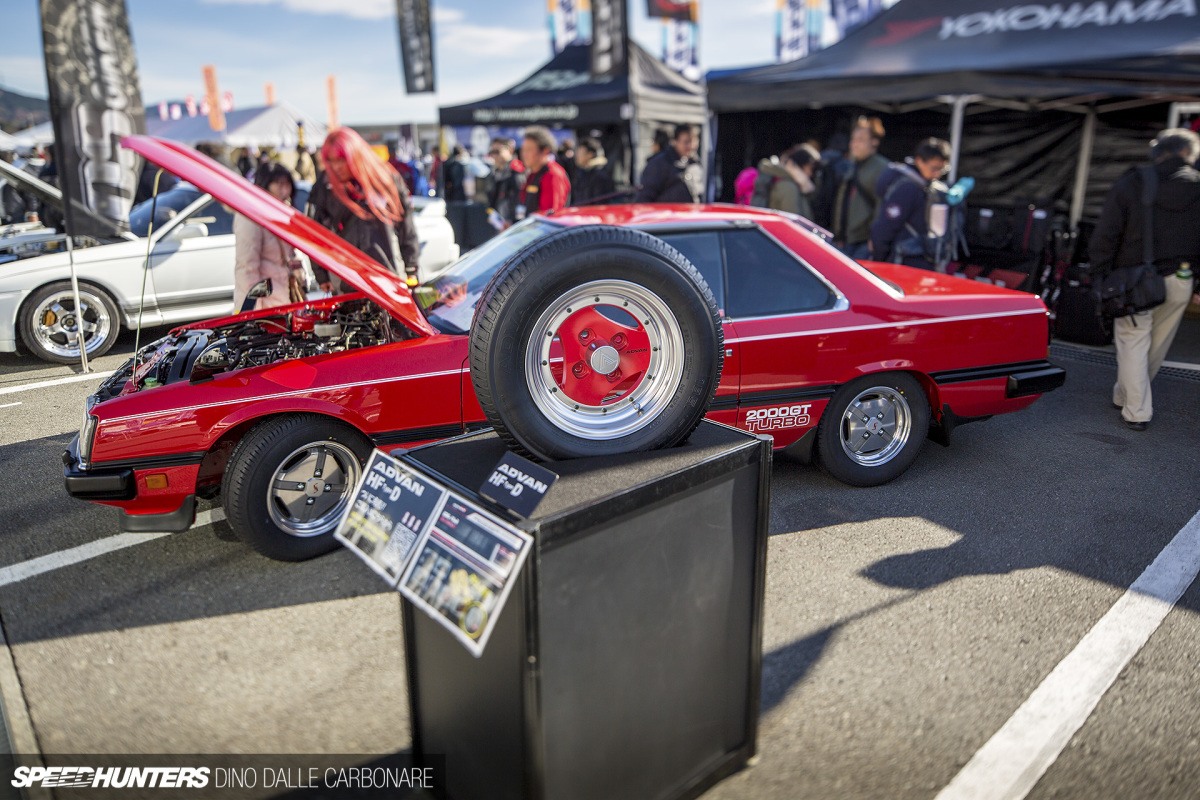 If you've see any of my Nostalgic 2 Days coverage in the past, the name Utilitas might ring a bell. They are a restoration specialist that sells really clean classic and collectable cars, like the R30 you see here in the background. They teamed up with Yokohama to launch the new Advan HF Type D, a tire sporting a vintage tread pattern but built with modern day technology. It's currently available only in Japan in a few 13, 14 and 15-inch sizes. Oh, and I just have to say, Advan tri-spokes rock!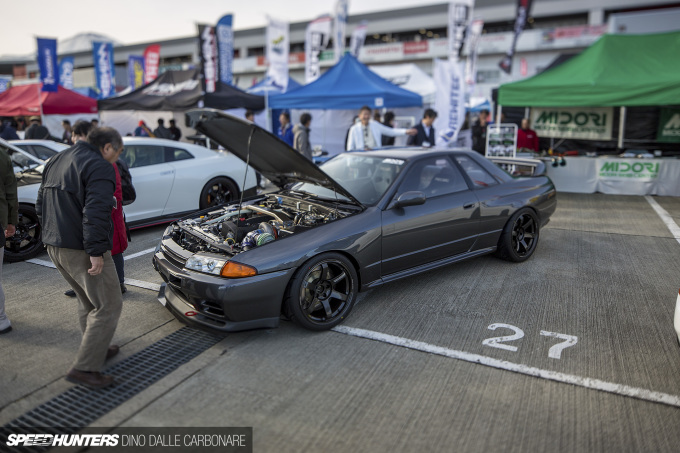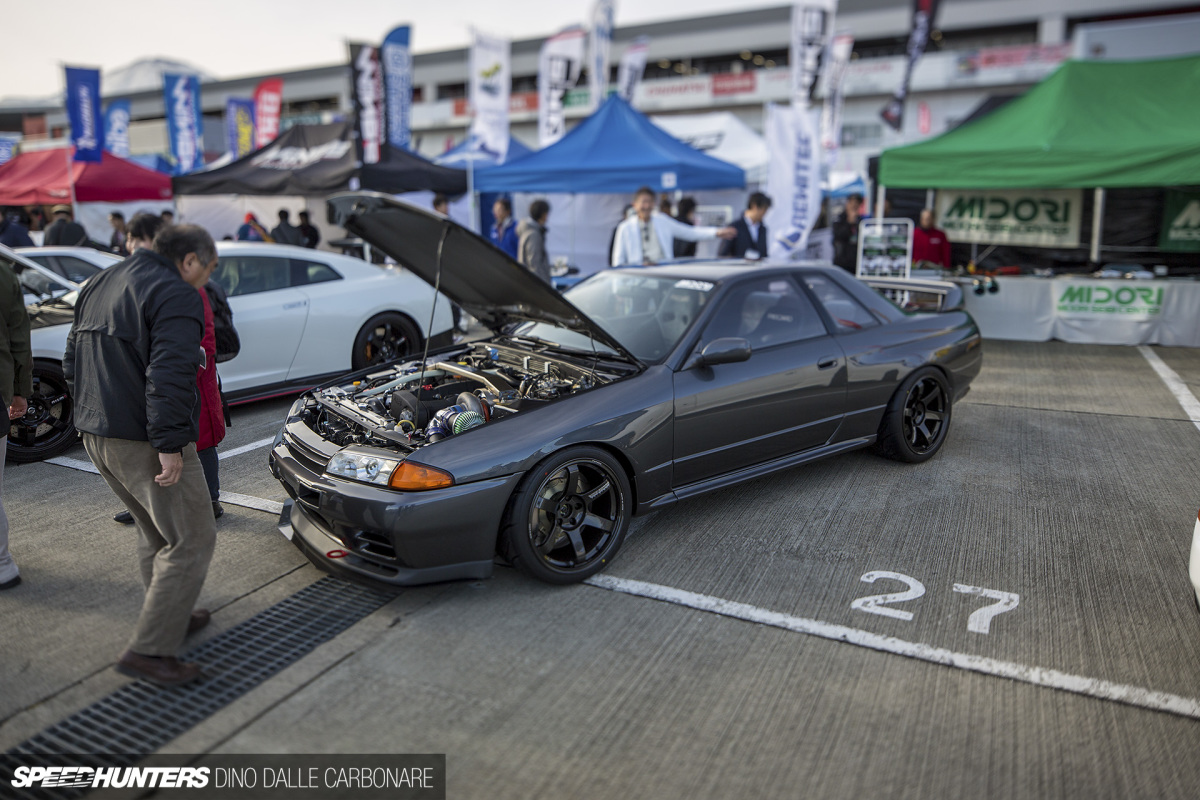 Here's a car that I thought needed a special mention, and possibly a follow up feature, too. This Midori-tuned R32 sports beautifully blistered fenders to house 11-inch-wide, new-offset RAYS Volk Racing TE37s shod with 295-section tires. If you look closely you can see how the spokes have a more rounded profile.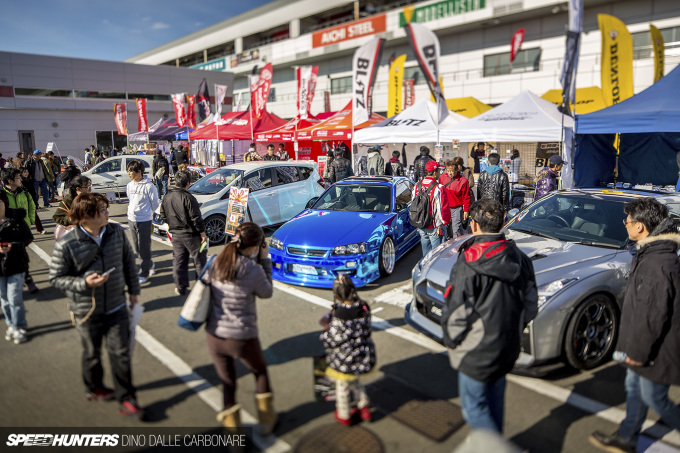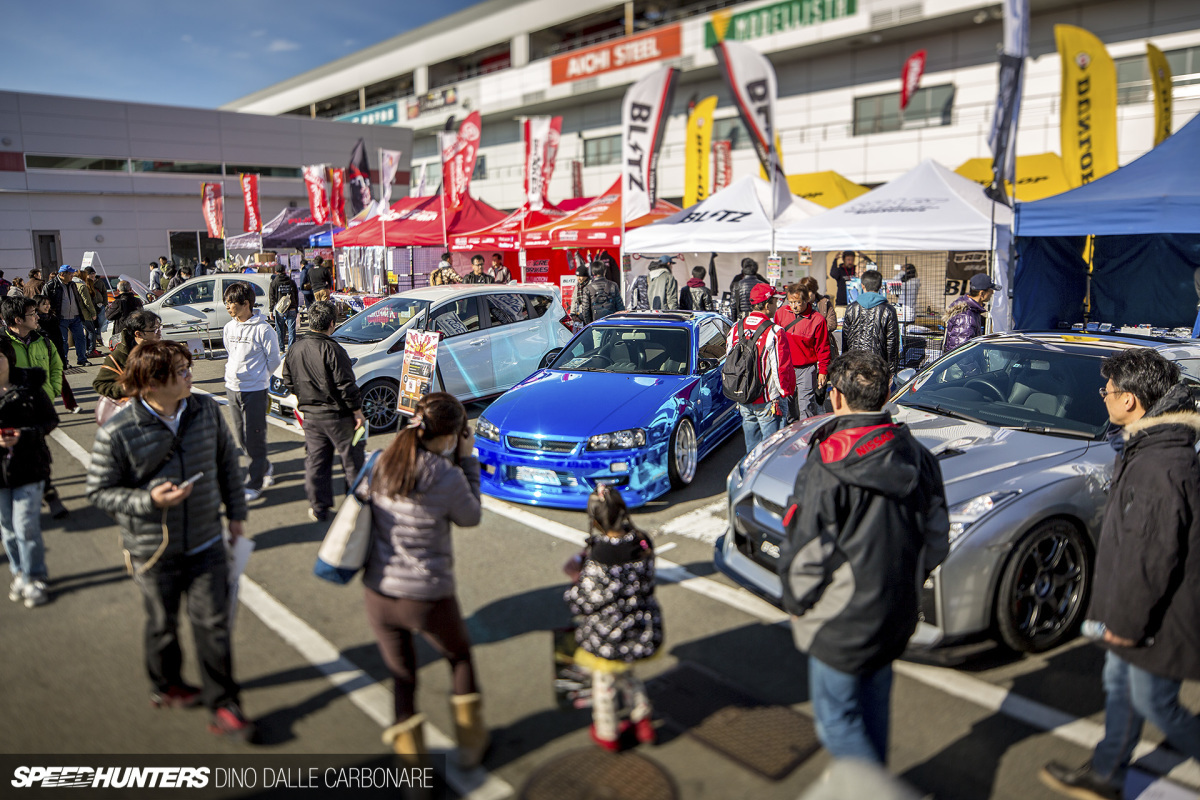 I picked up the pace as I moved through the paddock as there was still a lot I needed to cover.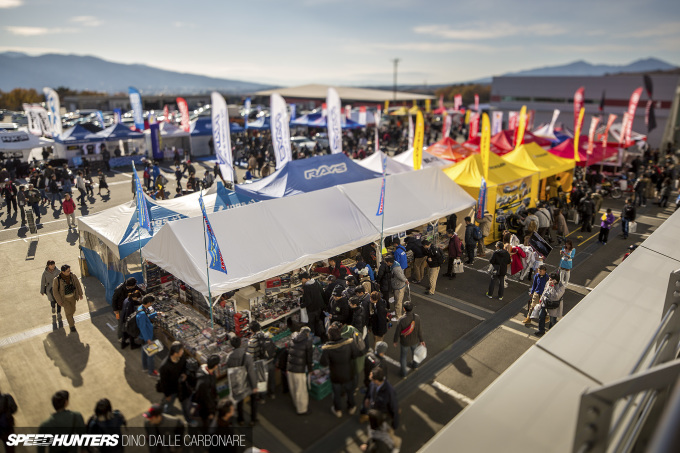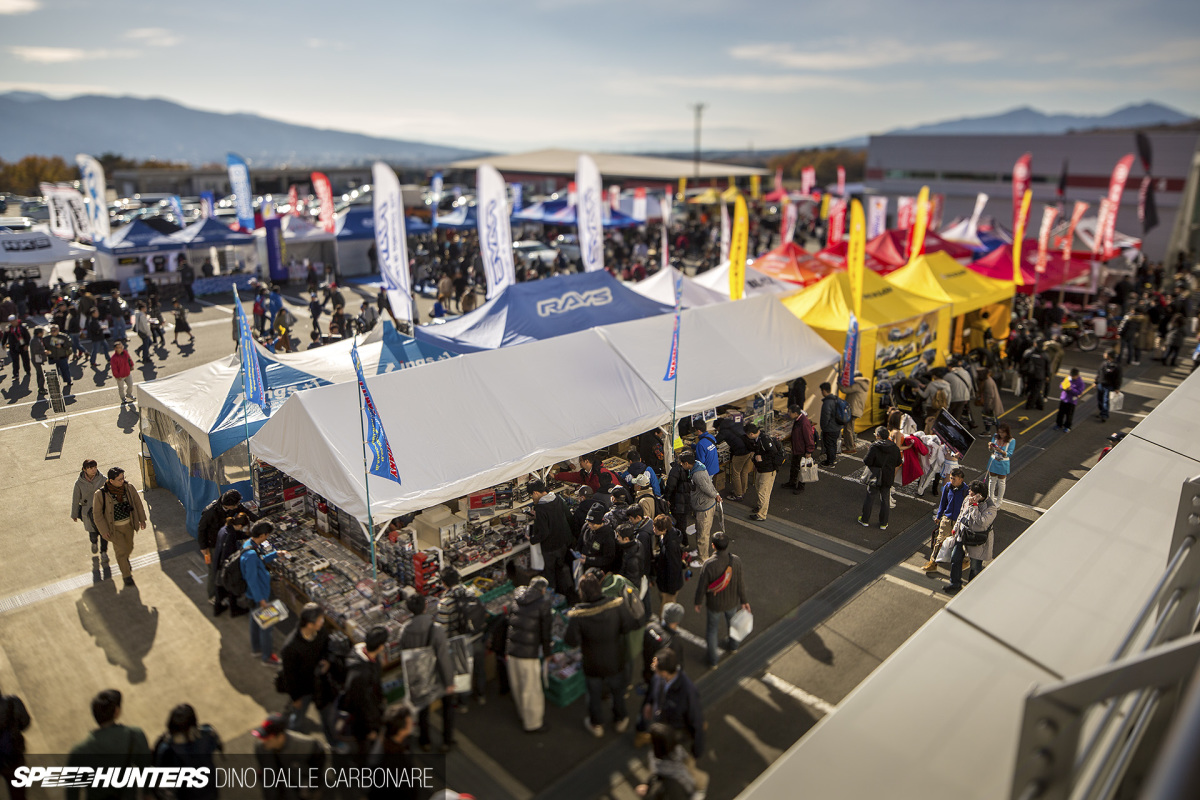 One issue about shooting with a tilt-shift lens is that you end up taking quite a lot of time setting up your pictures. From unwinding the locking rings to trying out different tilt settings, it just take a little longer than usual.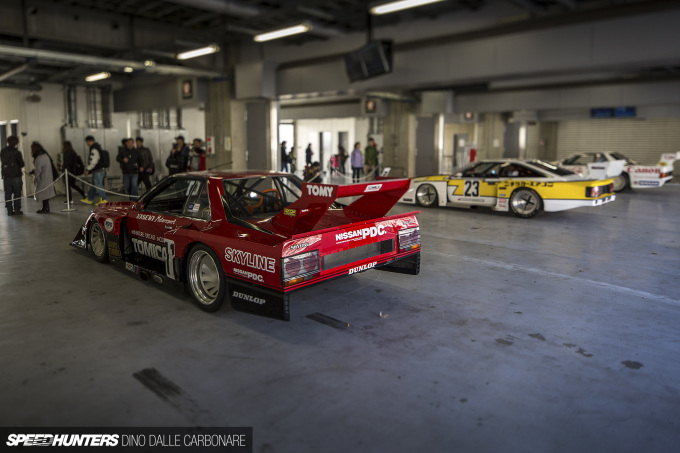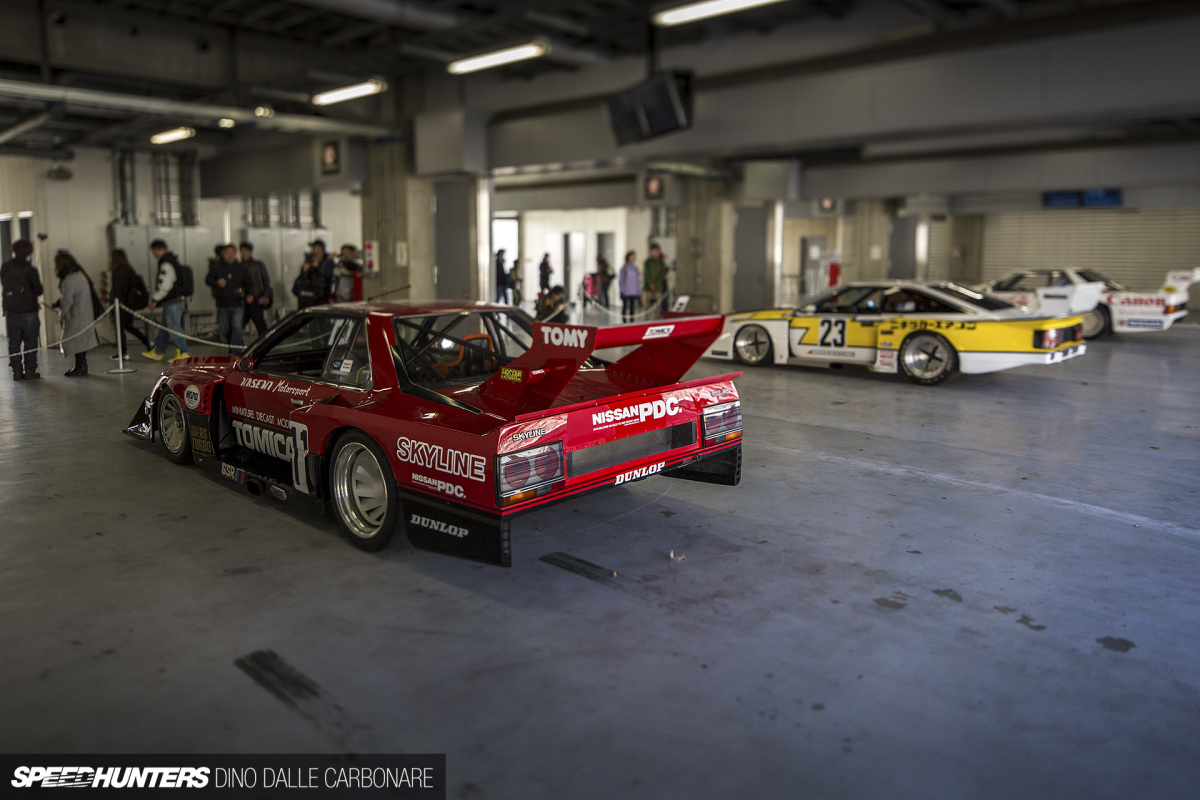 Add to that, that the lens has no automatic focus, and you end up taking shooting more frames too, just in case.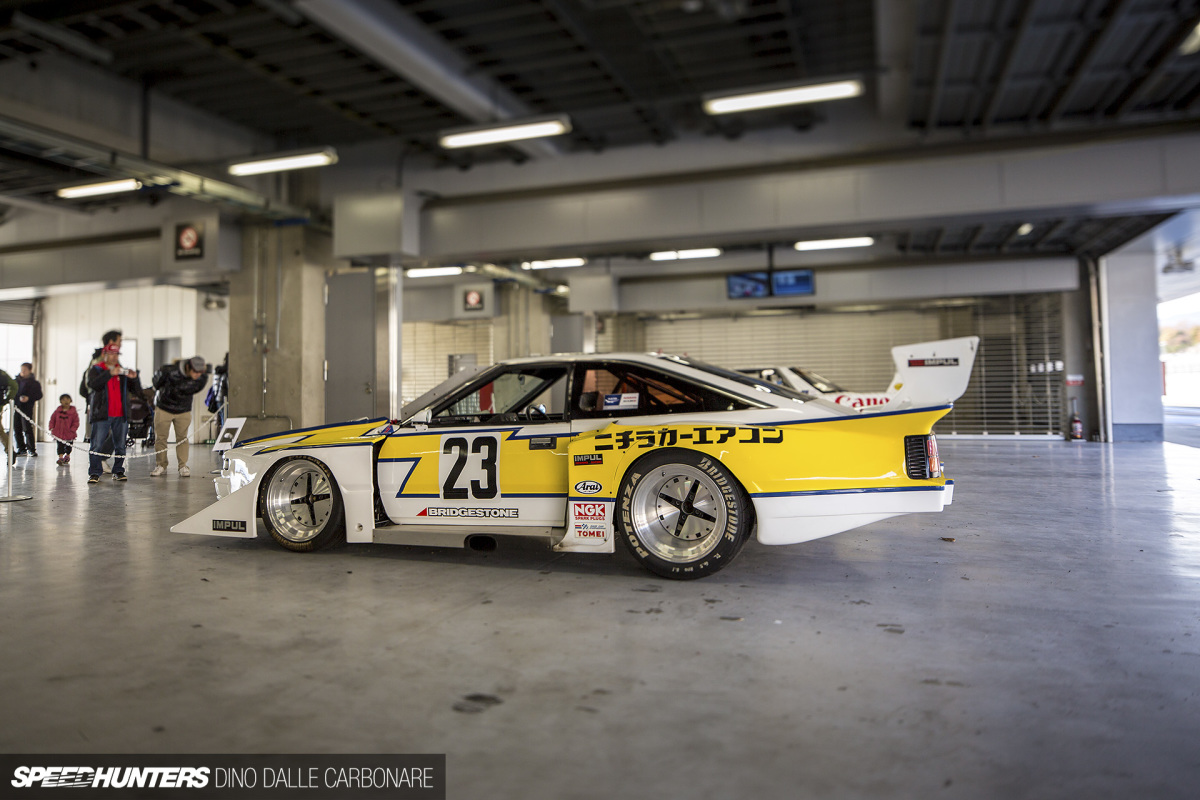 It was a process that I quickly started to enjoy. When you take more time you take in more details, and maybe notice things you'd otherwise rush past.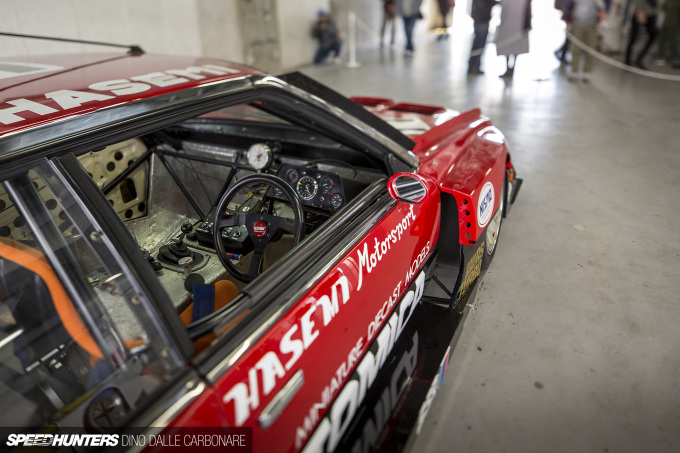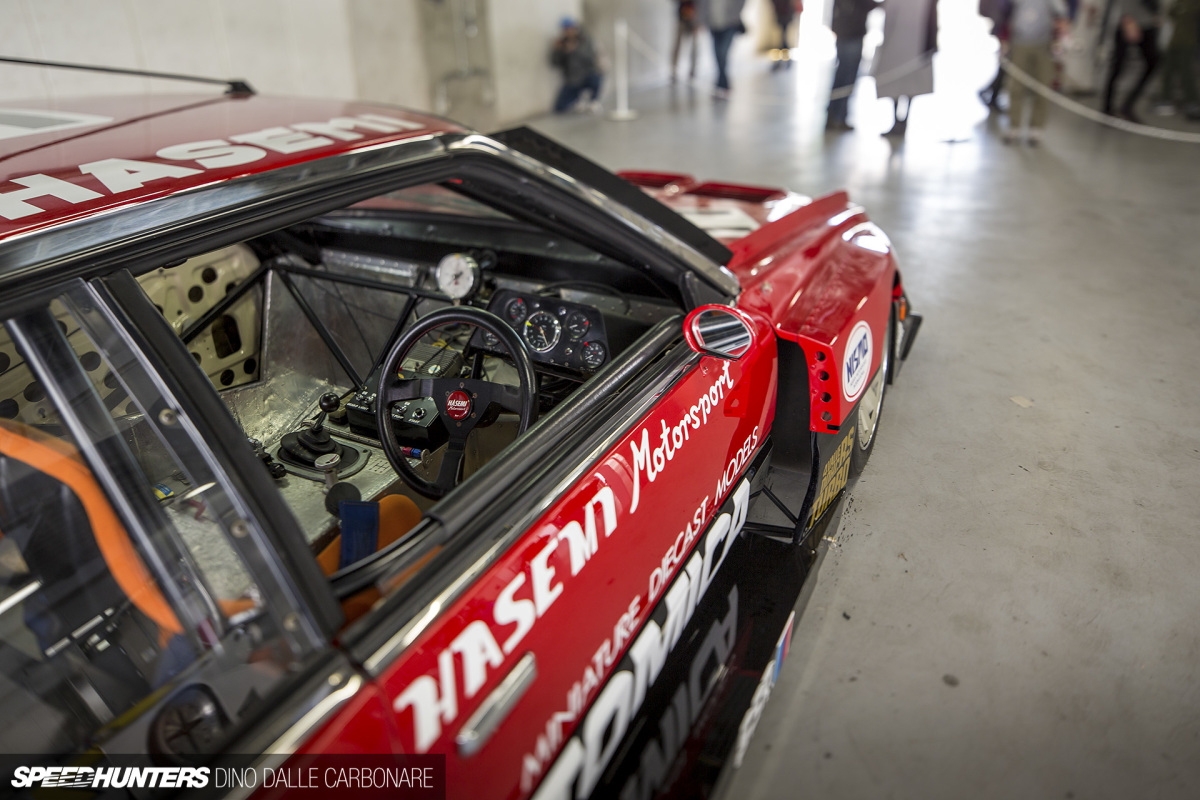 It's nice to change pace and look around more.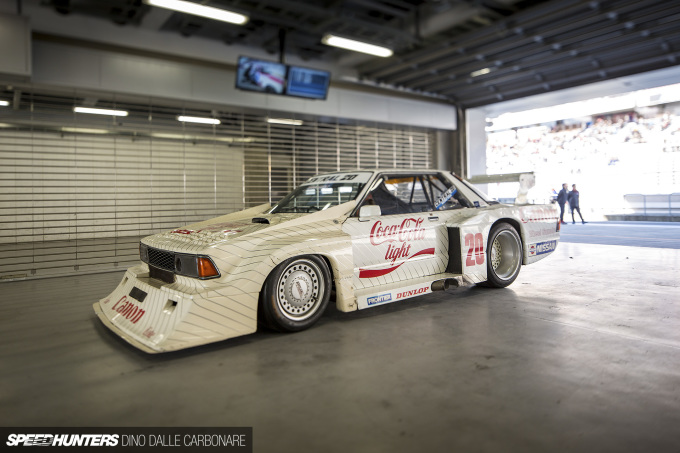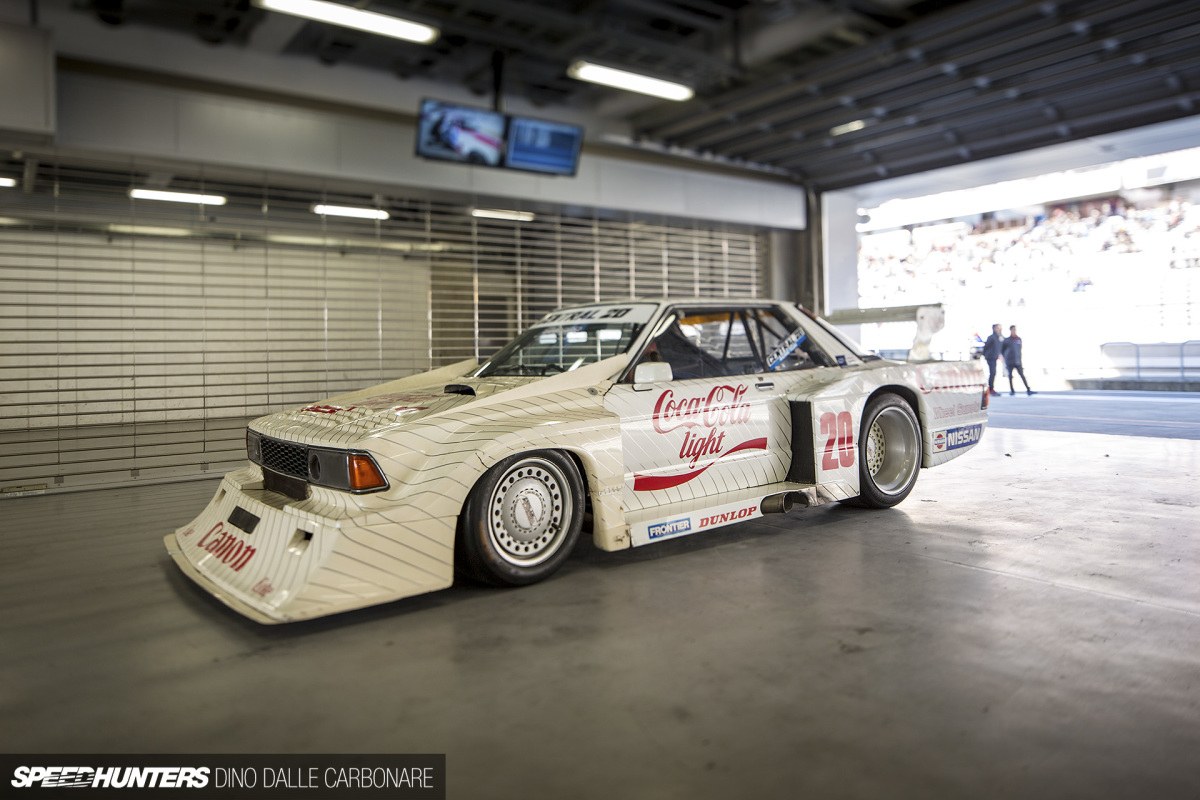 And I spent a lot of time with the trio of silhouette racers that we've just seen. These are by far the most in-your-face race car designs of all time.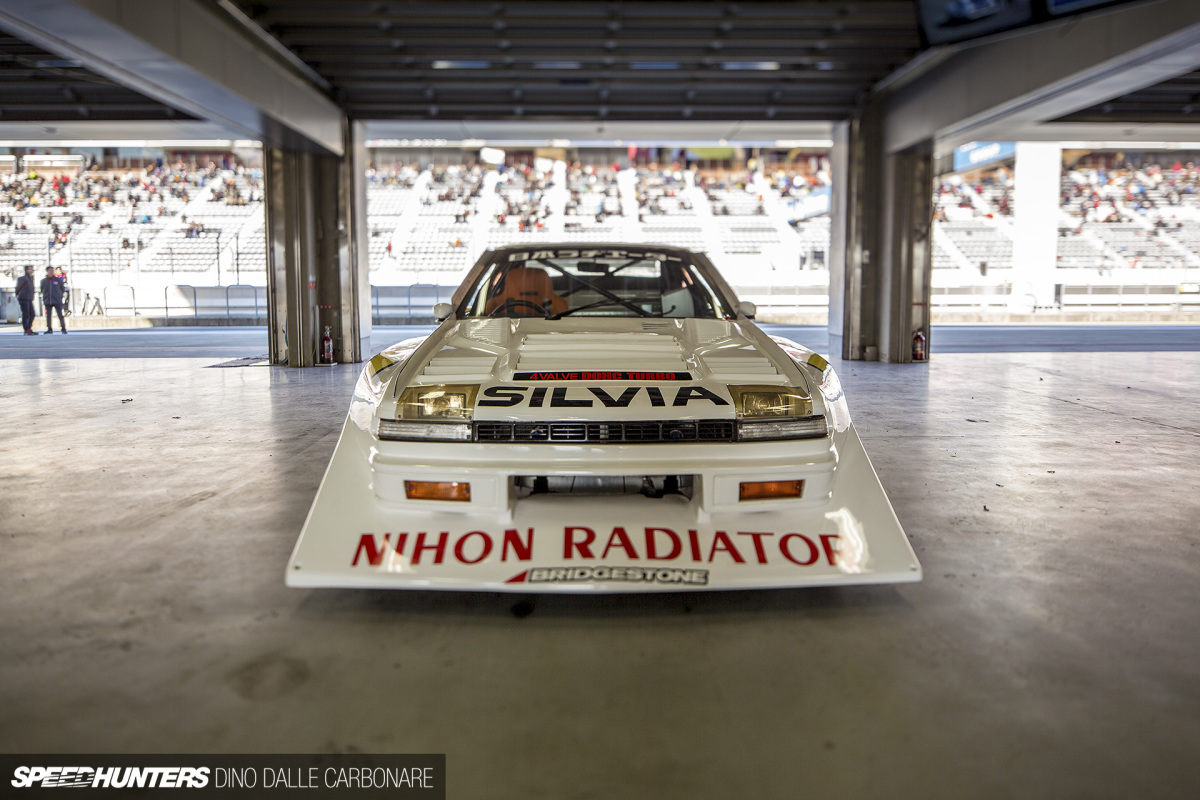 The 24mm tilt-shift lens really helped me capture that visual impact, too.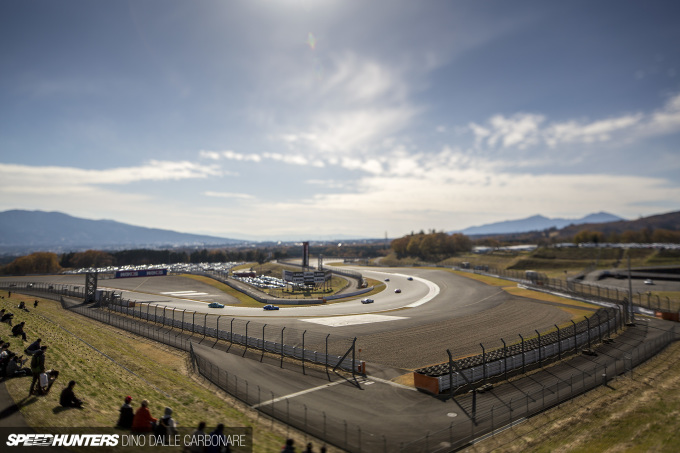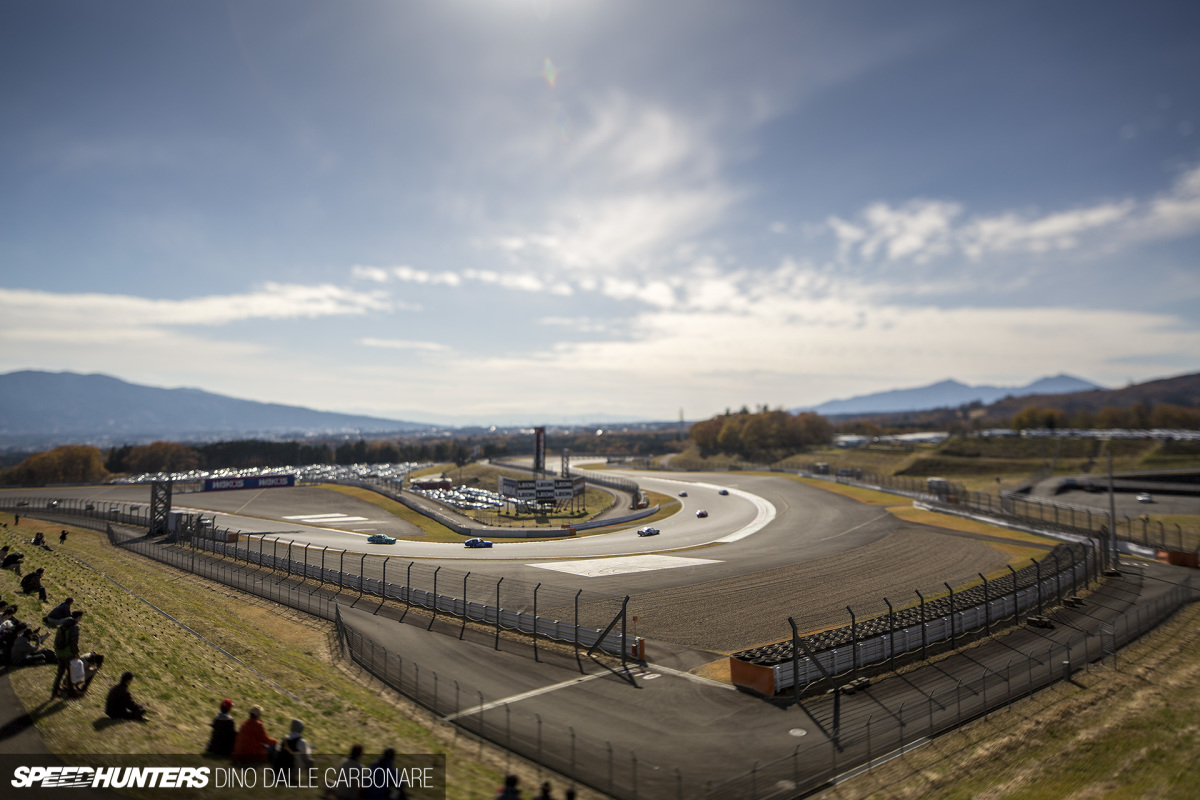 To see everything that this event has to offer you must walk. A lot. The app on my watch was telling me that I'd covered 15km, and once I was done with the pits and paddock it was over to the car parks.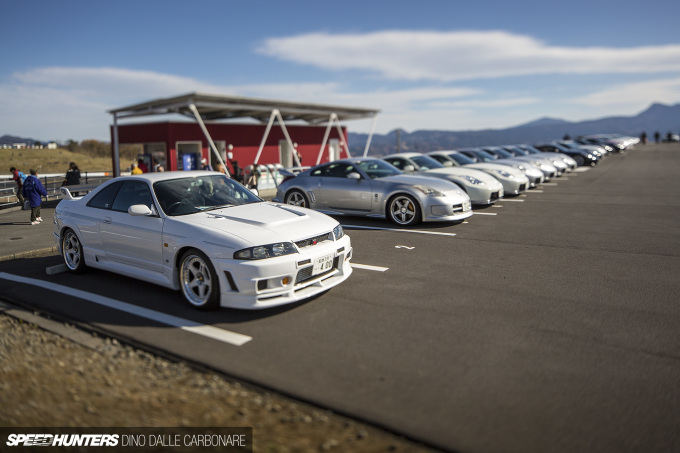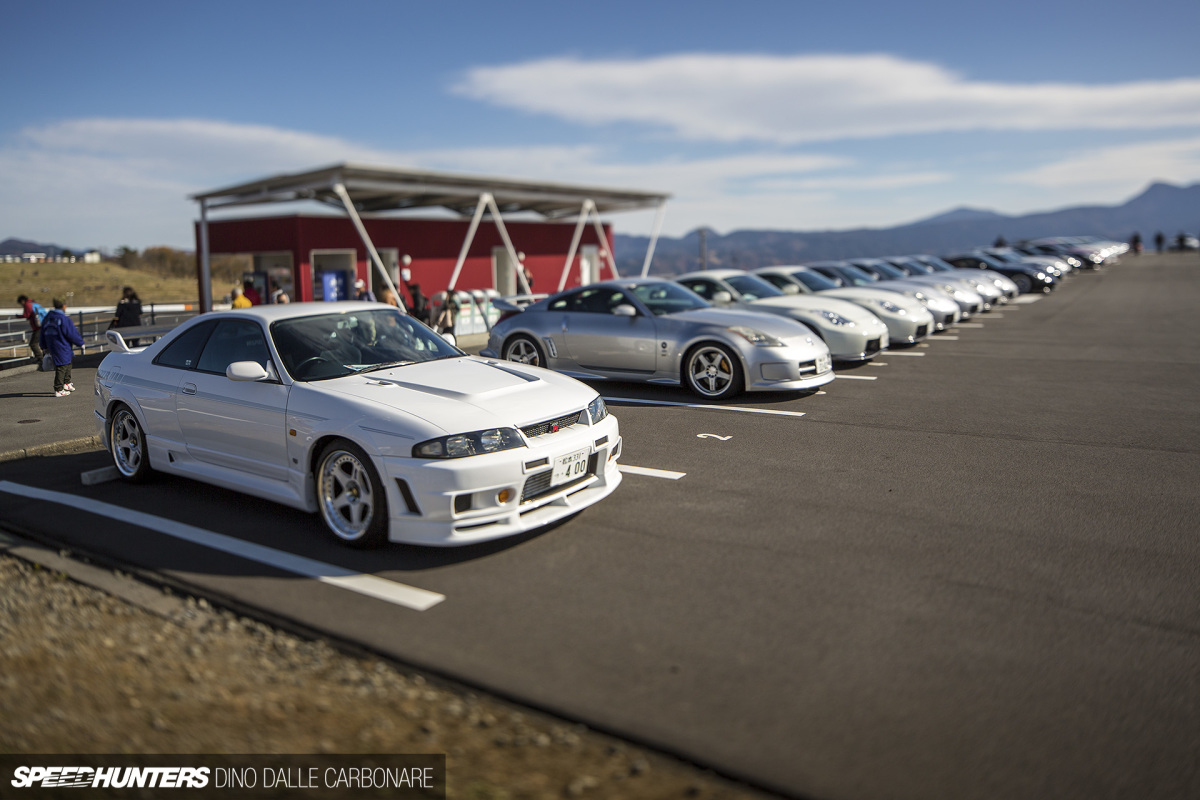 I was looking for the famous line ups you see at the Nismo Festival, and it didn't take me long to find them.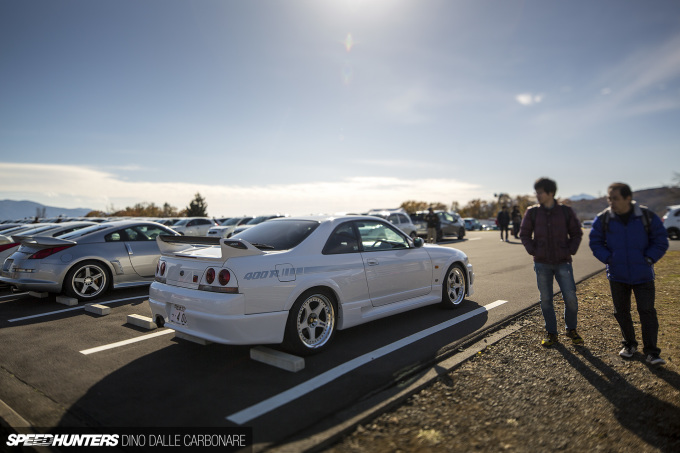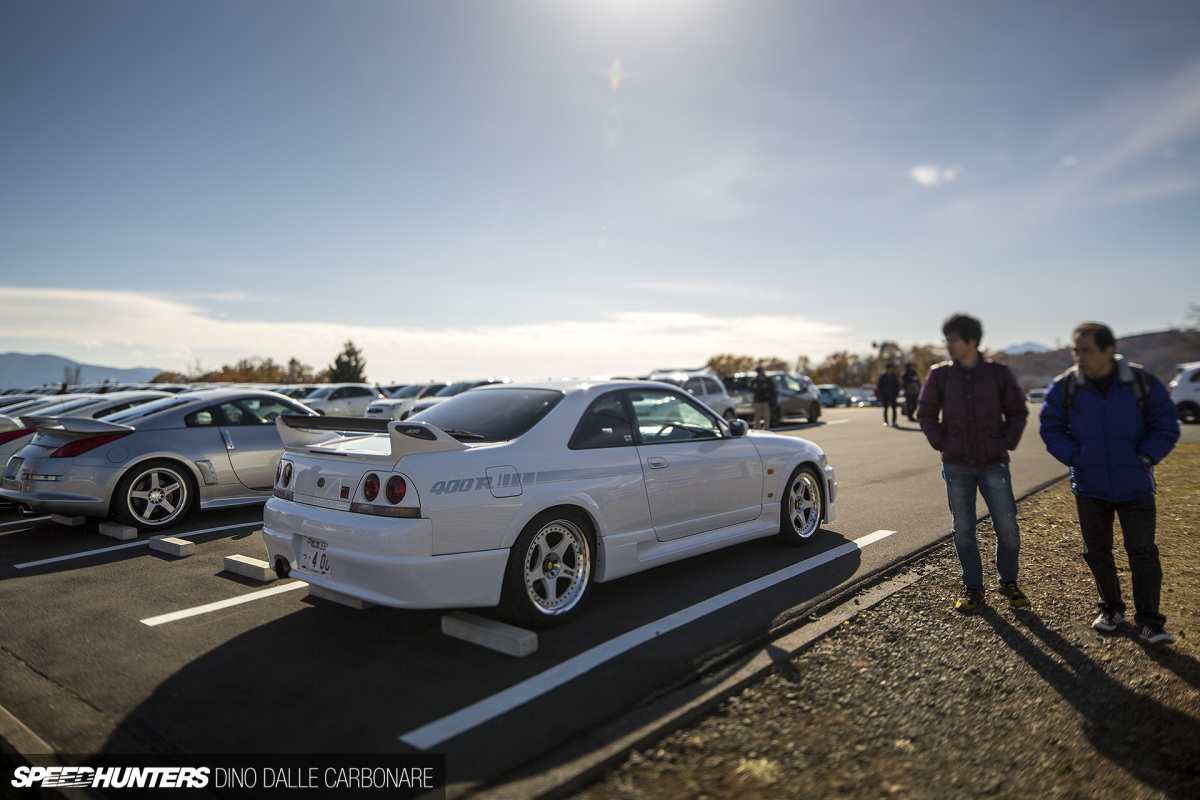 Except it was very much angled towards current production cars, so next to this lonely white 400R I found rows and rows of…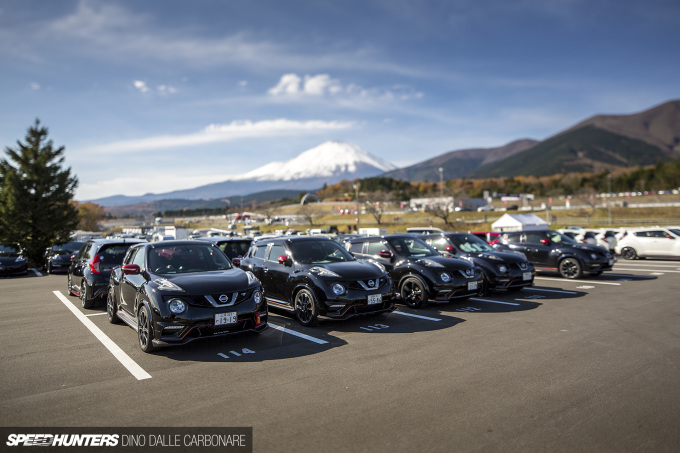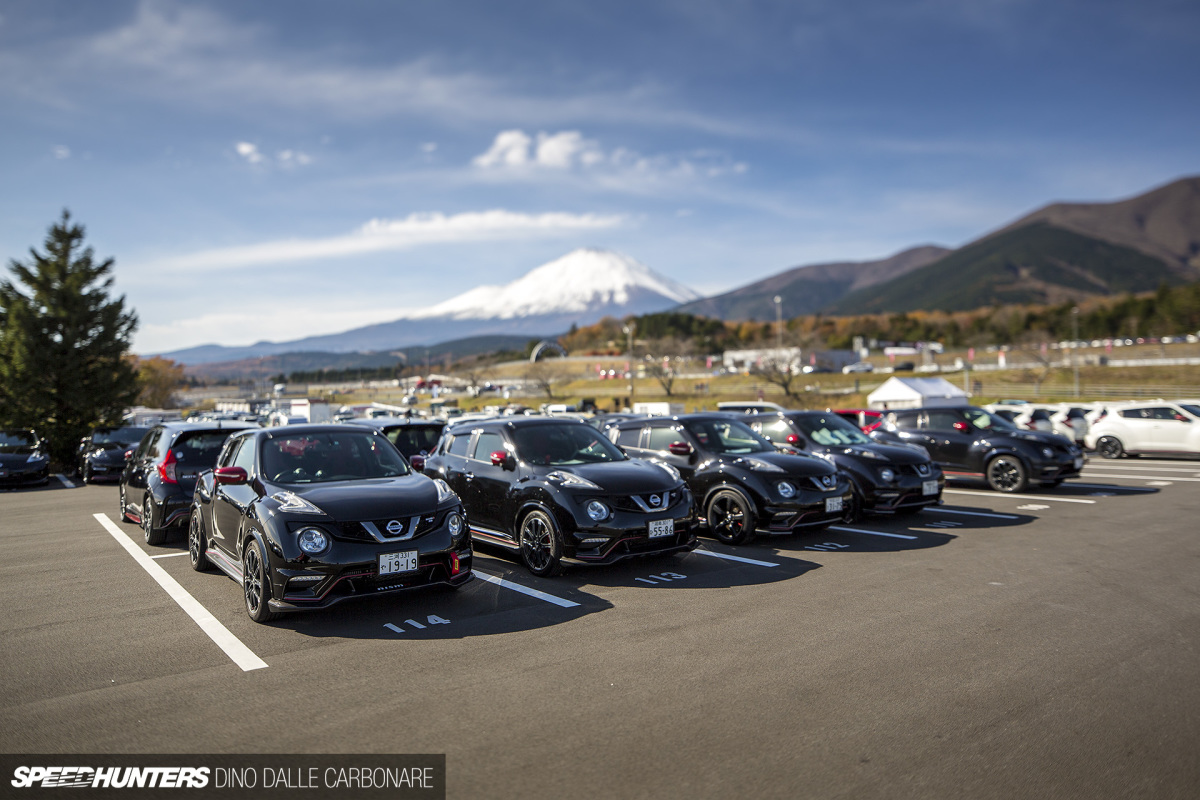 Jukes.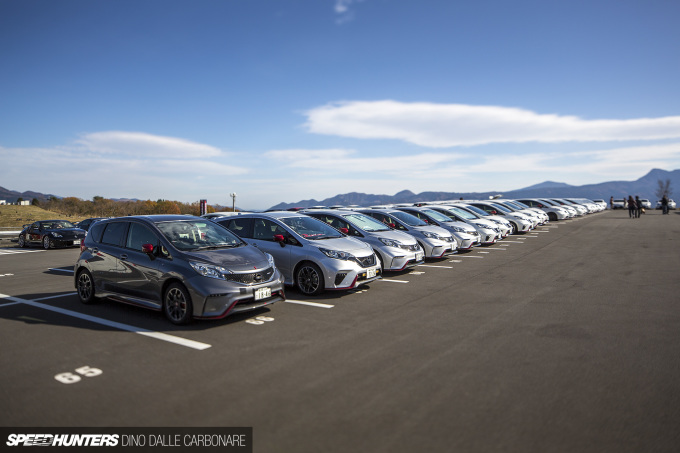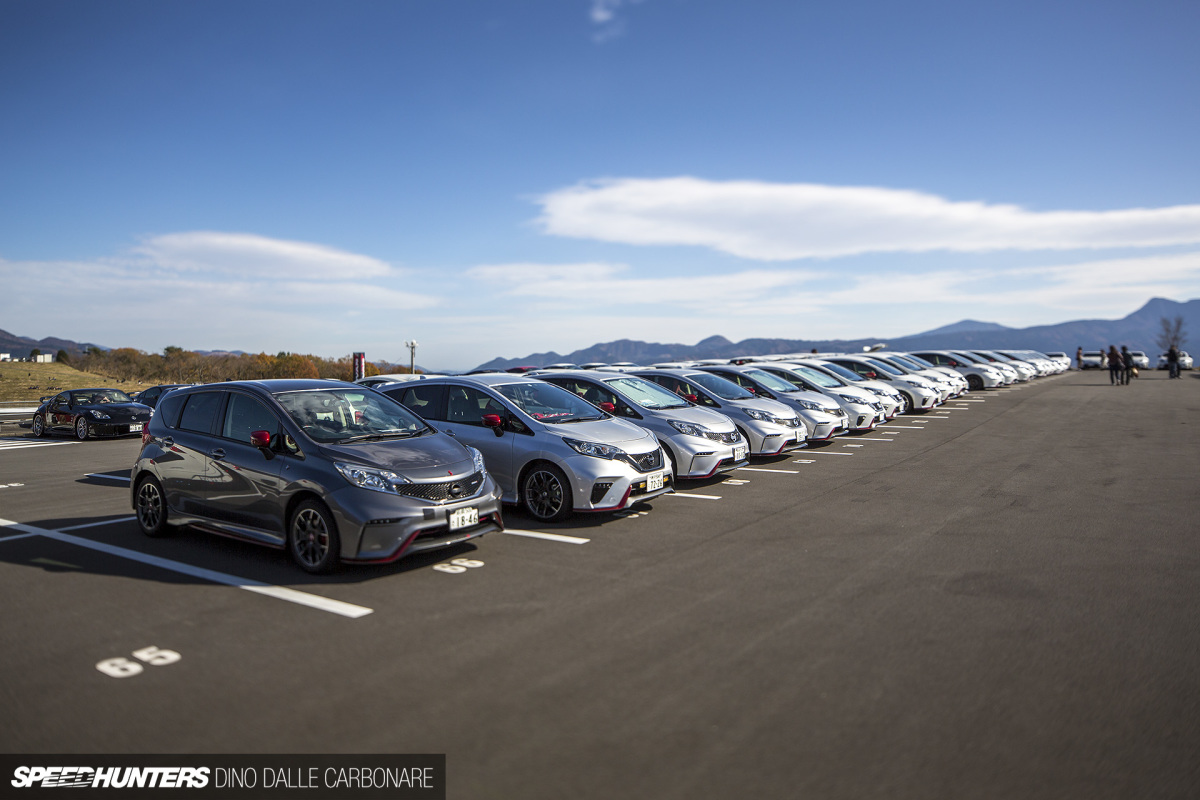 And Notes.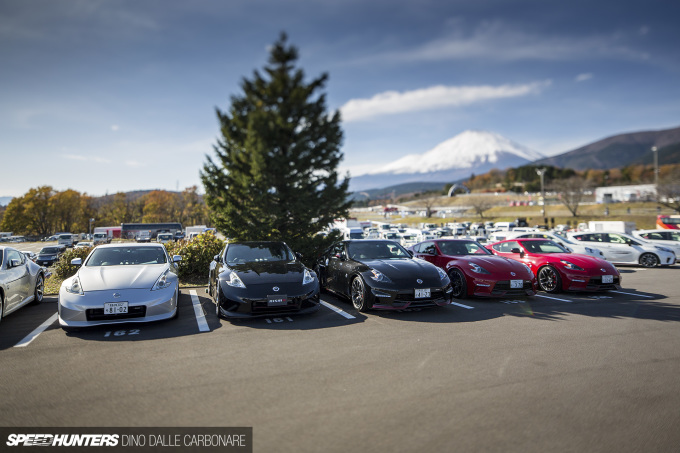 Some Fairlady Zs.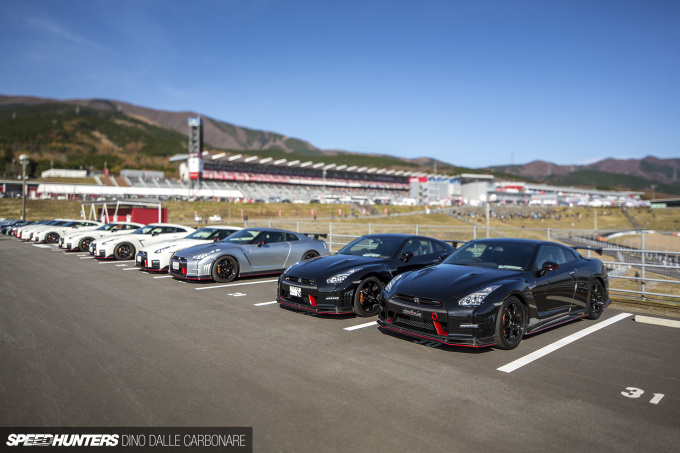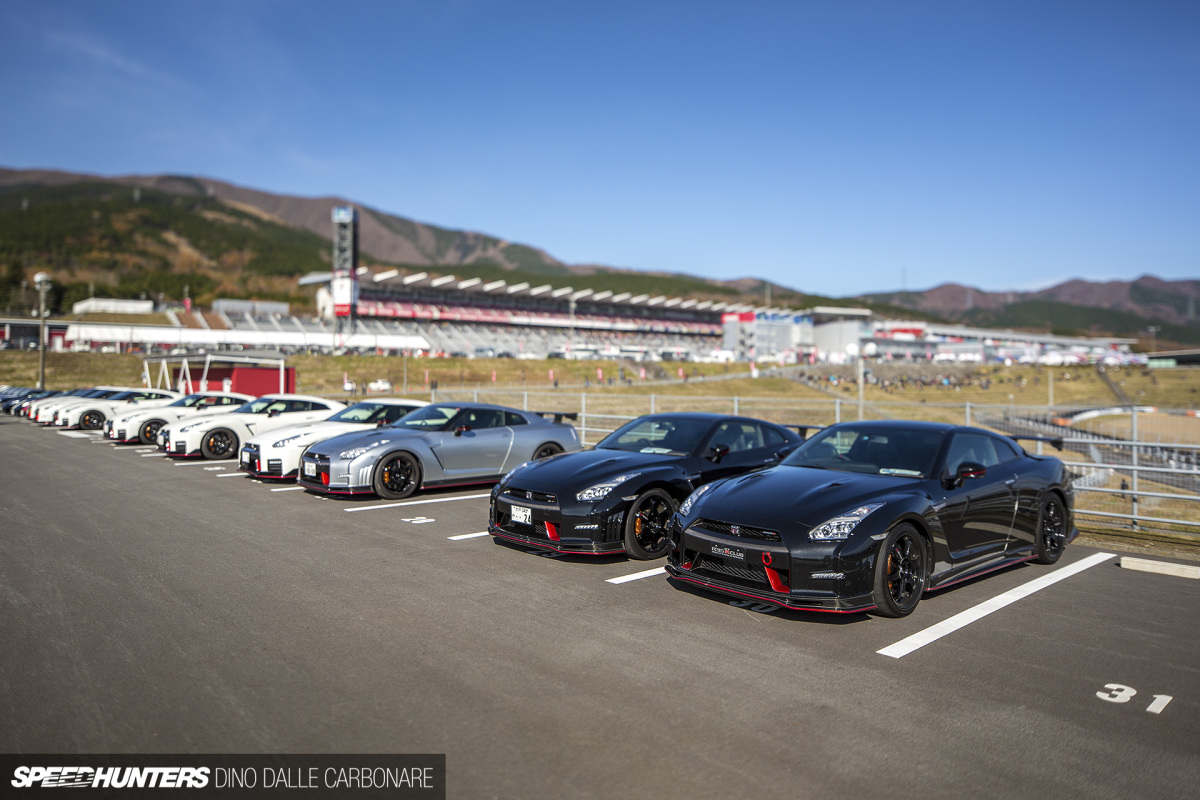 And of course GT-Rs. All Nismo versions, of course!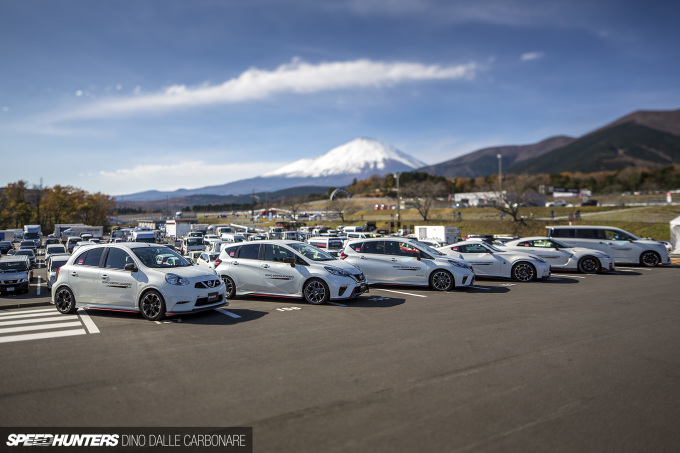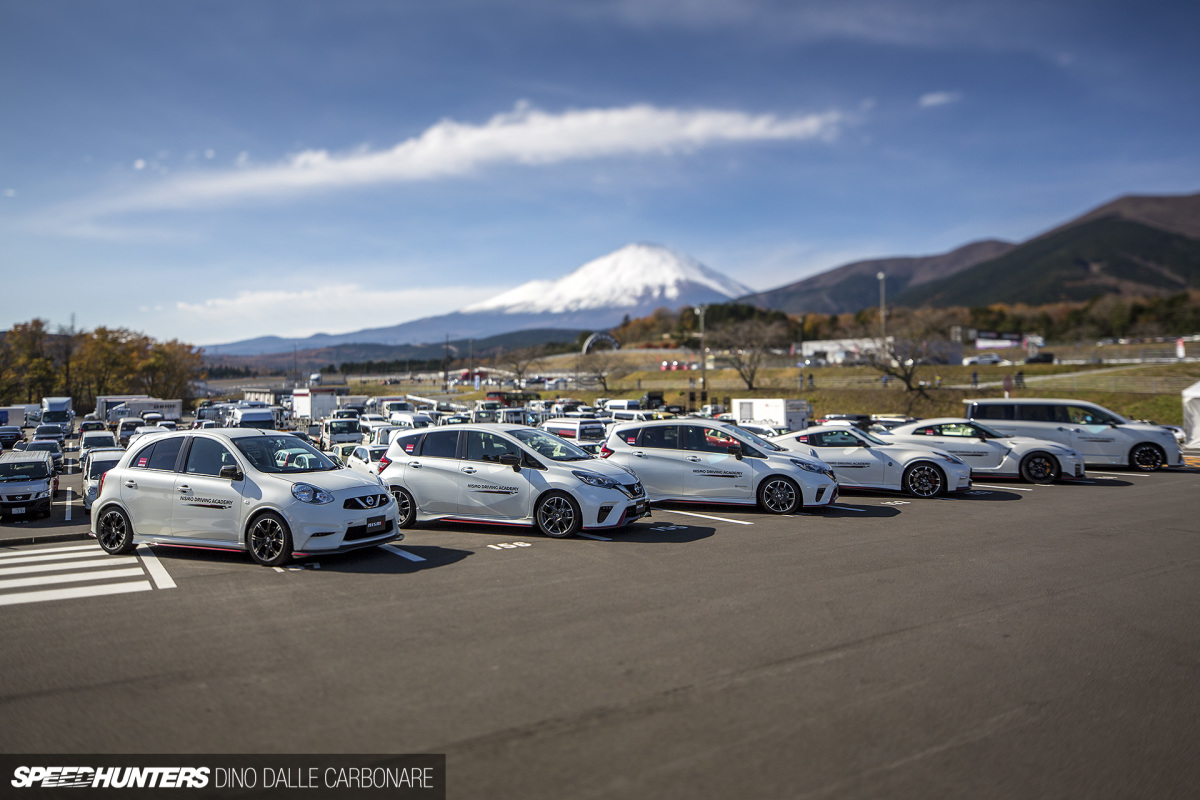 Nissan had also prepared the current line-up of Nismo versions you can buy from them: the March, Note, Note e-Power, Z, R and Elgrand. Last Friday they also released the Nismo Serena, if anyone actually cares?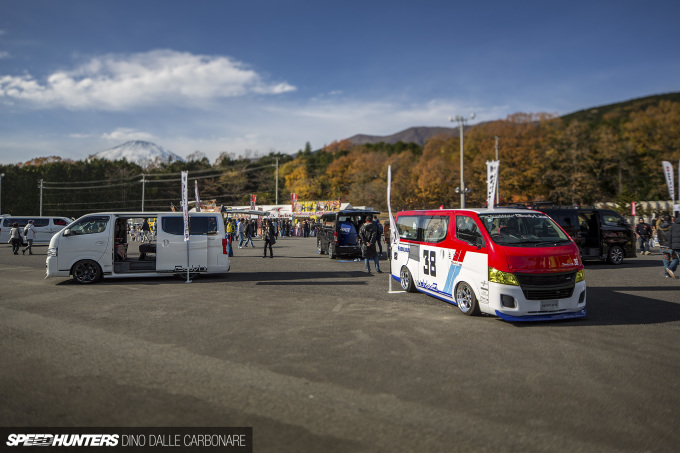 I also had to take a look at the higher paddock area behind the grandstands where Nismo had set up their shop and auction areas, as well as some attractions showing off new and current models from the Nissan line up. All I was interested in was this cool, slammed Caravan.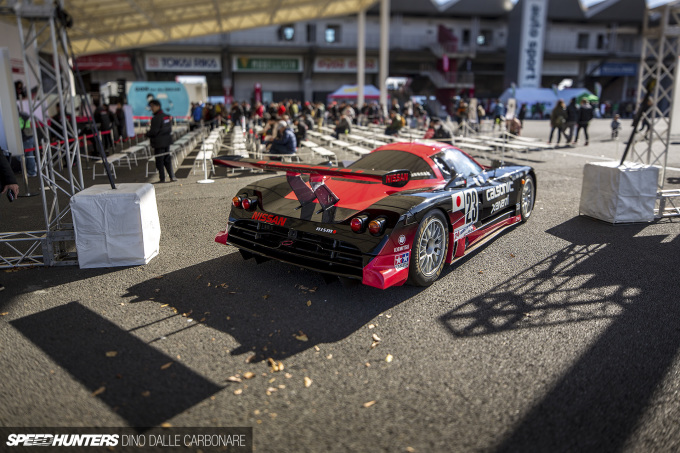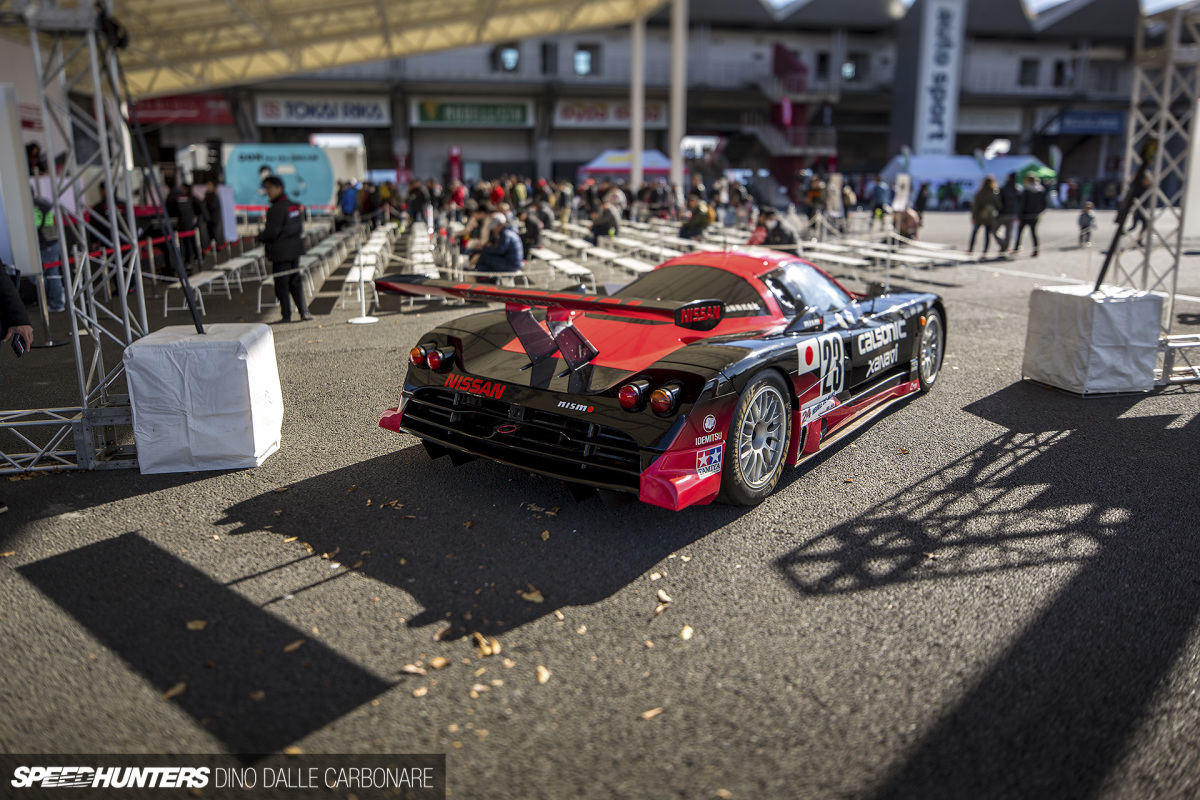 If you were wondering where all the Le Mans and single-seater racers were, it was here that I found them.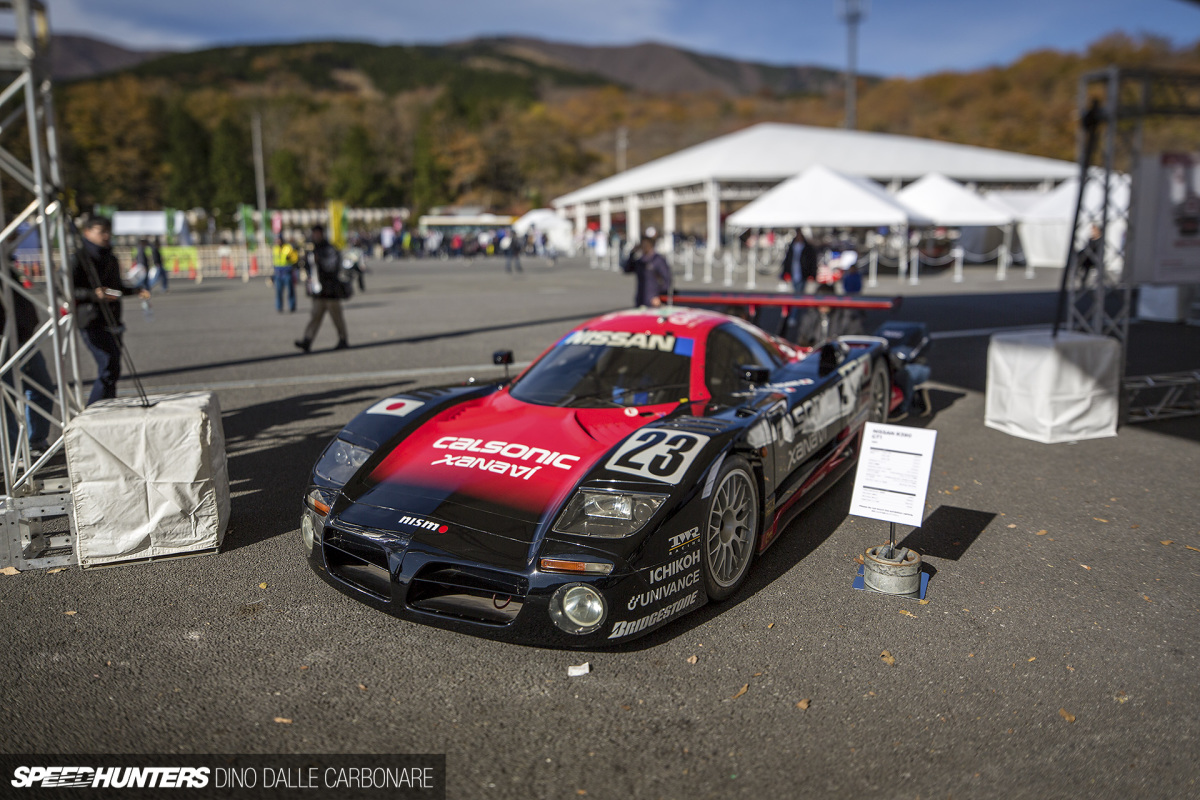 The R390 GT1 was joined by a couple of other prototype racers, but like I said earlier, the emphasis for this 20th anniversary event was not on these cars. Strangely enough, there was no mention anywhere of Nissan joining the Formula E championship, something they proudly announced at the Tokyo Motor Show last month.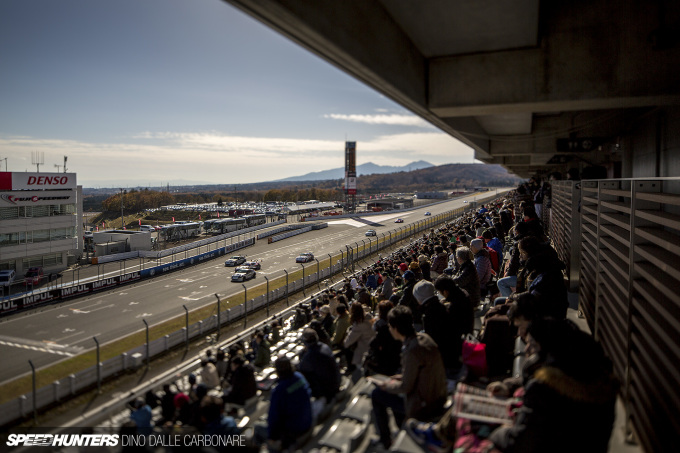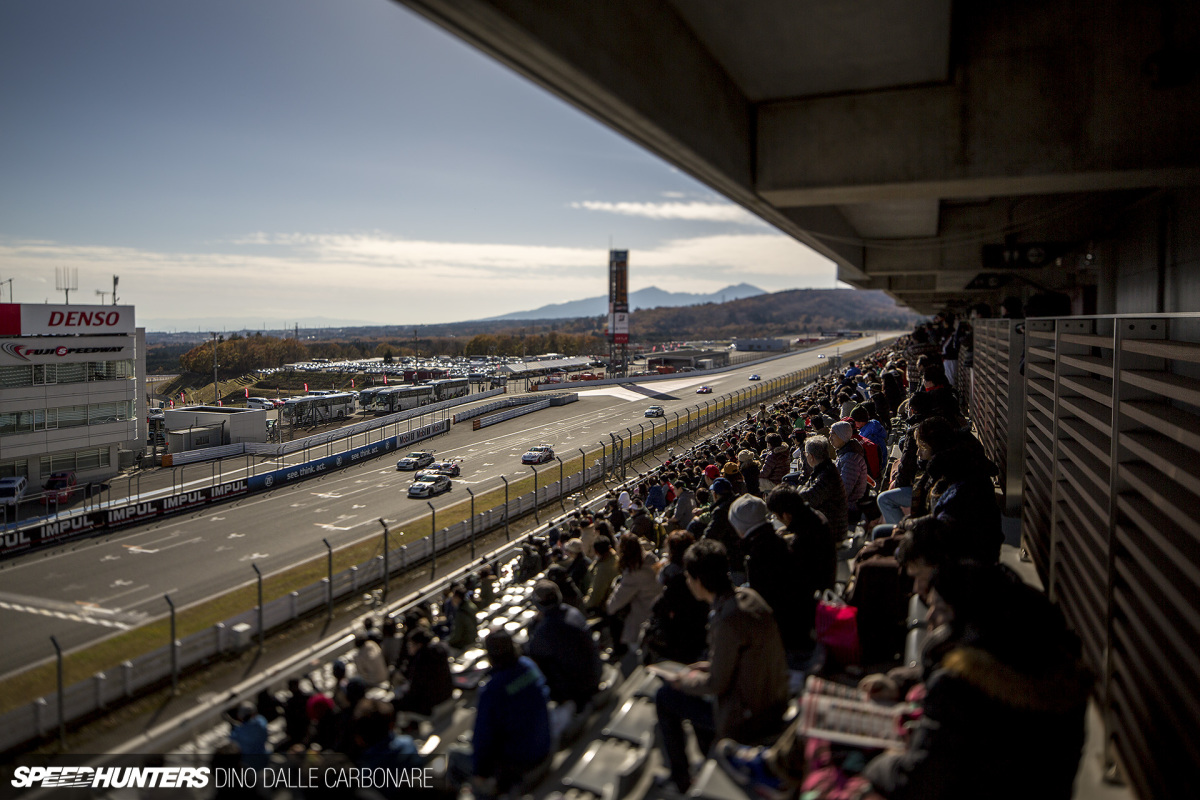 I wanted to get a vantage point that any Nismo Festival attendee could, so I headed to the grandstands.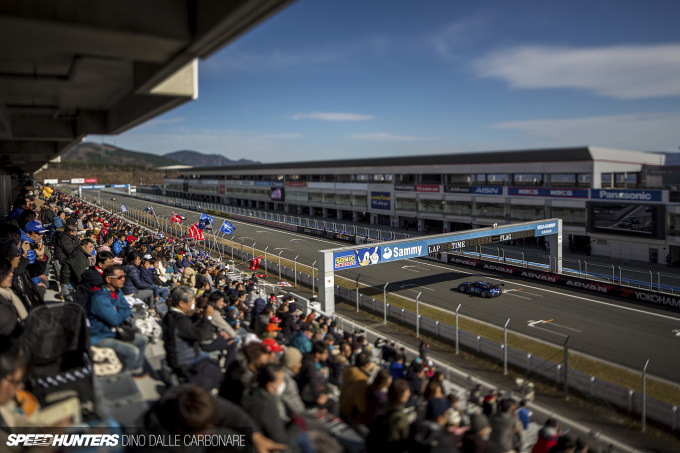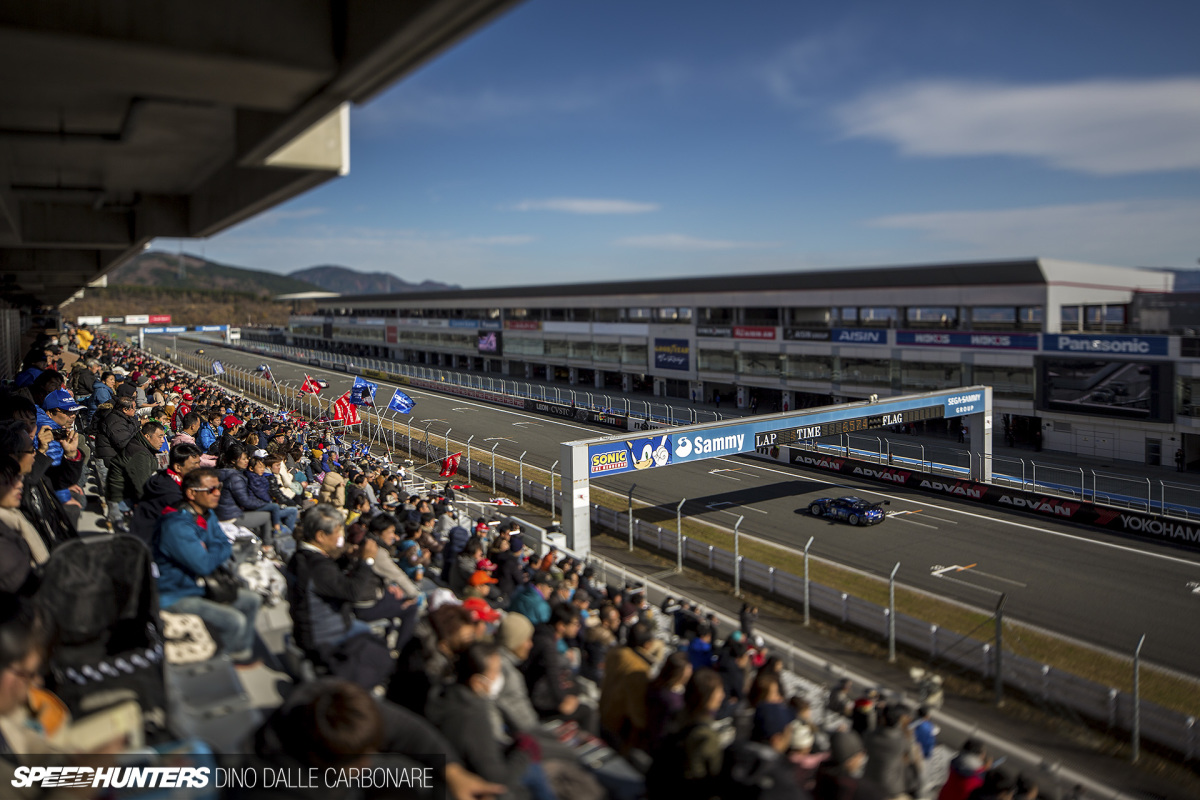 With the sun slowly diving for the horizon the light was getting warmer, casting a nice yellow hue over Fuji Speedway.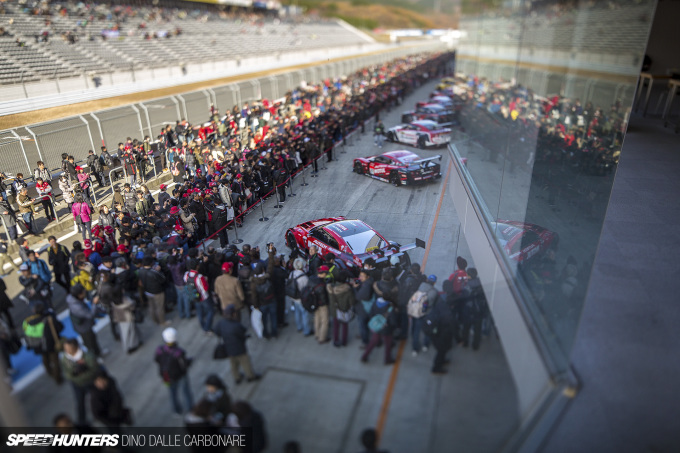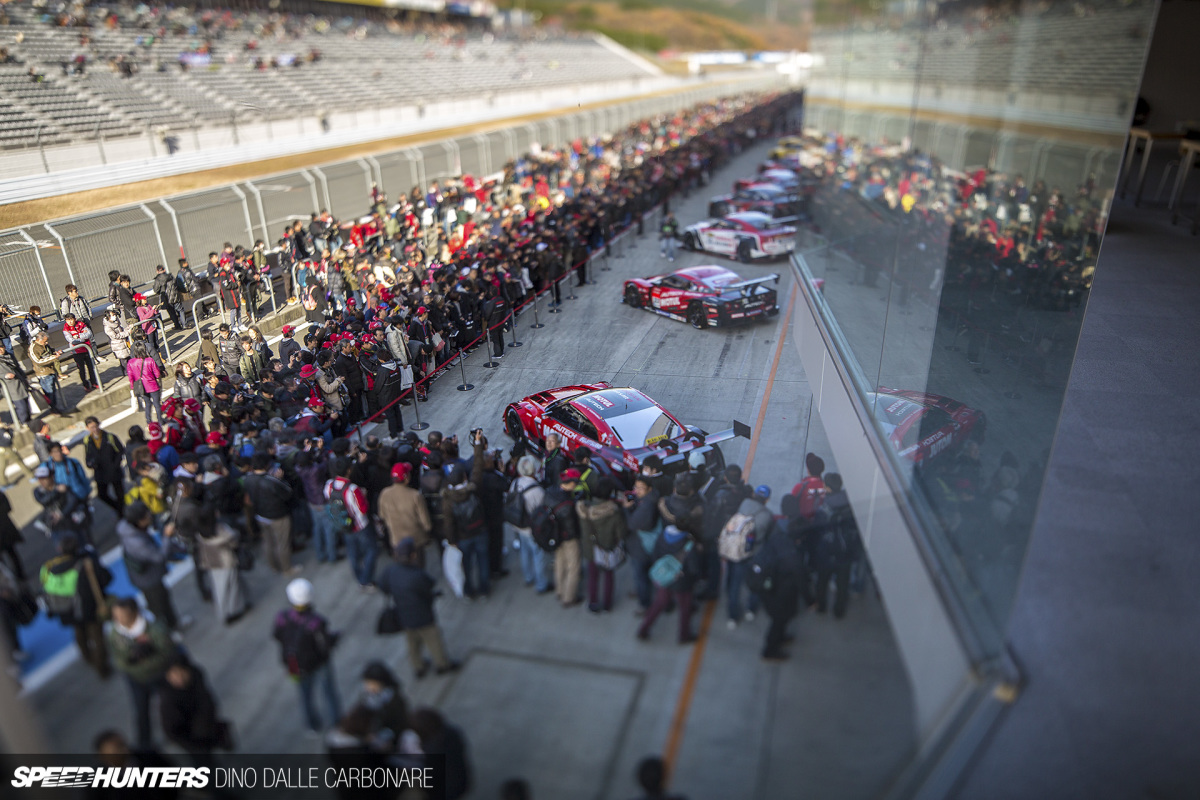 Before the closing ceremony started, I headed to the media room for a quick picture dump and noticed the pit walk had started. Shooting it all from above the pits really emphasised the fact that high-vantage points work amazingly well with these type of lenses.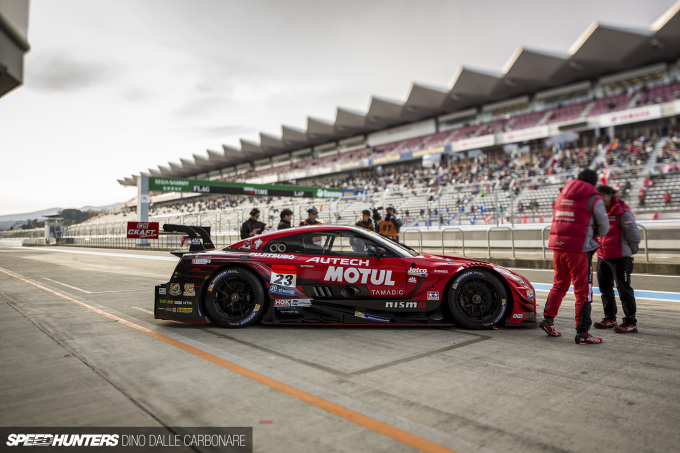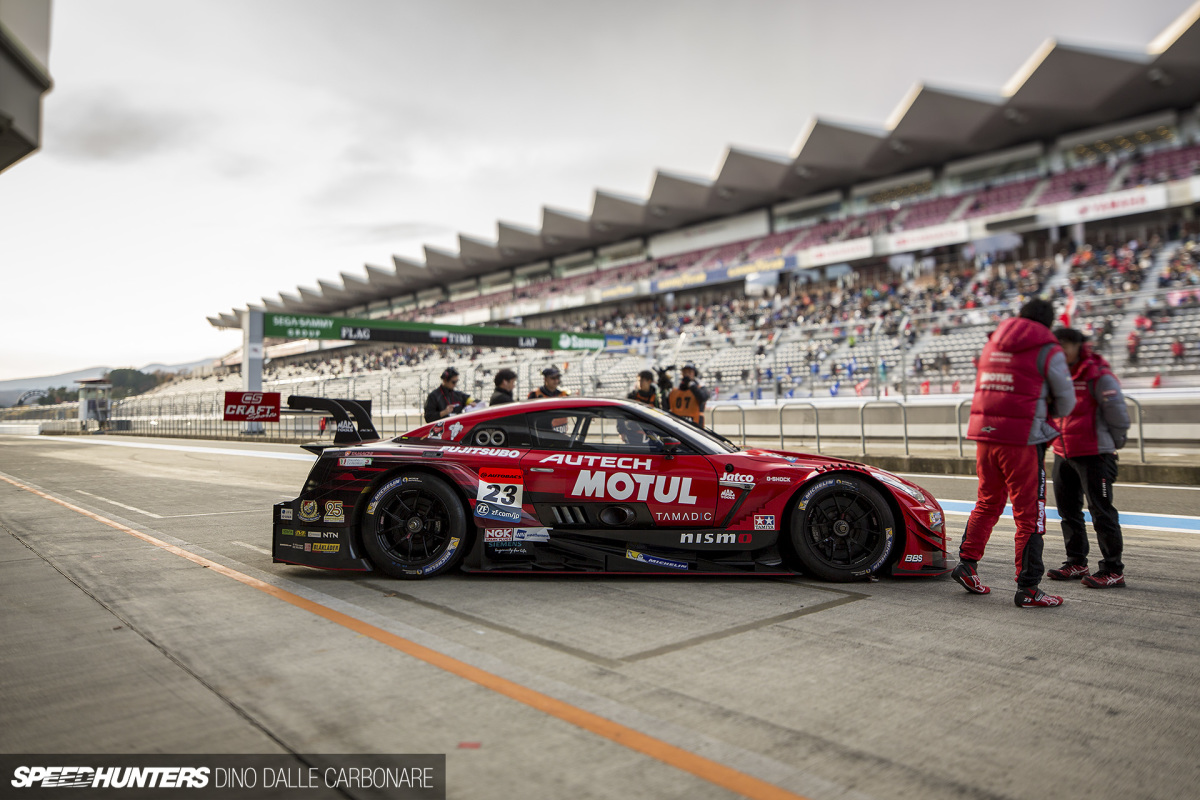 And then the time came to head down; the main cars of the event were going to be driven in small groups and blasted down the main straight, giving both a visual and aural show to fans.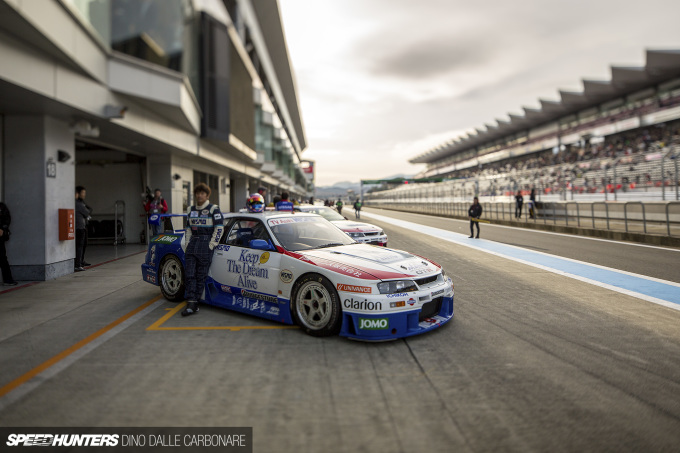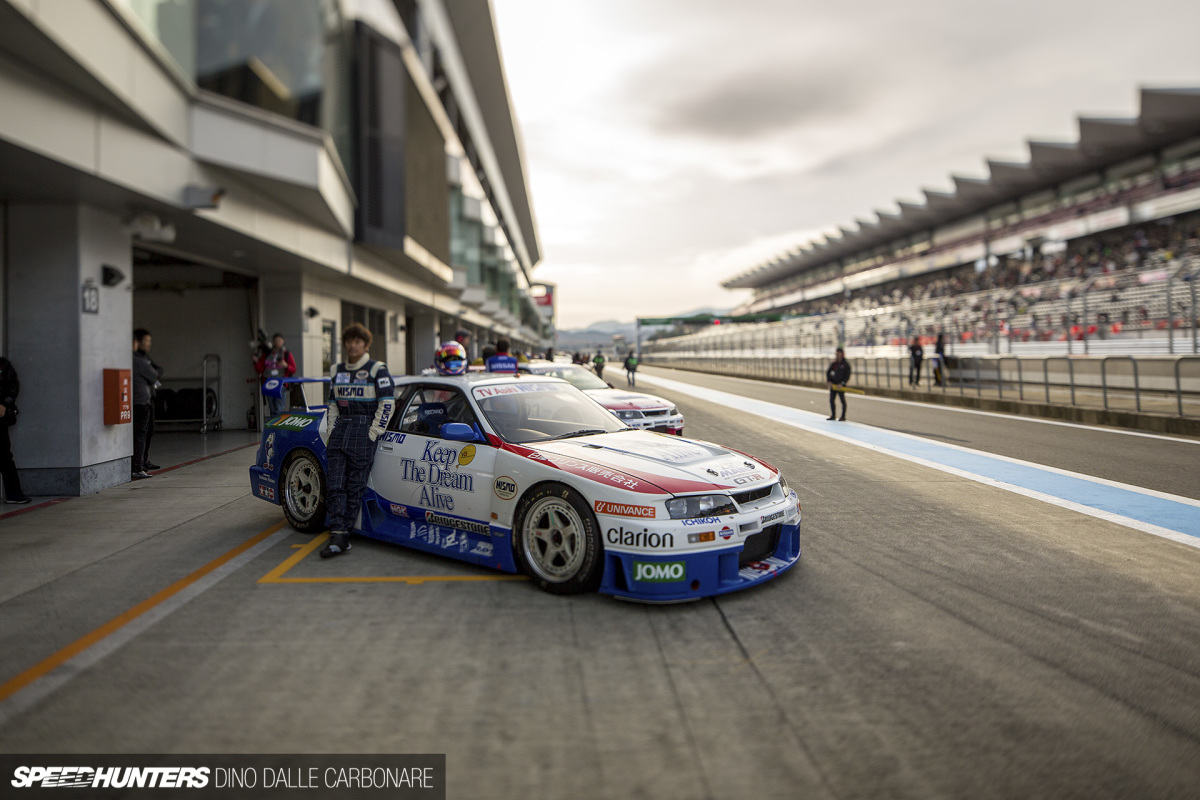 As I walked up the pits I noticed Masahiko Kondo was leaning up against the widebody R33 he drove in Le Mans in 1995. The ex-singer and driver now runs his own team.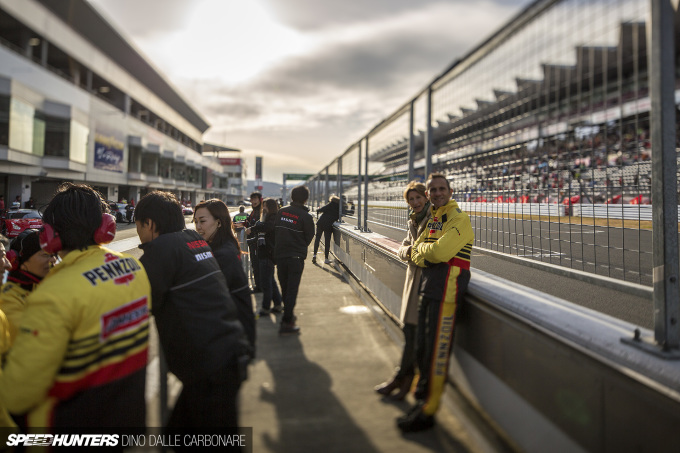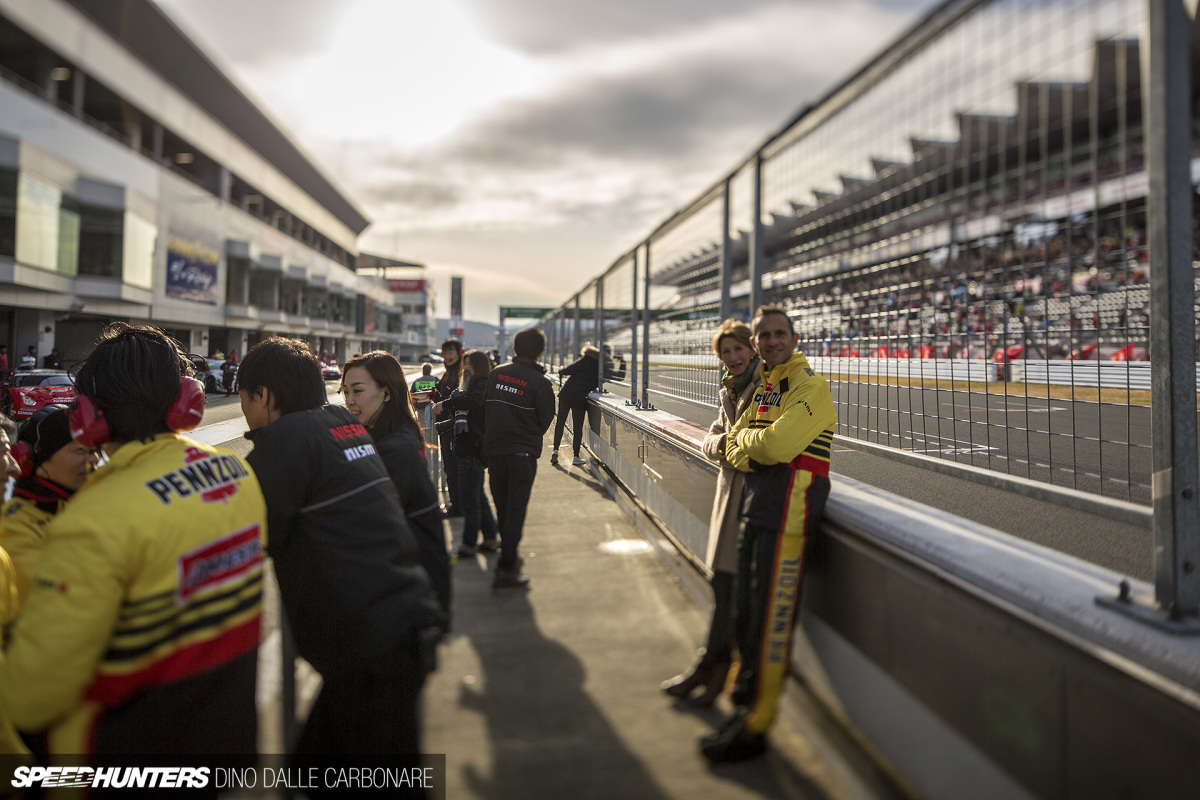 And speaking of legends, here's an aggressively tilted and shifted shot of Eric Comas as he patiently waited his turn to drive the Penzoil R34 GT500 car from 2001.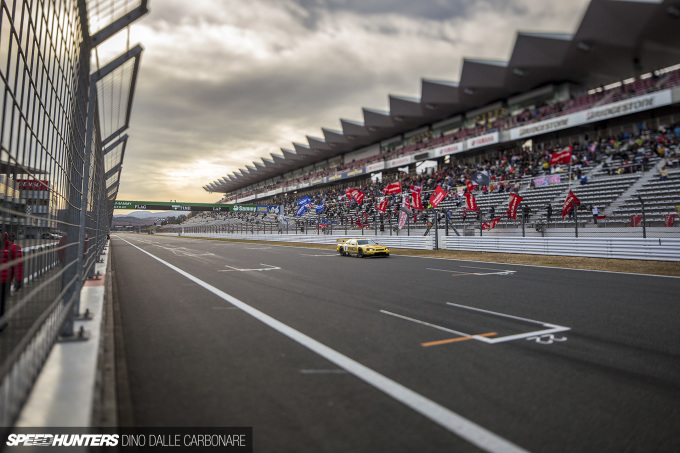 Twenty years ago Comas was the man that brought the R33 GT-R to its victorious finish, before continuing his career with the R34. He is a massive legend in Japan and was enjoying this ode to his past success.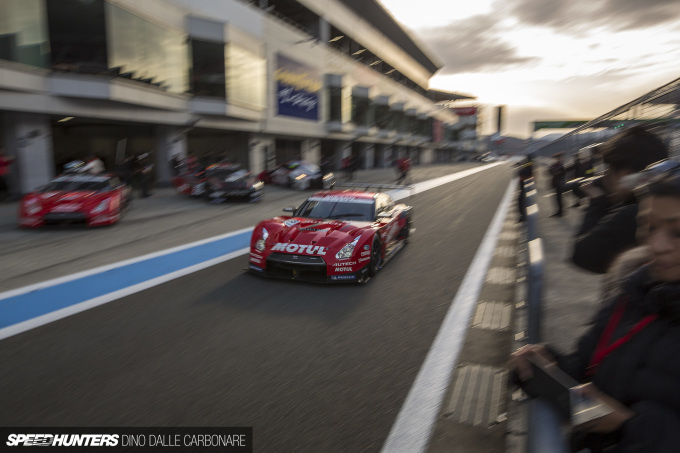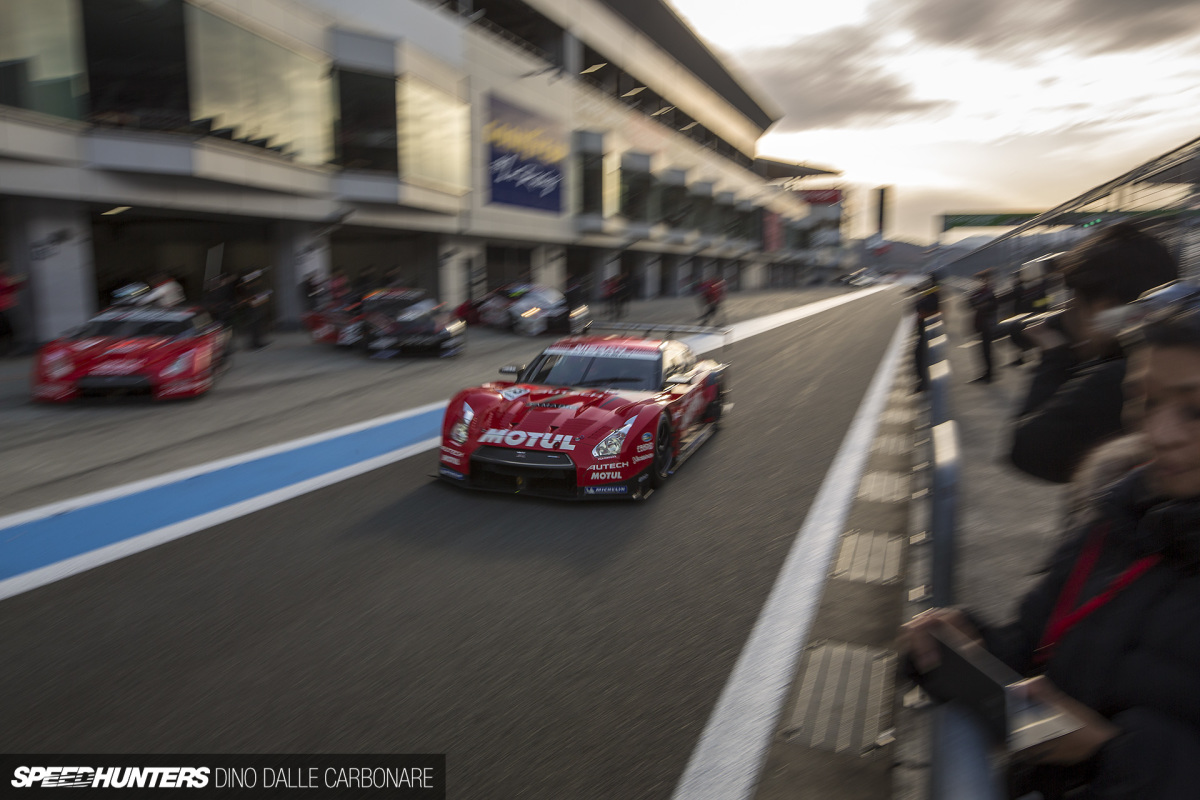 Low shutter-speed panning with a tilt-shift lens and manual focus on a Canon 5D, which isn't exactly meant for sports photography, was a bit of a challenge.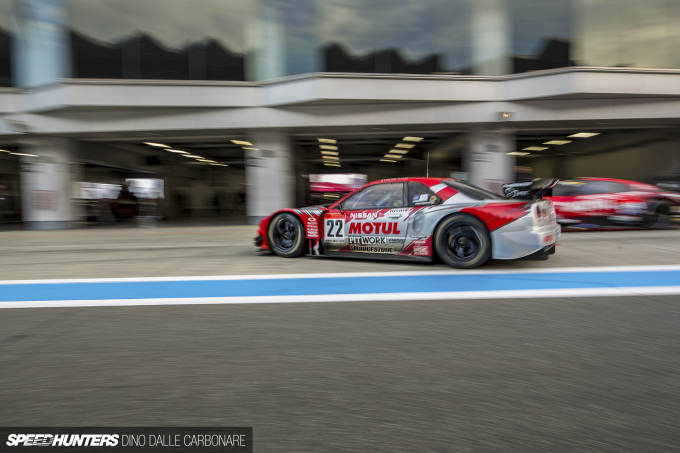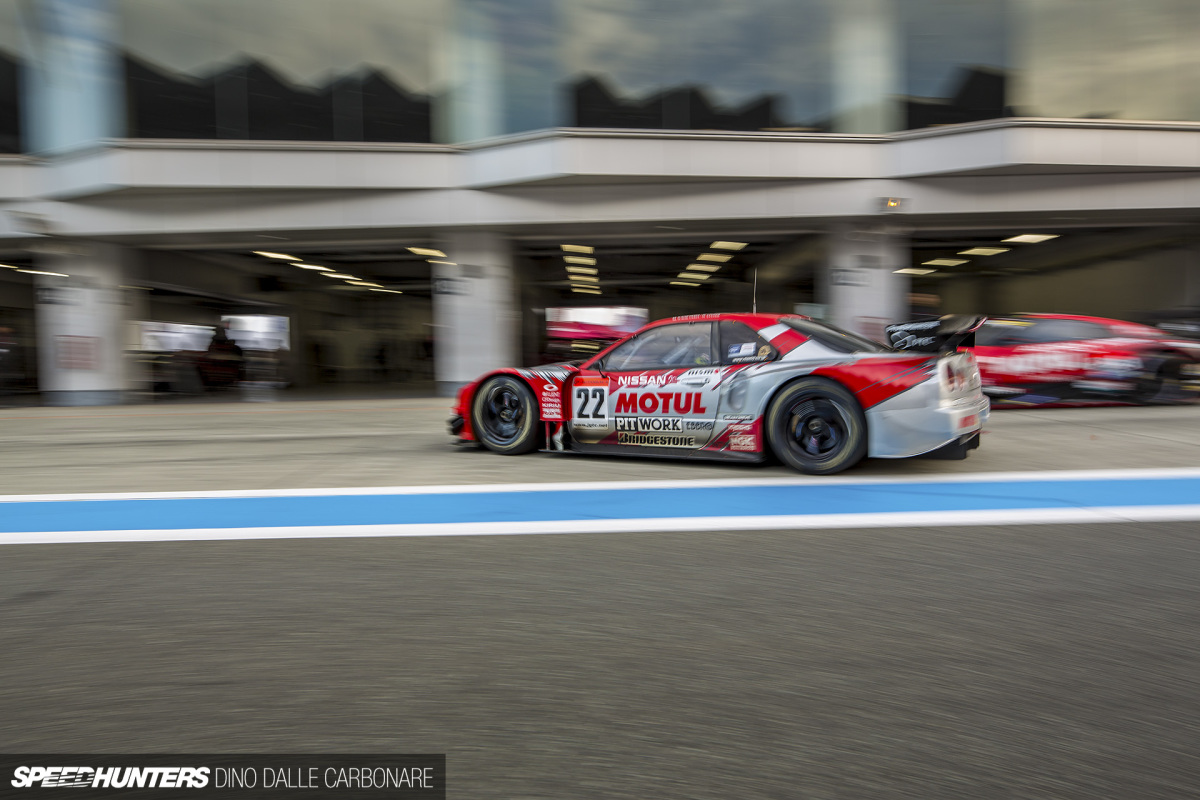 But it ended up working well.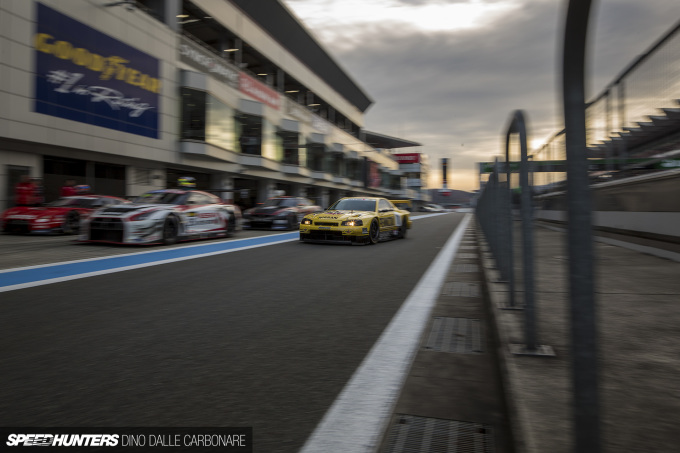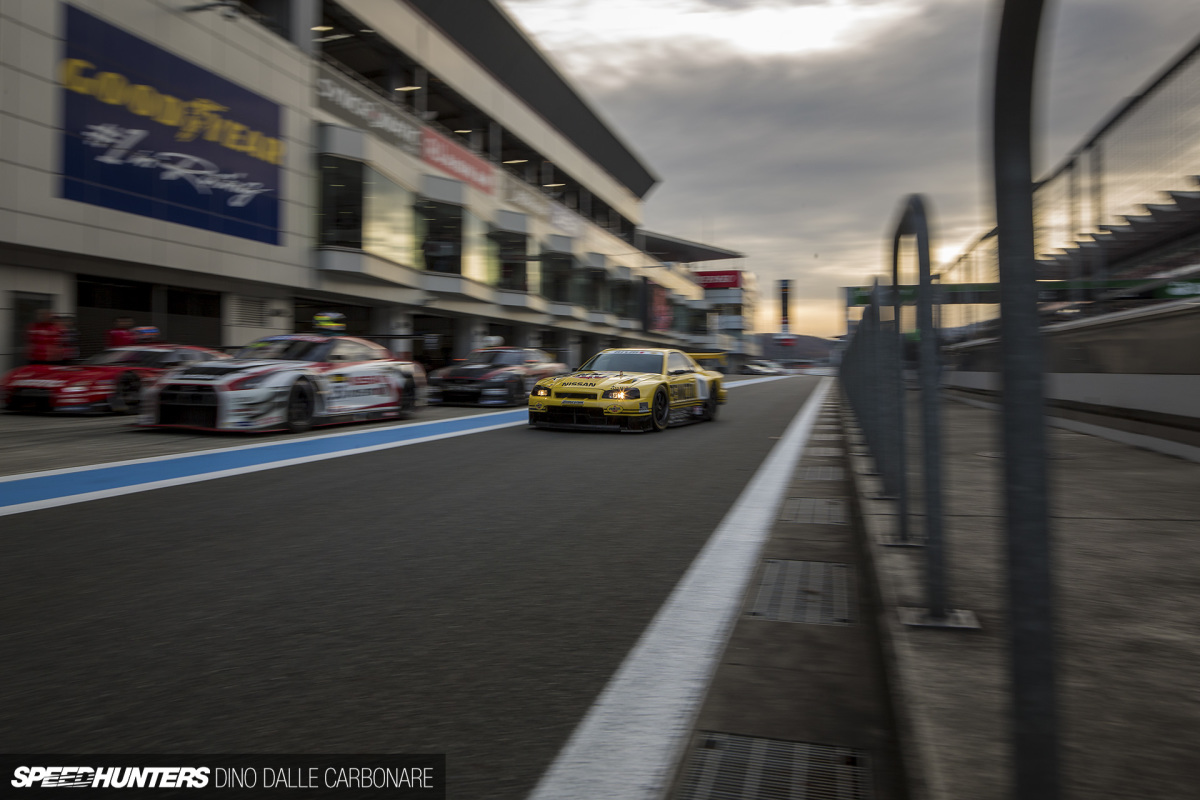 In fact, I think I may end up printing out a few of these shots.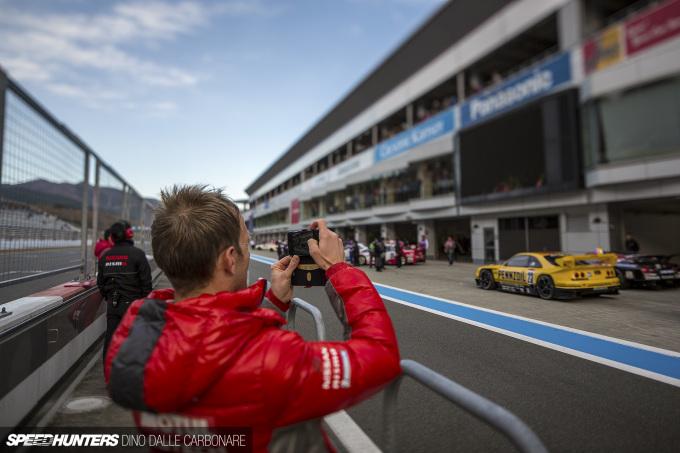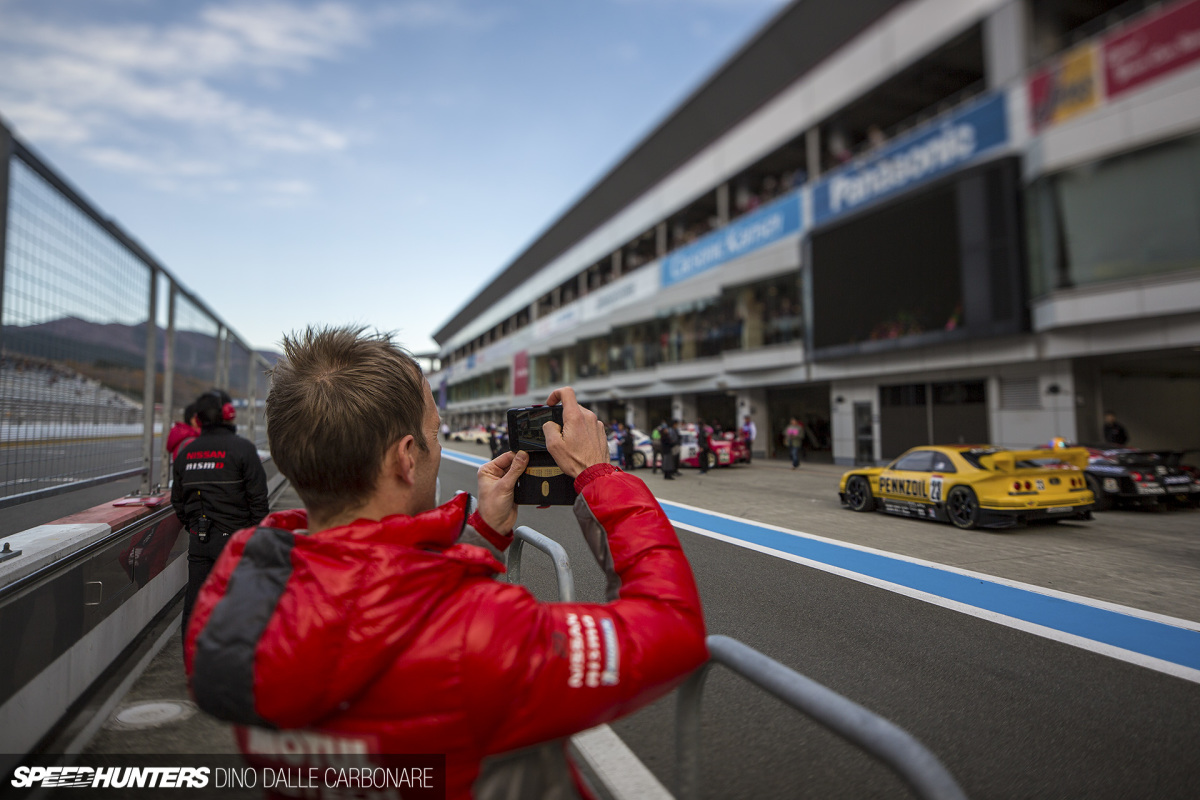 As I walked up the pit wall I came across four-time GT500 champion Ronnie Quintarelli (who has just finished the 2017 season in second place with Nismo) taking a few pictures of the Penzoil cars.
This will definitely go down as one of the most memorable Nismo Festivals for me.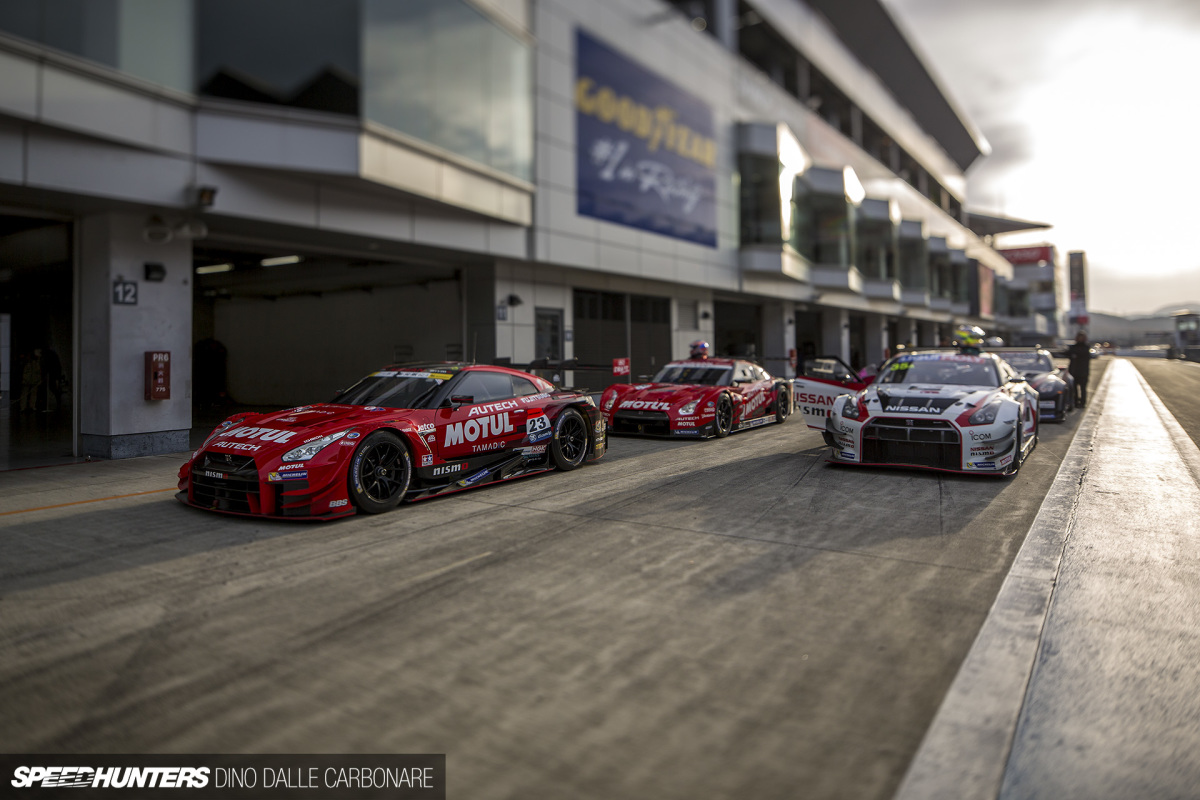 I'll remember it as the time I tilted and shifted my way around the tantalizing selection of cars. Oh, and the time that it took six hours to drive the 90km (56mi) back to Tokyo. Yes, Japan never fails to impress, and when it does you just have to think of fresh ways to experience it.
Dino Dalle Carbonare
Instagram: speedhunters_dino
dino@speedhunters.com